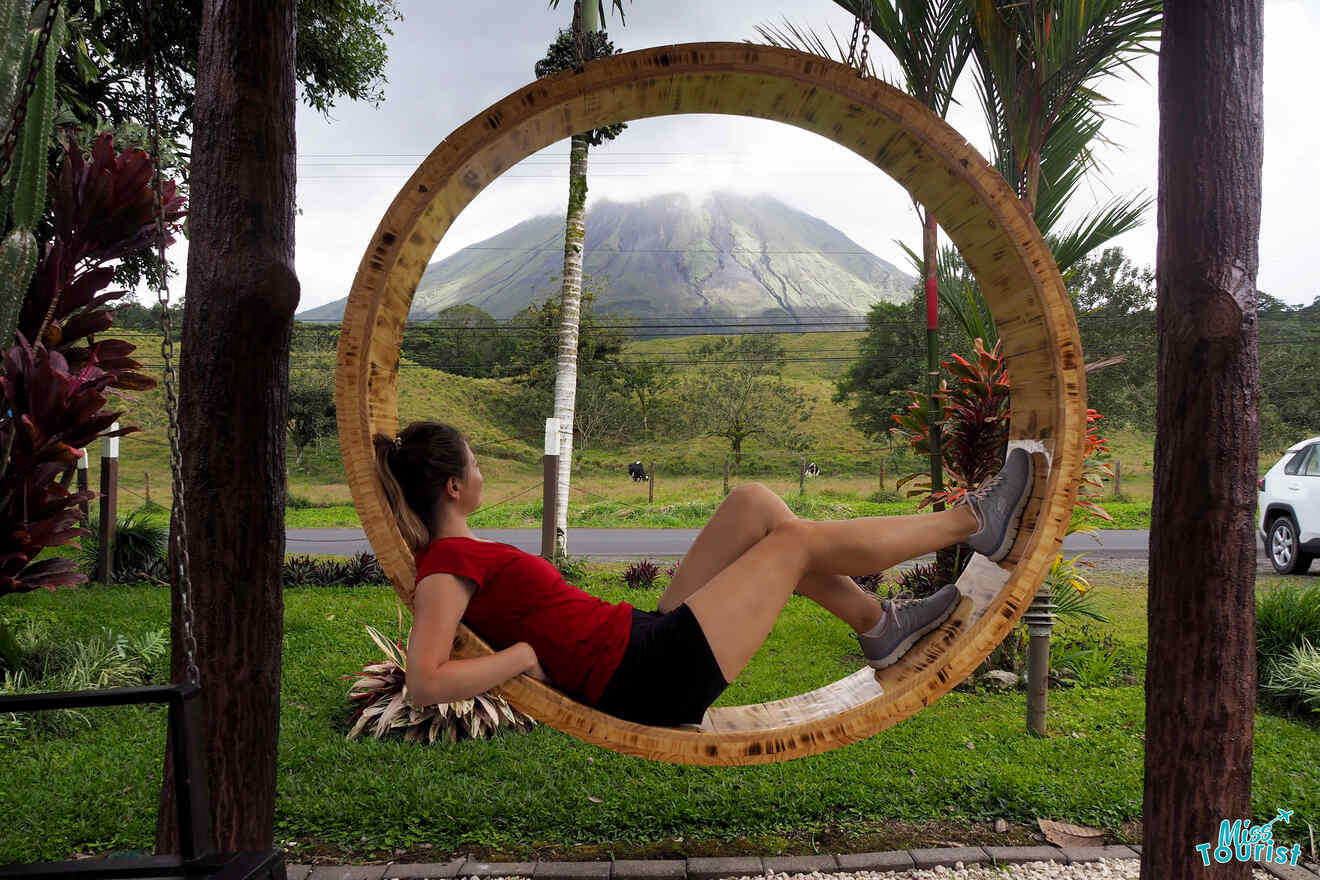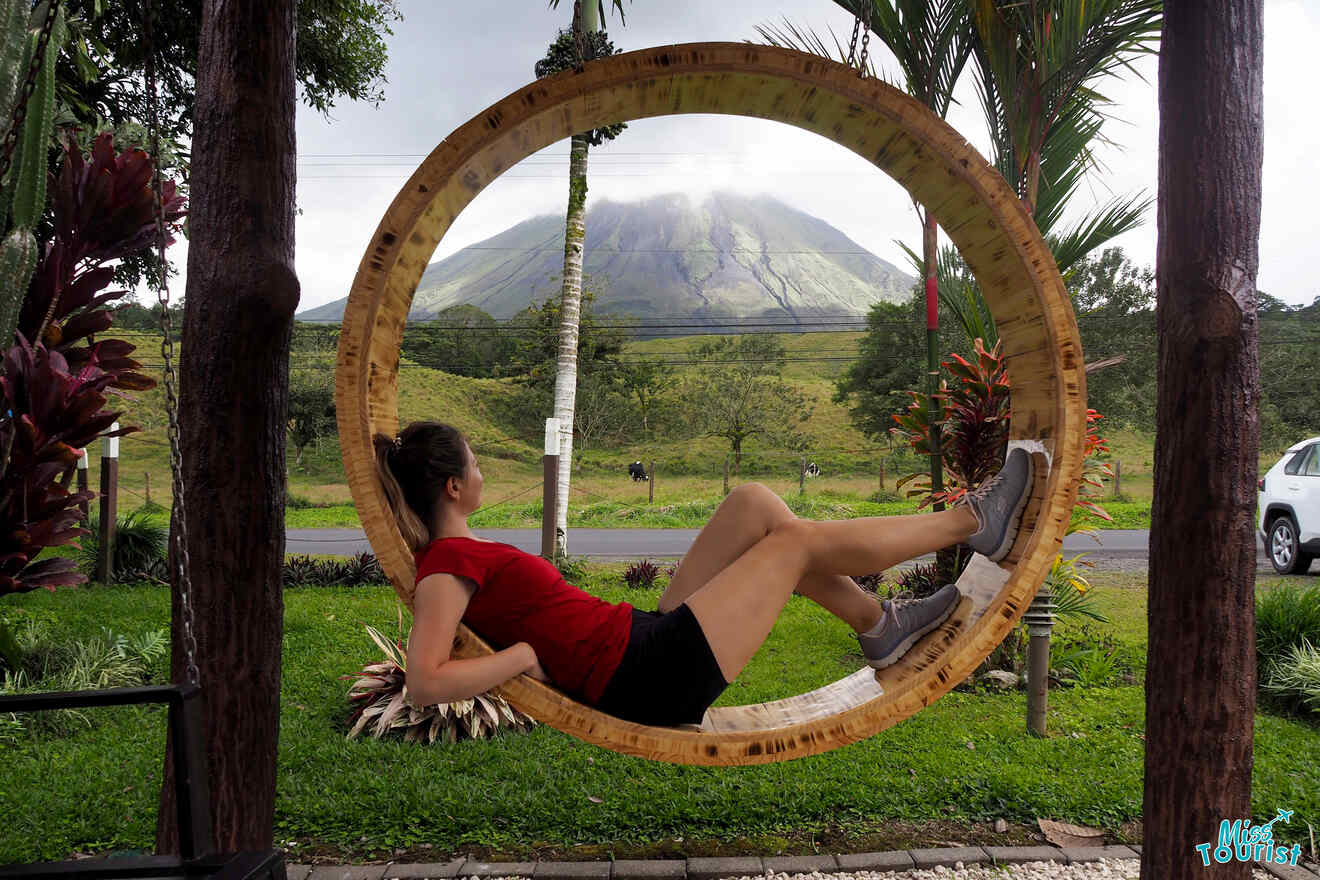 Ready to have the time of your life?
Here we go! Let's start an incredible virtual trip around La Fortuna and Arenal, a famous Volcano that's 1650 meters tall, located about 3 hours drive away from San Jose.
La Fortuna is a famous waterfall and also a town that sits near Arenal Volcano. Because of their proximity, everyone who comes here visits both attractions plus other incredible areas nearby.
The area is famous for its hot springs, outdoor activities including horseback riding, whitewater rafting, hiking and ziplining, and of course the famous Arenal National Park – no wonder why I dreamt to go here for so long! No worries, I am including all of the above mentioned attractions and more in my list below.
Without further ado, let's check out the top things to do in La Fortuna, Costa Rica:
1. Visit Arenal National Park to see the volcano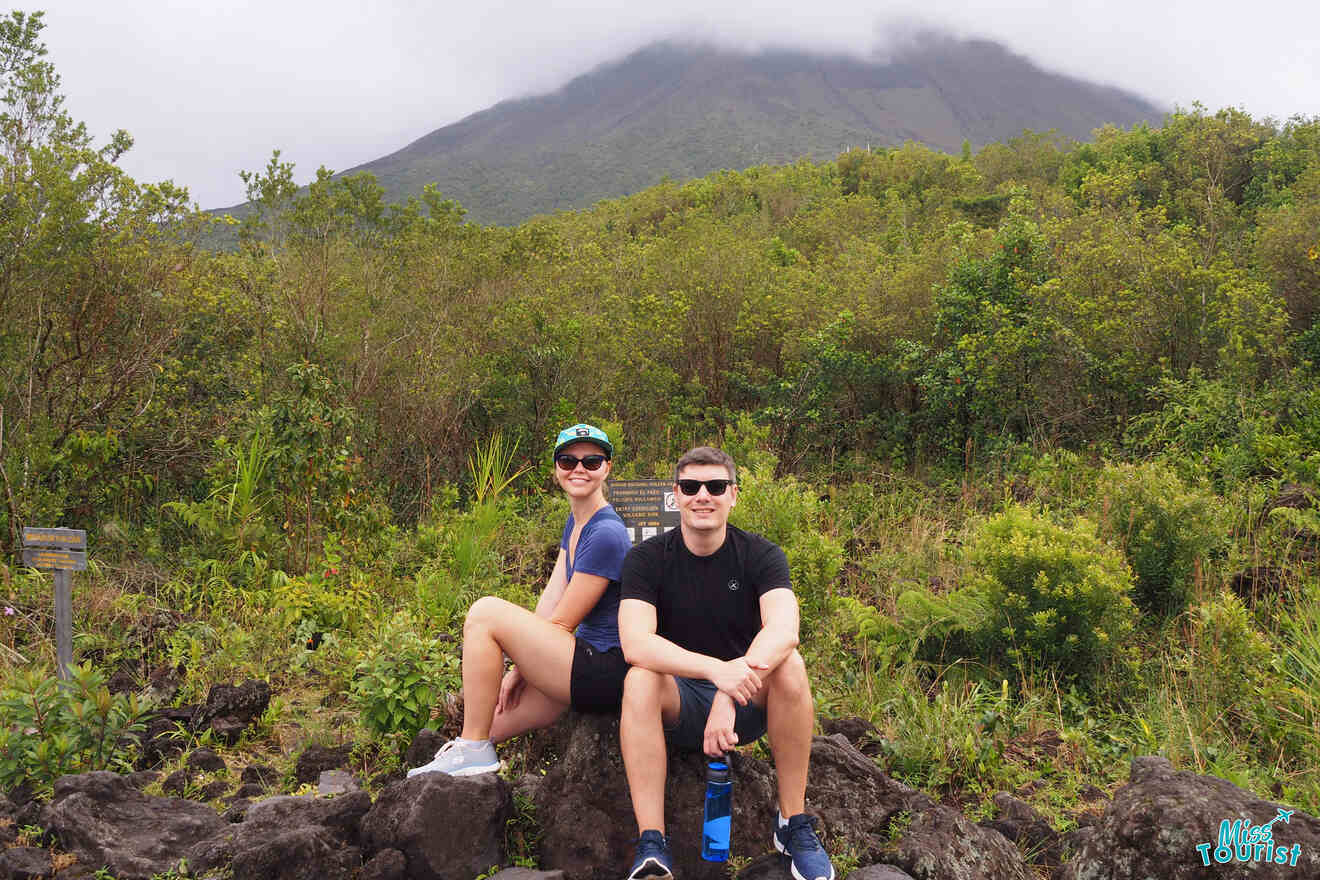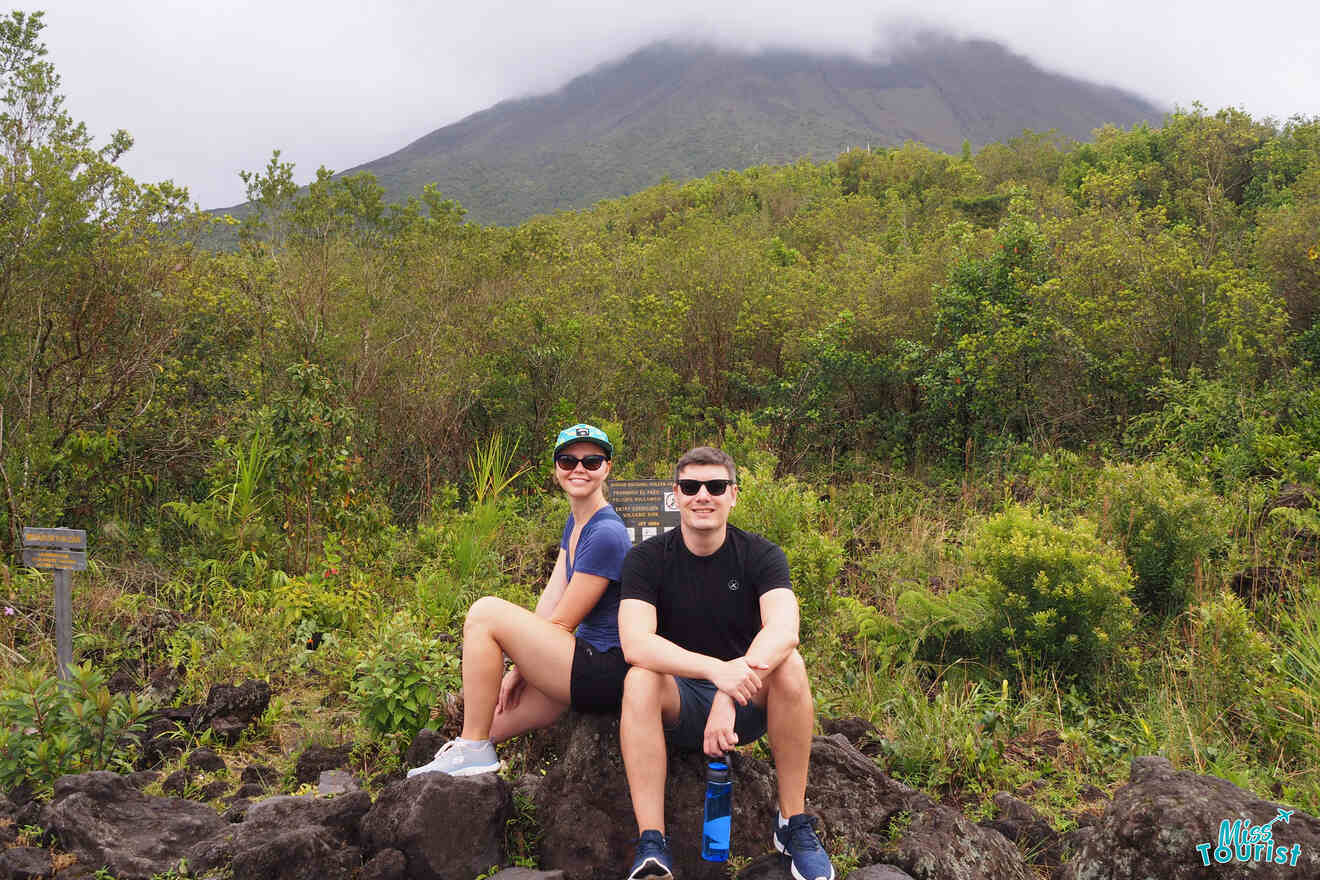 Ok, put on some comfortable shoes and get ready for the hike of your life! Arenal is one of Costa Rica's most famous volcanoes, and the national park is built around this well-known "character"!
Arenal Volcano National Park has two sectors – Arenal Volcano Sector and peninsula sector. Funnily enough, I did not realize there are 2 areas when I visited, so if you want to make the most of your ticket, read on:
1) The Arenal Volcano sector
The Arenal Volcano sector is the main one (here is the google map pin), and as you may have guessed, it's closer to the volcano (and that's the one I visited). Here you'll find the most well-known trails, lava rocks, and giant trees that survived the eruptions, plus the best volcano views. There's also a viewpoint that's reachable by car if you don't want to walk (although I recommend you do).
It takes ~2 hours to hike around the volcano and you can choose to do it by yourself or with a guide (we did the hike by ourselves). The path we took is called Sendero La Ceiba and it's the most common one taking you to the lava rocks as well as a viewpoint of the Arenal Volcano and Lake Arenal!
The views?
Absolutely stunning! During the Arenal Volcano hike, you'll be able to see the lava flow remains from the 1968 eruption plus possibly many cute animals!
You should be there really early in the morning (around 8 am when it opens), to avoid the crowds. Also, that is when the opportunity to see the volcano fully is the highest! It usually hides in the clouds later in the day.
PRO TIP: Bring water and snacks! No stores around are open in the morning. Take my word on that (we realized we did not take water and actually had to go all the way back to the hotel)!
2) The peninsula sector
The peninsula sector is located 1 mile away from the volcano sector and has a bit of a different scenery. Since it's situated further away from the volcano, you won't get the same views but the peninsula is accessible to all kinds of hikers as it has paved trails so it may be preferable for those with limited mobility. Here's the google maps entrance for this sector. You get to enter with the same ticket to both parts.
PRICE: US$15 (directly at the entrance) or about US$65 per person with a guide.
2. Soak in the Arenal hot springs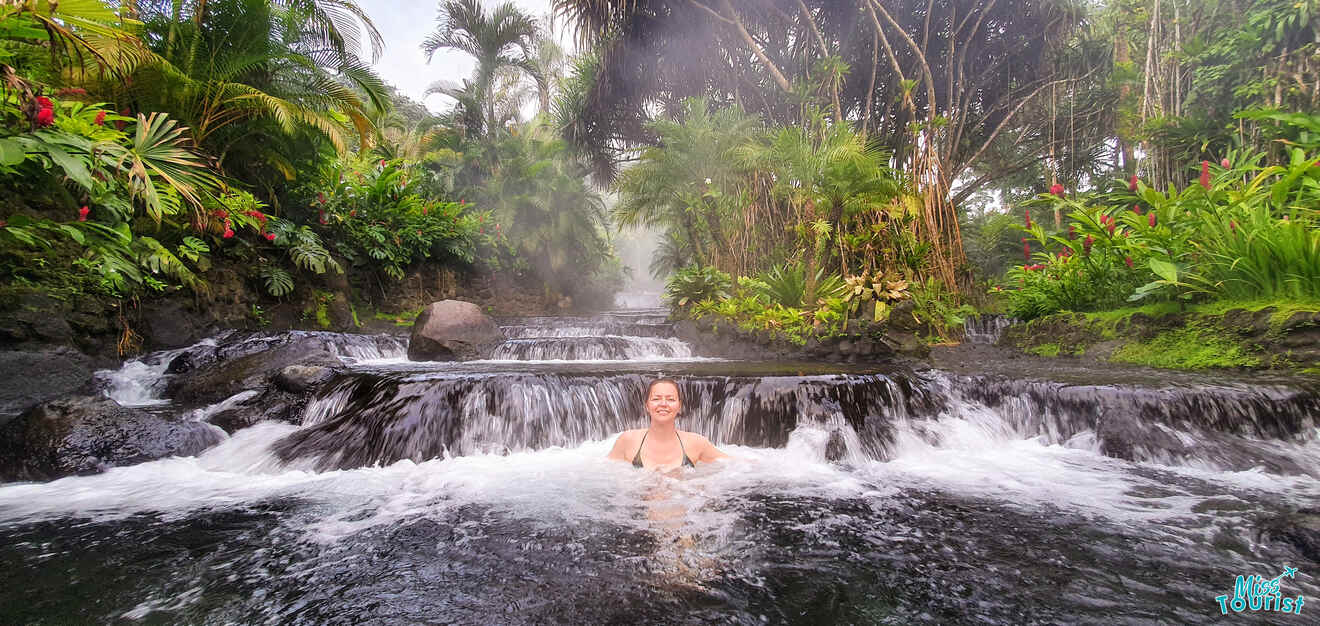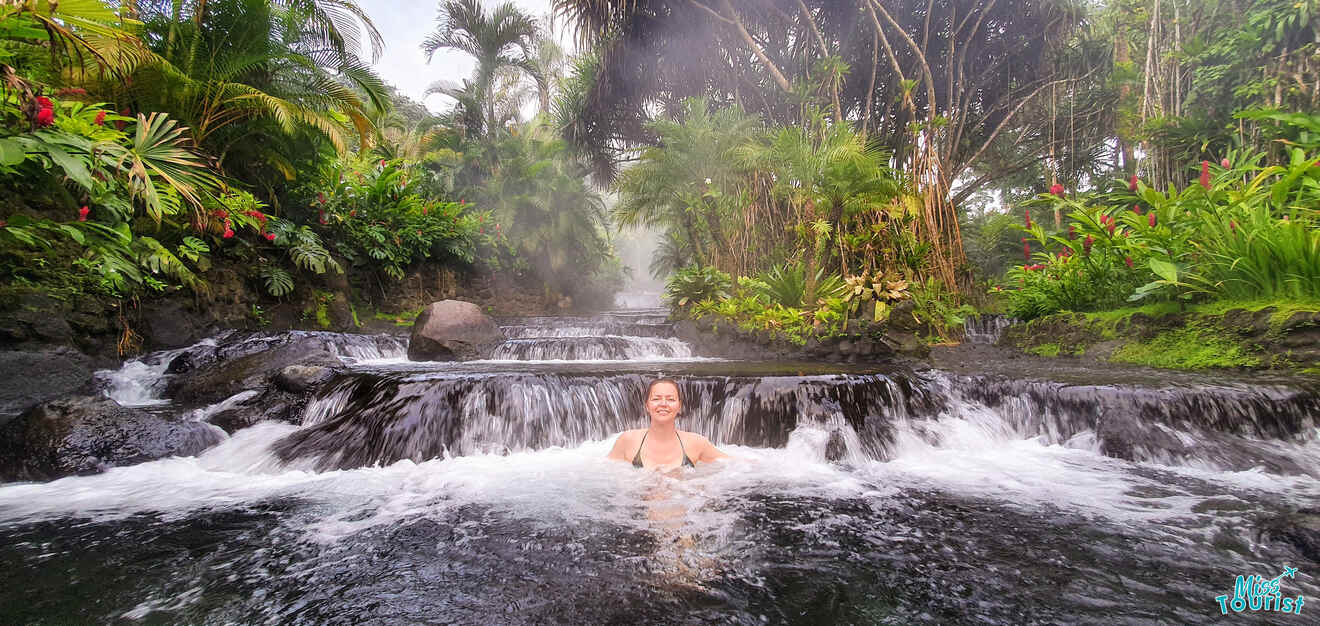 La Fortuna area is famous for 2 main reasons: the volcano views and the hot springs!
The volcano naturally heats the underground aquifers and rivers, creating some of the country's nicest, steamy hot mineral baths!
There are tons of hot springs in the area (more on that below), but we went to Tabacón Thermal Resort and Spa – one of the most famous ones out there, and loved it! You'll be surrounded by small hot spring waterfalls, palm trees, and all sorts of plants (a mini jungle)!
They have different options to visit – day time, evening time, or full-day. I do not recommend choosing just the evening time because. In the daytime, you'll see the super lush greenery around and can take lots of cool pictures!
PRO TIP: They do give you a towel but I'd take one more and flip-flops too!
Pricing: (it's a bit confusing, but I figured it out for you)
As I said, you have to choose between a full day and a half-day. Note that the half-day option has fixed timing (from 10 am to 2 pm, or from 6 pm to 10 pm). So, if you come between 2 pm and 6 pm you are kind of in-between and you will have to take a full day pass (or wait until 6 pm).
Full day with 2 meals – US$110
Full day with 1 meal – US$89
Half day (10 am – 2 pm or 6 pm – 10 pm) with food – US$75
Hotel stay (hot springs included) – from US$440 per night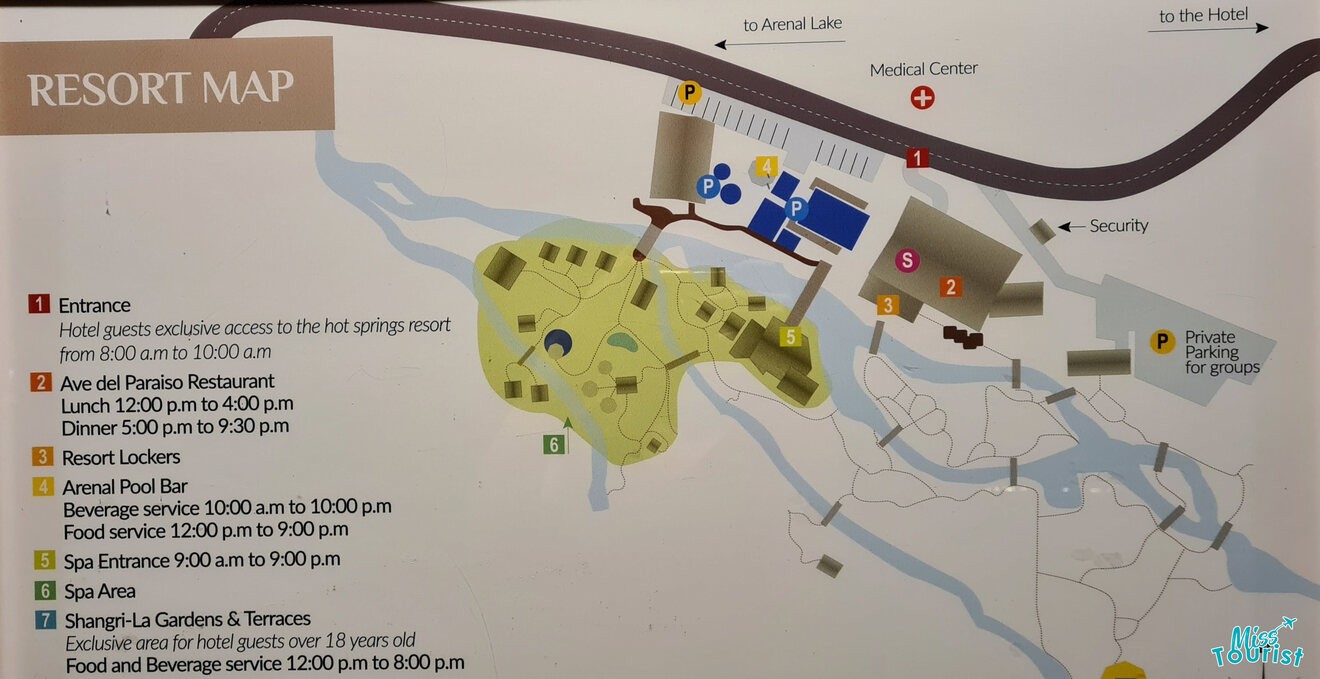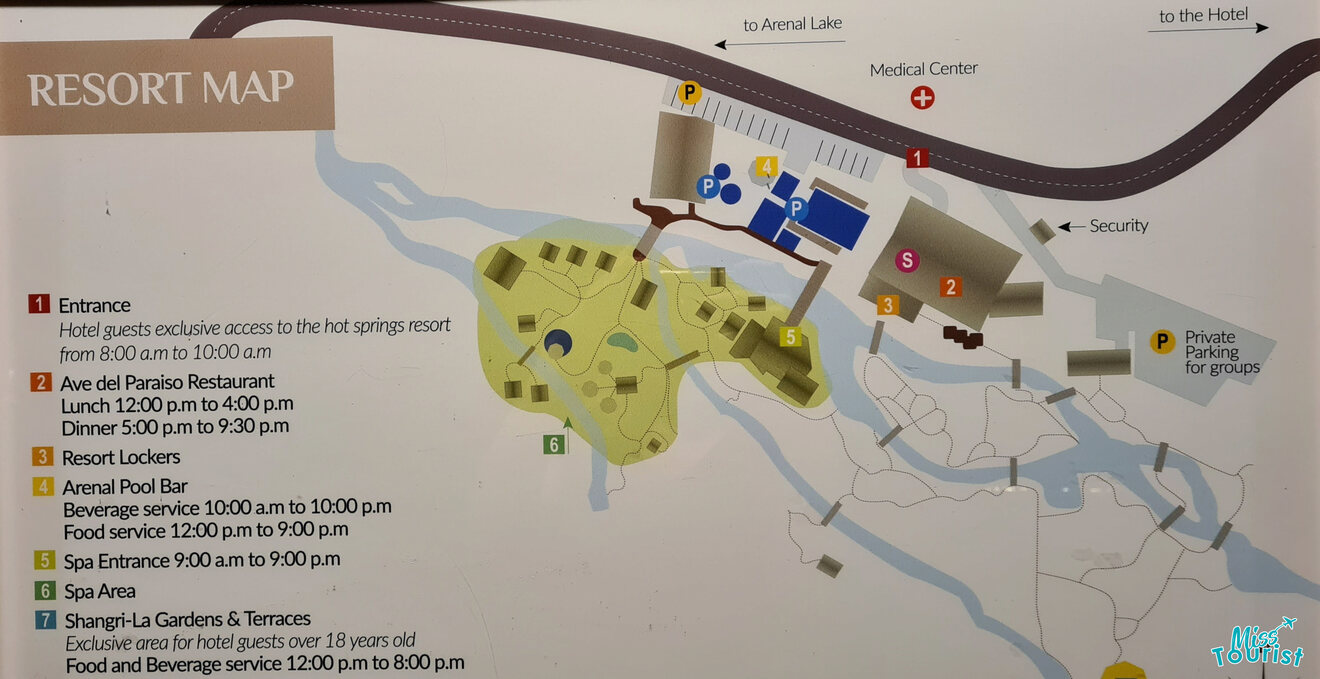 You can check all the prices for day passes here! I also recommend booking it in advance because they might be booked out (we just showed up there and thankfully there were some cancellations so they let us in).
NOTE: You will actually need to schedule your food at the entrance. That means that when we showed up at the last minute at the entrance, the only available time slot for dinner was at 6 pm or at 9.
P.S. If this one is a bit too pricey, do not worry, I have the whole list for you below (including a free hot spring! 😉 Check out Bonus 1 below for more options.
3. Swim in La Fortuna waterfall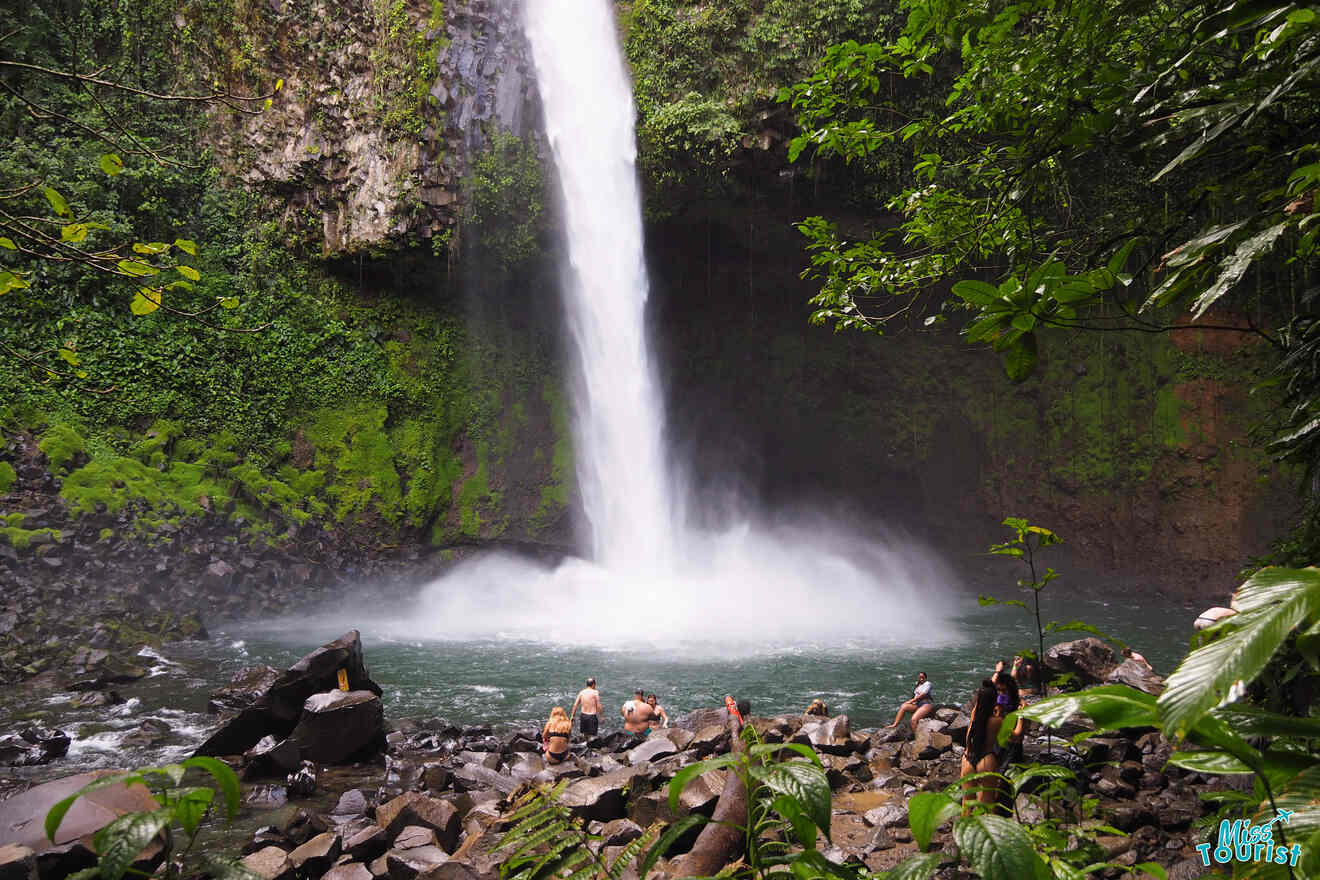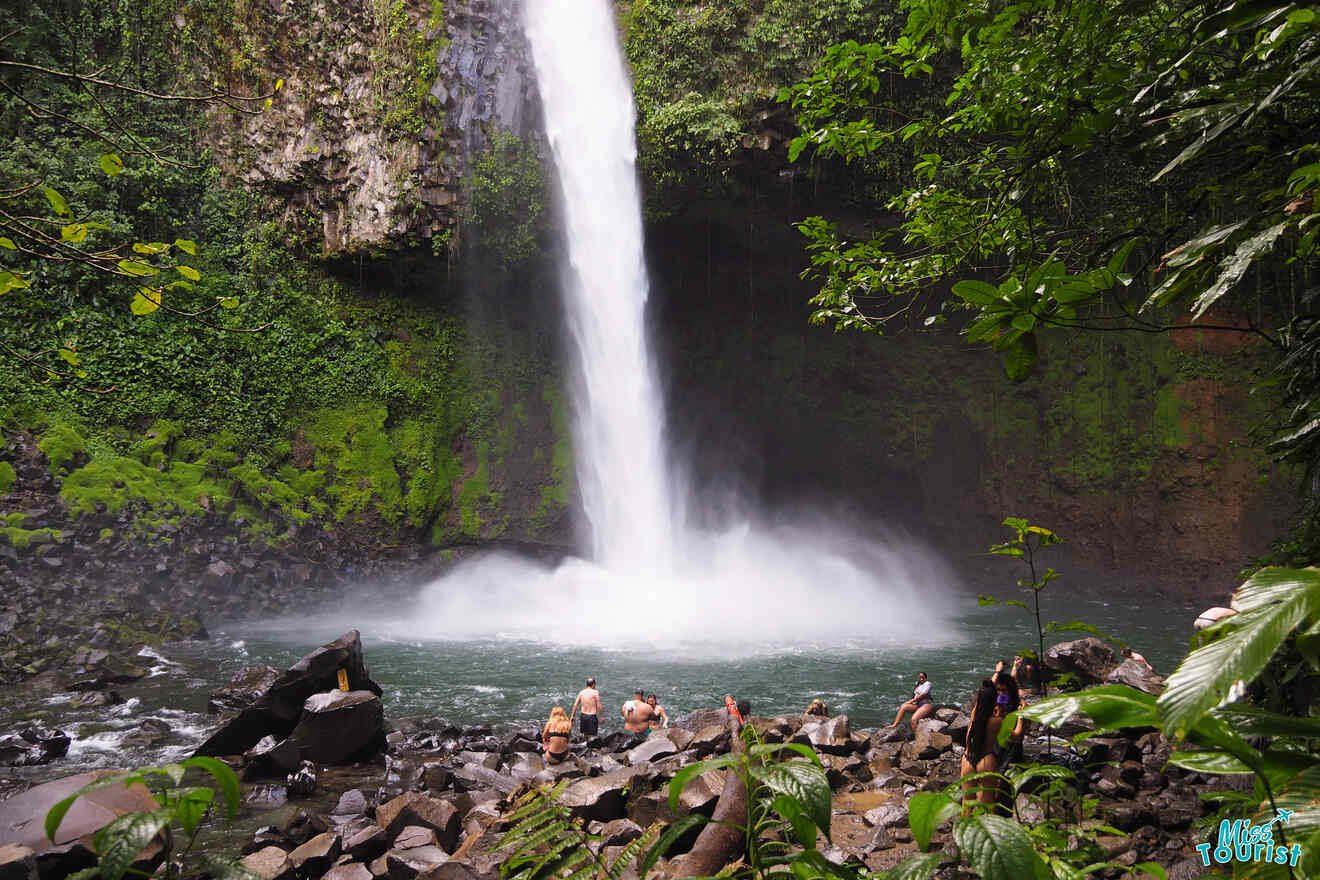 This is one of the most beautiful waterfalls in the country and you can actually swim at its base!
Catarata Fortuna drops from 75m (~250ft) and it is located in a biological reserve with an area of over 210 acres.
After taking the 540 steps up and down to reach La Fortuna, spending time in the water will feel like heaven! But don't be scared off, trust me, this is one of the most accessible trails to get to a waterfall!
I had sneakers and then changed to flip-flops once I arrived, but you can even do the whole hike in flip-flops! (I told you it was accessible).
PRO TIP: I'd recommend coming in the first half of the day before 3 pm so that the waterfall is refreshing. We were there by ~4 pm I think and I remember it felt a bit cold to get in.
There are toilets and even showers at the entrance, which is nice, and benches to leave your clothes (don't forget to bring a towel). Plus, you won't have to worry about the power of the falls, a lifeguard always stands by to make sure nobody swims too close (actually, you won't be able to do it from the front in any way no matter how much you try because it will push you away, which is fun!).
PRICE: US$18
3.1 Get a thrill by waterfall rappelling
I have a surprise for those of you who can't live without a bit of action: Waterfall rappelling!
It's a super cool thing to try, and there are many waterfalls in the Costa Rican rainforest and in La Fortuna where you can try this. For those of you who don't know what this sport is, you will wear a super-safe harness, and lower yourself down on ropes near or through a waterfall! It's also known as canyoning, and it's a super popular thing to do in Costa Rica.
You can't compare the feeling with anything else but I have that picture of the scene in Disney's Pocahontas when she jumps from above the waterfall, without a single worry! 🙂
PRICE: US$105
4. Admire nature at the Místico Arenal Hanging Bridges Park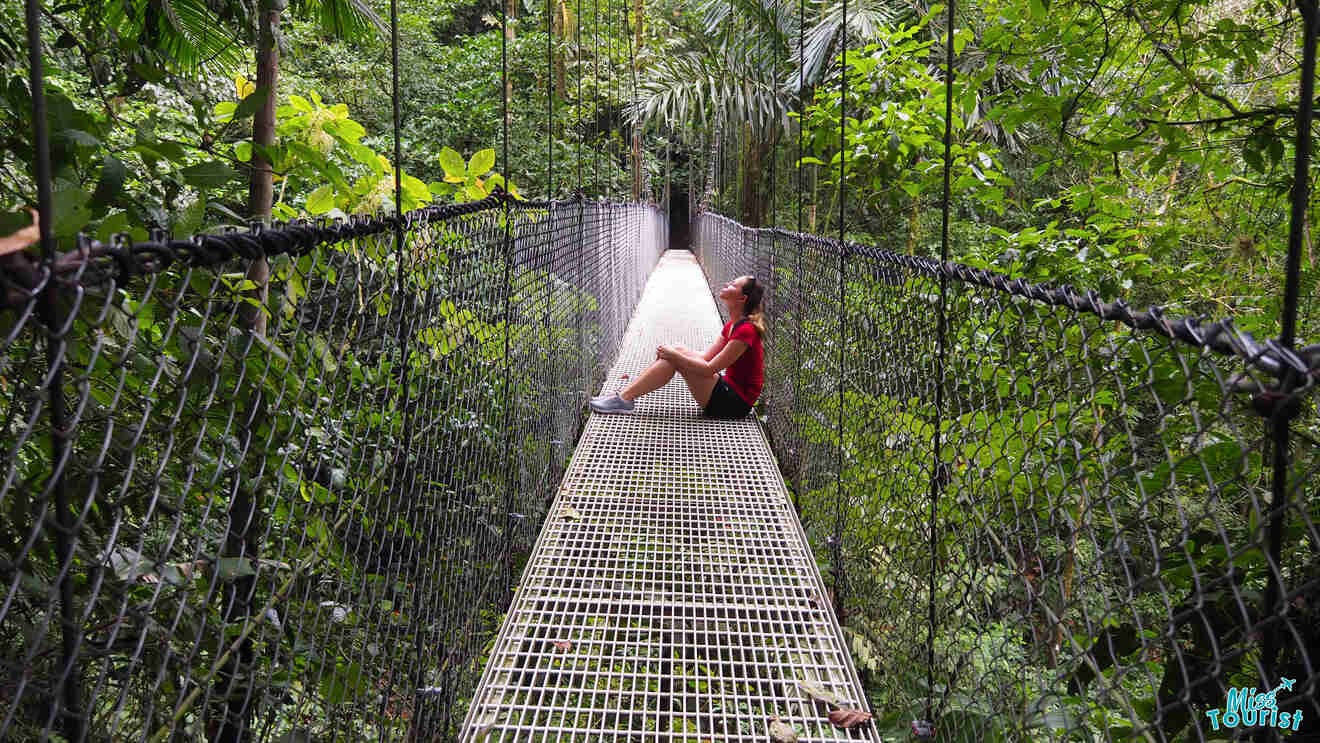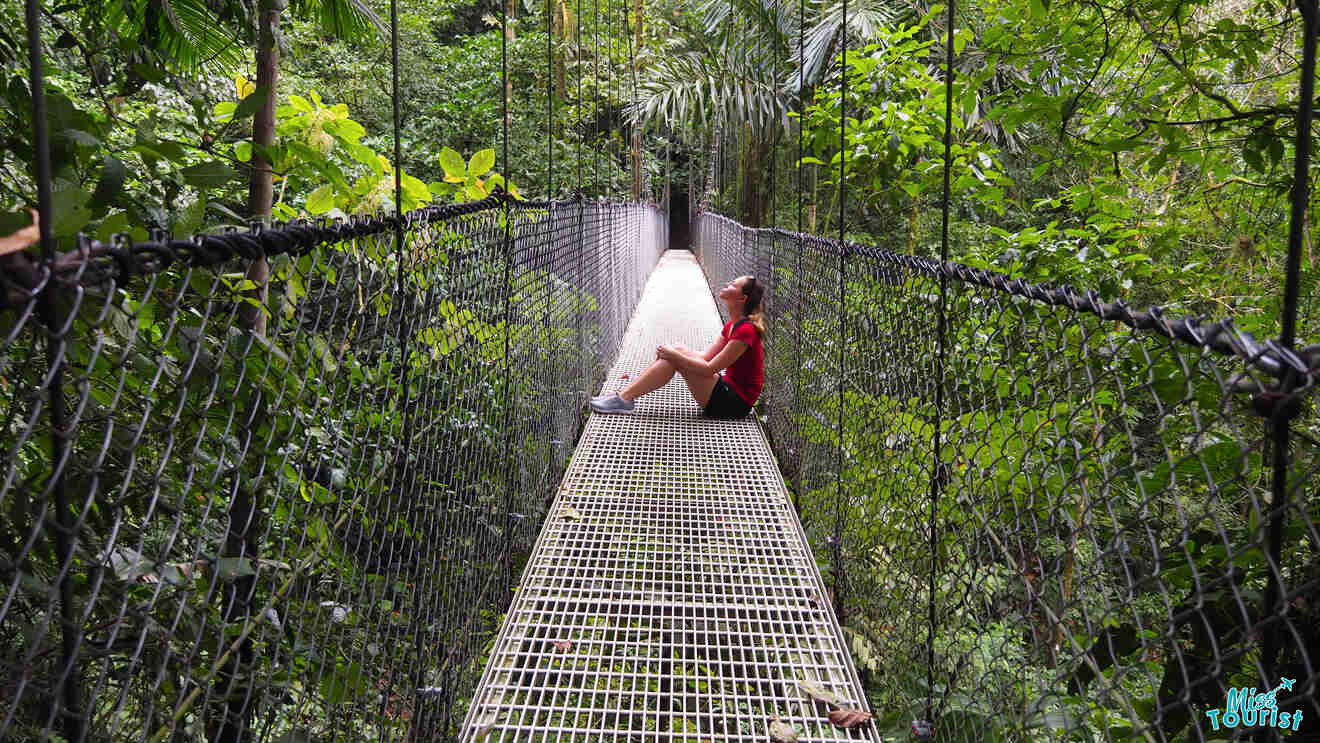 You can't say you've been to Costa Rica if you don't have a picture on a hanging bridge!
Honestly, visiting Místico Arenal Hanging Bridges is a great way to admire the cloud forest and wildlife and spot some adorable animals! (be camera-ready at all times). Or take a guided tour. They'll help spot all the sloths!
The entrance fee costs US$27 to visit and you'll have to buy your tickets in advance for this one as it's one of the most popular things to do in La Fortuna, Arenal!
Walking over 16 bridges (6 of them hanging over the forest) will feel as if you've landed in paradise. I would make sure to use the toilet before as you won't find any there and maybe grab a bite at the restaurant right at the entrance. If you are lucky to visit on a clear day, one of the bridges offers excellent views of the Arenal Volcano! The whole way is almost 2 miles (3.2 km) and it takes about 2 hours with the pics and all!
NOTE: You can't take any food in the park, only water.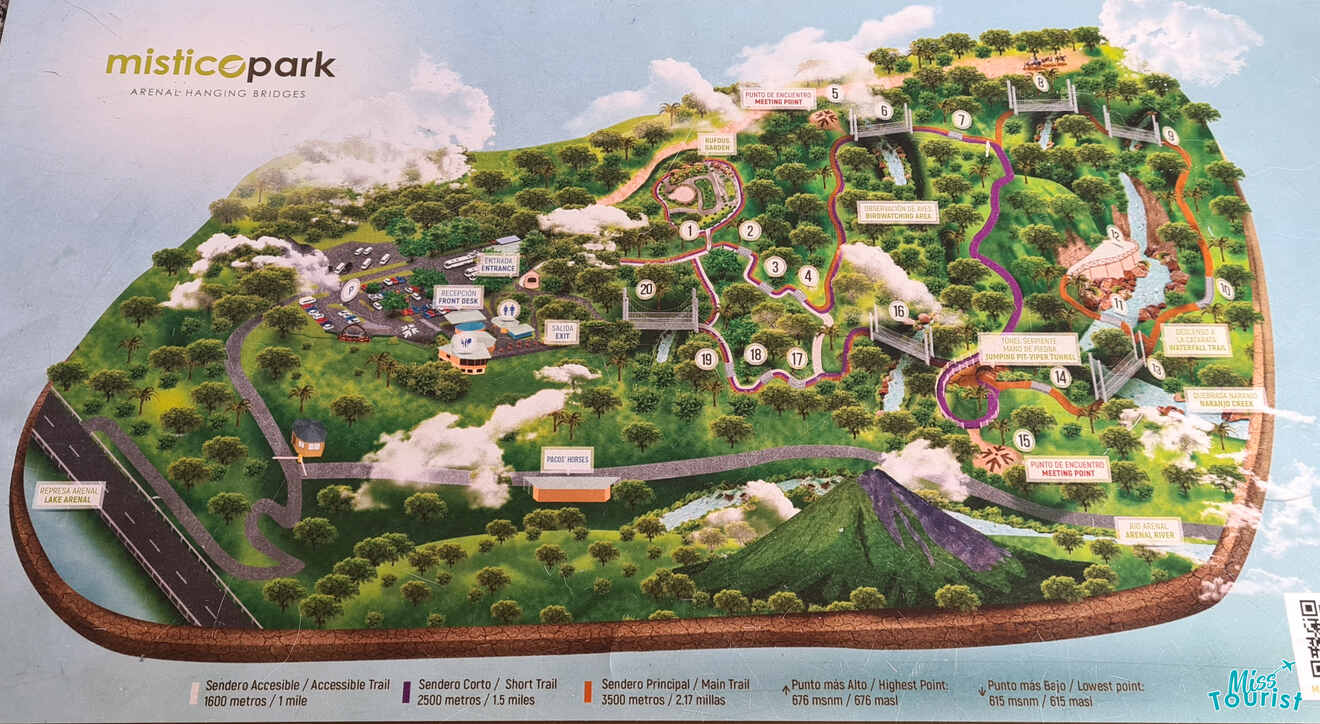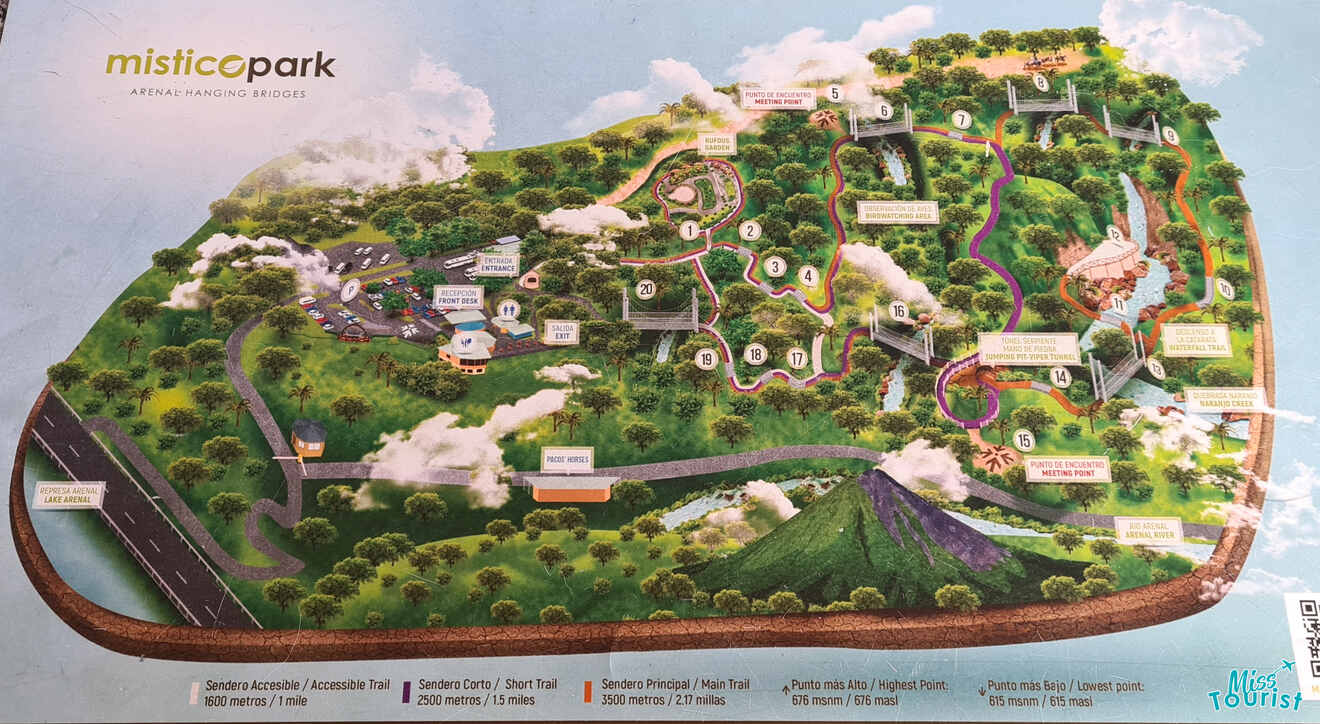 You might've also heard of Monteverde, another popular area in Costa Rica that's located 3 hours away from Arenal Volcano, also hosts tons of hanging bridges. Most of them in Selvatura Park. But out of Mistico and Selvatura, I would choose Mistico, as it's less crowded and not as expensive!
NOTE: It can start raining out of the blue here and finish 5 seconds later. When we went, it mini-rained 5 times and the longest one was 1 minute – crazy weather! You'll learn (as I did) that Costa Rican weather is super indecisive. But hey, we all love a good shower from mother nature!
PRICE: US$27 or US$45 with a guided tour
5. Enjoy an adrenaline rush while ziplining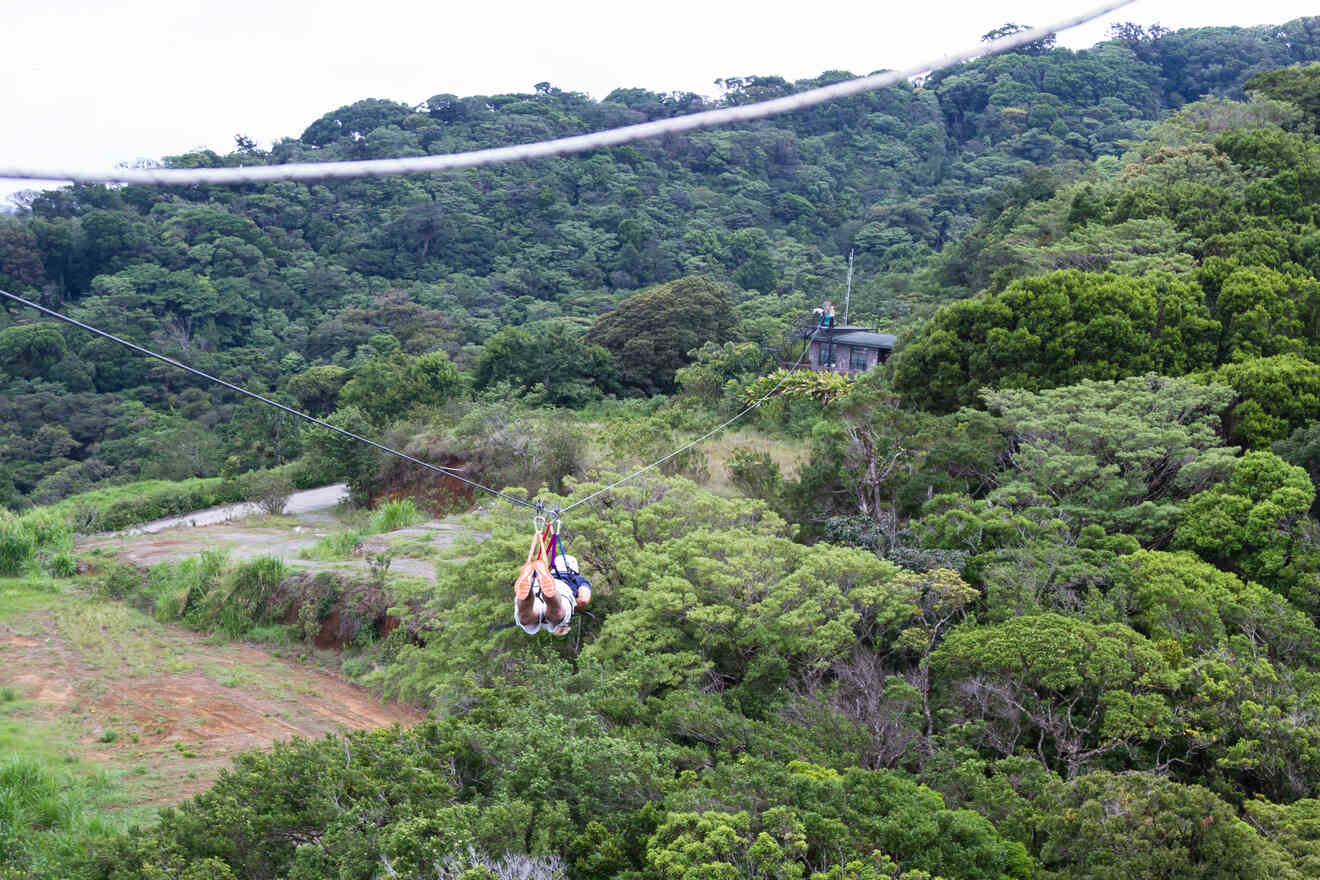 "If you're a bird, I'm a bird! If you know, you know if you don't, then…" watch The Notebook (only the most romantic movie ever)
I always compare ziplining to how birds must feel when they're up in the air (still haven't got a proper answer back from them). Visiting La Fortuna and Arenal Volcano gives you the perfect place to go on a ziplining tour!
I recommend choosing Costa Rica Sky Adventures, a nature park located a 30-minute car drive away from La Fortuna, right near the volcano and Lake Arenal. There you can try zip lining plus many other fun activities. You will need to make a reservation on their website before your visit and present it before entering the park.
NOTE: The company doesn't provide transportation in Arenal so you'll need your own car to get there.
You can try different experiences depending on how adventurous you're feeling, and once you're up there "flying" among the treetops, make sure to take a visual shot with your eyes of the view. You won't want to forget it anytime soon!
PRICE: From US$84
6. Spend a fun day at Lake Arenal


Costa Rica's largest lake sits at the base of Arenal Volcano and it's surrounded by the most beautiful landscape! Rocky slopes, mountains, and other incredible scenery that you shouldn't miss!
If there's an activity that you've never tried before and want to do during your trip to La Fortuna, rest assured that you'll find everything you've ever dreamt of doing here!
Lake Arenal is one of the world's top three places for windsurfing, together with Lake Garda in Italy and George River in Columbia, US. The waters are just perfect for this sport! You can also try kayaking, fishing, SUP, or going on a boat ride – all kinds of water activities you can think of!
If you're looking for a tour package for your day, I will talk more about some great tours that you can try in Lake Arenal, later in the post, in BONUS#2.
7. Go underground at Venado Caves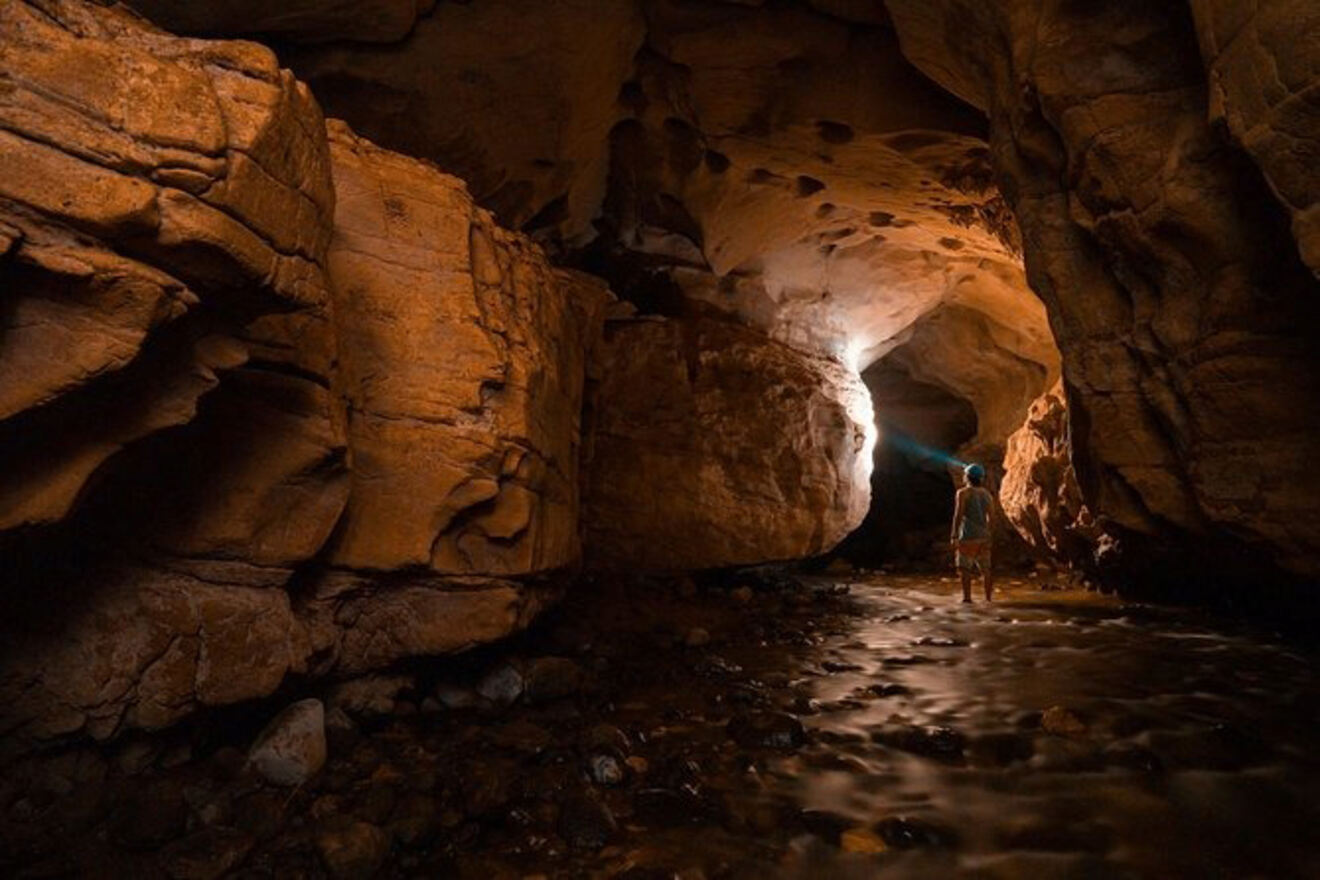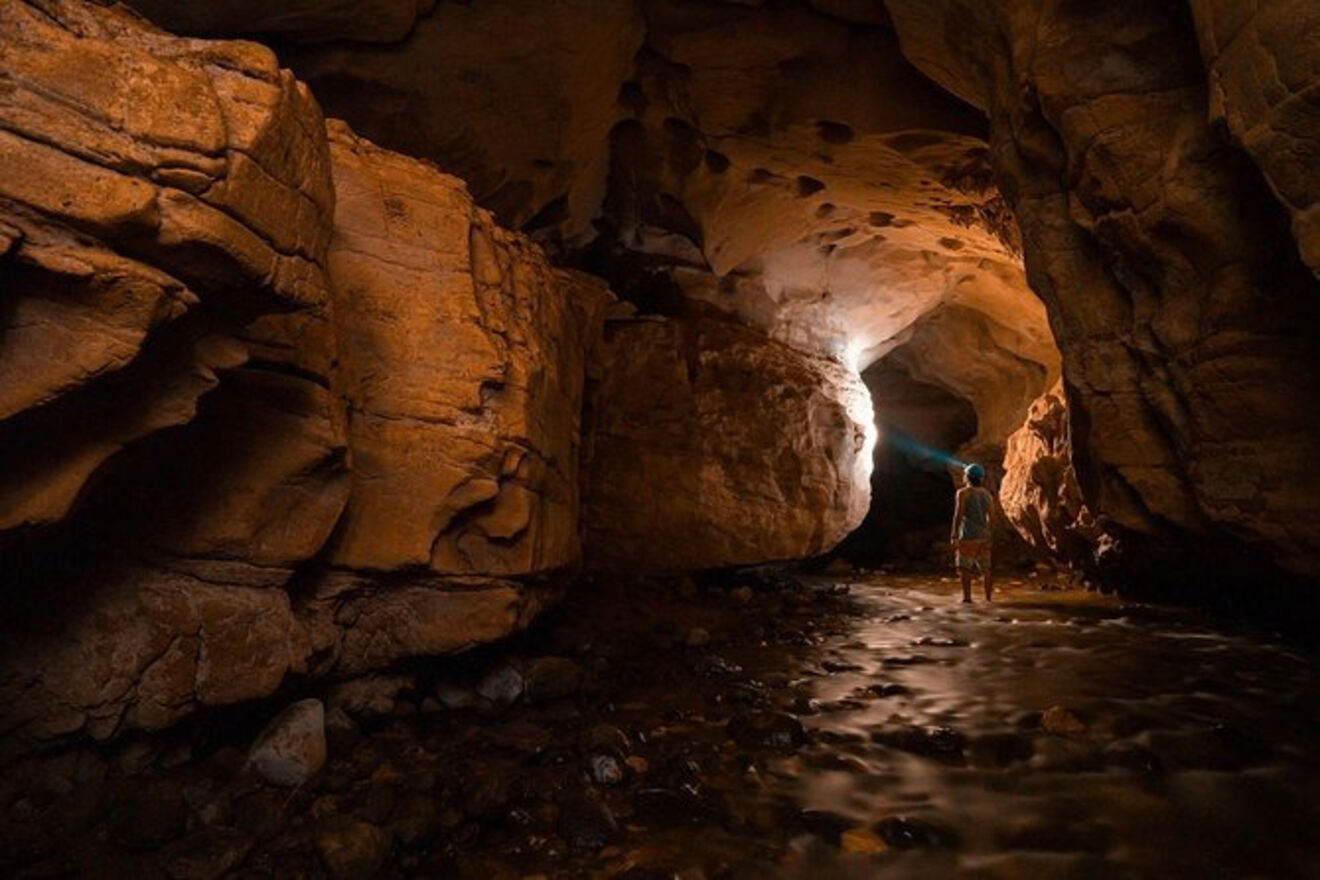 Ready to see some cool limestone stones and stalactites? I sure am!
Just make sure you don't get scared by the caves' inhabitants, bats, and marine spiders. You're visiting their home so I'm sure they'll make you feel welcome!
Located 1 hour away by car from La Fortuna town, the Venado caves should be on your itinerary. The underground world of La Fortuna and Arenal Volcano is just as exciting as what you'll see above!
The caves consist of 10 chambers of carbonate minerals of different sizes, and you'll come across a river as well (trust me, you'll thank mother nature for this river once you've been underground for a while!)
The tour can seem a bit intimidating at first, the pathways are super narrow, and your feet will probably be covered in water (don't worry though, you'll receive safe equipment, including rubber boots) but it's so worth it if you enjoy these types of activities!
PRICE: US$28 for the entrance or US$75 guide with transportation
8. Try whitewater rafting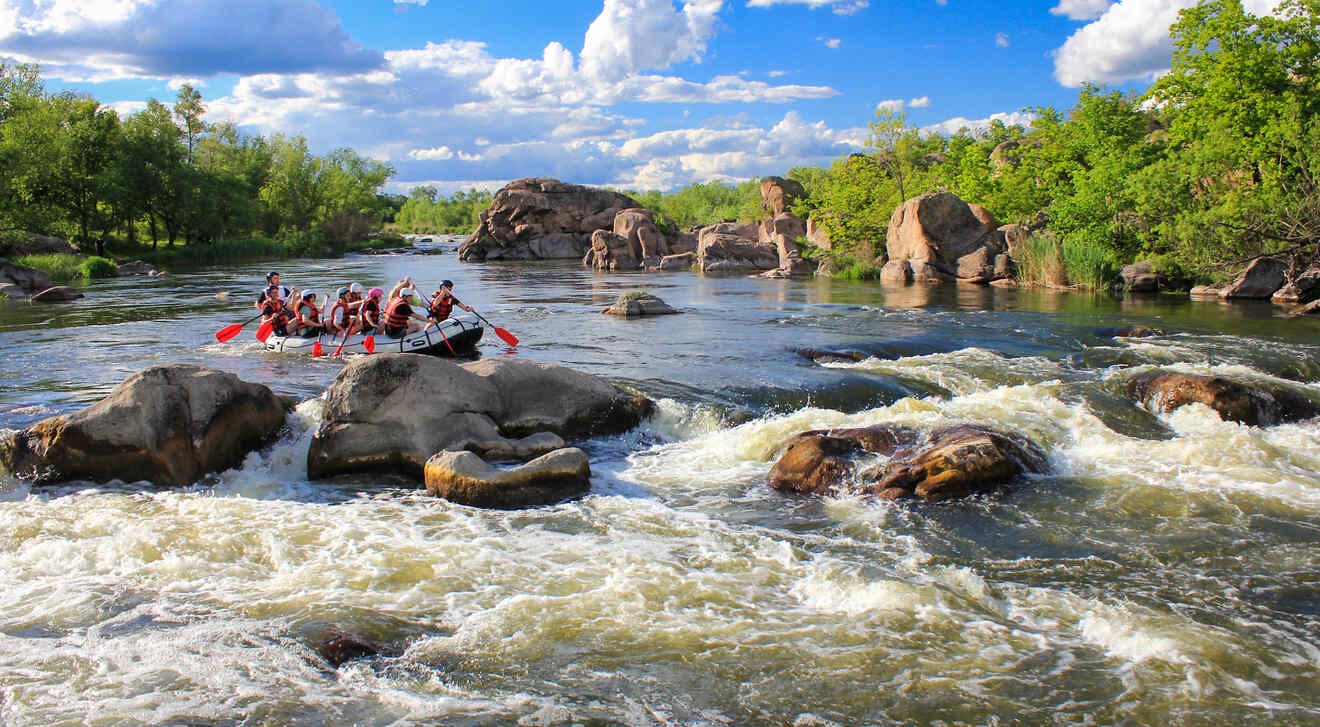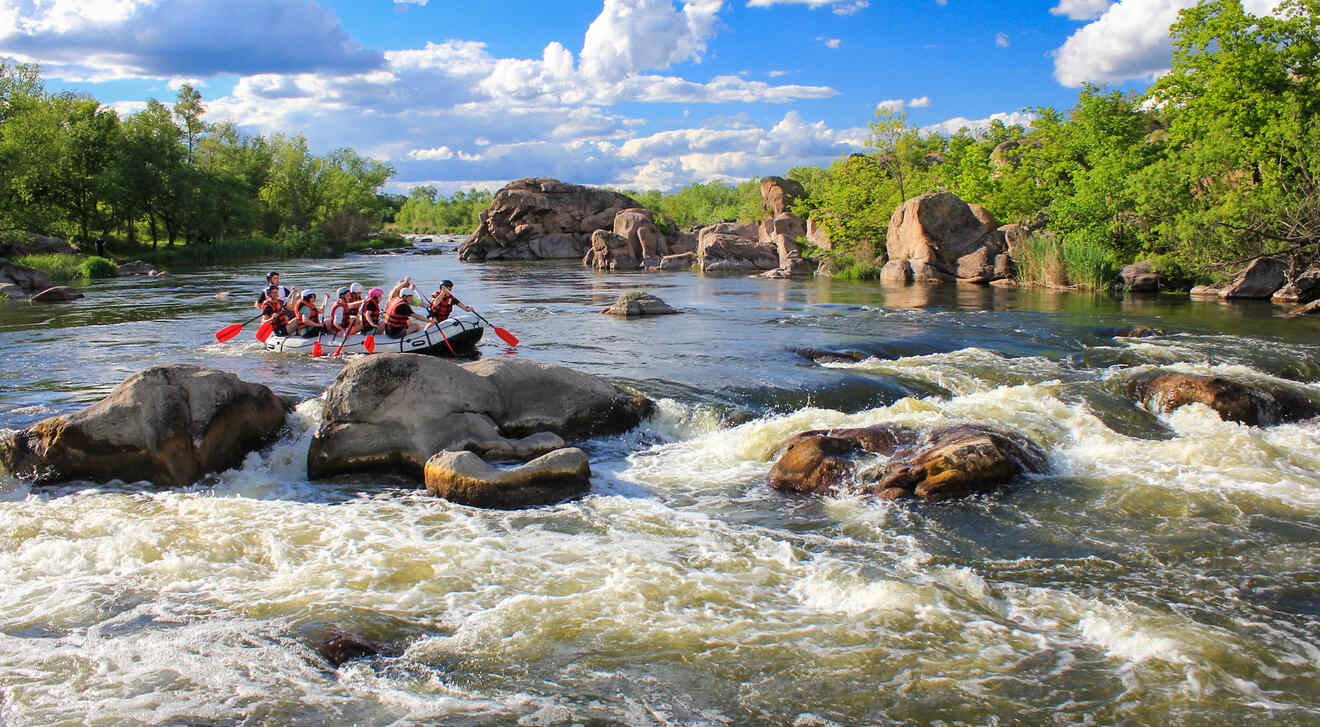 Ready to raft-like you've never rafted before?
There's bound to be at least one rafting trip when you visit La Fortuna! The truth is, it's so much fun you'll be left at the end wanting to go on another round!
Best place to go whitewater rafting? Easy:
Balsa River (this is the one we choose). But you can also choose Sarapiqui River (located 1,5 hours away from La Fortuna or Rio Pacuare (3 hours away). We chose Balsa as it was the closest.
There are 5-10 companies operating in the area, we went with Costa Rica Descents. All companies have literally the same route – it is level 3 and level 4, which are the hardest ones, but super exhilarating! They also provide transport as the river is located 45 minutes away from La Fortuna.
NOTE: Bring a pair of wet shoes or sacrifice the shoes you have on (like I did). You can also rent shoes from them but buy a pair for US$10 from a supermarket before you head there.
PRO TIP: The price on the website is 85$, but we booked the trip to La Fortuna's main square for US$60, nice saving! Just look for a guy selling tours outside (it is not an office, just a stand outside).
PRICE: US$60
9. Test your hiking techniques at Cerro Chato Volcano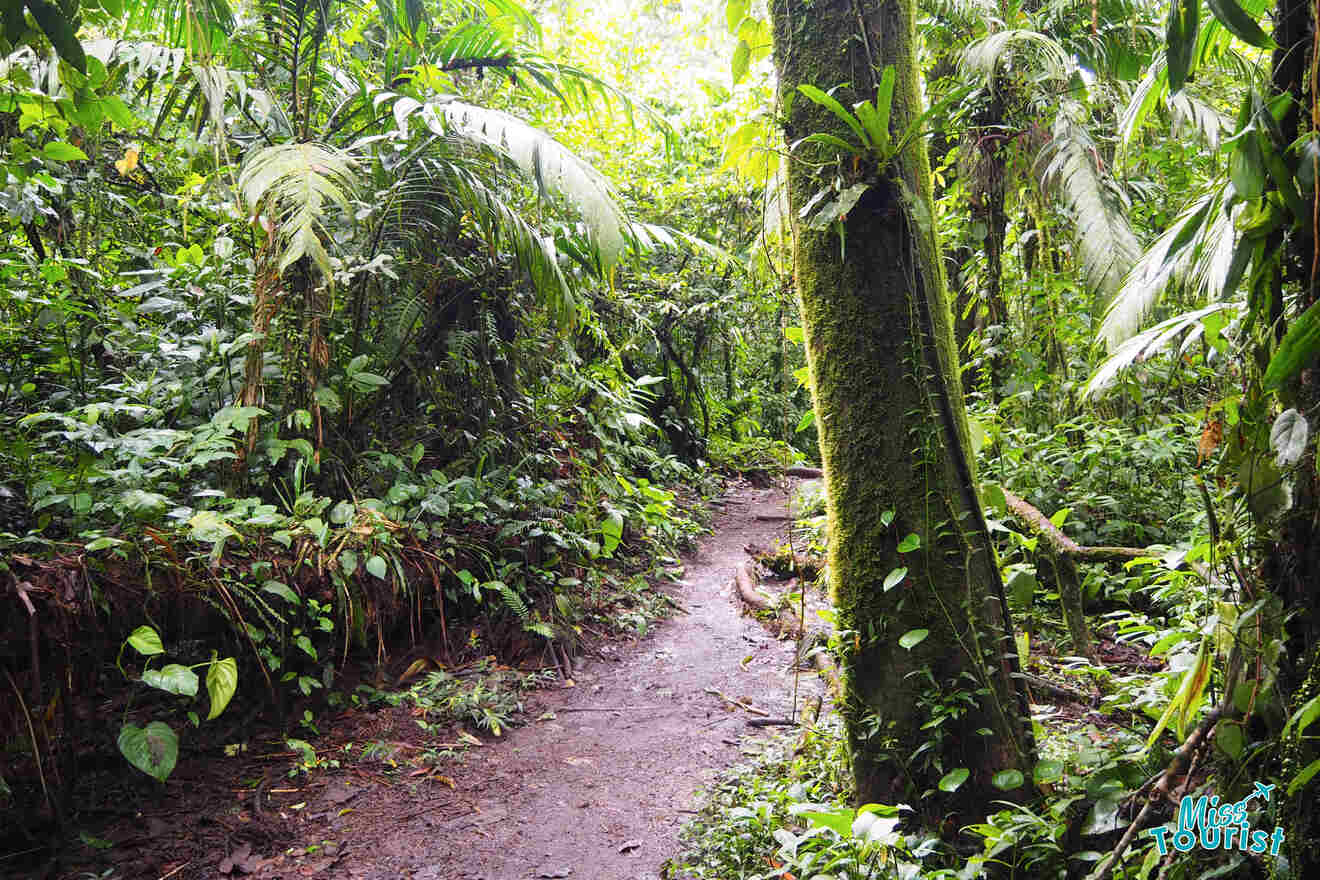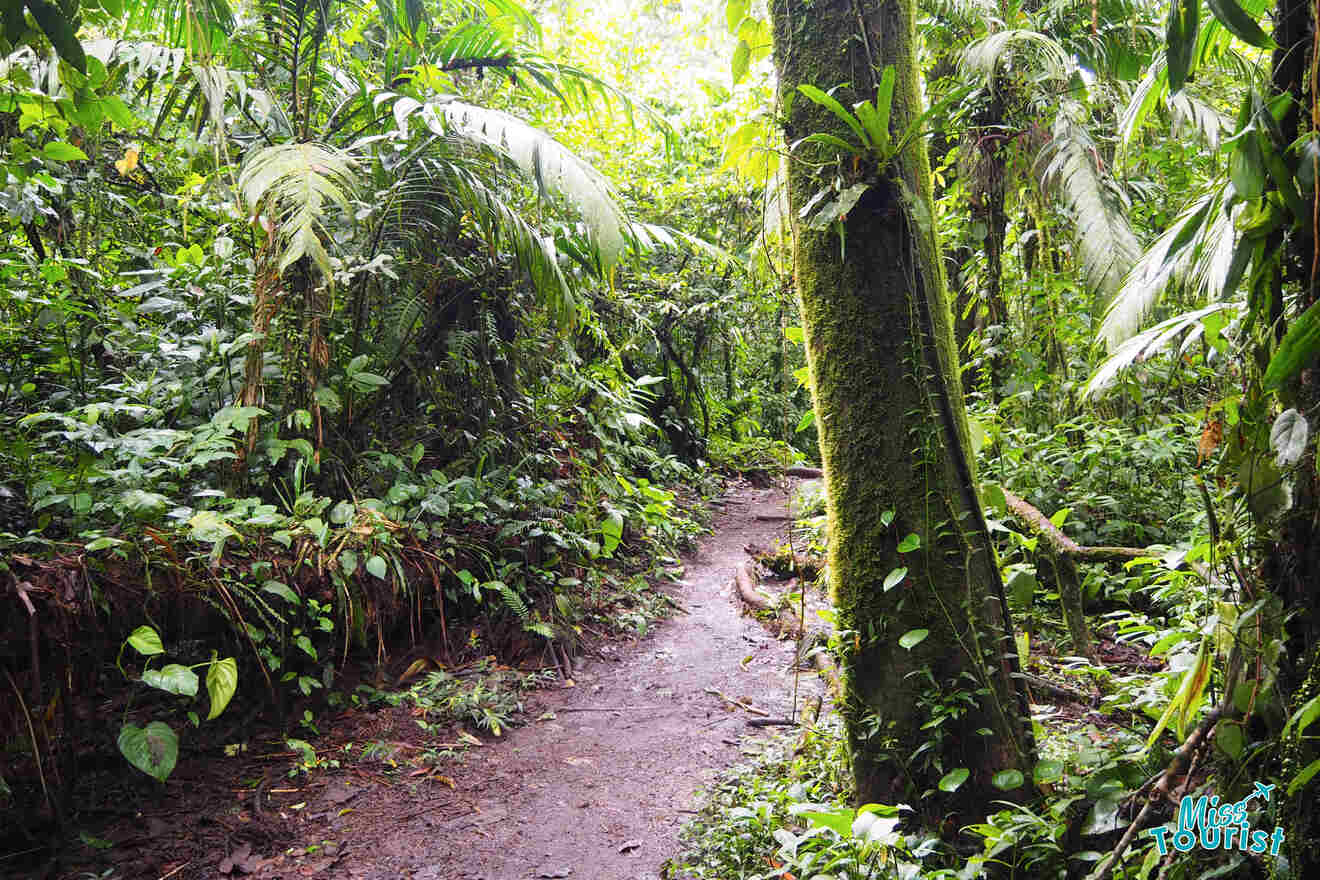 Warning: challenging hike!
Spent a nice couple of days in the hots springs in La Fortuna while eating all the delicious food in Costa Rica? I think you're ready for some adventure!
Hiking the Cerro Chato Volcano is not for everyone but if you feel confident enough and want to visit Arenal Volcano's little brother, then stick around for a few minutes!
Fun Fact: The last eruption of Cerro Chato created the gorgeous waterfall La Fortuna!
Many people overlook Cerro Chato, although it's located right near Arenal Volcano, but if you're into hiking, I think you'll love it here!
In the past, you could start hiking from the Arenal Observatory, but now that part is closed and you must hike from the Green Lagoon Lodge entrance.
The hike lasts almost 2 hours, and it's pretty challenging. The trails are steep but they are well-marked. However, there aren't ropes or handrails to help as you make your way up to the volcano. Expect many rock roots, and as you hike down you might just have to slide down while grabbing the roots for the support!
PRO TIP: Wear shoes with a good grip and some clothes that you don't care so much about because you're most likely to get super dirty! (*Christina Aguilera's song start playing in mind)
Is all this worth it?
YES! Just wait until you'll catch the first glimpse of the green lake and when you see the surrounding fauna! You might want to do it again just for this feeling!
10. Explore Arenal Volcano while horseback riding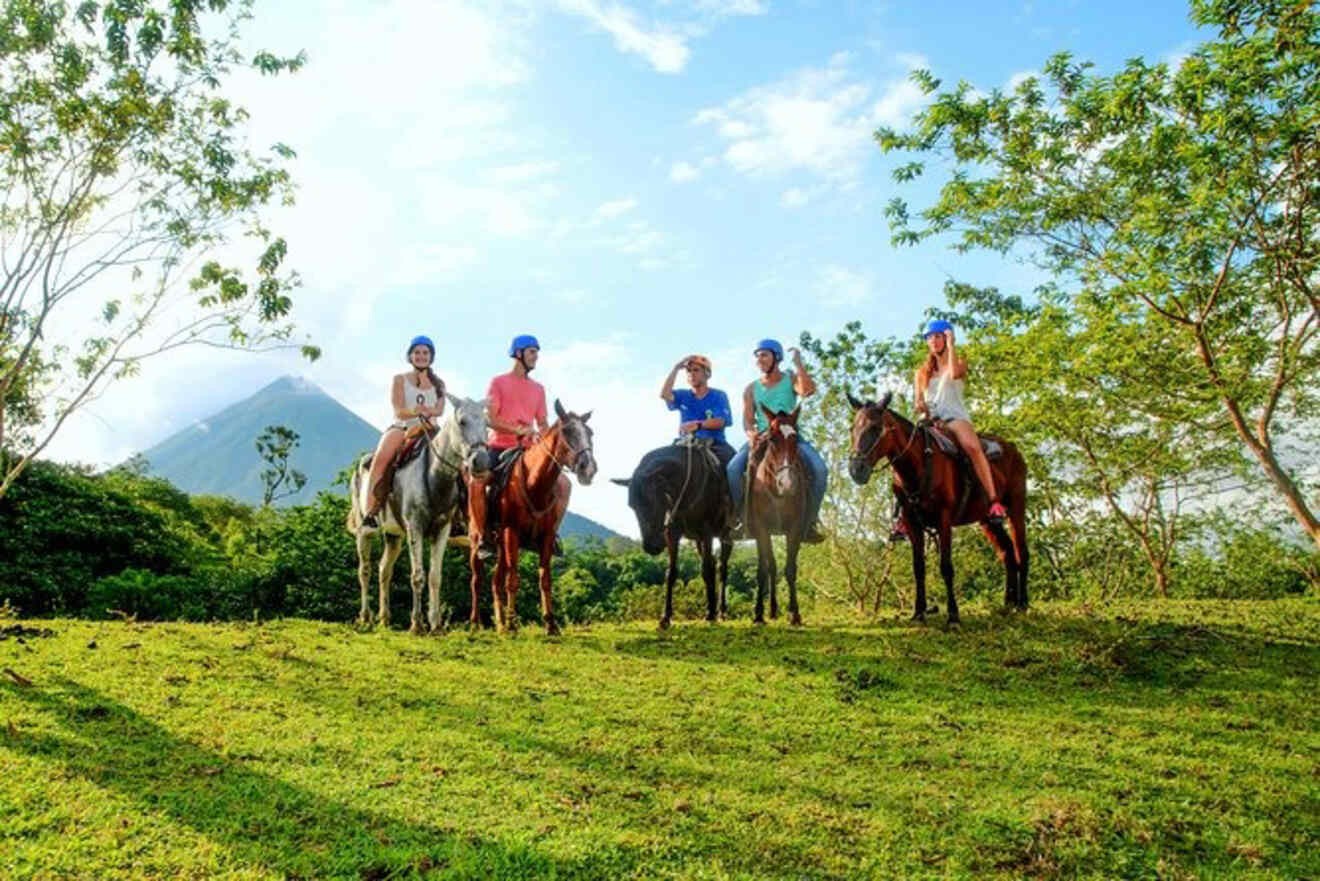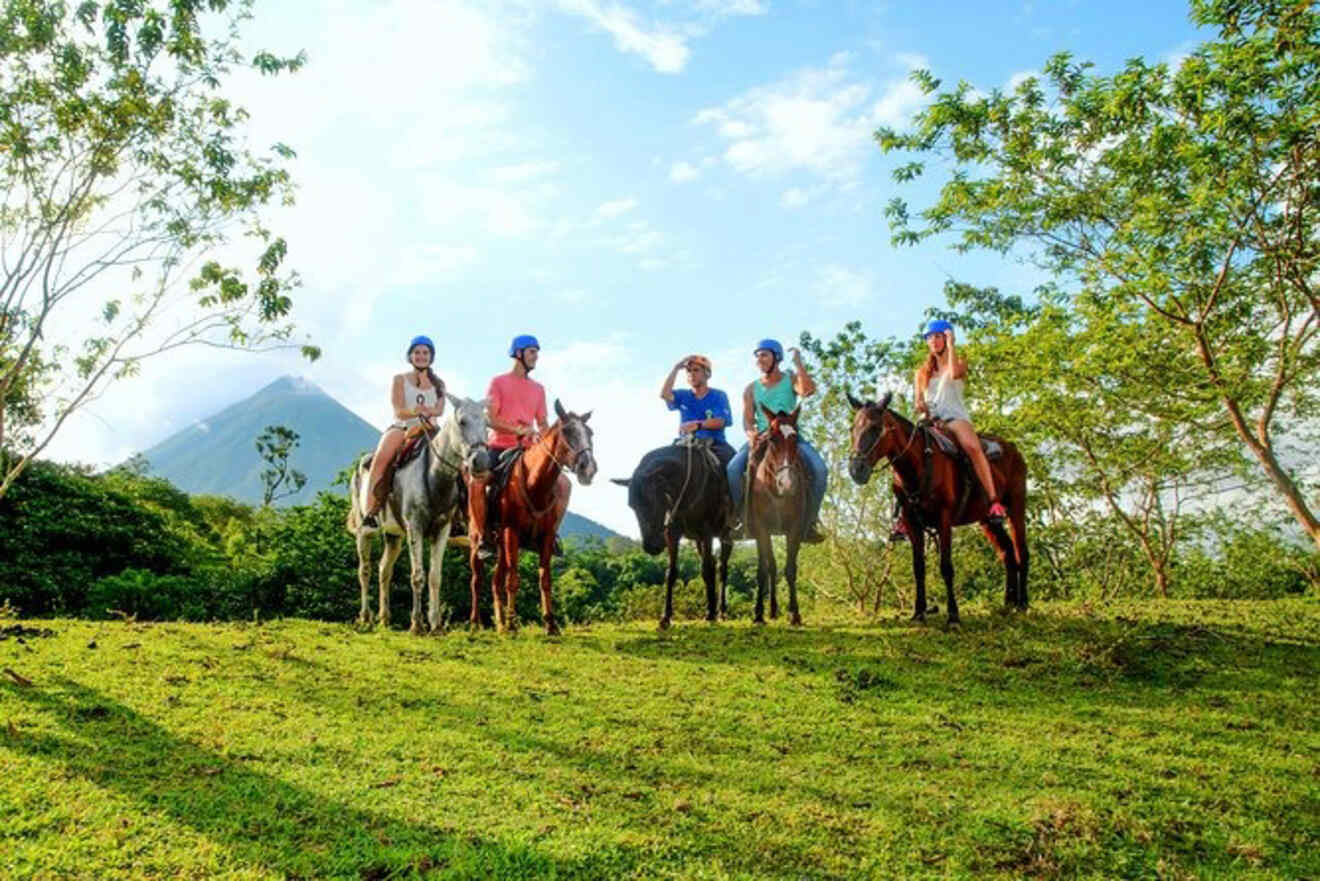 Sure, we all love hiking and rock climbing but just wait until you try a horseback ride! It's one of the most exciting things to do in La Fortuna, Costa Rica!
The horseback ride starts from La Fortuna Waterfall, lasting 4 hours and the activity is available for beginners as well as more advanced riders.
This is a unique opportunity to admire the fauna wildlife, not to mention incredible views of Arenal Volcano from horseback!
You can slow down at any time if you catch a cool place, plus imagine the unique pictures that you'll take! The tour guide will provide you with all the equipment you need but make sure you grab something to eat before going.
PRICE: US$77
11. Discover the Butterfly Conservatory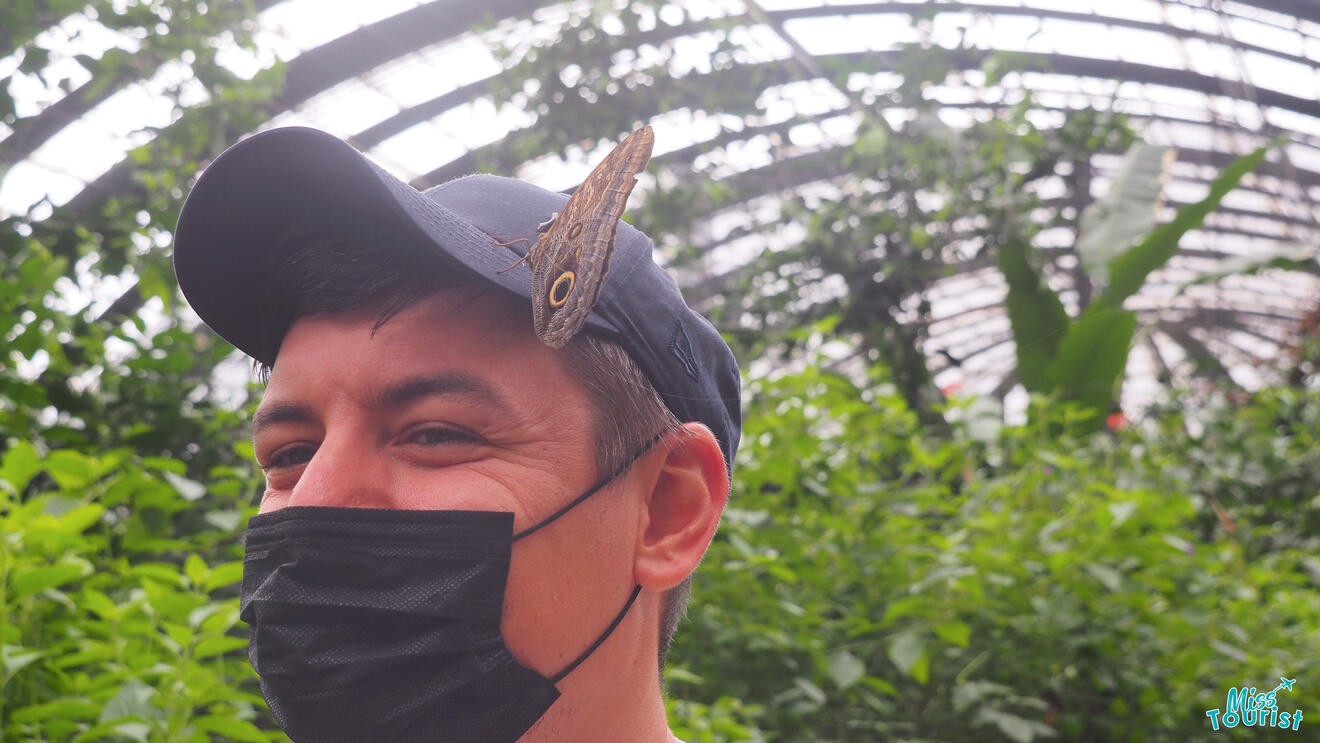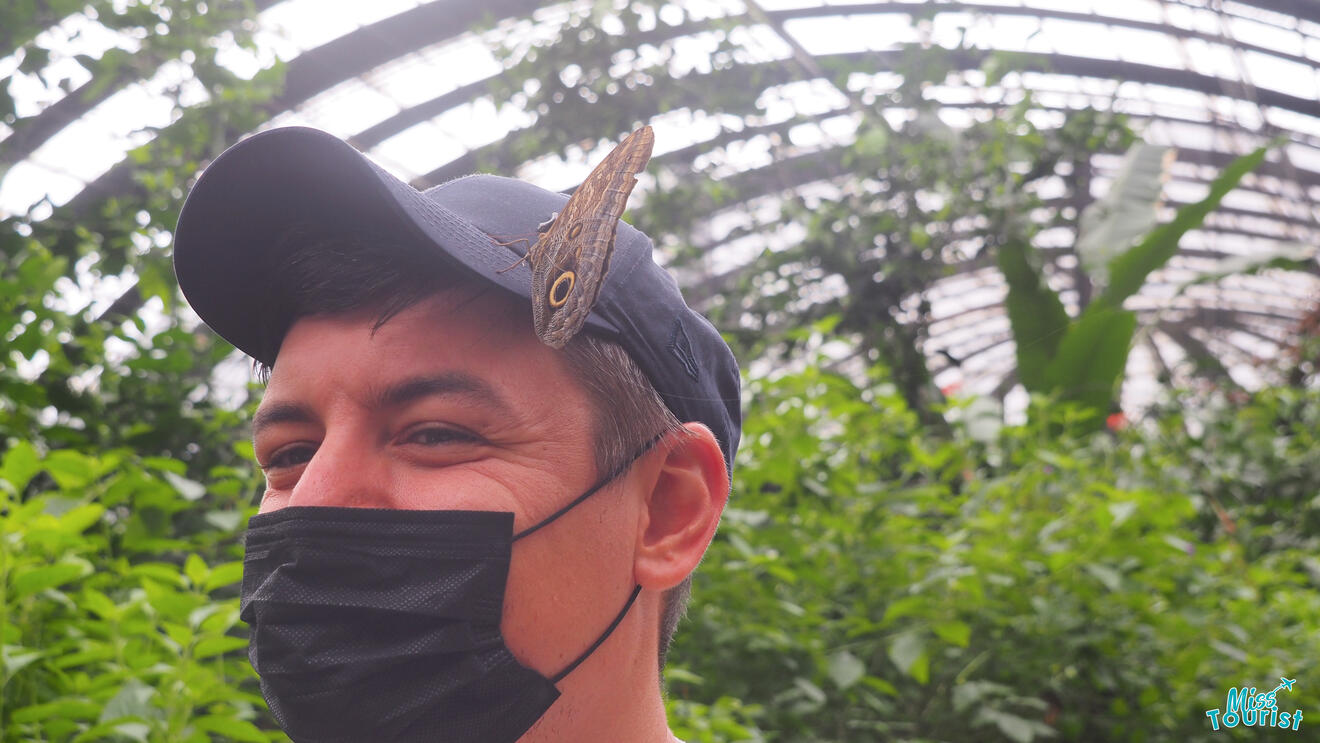 Welcome to one of the most magical places in Costa Rica and one of the best things to do in La Fortuna with kids!
Although you'll find many butterfly gardens during your trip to Costa Rica, the Butterfly Conservatory is the largest one in the country! It's only a 30 minutes drive away from La Fortuna!
Grab your camera and get ready to be amazed by the beauty of these butterflies who bring so much beauty into our world!
You'll also learn all about the life of a butterfly, its anatomy, life cycle, diet, and habitat. The Conservatory hosts a wide variety of butterflies (let me know in the comment which one is your favorite) but they also have frogs, snakes, and turtles!
Although your eyes will be on the butterflies every second, take some time to look around. The land is as beautiful as any other corner of La Fortuna and you may also spot some howler monkeys who made a home out of the rainforest.
PRICE: US$15
12. Take a day trip to Tenorio Volcano National Park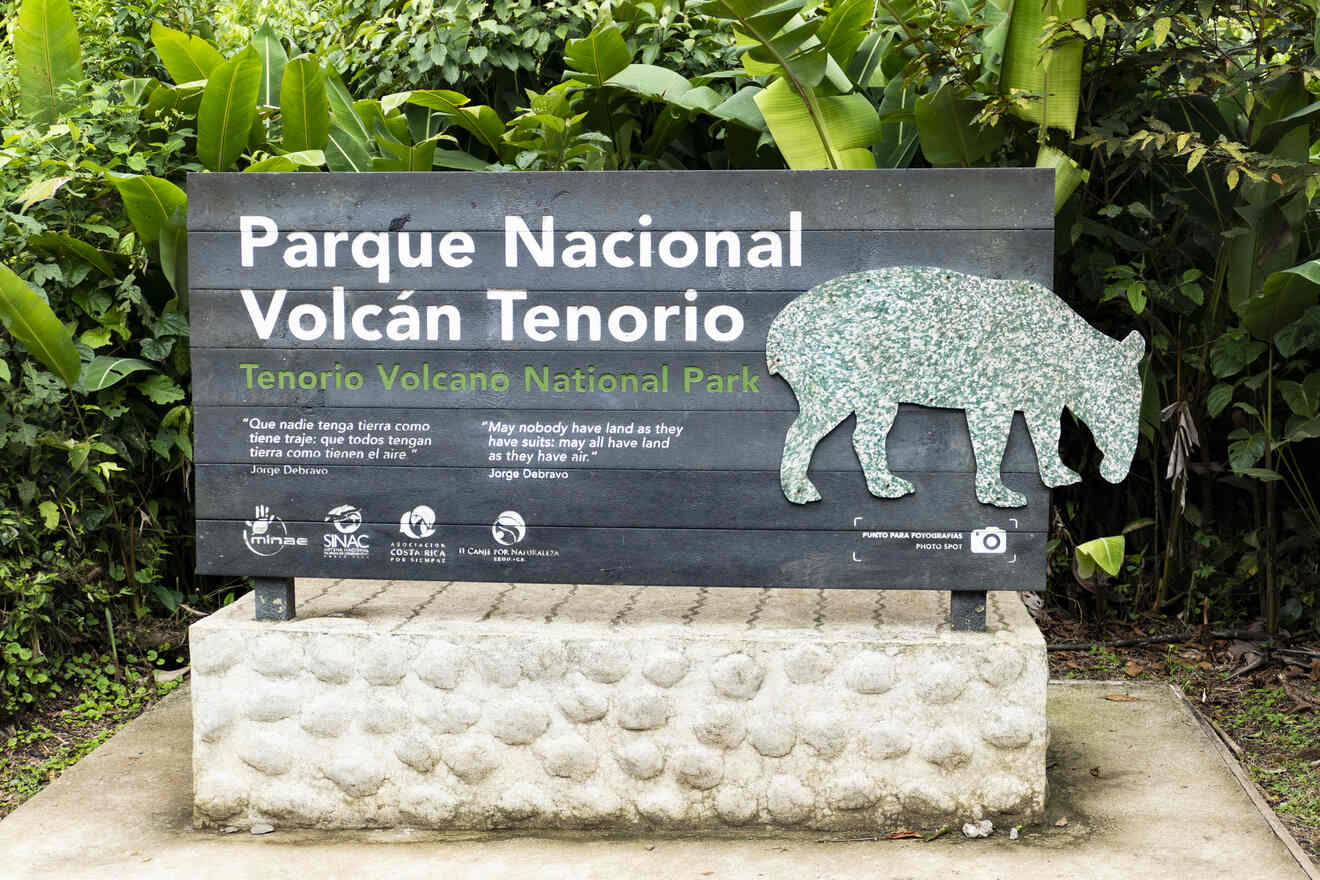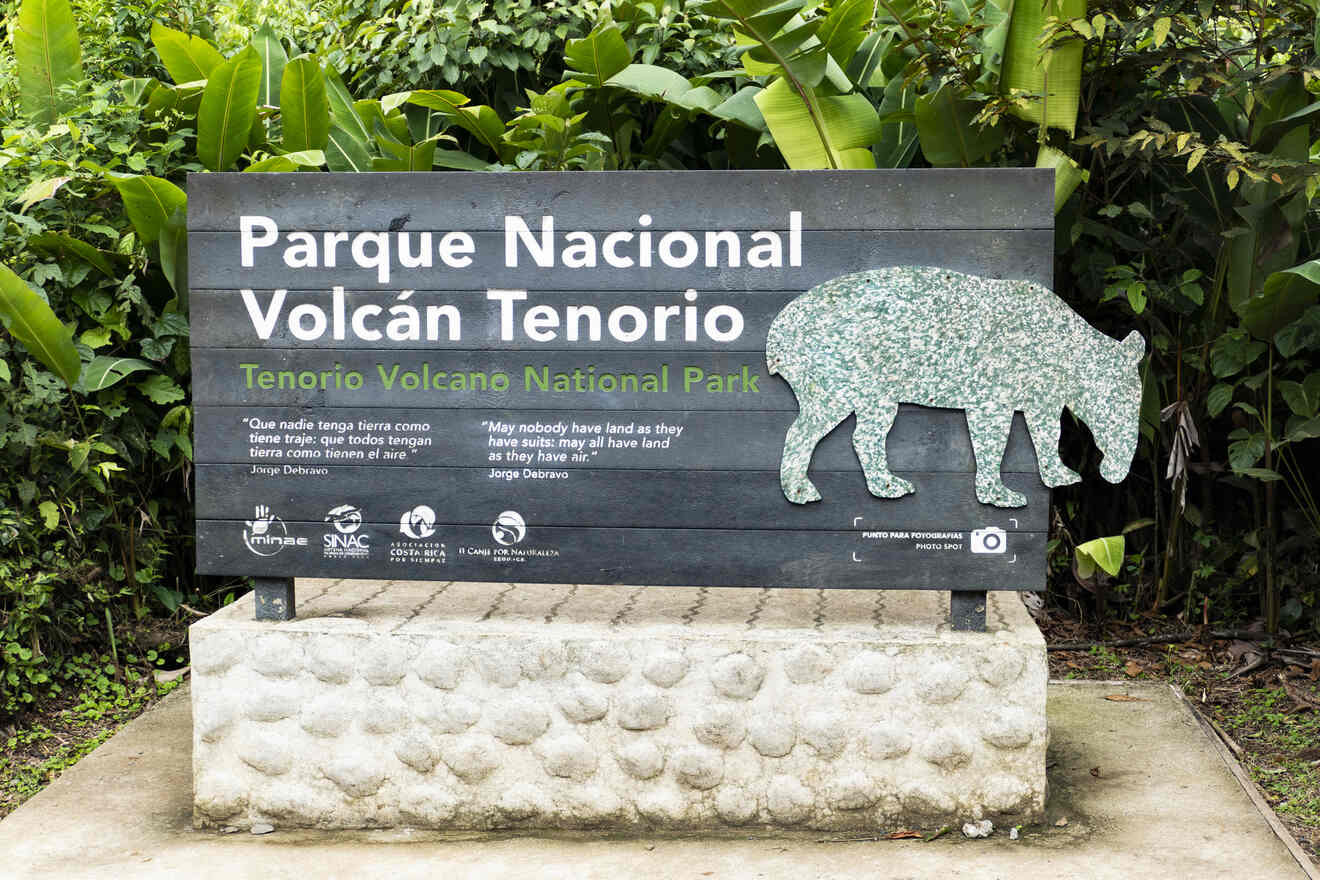 If you still have some time for a day trip I have a pretty cool one for you!
Tenorio Volcano National Park is located 2 hours away from La Fortuna, and it's one of the most magical places you'll see in Costa Rica (I might've said this a few times but I mean it!). Just look at the turquoise Rio Celeste Waterfall, and you'll agree with me.
Honestly, I wouldn't be surprised if fairies live here!
The National Park offers the same kind of activities that you'll find in Arenal and La Fortuna, Costa Rica:
Hiking, exploring the hanging bridges, and the beautiful Rio Celeste Waterfall (the main attraction of the park). You'll have to hike for around 30 minutes to reach this place and then leave the trail and climb down a staircase (which looks just as magnificent).
Other highlights of the park are the Blue Lagoon and the borbollones (bubbling hot pot). Their smell of sulfur is pretty strong so you're sure to smell them before you see them.
PRO TIP: Bring a reusable water bottle with you during the day trip as they don't allow the use of single-use water bottles in the park
PRICE: US$12
BONUS 1: List of all the best hot springs in Arenal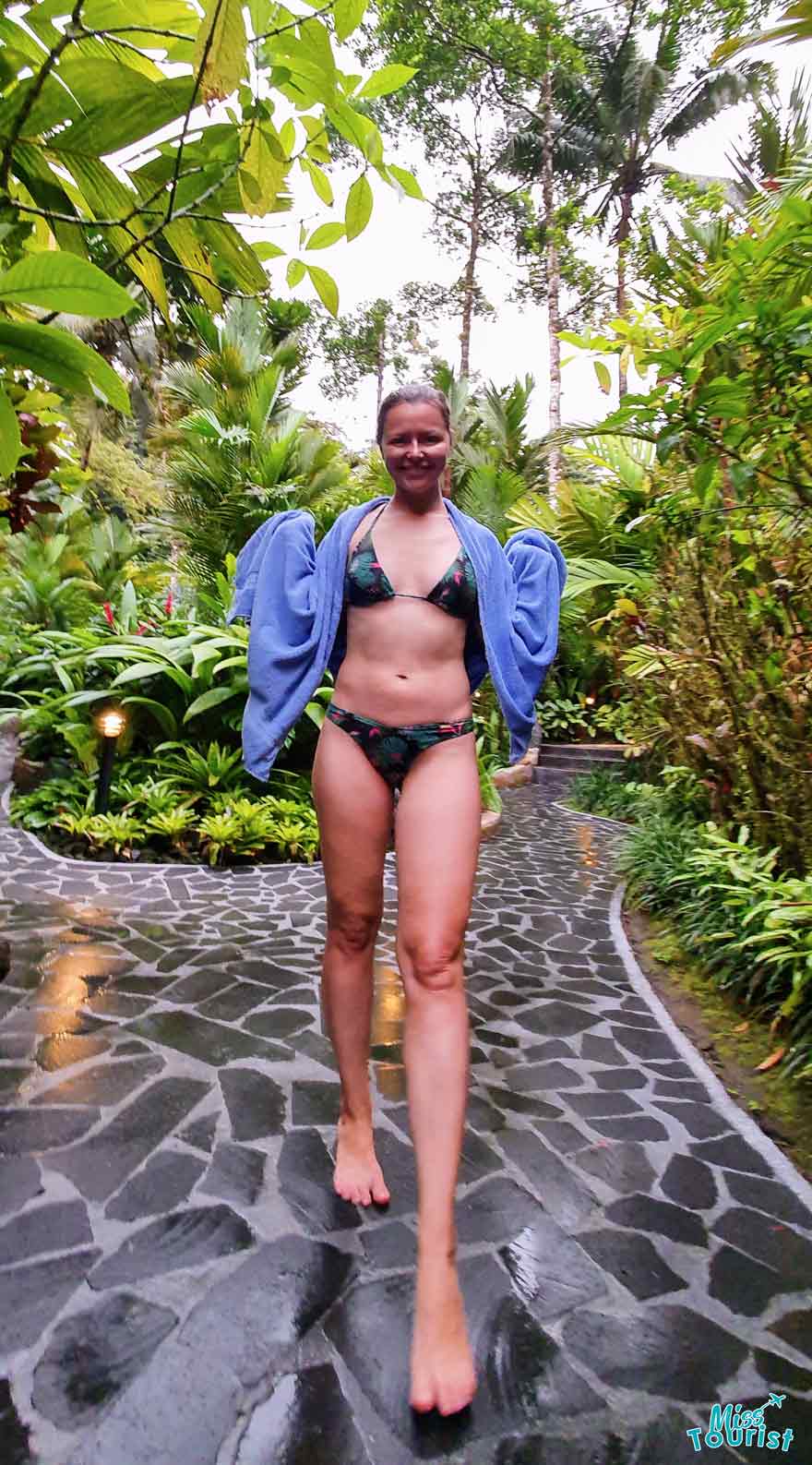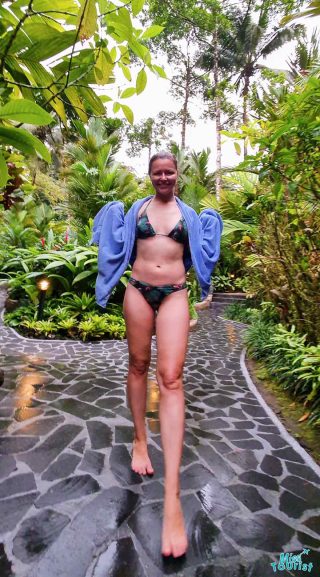 There are so many hot spring resorts in La Fortuna, Arenal, and who doesn't want to spend a few hours relaxing, soaking in the water heated by the volcano!
As you'll see on google maps, most of them are located on the same street, so location isn't really a factor but there are many differences in price and facilities.
Here is a list of the hot springs in the area from most to least expensive:
Tabacon Thermal Resort – An upscale resort that offers separate deals for their thermal pools. The eco-friendly resort has 5 springs and a cold river.
Full day with 2 meals – US$110
Full day with 1 meal – US$89,
Early or Late (10 am – 2 pm or 6 pm – 10 pm) with food – US$75,
Room (hot springs included) – from US$440 per night
The Springs Resort & Spa – Enjoy the views of Arenal Volcano while chilling in the natural hot springs. You can purchase a 2 days pass for US$100. They also host the Club Rio Adventure Center here if you want to try kayaking or other activities.
Ecotermales Hot Springs – Feel like a local at these hot springs, surrounded by a lush garden. The entrance costs US$44 or US$72, with lunch and/or dinner included.
Baldi Hot Spring – This one is a bit more affordable, but it's super big, and it has 25 hot springs surrounded by lush gardens.
Entrance – US$39,
Entrance + dinner – US$59,
Full-day + lunch + dinner – US$79.
Room prices start from US$230
Titoku – Offering a great atmosphere where you can relax in the loungers. The entrance costs US$30 and US$63 for access and lunch or dinner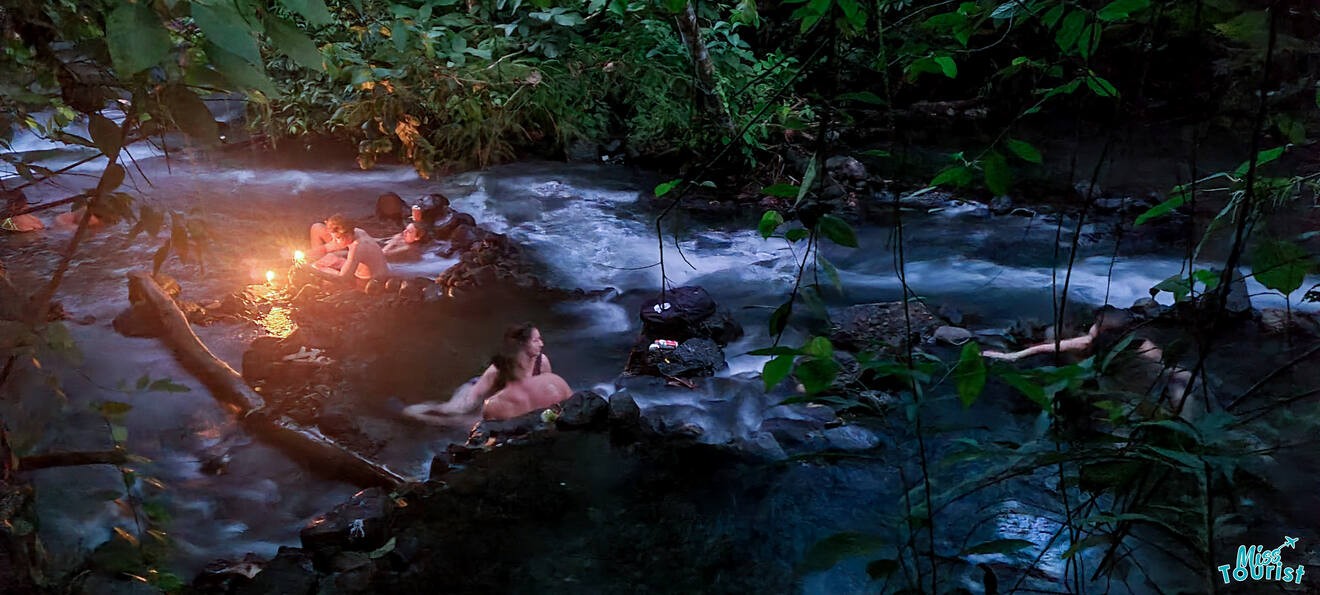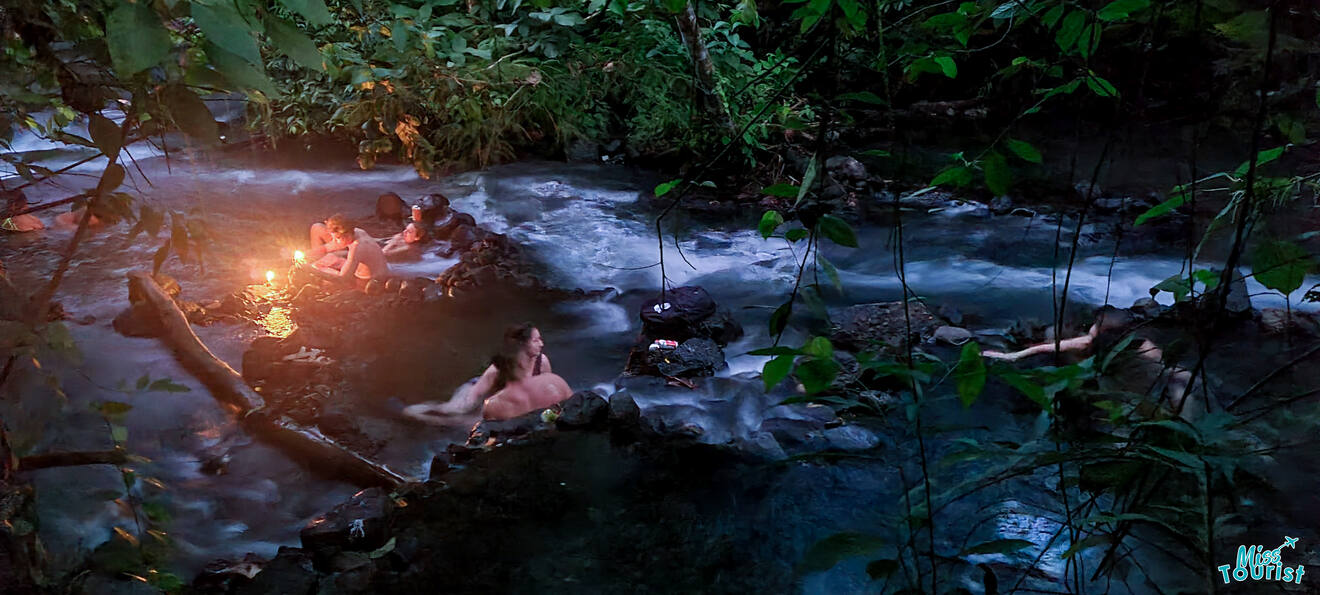 Paradis – Relax in the hot springs while admiring the views of Arenal Volcano! A full-day pass costs US$28, a day pass plus a meal costs US$45, and a premium day pass (with a meal and spa access) costs US$153
Kalambu – Waterslides, a children's play area, and hot springs! A perfect place for you and the family. The general tickets cost US$20 and US$30 for people who also want lunch or dinner
Las Termalitas – Pay only US$8 and enjoy relaxing in the 9 hot springs at this resort hotel. For anyone who wants to have their own hot springs hotels like Kioro, offer private ones!
Rio Chollin – This is one of the most popular hot springs in La Fortuna, as it's free for all visitors (here is the google maps link). You will find parking spaces near the free hot springs (one on the right of the road and one on the left of the road)

NOTE: Don't leave any valuable objects around as people and/or raccoons may take them!
BONUS 2: The best tours in La Fortuna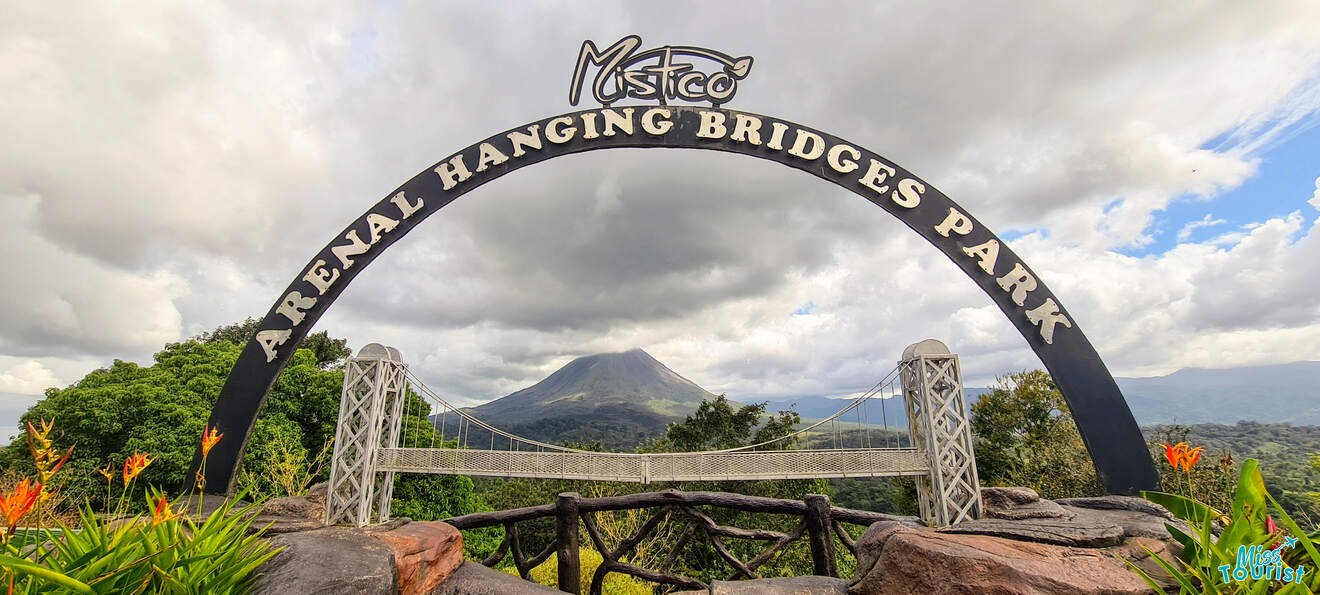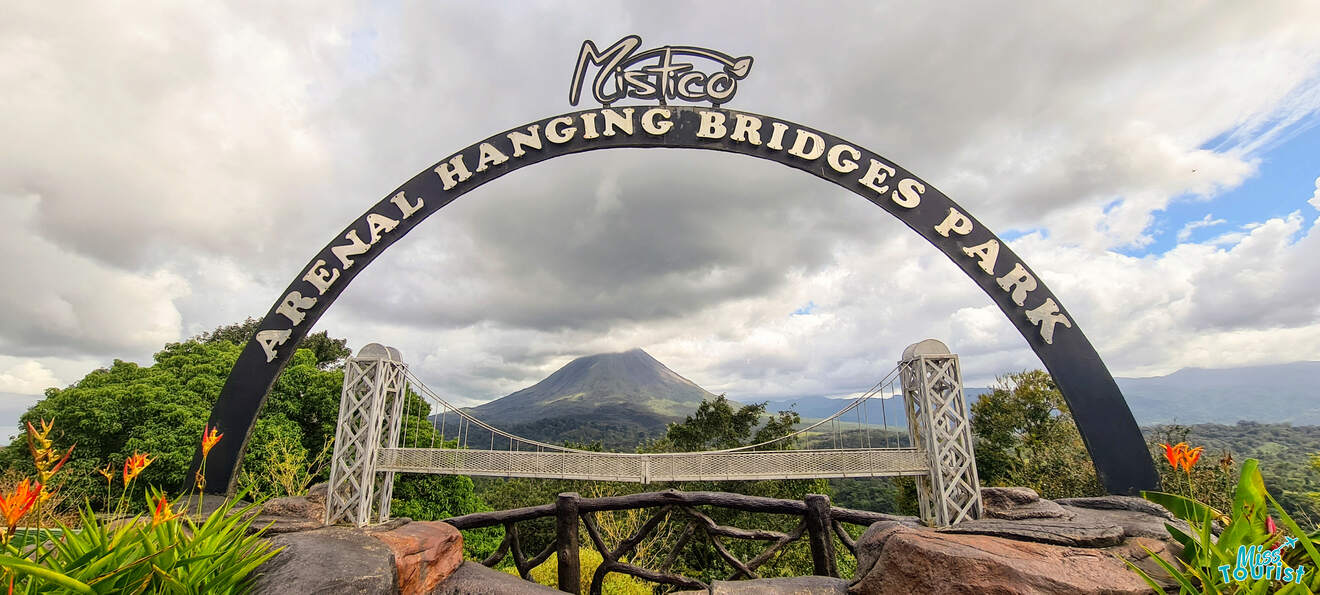 Tours are the best way to enjoy your holiday in La Fortuna, Costa Rica to the fullest! There are so many options here but I've made a list of the best ones that you shouldn't miss.
Curious?
Let's check them out: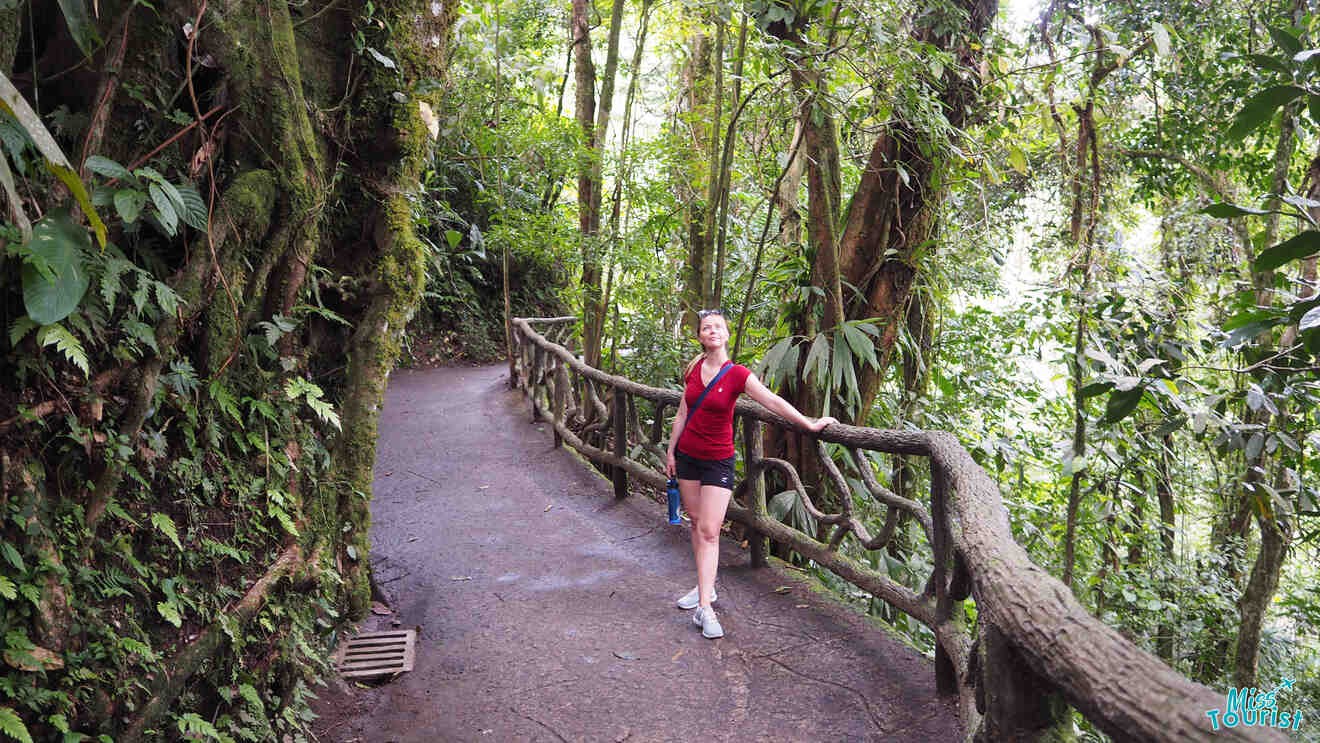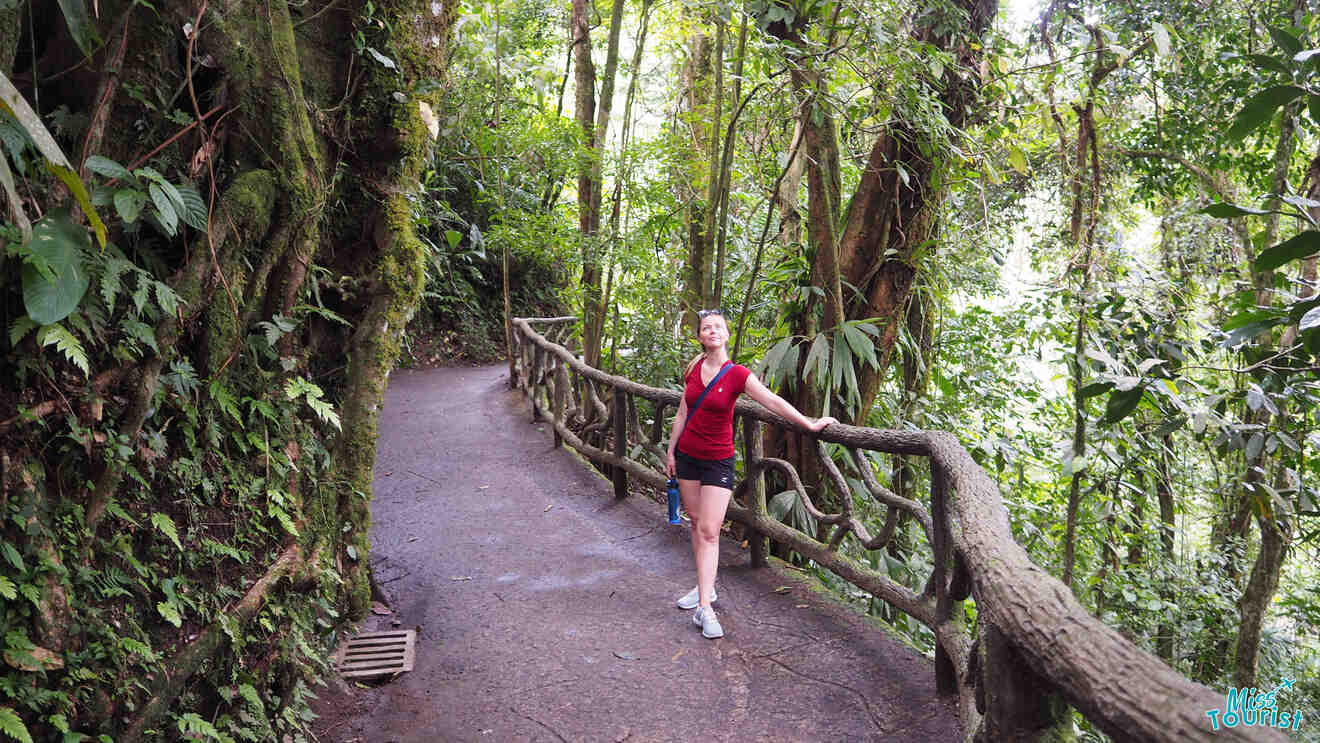 | | |
| --- | --- |
| 💯 Top attraction: | Arenal Volcano |
| ♨️ Top hotel with hot springs: | Tabacón Thermal Resort & Spa |
| 🍫 Must-try food: | Organic chocolate |
| 🌋 Best day trip: | Rio Celeste |
| 👶 Top attraction for kids: | Butterfly Conservatory |
| 🤑 Best free activity: | Rio Chollin hot spring |
| 👀 Underground activity: | Venado Caves |
Where to stay in La Fortuna, Costa Rica
I've wrapped up on the things to do in La Fortuna and now I think it's time to move to our next chapter: the best places to stay in La Fortuna and Arenal!
Before I start with the list of hotels, you should know some information about the area in order to choose the best area for you.
Downtown La Fortuna hosts the cheapest hotels in the area, but unfortunately, you won't get any views of Arenal Volcano from your hotel room. The city center is also great for people who don't have a car, as all the restaurants will be just around the corner.
The hotels located outside of La Fortuna town are usually more luxurious, and most have their own facilities like their own natural hot springs. Plus some epic uninterrupted views of the volcano!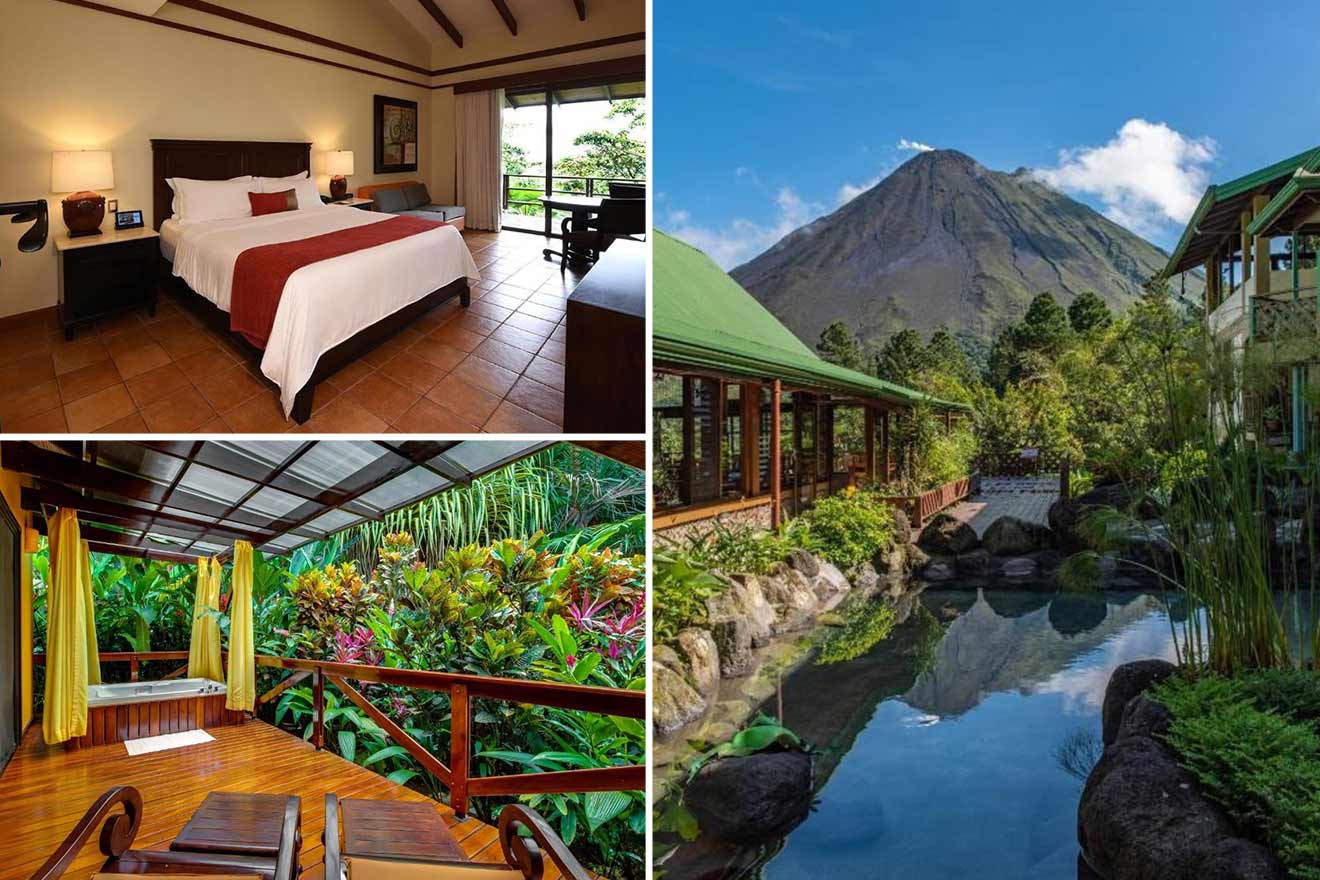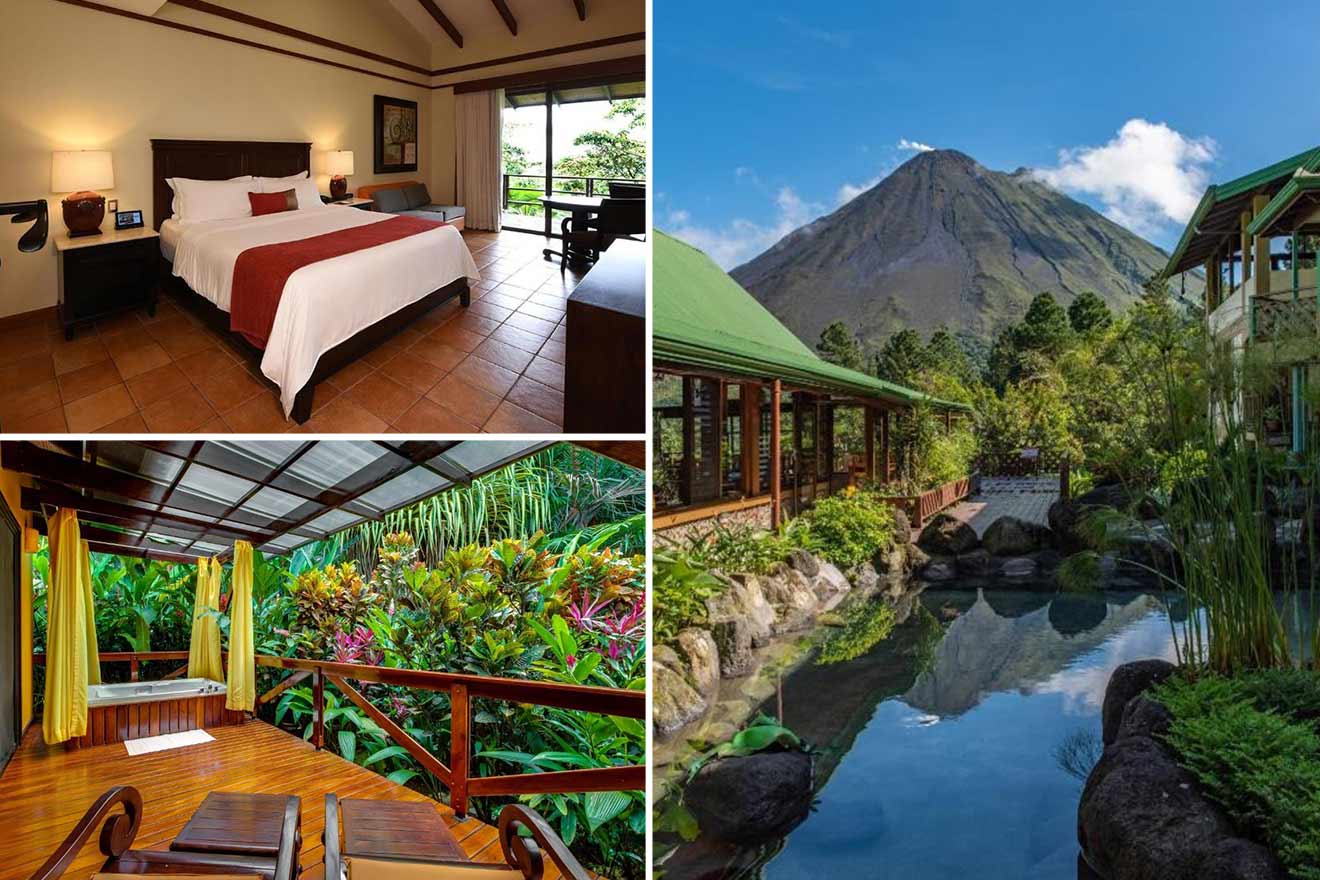 Luxury (US$440 and up)
Tabacón Thermal Resort & Spa – Enjoy your stay in La Fortuna, Costa Rica at one of the most popular resorts in the area! Chill in the hot springs and enjoy a massage at the spa center.
Nayara Gardens – I love the lush gardens of this boutique hotel! In the morning, you can drink your coffee on the balcony and enjoy a moment of solitude! The accommodation also has a swimming pool and hot springs.
Mid Range (US$180 – US$400)
Arenal Observatory Lodge & Spa – How cool is the sun terrace at this hotel? Surrounded by a tropical forest, the accommodation has a swimming pool and a games room. After a few days spent hiking and walking, take a day off at the spa and relax with a massage.
Arenal Roca Lodge – This is where we stayed and it has such a fantastic view of the volcano (that's if you're lucky and it's not cloudy). I know that some people complain that it is noisy because of its proximity to the road, but we asked for a quiet room, and we got one far from the road. It was great!
Budget (up to US$130)
Casa Torre Eco – I would sit in the hammock all day long, just chilling and enjoying the views! This accommodation has a restaurant on-site and it offers breakfast.
Hotel Bijagua – This hotel has family rooms and a large garden. Grab your swimsuit and chill by the outdoor swimming pool or go to the spa for a couple of hours.
Practical info
I think I've touched on all the main things to do in La Fortuna, Costa Rica, plus I gave you a guide on where to stay in the area. But I'm not done yet!
To help you furthermore with this trip, I've compiled a list of some practical tips that will help save some time and organize your holiday!
Sample 3 days itinerary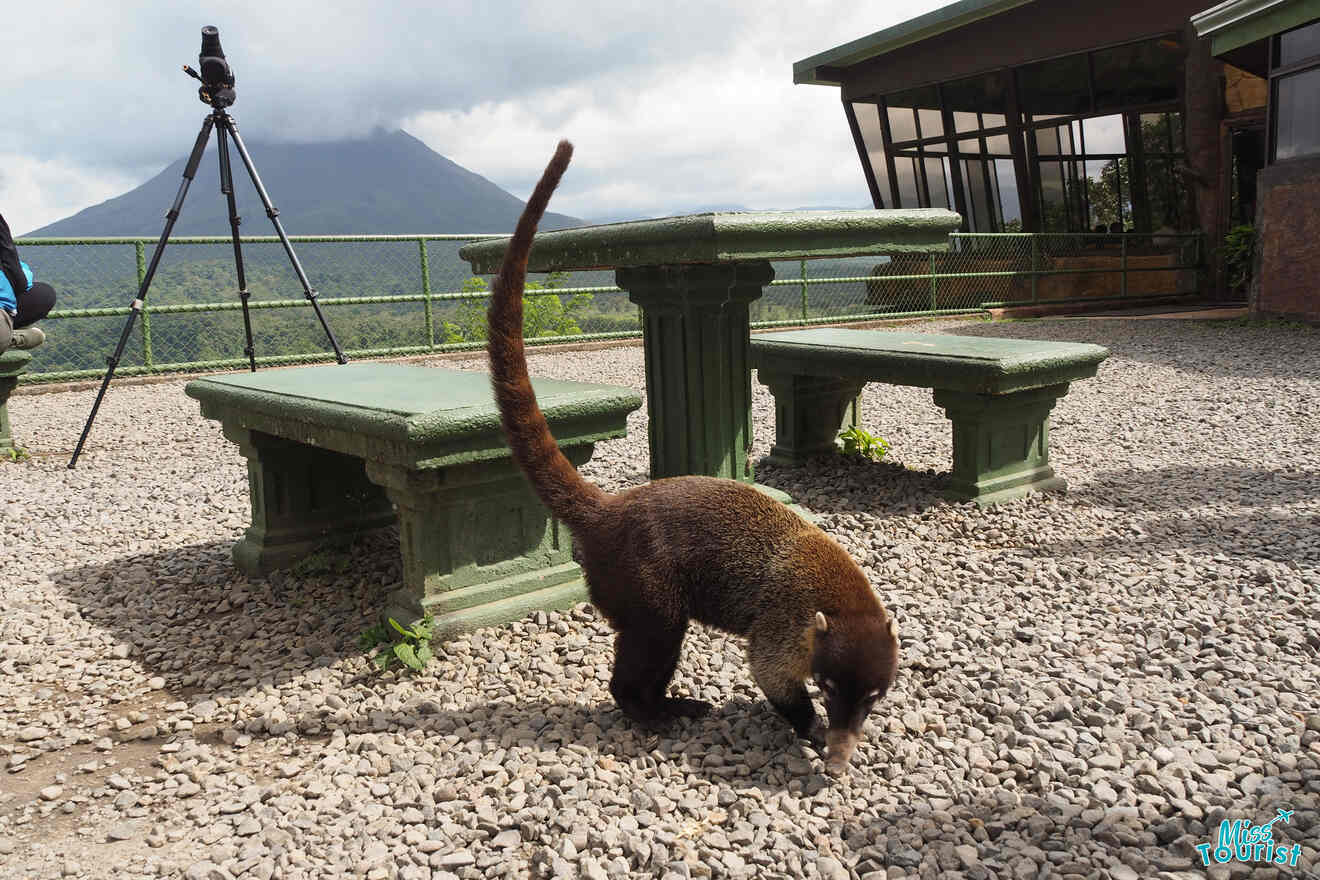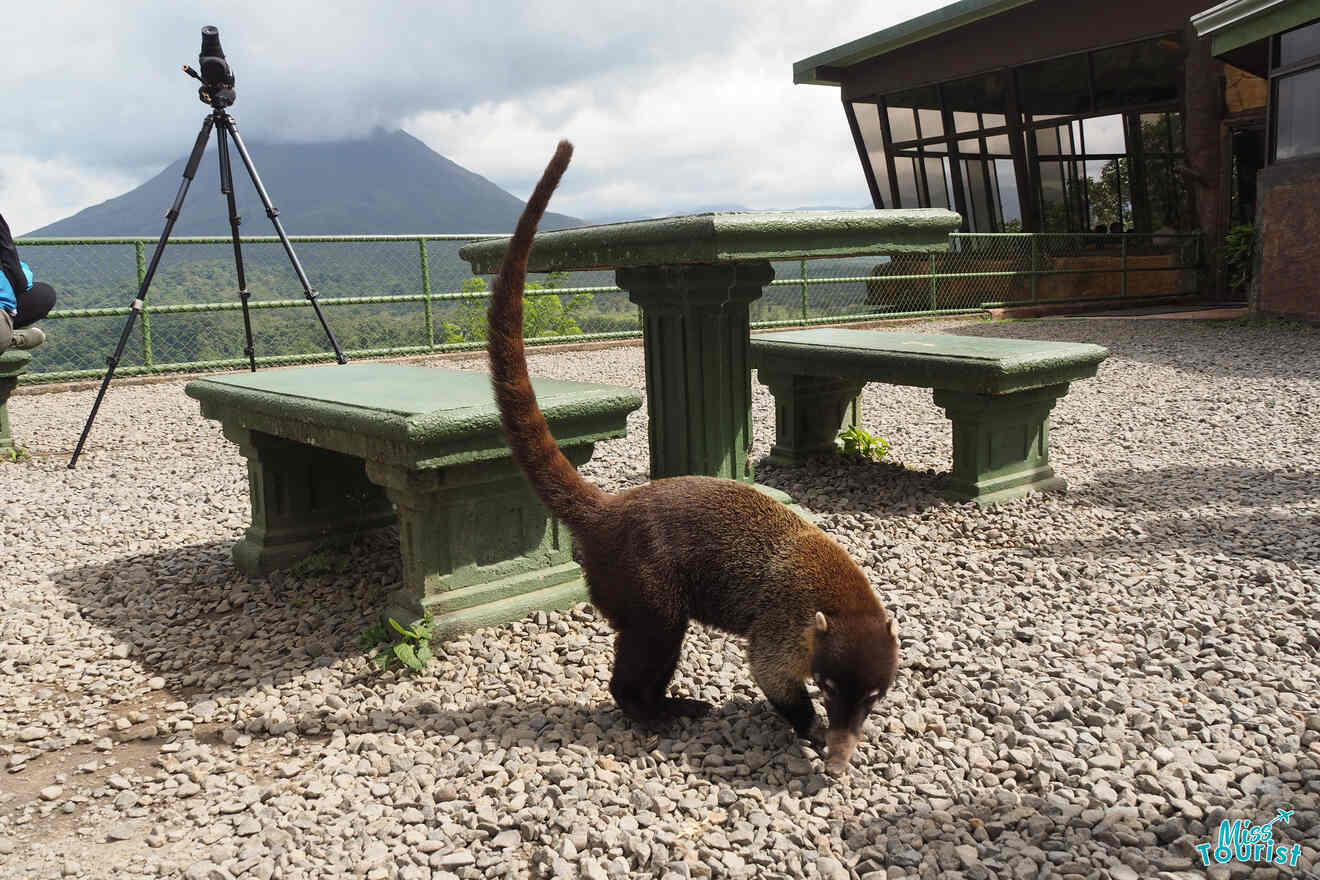 Here's a short itinerary that I used for my trip!
Day 1
Arrive from San Jose (or somewhere else?) around lunch after a morning spent traveling, then start your day of exploring with a trip to see the hanging bridges in Místico Arenal. Snap a picture there of you and some cute animals. You'll probably be tired from walking, so end the day with a little hot spring session and dinner.
Day 2
Now that you're familiar with the area, you can move to more "hardcore" stuff: hiking the volcano. I recommend starting super early to avoid the cloudy weather (8 am at the park). Since you're in "hiking mode" you can also visit La Fortuna Waterfall. You might want to curl up in bed by the end of the day, but I think a few hours in the free hot spring will make you feel so much better.
Day 3
Got those last-day blues? I know! I get them all the time, but there's nothing like a bit of whitewater rafting to cheer you up! Get up around 8 am so you can spend a few hours there and leave for home around 3 pm so you don't get back too late. A perfect 3 days in La Fortuna!
How to get to La Fortuna from San Jose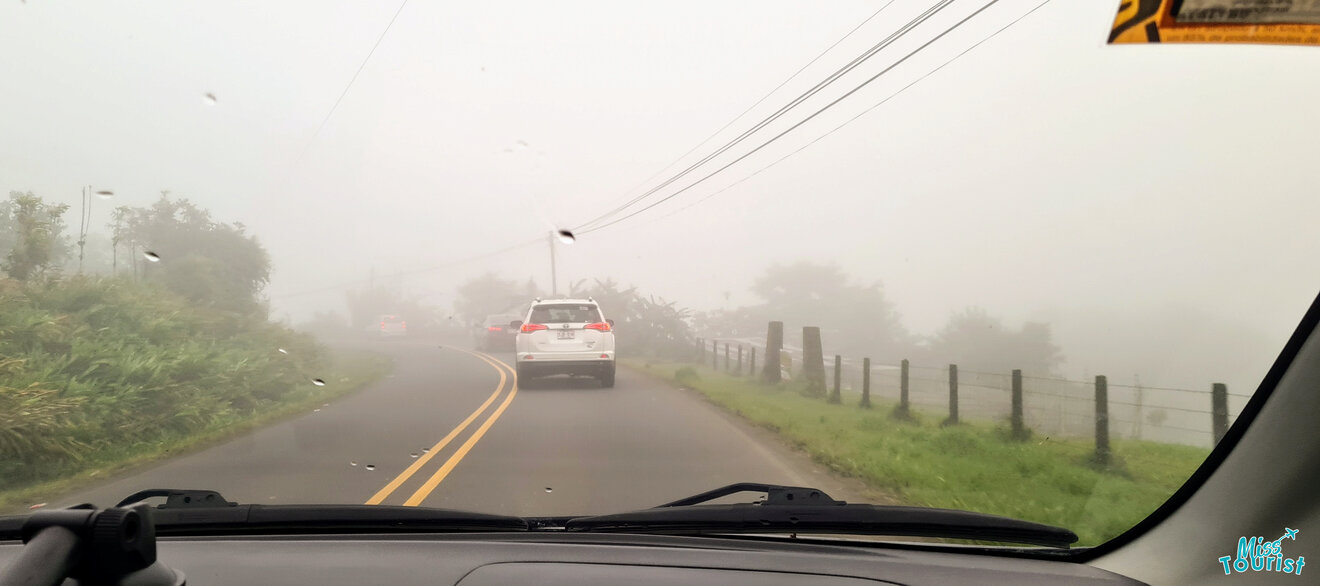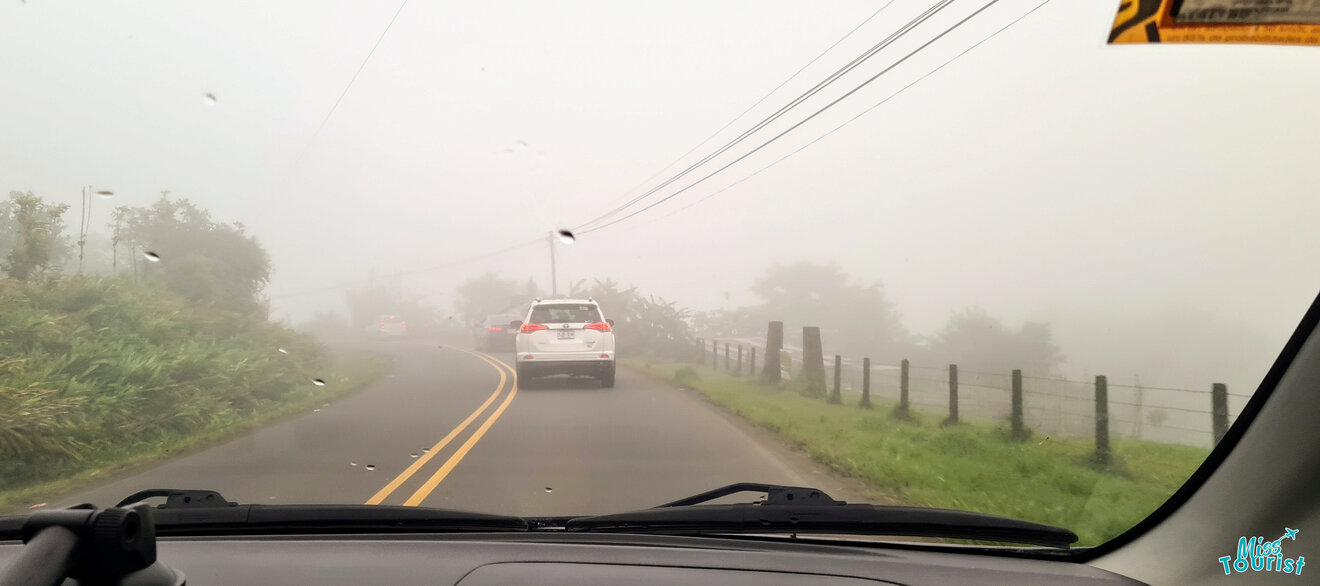 Below, you will find all the ways to get to La Fortuna from San Jose, the capital city, usually the most common place to come from.
By car
The most comfortable and easy way to get to La Fortuna, Costa Rica from San Jose is by car. Use a rental car service, and you'll get there in 2h 30 minutes. Rental cars start from around $45 per day.
By public bus
The public bus service is the cheapest way to travel from San Jose to La Fortuna, Costa Rica. The bus departs from downtown San Jose, and it takes around 4 hours to get there. A ticket costs US$4, and you can buy it at the terminal.
By taxi
You can also take a taxi from San Jose, but it's going to be a bit more expensive, US$130 – US$160. Here are 2 cab companies: Taxis Tibás, Taxis Coopeirazú (or Uber!)
By plane
Not many people choose this option but it never hurts to know that there's always another way to get there. This local airline operates flights from San Jose to different parts of Costa Rica, including La Fortuna. A round trip starts from US$200.
Packing list
Here's a list of all the things that you should take with you for your holiday in La Fortuna, Costa Rica:
swimsuit
hiking shoes
Water shoes (if you're rafting)
Warm clothes (preferably waterproof) as it can get cold at night
Hat
Where to eat in La Fortuna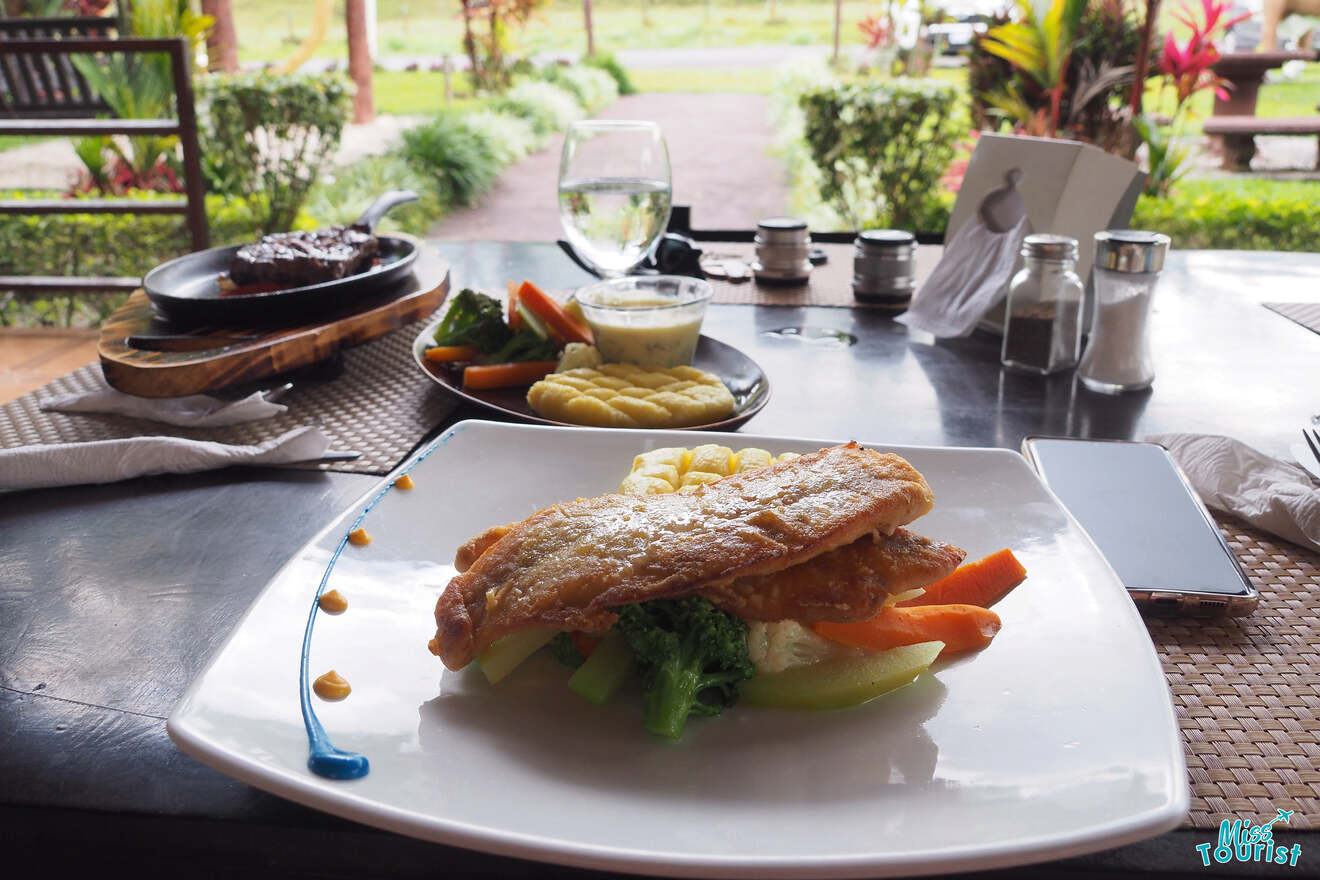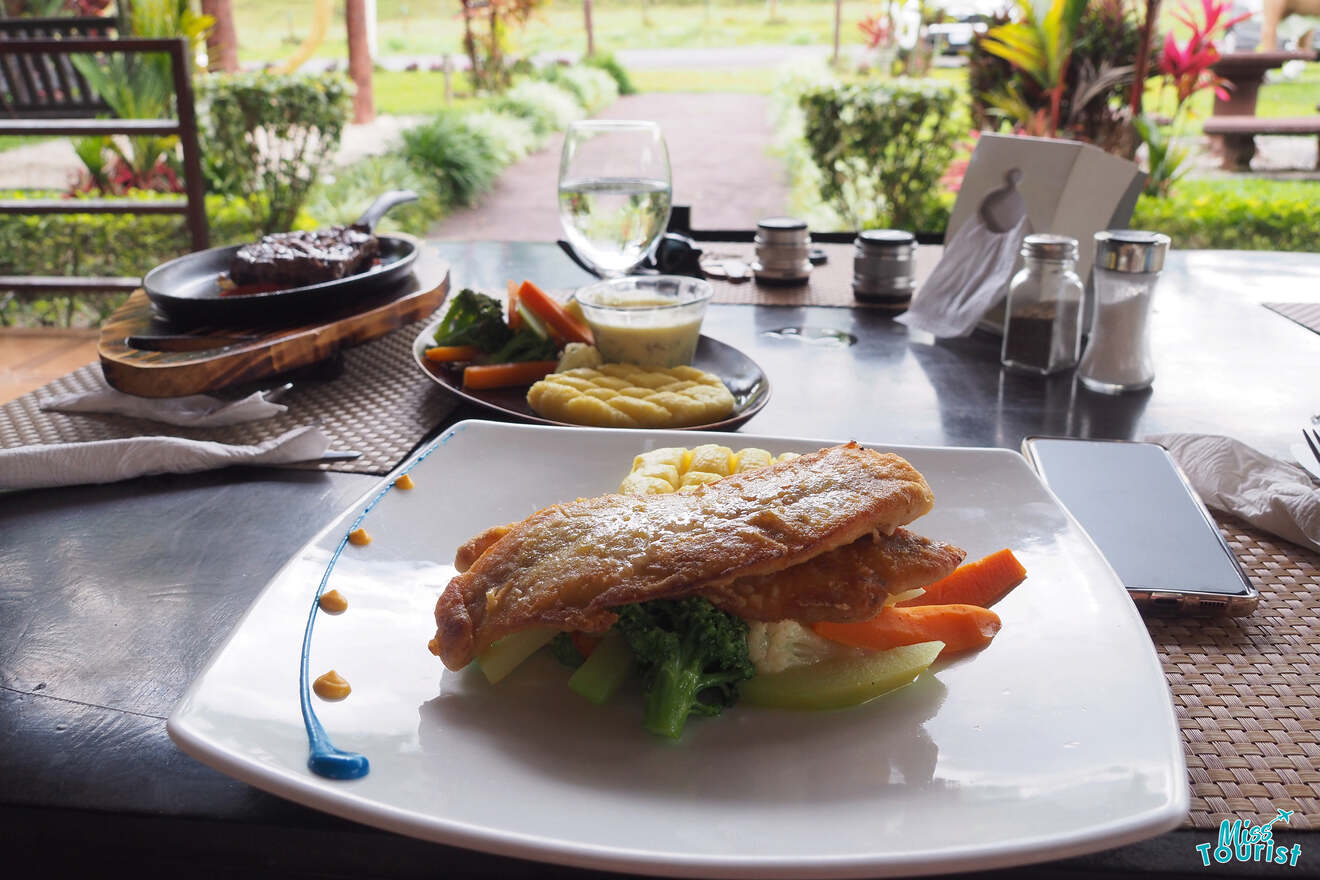 Hungry after trying all those things to do in La Fortuna, Costa Rica? Take a seat and read today's menu: I've got a list of the best places to eat in the area.
Make sure to check out these spots:
Frequently asked questions about La Fortuna, Costa Rica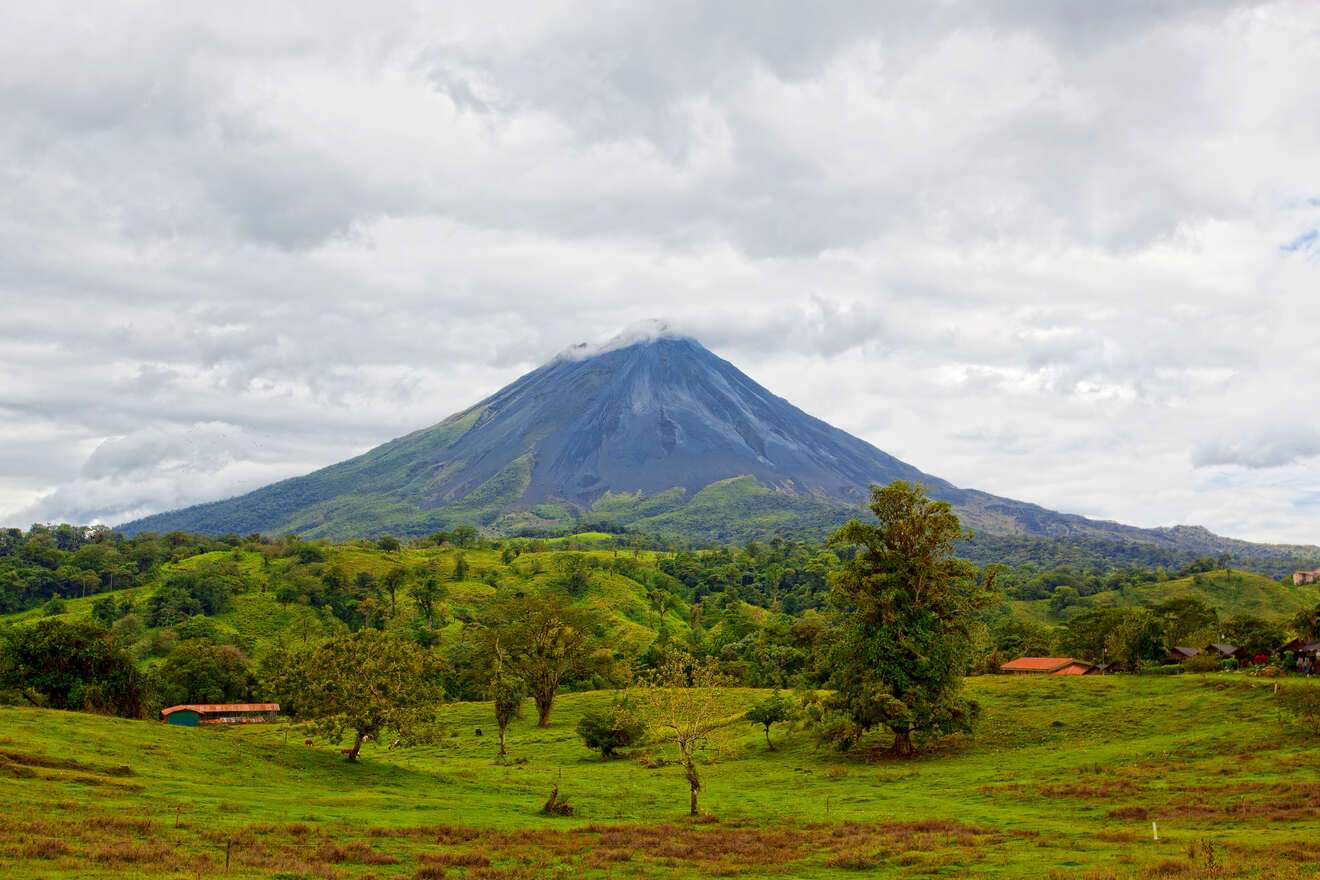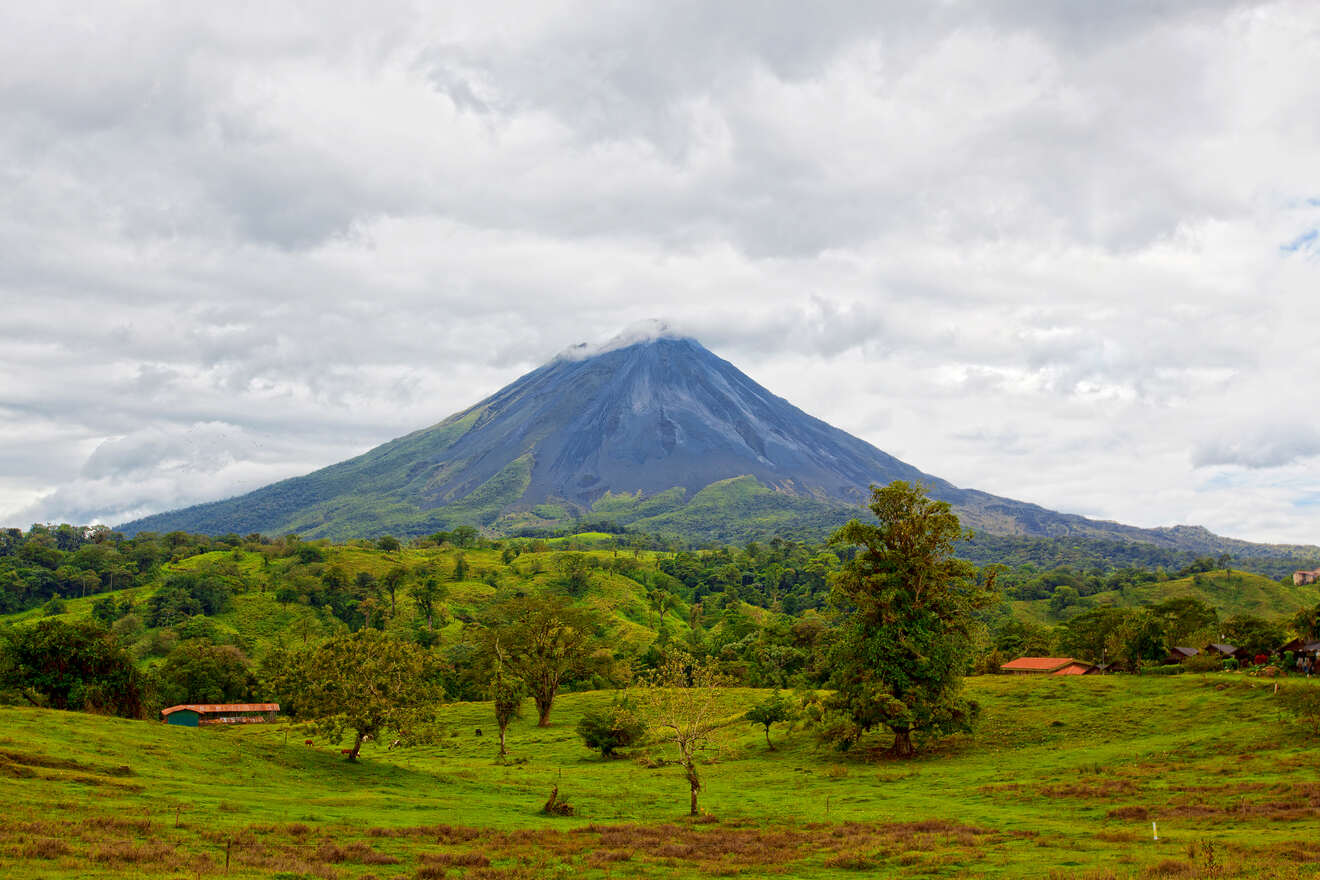 🌋 Arenal vs Monteverde – which one is better?
It depends on the type of activities. In Arenal, you can go hiking, horseback riding, mountain biking or zip-lining. While Monteverde is known for its incredible nature hikes, and although it offers other activities, people who love nature usually come here.
♨️ Which hotels have hot springs in Arenal?
📅 How many days to stay in Arenal?
You should spend at least 2 or 3 days in Arenal, that way you'll be able to do as many activities as possible. 
🌊 What is La Fortuna known for?
La Fortuna is known for its wide range of outdoor activities, including zip-lining, whitewater rafting, hiking, for its hot springs and incredible wildlife. 
Conclusion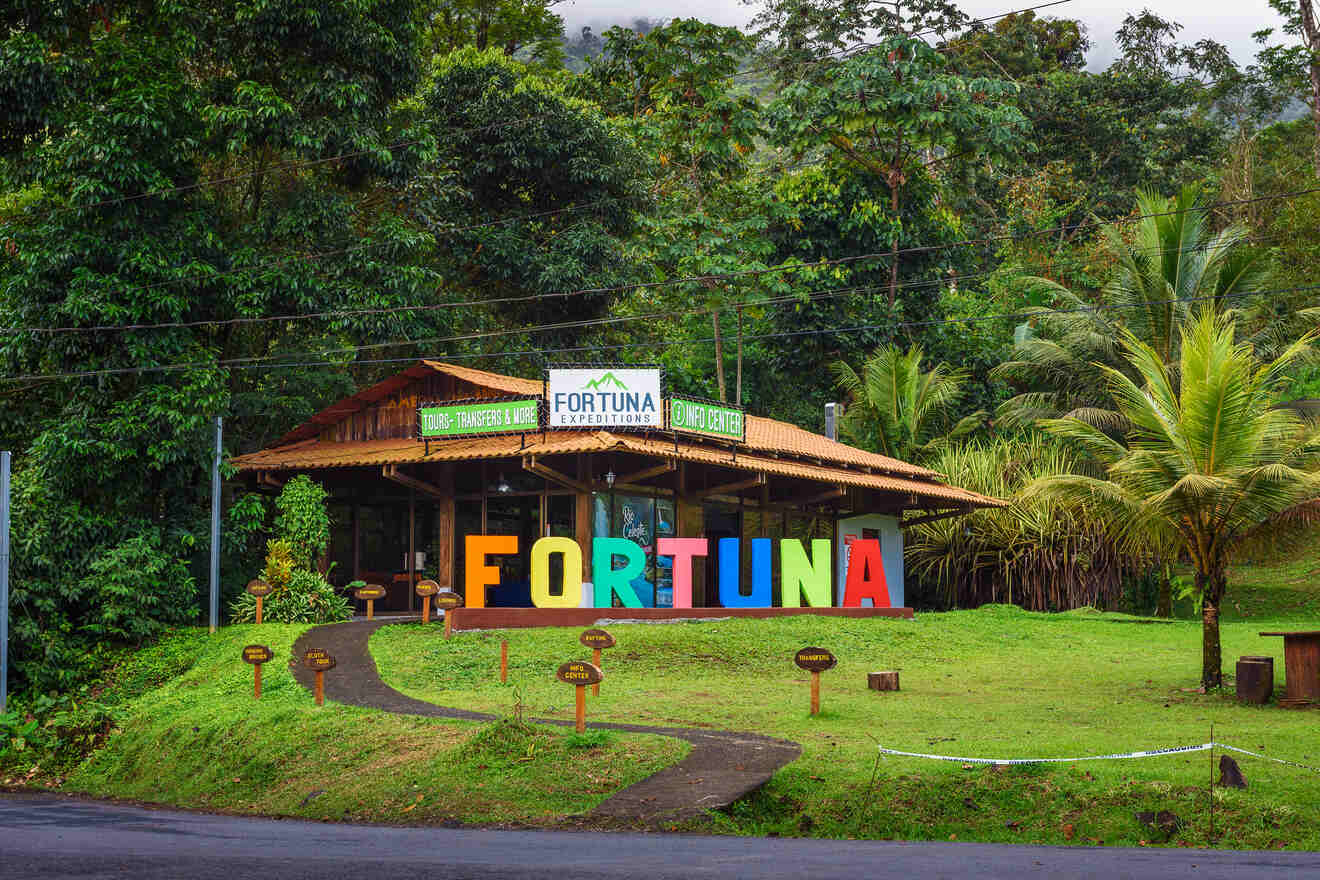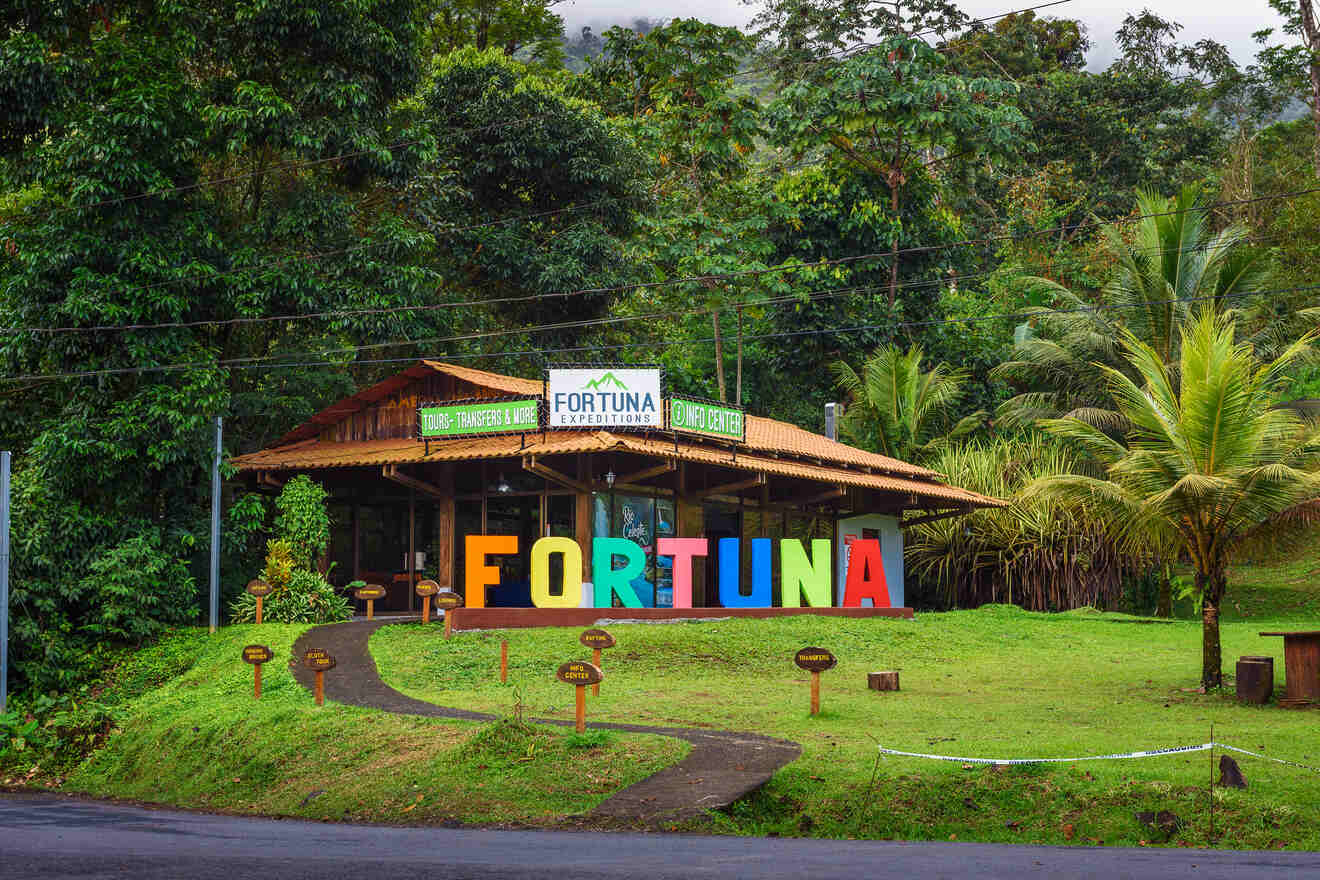 What an incredible place! I hope this post helped you decide which are the best things to do in La Fortuna, Costa Rica!
You'll find all the information you need about which activities to try, which tour company to pick, where to stay, and how to get to La Fortuna in this article. Plus I've added some more tips that will help you be as prepared as possible during your holiday!
Enjoy your adventure! I'm sure you'll love every minute of it, especially when trying the El Salto rope swing! And if you have any questions or suggestions about other cool things to do in La Fortuna, let me know in the comments and I'll answer as quickly as possible!
Buen viaje,
Yulia
---
---
Pin it for later!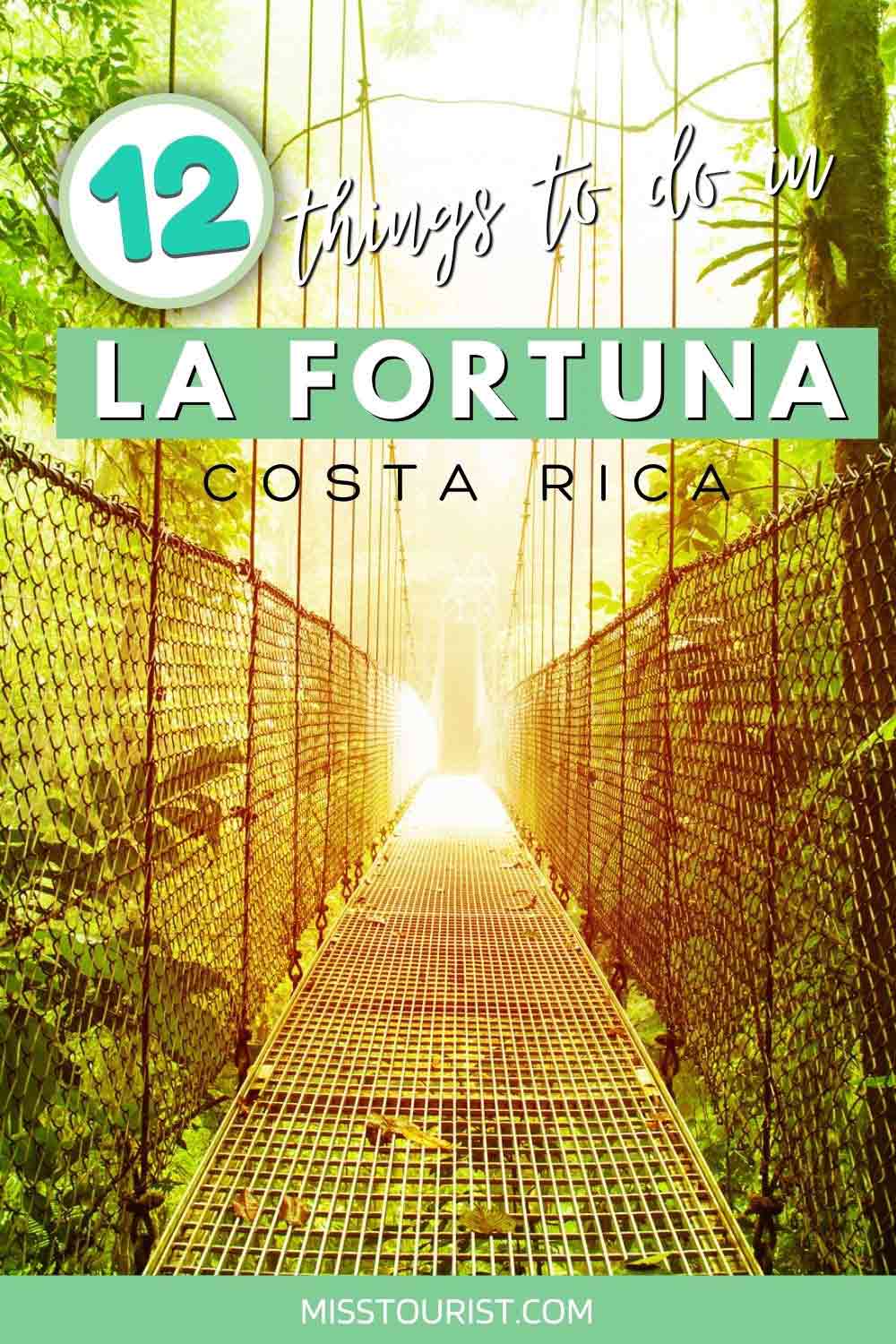 Pin it for later!