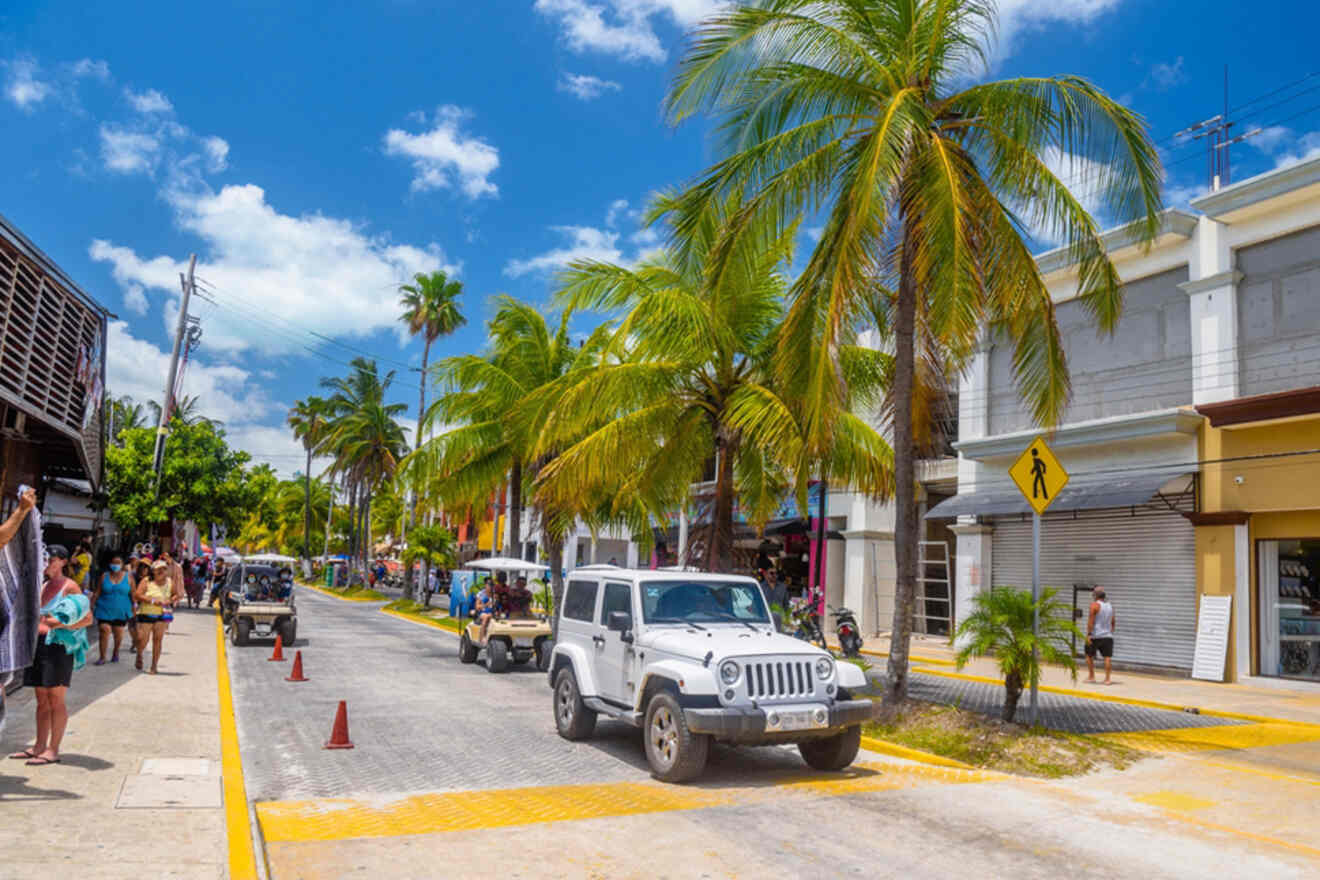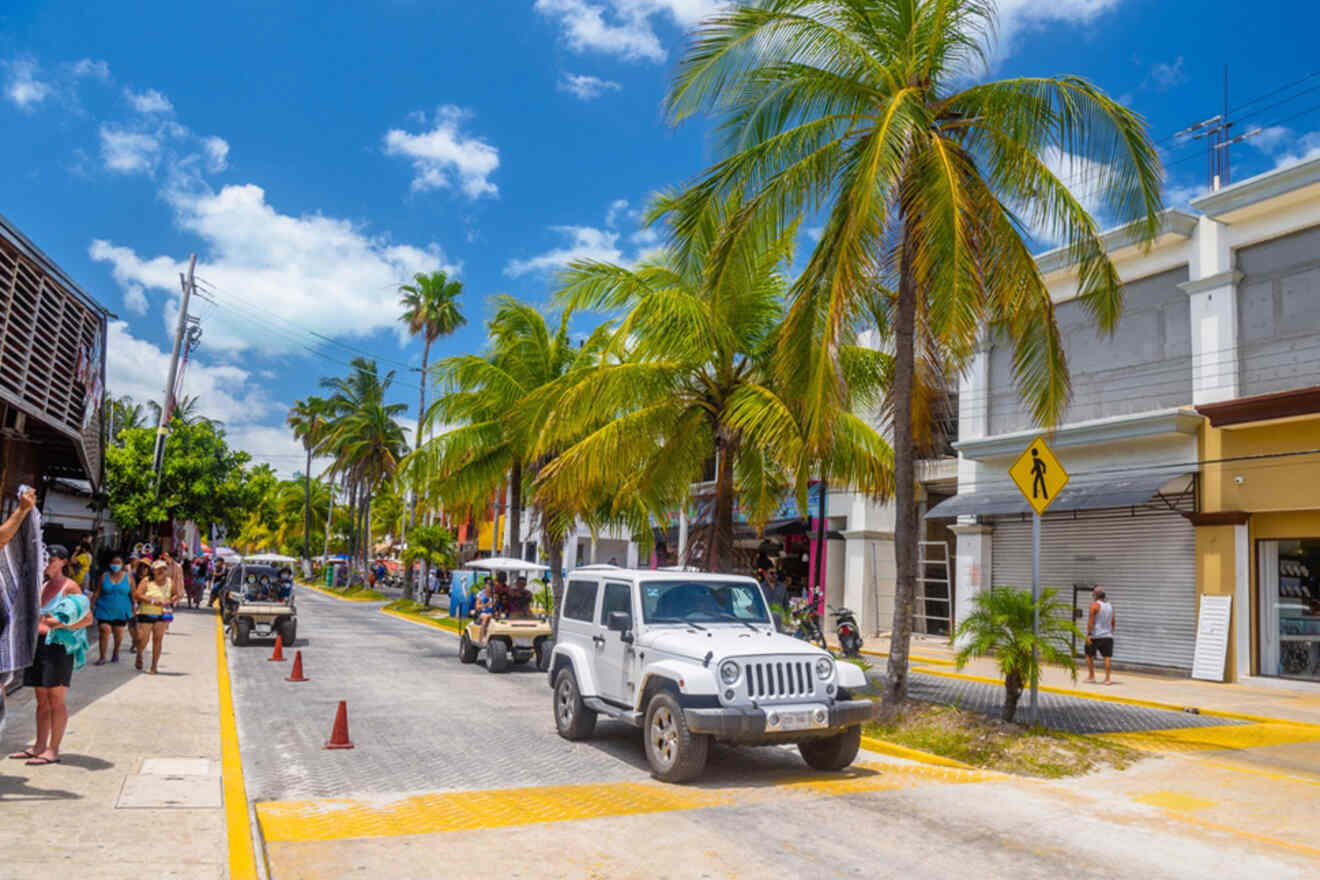 Hola, fellow adventurers! "Rent a car? Why would I need to do that?" I hear you ask.
Well, my friend, Cancun is not just about the beach. There's a whole beautiful peninsula waiting for you to explore, full of hidden gems that you can't reach by taxi. Trust me, having your own ride in Cancun can turn a great trip into an unforgettable adventure. I rented cars in the Yucatan peninsula numerous times and I can sincerely tell you – it is a true game changer!
So, buckle up and let's talk cars. In this post I will cover everything from the cost, the types of cars and things to watch out for, rules, safety, useful apps and more!
This is your one-stop-shop for all things car rental in Cancun. So let's dive in, and get you ready for the ride of your life!
First things first, here are the main facts about driving in Mexico you need to know:
First things first, here are the main facts about driving in Mexico you need to know:
| | |
| --- | --- |
| Age | 21 – 25 (depending on the company) |
| Documents needed | Passport, driving license, credit card |
| Driving license requirements | In Roman alphabet, otherwise international license can be necessary |
| Speed limit | 40 kph in a city, 80 kph on open roads, 110 kph on a highway |
| Which side of the road | Right |
| Children rules | Children under 12 y.o. (or 60 lb/27 kg) car seat/booster seat mandatory |
| Alcohol allowed | BAC less than 0.08% |
| Metric or Imperial system | Metric (speed in kph, gas in liters) |
| Mandatory insurance | Yes, 3rd-party liability insurance is mandatory by law |
| Where to book | Click here for the lowest price |
Why rent a car in Cancun?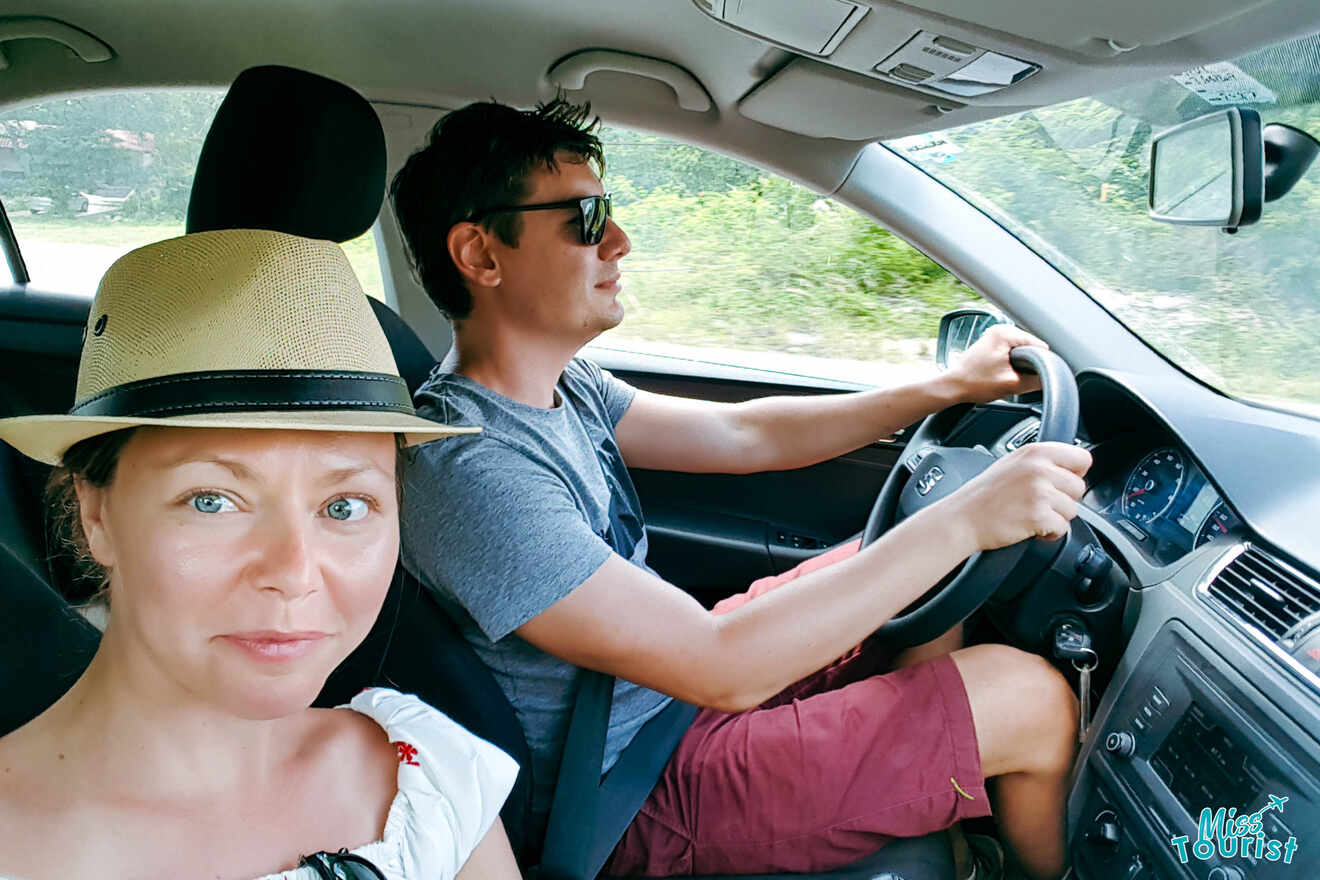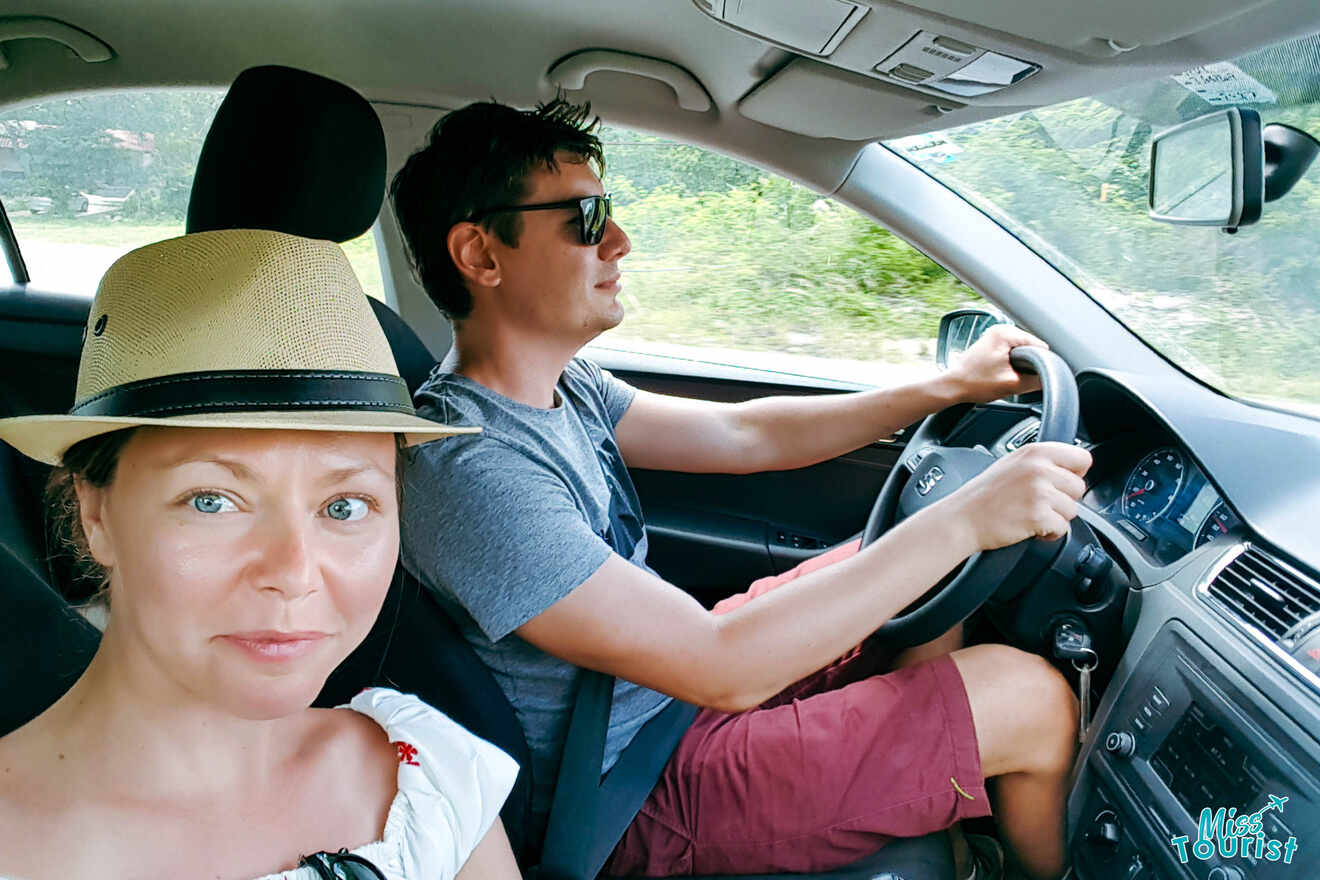 First of all, Cancun doesn't have taxi apps like Uber (well, actually technically it does, but they made it especially super inconvenient so you use taxis instead). Taxis can be a bit pricey (and you need to huggle!), especially for long trips.
But more importantly, renting a car gives you the freedom and flexibility to truly explore the stunning Yucatan Peninsula (I even have a whole detailed blog post on things to see in the Yucatan peninsula by car).
With a rental car, you're not tied to tour schedules or public transportation routes. Instead, you're free to explore the beautiful beaches, vibrant cities, and ancient ruins of the Yucatan whenever you want.
If this sounds convincing enough, let's get into some practical tips and things you should know before renting a car in Mexico/Cancun specifically.
1. Car prices & choosing the best car type for you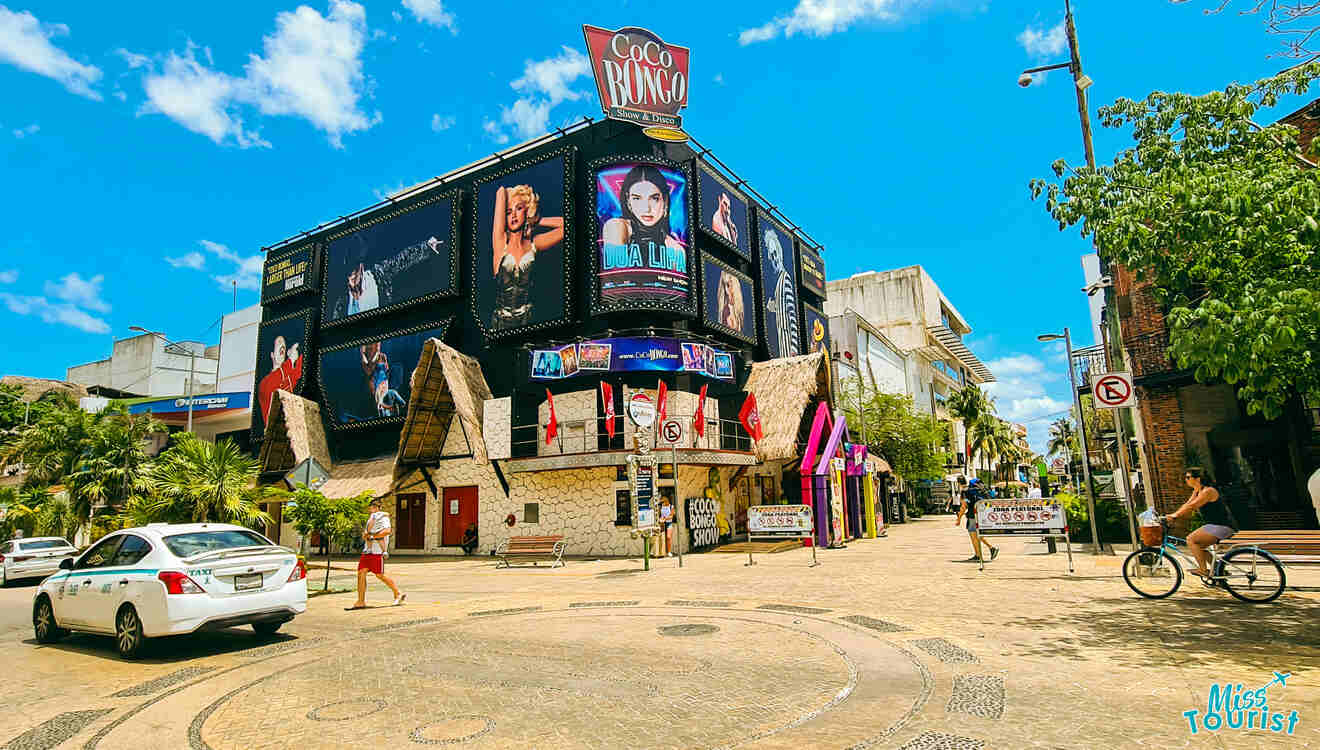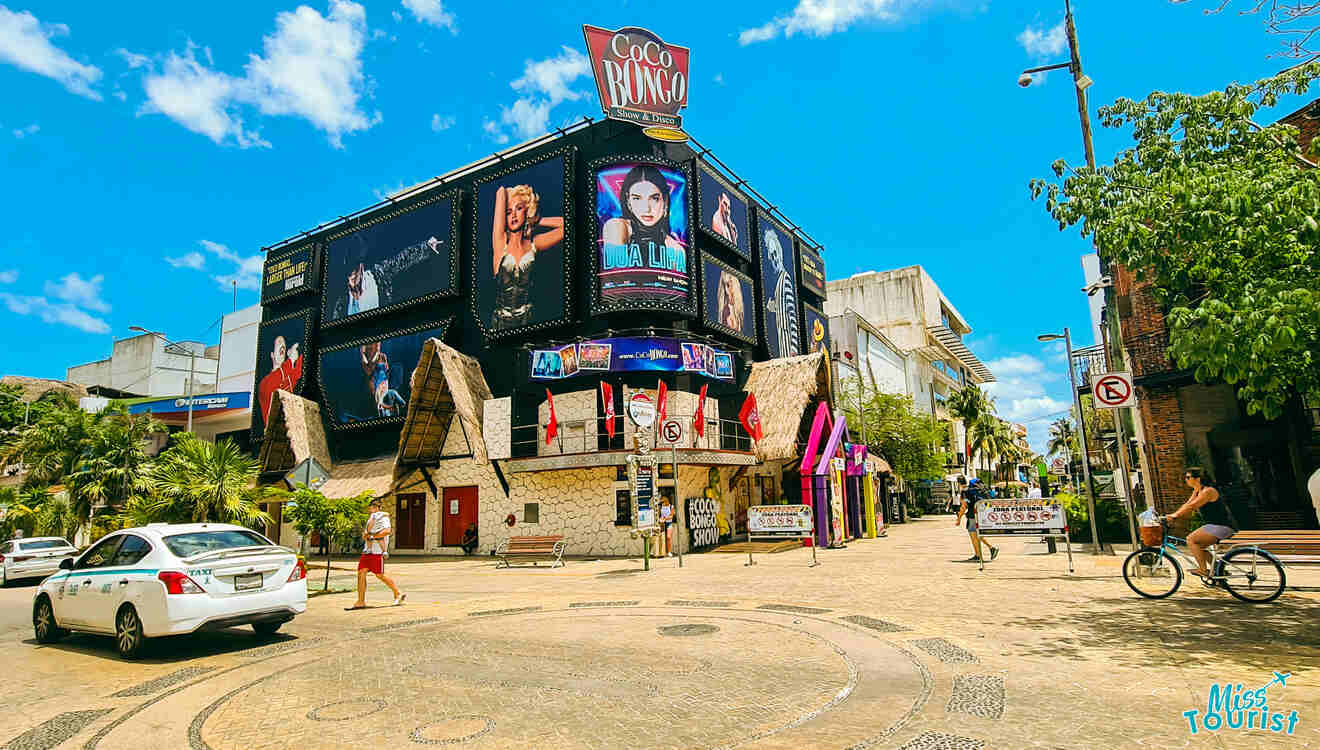 Prices for a car rental in Cancun vary significantly depending on the season, the type of car, and the rental company. To help you navigate this landscape, I've put together a handy guide on what you should expect to pay:
1.1 Prices by car type
Here are the average prices per car type depending on the season (high season is December to April). The prices below do not include insurance. More on that below:
PRO TIP: If the price is too good to be true, there is almost a 100% guarantee it does not include car insurance, and you will be forced to pay it at a very inflated rate upon check-in.
1.2 Which model is better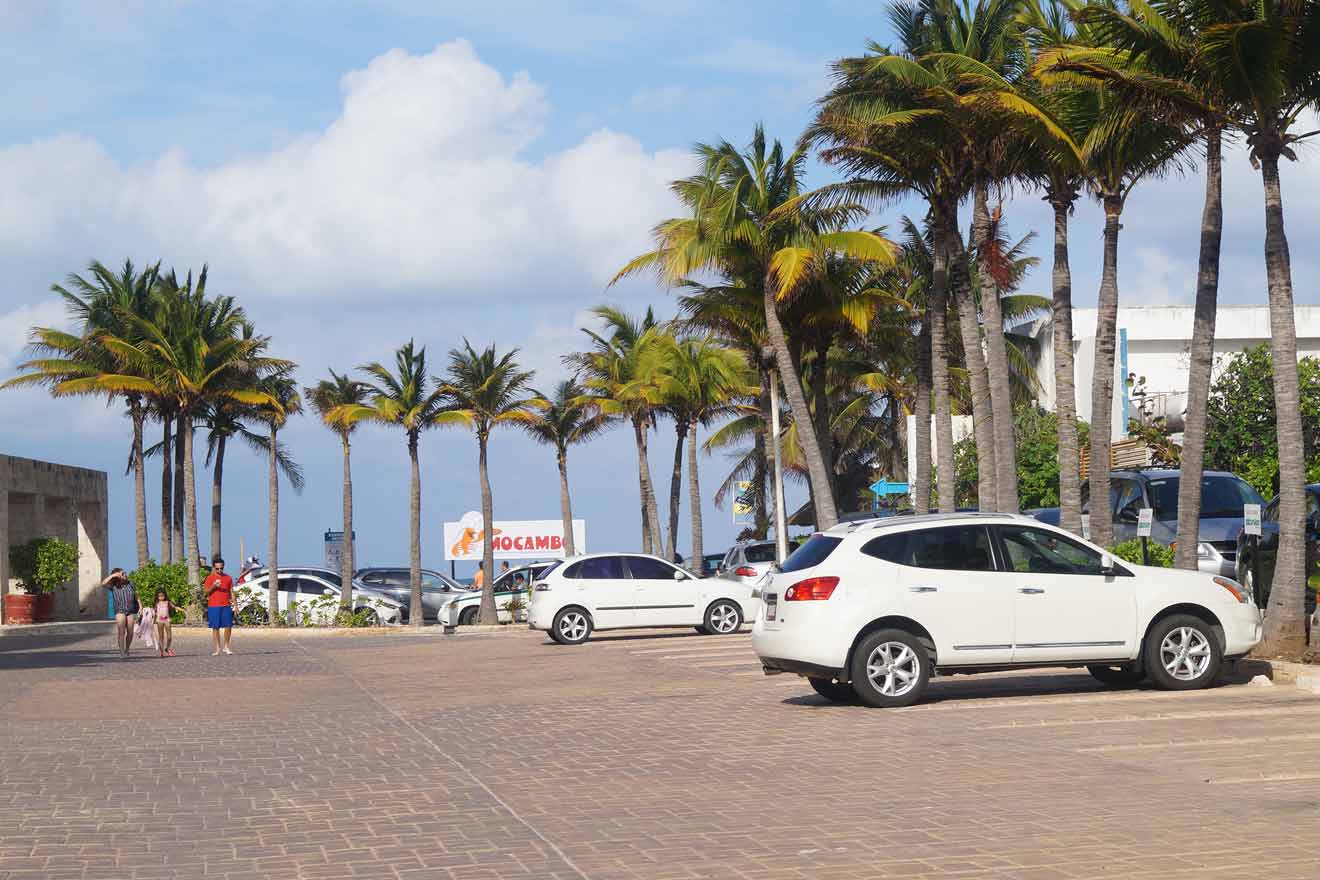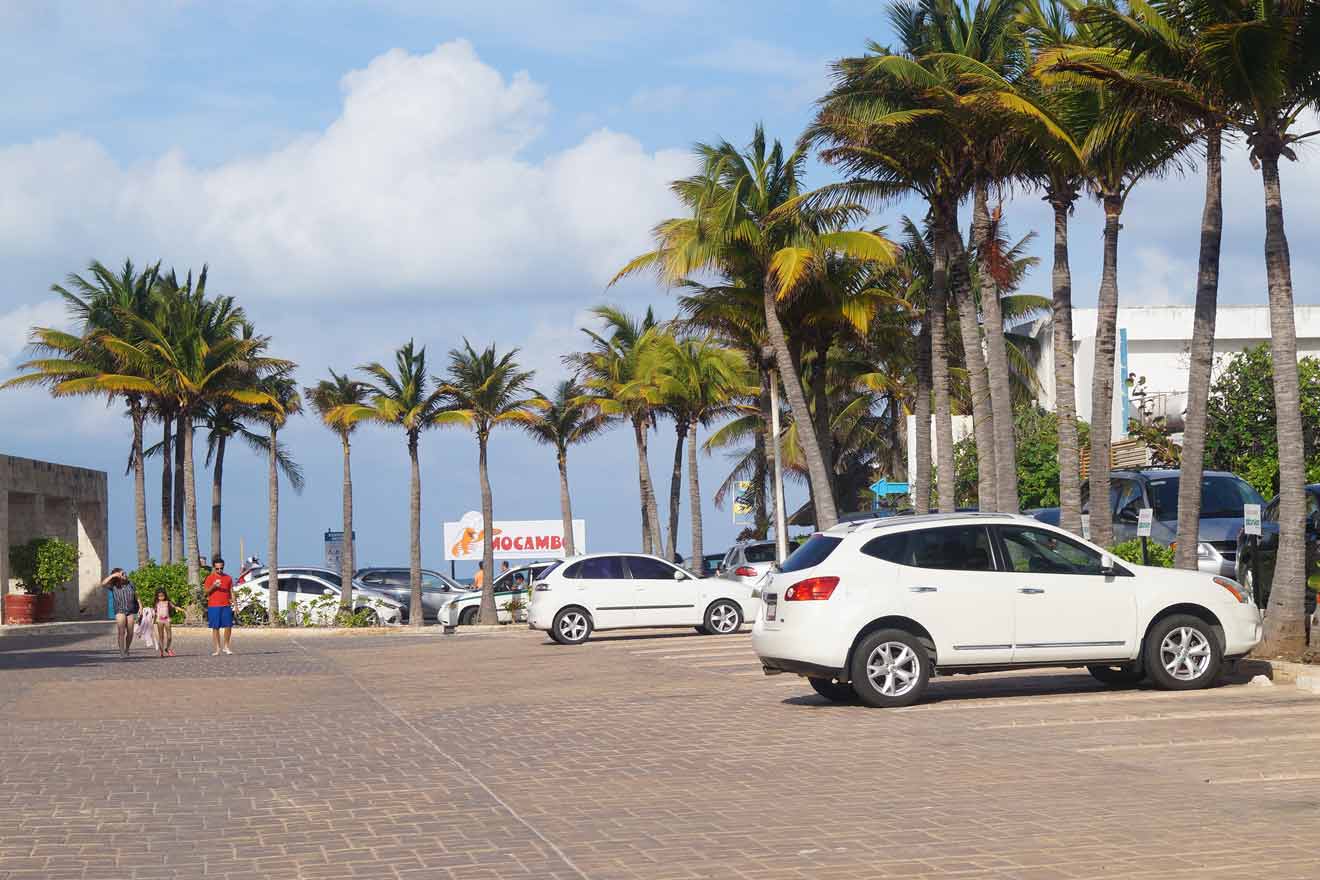 Compact cars – these are perfect for navigating Cancun's bustling streets and cozy parking spots and for a road trip around the peninsula. Plus, they're fuel-efficient, which is good news for both your budget and the environment. (That's the option I always went for as well)
PRICE: from $25 USD per day
Sedans – if you're planning for longer drives across the Yucatan Peninsula and/or need more space for your luggage, or you're traveling with a small group, a sedan offers a comfortable ride and decent fuel economy.
PRICE: from $30 USD per day
SUVs – are off-road adventures calling your name? There are definitely some really cool off-road places in the peninsula that would require a 4×4, but if you are going around Cancun/to the main tourist attractions around the peninsula, you do not need an SUV.
PRICE: from $55 USD per day
Vans – surprisingly, I don't think this mode of transportation is very popular in Mexico so far. But if you are a large group, a campervan would be an ideal solution allowing you to store any gear you might need for activities like snorkeling or diving.
PRICE: from $70 USD per day
MY ADVICE:
Go for a small new-ish car so you have no problems parking in cities. I also recommend choosing a newer one because your car will be equipped with Bluetooth/USB ports/GPS and all other bells and whistles. Otherwise, you are stuck with one Mexican radio channel! 🙂
NOTE: Most cars offered are automatic; manual ones are a bit cheaper.
1.3 Where to book your car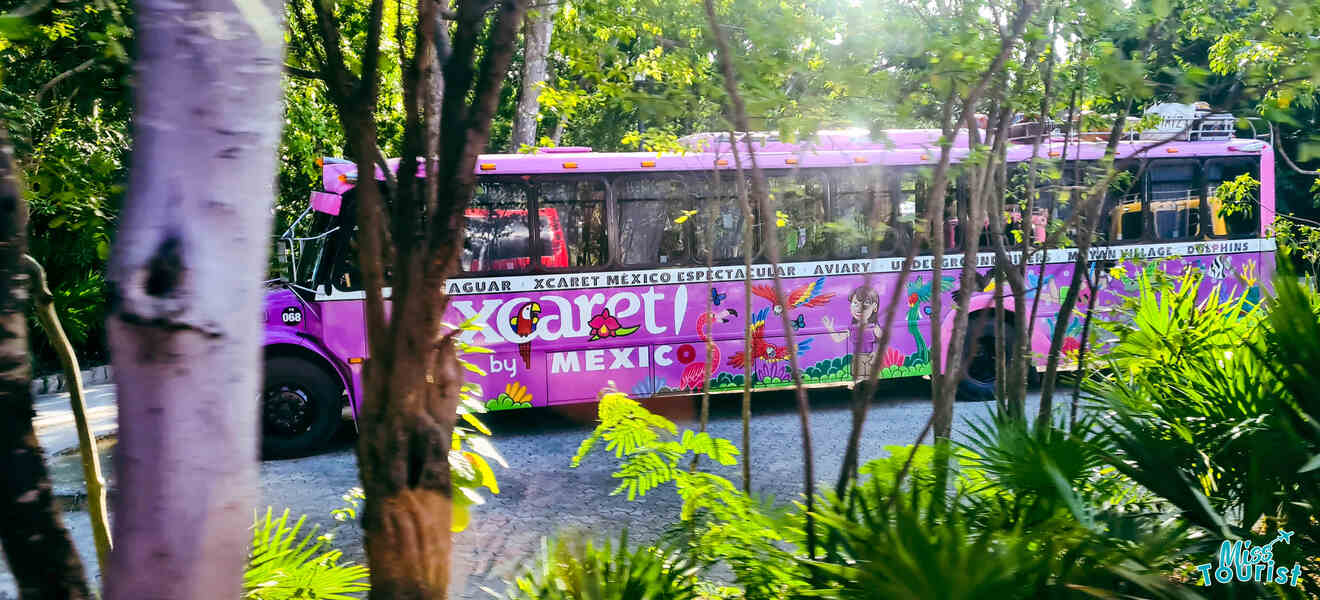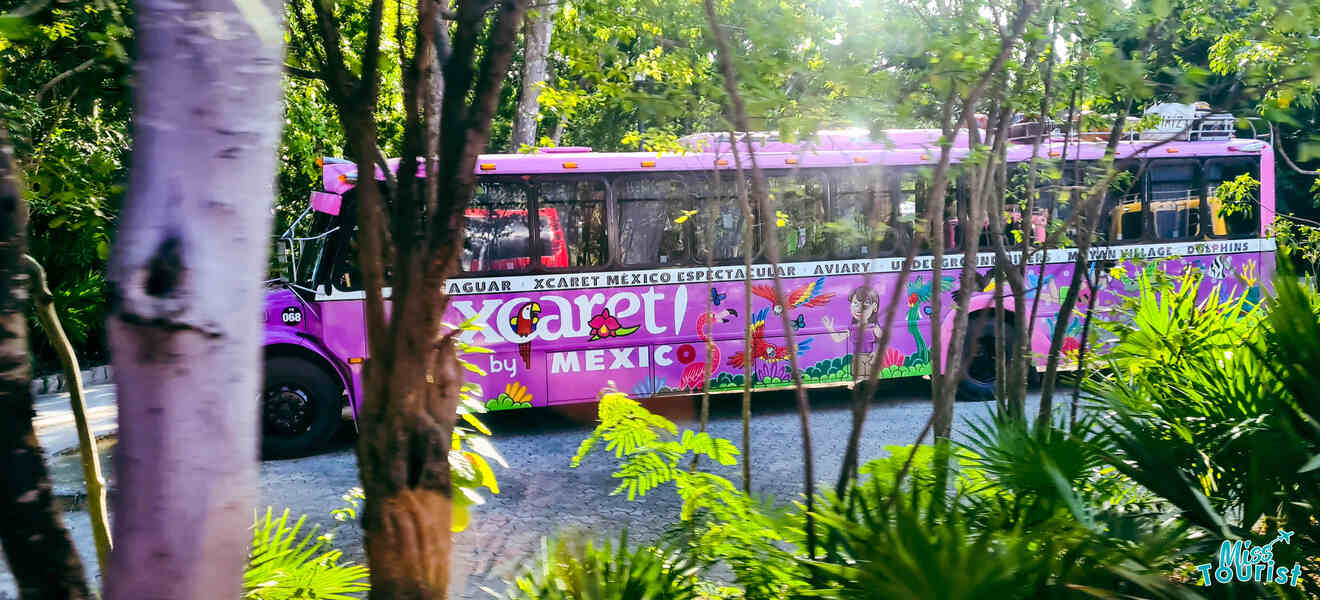 Here are 2 sites I love and use pretty much on all my trips:
Rentalcars – This website is your fast lane to compare the prices of different rental companies. What I love about it is that you can see all the important details at a glance: the car details, the number of miles included (usually unlimited – yay!), the included insurance, and even the cancellation conditions. It's like your personal car rental genie!
DiscoverCars – Another great platform for your car hire needs. What's great about this site is that all rates include Collision Damage Waiver (CDW) and that they clearly show the deductible on the comparison page – no hidden surprises! The fuel policy, including mileage and cancellation policy, are also clearly stated. Most cars can be canceled up to 2 days in advance without any fees, which is pretty convenient!
I like both resellers because they offer a great price/rating comparison (veeerry important, especially in Mexico) and free cancellation, of course!
How far in advance to book?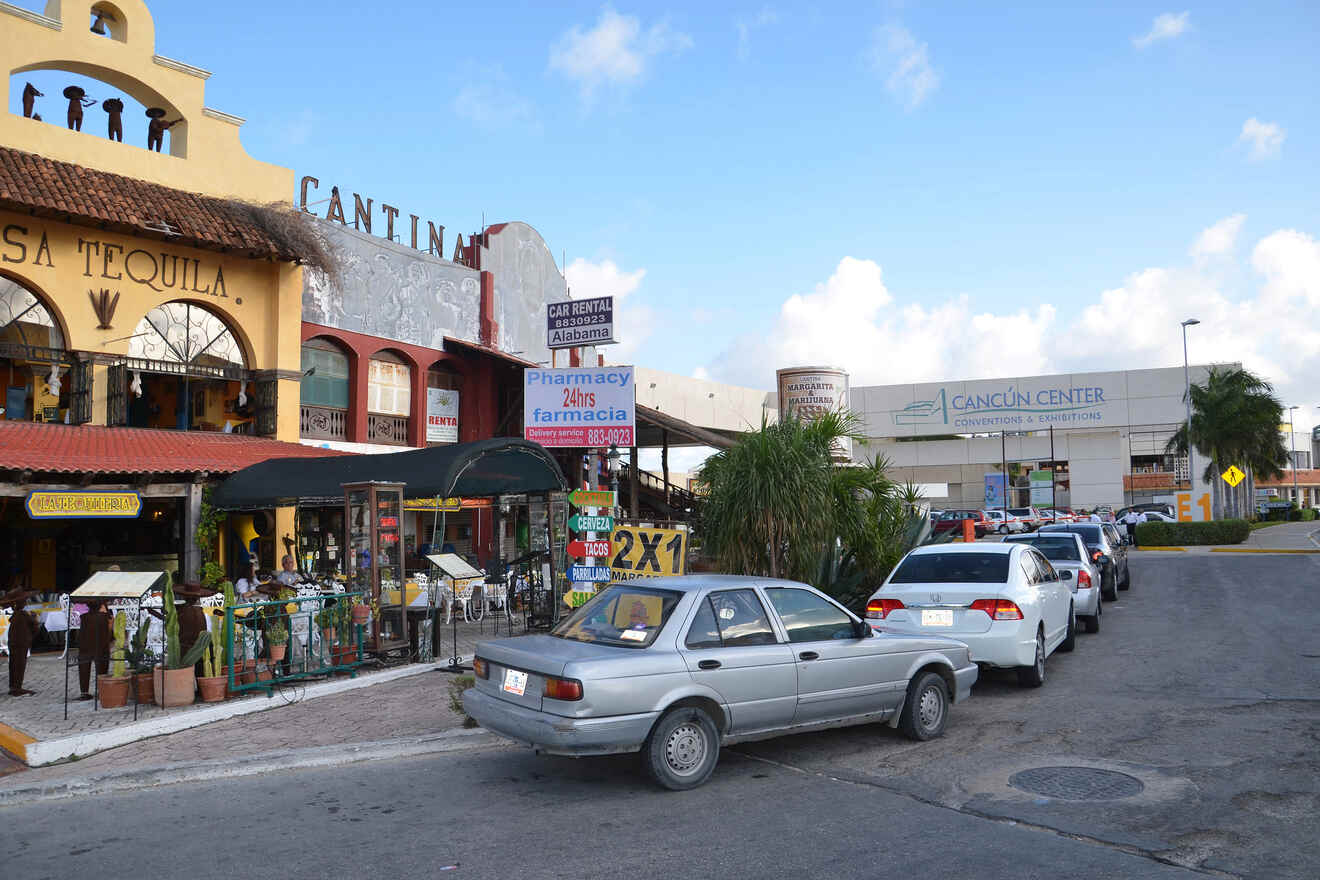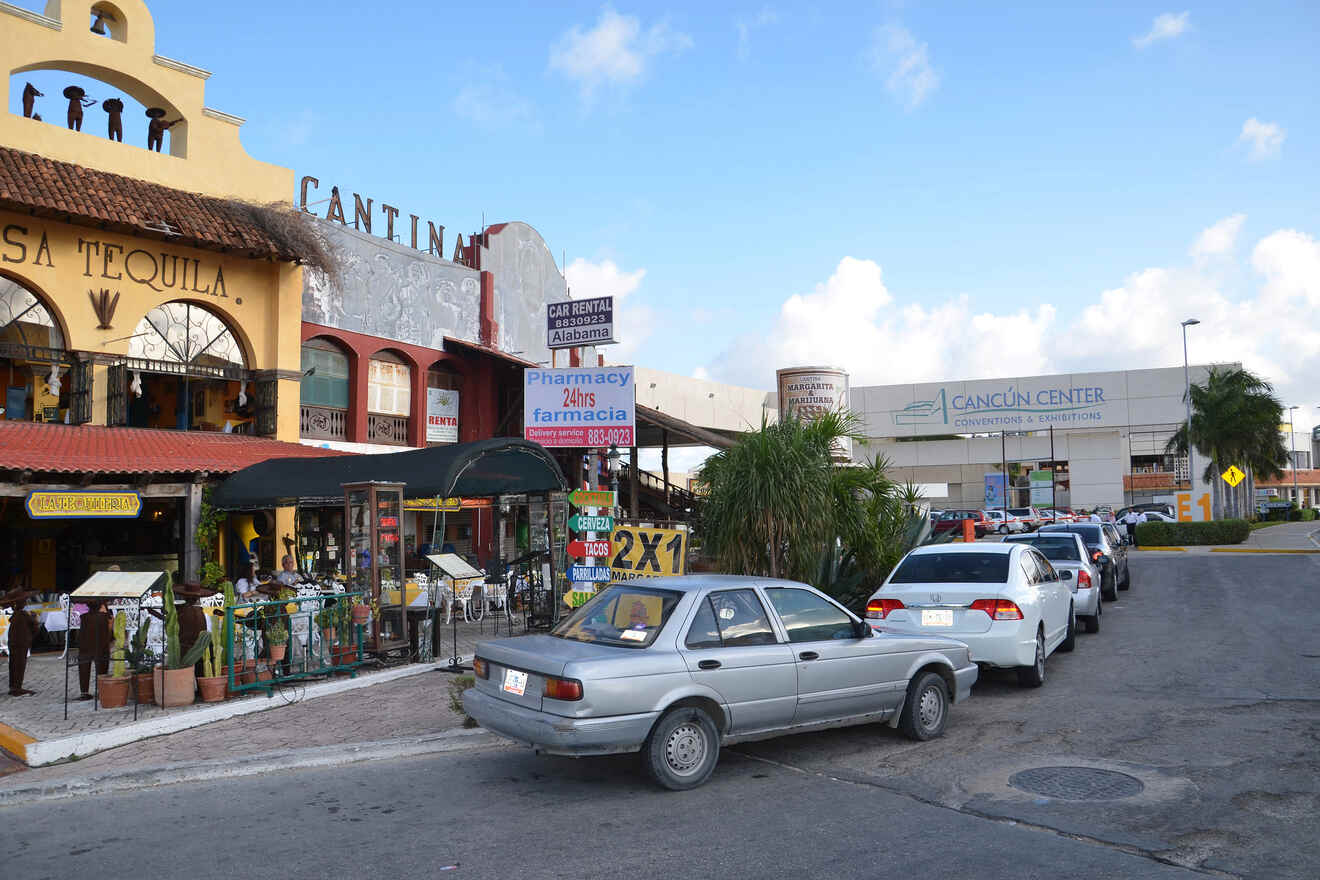 It really depends on when you are going. If you're planning to visit during peak season (December through April), I'd recommend booking your car rental at least 2 – 3 months in advance (more if you are going during Christmas or a Spring Break). This will ensure you have the best selection of cars and the best prices. Trust me, they are not getting any lower!
If you're visiting during the off-peak season, a month or even a few weeks in advance should be sufficient. However, keep in mind that even during slower periods, it's always better to book early to secure the car type you want, especially if you have specific preferences, e.g., no manual cars, etc., and potentially get a better rate.
2. Insurance types and prices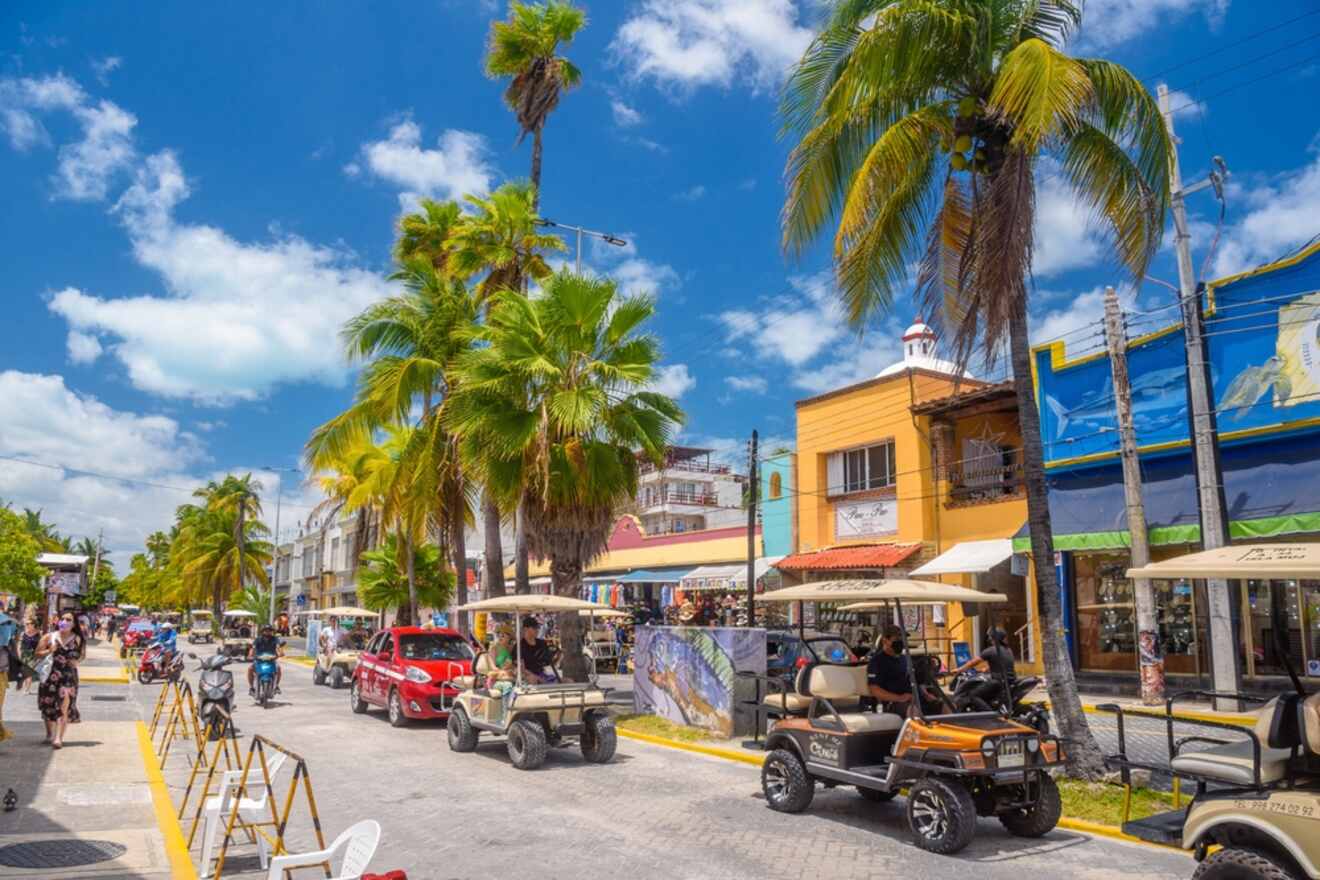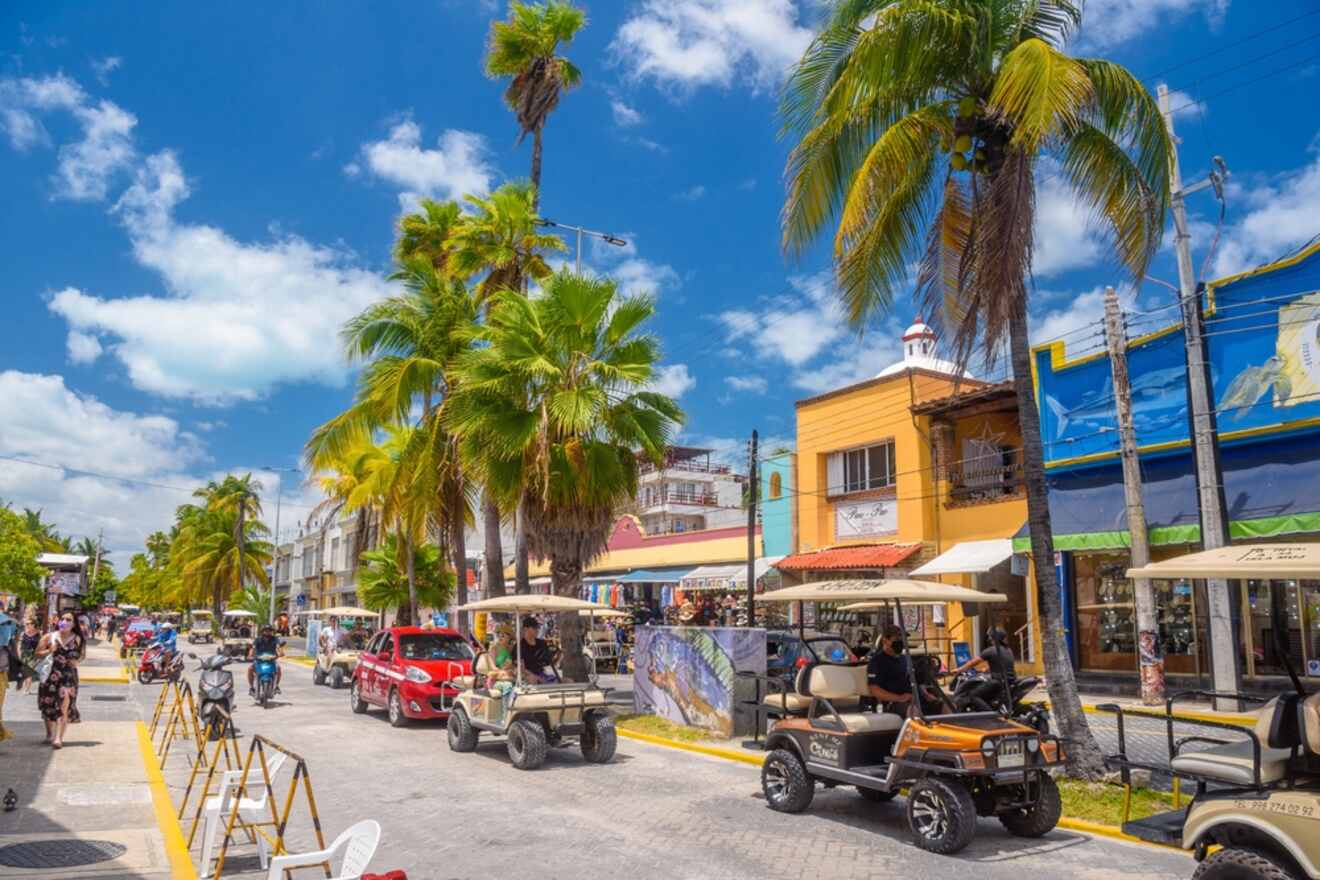 Uff, this is the most, hm… specific part about renting a car in Mexico compared to the rest of the world – their car insurance has to be bought locally. Car insurance issued by other countries is generally not approved.
If the car rental prices seem too good to be true (ex: 5-10 USD per day), it is probably a scam. When you show up at the office to pick up your car, they won't give it to you unless you pay their mandatory insurance, which is, surprise-surprise, another 20-30 USD a day.
This condition is almost never properly disclosed (or it is but with tiny letters hidden somewhere in the Terms and Conditions), so this is definitely something to keep in mind before.
I could not find this info properly explained anywhere, so here you go: all the insurance types, their prices, and where to get one:
PLI/RLP/TPL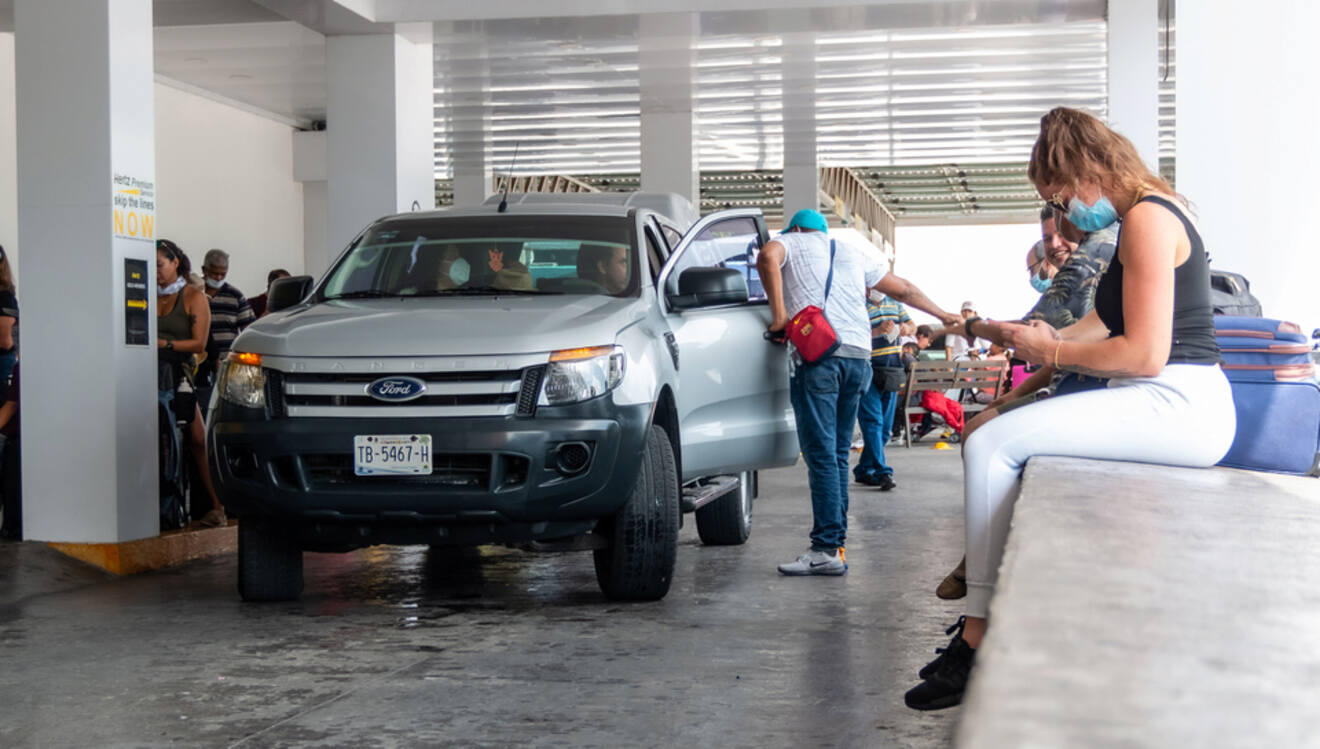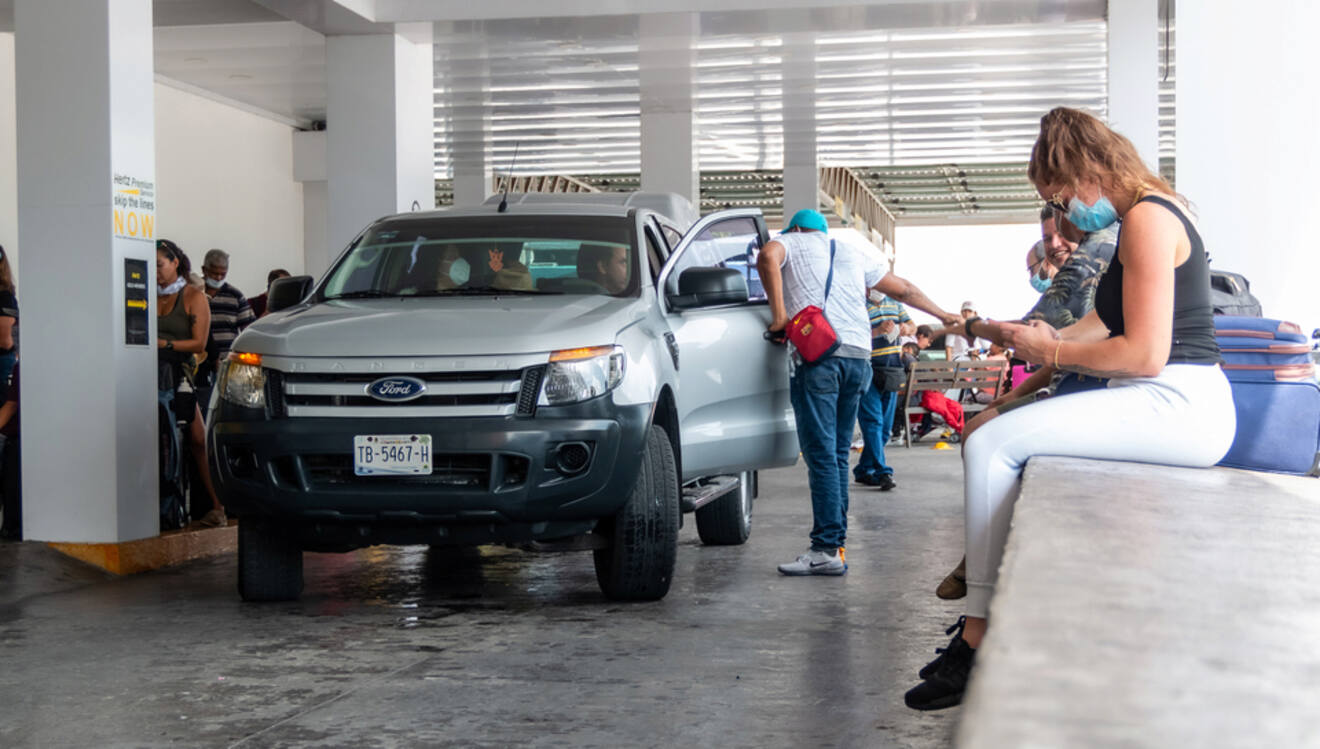 What is it
Public Liability Insurance (also known as RLP (Renters Liability Protection) or TPL (Third Party Liability) – insurance to 3rd party damages. This insurance is required by law, and it should be included in your rental by default, but sometimes it is not, pay attention to this. Otherwise you will still have to pay it during the check in and it will be double or triple the price if you don't do it in advance. 
Where to get it
Make sure it is included in your rate, if it is not, figure out how much it is and pay it in advance
Deposit
US$700-2,000 (depending on the amount of deductible)
CDW/LDW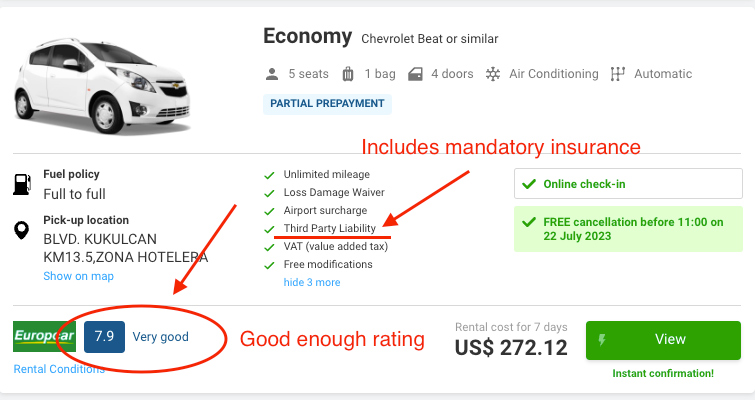 What is it

CDW/LDW (Collision damage waiver/Loss damage waiver) insurance typically covers the cost of damage to a rental car in case of accidents, collisions or theft so you do not have to pay out of your own pocket in case of the accident.
It is not required by law, but your Mexican car rental will probably require it. When you get one, please note that there may still be a deductible (meaning in case of the accident you still will need to pay X amount of money) and the insurance company will cover the rest.
Where to get it
Directly with the company: (always more expensive than the third party)
From your bank: your bank or travel insurance may cover it but check that it says "Mexico" specifically. Even if your car company will accept it (they may not), they will probably still block a large deposit from your card. In case of accident you will probably need to cover the cost and then will be reimbursed by the bank
Third party: cheaper than direct, but it also may be denied at the desk. Legally, they can't deny it, but they may ask you to block a larger deposit from your credit card (about 2,000-2,500USD). If there are any damages, they will take the money from the deposit and then the 3rd party will reimburse you (typically, a couple of days). DiscoverCars and Rentalcars offer that directly on the site when you book your car, or you can also try RentalCover, which specializes in this.
Full insurance (SCDW)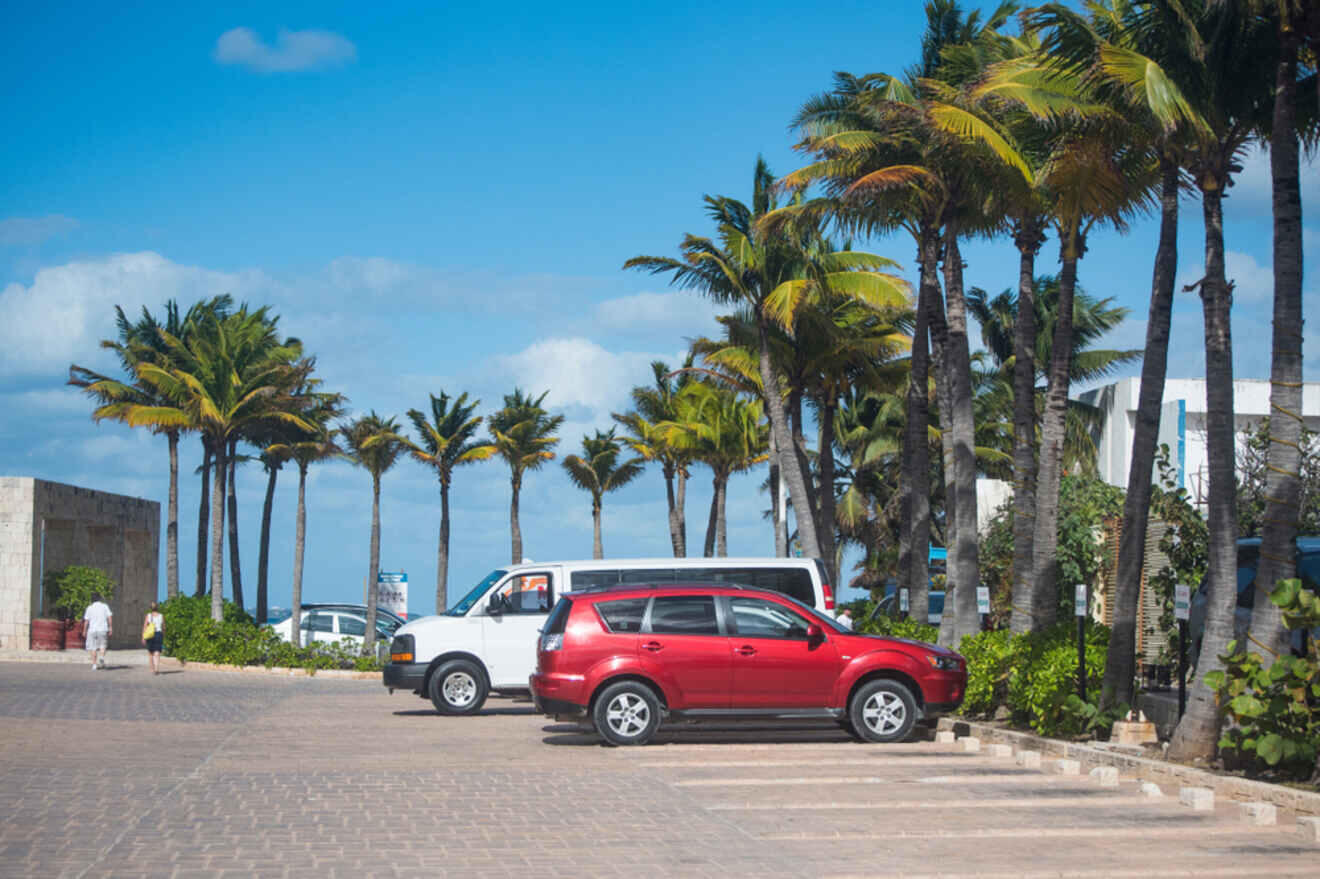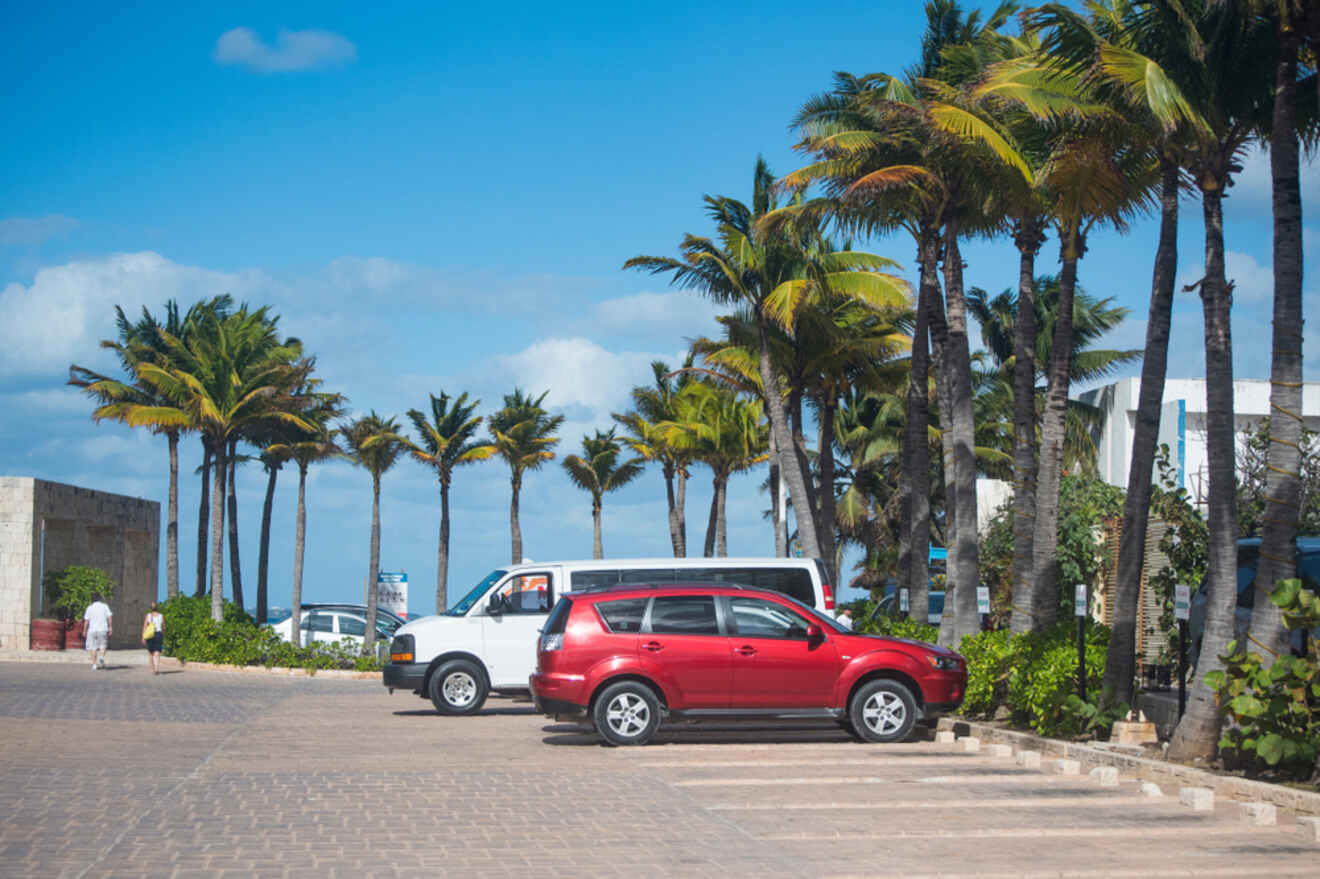 What is it

Full insurance (aka Super Collision Damage Waiver (SCDW)) technically covers everything – 3rd party damage, your car damage etc.
BUT if bought directly that's not always the case – sometimes it does not cover tires, windows etc. (I know, it does not make any sense). So please be careful and check what is NOT covered? In this case it also can have a deductible – ask in advance for a list of all situations when insurance will not cover it).
I know from some of my friends' experience that there might be another insurance called something like "super full insurance" – this one actually does cover everything but it is more expensive.
Where to get it
Direct: 30-40USD per day
Third party: 7-12 USD per day. By the way, if you are keen on getting insurance directly, you can still rent a car from a 3rd party if the rate is better there.
Deposit
none to a very small deposit
Which insurance should you get?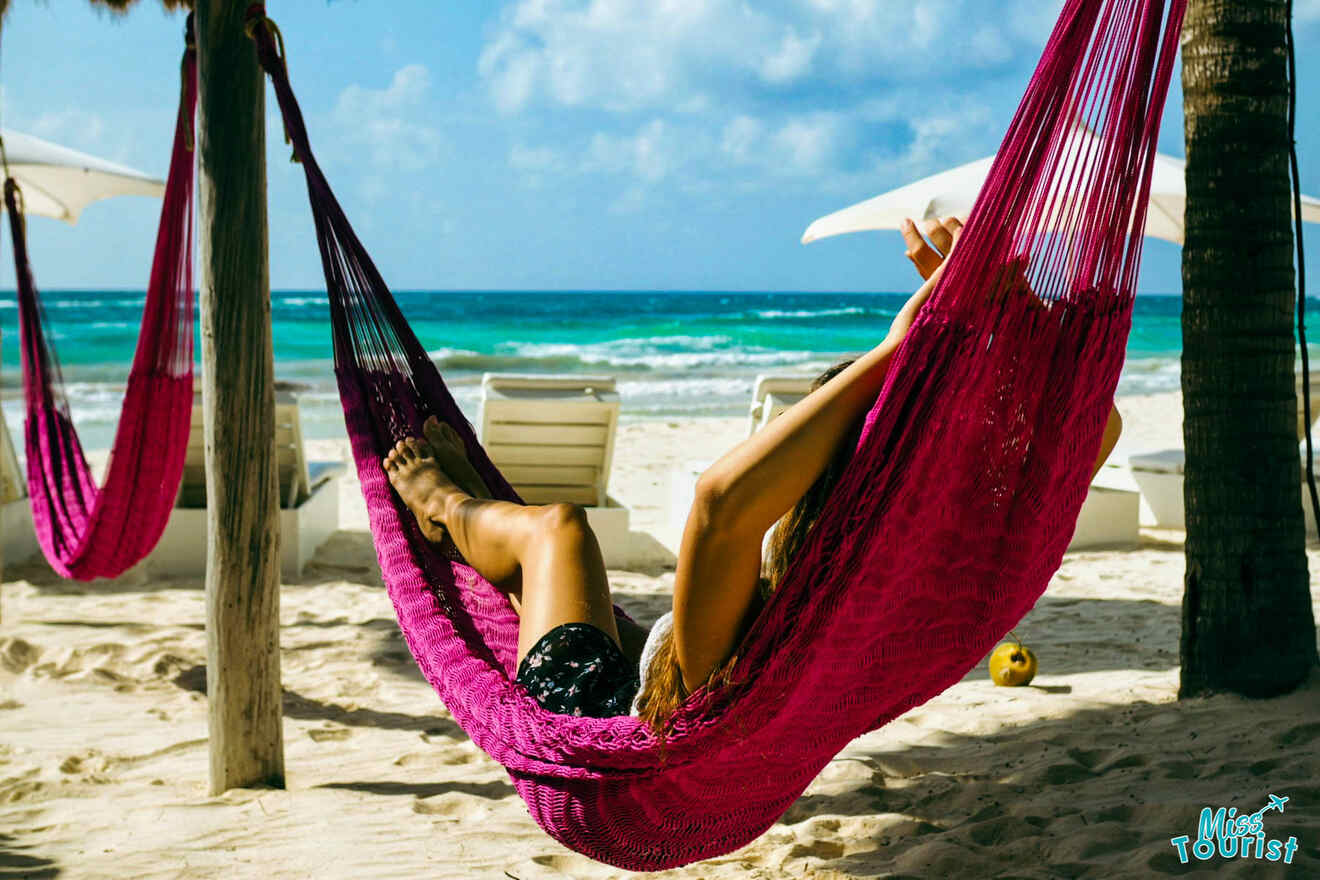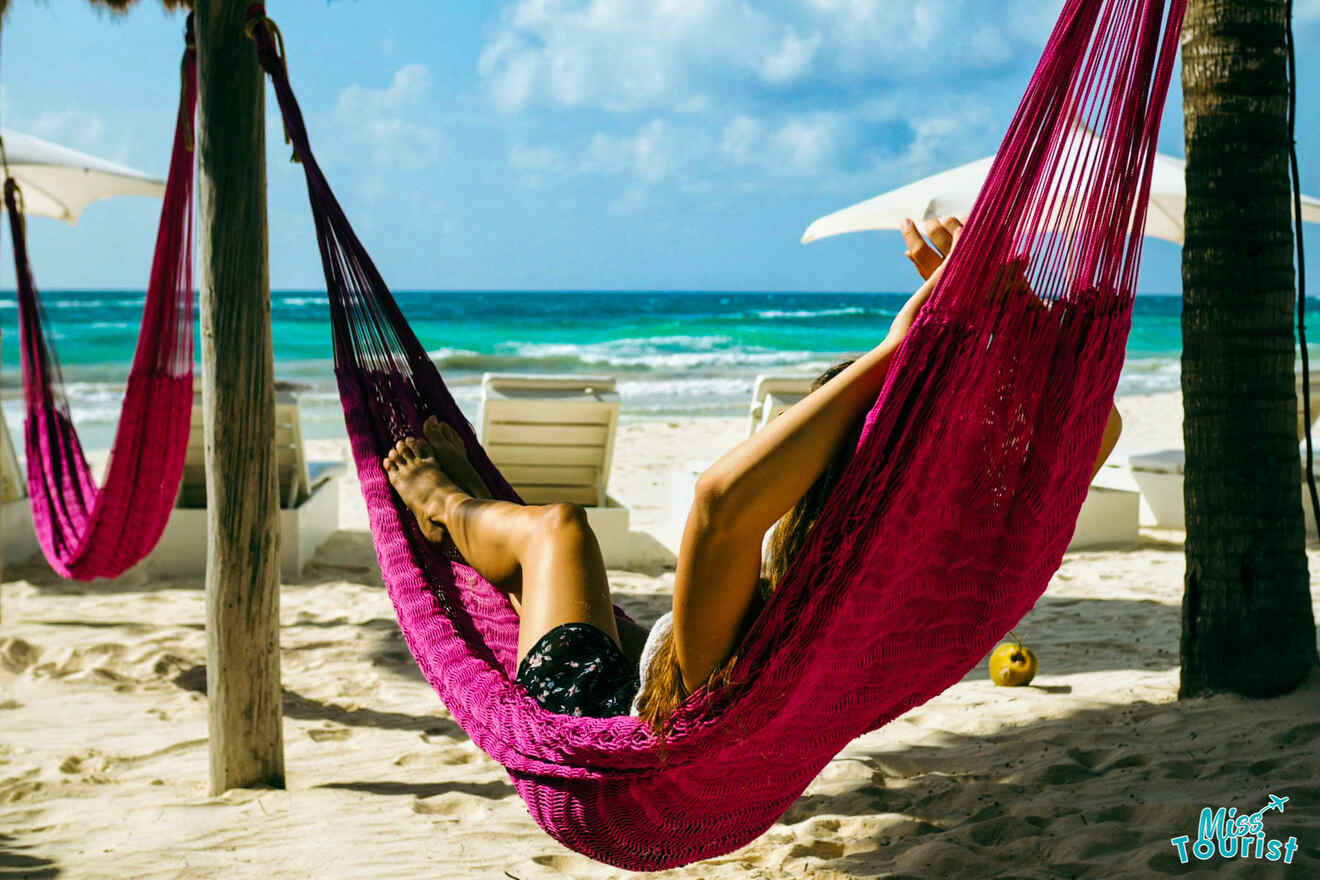 I would go for the full insurance for the peace of mind, but it is up to you (and, well, your company. If they require you to have a CDW, you will need to get it.
NOTE 1: The credit card has to be in the same name as the driver.
NOTE 2: Debit cards are usually not accepted as a deposit. You can pay with them but cannot have your deposit blocked.
PRO TIP: When choosing your car on Rentalcars or DiscoverCars, I recommend filtering by rating since it will be very clear to see which company is scamming people (aka charges an arm and a leg for the insurance once you are there and have no choice). I personally would not choose anything less than 8.0, maybe 7.8 min.
3. Other expenses: gas, tolls and fines
There are a couple of more things associated with car hire that you will need to pay for, car insurance being the most important of them:
3.1 Gas prices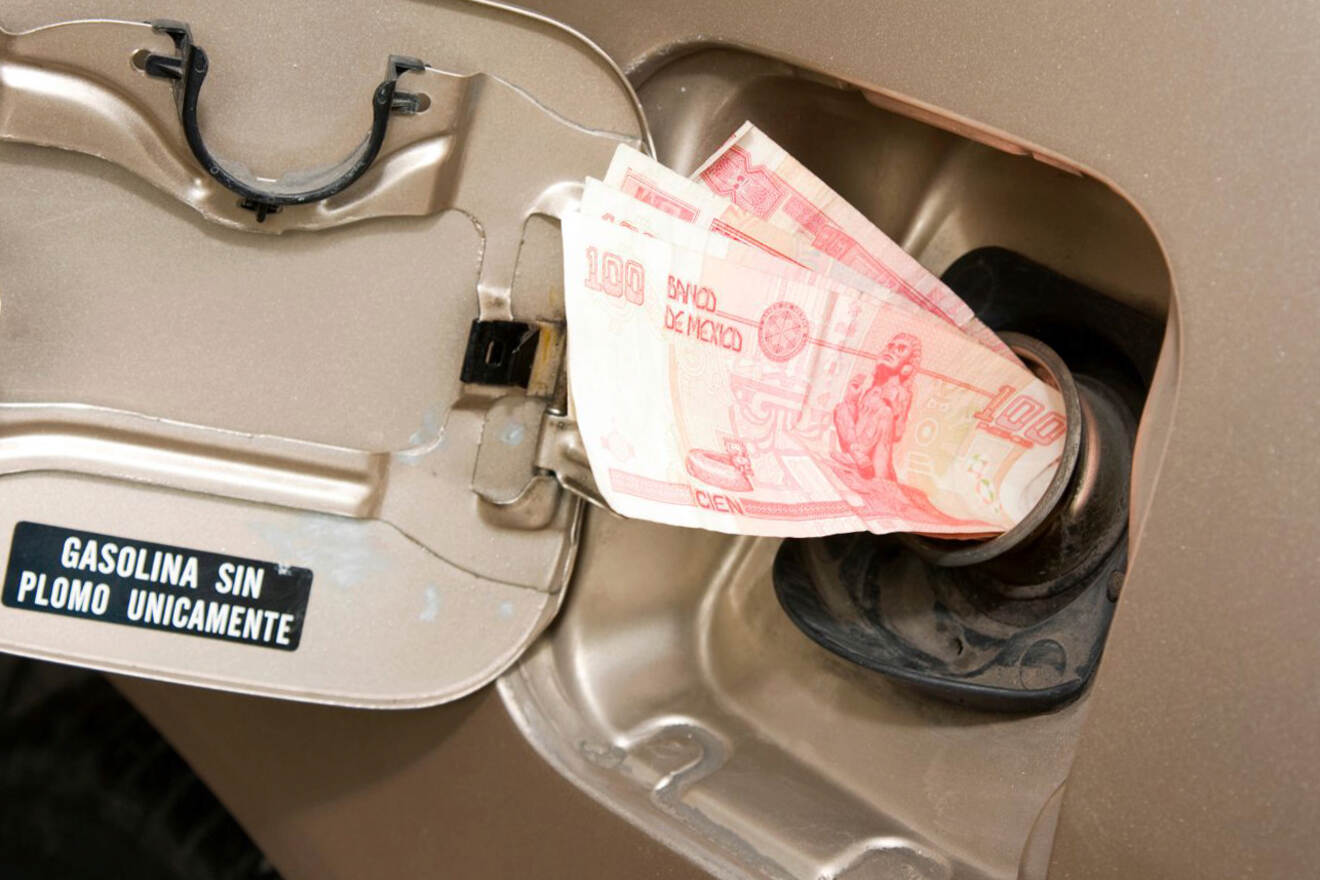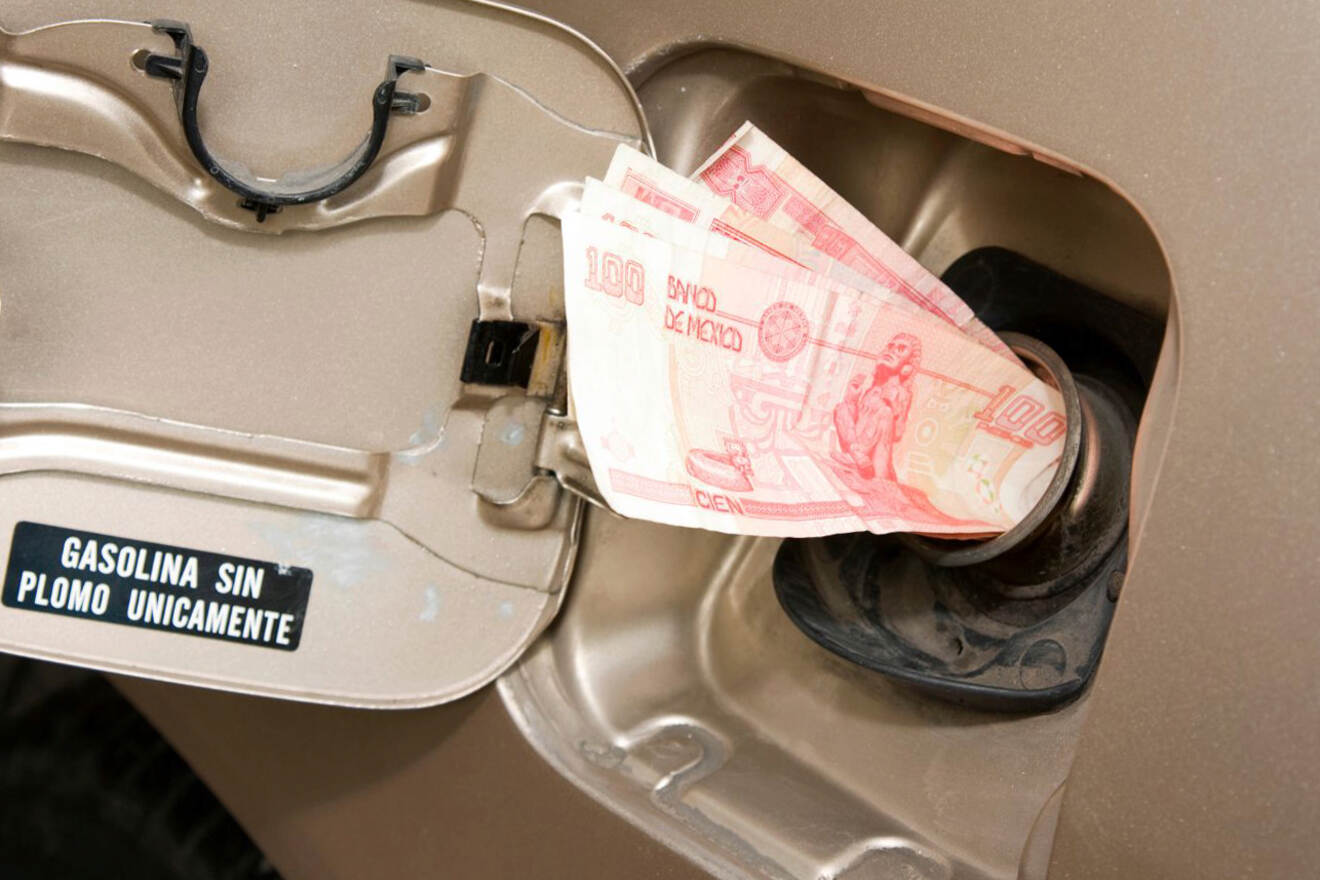 The current gas price is (check updated price here):
24.200MXN (US$1.4) per lt or 
91.600MXN (US$5.3) per gallon
How much you will spend:
If you're an average tourist driving about 310 miles (500 km) in a week, you can expect to spend between $70 to $90 USD on gas during that time. This, of course, varies depending on the fuel efficiency of your rental car and the routes you take.
PRO TIP: Pemex is the most popular gas station chain in Mexico, and you'll find it widely spread across Cancun. It is also the one I recommend to avoid being scammed/overcharged.
Types of gas
Regular unleaded – This is the standard fuel for most vehicles and the most affordable option.
Diesel – Common for larger vehicles or specialty cars. It's a bit more expensive than regular unleaded, but it offers better fuel economy, which can save you money over a longer trip.
Premium – While not as commonly used as the others for rental cars, some high-performance cars require premium gasoline. It's pricier than regular and diesel fuel, so ensure your rental vehicle needs it before filling up.
NOTE: Most gas stations in Cancún accept cards, but not all, so it's always a good idea to have some local currency (Mexican Pesos) on hand, just in case. Also, remember that gas stations in Mexico are full-service, meaning an attendant will pump your gas, and a small tip is expected.
3.2 Tolls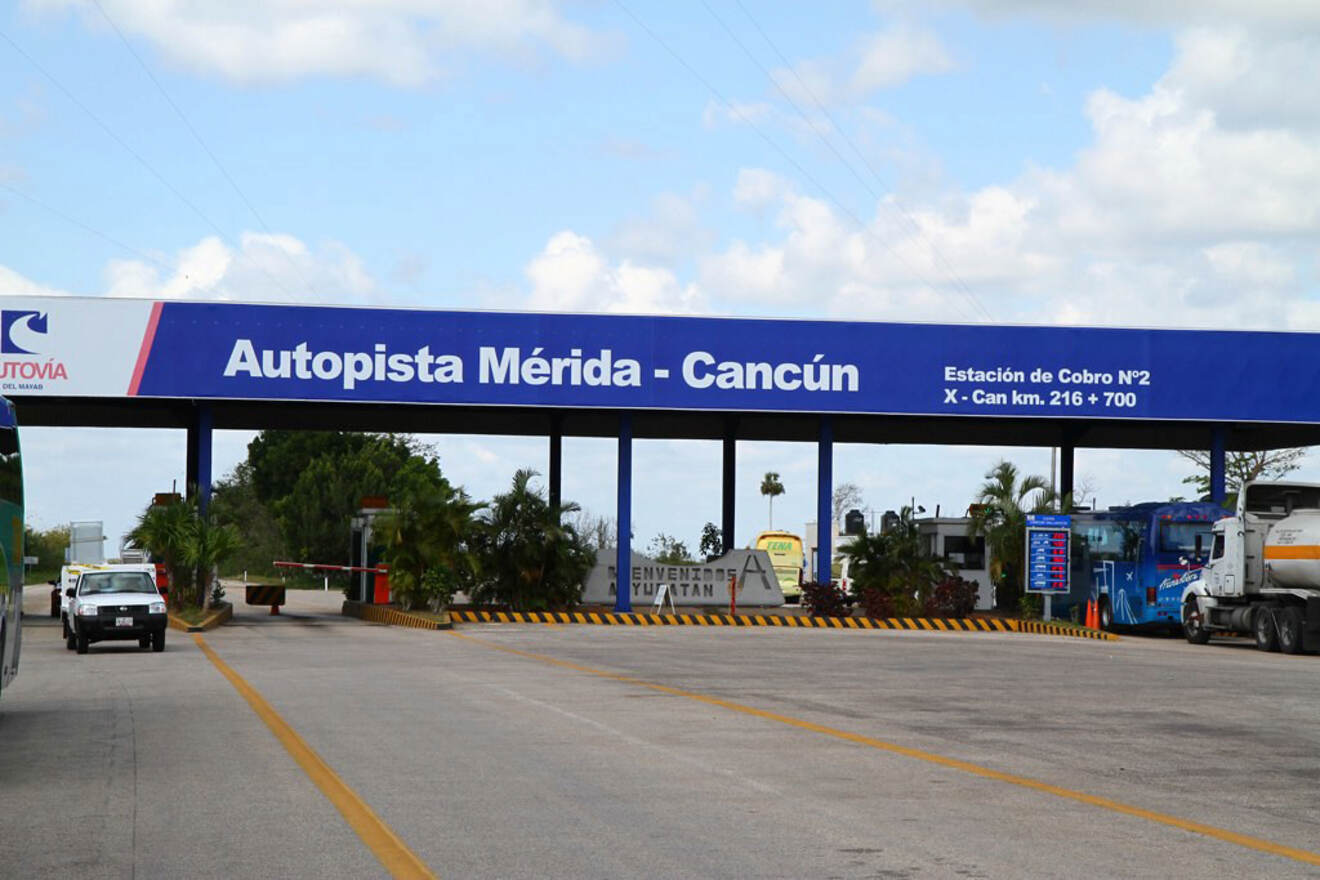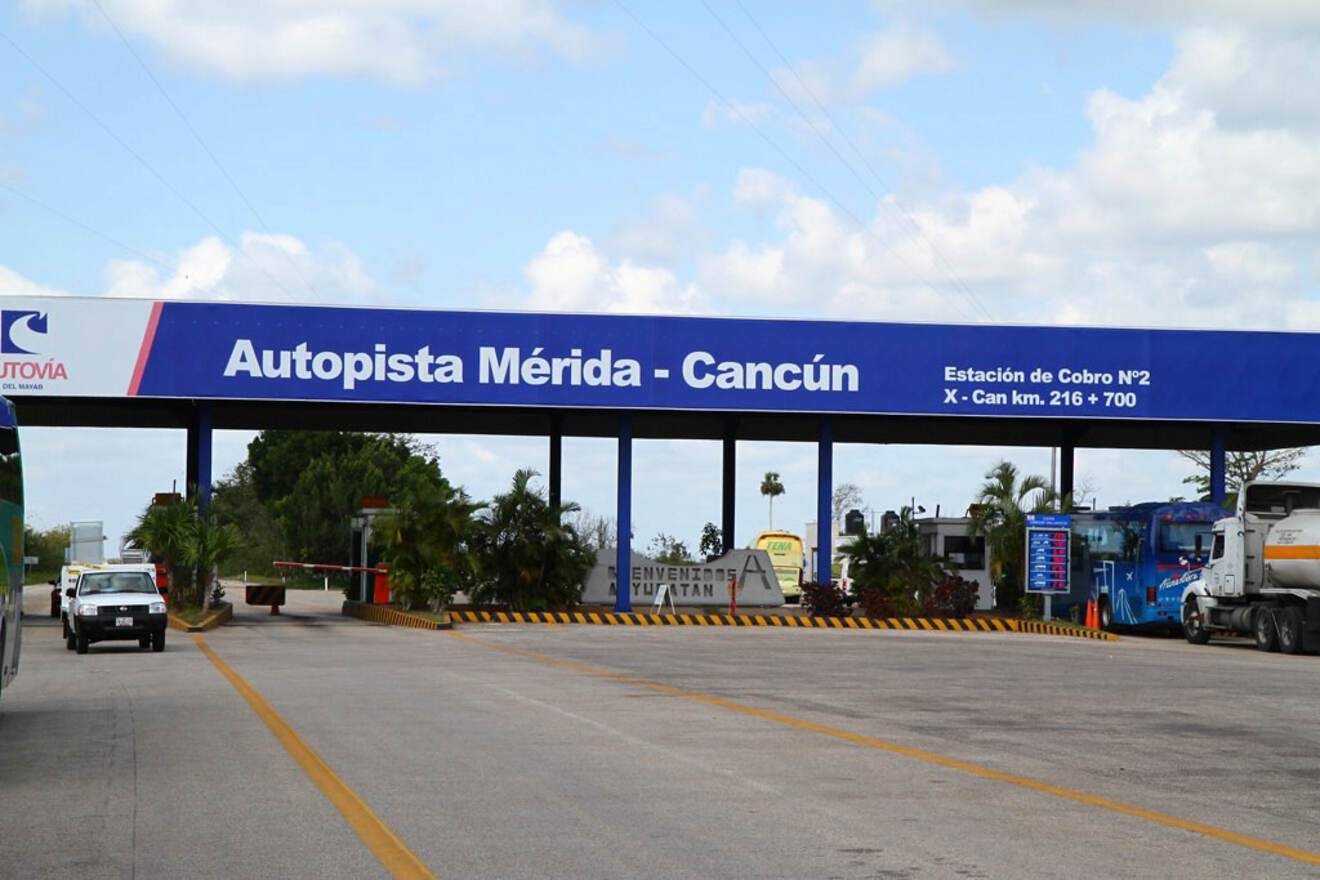 There are 2 toll roads (called "cuotas") in the Yucatan Peninsula: one that connects Riviera Maya to Merida and the other that links Merida to Cancún.
Prices can vary, but you should be prepared to pay around $3 to $5 USD for each toll. The toll booths only accept cash (Mexican Pesos), so make sure you have some handy before hitting the road.
PRO TIP: Keep your toll receipts ("recibo de peaje")just in case. In the event of an accident or breakdown on the toll road, the receipt is your proof of payment and guarantees you certain roadside assistance services.
NOTE: There are also "libre" (free) roads that run parallel to the toll roads. They can be a more scenic route, letting you explore the local towns along the way, but they might take more time due to traffic and road conditions. Weigh your options and decide what suits your travel style and schedule better!
4. Driving rules in Mexico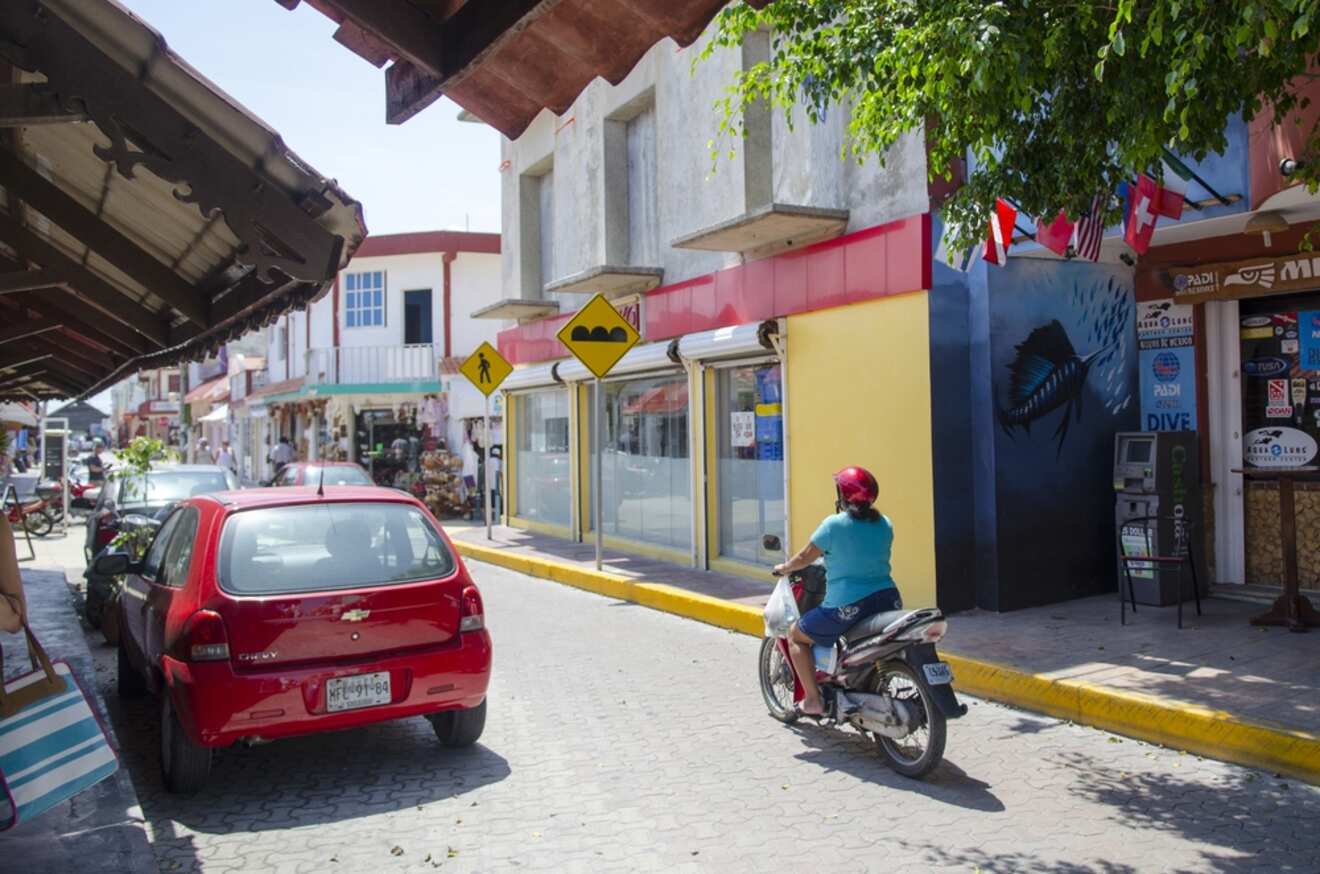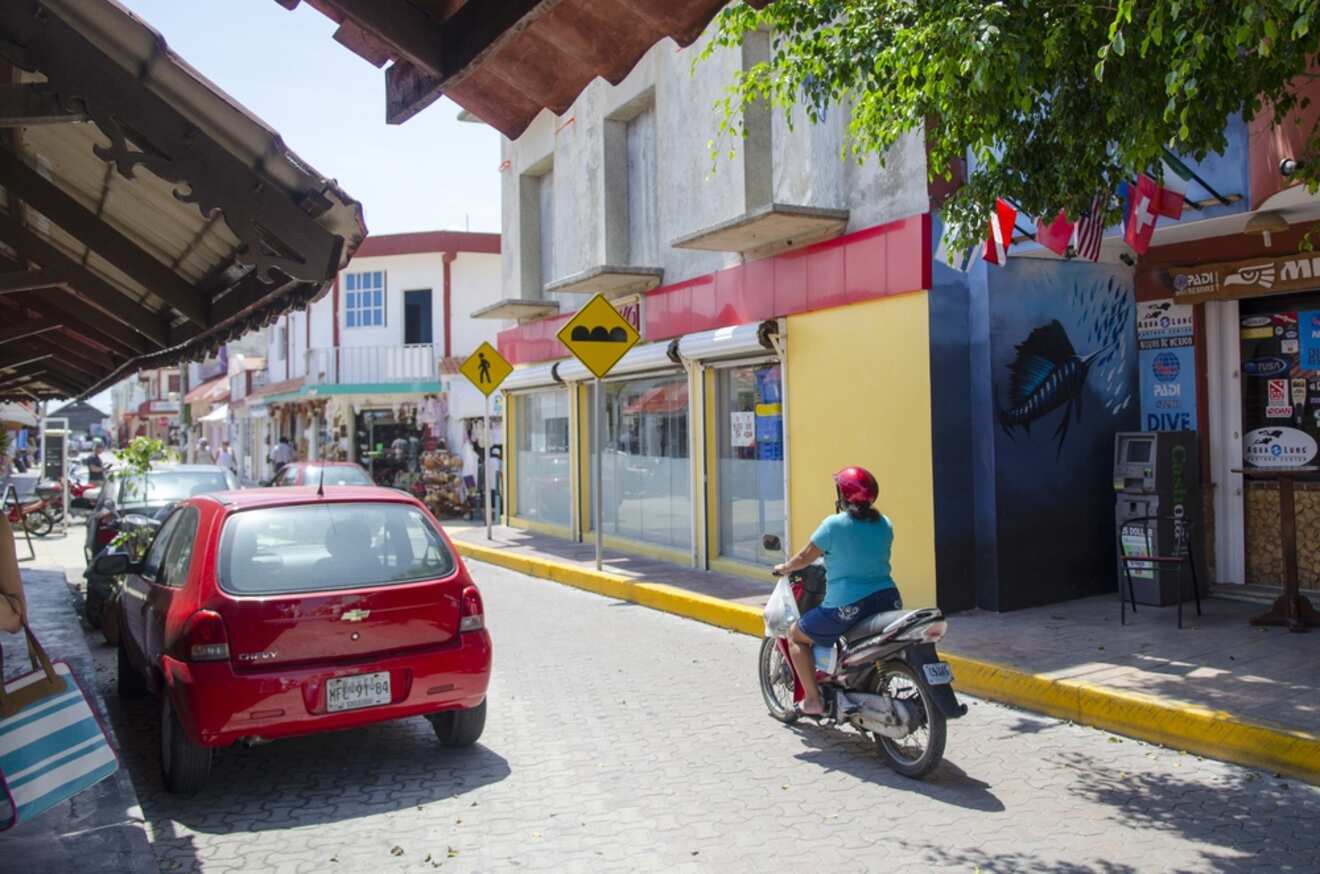 Generally, speed limits are 40 km/h in residential areas, 80 km/h on rural roads, and 110 km/h on highways. The fines are anywhere between 40 and 150 USD depending on how much you exceed the limit.
Driving drunk in Mexico is a criminal offense. If you're caught driving while over the legal blood alcohol content (BAC) limit, you may be detained for up to 36 hours. The BAC limit in Quintana Roo (the state where Cancun is located) is 0.8 which translates to about 3 drinks.
In Mexico, all children under the age of 12 must be properly secured in a car seat or booster seat. If you're stopped by police and found not in compliance with the law, you may be fined up to $200 USD.
Seat belts are required by law for all passengers in a vehicle in Mexico. All drivers and front seat passengers must wear a seat belt at all times, while back seat passengers are only required to wear a seat belt if the vehicle is equipped with them​​.
Road signs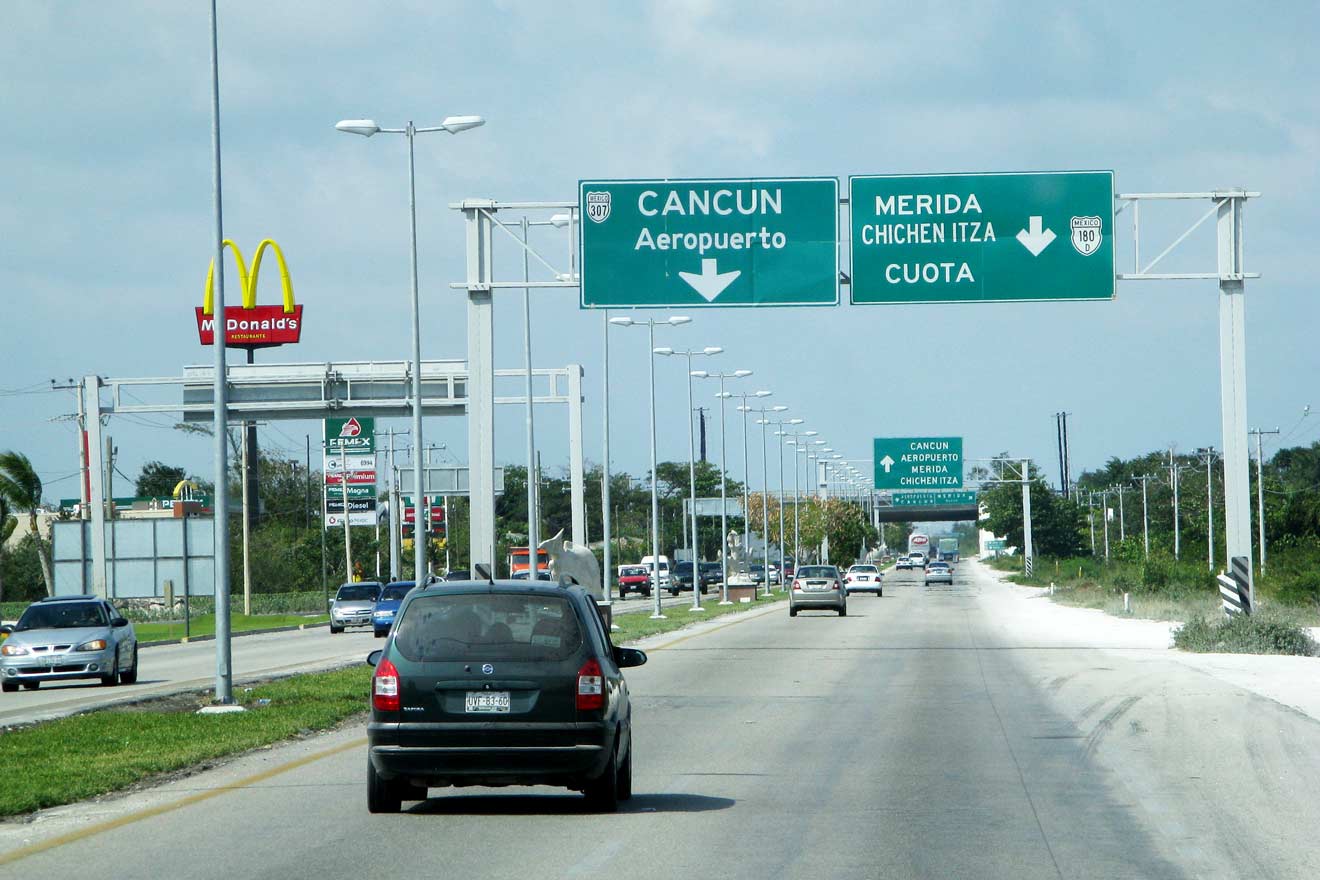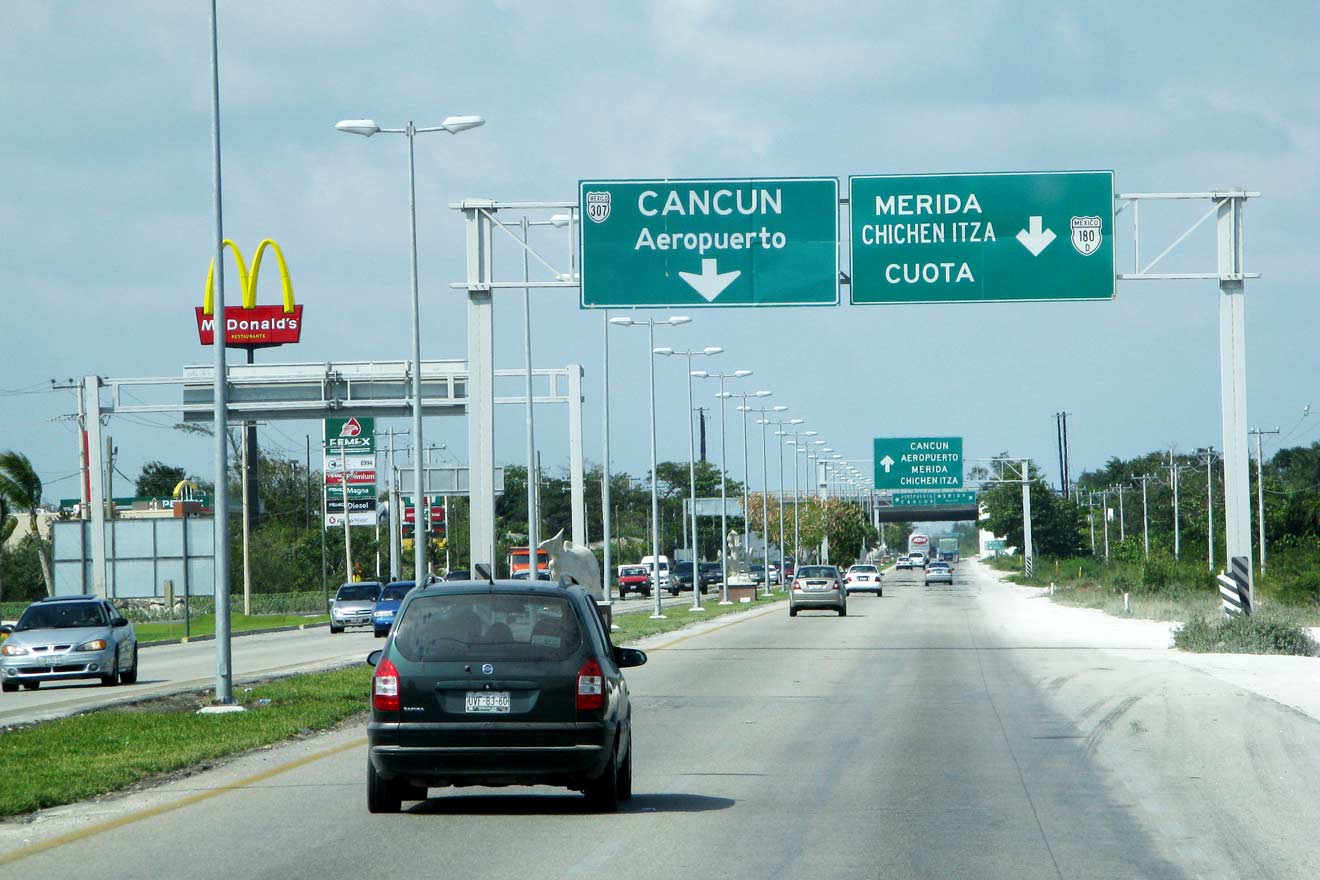 Most road signs are exactly the same as what you are used to in Europe/USA so this should not be confusing. Here you will find a list of all of them with an explanation in English.
Note that the writing will be in Spanish, but they often use simple and clear symbols that are quite intuitive. 'Alto' is a common sign you'll see, which means 'Stop.' Speed limits are in kilometers per hour (km/h).
Local driving style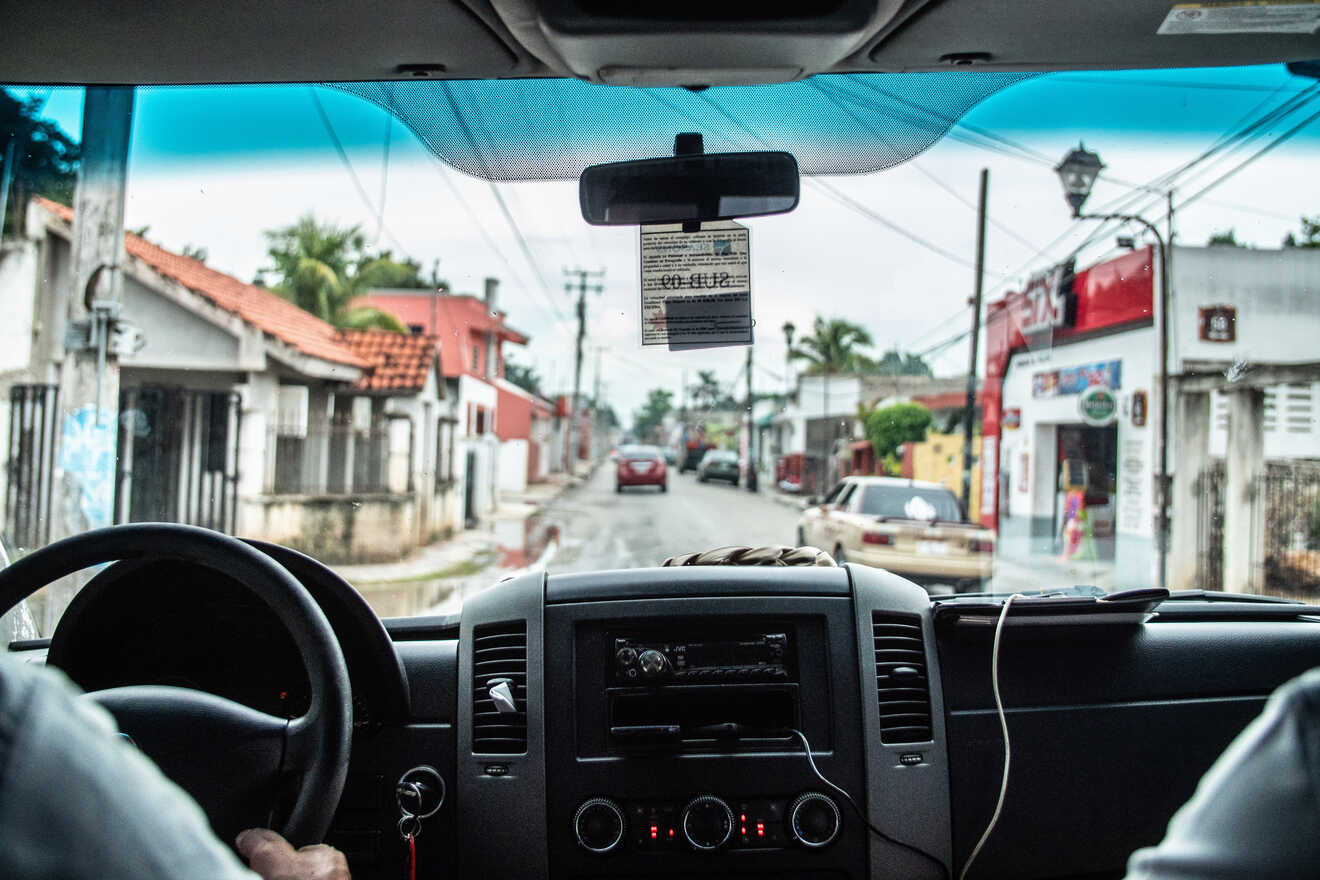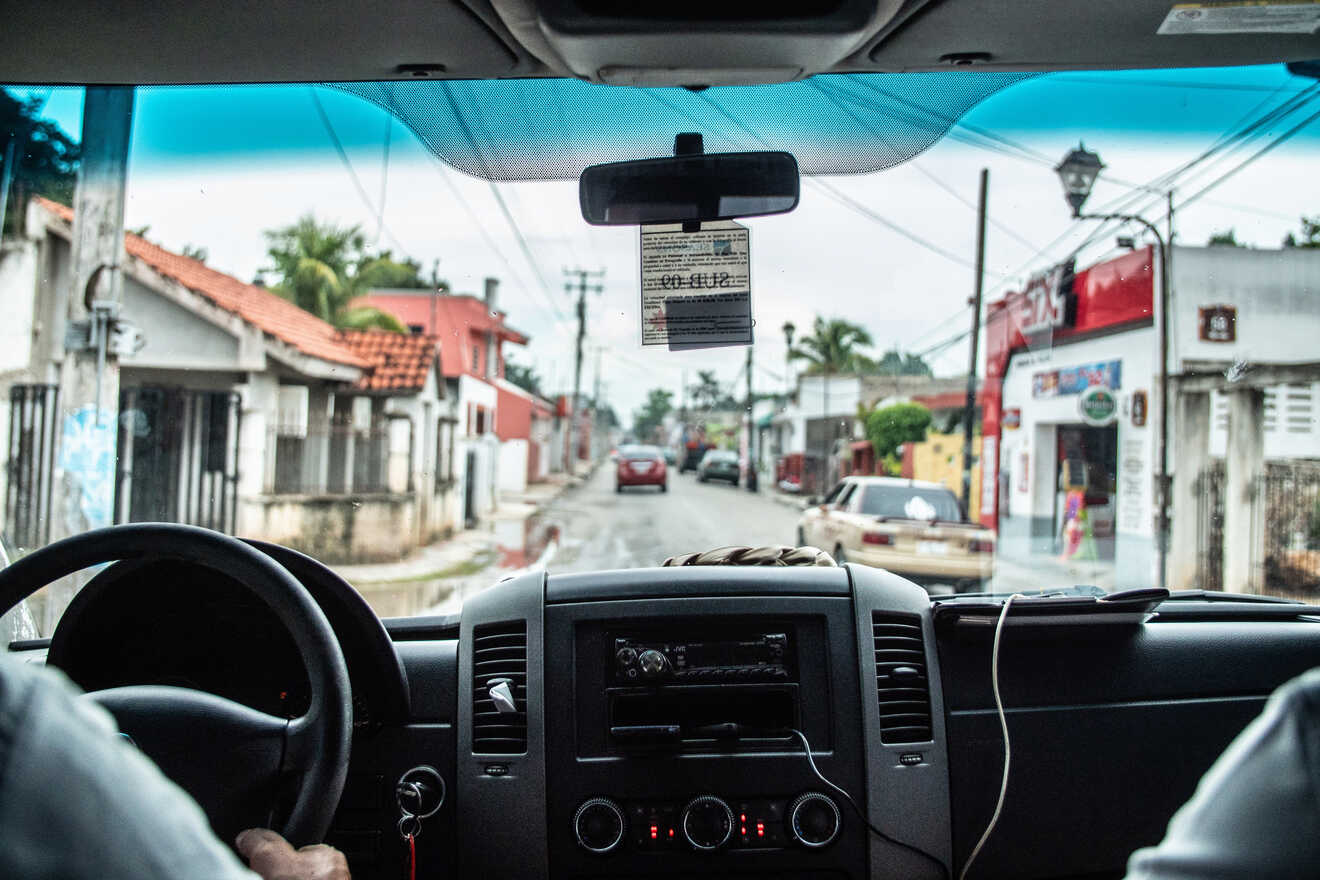 Mexican drivers are known for … how should I put it, their adaptability to the dynamic driving conditions (read – you can expect anything).
Here are some things to keep in mind:
Collectivos -these are local minibusses that serve as public transportation. They can often stop abruptly to pick up or drop off passengers (there are no indicated stops, it stops where people need to get off/jump in).
Another thing I want you to know is that if a car flashes its headlights at you, it typically means that the driver wants to pass or that you should move out of the way. This is a common practice, especially on highways, and is usually a courteous warning rather than an aggressive gesture.
As you might know, the left lane on highways is generally intended for faster-moving traffic, the only difference is that in Mexico people using the left lane usually drive way above the speed limit. So if you are on the left lane driving at maximum speed, I would still move on the right to let the "rule breakers" pass.
5. Driving in Mexico and safety
5.1 Bribing, mafia, police checks, etc.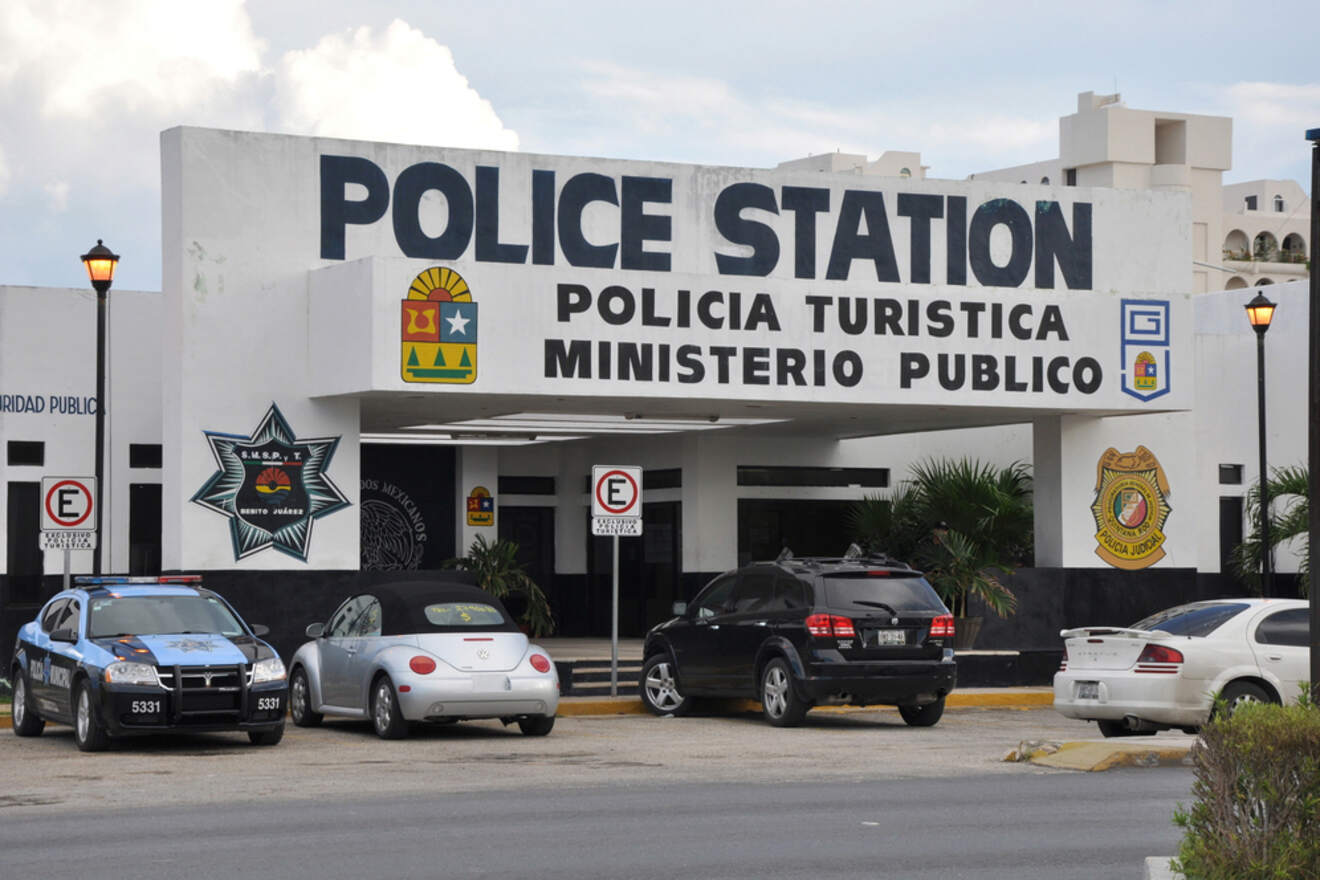 You have probably already heard about Mexican realities – corruption and bribery can sometimes present challenges for travelers, so let's talk about that.
While it's true that Mexico, like many other countries, has some issues like organized crime and corruption, it's essential not to let these overshadow the fact that millions of tourists visit the country each year without any bad experiences (me included).
If the police stop you – do not freak out, it is completely normal just like it happens in other countries. If you know for sure you have done nothing wrong and the policeman is requiring a "payment" now claiming if you go to the station it will be much more steep – it is a bluff. Be polite and firm – you did not break any laws, they will eventually give up and leave you alone.
PRO TIP: if you feel an officer is kind of asking for a bribe and you've done nothing wrong, a useful strategy could be to mention that you are a blogger and you'd like to record a video for your instagram. Most officers will not want to be filmed and will let you go right away. A friend of mine played "dumb" this way and it worked right away!
5.2 Driving at night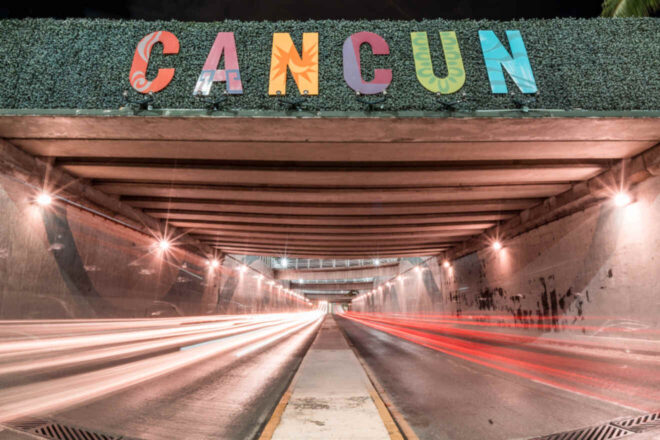 While driving at night is usually pretty safe (especially in super tourist areas like Cancun and Yucatan state in general), it is still worth practicing common sense – be aware of unlit vehicles or obstacles on the road, and exercise caution in remote areas where roadside assistance might be scarce.
Driving on small secondary roads at night in Mexico can be hard because there isn't much light and the road can change quickly. So, if you need to drive at night, be extra careful.
5.3 4 Possible scams
Scams unfortunately happen from time to time, but as long as you know about them in advance and won't fall for it, you are safe! Here are the most common ones:
1. Extra payment for an insurance scam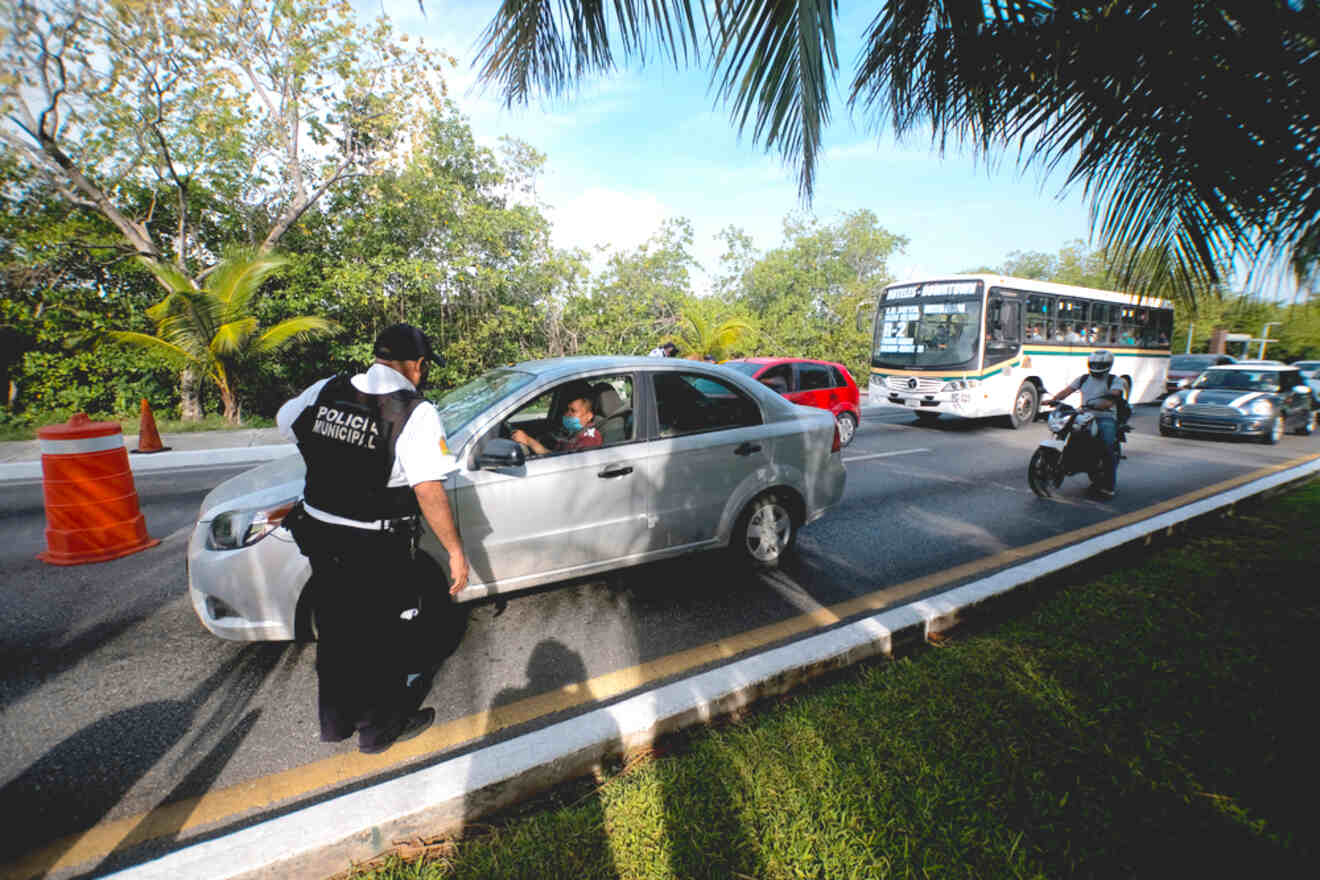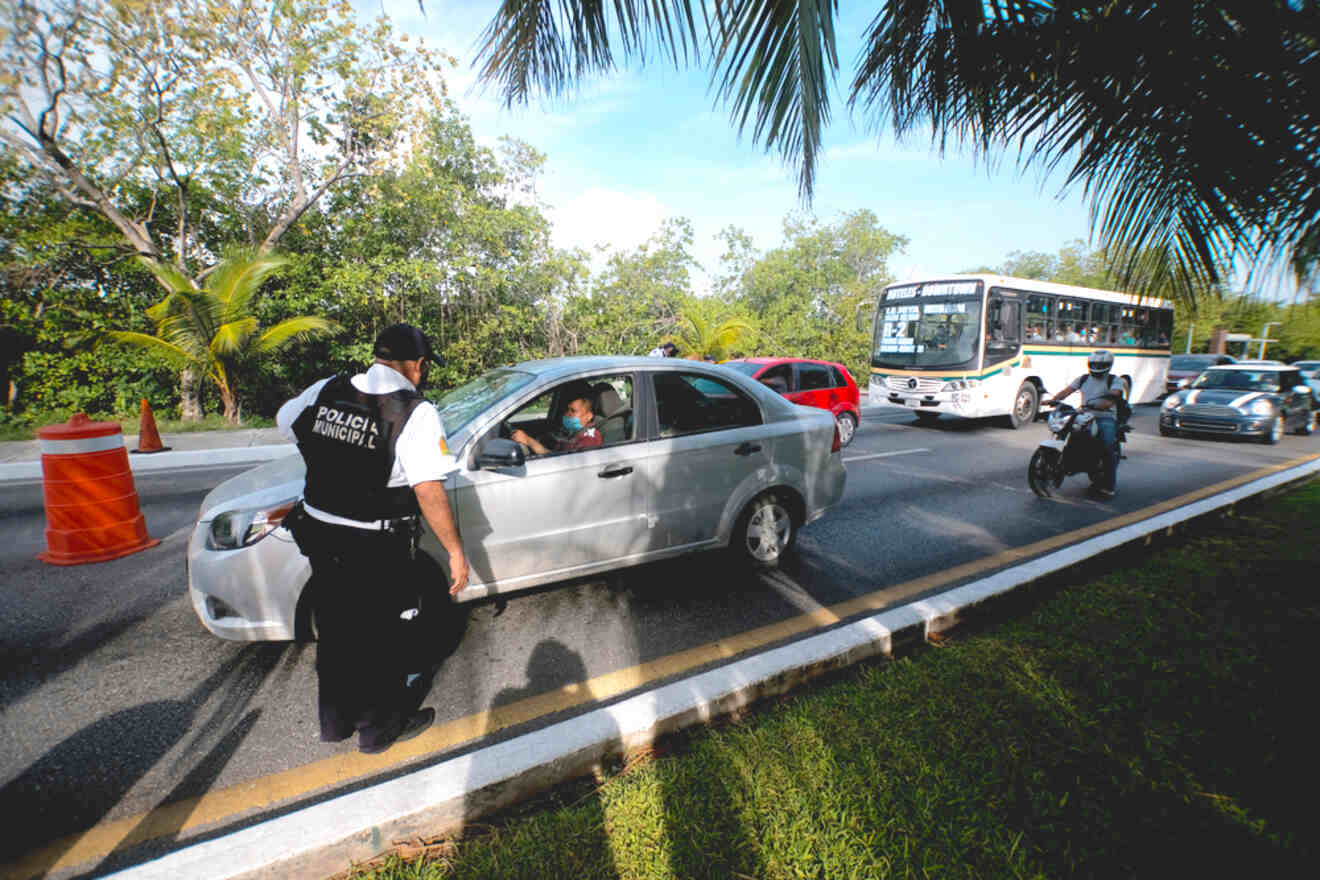 Some rental companies may insist that you need to buy additional insurance, even if you have coverage through your credit card. They may use high-pressure sales tactics to make you believe that the extra insurance is mandatory. Always check with your insurance provider beforehand to understand what's covered and stand your ground if you're certain you don't need additional coverage.
A variation of this scam involves high exchange rates. When you're quoted the cost of the insurance in Mexican Pesos, and then it's converted to your currency, the exchange rate used may be much higher than the actual rate. Always try to get quotes in your own currency or check the current exchange rate before you agree to any payments.
2. Fuel scam
When you rent a car, the fuel tank is usually full, and you're expected to return it the same way. However, some unscrupulous employees might not reset the fuel meter after the previous renter.
When you drive away, the meter might not read as full, and you could end up paying for fuel that you didn't use. To avoid this, always ensure that the employee resets the fuel meter in your presence before you drive off.
3. Gas station overcharge scam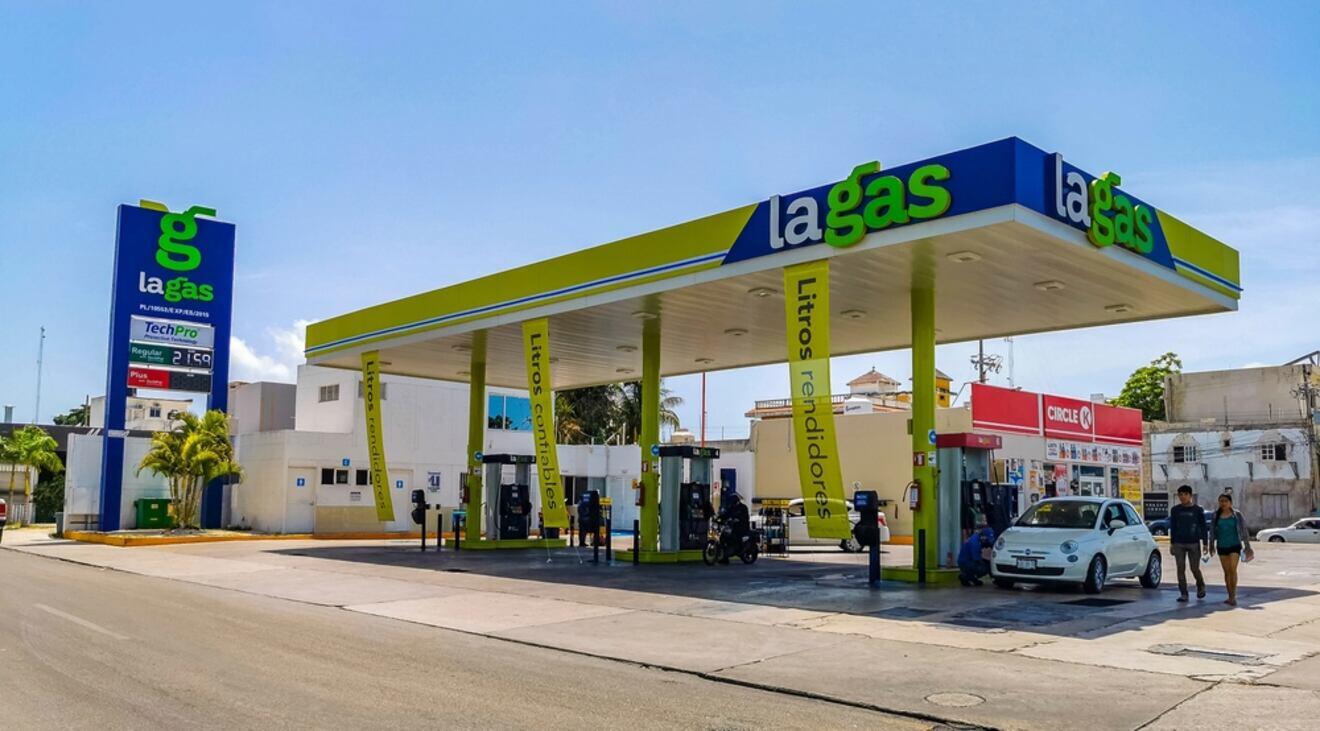 Another variation of a fuel scam is when they overcharge you at the gas station. The attendant might not reset the meter to zero after the previous customer, causing you to pay for the previous customer's gas in addition to your own.
To avoid this scam, always get out of the car and ensure that the meter is reset to zero before the attendant begins pumping gas into your vehicle. If the attendant starts pumping before you've had a chance to check the meter, ask them to stop and insist on a reset. It's your right as a customer to receive the exact amount of fuel you're paying for.
4. Money-switching scam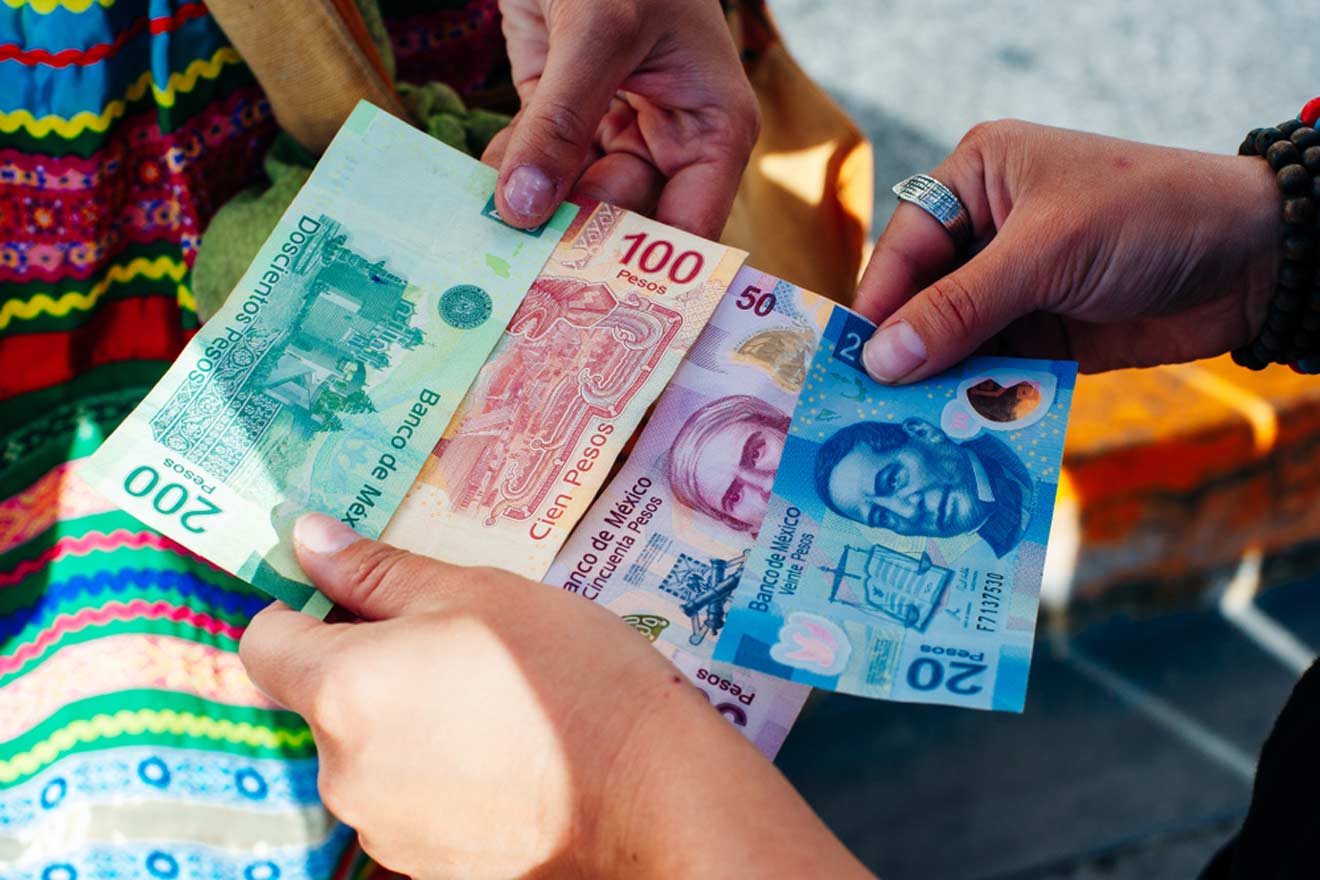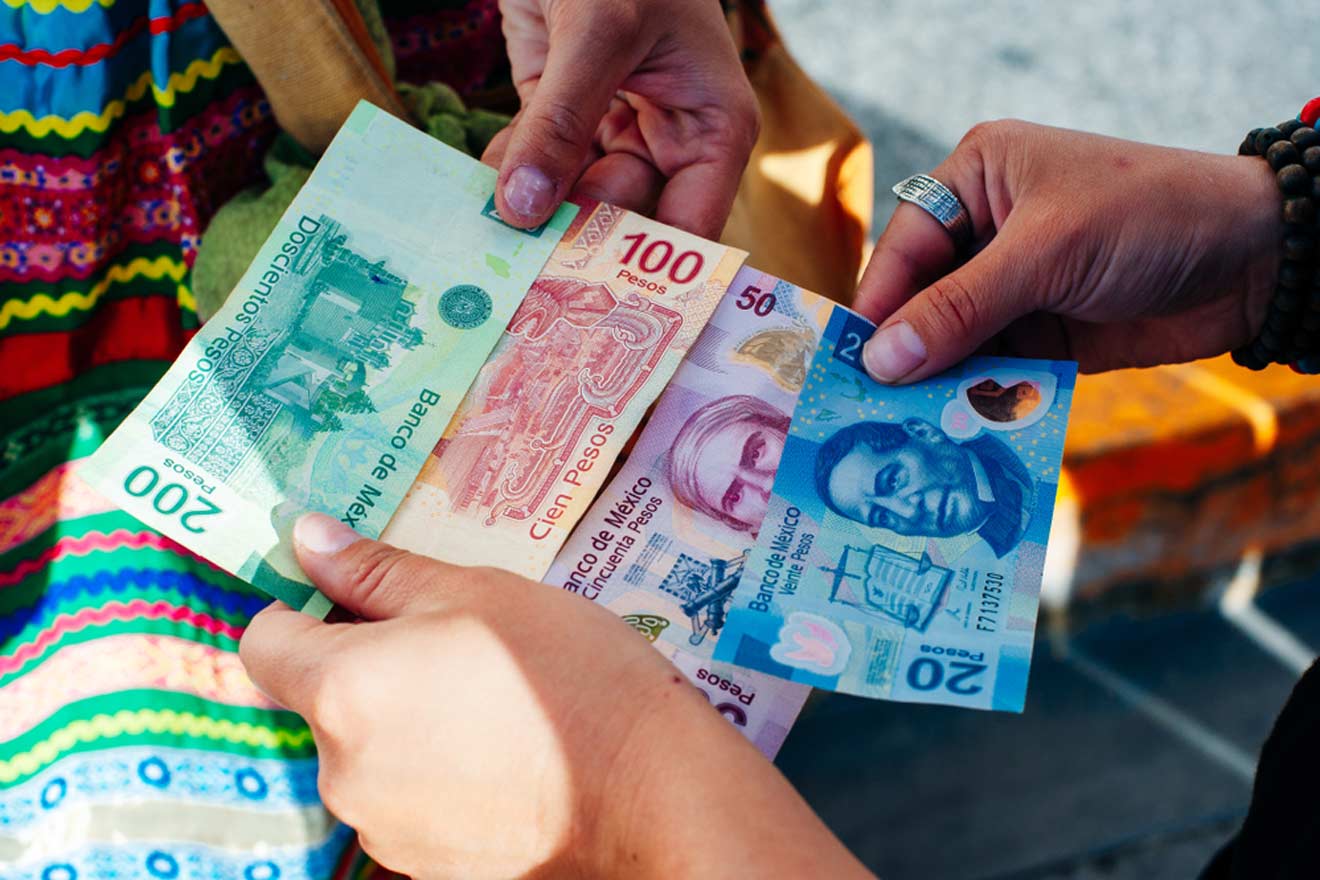 Just remember the color – a 100 pesos note is red, and a 10 pesos banknote is green.
In this scam, when you hand over a larger denomination bill (for instance, 100), the person might quickly switch it with a smaller denomination note (like a 10) when you aren't paying attention. They will then insist that you only gave them the smaller amount. To avoid falling victim to this scam, always double-check the denominations you're handing over.
6. All about parking in Cancun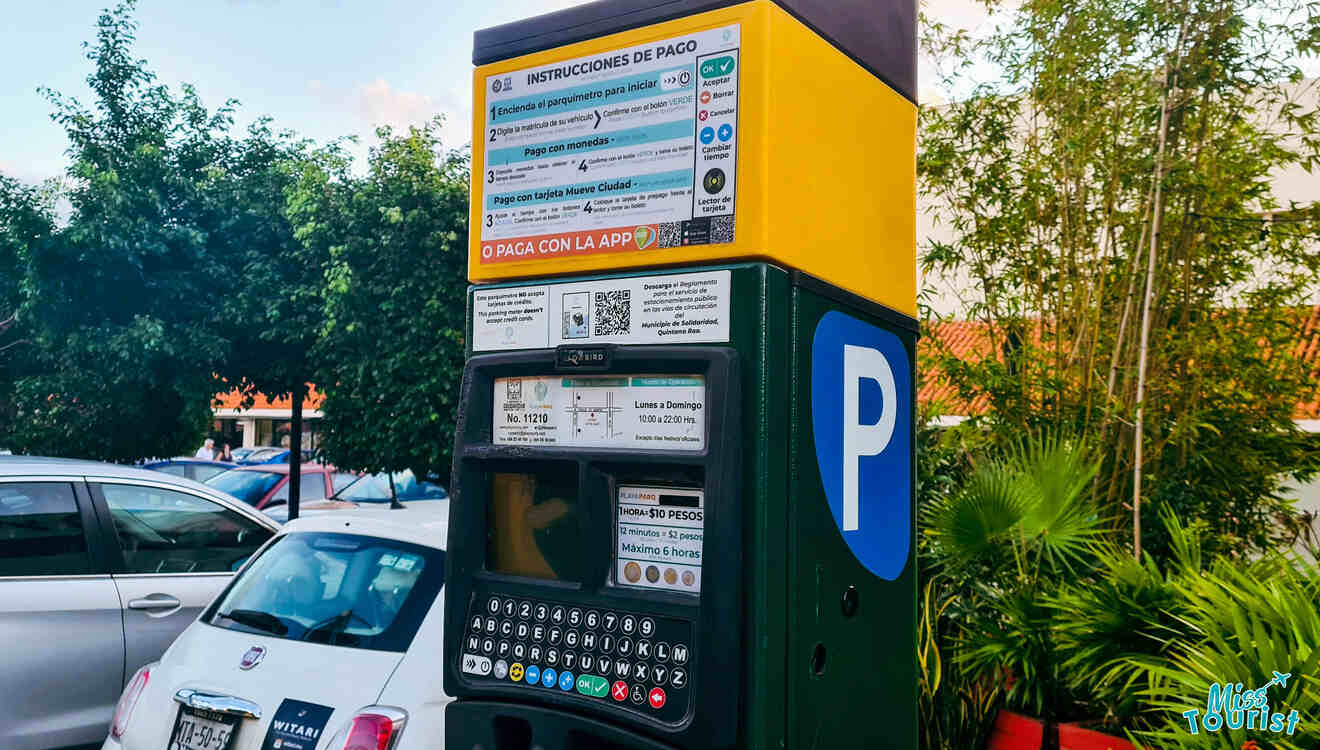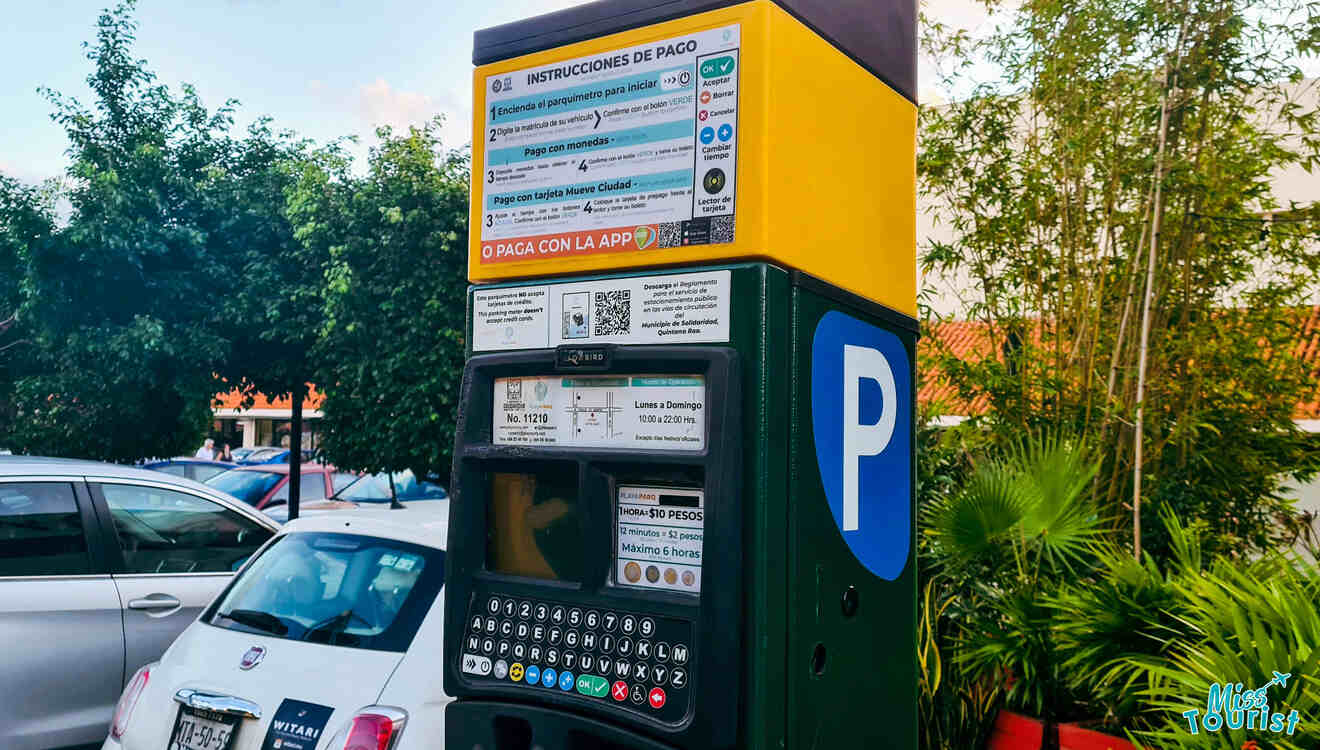 There can be a significant difference in parking options between the city center and the Zona Hotelera. The city center tends to have more street parking options, while in the Zona Hotelera, parking is more limited.
So, if you are renting a car and staying in Cancun (or Tulum/Playa for that matter), for convenience and peace of mind, I would recommend booking accommodation that includes parking. Most hotels actually do provide free parking in the Hotel Zone, but they also really check if you are really a guest. Most Airbnbs don't so it is definitely worth checking before booking.
There are some paid parking facilities in the city too, the prices vary a lot, but it can be around 10-20USD per day or 1-1.5USD per hour.
As for parking near main attractions near Cancun, it is usually free for adventure parks etc. (included in the ticket price), the only thing you might need to pay is tips to your parking attendant if there is any (usually about 20 pesos (~1USD) is great. Parkings to sights like Chichen Itza etc. usually are paid and range from 4 to 8 USD. Here are the prices I could gather:
Chichen Itza – parking is available right next to the entrance and costs about 80 MXN (approximately $4) per car​
Tulum Ruins -parking costs 160 pesos (approximately 8 dollars)​
Cenote Ik Kil -there is a large parking space available and parking is free of charge
Check the Rates for Your Dates
7. Fines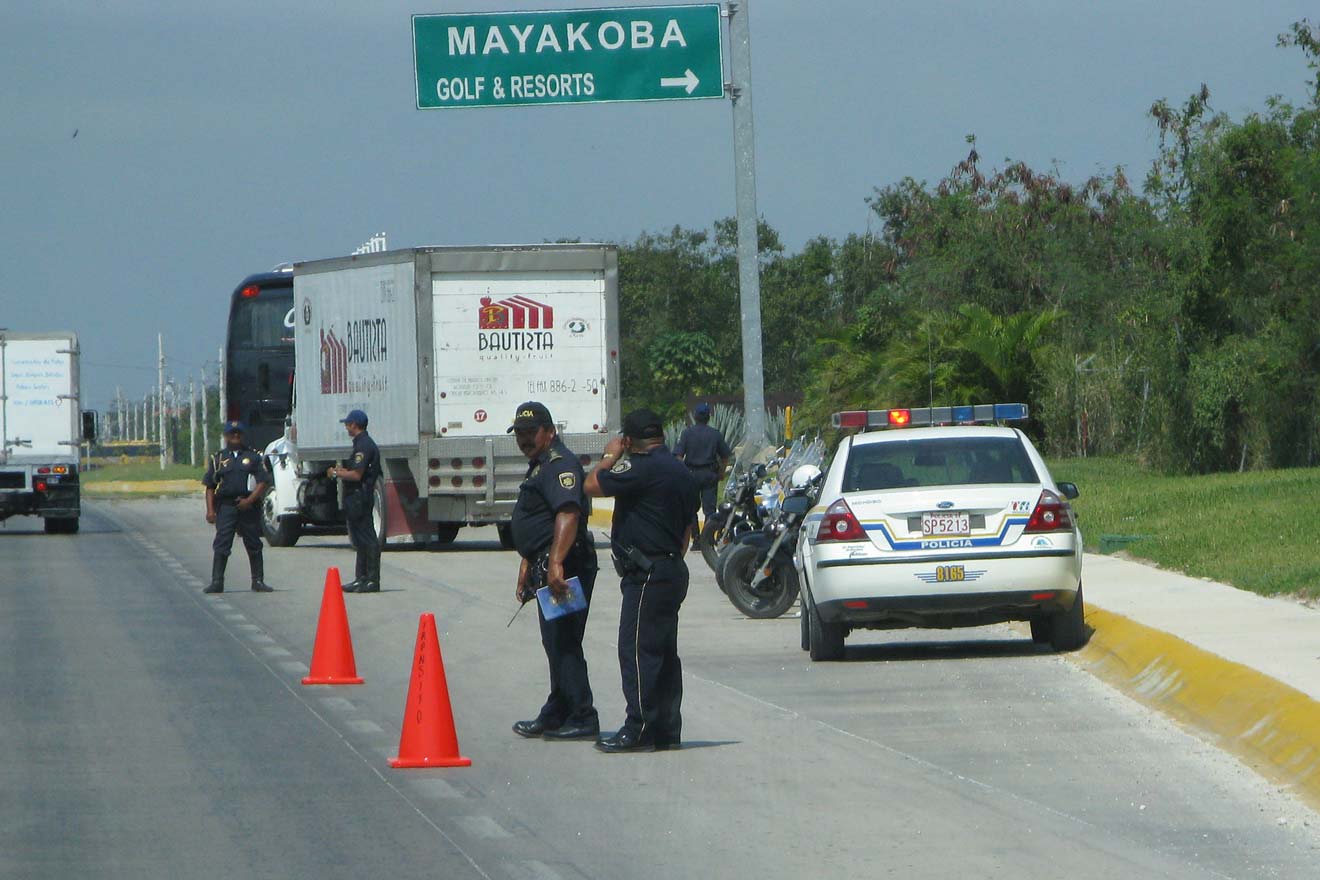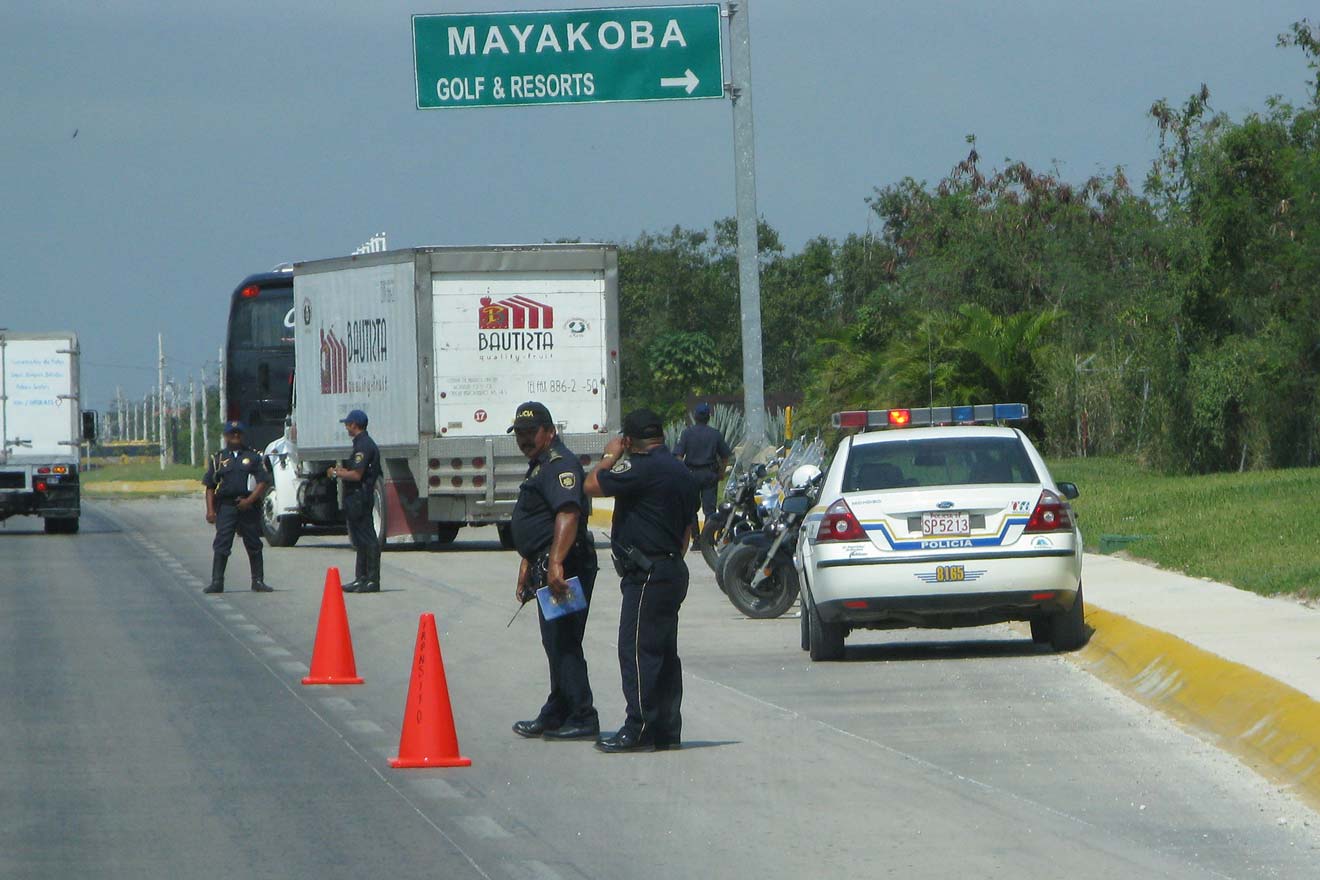 The speed limits in Cancun are relatively straightforward: 60 km/h in residential areas, 80 km/h on open roads, and 110 km/h on highways.
PRO TIP: if you're using Waze to navigate, it actually alerts you to the current speed limit on the particular stretch of road you're driving on.
Here's a rough guide to the fines you may face if you're caught speeding:
If you exceed the speed limit up to 20 km/h: Fines range from 750 to 2,500 MXN
20 km/h to 40 km/h over the limit: Fines range from 2,000 to 4,000 MXN
More than 40 km/h over the limit: Fines start at 3,000 MXN and can go much higher, plus the potential suspension of your driver's license.
NOTE: speed cameras, though not many, exist in Yucatan. There are definitely some on the exit of highways, but there may be more since the last time I visited.
The penalties for drunk driving can be severe:
For a blood alcohol level of 0.08 g/l to 0.1 g/l, fines start at 3,000 MXN
If your level is 0.1 g/l to 0.15 g/l, fines range from 6,000 to 10,000 MXN
If you're over 0.15 g/l, in addition to hefty fines, you could be looking at jail time.
Child safety is also a critical concern. In Mexico, children under 12 years old must always travel in the back seat of the vehicle. Children under 5 years old must be in an appropriate child car seat (request one from before from your rental or bring your own if you need one).
8. Road conditions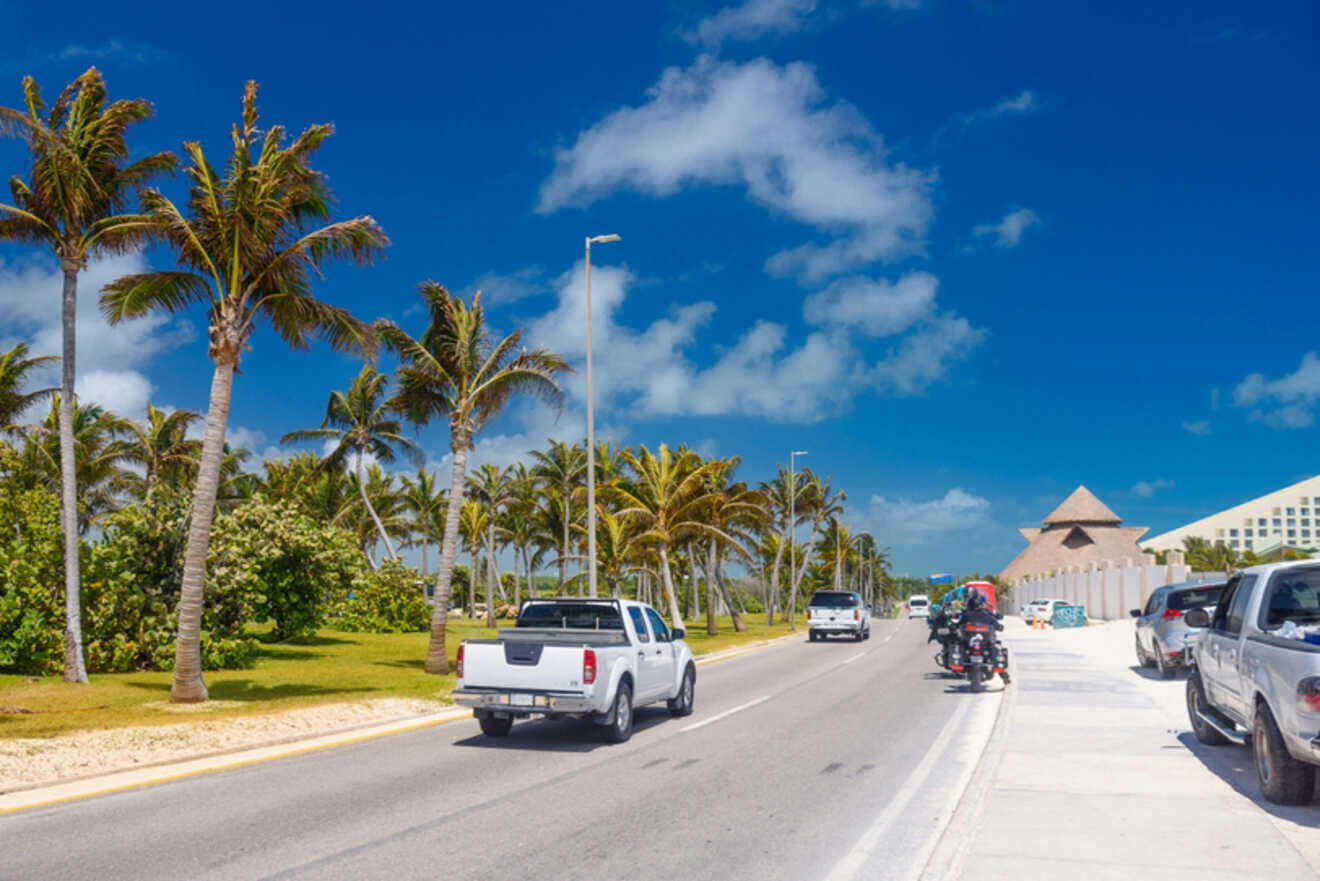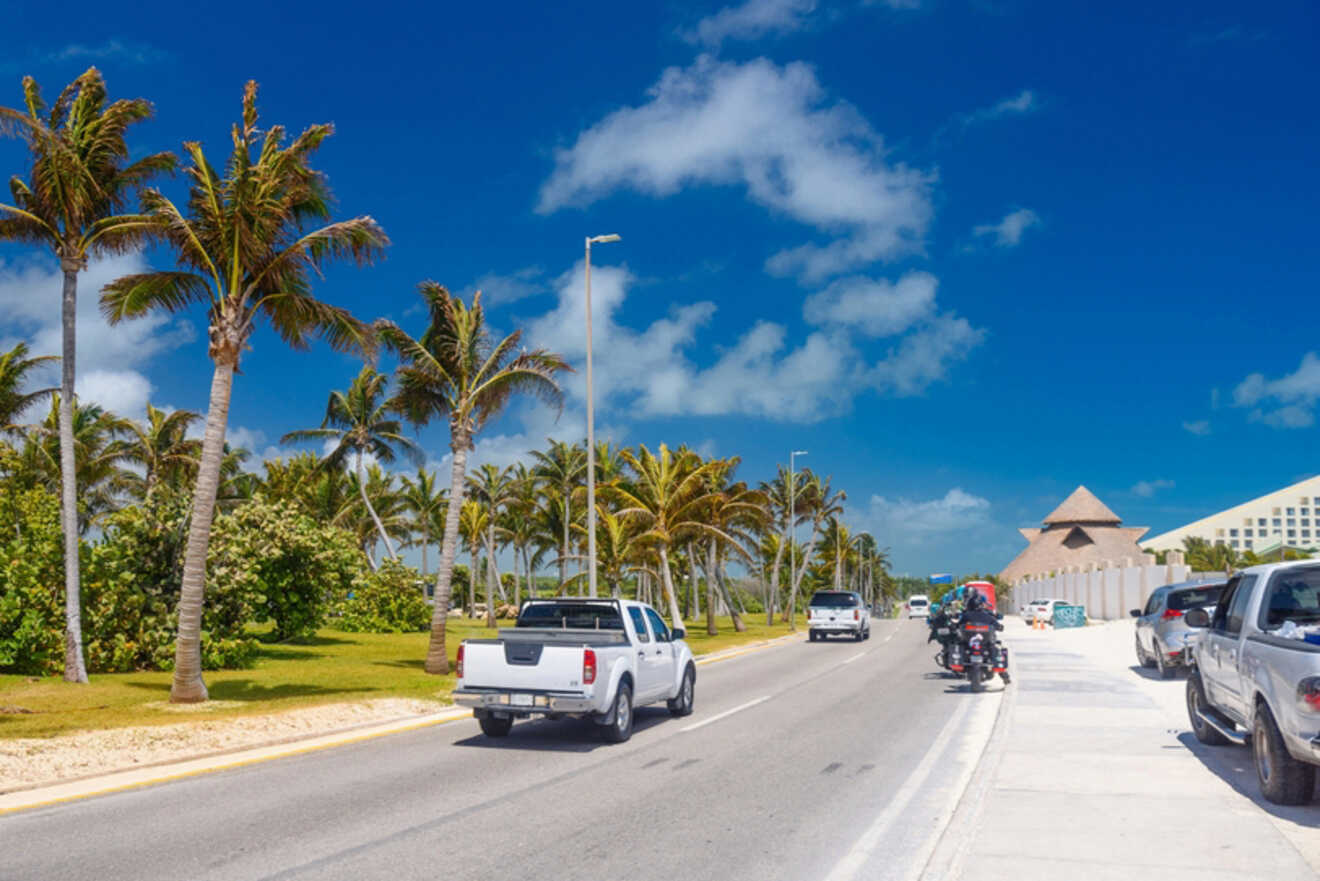 Overall, I would say that the road quality in the region is pretty good, but here are a couple of things to keep in mind:
Speed bumps – or "topes" as locals call them. Please note that many of these speed bumps are not clearly marked or painted, making them hard to see, especially at night. Always drive at a moderate speed and keep an eye out for these unexpected obstacles.
Traffic – in major cities like Cancun and Tulum, traffic can be quite heavy, particularly during rush hours and high tourist season. The roads in Cancun are typically wider and better maintained than in smaller towns, but they can still get crowded. Tulum road from the city center to the beach is usually one big traffic jam so account for that when you plan your trip.
Animals on the road – it's definitely not uncommon to encounter animals on the road, mainly dogs. Stray dogs are a common sight in many areas, and they can often wander into the road. Keep an eye out for these kinds of things!
9. Additional fees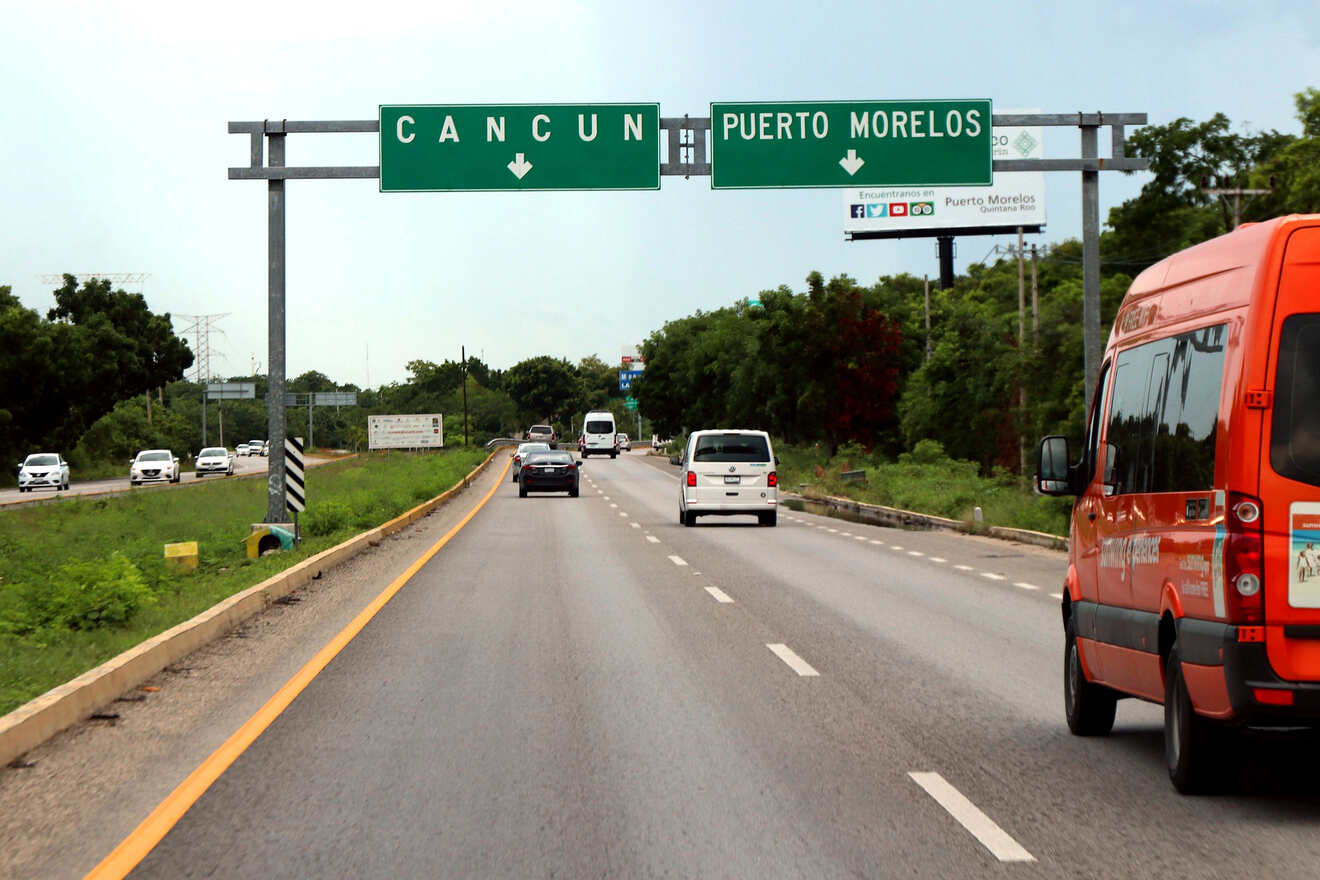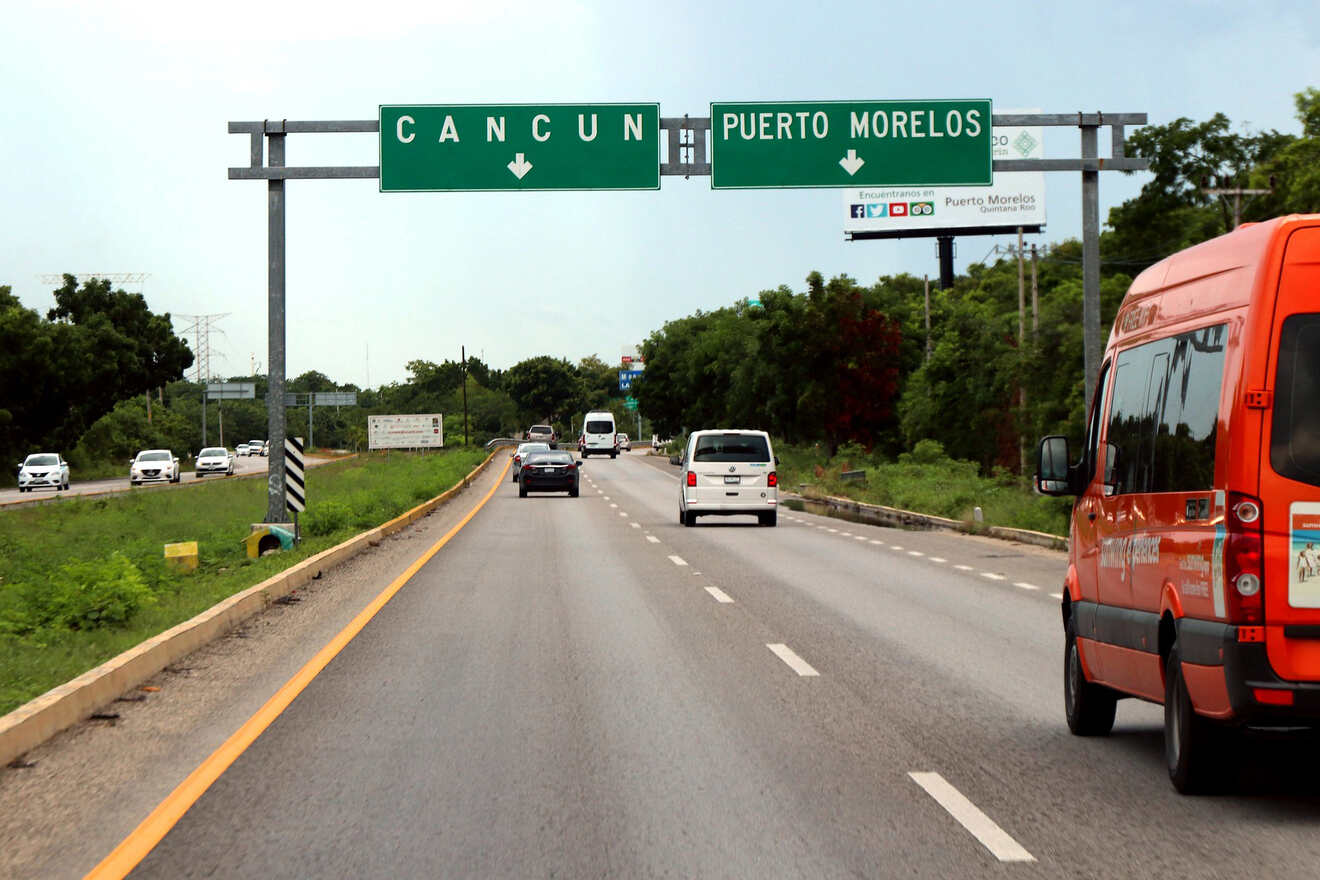 While renting a car in Cancún can be affordable compared to other destinations (I am looking at you, Norway), there are a couple more additional fees that I want you to be aware of. While they are pretty normal to be charged extra anywhere in the world, I found the pricing specific for Cancún/Mexico:
GPS – around $10-20 per day. To save money, consider using your smartphone for navigation. Just make sure your car has a USB charger, or bring a USB adapter for older models. Bringing your own car phone holder can also be useful
Wi-Fi router – typically around $10-20 per day. As an alternative, consider buying a local SIM card, which can be much cheaper for long-term use or an e-sim like Airalo – super convenient, that is what I use all the time
One-way rental – anywhere from $50 to $200, depending on the location. Not all companies offer this service, so ask in advance
Fuel charge – if you return the car without a full tank, the rental company will charge you a fee, often at a much higher rate than local gas stations
Young/senior driver fee – most companies charge drivers under 25 or over 70-80 an extra fee, about 10 USD per day. Please note that the insurance may not cover any damages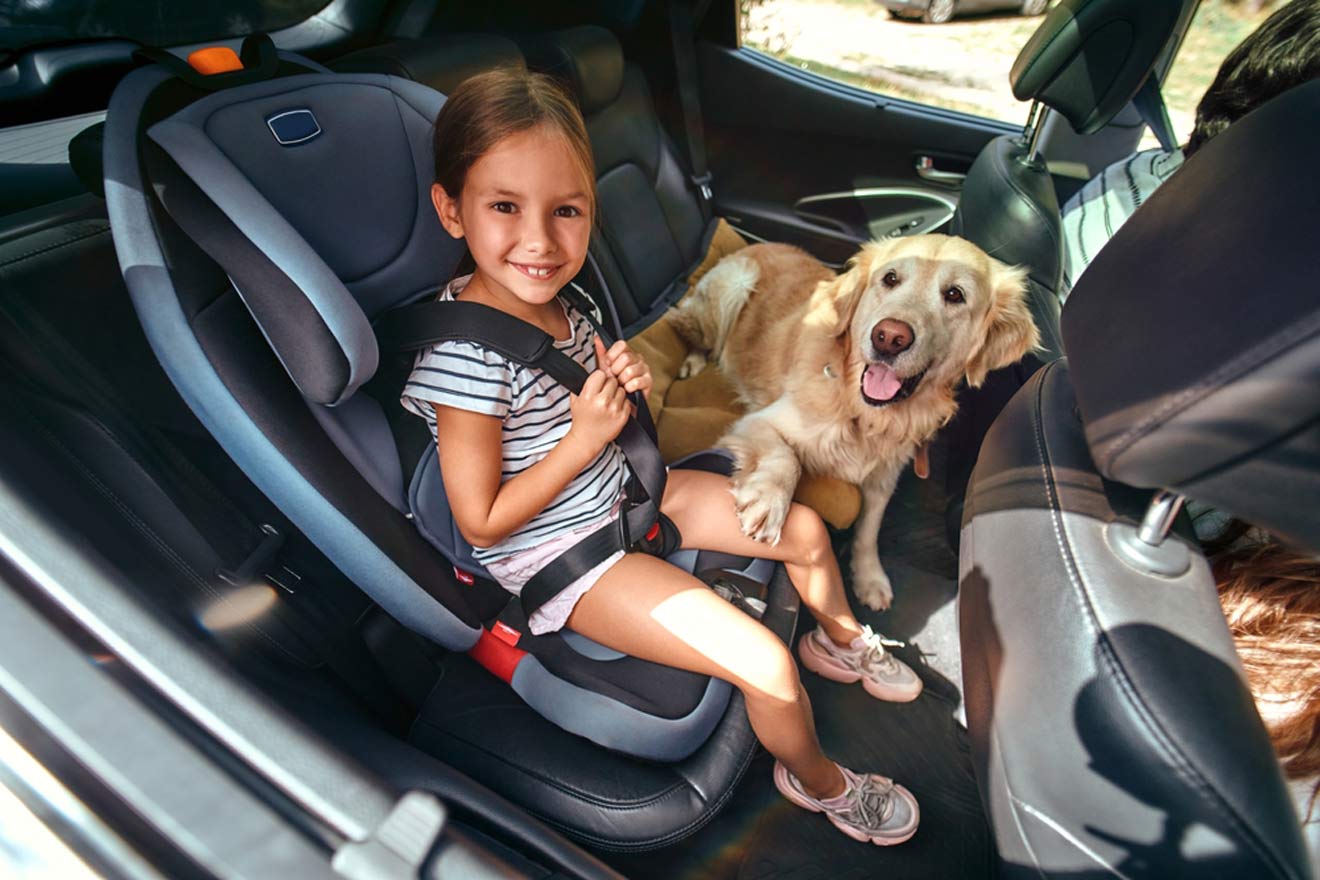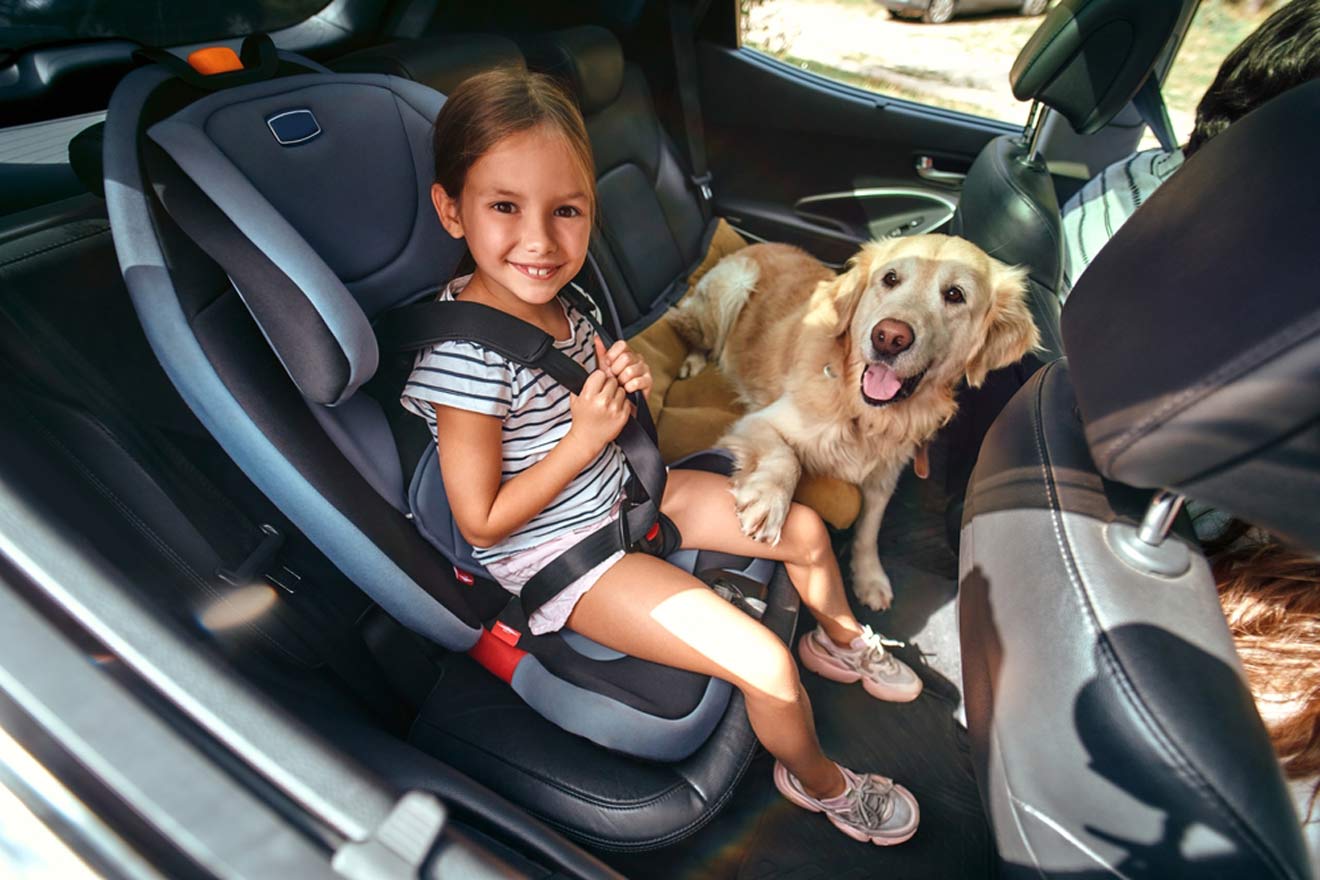 Child seat – costs typically range from $5-$10 per day. To save money, consider bringing your own car seat
Car cleaning – fees can range from $20 to $100. If the car needs extensive cleaning (e.g., from sand on the seats), consider cleaning it yourself to avoid this fee.
Smoking fine – smoking is prohibited in rental cars, and a fine of around $100 may apply if they figure out you violated the rules
Additional driver – around $5-7 for an extra driver, though some companies offer this service free of charge
Extra mileage – while most companies in Cancun offer unlimited mileage, it's worth checking the terms and conditions just in case (if you go through RentalCars or Discover Cars, it will always show you that policy clearly in advance)
10. When you pick up/return the car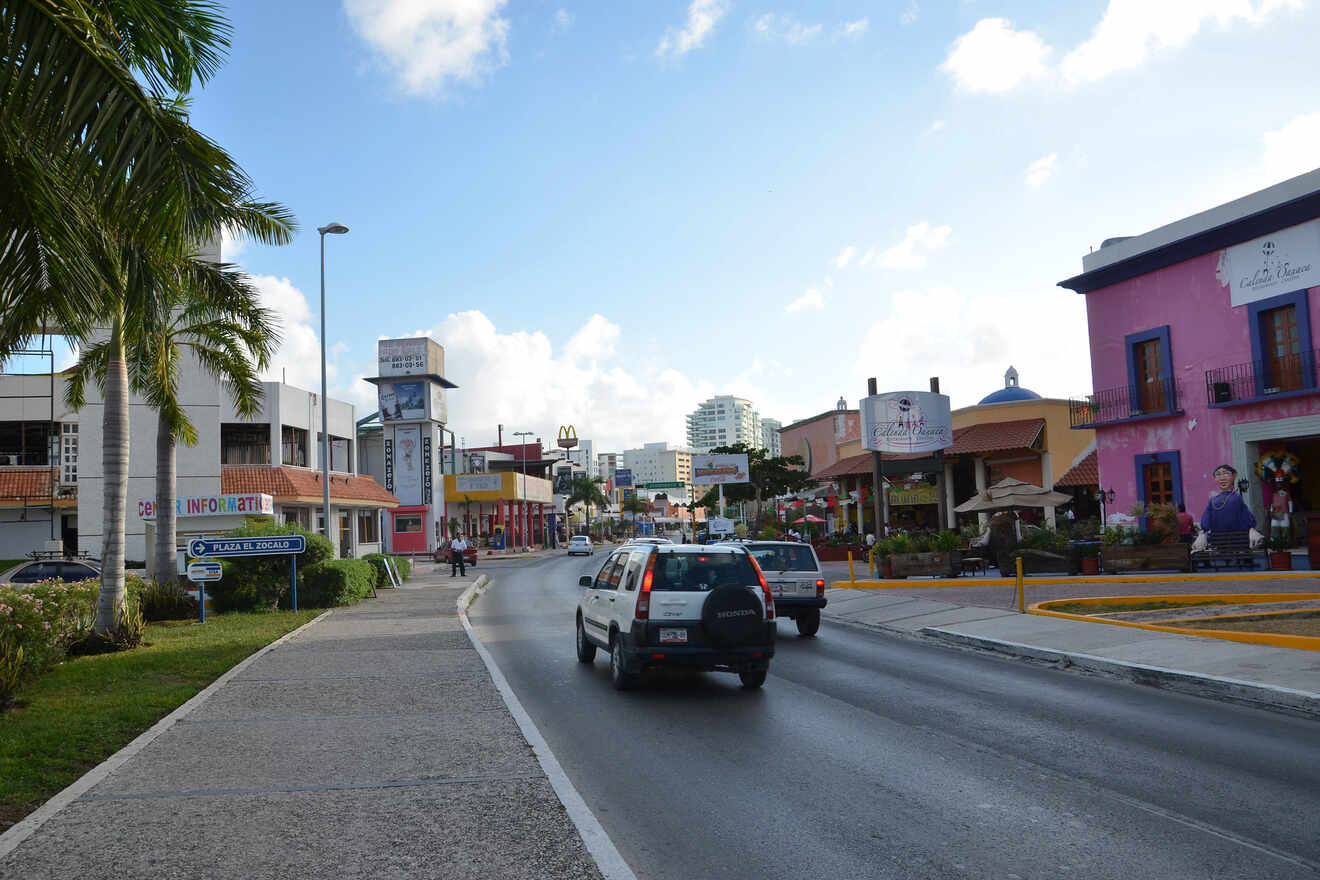 These are the things I always do myself when picking up our car hire:
Inspect the car thoroughly for any damages. Take pictures or videos of the car from all angles, capturing any existing damages.
Verify that everything in the car is working as expected. This includes little things like the wipers and wiper fluid, tire condition, AC and headlights. I also recommend connecting your phone to the car for music or hands-free calling (see if this is working properly), if this is a feature you plan on using.
Make sure all documents are in the car, including insurance paperwork and registration. Also, note down the emergency contact number for the rental company so you can reach them quickly in case of an accident.
If you've rented a GPS/the car is equipped with it, make sure it's working properly. If you're unfamiliar with its operation, ask the rental company representative to guide you before leaving.
When returning the car, make sure to ask for a copy of the docs that everything is fine to avoid hidden charges when you are back home.
Airport vs. Cancún city car pick up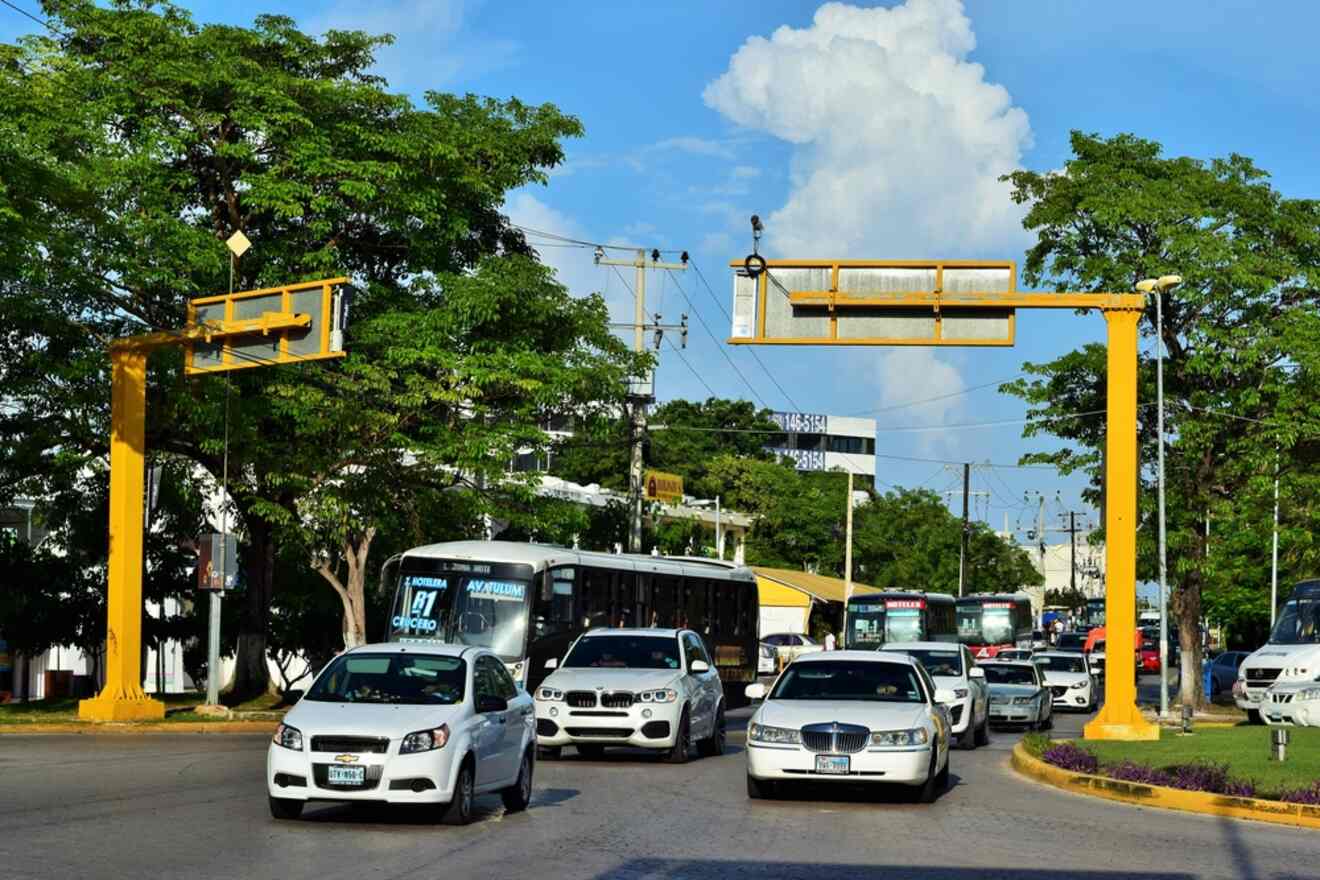 It is up to you and what you are going to do the first couple of days. If it is just chilling in the hotel – maybe you don't need a car and can save yourself a couple of days of car rental price, why not!
If you are going to need the car right away, just compare the price of the transportation vs. the price of your car per day. A private airport transfer is about 30 USD and a bus ride to the city would be about 5 USD per person (maybe not the best idea with the luggage unless your hotel is right in front of the bus stop).
Airport car hires may cost you more per day because of the airport fees. So at the end it comes down to your preferences – how tired you will be after the flight and your budget.
In case of an accident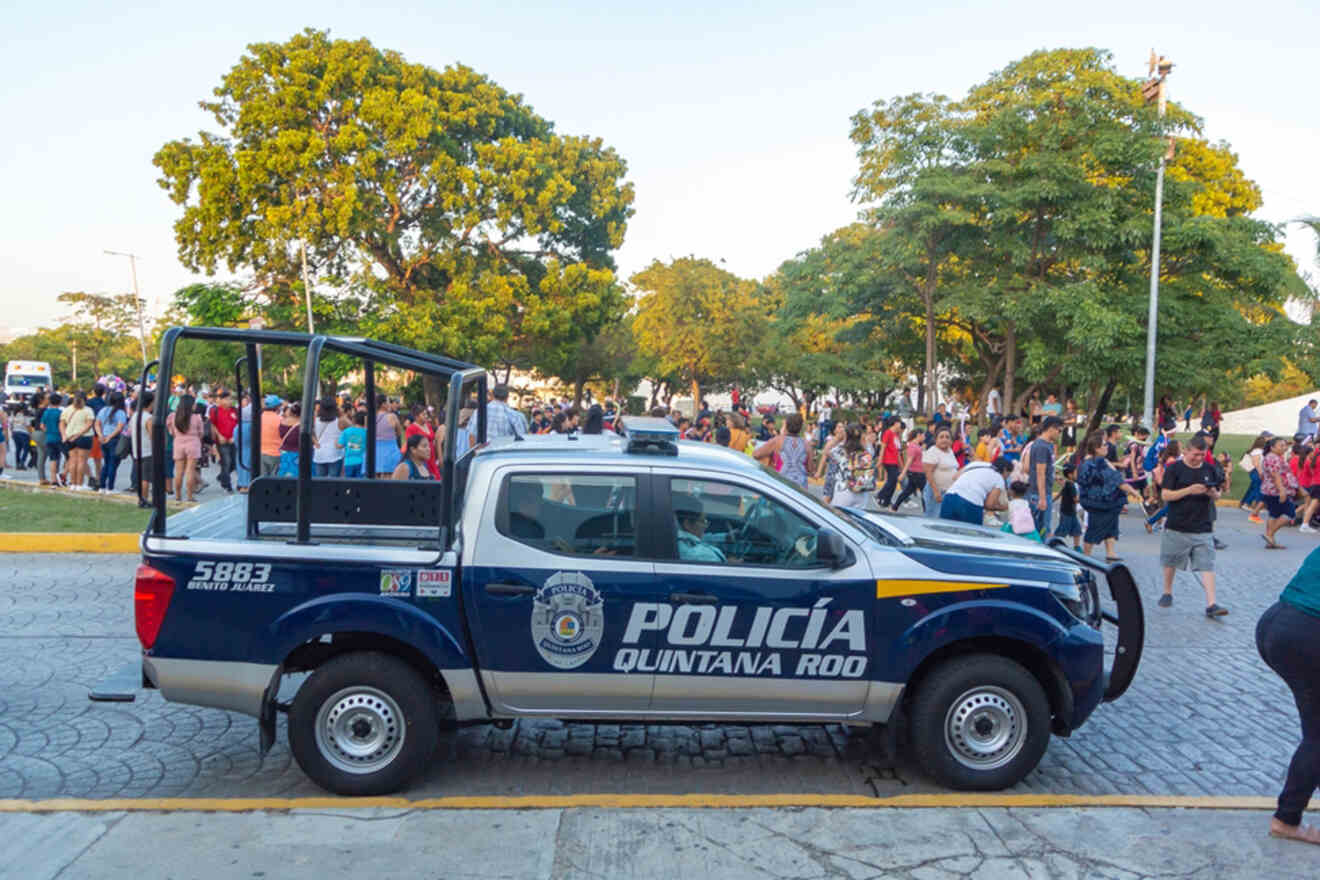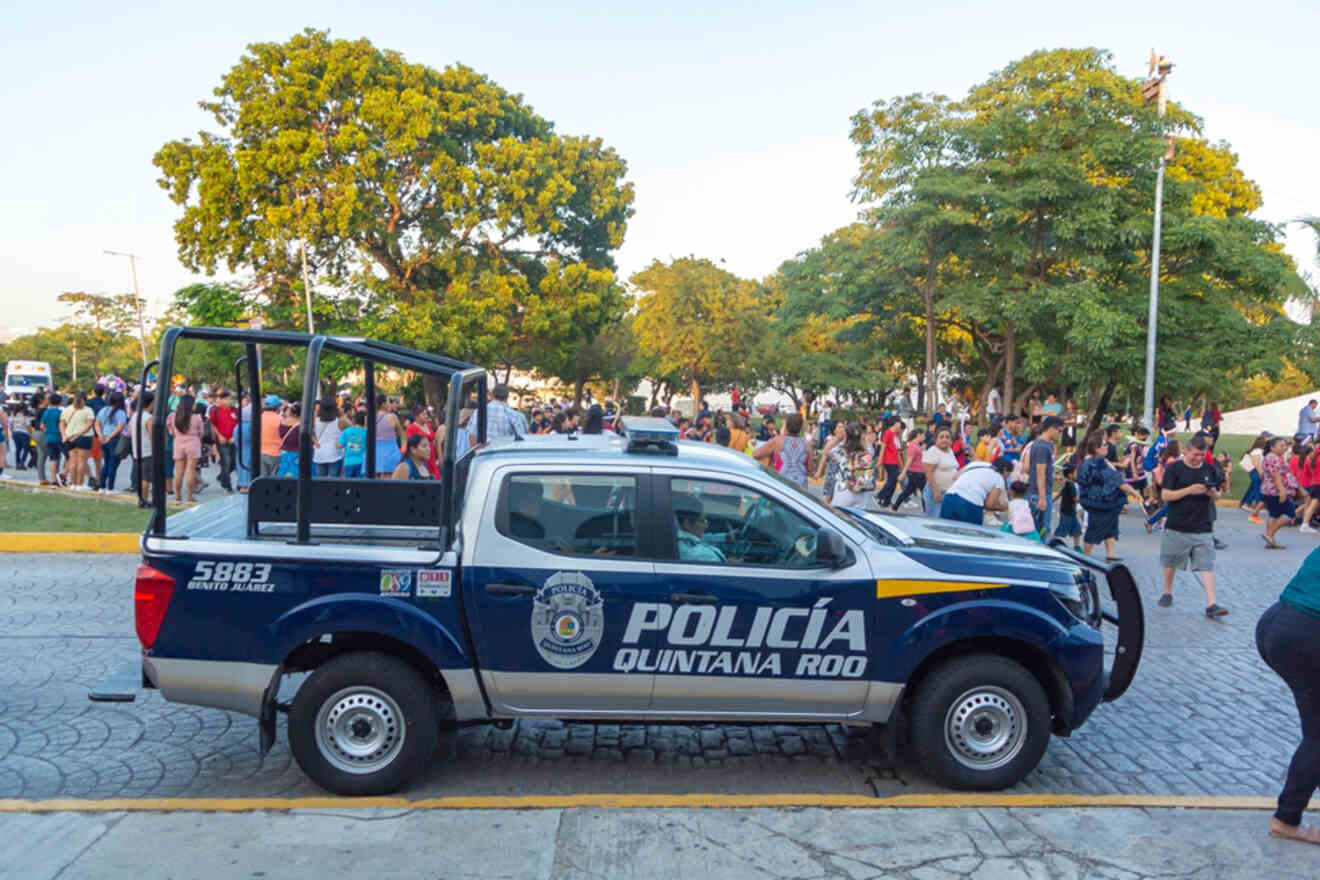 In the unfortunate event of an accident, here's what you should do:
If there are injuries, immediately call 911 (English-speaking operators are available). Then, call the emergency number of your rental company, they will guide you on the next steps.
If there are no injuries, if possible try to move your car off the road to prevent traffic obstruction.
If you are just stranded somewhere and need help, call 078 for assistance from the Angeles Verdes – this is a volunteer organization mainly to help tourists with troubles on the road. They can help with extra fuel and immediate repairs, a life saver!
BONUS: Taking your car to the islands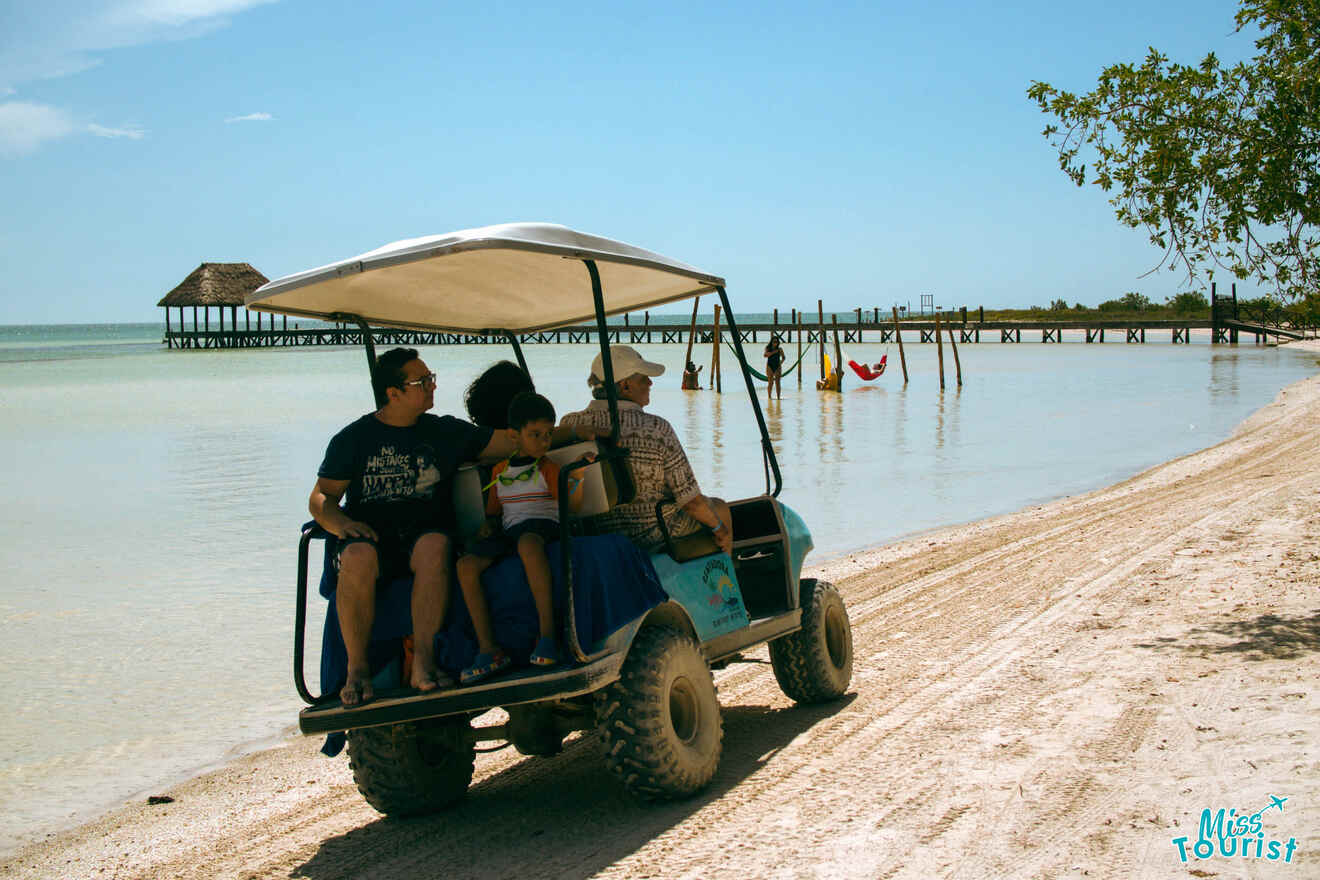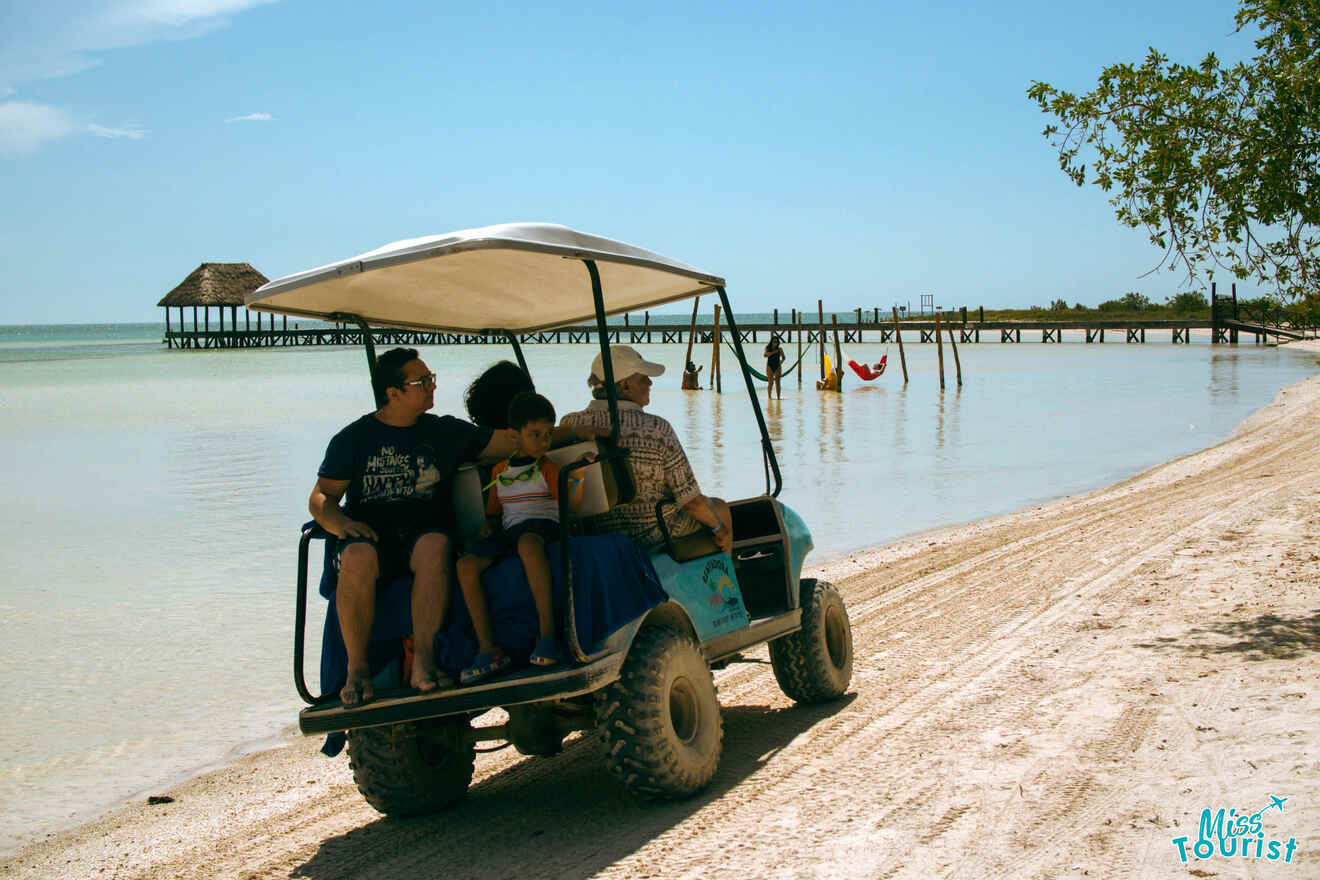 Holbox Island
Holbox actually doesn't permit cars, so you'll need to park your rental at the ferry terminal in Chiquila before boarding.
The area offers plenty of parking options, typically costing around $5-10 per day. Prices can vary, especially during peak season (you can totally bargain!). After securing your car, enjoy the ferry ride over to the peaceful, car-free Holbox Island.
Isla Mujeres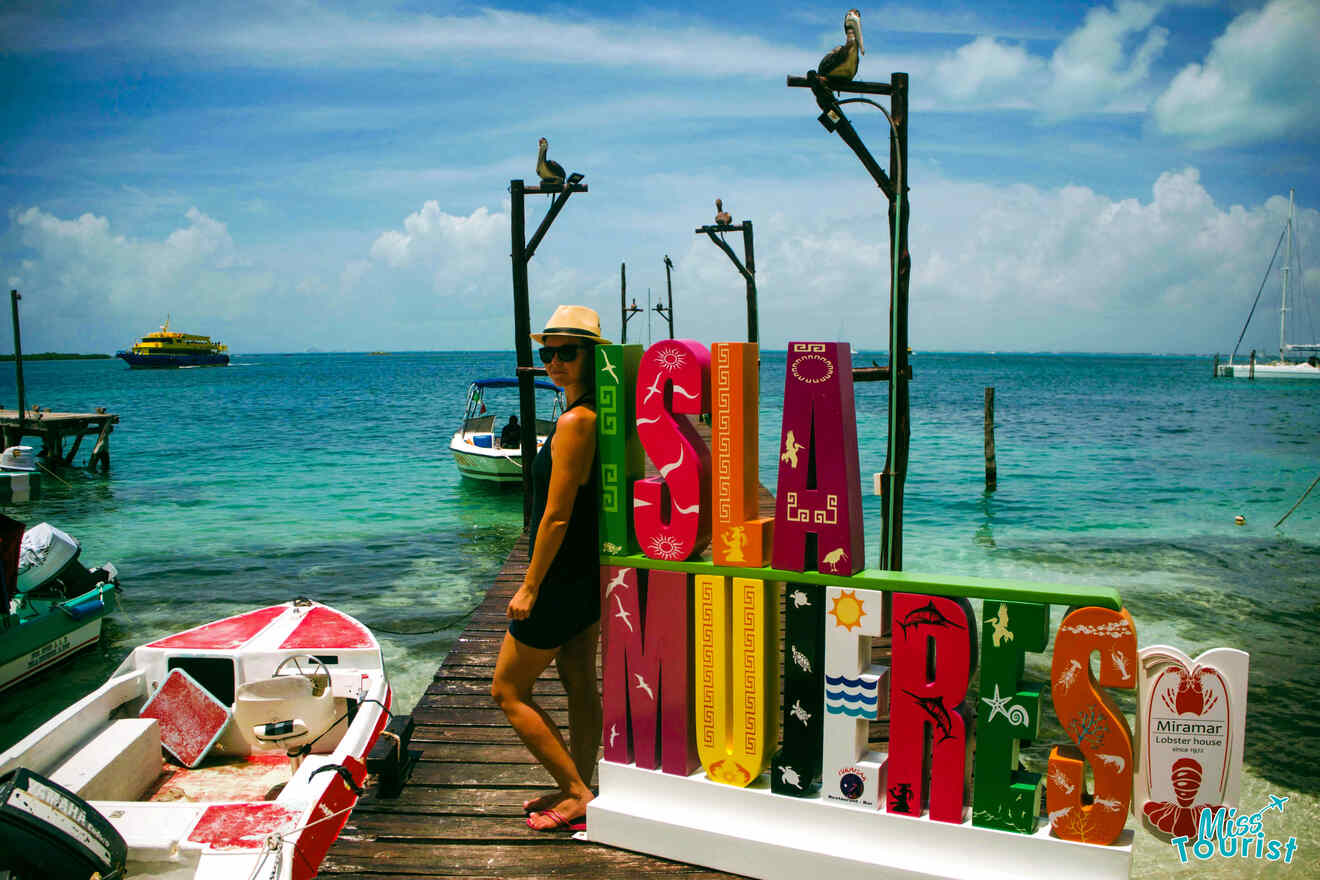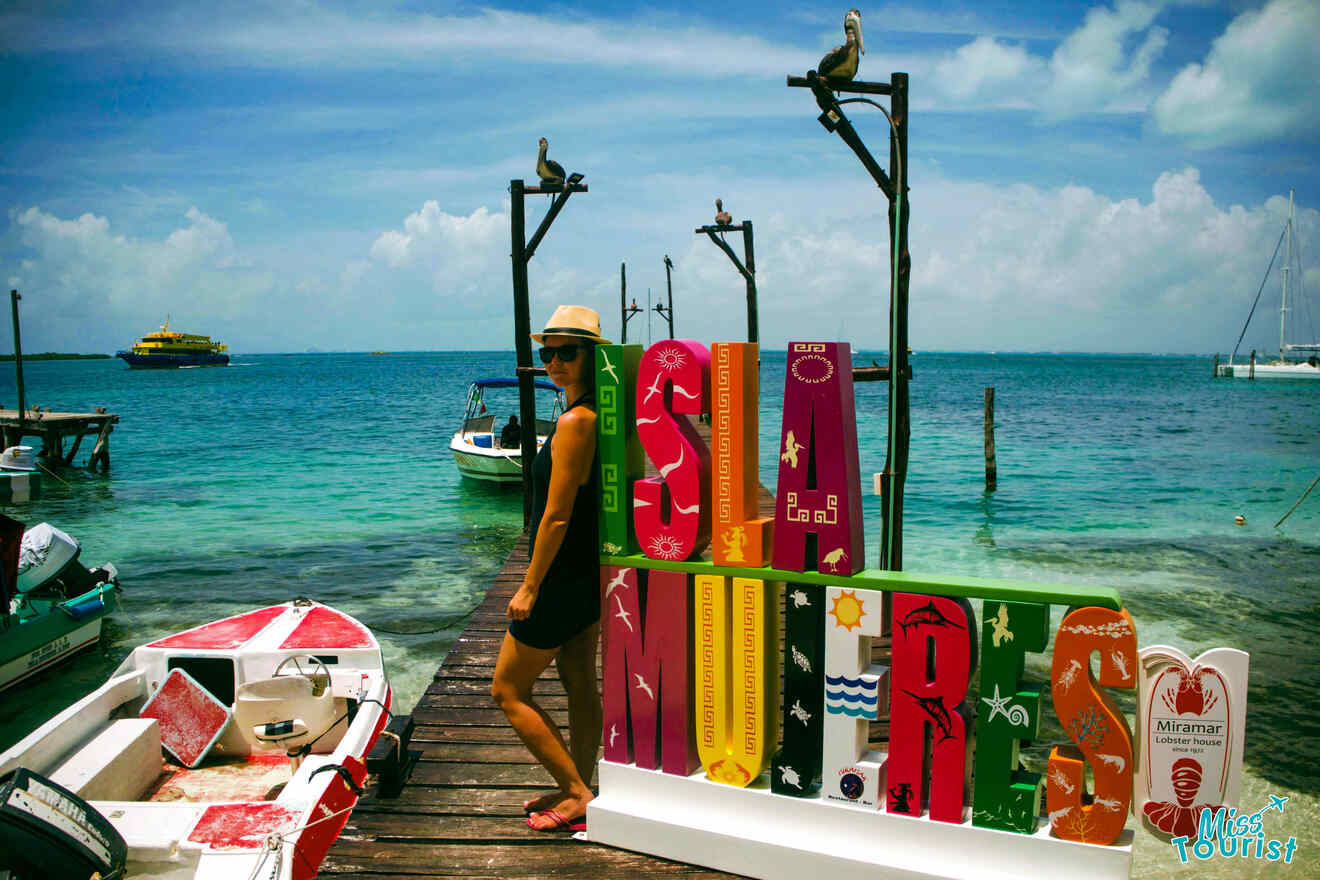 Unless you are going for 4+ days, I do not recommend taking a rental car to Isla Mujeres because it is a bit of a hustle and also limited parking​​. Instead, consider parking your car at the Puerto Juarez ferry terminal or even returning your car early to avoid these issues​1.
If you still choose to take your car, the parking fee of 150 pesos per day​​.
Cozumel
Same-same as with Isla Mujeres – maybe take your car on the island only if you are staying for over 2-3 days, then it does make sense.
There are two cargo ferry lines that go to Cozumel: Ultramar and Transcaribe. The trip takes about 1 hour and costs anywhere between $60USD to $120USD.
| | |
| --- | --- |
| 🚗 Economy car: | from US$30 (incl. insurance) |
| 👶 Driving age: | 21 (extra charge if younger than 25) |
| ⛽ Gas price: | US$1,4 per l. or US$5.3 per gl. |
| ✈️ Cost of traveling: | Low |
| 👍 Most popular car: | Chevrolet Beat or similar |
| 📅 Best time to visit: | December to April |
| 🚘 Best car rentals: | Rentalcars and DiscoverCars |
FAQs about renting a car in Cancun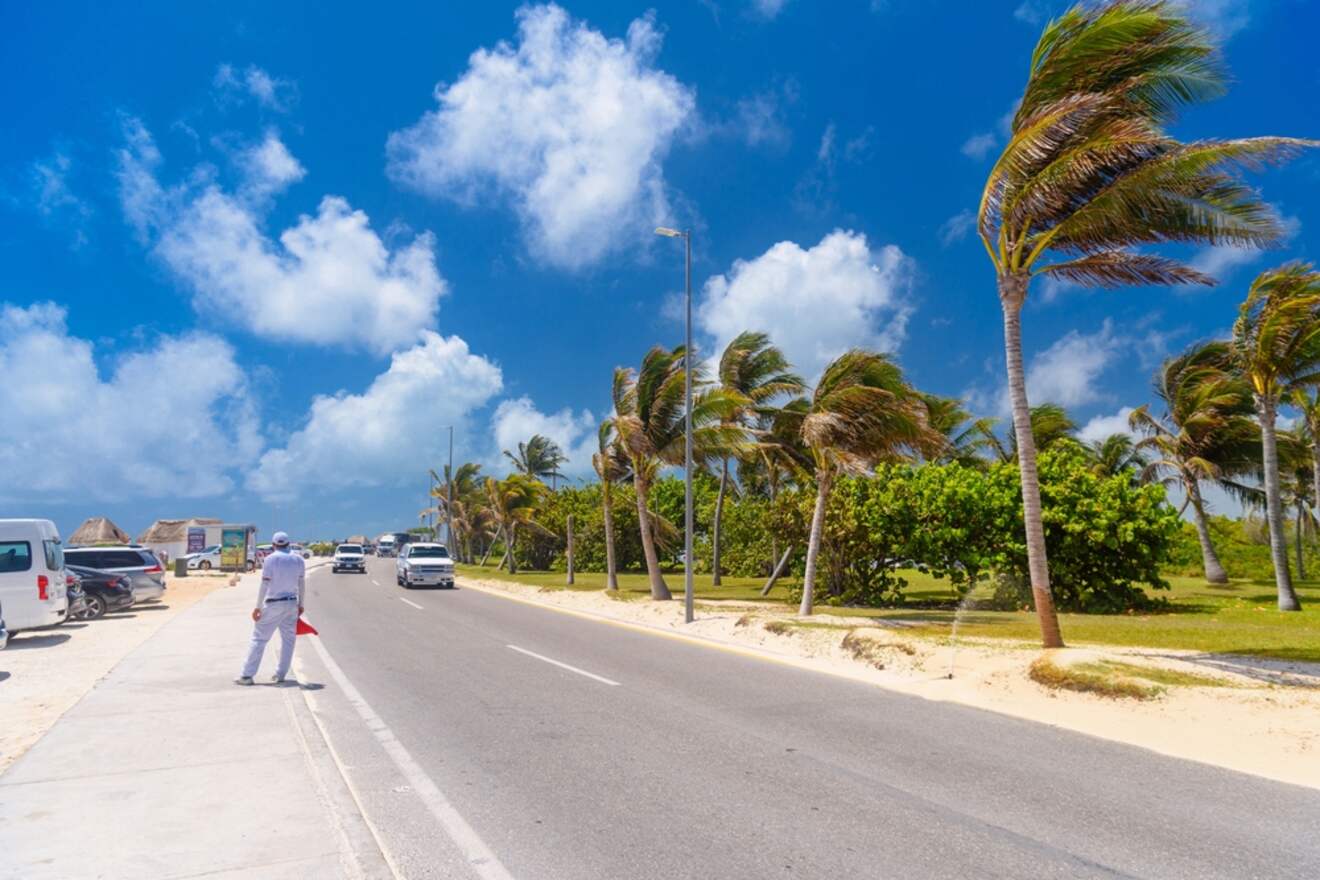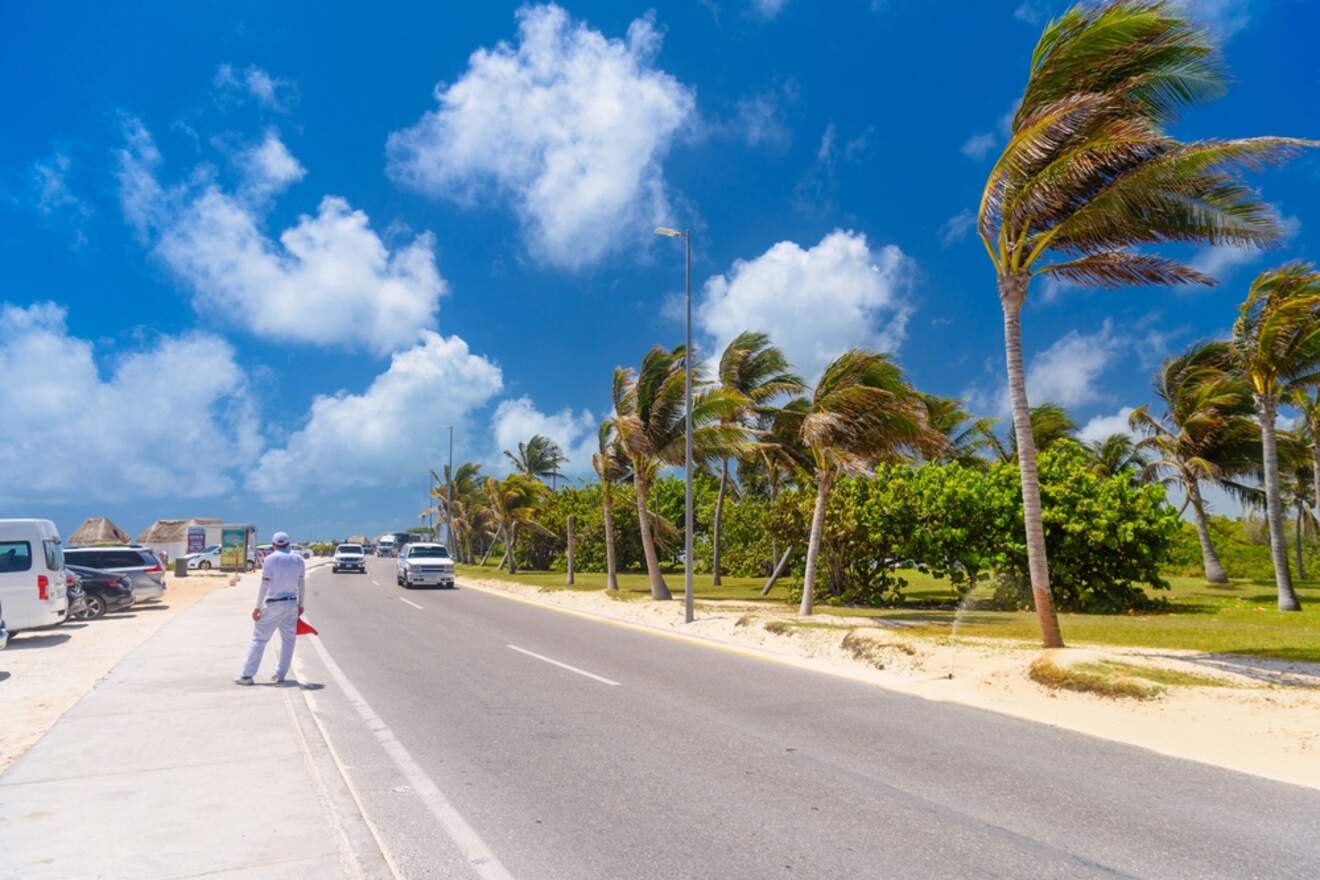 📅 How long should I spend in Cancún?
Plan at least 3 – 4 days for beach relaxation or a week or more if you wish to explore the Yucatan Peninsula.
🛑 Is driving in Mexico safe?
Yes, driving in Mexico is generally safe, but always follow local traffic laws, avoid driving at night, and stay on well-traveled roads.
🚘 Should I rent a car in Mexico?
Yes, if you are planning to explore the surroundings.If you are planning mainly to stay in the city and chill in your hotel, taxis, and public transportation will suffice.
👛 What is the cheapest car rental in Cancún?
Car rental rates vary based on several factors such as dates and seasons. Check online and compare rates from companies like Europcar, Mex, Hertz, and Budget.
💰 How much does it cost to rent a car in Cancún?
Basic car rentals can range from $20-$60 per day (40$ on average), plus additional costs for insurance and optional extras like GPS. Check current prices for the most accurate information.
Conclusion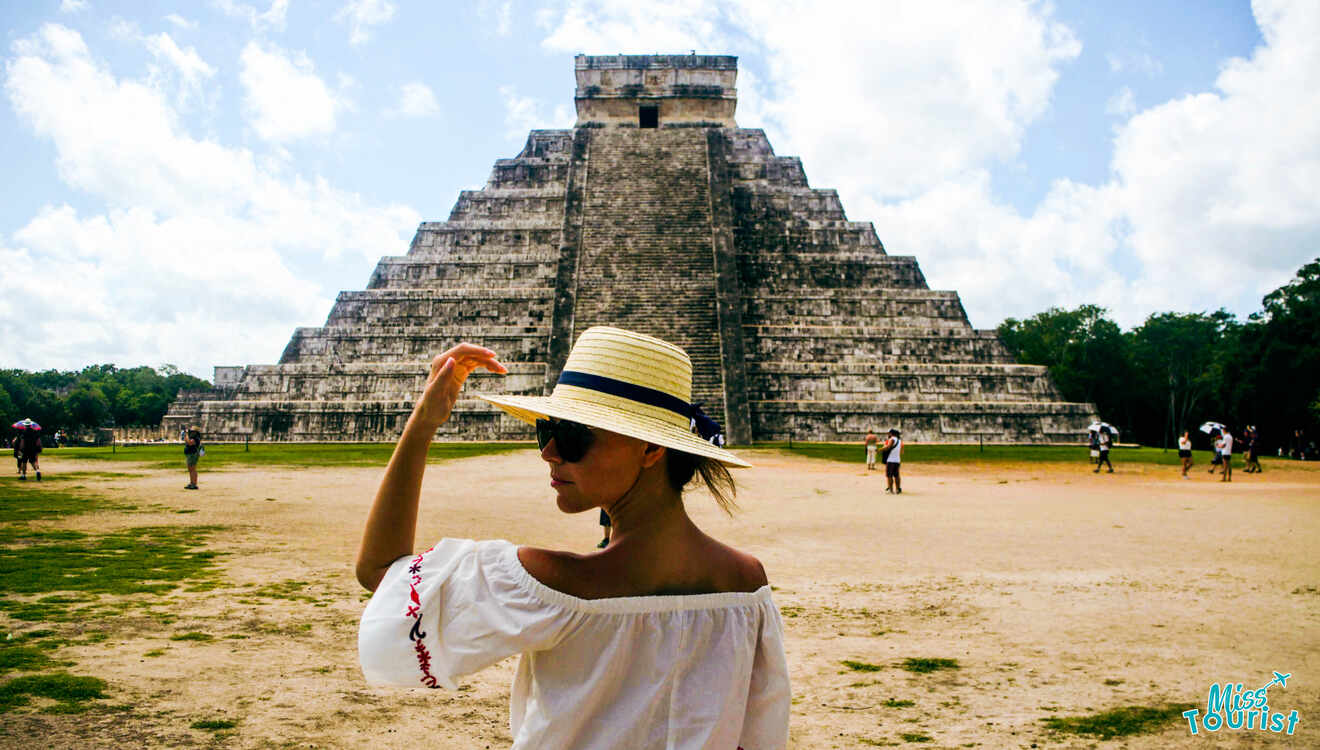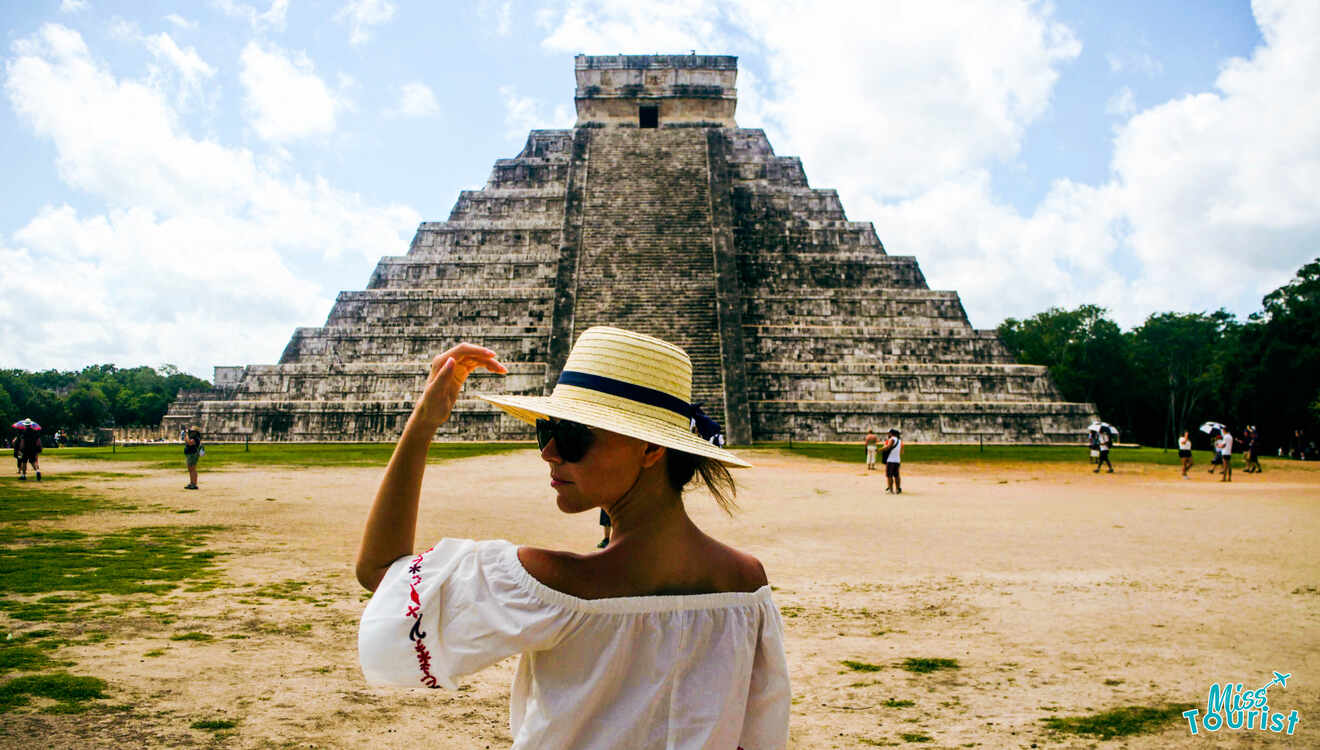 That's it for now, guys!
I sincerely hope this guide has driven you in the right direction for your journey in Mexico.
Remember, no two trips are the same, just like no two tacos taste the same in Cancun (and you'll soon realize that's a great thing). So, buckle up, prepare for the ride, and remember to stop and enjoy the tacos… err, I mean the views.
Safe travels, amigos! And be sure to let me know if you have any additional questions or comments!
Yulia
---
Pin it for later!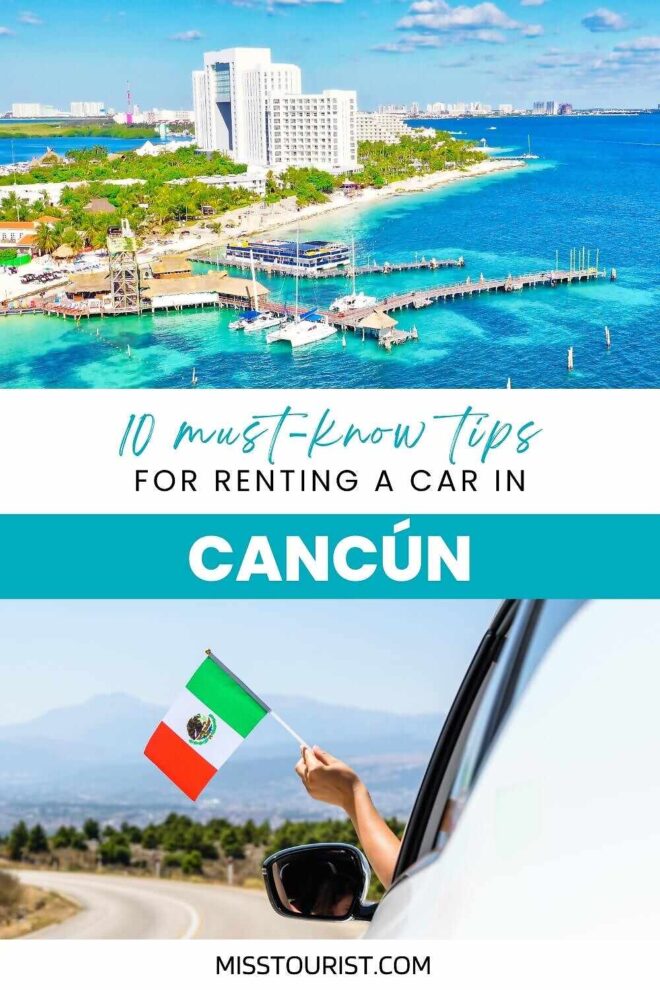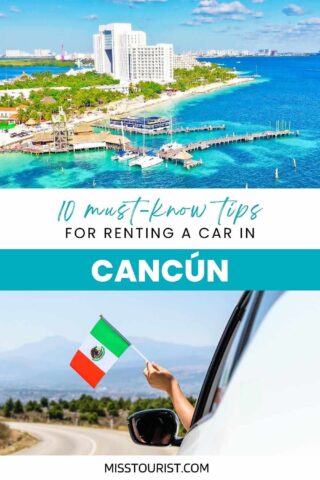 Pin it for later!