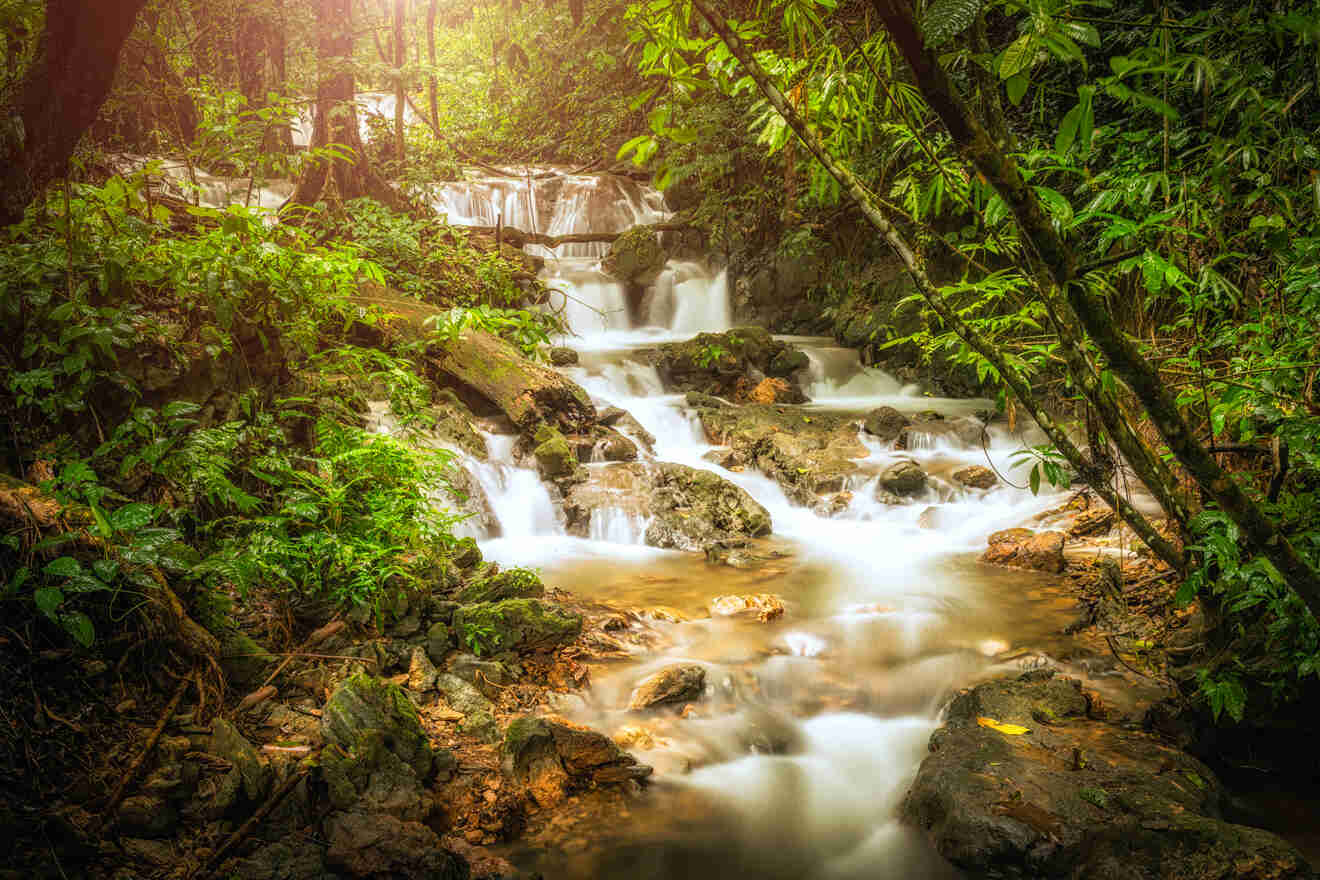 While Florida is a pretty flat state, with some (mini) rolling hills here and there, you may be surprised to learn that we actually have some waterfalls in the Sunshine State!
It may not be news to some people that Florida has literally HUNDREDS of freshwater springs, but waterfalls?
Even most Floridians are not aware that there are waterfalls in Florida!
Between white sand beaches, the Gulf of Mexico's warm lush waters, the Atlantic Coast, and the many pristine crystal clear artesian springs, Florida also have some incredible waterfalls to add to the bounty and beauty of this stunning lush land.
As a native Floridian who has traveled all over the country, I have been on a mission to find the most hidden waterfalls in Florida. In this article, I am going to let you in on the local secrets of some of the best waterfalls in all of Florida!
And I've included a little surprise in number 5 – great for those adventurous travelers!!
If you are in a hurry
If you're looking for the best waterfalls in Florida right off the bat, here are my favorites!
These waterfalls are dotted all around Florida, so here's a map so you can plan your trip to your favorite: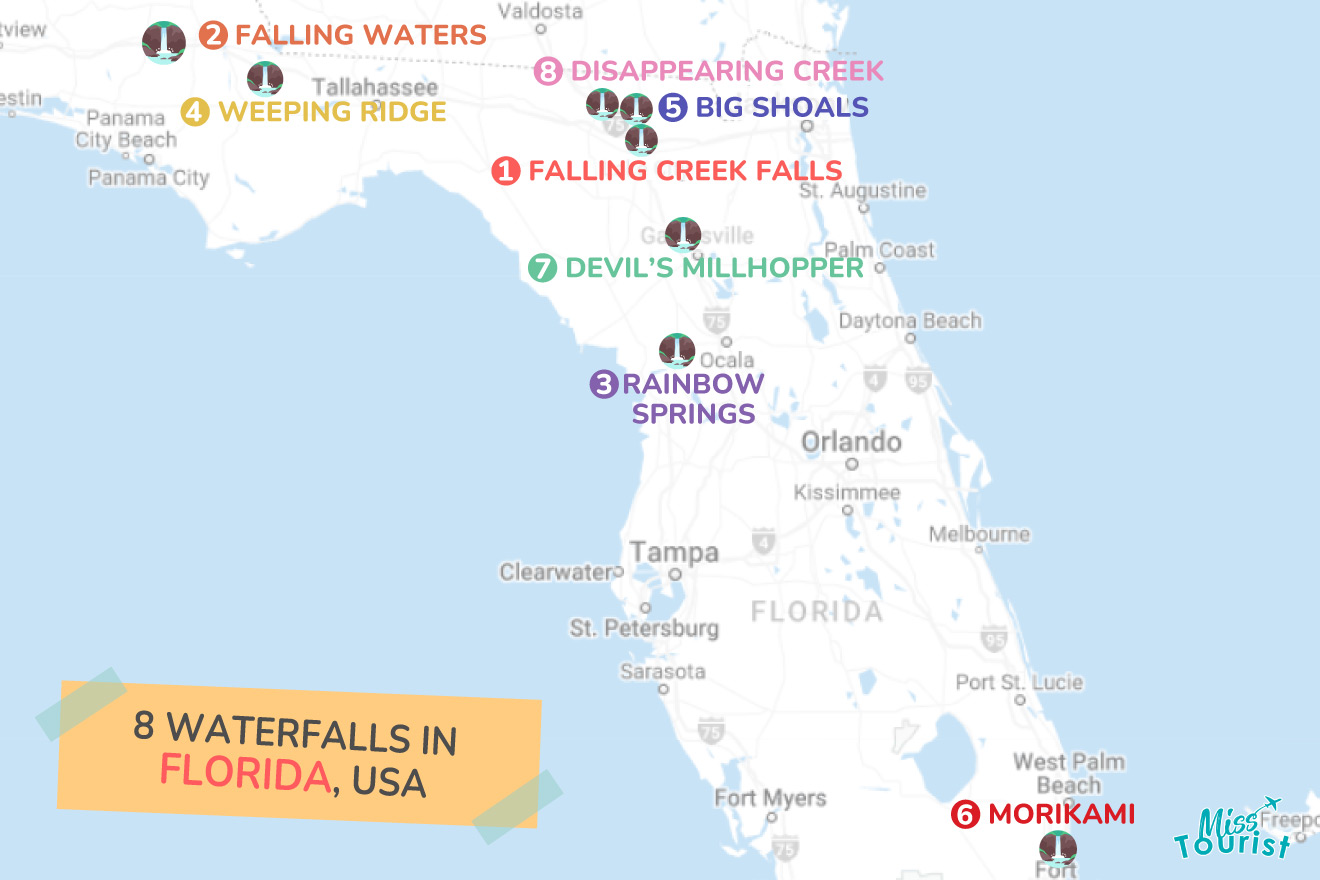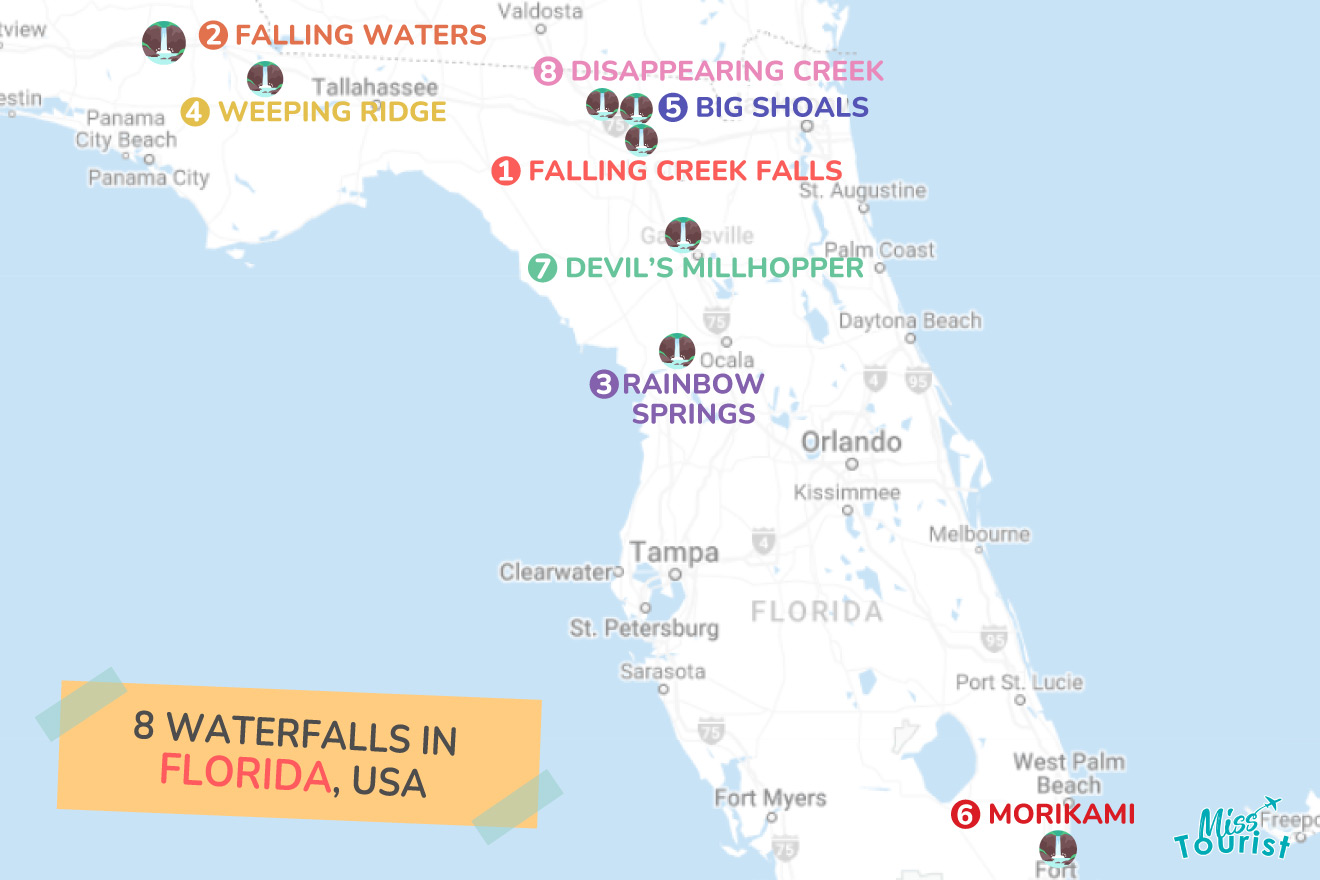 1. Discover Falling Creek Falls in Lake City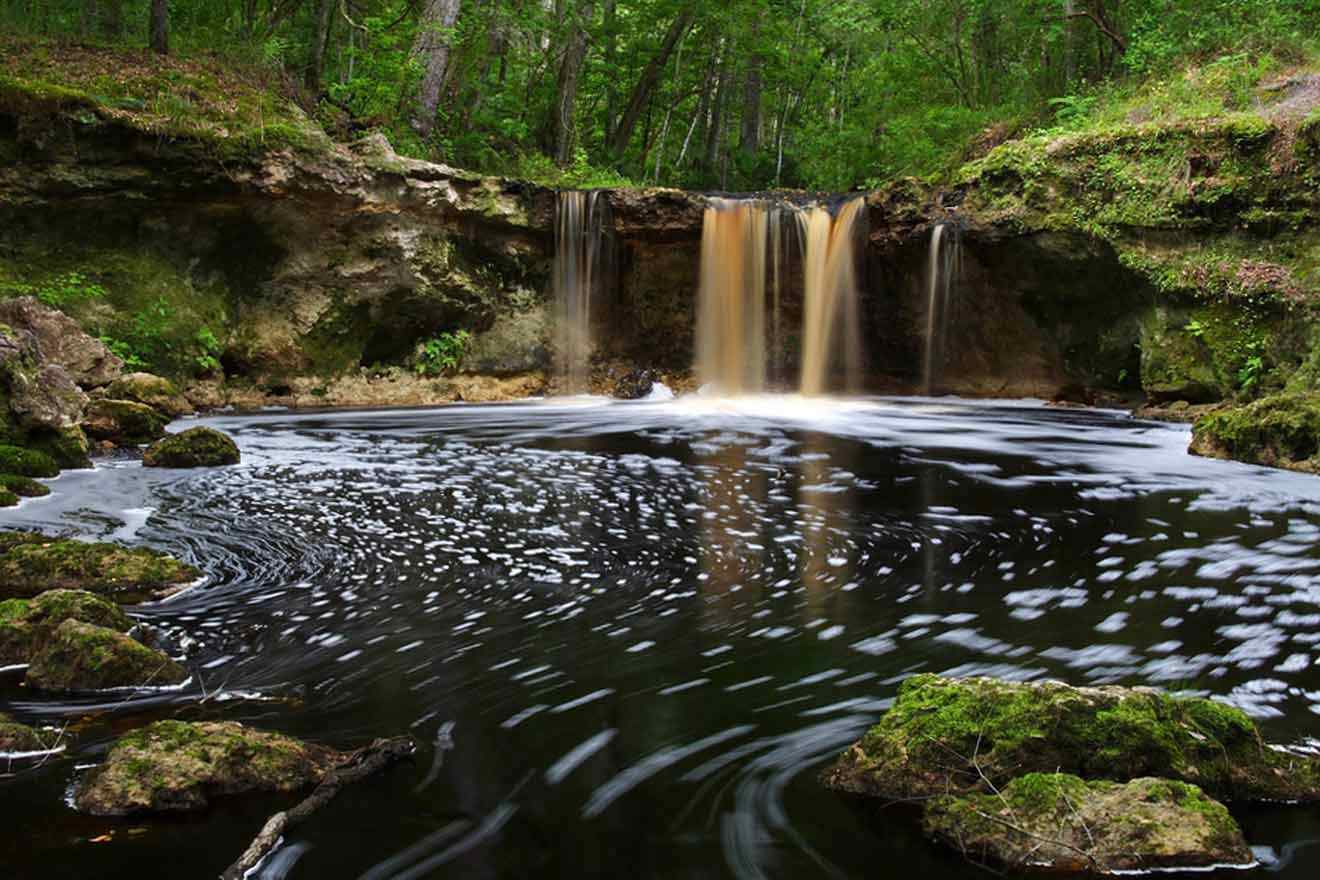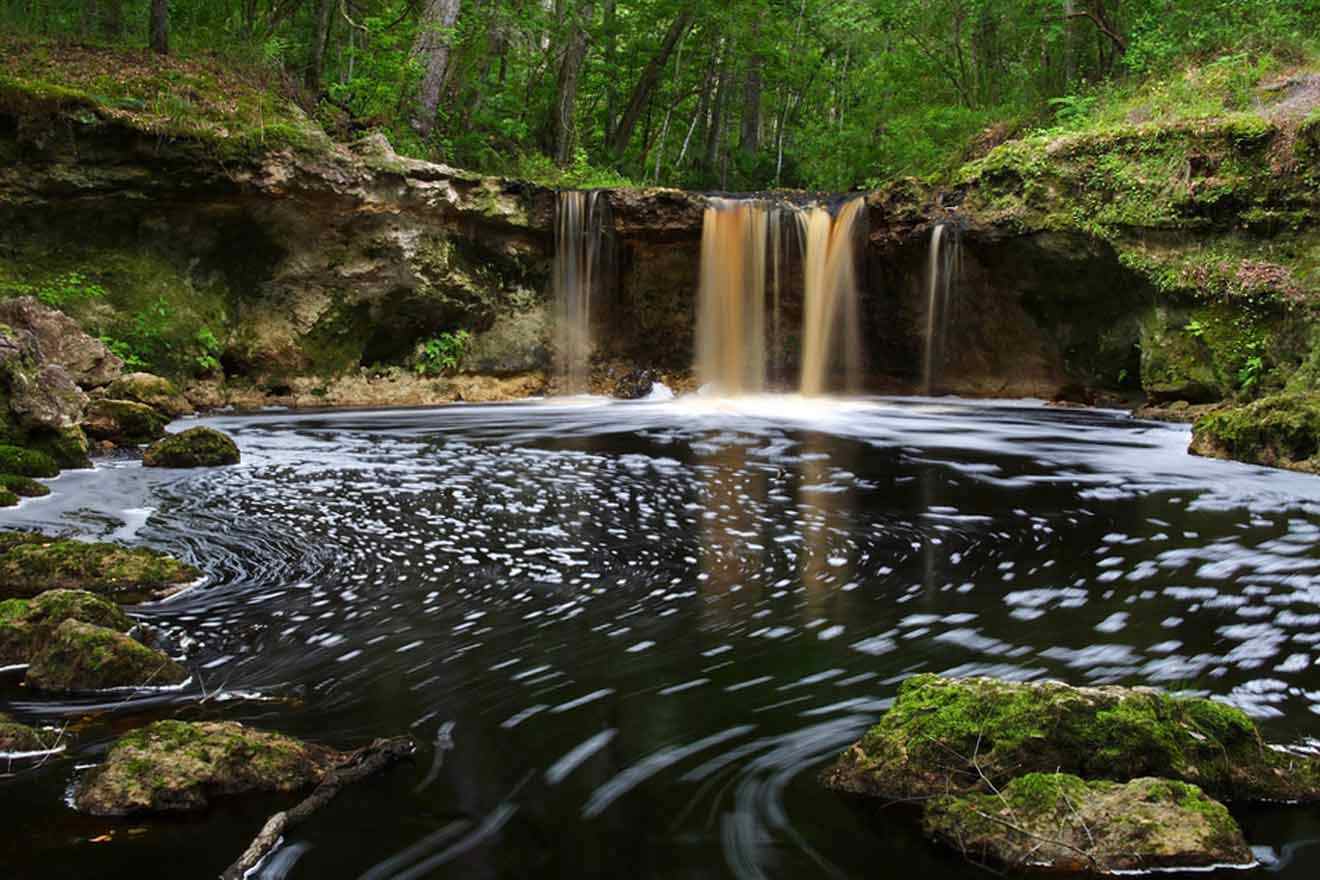 Falling Creek Falls in Lake City, Florida, is one of the most beautiful, naturally occurring waterfalls in all of Florida! If you find yourself in Northwest Florida, not far from Jacksonville, you are not going to want to miss out on this gorgeous natural waterfall.
Upon visiting, you will follow a boardwalk trail that takes visitors to a small yet stunning waterfall that drops 10-12 feet over Florida limestone.
Falling Creek Falls is one of my absolute favorite waterfalls in the entire sunshine state!
Perhaps one of the coolest parts of this waterfall is that it descends into a ravine and then disappears into the core of the Earth.
Getting there is super easy. The boardwalk to the waterfall is just over half a mile long, and it's an easy walk for the whole family!
Falling Creek Falls is one of my favorites because the picnic tables, playground, and other facilities do not intrude into the wild and abundant nature in the area.
At just over 200 acres, this is one of the best places to see waterfalls in Florida and spend the day with the family.
2. Be in awe of the Falling Waters Sinkhole Trail in Chipley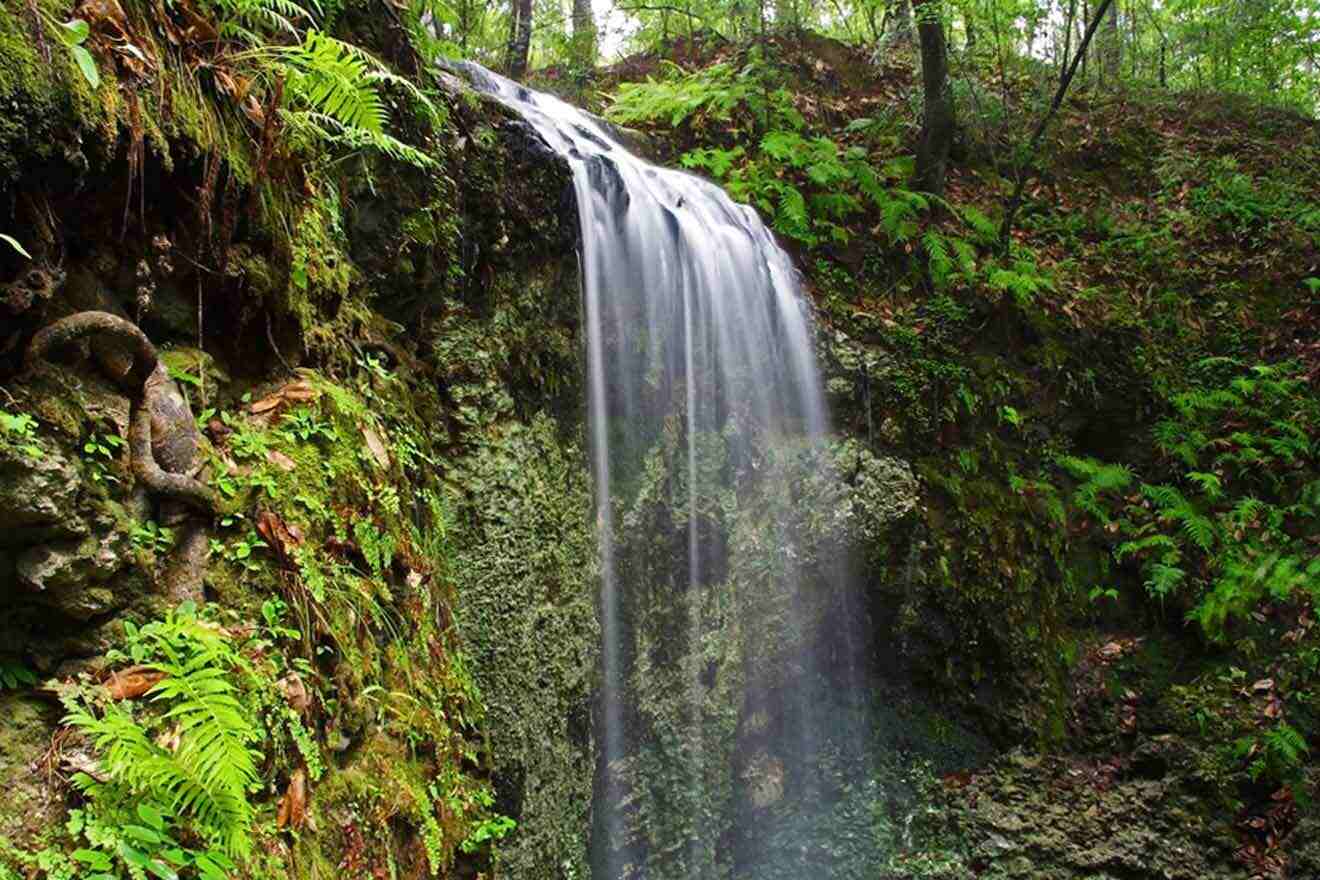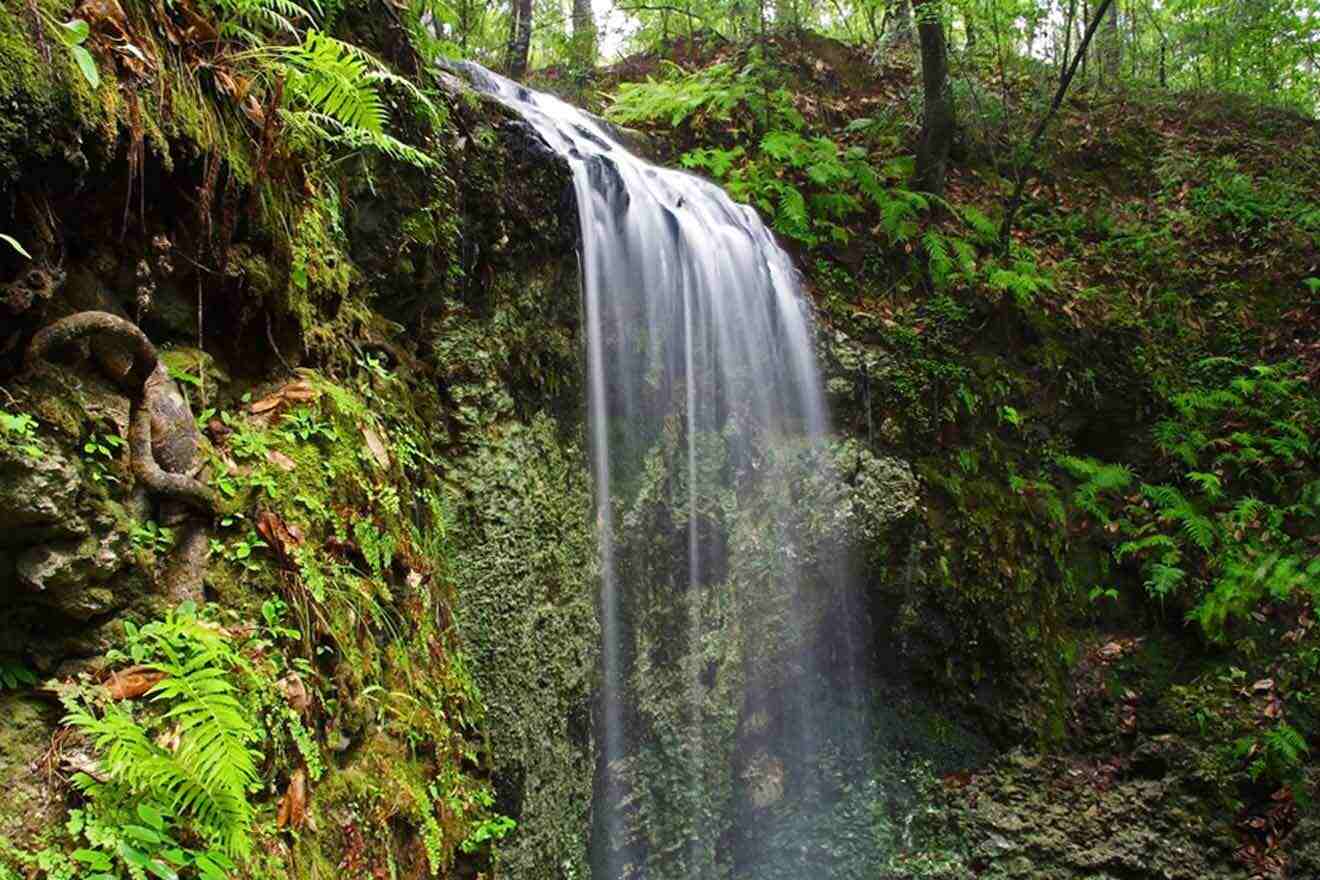 Located in Falling Waters State Park, this waterfall is the largest in Florida! The waterfalls an astounding 73 feet into the Earth at this Florida waterfall. Another one of Florida's natural waterfalls, this is perhaps one of the most unique waterfalls you will ever see!
Another boardwalk-style trail, visitors can meander their way down the boardwalk until they reach an observation point where you can look down into the depths of this huge sinkhole!
Falling Waters State Park is an excellent place to visit because you can explore a number of other sinkholes that are just abundant with lush foliage and vegetation due to the water content.
For those of you who love camping, there are over 20 different campsites to choose from, and hiking, fishing, and swimming are very popular at this incredible state park.
PRO TIP: Visiting after a rain spell? This waterfall is even more impressive after rainfall!
3. Explore Rainbow Springs just north of Orlando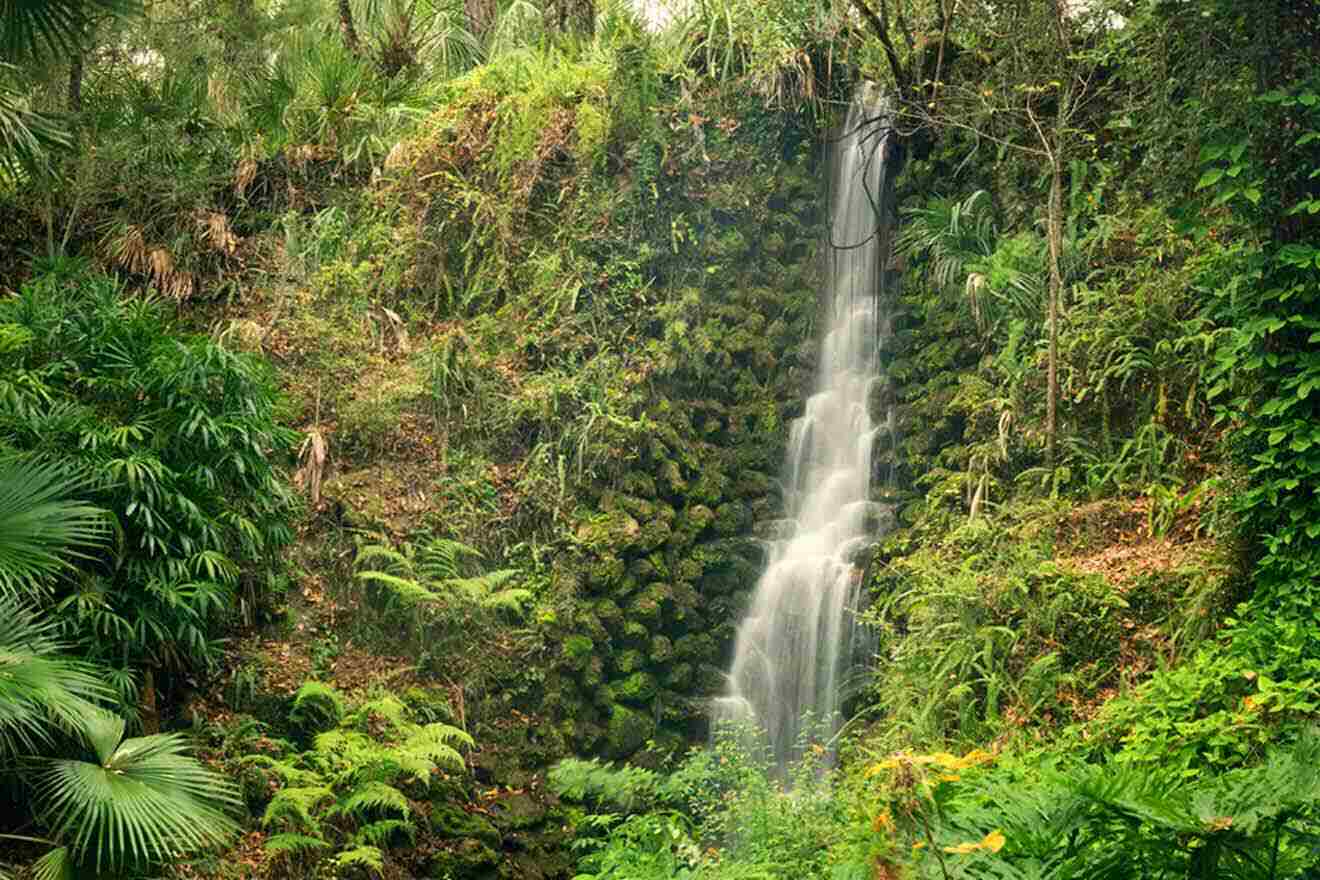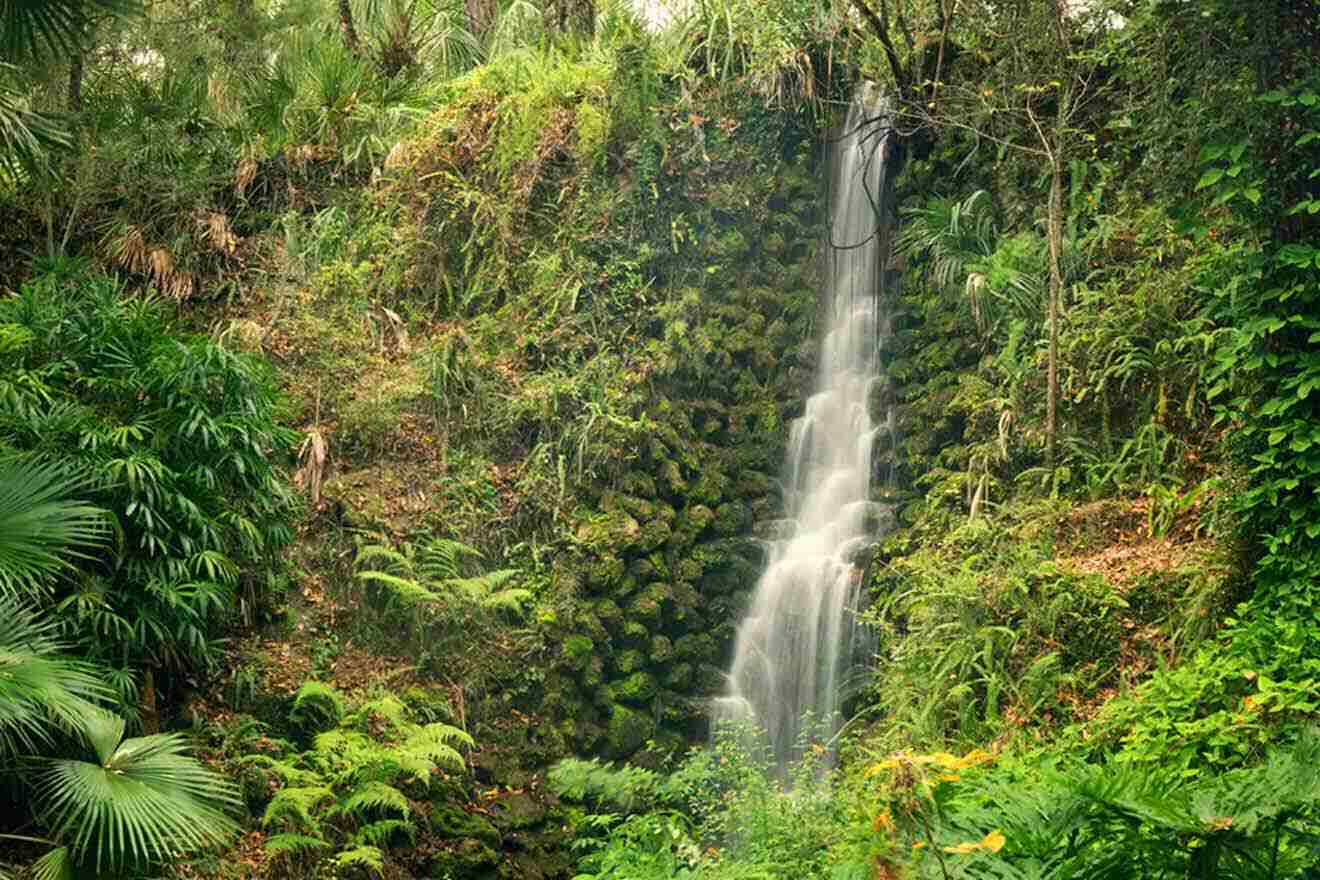 While the waterfalls at Rainbow Springs near Orlando are man-made, they are still beautiful and well worth checking out.
Even though the Rainbow Springs waterfalls are not naturally occurring, they are made with redirected water from the spring head, so it's not 100% artificial.
There are 3 man-made waterfalls around Rainbow Springs State Park. You can get some pretty awesome views of the waterfalls from the many meandering trails that go through the park!
With towering and jaw-droppingly beautiful oaks, magnolias, and cypress trees, the foliage is lush and abundant at this gorgeous state park. From viewing the waterfalls and seeing some incredible flora and fauna to taking a dip in the crystalline waters, this is one of the best places to make a day out of seeing waterfalls in Florida!
If you really want to make the most of your trip to Rainbow Springs, you should definitely try out this glass-bottom kayak tour! You'll be given all the equipment you need and you can paddle around the springs in search of hidden waterfalls!
4. Visit Weeping Ridge Trail in Torreya State Park
Located in one of Florida's oldest state parks, dating back to 1930s, Torreya State Park is home to a waterfall with a 25 ft drop! The waterfall at Weeping Ridge Trail is another one of Florida's gorgeous natural waterfalls.
Torreya State Park has some pretty incredible flora and fauna, and botanists from all over the globe visit this park to identify all sorts of unique plants, including the highly endangered Torreya tree!
Not only is this state park famous for its geology and rare botany, but it is also a historical site dating back to the Civil War, with a plantation, a house dating back to 1849, and some pretty fascinating water features to boot.
The trail begins at the parking lot and travels through a lush hardwood forest, ending with a stunning waterfall—the perfect end to a lovely hike!
NOTE: This park has a pretty rugged terrain compared to most other Florida State Parks, which are mostly flat. Torreya State Park has some steep inclines and uneven terrain, so keep that in mind when you plan your visit.
5. Adventure through Big Shoals State Park
Ready for that surprise I mentioned in the intro? Florida is home to some incredible whitewater rapids at Big Shoals State Park!
Yup! You read that right. We have whitewater rapids in our very own home state. The sunshine state never ceases to amaze and bestow some unequivocal natural phenomena!
This is not your typical Florida waterfall experience. This landscape is unique and unlike any other part of sunny Florida! North Florida has a lot to offer visitors and locals alike, but I bet you didn't know there were waterfalls AND white water rapids!
Looking down on the Suwannee River, bluffs of over 80 feet stand tall and overlook the entire state park. Prepare for some incredible views of Florida's natural beauty and fast-moving white water rapids!
With 28 miles of trails, Big Shoals State Park is one of Florida's most beautiful state parks. We have some pretty unbelievable state parks here in Florida, from tropical Caribbean state parks in the Florida Keys to white water rapids on the Suwannee River in Northern Florida!
NOTE: Be advised that this is not your typical water experience in Florida. Most rivers that people enjoy kayaking and canoeing in Florida are slow-moving rivers. These are whitewater rapids, so only experienced kayakers should attempt these waters.
Hiking, bird watching, and fishing are safer alternatives for those who feel unsafe taking on these intense waters.
6. Check out the Morikami Japanese Gardens in Delray Beach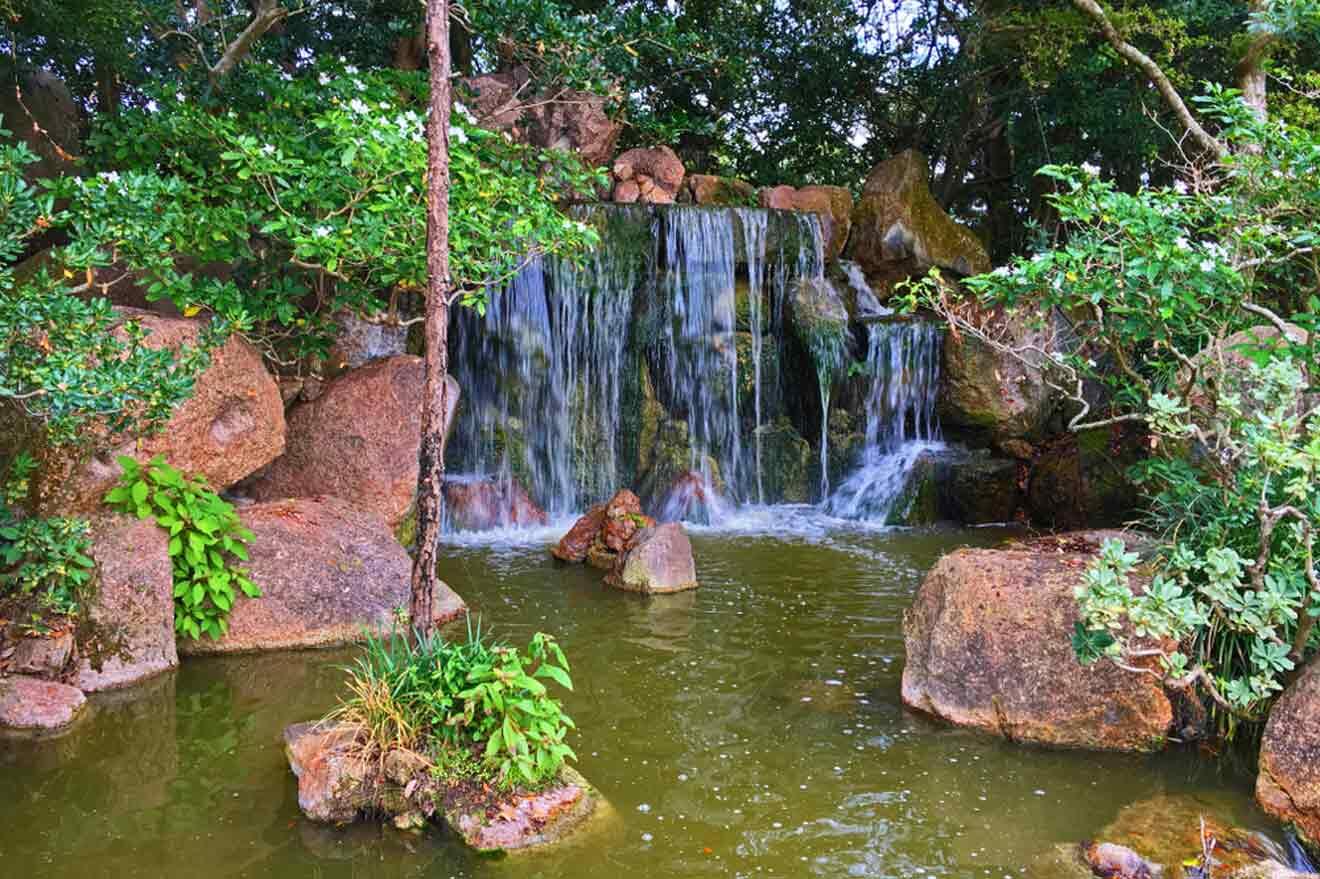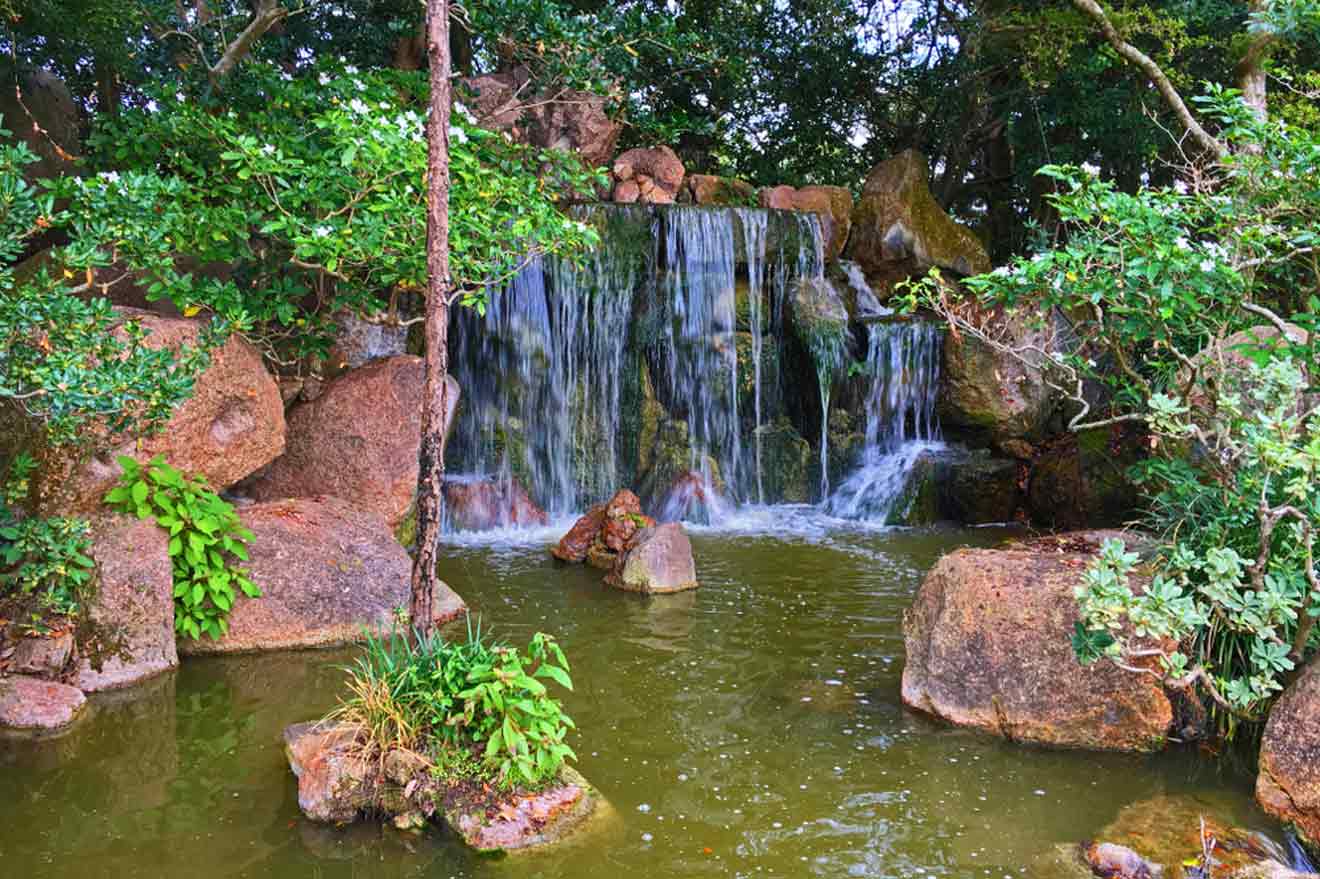 While this is another man-made waterfall, it is still quite impressive, and the Japanese gardens are well worth checking out!
The tranquil Morikami Japanese gardens in Delray Beach offer guests a serene place to take a stroll through some bamboo groves, a beautiful lake, pine forests, and other Japanese vegetation.
The waterfalls here are called Roji-en, translating to "Gardens of the Drops of Dew." Feel transported to Japan as you walk around and experience some of the Japanese flora and garden design!
The Morikami Japanese Gardens is an extraordinary place to experience some Florida waterfalls, be they natural or man-made.
While you're in Delray Beach, you should 100% check out this craft food tour! Stop at all the most delicious places to eat and drink, including Delray Beer Trade Co and El Camino, for the best way to round off your trip to the waterfalls!
7. See some incredible beauty at Devil's Millhopper Trail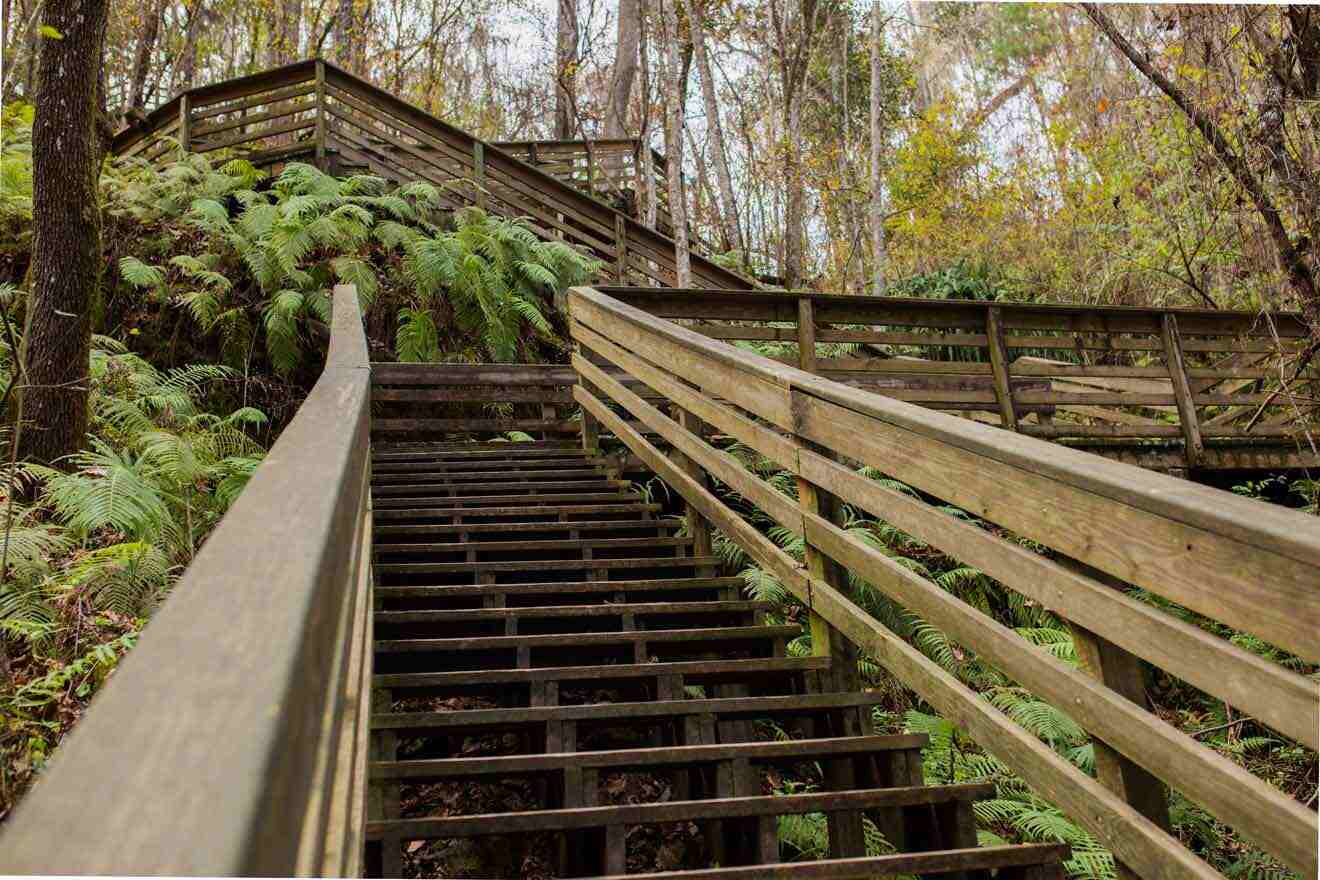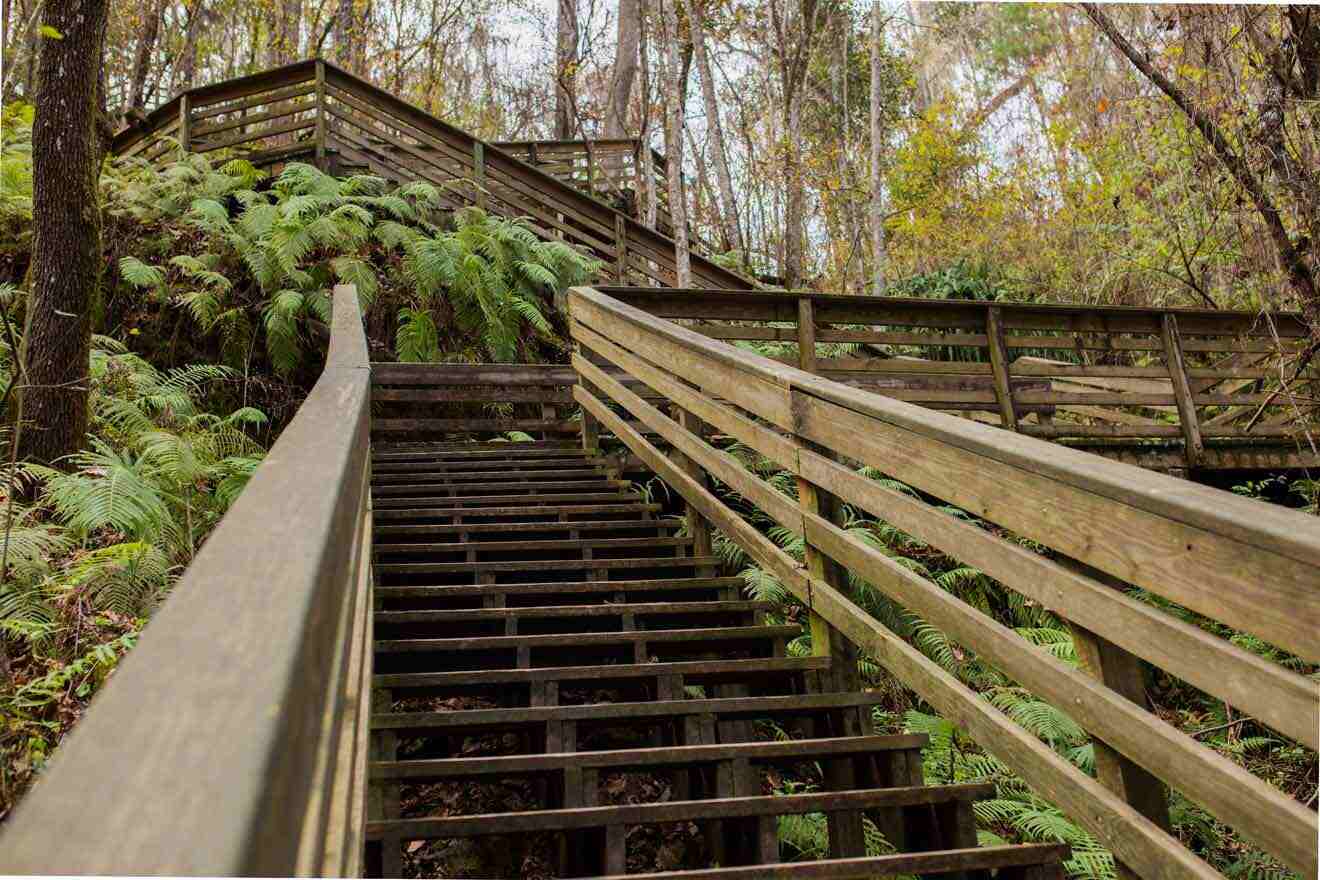 Devil's Millhopper Trail is around a huge sinkhole that descends down a 236-step boardwalk and is one of the most incredible places to visit in Florida with breathtaking views.
As visitors travel down the boardwalk deep into the sinkhole, viewers will get some impeccable views of numerous waterfalls cascading over limestone rocks surrounding the sinkhole.
The sinkhole itself is 120 feet deep and a whopping 500 feet wide! The gorgeous bright blue pool at the bottom of the sinkhole is fed by 12 different springs, each creating different waterfalls around the sinkhole.
This Central Florida gem is definitely worth checking out if you want to see some unforgettable views.
8. Wow at the Disappearing Creek at Camp Branch
Another breathtaking opportunity to see some Florida waterfalls and rapids is at Disappearing Creek at Camp Branch in White Springs!
People who enjoy hiking along the Florida Trail will be so eager to see this incredible transformation from the river to rapids, to a waterfall, to the lush waters curiously disappearing into a sinkhole!
This area is also popular among conservationists who enjoy untouched and ancient forests and flora and fauna.
With many ravines and towering limestone bluffs, there are plenty of breathtaking opportunities to gaze out at incredible views of the river, rapids, and waterfall.
This trail is 7 miles long, which is great for people who want to take a nice long hike through some incredible and diverse landscapes.
PRO TIP: Don't forget your bug spray! It can get pretty buggy due to all of the water around.
FAQs about waterfalls in Florida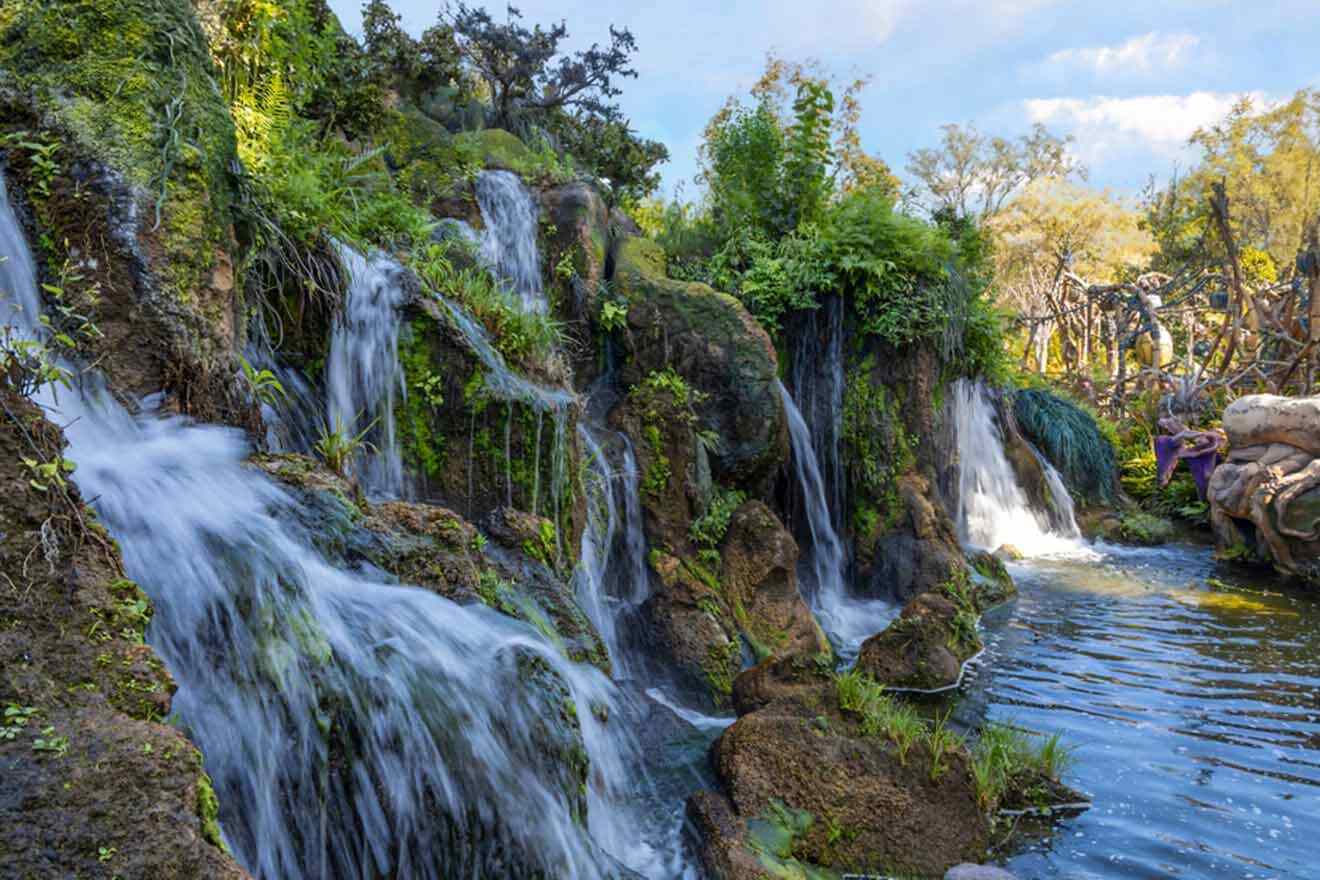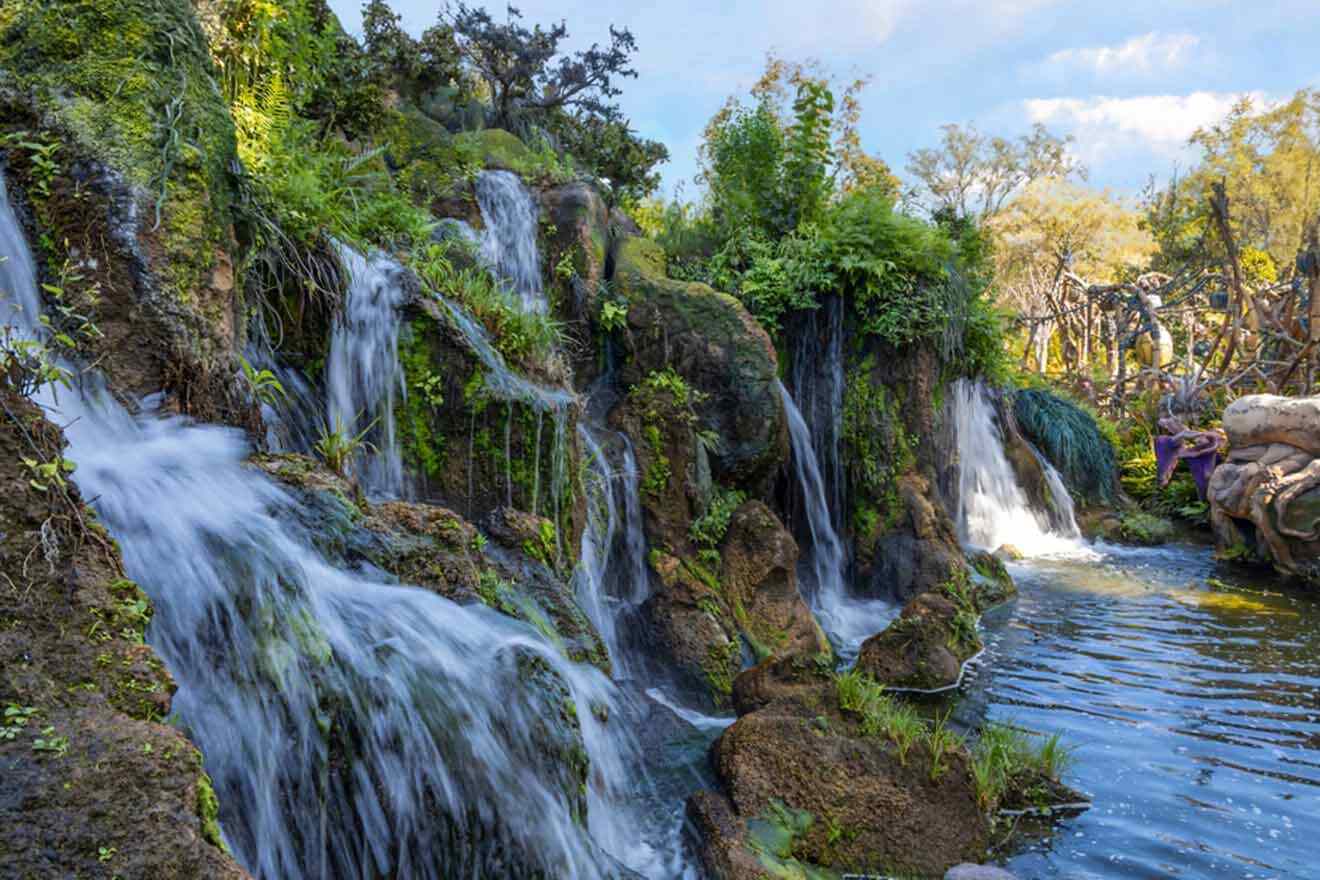 💧 What is the biggest waterfall in Florida?
Lined by ferns, lush foliage, and massive trees, Falling Waters State Park is home to Florida's biggest waterfall! This boardwalk leads visitors to a 100-foot deep sinkhole where waterfalls are an impressive 73 feet!
🌱 Does Florida have any natural waterfalls?
🌺 Are there any hidden waterfalls in Florida?
It may come as a surprise, but Florida has plenty of hidden waterfalls that only dedicated Florida adventurers know about! Many don't know about Big Shoals or the falls at Devil's Millhopper!
🌴 What are the best waterfalls in Florida?
Conclusion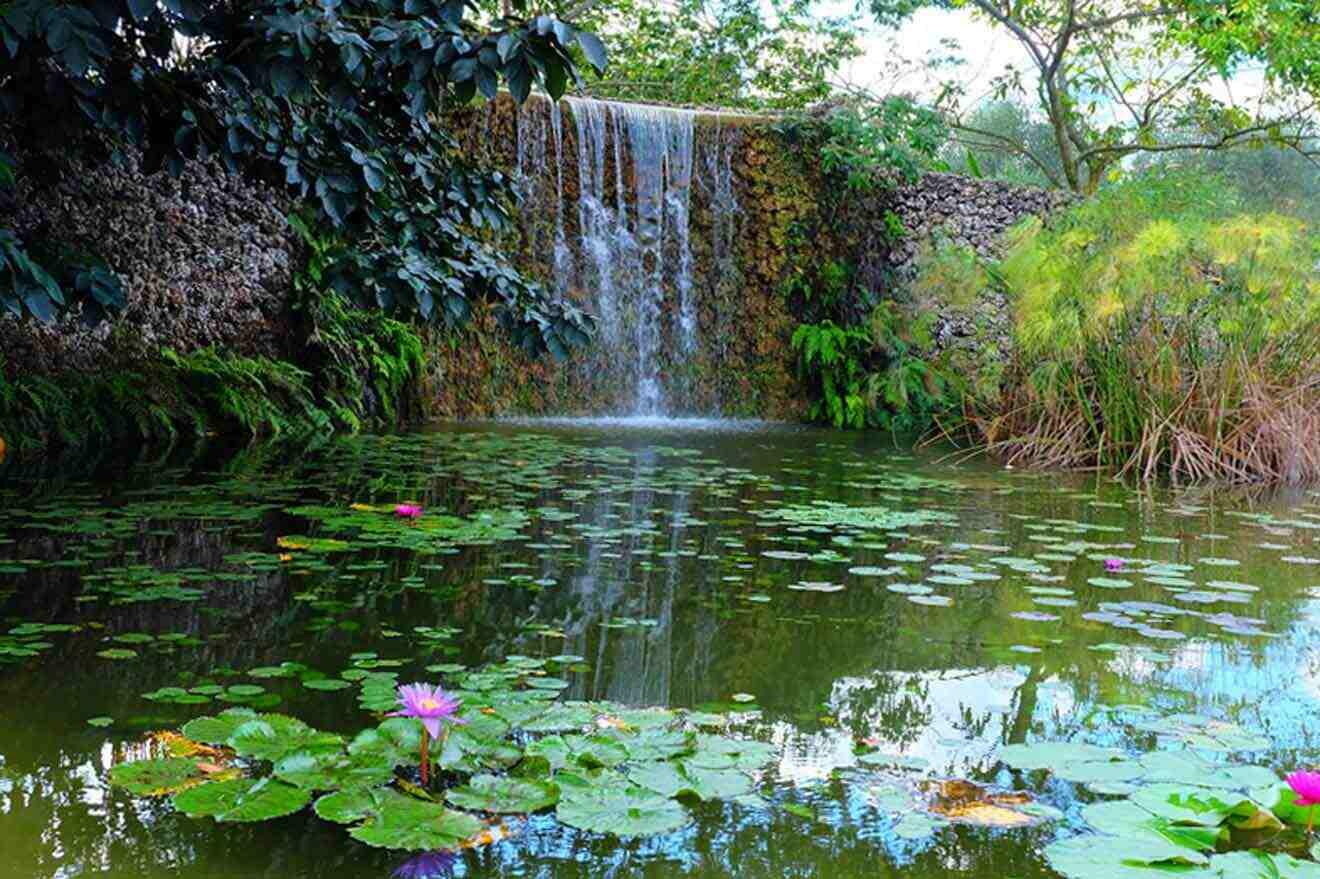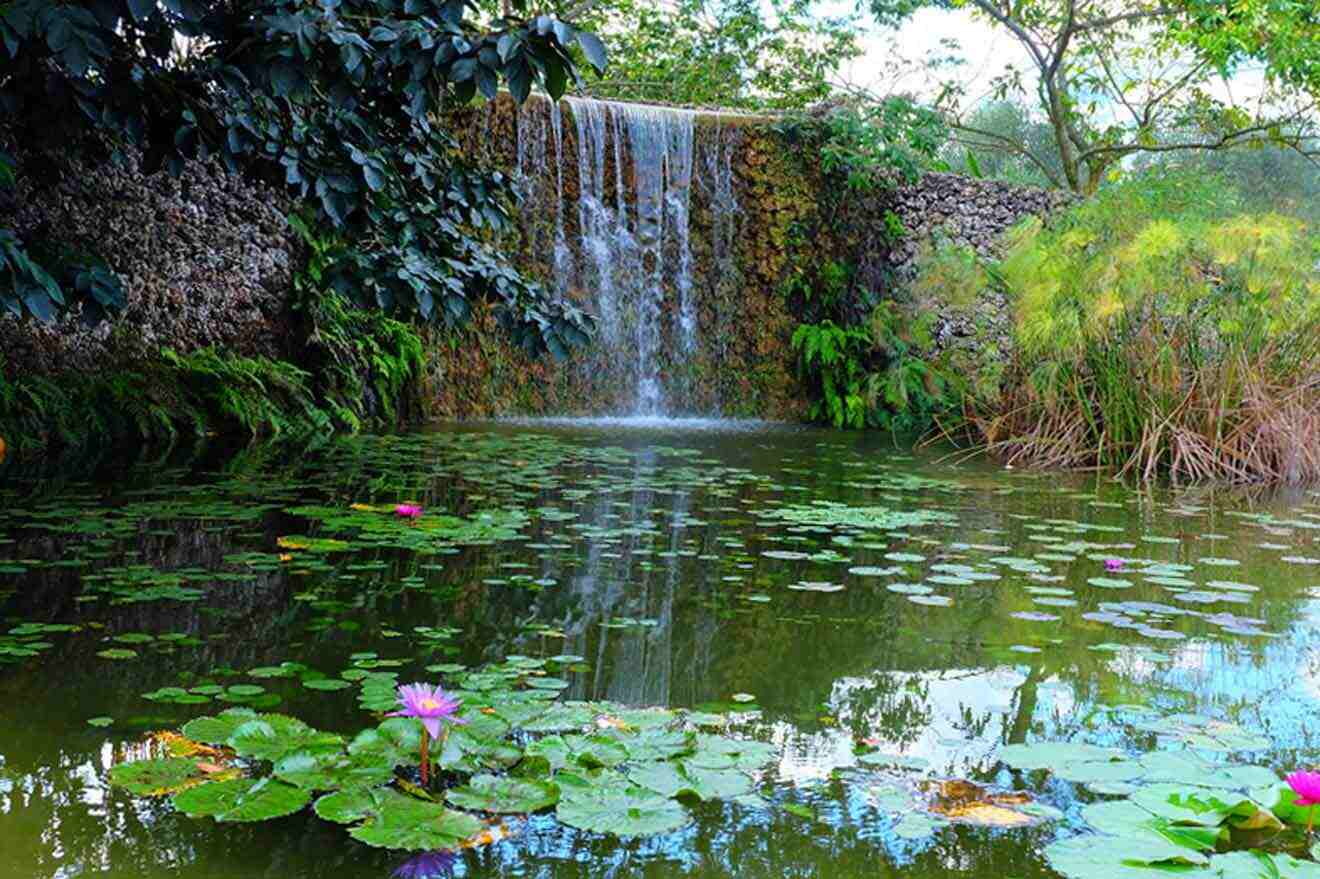 Nature lovers rejoice!
While Florida is home to a diverse array of different landscapes, from mangrove forests to Caribbean-esque waters, and naturally occurring springs with clear, transparent waters, it turns out Florida has, EVEN MORE, to offer with incredible naturally occurring waterfalls, sinkholes, and white water rapids.
Grab a friend, a lover, or a family member, and head out for the adventure of a lifetime exploring the waterfalls in Florida!
With love and gratitude,
Amira G.
---
Pin it for later!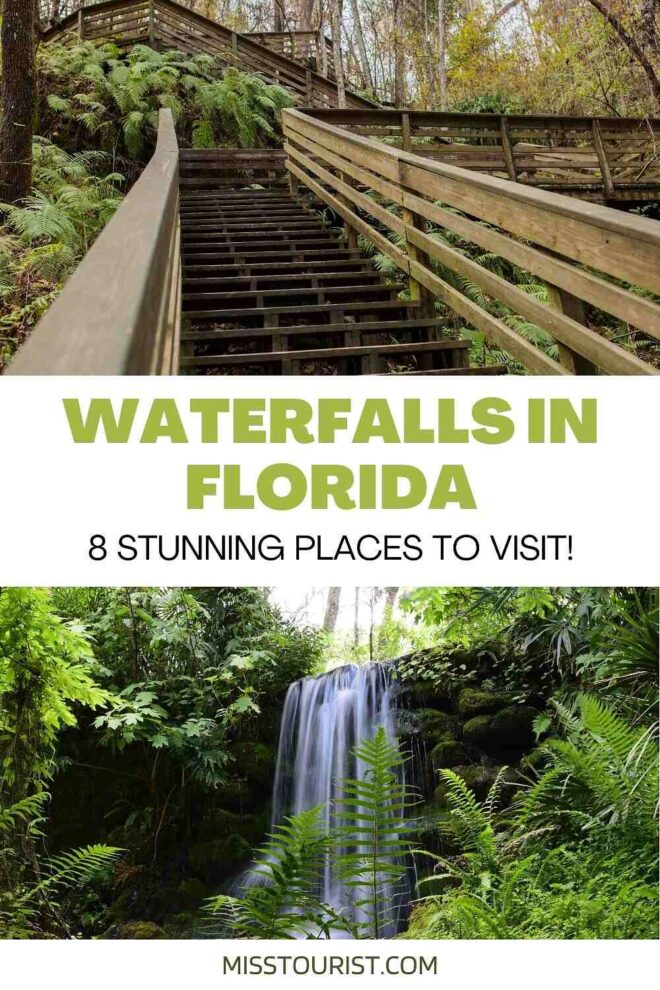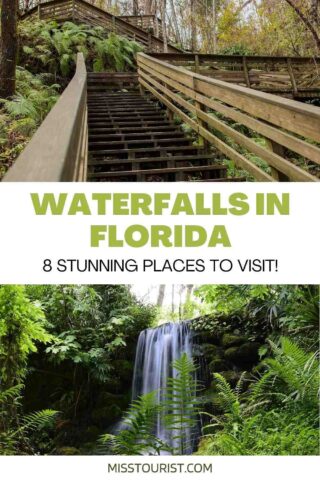 Pin it for later!