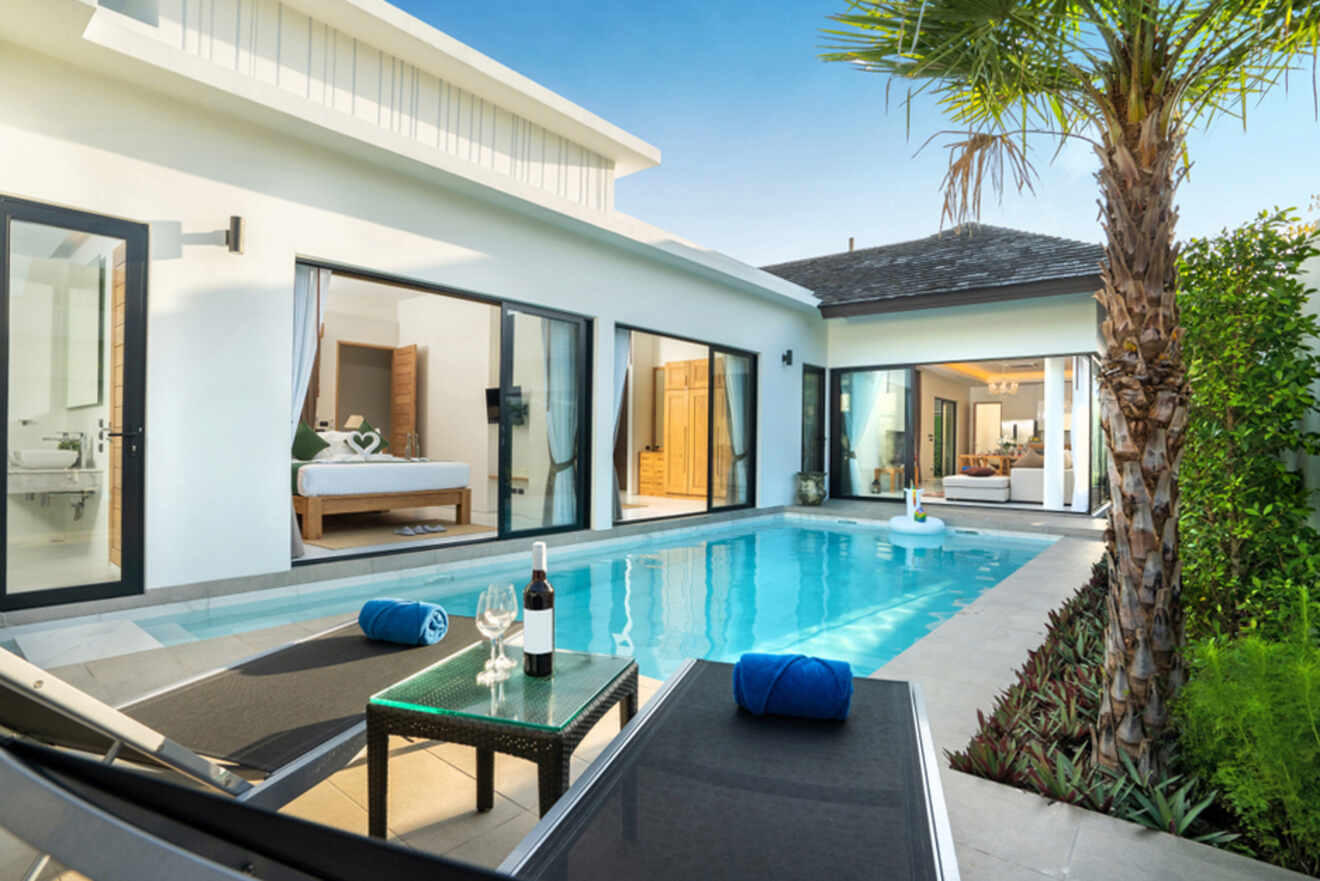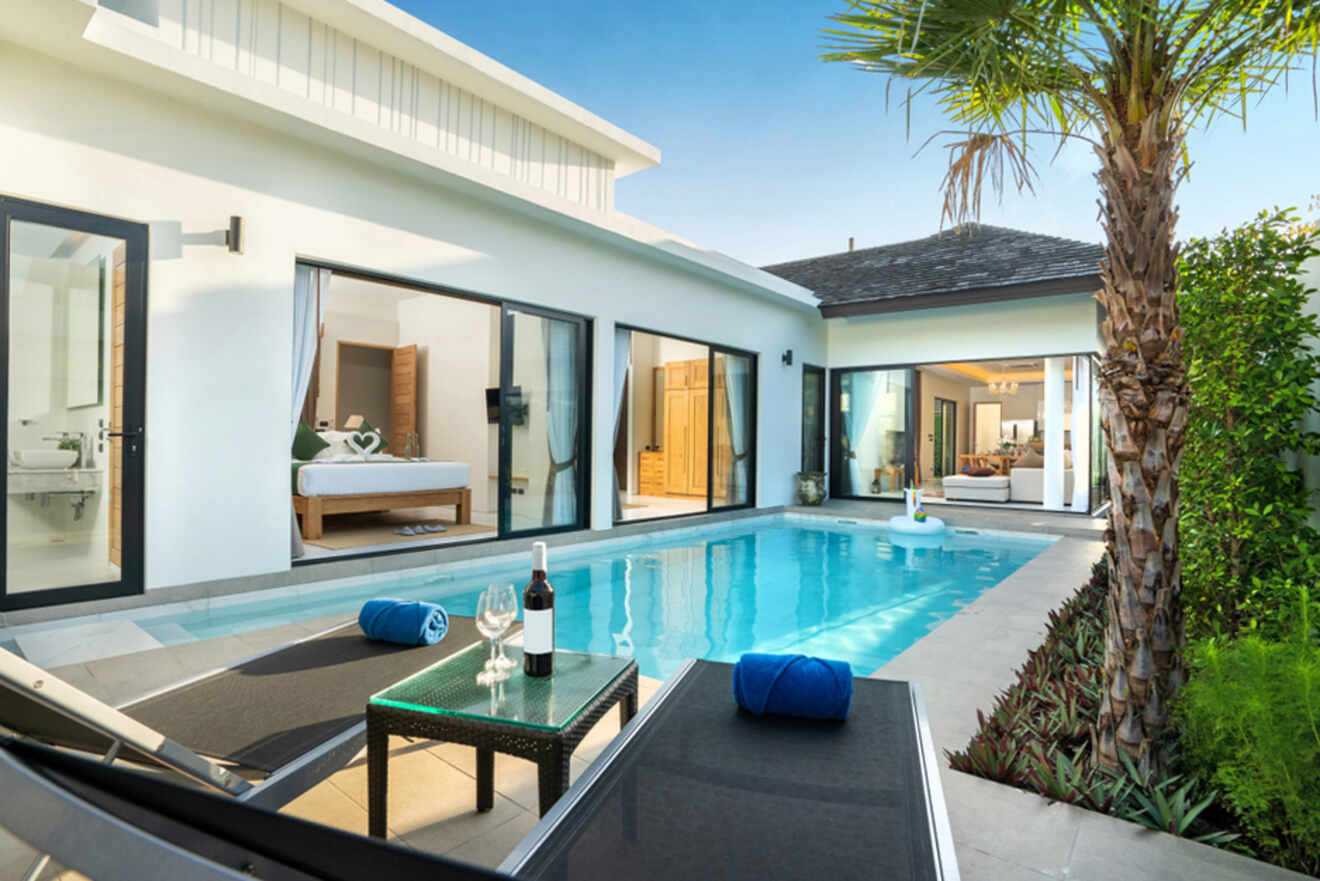 Are you ready to visit one of the most paradisiac spots in the world? Imagine encountering white sand beaches and feeling the Caribbean warmth on your skin while you sip a fresh cocktail prepared with local products! What could make your stay in Tulum even better? Staying in Tulum hotels with a private pool!
All the guest rooms mentioned here either have outdoor plunge pools, mini pools, or at the least, a hot tub! I organized the hotels by price, from the most expensive hotels to the least expensive ones but keep in mind I am mentioning only top-rated hotels!
These types of hotels are trendy, especially in this area, so don't sleep on them! Book your room as soon as you decide on a hotel!
Now buckle up as we dive into the best Tulum resorts and hotels with private pools!
If you are in a hurry
If you want to book ASAP, here are the top private pool hotels in Tulum:
1. La Zebra a Colibri Boutique Hotel – luxurious and trendy!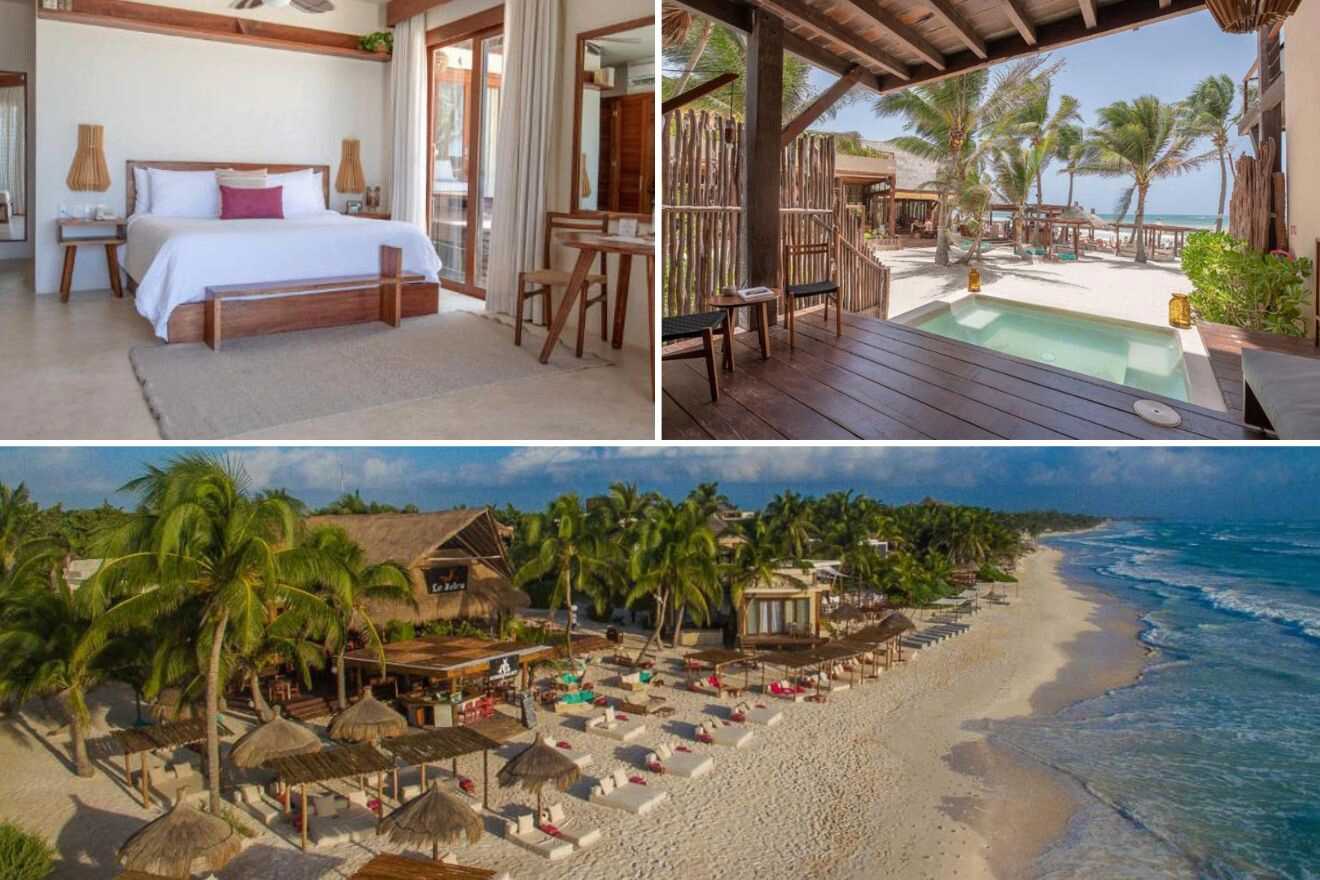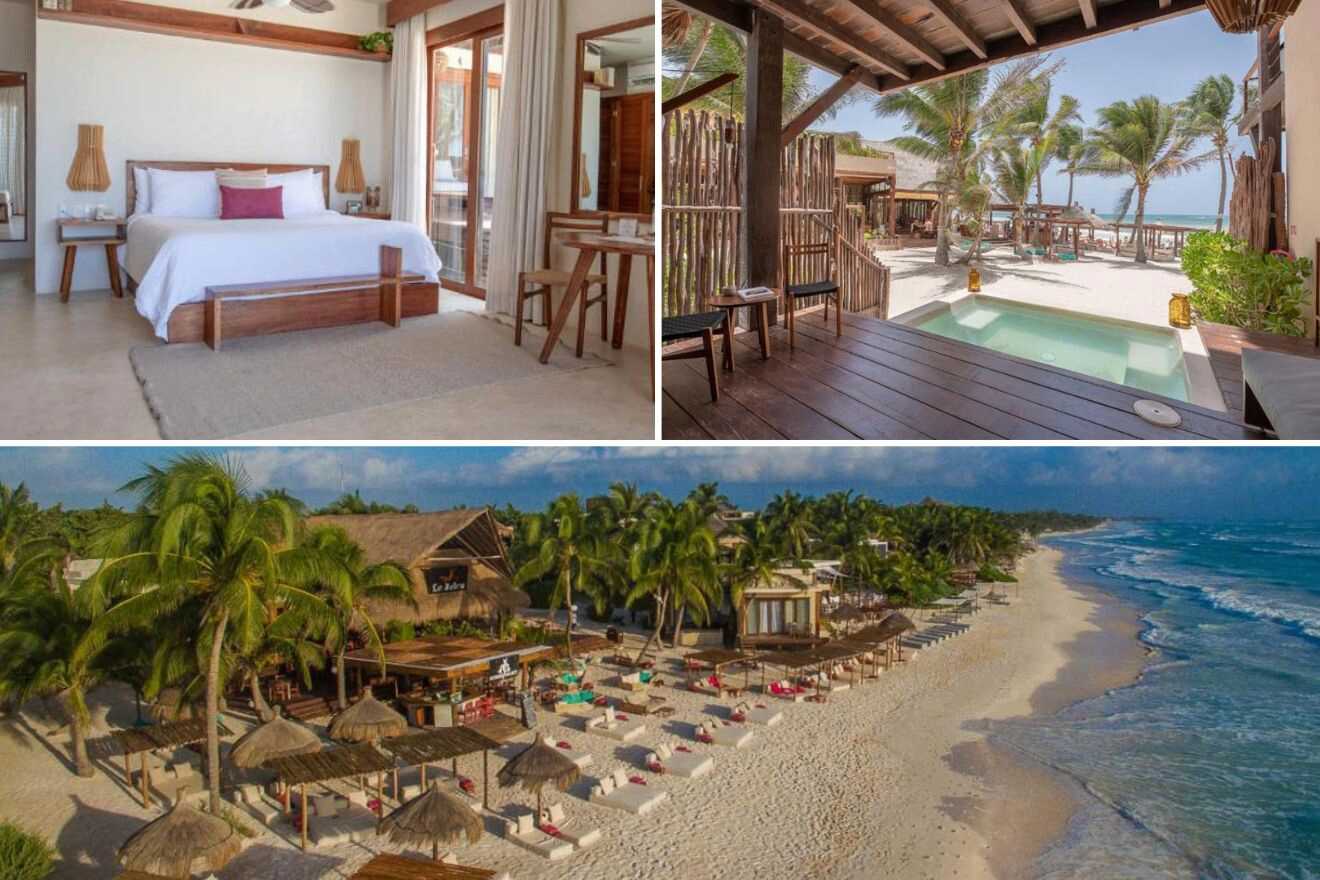 Arrive at your hotel to be welcomed with a tasty cocktail and a complimentary bottle of artisan liquor. Next, head to your hotel room, knowing what awaits you: a private plunge pool! Whether you booked a suite with beach view and plunge pool, garden view and plunge pool, or the penthouse with plunge pool, you know you will be relaxing in Mexico's warmth with South Tulum Beach a few steps away!
Apart from this, the hotel has a spa, a restaurant, and a bar, and you have the Mayan Ruins in Tulum to explore in your free time. As an added bonus, you can also arrange to get picked up by the hotel's airport shuttle (for a fee) after your flight to Tulum and start your vacation without hassle!
2. Jashita Hotel – for a romantic Tulum getaway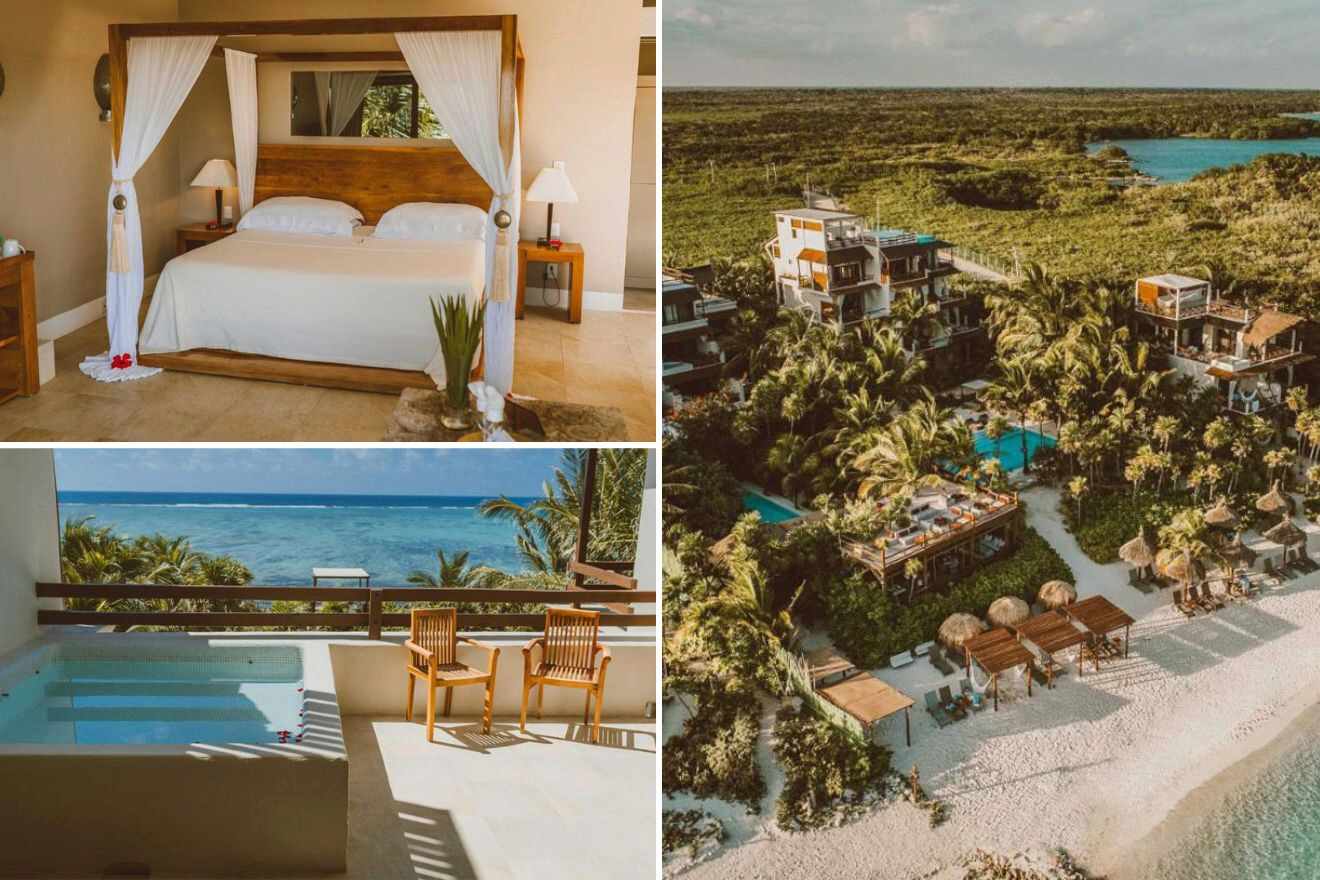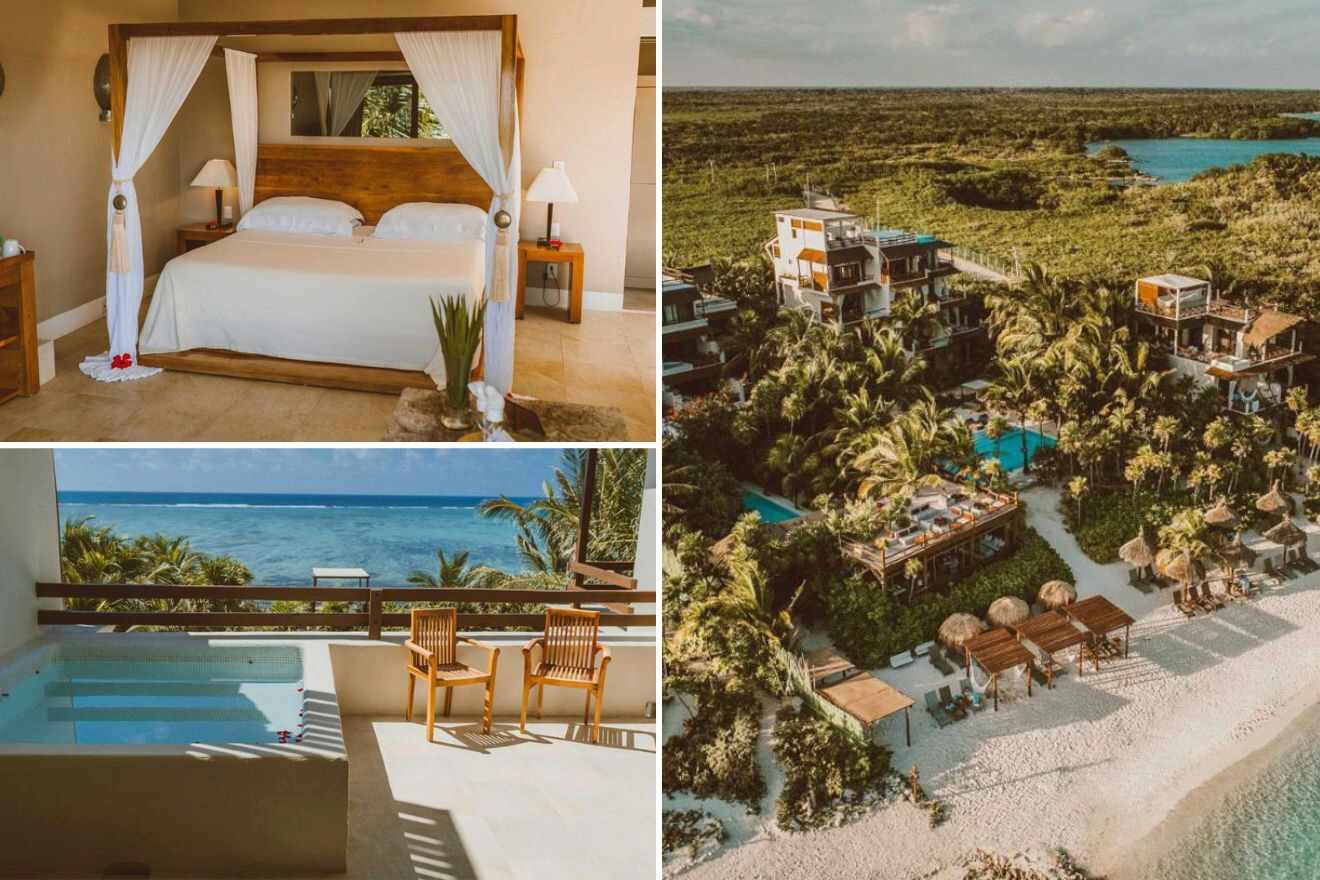 Are you planning the perfect honeymoon with your loved one? Then, you will love Jashita Hotel! They have 3 spacious honeymoon suites with at least one private terrace and private plunge pools with ocean views! You will get a bottle of the best Italian sparkling wine and top-quality chocolates upon arrival. Ah, sounds as sweet as life!
The hotel is located steps away from Soliman Bay Beach, and it has a private beach area for guests as well as many beachfront suites! If you want to switch up, you can enjoy any of the 3 swimming pools the Jashita Hotel has!
3. Mi Amor A Colibri Boutique Hotel – for adults only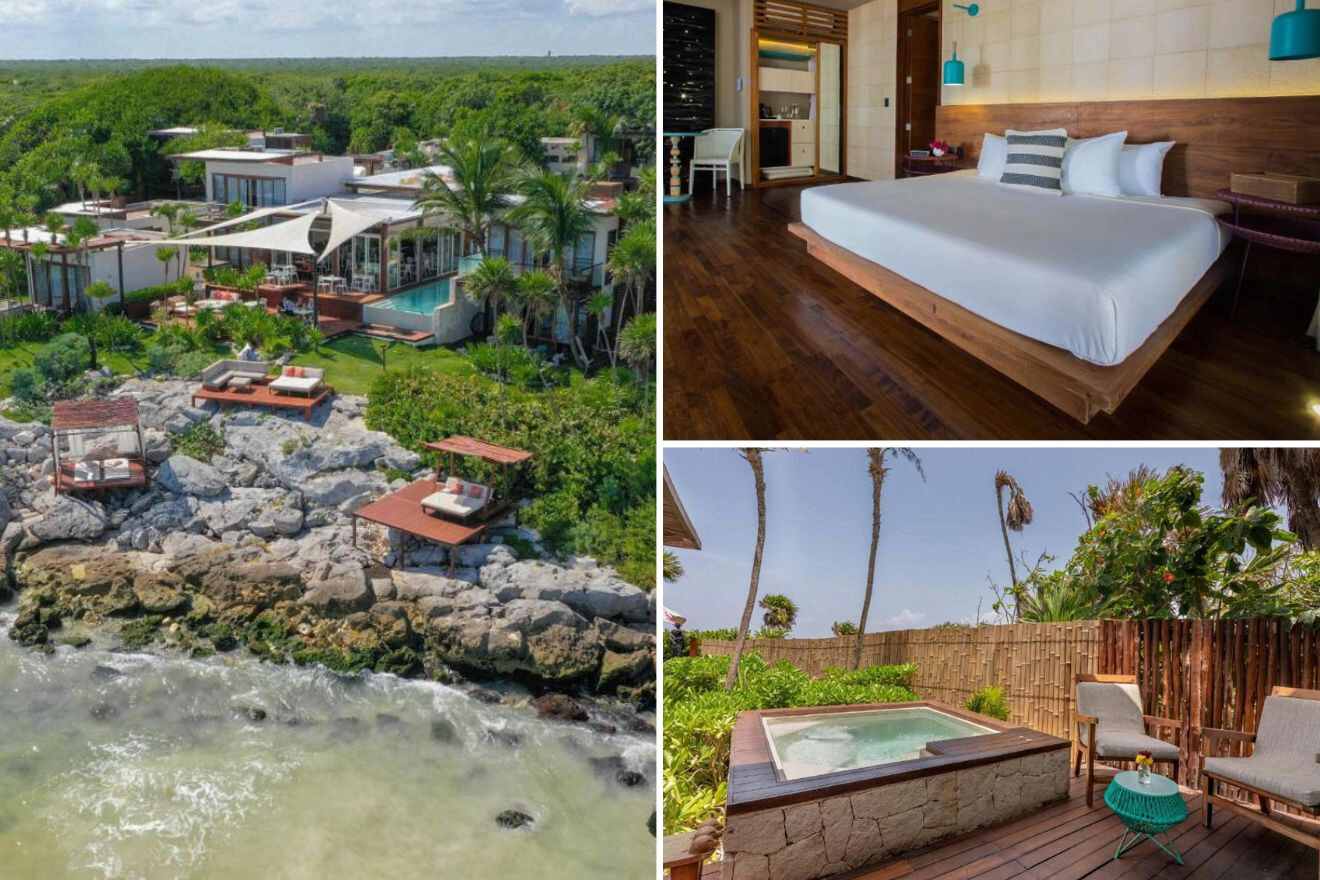 If you are looking for a room in Tulum to visit with friends or your partner without the hustle and bustle of kids, then this one is perfect! It is an adults-only hotel, so there will be no families with kids around, and upon arrival, the lovely hotel staff will greet you with a cocktail and a bottle of mezcal!
In terms of amenities, Mi Amor Hotel has an exceptional Art Deco ambiance, amazing views around the hotel, an excellent chef cooking at the hotel's restaurant, an infinity pool, and live music! P.S. Tulum Ruins are about 10 minutes away from the hotel by bike!
4. The Beach Tulum – private rooftop terrace with hot tub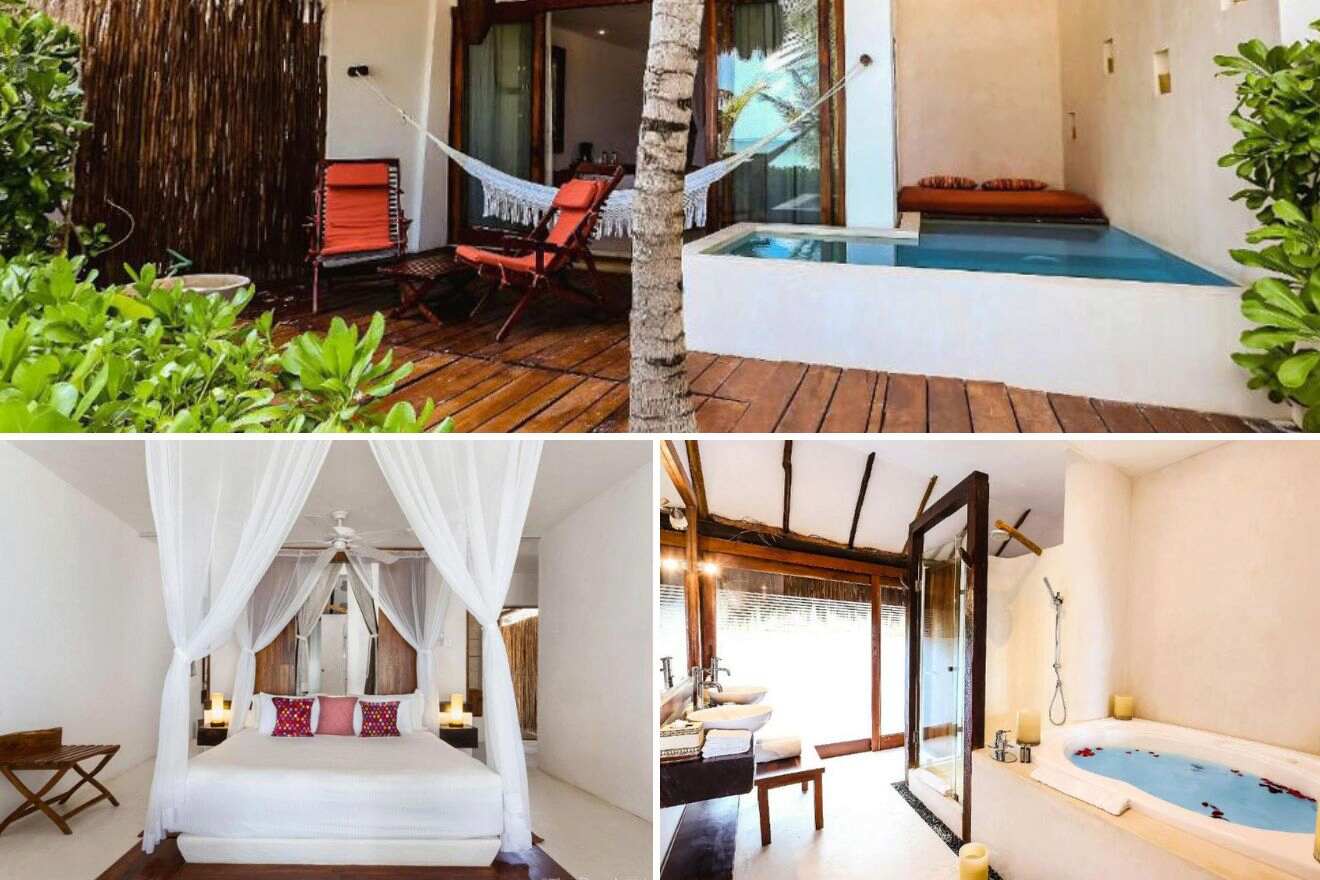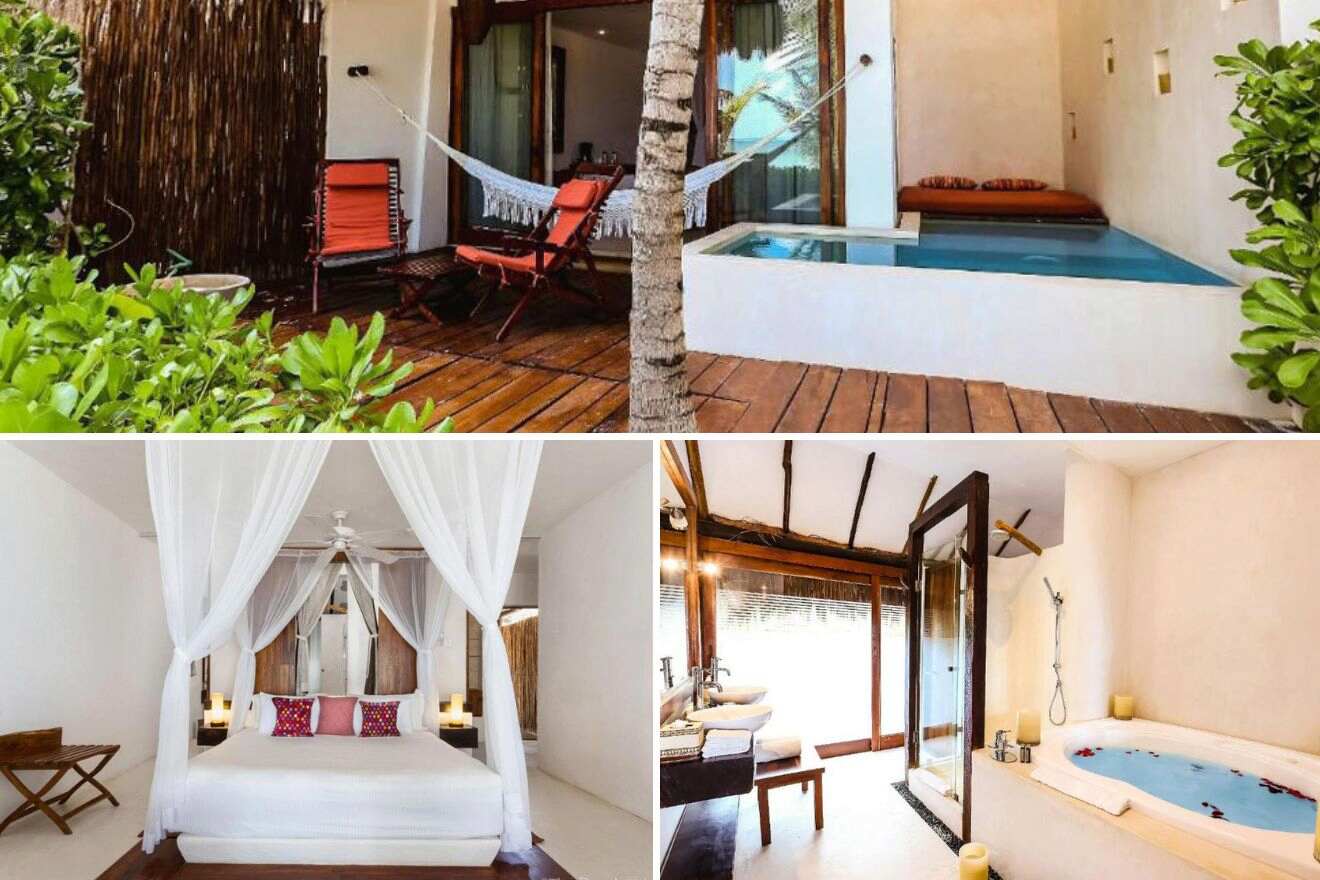 This Tulum hotel has a minimalistic and fresh look, which makes it ideal for anyone trying to relax in the paradisiac Caribbean Sea! Here you'll enjoy fantastic facilities like an outdoor swimming pool, a beach club (Ziggy's), and a spa that offers great spa treatments!
The rooms are a complete dream, and there are 3 types: the Junior Suite with a garden view and your very own plunge pool, the Deluxe Double Room with sea view, direct access to the beach, and a private pool, and the Rooftop room with your own roof terrace with a hot tub that you can access directly from your room! Who could say no to that?!
5. KAN TULUM – to connect with nature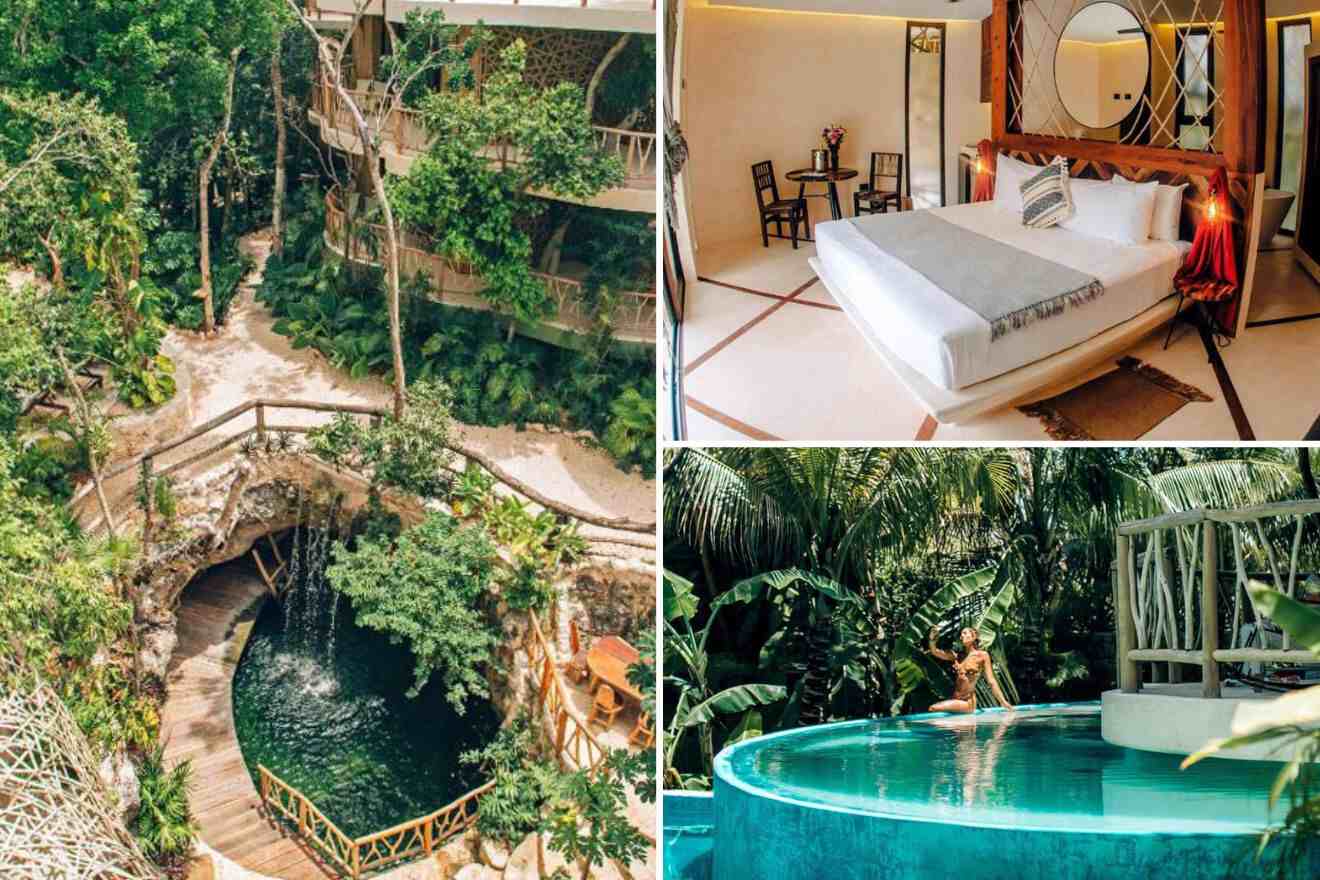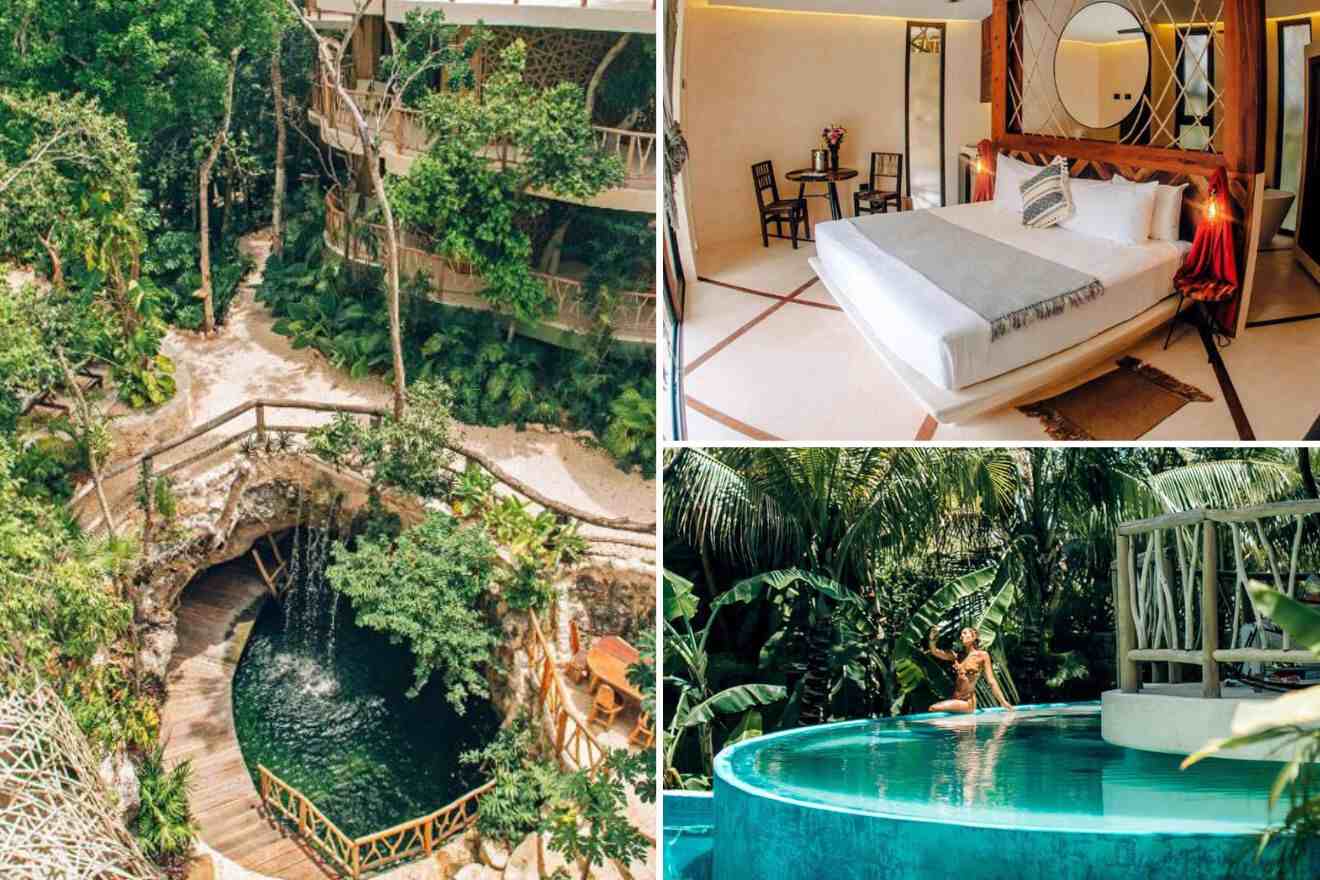 Staying at KAN TULUM located in La Veleta, transports you to a different universe, as the hotel design and decorations will make you feel like you are one with nature! The hotel has an outdoor swimming pool, a vegetarian and vegan buffet breakfast, stone terraces with crafty wooden chairs, an onsite bar and restaurant, free parking, and a free airport shuttle!
This hotel has 2 different types of rooms, both with private pools and air conditioning, and a private bathroom! The Deluxe King Studio comes with a balcony with the hotel's infinity pool view and your own hot tub, and the Deluxe King Studio Infinity Pool comes with a terrace, balcony, and pool!
6. Dune Boutique Hotel – for party people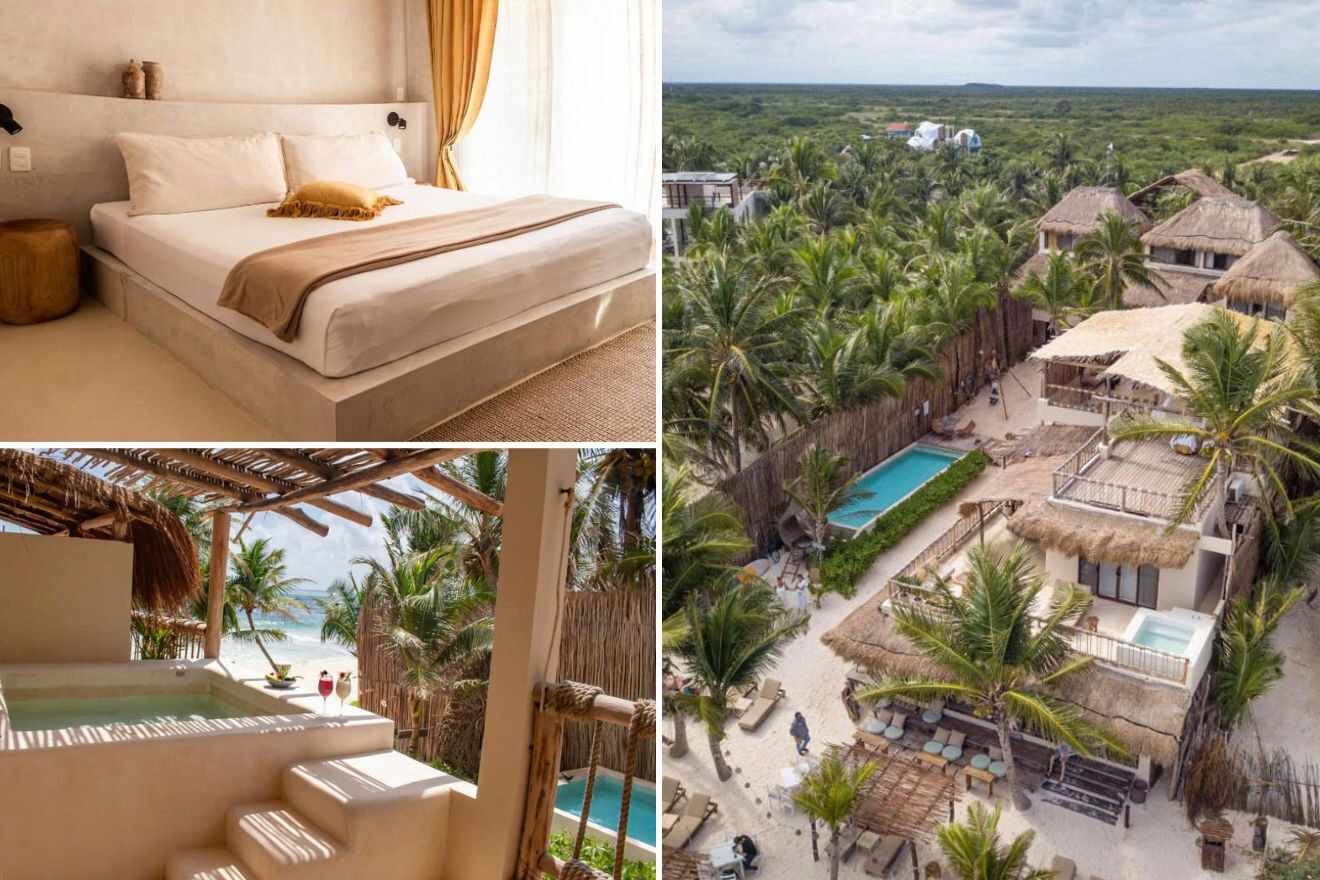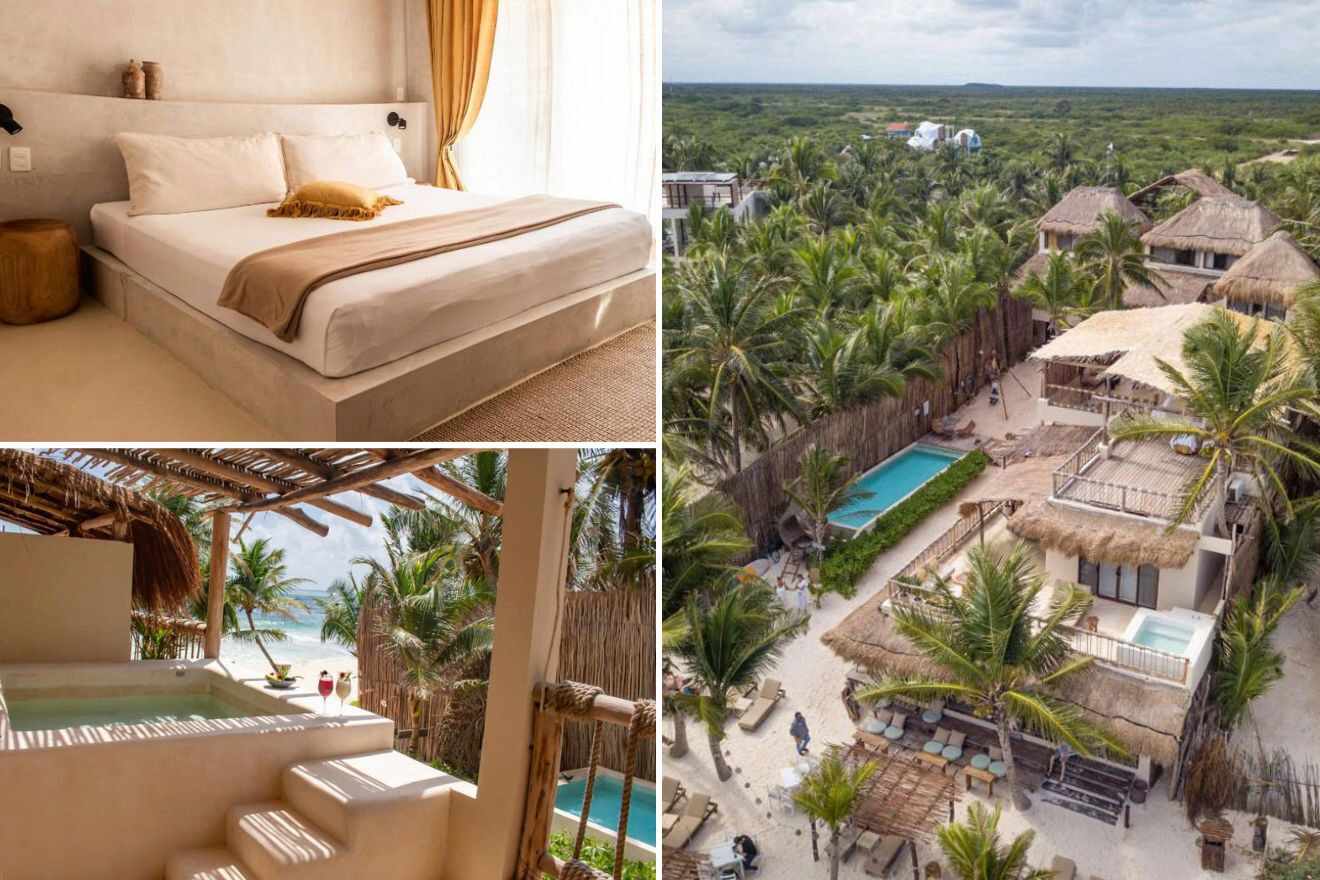 Are you planning a fun trip with your friends? Then make sure you book a room at Dune Boutique Hotel, which is located in the party zone! Meaning? Many beach clubs and beach discos are steps away from the hotel, so sip a drink at a beach bar! Guests can enjoy a delicious complimentary breakfast, an outdoor swimming pool, and the hotel's private beach area.
All rooms have an incredible garden or sea view and room service, but if you want a private pool room, you must book the Deluxe Partial Sea View Mini Pool room, and better be fast! This is the only room in this hotel offering this commodity!
7. Orchid House Tulum – enjoy private pool villas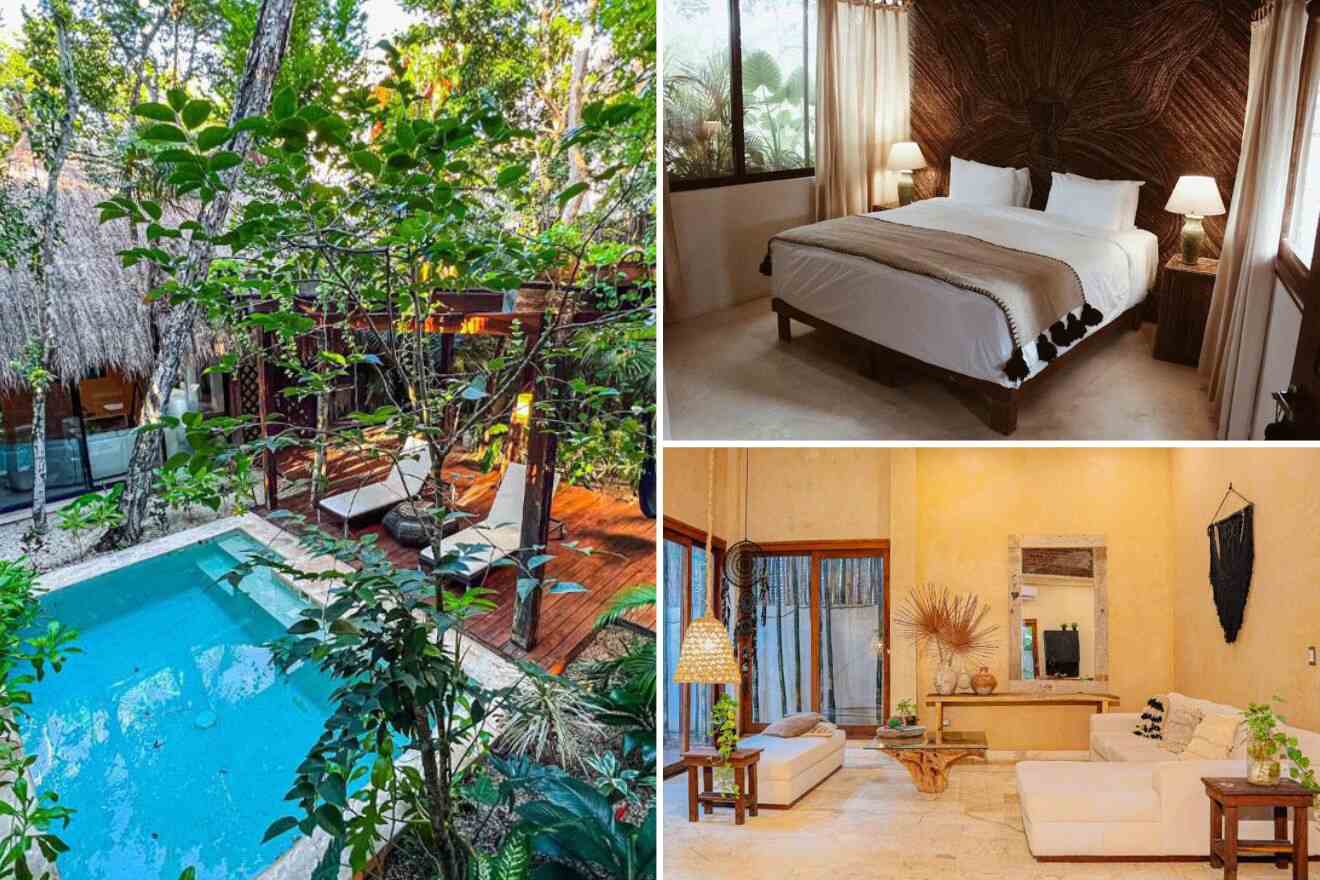 Imagine a hotel that is rustic yet luxurious! At Orchid House, you will enjoy their outdoor swimming pool open to all guests, a top restaurant, and a cool poolside bar! Sounds amazing right? This hotel located in Zama has a private beach area and a spa so that you can relax with your peeps!
This hotel offers many rooms with a spacious bathtub, but the fantastic thing about this hotel is that it provides 3 villas for 6, 8, and 12 guests, perfect for large families or groups of friends. All villas come with a private swimming pool and 4 to 5 bathrooms!
8. Hotel Poc Na Tulum – stay in Tulum's archeological site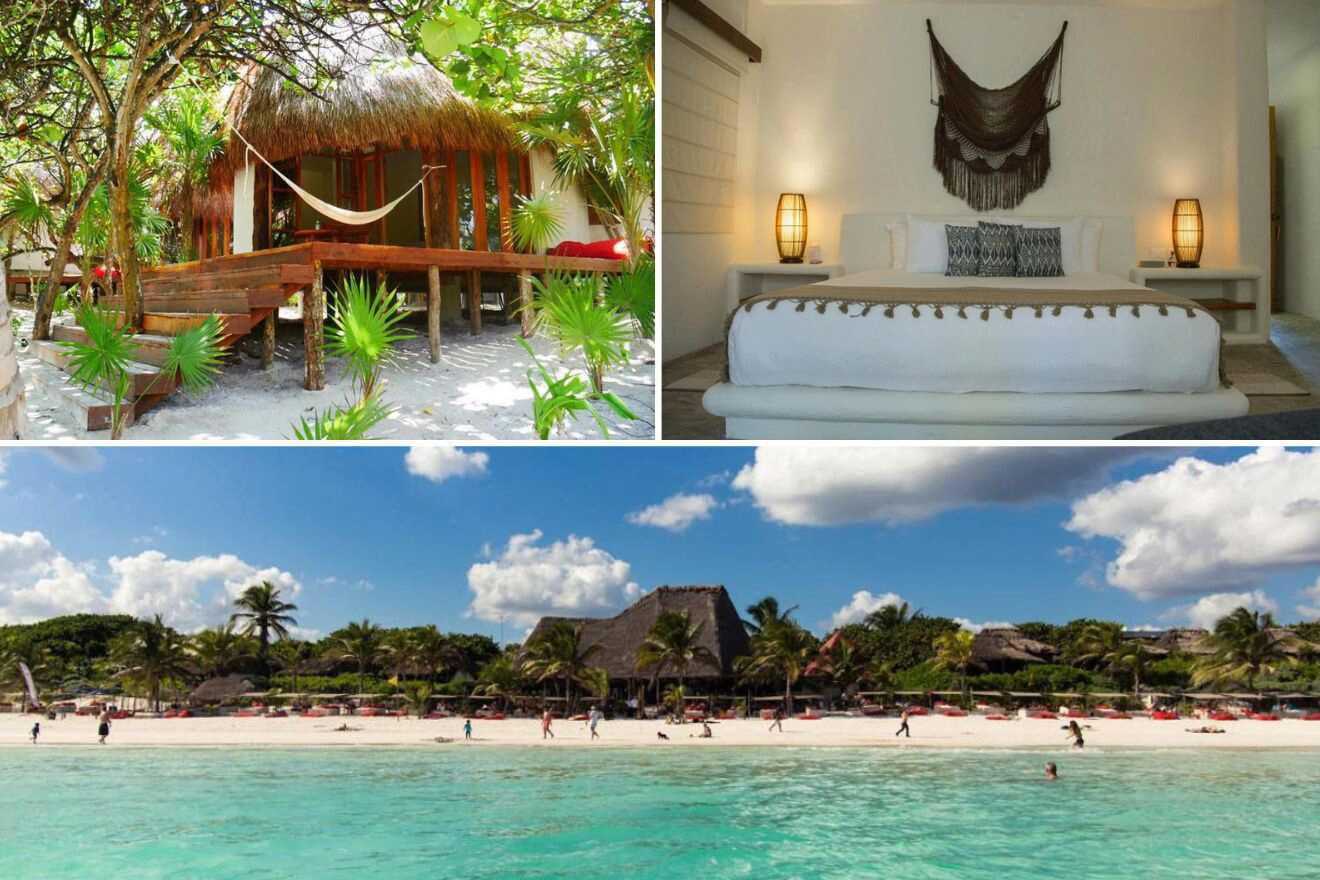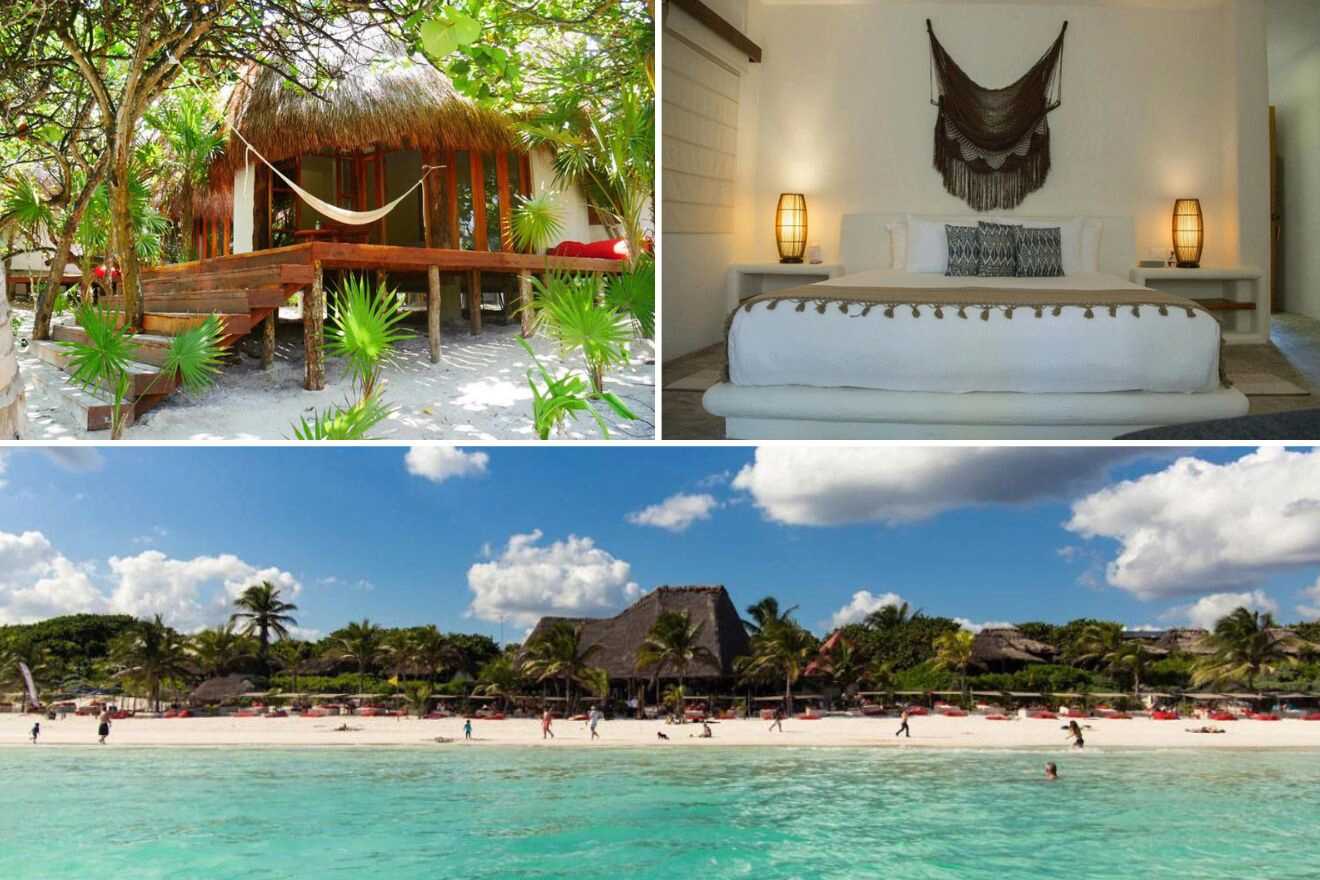 The location of this hotel is beyond amazing – it is beachfront and inside Tulum's archeological site, which means that the fantastic Mayan Ruins are nearby! You can enjoy the hotel's bar and restaurant that offers a complimentary American breakfast to guests!
The Master Plunge Pool Panoramic View is the most outstanding choice in this hotel! It has a phenomenal sea view, a fresh private rooftop pool, and a balcony to recharge your batteries! The spacious room has a comfy extra-large double bed so you can sleep away and wake up ready for more Tulum fun!
9. Chiringuito Tulum – experience the Caribbean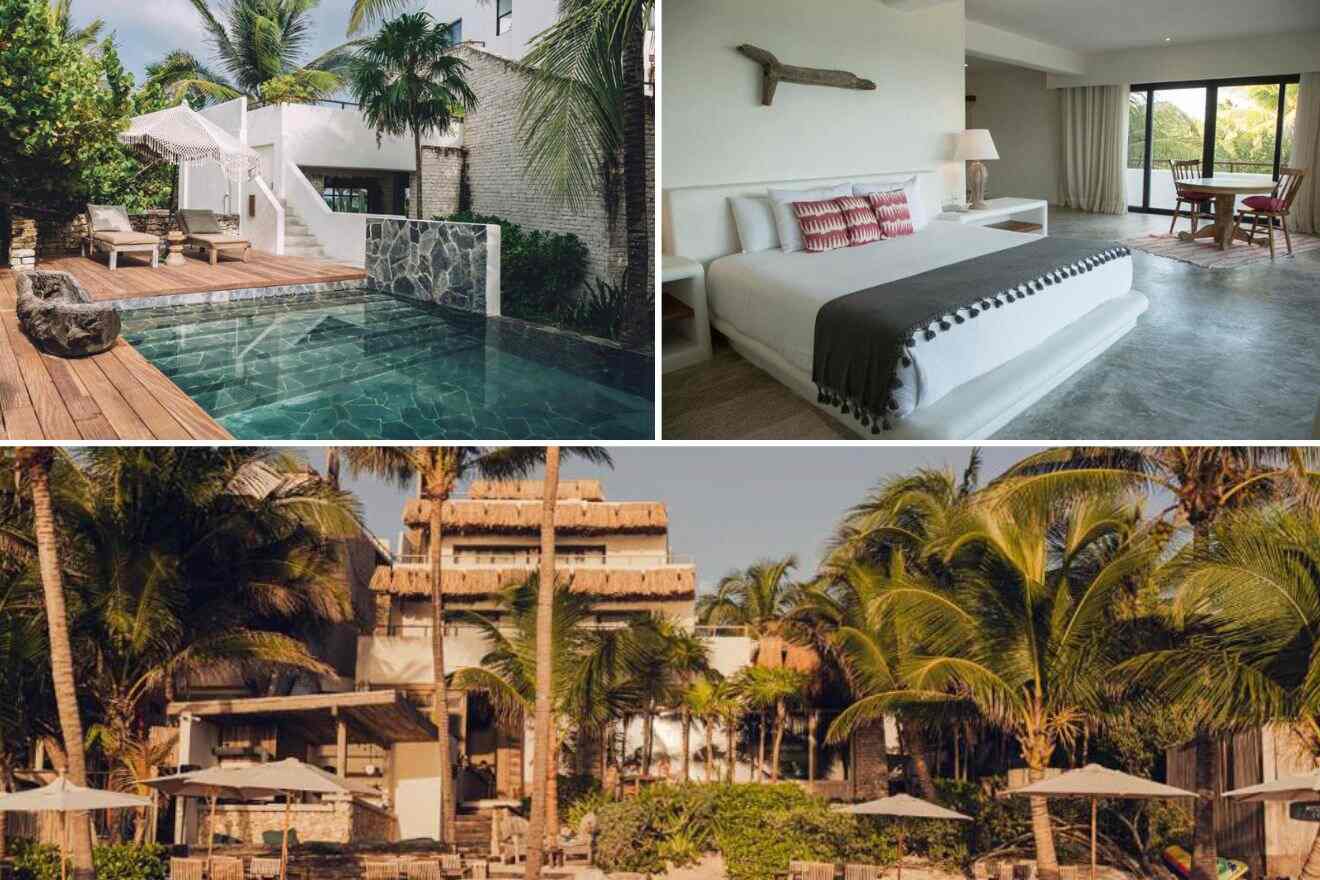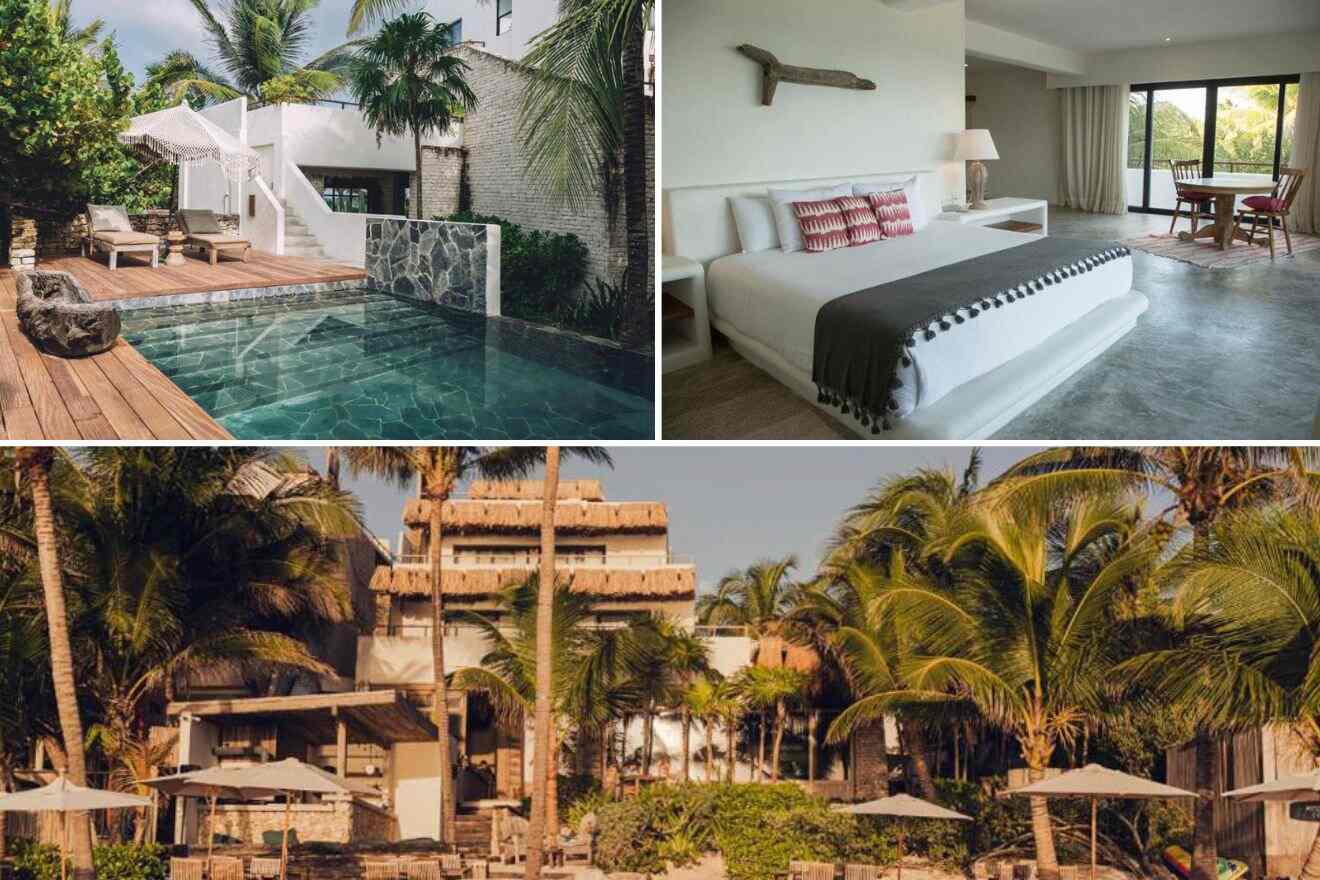 This hotel mixes Yucatan's architecture with a modern touch and all the freshness of the Caribbean! It has a private beach area for guests, and South Tulum Beach is 30 minutes away. You will start your mornings with an excellent breakfast at the on-site restaurant and get a drink from the bar whenever you feel like it!
You'll also find a swimming pool surrounded by palm trees on the hotel's terrace, but if you want your very own private pool, make sure you book the Deluxe Private Pool room or the private pool suite with an ocean view! These (and all rooms in this hotel) rooms have free Wi-Fi, air conditioning, and the comfiest bed!
10. Hotel Ma'xanab Tulum – tune in with your body and mind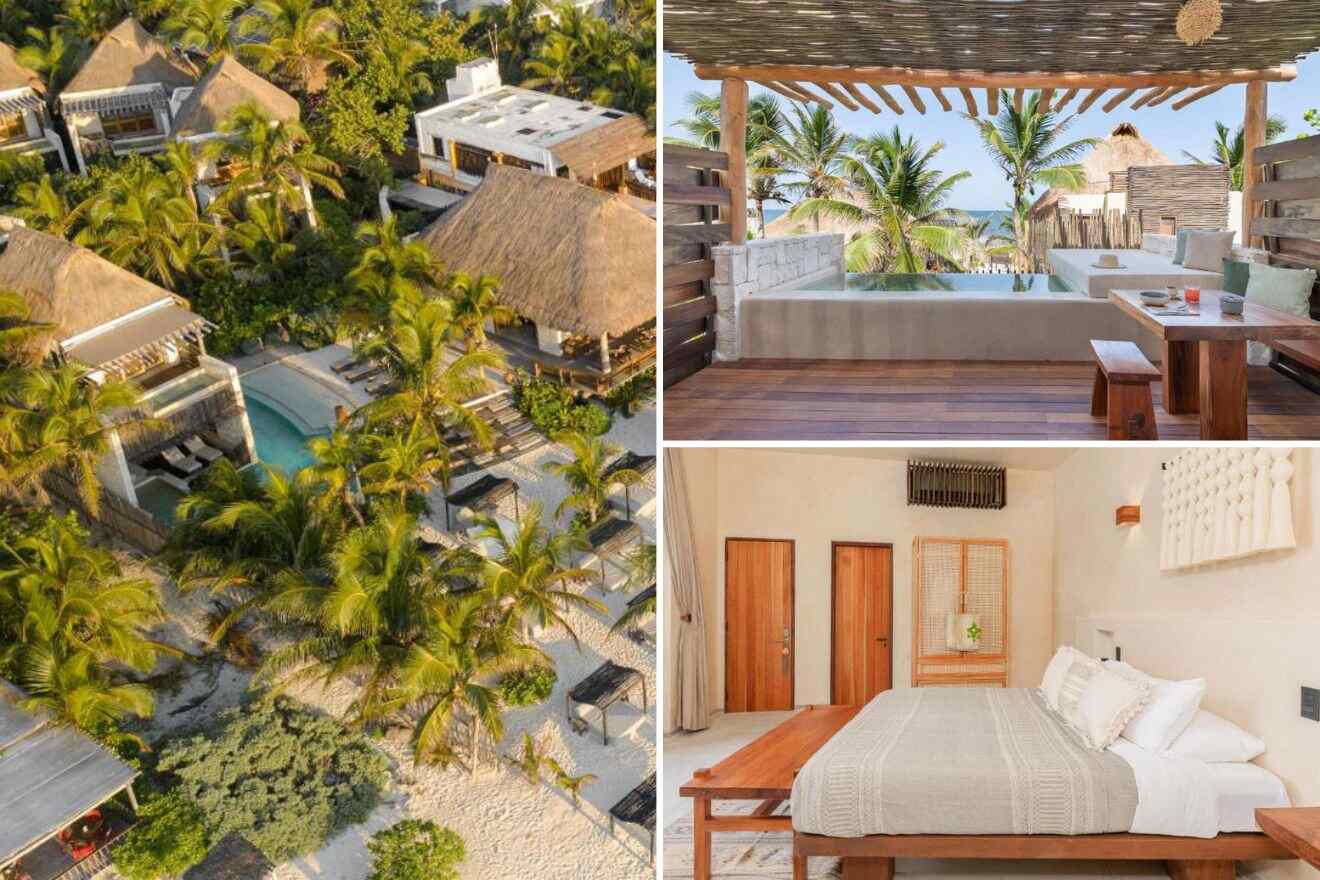 The cozy rooms at this hotel feature wooden furniture and earthly colors – perfect for reconnecting with yourself and nature. On top of it, the hotel has a fantastic beachfront location, 20 minutes drive from Tulum city center! The amenities at your disposal include a superb swimming pool, a spa and wellness center, and a fitness center to detox from city life!
Of course, Hotel Ma'xanab Tulum also offers an airport shuttle and á la carte breakfast! But for those of you looking for rooms with private outdoor pools, you'll be amazed to find out that apart from private pools or hot tubs, you'll also get an ocean or garden view. So make sure you book your favorite room fast!
11. Tago Tulum By G Hotels – private pools in every room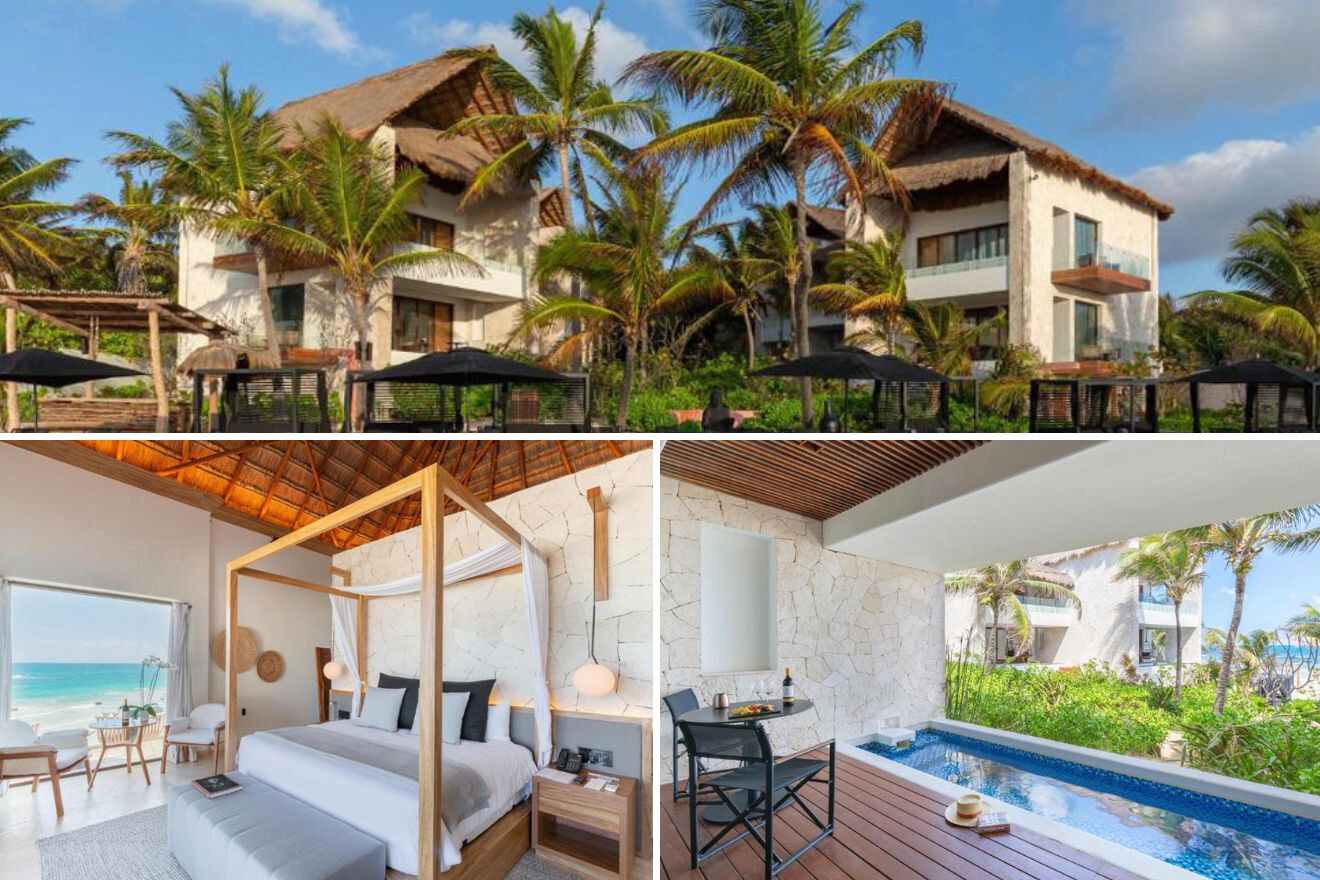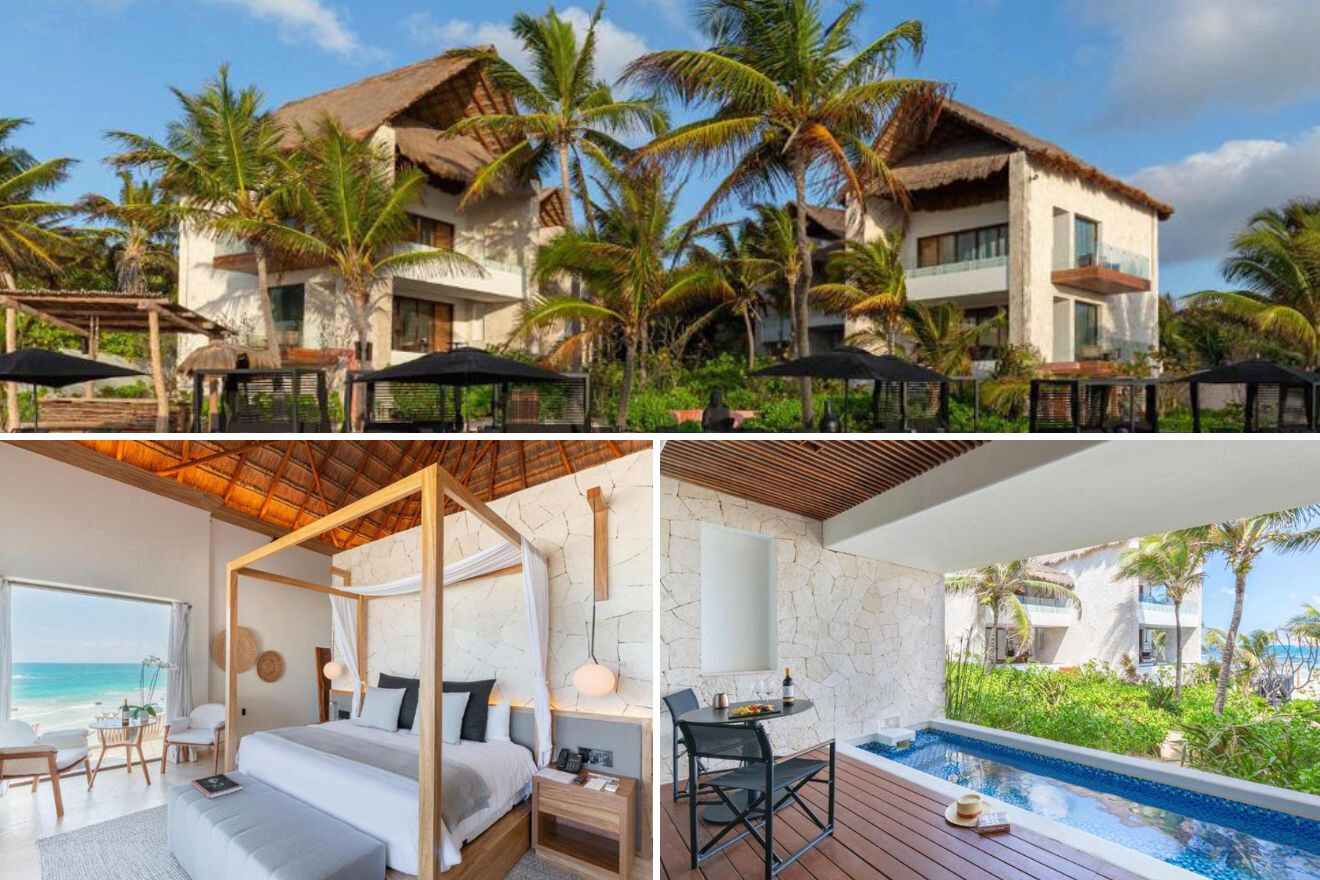 Don't you ever dream of just getting away? I sometimes do, and it's usually to a blissful place like Tago Talum! This hotel, located in Tulum Beach, has a refreshing outdoor pool and other unique common spaces to relax outside your room. For example, you can play pool, and if you feel adventurous, rent a bike!
All the rooms in this hotel have a private pool with an ocean view, so choose the one that fits your preferences better! The rooms come with a flat-screen TV with cable channels and free Wi-Fi. The hotel has a private beach section with beach furniture to enjoy the sun and ocean comfortably!
12. Cabanas Tulum – homey and fashionable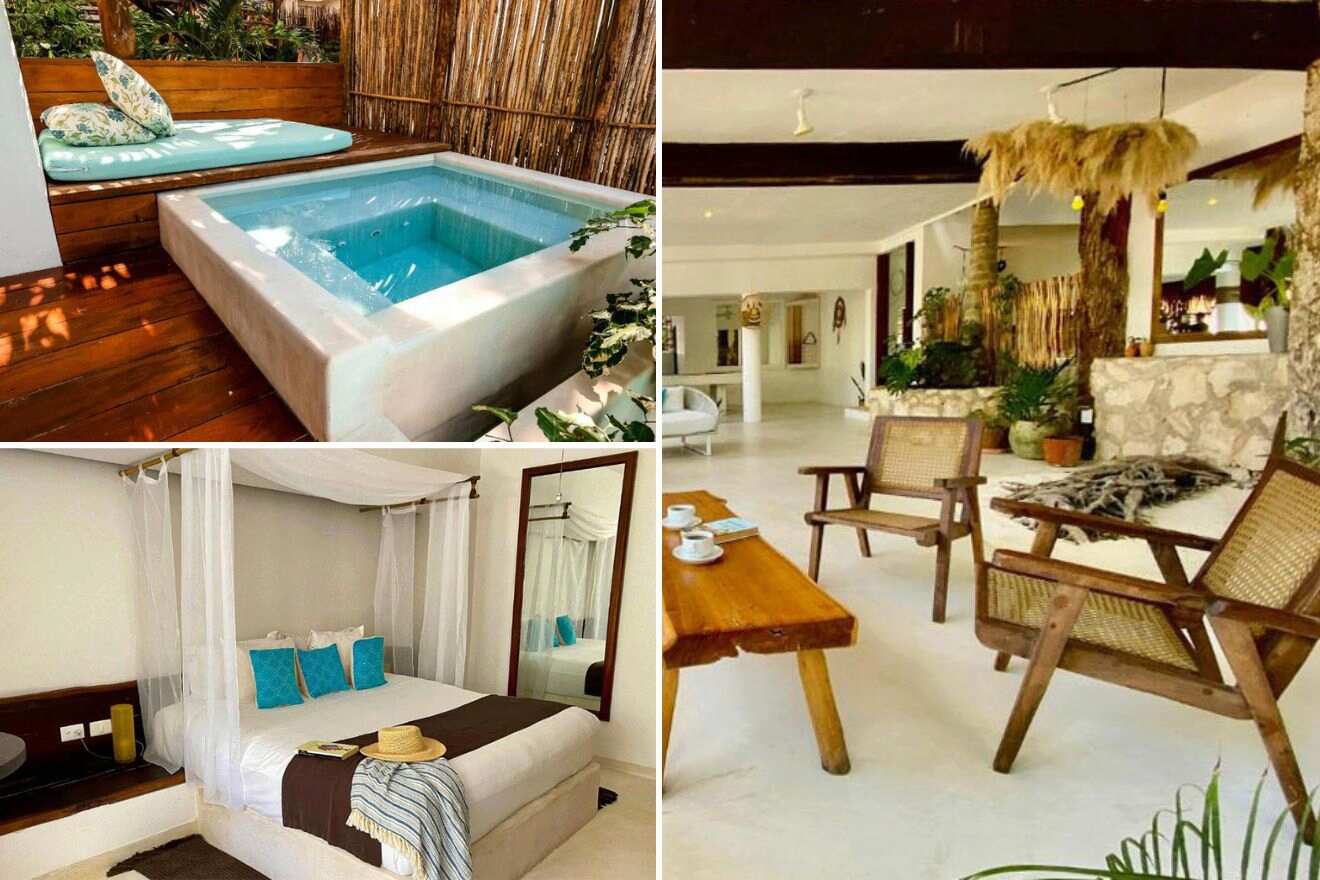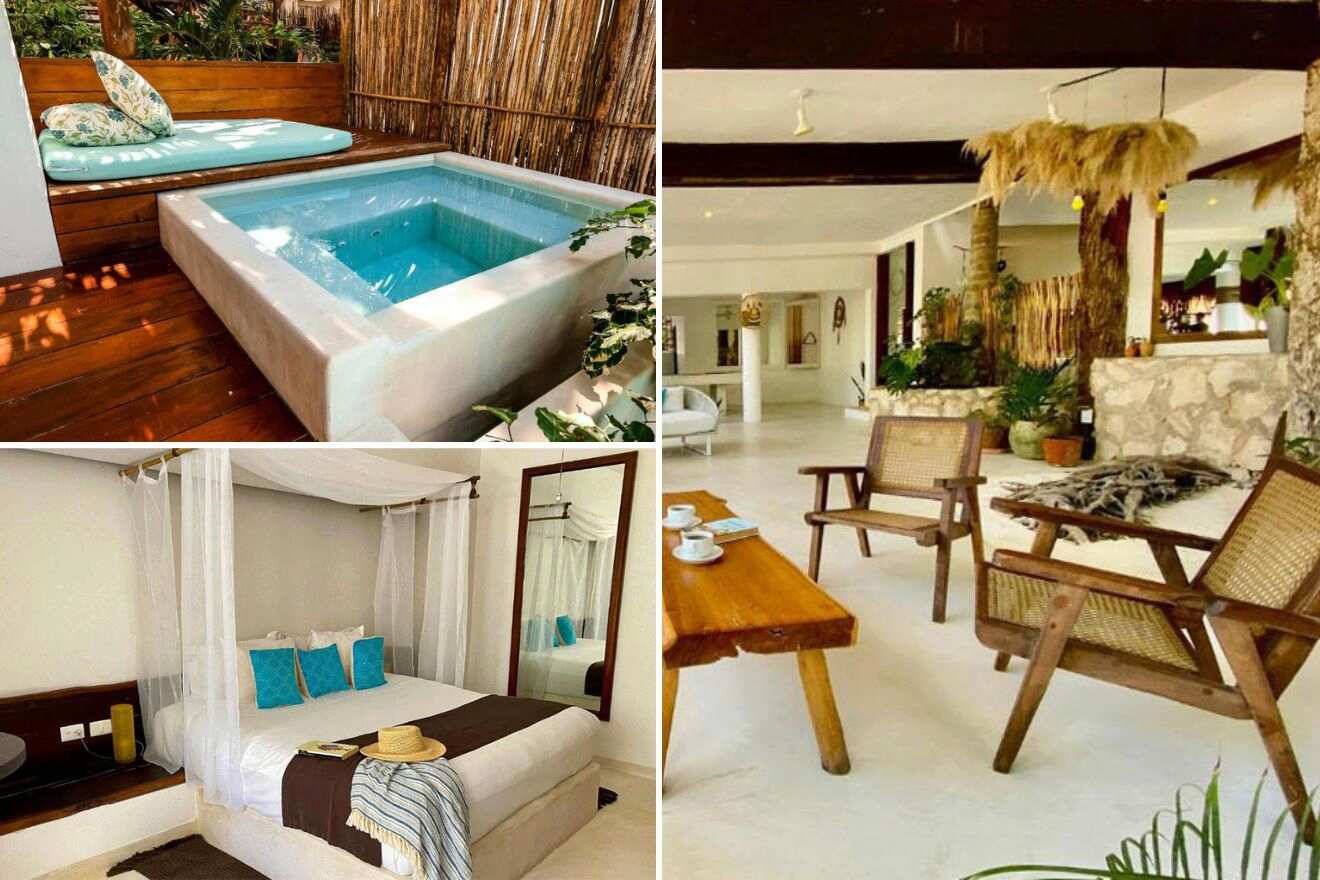 At Cabanas Tulum, you will feel right at home! It will be your home far away from home, with a better view, a private beach, an in-house restaurant, a pool, and a sauna! You'll want to stay here forever!
All the guest rooms are for a maximum of 2 guests, but if you want to travel with a group, I recommend booking the Vanilla Loft, which can host up to 6 guests! And regarding the private pools, all the rooms come with one, except for the rooms with a roof terrace – those have a hot tub instead!
13. Hotel Bardo – for city lovers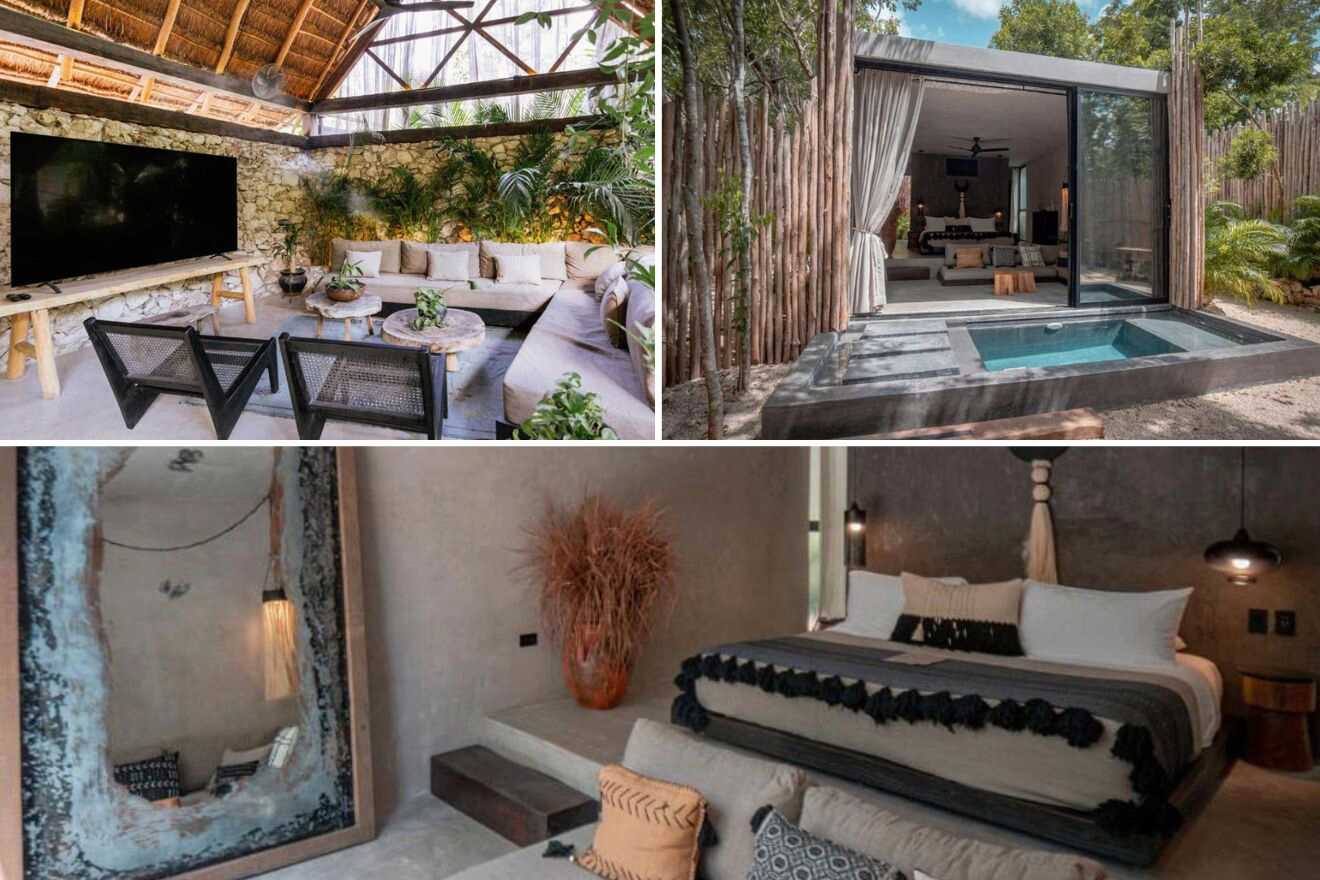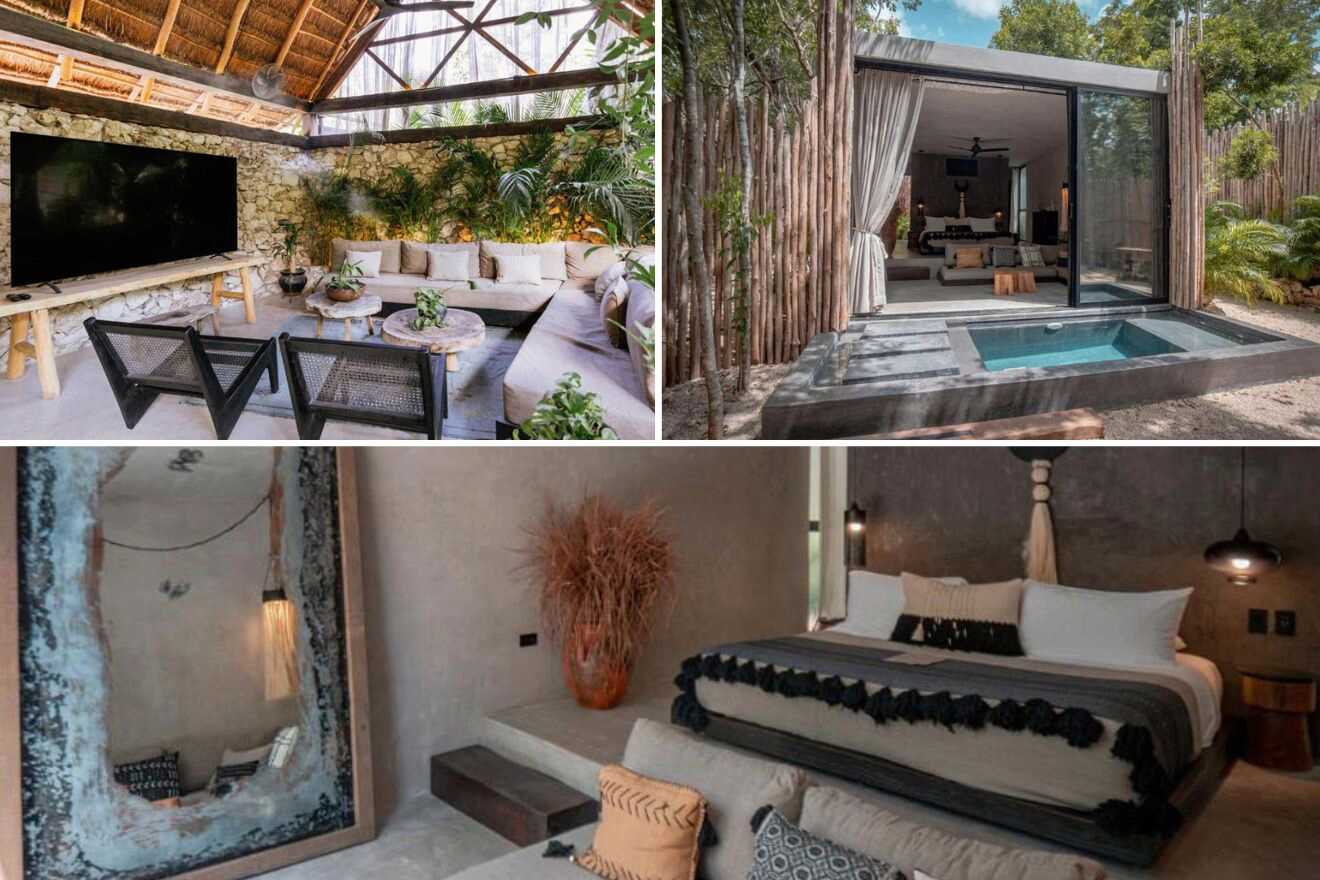 Bardo Hotel is the right hotel if you are a city lover who wants the mesmerizing Caribbean Sea nearby! This adults-only hotel is located in Tulum's city center and mixes sensuality and Mexico's traditions! There will be complimentary breakfast awaiting you every morning, and the hotel's bar and restaurant can accommodate and make something special for you if you are a vegan or a vegetarian!
In terms of accommodation, the hotel offers 2 types of suites, both of which have a private pool to enjoy with your travel partner! I love the decor of the rooms and the hotel, where everything is earth-like! When you feel like leaving your room, you can use the free bikes to explore the surrounding at your own pace!
14. Mereva Tulum – for snorkeling and kayaking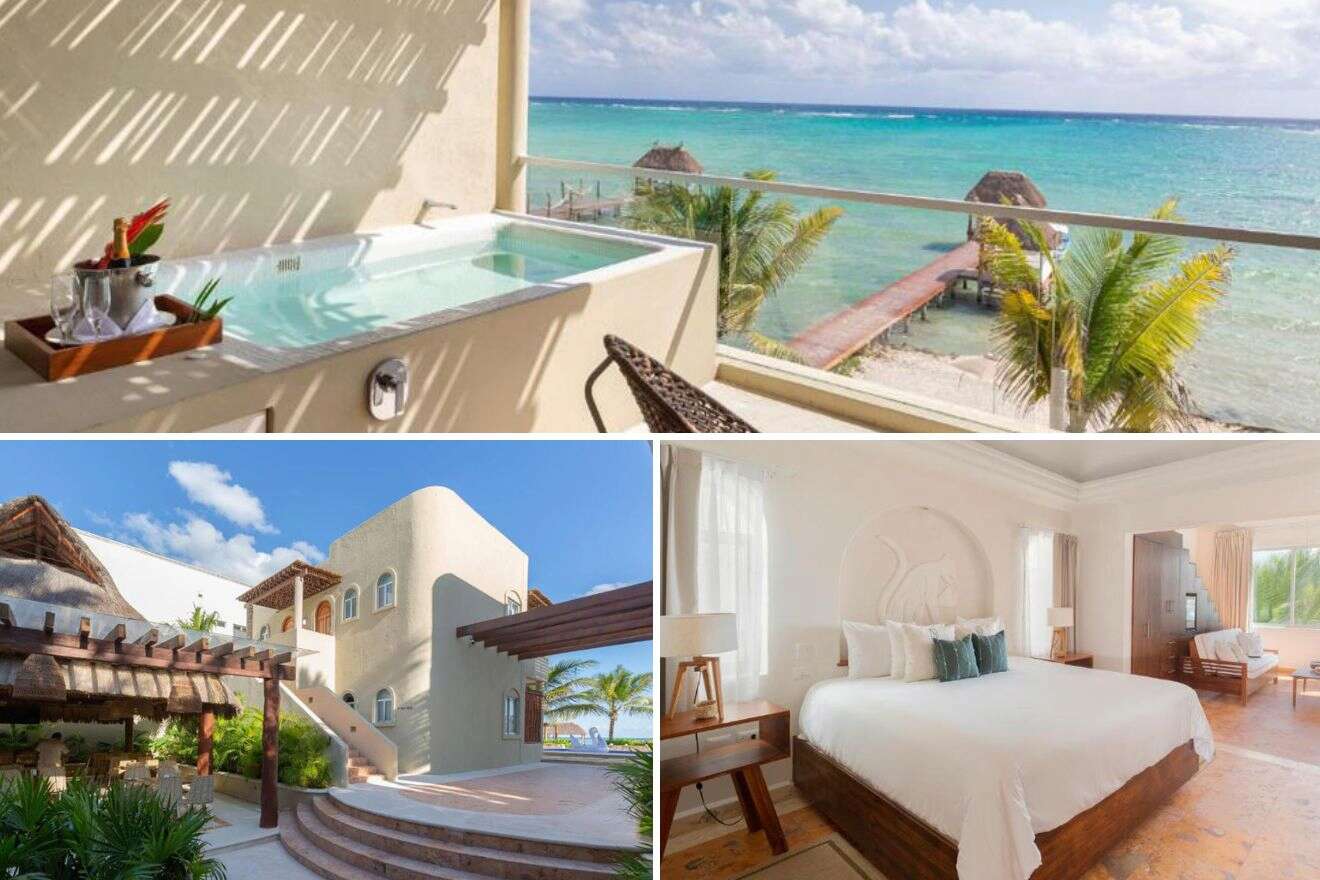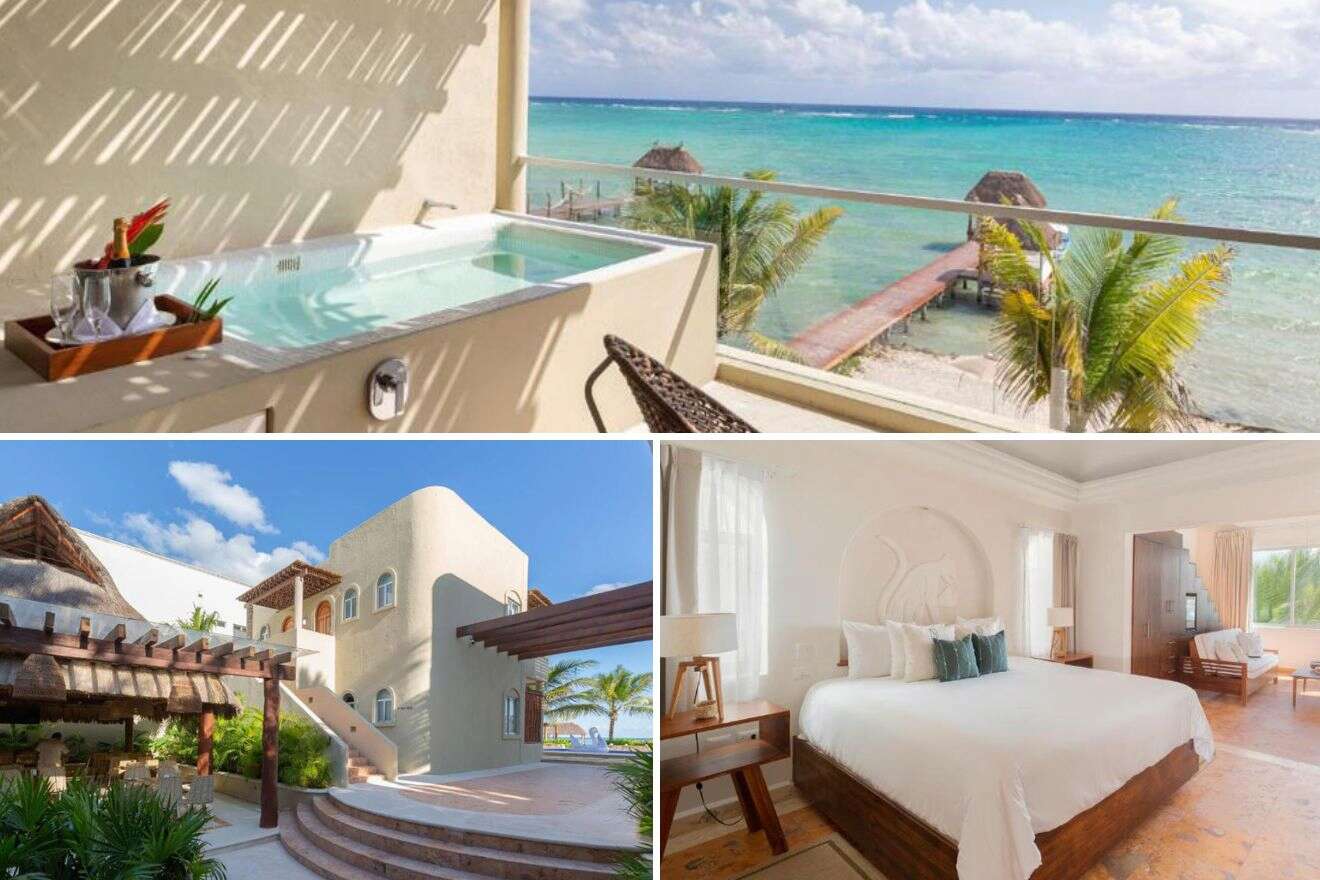 Mereva Tulum is an excellent option for those who want to try water sports! With Tankah Bay Beach steps away, the hotel has a private dock and offers guests complimentary snorkeling and kayaking sessions! And if you thought 1 swimming pool wasn't enough, listen, they have 2 outdoor swimming pools! Start your day with an á la carte breakfast and get ready for a day full of adventure!
The only room with a private pool is the Master Suite Beach Front With Plunge Pool, so book it quickly because it may go fast like hotcakes! The private plunge pool is on the room's terrace, and you can see the ocean from there!
15. OurHabitas Tulum – your eco-resort option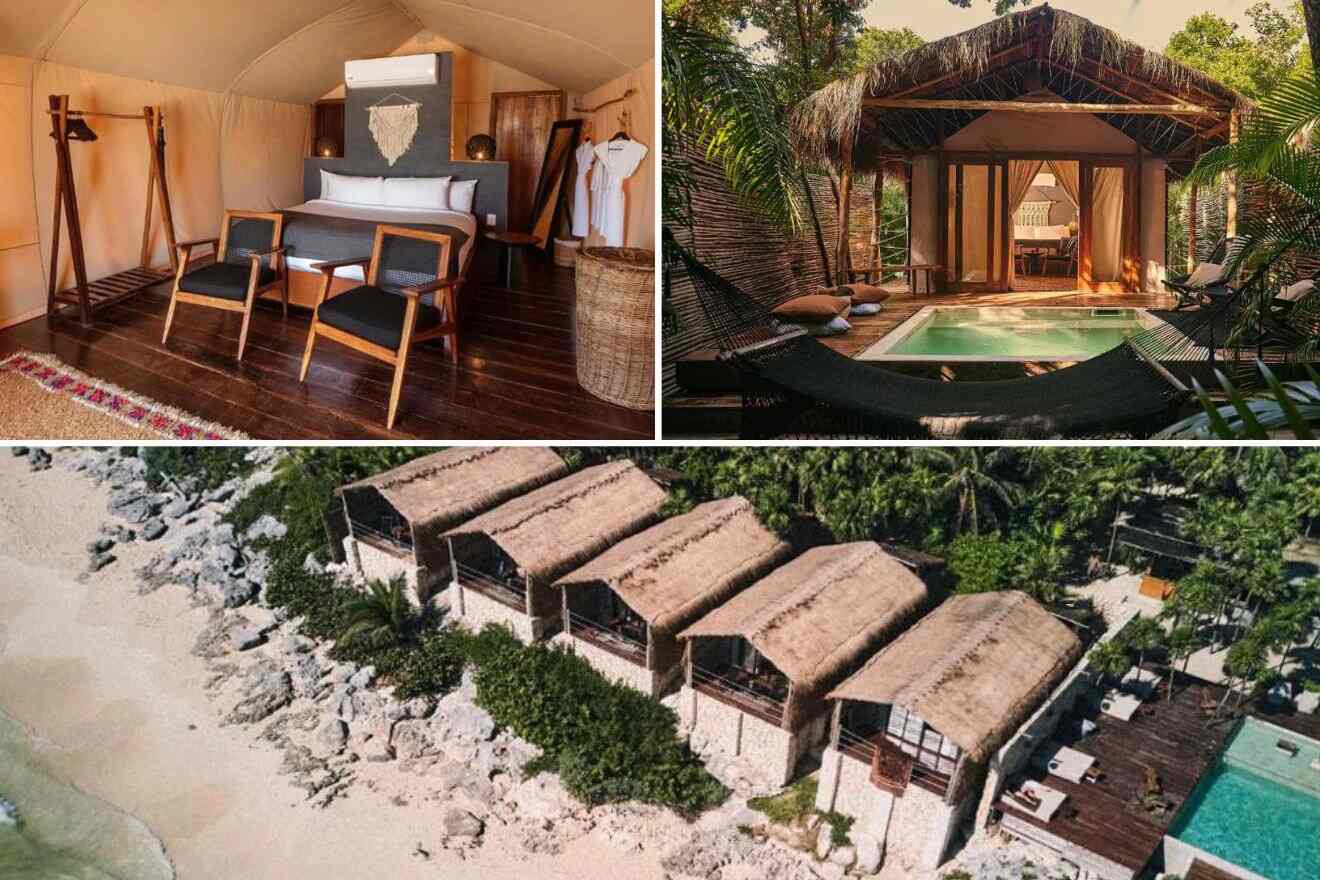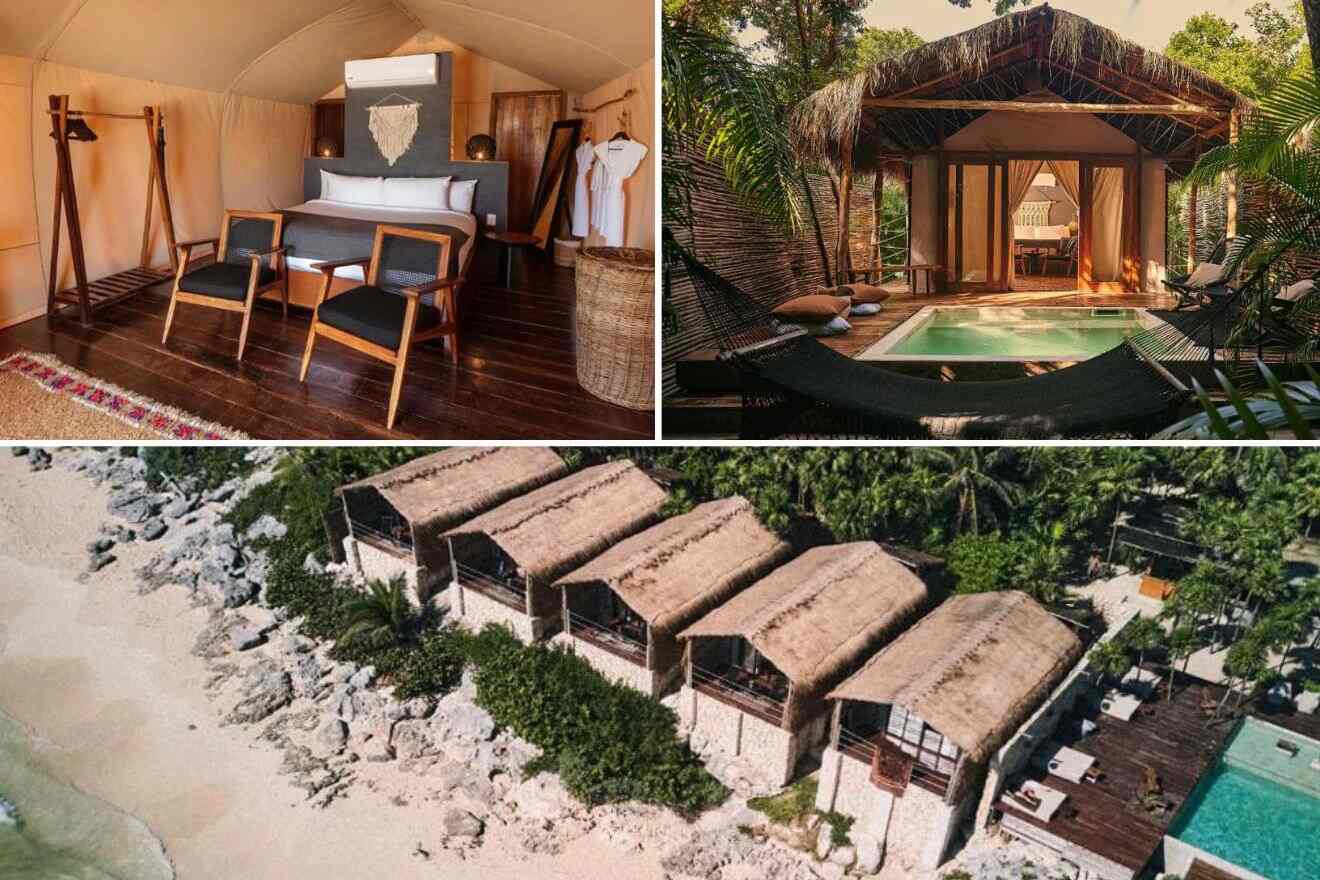 This Tulum resort is just lovely, with teepee-style rooms! You will feel like you are camping but with all the luxuries of the modern world! The rooms are spacious and very private, which makes them great for resetting and rest! The hotel has its own swimming pool, bar, and restaurant.
If you want a private pool attached to your room, book the Double With Private Pool and imagine living surrounded by nature – the jungle on one side and the ocean on the other!
Oh, and let's not forget that booking any room will get you a complimentary breakfast!
16. Jungle Lodge Boutique Hotel – discover Chemuyil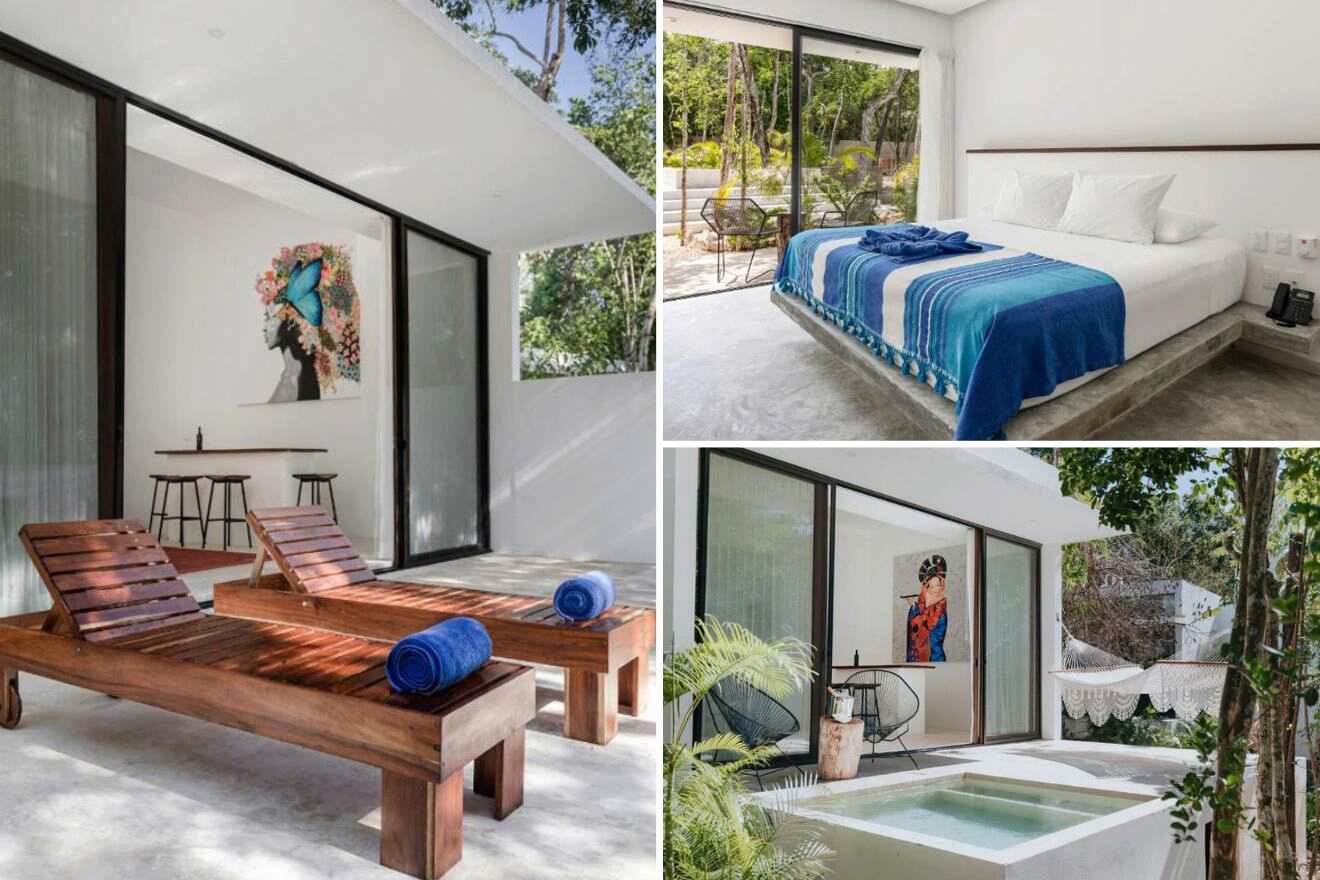 This hotel is different from the rest as it is located in Chemuyil and, as the name suggests, is in the middle of the jungle! Imagine closing your eyes and listening to all the sounds nature makes in the jungle – relaxing and dreamlike!
The hotel has private pool rooms, and there is complimentary in-room breakfast for all guests. The decor and the ambiance of the rooms are very modern and fresh, and the hotel also has 2 swimming pools (a shallow one and an infinity pool) and a restaurant, so you won't need to leave your hut!
17. Hotel Panacea Tulum – stay in a penthouse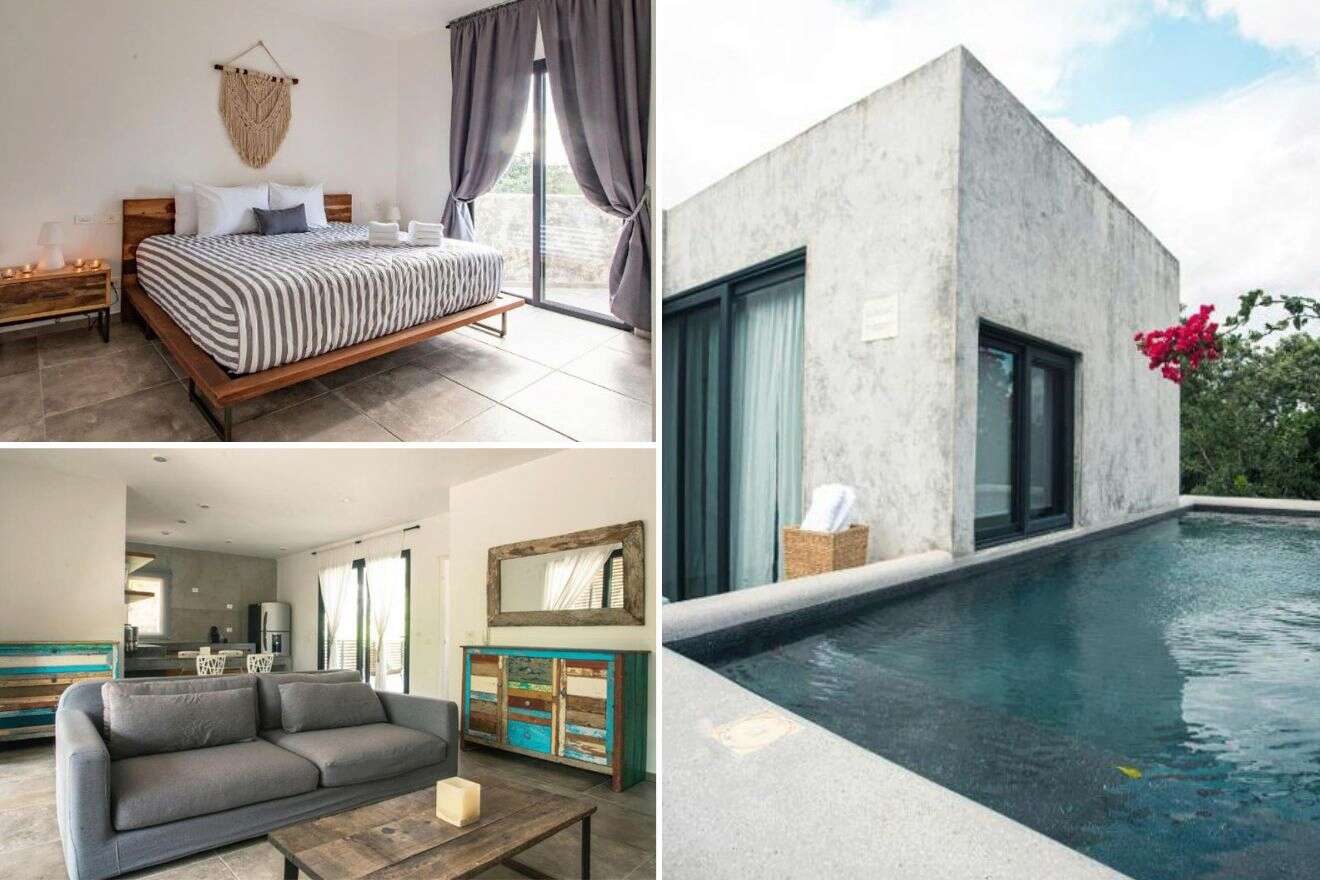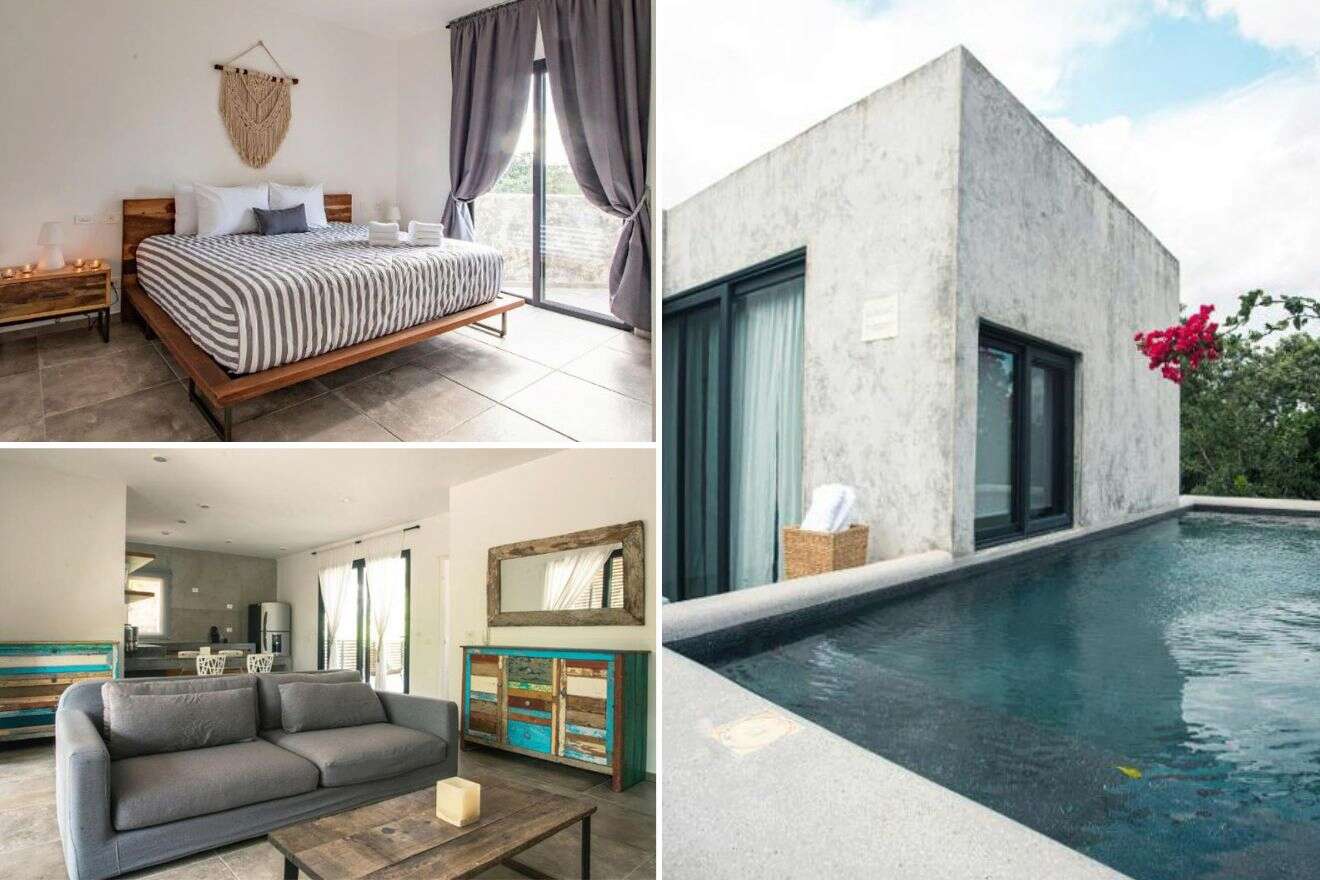 Hotel Panacea Tulum is located just outside Tulum's city center. It has 2 outdoor swimming pools, one for children and another for adults. The hotel's area is perfect to be explored by the hotel's bike rentals!
Since you're looking for a hotel with a private pool, I recommend booking the Penthouse With a Private Pool since it is the only room with a private pool, but let me tell you, that private pool is massive! The penthouse can host only 2 guests, and it is trendy, so if you want it, book it!
18. O' Tulum Boutique Hotel – great value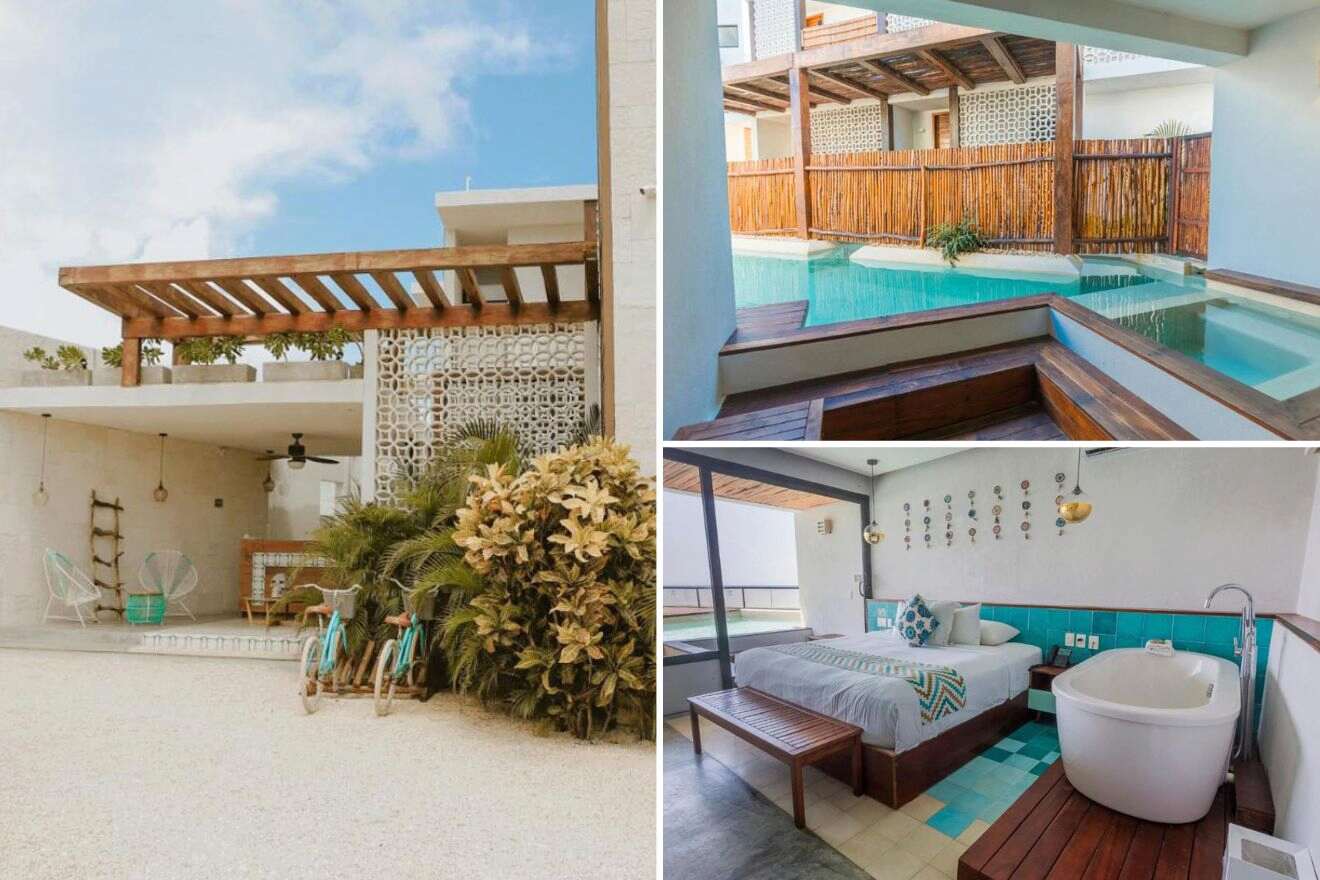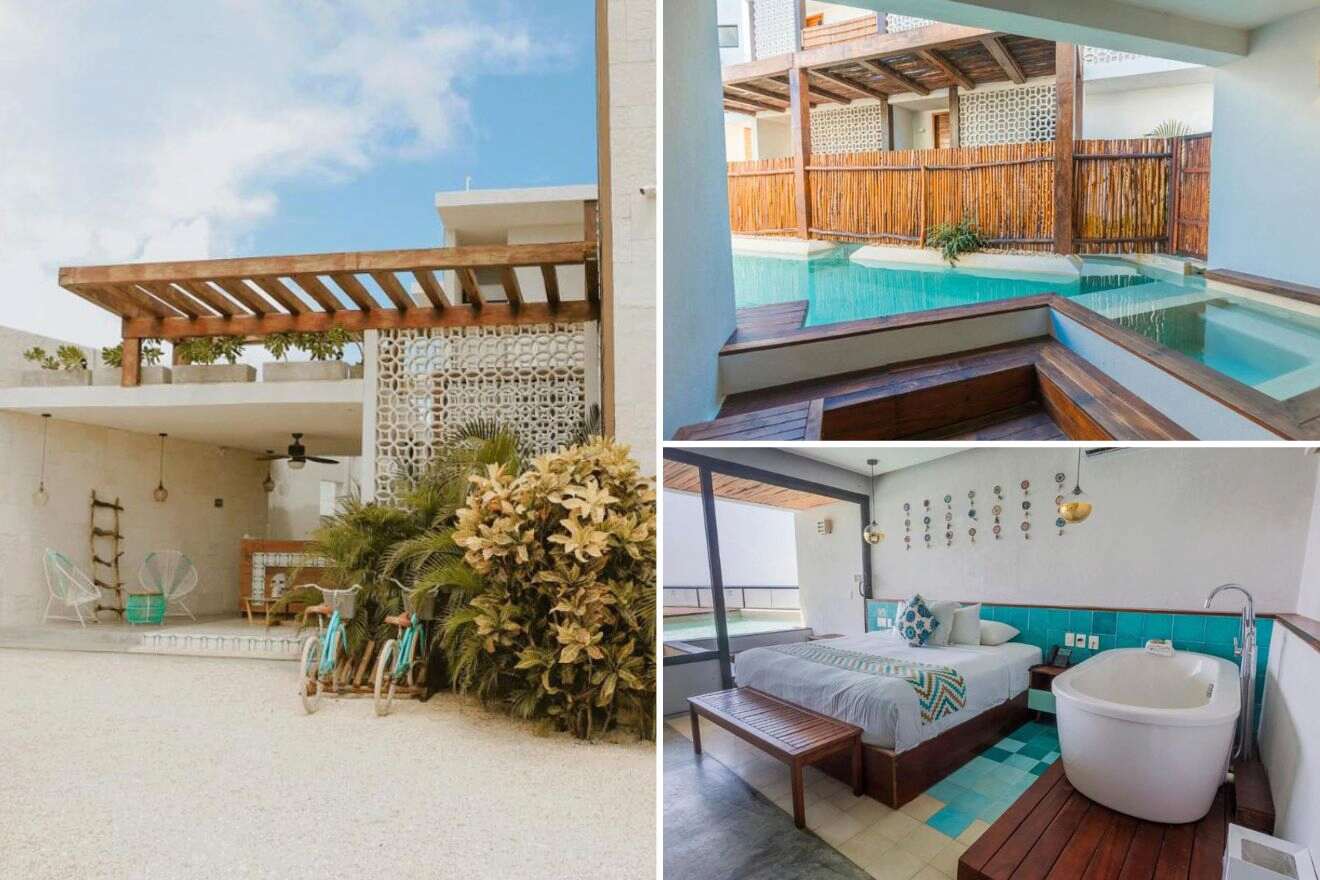 O' Tulum Boutique Hotel is among the more affordable Tulum hotels, located right on Tankah Bay Beach. It has 3 swimming pools, a 24-hour reception, and a restaurant where complimentary American breakfast is served to all guests in the morning!
All the rooms here come with their own pool and have different views: of the swimming pool, of neighbor rooms and terraces, and of the ocean. They also include a minibar and a coffee maker. You can choose between going to the hotel's restaurant "Costa Brava" or making good use of the room service and enjoying a meal in your room's comfort while watching a movie! Yes, you can do this! It's your vacation!
FAQs about Tulum hotels with private pool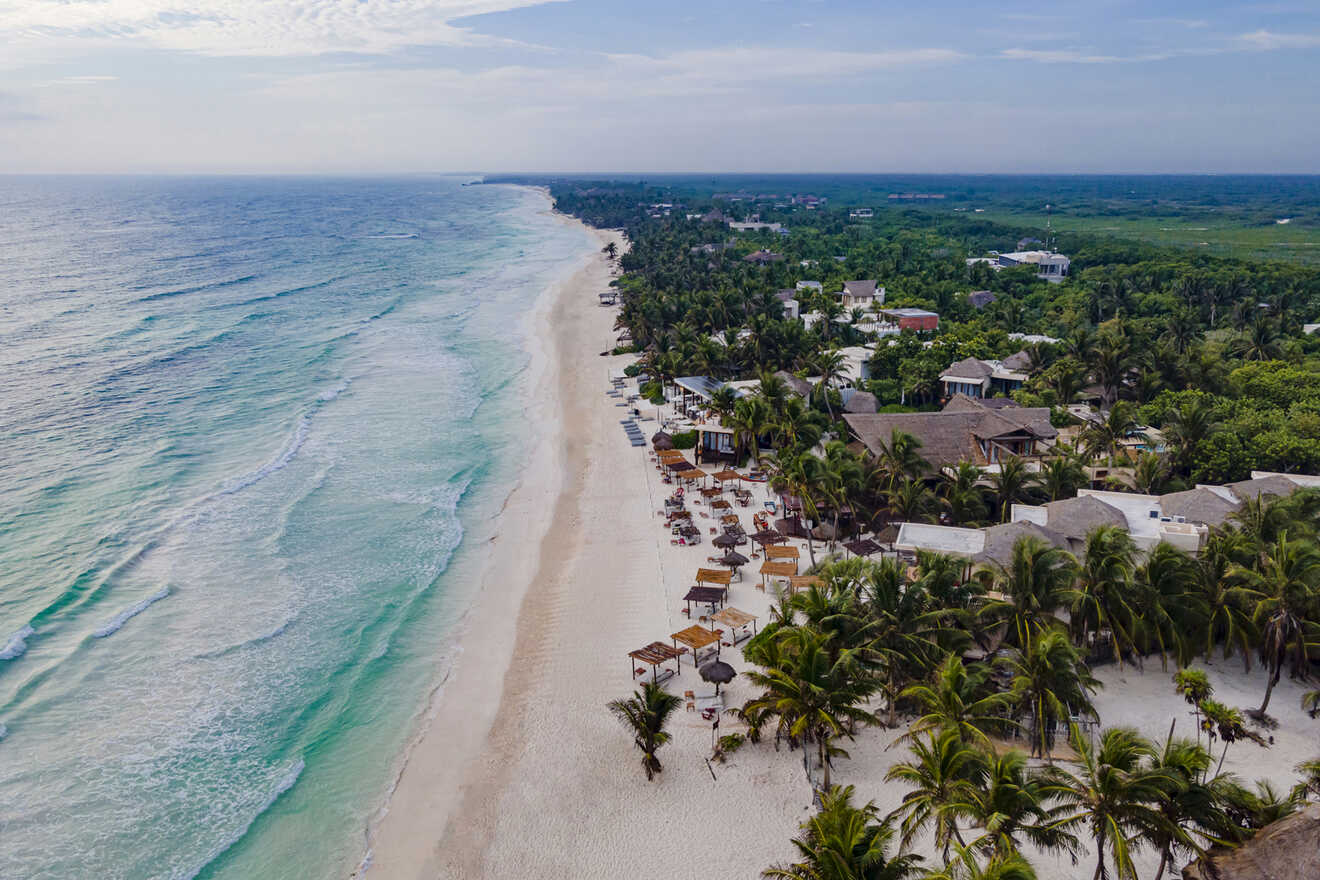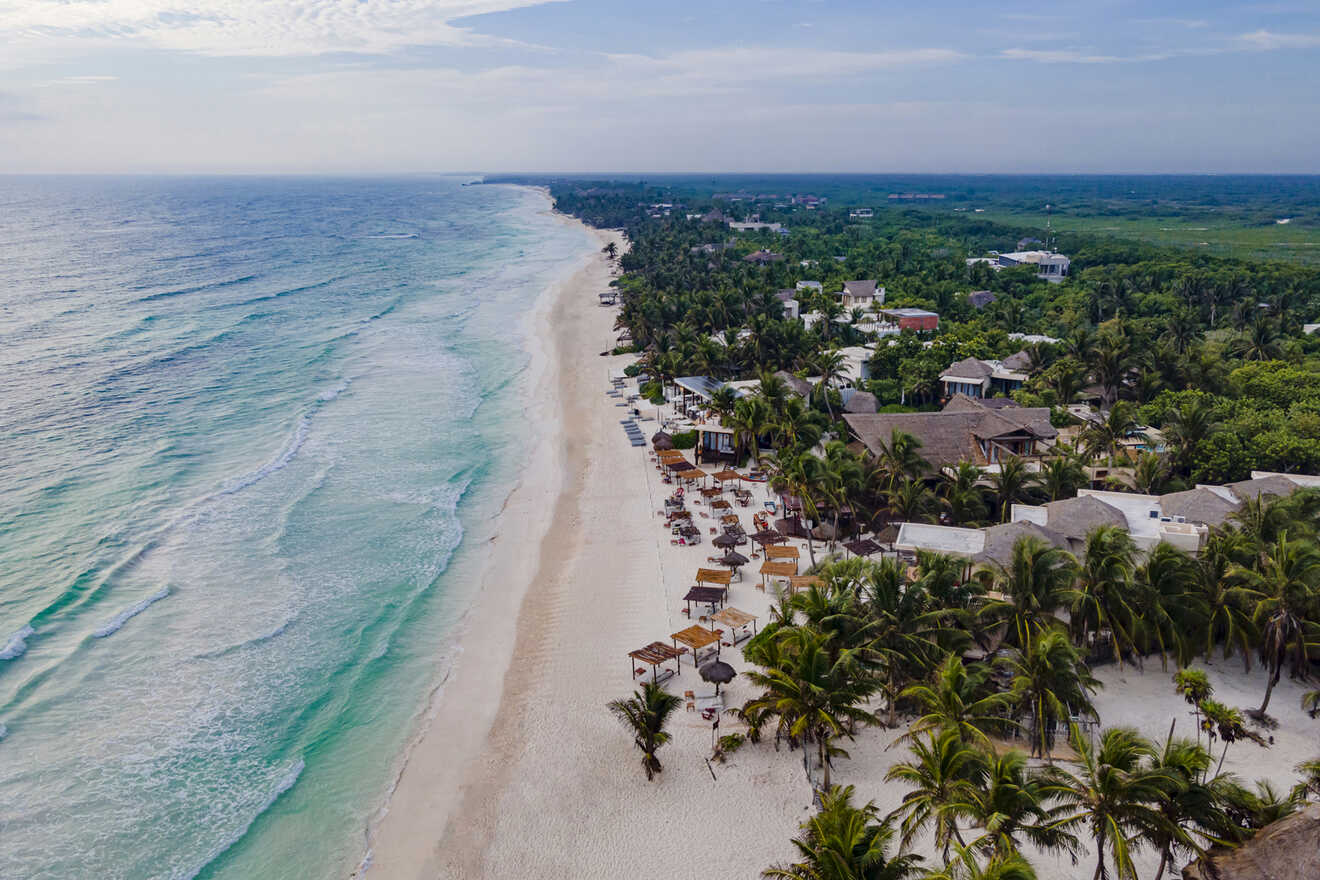 Conclusion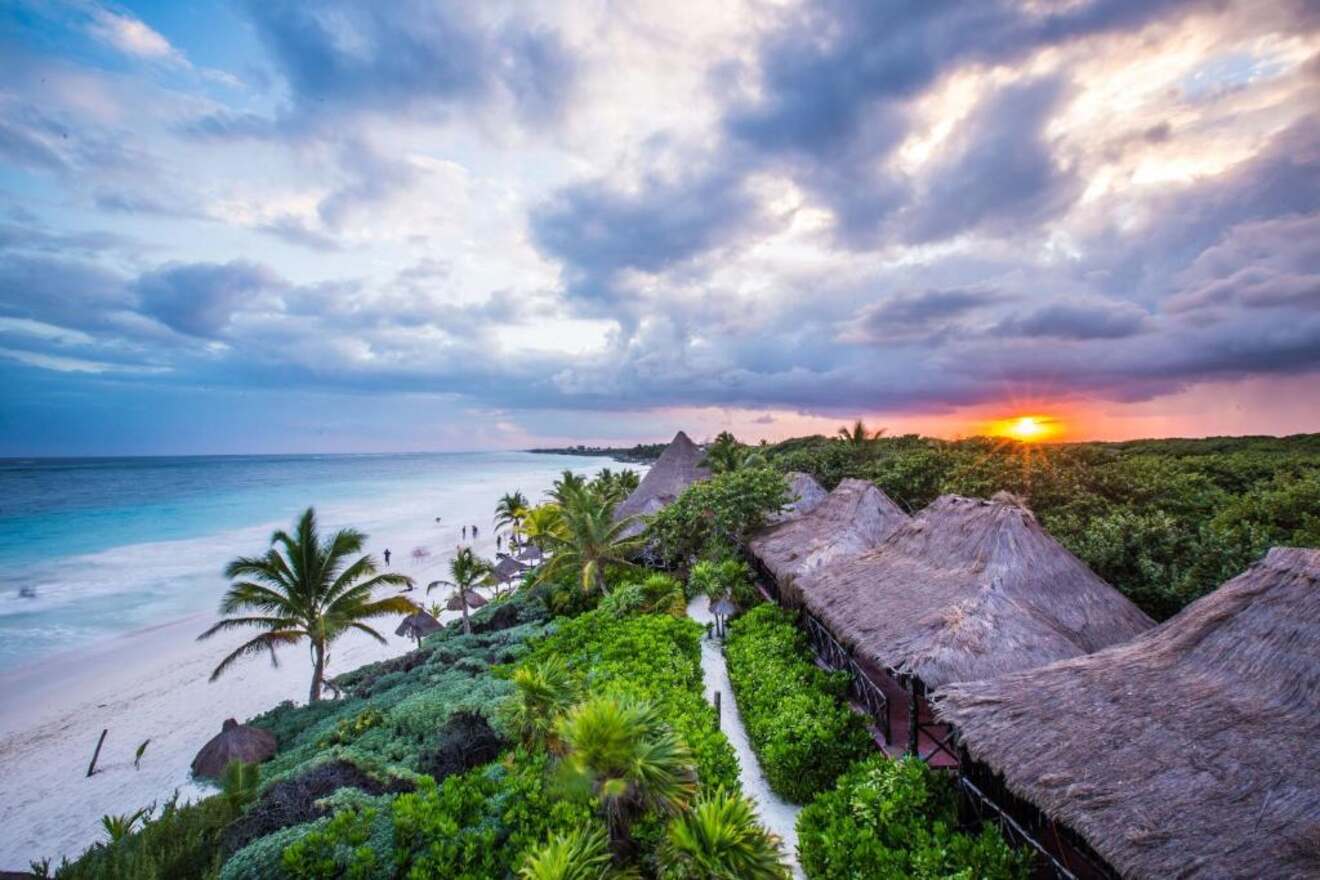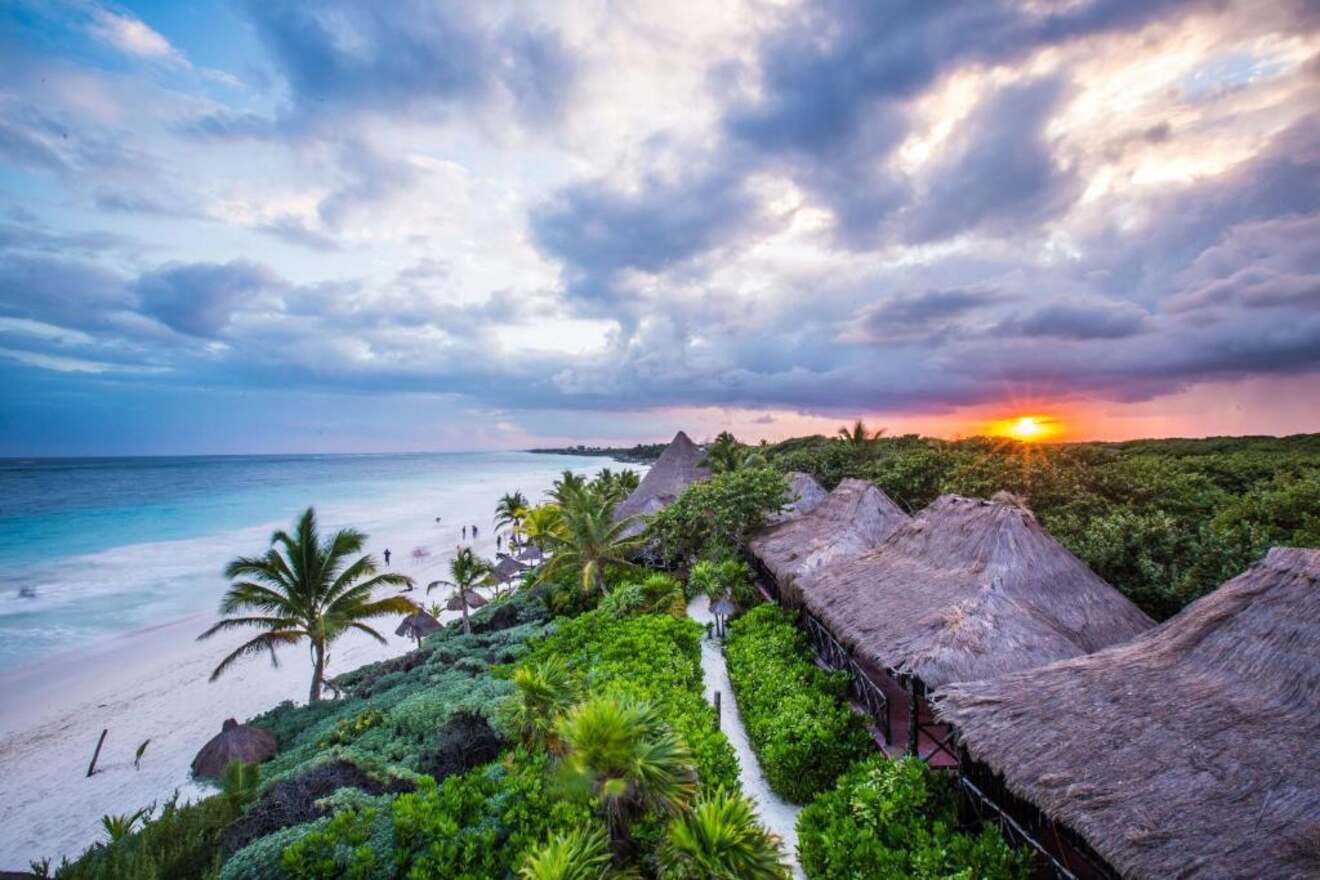 After seeing the best Tulum hotels with a private pool and the best Tulum resorts, now more than ever, I want to pack a suitcase and go there!
Any hotel featured in this post would be an excellent option for your unforgettable holidays in Tulum, but these are my 2 absolute favorites:
La Zebra a Colibri Boutique Hotel – Whenever I go to a location like Tulum, I want the start treatment, and with this hotel, even before checking in, you are being cared for! And a room with a private pool is the cherry on top!
KAN TULUM – I just love how it looks and feels like you are part of a movie scene! This is an environmentally-friendly and sustainable hotel with marvelous architecture and rooms with private pools!
Like I always say, book in advance because these types of hotels in this location are super popular, and you don't want to end up with a room or hotel you are not happy about. So go and book now! Get ready for your adventure in an easy paradise!
Which one was your favorite hotel in Tulum with a private pool? Let me know in the comments, as I want to know about your experience there!
Have the best time,
Daniela
---
Pin it for later!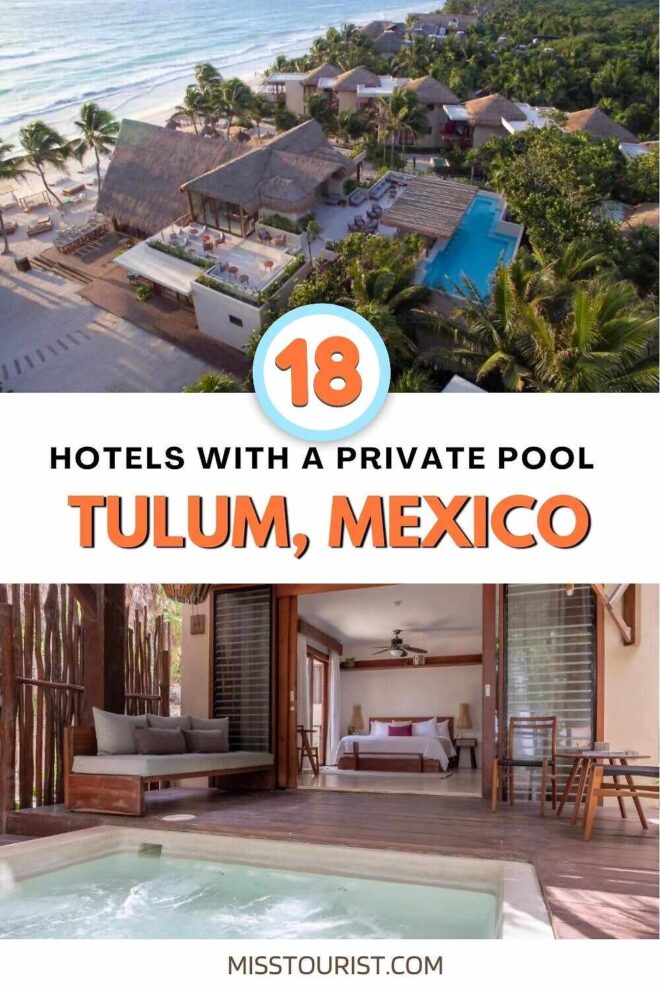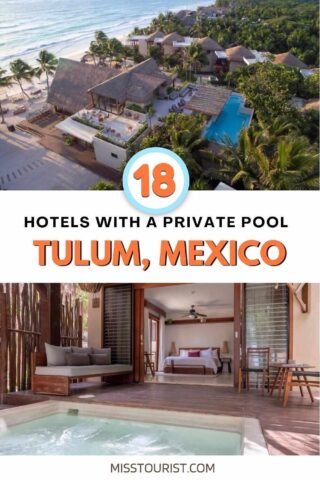 Pin it for later!