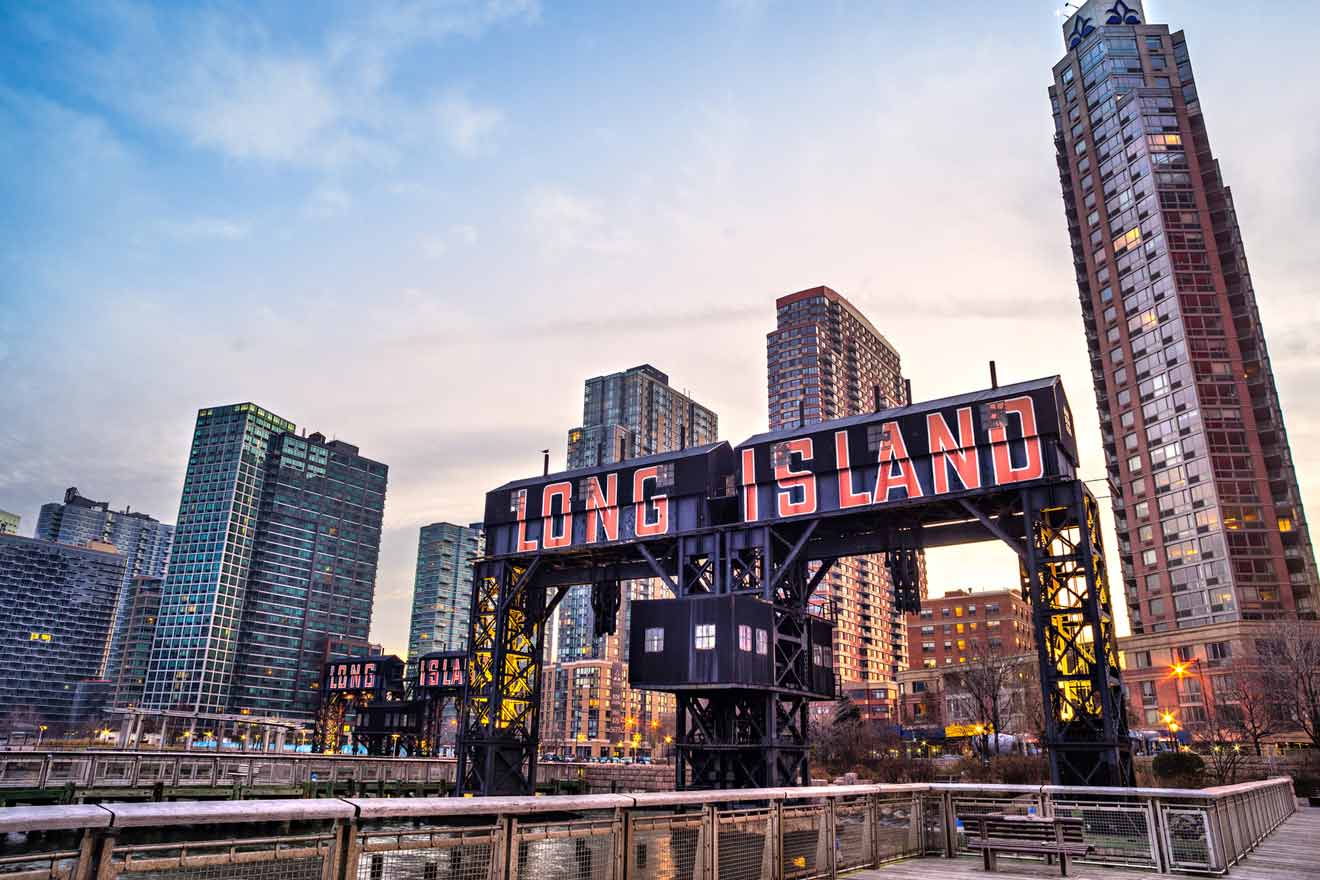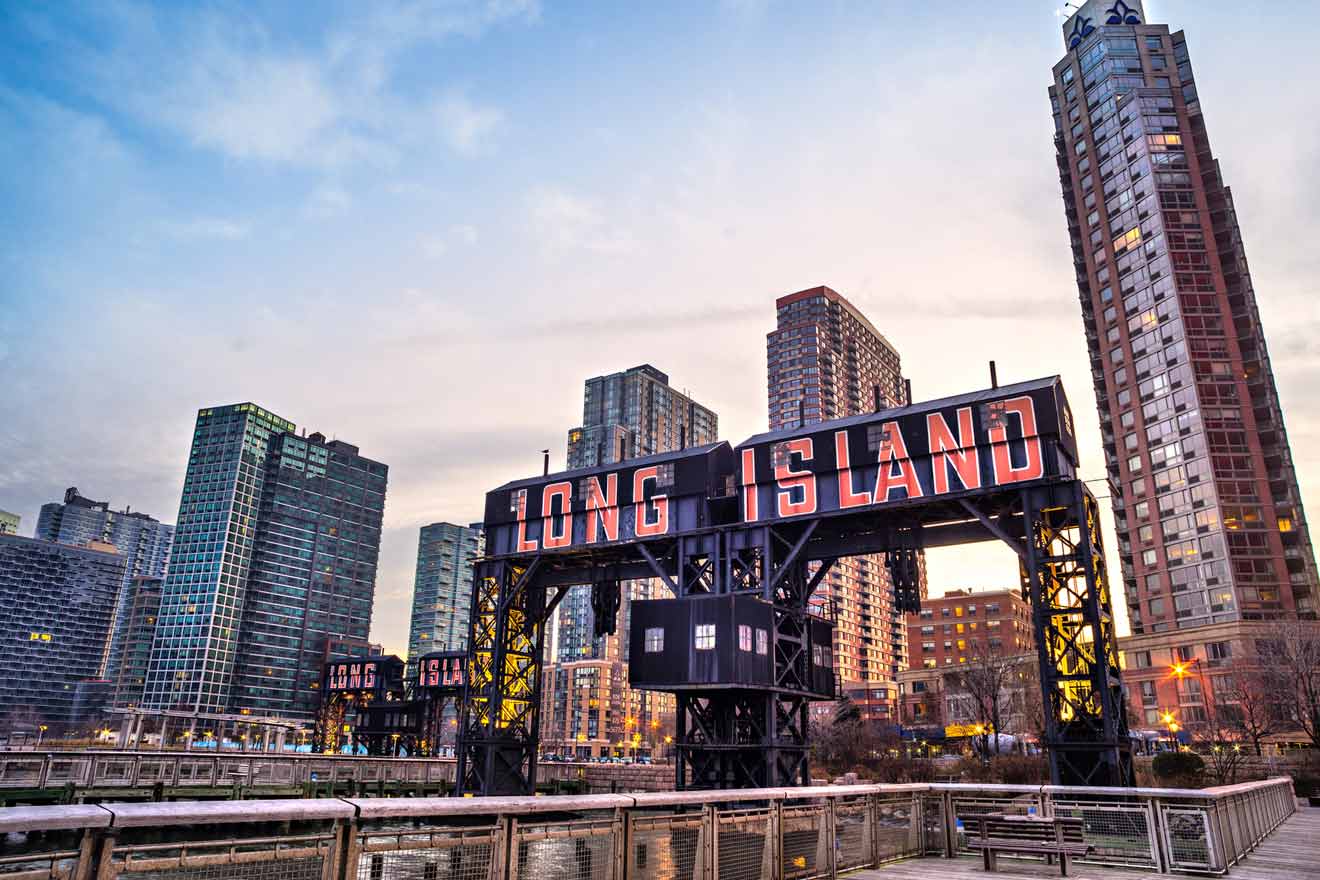 Fancy a summer white house, ocean beach, rolling hills, and planting fields? Then you are fancying Long Island, New York.
I was lucky enough to live in Montauk and explore Long Island! So I've gathered all the best things to do in Long Island, from beaches, parks, and formal gardens, to wine tasting, whale watching, and other outdoor activities.
For those of you traveling with family, I added a bonus of things to do with kids, and a few guided tours, along with some practical information for getting around.
I also listed the top hotels, in case you haven't booked one yet. But you should hurry up though, as not only do the hotel prices hit the roof in summer but they also get booked out lighting fast. So, make sure to save your spot. It will be worthwhile.
Let's begin.
If you are in a hurry
For the most impatient among you, here are the top 3 things to do on Long Island. Don't forget to book on the way, as they sell out quickly!
Here are the main things to book in advance:
And here are the best hotels: Aqua by American Beech (luxury), Montauk Manor (mid-range), Home2 Suites by Hilton (budget)
Since Long Island covers a pretty large area of 120 miles (190 km) in length and 23 miles (40 km) in width, here's a map so you can see where everything is located.
1. Attend a concert at the Jones Beach State Park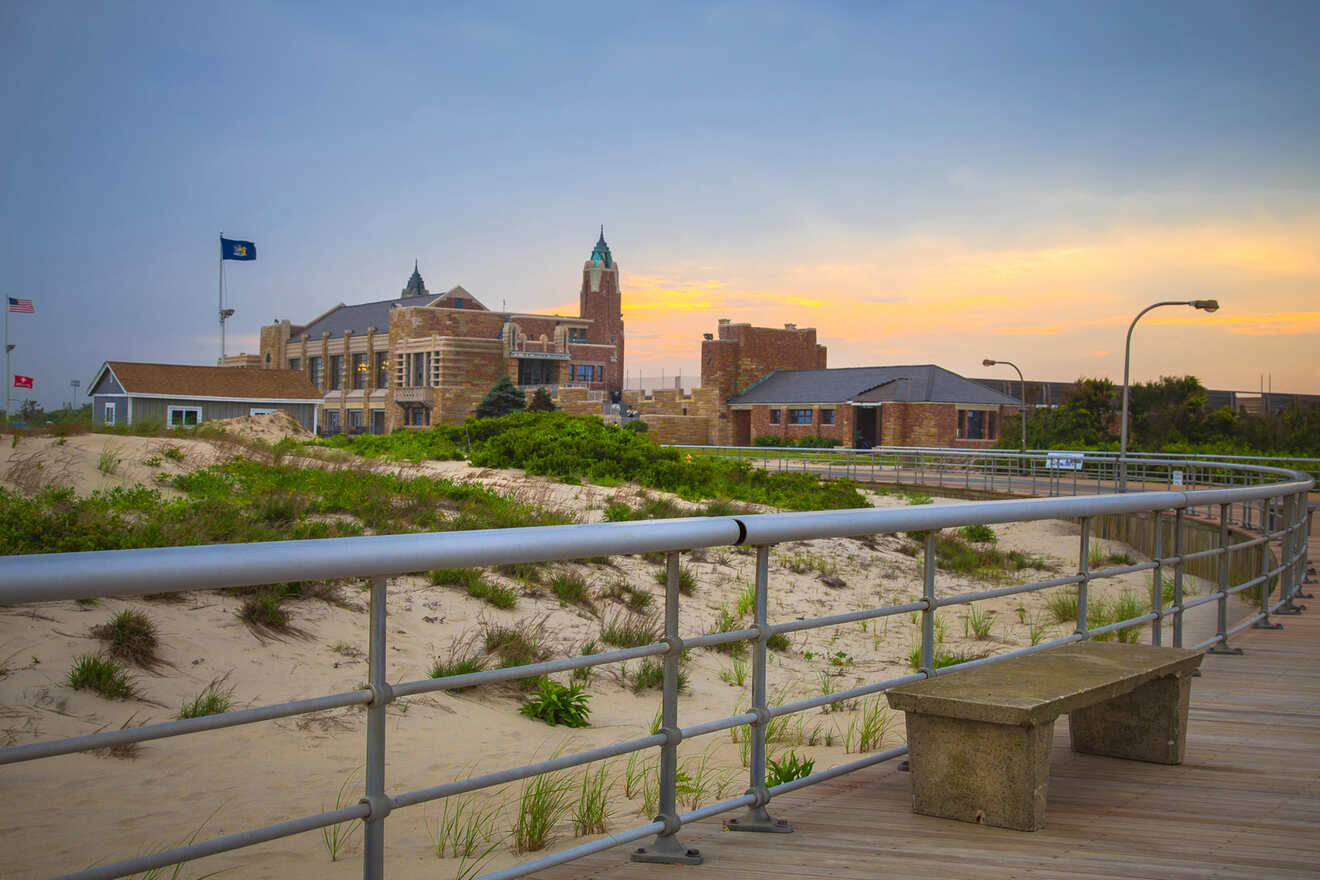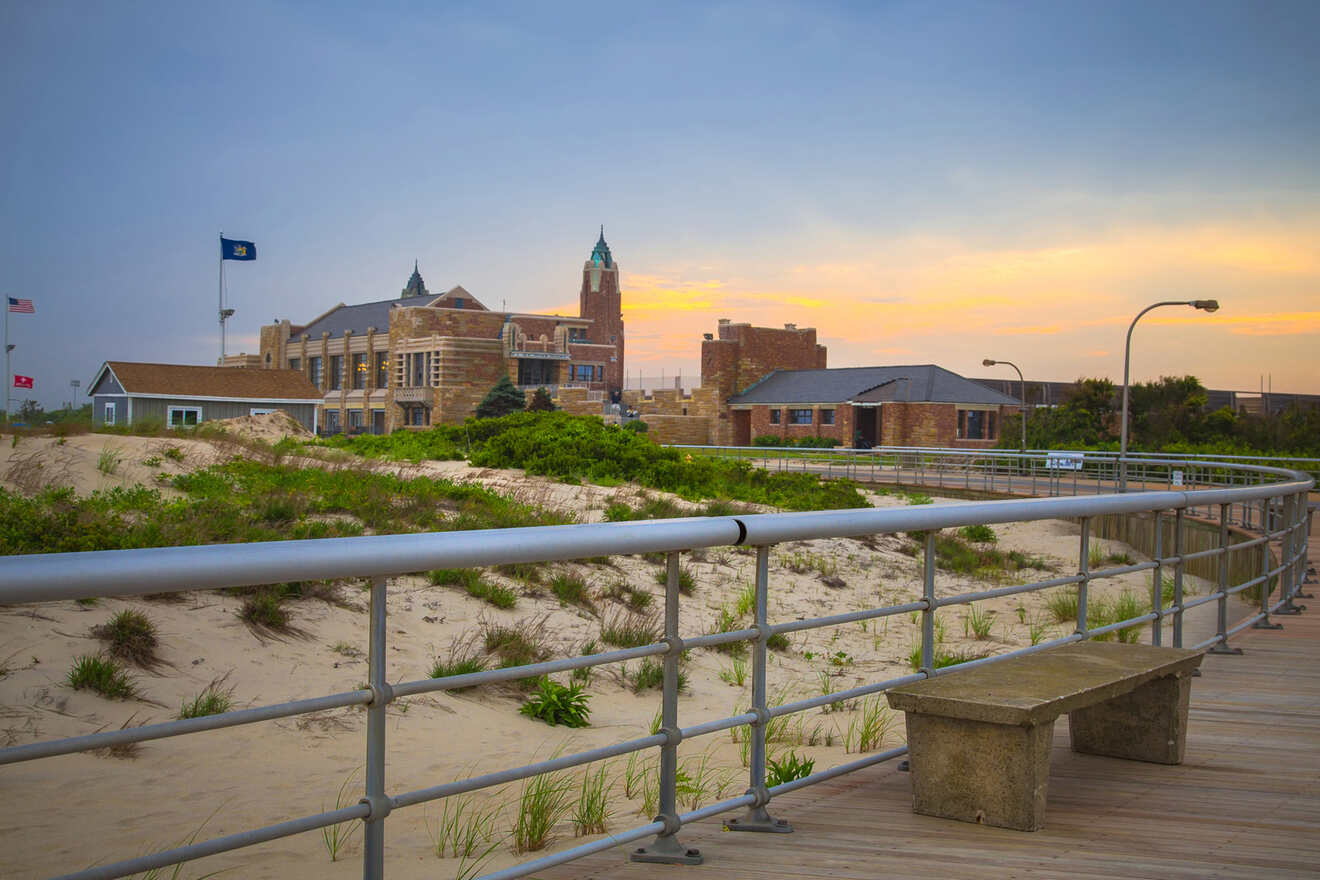 If you're lucky enough to sit by the window when your airplane is landing at JFK, know that the large 7-mile (11km) long shoreline you see is actually Jones Beach State Park. This beach was not always as it is now. In fact, it is a human-made beach built-in 1929 as part of President Moses' first major public project.
Due to its convenient location on the south shore of Nassau County on Jones Beach Island, this is one of the busiest beaches on the East Coast, with over 6 million visitors per year.
Since it has a house and private development-free policy, most of the things you can do here are free: take a stroll on the boardwalk, jog, go fishing, swim, play miniature golf, or simply relax at the beach. If one thing is sure, you won't get bored.
PRO TIP: Jones Beach Theater is one of the major outdoor amphitheaters in the NYC area. The summer events here are spectacular, and you shouldn't miss attending at least one. Find out about them by calling 866-558-8468.
2. Explore Mattituck's vineyards on a bike tour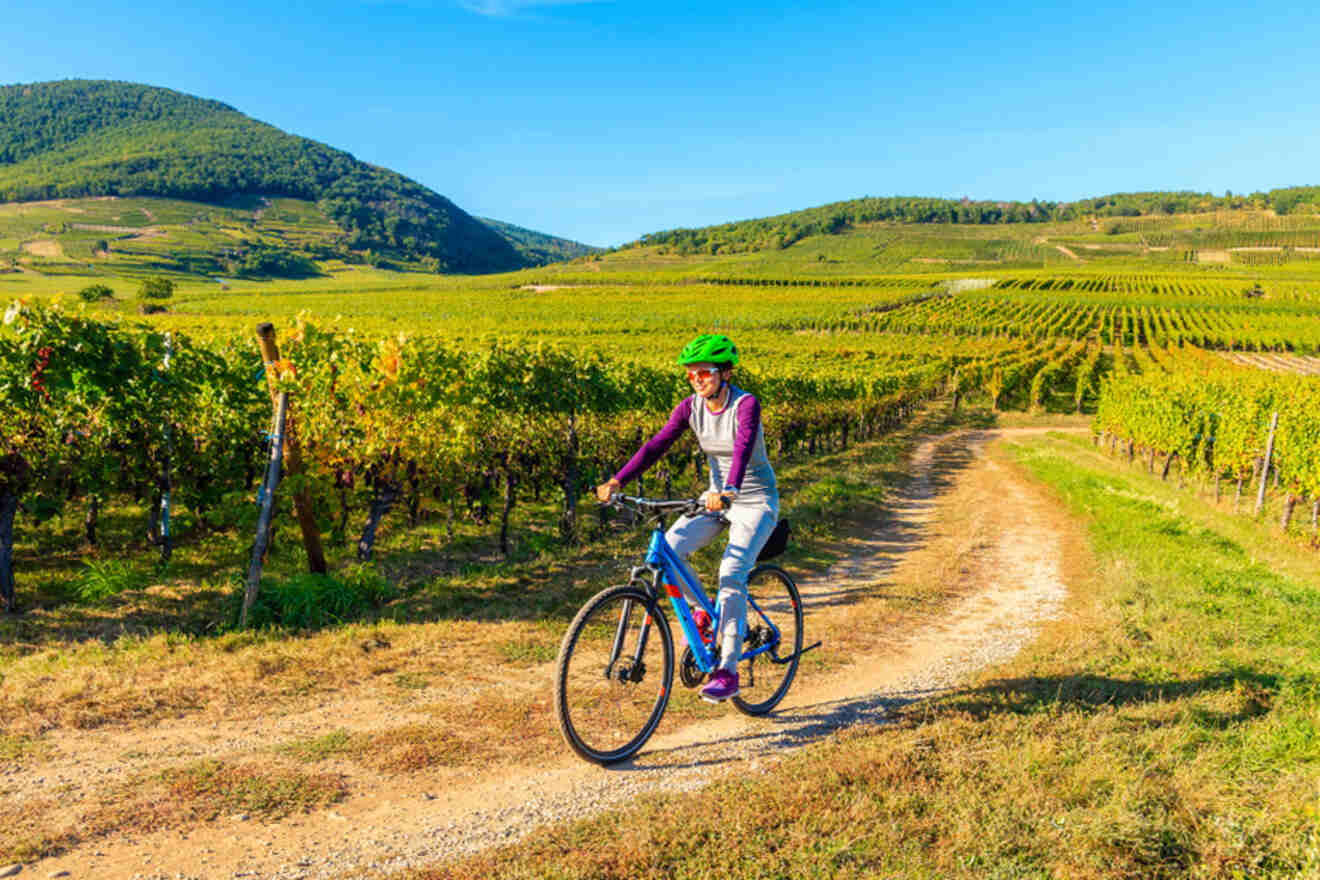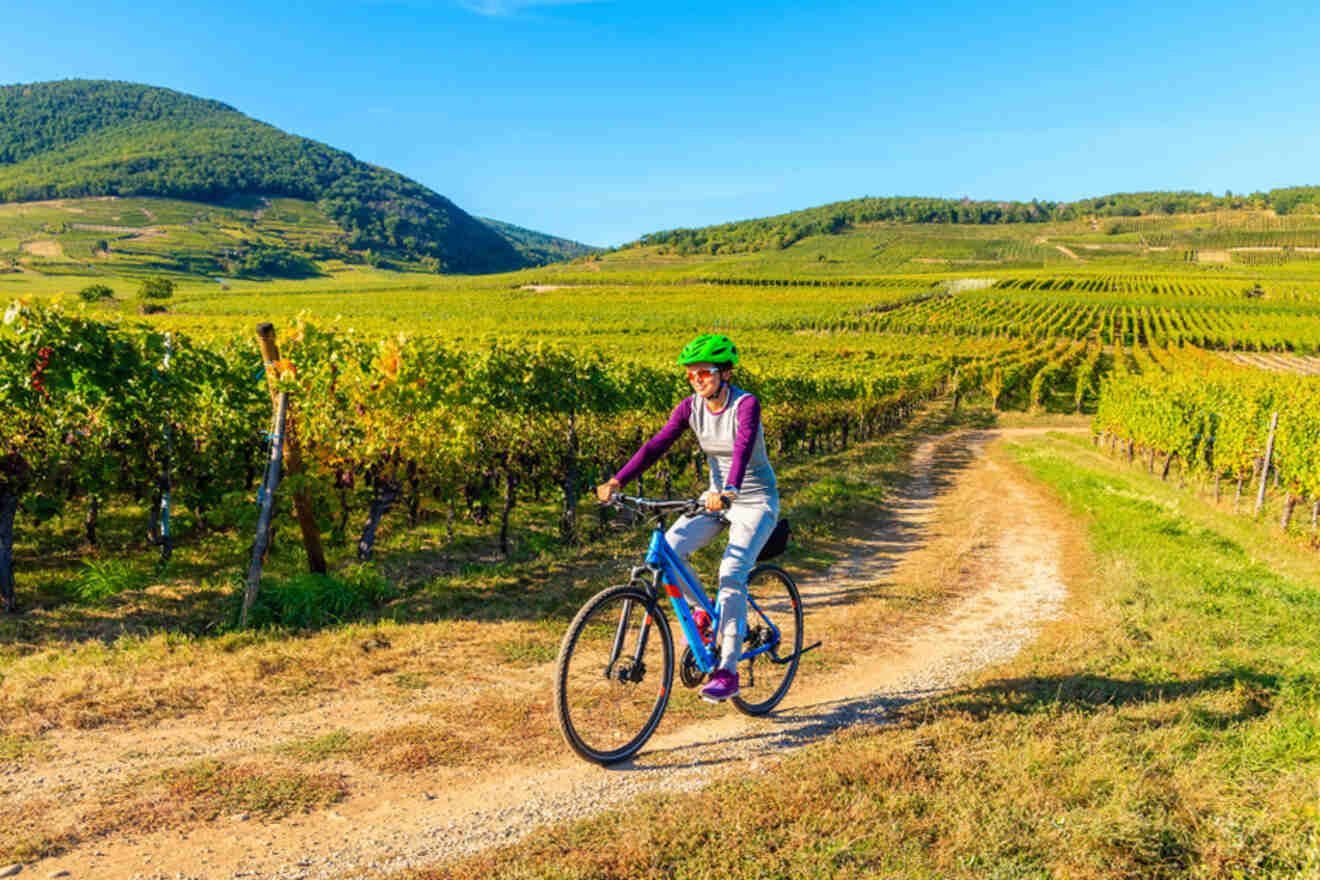 Who said that the best vineyards are in Bordeaux and Tuscany? I'd say that each vineyard has a charm of its own, just like the wines.
For the most effortless wine-tasting experience, I highly recommend taking this 5-hour farm and wine country biking tour of Mattituck. It will take you to the nicest beaches, farms, and vineyards in Mattituck with bikes and helmets provided.
You also won't need to worry about music and taking pictures, as these are included in the package. The only thing you need to do is relax and enjoy the tour. Average fitness condition may be required, though.
PRO TIP: If you haven't been on a biking tour before, do take this one. I used to bike around Montauk, and I got to see nature at its finest. It's so easy to miss a good spot when you go by car but not when you are exploring the area on a bike.
PRICE: US$117 per person
3. Go surfing at Ditch Plains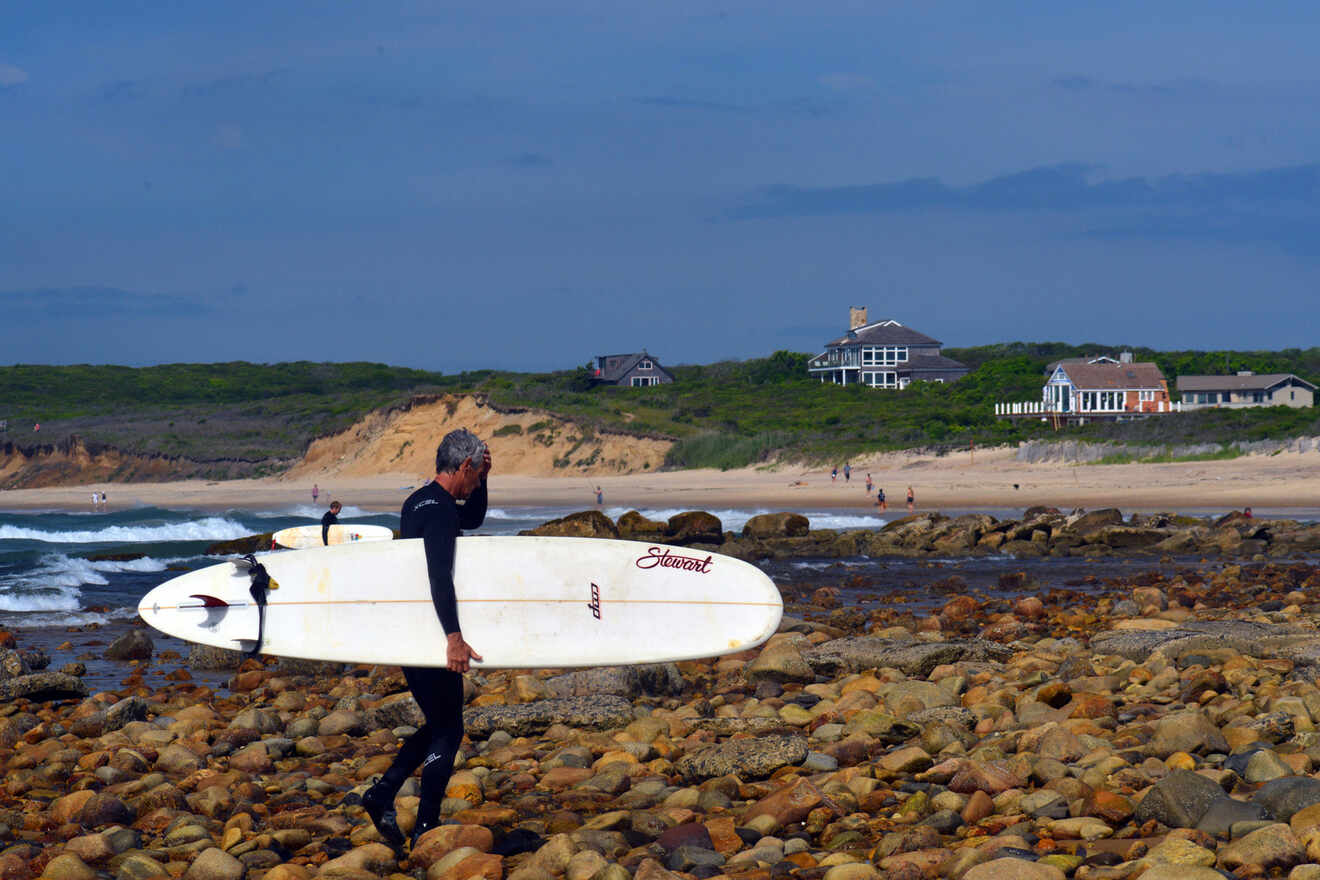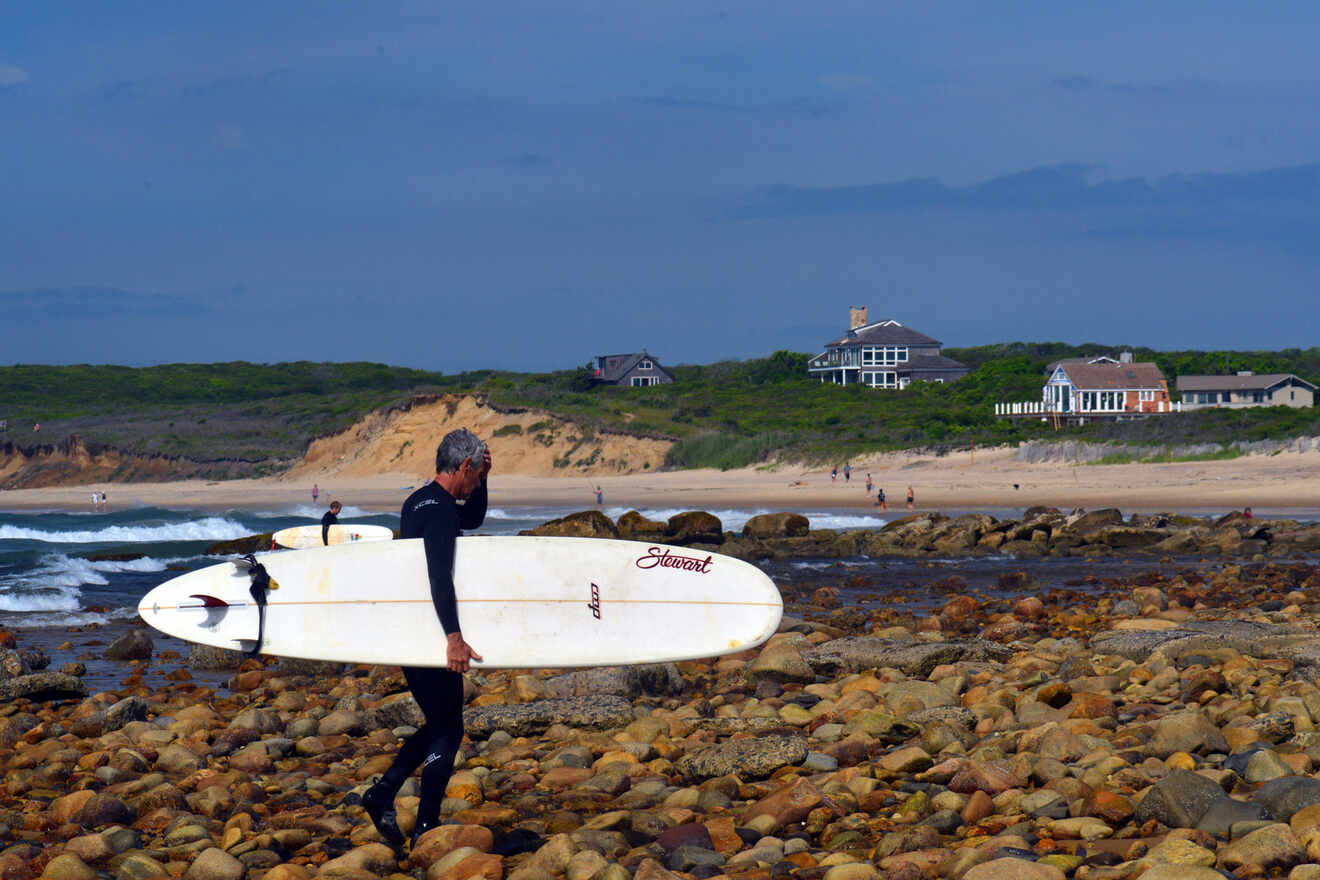 Attention all surfers! If you are out and about on Long Island, do not miss the opportunity to jump on a surfboard and test the Atlantic Ocean waters at Ditch Plains.
Waves at Ditch Plains can be so rough that they can literally knock you off your feet! Been there, done that 🙂
NOTE: The beach at Ditch Plains is known for big powerful waves, which are particularly grand in fall and winter. In addition to this, during summer, all Montauk beaches get super crowded, so surfing may be difficult considering the waves crash close to the shore.
But in case you want to try surfing, you can enroll for surfing classes at CoreysWave, or simply rent your surfboards from MTK Surf Shop.
This beautiful beach is located 3 miles (4.5 km) from Montauk Station. If you are traveling by car and you want to park at the beach, then you will need an East Hampton Town beach sticker.
4. Watch the stars at Vanderbilt Museum, Mansion & Planetarium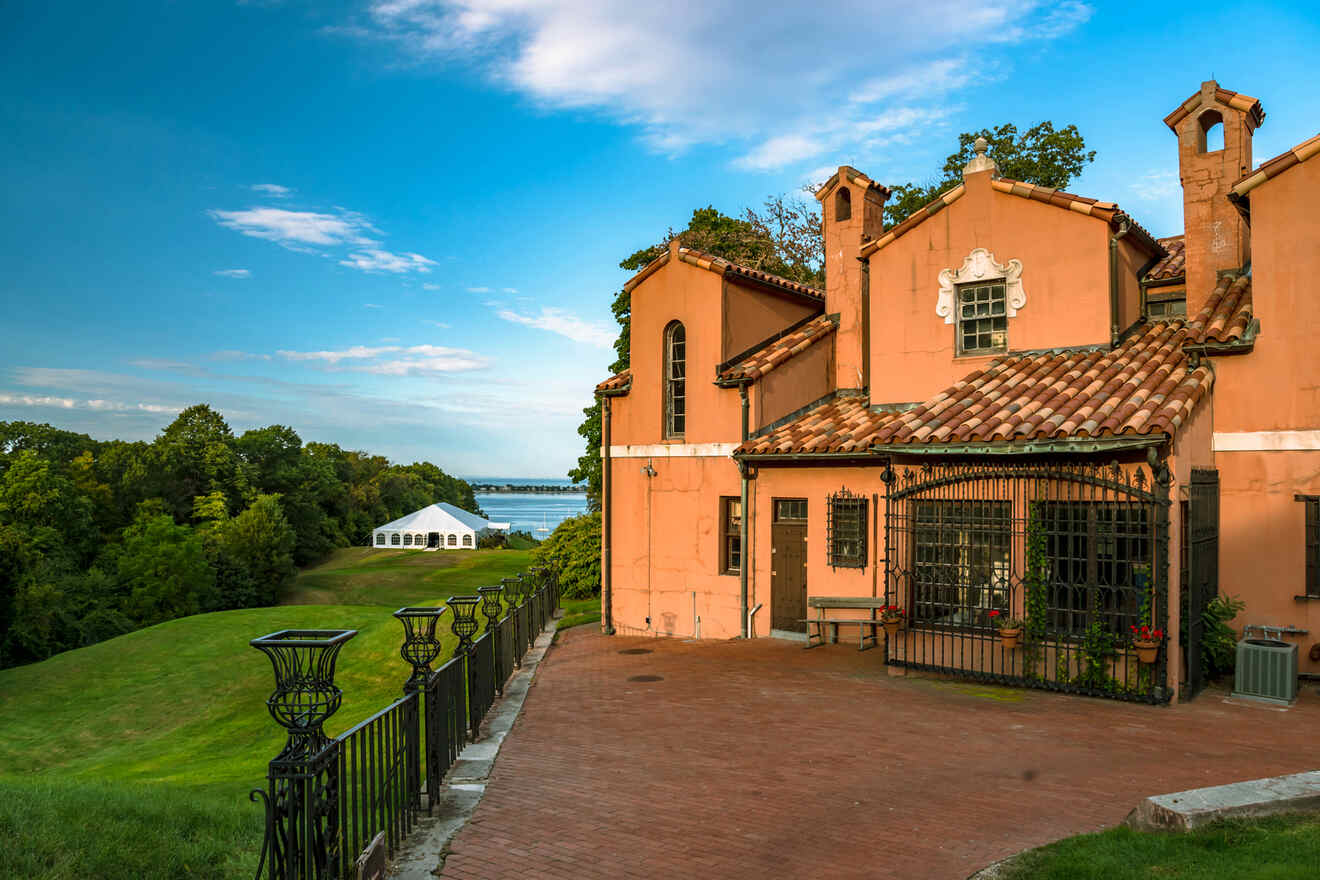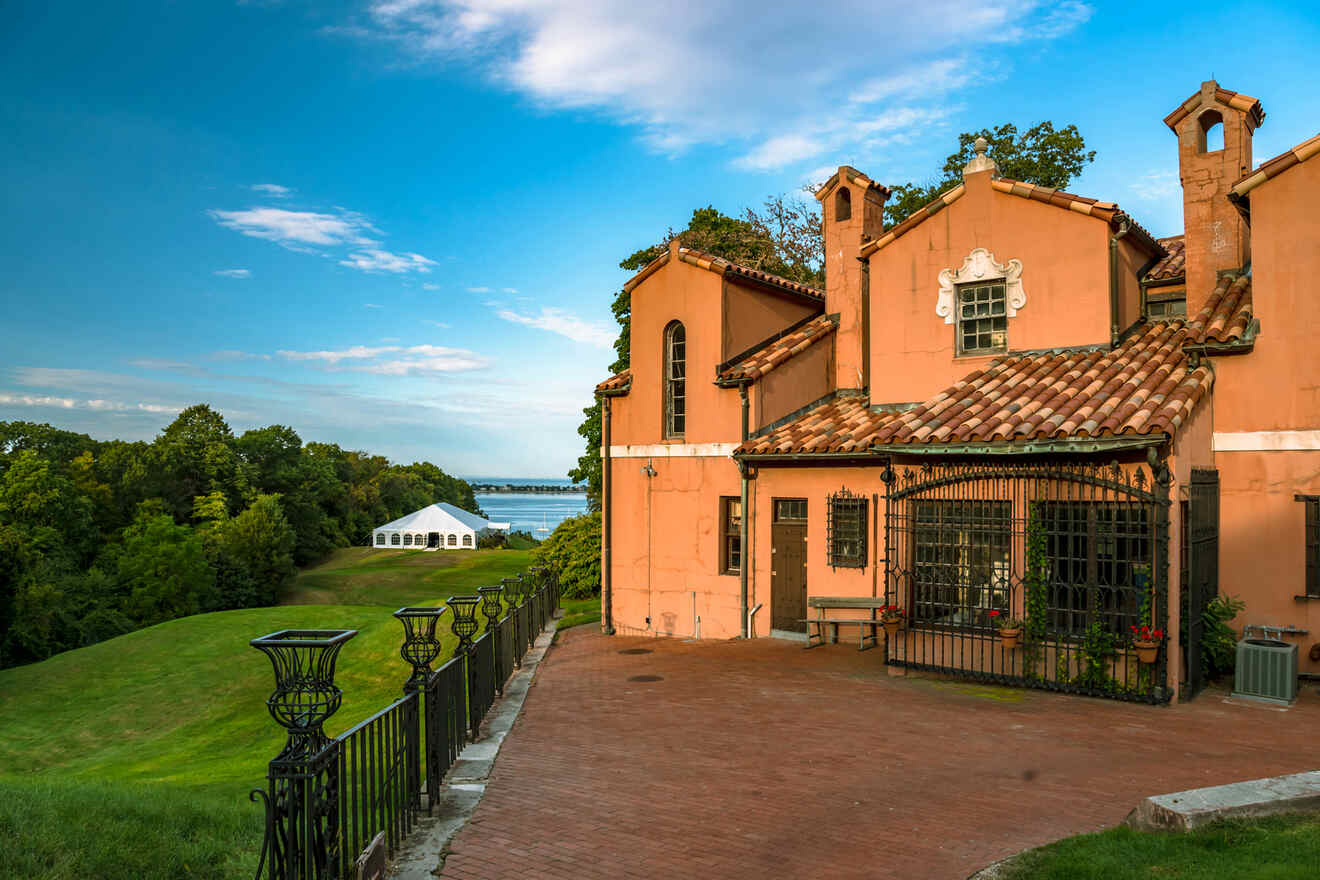 This marvelous Long Island museum is a former estate located on the North Shore of Long Island in Centerport. It was turned into a museum by the will of the wealthy landowner William Vanderbilt II, who donated his estate to the county.
It consists of a mansion and natural history museum dedicated to the life of William Vanderbilt II and exhibits his marine and ethnographic collections, and there is also a planetarium that was built in 1970.
If you are visiting in summer, don't miss the live performance of the museum staff reviving the life of Gold Coast socialites, as related in the Vanderbilt journal. And when you go inside the main house, don't forget to snap a picture of the stunning view of Huntington Bay.
You may be able to buy some of the tickets at the entrance, but I advise you to buy them online from the official site in order to save your spot.
PRICE: US$10 for adults, US$7 for children
5. Marvel at the beauty of Old Westbury Gardens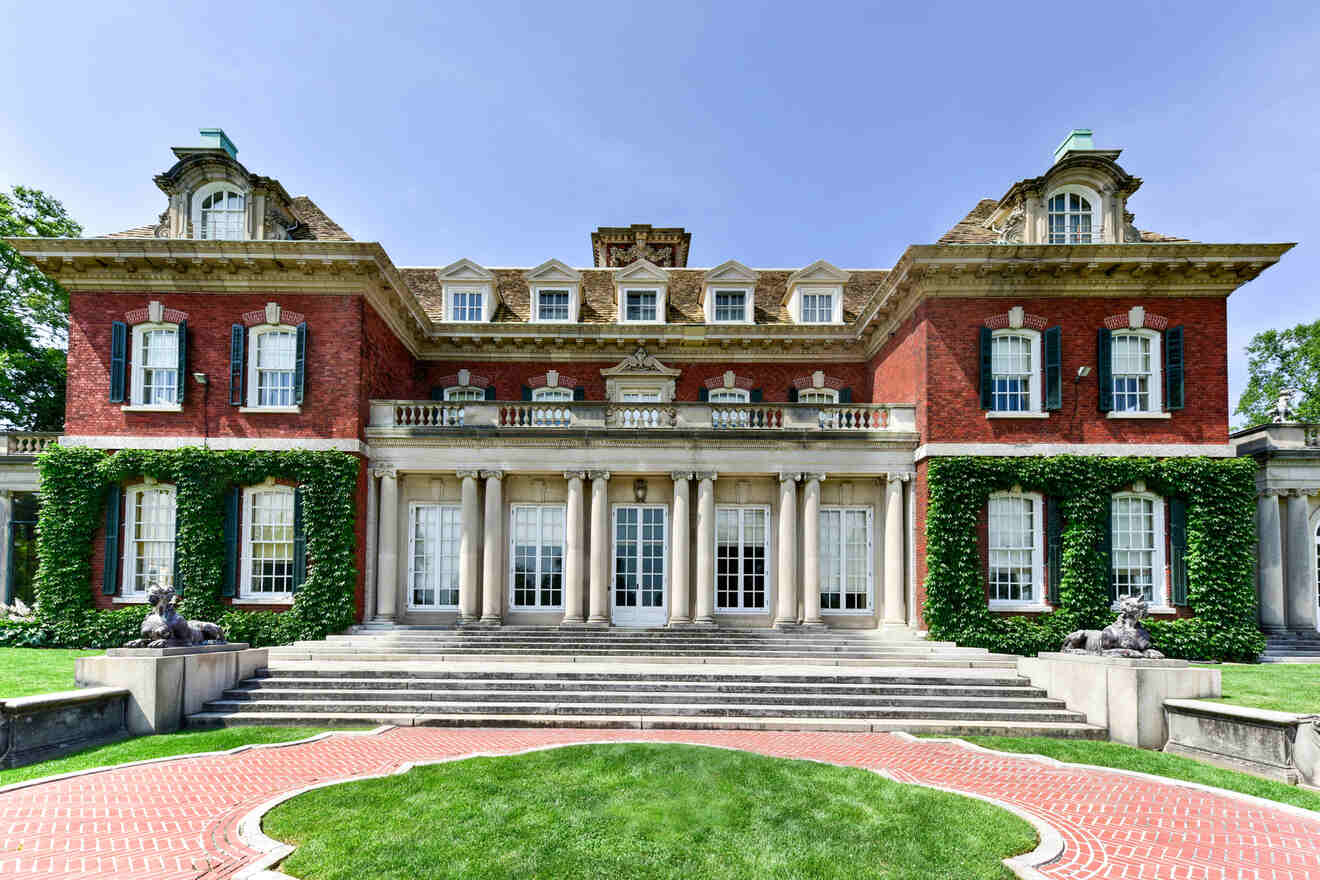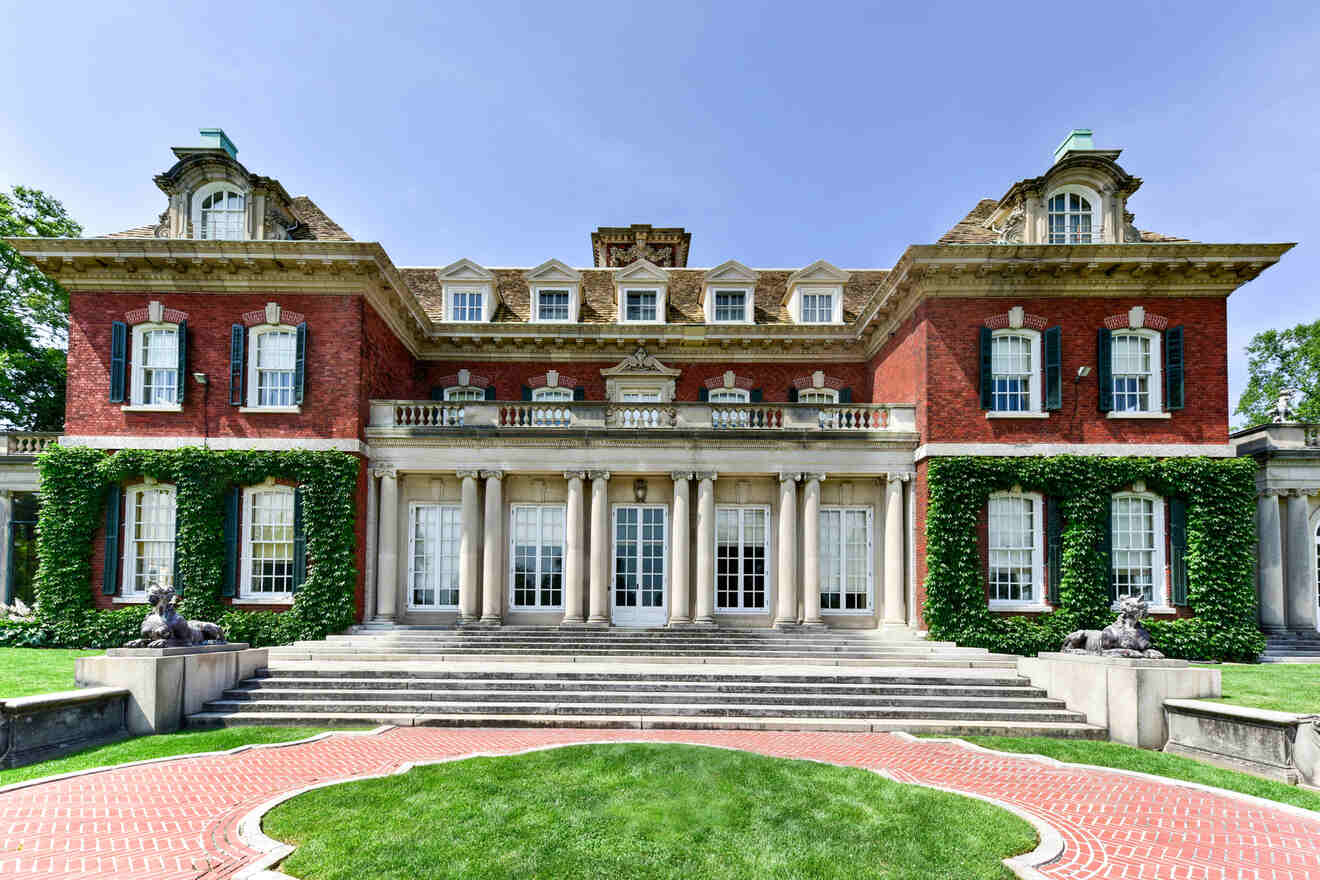 Fans of The Great Gatsby gather! This sophisticated mansion with the most fascinating gardens was the inspiration for the Buchanan Estate for the movie.
But now, seriously, this grand Long Island estate, located in Old Westbury, was a precedent to the period of the roaring 20s and is a real representation of the magnificence of one of the most prolific periods in American history.
Today, the Old Westbury Gardens is part of the National Register of Historic Places and is a frequently chosen spot for elegant weddings, classic car exhibitions, and other similar events. It is also open to visitors who can take guided tours or explore the gardens by themselves.
You should note, though, that the Old Westbury Gardens start accepting visitors in April, and you can get the most recent information about the operating hours and the tickets on the official website.
NOTE: Your ticket will be deemed invalid if you're more than 1 hour late from the hour stated on the ticket. In addition, children under 16 should be accompanied by adults at all times.
PRICE: ~ US$12 per person (official price released upon opening in Spring).
6. Resolve the mystery of Camp Hero State Park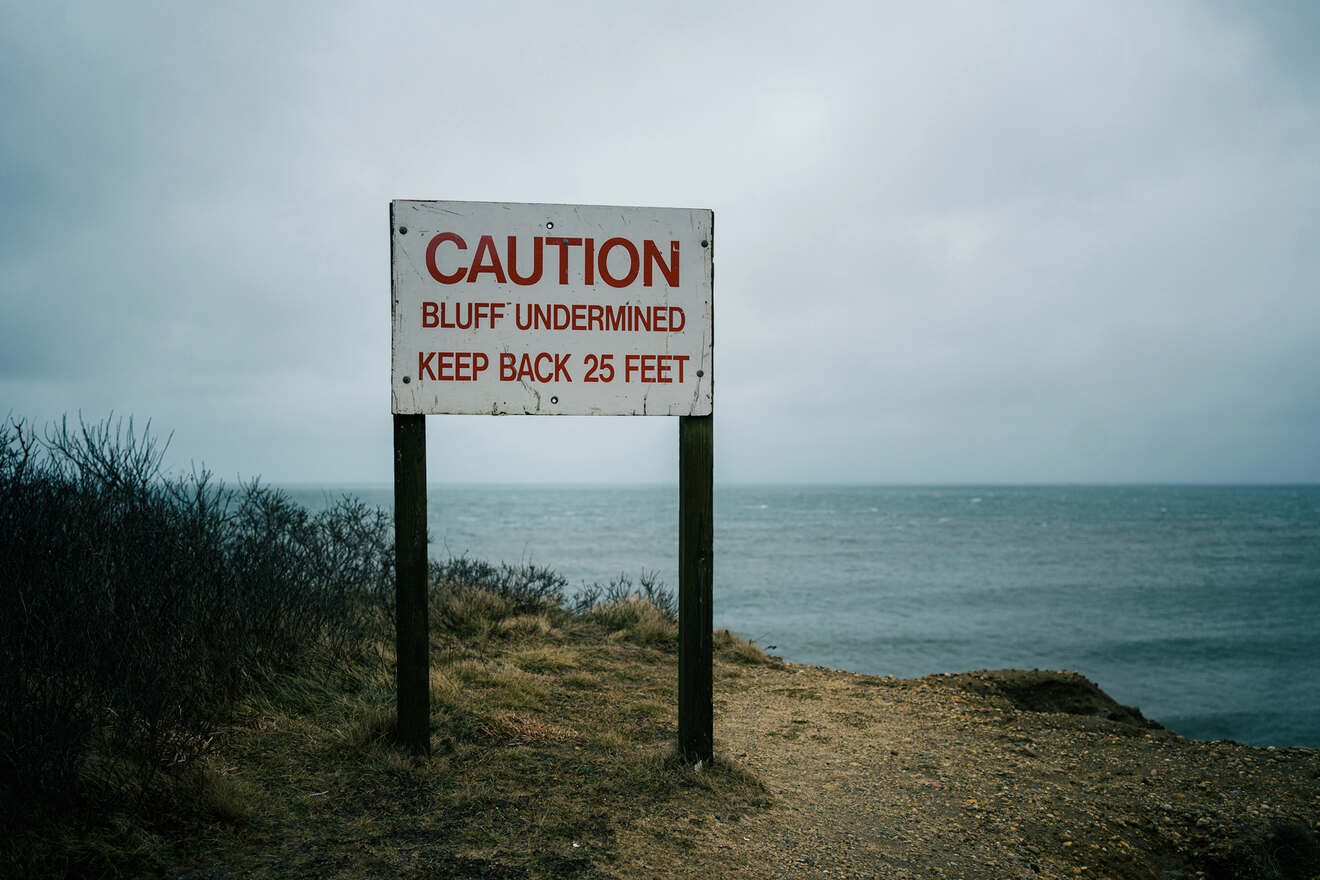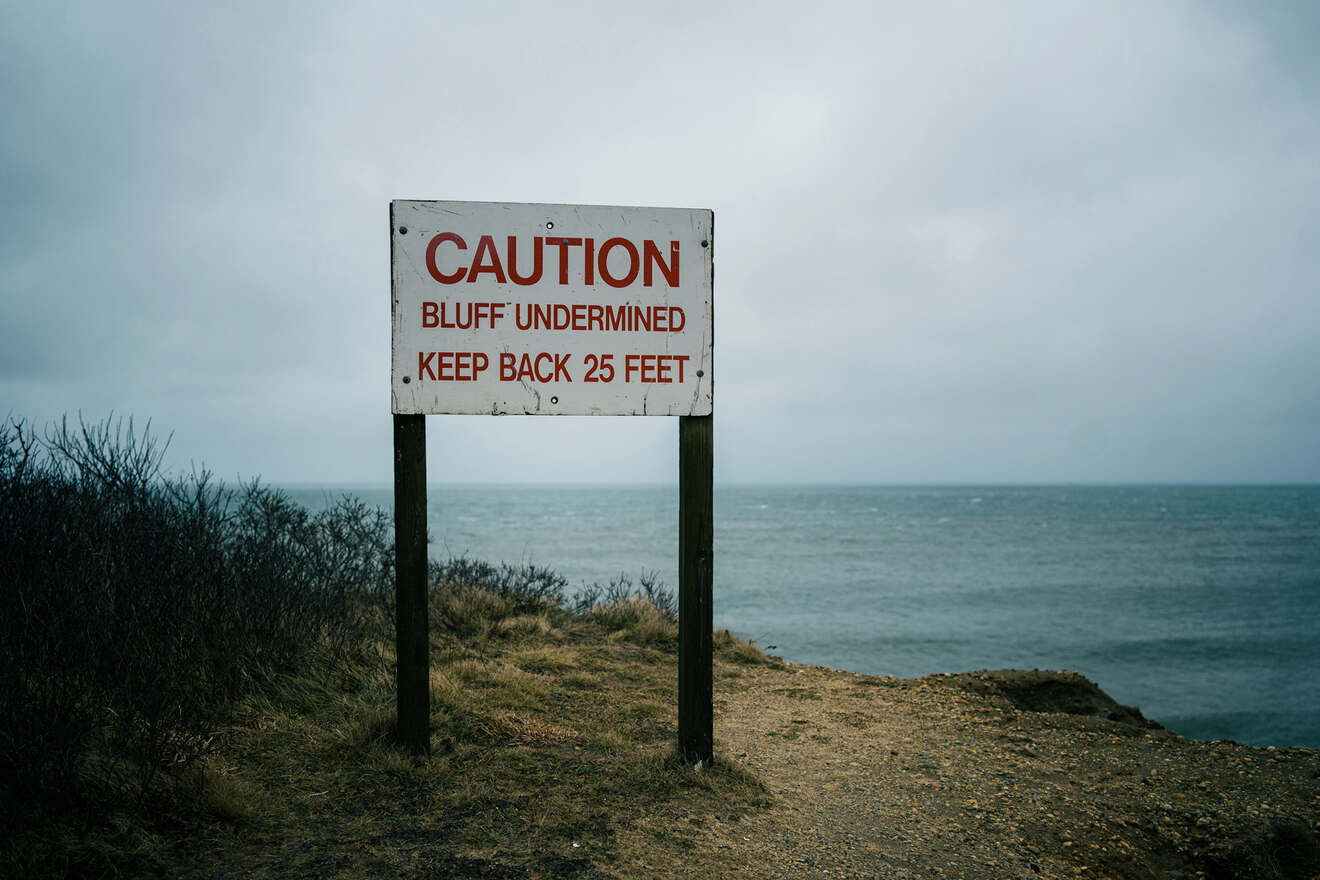 Stranger Things trivia time! What was the location of the Montauk project that inspired the creation of this TV series?
Camp Hero, it is!
This park, located at the tip of Long Island, also known as Montauk Point, used to be an air force base that spurred controversies related to sinister experiments performed on children that included mind control, brainwashing, and time travel. These allegations were retold in Preston Nichols and Peter Moon's book The Montauk Project: Experiments in Time (pub. 1992) but were never confirmed.
Nevertheless, it is an exciting site to visit for conspiracy-theory lovers, who will be able to explore the campgrounds, do some bird watching, hiking, walking, bike riding, horseback riding, or go fishing (permit required) at one of the best locations for surf fishing in the world that's open 24 hours.
NOTE: Swimming is not permitted at Camp Hero State Park, and certain pet restrictions apply.
Getting there: You can hop on the Hampton Hopper bus from The Plaza in Montauk, which will take you around Montauk. Get more information about the bus routes and timetable either at the official website or at 631-259-7076.
7. Get stunned by the art at LongHouse Reserve on Long Island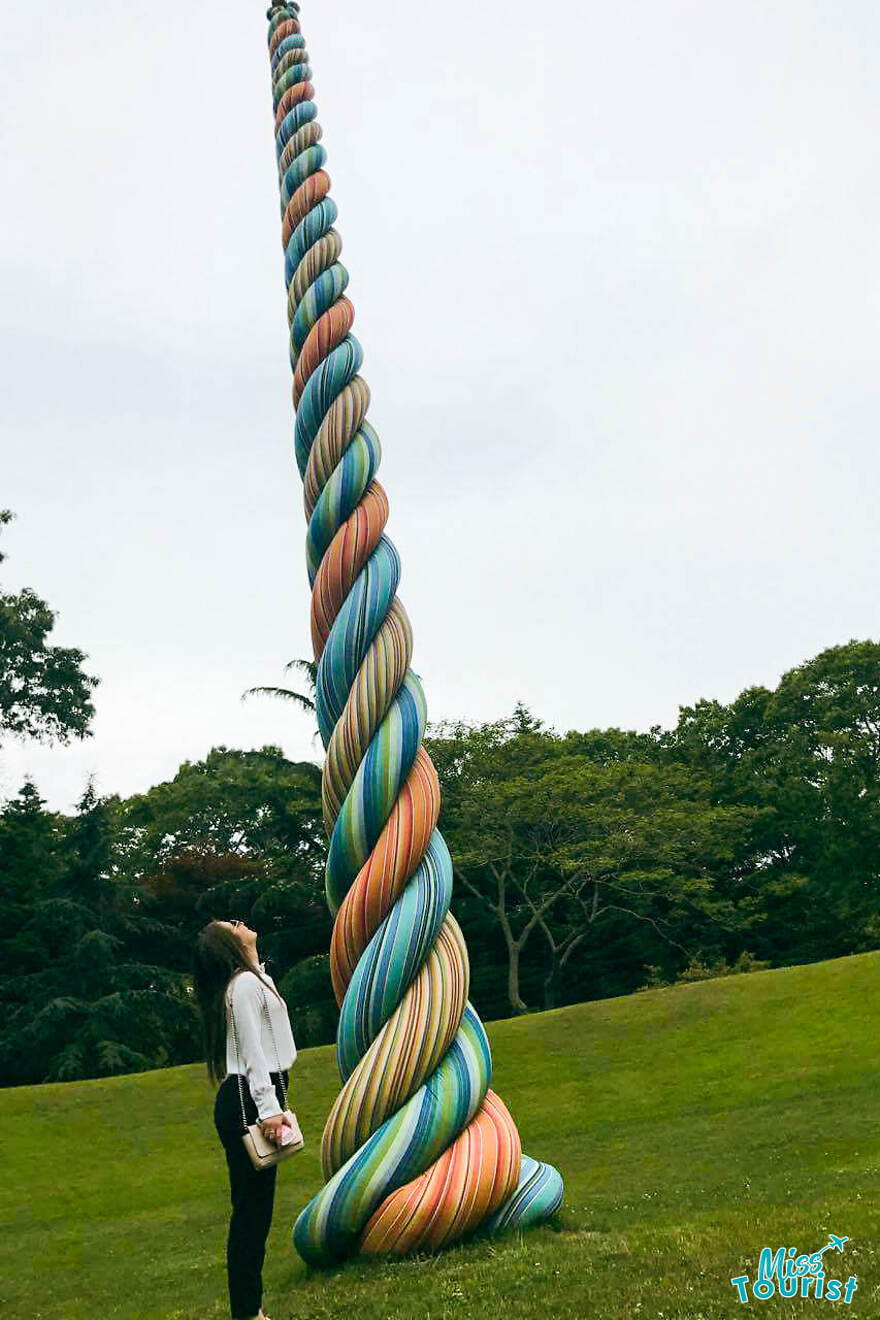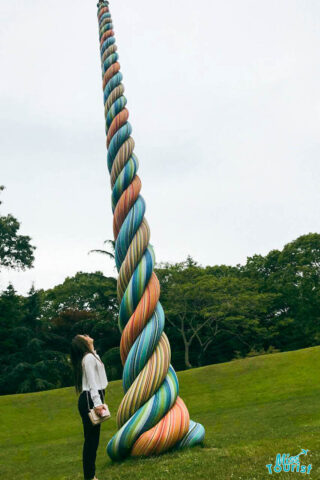 If you've watched The Secret Garden, then you'll understand the magnificence of this place. And it IS actually like a real secret garden because unless a local recommends it to you, I doubt you will find out about it.
This reserve, located in East Hampton, was established by Jack Lenor Larsen and is dedicated to art in all forms. I guarantee you will feel like Alice in Wonderland, walking from one section to another and discovering the beautiful sculptures and creative pieces from different artists such as Buckminster Fuller, Yoko Ono, Willem de Kooning, and others.
My personal favorite is The Fly's Eye Dome which feels just so out of space, I could stay in this place forever. Now, going back to reality, I should tell you that the LongHouse Reserve usually opens in April, and off-season visits are only possible with prior reservation via phone (631-329-3568) or email ([email protected]).
8. Explore the Planting Fields Arboretum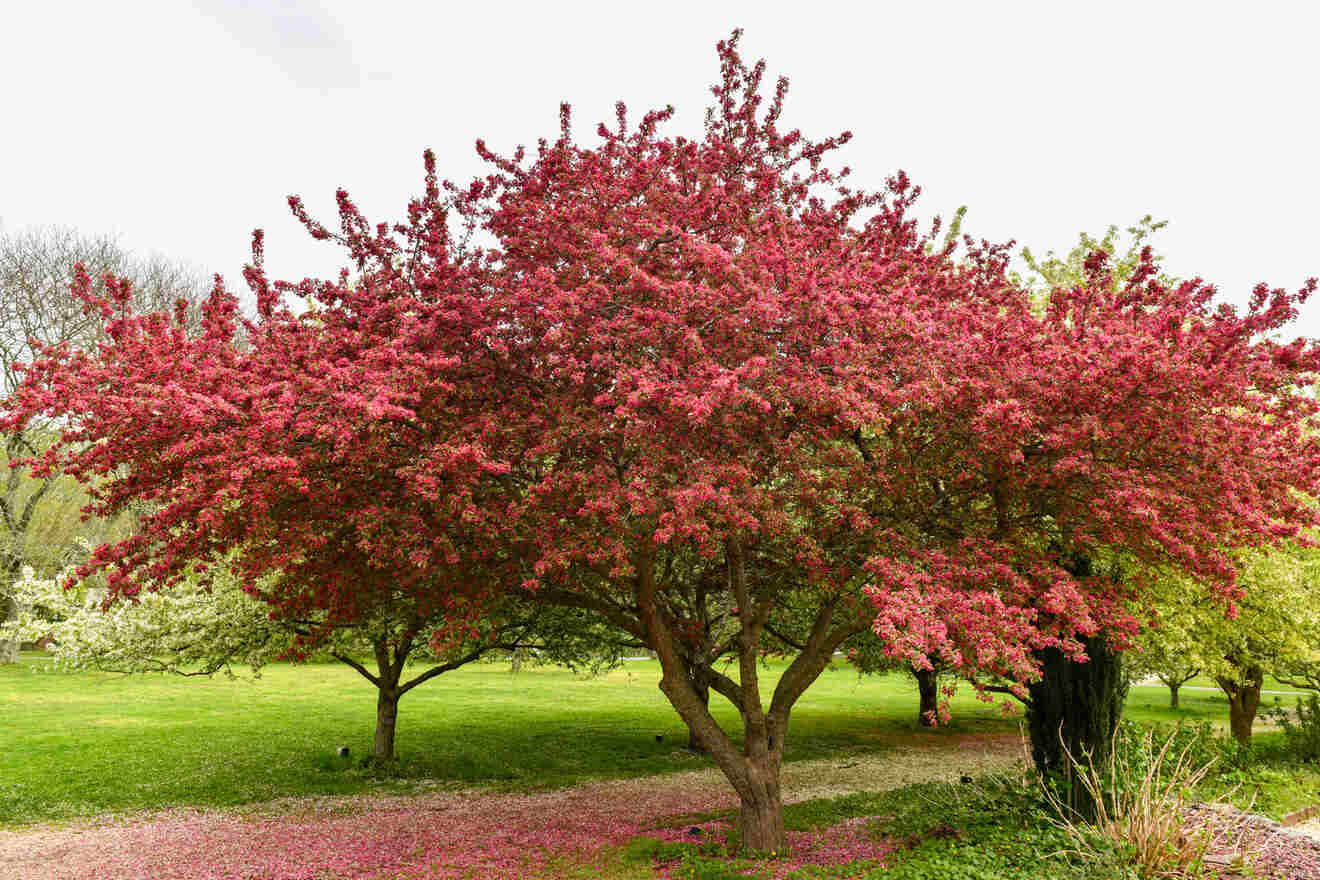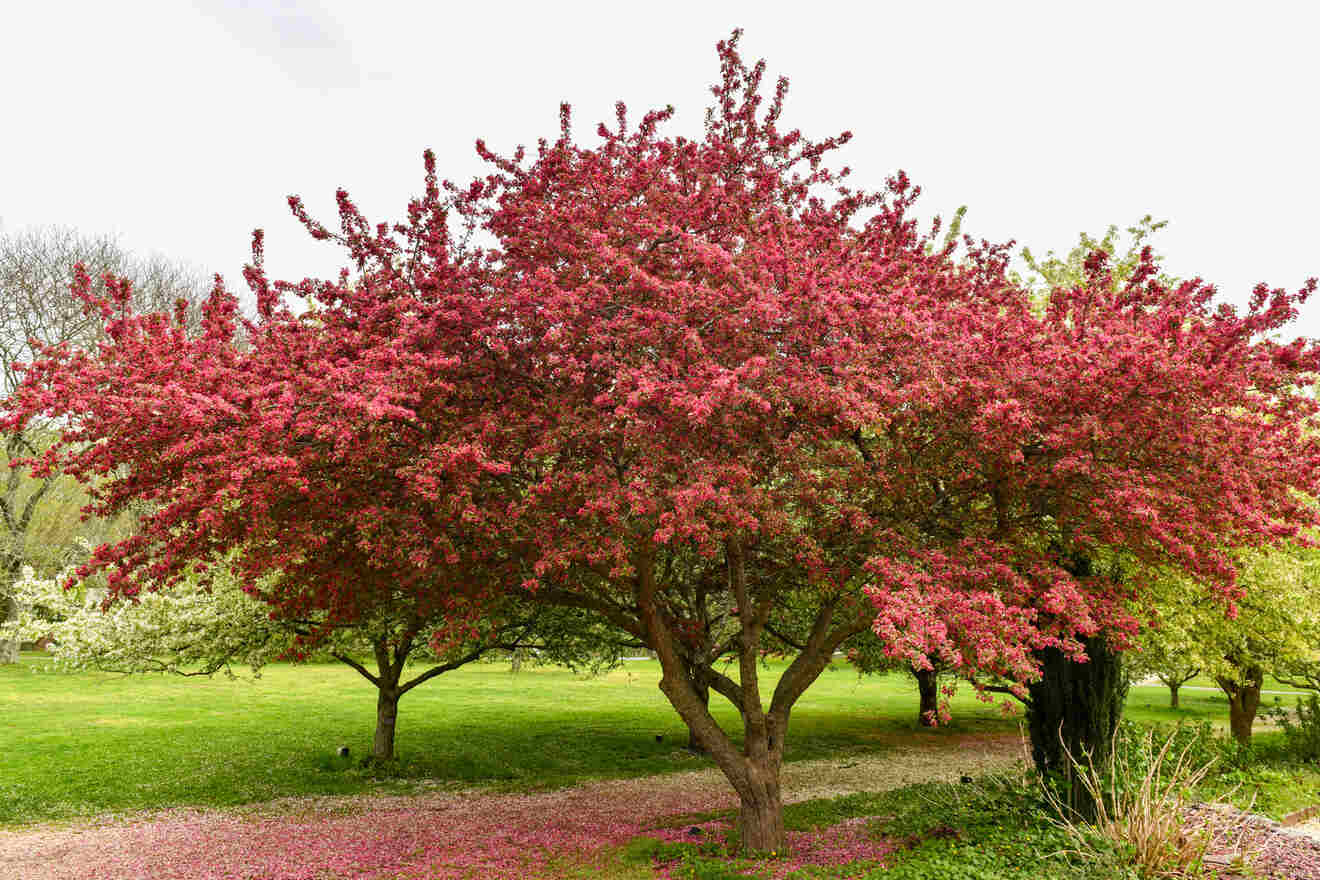 Located in Oyster Bay, on the North Shore of Long Island, the Planting Fields Arboretum is a wonderful 410-acre (165 hectares) Gold Coast estate that dates back to the 1920s.
Originally landscaped by the Olmsted Brothers, this estate features greenhouses, rolling lawns, nature trails, as well as plant collections. Nature lovers will be in awe of the beauty of this arboretum state historic park. If that is not enough, you can marvel at the splendor of the Coe Hall mansion with Tudor Revival architecture or join their special events.
You can take a self-guided tour or any of the guided tours offered but remember that you should arrive 5 minutes before the scheduled entry. Otherwise, you may not be admitted.
You should check the open hours on the official website and book your ticket in advance to reserve your spot.
PRO TIP: If you're visiting in October, make sure to stay around Oyster Bay for the famous Oyster Bay festival.
PRICE: US$10 for adults, US$5 for youth
9. Feel like a royal at Sands Point Preserve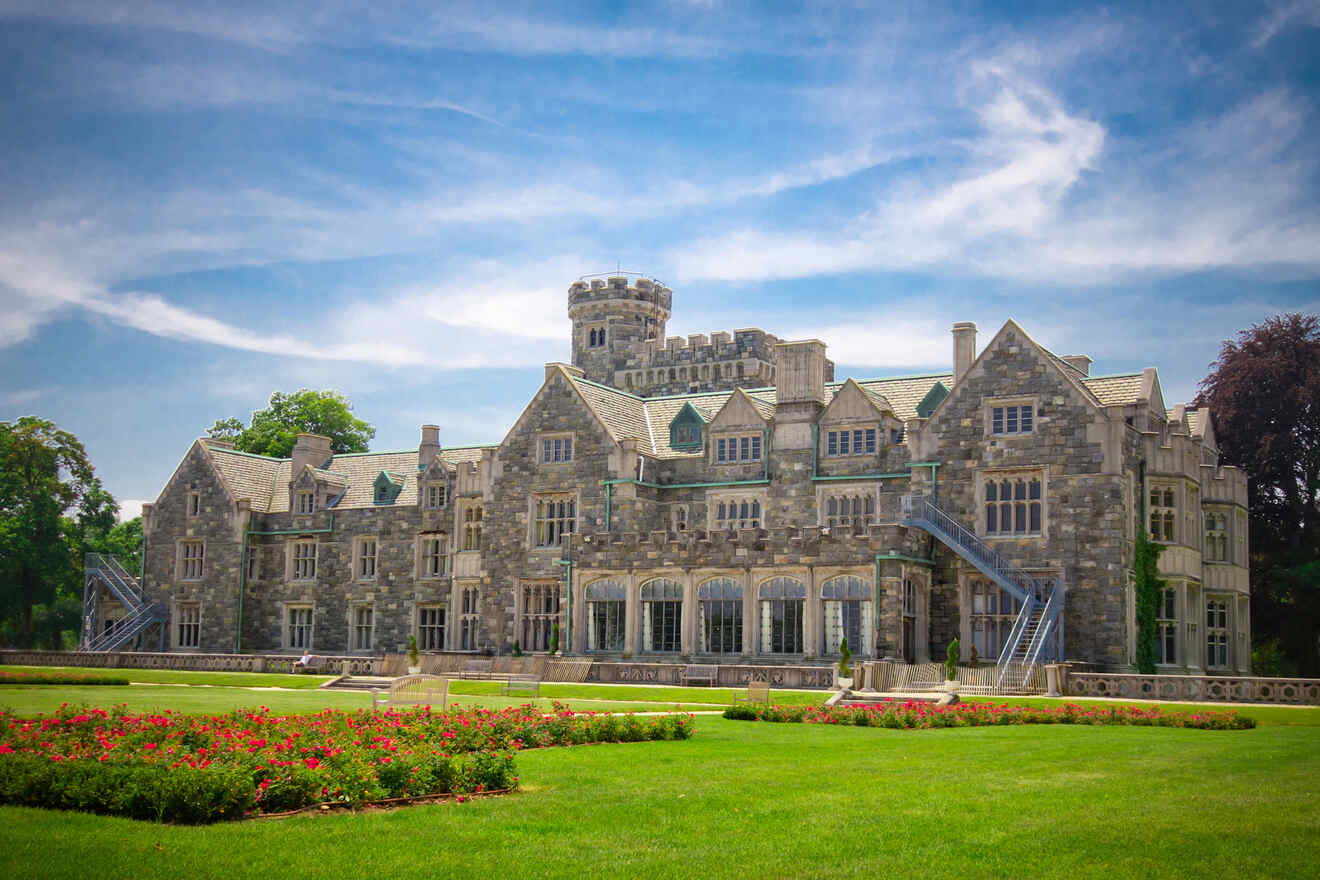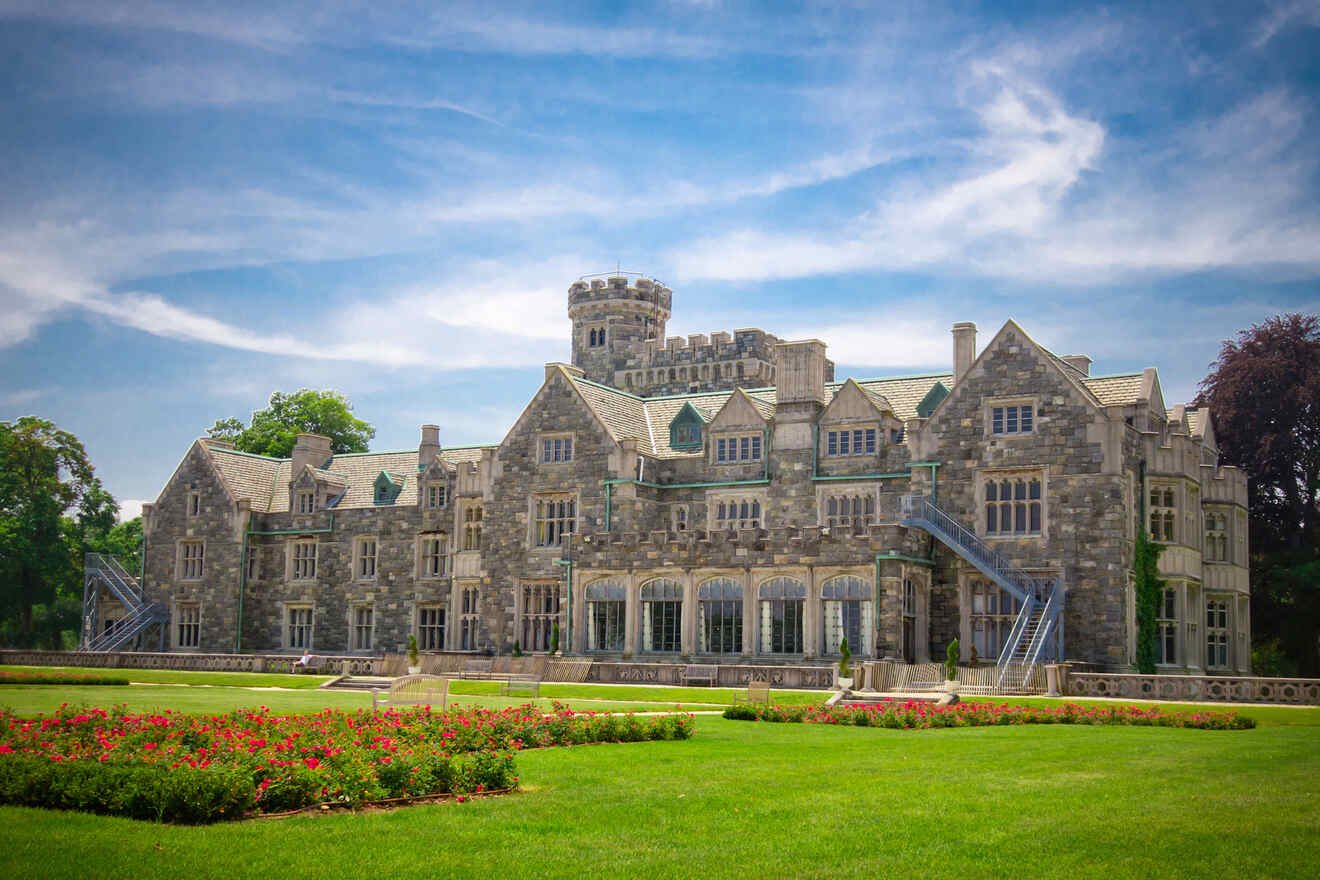 Built-in the 1920s and originally known as the Guggenheim estate, this sophisticated mansion was built as a Long Island summer retreat for the rich. This 220-acre (90 hectares) park is a historical representation of the luxury and grandeur that characterized the Americans on the Gold Coast as a result of the surging economy.
Today, the Sands Point Preserve is a beloved wedding venue and a must-see national historic site for tourists visiting Port Washington in New York. Tickets start from US$4 and up, depending on whether you just want to walk around the preserve or attend an event.
You can buy the tickets at the entrance with cash, card, or contactless. In addition, you should check the open hours by calling 516-570-7901.
PRICE: from US$4 per person
10. Take a stroll on the Long Beach boardwalk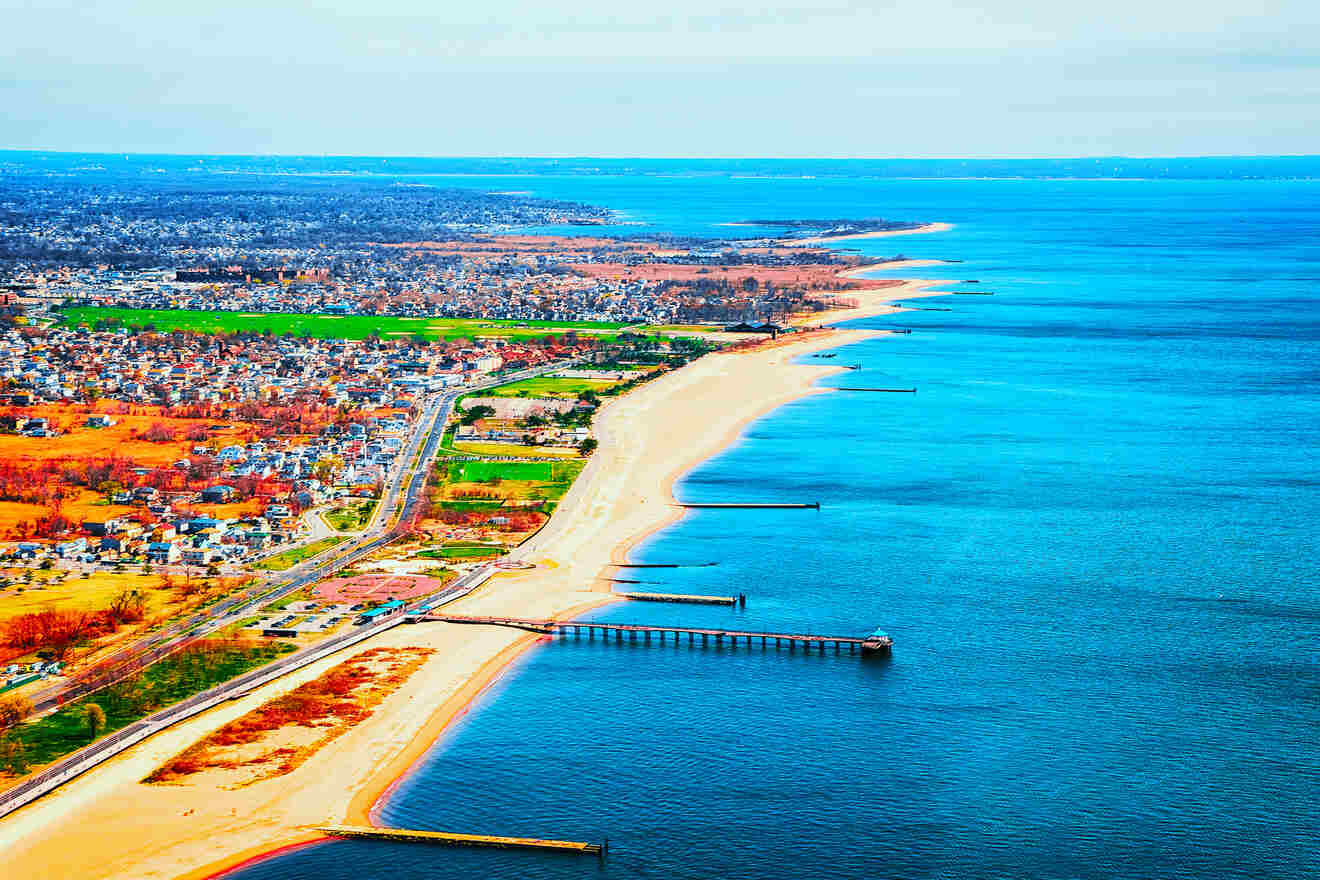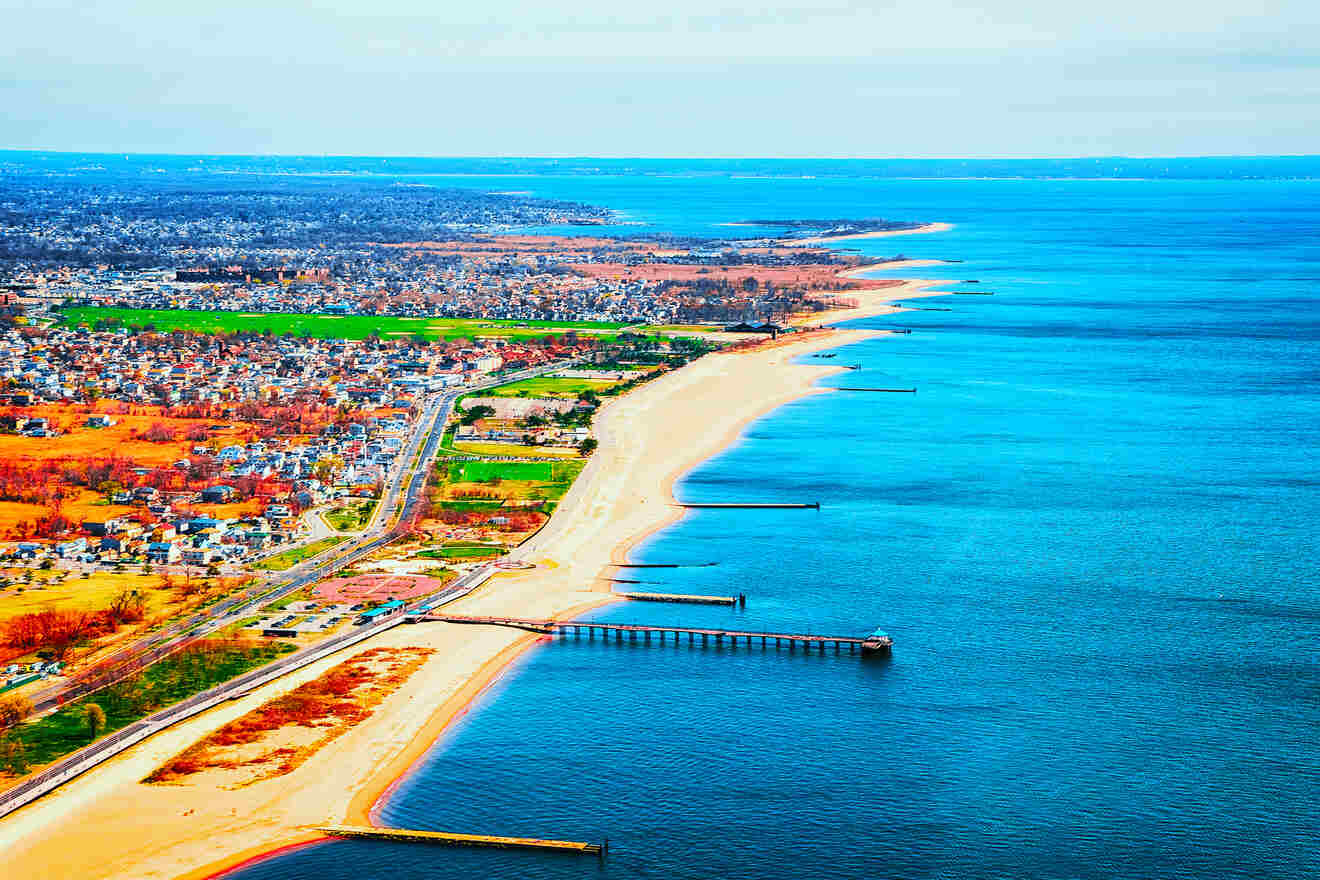 Long Beach City is the place to go if you don't want to go too far into Long Island but still get that Long Island vibe. It is particularly famous for the Long Beach boardwalk, which was destroyed in the superstorm Sandy but was rebuilt.
Whether you want to go jogging by the ocean, relax at the beach, or party hard, there is something for every taste in the city of Long Beach.
11. Spend a day at Coopers Beach on Long Island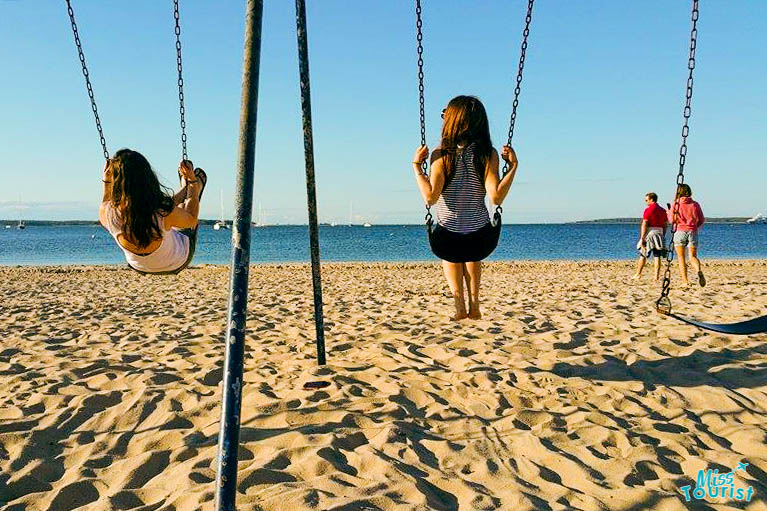 Coopers Beach is my final pick for must-see Long Island beaches. If you want to spend a carefree day with your friends and family in Southampton, then come here.
What I really love about the Hamptons is that they take the public spaces SERIOUSLY, which means that everything you may need will be provided (sometimes at an additional charge, though). Hence, it's no wonder why rich people like Paris Hilton and Steven Spielberg buy houses here.
If by any chance you want to take a break from the beach and explore the area, then I highly recommend you see the Agawam Park (which has a lake!), the Southampton History Museum, and Thomas Halsey Homestead House built in 1660 and believed to be the oldest English-style house in NY.
12. Learn about U.S. aviation history at the Cradle of Aviation
Is there anything better than flying on a plane? I don't know about you, but this is my favorite means of travel. Yeah, I know, perhaps I should've been a stewardess, but that is a whole other story.
Now, for those like me who think that airplanes are extraordinary, then this museum is a place you must see. It is located in Garden City on Long Island, NY, at a place that used to be Mitchel Air Force Base. This base, together with Roosevelt Field and a few other airfields on the Hempstead Plains, make the so-called "cradle of aviation" on Long Island, hence the museum's name.
So, when you go to the museum, you should explore the 8 chronological galleries, covering all aspects of aviation and space history. From pioneer aircraft to spacecraft, the collection of planes at this museum is just spine-chilling.
The Cradle of Aviation Museum is open Tuesday through Sunday from 10 AM to 5 PM. Tickets can be bought at the official website.
PRICE: US$9-US$21 per person
13. Camp out at the Hither Hills State Park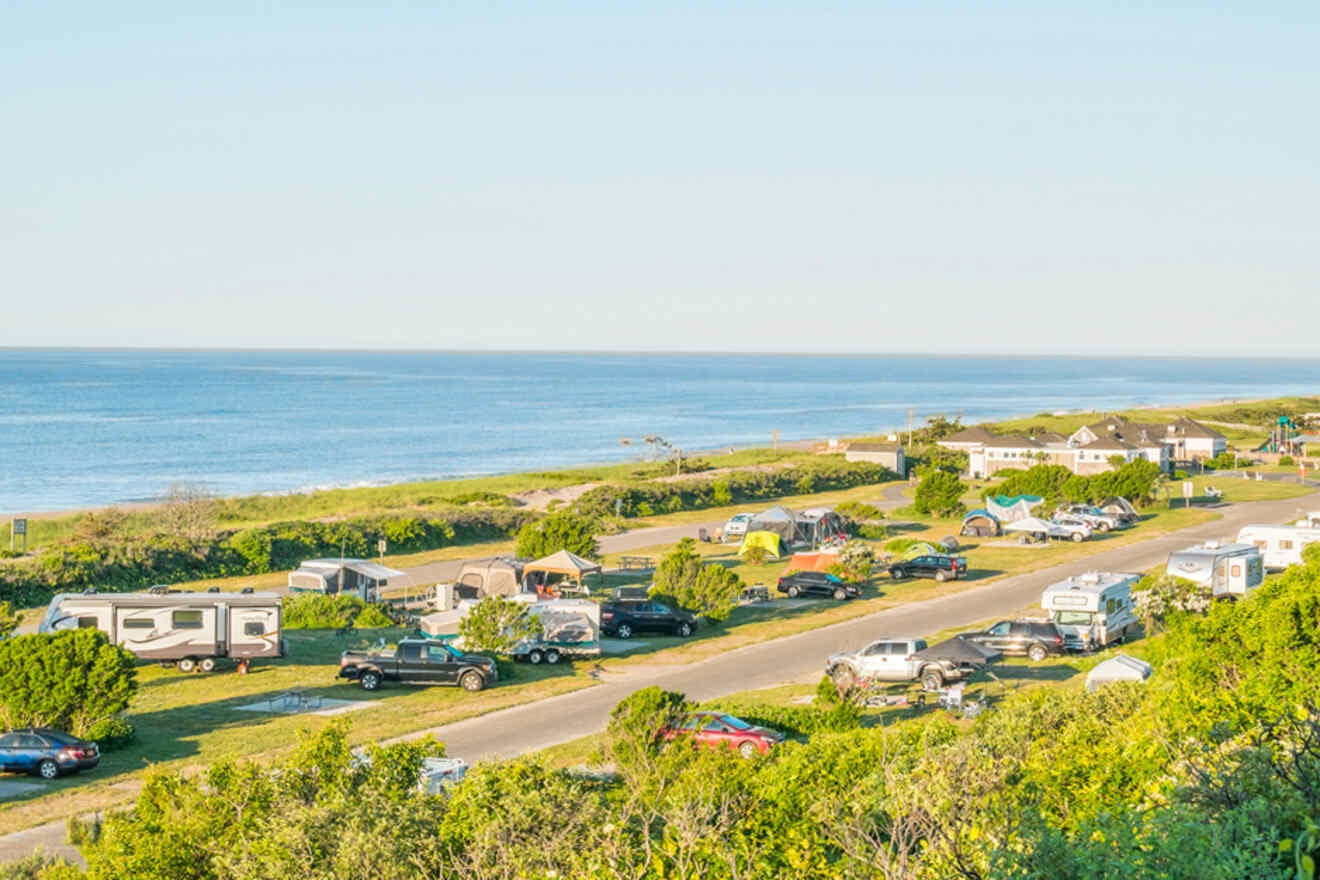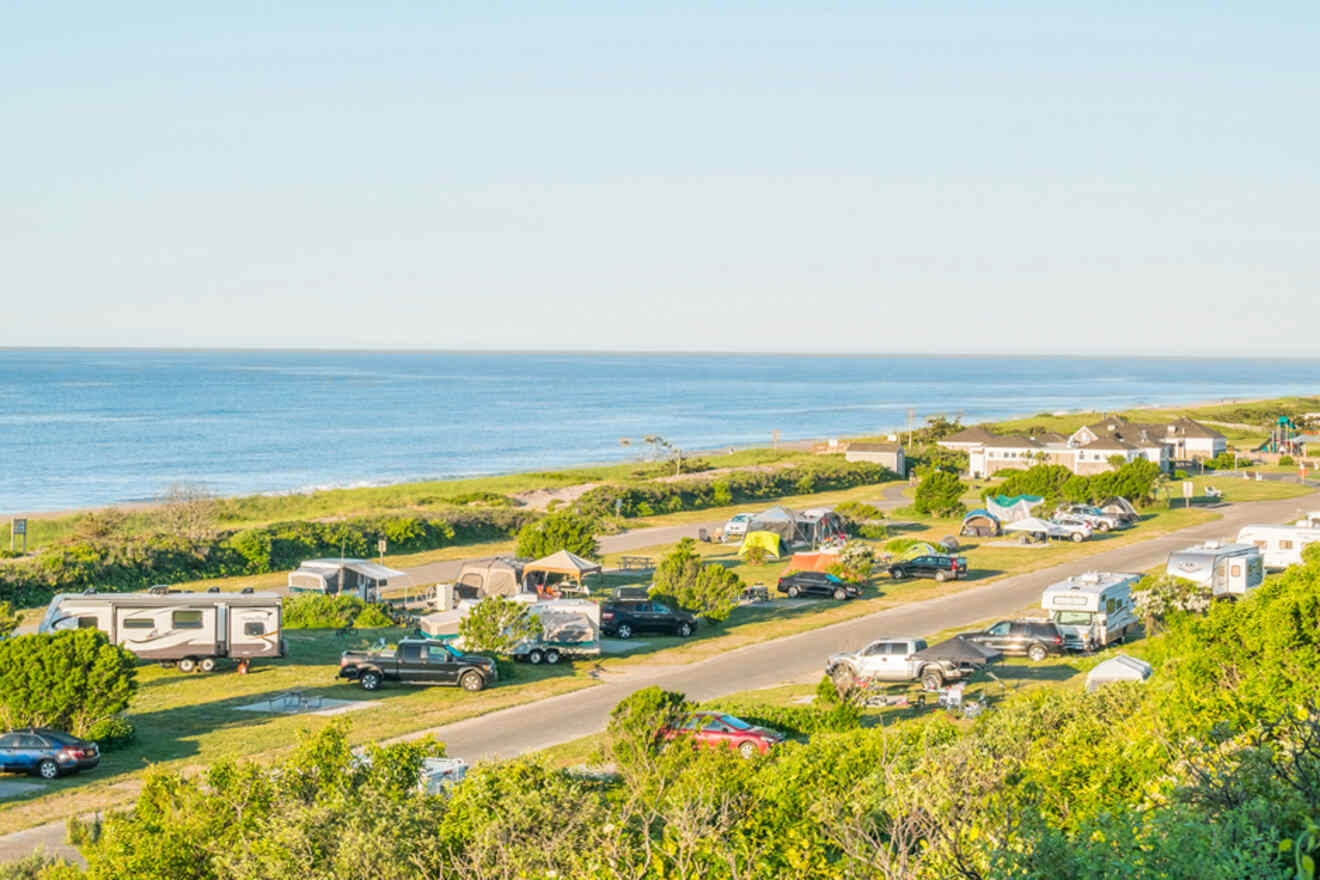 Want to sleep under the stars? No problem! This state park is located on the Old Montauk Highway and features a 2-mile (3km) long public beach, a campground, and a picnic area.
The white sand beach is perfect for swimming, sunbathing, and spending quality time with your family and friends. Have a picnic during the day, then sit by the bonfire at night, making s'mores and telling stories.
Just don't forget to book your camping spot in advance (US$8), as this beach can get crowded during summer, so you want to save your spot early! The camping season is open from April through November.
14. Go on a DIY wine-tasting adventure
I know I found you a great bike riding and wine-tasting tour above but for those of you who prefer to go at your own pace, I thought I would add some of my personal favorite vineyard recommendations so you can go on a DIY tour.
Wölffer Estate Vineyard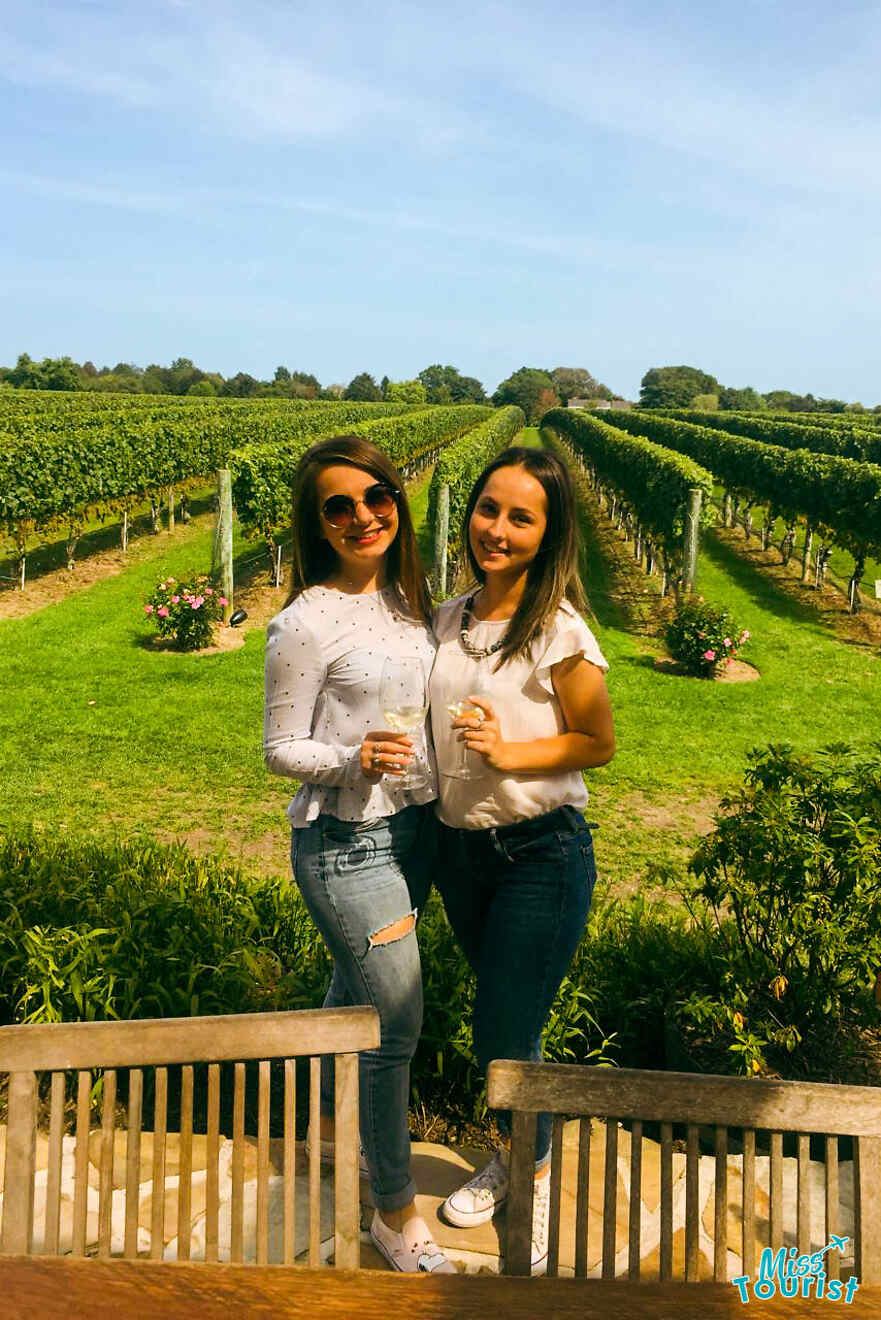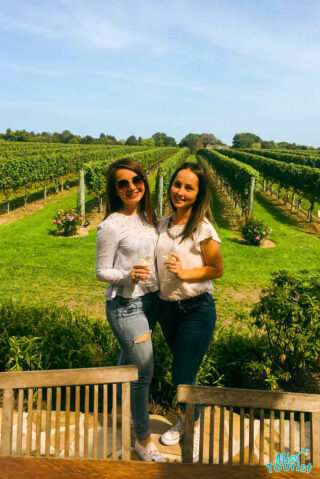 Imagine fruit, flowers, and sun – that is my visualization of Wölffer Estate wine. For those of you who like aesthetics with quality, this is the place to go.
This vineyard is located in Sagaponack, on Long Island, and features a large lush vineyard where you can leisurely stroll and snap the most amazing pictures with a glass of the finest White Horse wine.
PRO TIP 1: If you are visiting during summer, make sure to reserve a table on the veranda overlooking the vineyard. Hot summer days can't get better than this!
On a windy or cold day, I suggest booking a table in the indoor Tasting Room designed in rustic-modern style with a view of the vineyards. You will have the most enjoyable experience tasting Wölffer's award-winning wines combined with assorted charcuterie plates.
PRO TIP 2: Booking a table as early as 2 weeks in advance is highly encouraged, as the building at the vineyard is not that big. There are events going on at the vineyard as well, so I advise you to take a look at the website (under the "Reservations" section) and book an event or a regular visit.
In case the vineyard is booked out, a nice alternative is going to the Wölffer Kitchen in Amagansett for the ultimate bohemian experience on Long Island, embellished with a Summer in a Bottle.
Macari Vineyards
This family-owned wine-making business was a longtime wish of Joseph T. Macari Sr. before it came to be fulfilled in 1995. Ever since the whole Macari family has been devoted to producing quality Long Island wines through a holistic and ecological approach.
Macari Vineyard is located in Mattituck, on Long Island's North Fork. This rustic-style winery, with its verdant vineyard, will make you want to stay there forever, sipping quality Macari wine and munching on the most delicious cheese and charcuterie boards.
If you feel ready to book, then you can see the tasting experience options with prices here.
NOTE: Macari Vineyards does not take walk-ins, so booking in advance is a must. You can book via the official website.
Bedell Cellars, Long Island
If you want to visit a vineyard where the past and the present collide, this is the one to go to. The very first grapevine was planted in 1980 by Kip Bedell, and the cellars continue to produce quality wine successfully ever since.
My favorite Long Island wine is "Taste" by Bedell (the white version). This white wine is a blend of Sauvignon Blanc, Viognier, Albariño, and Chardonnay. As a light-bodied wine with aromas of tonic and citrus and flavors of lemon-lime and apple, Taste is the perfect wine for a summer night by a bonfire.
The cozy Bedell cellars will enchant you with the picturesque vineyards and lush gardens, the contemporary art collection of the owner, and the intimacy of the loft area. I doubt there is another vineyard on Long Island that can match this.
The best yet? No prior reservation is needed for these Cutchogue-based cellars.
15. Catch a sunset at Shelter Island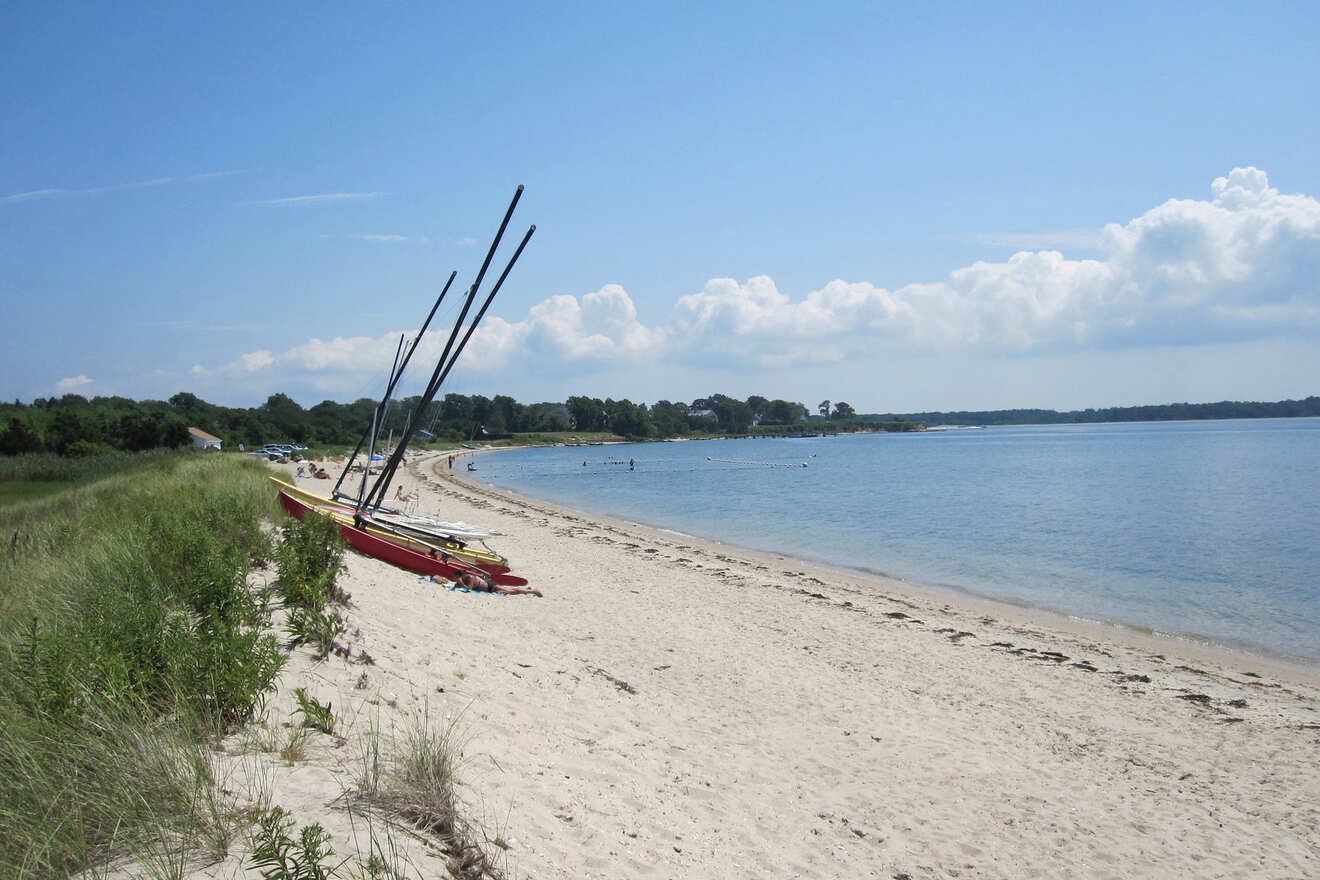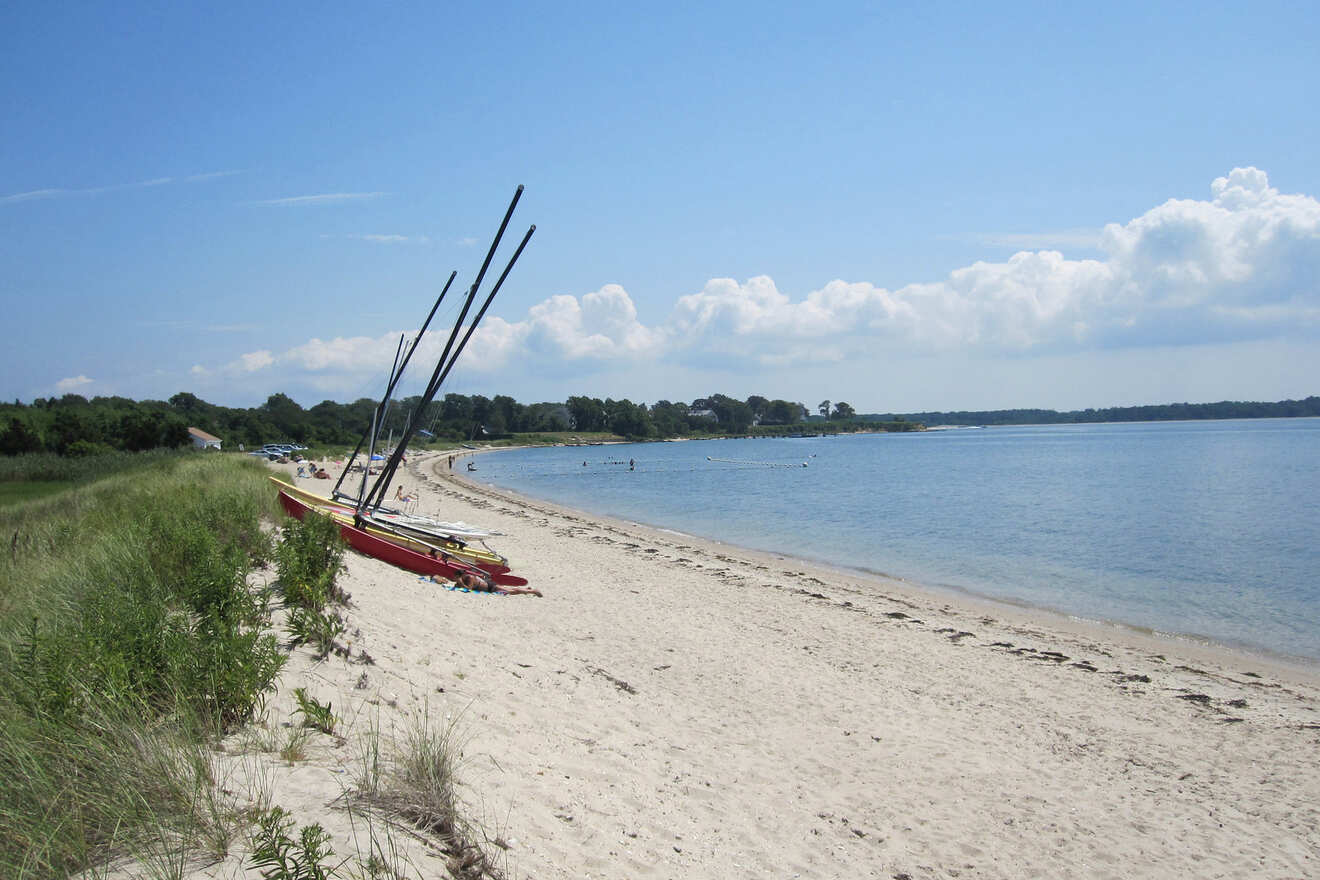 Having a whole peninsula is not enough? Worry not, for there are many small islands alongside the Long Island peninsula that you will definitely want to see.
Shelter Island is a small island of 27.1 square miles (70.2 km2), located between the North and South Fork of Long Island.
Among the things you can do on Shelter Island are: watch the sunset from the beach verandas, explore the walking trails, go hiking in the Mashomack Preserve, go kayaking, visit the Shelter Island Historical Society, or have a pint of beer at Shelter Island Craft Brewery.
I watched the sunset on the beach veranda, and hands down, it's among the most beautiful ones I have ever seen.
This small island is the perfect nature getaway for seniors and families with kids.
Getting there: Take the North Ferry from Greenport or the South Ferry from North Haven, Long Island, New York.
16. Have fun and loosen up at Fire Island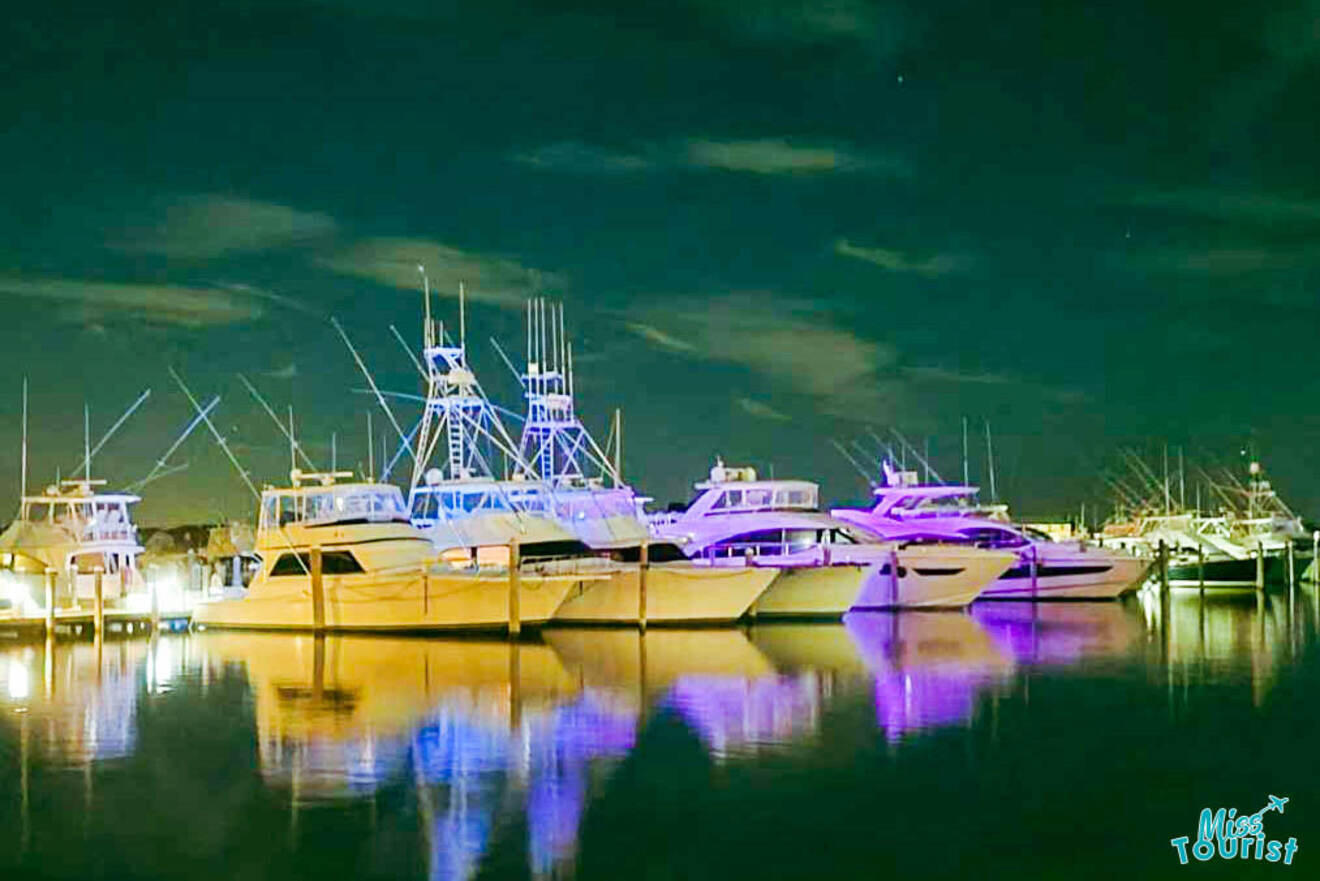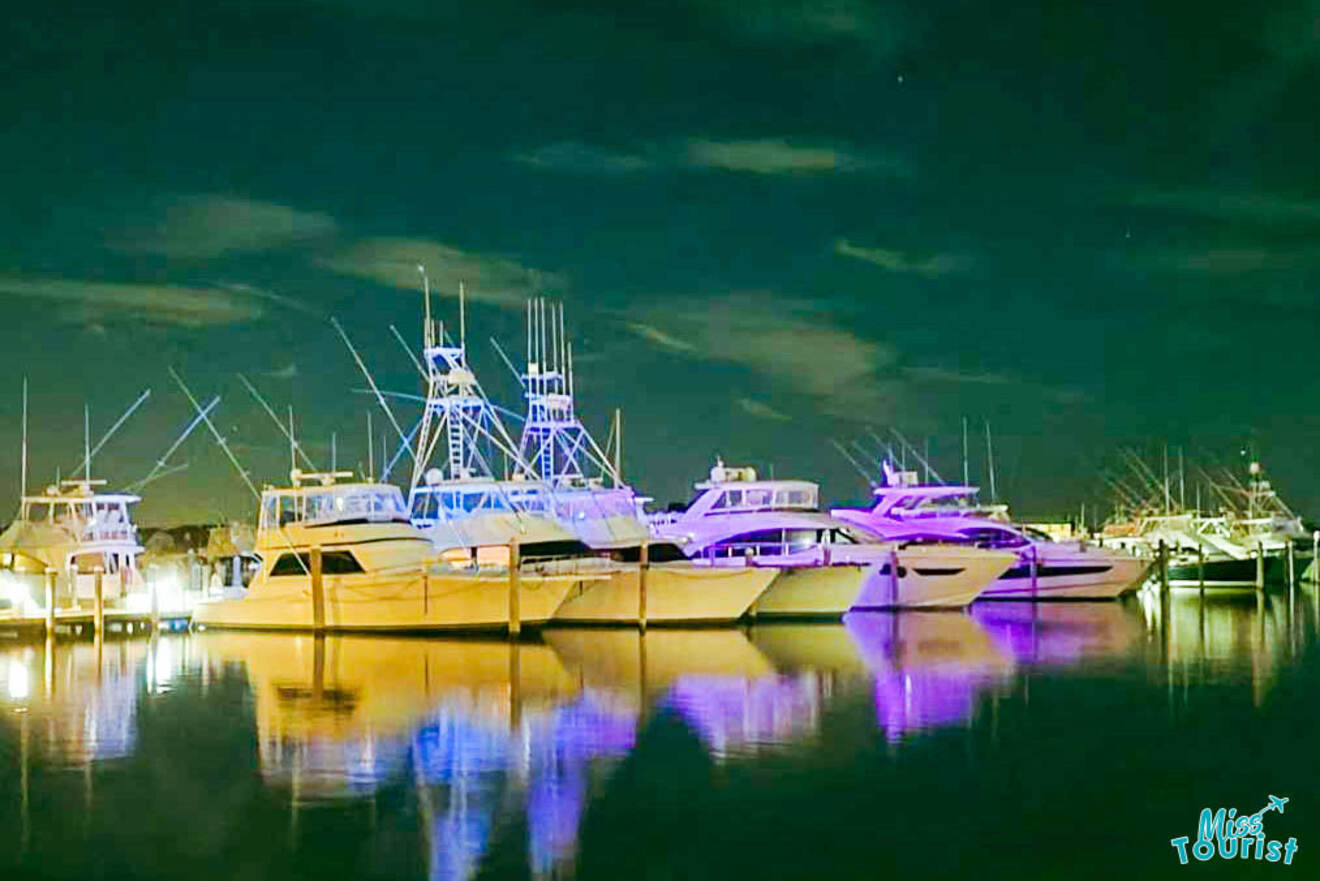 Peculiar in more than one way, Fire Island is a small barrier island located off the southern shore of Long Island, New York. Its total land area covers approximately 9.6 square miles (24.9 sq km).
I found a tour which you can take to see the Fire Island Lighthouse which was featured in the film "What Happens in Vegas". But if you are going by yourself and I had to pick 3 things to see on Fire Island, then I would surely choose these:
Davis Park – for the largest Fire Island marina accommodating up to 250 boats, and the Casino Café for the nicest ocean views.
Saltaire – is the family-oriented community of Fire Island. It has everything families may need, from youth programs, sports fields, basketball and tennis courts, a library, a food market, and whatnot.
Cherry Grove – the "clothing-optional" beaches at Cherry Grove and the free-spiritedness, have made Cherry Grove an LGBTQ favorite. Getting there is a bit difficult as the available options are ferry, private water taxi, or taxi from Robert Moses State Park, however, depending on your preferences, it may be well worth it as this is not the usual tourist location you'd expect to see.
Getting there: Fire Island is accessible by car from Robert Moses State Park. Otherwise, you can get to the island by ferry.
Visit the Fire Island Lighthouse
17. Laugh your heart out at Coney Island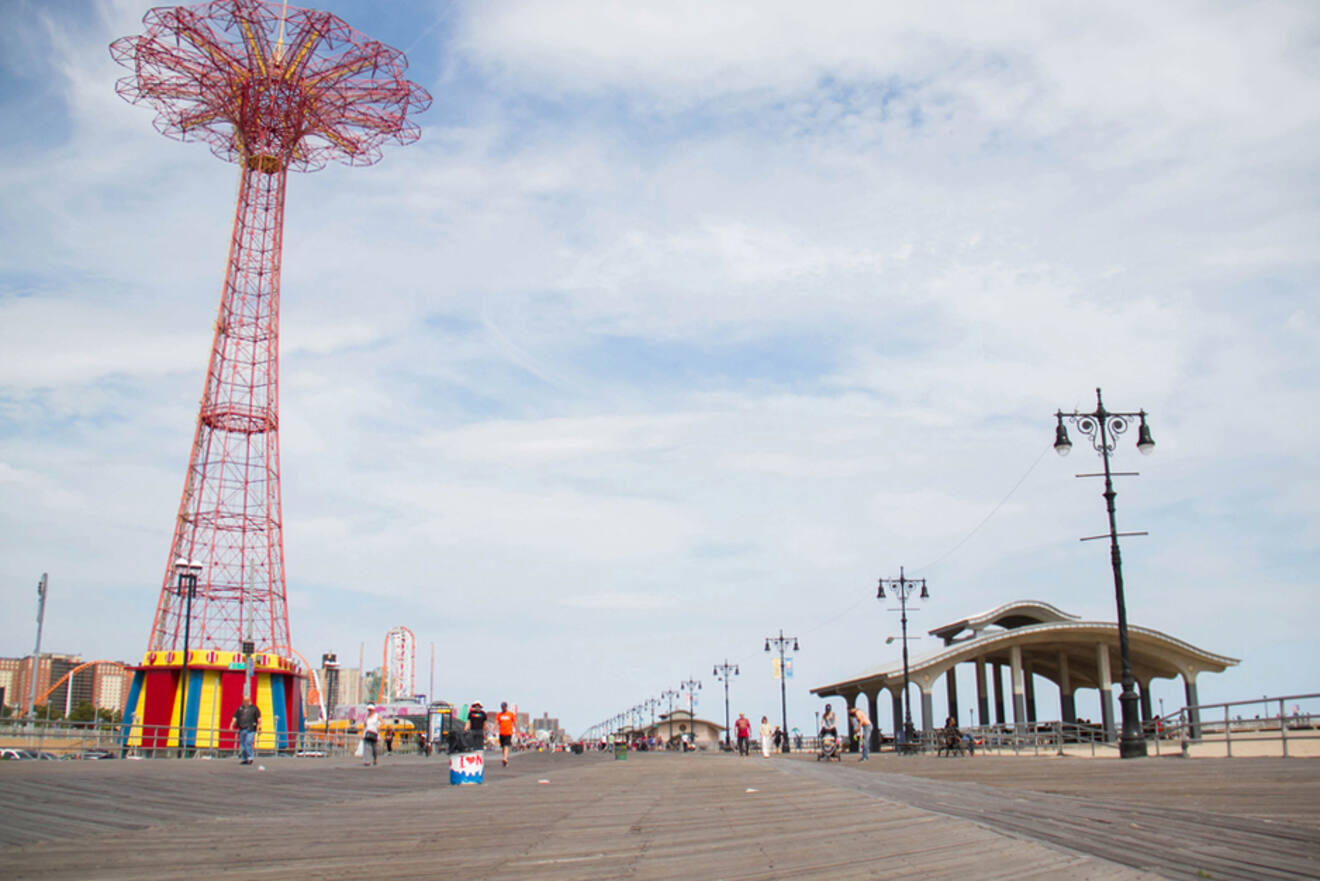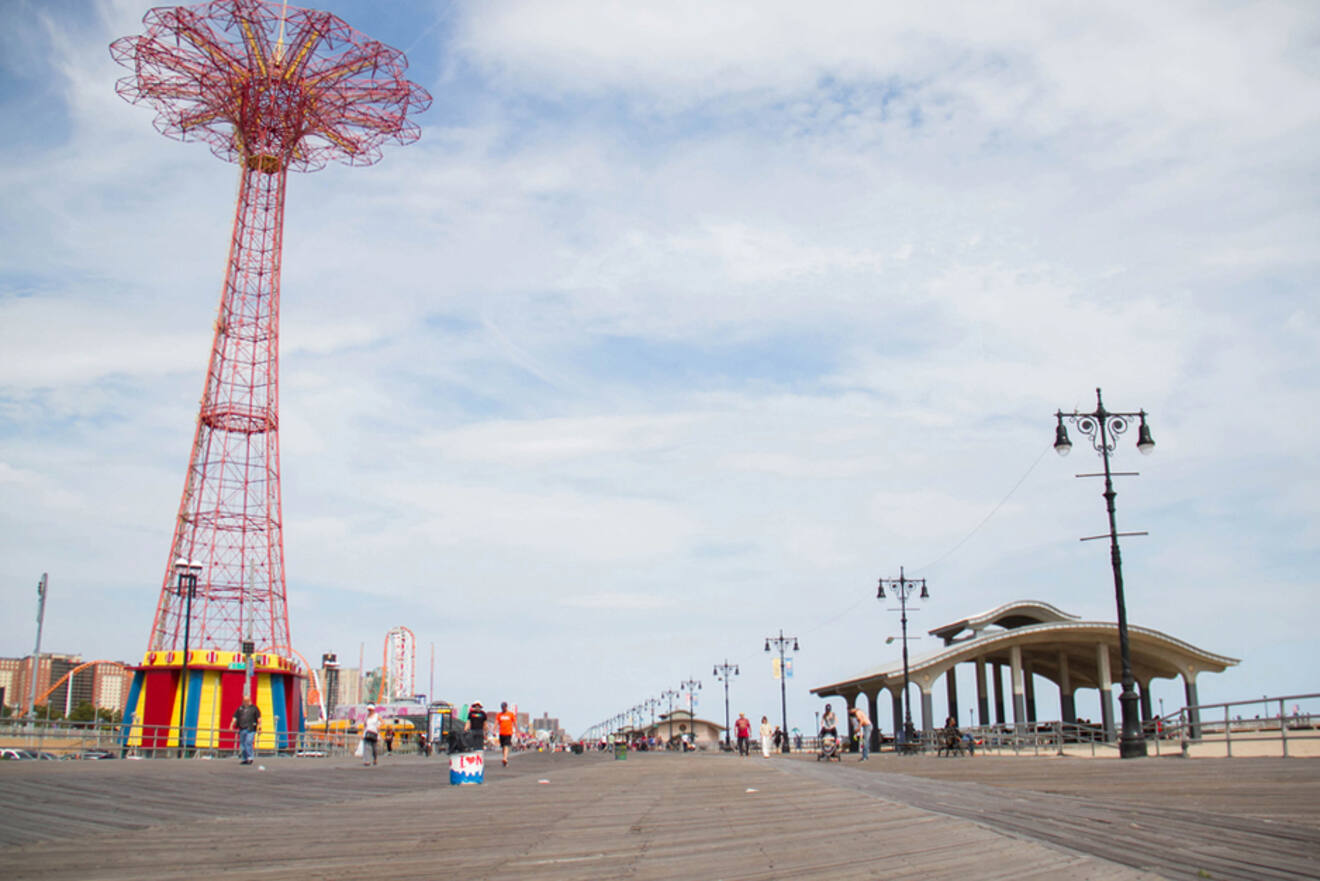 This peninsular neighborhood on the western end of Long Island used to be an island as part of the Outer Barrier group of islands, but it got connected to Long Island in the early 20th century.
Today, the Coney Island amusement district is the representation of American popular culture. I cannot even describe how typically retro-American Coney Island is! You just have to go see this peculiar place!
When there, visit the Spanish-revival-style museum, the "kitschy-cool" Freak Bar, Deno's Wonder Wheel amusement park, Luna Park, and the NY Aquarium for the ultimate entertainment.
NOTE: The attractions at Coney Island are open seasonally, usually during spring and summer, so I advise you to double-check whether the attraction you want to visit is open for your planned period. For more information, you can also check out the official page of Coney Island, USA.
Getting there: you can go to Coney Island by subway, bus, or car. Find more information here.
18. Relax at Lavender by the Bay
Is there anything more relaxing than a lavender field? I sincerely doubt it. But if you want to check, then come here, as these family-owned lavender farms in East Marion and Calverton will make you feel as if you are in Provence.
Whether you want to snap a picture of these beautiful lavender fields, sit and enjoy the purple hues, or buy some organic products from the gift shop, Lavender by the Bay will not disappoint you.
The best time to visit the farms is from June to August when the lavender is in full bloom, although you'll have to pay a small admission fee to see this beauty. You can still visit the farm out of season for free to get some organic lavender products.
19. Enjoy the view from Montauk Point Lighthouse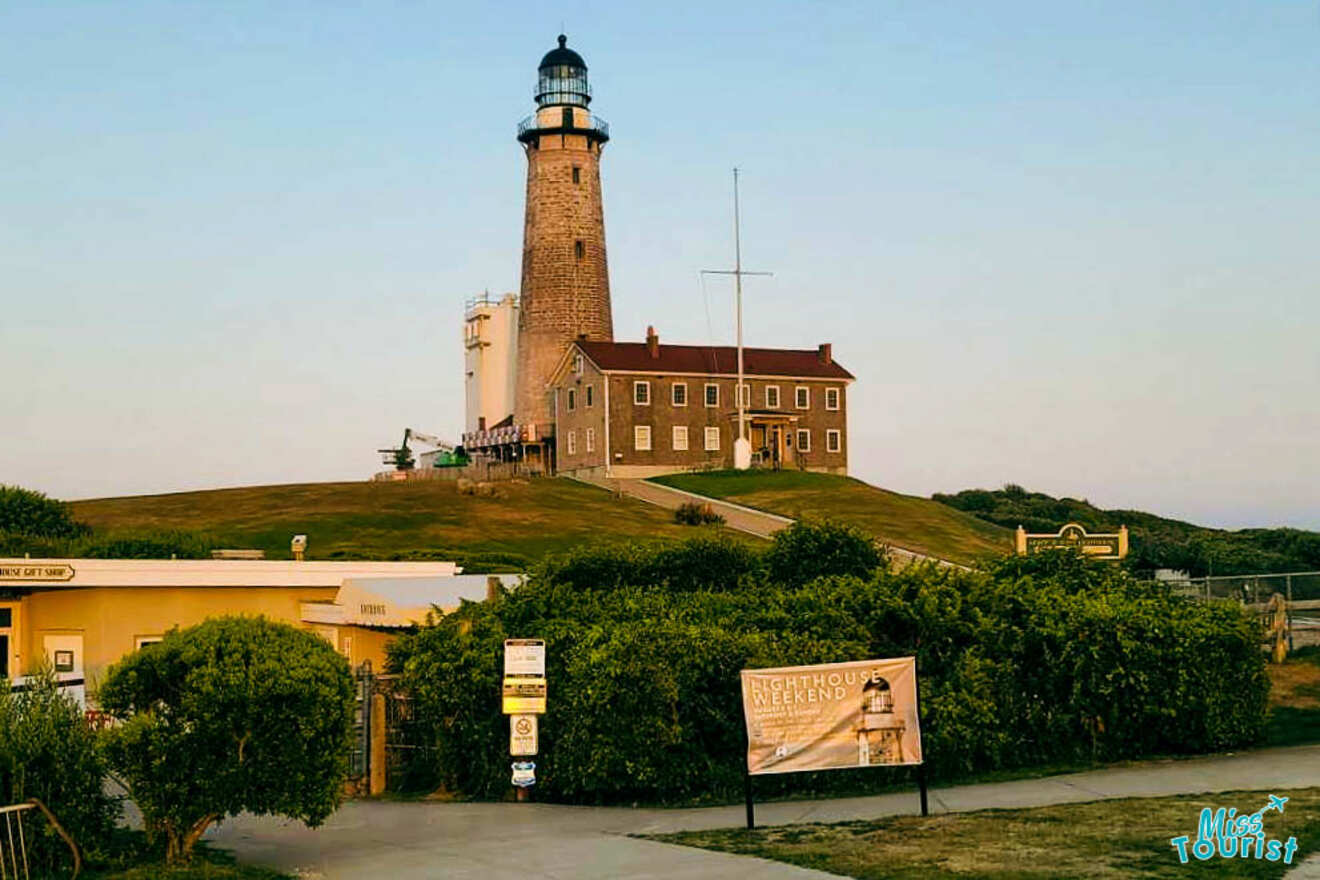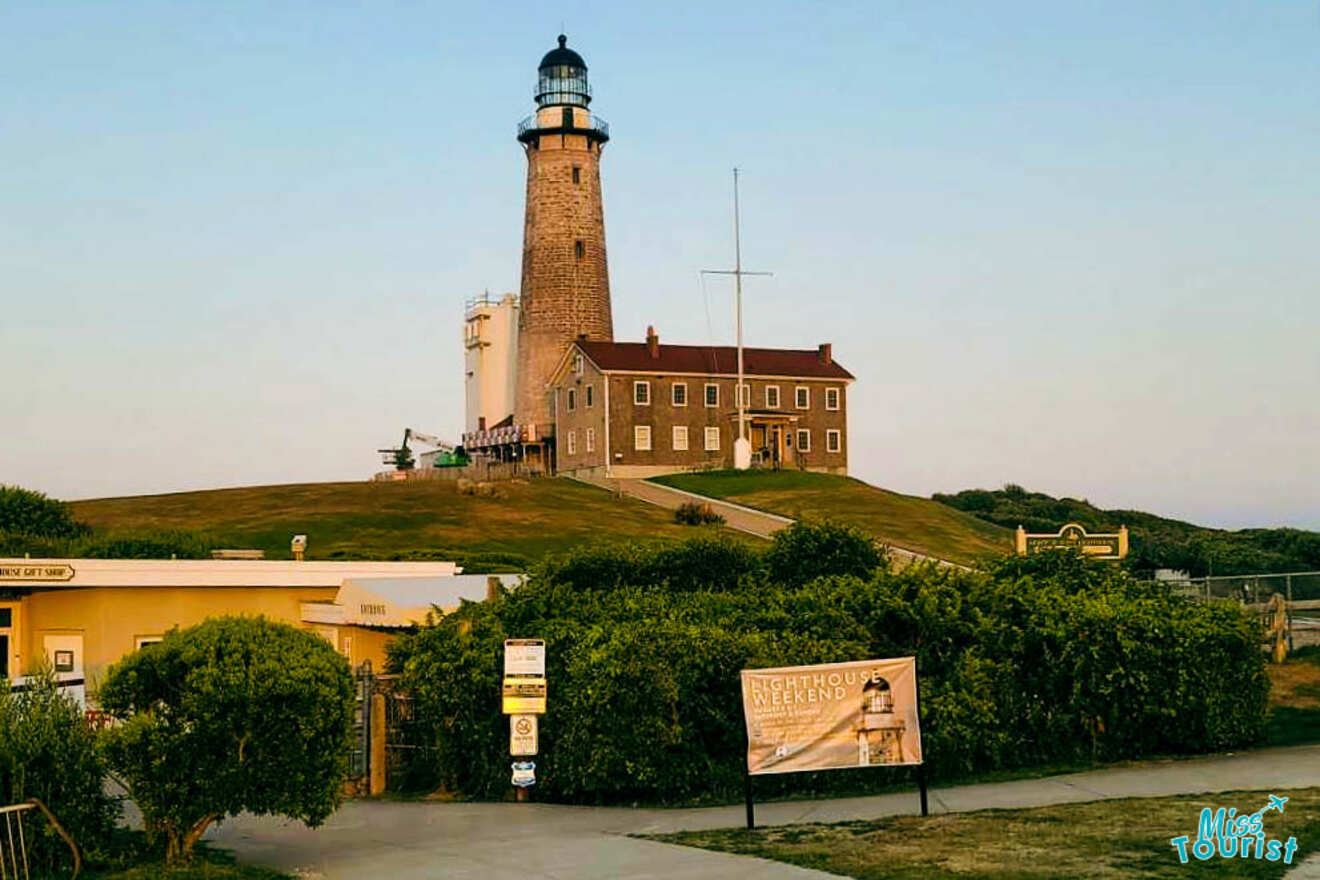 If you happen to be staying in Montauk in the Hamptons area, don't miss visiting the Montauk Point Lighthouse. It is just a 10-minute drive from The Plaza in Montauk, and it is a sight you just have to see.
If you want to go my way, then rent a bike or take one from the hotel you're staying at (yeah, I know, it's just so cool that Montauk hotels offer bikes to their guests) and bike your way to the Lighthouse.
When there, snap a picture on the swings overlooking the bay shore and ocean, then climb up to the top of the Lighthouse to see what I am talking about. There is a cute small terrace at the top, from where you will have an iconic view of the Long Island Sound, the Atlantic Ocean, and Camp Hero (see section #6).
For the history buffs, there is the museum where you can get all the information about Montauk's (marine) history, and for the beach lovers, there is a nearby beach to explore and take cool pictures from.
PRICE: US$13
Getting there: Located at the easternmost tip of Long Island, the Montauk Point Lighthouse is accessible by boat, car, or bike from Montauk Village.
20. Go whale watching on a Montauk cruise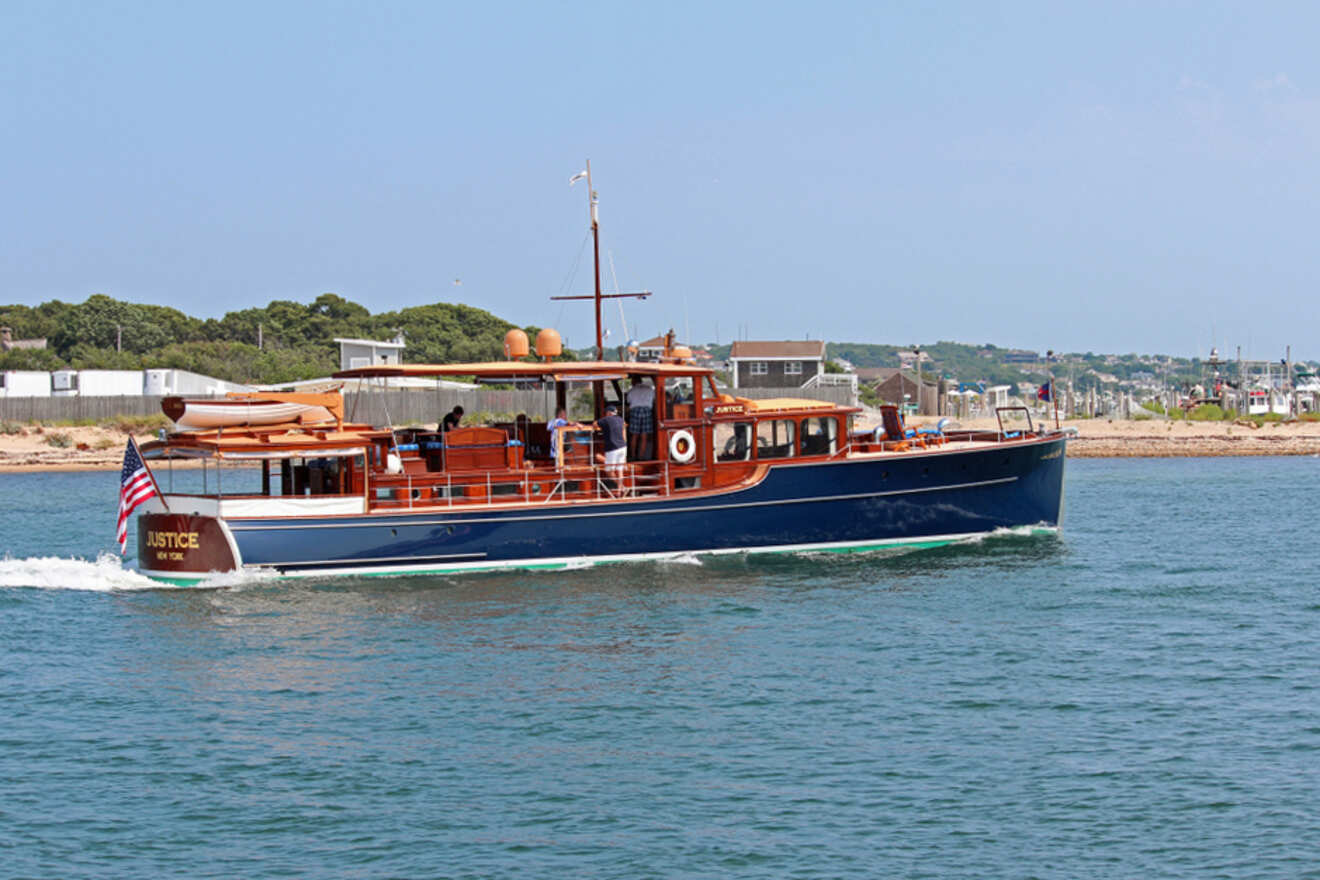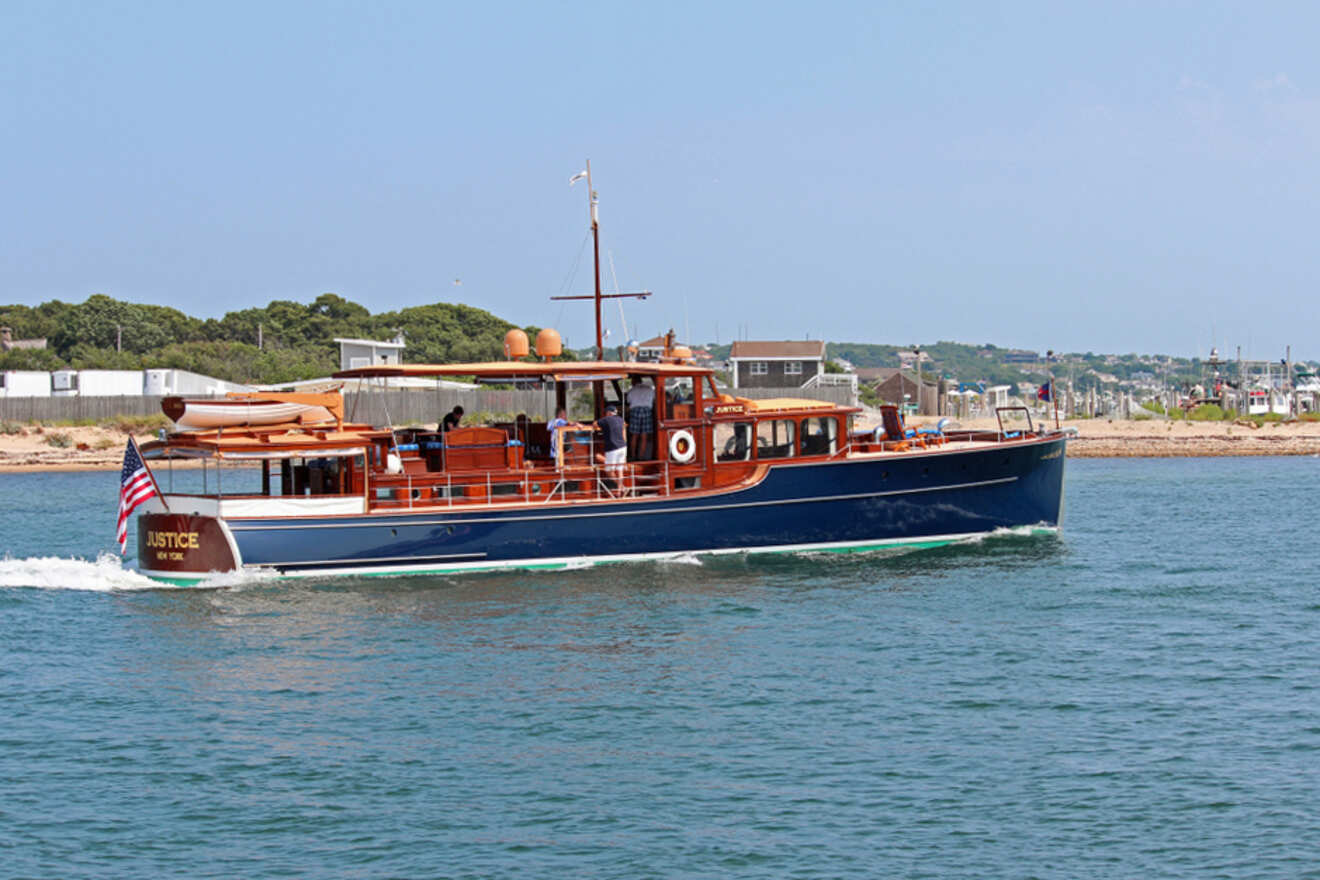 If you are planning on going to Montauk and don't go on a boat cruise, don't go at all. Seriously, Montauk is a fishing village, and you won't find a better cruise on Long Island than here. And since it is located at the easternmost point of Long Island (hence the nickname "the End"), most cruises sail directly to open waters, which means… whales, sharks, porpoises, sea turtles, and many other sea animals.
There are so many different boat tours you can take, but here are the 3 top ones for every taste:
Mon Tiki Catamarans – The eco-friendly Montauk-built Mon Tiki catamarans in traditional Polynesian design are the top choice for a romantic sunset cruise in Montauk. If you prefer day cruises, then put on your swimsuit and take advantage of the SUP paddle boards offered on board. Tours start at 2 hours and cost US$60 for adults, US$40 for kids under 12.
Easy Breeze Cruises – Want an exciting, child-free experience? The jump aboard Easy Breeze Cruises. Their cruises were made specifically for adults age 21+ and feature a full bar to get the party started! Whether you want to drink, sunbathe, or enjoy the sunset, there is a cruise for everyone. Prices start at US$25 per person.
Viking Fleet Whale Watching – want to go on a family adventure? Then explore the deep blue ocean waters past the Montauk Lighthouse with the Viking Fleet and CRESLI! A qualified marine biologist will provide you with all the fascinating facts about each animal you see, including whales, sharks, dolphins, turtles, sea birds, and more. Cost: US$80/adults, US$50 kids 5-12, free for kids 4 and under.
NOTE: All of these Montauk cruises are seasonal and usually run from April through October. However, make sure to check their official websites or call the companies to get the freshest info.
21. Deep dive with sharks on Long Island
Hey, adrenaline junkies, wanna go swimming with sharks? If yes, then Shark Dive Montauk has something for you.
Starting from June through September, the Sea Turtle Dive Charters take adventure-seeking tourists on a shipwreck and shark cage dive and free dive spearfishing in the deep blue waters of the Atlantic Ocean.
At a distance of 15-30 miles (25-50 km) south of Montauk, Long Island, you'll get to see the rich SeaWorld of blue and mako sharks, mahi-mahi, whales, tuna, ocean sunfish, porpoise, and so much more. Prices start at US$350.
If Montauk is too far from your location, then you can experience shark diving at the Long Island Aquarium as part of the Lost City of Atlantis Shark Exhibit. Diving experience is not needed, but children 12-17 must be accompanied by an adult. The price is US$215 + the aquarium admission fee.
22. Snap a picture at The Big Duck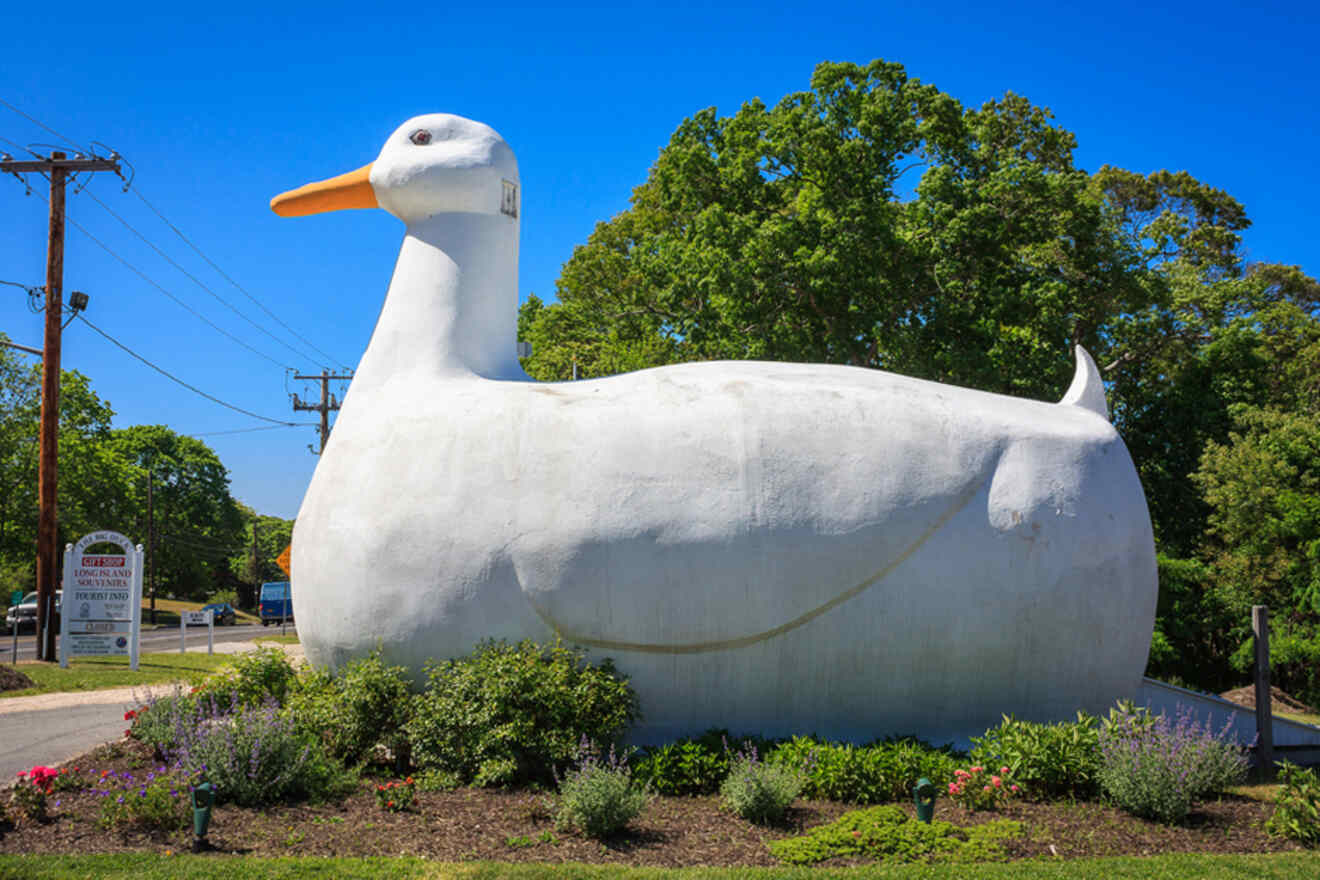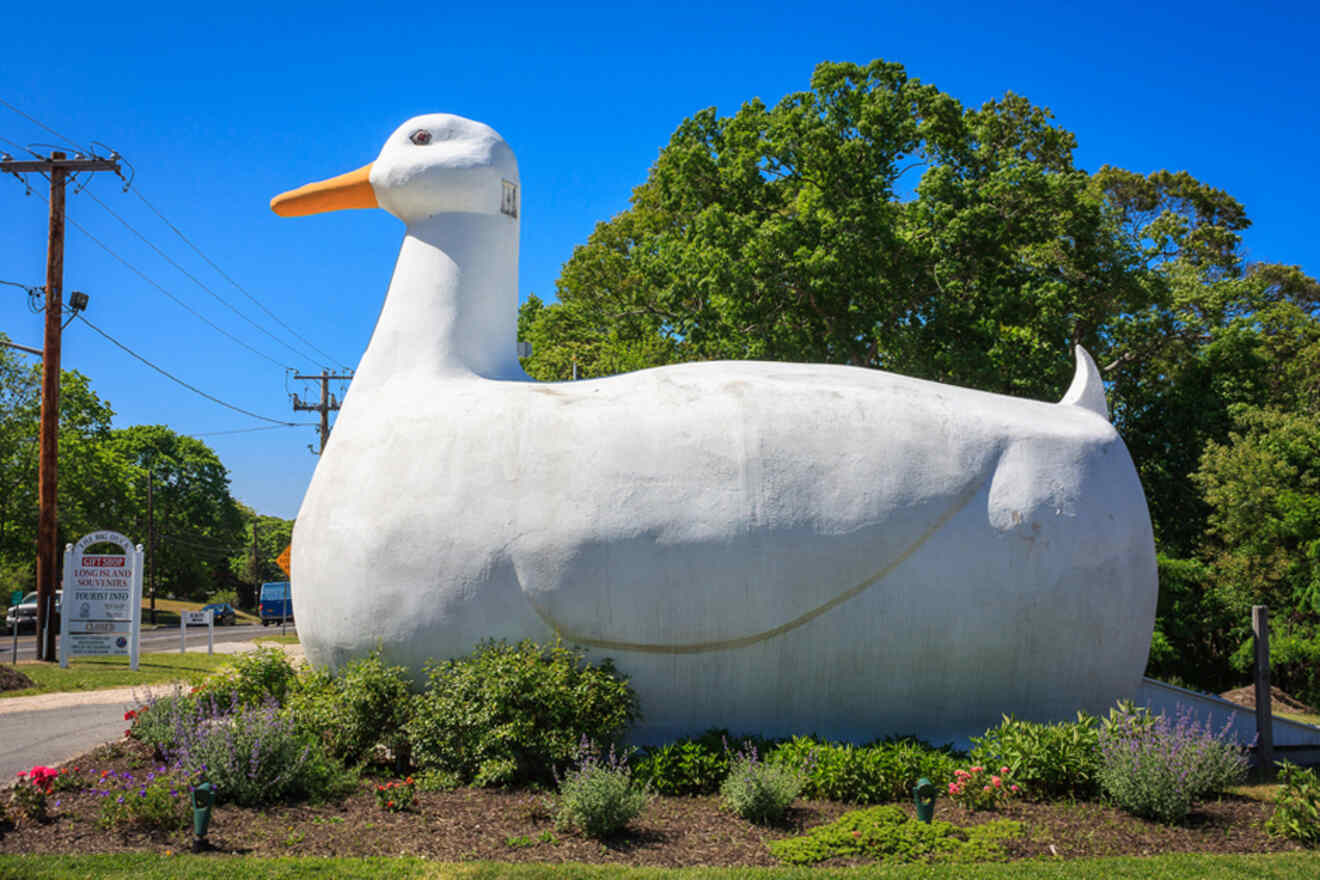 A list of Long Island attractions would not be complete without The Big Duck, located in Flanders, New York.
This extraordinary duck-shaped ferrocement building dates back to 1931 and was the vision of the duck farmer Martin Maurer, who used it as a shop where he used to sell ducks and duck eggs.
Today, The Big Duck is part of the National Register of Historic Places and serves as a gift shop and a visitor center. It is open year-round, but you should call (631-852-3377) to check the opening hours before visiting.
Bonus 1: Best things to do in Long Island with kids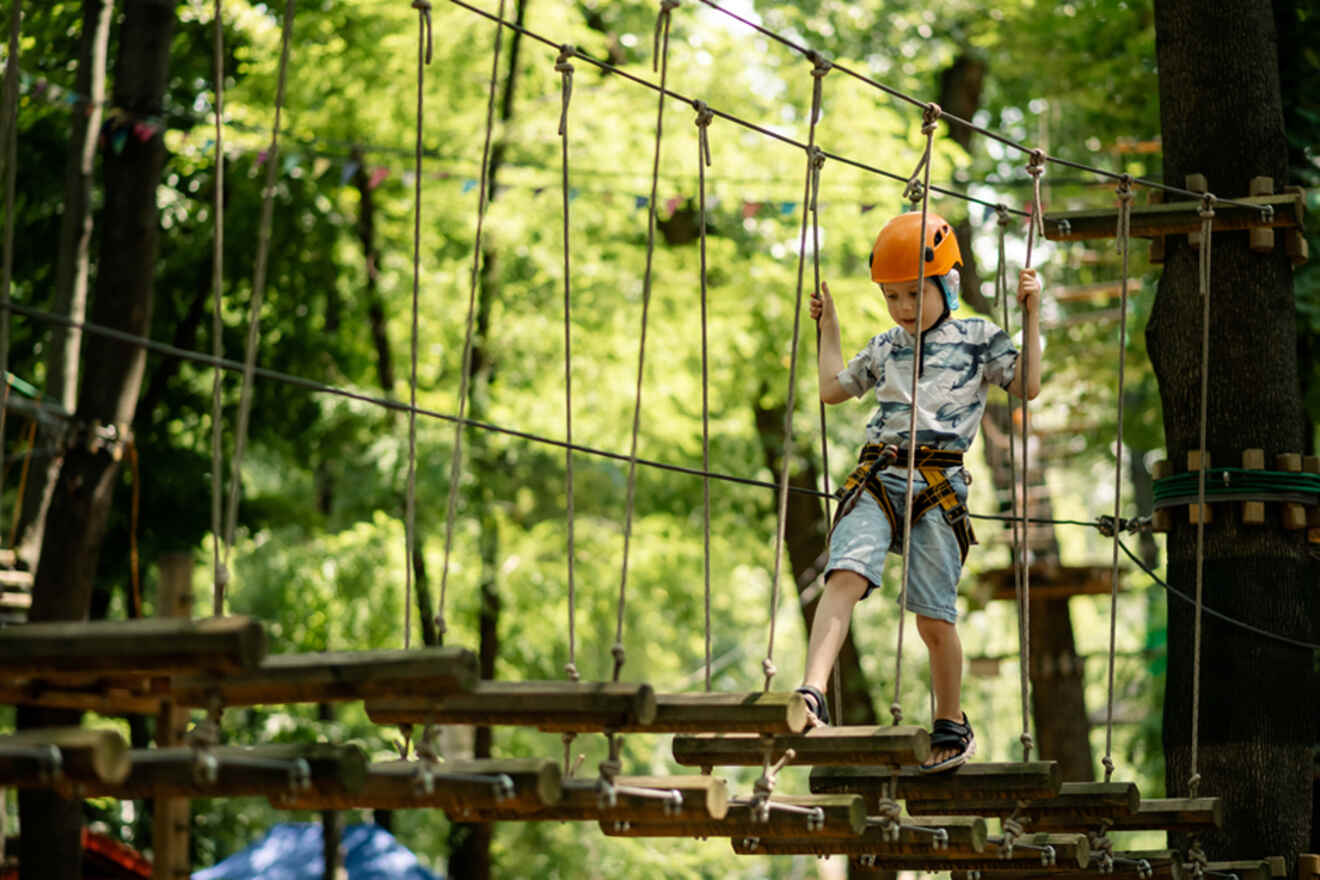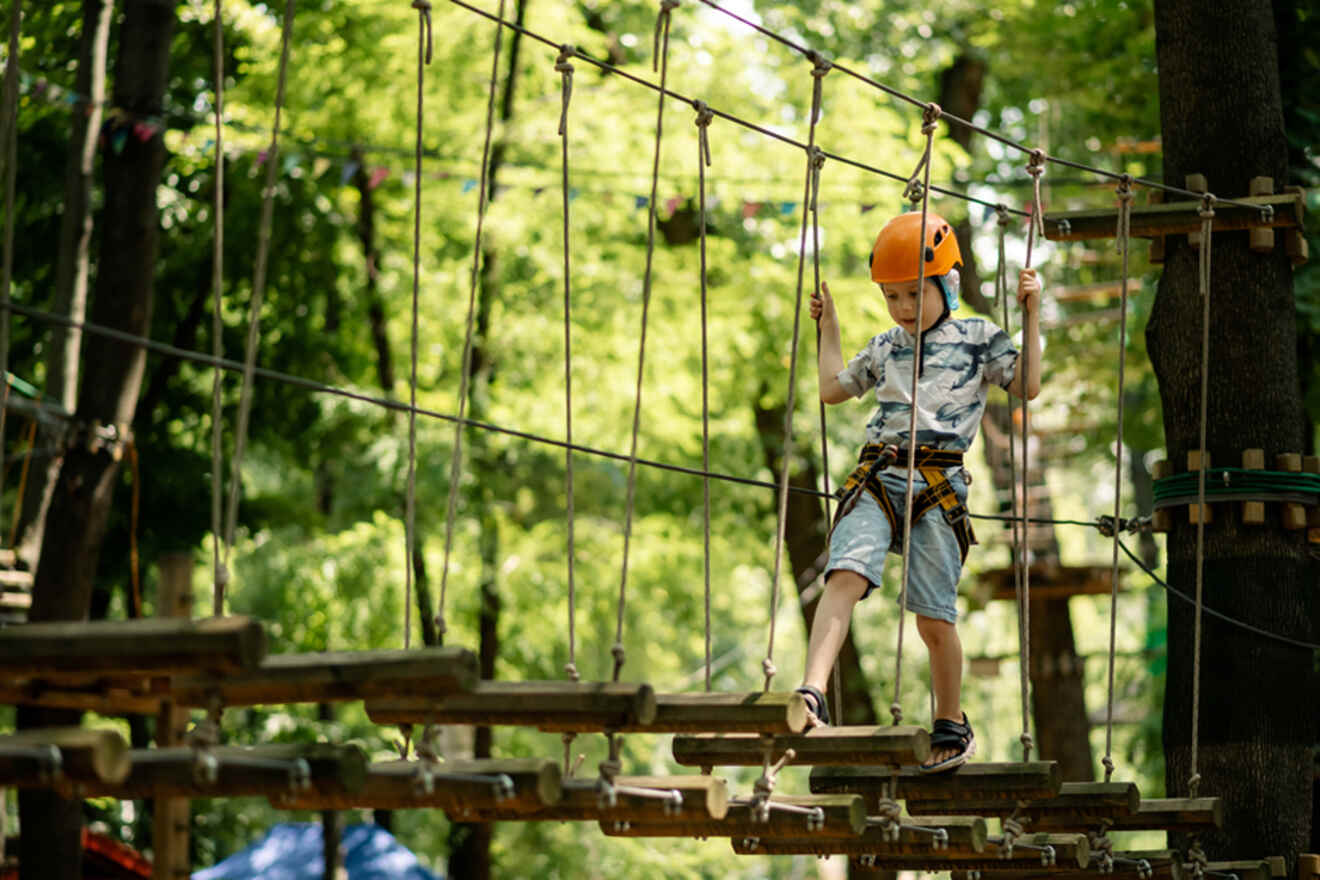 As a mother, I know how precious it is to go to places that are kid-friendly so I made sure to include a few things where the whole family can have fun!
Bonus 2: Top tours to take on Long Island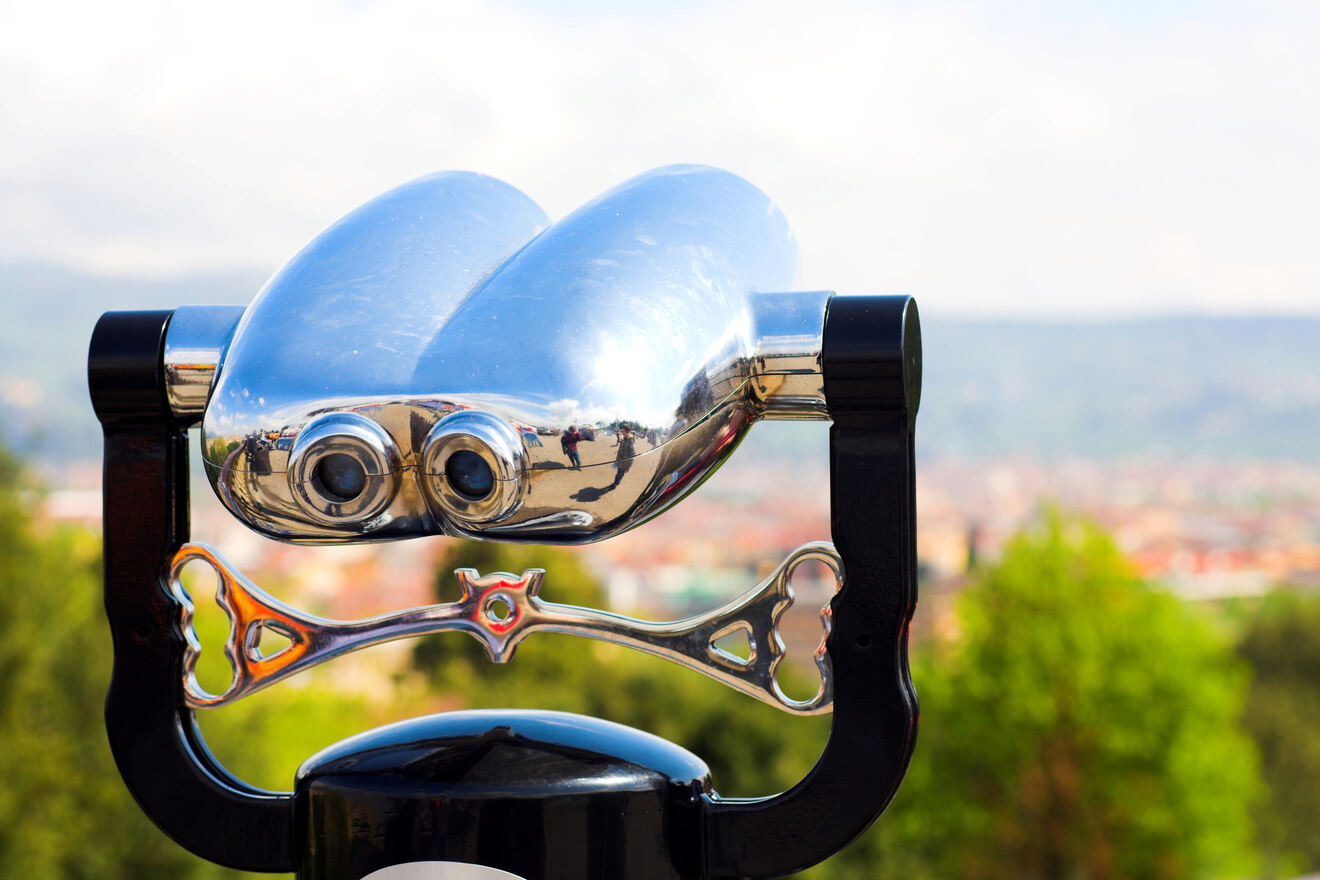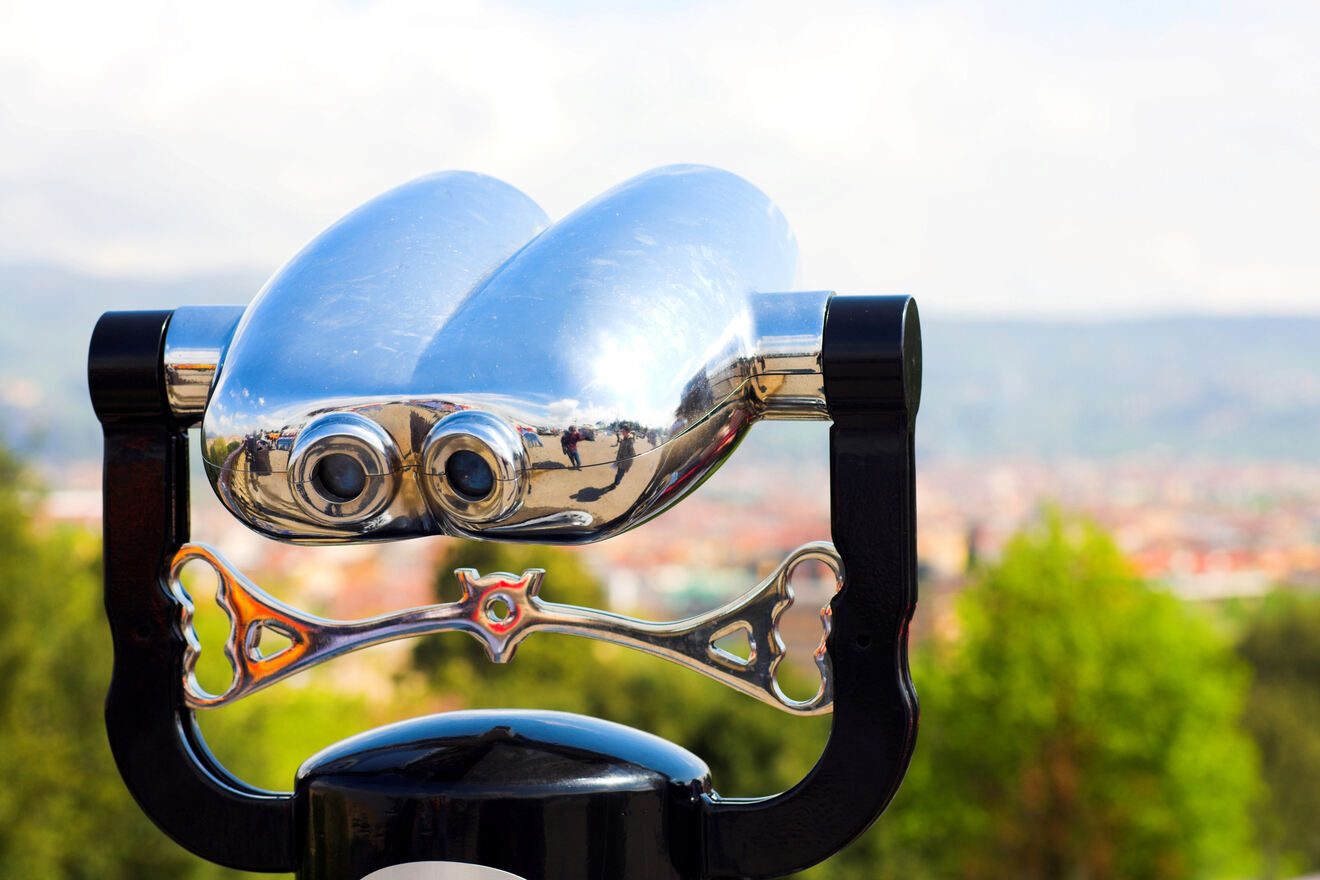 I haven't forgotten about the ones among you who like to fully relax and do not care at all about organizing things and tours when vacaying. So, here are your guided tour options:
Where to stay on Long Island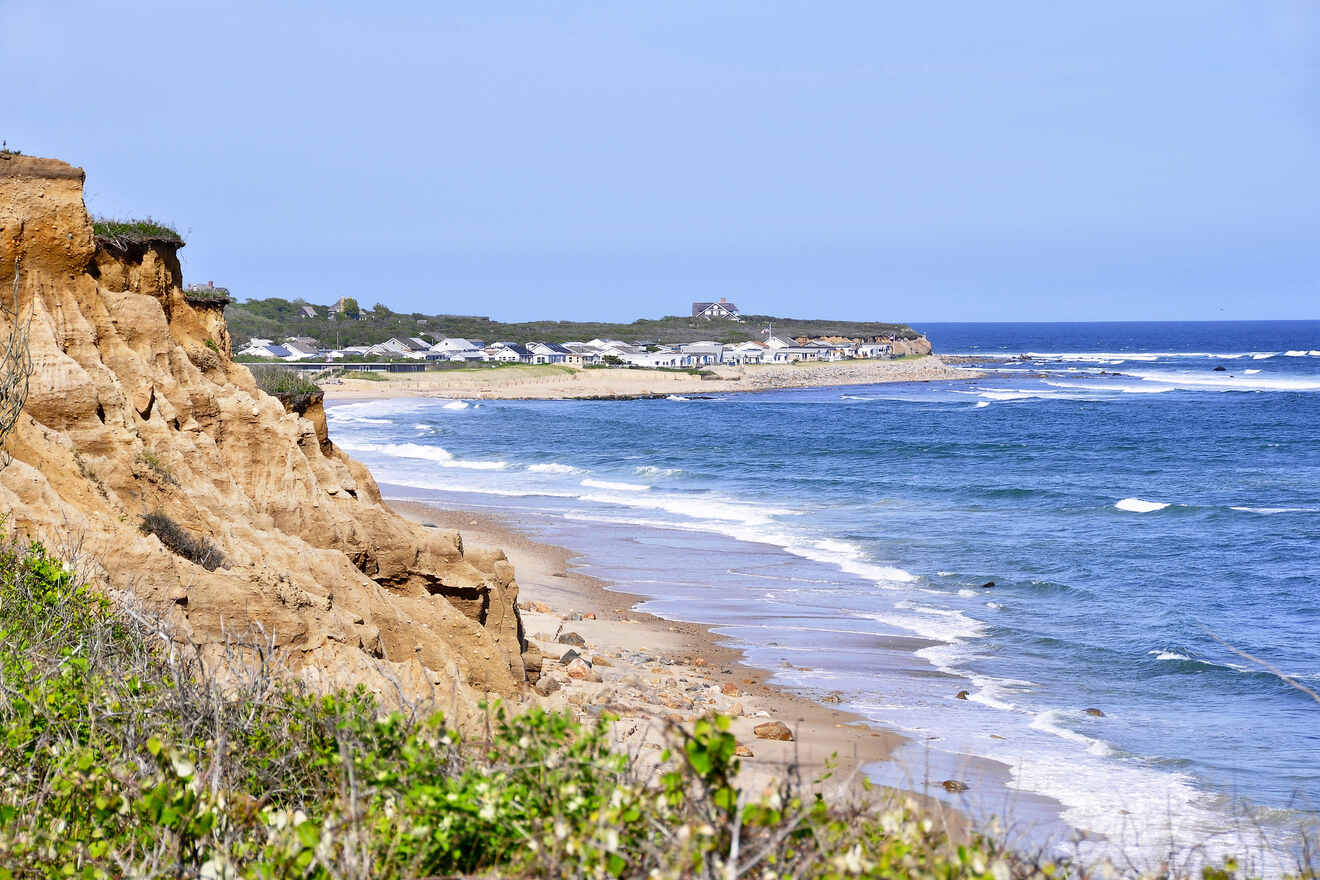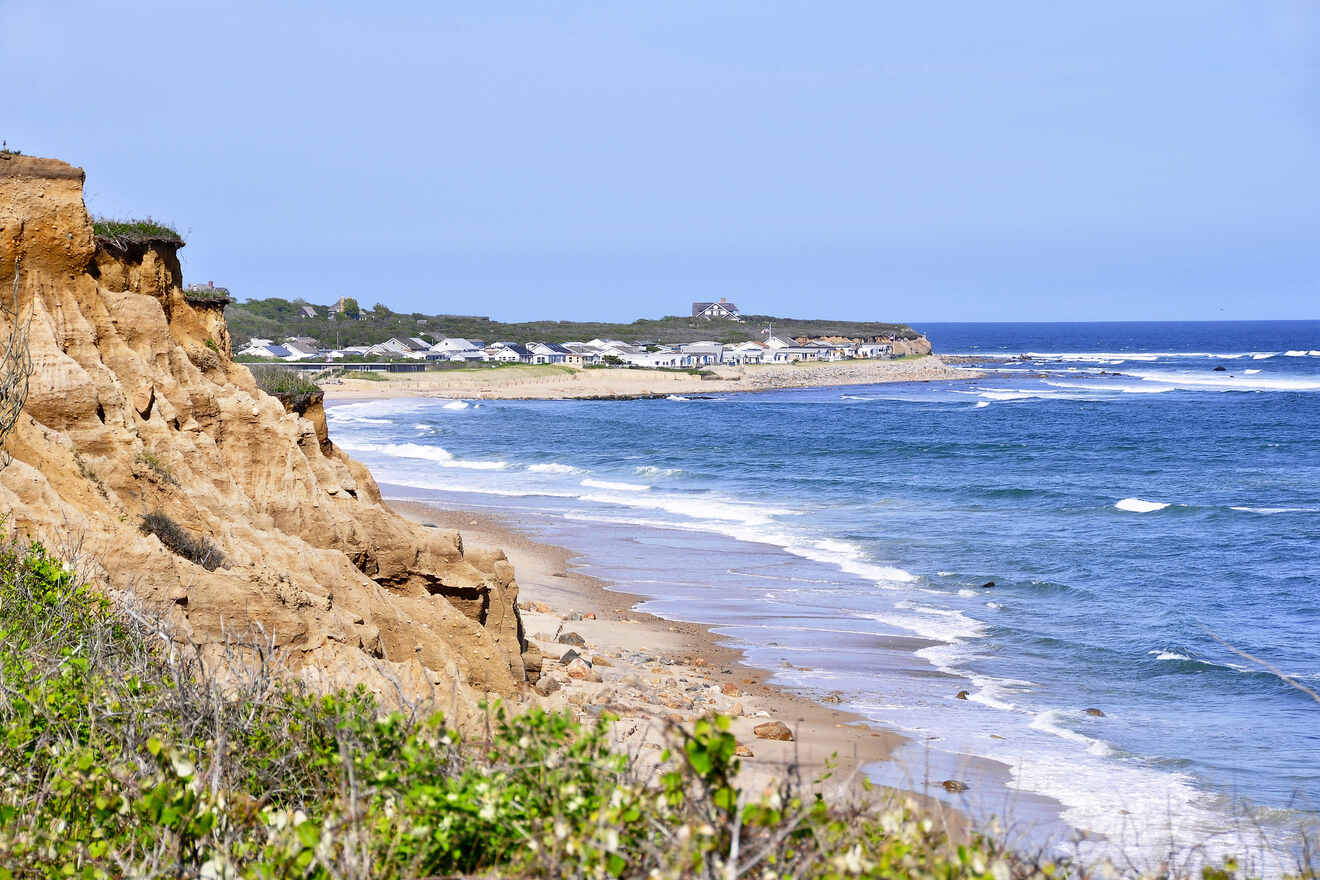 Since you are looking for things to do in Long Island, I thought that a list of the best places to stay may be helpful as well if you still haven't decided on the accommodation.
You should note, though, that Long Island hotels and resorts can be pretty expensive in summer (June-August), but even with these prices, the great hotels get booked out pretty fast. Therefore, I cannot stress enough how important it is to book a room a few months in advance!
NOTE: Long Island is pretty long (it wasn't named "Long" Island by chance), so I picked hotels near to at least one attraction on this list of things to do on Long Island.
Luxury (US$500 and up)
Aqua by American Beech – This Peconic Bay adults-only hotel is perfect for people who like to have the beach for themselves. The modern rooms have private baths, Wi-Fi, and everything you may need for a pleasant stay. Easy access to hiking trails and horseback riding.
Oheka Castle – If you want to feel like a royal in Huntington, then this is the hotel to stay at. The grandeur of Oheka Castle will leave you breathless. The elegant rooms & suites with Molton Brown products and Frette linens, the magical gardens, and the splendid fountains will make you feel as if you're in a dream.
Mid Range (US$300 – US$499)
Montauk Manor – If you want to stay "far from the madding crowd" of the beaches, then stay in Carl Fisher's "castle on a hill" in Montauk. This sophisticated Tudor hotel, has 140 condominium apartments, an outdoor pool, a restaurant, 3 tennis courts, and a ghost story 👻
Colonial Shores Resort – This Hampton Bays hotel is a 25 km drive from Splish Splash and is perfect for families who can use the outdoor pool, the garden, the terrace, and the kids' playground. The rooms are spacious, with a private bathroom and great amenities.
Budget (up to US$299)
Home2 Suites by Hilton – This Hilton hotel located in Yaphank is great for business travelers. It has free Wi-Fi, an ATM, a business center, a fitness center, and an indoor pool, perfect to relax after a long working day.
The Inn At Fox Hollow Hotel – If you are one of those people who don't want to budge, then come to this Woodbury hotel. You'll get elegant and comfy rooms with all the amenities needed, daily American breakfast, complimentary dinner, pool, gardens, and an on-site bar.
Practical Information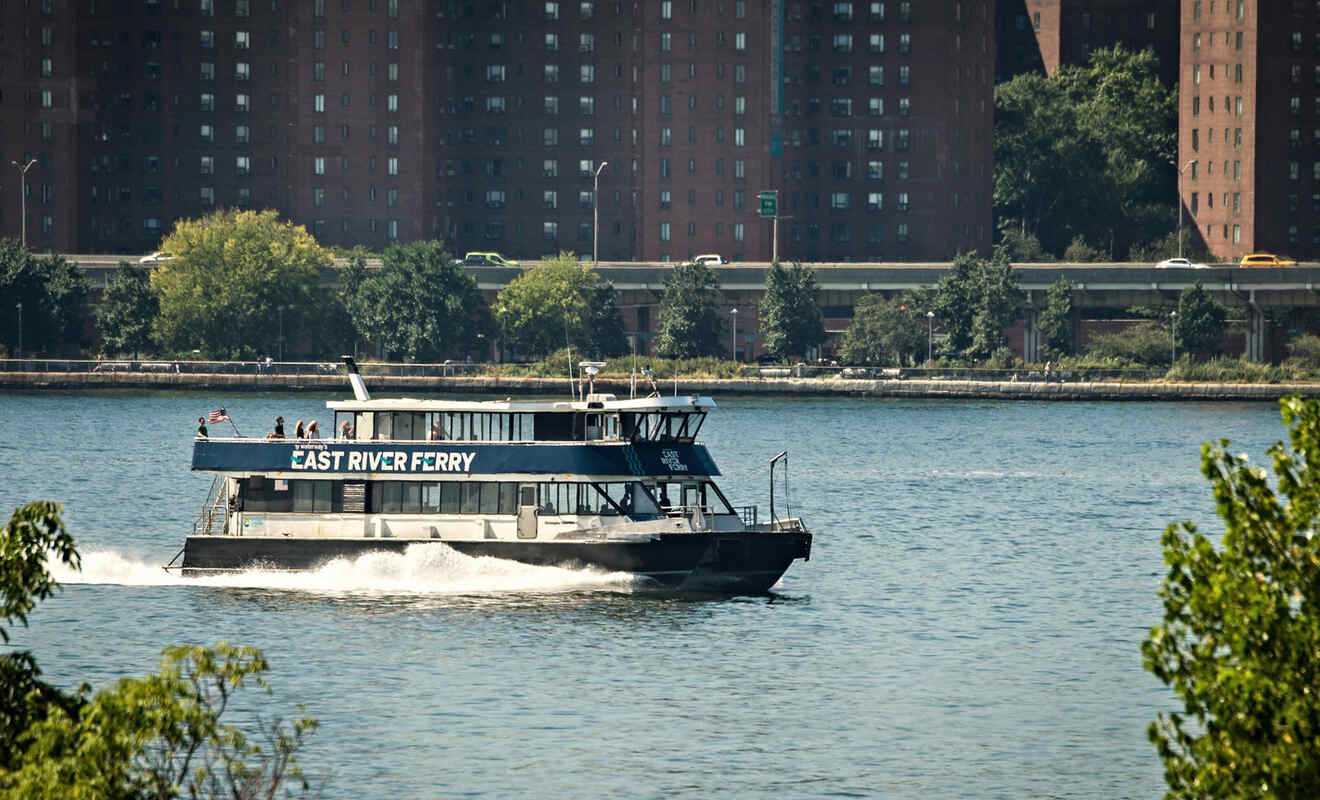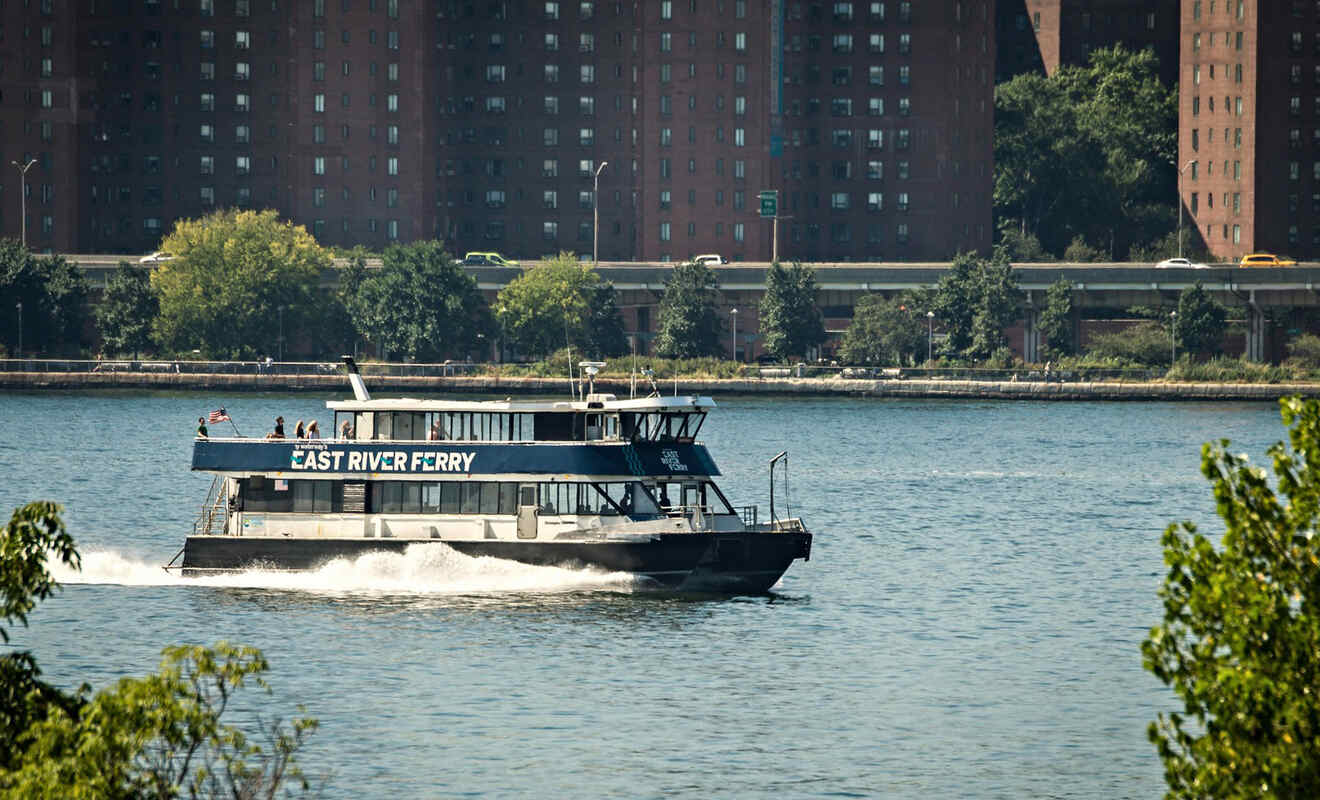 For those of you who are visiting Long Island for the first time, you may be overwhelmed by reading about all those counties, villages, and things to see on Long Island. I've walked in your shoes, which is why I prepared this section of practical information to make your trip less stressful.
How to get around Long Island
For most of you, the starting point of your destination will be New York City or the nearby airports, which is actually great because they are well-connected to Long Island, giving you a good choice of transportation means and stops. However, renting a car is still the best option by far, so keep reading to find out why.
Car Rentals
Renting a car is by far the best means of travel on Long Island. Even though public transport is neat and well-connected on the whole island, you should still know that there is also wait time wasted between transfers, which you don't have when traveling by car.
Another thing is that you will always have to consider the time of the last bus/train departure, the transfer, and a hotel for a stay-over in case you miss the bus.
If you can afford it, I advise you to take advantage of the car rental services.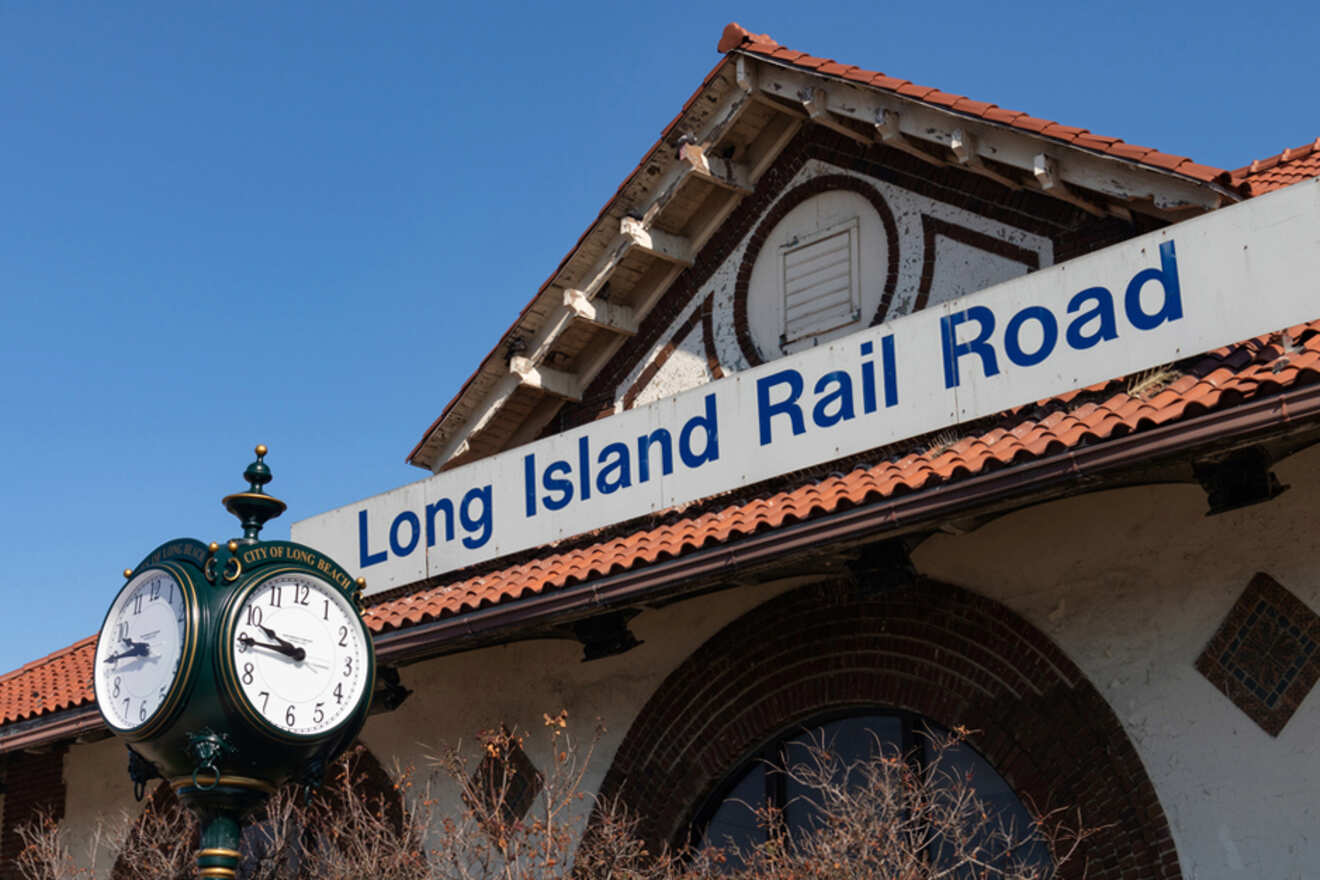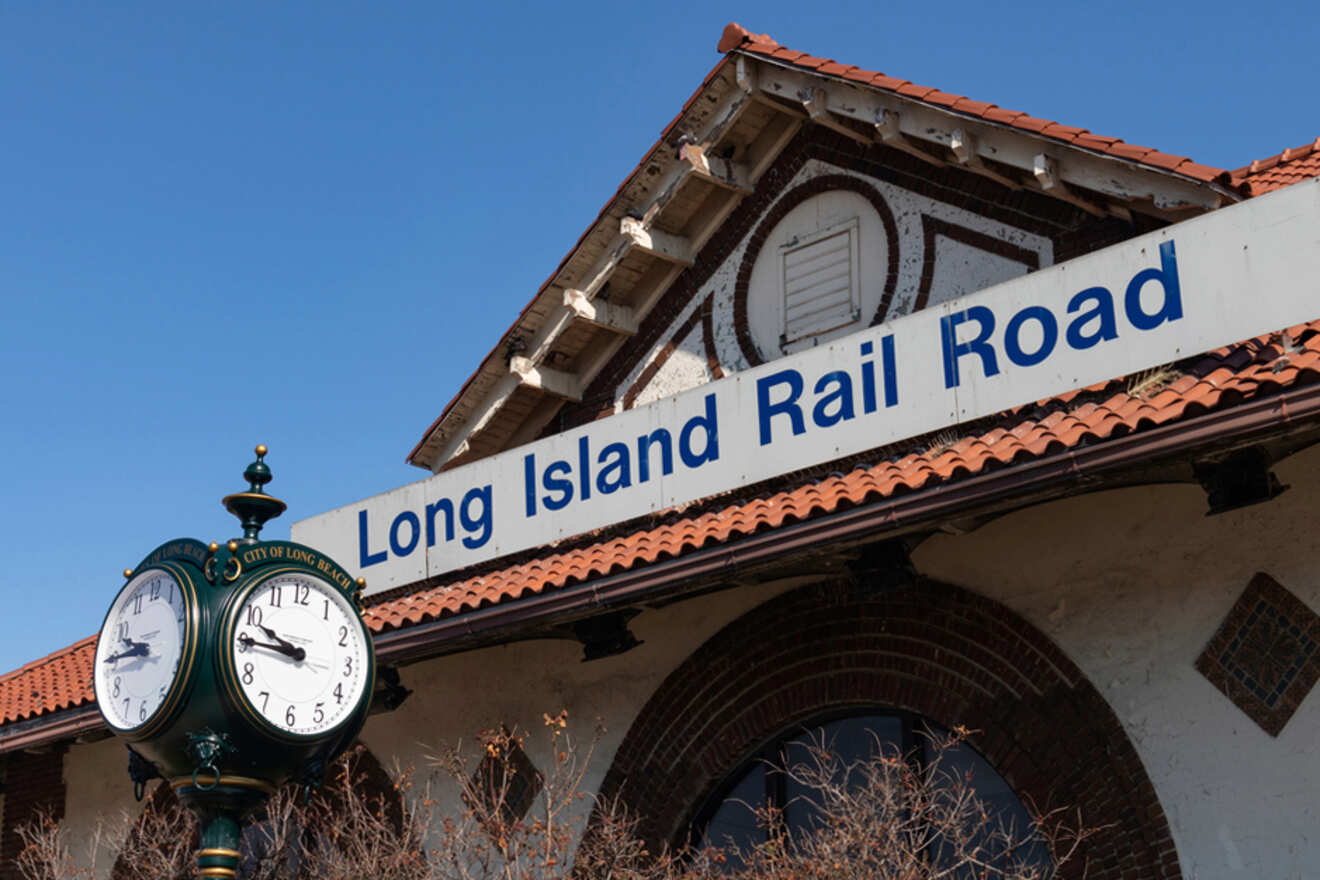 Public Transport
Long Island Railroad (LIRR/MTA) – the LIRR train is very convenient, and widely used by everyone to travel from NYC to the easternmost destination of the South Fork of Long Island, which is in Montauk, or to Greenport, which is the easternmost destination of Long Island's North Fork.

You will probably need to transfer at some train stops along the way, and sometimes if a train is late, the next connected train on the route will wait for it to arrive, but the grace time is around 5 minutes, so you will have to be quick, or you'll miss your train. There will be a next one, of course, but you may have to wait a few hours, which depending on the station, is not very convenient.

Long story short, check out this page to find out everything for your route, from starting point, approximate travel times, transfers, fares, and more.

NOTE: JFK Airport is connected to Jamaica and Howard Beach station by AirTrain. So, take the AirTrain JFK to one of these stations, then head out to your Long Island destination. The fee is US$8, and you can only pay by MetroCard.

Get a MetroCard from
● Hudson Newsstands at Terminal 4, Terminal 7, and Terminal 8
● AirTrain Howard Beach and Jamaica Station's ticket vending machines and MetroNews stands
● Any MTA Subway station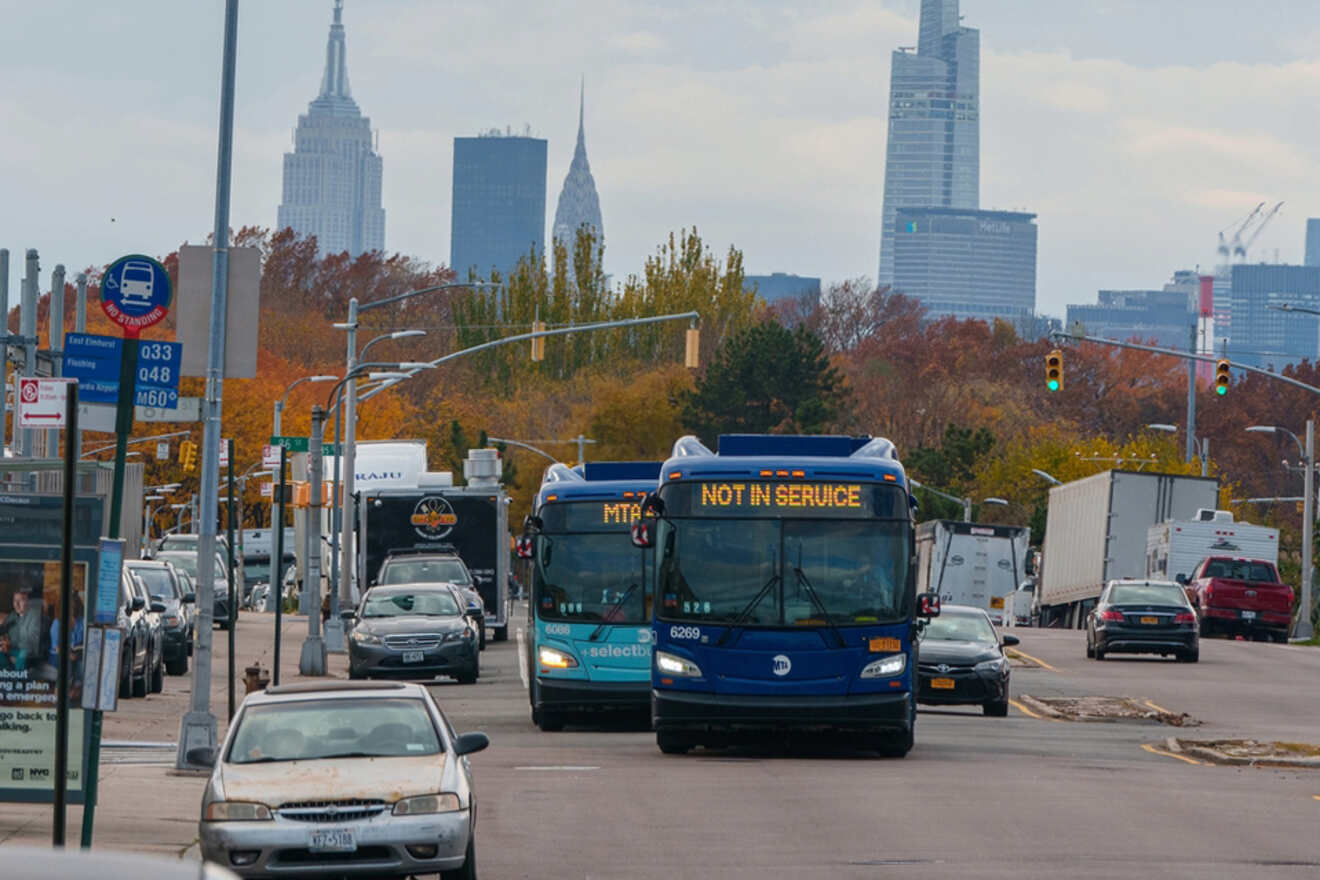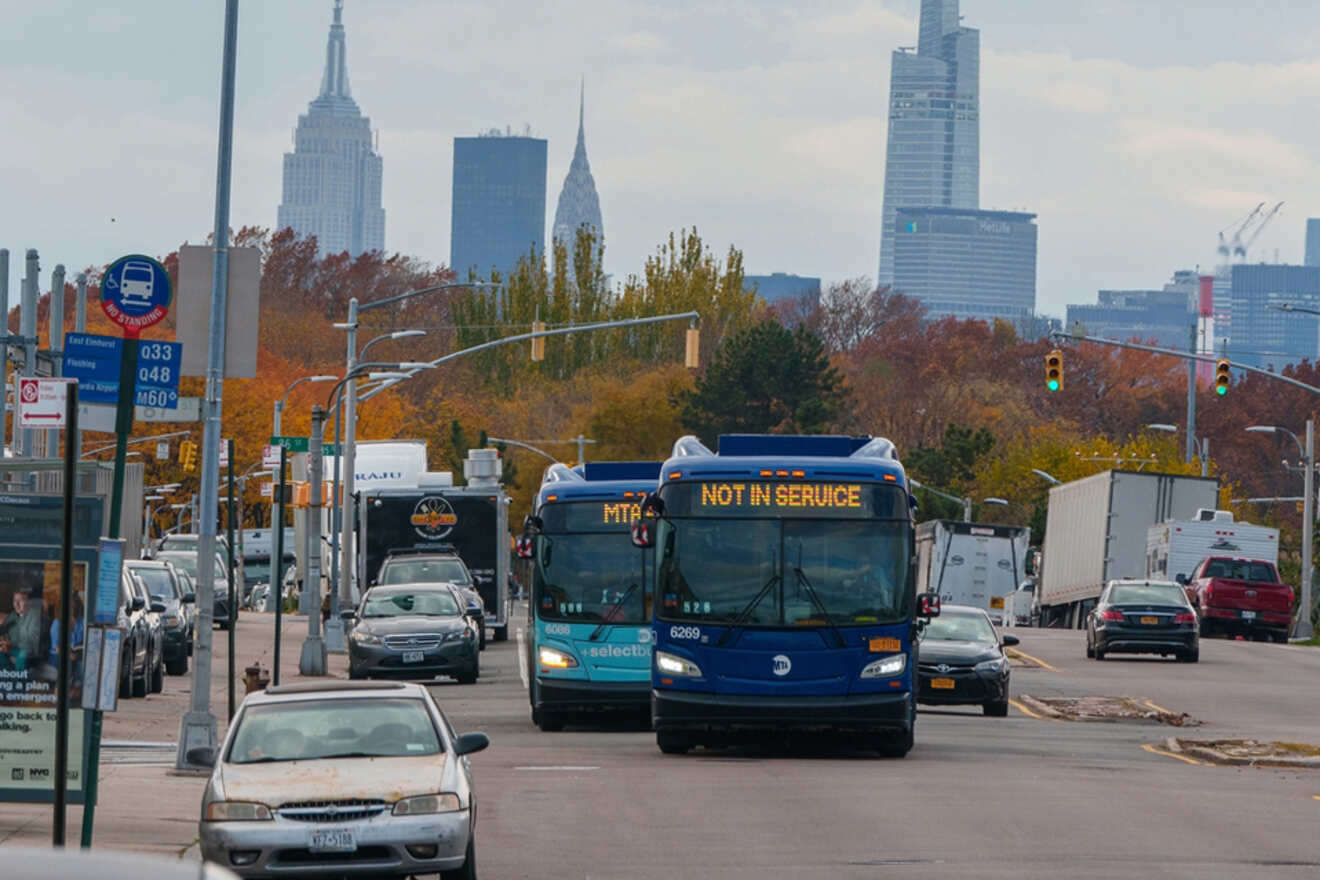 Public buses – There are 2 bus companies (Suffolk County Transit and Nassau Inter-County Express) operating on Long Island, which can take you pretty much anywhere on the island, though you may have to switch buses

The Suffolk County Transit bus ticket costs around US$2 one-way, and you can buy it on the bus. Nassau Inter-County Express (NICE) bus ticket costs US$2.75 for adults, and US$2.25 for children.

Depending on your location, there may be other town-specific buses, and you can find information about these at your hotel or at the closest Visitors Center.
Private bus company – Hampton Jitney
This is a bus company that operates all over Long Island and is the one I'd recommend taking if you're visiting Long Island for the first time and you're not confident about public transport.
You should buy your ticket beforehand from their official website. Just choose your pickup and dropoff location and the date of travel to get all the latest information about the trip, the fare, and your reservation.
Taxis/Ride Sharing
There are taxis and ride-sharing services everywhere on Long Island, just ask your hotel to give you the number of a local taxi. However, if you are in Montauk, for example, having a taxi all for yourself may be pretty expensive, and is not something I'd advise you to go for.
Instead, you can share the taxi (and that's how they usually operate) with other people who have also booked and are going in your direction, thus paying around US$5 per person. Just ask when you call.
NOTE: Uber is not available all over Long Island, but is only available from the Long Island airport to certain destinations.
P.S.: Tipping the taxi driver is recommended 🙂
Airport Shuttle
Most of the hotels on Long Island, especially the luxurious ones, offer a shuttle service to their guests.
FAQs about things to do in Long Island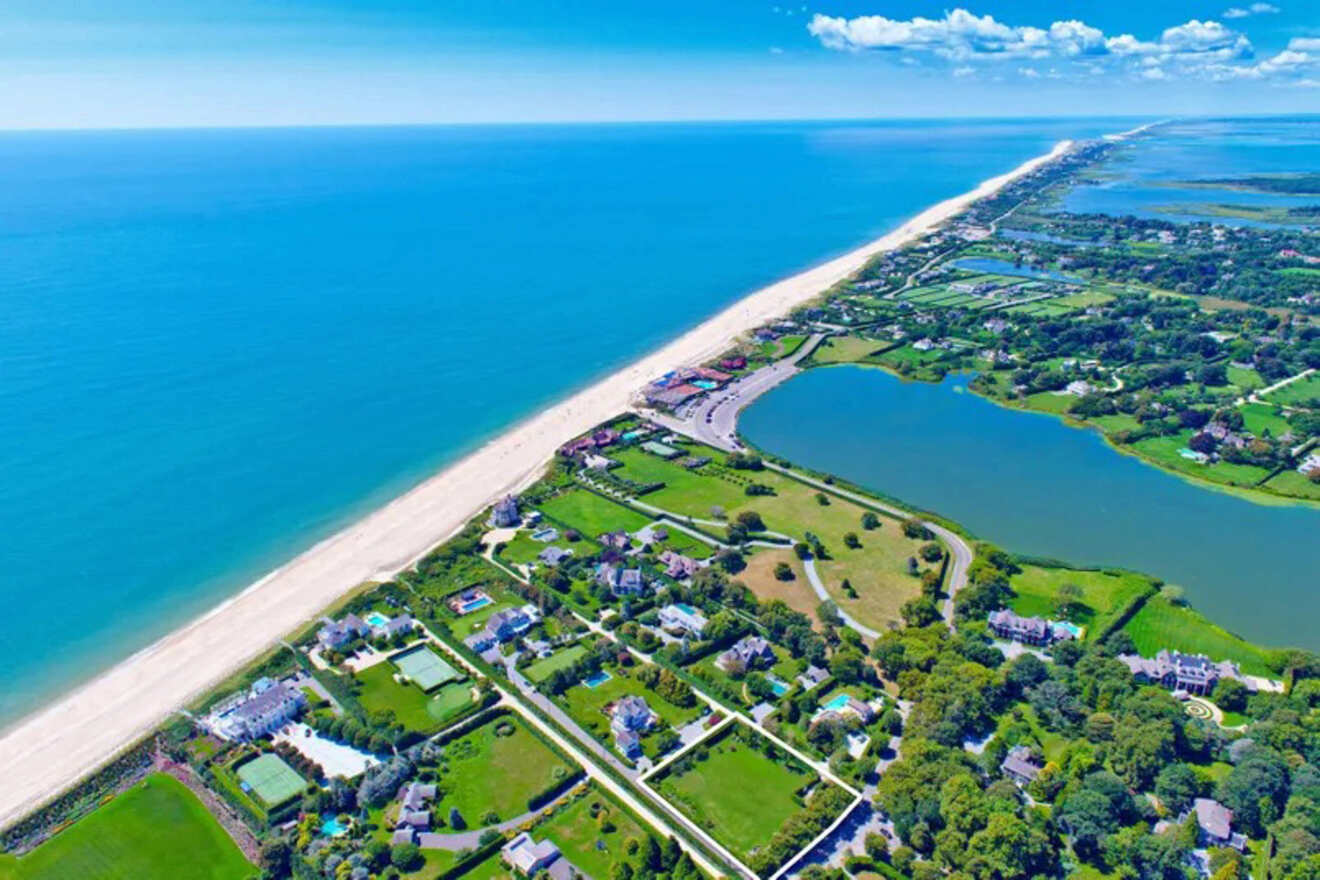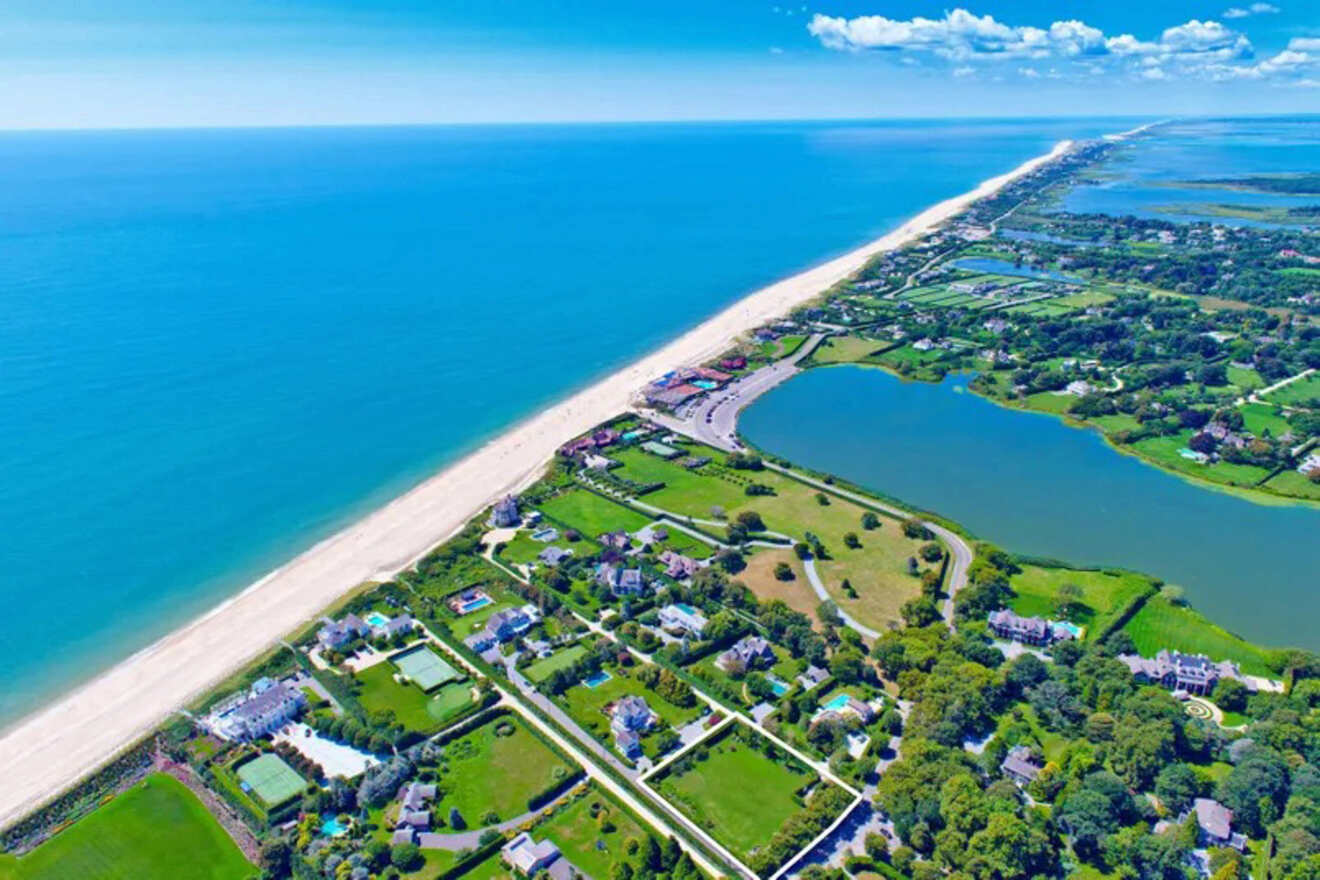 🧭 What is there to do on the East End of Long Island?
🎨 What is unique to Long Island?
The variety of Long Island is what makes it so unique along with the beaches, parks, and vineyards.
🏄‍♀️ Where is the nicest place in Long Island?
Montauk is the nicest place on Long Island, in my opinion. It is a safe and peaceful village that is perfect both for families with kids, and young people who like to party from dusk till dawn.
🌞 How can I spend my day on Long Island?
Depending on where you stay on Long Island, you can spend your day at the beach, exploring the nearby state parks on a bike, or enjoying lunch with a view in the oceanfront restaurants.
❄️ What are some fun things to do on Long Island in winter?
Conclusion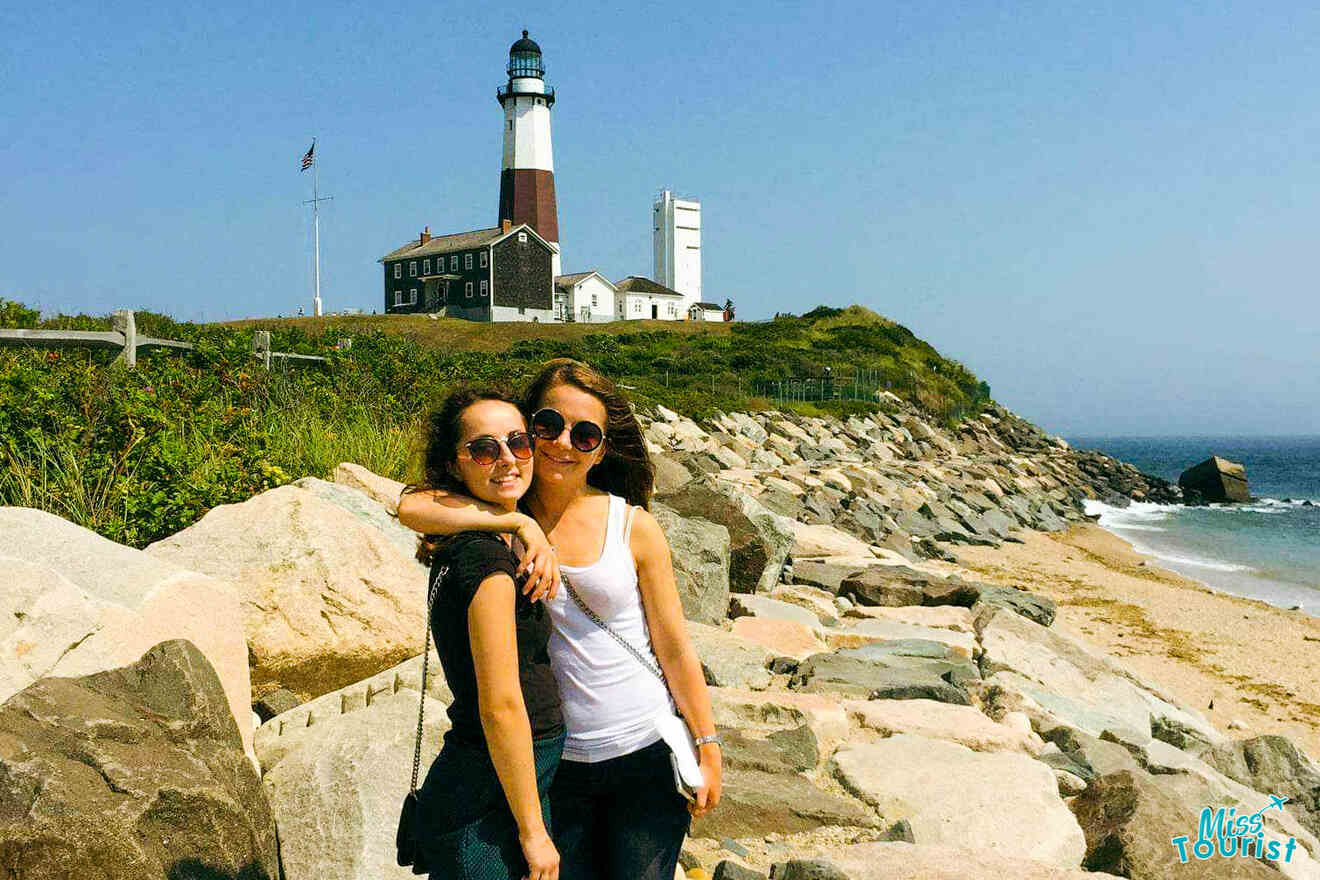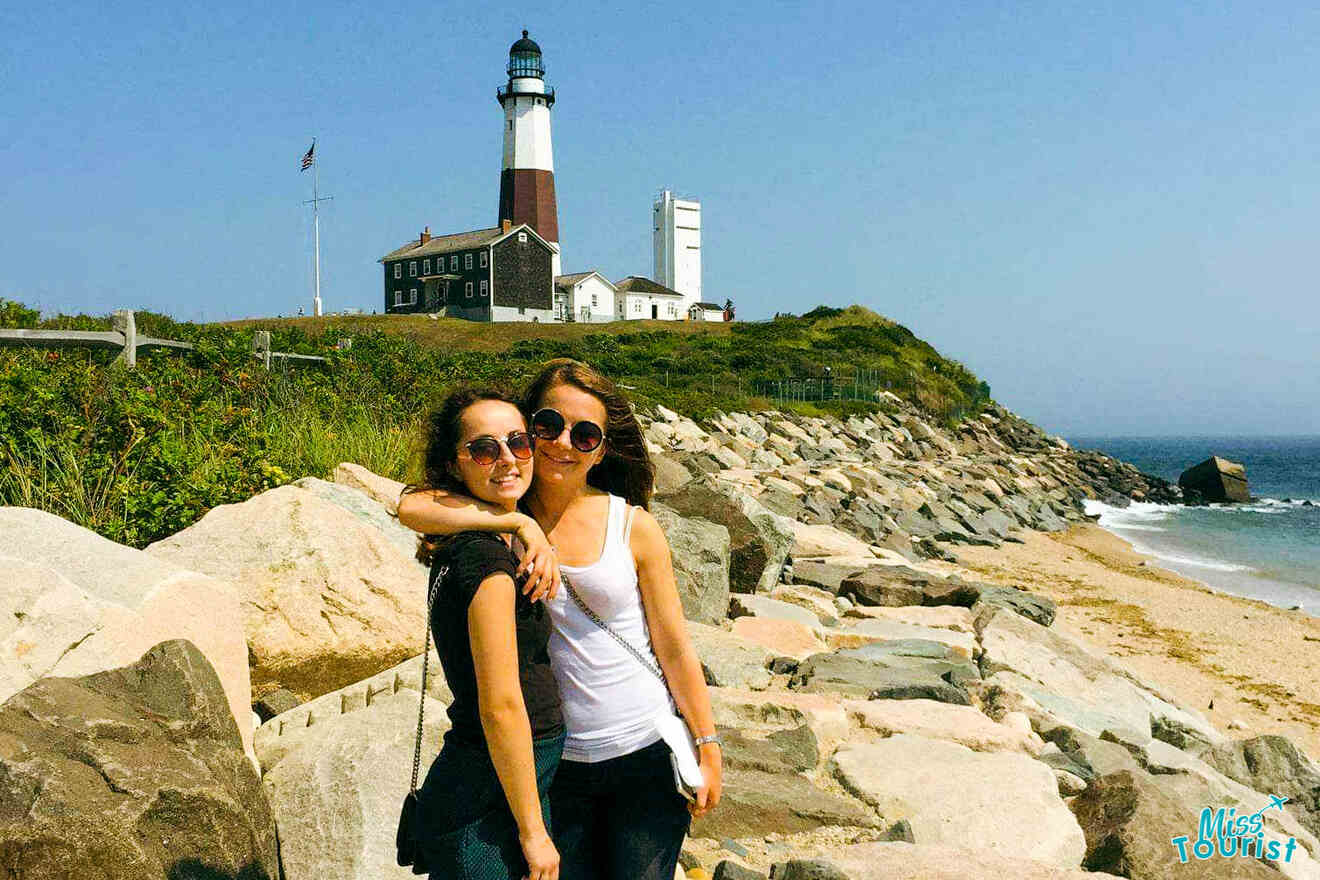 Okay, I think that by now, you know that I absolutely adore Long Island! It has literally every single thing that I love: hotels, beaches, gardens, tasty (sea) food, great people, and lavender. So I'm pretty sure you were able to find at least 3 good things to do in Long Island on this list.
In case you haven't, here are the 2 I'd highly recommend:
On a final note, I have to remind you that most of the hotels and attractions on Long Island are seasonally open (April-September) and you have to act fast and book your spot before it's too late.
Like what you read? Then drop me a comment below, as I can't wait to read them all!
Safe travels,
Beti
---
Pin it for later!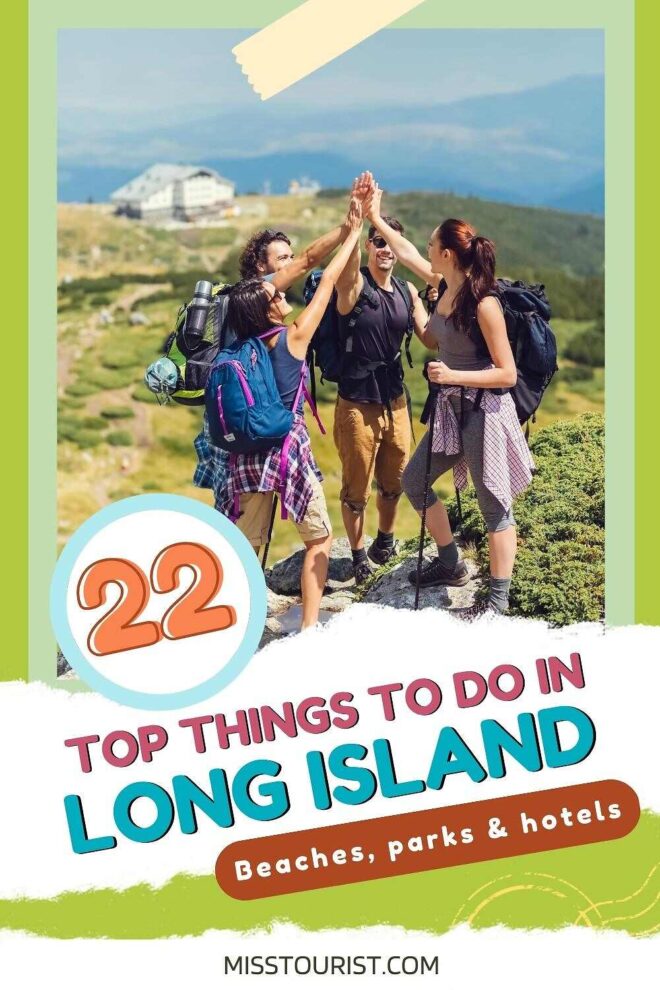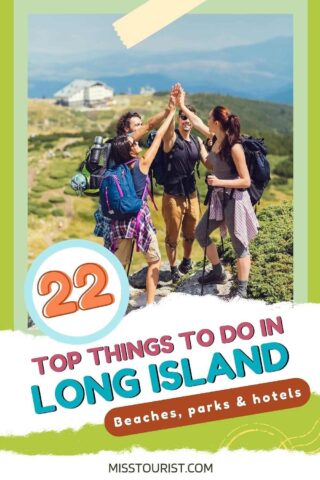 Pin it for later!