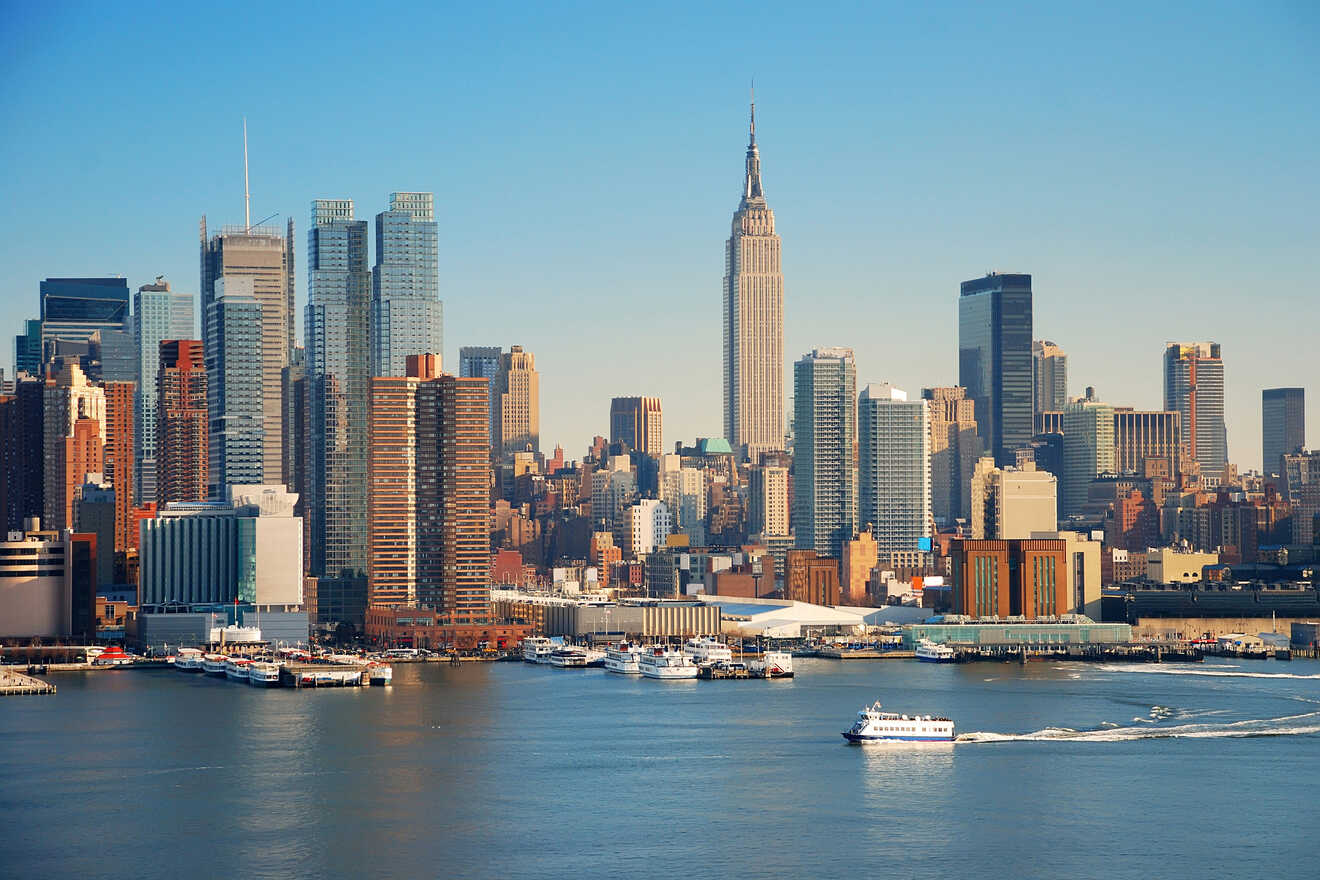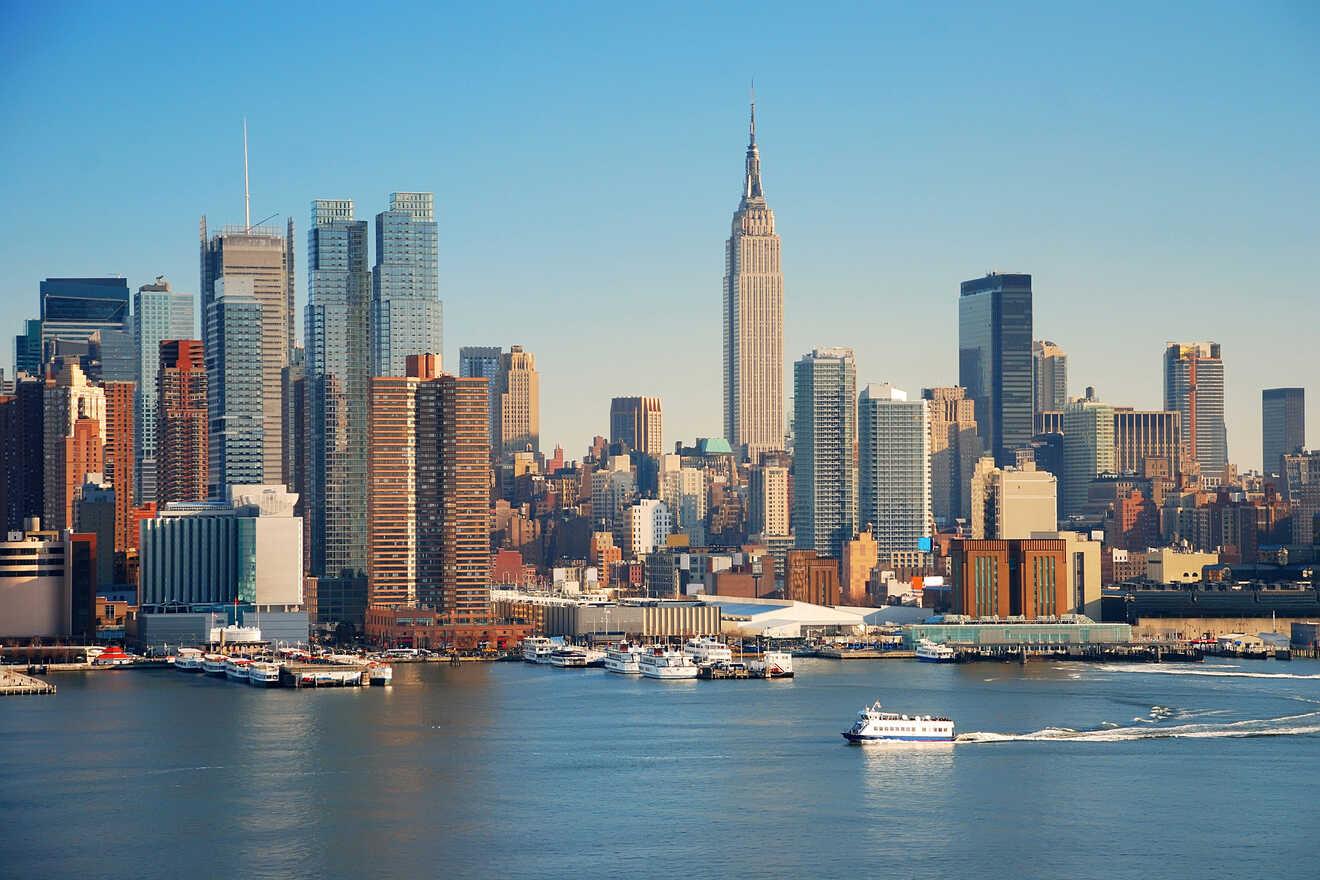 It's hard to do New York justice using only words! This cultural, historical heart of America where celebrities roam the streets and you can get pretty much anything you wish for at any hour, has become a dream destination for many travelers over the years!
We all love the Big Apple, its art scene, the restaurants, and let's not forget about the stunning hotels! It can be hard to choose a place to stay in New York, as there are so many things to consider and of course, you want a special hotel in this very special city. Fear not, I'm here to help you make the best choice, that's why I made a list of the best boutique hotels in NYC for you, listed from most to least expensive.
Industrial-chic and art deco design, open-air bars, and spa services, you'll find all that you've ever wished for here! But since it's the city that never sleeps, I recommend booking in advance, that way you can make the best decision for yourself since all the hotels often sell out in a minute. After all, the city is one of the most visited places in the world!
Let's go, we've got so many things to see!
If you are in a hurry
If you want to book now, quickly browse this list with the best cool and boutique hotels in NYC
Here's a map that will help you visualize all the boutique hotels in NYC that I will be talking about in this post:
Luxury (US$650 and up)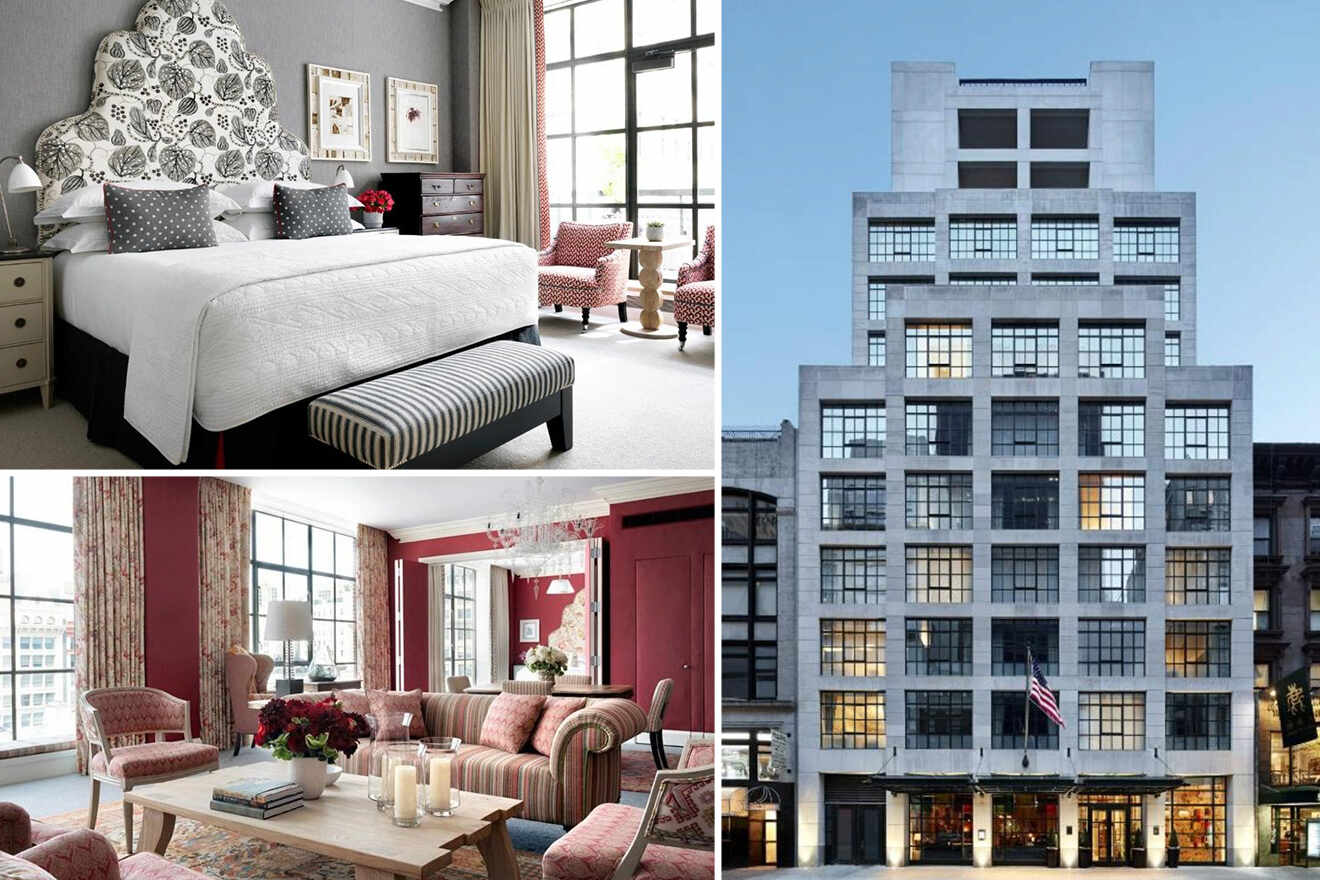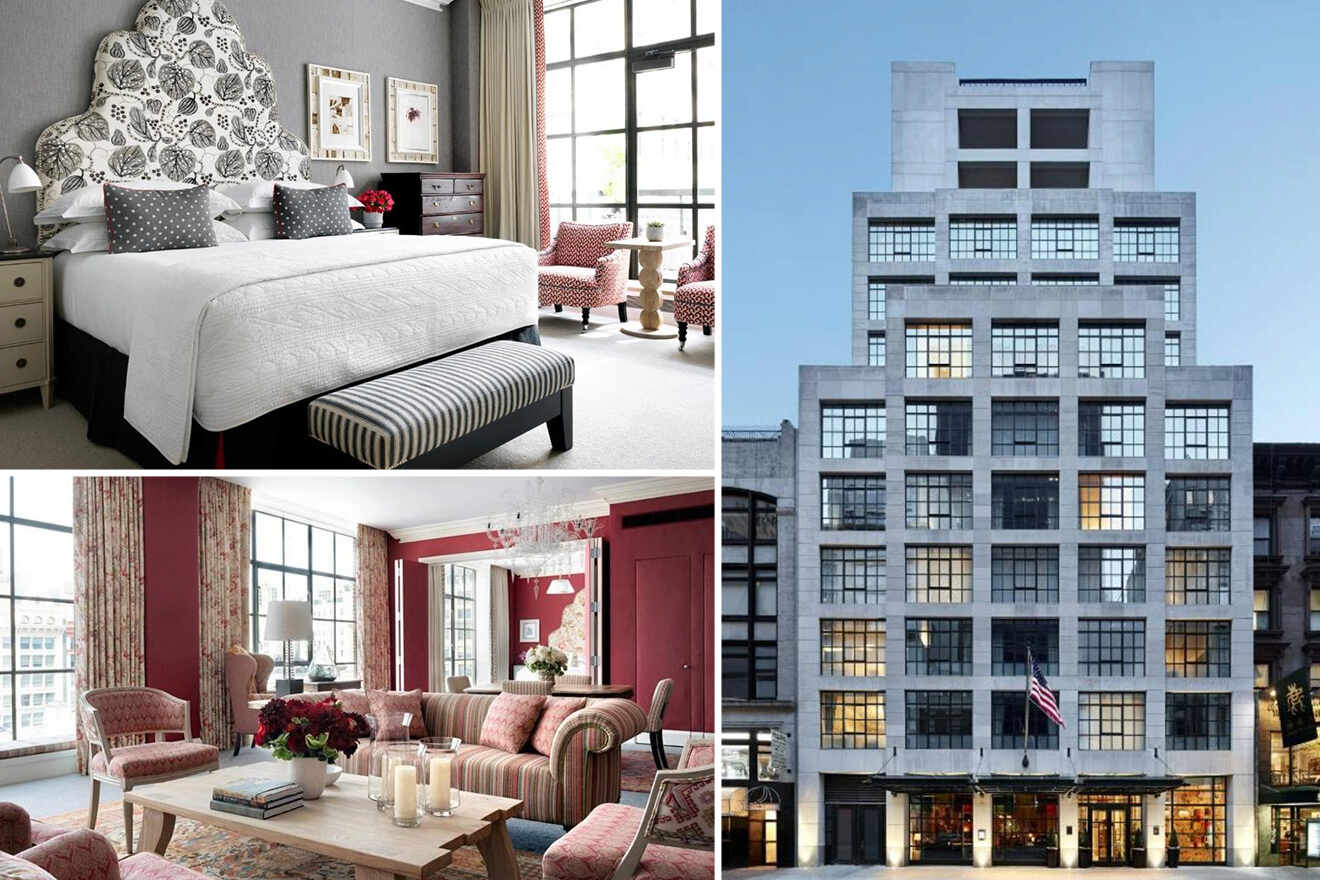 The Whitby Hotel – If you're a fan of contemporary art, then I highly recommend this hotel designed by the famous interior designer, Kit Kemp, whose style is like no other! From the fabric-lined walls to the oversized headboards, each element makes the accommodation one of a kind! Order some room service and enjoy the city views from the balcony or check out the on-site restaurant! Plus, the hotel is located within walking distance from Central Park, such a great location!
Crosby Street Hotel – There's nothing like a room that has floor-to-ceiling windows in a place like New York City! Luckily, the Crosby Street Hotel located in Soho has that and much more! The room has that fabulous British charm, and did I mention the private theatre on-site? Yep, forget the cinema! This hotel has all the amenities the guests need, plus a fitness center, a restaurant, and a bar where you can enjoy traditional English tea!
Equinox Hotel – I feel like this hotel is the dream location for any traveler! Located in New York's Hudson Yard neighborhood, the accommodation has beds with temperature-regulating, natural fibers, bathrooms that will make you feel like you're at the spa, and other incredible amenities like spa treatments and fitness classes. But the rooftop outdoor pool is la pièce de résistance! Get a glass of wine and enjoy the views of New York's skyline! I highly recommend booking these designed hotels in advance, this city is one of the most visited in the world, so you better hurry!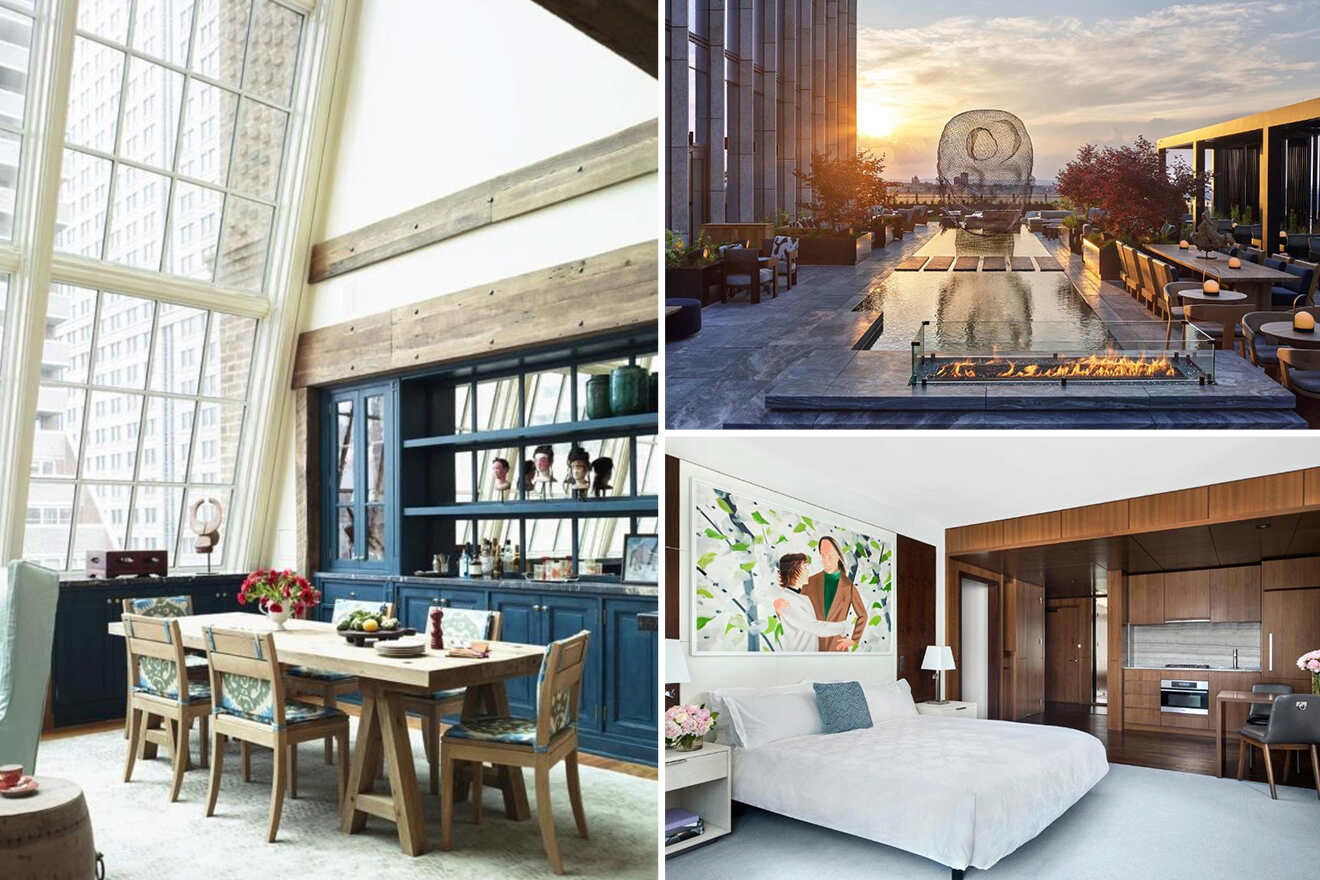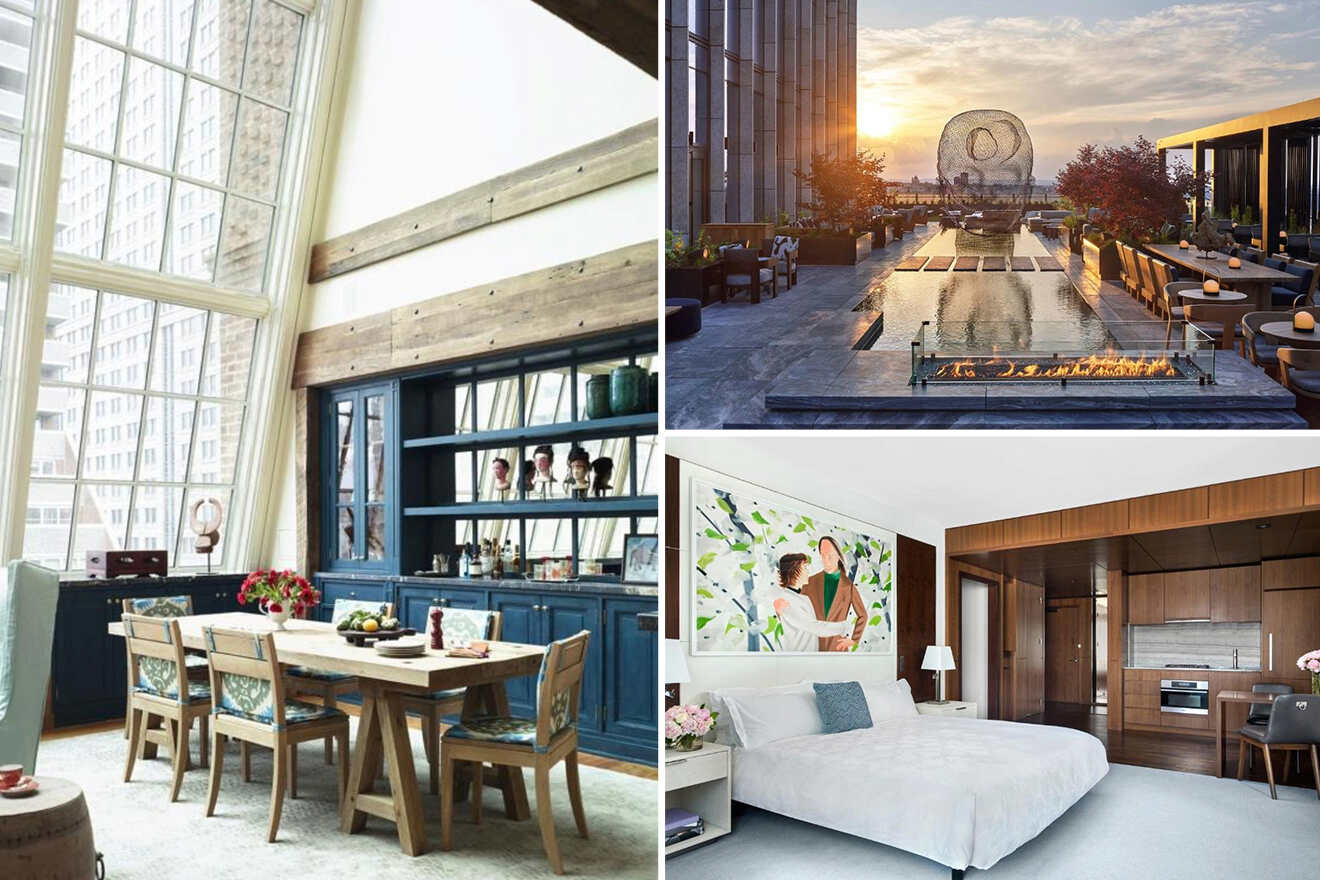 The Langham – With a mixture of modern and elegant elements, this 60-story tower building is located in Midtown Manhattan near some of New York's most important landmarks like the Empire State Building and has huge rooms starting at 400 square feet, with floor-to-ceiling windows and marble bathrooms with soaking tubs! Fancy a dinner at Ai Fiori, the Michelin-star restaurant on-site? If not, guests can always order some room service and spend a cozy day while admiring those breathtaking views! And if you're looking for more tips for your trip to New York City, check out our post for more hotels in NYC.
The Greenwich Hotel – Okay, but how often do you get the chance to stay in a hotel that's partly owned by such a big movie star like Robert de Niro? I would say, not too often! Located in Lower Manhattan, Greenwich Hotel has a restaurant on-site and free wi-fi. Relax after a day of exploring Fifth Avenue and Soho in the underground pool or at the Shibui Spa, which sits beneath a 250-year-old bamboo and reclaims wood roof! Oh my, this accommodation is for sure one that can't be missed!
Mid Range (US$300 – US$500)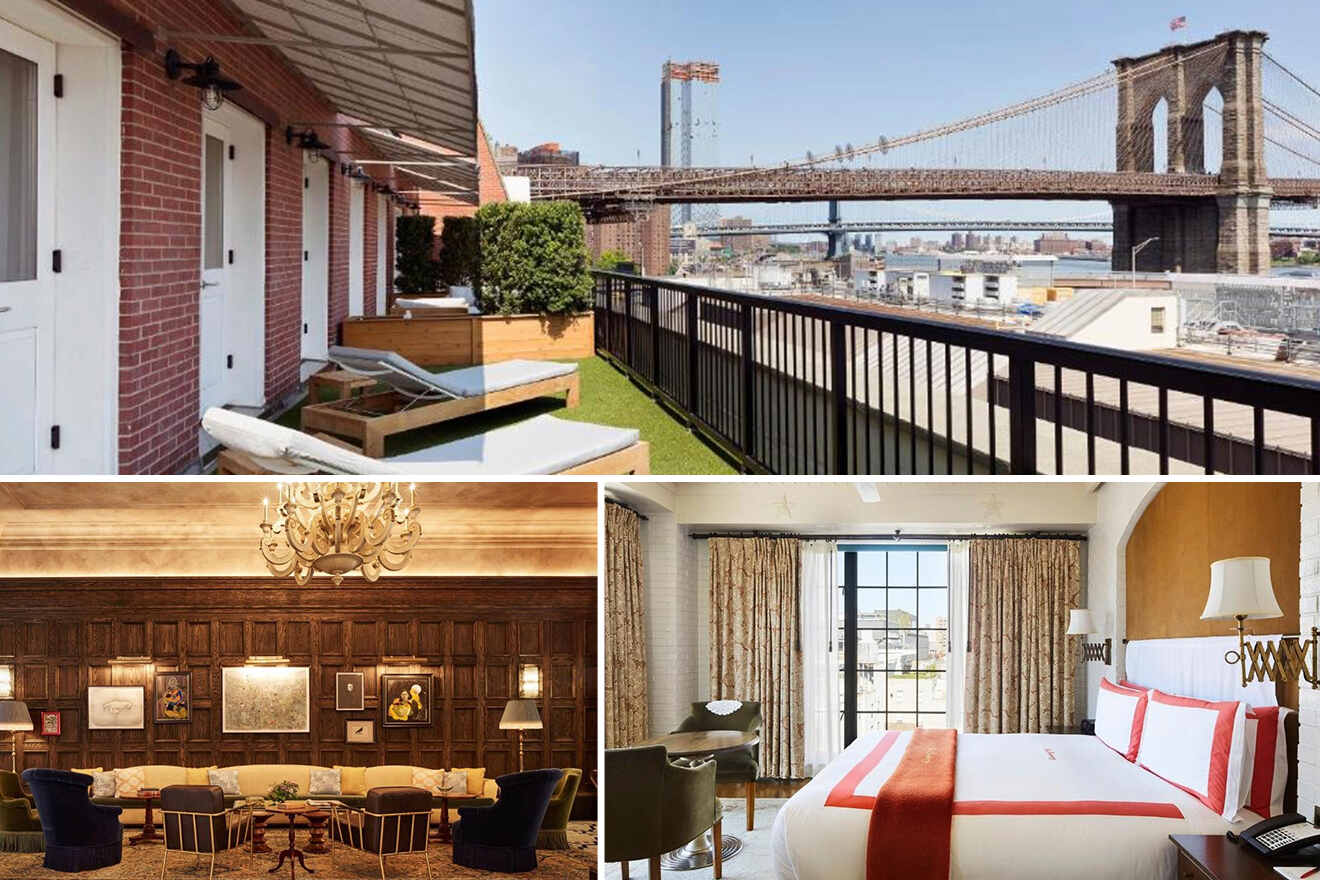 The Bowery Hotel – So many celebrities crossed the doors of this boutique hotel that's located at the intersection of the Lower East Side and East Village! Sting, Keith Richards, Jude Law, and Blake Lively are just a few of them! I just love the industrial-chic design and the hardwood floors, and although there isn't a club, the bar has the best vibe and will make you want to drink cocktails all night long! And there's nothing like a rain shower to make you feel like a new person the next morning! If you're looking for more unique places in New York, have a look at these amazing Airbnbs!
The Beekman – Just look at that 9-story atrium! It will make you feel like you're in a temple or in a really cool museum! This boutique hotel is located in Lower Manhattan, and it's an architectural masterpiece! I'm sure sleeping in a room with a custom-made bed, leather headboards, and oak floors, hits differently than sleeping in a regular room! Guests can enjoy the best city views on the hotel's rooftop bar, and don't forget to admire the beautiful artwork hanging on the walls at The Beekman!
Mr. C Seaport – Owned by the famous Cipriani family, this boutique hotel in New York City has a contemporary yet classic design and guest rooms with many amenities, including rain showers and the finest Italian linens! Some rooms even have panoramic balconies with views of the Brooklyn Bridge and the New York skyline! Order some breakfast and have a perfect meal on the balcony of your rooms while admiring those incredible views!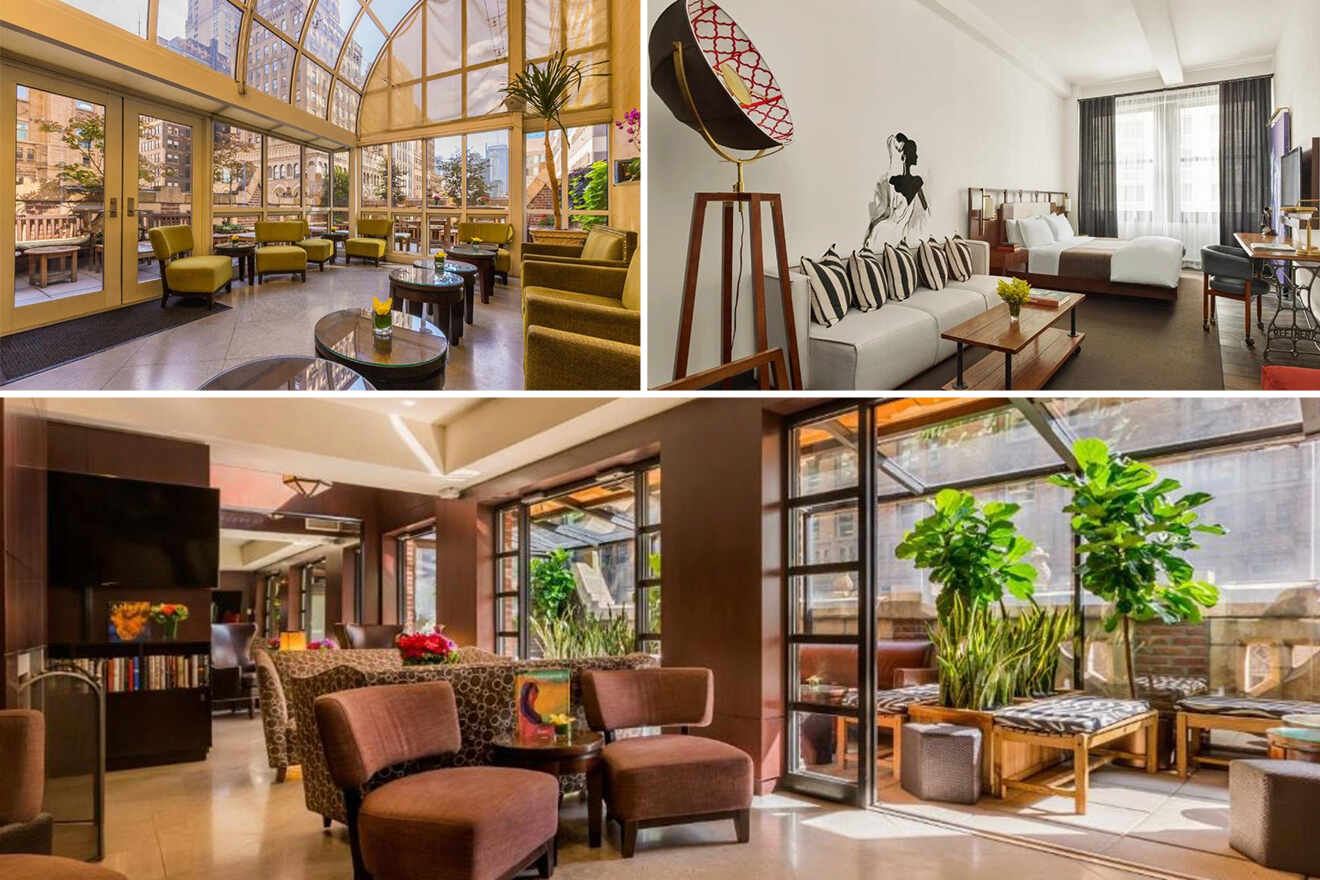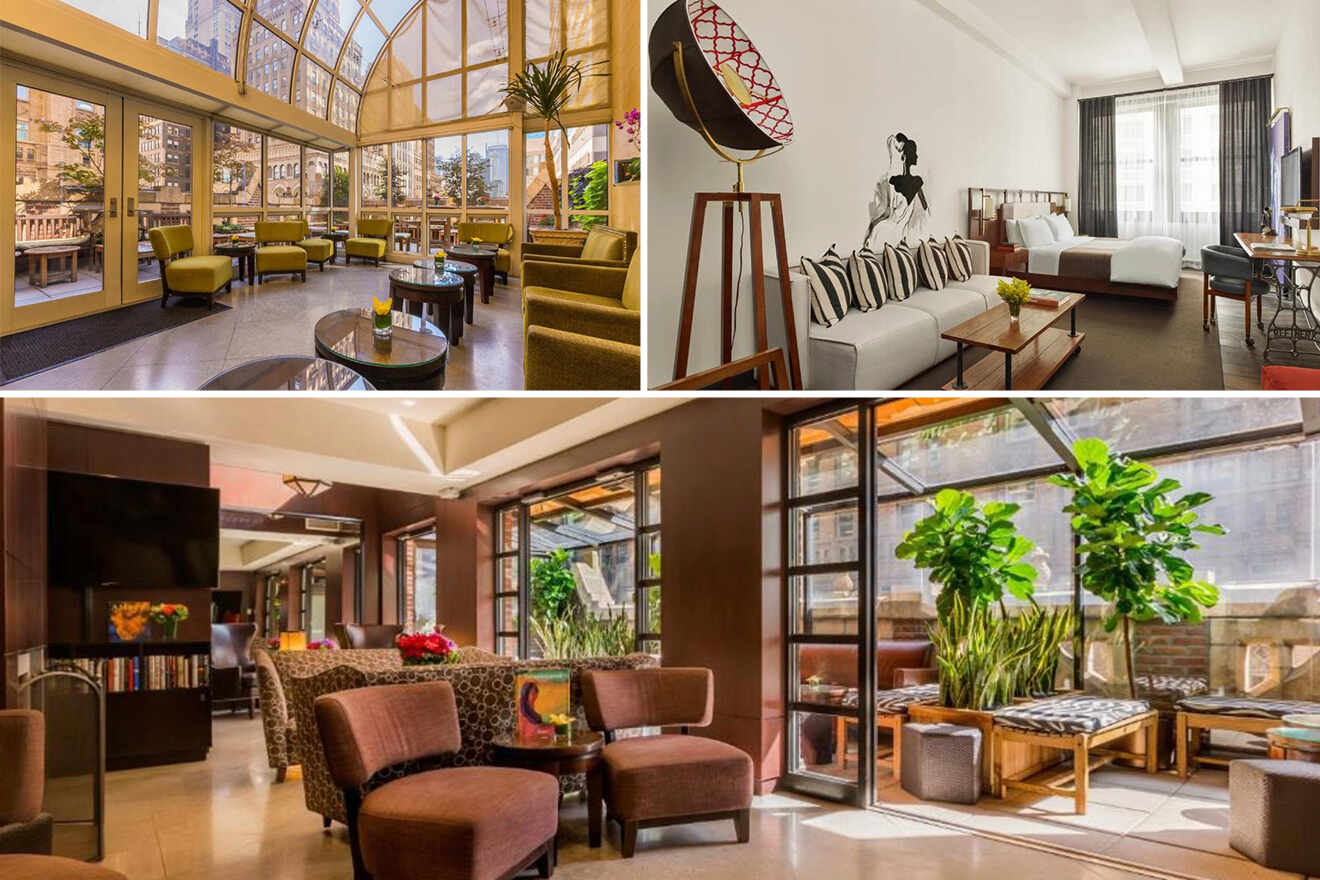 Refinery Hotel – The rooftop bar of this hotel is giving me Gossip Girl vibes! Located in Midtown Manhattan, in a building that used to be a hat factory and a Prohibition-era tea-room, this boutique hotel sure has an interesting history! Guests can have some cocktails and enjoy the views of the Empire State Building! I like the urban design of the rooms, it's so stylish, and it gives off that classic New York vibe we all crave!
Library Hotel by Library – With a collection of over 6000 books you can find in the rooms plus some nice artwork, this boutique hotel is a dream come true for anyone who loves reading and libraries! The accommodation is located in Midtown Manhattan within walking distance of Bryant Park. But what's the point of staying in a New York hotel if you can't have a drink with a view of the whole city, so leave the books and go up to relax and enjoy some wine and cheese!
Budget (up to US$280)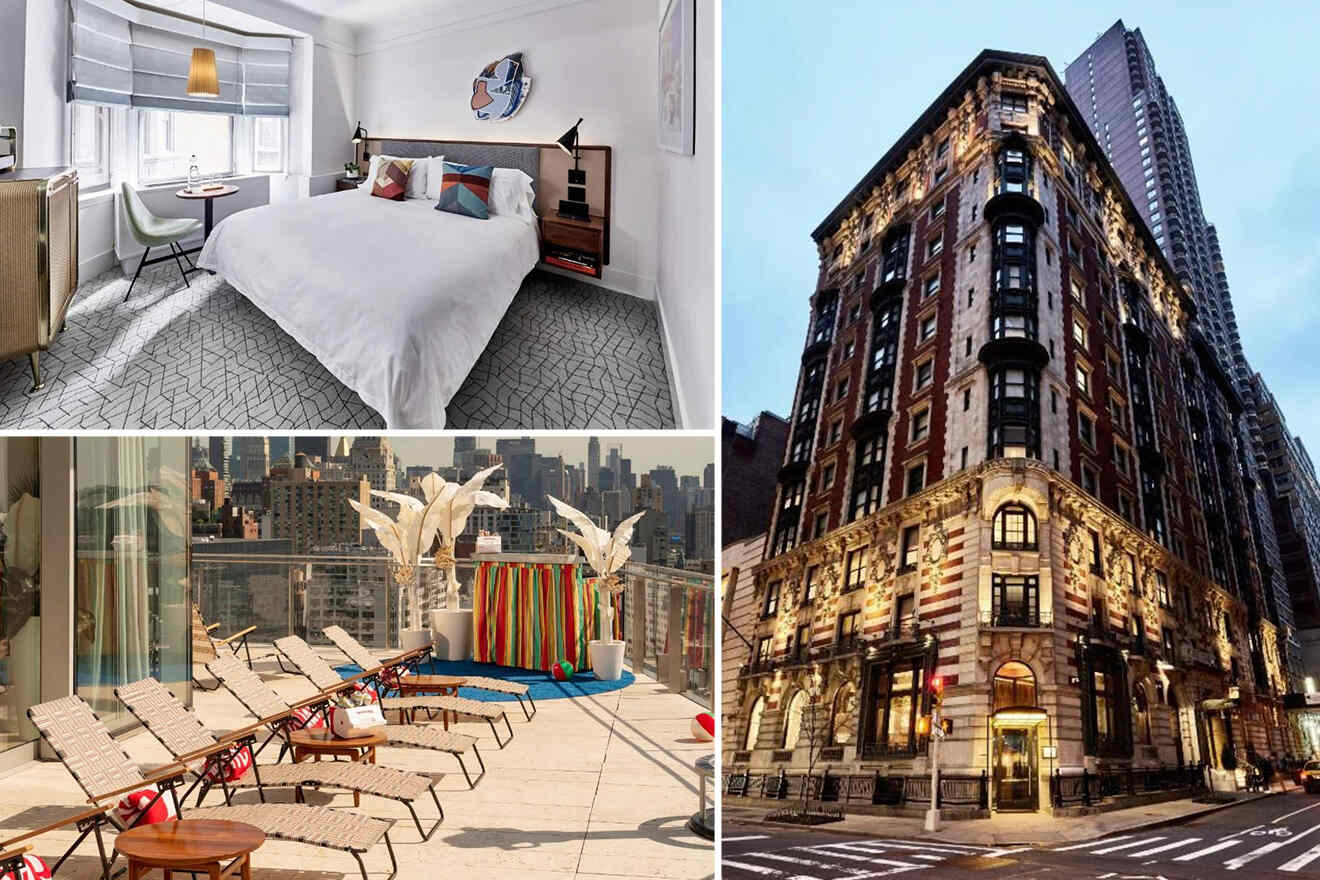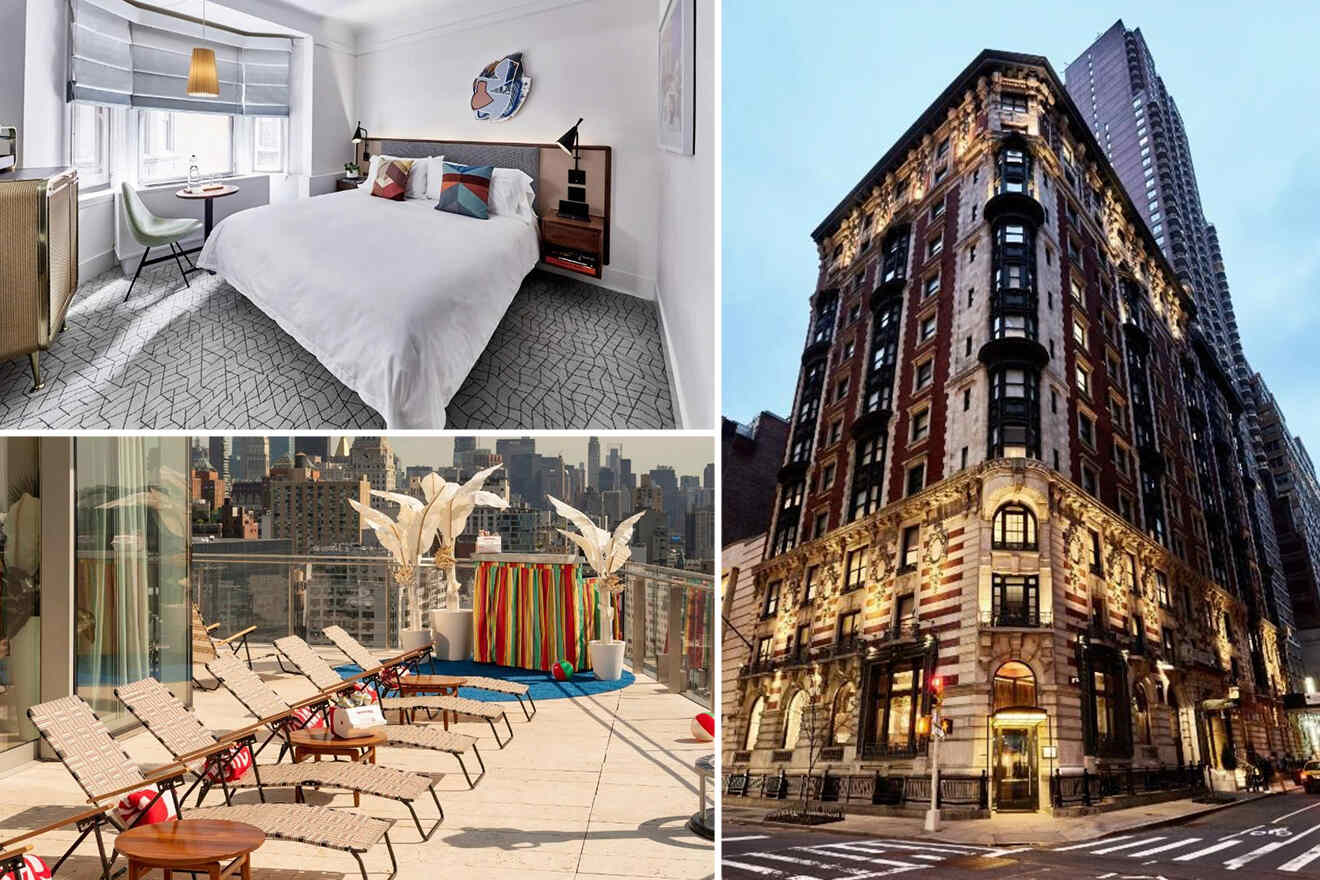 The James New York – NoMad – A boutique hotel that greets guests with a complimentary wine hour every evening… Is there anything better than that? Located near some of the biggest attractions in New York City, like Madison Square Garden, this accommodation sure knows how to entertain its crowd. Have a delicious dinner at Scarpetta restaurant, and then head to La Seville bar for some live music and drinks! The accommodation also offers room service, free wi-fi, and family rooms.
The Standard – I can't be the only one who always wanted to have dinner in one of those cool traditional yurts. If this is something that you've always wanted as well, now you've got the chance to do it! This boutique hotel that's located in the East Village has the coolest your on their rooftop terrace! But the amazing scenery doesn't end there. The rooms have large windows with a view of New York City, so order some room service and enjoy the peace and quiet here!
The Maritime Hotel – I love nautical-themed boutique hotels, they always make me feel like I'm on a ship, but luckily there's no sea-sick feeling! That's the case for this cool accommodation that has such an awesome design! Relax on the balcony and enjoy the New York City views! Once you're hungry you can head down to the restaurant that resembles those classic steak house places!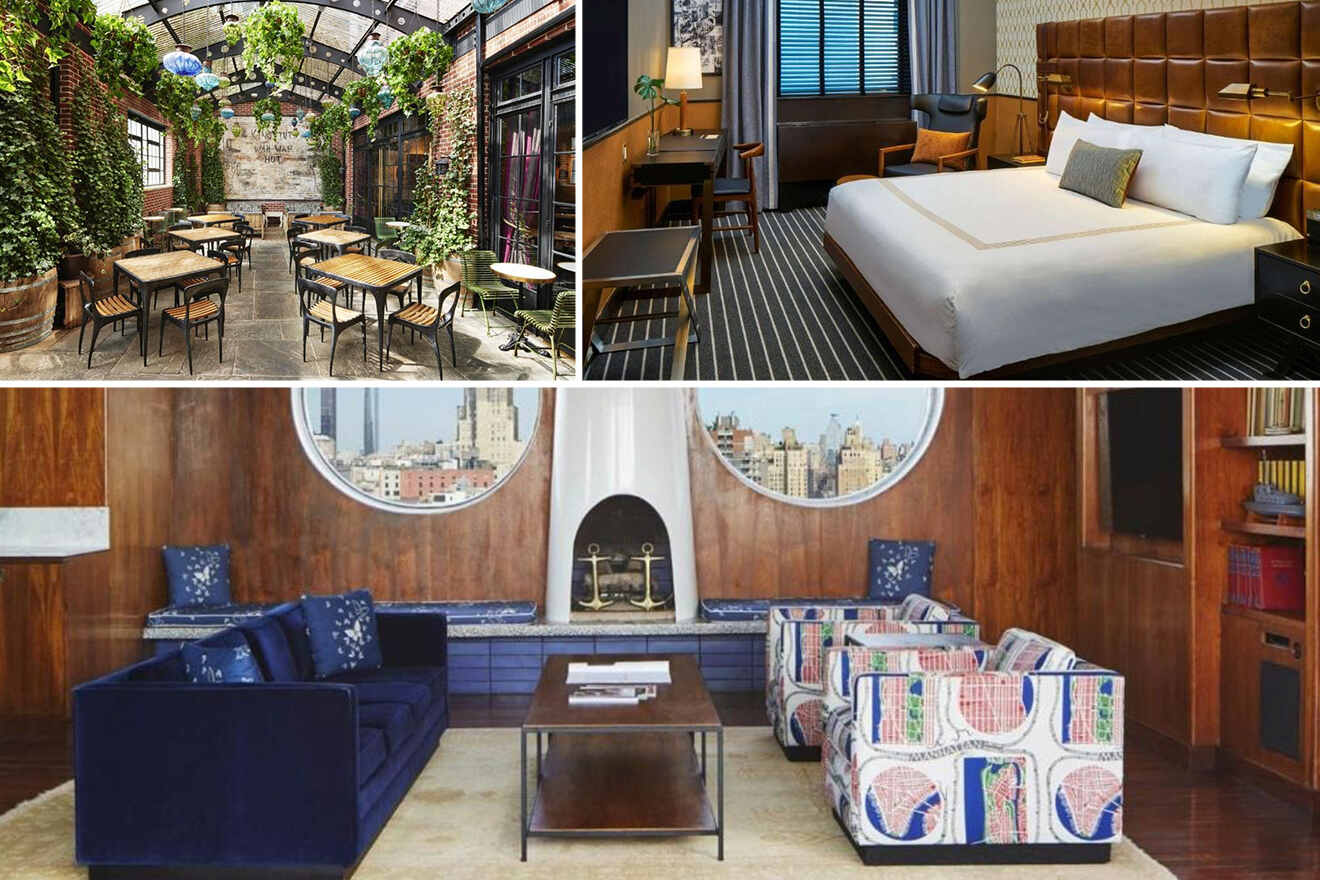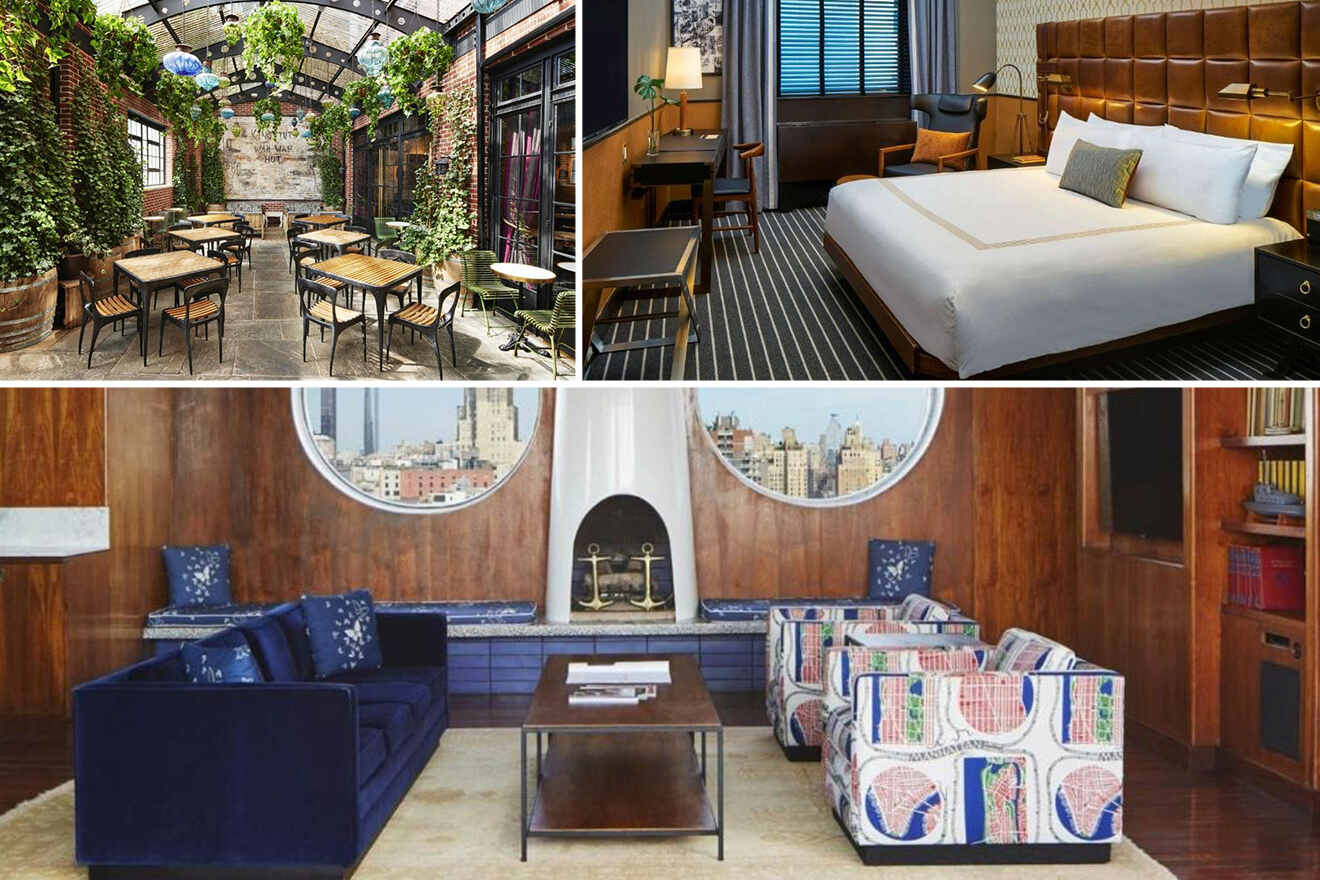 The Ludlow Hotel – Have you wondered how it would be to attend one of those famous New York loft parties? Well, I did! And the rooms of this hotel remind me of that! Owned by Sean MacPherson, an important hotelier, this accommodation will make you feel like you're a loft owner living in New York for a while! With a modern design that includes hardwood floors, handmade silk rugs, and artisan-crafted Moroccan lamps, The Ludlow Hotel is one of my favorite budget places in the city!
Gild Hall – A Thompson Hotel – A boutique hotel that has a library lounge? Booklovers will love that! This elegant accommodation is located in the Lower Manhattan area and it has rooms with high ceilings, custom-design wooden furniture, and wellness kits. I hope you like wine because the wine lounge is filled with impressive Italian bottles, waiting to be opened by all the eager guests. The accommodation also has fitness studios and it offers free use of bicycles for those of you who want to explore the area!
BONUS: Best boutique hotels near Times Square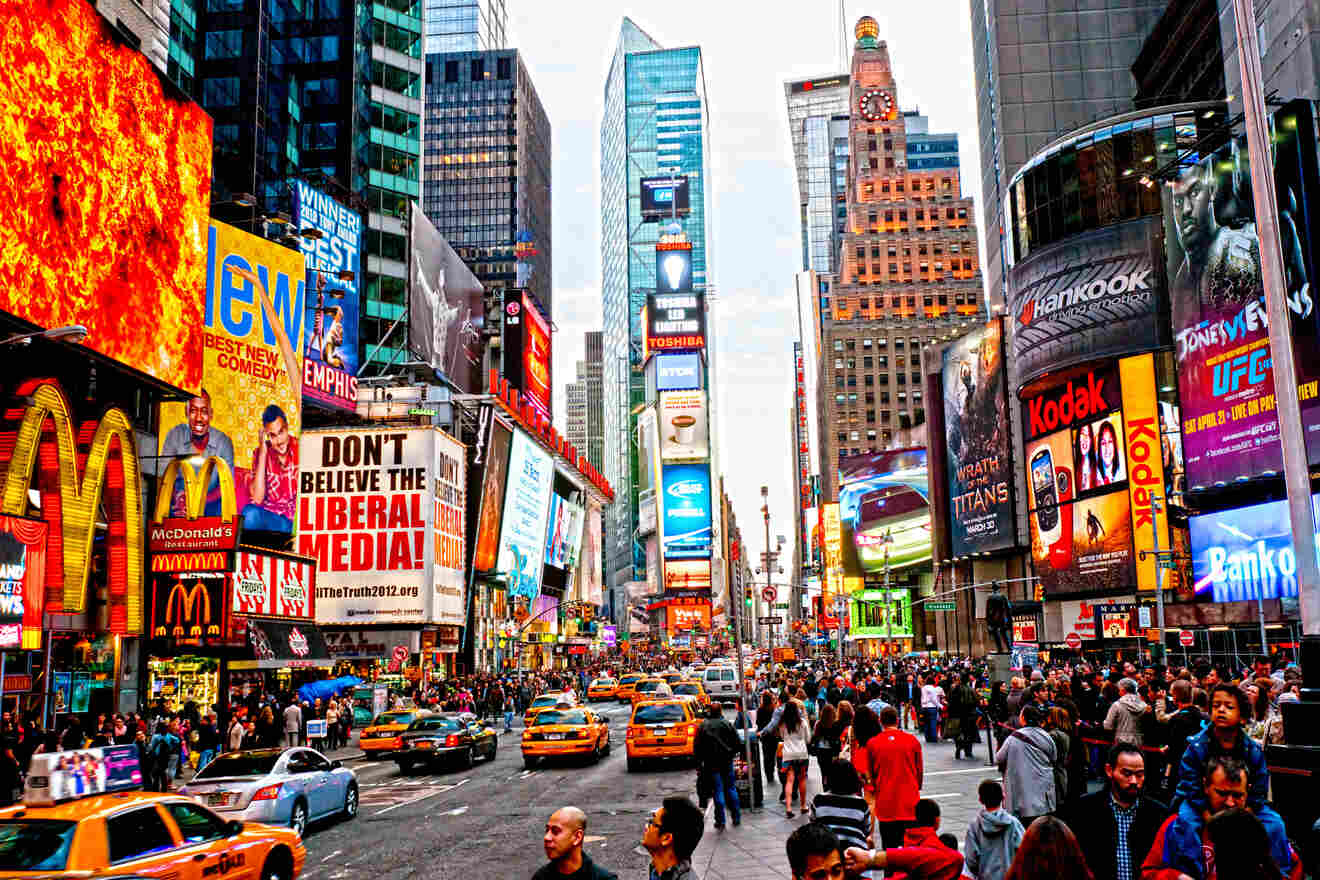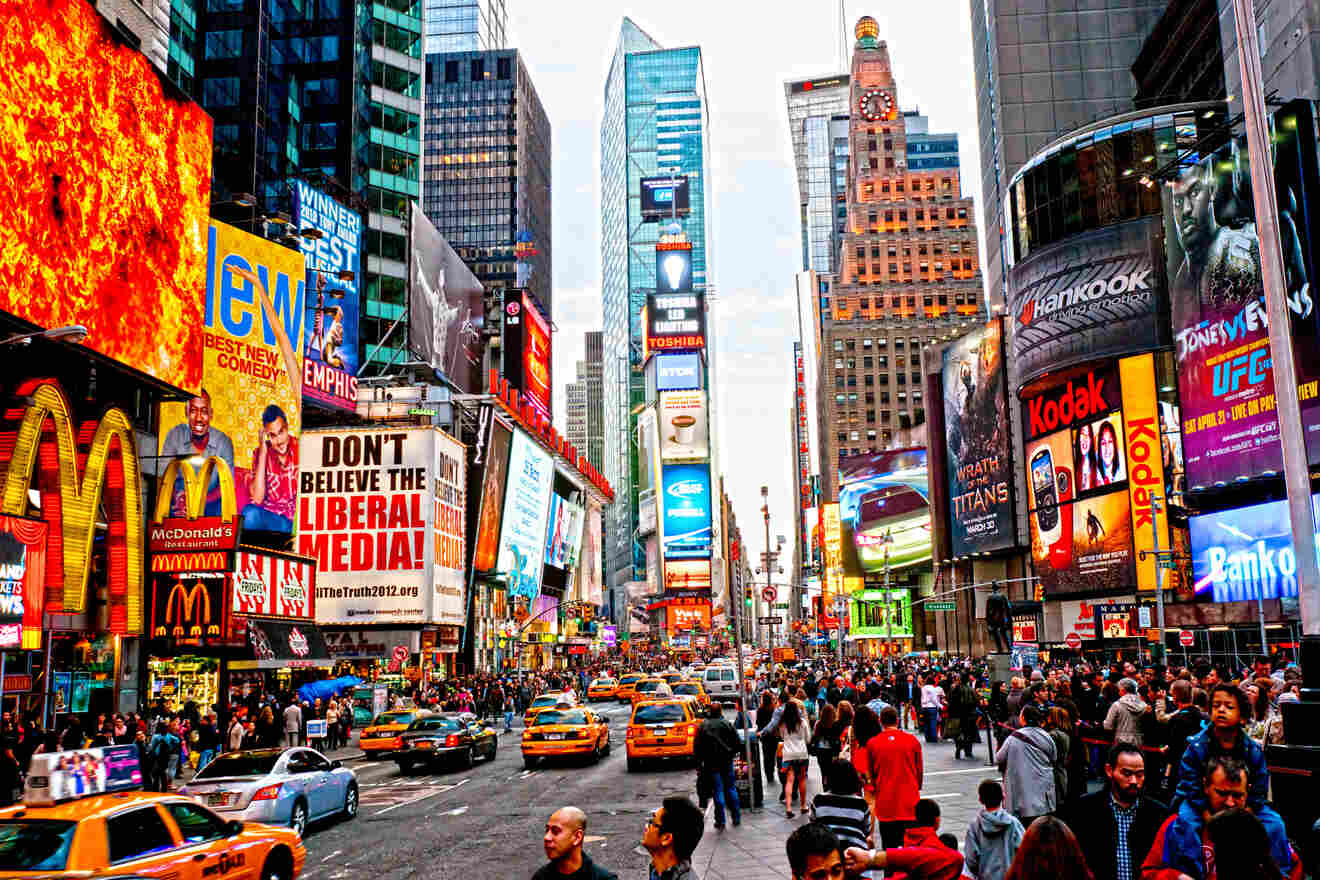 One of the most famous squares in the world is, of course, in New York City! Situated in Midtown Manhattan, Times Square is not your usual commercial intersection! It's also an entertainment center and tourist destination that every traveler has to see at least once when visiting this metropolis!
Sometimes people even call it "the Center of the Universe" or the "Crossroads of the world," and to be honest, it does feel like you're right in the middle of everything! That's why I thought it would be so awesome to stay in a boutique hotel near the square! It's such a cool thing to do that you shouldn't miss it if you've got the chance!
So let's see the best boutique hotels!
Luxury (US$650 and up)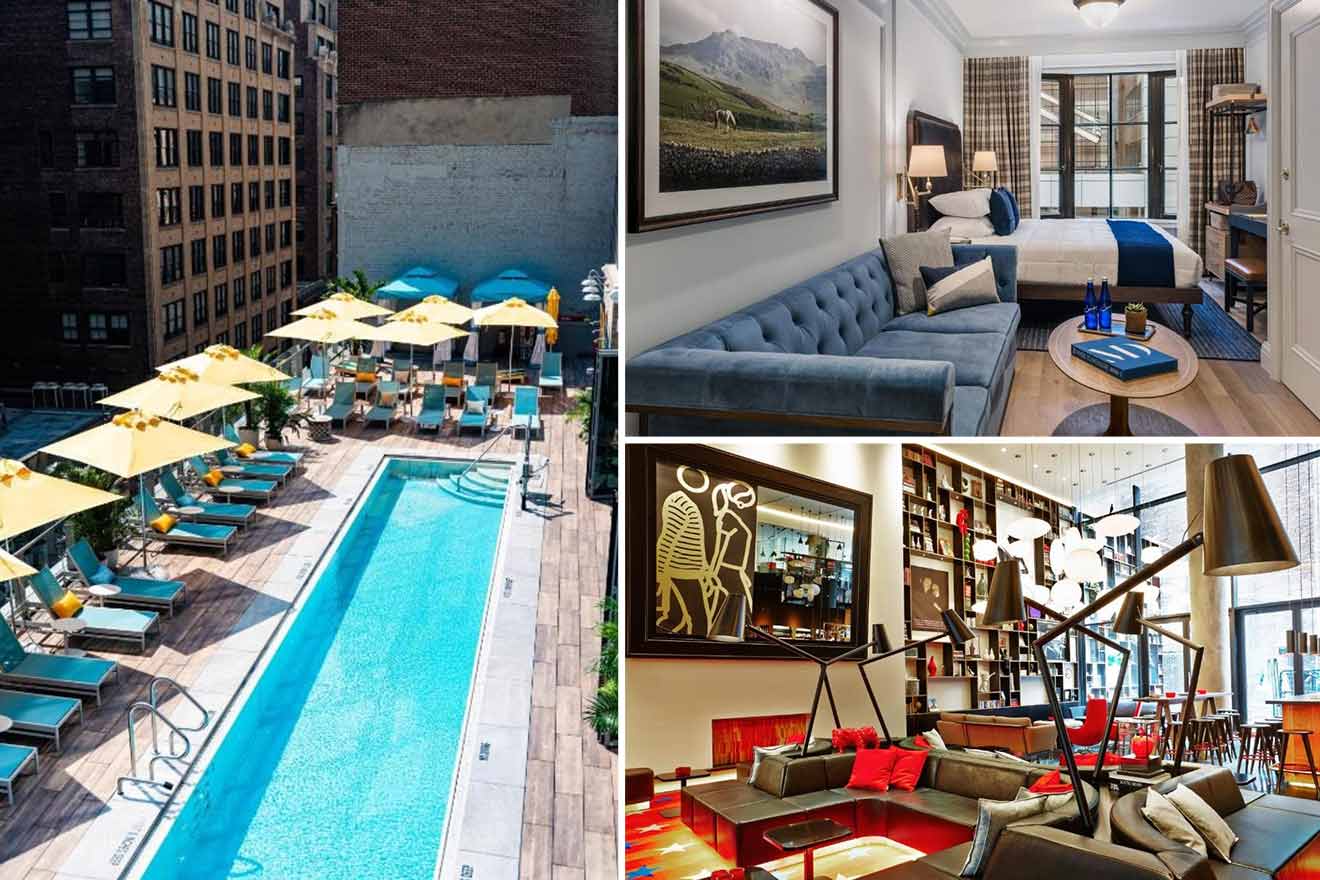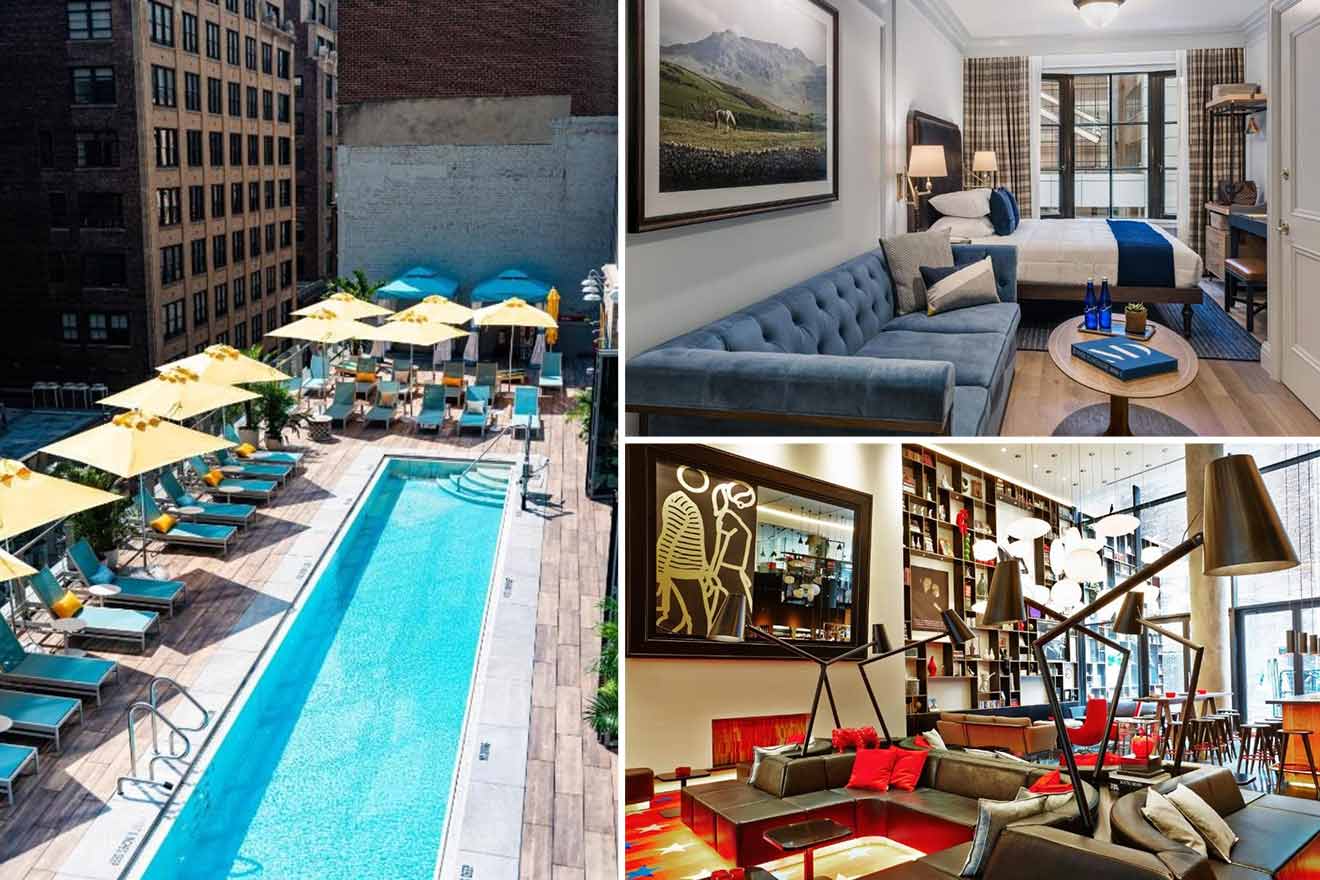 Mid Range (US$300 – US$400)
Budget (up to US$250)
Frequently asked questions about New York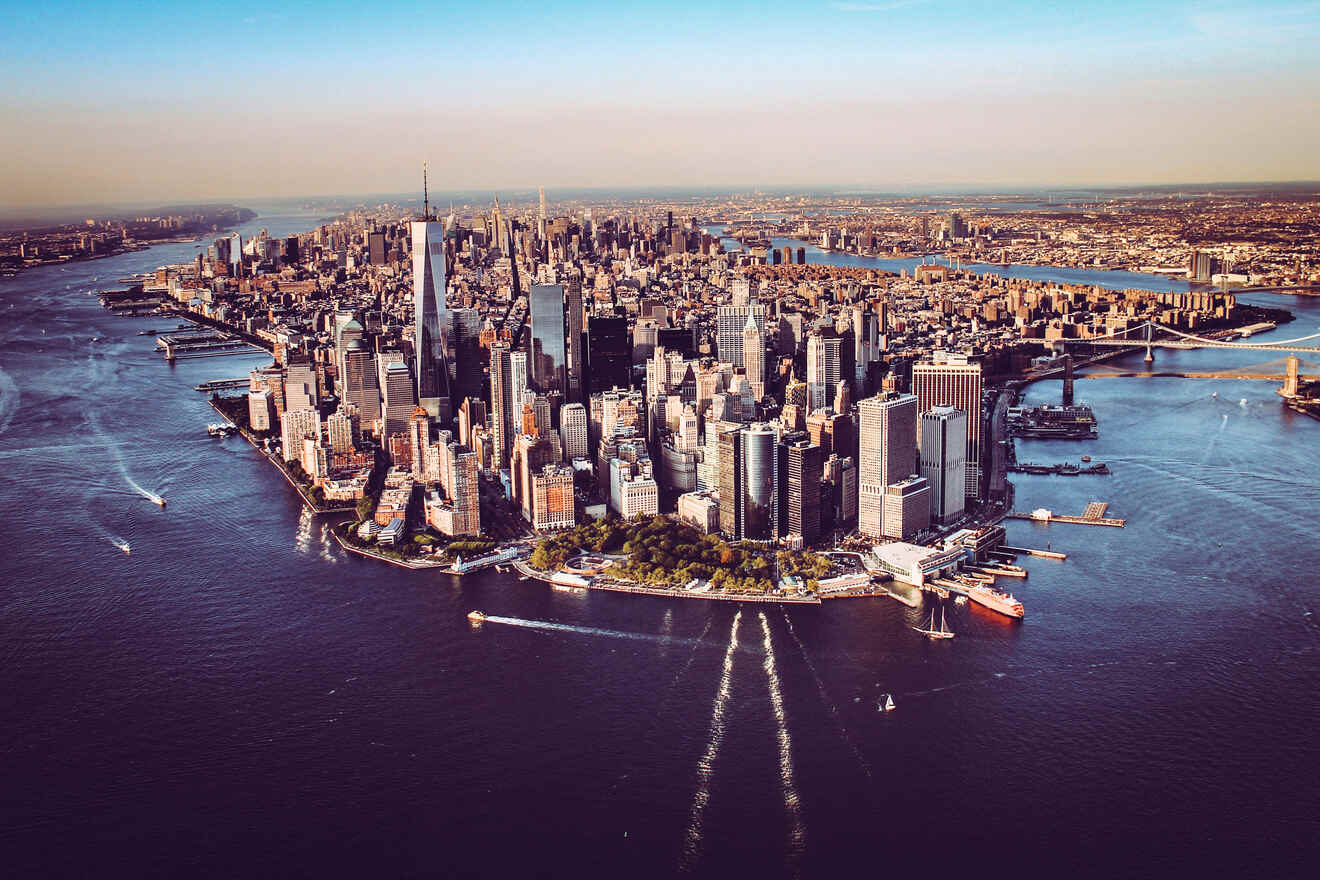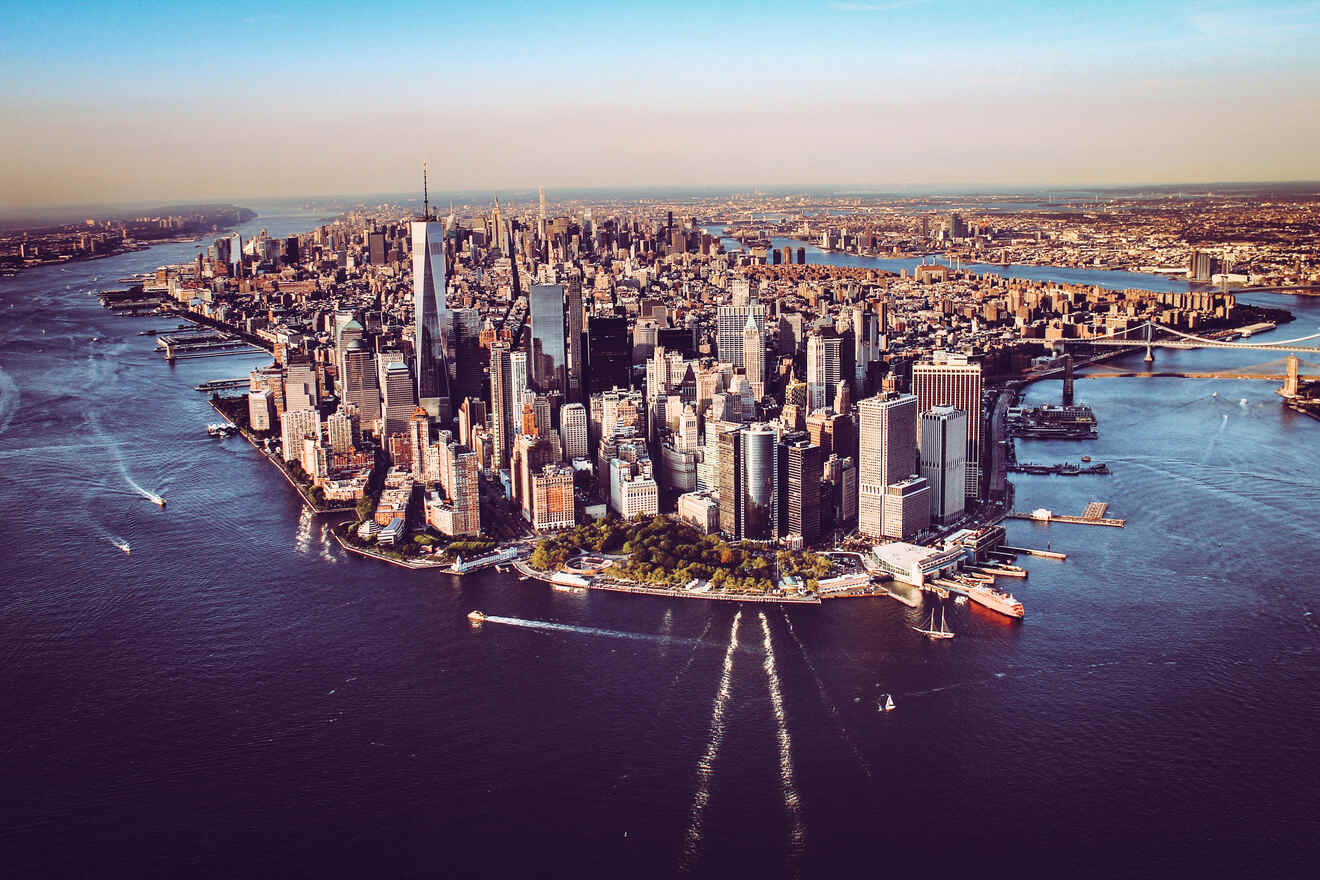 📸 Where do celebrities stay in New York?
The Bowery Hotel and Gramercy Park Hotel are 2 of the hotels where celebrities stay when they're in New York. Janet Jackson, Blake Lively, Ashley Oslen are just some of the famous persons who were spotted here. 
💕 Which boutique hotels in New York are good for couples?
The Whitby Hotel and Equinox Hotel are perfect for your romantic getaway to New York! Both offer romantic dinner places, cozy rooms and have amazing reviews. 
🗽 What are the best boutique hotels in New York near Times Square?
👪 Which boutique hotels in New York are good for families?
💰 How much does it cost to stay in a boutique hotel in New York?
The average price for a luxury hotel is US$700, for a mid-range one is US$350 and for a budget one is US$250 when looking for boutique hotels in NYC. 
Conclusion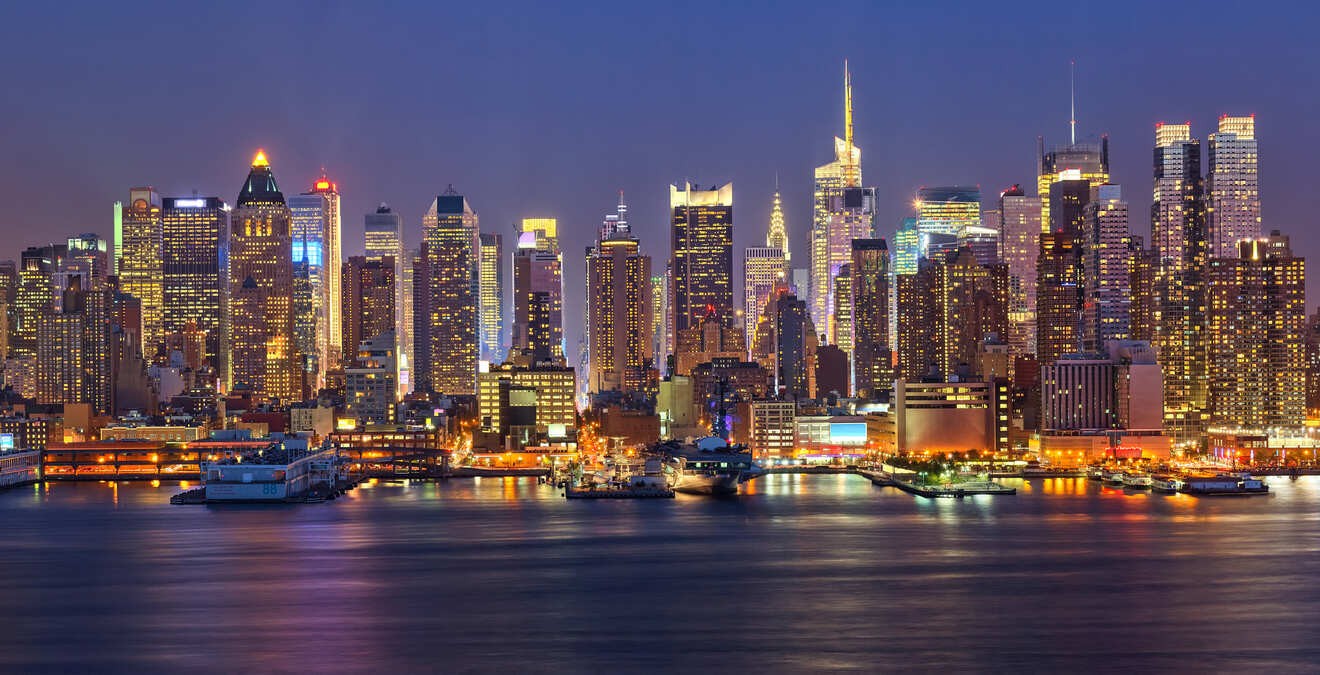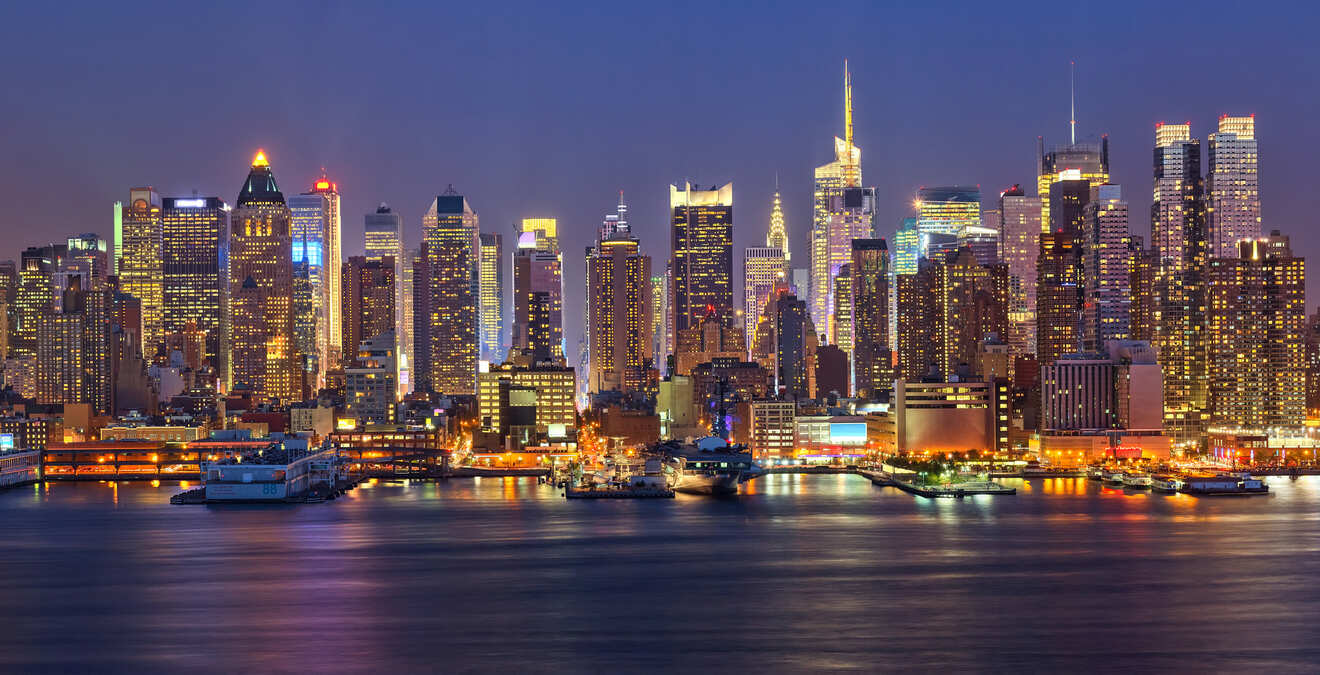 How amazing are all these accommodations? I hope this post helped you decide to book one of the best boutique hotels in NYC.
There are so many amazing options here and I know how hard it is to make a decision, so here are my top 2 favorite hotels:
Keep in mind that in a place like New York, everything happens much faster! So make sure you book your hotel in advance to get your hands on your favorite accommodation.
Enjoy this fantastic trip! Explore the Meatpacking District, the Upper East Side, and East Village! Eat at the best restaurants and take lots of pictures. And if you have any other questions or suggestions, don't be afraid to leave me a comment below, I'll make sure to answer it ASAP!
Safe travels,
Victoria