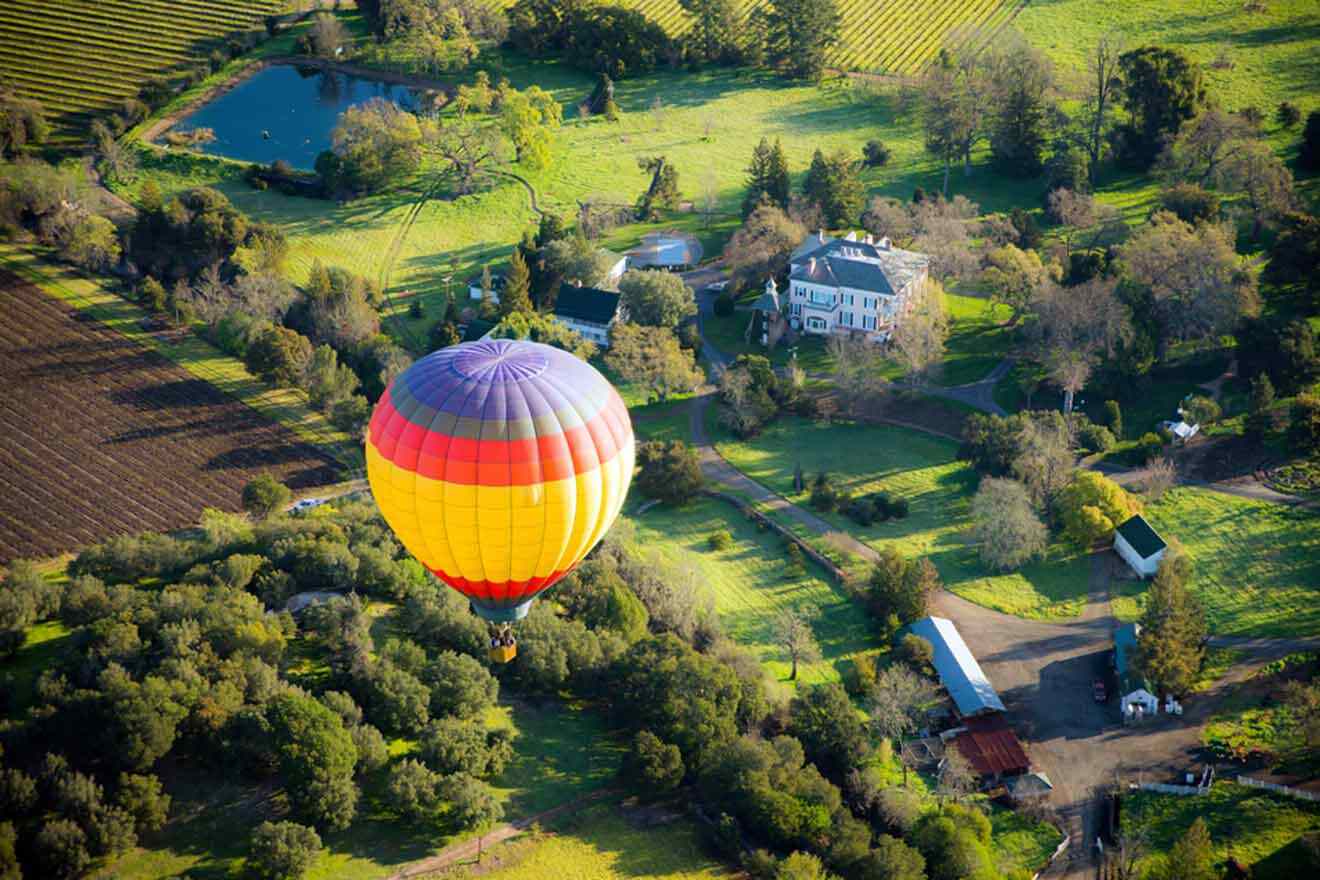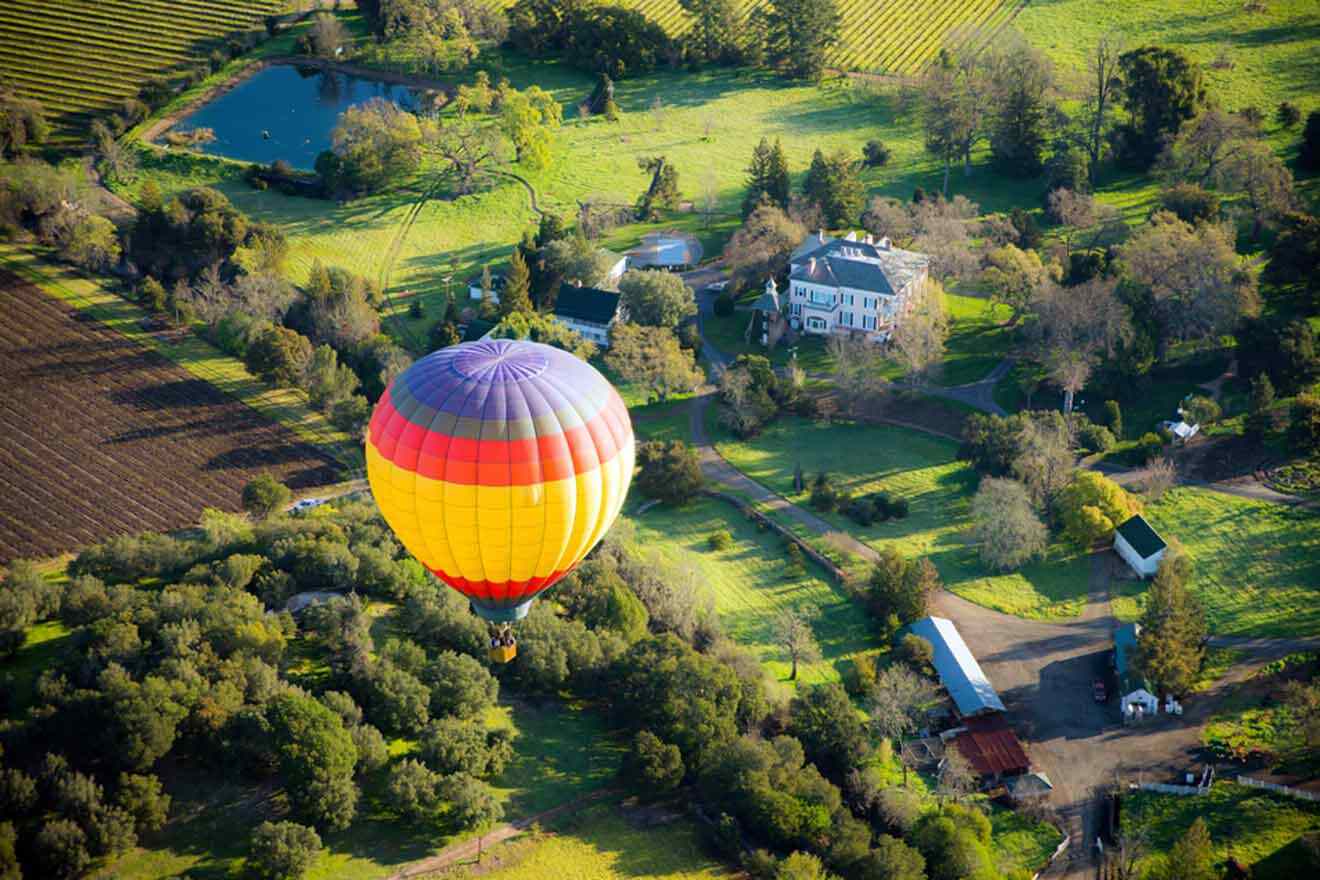 As a California girl who has spent countless weekends exploring the exquisite beauty of Napa Valley's rolling hills, I can confidently say that this breathtaking wine region is a true gem in the heart of California's wine country.
Located just north of San Francisco, Napa Valley is renowned for its exquisite vineyards, world-class wineries, and unparalleled culinary experiences. Whether you're a wine aficionado, a food lover, or an outdoor enthusiast, Napa Valley, California, offers an abundance of opportunities that will leave you with unforgettable memories.
So, let's raise our glasses and embark on an unforgettable adventure to discover the very best things to do in Napa. Whether you're a seasoned wine enthusiast or simply seeking a serene escape, Napa will steal your heart and leave you with cherished memories.
Before we embark, a friendly reminder: book your tours and accommodations in advance. The allure of Napa attracts visitors from all corners of the world, and planning ahead will ensure you don't miss out on any of the incredible experiences this wine country has to offer.
So, get ready to explore the best things to do in Napa Valley, California!
If you are in a hurry
When you get to Napa, you'll want to slip right into vacation mode, not do tons of research. Make sure to book your hotels and activities in advance:
And here are the best hotels: R Inn Napa (luxury), Stahlecker House Inn (mid-range), Aurora Park Cottages (budget)
1. Get swept away by the charm of Castello di Amorosa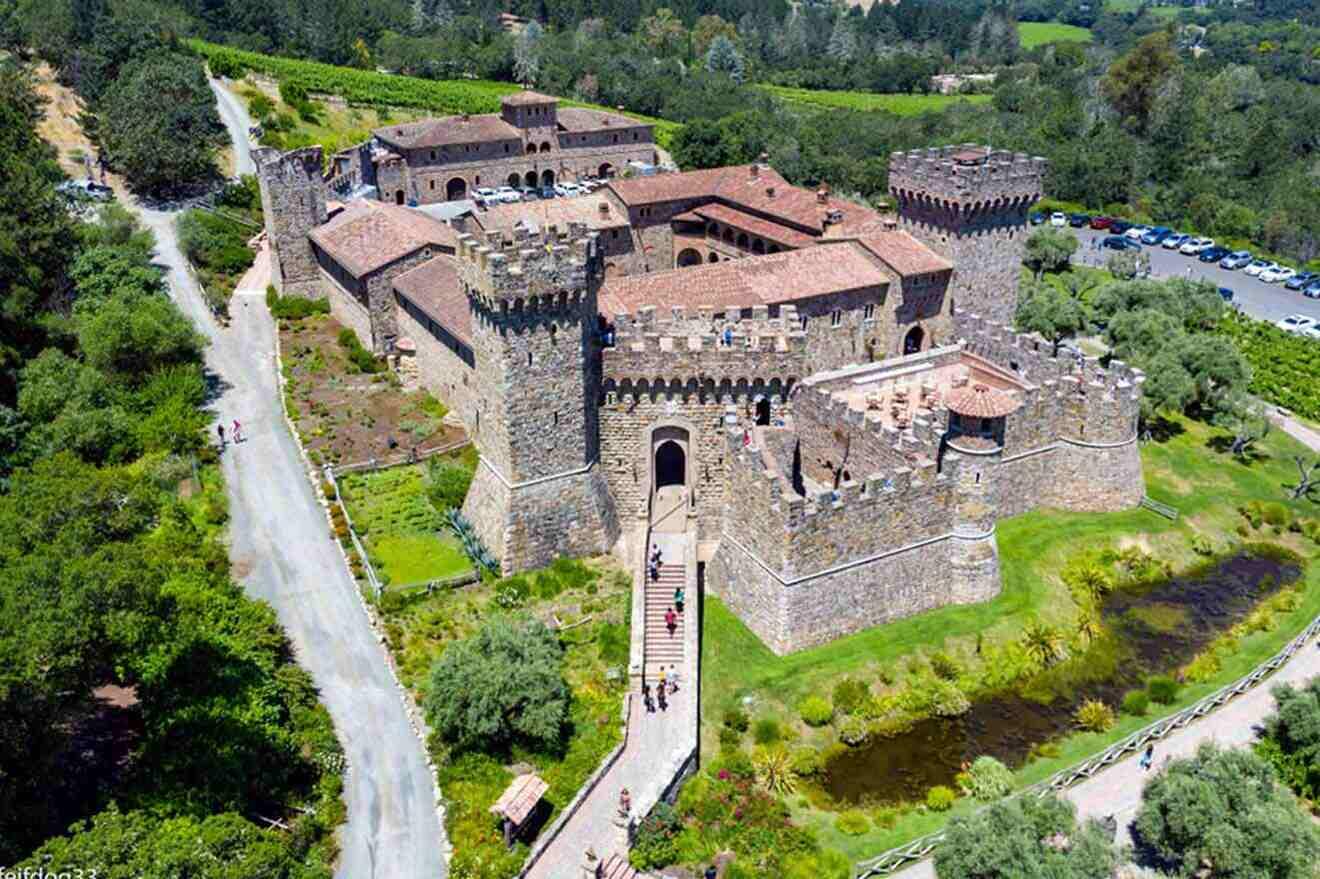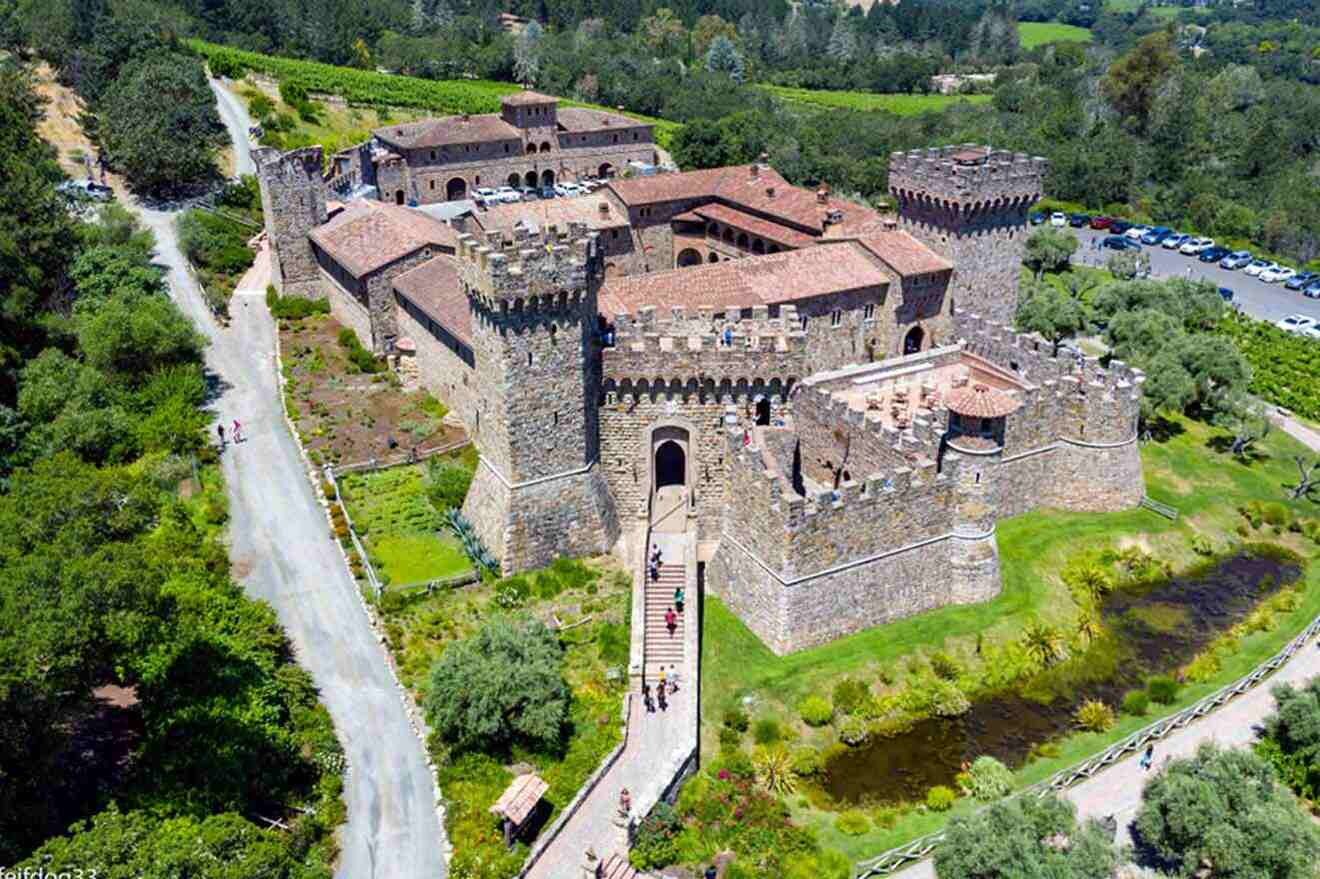 You're going to love stepping into this magnificent Tuscan-style castle, impressing you with unique architecture and enchanting ambiance, and offering old-world Italy through an immersive winery experience.
One of the highlights of Castello Di Amorosa is its grand hall, adorned with exquisite hand-painted frescoes. Furnished with an authentic fireplace from Tuscany and an elongated Italian table, the hall can hold an astonishing 140 people in it.
One of my favorite parts of this experience was seeing the Grand Barrel room, where the wines rest and mature. It's adorned with rows of French oak barrels, the oak imparting a natural taste and color to the wines, enhancing their flavors. I love that you can add food to your wine tasting as well!
PRO TIP: Explore all the levels of the castle, and don't forget to walk the grounds for the most majestic surroundings of Napa Valley, California.
NOTE: Reservations are required.
PRICE: Starting at US$60 per adult
2. Meet the local farmers at Oxbow Public Market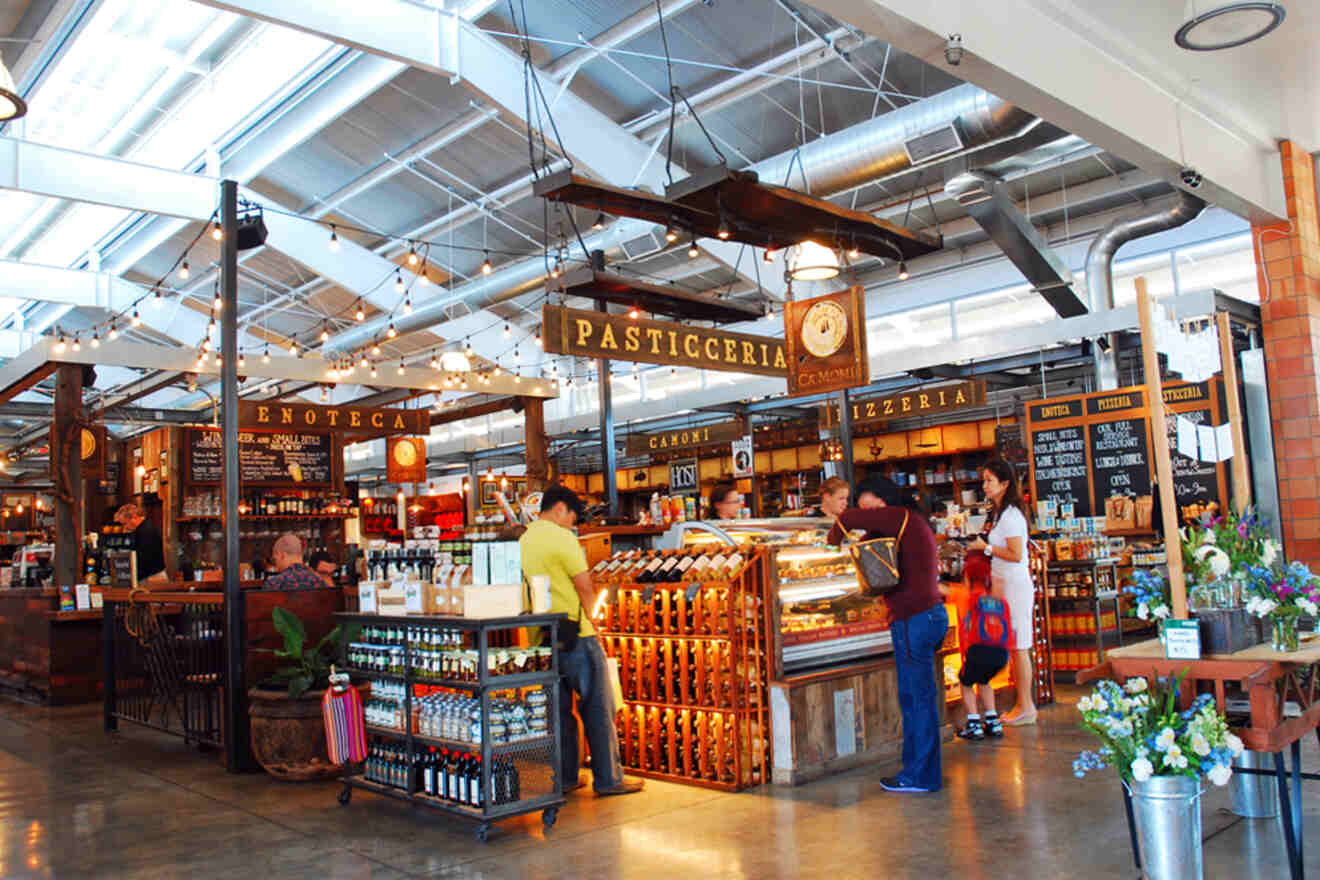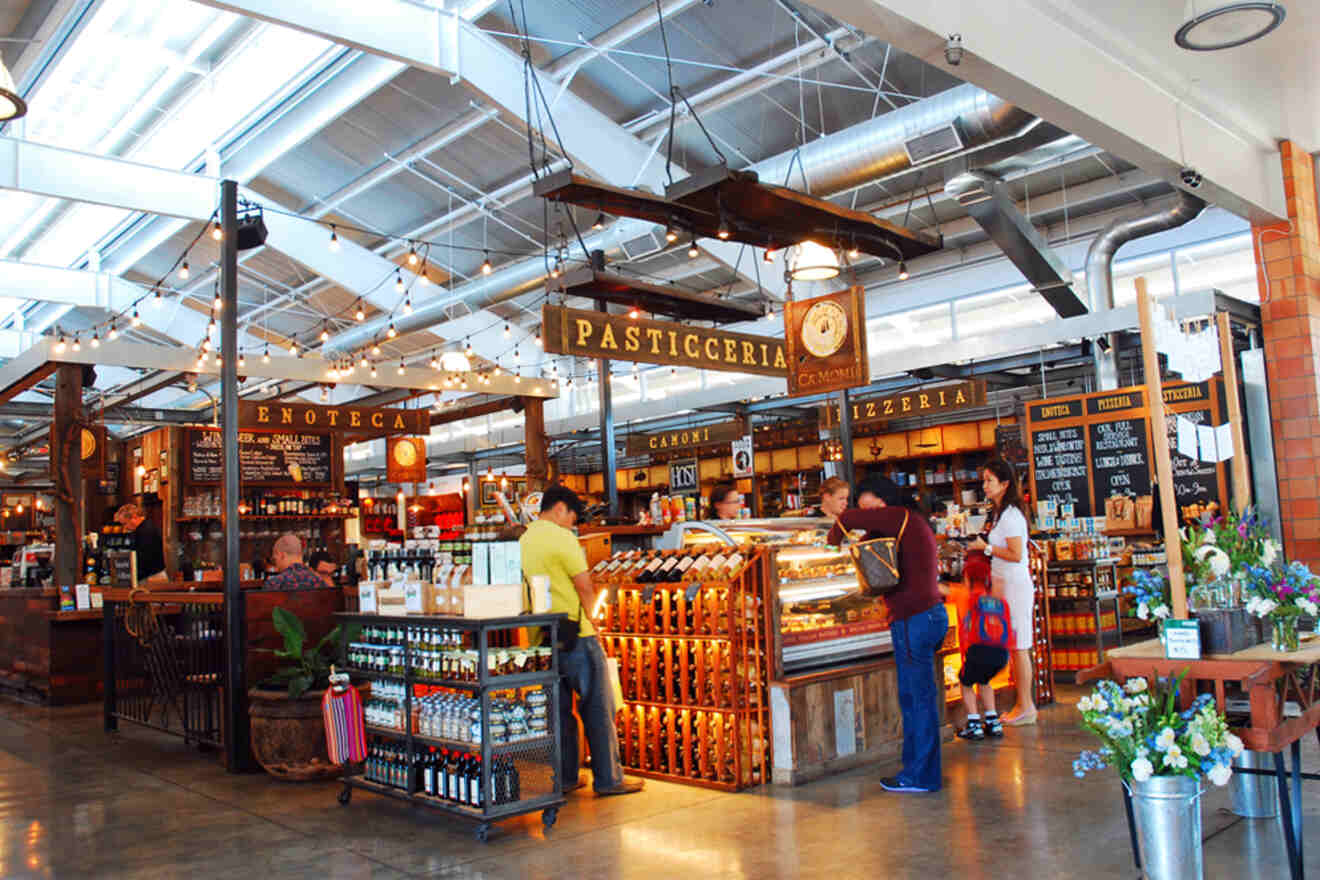 Please, do yourself a favor and stop here for an hour or two during your Napa adventure! This culinary paradise that is the Oxbow Public Market is what food dreams are made of. You'll find that local fresh produce, artisanal foods, and fine wines are plentiful and easy to access.
Stop at Anette's for artisan chocolates before you go, and scoop up whatever delicious seasonal concoctions they've come up with! You'll thank me later. 😉
And don't miss out on visiting Hog Island Oyster Bar for the most delicious oysters you've ever eaten!
3. Enjoy a personalized wine tasting at O'Brien Estate Winery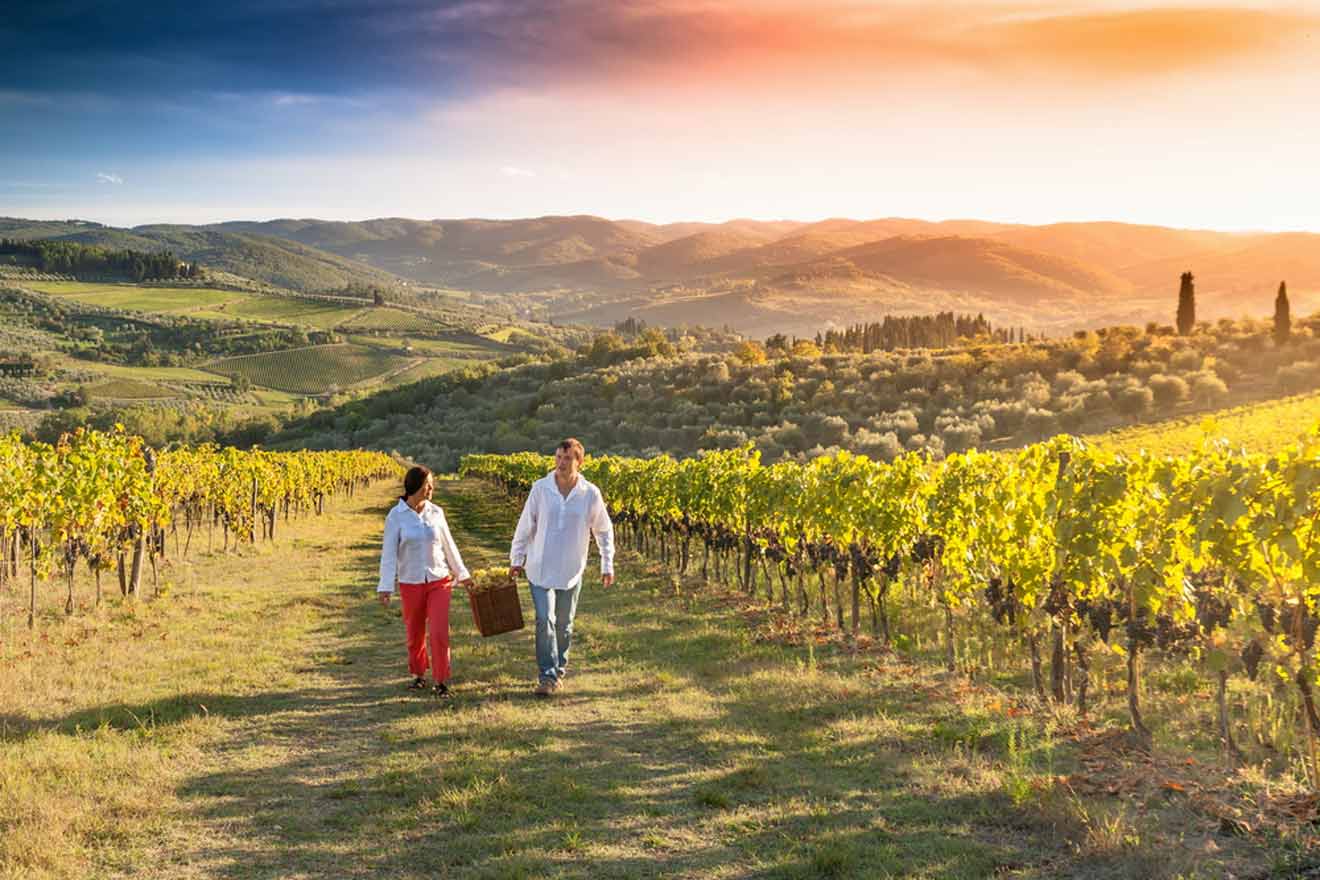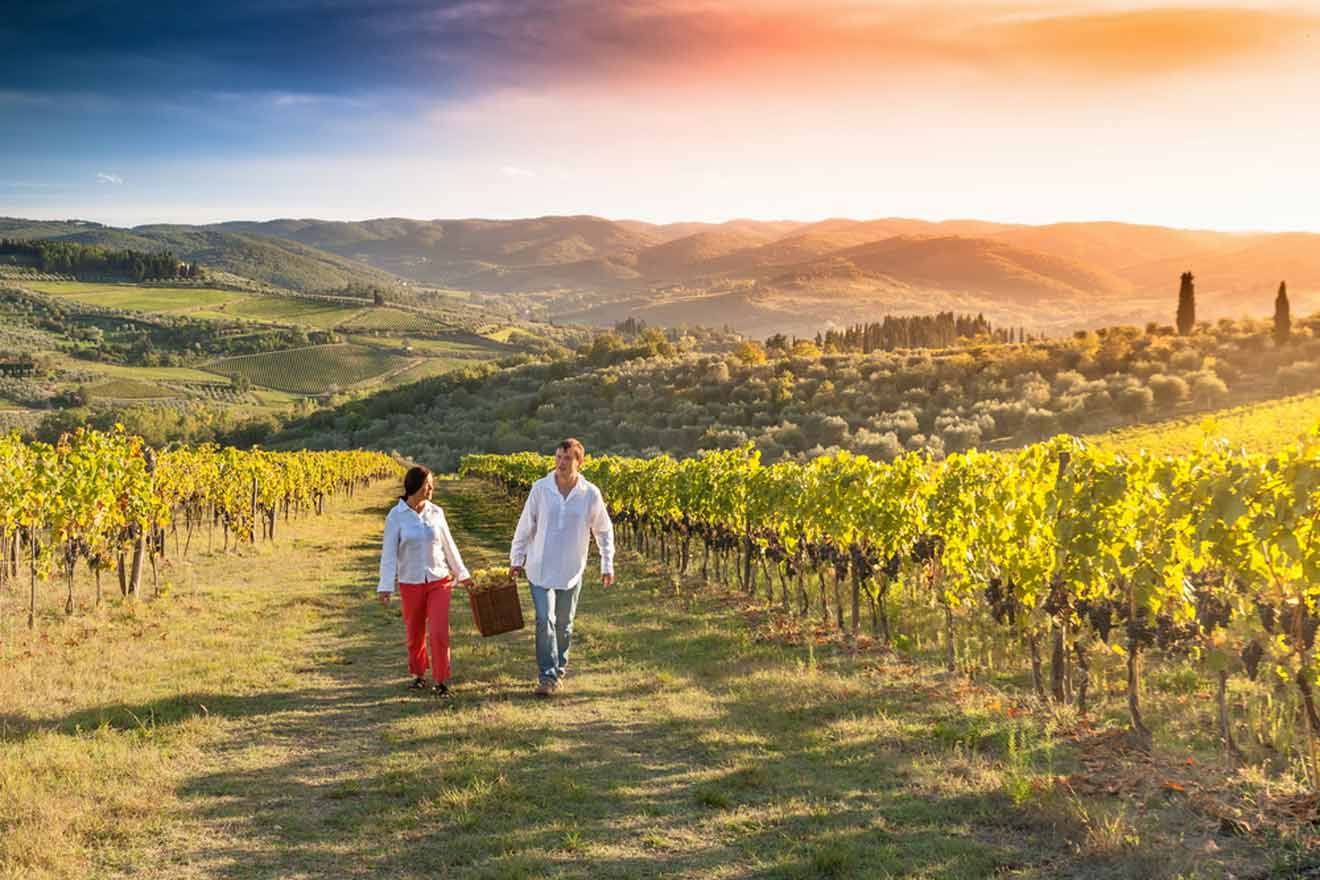 When it comes to exploring the vineyards of Napa Valley, O'Brien Estate Winery stands out as a shining star.
It's hard not to fall in love with the captivating beauty, exceptional wines, and unparalleled hospitality at this fabulous spot tucked into Napa Valley.
The best part? The family-owned operation here ensures personalized attention, expert knowledge, and tantalizing wines, leaving you with an unforgettable tasting experience.
PRO TIP: If you like reds, you have to try their 2018 Cabernet Sauvignon Reserve. It's out of this world!
NOTE: Reservations are required.
PRICE: Starting at US$85 for adults
4. Hop on the Napa Valley Wine Train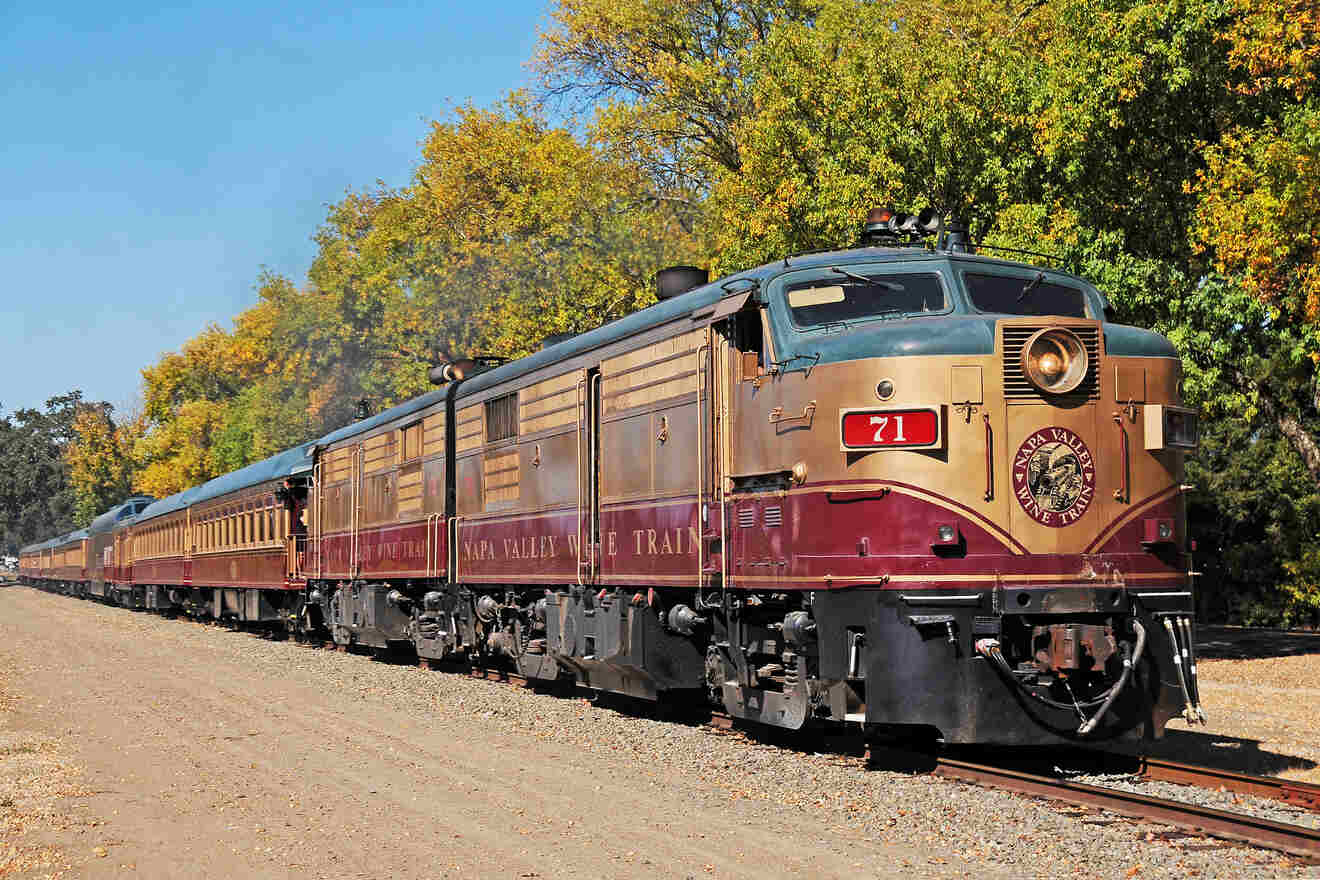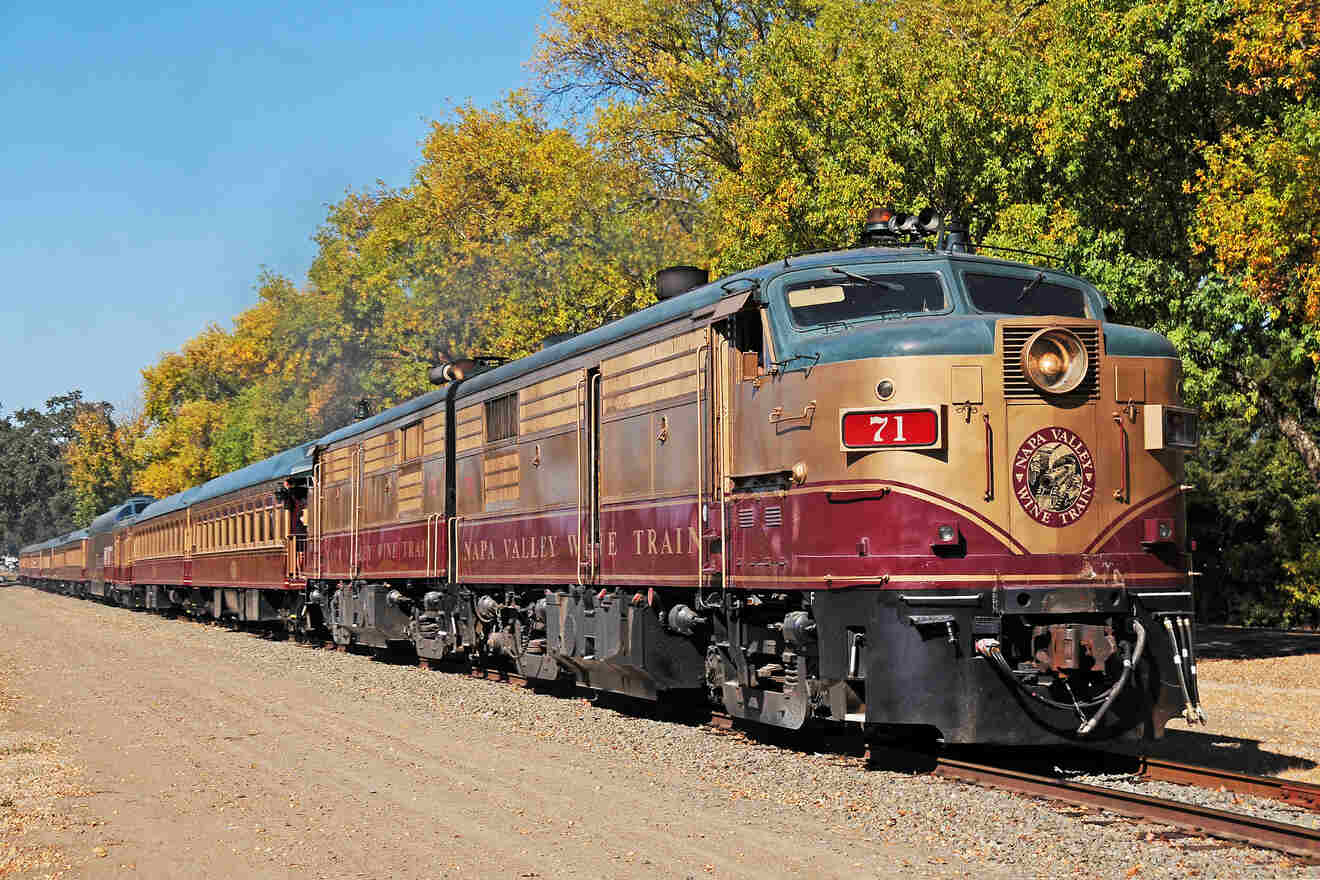 I don't know why, but old-fashioned trains have an irresistible allure, whisking us away to an era where the clickety-clack of the tracks and the beauty of the surroundings were enough of a journey, the destination was secondary.
The Napa Valley Wine Train allows you to adventure through picturesque Napa Valley on a vintage train, dine, and enjoy delicious wine! The beauty of the Honduran mahogany paneling, brass furnishings, and glass partitions create an atmosphere you can easily get swept away in.
Once aboard the train, you'll be transported to a world of elegance as you embark on a 25-mile (40-km) journey through breathtaking vineyards and stunning landscapes. To add to this fabulous experience, multiple meals are served on board, and let me tell you, the food itself takes you on a culinary journey. Don't miss this one!
PRICE: from US$165 per adult for a general 3-hour day trip
5. Savor the flavors at the 3 Michelin-star French Laundry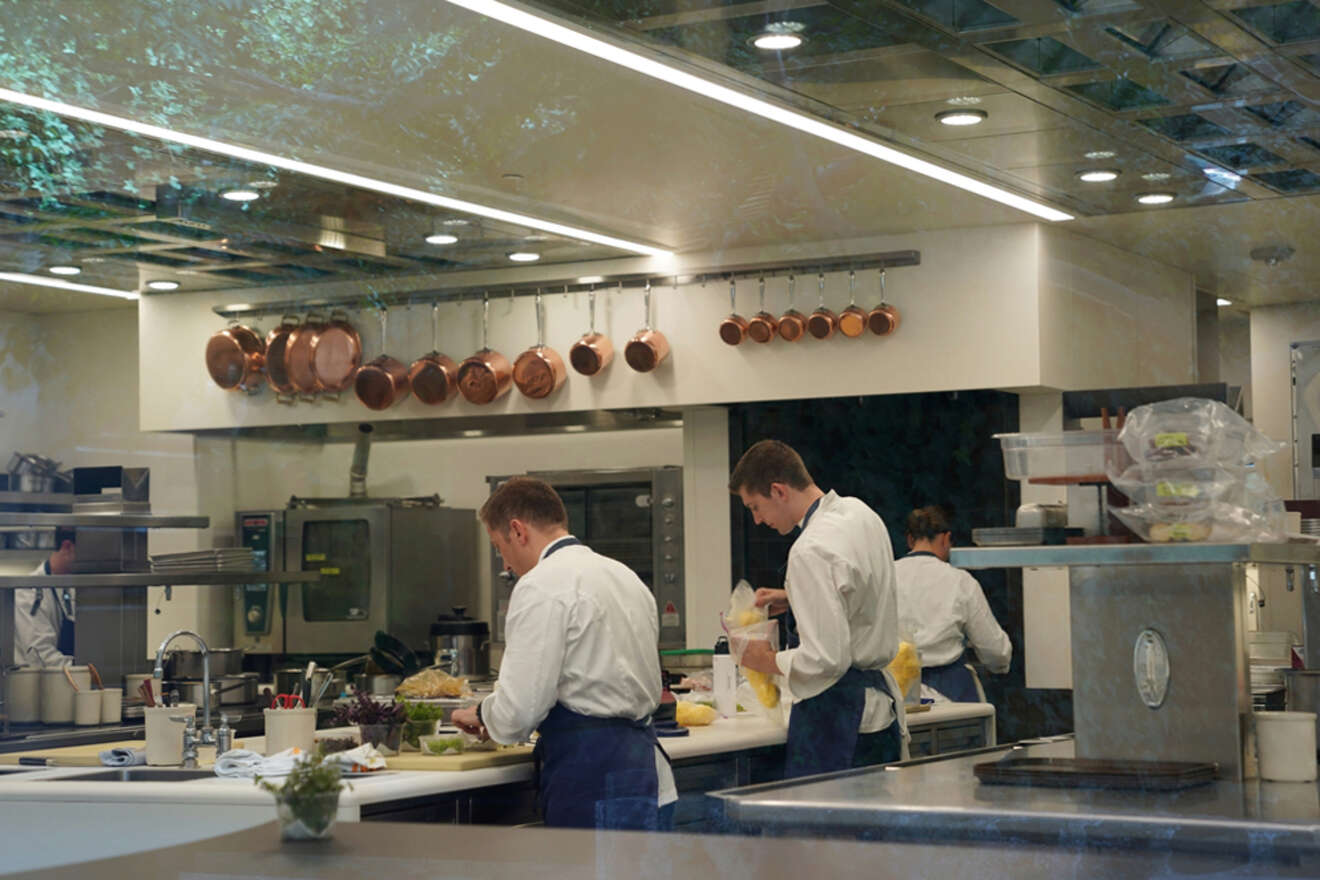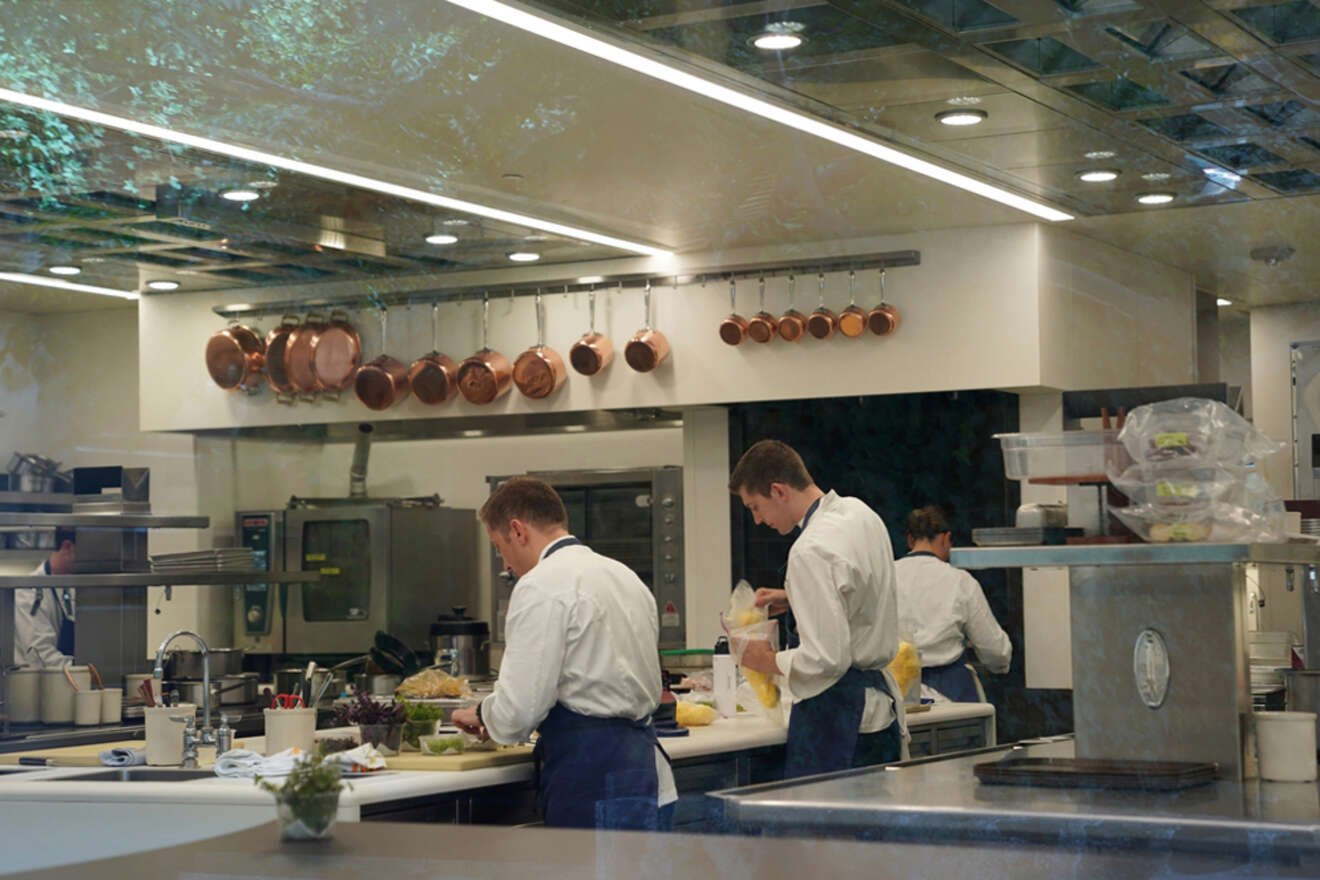 Prepare for an unparalleled gastronomic experience at The French Laundry, an iconic restaurant that has achieved legendary 3-star Michelin status not only in Napa Valley but throughout the nation.
Under the culinary leadership of esteemed chef Thomas Keller, this exceptional restaurant mixes exquisite flavors and culinary mastery of France, all within the stunning backdrop of California's wine country.
Chef Keller carefully curates every detail of the menu, sourcing the finest local and seasonal ingredients, handpicked to ensure the utmost quality and flavor. Try the Salmon Tartare Cornet – it melts in your mouth and tantalizes the taste buds!
NOTE: It's next to impossible to secure a seat at French Laundry, so make reservations well in advance.
6. Chow down at celebrity chef Michael Chiarello's Bottega Napa
You know how some meals just leave you speechless? Bottega Napa, the renowned restaurant helmed by celebrity Chef Michael Chiarello, is that kind of place tucked into Napa Valley.
With Chef Michael Chiarello in the kitchen, you know you're getting a menu that celebrates the flavors of Napa and showcases the region's fresh, bountiful produce. His culinary artistry elevates classic Italian dishes to new heights, infusing them with a contemporary twist and a commitment to seasonal, locally sourced ingredients.
From homemade pasta and sumptuous risotto to mouthwatering grilled meats and seafood, each dish is a masterpiece crafted with precision and love.
You're in Napa Valley, California, of course, so pair your meal with a selection from the extensive wine list. I was blown away by the knowledgeable sommeliers happy to guide you in finding an incredible wine pairing to complement your meal.
7. Go on a hot air balloon ride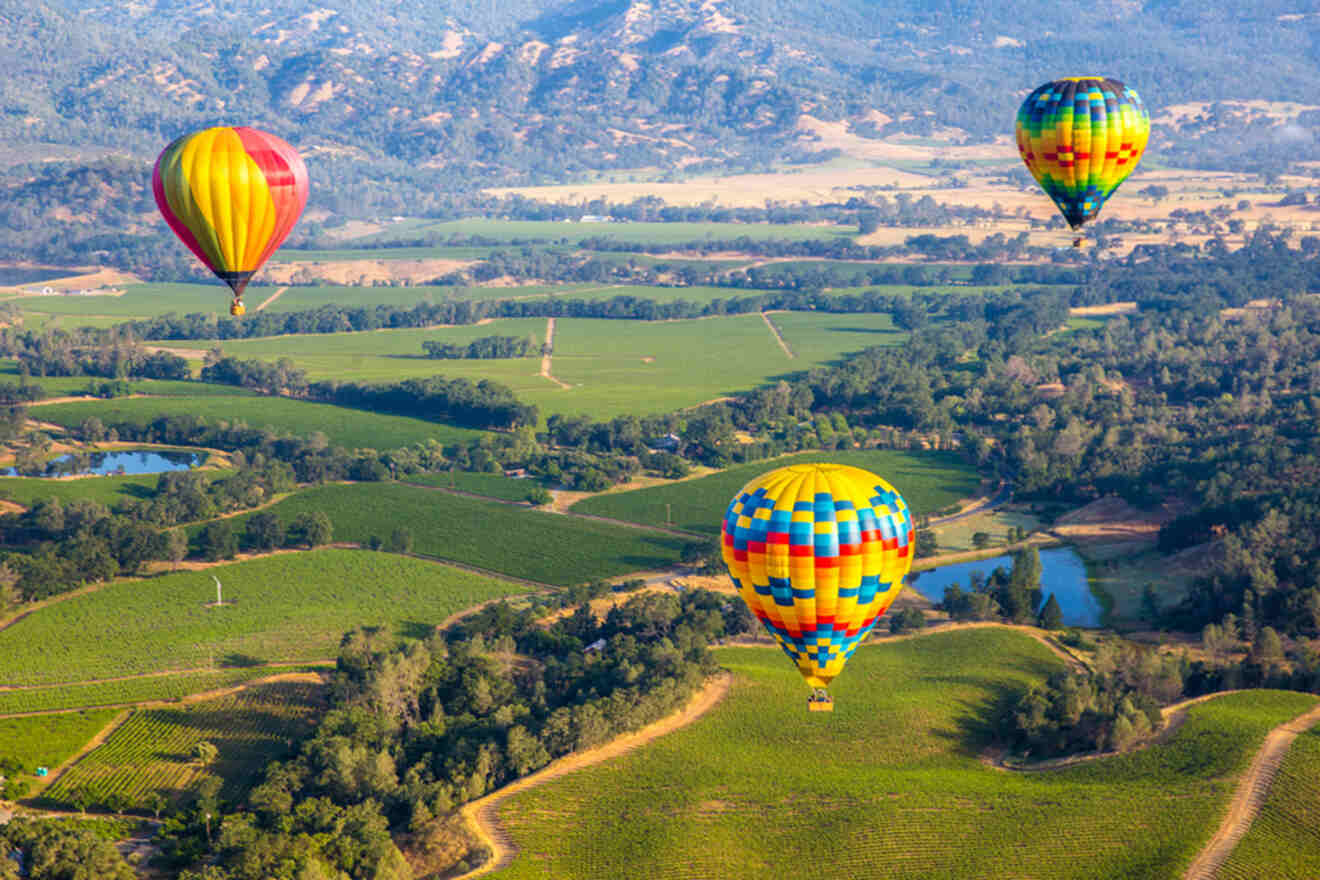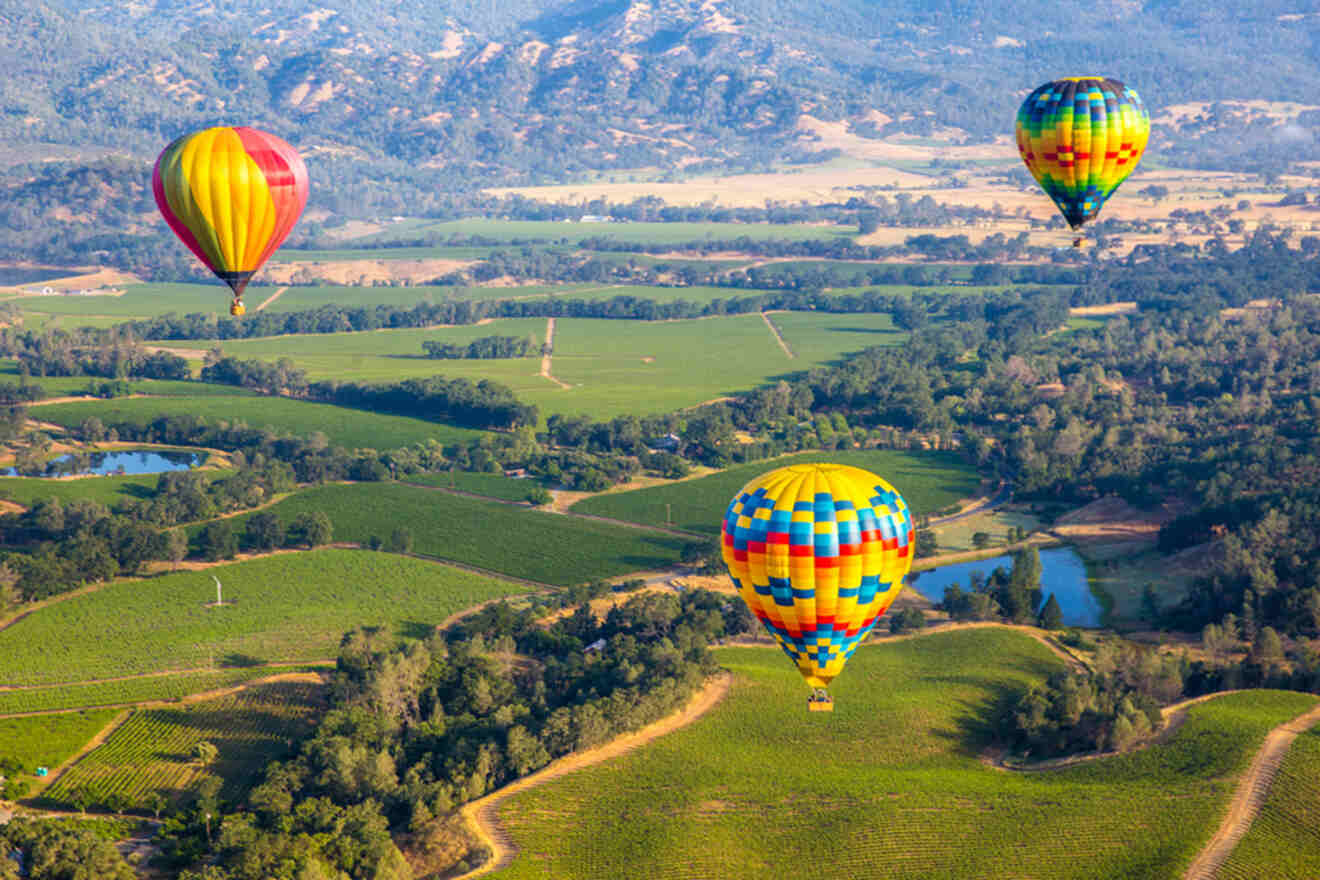 One of the most epic ways to absorb the true beauty Napa Valley beholds is to take a hot air balloon ride. Once your "basket" lifts off the ground, you'll feel your excitement soar as the stunning views of rolling vineyards, the lush valley floor, picturesque hot springs, and majestic mountains unfold underneath your eyes.
During your ride, you'll have the opportunity to learn about the history and culture of Napa from knowledgeable and experienced guides. They share fascinating insights and stories about California wine country and its heritage, the geography of the land, and the vibrant community that thrives within it.
PRO TIP: Sunrise rides are the ultimate experience, allowing you to see the morning sky painted with stunning pinks, reds, and oranges.
PRICE: US$340 per person
Book Your Hot Air Balloon Ride
8. Visit the OG: Schramsberg Vineyards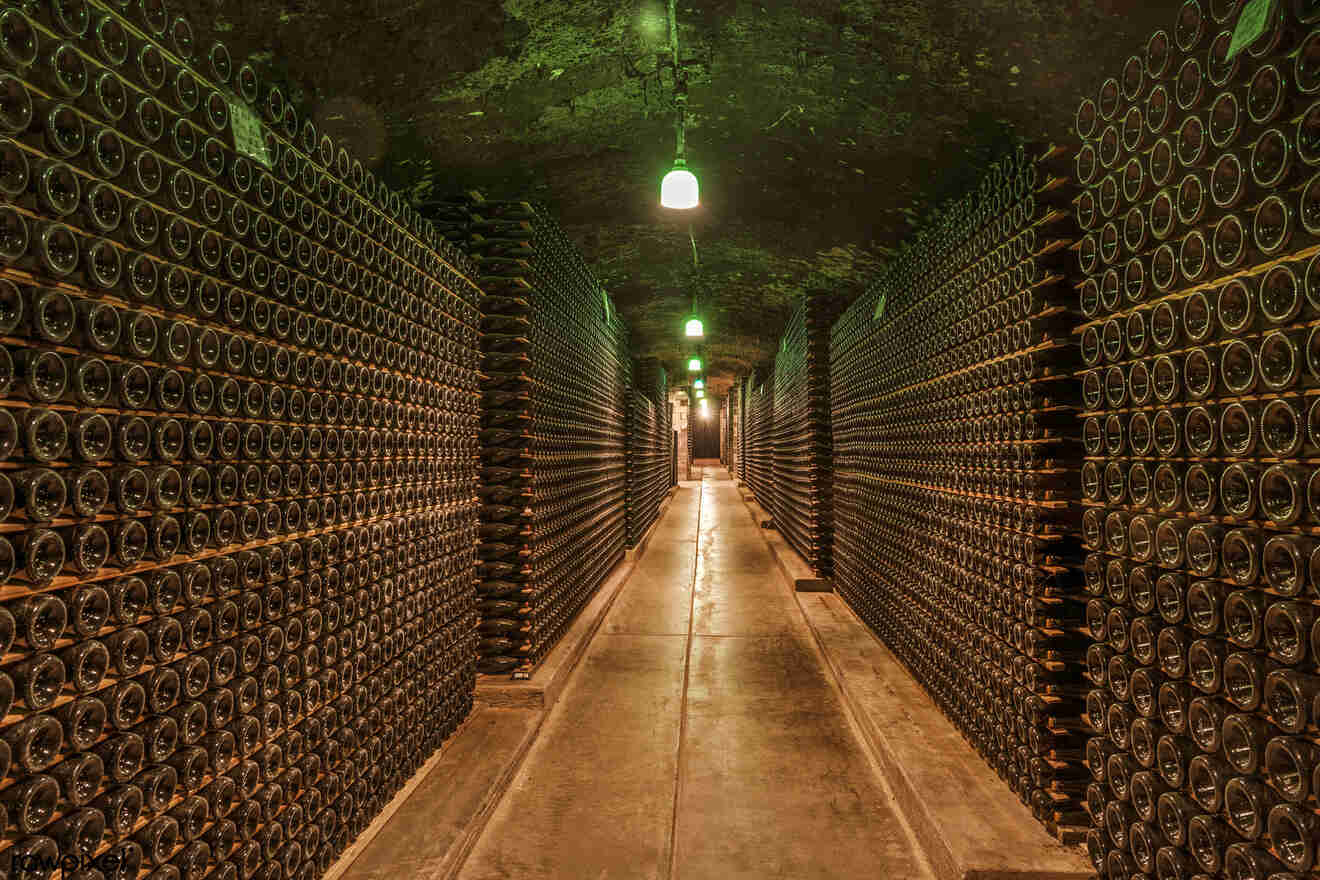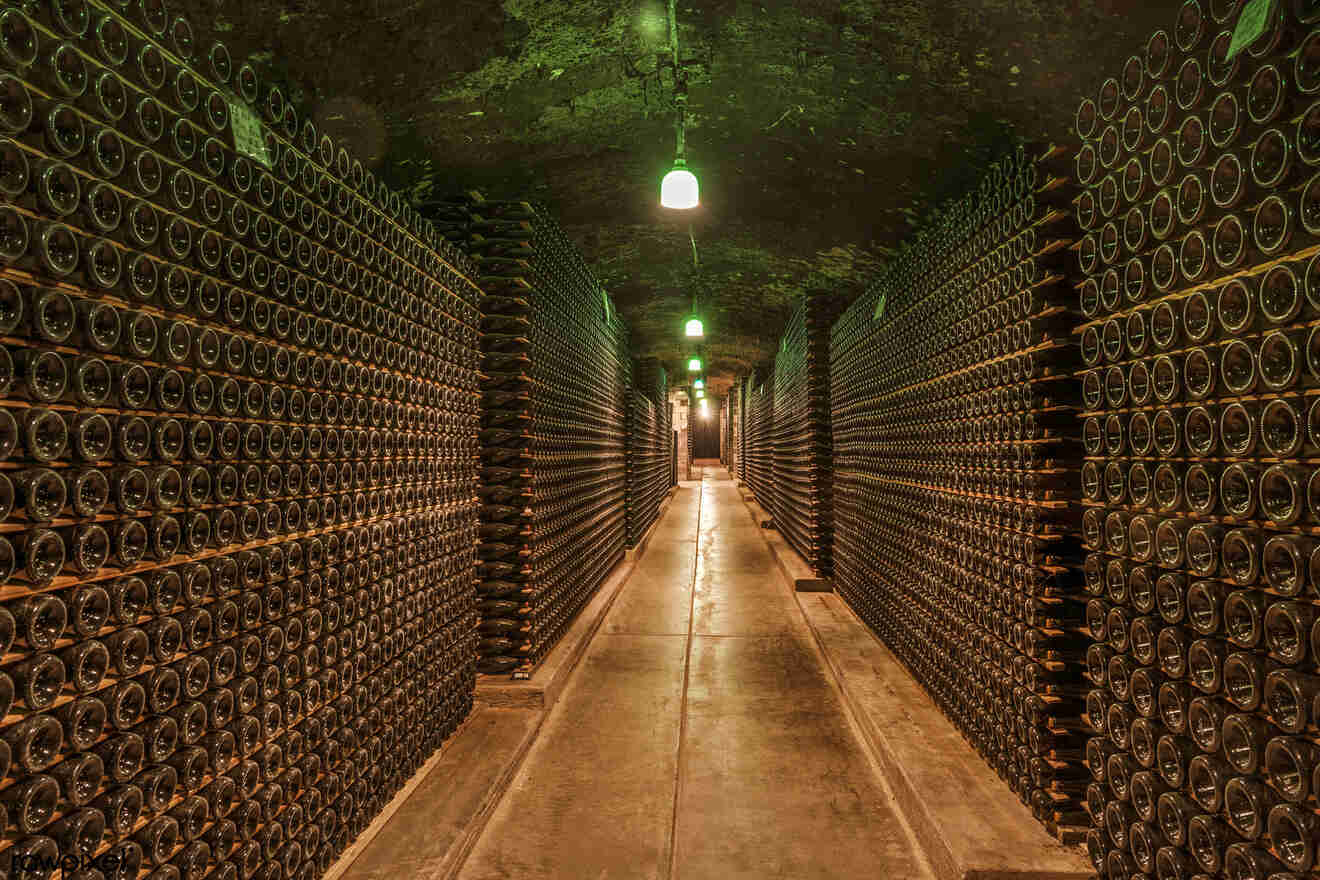 In 1972, President Richard Nixon, seeking to improve relations between the United States and China, held the famed "Toast to Peace" with Chinese Premier Zhou Enlai on the grounds of Schramsberg Vineyards.
Nestled high above St. Helena, Schramsberg Vineyards is not just a winery but a living testament to history and innovation in wine. Since 1965, when the founders stumbled upon a forgotten Victorian Mansion surrounded by once-grand gardens and hidden underground wine cellars, Schramsberg has been pushing the envelope in winemaking.
From the second you step foot on this property, you can feel its pioneering presence. Schramsberg Vineyards was the trailblazer, the first to introduce Chardonnay grapes to the United States, igniting a sparkling wine revolution.
PRICE: US$65 per adult
9. Become part of the family at Jarvis Estate Winery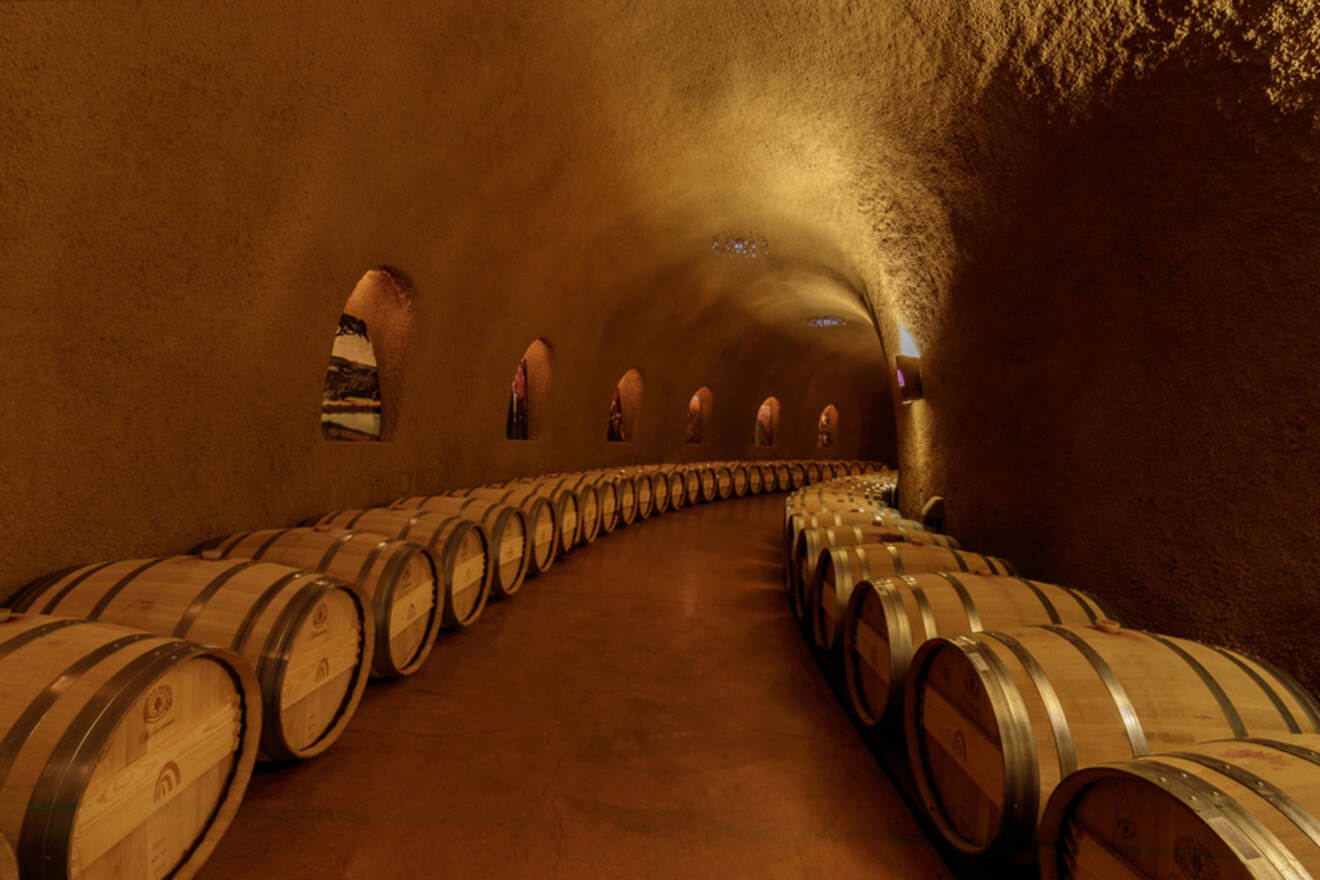 At Jarvis Estate, you can tell from the moment you enter that it is a family-owned winery dedicated to crafting exceptional, sustainably farmed wines, just 4 miles (6 km) east of downtown Napa Valley.
The most unique part of this tour is the winemaking facility, which is unlike anything you've seen before – a 45,000 ft² (4,180 m²) cave tunneled into the scenic Vaca Mountains. It's within these cave walls that the wine magic happens!
Jarvis Estate pride itself on using only estate-grown grapes for its cave-aged wines. This means that every grape used in their Chardonnay, Merlot, Cabernet Sauvignon, Petite Verdot, Tempranillo, and proprietary Bordeaux blends comes from their very own vineyards, and my goodness, they're phenomenal!
It's certainly unique that all their wines are lovingly aged in the cool, controlled environment of a cave before release. This allows them to develop their full potential, reaching a level of perfection that you'll taste in every sip.
PRO TIP: Prefer to combine multiple vineyards and a crazy fun activity? Try this side-car wine tour through Napa Valley, personalized to your preferences.
NOTE: Reservations are suggested, and you should typically book up weeks in advance.
PRICE: from US$150 per person
10. Take in the stunning landscape on an e-bike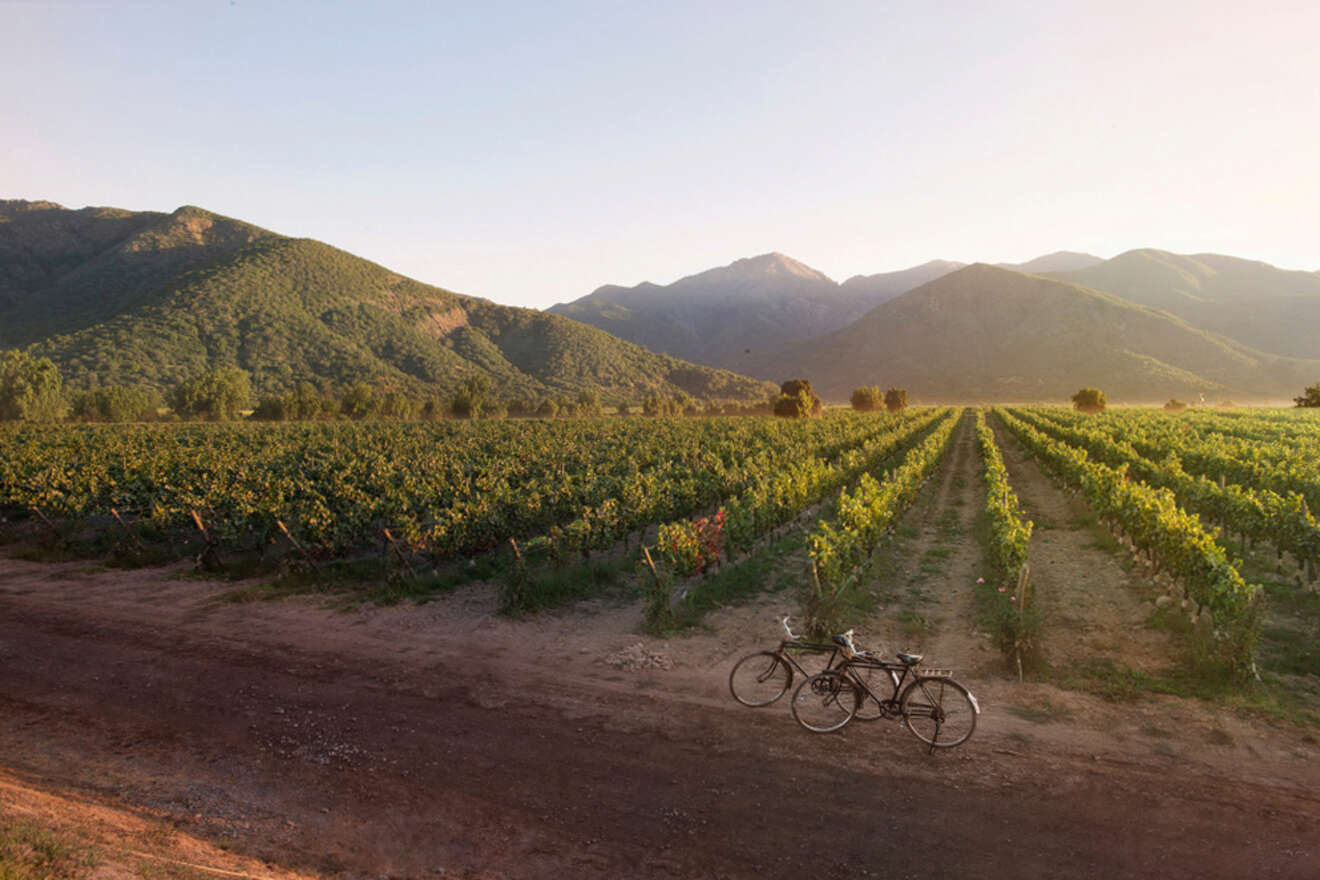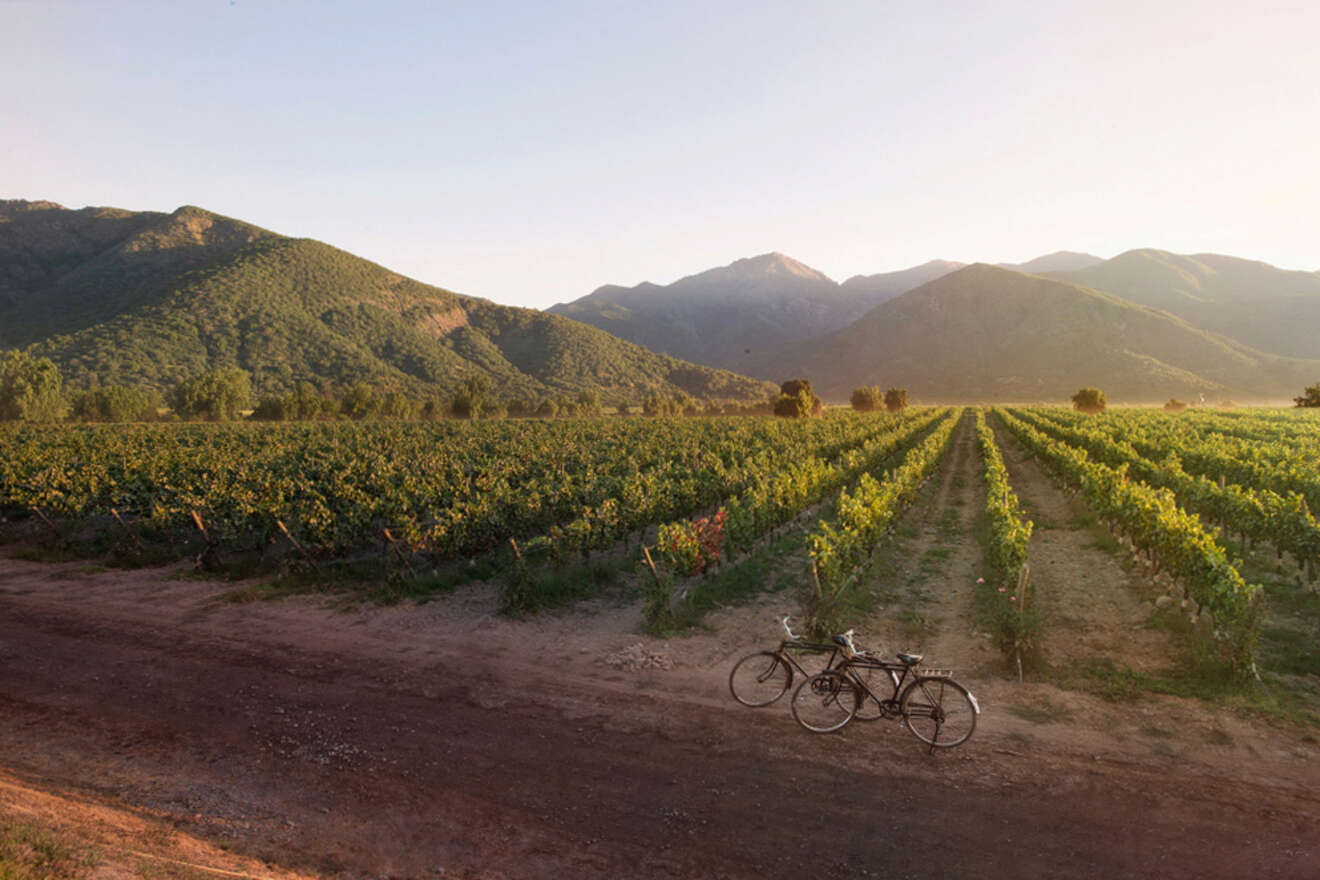 Can you imagine a more fun bike ride than through the dusty, sunny, cool paths that lead you from vineyard to vineyard through Napa Valley? I can't! This activity will keep your heart pumping, allow you to take in the fresh air and natural beauty of the valley, as well as sip on those delectable varietals.
The best part to me is that it offers you the opportunity to indulge in wine tasting at multiple world-class wineries instead of having to pick 1 or 2. This combination of outdoor adventure, wine appreciation, and cultural enrichment makes a bike tour of the wineries one of the best things to do in Napa Valley.
My favorite bike tour takes you on a half-day e-bike tour through Napa, allowing you to maximize time and have a blast in the great outdoors. It books up quickly, though, so I highly recommend booking in advance for this one.
NOTE: While I recommend staying as close to Napa Valley as possible, many tours will pick you up from selected areas and hotels you stay in San Francisco.
PRICE: US$180 per person
11. Dive into the history of wine at V. Sattui Winery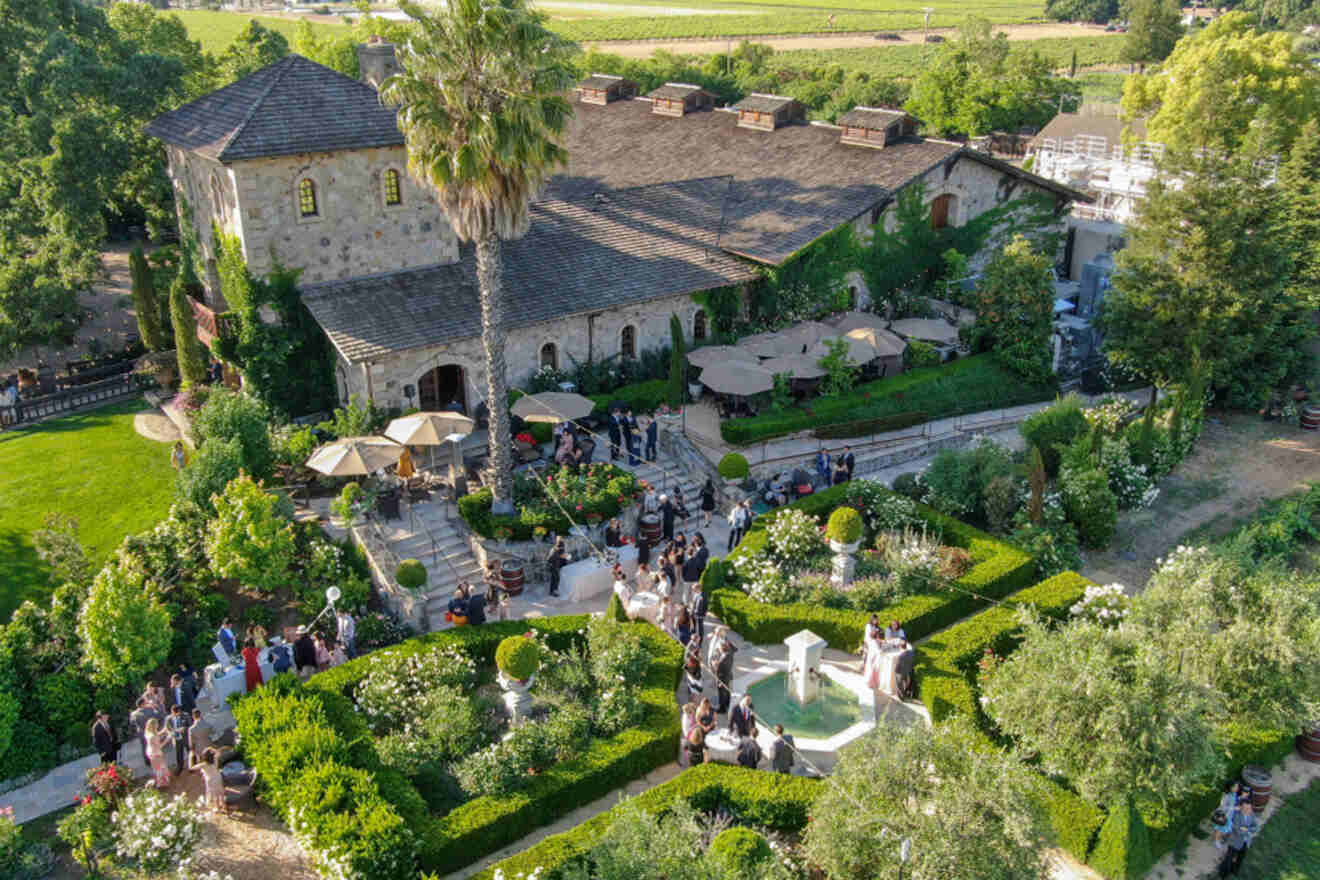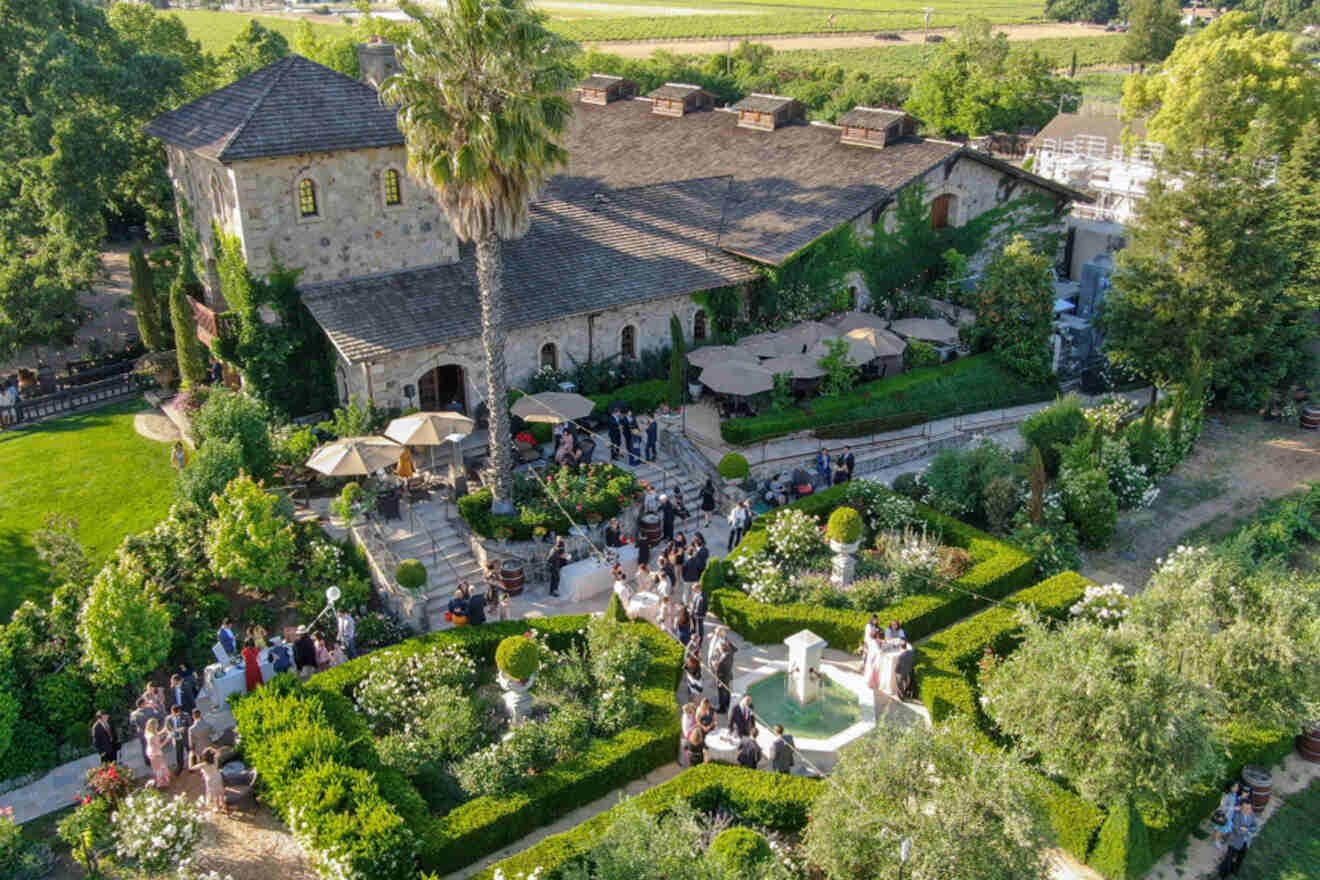 We all love a little side of history along with our wine tasting, and V. Sattui Winery is the place to get a fantastic bit of both. With its rich history dating back nearly a century, this winery was forced to close during the prohibition era. It was later revived by a descendant of the founder, making it one of the oldest wineries in the region.
The property here is drool-worthy, with stunning architecture, vibrant colors, and rolling hills as far as you can see. Don't miss the on-site artisan deli. The food is so yummy and goes perfectly with their varietals.
PRO TIP: If you forget a reservation or just want to squeeze this one in, they do allow free access to their deli and picnic grounds, so you can indulge without touring.
PRICE: from US$50 per person
12. Sip on Pinot Noir at Bread & Butter Wines Tasting Room
I love the tasting room at Bread & Butter Wines – you're treated with such personalized attention, you feel as if this is the one and only wine tasting they've ever given, and it's just for you!
Bread & Butter in Carneros is the perfect place in Napa Valley for growing fine Pinot Noir, allowing it full expression when grown in cooler regions. Carnerosis perfectly situated to receive constant cooling from San Pablo Bay.
At Bread & Butter, they offer amazing food pairing suggestions and answer any questions you may have. Inviting you to relax and enjoy their comfortable seating areas or outdoor spaces, you're never rushed at this amazing wine experience.
NOTE: Reservations required.
PRICE: from US$40 per person
13. Experience excellence at Trefethen Family Winery
One of the best Napa Valley wineries, Trefethen Family Winery is a wonderful stop on your tour of Napa. With a history that spans generations, this winery holds a special place in the region. Founded in 1968, it has remained family-owned and operated, showcasing their commitment to producing exceptional wines.
Definitely, one of the highlights of the winery is its stunning estate. Situated in the Oak Knoll District, the winery features beautiful vineyards and a historic 19th-century winery building. Exploring the estate on a bike allows you to appreciate the vineyard's natural beauty while learning about the family's winemaking traditions.
I have to say, this is one of the more memorable wine-tasting experiences I've had in Napa. Their award-winning wines, including their renowned Chardonnay and Cabernet Sauvignon, show off their craftsmanship and what Trefethen Family Winery grapes can do.
PRO TIP: Ever had a virtual wine tasting? Try out this new experience and get a taste of Napa back home!
NOTE: Reservations are required for tastings and tours.
PRICE: from US$45 per person
14. Merryvale Vineyards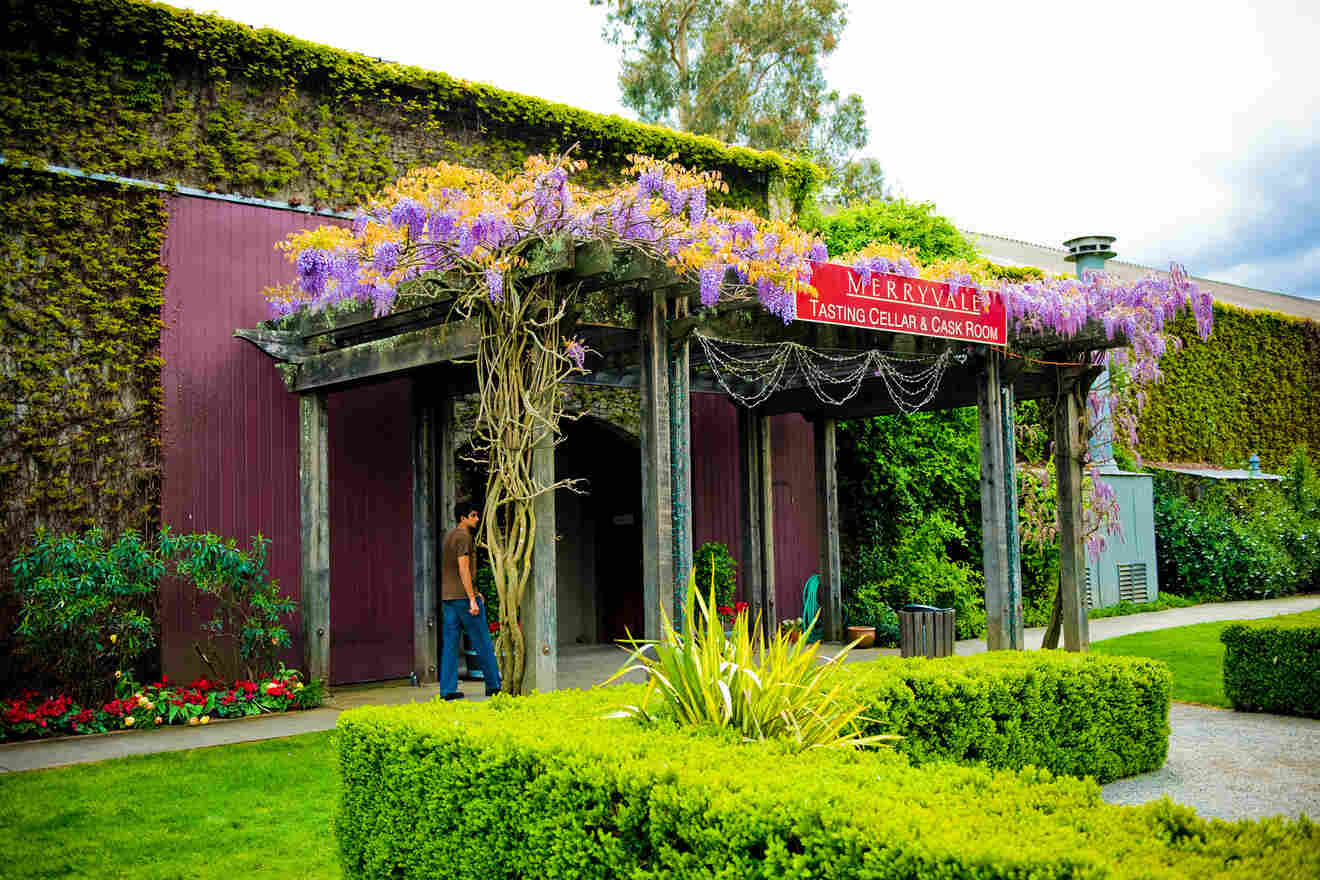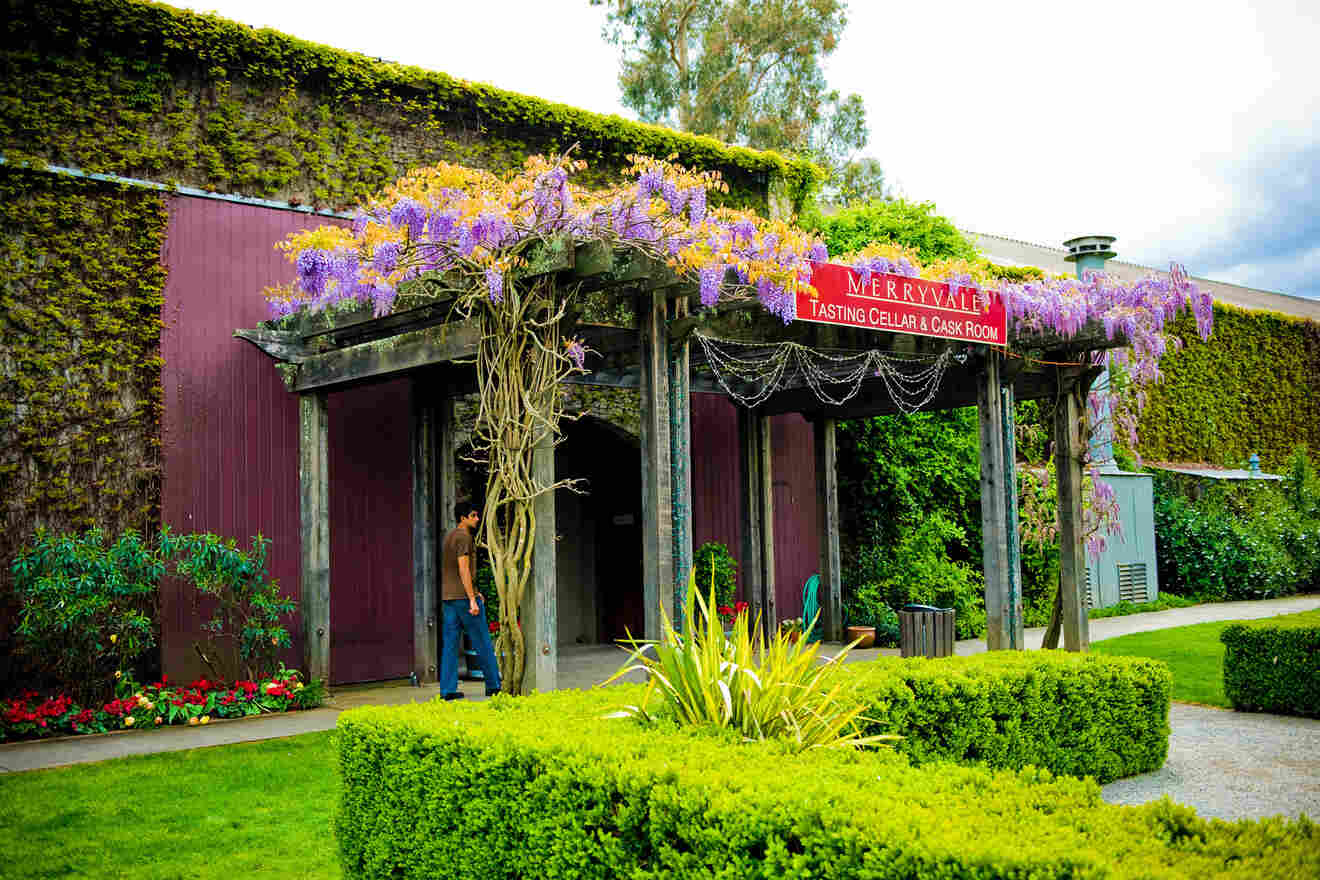 Another one of the best things to do in Napa is to take a visit to Merryvale Vineyards, established in 1983 with roots all the way back to the early 1900s. This beautiful vineyard combines rich history with a commitment to producing high-quality wines.
Once you step foot on the property and take in the smell of the fresh air and local grapes, you'll spot the historic winery building, which dates back to the late 1800s. The building's charming architecture and rustic ambiance bring you back into an enchanting time gone by.
Stunning and picturesque, the real show-stopper at Merryvale is their portfolio, which showcases a range of varietals, including their signature Cabernet Sauvignon, which reflects the unique terroir of Napa Valley.
The knowledgeable staff will guide you through the tasting, sharing insights about the wines and the winemaking process, enhancing your appreciation for the delectable taste behind each bottle.
PRO TIP: Can't get enough of Merryvale wines? Try their sister property's varietals, Starmont Winery and Vineyards, which are also served in Merryvale's tasting rooms.
PRICE: from US$50 per person
15. Try award-winning Cabernet Sauvignon at Pine Ridge Estates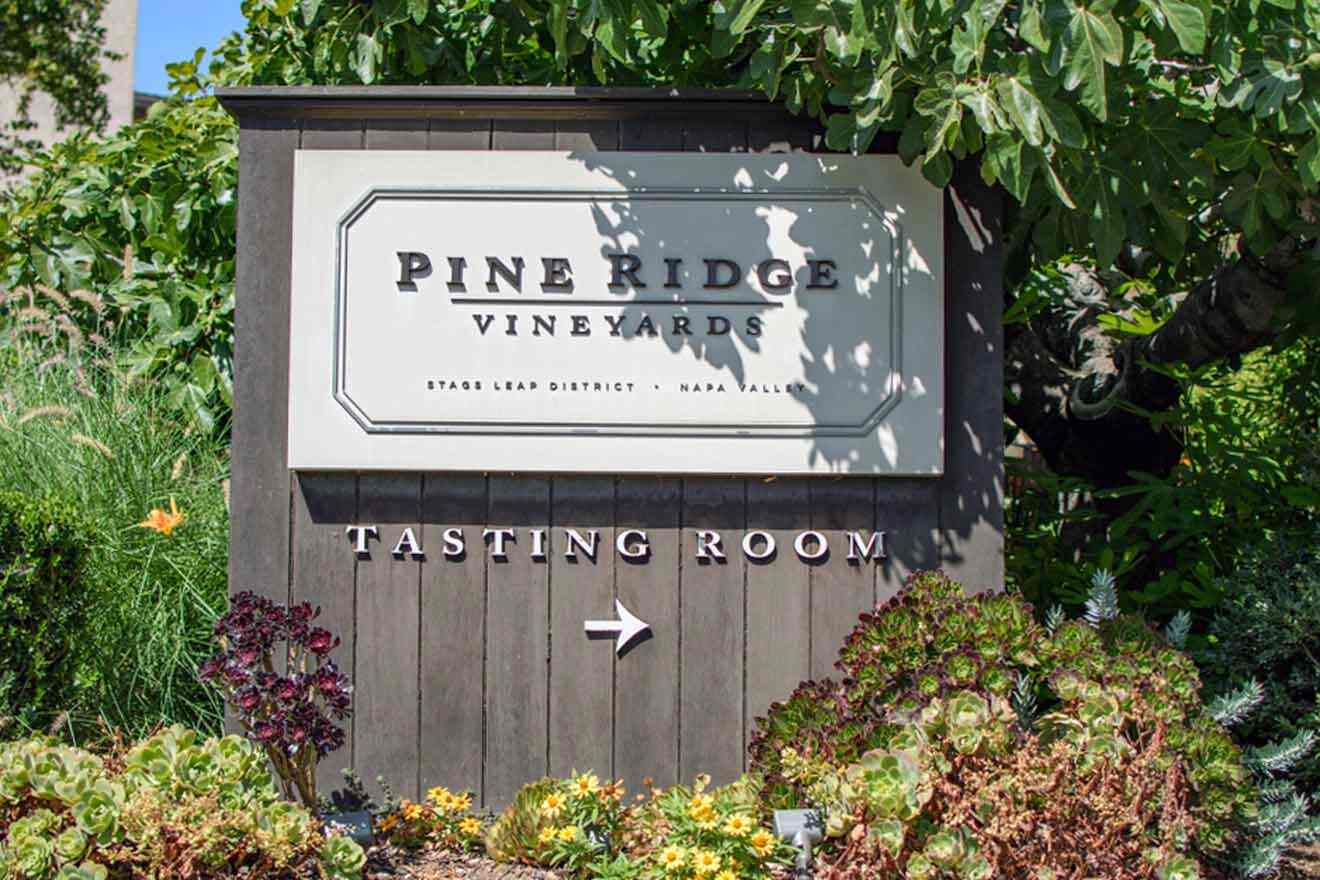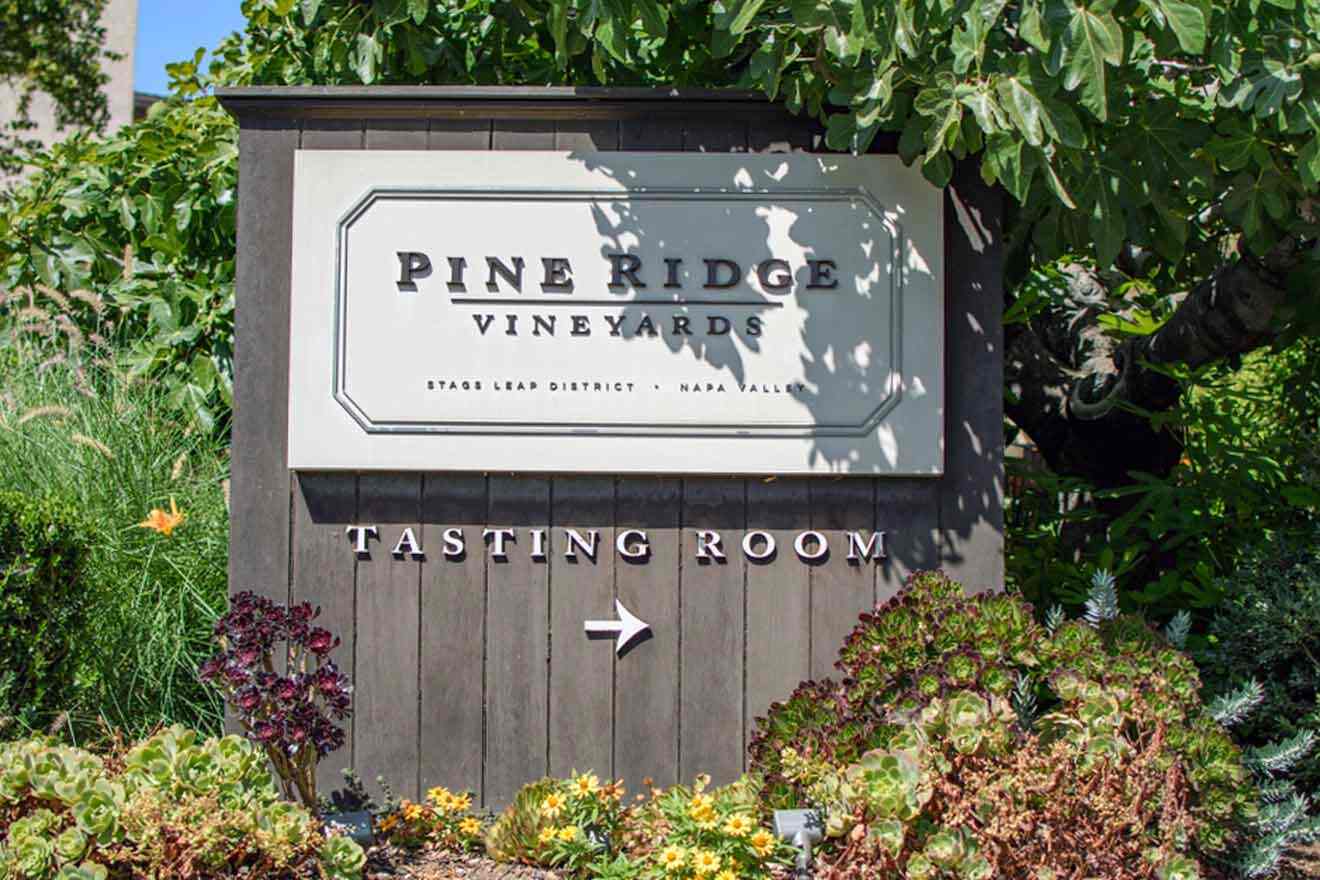 Pine Ridge Vineyards, established in 1978, has a unique charm, and a perfect location, and is renowned for its commitment to crafting exceptional wines.
What sets Pine Ridge Vineyards apart is its remarkable locale set in the Stags Leap District, allowing the winery to benefit from the distinctive terroir of the region, known for producing world-class Cabernet Sauvignon.
The highlight of visiting the estate is, by far, the tasting room. They focus on showcasing all of the diverse varietals of Napa Valley, not just the most popular, and their tasting menu offers an array of everything from Chardonnays to bold red blends.
PRO TIP: Try the Cellar 47 Cave Tour & Tasting to enjoy a fabulously unique wine-tasting room located in one of the old property caves!
NOTE: Reservations are required
PRICE: from US$55 per person
16. Admire the art with wine in hand at Hess Collection Winery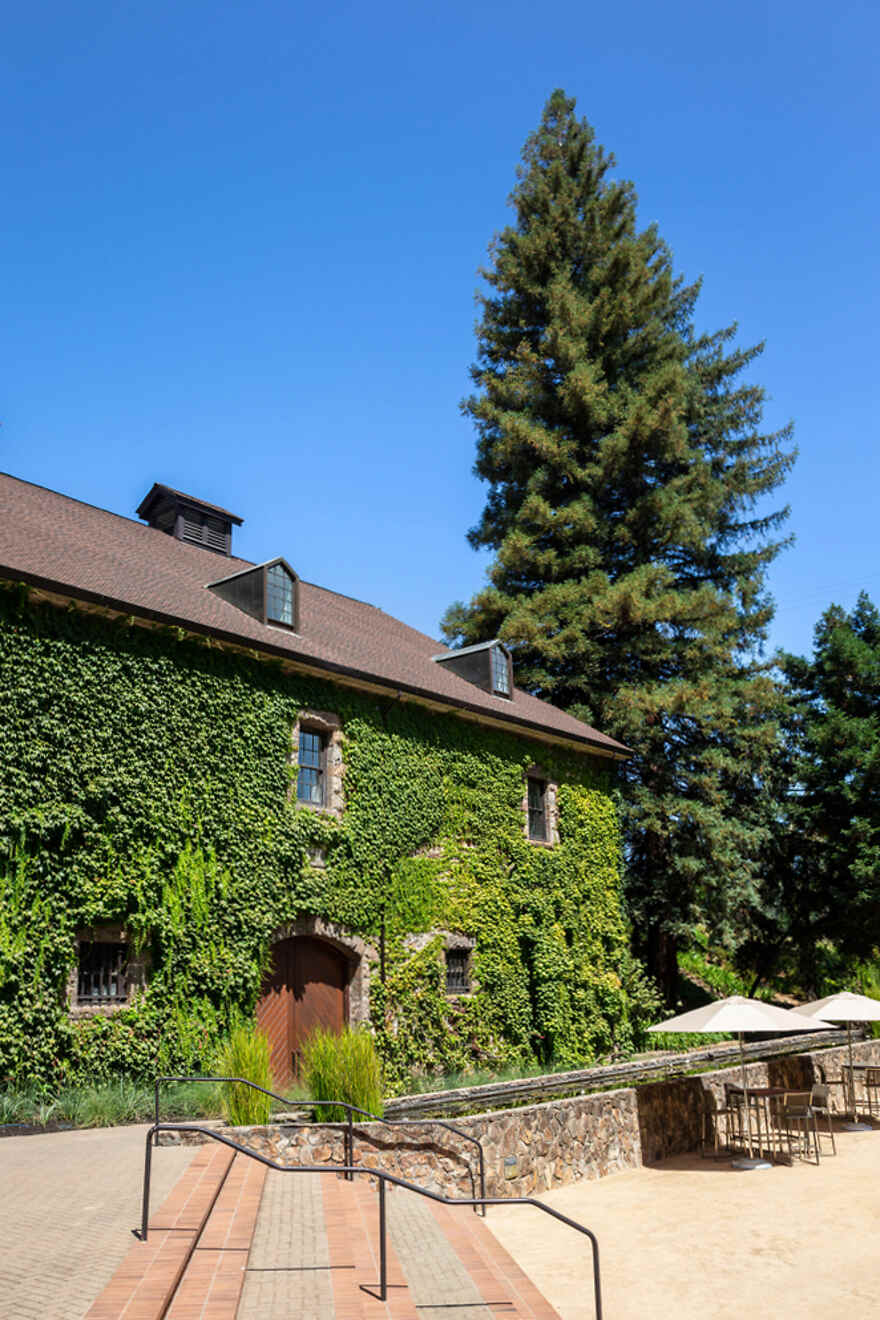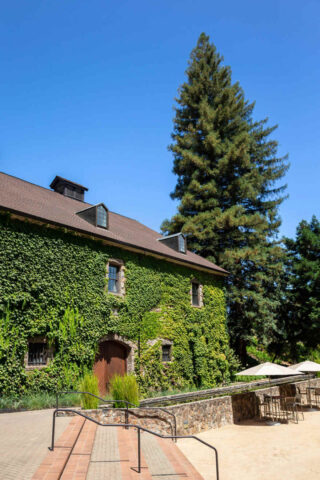 Hess Collection Winery is a must of the things to do in Napa Valley. Founded in 1978, this winery has a unique combination of artistic expression, sustainable practices, and exceptional wines.
What makes Hess Winery truly unique is its commitment, beyond wine tastings, to the arts and artists of the region. The winery features a remarkable art collection, showcasing contemporary pieces from sculpture and painting to mixed media presentations.
I think the most awe-inspiring part about this artistic marvel is the floor-to-ceiling windows that seem to invite natural light in to illuminate the surroundings, with glimpses of the vineyards and valley from every angle. The outdoor terrace provides an ideal spot to sip and savor your wine while taking in the beauty of this mountaintop.
In addition to its artistic focus, Hess Winery is known for its sustainable winemaking practices. The winery has embraced environmentally friendly initiatives, such as solar energy use and water conservation, ensuring their wines are crafted with a minimal ecological footprint.
PRO TIP: Take their ATV & Wine Tour. It's incredibly fun, immerses you in the vineyard, and the wine is fantastic!
NOTE: Reservations are required.
ATV & WINE PRICE: from US$245 per person
17. Visit the Culinary Institute of America
With so many things to do in Napa, it might feel difficult to fit in the cultural stuff between all that wine tasting!
Visiting the Culinary Institute was so much more than I imagined. The best part was a visit to the Chuck Williams Culinary Arts Museum, boasting an impressive collection of over 4,000 specialty culinary items which will leave you drooling if you're a fan of cooking.
The art museum is part of the Chuck Williams CIA Copia, a full culinary center that offers much more than just a museum experience. The surrounding gardens are unreal, showcasing a variety of fruit, vegetables, herbs, and even flowers.
If you're dying to eat here, I don't blame you! Their on-site dining options are outrageously delicious and not to be missed- and, of course, paired with wine!
TIP: If you're ever looking for a unique and amazing idea for a business trip, try one of the private culinary experiences they set up for corporate parties.
PRICE: FREE museum admission
18. Explore the region at the Napa Valley Museum
Wine, wine, and more wine! It's wonderful, but sometimes you need a break! The Napa Valley Museum is a wonderful way to get in some cultural richness in between all the delicious wine tastings.
This charming museum opened in 1972, is all about celebrating the history of Napa Valley, with 3 fantastic galleries that cater to different interests within Napa.
The Main Gallery is where they showcase traveling exhibitions, bringing in exciting art and historical collections from around the world. So you never know what cool exhibits you'll stumble upon during your personal visit!
The Spotlight Gallery is another gem where they shine a light on local and regional artists. It's the perfect place to discover the talents and creativity thriving in the area.
Last but not least, the History Gallery is like stepping into a time machine! With over 15,000 artifacts and items on display, this gallery takes you on a journey through Napa Valley's rich history. From the indigenous people who first called this land home to the pioneers and winemakers who shaped the region, you'll get a real sense of the valley's fascinating evolution.
PRO TIP: All that wine tasting can sure make you sleepy! Try to get to this one early in the day so you can really appreciate it.
NOTE: Open Thurs through Sun, 11 AM – 4 PM
PRICE: US$15 per person
19. Discover the Di Rosa Center for Contemporary Arts
Another great way to sprinkle in some culture to your Napa Valley adventure is to stop into the Di Rosa Center for Contemporary Art.
Displaying exquisite art sourced mostly from Northern California, Di Rosa Center for Contemporary Arts is a wonderful place to really immerse in and celebrate the Napa region.
Beyond just the contemporary art of Northern California, the center features an extensive collection of works by regional artists, including paintings, sculptures, and installations. The sprawling landscape that surrounds the museum, dotted with sculptures, adds an enchanting feel to the unique ambiance.
NOTE: Open Fri through Sun, 10 AM – 4 PM; drop-ins welcome.
PRICE: US$20 per person
20. Get wild in the Skyline Wilderness Park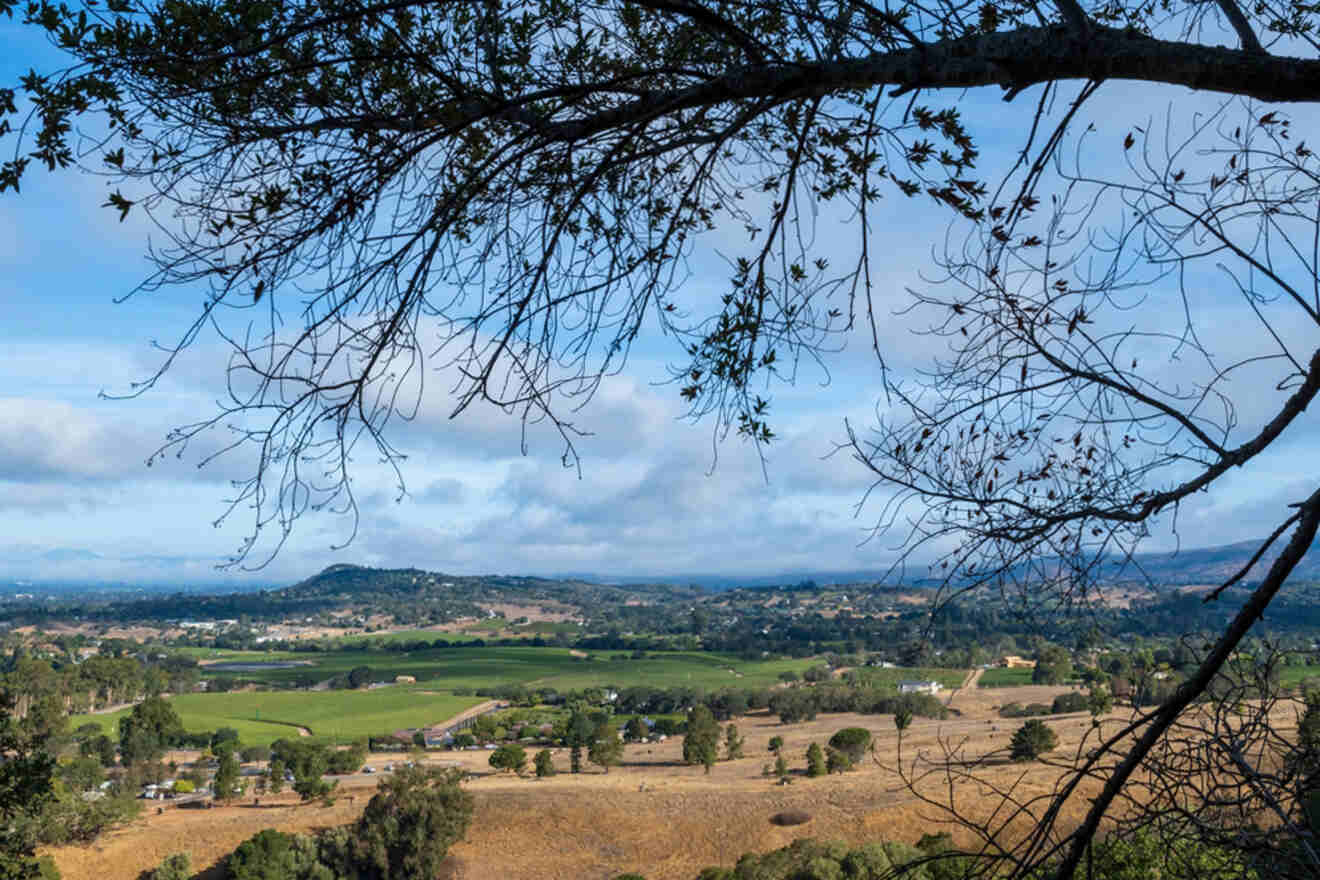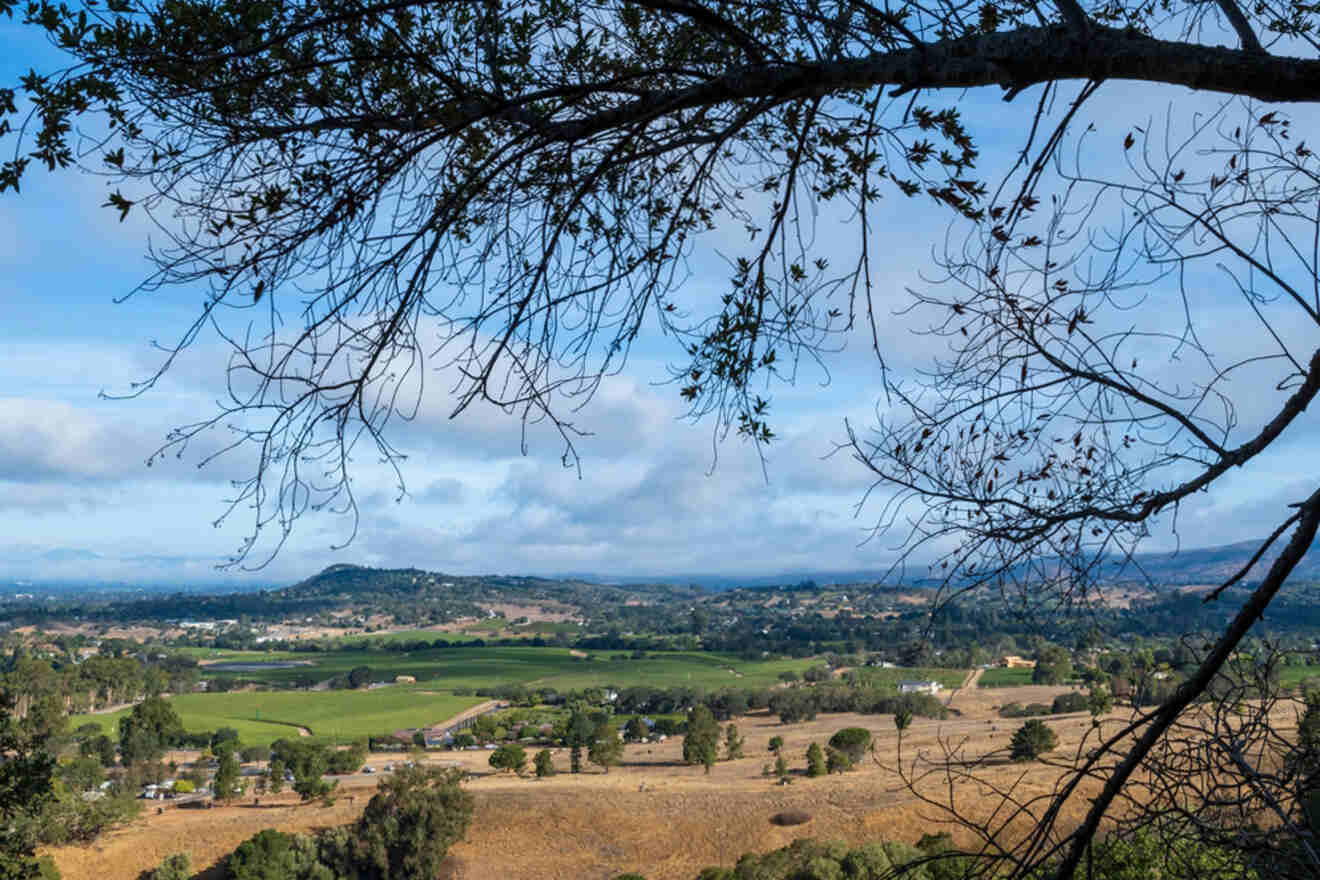 Ok, I might be one of those annoying wellness educators who will always implore you to get your heart pumping, even on your trip to Napa Valley.
I highly recommend taking a break from the vineyards and indulging in some outdoor adventure at Skyline Wilderness Park. Trust me, it's totally worth it!
This hidden gem is a haven for nature lovers and hikers, surrounding you with lush greenery, rolling hills, and breathtaking views that will make you forget all about those delicious tasting rooms. 😉
The park offers a variety of trails, each with its own unique charm and level of difficulty. Keep your eyes peeled for the incredible wildlife in the area. You may spot deer in the nearby meadows or catch a glimpse of the stunning bird life up above. It's like stepping into a real-life nature documentary in this place, and I'm here for it!
One trail you don't want to miss is the Lake Marie Loop. As you make your way around the tranquil lake, you'll be treated to stunning views that are perfect for snapping some envy-inducing Instagram photos.
PRICE: US$6 per vehicle
21. Hike or kayak at Bothe-Napa Valley State Park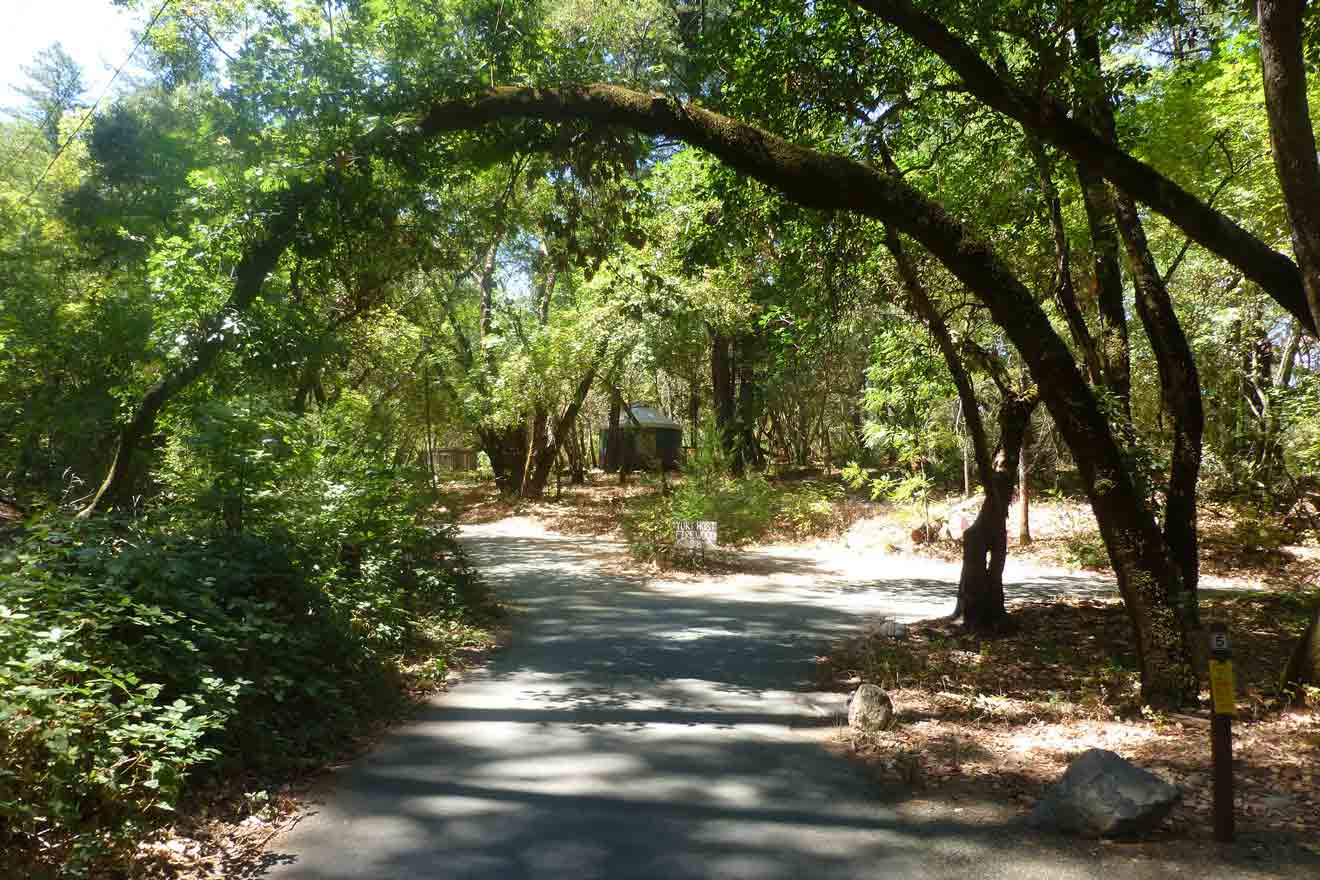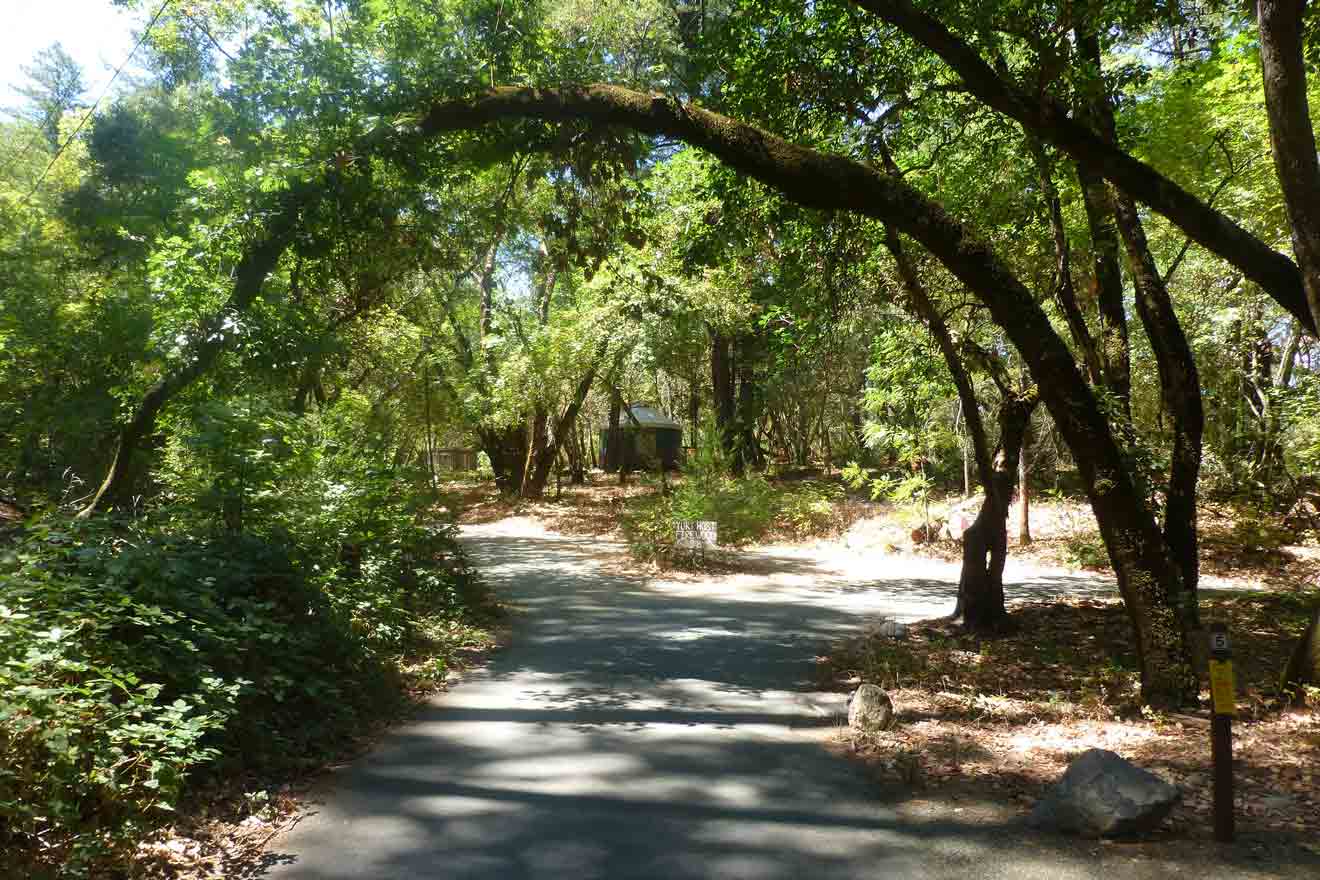 A wilderness amusement park, Bothe-Napa Valley State Park offers a mix of majestic redwoods, oak woodlands, and picturesque meadows.
Get out on the multitude of hiking trails at Bothe-Napa Valley State Park that vary in difficulty, have a picnic lunch at one of the designated picnic areas, paddle a kayak out on the lake, or take a dip in the seasonal swimming pool.
Jump on the Coyote Peak Trail for incredible vistas at the peak. Just keep in mind the ascent is challenging!
The park also offers camping facilities for those looking to extend their stay and make a whole weekend adventure of it.
NOTE: Seasonal pool is an extra fee, open Saturday and Sunday from 1 PM to 5 PM
PRICE: US$8 per vehicle
22. Cool off at Lake Berryessa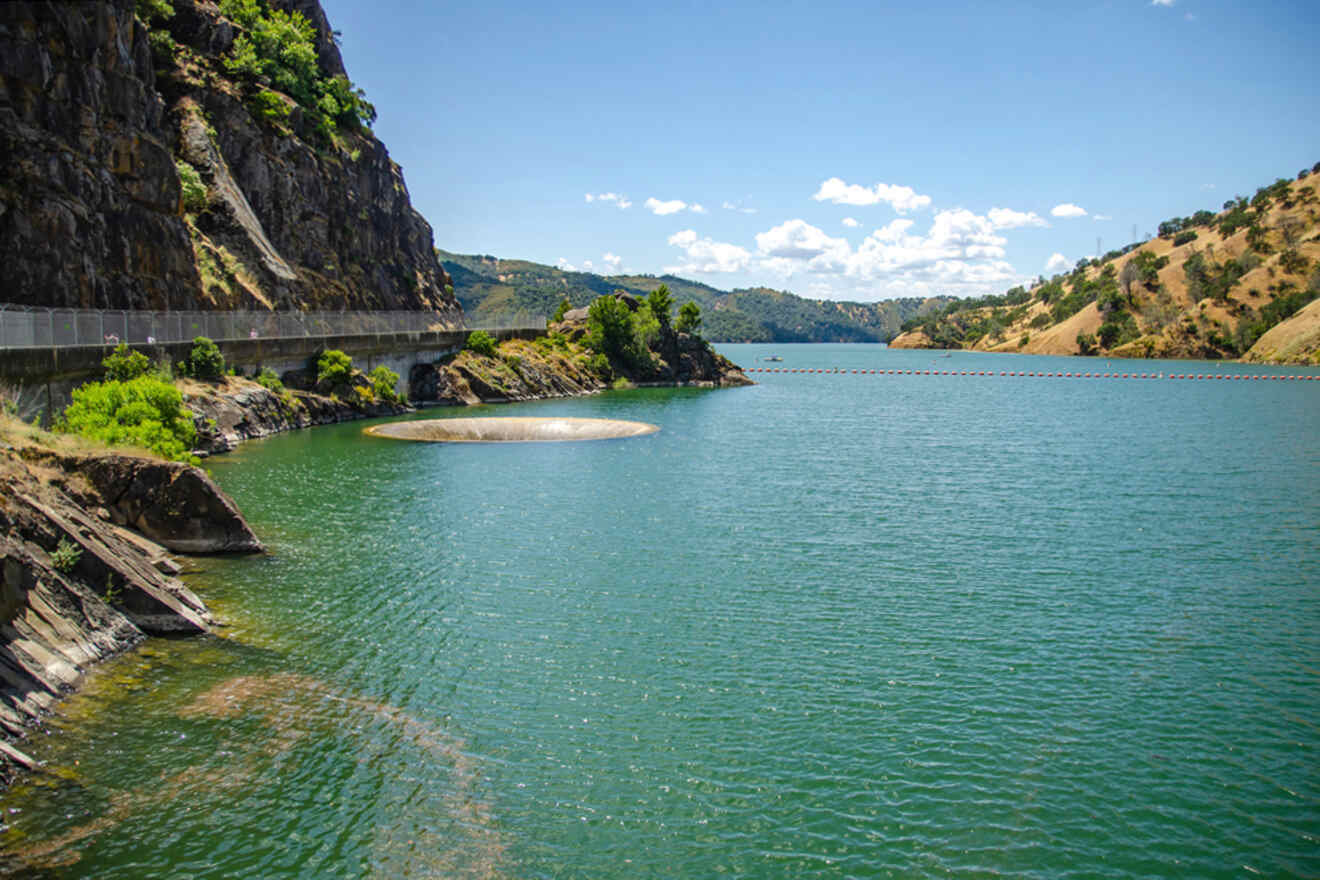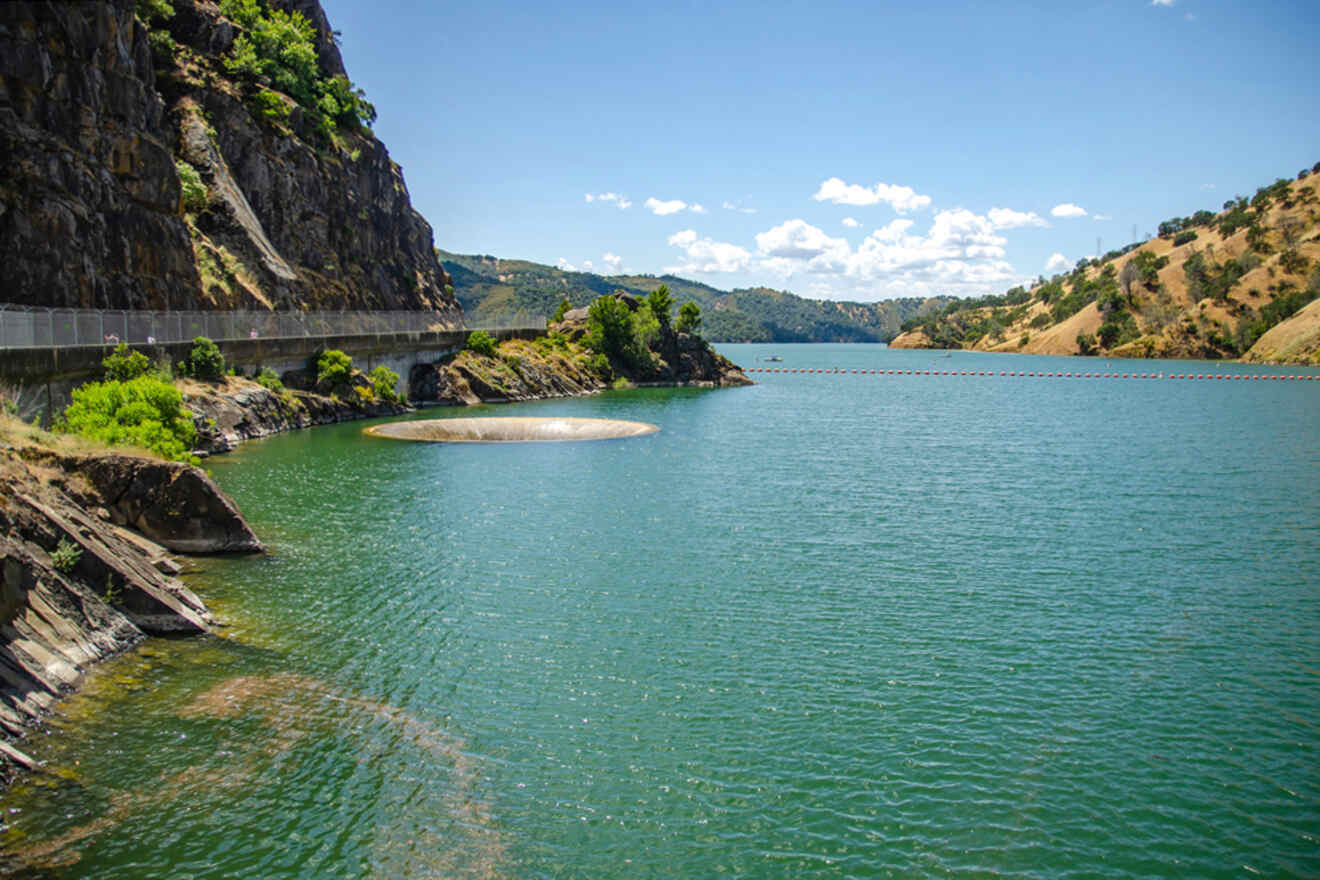 As a lover of stand-up paddleboarding, I would absolutely recommend taking an afternoon to play at Lake Berryessa. In the summertime, Lake Berryessa can reach up to 75º F (24º C) and is the perfect place to have a little adventurous fun in the great outdoors of Napa Valley.
Try renting a boat, stand-up paddleboard, or even a kayak, and go play in the refreshing waters of the lake. Prefer to stay dry, enjoy one of the make hiking trails throughout the lake area. This stop is so much fun and worth fitting into your Napa Valley trip.
PRICE: US$5 per vehicle
23. Check out the ecological wonder of Wetlands Edge Park
If you haven't caught on yet, I absolutely love being by the water and in nature, especially while in Napa Valley. Some of my favorite hiking trails connect to one another and take you on a stunning journey through the region, starting at Wetlands Edge Park.
The Wetlands Edge Trail takes you on an exploration of the delicate ecosystem of the wetlands, where an abundance of wildlife and vibrant vegetation thrive. As you stroll along the trail, you'll be treated to picturesque views of marshes, ponds, and reed-filled habitats.
Connecting to the Wetlands Trail, the Napa River Trails take you on a memorable journey along the banks of the scenic Napa River. The river's gentle flow and surrounding foliage create a serene atmosphere, perfect for a leisurely walk, jog, or bike ride. Along the trails, you'll encounter enchanting landscapes, including vineyards, meadows, and the iconic Napa Valley scenery.
PRICE: FREE
24. Find joy at Robert Louis Stevenson Museum
Fun and obscure fact? The first poem I ever memorized for a school assignment was Robert Louis Stevenson's The Swing. I'll spare you the verses, but to me, this museum is filled with so much joy and culturally significant poetry.
The museum opened its doors in 1969, offering the public the largest collection of Stevenson's work in the world. I personally think the exhibits are timeless, but the museum also does a great job of bringing in new media and resources to keep the museum fresh, new, and interesting for years to come.
NOTE: Open Tues through Sat, 12 PM to 4 PM
PRICE: US$10 donation is encouraged
25. Explore downtown Napa Valley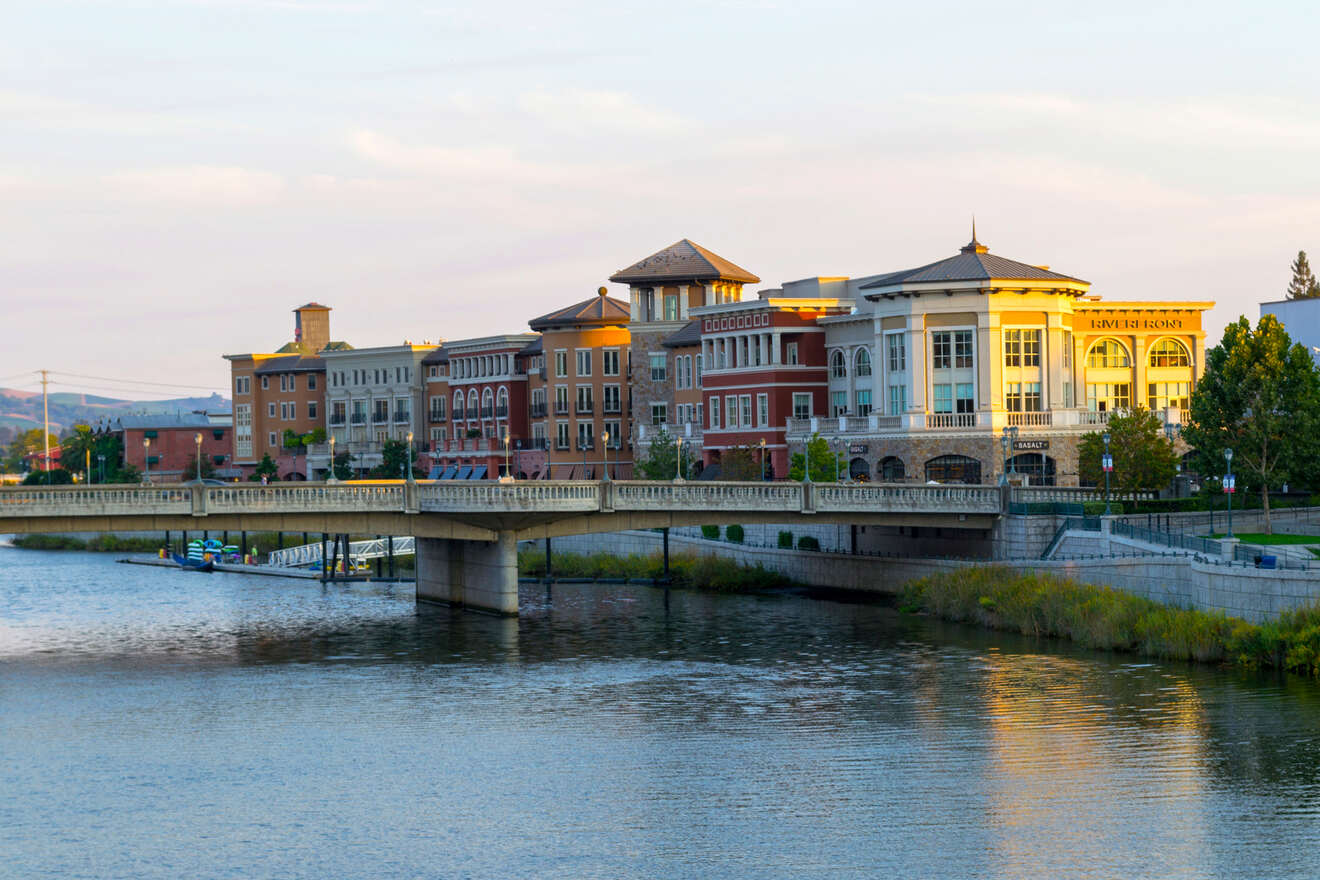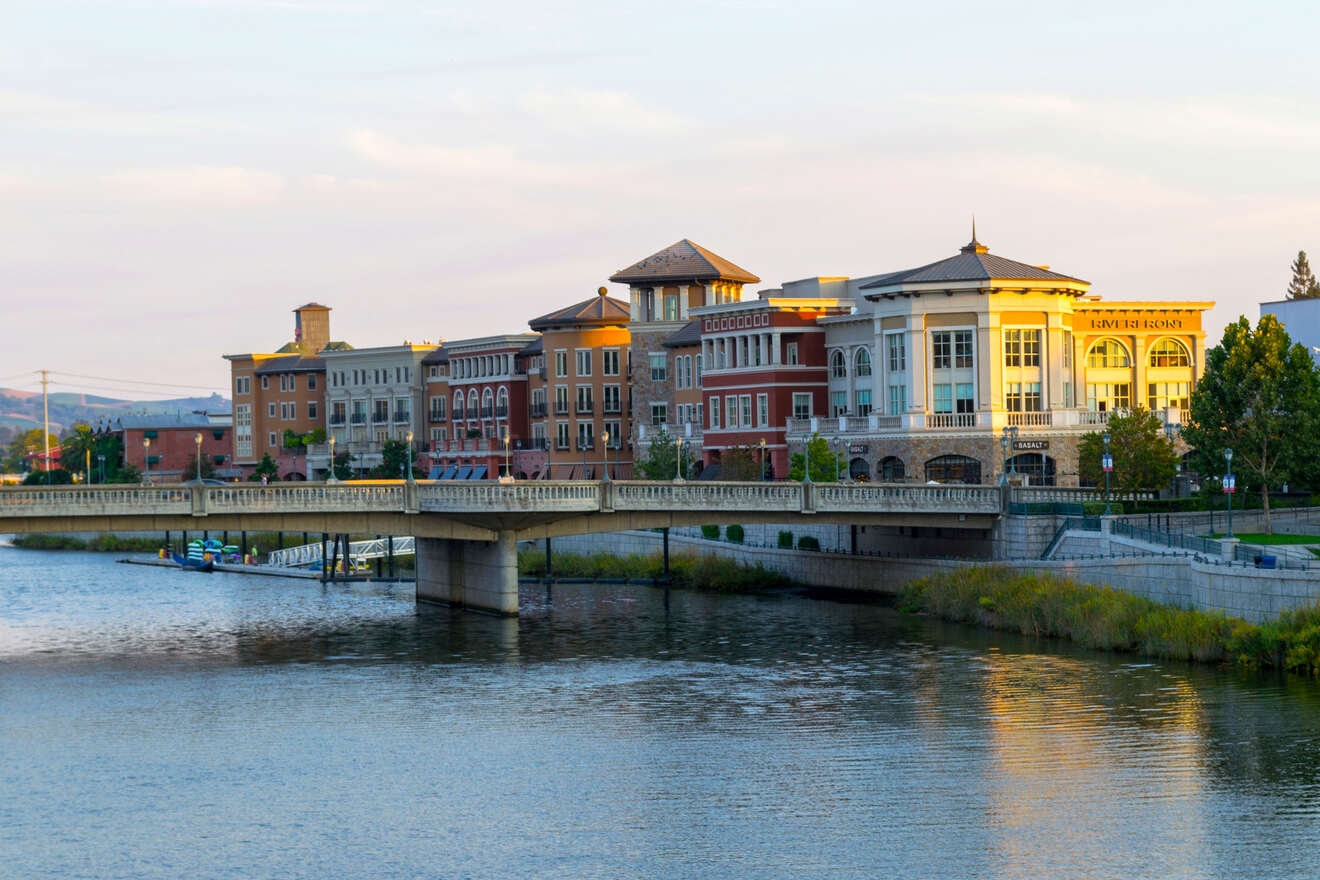 While you've likely stopped in downtown Napa at this point in your trip to visit either the Oxbow Public Market or maybe the Napa Valley Train, there is tons to do in this downtown district.
Enjoy strolling along the Napa Riverfront Promenade, the picturesque walkway along Napa River that provides scenic views of the river down below, and a wonderful vantage point to all the restaurants, cafés, and wine-tasting rooms.
I found myself wandering around downtown Napa Valley for at least half of my days in the region. There are so many fun, eclectic shops, beautiful boutique hotels, salons with tantalizing spa treatment options, yummy local treats, and great souvenirs to find and take home.
26. Let creativity capture you on the Napa Art Walk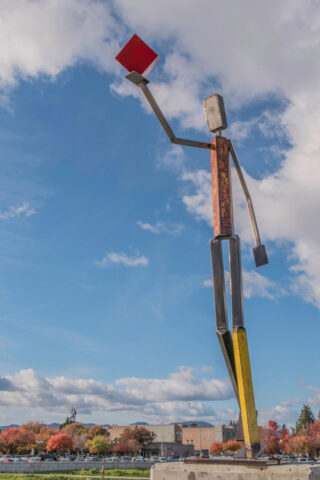 All the sculptures you see are on loan to the city of Napa for 2 years or until the piece is sold. 10% of all proceeds pour back into the city's art program.
On one of your days downtown, take advantage of the Napa Art Walk. It's an amazing artistic outdoor exhibition that adds vibrancy and colorful design to the streets of downtown Napa Valley.
This is a public art program showcasing an ever-changing collection of sculptures crafted by talented artists from around the world. As you explore the city's charming streets, you'll notice the striking sculptures popping up around you, merging local fine art with the urban landscape.
Wandering along the Napa Art Walk, you can soak in the artistic expression and skillful craftsmanship behind each sculpture. From abstract forms to figurative pieces, the collection offers a range of unforgettable styles and materials – you'll be thinking about the art all day long.
PRICE: FREE
27. Marvel at the Napa Valley Opera House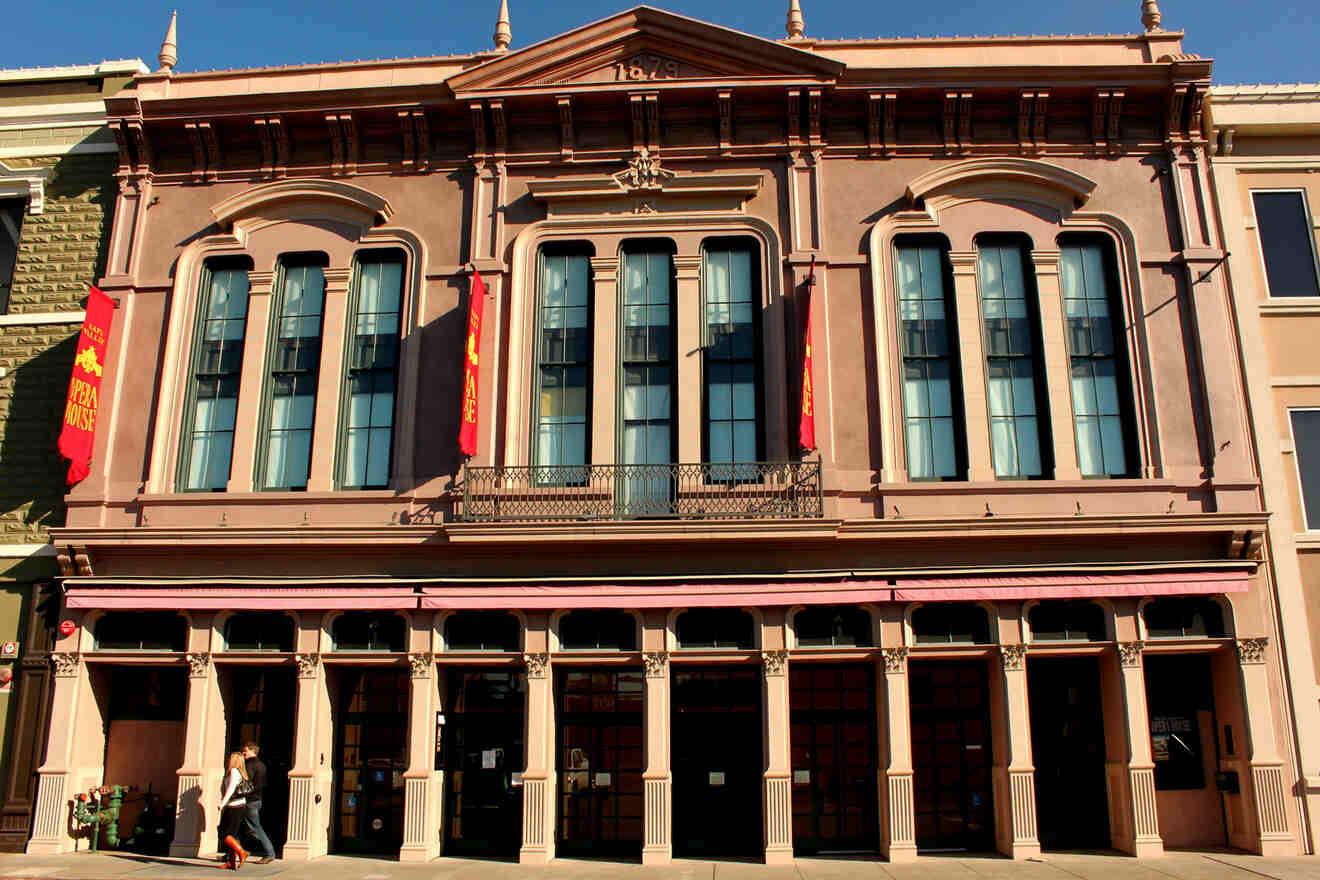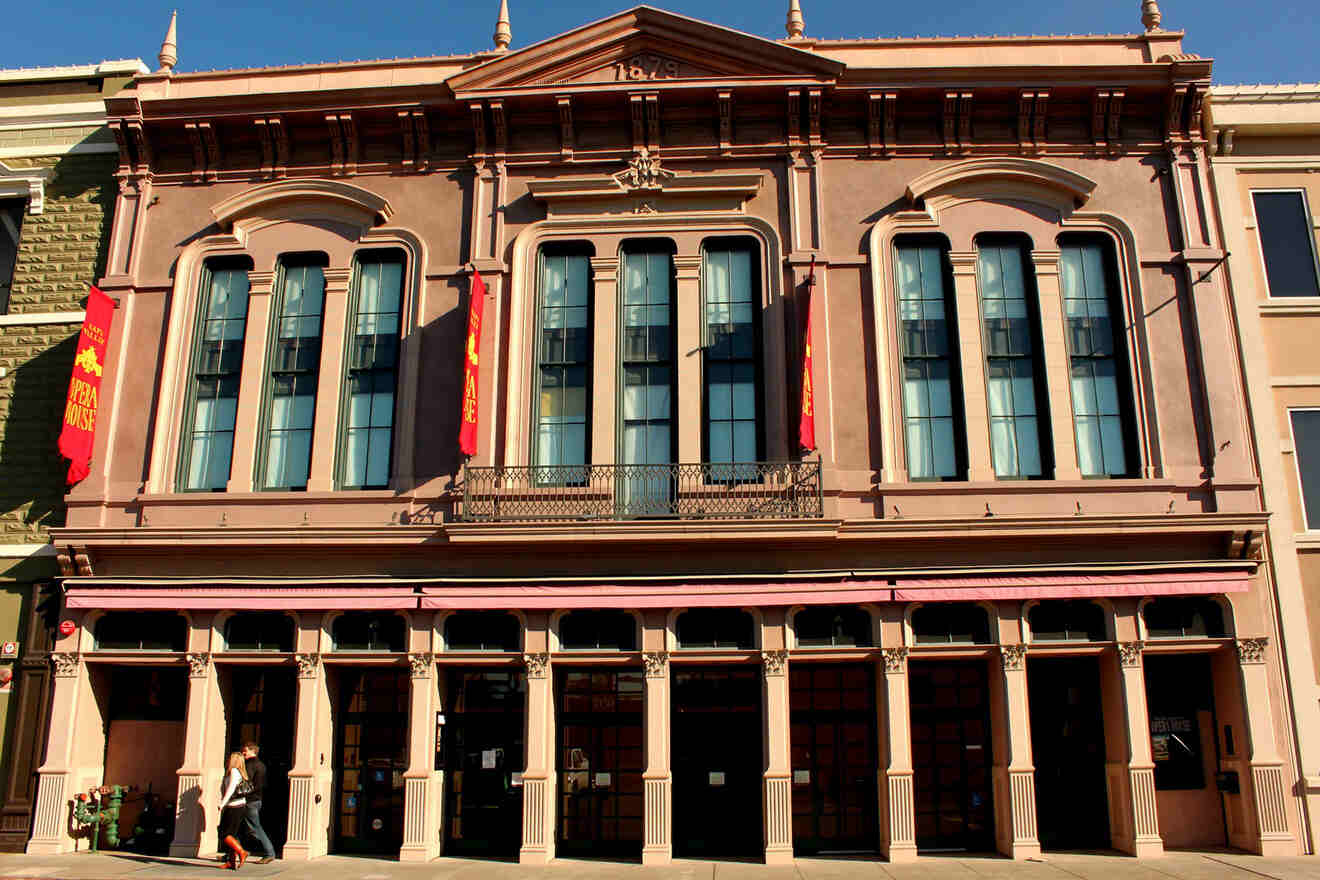 If you have the time while in Napa Valley, step into the magnificent Napa Valley Opera House.
This historic gem in downtown Napa is a cultural legacy with its rich Napa Valley history and lovingly restored architecture. From music concerts to theater shows and more, the Napa Valley Opera House is the place to go.
The Opera House also offers educational and community programs involving tourists and locals to take part in this Napa Valley institution.
Located in the heart of downtown Napa Valley, the Opera House is surrounded by fantastic dining, shopping, and wine-tasting options to keep you busy the whole day through.
PRICE: FREE admission, tours, and show prices vary
28. Get involved in the Napa County Historical Society
Stop at the Napa County Historical Society and take a peek at their museum, surrounded by fascinating artifacts, captivating photographs, and engaging exhibits. It truly brings Napa Valley to life. You'll see historical artifacts from Native American cultures, pioneers, and influential figures who have shaped this remarkable region.
But the Historical Society is more than just a museum. They host a variety of events, lectures, and educational programs that allow you to dive deeper into the history and culture of the area.
I think one of the neatest things about this place is that it serves as a valuable resource for researchers and genealogists, offering access to a treasure trove of archival materials and historical records, allowing locals to uncover their family history or explore specific aspects of Napa Valley's past.
PRICE: FREE
Where to stay in Napa Valley
There are lots of options when staying in Napa Valley's wine region. See below for my top picks for every budget.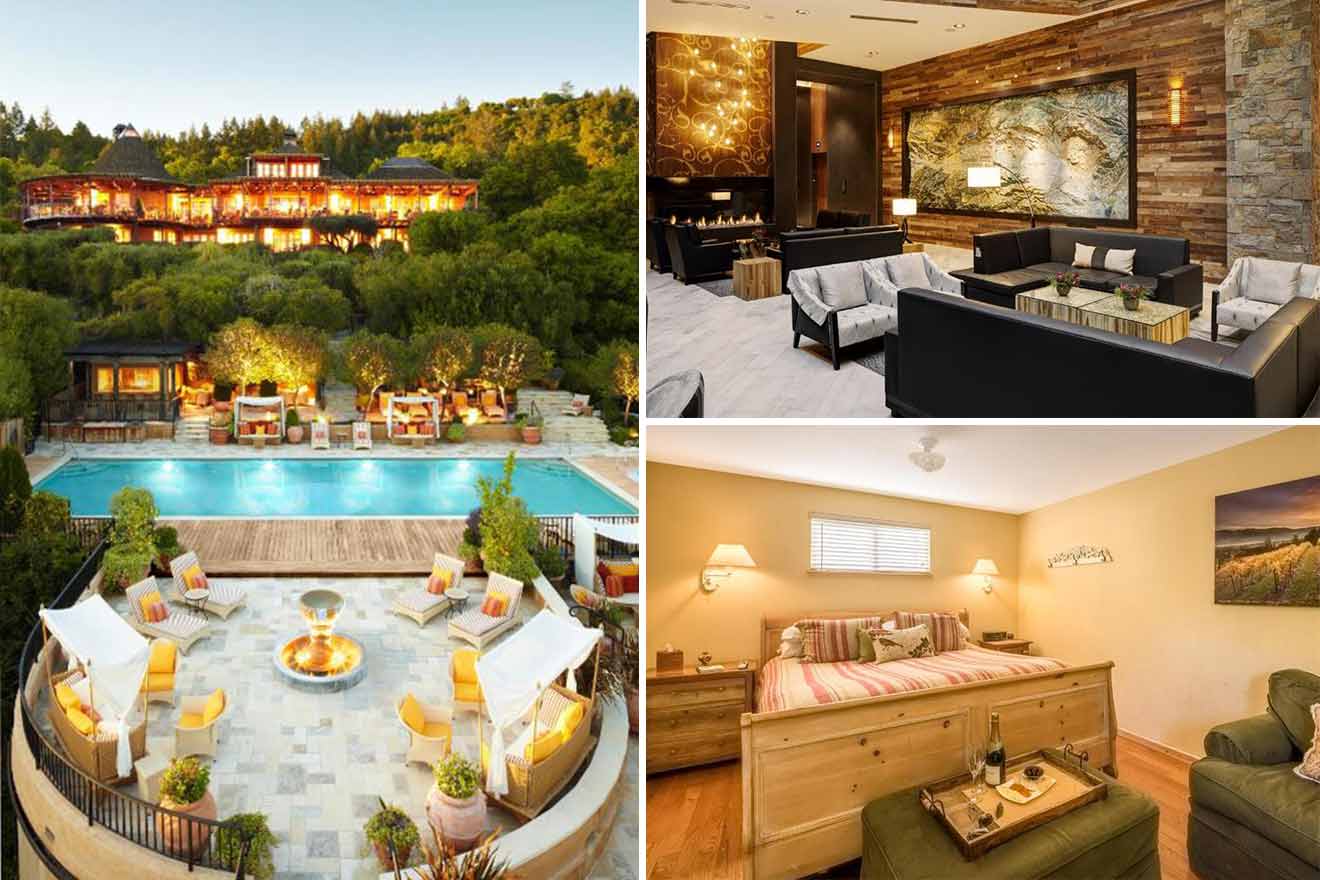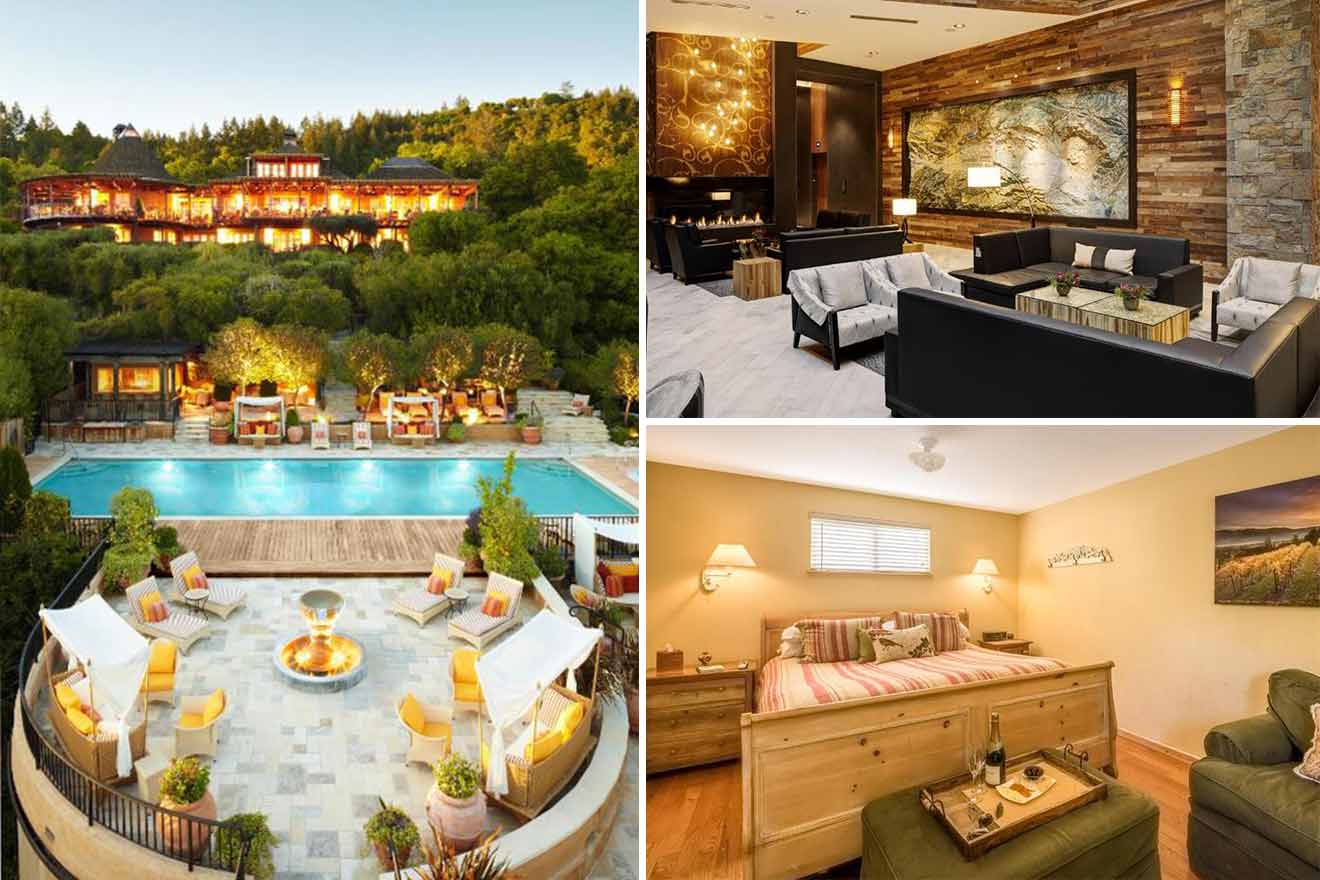 Luxury (US$500 and up)
R Inn Napa – Stylish, modern, and sophisticated, this luxury option in Napa Valley is filled with local art and situates you right in downtown Napa.
Auberge du Soleil – The refined beauty and service you come to expect of an Auberge Resort, this stunning oasis has impeccable rooms with baths on the balcony, vistas for days, and a crystal clear swimming pool and hot tub.
Mid-Range (US$300 – US$500)
Stahlecker House Inn – Just a short drive from downtown Napa, this stunning ranch-style home sits on a picturesque green lawn and offers charm, personalized service, and ambiance like no other.
Archer Hotel Napa – A chic and stylish resort in Napa Valley with modern sophistication, providing a stylish and comfortable retreat with contemporary art design, personalized service, and a prime location near downtown.
Budget (up to US$200)
Aurora Park Cottages – A welcoming and convenient hotel that offers charming cottages, free bike rentals, and a beautiful garden.
The Inn on First – A charming and rustic inn located near the Napa Valley Wine train, with free Wi-Fi, comfortable rooms, and convenience to local attractions.
FAQs about things to do in Napa Valley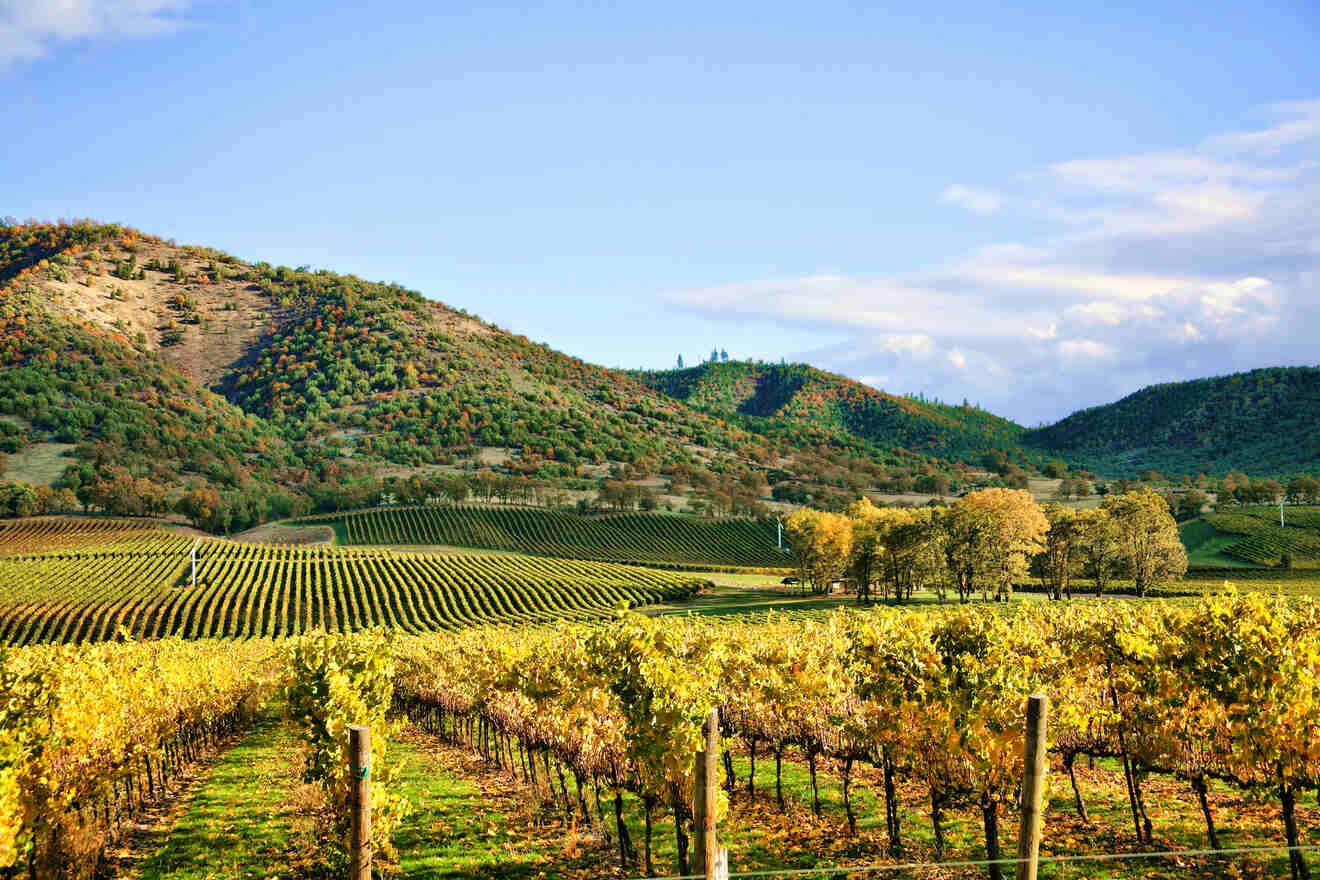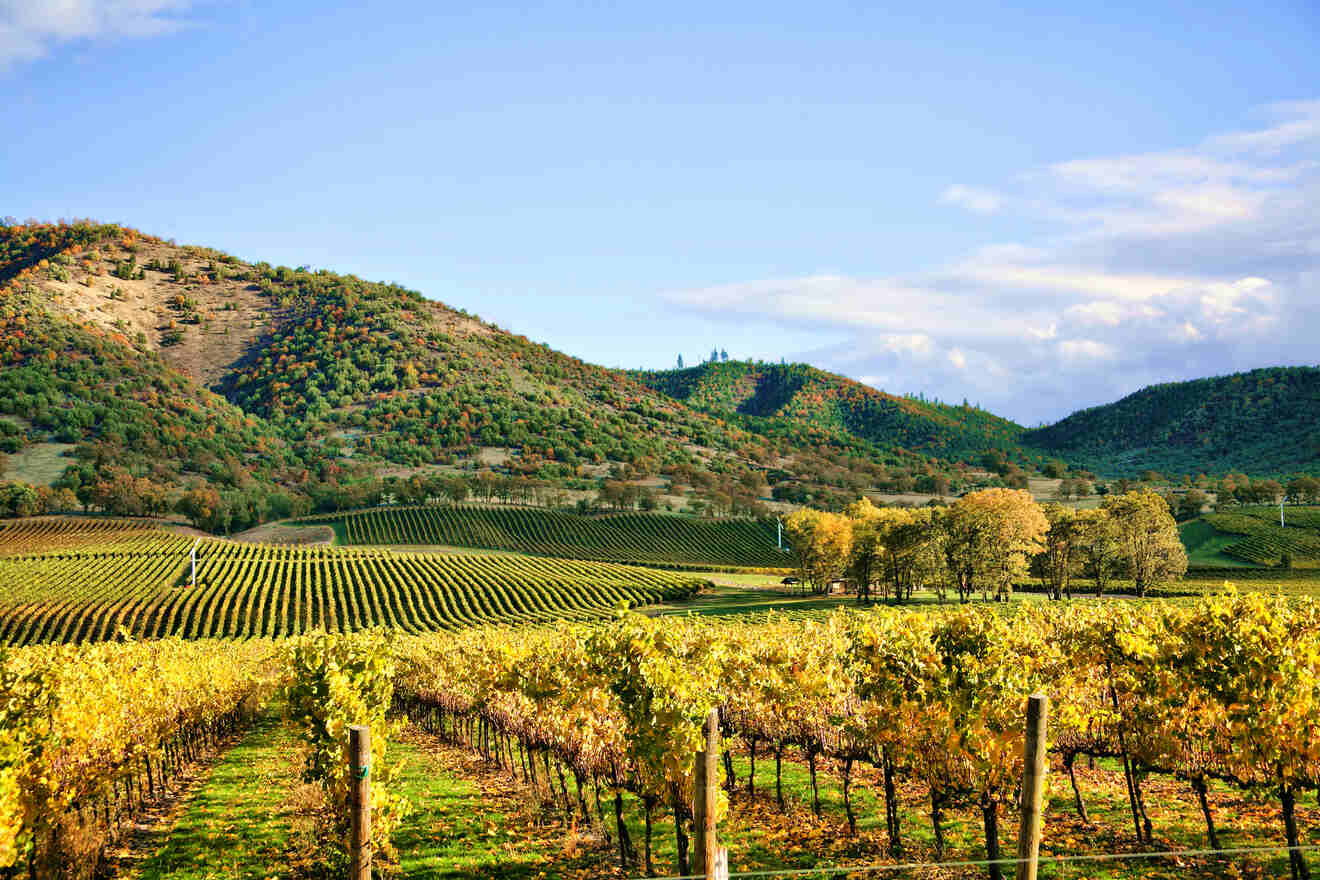 ☀️ How many days should you spend in Napa Valley?
3 – 4 days is a good amount of time to spend in Napa Valley to ride bikes, take a hot air balloon ride, and, of course, sip on delicious wine at more than 1 winery.
♥️ Is a day trip to Napa Valley worth it?
Yes! A trip to Napa Valley is definitely worth it: sip on delicious wines, munch on gourmet food, soar high above in a hot air balloon, or ride e-bikes through wine country.
🎶 Does Napa Valley have a downtown?
Yes, Napa Valley has a vibrant downtown with local art galleries, mom-and-pop shops, boutiques, and more!
🍷 Is it better to visit Sonoma or Napa Valley?
It's hard to go wrong with your choice, but Napa Valley offers world-class famous wineries seeped in history, while Sonoma offers a quieter, more laid-back experience. Find out how they compare in detail in our full Napa vs. Sonoma comparison guide.
Conclusion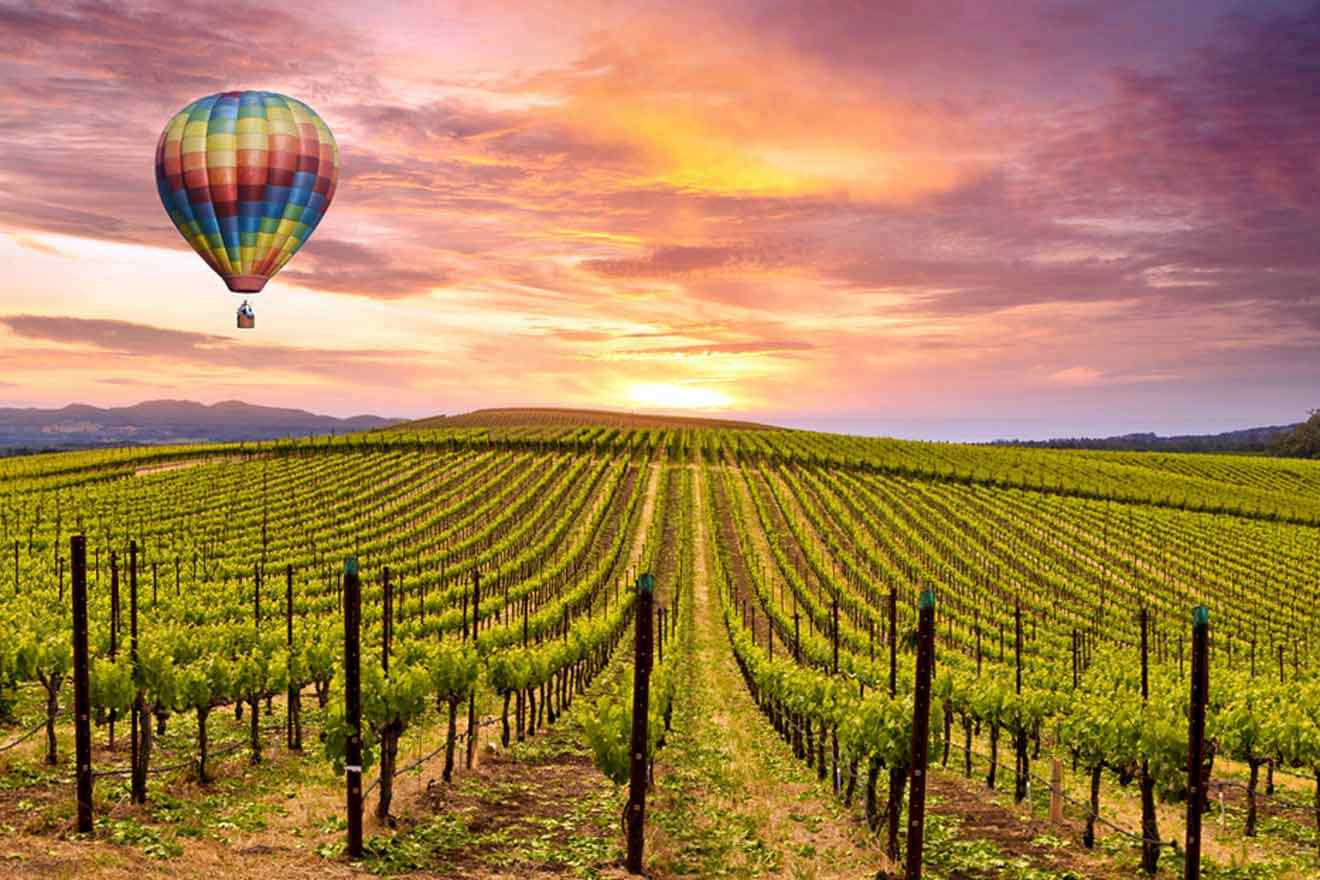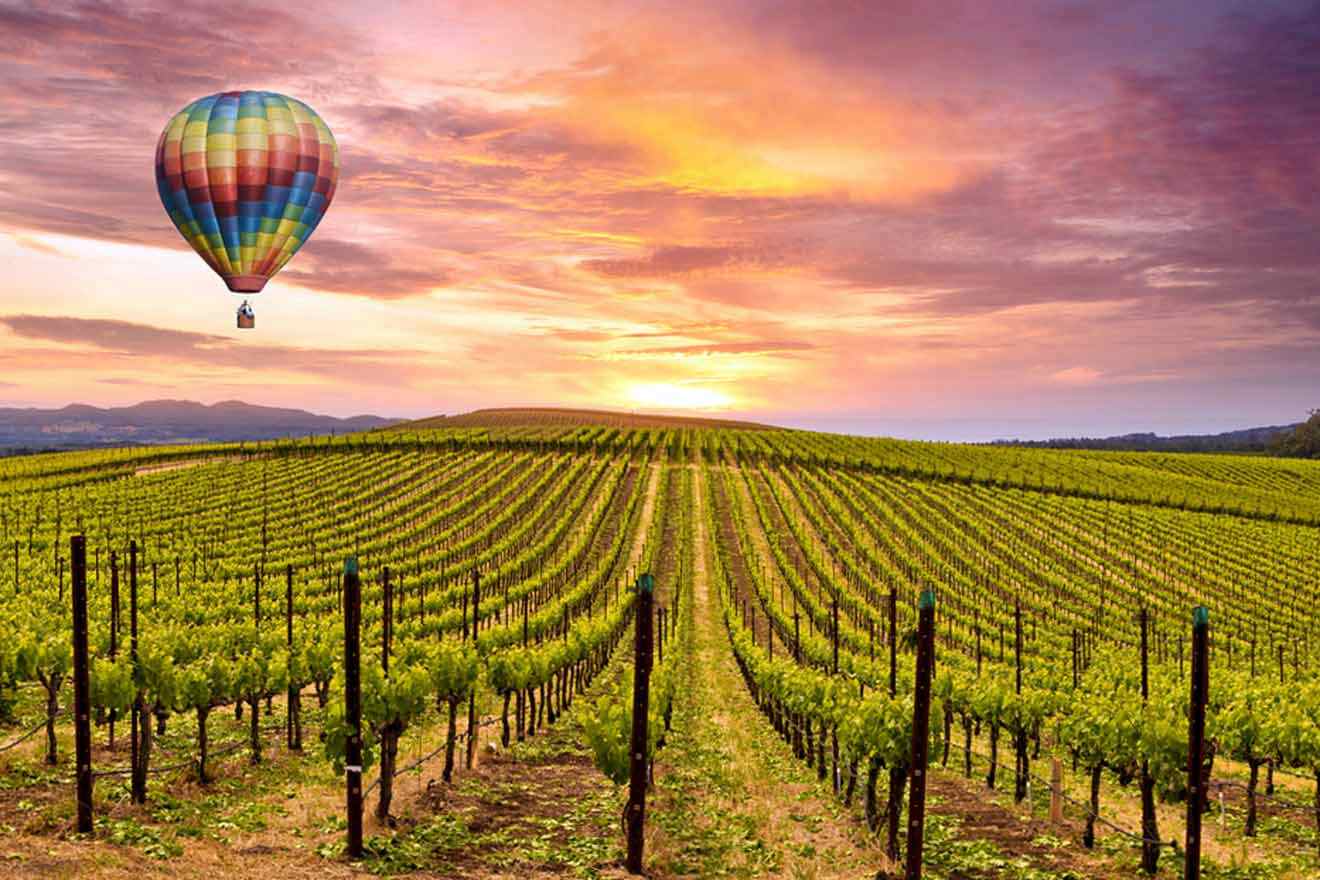 There are so many incredible things to do in Napa Valley – you'll never get bored!
Enjoy a Napa-style leisurely day visiting vineyards and local sites, or get your heart pumping with some adrenaline-inducing activities, like hot air balloon rides or e-biking through the vineyards. No matter how you spend your time in Napa Valley, you're sure to love it!
If you're planning a Napa Valley trip, make sure to book in advance for your favorite Napa Valley wineries, activities, and hotels!
Don't forget to drop me a line with your favorite vineyards and wines once you visit Napa Valley. I'd love to hear all about your trip!
Aloha & safe travels,
Hayden G.
---
Pin it for later!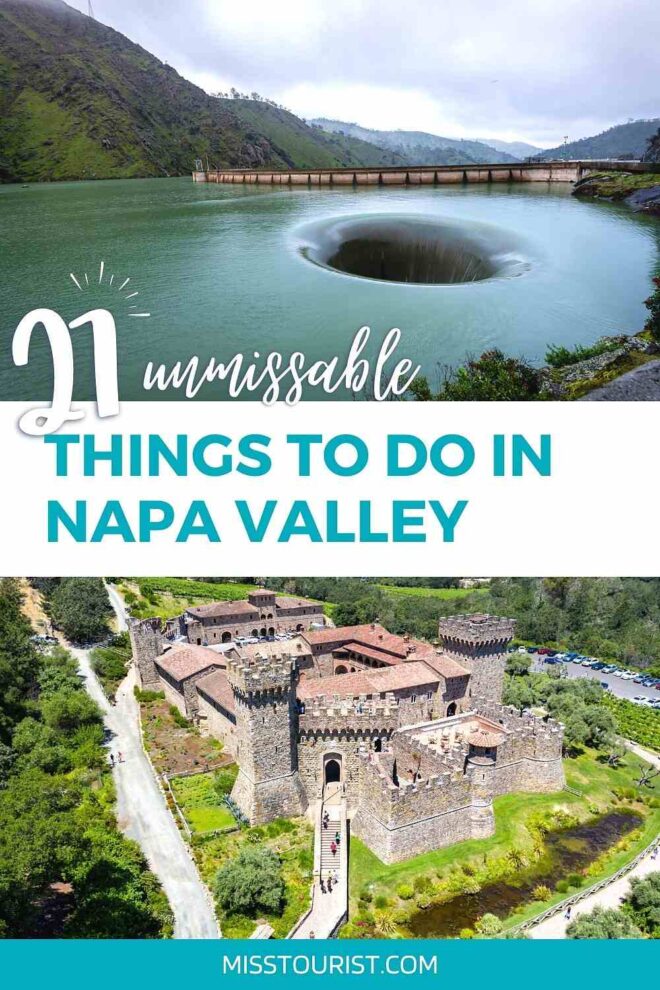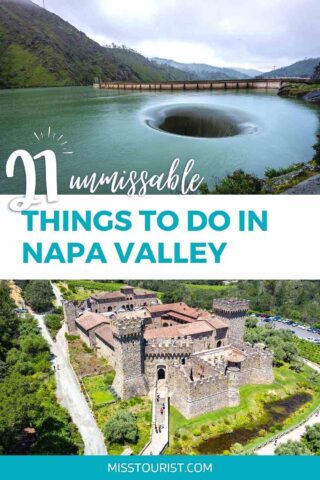 Pin it for later!