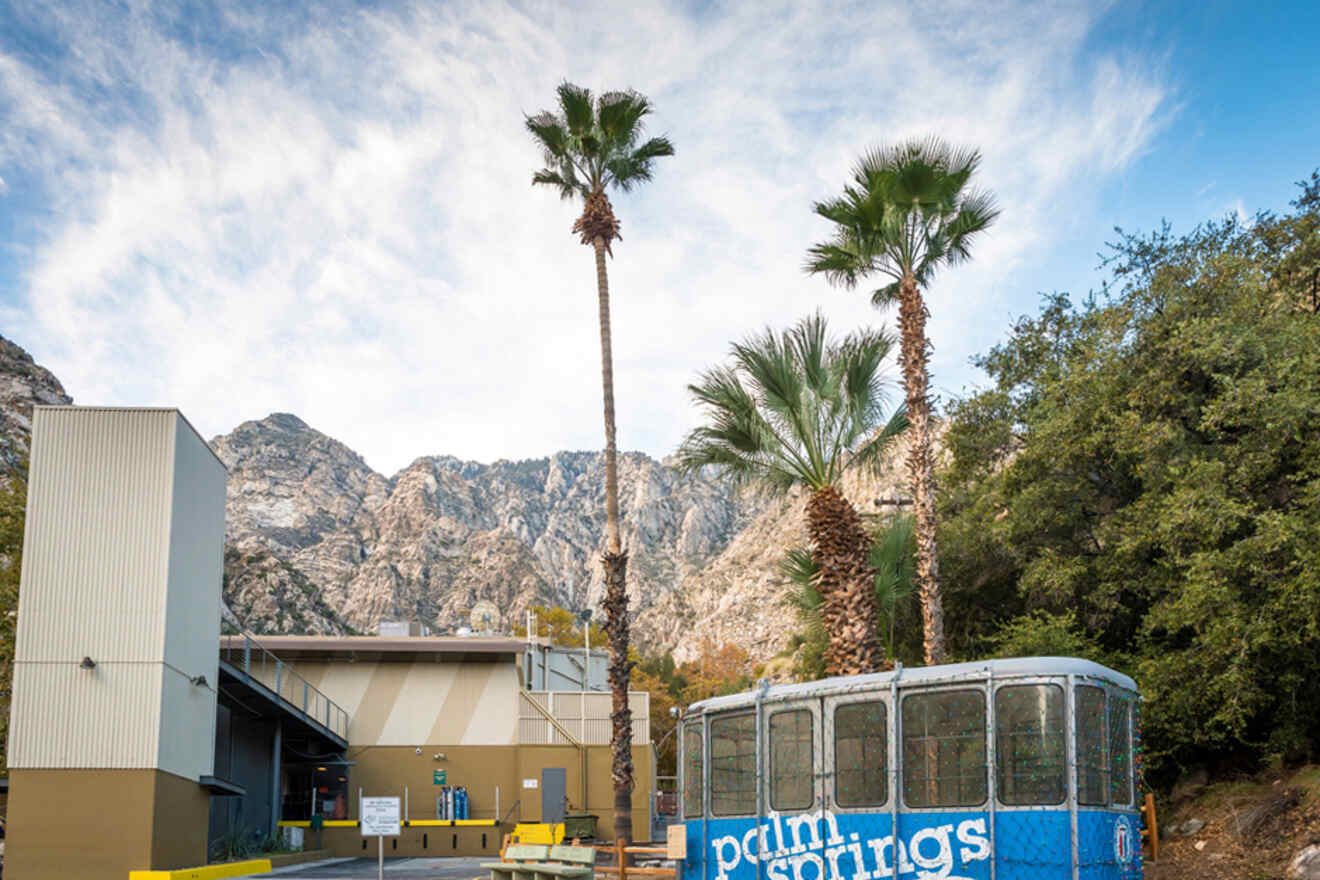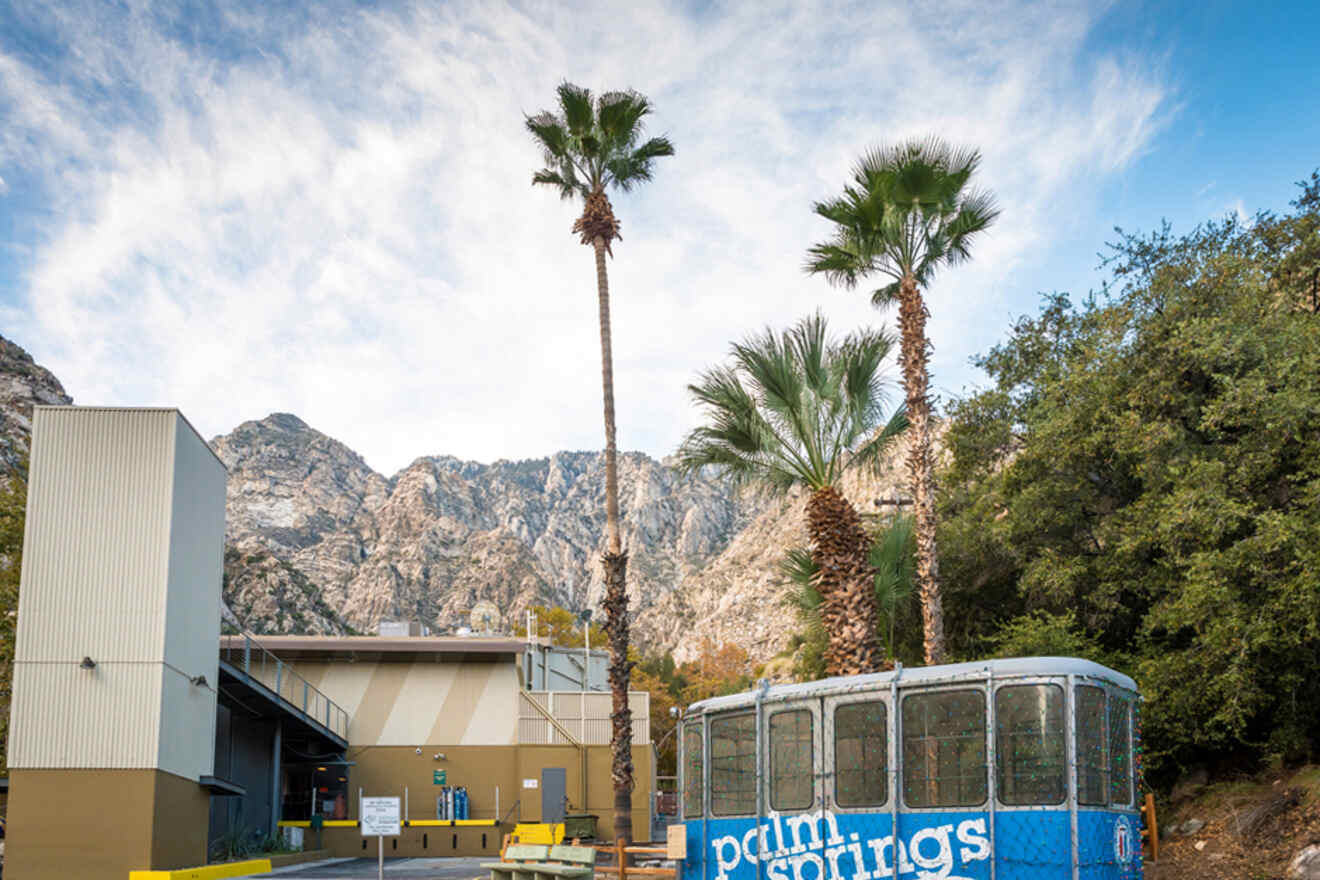 Living in San Diego, I'm so fortunate that it's only about a 3-hour drive to Palm Springs, CA – the ultimate desert vacation.
This amazing desert getaway, flanked by the Santa Rosa Mountains and the San Bernadino Mountains, buzzes with excitement and offers a unique blend of relaxation and adventure. From stunning natural landscapes to retro-chic architecture, Palm Springs has a vibe all its own.
Get ready to discover an abundance of activities, attractions, and experiences that will make your visit to Palm Springs unforgettable. So, pack your bags, lather on the sunblock, and let's set out to discover the most fabulous things to do in Palm Springs!
Before we hit the desert floor, a friendly reminder – definitely take care of your hotel and activities by booking in advance!
The last thing I want is for you to miss out on any of these rad attractions. So plan ahead, and be sure to experience all this desert oasis has to offer!
If you are in a hurry
When you get to Palm Springs, you'll want to unpack your swimsuit and hit the pool, not start coordinating your itinerary. So, go ahead and book your hotels and activities in advance:
And here are the best hotels: L'Horizon Resort & Spa (luxury), Holiday House Palm Springs (mid-range), Arrive Palm Springs (budget)
Here is my video of best things to do in Palm Springs to help you choose visually:
If this is your first time in the Palm Springs area (and it probably is), you'll need a map to see where each place is located. So, here's one with all the attractions on the list.
1. Shuffle those feet down Palm Canyon Drive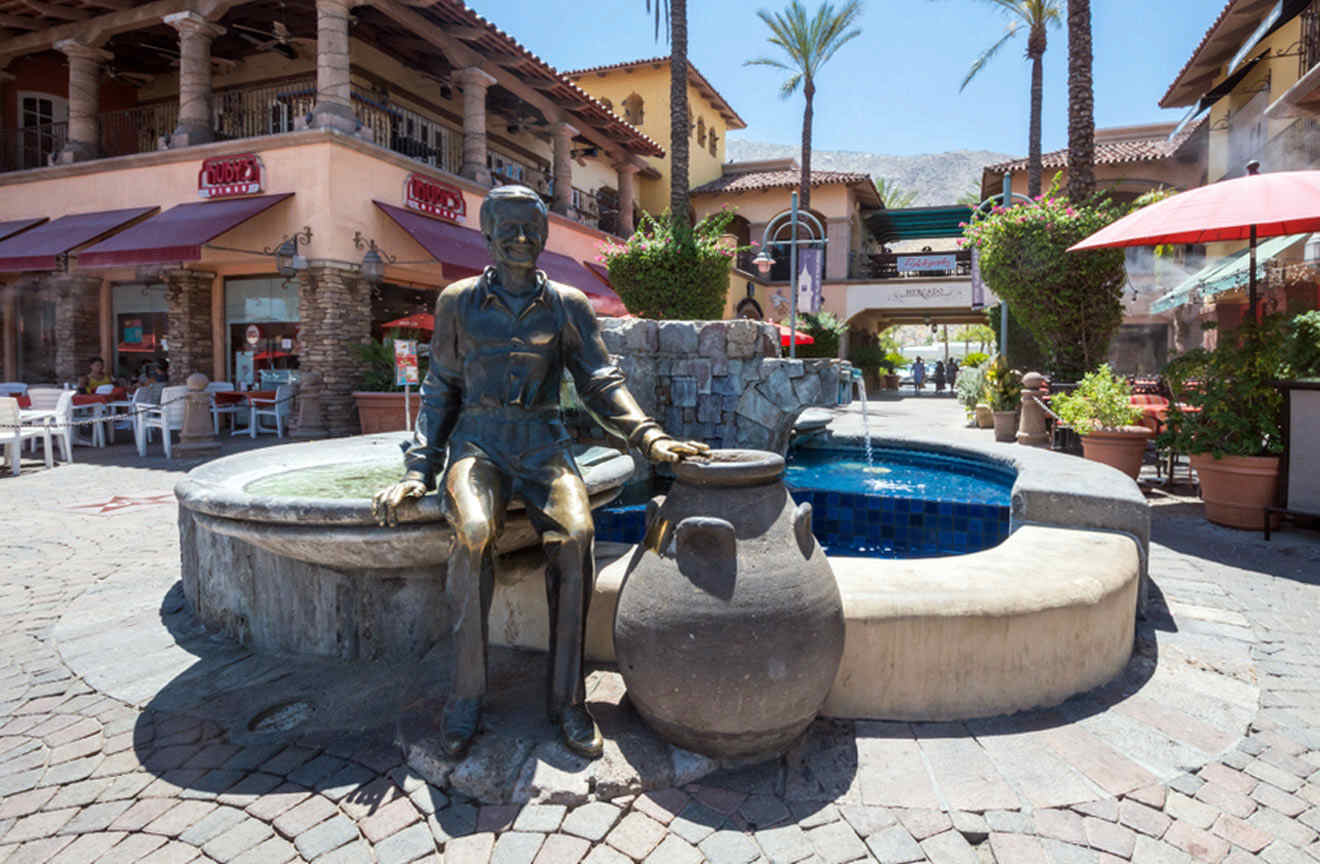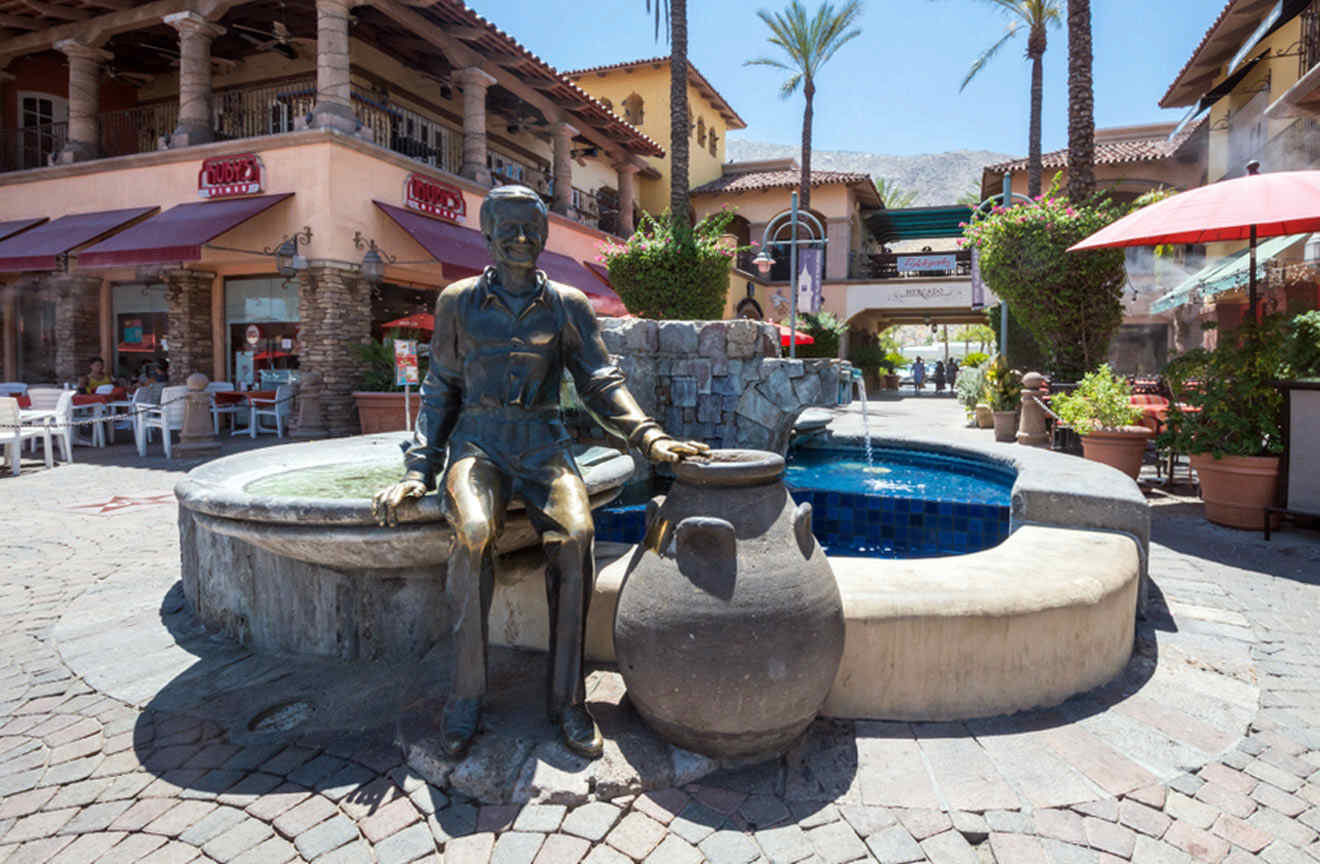 So, to help you get your bearings, Palm Canyon Drive is like the beating heart of Palm Springs, and you will likely spend a lot of time here. If you haven't booked your accommodation yet – this is one of the tourists' favorite areas to stay in Palm Springs.
Palm Canyon Drive is an iconic street that lines downtown, filled with an eclectic mix of shops, boutiques, galleries, restaurants, and entertainment venues.
Taking a stroll down Palm Canyon Drive, you'll discover trendy fashion boutiques, art galleries, delicious food, fancy rooftop bars, and a buzzing atmosphere centered around this street.
PRO TIP: While you're down here browsing, pop over to the Walk of Stars at the cross streets of North Palm Canyon Drive, Museum Way, and Tahquitz Canyon Way. (More on this in #15). Rather take a guided tour and cruise in style? This Legends & Icons tour is awesome!
TOUR PRICE: from US$125 for adults
2. Take flight at the Palm Springs Air Museum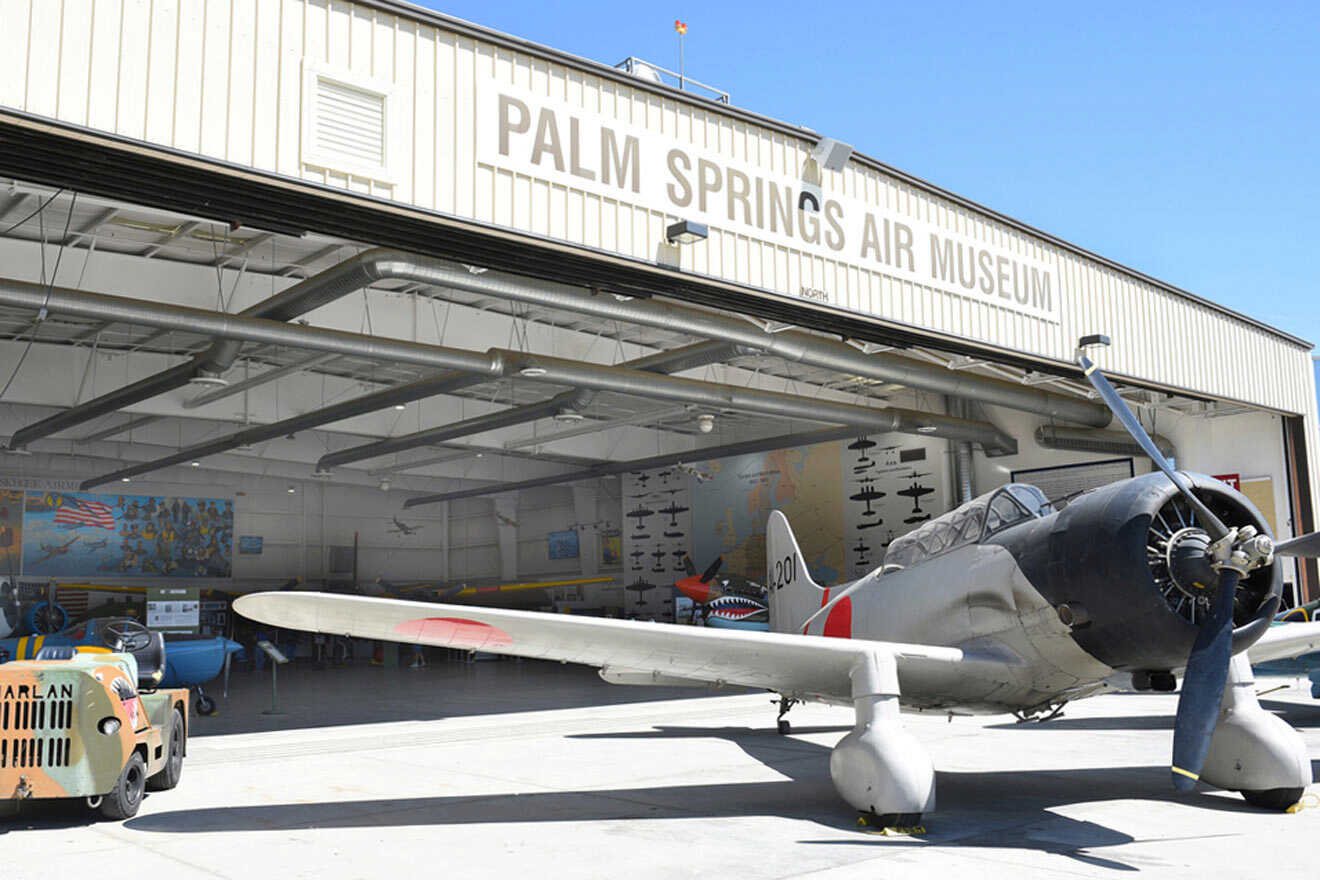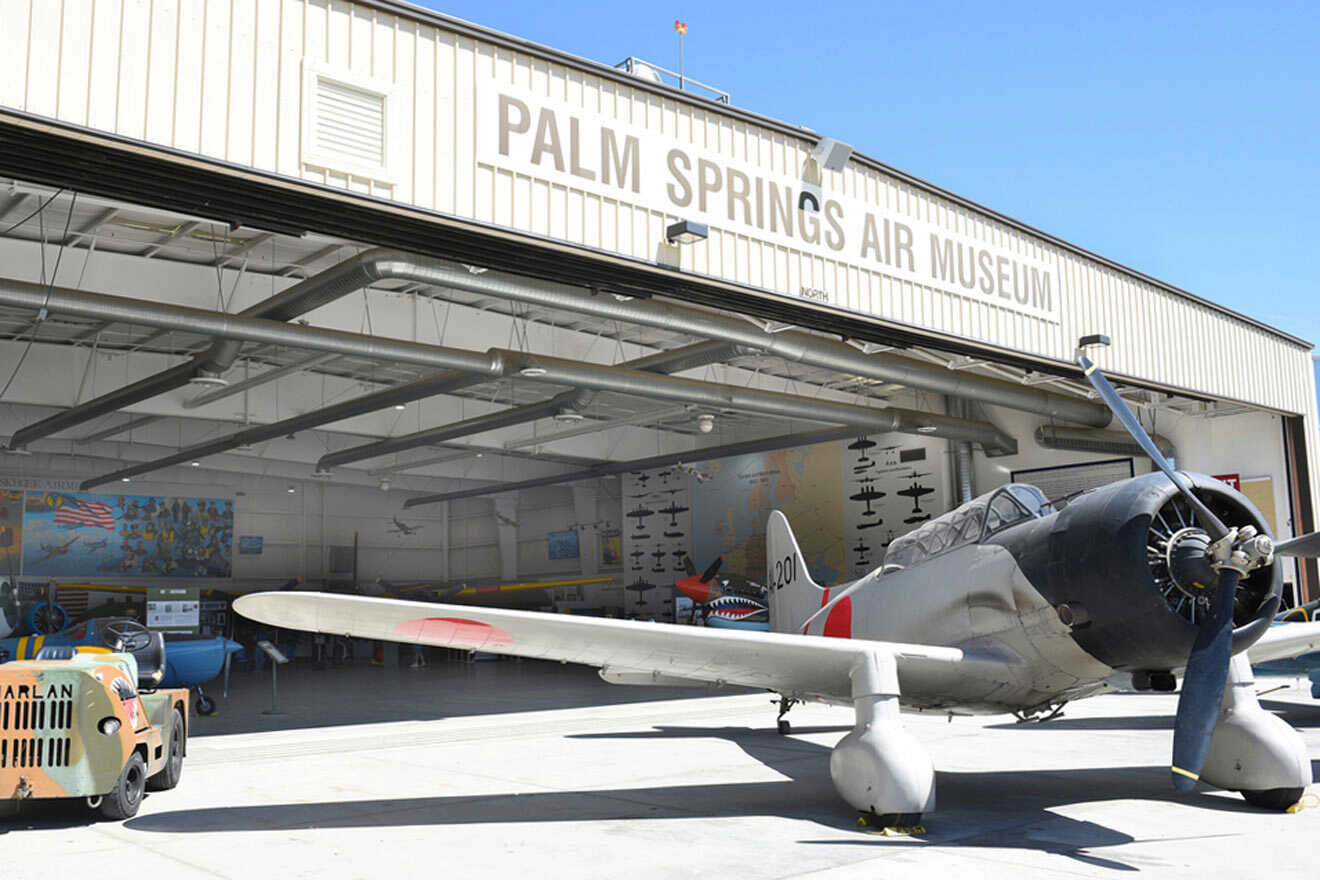 Palm Springs Air Museum is such a cool and unique experience, filled with so much aviation history.
Located at Palm Springs International Airport, the Palm Springs Air Museum houses an impressive collection of aircraft from different eras – WWII, the Korean War, and Vietnam, showcasing the rich aviation heritage of the region.
I think the neatest thing is that you can actually get up close and personal with these beautifully restored planes, some that are even in perfectly working condition!
The museum offers a unique opportunity to learn about the brave men and women who served in the military and hear their inspiring stories through media, plaques, and journals.
PRO TIP: Don't miss the flight simulators – by far my favorite part of the museum!
PRICE: US$20 for adults
3. Soar high above on the Palm Springs Aerial Tramway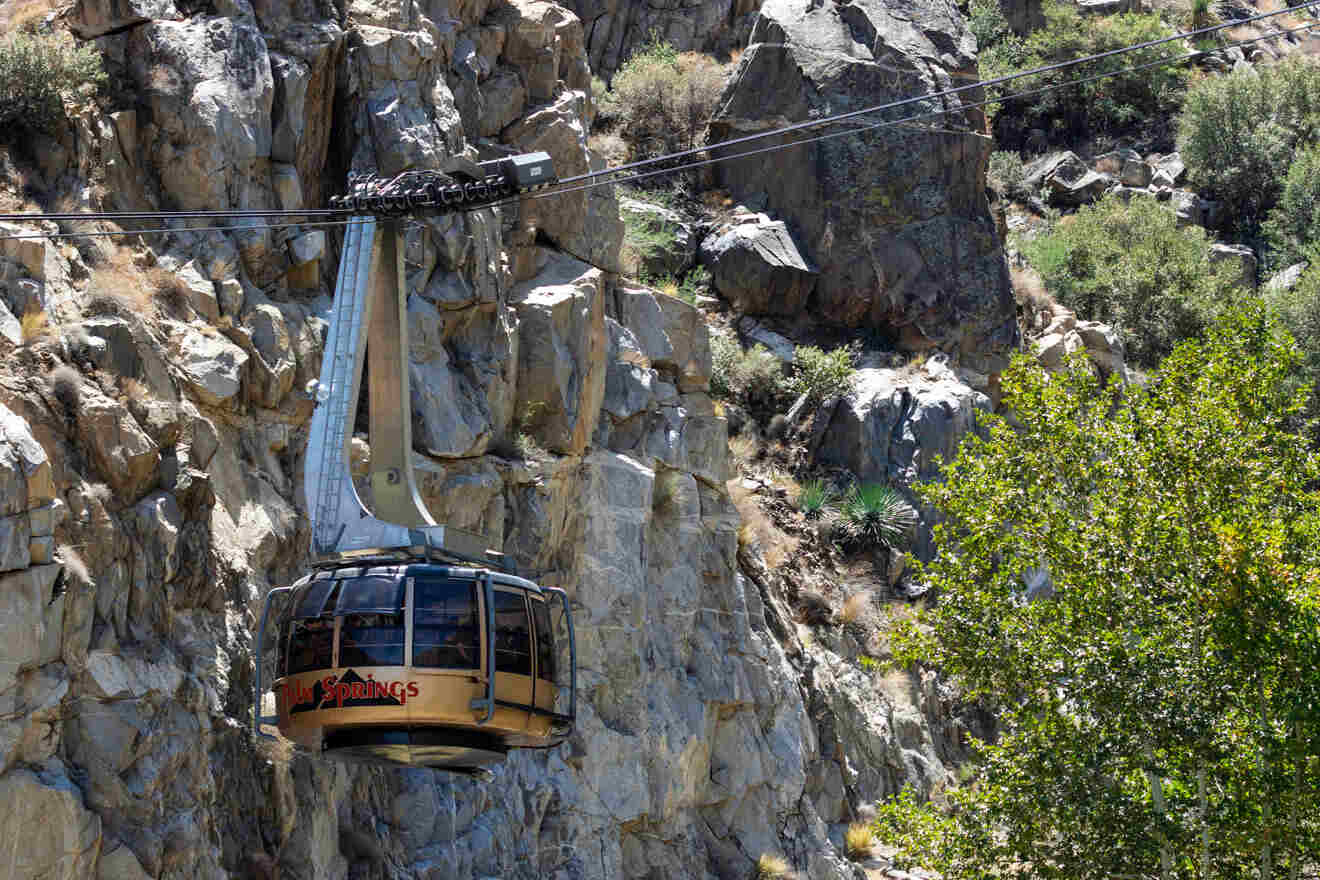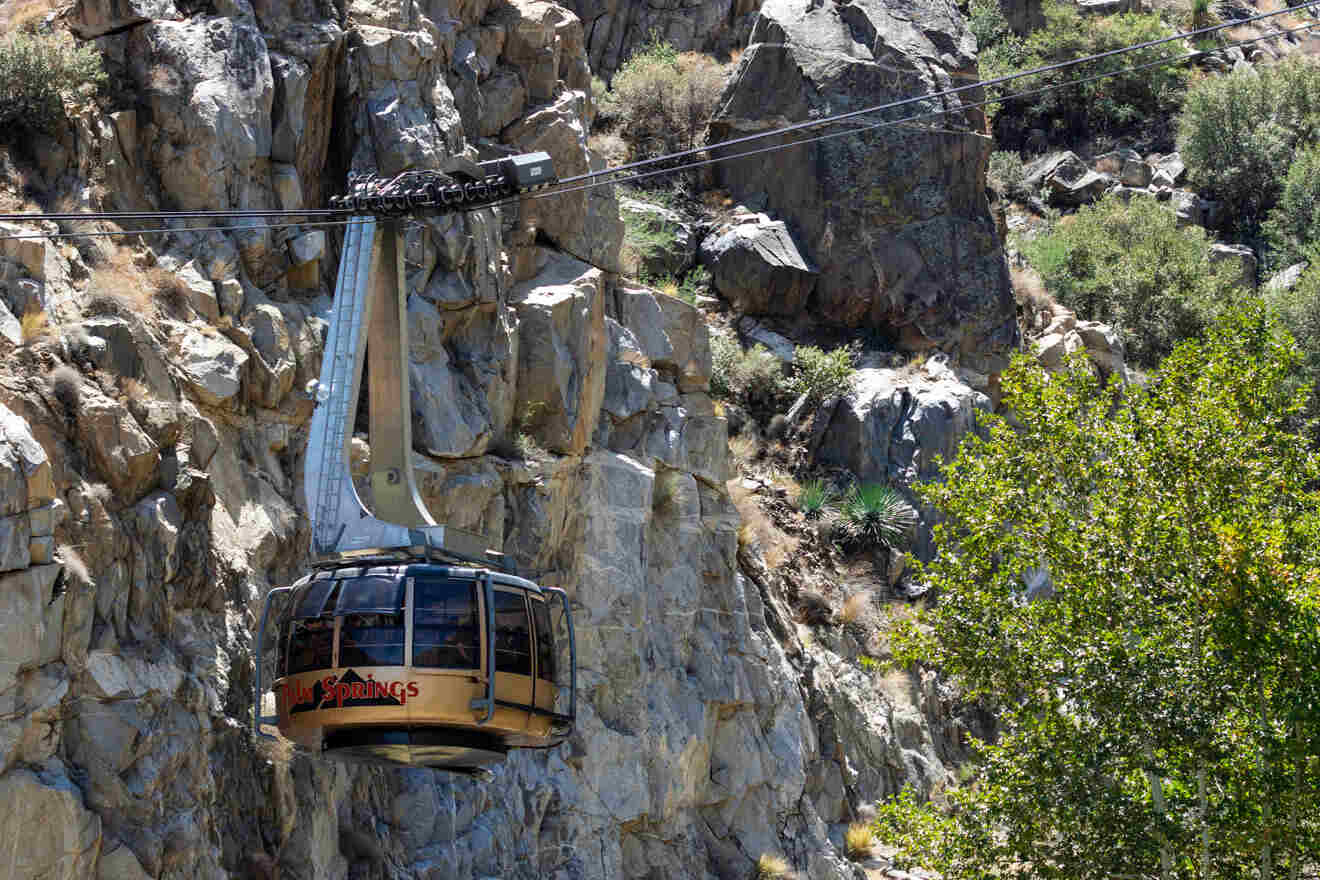 Palm Springs Aerial Tramway is definitely among the top Palm Springs tours you shouldn't miss out on! Not your average ride, the aerial tramway is the world's largest rotating tram car!
Picture this: Palm Springs Aerial Tramway whisks you away from Valley Station, situated 2,643 ft (805 m) above sea level, all the way up to Mountain Station on Mount San Jacinto at the peak of the San Jacinto Mountains, a whopping 8,516 ft (2,596 m) high!
This 2.5-mile (4-km) journey offers views of the breathtaking cliffs of Chino Canyon, Palm Springs, and the Coachella Valley down below.
Once you reach the top, Mount San Jacinto State Park awaits, offering over 50 mi (80 km) of picturesque hiking trails just begging to be explored.
All that high-altitude sightseeing is bound to leave you hungry – treat yourself to a fancy meal up top with a view at Peaks, a top-notch fine-dining restaurant, or keep it casual at the laid-back Pines Café.
PRO TIP: Wait until the tram's windows open fully to snap your best photos sans window-glass interruption. 😉
NOTE: It can be quite a bit chillier once you reach the top of the tramway. Make sure to pack layers!
PRICE: from US$30 per adult
Book Your Skip-the-Line Tickets
4. Get creative at the Palm Springs Art Museum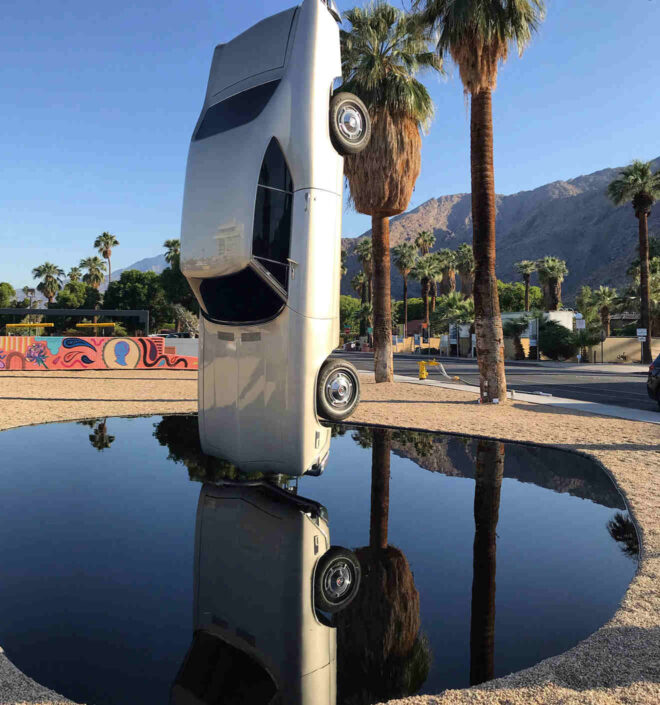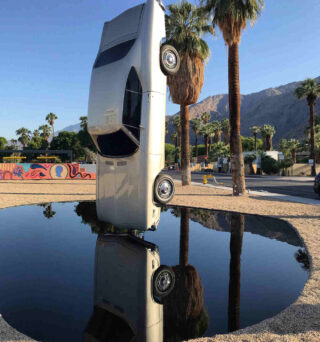 Welcome to the Palm Springs Art Museum, one of my absolute favorite things to do in Palm Springs!
Prepare to be blown away by the diverse collection of contemporary and modern art, Native American and Western art – and it's not just about established artists. The museum also has an incredible eye for spotting emerging talent, so you'll be treated to an eclectic mix of artworks on rotation that will leave you inspired and in awe.
Located in beautiful downtown Palm Springs, the museum adds an extra touch of charm to the city's vibrant cultural landscape. You'll find yourself surrounded by palm trees, stunning architecture, and a warm, inviting atmosphere.
PRO TIP: Take advantage of the FREE Thursday night admission (by reservation only) and the docent-led tours, which are super interesting and free of charge!
NOTE: Reservations are strongly encouraged.
PRICE: US$16 for adults
5. Explore the geological wonder that is San Andreas Fault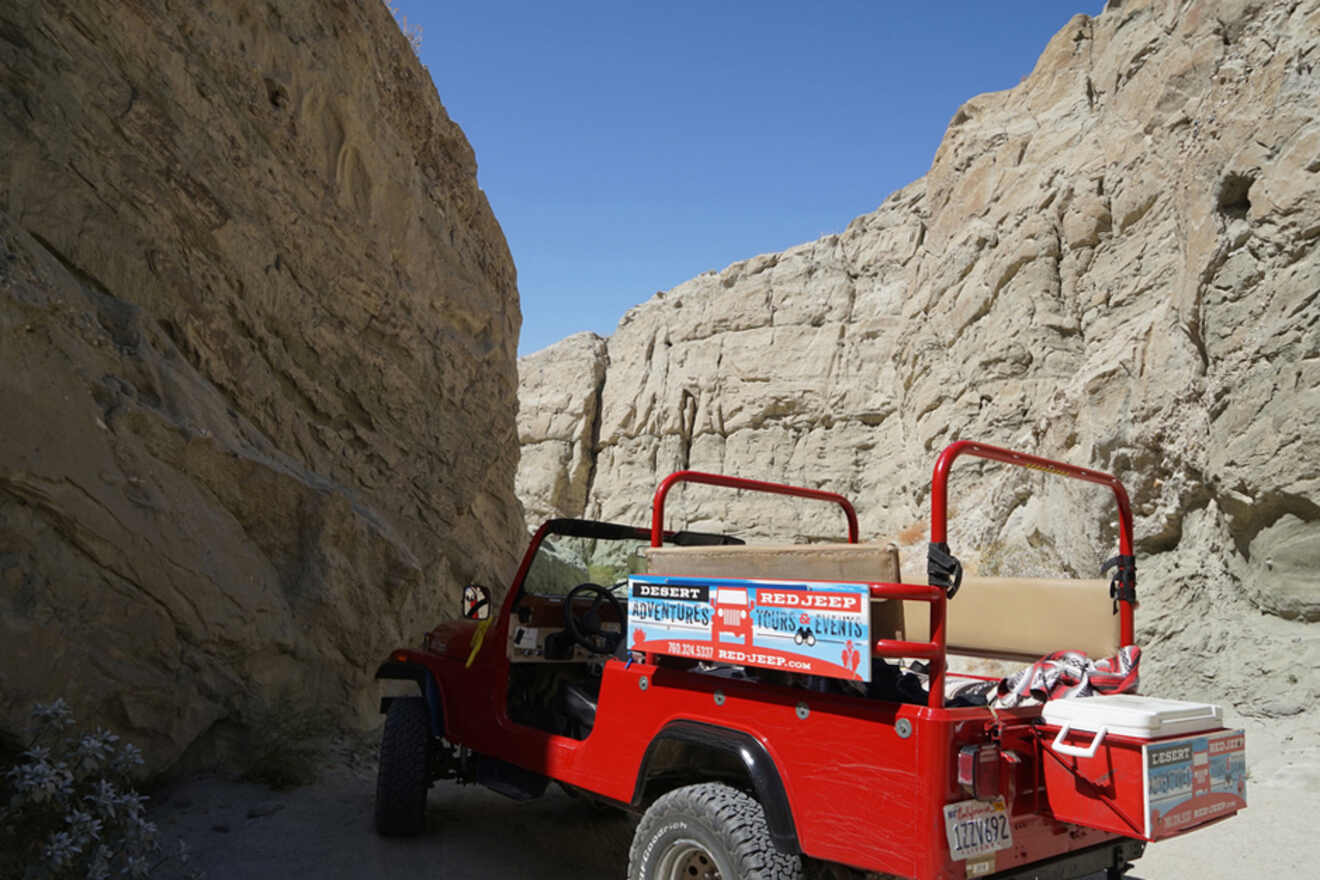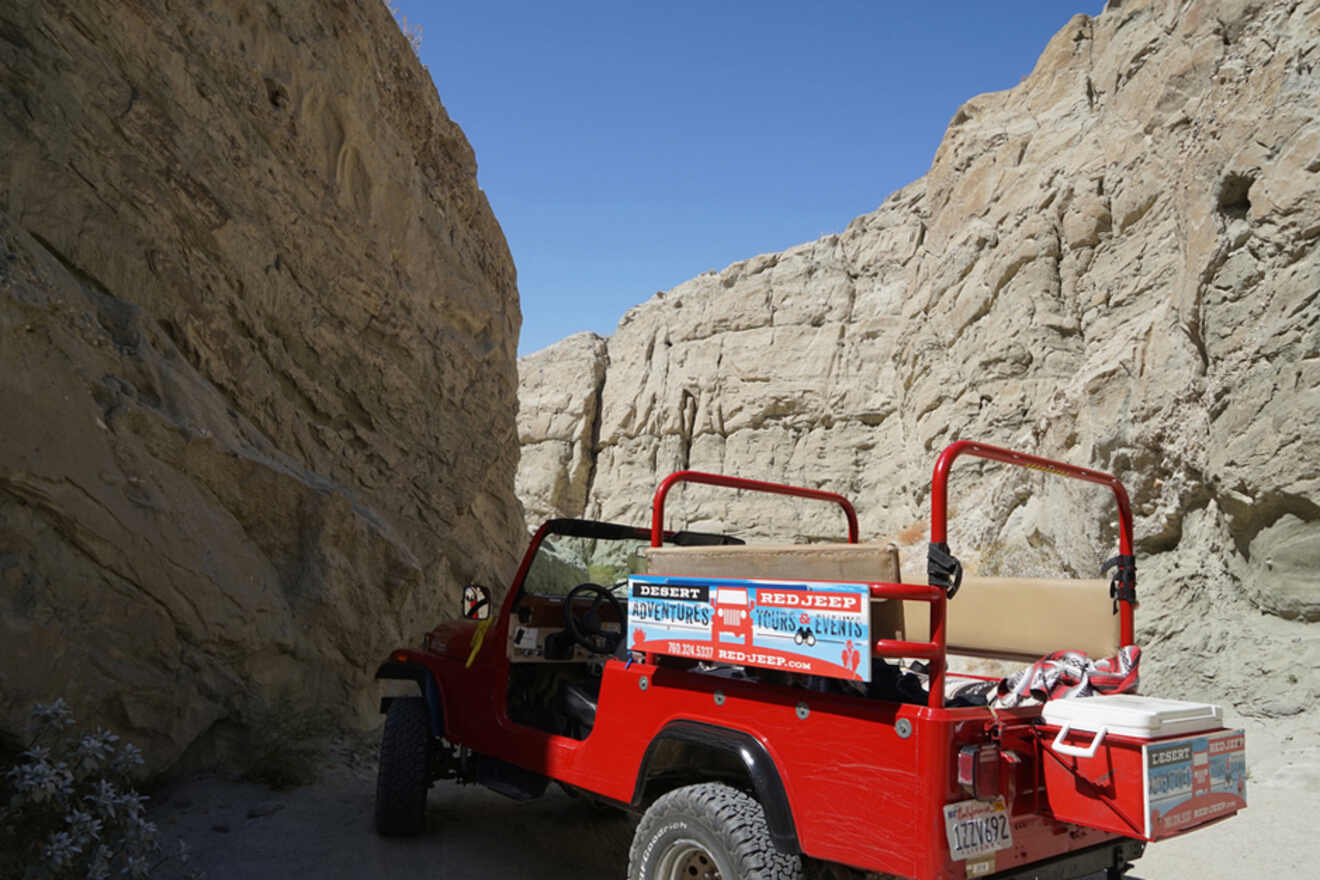 San Andreas Fault is the boundary between the Pacific and North American tectonic plates, so you're literally standing on the meeting point of 2 massive chunks of the Earth's crust!
This Southern California desert's famous geological feature has been rumbling and shifting for millions of years and is absolutely one of the most fun things to do in Palm Springs.
The fault stretches over 800 mi (c. 1,290 km), but luckily, there are accessible sections near Palm Springs that allow you to get up close and personal with this geological marvel.
Picture yourself standing at the edge of a rugged desert landscape, gazing at the dramatic offset in the rock formations caused by the fault's movement. It is so cool!
I highly recommend taking a guided tour for this one! Try this rad off-roading Jeep tour through San Andreas Fault for the most exciting adventure on your trip!
TOUR PRICE: from US$190 for adults
6. Get lost in the lushness of San Jacinto State Park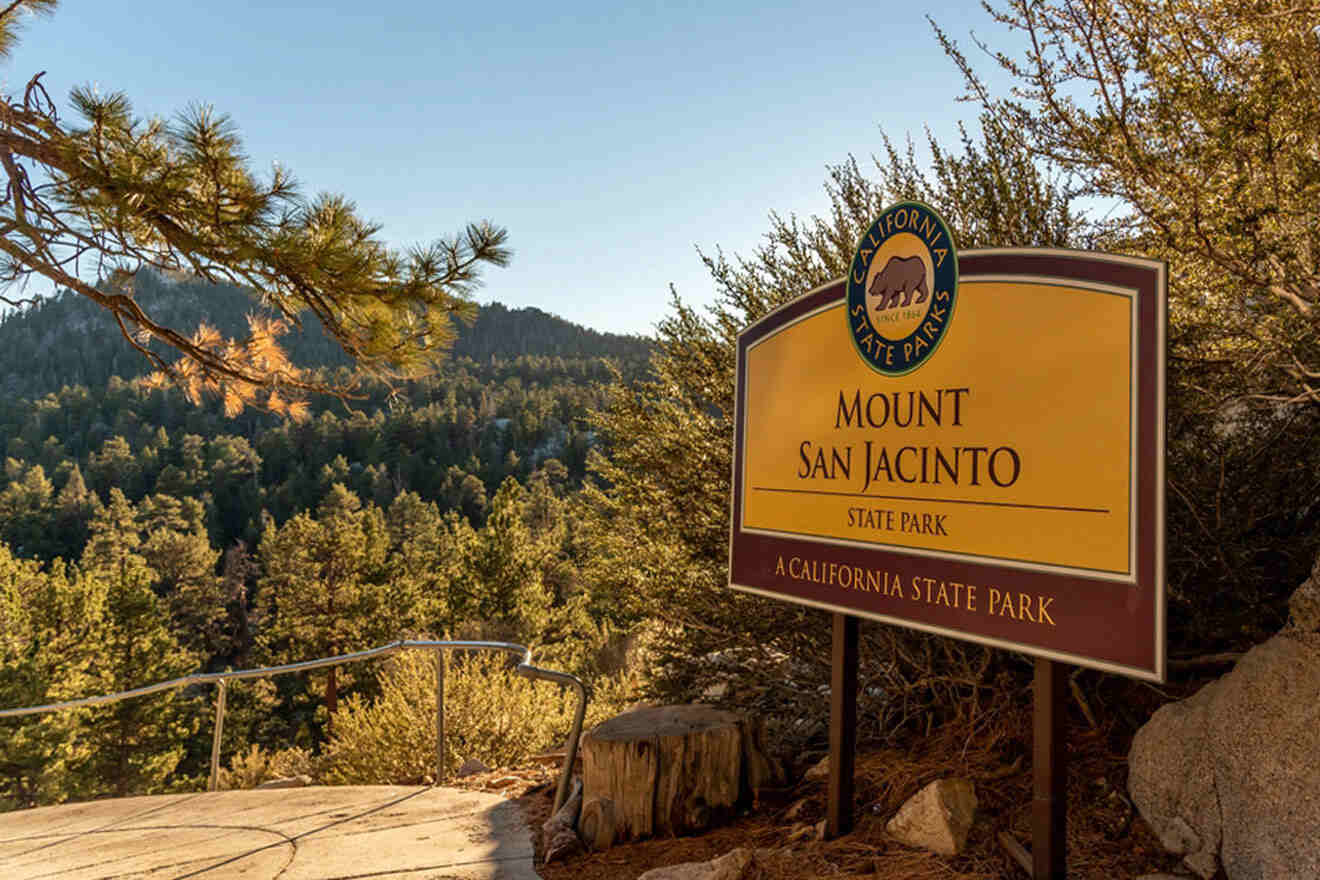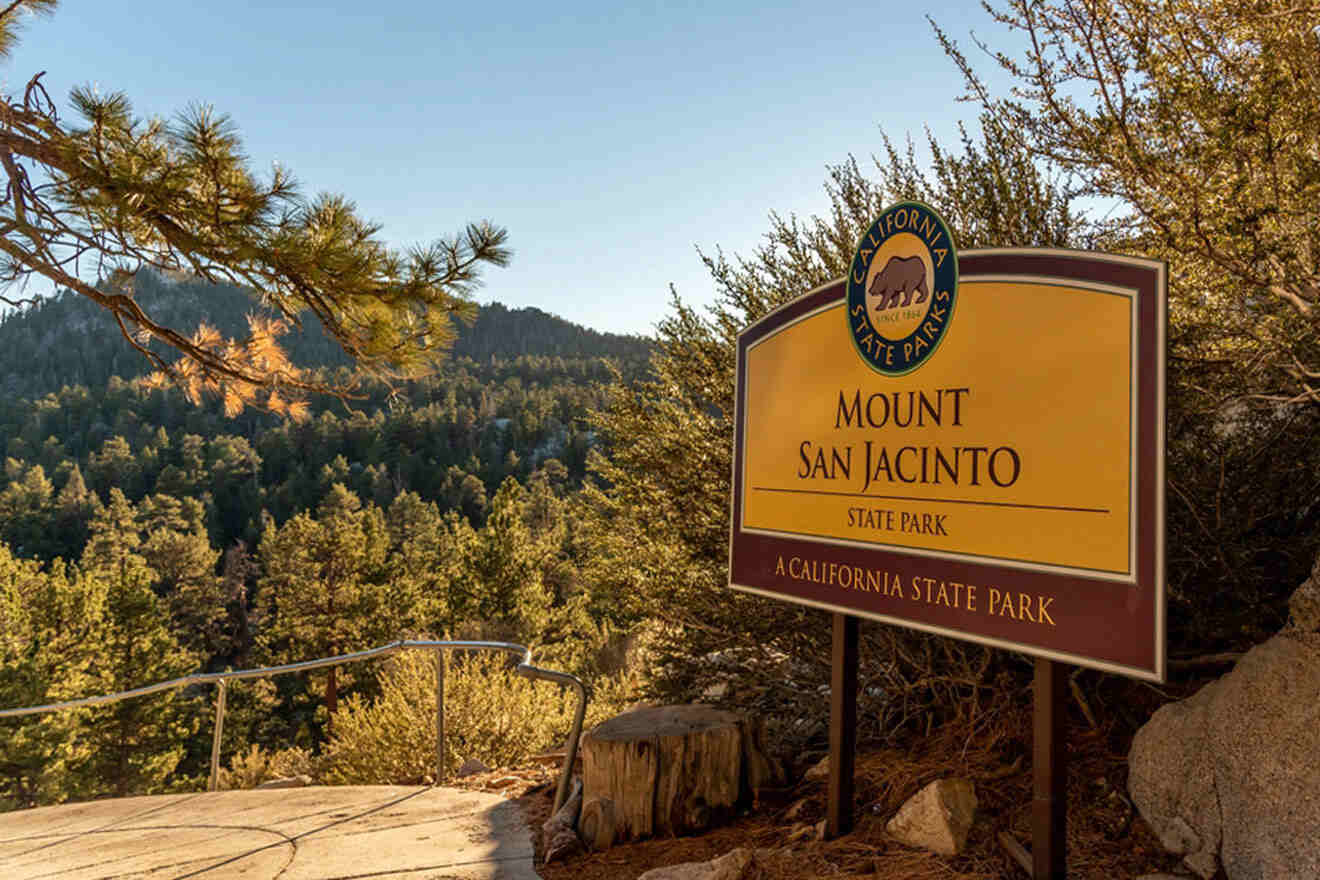 San Jacinto State Park is a breathtaking paradise that's just a hop, skip, and a jump away from Palm Springs.
So what's so great about this stop? Think rugged peaks, lush forests, and pristine alpine meadows – this place has it all. Whether you're an avid hiker or simply someone who wants to get out in some nature, San Jacinto State Park has got you covered.
One of the highlights of this park is its extensive network of trails. You can embark on unforgettable adventures, ranging from leisurely nature walks that let you soak in the serene atmosphere to challenging summit hikes that test your mettle.
If and when you do reach the top, you'll be rewarded with panoramic vistas that will leave you breathless.
Oh, and keep your eyes peeled for the incredible wildlife that roams these lands, including the majestic bighorn sheep.
NOTE: Permit required for day and night use.
PRICE: US$5 per permit
7. Enjoy the beauty of Moorten Botanical Garden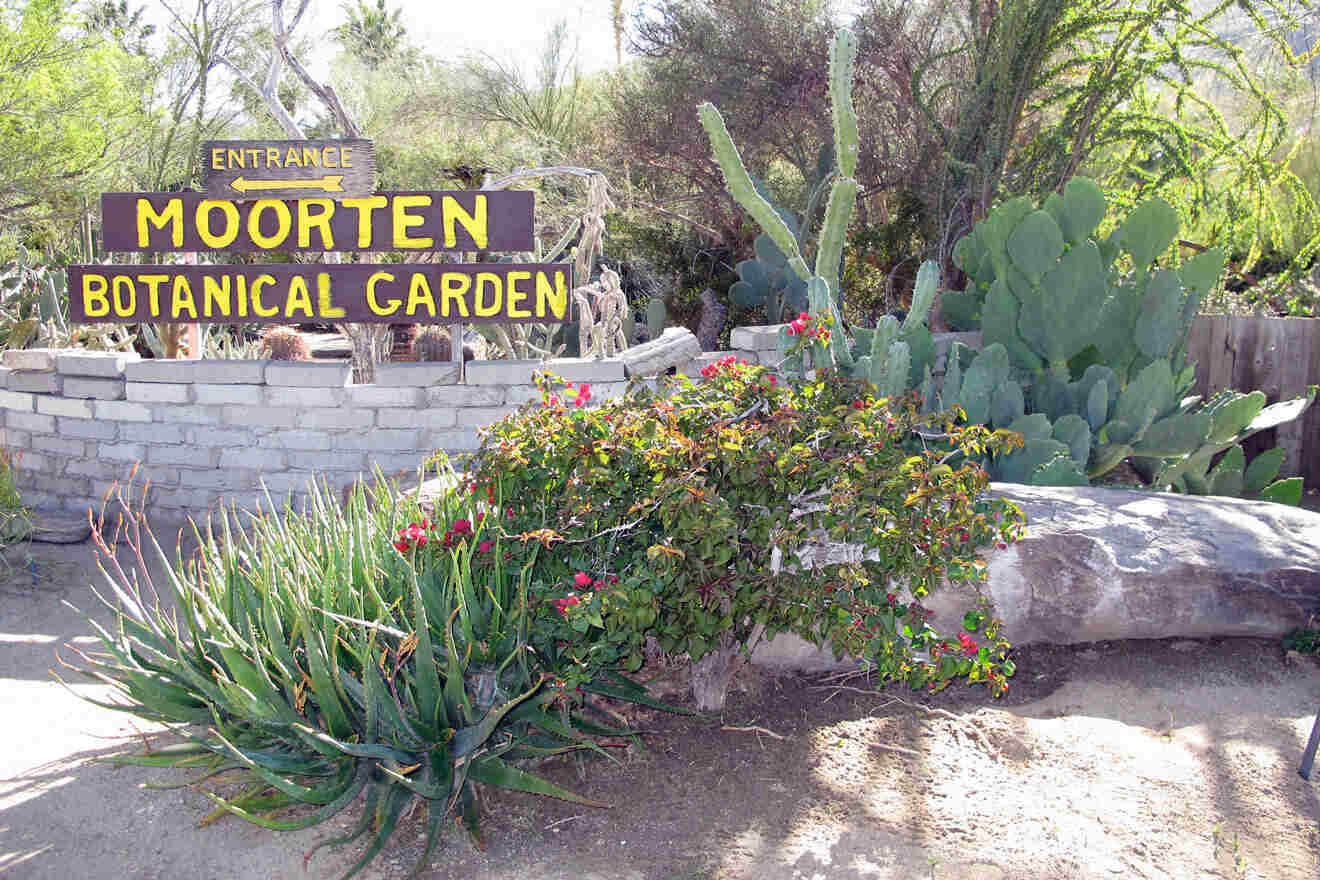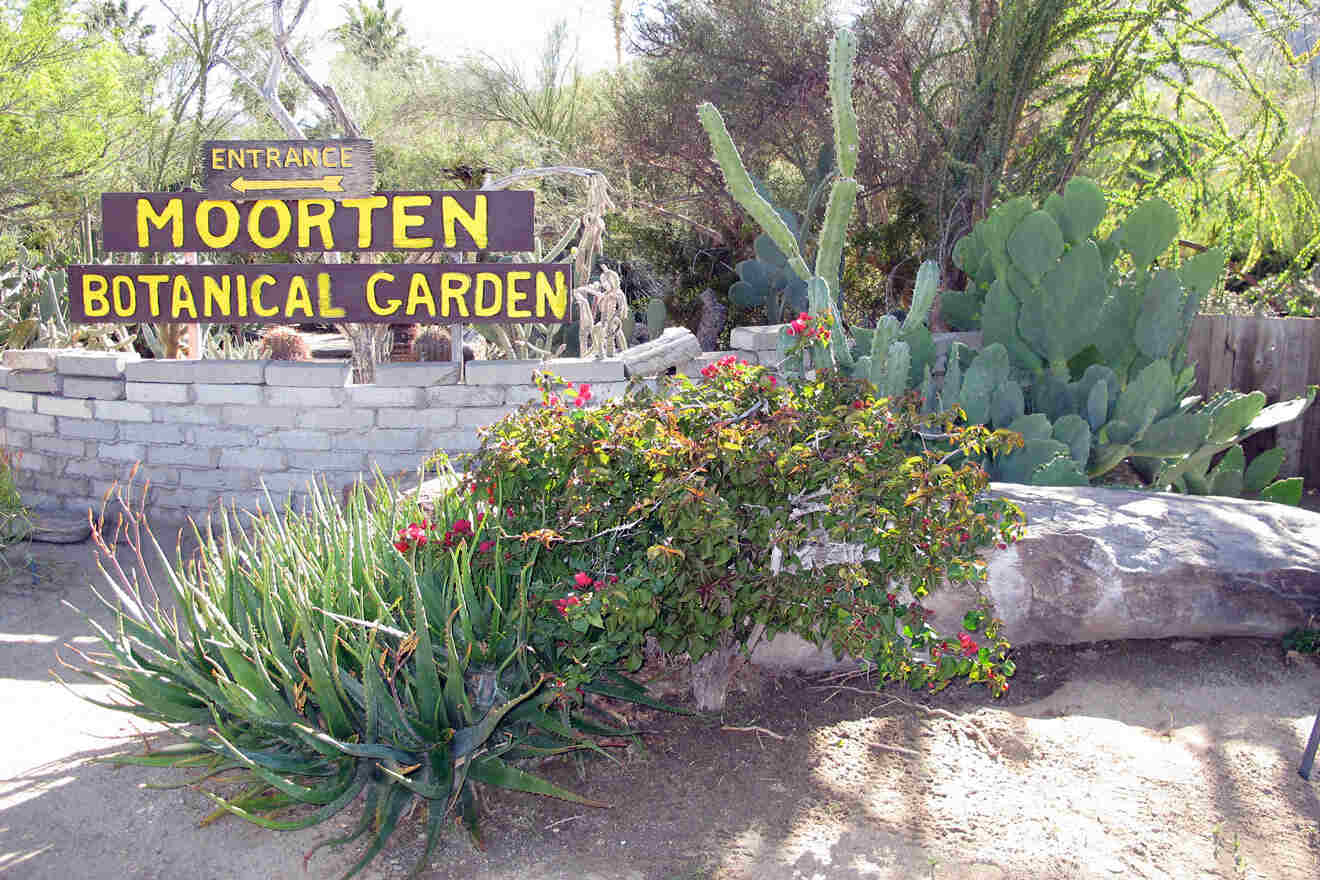 The fabulous Moorten Botanical Garden is a hidden oasis in the heart of the city that showcases the extraordinary diversity of desert plant life.
These charming desert gardens, established in 1939 by Patricia and Chester "Cactus Slim" Moorten, are a true labor of love. With over 3,000 different species of cacti and other desert plants, the garden is a paradise for plant and nature lovers!
The garden also features a fascinating Cactarium, where rare and exotic cacti from around the world are showcased. I love hanging out here with a journal and a pen, it's so peaceful and inspiring!
PRICE: US$5 per person
8. Marvel at the desert life of Joshua Tree National Park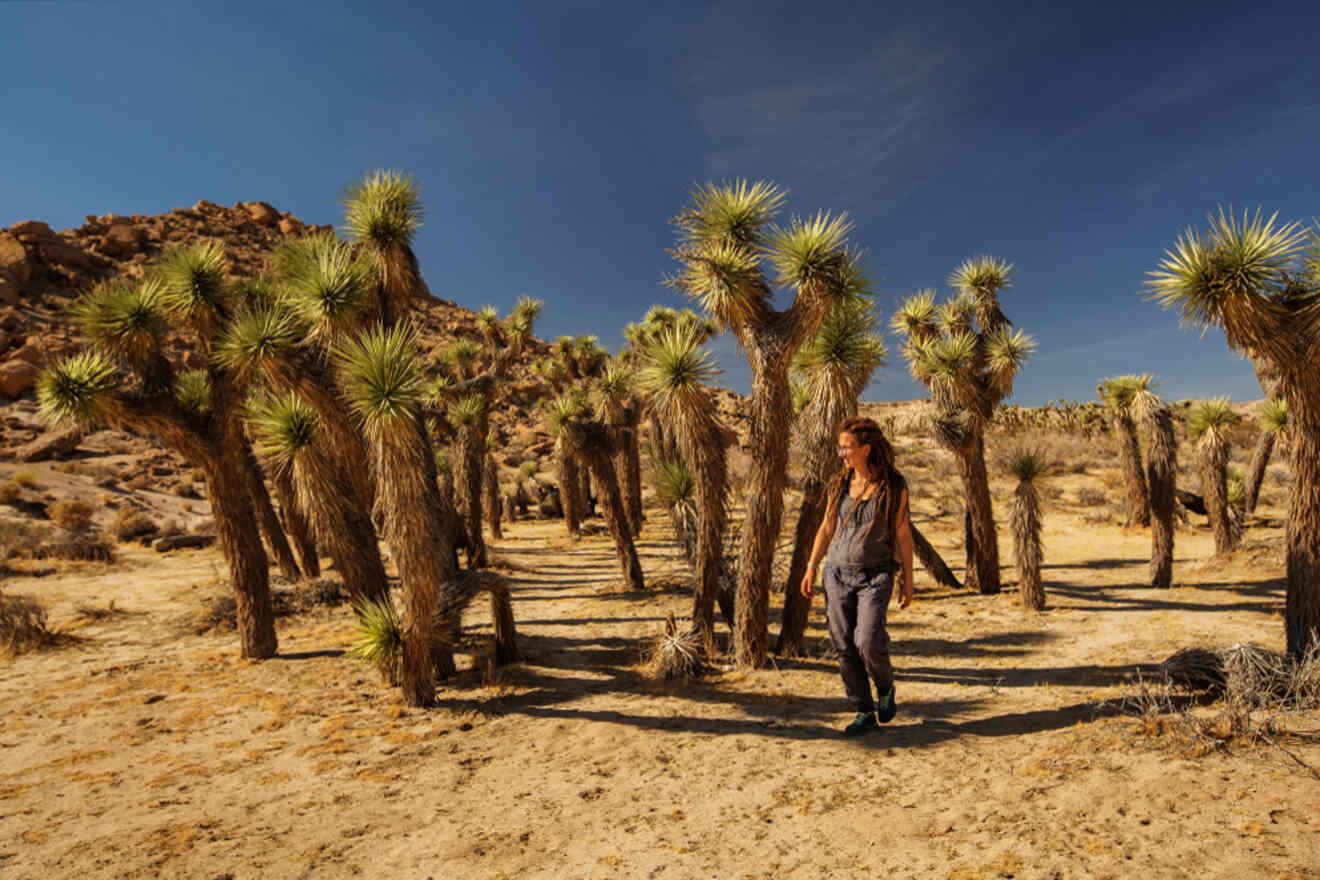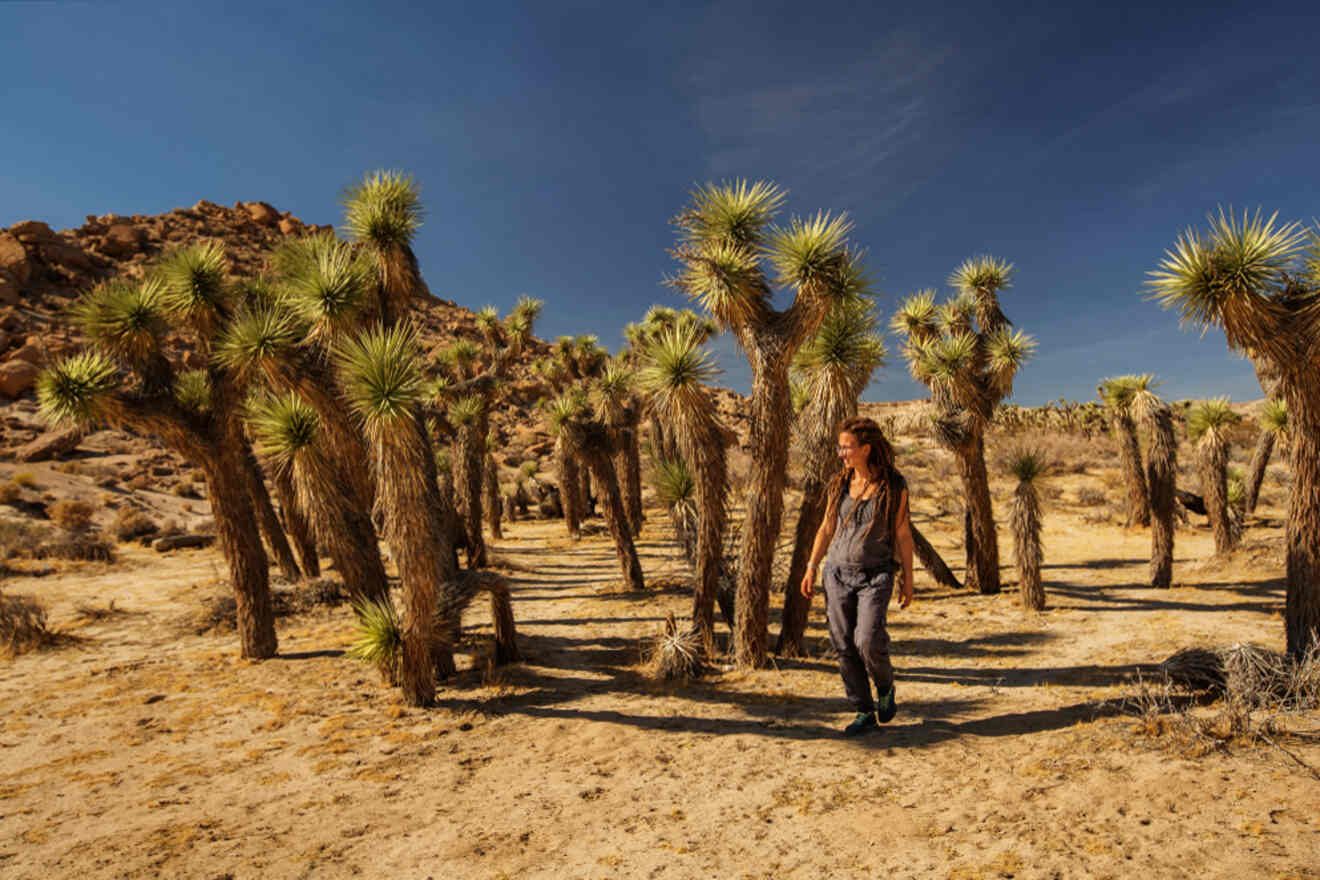 When I first moved to Southern California almost 10 years ago, Joshua Tree National Park was one of the first journeys I set out on. It is a mesmerizing desert wonderland, part of the larger Colorado Desert & Mojave Desert, that has so much to offer. Located just a short drive from Palm Springs, California, the park is an absolute must-stop during your trip.
You'll spot vast expanses of surreal Joshua trees dotting the desert landscape, creating a scene straight out of a hazy dream. As you explore the park, you'll encounter breathtaking rock formations, hidden canyons, and panoramic vistas that stretch for miles.
Want to get moving? Joshua Tree National Park has an insane amount of outdoor activities – including hiking, mountain bike trails, rock climbing, stargazing, and wildlife spotting.
Depending on your time, budget, and fitness level, here are some fun tours you can take:
4×4 offroading tour through Joshua Tree's rugged backcountry
Guided rock climbing for all levels, from beginners to advanced climbers
Stargazing under the raw skies of Joshua Tree NP. The pitch blackness juxtaposed against the bright stars is just magic.
9. Bike & hike through Indian Canyons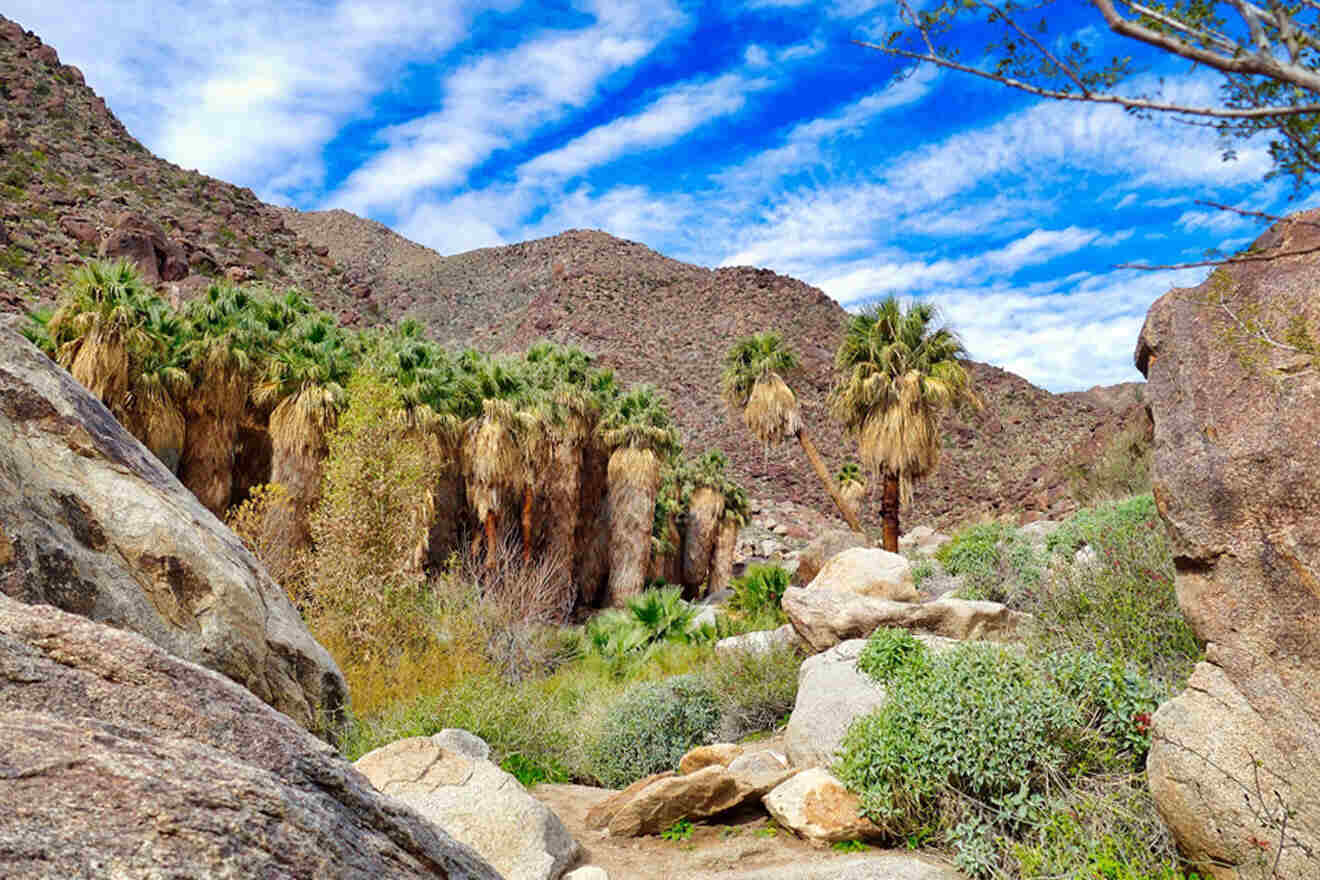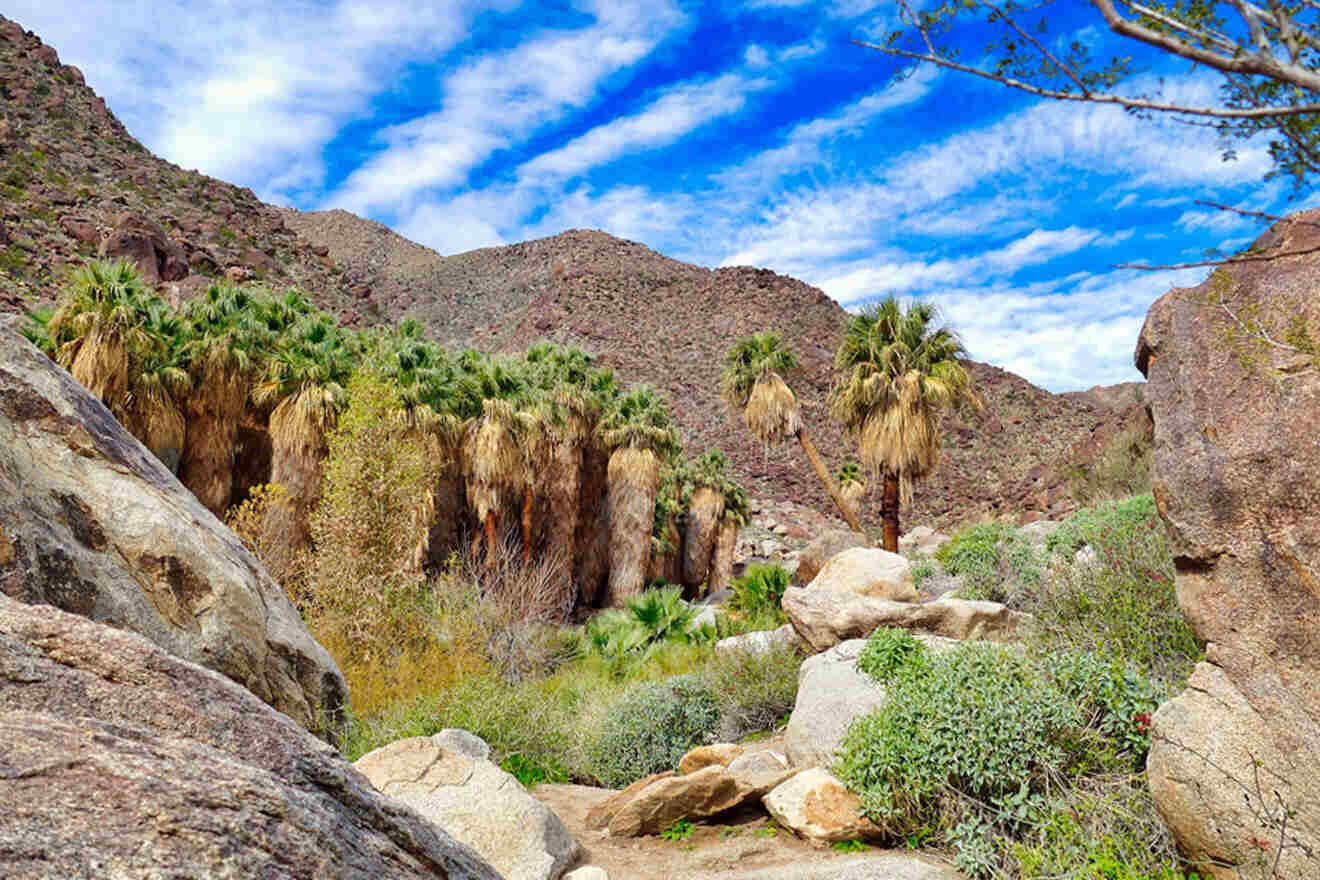 As you might be catching on, Palm Springs has a wonderful mixture of city attractions and natural escapes. A great thing to do outdoors, Indian Canyons is a breathtaking natural oasis and one of the cultural and historic landmarks tucked in the desert.
This stunning desert canyon system encompasses 3 main canyons: Palm Canyon, Andreas Canyon, and Murray Canyon, and offers a glimpse into the rich cultural and natural heritage of the indigenous Agua Caliente Band of Cahuilla people.
As you venture into Indian Canyons, it seems like all you can see are towering palm trees, vibrant flowers, and trickling streams encompassing you, creating a lush and serene atmosphere.
There are so many hiking trails to choose from, allowing you to decide how easy or difficult you'd like to take it. For a more fun experience, you can take a guided bike & hike tour through Indian Canyons. You'll find breathtaking landscapes, discover hidden waterfalls, and witness captivating rock formations all from the dirt paths.
One of the coolest things about the area is learning the history and spirituality of the Cahuilla people. You will encounter ancient rock art and learn about their traditions and connection to the land.
PRICE: from US$120 per person
10. Get wild at the Living Desert Zoo & Gardens
With a seemingly never-ending list of things to do in Palm Springs, it can be hard to choose how to spend your time. One of my personal favorite spots is in the neighboring Palm Desert, called The Living Desert Zoo and Gardens.
You can stroll through the desert zoo and come face-to-face with some of the coolest critters on the planet: giraffes, cheetahs, meerkats, zebras, the gang's all here!
But that's not all! Brace yourself for one of the most incredible botanical gardens you've ever seen! The Living Desert Zoo is like a living gallery of desert plants from the region. From spiky cacti that could double as stylish accessories to vibrant flowers that'll make your Instagram photos pop, you'll find yourself surrounded by nature's stunning artwork at every turn.
PRO TIP: Check with the Visitor Center for special animal feeding times – it's when the wildlife is most playful!
PRICE: US$35 for adults
11. Get your heart pumping at Tahquitz Canyon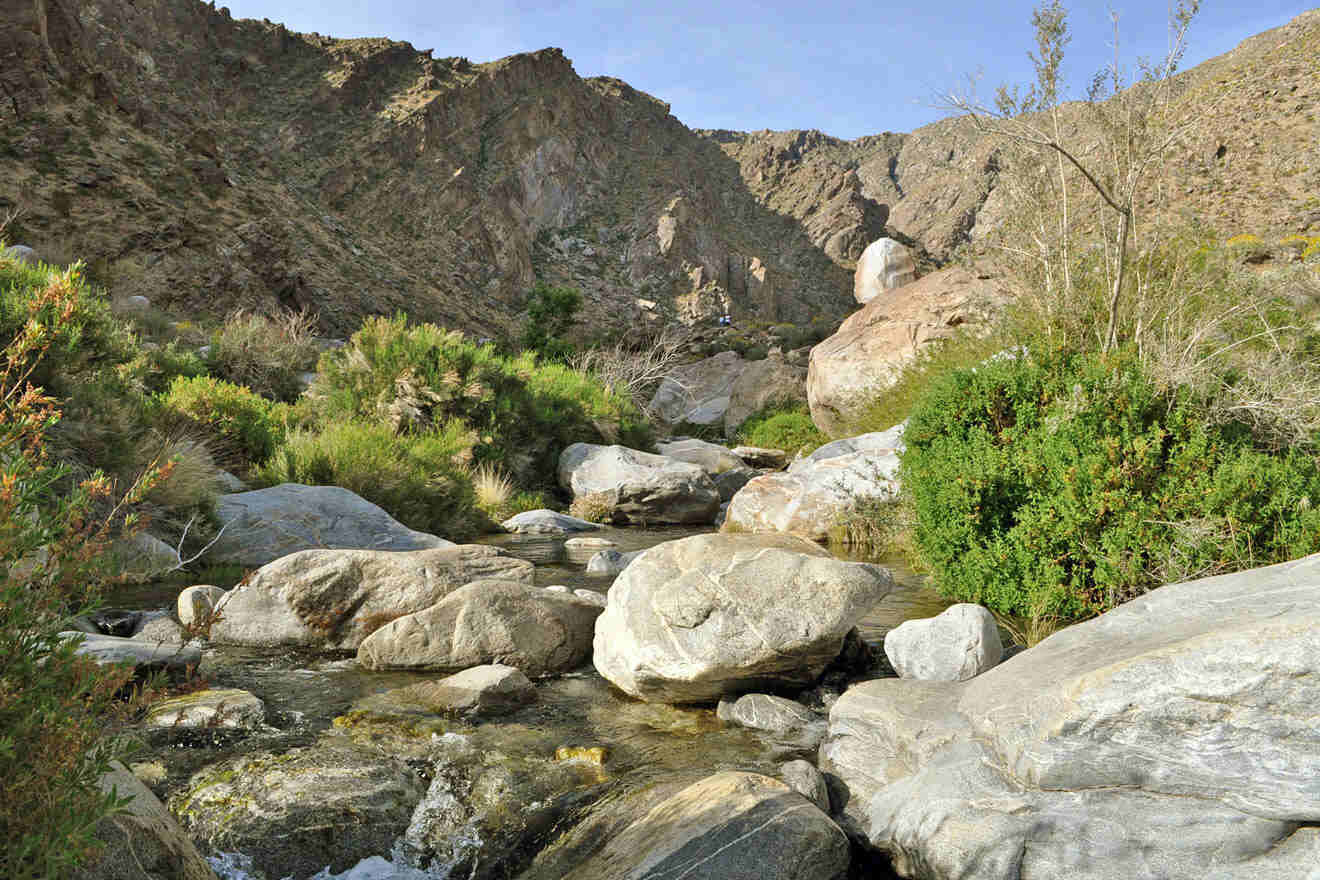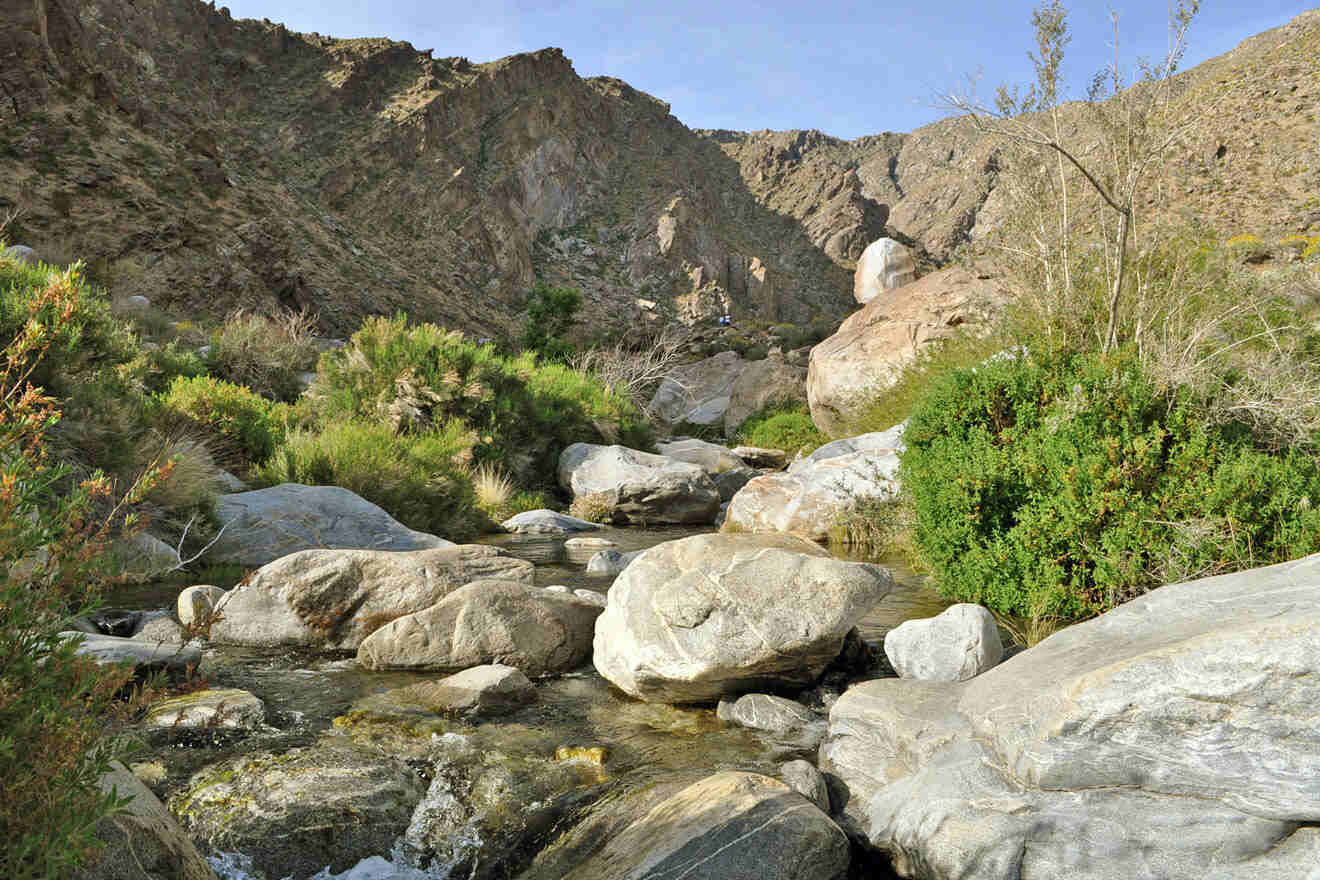 Tahquitz Canyon is a hidden gem nestled in the heart of the Palm Springs area, offering a captivating blend of natural beauty and Native American history. This scenic desert canyon is owned and preserved by the Agua Caliente Band of Cahuilla Indians, showcasing the rich cultural heritage of the region.
I absolutely love that Tahquitz Canyon offers a tough hike through the canyon, but I also want you to keep in mind it is app. 2 mi (3 km) out and back, and there's an elevation change of about 350 ft (107 m). So, be prepared to get your heart pumping!
If you're ready for the challenge, you'll be rewarded with lush greenery, incredible vistas, and in season, a stunning 60-foot (18-m) waterfall!
PRO TIP: Keep an eye out for the abundant wildlife in the area, especially the rarely spotted desert bighorn sheep.
NOTE: Purchase your day-hike tickets at the trailhead at Tahquitz Canyon Visitor Center, 500 W Mesquite Ave Palm Springs.
PRICE: US$15 per adult
12. Pop off on Thursdays at Palm Springs VillageFest
If you're looking for an introduction to what Palm Springs is all about, look no further than the Palm Springs VillageFest.
Picture a vibrant and lively street fair, retro-chic and fabulous, in the heart of downtown Palm Springs that pumps life into the city every Thursday evening.
This is such a popular event, loved by locals and visitors, creating an energetic, high-vibe atmosphere. As you stroll along the palm tree-lined streets, you'll discover a myriad of cool things to see, including artisanal crafts, unique artwork, jewelry, clothing, you name it.
The air is filled with the most delicious smells as local food vendors offer an array of yummy regional treats. Add in live music performances and dancing, reserving your Thursday night for this is so worthwhile and FREE.
PRICE: FREE
13. Go prehistoric with the Cabazon Dinosaurs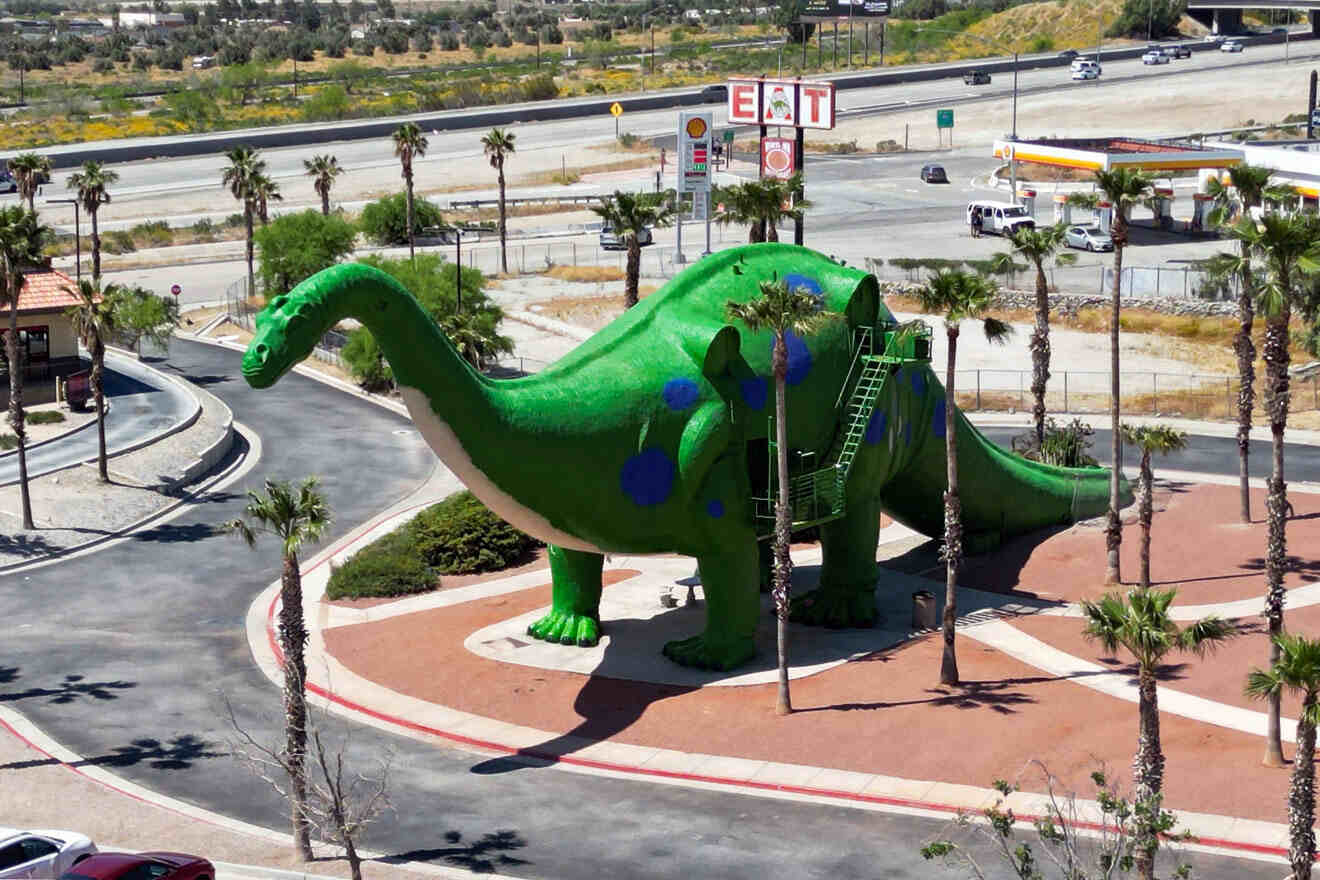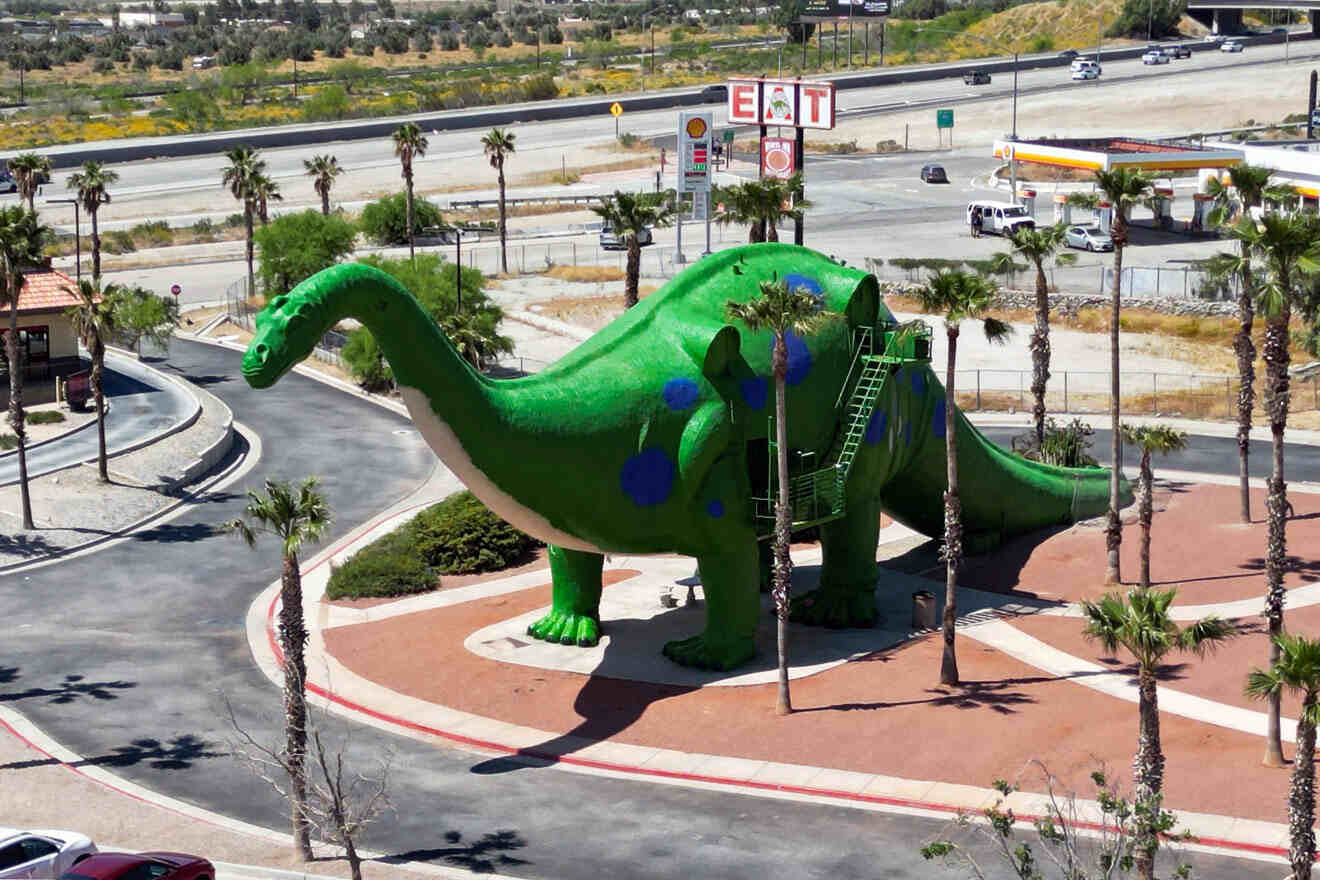 Who doesn't love a good, quirky roadside attraction, am I right? Cabazon Dinosaurs is a beloved and iconic attraction along Interstate 8 that will stop you in your tracks, quite literally.
Located just outside of Palm Springs, these colossal dinosaur sculptures have become a must-visit destination for anyone coming to the area, especially if you have kids in tow.
Get to know these old, big guys – Dinny, the brontosaurus, and Mr. Rex, the towering Tyrannosaurus rex. You can actually go inside them and learn all about prehistoric life!
No judgment, please – my favorite part, like usual, is the gift shop at this attraction. Take home a cheesy memento, and thank me later.
PRICE: US$15 for adults, US$13 for kids
14. Brush up on the area at Palm Springs Visitor Center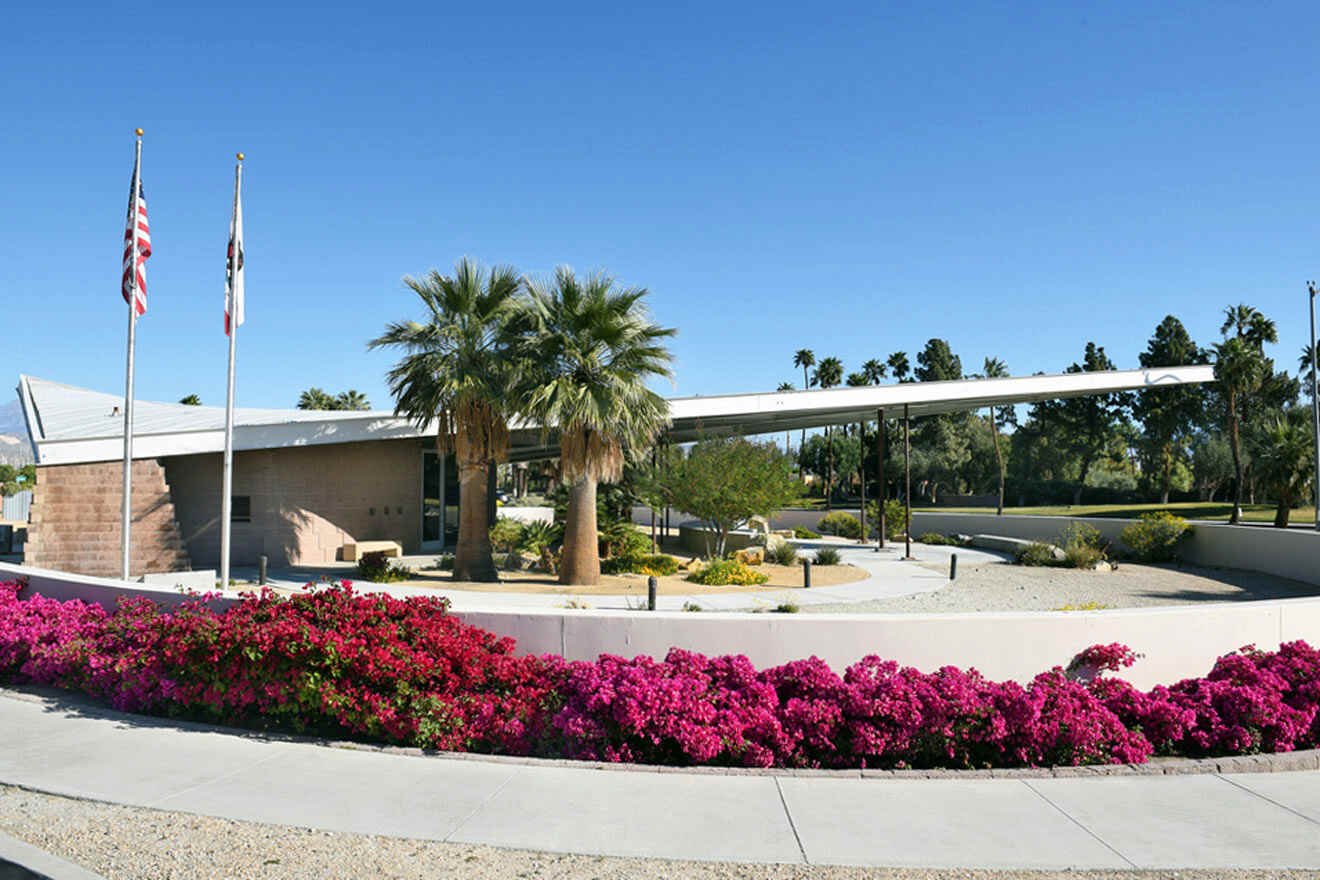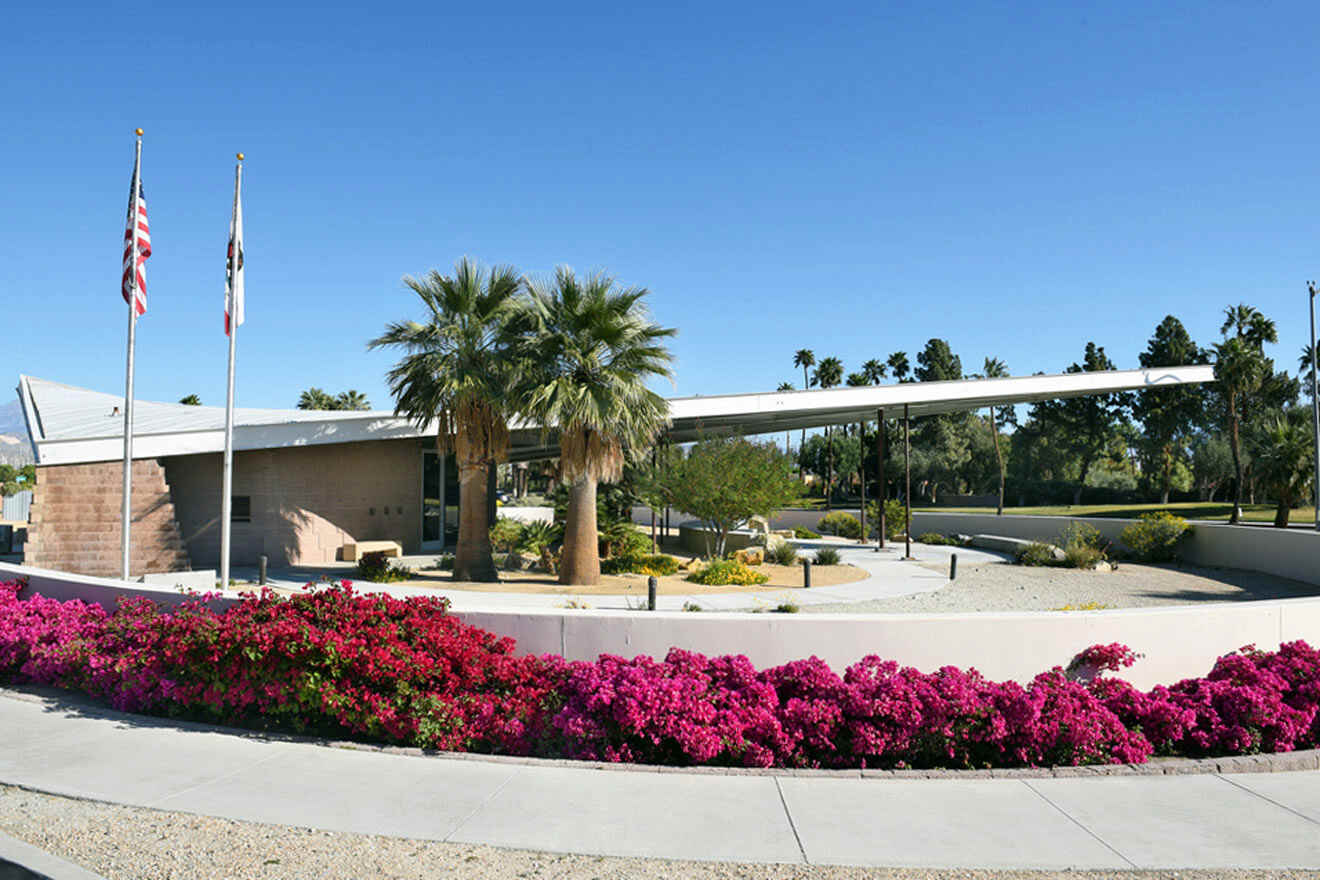 You likely know what you're getting yourself into with this one, but let me tell you, the Palm Springs Visitor Center should be one of your first things to do in Palm Springs, California.
Located in the heart of downtown, this Visitor Center serves as a hub of information and inspiration for anyone coming to the Palm Springs area. Step inside, and you'll find a team of friendly and knowledgeable staff ready to assist you in making the most of your Palm Springs experience.
I love that this Visitor Center is always fully stocked and brimming with brochures, maps, and insider tips to help you navigate the city and discover its hidden gems.
This is an excellent spot to learn about the best restaurants and shops, to insights into local events and attractions.
Uniquely, the center also showcases exhibits that highlight the rich history, culture, and natural beauty of the Palm Springs region on rotation. So even if you've been before, it's worth popping back into this wonderful information center.
PRO TIP: Getting hungry after all that info-gathering? Stop by Farm for an incredible farm-to-table lunch in a wonderfully charming atmosphere.
PRICE: FREE
15. Get your dose of Hollywood at the Walk of the Stars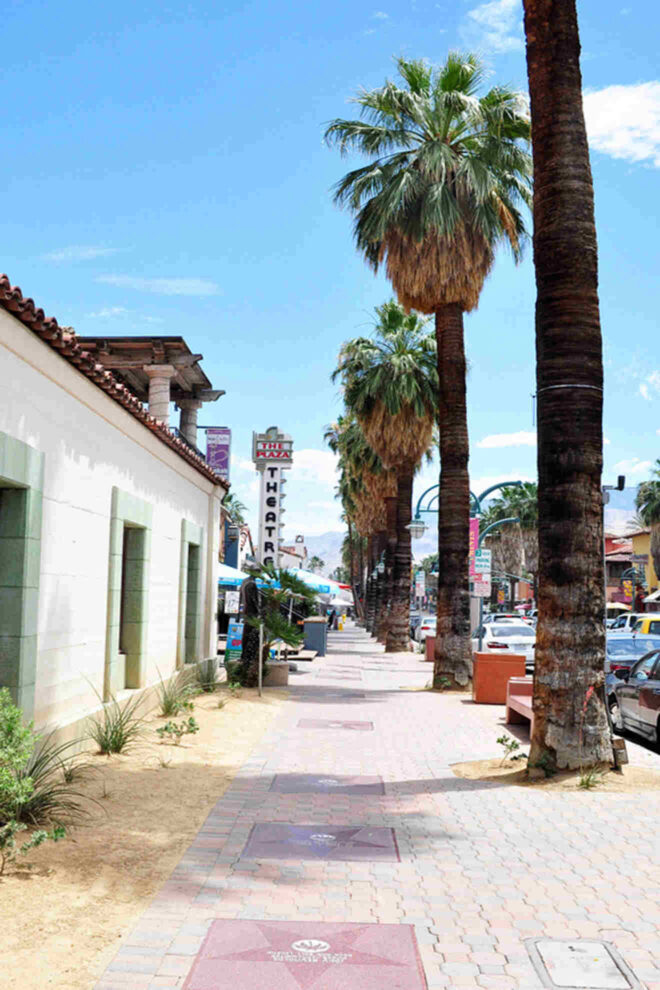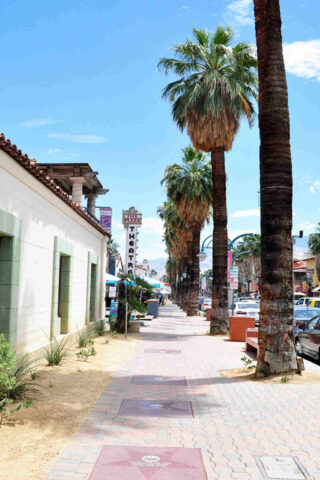 No, we aren't talking about the iconic Hollywood Walk of Fame in Los Angeles, but it's pretty darn close in popularity.
The Walk of Stars is just a must, no matter who you are or what your interests are. This captivating Palm Springs walk holds a wealth of history, glamour, and entertainment on its star-lined streets. Sitting on North Palm Canyon Drive, Museum Way, and Tahquitz Canyon Way, you are sure to stubble across this famous walk while downtown.
This renowned walkway pays homage to the many influential celebrities who have made significant contributions to the worlds of film, television, and music.
As you stroll along the palm-lined streets, you'll spot the names of so many beloved celebrities embedded in the golden stars beneath your feet. As a film nut, strolling the Walk of Stars is not only crazy cool to me but also an opportunity to feel a connection with the legendary stars who have played in this vibrant desert city over the years.
16. Discover the Coachella Valley Preserve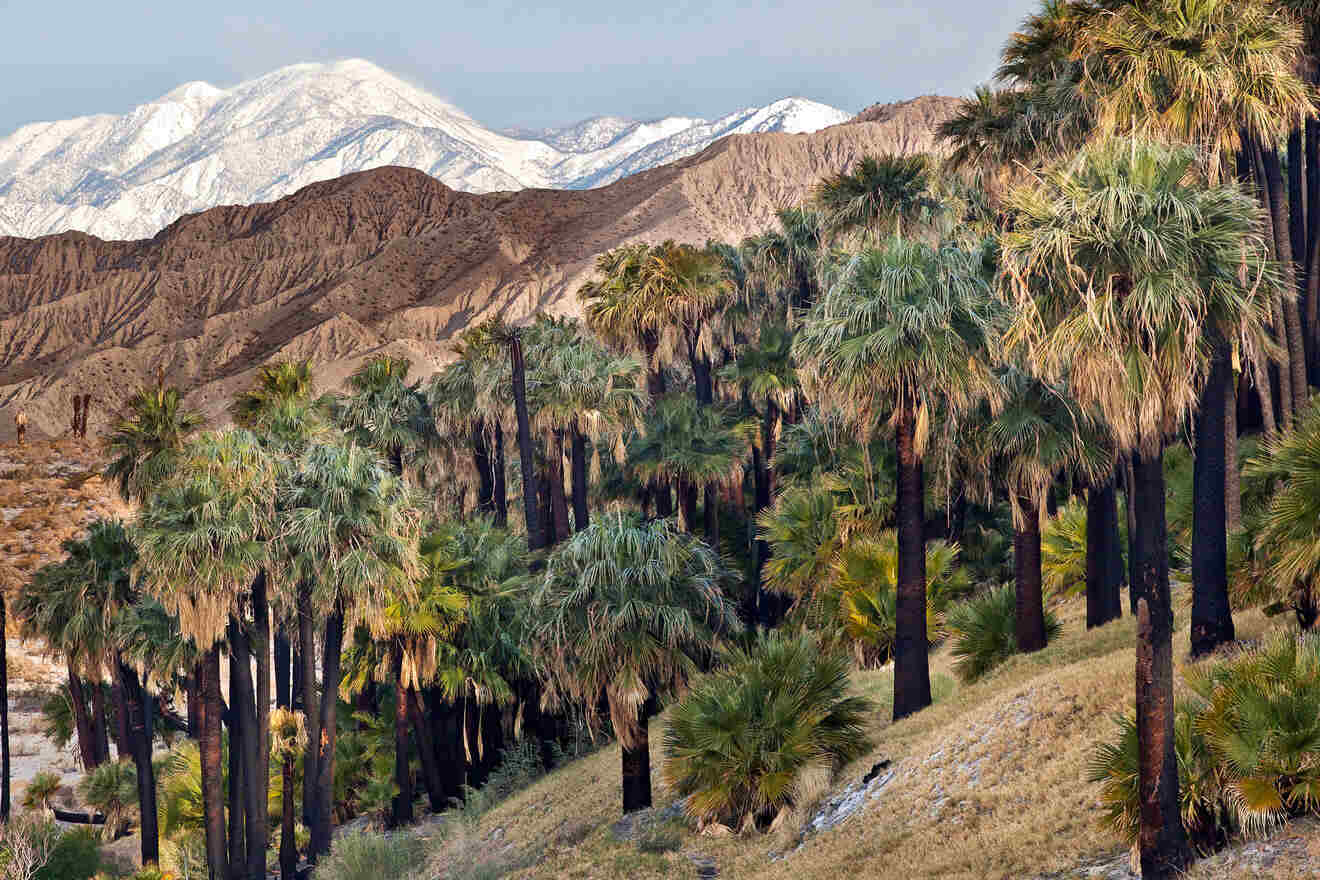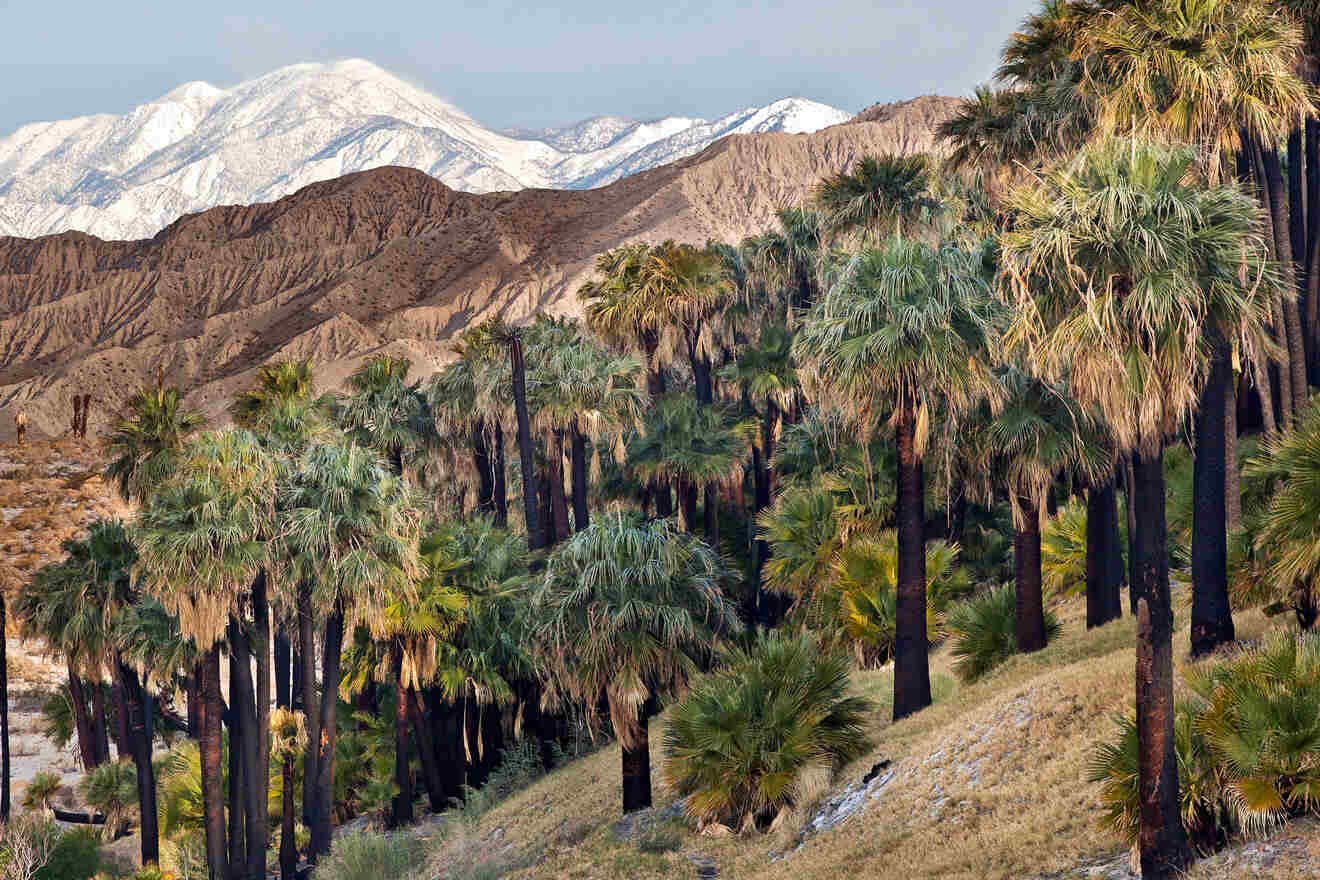 So, if you're into music, you've likely heard of the famous Coachella Valley Music Festival. This world-renowned music and arts festival brings together people from all over the globe to celebrate music, art, and desert fun in the middle of the Coachella Valley Preserve.
When not morphing into the fantasyland of Coachella Fest, the preserve actually serves as a beautiful desert oasis filled with hiking trails and vistas for miles in the middle of Thousand Palms.
Don't miss driving up to the Coachella Valley Vista Point, which offers the most epic views of the valleys and stunning landscape down below.
PRICE: FREE, donations encouraged
17. Feel the energy of Downtown Palm Springs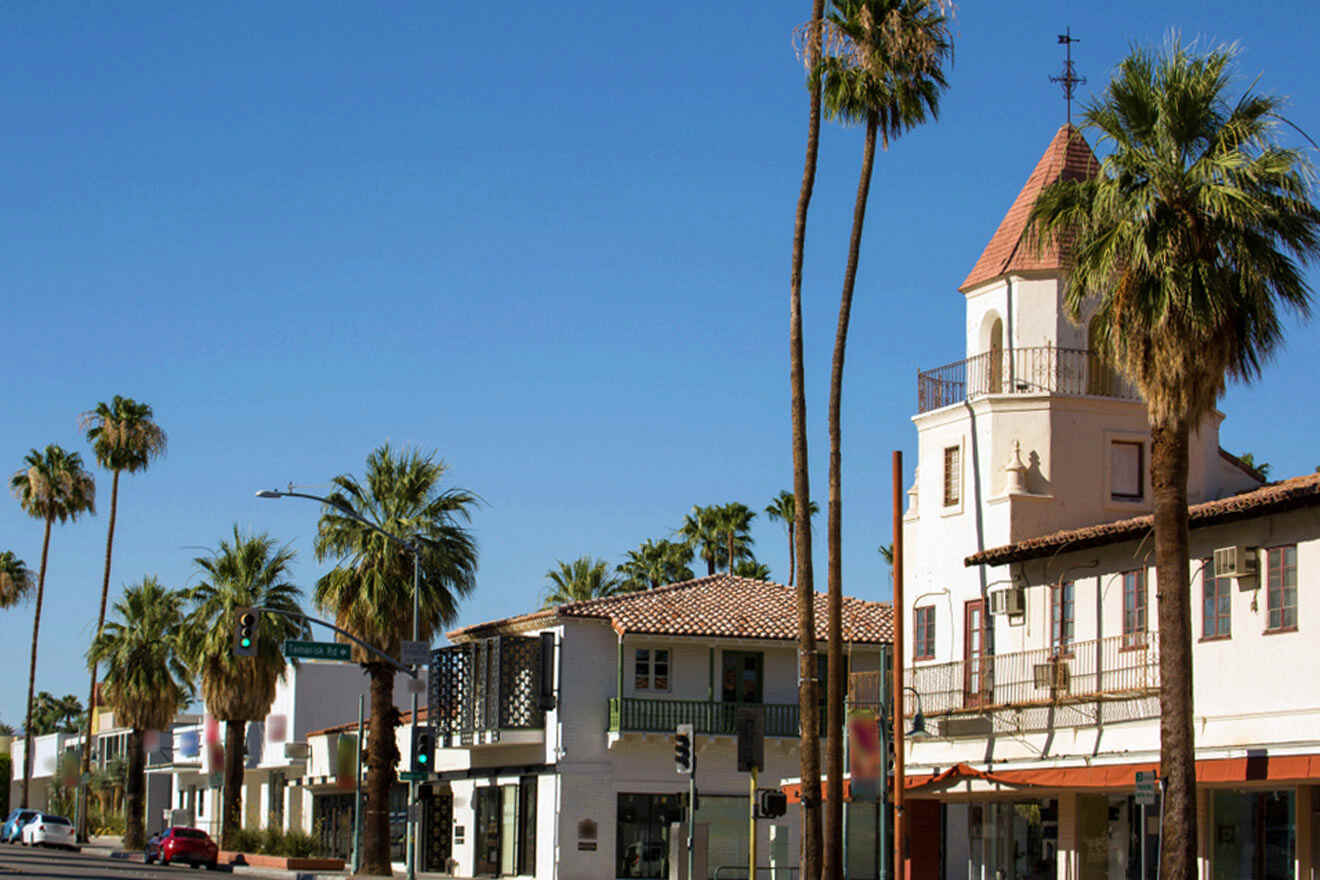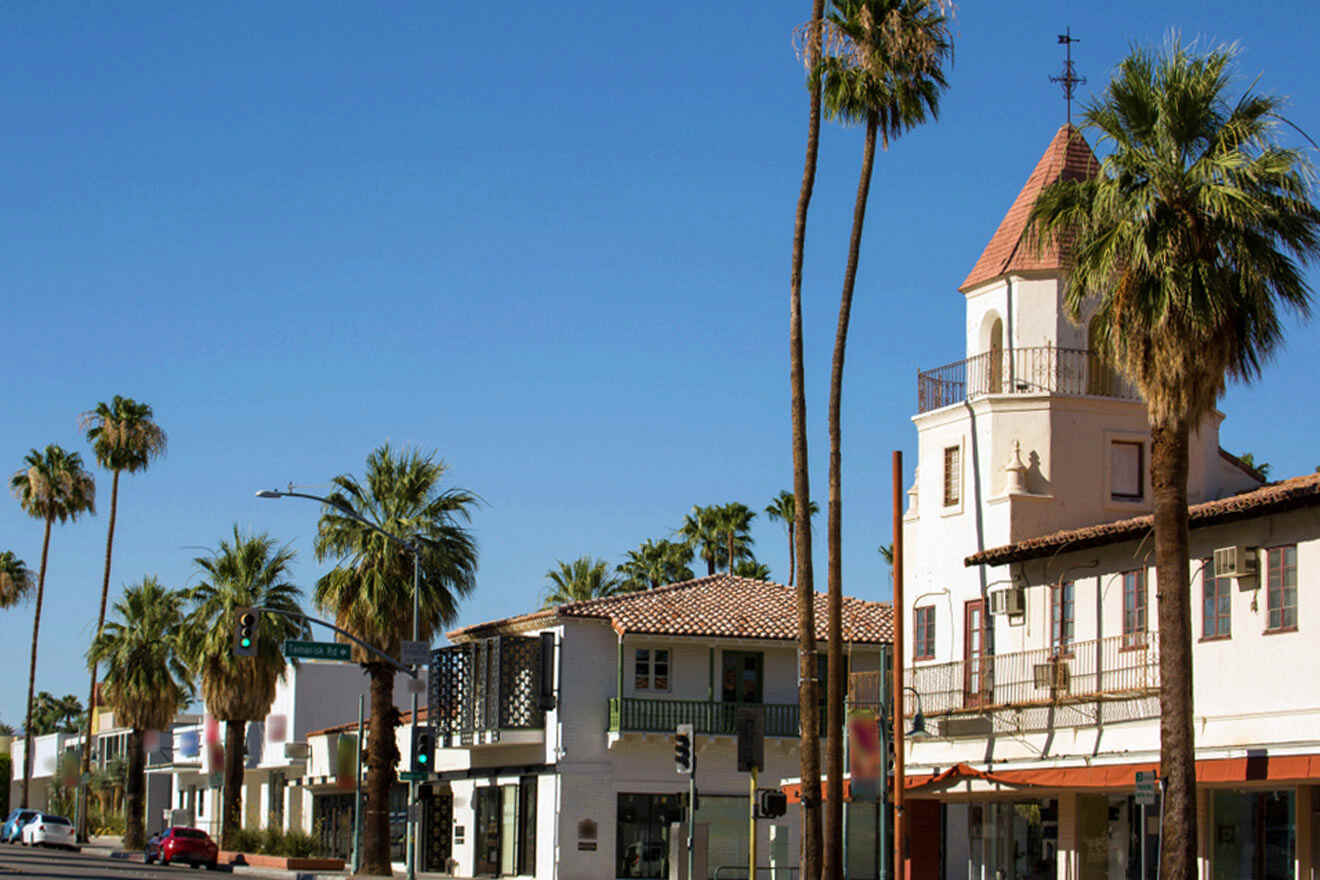 The buzz in Palm Springs is so electrifying, and Downtown Palm Springs is where it all pops off. This hip, chic downtown district is known for its unique blend of mid-century modern architecture, stylish boutiques, art galleries, and an eclectic dining scene.
Want to shop til you drop? Not an issue here – from high-end fashion and vintage treasures to locally crafted artwork and unique souvenirs, you'll find everything you want downtown.
The energy that downtown Palm Springs makes is so contagious – bustling sidewalk cafés, lively street performers, and beautiful weather to keep you warm into the evenings.
Without a doubt, you will find some of the best dining experiences you've ever had in downtown Palm Springs. One of my favorites is The Tropicale. Snag a reservation if you can because its retro-chic interior and neon exterior draw people in off the street like no place else.
18. Explore Palm Desert & Faye Sarkowsky Sculpture Garden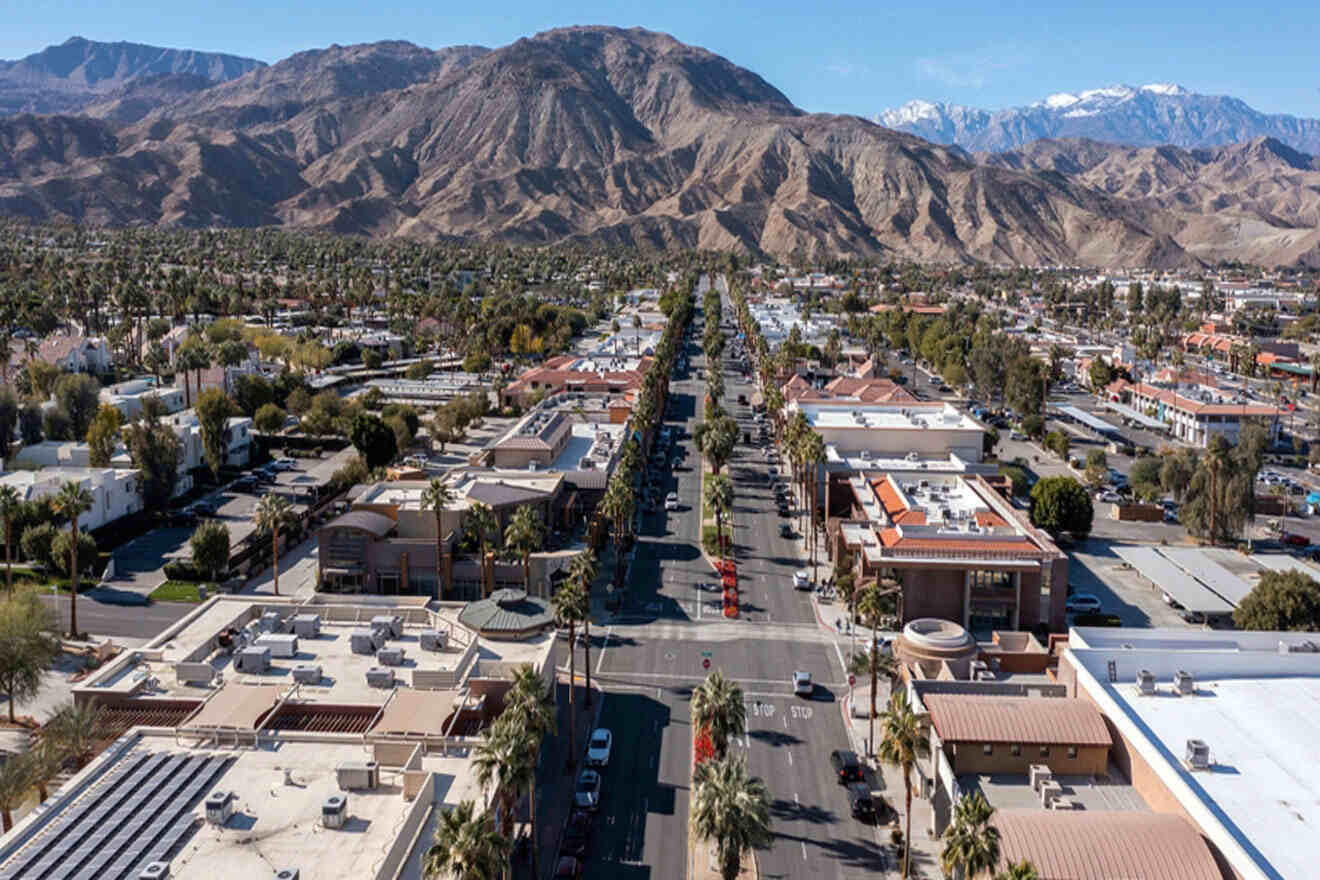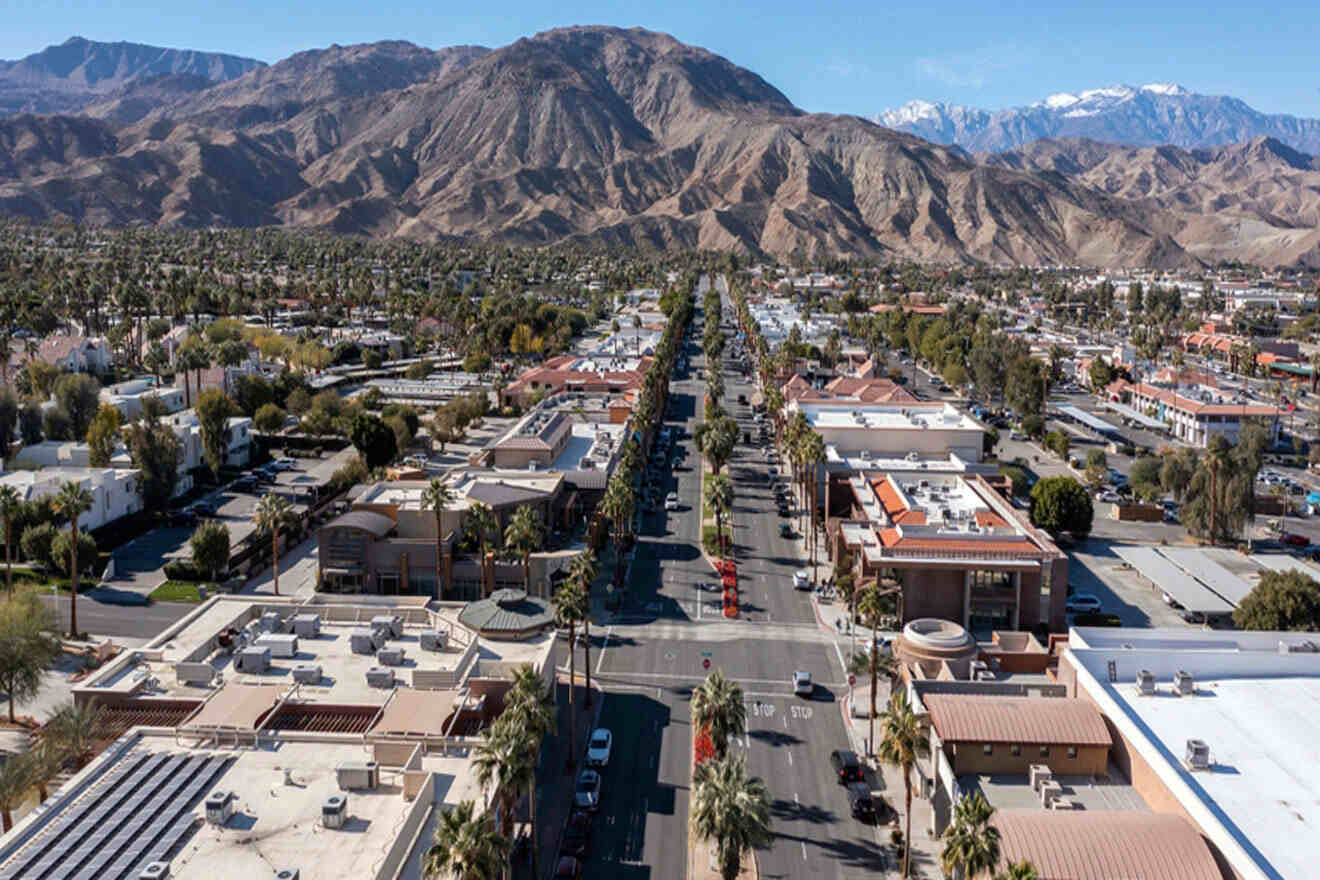 Right in the heart of the Coachella Valley, in the greater Palm Springs area, you'll find Palm Springs' cousin, Palm Desert.
Palm Desert offers a unique desert experience, with breathtaking desert landscapes, including the iconic Joshua Tree National Park (no. 8 on this list). You're surrounded by the rugged beauty of the desert.
But Palm Desert is more than just scenic views, it's a vibrant destination that caters to all kinds of interests. With tons of art galleries and boutiques, downtown is a wonderful area.
The El Paseo Shopping District, often referred to as the "Rodeo Drive of the Desert," offers a killer shopping experience with upscale boutiques and designer brands.
Palm Desert is known for its stunning golf courses, amazing hiking through the Santa Rosa and San Jacinto Mountains, and even horseback riding trails that truly make it an unforgettable adventure.
By far, my favorite thing to do when I visit Palm Springs, California, is to head out to the Faye Sarkowsky Sculpture Garden, located at the Palm Springs Art Museum, Palm Desert location.
This outdoor oasis showcases an exquisite collection of 14 captivating sculptures set amidst the stunning desert landscape, invoking the traditions of modern and contemporary art.
Each sculpture is a masterpiece in its own right, offering a unique blend of art and nature.
PRICE: FREE
19. Play in the Thousand Palms Oasis Preserve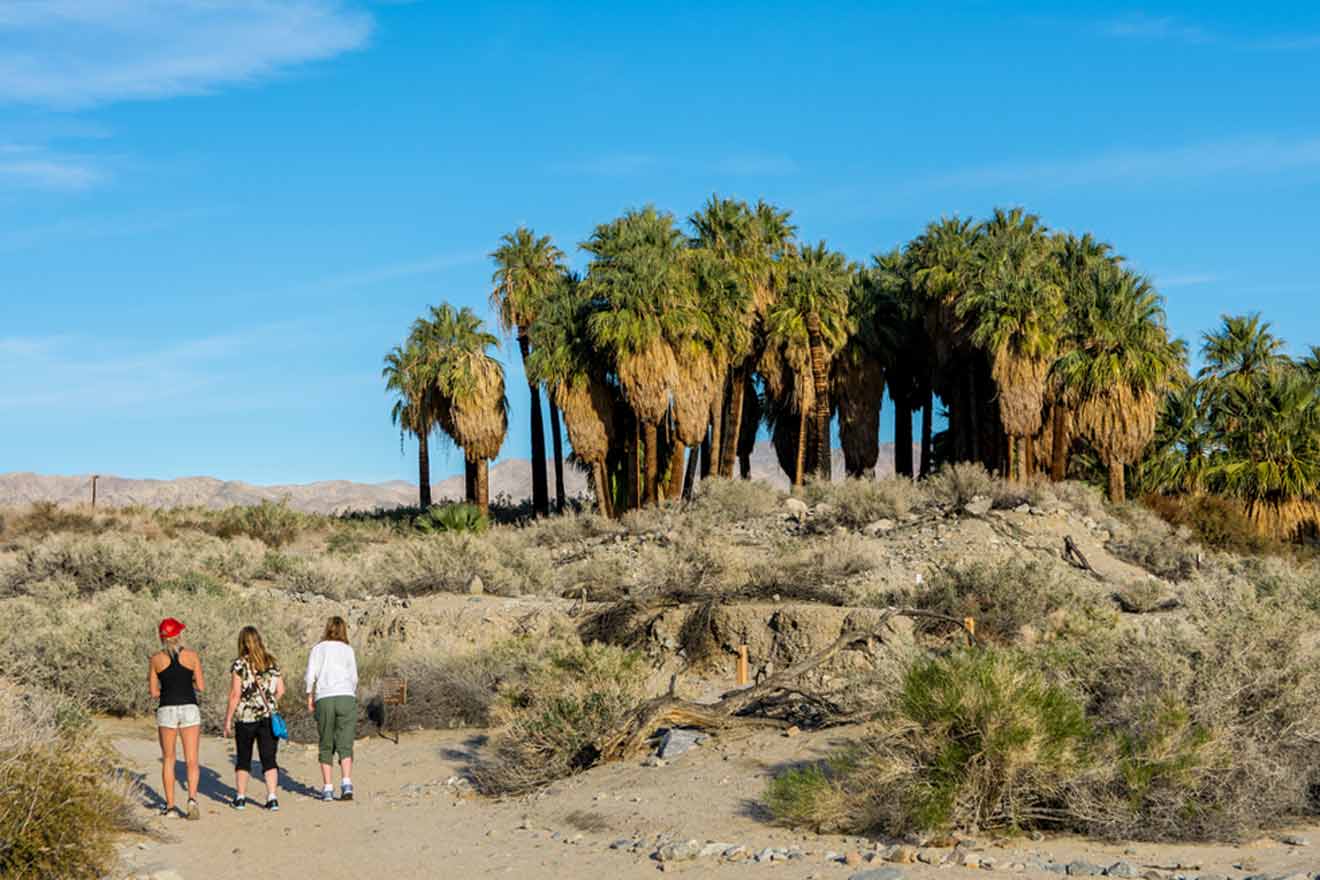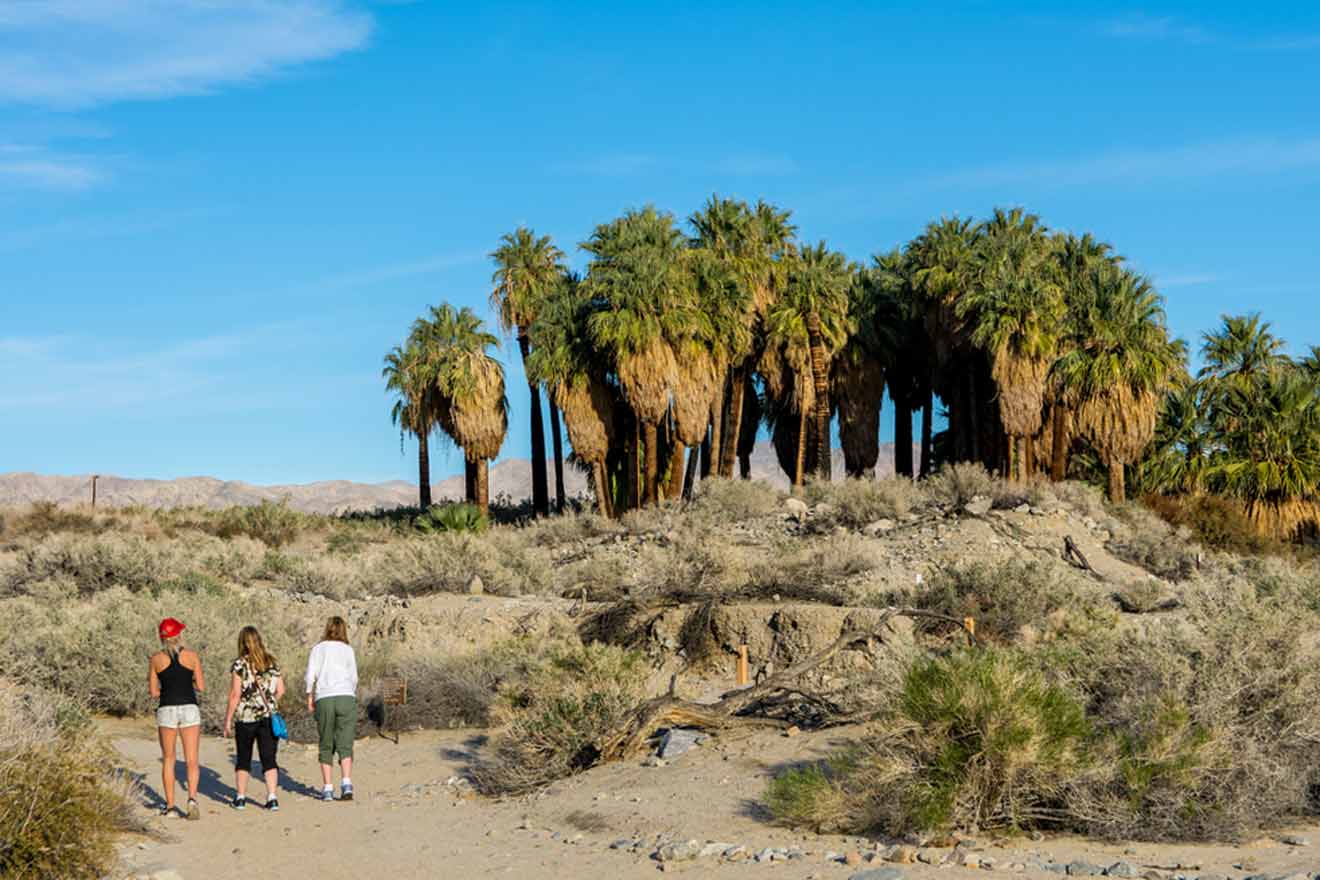 A natural wonder, Thousand Palms Oasis Preserve is a serene sanctuary where lush greenery and towering palms provide a stark contrast to the surrounding desert.
The preserve spans over 880 acres (c. 360 hectares) and is home to one of the largest and most accessible California fan palms oases in the world. It's a mesmerizing sight; imagine walking along shady trails with palm fronds swaying gently overhead, and the sound of rustling leaves creates this rad ambiance like no other.
Jump on the preserve's network of trails, and keep your eyes peeled for a variety of bird species, from vibrant hummingbirds to majestic raptors soaring above.
Last time I visited, I spotted desert tortoises and bobcats on my hike, which is just the most incredible feeling seeing these amazing creatures up close and out in the wild.
PRICE: FREE, donations appreciated
21. Plunge into the Desert Hot Springs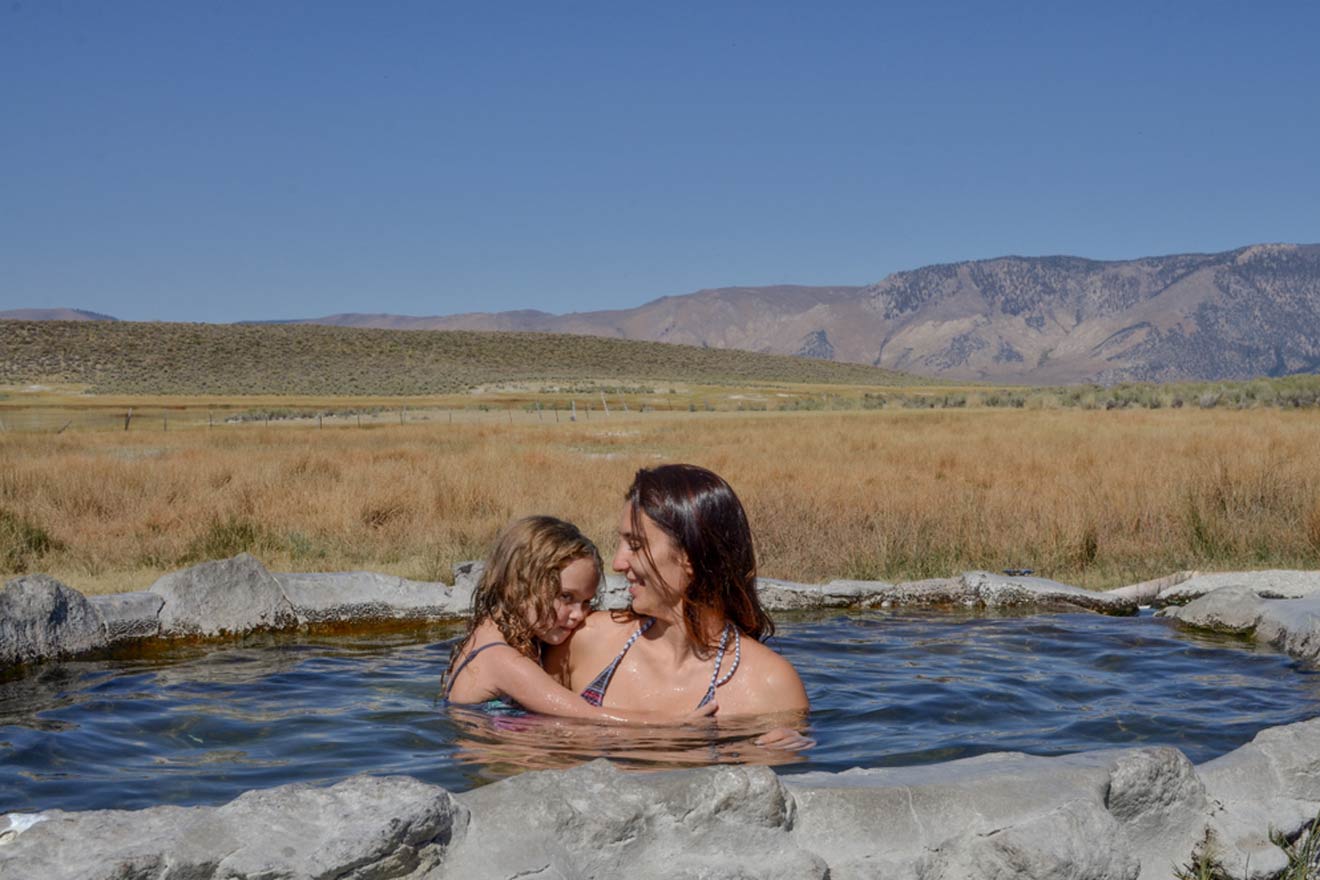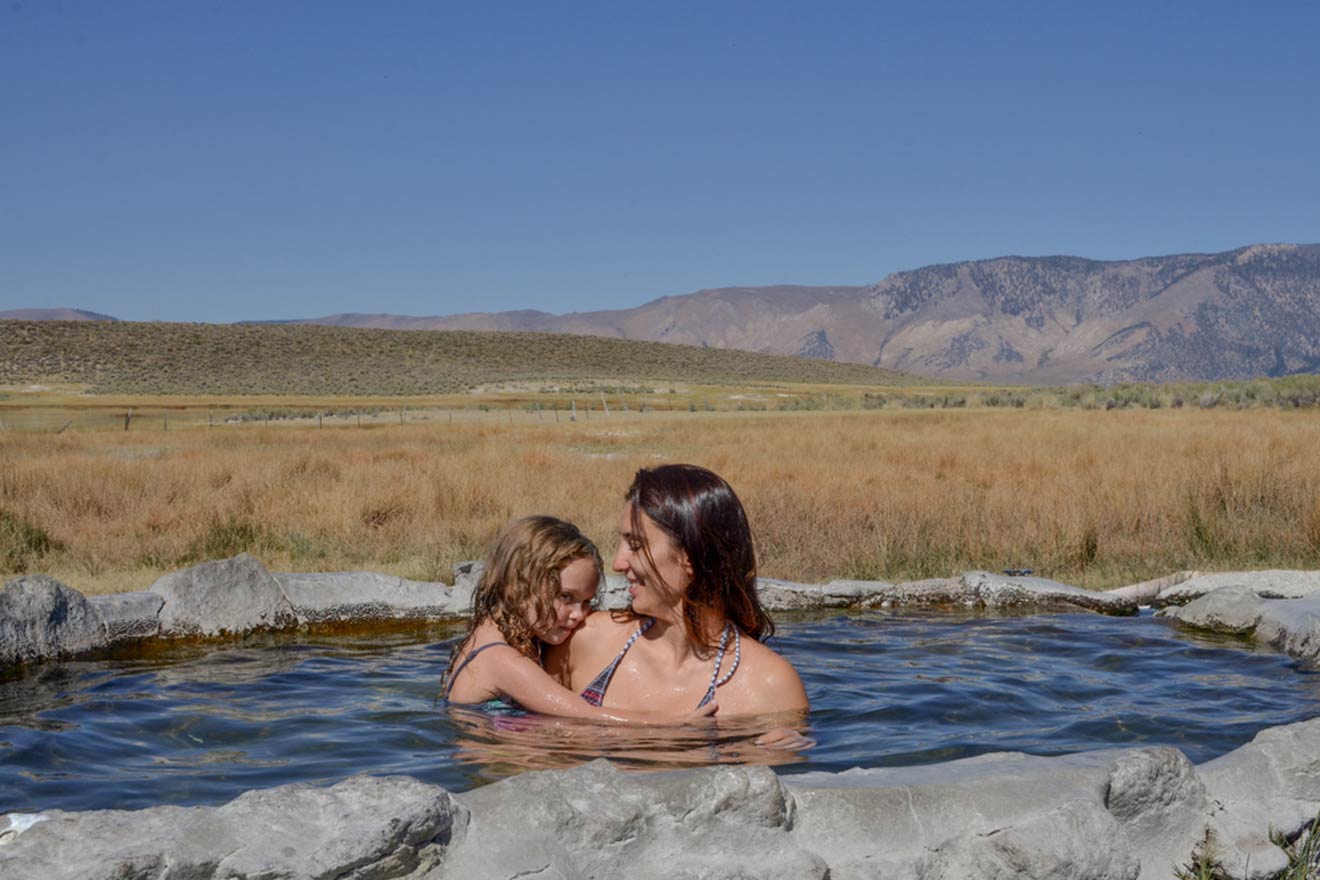 As your resident tour guide and wellness ambassador, I'd be remiss if I didn't mention Desert Hot Springs as one of the most incredible things to do in Palm Springs, California.
The natural hot springs offer an impressive array of pools, jacuzzis, and spas, all built around the hot and cold spring aquifers that lie beneath the city.
Picture yourself dipping into warm mineral waters, feeling the tension melt away as you surrender to pure bliss. Vacation goals, right?
These therapeutic waters, sourced from the hot water aquifer to the east and the cold water aquifer to the west of the San Andreas Fault, offer such a luxurious and healing experience in the desert.
Some of my faves:
NOTE: Reservations are required, so book in advance.
PRICE: Varies
22. Slip through the cracks at Ladder Canyon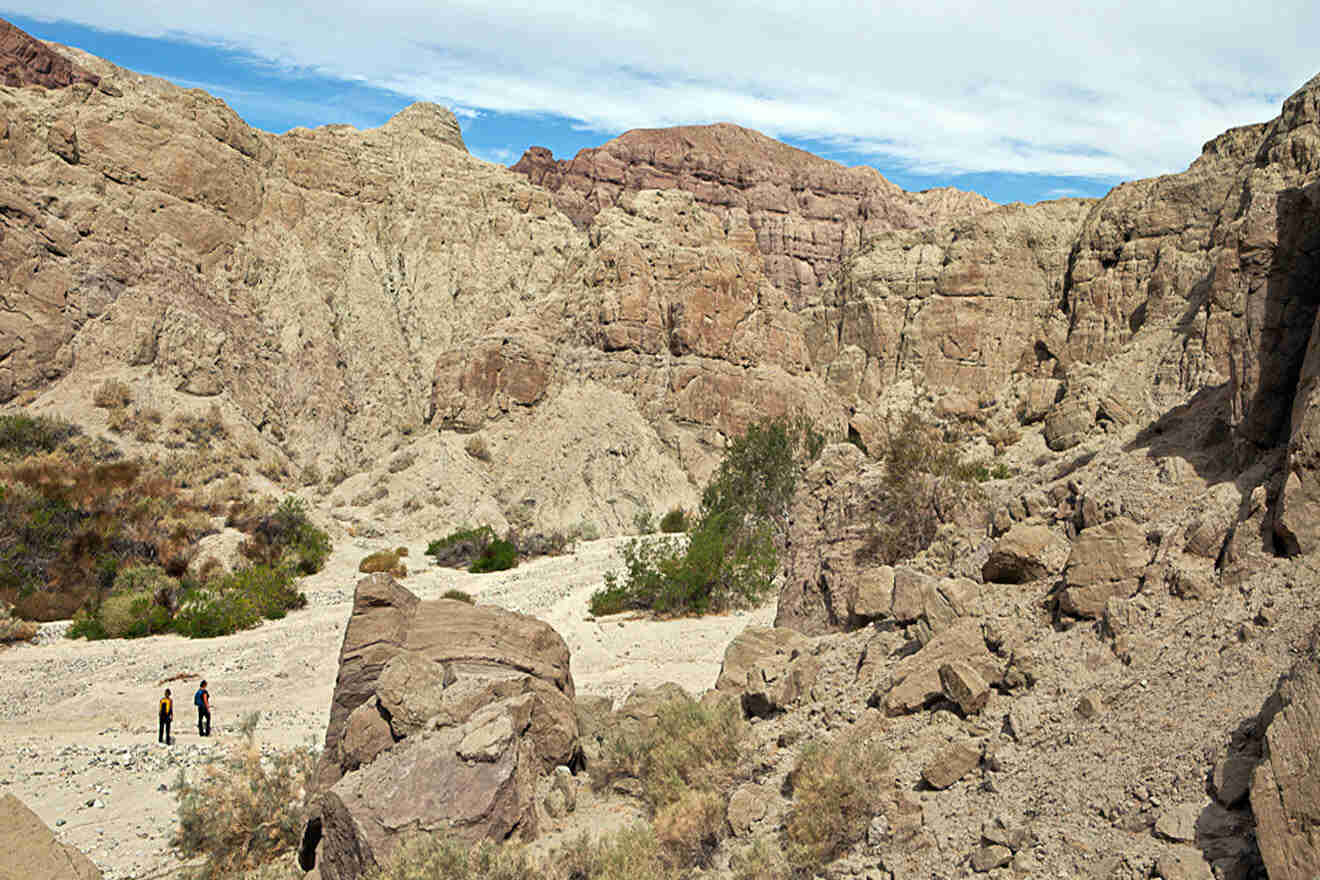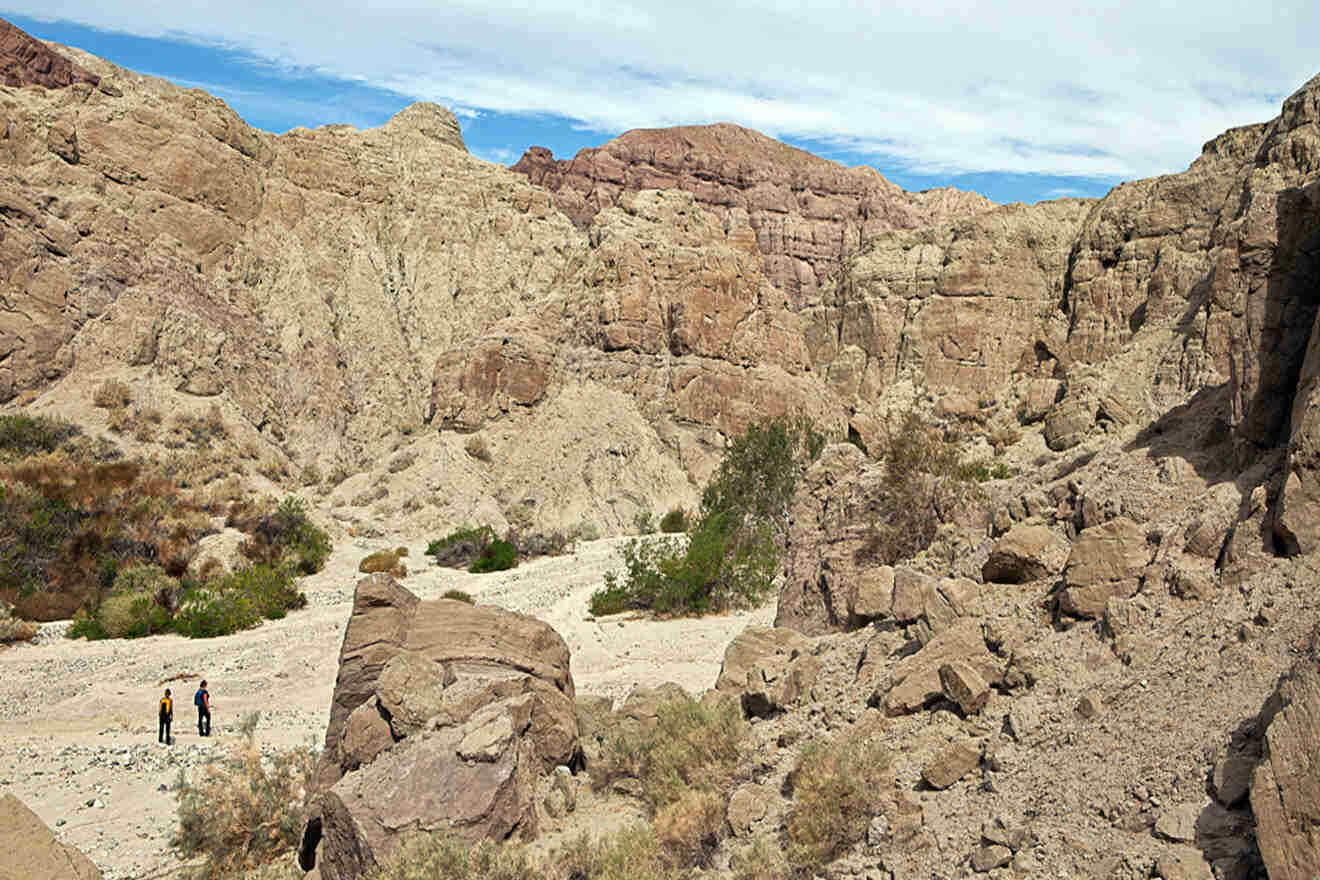 One of the most epic hikes you will ever do in the greater Palm Springs area, Ladder Canyon is located in the Mecca Hills Wilderness of Southern California and is an extraordinary natural wonder with awe-inspiring beauty and unique geological formations.
This hidden gem is renowned for its intricate network of slot canyons and the thrilling ladder ascent that will have the hairs on your arms standing tall.
As you navigate through the narrow canyons, you'll encounter towering walls of multi-colored rocky cliffs carved by centuries of wind and water erosion. The rocks create a natural wind tunnel, and the result is breathtaking.
The highlight of Ladder Canyon is the ladder section, where you have the opportunity to climb up through vertical sections of the canyon using strategically placed ladders. Let me tell you from first-hand experience you will never forget this hike!
23. Have a fabulous meal at the Purple Room Supper Club
Want to dive head first into the Palm Springs vibe? The Purple Supper Club Room is an intimate and exclusive dining venue known for its opulent atmosphere and attention to every quirky detail.
As you enter, you'll be greeted by rich hues of purple, elegant decor adorned with luxurious touches and artistic flair.
Each dish is a work of art, meticulously crafted using the finest ingredients and innovative techniques. The menu is a fusion of flavors, drawing inspiration from global cuisines and incorporating seasonal and locally sourced produce.
The Purple Room offers more than just a meal – it's an immersive experience that engages all your senses. Don't miss it!
24. Take time to explore Chino Canyon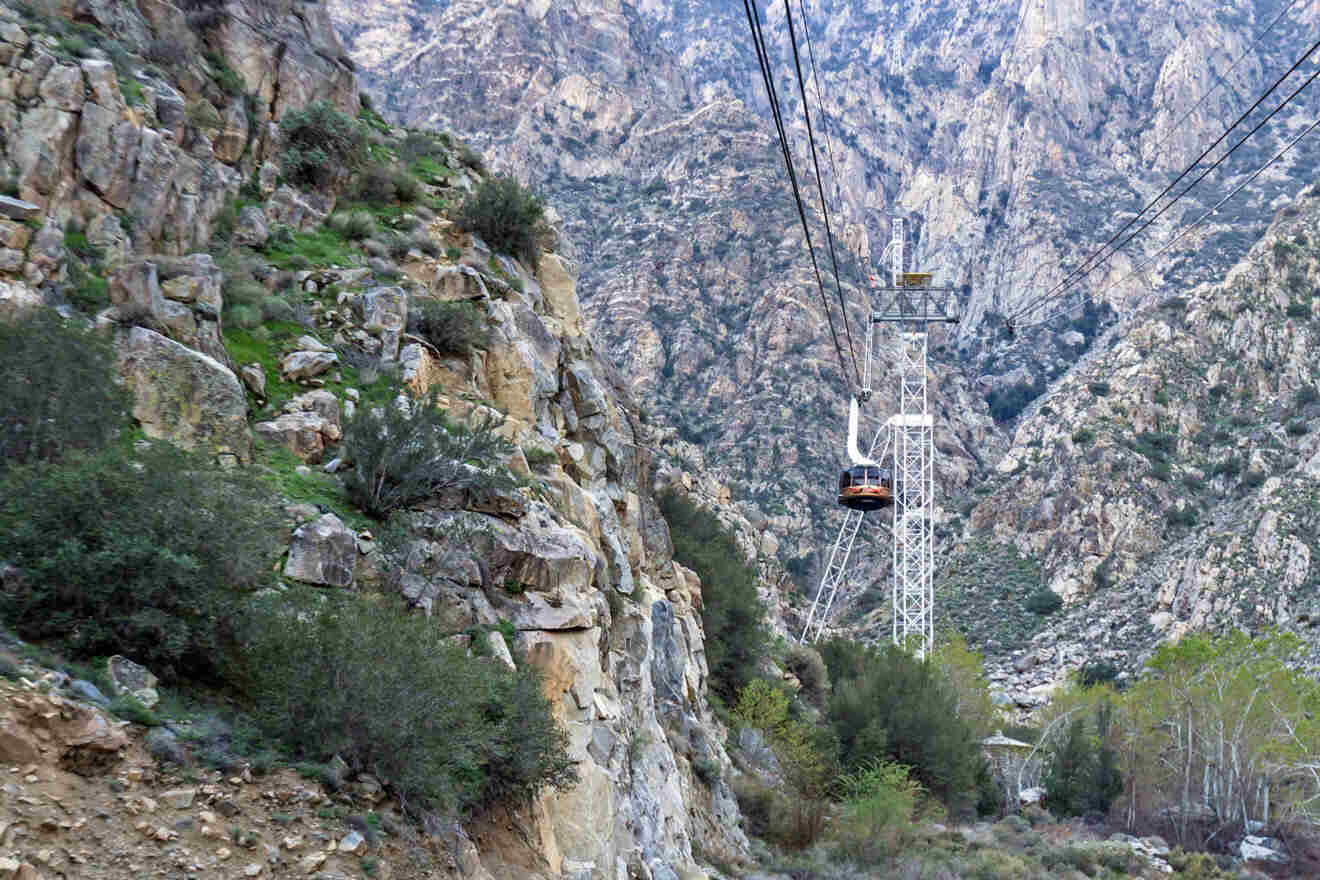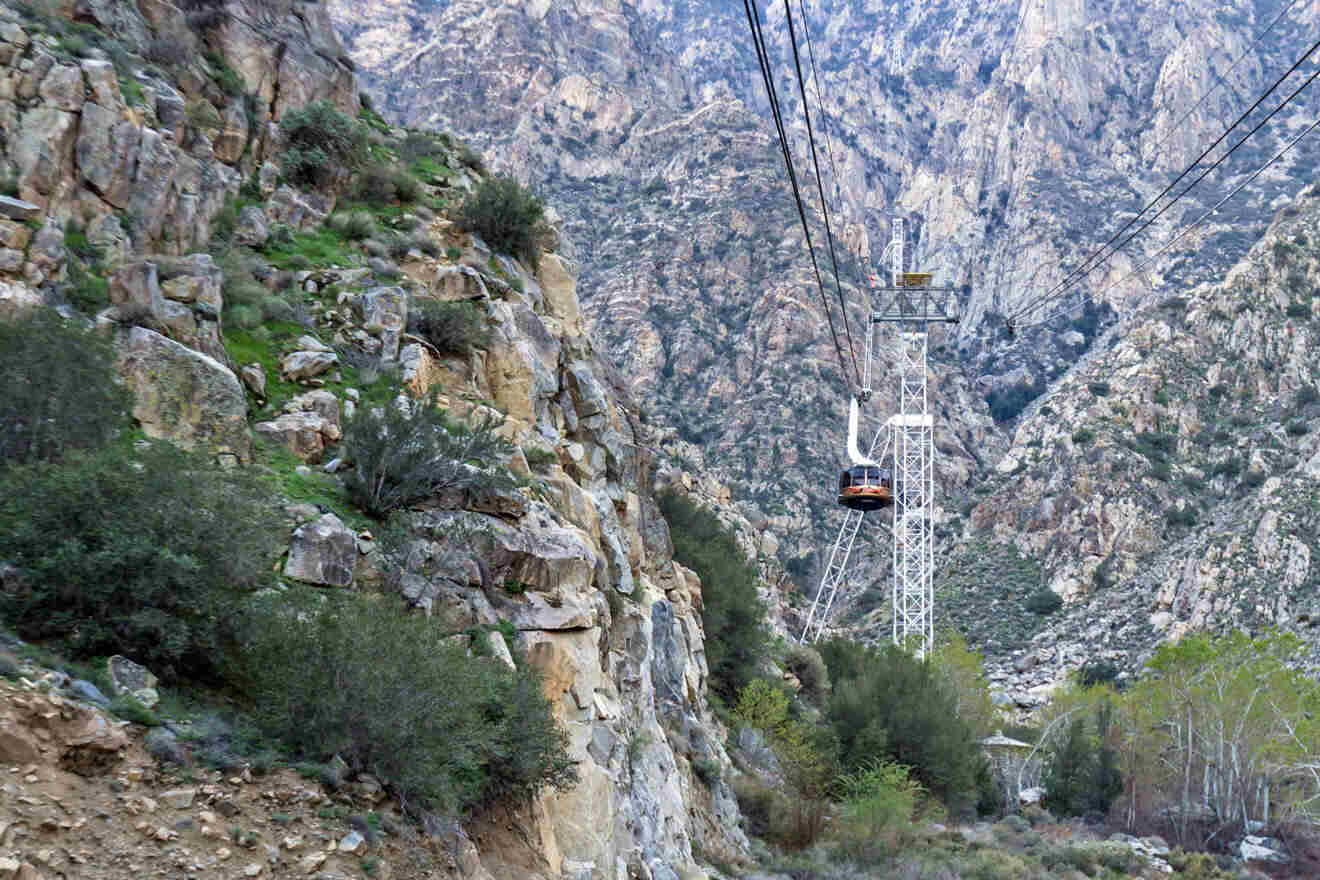 Chino Canyon, located in the greater Palm Springs area, is set in the dramatic San Jacinto Mountains and is a breathtaking site showcasing towering cliffs, rugged rock forms, and vibrant desert life amidst the arid landscape.
As you venture into Chino Canyon, you'll discover a network of scenic hiking trails that wind through the rugged terrain, offering panoramic views of the surrounding valley and the majestic mountains.
The trails lead you through a diverse range of ecosystems, from lush palm oases to high desert vistas, providing a great sampling of the region's landscapes.
25. Explore greater Palm Springs at Rancho Mirage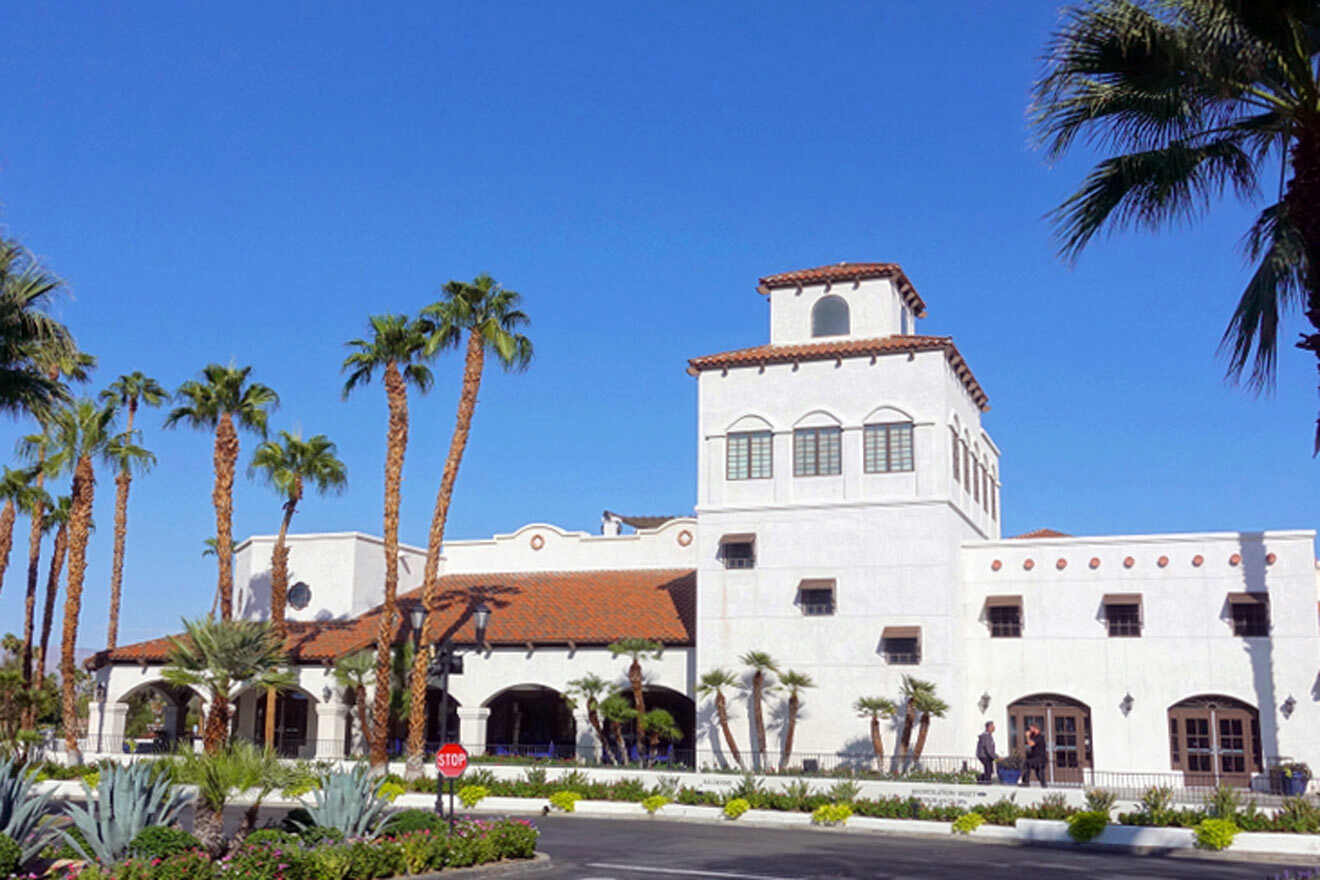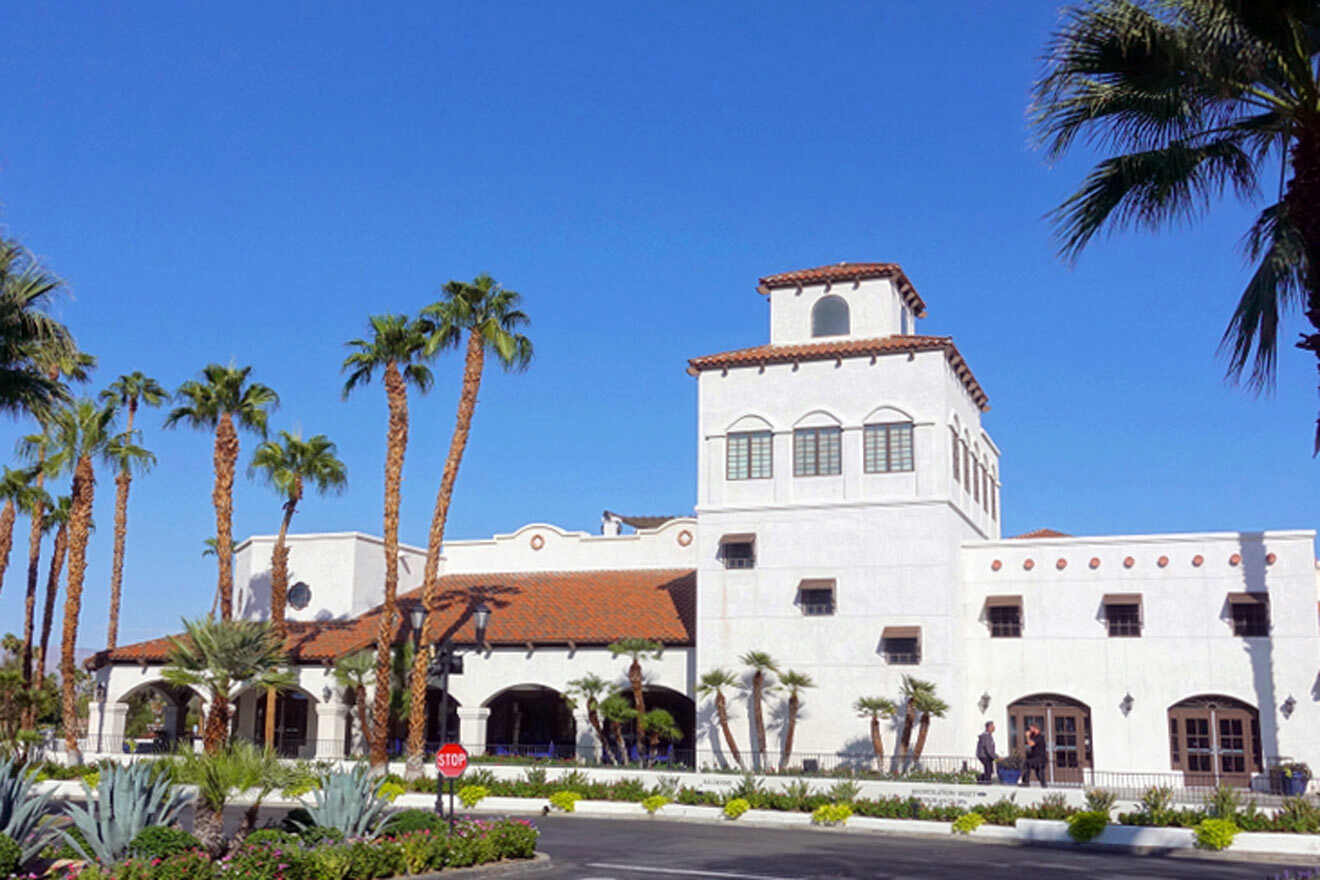 Just next door to Palm Springs, CA, you'll find this desert oasis filled with stunning spa resorts, perfect tennis courts, sparkling swimming pools, and world-renowned golf courses.
Whether you seek a serene spa retreat or a thrilling adventure, Rancho Mirage has something for everyone.
One of my favorite places to enjoy some pampering & a spa experience, and then a whole lotta fun, is the Omni Rancho Las Palmas Resort & Spa. My favorite part for sure – the 100-foot (30 m) water slide to splash down! These greater Palm Springs resorts are to die for! We compiled the finest list of Palm Springs hotels with water slides – check it out!
Love golf? Try miniature golf at the Westin Mission Hills Golf Resort & Spa. For history buffs, Sunnylands is awaiting you with its rich past as a historic estate that has hosted world leaders and even royalty since the 1960s.
NOTE: Reservations are strongly encouraged.
Where to stay in Palm Springs, CA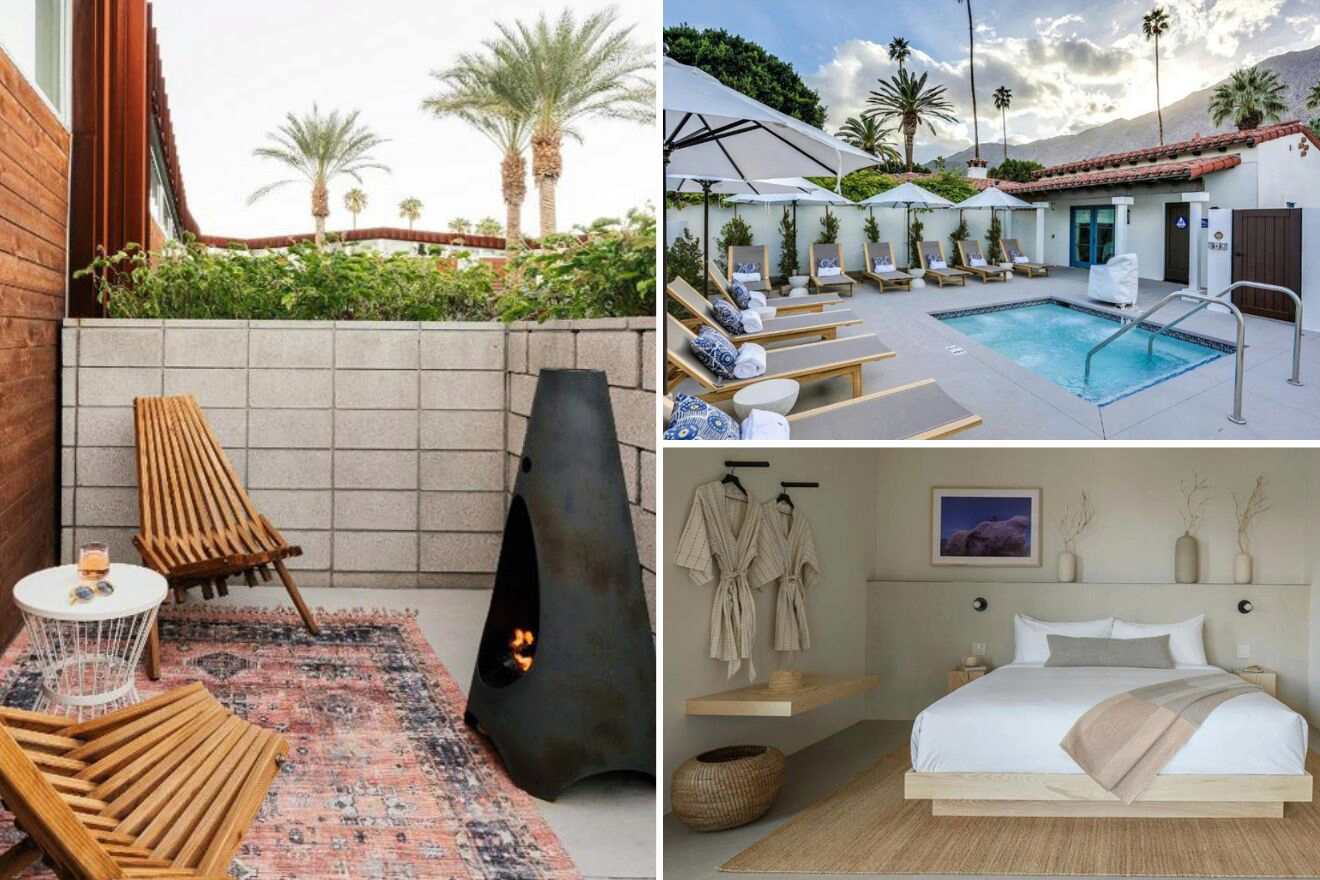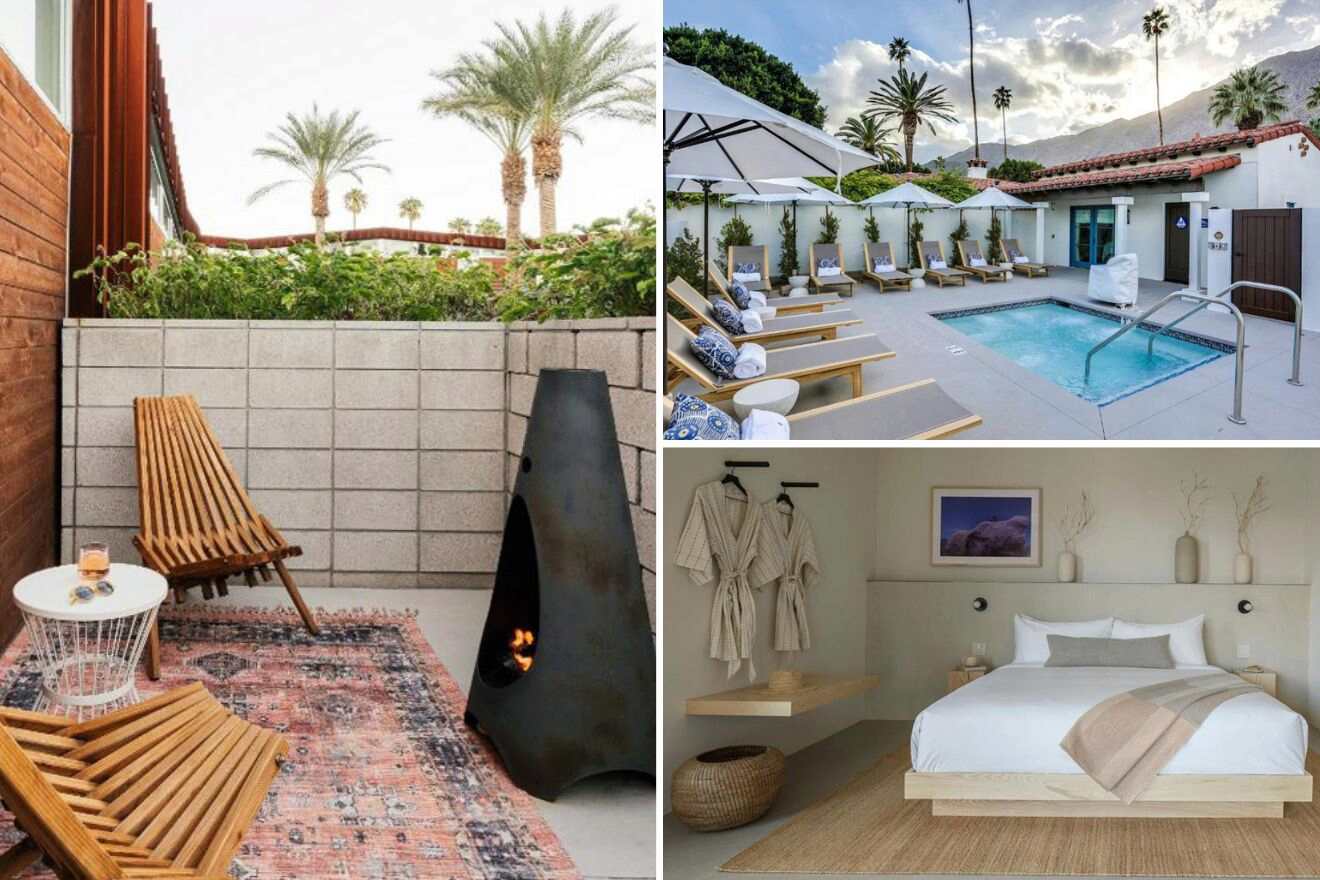 There are amazing options when looking for accommodations in Palm Springs. See below for my top picks for every budget.
Luxury (US$400 and up)
La Serena Villas Hotel – A luxurious oasis that combines Mediterranean charm with modern elegance, offering a serene and sophisticated escape in the heart of the desert.
L'Horizon Resort & Spa – A chic and intimate desert retreat in Palm Springs, California, that blends mid-century modern aesthetics with exceptional service, providing a stylish and tranquil haven for relaxation and rejuvenation.
Mid-Range (US$200 – US$400)
Holiday House Palm Springs – A captivating boutique hotel that exudes a playful and chic atmosphere, combining mid-century modern architecture with whimsical charm.
Drift Palm Springs – A stylish boutique hotel that embodies the essence of laid-back desert luxury, offering a serene and modern escape with its sleek design, inviting pool area, and warm hospitality.
Budget (up to US$200)
ARRIVE Palm Springs – A trendy and vibrant desert oasis blending retro-inspired design, a lively atmosphere, and exceptional hospitality.
Dive Palm Springs – A hip and vibrant boutique hotel capturing the essence of desert cool, offering a retro-inspired oasis with its stylish poolside vibe, modern accommodations, and a lively social atmosphere.
FAQs about things to do in Palm Springs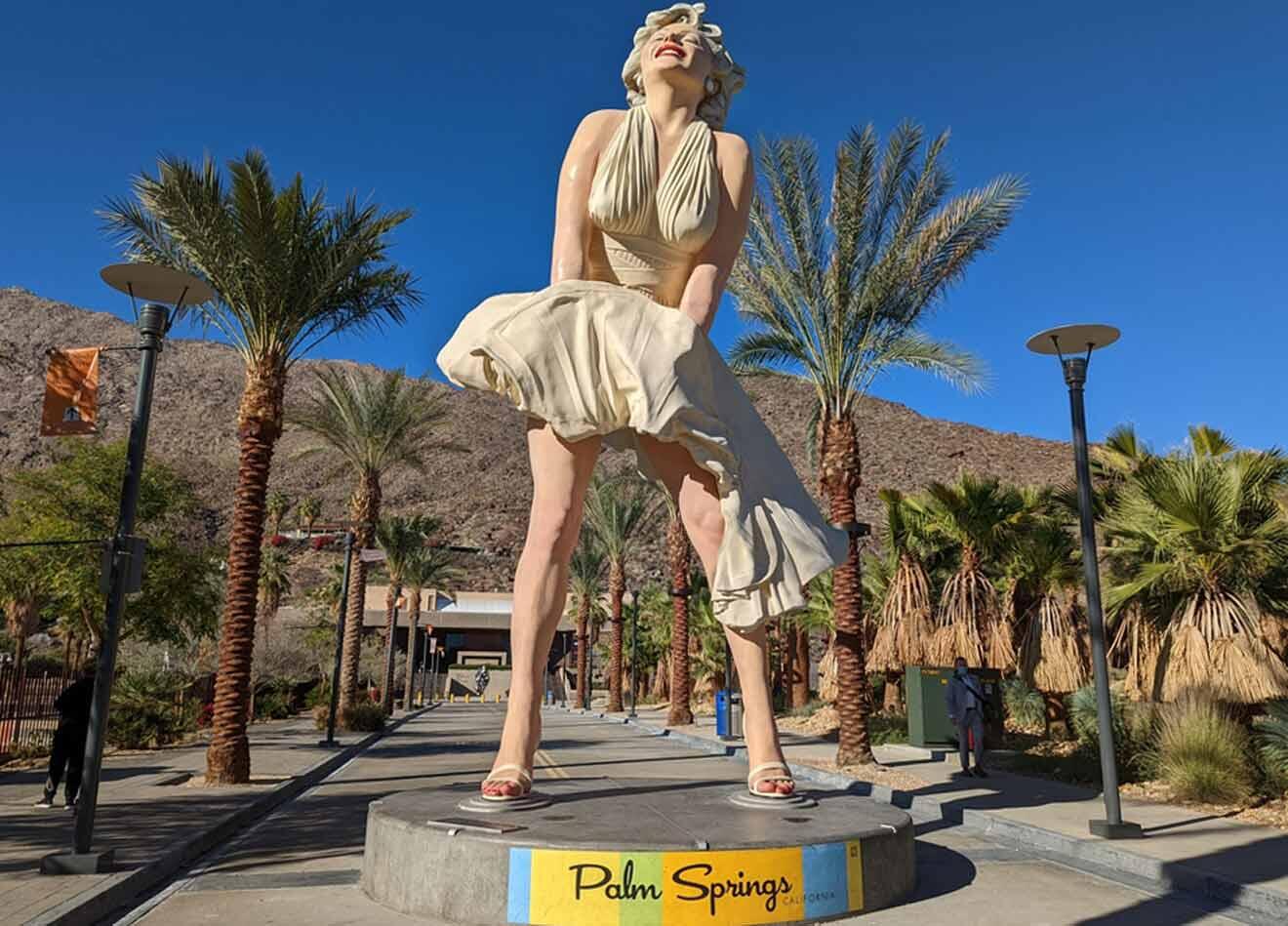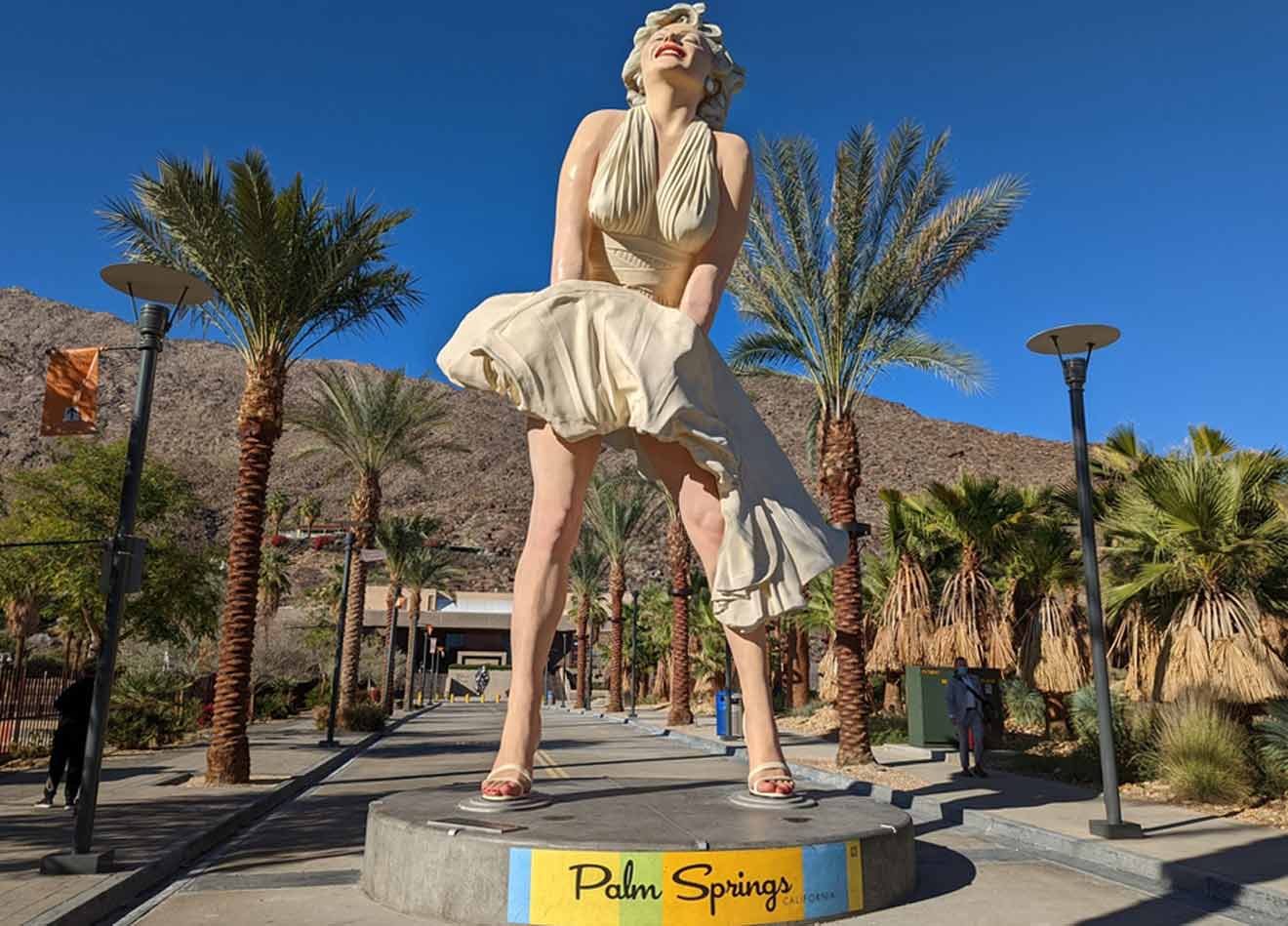 🍷 What is Palm Springs known for?
Palm Springs is known for its sunny weather, beautiful golf courses, epic hiking, and fun-filled tours.
♥️ What is the 2-hour rule in Palm Springs?
The 2-hour rule in Palm Springs was brought about by old-time Hollywood, meaning no celebrity could be more than 120 minutes or "2 hours" away from Hollywood at any time in case they were needed for filming.
👪 What attracts people to Palm Springs?
People flock to Palm Springs for the sunny weather, amazing hiking, shopping along Palm Canyon Drive, proximity to Joshua Tree National Park, and of course, the chic hotels.
🥰 What is the best area to walk around Palm Springs?
The best area to walk around Palm Springs is Palm Canyon Drive in downtown Palm Springs.
Conclusion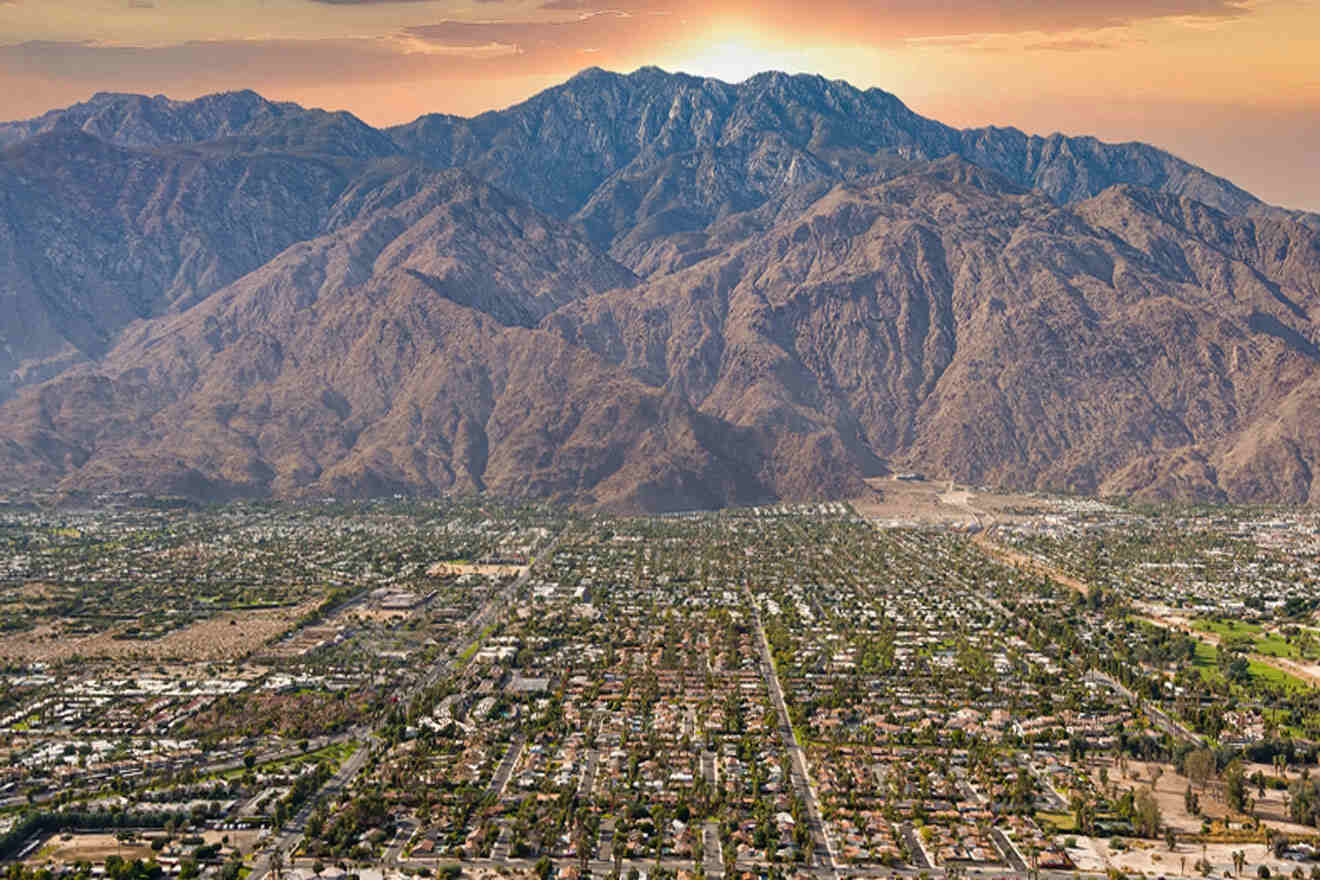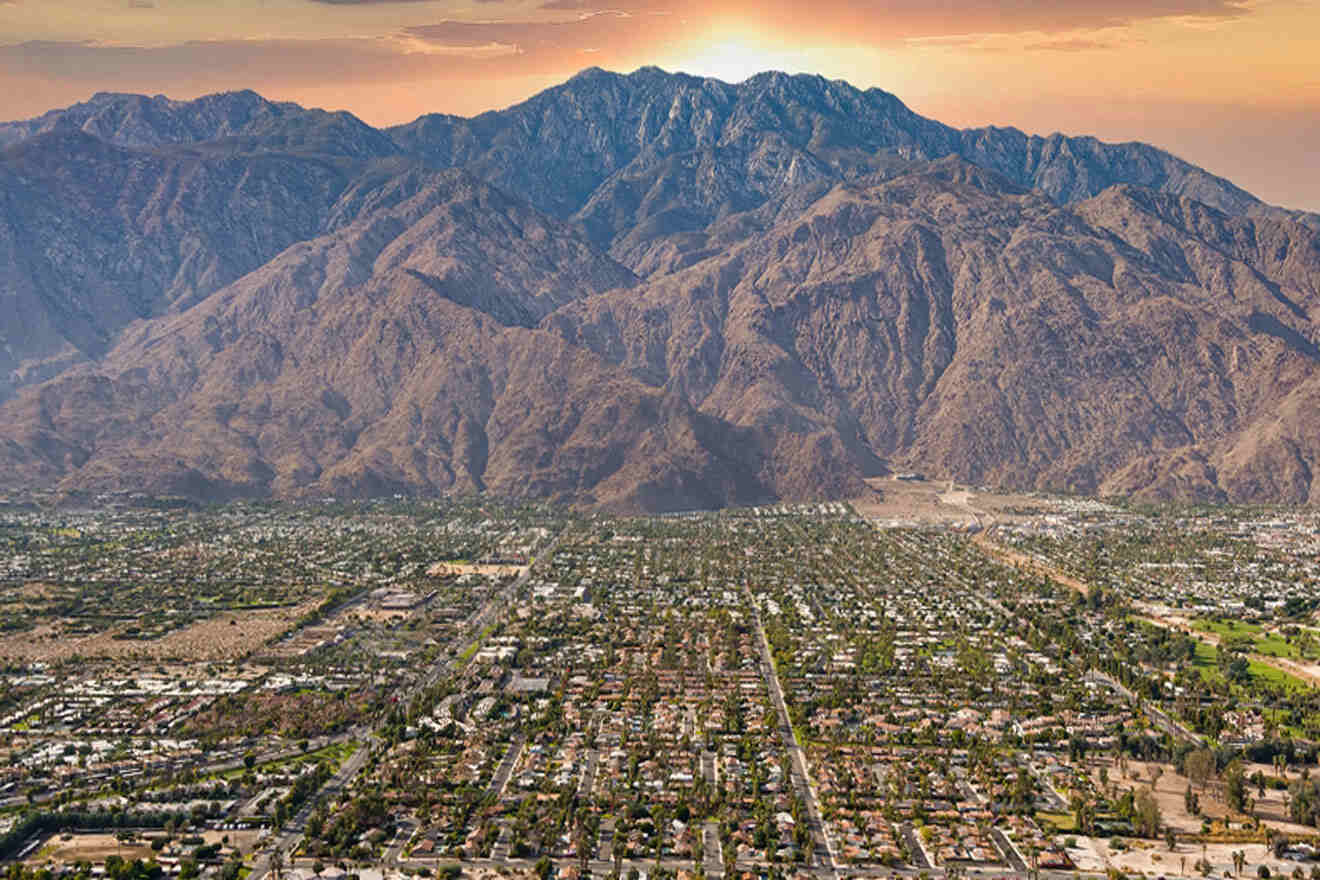 A trip to Palm Springs, CA, is always filled with to-die-for meals, fabulous swimming pools, chic hotels, and shopping for days! No matter when you visit or for how long, you will find plenty of things to do in Palm Springs. So, pack your favorite swimsuit, and let's head out to the desert!
If you're planning to make it out to Palm Springs, don't forget to book in advance for your favorite activities and hotels!
I'm sure you'll be exhausted after all the Palm Springs fun, but please, drop me a line and tell me all about it!
Aloha & safe travels,
Hayden G.
---
Pin it for later!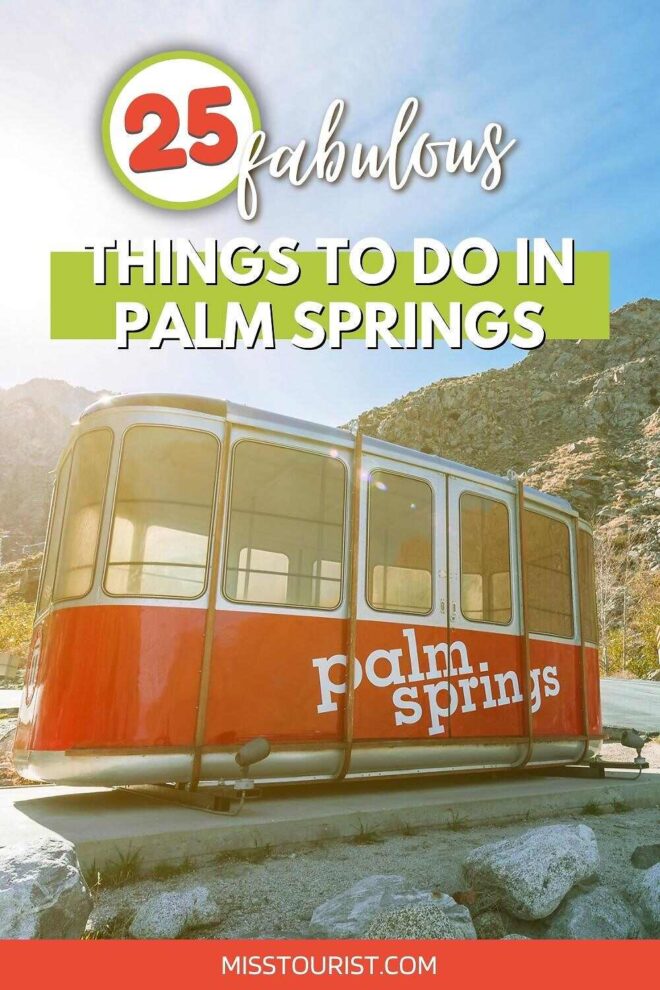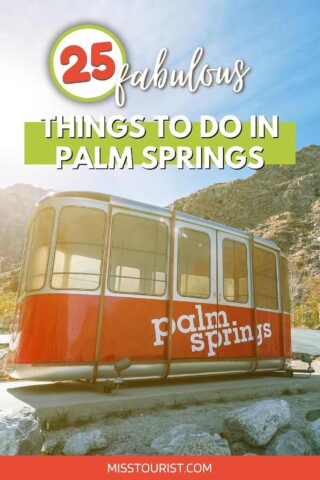 Pin it for later!