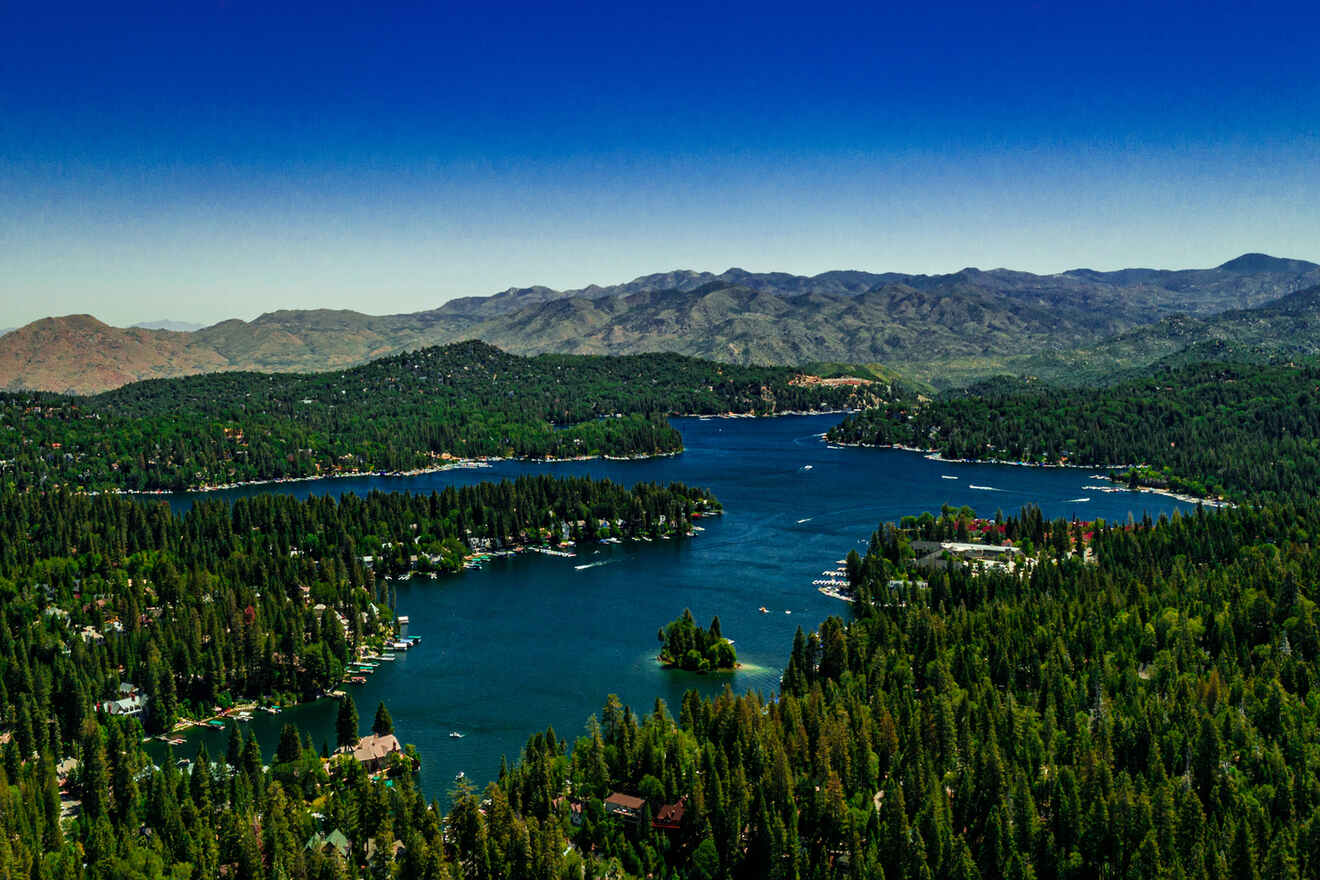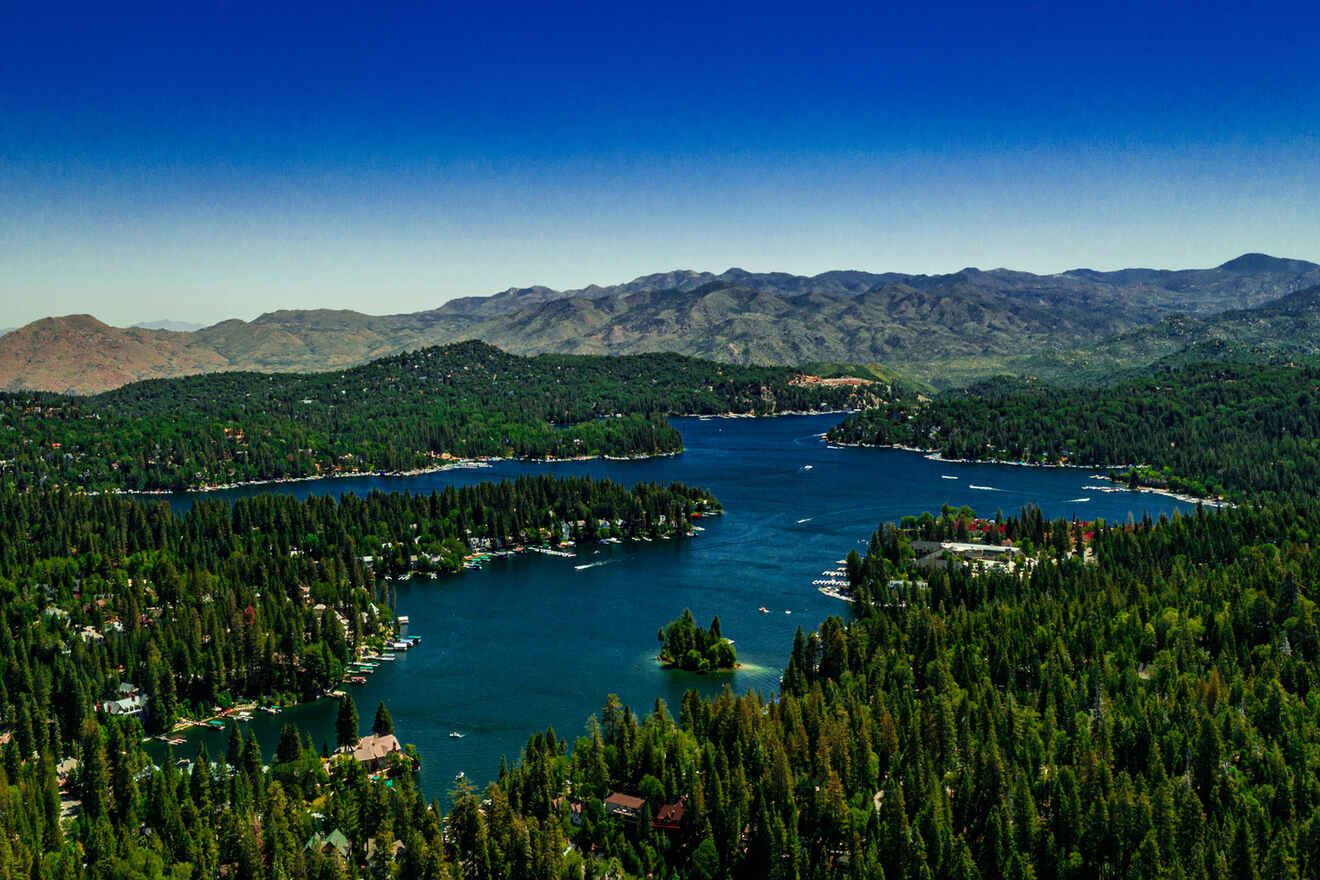 Planning a trip and scouting for only the best Airbnb Lake Arrowhead has to offer?
Well, let the search stop here, because I have put together a list of the best vacation rentals in Lake Arrowhead. Get ready for a magical lakeside stay in one of these beautiful Airbnbs.
This is a stunning spot nestled within the exquisite mountains of the San Bernardino National Park. Known as the 'Alps of Southern California' with awesome adventure activities offered in both winter and summer, there is not a bad time to visit.
During winter you can hit the snow-covered slopes and enjoy quaint lakefront shops and dining in the village. In summer you can hike, mountain bike, water ski, and the list of adventure activities goes on.
What better way to end off a day of activities than with a comfortable Airbnb cabin or lake house? And if your trip includes other stops in California, be sure to check out my where to stay in LA post.
Whether you are planning the itinerary for your whole family, significant other, or traveling solo, Lake Arrowhead has the activities for you and I have the accommodation options. So check out my top picks below and start booking your dream vacation.
In a Hurry: Top 4 Airbnb Rentals in Lake Arrowhead
If you are in a rush I have selected the ultimate top 5 Airbnbs for you to have a quick look at. These are all well located and sorted by price, starting with the most expensive.
Top 10 Airbnbs in Lake Arrowhead
So without further ado let's get straight into my top Airbnb picks for Lake Arrowhead. As you start browsing through these gorgeous vacation rentals you will understand exactly why they made the list.
Check out the options below and take your pick from a log cabin, lake house, cabin retreat, or entire cottage. I have also sorted the listings by price, from highest to lowest, the prices you see include the fees and additional charges and are a true reflection of the price you can expect to pay per night.
1. Industrial Revolution – Perfect for Large Families
Location: Lake Arrowhead
Price: From USD $630 per night
Bedrooms: 4
Guests: 8
This gorgeous large home is rustic-chic and is the best vacation rental for a large family getaway. The dreamy open plan kitchen and dining area is the perfect spot to cook up a storm and spend family nights together.
Each of the four spacious bedrooms has king-sized beds, easily housing eight guests. The large deck is ideal for taking in the exquisite lake view and you can also chill in the hot tub or bath after a long day of adventures. You really aren't going to want to leave this place, and honestly, I don't blame you.
2. A-Frame In the Forest: Close to Lake and Village – Cozy Cabin in the Forest
Location: Lake Arrowhead
Price: From USD $310 per night
Bedrooms: 2
Guests: 5
This cozy cabin is the definition of a winter wonderland. In winter, the snow-topped trees just outside the cabin make for a dreamy setting that every guest is sure to enjoy. The warm lounge area with a fireplace is the perfect place to sip on a warm drink and watch as the snow falls after a day on the slopes.
This cabin is just as amazing in summer. The two-bedroomed cabin can sleep 5 guests in two rooms, both with king-sized beds and one with an additional single bed. A perfect retreat for a young family.
3. Super Cute Apartment – Great Location Close to the Village
Location: Lake Arrowhead
Price: From USD $310 per night
Bedrooms: 2
Guests: 6
This modern log cabin is well equipped and perfectly located. The house can accommodate four adults and two children in two bedrooms and an additional blow-up mattress. With three TV's, Netflix, and wifi, every family member is sure to be kept entertained. The cabin also has air conditioning for those hot summer months.
Just a short drive to the Village, this is a great vacation rental if you want to be close to the main attractions.
4. Rainbow Cabin – Perfect for Small Families
Price: US$310
Bedrooms: 3
Guest: 6
Nice and neat, this pet-friendly cabin is close to the village, lake, and restaurants. With 3 bedrooms, it can comfortably accommodate up to 6 guests along with your furry friends!
This Airbnb is well-loved by families and got a nearly perfect rating. Parents are happy to watch their little ones play and read. There's also a beautiful fireplace to keep the place warm on chilly nights and a spacious patio perfect for family picnics.
5. Tiny House in Lake Arrowhead – A Unique Rustic Cabin
Price: US$212
Bedrooms: 1
Guest: 2
This rustic cabin was originally built during the Great Depression (the 1930s) and has been a private historic restoration project of the family for years. This tiny house is the perfect mountain retreat for two where you can enjoy nature while still being near the activity, shops, and attractions of Lake Arrowhead.
The place is well kept, cozy and homey. It has a beautiful fireplace in the living room that keeps the place warm during colder months. If you step outside, you'll find a balcony with mountain views that is ideal for enjoying morning coffee.
6. Modern, Three Level A-Frame – Best for a Large Group of Friends
Location: Lake Arrowhead
Price: From USD $280 per night
Bedrooms: 3
Guests: 7
This luxury rental cabin is nestled within the woodlands, making it perfectly private and surrounded by forest land. With three bedrooms, a cozy living room, a game room, and an outdoor deck you are sure to be comfortable in this house.
The kitchen has great additional utensils you don't normally get in other cabins, including a fondue set, coffee machine, and high chair for children. If you are looking for a private getaway, this is your place.
7. Dreamy Mountain Cabin – A Unique Place to Stay
Price: US$440
Bedrooms: 4
Guest: 8
Relax in this dreamy cabin, and don't forget to bring your family and friends, too, as you'll have the entire cabin (can accommodate up to 8 guests) during your stay. Every corner of this place is picturesque! The large glass windows, high ceiling, and indoor fireplace surely did the trick to make the place look magical.
Four bedrooms in this cabin will probably give you a headache as it's hard to pick where to stay. They offer different views but are equally beautiful. And if you ask me the best spot to gather around, it's 100% the backyard as the perfect place to dine al fresco. You have the chairs and tables ready, clouds as your roof, and 360-degree forest views.
8. Burnt Mill Canyon Cottage – Perfect for Couples
Location: Lake Arrowhead
Price: From USD $260 per night
Bedrooms: 1
Guests: 2
This has got to be one of the most romantic cabins in California. Equally charming in summer and winter, if you are looking for a couples' weekend away, this is your place to stay. The secluded cabin has one room with a queen-sized bed and bathroom.
The open plan kitchen, dining room, and living room are cozy. Light the fire and open a bottle of wine and enjoy the tranquility of this cabin.
9. Cozy Arrowhead Cabin – Close to the Lake
Price: US$440
Bedrooms: 4
Guest: 8
Beautiful, spotlessly clean, and a cozy Arrowhead Cabin awaits you! You can find this cabin close to Lake Arrowhead Village, which is perfect for a quick weekend getaway.
The charm of this place starts with its simple and spacious layout. The large glass windows are noticeable and are great for natural lighting. There's also a fireplace that keeps the place nice and warm. And if you step outside, you have a spacious deck where you can enjoy a glass of wine while being surrounded by nature.
10. Historic Hershey Cabin – Great for Couples
Location: Lake Arrowhead
Price: From USD $205 per night
Bedrooms: 1
Guests: 2
A magical cabin, making for a great romantic getaway in the mountains of California. As soon as you see the cabin nestled amongst pine trees, you will feel the charm. Light a fire and enjoy a snug night in.
There is a cute small deck where you can enjoy your breakfast and coffee in the summer. And in winter you will be able to see the snowfall right before your eyes, a truly exciting experience.
BONUS: Best Airbnbs Around Lake Arrowhead
Lake Arrowhead is in one of the most beautiful parts of California and there are also some other great spots to check out in the area. Big Bear Lake is only a 45-minute drive from Lake Arrowhead and has some really awesome Airbnb options as well.
Check out the two beautiful cabin rentals below should you want to extend your getaway and explore this stunning area as well.
1. Magical Lake House with Spectacular Views
Price: US$360
Bedrooms: 1
Guest: 2
Your journey to this magical place beings by walking across the wooden bridge directly connecting to the house. As you walk, you can hear the stream flowing below, which instantly sets the mood for relaxation.
Once you set your foot inside, you'll never want to leave! This is one of the most beautifully designed lake houses with its open floor plan, oversized glass doors and windows, and breathtaking views of the lake in every room.
There are two large decks (upstairs and downstairs) that are perfect for stargazing at night. In the morning, you can enjoy a swing by the tree or a lounger on the deck while listening to the birds chirping or the water flowing on the stream.
2. A-Frame Cabin
Location: Big Bear Lake (45 min drive from Lake Arrowhead)
Price: From USD $200 per night
Bedrooms: 2
Guests: 4
This gorgeous A-frame Cabin has quirky interior design elements and added touches that make for a special and unique stay. Enjoy the epic views from the swing looking out through the large windows to the surrounding forest land.
The two bedrooms make this a comfortable spot for a party of four. Whip up a meal in the fully equipped kitchen before you settle out on the deck to enjoy a night under the stars.
Top 3 Airbnb Experiences in Lake Arrowhead
With so much to see and do in Lake Arrowhead, you won't have to look very far for activities. But I have added three Airbnb experiences below that can get you inspired when planning your trip.
Hot Springs Hike With Photographer – Enjoy a beautiful hike and dip in the hot springs on this tour.
Hang Gliding – Calling all adrenaline junkies who are brave enough to hang glide from the mountains with an experienced guide.
Snow play and hot cocktails Big Bear – Appreciate this snowy guided tour of Big Bear Valley which ends with a warm cocktail
Conclusion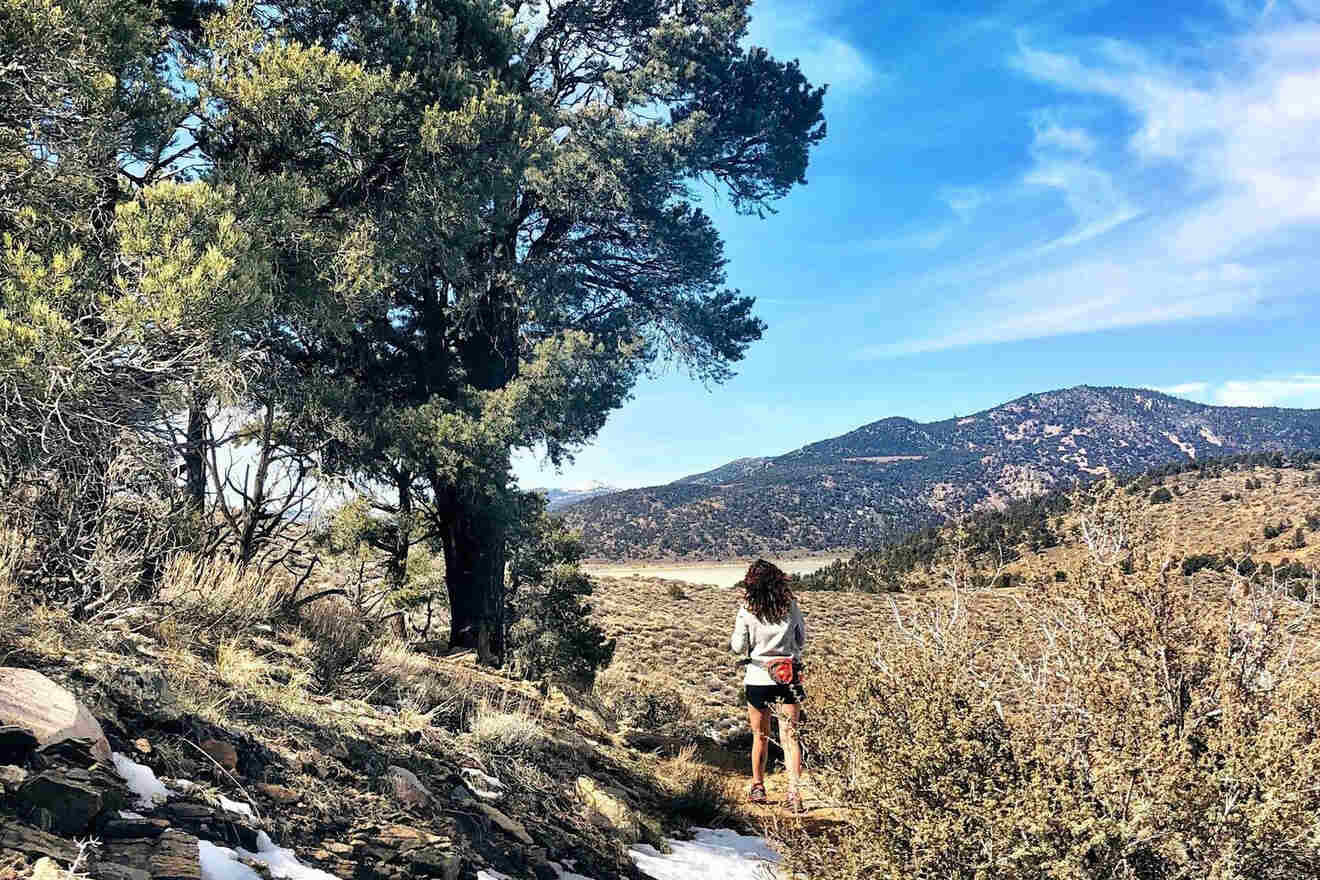 Lake Arrowhead has so much to offer in such a small village. You will fall in love with the charm of the place and trust me, you'll just keep wanting to come back to this slice of heaven as often as possible. Not many places can guarantee a great vacation any time of the year and that's what makes Lake Arrowhead so special.
If you are still undecided on which beautiful Airbnb to pick, why not take a look at Industrial Revolution and A-Frame In the Forest: Close to lake and village again?
Have I missed any awesome Airbnbs in Lake Arrowhead? If you have stayed in a great spot lately or you are a host that receives only the best reviews, please leave a comment and let me know. I would love to check it out and potentially add it to my list.
Wishing you safe travels and a relaxing vacation!