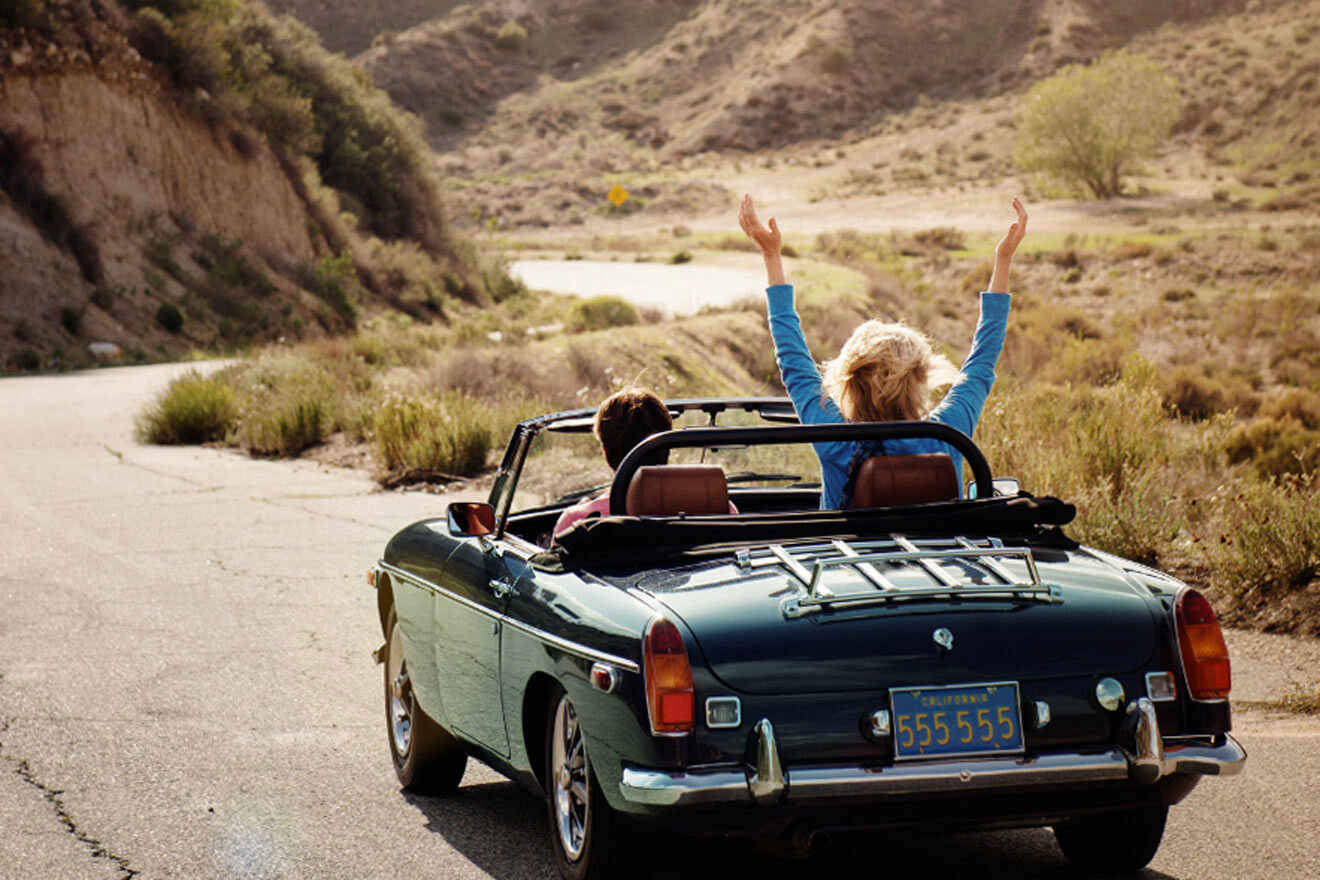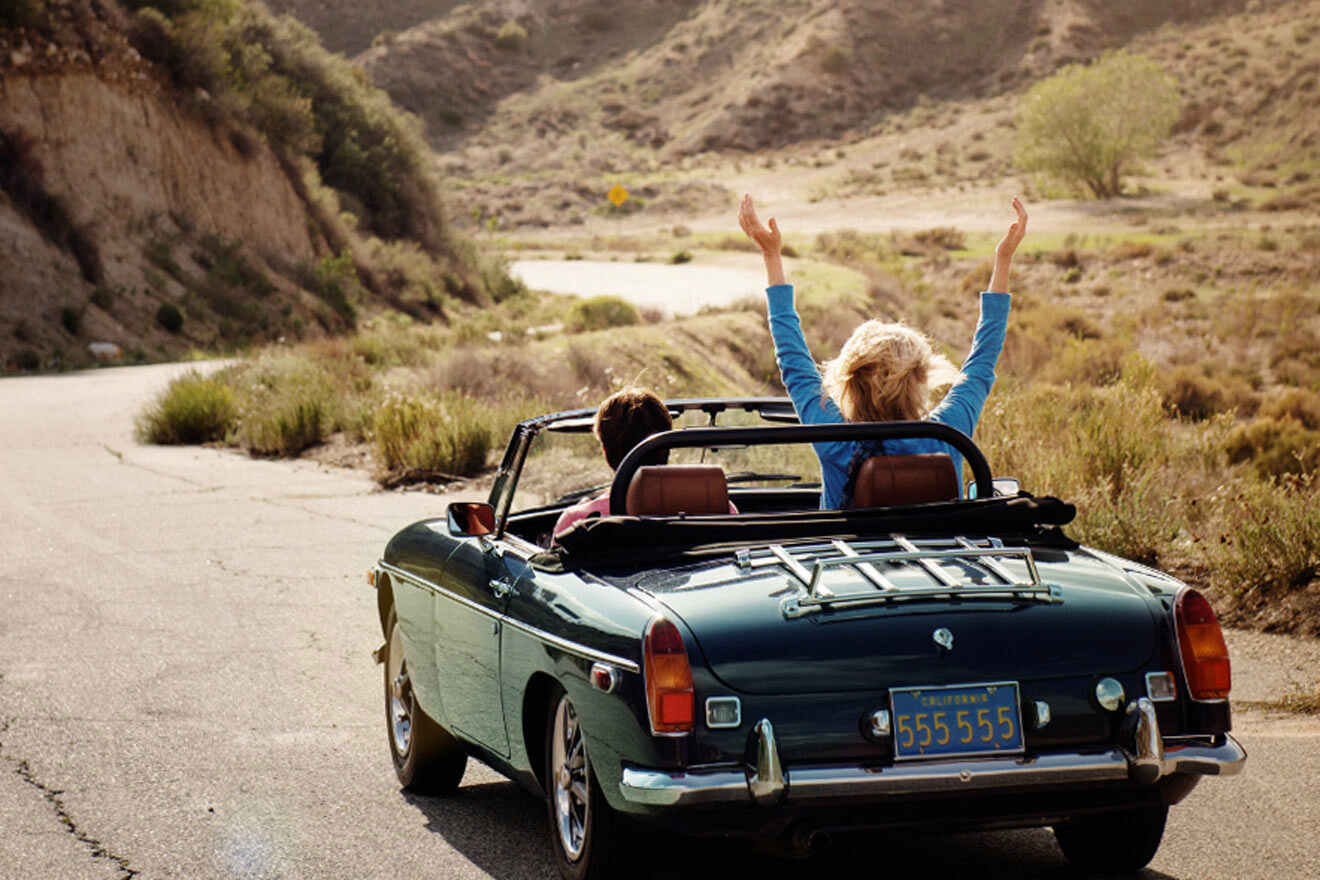 As a San Diego native, I've been fortunate to spend a lot of time traversing southern California and finding the best-hidden gems to explore.
Palm Springs, a dreamy desert oasis in the Coachella Valley, is a unique pocket of southern California. Situated east of Los Angeles, it is within a 1 to 3 hours drive from some of the most exciting spots in the state. So, pack your day bag and come along as we step out of our desert bubble and hit the road to uncover the best day trips from Palm Springs.
Super quickly before we start, just make sure to book your tours and hotels in advance! Don't miss the chance to save $ and splurge on more fun activities during your travels.
Let's set out on this journey! 🚗
If you are in a hurry
If you're pressed for time and want to fit in a few day trips from Palm Springs, book your activities in advance. See below for my top 3 recommendations on must-dos:
Here are the main things to book in advance:
And here are the best hotels: Korakia Pensione (luxury), Dive Palm Springs (mid-range), The Paloma Resort (budget)
Since we are talking about day trips, here's a map so you can see how far each day trip destination is from Palm Springs:
1. Delve into nature at Joshua Tree National Park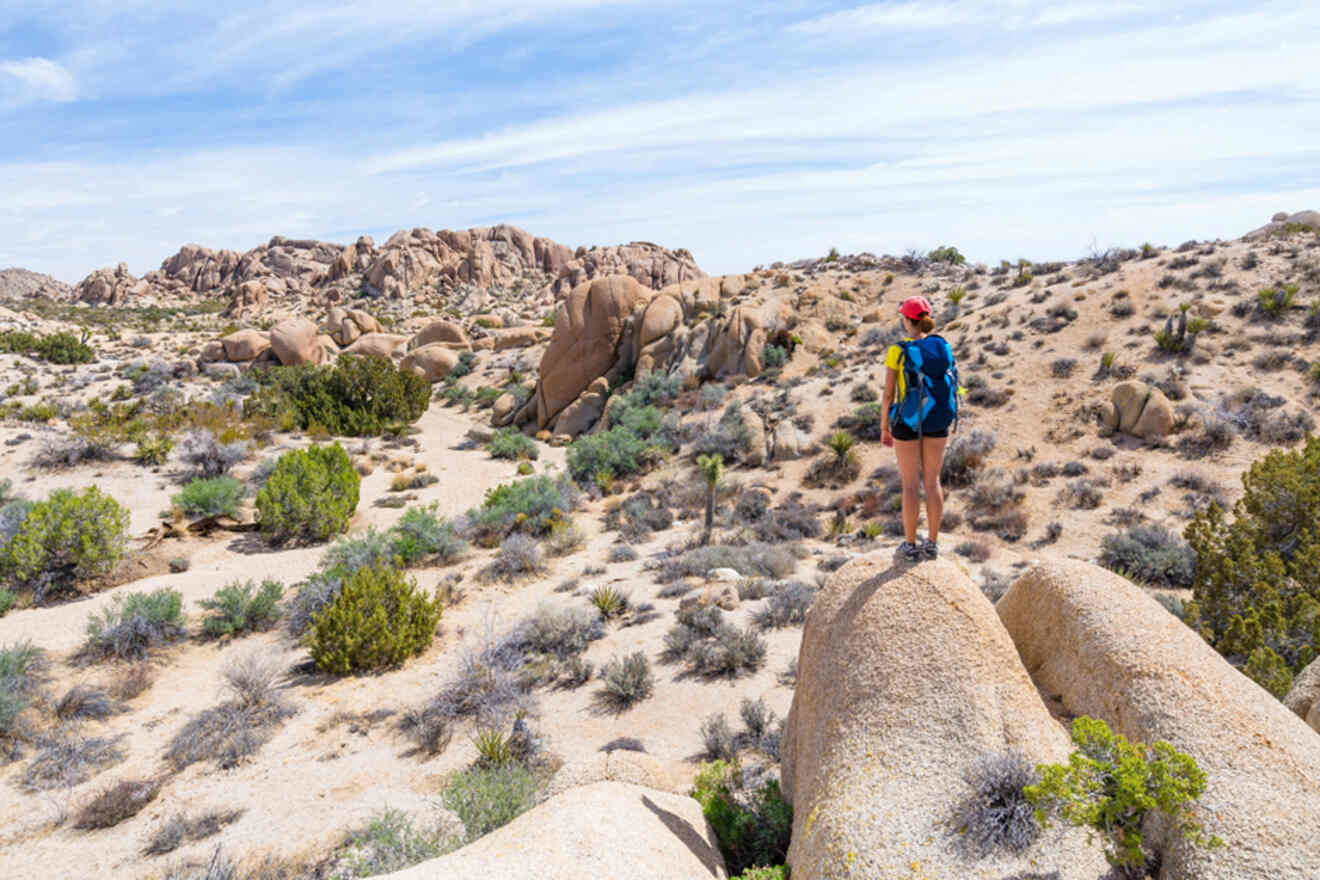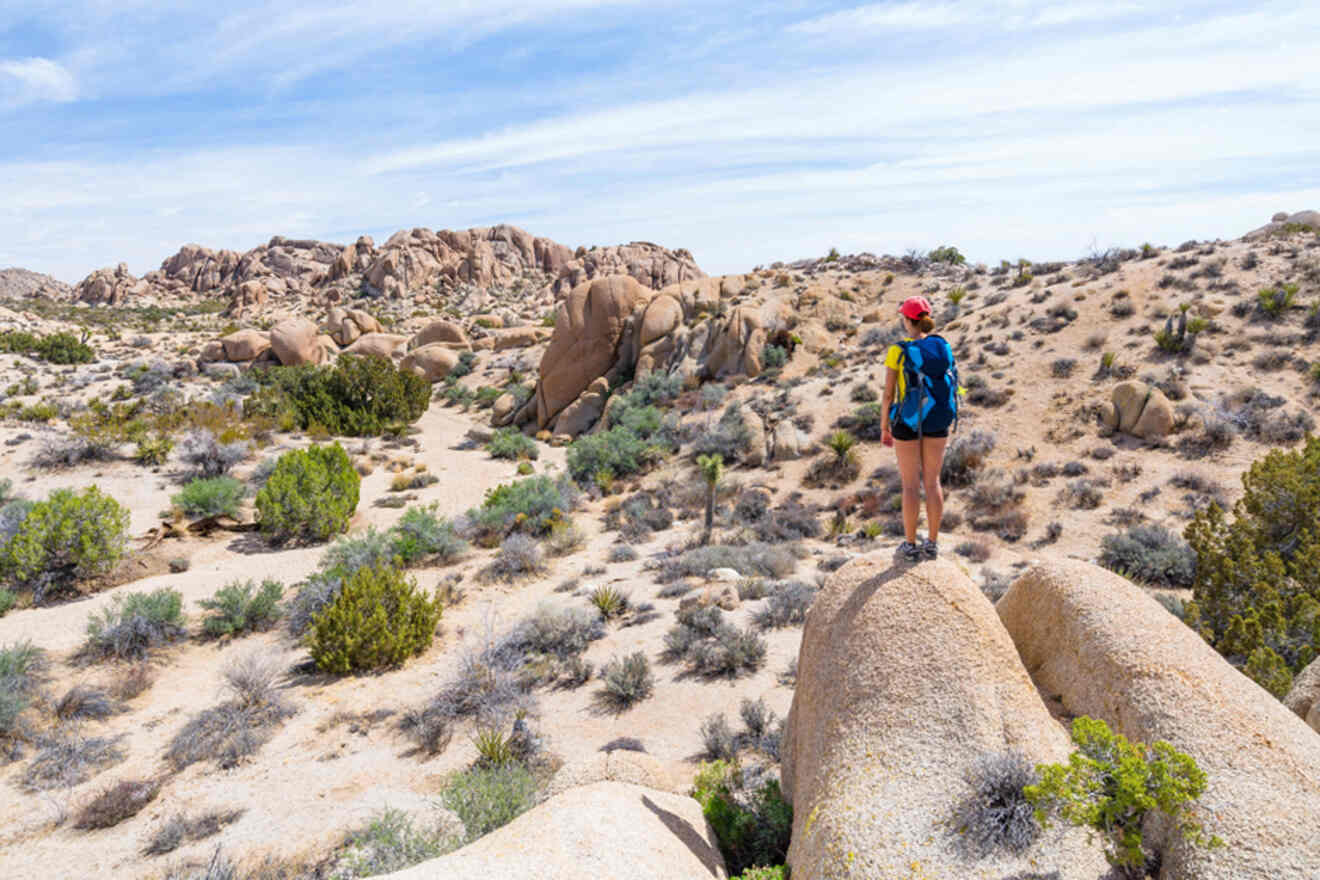 Can you believe the average lifespan of a Joshua Tree is 500 years?
Whether you're national park aficionados, nature lovers, or just big U2 fans, you've probably heard of Joshua Tree National Park before. Getting its name from the unique, minimalist Joshua Trees that populate the area, Joshua Tree National Park, due east of Coachella Valley, is a desert paradise that straddles the boundary line between the Mojave Desert and the Colorado Desert.
Just an hour's drive from Palm Springs, California, and one of my favorite day trips, you can spend hours on local hiking trails like the Hidden Valley trail, rock climbing the massive boulders with the help of a guide, or even just by stopping at the visitor's center to learn the fascinating history of the area.
Take this experience to the next level by joining a guided tour of Joshua Tree National Park and seeing the park as few people get to.
PRO TIP: Joshua Tree National Park lacks shade of any kind: bring a hat, sunscreen, and water.
There is also a fee for admission which is US$30 per vehicle.
TOUR PRICE: from US$200
Getting there: a quick 1-hour drive on the CA-62E will get you to the West Entrance of the park. Take your time and aim to exit through the South Entrance on your way back.
2. Traverse Anza Borrego State Park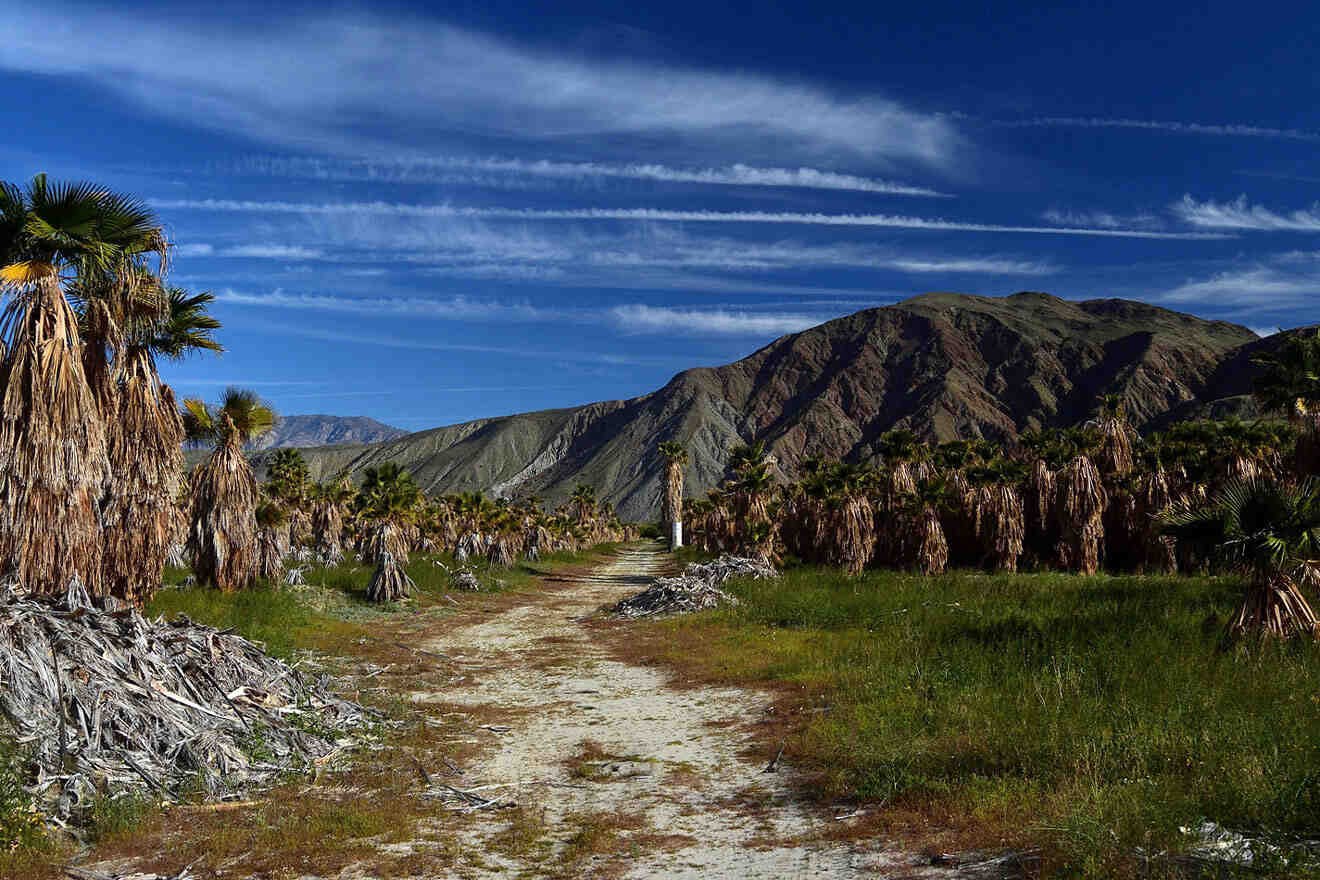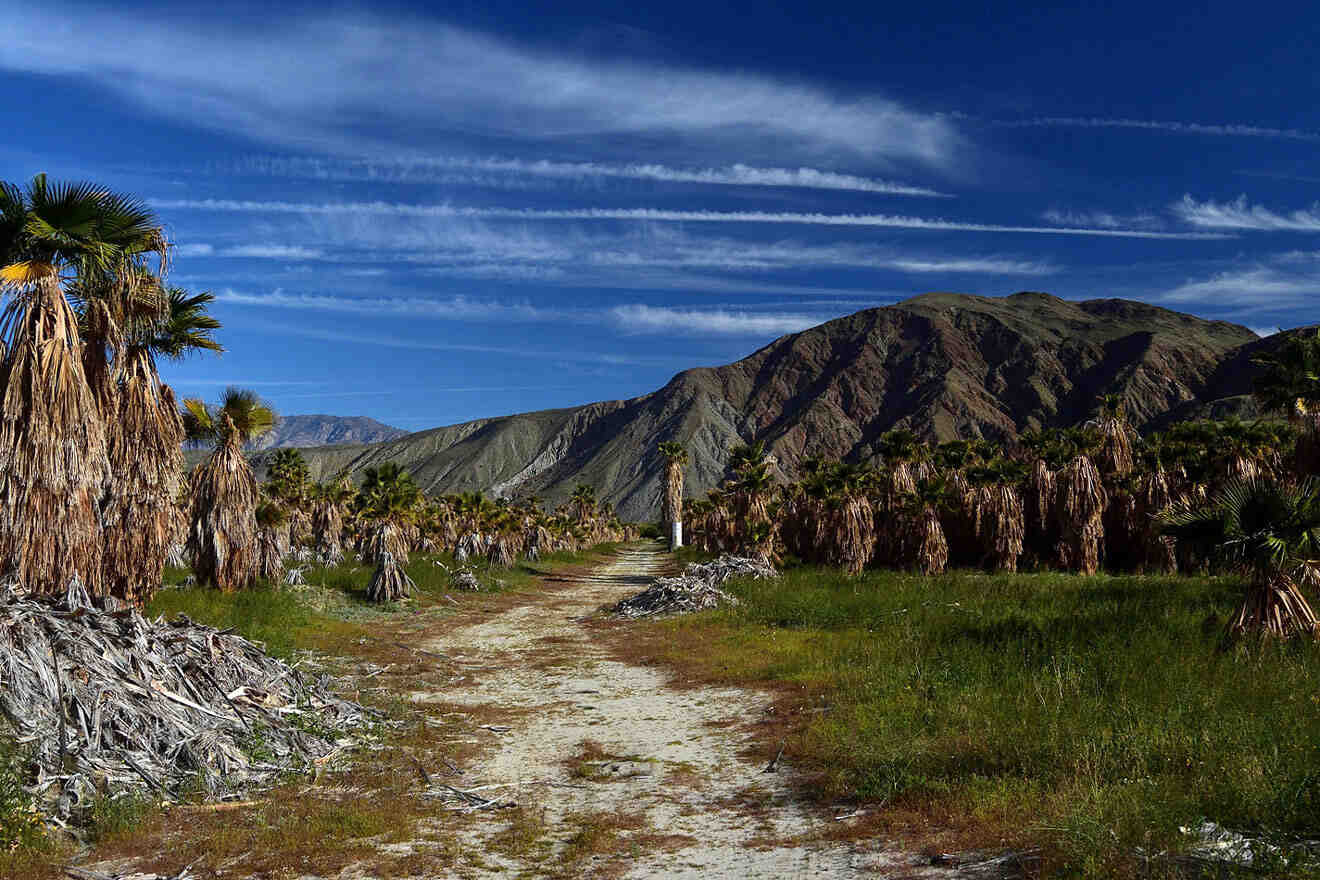 Unlike any other landscape I've ever seen, Anza Borrego State Park seems as if it stretches indefinitely. The land is stark, with little relief from the blazing sun.
This park is a great option for day trips from Palm Springs, especially if you're an ATV fanatic since it's brimming with sand dunes to explore. If you prefer to stay on foot, there are plenty of hiking opportunities, as well as stunning photographic vistas to take in.
PRO TIP: Deserts are, well, barren. Head to nearby Borrego Springs for a bite to eat before you head back.
PRICE: US$10 per car
Getting there: about 1 hour's drive from Palm Springs, take I-10E and the CA-86 S to the park entrance.
3. Take a trip to Big Bear Lake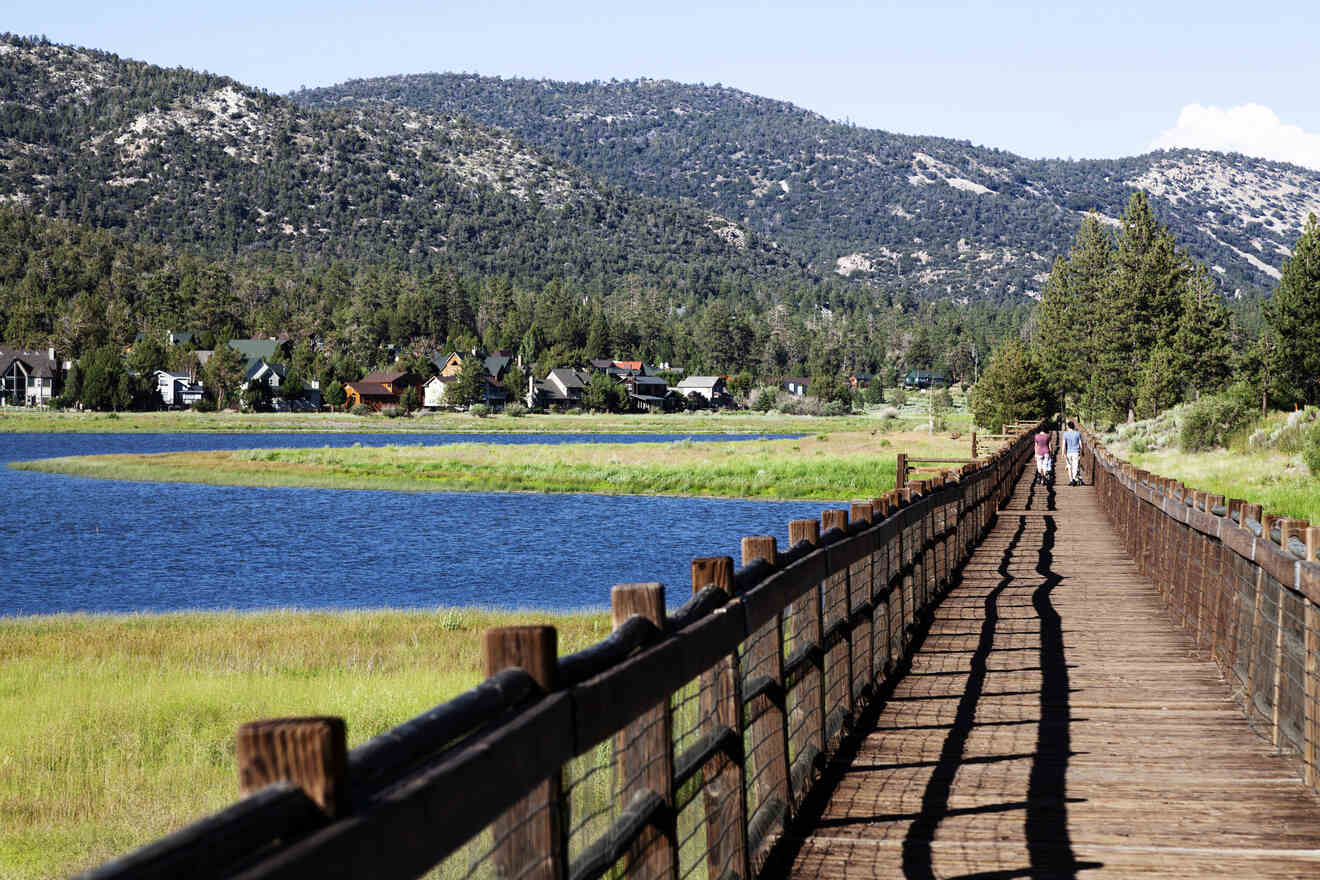 Often used as a backdrop for Hollywood movies, you may recognize Big Bear Lake from iconic films like Gone with the Wind and Frankenstein.
One of my personal favorite day trip destinations, Big Bear Lake, is a reasonable 2-hour drive from Palm Springs into the illustrious San Jacinto Mountains for a taste of fresh mountain air.
Big Bear Lake is situated in the center of this mountain resort town, with charming shops, restaurants, and bars lining the village's downtown area. In the wintertime, you can play around on the snowy slopes, and in the summertime, enjoy some of the best mountain biking, horseback riding, and natural beauty that SoCal can offer.
PRO TIP: Soar high above Big Bear Lake with a mile-long ride up to 8,200 feet (2,590 m) on Snow Summit's Scenic Sky Chair.
Getting there: take the I-10W for approximately 2 hours.
4. Have fun in San Diego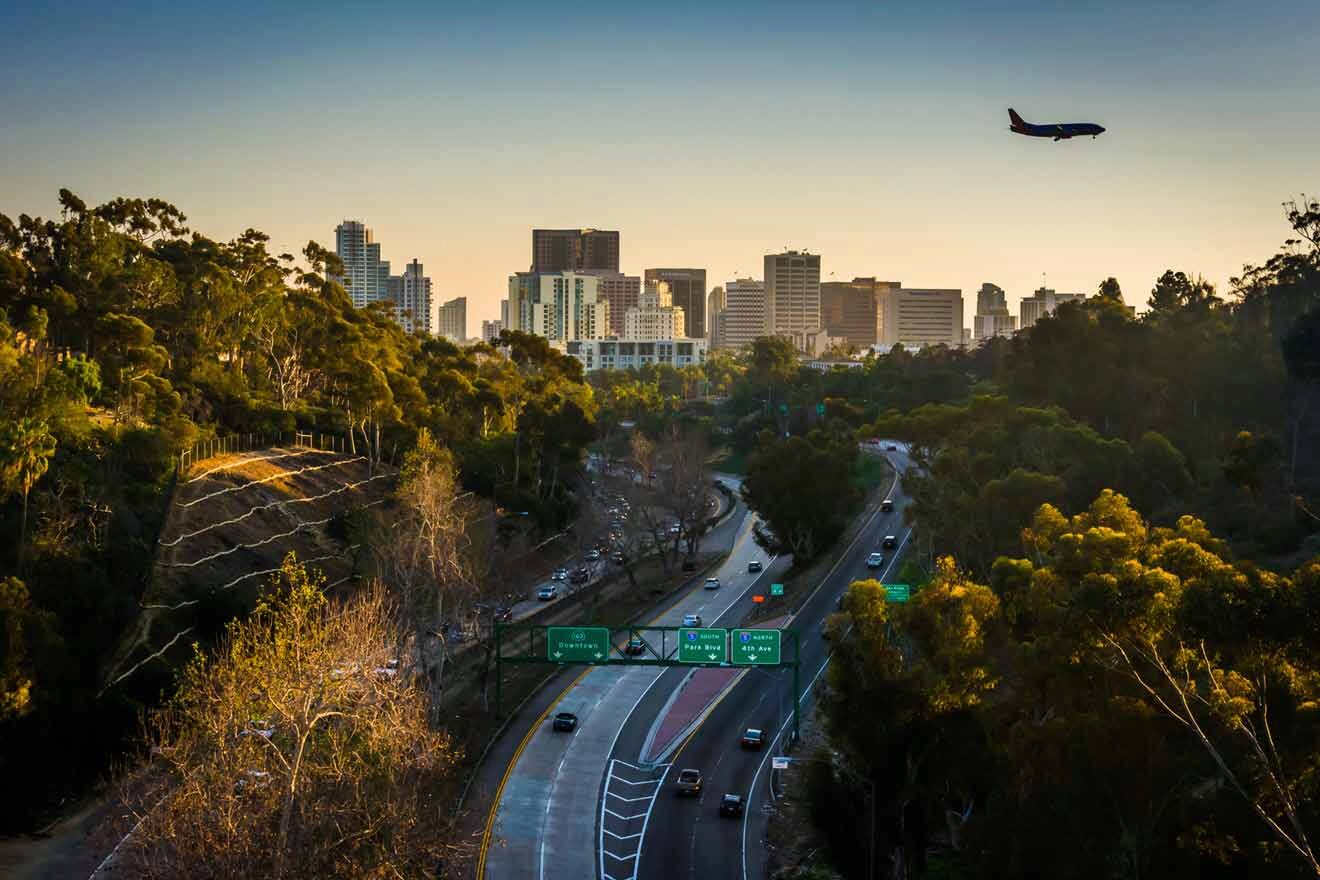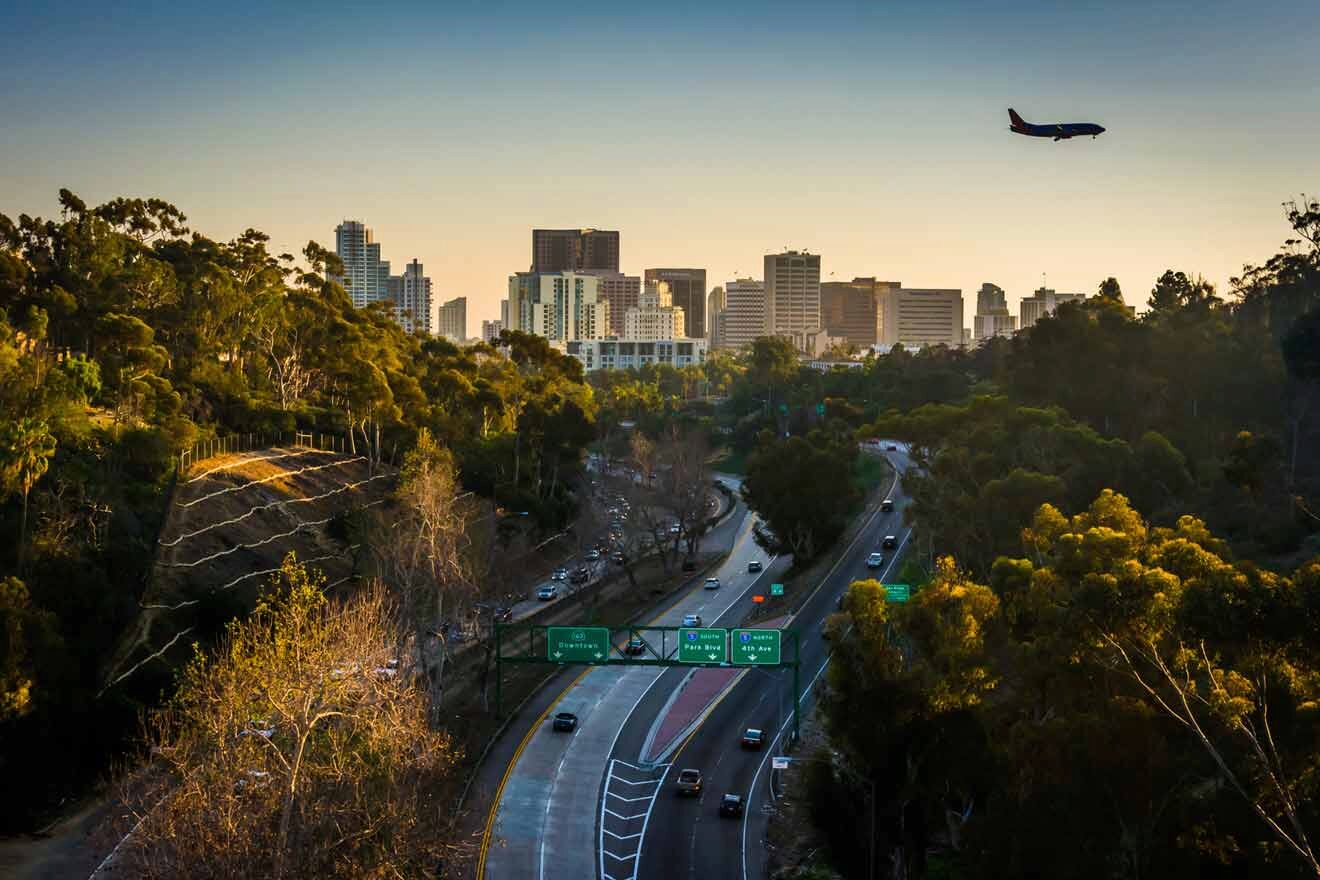 Okay, perhaps I'm a little biased, but this coastal California city that I'm lucky enough to call home is an absolute must-do on the list of day trips from Palm Springs, California. San Diego is a quick 2-hour drive from Palm Springs and the perfect day trip to get a taste of SoCal beach life.
Do not miss the award-winning San Diego Zoo at Balboa Park, nor all the fabulous museums and art galleries tucked behind the zoo. Hungry? Visit Old Town for authentic Mexican food, interesting cultural and historic landmarks, unique souvenirs, and vibrant art galleries.
Pack your beach bag for a couple of hours at the white, sandy shores of Coronado Beach, which you might recognize as the backdrop for the latest Top Gun: Maverick film, or enjoy a round of golf at one of the world-class golf courses. As one of the most vibrant cities in the state, San Diego has so much to offer and fun to fill the day.
PRO TIP: Grab the best baja fish tacos you've ever eaten at The Taco Stand in La Jolla.
Getting there: take the I-15S just 2 hours to reach San Diego.
Get Your San Diego Zoo Tickets
5. Sip the day away in Temecula Valley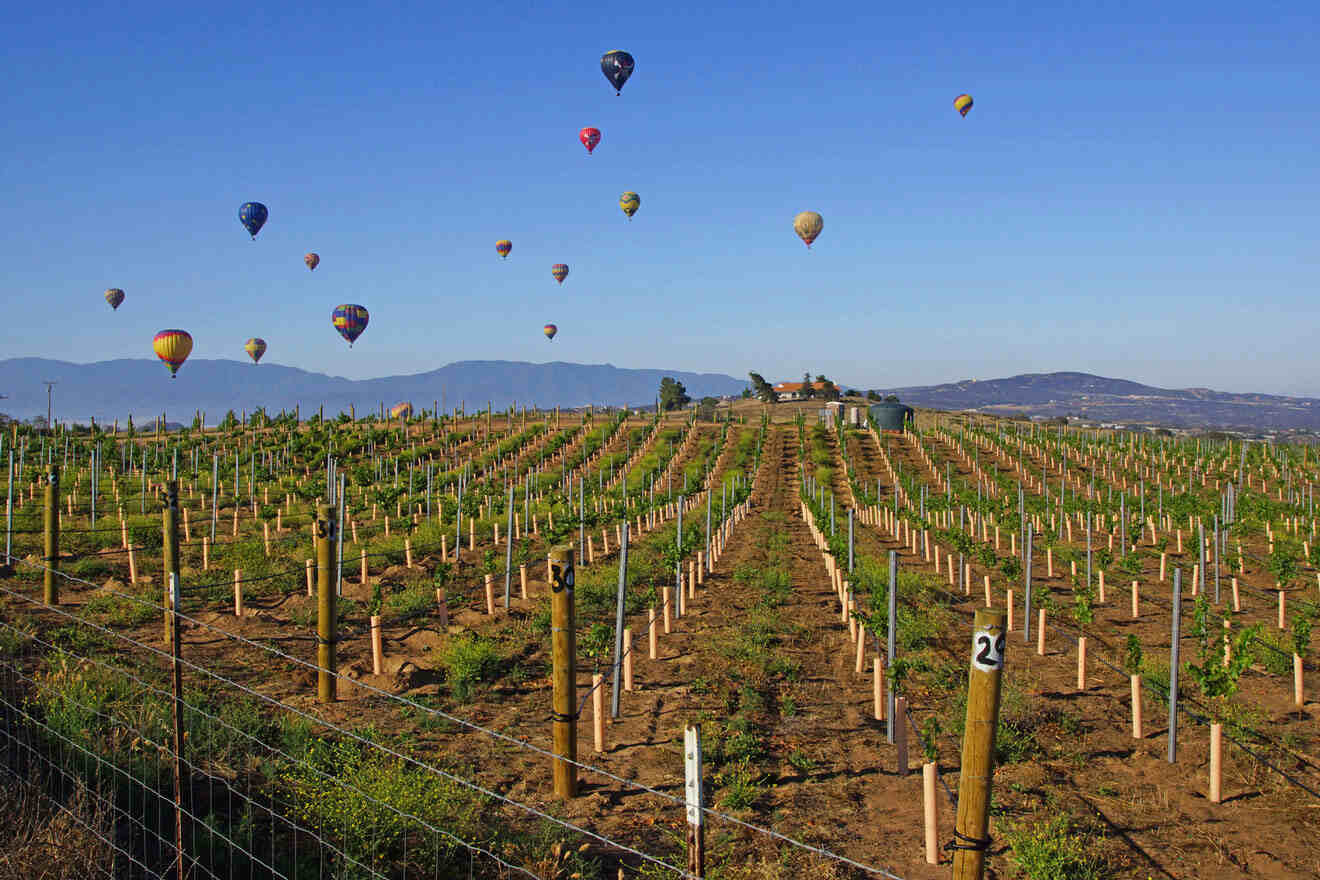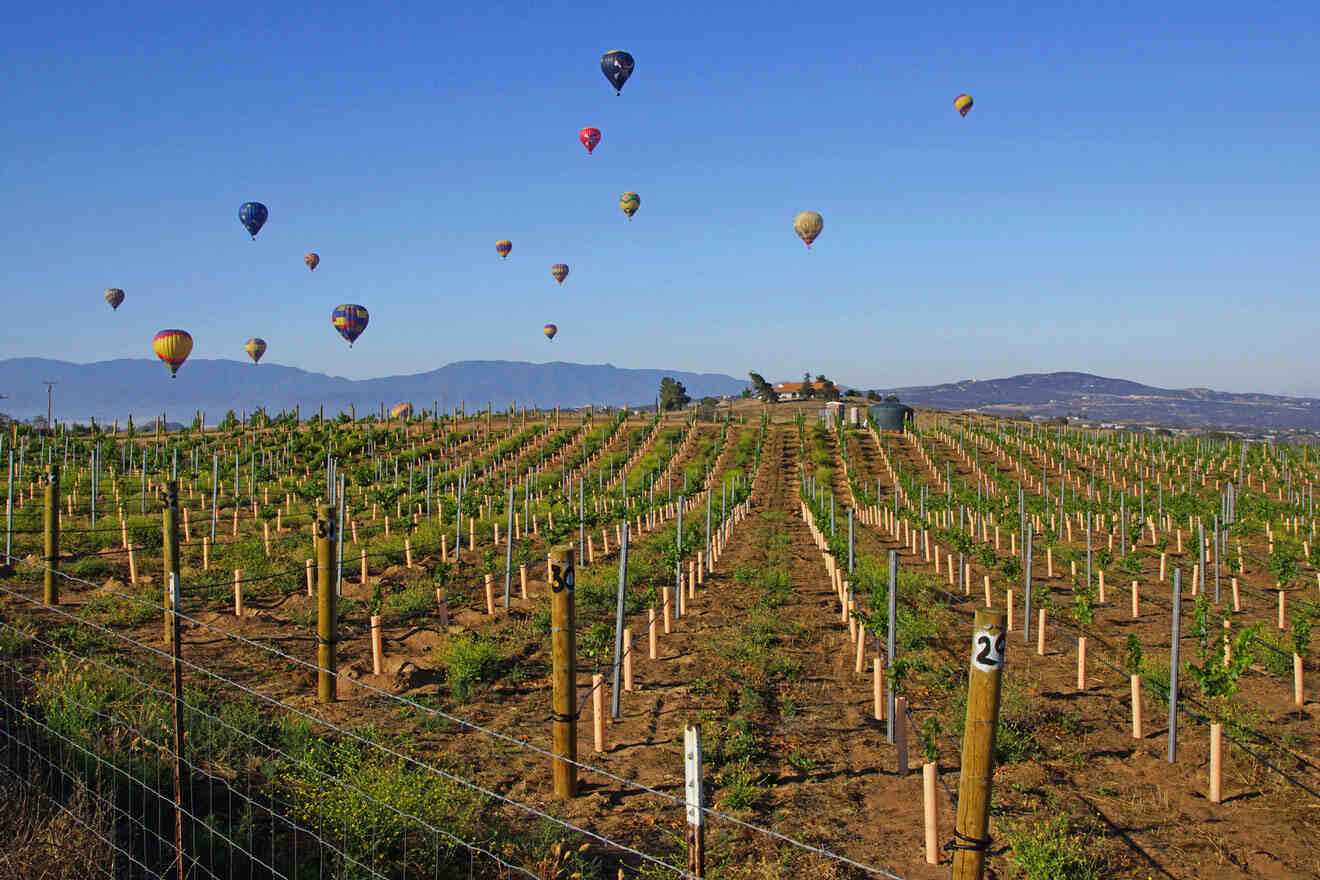 With over 40 wineries and 50 varieties, Temecula Valley is the perfect spot in Southern California to sample the local grapes.
Lesser known than its big sister, Napa Valley, in Northern California, Temecula Valley is worthy of making room for on your itinerary. One of the best ways to experience this region and sample the tannins from the local area is through one of the tantalizing wine tours. With limited capacity and high popularity, make sure you book this one well in advance!
PRO TIP: Absolutely, 100% do the tour! It's wine-tasting, friends! Just make sure that no one who is drinking should be driving.
PRICE: from US$150 per person
Getting there: take the I-215S for approximately 2 hours.
Book Your Wine Tasting Experience
6. Don't miss the Palms to Pines scenic drive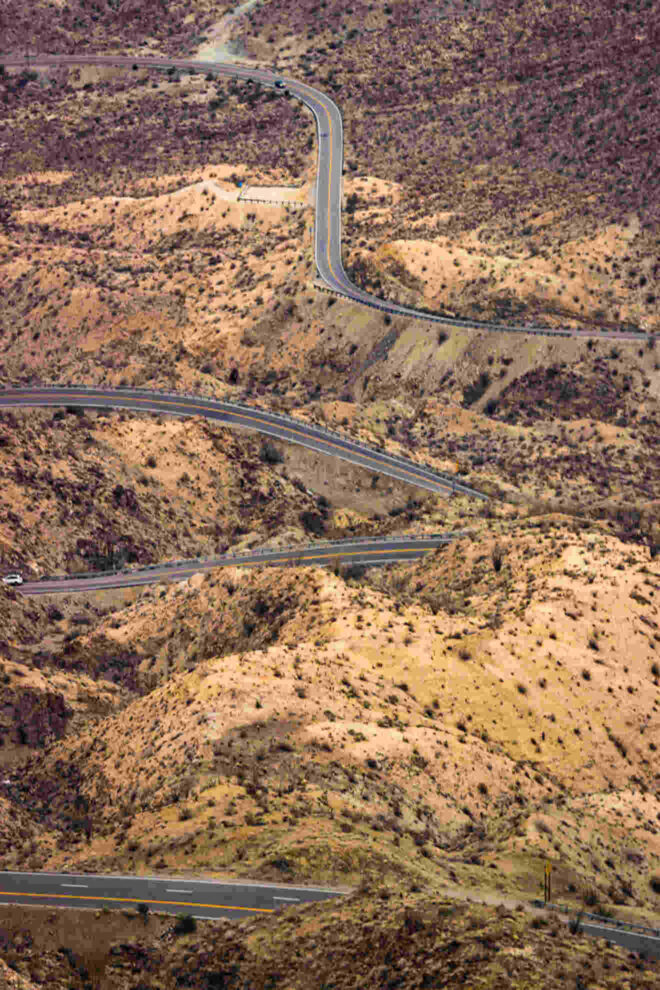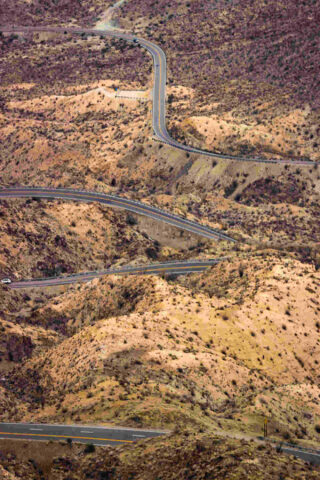 This drive really encompasses what makes California so unique – the access to ever-changing topography and eco-climates within a short, scenic drive.
The Palms to Pines drive takes you from the palm trees of Palm Desert to the Pine trees of the San Jacinto Mountains. Stop at the Coachella Valley Vista Point for an incredible view of the landscape down below.
NOTE: With no visitor center at this park, be sure to bring water, shade, and proper clothing.
Getting there: starting in Palm Desert, take Highway 74 up the mountain and through the winding switchbacks.
7. Climb up to Amboy Crater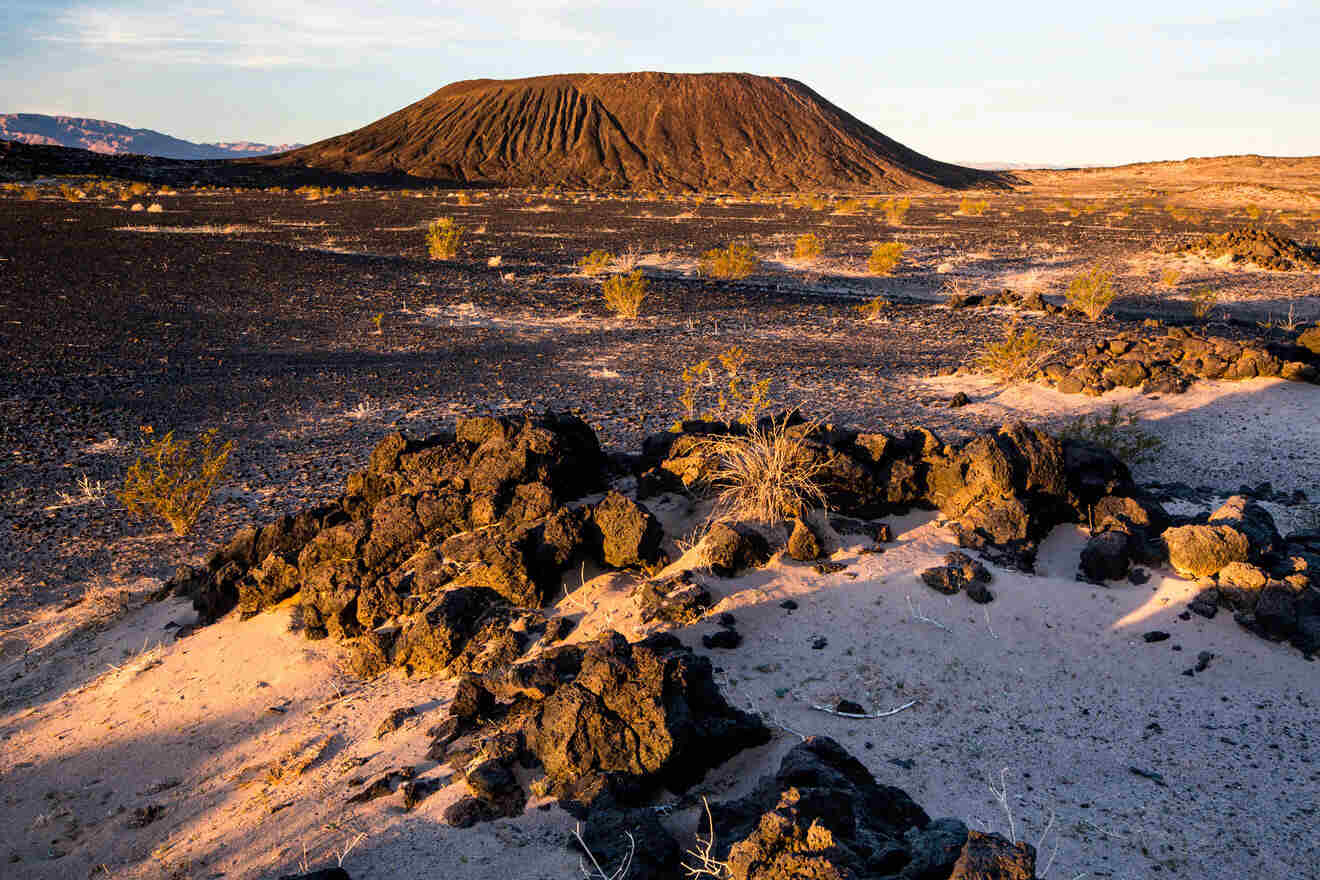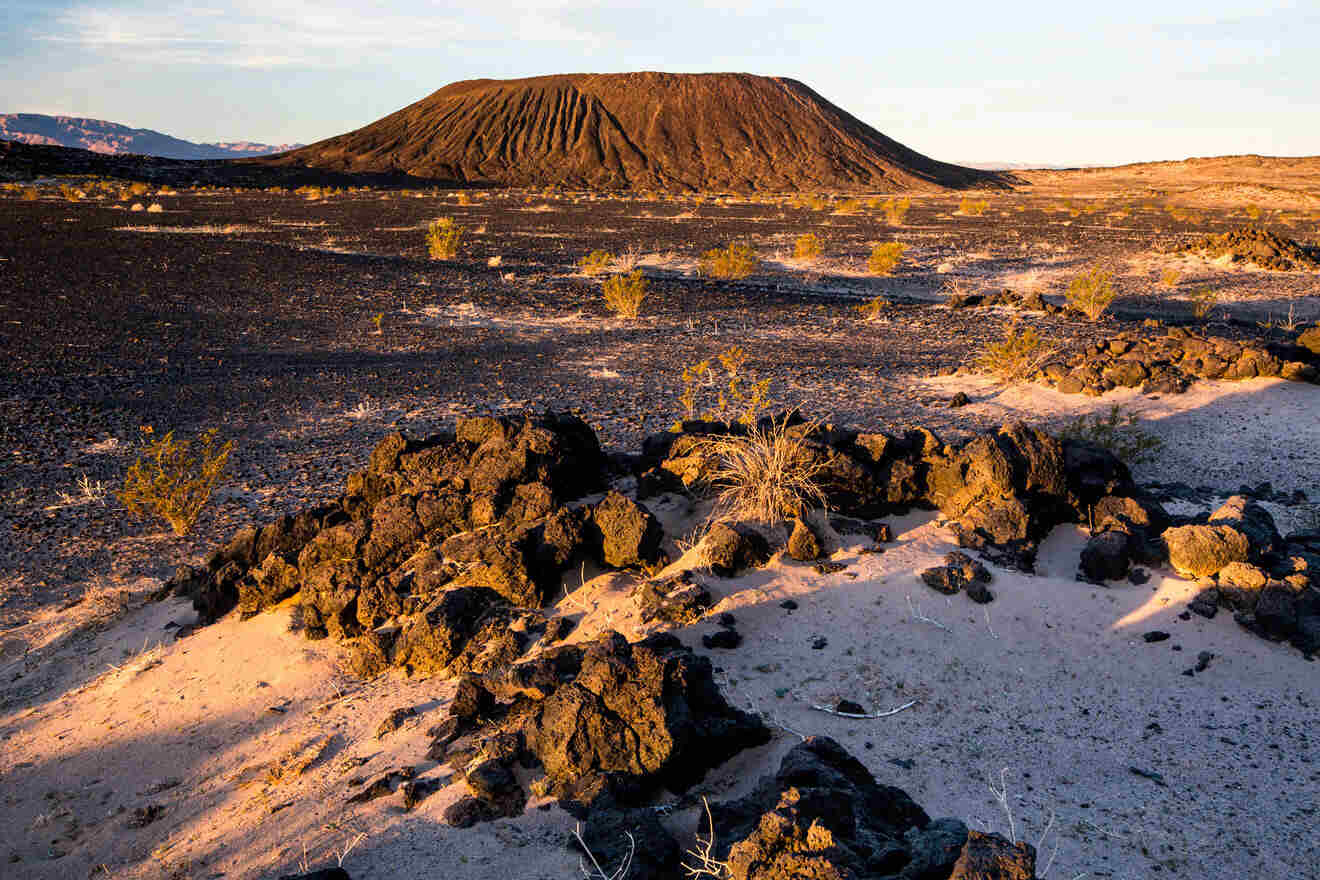 If the idea of getting up close to a volcanic crater makes you itch with excitement, make sure you add the National Natural Landmark of Amboy Crater to your list of day trips from Palm Springs. The Amboy Crater is located just off Route 66, but there is no easy way to make it to the top. Be prepared to spend 2-3 hours hiking up the volcano; fortunately, the landscape of lava rock and singed earth makes the journey fascinating enough to keep trekking.
NOTE: With no visitor center at this park, be sure to bring water, shade, and proper clothing.
PRICE: FREE
Getting there: take CA-62E approximately 2 hours to get to Amboy Crater.
8. Enjoy picturesque hiking in Julian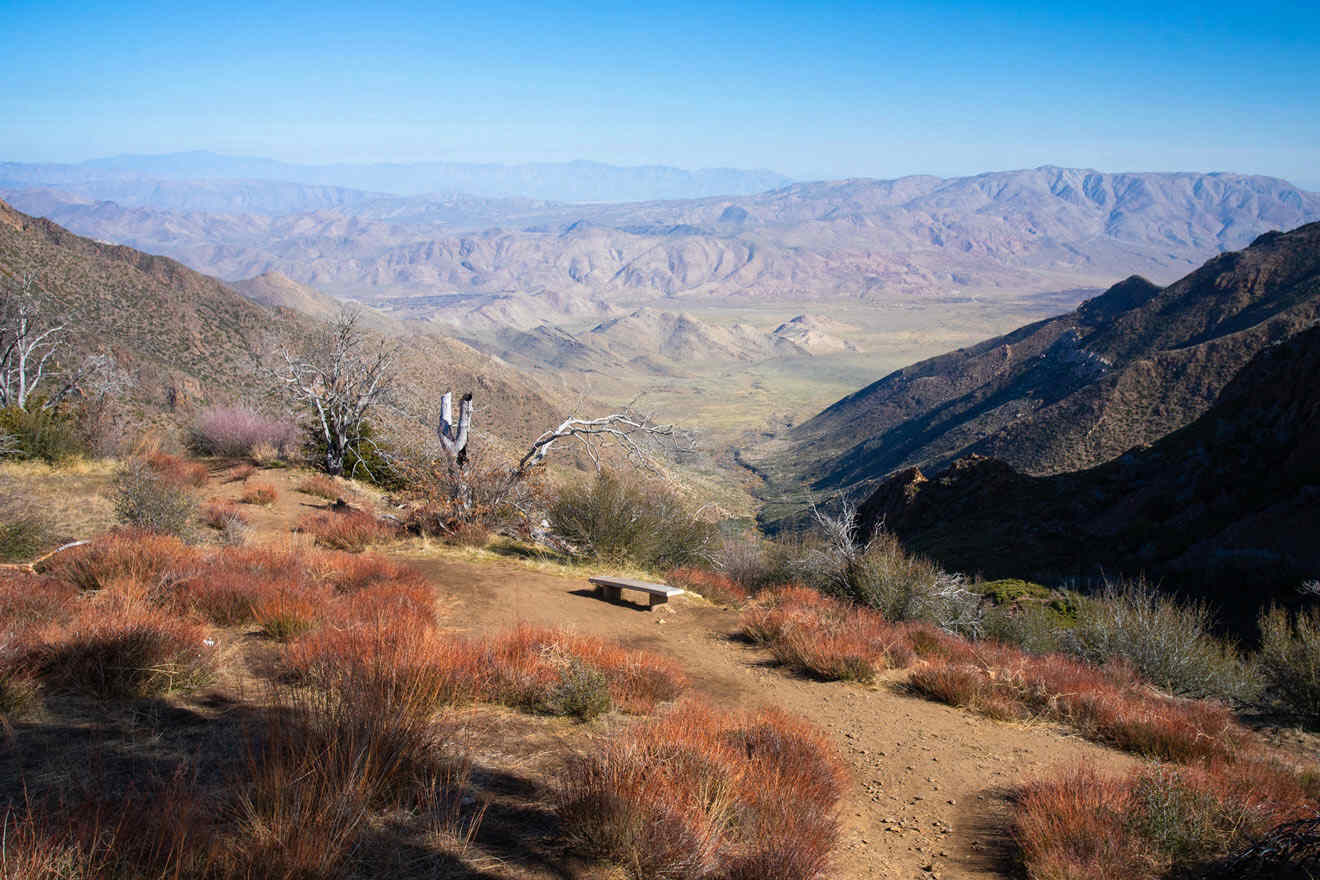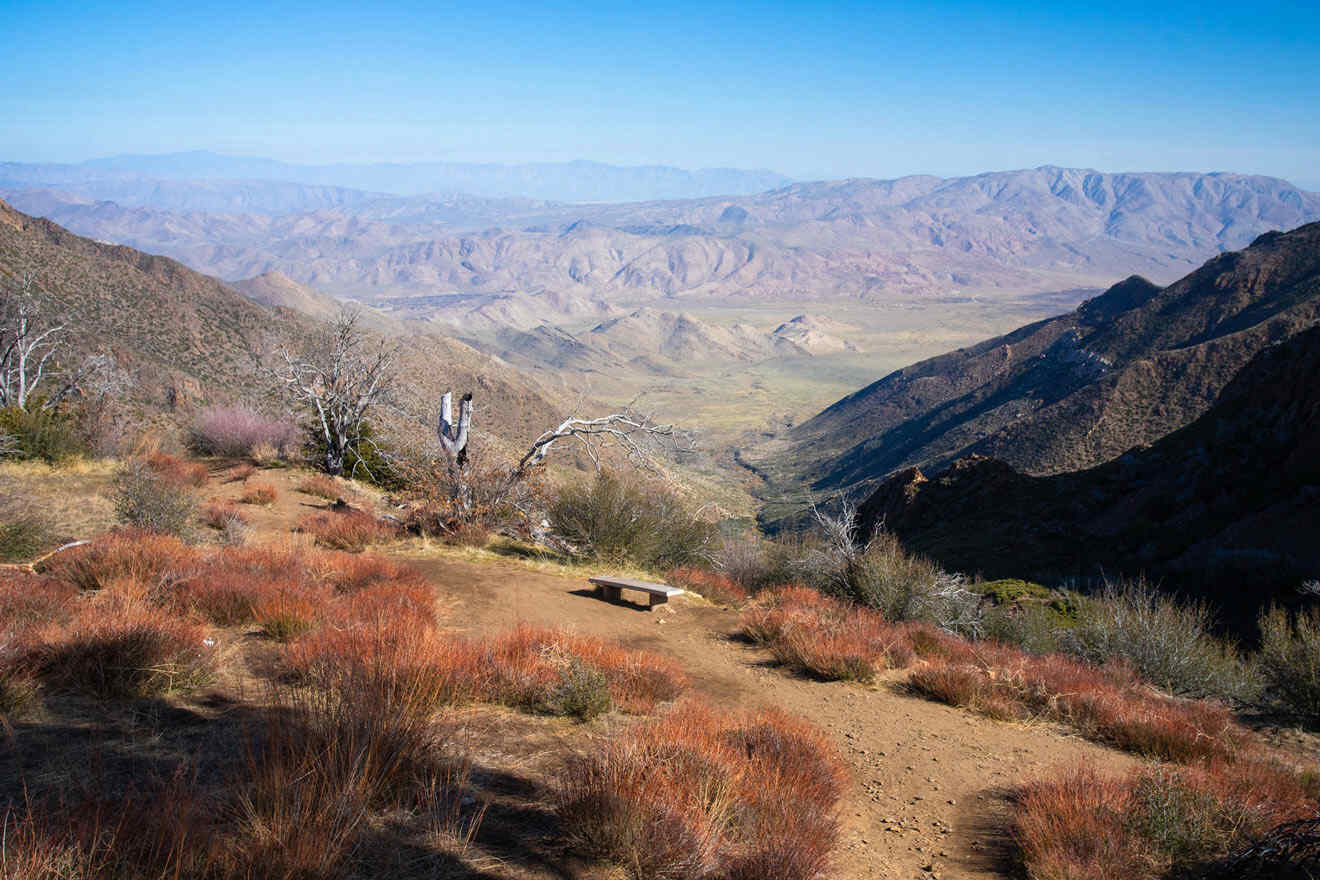 Of the day trips on the list, Julian really has quite a lot to offer. Enjoy hiking in the lush greenery of mountain trails, delight in sampling the famous local apples, and immerse in the history of the gold-rush era at the Pioneer Museum.
Main Street in downtown Julian provides a parade of local shops, mom-and-pop restaurants, and charming bars to spend the afternoon hours.
PRO TIP: Do not leave Julian without stopping at Julian Pie Company for an award-winning treat you won't forget!
Getting there: about 3 hours from Palm Springs, take CA-79S until you hit Julian.
9. Mingle with the stars in Los Angeles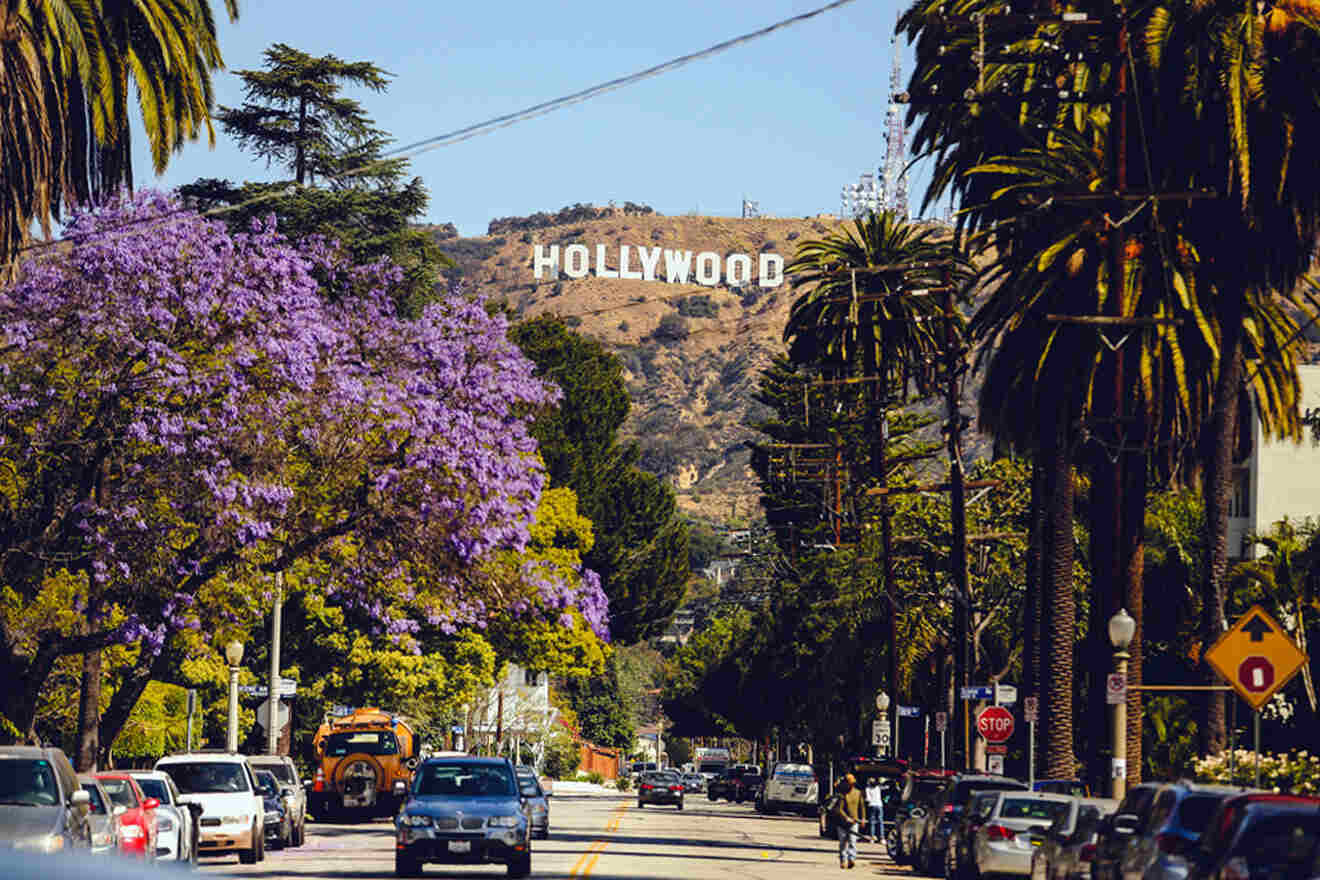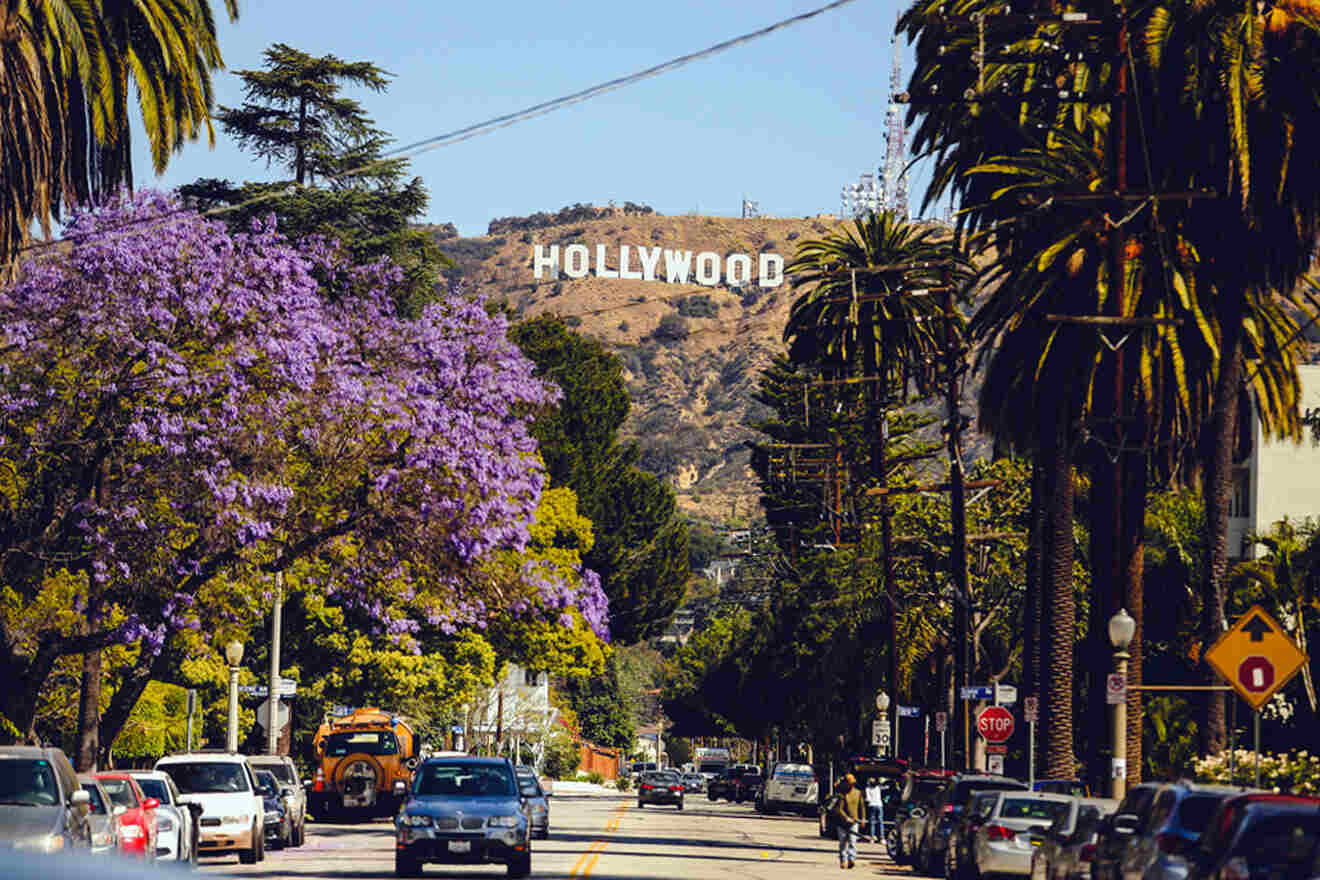 The iconic Hollywood Sign originally read "Hollywoodland" and was an advertisement for a local real estate venture.
What better way to spend a day trip from Palm Springs than venturing over to La La Land? Since Palm Springs has long served as a vacation destination for the rich and famous hailing from LA, it's no surprise this 1-hour drive makes it on the list of best day trips from Palm Springs.
This metropolis has so much to offer: soak in the magnificent art collection at Los Angeles County Museum, play at the Santa Monica Pier, people watch at famous Venice Beach, wander down the Hollywood Walk of Fame, or dine at one of West Hollywood's trendiest cafés.
PRO TIP: Make the most of your time and book a multi-activity tour to do as much as you can while in Los Angeles.
NOTE: Traffic is insane in LA, so make sure to buffer time between activities.
TOUR PRICE: from US$100 per person
Getting there: take the I-10W, approximately 2 hours drive.
Book Your Multi-Activity LA Tour
10. Investigate the abandoned resort area called Salton Sea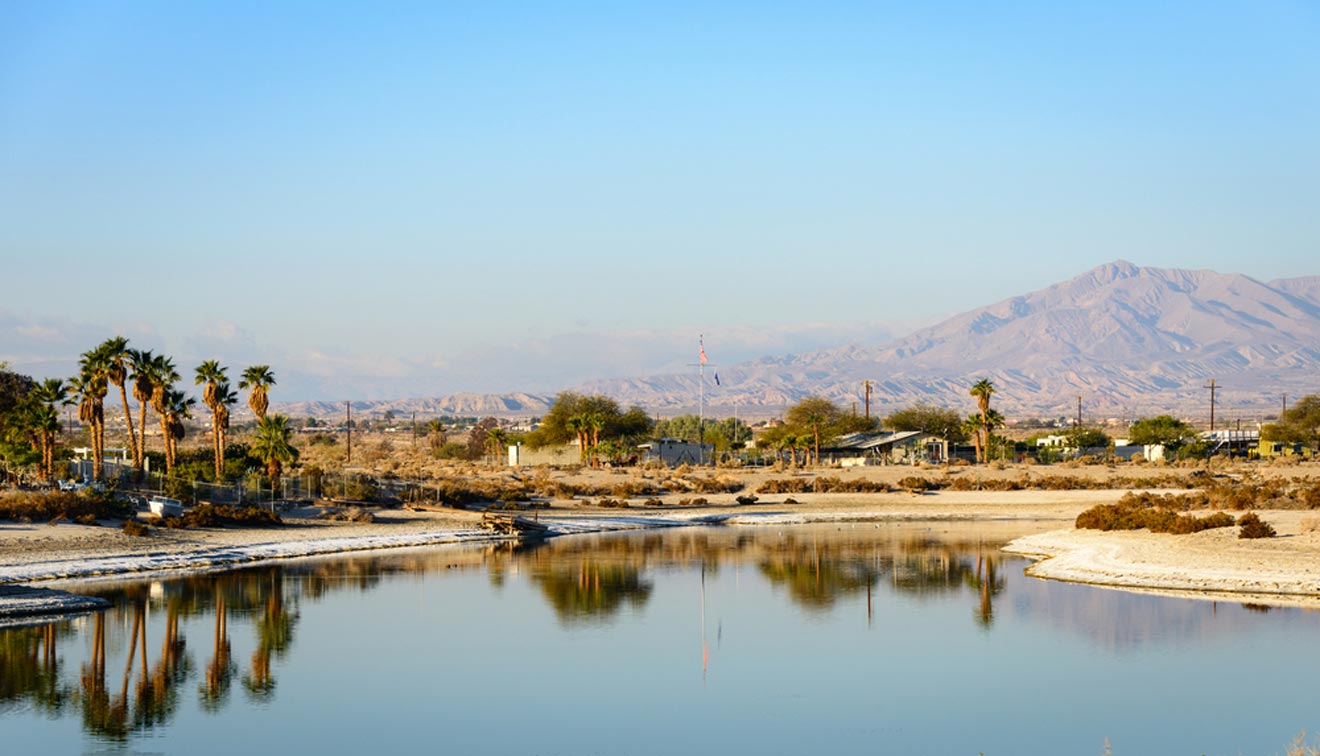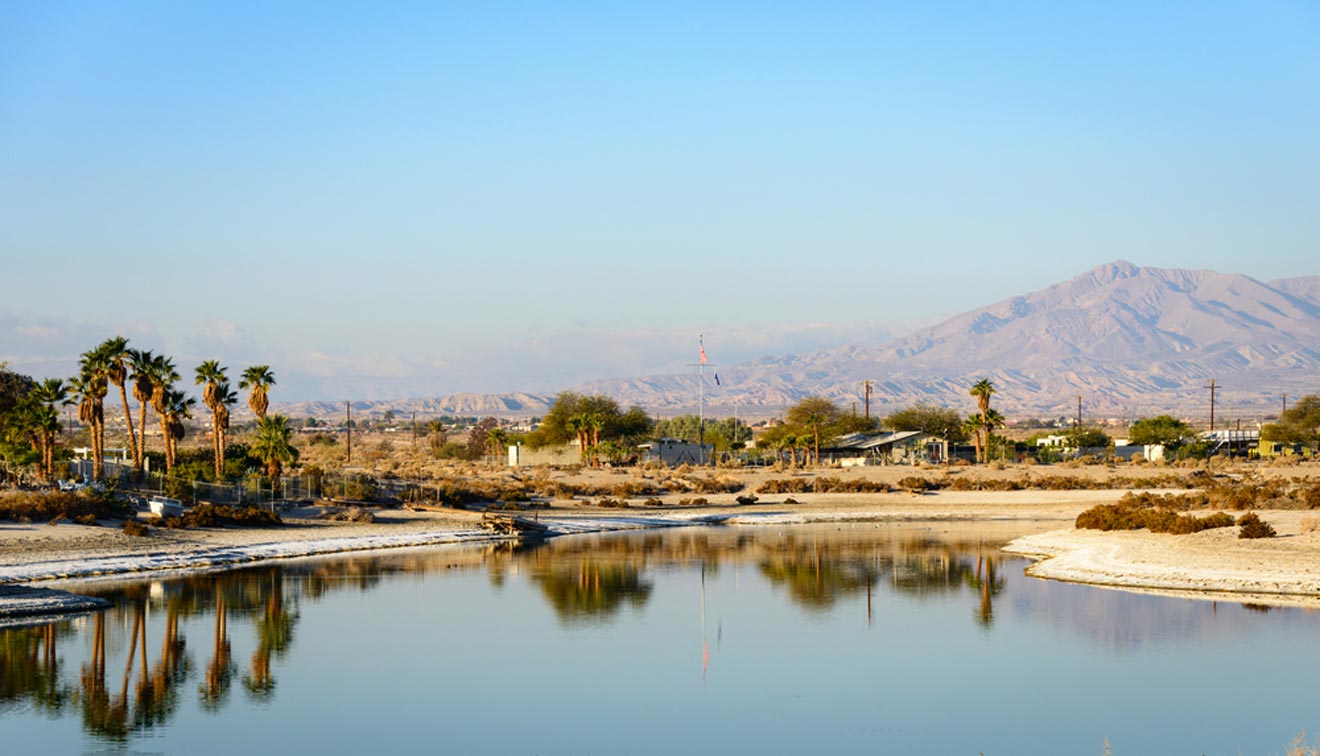 Located on the San Andreas Fault, the Salton Sea was actually created by pure accident when the Colorado River breached its banks.
Once a thriving resort town for Hollywood celebrities in the 1950s and 1960s, the Salton Sea now acts as a memory of what once was.
Enjoy endless eerie photo ops as you discover this unique landscape that time forgot. Scattered palm trees, a shallow saline lake, and barren beaches create an atmosphere, unlike any other place you've experienced.
Getting there: drive I-10E to CA-86 S for approximately 1 hour until you hit the Salton Sea.
11. Traverse Mount San Jacinto State Park in Idyllwild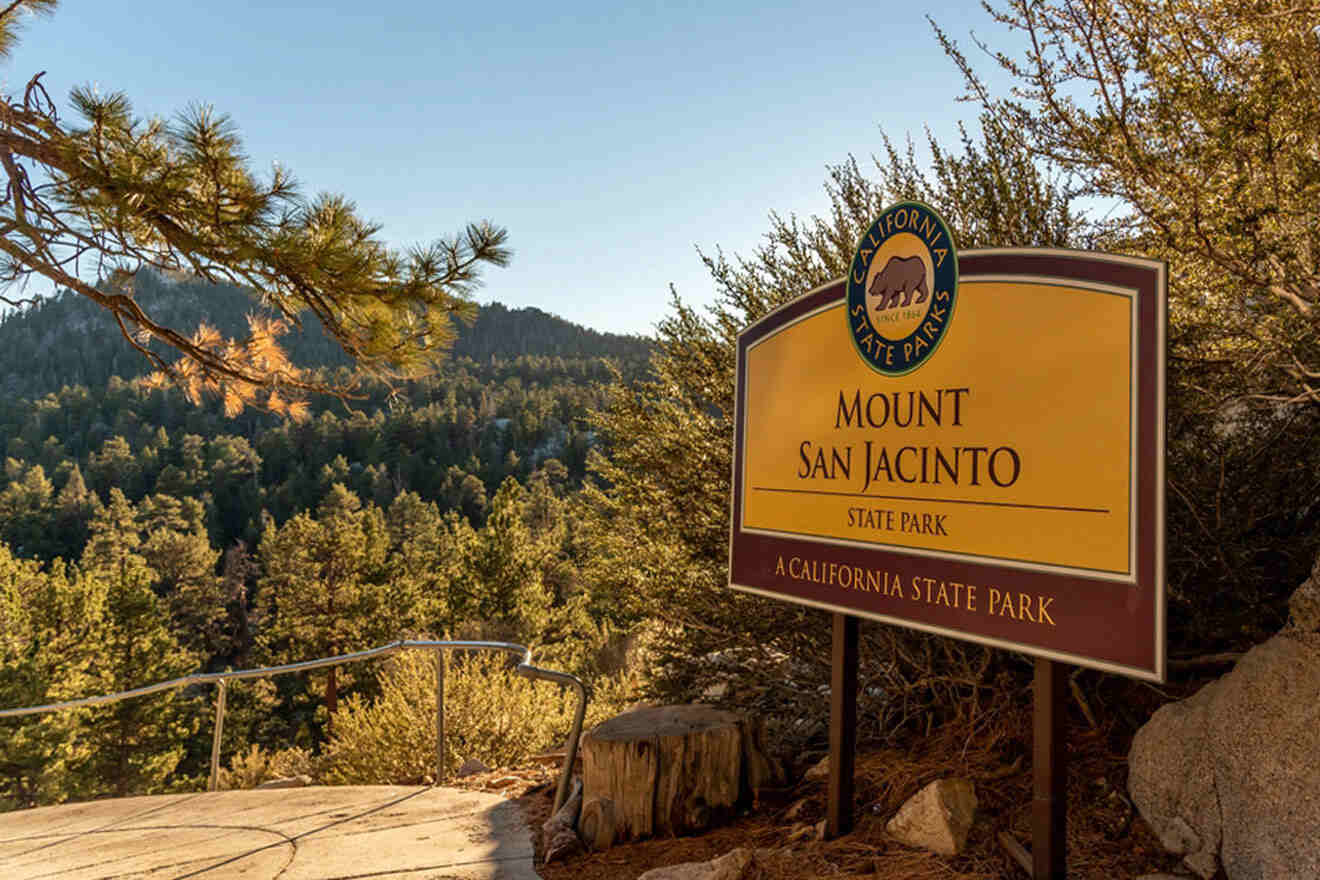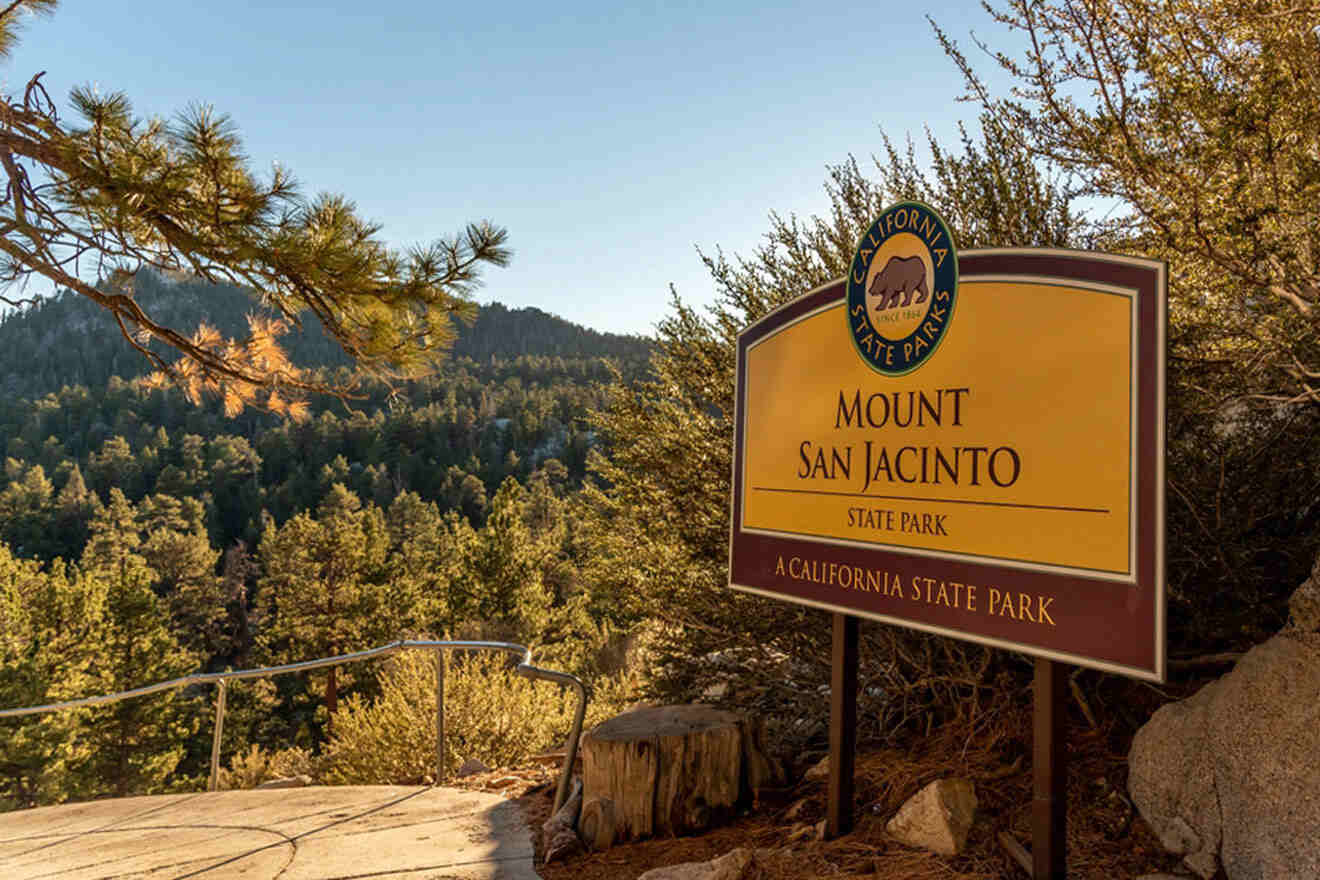 A common bucket list item for backpackers, the Pacific Crest Trail (PCT) crosses right through this area of the mountains.
Another great option for day trips from Palm Springs, San Jacinto State Park in Idyllwild, offers a wide array of options to get a bird's eye view from the peak. Take the Palm Springs Aerial Tram up 8,000 ft (2,590 m), hike the Ernie Maxwell Scenic Trail, or dine at one of the few restaurants up at the top.
Idyllwild itself is a really cute, quaint mountain town and worth a stop for lunch and a bit of shopping.
NOTE: Day-use wilderness passes are required for any California state or federal wilderness and are available at the Visitor Center.
AERIAL TRAM PRICE: from US$30 per person
Getting there: take CA-243S for approximately 90 minutes until you reach Idyllwild.
Save My Spot on the Aerial Tramway
12. Discover Lake Arrowhead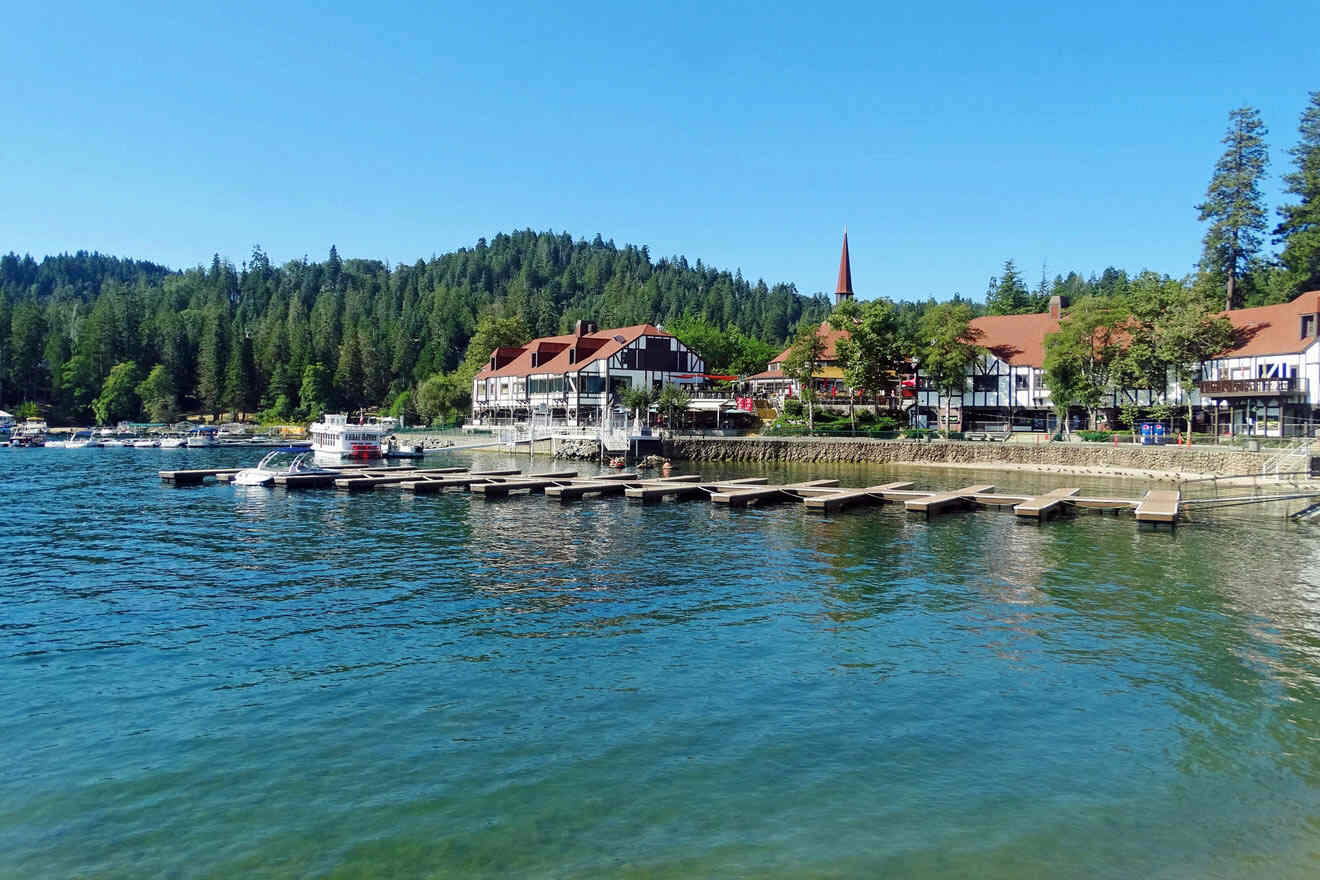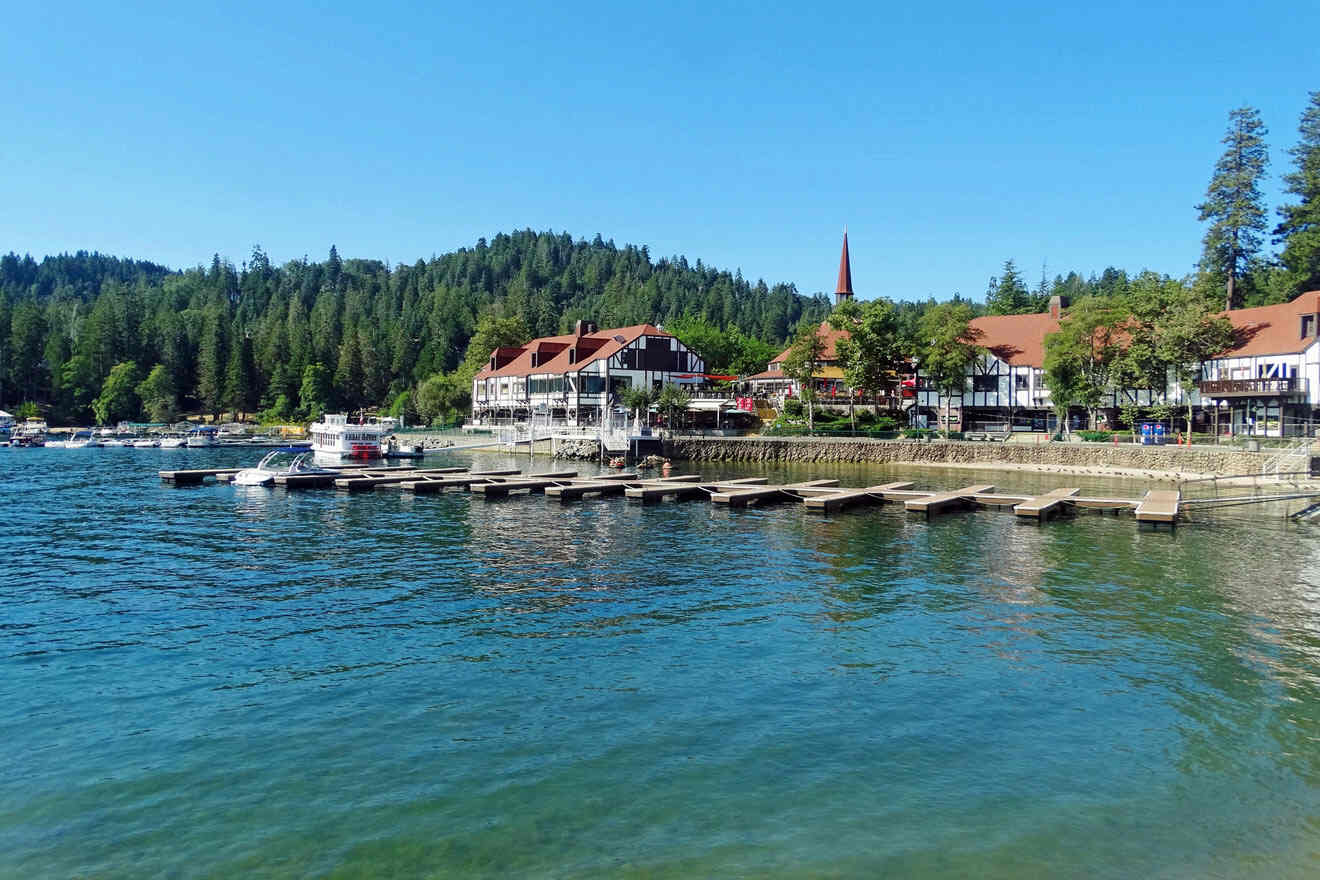 Lake Arrowhead, which is tucked into the San Bernardino Mountains, offers up breathtaking scenery, exhilarating hiking trails, and a wonderful lakeside atmosphere. If you've never experienced an alpine lake before, this will be a treat. The crisp air and warm sunshine provide ideal conditions to immerse in nature.
Don't miss Lake Arrowhead Village for delicious dining options and great shopping.
NOTE: Lake Arrowhead is a private lake. If you'd like to tour it, book with Lake Arrowhead Queen Ferry.
PRICE: US$28.95 per person on the ferry
Getting there: drive 2 hours on I-10W until you get to Lake Arrowhead.
13. Get your kicks on Route 66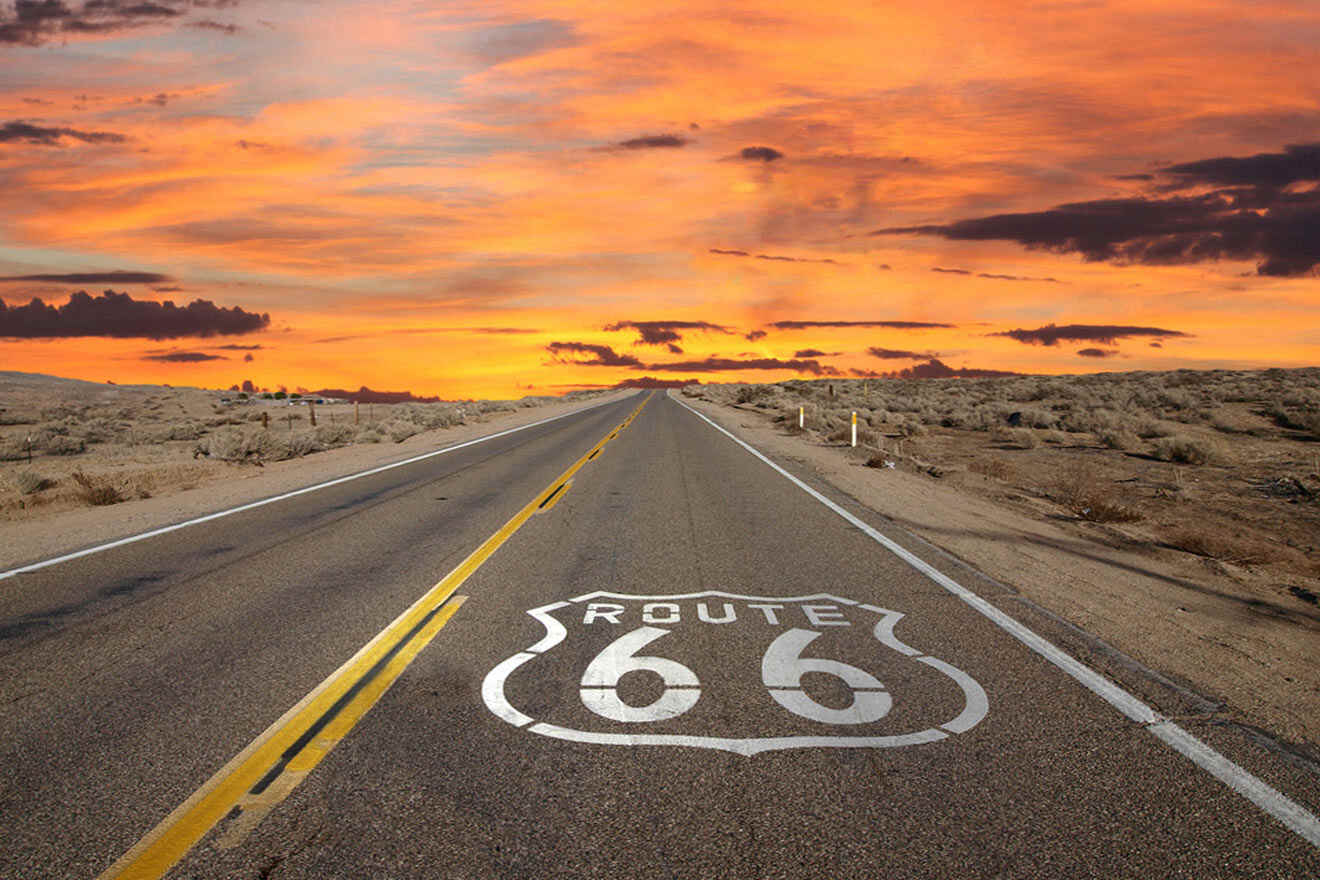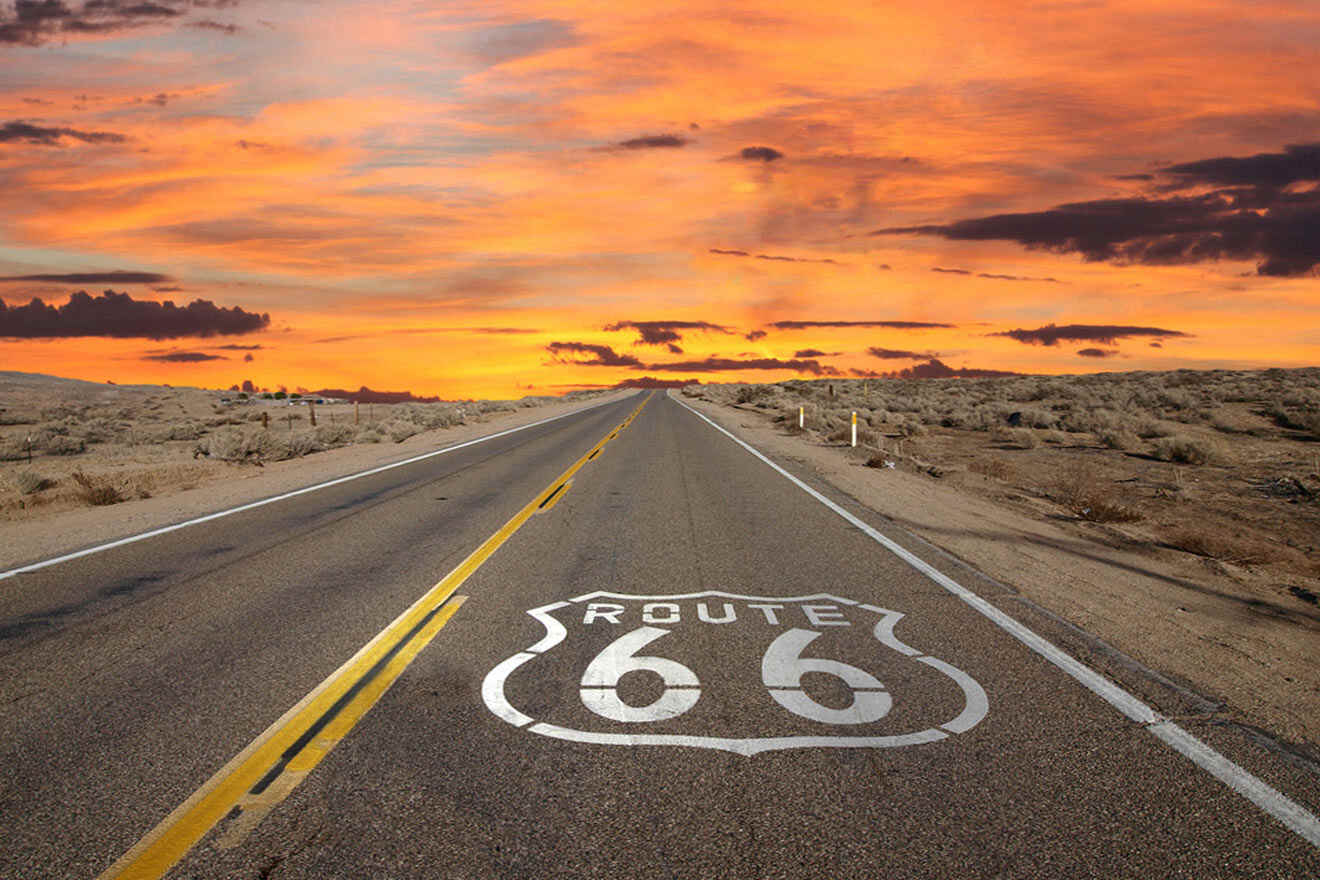 Constructed in 1926, Route 66, also known as Main Street America, was part of the country's original highway system.
Famous with road trippers and often a bucket list item, catch a glimpse of the quirky and odd remnants from Route 66. This stretch of highway between Amboy and San Bernardino Mountains is the perfect spot to get just a little taste of what the full Route 66 has to offer. Take in the incredible desert scenery and stop for roadside photo ops.
PRO TIP: For quirky stops along the way, try the old west town of Calico, pass by the infamous Roy's Motel, search for the Shoe Tree in Amboy, or stop at Elmer's Bottle Tree Ranch.
Getting there: it will take you about 90 minutes through the San Bernardino National Forest on I-10E to reach the historic stretch of Route 66.
14. Do some retail therapy at Old Town La Quinta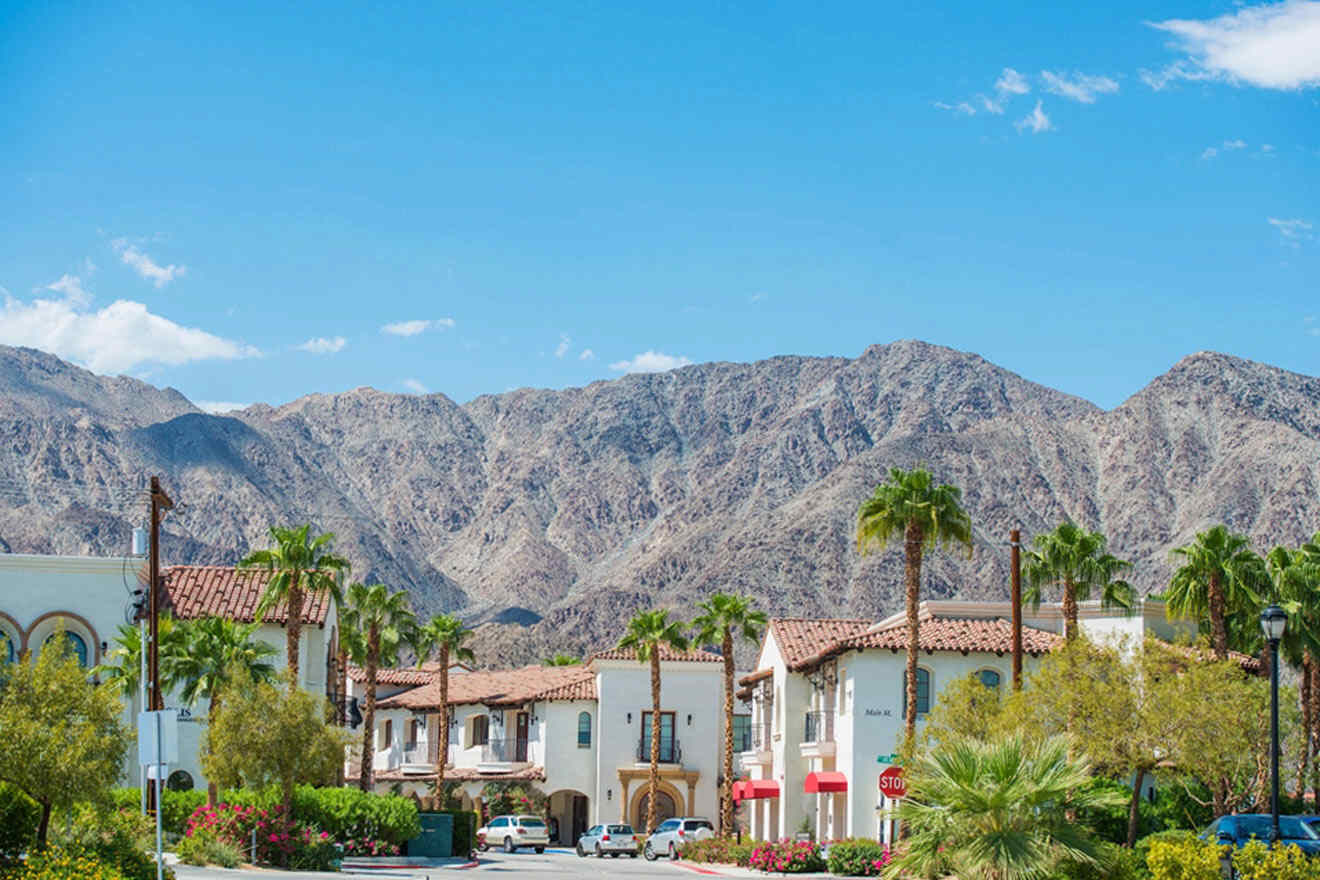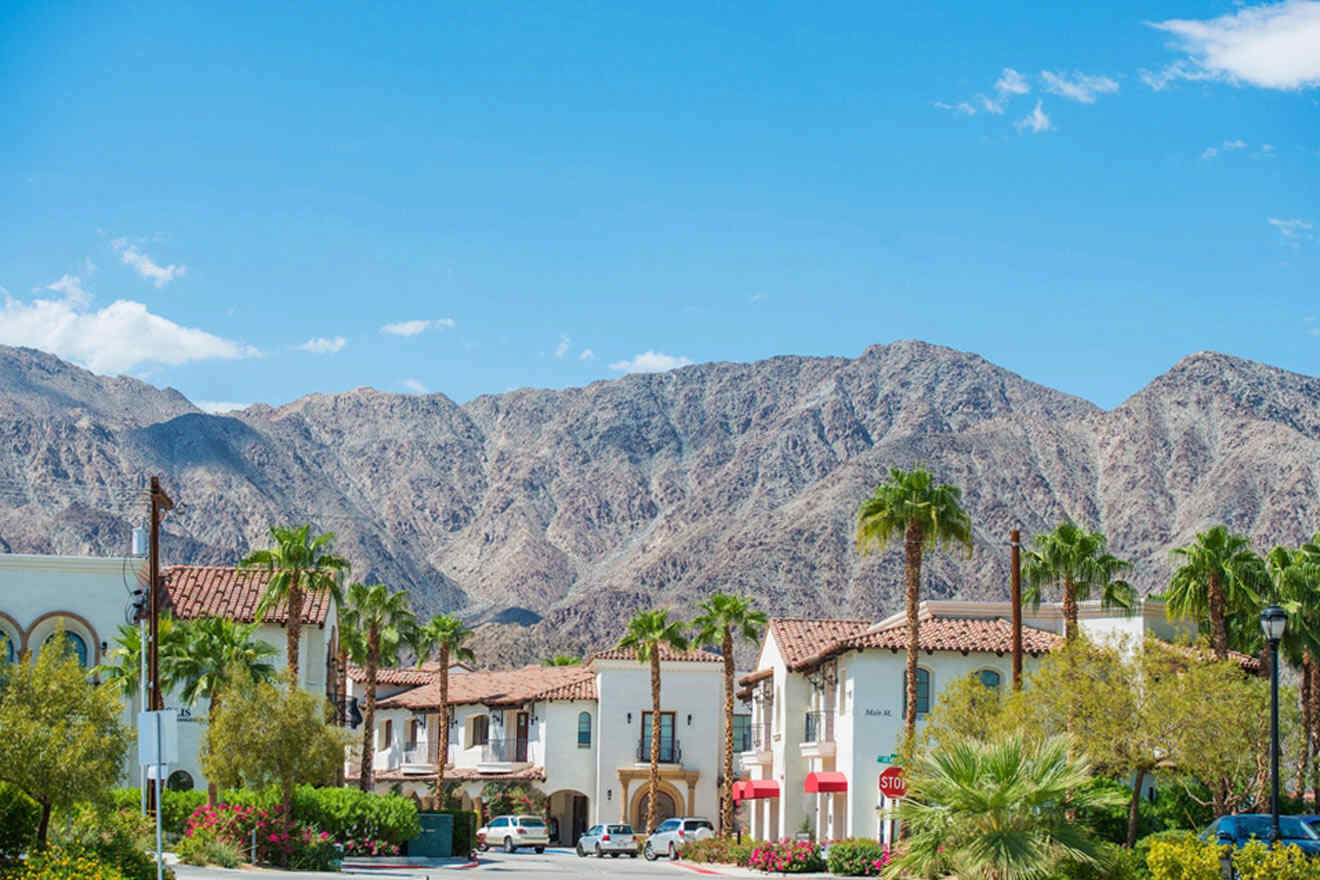 Did someone say shopping? This desert paradise in Coachella Valley is a few square blocks dedicated to over 30 retail shops, salons, and spas. The downtown of La Quinta is quaint and walkable, providing the perfect day trip option from Palm Springs.
Getting there: drive less than 1 hour on I-10E, and you will reach Old Town La Quinta.
15. Explore Indian Canyons tribal land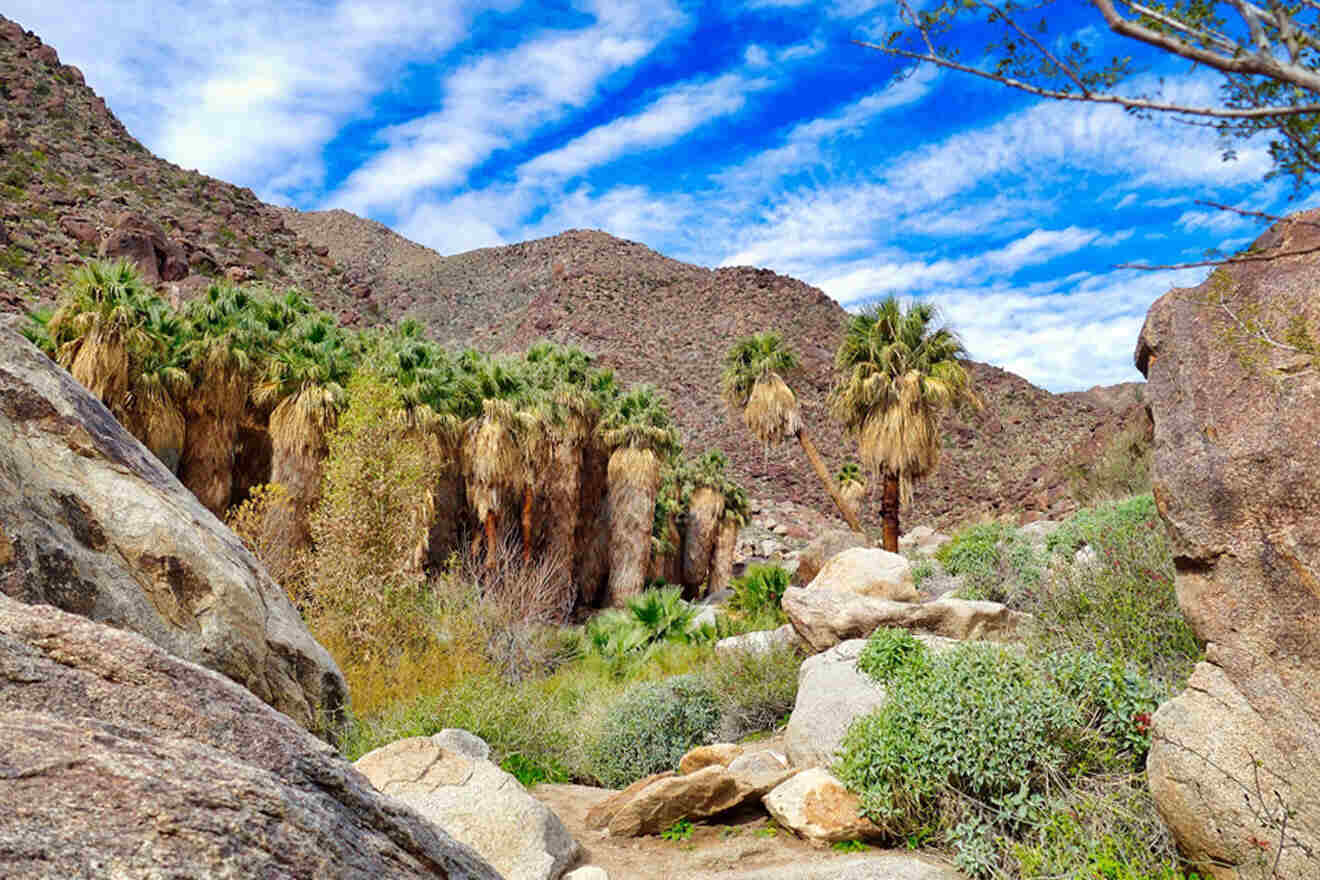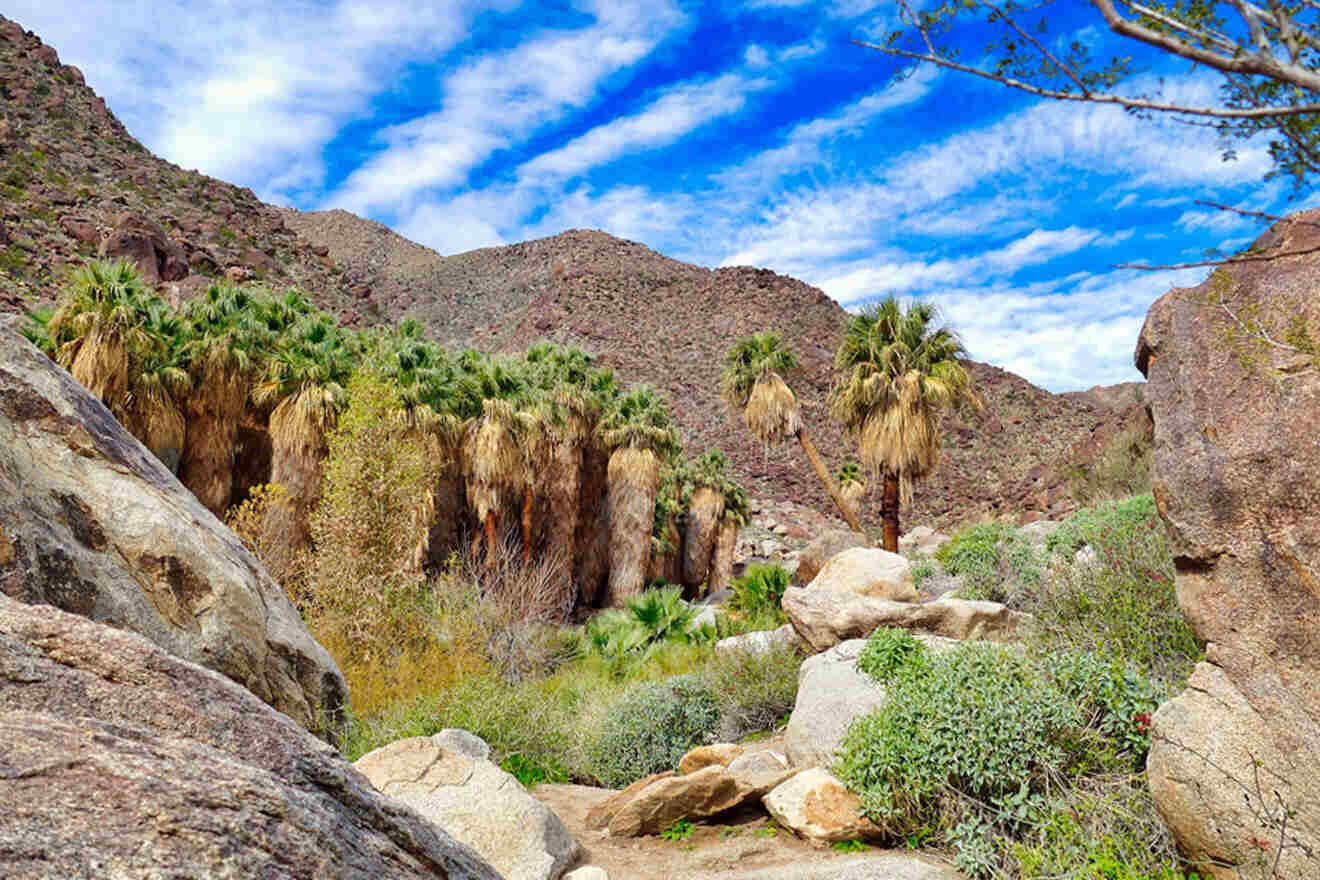 A beautiful day trip from Palm Springs, California, Indian Canyons Tribal Land is a stunning landscape filled with rich historical and cultural significance.
Learn about the Agua Caliente Band of Cahuilla Indians who formed their communities on this sacred land. Trek through the many hiking trails, gaze up at the towering palm trees, peek out over the vistas of Palm Canyon and Murray Canyon, and soak in all this desert garden landscape can offer.
I highly recommend taking the guided Jeep tour to take in the full majesty of Indian Canyons, but there are also free ranger-led hikes held Friday through Sunday, October through June.
TOUR PRICE: from US$200 per person
Getting there: okay, this one is tucked into Palm Springs but could easily take you the whole day to enjoy.
16. Enjoy the Coachella Valley Preserve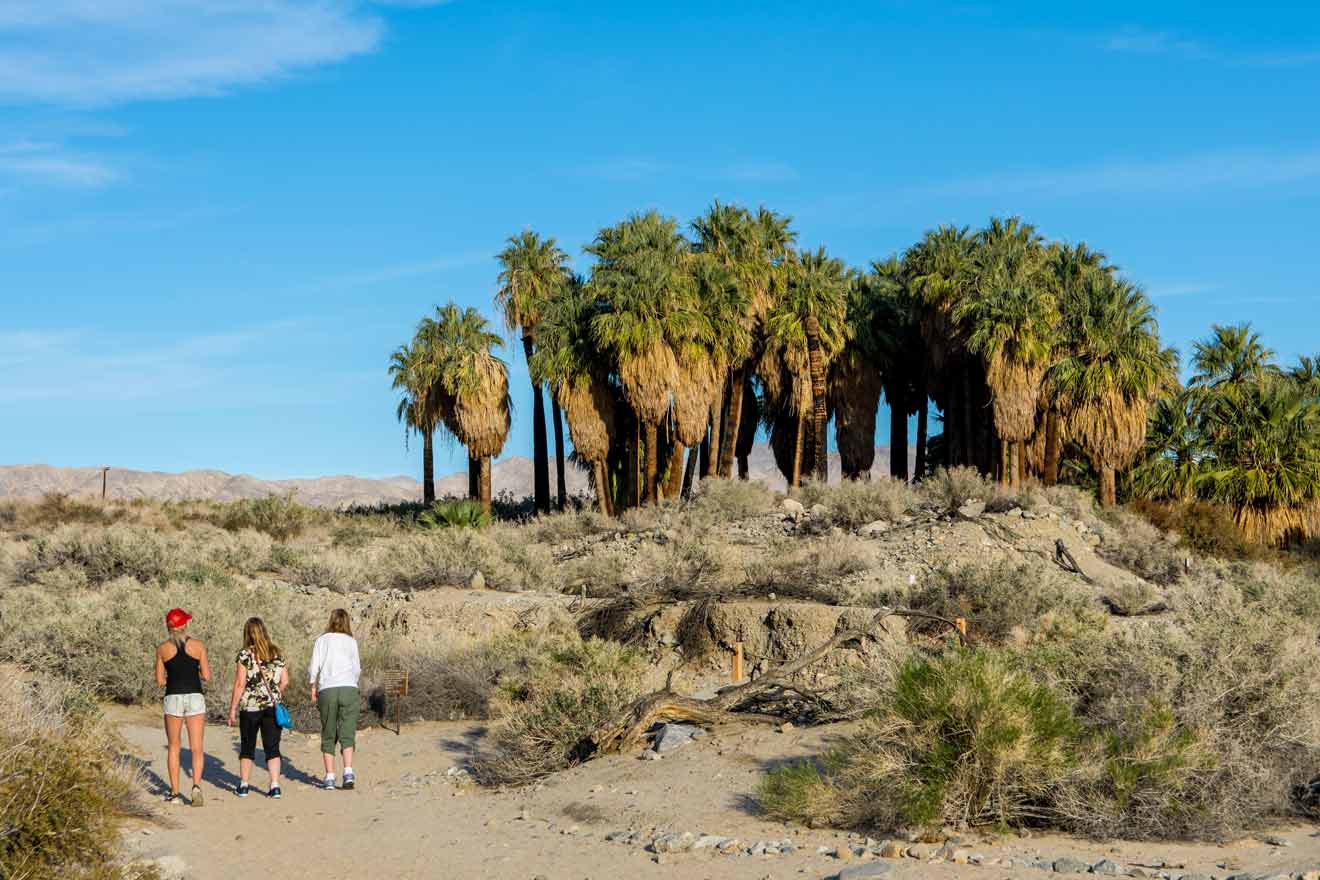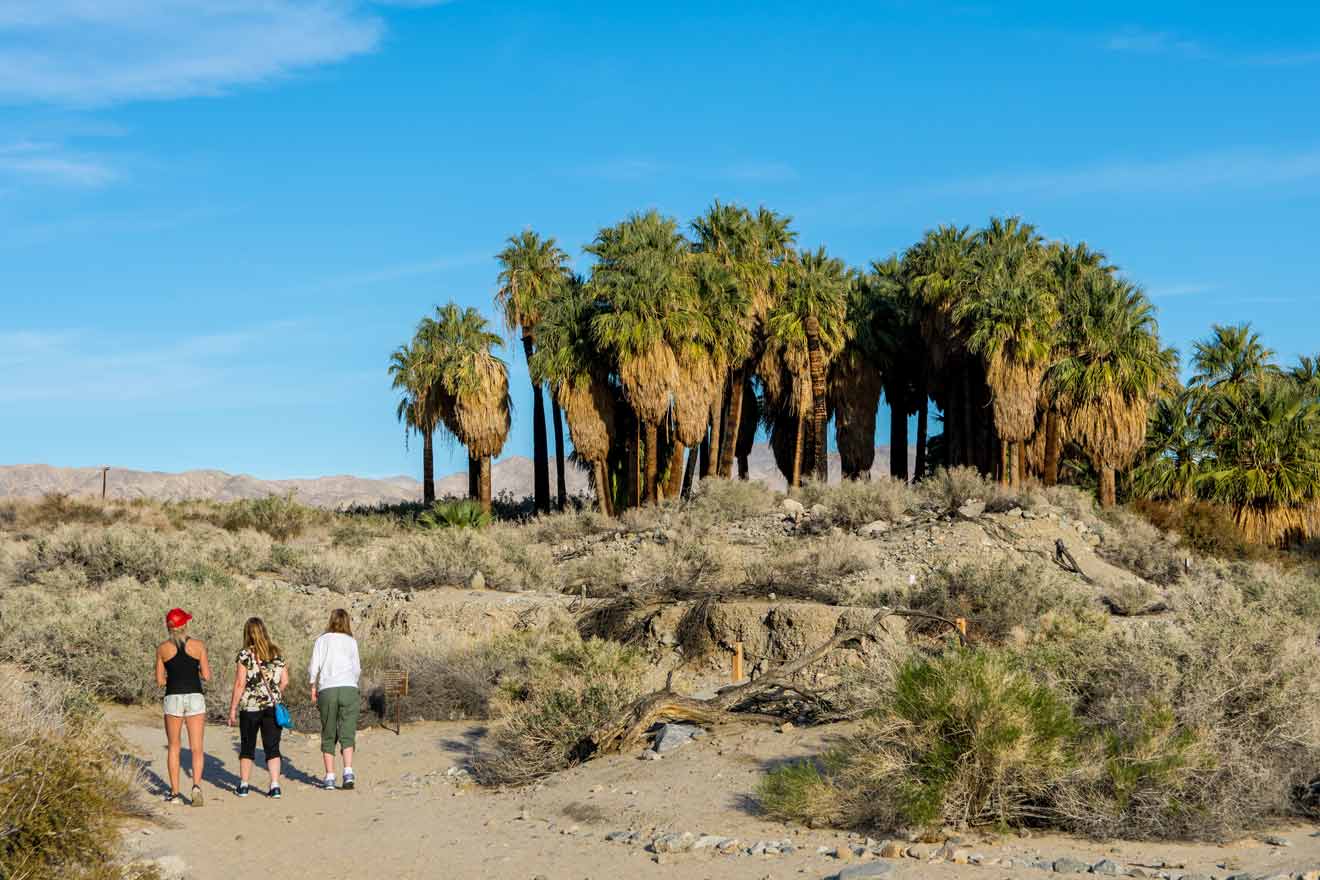 Another great option for Palm Springs day trips is the Coachella Valley Preserve in Indio Hills. Filled with about 30 miles (c. 45 km) of hiking trails and endless wildlife viewing, turn Coachella Valley Preserve into a full experience. Pack a picnic and enjoy this serene oasis in the desert all day.
PRICE: FREE
Getting there: drive 25 minutes via I-10E.
17. Soak in the Desert Hot Springs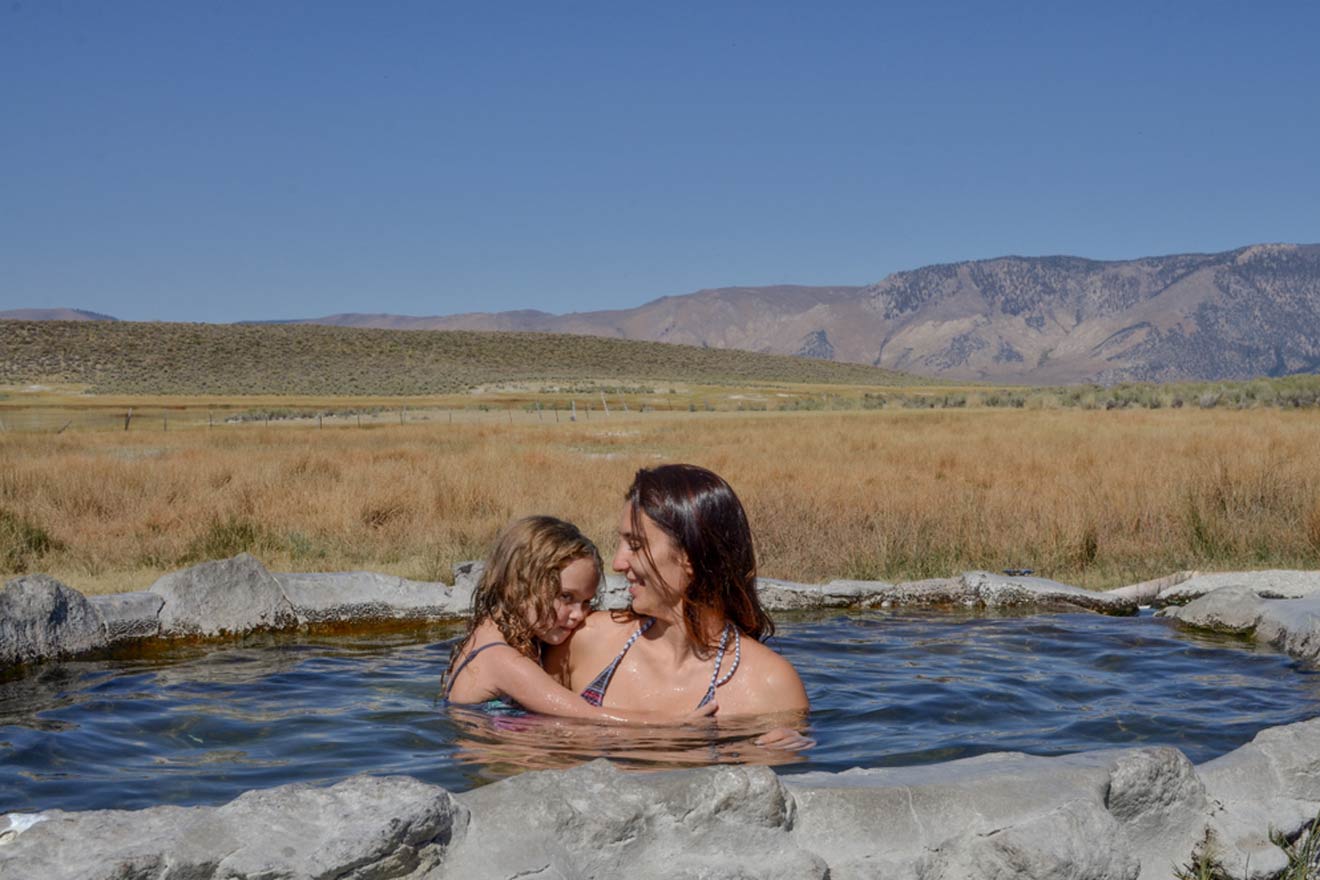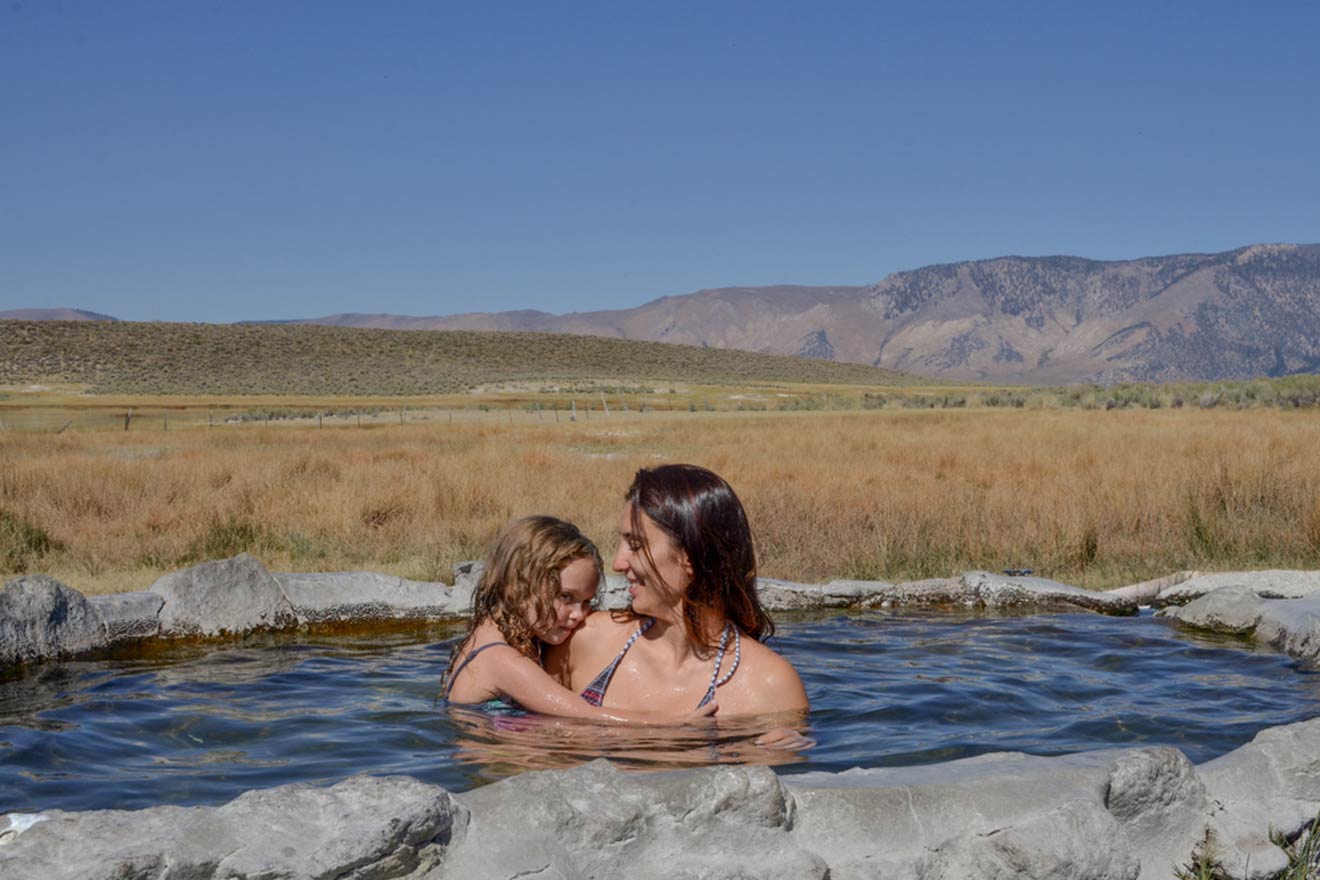 This incredible day trip will have you escaping the city to a natural hot springs oasis. Many of the spas and establishments in Desert Hot Springs offer options to soak in hot or cold springs to relax and rejuvenate. With over 80 options retro outfitted from the 1950s and 1960s, you can't go wrong with any of the spas.
PRICE: Varies
Getting there: this one is tucked into Palm Springs as well.
18. Discover Huntington Gardens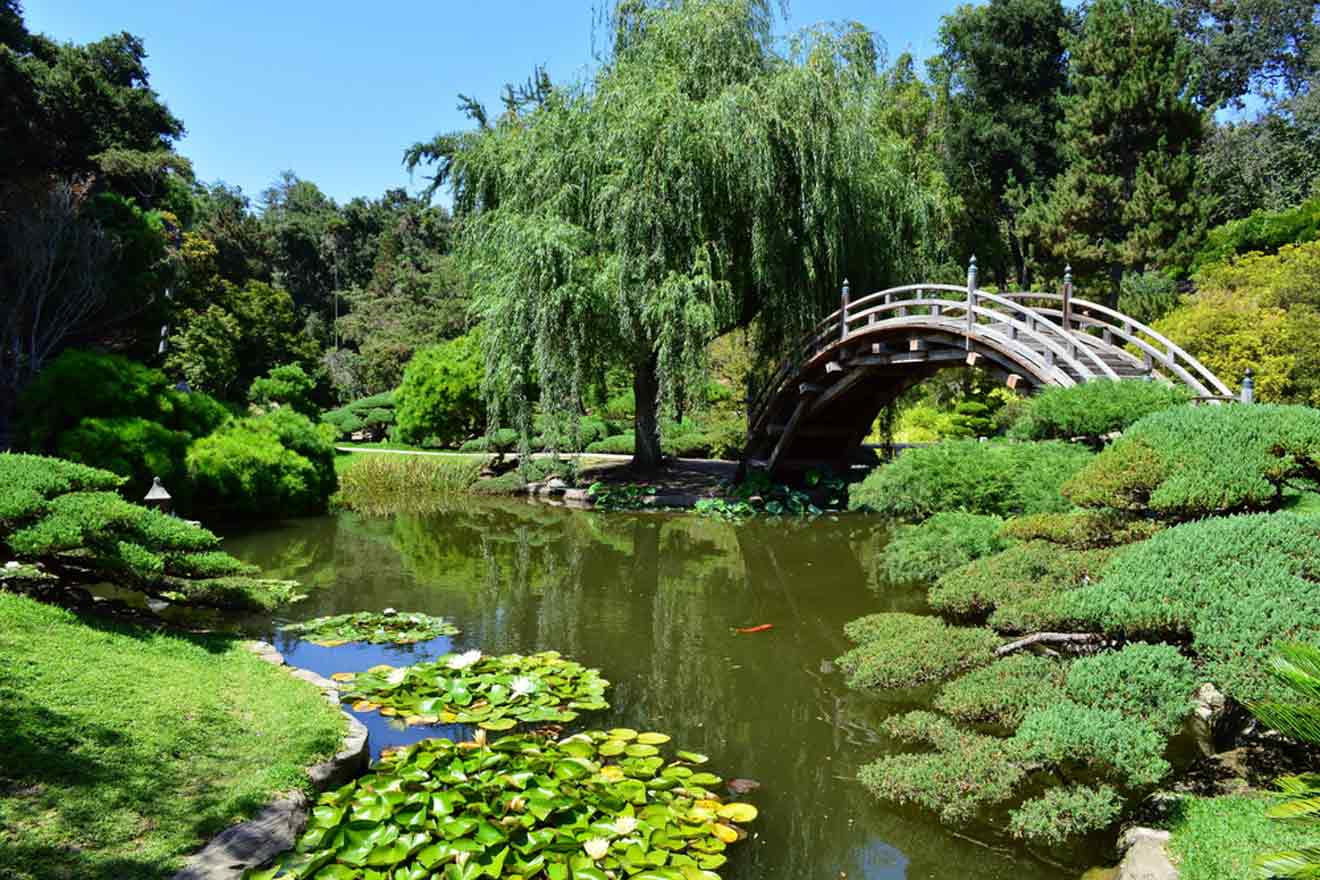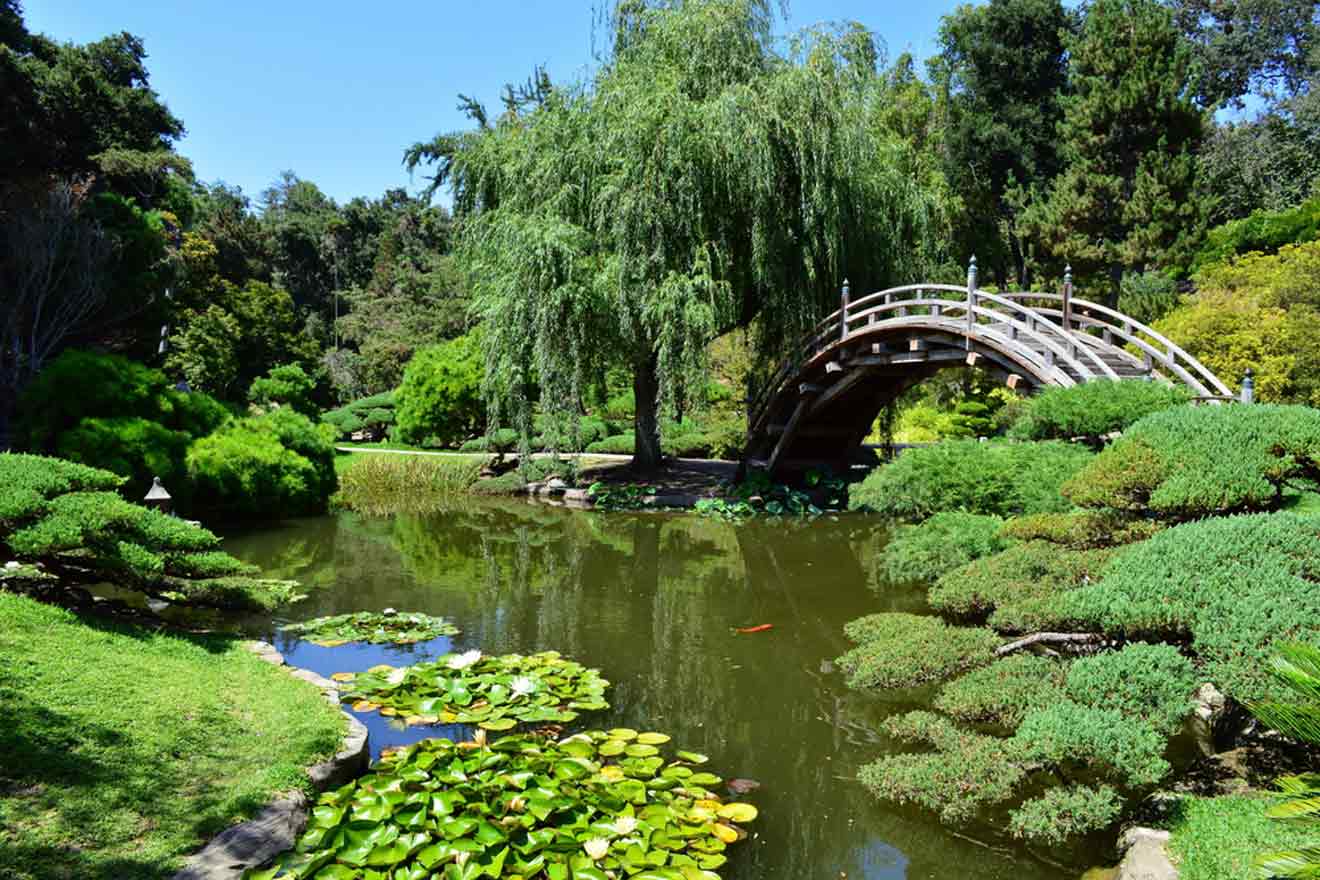 About 12 miles (12 km.) northeast of Los Angeles, you can explore the stunning Huntington Gardens located in San Marino. Discover over 80,000 living plants over 16 unique garden spaces. The vibrant botanical gardens, the exquisite art, and the impressive library make this treasure worthy of a whole day's experience.
PRICE: from US$25 per person
Getting there: about a 2-hour drive via I-10W and CA-210W.
19. Relax at Cathedral City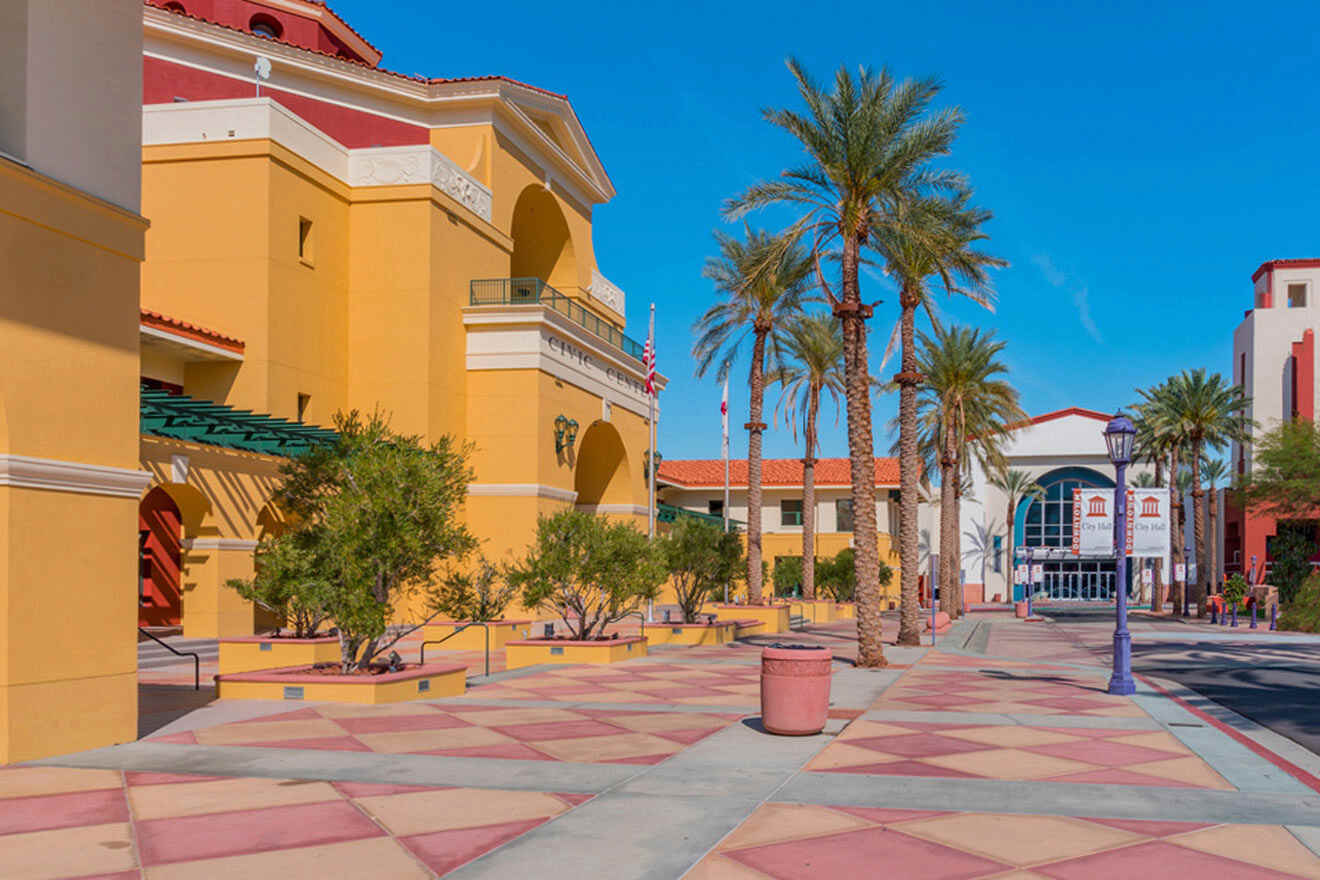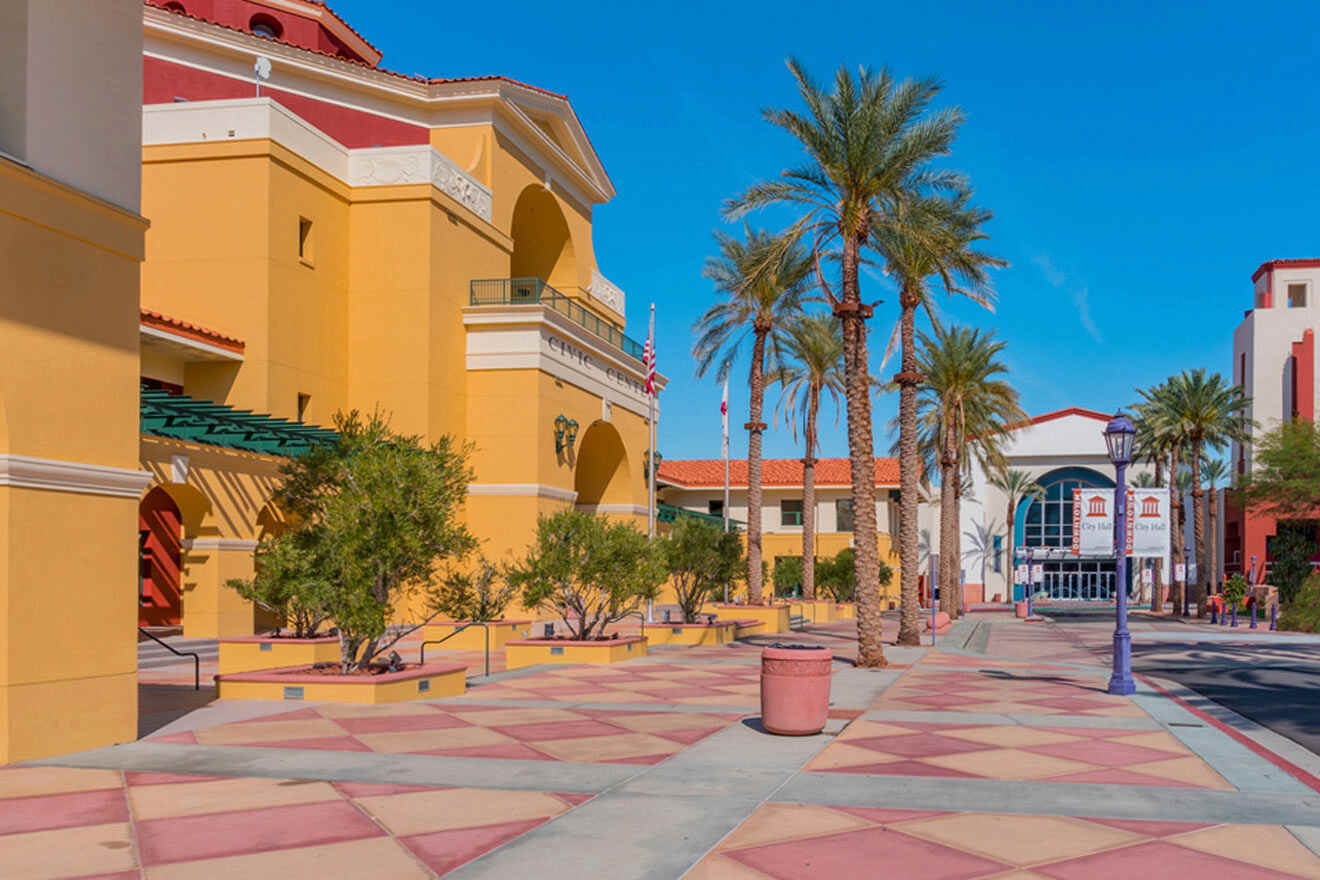 Located less than 15 minutes outside Palm Springs in the Coachella Valley, this cute resort town is nicknamed Cat City. With incredible pools, swanky boutiques, and dreamy spas, Cathedral City is like a mini-Palm Springs. Famous for its annual Cathedral City Hot Air Balloon Festival in the Fall, where decorative balloons fill the sky, this tiny desert oasis is a favorite among travelers in town for music festivals like Stagecoach and Coachella.
PRO TIP: I highly recommend booking any spa appointments in advance.
Getting there: within 15 minutes of your Palm Springs accommodations, plug this one in the GPS.
Where to stay in Palm Springs
Palm Springs is a sun-kissed playground with some of the best accommodations in California. See below for my top recommendations on any budget.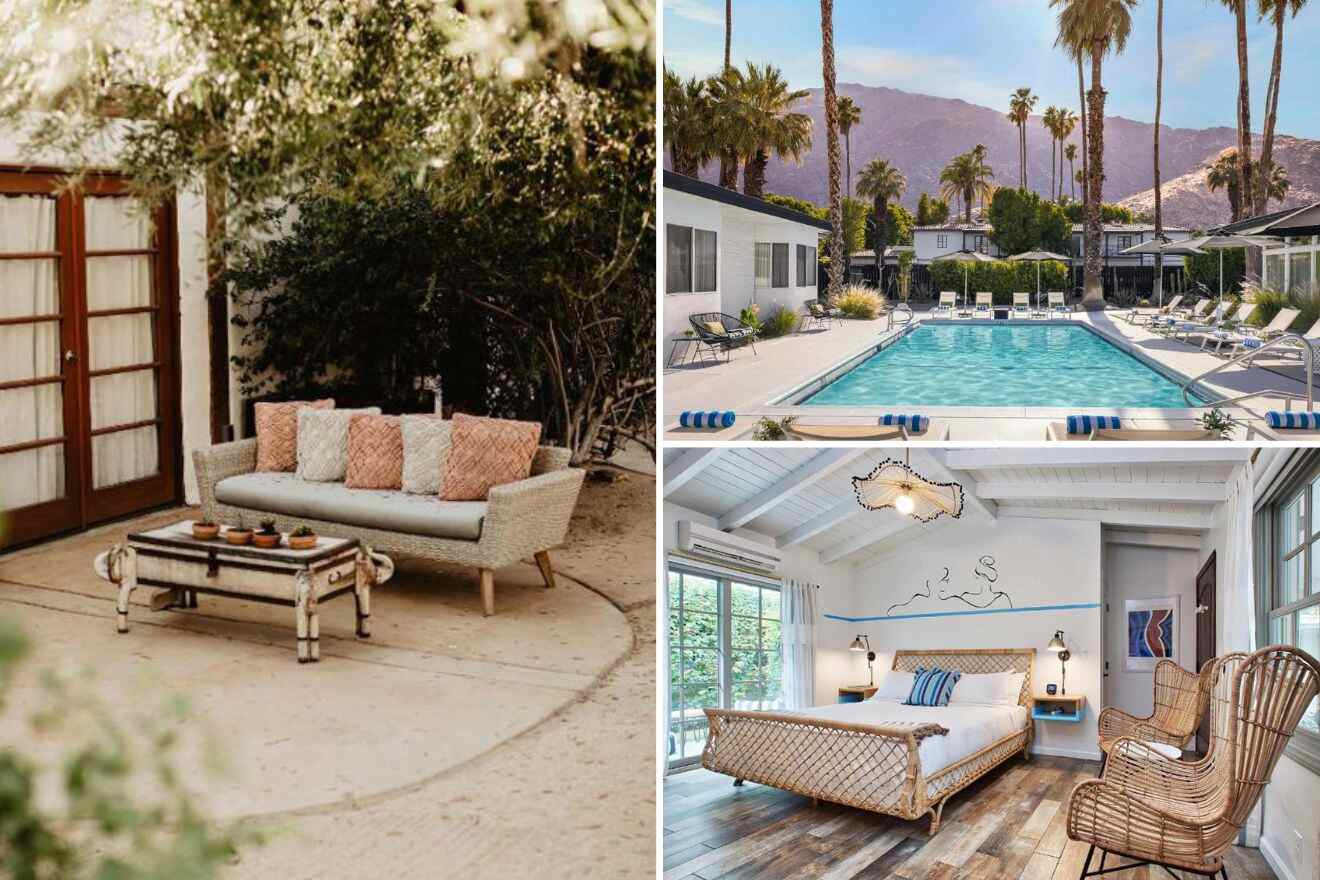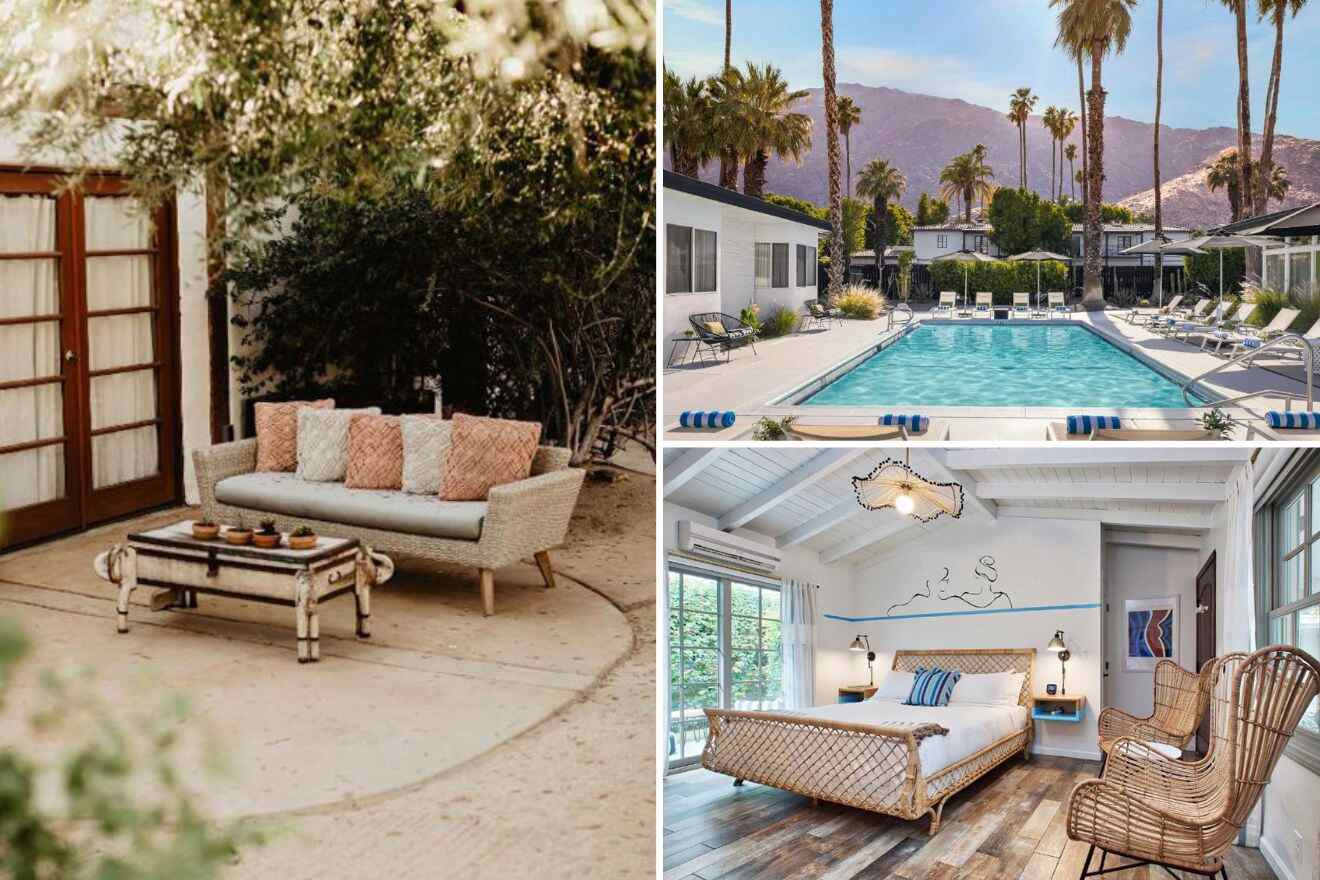 Luxury (US$300 and up)
Korakia Pensione – This Moroccan-inspired hotel is an incredible experience, from the intricately designed suites to the relaxing pool and spa.
The Ritz Carlton Rancho Mirage – Apart from stunning vistas of the Santa Rosa Mountains, this luxury option has a gorgeous pool and impeccable service.
Mid-Range (US$150 – US$300)
Dive Palm Springs – A green, sprawling property with modern, chic guest suites and an on-site pool.
Holiday House Palm Springs – A downtown Palm Springs favorite, this hotel offers accessibility and ambiance.
Budget (up to US$150)
The Paloma Resort – A boutique desert resort just south of downtown with beautiful grounds.
The Three Fifty Hotel – This vibrant 21+ only hotel has comfortable rooms and a huge pool and hot tub area.
FAQs about day trips from Palm Springs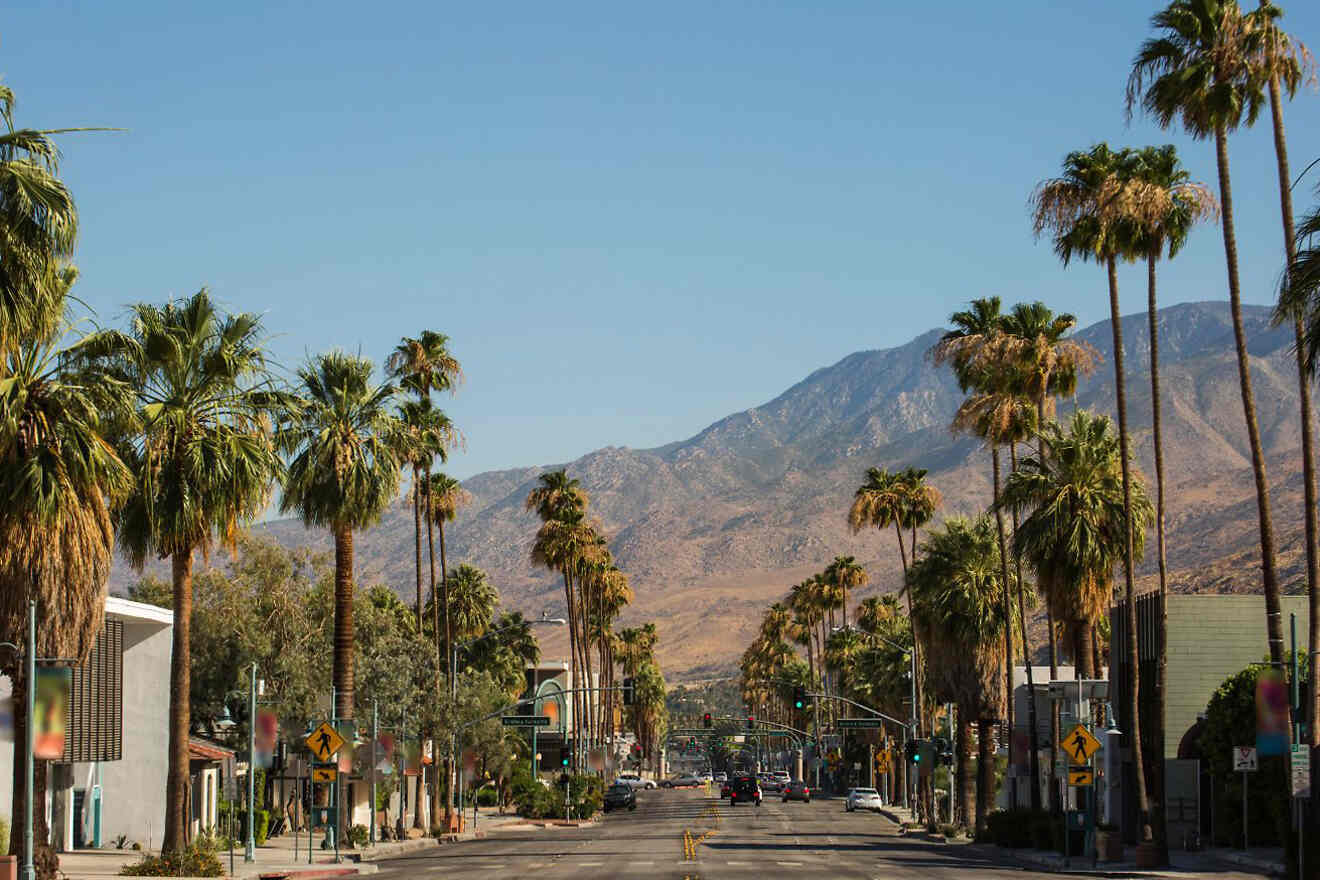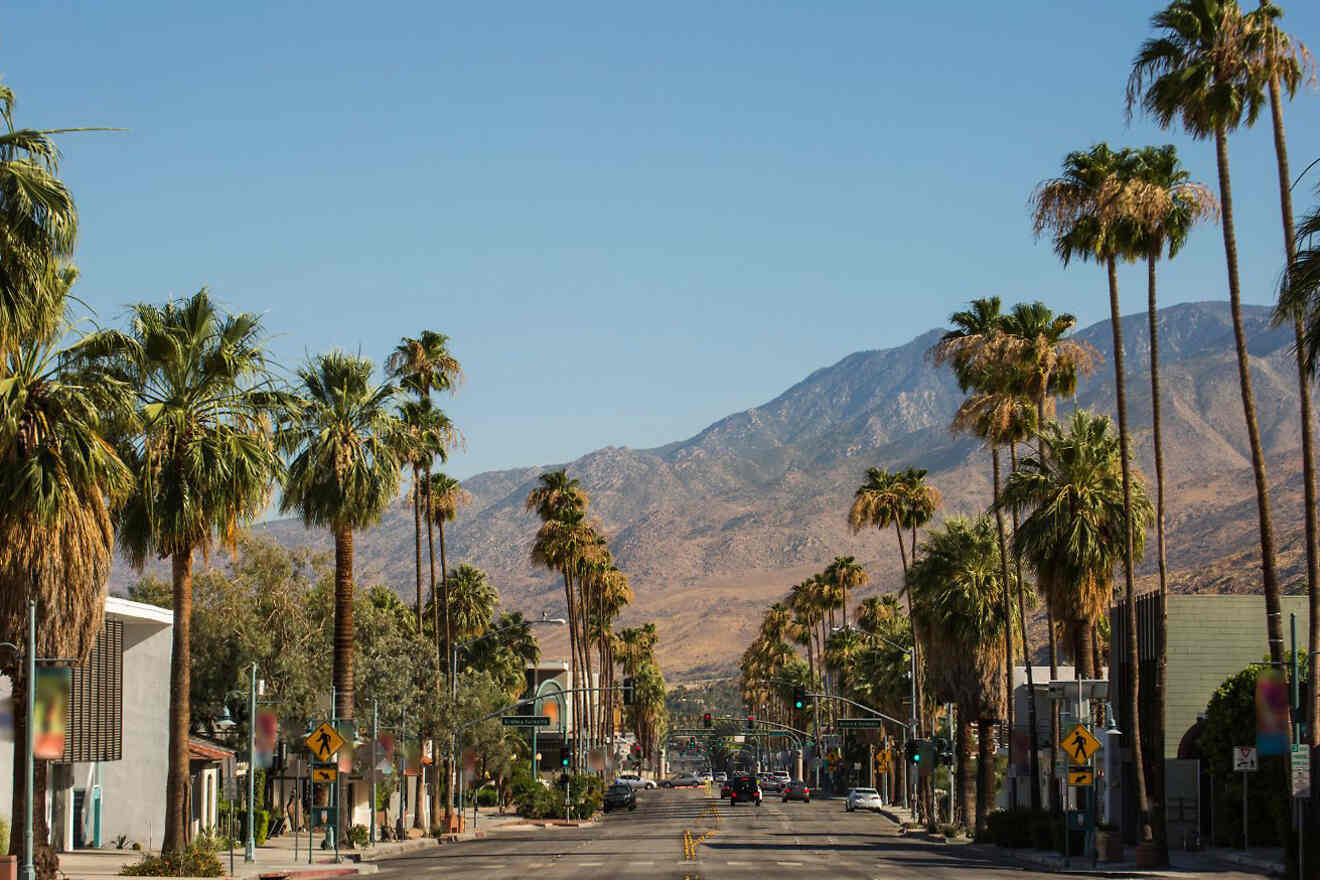 ⭐ How many days should I spend in Palm Springs?
2-3 days are enough time to see the sites and relax by the pool, but build in extra time for all the amazing day trips from Palm Springs.
♥️ What cities are within 2 hours of Palm Springs?
Los Angeles, San Diego, Laguna Beach (Orange County), and Borrego Springs are all within 2 hours of Palm Springs.
🌴 What should I see between San Diego and Palm Springs?
Don't miss Balboa Park, the San Diego Zoo, Mount San Jacinto State Park, and Palms to Pines Highway.
☀️ What are some unique things to do in Palm Springs?
Conclusion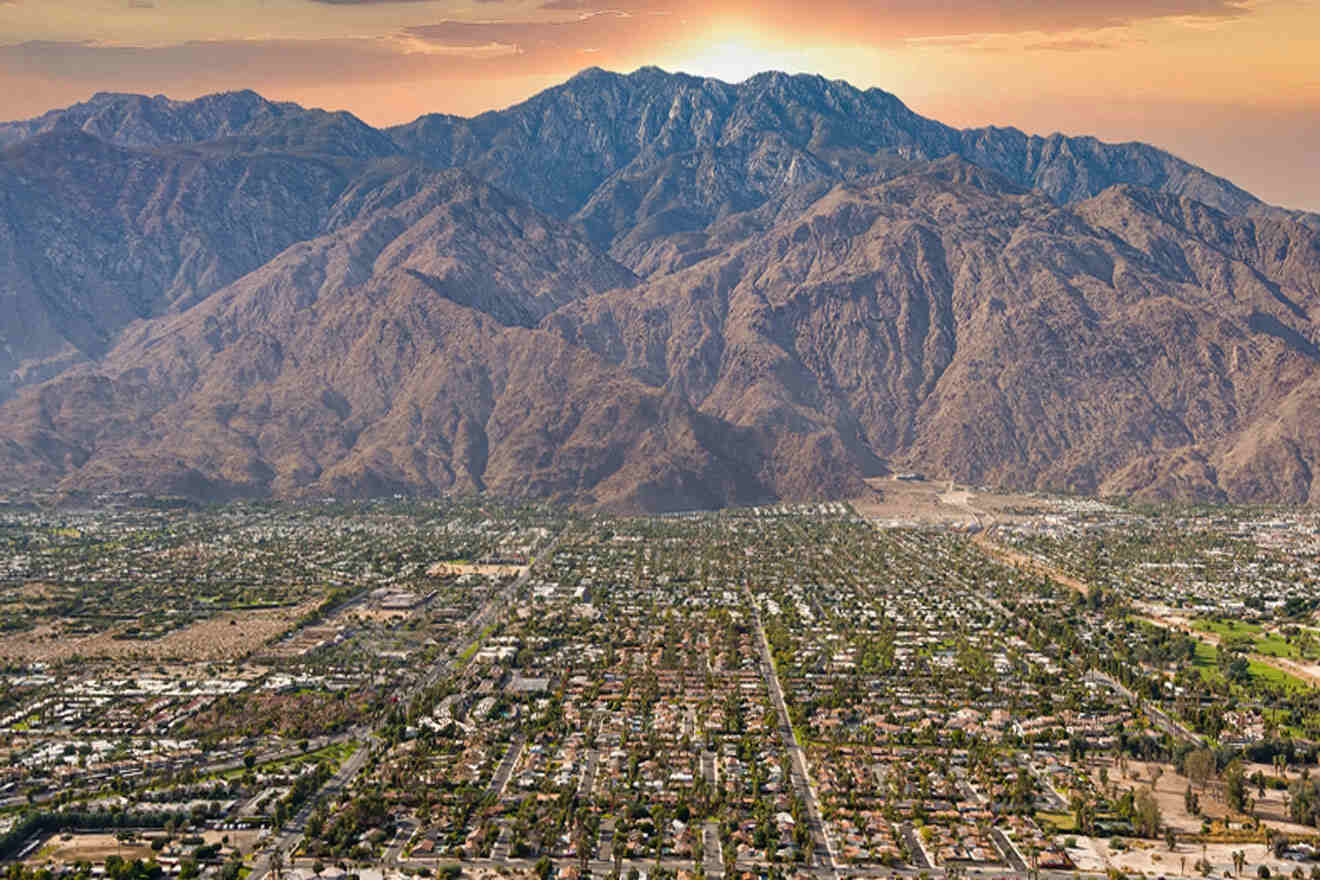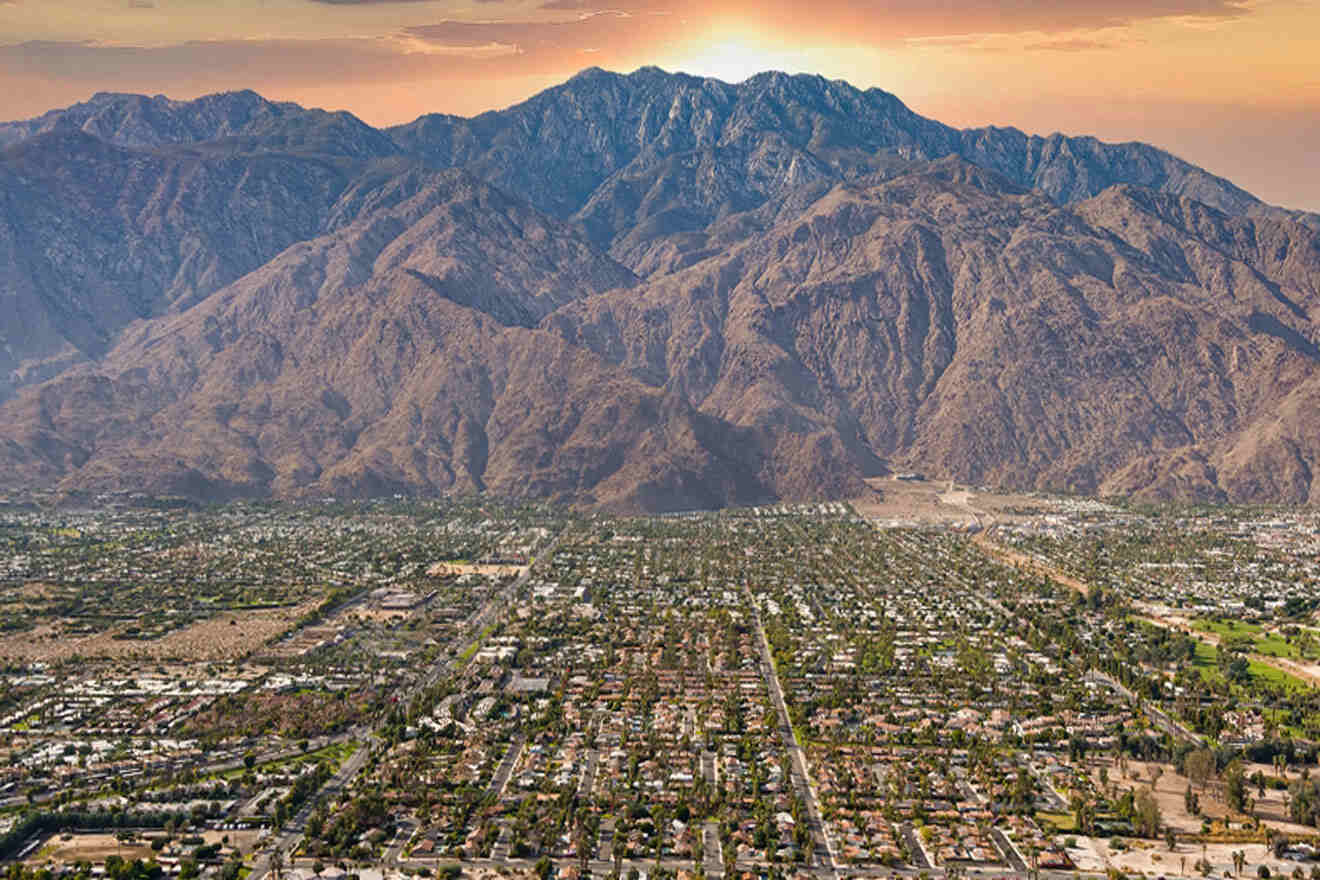 There are so many amazing options for day trips from Palm Springs, from north to south, east to west. Palm Springs provides the perfect base camp for many of the other tourist attractions in southern California, like Joshua Tree National Park, Desert Hot Springs, Lake Arrowhead, San Diego, and so much more.
Since you'll be tight for time and trying to fit as much in as possible on your day trips from Palm Springs, make sure to book your priority tours in advance! Enjoy your adventures.
Please feel free to leave a comment and let me know your favorites and why!
Aloha & safe travels,
Hayden Goldberg
---
Pin it for later!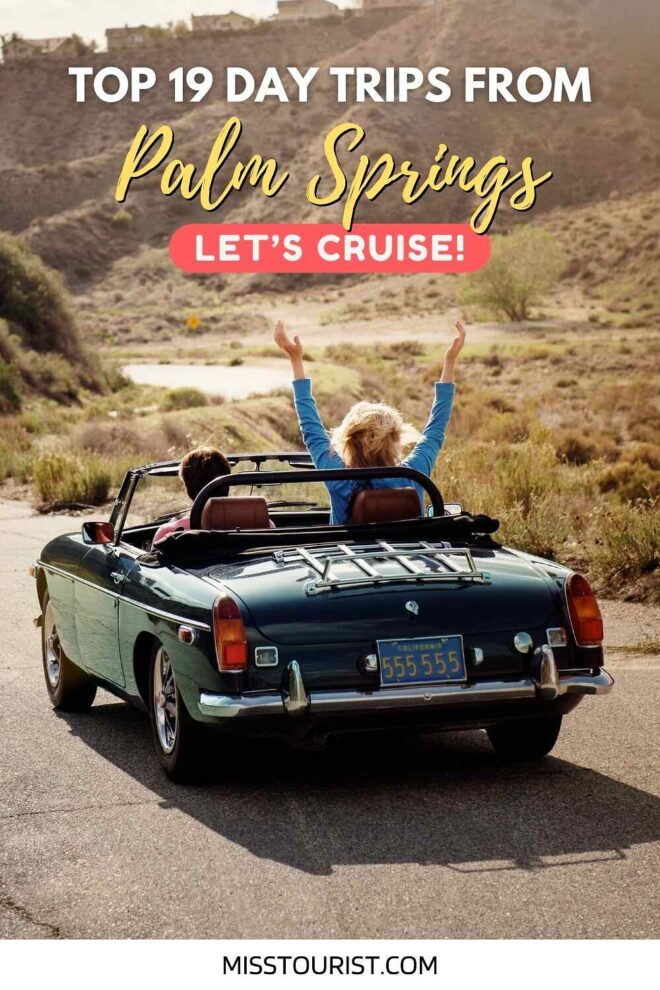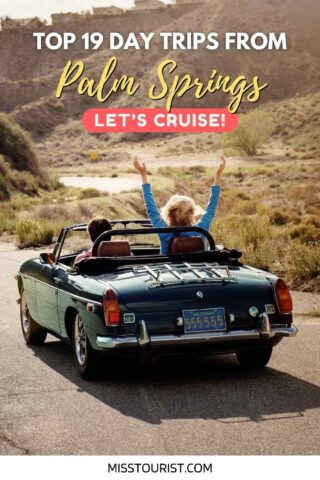 Pin it for later!