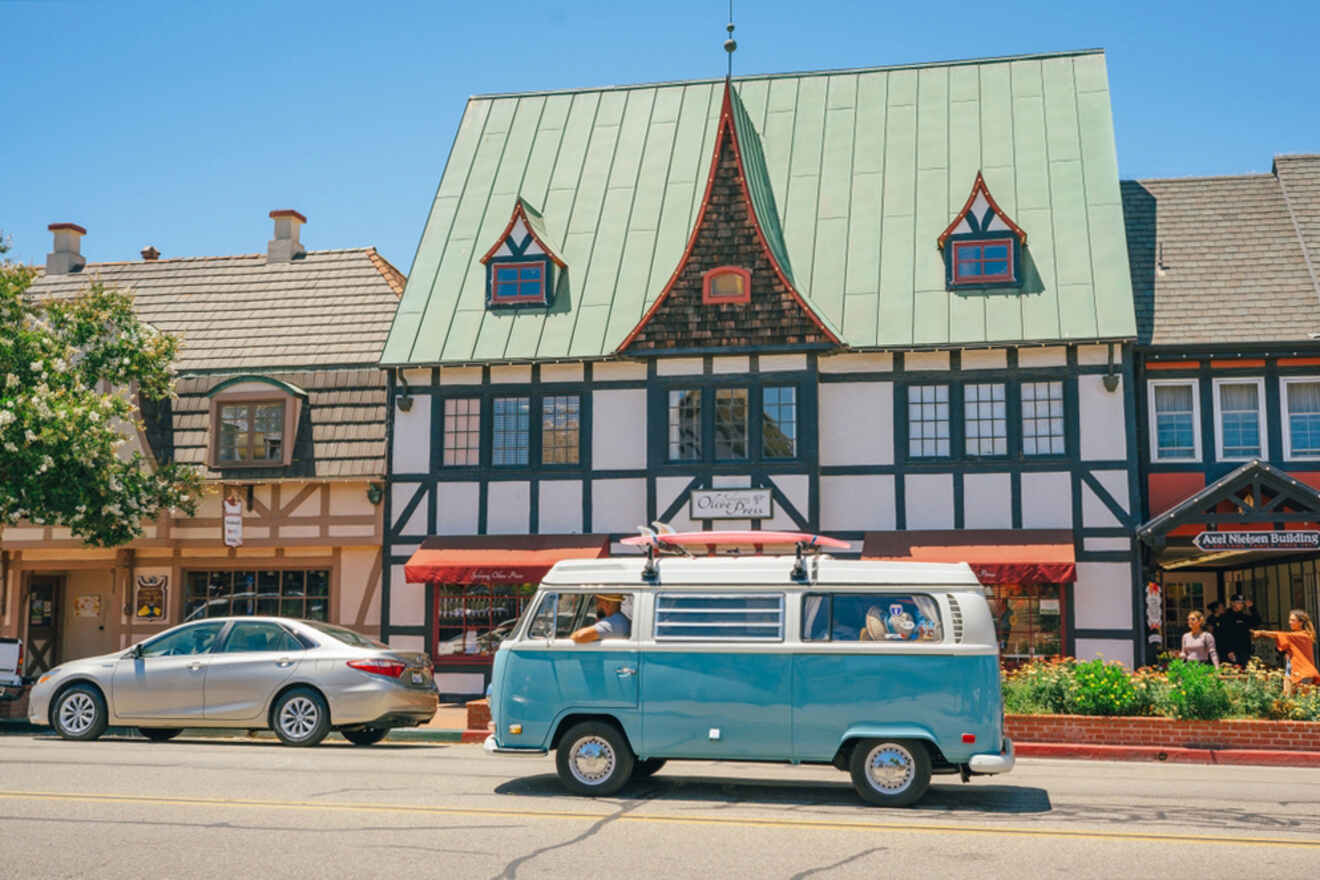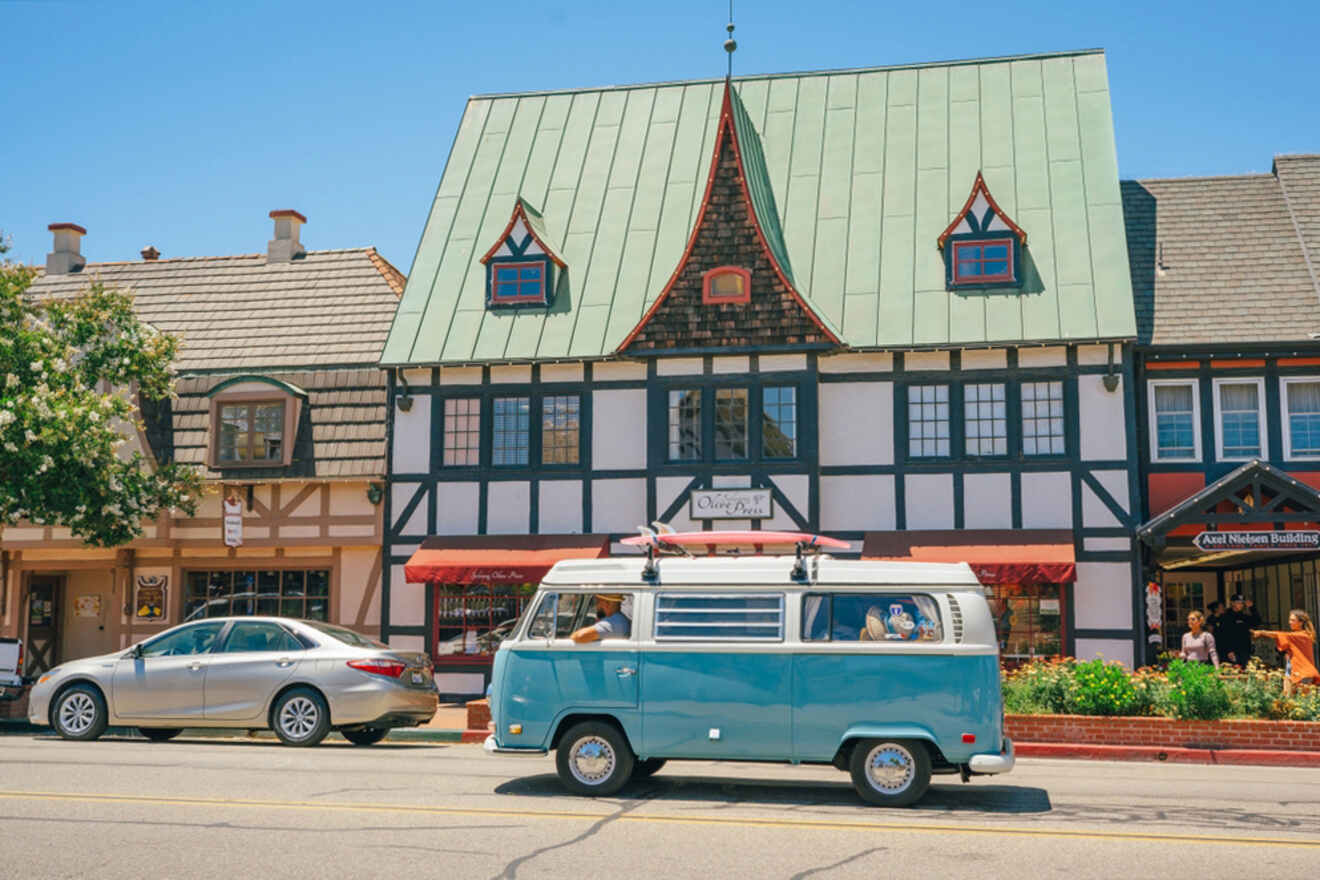 Santa Barbara, sandwiched between San Francisco and Los Angeles, is a stunning central California city with a pristine coastline and incredible mountain ranges.
As a San Diego gal, I've spent years going on Santa Barbara day trips, and I'm here to give you the skinny.
You'll love the mixture of these trips: sightseeing in coastal cities, rugged cliffside hikes, to wine tastings in the Santa Ynez Valley.
But before we embark on this adventure, here's a friendly tip: make sure to book your activities and hotels in advance. With the popularity of the central coast of California, you wouldn't want to miss out on securing the best deals!
Grab your day pack, and let's set out for an incredible journey beyond Santa Barbara! 💃
If you are in a hurry
Santa Barbara and the surrounding towns are stunning and popular, and if you're pressed for time, take a peek at my top 3 favorites.
Here are the main things to book in advance:
And here are the best hotels: El Encanto, A Belmond Hotel (luxury), Simpson House Inn (mid-range), Castillo Inn at the Beach (budget)
Santa Barbara and its surrounding areas can stretch out pretty far, so I've included a map to help you get your bearings. All distances are recorded from Santa Barbara as a starting point.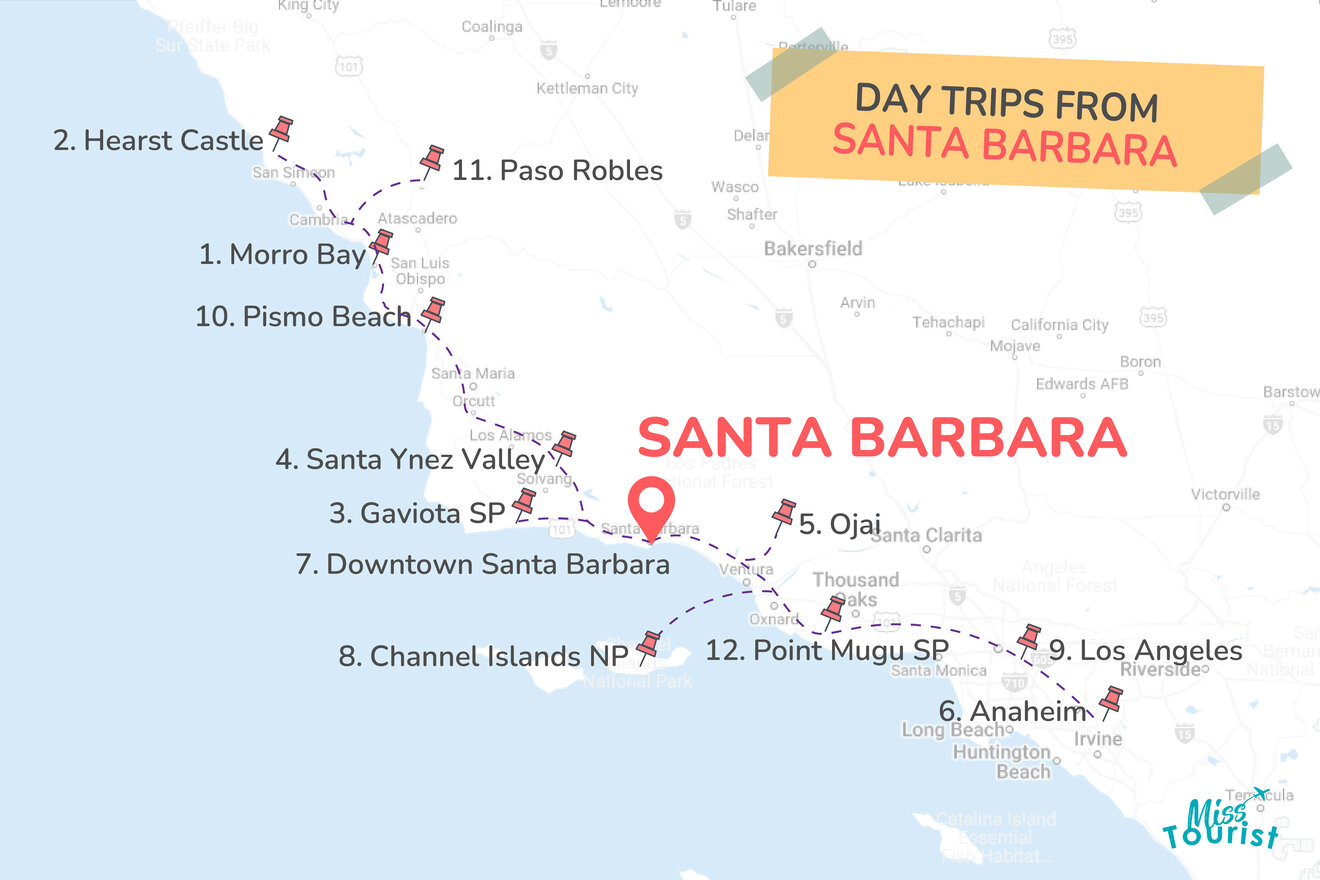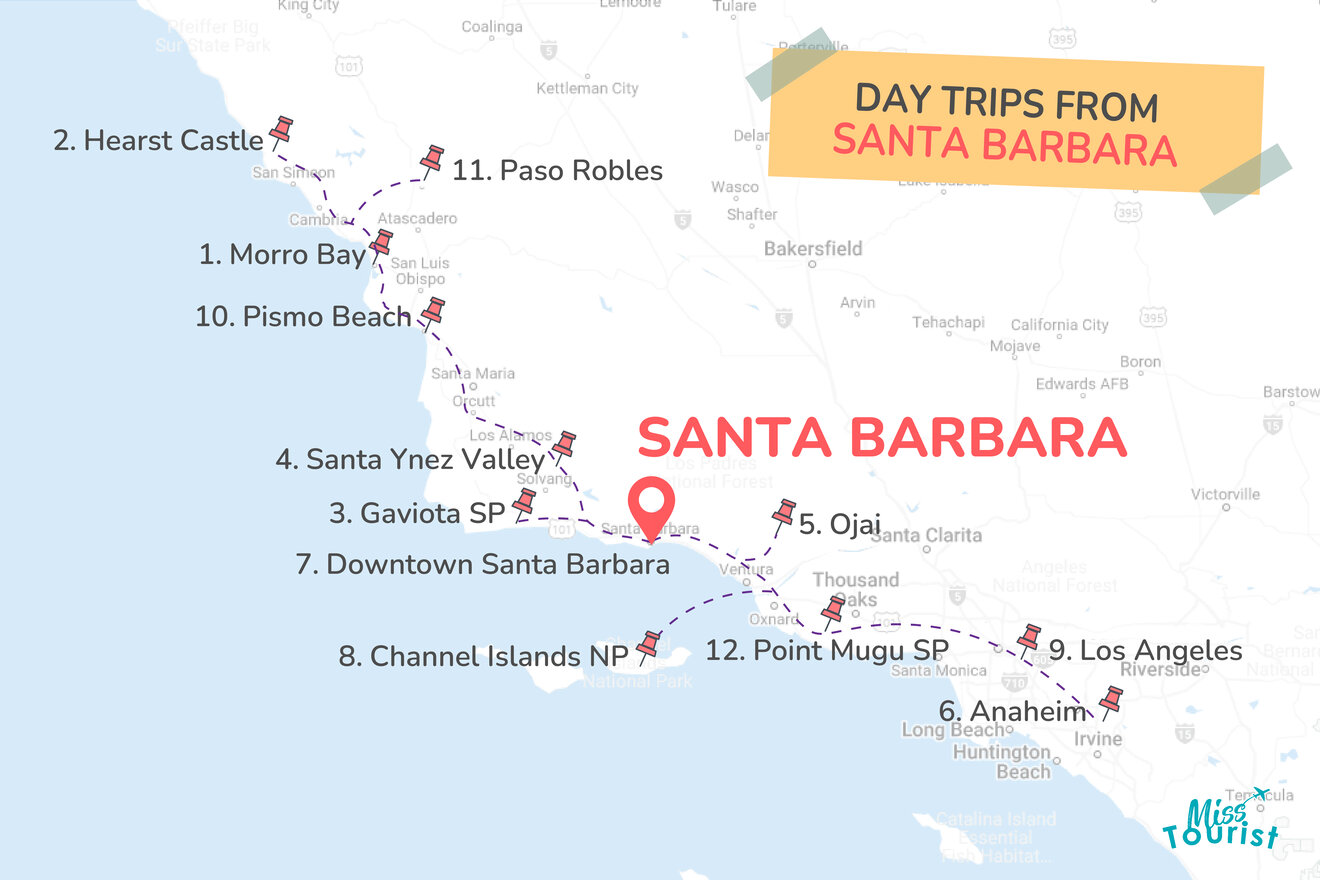 1. Marvel at nature in Morro Bay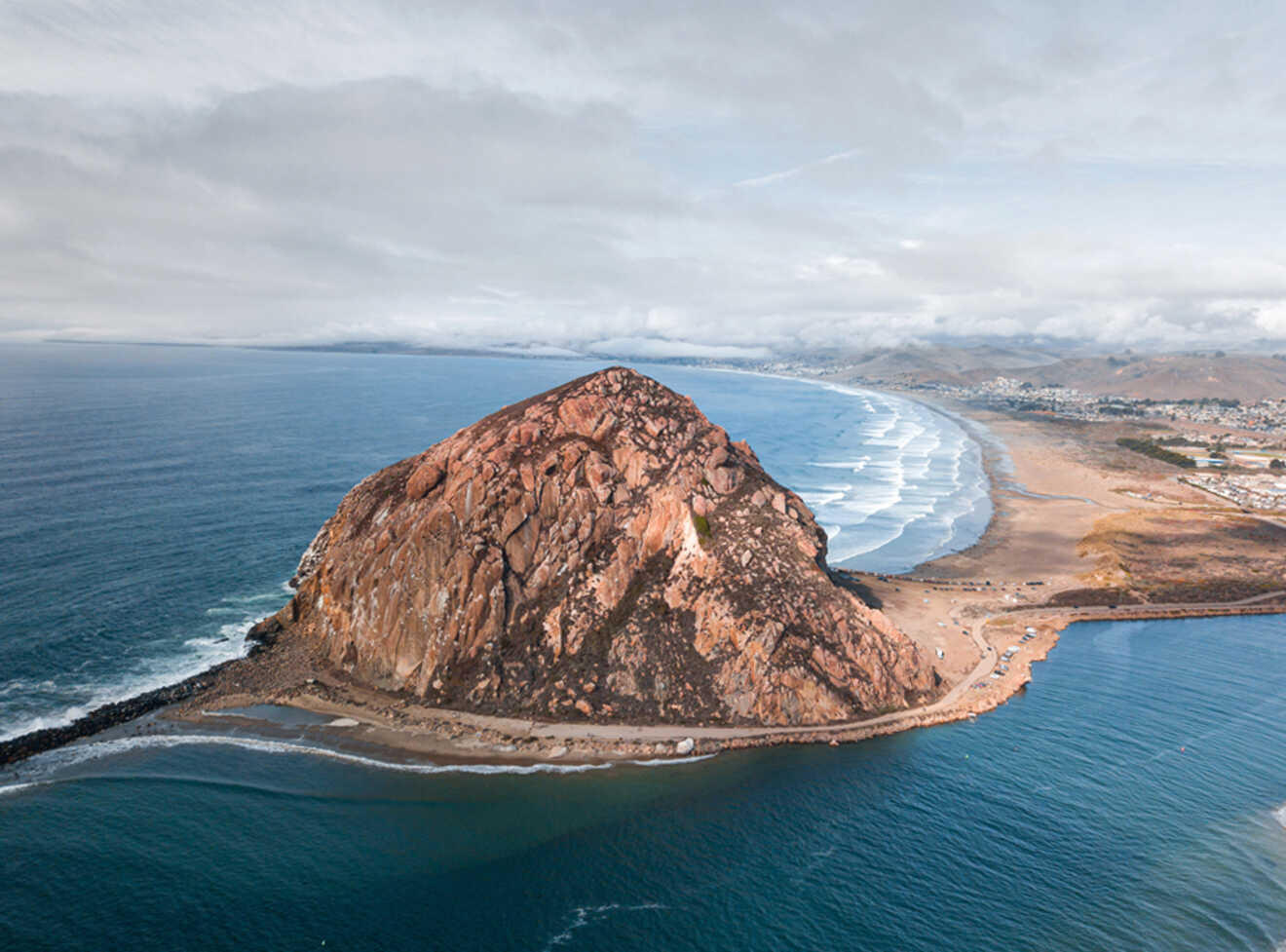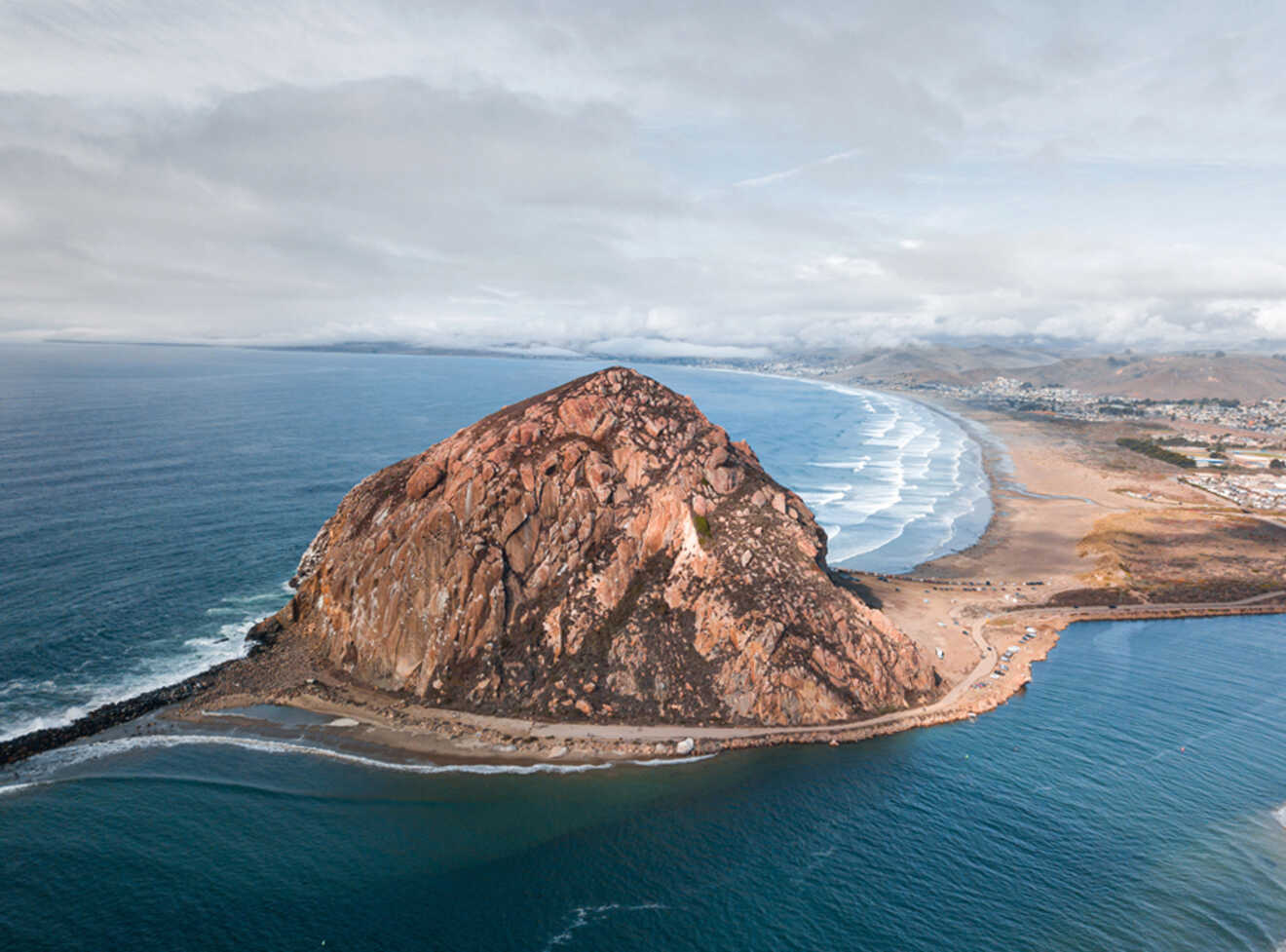 At 2 hours drive away, Morro Bay is one of my favorite trips from Santa Barbara. This coastal town offers a captivating blend of beautiful nature, coastal charm, and a laid-back atmosphere. Its stunning rock formation, scenic vistas, and abundant outdoor activities are the main reasons I love this day trip from Santa Barbara.
Try combining land & sea for the ultimate 3-hour experience of kayaking and hiking overlooking the famous Morro Rock at Morro Bay State Park or touring the area on speedy e-bikes.
Make a reservation for sunset at Tognazzini's Dockside Restaurant and indulge in fresh seafood while enjoying an epic sunset over Morro Rock, and if you choose to make it a full day, stay at Hampton Inn.
The most convenient way to get here is by car, taking Highway 101 North. If you don't have one, rental cars are a viable option.
2. Get lost in the history of Hearst Castle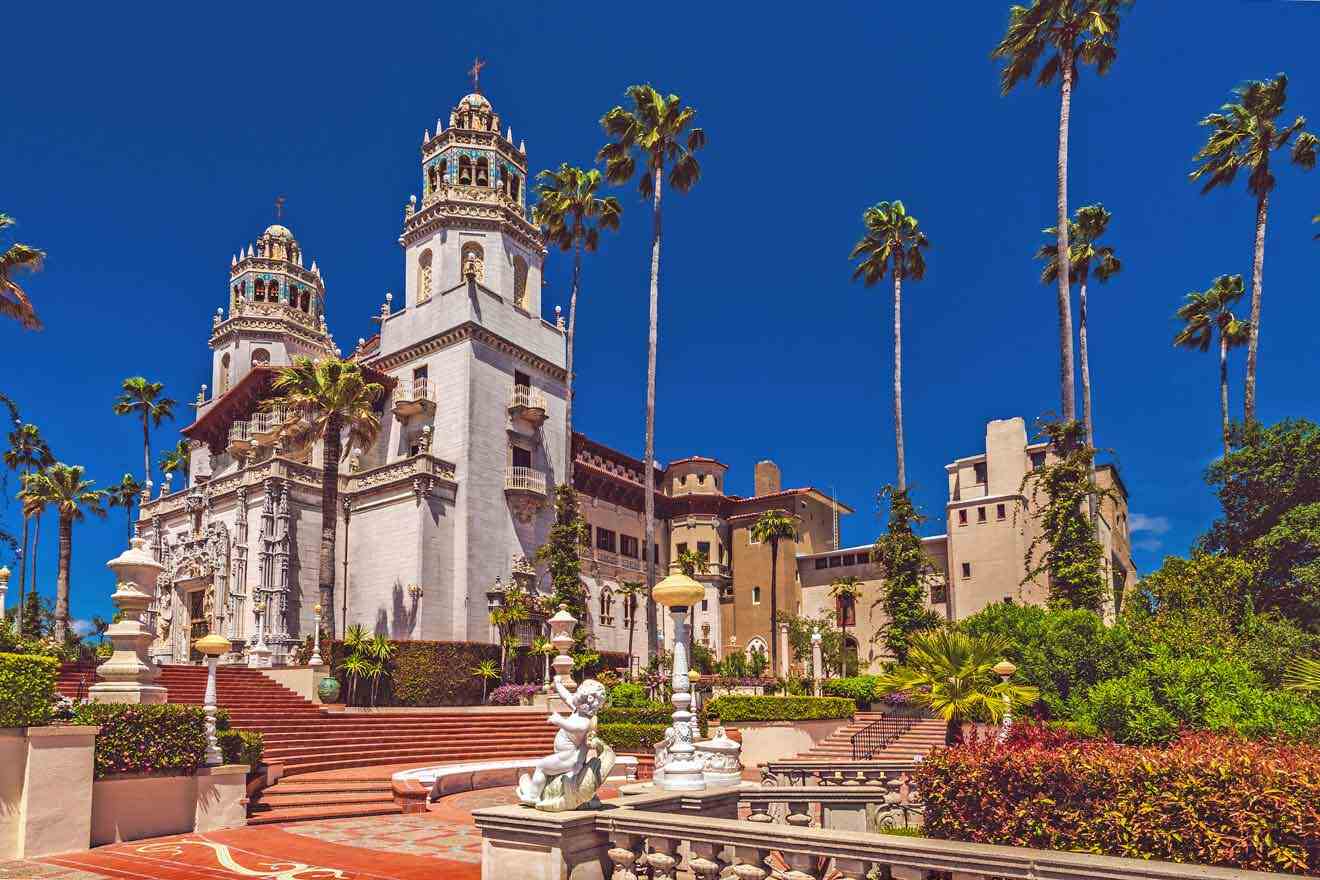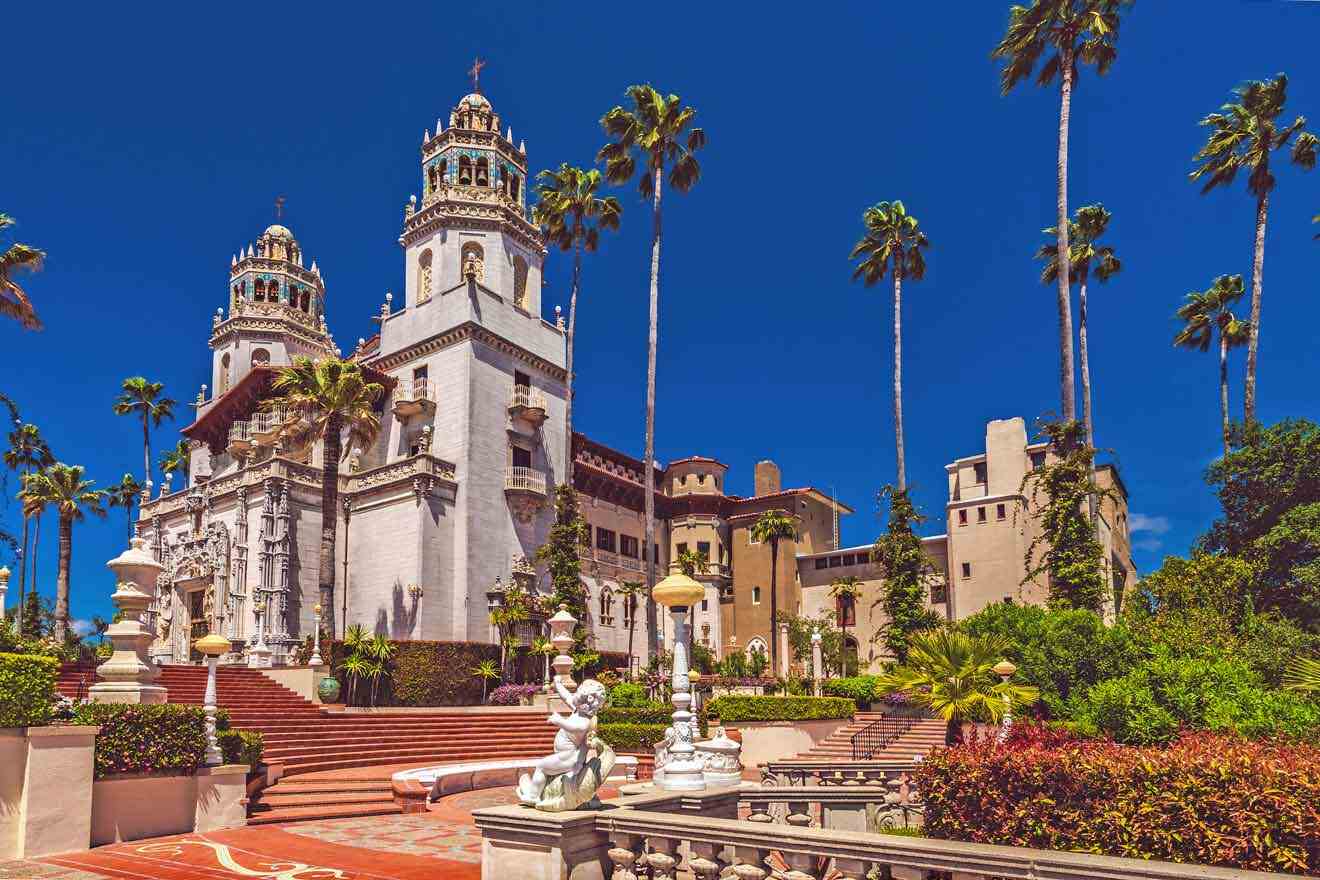 This is one of the day trips from Santa Barbara that I never miss and is only a 2.5-hour drive away. Hearst Castle, in San Simeon, sits majestically on top of lush green hillsides overlooking the Pacific Ocean and makes for a romantic day trip for couples.
A magnificent mansion built by newspaper titan William Randolph Hearst, Hearst Castle is grand and iconic constructed between 1919 and 1947. It showcases a blend of Mediterranean Revival and Spanish Colonial Revival architectural styles, featuring opulent interiors and sprawling gardens.
Hearst Castle sells out of tickets consistently, so book in advance!
PRO TIP: For a more VIP experience, book the Upstairs Suites Tour that will get you access to the most private rooms and areas occupied by past guests and celebrities.
PRICE: from US$30 per person
3. Explore the beauty of Gaviota State Park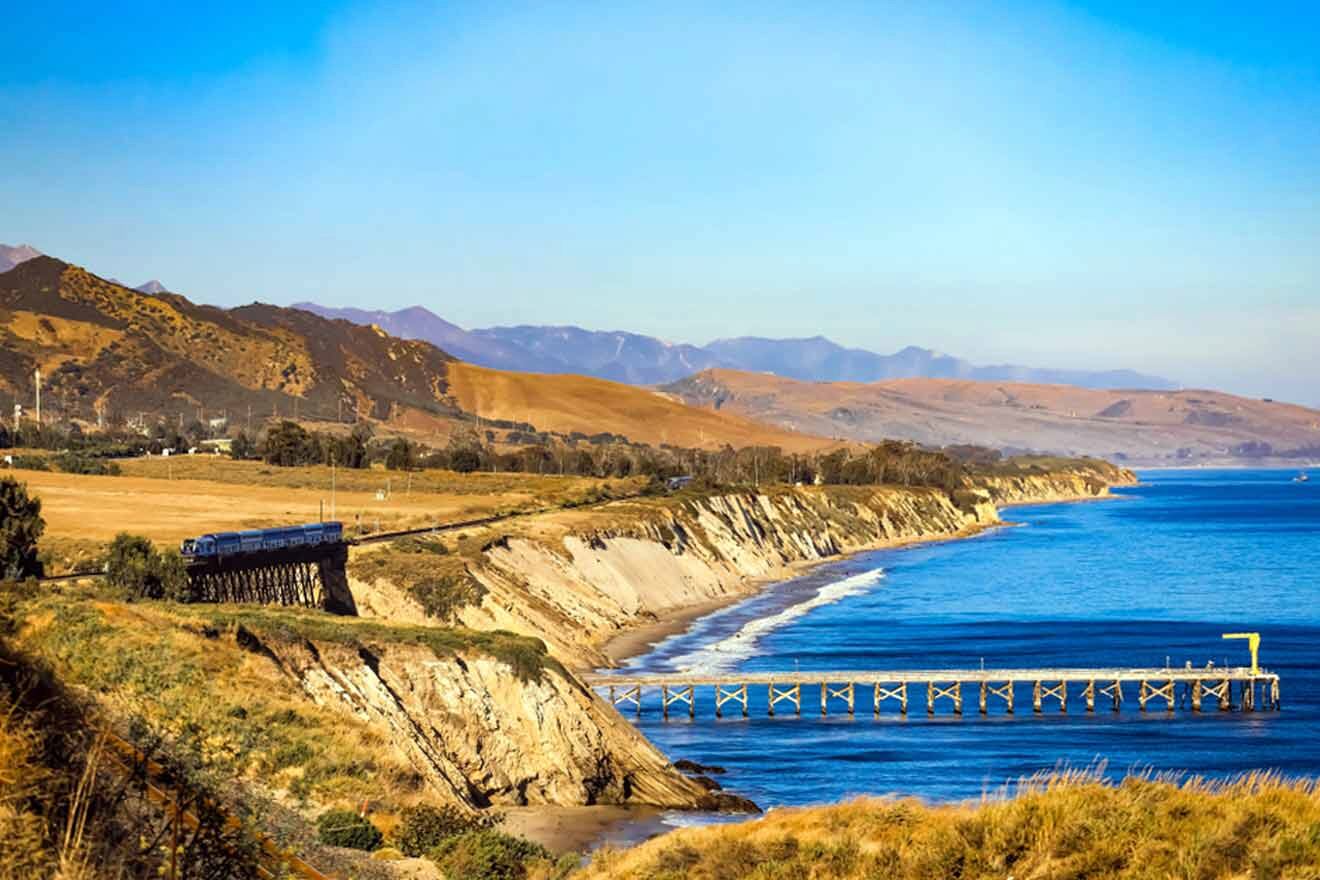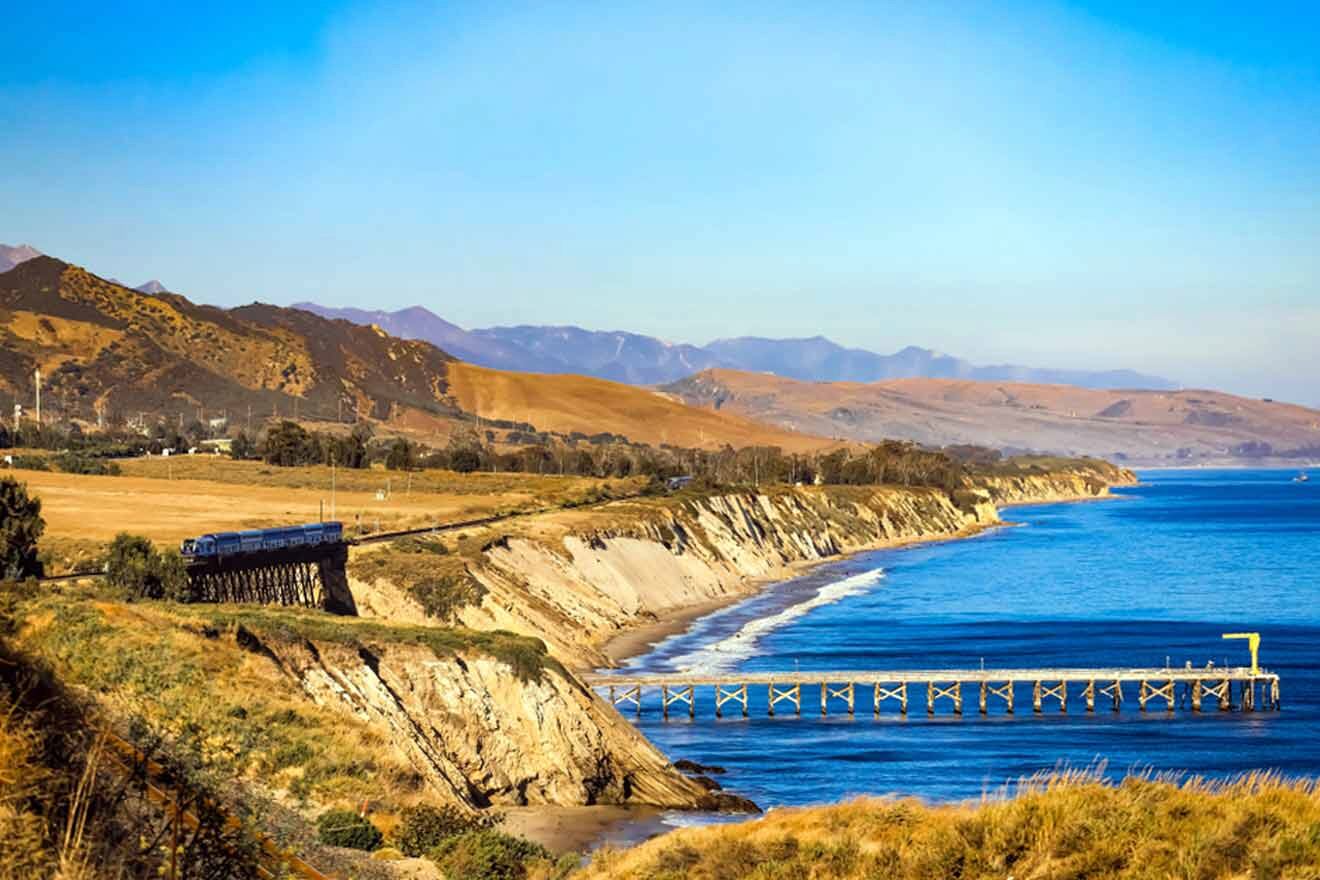 One of the most awesome day trips from Santa Barbara, Gaviota State Park has an unspoiled coastline, pristine beaches, and rugged hiking trails, offering a serene retreat from the city. It's only a 35-min drive from Santa Barbara and is the perfect day trip for nature lovers, solo travelers, and adventurers.
Explore the sandy shores, go for a refreshing swim, or hike the Gaviota Peak Trail for a challenging experience that will lead you to breathtaking views of the Pacific Ocean and natural hot springs pools!
NOTE: As of January 2023, Gaviota State Park has been closed due to extreme weather conditions in the area; they hope to re-open soon.
PRICE: US$10 per vehicle
4. Delight in the beauty and flavors of Santa Ynez Valley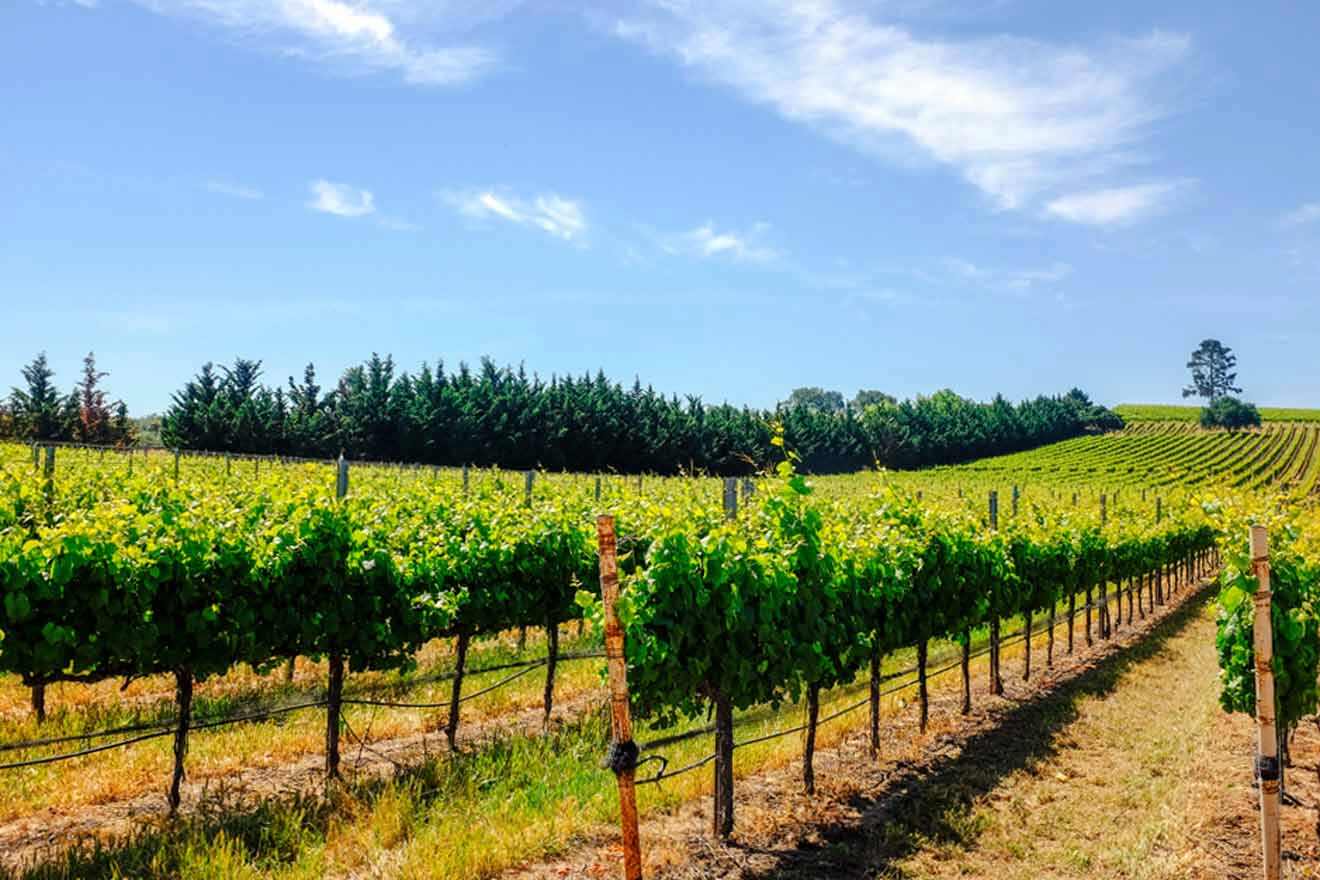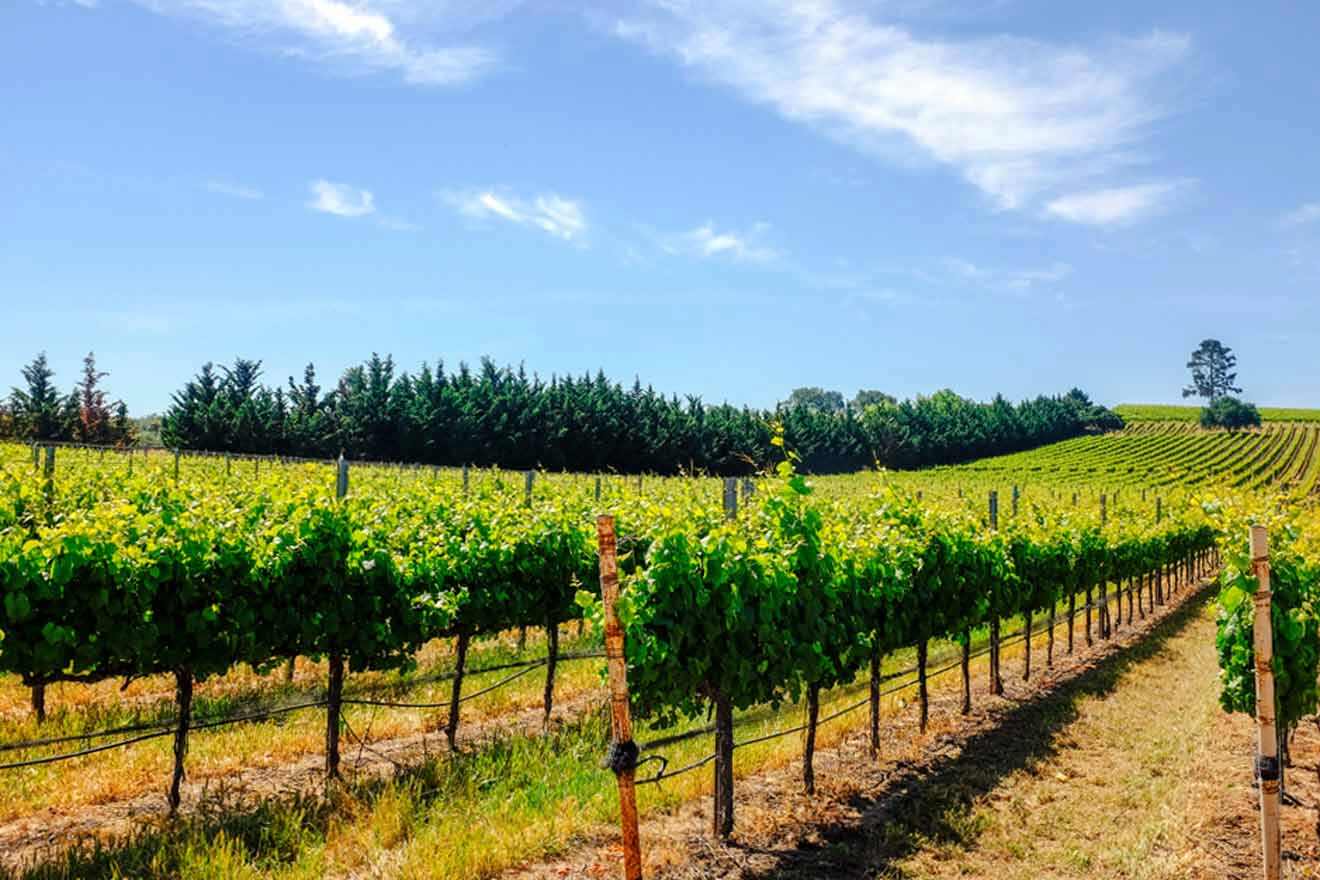 Did somebody say wine? The Santa Ynez Valley is renowned for its world-class wineries and breathtaking, unique surrounding towns, and it's only a 35-min drive from Santa Barbara.
4.1 Take a wine-tasting tour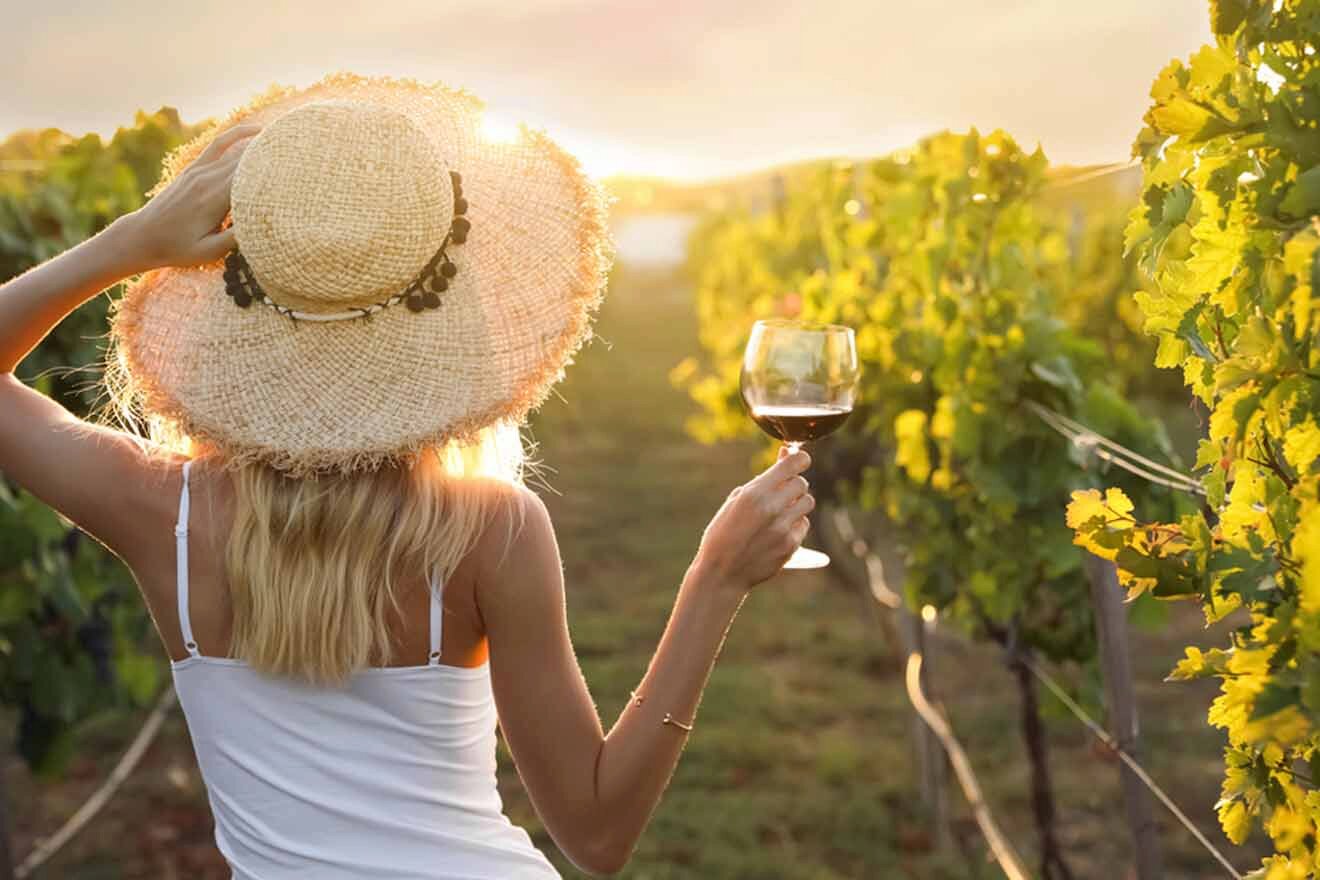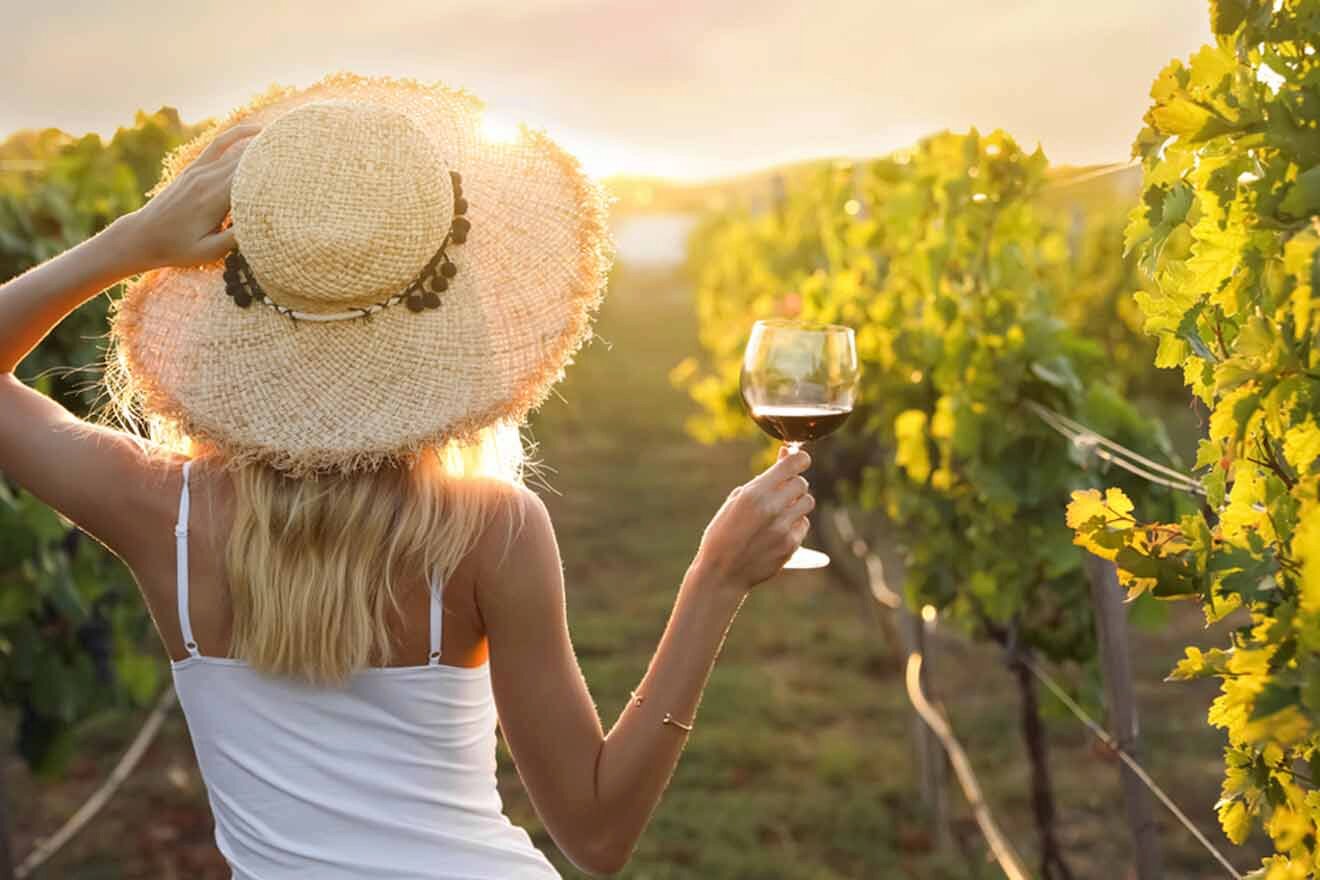 The 2004 film Sideways, which follows 2 friends on a wine-tasting road trip through California's wine country, helped to put Santa Ynez on the map!
With its picturesque vineyards and wineries overlooking the Santa Ynez Mountains, visitors can sample a diverse range of wines, from elegant Chardonnays to robust Syrahs.
PRO TIP: It's no fun going wine tasting and being the designated driver. Book an incredible VIP wine-tasting tour and sit back and relax!
TOUR PRICE: from US$215 per person
4.2 Visit the Danish-inspired town of Solvang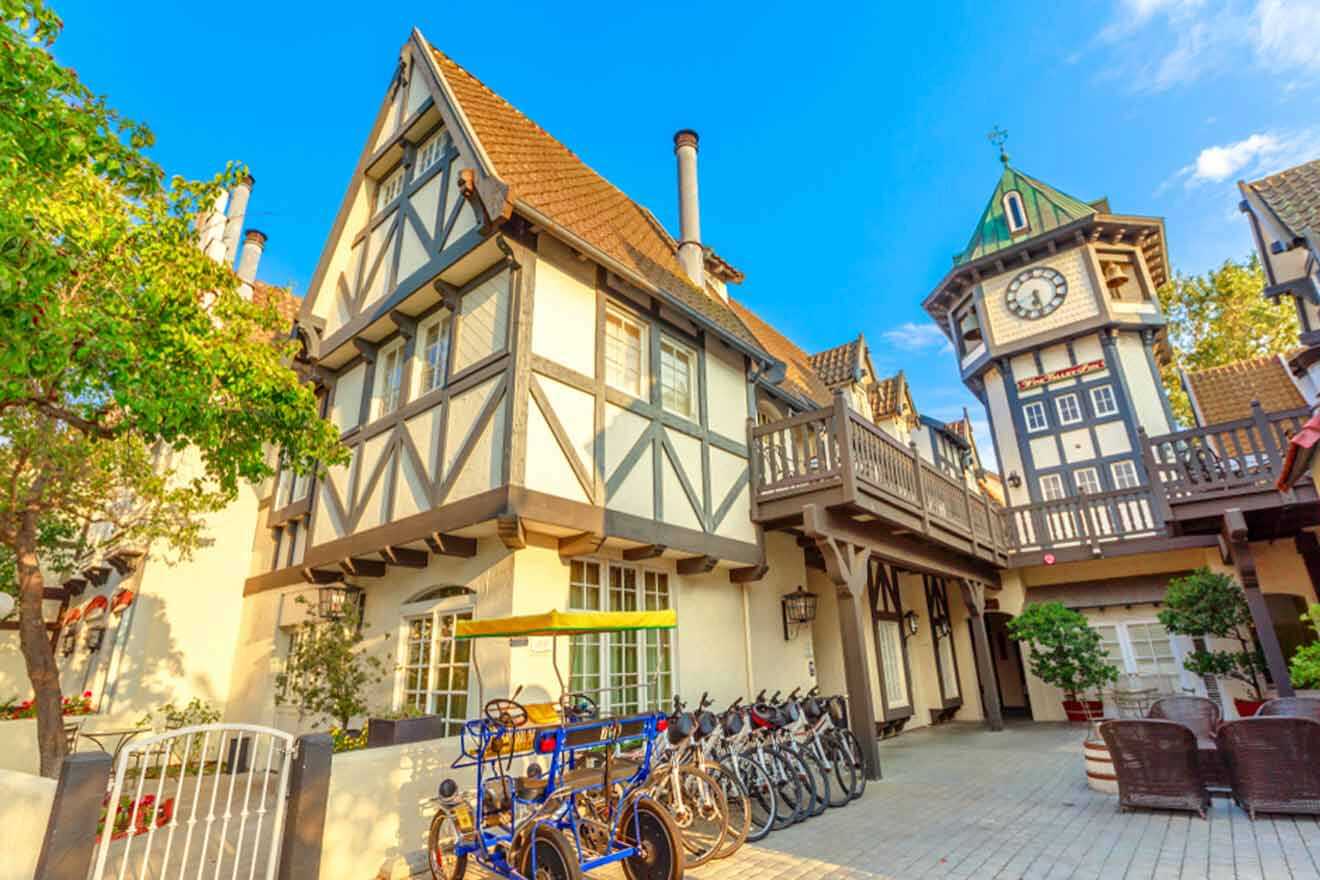 The town was founded in 1911 by a group of Danish immigrants who sought to establish a community reminiscent of their homeland.
This day trip from Santa Barbara will transport you all the way to Denmark with this stunning, little Danish-inspired town. You'll be captivated by the charming windmills, half-timbered buildings, delicious vineyards, and colorful storefronts.
Visit the Old Mission Santa Ines, a historic landmark showcasing Spanish Colonial architecture. If you're a literature buff, don't miss the Hans Christian Andersen Museum, which pays tribute to the renowned Danish author.
PRO TIP: If you get a chance, visit during the Christmas season. Solvang is super festive and even holds its own Christmas markets, like in Europe.
If you want to spend more time experiencing "Little Denmark," try this incredible Solvang food and wine tour.
TOUR PRICE: from US$155 per person
4.3 Take in the natural splendor of Los Padres National Forest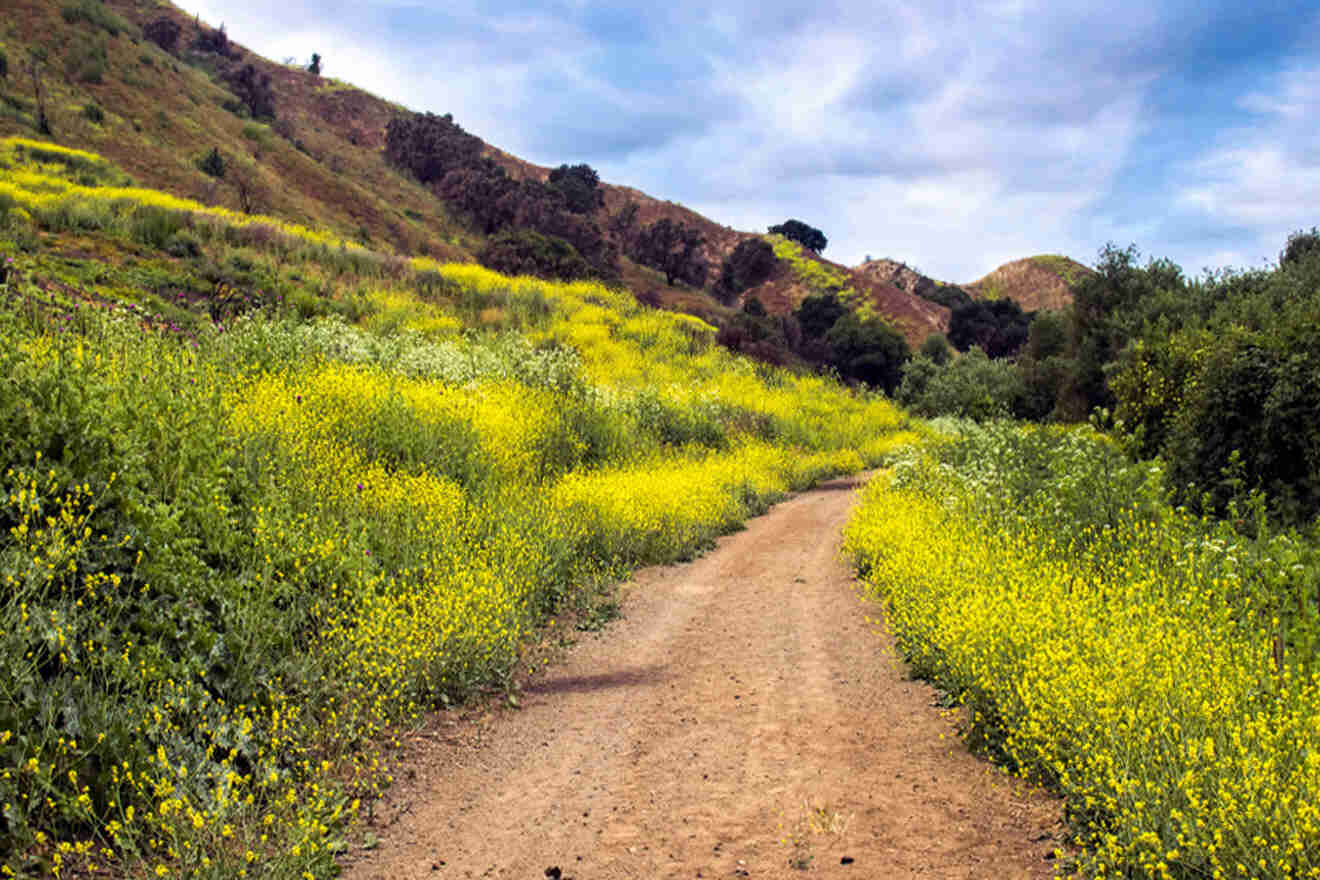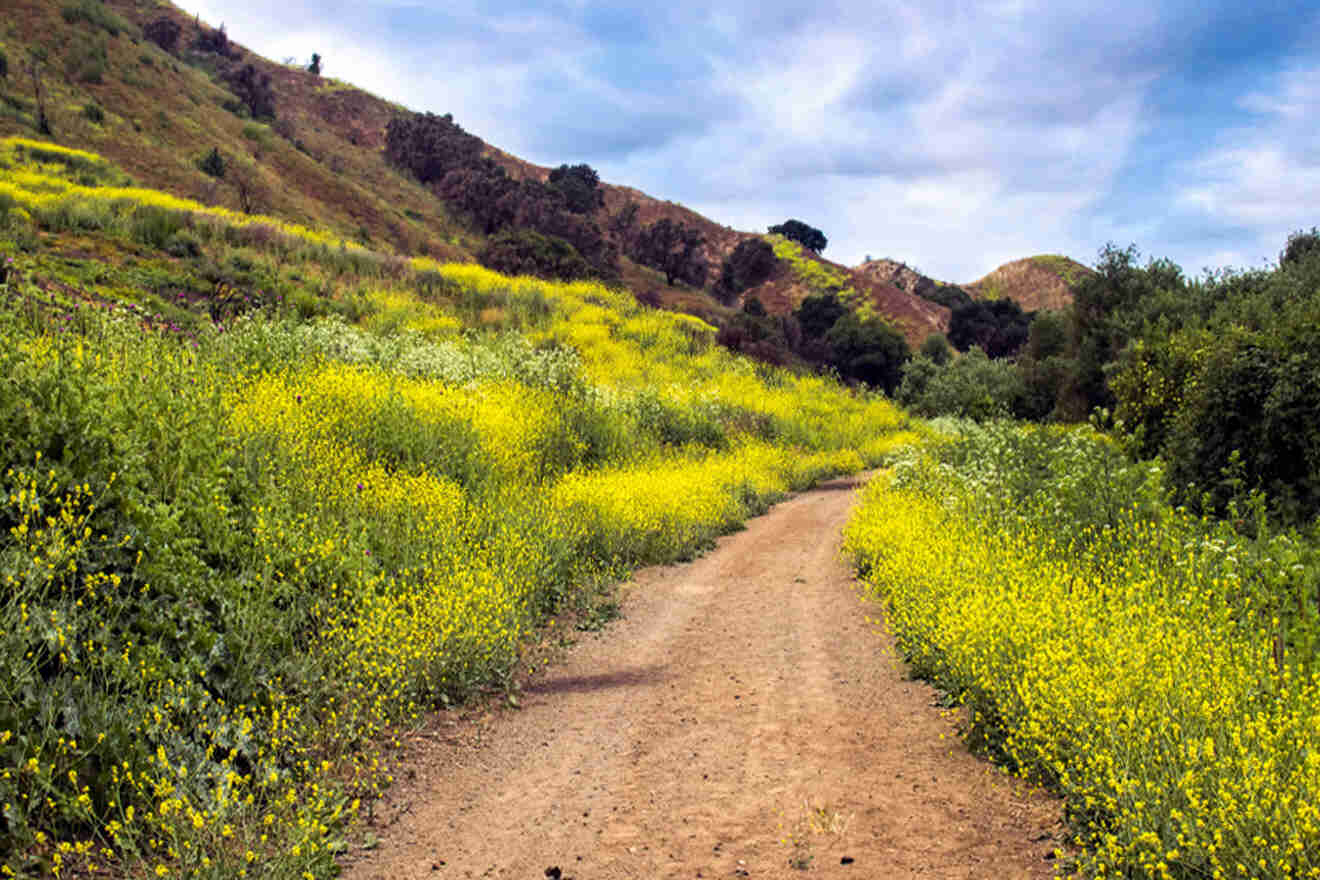 Los Padres National Forest encompasses approximately 1.75 million acres (7,080 km²) of land, making it one of the largest national forests in California.
Los Padres National Forest is a stunning and vast stretch of wilderness waiting to be explored.
Enjoy a scenic picnic lunch, swim in some of the forest's beautiful lakes and rivers, or hike one of the many trails with spectacular scenery.
If you like hiking, Santa Barbara Botanic Garden Loop Trail at Los Padres National Forest with app. 1.3 miles (c. 2 km) offers an easy stroll through the beautiful botanical garden.
PRICE: US$10 per vehicle
5. Relax and rejuvenate in Ojai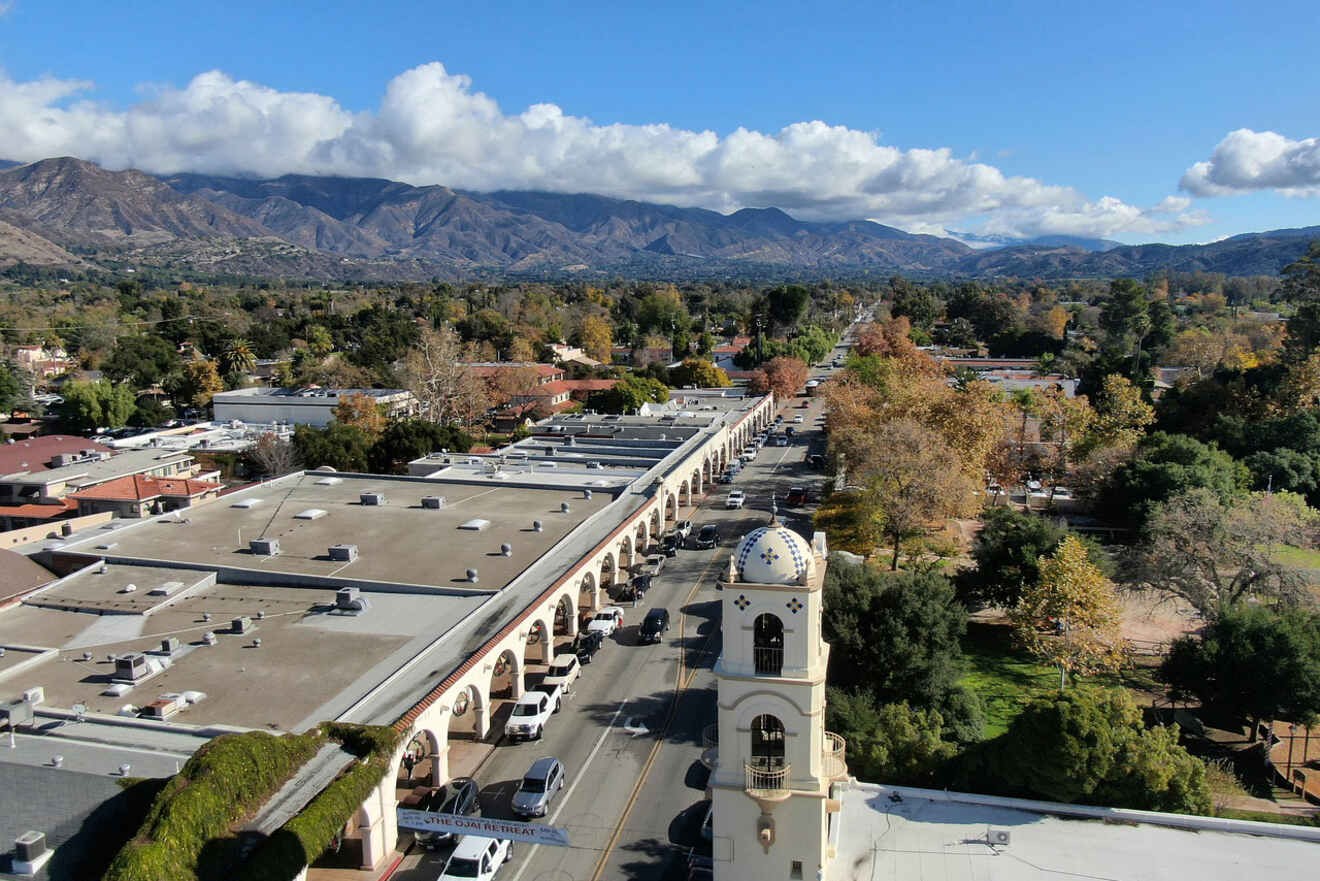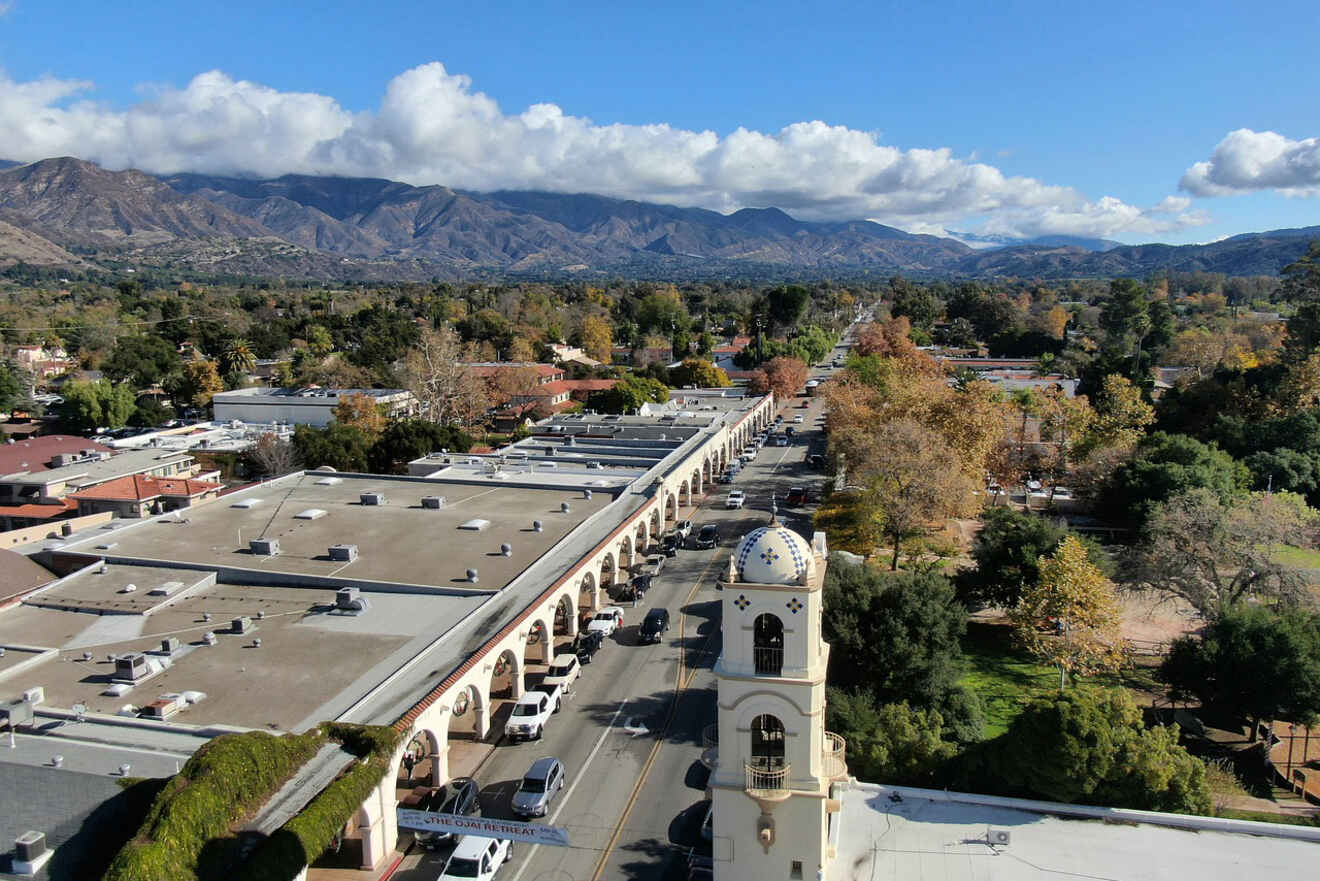 As a yoga instructor and wellness advocate, Ojai is one of my favorite fun day trips that's only 50 minute's drive away! Ojai's main draw is its serene and rejuvenating atmosphere, filled with day spas, resorts, and peaceful surroundings.
Explore the quaint downtown area, filled with art galleries, boutique shops, and local eateries, or pop into the Ojai Valley Museum for the region's local history. Alternatively, take a stroll through Libbey Park, known for its beautiful oak trees and art sculptures.
If you love to bike, check out the Ojai Valley Trail, a scenic biking and walking path stretching from downtown Ojai to Ventura.
PRO TIP: Treat yourself to a whole weekend of luxurious self-care by staying overnight at the Ojai Valley Inn.
6. Visit the theme parks of Anaheim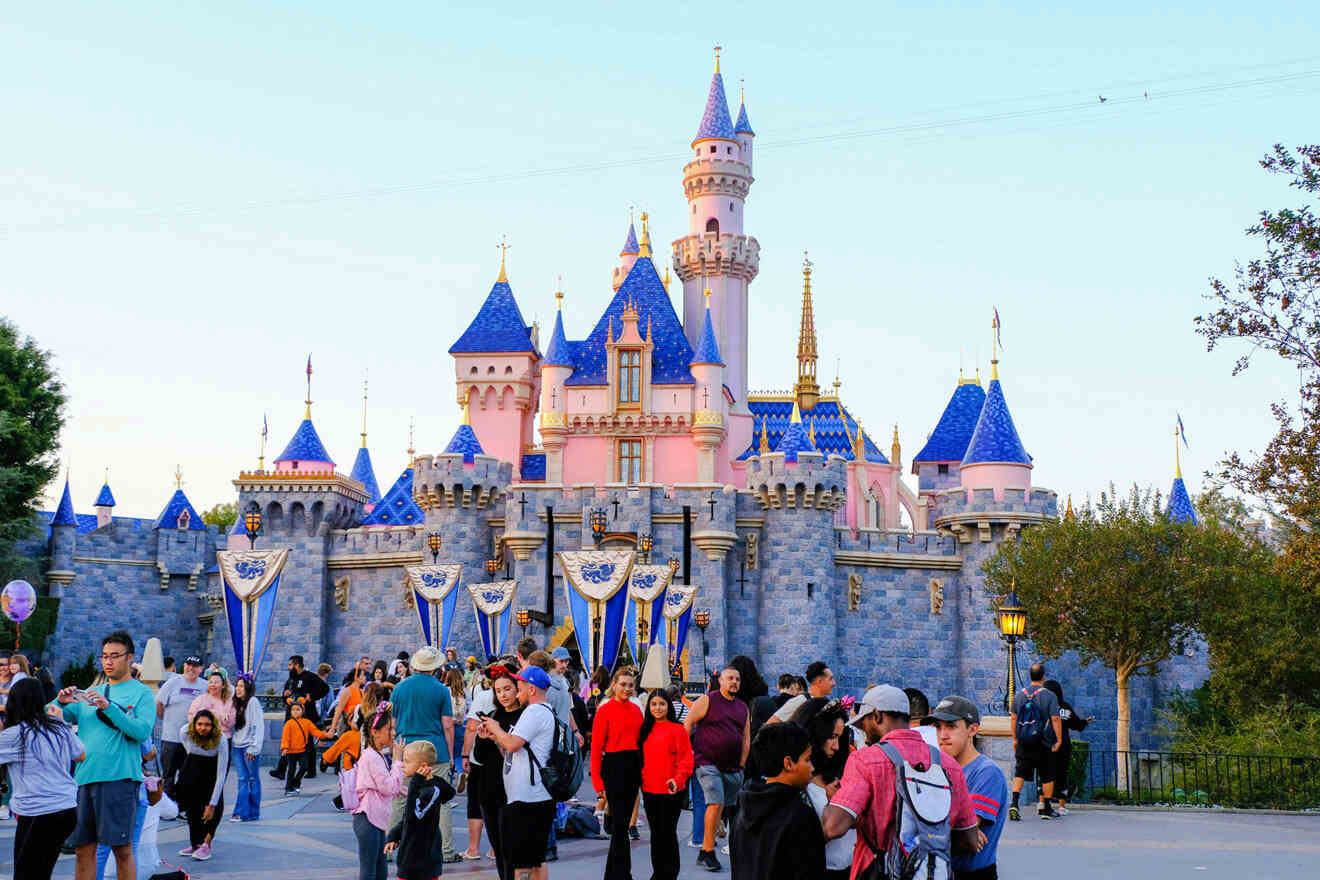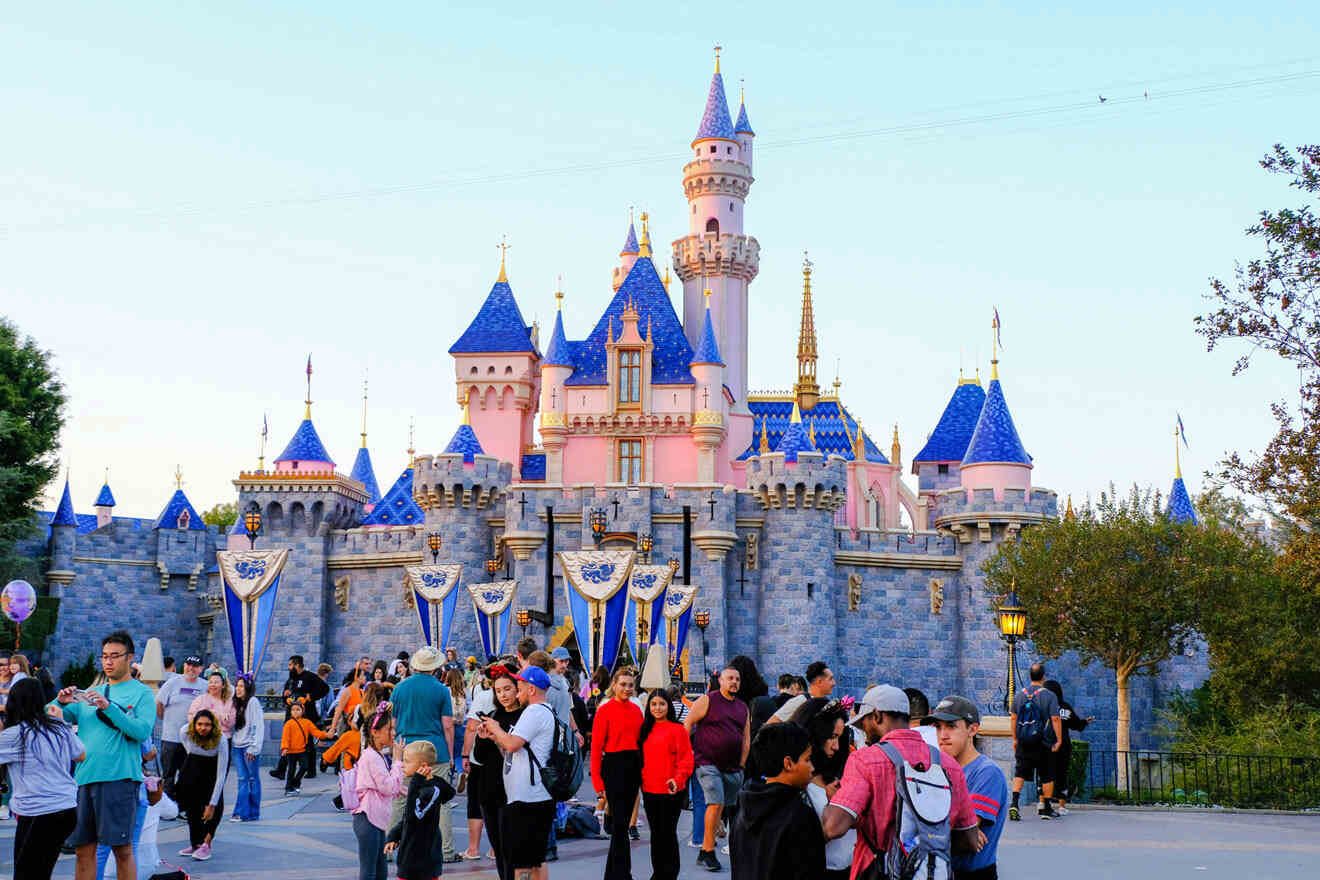 Anaheim is a vibrant city brimming with entertainment and adventure and a popular day trip for families, only a 2.5-hour drive from Santa Barbara. Home to many of the state's theme parks, Anaheim is a great city with many things to do.
My favorite of the parks, Disney California Adventure Park is a must-stop in Anaheim, acting as a modern extension of the original Disney experience, but mainly with Pixar animation. My favorite attraction, the Incredicoaster, allows you to join the Incredibles on a high-speed adventure filled with twists, turns, and exhilarating superhero action.
PRO TIP: Do yourself a favor and book a few nights in Anaheim to pack in as much amusement park fun as possible!
PRICE: from US$104 per person
7. Sightsee in downtown Santa Barbara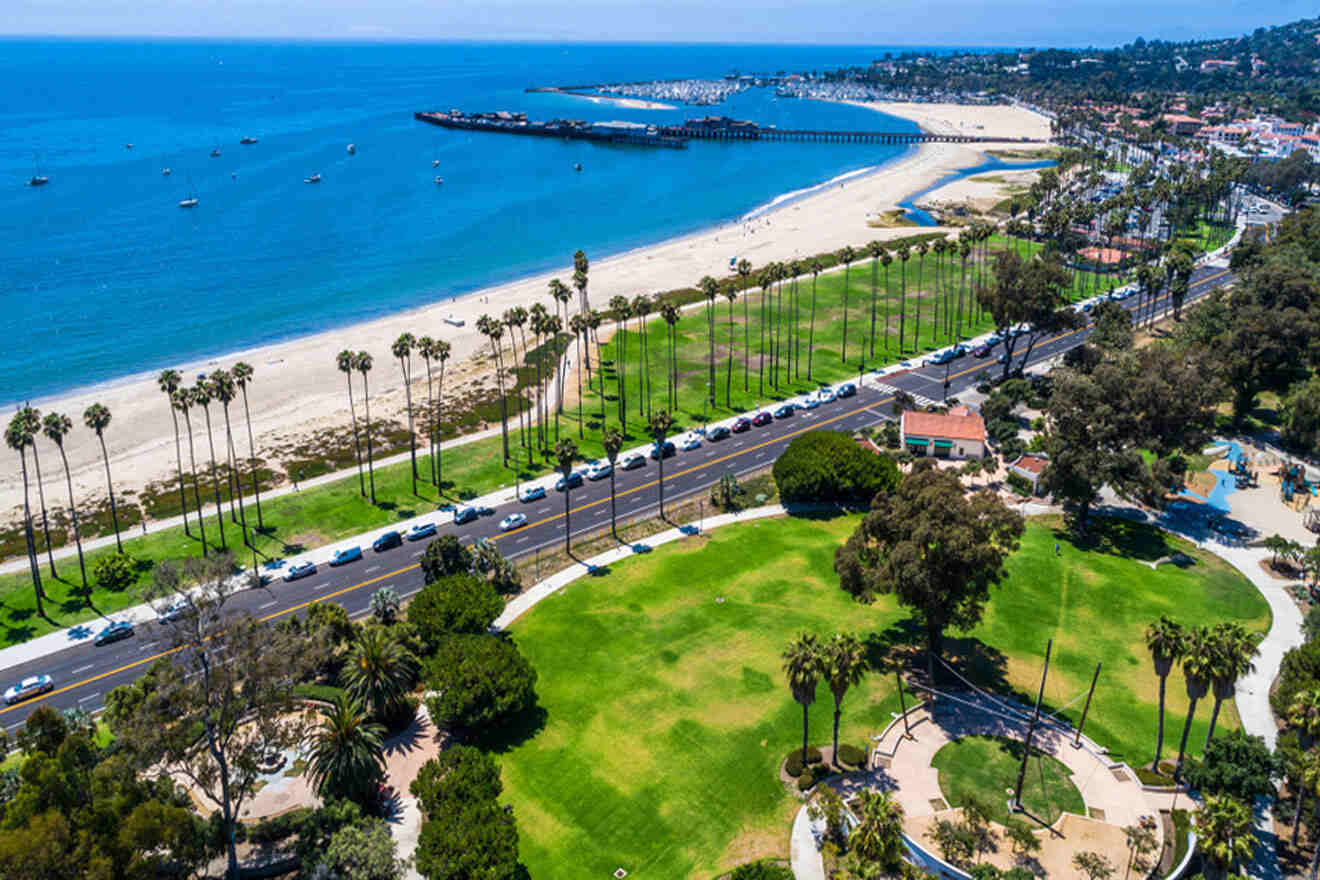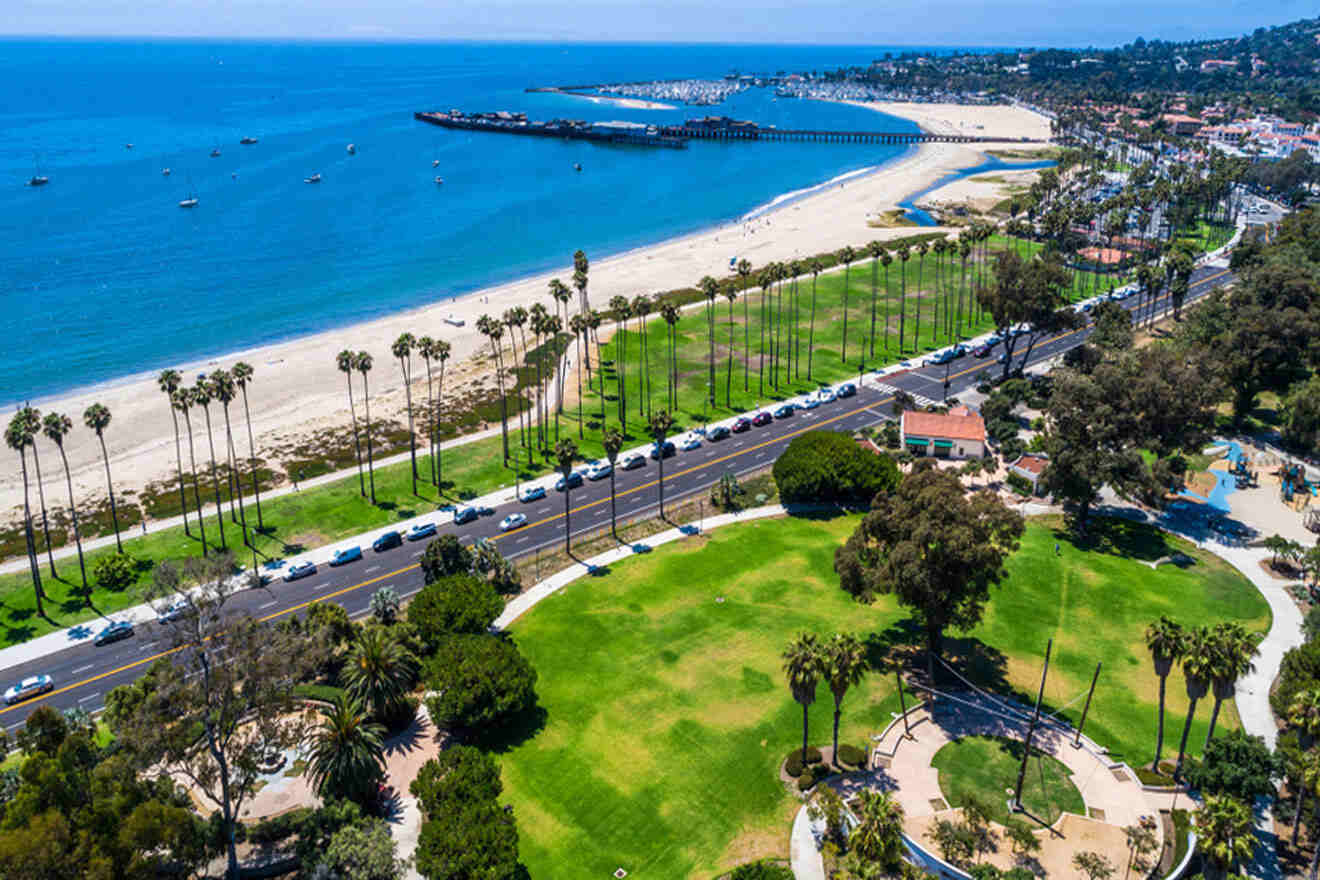 As our incredible home base for all of these amazing day trips, I thought it would be special to take a little time to carve out some must-dos for a day in Santa Barbara.
Check out the Old Mission Santa Barbara, a landmark offering a glimpse into the Spanish Colonial past and the enduring legacy of the Franciscan order. Catch a guided tour if you can!
Don't miss Stearns Wharf, an iconic landmark in Santa Barbara that has withstood the test of time, offering stunning views of the coastline, a variety of shops, restaurants, and even a small marine museum.
And, if you have time, visit the Santa Barbara Zoo – an unforgettable experience filled with the region's best wildlife and beyond.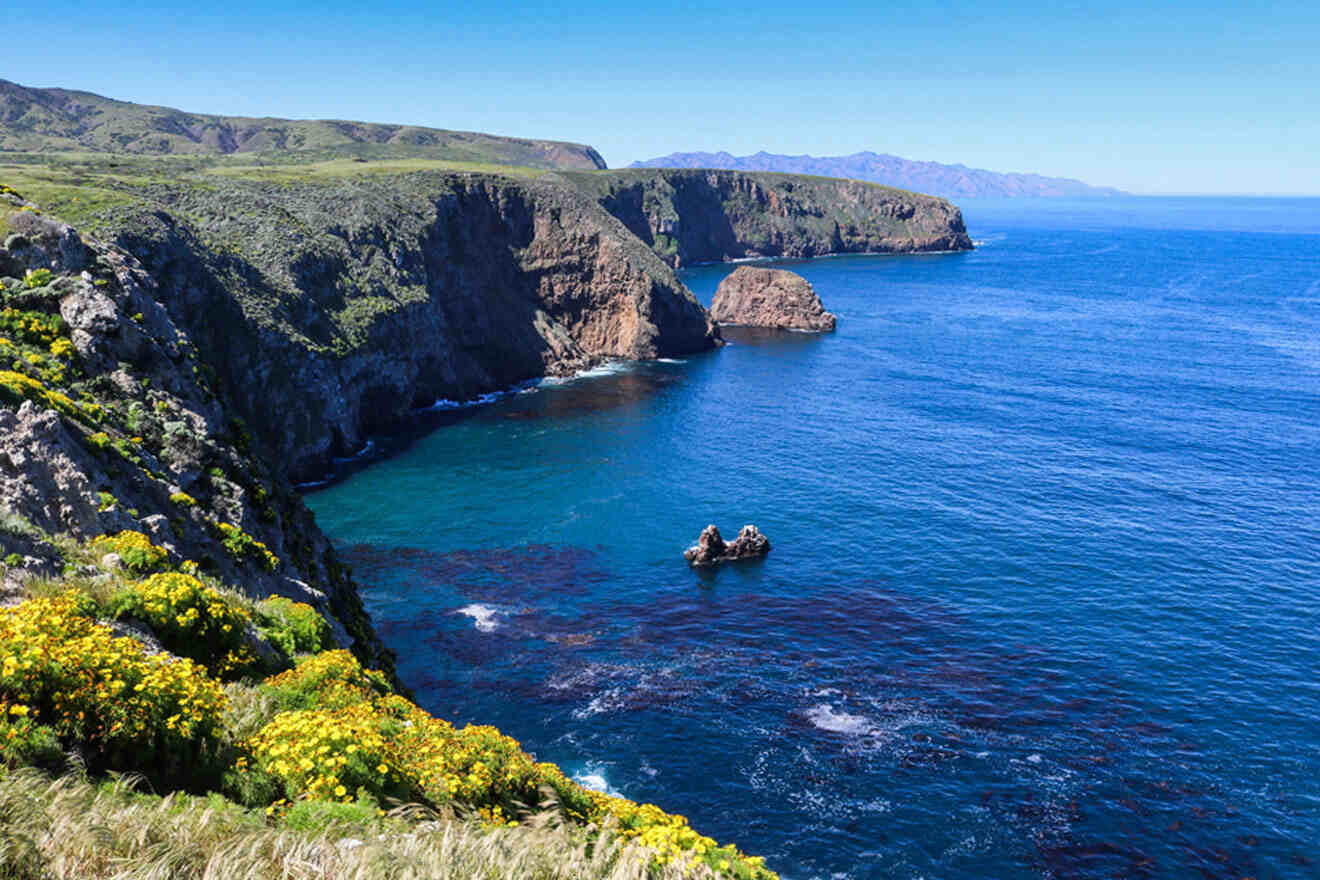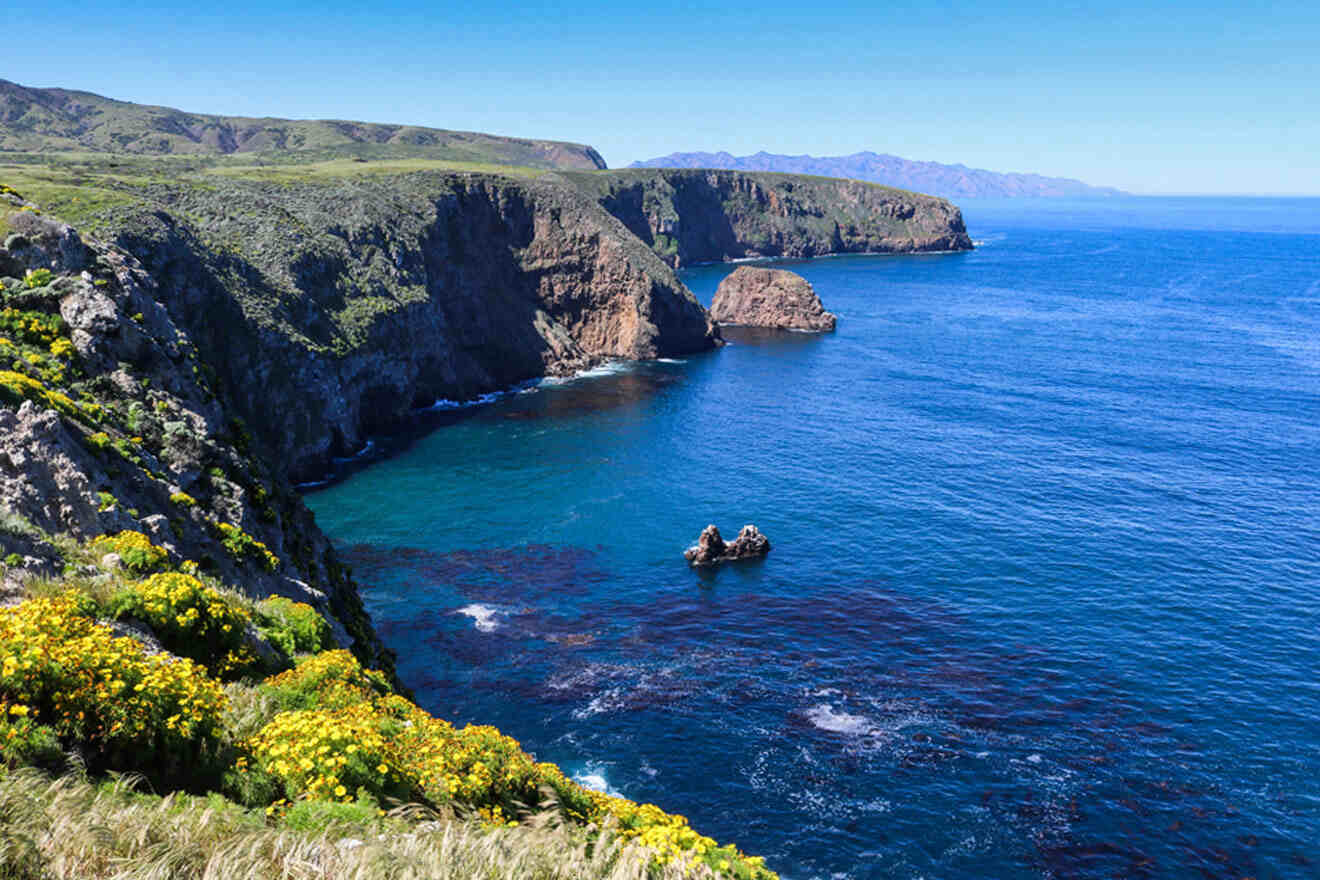 I cannot say enough about this unique and incredible opportunity. Channel Islands National Park is an island chain consisting of eight islands renowned for its pristine natural beauty, kayaking, marine life, scuba diving, and offering an abundance of scenic trails.
Try a guided or solo kayaking adventure to snag a wildlife viewing of the rich underwater ecosystems: colorful fish, sea lions, and even dolphins. Don't miss The Painted Cave on Santa Cruz Island, one of the largest sea caves in the world!
PRO TIP: Services and amenities on the islands are limited, so be prepared with food, water, and any necessary supplies for your trip.
Getting there: Take the Island Packers Ferry offers regular ferry services to the Channel Islands National Park from Ventura Harbor to the main visitor center on Santa Cruz Island.
NOTE: Island Packers Ferry only offers trips to the "outer islands" – Santa Rosa, San Miguel, and Santa Barbara (NPS Closure) from March through November on a limited schedule.
FERRY PRICE: from US$85 per person for roundtrip
9. Spend the day in Los Angeles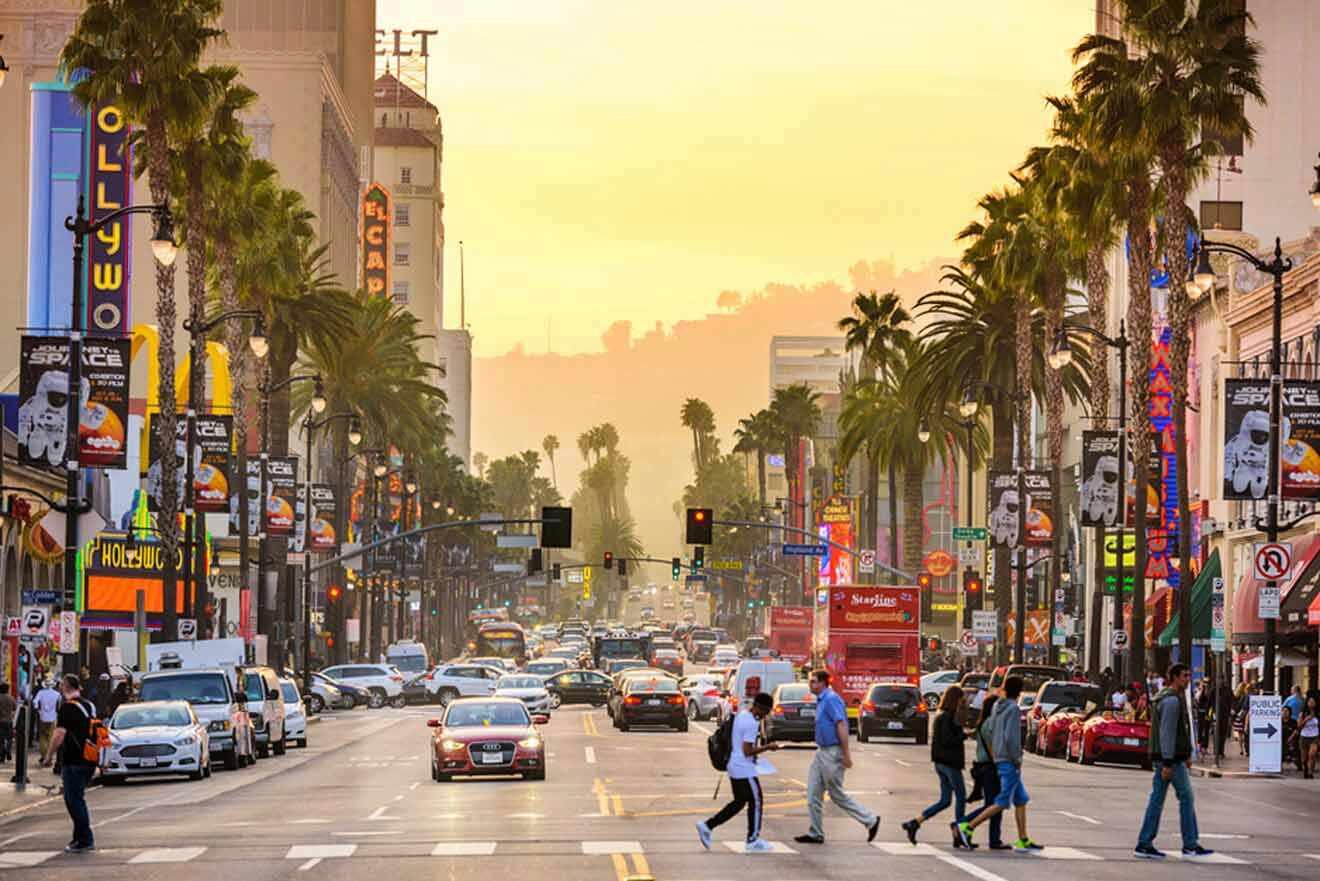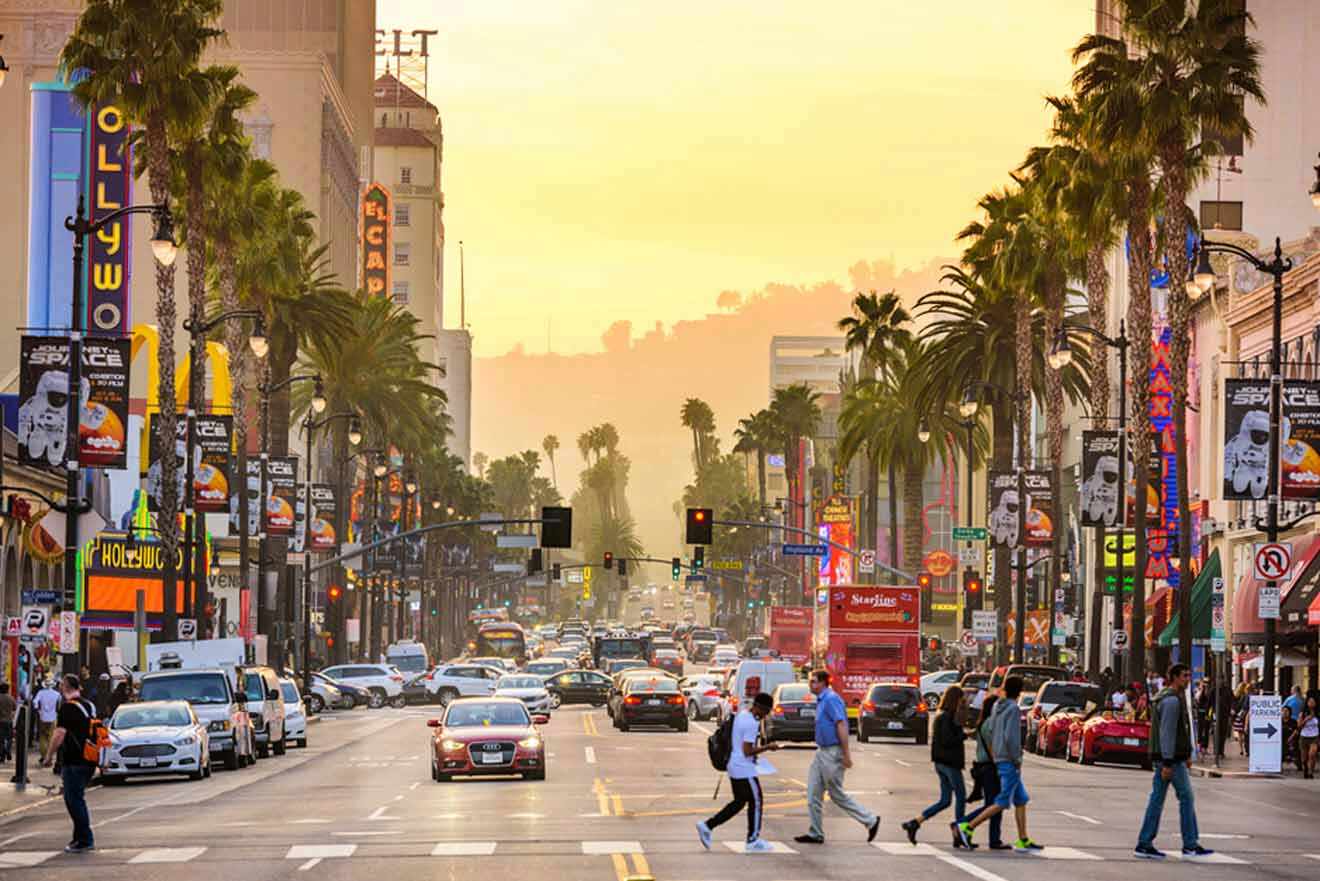 A great day trip that's only 2 hrs drive away, Los Angeles, a bustling city in Southern California, offers cultural history, fun activities, and all that celebrity glamor!
With countless ways to spend your day, I would suggest heading over to Santa Monica to visit the iconic Santa Monica pier, visit Venice Beach for incredible people-watching, or catch a photo op with a view of the world-famous Hollywood Sign.
10. Learn to surf at Pismo Beach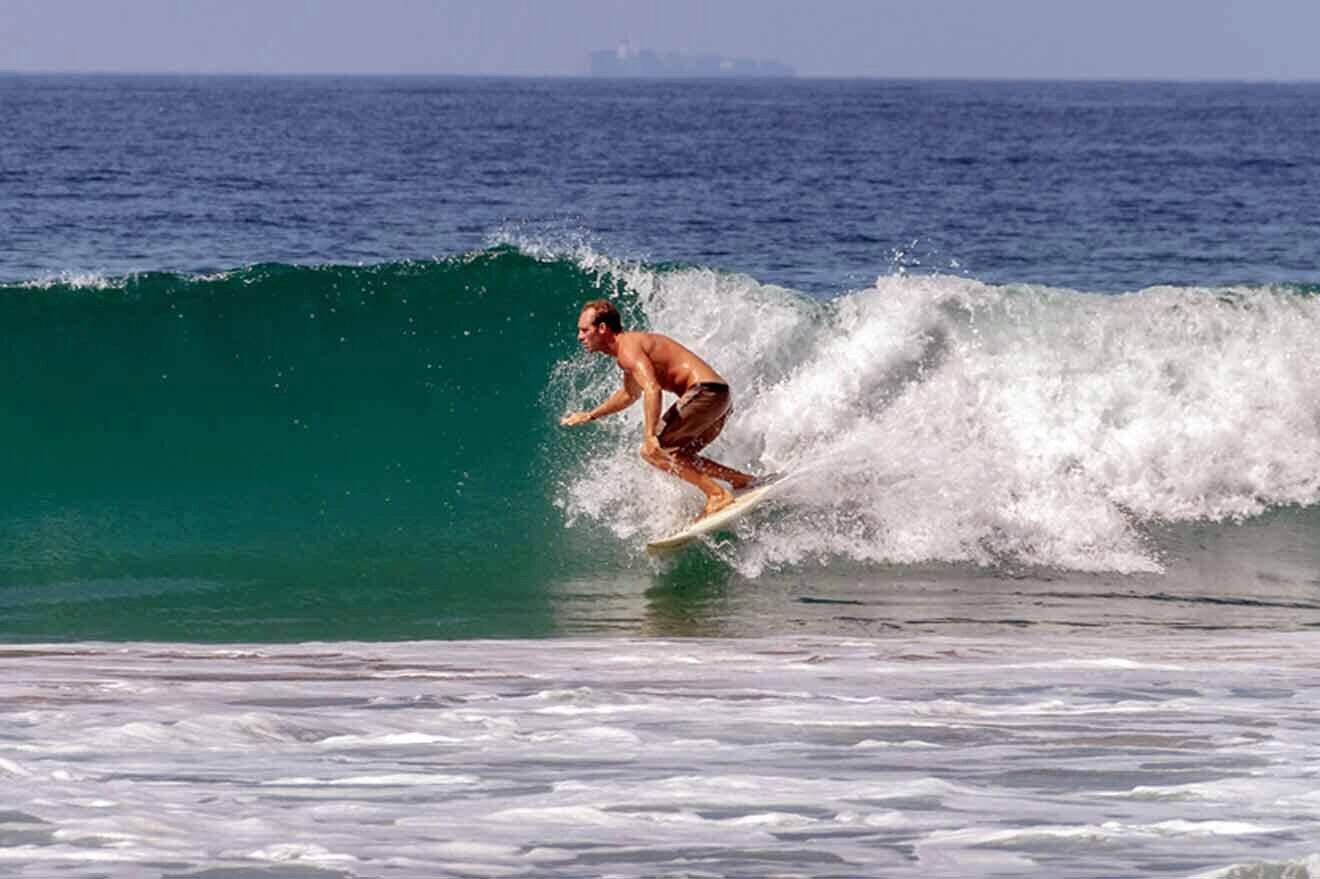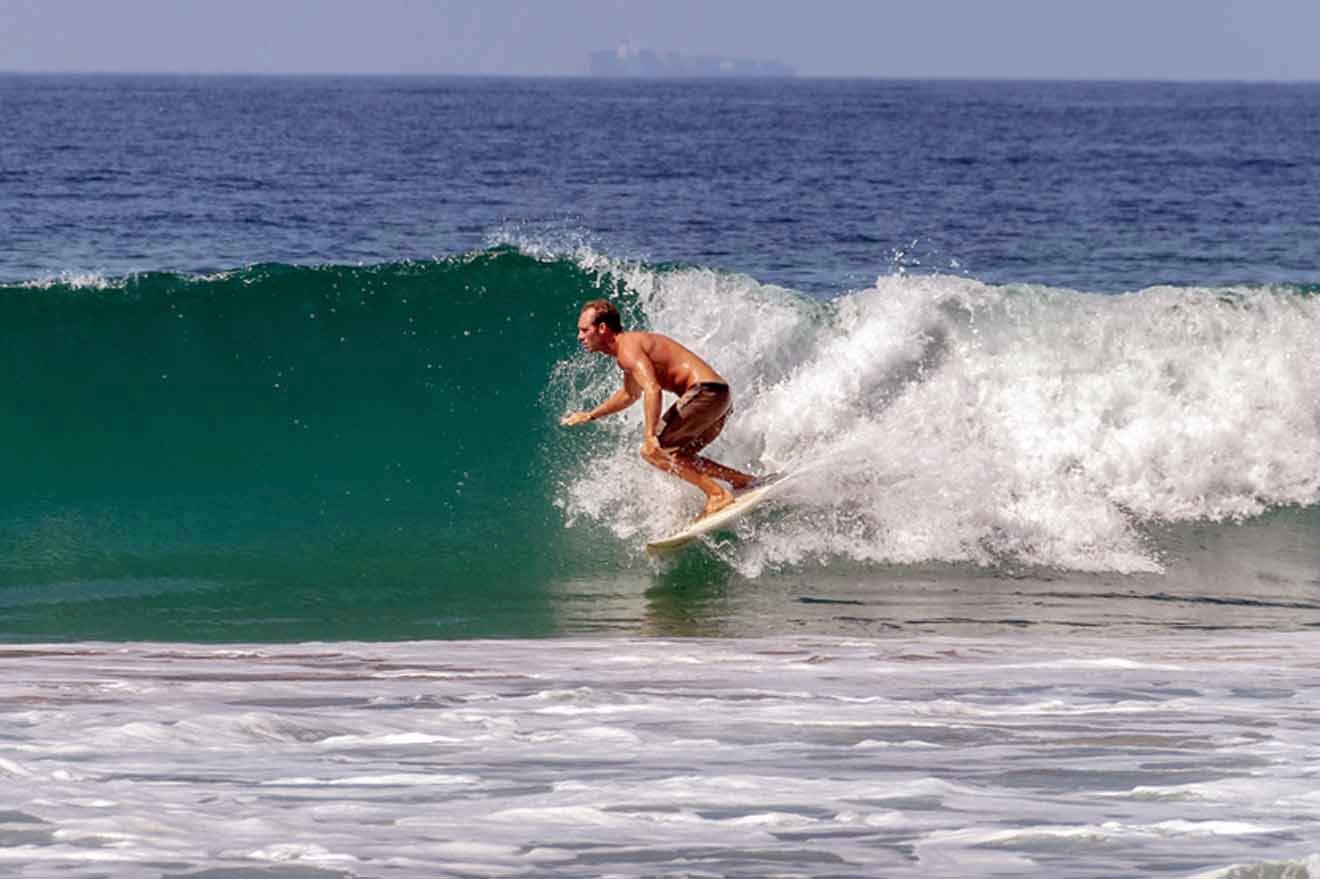 Pismo Beach is renowned for its picturesque coastline and pristine sandy beaches, and it's only a 1.5-hour drive from Santa Barbara.
Don't miss the iconic Pismo Beach Pier, offering beautiful ocean views and the opportunity to watch surfers catch the waves below. Feel yourself getting inspired? Try your luck with some surf lessons and hang ten like a pro.
If you can steal away from the beach for a moment, catch The Monarch Butterfly Grove, a unique and magical site where thousands of monarch butterflies gather during the winter months.
PRO TIP: Pismo Beach is famous for its clam chowder. Try a cup at Ada's Fish House.
PRICE: from US$80 per person
11. Sip on the best varietals in Paso Robles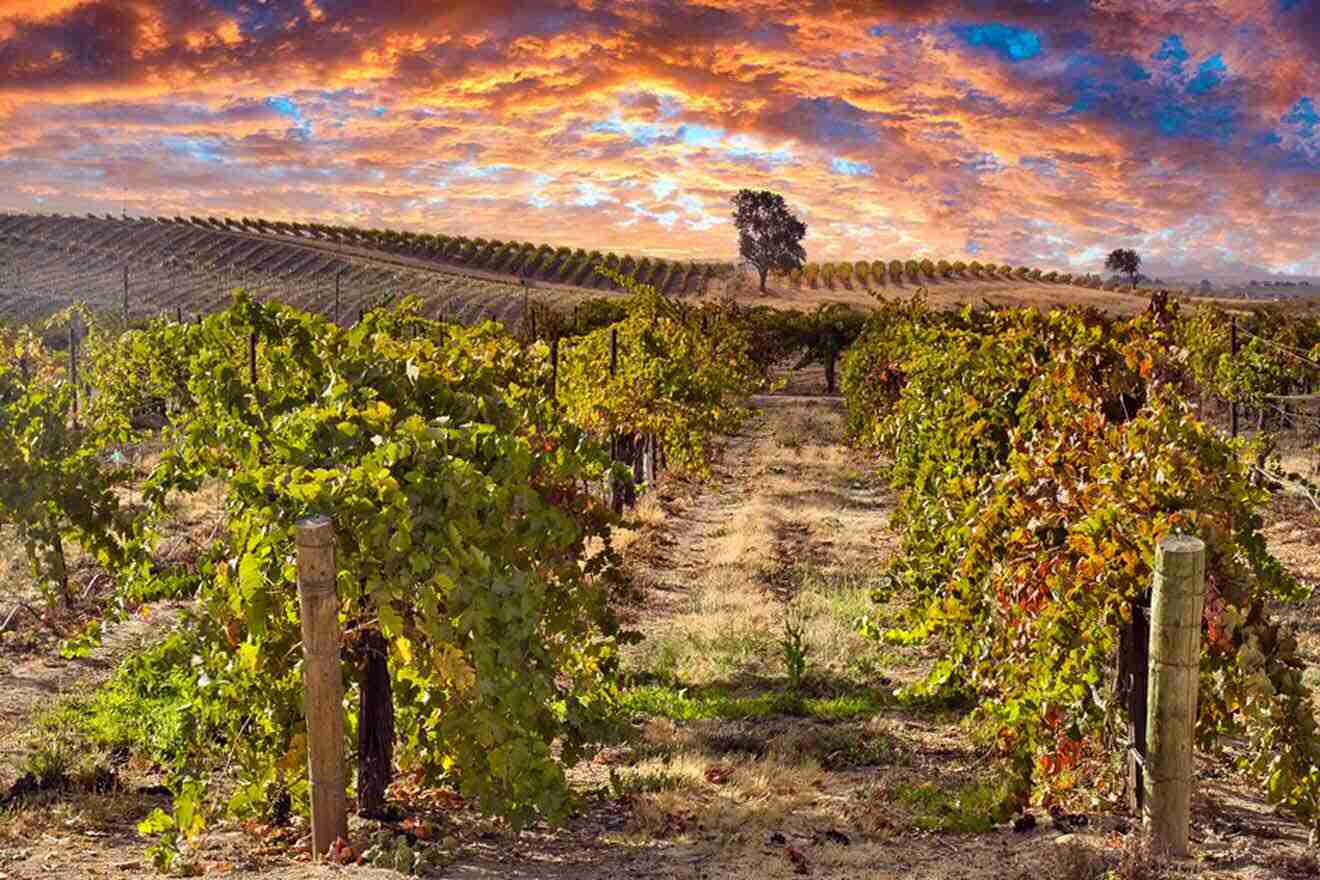 If you're a lover of fine grapes, it's no secret that Paso Robles is renowned for its exceptional local wines. The region is a 2-hour drive away and is home to numerous wineries and vineyards. Enjoy wine tasting at fantastic options in the area, like Justin Vineyard.
Paso Robles is also known for its natural hot springs, unwind and pamper yourself at one of the area's spa resorts, where you can indulge in soothing spa treatments and soak in mineral-rich hot springs.
12. Get out and explore Point Mugu State Park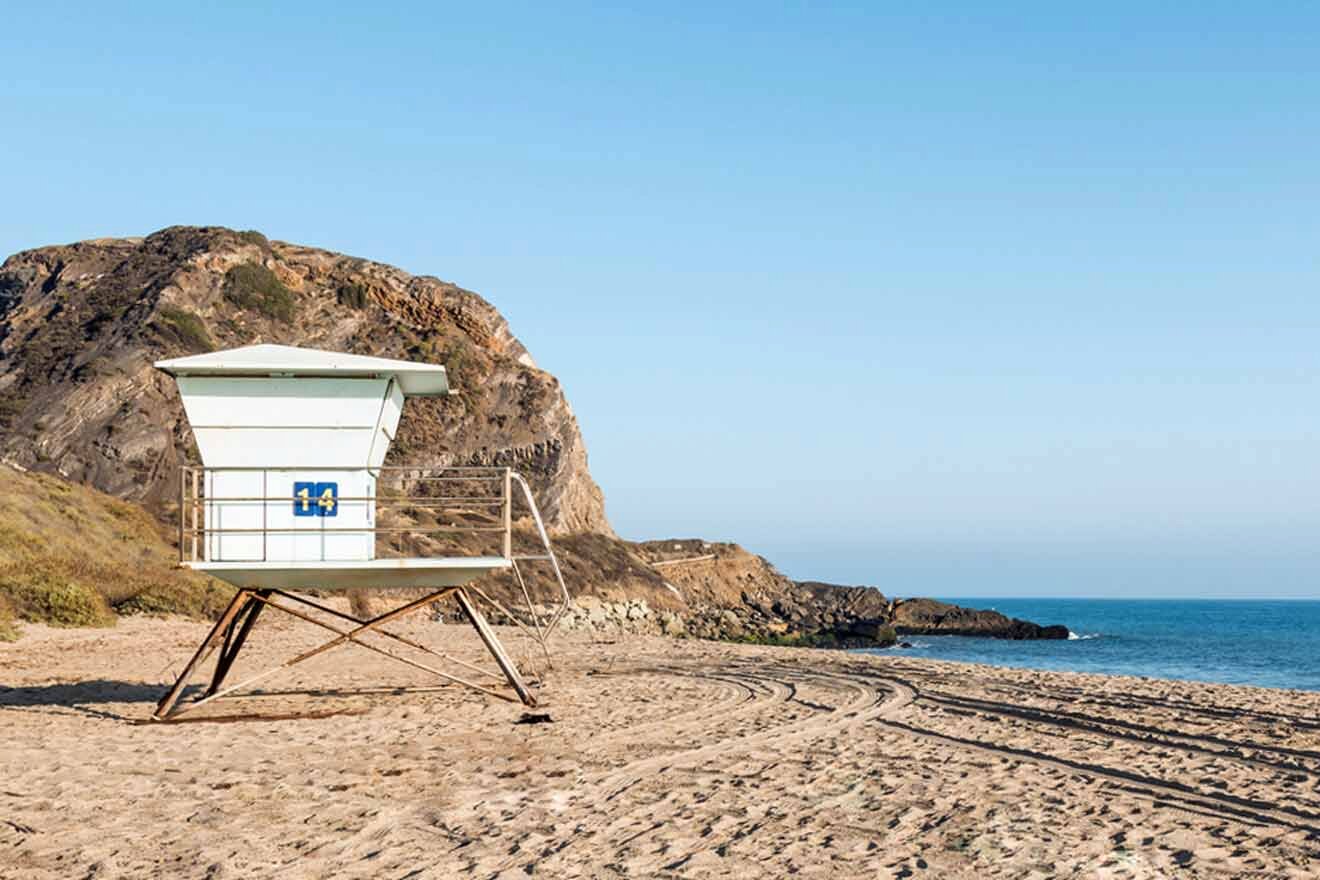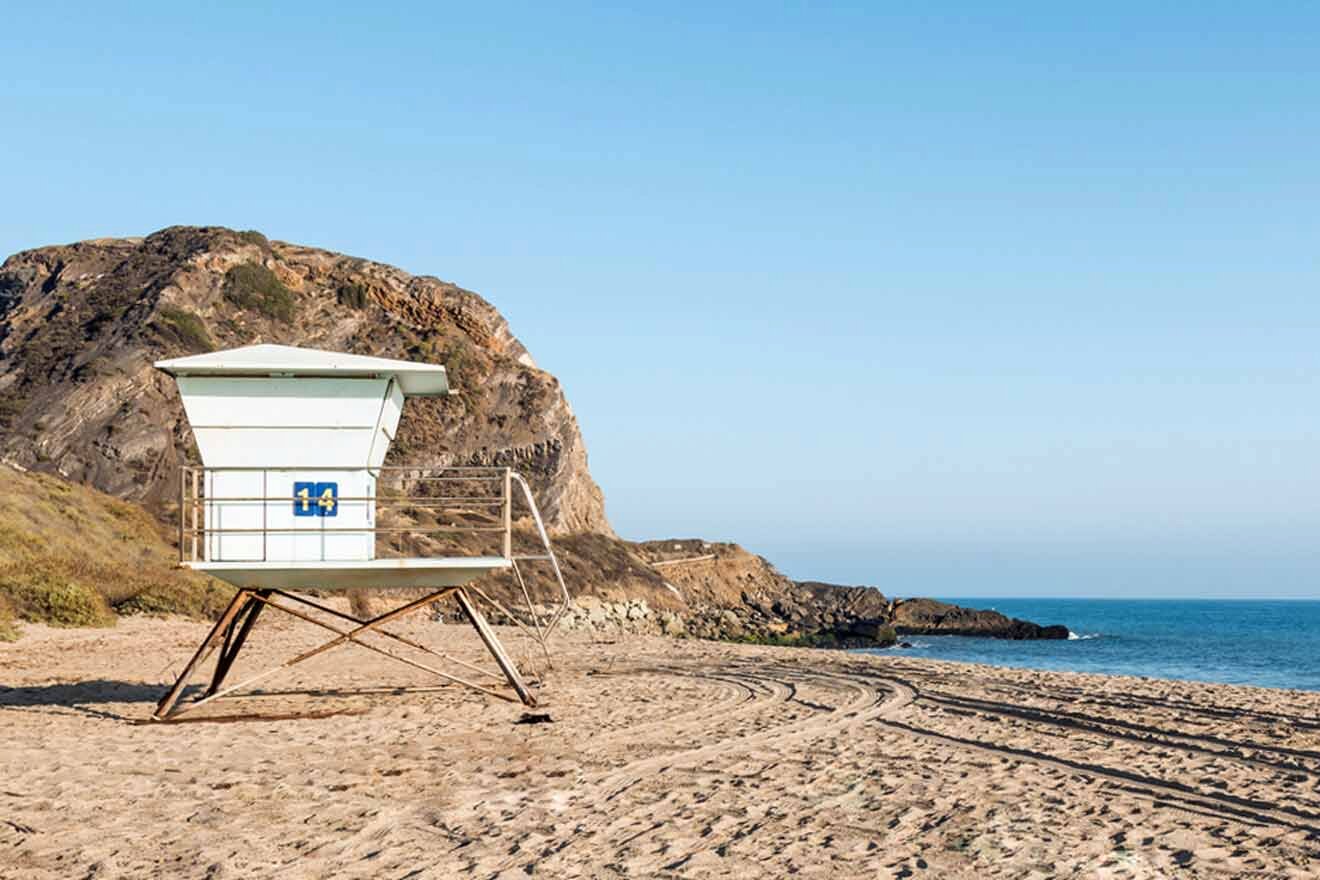 Point Mugu State Park, a highlight of the day trips from Santa Barbara, is a stunning coastal park 50 min drive from Santa Barbara, offering picturesque landscapes and outdoor activities.
Explore the park's scenic hiking trails, including the popular La Jolla Canyon Trail and Ray Miller Trail, which provide breathtaking views of the coastline and surrounding Santa Ynez Mountains.
PRO TIP: Visit during the springtime, when the park is covered in vibrant wildflowers.
PRICE: US$12 per vehicle
13. Discover the beauty of San Luis Obispo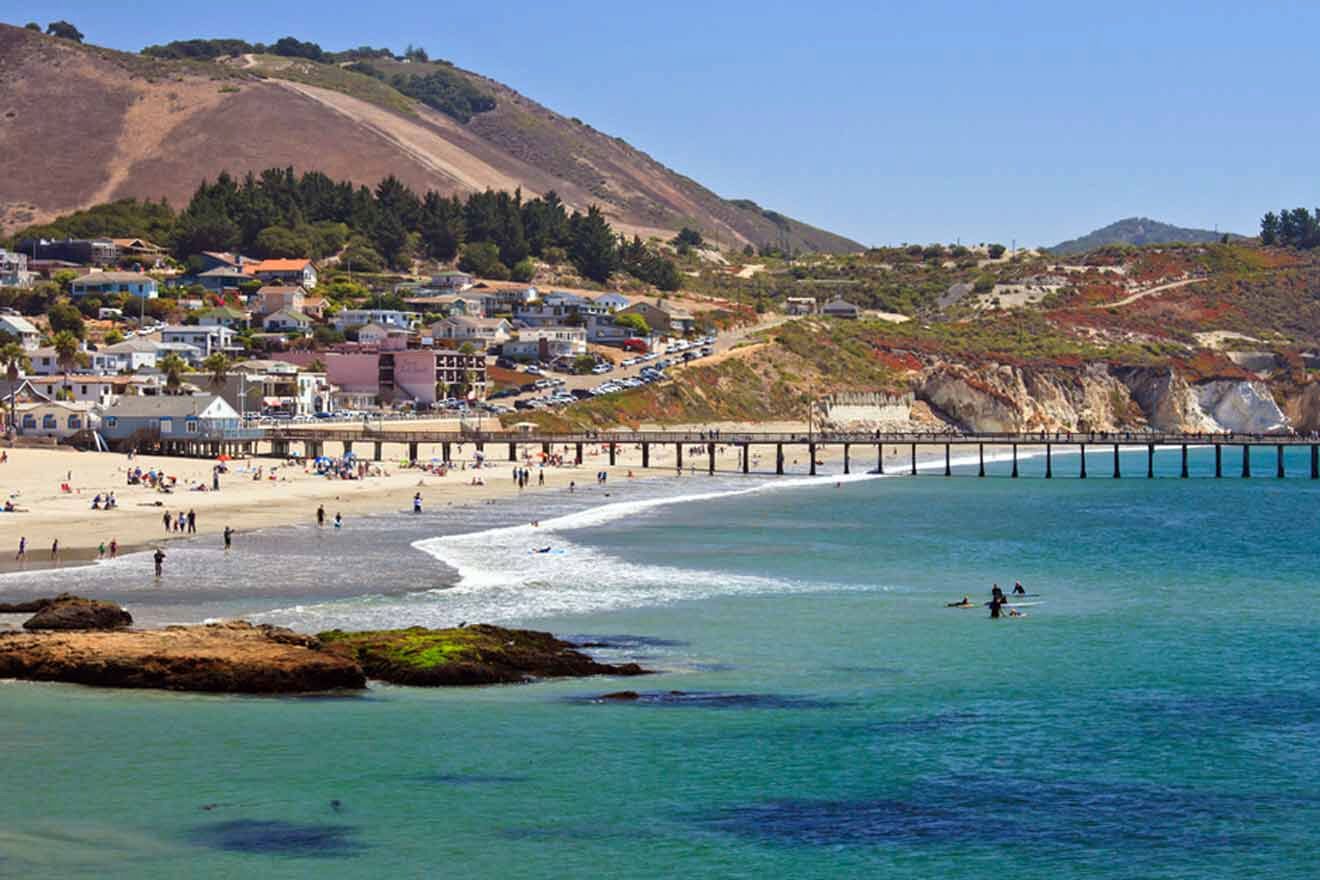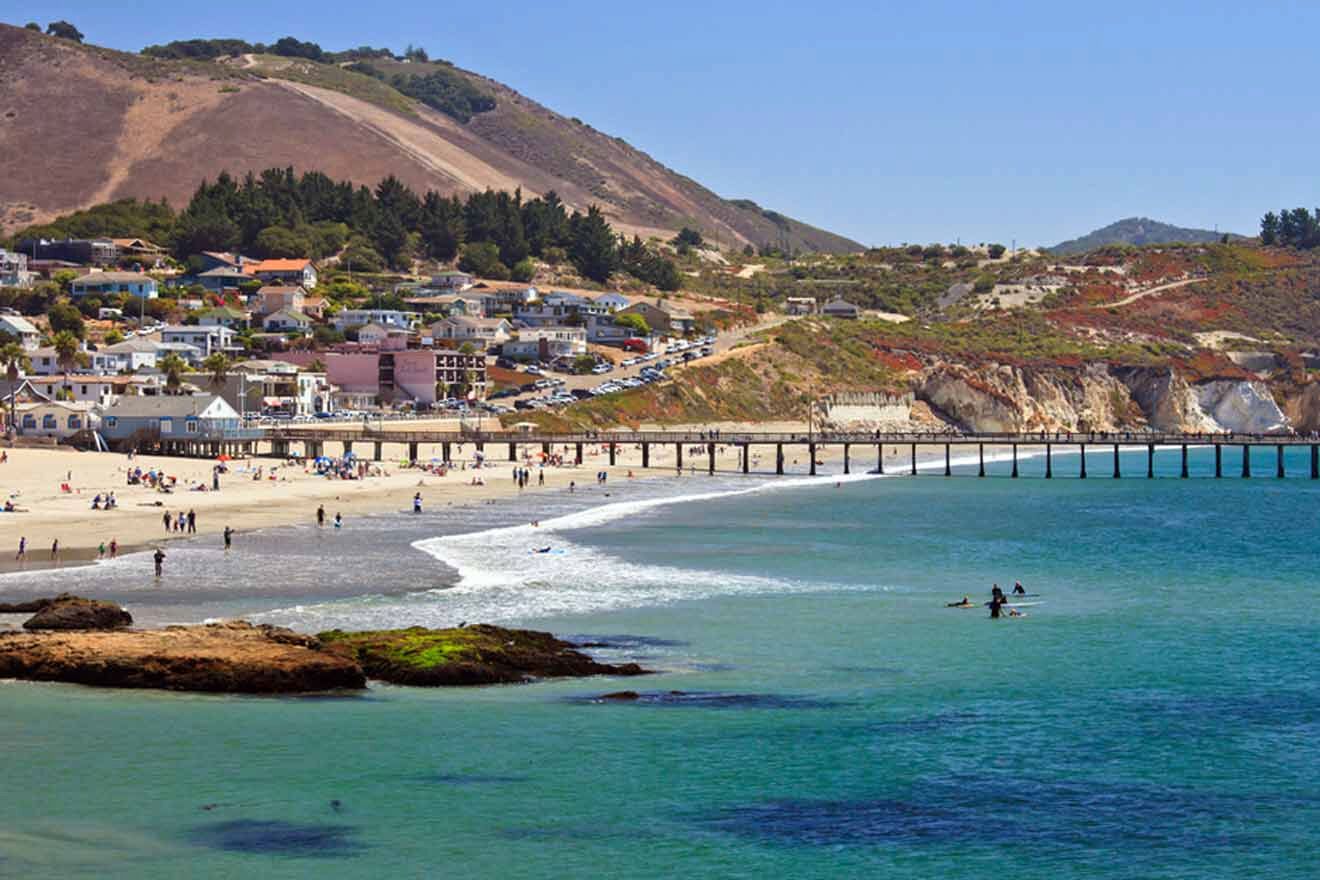 One of my first day trips from Santa Barbara (1.5 hours drive), San Luis Obispo, or SLO as locals refer to it, is a charming city located on the central coast of California.
Known for its welcoming atmosphere and laid-back vibe, San Luis Obispo offers a mix of small-town charm and vibrant city life.
I love taking time out to relax at Avila Beach in San Luis Obispo Bay for an afternoon of sunshine and rest or stopping downtown for a peek into many of the stunning local art galleries.
Don't miss the historic Mission San Luis Obispo de Tolosa, dating back to the 18th century, which stands as a prominent landmark in the center of town.
PRO TIP: Take a stroll down Higuera Street and make a stop at Bubblegum Alley, adorned with layers upon layers of chewed gum.
14. Visit the sun-drenched shores of Malibu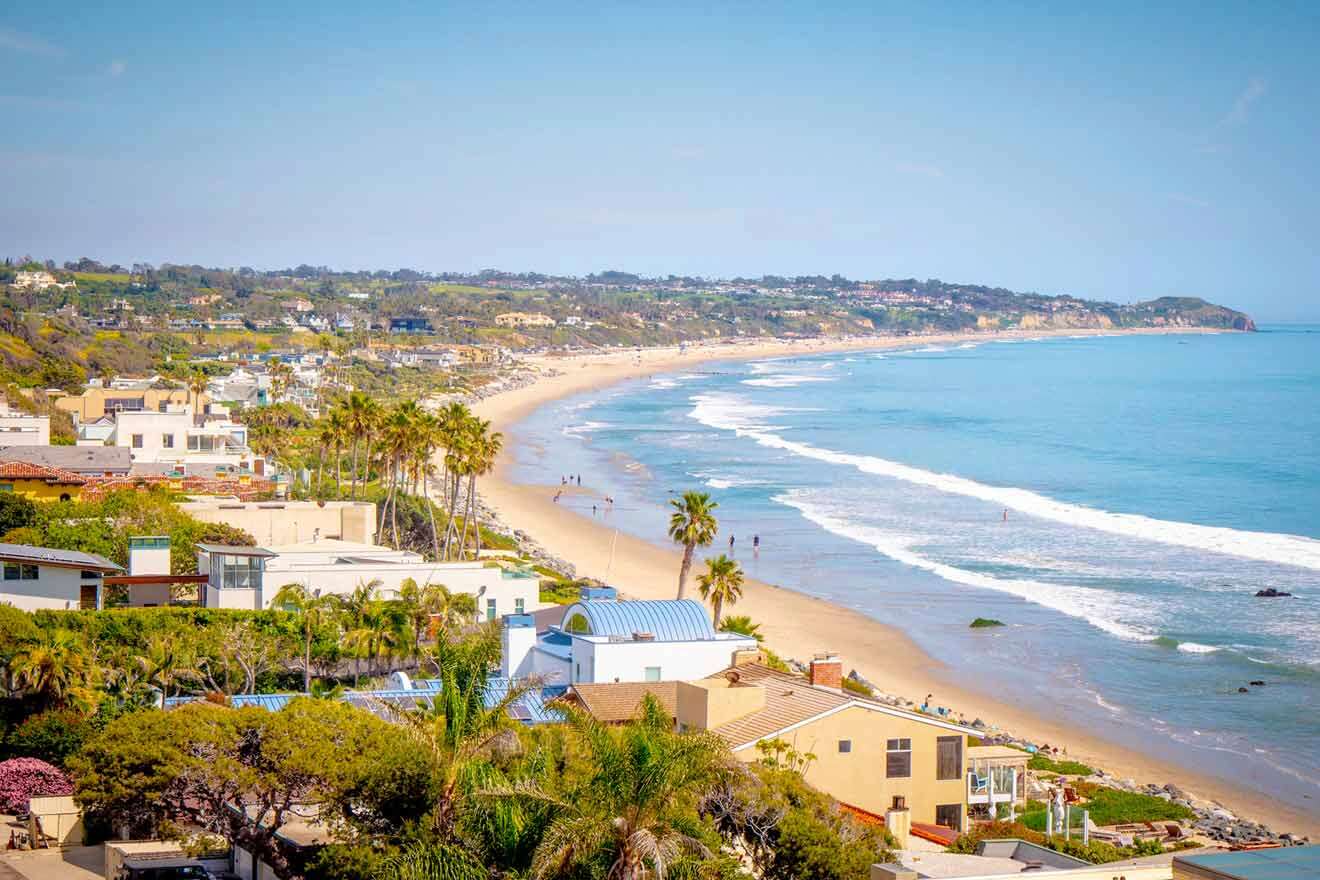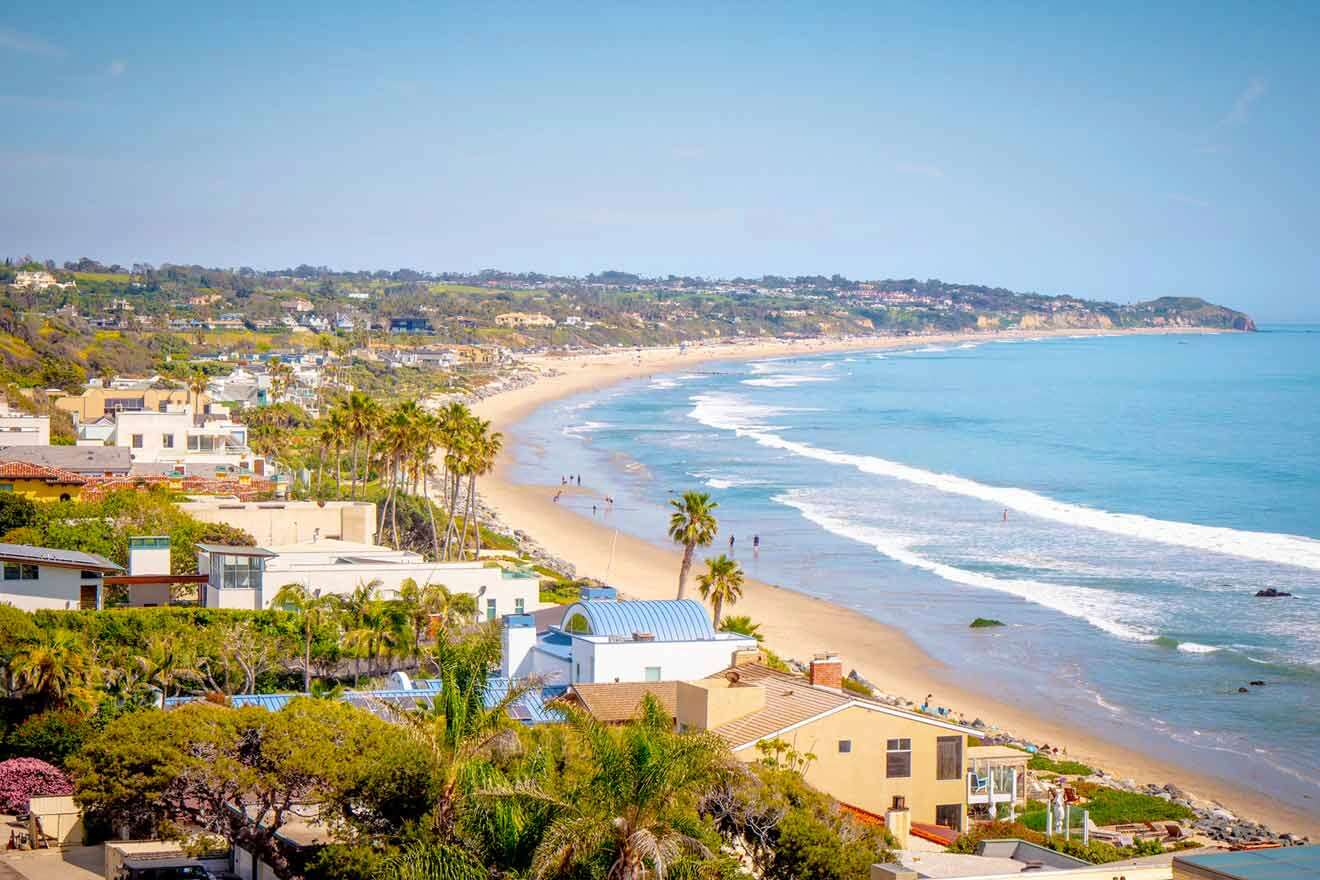 Distance: 66 miles (106 kilometers), or approximately 1 hour 15 minutes
Getting there: You'll want a car for this one. Take Highway 101 South
Duration: Half or full day
Best for: Couples, outdoor enthusiasts, families with kids, solo travelers
I'm a beach girl at heart, and Southern California's Malibu is one of the best day trips from Santa Barbara if you're a sun goddess like me.
At only 1 hour and 15 min from Santa Barbara, Malibu is known for its celebrity residents and stunning beaches that stretch for miles. If that's not enough to convince you, hop over to one of the area's wineries.
You could drive, but do you really want to? Book a guided tour on this awesome 4×4, and sit back and relax as you explore this wine region and the California Coast.
TOUR PRICE: from US$425 per person
Book a 4×4 Tour to Malibu's Wineries
15. Soar high above at Six Flags Magic Mountain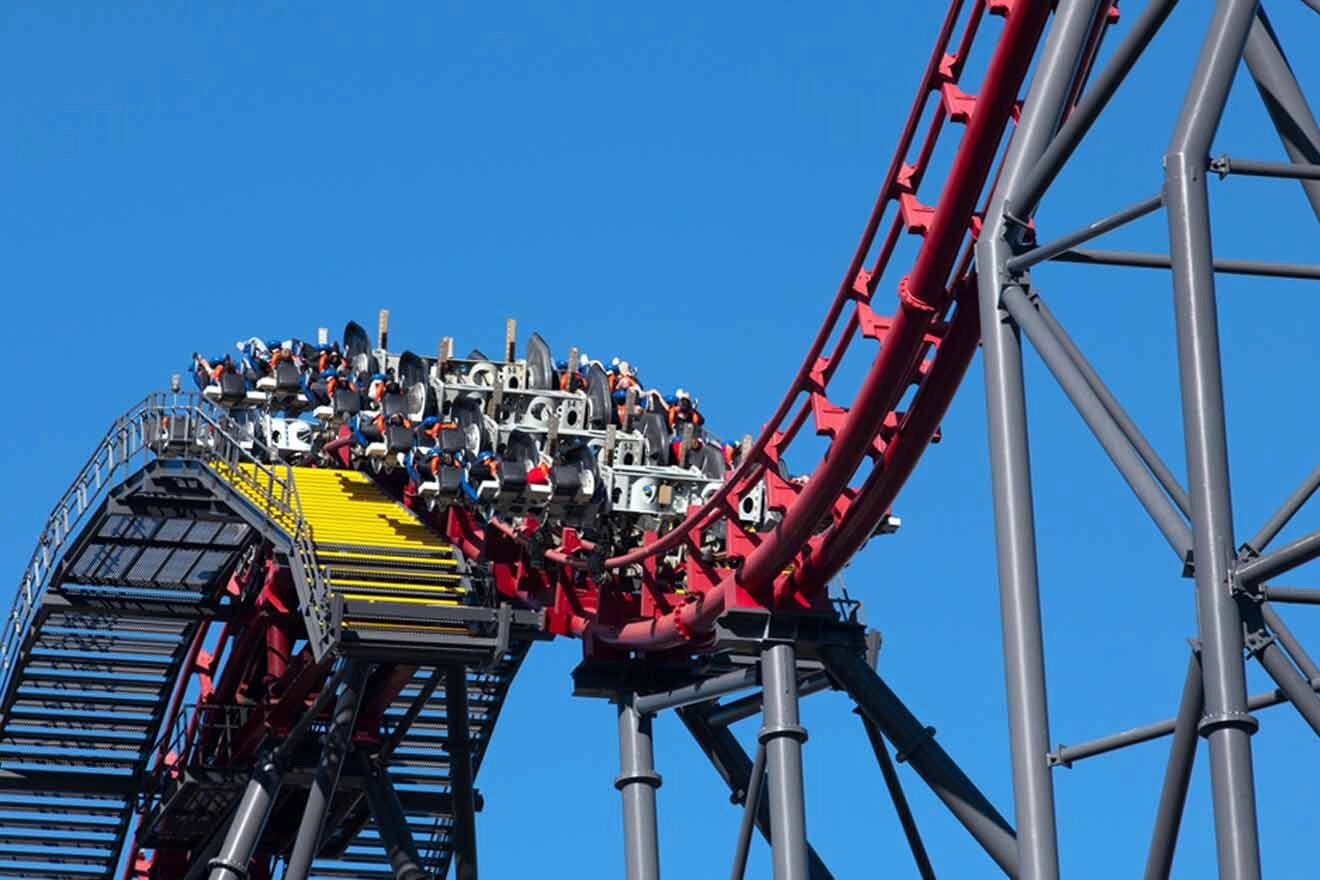 A fun way to spend the day, head over to Six Flags Magic Mountain, that's less than 2 hours drive away from Santa Barbara. It's a thrilling adventure park where you can spend the whole day.
With its world-class roller coasters like Twisted Colossus and X2, you could soar to new heights all day long.
PRO TIP: Get to the park an hour early. You'll get prime parking and first dibs on the best rides!
PRICE: from US$58 per person
16. Explore lively Ventura County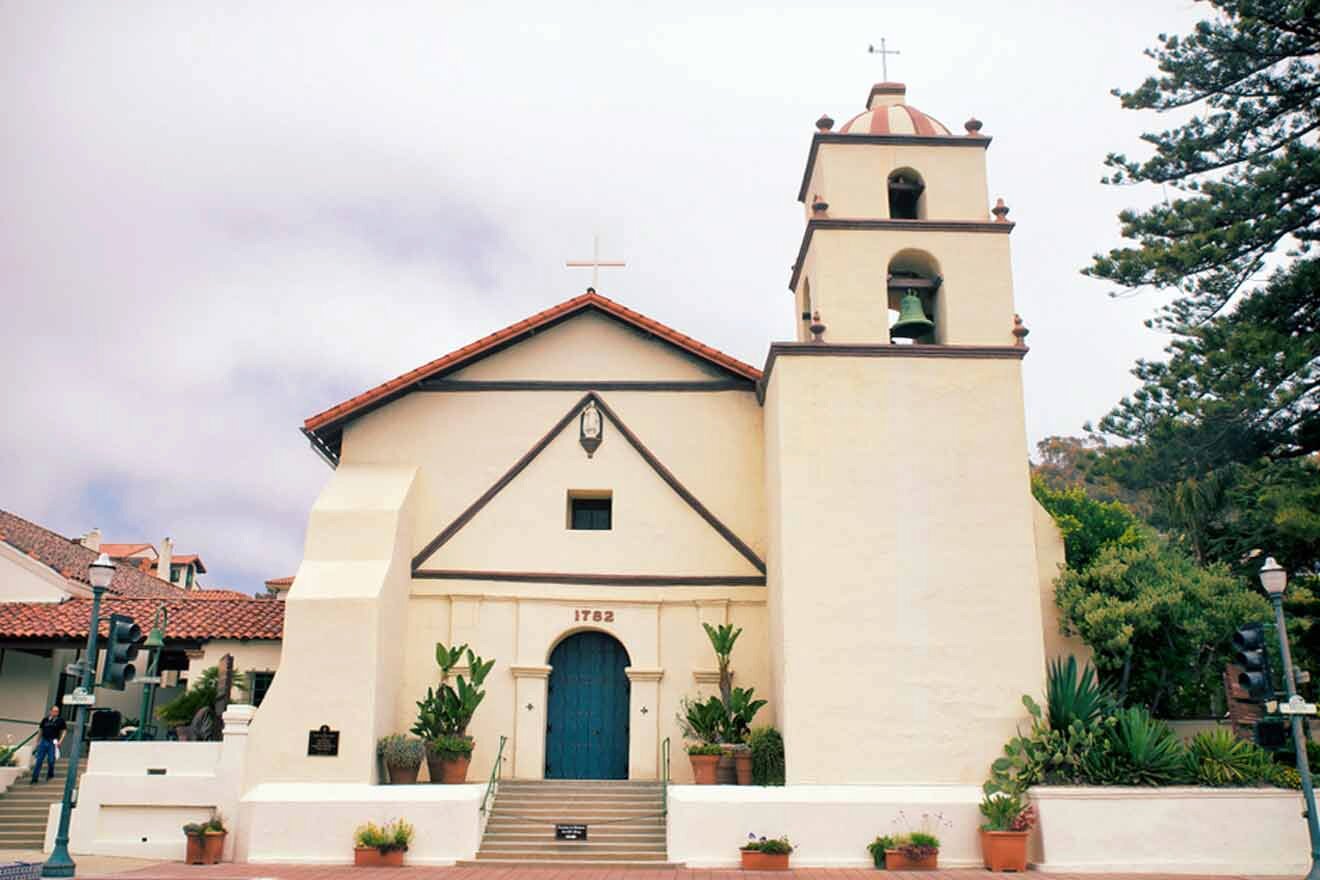 A wonderful, often overlooked option that's only 35 minutes from Santa Barbara is a day in Ventura County.
Offering a mix of beautiful nature, cultural richness, and laid-back coastal charm all of its own, you should definitely consider this one for your list.
Stop at the San Buenaventura Mission, a historic 1782 Spanish mission located in downtown Ventura. Walk through the beautiful gardens, and the interesting museum, and even attend a guided tour if you have the time.
Visit Ventura's Pier and Ventura Promenade, lined with shops, restaurants, and cafés. I love the vibrancy of this area and the smell of the ocean's salty air.
Where to stay in Santa Barbara
When visiting Santa Barbara, finding a comfortable and centrally located place to stay is essential, and luckily, there are several excellent options available!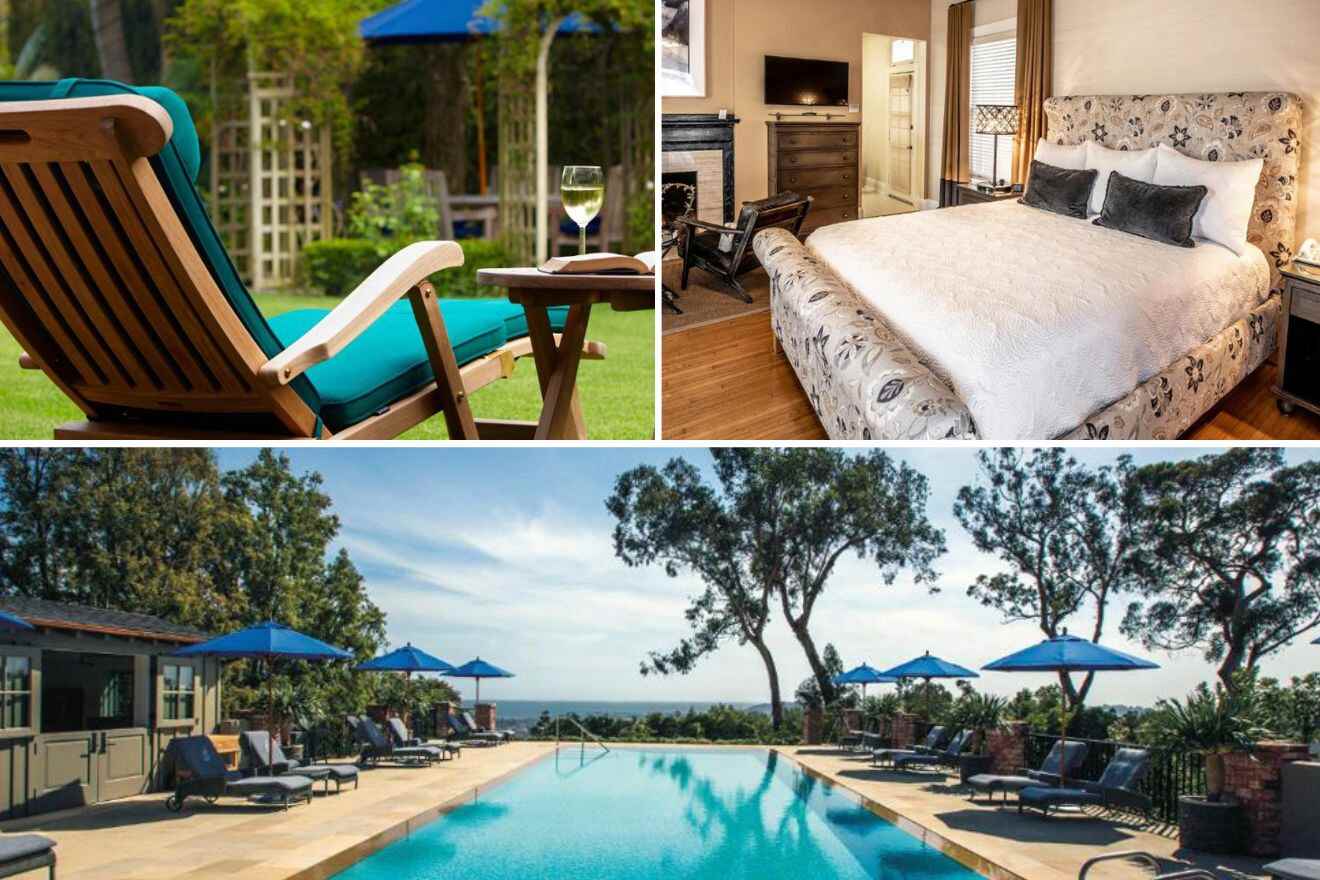 Luxury (US$750 and up)
Mid-Range (US$450 – US$600)
Simpson House Inn – Immerse yourself in personalized service at this boutique inn, a stunningly restored 19th-century Victorian mansion set in Santa Barbara.
West Beach Inn, A Coast Hotel – Discover this stylish boutique hotel conveniently situated within strolling distance of Santa Barbara's iconic Stearns Wharf, vibrant State Street, and an abundance of the city's finest attractions.
Budget (up to US$300)
Castillo Inn at the Beach – Conveniently placed just a brief walk away from the pier and Stearns Wharf, this budget-friendly choice offers a great blend of comfort, cleanliness, and convenience.
Harbor House Inn – Colorful halls brimming with charm await you at this exceptional budget option located in the popular West Beach area, perfectly situated near all Santa Barbara's action.
FAQs about Santa Barbara day trips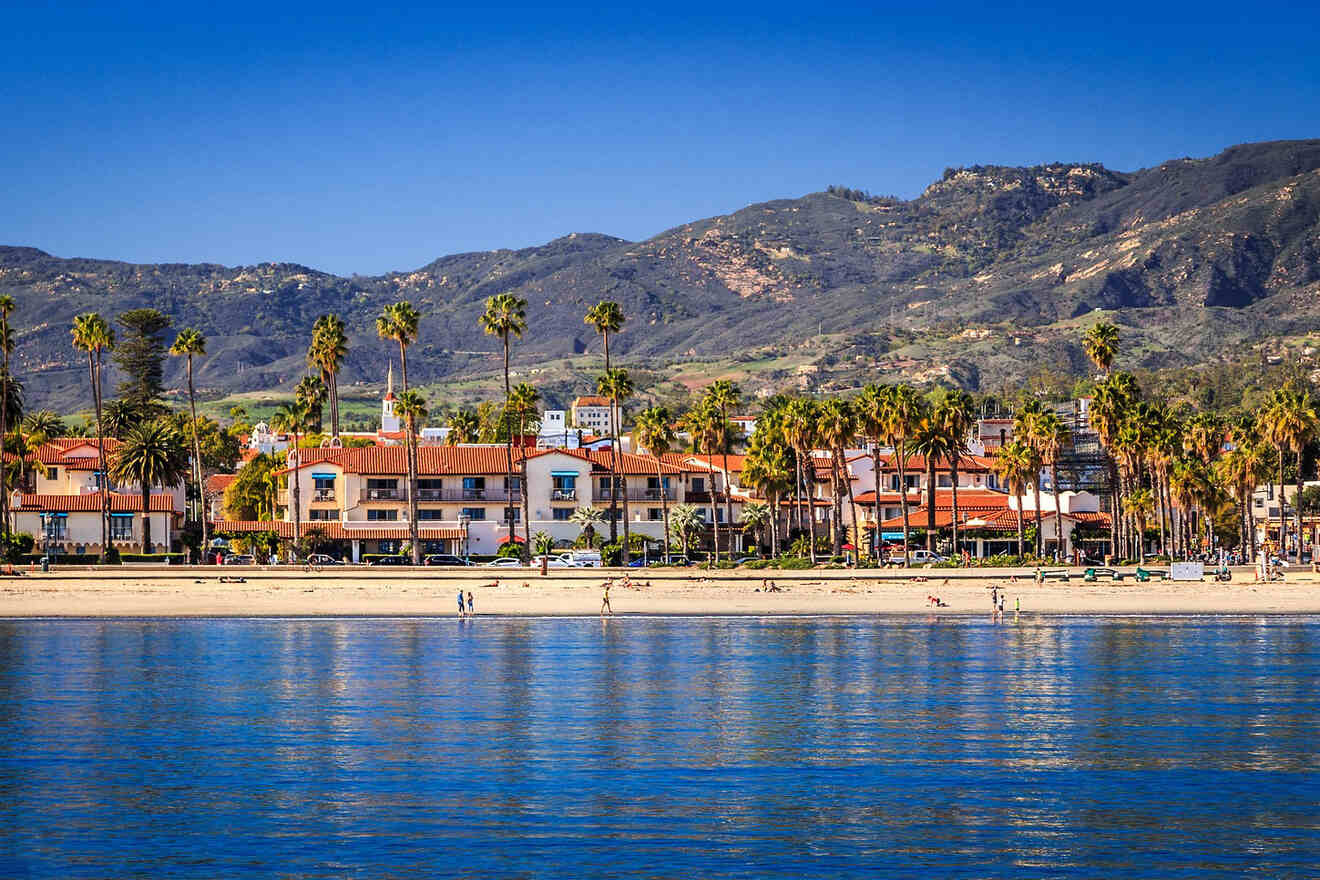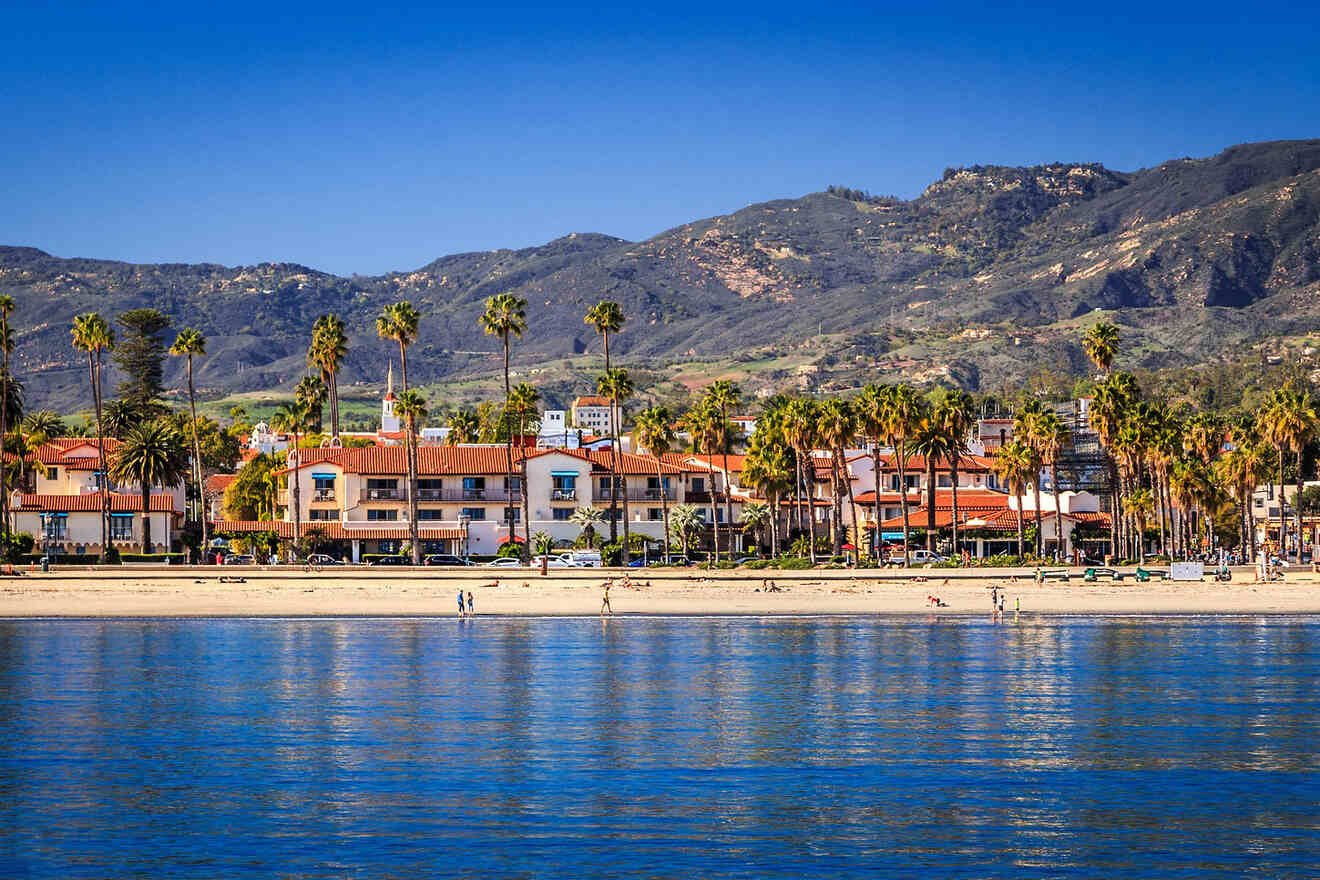 🚘 Is Santa Barbara worth a day trip?
☀️ How many days should I spend in Santa Barbara?
You can easily spend 2 – 3 days visiting Santa Barbara itself and several extra days visiting the surrounding regions.
🌲 Is Solvang a good day trip from Santa Barbara?
Yes, Solvang is a great trip from Santa Barbara, approximately 35 minutes away. This Danish-inspired village and wine region are beautiful!
🍷 What are the best towns near Santa Barbara?
There are so many best towns near Santa Barbara, some of which are Morro Bay, Ojai, and Paso Robles.
Conclusion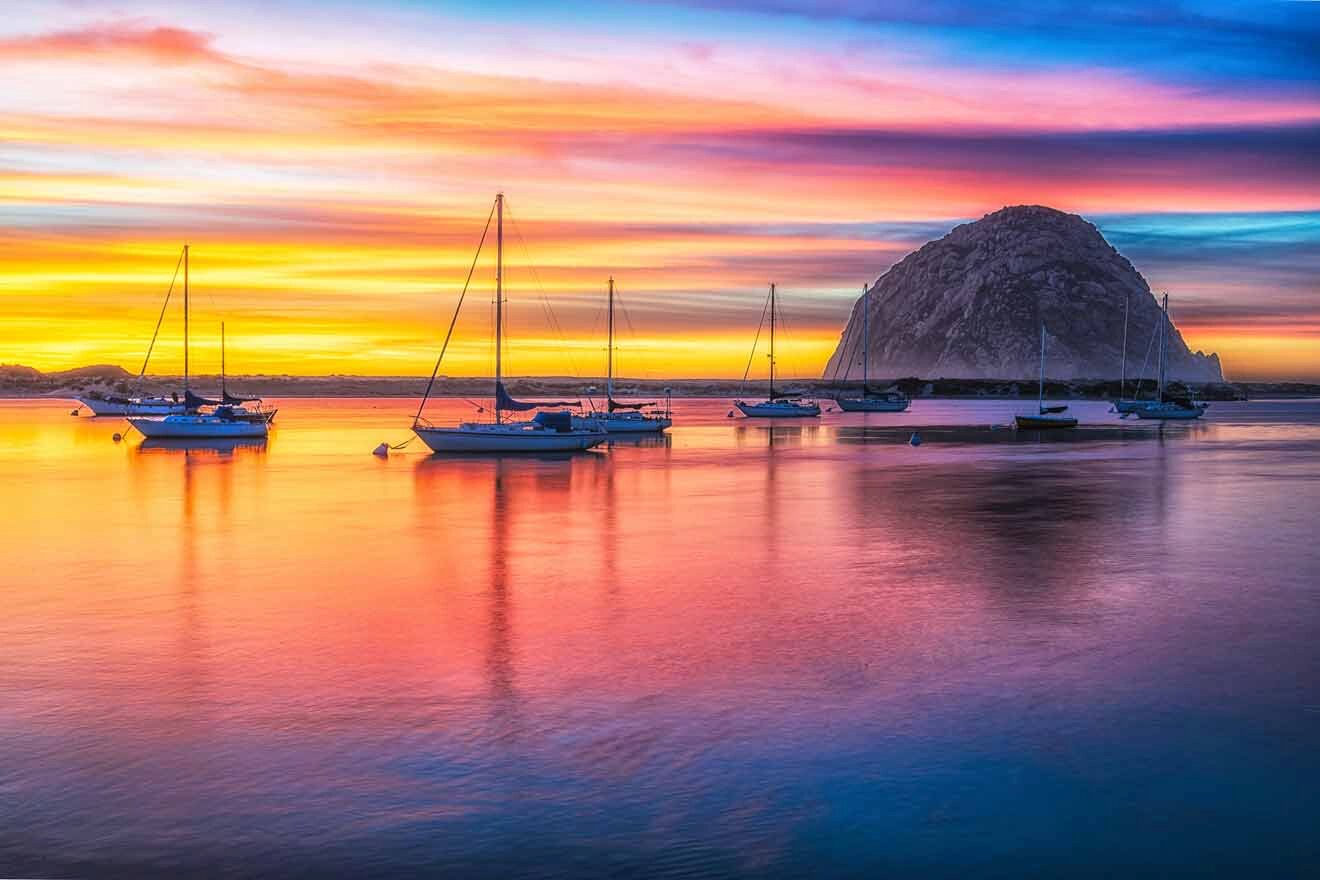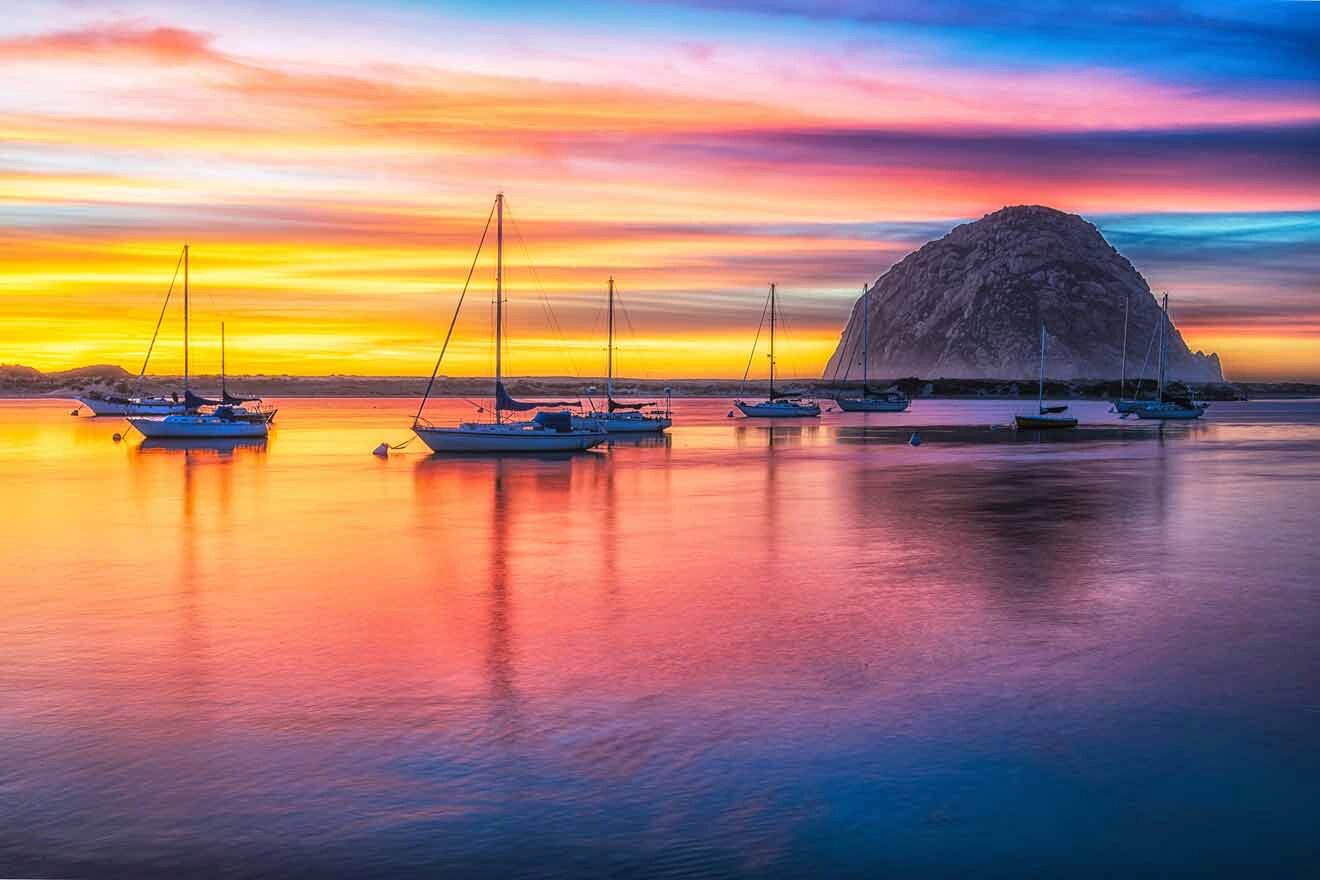 As you can see, there are so many incredible opportunities for Santa Barbara day trips while you are in this beautiful central coast region of California. Whether you want to sip on the local wine varietals, hike the most picturesque coastline, or tour the scenic sites, you'll have a blast exploring the Santa Barbara area.
Don't forget, with it being such a hot spot, Santa Barbara and its surroundings get busy: book your hotels and activities in advance.
Looking forward to reading which day trip you went on. Don't be shy, and drop me a comment below.
Aloha & Safe travels,
Hayden G.
---
Pin it for later!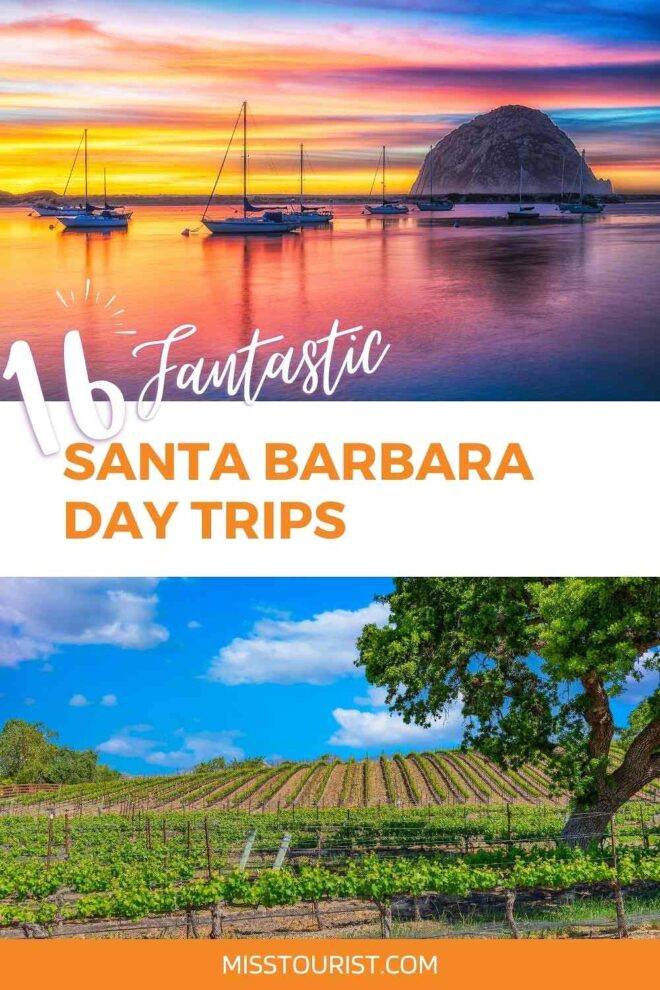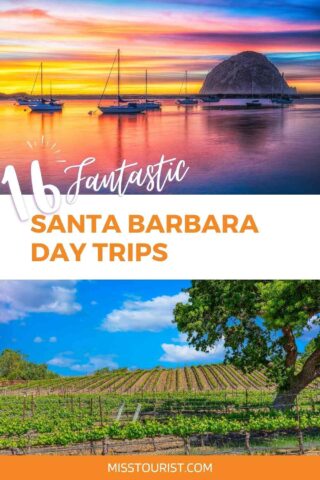 Pin it for later!