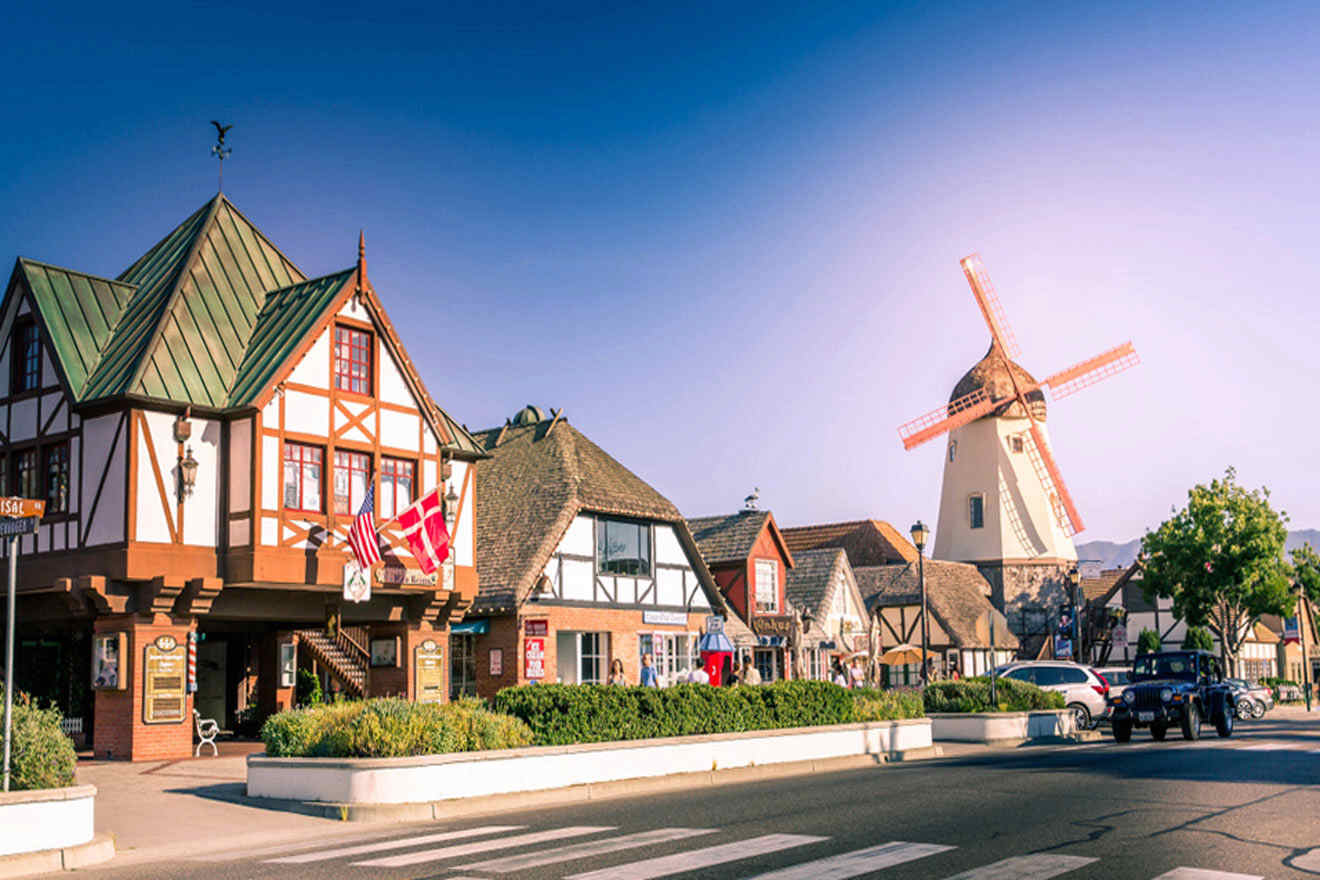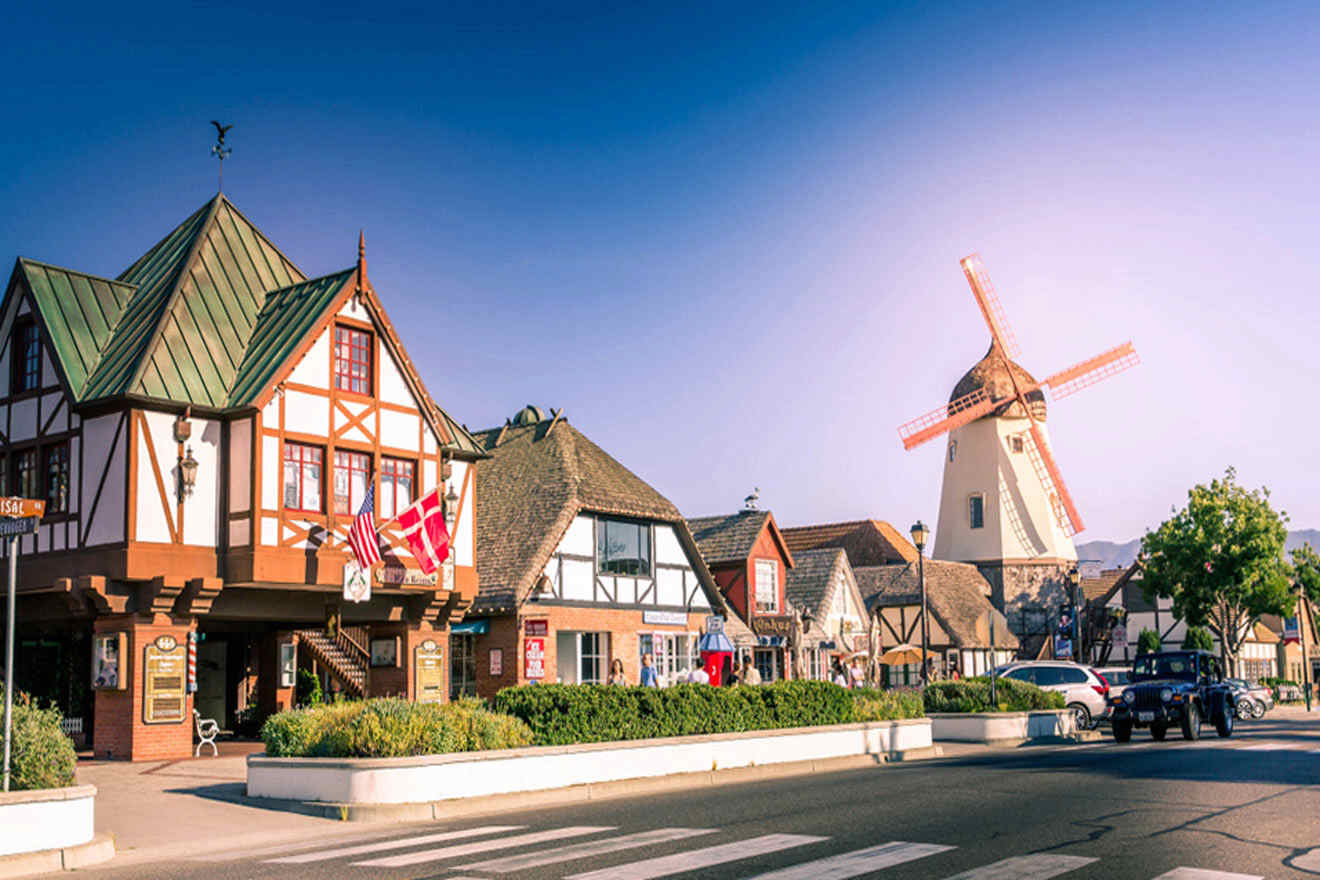 The charming town of Solvang embodies the Danish culture and roots as the "Danish Capital of the United States," a term often dubbed for the small town. Located a few hours from Los Angeles and San Diego, it's the perfect day trip if you're looking for a change of pace and the best pastries you'll ever have.
As a local Southern California girl, I've gotten the chance to visit Solvang quite a few times growing up. I've experienced the town first-hand enough times to share with you the best of the best things to do in Solvang, California, and I'm SO excited to share them with you!
One thing before we embark on this journey, though: book your accommodation and tours in advance to save your spot.
With that said, welcome to Solvang!
Let's get started!
If you are in a hurry
If you only have a day in Solvang, CA, there's a handful of experiences I recommend checking out. These are my absolute favorite picks that you absolutely NEED to do here.
Here are the main things to book in advance:
And here are the best hotels: Hotel Ynez (luxury), The Landsby (mid-range), The Hamlet (budget)
1. Explore California history at Old Mission Santa Inés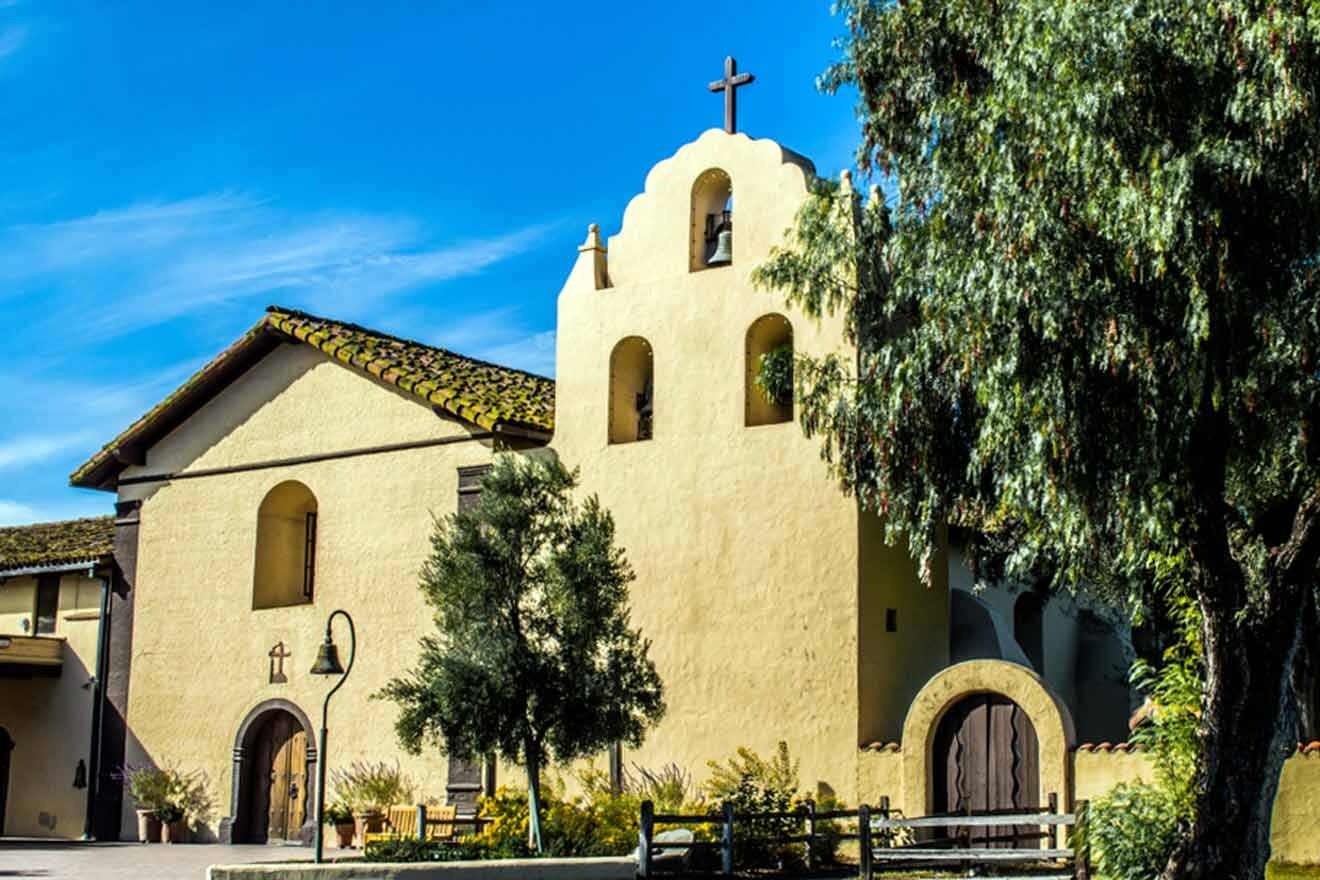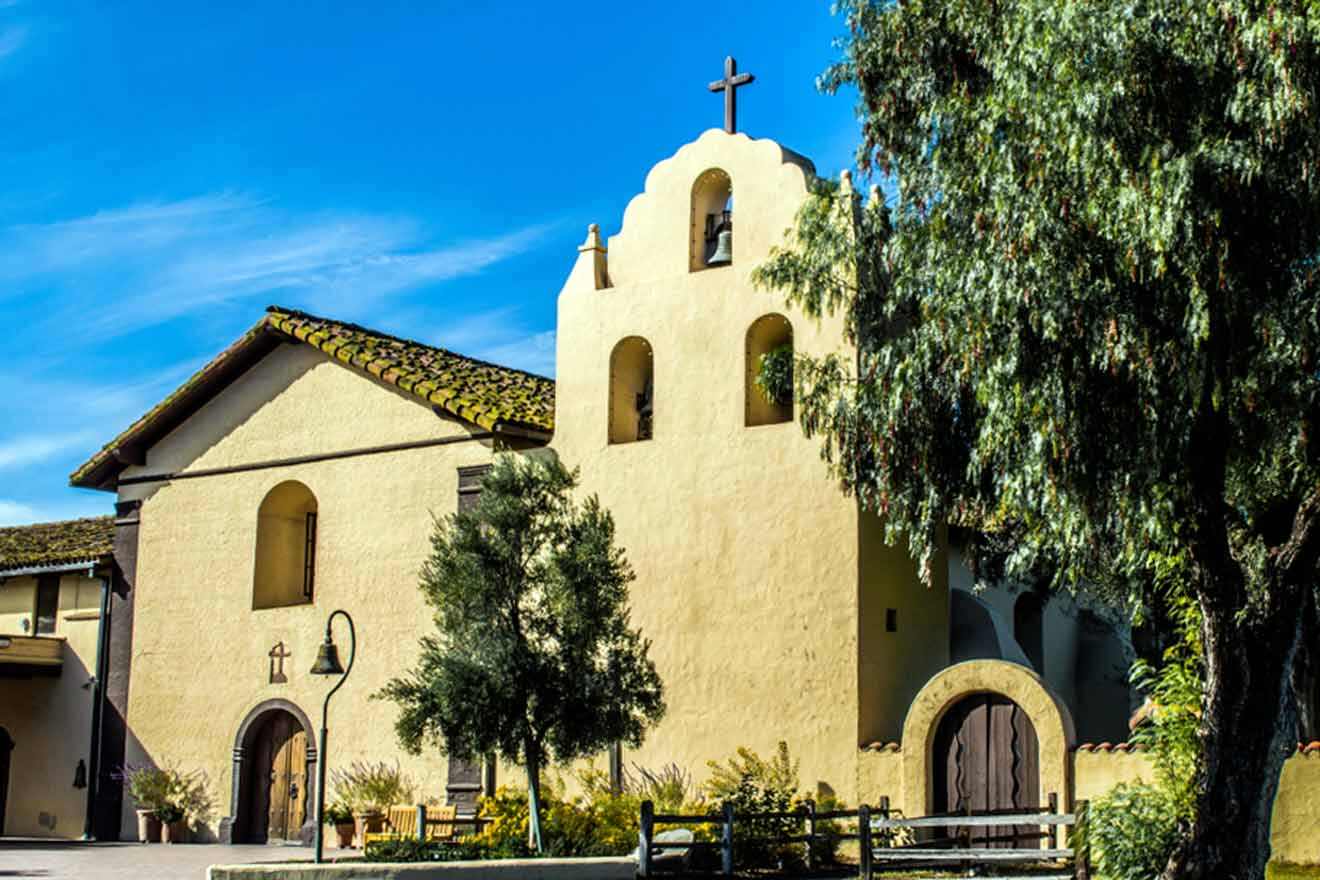 Mission Santa Inés is the 19th California mission founded by a Roman Catholic priest in 1804. The history that remains is told through the old walls and original artifacts. The blend of the Catholic religion and Danish roots seen here is unlike any other mission!
Old Mission Santa Ines offers self-guided tours between 9 AM and 3:30 PM. No prior reservations are needed, so there is no need to worry about booking in advance here. Take a visit to learn about the history, and stop by their Museum Gift Shop to bring a piece home with you.
TIP: Solvang village is a popular day or weekend trip destination, so beat the crowd and go early in the morning!
PRICE: US$8 per person for adults
2. Travel back in time at Solvang Vintage Motorcycle Museum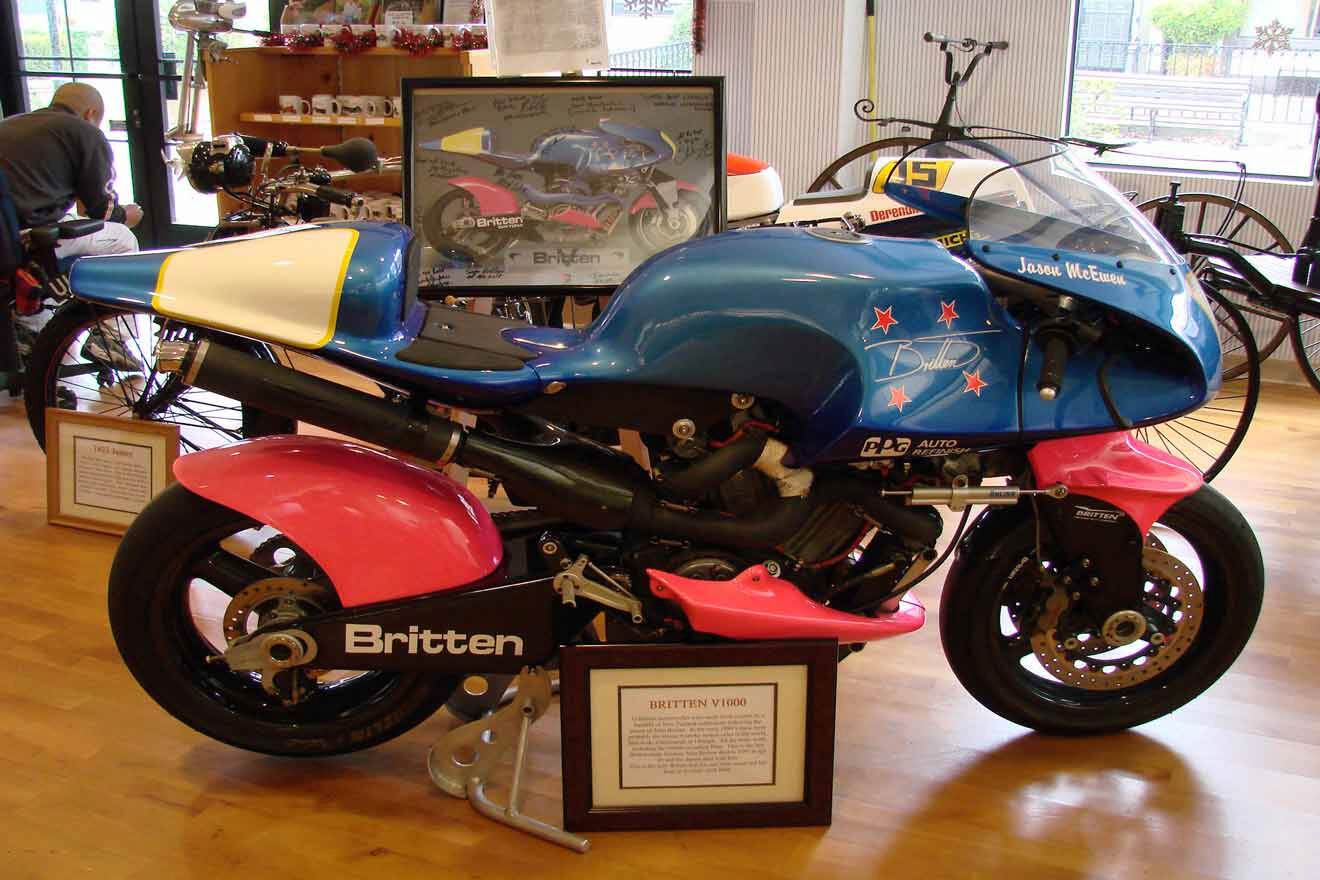 Solvang Vintage Motorcycle Museum features bikes from the early 1900s to the present day, collected by Virgil Eilings, a collector that has accumulated these bikes over the course of the past 20 years or so. You'll notice an emphasis on racing motorcycles since he and his son specialized in vintage motorcycle racing.
The Solvang Vintage Motorcycle Museum is located in Solvang Village Square, a couple of blocks away from the Elverhoy Museum of History & Art (#7 on this list). I suggest making a whole day out of this by hopping to different museums on this street!
Not only is it easy to walk to, but you can sight-see while you're walking down these streets. There's a fairytale and European village feel here, similar to that of Carmel-by-the-Sea!
NOTE: The museum takes cash ONLY, so come prepared!
PRICE: US$10 for adults
3. Catch a local show at Solvang Festival Theater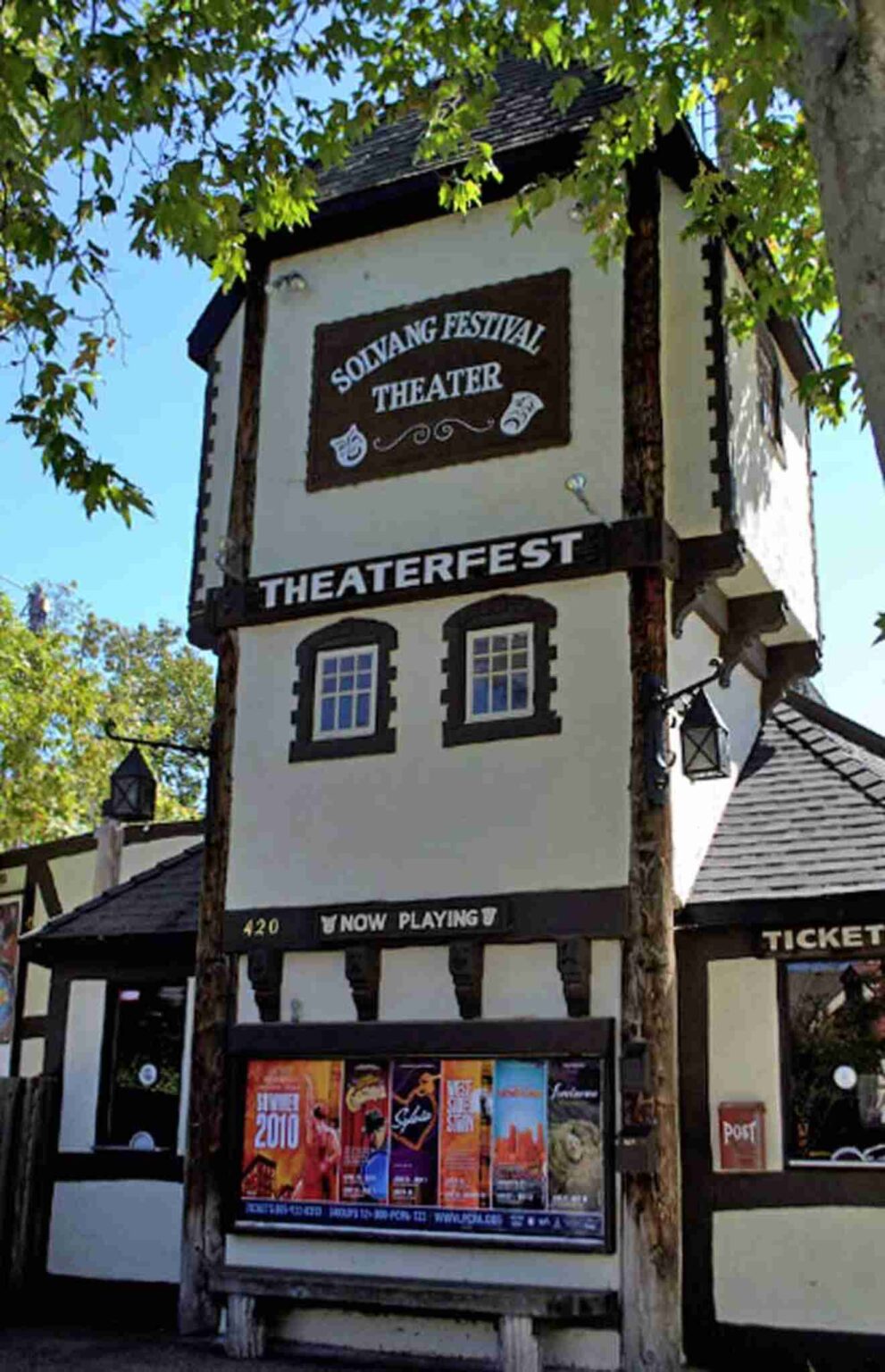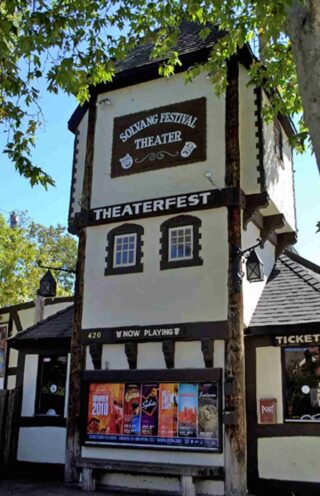 Solvang Festival Theater is an arts venue in Solvang featuring all kinds of musical artists and theatrical performances! They have their Music in the Garden, where there hold a variety of concerts in their lovely garden, including Funk, Blues, Latin Fusion, Motown, Cuban, Rock-N-Roll, Reggae, and more!
The Solvang Festival Theater does not allow any outside beverages besides water, but I recommend bringing snacks in your bag to munch on during the show. It's an open-seating event, so come in as early as possible to get the best seats!
NOTE: Check out what shows are currently playing and buy your tickets here in advance!
4. Awaken your inner child at Hans Christian Andersen Museum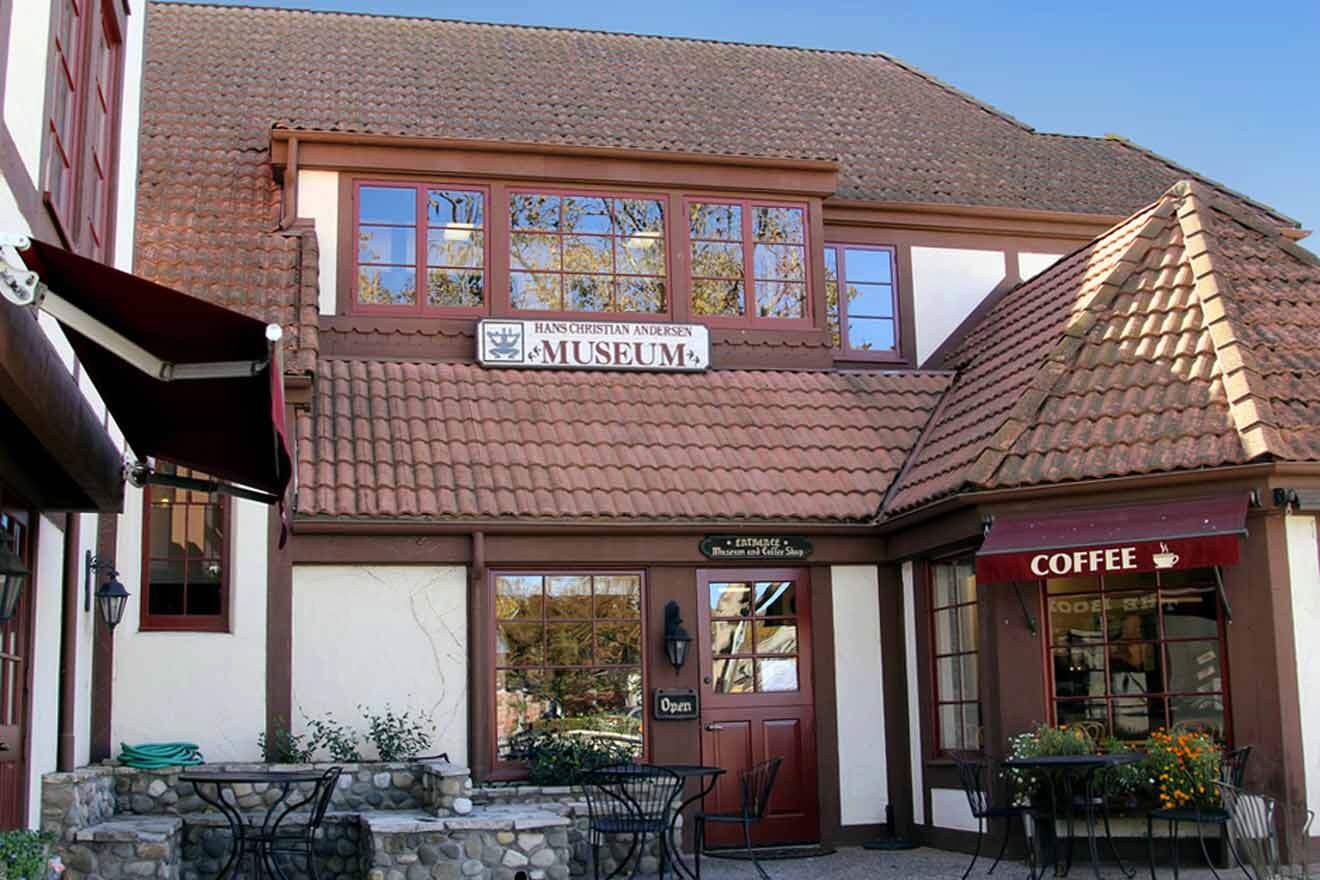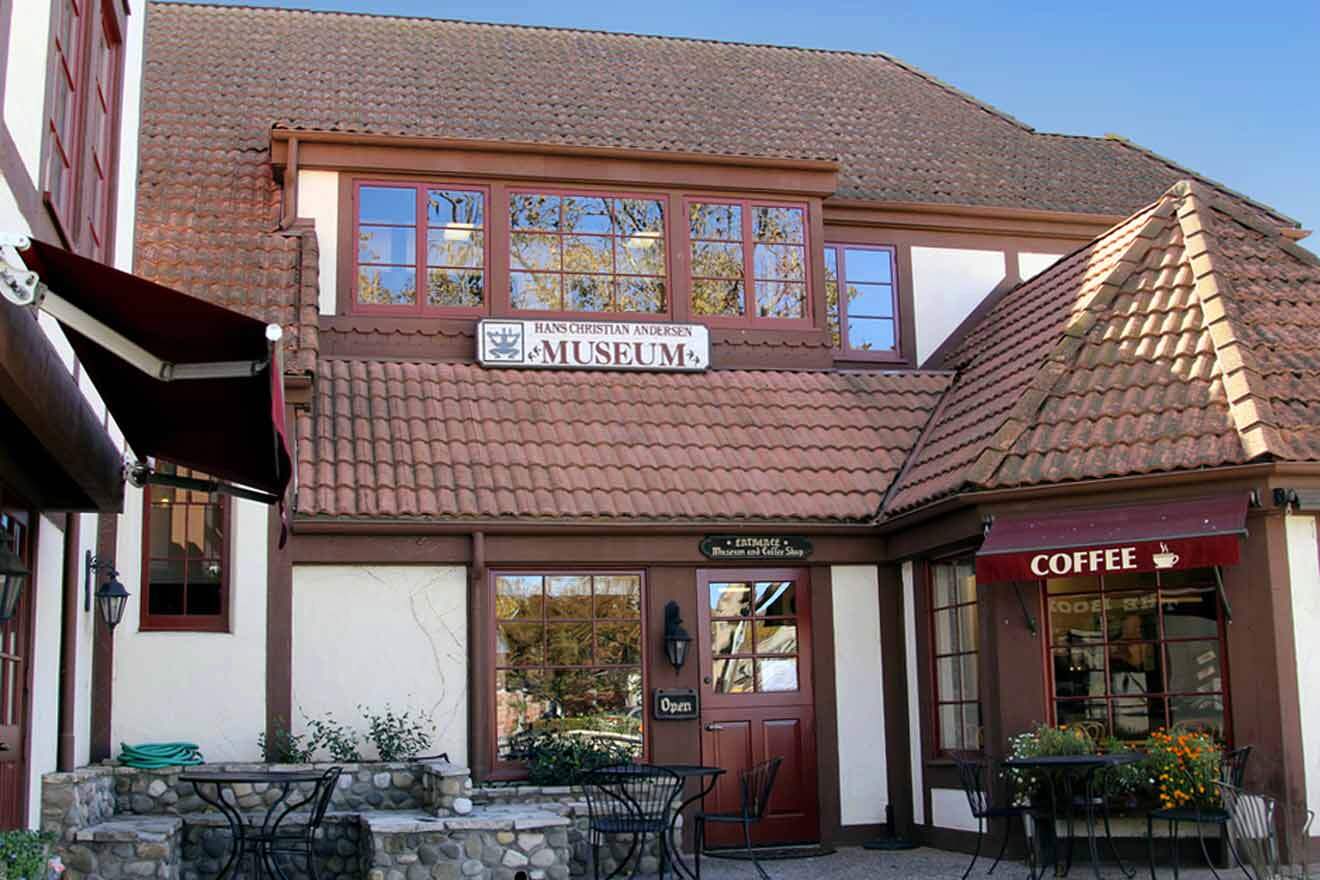 Hans Christian Andersen was a beloved Danish writer who wrote fairytales beginning in 1835 until the end of his life. He wrote simple stories with deep meanings that were understood and acknowledged around the world by adults and children. His story is told at this small museum located in Solvang's bookstore, The Book Loft.
The museum honors Hans Christian Andersen's life and work, along with some of his most well-known stories, such as The Little Mermaid, Thumbelina, and The Nightingale.
The museum is open from 10 AM to 5 PM and free to the public. I recommend booking a self-guided audio tour that will take you through the museum and 4 other popular Solvang attractions. There's so much information and history to be told here that it's worth listening to while you're strolling these iconic attractions.
NOTE: Take a 10-minute walk down to Hans Christian Andersen Park, take a look at The Little Mermaid statue, buy clogs at the famous Solvang Shoe Store, and grab an apple cinnamon crepe at Bit O'Denmark Restaurant to end your afternoon. (You can thank me later!)
TOUR PRICE: US$20 per person
5. Have a Danish picnic at Sunny Fields Park
Sunny Fields Park is a small park situated in the middle of Solvang, made with a true Danish-style feel, clean grounds and facilities, and tons of features great for the whole family.
You'll find oak trees, a wooden castle playground with small houses built for hide-and-seek, a gingerbread house, a Viking ship, picnic tables, and a puppet theater that celebrates Solvang's Danish heritage.
If you're here without the kids and simply enjoy the park, I recommend having a picnic! Alcohol is permitted in this park, so bring all the ingredients you need to make a Coppanhegan Cocktail from Coppanhegan Liquor, a short 5-minute drive away. Remember to bring an insulated cooler (I use this washable cooler) to keep your ingredients nice and cold!
If you're not traveling with the kids, take a walk to Solvang Park and enjoy your day there instead. It's another quant park located just 3 minutes away from Sunny Fields Park, with more picnic tables and open green grass to lay your chairs and blankets.
If you want to ditch the picnic and head to another park instead, check out the Creekside Open Space nearby for shaded creeks and informal hiking trails.
6. Ride bikes through Santa Barbara Wine Country and Solvang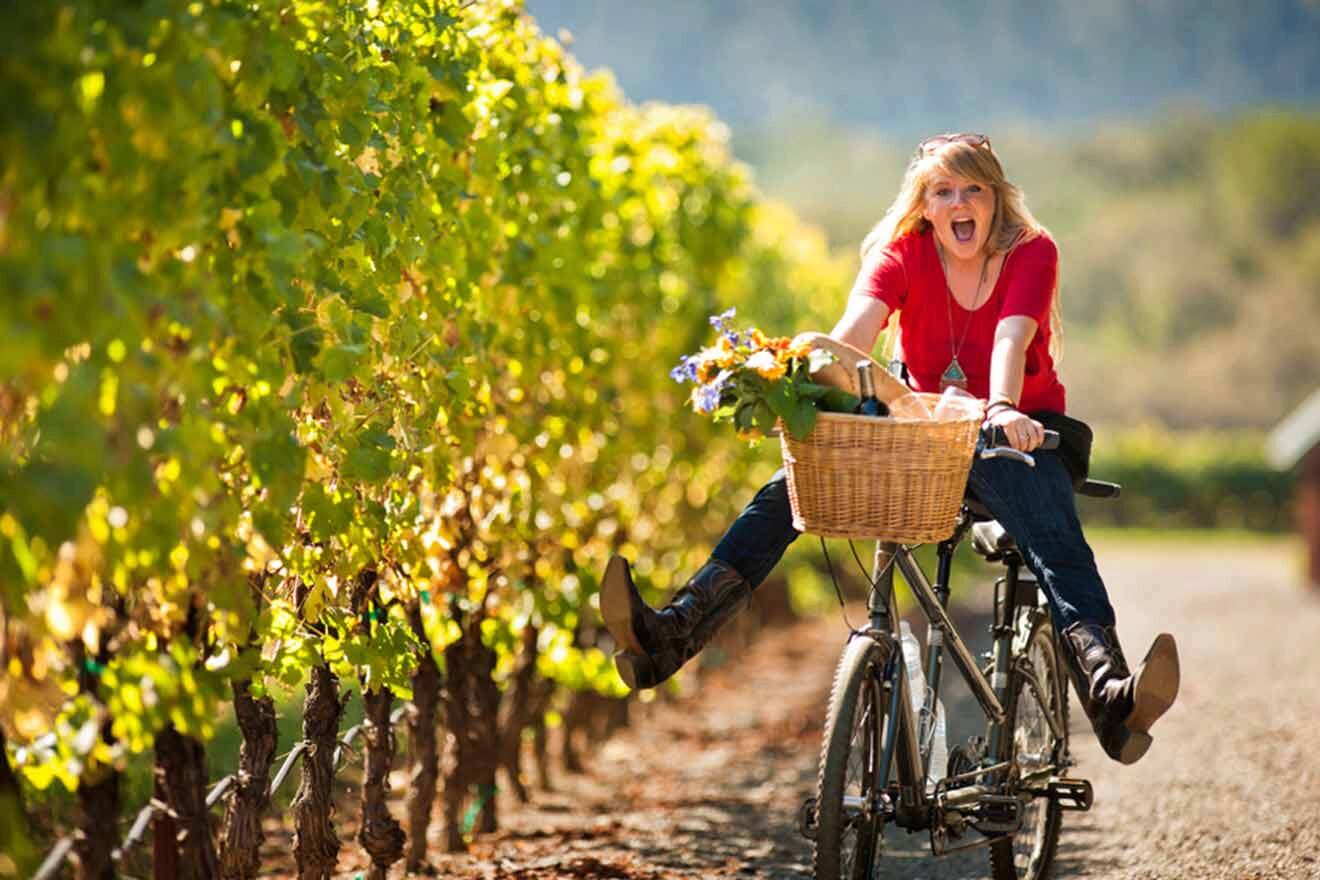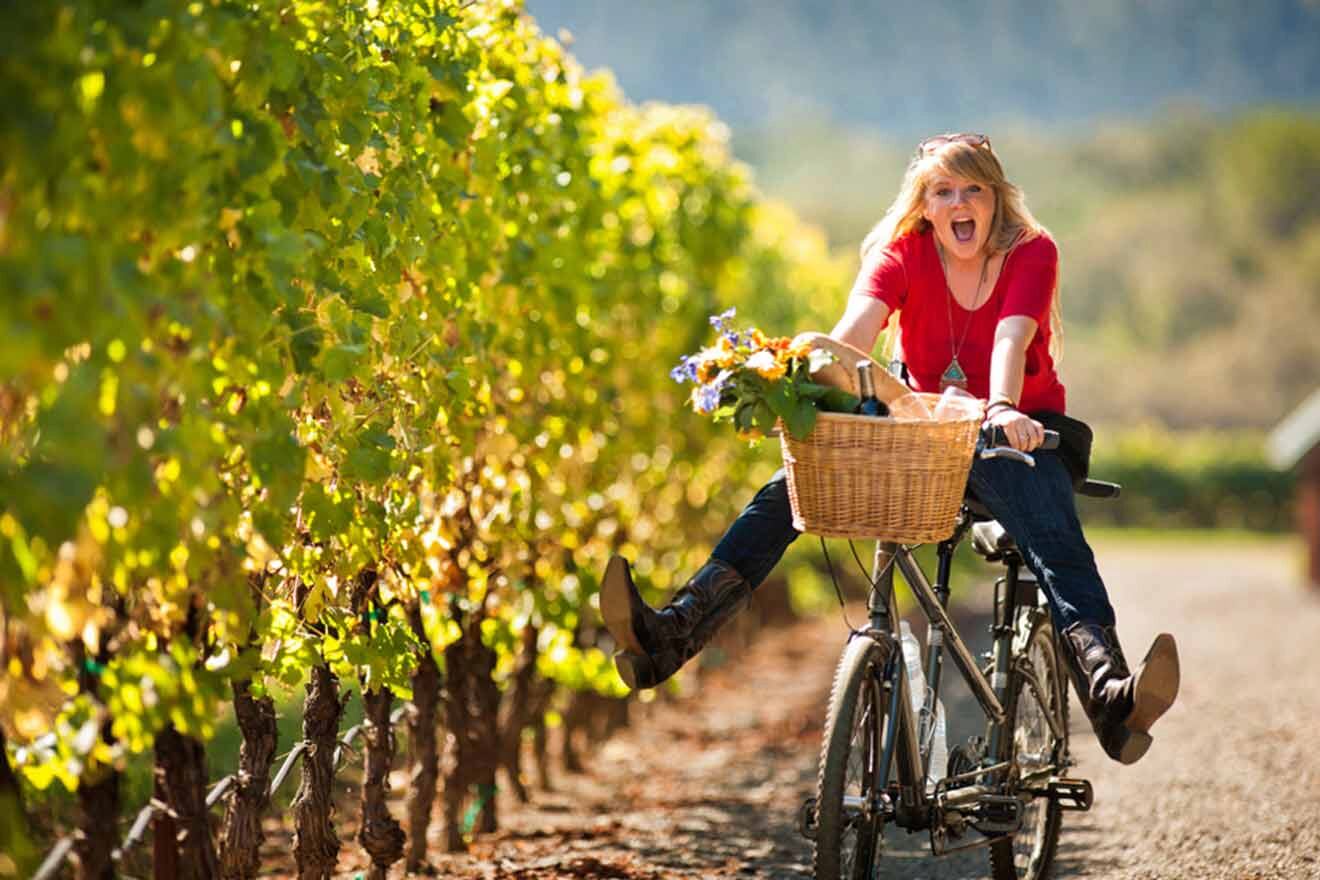 Explore the town the best way possible in Santa Barbara County: bike riding! Imagine passing through picturesque vineyards, quant country roads, cattle ranches, and having the chance to go olive oil tasting. (And no, you're not in Italy…)
This amazing bike tour takes you around all these places and more within half a day. A professional tour guide and Solvang expert will lead the way as you enjoy yourself under the sun. The tour also passes through a local apple orchard and a vineyard for local wine tasting and continues through a scenic canyon to end the day.
PRICE: US$155 per person
7. Explore Elverhøj Museum of History & Art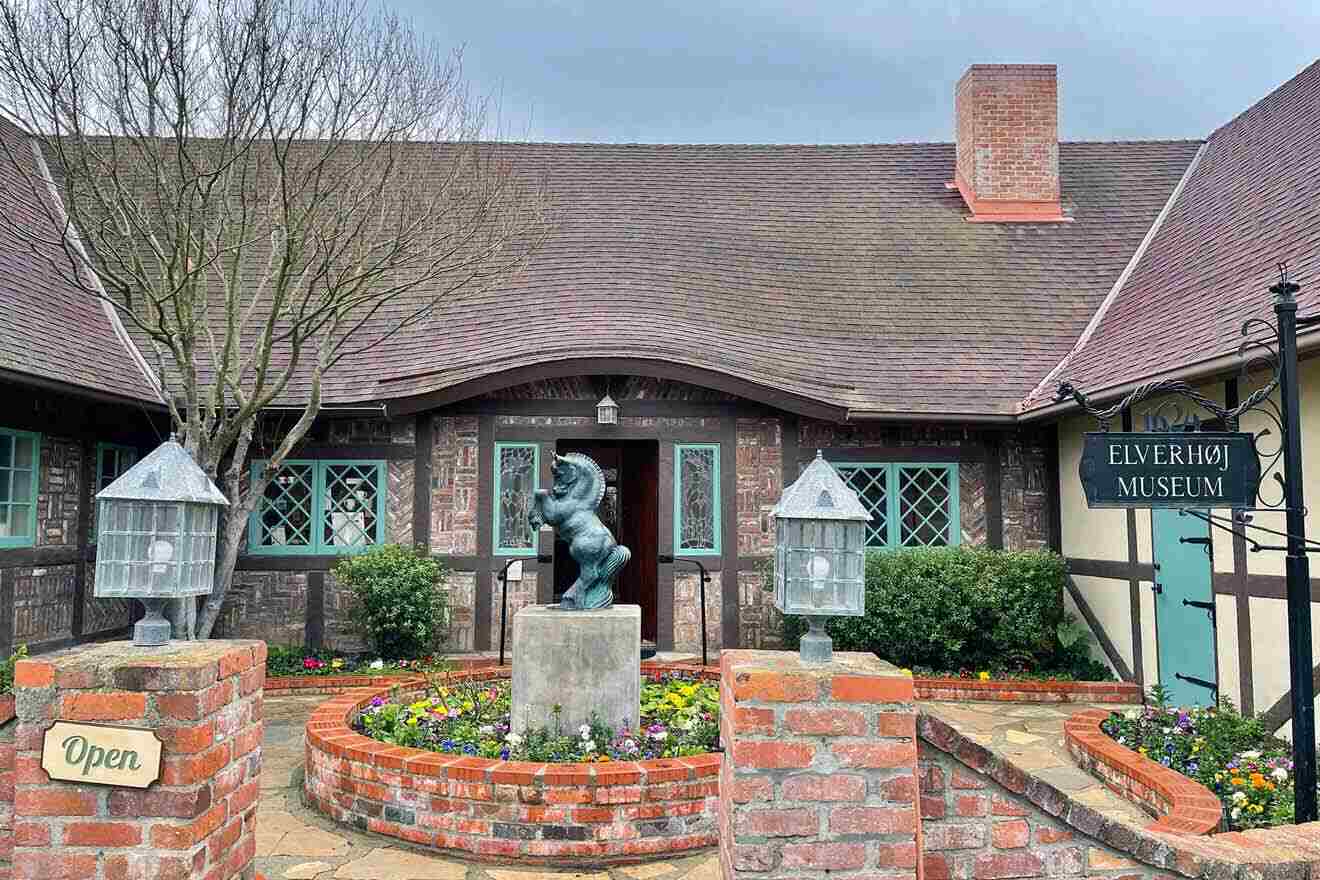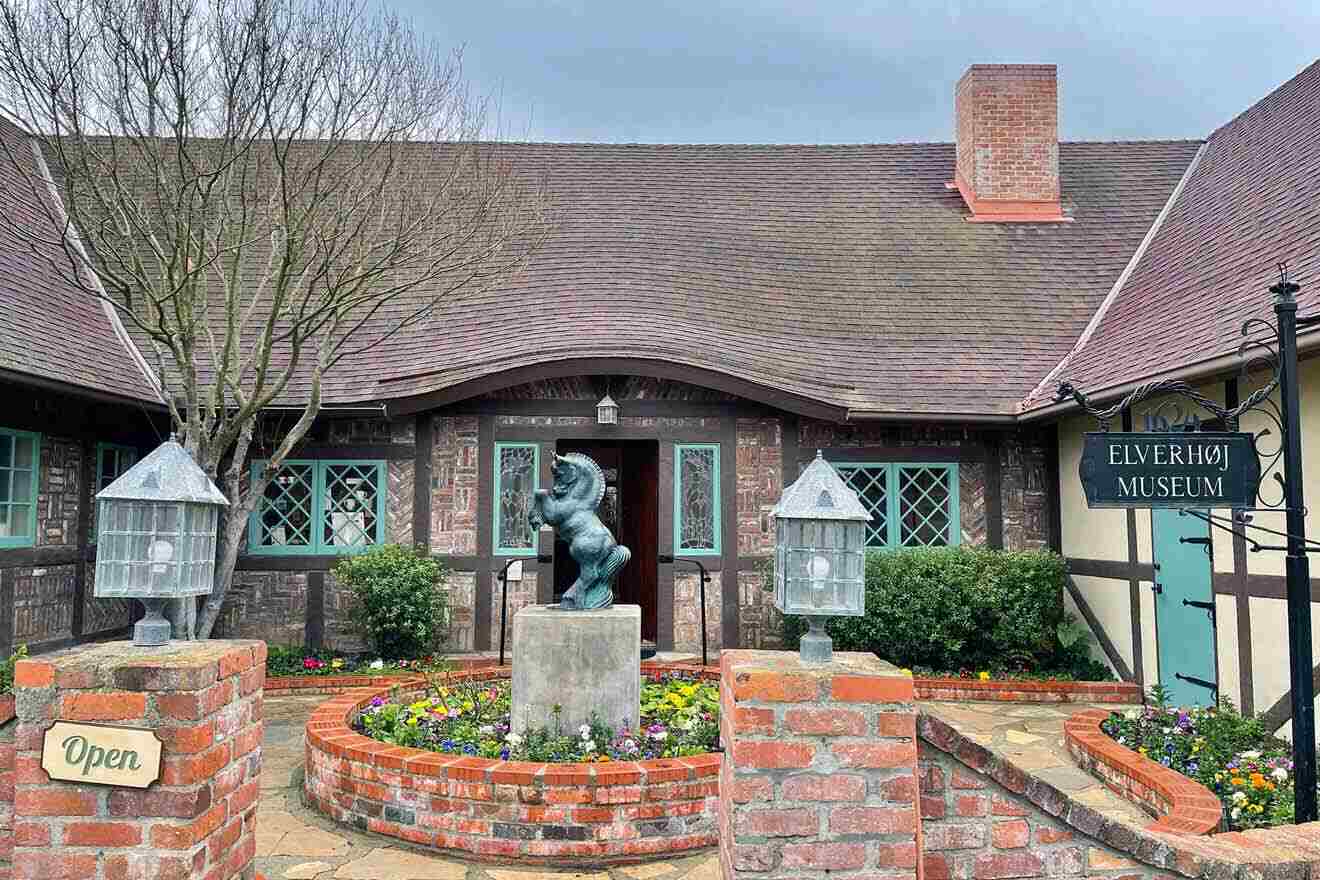 Elverhøj Museum of History & Art has a mission to celebrate Solvang's Danish history, explaining the life and experiences of Danish Americans in Solvang and presenting the finest art galleries and exhibits to help further promote their mission.
The museum is open for the public to enjoy from Thursdays to Mondays, 11 AM to 5 PM. Be sure to respect this museum and follow all the proper etiquette listed on their website.
PRO TIP: After you explore the museum, take a short walk to Solvang Restaurant for their authentic Danish-style meatballs or Danish waffle if you're craving something sweet. It gets SO busy at this small restaurant, so be prepared to put your name on a list or call ahead! There's no option to book an online reservation.
PRICE: FREE!
8. Grab a traditional Danish treat at Olsen's Danish Village Bakery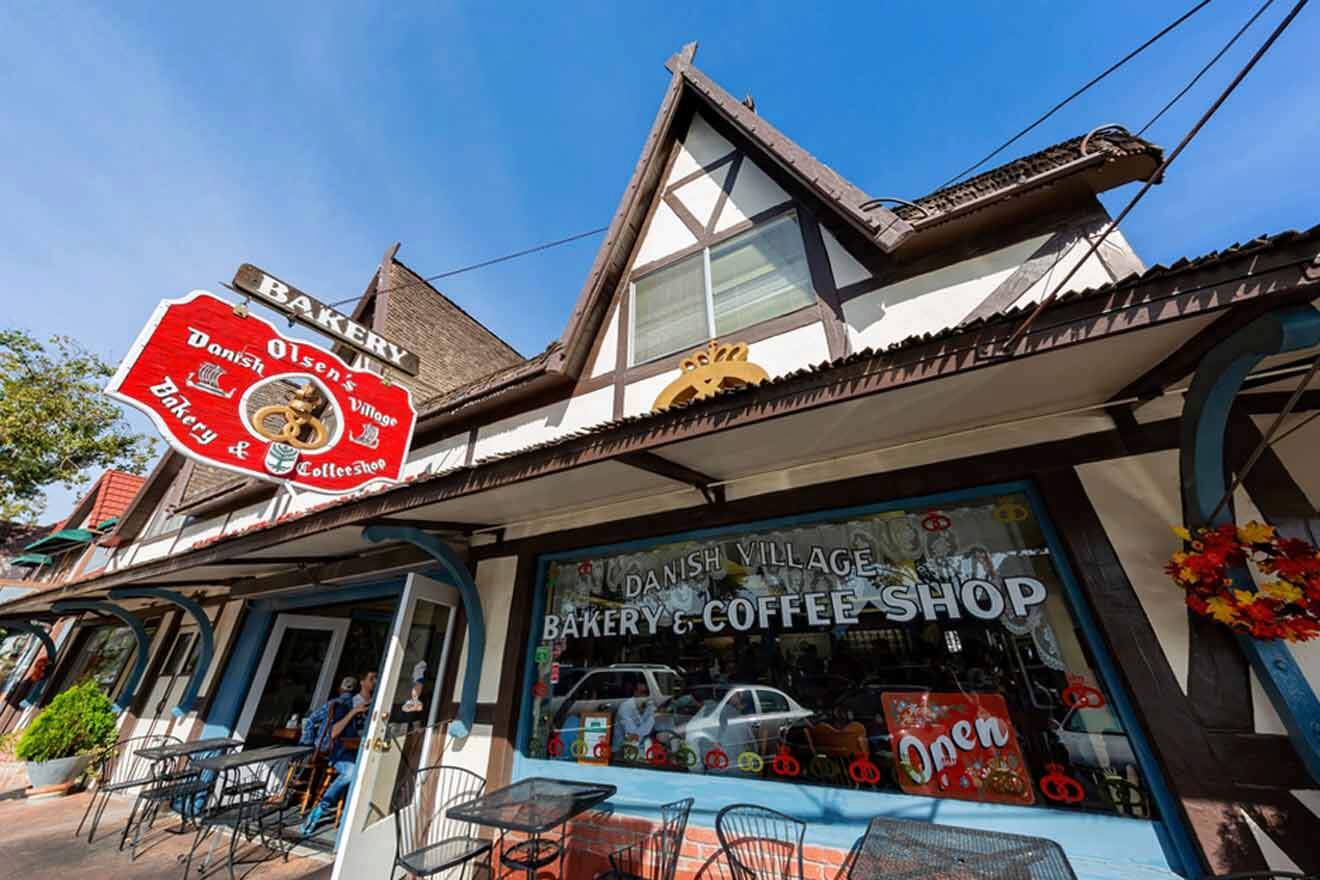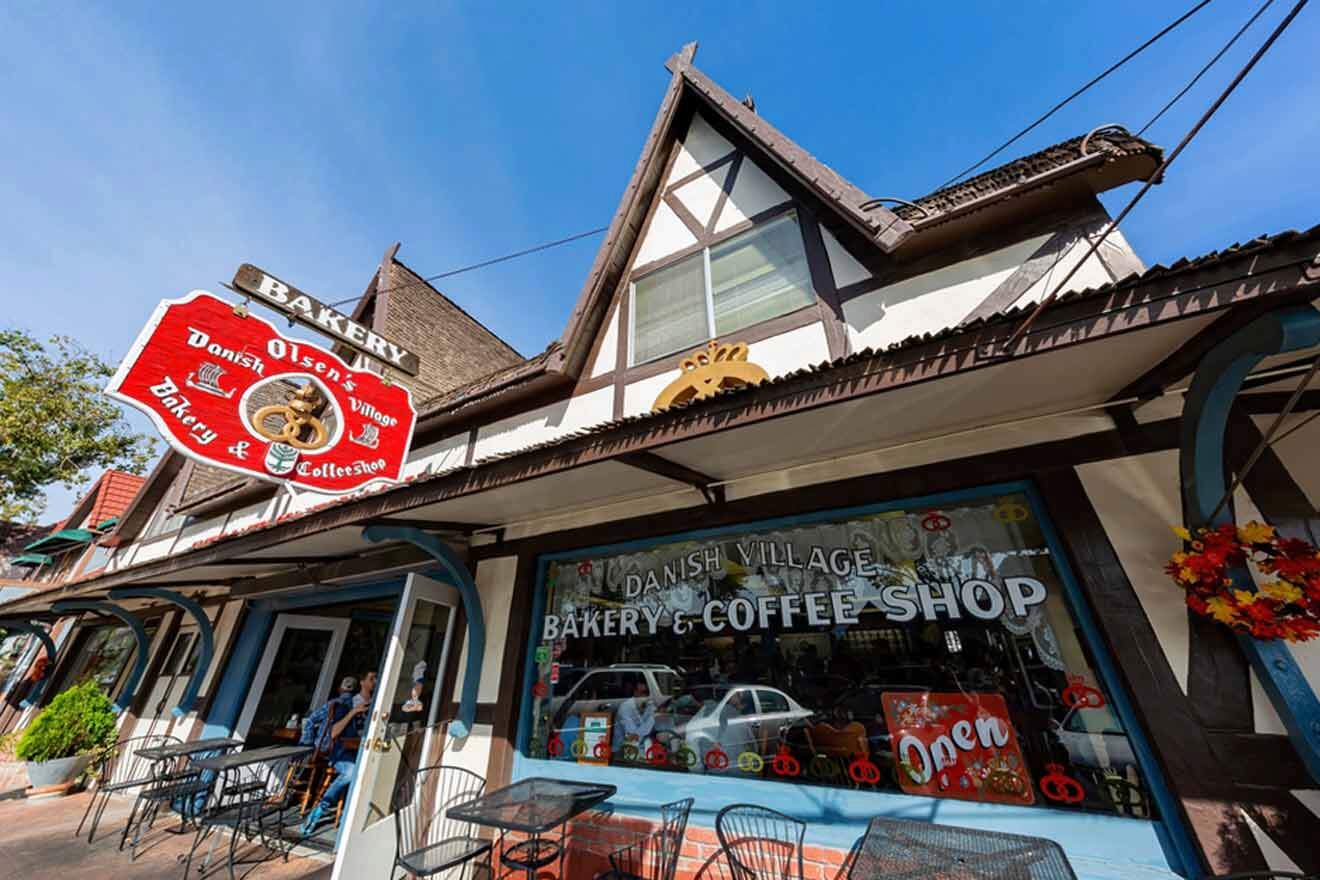 Olsen's Danish Village Bakery is a classic Solvang bakery in the heart of the town, offering traditional Danish pastries like Danish butter cookies, Danish waffles, and more.
This family-owned and operated bakery has recipes of 4 generations among the line of bakers, starting in the year 1890 in a small village in Denmark, crossing their way to the Danish town of Solvang along the way.
There's no denying how delicious their pastries are! I recommend trying out their Limpa Bread, Seven Sisters Butter Ring Coffee Cake, and traditional Danish Butter Cookies. Come here early for a quick breakfast pastry and coffee – you won't regret it!
PRO TIP: I recommend going on a guided food and photo tour to get the full Danish dining experience, eat at all the local favorite spots, and capture those memories along the way. My favorite way to explore a new city is by booking tours like these!
NOTE: There are quite a few Danish bakeries in Solvang! If you're in Solvang for a while, don't miss out on Solvang Bakery (mostly known for its yummy honey almond tarts), Danish Mill Bakery, and Mortensen's Bakery for more delicious goodies.
9. Experience the Santa Ynez Valley wine country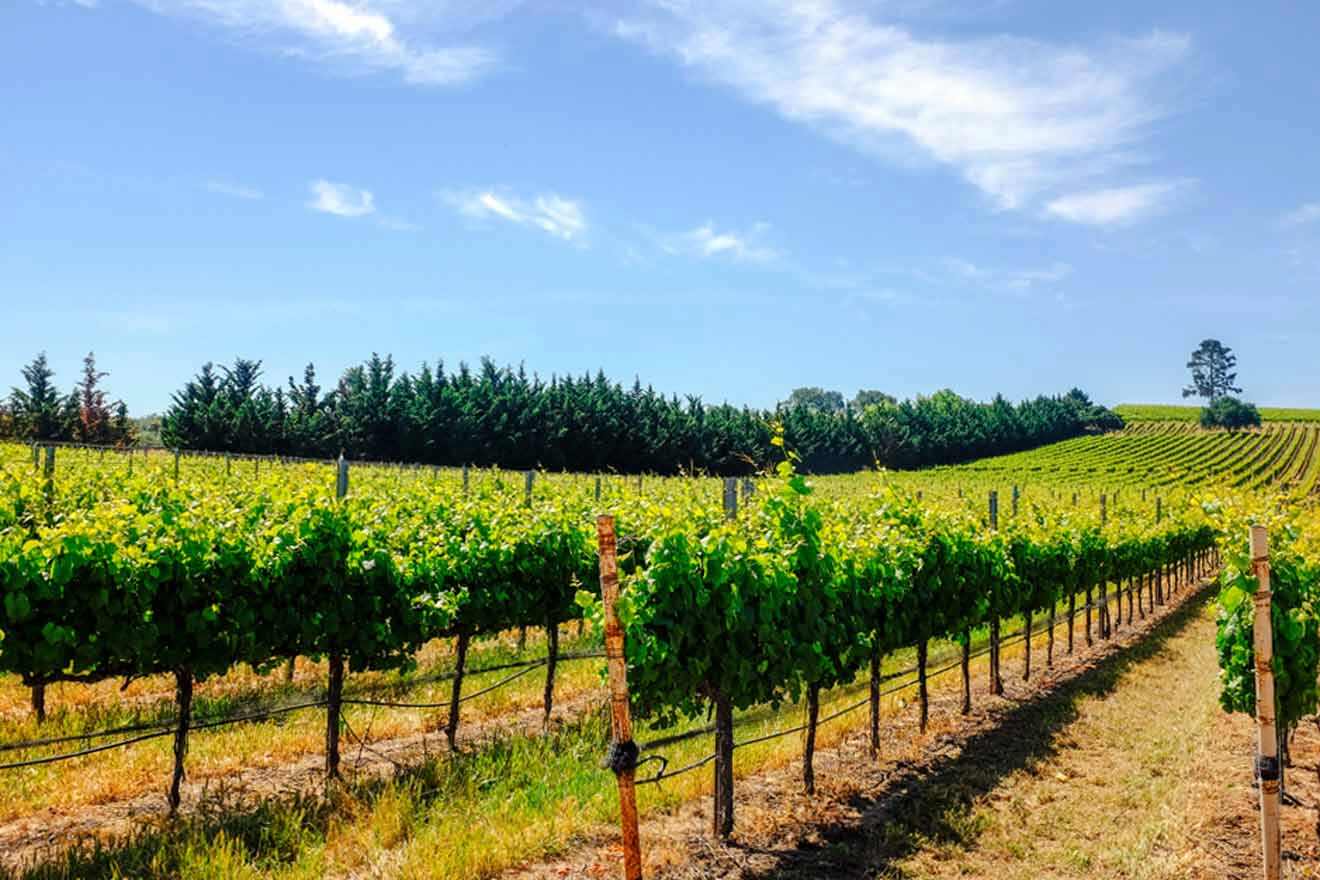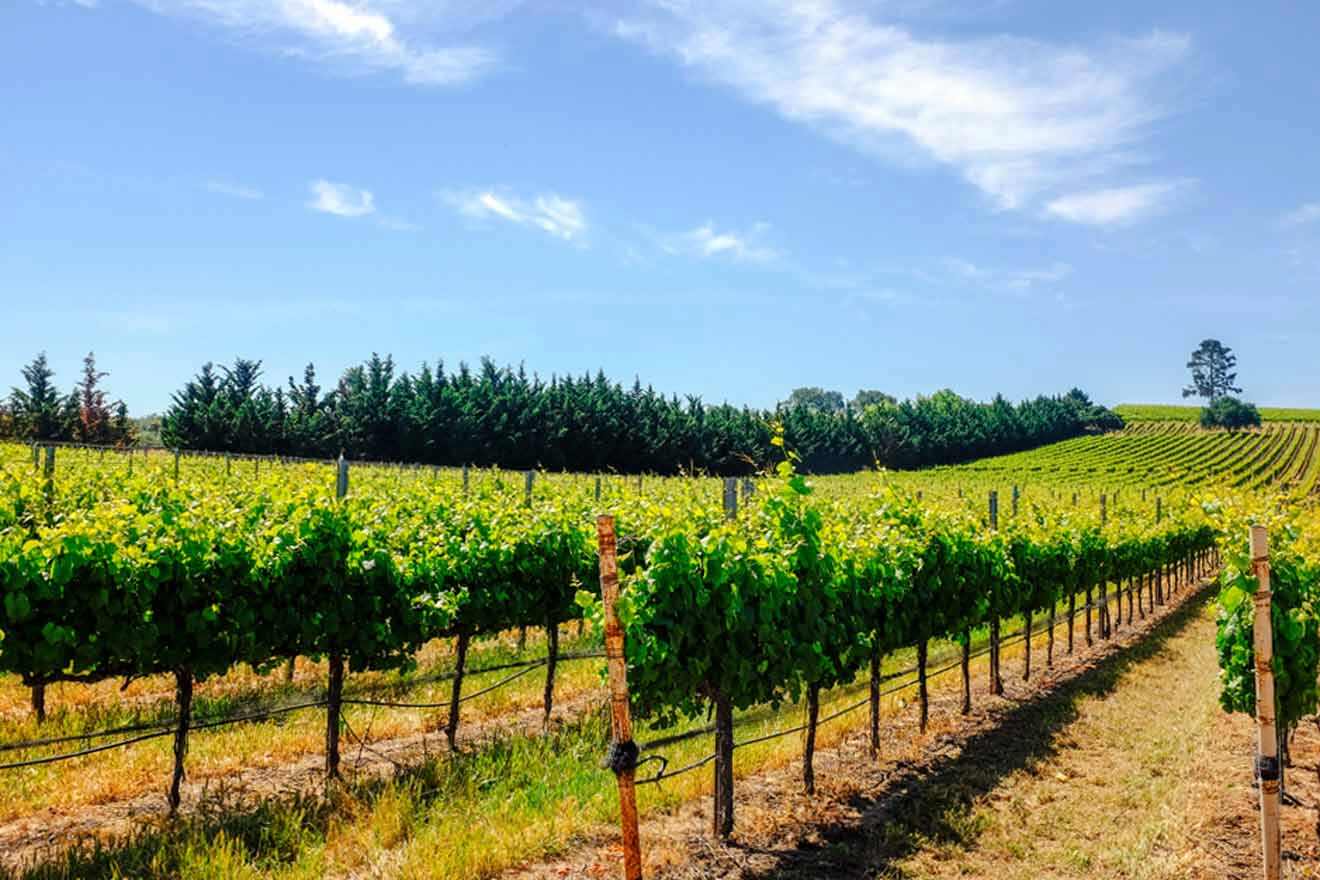 Because Solvang is situated in Santa Ynez Valley and the Santa Barabra wine country region, there are SO many beautiful wineries to explore. Rideau Vineyard in Solvang is a breathtaking estate offering tours of their historic wine tasting room and vineyards daily (plus, walk-ins are welcome!)
Here are a few tour options that are worth checking out in this beautiful central California winery:
Flights Tastings is for wine lovers! You can pick between their Signature Flights or Adobe Flights, serving hand-selected wines from their best collections.
The Rideauu Estate Experience is a wine-tasting experience that includes a food pairing and is available for groups of 4 to 6. You also get a tour of the vineyard, making this experience between 90 and 120 minutes. I recommend checking out this private experience if you're traveling with a group!
If you want a more rustic feel, I recommend checking out Blackjack Ranch Vineyards! They have a more country ~vibe~ with their wood decor, furniture, and laid-back wine tastings. Walk-ins are also welcome here!
For a Meditteranean wine-tasting experience, visit The Sanger Family of Wines Tasting Room.
10. Admire nature and art at Wildling Museum of Art & Nature
Wildling Museum of Art & Nature is another amazing museum in Solvang made to inspire the community to enjoy, value, and conserve wildlife and nature through art! They've shared over 65 exhibits since opening in 2000 with contemporary artists who bring awareness to nature and wildlife that most are unaware of.
Today, they have 5 exhibits featuring work done by John Iwerks, small artists inspired by nature, and community projects by local schools, senior citizen residences, and others that are worth checking out.
NOTE: They are open Monday, Thursday, and Friday from 11 AM to 4 PM, Saturday & Sunday, 10 AM to 5 PM. They are closed on Tuesdays and Wednesdays. If you're unable to make it, check out their virtual tour for free!
PRICE: US$5 for adults
11. Explore the town through the Solvang Trolley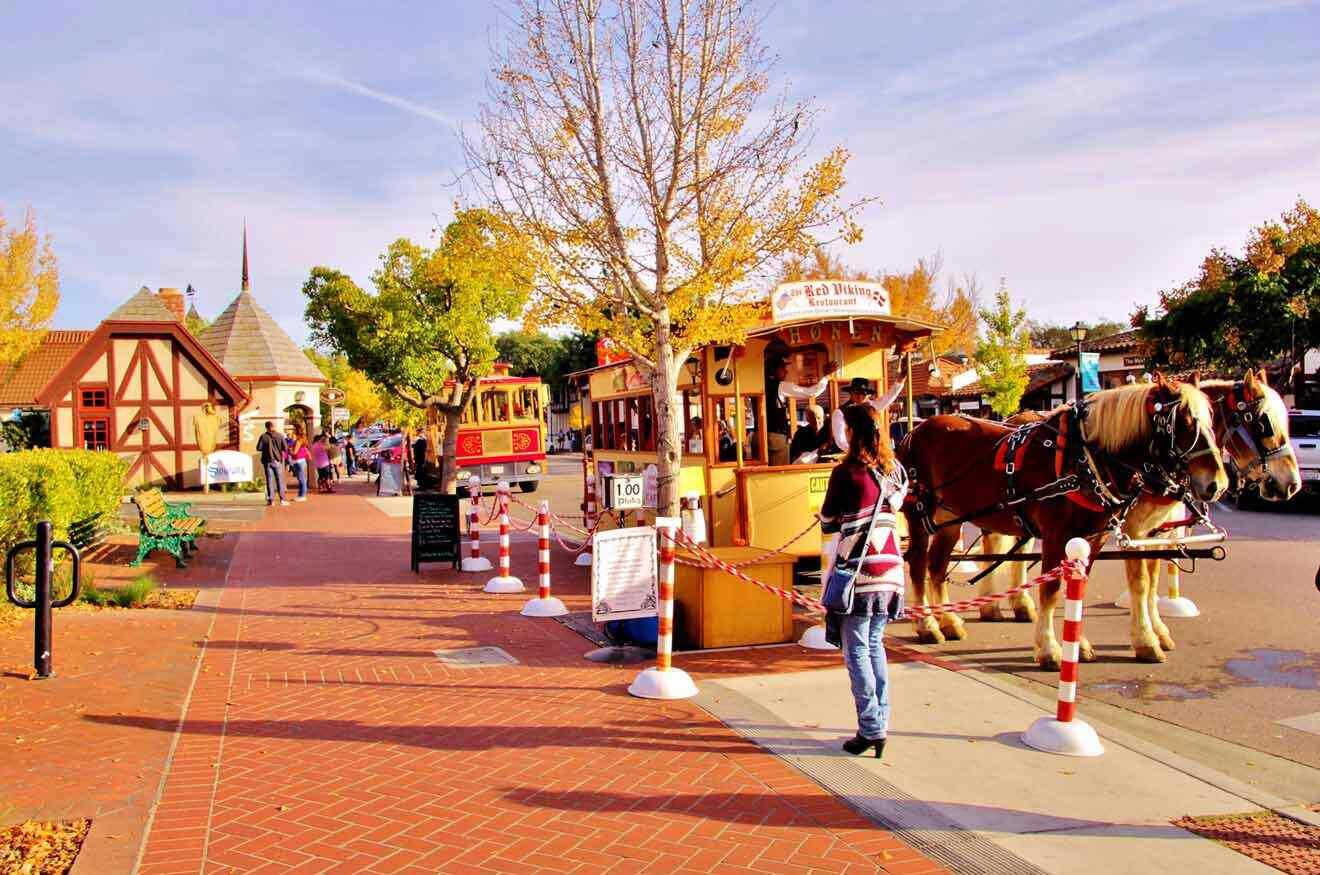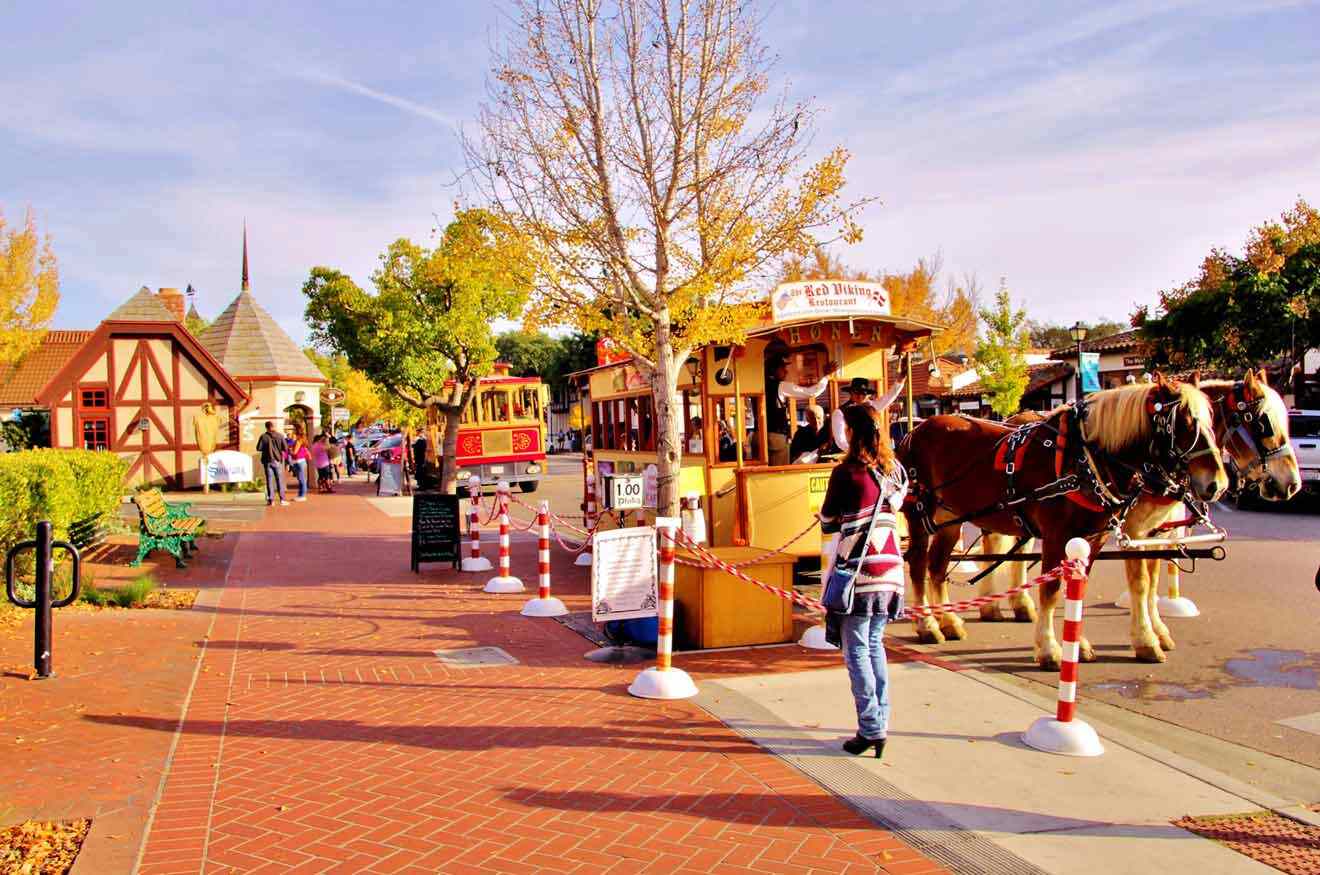 Take the Solvang Trolley through the charming Danish village! The trolley here is a bit different than you might imagine. It's actually an old-fashioned horse-drawn carriage that is otherwise called a "Honen."
The carriage is a fun and relaxing way to explore the town of Solvang as you pass by boutique shops, beautiful wine-tasting rooms, restaurants, Danish bakeries on every corner, and even the famous windmills! It's an experience for those who want to explore the town as locals did back them.
The Solvang Trolley boards outside the Visitor Center between Copenhagen and Second Street, taking guests around downtown Solvang and the surrounding Santa Ynez Valley area for a 25-minute tour.
It's a short and sweet activity where you'll get a chance to hear the history of Solvang, tales and stories of the Danish culture, and the fairytale-like architecture down the streets. The carriages are open Friday to Monday during the summer, winter, and early spring from 12 PM to 5 PM.
PRICE: US$14 for adults, US$9 for kids
12. Uncover amber artifacts at Solvang Amber Museum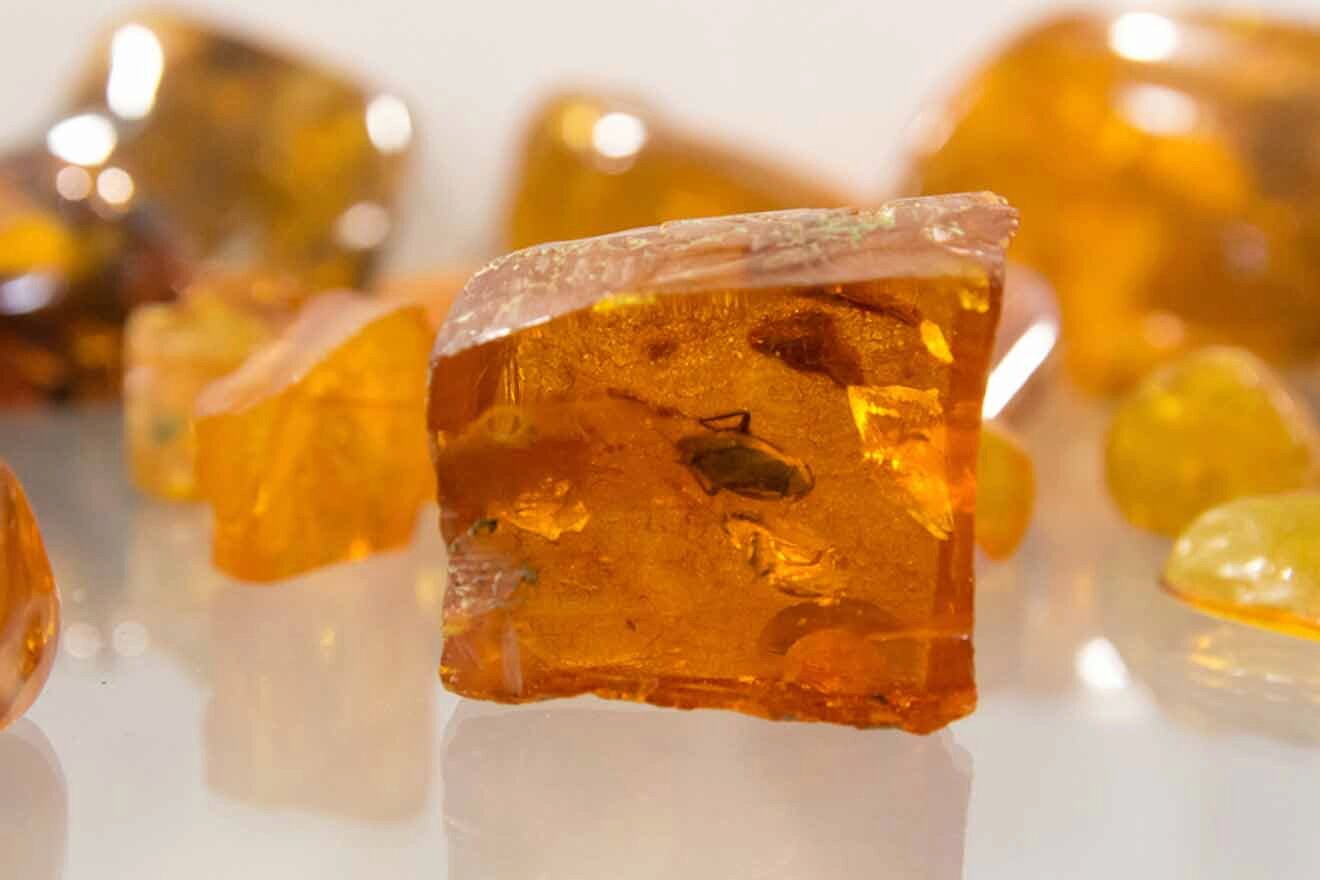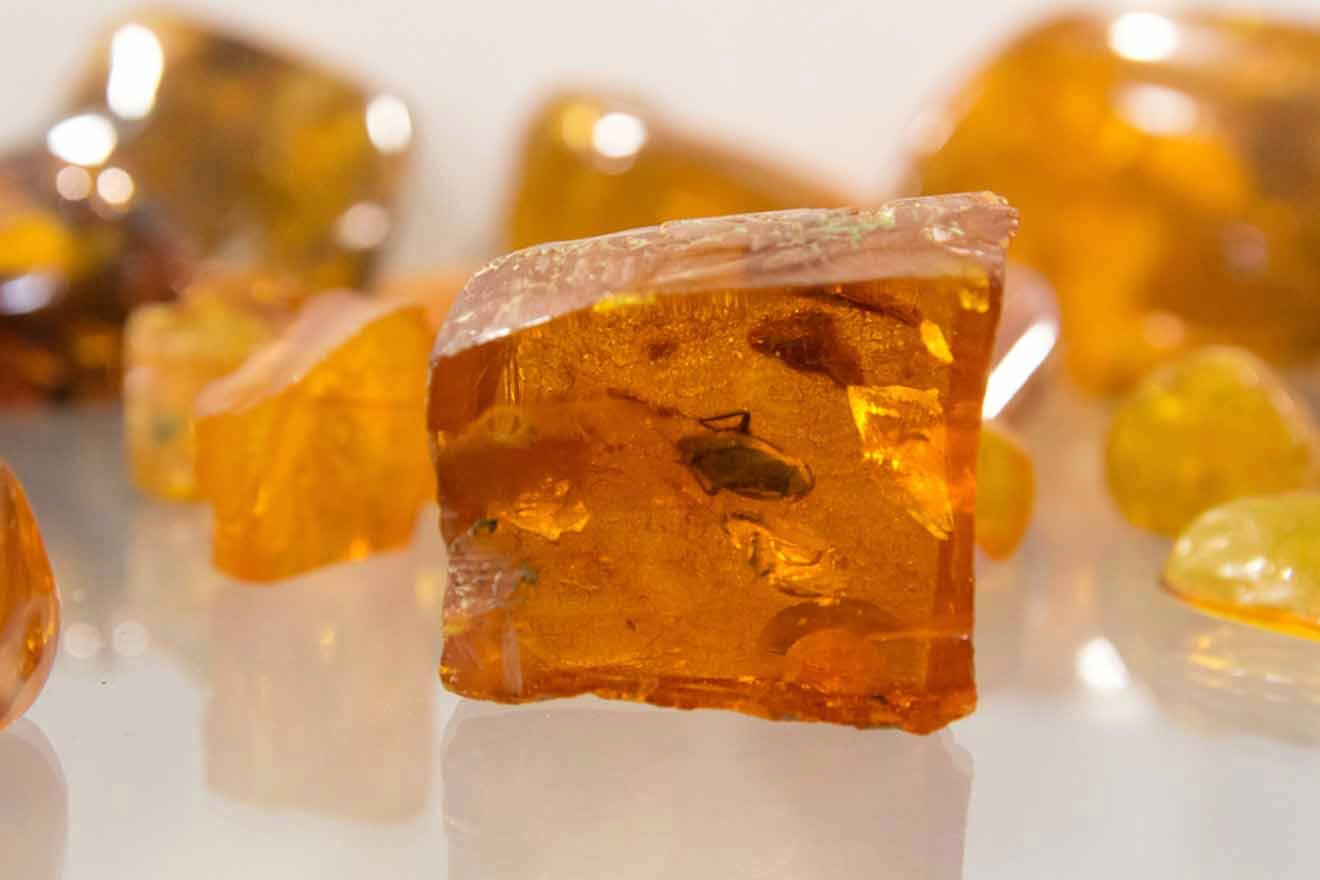 The Solvang Amber Museum is inspired by one of the most well-known amber museums in the world, the Copenhagen Amber Museum. The Solvang Amber Museum takes you on a journey around the history of amber. The museum has an amazing collection of artifacts, charming antiques, and even remains of insects from prehistoric times.
The museum is located inside The Copenhagen House, a 6,500-square-foot (over 600 m²) Danish cultural center and gift store that is widely known and respected in the community to be a hotspot of information.
The museum is open to the public from Monday – Friday, 10 AM to 5 PM, and Saturday & Sunday, 10 AM to 6 PM.
PRO TIP: If you're looking for more shopping centers outside the Copenhagen House in Solvang, I recommend checking out the Solvang Designer Outlet Center for European imports and cute boutique stores (basically the absolute best shopping spree you'll probably ever have).
PRICE: FREE
13. Participate in a yearly Solvang Grape Stomp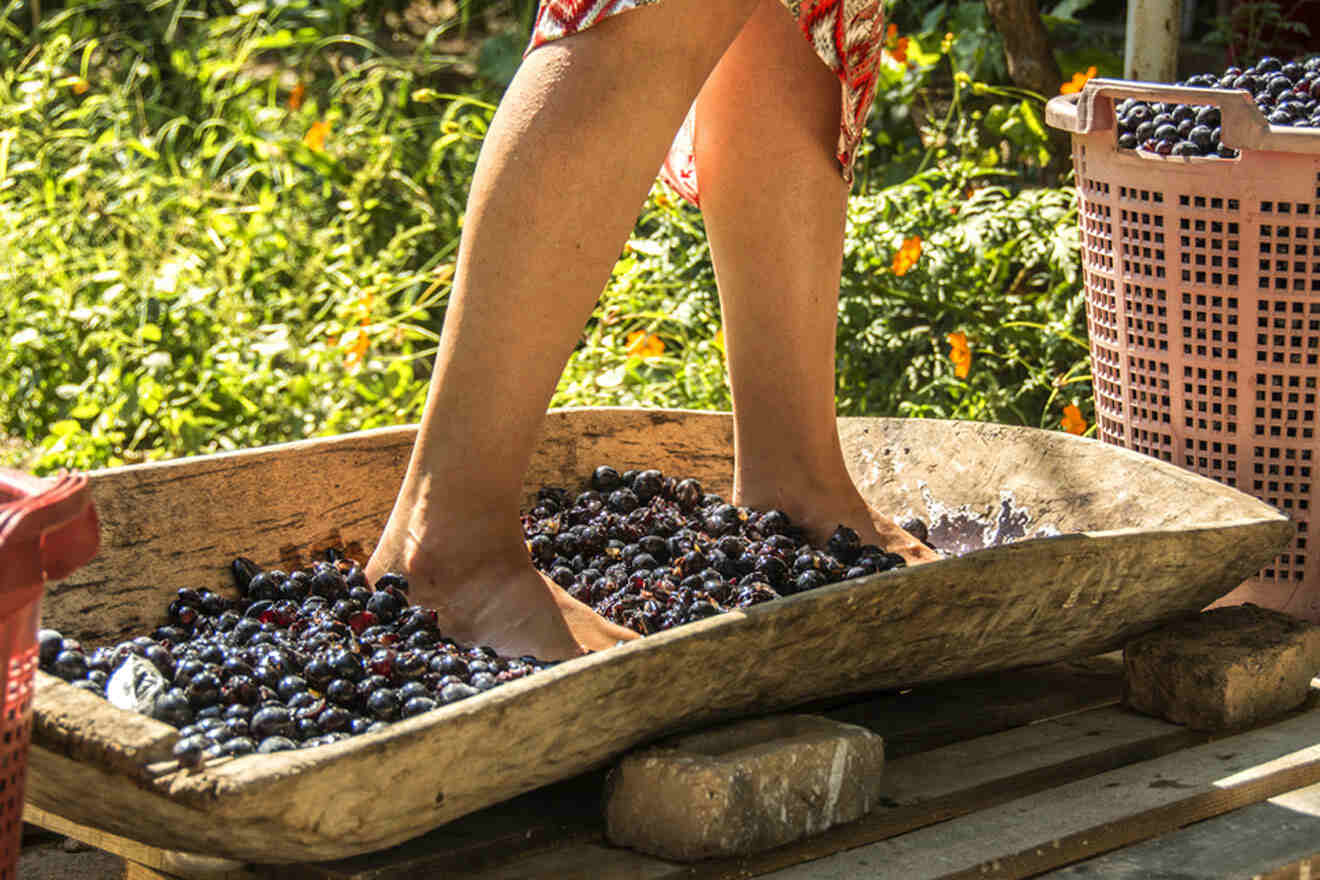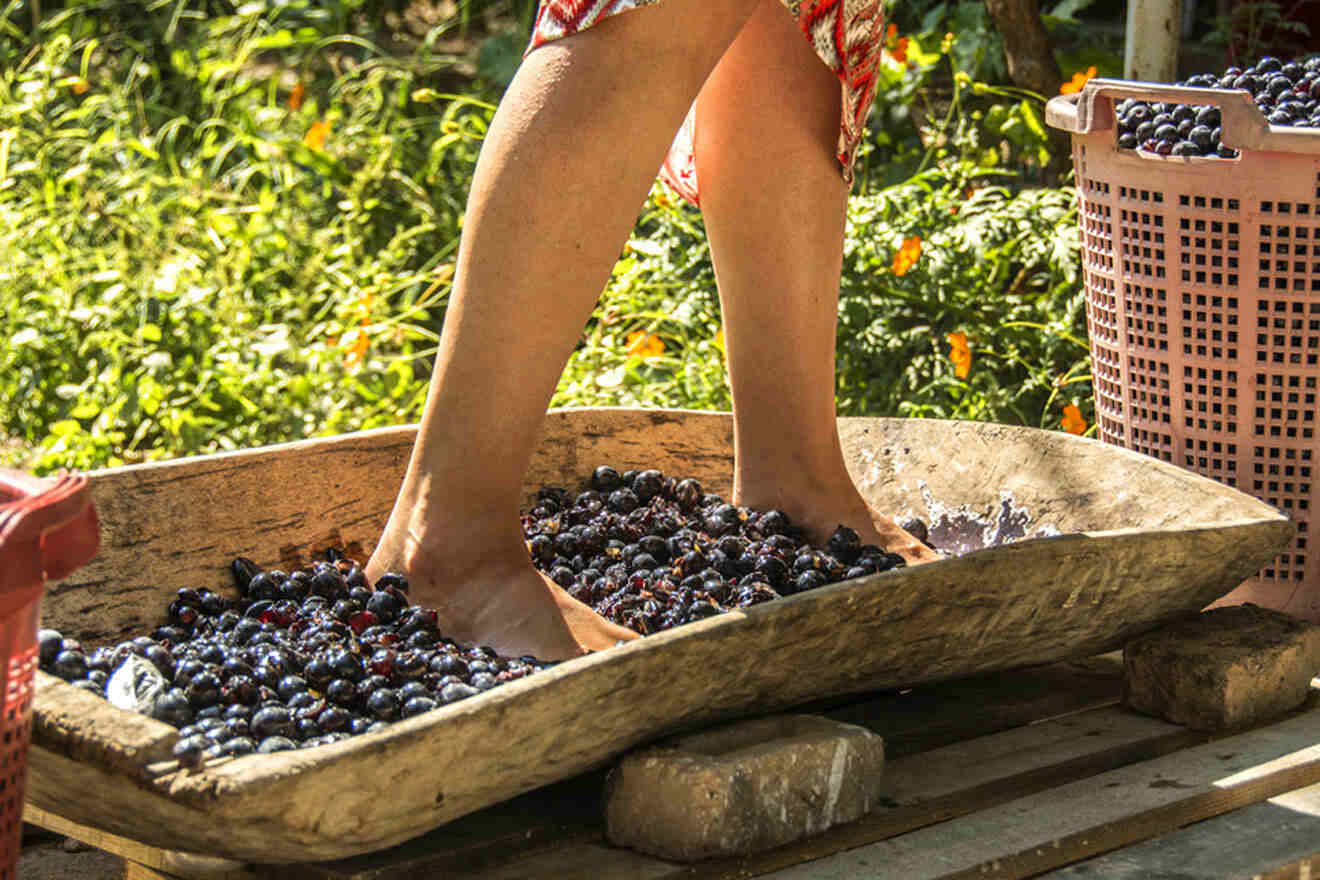 Every year, Solvang celebrates the harvest season with its annual Solvang Grape Stomp! One of the most well-known things about the Santa Ynez River Valley area is its world-class wines, vineyards, and ultimate winery experiences.
The Grape Stomp during the Wine Harvest Street Festival allows locals and tourists to come together, participate in the stomping, and taste local wines while you're there.
PRO TIP: Check out this awesome winery tour around the Santa Ynez Valley! It's a 5-hour tour exploring the most beautiful wineries in the region.
Can't make it in time for the festival? There are also plenty of grape stomp events all over Santa Ynez Valley. I recommend checking out wineries in the area, like Kalyra Winery, Sunstone Winery, and Vincent Vineyards, for their annual grape stomps (dates vary during the September and October months).
TOUR PRICE: from US$180
FAQs about things to do in Solvang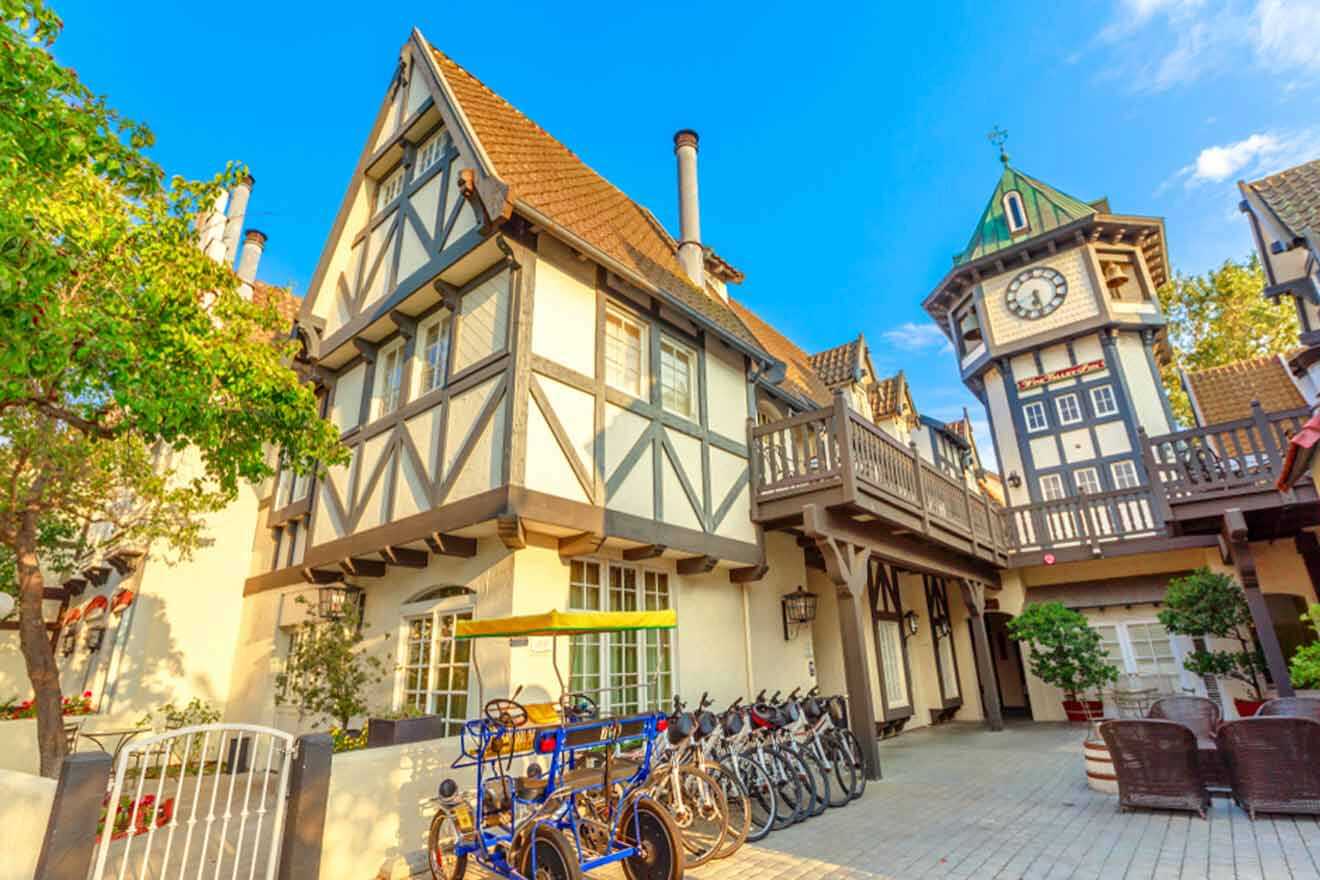 ⏰ Is 1 day enough time to explore Solvang?
One day is definitely enough time to explore Solvang! It's a small town, so you can easily explore all the best museums, restaurants, bakeries, and other attractions within 1 day.
🇩🇰 What are the best things to do in Solvang?
The best things to do in Solvang are wine tasting, biking around the wine country, and enjoying a traditional Danish dessert at their popular Danish bakeries.
💰 What are free things to do in Solvang?
There are a few free things to do in Solvang: visit Sunny Fields Park, the Solvang Amber Museum, the Hans Christian Andersen Museum, and the Elverhoy Museum of History & Art.
💑 What are the most romantic things to do in Solvang for couples?
The most romantic things to do in Solvang for couples are having an intimate picnic at Solvang Park, going wine tasting at the beautiful Rideau Vineyards, and taking a relaxing bike ride down Santa Ynez Valley and Santa Barbara.
Conclusion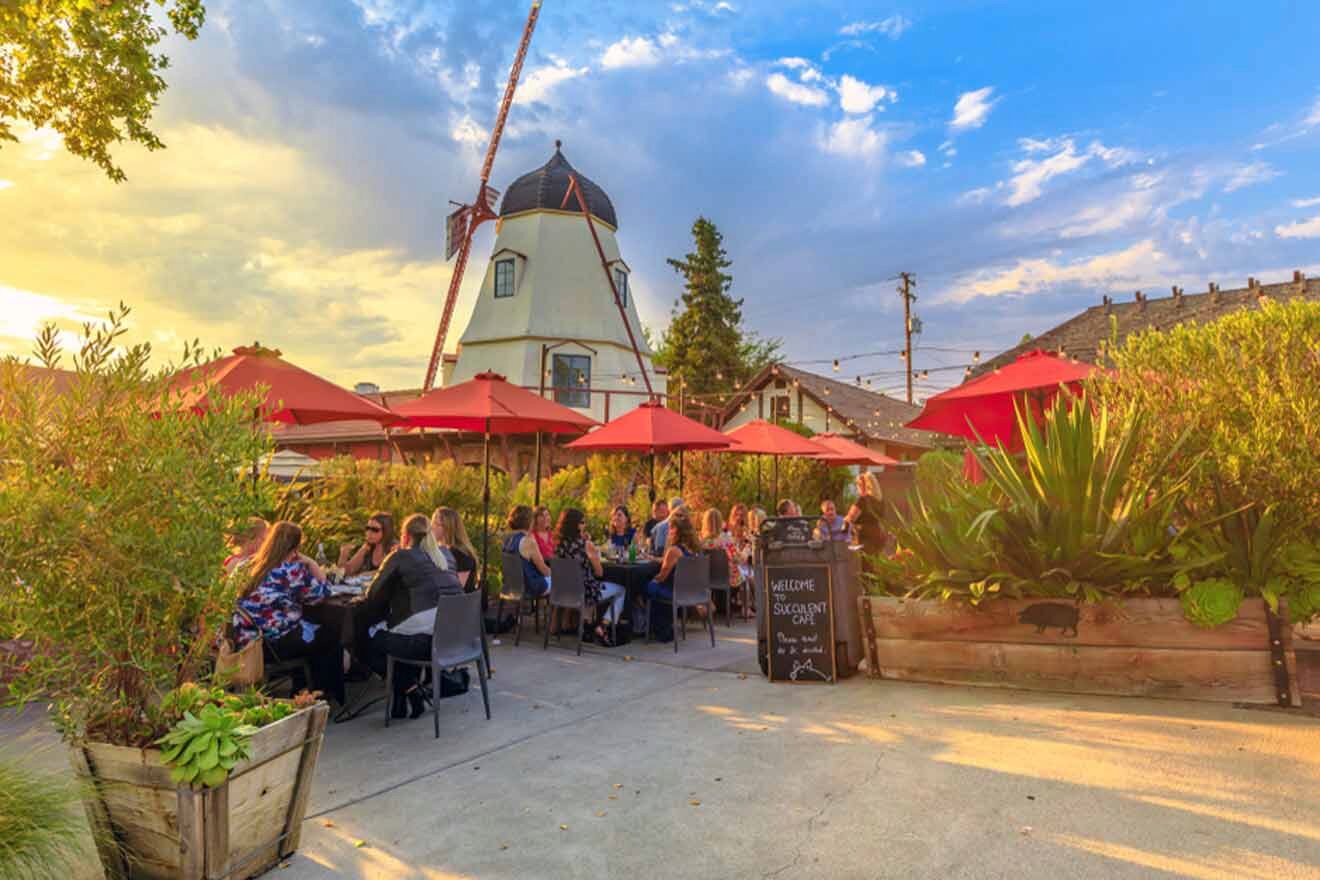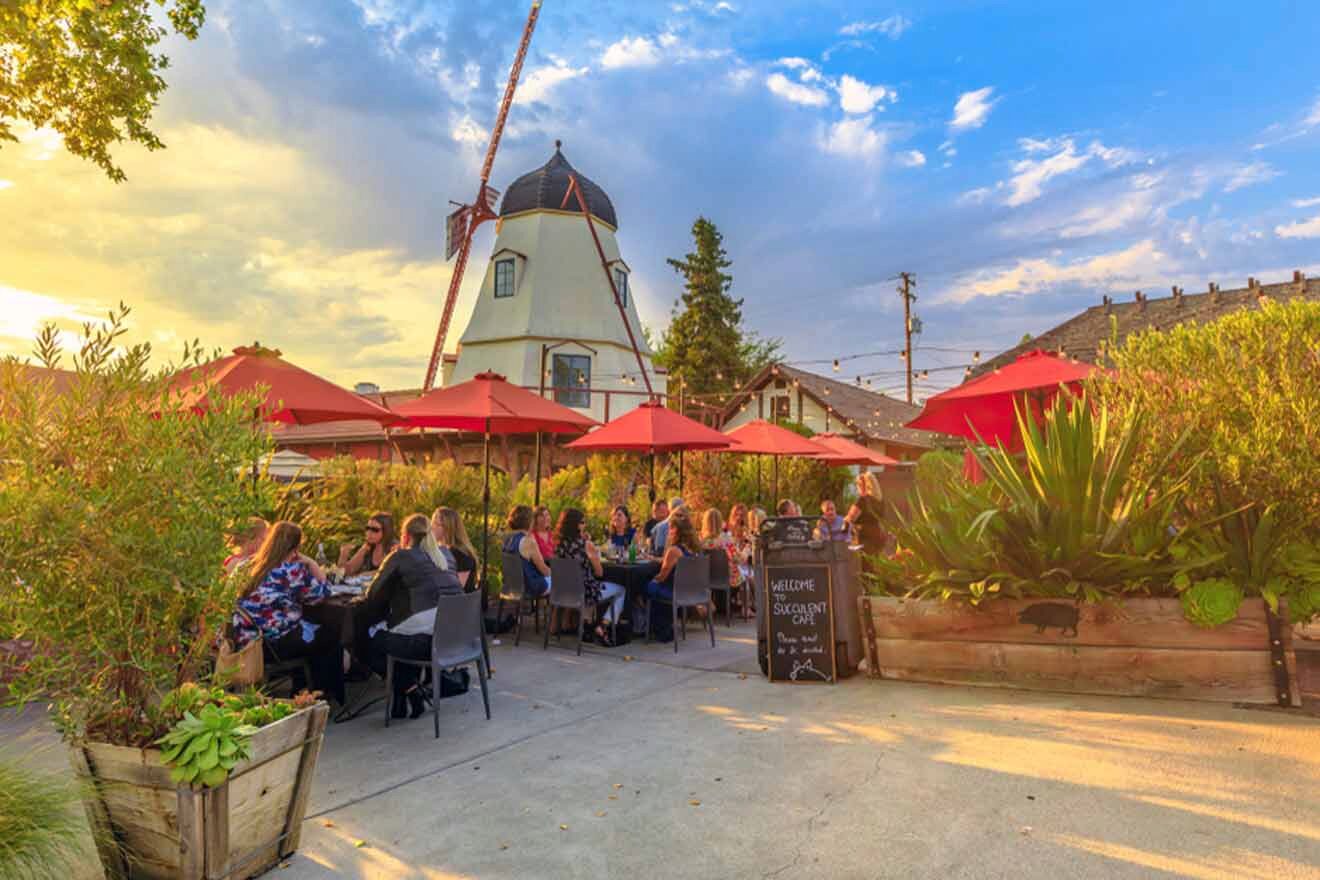 Der har du det! We made it to the end! I really hope you enjoyed reading this post, as much as I loved writing it. It really makes me want to visit Denmark now… (officially on my bucket list).
My favorite things to do in Solvang are exploring all the free educational museums and bike riding through the backcountry of Solvang. It seriously feels like you're in Denmark with all the experiences that come with this tour, and I couldn't ask for anything else. (Big fan of olives, so that's just the cherry on top.)
Next time you visit Solvang, make sure to book all your accommodations, fun group tours, wine tastings, and tickets in advance! The town is quite small but mighty as a tourist destination, so there are always crowds and a limited capacity of tickets being sold during the day.
Enjoy your trip to Solvang and hav en sikker rejse!
Cheers,
Esabel S.
---
Pin it for later!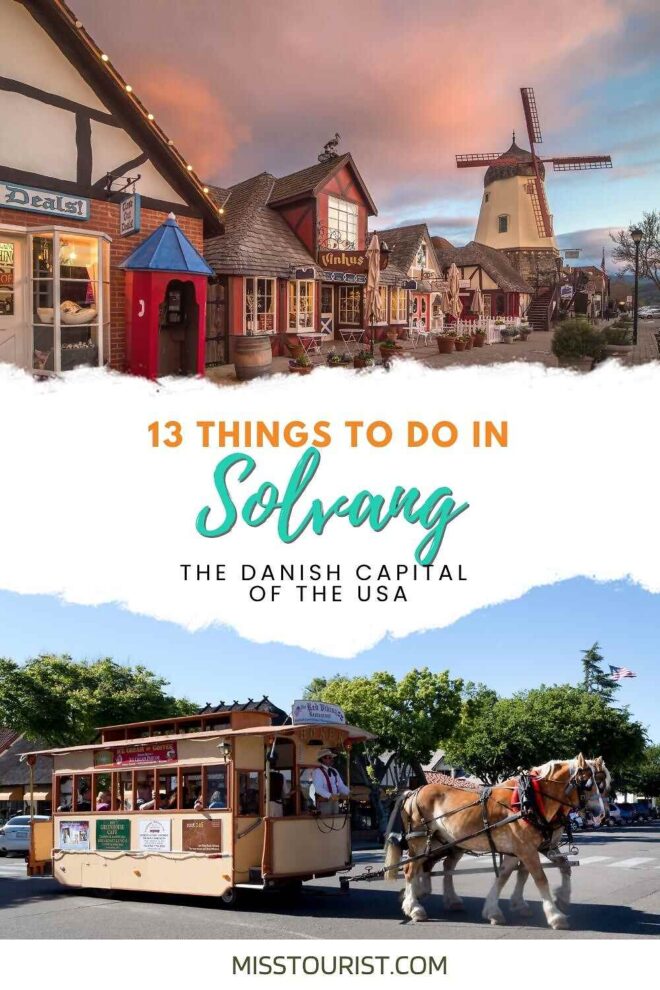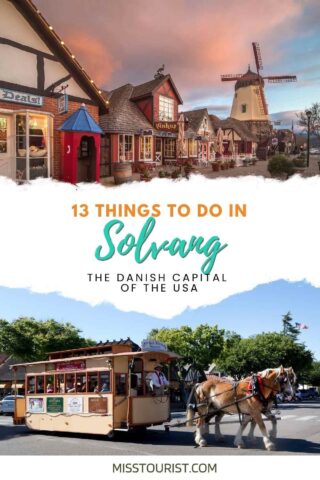 Pin it for later!