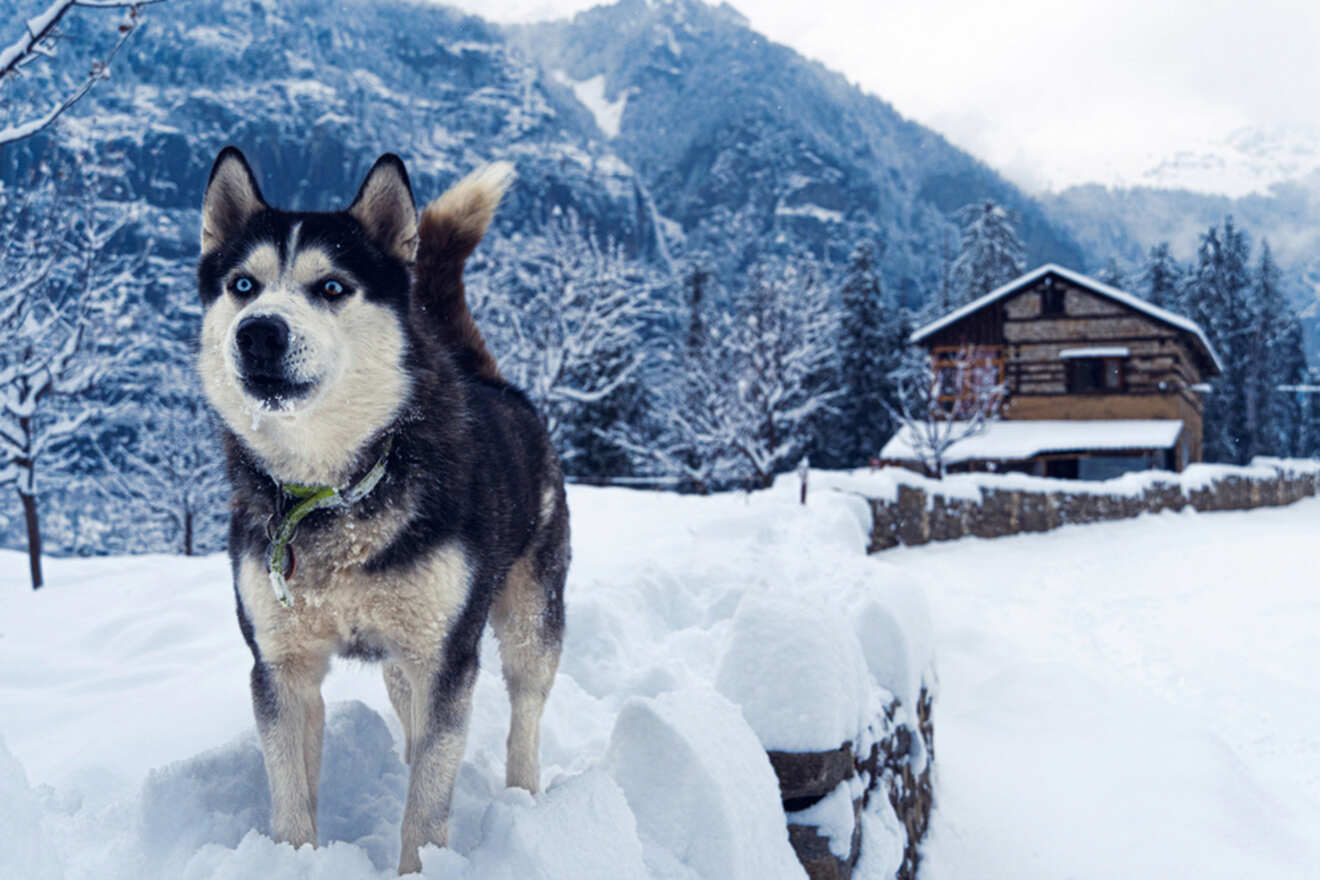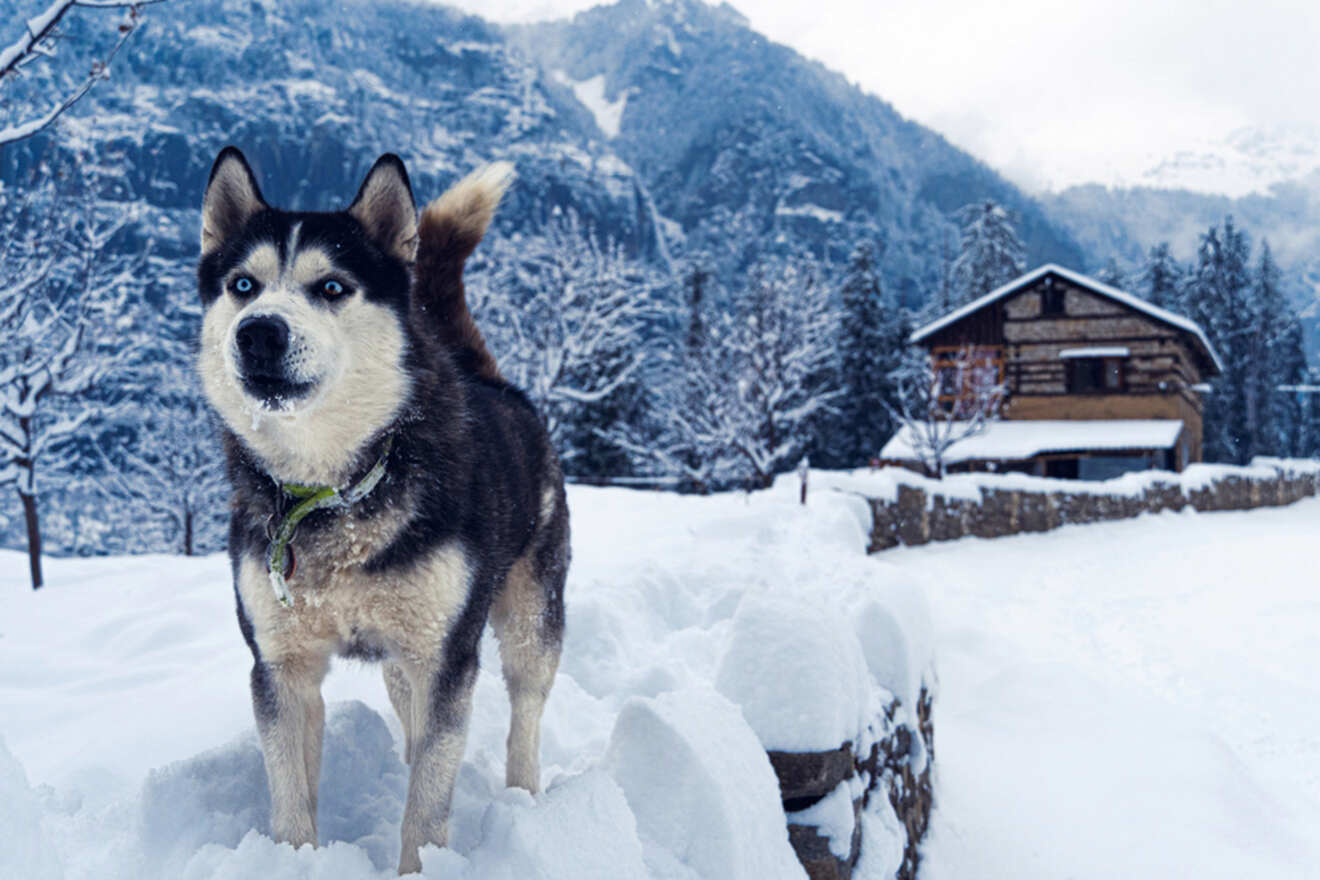 Are you looking for Canmore pet-friendly hotels for your next vacation to Canada? If you are, let me tell you I have been looking for the most amazing pet-friendly hotels in Canmore! Our furry friends are part of our family, so I know we all want to take them with us and create amazing memories with them. Luckily, most hotels in the area are pet-friendly, so we have many amazing options in this article!
I have arranged the hotels starting with the luxury ones, but let me tell you, all the accommodations on the list have amazing amenities and I am sure you will find something of your liking!
Canmore is a super popular destination, and in most hotels, pet-friendly rooms are limited, so if you want to go on vacation with your pets, you need to book your hotel room as soon as you make a decision!
Let's check out the best pet-friendly hotels in Canmore!
If you are in a hurry
If you don't have a lot of time on your hands to read the whole article and need to book your hotel room quickly, here you have 3 top options for pet-friendly hotels in Canmore:
1. Solara Resort Bellstar Hotels – for a luxurious stay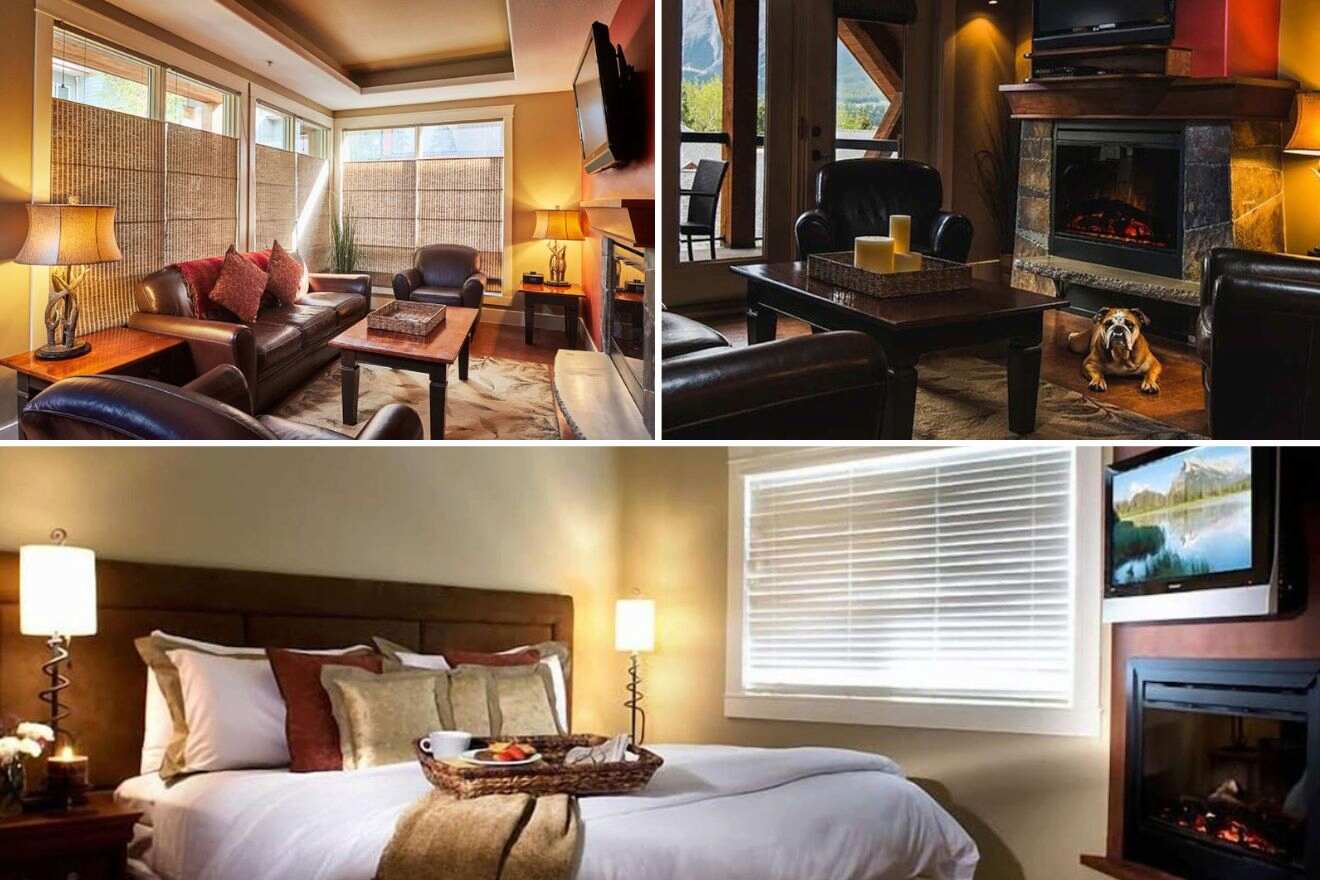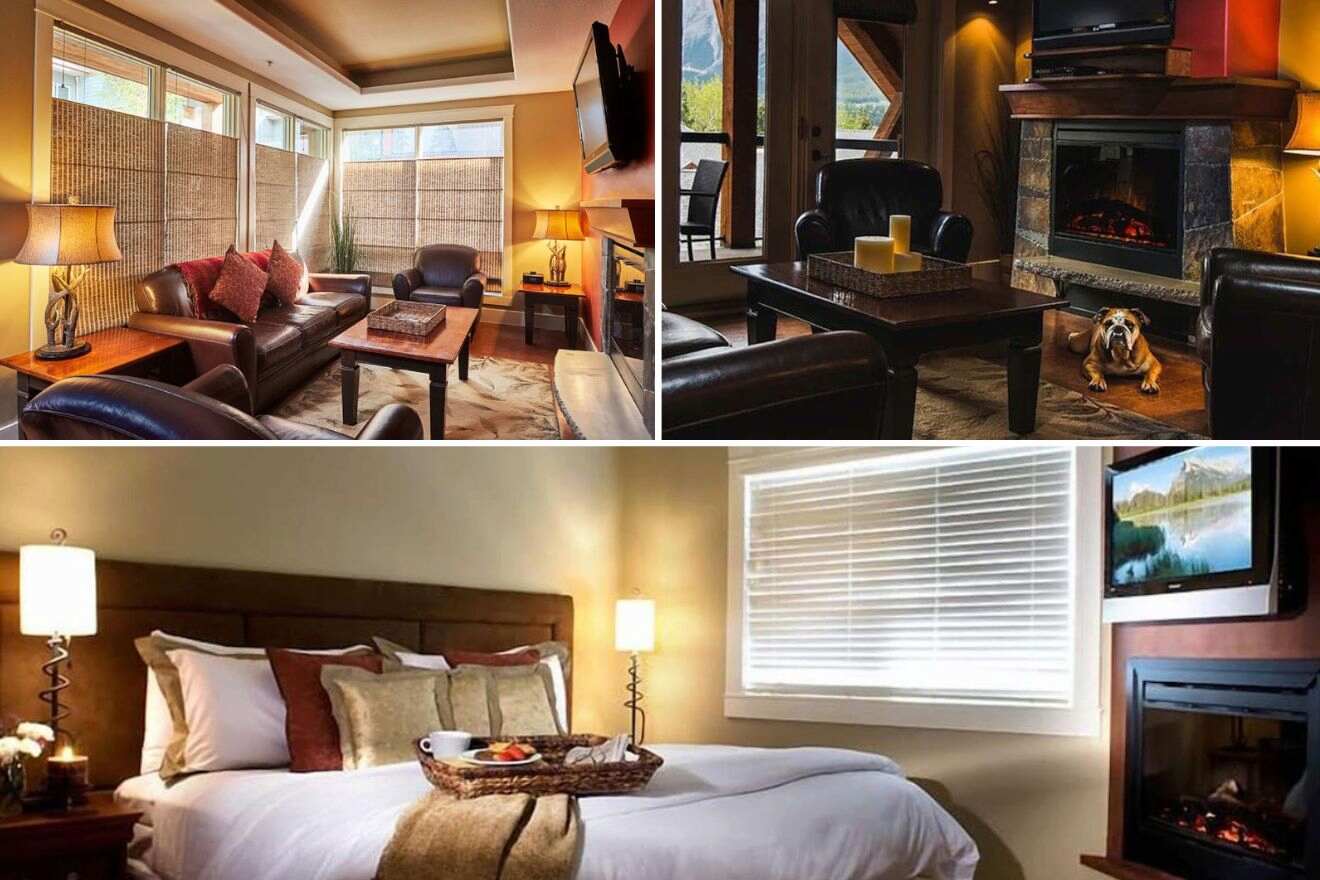 This lovely hotel is located just outside downtown Canmore, only 1 mile (2 km) away, where you can find the pet store "mut hut emporium" and get your pet a treat, and Banff National Park, a 10-minute drive away. The hotel is surrounded by the Canadian rocky mountains, and there is more than one bow valley trail to explore! This hotel features an indoor pool and a hot tub, open to all guests, and it also has a spa and wellness center to relax in nature.
This pet-friendly hotel has a suite dedicated to pets and pet owners. All the rooms come with amazing and comfortable furniture to make you feel just at home, and a private kitchen fully equipped, perfect for making homemade meals!
2. The Malcolm Hotel – with a rooftop hot tub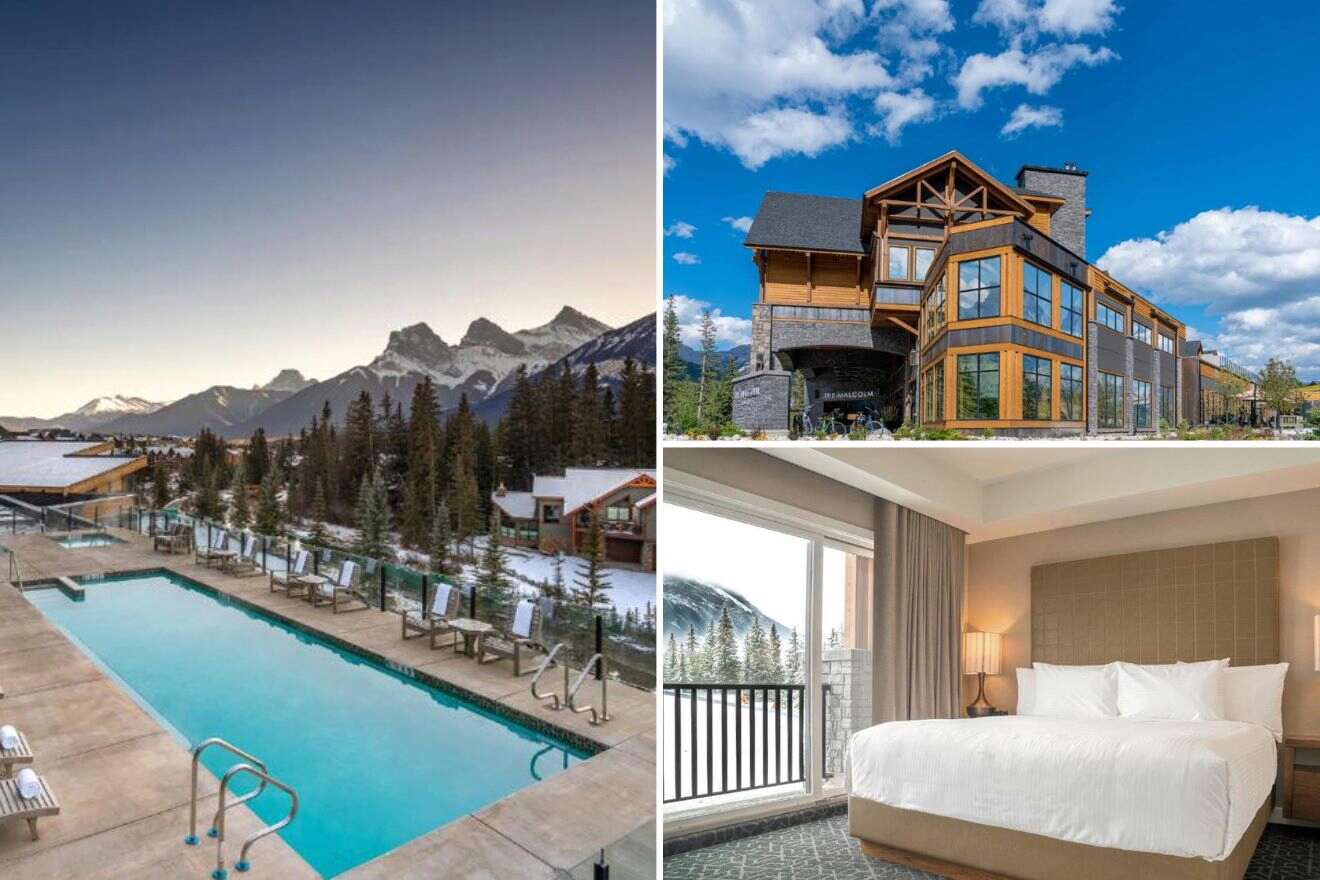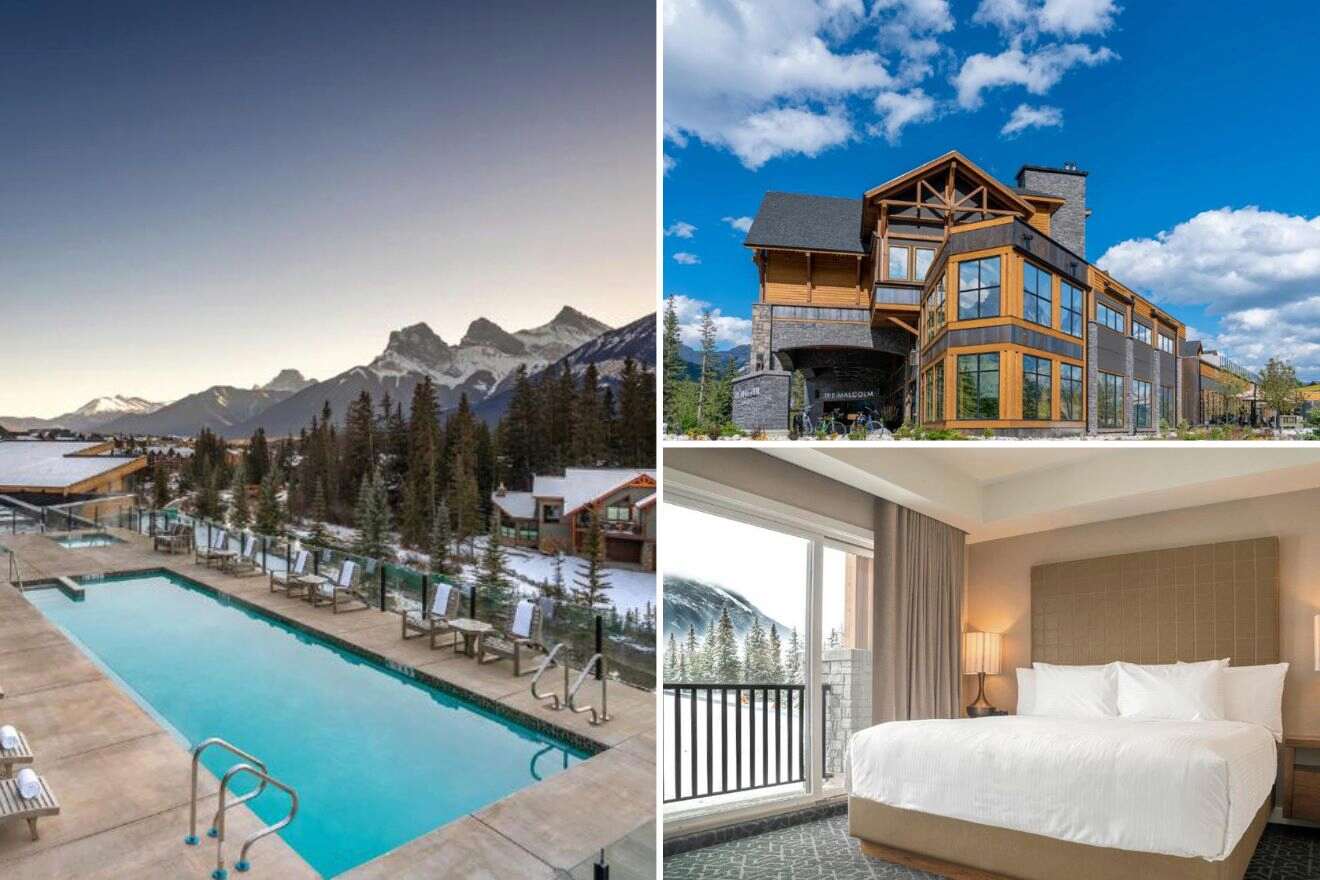 I am in awe of this hotel's style! It looks so elegant and luxurious and has the most amazing mountain views you can admire from the hotel's terrace, which comes with a swimming pool and 2 hot tubs. It features upscale restaurants and bars, which will make you feel like a celebrity; there is also free parking which is super useful for those traveling by car.
They offer a pet-friendly room that is dog friendly, there is a pet fee you pay only once when you check in; by the time of booking, check with the hotel to get a dog bed for your lovely pet! This room can host a total of 4 guests, which is perfect if you are traveling with your family!
3. Mystic Springs Chalets & Hot Pools – for a homey stay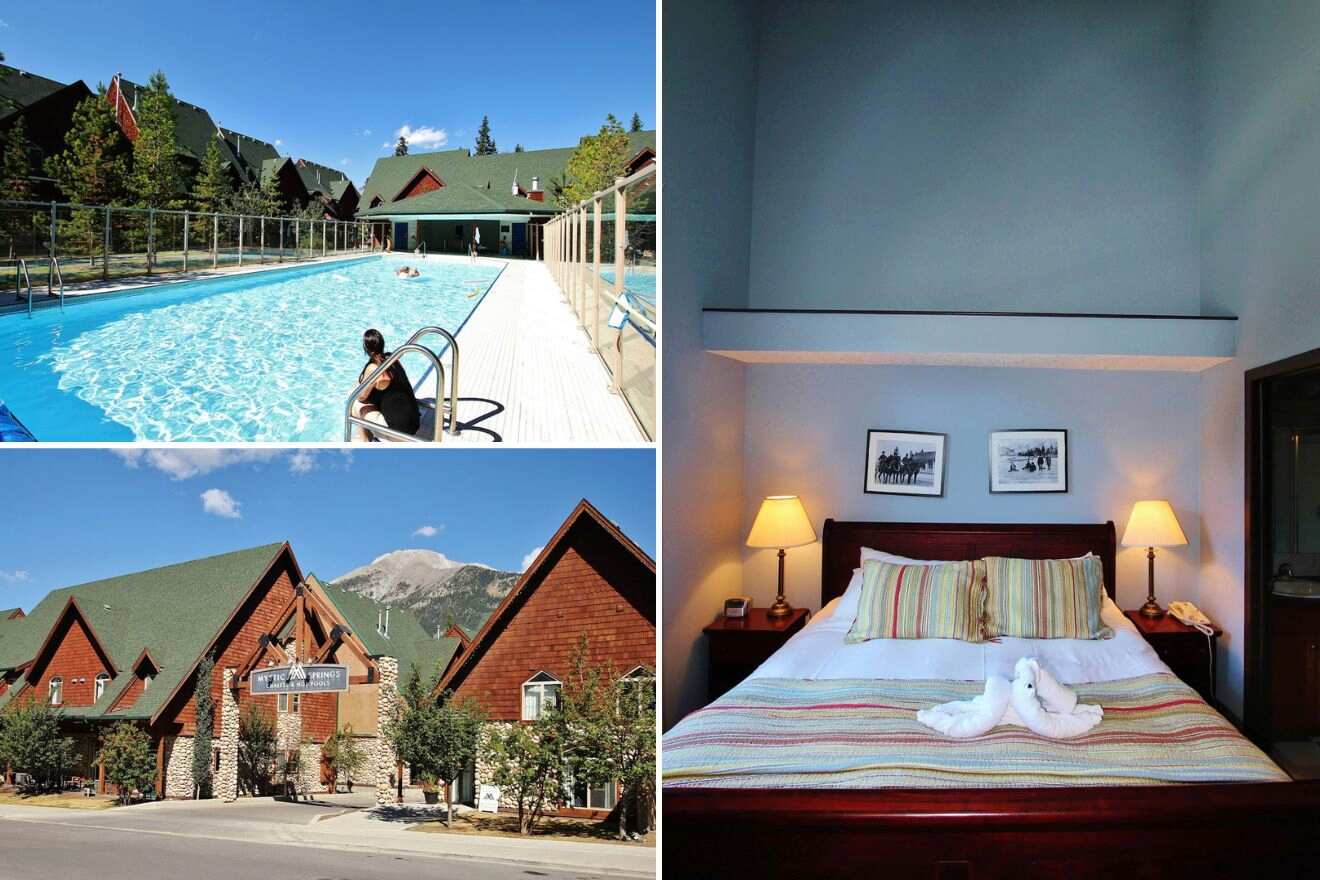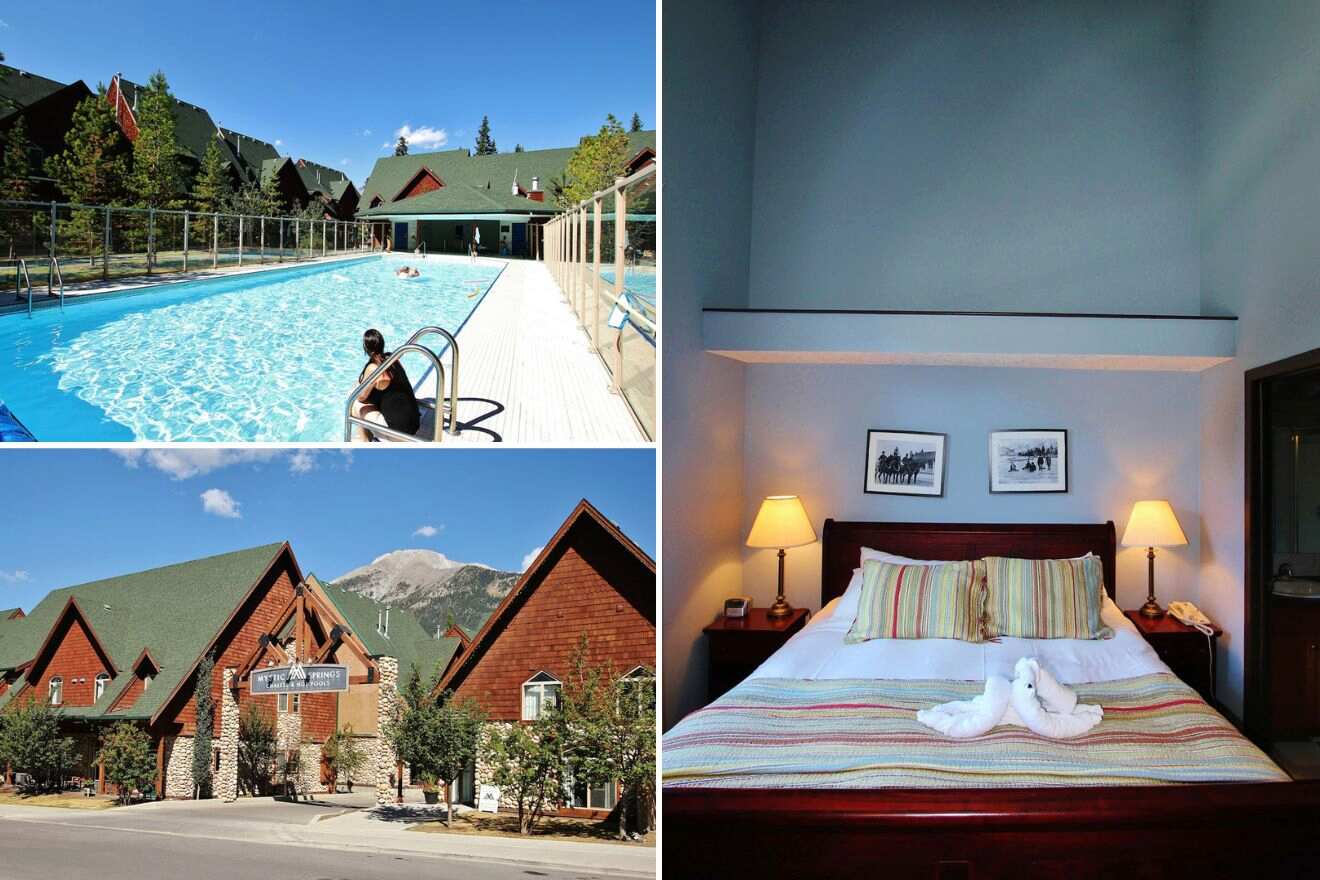 This hotel will make you feel at home! It has a very classic chalet style and comes with amazing amenities that will make you stay a complete dream! First of all, the location is amazing, with easy access to downtown Canmore and many walking trails just minutes away from the property. The hotel features a heated pool which is located on the terrace, a fitness center, and laundry facilities (super useful if you are on a long trip!)
Since this is a dog-friendly hotel, it offers chalets that are pet-friendly that welcome 2 dogs in each chalet per booking. The chalets come with a kitchen, a private bathroom with a bathtub, a seating area, and a terrace. These chalets can host up to 8 guests.
4. PRC Annex – for amazing heated pools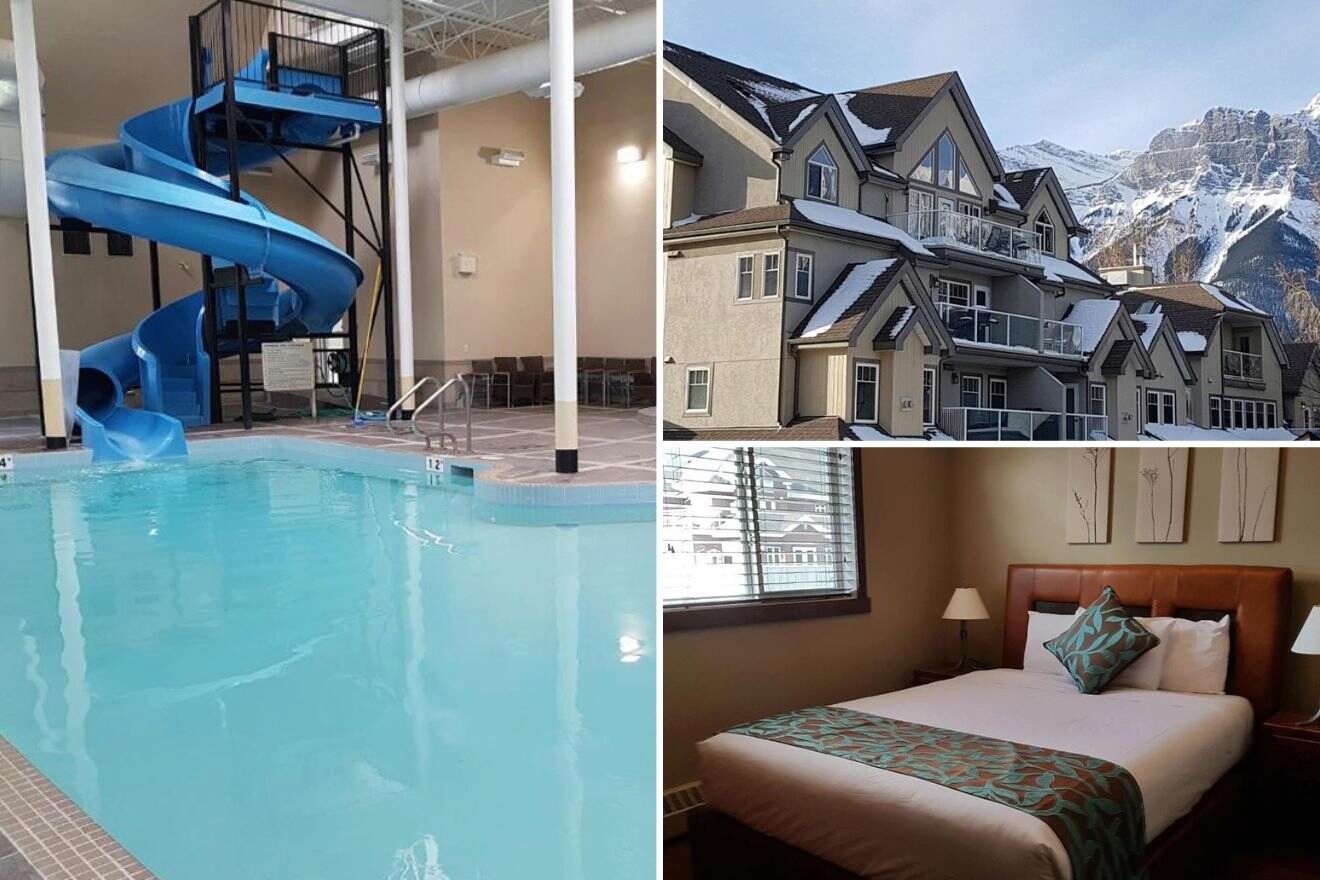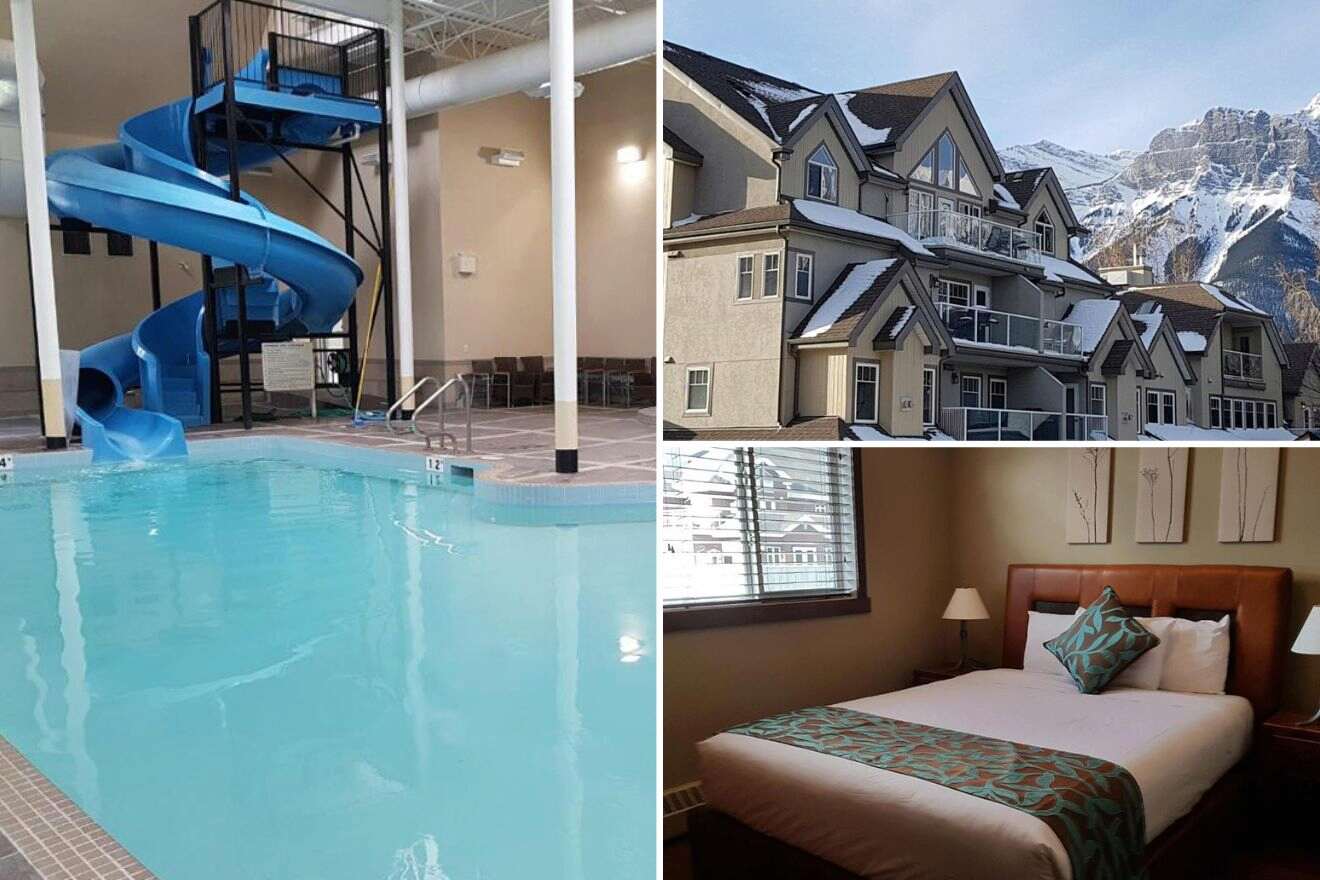 Featuring a welcoming cabin style, this hotel location is ideal, you have quick access to downtown Canmore since it is within easy walking distance. This accommodation comes with an amazing indoor pool with a mini water park for kids, a pool for adults, and a jacuzzi that has an outdoor and is connected with the indoor section. There is also a game room, BBQ facilities, and a bicycle rental service to explore the area.
This pet-friendly hotel in Canmore welcomes dogs for a daily pet fee, it hosts 2 dogs per room, and the dogs cannot be bigger than 50 lbs (22 kg). All the rooms come with stylish hardwood floors, and some of them come with stunning mountain views!
5. Basecamp Resorts Canmore – modern and stylish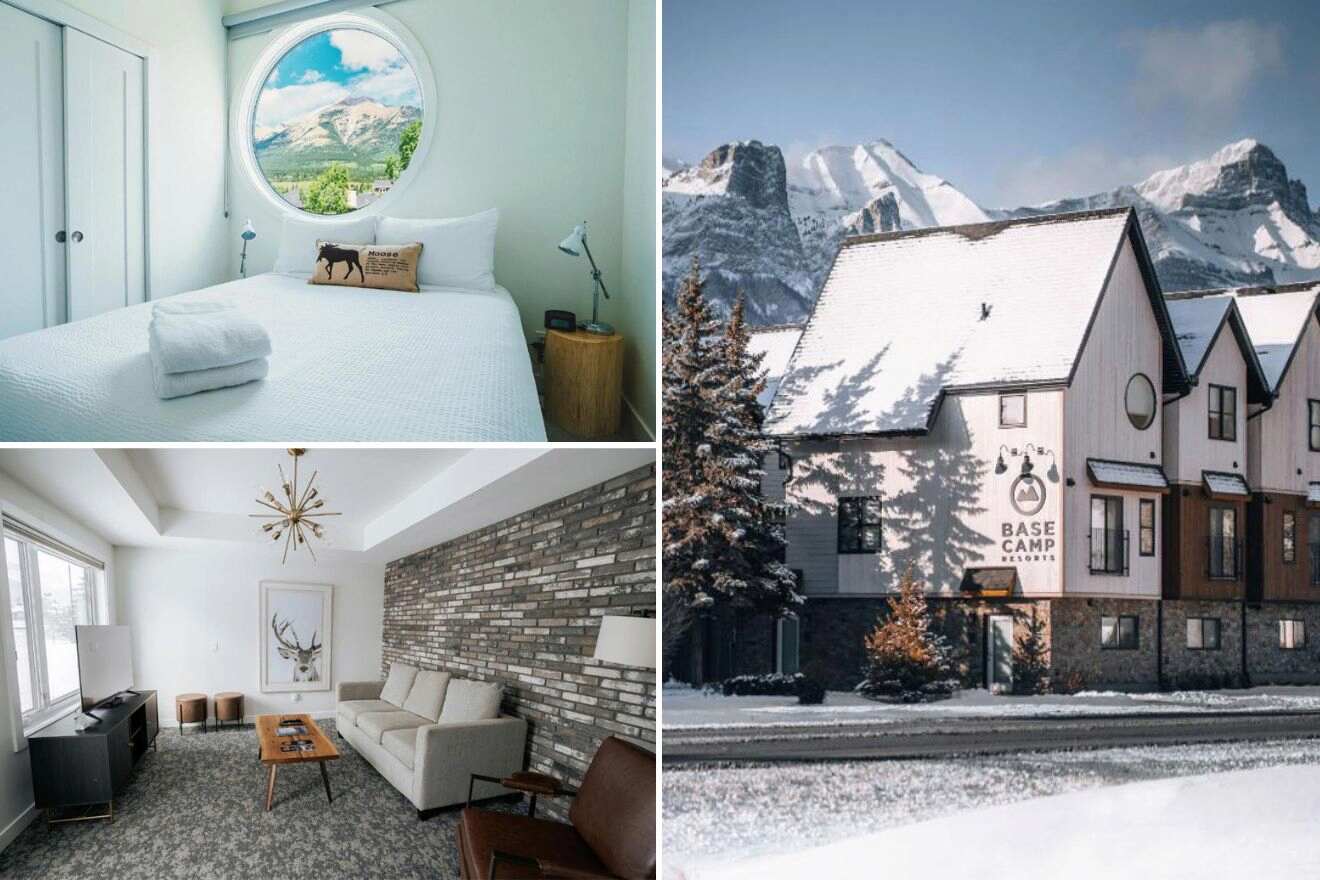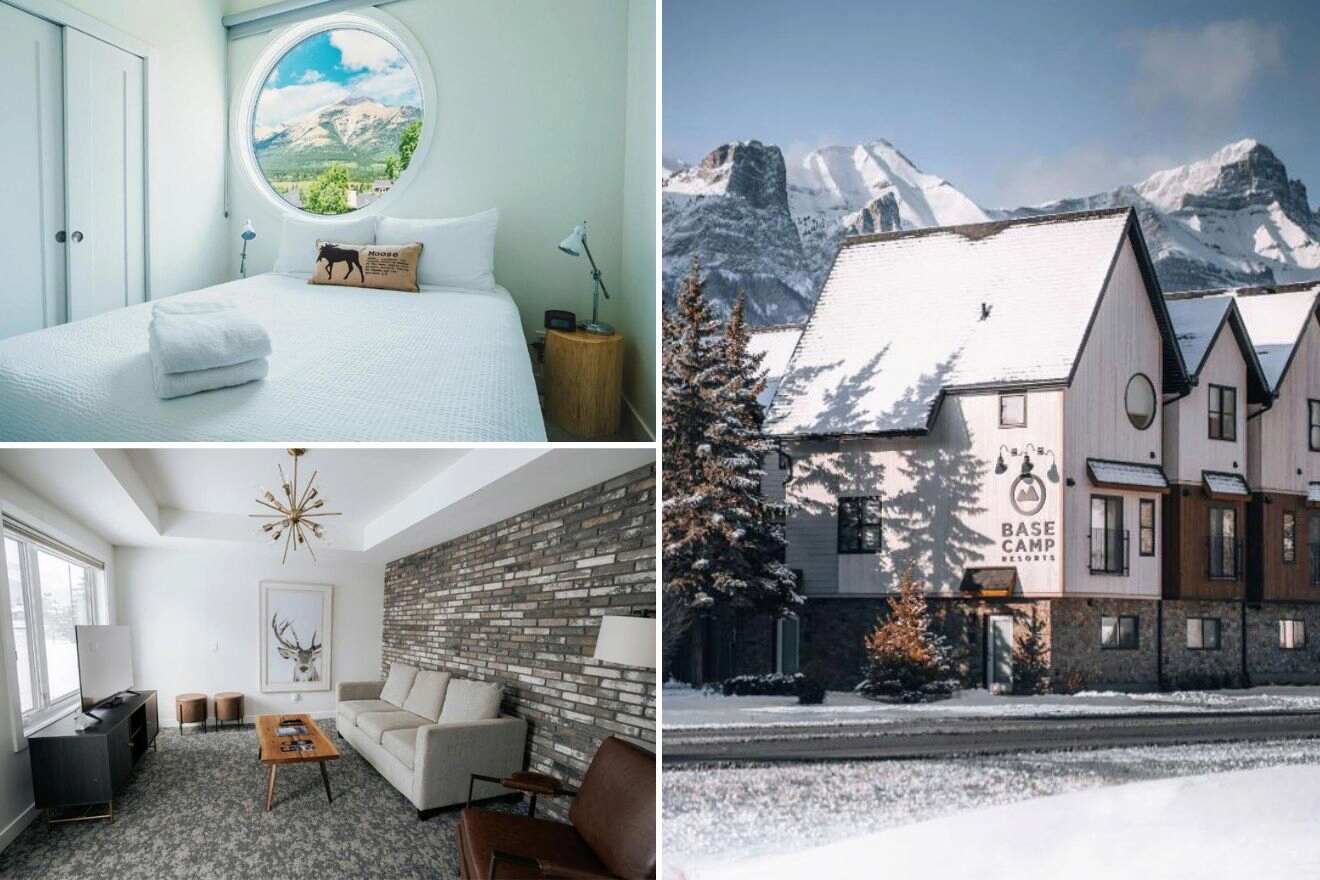 I love this hotel! It looks super chic with its minimalistic style and decor! This amazing property looks newly renovated, and it is located in the middle of the Canadian Rocky Mountains! It comes with a shared hot tub which is located on the hotel's roof terrace, complimentary parking, which is super useful in this location, and free Wi-Fi to stay connected with the world during your vacation.
Basecamp Resorts offers designated rooms and pet-friendly cabins to all their guests. Check by the time of booking which rooms or cabins are pet-friendly! These rooms can host from 2 to 8 guests, making it perfect for couples, families, or friends! The room rate may vary since pet fees apply.
6. Chateau Canmore – relax by the fireplace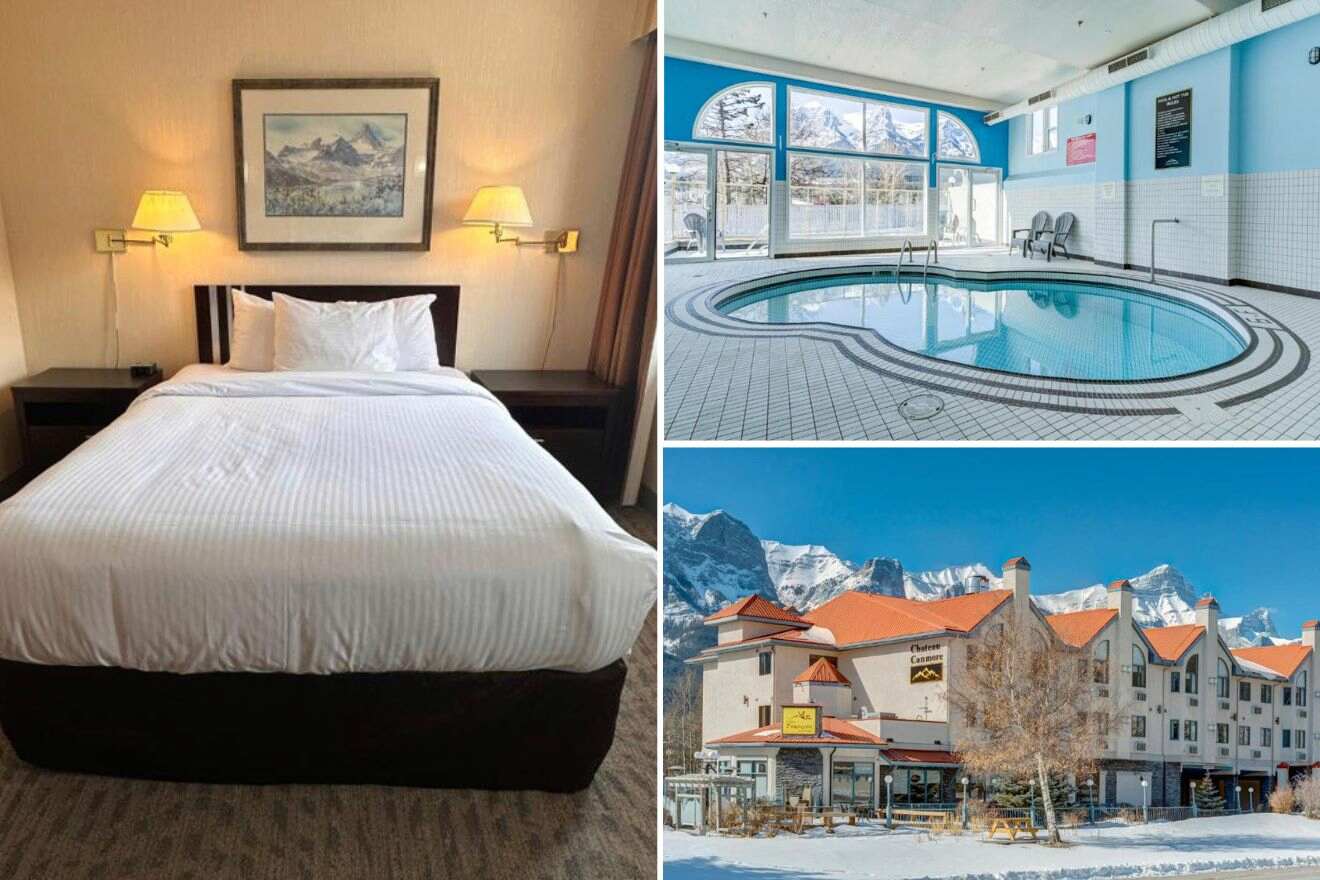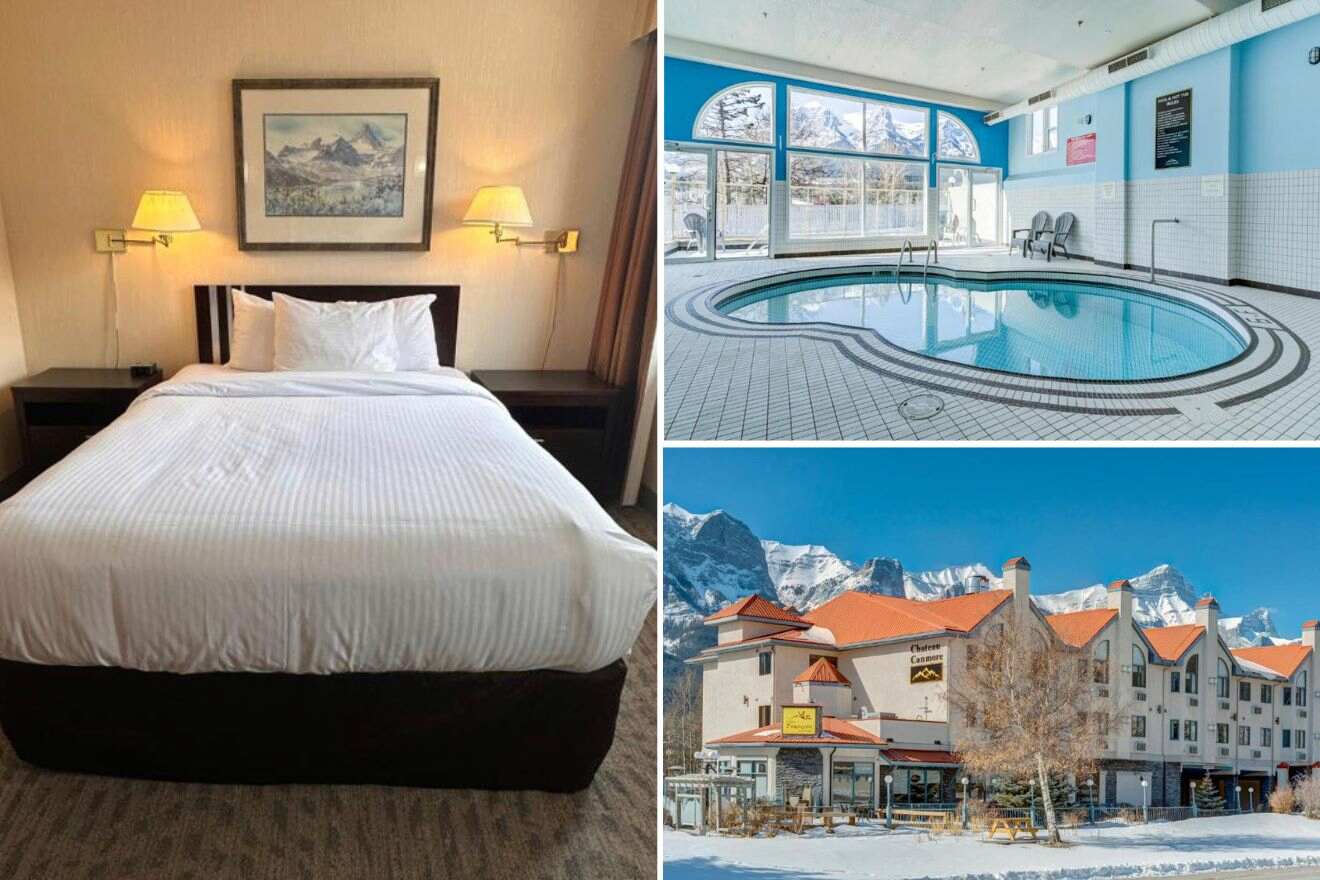 What a cozy hotel located very close to downtown Canmore! This hotel features a homey vibe and a 24-hour front desk, so in case you need anything, the hotel's helpful staff will be there to help you out! One of the cool amenities of this hotel is the indoor pool and the outdoor jacuzzi. There is an onsite restaurant that serves breakfast and lunch to all of the hotel's guests.
This hotel welcomes pets, but you must inform the hotel and check with them for the extra fees. All the rooms at this property come with a fireplace, which is perfect for curling up and enjoying warm cocoa! All the king rooms come with a kitchen, which is super useful!
7. Pocaterra Inn – with a waterslide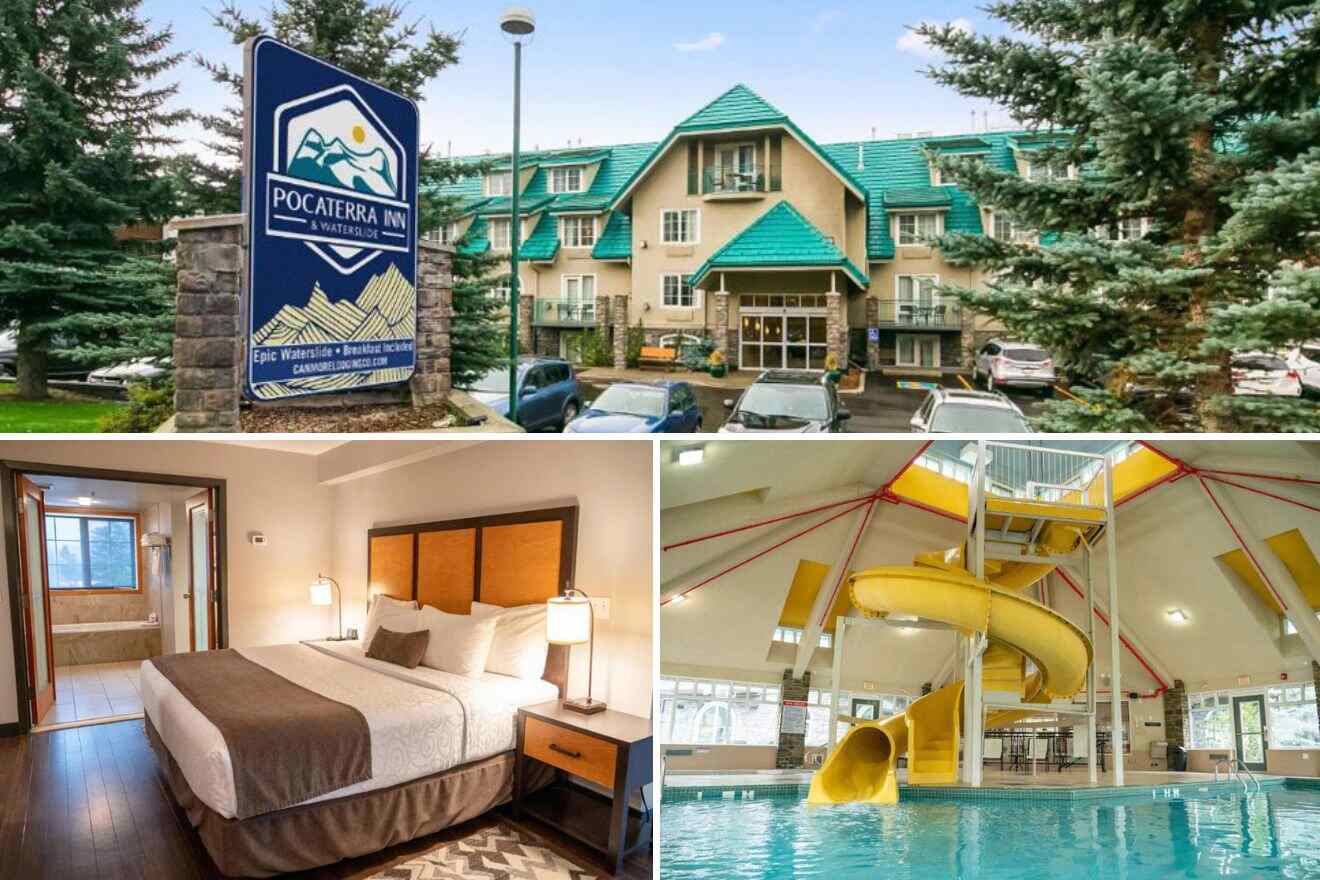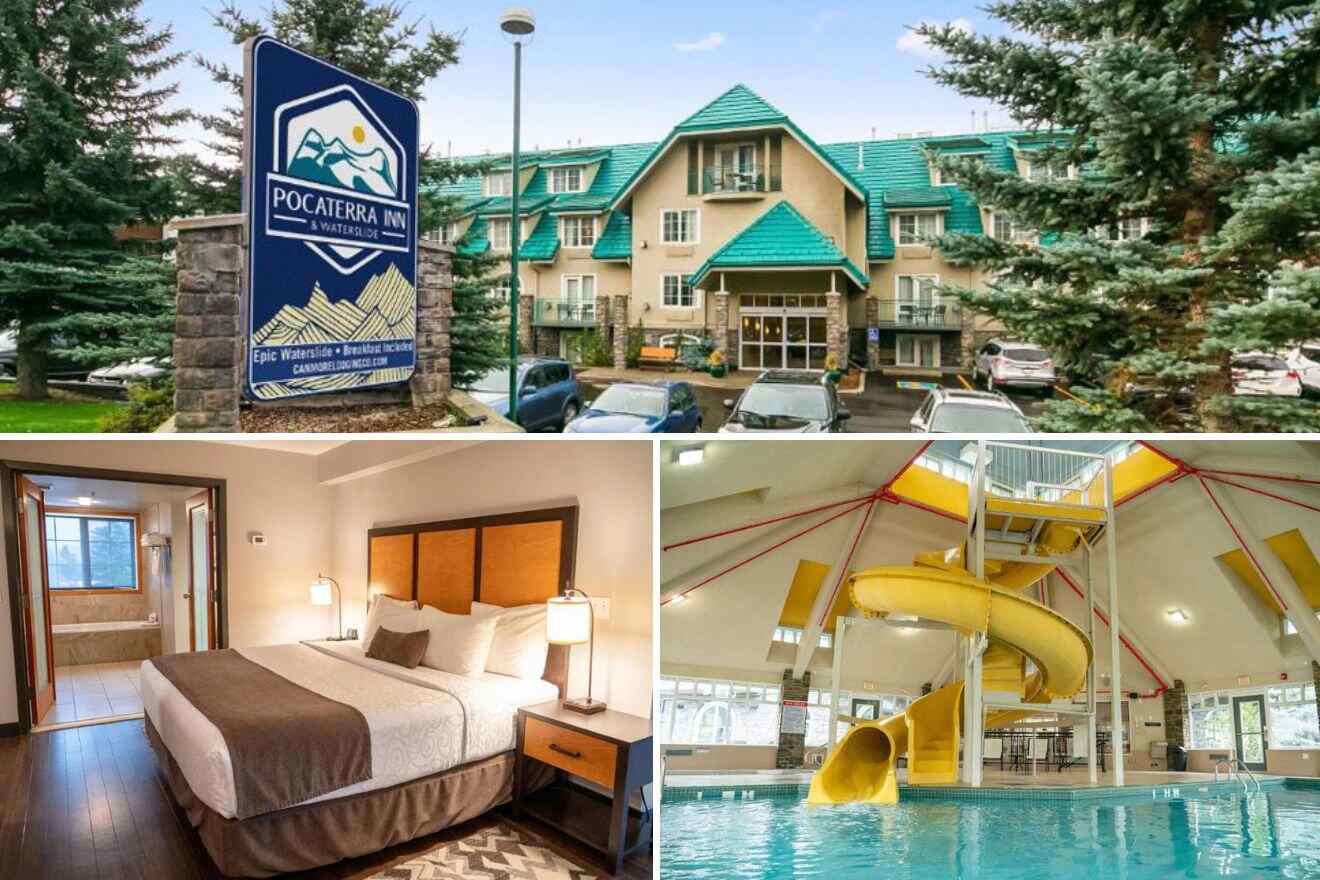 This hotel looks perfect! It has that nice chalet vibe that sets you up for the perfect easy breeze vacation. The hotel comes with a lovely indoor pool section where you can find a big jacuzzi and a pool with a very tall slide! This property offers a complimentary breakfast to all its guests, and everybody is welcome to use the hotel's fitness center located onsite!
This hotel welcomes pets to their rooms, and even though there is a pet fee, it is super worth it because it gets you a dog bed, water and food bowls, and treats to keep your furry friend content! All the rooms at this hotel come with a flat-screen TV and a coffee and tea station or a wet bar.
8. Northwinds By Basecamp – for adventure lovers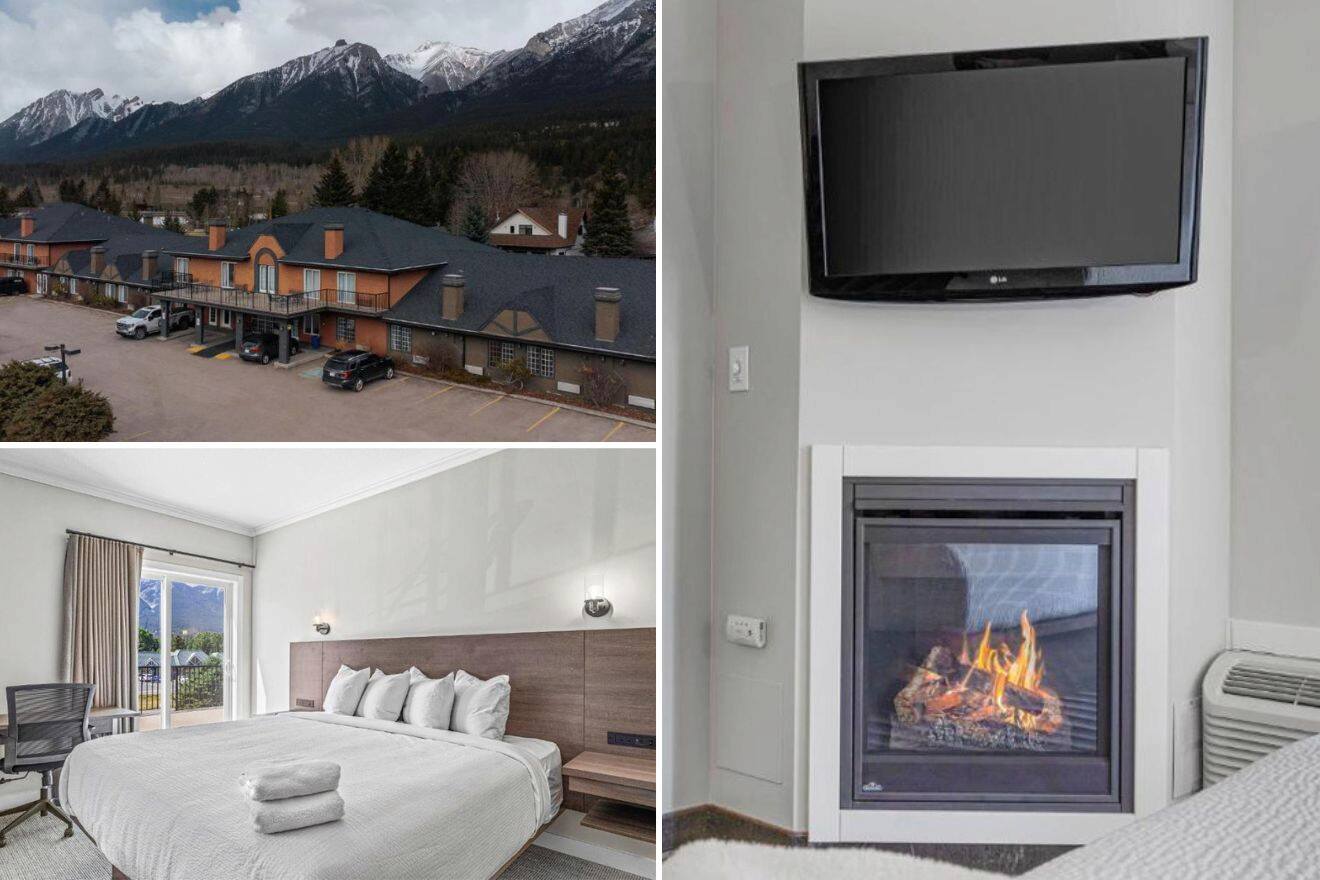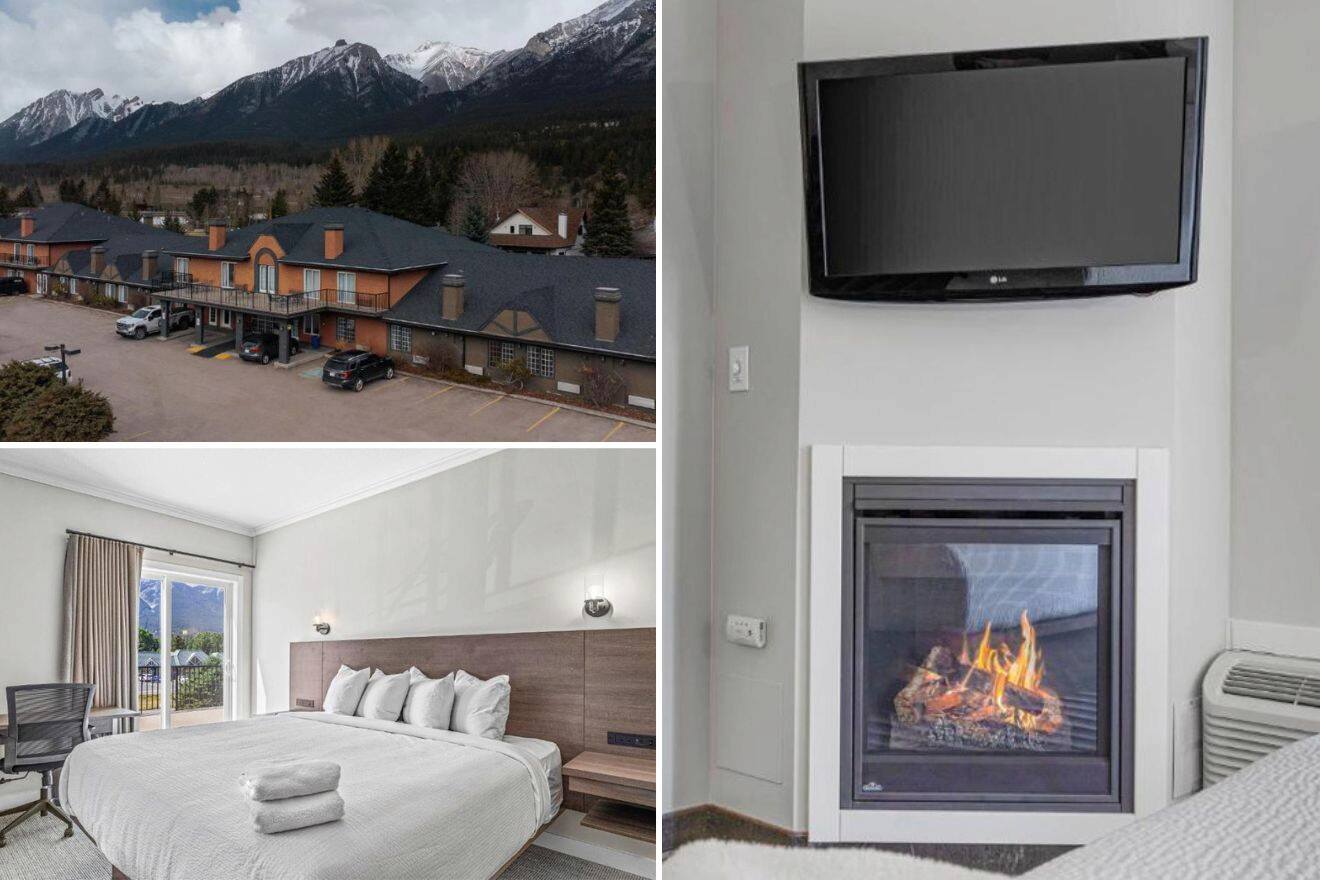 How fun would it be to stay at this hotel with such a convenient location and so many activities nearby? You could go hiking to any of the trails near the hotel, cycling to discover what Canmore has to offer, or even canoeing and skiing if you are feeling up for an adventure! The accommodation has an onsite restaurant and offers guests a complimentary breakfast every morning.
It offers 2 types of pet-friendly rooms to guests, and there is no pet fee for your furry friend to stay. These rooms come with a microwave, a mini fridge, and a coffee maker, and the private bathroom has a bathtub so you can take a warm bubble bath. If you are a light sleeper, you will love the comfortable beds and quiet surroundings!
9. Canadian Rockies Chalets – for the convenient location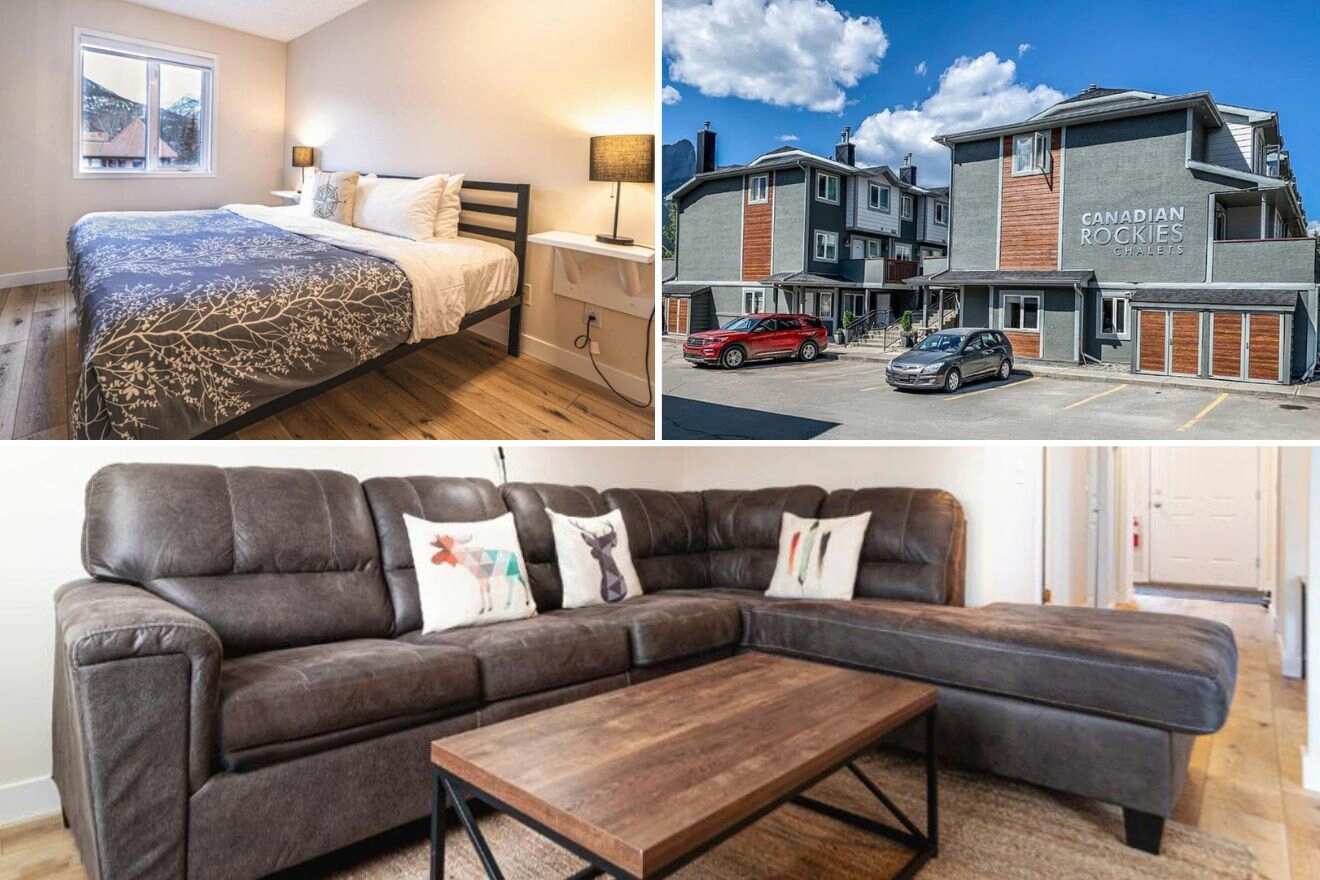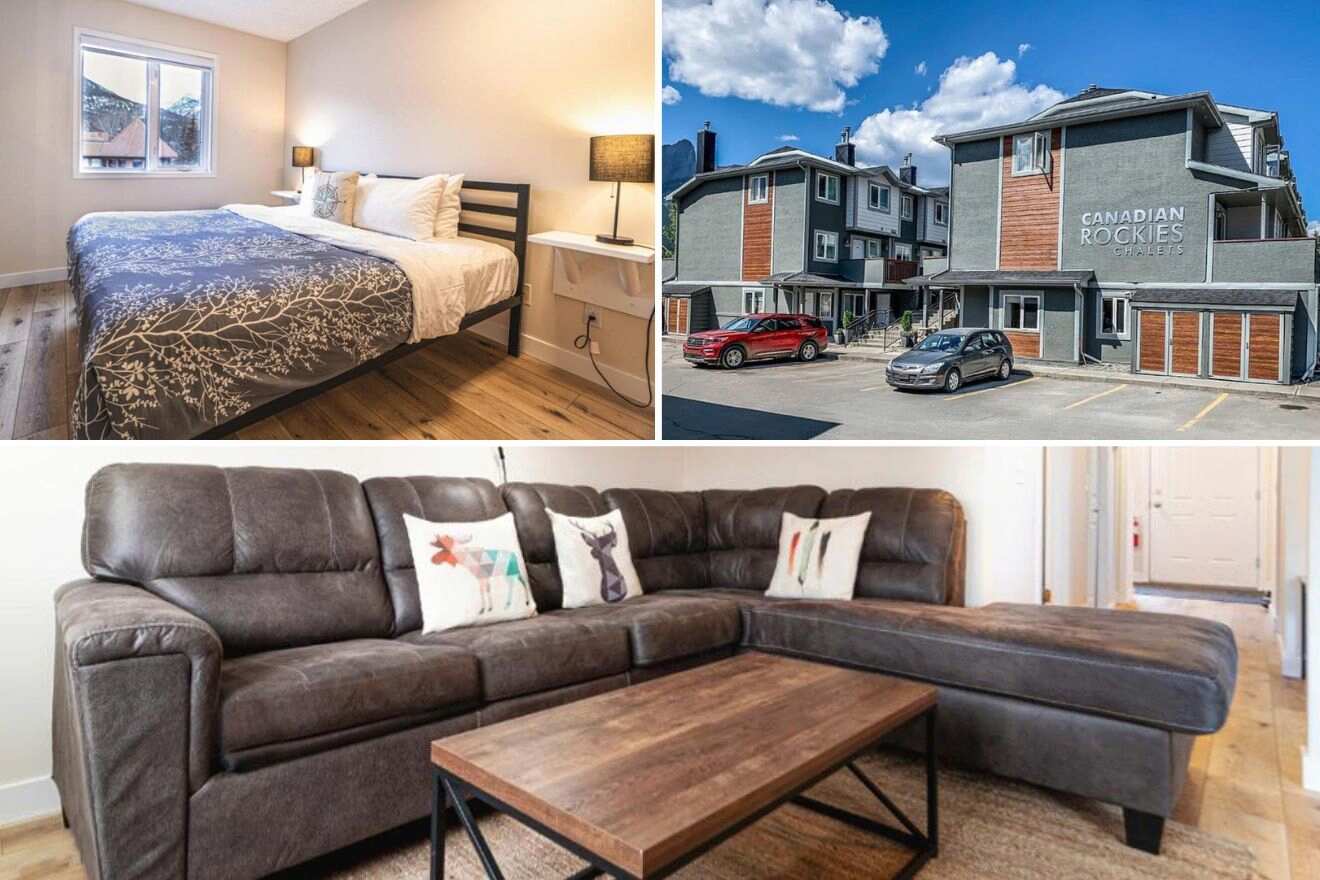 This nice little hotel is only a few minutes away from the Canadian Rockies and has amazing outdoor activities to enjoy with friends, family, or your partner. You can go for hikes, skiing, or simply relax in the garden. The hotel comes with a hot tub, and it is open for all guests to use. There is also a complimentary parking lot space and free Wi-Fi on the property.
This hotel is a pet-friendly one, which means you can bring your pet on your vacation. You can bring one pet if the dog is big and 2 pets if the dog is small. Check with the hotel about your pet's size! All the chalets come with a private kitchen and amazing views!
10. Georgetown Inn – unique accommodation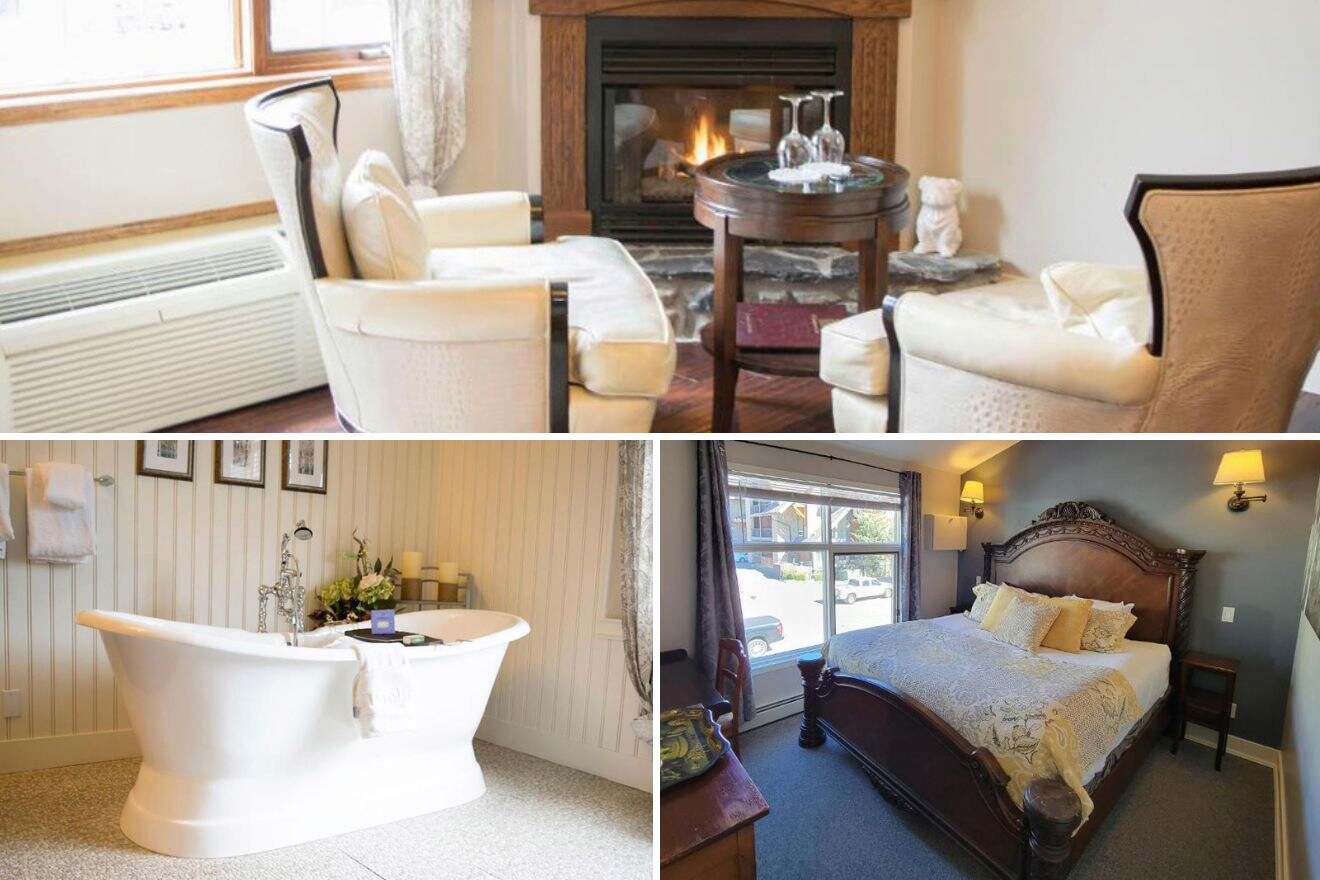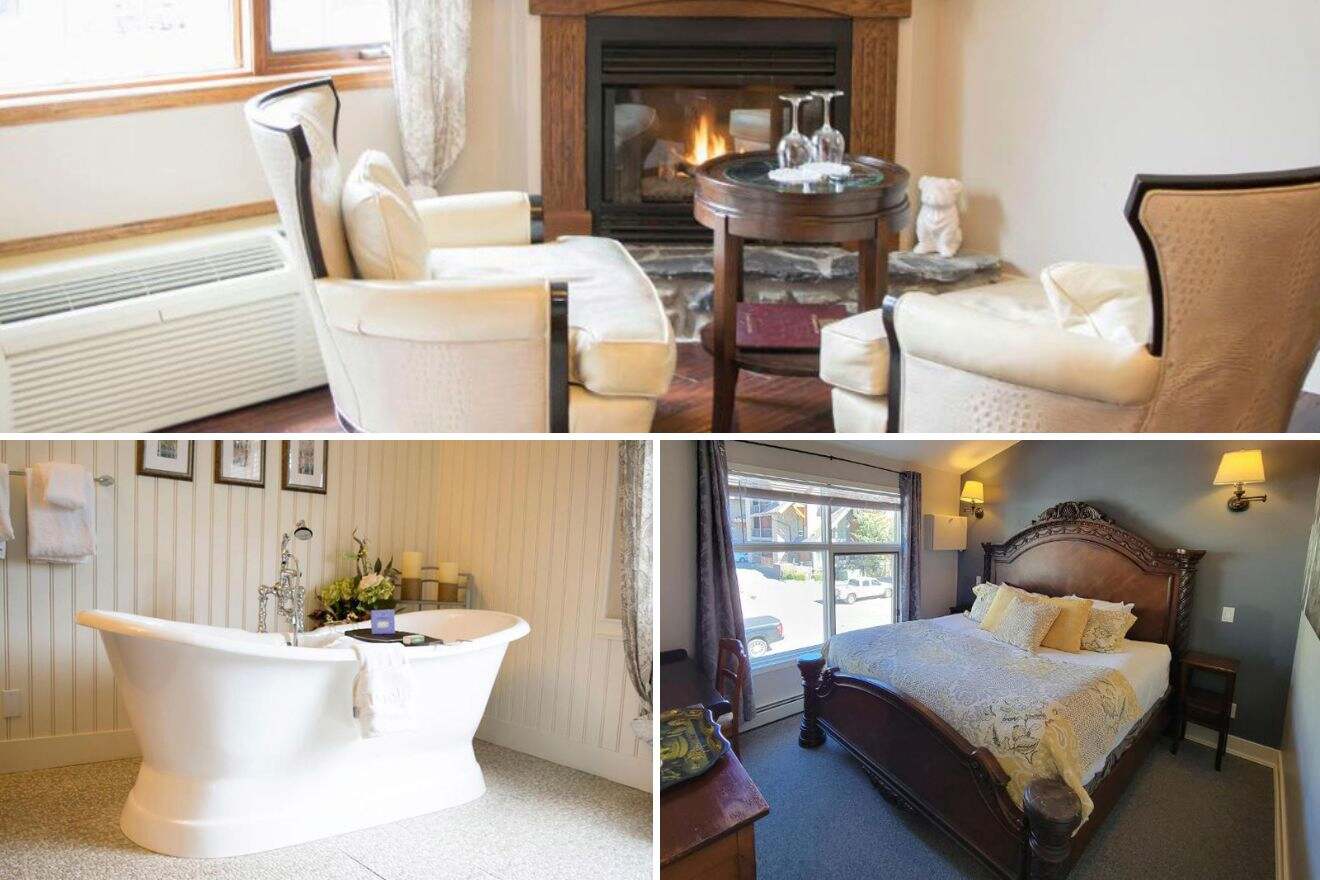 I think this is my favorite hotel! It has a warm look with all the 19th-century wooden furniture and logs interior decor. This accommodation offers a restaurant and pub where you can relax after long days of exploring! Here, you can find a cozy fireplace to relax in front of – your dog will love it!
This hotel has designated hotel rooms that are pet-friendly, but you need to book them at the front desk. These rooms are limited, and there is a tax fee that needs to be paid per pet per night at the hotel. All The rooms come with amazing vintage and upscale furniture, and some of them come with a fireplace and spa bath.
11. Silver Creek Lodge – relax at the spa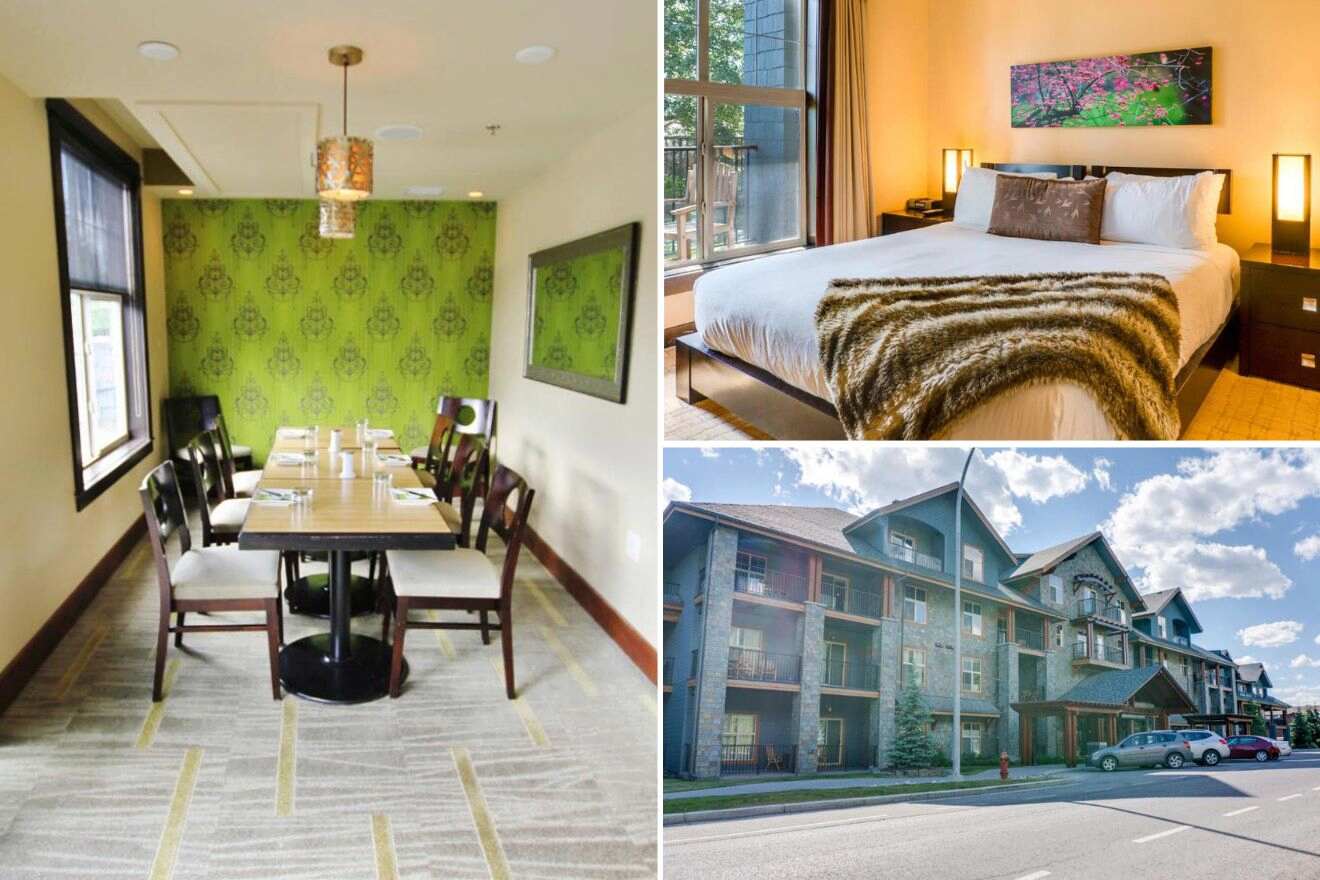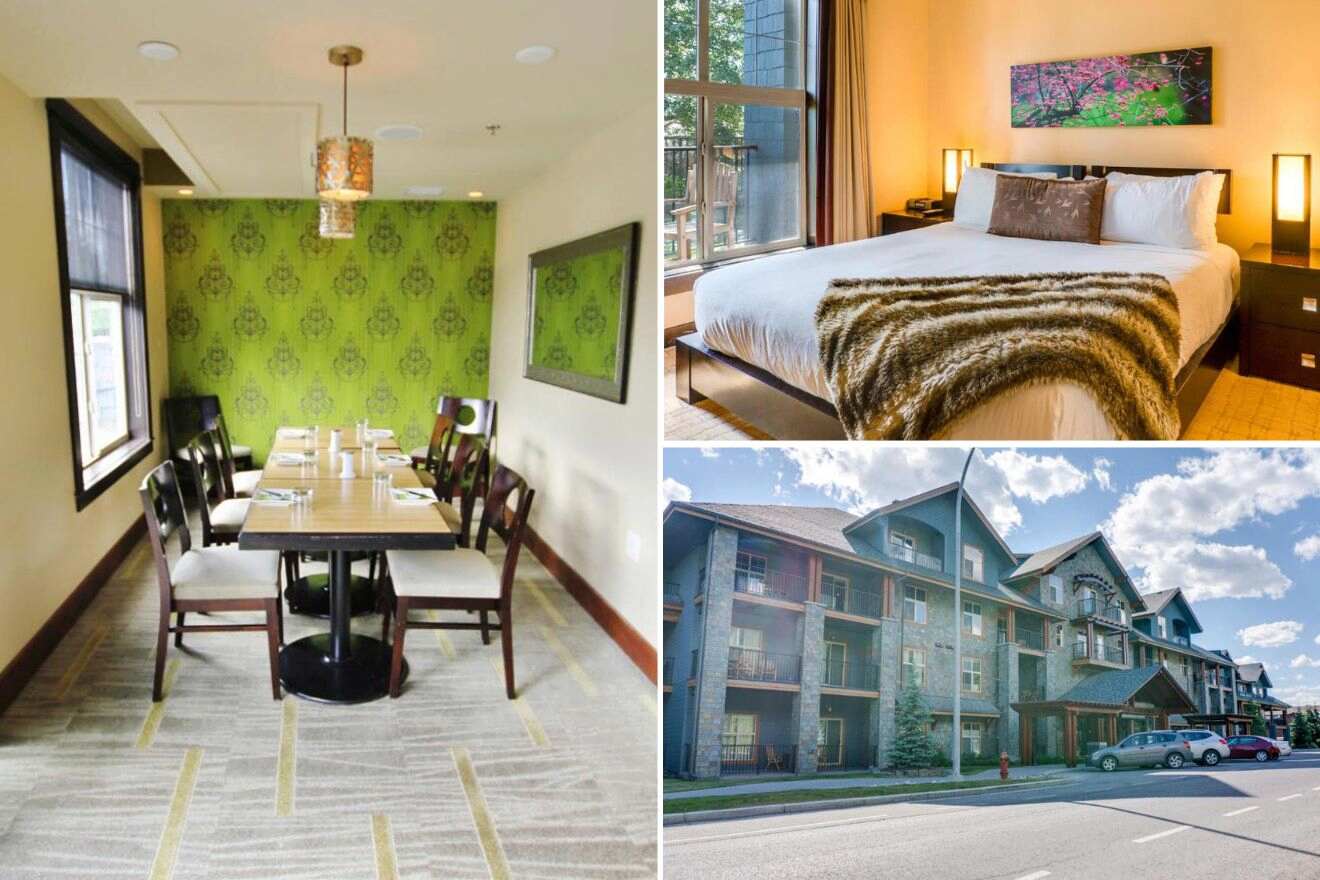 This simple hotel has everything you need for the most amazing vacation in the Canadian Rocky Mountains! If your main goal is relaxing, you will be happy to know this hotel has a spa and wellness center offering many treatments for the body, face, and hands, and there is also a eucalyptus steam room to let go of all your worries and start feeling wholesome!
This hotel has 3 different types of rooms; usually, their 2 bedroom suite is pet-friendly, but it is recommended to call before booking to make sure these rooms are available. The 2 bedroom suite has a spacious balcony, a bathroom with a bathtub, and a fully equipped kitchen to make homemade meals! This room can host up to 6 guests!
12. Lamphouse By Basecamp – for a jacuzzi with a view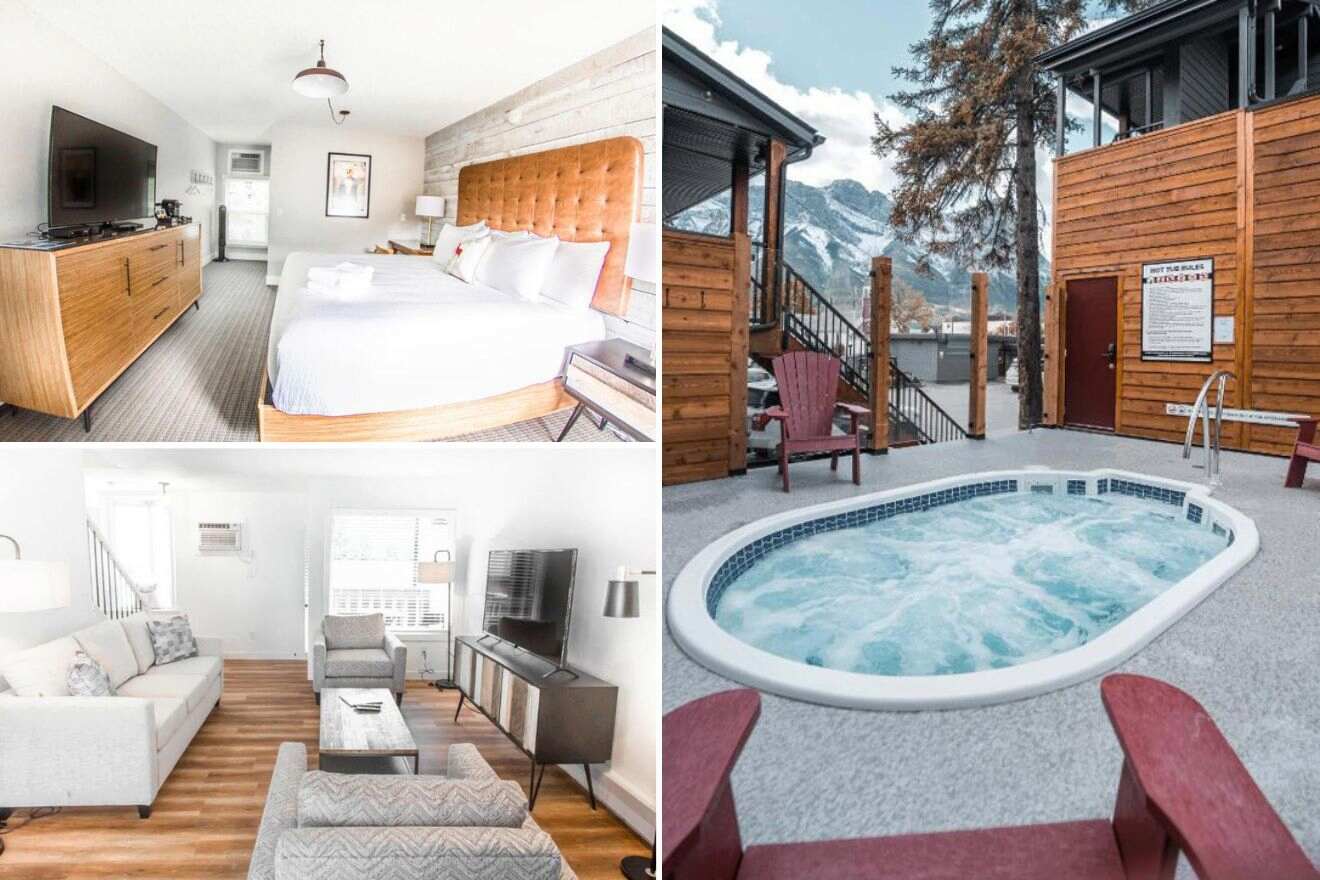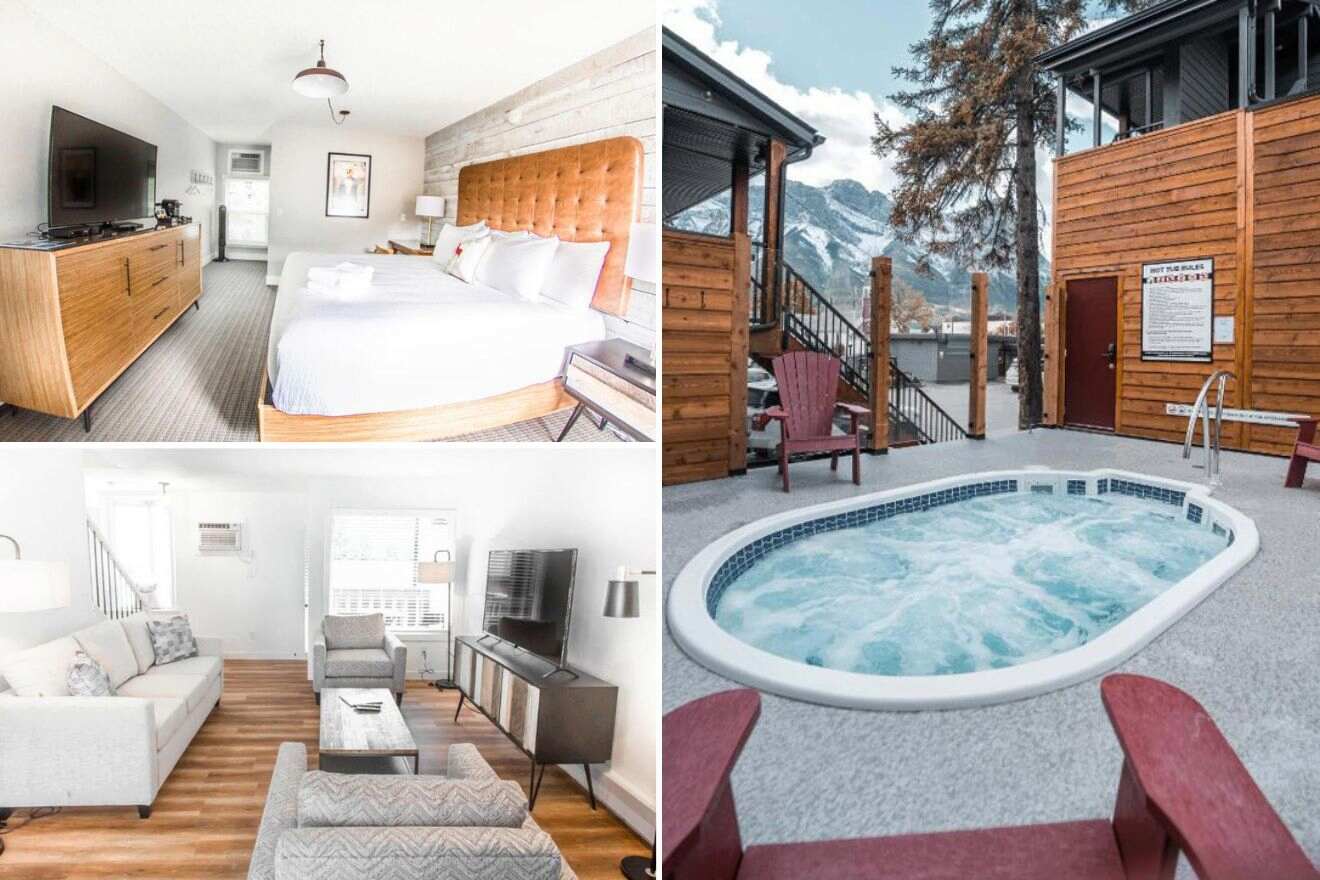 Honestly, I love all the Basecamp hotels I have featured, and this one is another amazing hotel by them! The style is super chic and modern and has a nice industrial vibe and vintage elements. This hotel features an outdoor jacuzzi with incredible views of the mountains and the woods. Guests at this hotel can make use of the free parking available in the facilities
This hotel offers many rooms, and one of them is pet-friendly; it is one of their king rooms, located on the ground floor, with self-check-in. This room has a private bathroom with a shower and a bathtub, a double bed, and a flat-screen TV to relax while watching something with your partner and dog! Sounds dreamy to me!
FAQs about Pet-friendly hotels Canmore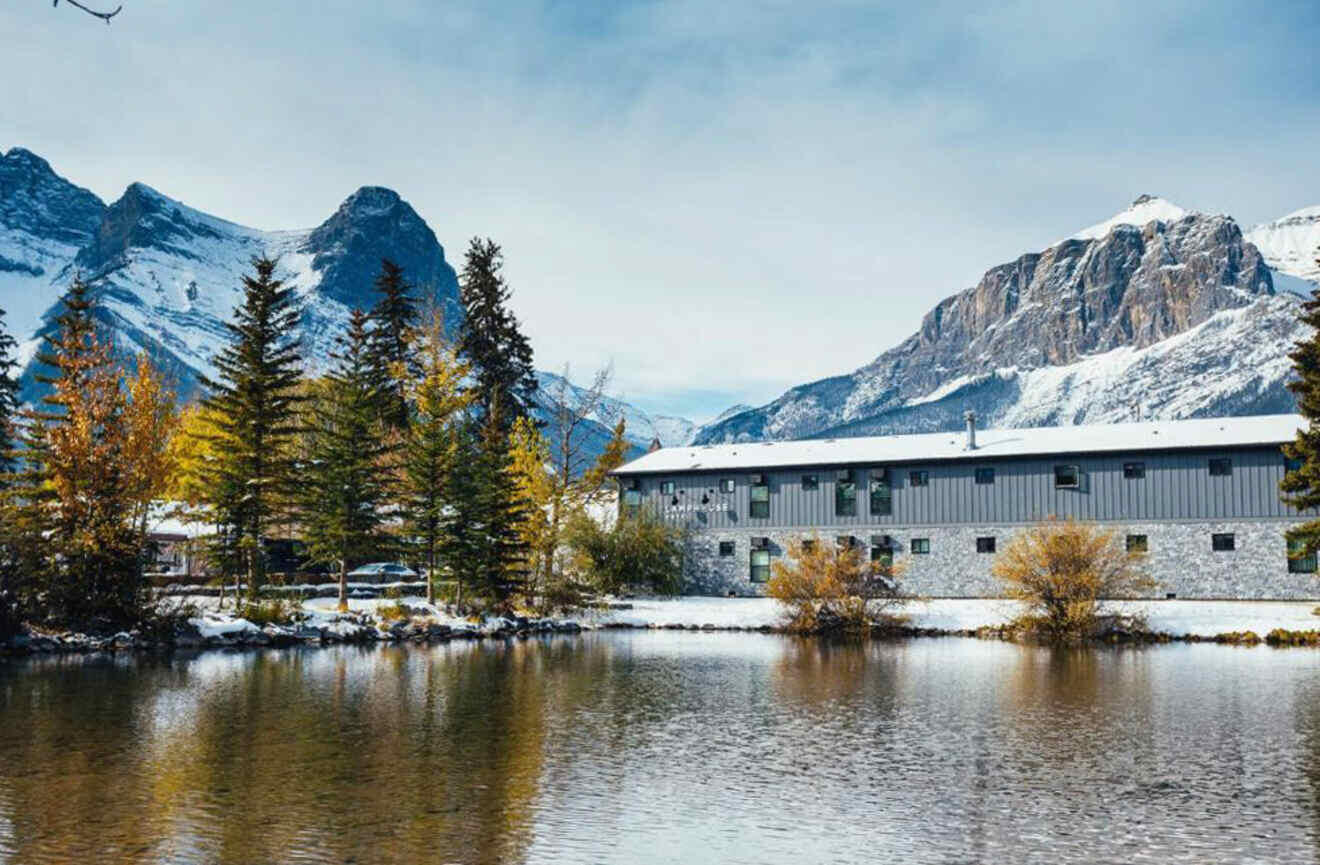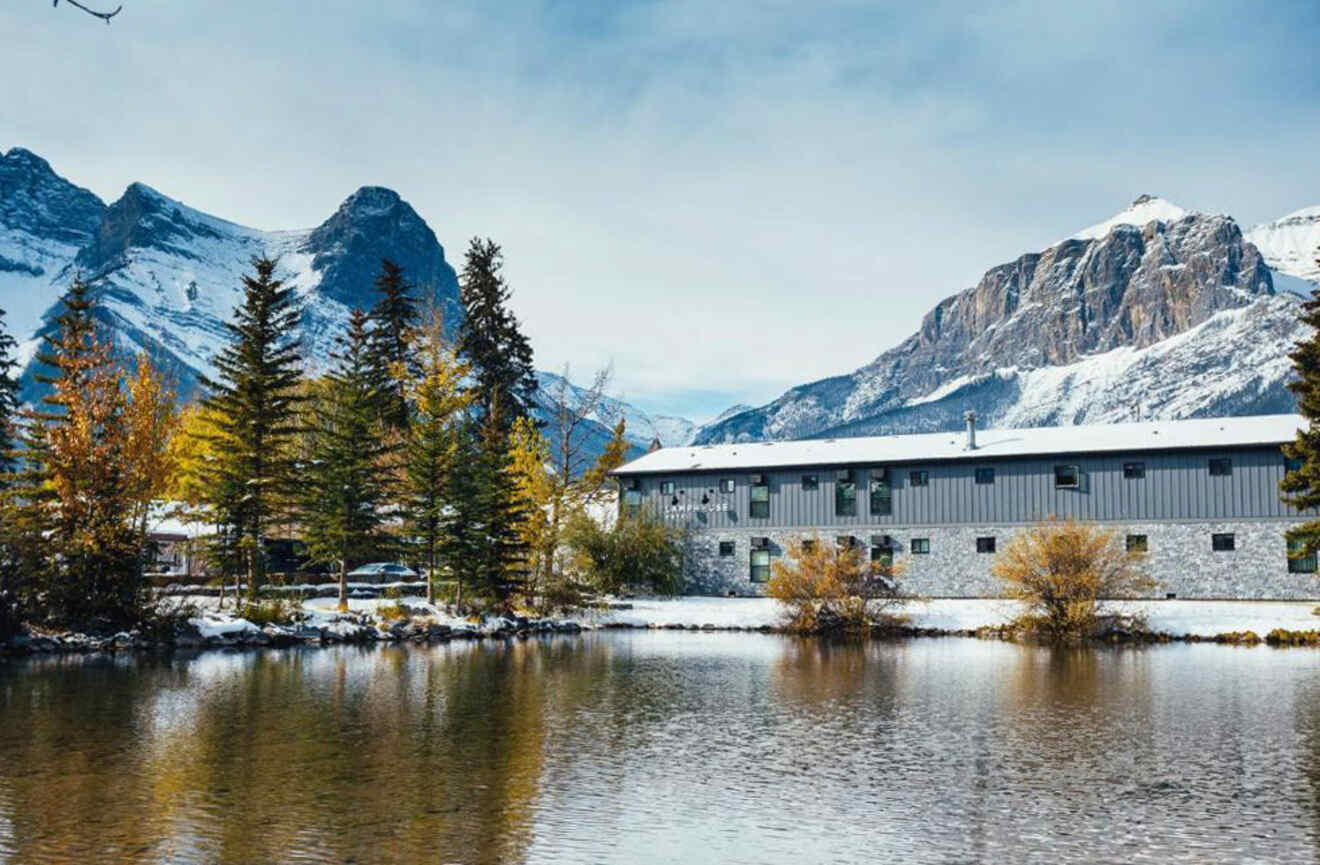 Conclusion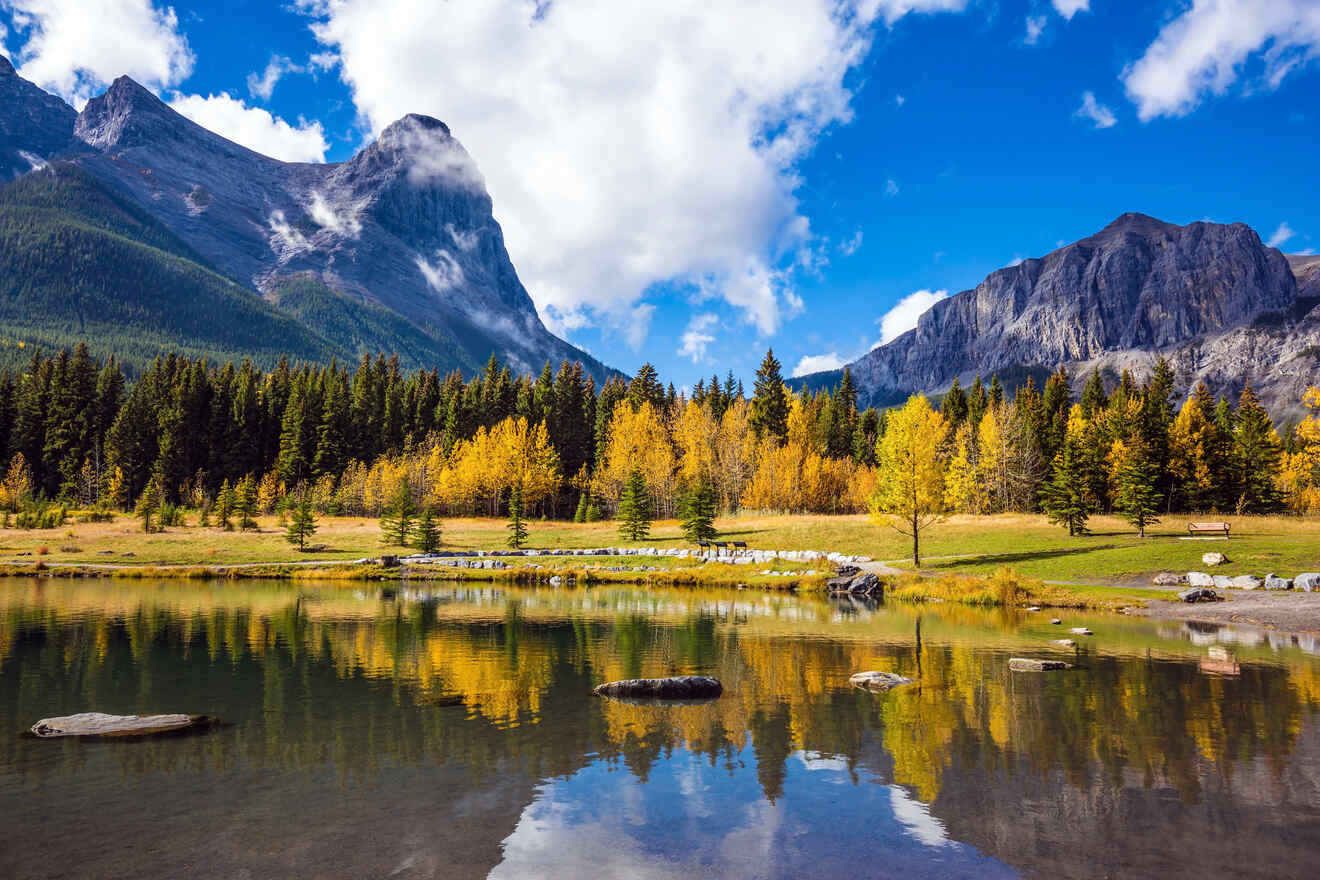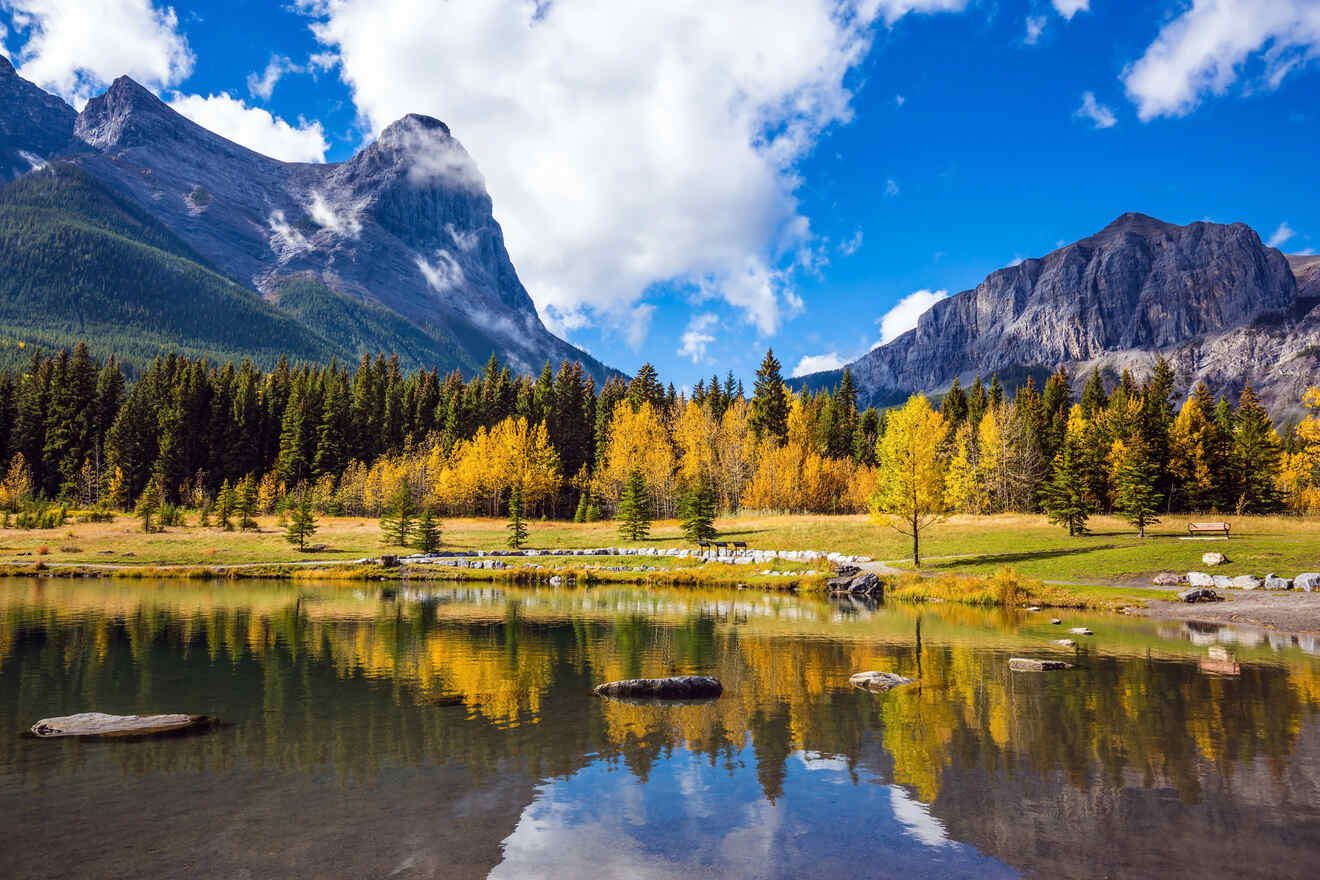 That's a wrap, folks! Those were the best pet-friendly hotels in Canmore! Honestly, we have such a wide range of options and different amenities, I am sure you will find a hotel you love!
I would be happy to stay in any of these hotels with my pet, but if I had to give you my top 2 hotels, I would go with:
The Malcolm Hotel – Amazing terrace with pool and 2 hot tubs, apart from this the hotel is super elegant and luxurious!
Lamphouse by Basecamp – I just love the style of the hotel and that jacuzzi on the terrace with a perfect mountain view!
Which of these pet-friendly hotels in Canmore was your favorite? Let me know in the comments! I love learning about your trips. Book your hotel room quickly after choosing your favorite one; pet-friendly rooms are limited, and book fast!
Until the next time,
Daniela
---
Pin it for later!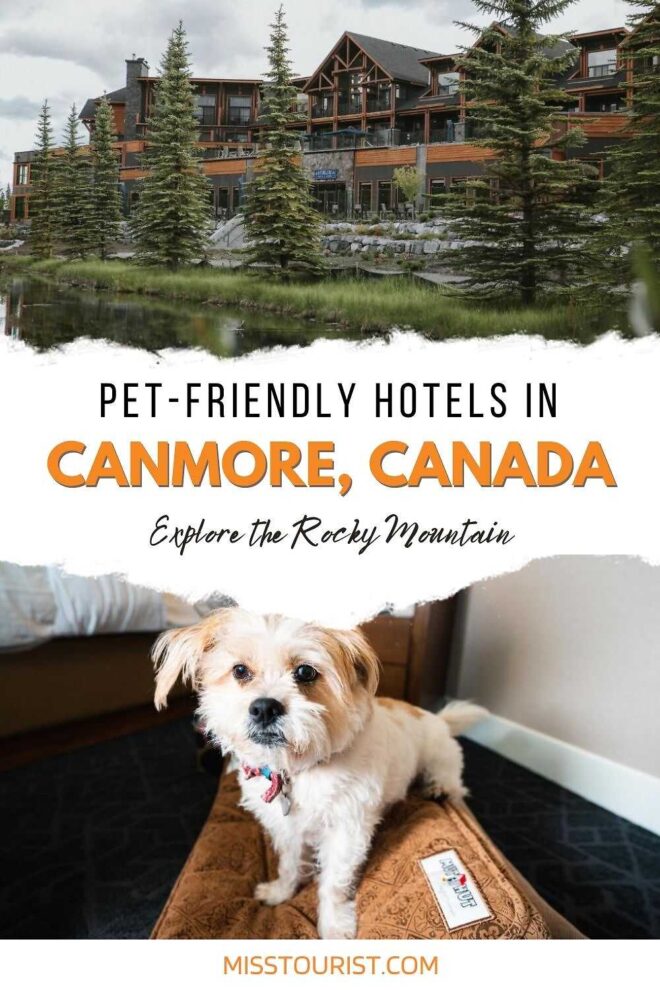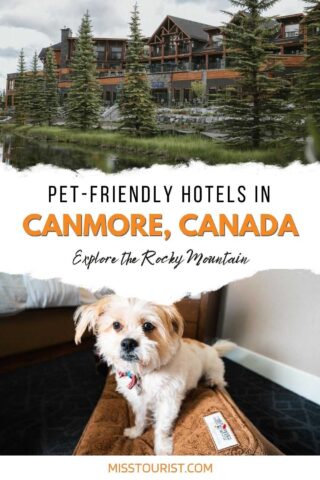 Pin it for later!