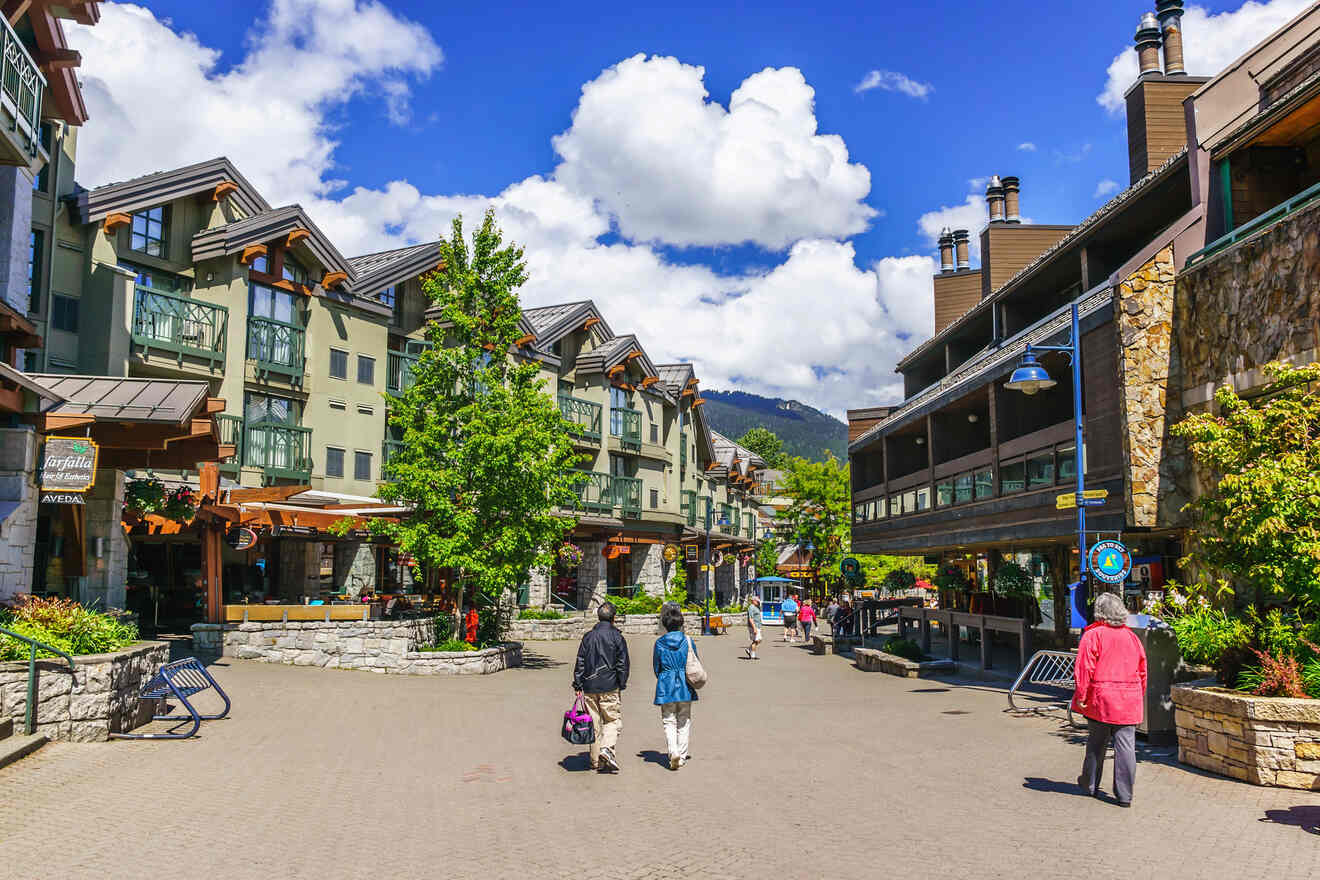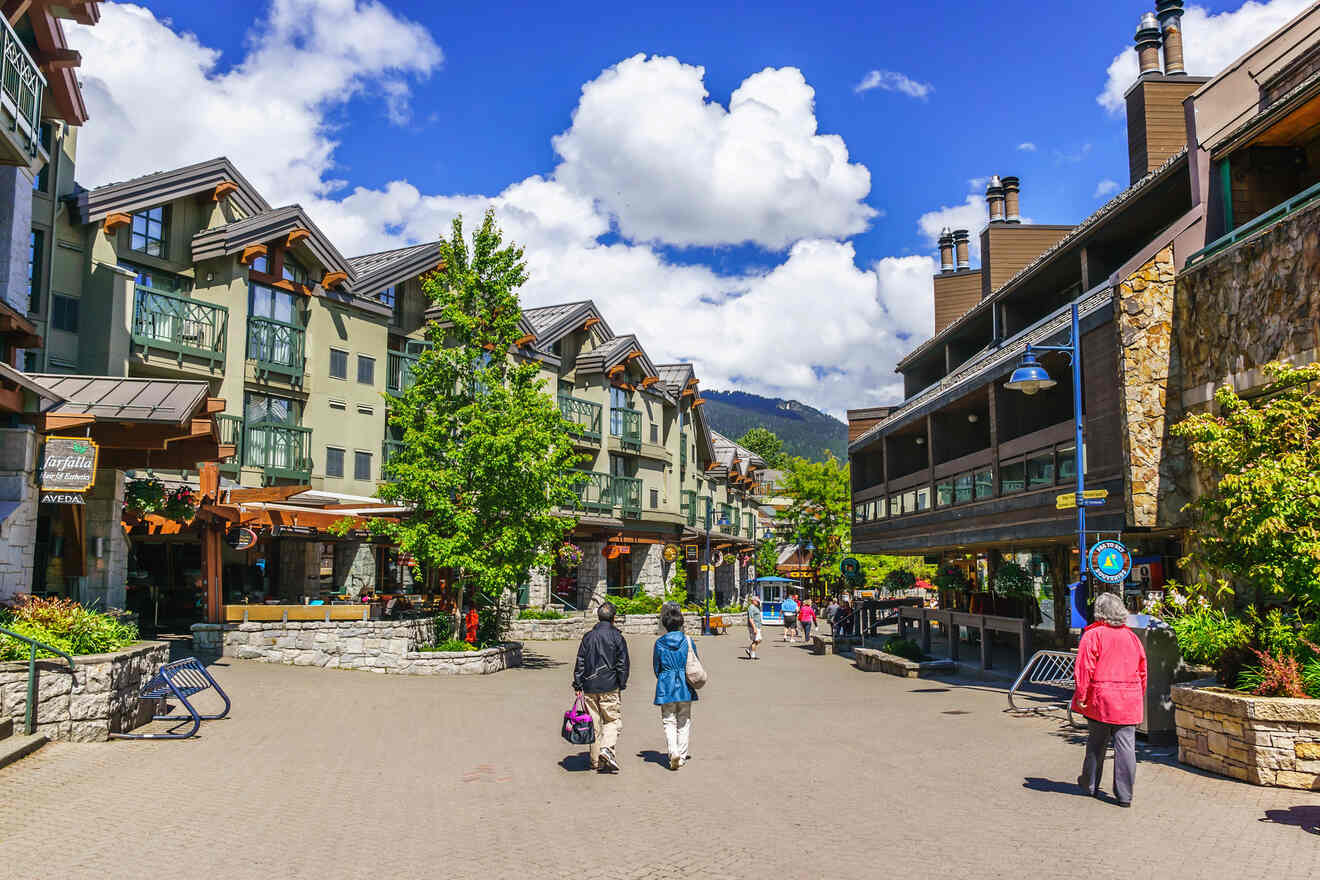 Whether you are a fan of winter or summer, Whistler is always sure to please. You've likely heard about the incredible ski resort and winter alpine experiences available. However, 55% of visitors travel here during summer, clearly showing that it's an ideal vacation destination all year round! Luckily, there are plenty of Whistler Airbnbs to choose from.
Whistler is tucked away in the Fitzsimmons mountain range in British Columbia, Canada. It's a small mountain town found high up in the mountains. It is only 78 miles North of Vancouver, so it'll only take you about a two-hour drive to get there.
If you decide to make the trip by car but you are on holiday and need to rent one, make sure to check out our guide on the best car rental tips.
During winter, Whistler is known for its skiing and fresh mountain air. The Whistler Blackcomb, found in Whistler, is the largest ski resort in Canada and offers over 4,757 acres of skiable area with more than 200 marked trails.
During summer, the slopes open up to reveal the world-famous Whistler Bike Park. But it is not the only thing to do during summer with plenty of lakes, hikes, and nature activities to be found.
If Whistler sounds like it's calling your name, you will need to sort through a long list of apartment options before finding the right one. Luckily, I've compiled the ultimate list of the best Airbnb listings around – all you need to do is choose your favorite one.
Need a Place Now? Choose from the Best Airbnbs in Whistler
There are plenty of popular options when visiting Whistler. For those in a hurry, here are the very best Airbnb picks:
Best Airbnbs in the Heart of Whistler Village
If you have a little bit more time, then it's always best to search for accommodation that suits your every want and need. Whistler might not be the best place to go if you are looking for budget accommodation, but as with any world-class ski resort town, you can expect quality.
When compiling this list, I not only found the best Airbnbs in Whistler (even with a private hot tub), but also calculated the exact costs involved and listed them accordingly. Sometimes those hidden services, cleaning, and tax costs can hike up your budget, but I made sure to include them all.
All of the Airbnbs on this list have been sorted from the highest to the lowest prices.
1. Slopeside Penthouse with Mountain View
Price: from USD $400 per night
Bedrooms: 1
Guests: 5
The most luxurious option available in Whistler is right next to the slopes in Upper Village. This is any ski enthusiast's dream, with direct access to the ski resort as well as the famous Peak-2-Peak Gondola service.
This penthouse apartment was newly renovated with a beautiful modern interior and is the closest thing to a two-bedroom apartment on our list. It is located at 'The Aspen' on the top floor, which will guarantee your privacy when staying here.
There are plenty of fun things to do when staying at this Airbnb, including lounging in the huge hot tub, taking a dip in the heated pool, keeping fit at the gym, or just cozying up in front of the fireplace.
2. Modern Airbnb Plus with Mountain Views
Price: from USD $300 per night
Bedrooms: 1
Guests: 4
This stylish 1 bedroom apartment is one of the two most popular Airbnb Plus vacation rentals in Whistler. It is a spacious condo on the top floor offering great mountain views. The perfect location and complimentary parking are two more reasons why this option should not be overlooked.
Although the Airbnb rooms aren't very big, the host has utilized the space well. The full kitchen and dining room provide more than enough space to cook. The patio, fireplace, and shared recreation areas (pool hot tub) are the best places to relax in the mornings or after you come back from a ski.
3. Luxury Mountain Condo
Price: from USD $290 per night
Bedrooms: 1
Guests: 4
If you are looking for luxury, look no further. This apartment is breathtaking and you can see that incredible detail has been put into every aspect. Although it is the perfect couples' getaway, it can also double up for small families thanks to the queen size sofa bed available in the living room and the full kitchen.
Located in the heart of Whistler village, you are only 2 minutes walk away from the shops and 10 minutes from the slopes. A car won't be necessary for these short distances, but there is complimentary parking available to keep your vehicle safe.
The most amazing things to note about this Airbnb are the 2 balconies and the indoor fireplace. The upstairs balcony is where you'll find the best private hot tub – the perfect place to defrost after a long day at the ski resort.
4. 1 Bedroom Townhouse – for Couples and Small Families
Price: US$256
Bedrooms: 1
Guest: 4
Traveling in Whistler with your family? I got you covered! I found this family-friendly apartment in a quiet neighborhood of Stoney Creek Northstar!
The place is spacious, modern, and has everything you need for a comfortable stay. Have fun playing board games or read a book for the kids in the living area with a beautiful fireplace. Cook a meal for the family in the kitchen, or have "me time" at the patio while having your favorite drink.
The place sounds warm and inviting, right? Wait till I tell you that this place has a heated pool (all year round) and a hot tub for you and the kids to enjoy!
5. Spacious Townhouse – Perfect for Small Families
Price: US$226
Bedrooms: 1
Guest: 3
Want to be strategically located during your Whistler getaway? Then look no further as this spacious studio condo is exactly that! It's across from the biggest supermarket in Whistler, and you can find a lot of coffee shops, restaurants, and bars nearby. If you love to ski, it's just a 15-minute walk, but you can take a shuttle bus for FREE!
This space is definitely larger than usual studios and can accommodate up to 3 people (perfect for a couple). You have your own kitchen, and you can do laundry too. Plus, there's a hot tub waiting for you!
6. Cozy Condo in Whistler Village – Hot Tub and Free Parking
Price: US$ 210
Bedrooms: 1
Guest: 2
You'll be enchanted in this one-bedroom cozy apartment in the heart of the village. The interior and furniture are a mixture of vintage and modern design, making the place so homey.
There's a spacious living room with a beautiful fireplace that would give warmth during the winter season. The bedroom is also uniquely designed with wood, and it has a private balcony with a beautiful view of the Blackcomb Mountain (even prettier when it's covered with snow).
Another advantage of this Airbnb is the well-equipped kitchen where you can cook your meals and do laundry.
7. Penthouse Condo with Hot Tub – Best for Couples
Price: US$173
Bedrooms: 1
Guest: 4
Have you ever dreamed of designing your own home, and you go to Pinterest for inspiration? Well, this one-bedroom penthouse looks exactly like one of the best model houses you can see on Pinterest!
This newly renovated penthouse is so luxurious everywhere you look. The lighting in the kitchen and dining has a similar feel inside a cafe. And since you'll be staying in a penthouse, you'll have the best view too.
And did I mention this place is close to ski hill? And at the end of a day skiing, take a pause and relax at the indoor hot tub.
8. Ski in Ski out Townhouse – Great for Families
Price: from USD $170 per night
Bedrooms: 1
Guests: 4
This warm and welcoming townhouse is everything a family of 4 needs when going on holiday to Whistler. Free parking, a fully-equipped kitchen, and a small living area – what more could you ask for? Oh yes, it's also located at the foot of the Creekside Express Gondola – with ski-in-ski-out access.
Although it might not be the most luxurious option on our list, this is still a great choice. If you consider the maximum number of guests (4), this is an affordable option per guest ($42 USD). Throw in the added benefit of not needing to pay for parking and you're sitting with a real hidden gem.
9. Cozy Main Street Loft
Price: from USD $150 per night
Bedrooms: Studio
Guests: 4
A stylishly decorated Whistler Village studio in the center of town is a great choice when visiting Whistler. This Airbnb has a queen bed and a sofa bed available, making it well suited for couples or families with small children.
The most popular thing about this place is its perfect location in Village North. You will be close to most of the shops, restaurants, bars, and cafes that Whistler has to offer. Even avid skiers and mountain bikers can stay here because it is only a few minutes walk from the gondola and ski resort.
For those traveling by car, there is parking available for free on-premises and paid parking available throughout the village.
10. Village Studio with Hot Tub and Pool (Airbnb Plus)
Price: from USD $150 per night
Bedrooms: Studio
Guests: 3
This Airbnb Plus in Whistler comes with all the bells and whistles you'd expect. It is located in the heart of the village and there is complimentary ski and bike storage available for when you come back from your adventures.
This modernly designed apartment is best suited for 2, with a queen-size memory foam bed available, but there is also a sofa bed that can be used for a child. The kitchenette, cute living area with fireplace, and outdoor patio ensure that you have enough space to eat, sleep, and relax while on holiday. There are also a shared pool and hot tub amenities available.
11. Studio Condo for 3 Guests in Whistler Central
Price: from USD $110 per night
Bedrooms: 1
Guests: 3
This is one of three studio apartments offered by the same Superhost in the heart of Whistler village. As with all of their listings, past guests seem to love the host's great support as well as the available amenities and location.
Right in the heart of town, you will have no shortage of shops, restaurants, bars, and other village attractions when staying here. The mountain isn't too far away either and within a few minutes of walking, you would have reached the entrance to the ski resort.
Winters can get quite cold, but this apartment has an indoor fireplace, heating, and a shared hot tub and pool available. Everything you need to make your stay comfortable.
12. A Studio Apartment for Couples in the Center of Whistler
Price: US$ 110 per night
Bedrooms: 1
Guest: 2
A reasonable price, a convenient location, and quality service best describe this AirBNB listing! The space resembles a hotel room with a stylish setting, a spacious bathroom, and a mini-kitchen. The pool and hot tub are also a great addition!
And when you step outside, you can find lots of good restaurants, coffee shops, and pubs nearby.
13. Private Single Guest Pod
Price: from USD $50 per night
Bedrooms: 1
Guests: 1
Our post about AirBNBs in Whistler wouldn't be complete without mentioning this very unique listing. There are quite a few of these pods available for rent, each offering a similar experience.
This particular pod offers only a bed, with your storage space located just outside your room. There is a shared bathroom, but it is very clean and stylish. The main benefit of this room is that it is centrally located, within walking distance from all the main shopping centers as well as the ski resort.
4 Unique AirBnbs in Whistler
Apart from the above-mentioned choices, I have found some unique options for you to choose from. These options are not as close to Whistler mountain, but I have included the driving time required for each listing.
1. Rural Retreat in Whistler's Backyard – Newly renovated
Location: Pemberton (30-minute drive from Whistler)
Price: from USD $480 per night
Bedrooms: 4
Guests: 6
This newly-renovated Airbnb is perfect for multiple couples, friends, or a large family holiday. The house is well-designed and is well-designed with wooden flooring, plenty of space, and great mountain views.
Only a few minutes outside of Pemberton, this private property allows you to get away from the masses of holiday goers without being too far away from all the ski action.
There is an indoor fireplace, wi-fi, and a fully-equipped kitchen. This destination is also baby-friendly and comes equipped with children's dinnerware, a list of babysitters, and even some children's toys. There is parking available on the farm.
2. Peaceful Private Tiny Home by River
Location: Squamish (45-minute drive from Whistler)
Price: from USD $190 per night
Bedrooms: 2
Guests: 4
If you are a fan of tiny homes, then be sure to check out this unique Airbnb. It is located in the small coastal village of Squamish surrounded by tall trees.
Despite its small size, this house can take up to 4 guests with its two-bedroom design. It also has a very modern design with new appliances and furniture used. There is a full kitchen and an outside lounge area where you can entertain guests next to the fire pit.
3. Cozy Self Contained Cabin
Location: Poole Creek (50-minute drive from Whistler)
Price: from USD $110 per night
Bedrooms: 1
Guests: 2
This is the perfect listing for anyone who wants a bit more peace-and-quiet on their Whistler holiday. This small cabin is located on a 5-acre property in Poole Creek, surrounded by forests and mountain views. The property is shared with the host and other Airbnb guests.
The cabin is the perfect option for a couple or a small family and there is a sofa couch available. The kitchen has everything you'd need to prepare your meals and there is also free wi-fi available.
4. Experience Pemberton Glamping – Pet-Friendly Option
Location: Pemberton (30-minute drive from Whistler)
Price: from USD $110 per night
Bedrooms: 1
Guests: 2
Not everyone wants to stay inside four walls when visiting the Canadian mountains. If you prefer camping, you should consider this listing.
Tucked away on a farm near Pemberton, you are surrounded by meadows, forests, rivers, and plenty of mountain views. It is close to Pemberton village and only a 30-minute drive from Whistler.
This Airbnb advertises a rustic farm experience and you should only consider it if you love being outdoors. A great thing about this accommodation is that it is pet friendly.
5 Important Tips When Booking Airbnbs in Whistler
Choosing an Airbnb is not always an easy task. Depending on where you are visiting and what you are planning on doing there, different accommodations will be more suitable.
When visiting Whistler, you should consider the following five things:
1. When is the Best Time to Go to Whistler?
Whether you are visiting in Winter or Summer will play a huge role in what accommodation you choose. During summer, the weather isn't too hot but during winter you are going to want to look out for a pool, hot tub, and fireplaces.
2. How Close Are The Mountains?
The main reason people visit Whistler is for the mountains, so looking for an apartment nearby is a good choice. You could also choose to be near the Peak-2-Peak Gondola service which is one of the best ways to get around the mountains.
3. Is There Free Parking?
The best Airbnb Whistler options provide complimentary parking, but unfortunately, not all of them can. If you're traveling by car, this is an important thing to consider because otherwise, you will be spending on average $15 USD per day just on parking.
4. What Airport Do You Fly Into to Get to Whistler?
The nearest airport to Whistler is in Vancouver. Vancouver is the biggest city in the area and is also home to the Vancouver International Airport. Once arriving at Vancouver, you can drive 2.5 hours via the highway to reach Whistler. If you are going to be staying there for a night or longer, read our guide on Where to stay in Vancouver.
5. Is There a Train from Vancouver to Whistler?
The daily train service to Whistler was suspended in 2015. You can, however, make use of the Rocky Mountaineer train service. This is a 3-day train trip that takes you through the mountains via the old Gold Rush route. There is a stopover in Whistler, where you can jump out.
Top 4 Airbnb Experiences in Whistler
Why stop with only finding accommodation? To make your holiday even better, here are some of the best experiences you can have when visiting Whistler:
Conclusion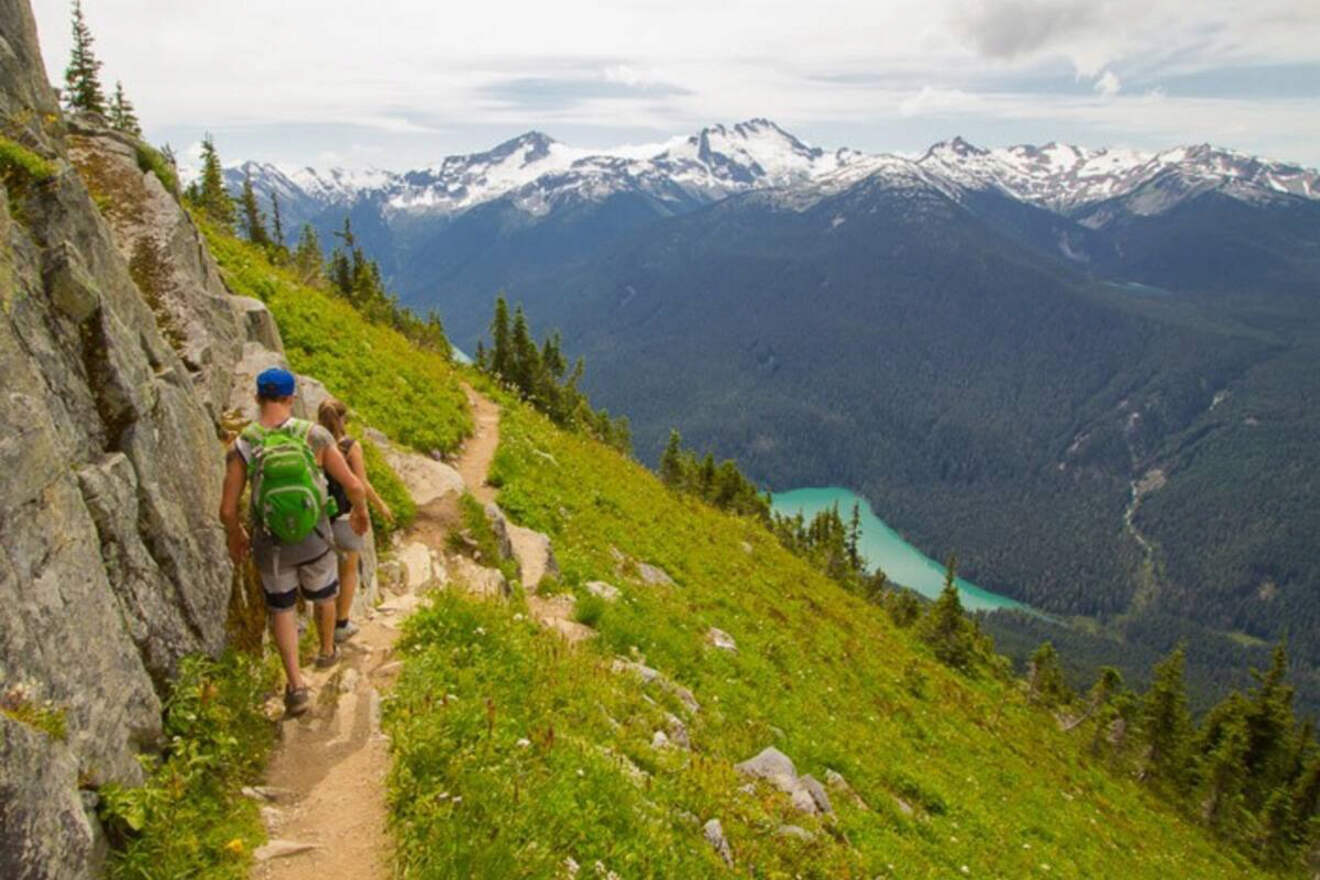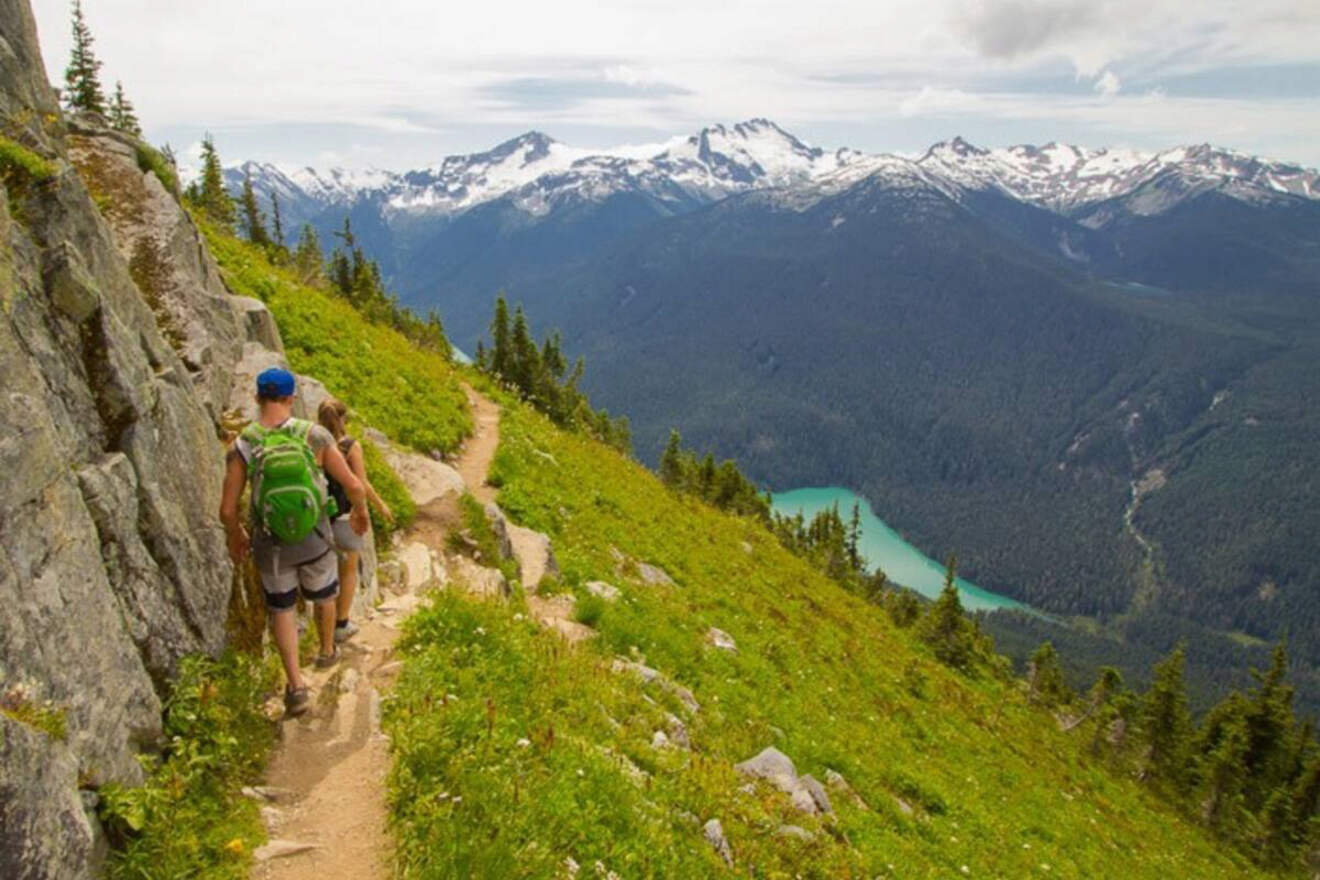 Whistler truly is a holiday destination that is worth visiting all year round. Despite what many might think, this small Canadian village comes alive every year, all year, with over 3 million visitors annually.
Whatever season you decide to visit this beautiful little town in, make sure you come prepared with the right choice of accommodation. After all, while the slopes and adventures may be tons of fun, nothing makes a vacation quite like a delicious bed, a fireplace to warm your feet at, and a hot tub to soak away in.
It is no wonder that some of the best AirBNBs get booked so far in advance. You should book some of the choices in advance to avoid disappointment, like Slopeside Penthouse with Mountain View and Luxury Mountain Condo.
Now that you have gone through some of the best choices for your Whistler vacation, you should have no problem finding the perfect accommodation for your dream holiday. If you find a new Airbnb and want to share your experiences, make sure to use the comment section below!