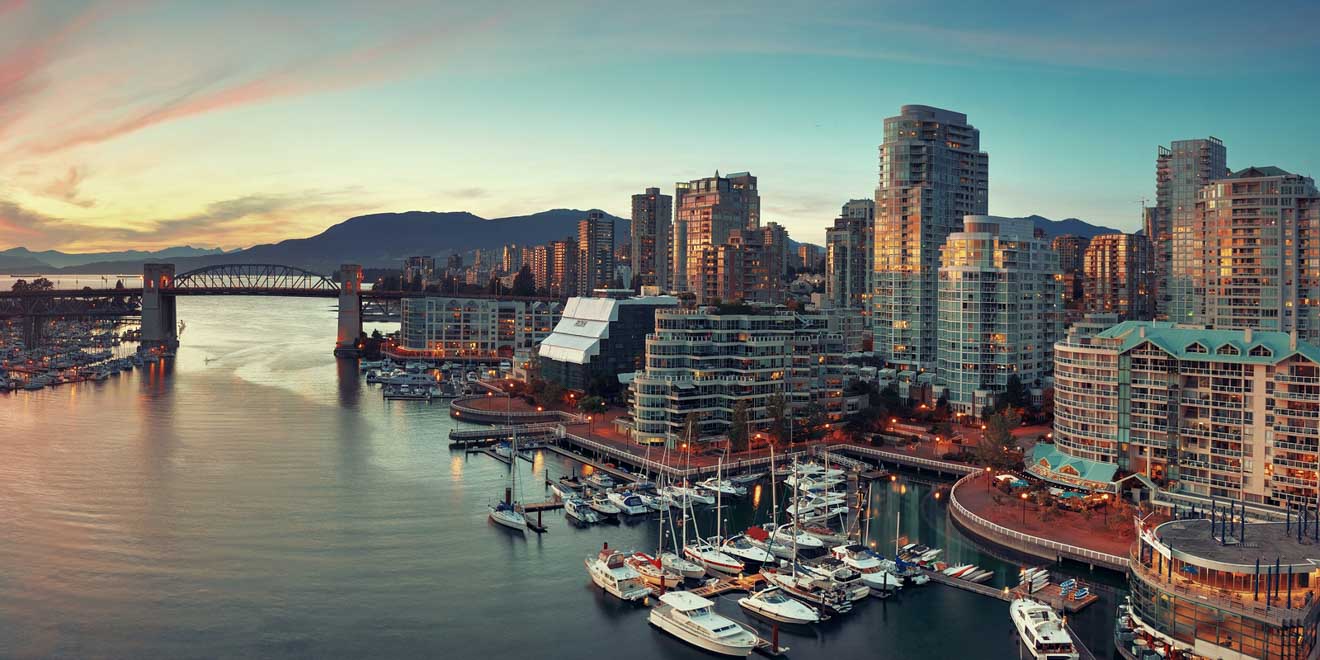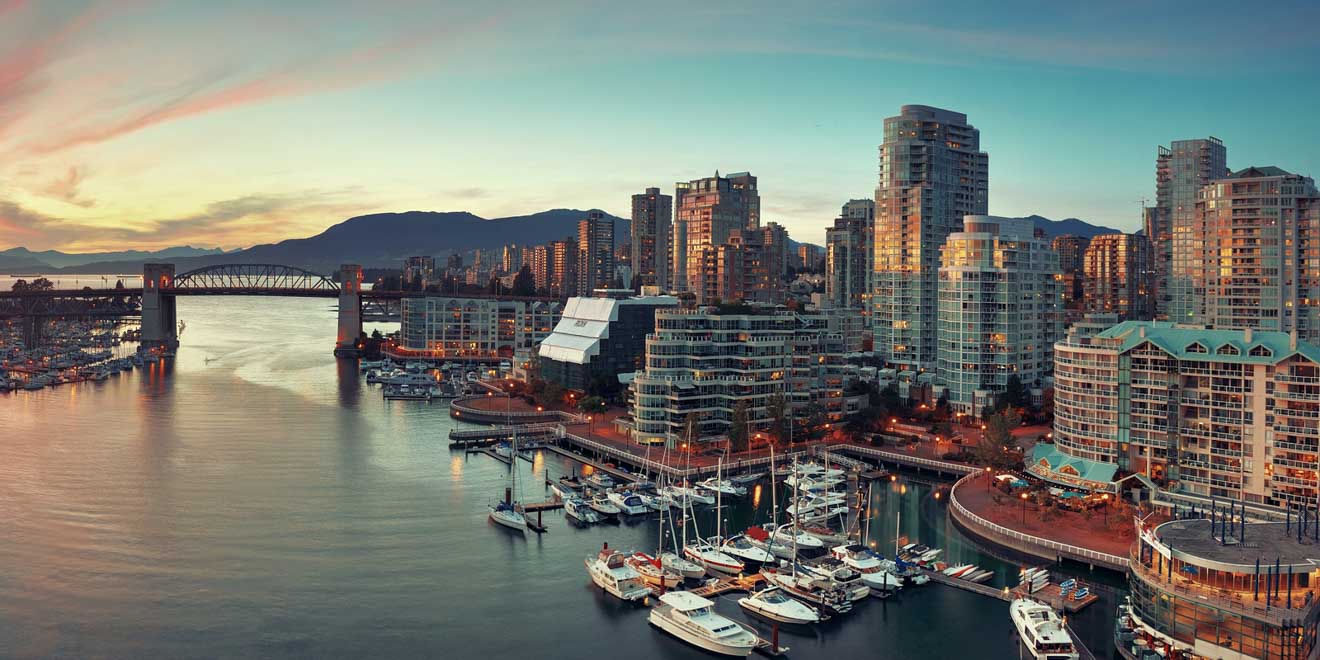 Vancouver is a gorgeous coastal city in Canada, located between the Pacific Ocean and the Coast Mountains, it is an amazing destination for all travelers whether you're interested in pristine beaches, history, culture, nature activities (skiing, hiking etc), gastronomy, shopping or everything else in-between!
But planning a trip to explore Vancouver can be a little tricky since it has a lot of small areas.
The best area to stay in Vancouver for first-time visitors is Downtown Vancouver, but this area is further broken down into smaller neighborhoods, so more specifically, Yaletown. This is where all the interesting and exciting attractions and activities are located, so you'll always be in the center of the action if you stay here!
But don't worry, in this article I will talk about all 5 of the best neighborhoods where to stay in Vancouver. Yaletown, West End, Gastown & Chinatown, Coal Harbor & Waterfront, and Mainstreet & Mount Pleasant; all of these neighborhoods have a unique charm, and I'm sure you will find something that suits your needs!
I also added 3 bonus sections where you will find apartments, incredible hotels near the airport, and the best hotels with parking available – what else can you wish for in a guide?!
By the way, Vancouver is not the capital of British Columbia (the capital is Victoria), but it is by far the biggest city in the province and it has a lot to offer!
Are you ready? Let's go!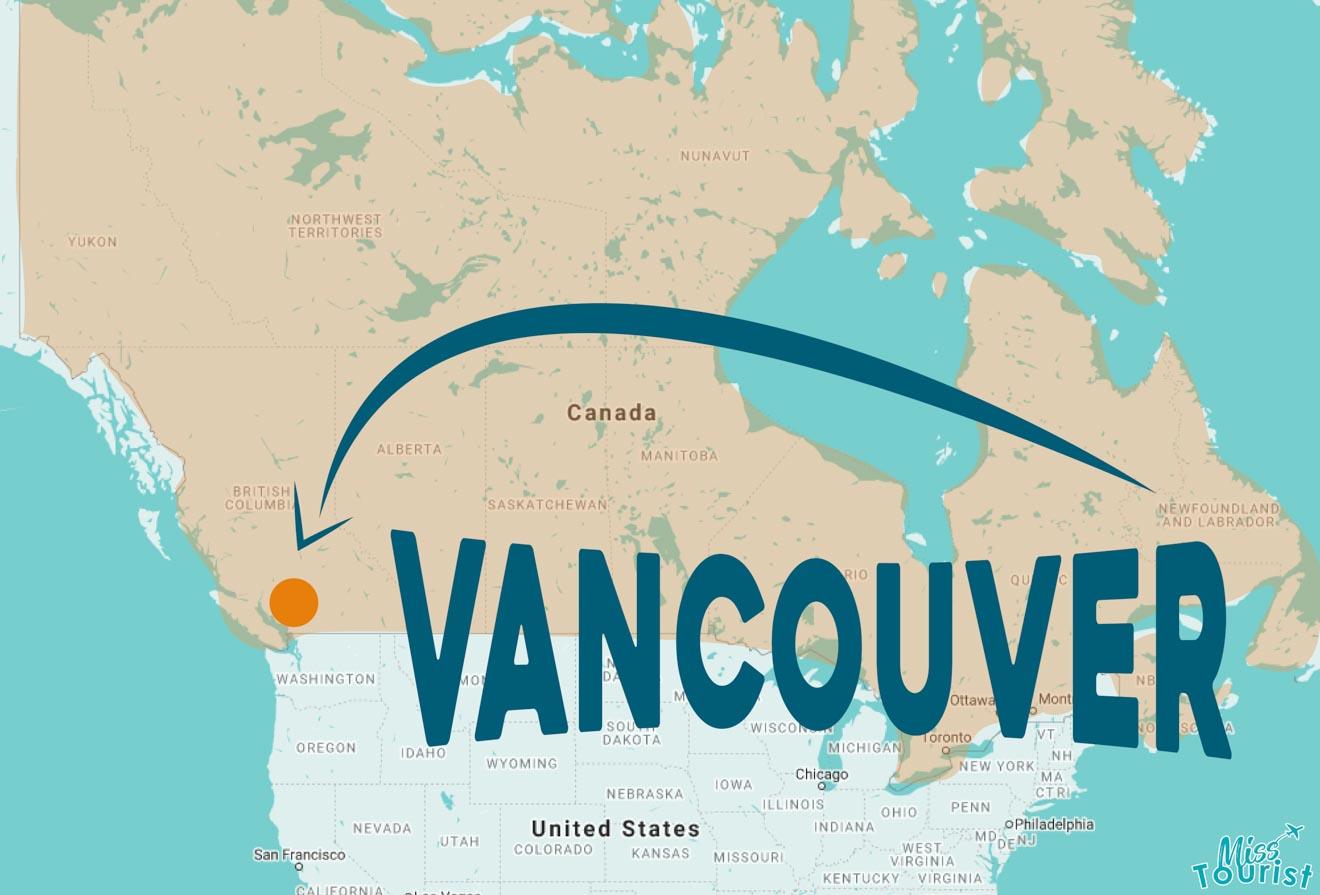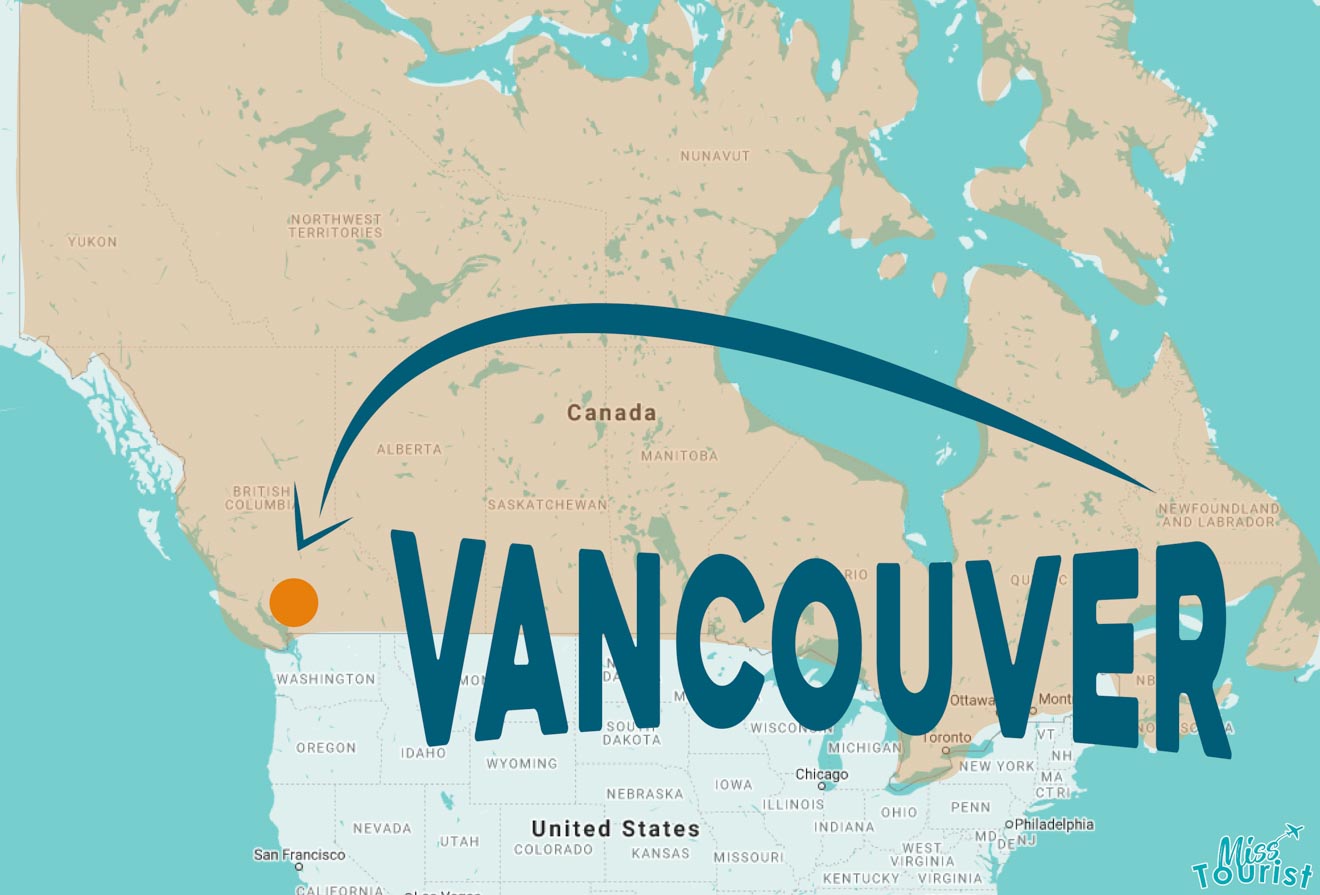 If you're in a hurry…
Are you already prepared to book the best hotel for your stay in Vancouver? Here is the list with the best options in the city:
Which area should you choose?
Even though the city has many attractive areas, not all of them are relevant for travelers willing to explore the top sights and activities there. More specifically, Vancouver's Downtown core is almost the only good recommendation for tourists, along with Main Street and Mount Pleasant.
The good news is that Vancouver has an excellent public transport system, and it's also pretty walkable (and bike-friendly as well), mainly if you base yourself in the Downtown core, as recommended, so you won't have any problems getting around and exploring it!
First of all, here is a map of the Vancouver neighborhoods I'll be talking about in this post, so you can easily visualize them: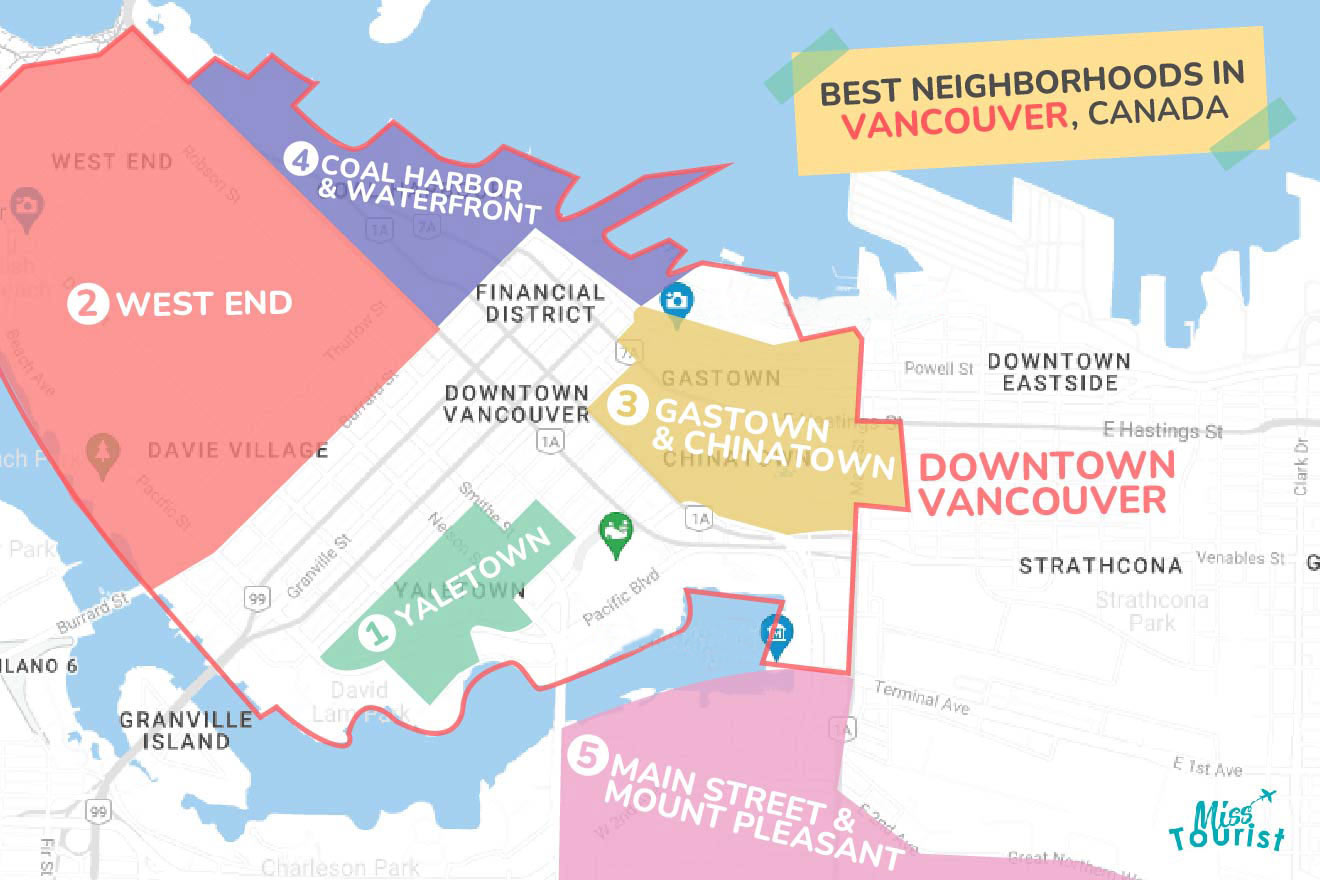 How is Downtown Vancouver organized?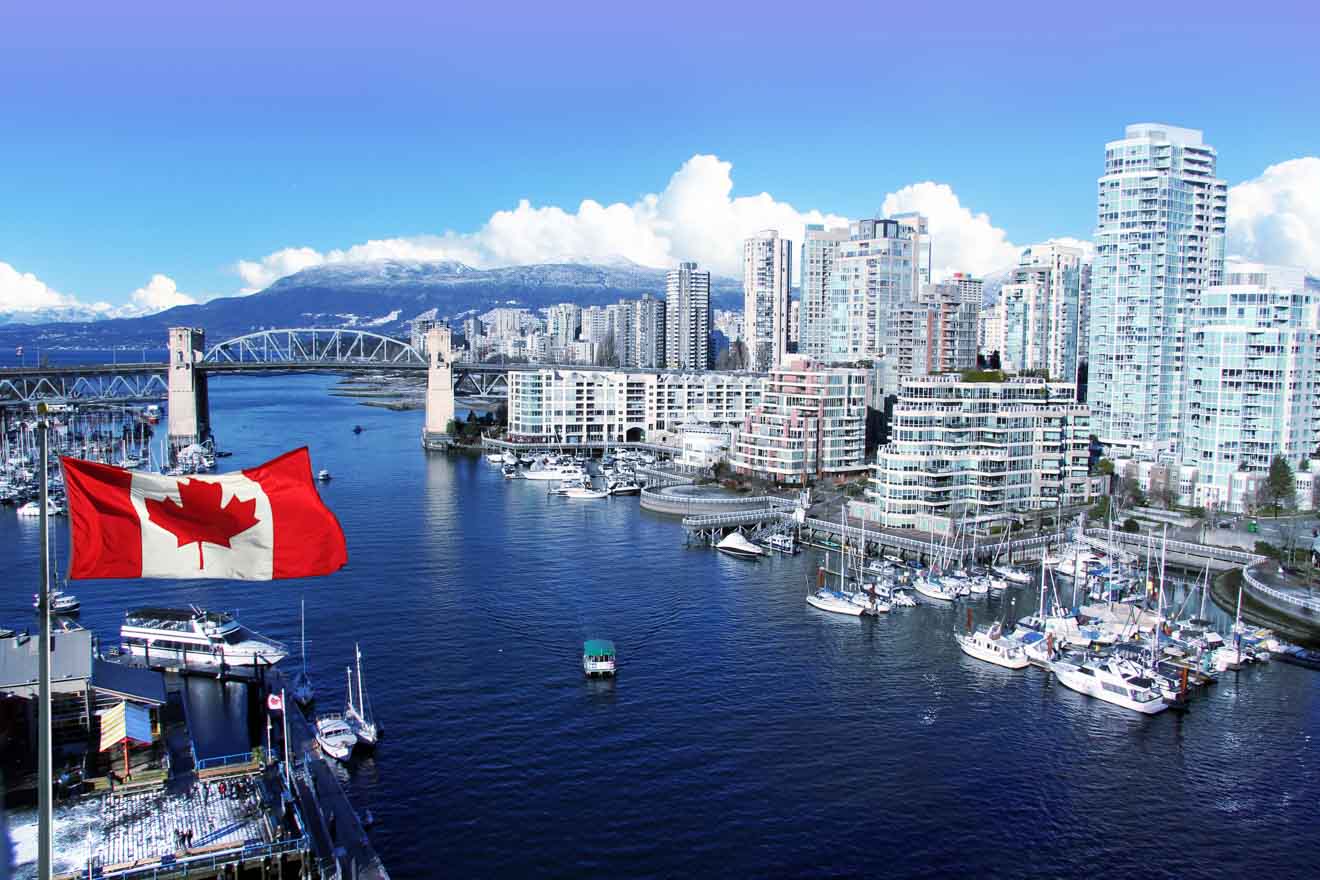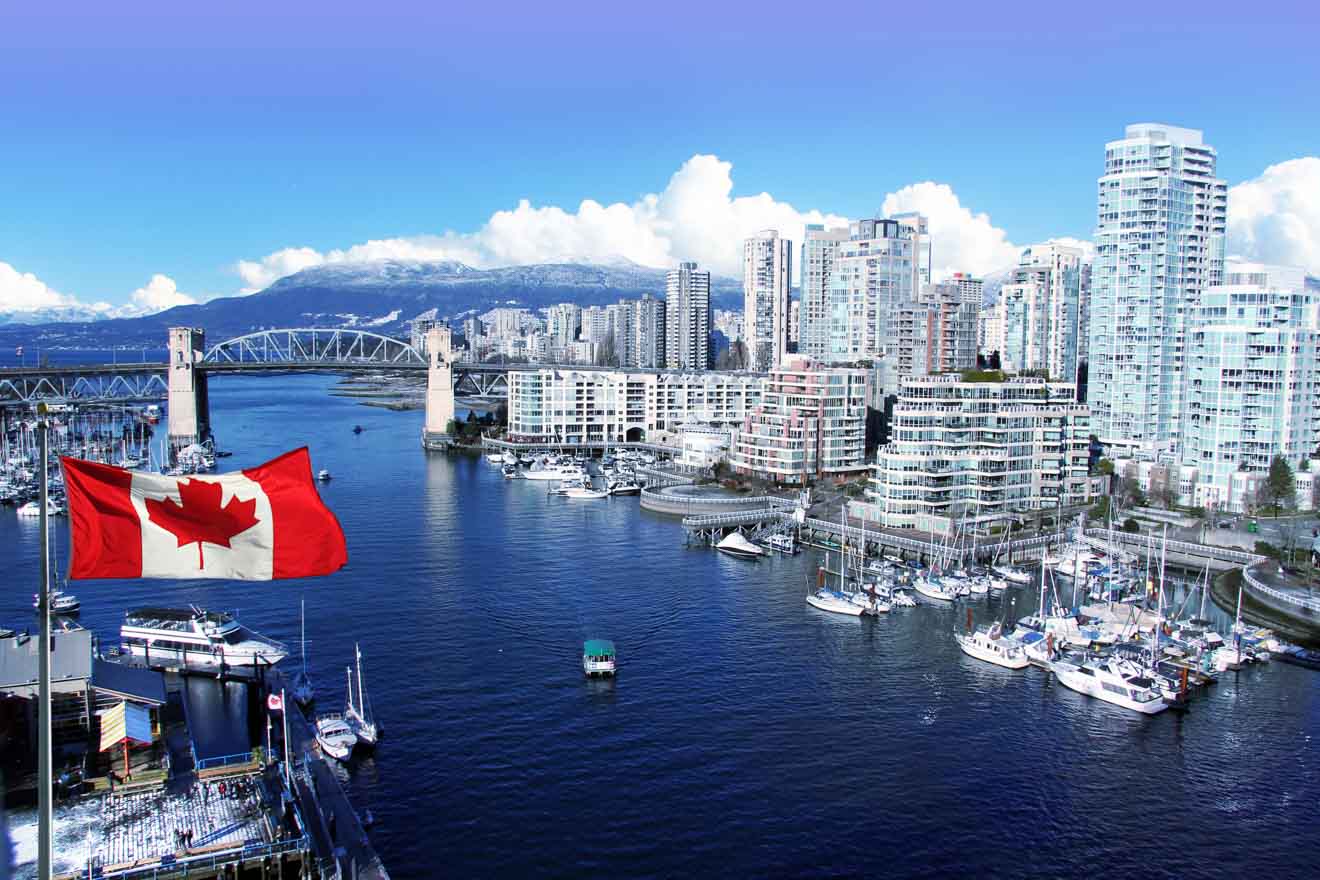 The Downtown area is actually on a peninsula, but it's not huge, and it's limited by Stanley Park on the West, False Creek on the South, Burrard Inlet on the North, and Downtown Eastside on the East.
Even though it's not that big, it's still divided into smaller sub-neighborhoods that offer a different vibe and advantages.
Here are the Downtown neighborhoods:
As I mentioned before, this area is the heart and soul of Vancouver, the most important spot in the city and kind of the only relevant area for tourists. There are countless restaurants, shops (especially on Robson Street), cafes, art galleries with work from local and international artists, and museums around this area, and it's also a great nightlife center.
In terms of accommodation, Downtown is perfect for all travelers, from people interested in luxury to backpackers, families, night owls, and business travelers. Plus, if your itinerary includes some day trips or other destinations in Canada, staying Downtown means you'll always be close to Burrard Station and the Waterfront Station, where you can take a train.
1. Yaletown – where to stay in Vancouver for the first time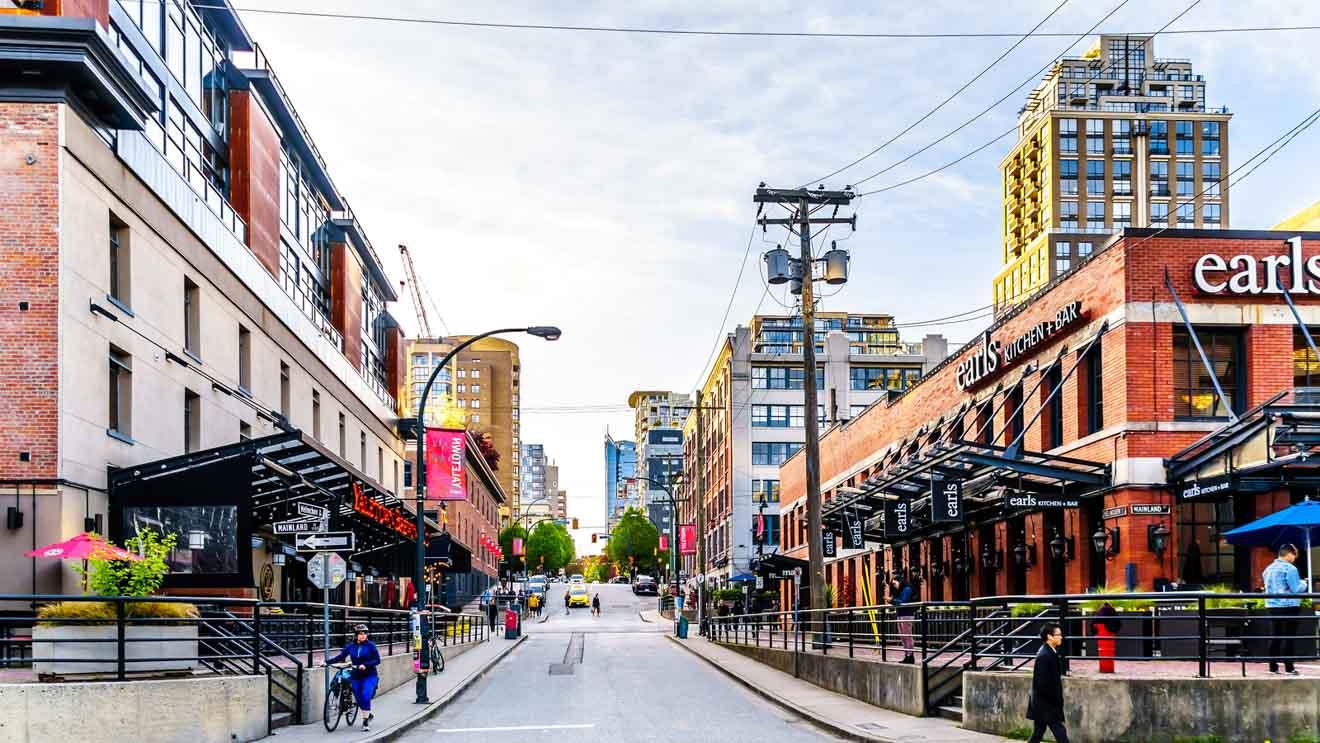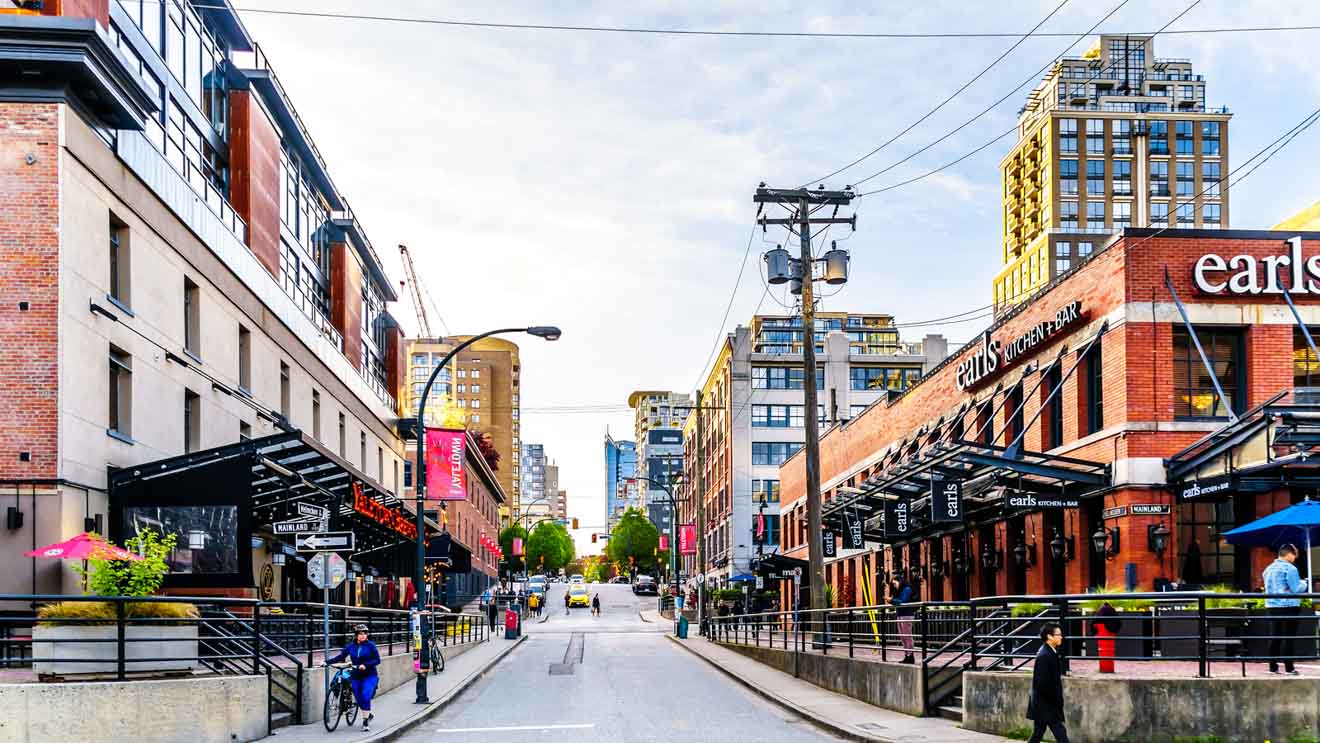 Yaletown is one of the trendiest areas in Vancouver and a great waterfront neighborhood if you're interested in upscale accommodations, chic cafes, funky shops, and everything else in-between!
Yaletown is also a great area if you want to be surrounded by green spaces on the waterfront (David Lam Park and George Wainborn Park are just two examples), tons of great restaurants serving international cuisine (including a lot of seafood!), and public transportation options such as the Skytrain station which is located very close nearby.
Some of the essential highlights of this neighborhood include Yaletown Park, the Terry Fox Statue, 374 Engine Pavilion, Vancouver Flea Market, BC Place Stadium, and Science World (TELUS World of Science). You'll also be very close to Granville Island (located on a sandbar beneath the Granville Street Bridge) and BC place!
It's no wonder the young professionals love this area! If you think this is the place for you, here are the top-ranking hotels in Yaletown, Vancouver, to choose from: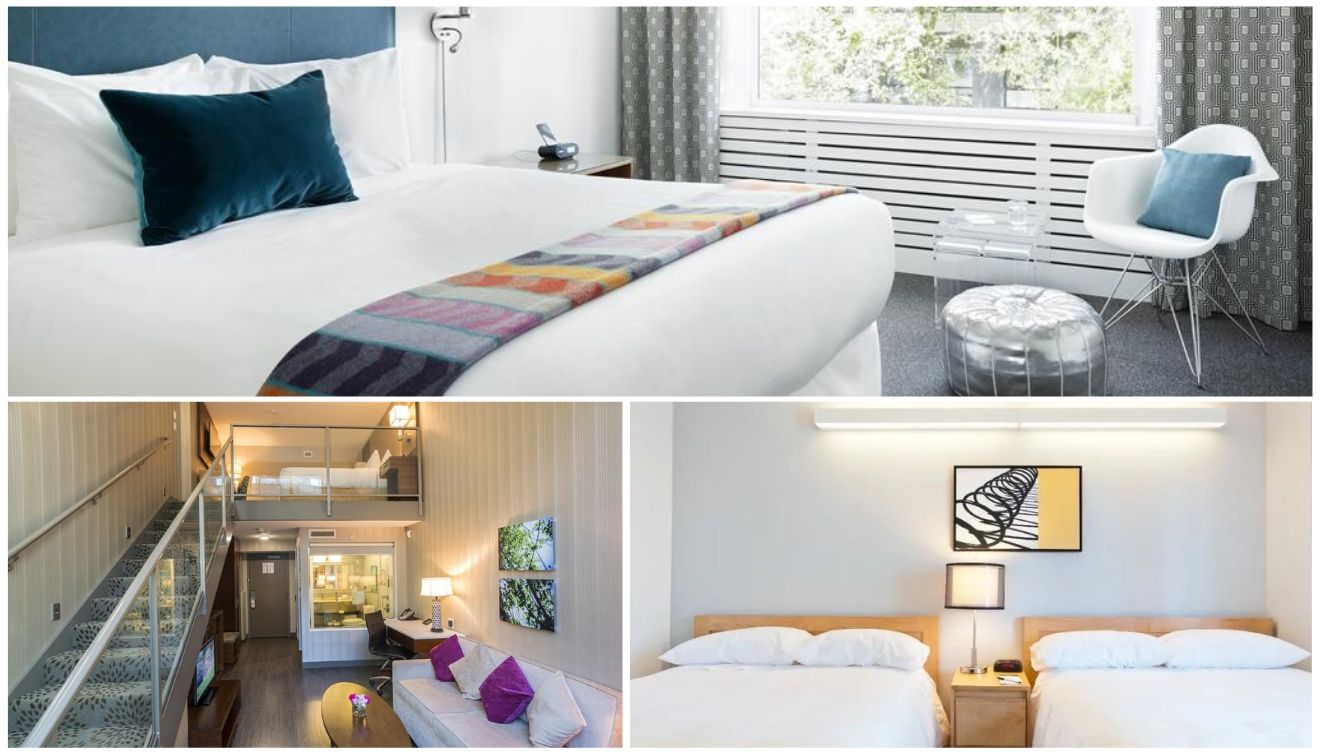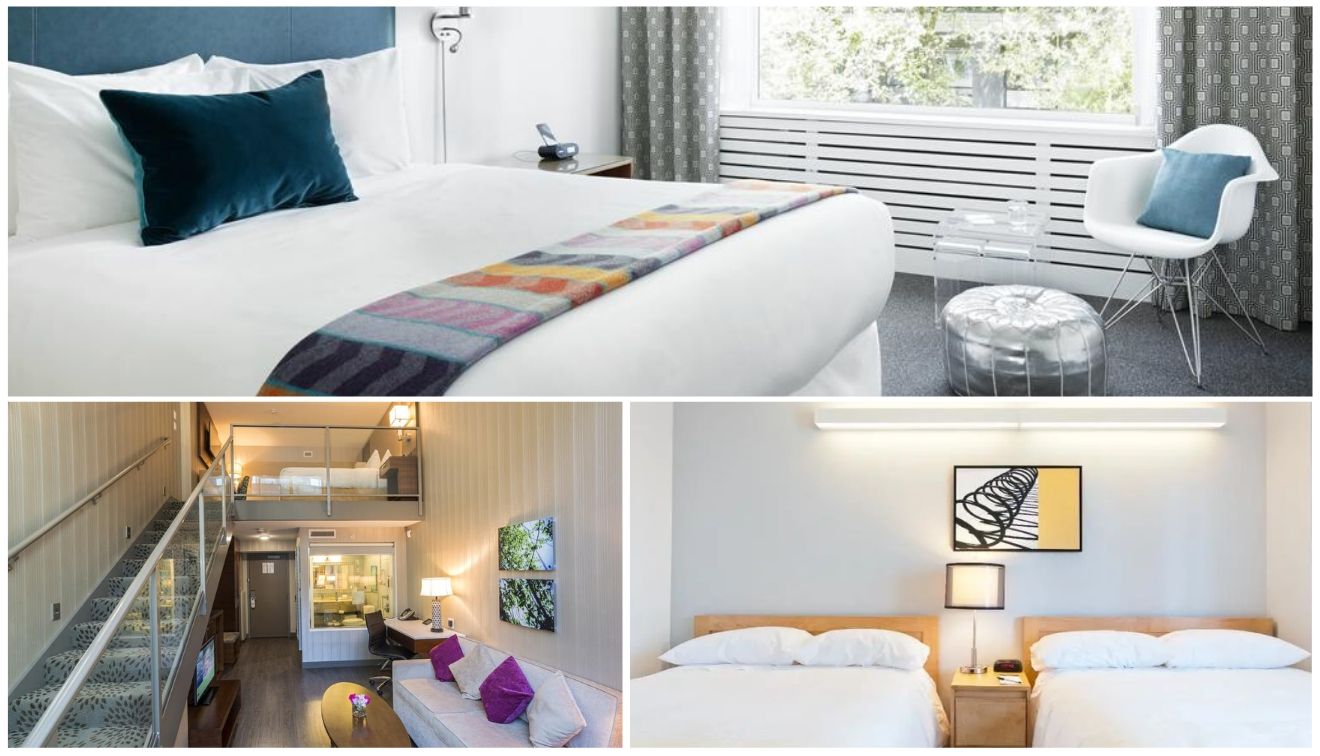 Luxury (US$220 and up)
Hotel BLU – This is probably the best upscale hotel in the city! This superb boutique hotel awaits with an incredible location close to David Lam Park, superb rooms, a swimming pool, a very good gym, and plenty of other excellent new facilities!
Moda Hotel – Here's another great choice if you want to be based in a great location, not very far from Granville Island. The rooms are spacious and stylish, and the property has free Wi-Fi and many other nice perks!
Middle-priced (US$130 – US$220)
The Burrard – If you're looking for some very beautiful mid-range hotels in Yaletown, Vancouver, close to Davie Street, you just found the perfect one! It's located right in the heart of the district, and each room is super clean and gorgeous.
Opus Hotel – Here's another excellent choice if you want to be within walking distance to Granville Island, Robson Street, the Entertainment District, and the North Shore as well. It's one of the top properties in the city, and it has a very excellent on-site restaurant and bar!
Budget (up to US$130)
YWCA Hotel Vancouver – If you're traveling to the city on a tight budget but still want to be in the heart of the neighborhood, not far away from Granville Island and Granville Street either, I recommend this affordable hotel! It has clean and comfy rooms and some unbeatable prices. Take a look at the pics, you may like it!
Samesun Vancouver – This excellent hostel is only a short distance from all the important attractions and activities in the center, and it's the best place to stay if you're seeking cheap prices!
2. West End – where to stay in Vancouver on a budget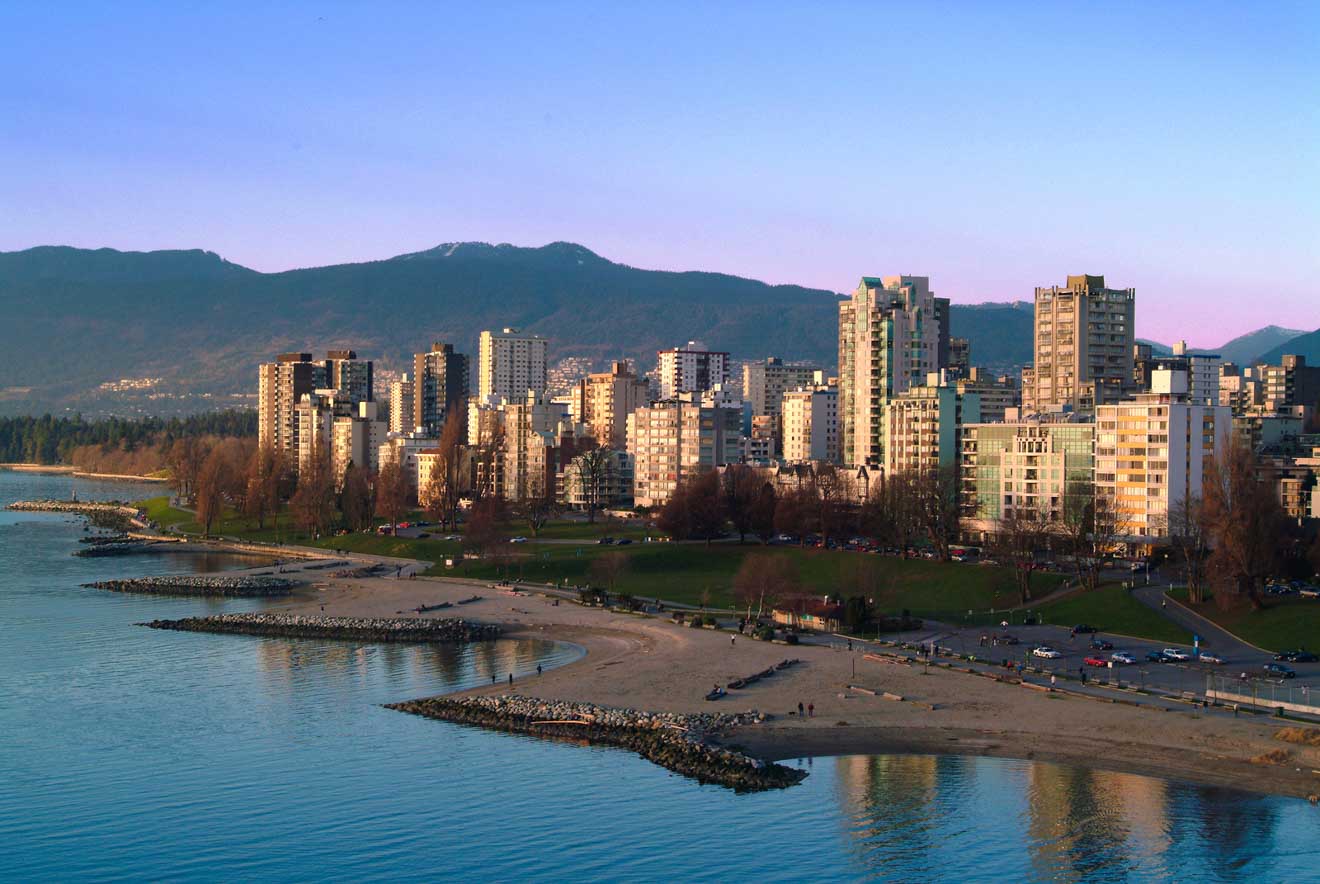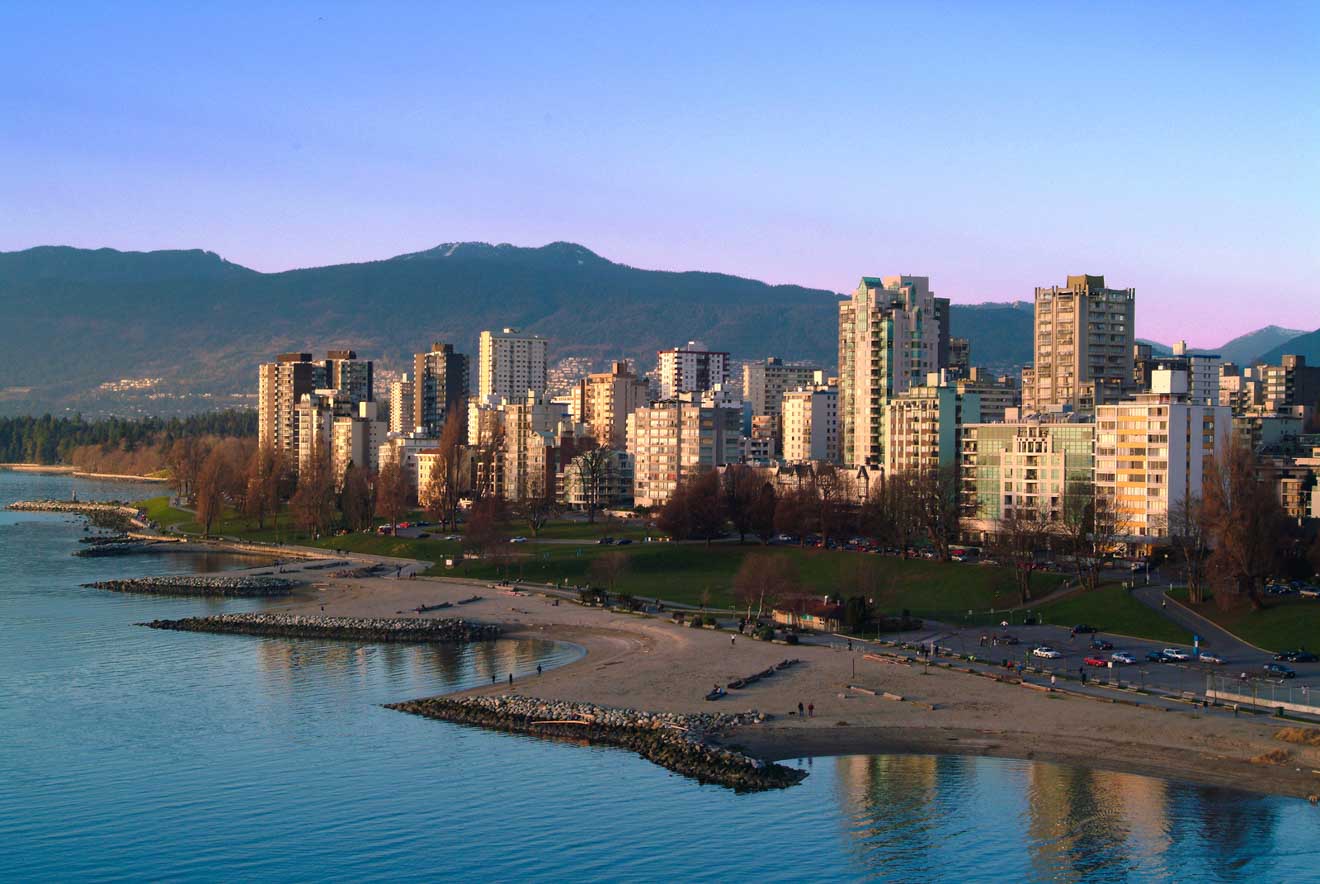 If you want to be in Downtown Vancouver but still get an authentic glimpse of how the locals and residents live in this city, then you should base yourself in Vancouver's West End!
The West End is also a tremendously lively place if you want to enjoy some cool beaches (Second Beach or English Bay Beach are just two excellent examples) and soak up some sun during your stay in Vancouver, as this area is right near English Bay.
If you're interested in some nature and relaxation, you can always head over to Stanley Park (the most well-known attraction in Vancouver) and have a picnic there or take a walk. Pssst, West End is also called the "gateway to Stanley Park."
While you're in the West End, enjoy some shopping on Denman Street (or you can just relax, sip some coffee, and people-watch) or rent a bike and take a stroll near the bay. Bored? Why not try some kayaking or SUP in English Bay or catch a show at the Vancouver Symphony Orchestra? All these are possible in the incredible West End.
Convinced? Here are the best accommodation options in the area, sorted by budget: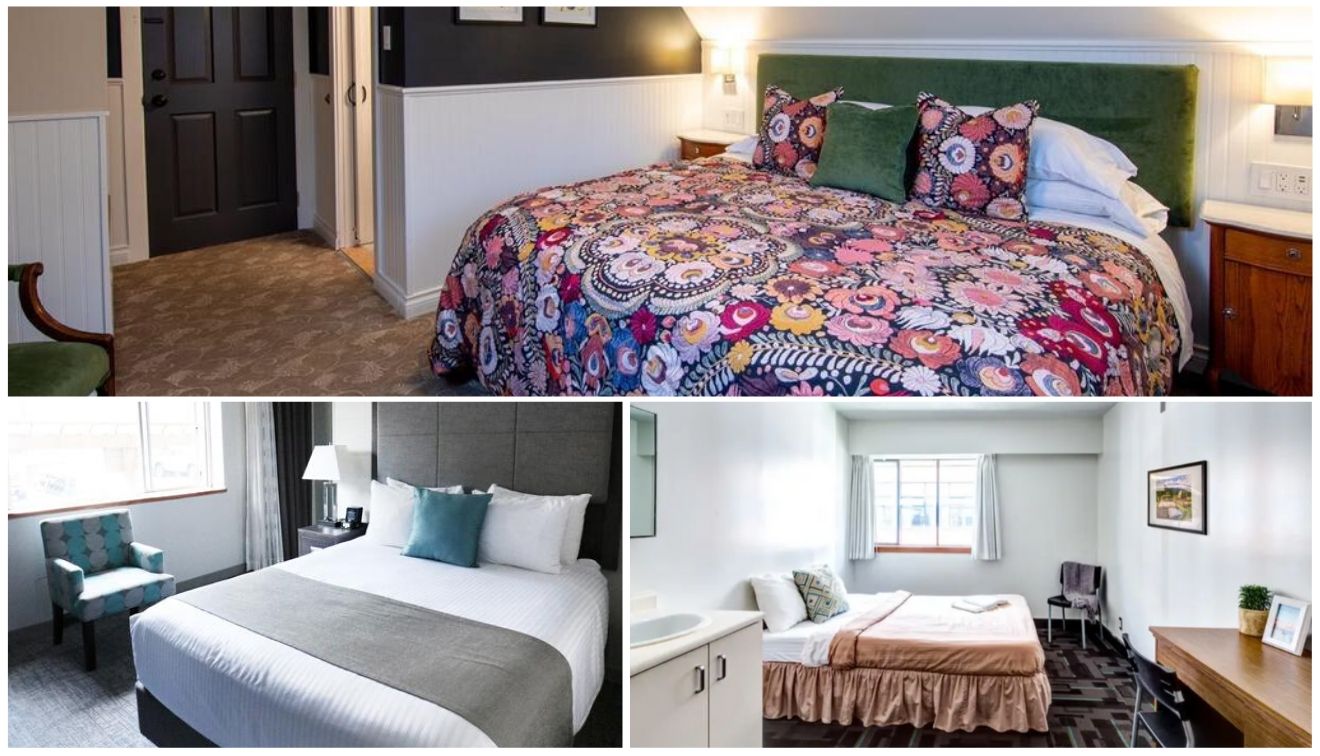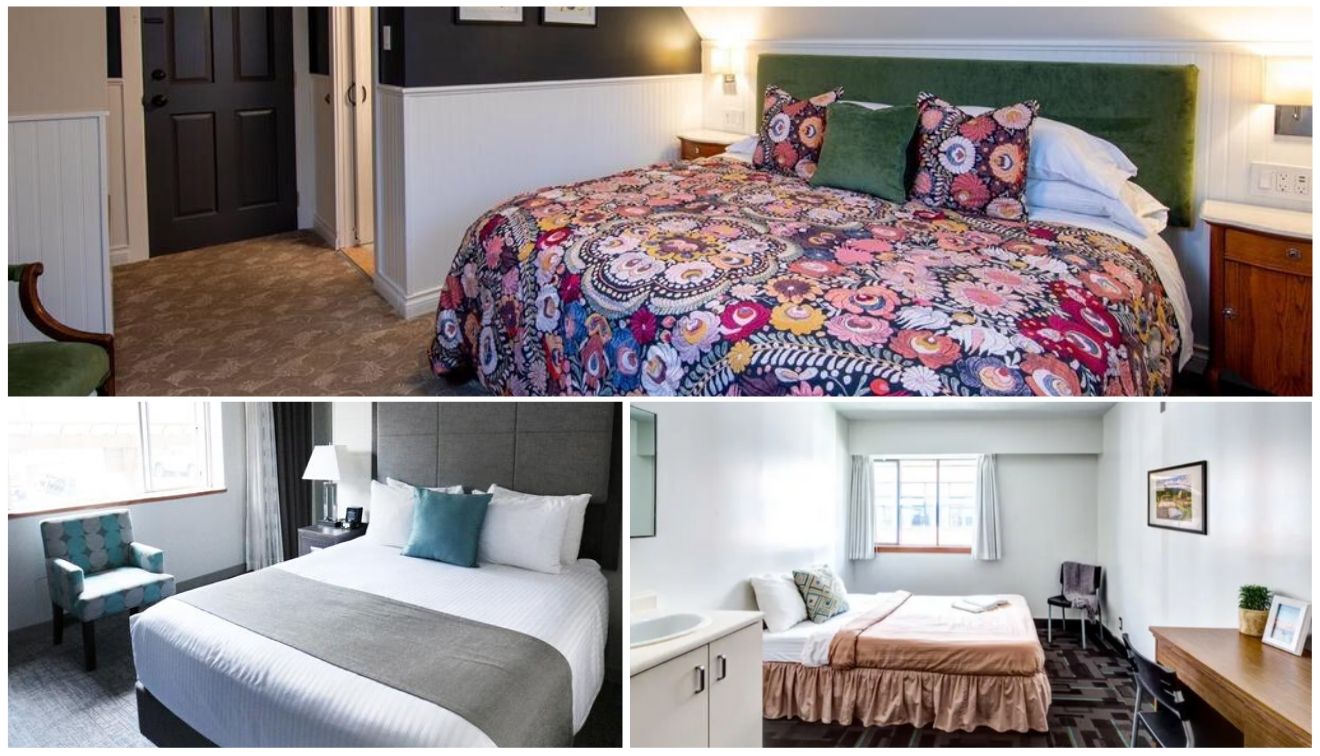 Luxury (US$220 and up)
West End Guest House – If you want to be spoiled in a luxurious bed and breakfast, this is one of the best places to stay! Staying here means you won't be far away from False Creek and Stanley Park, plus other exciting sights!
The Listel Hotel – If you are looking for a cool 4-star place to stay in the heart of Downtown, this one's for you! It's close to all the famous spots in the city, like Stanley Park and offers very good service and exceptional breakfast!
Middle-priced (US$70 – US$220)
O Canada House B&B – Do you want to be right in the heart of Downtown and enjoy excellent value for the money you'll be paying? Search no more, you just found the ideal accommodation for you! This 3-star hotel awaits with a restaurant and many other cool perks in the West End area!
Times Square Suites – This one's another excellent choice if you want to be close to False Creek and enjoy a comfortable stay in some beautiful rooms. This is an aparthotel, and it has a cozy atmosphere!
Budget (up to US$70)
HI Vancouver Downtown – If you're on a very tight budget and looking for the best places to stay, search no more; this fantastic hostel is for you! Free coffee, free Wi-Fi, and clean rooms – these are just some of the advantages of staying here!
3. Gastown & Chinatown – best area in Vancouver for foodies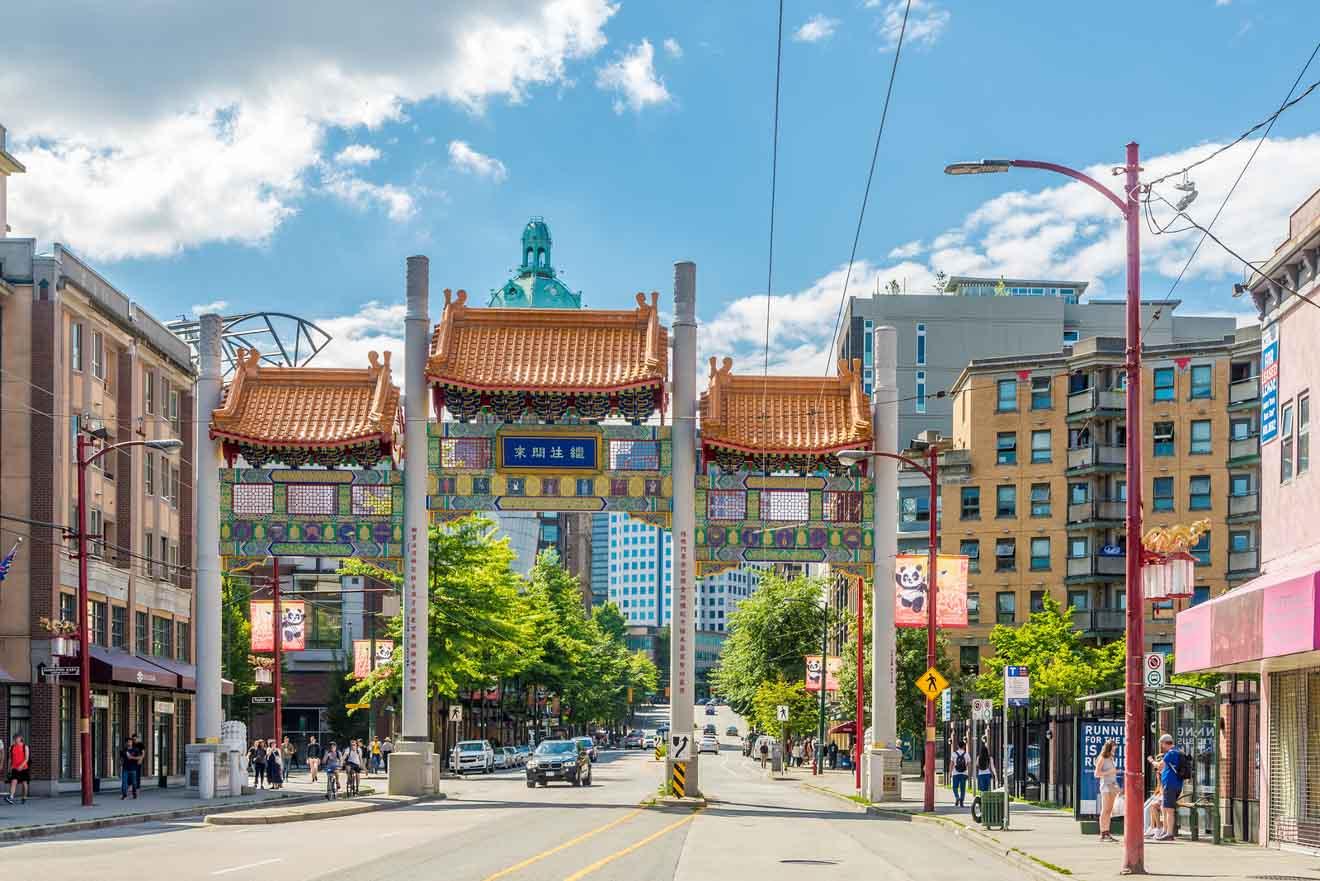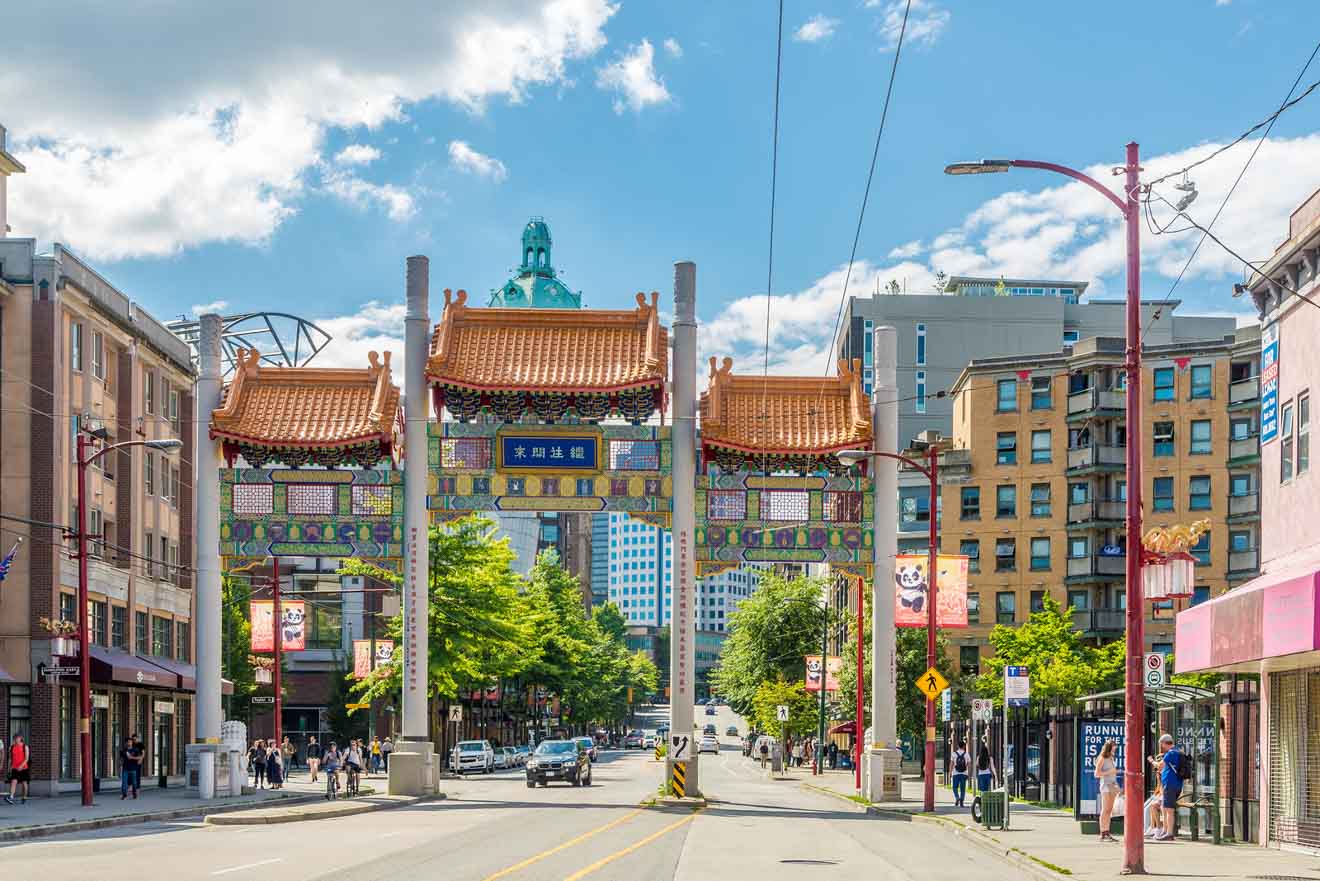 Even though Gastown and Chinatown are two different sub-neighborhoods of Downtown Vancouver, I have decided to combine them into one single recommendation as they're kind of tiny (at least compared to the West End, for example), they're right near each other, and they cater kind of the same needs for travelers.
Gastown and Chinatown are one of the best spots in the city for those interested in trying various types of cuisines and exploring some amazing restaurants and wine bars lining the area's cobblestone streets. Both are Vancouver's coolest neighborhoods, and they're good for all types of travelers.
By the way, Chinatown in Vancouver is the biggest one in entire Canada, and together with Gastown, these two are considered to be some of the oldest neighborhoods in the city.
If you're interested in an ultimate shopping experience, you can head over to the International Village Shopping Center in Chinatown or Water Street, or you can spend your time in one of the numerous Vancouver art galleries or boutique shops in Gastown.
Some other cool spots in these two neighborhoods include Chinatown Heritage Alley, Rennie Museum, Victory Square, Vancouver Police Museum, Vancouver Lookout, and the well-known Gastown Vancouver Steam Clock.
If you want to base yourself around here, scroll down to find the best hotels I have selected for you: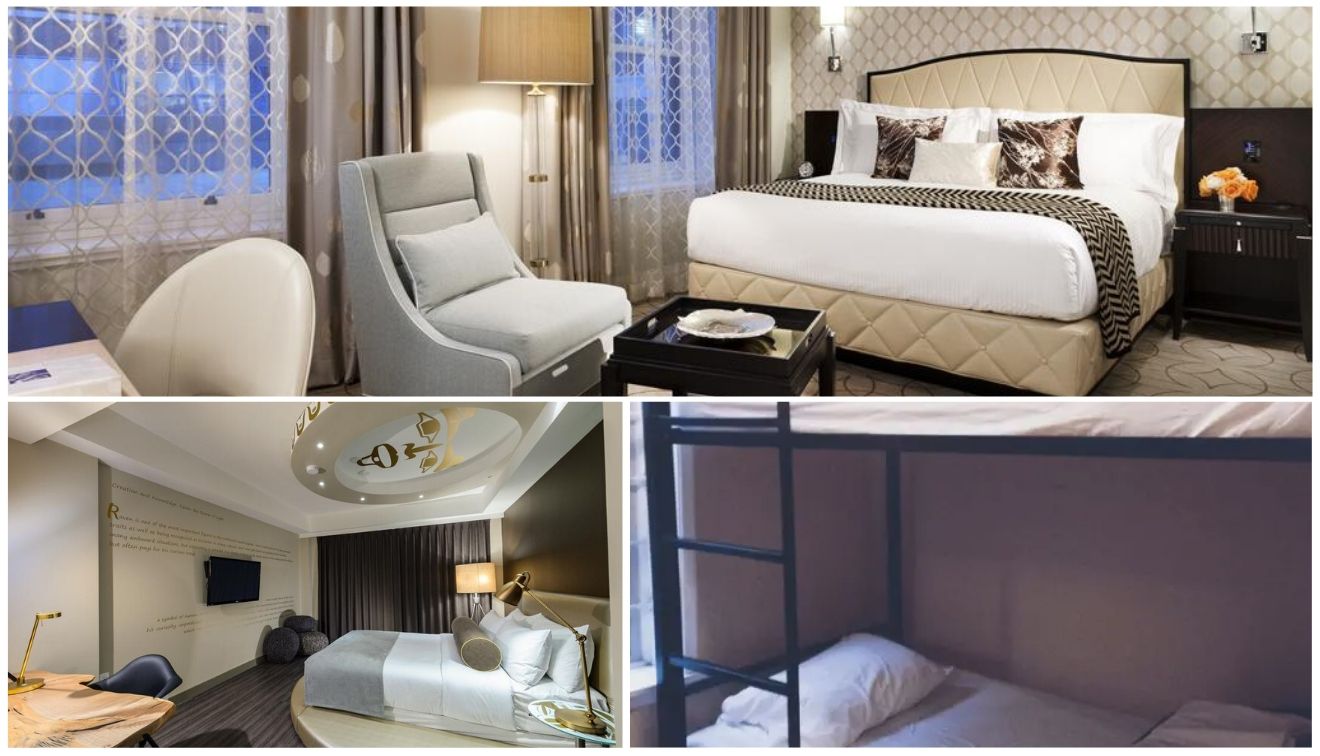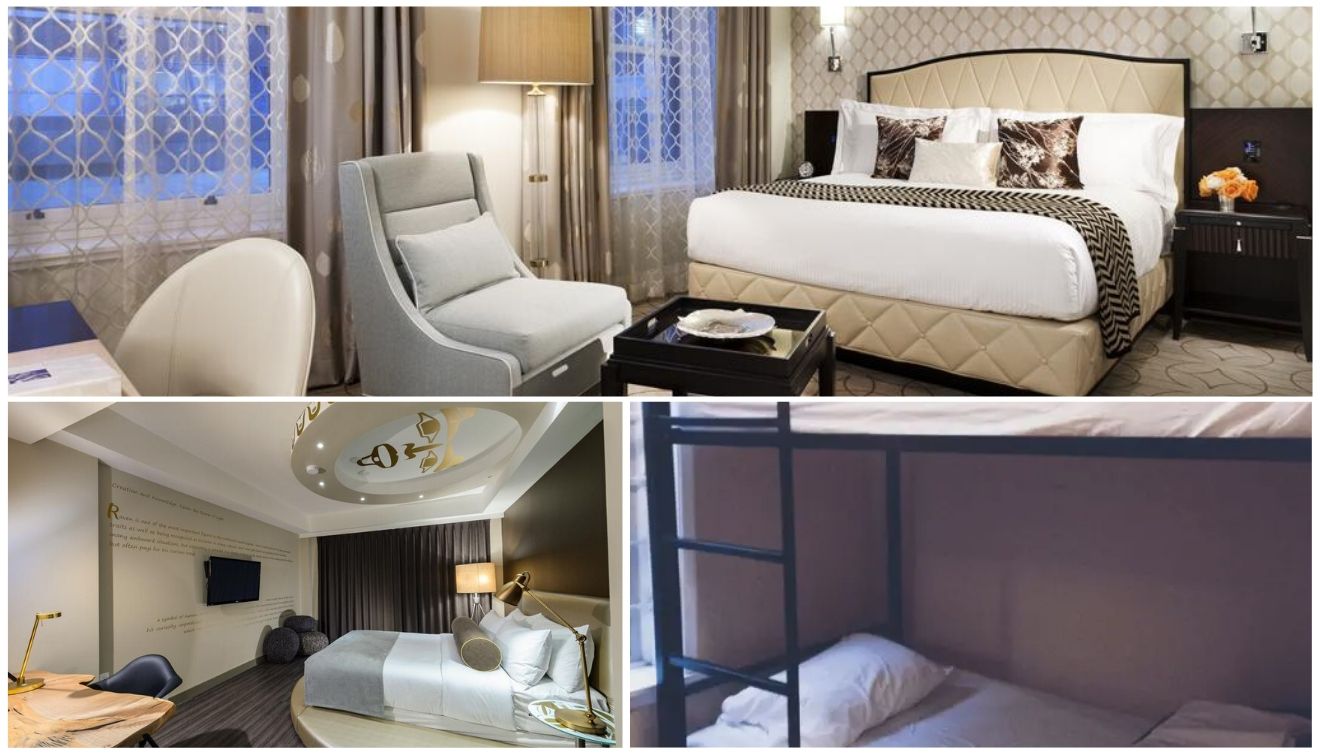 Luxury (US$220 and up)
Rosewood Hotel Georgia – Do you want to stay in one of the best Gastown hotels in Vancouver? Then you should book your luxurious stay at this boutique hotel in Vancouver! The rooms are super pretty, and the property also has an indoor pool, an on-site restaurant, a bar, and more.
L'Hermitage Hotel – When it comes to luxury hotels, Vancouver surely knows how to make them! This is one of the best places to stay in Vancouver if you imagine yourself in a gorgeous boutique hotel with spa bathrooms and even some excellent facilities for children! It boasts an incredible heated outdoor pool and hot tub as well – plus, the location near Waterfront Station will keep you connected to the rest of the city!
Middle-priced (US$130 – US$220)
Skwachàys Lodge – Here's a great mid-range place to stay if you want to be close to the Steam Clock, Rogers Arena, Vancouver Playhouse and more! One of the coolest things about this place is that it has an on-site gift shop and an art gallery.
The St. Regis Hotel – This superb 4-star hotel offers tons of excellent facilities and amenities, and it awaits with a great fitness center, restaurant, and bar on the property. This is a fantastic option for all business travelers as well! Young professionals will particularly love this one.
Budget (up to US$130)
Cambie Hostel-Seymour – This excellent and clean hostel features comfy rooms, free breakfast, a great location right in the heart of the city, and plenty of other excellent facilities and amenities that will help you have the best stay!
Victorian Hotel – This hotel has a name that doesn't lie – it's located in a historical Victorian house! Victorian Hotel offers simple but clean rooms, a great continental breakfast, free Wi-Fi, and everything else in between!
4. Coal Harbour / Waterfront – where to stay for nightlife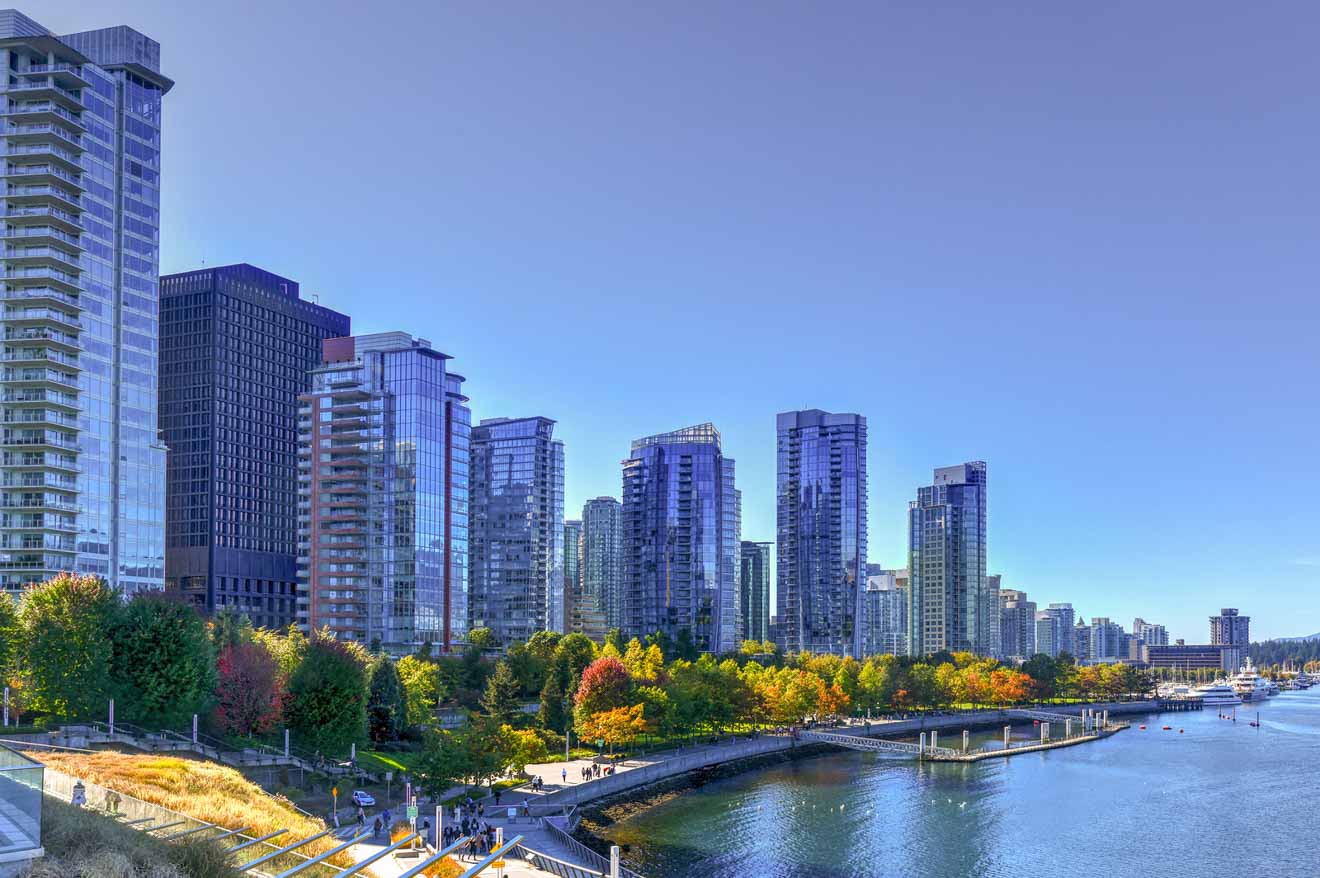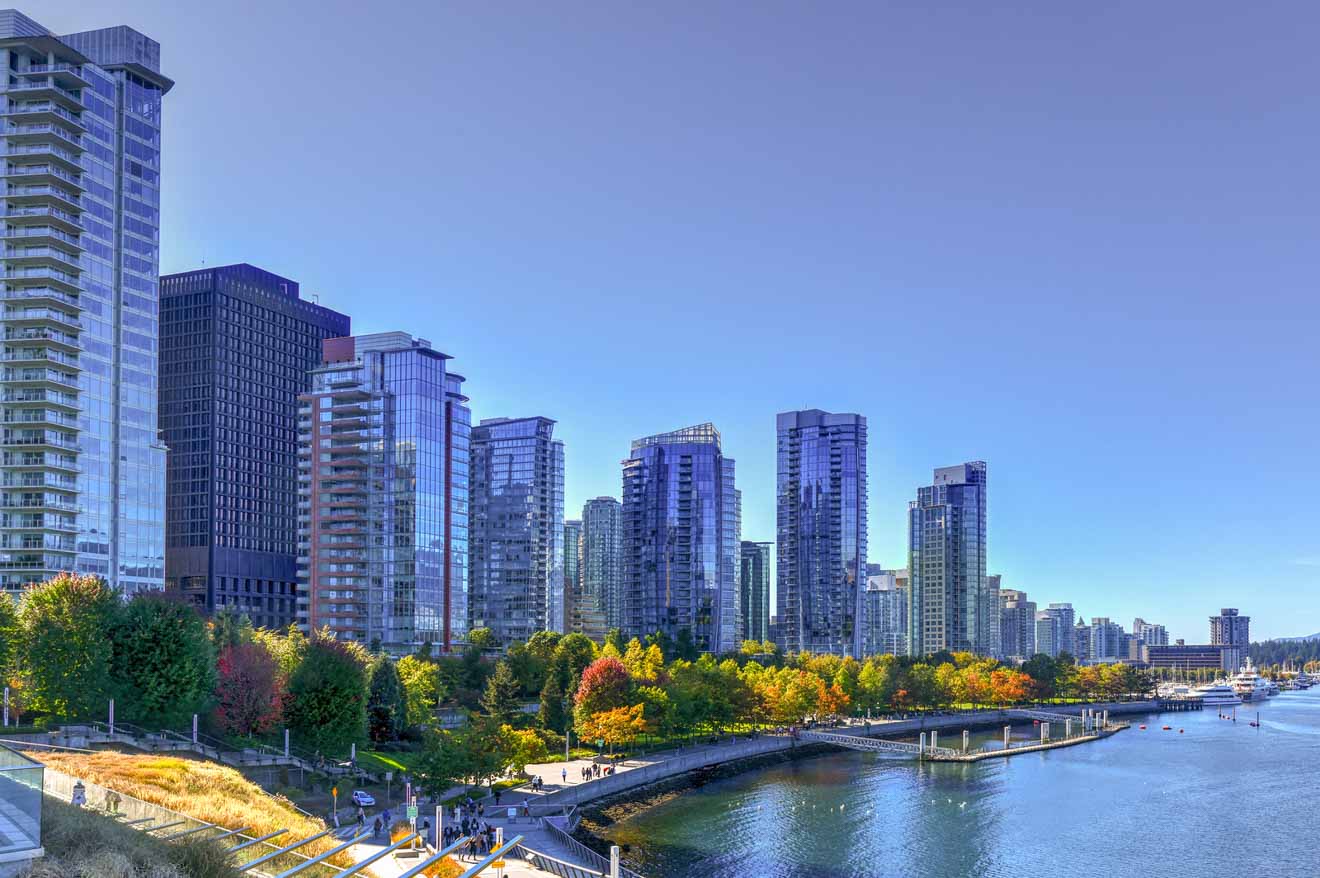 Coal Harbour (also simply called the "Vancouver Waterfront" at times) is my recommendation for those of you that are looking for vibrant nightlife in the entertainment district and for those that are planning to take a cruise from Vancouver! Coal Harbour neighborhood is right on the waterfront, which is right near the cruise terminal with ferries to North Vancouver and the north shore mountains.
During the day, this area located right near the West End is chill and laid-back (it is very close to the financial district of Vancouver), but during the night, the numerous bars, pubs, and clubs come to life, and they create the perfect atmosphere for those that want to enjoy a full night of fun and dancing until the morning!
Some of the highlights of this area include the Vancouver Convention Center, Canada Place, the Marine Building, Harbour Green Park, and the Jack Poole Plaza – and you'll also be super close to the famous Stanley Park as well, which I think is a great advantage!
That being said, here are the top hotels in Coal Harbour that you can choose from: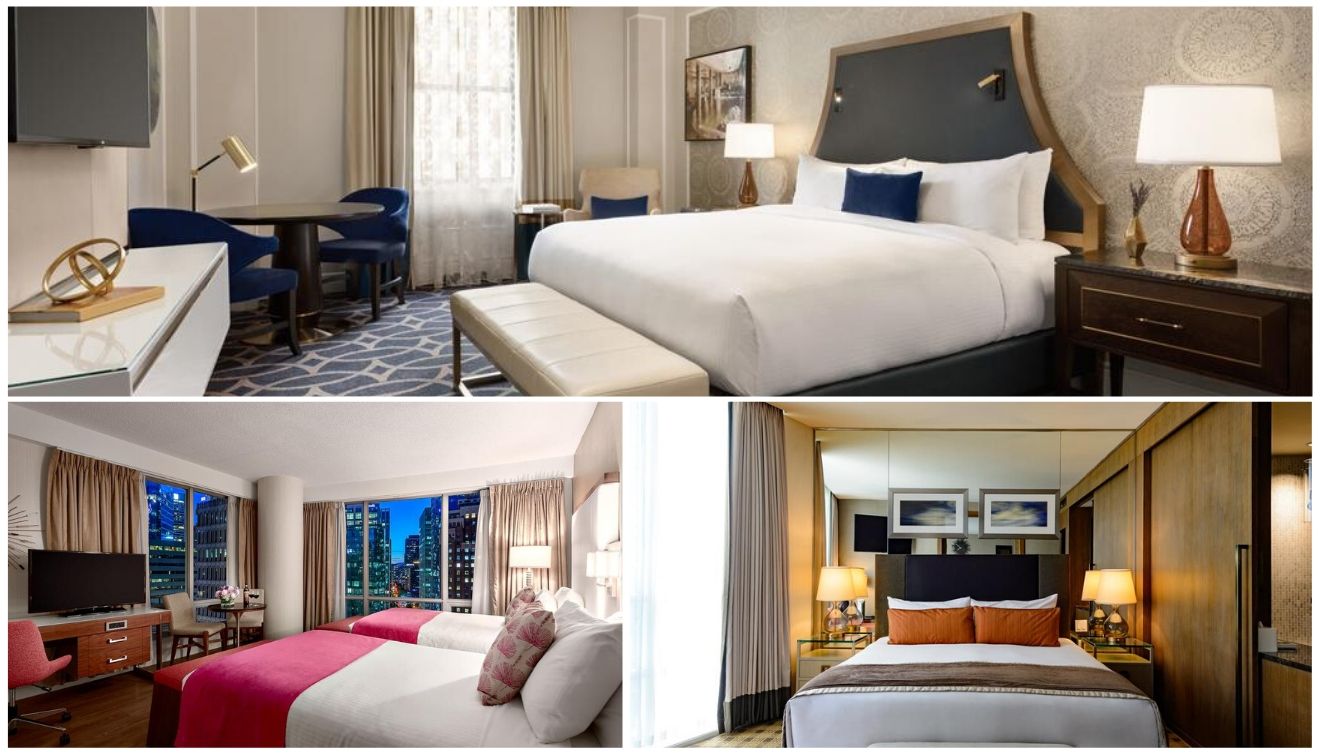 Luxury (US$220 and up)
Loden Vancouver – This is DEFINITELY the best hotel in the entire city! It's located within walking distance of all the essential attractions in the center, like the Vancouver Art Gallery and the Vancouver Aquarium. It also features some superb rooms for all those of you looking for a high-end level while visiting Vancouver!
Fairmont Pacific Rim – Here's another tremendous luxurious place for your stay in this fantastic neighborhood! This 5-star hotel has beautiful rooms and easy access to all the essential landmarks and ferry to North Vancouver.
Middle-priced (US$130 – US$220)
Auberge Vancouver Hotel – Make sure you book a room here if you want to be close to all the cool spots in the center of the city, including Canada Place and the Lookout. This one has a very nice outdoor terrace as well where you can relax and unwind!
Blue Horizon Hotel – This great mid-range hotel is located right at the border with West End while still being in the Coal Harbour neighborhood. Contemporary rooms, free Wi-Fi, an indoor pool, sauna – these are just some of the advantages of Blue Horizon Hotel!
Budget (up to US$130)
Unfortunately, I couldn't find any good cheap hotels in Vancouver's Coal Harbour to entertain. If you're a traveler visiting Vancouver on a tight budget, I recommend checking out the budget section from my other area recommendations – for example, Yaletown. You can also check out the rates and rooms on Airbnb here, you might get lucky!
Check the rates for Coal Harbour
5. Main Street & Mount Pleasant – top area for a cool vibe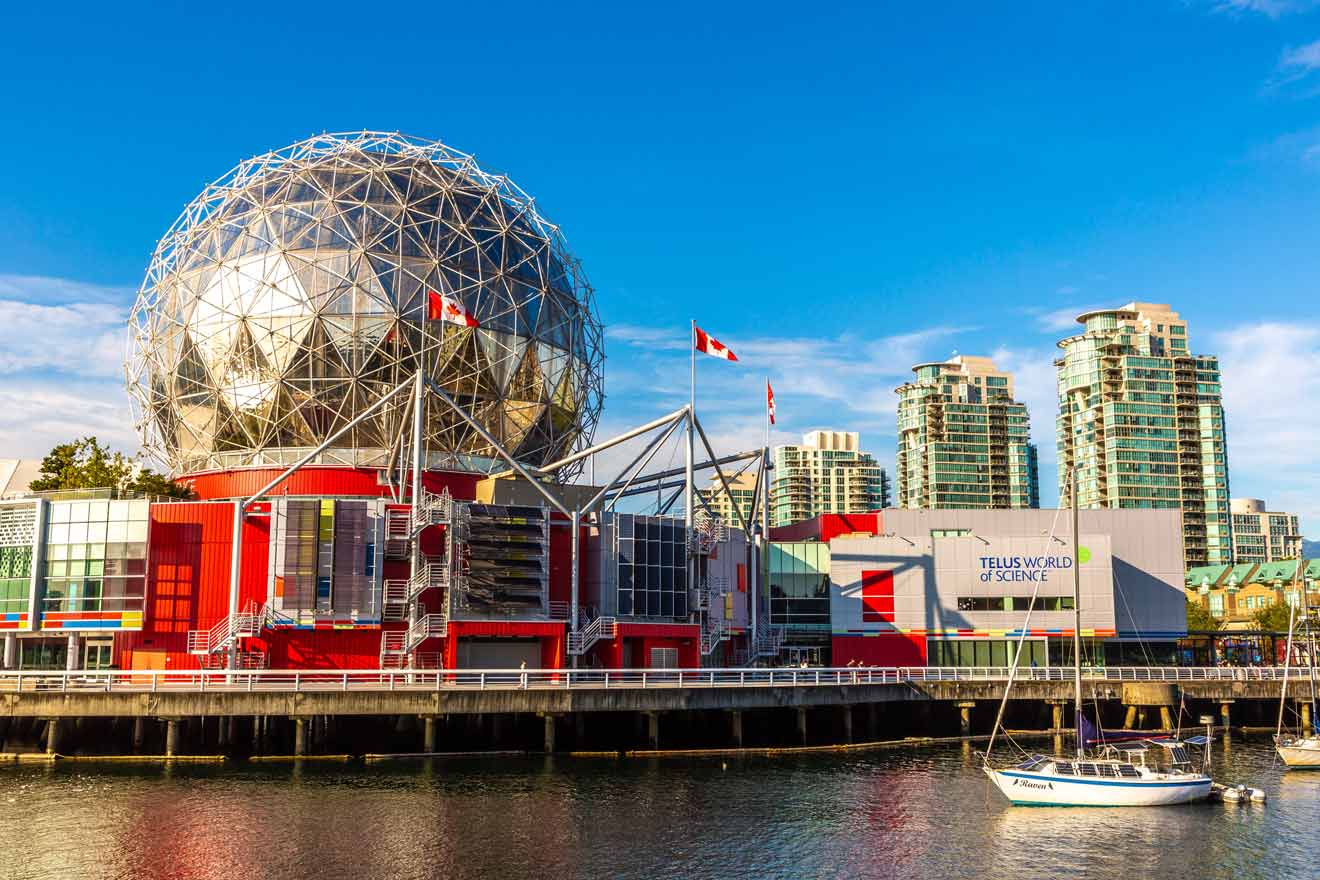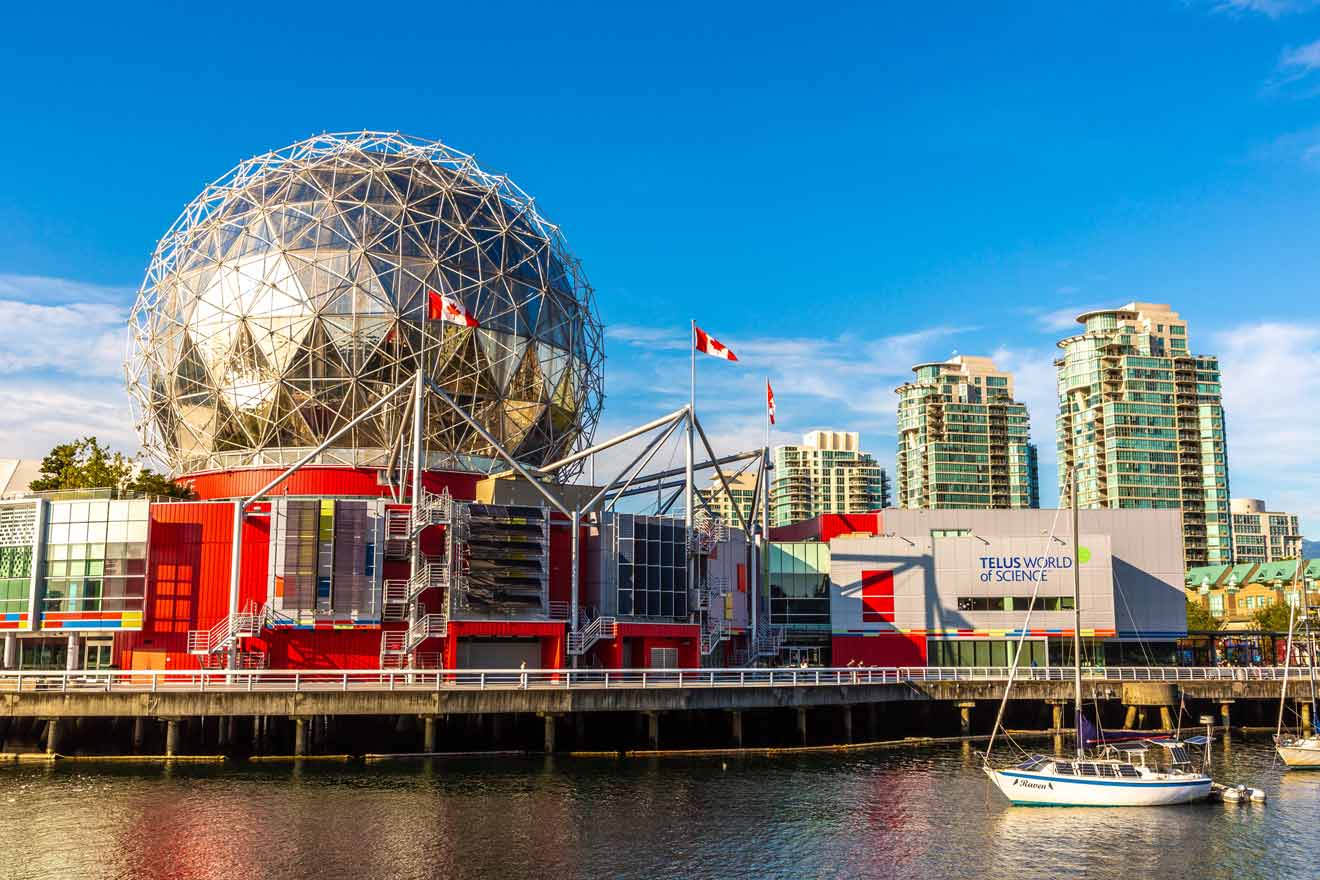 Mount Pleasant is part of Vancouver's East Side, and it's simply great for youngsters and hipsters looking to have some fun and enjoy the best sights outside of Downtown Vancouver!
Main Street is, of course, the main street in the Mount Pleasant area, and one of the unique advantages of staying here is that you'll have smooth airport access, which is much simpler and close than in the city center. As a downside, you won't be close to the beaches and green spaces that are specific to Downtown Vancouver!
There are also tons of awesome restaurants, cute coffee shops around, and even art galleries, so you can never get bored around here! And no worries, you'll have many public transportation options that will take you downtown, such as buses, for example (in around 25 minutes).
If you feel this is the right place for you, here are the top hotels I can recommend: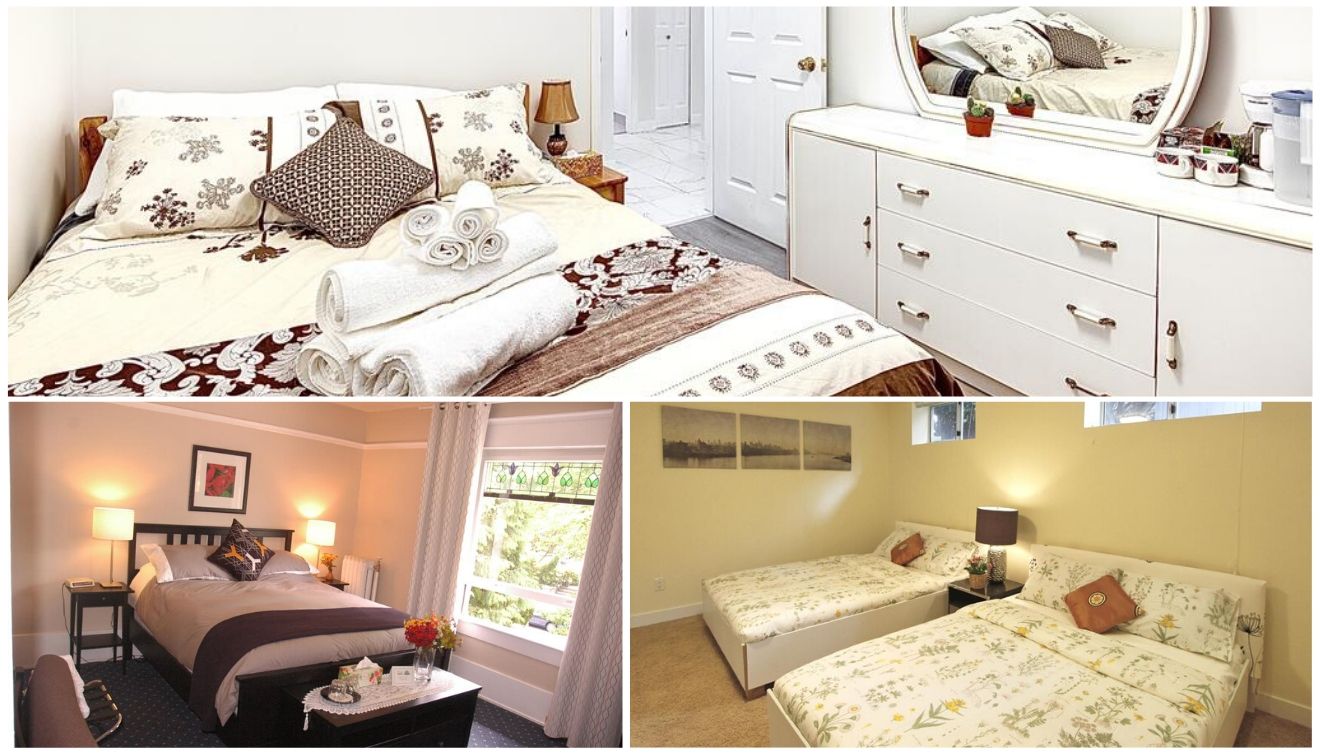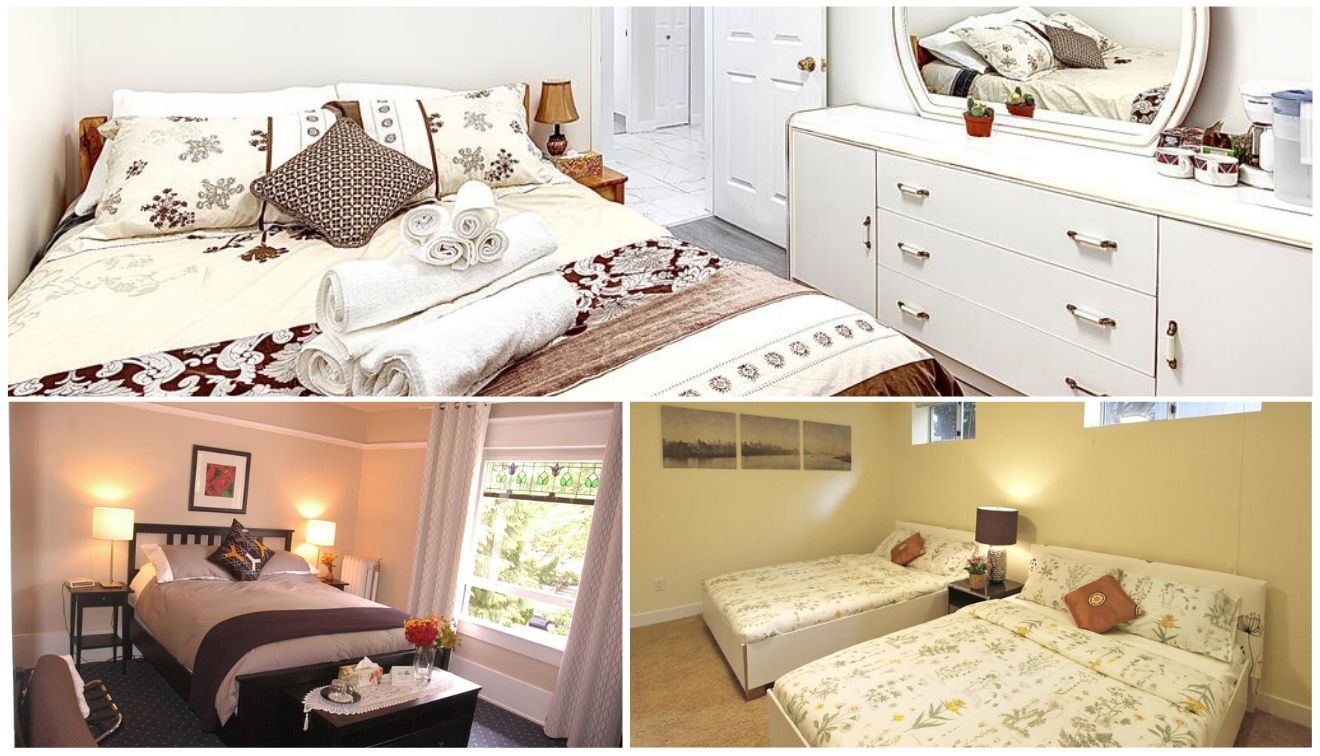 Luxury (US$200 and up)
Cozy House – Do you want to be spoiled during your stay in the city while also being within walking distance of all the cool spots in this neighborhood? Then make sure to book your room here! This luxurious apartment is super cool and clean!
Modern Pleasant Vancouver Suite – Here's a very nice holiday home if you're looking for some comfy rooms with easy access to the center of the city. Just take a look at the pictures, it looks gorgeous!
Middle-priced (US$120 – US$200)
Windsor Guest House – Are you on a tight budget? No worries, I have a great solution for you! This fantastic 4-star bed and breakfast awaits with a vegetarian breakfast, free Wi-Fi, clean rooms, and more.
Cambie Lodge – This awesome budget-friendly hotel has very good prices as well as beautiful rooms. You can also reach the center in 20 minutes by public transportation, which is a great advantage!
Budget (up to US$120)
Sun House – This cozy homestay with beautiful furniture is the perfect stay if you want to save money on your stay! The bus stop is only 5 minutes away from the house, so you will be well connected to the rest of the city.
Mike's Luxury House – Here's another excellent candidate if you're looking for classic bright rooms with a quiet location close to the Vancouver Skytrain station that will help you get around the city and the airport!
Check the rates for Main Street
BONUS 1: Best apartments in Vancouver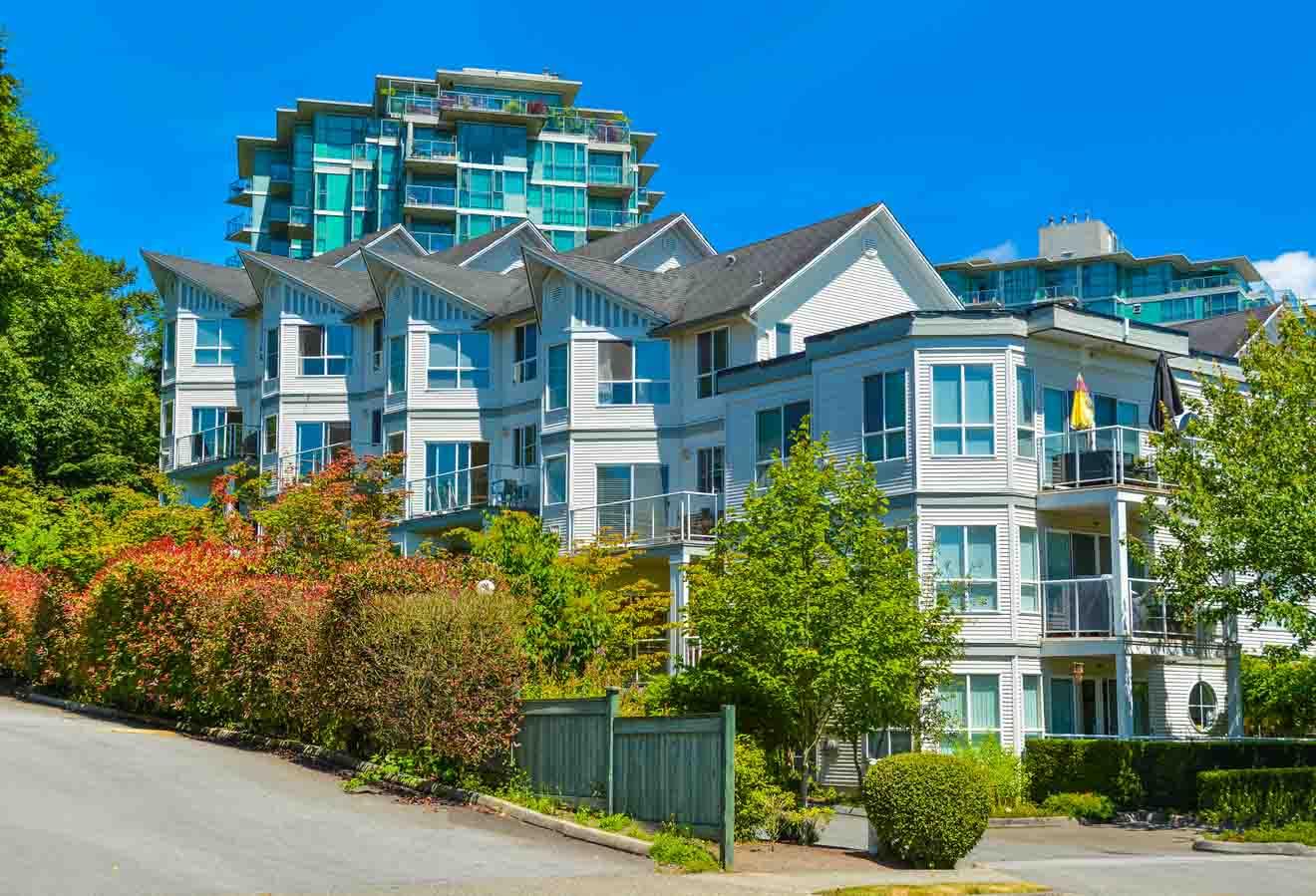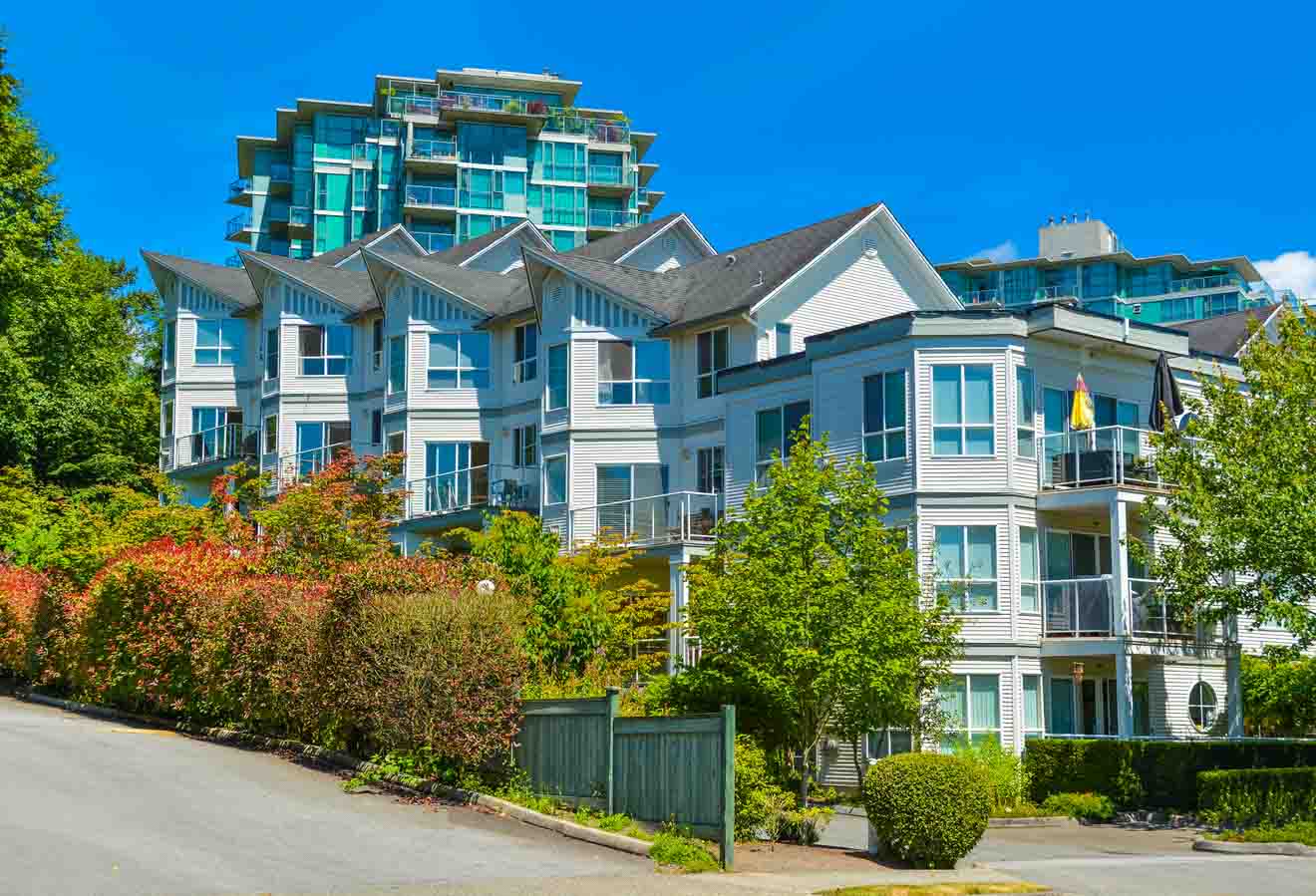 There are some travelers out there (read: me) that prefer a sense of comfort and coziness when traveling, compared to the 'classic' atmosphere found in hotels. For all those of you that feel like this, I can only recommend one thing: book an apartment instead of a hotel! An Airbnb is a great choice for all those that want to save some money on accommodation (as they tend to be a bit cheaper) and for bigger groups that want to stick together during their vacation.
That being said, below I have selected the 6 best apartments in Vancouver for you, all grouped by price range for your convenience: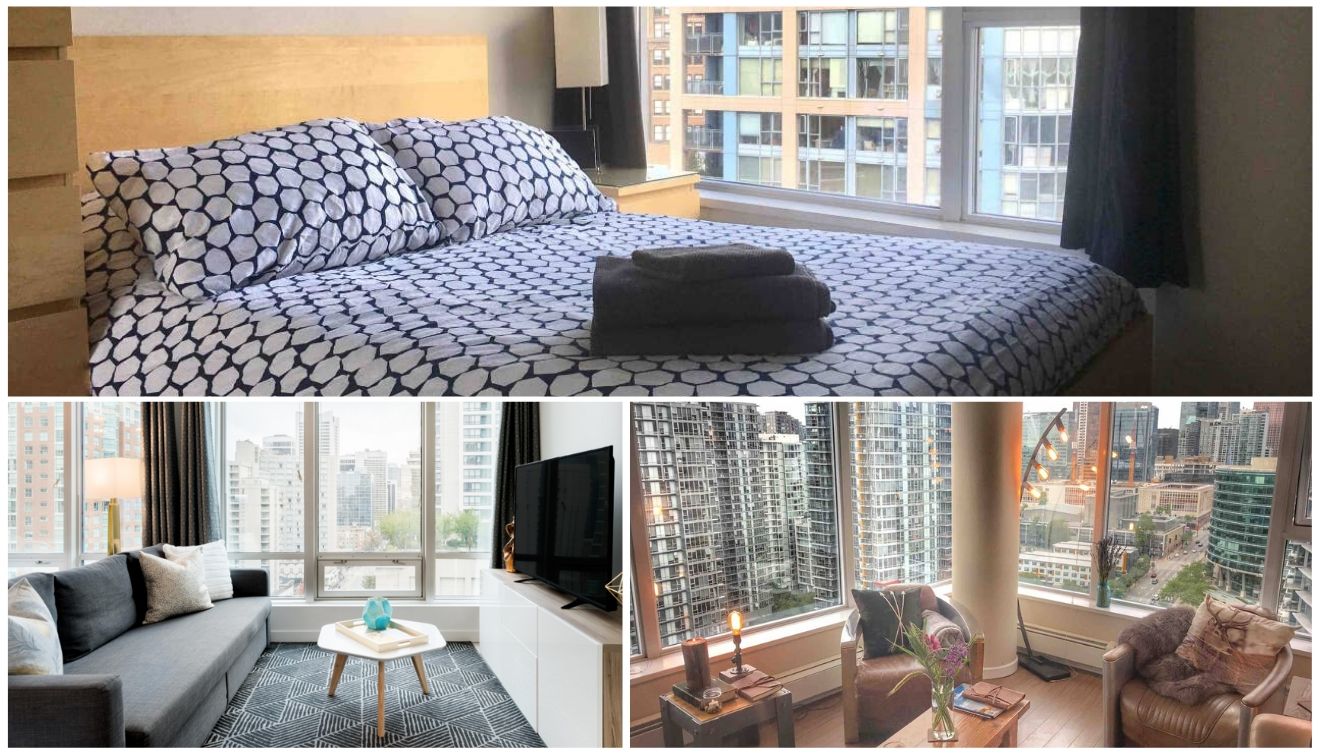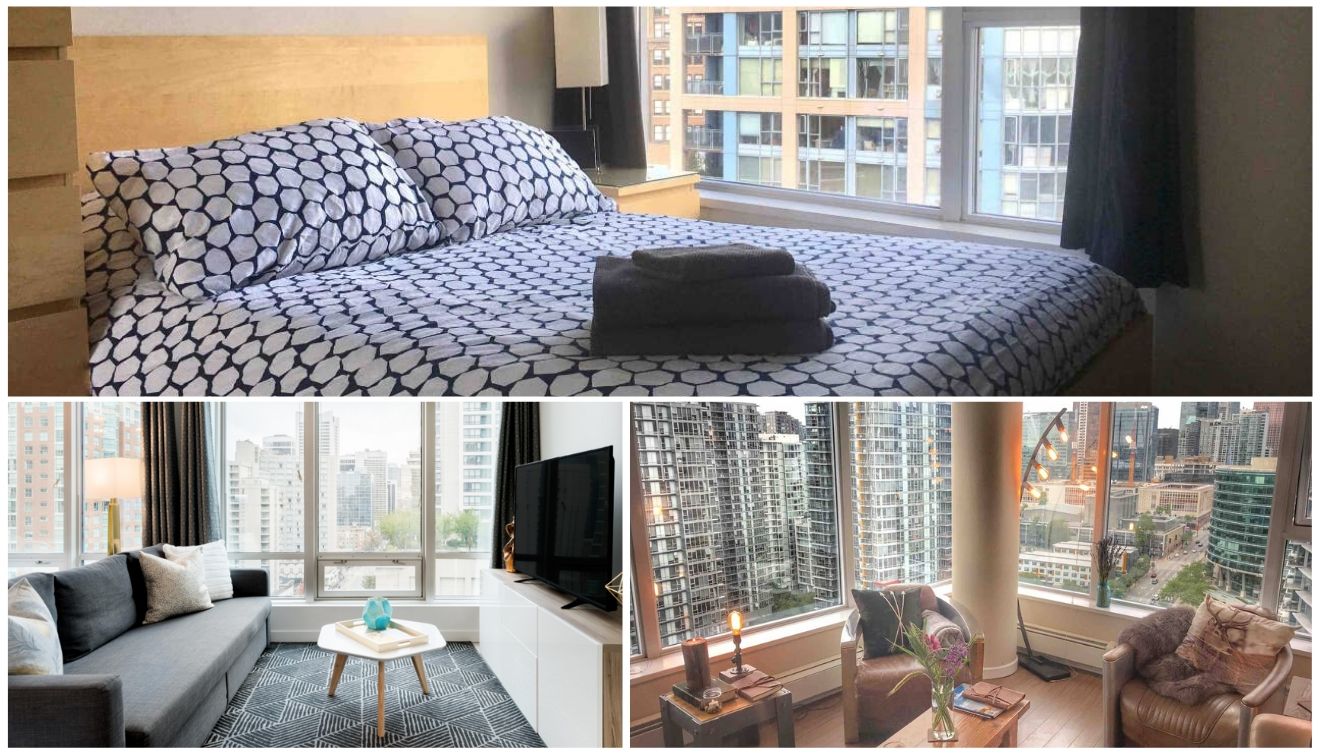 Luxury (US$160 and up)
Middle-priced (US$85 – US$160)
Prime location: 31st floor, amazing city views – I can totally recommend this one to all those of you that want to stay in a place with a cozy, local atmosphere. One of the top advantages of staying here is surely the fantastic balcony with city views!
Budget Housing in the Heart of the City – This entire apartment is super cozy and clean, and it's ideal for up to 2 guests. It has easy check-in and check-out, and it's located right in the heart of the center.
Budget (up to US$85)
Crosstown Bedroom Downtown – If you want to be located in a hip neighborhood, this private room in a shared apartment is the right choice. It has some very good prices and even better service!
The Nook in Kitsilano -is a lovely little place in a convenient location. The place may be small, but thanks to its smart design and use of space, it looks bigger and well-lit. Location-wise, you are surrounded by restaurants, cafes, and other shops.
BONUS 2: Best hotels near Vancouver International Airport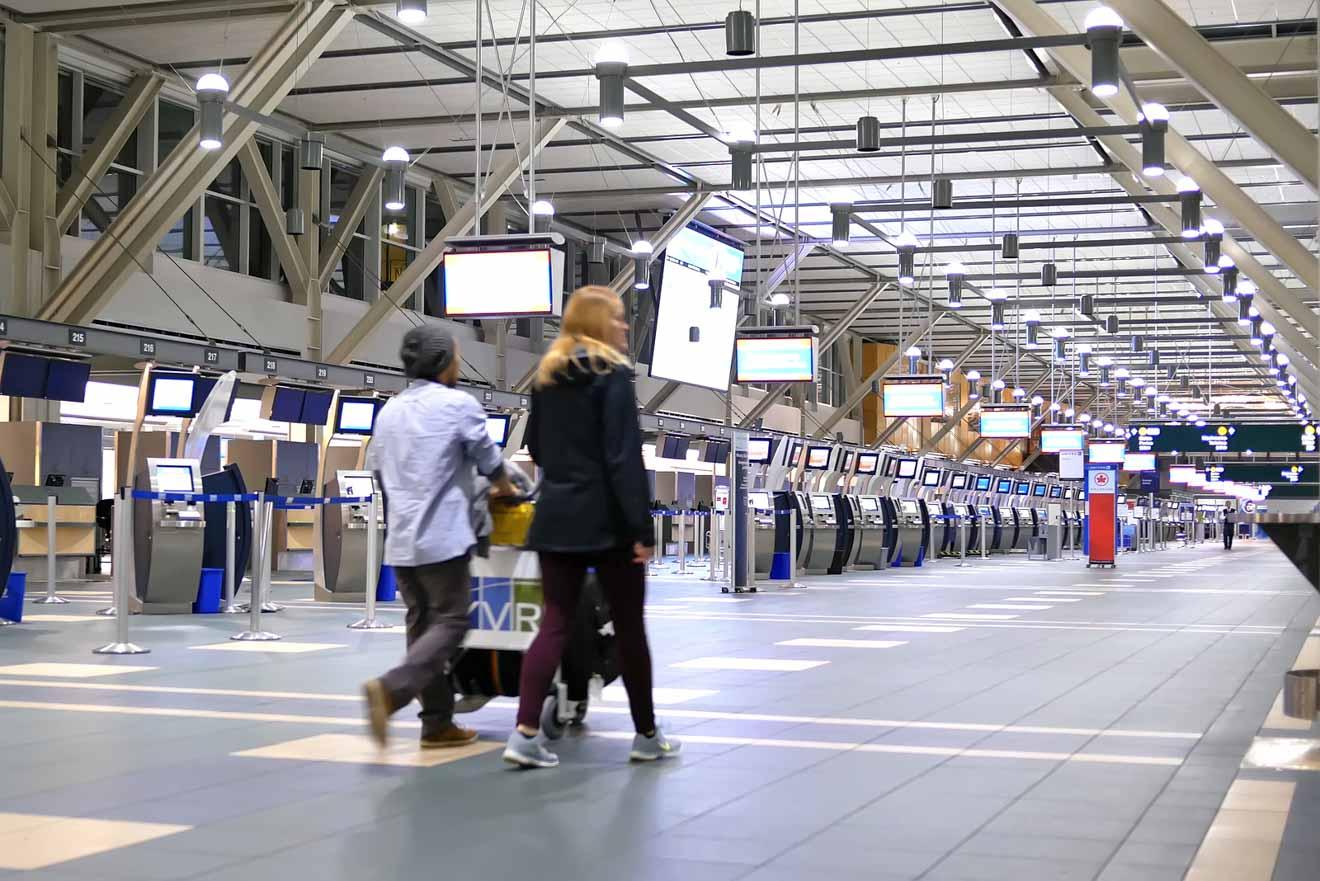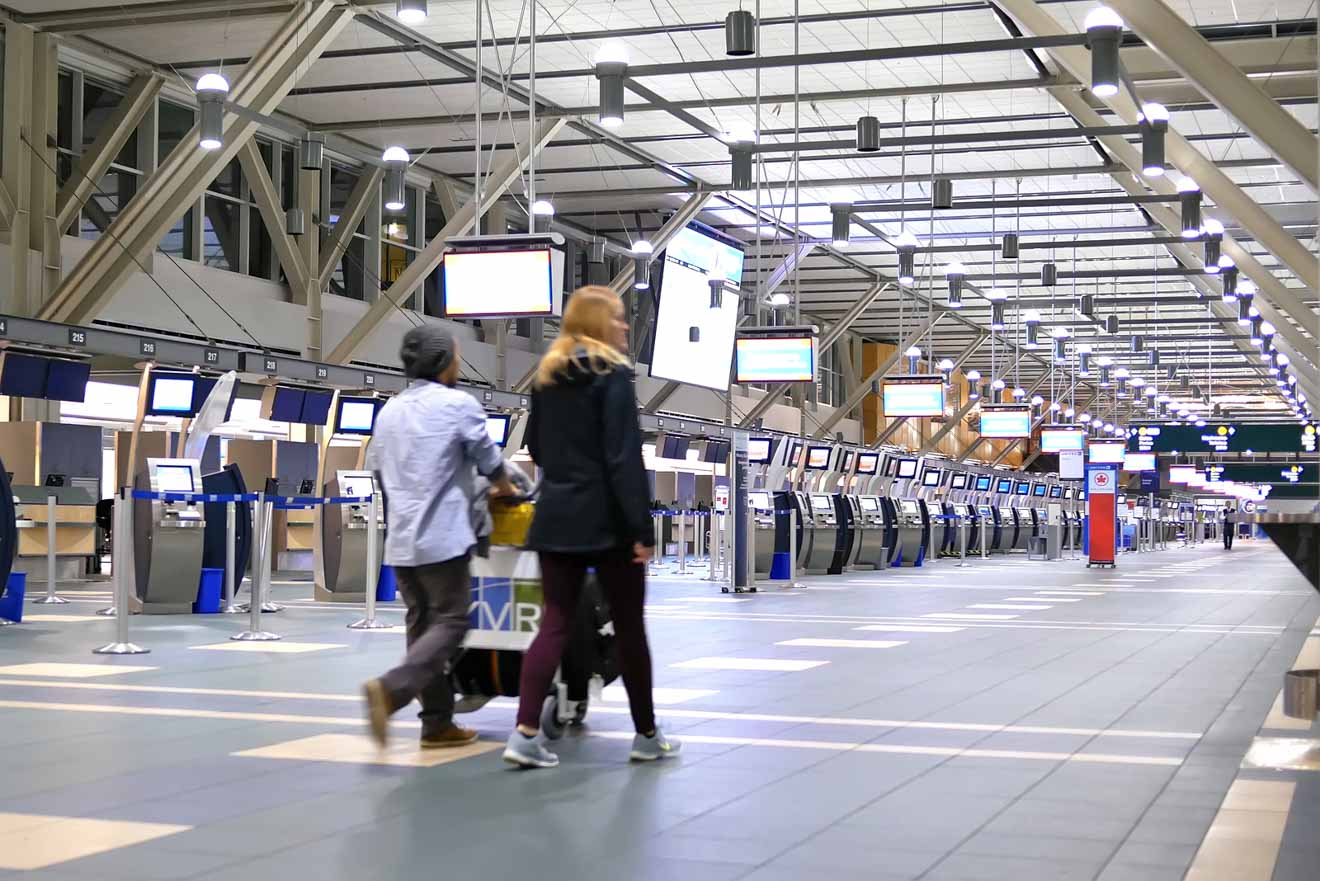 Vancouver International Airport (YVR) is located in Richmond, British Columbia, and it's around 15 km from Downtown Vancouver, which is a 20-minute car ride away. Staying as close to the airport as possible is a great choice for all those of you that have a very early or very late flight, as you'll get rid of some extra street and maybe get some extra hours of sleep instead, why not?
Below you can find the 3 top hotels near the airport in Vancouver that you can choose from (one for each type of budget):
Luxury: Fairmont Vancouver Airport In-Terminal Hotel – This is my luxury recommendation for all those of you that want to be as close to the airport as possible. It's an excellent 5-star property located right INSIDE the airport, so you cannot get closer than this!
Middle-priced: Holiday Inn Express – This mid-range hotel is ideal for everyone that wants great value for the money. It awaits with a 3-star service, and is just 4.2 km away from the airport.
Budget: Jessicahouse Ltd – Are you on a tight budget? No worries, this cute guesthouse just 6 km from the airport is the right choice for a comfortable sleep!
Book your stay near the airport
BONUS 3: Where to stay in Vancouver with a car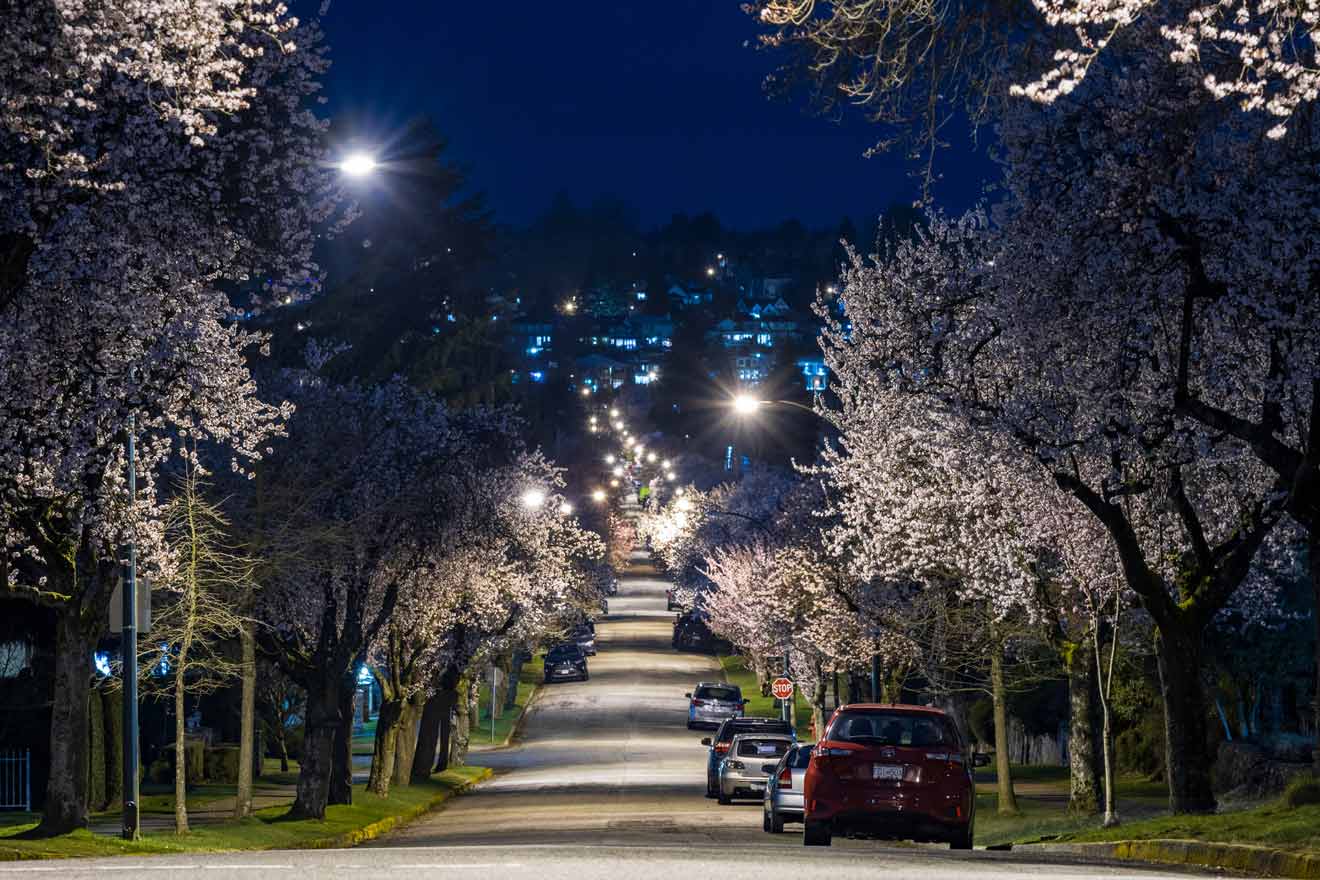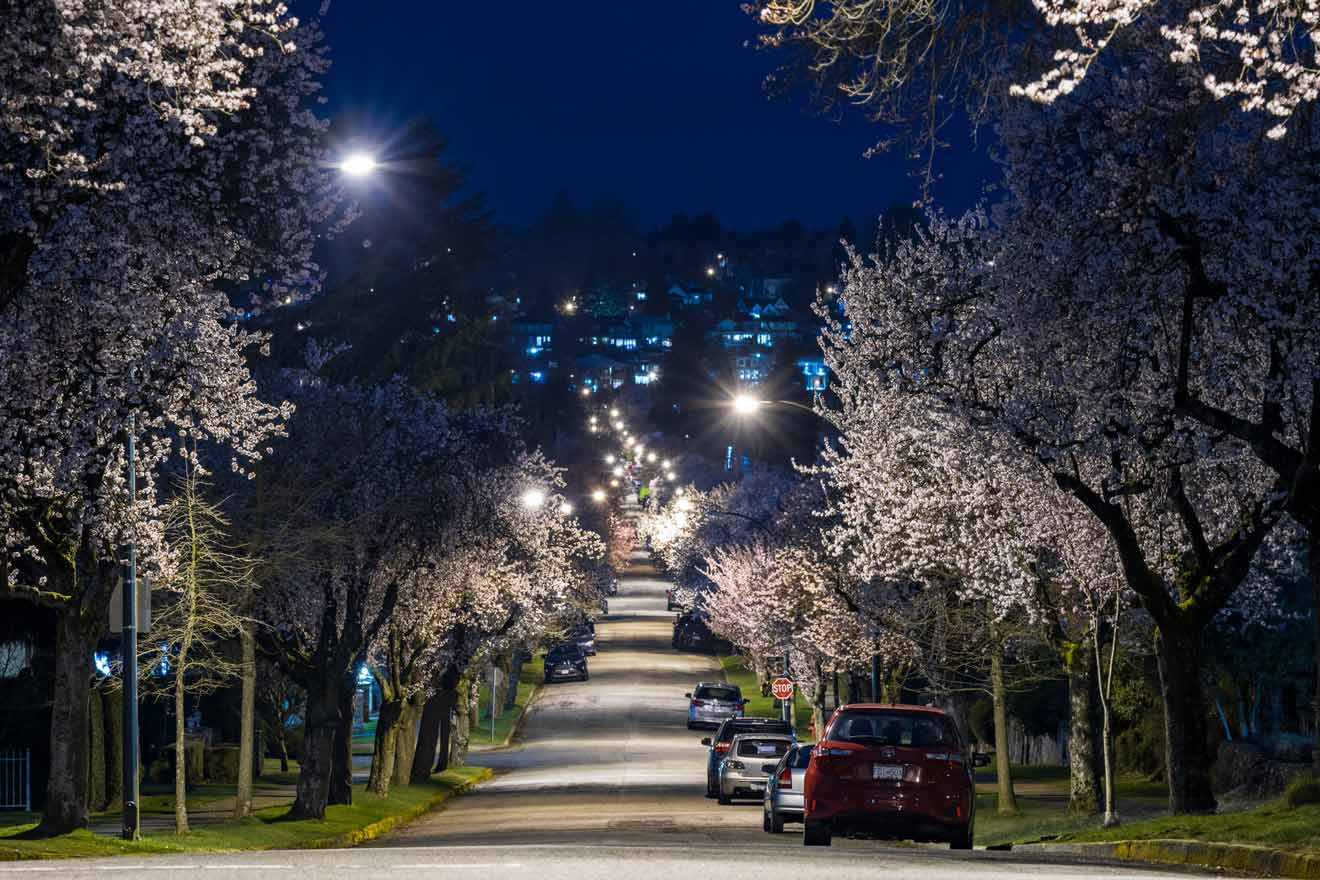 One of the best things about hiring a car is the freedom it gives you to travel to any place in the city, even to make short day trips to take full advantage of the transportation. But one thing not many people think about when hiring a car is where to park their cars.
Vancouver is a city that offers an incredible transportation system and is a relatively good cycling city but public car parking is not something you are able to find easily.
That's why I decided to create this section where you can find hotels with parking areas, so you can enjoy only the good side of having a car rental at your disposal! Here are 3 amazing hotels with private parking in Vancouver, one for each budget:
Luxury: JW Marriott Parq – This luxury hotel is an incredible option that offers 3 on-site daily parking options: $42 for self-parking, $47 for valet parking, and hourly parking on the street meter. They also have 33 electric car charging stations.
Mid Range : Hotel BLU – This hotel is an eco-friendly hotel that offers charging and free parking for electric vehicles and paid parking for normal cars at $30 per day plus taxes.
Budget: YWCA Hotel – If you are looking for budget accommodation with private parking available, this is the option for you! This hotel offers secured parking on site and costs $20 per day.
FAQs about Vancouver hotels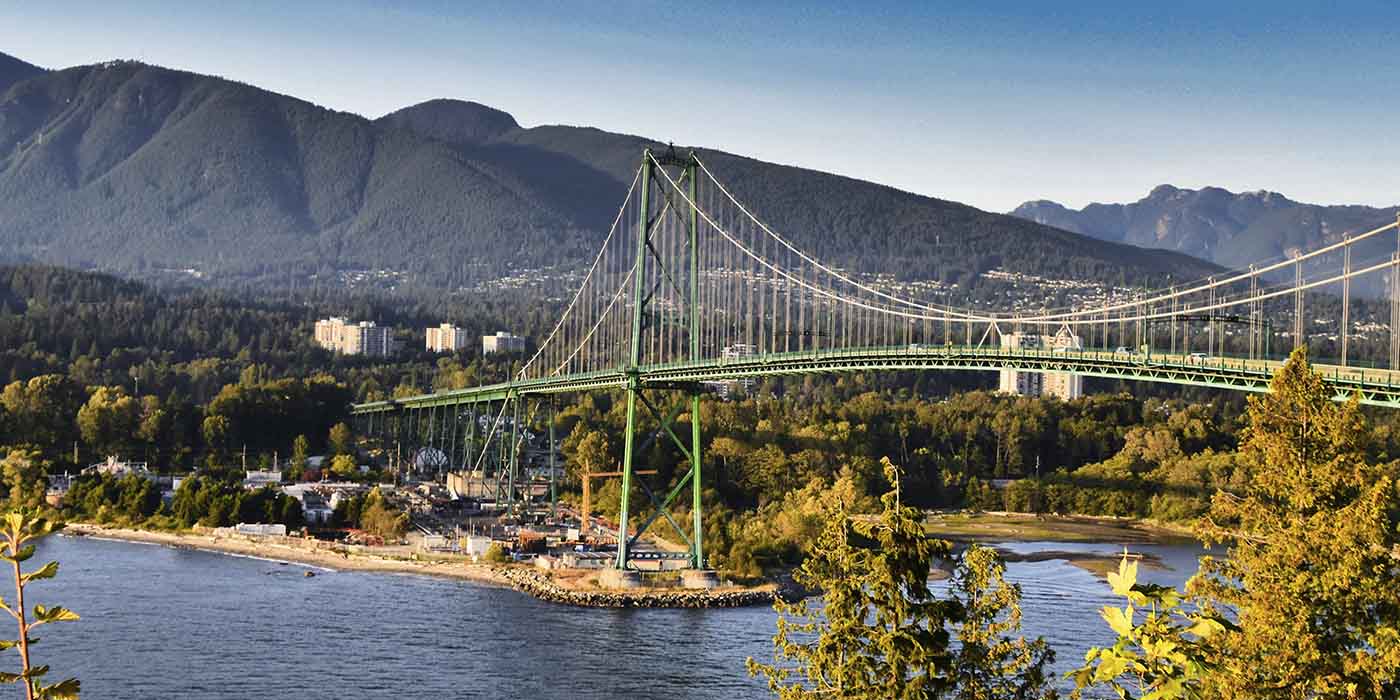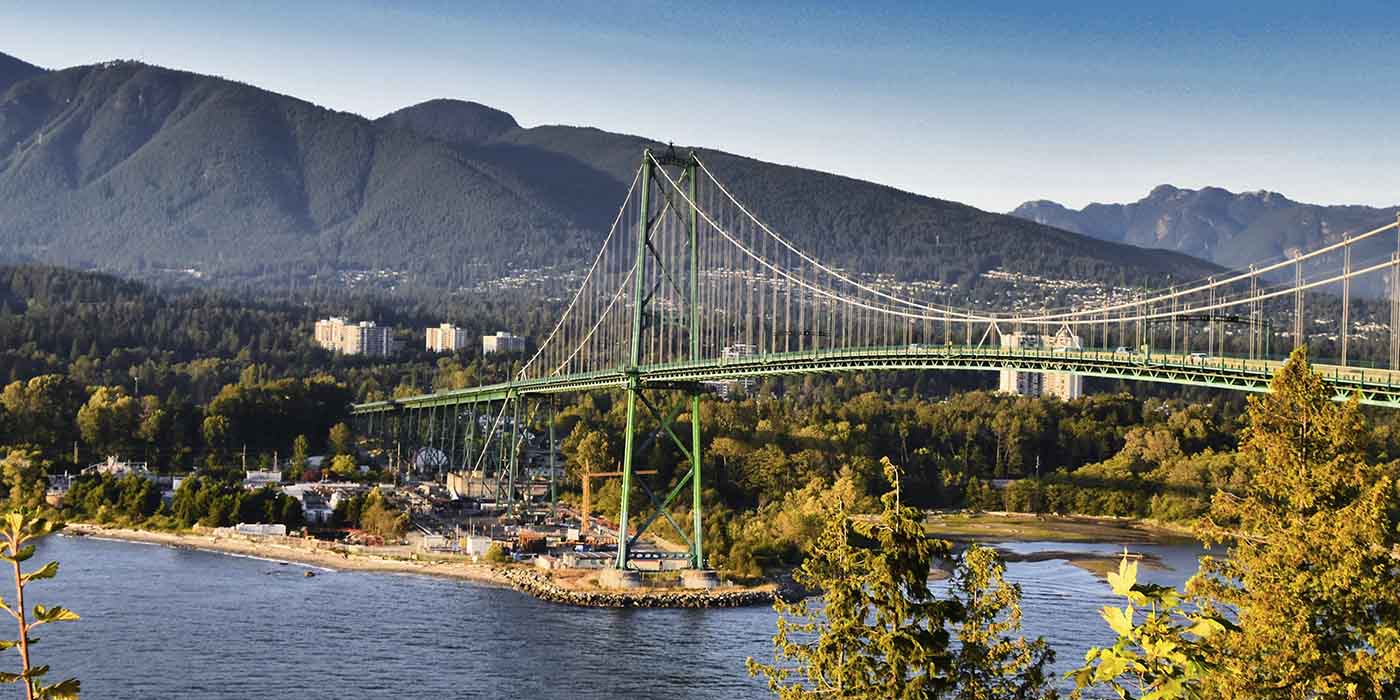 Conclusion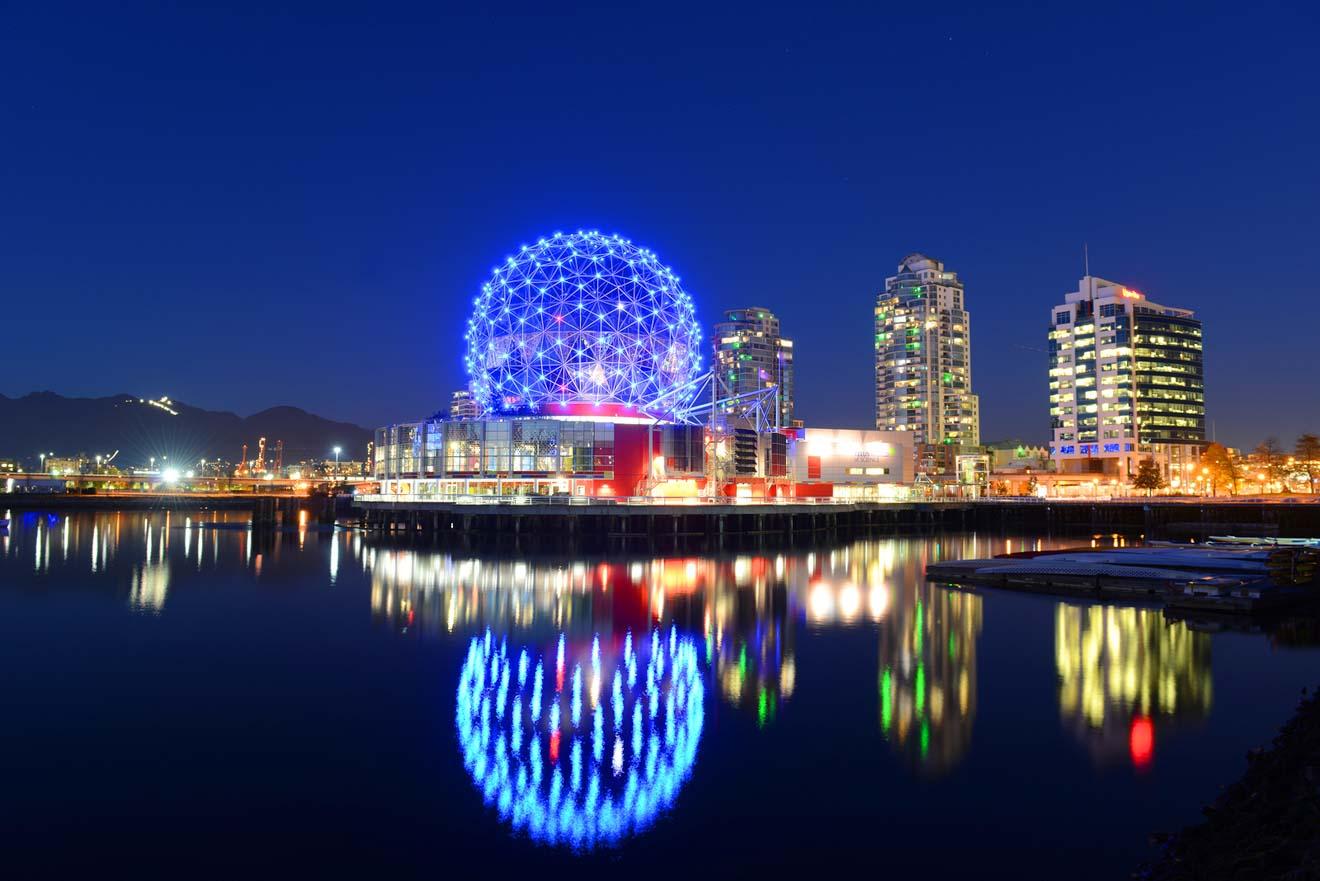 Yay, you have reached the end of my complete guide on where to stay in Vancouver! I'm sure you're already an expert by now, and maybe you even found your dream hotel thanks to one of my recommendations above, who knows!
In this post, I have told you everything you need to know about the 5 best neighborhoods in Vancouver, together with my hand-picked hotels in Vancouver that I recommend in each of them. I have also given you some great apartments, airport hotels, and hotels with parkingmto choose from, so you basically have everything you need here!
Let me tell you the best options, in my opinion, maybe these options make your decision-making a little bit easier.
O Canada House B&B – I simply love all the amenities this B&B has, plus the location is just great!
The Listel Hotel – In case you are looking for a luxurious stay, then this is the best option for you!
Whichever you book, whether it be in the entertainment district, the financial district, or in west vancouver, don't forget many travelers are looking at these hotels as well, so I recommend booking in advance to secure a spot in your preferred option!
Are you planning a Vancouver vacation soon? Do you have any other questions or concerns? Let me know in the comments below and I'll gladly help! And if you need more travel inspiration for Canada, you can find all our posts about this awesome country here.
Happy travels,
Romina
---
Pin it for later!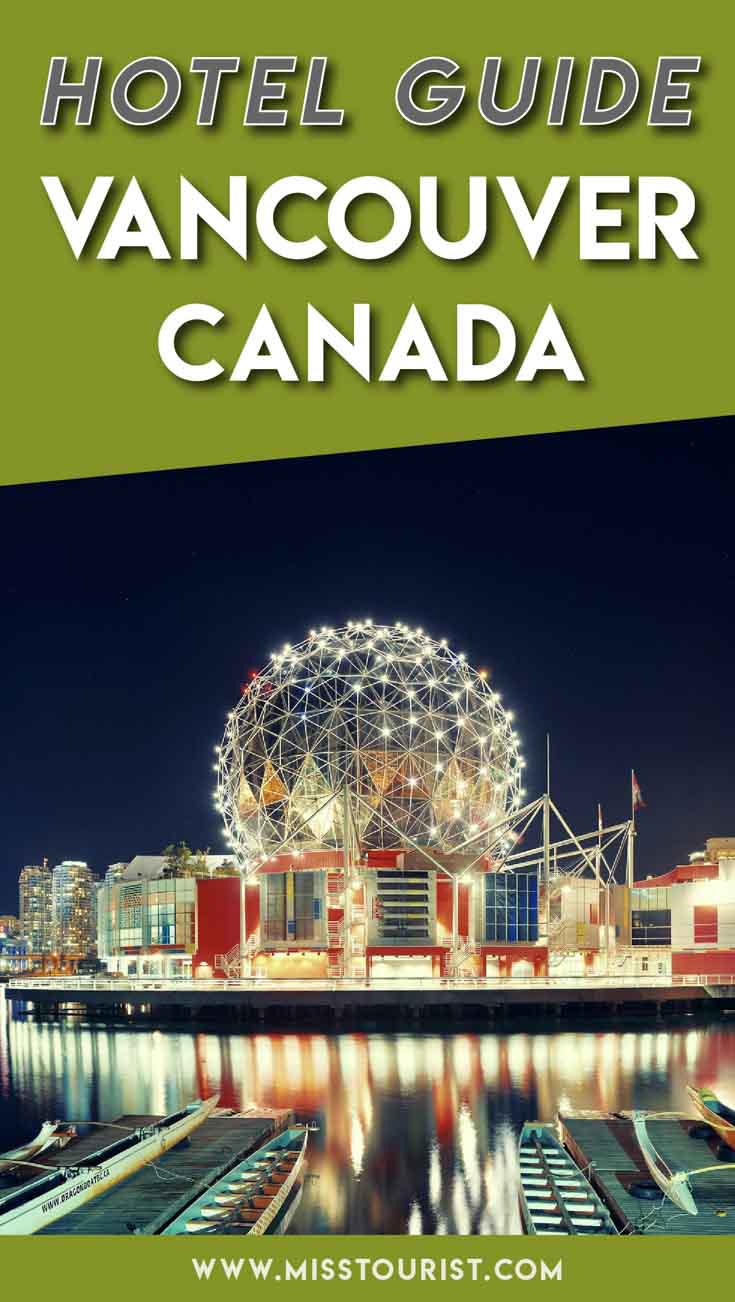 Pin it for later!