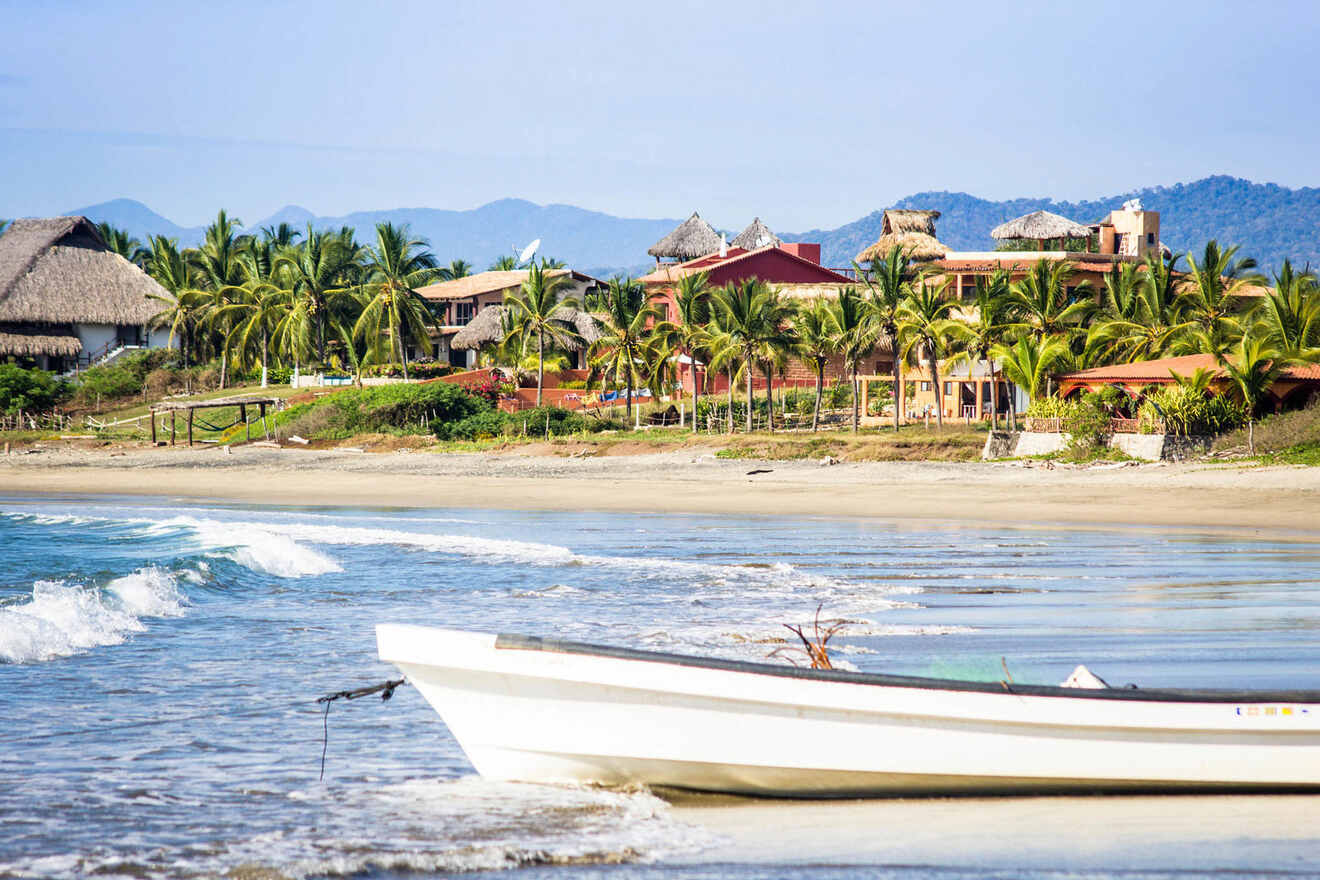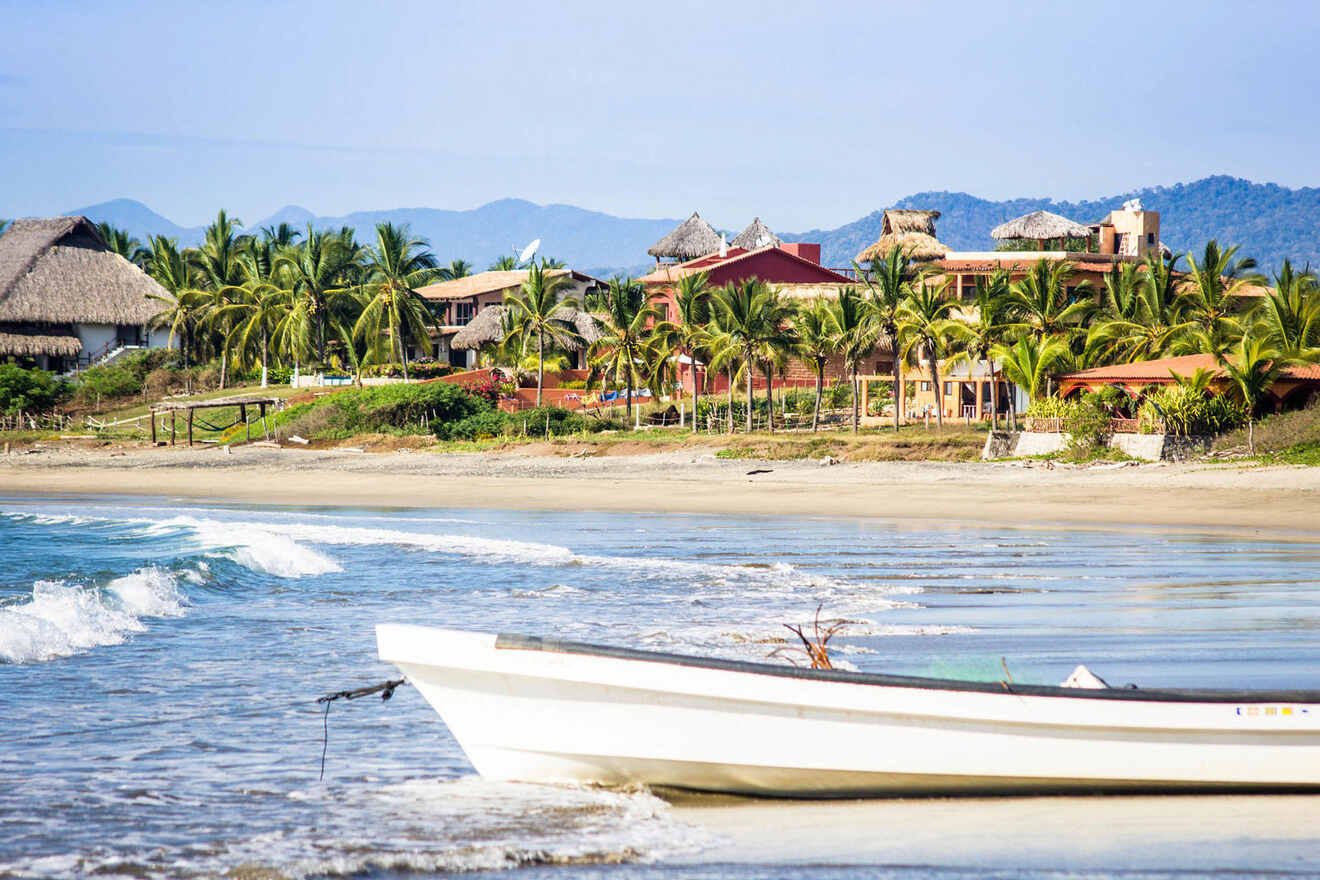 Hidden on the Pacific coast of Guerrero, Mexico, La Saladita is a secret paradise for longboard surfers hosting one of the longest waves in Mexico.
Being a bit off the beaten path, it can seem quite hard to get there, but let me tell you, it is so worth the effort! I did it, and I can say it is the best surf spot I have ever been to in my life, and I am pretty sure you will love it too!
The place is still not really known by tourists (even if it is getting more and more popular among surfers from the US), so there is little information on the internet about this magical beach.
That's why I decided to share with the surf community this travel guide to la Saladita! Here you'll find some useful tips (that I wish I had known before), information about accommodation, transportation, how to get there, what to do and much more… Are you ready to pack your bags?
Let's jump right in!
1. How to get to La Saladita, Guerrero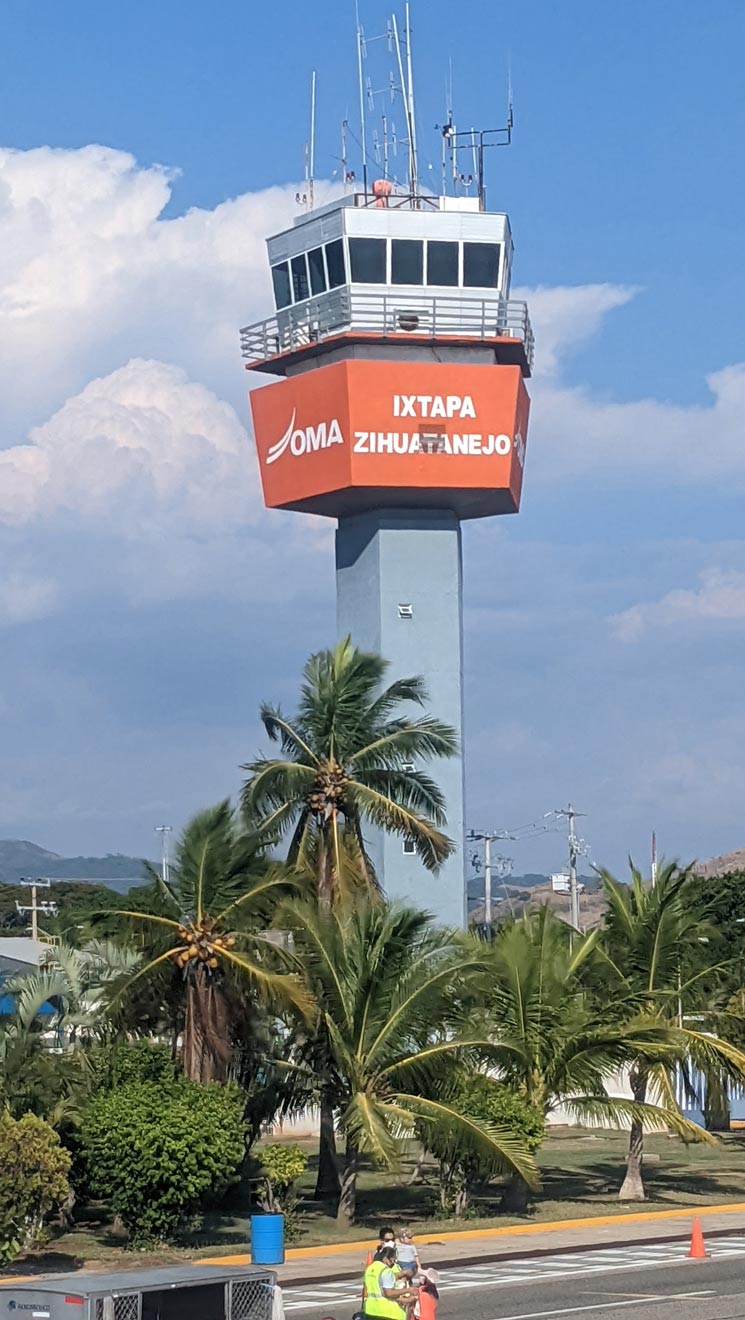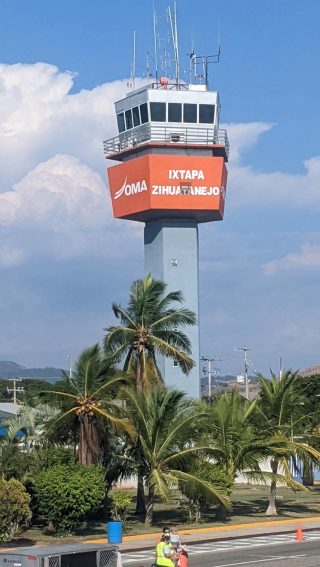 The easiest way to get to La Saladita is to fly to Mexico City (you may want to spend the night there, so check out this post about the best places to stay in Mexico City) and then take a 1-hour internal flight to Zihuatanejo International Airport.
PRO TIP: Use Skyscanner to find the cheapest flights from your area!
Zihuatanejo airport is located around 1 hour from La Saladita by car or by taxi, buses don't go here!
By car: I really suggest you rent a car at the airport or in the city center and drive the 1 hour to La Saladita following Mexico 200 Road if you have the possibility. Having a car in La Saladita will allow you to explore the surrounding beaches and cool spots at your own pace because there are no buses to help you get around!
By taxi: If you don't want to rent a car when you exit the airport, you'll find many taxis offering you a ride. The normal price to get to La Saladita is around US$70, so make sure you negotiate the price if they ask you more!
PRO TIP: if you plan on staying in La Saladita for more than a few days and you want to cook your own meals, make sure you pass by the supermarket in Zihuatanejo and buy all you need for the time of your stay as there's no supermarket in la Saladita, only restaurants which are more expensive than in the rest of Mexico.
Within the village of La Saladita itself, everything is within walking distance, but you will still need to take a car or taxi to get to any other towns if you need to visit a supermarket or any other facilities. If you need a taxi, just ask the owner of your accommodation or at a restaurant for the number. There's no Uber here!
2. Surfing in and around La Saladita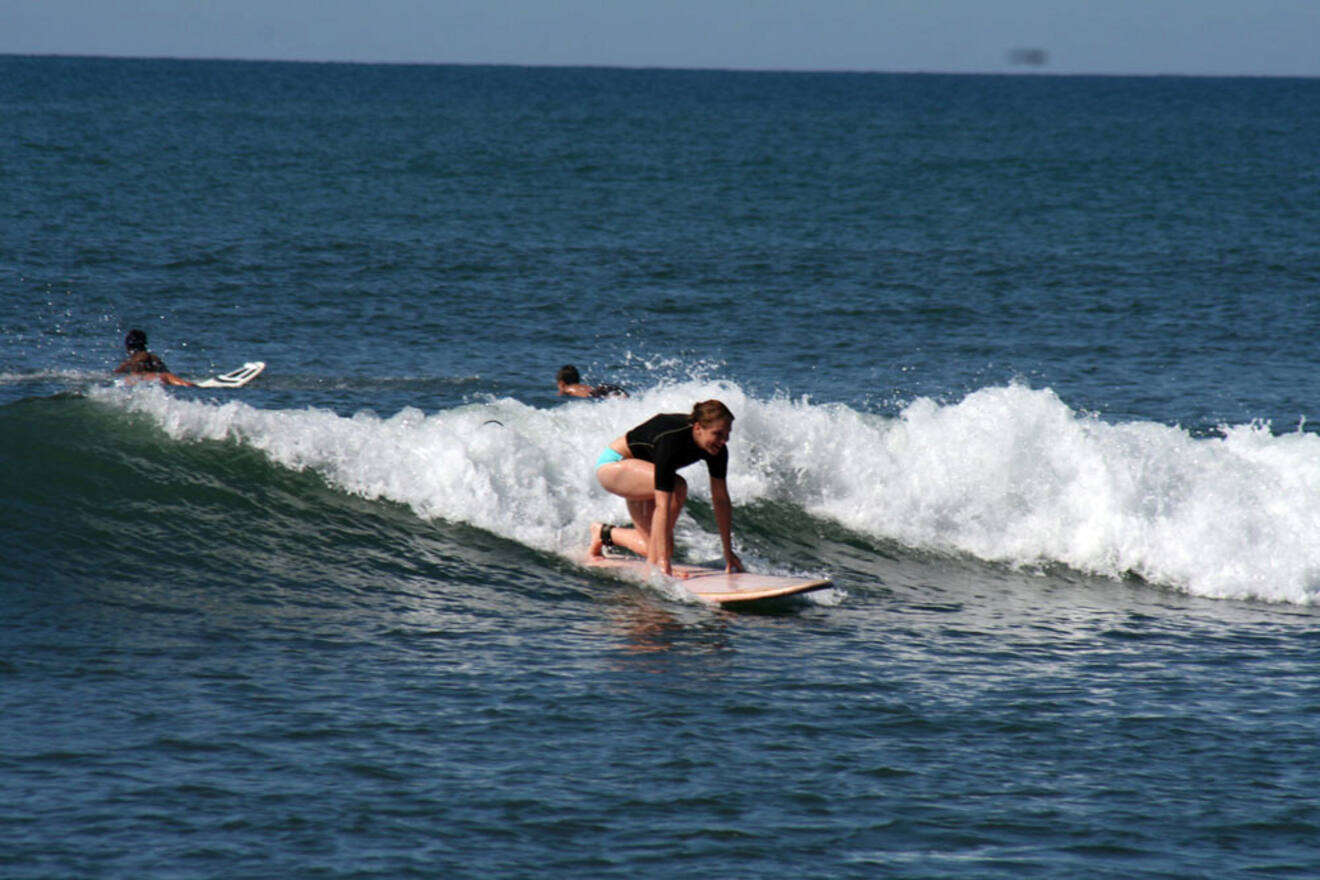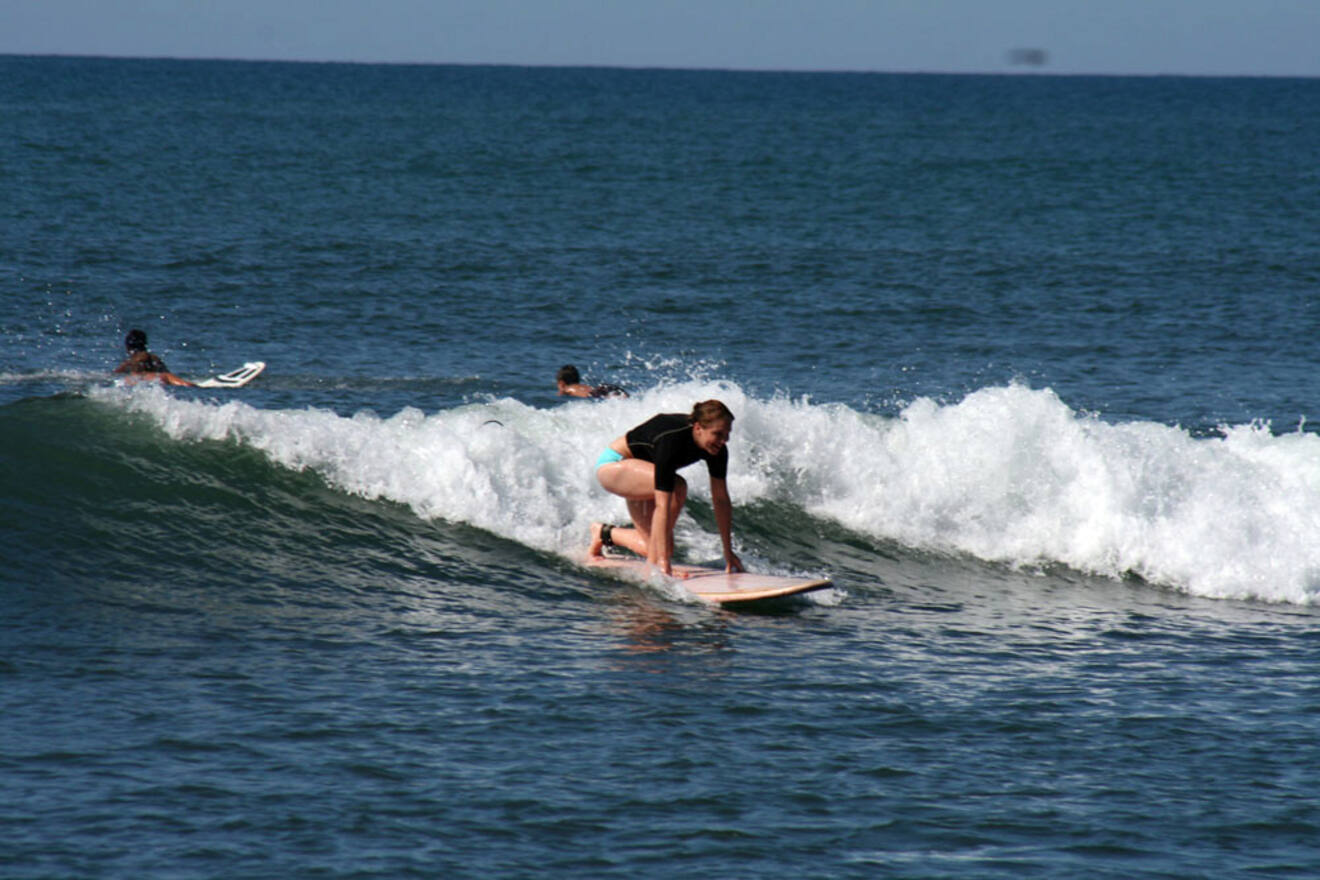 I have to be honest and tell you that pretty much the only thing you can do in La Saladita is surfing. So if you're a surf addict like me (or an inspiring learner), you will absolutely love it, but if not, this might not be the place for you.
Here I'll explain the different beaches in detail so you can choose where to go based on your level and preferences, but of course, if you go to La Saladita, you'll spend most of the time surfing there (check out why!):
2.1 La Saladita's Point Break
La Saladita beach offers a premier left-hand point break, which is quite far from the shore, so you can ride waves for 1 minute or more!
The waves in La Saladita are definitely for longboarders, being mellow and gentle, so if you're a short border, this is your time to try something different (except for when there are big days, in which case it is definitely doable on a shortboard too).
The best thing about this spot is that you have waves all day long (same as you will find in Chacahua, the other Mexican surfing paradise). This means that regardless of the tide, you can literally go surfing at any time of day, but take into consideration that in the late morning and summertime, it gets super crowded!
P.S.: The beach is full of turtles, so get ready to see the turtles' heads coming up from the water everywhere while you're paddling out!
From my personal experience, I have to tell you that the first days it will cost you (physically) to get to the point break, especially if you're not trained. It is more or less 5-10 minutes paddling from the beach, depending on how strong the currents are, but once you train your muscles, you'll get used to that!
If you're a beginner, no worries. The waves break at different points, so you can also practice closer to the shore!
Prices:
If you already have your board, you should definitely bring it. Otherwise, you can rent a board for about US$10 USD per day.
The only surf school in La Saladita is Chucho, located right in front of the beach break (you cannot miss it!), so if you're a beginner, you can take a 1.5h lesson for US$25!
Surf season:
La Saladita has waves all year round, but from April to early November, they are bigger and more consistent, while from November to March, they are smaller but still super fun to ride!
2.2 Troncones Shallow Reef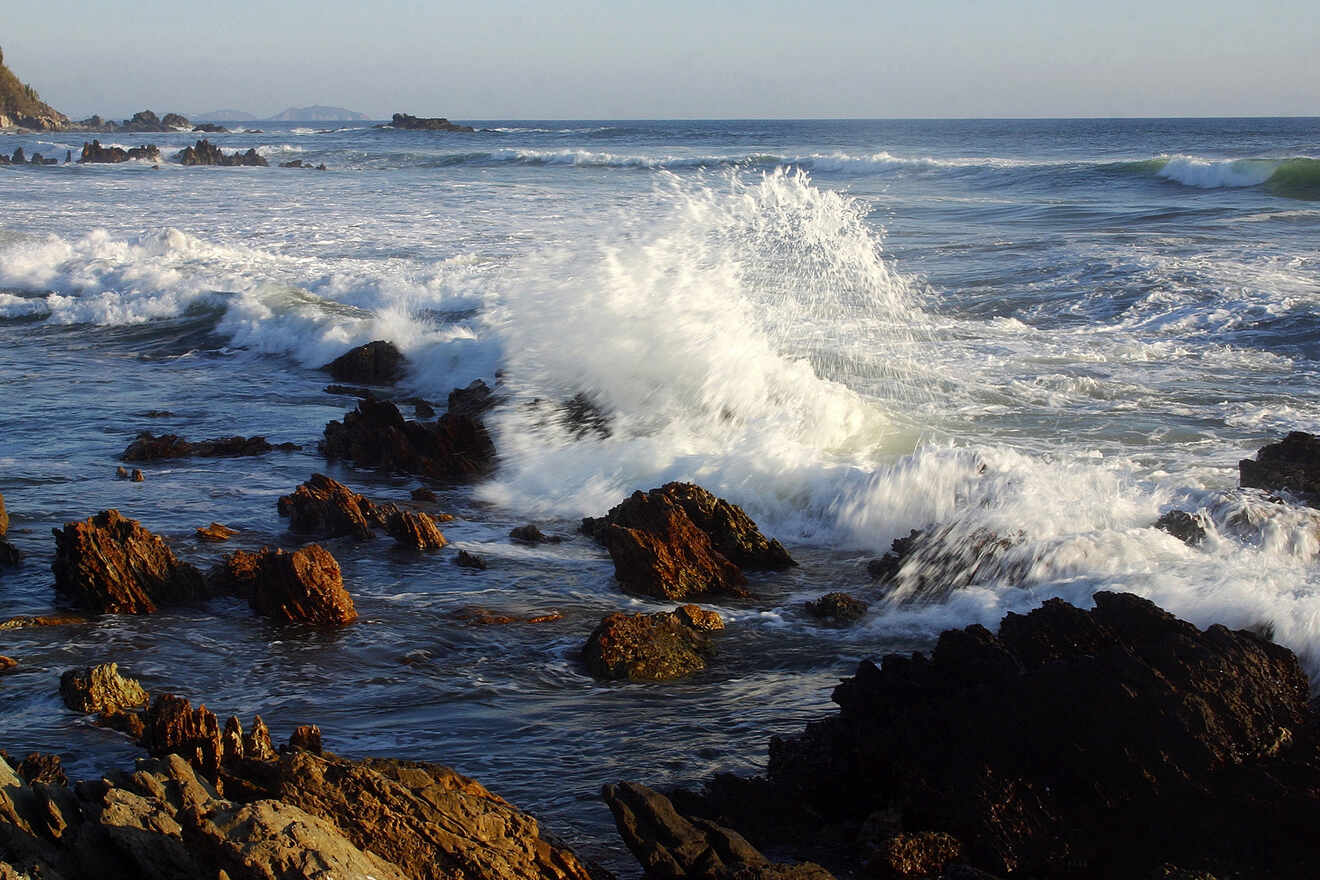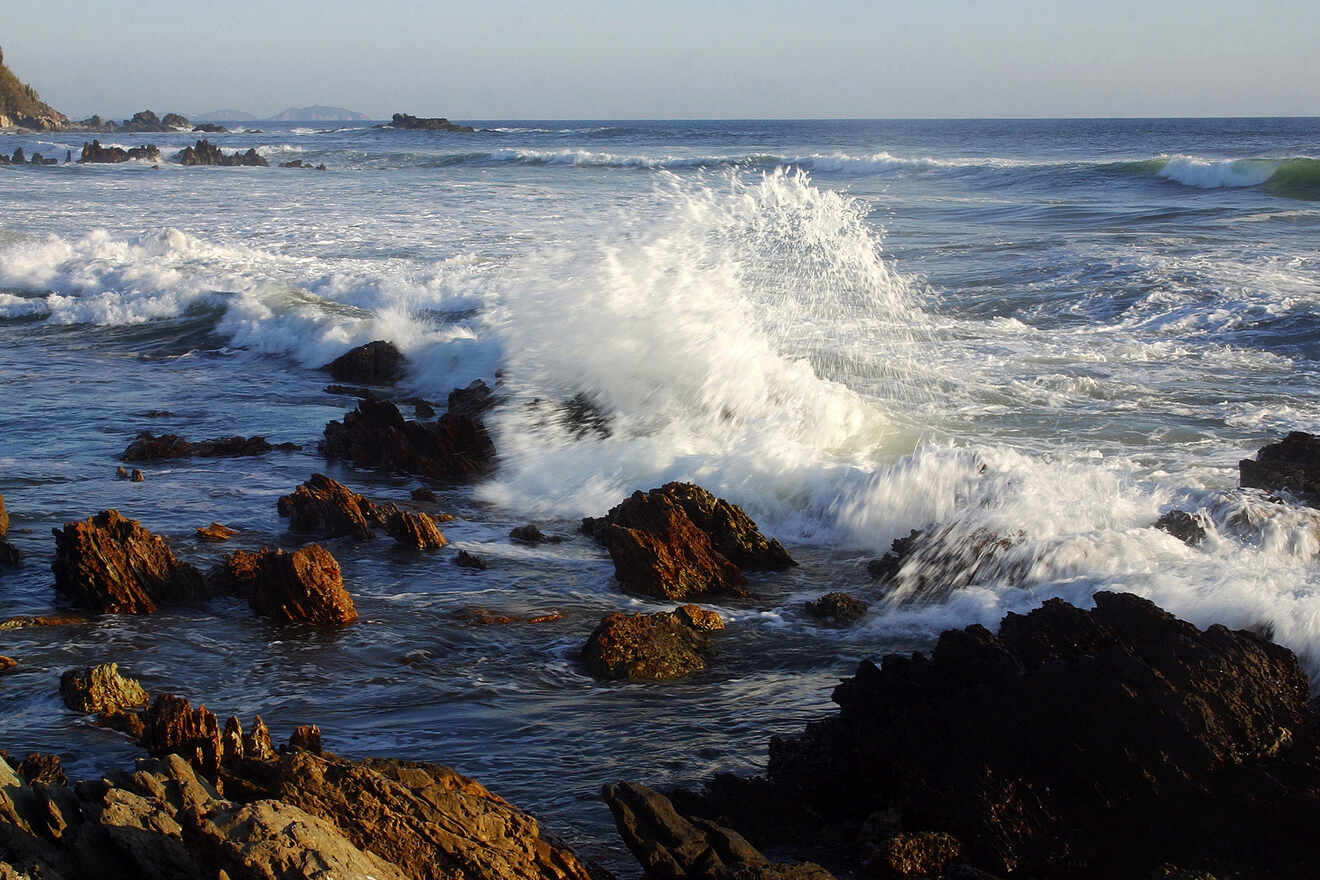 30 mins drive from La Saladita, you will find the Troncones shallow reef. This is a short left break, but some waves also break on the right, working on all tides!
I personally love this beach break because waves are stronger and a little faster than the ones in La Saladita, making it perfect for both long and short borders.
These waves are super fun to ride, just watch out for rocks if you stay close to the shore!
Troncones is also a lovely town, hosting many restaurants and bars right on the beach serving fresh fish and local specialties… So I suggest you stop there for a visit after your surf session!
Prices:
There are few surf schools in Troncones with which you can take a lesson for about $40 (depending on the school), or rent boards for $20 a day/ $10 an hour.
Surf season:
The surfing season in Troncones is exactly the same as the one in La Saladita, but If waves in La Saladita are small, go to Troncones where it's always bigger, so you'll for sure get waves!
How to get there:
By car: Getting to Troncones from La Saladita by car will take you about 30 minutes
By taxi: You can take a taxi from La Saladita to Troncones for about US$20.
2.3 Other surfing beaches around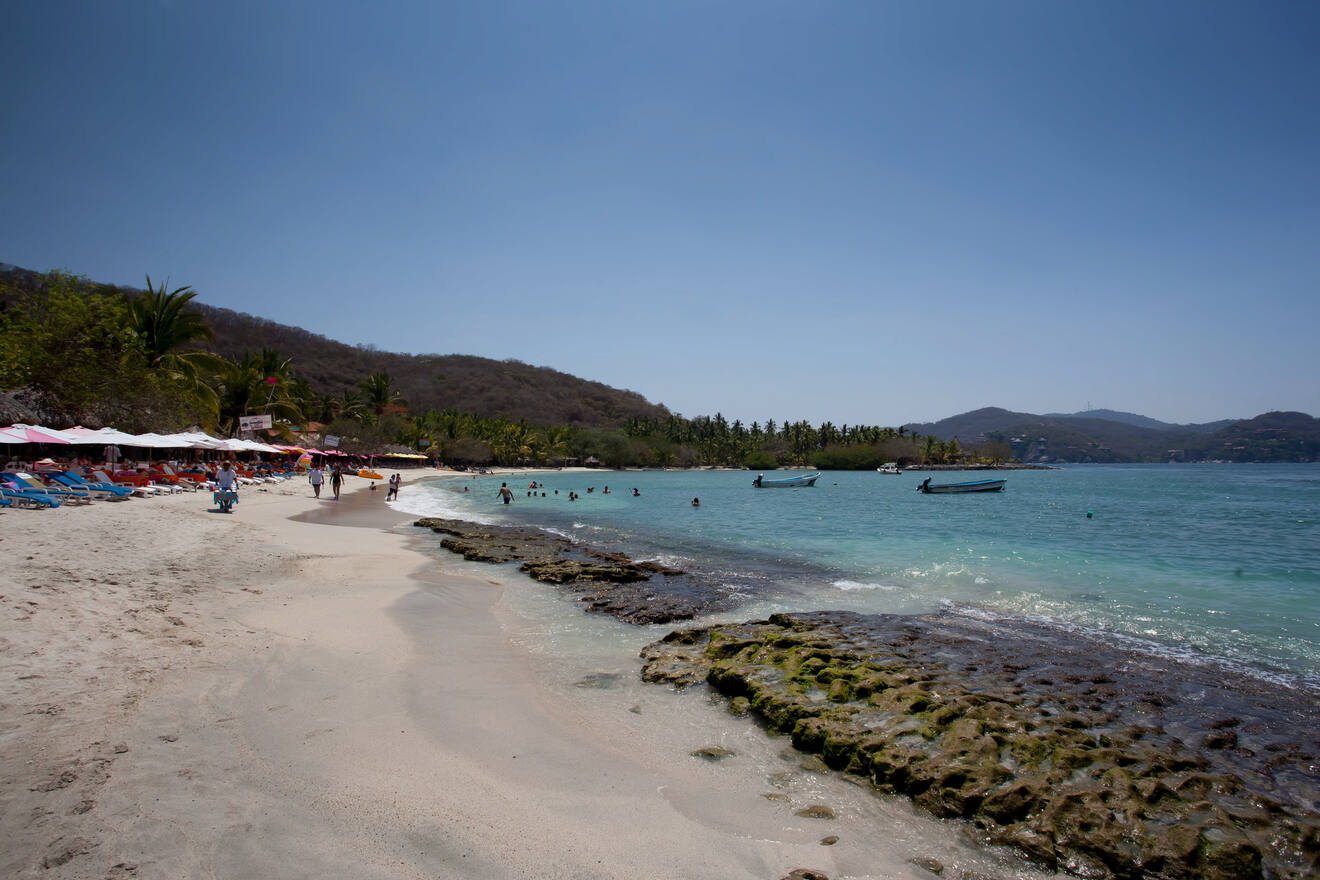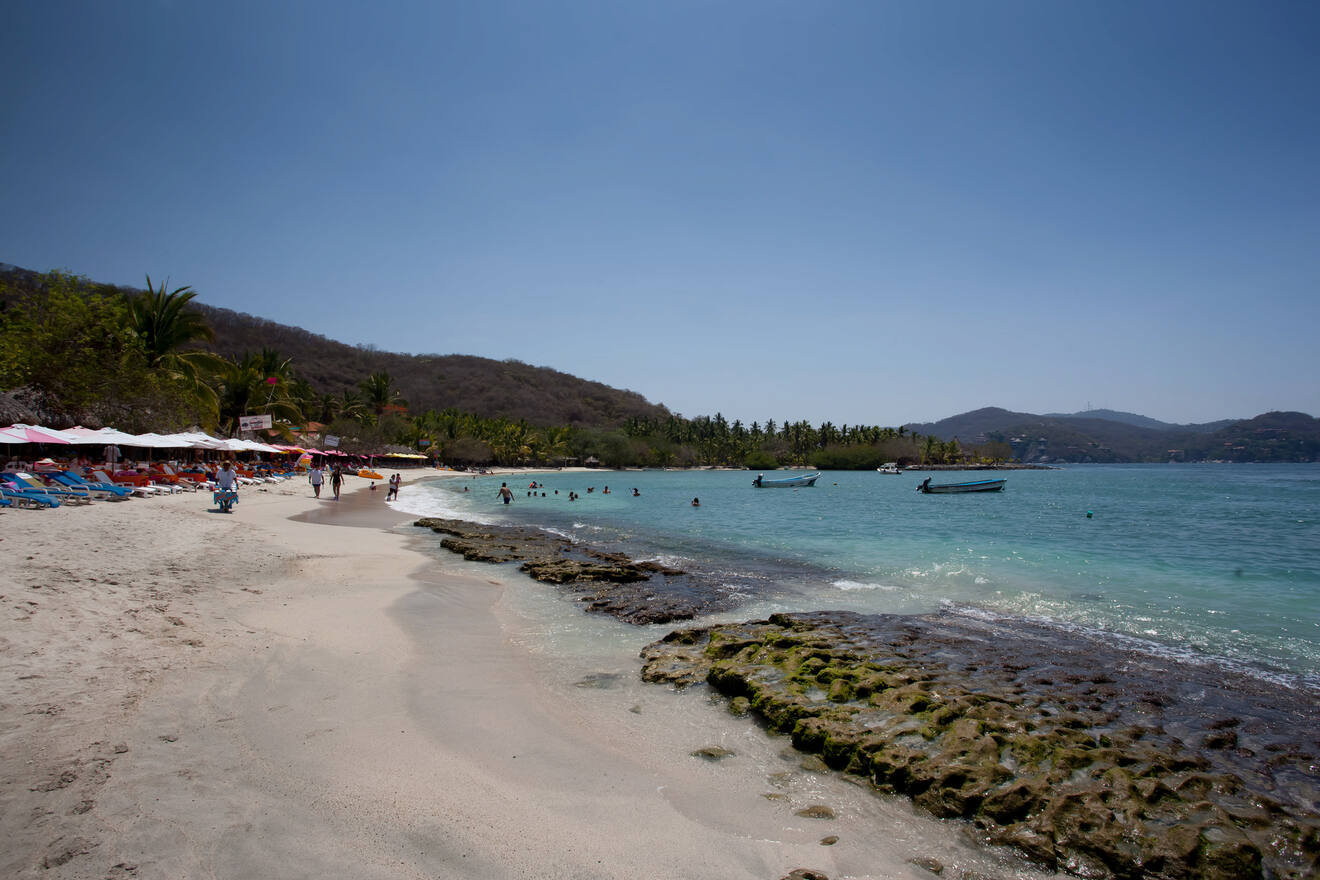 Here's a list of other beaches around La Saladita (some are a little further away), in case you want to go for a surf day trip. I personally haven't been there since I didn't have a car, but they are popular spots among surfers:
3. Other things to do near La Saladita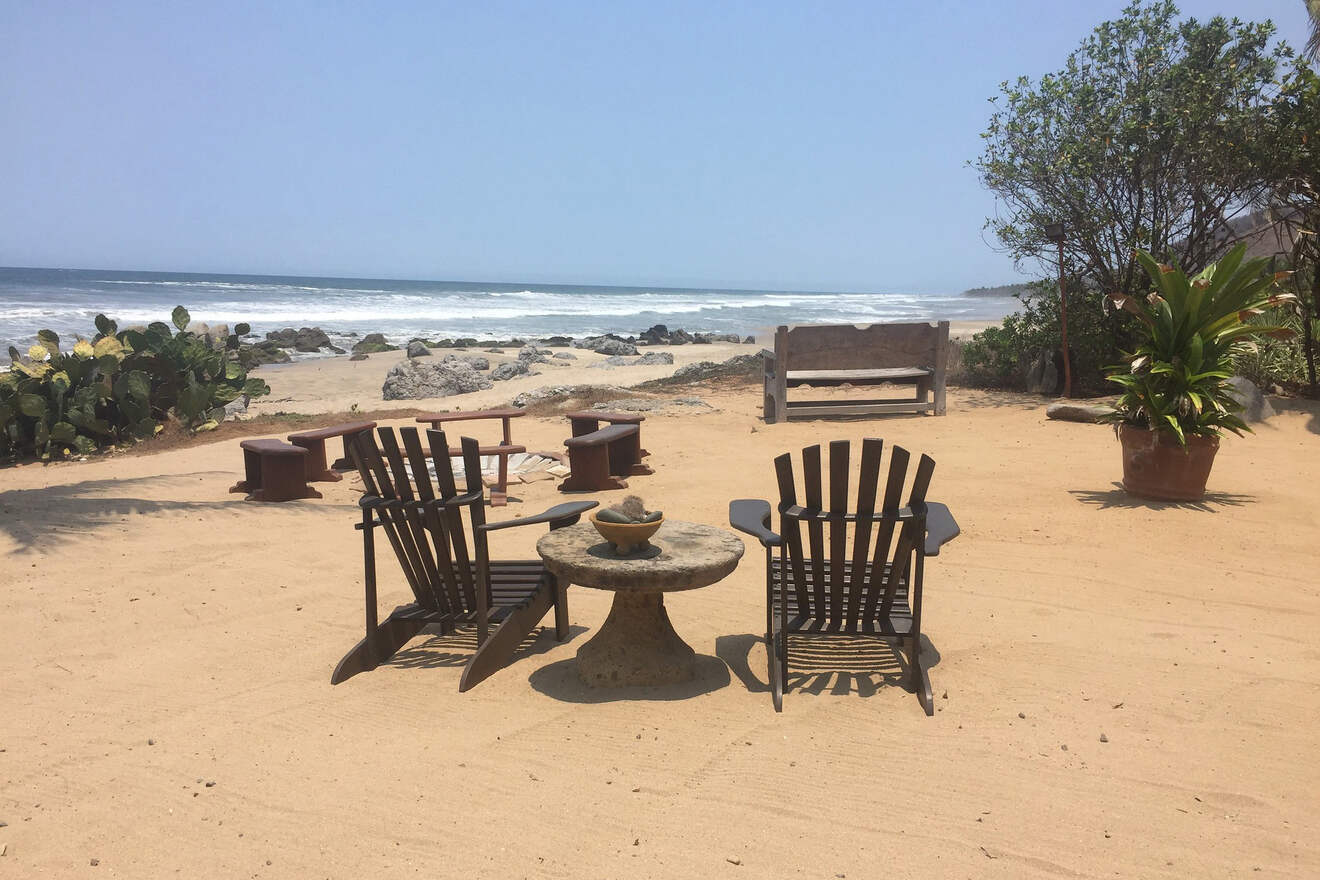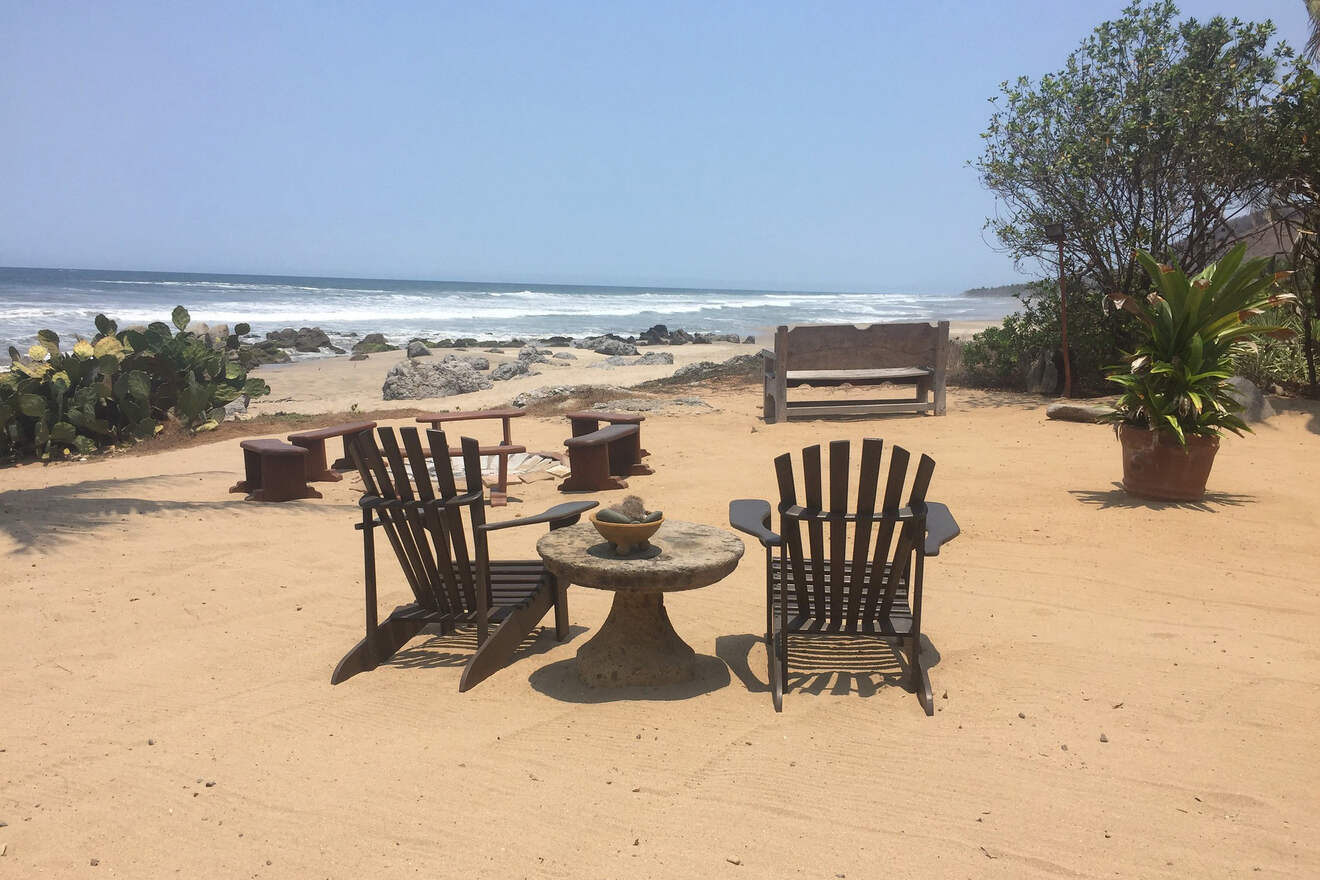 This is a very tranquil place, with few accommodations, some restaurants, and a beach that doesn't really allow you just to lay down or to have long walks (it's quite small with lots of rocks).
If you don't mind getting wet, you can sit on some spots on the beach (like in the area just in front of Mareta beach bar & restaurant) where there's just sand, but the shore is sloping, and the tide will reach you quite often!
So this could also be a great opportunity to just disconnect from the world and meditate.
But if you have a car to get around, there are some cool things to do around La Saladita… Let's check them out:
3.1 Relax in the hot springs
If you want to take a break from all the surfing and just enjoy some relaxation, you need to go to the natural hot springs located in a hidden spot just 20 minutes from Playa La Saladita.
The hot springs preserved their wild, untouched state, so they're a perfect place just to disconnect, cure your muscles, and chill… sometimes we need this, right?
But don't expect anything too fancy. There are no changing rooms, restaurants, or man-made pools here – just a pure natural hot spring!
PRO TIP: Don't try to come here when it has rained a lot as the road is very bumpy and you may get stuck!
How to get there:
By car – the best way to get to the hot springs from La Saladita is definitely by car, which will take you around 20 minutes. The way is bumpy and dirty, so make sure you don't go there when it has rained a lot!
By taxi – taking a taxi to the hot springs will cost you around US$10.
3.2 Practice yoga
We all know that the best combo with surfing is definitely yoga, allowing you to stretch your muscles after your long and intense sessions!
Even if there is not a proper yoga school in La Saladita, the Chucho surf school offers yoga classes included in the surf packages if you decide to stay there.
If you are not planning on booking a surf package (which usually includes stay+surf classes+meals+yoga+other activities), you can go to Mareta beach bar & restaurant, where surf teachers give lessons usually on Tuesday and Thursday, but it depends on the season and the person who's teaching.
Just go there and ask… everyone knows everyone in the Saladita village, so if there are yoga lessons going on, you will know it!
Price: ~US$5 per lesson
3.3 Go horseback riding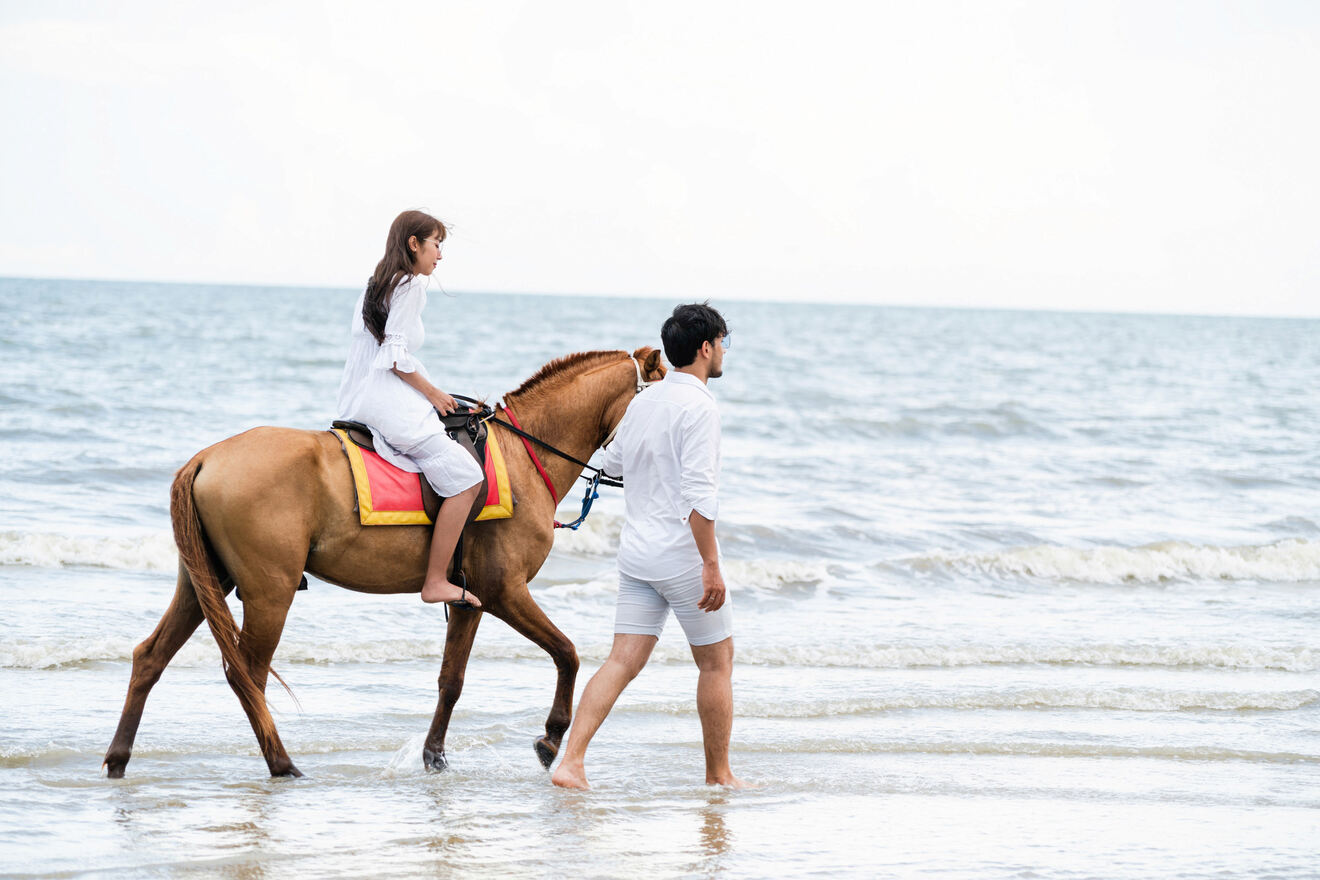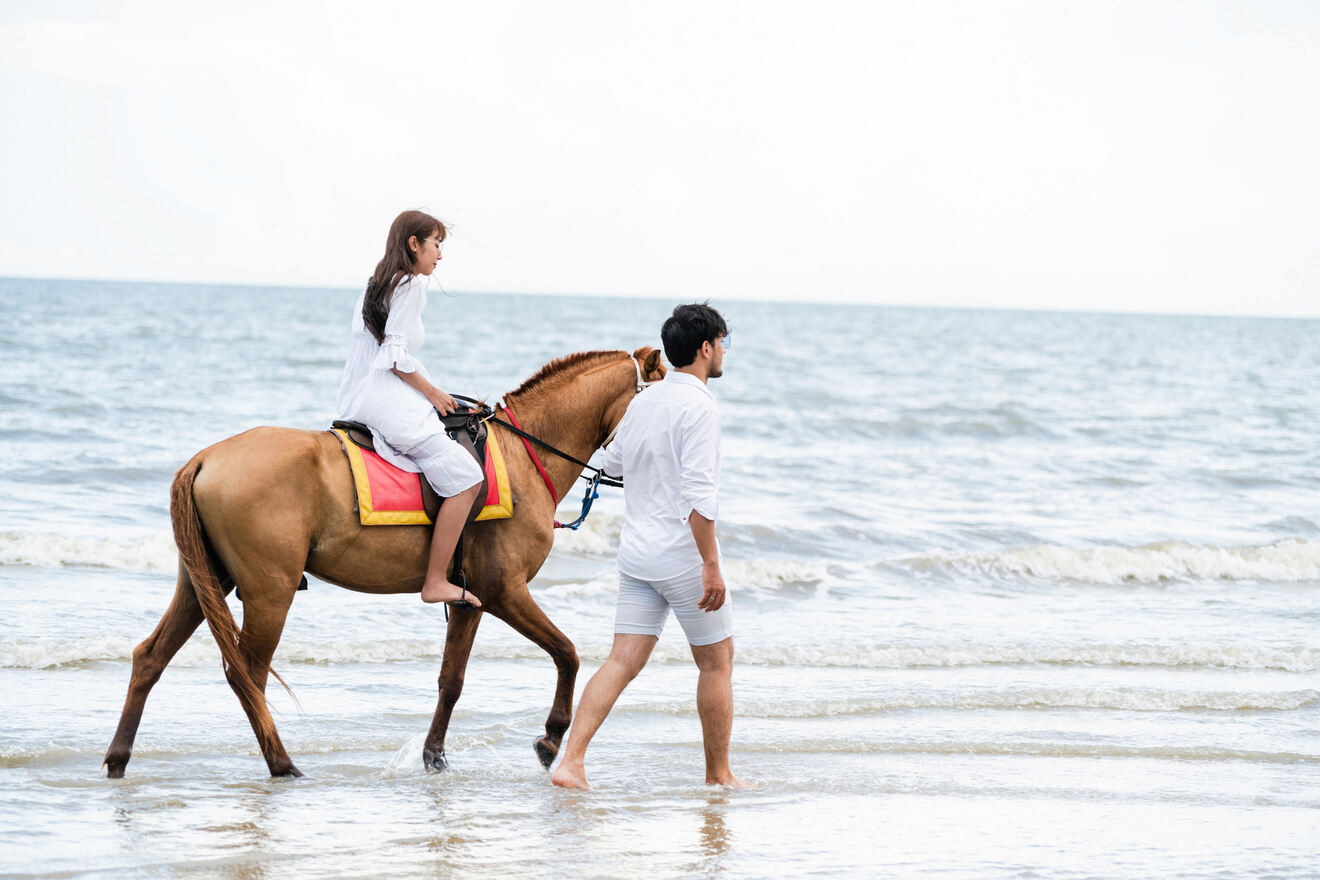 As I said in the intro. Unfortunately, the Saladita beach doesn't really allow you to walk, featuring many rocks on the shore, which is a pity because the beach is just beautiful… But there's nothing a horse cannot do!
If you want to have a unique experience, I really recommend you go on a romantic horse ride, gazing at the open ocean on one side and the mountains and green palms on the other!
The horseback ride usually lasts about 3 hours and costs US$40, but there's no way to find information online. There are some locals based on-site who offer this service (you'll notice them because the horses live right in front of their houses), so you'll have to ask them directly.
They usually make these tours at sunset, since it is the most magical time of the day and you won't suffer the heat of the sun, but you can arrange the time if you have other preferences!
Price: US$40
3.4 Release turtles in Playa Blanca, Troncones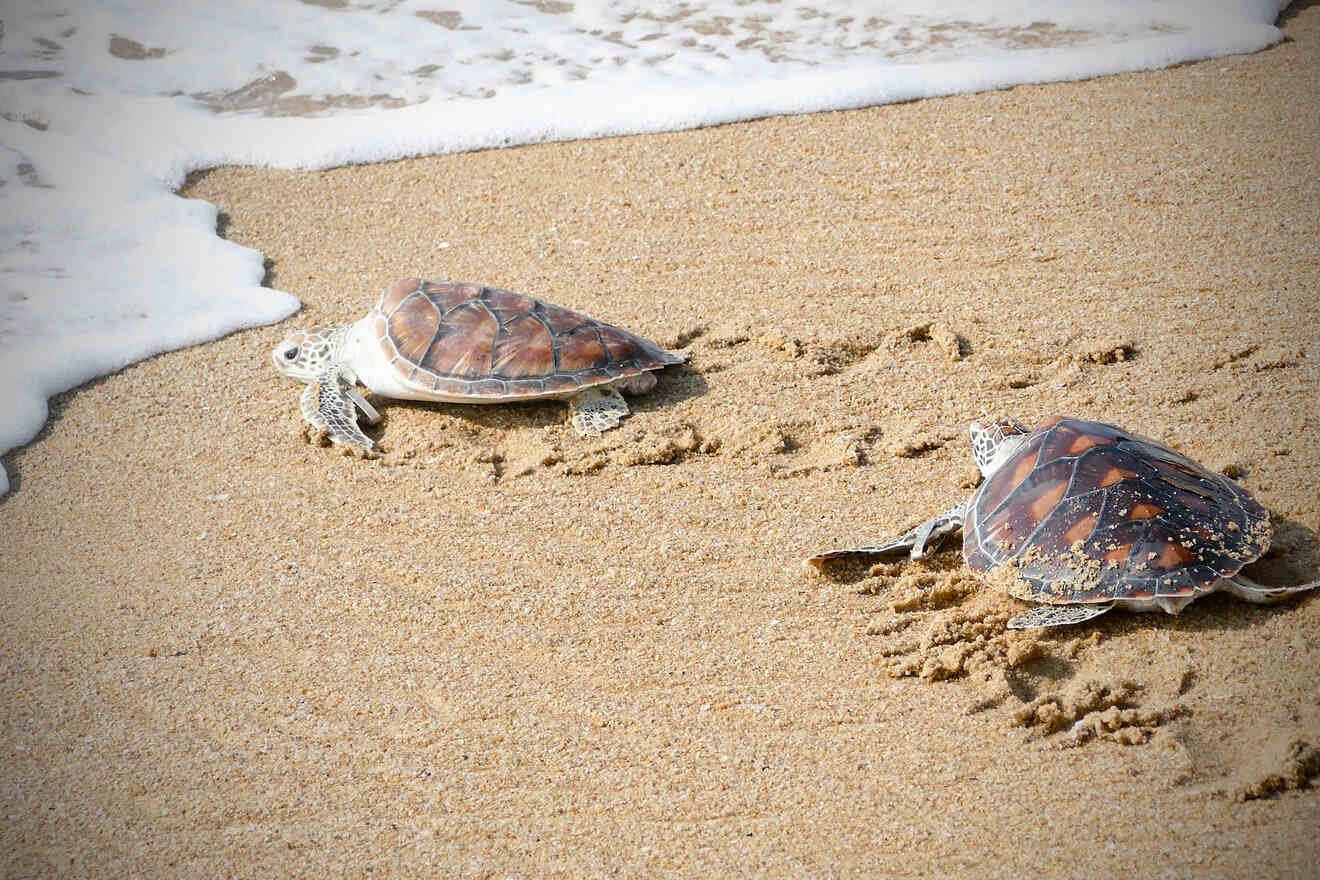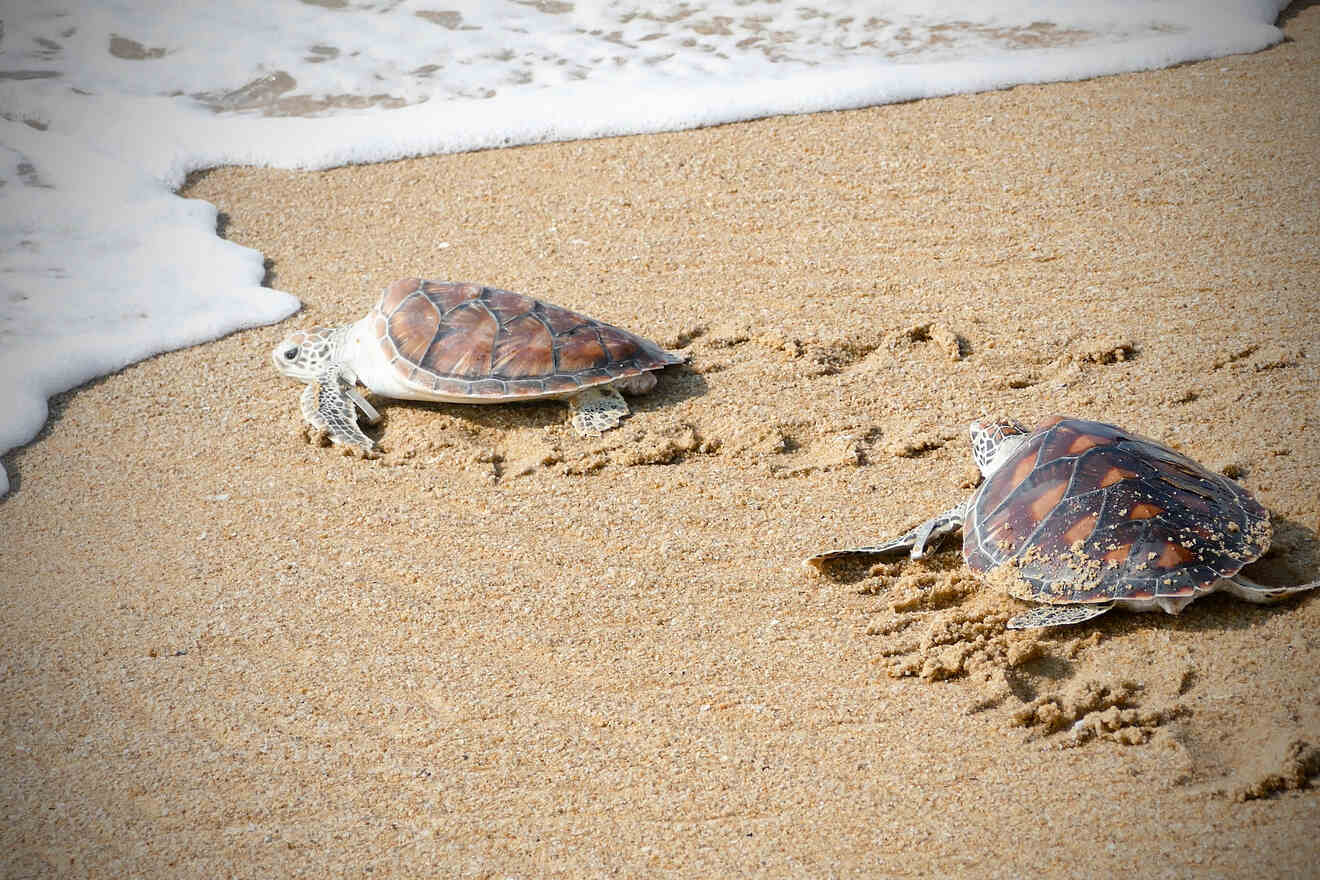 If you want to witness a pure and natural phenomenon, join this tour in Zihuatanejo. They will pick you up from Troncones (25 mins drive from La Saladita) and take you to a special beach where you will get to release newborn turtles and watch them return to the ocean.
This special event happens on Saturdays and Wednesdays all year round. After the turtle release, you will have time to eat something in a small local restaurant, famous for its delicious meat and seafood dishes, hosting live music often!
Price: $70
3.5 Learn to paint while drinking beer on a 2-day workshop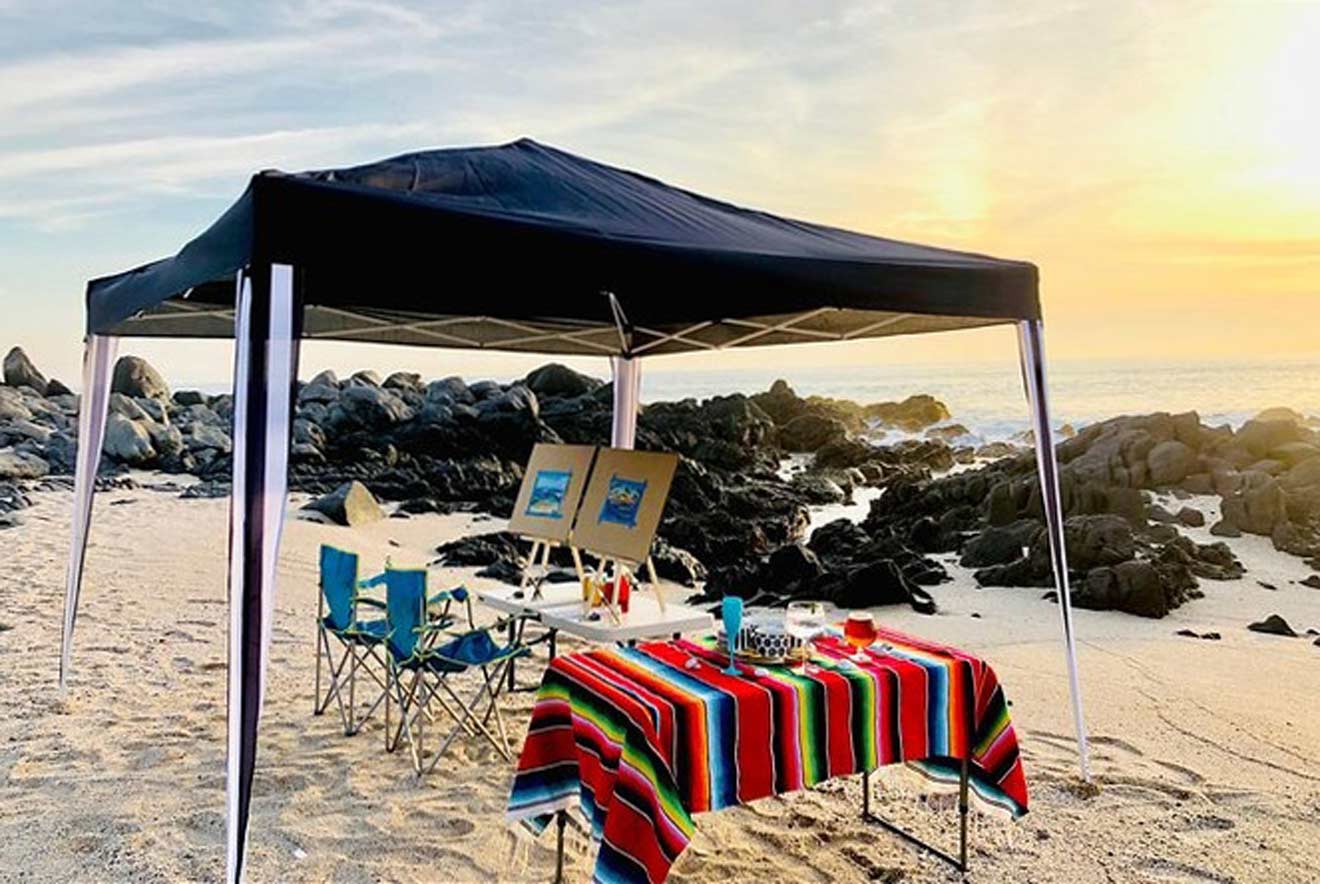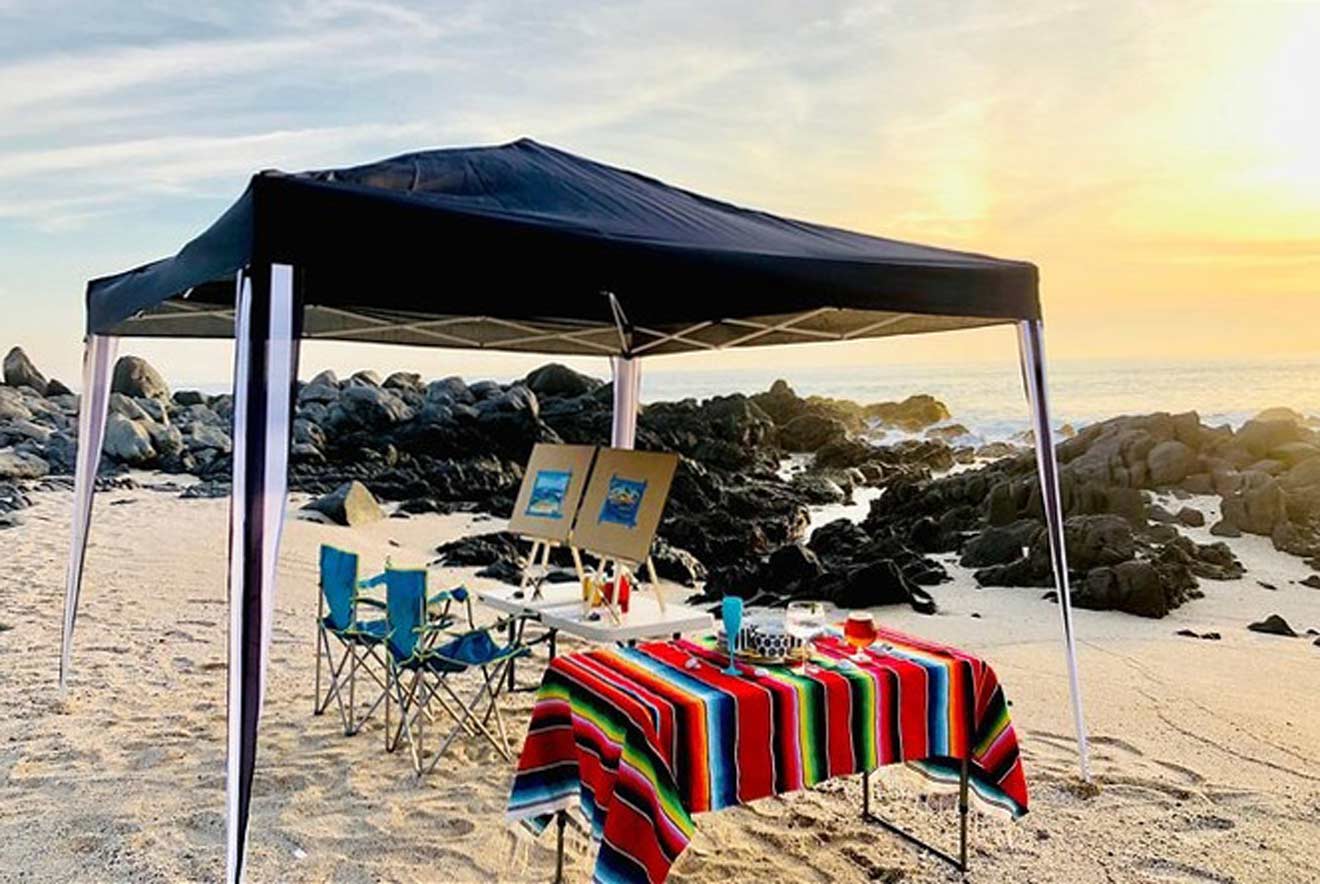 If you want to do something different during your holiday in La Saladita, join this 2-day workshop in Troncones. During this fun workshop, you'll gaze at Guerrero's Pacific scenery, practice your painting techniques, and enjoy locally brewed craft beers!
On the first day, they'll pick you up in Troncones and bring you to the waterfront to enjoy a mimosa and teach you how to paint clouds and seascapes. On the second day, you'll test your techniques and create your own landscape, and indulge in a craft beer tasting right after!
The great thing about this workshop is that even though it's 2 days, you can still stay in La Saladita and just commute the 30 mins both days.
4. Where to stay in La Saladita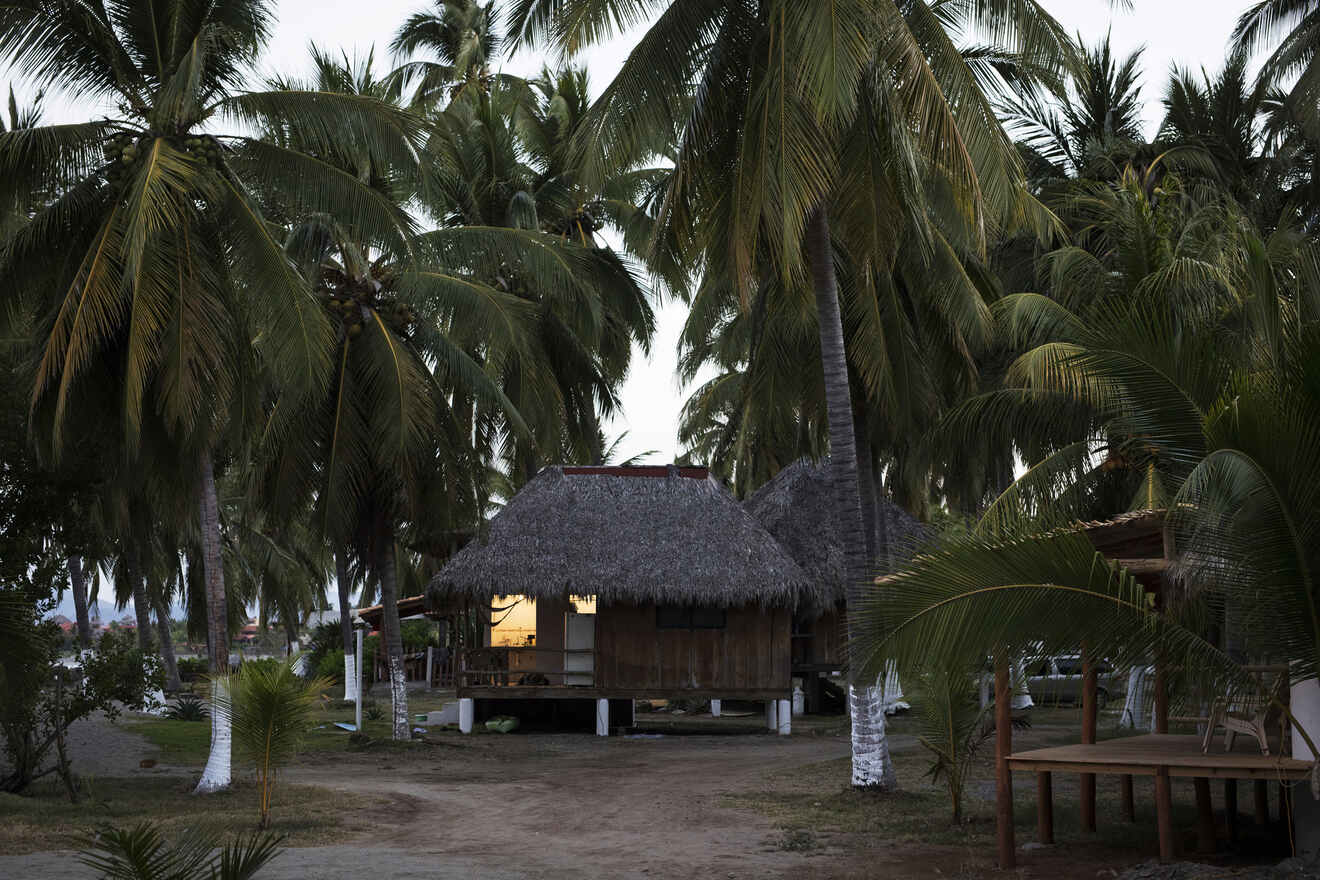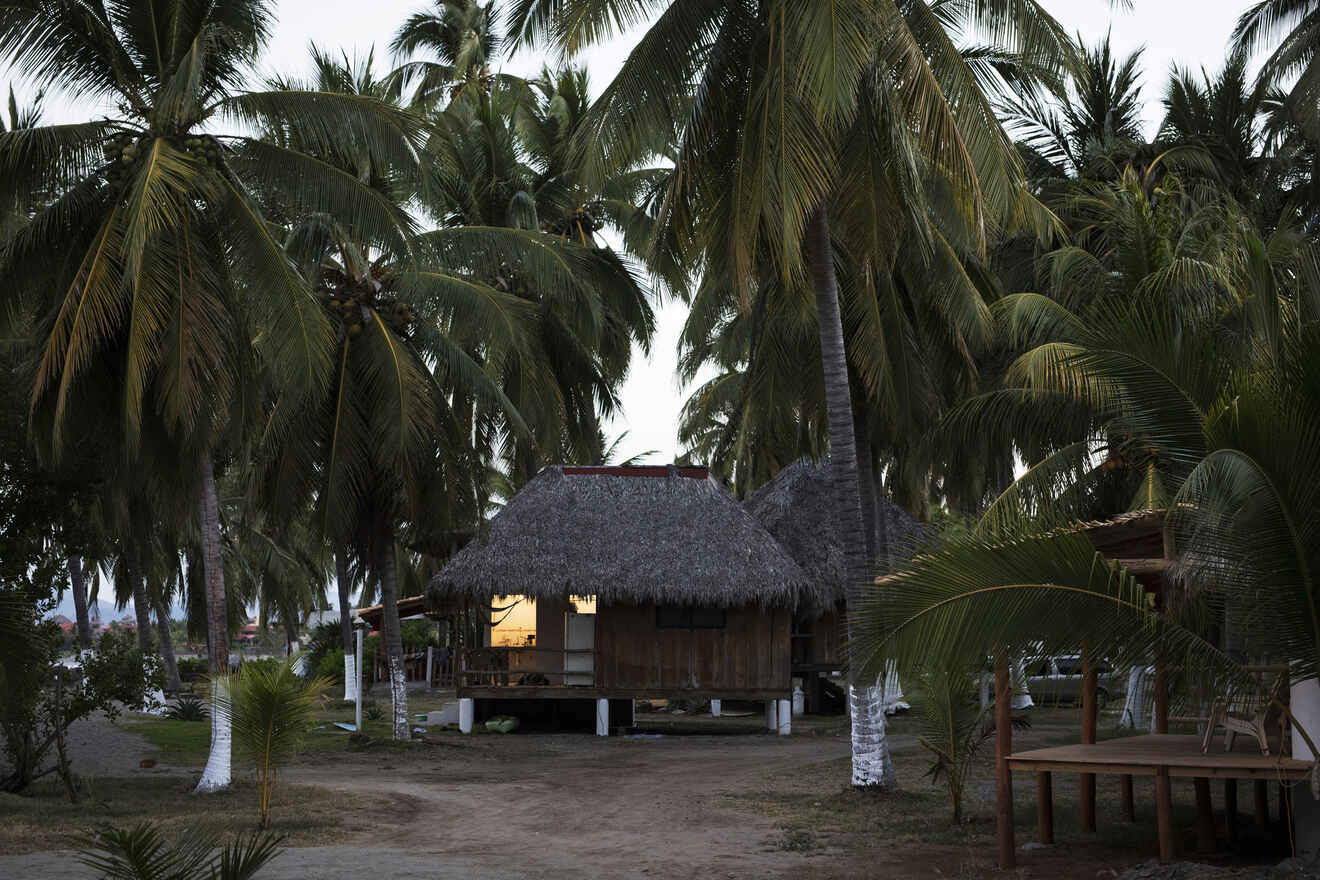 Even if La Saladita is a pretty small village, there are some good options for you to stay in, from surf houses to apartments and holiday homes.
I personally rented a room right on the beach, but again you cannot book it online (I had to talk to people there to find this), so I gathered here below a list of the best accommodation options in La Saladita that you can actually check out and book before your holiday!
Below you will find some options in La Saladita and Troncones, which has a few more options that you can book in advance.
La Saladita accomodation
The accommodations in La Saladita are all in the mid-range of prices, and booking a room or apartment for one night will cost you from $60 to $150.

The hotels below are ordered from the most expensive one to the least:
Chucho Saladita Surf School – Chucho is a surf house and school (offering rentals), featuring beautiful oceanfront rooms with access to a shared kitchen and a rooftop terrace where you can do yoga or gaze at sunsets. You can either book a room for about $60 a night or a surf package including accommodation, surf classes, meals, yoga, and other activities, but they're available only at certain times of the year!
Villas Jaqueline – If you are going to La Saladita with a group of friends or with your family, check out these unique beach houses with direct access to the ocean. They're all fully equipped with a kitchen and private bathroom, air conditioning, and stunning views of the water. Prices start from $100 per night for 2 people.
Casa Esmeralda – This beautiful house is perfect for a quiet get-away on the beach, offering apartments on each floor with private bathrooms, kitchens, bedrooms, and entrances, all of them with access to a big garden with lounge chairs, hammocks, umbrellas, picnic tables, and an outdoor shower. The most economical one starts from $65 per night.
Hotels in Troncones
Under 30 mins drive from La Saladita you will find Troncones and Playa Majahua. The two have many more accomodation options that you can book online and a lot more facilities when it comes to groceries and shopping etc.
So if you prefer to stay somewhere with a few more facilities, and a bit more modern hotels, you can easily commute to La Saladita for your surf breaks!
These hotels are also listed in descending order from the most expensive rooms: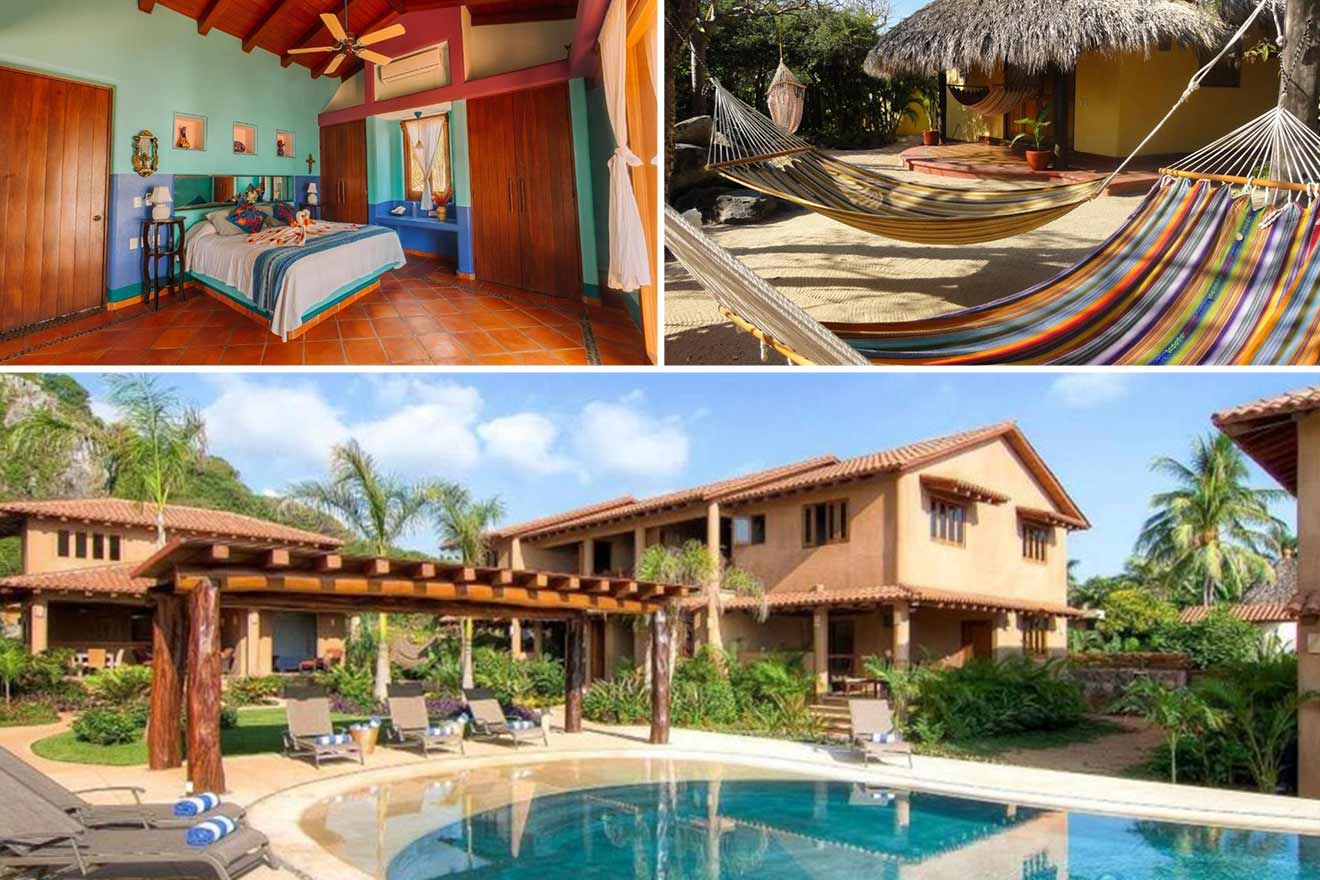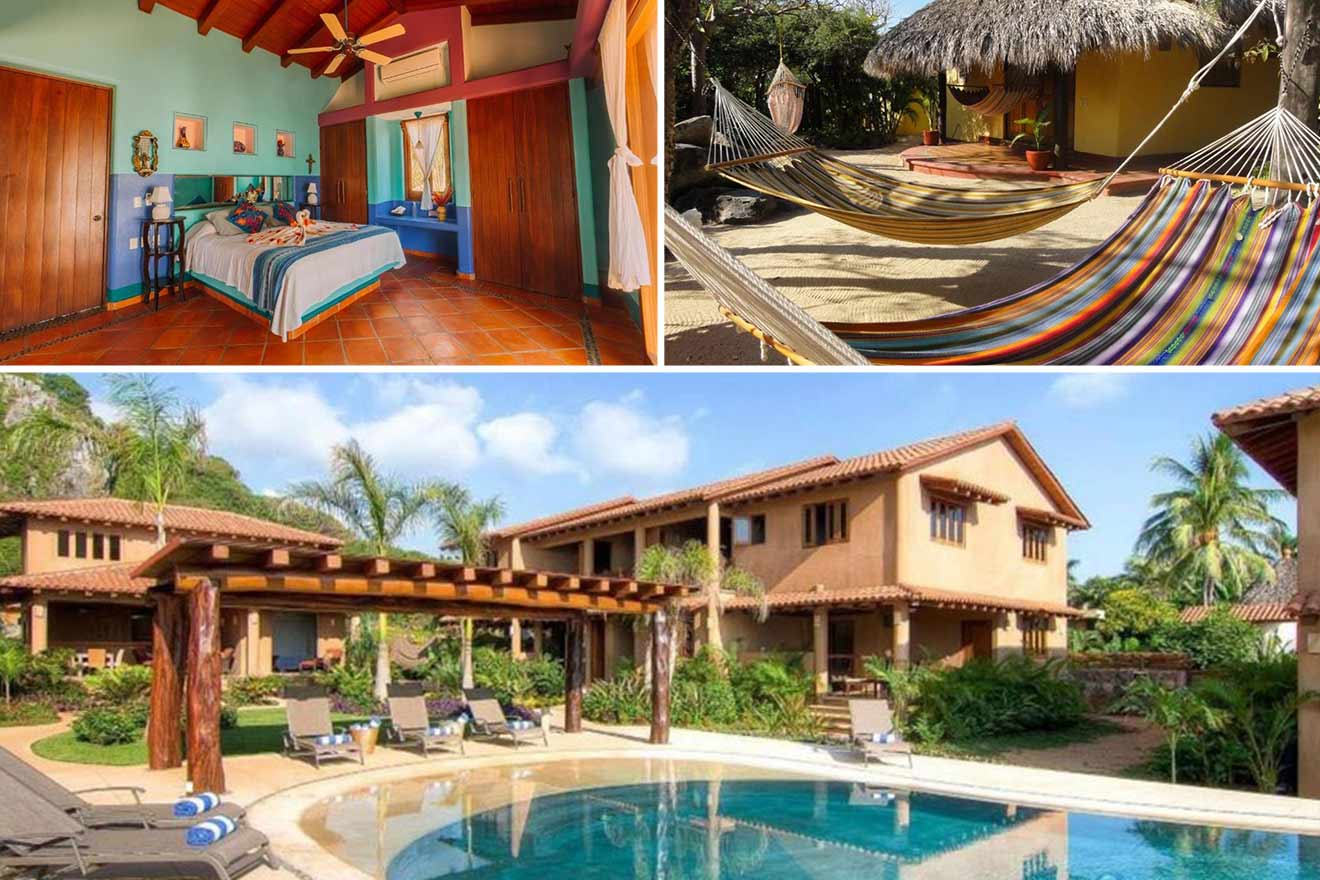 Luxury ($140 and up)
The Resort at Majahua Palms – This luxury resort has a restaurant, outdoor swimming pool, a bar, and garden in Troncones while offering amazing rooms for your stay! All the suites have a balcony and pool view, a private bathroom, and access to room service, plus the area is popular for hiking and horse riding.
Las Villas, Villa Alegria – Check out this amazing 2-bedroom apartment located in Troncones, hosting up to 5 people, perfect for a vacation with family or friends! Here you'll have access to a big patio, a beautiful pool, a fully equipped kitchen, and a sun terrace. Plus, you can go hiking right in the surrounding area!
Hacienda Eden – Check out this hotel located in Troncones, here you'll have access to many outdoor sports like hiking, snorkeling, and cycling. The property also offers amazing facilities like a restaurant, bar, a garden, and a private beach area, so you can relax after engaging in all the cool activities!
Mid Range ($60 – $120)
Tres Mujeres Hotel – This amazing 5-star hotel in Troncones provides spacious rooms with private balconies, a seating area, and breathtaking ocean views. Here you can cook your own meals in the shared kitchen, relax in the garden or swimming pool, and even bring your four-legged friend with you (it's pet friendly)!
Budget (up to $50)
Troncones Point Hostel – If you want to be literally a few steps from Troncones beach and its amazing surfing, this budget-friendly hostel is for you! Here you can choose to stay in the private rooms and dormitories. In both cases, you'll have access to a shared kitchen and a garden with hammocks where you can chill after an intense surf session.
Roberto's Bistro – Situated right on Traoncones Beach, this hotel offers a turtle sanctuary and a bar restaurant with evening entertainment… So you'll have something to do all day long! And wait until you see the amazing rooms, each one opens onto a terrace with a hammock and sea views!
5. Where to eat in La Saladita
With all the sports you will do in La Saladita, you will certainly want to recharge your energy with some delicious food! Luckily for you, there's no shortage of amazing restaurants there
(they're actually not that many, but the ones available are all good!).
So, let's check out together my absolute favorite places to eat in La Saladita:
6. Important things you should know about La Saladita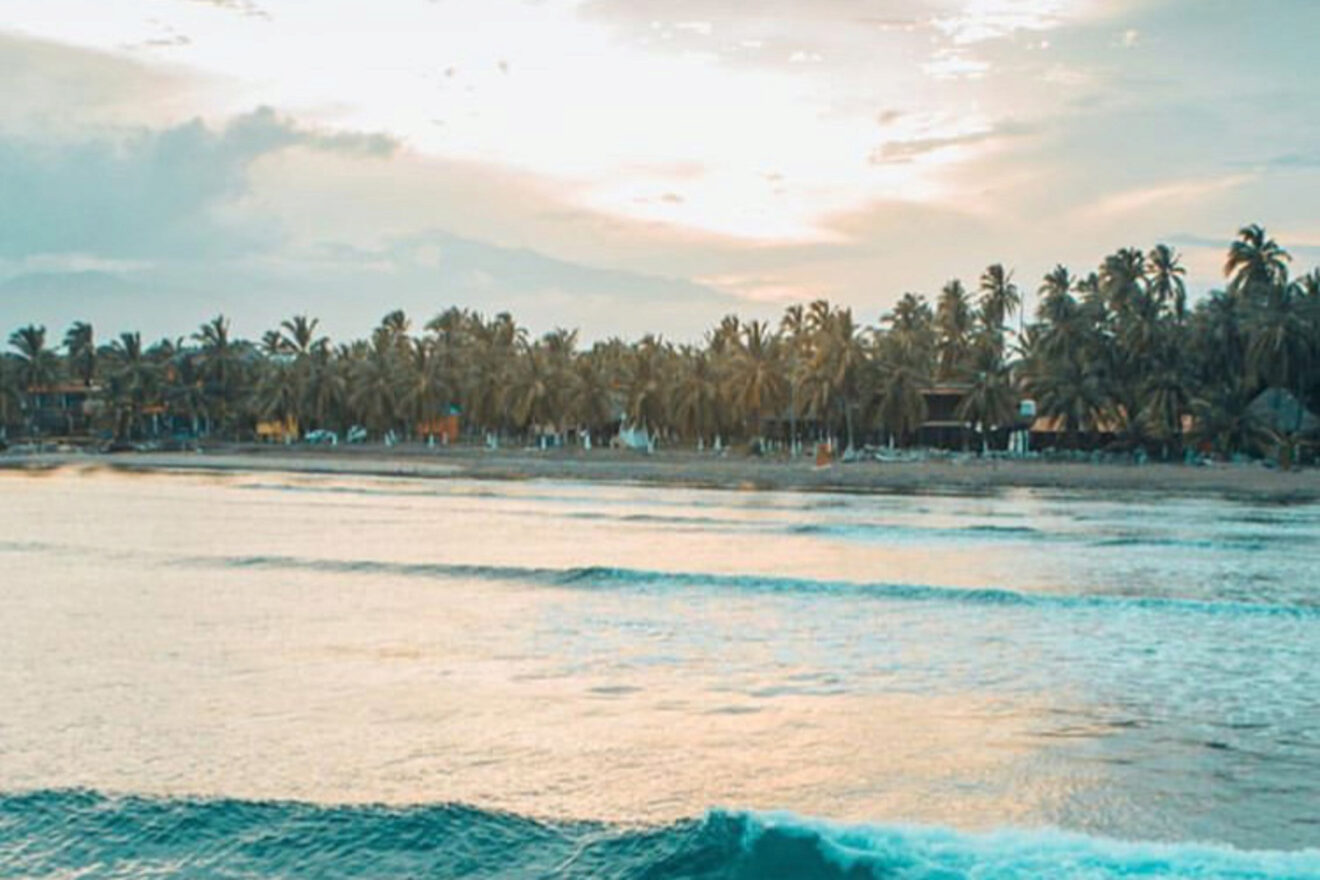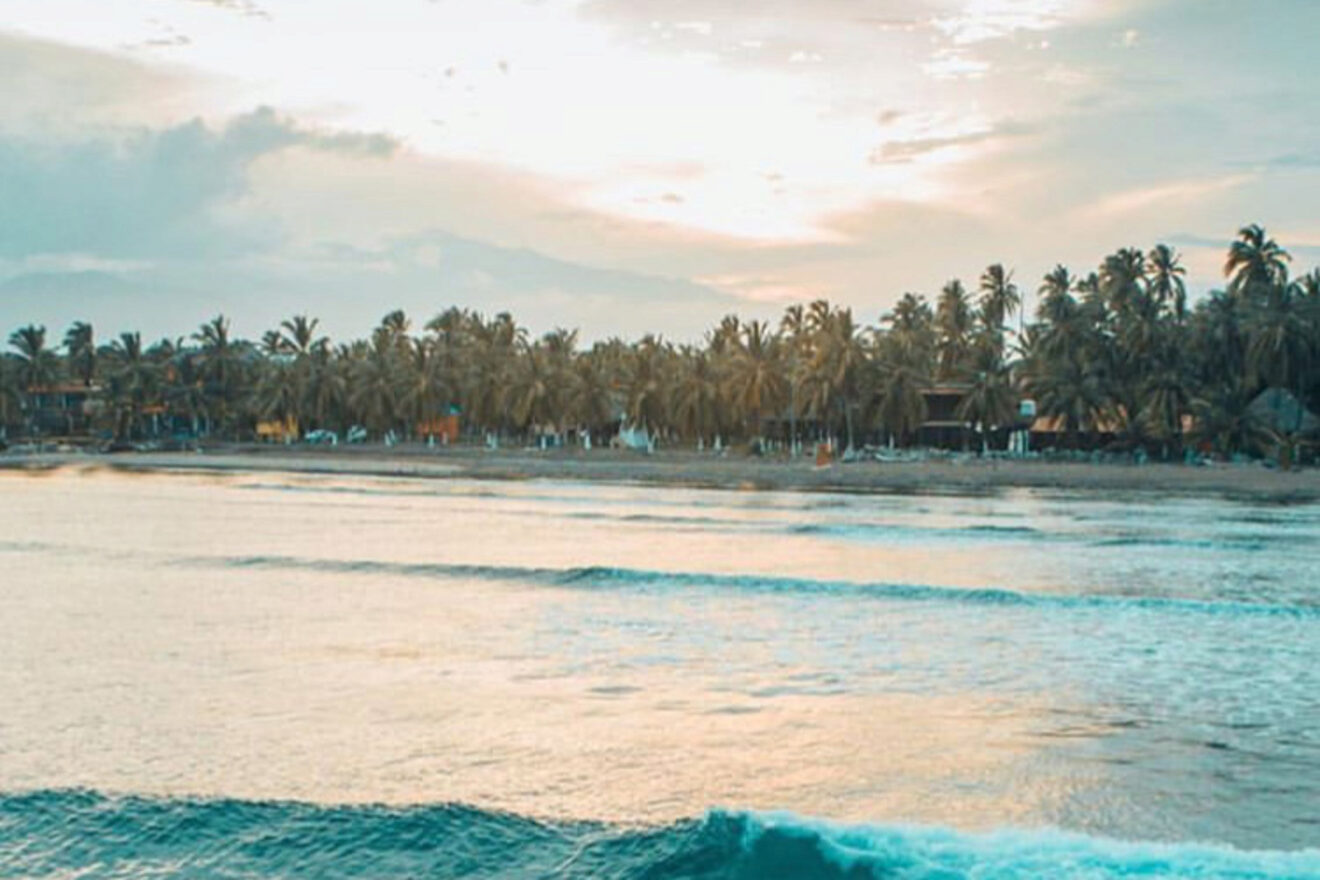 Even though it is becoming more and more popular among surfers, La Saladita still preserves quite an untouched nature, so you literally won't find anything other than holiday rentals, surf schools, and restaurants or bars.
So that means that packing for your trip takes a little extra thinking. So I've made a list of some important things I think you should know before going there, so you come prepared!
Language – Even if most of the restaurants and apartments there are owned by locals, there are more US tourists than Mexicans in La Saladita, so most of the people speak English, and you can get away with very little Spanish!
Supermarkets – There are no supermarkets in La Saladita, but sometimes some locals come to the village by car or scooter selling tortillas, fruit or ice cream, but you cannot really survive with this! The closest supermarket is at Los Llanos, about a 10-minute drive from La Saladita, but it is small and sells few things. Otherwise, if you want more choices, you need to go to Zihuatanejo (a 1-hour drive!).
Cash – Even if in some restaurants you can pay with a card (like in Mareta), most of the surf and accommodation rentals will ask you to pay in cash, so make sure you bring as much money as you think you need for the period of time you'll stay there because there are no ATMs. If every day you rent a board, eat at the restaurant and maybe do a surf class, you'll spend around $100 a day (accommodation included).
ATMs – Don't expect to find ATMs in La Saladita. The closest machine lies in the supermarket at Los Llanos, a small village about a 10-minute drive from La Saladita.
Internet – In La Saladita, you can get a signal in most of the spots, but if you don't have a local sim card, you can use the wifi of your accommodation (they usually provide it) or go to Mareta, offering the best wifi in town for free. You can easily work remotely there!
P.S.: Sometimes, when it rains, the village stays without electricity for at least half a day, so you won't be able to connect during this time.
Water – In La Saladita, as almost everywhere in Mexico, you cannot drink water from the sink, and it is better if you also wash your teeth with bottled water… Otherwise, you can get really sick, and the closest hospital is in Zihuatanejo!
Prices & bartering – Since most of the people in La Saladita are tourists, prices are quite high compared to the rest of Mexico, so I suggest you try to barter for surf rentals, accommodation, and taxis.
Sunblock – The sun in La Saladita is extremely strong. Even though I was in Mexico for months, I got immediately burned the first time I got into the water, so I suggest you use a LOT of sun cream and avoid the peak hours.
Pharmacies – Again, there are no pharmacies in La Saladita, so either you bring all your medicines with you, or you need to go to Los Llanos, a 10-minute drive from the village.
7. What to bring to La Saladita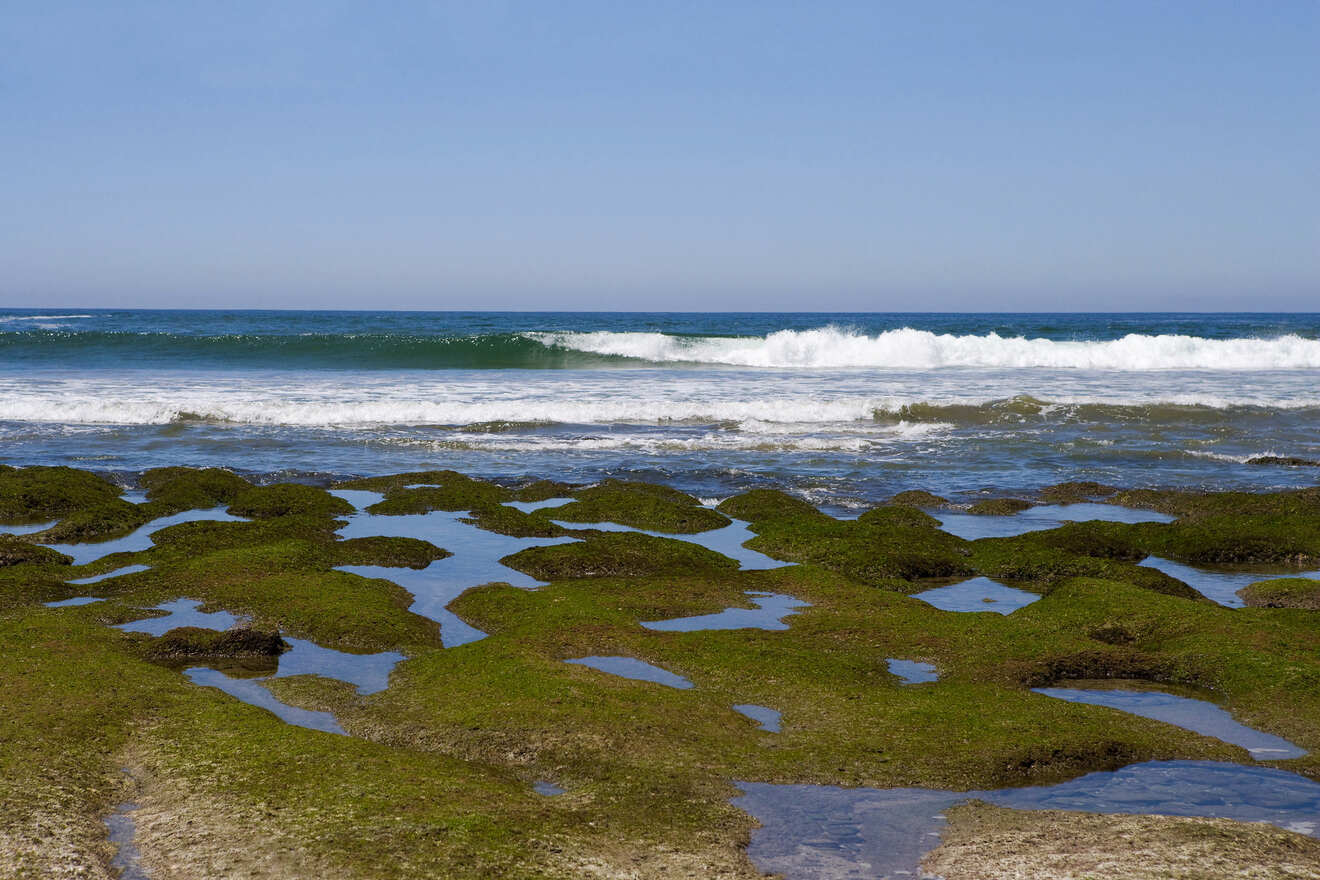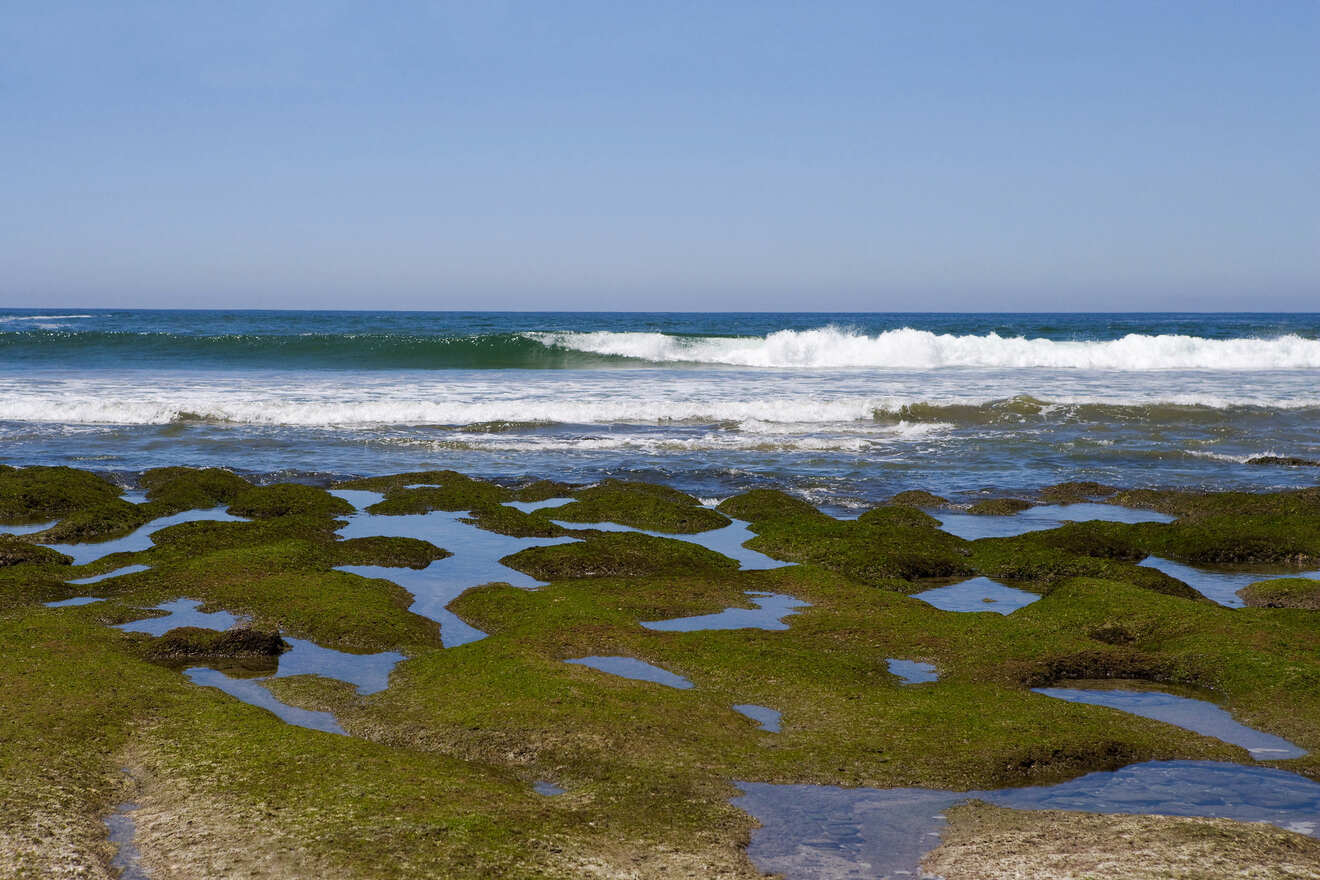 As a consequence of what I just mentioned in the previous section, there are some things you cannot forget to bring to la Saladita, so I made you a quick list to just remind you that
Surfboard: If you have it, you won't waste money renting it!
Mosquito Repellent: the mosquito situation is not that crazy, but you're still on the beach!
Medicines: bring your medicine so you'll save yourself a trip to Los Llanos
Tons of sunblock: use it every time you get in the water, regardless of how tanned you are!
Groceries: make sure you do a big shop at Zihuatanejo before getting to La Saladita, so you don't have to worry about this during your holiday
Money: take with you as much cash as you calculated to spend during your stay, most of the places don't accept the card!
| | |
| --- | --- |
| 🤩 Range of activities: | Small |
| 👪 Family-friendly score: | Medium |
| 🏄 Best free activity: | Surfing |
| 🌊 Best wave: | La Saladita |
| 🏖️ Best surf nearby: | Troncones |
| 🏨 Best place to stay: | Chucho |
| 🐟 Must try food: | Ceviche |
| 📅 How many days: | 3-4 |
| 🍽️ Dinner for 2: | US$20 |
FAQs about La Saladita, Mexico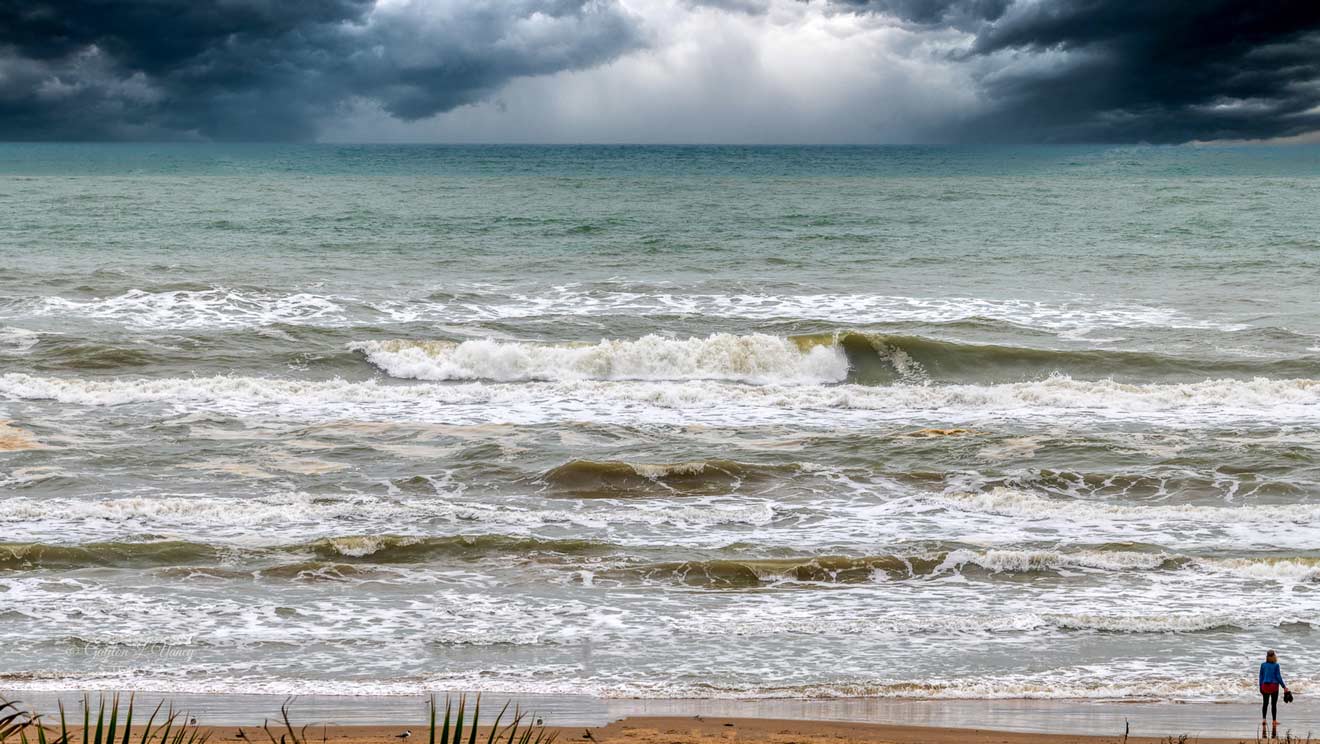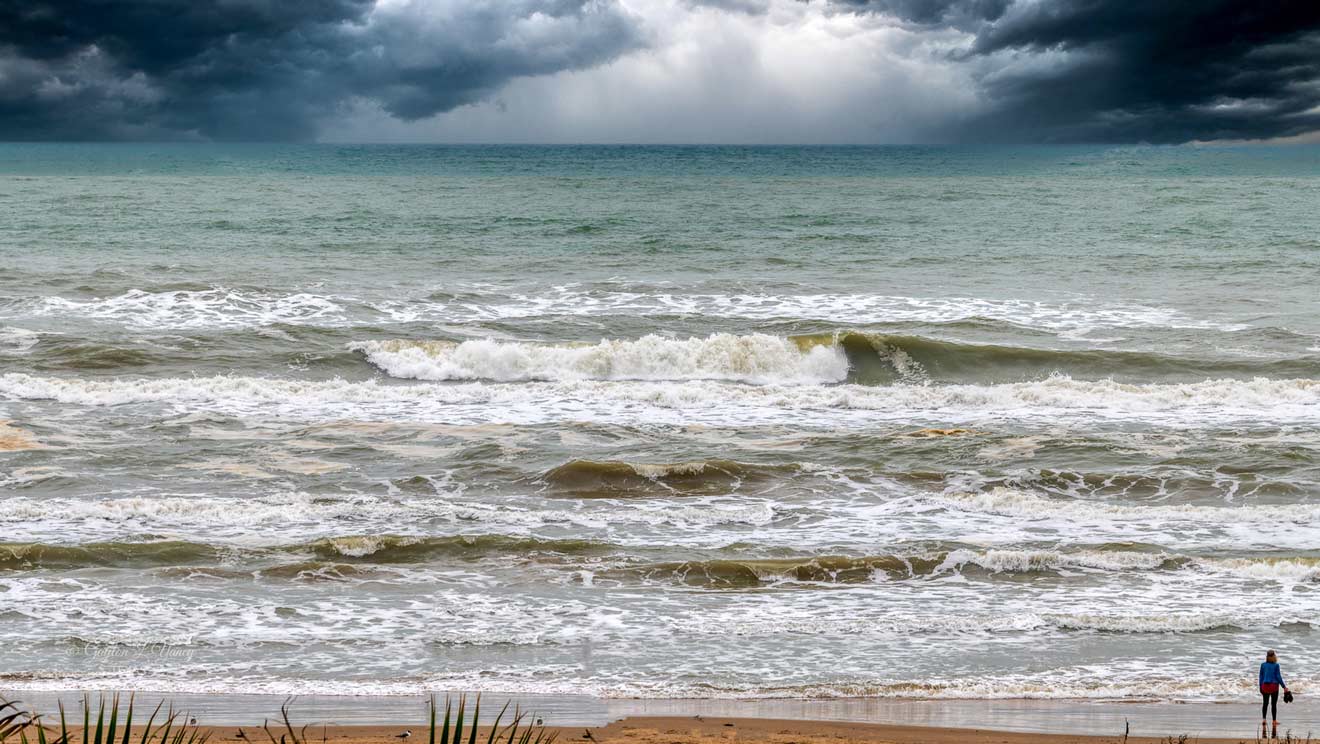 🏄 Is La Saladita, Guerrero, Mexico, a good place to surf?
Yes, La Saladita in Guerrero is a great spot to surf, especially for longboarders, offering a premier left-hand point break, which is also one of the longest waves in Mexico (gentle and mellow).
🚕 How to get to La Saladita, Guerrero, Mexico?
The best way to get to La Saladita, Guerrero, Mexico, is to fly to Zihuataneco from Mexico City, and then take a taxi (or rent a car) and get to the village in 1 hour.
🏖️ What are the best things to do in La Saladita, Guerrero, Mexico?
The best things to do in La Saladita, Guerrero, Mexico are surfing either on La Saladita beach or the other nearby beaches like Troncones and El Rancho, doing yoga, relaxing in the natural hot springs, or even going horse riding!
🏨 Where to stay in La Saladita, Guerrero?
Conclusion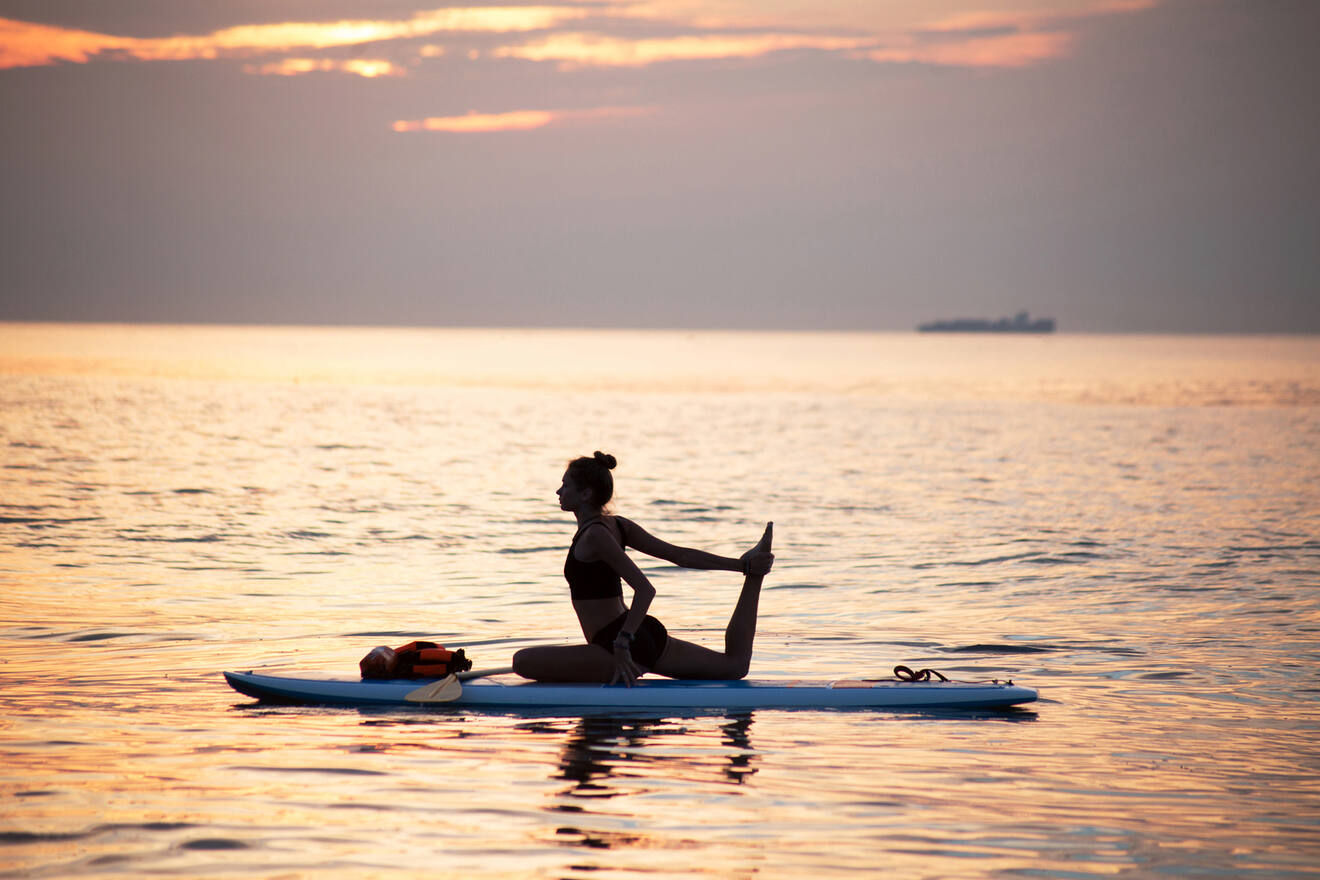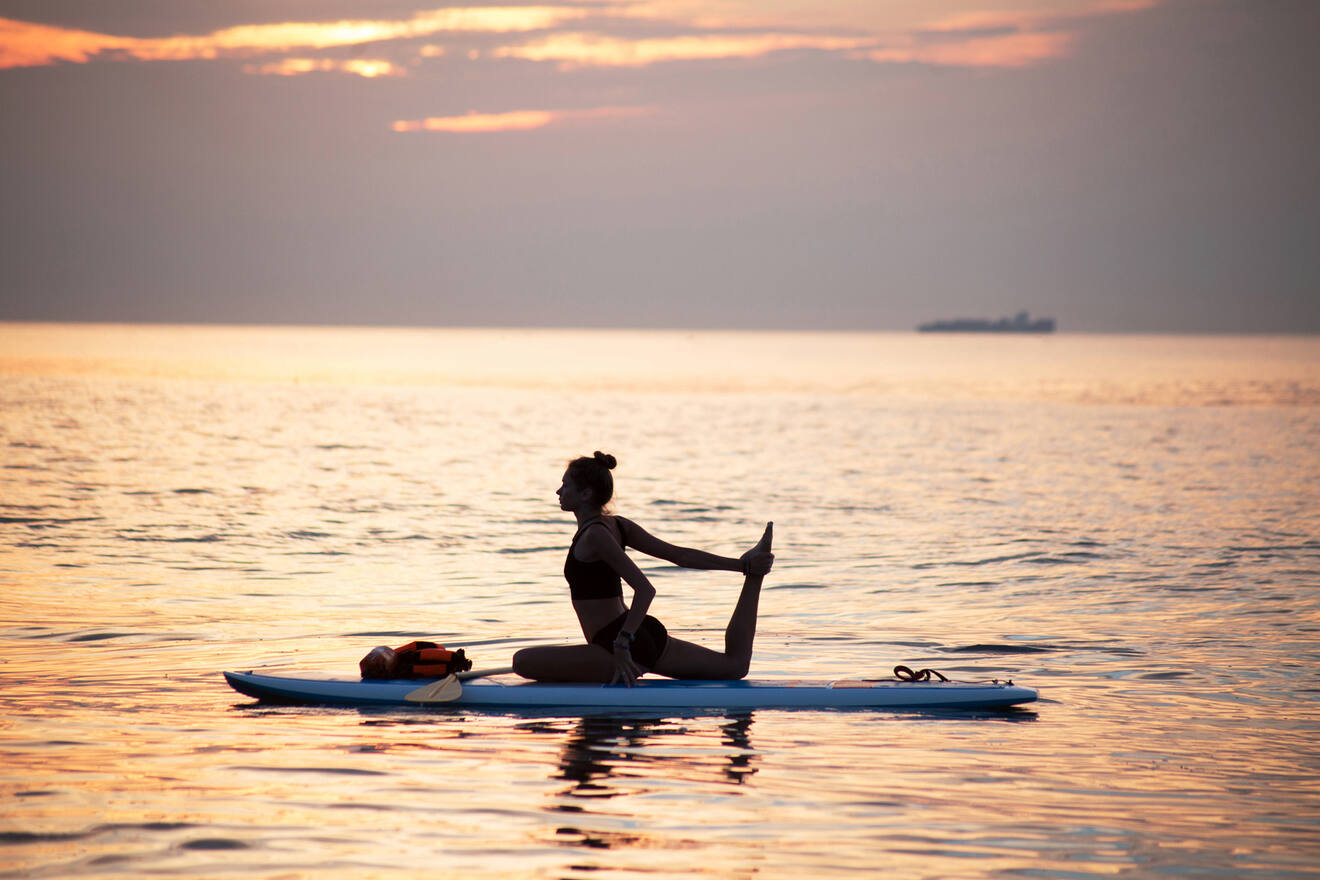 Well, here we are at the end of my travel guide to La Saladita, a hidden surfing paradise in Guerrero, Mexico. Now you know everything you need to know about the waves there, the nearby beaches, other things to do when you're not catching waves, how to get there, and much more.
Now you've got all the info you need about La Saladita, check out my guides to these amazing spots to surf around the world like Chacahua, Mexico, and Taghazout, Morocco, both offering great waves and other fun things to do!
I hope you found this post useful and that it helped you decide if it's the right place for you. And if so, remember my tips before going there!
It was amazing to share with you my experience and memories. I hope you enjoyed my blog as much as I did writing it for you, and I am here to answer any question or doubt you might have, just drop them in the comments below.
For now, I wish you an amazing holiday and to catch many waves!
Elena
---
Pin it for later!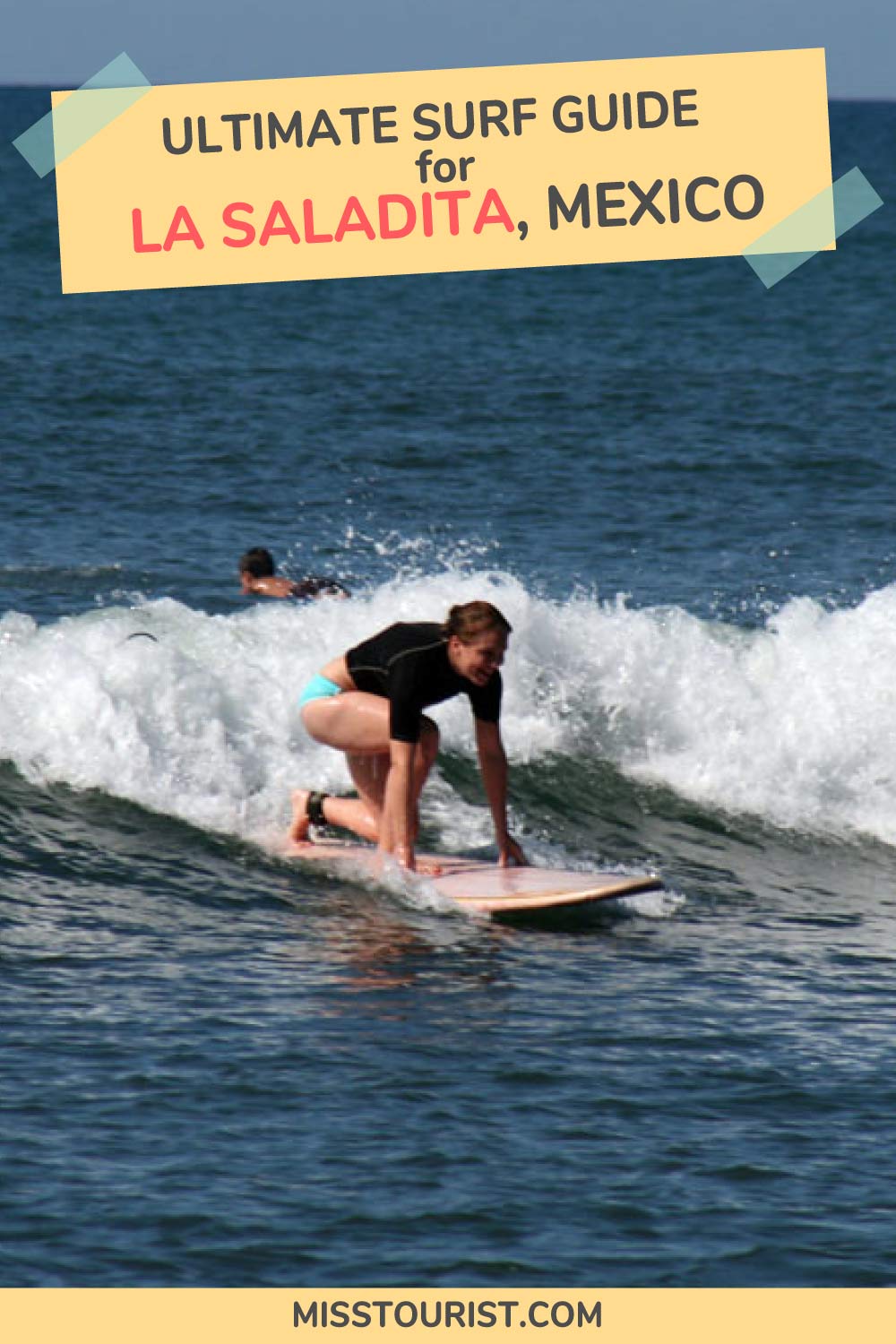 Pin it for later!