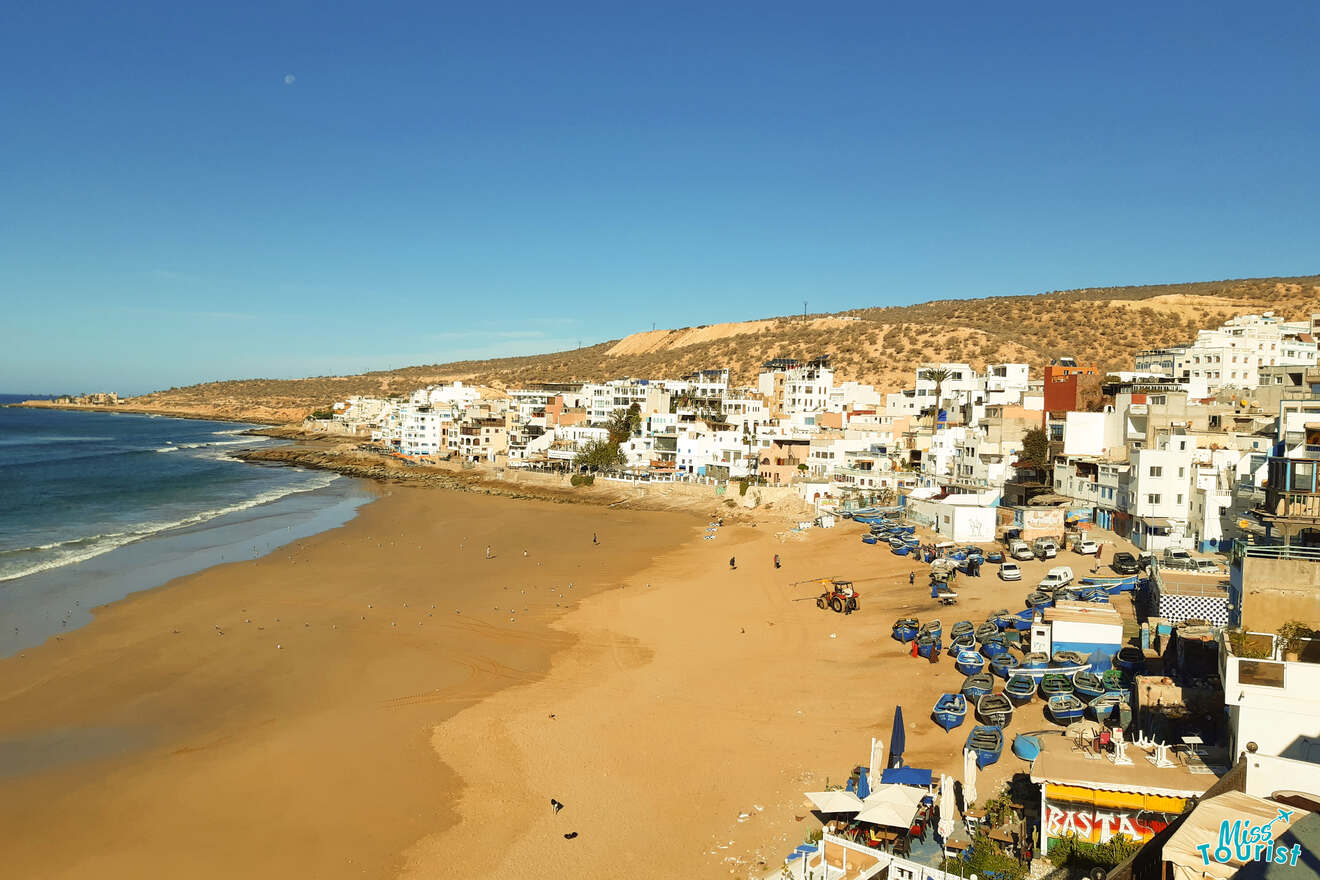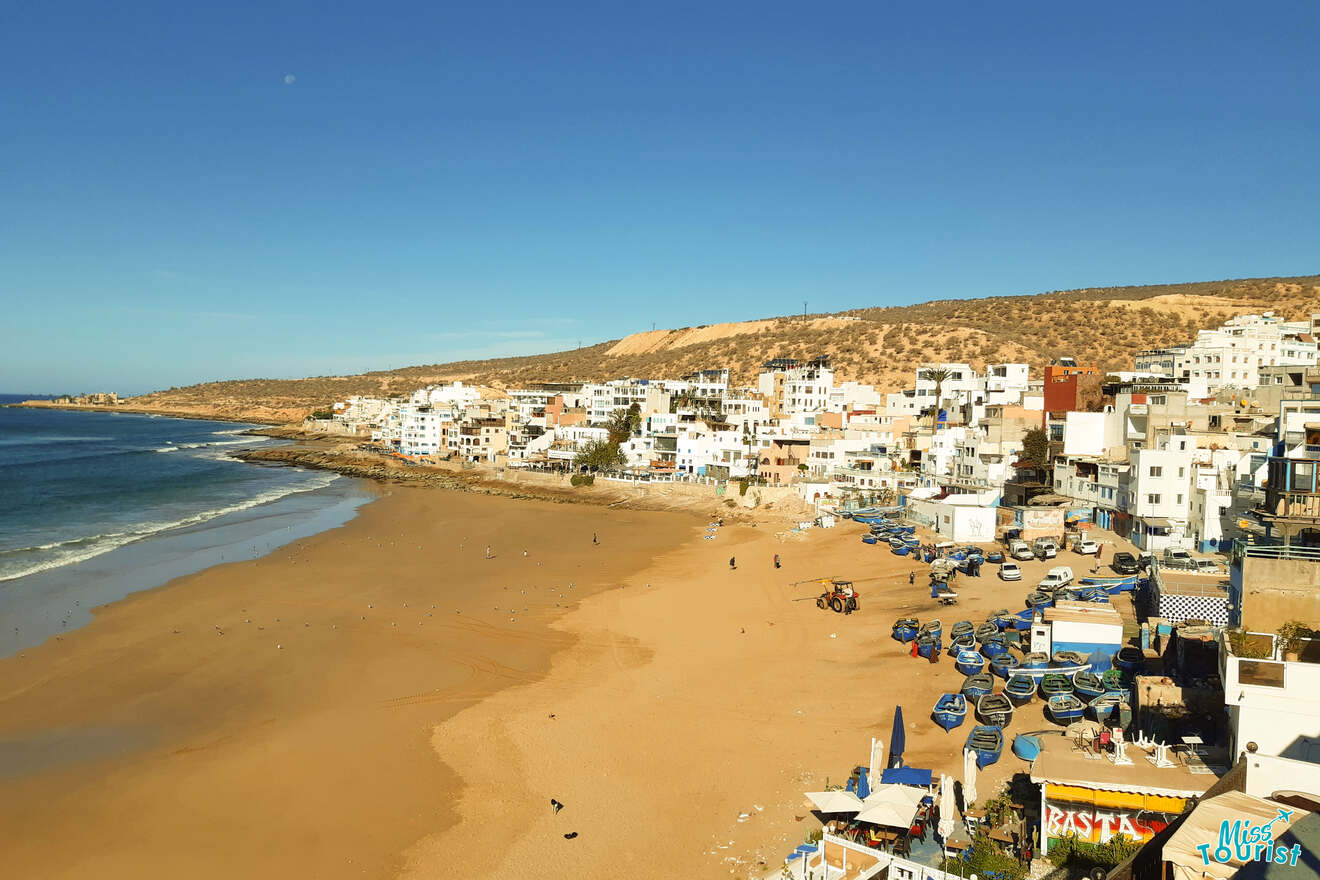 Among all the capitals of surfing, I would never have expected to find the best spots in Morocco, in a former fishing village! I am talking about surfing in Taghazout (pronounced as "Ta-ga-zut"), a small and charming town on Morocco Atlantic coast, just north of Agadir city.
What makes Taghazout a paradise for surfers is its perfect position right in the middle of countless surf breaks for any level and experience. From here you can literally visit ~20 beaches and decide, based on the conditions, where you want to catch some waves!
I've been there specifically for surfing and I can tell you that spots around are totally worth it: trying so many different beach breaks (beach/ reef/ point breaks), my skills definitely improved here, and I had SO much fun!
But If surfing isn't your thing or you're not going to Morocco only for that, no worries: there are many other cool things to do in Taghazout! Yoga retreats, great hikes, camel rides… I will cover everything in section 3!
Are you ready to have some of the best surf sessions of your life, and finish drinking a hot mint tea on the beach, surrounded by camels? Then let's start a surf trip in Taghazout!
Ready? Let's go!
1. Taghazout surf season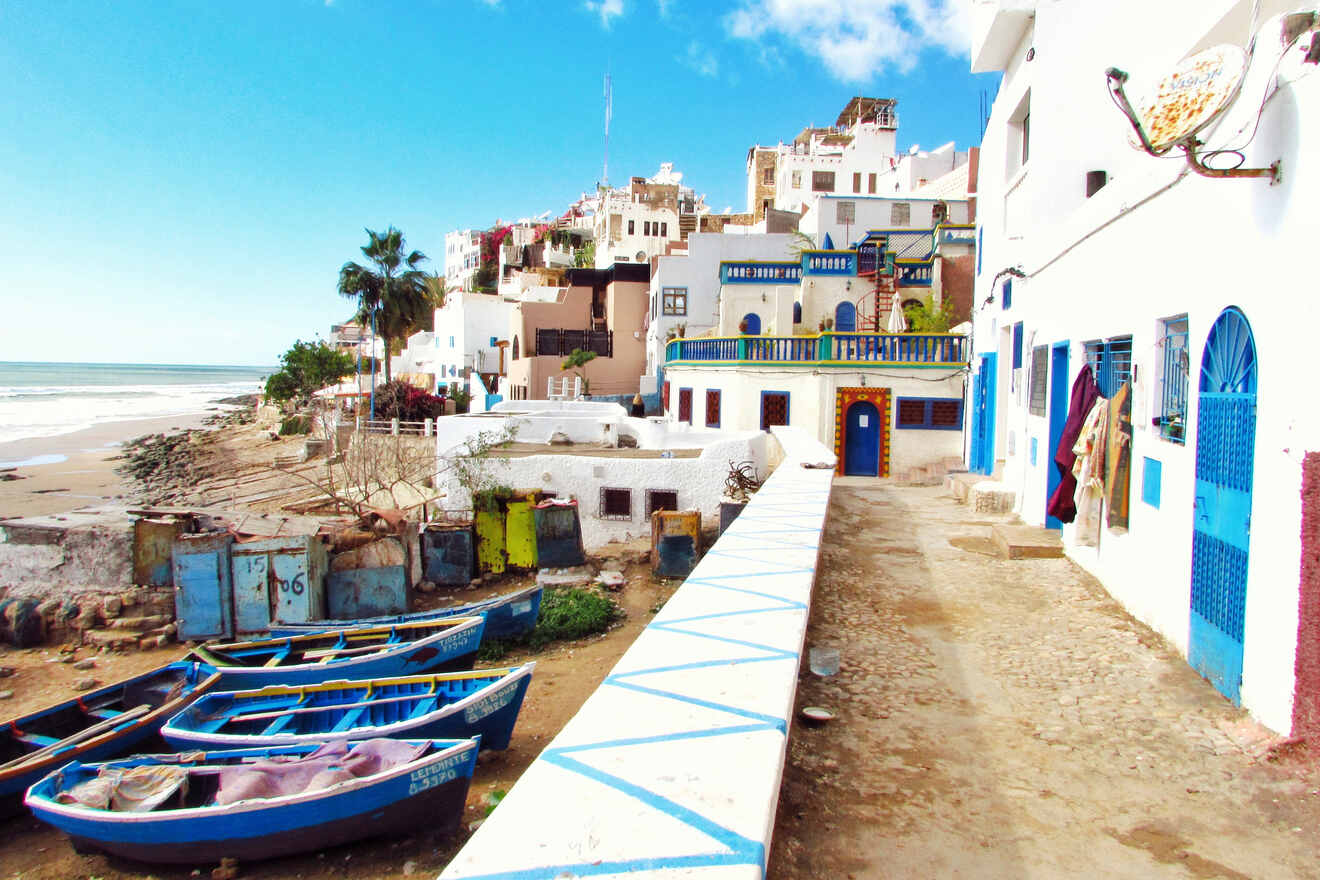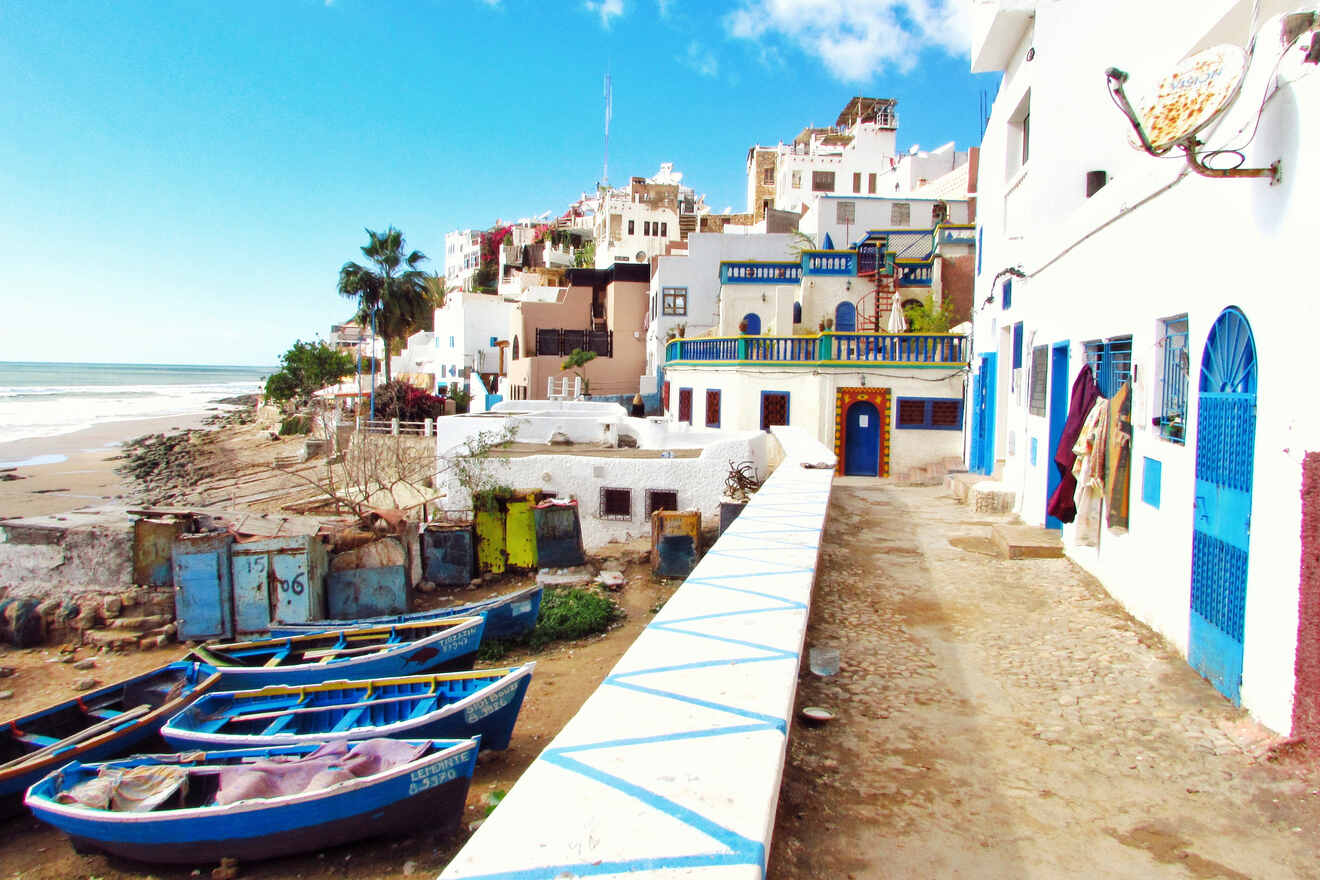 Before starting to hit the best surf spots in Taghazout, it is important to understand WHEN is the right season for waves because unfortunately, they don't last all year round.
There are basically 2 seasons in Morocco: winter (which, as you can imagine, is not the winter you're used to… we are in Africa!) and summer, and this also applies to surfing.
NOTE: Both in summer or winter months the water is verrry cold, so you will have to wear a wetsuit (and to paddle a lot to get warm!).
Winter
The surf season is happening during winter, so from November to March. Then Taghazout gets blessed by strong Atlantic swells and gives the surf breaks some good waves, reaching peaks of 12 feet (4meters) in December and January.
On some beaches this results in big waves and barrels (like in Boilers or Anchor point), in others, this means you'll have enough waves to practice your skills and not be afraid of drowning, like in Banana Beach… so no worries if you are a total beginner – there is a spot for everyone!
Summer
Summer on the other hand (April to September) is the low season for Taghazout surf, with high winds, strong currents, and gusts from the Sahara Desert… this basically means no waves.
Even if beginners can have some "good days" with small waves, they will likely be choppy and with lots of whitewashes. Well, whitewash is great to practice your take-off, but in the long run, you will want to advance and surf the so-called "blue waves" and they're rare during this time of the year!
So, in a nutshell, whether you're a beginner, an experienced surfer, or anything in between, I personally recommend you to go to Taghazout during the winter season: the temperatures are just perfect (outside of the water), and waves are even better! That's when I have been there too and I loved it!
If you have your holidays during the summer season and you really want to visit Taghazout, there are actually many other cool things you can do here, like going on a trip to Marrakech or Casablanca, but I will explain that further on in the blog!
2. Taghazout Surf Spots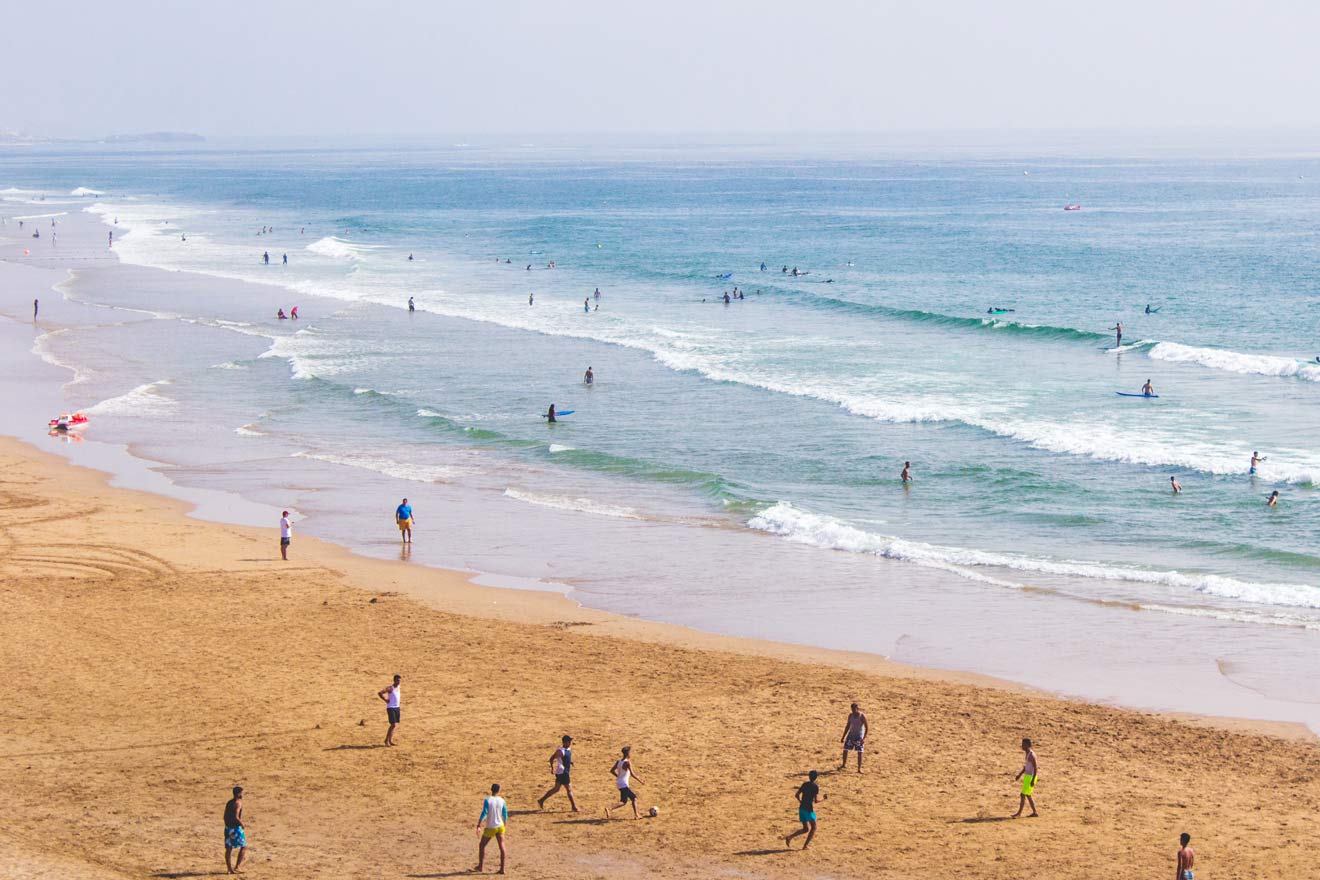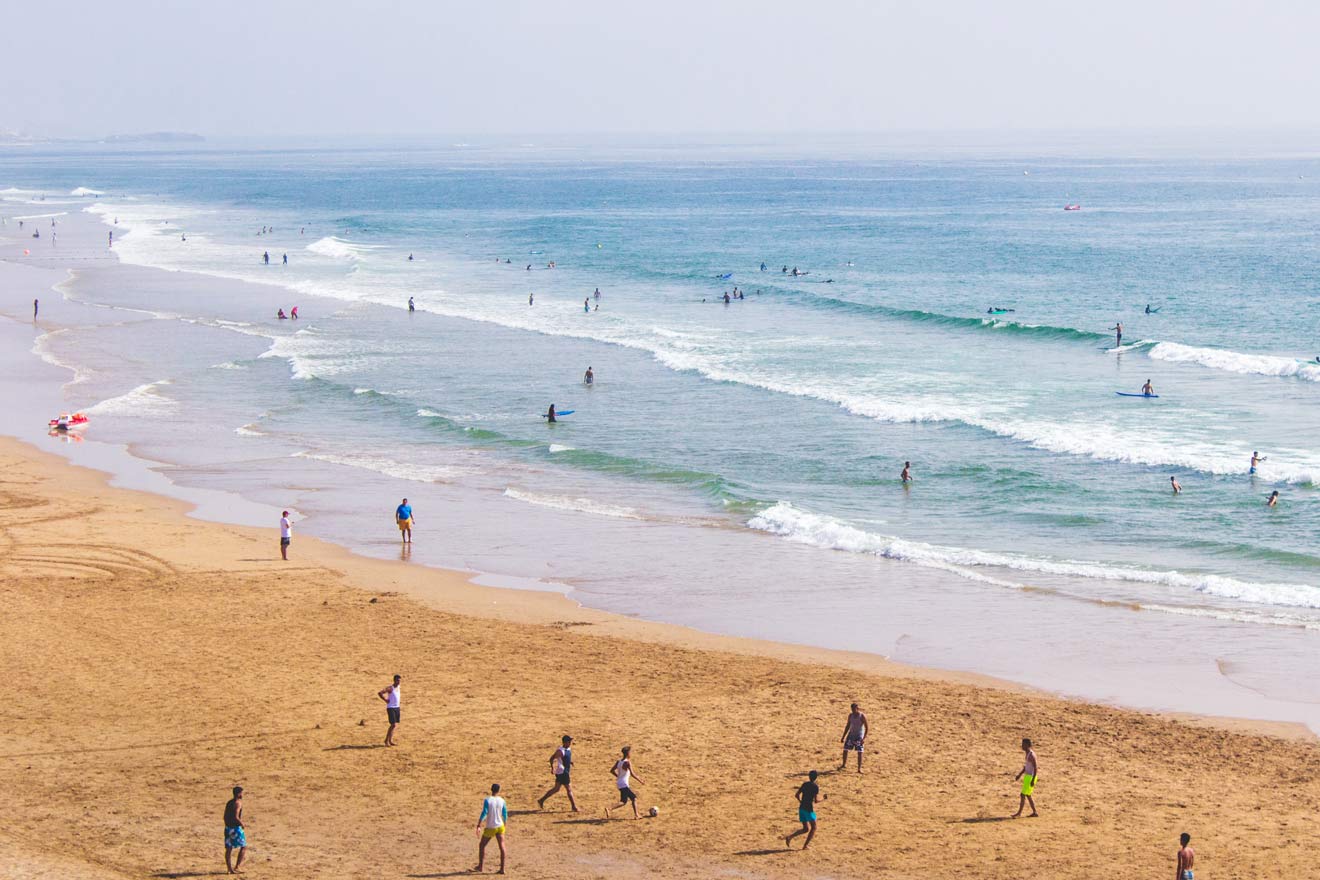 As I said before, the amazing surf spots around Taghazout will offer you all types of waves and breaks. Most of them are good for right-handers, but there are also some good lefts if you are goofy.
NOTE: to reach the surf beaches you will have to rent a car or to count on a surf school because they are all at least 15 minutes (to 1 hour) driving from Taghazout. In Taghazout beach (Panorama Point) most of the time there are no waves, except when the big swell comes, but in this case, the other spots work better!
I know, from the info of many of the surf guides this is not that clear, but it works like that… in 3 weeks of my stay, I was able to surf in Panorama only once!
Either you want to start surfing, you are a beginner-advanced, or you're looking for huge waves and barrels, there is for sure the right beach for you here. Some of them can be quite crowded, something that I personally hate, others are more quiet and hidden.
I selected the ones I've been to (6 to be exact) and I know pretty well (except for boilers, but it has to be on the list) so I can give you my honest opinion… Let's check them out together!
2.1 Killer Point
Killer Point is a point break located on the northern part of Taghazout, that I totally recommend for experienced surfers.
This spot is perfect for right-handers and it will give you some memorable long rides in the right conditions. The waves here are quite big and fast (too much for my level) and they can result in some good barrels.
Worried about the name? 😉 Well, the legend says that it comes from the Killer Whales that occasionally visit the area, but as far as I know, this doesn't happen.
But it might "kill" you if you're not in shape, that's for sure! The muscle-burner paddling that you will have to do to reach the point where the wave breaks, taking up to 20 minutes on the biggest days!
Also to reach the beach you will have to do a bit of a trek down the cliff… but both the efforts are definitely worth it if you know what you're doing (I wasn't, but it was still fun)!
If instead, you're looking for challenging waves without having to struggle that much, Anchor Point could be a great option, located just before killer point!
Perfect for: advanced surfers, right-handed, barrels
Best in: low tight
Cons: long paddle out, small trek to reach it
2.2 Boilers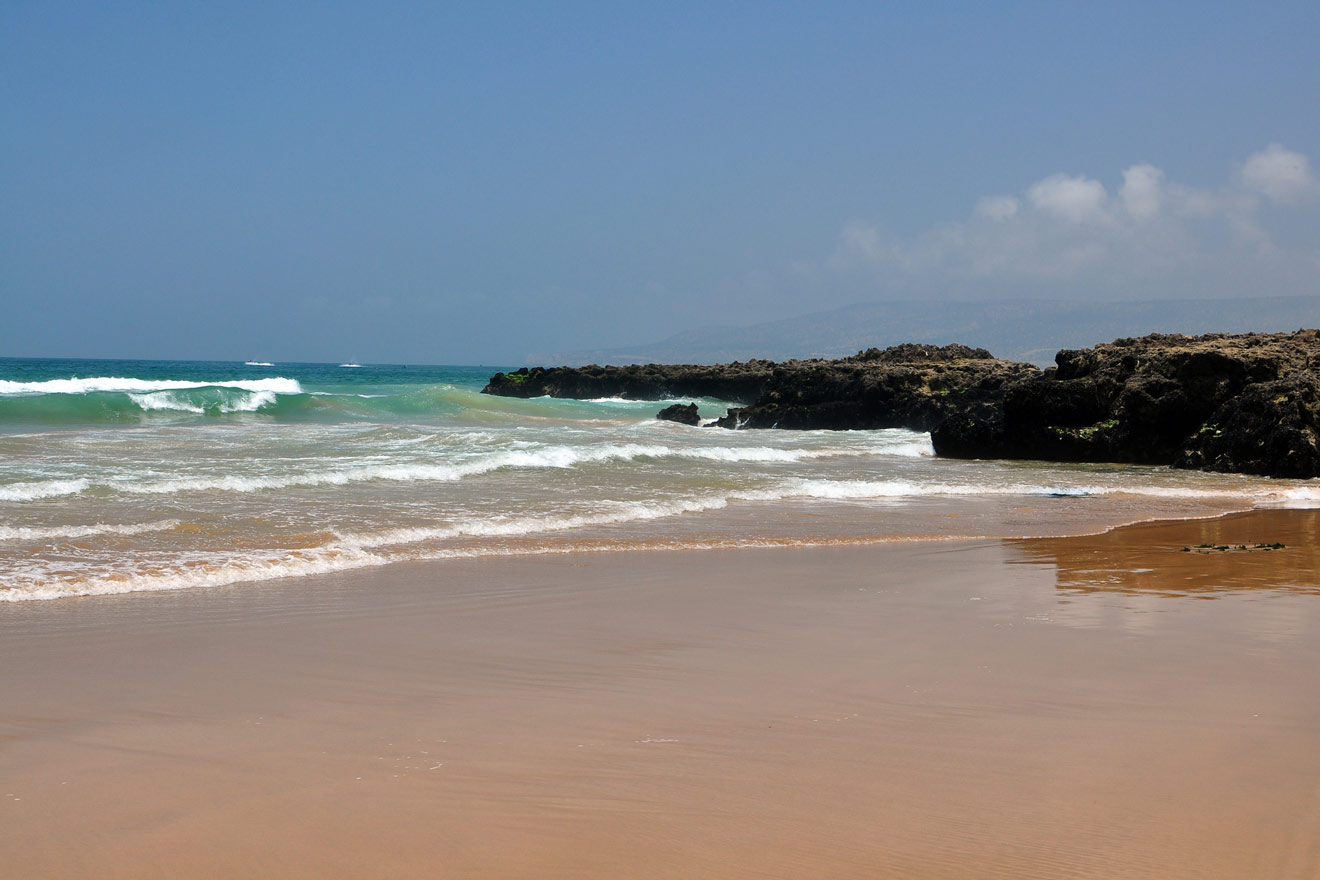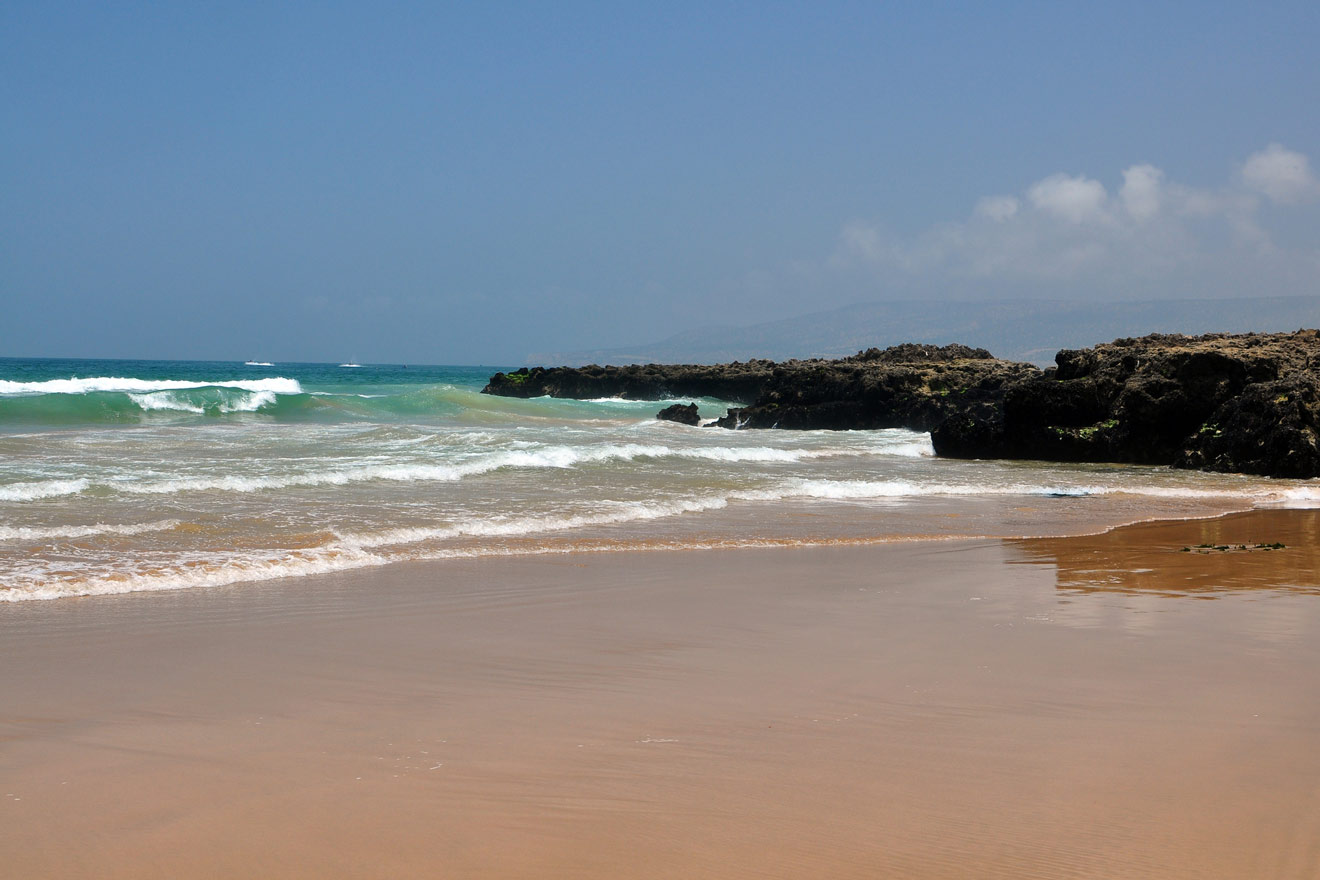 Boilers is a rocky reef break located the farthest north of the main Taghazout surf beaches. This spot offers fast right-hand waves, good for intermediate surfers or more advanced!
If you are heading to Boilers, you should have some skills of taking off very quickly, because the waves dangerously end up in a rusting shipwreck.
Like Killer Point, this is not the easiest spot to reach or paddle out to, but it will assure you some fun and adrenaline… here you'll find the speediest tube in town! If you're looking for a Moroccan right-hand barrel of 6-10 feet, this will be your playground!
Perfect for: advanced surfers, right-handed, barrels
Best in: low tight
Cons: long paddle out
2.3 Banana Point
Banana beach is a beach break in front of the cute Banana Village, lying south of Taghazout and before Hamza beach, and the ultimate beginner surf spot!
In fact, this is a favorite for surf camps and beginners learning, offering most of the time small, linear and mellow waves, perfect for right-handed surfers! But when the big swell comes, Banana beach offers bigger waves, so intermediate and advanced surfers can also have fun here!
Being also close to the nearby village of Tamraght, and just 20 minutes drive from Agadir, this spot is easily accessible so you'll mostly find many crowds here.
Perfect for: Beginners, right-handed
Best in: low tight
Cons: very crowded, long-wave period
2.4 Tifnit – a local best kept secret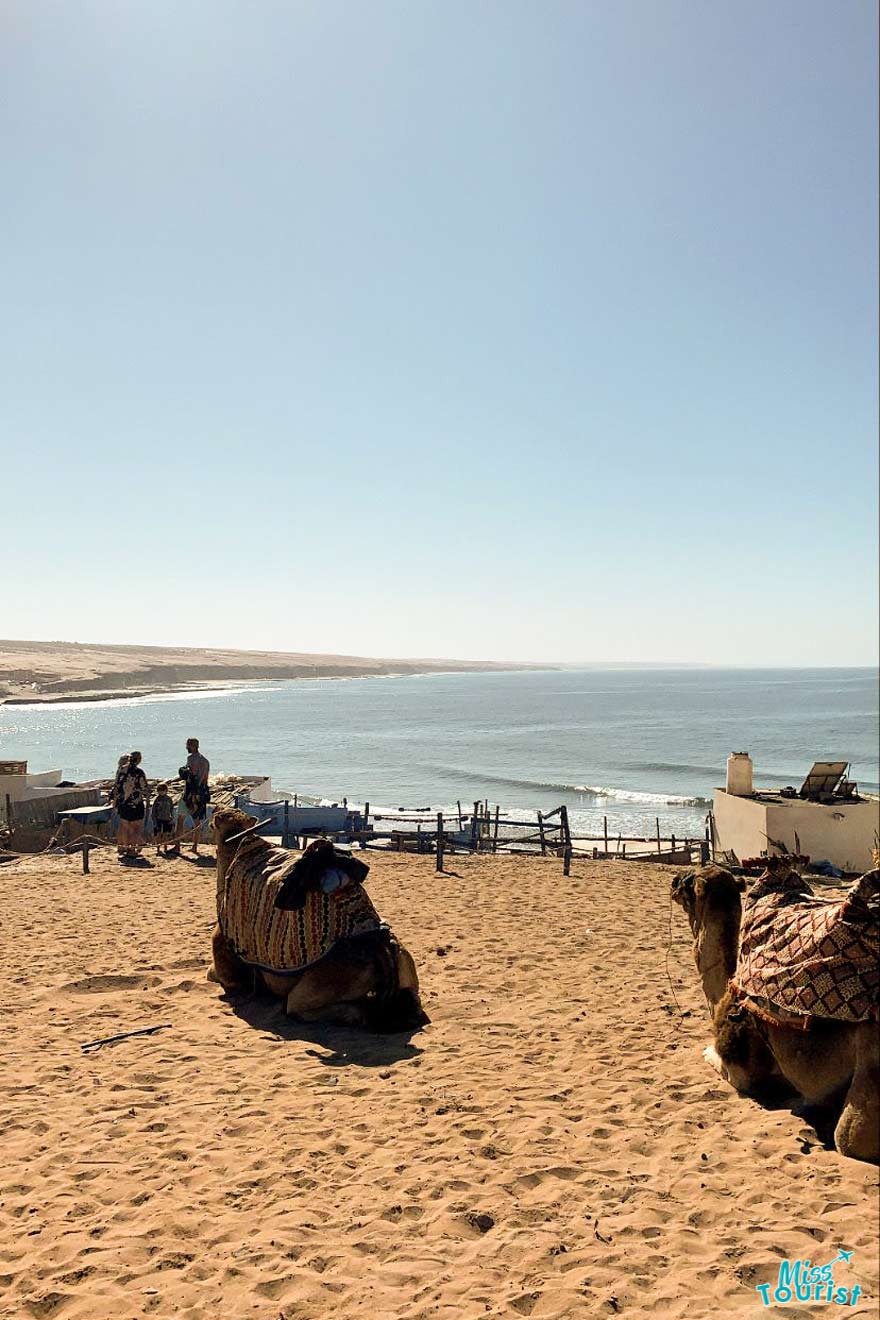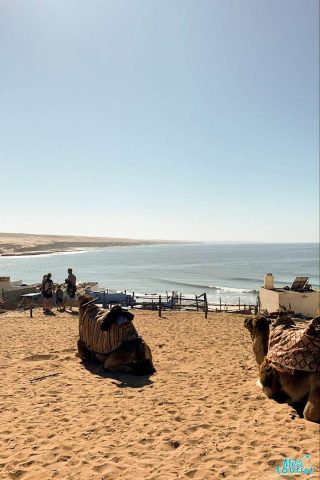 Let me confess this secret spot that I have found out just thanks to a local friend, otherwise, almost no one talks about it: Tifnit, lying about a 1.30-hour drive from Taghazout.
Tifnit is a tiny charming fishing village where the time stopped years ago: here there's no electricity, but a lot of camels, friendly people and, of course, great waves!
In fact, when the thigh gets high, the long bay offers some mellow waves (most of them right-handed) to have a lot of fun with, and the best thing is that you probably won't find anyone else surfing! I went there in December and it was basically empty: just me, my friends and two locals… a dream!
Perfect for: beginners/intermediate, right-handed, mellow surf
Best in: mid tight (low to high)
Cons: far from Taghazout
2.5 Hamza
In this surfing spot, a beach break at a 15 minutes ride south of Taghazout, I had one of the best surf sessions of my life! The waves in Hamza are just perfect, long and breaking in 2 directions so you can catch them both on the left or on the right… perfect for anyone!
When there are no waves on the other beaches this is the place to be, while when there's the swell, waves here are huge… which makes it perfect for any kind of surfer, from beginners to more experienced!
For this reason, this is a favorite spot both for surf schools and locals, so it's often very crowded: you have to be careful all the time or you can end up hurting yourself or the others!
Another downside of this beach is that it is quite polluted, sometimes I could even smell it from the water… so it is definitely not a top choice in this sense, but I still recommend it if you want to have fun once or twice!
Perfect for: all types of levels, right-handed and goofies, surf lessons
Best in: mid tight (low to high) or high tight
Cons: very crowded, pollution
2.6 Imsouane – my favorite spot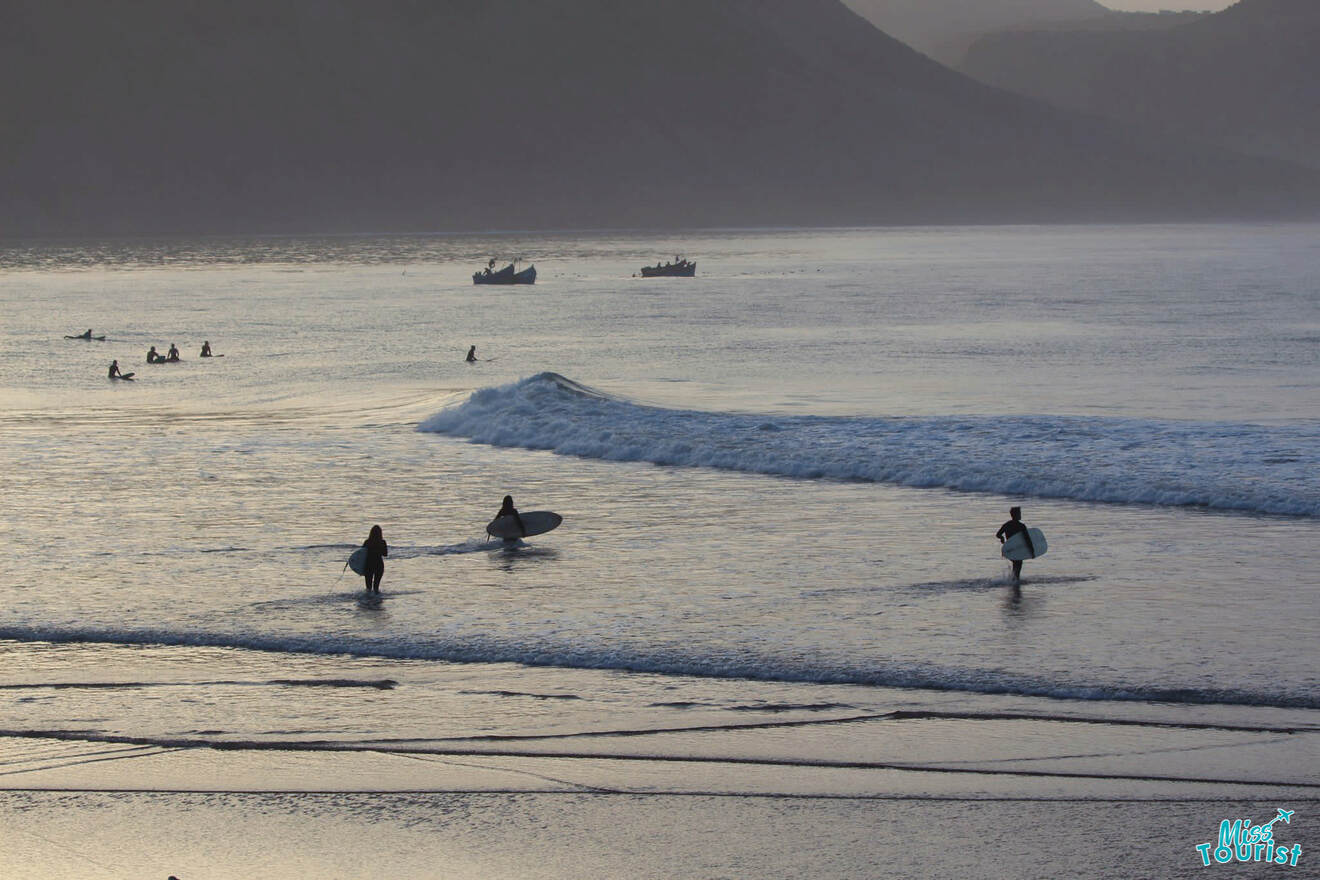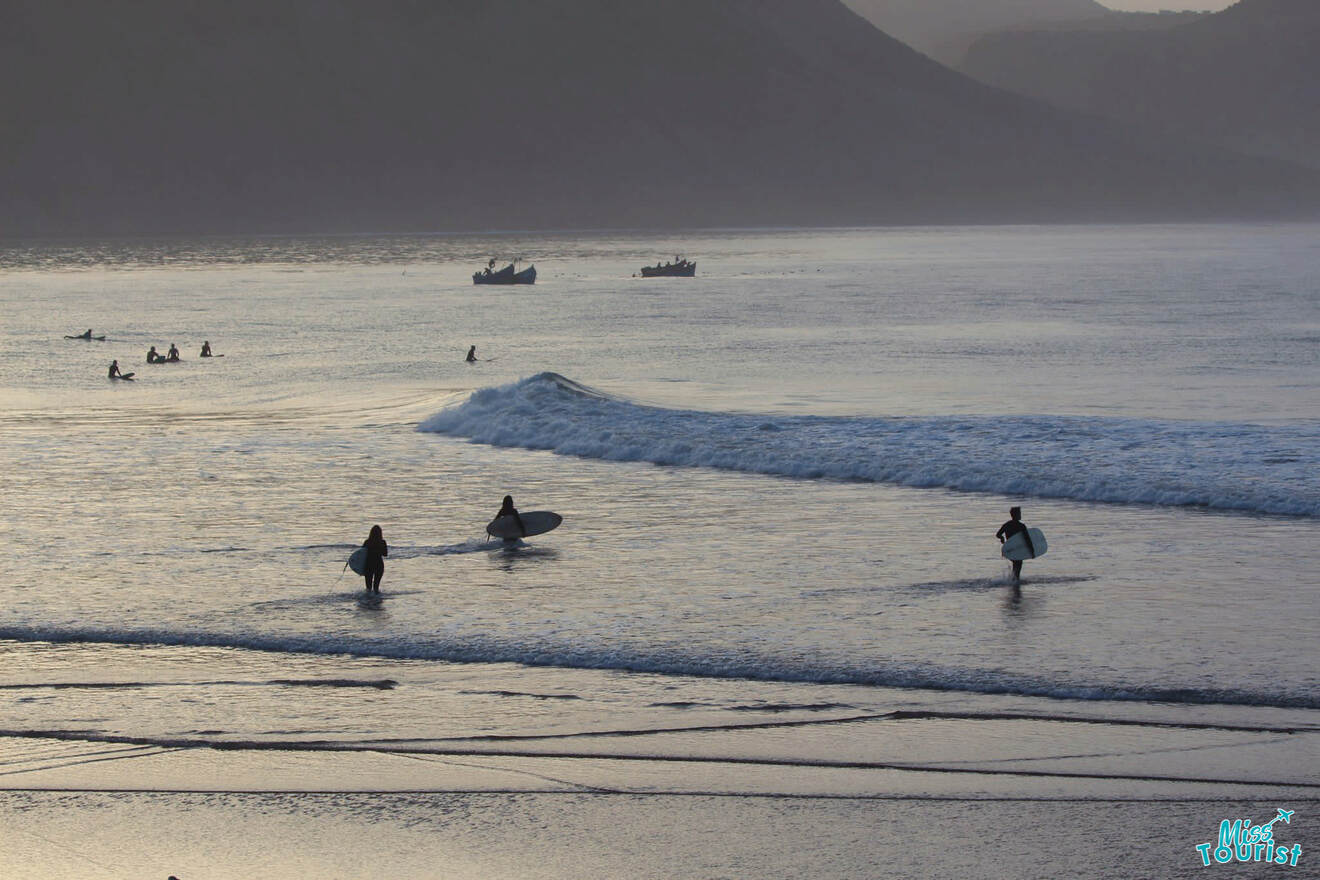 Imsouane is another former small fishing village, about 1 hour north by car from Taghazout. This town is all about surfing, nestled between 2 amazing surf spots: a Bay, perfect for longboarders, and the Cathedral beach break (both at walking distance from the center).
The Bay is home to the longest right wave in Morocco, while Cathedral is my absolute favorite surf spot around Taghazout, hosting all sorts of waves and many peaks for any surfer level!
Being at walking distance from these two waves paradises, this quiet village is all about surfing, surf camps, and surf packages (did I say surfing?). For the easily accessible wave offer that Imsouane has, in my opinion, it deserves at least one weekend!
Perfect for: all levels, longboarders
Best in: low tight (Bay), low to high tight (Cathedral)
Cons: far from Taghazout
Prices – how much is it to rent a surfboard/to take a lesson in Taghazout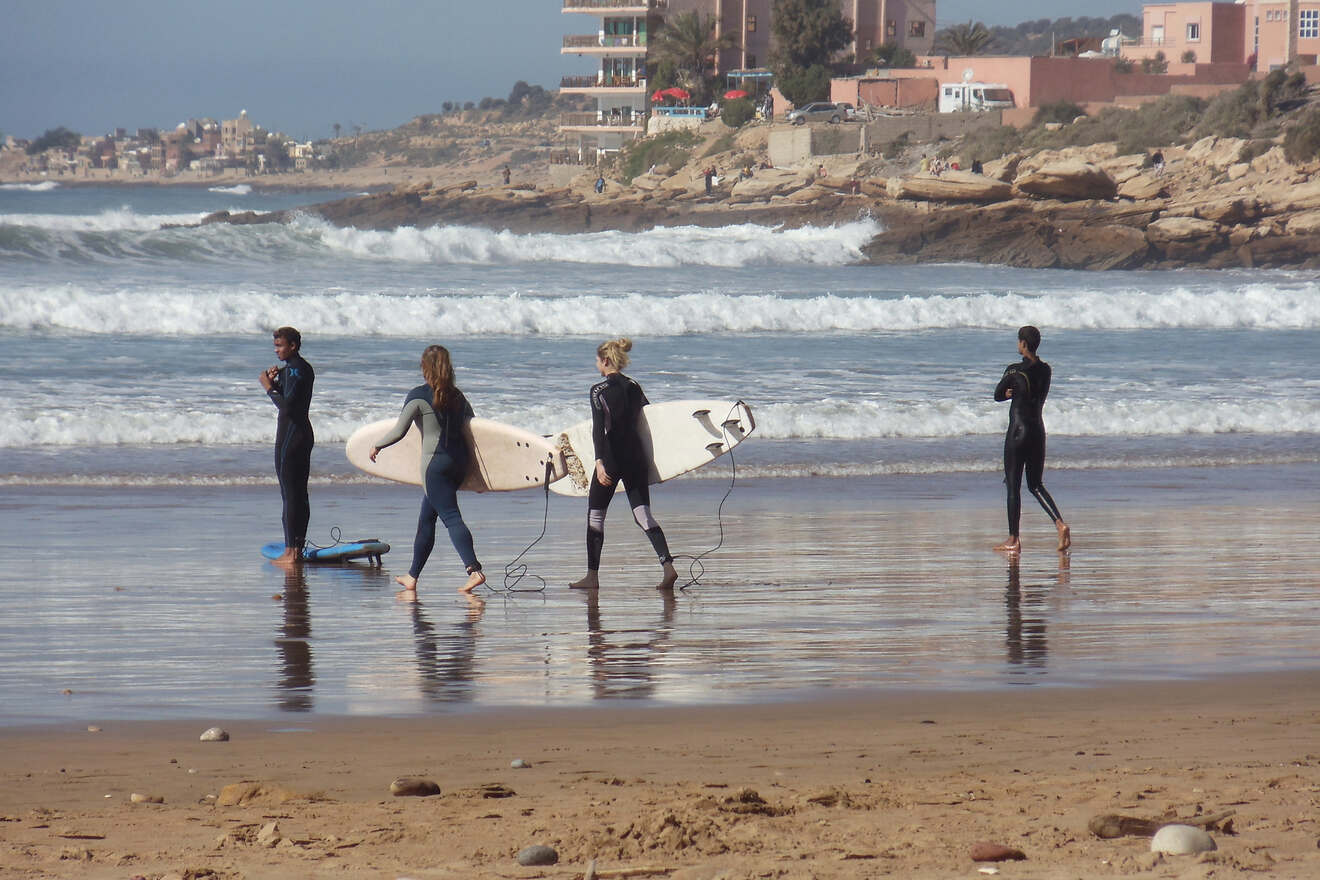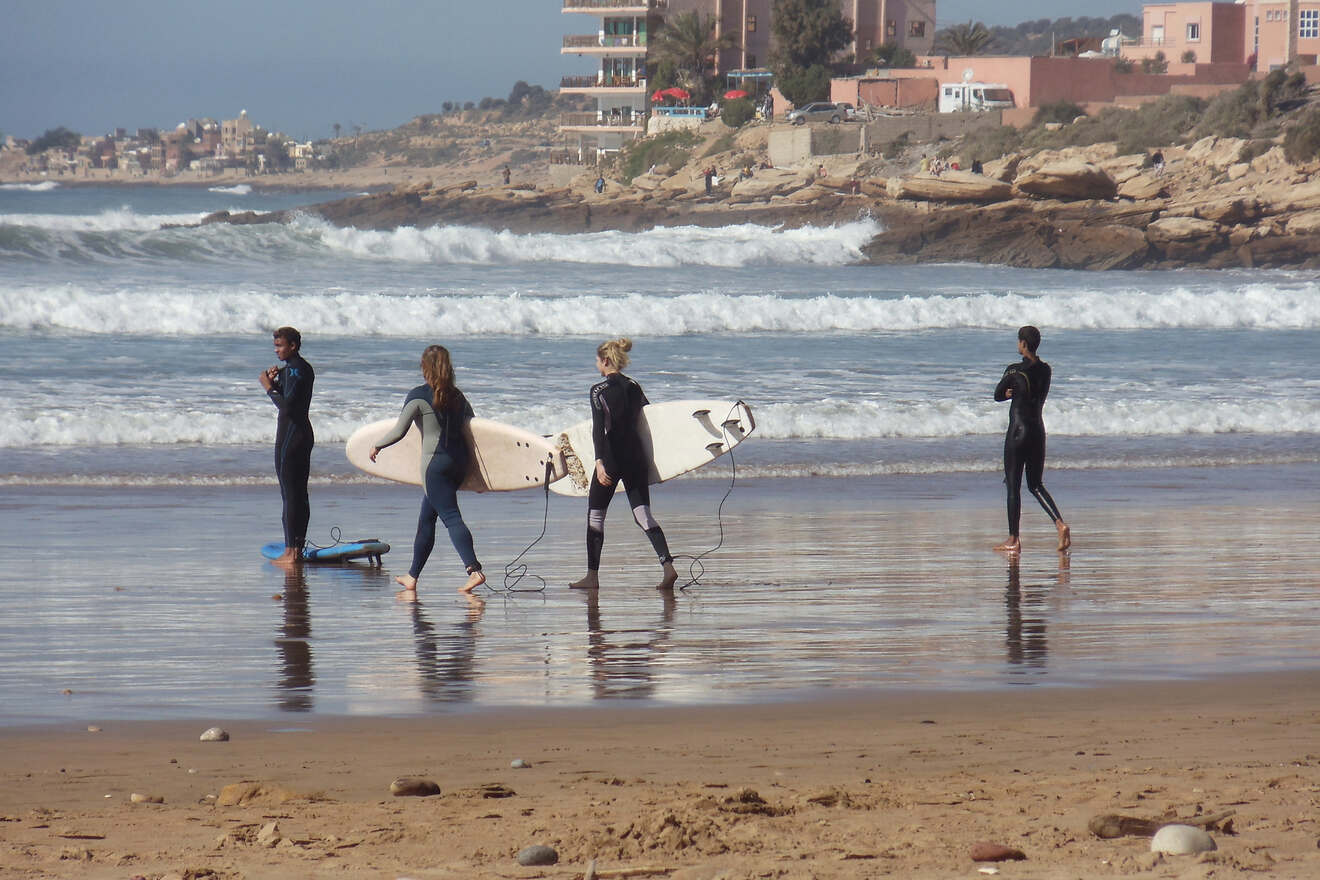 In general, prices in Taghazout are not high at all (eating out in a local place can cost you only 4$). If we talk about surfing, they can be a little higher but still very accessible. On average, a surfboard rental will cost you $12 per day, and wetsuits $6 per day.
Of course, if you rent on a weekly basis you can get better deals. Just remember that usually there is no insurance for boards in Morocco, so it's important to look after the equipment.
Regarding surf lessons, 1 lesson with transport and surf equipment will cost you around $30, which is a great deal, check out Planet Surf Camp! Otherwise, surf packages of 1 week cost around 300$.
3. Other things to do in Taghazout
If you are not in town to catch waves, or if you simply want to have more options in your day other than surfing, I have some suggestions on other cool things to do in the city… let's check them out!
3.1 Practice yoga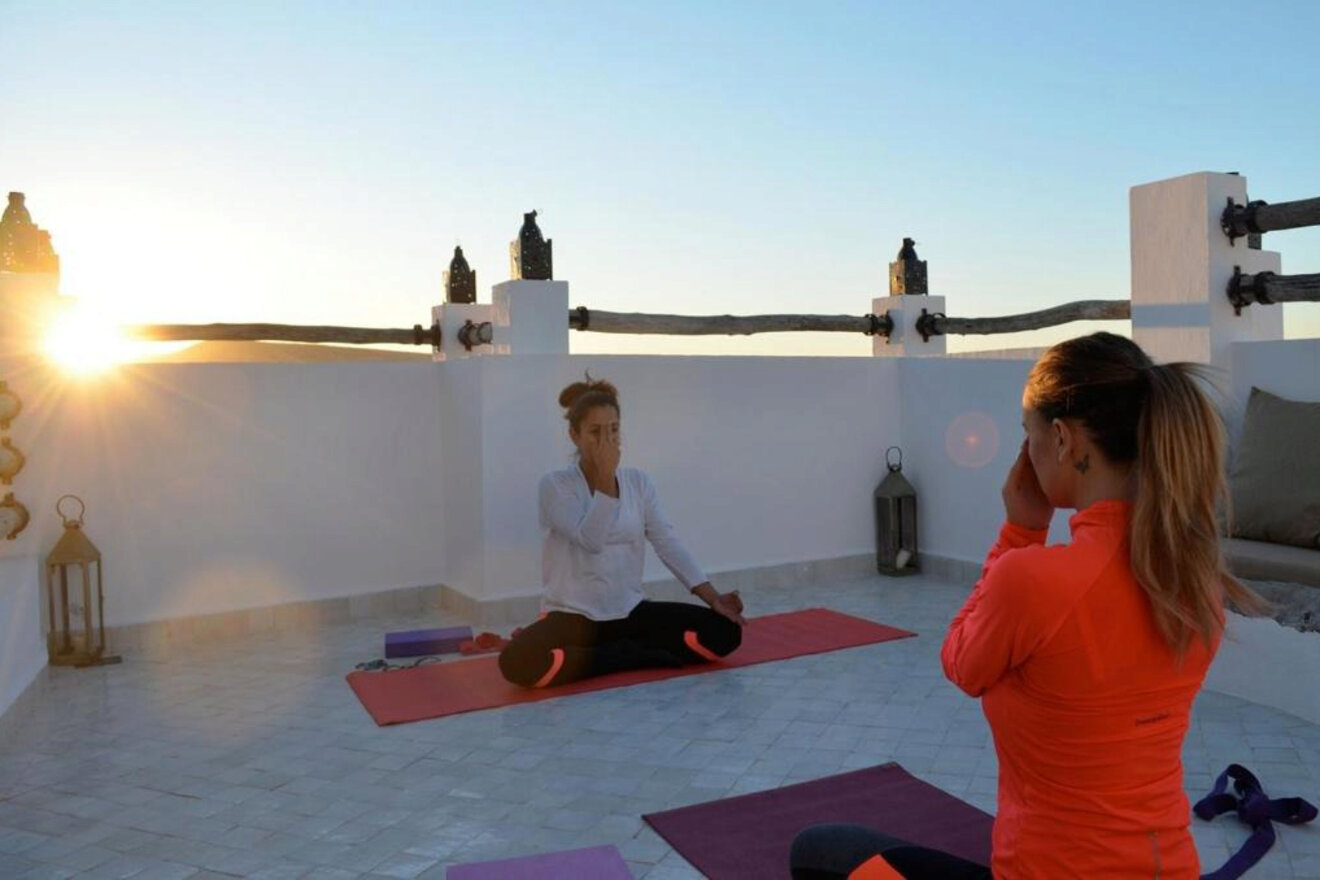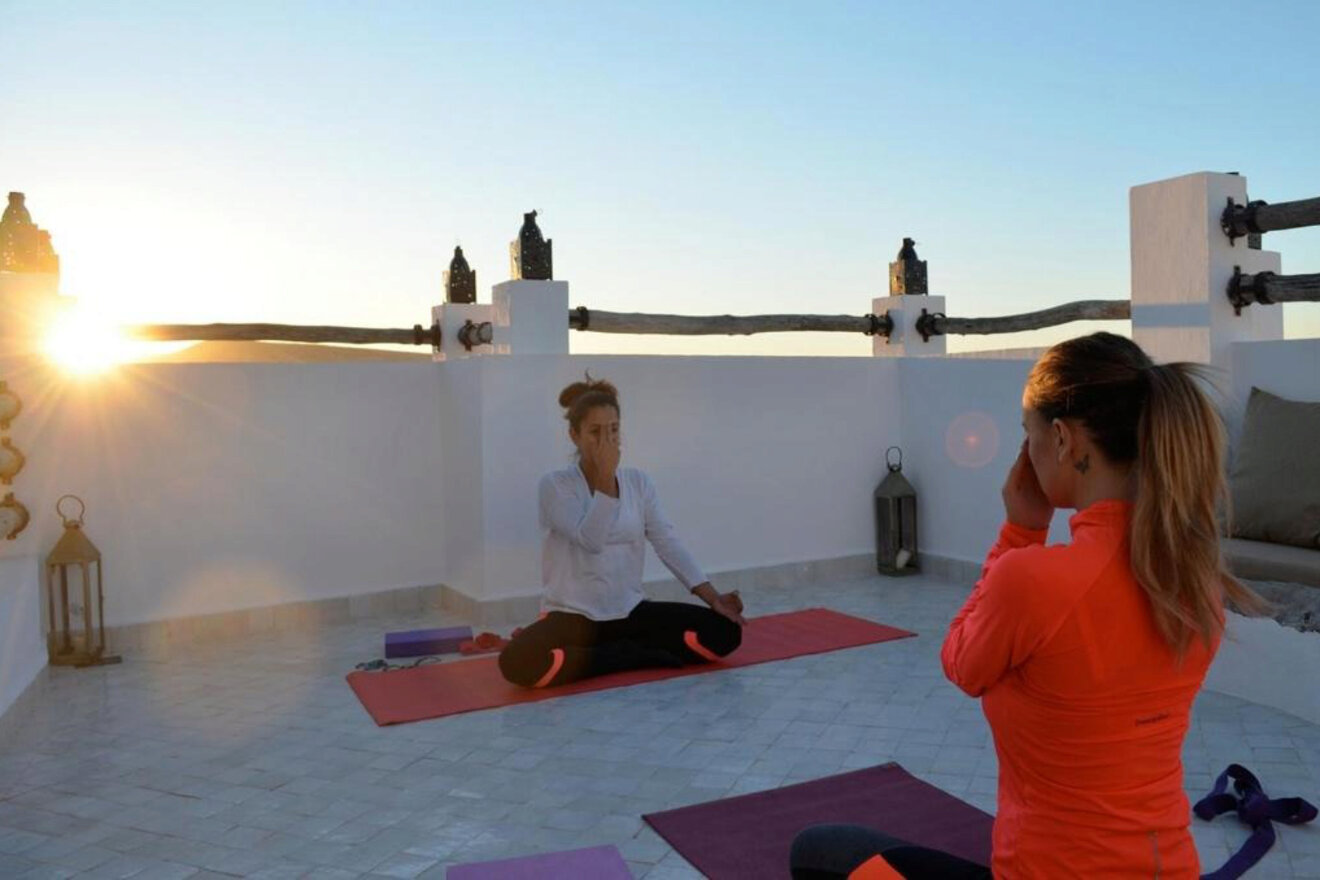 Being a super chill and hippy village, Taghazout (as surfing) goes hand in hand with yoga! Here you will find many surf houses and places that offer yoga packages and classes, usually on some rooftops overlooking the ocean and receiving the fresh sea breeze.
This is the perfect way to stretch your muscles before and after a surfing Taghazout, and gaze at the same time the beautiful sunsets/ sunrises that Marocco will offer you. Here are some places where you can find yoga lessons daily, and where you can even stay for a yoga retreat!
Check them out:
3.2 Do a hike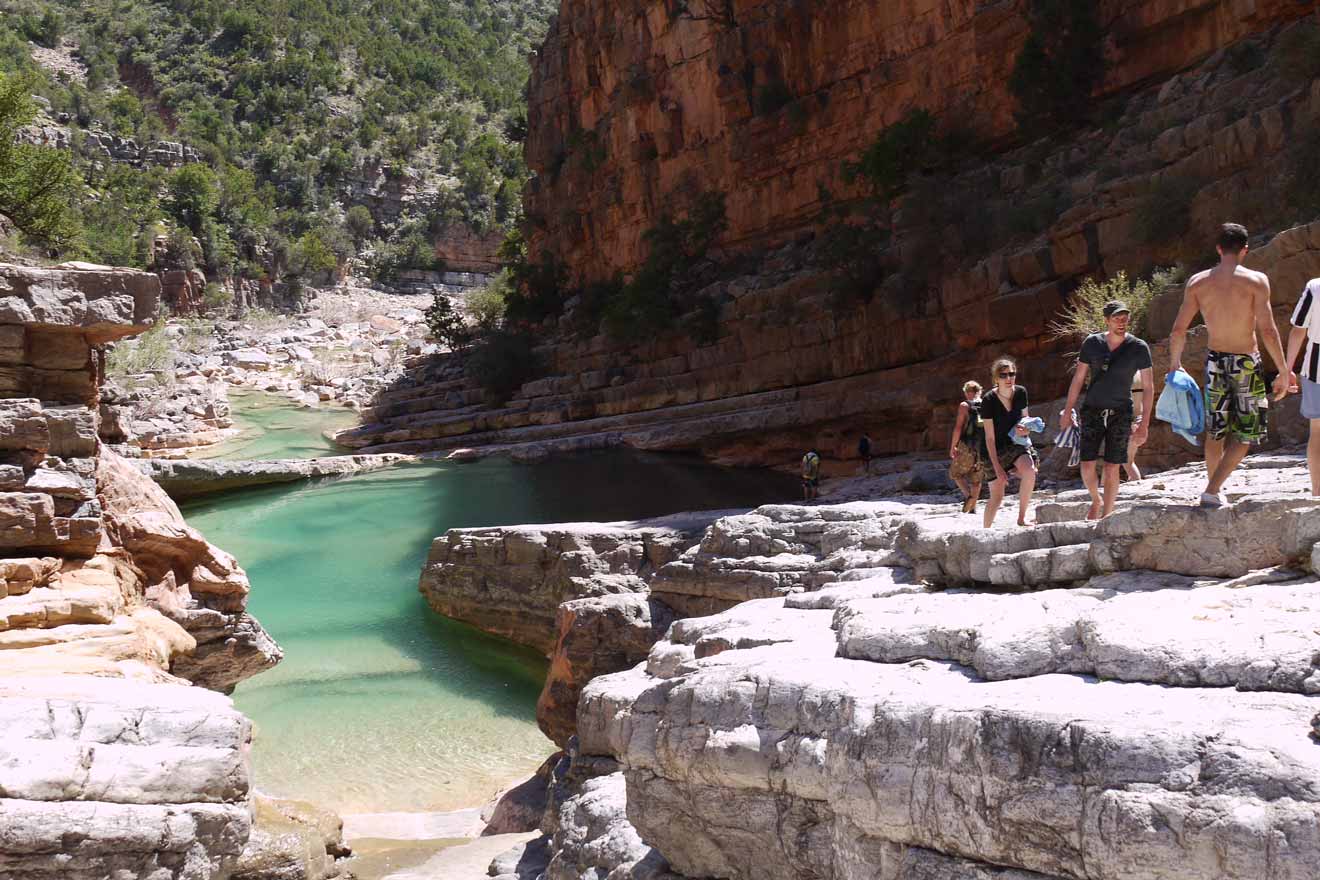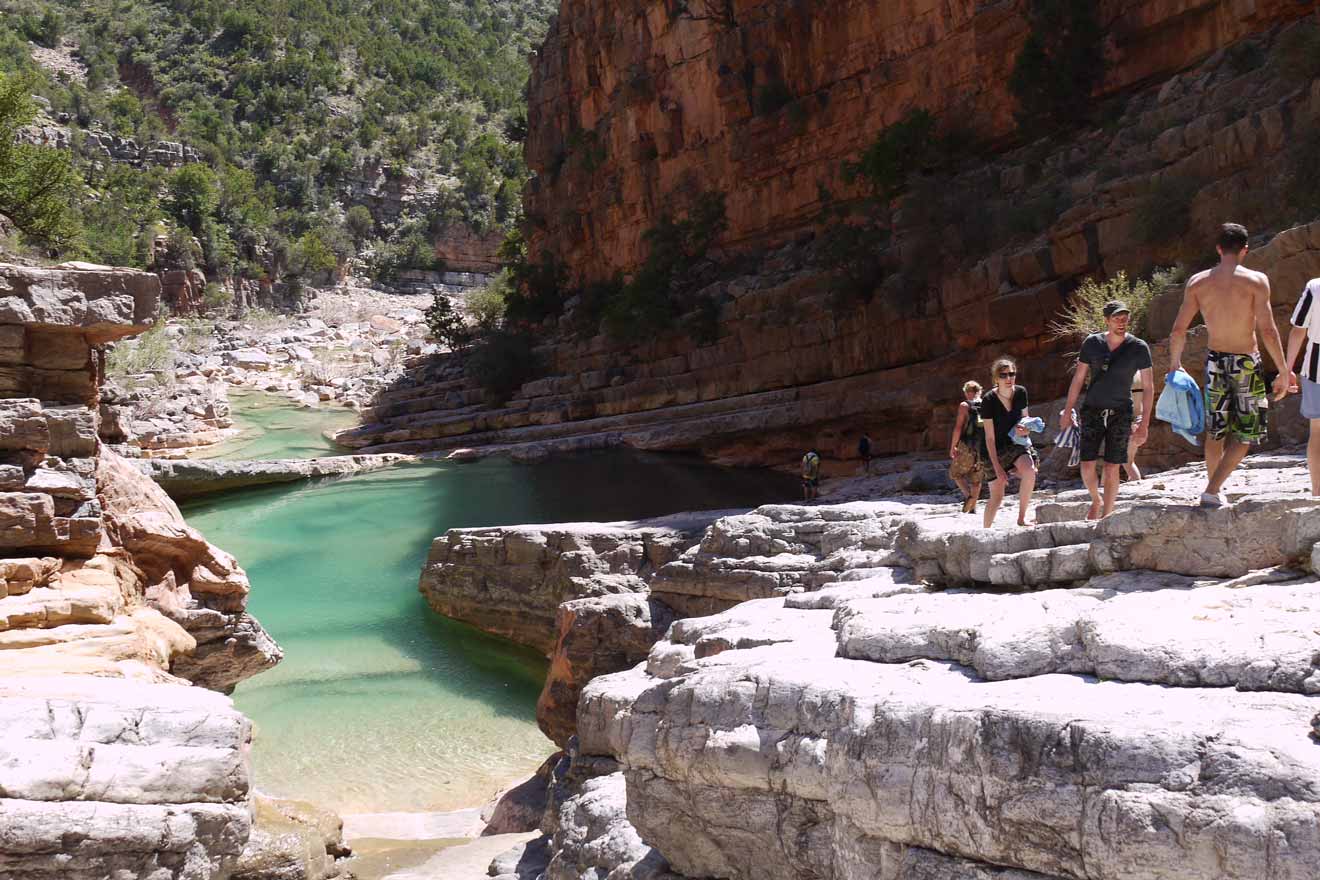 If one day you feel like sweating all the calories you took in from tagines and delicious Moroccan sweets, there are many trekking paths you can follow in and around Taghazout! They connect with dramatic cliffs from where you can enjoy the best views of the Atlantic Ocean.
My favorite one is right in Taghazout, and in just 20 minutes it will bring you to an amazing skate park, where you can look at skaters doing some amazing tricks, watch the sunset, or skate yourself!
There are some amazing viewing spots right on the hill behind Panorama Beach, where you'll gaze at the surf breaks and views down the Moroccan coast: the view stretches for kilometers!
While these two are quite short and "lighter" hikes, Paradise Valley is an incredible 6 hours walk that will bring you to the foothills behind Paradise valley, passing through some suggestive local villages!
3.3 Camel rides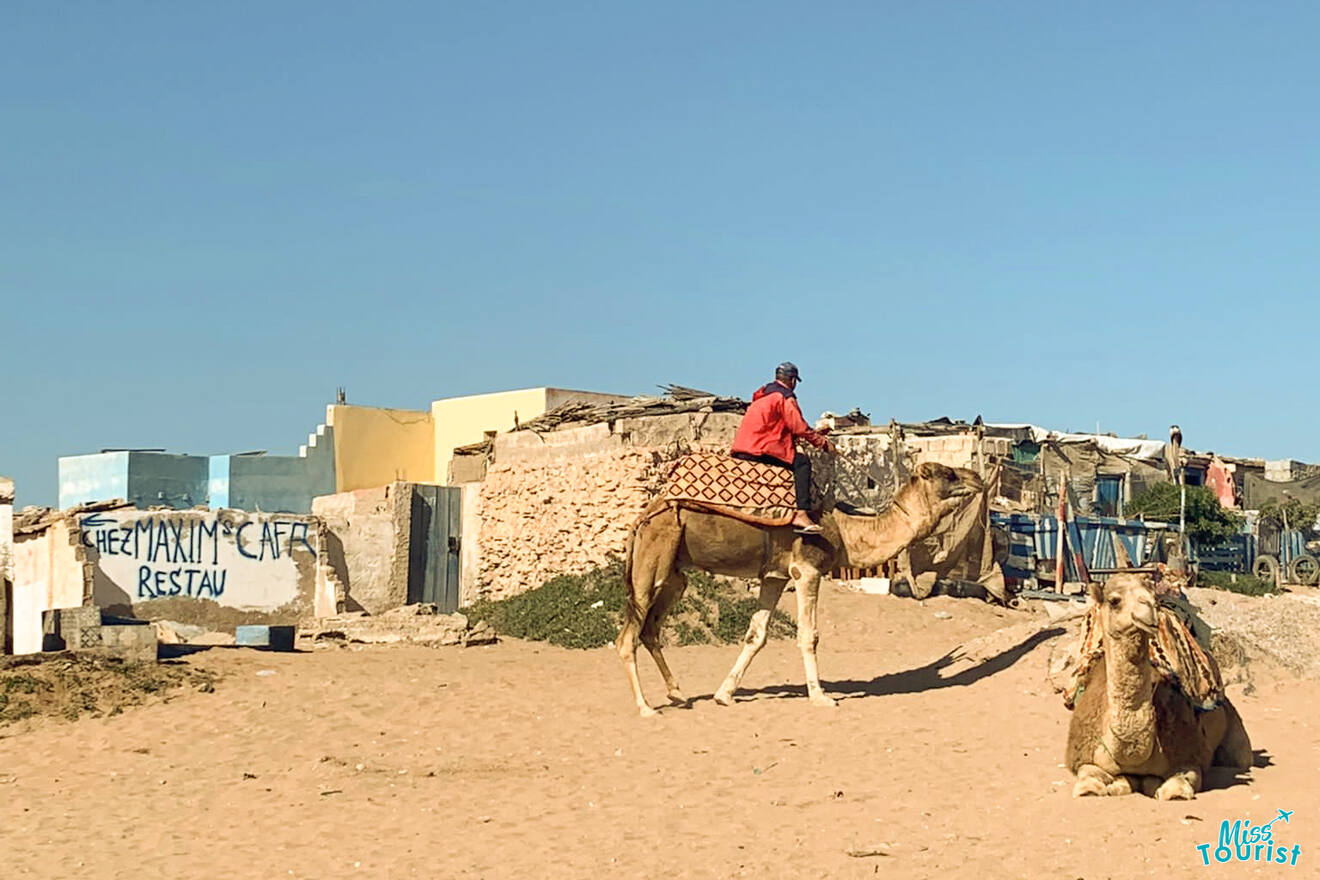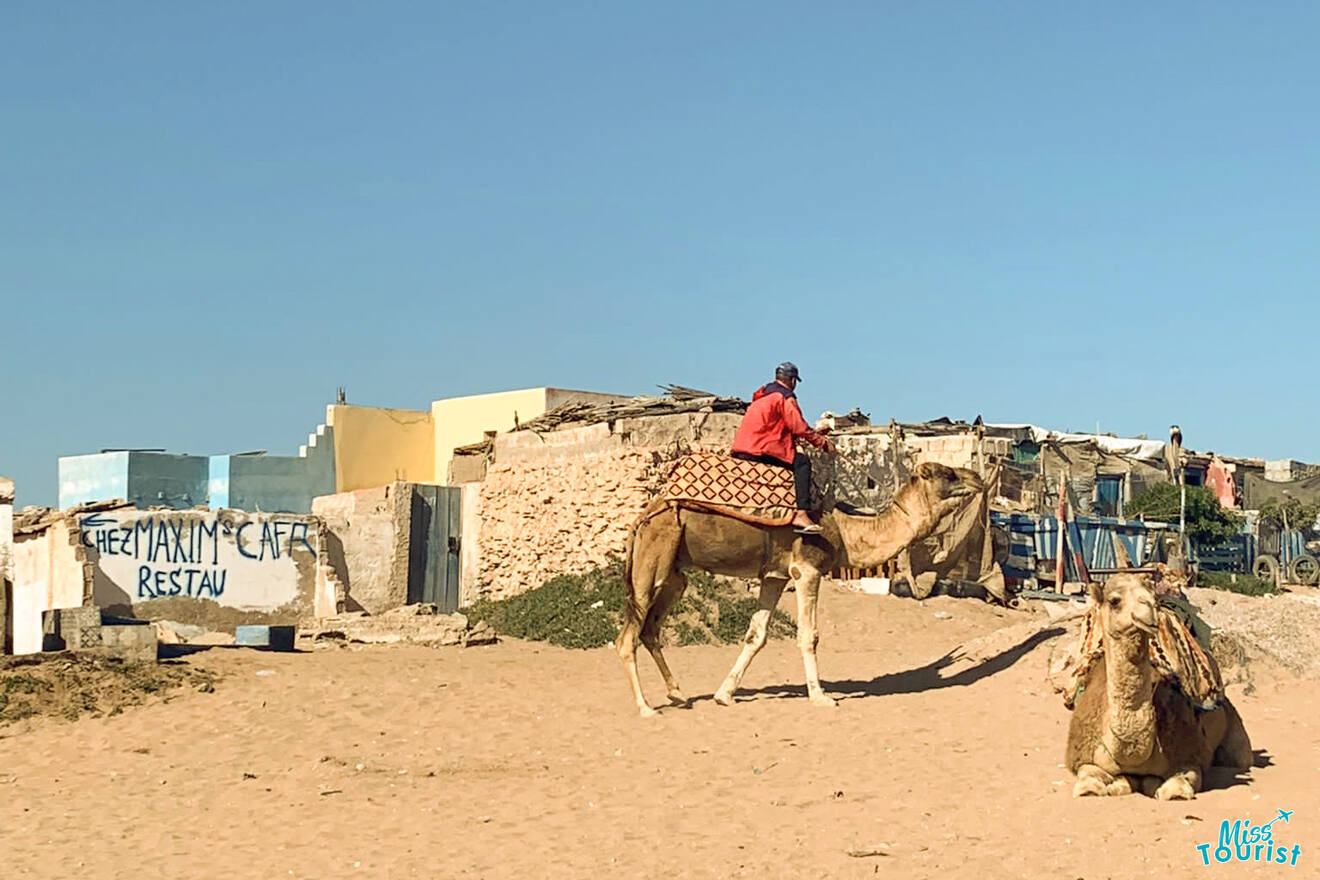 Well, it could sound very touristic and basic, but riding camels is too much of a symbol of Morocco to not be on your list… and if you don't do it here, then when?
Without searching for them, you will find Moroccan men with their camels literally on any beach you go, offering you to hop on these funny animals for a panoramic ride!
You can also have a camel ride through the narrow streets of Taghazout town, Agadir souks, or in the unspoiled countryside… a great way to rest your legs and see Morocco from another perspective!
4. Where to stay in Taghazout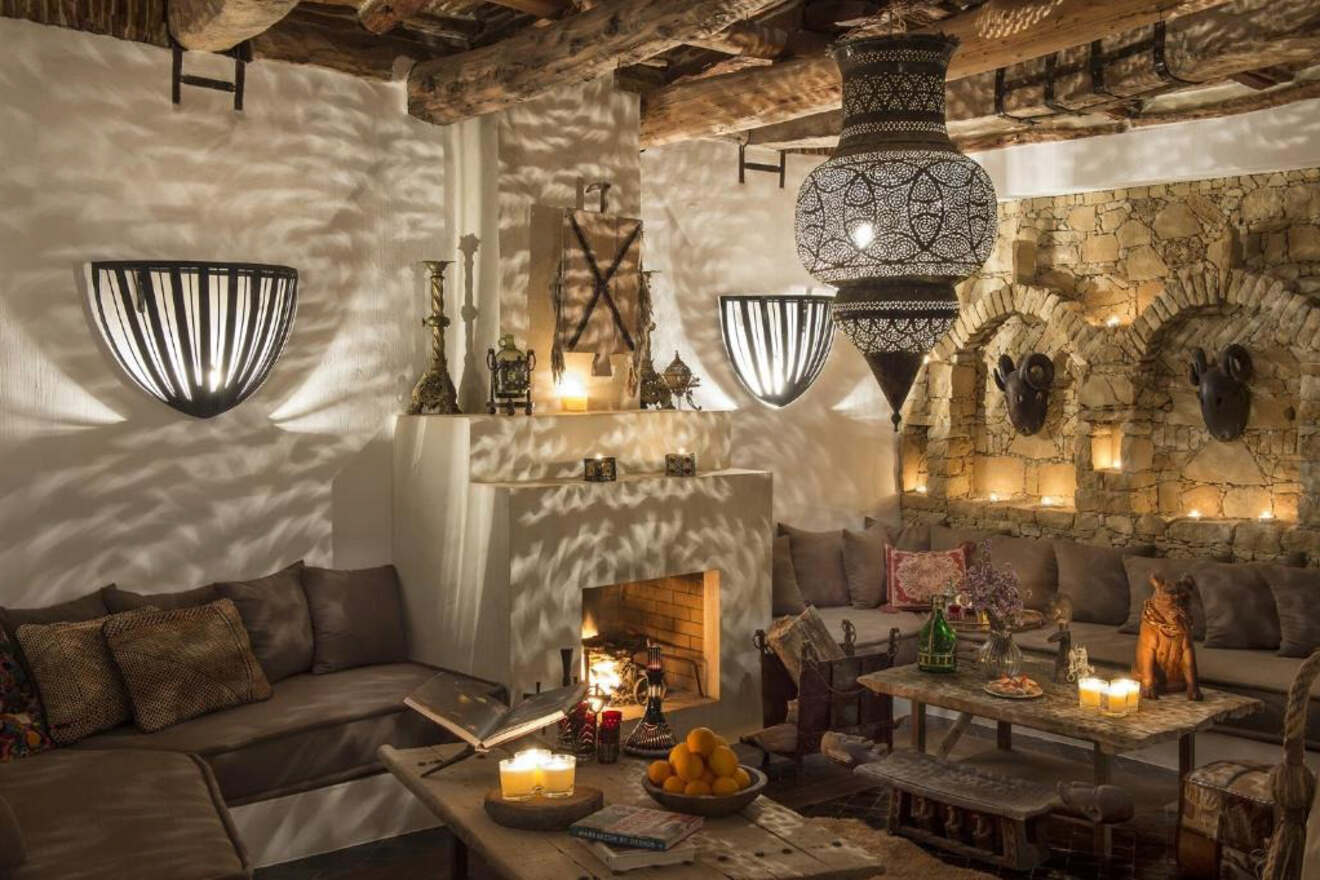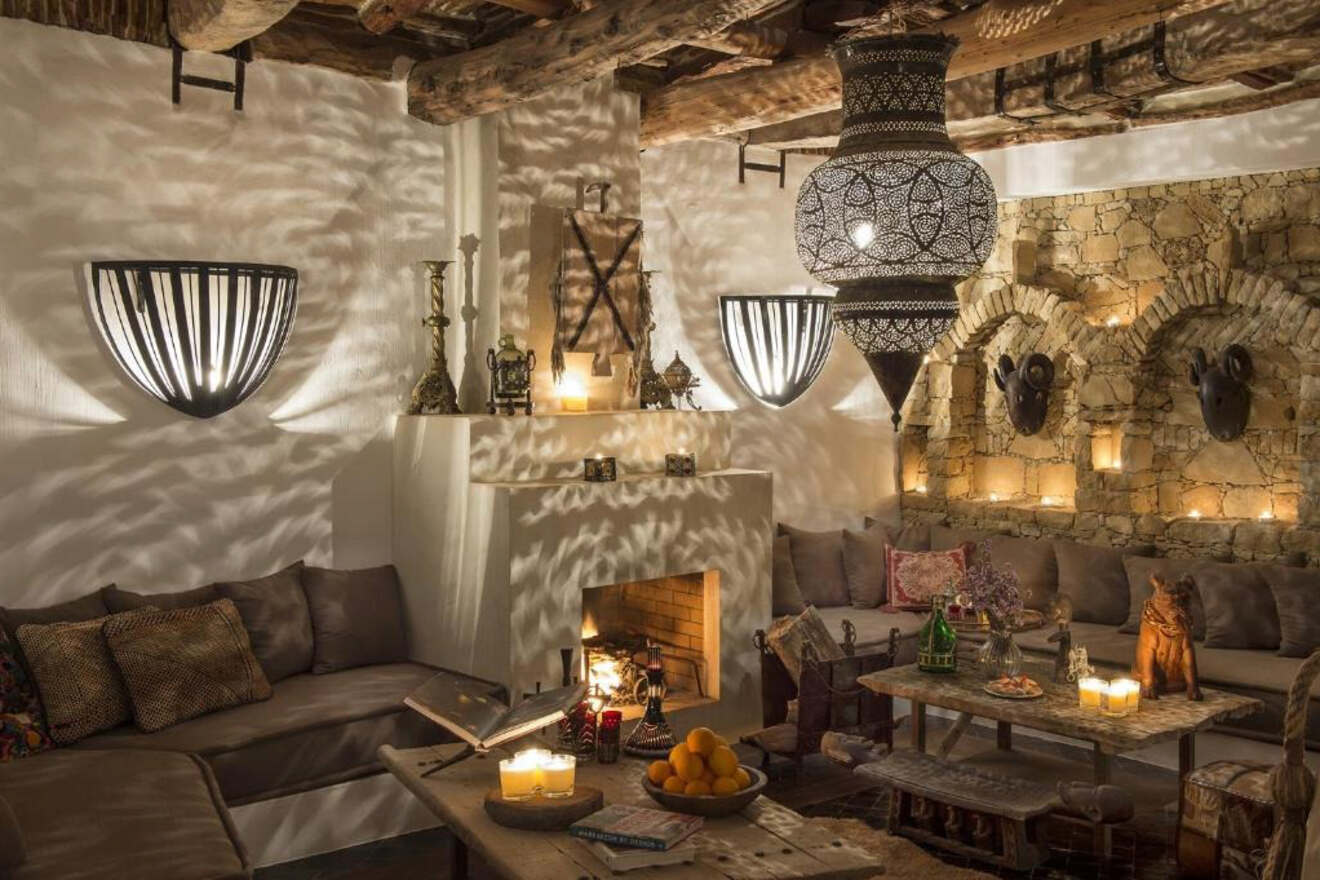 Taghazout tourism is growing every year, and the accommodations too! You will find mostly surf camps here that are perfect to get to know people, improve your surfing skills or do yoga classes, but there are even many hotels and hostels.
I put the best ones here, ordered by price range:
Luxury: Munga Guesthouse – This unique guest house is literally 1 minute walking from the beach and offers great surf packages! You will love its quirky design, beautiful art and comfortable lounge and bedrooms… one of the best surf camps!
Mid-range: Sunny Apartments – This hostel has a cozy family atmosphere, wonderful rooftop with sea views, lots of shared areas where to meet people and great value for the price!
Budget: Roof House Hostel – Are you looking for a place to stay on a budget? This laidback backpackers hostel offers beds in their mixed dorm from just $12 a night, and has amazing views on the beach!
5. How to get to Taghazout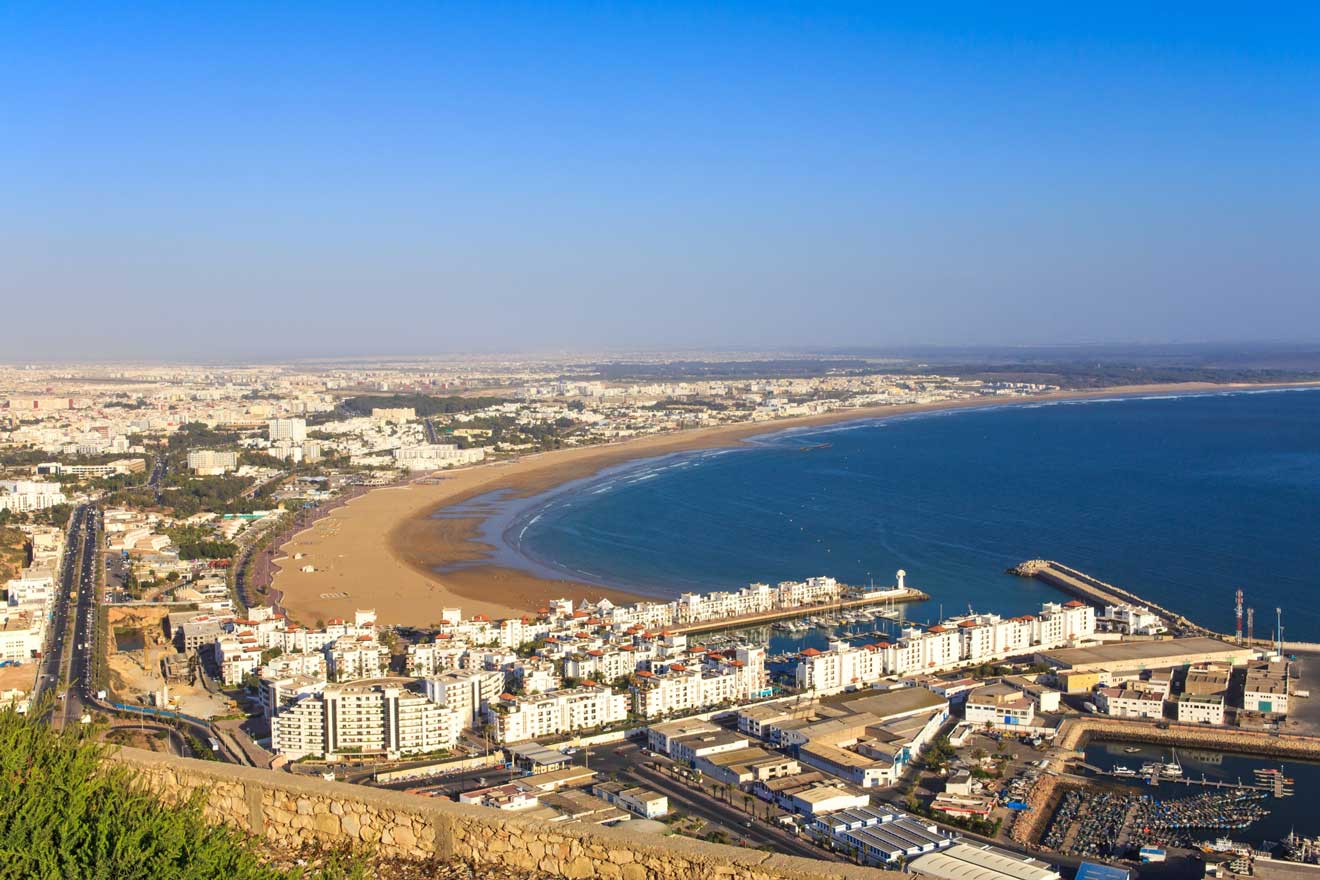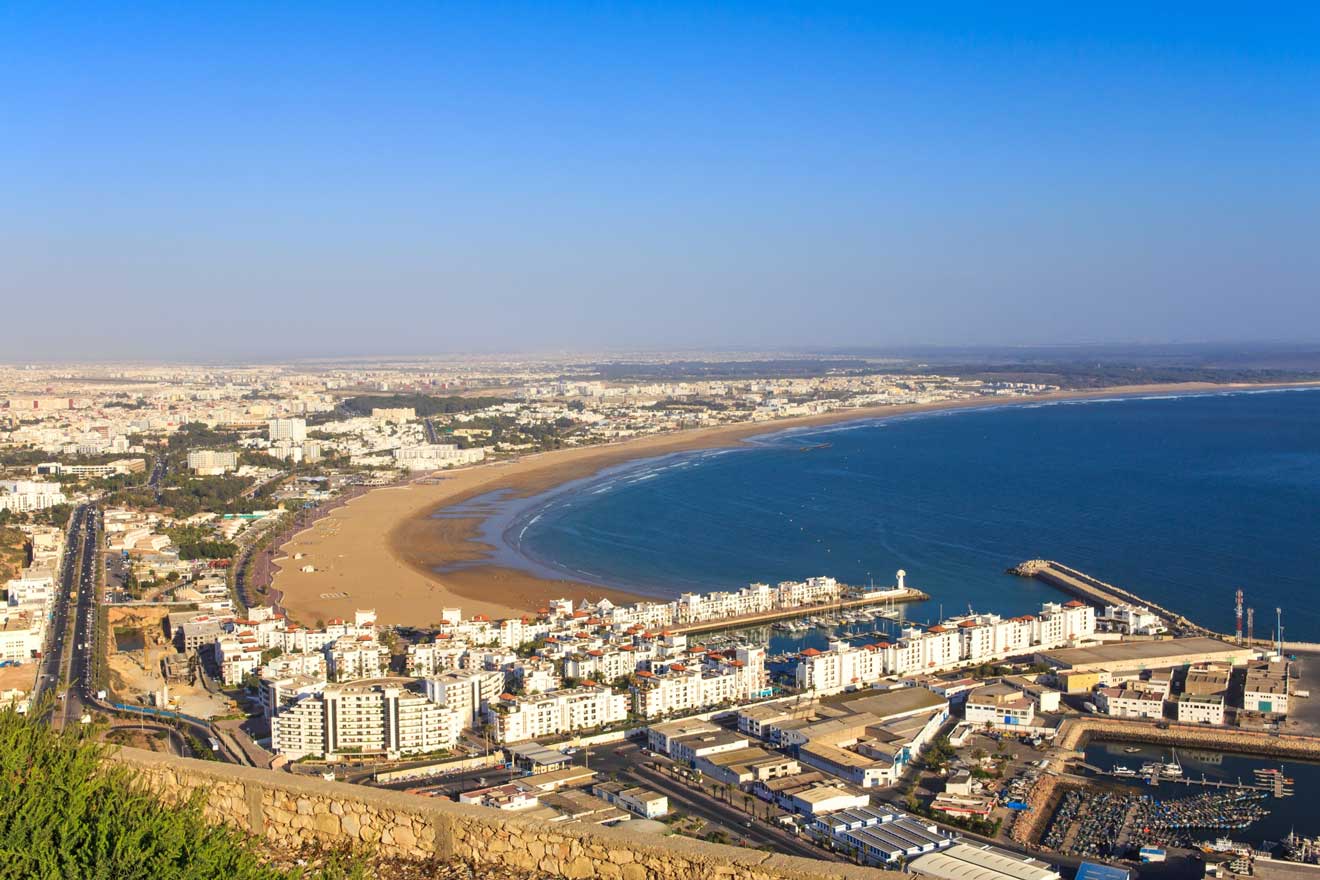 There are two main airports close to Taghazout: Agadir and Essaouira. Agadir is definitely the closest option to Taghazout, just a 40-minute drive.
If you don't rent a car, you can take a bus from Agadir main bus station but you'll need to take a taxi from the airport in order to reach it anyway.
I suggest you book a mode of transport through your hotel, it will cost you around 25-35 dollars to get from Agadir to Taghazout but is simple, quick and way cheaper than the taxis you'll find at the airport.
If instead, you'll find some good flights to Essaouira, Taghazout lies a couple of hours by car or around 3 hours by bus, and the last one will cost you around 80$!
6. Best restaurants in Taghazout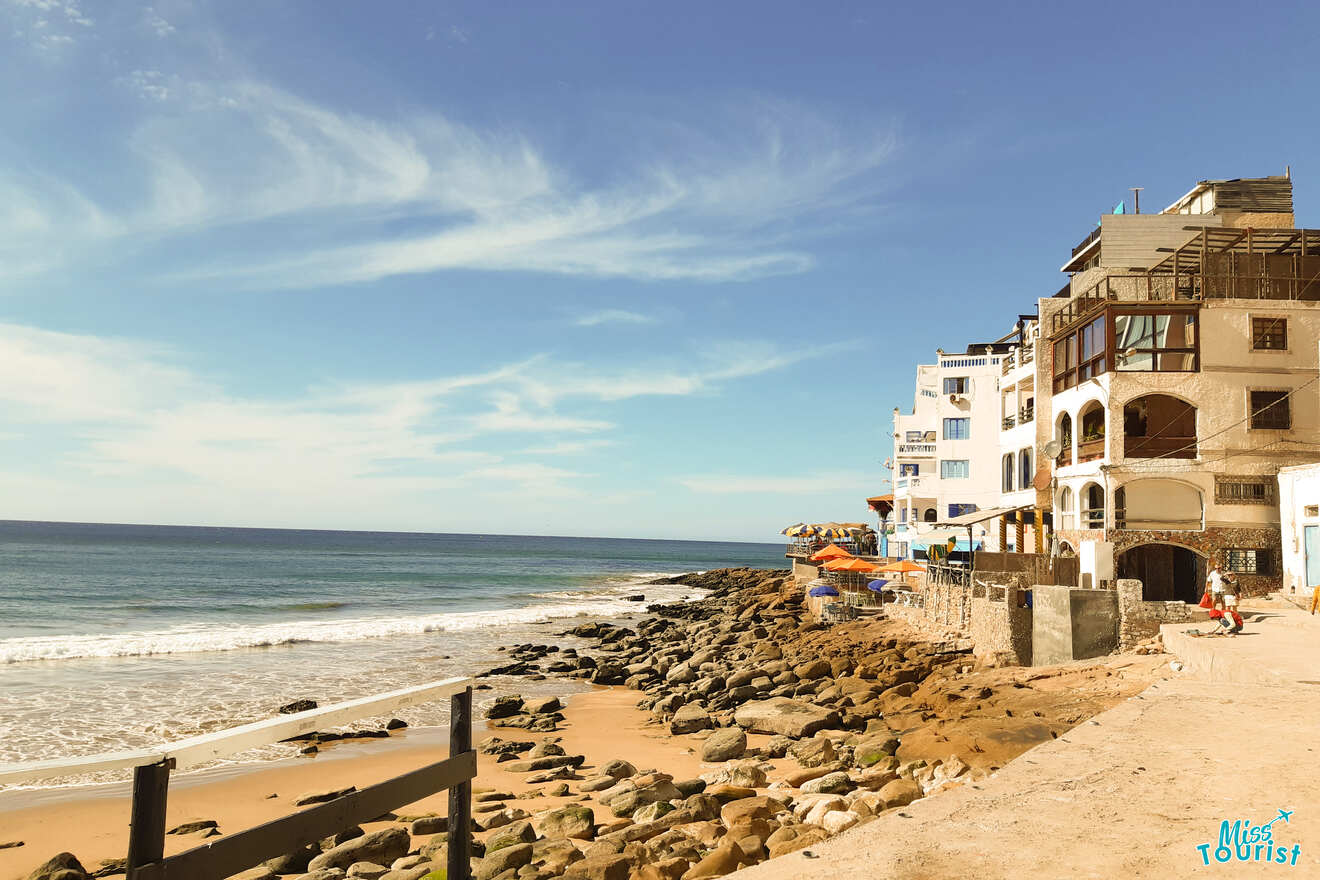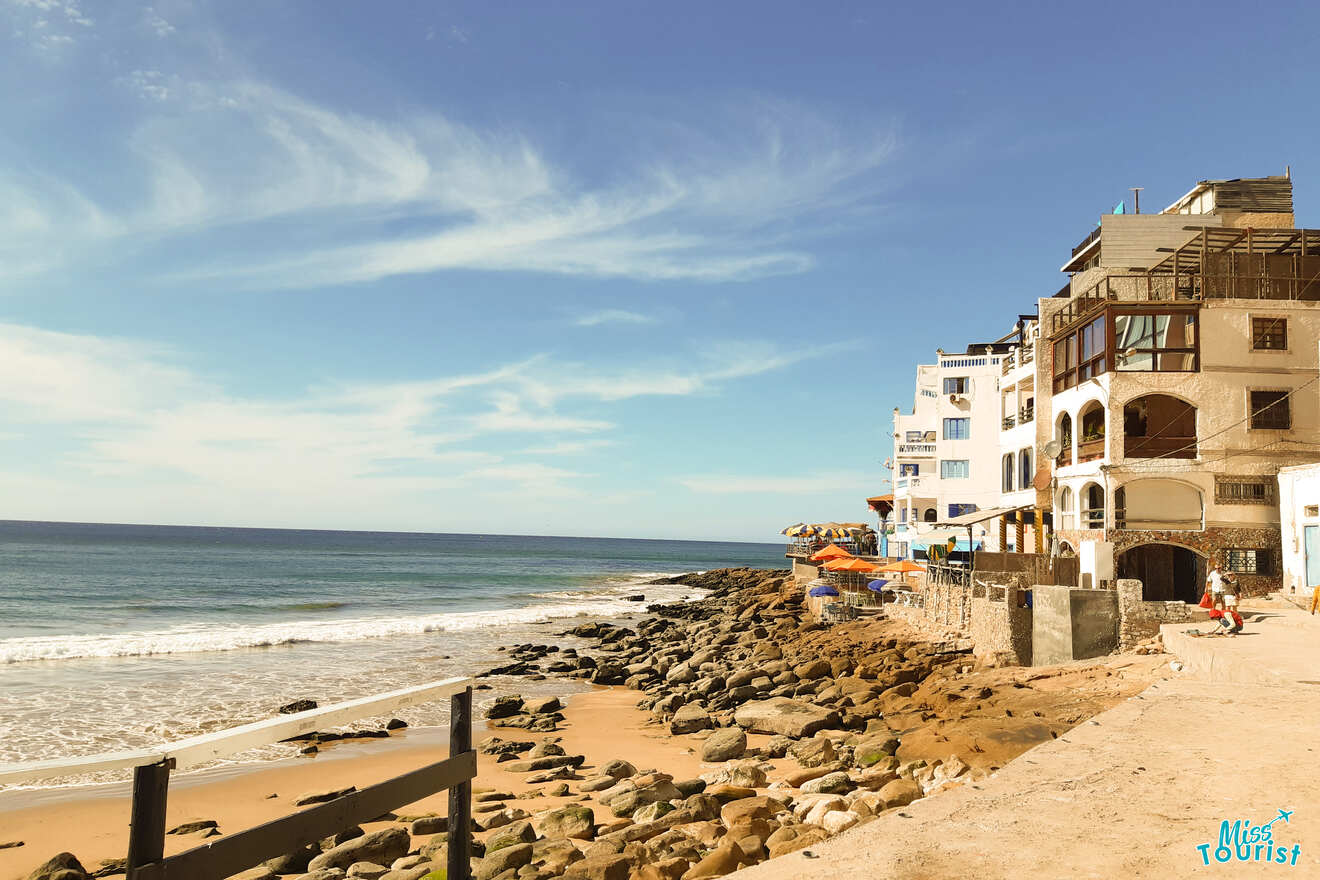 You will agree with me that one of the best pleasures of life is to eat good food after having done a surf session or any kind of sports activity (well, or even without having done anything before).
You'll be happy to know that Taghazout has some great restaurants to offer you, serving local specialties or healthy dishes, thought specifically for surfers! Just forget about alcohol if you eat in very traditional places, since it's forbidden by the Muslim religion. Just some tourist places have some special licenses to sell alcohol.
My absolute favorites are:
World of Waves – located right on Taghazout beach, this place will offer you some great views of the ocean and the perfect mix of Moroccan traditional dishes (tajine, moroccan crepes) and healthy breakfast and snacks to fill you with energy! Plus: here you can even drink a glass of wine or beer!
Dar Josephine – this restaurant is just AMAZING, serving delicious Moroccan dishes with a multicultural touch. The vibe is perfect for a romantic dinner or a chill night with friends!
Local spots – in Taghazout you will find countless small (and very simple) restaurants or bars serving tagines, Moroccan eggs, the delicious avocado juice or couscous.. All at super cheap prices (you can eat for 4$). I suggest you just walk around and choose the one you prefer… they all have the same menu and quality (trust me, I tried them all!).
| | |
| --- | --- |
| 🏖️ Surf Season | November – March |
| 🌊 Best Break for Pro Surfers | Killer Point |
| 🐚 Best Break for Intermediates | Boilers |
| 🤙 Best Break for Beginners | Banana Point |
| 💱 Surf Board Rental | US$12 |
| 🏄 Surf Lessons | US$30 |
Frequently asked questions about Taghazout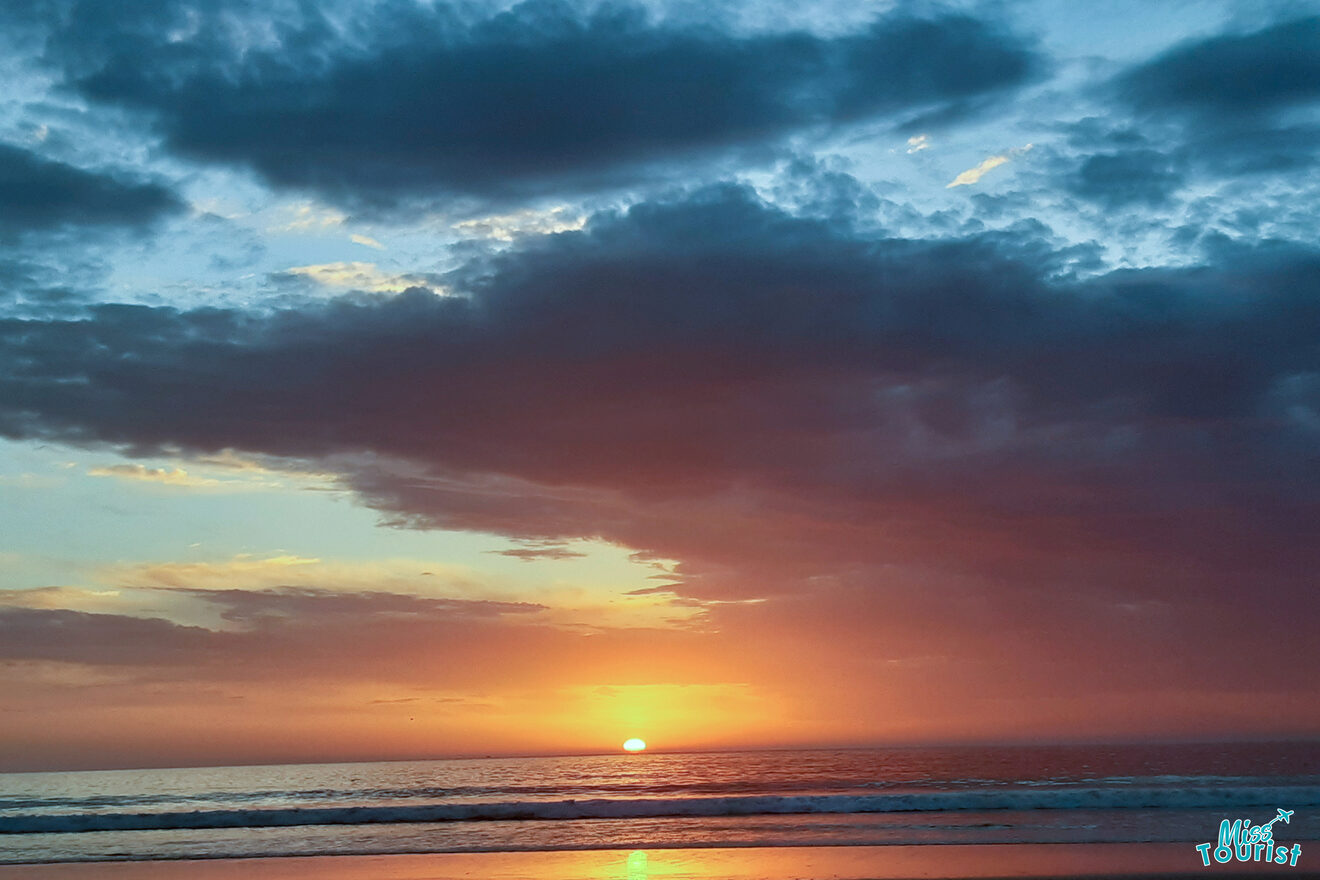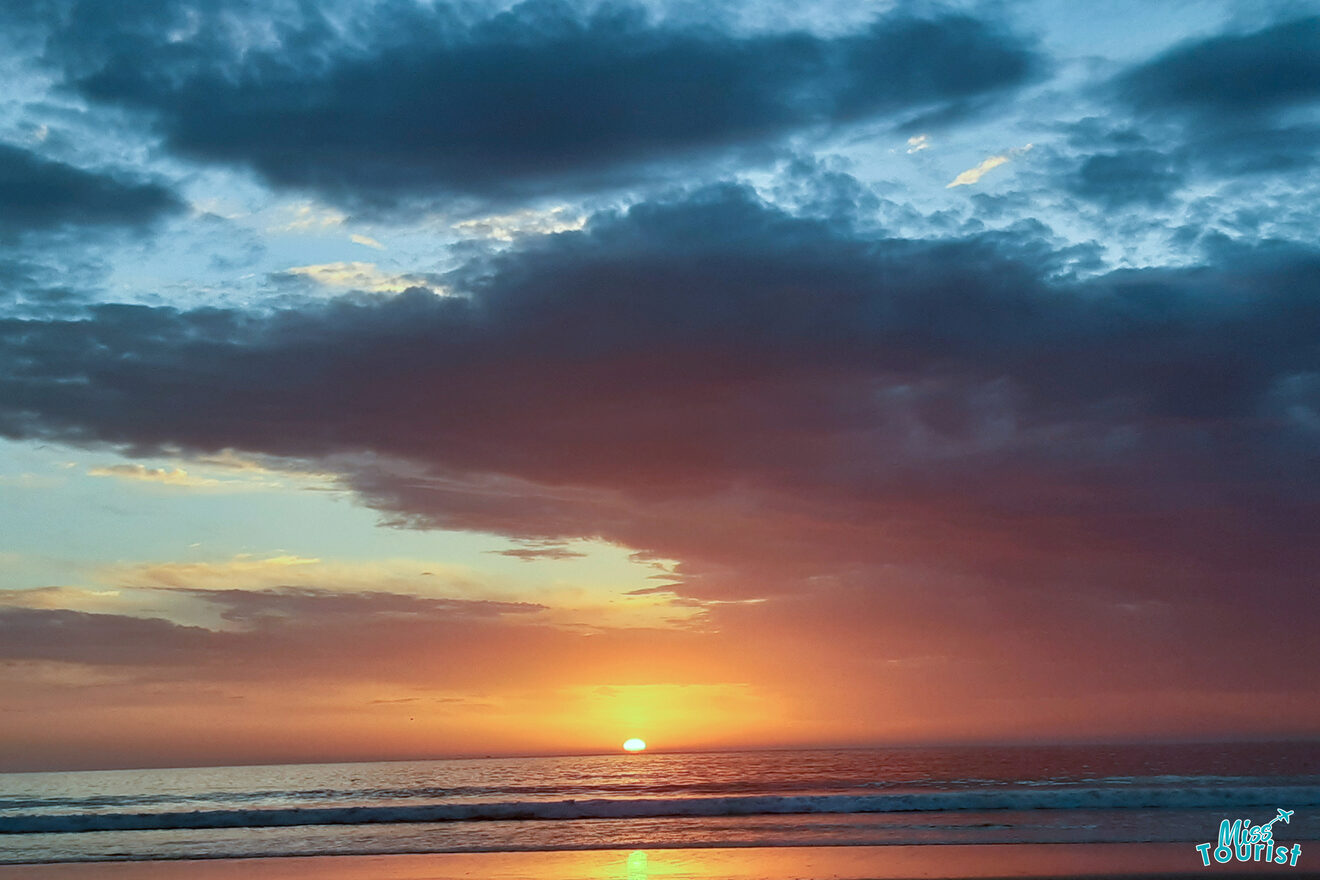 🔍 What to do in Taghazout?
The best things you can do in Taghazout except for surfing are taking yoga classes, trekking, camel riding, or exploring the surrounding town like Agadir, and visiting its famous souk market!
📅 How long should I spend in Taghazout?
If you want to enjoy most of the surf beaches that Taghazout and its surroundings have to offer, like Devil's Rock, Banana Point or Imsouane, you should spend at least 1 week there!
🟢 Is Taghazout safe?
Absolutely yes! Taghazout is very safe and quiet, people even sleep with the houses open. The only thing that could bother you is that locals are very insistent when it comes to selling you something!
🏄 What are the best surf spots in Taghazout?
Surfing Taghazout really depends on your level: if you're an advanced surfer Killer or Anchor Point is for you, if you are a beginner you should take some lessons at Banana Beach, otherwise, Hamza or Devil's Rock is perfect for any level!
Conclusion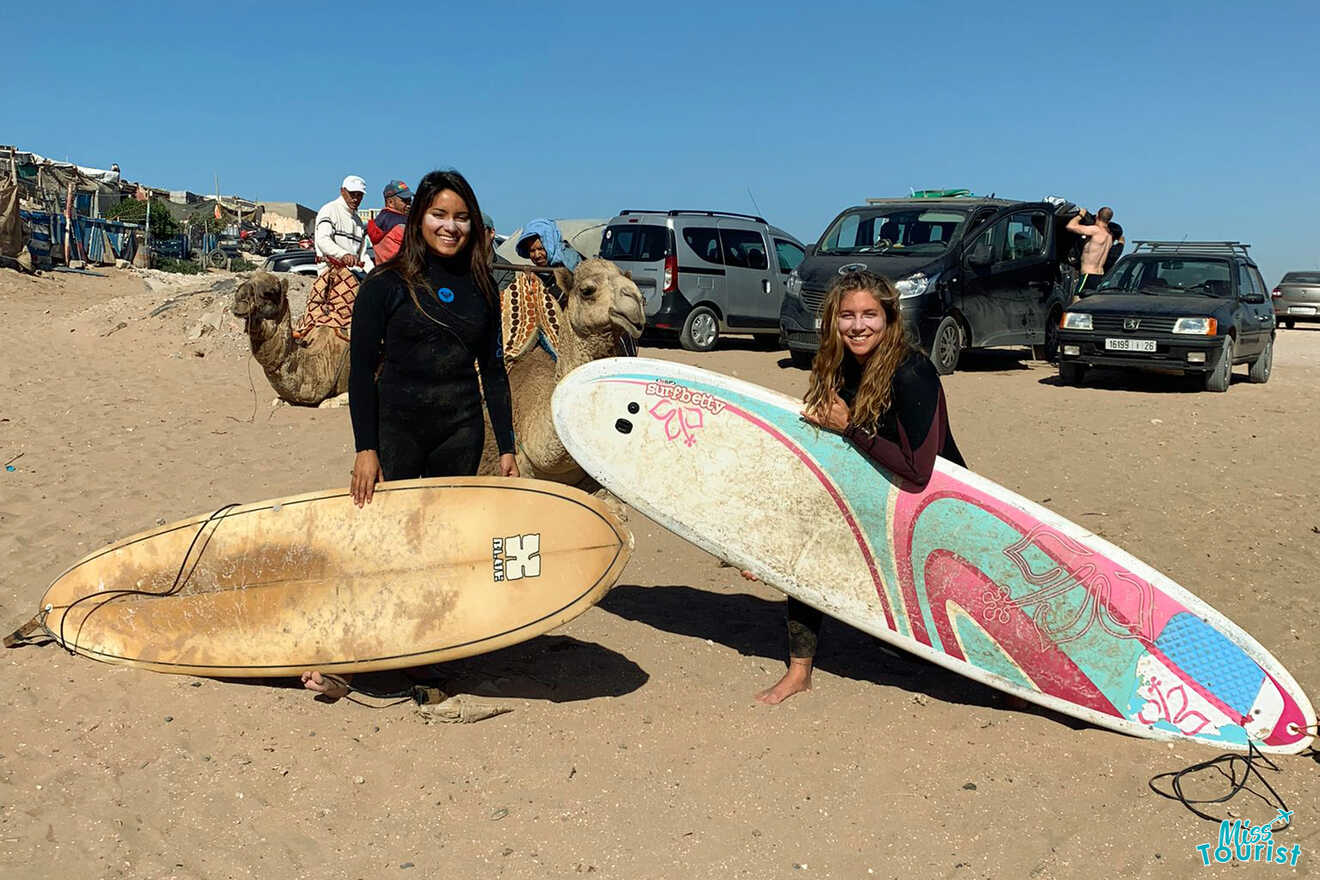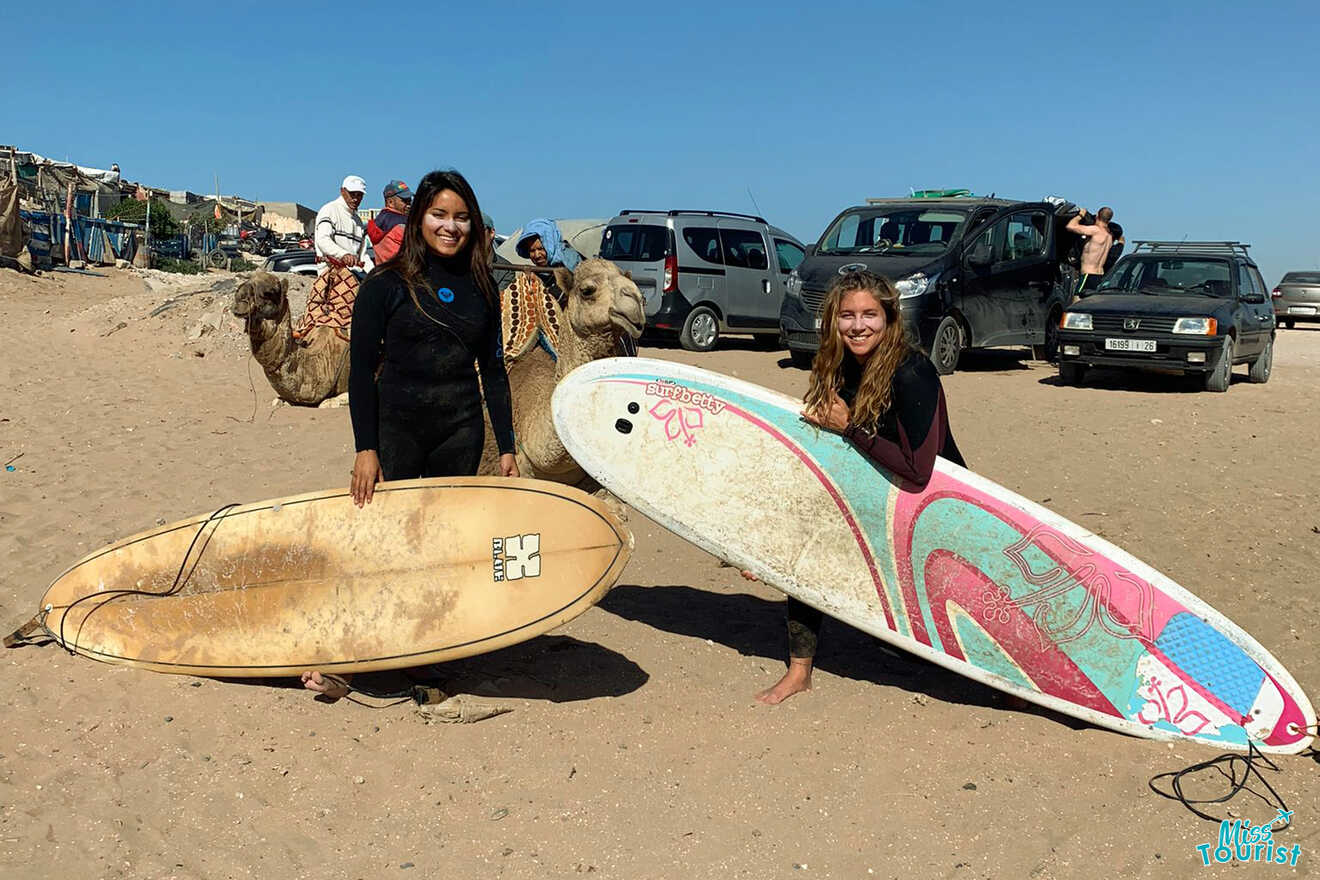 Here we are at the end of this surfing Taghazout guide, the most famous surf spot in North Africa, offering surf spots for any level, taste, and experience!
We also covered many different activities other than surfing that you can do in this charming town, from yoga classes to camel riding and more.
I hope you enjoyed my guide and that will help you have the same great experience that I had when I was there, and have some unforgettable surf sessions!
If you have any doubt or you have been to Taghazout and you want to share your personal experience, please do so in the comments below… I am looking forward to answering you!
Have an amazing trip and lots of waves!
Elena
---
Pin it for later!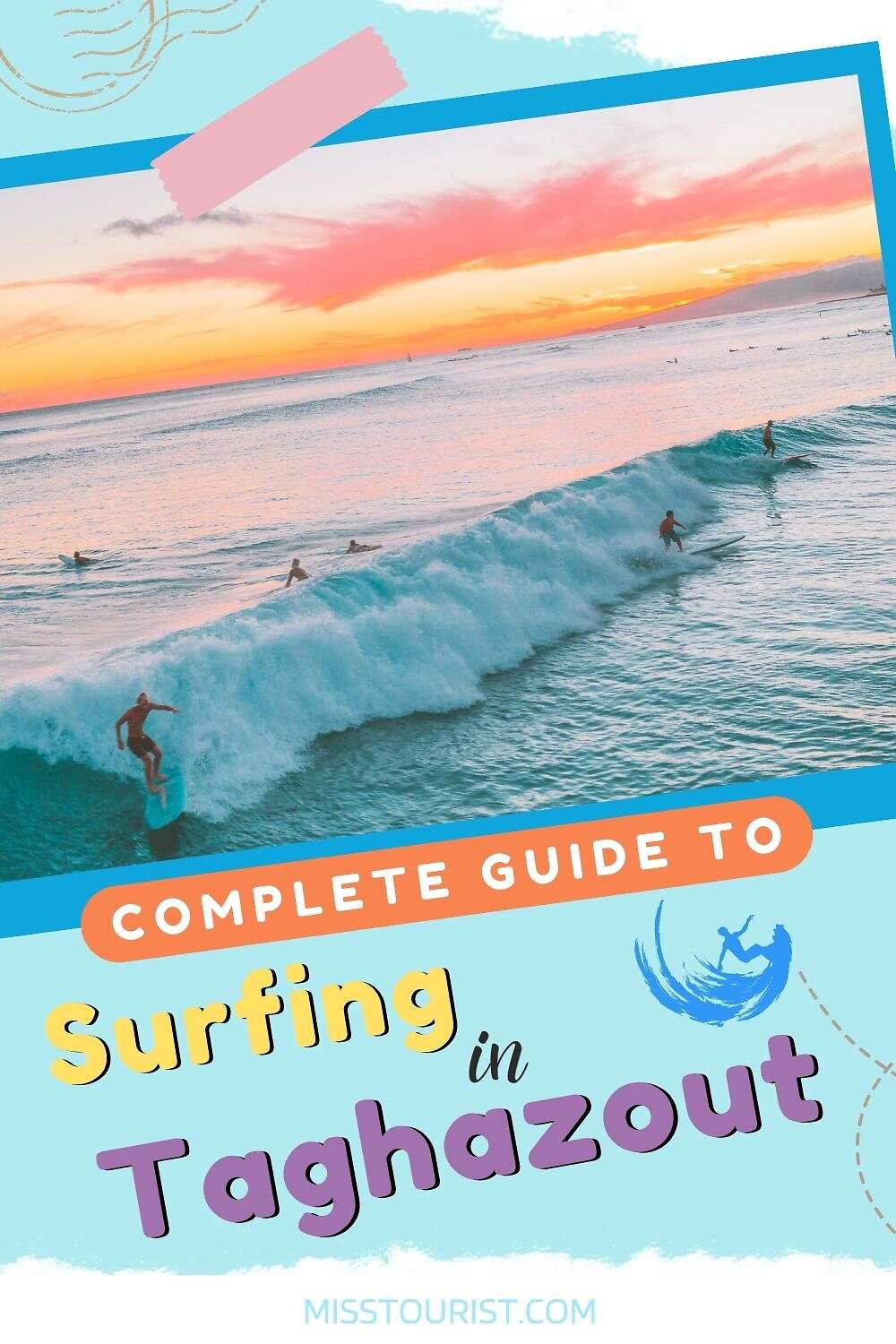 Pin it for later!