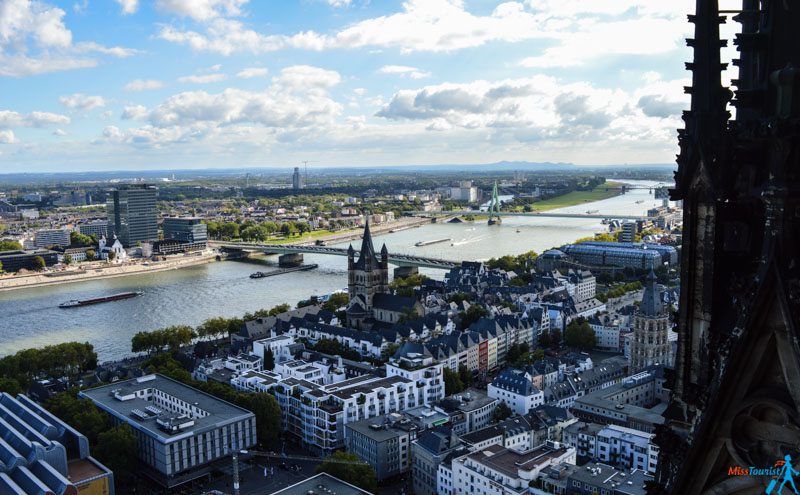 (UPDATED JUNE 2017) Cologne (or Koeln in German) is a great lively city, the 4th biggest in Germany and is located very close to Belgium. I visited it during my 30-day Eurail trip around Europe. Check if it was worth the money here.
After I arrived, I immediately got the impression it was a vibrant, youthful city with many students, where things are happening on every corner!
If you open a regular tourist To-Do guide of Cologne you will only find some typical things to do in the city that everyone else does.
But the point of this post is to give you a glimpse into a different side of the city. The side that you would probably not discover by yourself with any city guide book.
If you don't want to miss out on some very unique spots in the city, read on and you will find a description of some funny details in this post.
Are you ready? Here we go:
1. Kölner Rathaus' little joke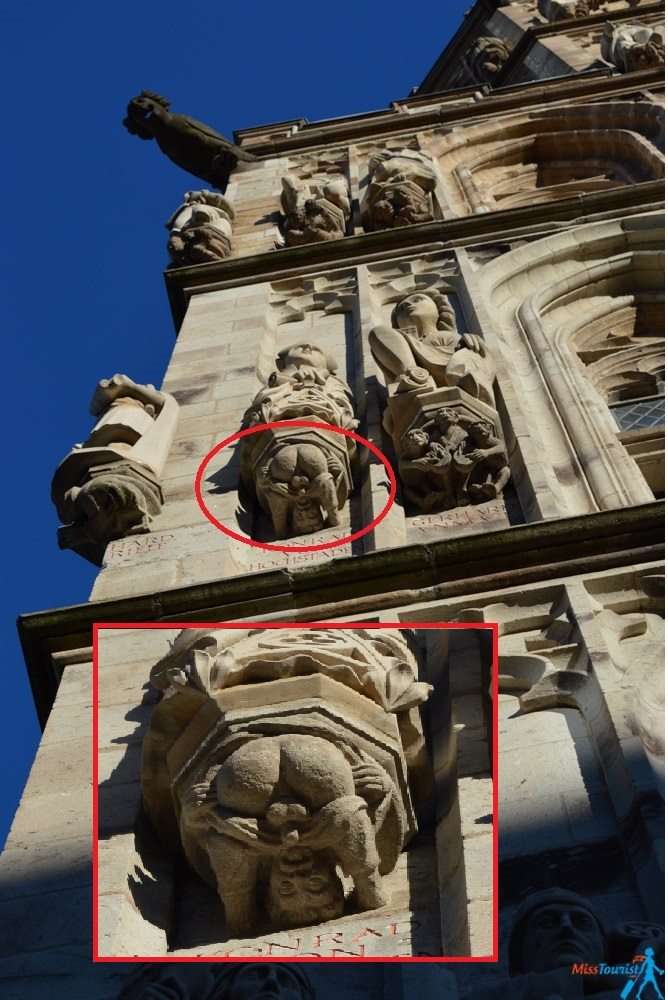 Here is your regular city hall, with statues on the wall, nothing special. What could go wrong, right?
But wait, look at the underlined statue! Do you see hmm… someone's back side? It seems that it was the architect's cruel joke that was not noticed at first. The statue its of someone who was probably not loved very much by the public, as no one ever said anything about it.
2. Brusseler Platz street art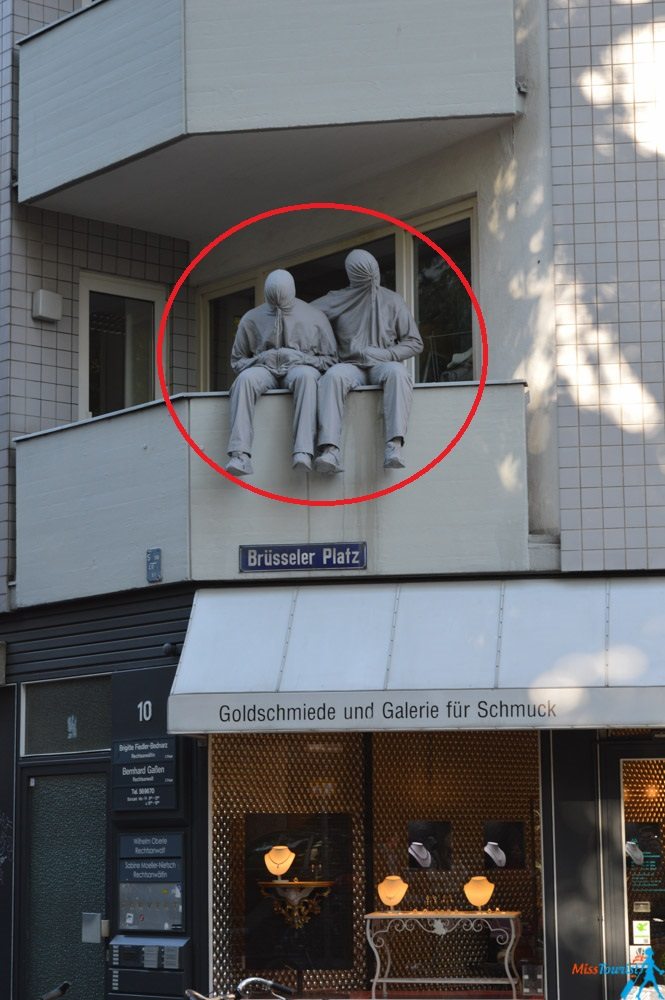 Brussels Square is a great, great neighborhood that you absolutely have to check out! In my opinion, it is much better than the touristy center in terms of restaurants. Walking around there and you'll some guys drinking coffee on a balcony…
No, you are not crazy, it is also a statue! I specially lnoted the name of the street so that you can easily find it.
3. The golden winged car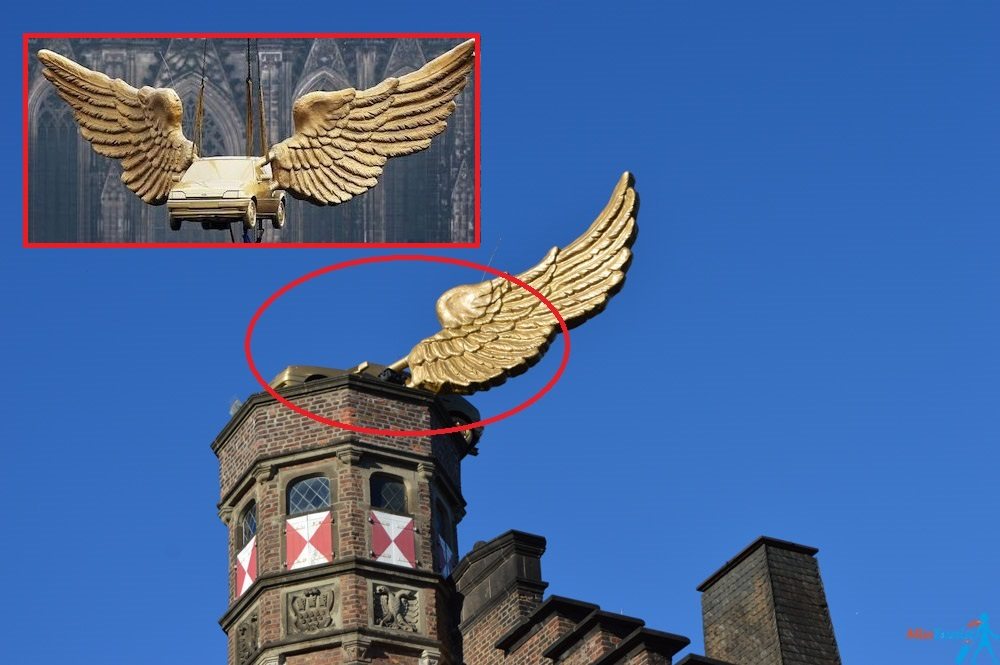 How about a huge car with wings made out of gold? Only in Cologne!
This car was created by an artist named H.A. Schult and is made completely out of goldy. It was put somewhere else before but then now they moved here to the Cologne City Museum; they even elevated it on a tower. I have heard the locals actually hate it and find it tasteless, but it is there nevertheless, and you can see it!
4. Banana sprayer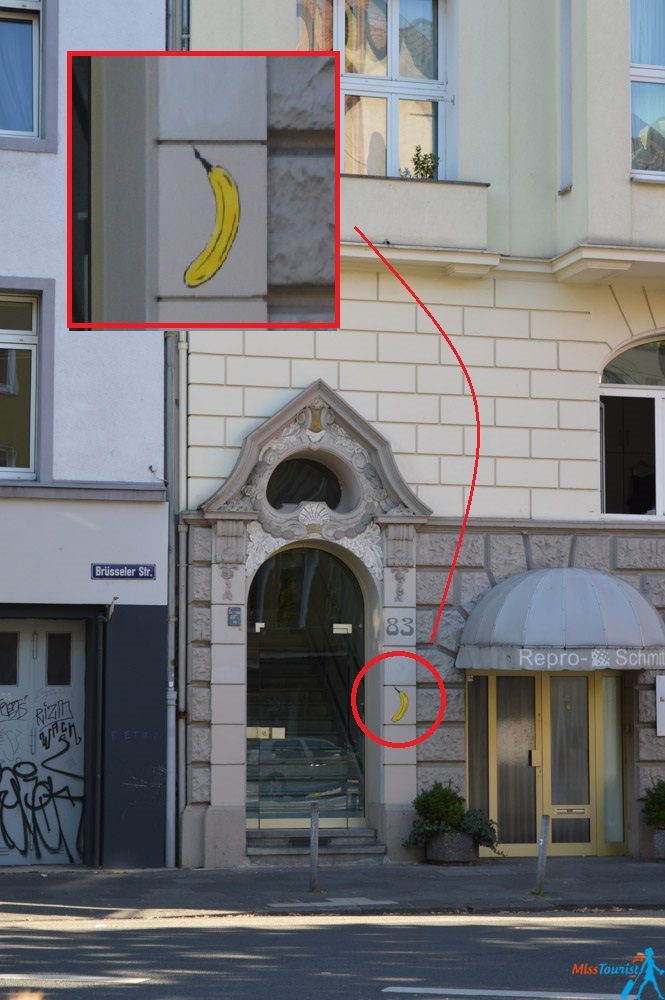 10 points for those who notice a banana sign on many buildings in Cologne! They are literally everywhere!
It all began when Thomas Baumgaertel started to evaluate contemporary art museums in his own way – a banana on its door would mean he approves of its existence and the museum was good.
His banana stencil pieces eventually became well known and now some museums even draw a banana on their door themselves. The inventor of the "banana evaluation" went to court and proved that it is his trademark and only he has the right to leave the banana signature!
Nowadays, you can find these bananas not only in Cologne but all around the world, for instance, at the Guggenheim Museum.
5. Eau de Cologne origin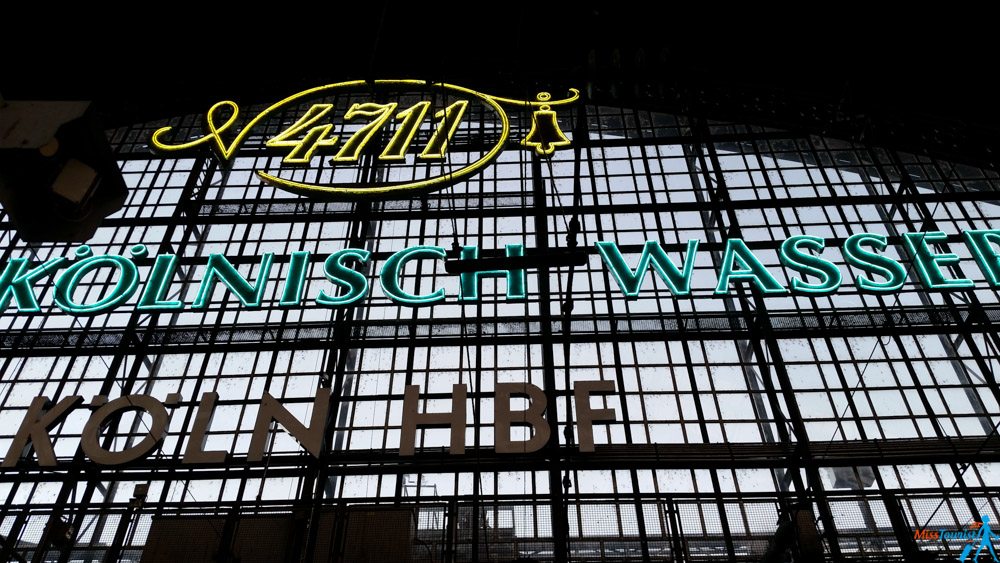 Have you ever made the connection between Cologne, as the name of the city, and Eau de Cologne 4711, the perfume?
Yes, exactly, that is where it was invented! Now it makes perfect sense, right?
And since, as we have the first part figured out, let's think about what the second part stands for, what is 4711 all about?
It is less complicated than you think; it was just an address.
In 1794 Napoleon implemented a system of house numbers in Cologne. So, 4711 is actually an address where the perfume house was located. Now it is a museum, which you can visit.
Where to stay in Cologne
Since we started to talk about some unusual sights in Köln, I will also tell you about one really special hotel where I had the chance to stay.
Even its name, Humboldt1, already tells you it is not your typical big chain hotel. From the time you enter this eccentric hotel till the time you check out, you will feel like it belongs to a different world, a parallel reality even!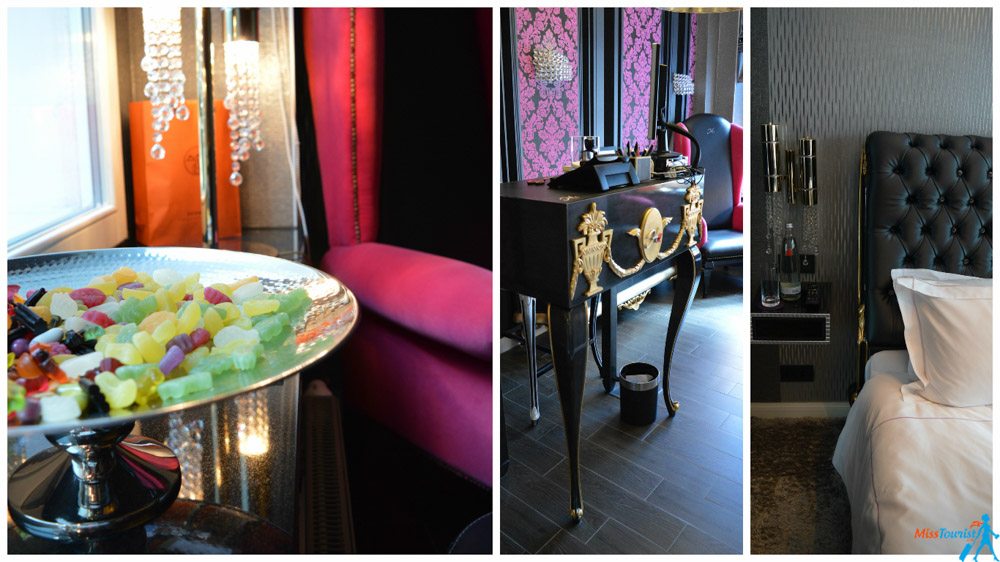 Shining lamps, a bizarre looking check-in desk, interesting decor – all these made me expect my room to be special as well.
My expectations were confirmed – the room had a toilet/washroom right in the room (there was some kind of curtain though)!
Was it the designer's idea or did they just not bother to build a wall? I don't know, but for me and my sister it was an interesting experience, we giggled all the time! 🙂
In terms of location, the hotel is situated perfectly – all the tourist sights are within walking distance.
The owner of the hotel, a woman named Anja, is extremely nice and helpful and the breakfast was fresh and delicious. It was so big, it could hardly fit on the table! 🙂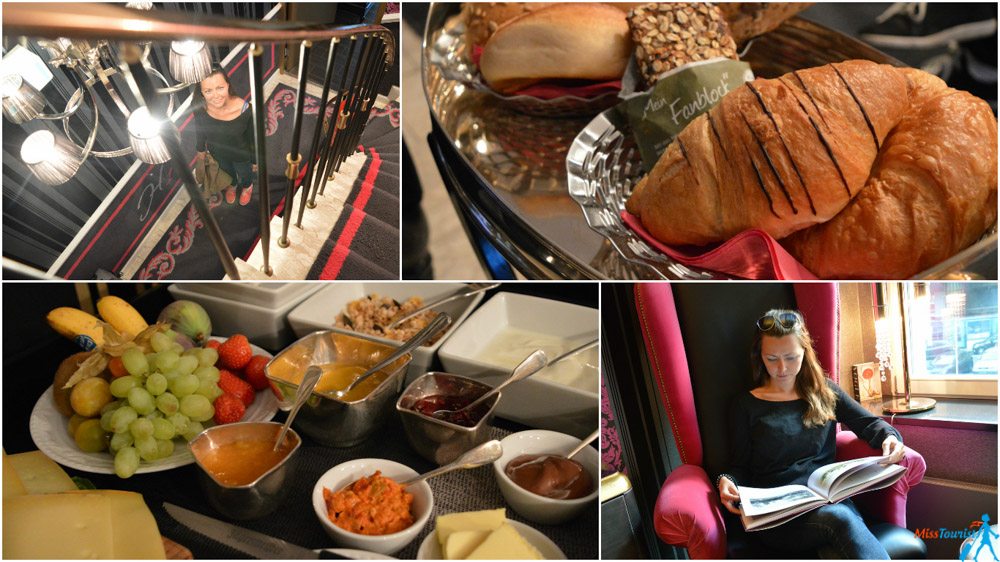 I was very glad I chose Humboldt1 for my stay in Cologne. I saw the alternative side of the city and I stayed in an alternative hotel. It was just a perfect match.
Stay in this hotel if you are searching for something different, a special experience in a small hotel where you will get individualized treatment.
Book your stay with Humboldt1 hotel here!
Other places to stay in Cologne:
I have carefully selected these accommodation suggestions according to budget; all are located in the heart of the city and have fabulous reviews:
Luxury stay – (from 150 €) Excelsior Hotel Ernst am Dom is luxury at its best. It offers award-winning cuisine and elegant rooms with a free minibar. There are great views of the Cologne Cathedral, gourmet cuisine, and a free spa area with a large indoor pool. Hyatt rooms are, as always, very stylish.
Mid-range – (50€ – 150€) Hotel Sandmanns am Dom – This 3* apartment is pretty well priced for all it has to offer – it is close to everything and the service is amazing.
Budget stay – (up to 50€) If you are searching for a cheap double room, a hotel with an unpronounceable name, Die Wohngemeinschaft, is for you – 9.2/10 rating, the price for a double starts at 30€, book in advance!
UPDATE: Looking for more accommodation options in Cologne? We have broken down the city by areas and selected best hotels and Airbnbs for each of them, click on the post to see the updated info!
---
| | |
| --- | --- |
| 🎉 Unique spot : | Kölner Rathaus' |
| 🚶🏽‍♂️Top free activity: | The Koeln Cathedral |
| 🍺 Must try beer: | Kölsch beer |
| ☀️ Best time to go: | September – October |
| 📅 How many days: | 3 |
| 💵 Avg hotel price: | €130 |
---
Other, more "normal" things to do in Cologne
Even though I shared some really unknown things to do with you, I cannot help but also tell you about the MUST DO ones! What if you miss them during your one-day visit to Cologne? 🙂
Here are some more typical, usual things that you should do while in Cologne
-The Koeln Cathedral-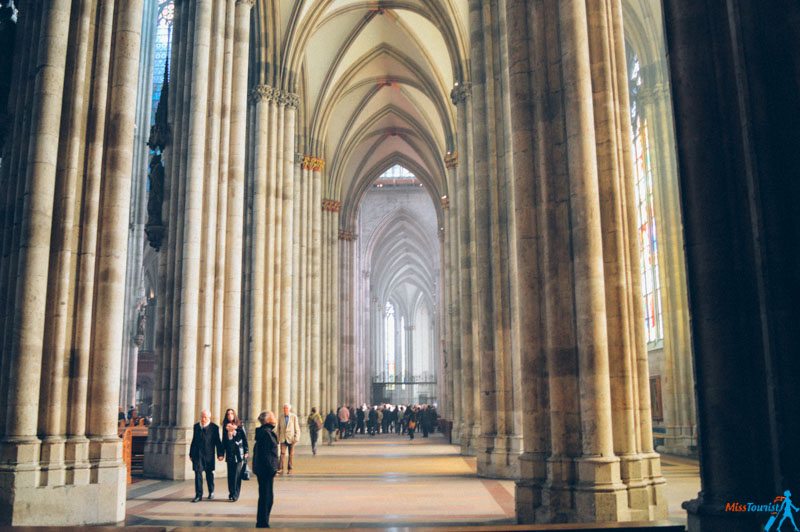 The bell tower of the Cathedral – this is the number one thing you should do when in Cologne! Climb the 573 steps of the Cathedral Tower to reach an amazing view of the whole city!
The construction of the cathedral was started in 1220, it was paused after 400 years of continuous work and it is still unfinished today. It reminds you of Sagrada Familia in Barcelona, right?
PRICE: 4 EUR. (Don't forget to take a student ID if you have one; you will get a 50% discount!). The entrance to the inside of the cathedral is free.
FUN FACT: Do you know why the cathedral is different colors? In some spots it is blacker, other places it is more yellow. During WW2 the tall cathedral was a great orient point for pilots who bombed the city. They did not want to hit the cathedral, as it was so easy to spot it in the city from the air. But because they bombed everything else around it, all the dust and bombed parts left their effects on the cathedral!
– KölnTriangle –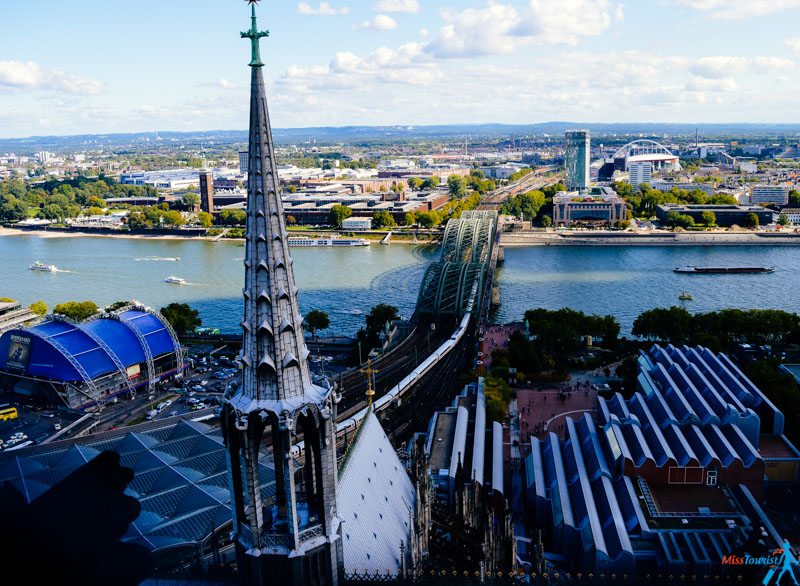 If you don't want to climb those 573 stairs, alternatively, you can go up the KölnTriangle, where there are no steps and you can take the elevator. And what is even cooler – you can actually see the dome of Cologne Cathedral from there!
PRICE: 3 EUR
– Love Locks Bridge –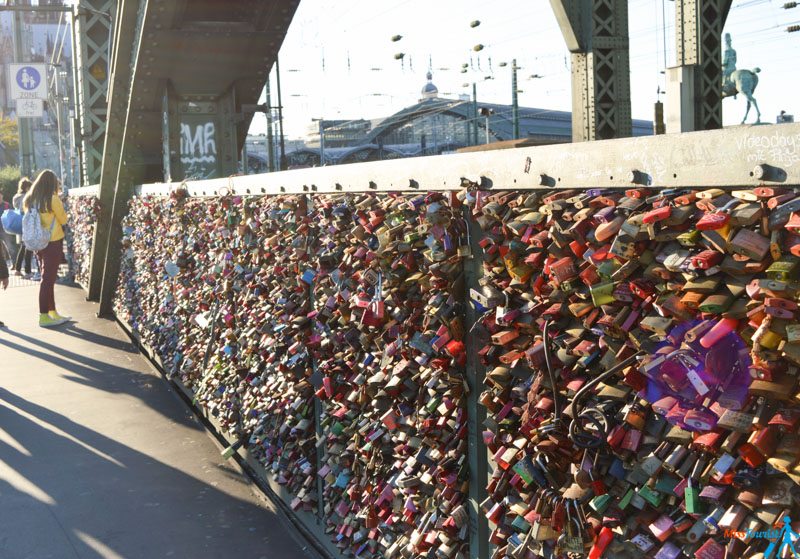 Hohenzollern Bridge (or just Love Locks bridge) is 400 meters long and it is filled with love locks from the bottom to the top, there is no square decimeter left untouched!
It is the largest padlocks bridge in the world!
The government takes the locks down once in a while because it gets too heavy and thus, becomes dangerous. But otherwise, you can totally put your lock on if you want to. Just like that, you want your love to last forever, don't you?
– Fat Peter –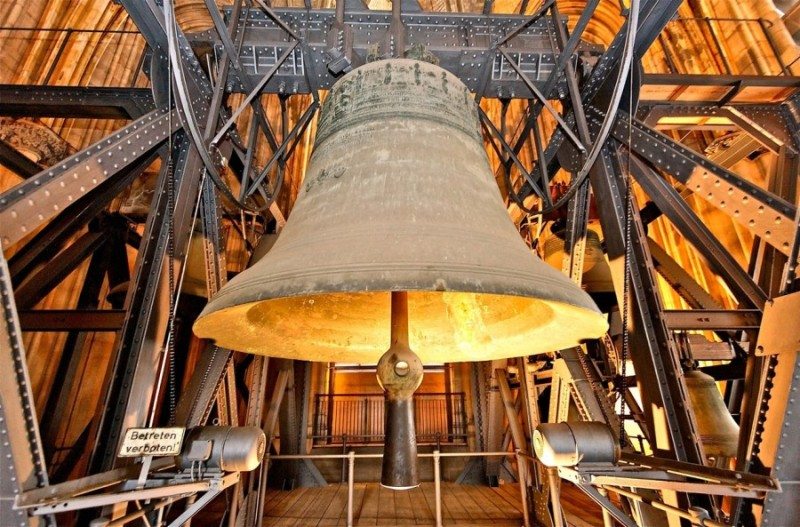 Fat Peter (or St. Petersglocke) is the largest ringable bell in the world!
It's no wonder – the bell's weighs approximately 24,000 kg and its diameter is 322 cm – can you even imagine?
---
Feeling like it is still not enough, and you want to visit some more sights?
Try these suggestions if you have some spare time in the city:
Cable cars – an interesting way to see the city from a different angle. The price is 7 EUR return or 4.80 EUR one way. I have to warn you, though, the view is not that spectacular as you take the cable car near the park, not in the city center.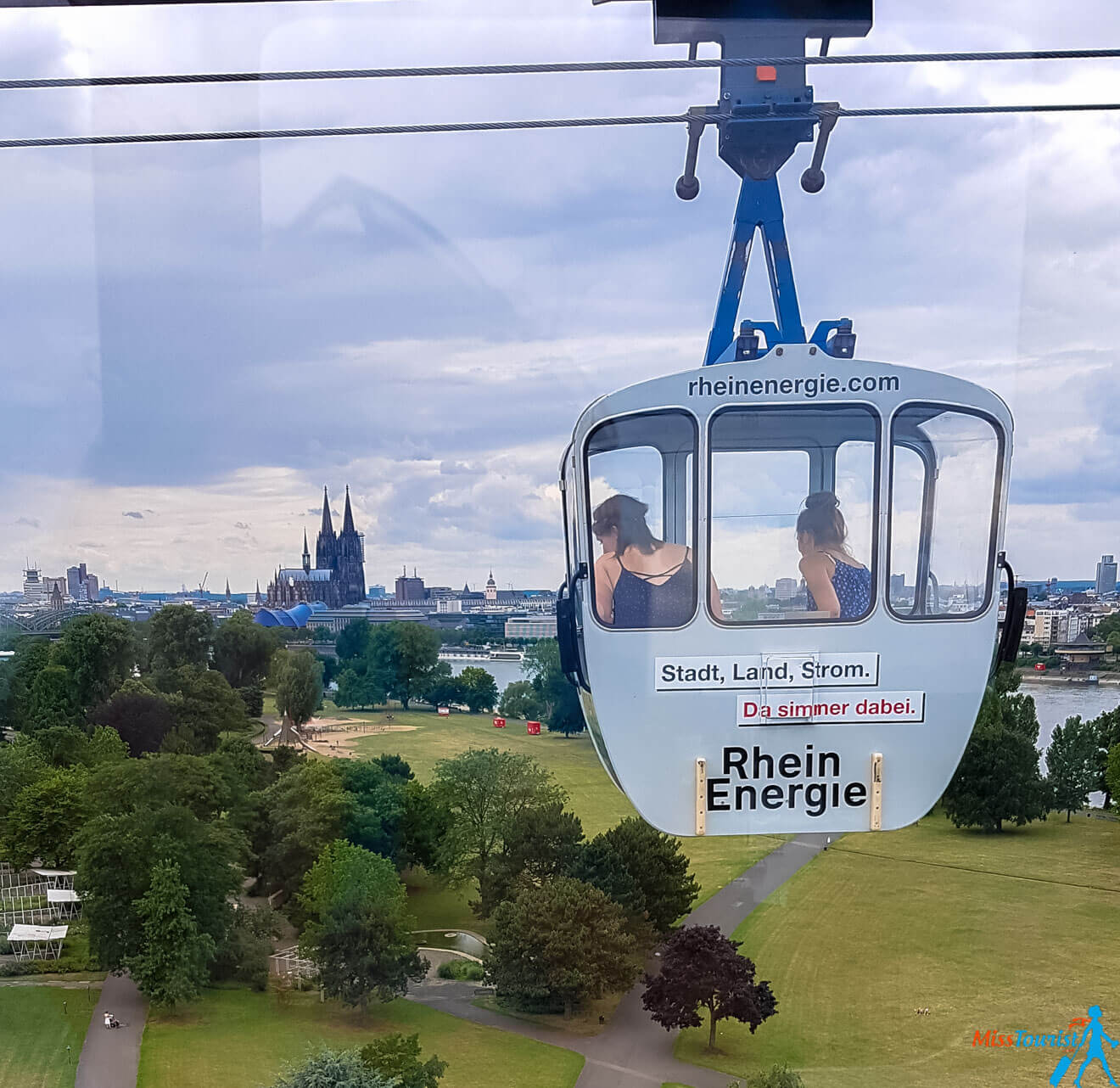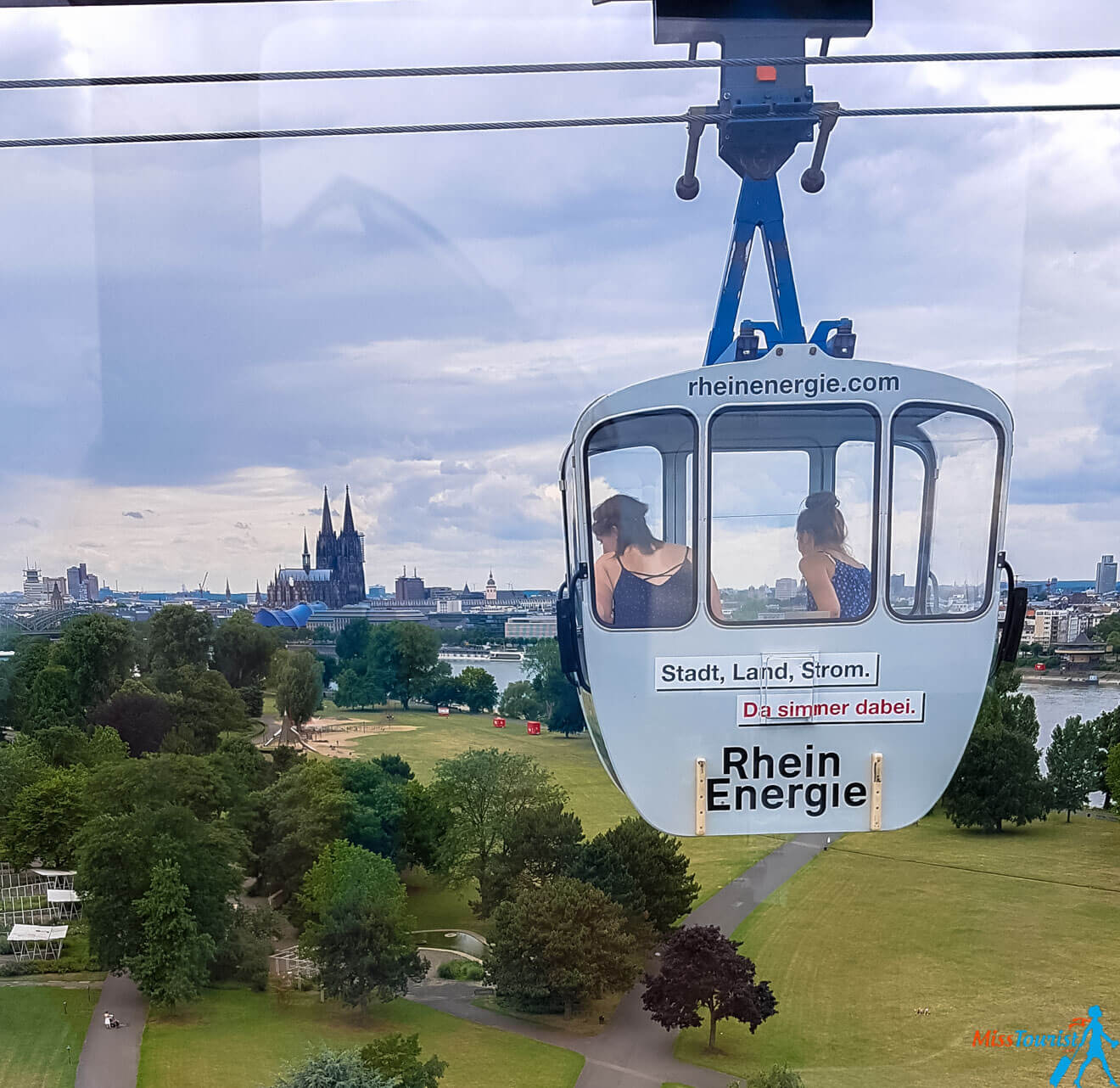 Museum Ludwig – if you are an art lover you will appreciate this modern art museum. It houses one of the largest Picasso collections in Europe. The entrance fee is 12 EUR for adults and free for kids (under 18).
Chocolate museum – Lindt chocolate built this Willy Wonka style museum with chocolate fountains etc. Fun not only for kids! Price: 9 Eur
Mustard museum is free, you can do a lot of tastings there.
Take a boat ride on a lazy afternoon. There are numerous boats crossing the Rhine River, which will show you many sights from a different angle.
Kölsch beer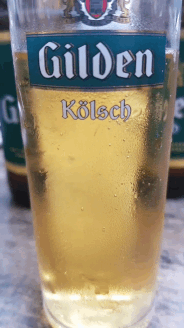 Try Kölsch beer – everything brewed in a radius of 30 km from Koeln is considered to be Kölsh beer. This light beer is special because it is filtered from the bottom to the top, which means it loses its taste quickly. For this reason it is mostly served in 0.2 L glasses.
But be careful when ordering it! You might not notice, but your beer will be magically refilled every time you finish your glass! It is done by default by waiters and you will doubtlessly be charged for it. But why not, huh?
If you want to give the waiter a signal to stop refilling, just put a beer coaster on top of your glass.
FUN FACT: Cologne and neighboring Dusseldorf were always rivals. If you order a dark Dusseldorf beer in Cologne, not the light Kölsh one, don't be surprised if the waiter gives you a strange look! 🙂
Conclusion
Thank you very much for reading this post; let me know if you liked it in the comments!
Please share it with your friends!
If you also want to see the capital of Germany, check out my post on 22 things to do in Berlin!
P.S. Do you want to know where else I went for my Eurail adventure? Check out my posts about Croatia, Prague and Slovenia!
Have you been to Cologne? Do you know any other unusual things in the city?
Yulia
---