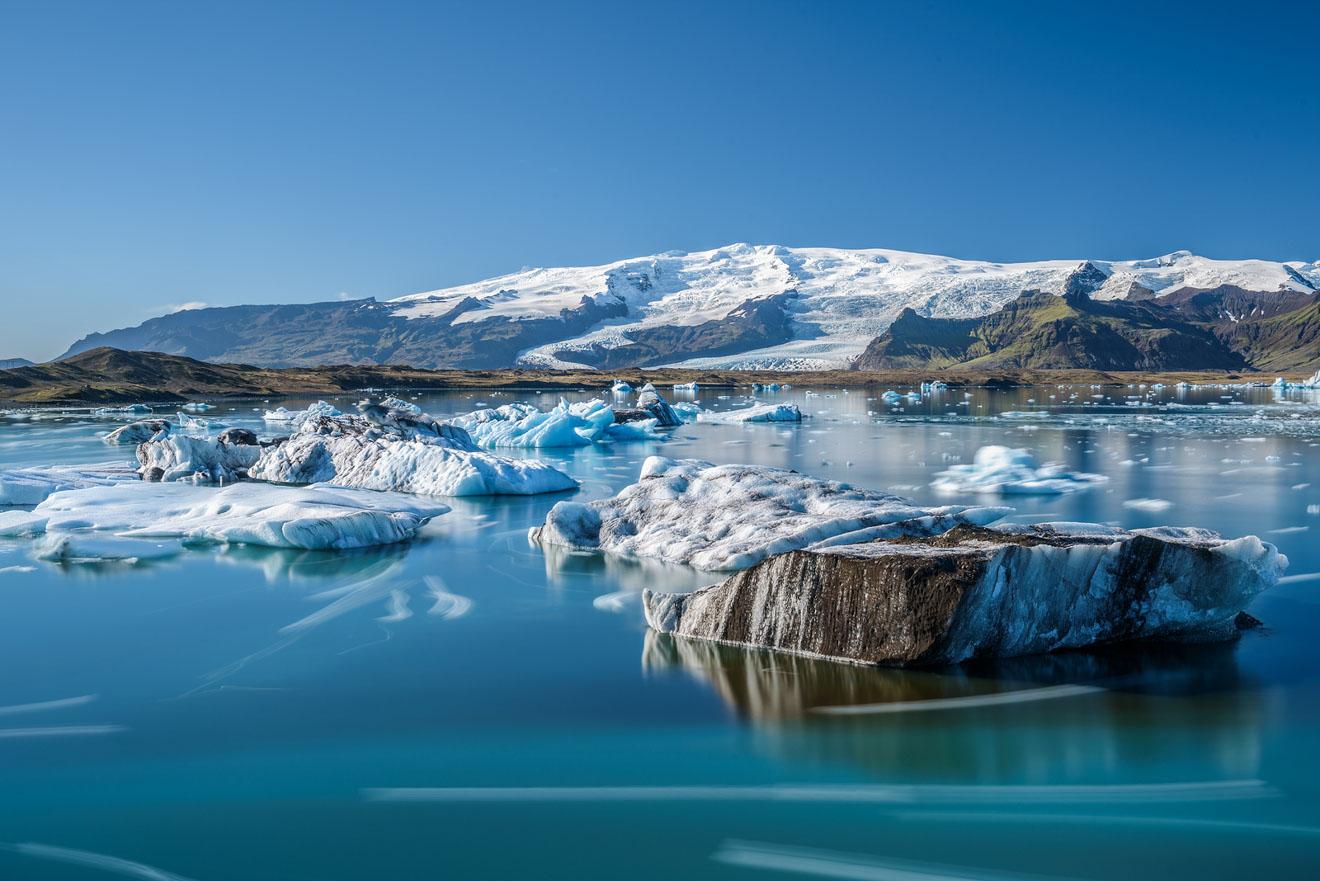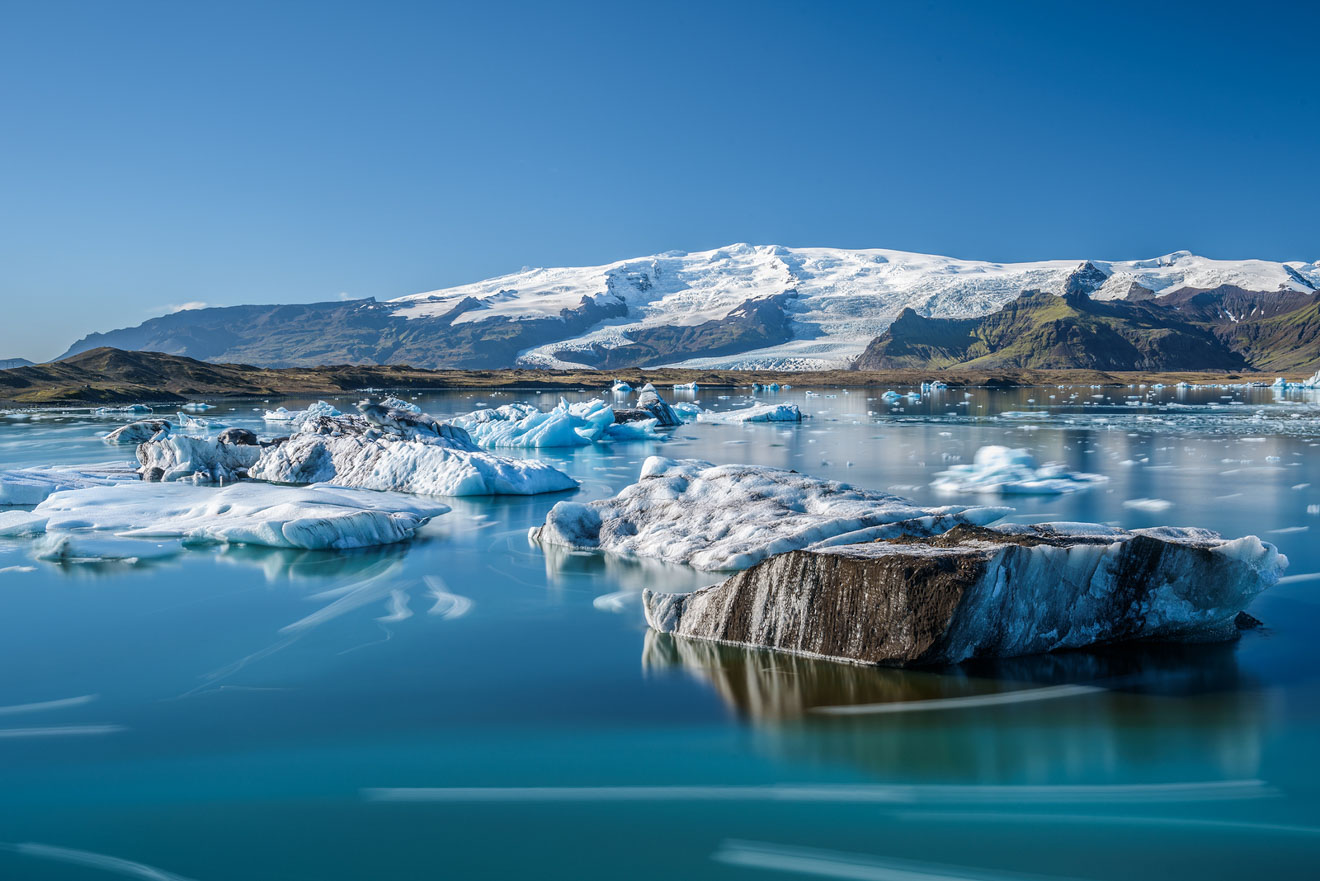 Iceland, "the land of fire and ice", is a unique country that you must visit at least once in your lifetime! It is a place where you can get very close to waterfalls, jump in thermal waters, see whales swimming right near your boat, hike glaciers, explore astounding ice caves and much more!
If you are planning a visit there in the near future, then you are probably wondering what to pack for Iceland, right?
Iceland's climate and weather can be quite unpredictable at times which is why it's important for your luggage to contain everything you might need during your stay! Remember – Iceland is an expensive country and it is definitely better to pack everything you need before going, rather than buying items while there.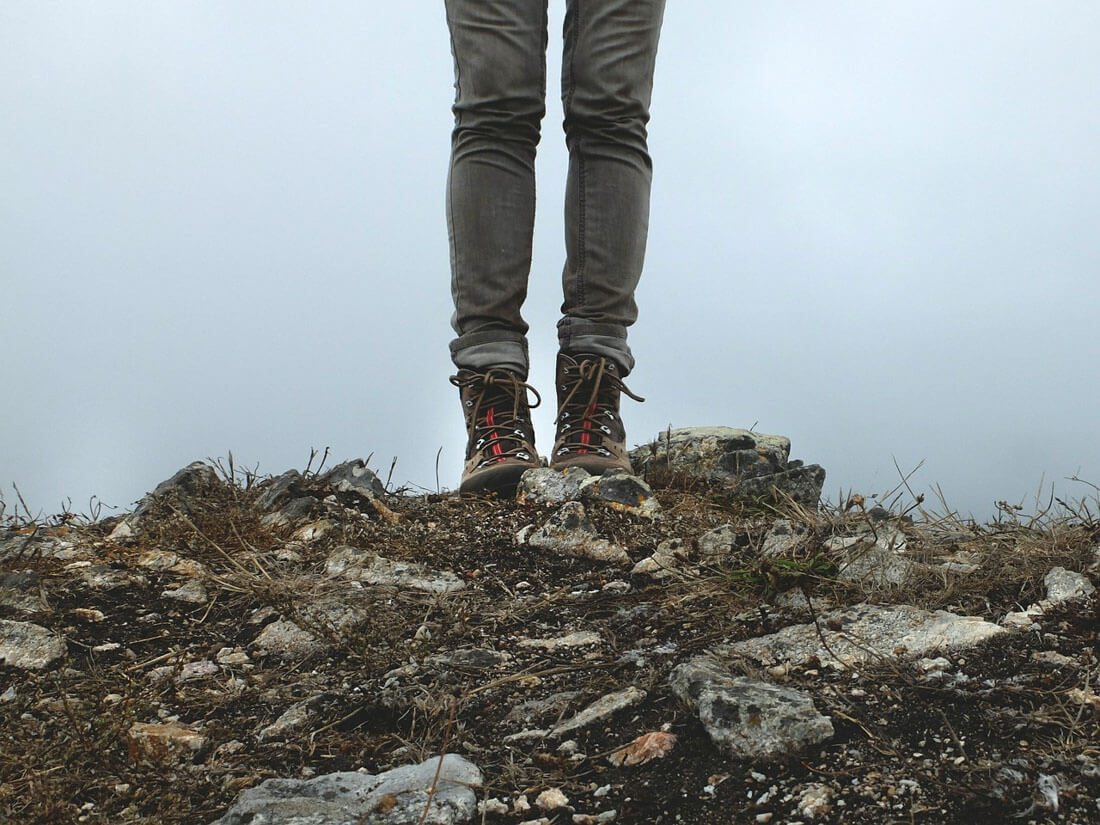 It is also important to consider the season you are going, as a summer packing list is a bit different from the winter one.
But don't worry, I've got you covered! In this article I created a detailed packing list for Iceland that will help you pack everything you need – it has a general list at the beginning, then season-specific items sorted out by months followed by a men's packing list.
Here is a useful video I found that you might want to watch before you start packing:
Without further ado, here is my extended packing list for Iceland, divided into types, seasons and gender:
Iceland All-Season Packing List
CLOTHES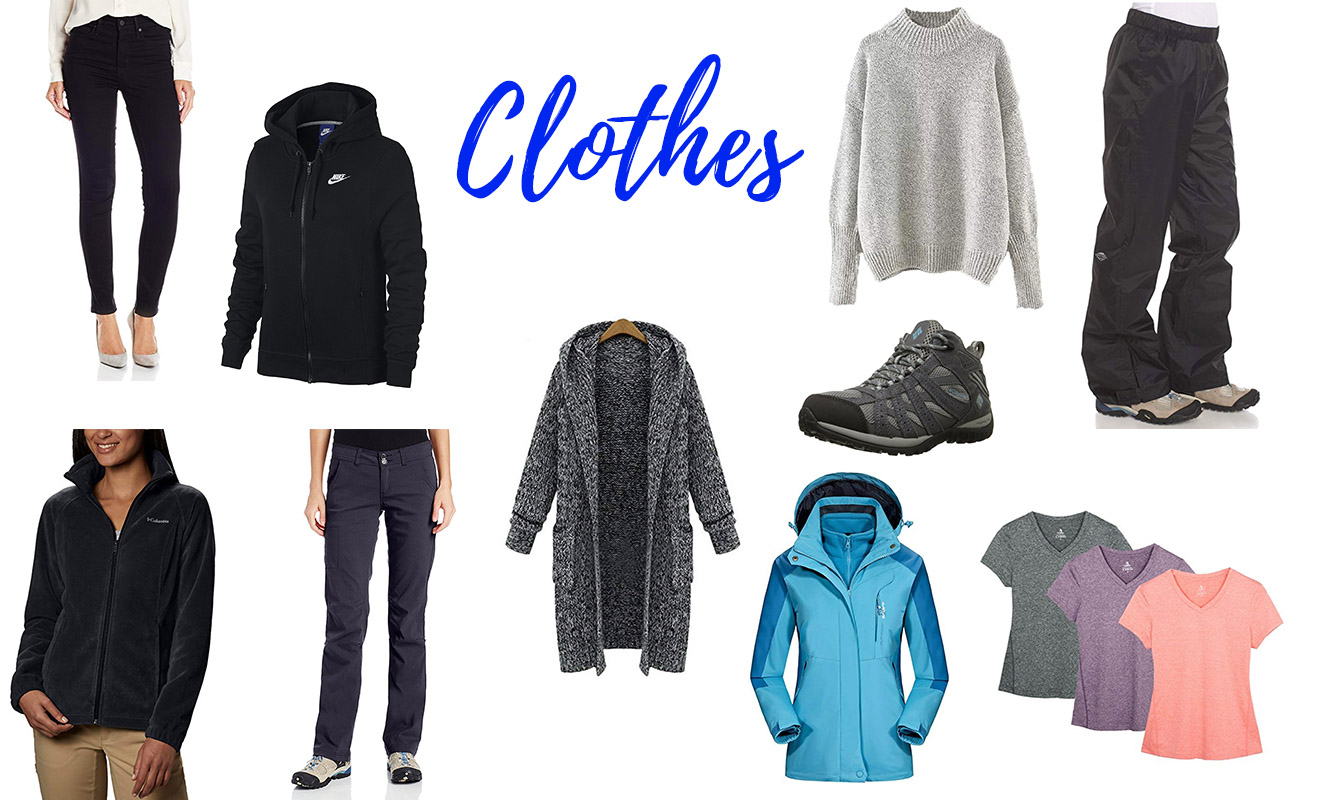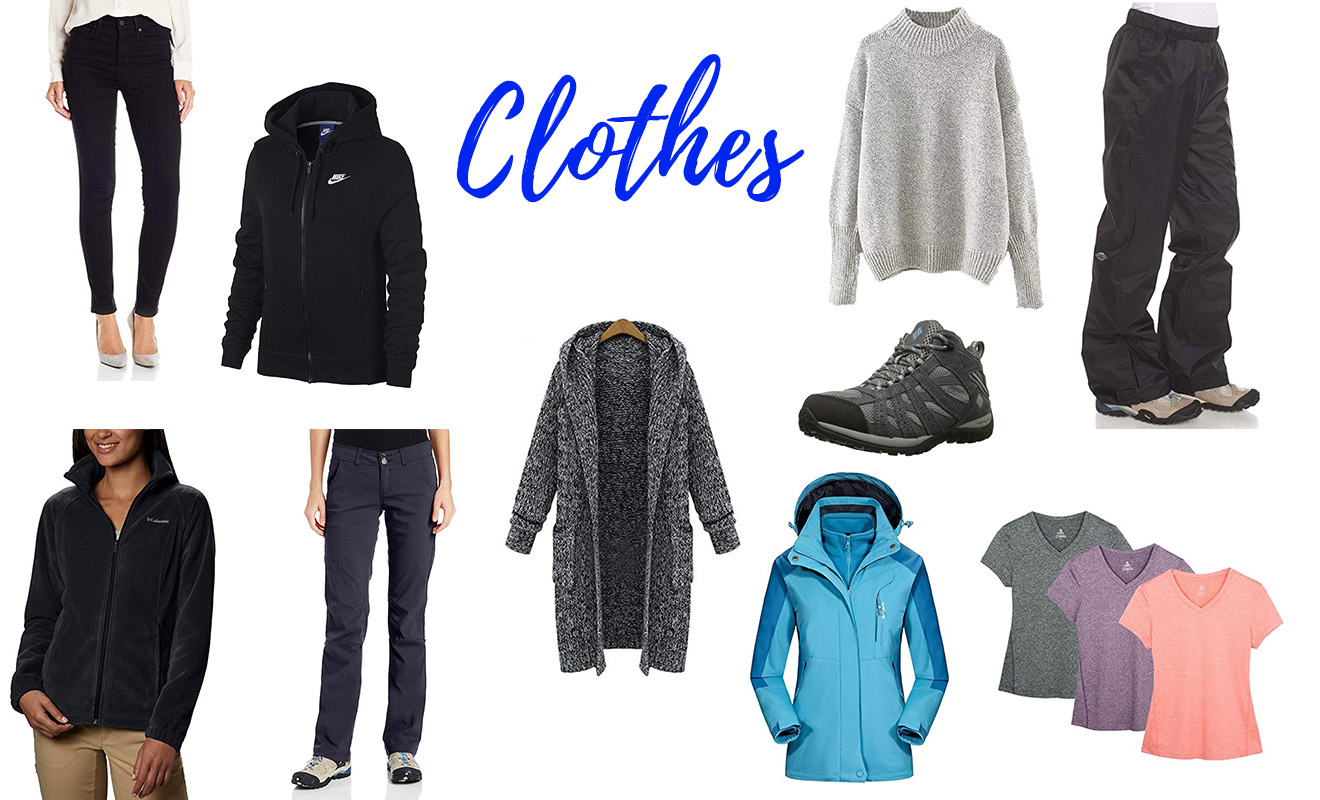 NOTE: Even if the items below are pretty universal for men and women, there are still differences in male and female hiking boots, pants etc., so I am linking to women's clothing here (do not worry, men can find their gender-specific list below in this post).
This is my list of what to wear in Iceland. Enjoy!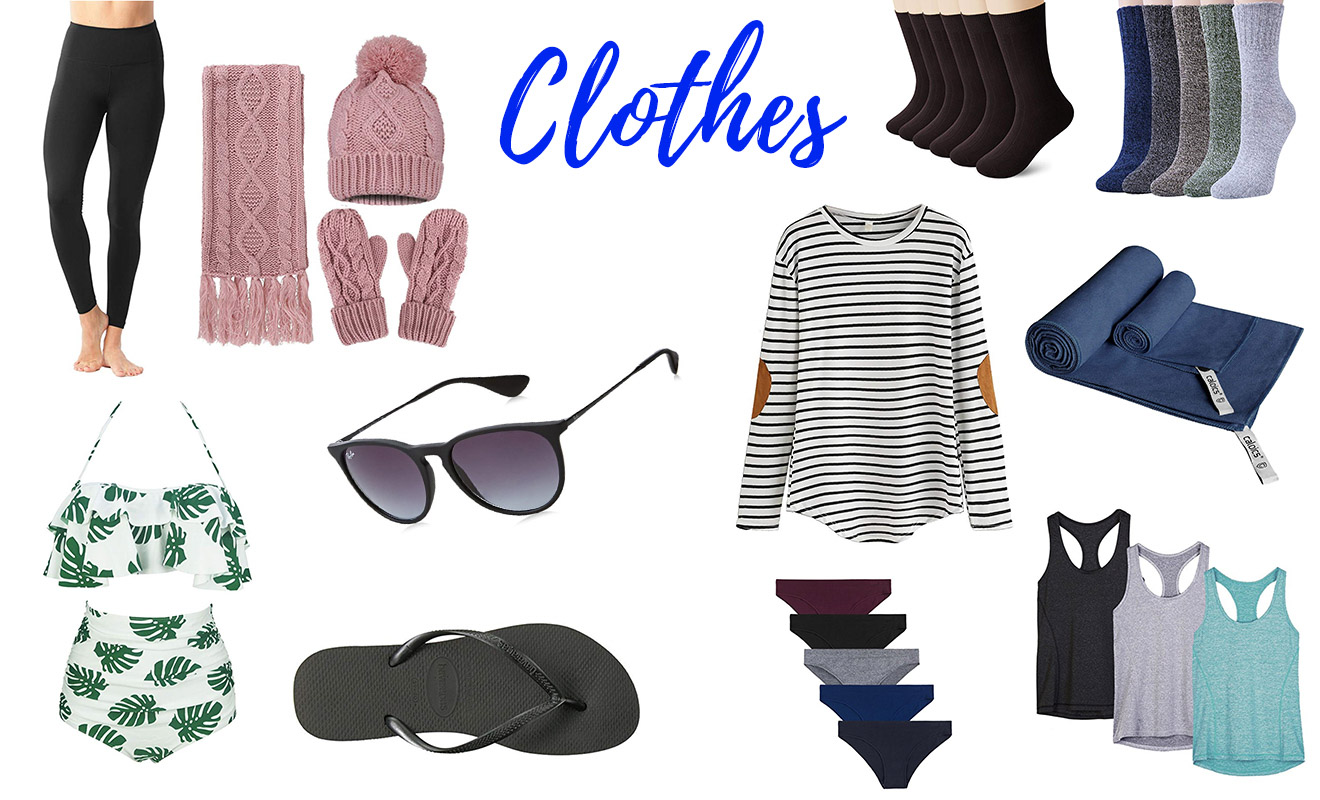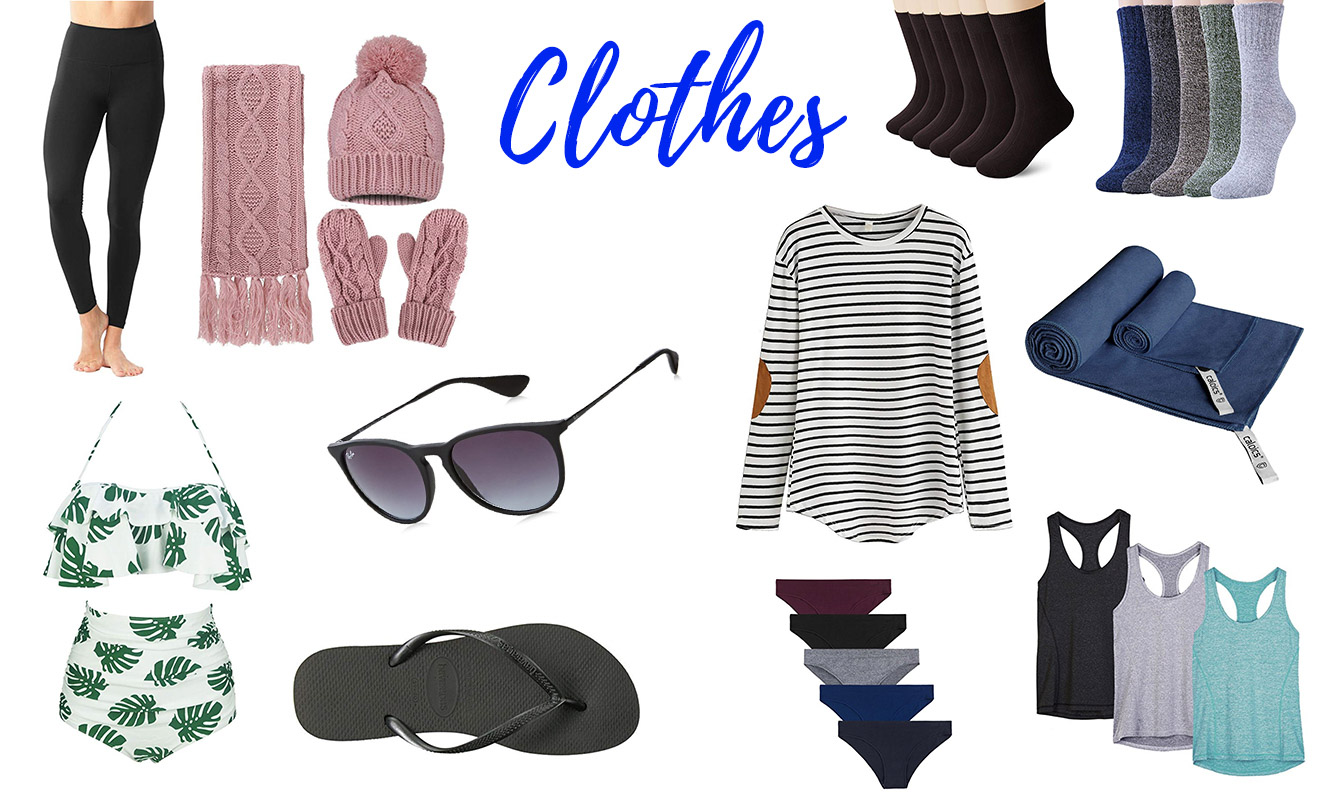 Tank tops – for layering
Leggings – for that mild weather when it is too hot in hiking pants or simply for layering
Underwear – make sure you take just enough for your entire stay, so you won't be stressed about finding a laundromat
Wool socks – warm feet are happy feet!
Normal socks – the more the better so you do not worry about washing them, cotton preferably
Swim suit & flip-flops – for the Blue Lagoon and other thermal pools you might want to jump into
Microfiber towel – in addition to the fact that it is light, this kind of towel also gets dry super quick, which is very convenient!
Sunglasses – During Iceland summer or winter, the sun is quite strong! I always recommend sunglasses with polarized lenses, as they protect your eyes. I have used those exclusively for over 5 years now
Hat, gloves and a scarf – I recommend packing them even if you go to Iceland in August (the warmest month) as you will need it at some point, trust me on this one! Thebest gloves for Icelandare the ones with a special thermal layer on your fingers. They are very convenient because they allow you to use your smartphone without having to take the gloves off, so handy!
A nice outfit – you can pack one or two (for me one was enough) cute outfits for going out in Reykjavik or in the other cities
TOILETRIES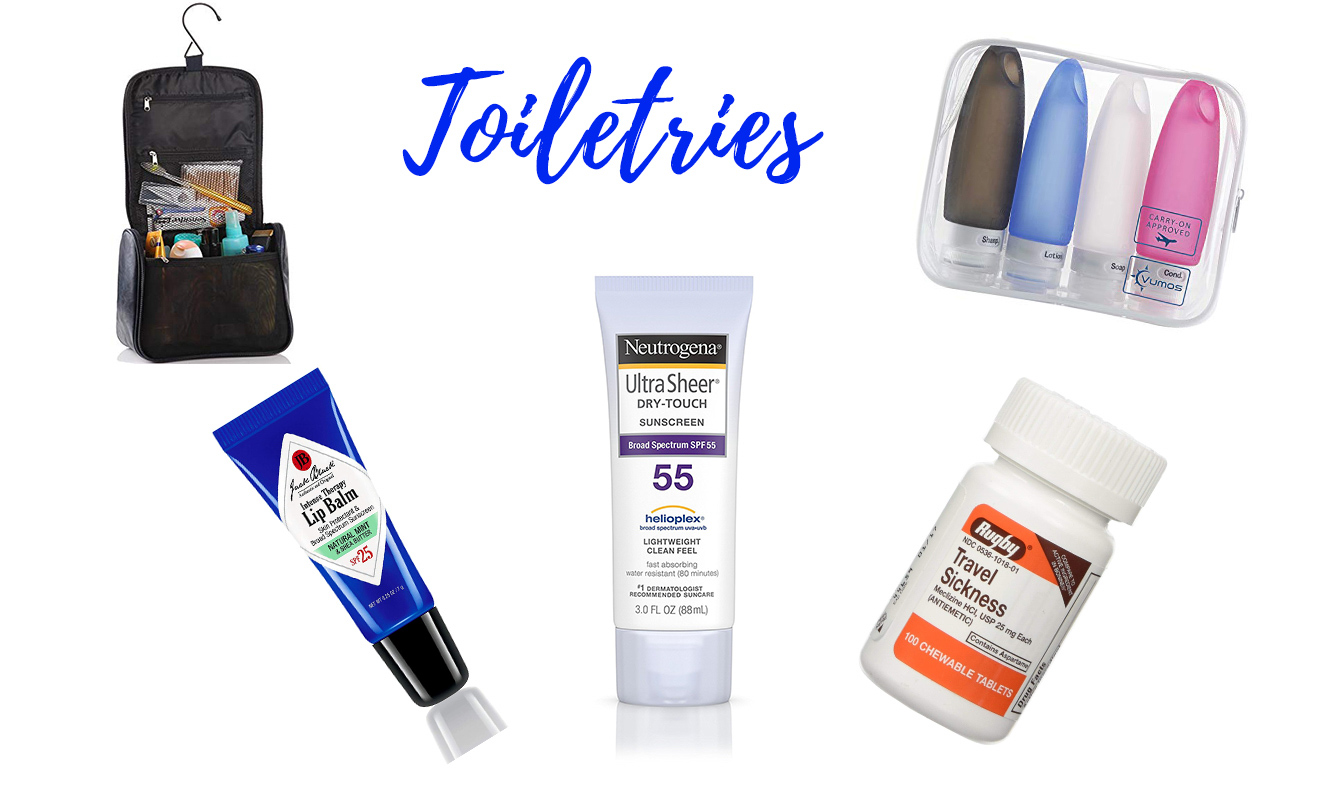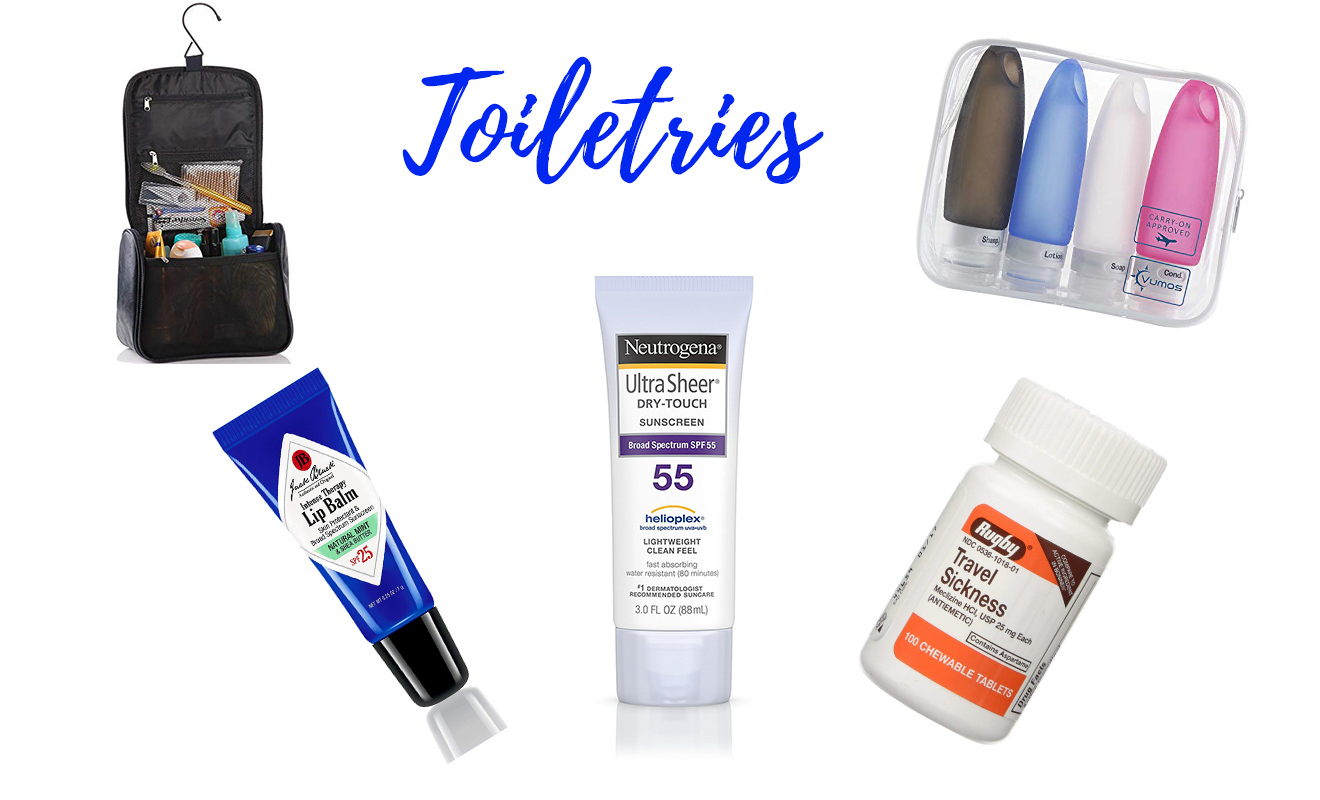 ELECTRONICS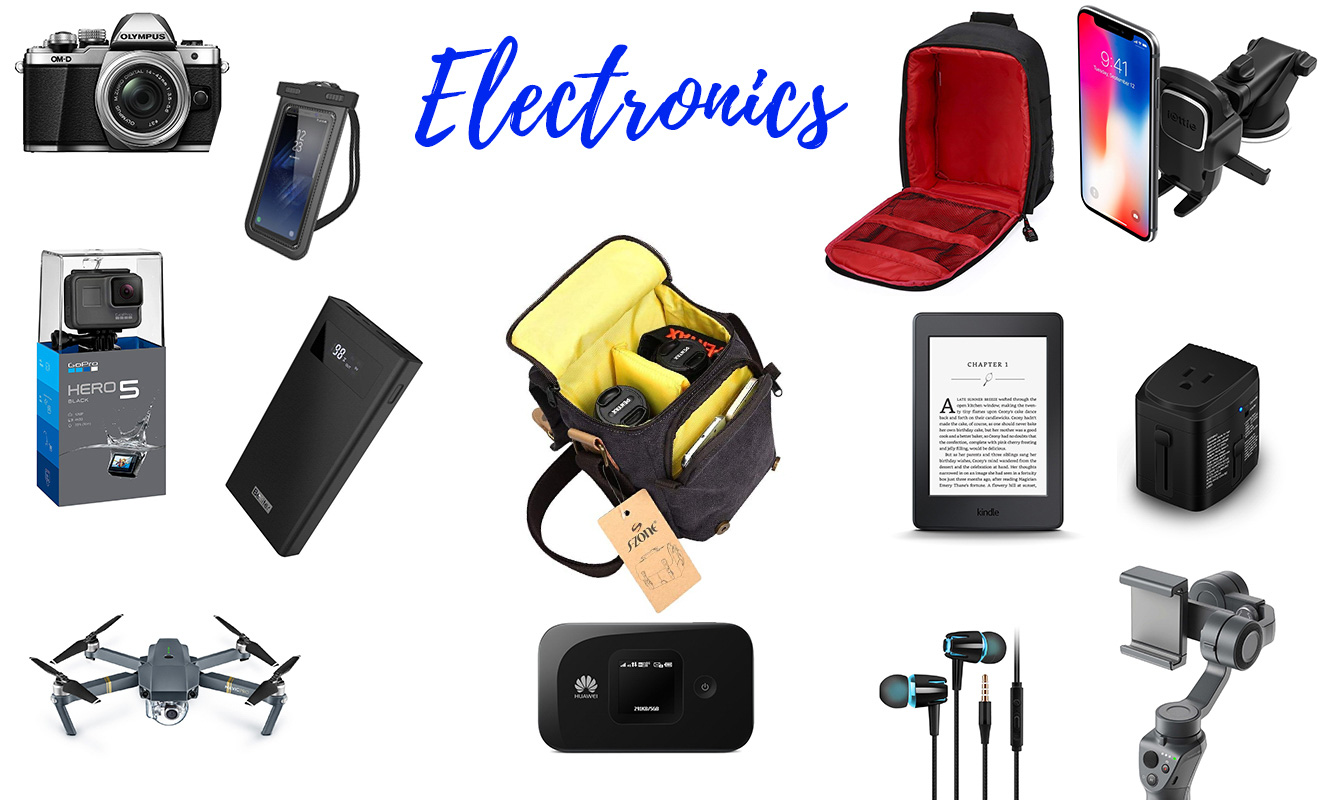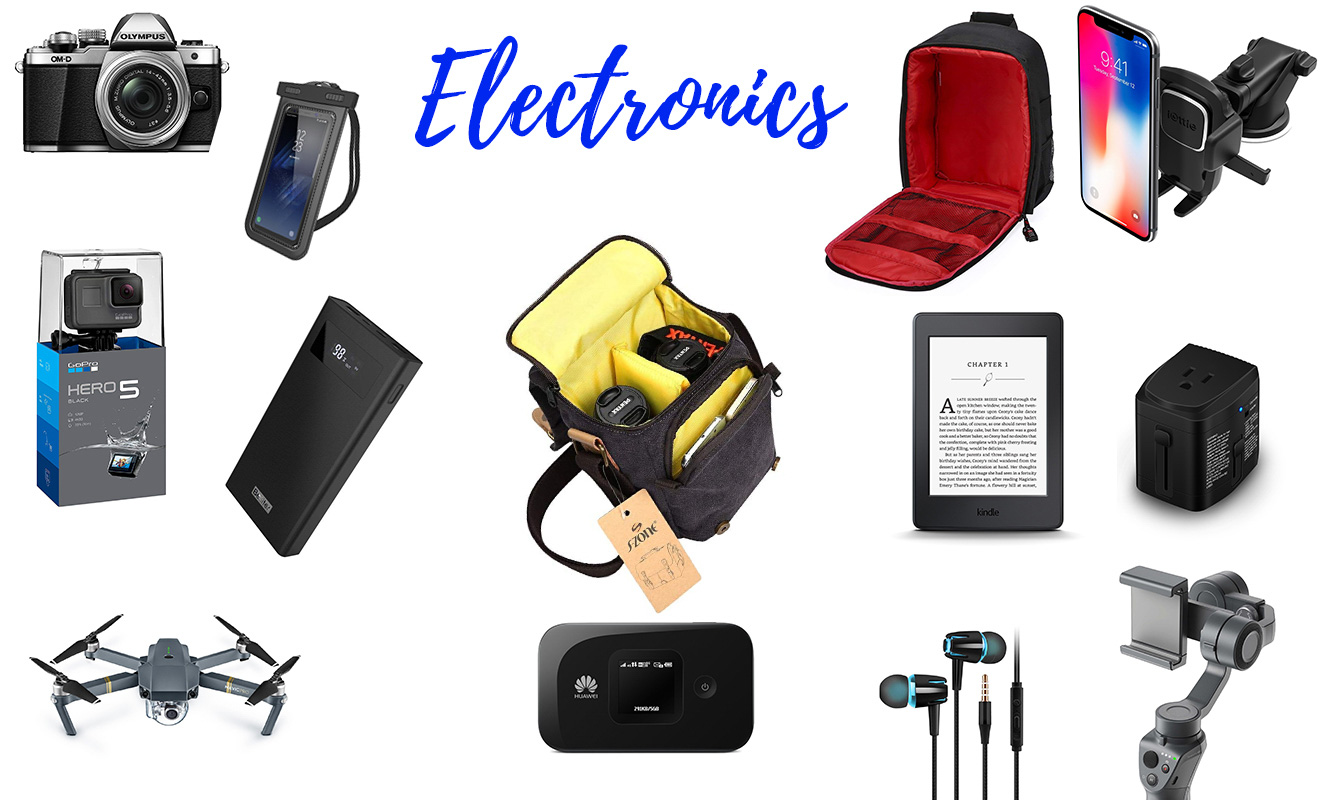 Your phone – duh!
Waterproof case for your phone – essential when you are going close to the waterfalls
Phone car mount – for using your phone as a GPS in the car
Camera – if you do not have one yet, I recommend Olympus OMD Mark ii, it is a small mirrorless camera with amazing quality, I have been using one like this for over a year now and I am loving it!
Waterproof camera bag/backpack – it is very convenient to have the camera accessible in the back of the car any time you want to pull it out to take a picture or take it with you for a short hike
European Adapter/power converter – handy for those not from Europe (Iceland has European electrical outlets)
Portable battery – you will be on the road for hours and there will be plenty of photo opportunities
Headphones – it is illegal to talk on the phone without headphones you are driving in Iceland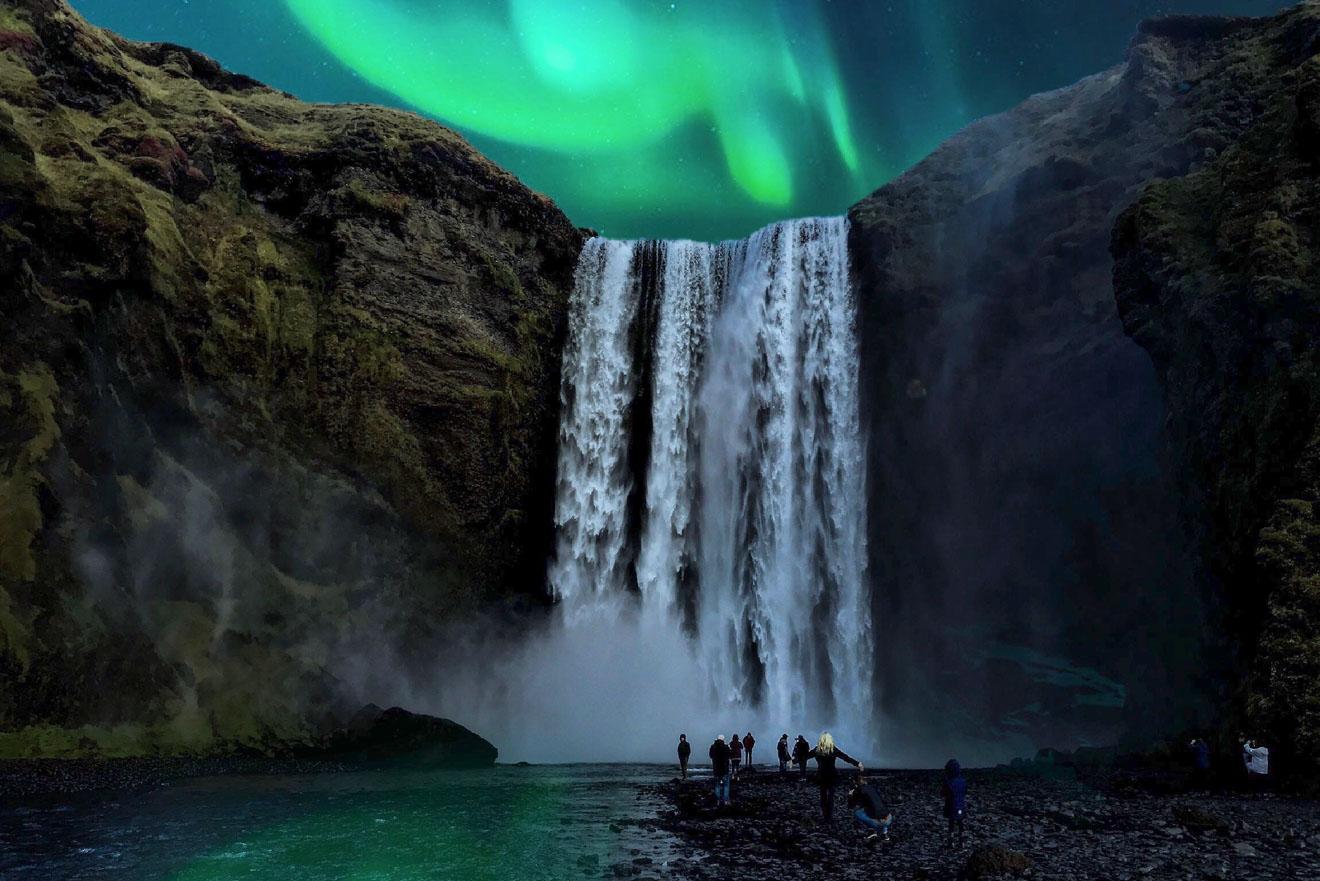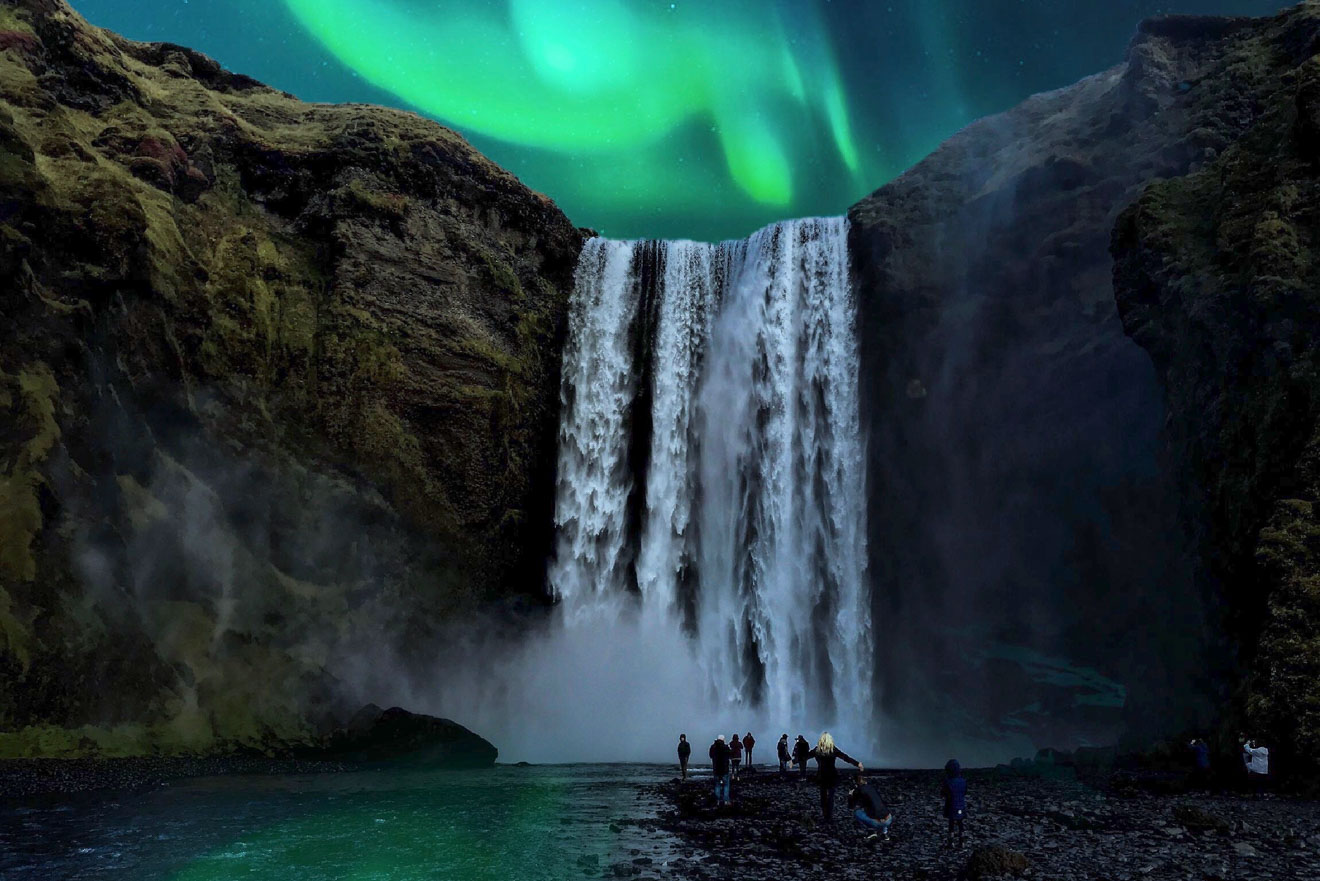 Portable Wi-Fi – this one was provided to us by a rental car company for an extra charge, but you can be smarter and buy it beforehand. You can buy just one local sim card and share the internet with everyone in the car! It is a great deal compared to buying an Icelandic sim card for everybody in the group or paying your roaming fees.
Go-Pro – you will do so many activities that an action-cam is a must! By the way, I have a post about the tours you should take in Iceland here.
Drone – I believe Iceland is the ideal country for flying a drone! I am a bit sad they did not have drones widely available back when I visited. The next time I go, I am taking my DJI Mavic Pro for sure!
Gimbal– not a necessary item, but it is amazing if you want to take some professional looking shots with your phone!
Chargers and extra batteries – make sure you don't forget these as well
Kindle– If you think you will have some time for a good book (on the plane for instance), I suggest getting a Kindle if you do not have one yet. It is super light, it has a paper white screen and it can fit ALL the books you want! Seriously, I consider the Kindle to be one of the best inventions out there. I have used mine for over 7 years now and it is always with me on my travels!
OTHER EQUIPMENT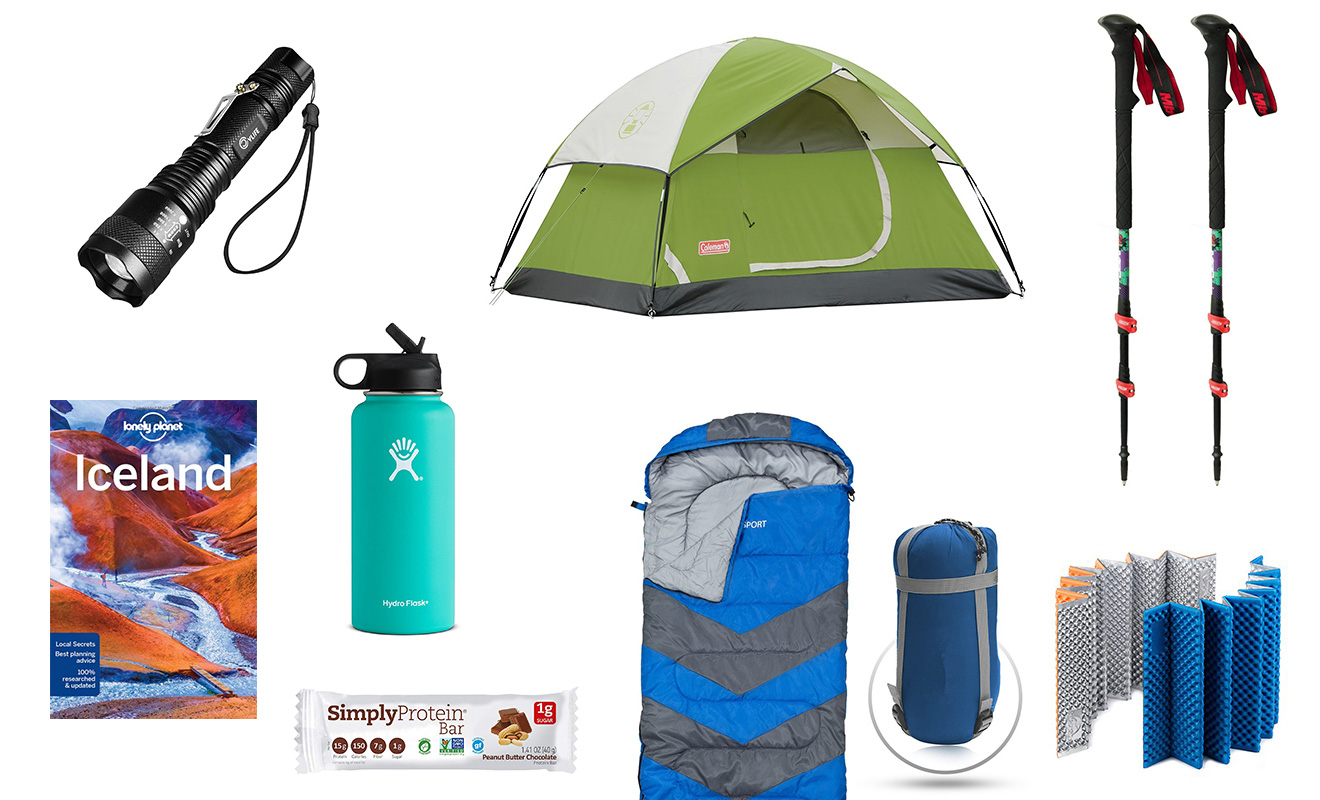 Offline maps – if you are not sure Google maps will work offline (read all about how to download an offline map here), you should download an app called Maps.me. It is a great map that works offline – you can search for places and generate a route through it, too! If you are a fan of paper maps (for example, for a trail you are going to take), here is a good one.
Insurance – beyond car insurance (please read this post where I explain why it is important to buy full insurance for your car in Iceland), I strongly recommend purchasing personal insurance. You will be doing so many activities and Iceland is one of the most expensive countries in the world, why take the risk? This company will not only cover all your medical costs if something happened but will also reimburse you for stolen luggage, electronics, flight cancellations and much more! I hope none of this will ever happen to you, but it is always better to be safe than sorry!
A refillable water bottle – the water is crystal clear everywhere in Iceland, so you do not need to buy a new bottle all the time, just fill yours from the tap!
Energy snacks – perfect for when you need a quick energy refill
Tent, sleeping bag, camping mattress – if you want to camp overnight
Hiking poles – in case you are going for a longer hike such as Landmannalaugar
Torch/flashlight – essential for those who want to visit caves and ice caves
Guidebook – even if I have not used paper books for some time now, for those who are used to them, I can recommend Lonely Planet. It has the easiest layout in my opinion, and the Iceland book is updated quite often
PACKING HELP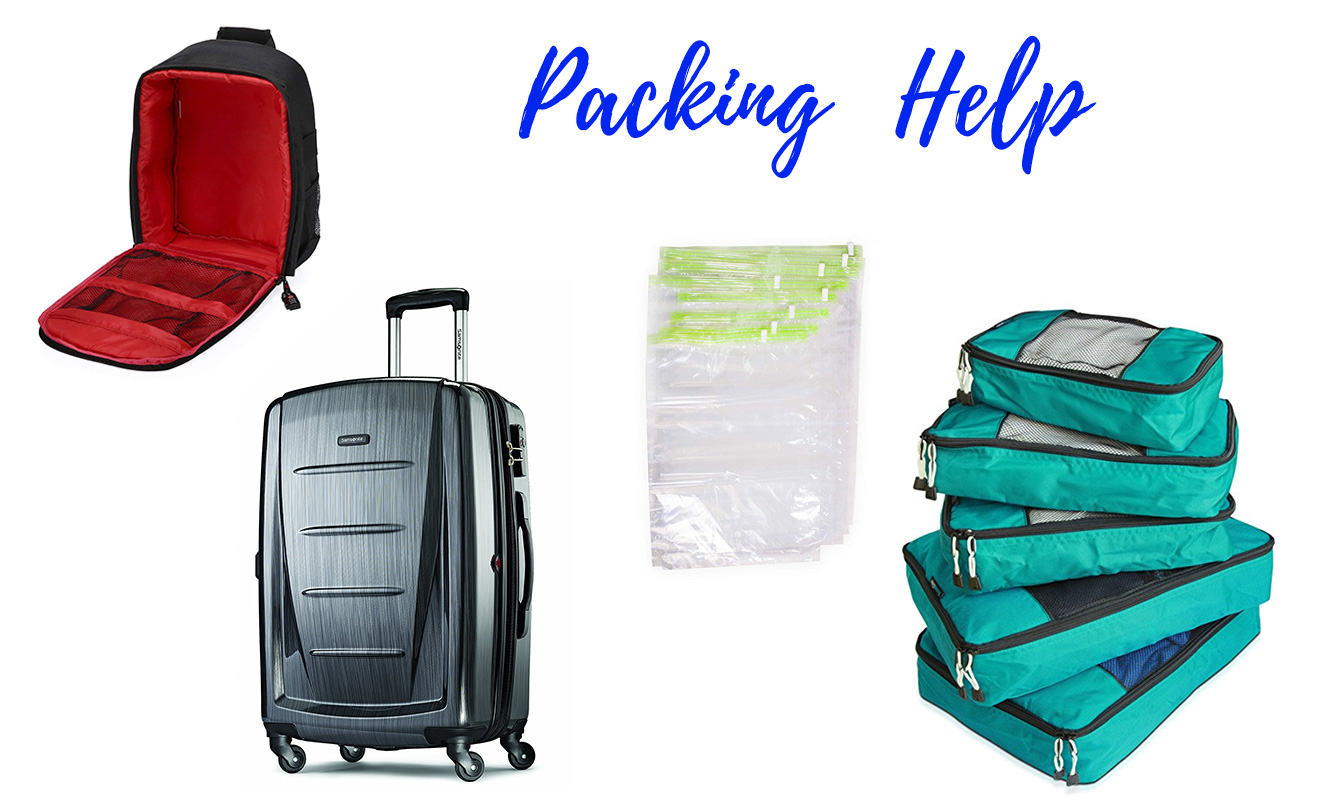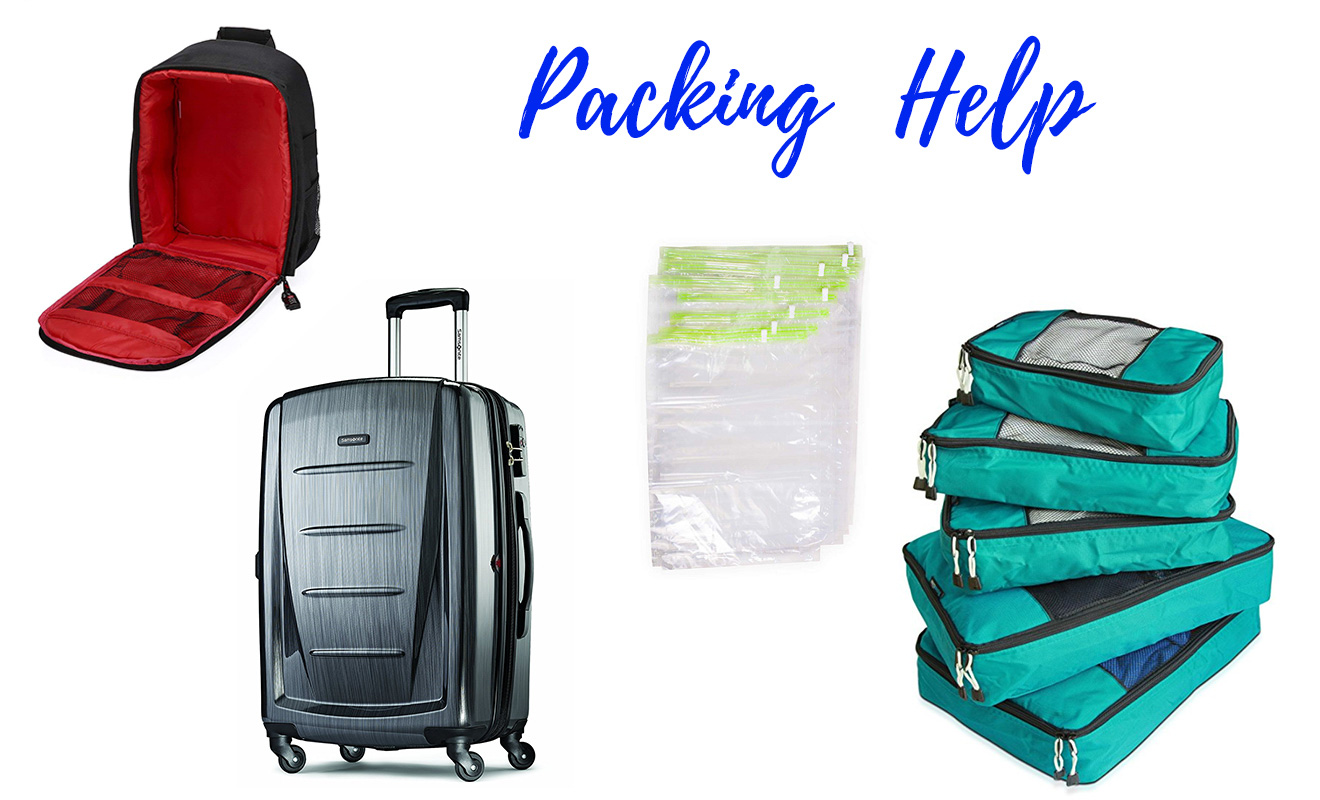 Iceland Winter-Specific Packing List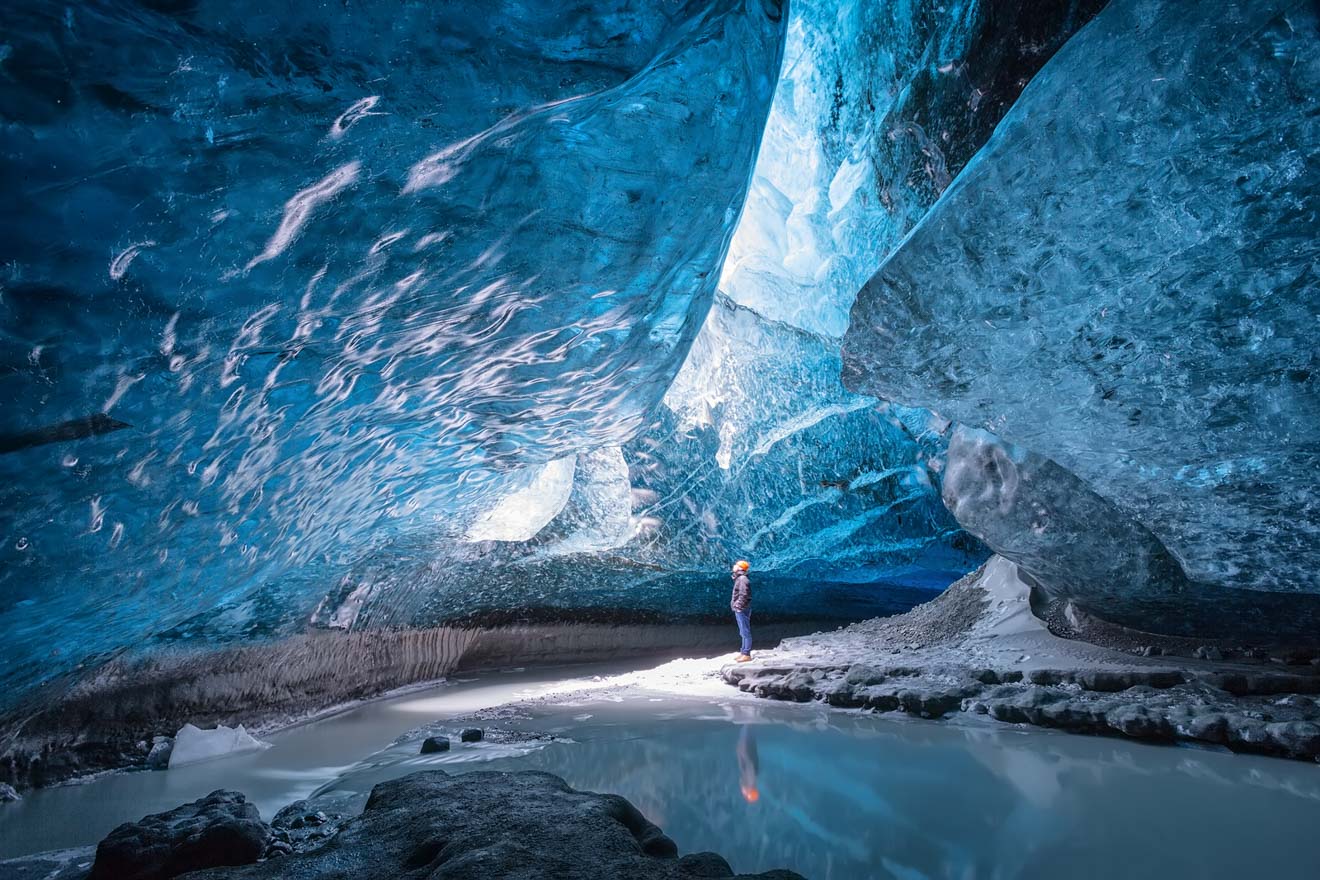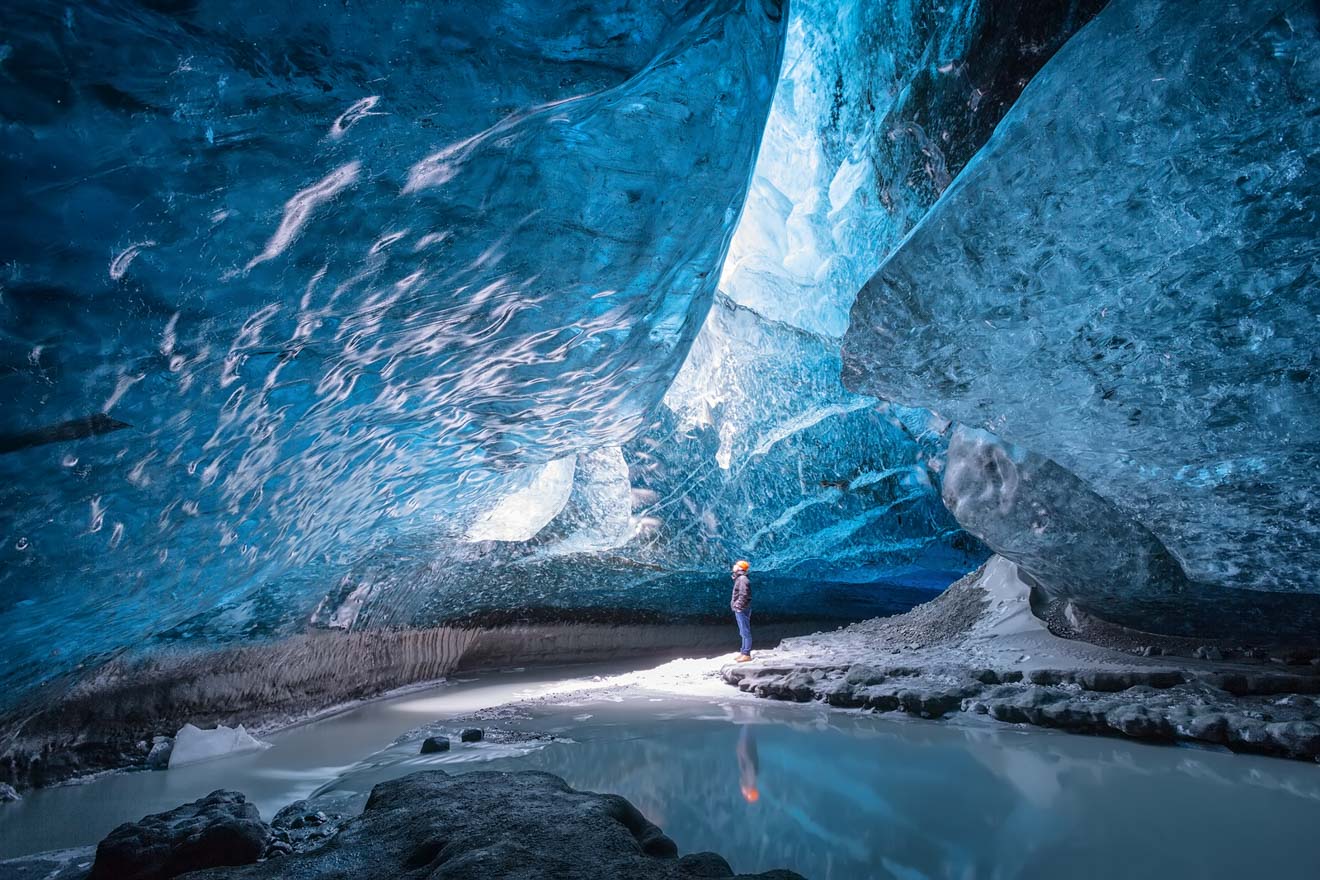 November-March
Even though many people avoid visiting Iceland during the winter, this country has so much to offer in that season too!
Of course, before heading to Iceland in the winter you must be well informed and do your homework first. Here's what you should know about Iceland winter weather: it is obviously colder in the winter, the days are short (only 4-5 hours of daylight; the longest night is on December 21st) and the nights (also known as polar nights) are long. The average winter temperature is between -5° to 5°C (23° – 41° F). That's why you need to dress and pack accordingly! Okay, so what do you need to bring with you if you are traveling to Iceland during the winter months? Here is what I suggest for your winter packing list: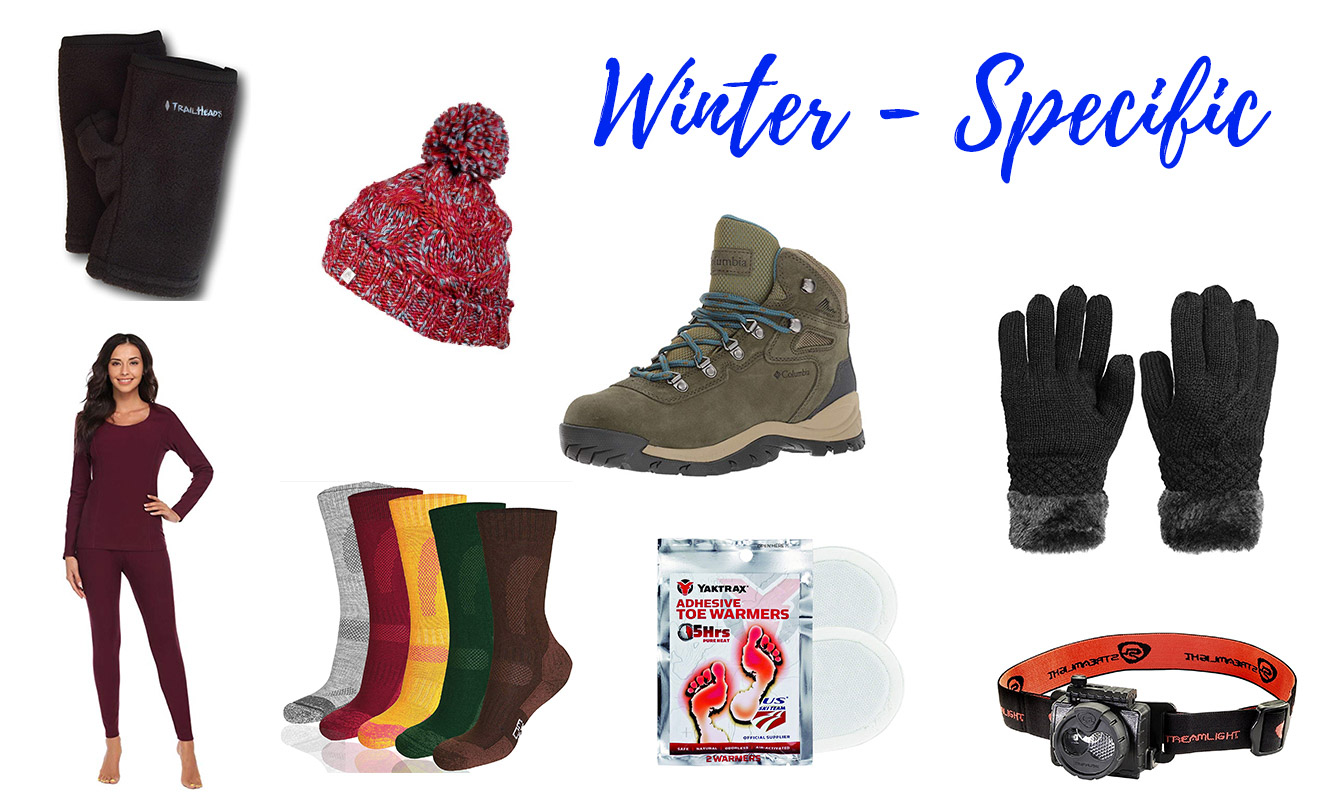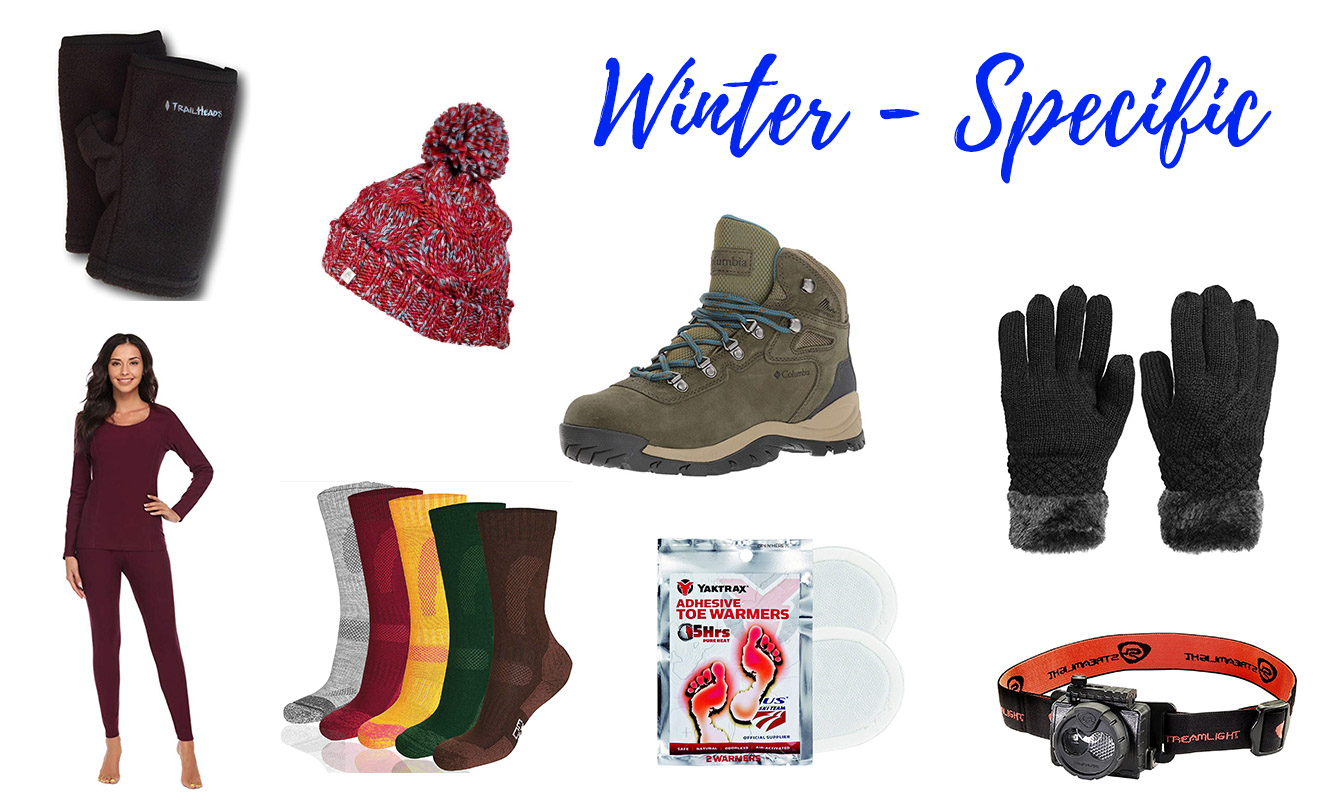 Iceland Summer-Specific Packing List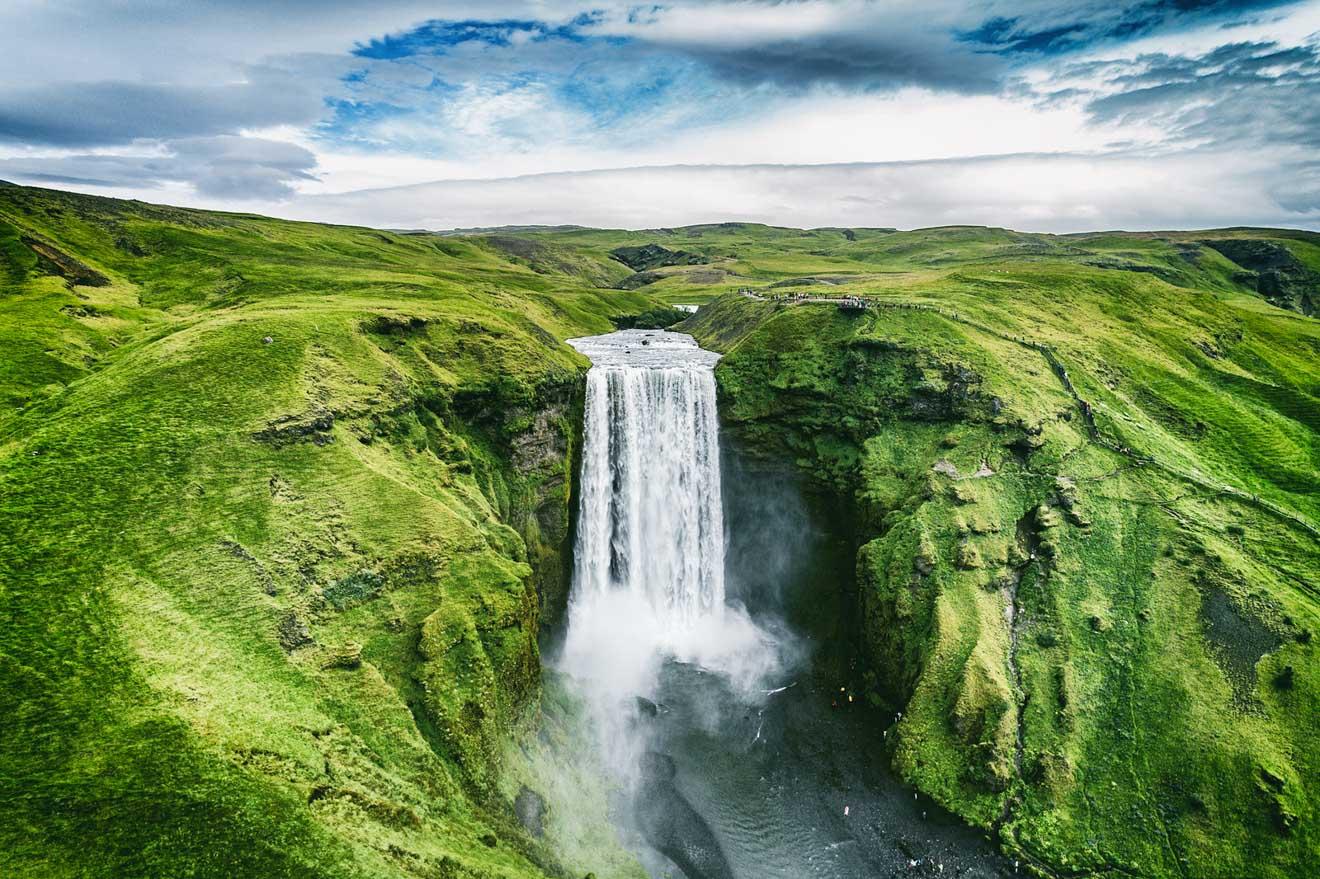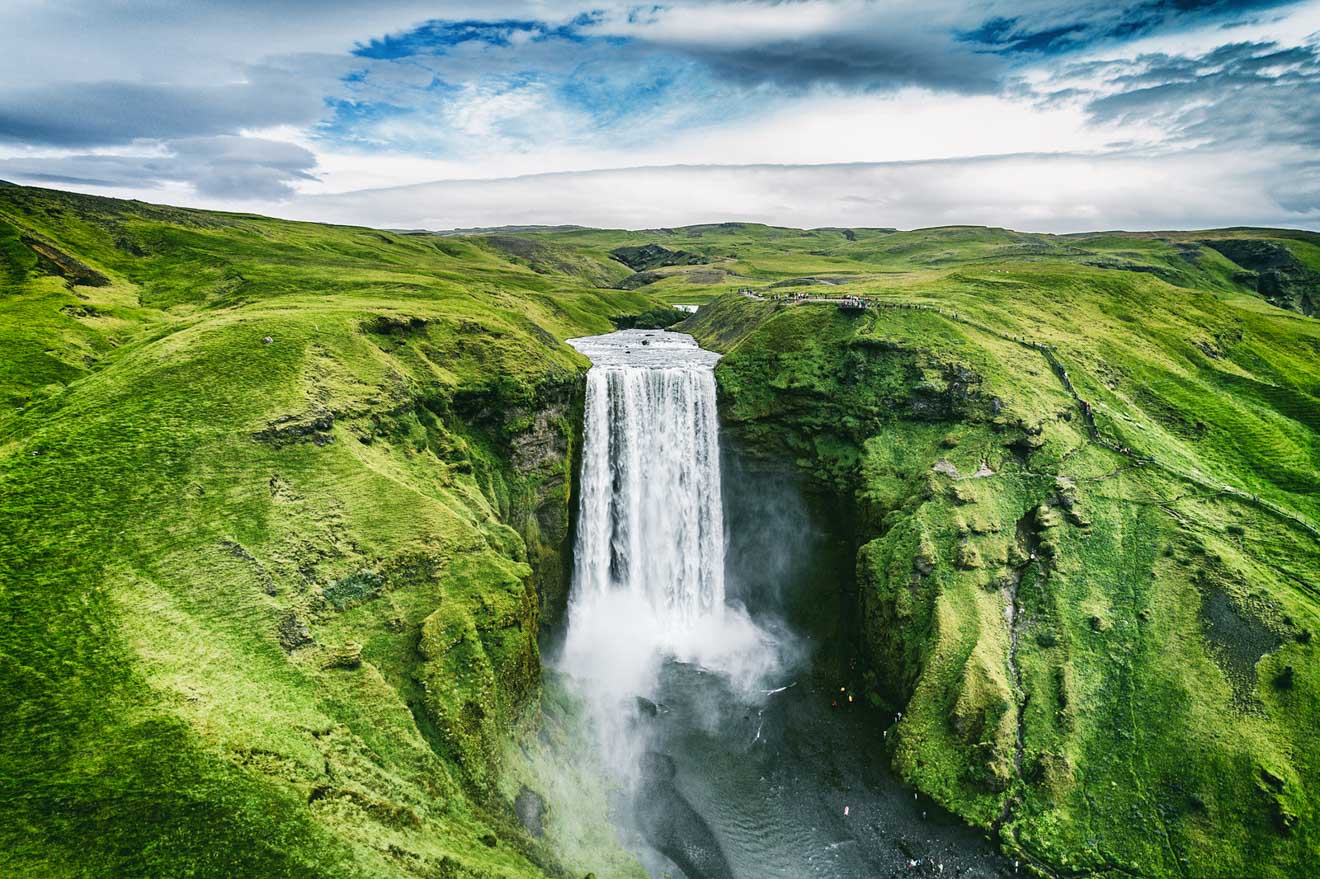 June, July and August
This is the most popular time to visit Iceland and also the most crowded season.
If you are wondering what the weather is like in Iceland from June through August: the days are very long during the summer, also known as "the midnight sun" (the longest day is on June 21st), so you will have plenty of time to explore! The average temperature during summer in Iceland is between 10° to 15°C (50° – 60° F). (but it also can go up to 25°-28° C (77° – 82°F) sometimes if you are lucky!)
Here is what I recommend taking with you if you are visiting Iceland in August or any other summer month: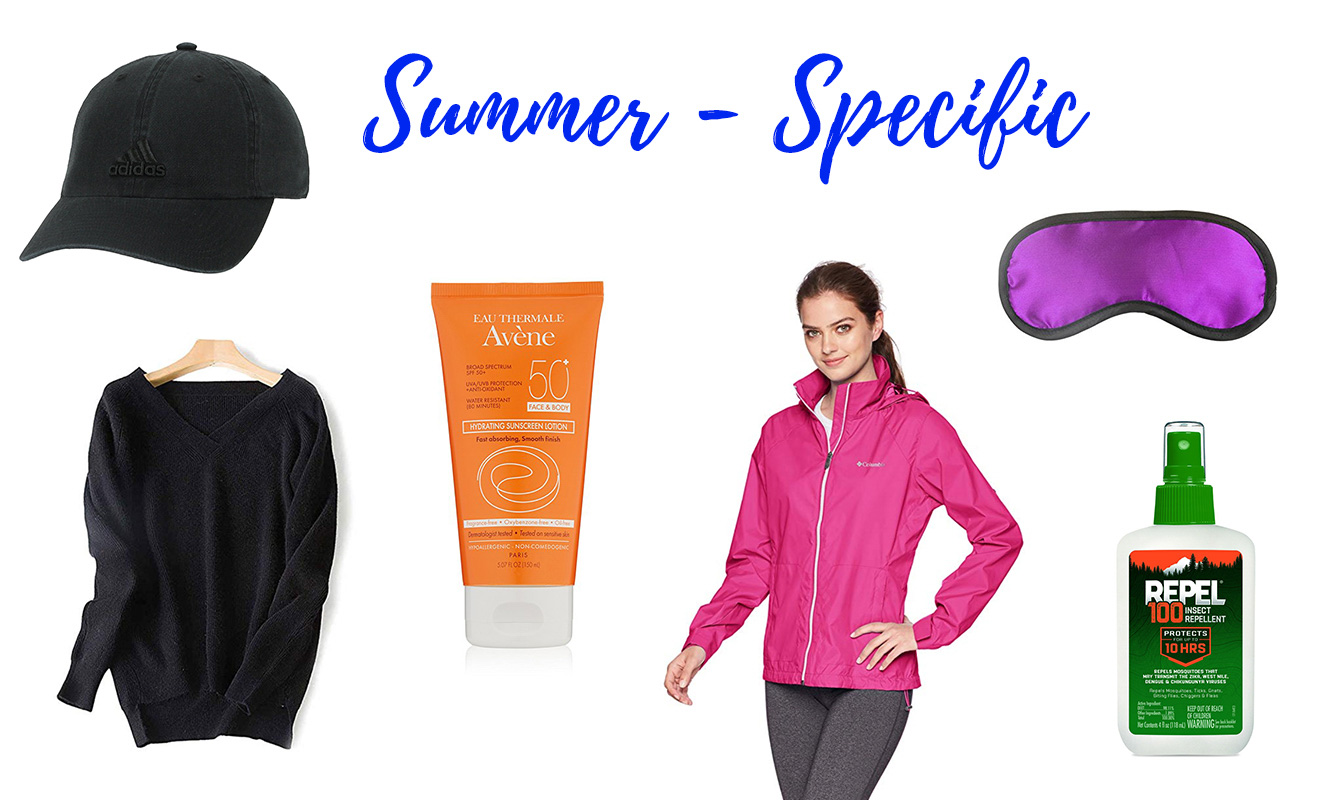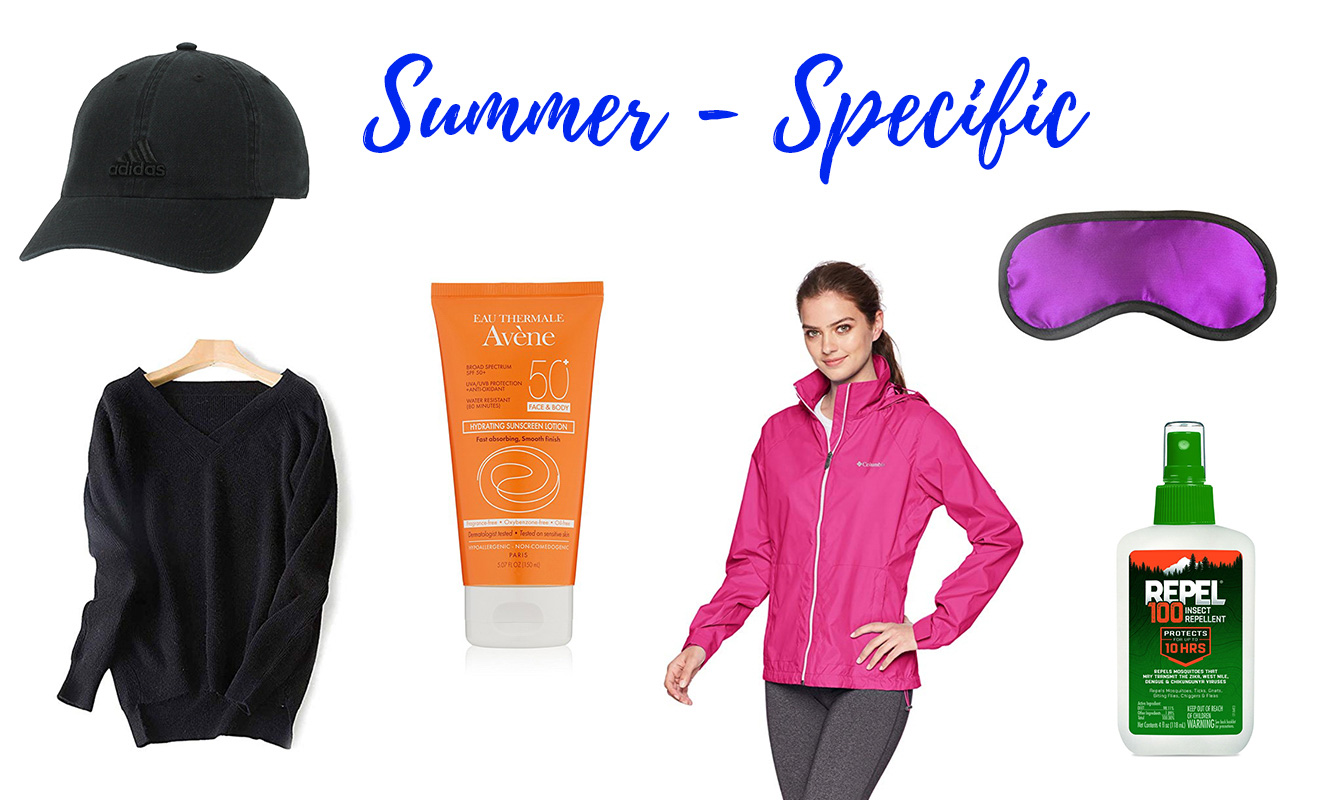 Men's packing list for Iceland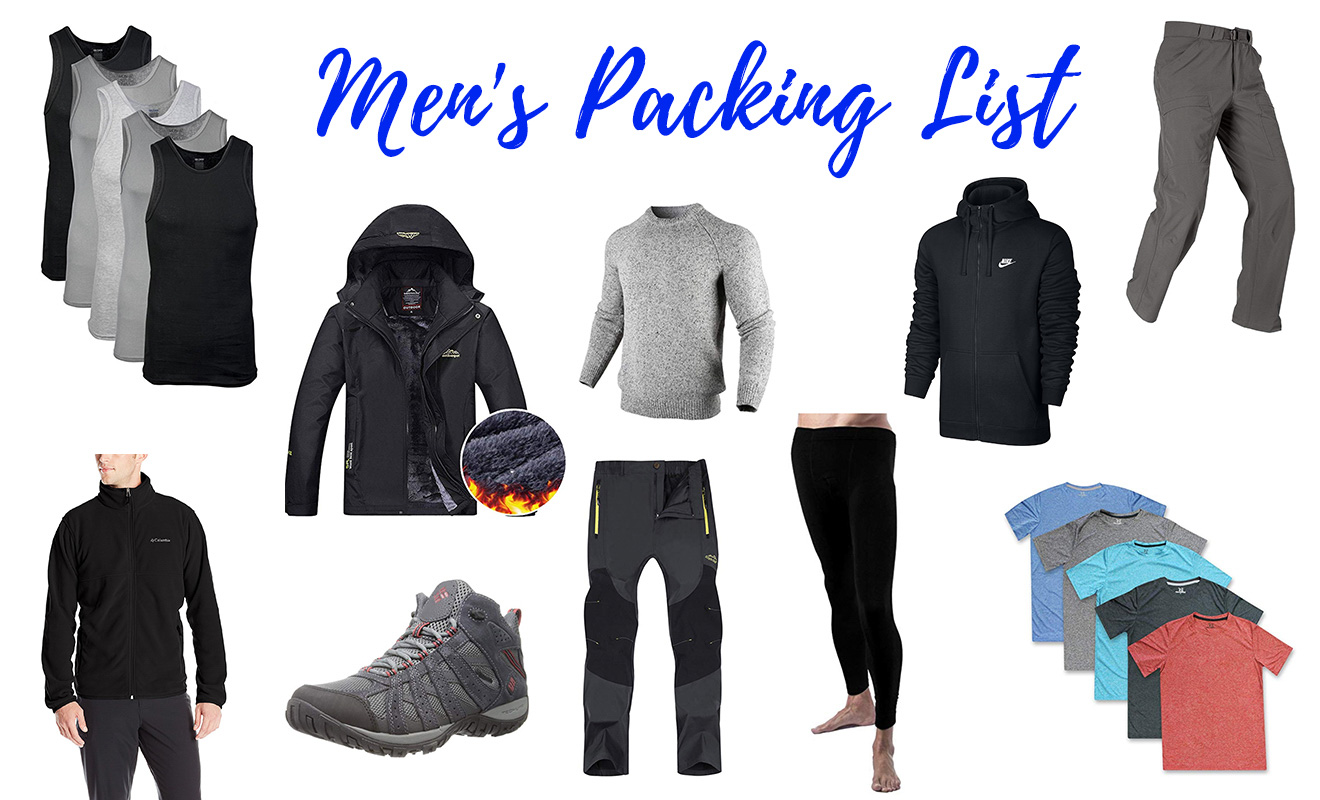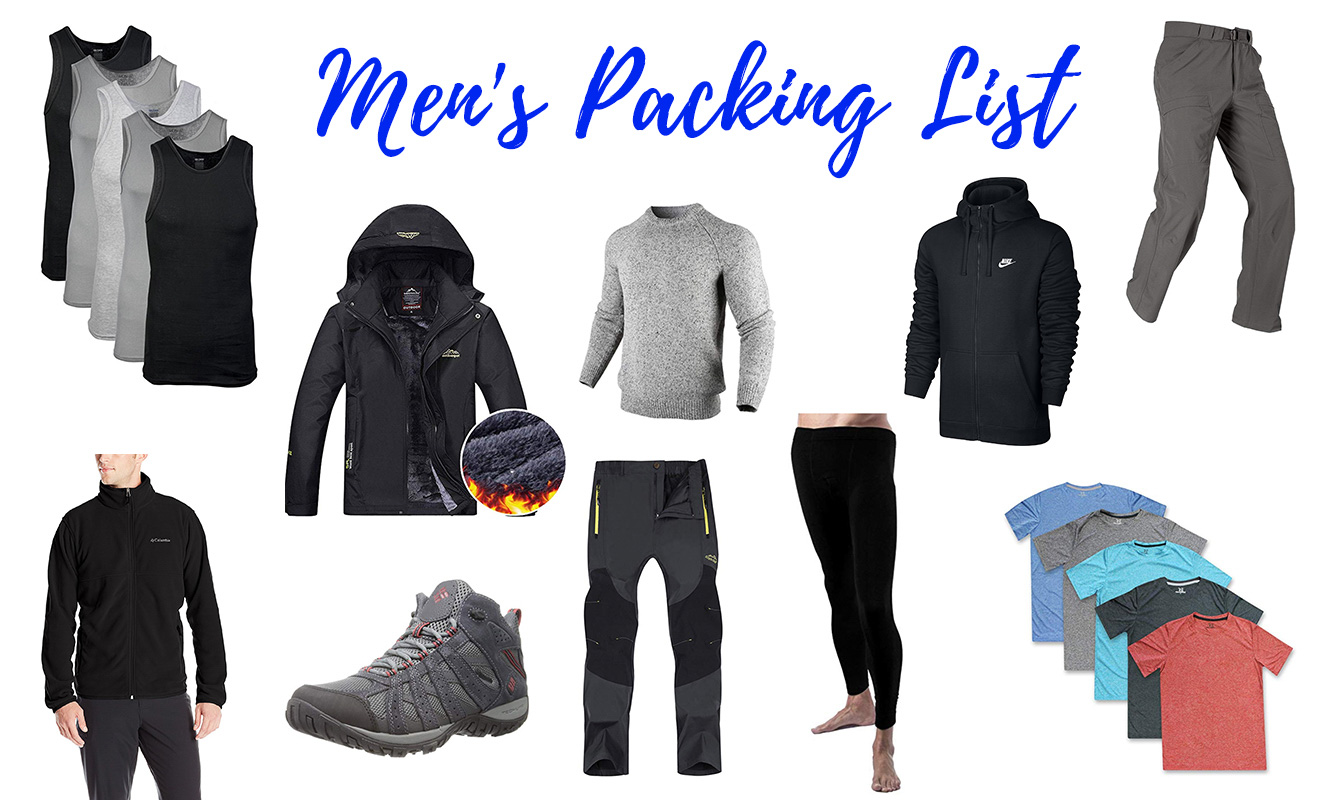 Even if most of the tips above are universal for men and women, I mostly included pictures and links to women's clothes – I guess because the site is called Miss Tourist. 🙂
Please do not get upset with me, dear Mr. Tourist, as I said, the above items are pretty much the same, but below I have linked a couple of men's clothing items so that you don't have to do the searching yourself.
Just click on the link to see the price, choose your size and you will be ready to have the item shipped to you: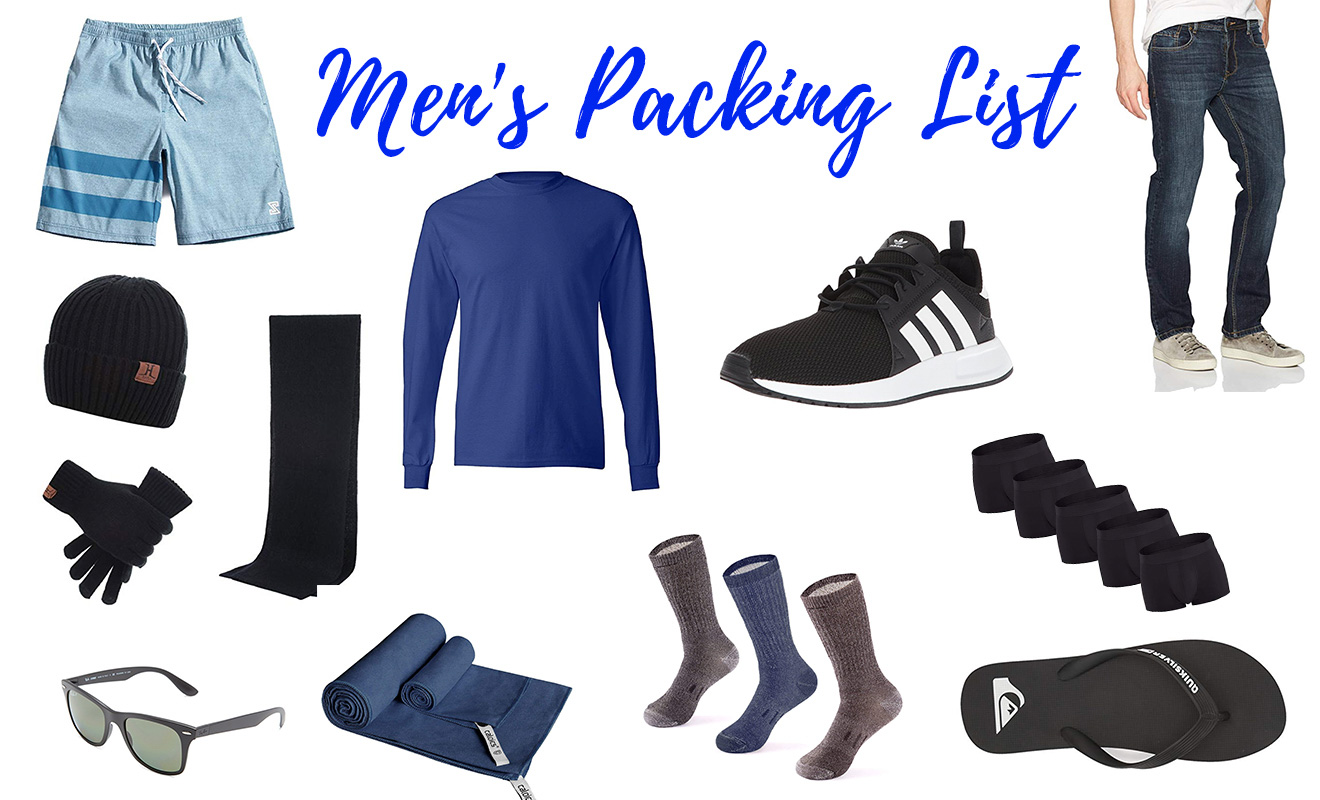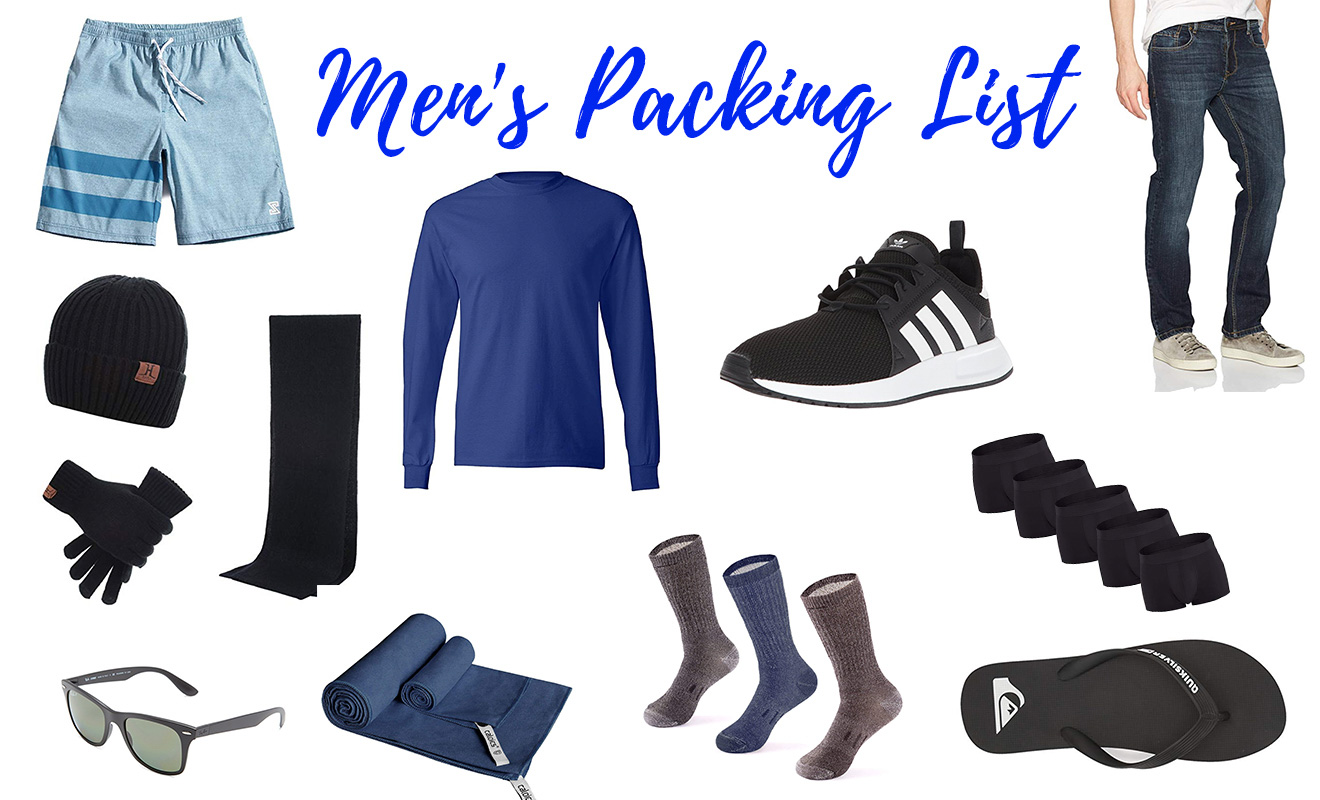 NOTE: Please note that all the items above such as electronics, packing help and other equipment are not gender-specific, so please feel free to refer to the links above!
| | |
| --- | --- |
| ❄️ Temperature in winter: | -5° to 5°C (23° – 41° F) |
| ☀️ Temperature in summer: | 10° to 15°C (50° – 60° F) |
| 🥾 For hiking: | Waterproof shoes and clothes |
| ♨️ For hot springs: | Swimsuit |
What NOT To Take With You To Iceland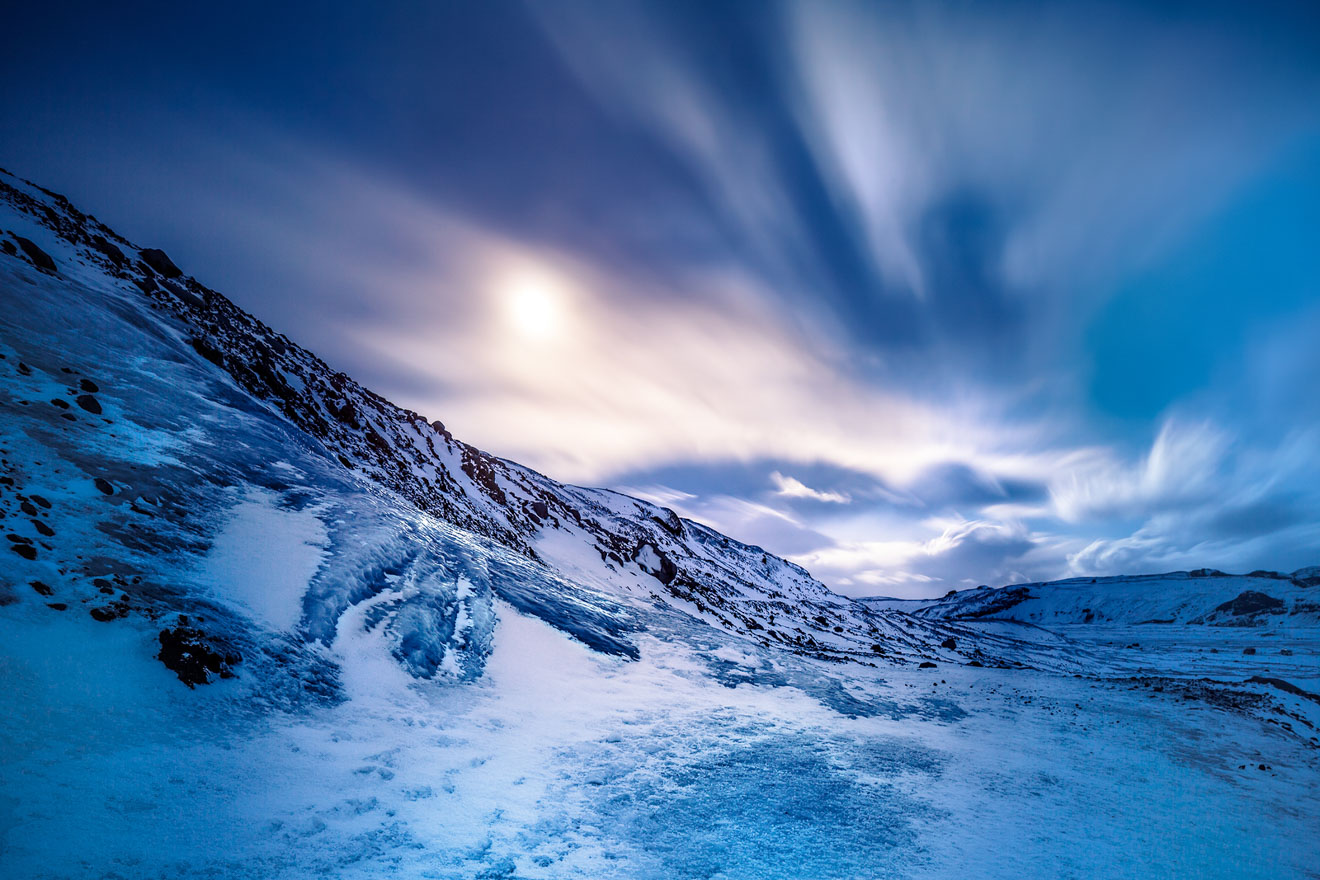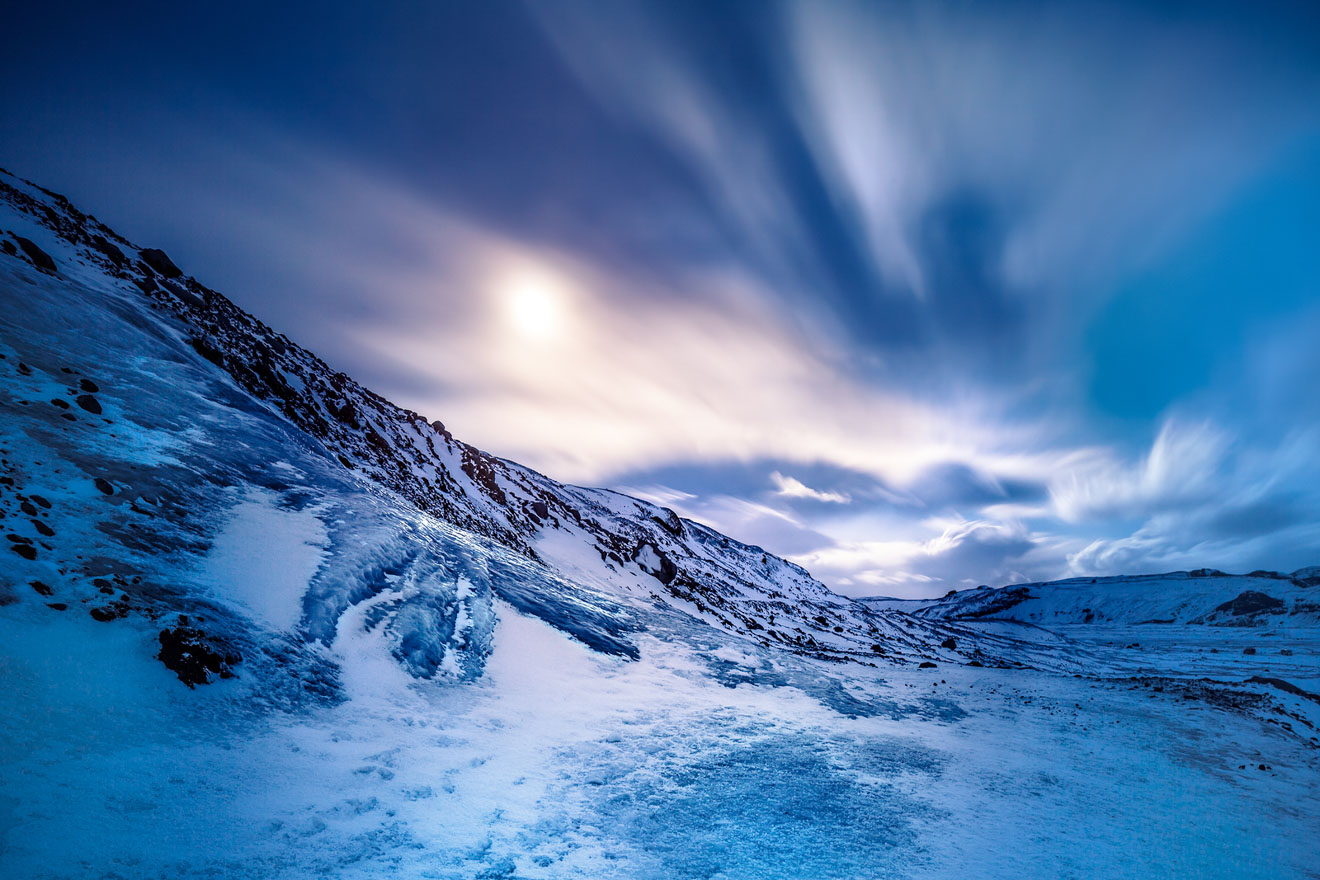 As a general rule – please do not over pack. It is true, the weather is unpredictable in Iceland and you will need to take quite a bit of stuff with you, but you do not need 3 pairs of hiking pants and 2 winter coats, just one of each is enough.
Here are the items that I think you should NOT take with you on your Iceland adventure:
Headlamp in the summer
A hairdryer – it takes a lot of space, it might not work if you are coming from the USA and most of the hotels will have one anyway (ask for it if it is not in the room)
Expensive jewellery – even if Iceland is one of the safest countries I have been to, I always recommend leaving expensive jewellery at home. You are going to be on the road a lot and it might easily get damaged or lost
A lot of cash – you will see that cards are accepted pretty much everywhere in Iceland. There are also plenty of ATMs available (with a better conversion rate usually!), so you will find yourself not needing as much cash
Fancy clothes – you might want to take a dress or two for a night out in Reykjavik, but given the fact that most of the time you will be hiking and exploring the astonishing nature, your high heels will probably just uselessly take up space in your luggage
If you are traveling to Iceland soon and you are searching for things to do while there, I have written many detailed itinerary posts (with prices, recommendations on where to stay and things to see and many Iceland travel tips) that you can check out below. All posts on Iceland can be found here.
---
Conclusion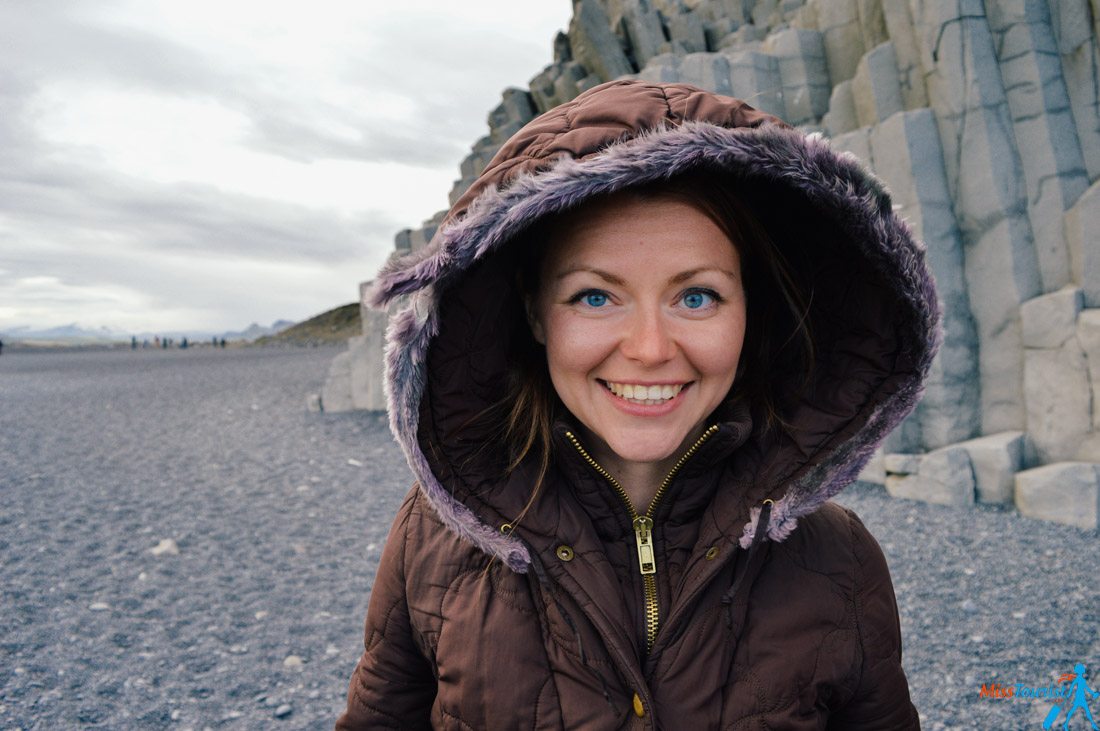 That's it! This was my list of recommended things to include in your Iceland packing list, all sorted by season, gender and type.
Remember: Iceland, although beautiful, is a very expensive country and it is better to buy most of the stuff you need in advance than to buy it inside the country. That way you will save some time and money and you will make sure you are totally prepared for your Icelandic trip.
When in Iceland, wear layers! Make sure you have comfortable clothes that will be enough for layering and don't forget to bring waterproof and winter-proof clothes!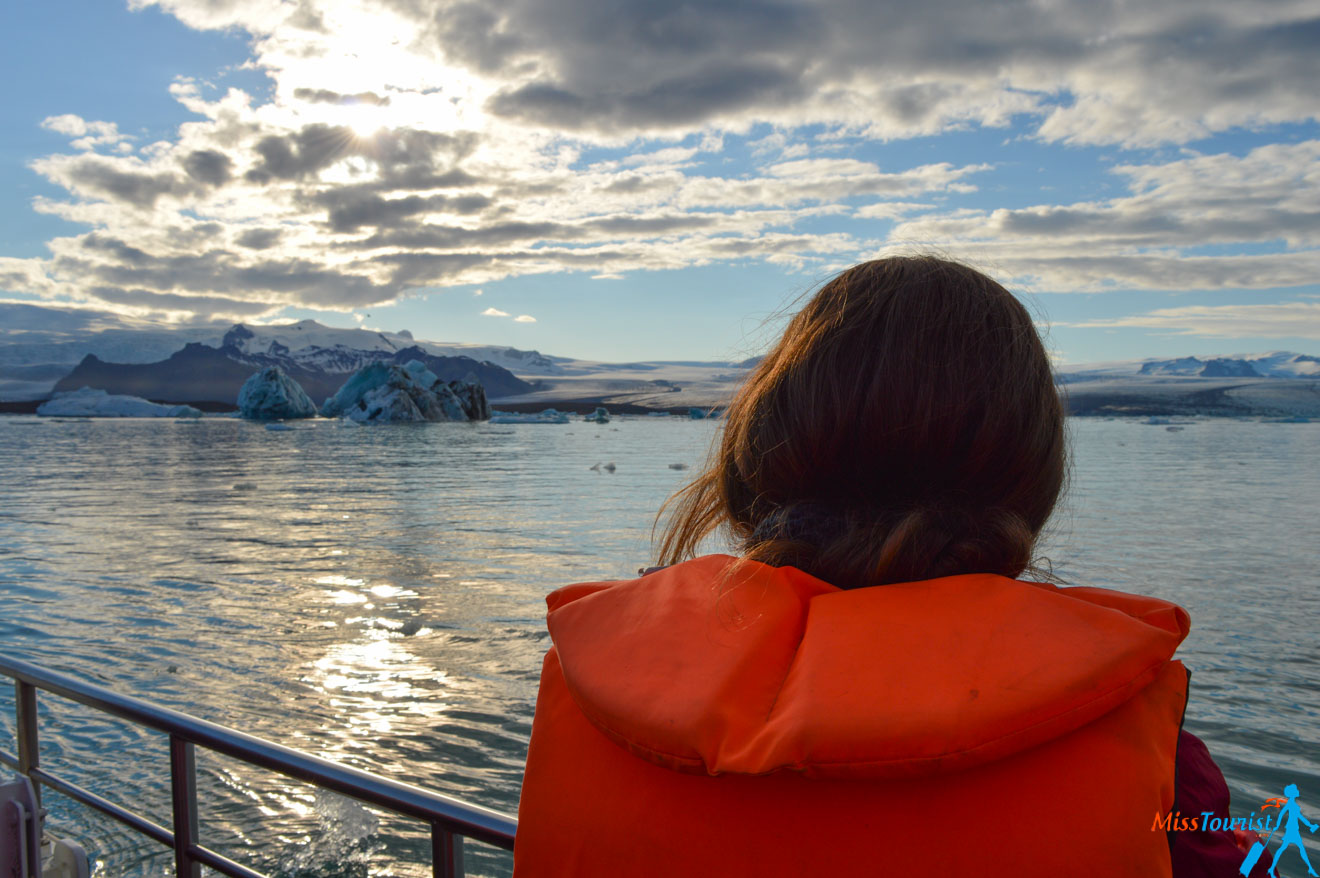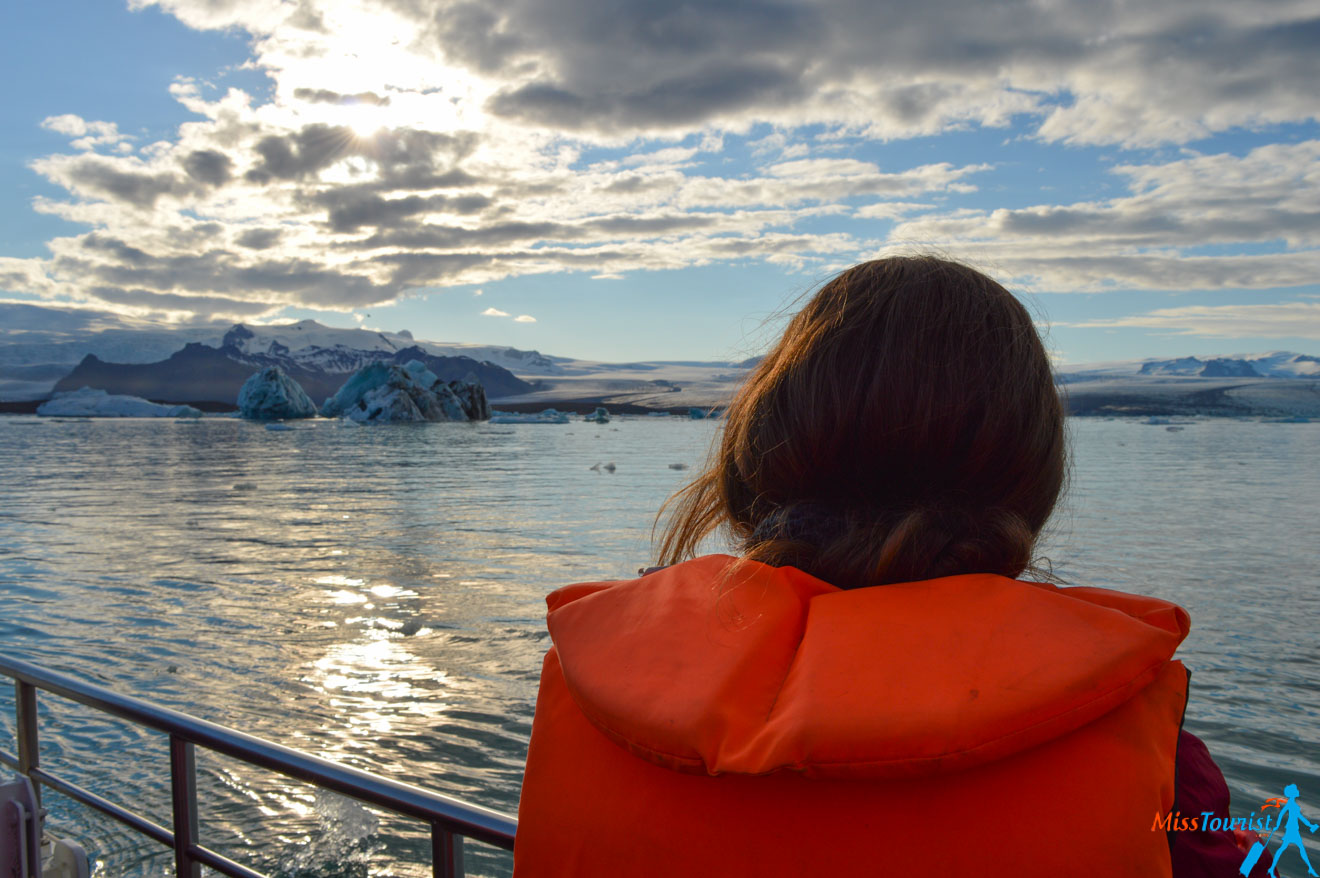 If you follow my packing list above, I'm sure you will be more than fine and packing for Iceland won't be a chore anymore!
Last but not least, don't forget to enjoy every second of your time in Iceland, it is an amazing country and, probably, my favorite place on Earth.
You can see my 14-day recommended itinerary in Iceland here.
I hope this ultimate Iceland packing list was useful. Do not forget to share my post with your friends if you liked it!
Would you add something to the list or do you have any questions?
Just drop me a line in the comments, I will be happy to reply!
Yulia
Pin it for later!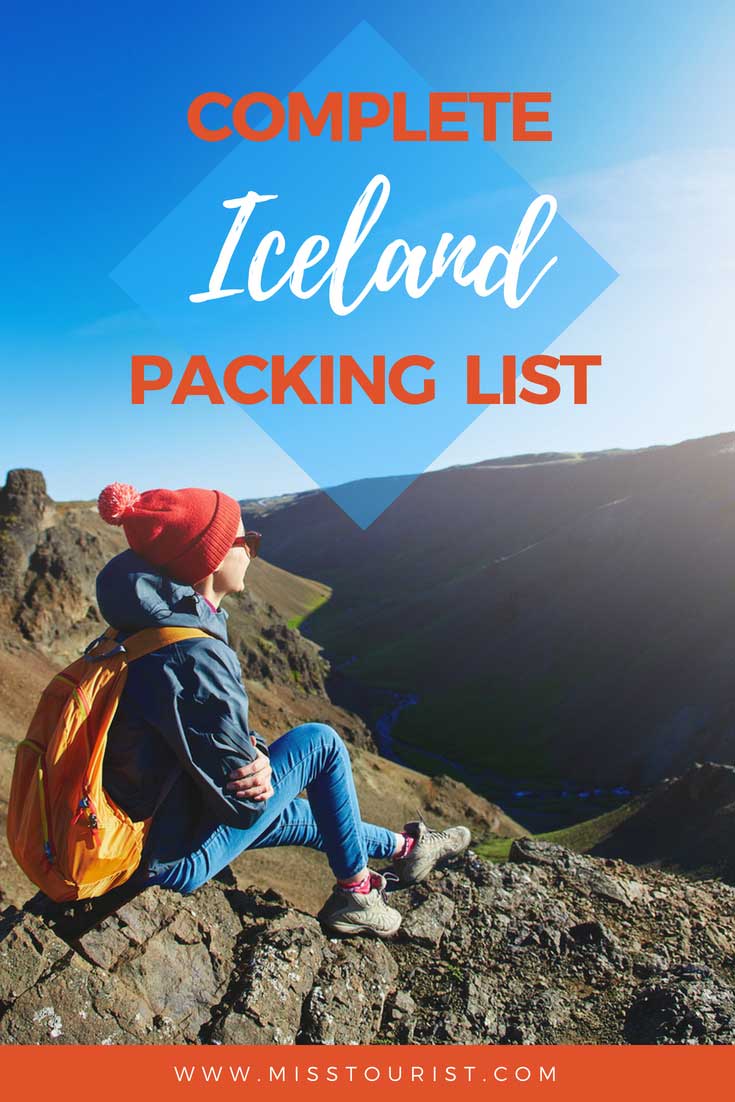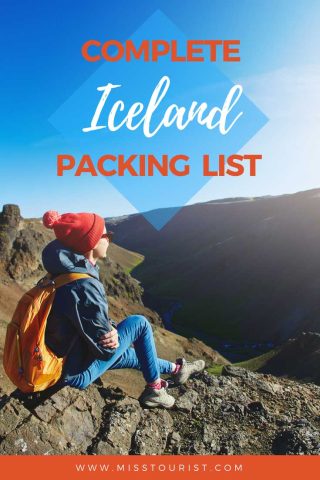 Pin it for later!