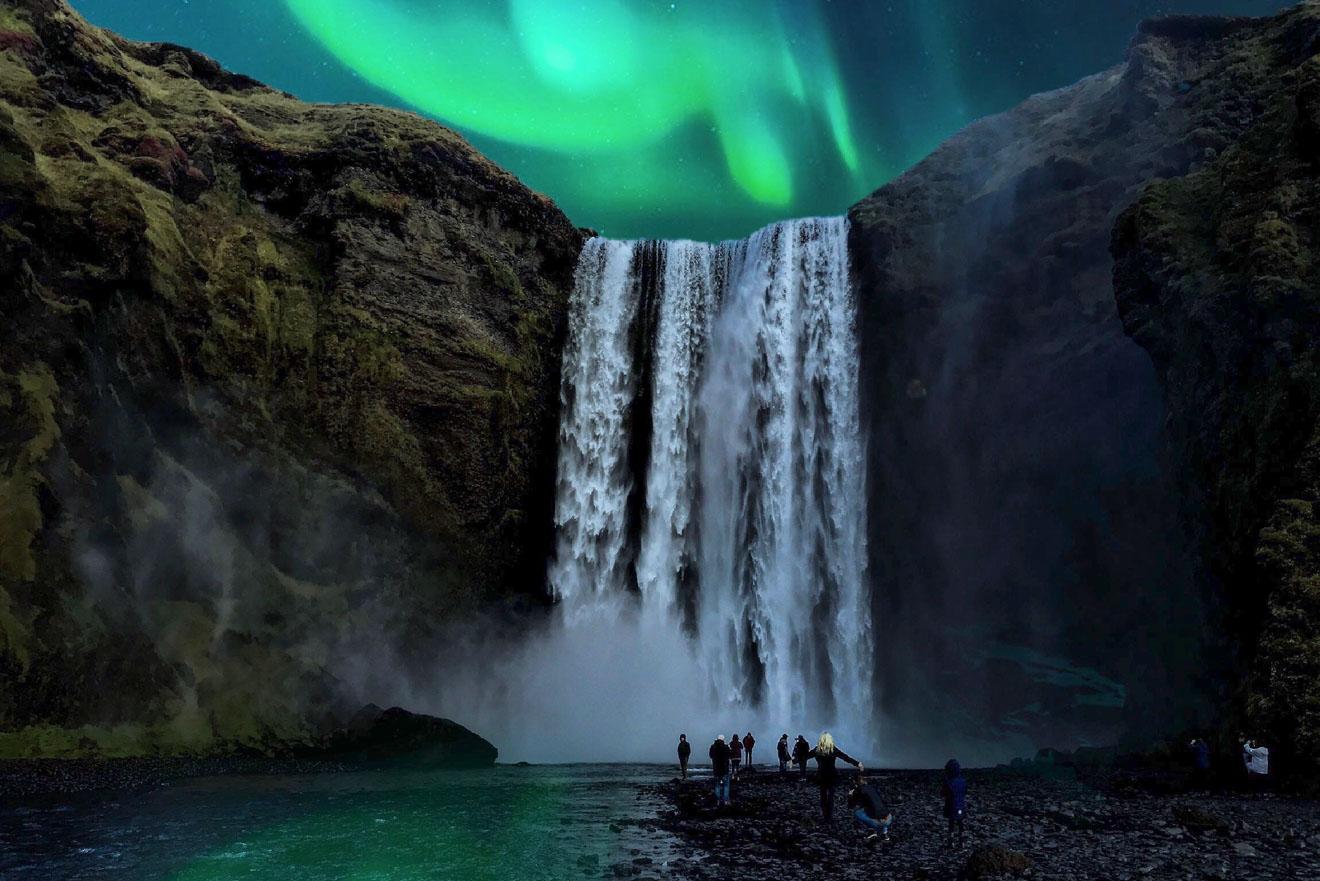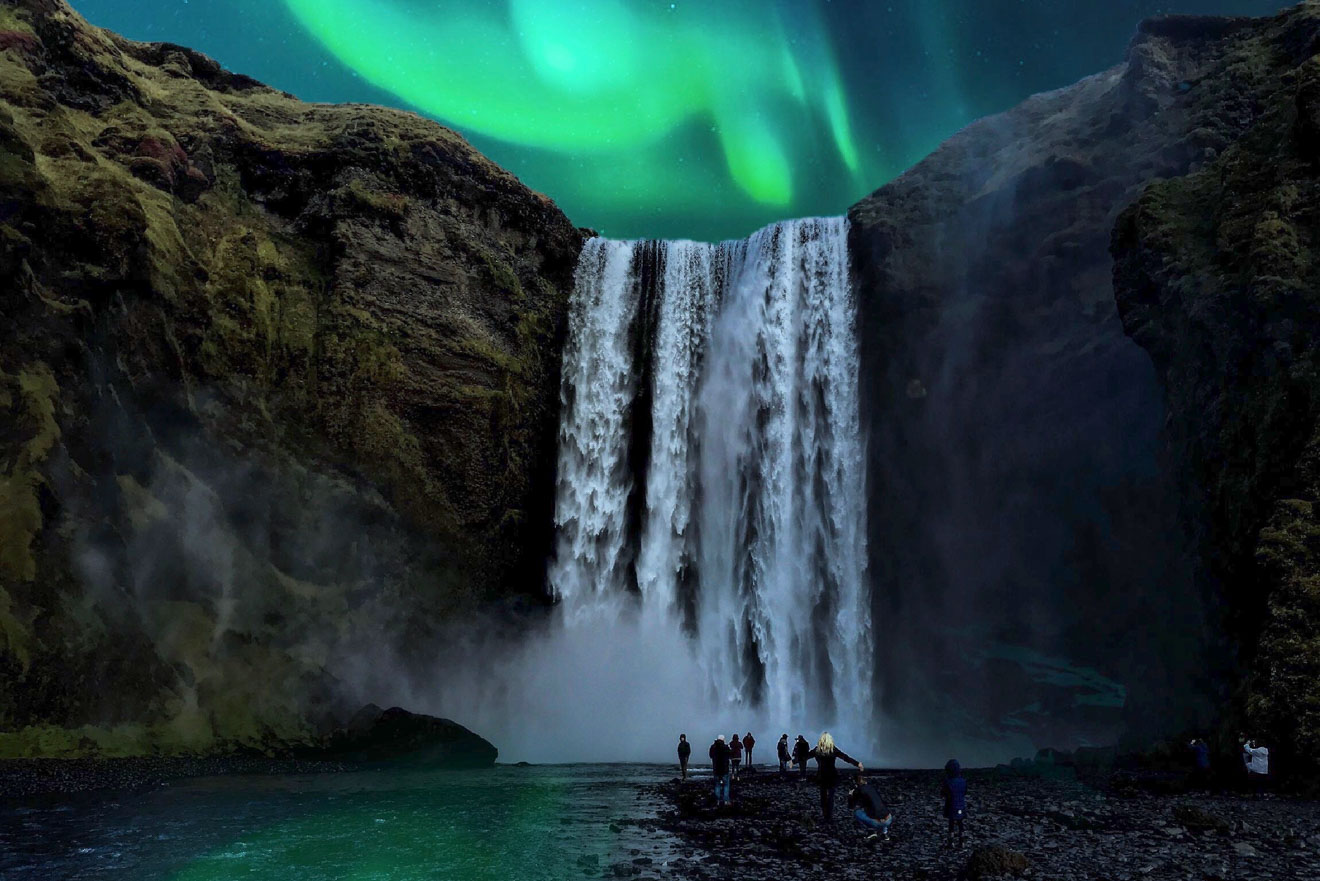 Iceland is a country full of natural wonders, exciting activities and incredible sceneries that are waiting for you to explore! This is probably my favorite place in the entire world and I'm sure you will add it to your bucket list after reading about these one-of-a-kind adventures!
Regardless of how long you are going to stay, there are some things that you absolutely cannot miss in Iceland! I created this list of top 10 best Iceland tours to help you make sure you won't miss any important activity or attraction in this amazing country.
This article will help you book fast all the tours you need to take in order to make the best out of your Icelandic adventure. You will find enough suggestions here for day trips and multi-day tours as well that will be enough for a couple of days to even a two-week trip to Iceland!
Are you ready? Let's go! Here are the best Iceland tours that will help you explore Iceland and that will leave you speechless, which makes them worth every penny:
1. Golden Circle Tour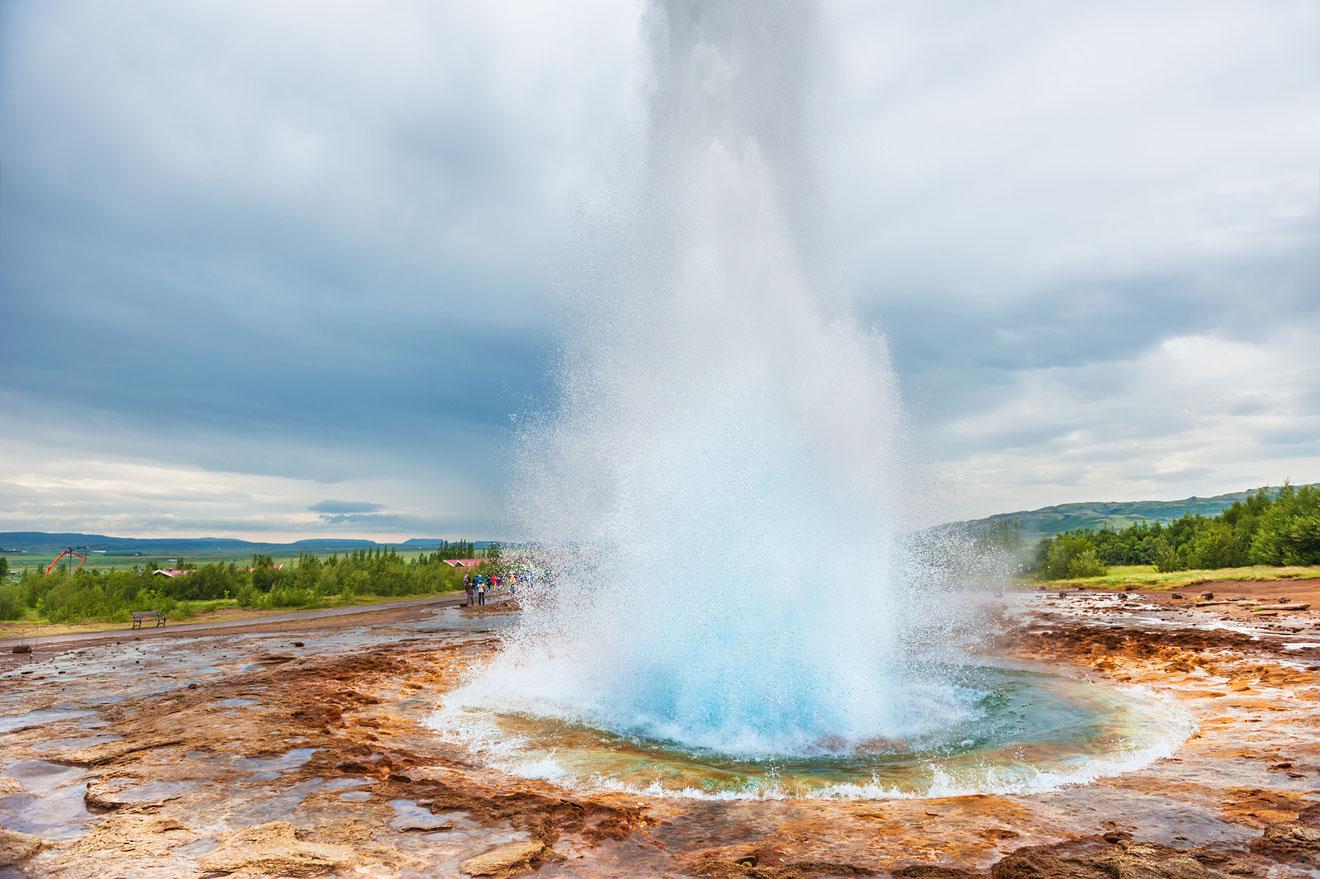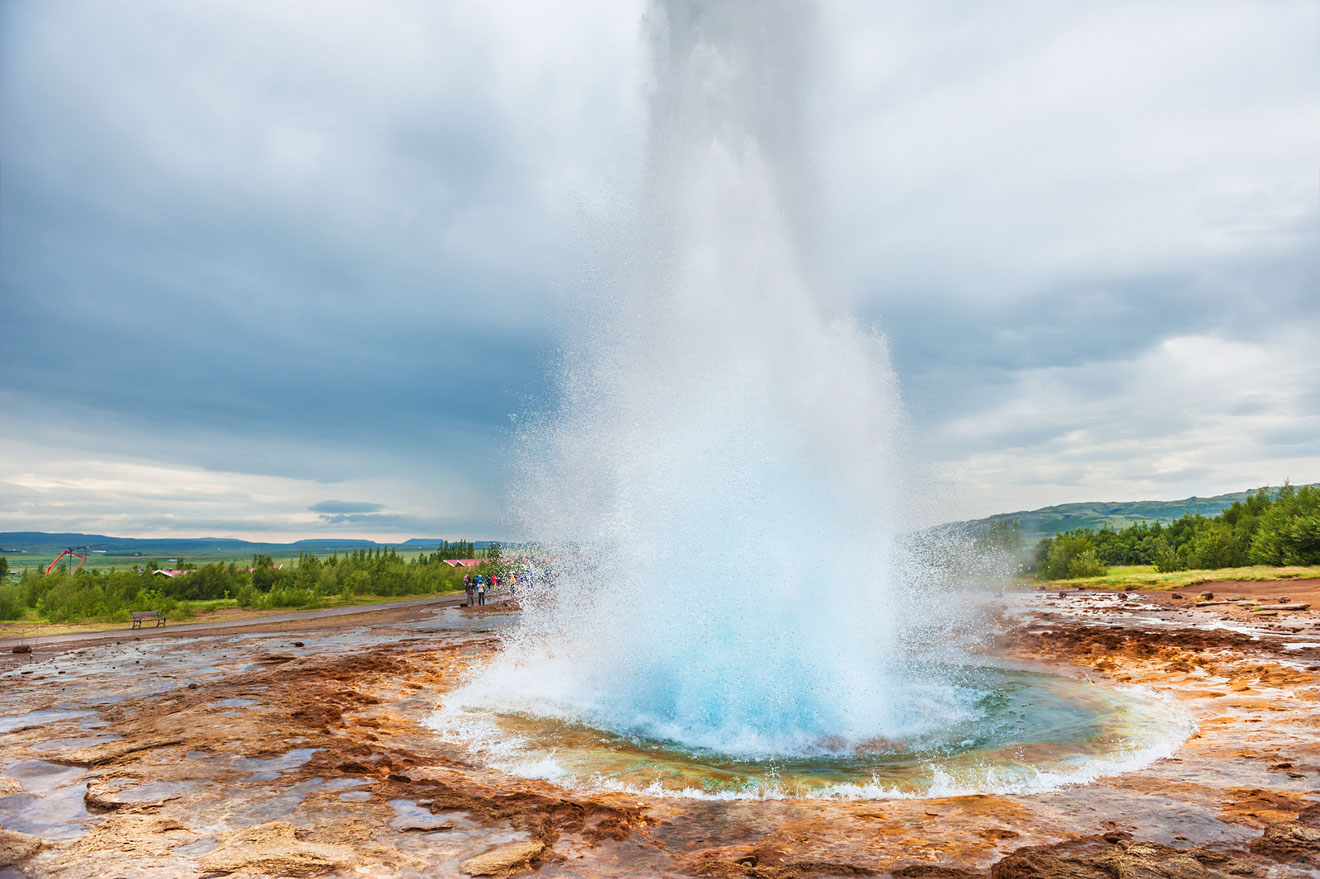 The Golden Circle Tour is the one thing that EVERYONE must DO when they go to Iceland!
And the reason behind this is simple – this is one of those popular tours in Iceland that are simply amazing and will show you some of the best, unmissable spots in this beautiful country!
On the famous Golden Circle Iceland excursion you will get to see the best sights of the country such as the famous Geysir geothermal area, Skógafoss waterfall and Gullfoss waterfall as well – the queen of all waterfalls and Thingvellir Park, where you cannot miss the waterfall and Silfra Fissure – the tectonic plate between America and Europe (scroll down to number 5 for more info)
Depending on how much time you have and your preferences/priorities, there are two different kinds of Golden Circle tours in Iceland: you can take a one-day tour that will show you the most important things or a multi-day tour that usually takes 3 days.
1.1. One day tours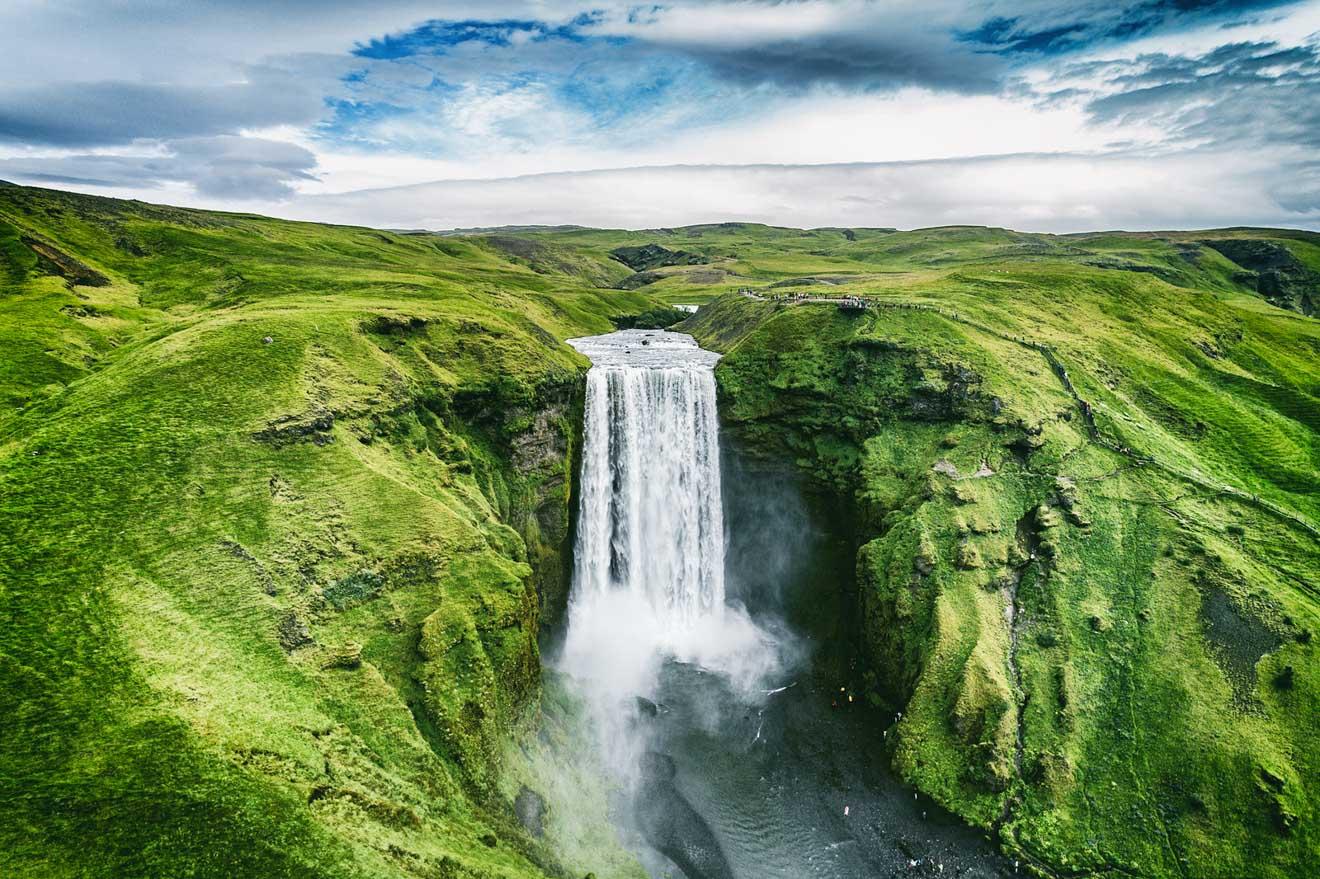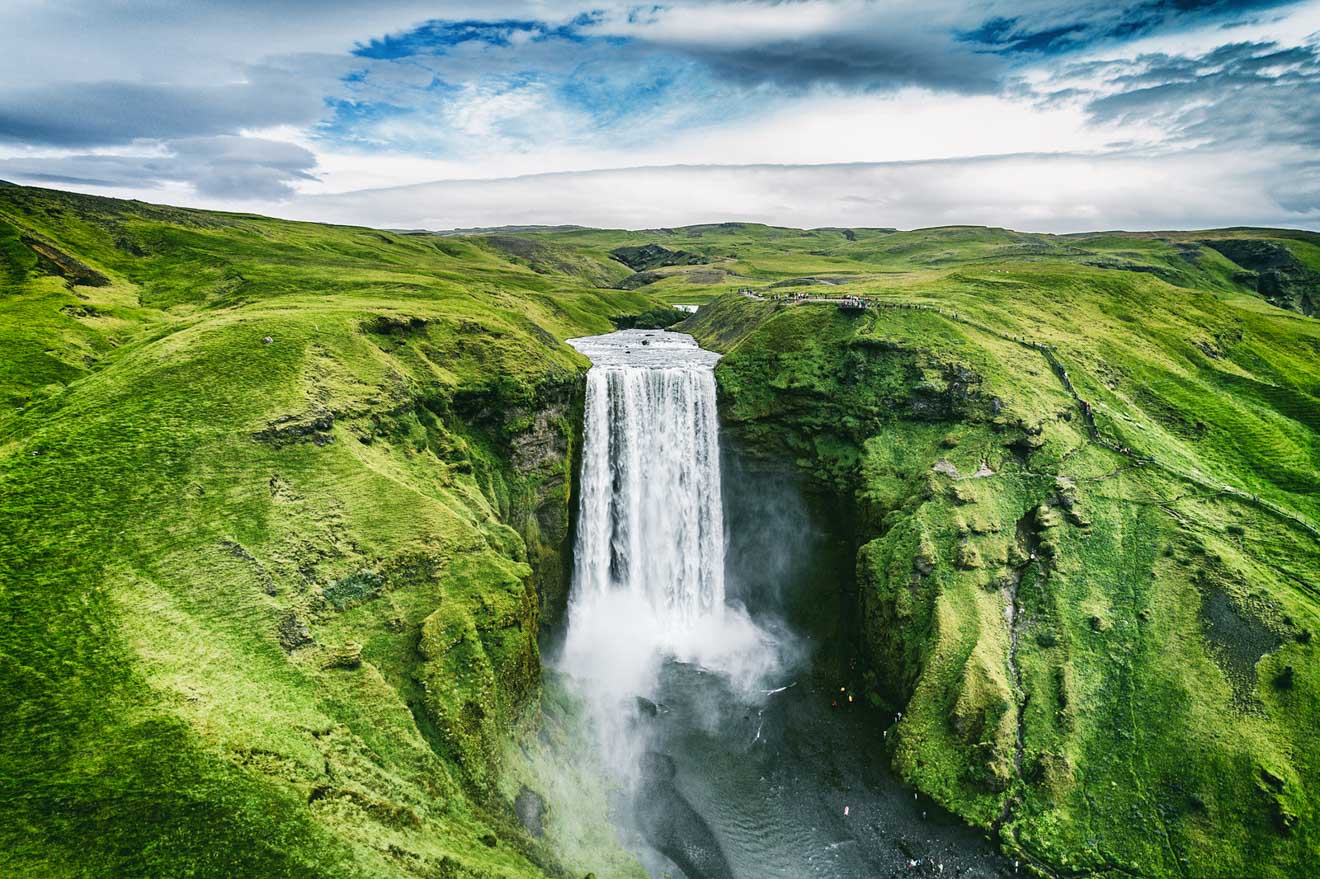 For a one-day tour, I recommend this 7-hour tour from Reykjavik or this option that includes Kerid Crater! Alternatively, you can also take this full-day tour that can include the admission to the Spa Lagoon if you want!
These Iceland tours are popular because they're made for people who don't have much time in the country or they're only there for a short layover in-between flights. If you're in this category, this is the best idea, as this tour will help you make the best of your time in the country!
Looking for private one day tours instead? This is the best one for you!
1.2. Multi-day tours
WINTER
If you have more days on hand and the day tours won't be enough, then multi-day tours are the best solution for you. For example, this three-day tour is the best option for winter in Iceland – it will make your vacation unforgettable and it will take you on the Golden Circle highlights, Jokulsarlon glacier lagoon (see number 4 below for details), you will see the Aurora Borealis (more details at number 2 below) and visit the South Coast of Iceland without any stress.
If you'd like to spend 4 days there instead, then another popular option, if you travel during winter, is this one!
SUMMER
If you want to do a Golden Circle excursion in the summer, this is the best option. You will get to do whale watching, you will see the popular Jökulsárlón Glacier Lagoon and the South Coast, all in 3 days. A package full of Iceland highlights! This private all-year round 3-days tour might also be a great solution as well – during this one you will see the Spa Lagoon, The Golden Circle and the South Coast!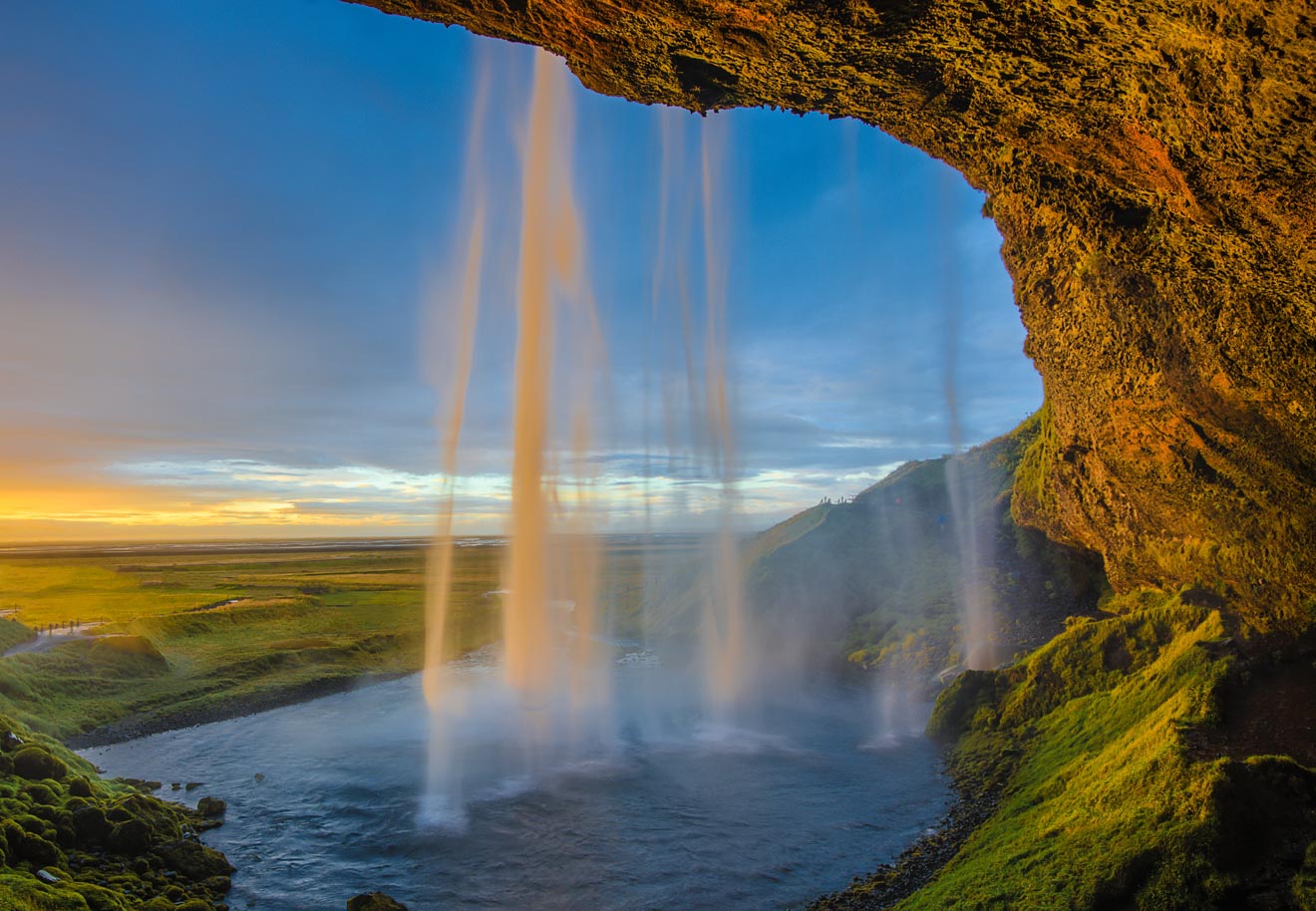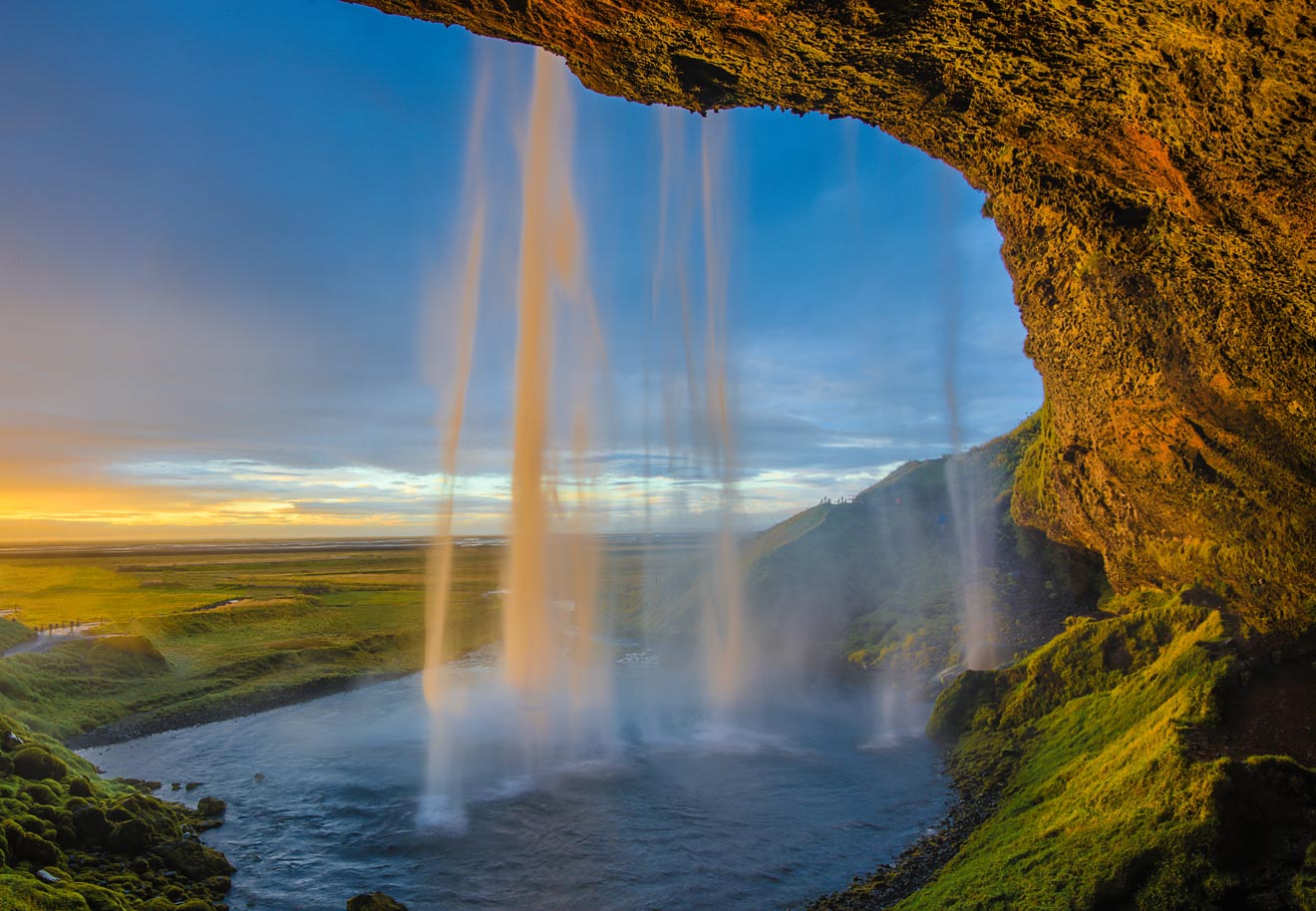 BONUS: If you only have one day and are looking for those tours in Iceland that combine the Golden Circle with some Northern Lights watching, this is one of the best tours in Iceland that you can take!
PLACE: Thingvellir Park, Geysir, Gullfoss waterfall and more!
SEASON: all around the year
DURATION: 8-9 hours or 2-3 days depending on your chosen tour
PRICE: around US$60 for a one-day excursion and US$600 for the three-days excursion
2. Northern Lights Tour
You must witness the Aurora Borealis at least once in your lifetime! Needless to say that this is one of the best tours in Iceland for any type of traveler out there!
Aurora Borealis (or the Northern or Polar Lights) is a rare natural phenomenon that can be explained in fancy words as the result of collisions between charged particles released from the Sun's atmosphere and gaseous particles in the Earth's atmosphere, near the area of the North Pole. Depending on the type of gas particles coming from the Sun during the time you'll be there, you can see different Northern Lights colors such as yellowish-green, pink, purple, red etc.
The reasons why I suggest you take a special Iceland Northern Lights tour and not travel by yourself chasing the Northern Lights is because the tour will take you to an established place where you will surely see this natural phenomenon, you won't have to bother will the entire organization and you will also get some useful information from the tour operator and guides. So the tour will basically make your life easier!
Trust me, this is one of those unmissable Iceland tours that you can take because the experience will be simply breath-taking! There is a variety of available tours that you can take:
2.1. From Reykjavik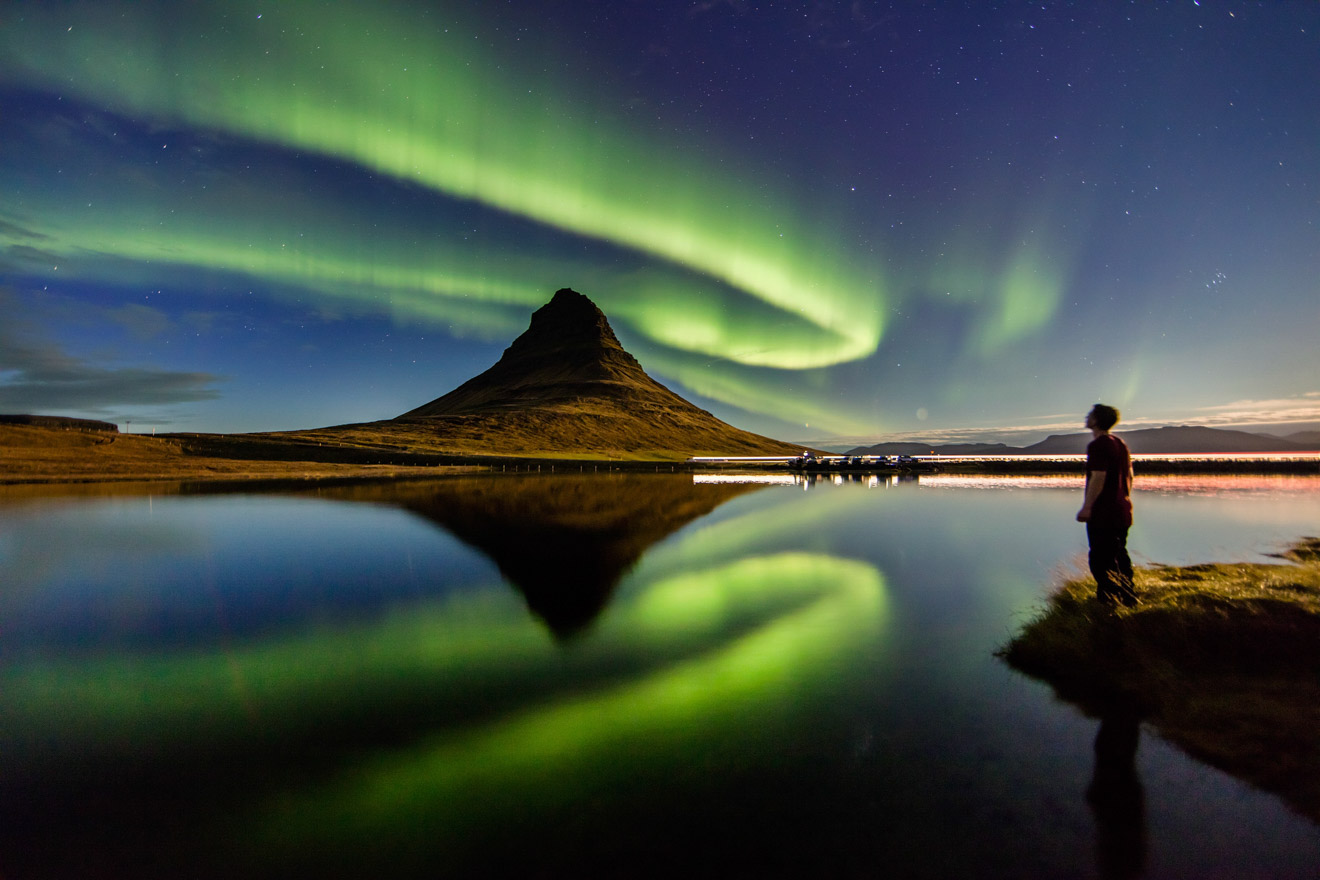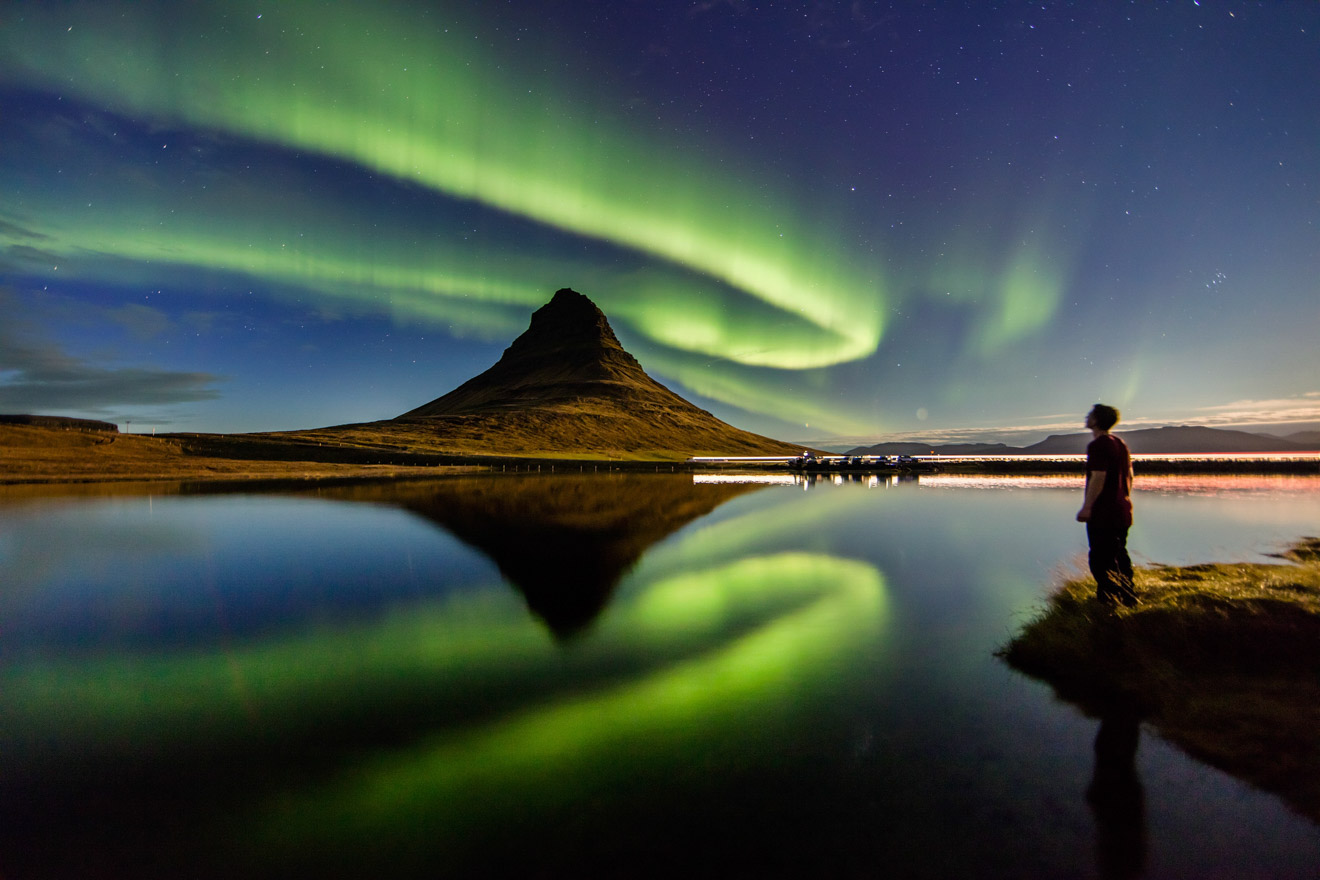 This 3.5-Hour Tour from Reykjavik can be the best idea because, besides the fact that you will see this unique phenomenon, you will also get to learn the basics of northern light photography. If you prefer to see them from a boat instead, here is a good one. If you feel more adventurous, you can take the Northern Lights Experience by Superjeep! Here's another idea: you can take a Polar lights excursion on a luxury yacht if you want to splurge!
Looking for a private tour? Here is my best recommendation that will make your experience simply fantastic, as you will be assisted by an expert Aurora guide.
BONUS: Here is another suggestion if you are short on time – you can combine cave exploring with Northern Lights watching during this minibus tour with pick-up and drop-off in Reykjavik!
2.2. From Akureyri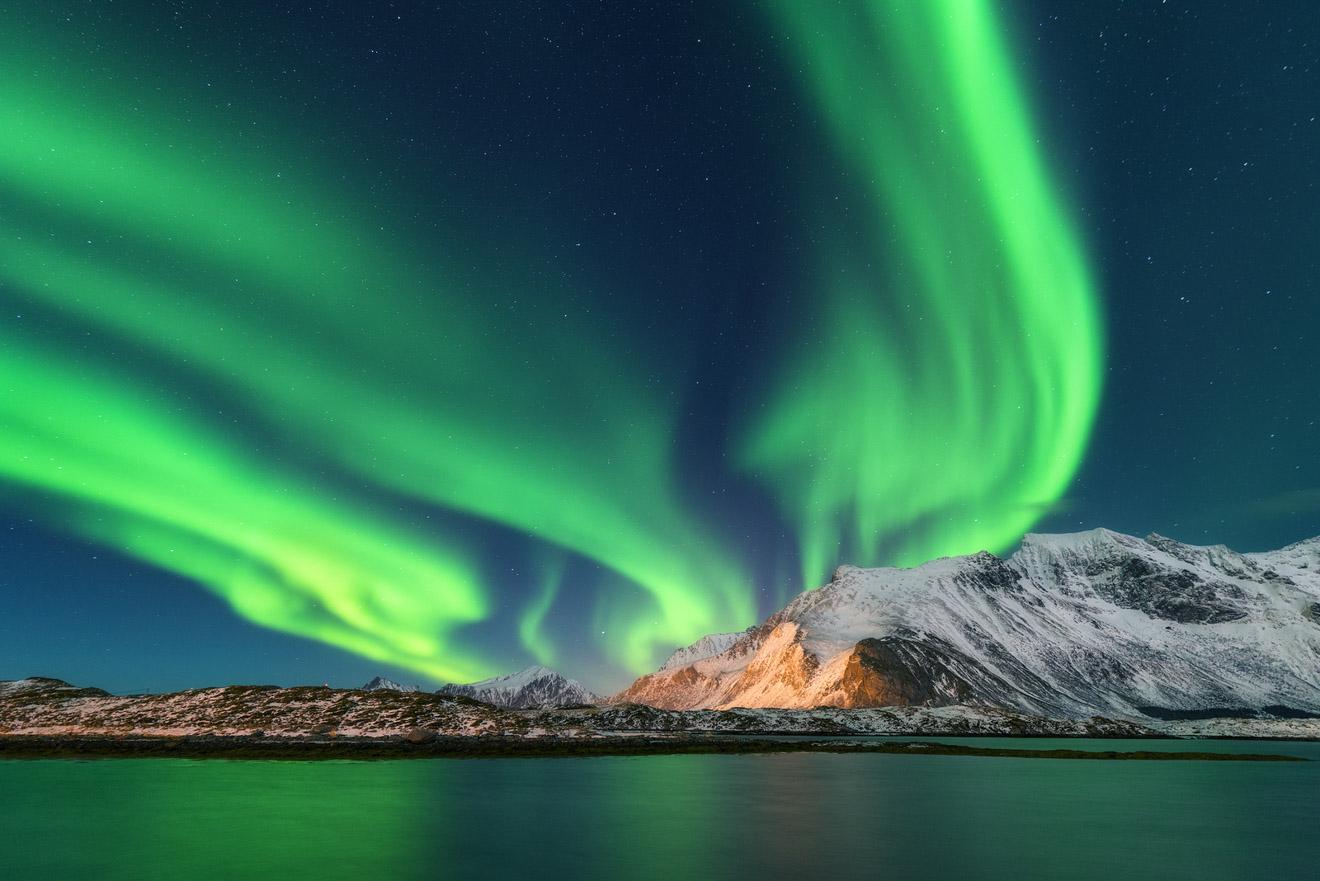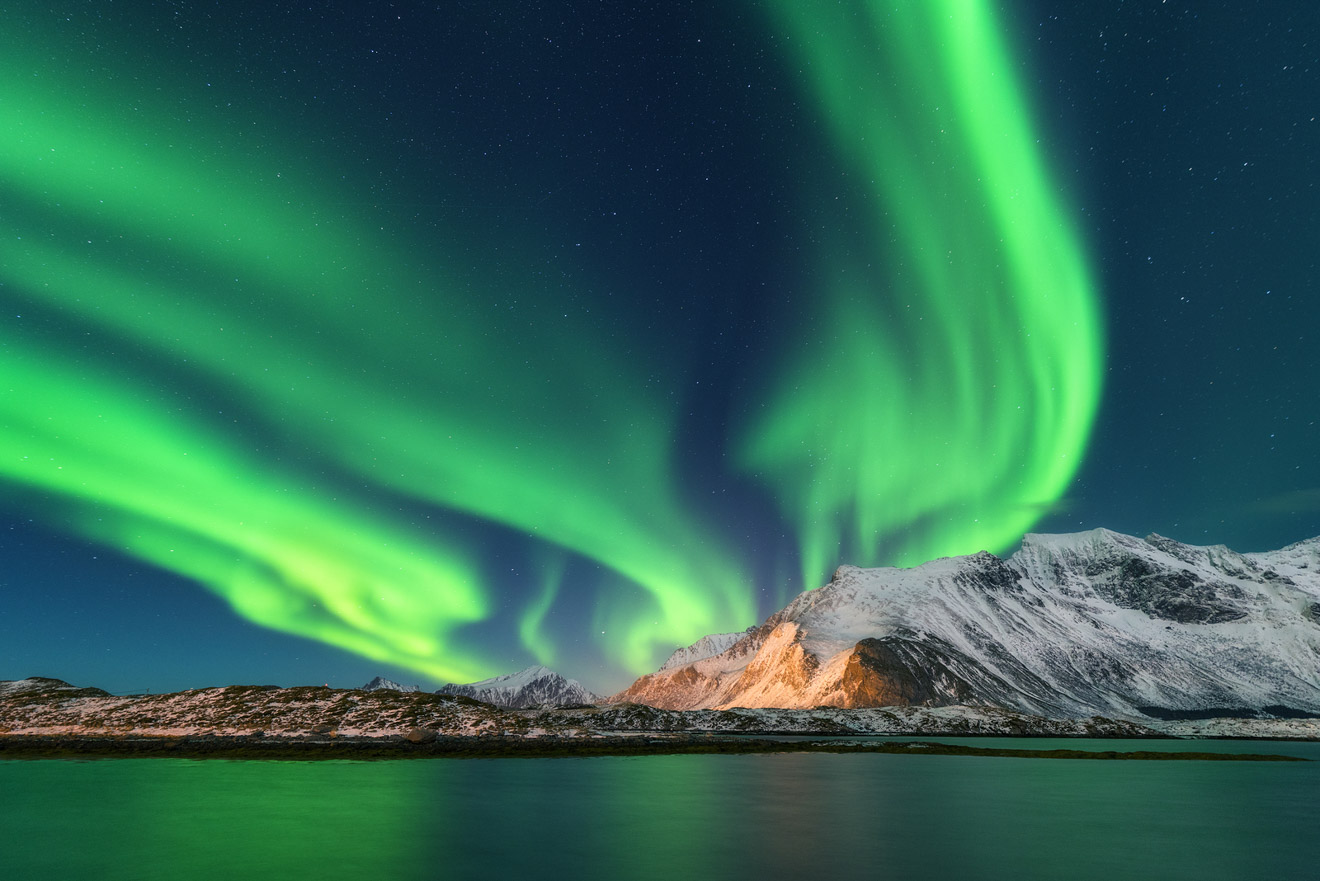 If you are in the North of Iceland, you can take a Northern Lights tour from Akureyri.
TIP: Make sure to bring warm clothes with you and don't forget to be patient – you might have to "chase" this phenomenon! Northern Lights tours are dependent on weather so it's possible for your tour to be canceled – in this case you can get a refund or reschedule for free.
PLACE: outside Reykjavik (the locations change every time and you will go to wherever it is most probable to see the lights)
SEASON: the best season is from October until March (the months with full dark nights)
DURATION: 3-4 hours
PRICE: from US$35, depending on your chosen option
3. Blue Lagoon Tour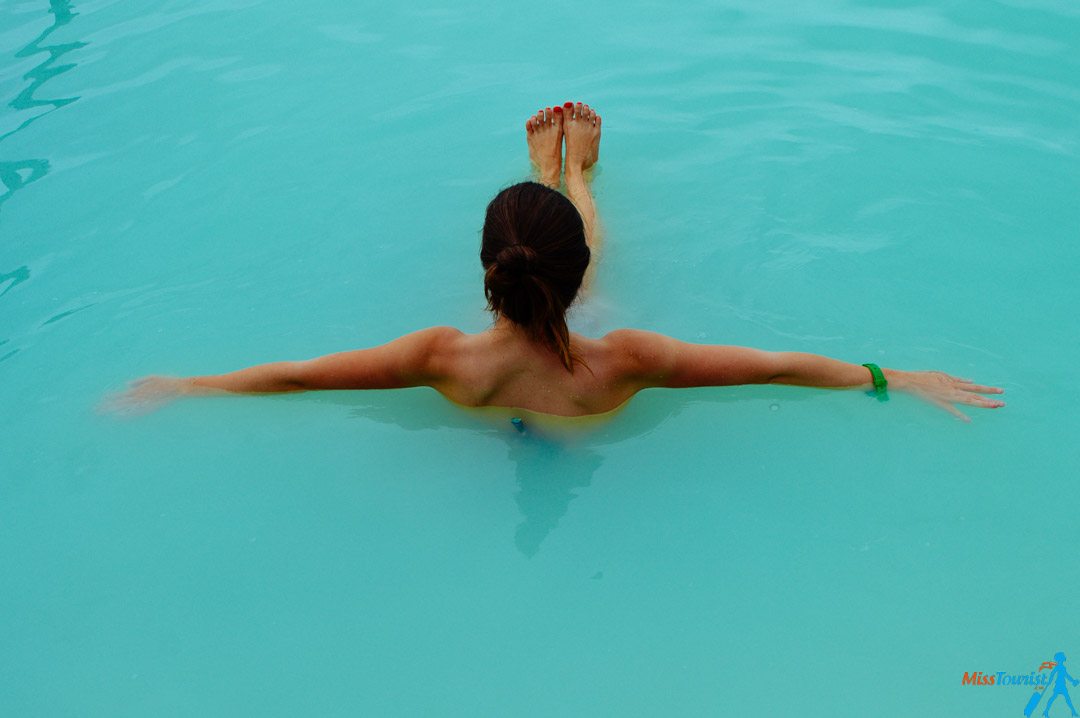 The Blue Lagoon Spa is another must-see in Iceland and one of its most visited attractions, so you should definitely add it to your list of unmissable Iceland tours!
After all the walking, hiking, diving and going around, I want to recommend a more relaxing activity that will make you enjoy your time spent in Iceland even more!
The famous Blue Lagoon has thermal water pools placed in a lava field that reach 37-39 Celsius and it offers several spa packages that you can buy if you want to fully relax and enjoy yourself.
If you are already in Reykjavik and you want to spend your day at the Lagoon, your best choice would be to take this Blue Lagoon tour in Iceland (round trip) that will pick you up from your desired hotel in Reykjavik, take you to the Spa and then bring you back to the city.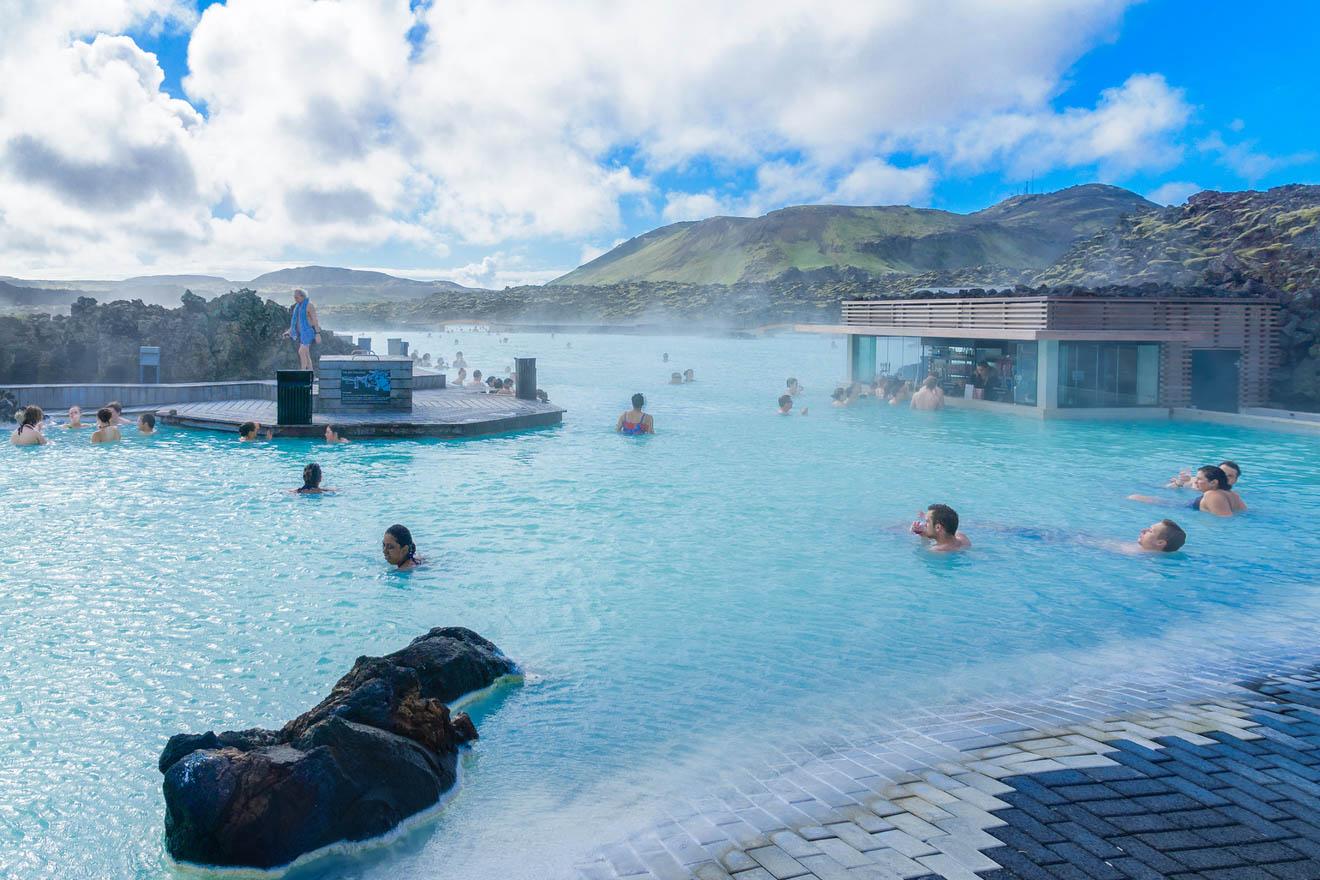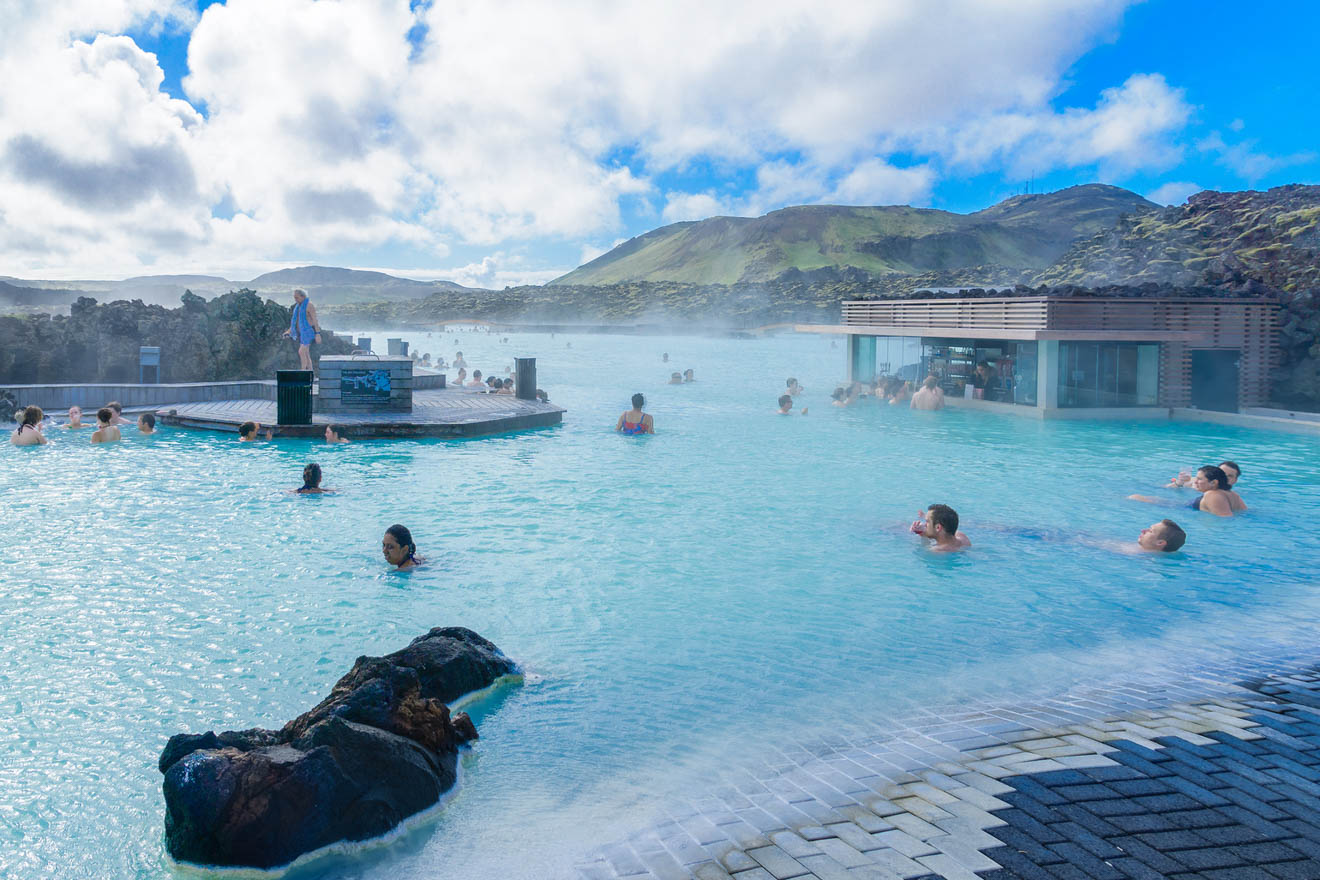 If you're short on time and you want to leave directly to the airport after this Iceland tour, you can tell your driver to drop you off at Keflavik Airport. That would be a perfect ending for your Iceland trip! This round trip transfer does not include the fee for the bathing area. If you know you want to bathe in the milky waters of the Lagoon, you can find out more details in my post here.
TIP: Don't forget to bring your bathing suit. You can rent a towel for an extra payment, but it's best if you bring your own, so you can save some money.
PLACE: Blue Lagoon Spa (Grindavik)
SEASON: All around the year
DURATION: travel time from Reykjavik -> Blue Lagoon is 45-60 min. You can stay at Blue Lagoon for as long as you want.
PRICE: transport from US$32 per adult / entrance fee for Blue Lagoon starts US$50.
4. Jökulsárlón Glacier Lagoon tour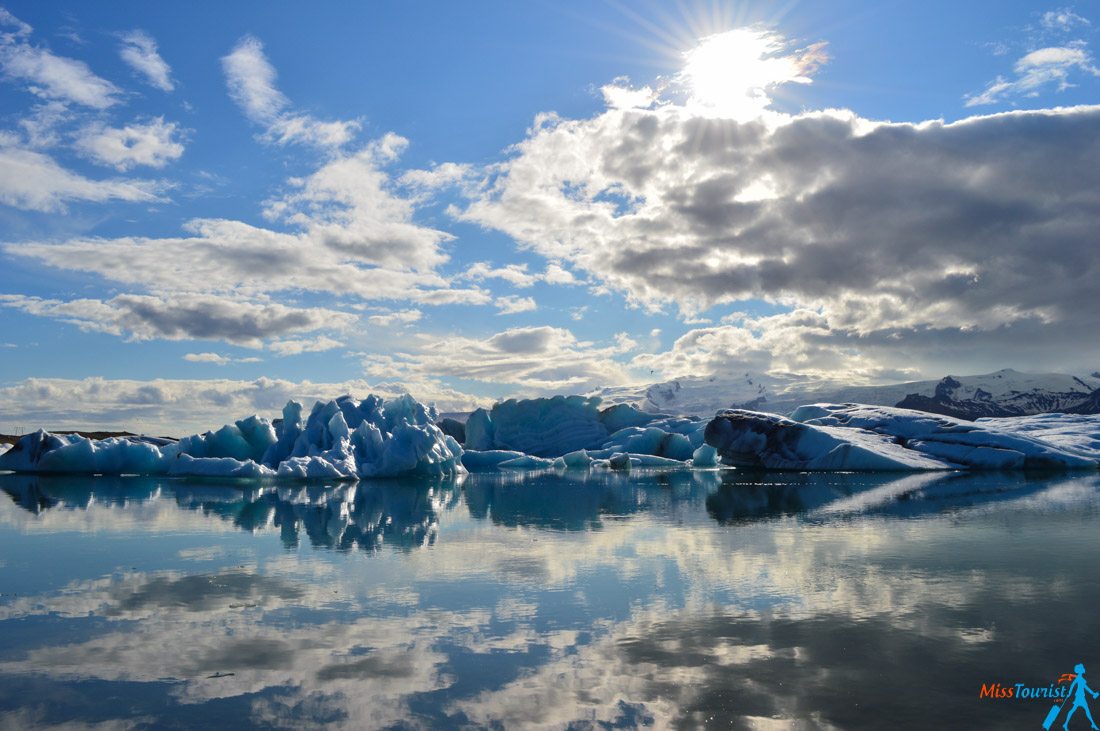 Honestly, this was one of the highlights of my trip!
Jokulsarlon Iceberg Lagoon actually means 'glacier lagoon' and it's one of the natural wonders of Iceland. It is the biggest (18 km2) and deepest (285 meters) glacier lagoon and lake in the entire country and one of the most popular Iceland tours that you can take.
It would be a real pity if you missed it while there, as well as the entire Southern Coast of Iceland. South Iceland is an amazing place, full of incredible waterfalls, glaciers, black beaches and more, but if you really only have to choose one spot to visit, I urge you to pick a Jokulsarlon tour, as it is one of the best Iceland tours available.
4.1. One day tours
I recommend you take at least a 14-hours tour. This is the best idea because you will have enough time to explore this beautiful lagoon and take enough photos to last you for a lifetime!
Another option would be to take a combined South Coast and Jokulsarlon day tour from Reykjavik. If you want some exclusivity, then a private tour would be the best idea for you!
4.2. Multi-day tours
If you have more time on your hands during your travel vacation, it would be truly ideal to book an excursion for 2-3 days in order to visit the South part of Iceland with a knowledgeable guide and a special stop at Jokulsarlon. By the way, here you can find my recommended itinerary for the South of Iceland.
If you want to see the Golden Circle with the Southern Coast, Northern Lights and Glacier Hiking into a big adventure during your time spent in Iceland, I suggest you take this three-day tour (available from November until March).
4.3. Boat tours once at the lagoon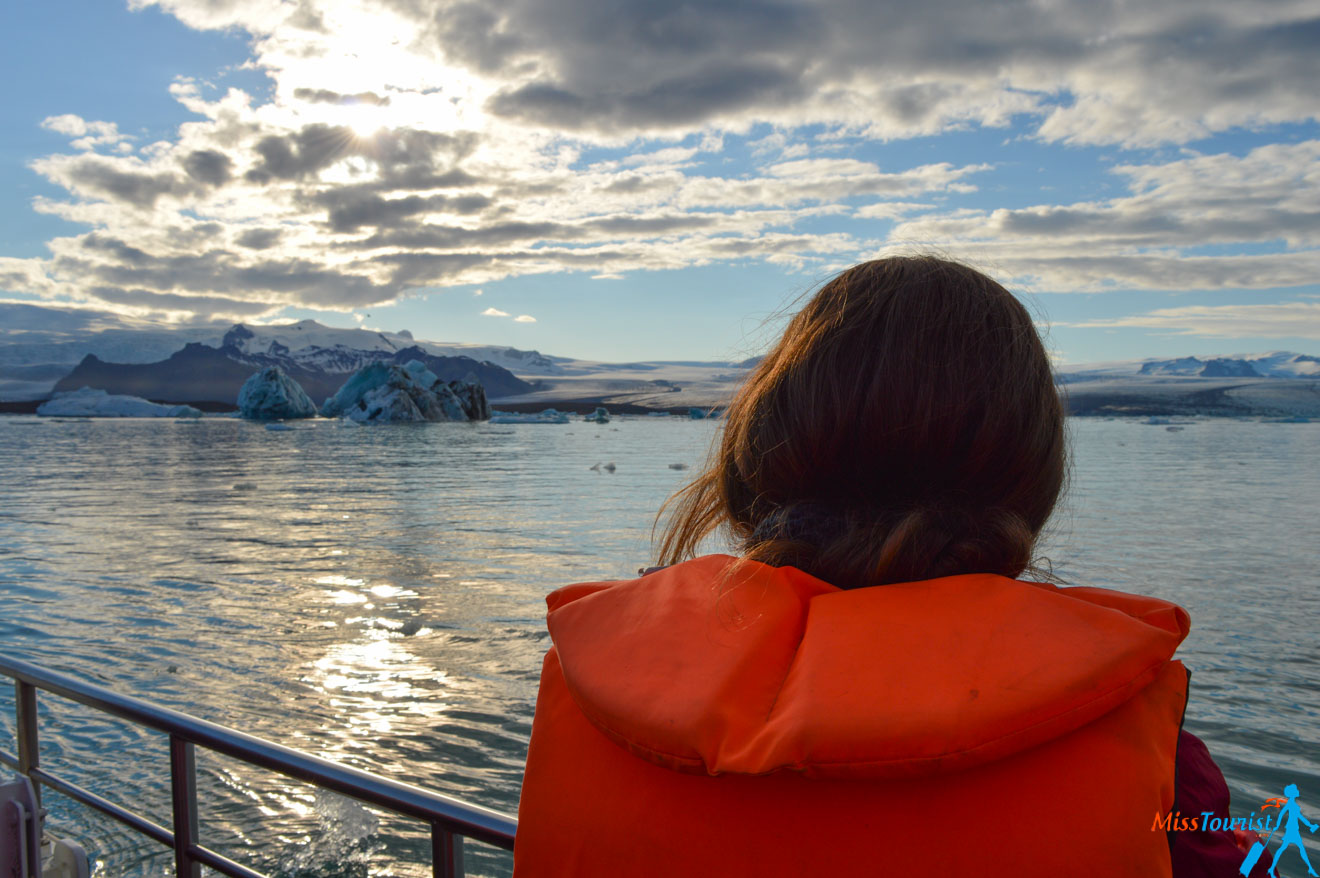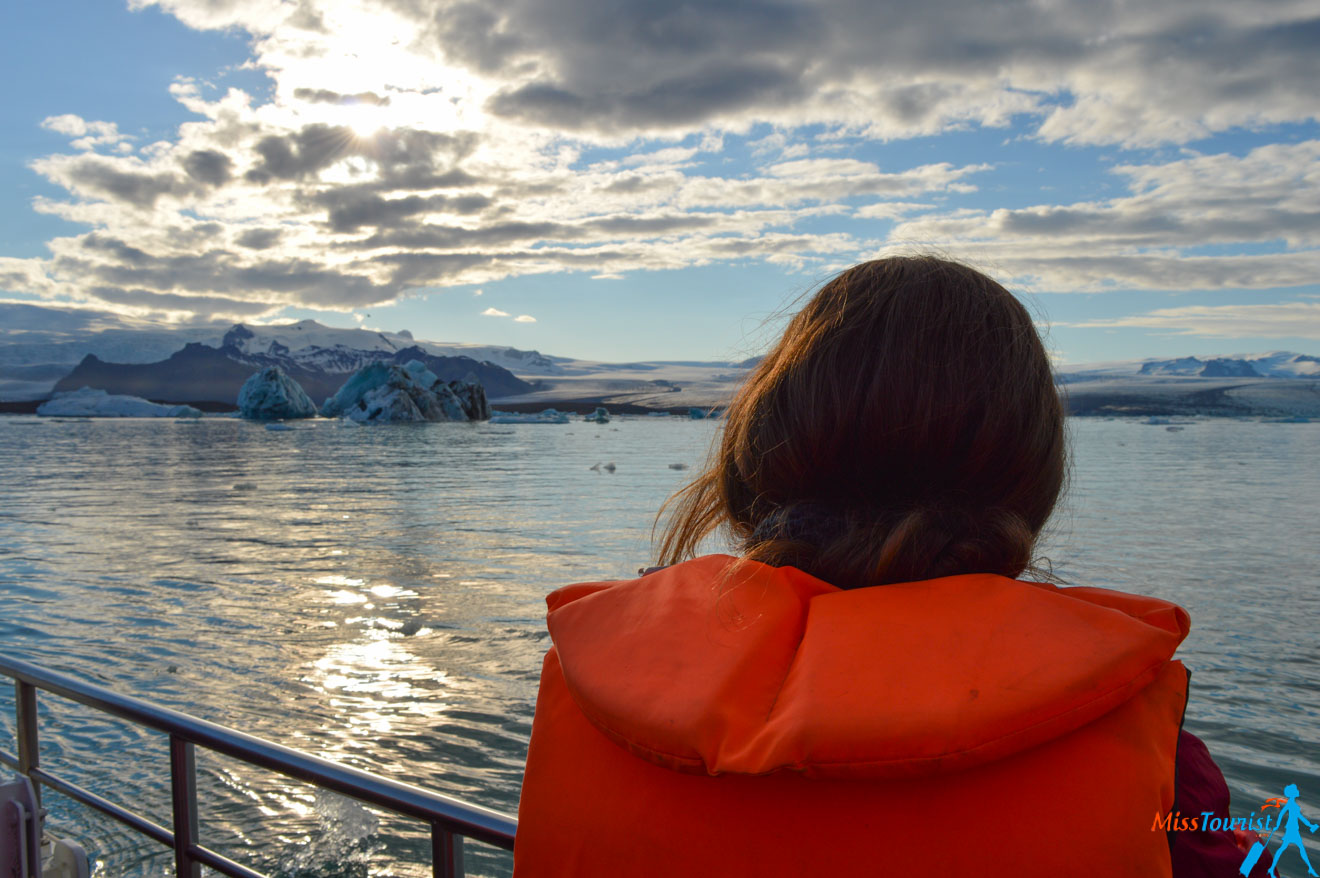 You can get close to the lagoon and take pictures like the above for free, but it definitely would be a mistake not to take a boat tour there. This will make your time there even more unforgettable! You can choose from the following options:
A one-hour-long one – this one will allow you to see the lagoon made out entirely out of glacier ice thousands of years old from the inside. This magical place is really a unique experience worth paying for!
NOTE: PLACE: South Coast
SEASON: all year round only for Jokulsarlon. From November until March for the big South Coast tours in Iceland
DURATION: from 14 hours to 2-3 days
PRICE: around US$40 for the boat trip on Jokulsarlon and from US$140 for a day trip
5. Silfra Fissure Snorkeling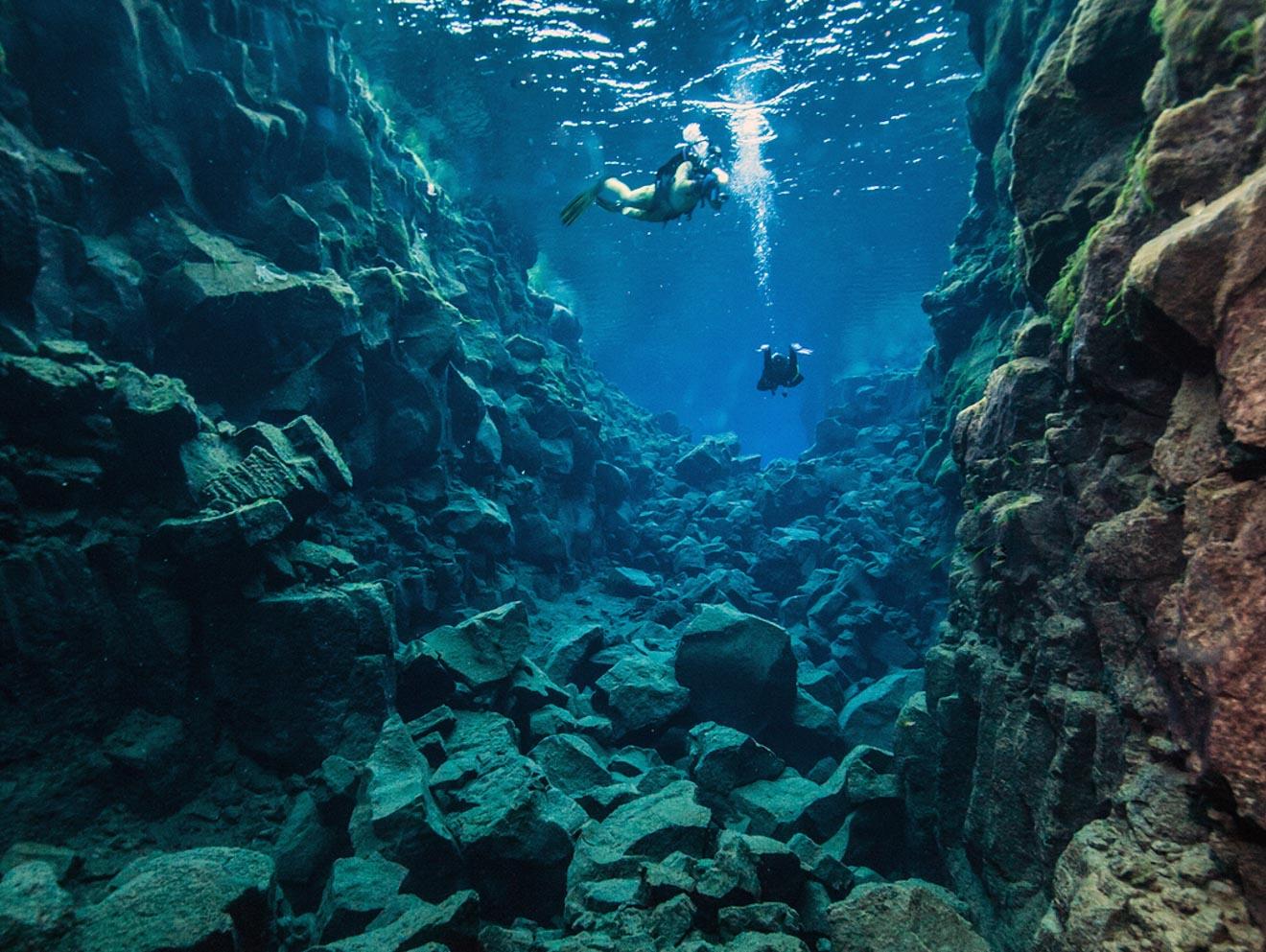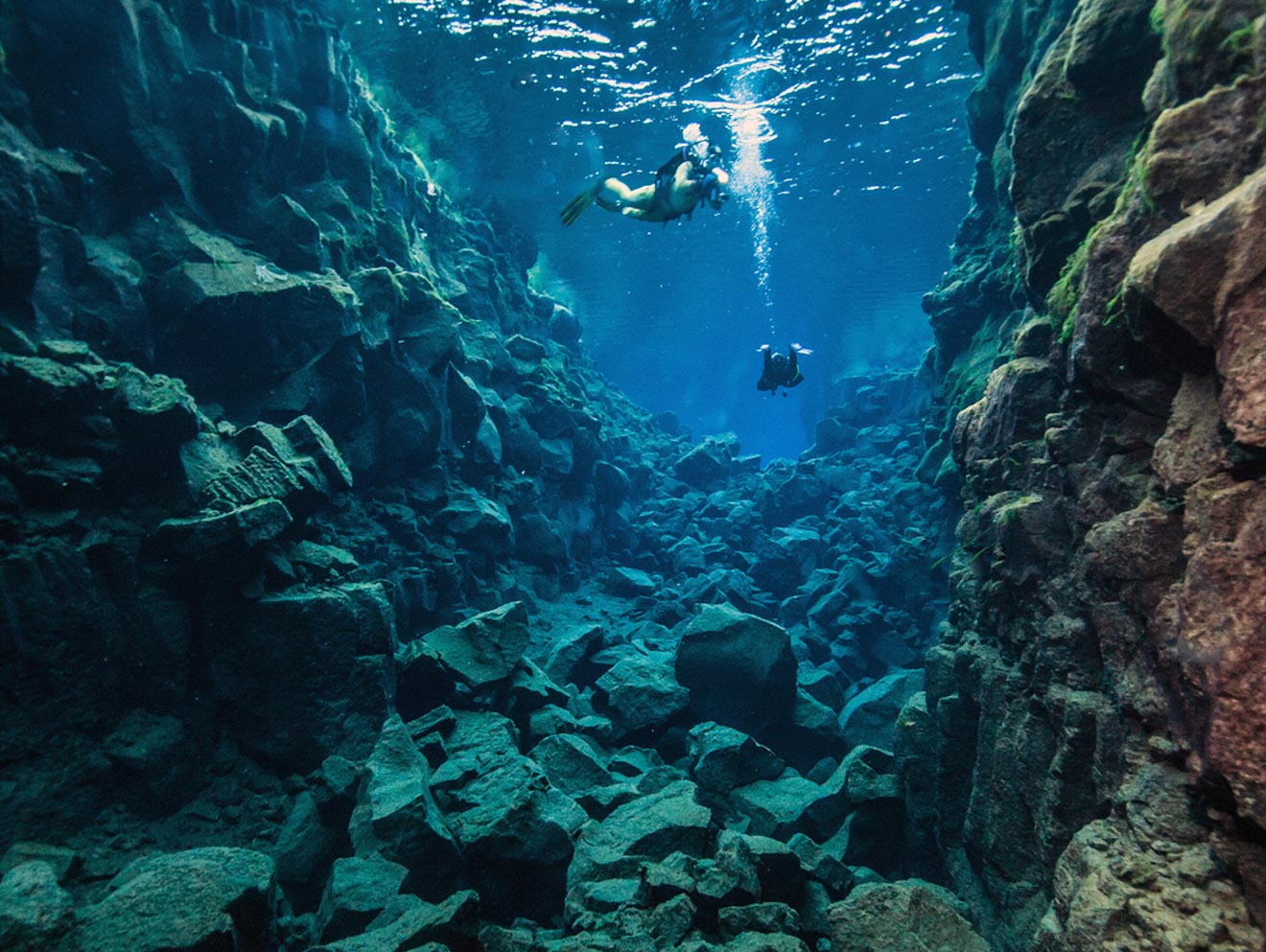 Trust me when I say that this is a unique opportunity that you won't encounter anywhere else in the world, so you should add this one to your list of Iceland tours! By the way, this is one of the top 10 diving places in the world, so you can't miss it!
Silfra Fissure is a rift created by the two tectonic plates of the North American and Eurasian continents.
You read that right: this activity allows you to snorkel or dive (according to your preference) between two continents!
Silfra Fissure is located in Þingvallavatn Lake in Þingvellir (Thingvellir) National Park, it's a UNESCO World Heritage Site and it's filled with some of the clearest waters in the world. Although the water is very cold – about 2°C (or 34°F) all the time, it is totally worth doing the Silfra diving in Iceland and I'm sure this will be one of the best highlights of your tours in Iceland!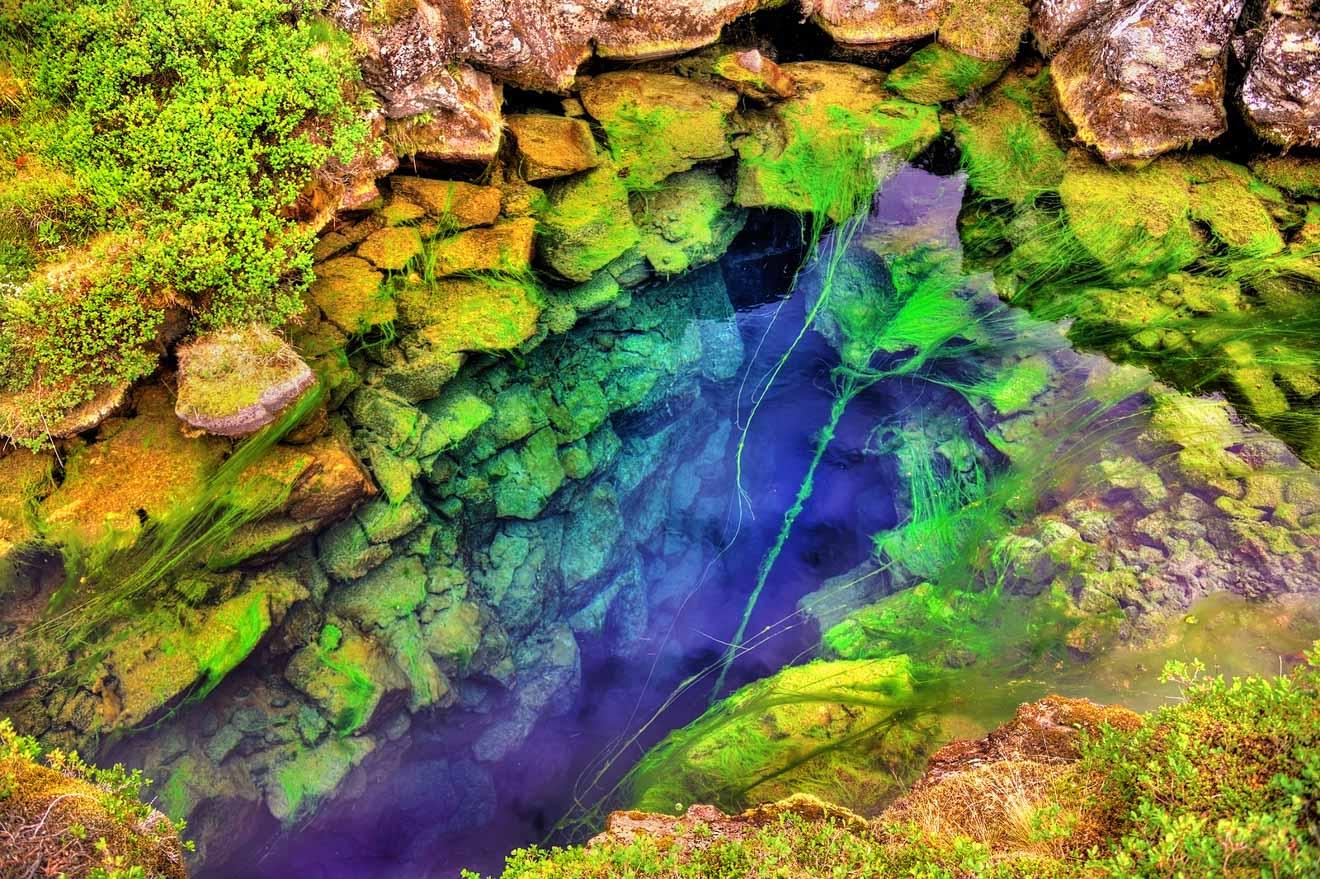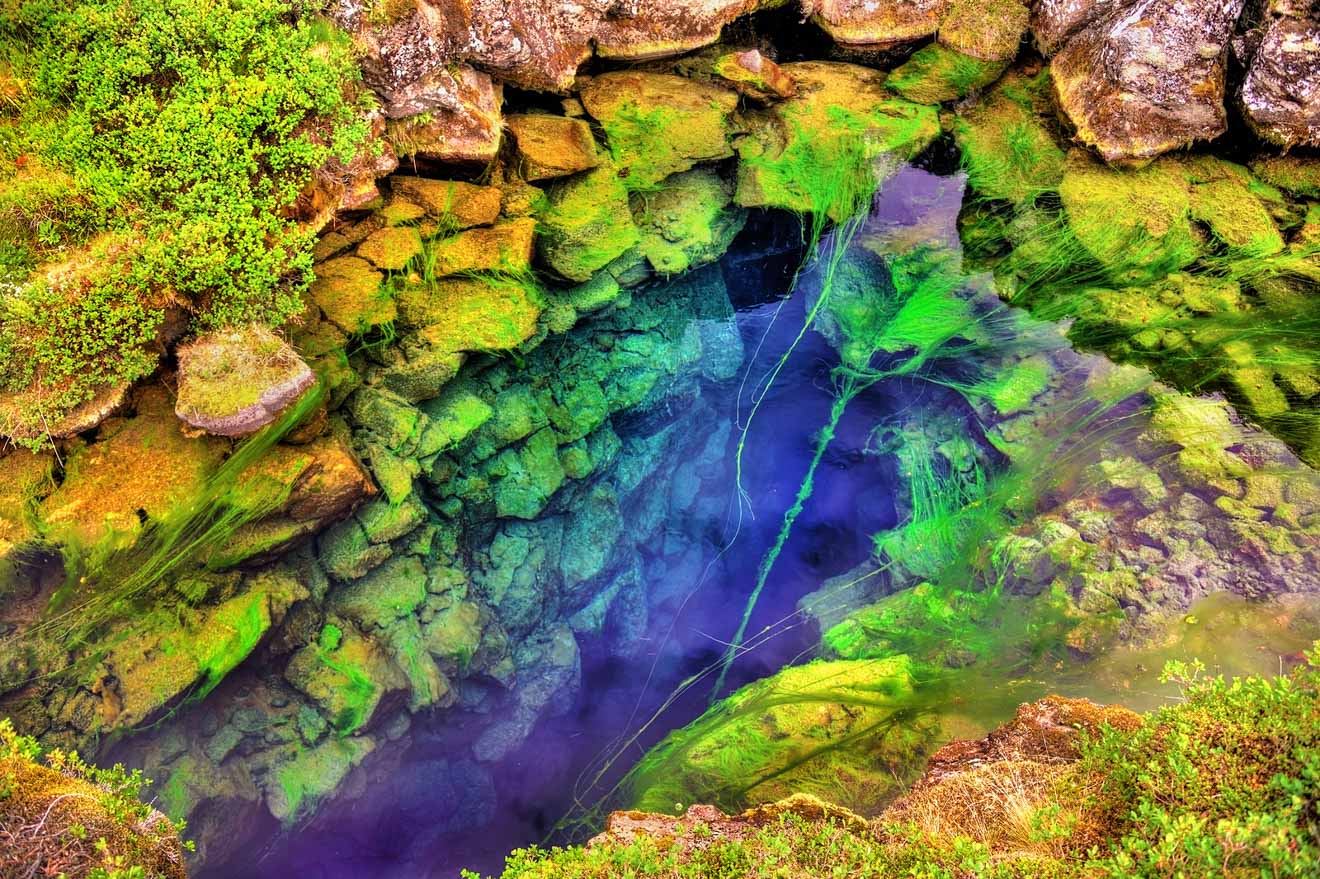 Most of the people compare the feeling of diving there to flying because it feels like you are actually weightless. You also won't be able to hear a thing because you will be in a dry suit, so it can also count as meditation!
As I mentioned above, there are two kinds of tours in Iceland available for this activity:
5.1. Snorkeling tour
If you want to experience snorkeling in the Silfra Iceland Fissure, I can recommend this tour. As a bonus for this activity, the underwater photos will be taken for free with a GoPro!
IMPORTANT – SNORKELING: All participants must be at least 12 years old, over 45 kg, at least 150 cm tall and comfortable in the water in order to snorkel in the Silfra fissure.
5.2. Diving tour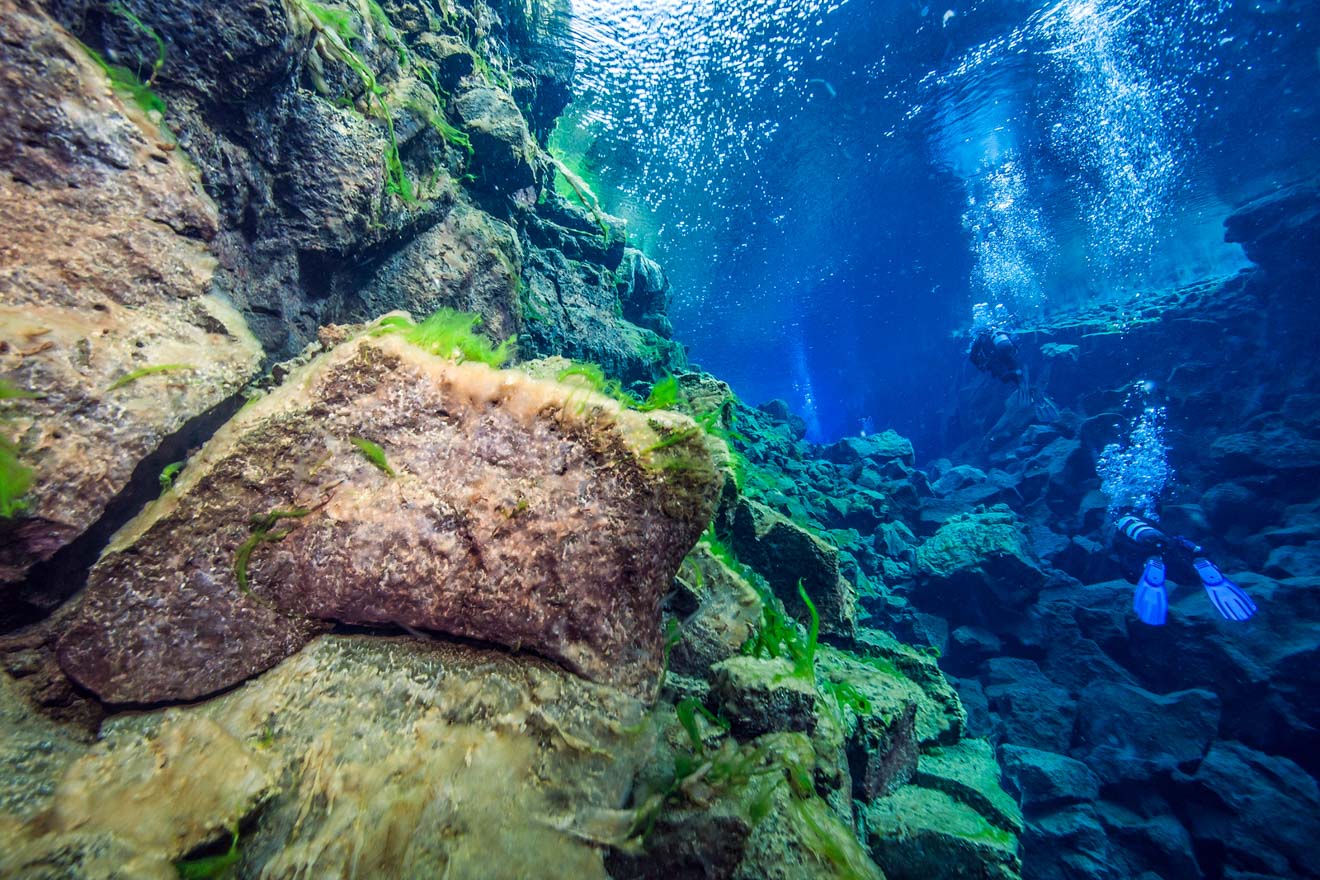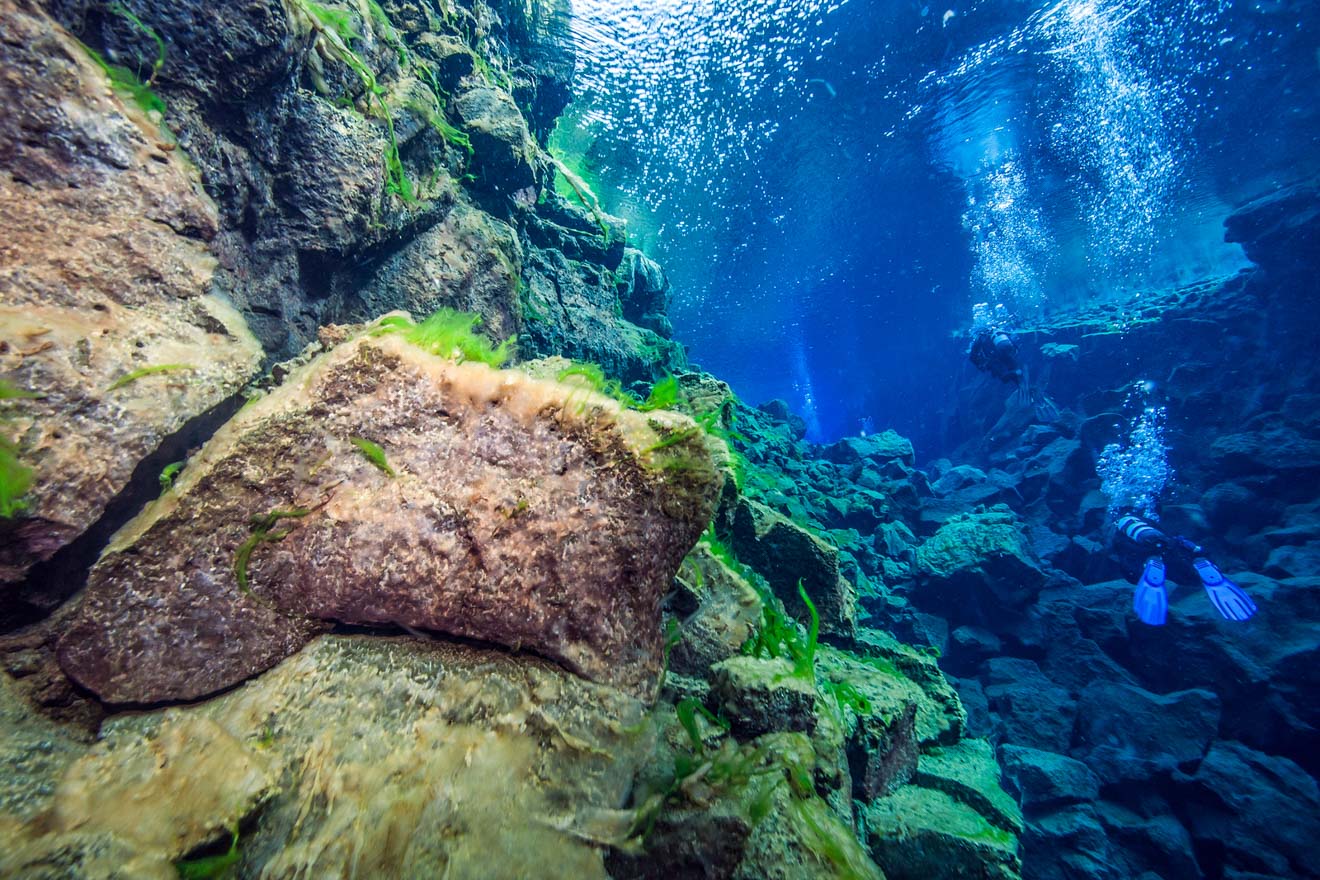 If you're a diver, then you just can't miss diving there, it will be the highlight of your vacation! As an alternative, I have also found this diving tour during the Midnight Sun. You will snorkel during the night on the clear waters of the
IMPORTANT – DIVING: PADI open water certificate (or anything above this) + PADI dry suit certificate are mandatory if you want to dive in the Silfra fissure. You must be at least 18 years old and in a moderate fitness shape, as you will have to carry some heavy equipment to and from the diving spot. If you don't have any certificate, I suggest taking a Silfra Iceland snorkeling tour instead.
NOTE: If you want to combine the Golden Circle scenic tour with snorkeling Silfra Fissure, there is this great tour.
NOTE 2: As I said, the water is cold all year round so it's essential to go there already dressed in some warm clothes that will help you feel comfy – long sleeves, leggings, warm socks (no cotton). The tour operators will provide you with the diving equipment and a very good dry suit that will keep you warm during your dive!
PLACE: Thingvellir Park
SEASON: All around the year (including the coldest days)
DURATION: around 3 hours in total (30-45 minutes actually in the water)
PRICE: the price range is from US$110 for snorkeling and from US$230 for diving
6. Glacier Hiking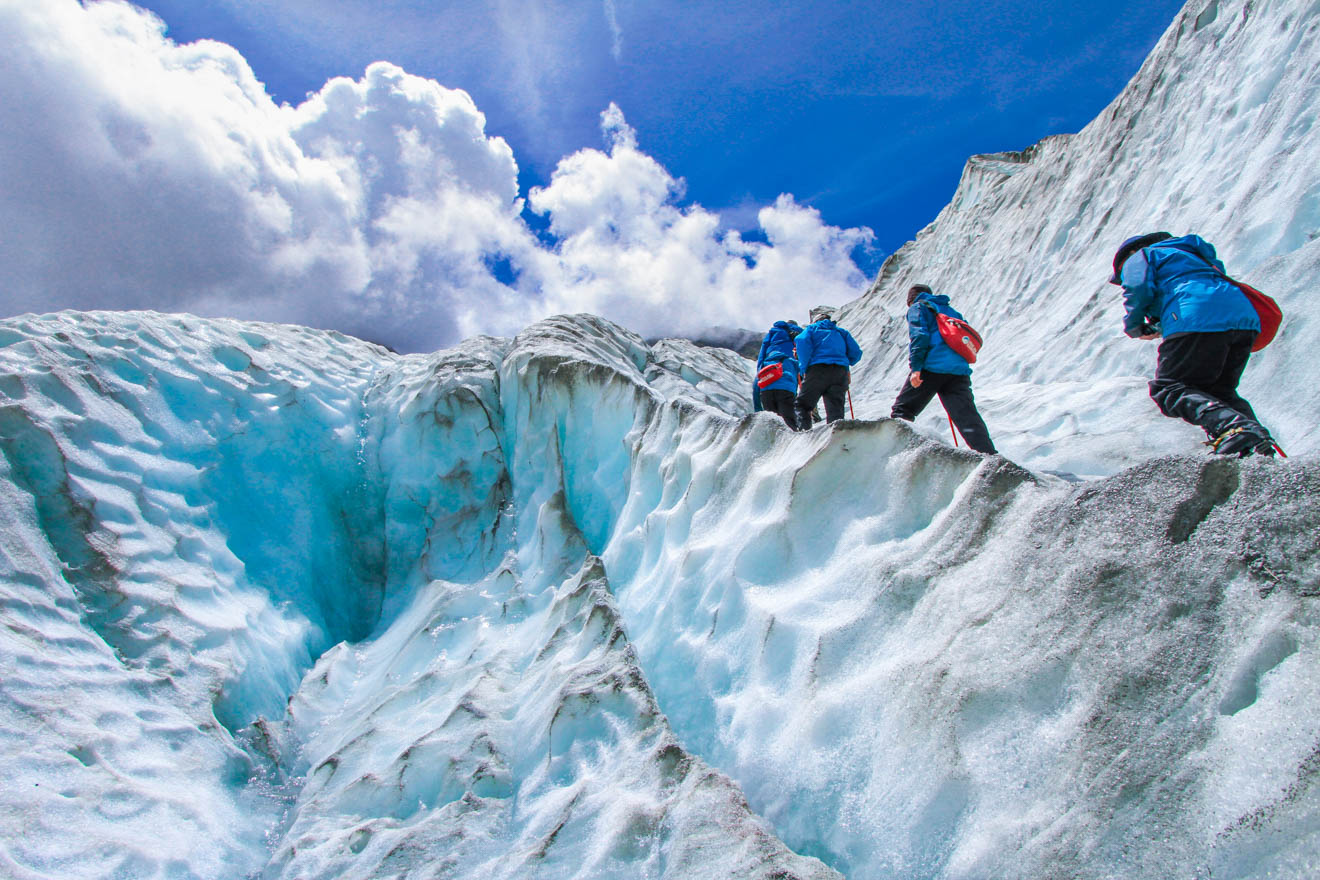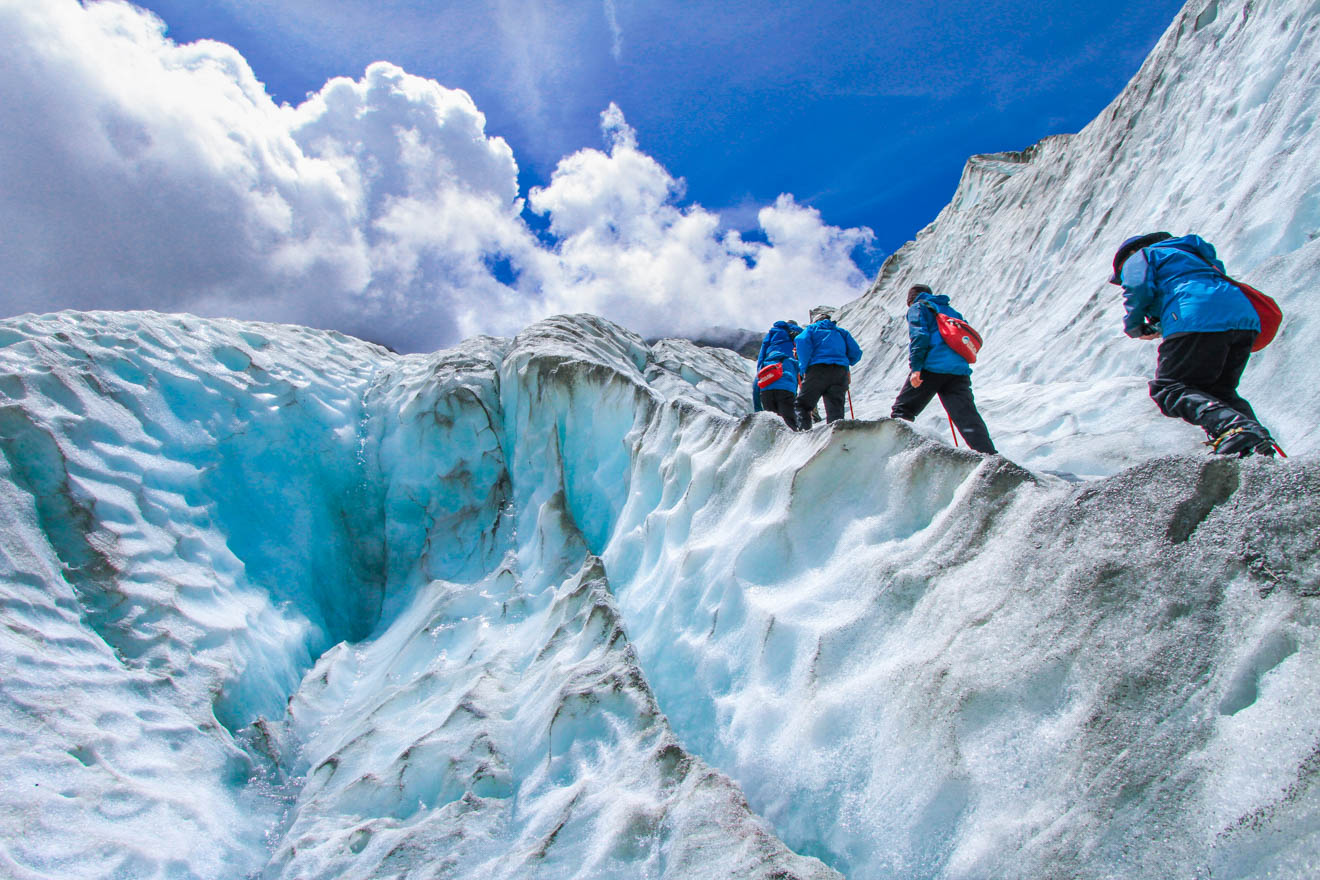 Walking on a glacier has always been your dream? Iceland is one of the best places in the world to make your dream come true!
It's needless to say that you cannot visit Iceland without seeing at least some of its glaciers, right? Although you can get close to these amazing ice formations by yourself if you decide to go on a road trip around Iceland (here is my article with my recommended itinerary and some advice), you cannot walk or hike there without a guided excursion. This is why I recommend booking one of the organized Iceland tours for this activity during your vacation!
Walking on a glacier and hiking the amazing ice will help you connect with nature and understand why Iceland is so special.
Iceland is full of ice and glaciers all around its territory and you can take all kinds of tours, but there are some special sites that you will want to hike on, such as Solheimajokull glacier or Falljökull glacier (in Skaftafell Park).
There are different places where you can take this Iceland tour, below I have selected the best ones for you: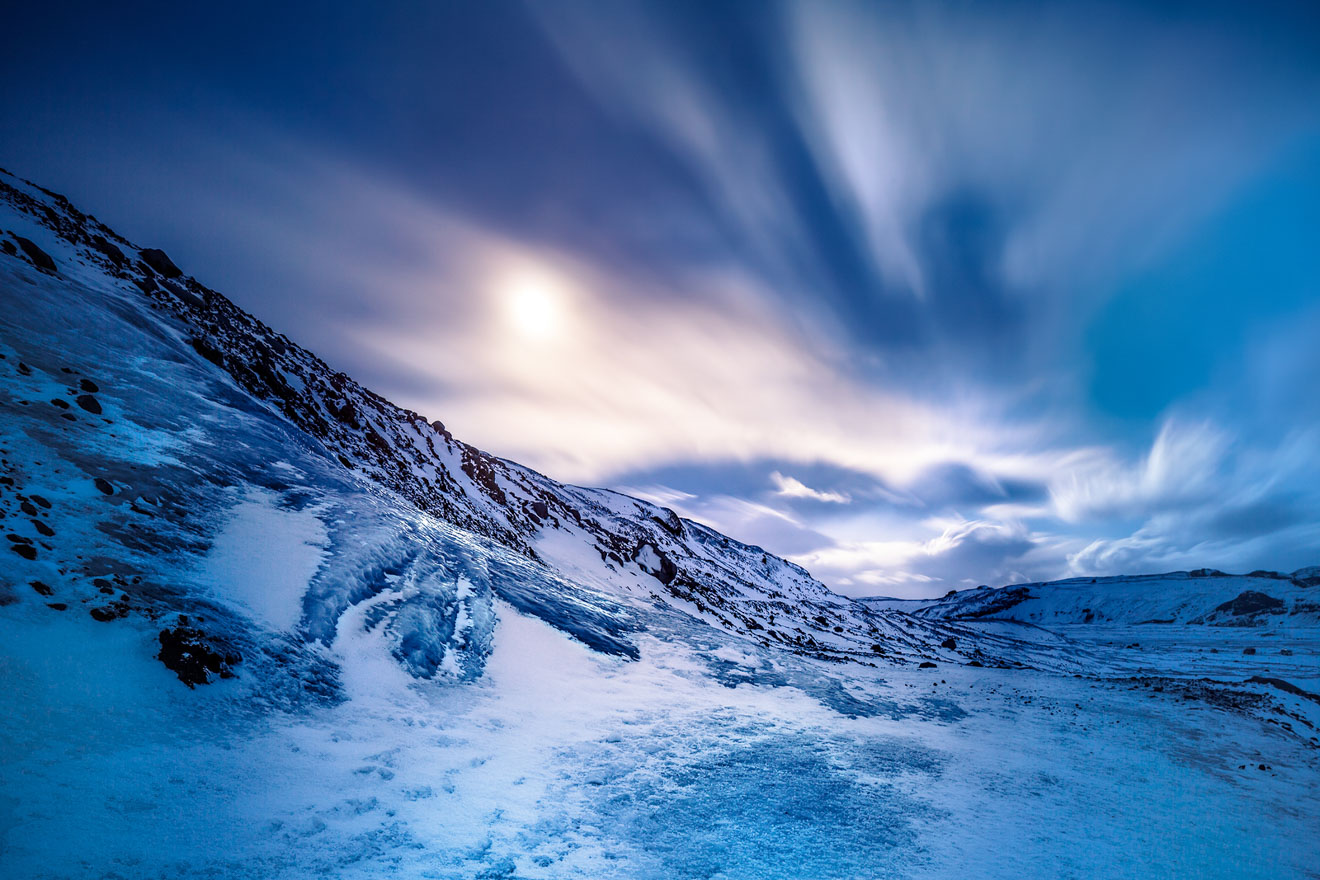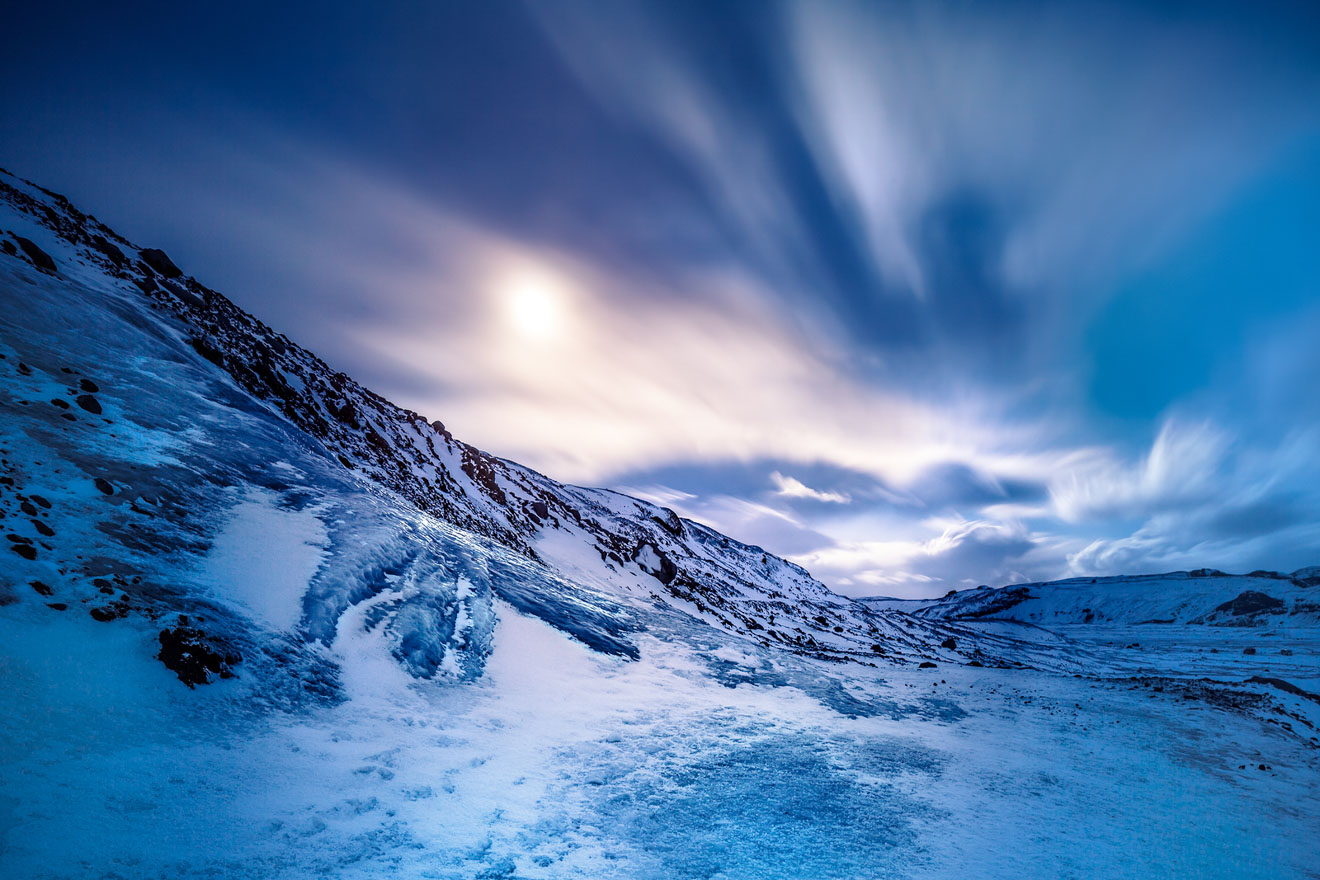 If you want to go on a longer 2-day tour and combine glacier hiking with visiting the entire South Coast, you might want to take this overnight adventure.
We really wanted to do the hike in Skaftafell National Park but it was booked for the day so we couldn't. I have done the hike in New Zealand, on Fox Glacier and it was amazing, so I regret I didn't do it in Iceland too. Oh, well, I guess it's just another reason to go back! 🙂
Being a memorable and unique adventure, the tickets are selling fast so I suggest booking yours well in advance!
IMPORTANT: Don't forget to bring warm clothes! Even though all the needed hiking equipment will be provided by the tour experts (which will definitely make your life easier) you won't be able to enjoy this activity if you are freezing.
PLACE: some popular glaciers are Solheimajokull and Falljökull
SEASON: All around the year
DURATION: 3-5 hours, depending on the time specified for each option
PRICE: from US$90 depending on your chosen option
7. Whale Watching Tour
Being one of the most affordable and cheap Iceland tours and popular activities that you can add to your Iceland itinerary, I advise you not to miss the opportunities to see these gentle giants when there. Iceland is one of the best countries to see whales and it will let you know more about this country's history and tradition, so it's definitely one of the best Iceland tours out there!
There are many places for whale watching tours in Iceland, such as in the harbor of the capital, Akureyri, Dalvik etc, but the best one is Husavik. I have been told by locals that your chances of spotting some huge, cute whales will increase if you go there!
TIP: Taking a speed boat tour is the best decision because you'll have more chances of spotting the whales.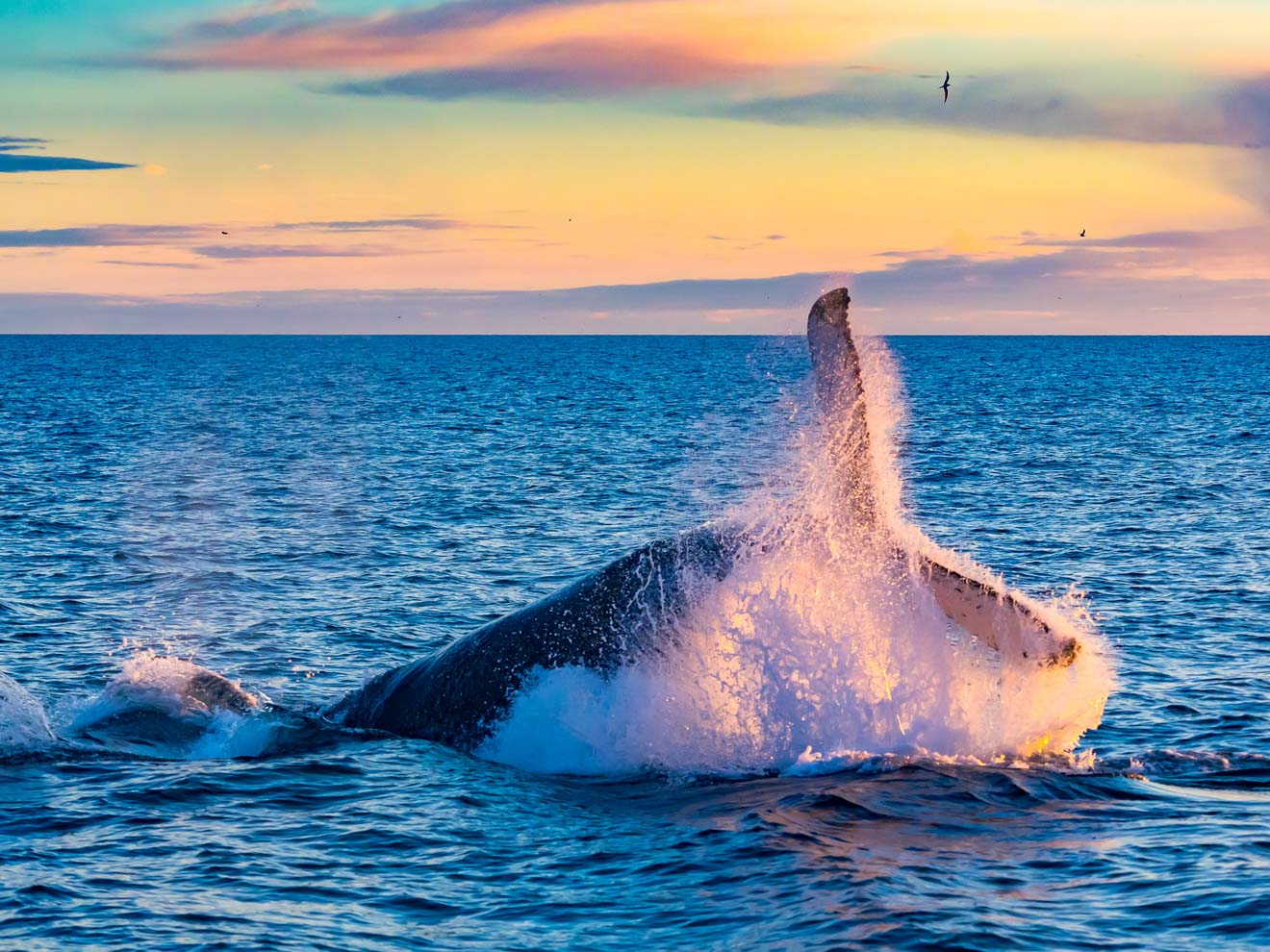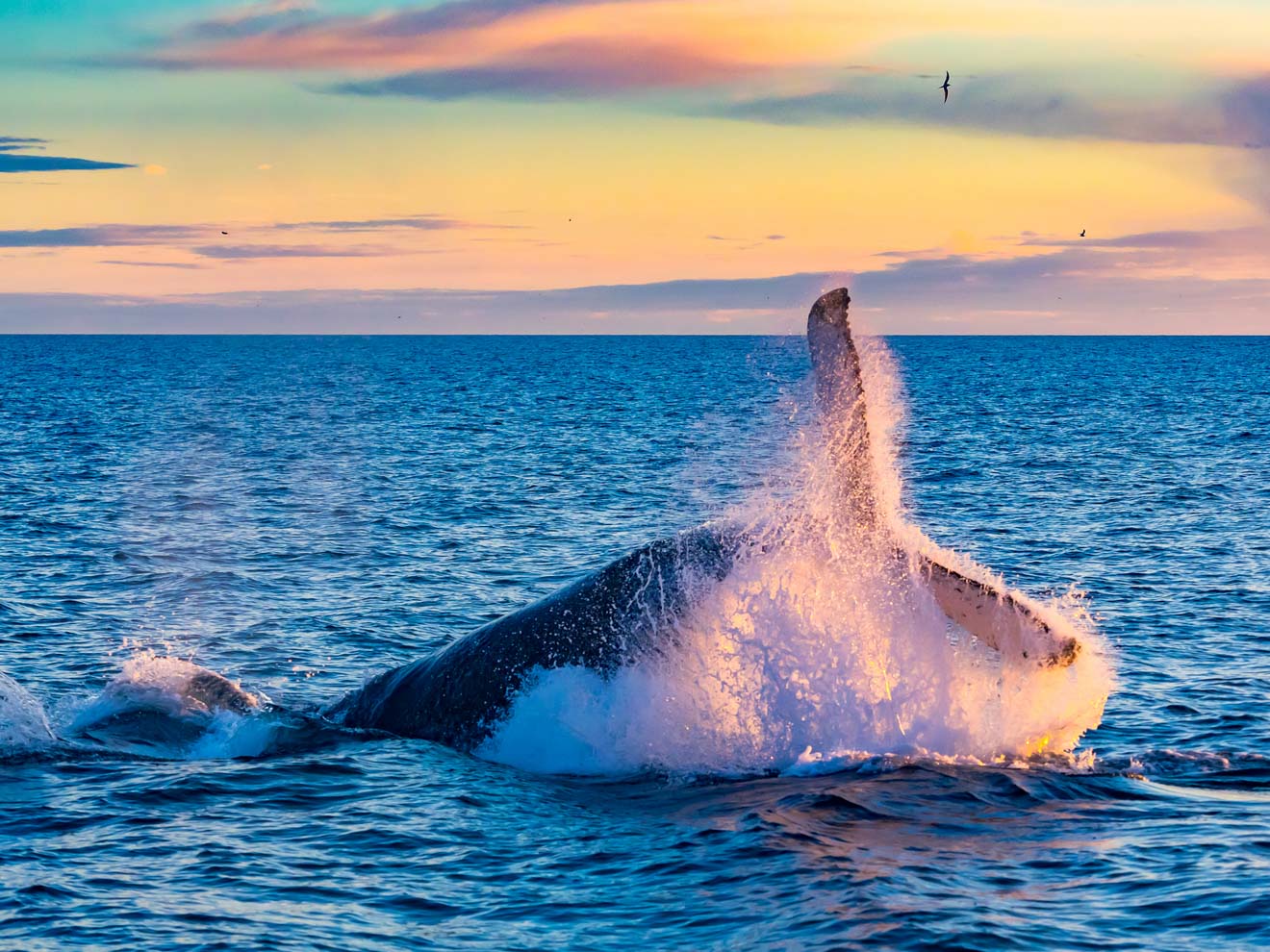 Here are my suggested tours in Iceland if you want to see the whales:
From Husavik: This Iceland Whale-watching tour with a speedboat is a great choice. If you would prefer a more classic boat instead, you can take a look at this tour.
From Reykjavik: Here is a great option to see the whales from the capital. Also, if you don't see a whale during this tour, the tour operators will get another one for free!
From other places: You can find many other whale-watching tours from other spots in Iceland (Grundarfjordur, Olafsvik, Hjalteyri, Holmavik etc.) here.
PLACE: Husavik (the whale-watching "capital" of Iceland), Akureyri, Dalvik etc
SEASON: best time is in summer (June, July, and August)
DURATION: 2-3 hours
PRICE: around US$170 but it depends on your chosen tour
8. Natural Ice Cave Tour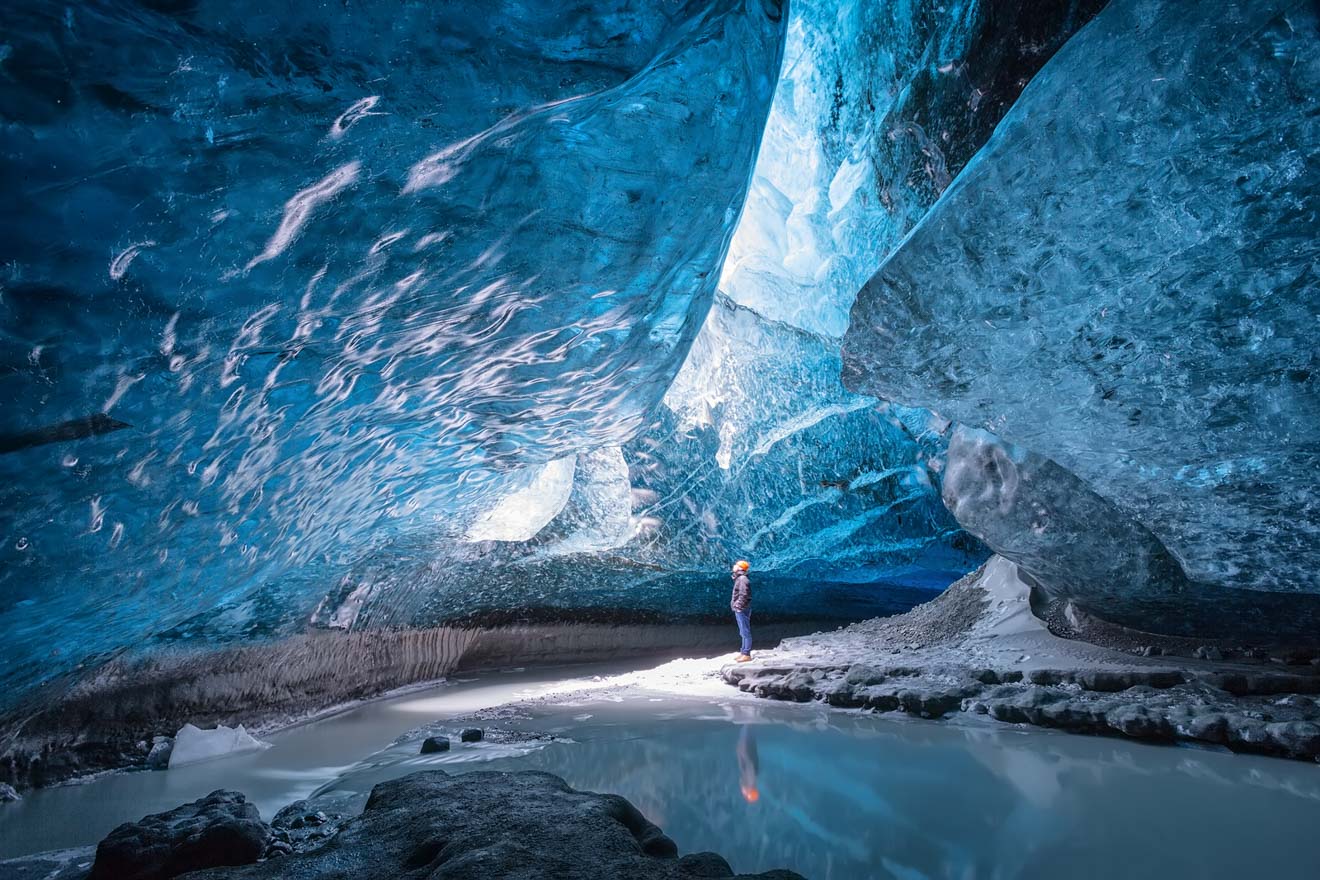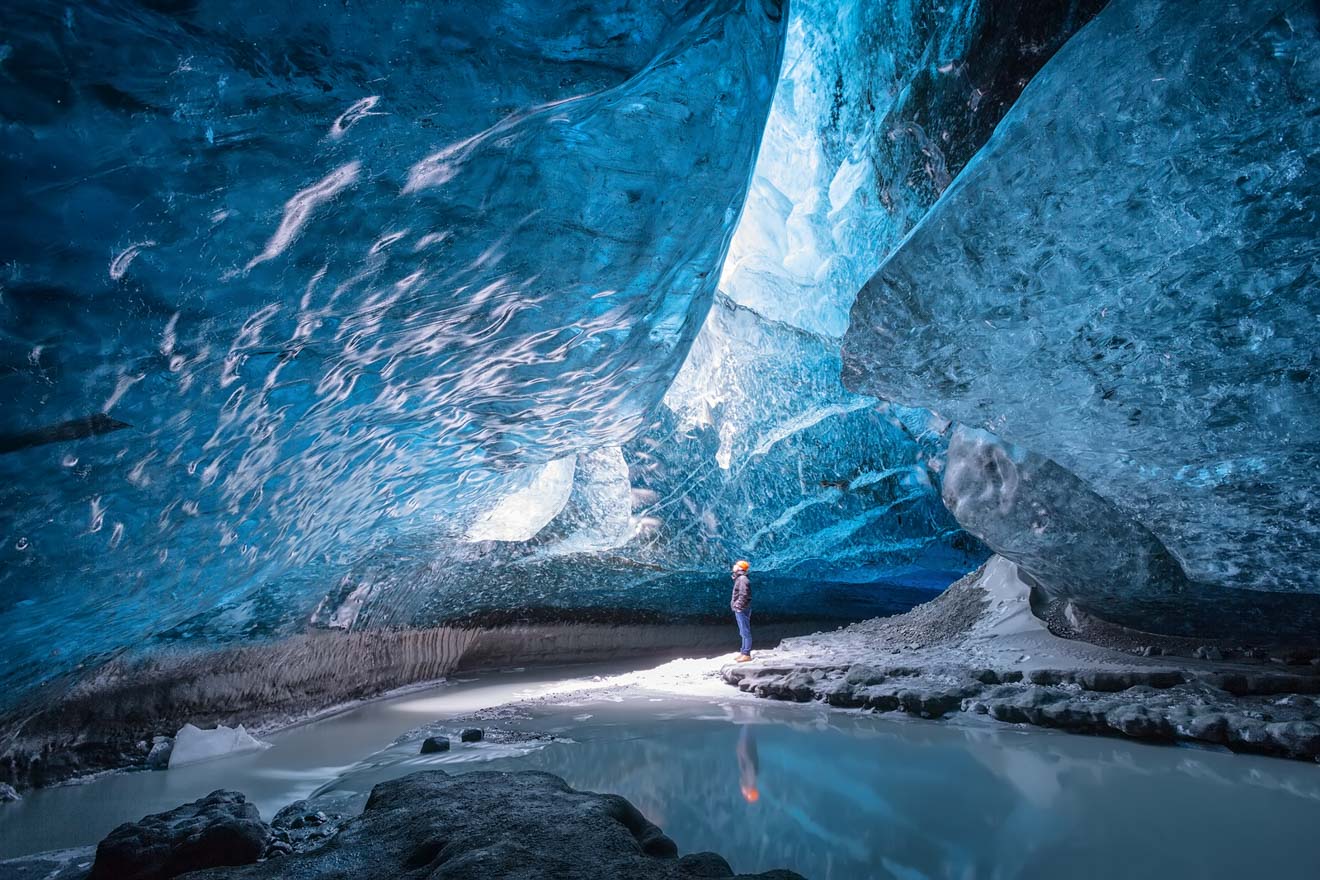 The crystal blue ice cave is so incredible that people come from all over the world to see it!
We talked a lot about Iceland glaciers and how amazing they are, but did you know there are also beautiful blue ice caves that you can enter? This is one of those amazing Iceland tours during which you will get some stunning photo opportunities that you cannot miss!
Just imagine yourself standing into an ancient glacier, surrounded by infinite blue ice shades – an image you won't forget very soon, I assure you!
There are, of course, different ice caves around the country and different tour options for each of them. Some popular ice caves include Langjökull (there's a man-made ice cave there but also a natural one), but the real ice cave paradise is Skaftafell without any doubt.
Langjökull ice cave – If you want to only visit the beautiful ice cave I recommend this awesome tour from Reykjavik. But if you also want to enjoy a snowmobile excursion at the ice caves instead, then I suggest this tour.
Skaftafell – If you want to immerse yourself in a full day of ice caves visiting and even hiking in, then this option might be the perfect choice for you. It departs from Jokulsarlon Glacier Lagoon and it's definitely worth trying for an unforgettable experience at the ice caves.
TIP: As always, don't forget to bring warm clothes with you, as the temperatures are low in the ice caves, of course!
PLACE: Vatnajökull, Langjökull, Falljökull, Skaftafell (depending on your chosen tour)
SEASON: only in winter (November-March)
DURATION: 4-9 hours depending on your tour
PRICE: starting from US$220
9. Landmannalaugar – The Pearl of the Highlands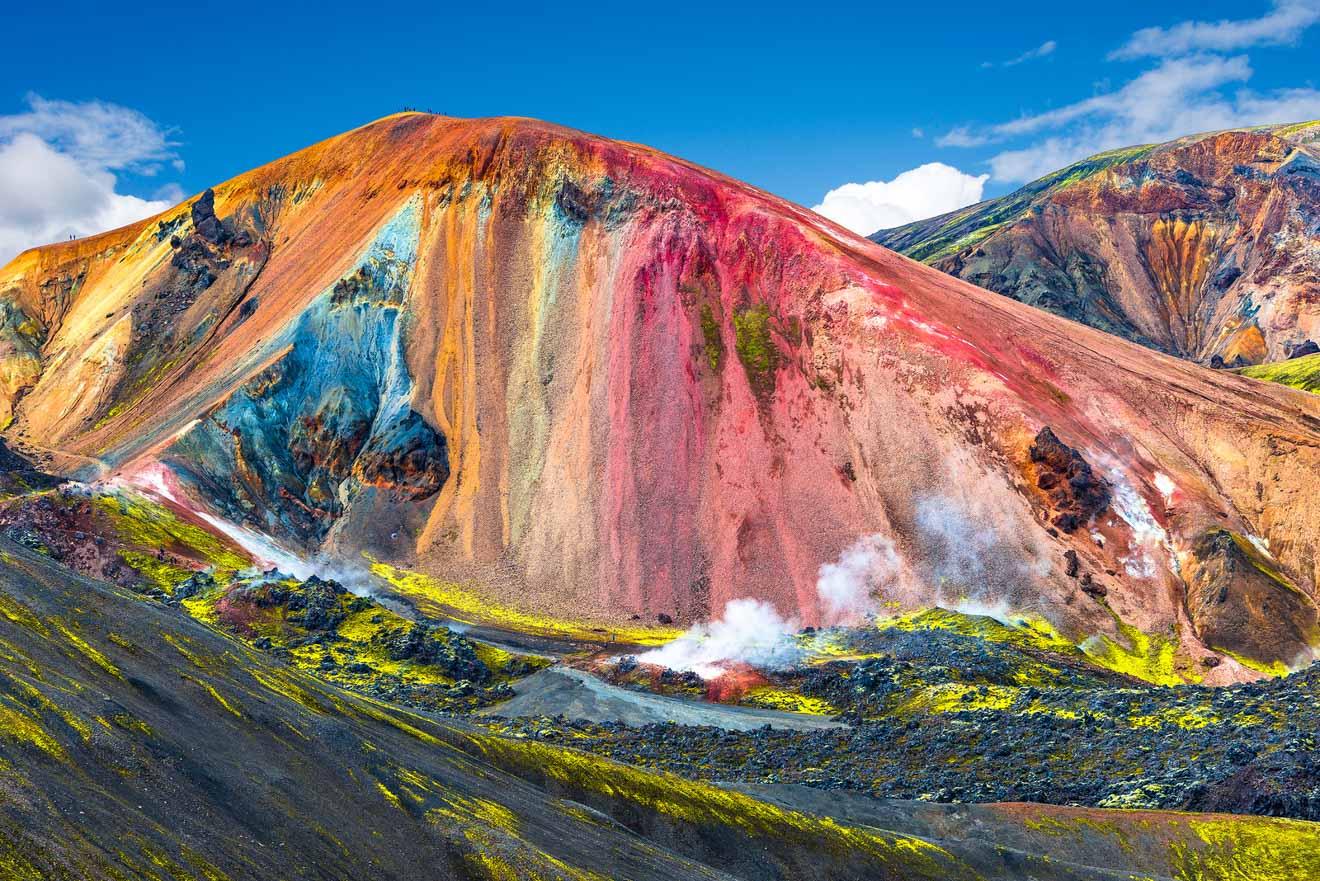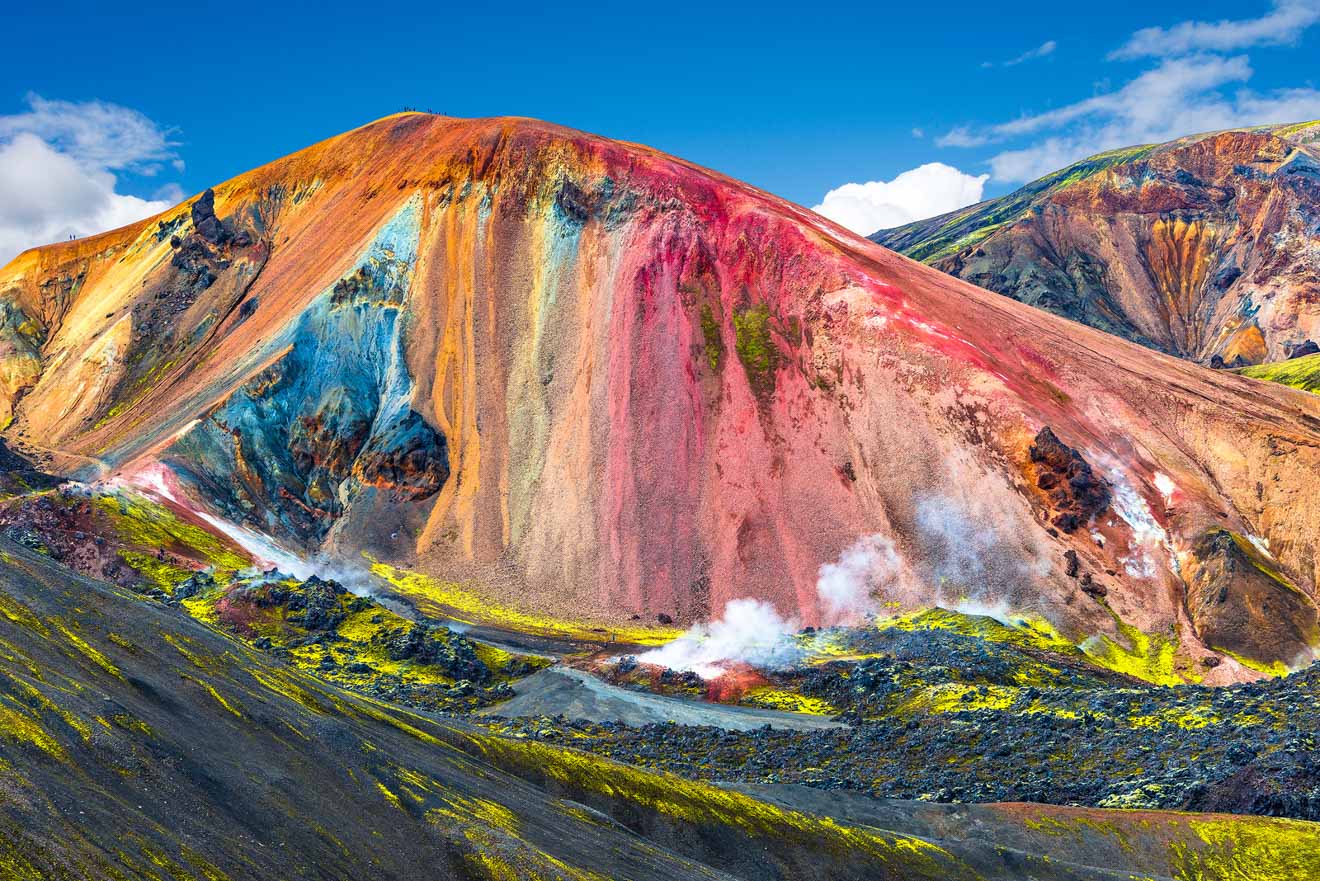 Landmannalaugar is a stunning geothermal area full of natural hot springs and colorful mountains. Some people call it a "Paradise on Earth" because it offers a complete experience – you can bathe in the hot waters but also hike on its mountains with unforgettable views and landscapes! Definitely one of my top Iceland tours that I can recommend!
Landmannalaugar is also the starting point for Laugavegur trekking trail – one of the best hiking trips you can take and one the greatest Iceland adventure tours! This means that you can extend your travel to Landmannalaugar into a multi-day adventure in order to see all the amazing landscapes (such as active volcanoes) it has to offer!
As usual, there are multiple options for this tour as well:


TIP: As it involves quite a lot of hiking, this tour would be great for active people with at least a moderate fitness level. Don't forget to bring a windbreaker if you want to do this – and, of course, a swimming suit for the natural hot baths!
PLACE: South Coast
SEASON: the best time for this is usually from June to September but you should check for each tour
DURATION: from 4 hours to several days, depending on your chosen tour
PRICE: starting from US$110
10. Helicopter around Iceland tour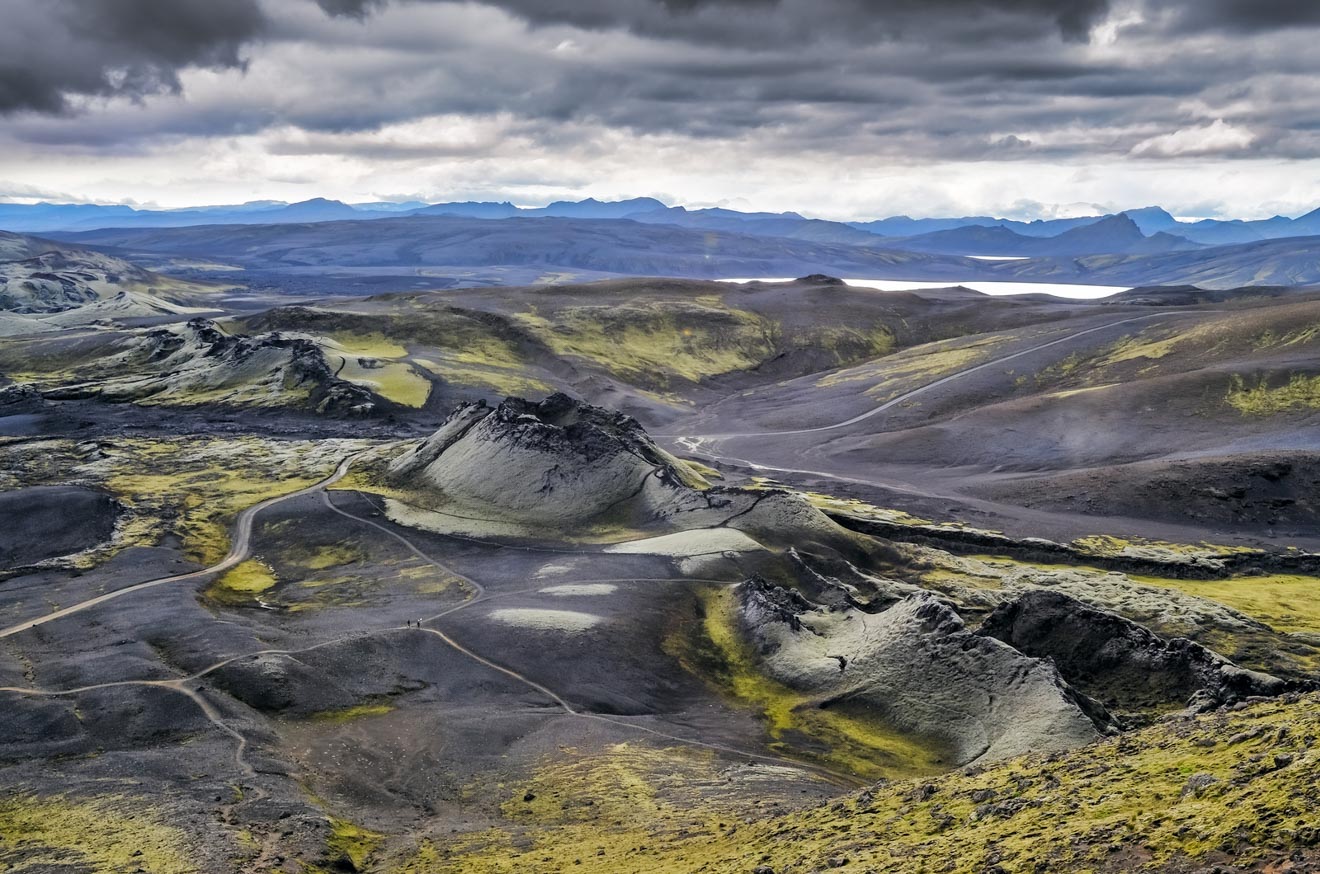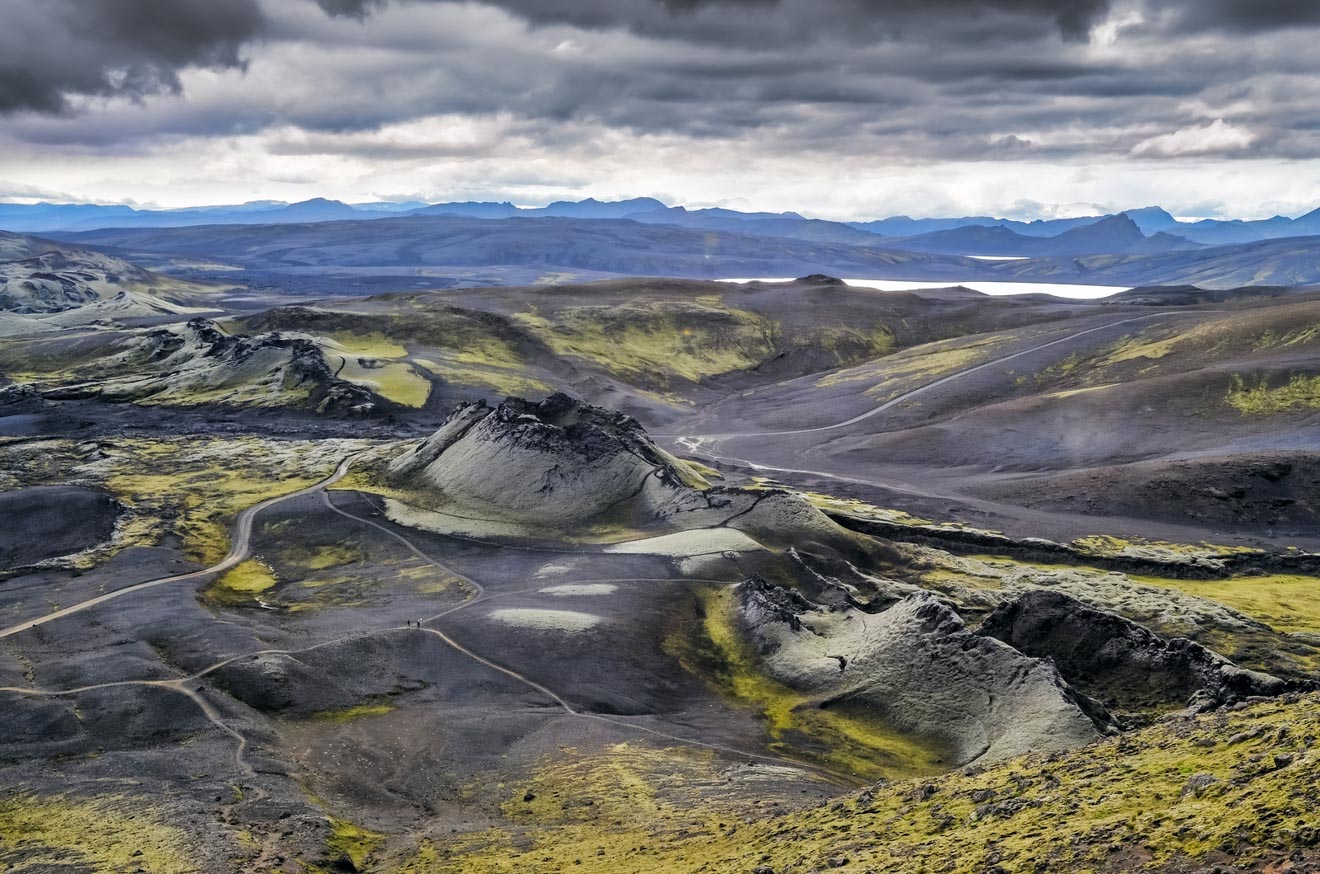 Now, if you want to take your adventure to a whole new level, you can take one of the greatest Iceland luxury tours and fly over the country's mesmerizing landscapes with a helicopter!
Just think of all the amazing bird-eye pictures of Iceland you are going to take!
How does flying over volcano craters sound to you? I can promise that this will be one of those unforgettable Iceland tours that you can take in the country!
Here are the best options for helicopter tours in Iceland that I have selected for you:
From Reykjavik – you can choose from two different helicopter Iceland tours here. I suggest the incredible Geothermal Tour – it will take you on a 1-hour long adventure where you will be able to see geothermal springs, colorful mountain ranges, power plants, lava fields and more! I'm sure you won't forget this volcano tour in Iceland very soon! If you want to fly with the helicopter only over the city, I suggest you book the Reykjavik Panoramic flight instead – you will get to see all the landmarks and some spectacular views of the capital from above!
inside Thrihnukagigur Volcano – Another unique option would be to take a tour inside Thrihnukagigur Volcano! On your way there you will see lava landscapes and then you will actually stand inside the volcano!
PLACE: Seltún geothermal area or the capital
SEASON: All around the year
DURATION: 60-75 minutes, depending on the tour
PRICE: from US$270 for the panoramic tour or from (US$420 for the geothermal tour
BONUS 1: 6 Extra Iceland tours that you can take
These tours did not fit in my TOP 10, but I simply could not omit them because they are also pretty awesome and you should consider taking some of them if you have a chance! So get ready for my list of extra Iceland tours that you can take if you have more time in the country:
1.1 Horseback riding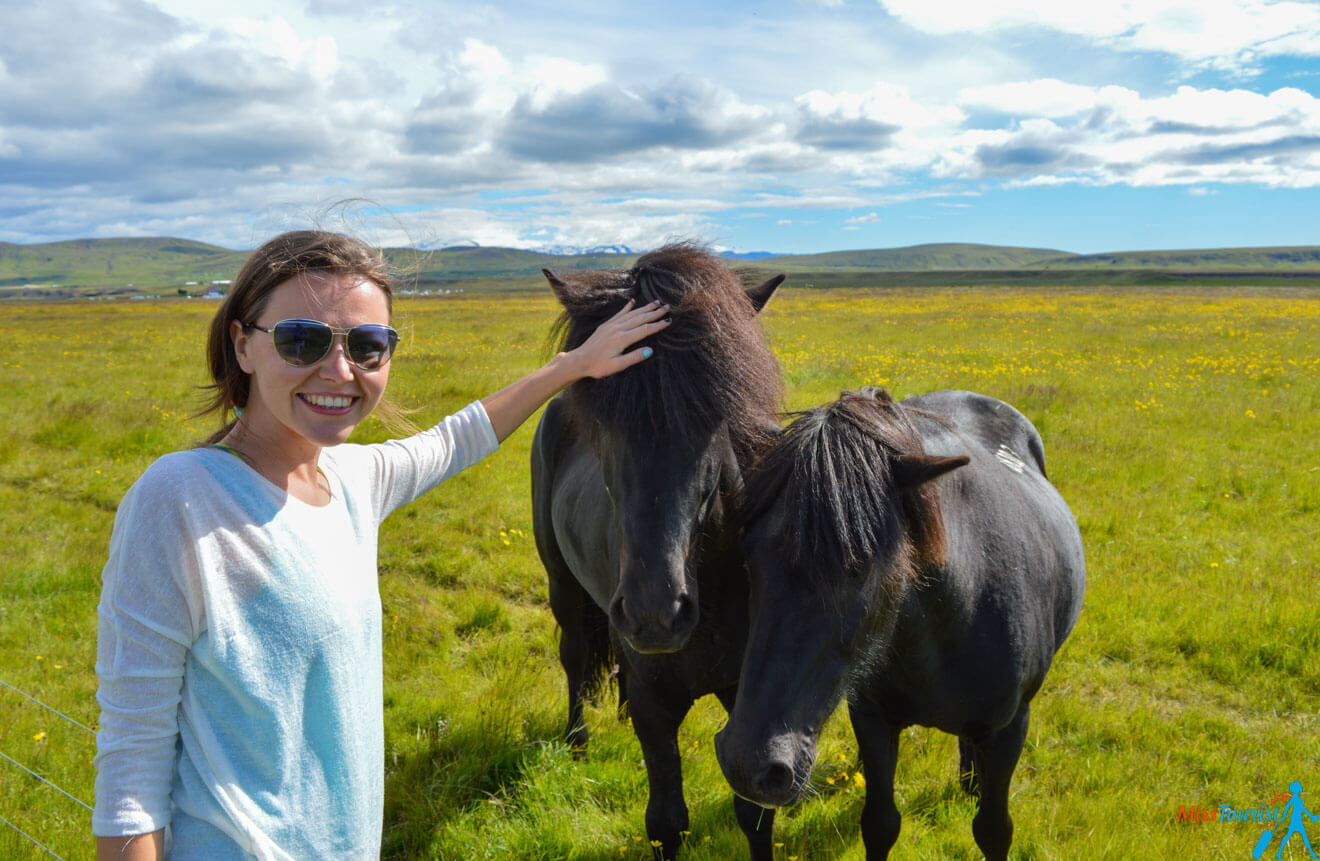 A horseback riding tour can be done pretty much anywhere in Iceland, regardless if you're staying for 1 day or 10. Why am I insisting on doing horseback riding in Iceland?
The Icelandic horse is a special breed developed in Iceland that you won't find anywhere else in the world!
They are something in between a pony and a horse, and you can see in the picture below that they are VERY cute!
As I said, this is one of those Iceland tours that you can do almost anywhere, from Reykjavik to Akureyri, Hella or Selfoss.
Here are the best tours in Iceland I could find for this activity:
1.2 Ring Road – all country Iceland tours
If you want to circle the entire Iceland and make sure you do all the most popular activities possible in this country, then the Ring-Road (also known as Route 1) is a must for you! You will get the full package – nature, adventure, history, sightseeing and culture!
The Ring-Road is one of the best Iceland bus tours and will take you on an unforgettable adventure where you will see geysers, waterfalls, volcanoes, wildlife, black sand beaches, glaciers and more.
This is one of those multi-day tours that will take you around the country! I recommend this 10-day Ring-Road tour because all accommodations, transportation and activities will be planned by the tour operator for you and you won't have to worry about a thing in the world! Among others, you will get to see the Blue Lagoon, Jökulsárlón glacier, black sand beaches, impressive Dettifoss waterfall and basically all the best things that Iceland has to offer to its tourists.
There's also the possibility of taking a shorter tour, such as this 7 day guided Ring-Road tour during which you will also see black sand beaches, lagoons and glaciers! Taking any of these Iceland guided tours will help you have a stress-free vacation, as you won't be the person to drive!
Book one of these vacation packages in Iceland and let the adventurous experience begin!
1.3 Game of Thrones tours in Iceland
If you're a Game of Thrones fan, get ready for one of the best tours in Iceland that you can take! This awesome Game of Thrones excursion will take you to Thingvellir Park, which is a UNESCO World Heritage Site and you will see many of the filming locations for the TV series! Yep, you will go North of the Wall, my friend! 🙂
1.4 Thrihnukagigur Volcano Tour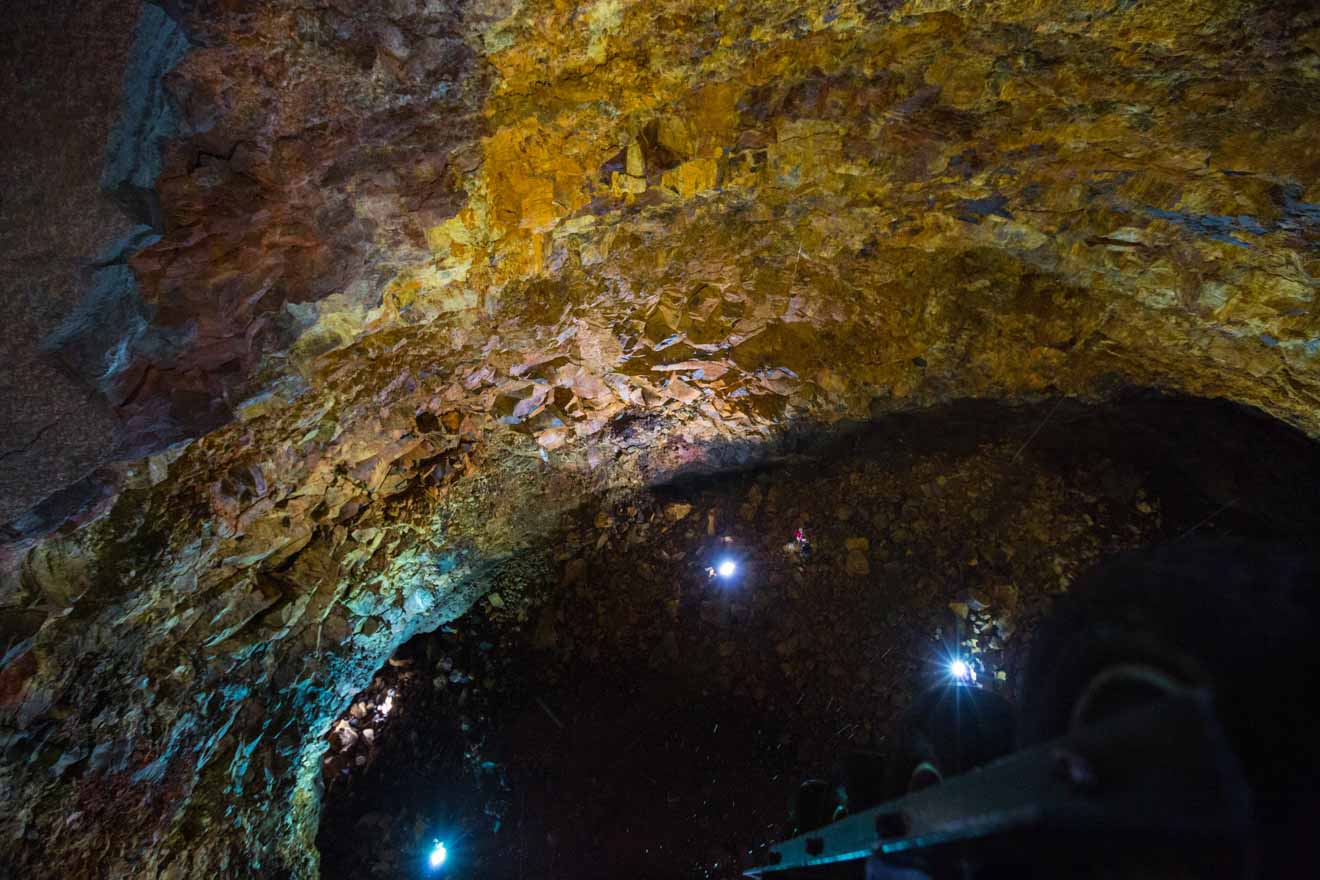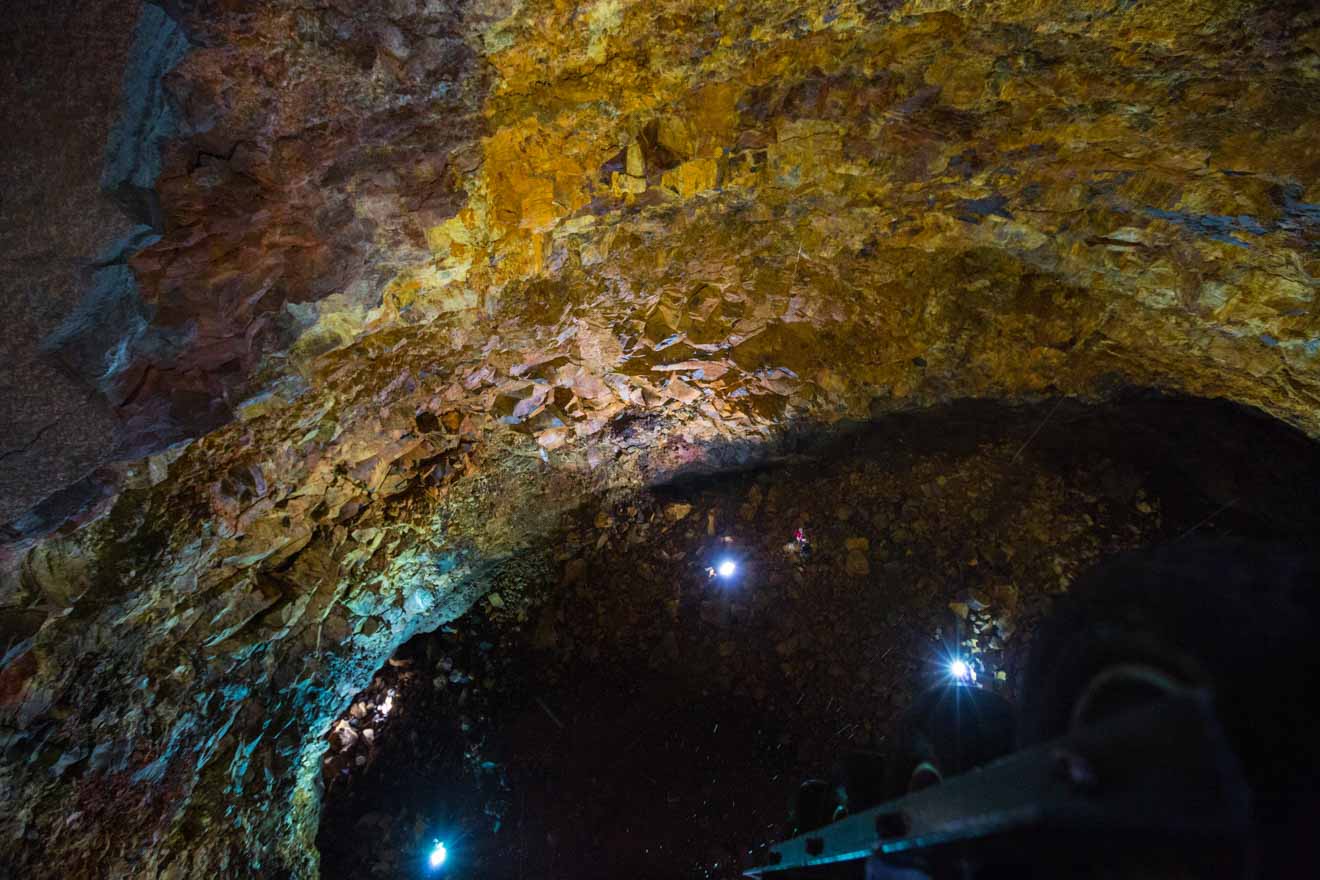 Have you ever dreamed of descending into a volcano? Yep, this activity is possible in Iceland!
There are some awesome tours in Iceland that will take you inside a volcano and trust me when I say that Iceland is the only place in the entire world where you can do this! This tour option will take you from the capital and then you will hike on Þríhnúkagígur volcano, after which you will descent INTO the volcano. Sounds incredible, but it's true!
No worries, you will be equipped with a helmet and harness, so you will have all the safety precautions during your descent!
1.5 Snaefellsnes Peninsula
Snæfellsnes Peninsula is a wonderful place in Iceland, also called "Iceland in Miniature" because you will get to experience all the natural wonders that Iceland has to offer! Some of the things you'll get to see at Snæfellsnes Peninsula include volcanic craters, black beaches but also gold sand beaches as well, sea cliffs, fjords and more!
If you have decided to visit Snæfellsnes Peninsula, I can recommend this one-day option (11 hours).
1.6 ATV adventure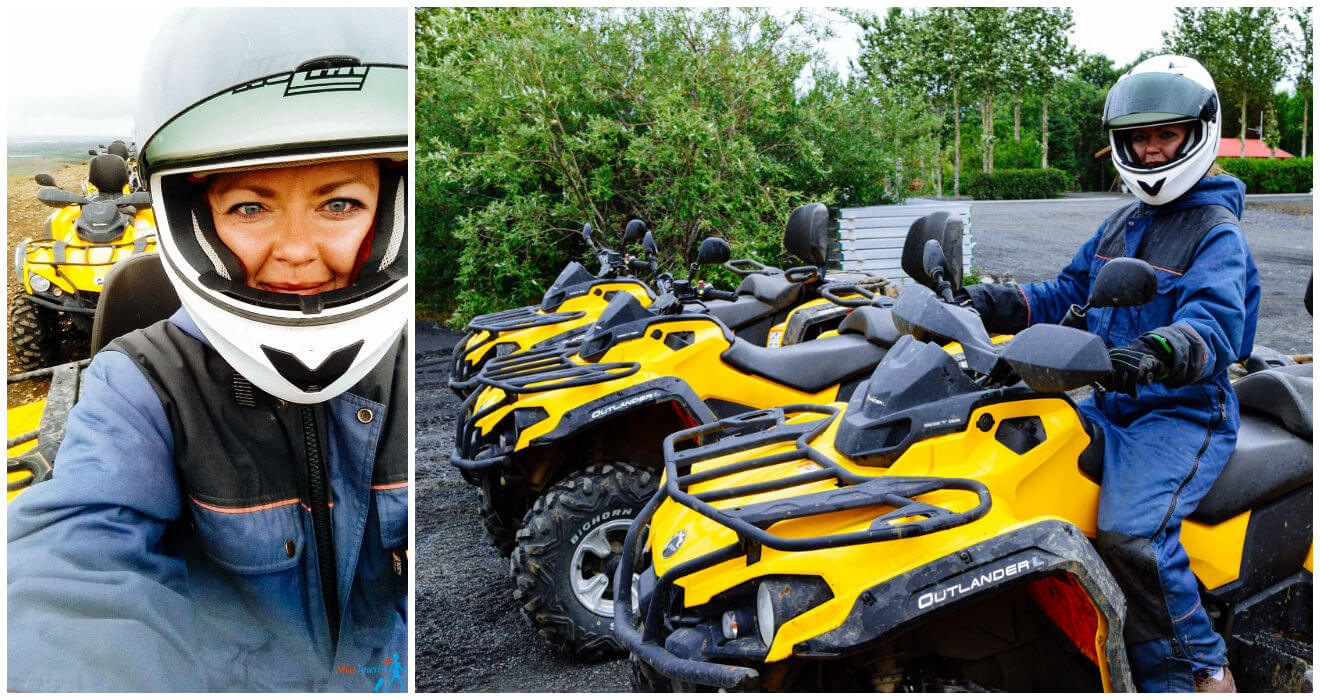 If you're feeling a bit adventurous or you just want to get to some off-road attractions without renting the 4×4 car, then an ATV tour is the right choice for you! This half-day tour from Reykjavik can be the perfect dose of adventure for you and will help you enjoy the Icelandic landscape in a special way. If you want more, you can also take the South Iceland ATV Adventure!
1.7 A trip to Greenland from Iceland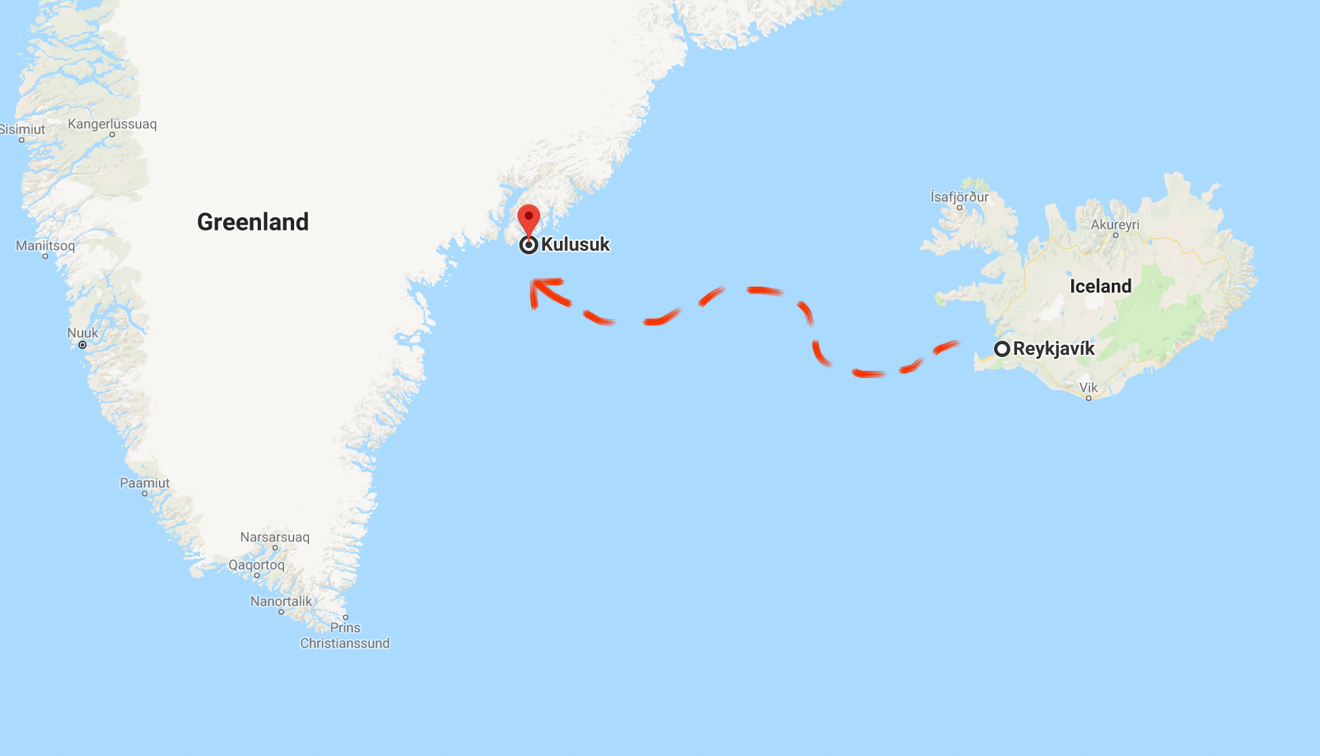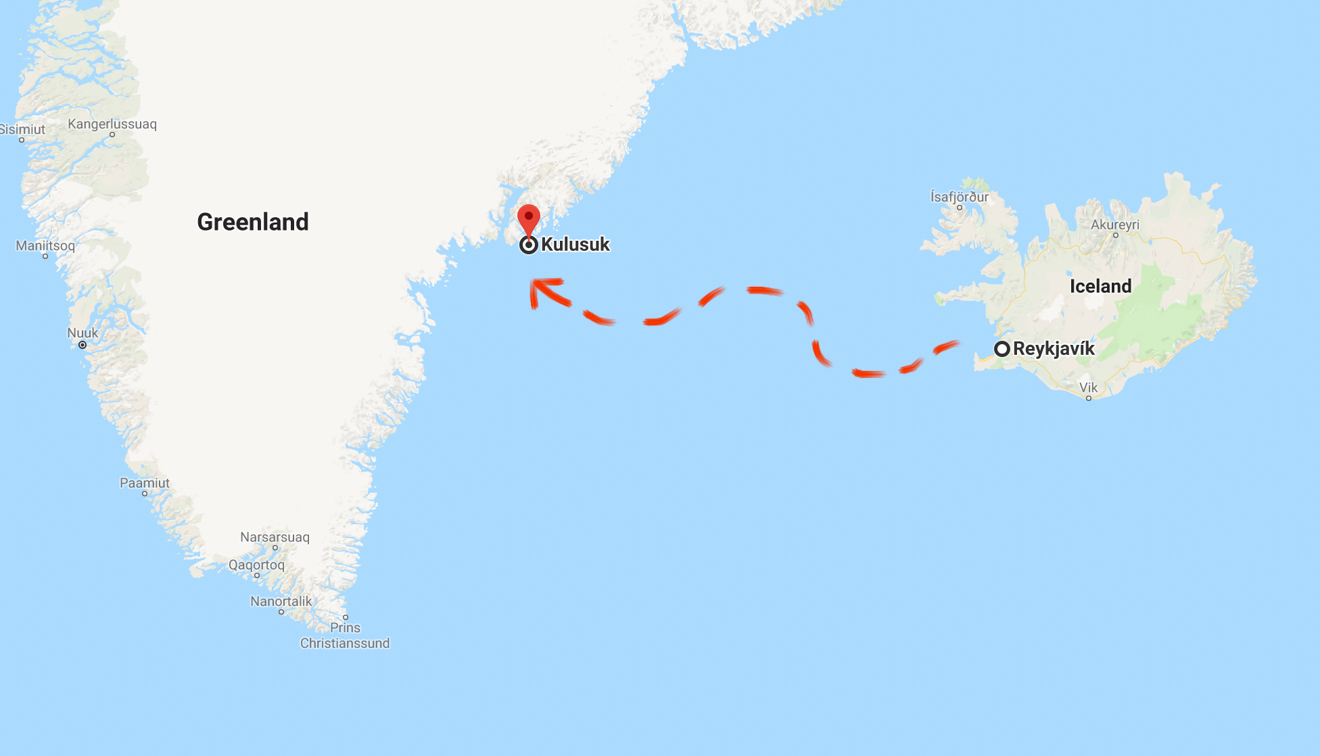 If you want to extend your arctic adventure further away, you can take a day-trip from Iceland to Greenland.
To get to Kulusuk, Greenland, it will only take you a two-hour flight from Reykjavik after which you will find yourself on an amazing land full of icebergs! If you want to have a real dose of history of culture, Kulusuk is the perfect place for this – the small village in Greenland only has 250 local residents that rely on fishing and hunting for surviving. You will get to spend 4 hours in this amazing village and find out more about their life, culture and landscape – an adventure you won't forget! You will admire the numerous icebergs, see some traditional dances by Kulusuk people and take unique photos. Find out all the details and book your tour here.
BONUS 2: Reykjavik city tours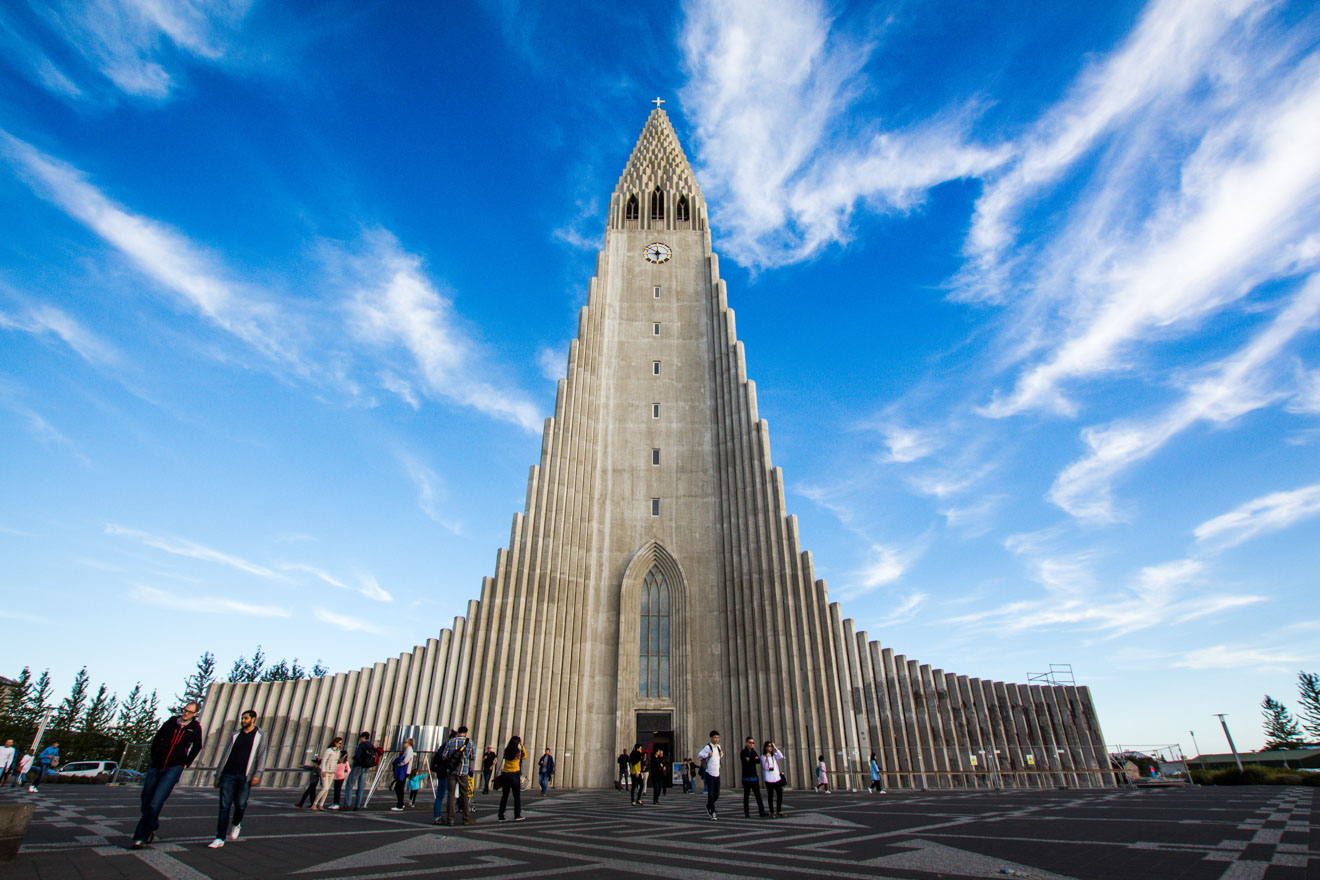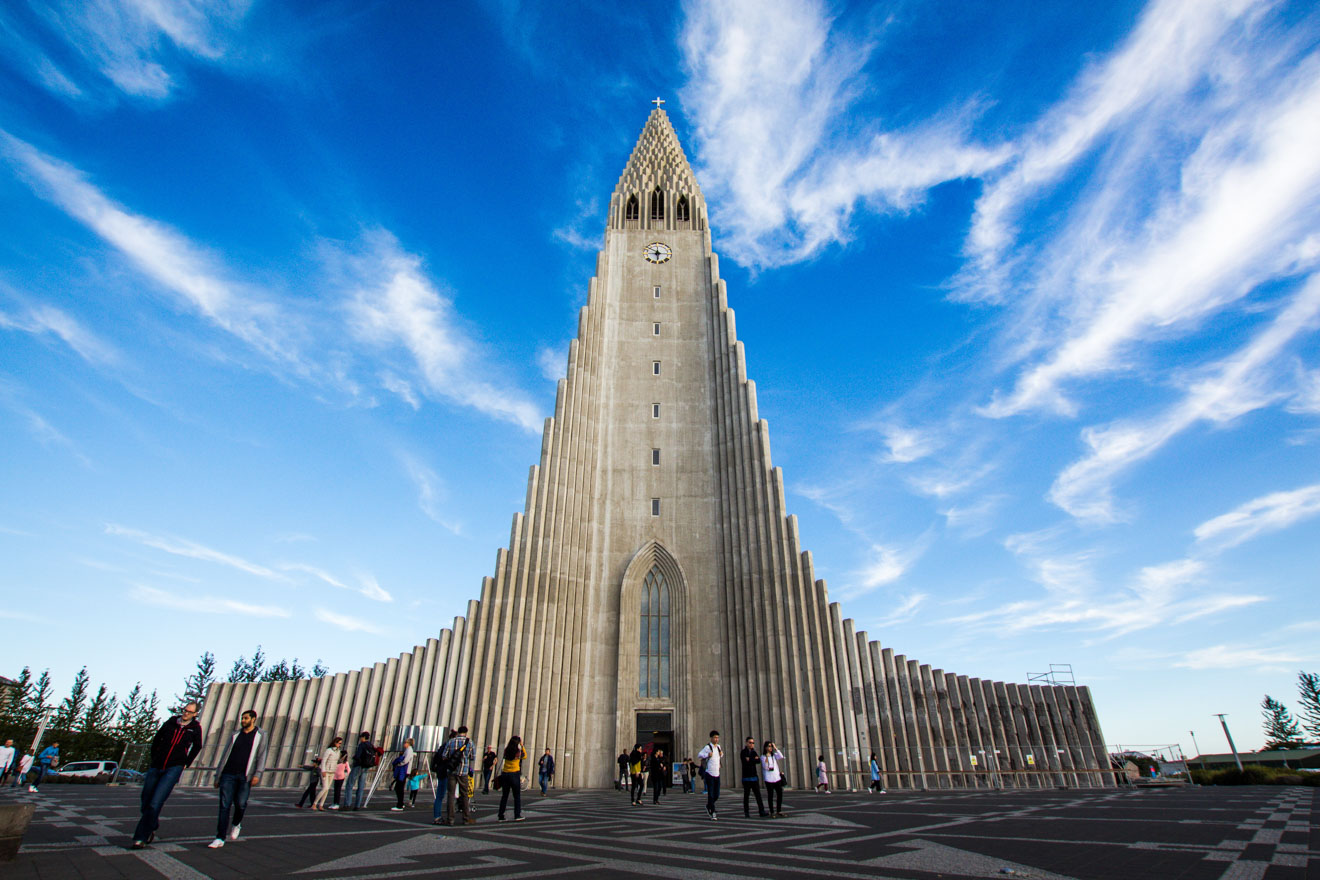 Even though the entire country is unique and amazing and full of beautiful cities, let's not forget about Reykjavik, too! If you want to end your vacation in this city or if you only have a short layover in the country, you might want to visit this gorgeous capital as well, right?
Let me present you the best Iceland tours in Reykjavik, Iceland that I could find during my search:
2.1. Classic walking tour
This is one of the classic experiences that you can take in order to understand everything about the capital city of Iceland. During this guided walk you will spend 2.5 hours on the streets of the city and you will see its highlights such as the Harpa Concert Hall, the Parliament House, the Hallgrímskirkja and you will also visit the City Hall as well! This is one of those quick and affordable tours in Iceland that you can take if you have a short time in the capital!
2.2. Hop-on Hop-off bus tour
I recommend the Hop-on Hop-off Tour if you want to make sure you find out about all the highlights of the city thanks to the multi-language audio guide. Of course, you can hop off the bus whenever you want and visit a certain attraction, as your ticket is available for 24 hours.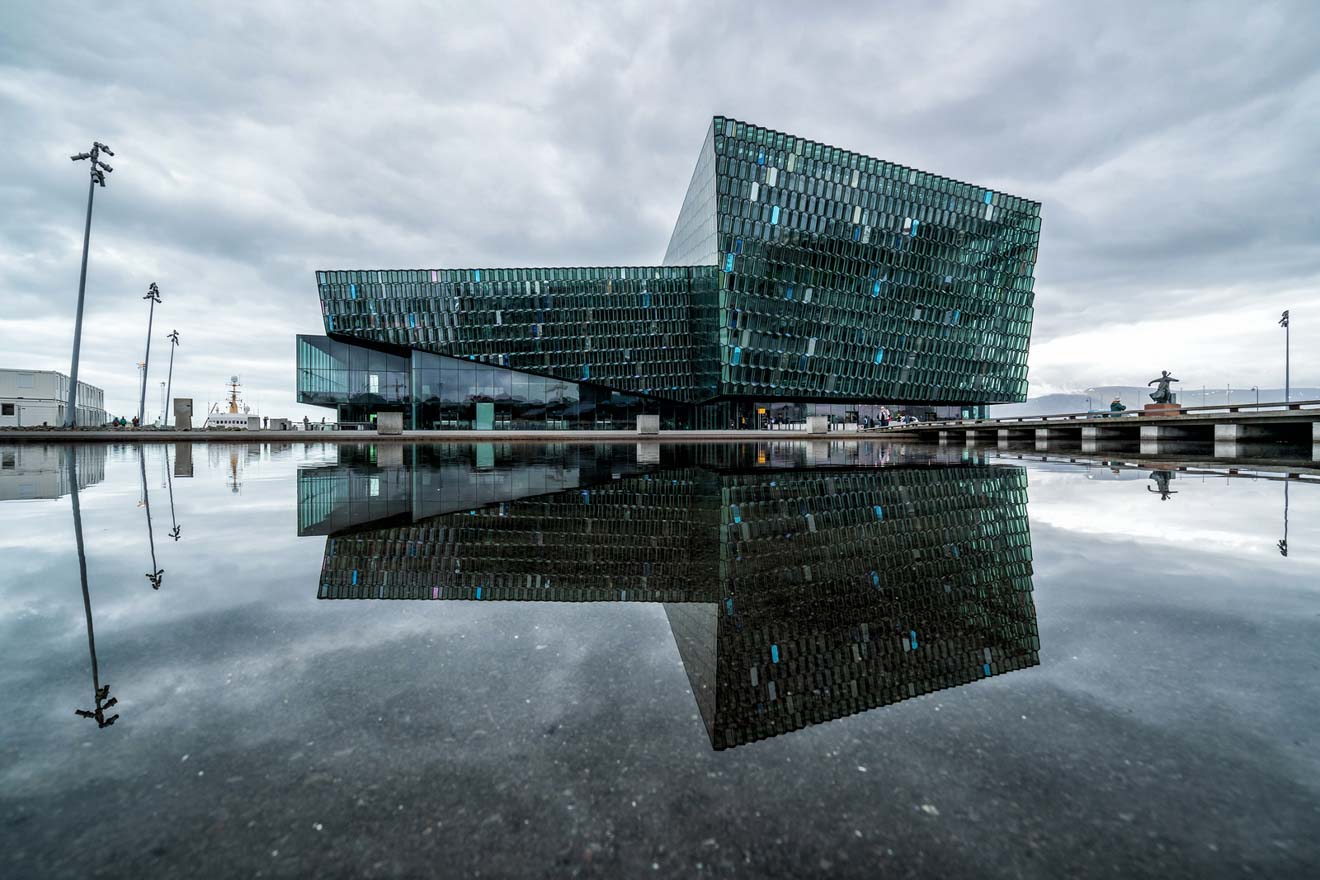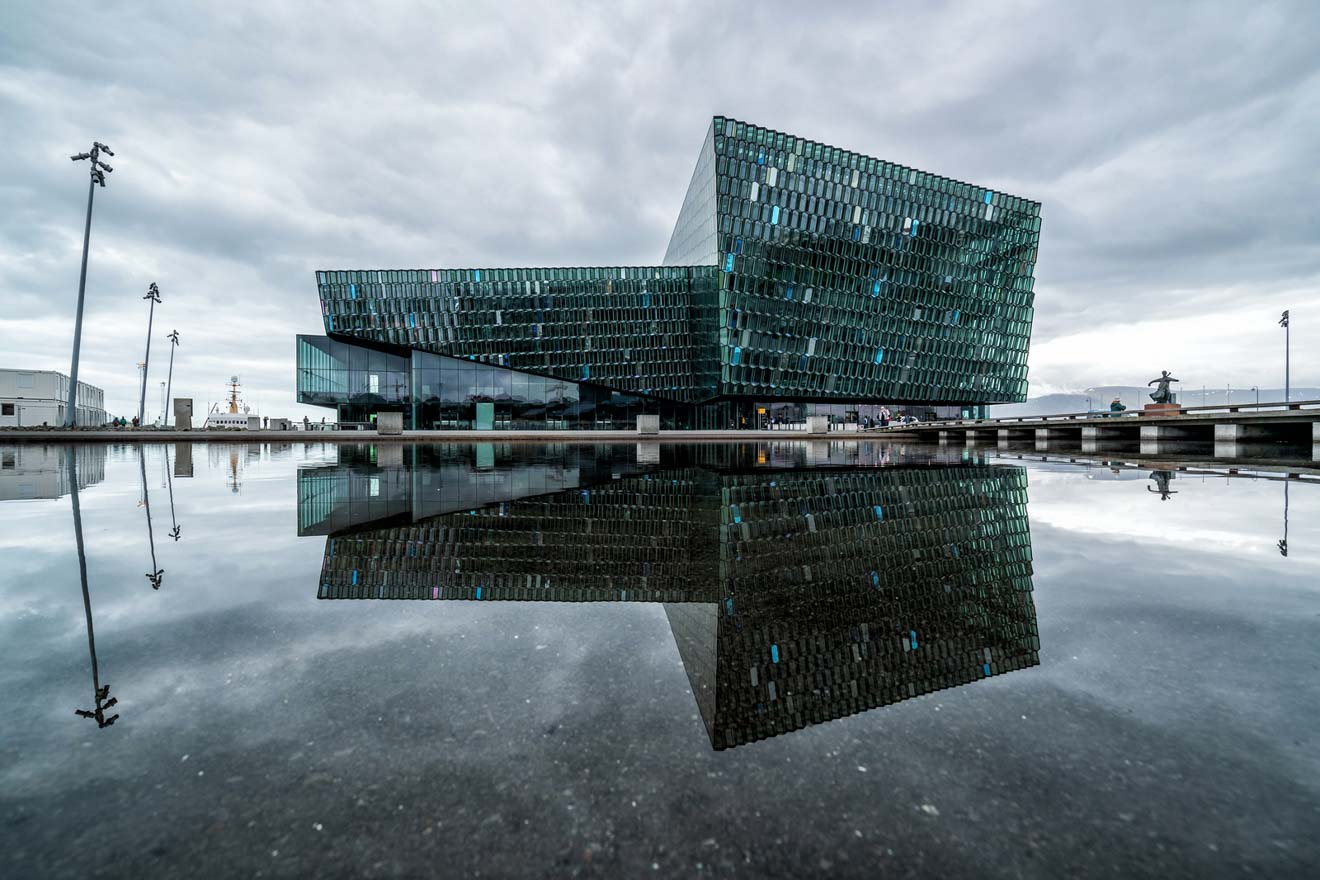 2.3. Mythology tour
If you would prefer a guided walking tour full of mythology and entertaining stories with trolls, ghosts, elves and more, then this Icelandic Mythology and Monster Walk can be the perfect idea. During this guided walk you will get to learn more about the "hidden creatures" of Iceland such as trolls, ghosts and elves! This is one of those unconventional tours in Iceland for sure!
2.4. Food and beer tour
If you're a foodie that wants to explore the best gastronomy items that Iceland has to offer, then this beer and tapas experience might be an ideal solution for you! If you book it, you will get to taste some local delicacies and enjoy some locally brewed beers at Bryggjan Brugghús Restaurant!
2.5. Perlan Museum Glacier
And if you want to see the wonders of Iceland directly in the capital, on the highest hill of the city, the Perlan – Wonders of Iceland Tour will guide you through the first man-made cave in the world and a multimedia exhibition about Iceland's glaciers. Plus, you will get to see a panoramic view of Reykjavik on the 360° Observation Deck!
---
Conclusion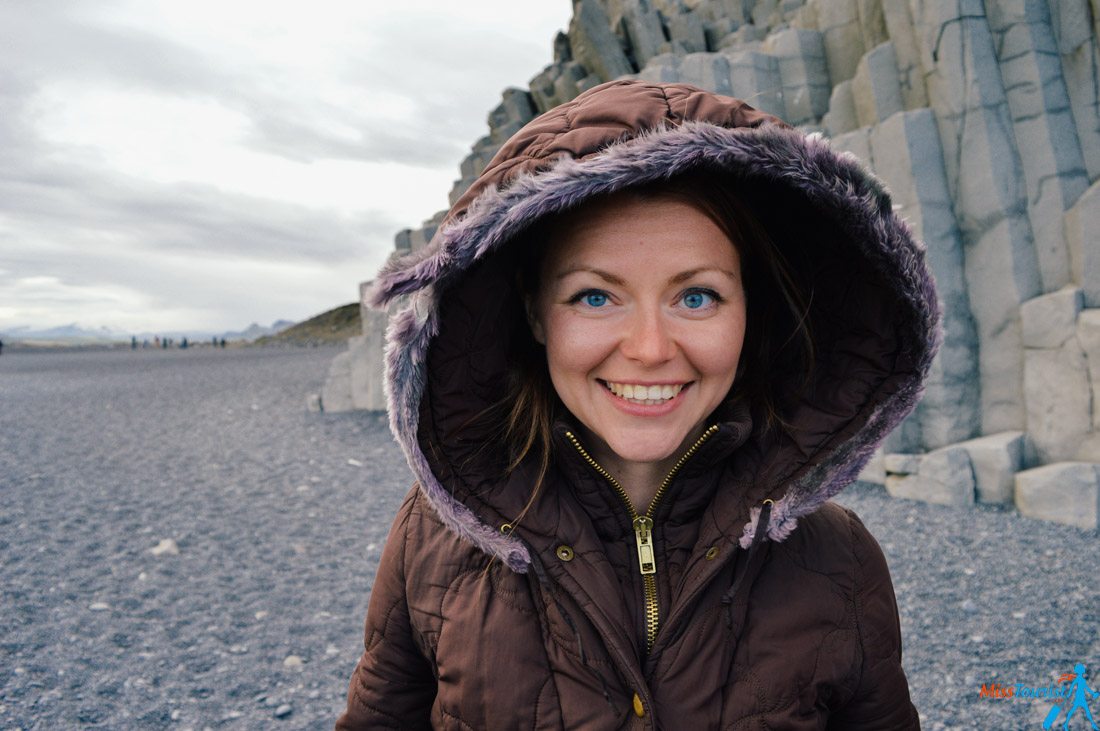 As I said in the beginning, Iceland is a unique country that has activities and attractions for every taste. You will find countless fun things to do there, but this is a list of my top 10 tours that you should not miss (plus 8 bonus things as well!)
This list of recommended tours will help you get tickets for everything that you will want to see during your Iceland vacation – such as the Aurora Borealis, glaciers, waterfalls, ice caves and even helicopter tours.
UPDATE: I have also created a great article that will help you book all the hotels in 10 minutes – it is sorted by price and location and hand picked by me with fabulous reviews! Click here to see it!
Let me know if you have any questions or suggestions in the comments down below, I love hearing from my readers!
Which ones of these tours would you do during your trip to Iceland?
Yulia
---
---
Pin it for later!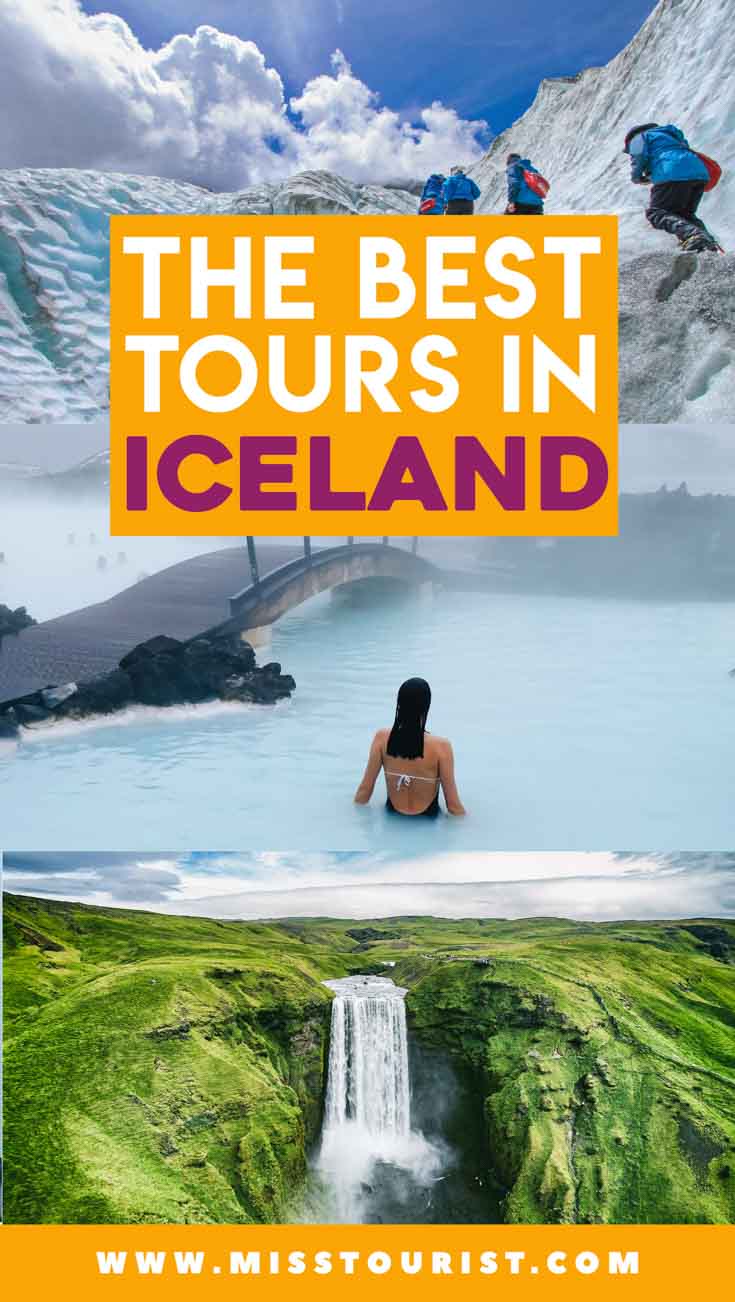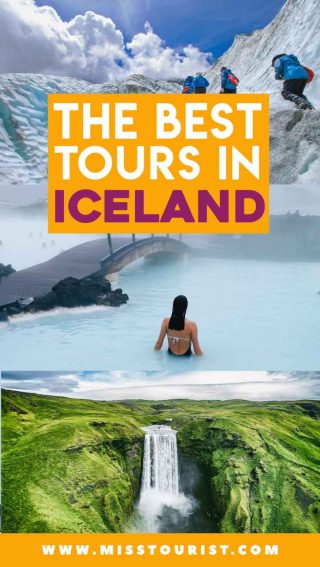 Pin it for later!