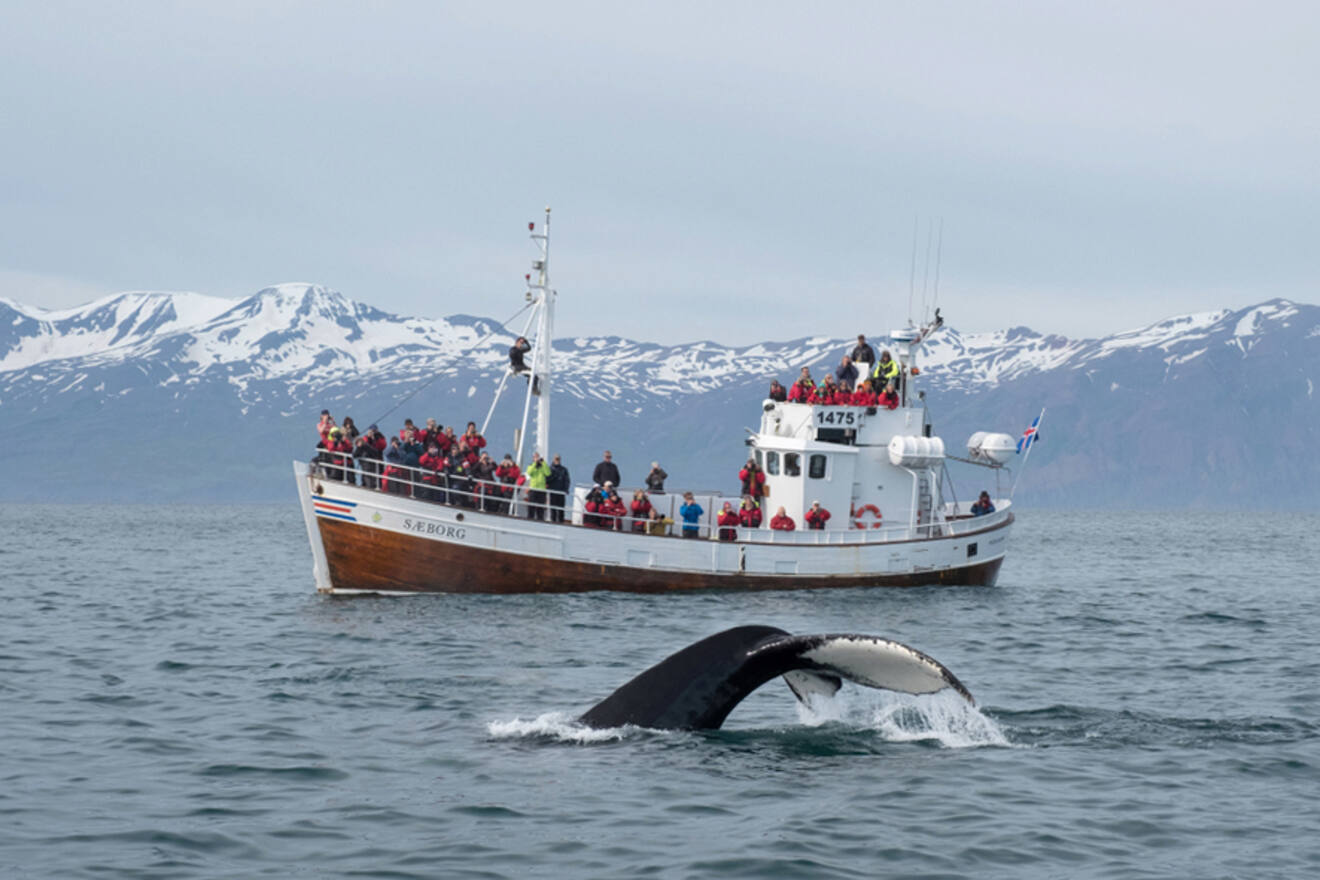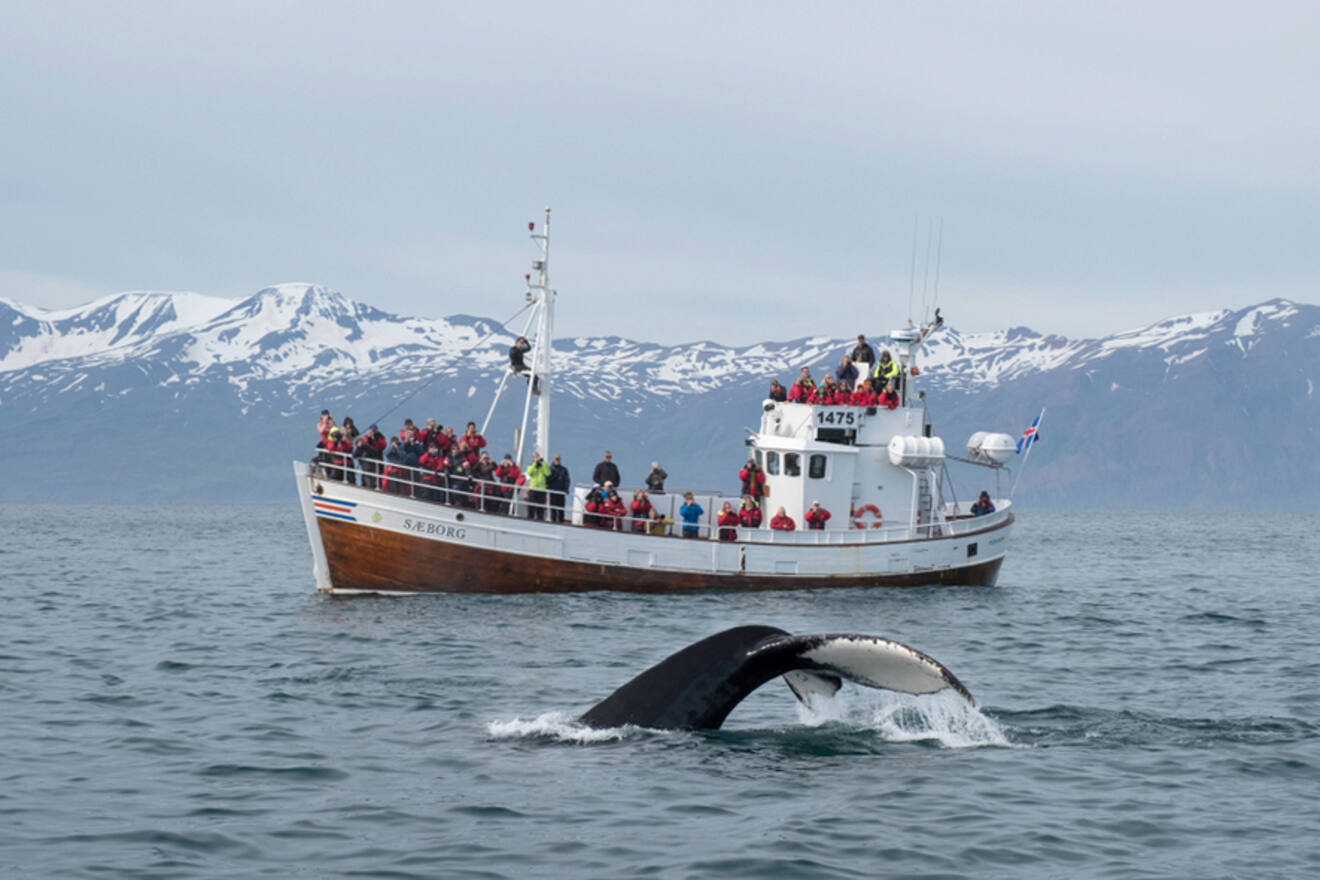 If you're planning a trip to Iceland, you absolutely cannot miss out on the incredible experience of an Iceland whale-watching tour.
Spotting these majestic sea creatures rising up right beside your boat. It's an unforgettable moment that you'll cherish forever! A totally unique, once-in-a-lifetime experience that will stay with you for years to come.
I'm an experienced traveler and a massive whale fan myself, so I've gone all-out to bring you the best whale-watching tours in Iceland. I've searched high and low on the web and read tons of reviews. You're in for a real treat!
Some of these tours provide so much more than just an opportunity to spot whales; they offer onboard guides, comfy blankets, and delicious snacks to keep you warm in chilly Icelandic temperatures. And, of course, who could forget about the combo tours, you'll find those in the list as well.
One important tip though: book your tours now! These Iceland whale-watching experiences are so popular you're guaranteed to miss out if you don't get in early.
Let's take a deep dive!
If you are in a hurry
Here are the best whale-watching tours in Iceland you'd definitely want to book in advance:
1. See whale species on a tour from Reykjavík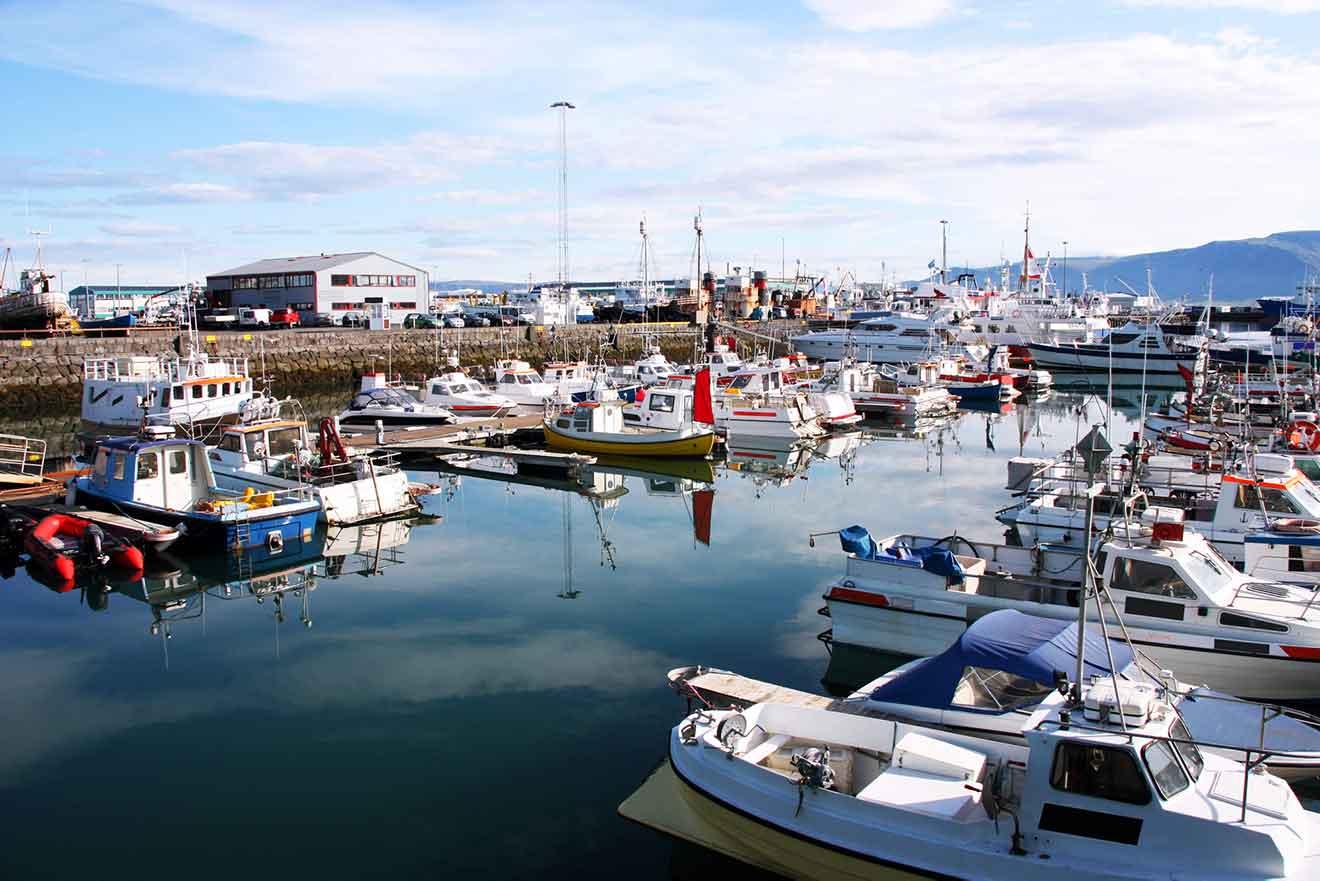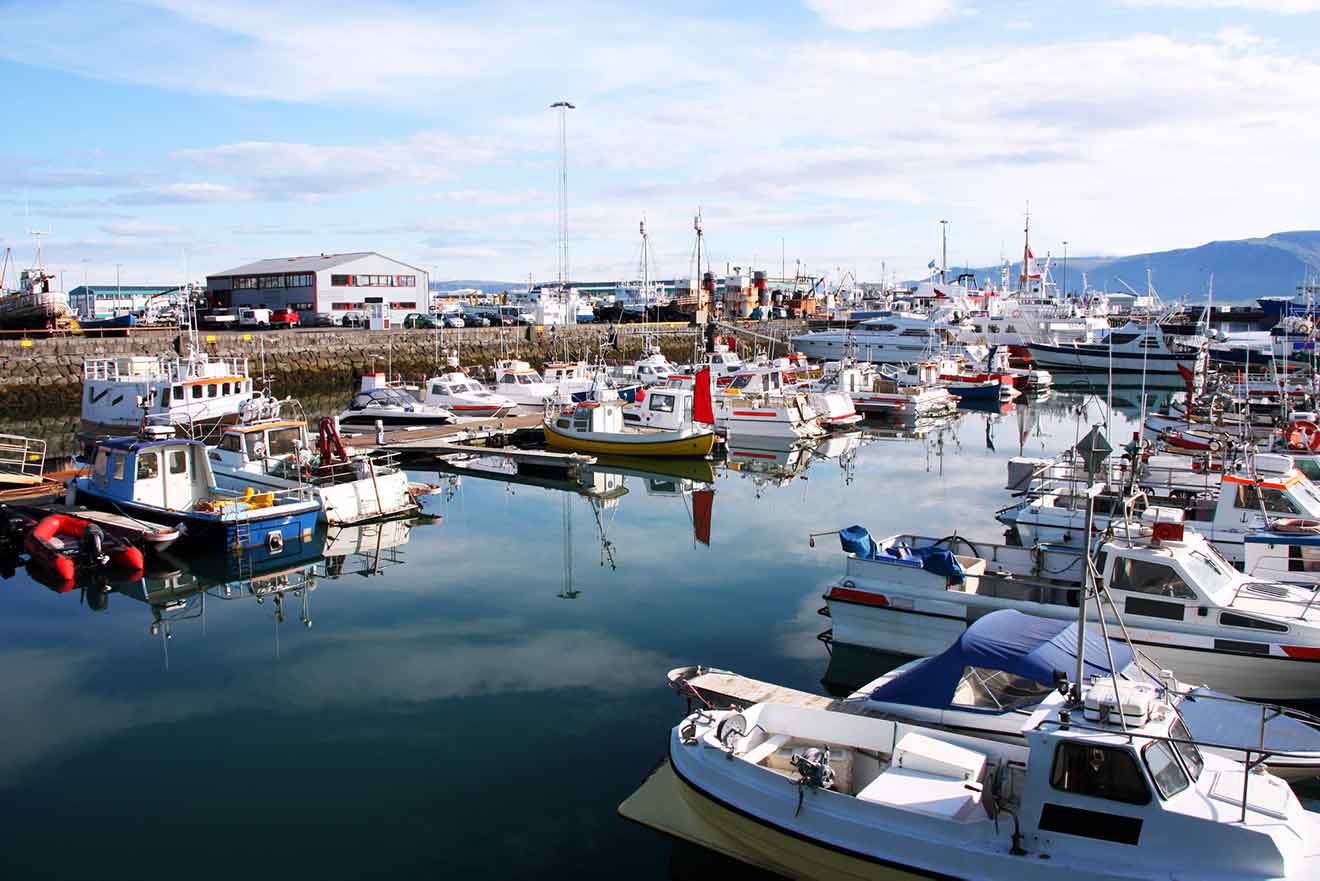 Duration: 2 to 3 hours
Price: from US$90
Why you should take it: the most popular whale-watching tour
You'll head out in style from Reykjavik's lovely old harbour on the Andrea – the biggest whale-watching ship in Iceland! With a super knowledgeable tour guide, you could spot some truly awe-inspiring sea creatures like minke whales, carousel-like white-beaked dolphins, curious harbour porpoises, humongous humpback whales, and maybe even an orca whale (if you're lucky). You'll be sure to have an amazing adventure.
You'll have a knowledgeable guide by your side to answer any questions you may have about whales, different ocean creatures, and more. You can chow down on all sorts of delicious snacks and drinks in the onboard cafe, plus, if you're looking for a unique souvenir to take home, they've got you covered!
You have the privilege of spotting whales all year round. And if you find yourself wanting to cruise from Faxaflói Bay, you can also take this tour with a live, knowledgeable guide on board.
2. Explore Iceland's whale-watching capital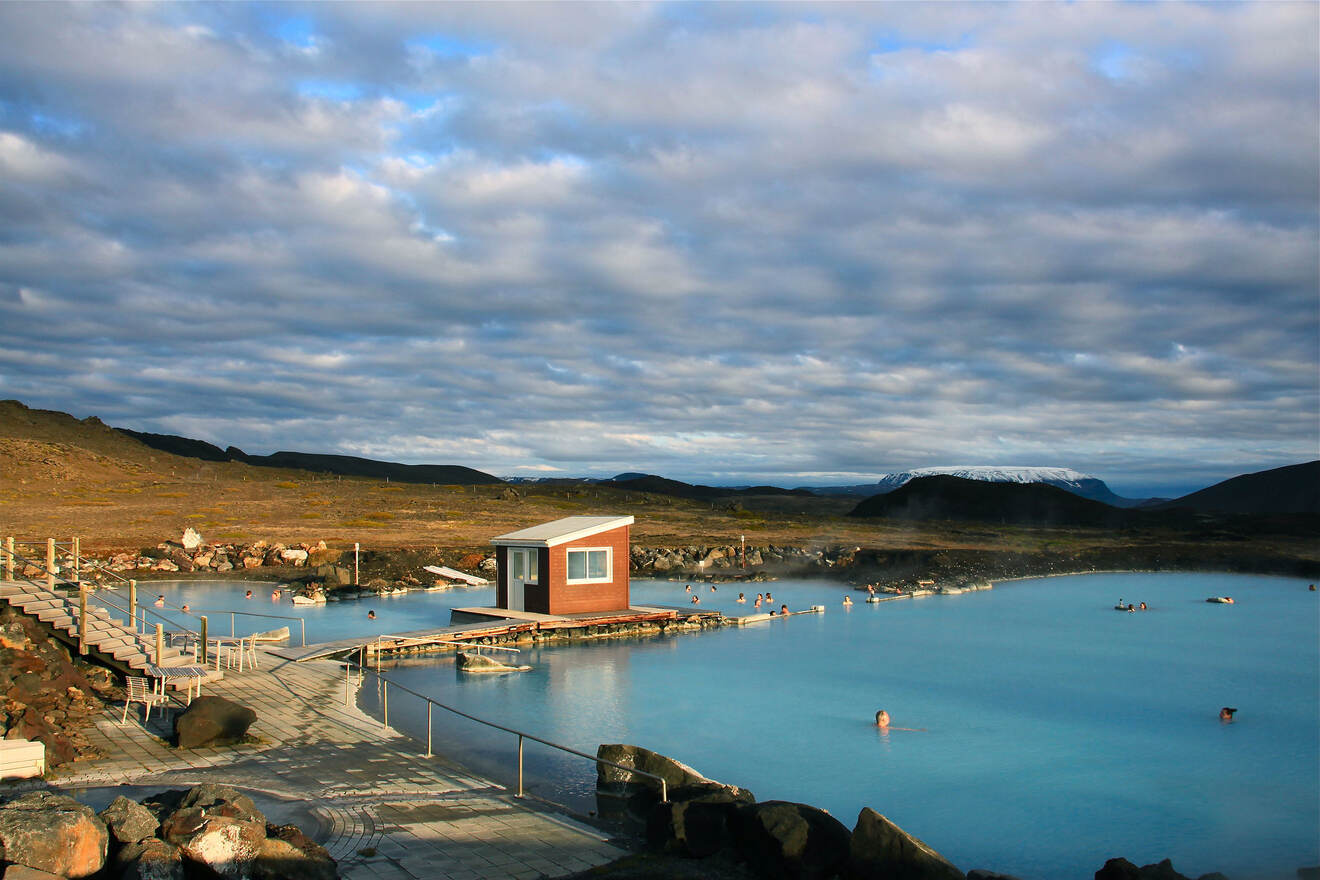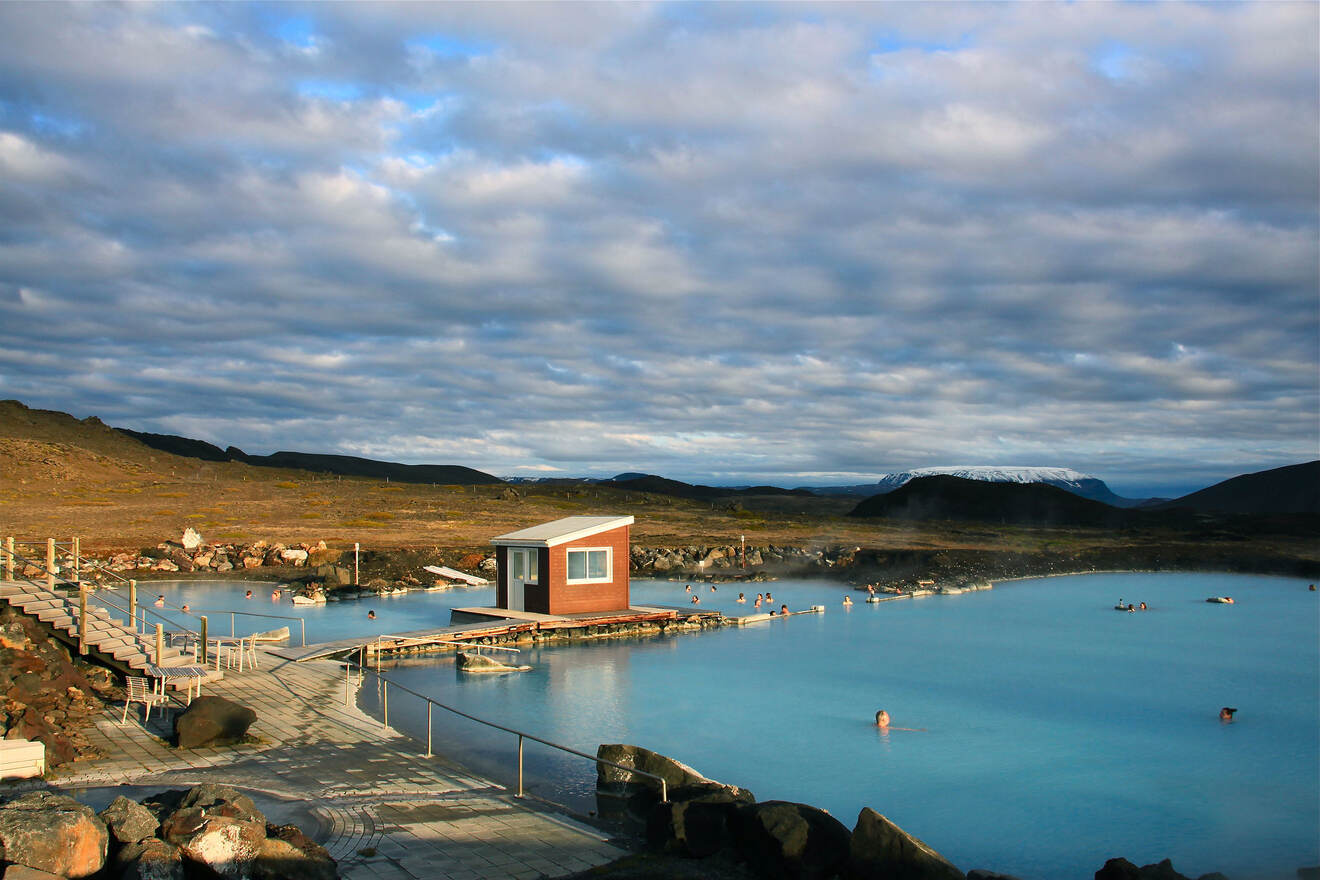 Duration: 3 hours
Price: from US$84
Why you should take it: takes place in Húsavík
Ready to hoist the sails and enjoy epic whale-watching with the help of the guided tour in Iceland? Come join this whale-watching trip in Húsavík, it'll be an eye-opening experience you won't want to miss!
You'll take in the beauty of Skjálfandi Bay on a cruise along North Iceland. As you glide along, be sure to keep an eye out for some of nature's most majestic and wild animals in Icelandic waters, from wild whales and playful dolphins to a variety of vibrant sea birds – it's sure to be an experience like no other!
Your knowledgeable guide will keep your eyes entertained with their lively narration of all about marine life. It has got you covered for the cold weather too, with some snuggly overalls and scrumptious snacks, so have no fear!
You'll learn about why Húsavík has become the whale-watching capital of all of Iceland.
3. Enjoy watching whales in their natural habitat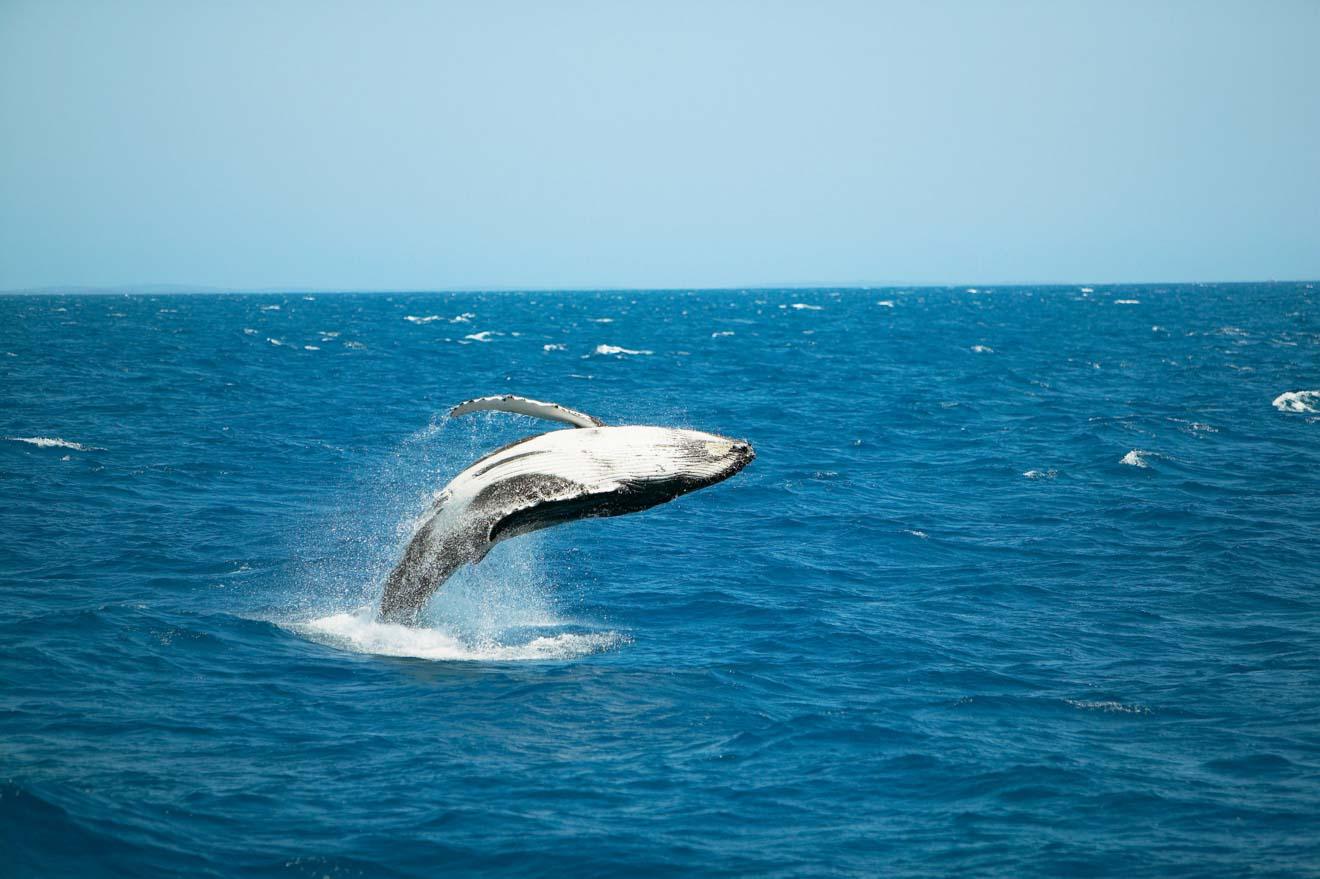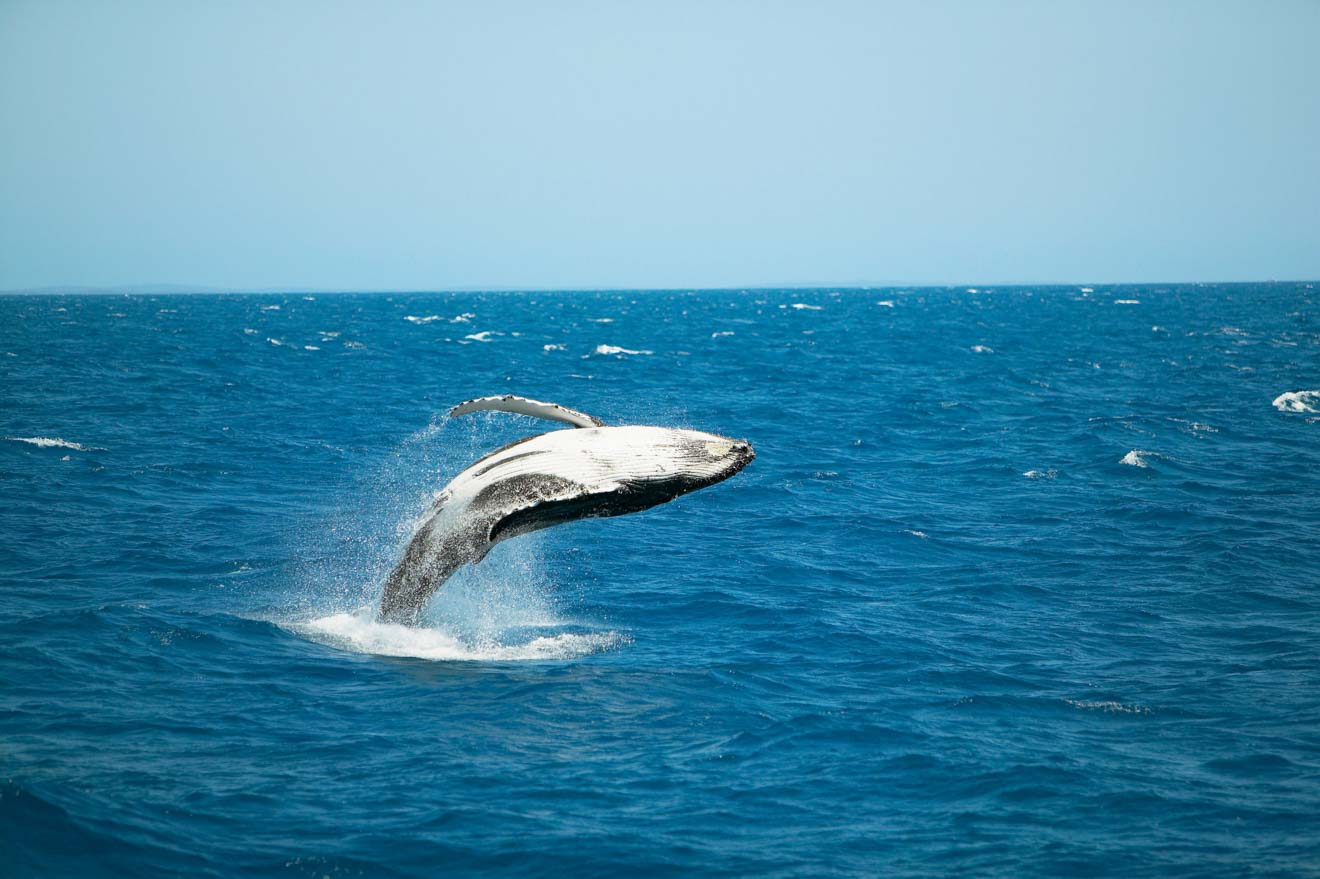 Duration: 3 hours
Price: from US$95
Why you should take it: takes place in Akureyri
This whale-watching excursion will take you on a ride in a specially modified, super-fast ship that is ready to set sail and show you the stunning beauty of Eyjafjord's humpback whales. It even has a cinema-style viewing platform so everyone can get the best sights, and it has the capacity to carry up to 200 people!
With your free internet access, you can brag about the tour more than about your Iceland hotel room from your vacation experience. You'll be able to show off your amazing whale sightings, too. Quite a full package, if you ask me!
Your experienced guide will be there with you for the whole time and will teach you some cool facts about whales, as well as explain why these warm summer months are a good thing for them. You might be lucky enough to catch a glimpse of a humpback whale, blue whale, fin whale, or even a minke whale.
4. Visit Safari & Puffin Island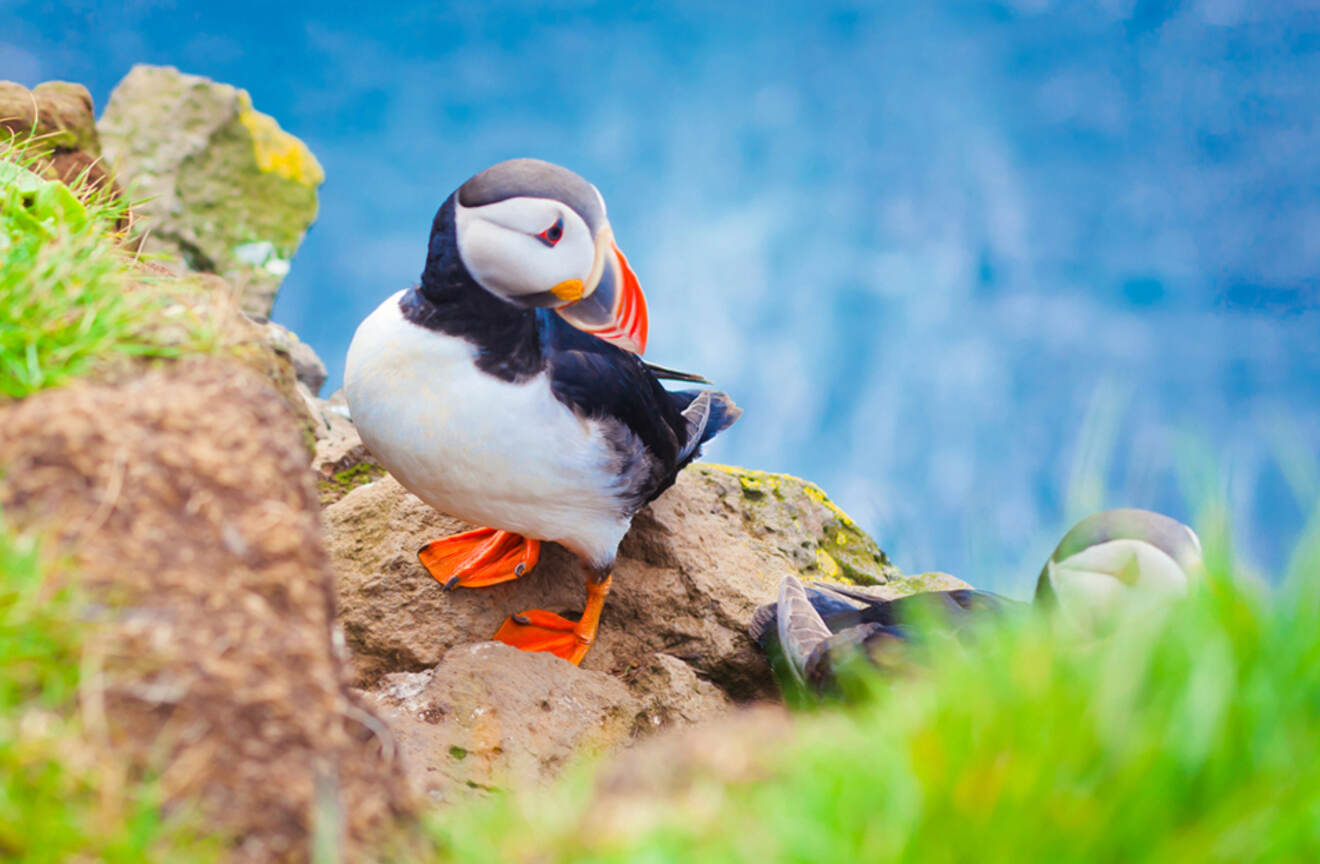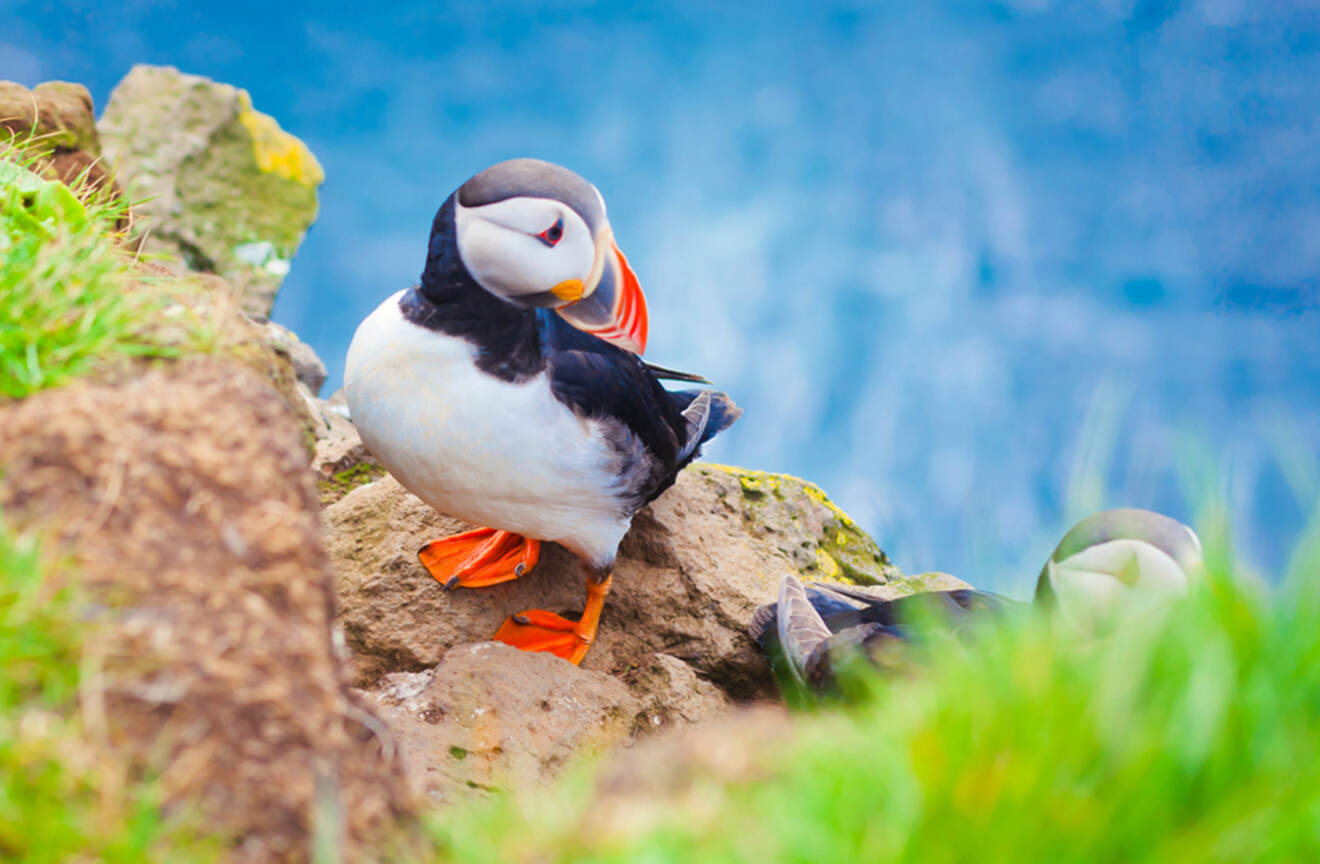 Duration: 2.5 hours
Price: from US$156
Why you should take it: a great combo tour
This is a fun, educational whale-watching tour from Húsavík that also includes a visit to Puffin Island! You'll witness the views of this wild paradise as you speedboat to the island, with an experienced guide providing details about all the amazing marine life and puffins. You'll be able to see many whales and colorfully-beaked puffins that often carry the name "the Clowns of the Ocean."
All the safety gear is provided with this tour, from a life vest to warm overall. However, I still advise you to come in comfy shoes.
And if you prefer Reykjavík more, I have a tour option for you as well. The tour departs from the Old Harbor and takes you to see puffins in the small boat that is perfect for approaching those little islands that are home to Reykjavík's creatures. The guides will be present there as well.
5. Go on an express whale-watching tour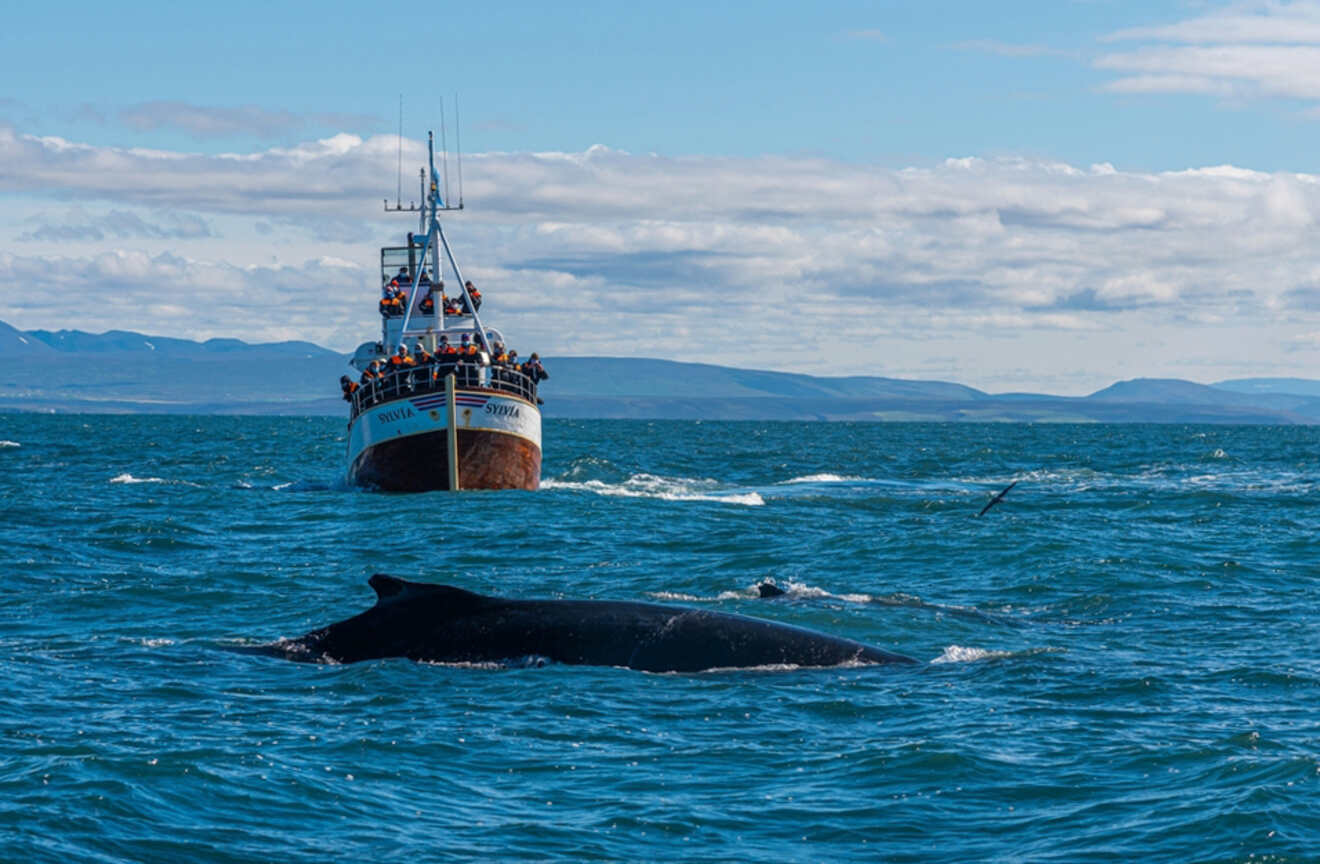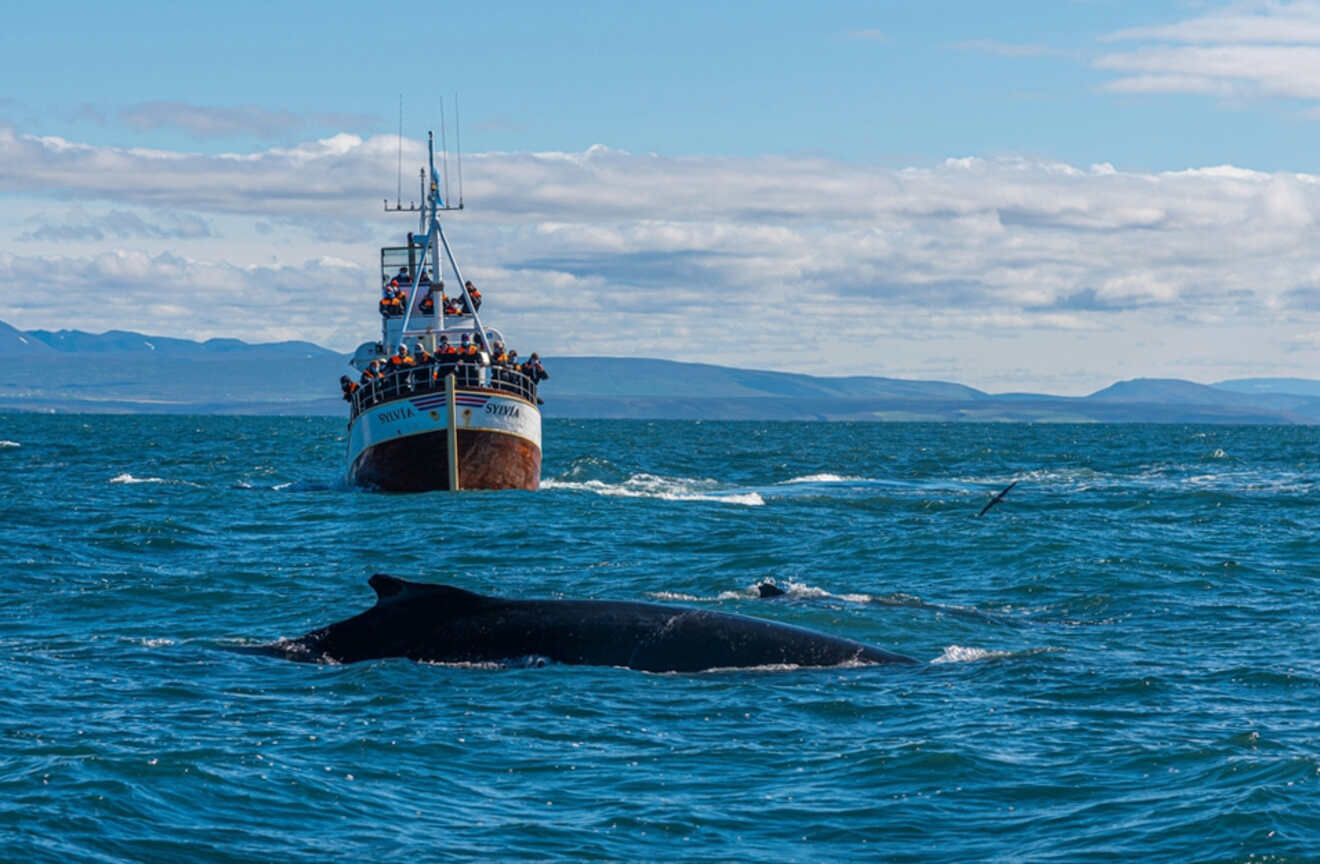 Duration: 2 hours
Price: from US$84
Why you should take it: fast catamaran tour
These tour operators will take you on a ride in a sleek and stylish express boat, and you'll embark on a fabulous 20-30-minute ride where you'll get to witness blue whales, fin whales, toothed whales, pilot whales, and all kinds of wildlife during whale-watching season.
These ultra-modern express boats are designed with the potential whale watchers in mind, and they guarantee maximum comfort and convenience so you spend less time waiting around and more time taking in the beauty of the deep blue sea.
The essentials, such as the company of the guide, snacks, and safety gear, are all included. Even if the sun's out, make sure to bundle up, it can get mighty chilly on the high seas.
6. Set sail on a traditional wooden ship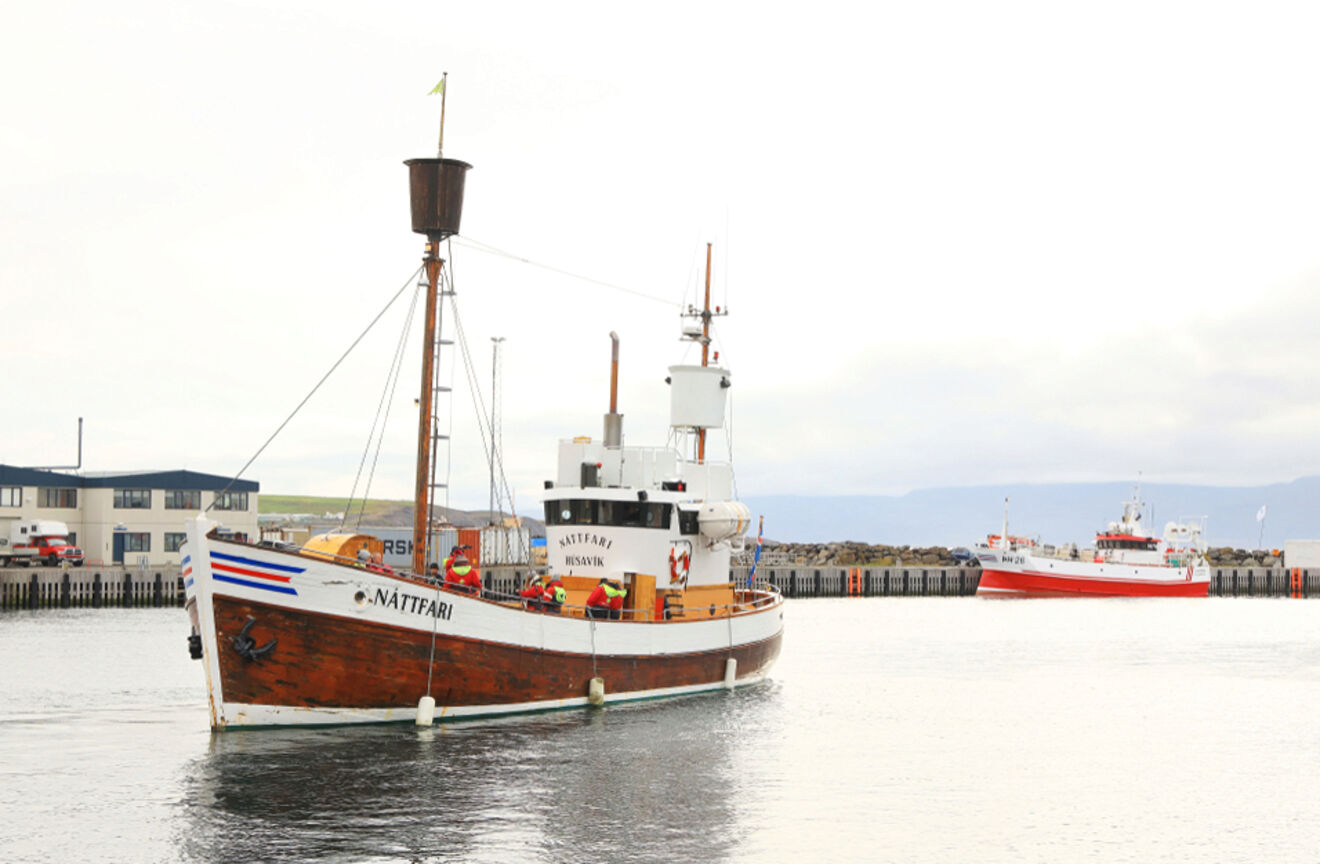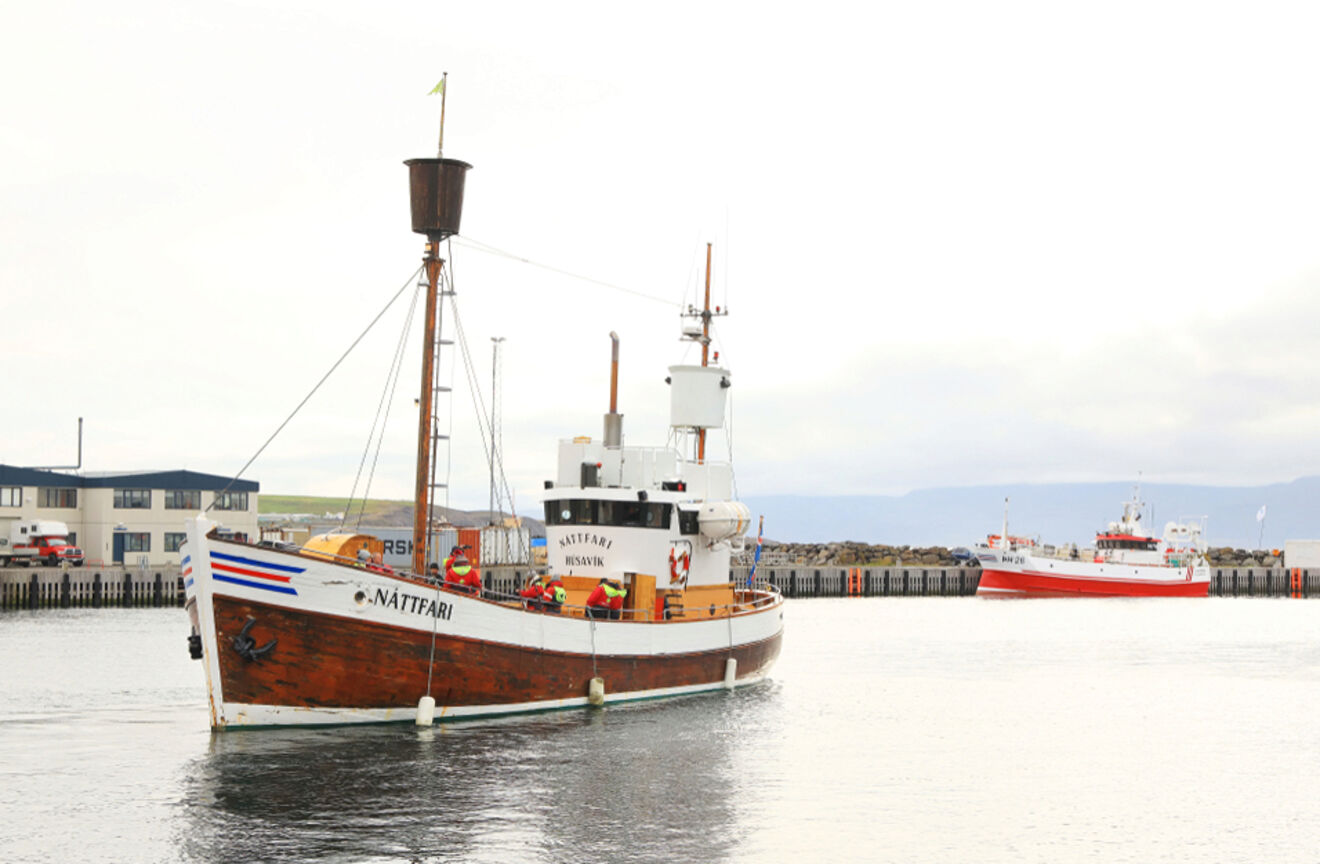 Duration: 3 hours
Price: from US$90
Why you should take it: a unique traditional experience
Take a trip down memory lane and shake up your Icelandic adventure in an unforgettable way! Hop aboard a classic wooden sailing boat, and you'll sail along the magical coasts of North Iceland. Sounds too good to pass up, right?
These tours depart from Húsavík harbor and will get you immersed in the rich culture of Iceland! What better way to learn than to be surrounded by the atmosphere of the traditional ship and be accompanied by a guide who will tell you everything you need to know?!
You can take advantage of the attentive crew who'll keep you warm with the appropriate clothing. I also recommend you take a mug of steaming hot chocolate and cinnamon buns. Who could ask for a better vacation experience?
7. Feel like a VIP on a luxurious yacht cruise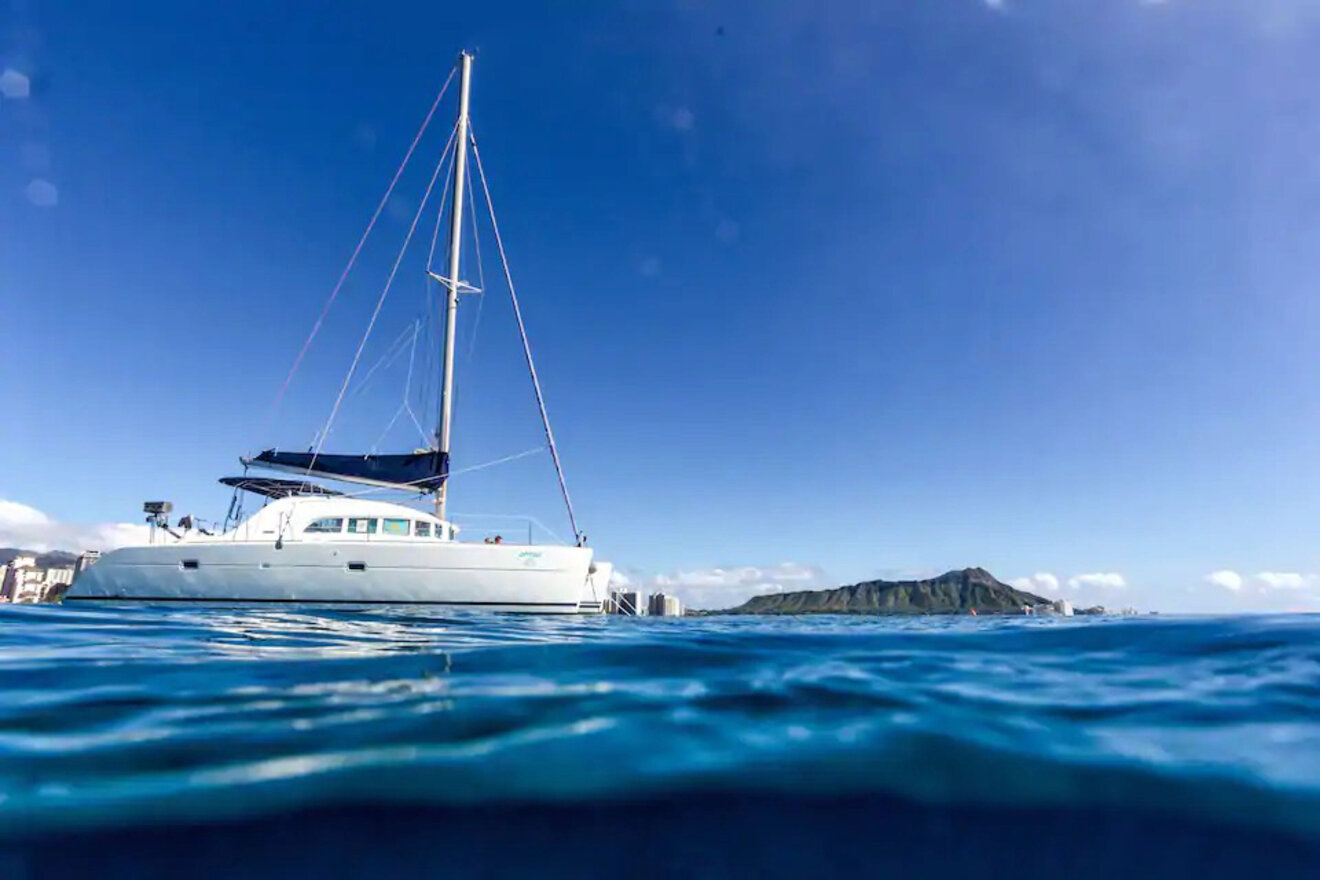 Duration: 3 hours
Price: from US$93
Why you should take it: small group and immersive experience
If your life has become a bit hectic and you want to escape it and relax, then I have the perfect solution (and tours) for you.
This tour will take you and your small chosen group of friends for a wild ride along Reykjavik's gorgeous south coast! You'll take a voyage into mesmerizing Faxafloi Bay and get the chance to meet the bigwigs of the depths – mighty minke and humpback whales.
Escape the hectic grind and jump aboard the luxurious yacht that is tailor-made to offer you an up-close and intimate journey. With fewer passengers on board, you'll be blessed with oodles of room, plus the pampering service and attention that comes with it! Relax and soak in spectacular views from the outdoor deck or cuddle up for a tipple at the onboard bar.
8. Learn about whales in Iceland at an exhibition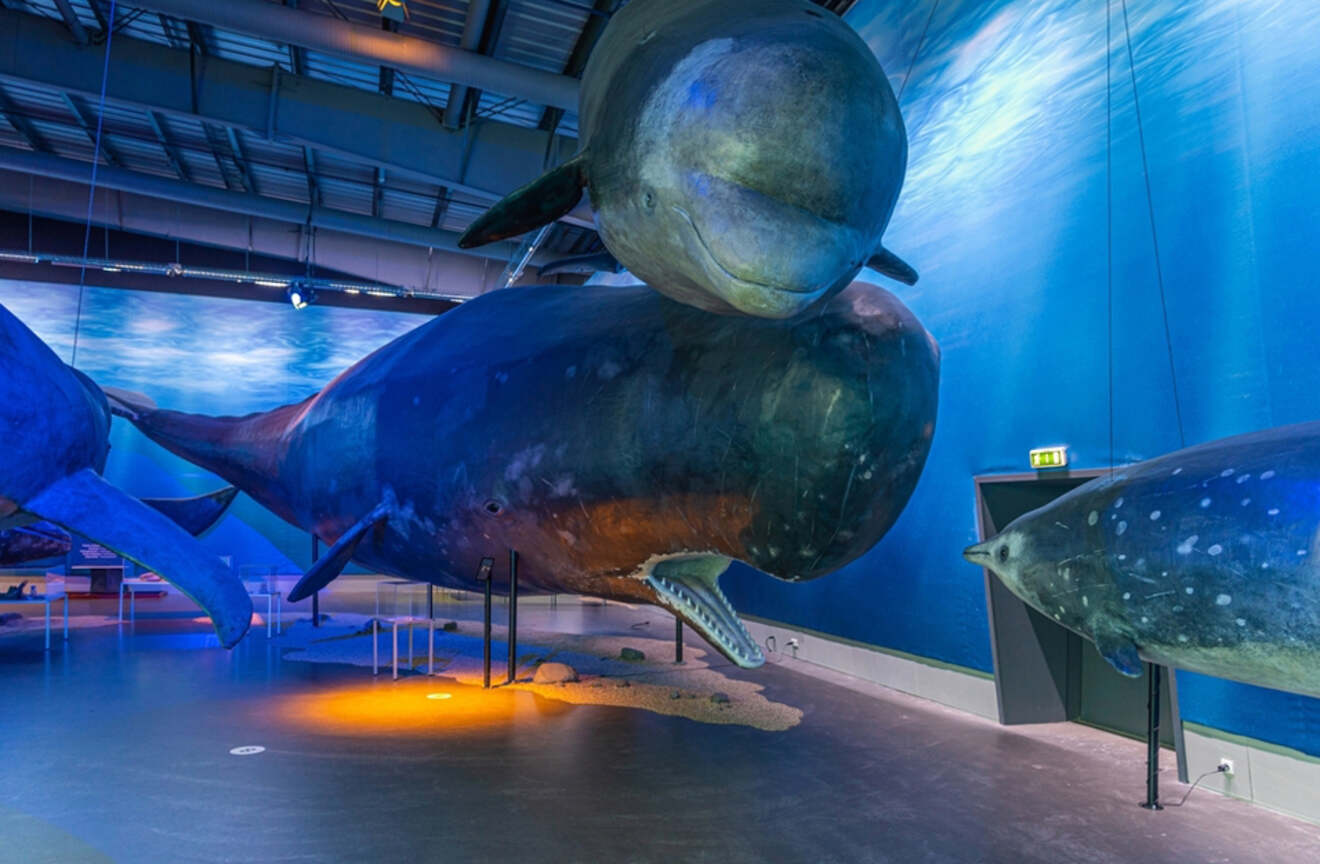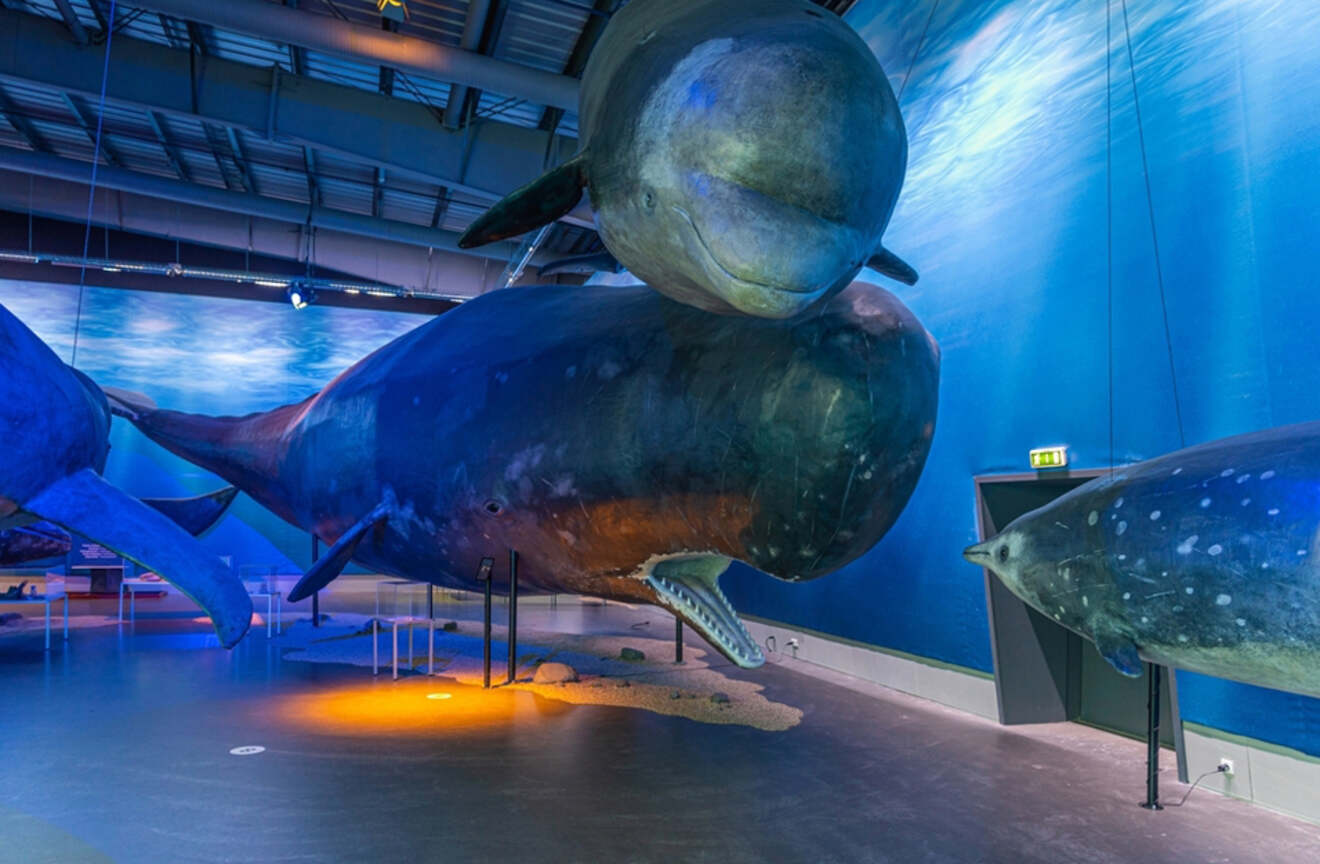 Duration: 1 hour
Price: from US$100
Why you should take it: includes a visit to the Whales of Iceland Museum
You will start off your whale-watching adventure with an incredible boat ride out to the open sea so you could just spot those majestic whales in their own natural environs! Afterward, you will head to the museum, where you can immerse yourself in learning about whales and have a blast doing it. It's a perfect family-friendly tour, so you can also bring your little ones to learn something new!
You're gonna visit the Whales of Iceland Exhibition – an immersive experience featuring 23 life-size models of all the whale species found in Icelandic waters. Strap on a virtual reality headset, listen to audio guides, and watch videos, then kick back with a coffee and pastry at the café to take in its dreamy ambiance.
No need to break a sweat, you can do these activities in whichever order you prefer!
9. Embark on a midnight sun whale-watching tour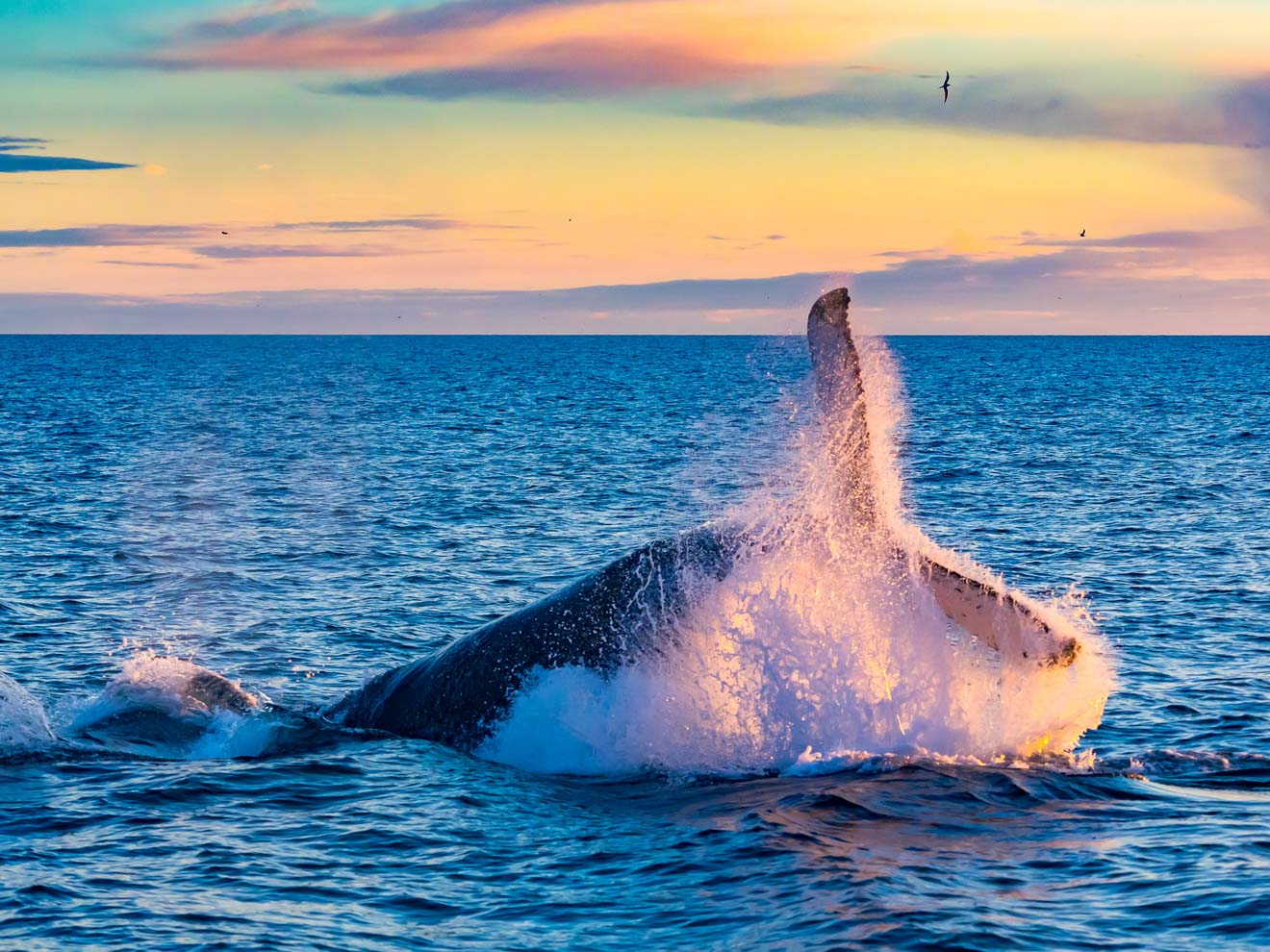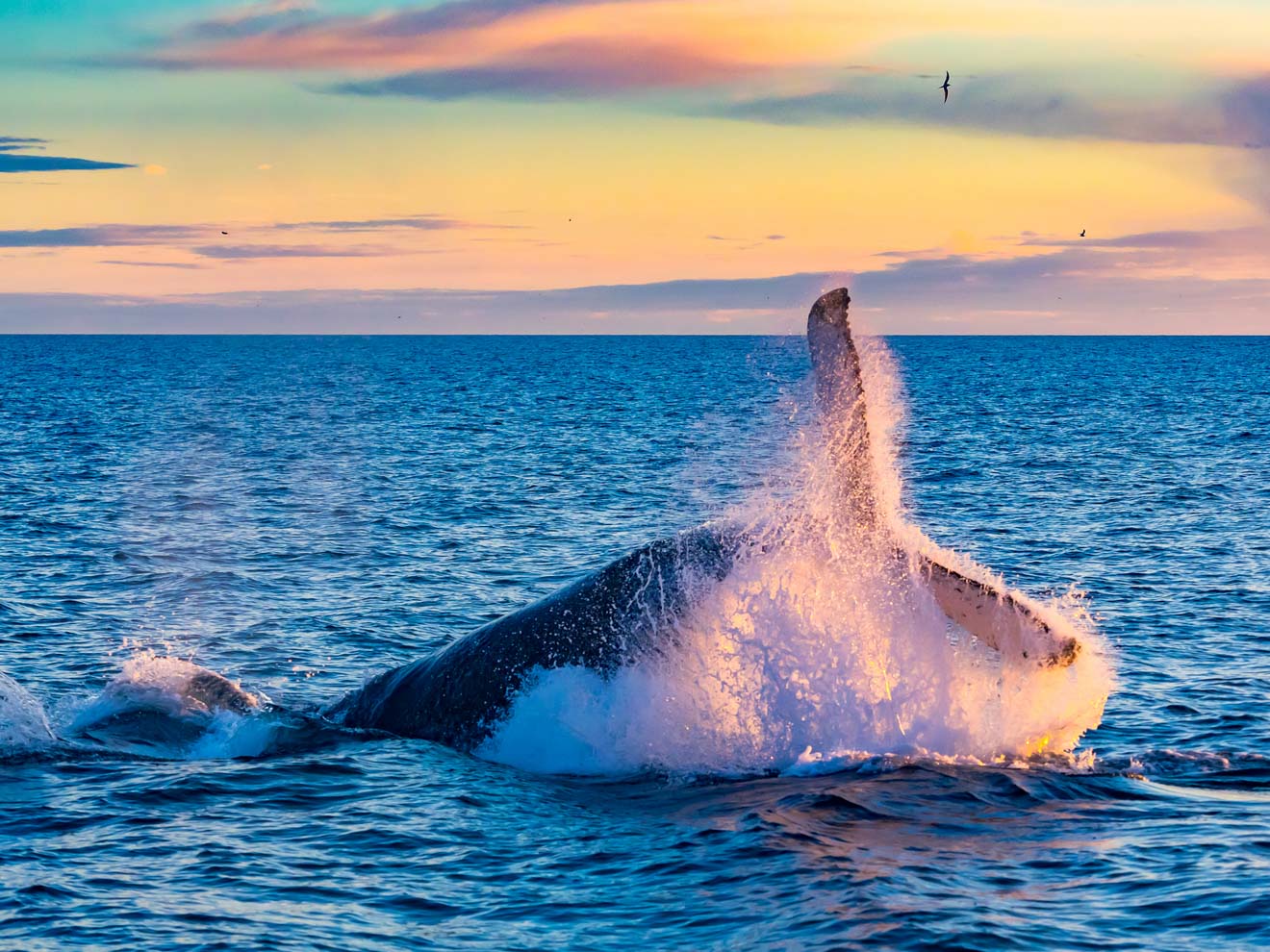 Duration: 2 hours
Price: from US$90
Why you should take it: evening tour, eco-friendly firm
This tour will have you soak in the poetic beauty of whales while having a feeling like you're a part of the bigger cause and eco-community! You're almost guaranteed to encounter whales, dolphins, and harbor porpoises practicing their aquatic ballet in their natural environment.
You will soar through the midnight sun aboard Iceland's only eco-friendly whale-watching firm! Also, make sure to bring your camera because catching marine life in the sunset is the view that definitely deserves to be captured for your Insta feed!
Their guides are experienced pros – they've gone through an intensive training program with some serious guidelines crafted just for them. Trust me, they'll make your tour of the area's wildlife and landscape educational and entertaining! They've got cool facts to share, plus a few jokes thrown in there just for fun.
10. See majestic whales in Eyjafjörður
Duration: 2.5 hours
Price: from US$83
Why you should take it: takes place in Eyjafjörðurt
You'll sail away from the quaint fishing village of Hjalteyri, just a stone's throw away from Akureyri, and experience an awe-inspiring whale-watching adventure! With picturesque views, you'll get to savor a steaming cup of hot chocolate and a fresh cinnamon bun while you take it all in.
It's no shocker that many folks up north think Hjalteyri is North Iceland's best-kept secret. And it doesn't come as much of a surprise. After all, Eyjafjörður provides a sweet spot for water wildlife, and it's attracting whales like crazy.
You'll take a cruise through Eyjafjörður with confidence under the knowledgeable leadership of the certified crew! This whale-watching tour will take around 2.5 hours.
11. Witness the Northern Lights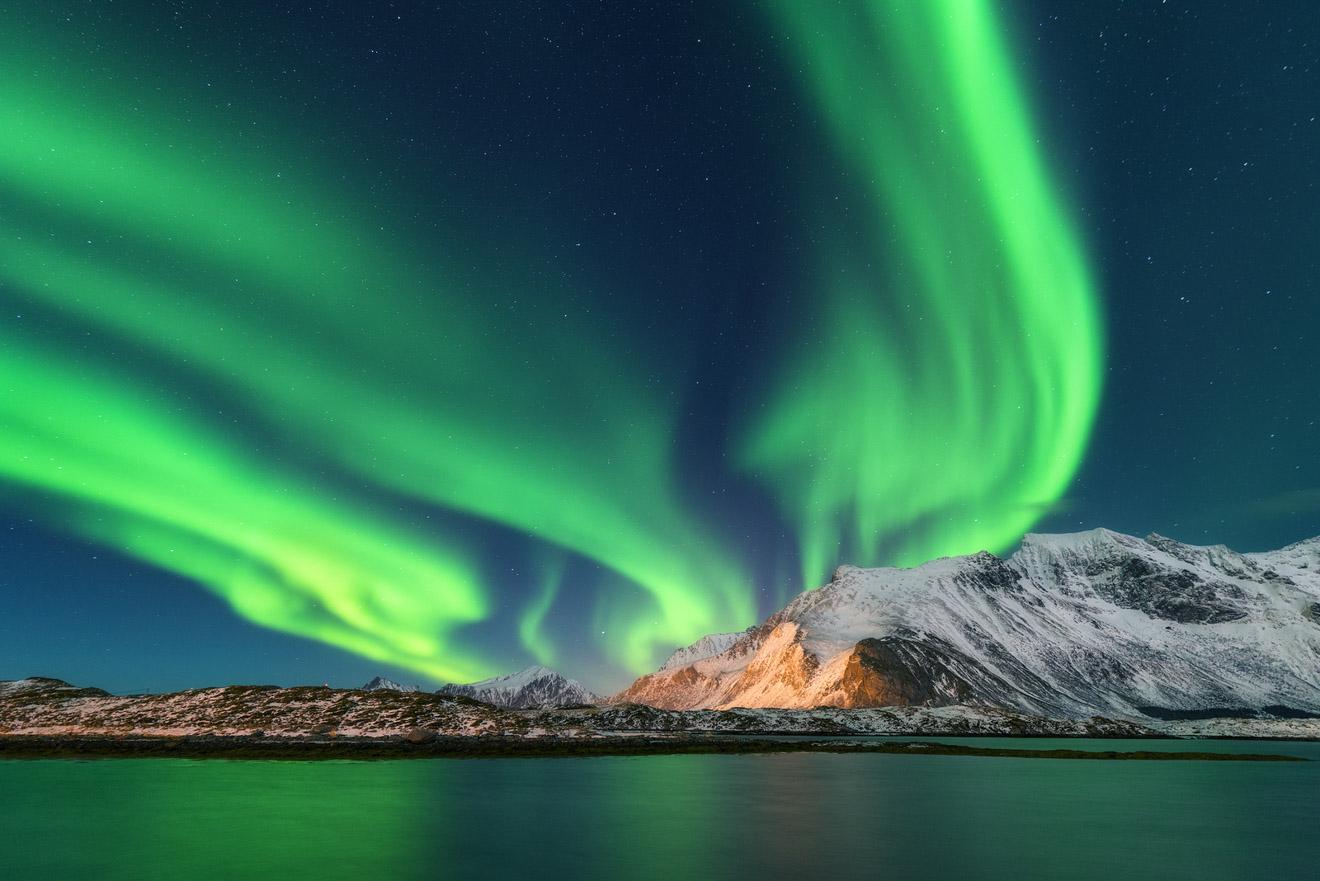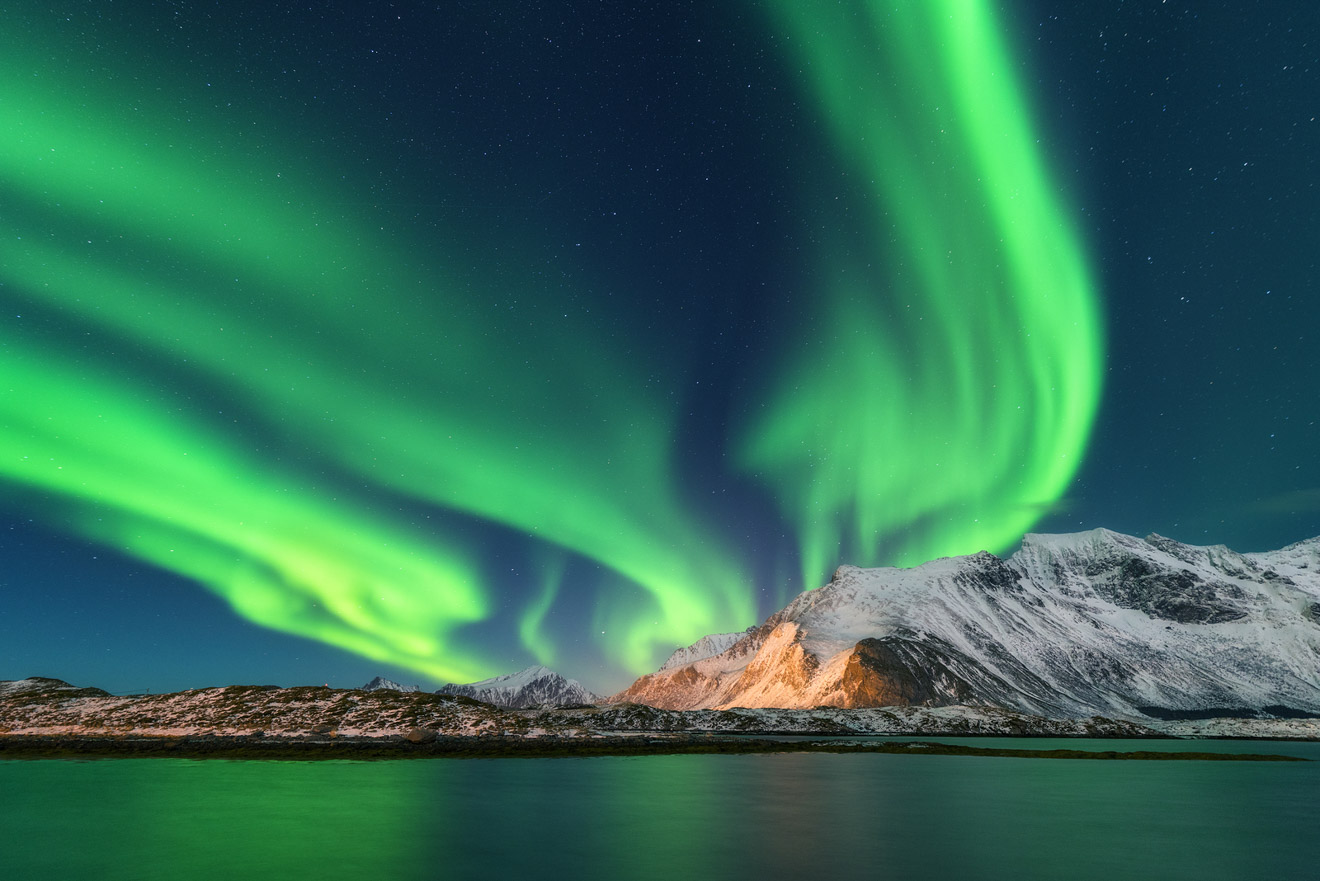 Duration: 6 hours
Price: from US$150
Why you should take it: whale-watching & iconic Northern Lights experience combo
If you're looking for a truly unforgettable experience, why not take this exciting whale and Northern Lights tour from Reykjavik Harbor? It's an amazing opportunity to get the best of both worlds – some breathtaking glimpses of Iceland's wildlife on one side and the stunning Aurora dance, which is famous worldwide, on the other.
Plus, you can stay connected and comfortably warm with free Wi-Fi and heated cabins. And if things don't go according to plan this time round and you don't see whales, fear not: you can book again for free!
One thing's for sure: watching whales like harbor porpoises and white-beaked dolphins plus those celestial Northern Lights – what a show!
12. Rev up your engine with an ATV adventure & sailing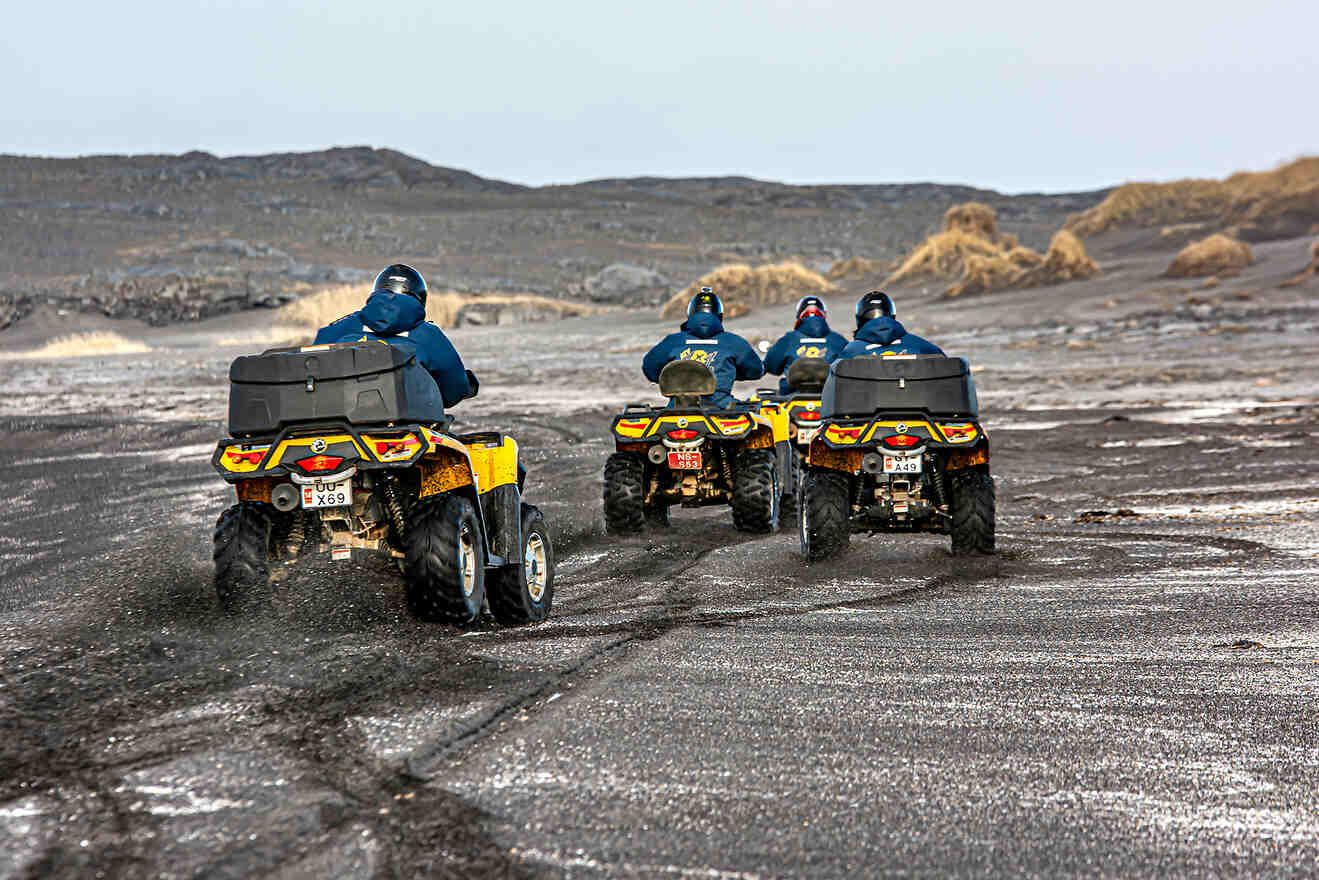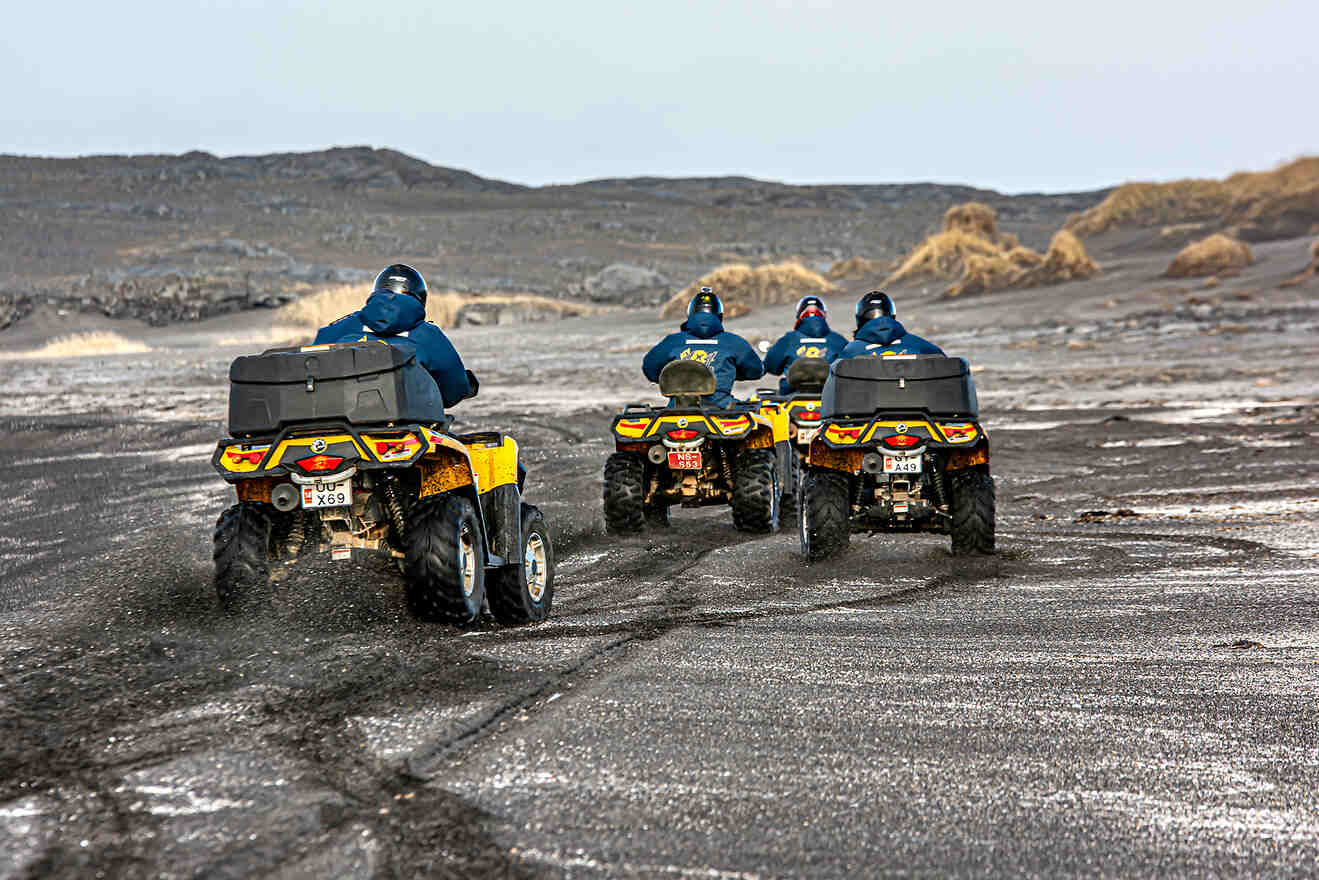 Duration: 8 hours
Price: from US$280
Why you should take it: get to know Ulfarsfell Mountain and see whales
The combo tour of Iceland is perfect if you want to explore the nature and beauty of the country both on land and at sea!
Feel the excitement rush through you as you take an ATV ride up Ulfarsfell Mountain. The breathtaking views of the city, ocean, and nearby peaks will leave you in awe. Don't forget to break quickly for lunch before heading off from Old Harbor to spot some whales!
An experienced guide will lead your way. they know all the best spots for whale watching. Be sure to take lots of pics at Ulfarsfell Mountain and while cruising around Faxafloi Bay so you have something special to remember your trip by!
Make sure to keep your eyes wide open and spot the beautiful acrobatics of humpback whales and other sea critters. It's a sight to behold, so don't miss it! With an adventure-filled itinerary, you're truly in for a treat.
13. Challenge yourself with a rafting experience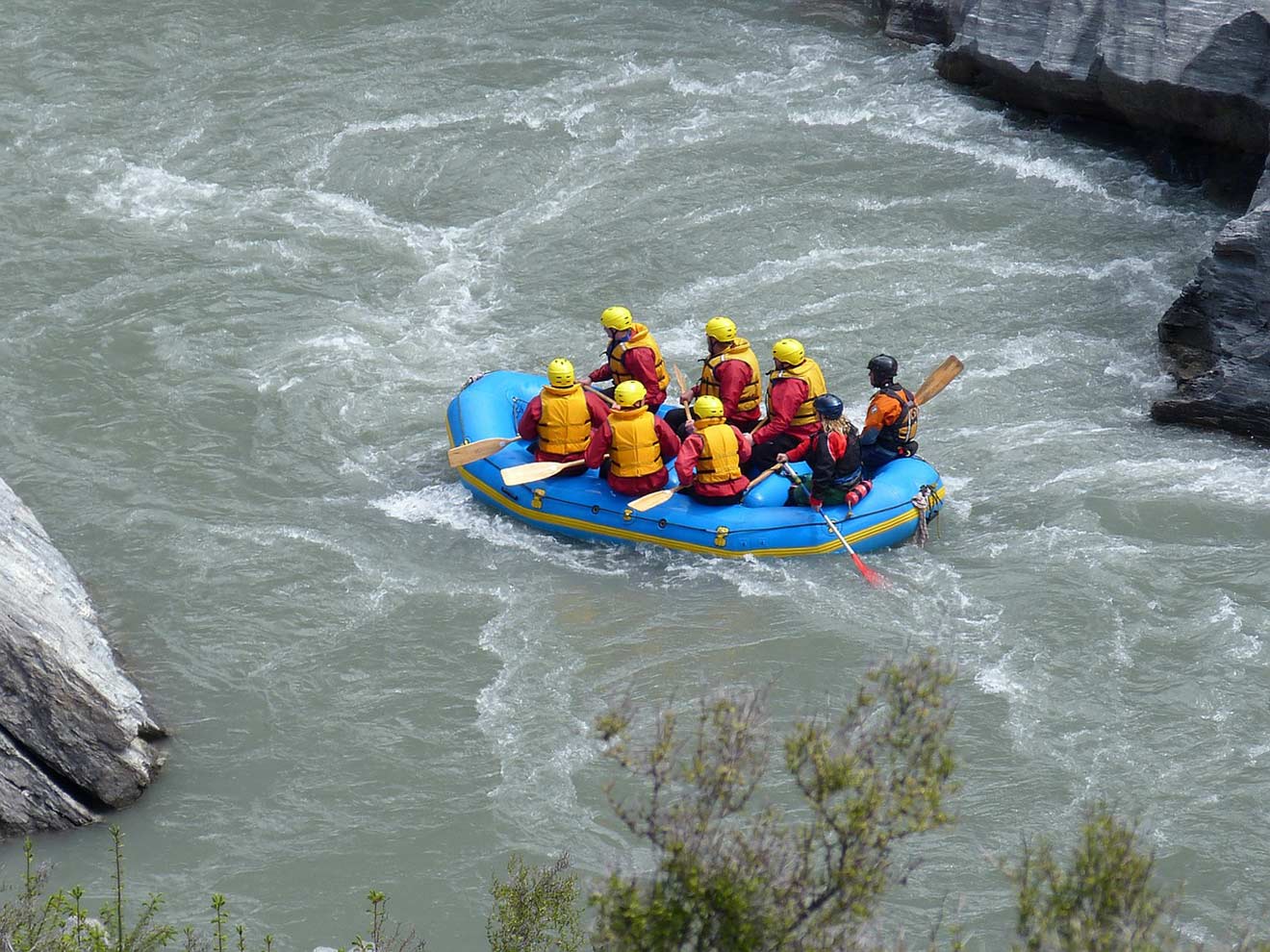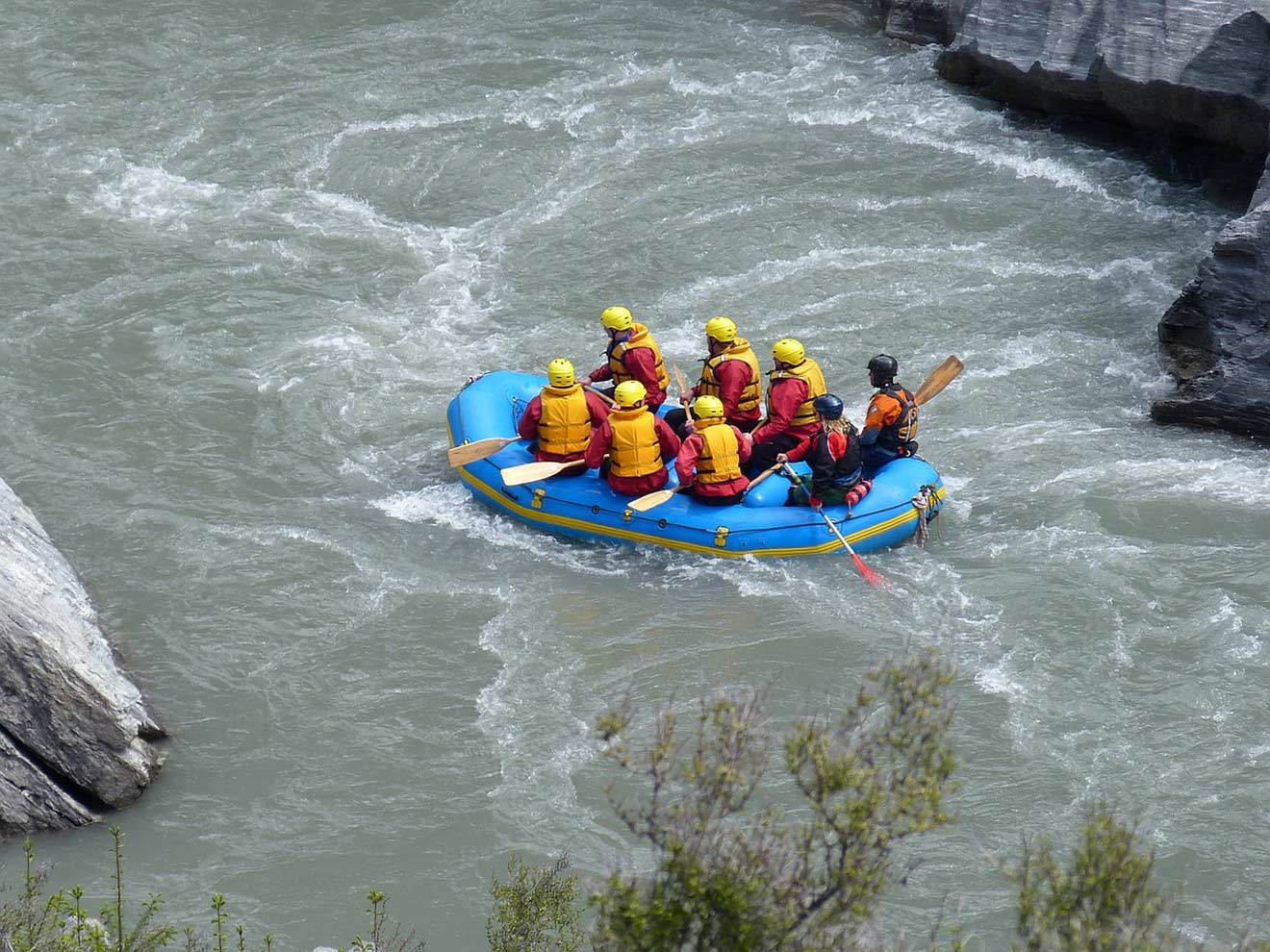 Duration: 11 hours
Price: from US$250
Why you should take it: for an adrenaline-packed experience
Buckle up for a jam-packed tour full of amazing activities. You'll kick things off with an epic whale-watching cruise that's sure to blow your mind! As you sail through Faxaflói Bay, you can spot minkes, humpbacks, porpoises, and white-beaked dolphins, plus soaring seabirds and puffins perched on the craggiest shores imaginable. 'Cause they just don't come cuter than these little guys.
Afterward, it's time to get your heart racing! Head inland for the thrill of a lifetime on a white water rafting journey down the Hvítá River. Glide side-by-side with rocky cliffs, and enjoy the calmness of smooth waters and brave wild rapids! After all that exciting adventure, wind down and treat yourself to a steaming sauna and hot shower – what better way to unwind?
14. Spot killer whales & sperm whales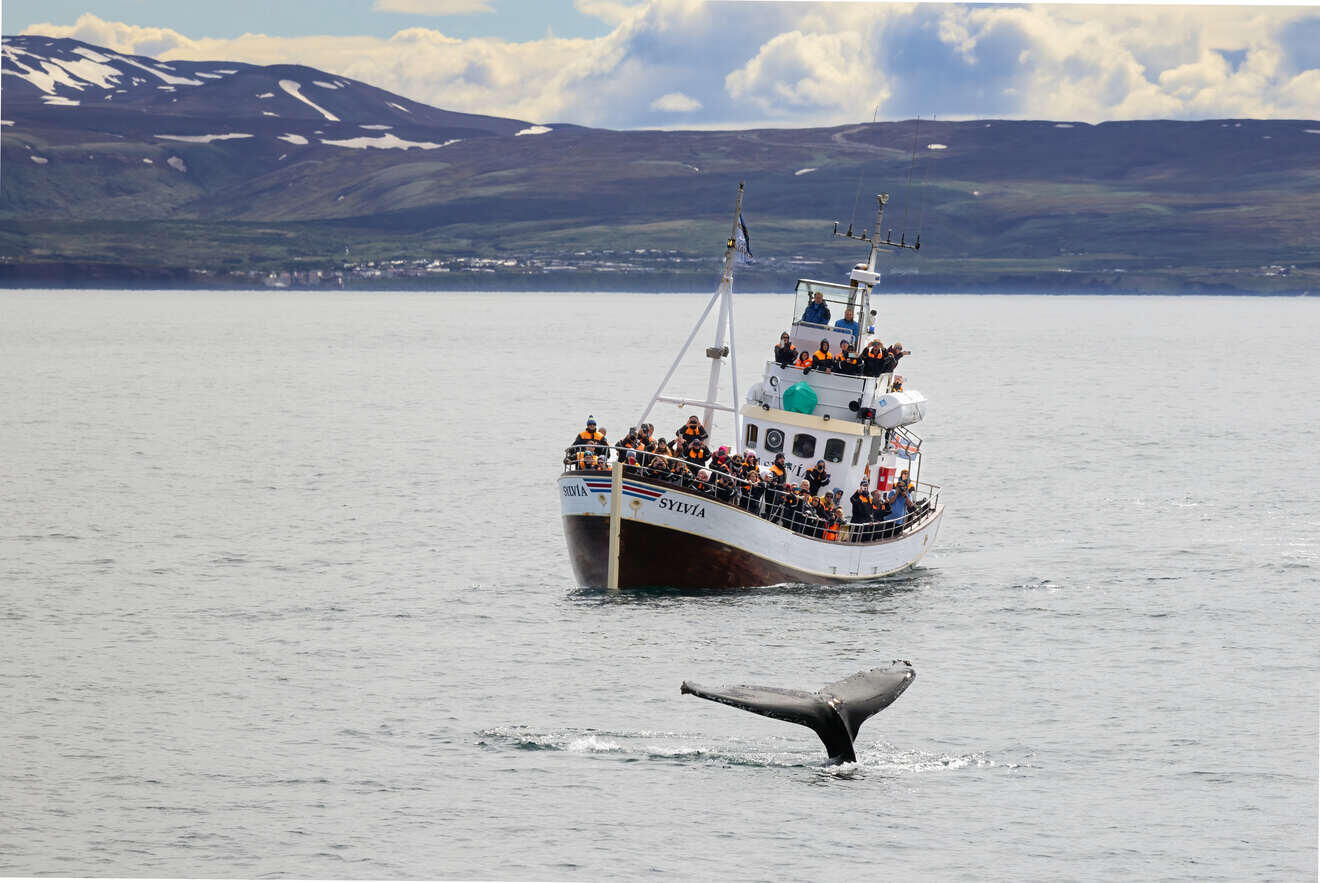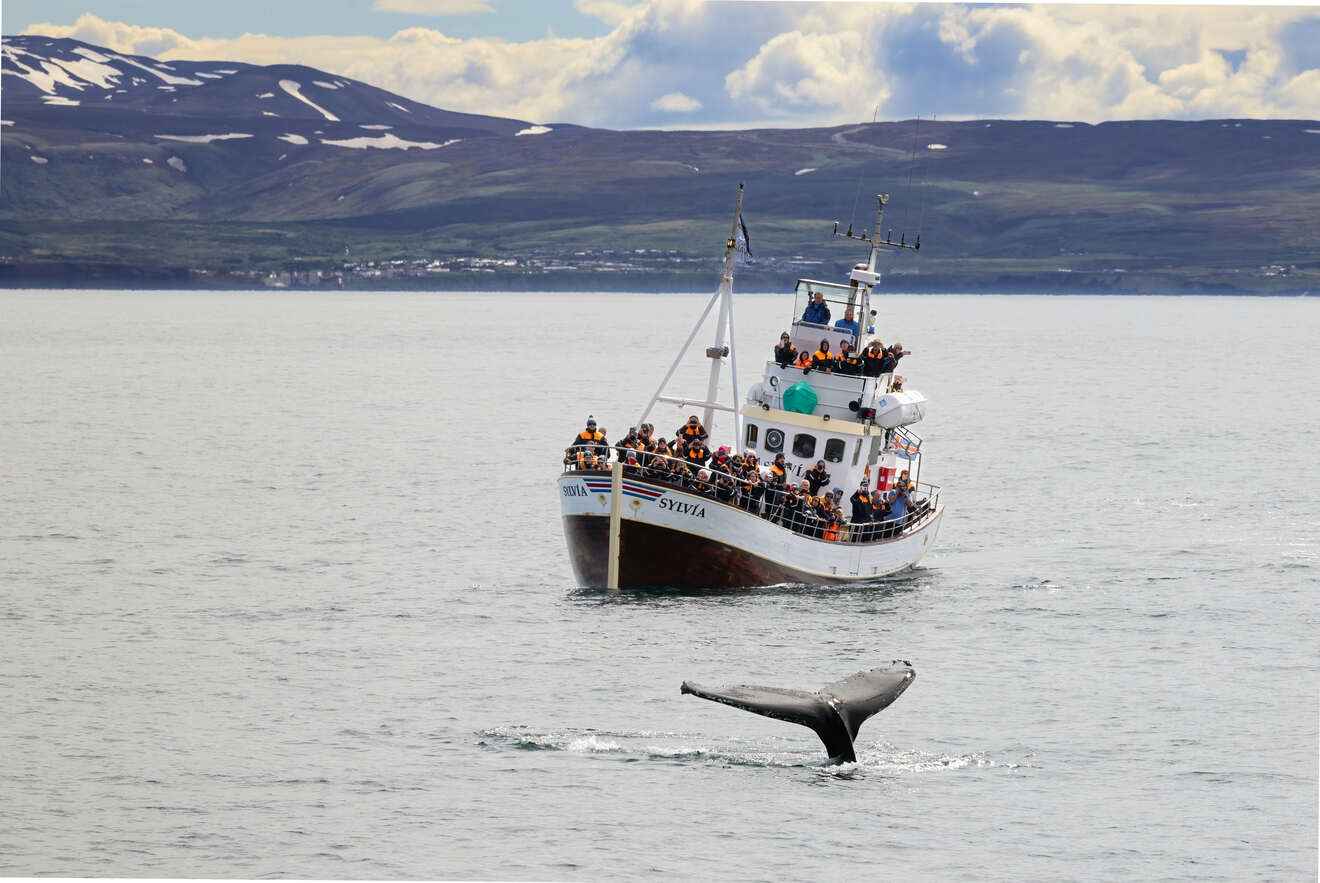 Duration: 3 hours
Price: from €76
Why you should take it: Western Iceland tour
Nowhere beats the Snæfellsnes Peninsula coastline when it comes to spotting these 2 titans of the deep: sperm whales and killer whales! Here, you can enjoy an unforgettable spectacle of nature's fiercest creatures swimming in their natural environment. Dive into a pure marvel!
This location is just perfect if you want to spot a sperm whale or killer whale, and this 3-hour tour guarantees these amazing sights (you'll get the next ride for free in the rare case you miss the whales).
Bundle up! When packing for Iceland, it's essential to bring and wear plenty of layers in this weather; you don't wanna get caught in a cold snap without the right gear!
FAQs about your Iceland whale-watching tour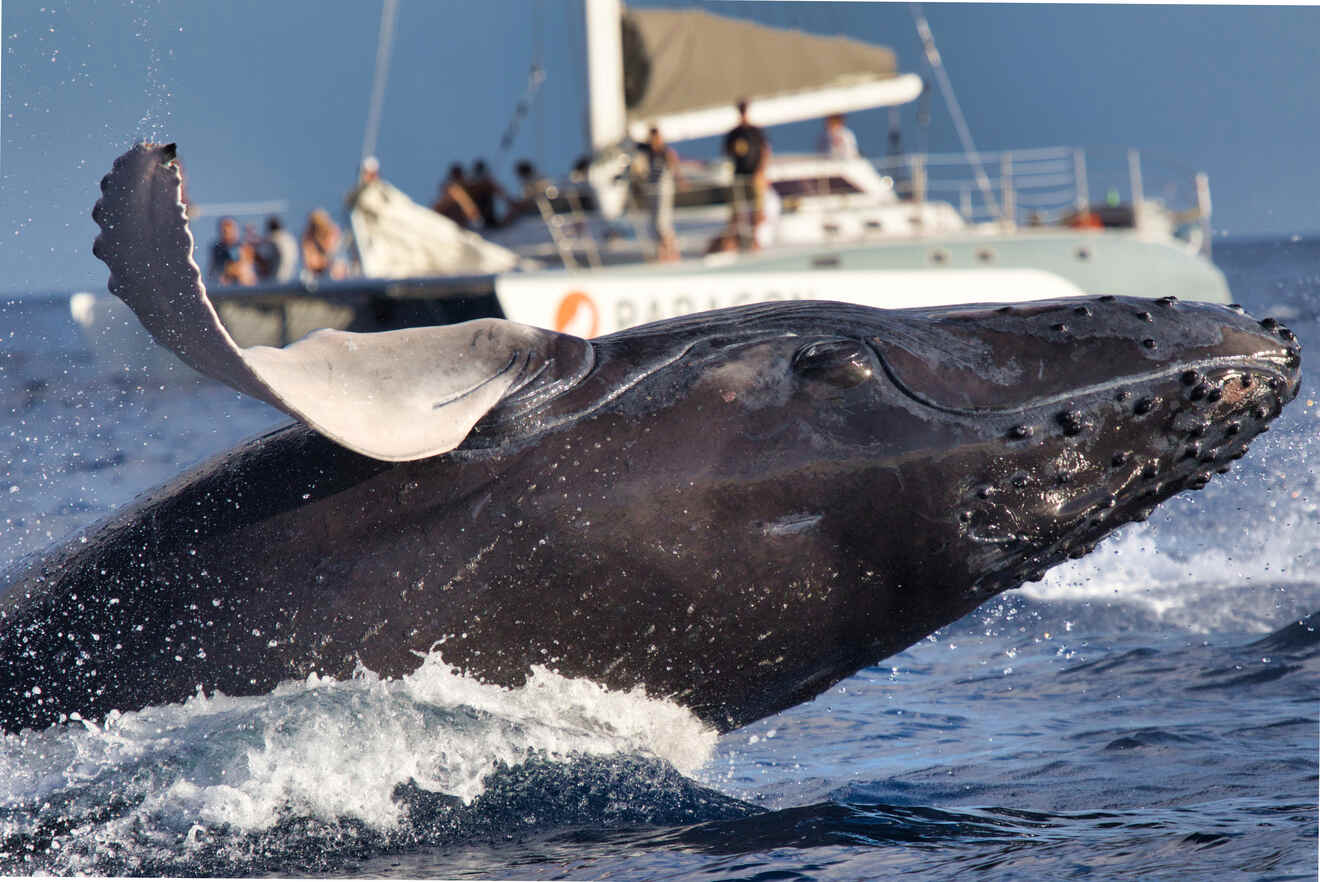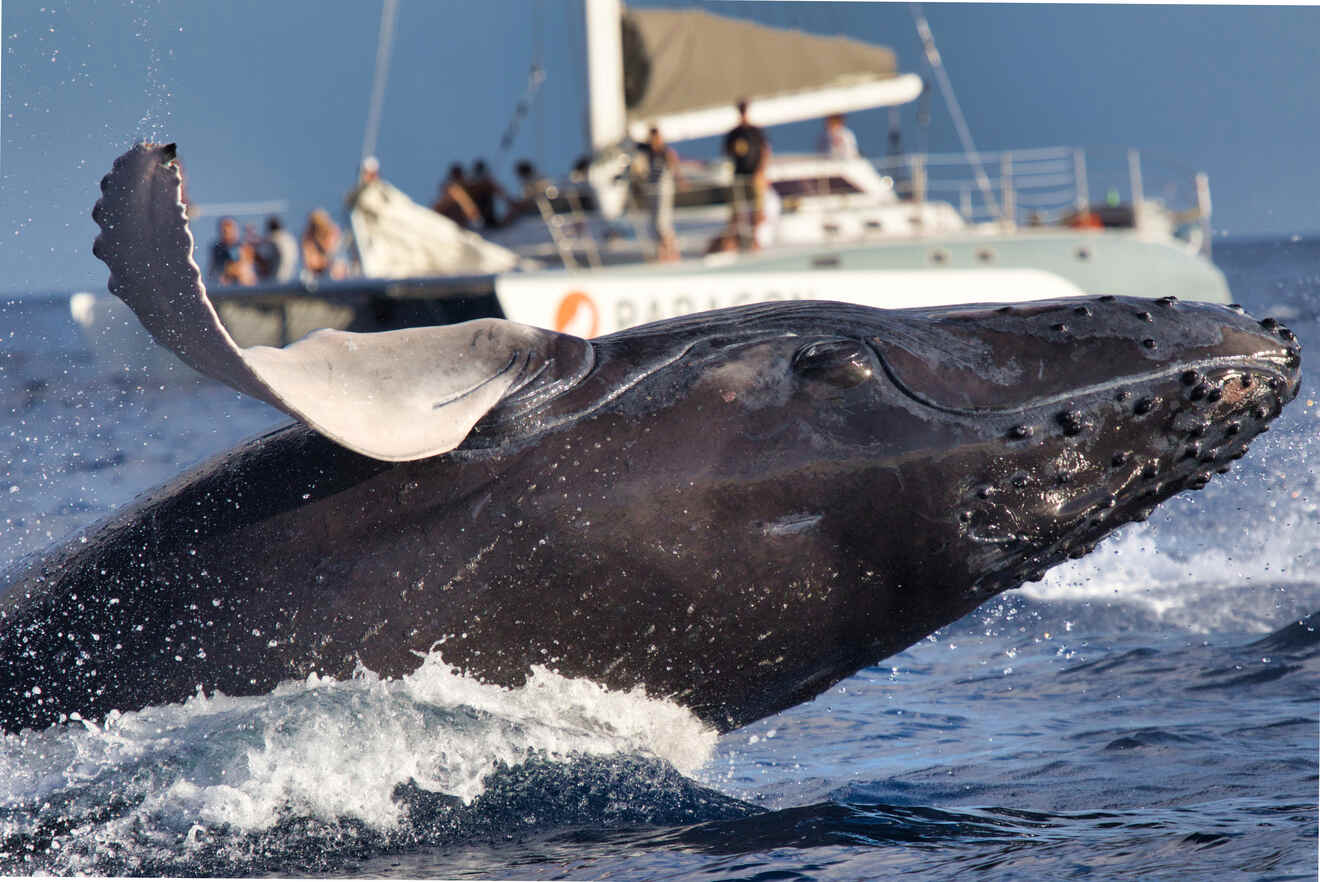 Conclusion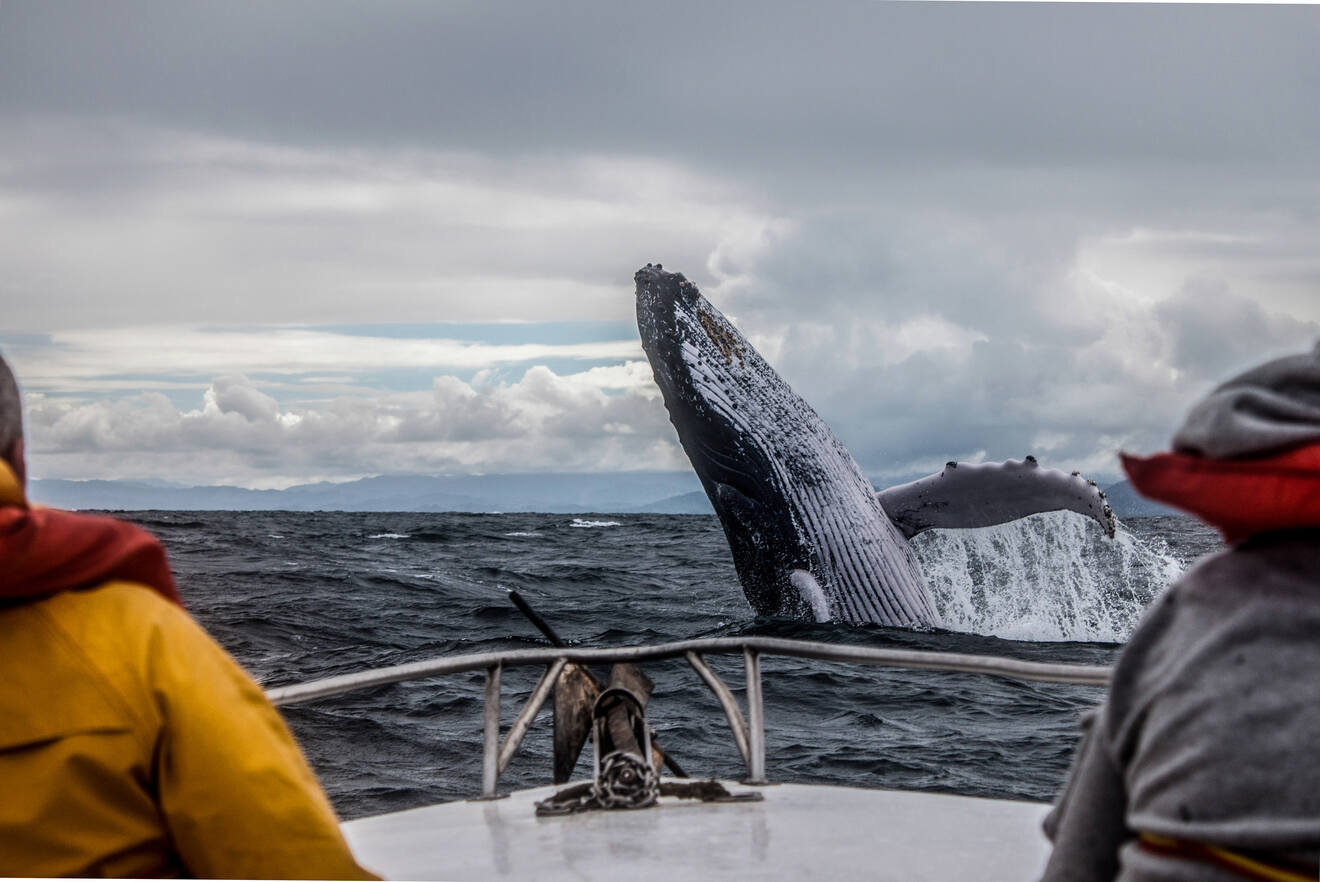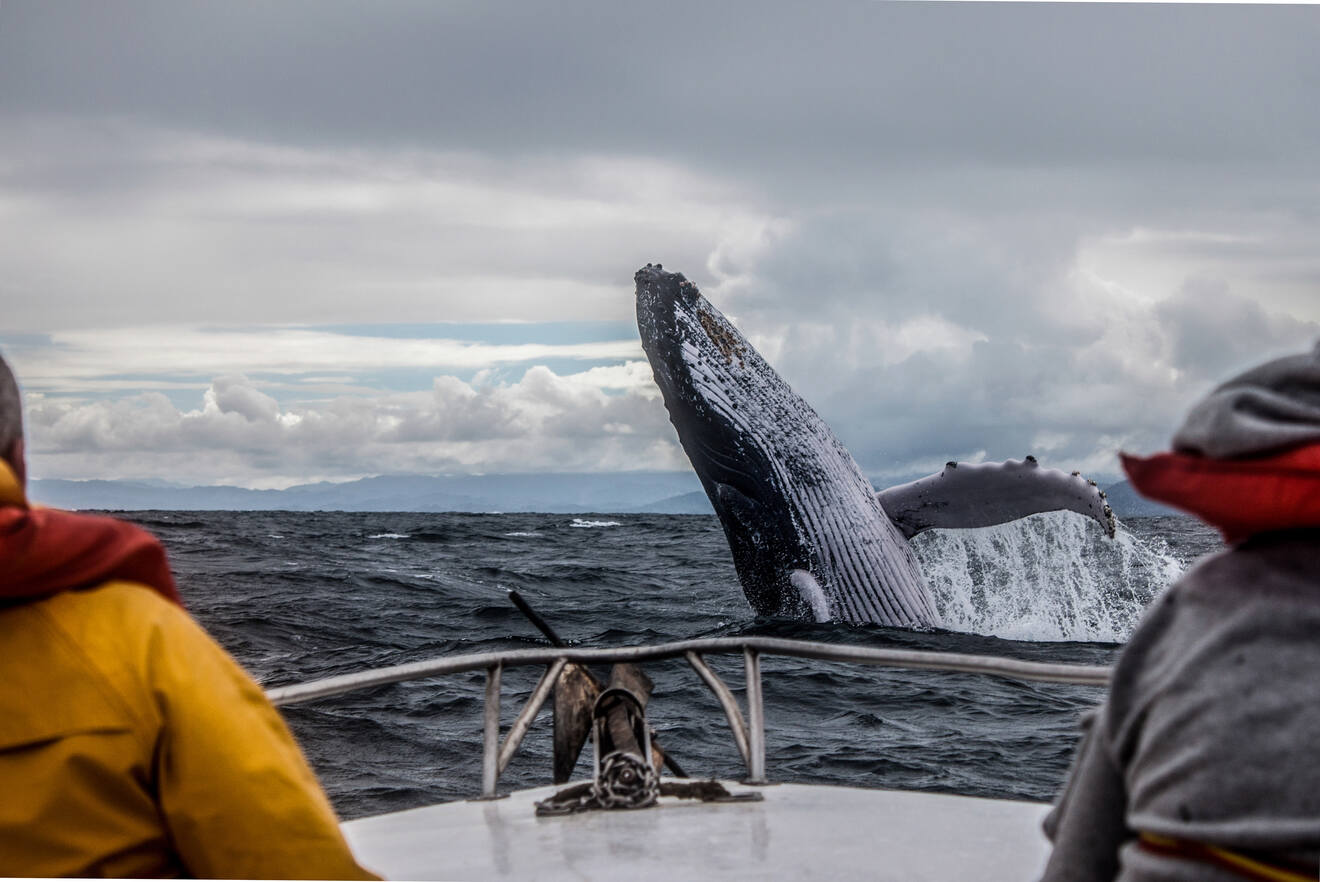 Wrapping up, if you're dreaming of an extraordinary journey, nothing beats an Iceland whale-watching tour! With tons of tour companies providing packages for every kind of interest, planning your magical adventure has never been easier.
Check out combo trips that offer a mix of whale watching and other activities. There are multiple whale-watching locations that let you explore various stretches of Iceland's captivating coastline, and of course, the sunset whale-watching is a pure delight.
It's essential to bear in mind that whale-watching tours are a huge hit in Iceland, so book early to avoid being left out!
Don't forget to let me know how it went when you're back; drop a comment below and share the highlights of your journey.
Happy whale-watching,
Angelina
---
Pin it for later!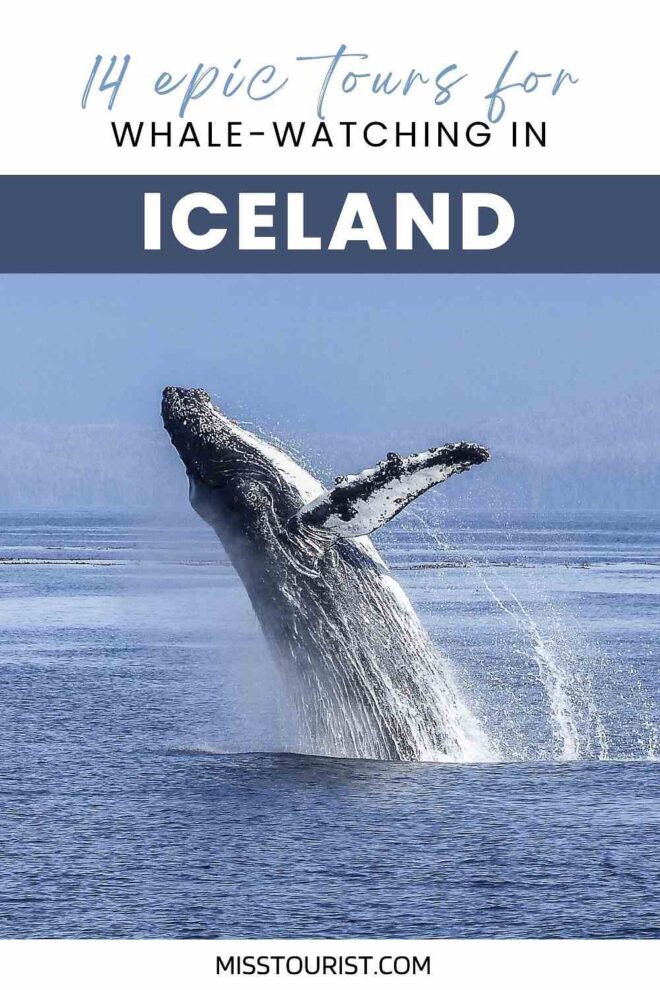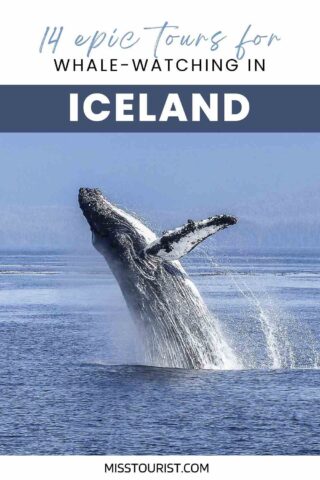 Pin it for later!