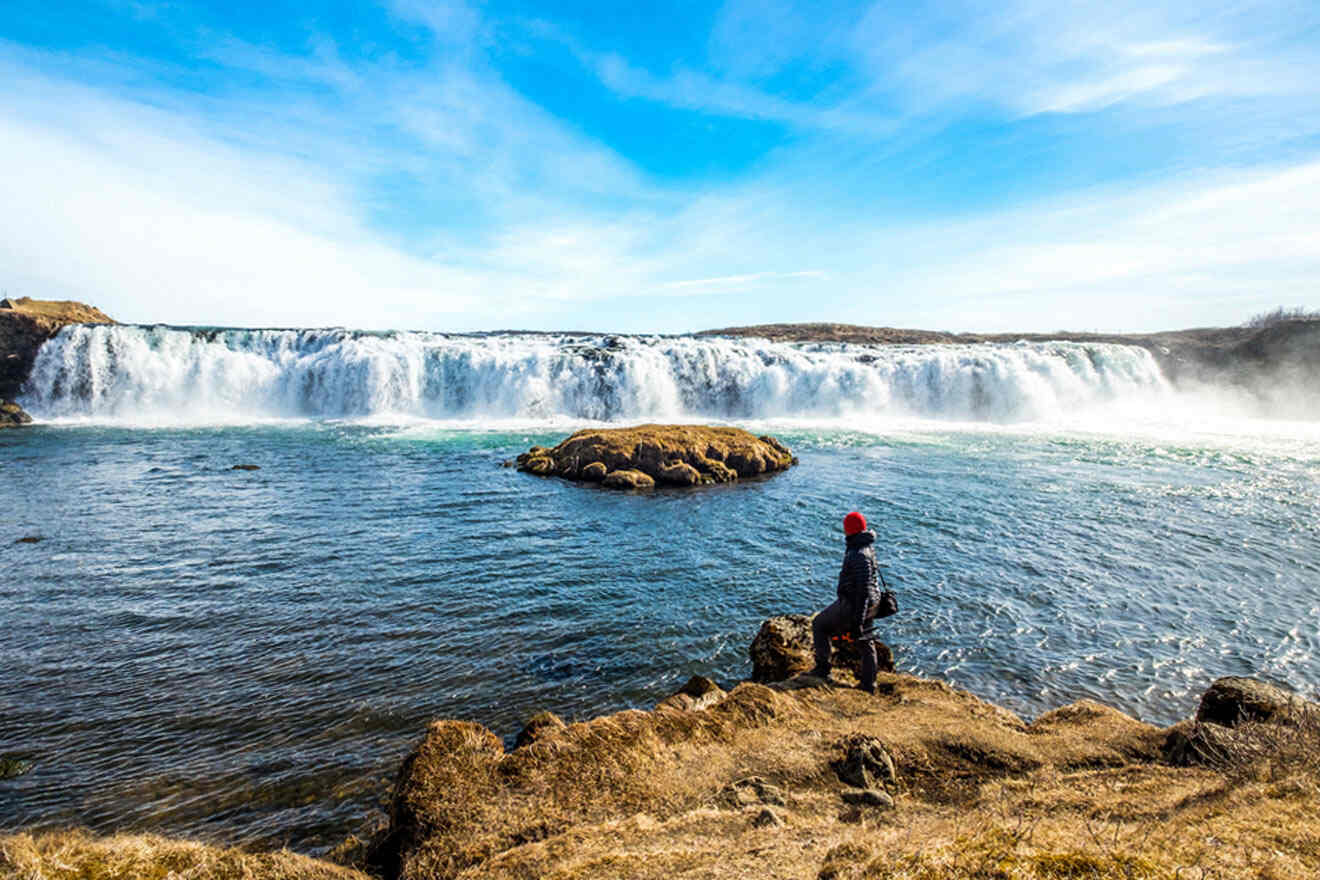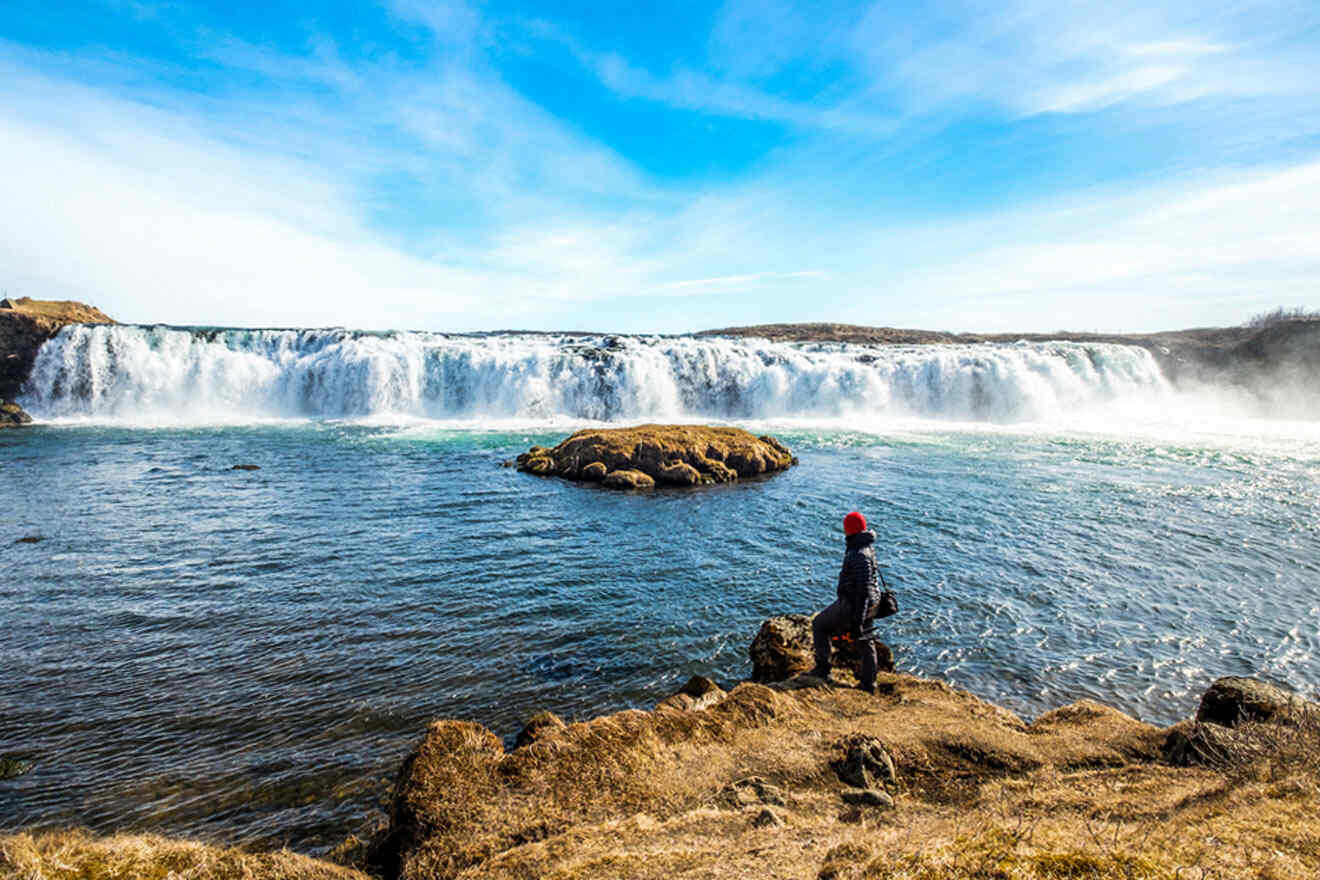 Although the Northern Lights might be the first thing that comes to mind when someone mentions this country, you better believe it boasts some other famous nature sights! In case you're lucky to take a Golden Circle tour of Iceland, you'll recognize that for yourself.
UNESCO sites, stunning views, and hot thermal waters it's all one needs to escape the worries of daily life and relax to the fullest. To help you achieve this incredible bliss, I decided to dig a bit and find the very best tour options you could embark on, so you could witness the Golden Circle beauty for yourself.
The list itself checks all the boxes as it offers many different tour variants for an array of different interests. You'll find exciting combos, cruises, and multi-day options.
Before we start, I'd like to remind you not to take any unnecessary risks and book your tours well in advance to avoid losing your spot!
Let's start!
If you are in a hurry
Can't wait to book your tours? Here's a sum of the very best ones on the list:
1. Take a full-day tour of the Golden Circle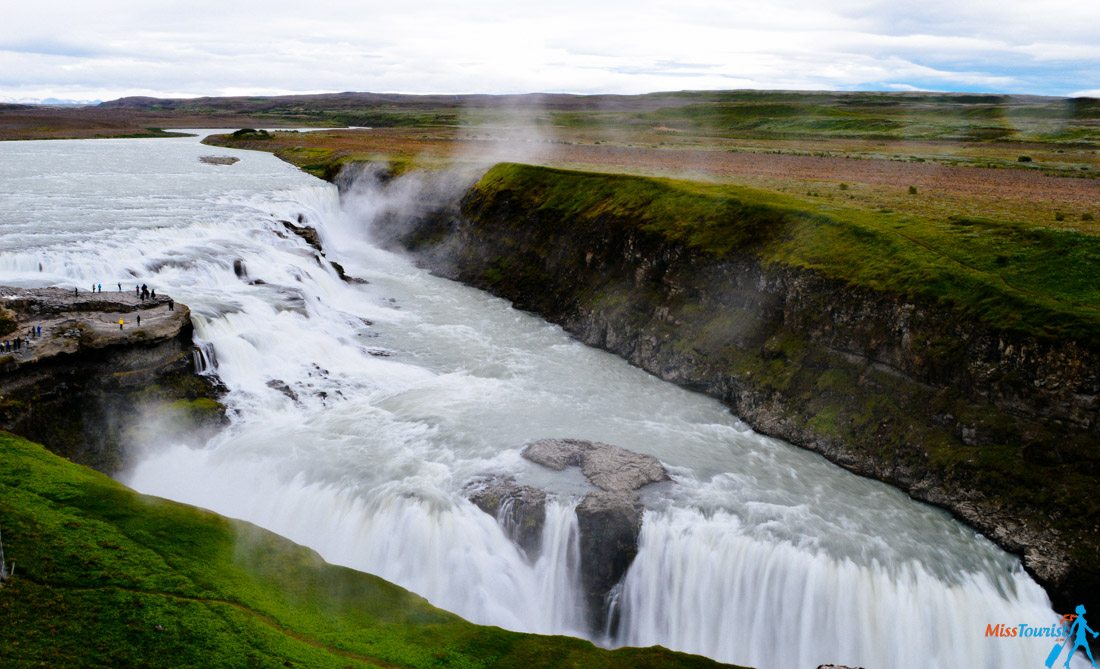 Duration: 8.5 hours
Price: from US$76
Why you should take it: the most popular Golden Circle tour
With this, you'll experience the breathtaking beauty of southwest Iceland with an 8-hour Golden Circle excursion by bus from Reykjavik. You'll dive into the mystic realm at the Geysir area and be mesmerized by Gullfoss Waterfall's cascading waters.
Heading to Þingvellir National Park, you can witness the incredible phenomenon of nature's power as the North American and Eurasian tectonic plates slowly drift apart, a staggering 2 cm (0.7 in) per year! While it's hard to wrap your head around such an immense force, this impressive display is worth the visit.
You'll also meander to the geothermal area of Geysir and experience the live hot spring, which turns up its show every 8 minutes with water launching 30 m (100 ft) into the air, billowing out steamy clouds that linger around you.
2. Explore both the Golden Circle and Blue Lagoon sights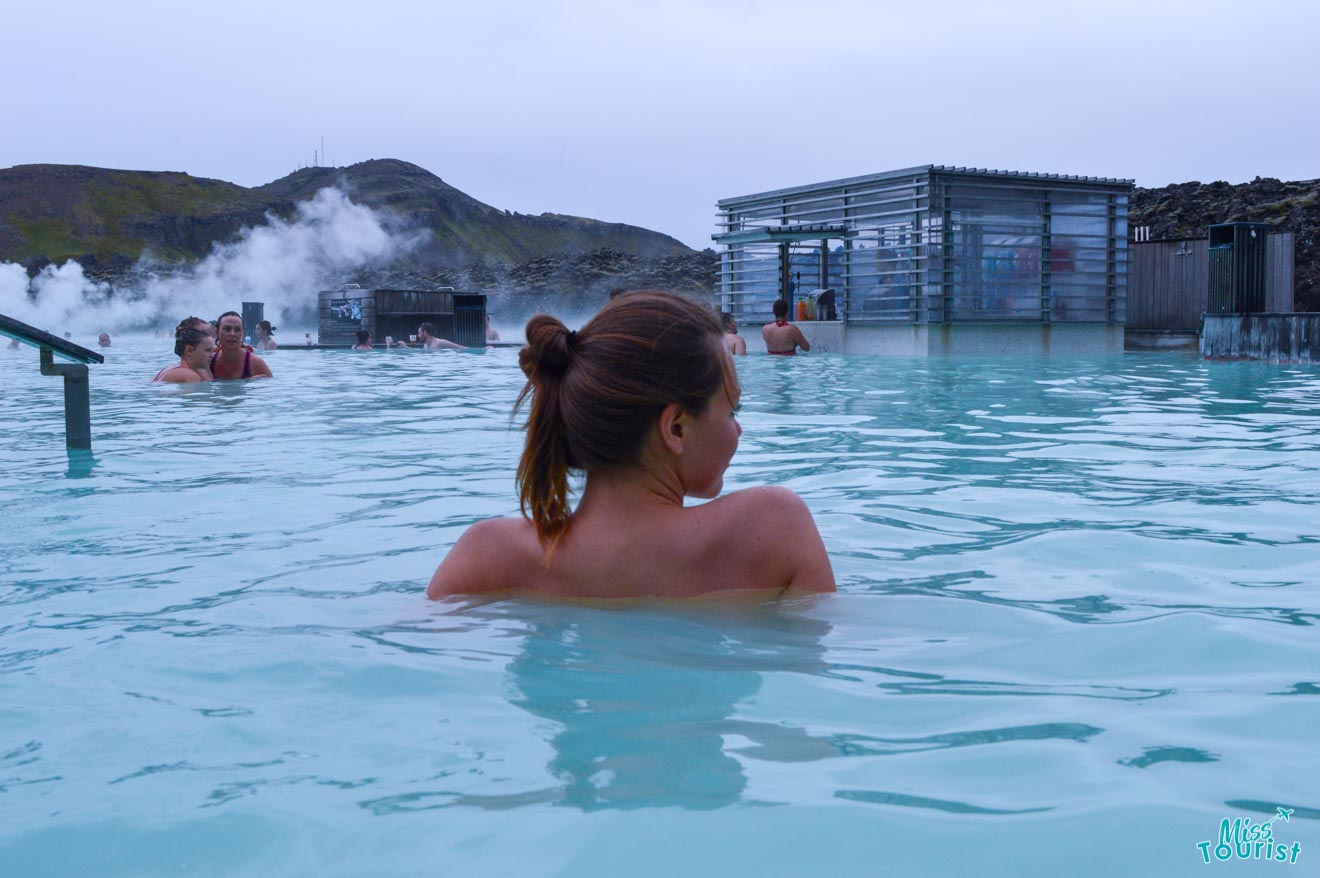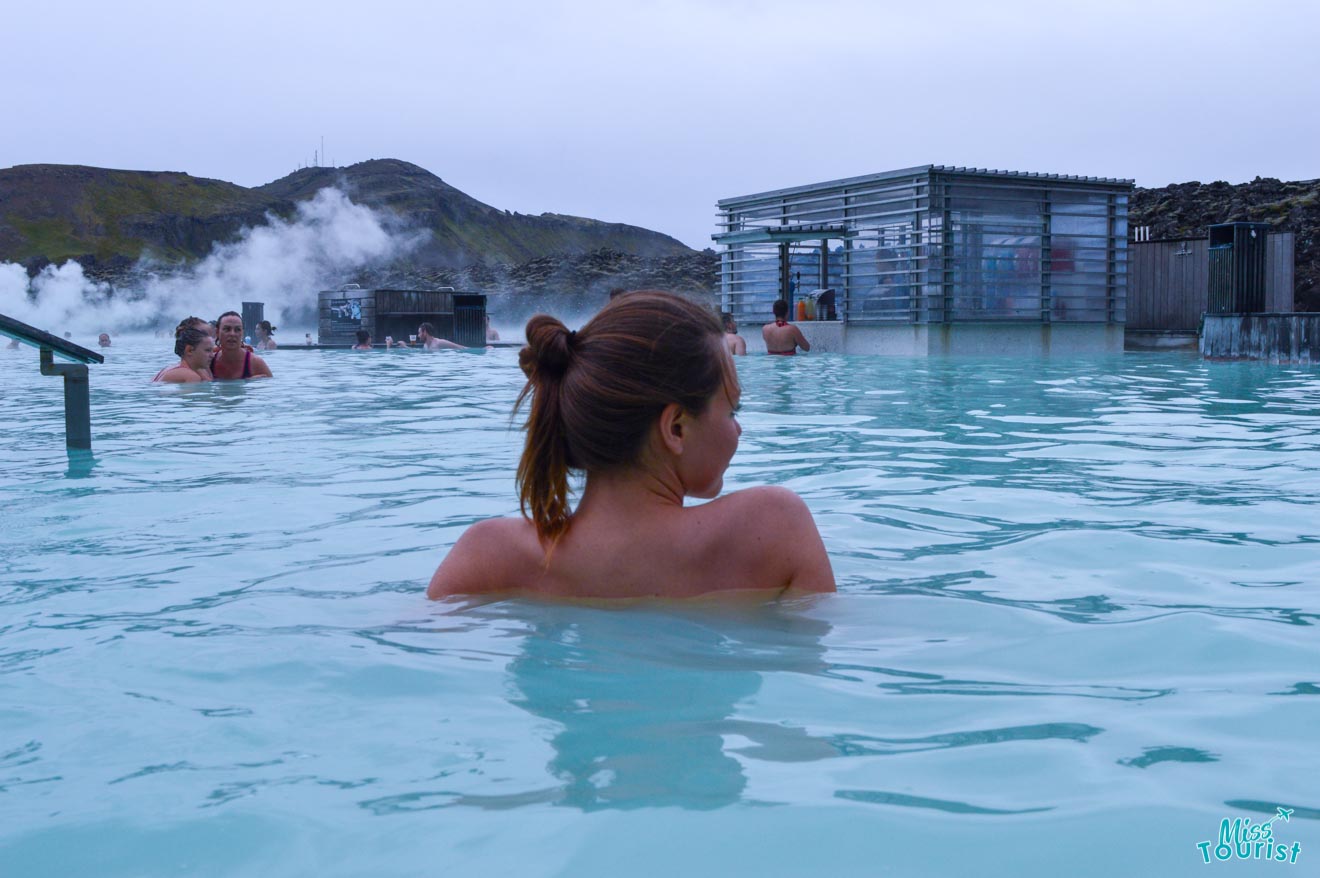 Duration: 11 hours
Price: from US$230
Why you should take it: see the 2 most visited natural attractions
Discover 2 of Iceland's most remarkable wonders in a single-day tour with the convenience and comfort of a minibus! It's a great relaxing experience for hedonists.
Departing from Reykjavik (see our post on where to stay in Reykjavik if you still haven't booked), you'll head towards the Thingvellir National Park. At this incredible destination, you can explore where 2 world forces come together – literally. The Eurasian and American tectonic plates meet up right here, creating a lake. But make sure to bring your very best walking shoes for this endeavor.
You'll cap off your tour at one of Iceland's most iconic sights: the Blue Lagoon! Dive in and soak in those toasty geothermal waters and take advantage of an included silica mud mask while you're at it.
Alternatively, if you have a visit to Secret Lagoon on your to-do list, you can use this tour option. You'll have an action-packed day of exploration in Iceland's historic Golden Circle and then dip into the waters of Secret Lagoon.
3. Ride a snowmobile through Golden Circle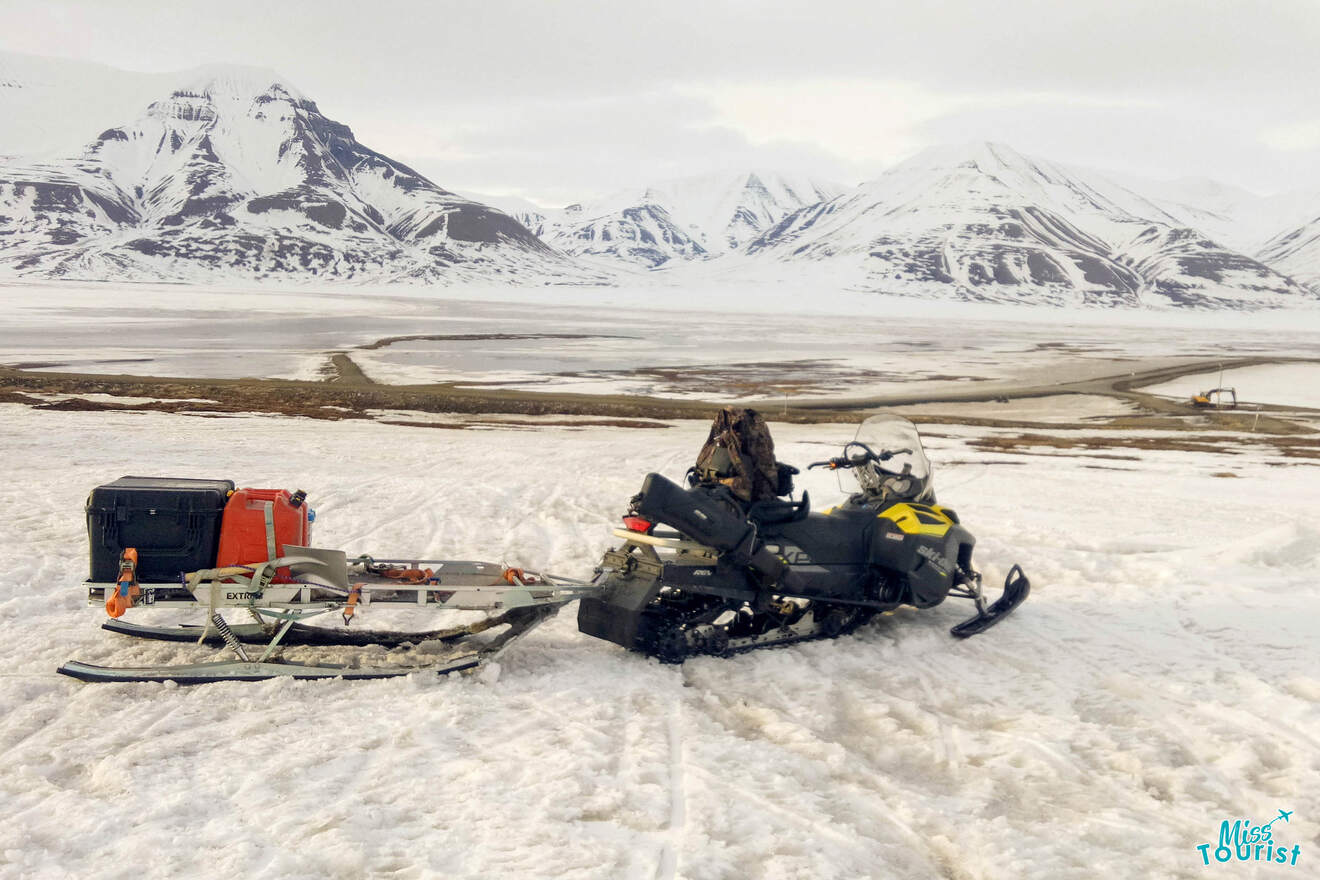 Duration: 11 hours
Price: from US$270
Why you should take it: an exciting tour for adrenaline junkies
Discover the Golden Circle this very day on a tour from Reykjavík. You'll enjoy the help of your audio guide, who'll tell you interesting facts as you explore places like Þingvellir National Park, Strokkur Geyser, and Gullfoss Waterfall. And the most amazing part of the tour – you'll dash across the glacial ice fields of Langjökull Glacier atop your snowmobile!
The tour departs from Reykjavík at the crack of dawn, where you can catch a glimpse of morning sunlight on your adventure in a new bus equipped with sleek computer tablets.
Tap into the GPS-controlled audio guide, available in 10 different languages, to discover more about the sights you encounter. You have the ability to charge up those devices with USB ports, and you can always stay connected with complimentary Wi-Fi on board, conclusively making the journey effortless!
You'll take a guided snowmobile tour across an icy landscape.
4. Enjoy horse riding & explore the Golden Circle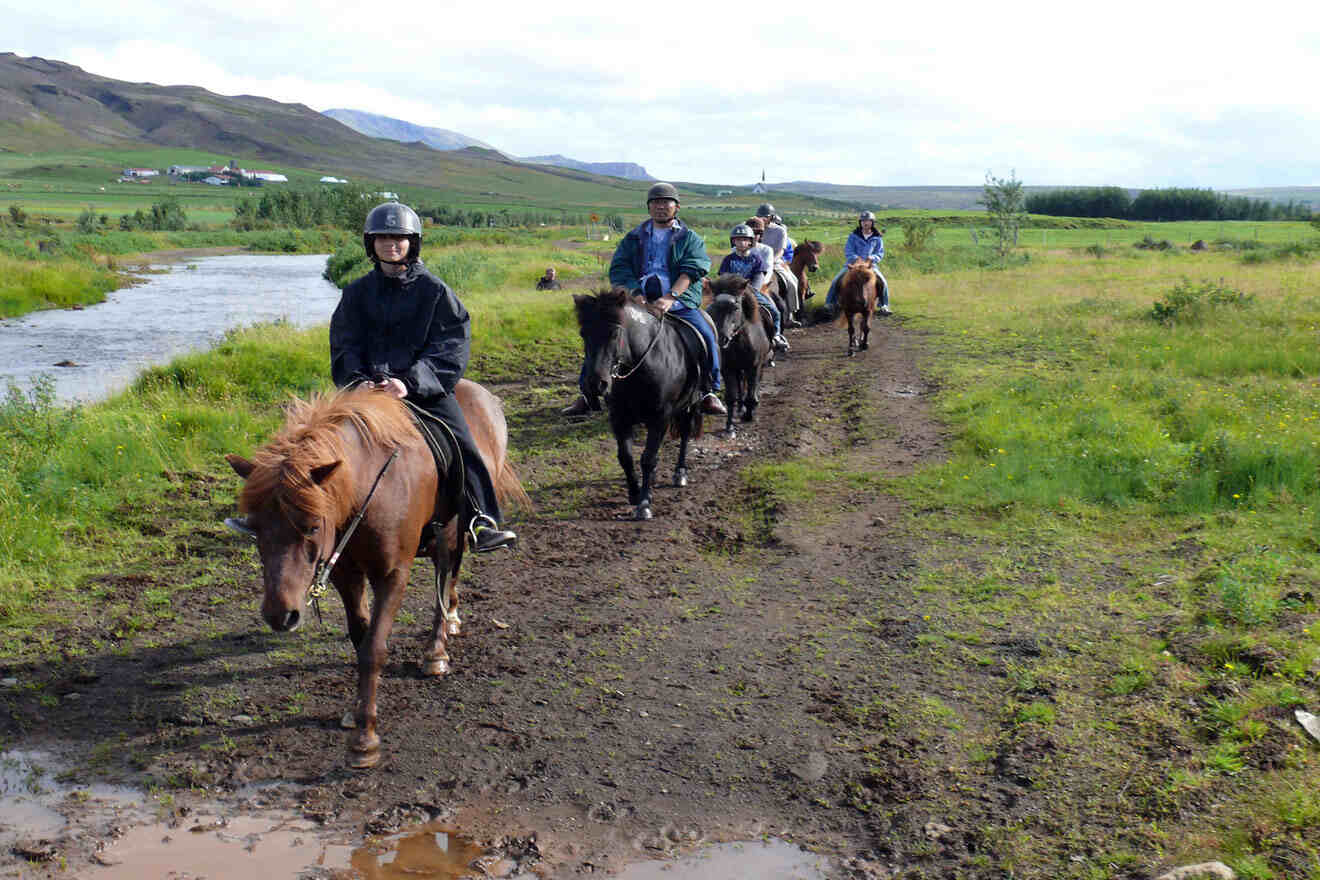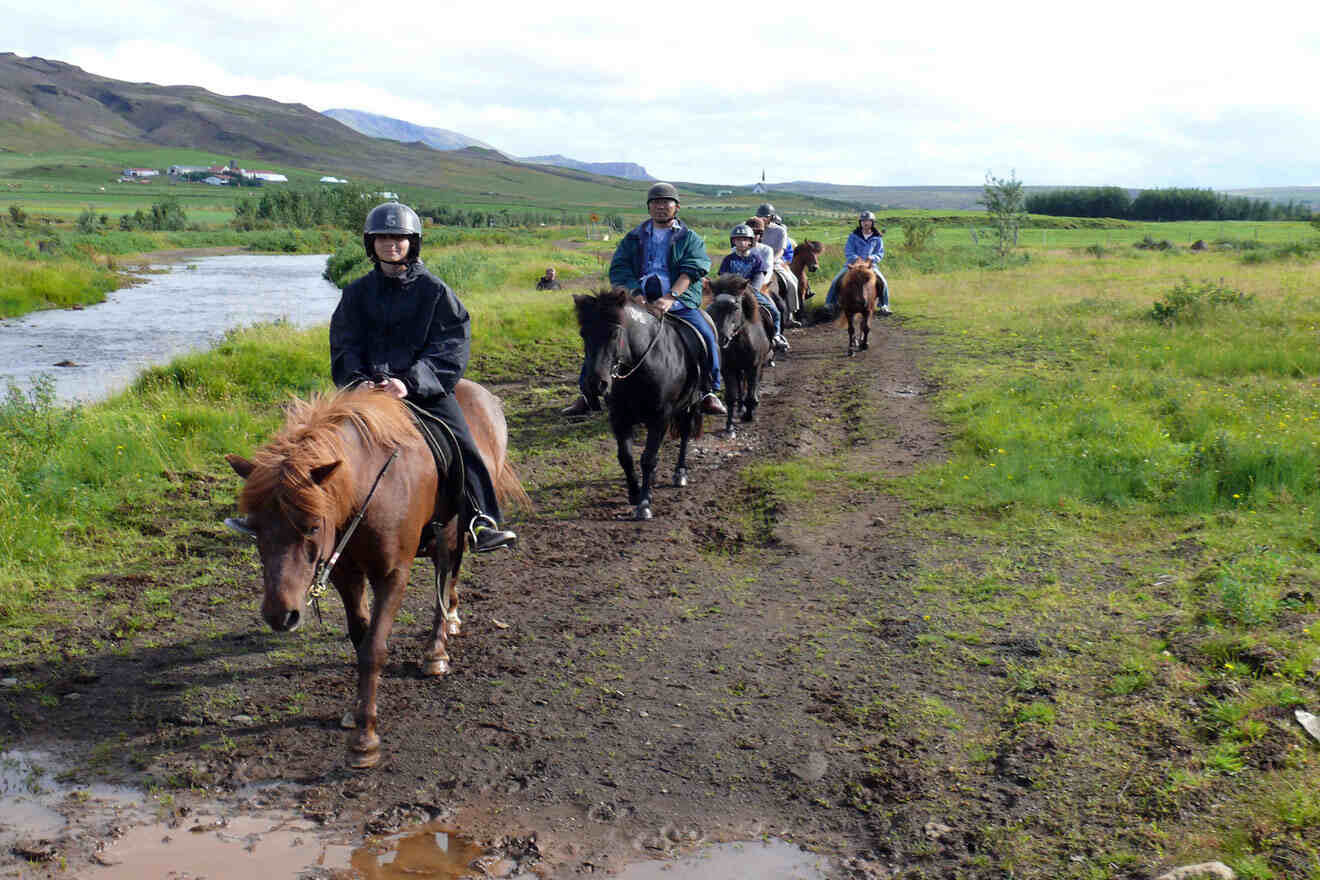 Duration: 9 hours
Price: from US$180
Why you should take it: great combo in a span of a day
If you're short on time but want the ultimate Icelandic experience, then this tour is for you! Combining both Viking Horse Riding and the Golden Circle Express Tour into one exciting jaunt, it's sure to be a priceless day of thrills and culture.
You'll be in for a real treat when you get the chance to saddle up in the morning and explore Laxnes just beyond Reykjavik City! The Icelandic horse has trotted across this land from way back when the Vikings rode them here centuries ago, giving you an amazing journey through time. And, no matter your experience level, beginner or seasoned pro, everybody can enjoy a ride.
After a morning refreshment, you'll be en route to Þingvellir National Park for the afternoon! Then, the adventure continues with an exploration of the Gullfoss glacial waterfall and Geysir's geothermal area.
5. Look for the Northern Lights and admire the Golden Circle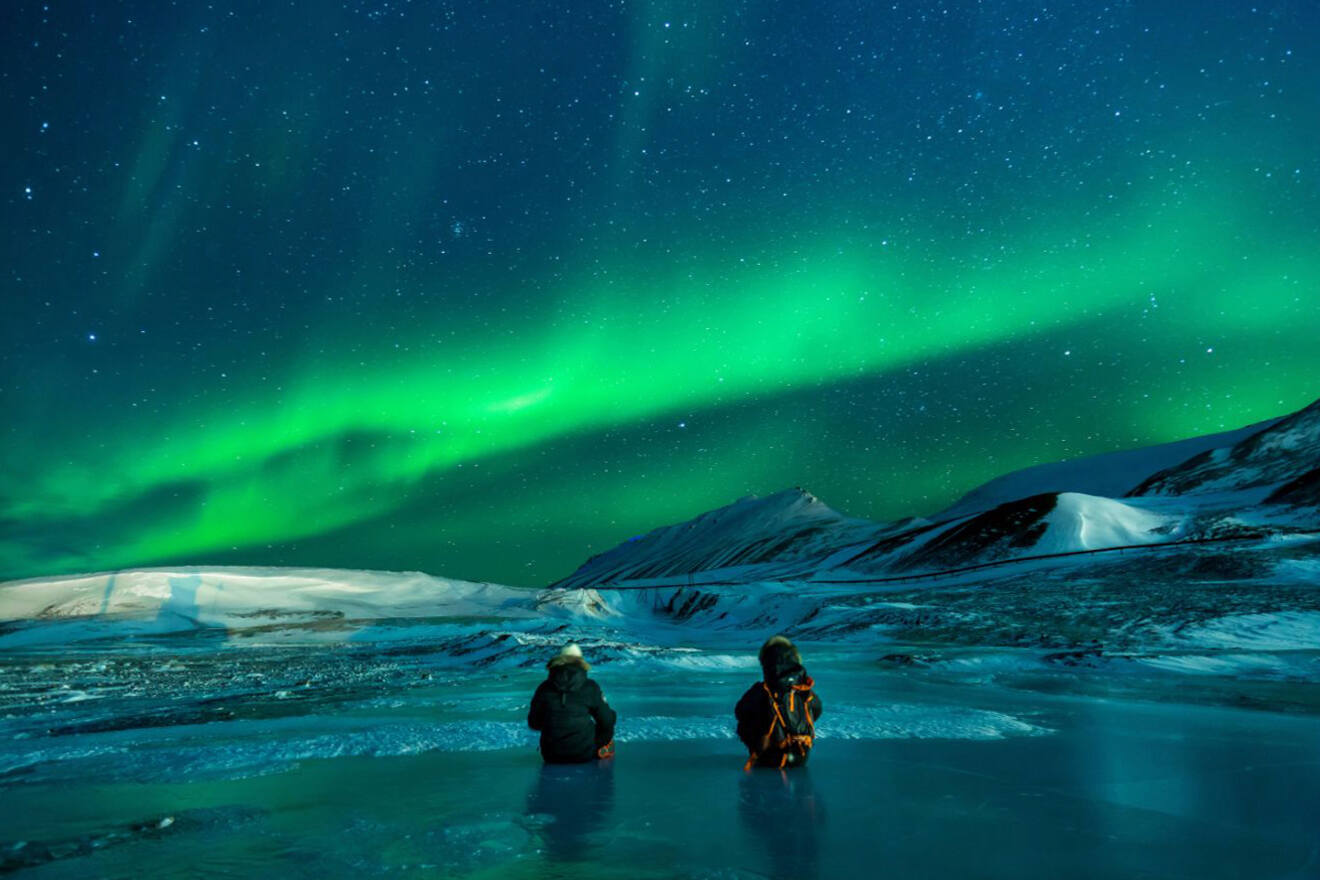 Duration: 9 hours
Price: from US$120
Why you should take it: an opportunity to watch Iceland's stunning Northern Lights
Departing from Reykjavik, this tour will let you witness the surreal beauty of Gullfoss waterfall and Þingvellir National Park. After that classic route, you'll embark on a hunt to catch a glimpse of the iconic Northern Lights! This all comes with a comfortable bus trip on your search to spot the mysterious aurora.
But first, you'll start by heading out from Reykjavik and starting an adventurous journey through Iceland's awe-inspiring Golden Circle. At the amazing Haukadalur Valley, you'll get to witness nature's true power at its fullest: boiling water billowing up from the land at Geysir and Strokkur!
When the sun goes down, you'll go on an adventure under the star-studded sky and behold astounding glimmers, nature's extraordinary light show! The breathtakingly beautiful Aurora Borealis often leaves everyone in awe.
6. Spot majestic whales with a full-day combo tour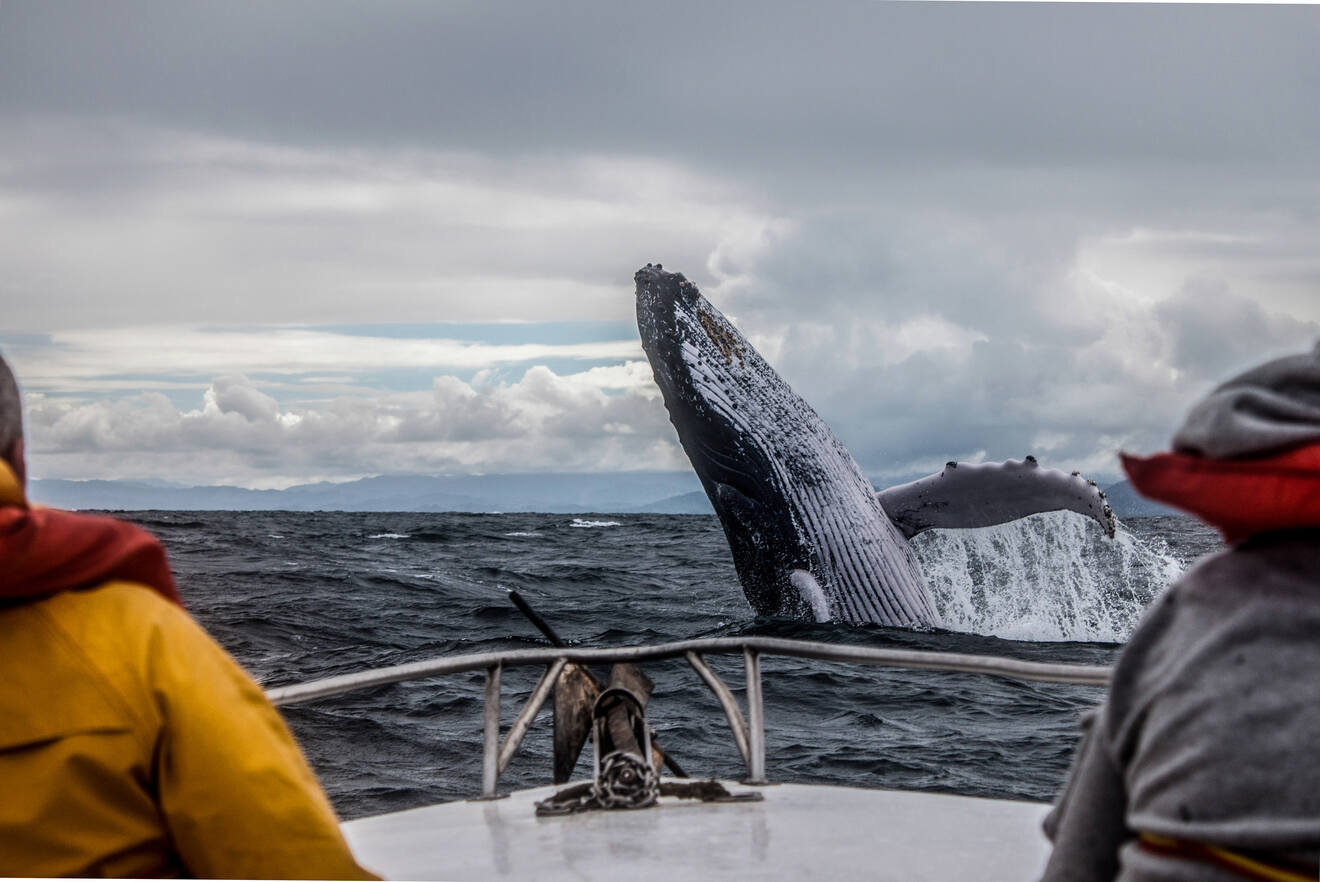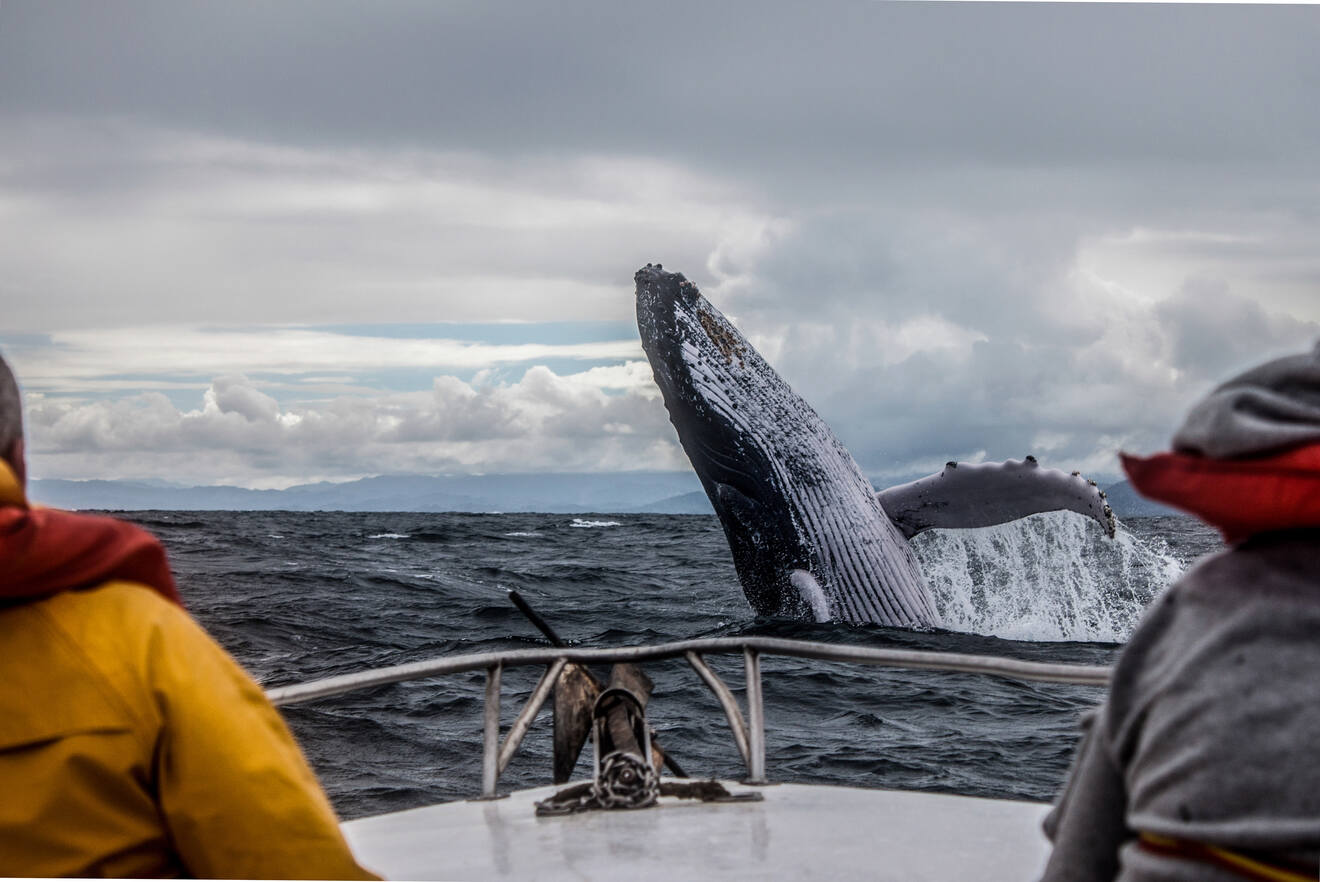 Duration: 11 hours
Price: from US$174
Why you should take it: cool whale-watching cruise combo
Immerse yourself in the grandeur of Iceland's Golden Circle on this exciting full-day combo tour where you'll get to see some incredible sights and maybe even spot a whale peacefully swimming around in its natural habitat!
Jump on the bus, equipped with GPS tablets and audio guides right in every seat, for your road journey to Þingvellir National Park, where democracy began its journey. Take in the sight of Strokkur erupting, then gaze in awe at the Gullfoss waterfall and its energetic cascades.
You'll hop on a specially adapted whale-watching vessel and keep your watch minke, humpback & white-beaked dolphins in Faxafói Bay. The cruise will be led by passionate animal advocates who prioritize preserving wildlife. Then, you'll soak up knowledge about sea creatures at the whale-watching center! Enjoy a state-of-the-art multimedia exhibit before or after you set sail, and be in awe of all the incredible facts.
7. Unwind in the relaxing setting of the Fontana Wellness
Duration: 9 hours
Price: from US$123
Why you should take it: bathe in the thermal waters
Leave the hustle of downtown behind and take a scenic drive to Strokkur, home to Iceland's most lively geyser in Geysir Geothermal Area. Witness for yourself its erupting spurts of steaming spring water. Then, make your way over to Gullfoss Falls – you won't believe your eyes as powerful waves split into an impressive gash bedded by ancient rock walls that have withstood time.
Then top off your tour with a visit to Fontana, an impressive complex begging you to take your tensions away as you leisurely soak in their natural pools heated by the same age-old springs. It sure gives a more luxurious feeling than any other hotel in Iceland. And for a deeper dive into the best places to stay in Iceland, you can consult our detailed explanation of the best Iceland towns.
You can treat yourself to the famous Icelandic rye bread that's been baked with steam from a hot spring.
8. Snorkel in the waters of the Silfra Fissure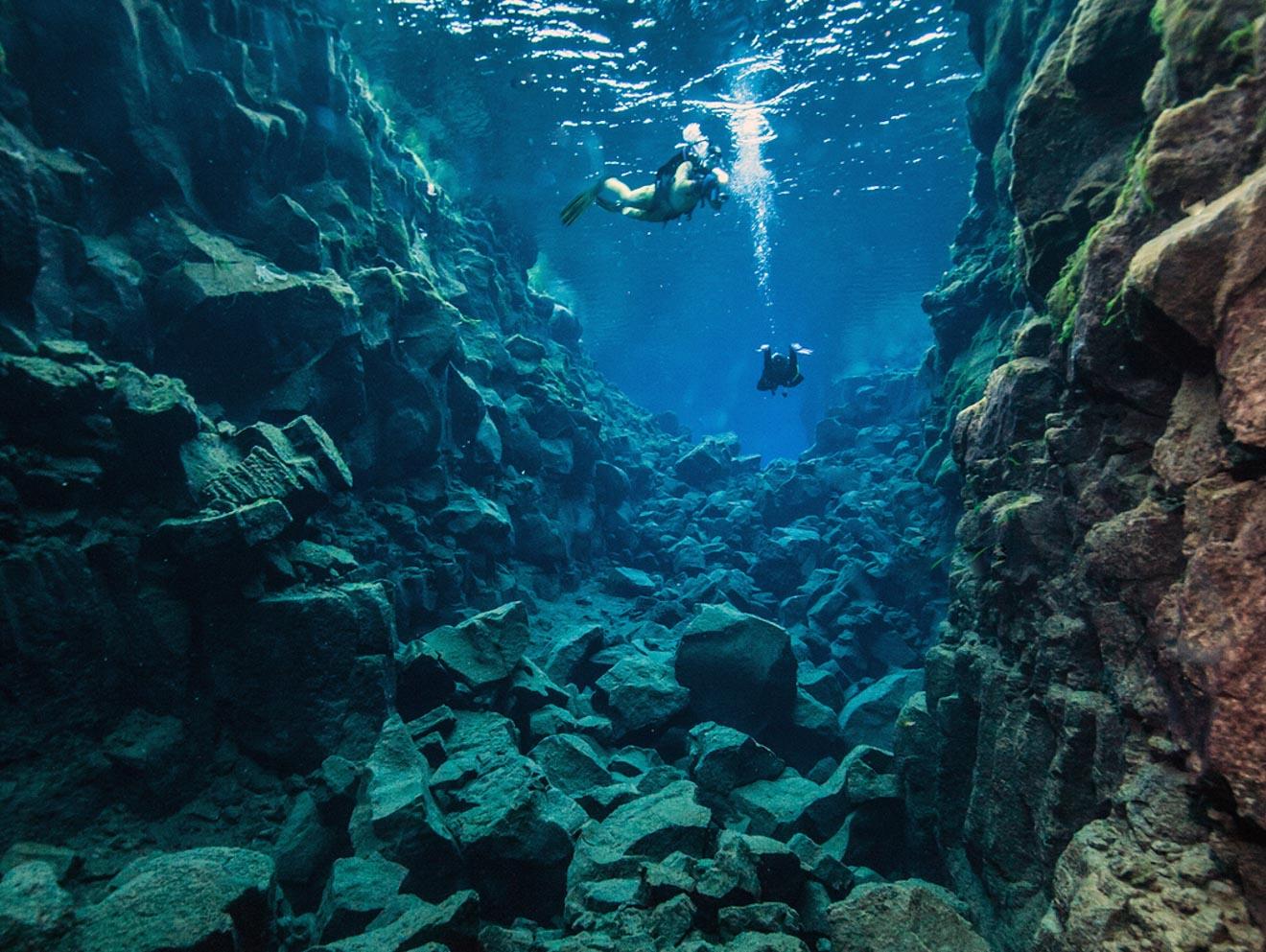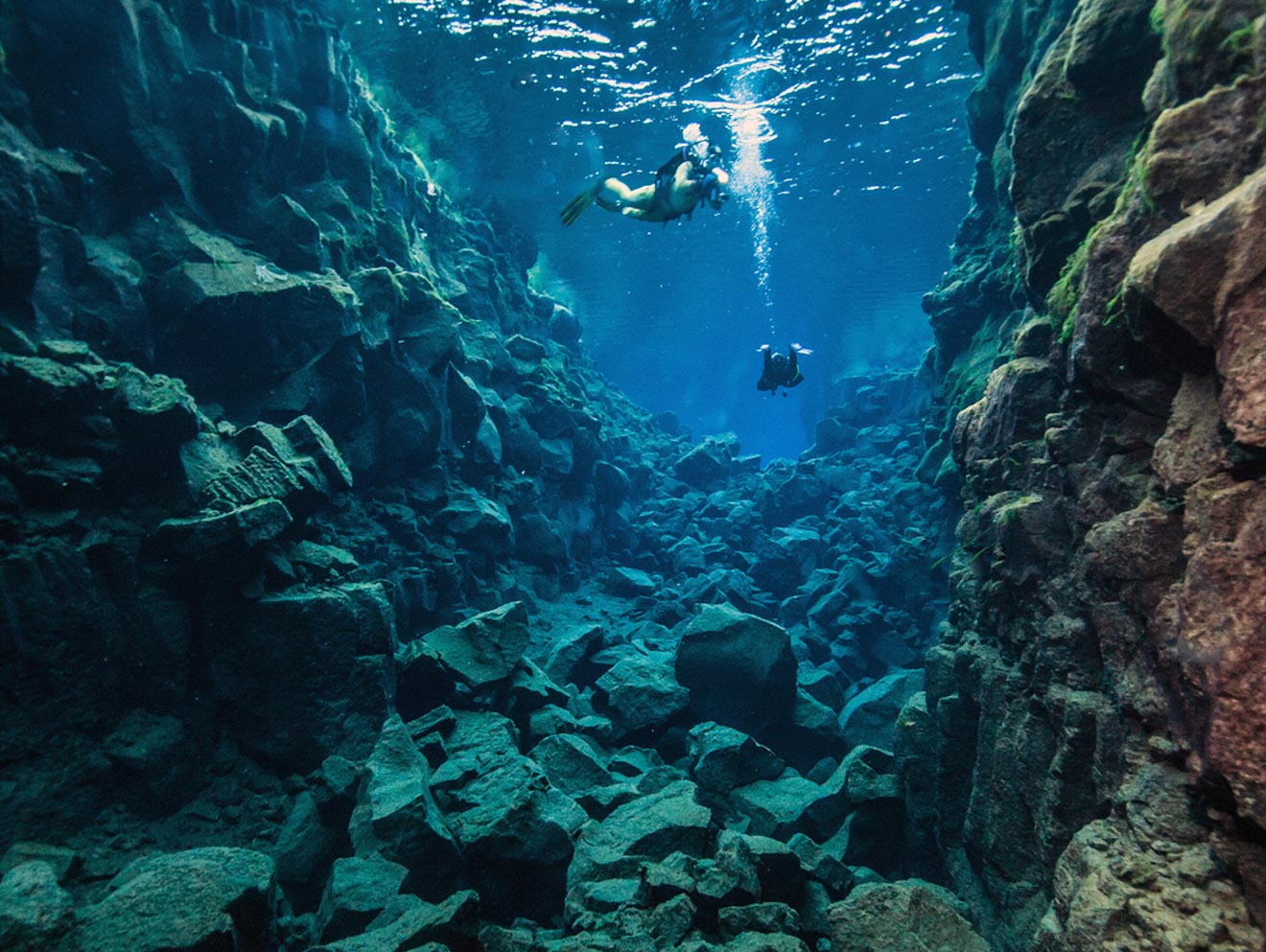 Duration: 9 hours
Price: from US$245
Why you should take it: for water sports lovers
Visit the iconic Golden Circle on a fabulous 9-hour scenic sightseeing tour! Then take a plunge and find yourself snorkeling among the Silfra Fissure to-die-for crystal clear waters in Þingvellir National Park. It's perfect for daring travelers who like to stay active during their vacations and who enjoy exciting water sports.
You'll enjoy a scenic drive towards the geothermal area of Geysir, the original namesake of all other geysers. Your jaw will drop as you witness the ground bubbling and gurgling, then suddenly erupting with unfathomable power from its super-hot waters. Make sure to capture it on camera as well, it deserves to be shared with family and friends!
When the time for swimming comes, the water may be icy cold at 2°C (36°F), but don't worry – you'll feel cozy with the warm, dry suits that will be provided for you.
9. Get the geothermal bread-baking experience
Duration: 30 min
Price: from US$20
Why you should take it: baking experience in the heart of the Golden Circle
Are you in the mood for a truly unique culinary journey? Then you can come and explore the spectacular Golden Circle in Iceland, which is coupled with a demonstration of dough preparation and baking techniques of the iconic bread!
Experience the exciting feel of rye dough coming together and then obtaining its epic taste in just 30 minutes as you watch it get buried right in front of your eyes! You'll get to savor the mouthwatering aroma and indulge in a piece of freshly made lava bread.
I definitely recommend splashing around in geothermal baths at Laugarvatn Fontana, too! Just be sure to reserve your ticket separately.
10. See the Golden Circle on a self-drive tour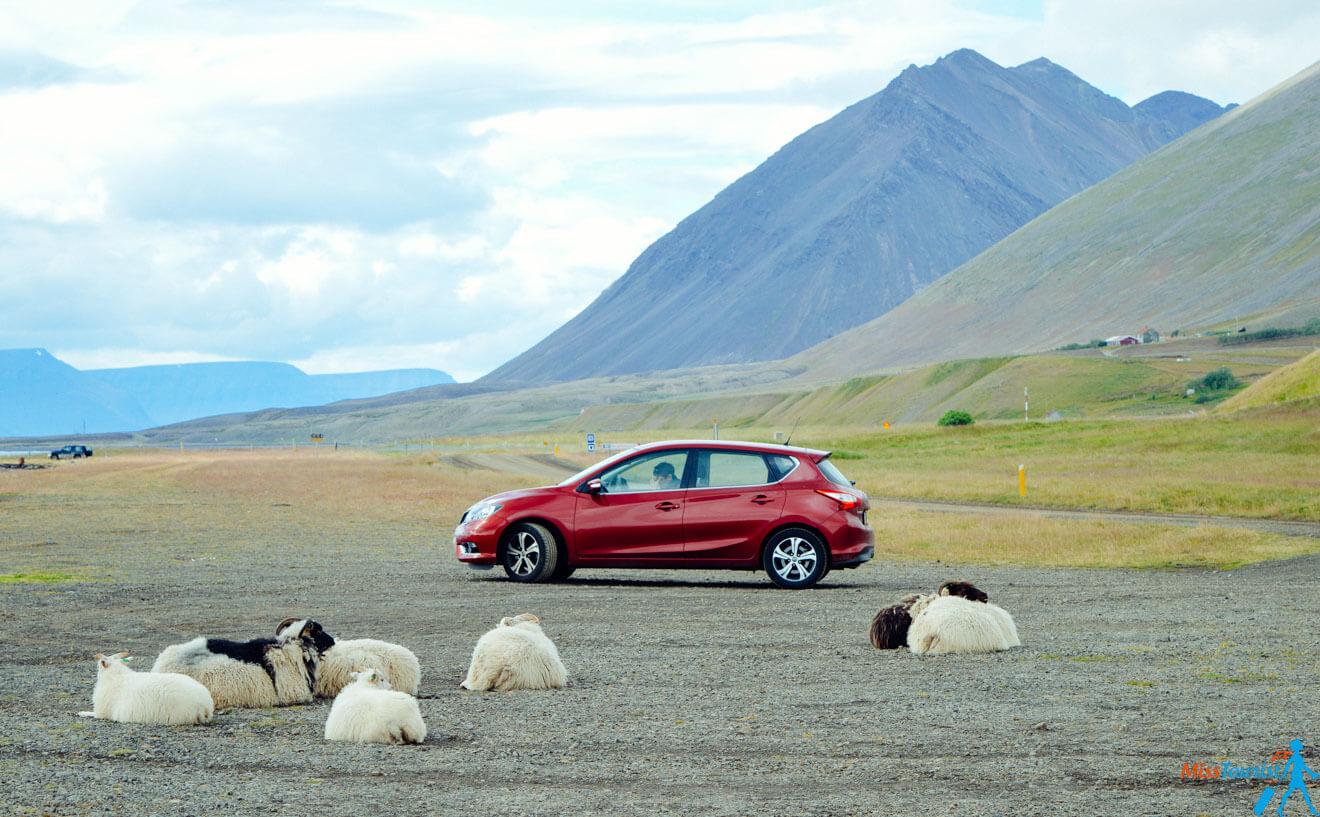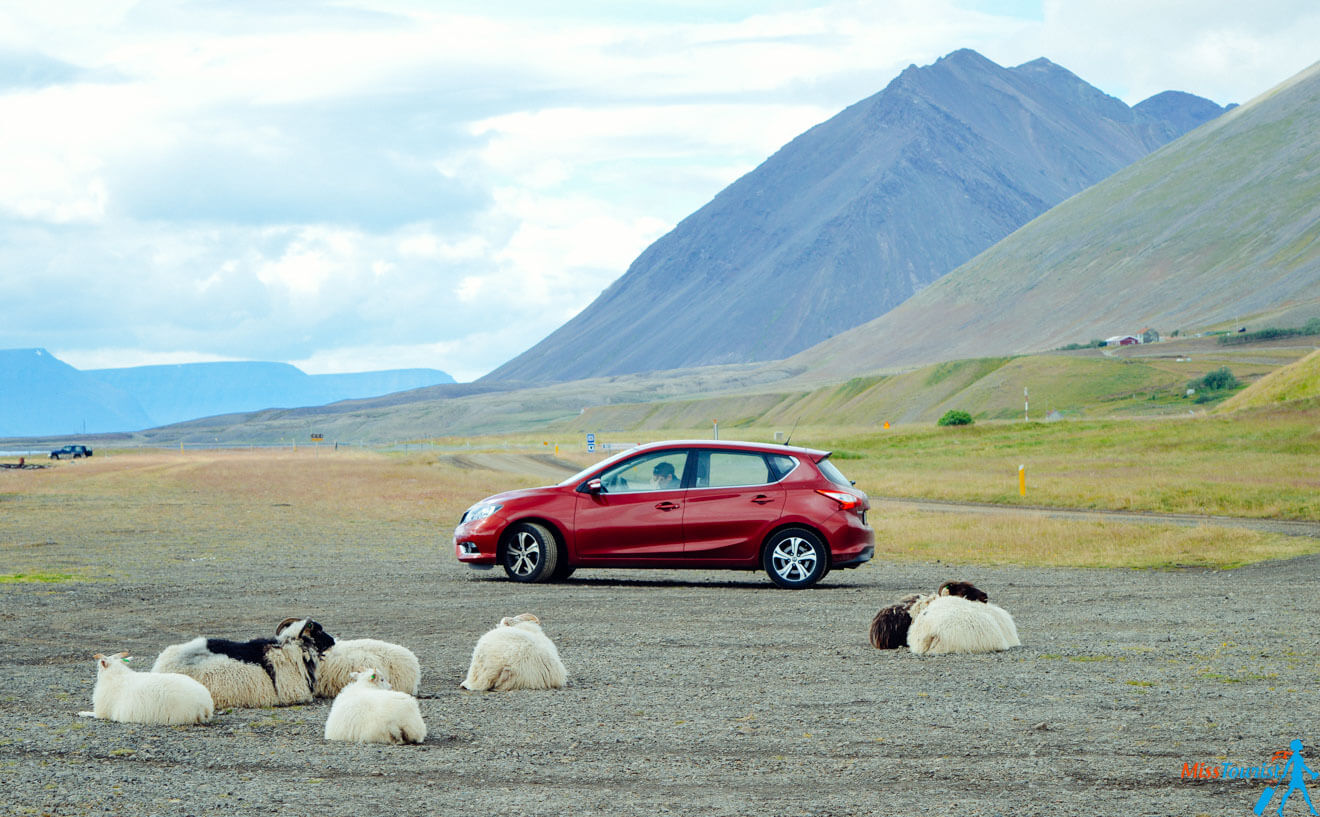 Duration: 3 to 6 hours
Price: from US$25
Why you should take it: for free birds
Venture into the majestic Golden Circle, Iceland's most beloved scenes haven but at your own pace! And you can do it on your terms.
For those of you ready to hit the open road in your rental car, this self-guided driving tour is perfect for a seamless journey between each extraordinary site. And if you find yourself confused with the renting car process in Iceland, you can check out our detailed guide on renting a car in Iceland.
Cruise past awe-inspiring vistas and cascading waterfalls as well as all the must-see places: Helgufoss & Oxararfoss Waterfalls, the incredible eruptions of Great Geysir, and geothermal pools nestled in Secret Lagoon.
If you wish to enrich your experience even more, admission tickets to other sites like Kerid Crater and Fridheimar are available, too, so be sure to snag them up before they're gone! Once downloaded, this audio tour will stay with you forever.
11. Rev your engine through Iceland's top spots
Duration: 9 hours
Price: from US$217
Why you should take it: great adrenaline-pumped ATV ride
This tour is such a treat for every adrenaline junkie out there. You'll unleash your inner daredevil and feel the freedom of the open road – it'll be one epic ride!
The tour kicks off mere moments from downtown Reykjavík at the quad base. You'll have the opportunity to cruise a powerful 4-wheeled ATV up Mount Hafrafell before hopping on a coach for a journey through Iceland's iconic spots. You won't have to worry about your safety as the overall, gloves, and helmet will be provided to you by the tour operators.
Þingvellir National Park is actually the only spot on Earth where tectonic plates float above sea level, which makes its beauty truly legendary! And with the entire country's top landmarks at your fingertips, this is the number 1 tour for voyagers coming to Iceland – it's got "must do" written all over it!
12. Spend multiple days admiring the Golden Circle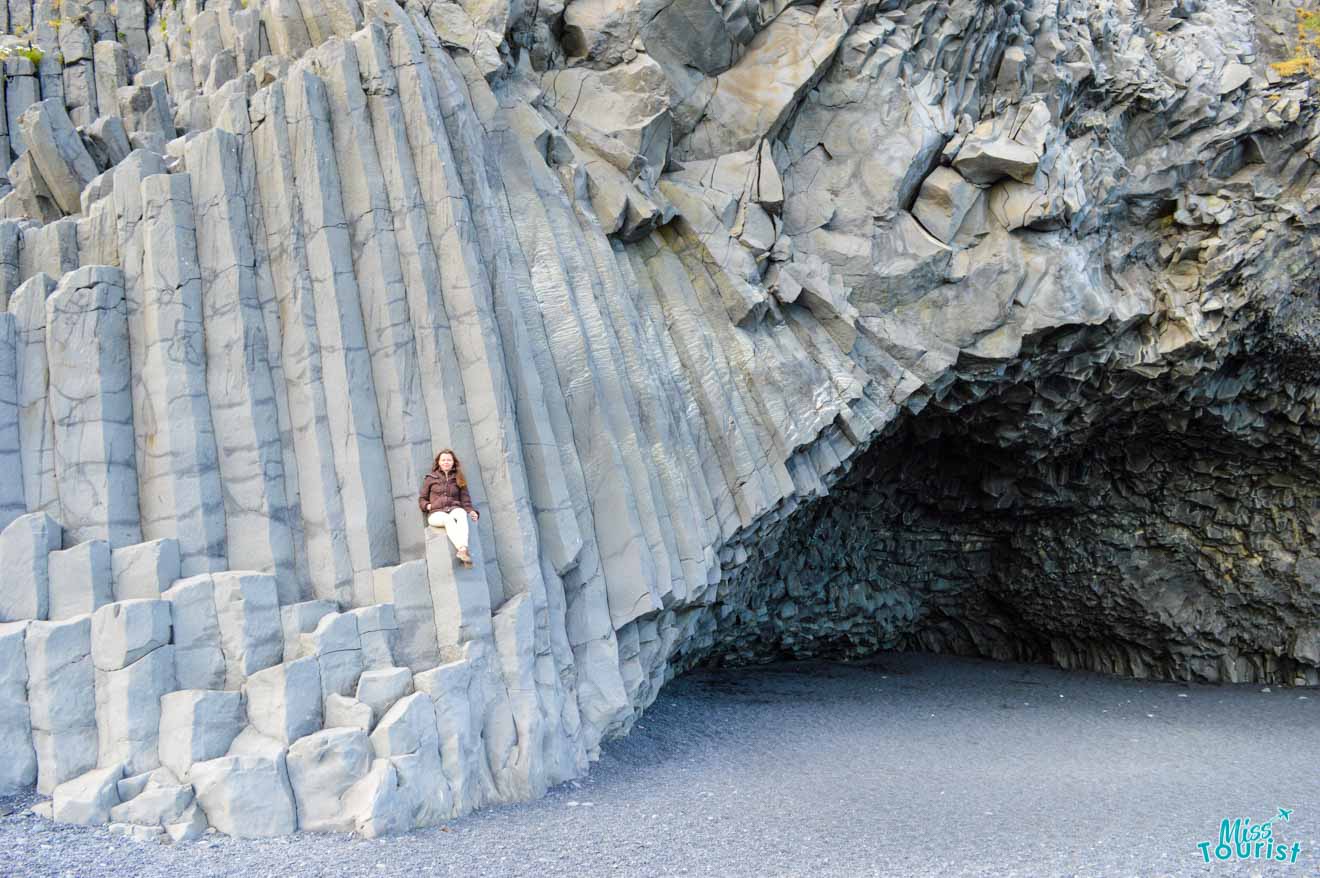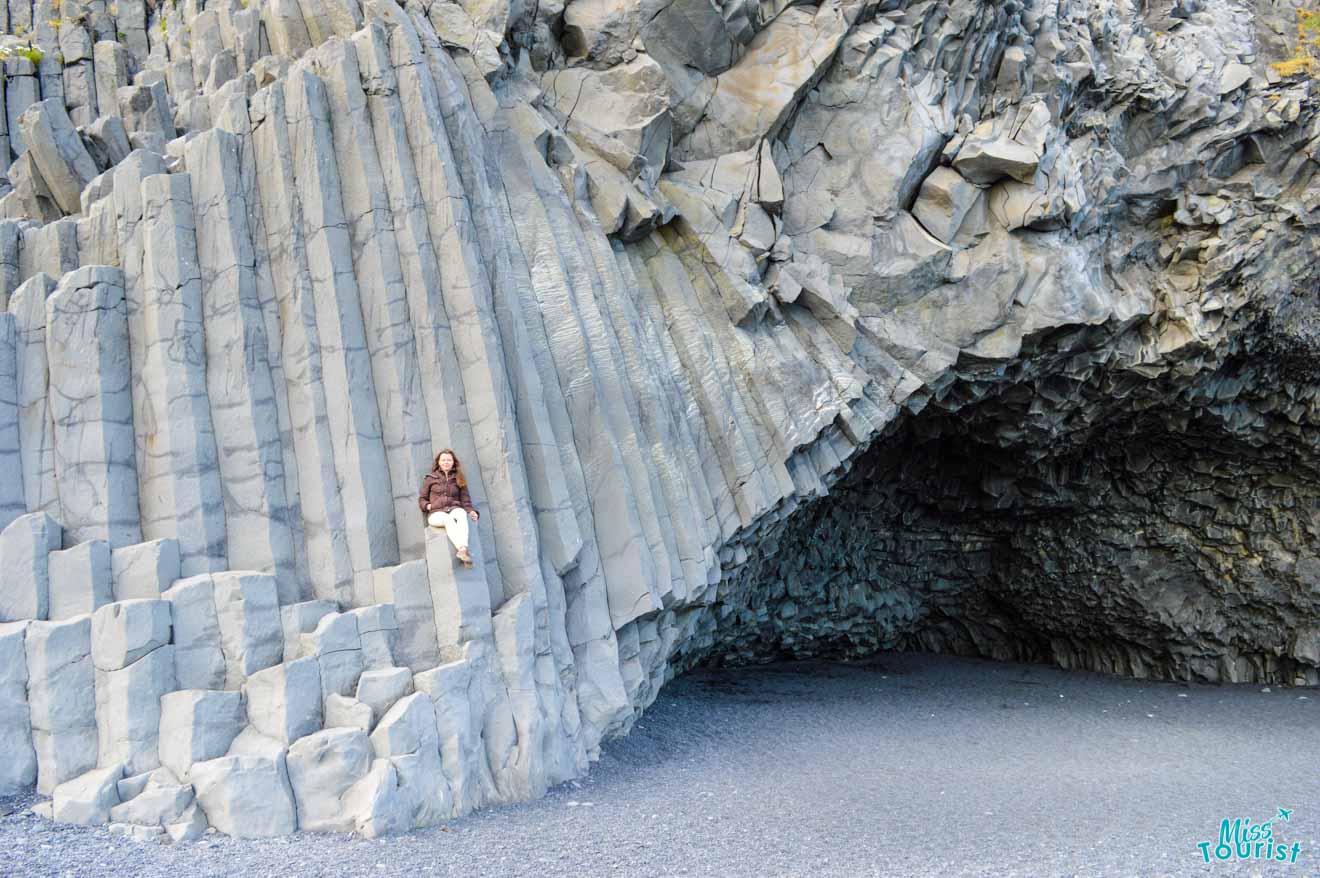 Duration: 3 days
Price: from US$756
Why you should take it: amazing multi-day option
If all of these wonderful sights seem too overwhelming to see in just 1 day, fear not! There are multi-day options as well. Personally, those are my favorites as they give you enough time to get an in-depth experience of each landmark. And this tour is a precisely great option for that.
You'll discover the magnificence of Iceland's pristine south on this 3-day journey from Reykjavik. Embark on an eye-opening adventure around the Golden Circle while overnighting in Hveragerði Village – all before being left absolutely awestruck by the tremendous force of Geysir Strokkur.
You'll also feel the mighty waters bash against Reynisfjara's black sand beach and relax with a rejuvenating optional cruise down Jökulsárlón glacier lagoon!
And if you're interested in more multi-day option tours, this 6-day journey can give you even more impacting and lasting memories as it also includes the South Coast and the magical Ice Caves.
FAQs about Golden Circle tours in Iceland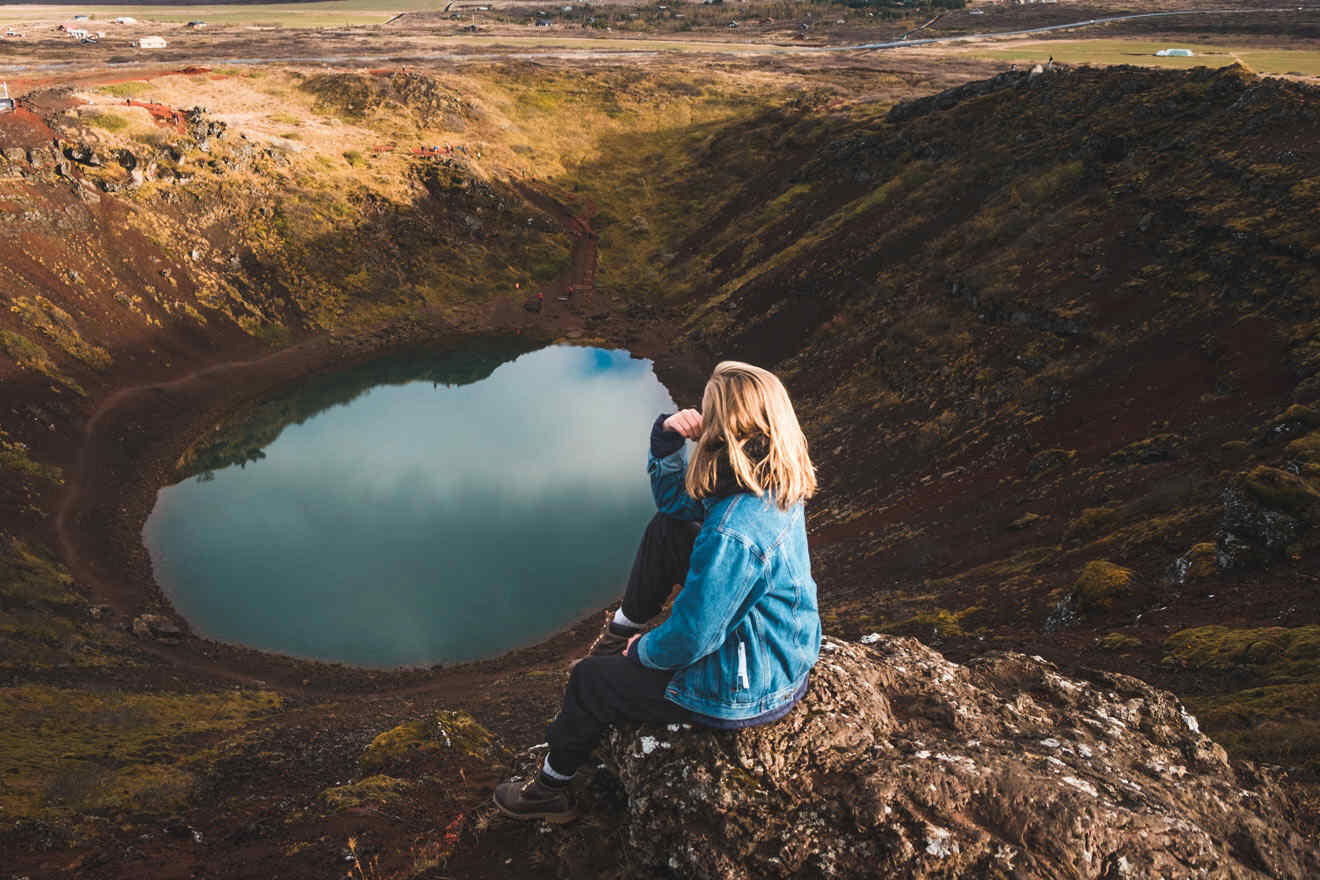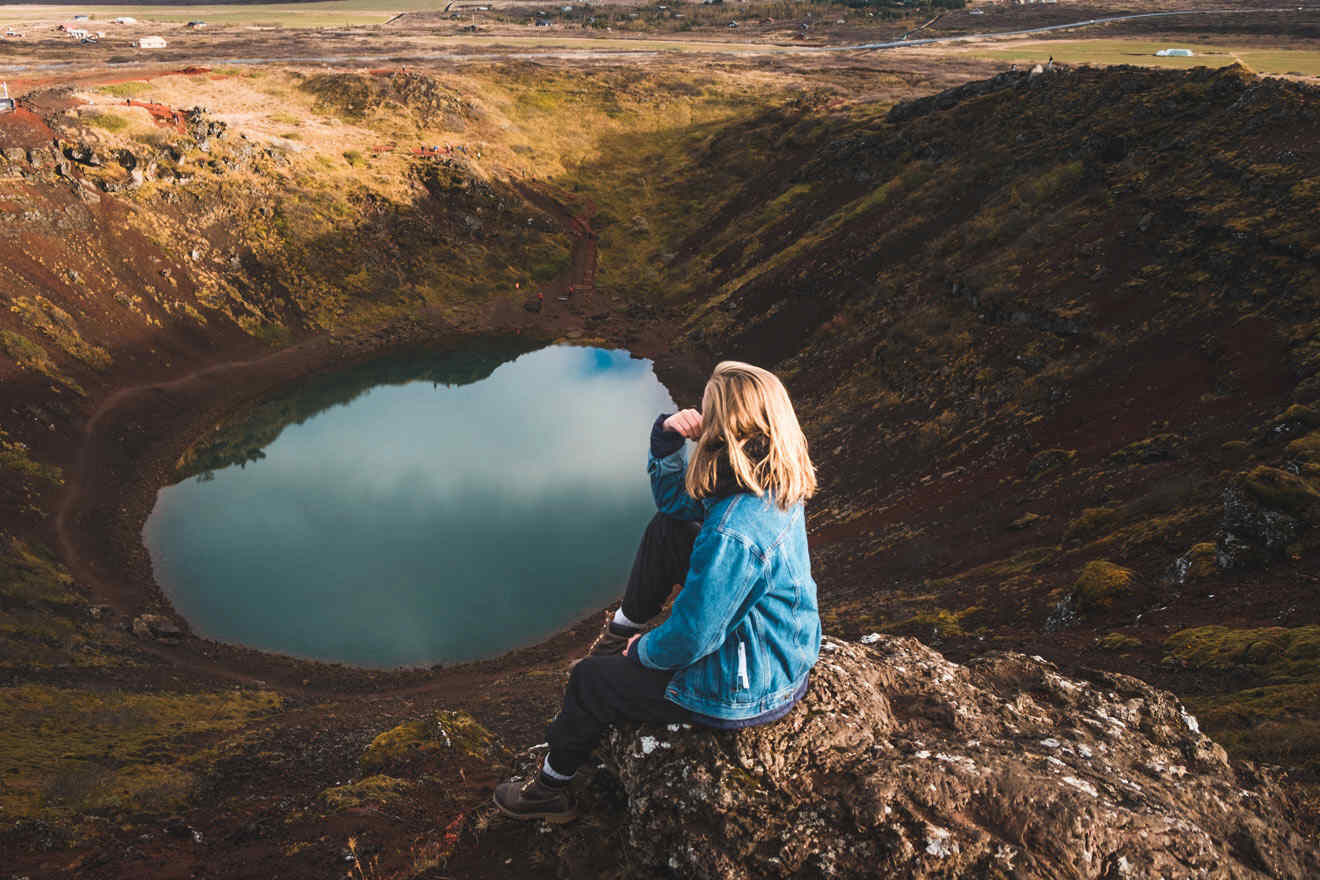 Conclusion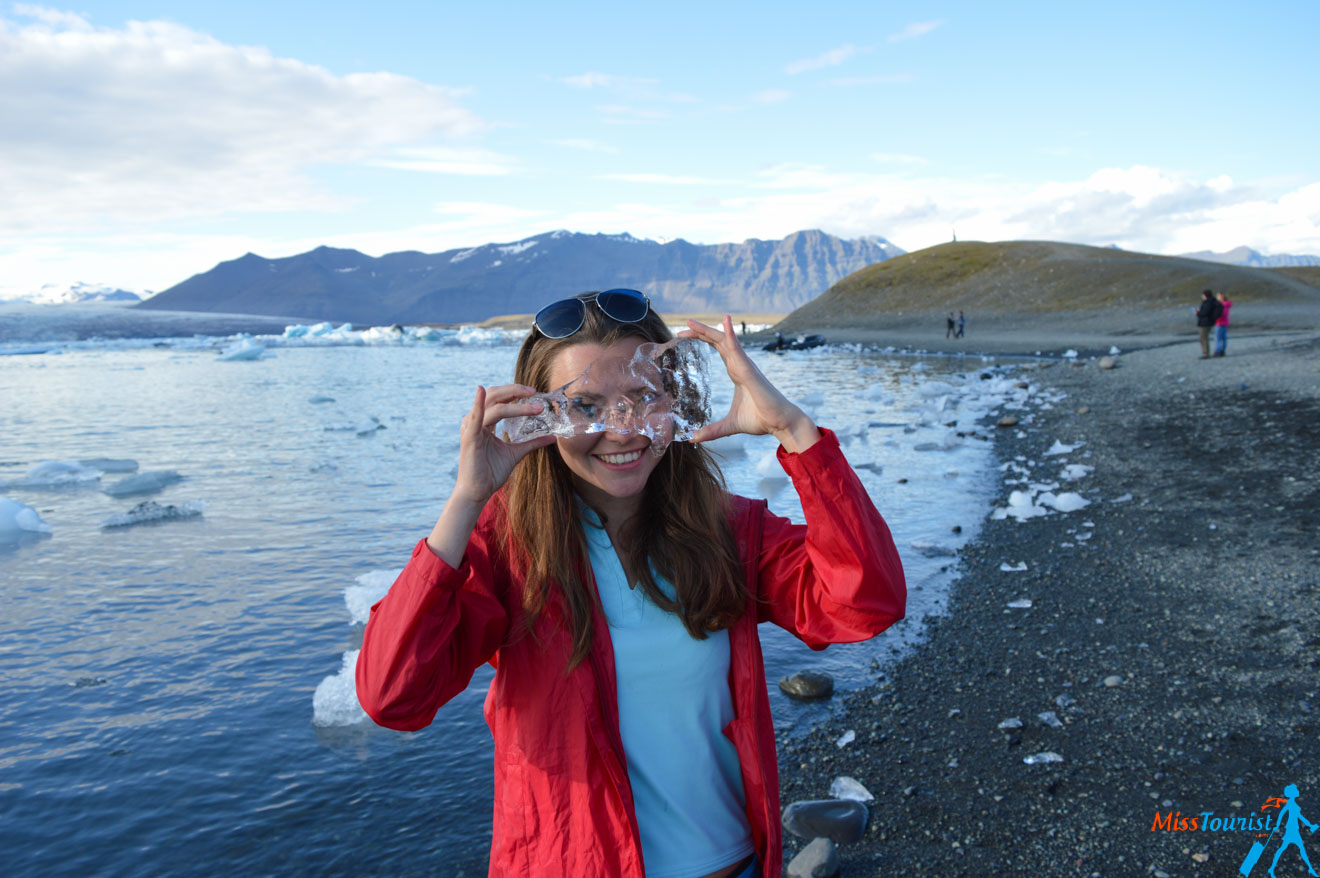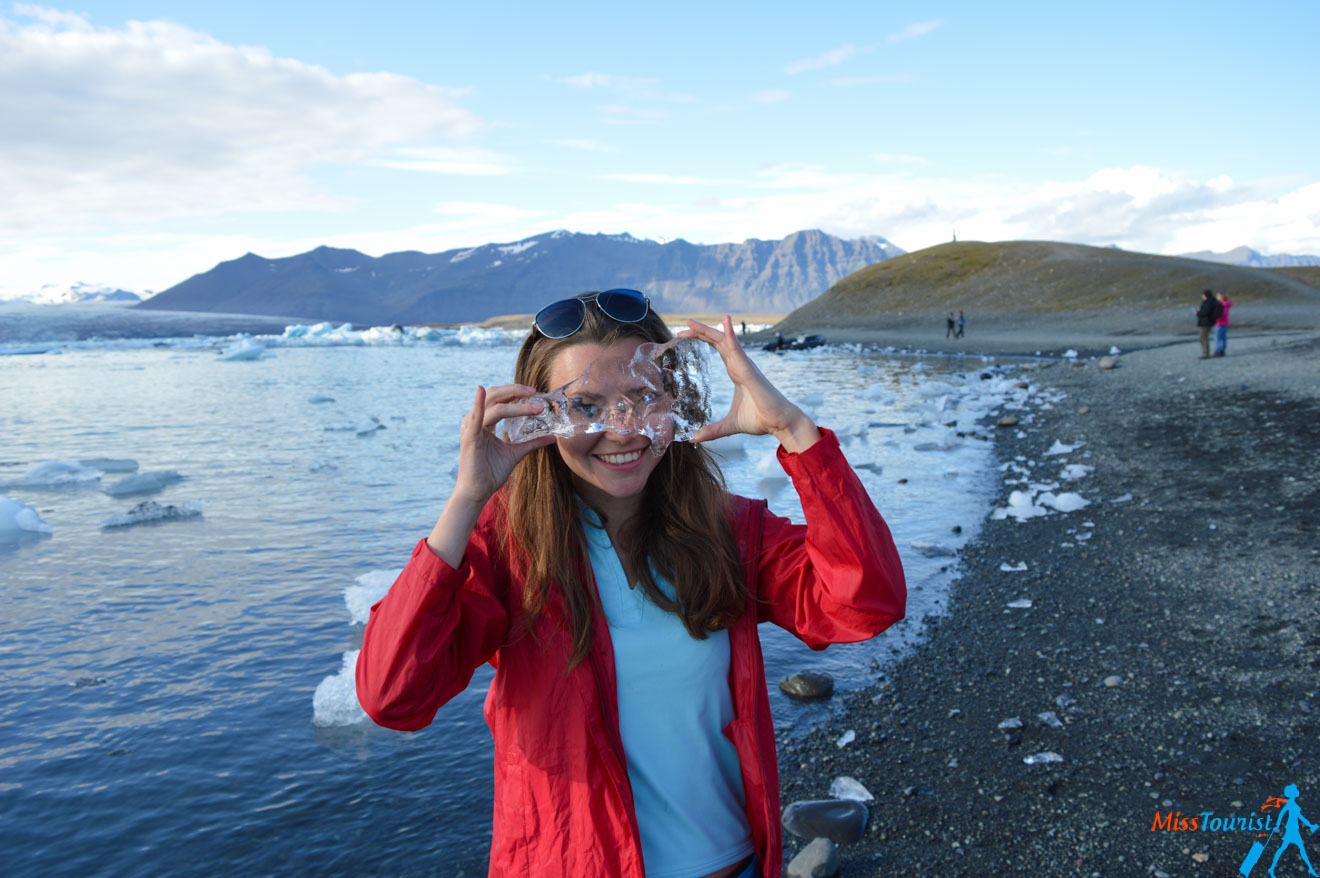 There you have it, my dear traveler. You've made it to the end of the Golden Circle Tour Iceland options list and are now equipped with all the necessary knowledge to choose the best one for your needs!
The wide array of choices you have ahead of you guarantees you're in for a treat, and you'll get to spend the most amazing holiday ever!
The nature sights in the Golden Circle are a must-see for any adventurous traveler out there. They are incredibly sought-after, which makes the tours very easy to fill out! That's why I advise you to plan and book your trips in advance!
As for the curious people who already embarked on one such endeavor in Iceland, I'd love to hear all about it! Make sure to mention all the important details in the comments below! The same applies to any questions you have or perhaps any tips you'd like to give!
Happy sightseeing,
Angelina
---
Pin it for later!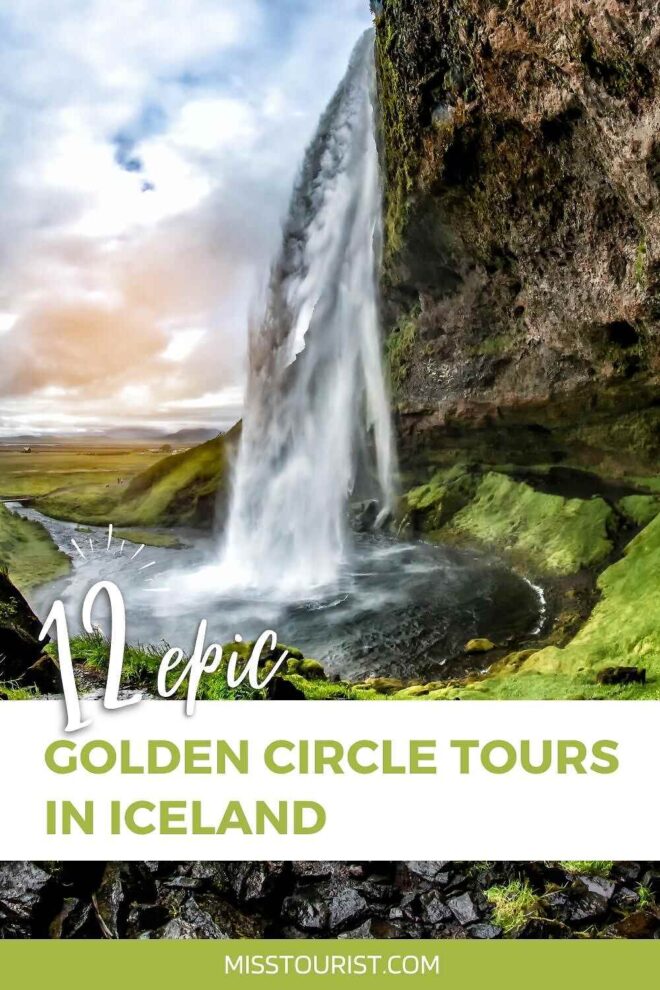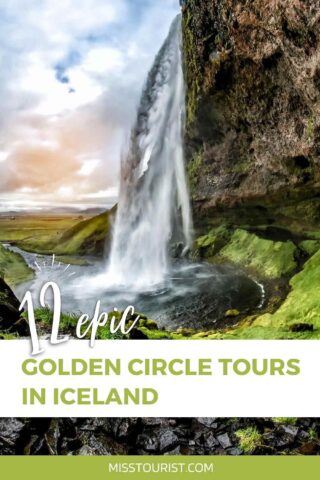 Pin it for later!