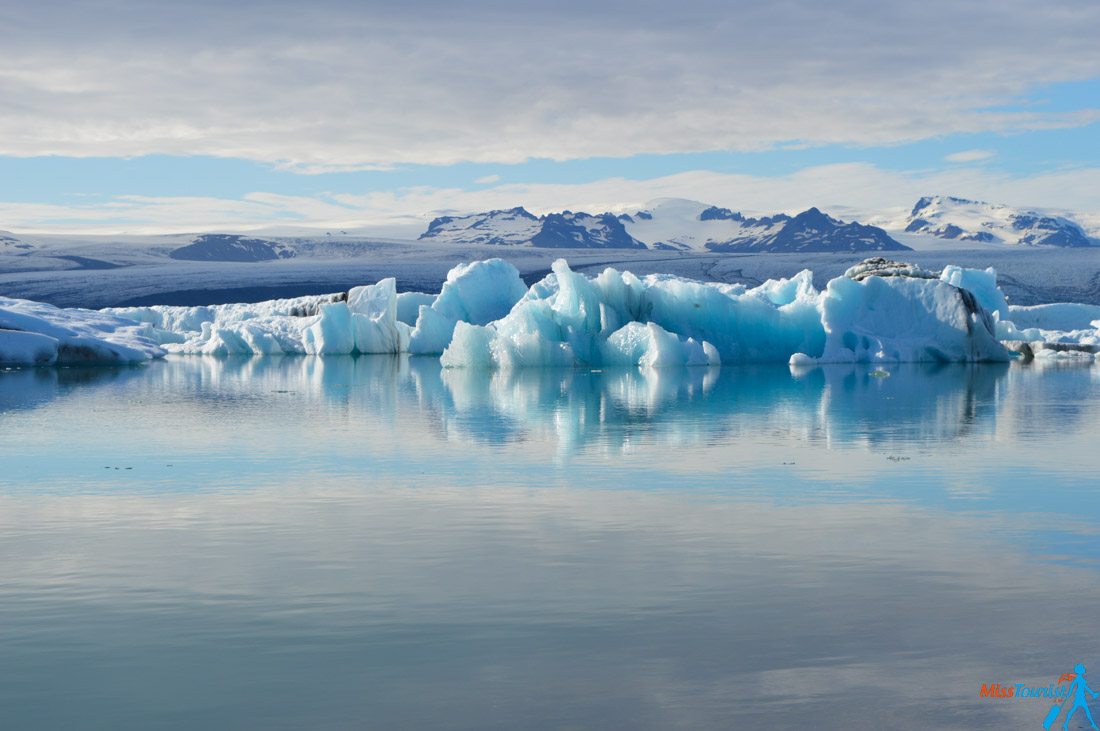 Hi there traveler! I am so glad you are interested in Iceland, probably my favorite country in the world! This article will help you tour the Golden Circle like a boss and maybe after reading it, you will consider including Iceland on your bucket list!
This is the first of my 4 articles related to road trips in Iceland. This particular one can be treated as a stand alone 4-day Iceland itinerary self-ride trip for those who decided to spend only a short vacation here. For everyone else, this is the first stage of the travel around Iceland in 14 day guide.
So, are you ready for the adventure that might change your entire life?
Here we go!
First, there are a few things you should take with you. Iceland is expensive and shopping there is a pain in your wallet. Although, they have some really beautiful sweaters (quite expensive), hats and mittens are just as nice and more affordable.
What to bring for this part of the trip: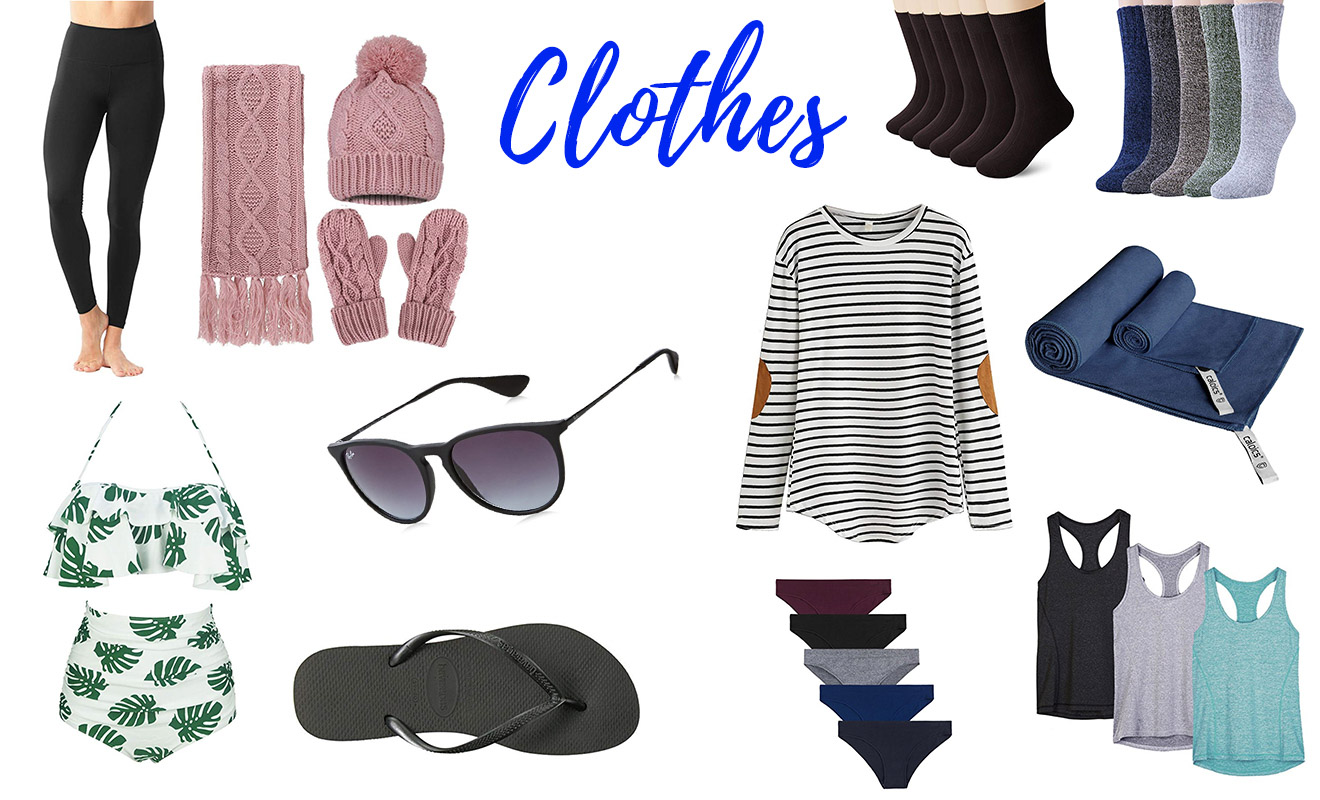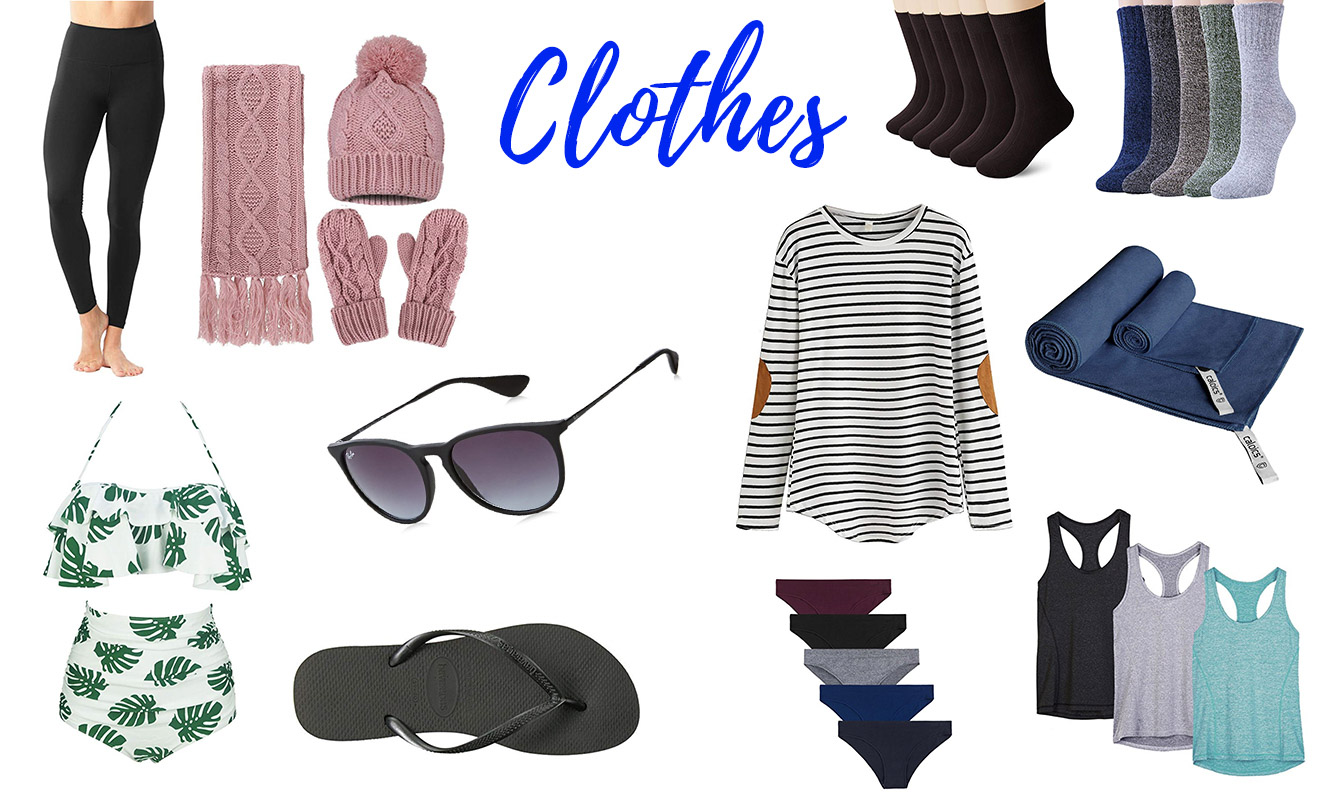 UPDATE! I have written a detailed blog post about things you should bring with you on the trip, sorted by season and by gender – so check it out here!
Optional items:
You can skip some items from this list but don't skip these:
(you can also zoom out if you want to see where Iceland is located)
Day 1 – Blue Lagoon and Reykjavik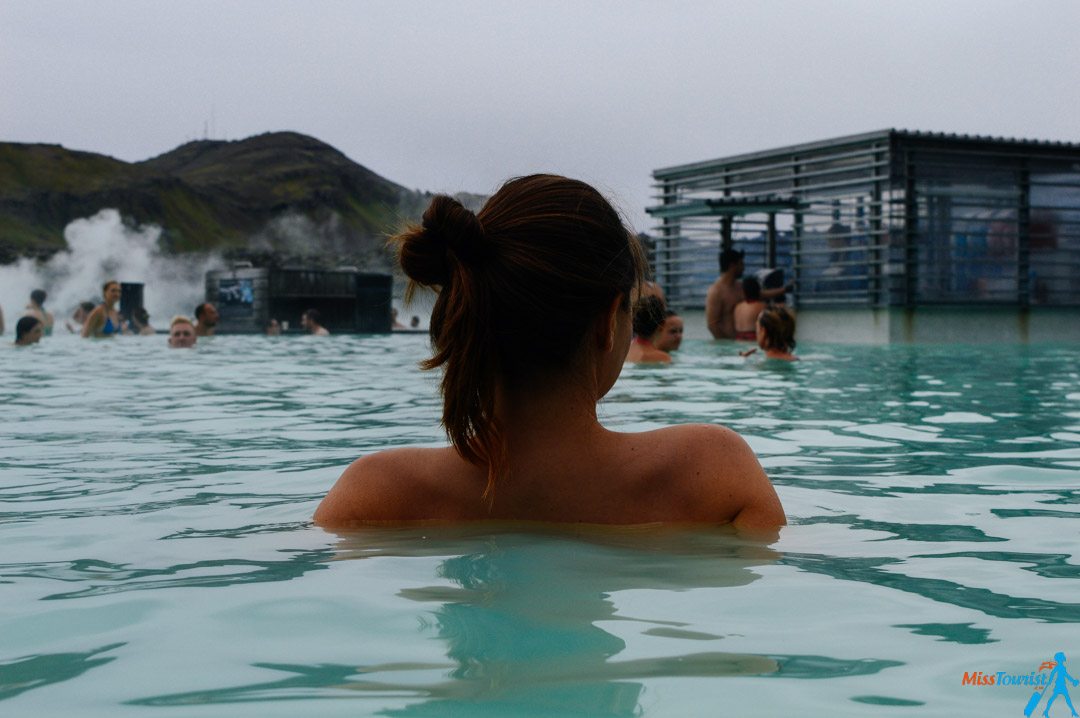 The first day of your adventure! Are you excited?
You should be, because Iceland is a country with very unique landscapes, sights and activities!
And you are going to experience a wide variety of them!
First thing's first: the Blue Lagoon!
If you arrive in the morning, pick up your car from the airport, not from the city.
It will save you quite a lot on public transport which is not cheap at all.
Didn't figure out how to get a car yet? Here is my guide of how to choose the best car rental in Iceland!
If you follow my guide, you won't need a 4WD, a 2WD will suffice.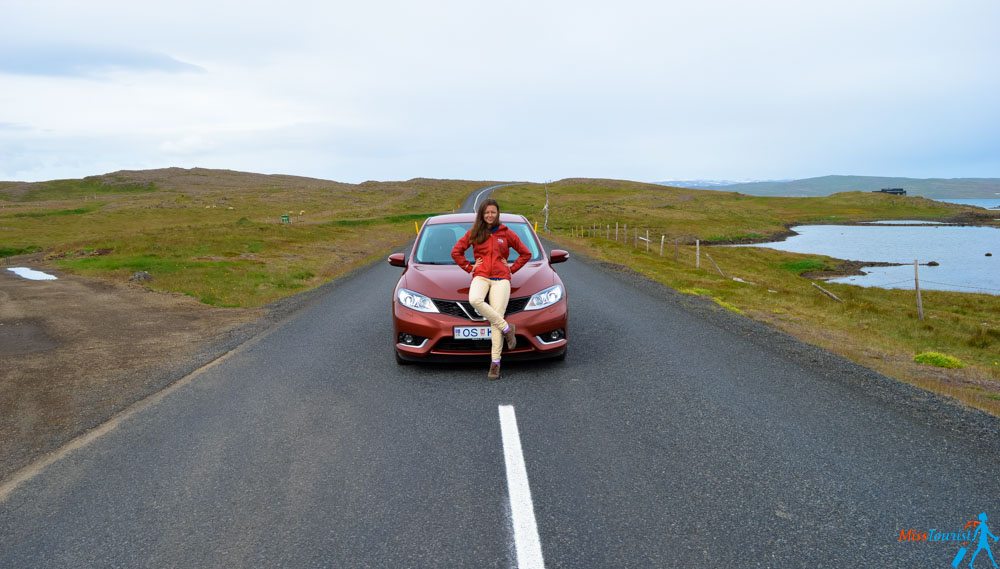 So, you got your car, now head to the Blue Lagoon. It's around a 20 minutes drive from the airport, but if you flew in late, you can come back the next day (it opens up its doors at 8 or 9 a.m. depending on the season).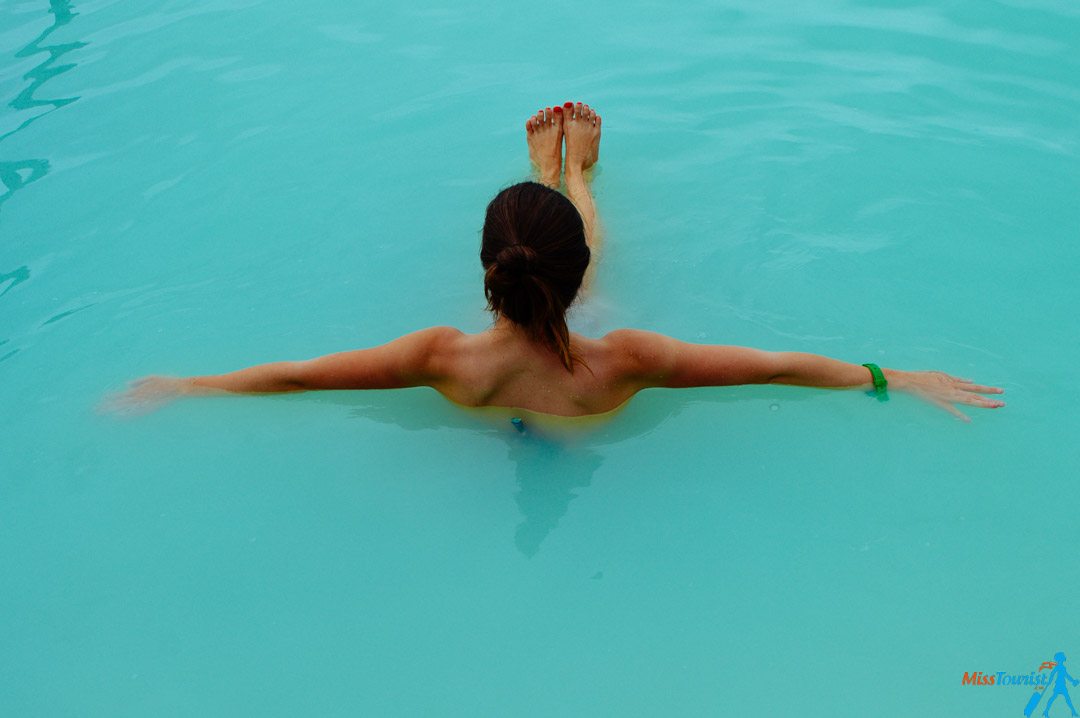 The Blue Lagoon is located in a lava field (the first one you will see in Iceland). It has pools of thermal waters with a striking blue color (thus the name, obviously).
The spa center is very modern, and it offers several packages that you can buy, starting at around 50 euros. You can find more details in my post here.
When you are done relaxing, you can head back to the city. Here I have written a more extensive guide of what to do in the city of Reykjavik.
If you are in Iceland only for a day or two and you want to take a complete tour of the Golden Circle and the Blue Lagoon, I recommend taking this tour of 11 hours.
If you want to go to the Blue Lagoon directly from the airport without renting a car – take this transportation option.
Day 2 – The Golden Circle tour
The second day is dedicated to the Golden Circle: a more or less 300 km drive which includes a chain of popular Iceland attractions not far away from Reykjavik. People who have a one day stopover usually take this route. If you ONLY have a couple of days in the country, I would definitely choose the Golden circle tour.
What is recommended for this day?
2.1 Thingvellir National Park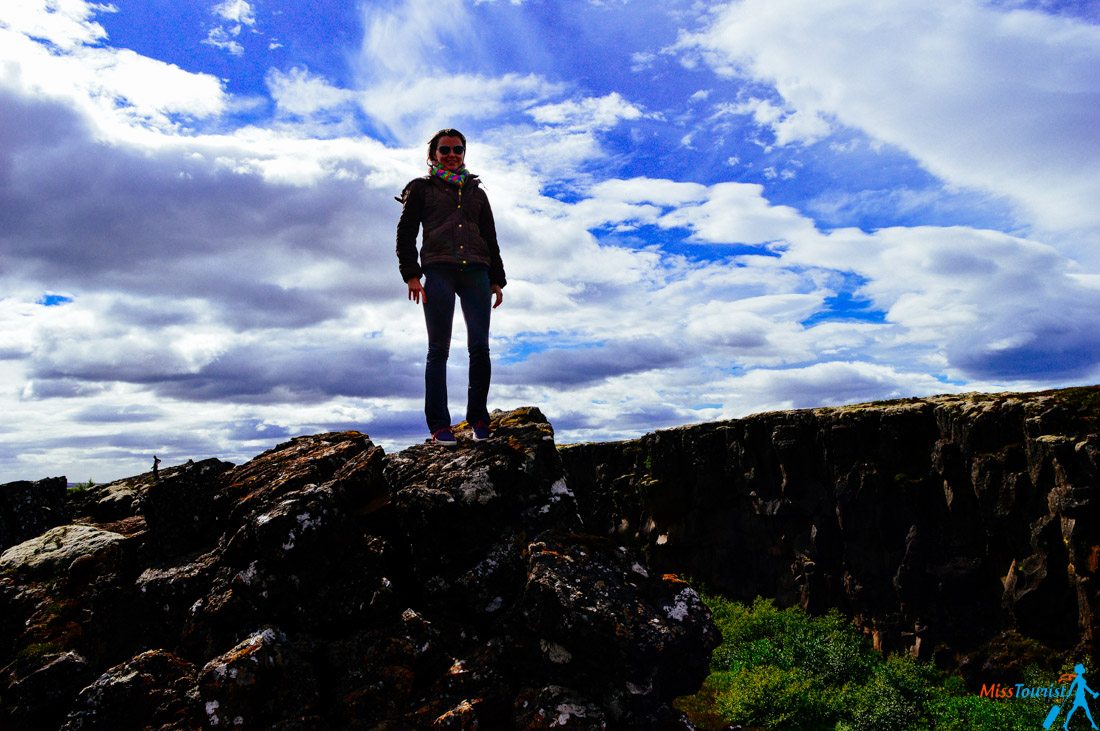 From Reykjavik start north towards Thingvellir National Park (Þingvellir in Icelandic). That would be your first stop on your "golden circle" day.
Historically it is the place of where the old parliament of Iceland was established more than 1000 years ago.
Here you can find Iceland's biggest lake and more impressive, at least for me, in the national park there is a rift valley that marks the place where the North American plate and the Eurasian plate meet! When they meet, they create some spectacular geography!
And how many places in the world do you know where you can walk around and touch the border between the two tectonic plates?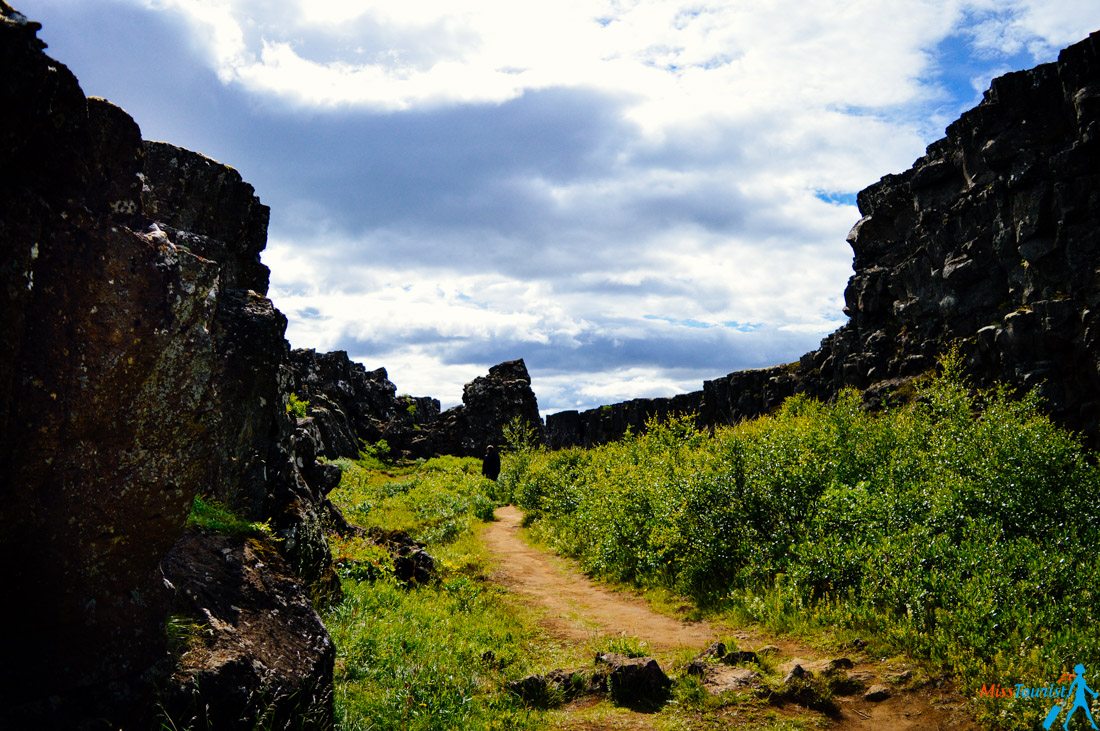 And not only you can just walk all over it, you can swim between them too! If you started early enough, you have a chance to dive in the rift created by the two plates!
And for all you, Game of Thrones fans out there, this is also the place where many scenes of the show have been filmed, so make sure to check out exactly where those places are if you are a die-hard fan of the series.
2.2 The Geysir
Next stop, less than 1 hour away to the West was my favorite of the day, and pretty much one of the coolest things I have seen in my life: the Geysir!
Oh my God, I watched it "sneeze" over and over again. It's just beautiful, powerful, fun and so cool to watch. You have to go see it, it's so spectacular, I'm still excited about it :)!
 2.3 Gullfoss waterfall
Just a short drive further from the Geyser you can find Gullfoss waterfall.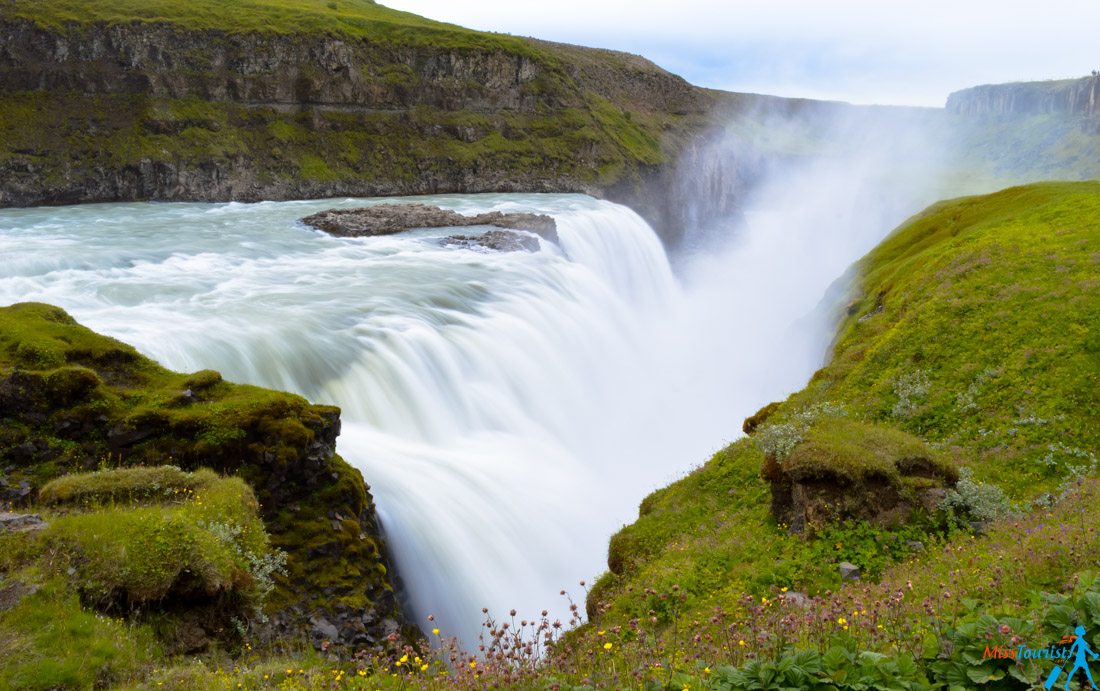 This one is a beauty, if you go up close you might want to get your waterproof jacket and/or pants, as it will spray you all the way!
They say at some point in the early 20th century someone wanted to build a hydroelectric power plant on the fall, but the Icelandic people living here would not sell them those rights.
Thank you Icelandic people, now we can still enjoy this wonder because you love your nature!
2.4 Kerið crater
When coming back from Gullfoss, if you take the 35 road, pay attention on the road for the signs towards Kerið.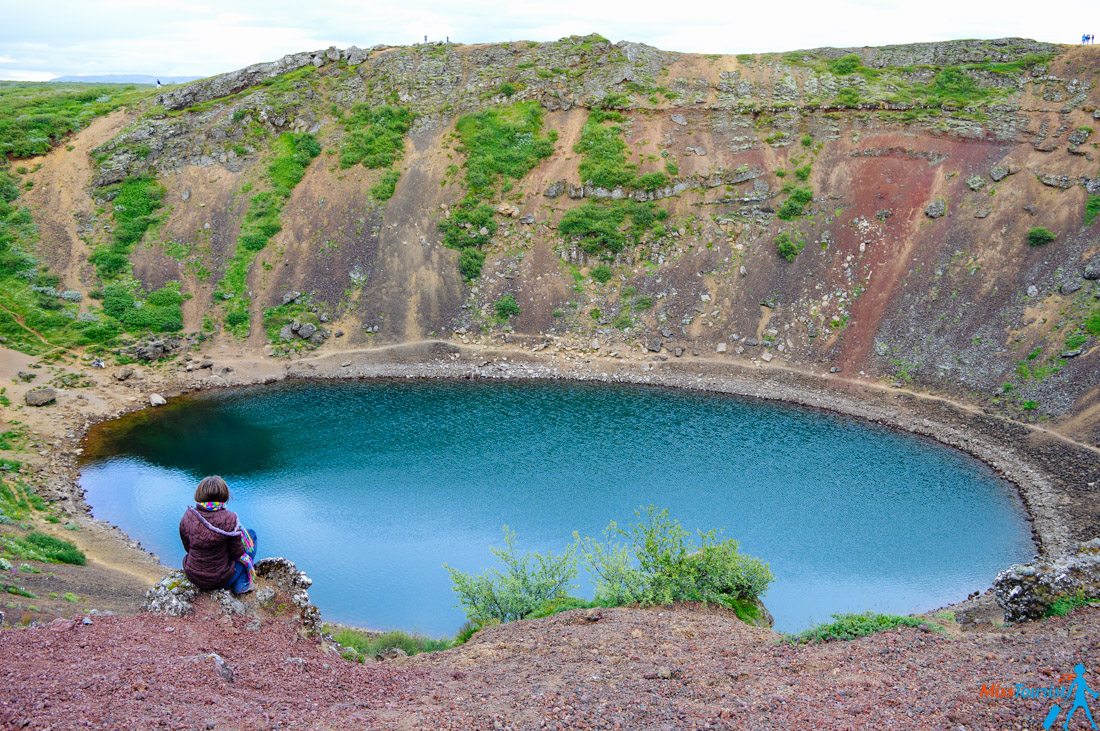 Kerið (Kerith or Kerid in English) is a perfectly shaped crater which became a lake. The crater is really beautiful and the colors of the soil and the vegetation that grows around it make it one of the best shaped attractions of Iceland. It's so round, so perfect 🙂
– Where to sleep after the Golden Circle tour –
By this time you should be quite tired. It was a full day and it's time to rest. There are a few choices where you can spend the night.
The best place for you to spend the night in order to have a good start in the morning is Hella. I stayed at Stracta hotel and I really recommend it!
It is a new and very large hotel, with modern and spacious rooms. It is really easy to find, you can just see it when you enter Hella, on the right side as you come from Reykjavik.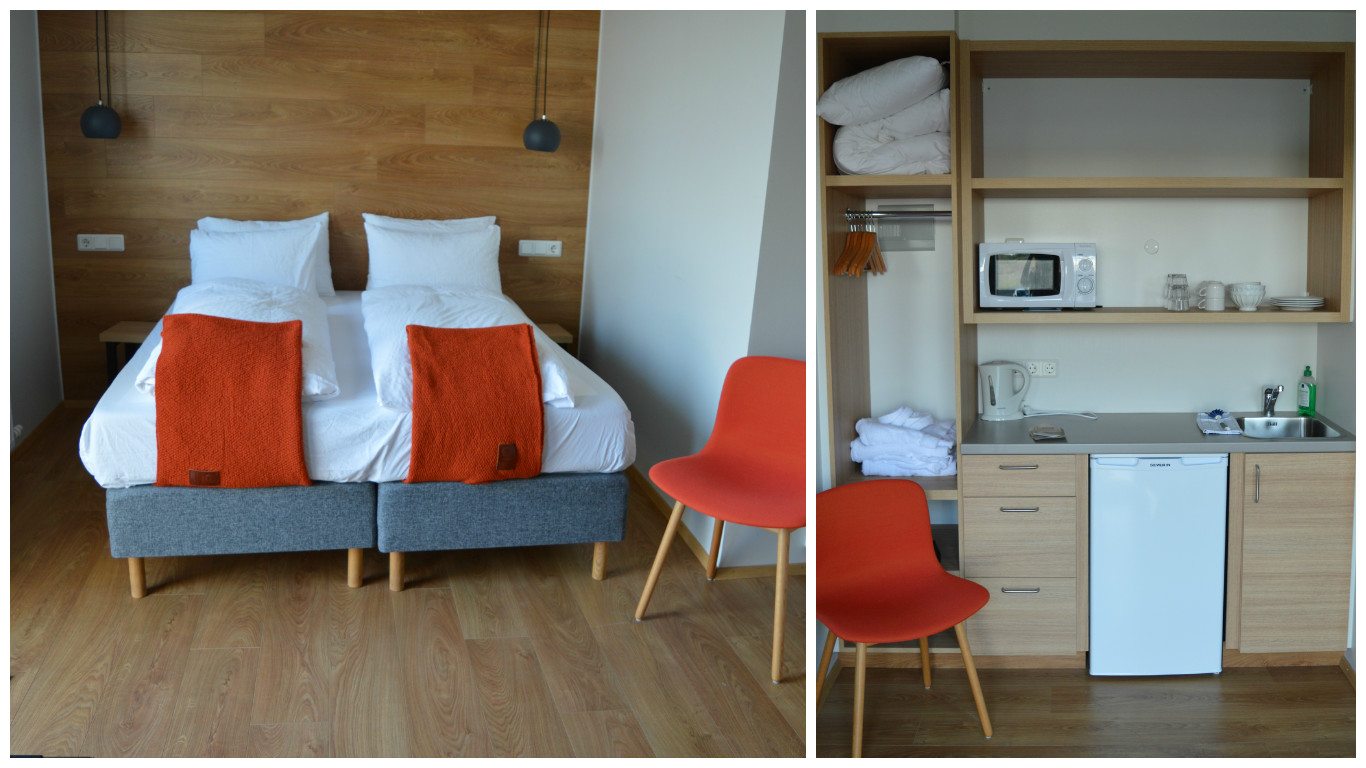 They, of course, have pools of thermal waters and saunas with very new facilities. Unfortunately, I haven't caught the Northern lights in Iceland, but I have heard that Stracta hotel is just great for that!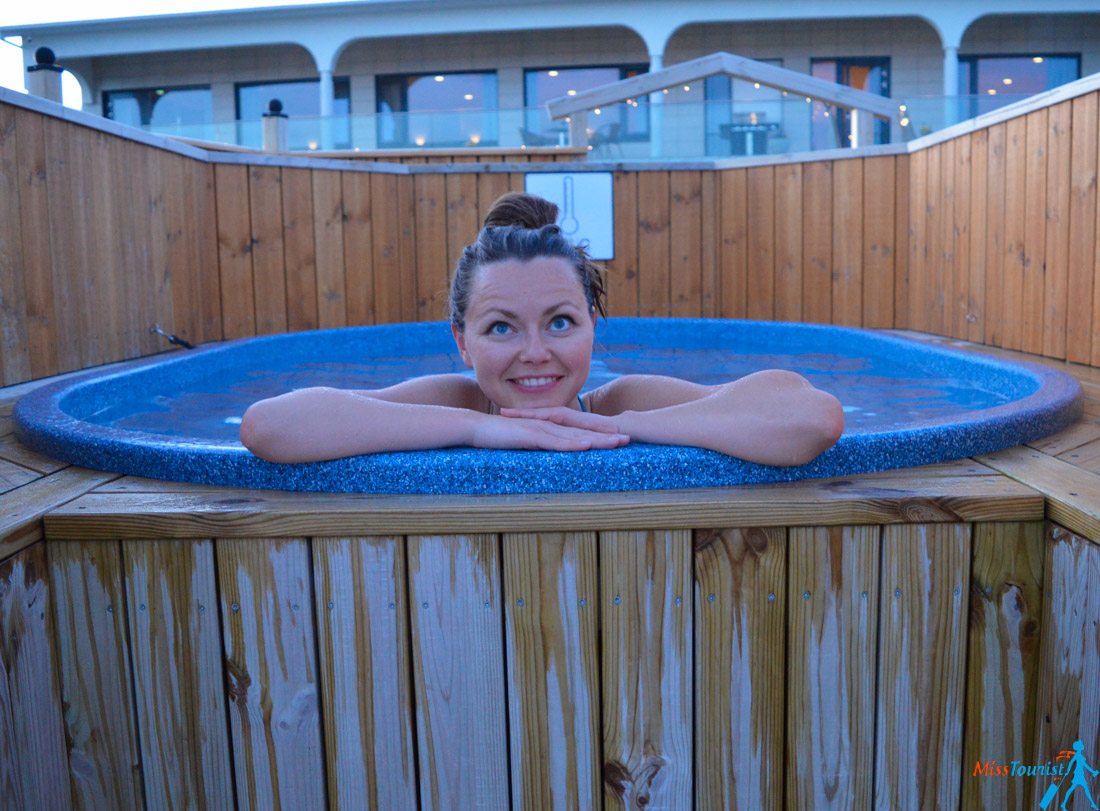 If you are feeling hungry, their elegant and delicious restaurant is open in the evening. The breakfast is of high standards, rich and varied to give you lots of energy for the long day ahead.
UPDATE: I now also have an article that will help you book ALL hotels in Iceland in under 10 minutes – they are sorted by cities and prices for your convenience and they all have great reviews!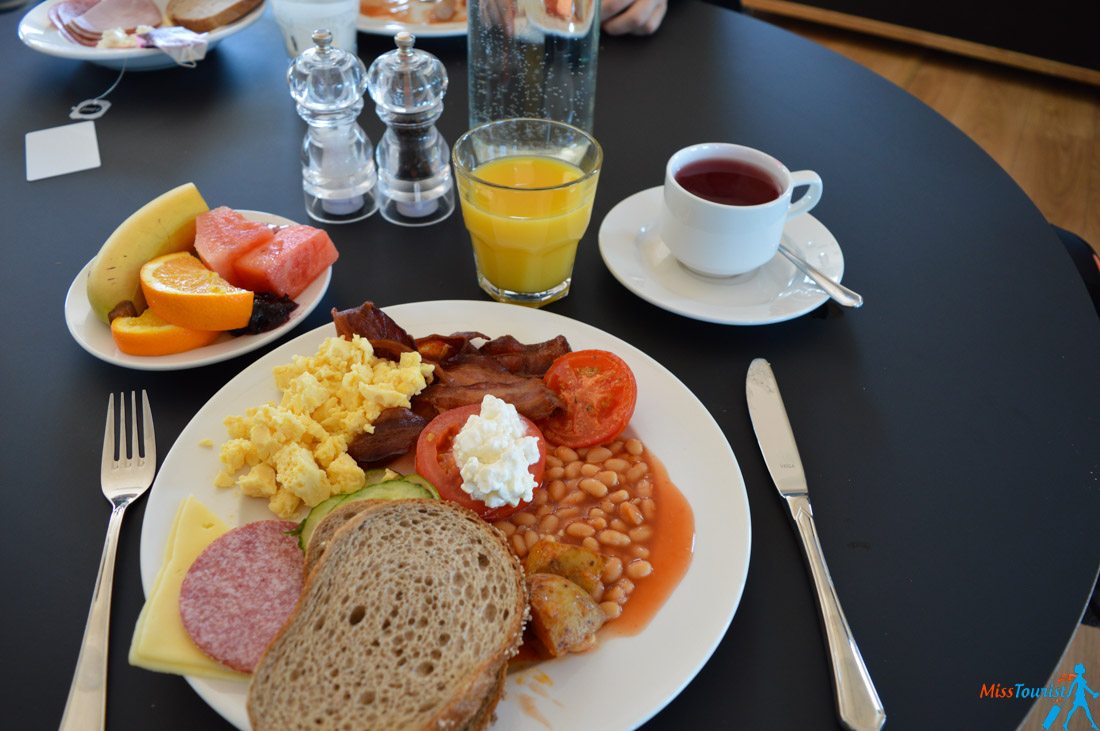 Day 3 – Turf houses and some fantastic waterfalls!
You already left behind the first impressions of Iceland, and they were quite powerful. Don't worry for a second, it will only get more interesting starting from this point of the journey!
3.1 Keldur turf houses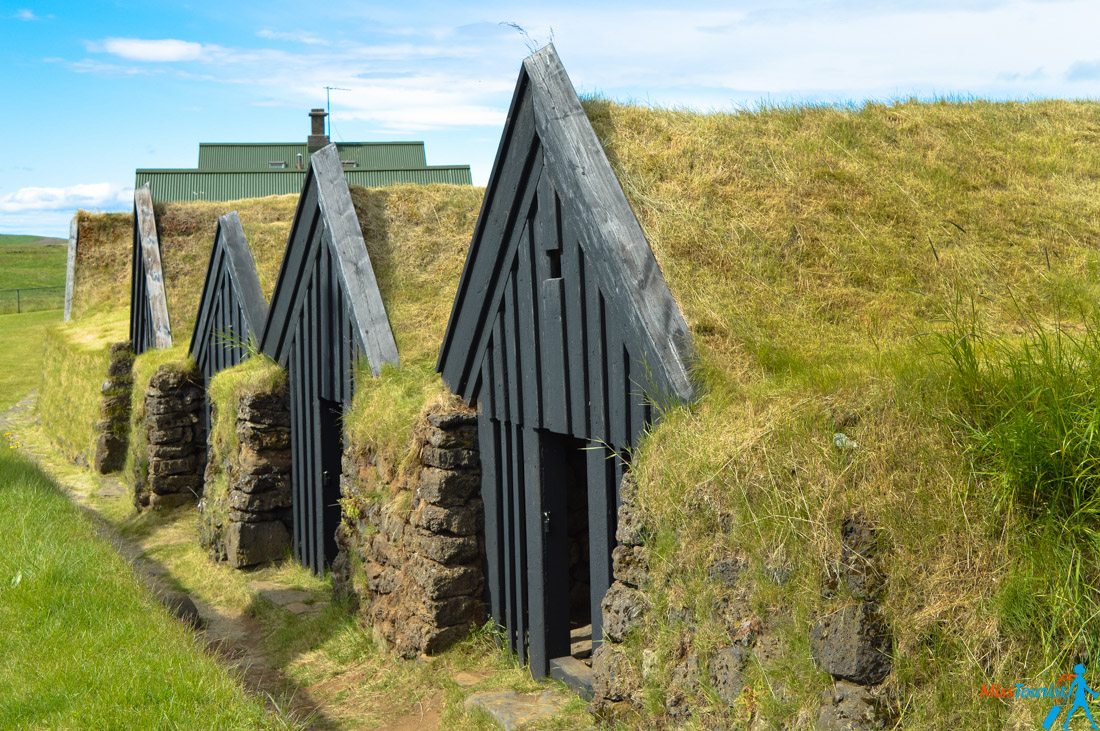 Start your day heading south-east on the number 1 road. 8 km after Hella, you will see a sign to Keldur. If you want, you can take the road to a small village where turf houses still stand. You can learn about their history and the small community that used to live in that area if you decide to visit them.
PRICE: $750 Icelandic cronas (~5 EUR)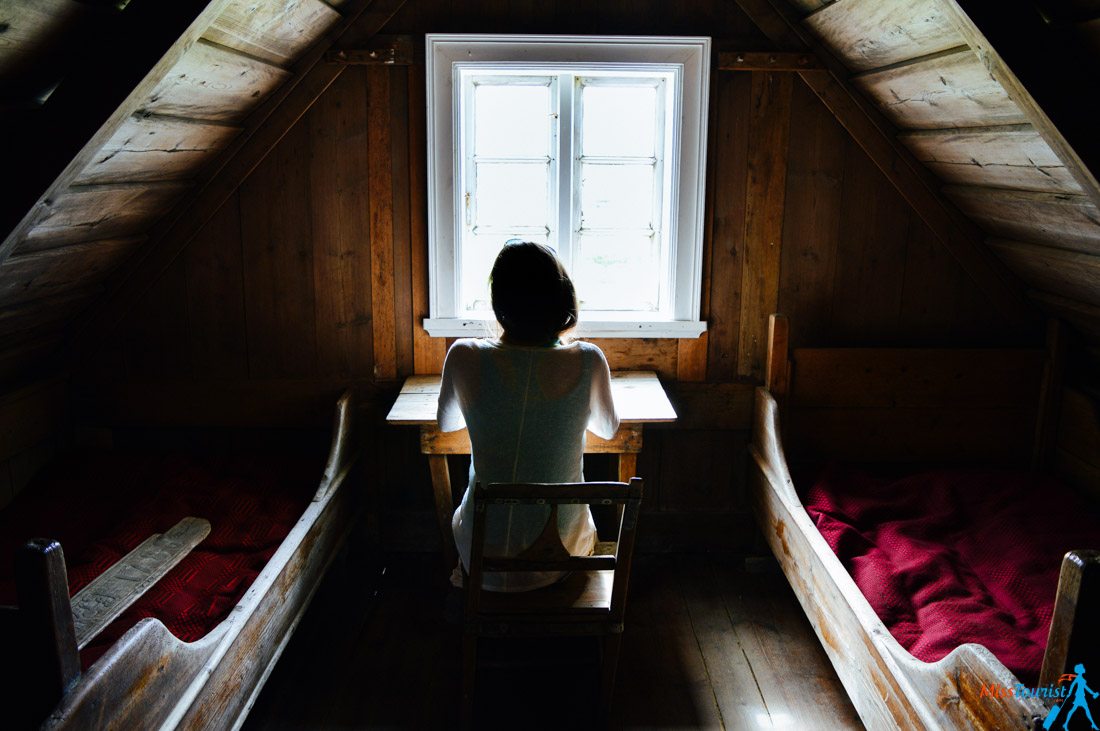 3.2 Seljalandsfoss
Come back to the road 1 and continue on it until you get to the Seljalandsfoss waterfall. The waterfall looks as if it were taken out of a fairy tale, doesn't it?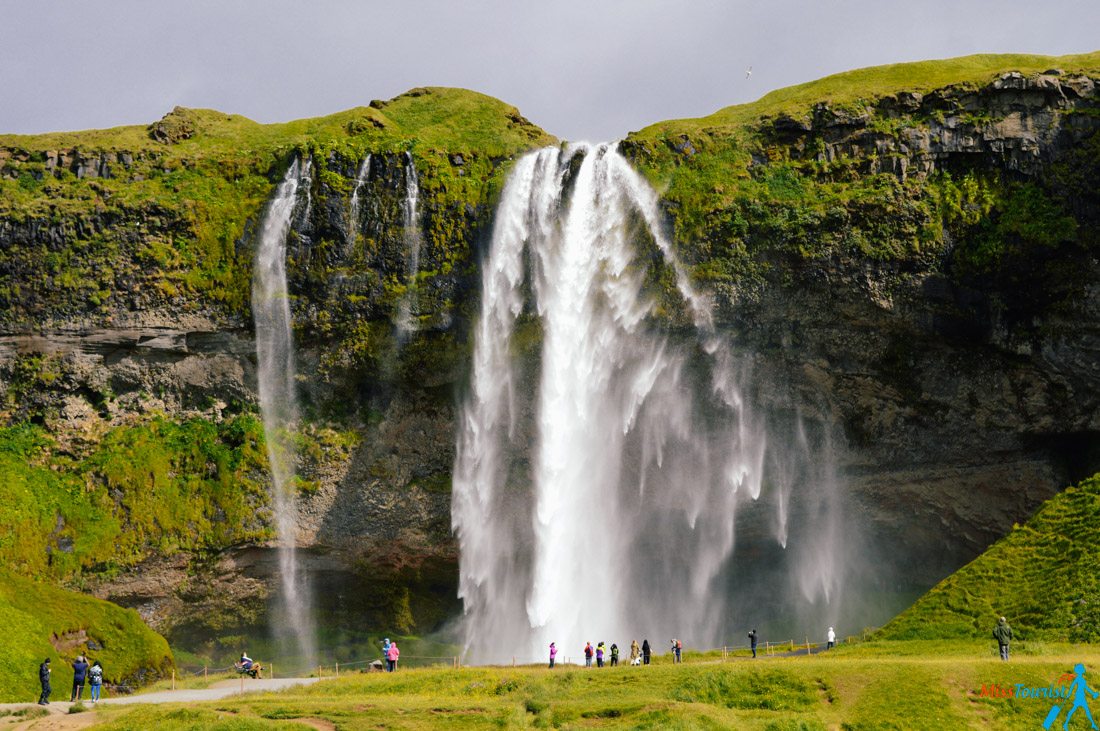 You can go behind it, and be seduced to take a million pictures of it. I know I was. 😉
If you are lucky you will have a local musician playing really smooth strings on his guitar 🙂
PRO TIP: just 300 – 400 m. farther away, there is another waterfall, this time in a cave. It is called Gljúfrafoss and if you ever imagined what a waterfall in a cave looks like, this is probably close to what you pictured!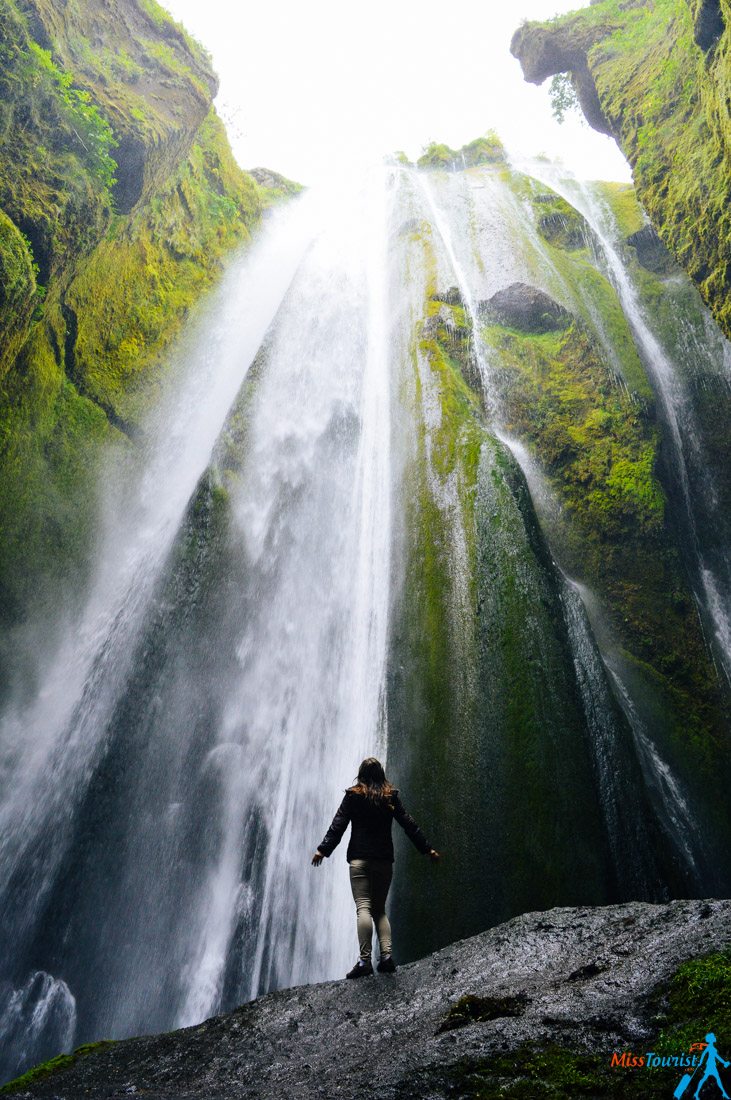 3.3 Skogafoss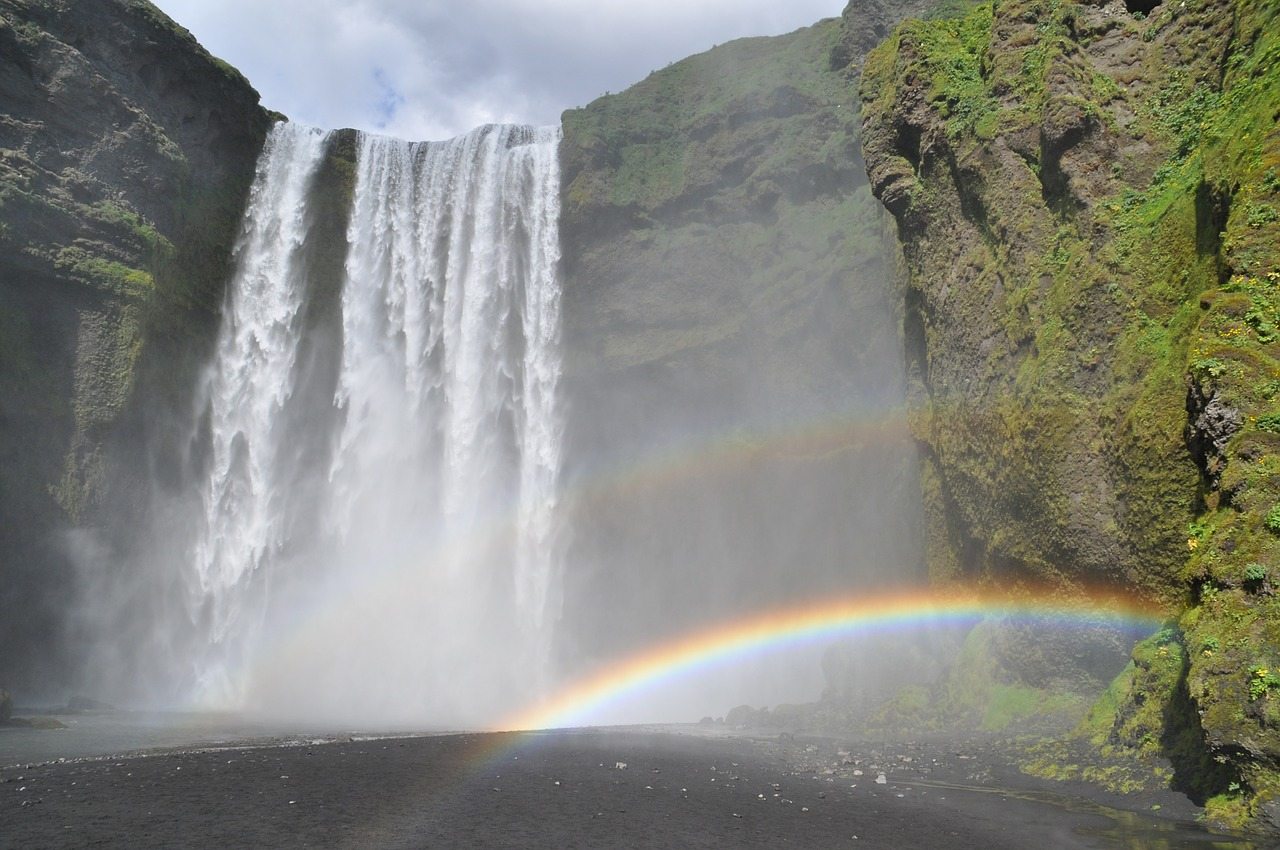 Alright, I know you want to stay longer to look at it, but I urge you to continue on and just around one hour drive away you will stumble upon another amazing waterfall (this I will repeat, yes, Iceland has tons of them!).
This one is called Skogafoss and I would describe it as a falling wall of water. If you are going to get a picture, I assure you this time you will get a lot more wet 🙂
So bring your waterproof jacket / poncho / garbage bag with you !
PRO TIP: if you get accommodation in the area and decide to stay one more day, you can hike above the waterfall. There is a big plateau over there, with outstanding views.
PRO TIP2: for better pictures, when you climb above the waterfall, use the paths around the stairs to place yourself to an even better view to Skogafoss.
3.4 Black sand beach
After you managed to take yourself away from the beauty of Skogafoss, you should make your way towards Vik – a city that is famous for its black sand beaches.
10 km before the town, you will find a sign to Reynishverfi, a black sand beach that you probably have heard of before. It is supposed to be one of the most beautiful non tropical beaches in the world, and for good reasons!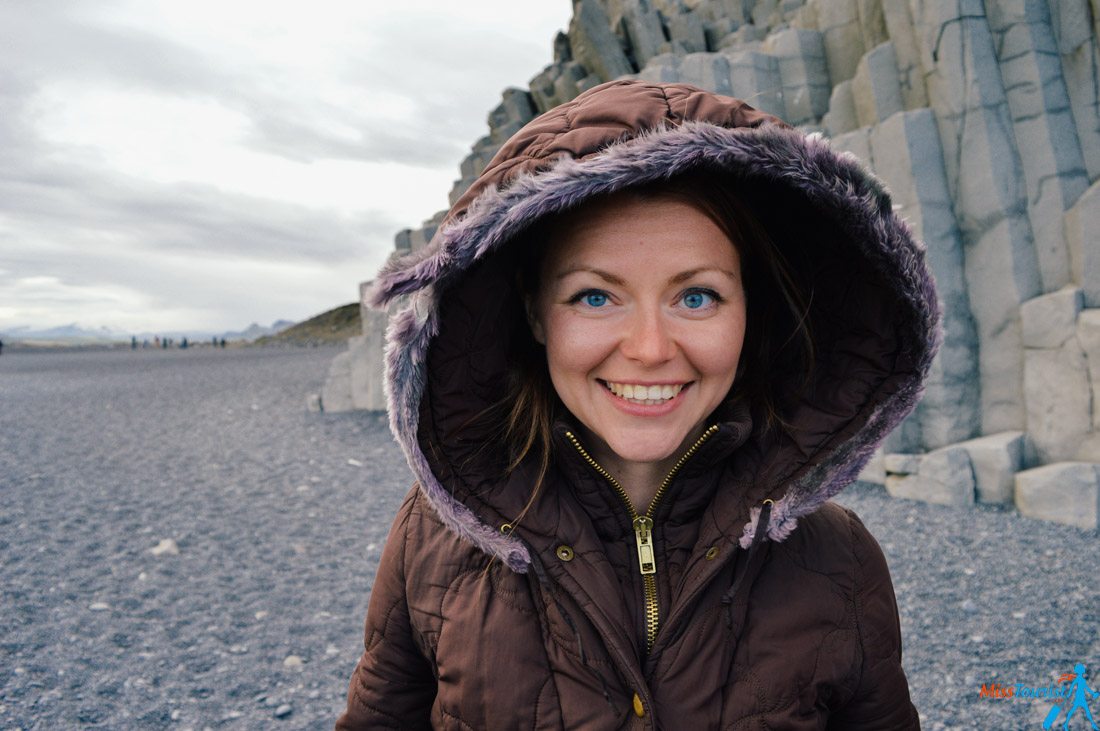 There are some particular rock formations to be seen here: hexagonal basalt columns, created as a result of the cooling of lava after an eruption.
Check it out!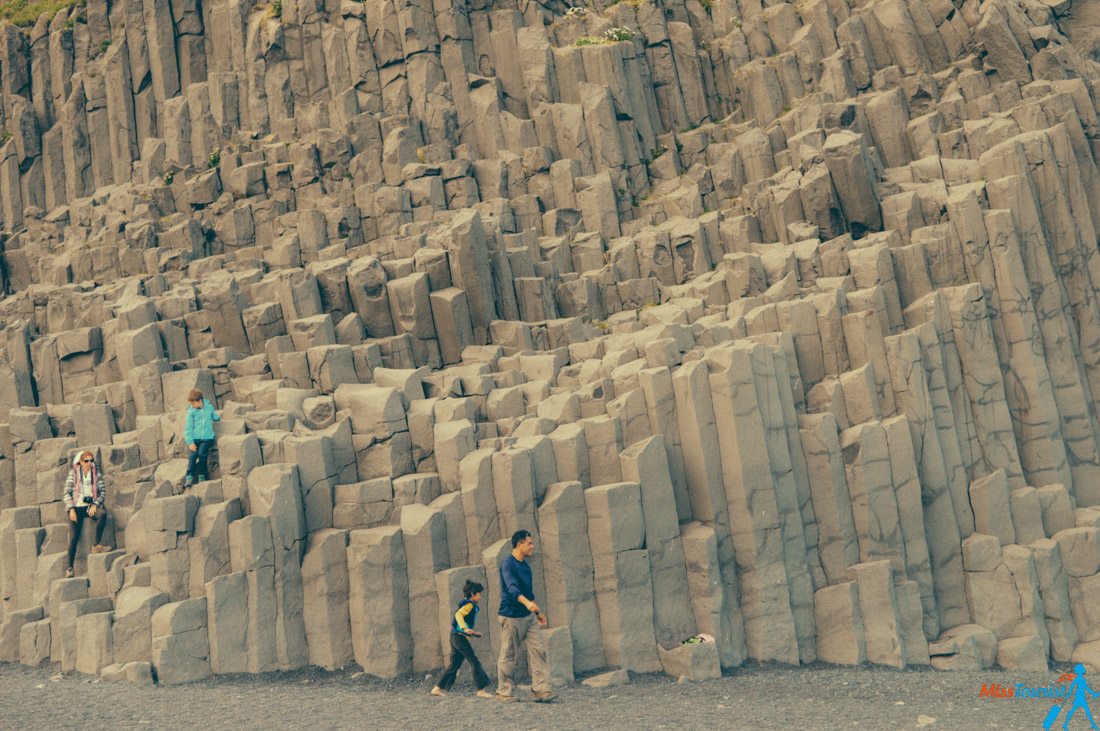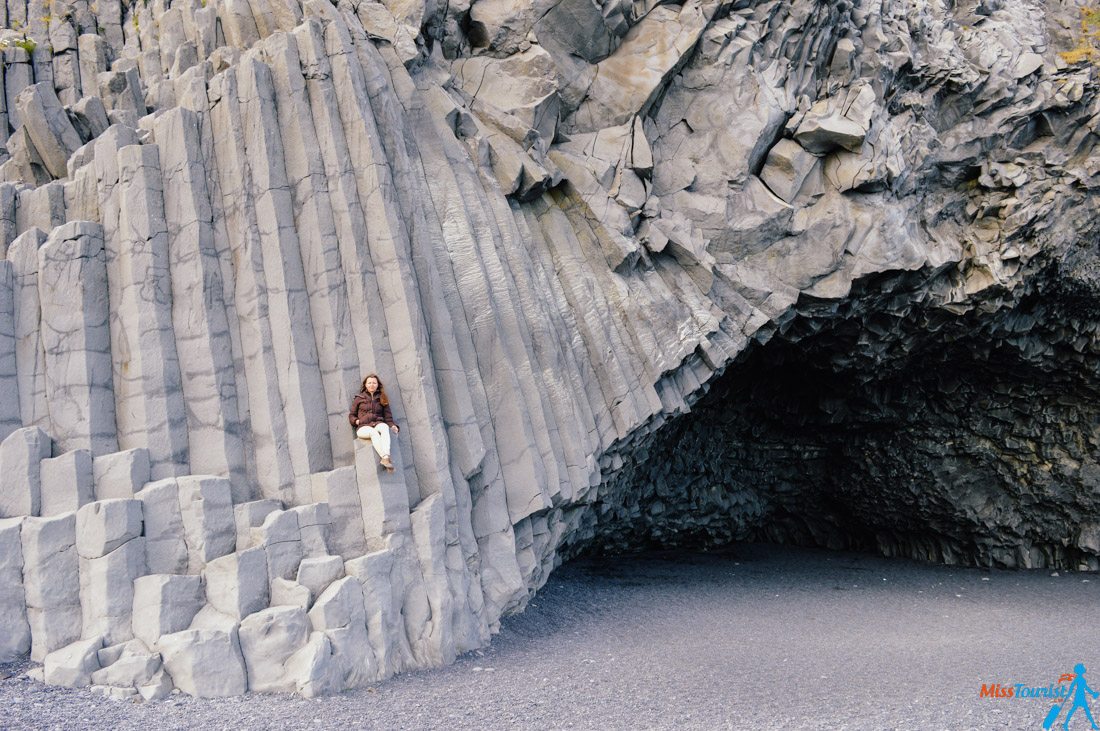 – Where to stay after visiting the black sand beach? –
I recommend you find accommodations anywhere between Vik and Skaftafell. Be aware that there are not so many options in this area, so, if you are going there in high season, book way ahead!
I actually had to go back to Hella for one more night as there was nothing available all the way to Eglissadir (something like a 5-6h drive). Don't repeat my mistakes, book in advance (especially if traveling in August, the highest season).
If you are packing camping gear, then camping would be the easiest solution in this case, Icelandic camping sites are of very high quality.
UPDATE: I now also have an article that will help you book ALL hotels in Iceland in under 10 minutes – they are sorted by cities and prices for your convenience and they all have great reviews!
Day 4 – Glacier day
On day 4 the real fun can start, are you ready?
4.1 Skaftafell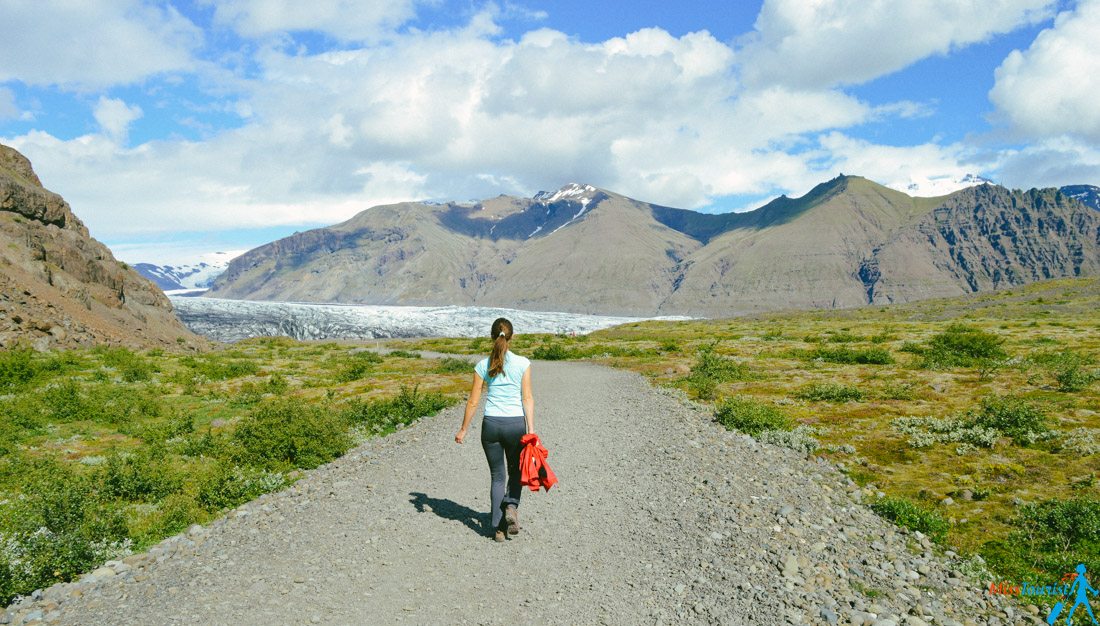 Iceland is known for its glaciers, and, even if there are many options, the Skaftafell glacier is easily accessible by car, and it's situated almost on the main road. If you want to take a glacier walk (or any other available type of tour), again, I suggest you book ahead. In my case, the walks were full and I could not get one. Too bad, but it means I have to come back, argh! 🙂
Alternatively, if you just want to see the glacier, you can take a walk from the parking lot to a viewpoint. It takes around 30-40 minutes one way, and you are going to see the glacier from over a lagoon: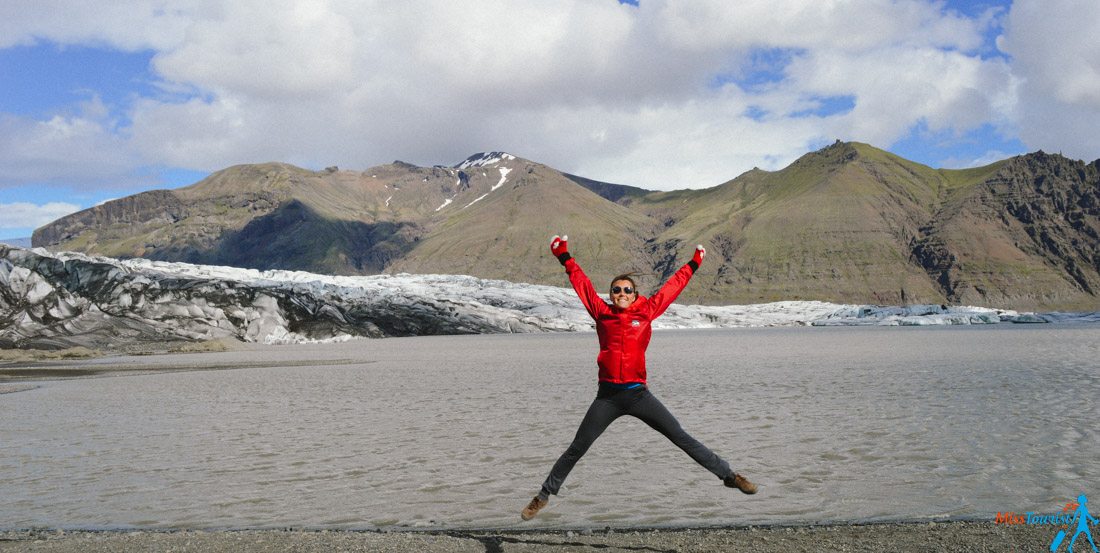 PRO TIP: even if you are visiting the glacier in the summer and it seems warm, get some good clothes even if you are just talking a walk to see the glacier and not to walk on it. As soon as you get close, the temperature drops and the wind will make you very happy with your choice of warm clothes!
4.2 Jökulsárlón glacier lagoon
After you had your fun at the glacier, move on to the Jökulsárlón glacier lagoon.
The glacier lagoon is a very new lagoon that takes its water from the nearby glacier. There are many various sized icebergs floating in it, each with a different color.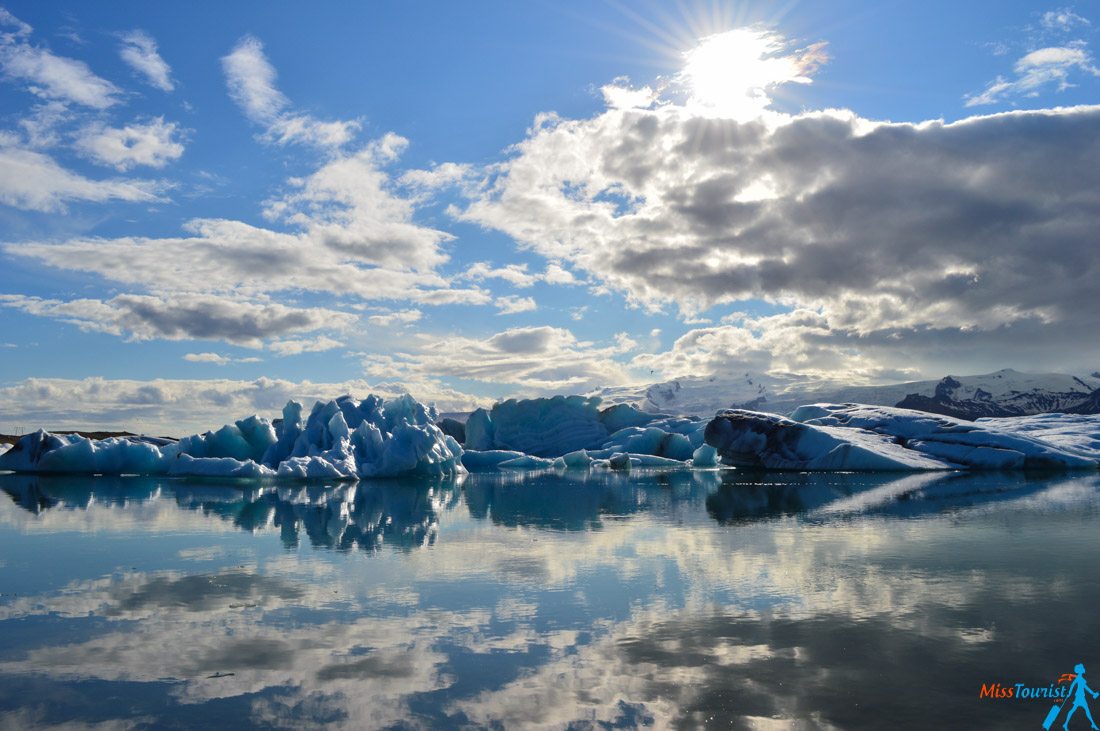 For me, this was one of the highlights of the trip!
The afternoon sun really turned that place into a wonder. The glacier lagoon was formed only 60 years ago and it is truly beautiful, the floating small icebergs come in many colors and if you are lucky you will see seals swimming and hunting for food!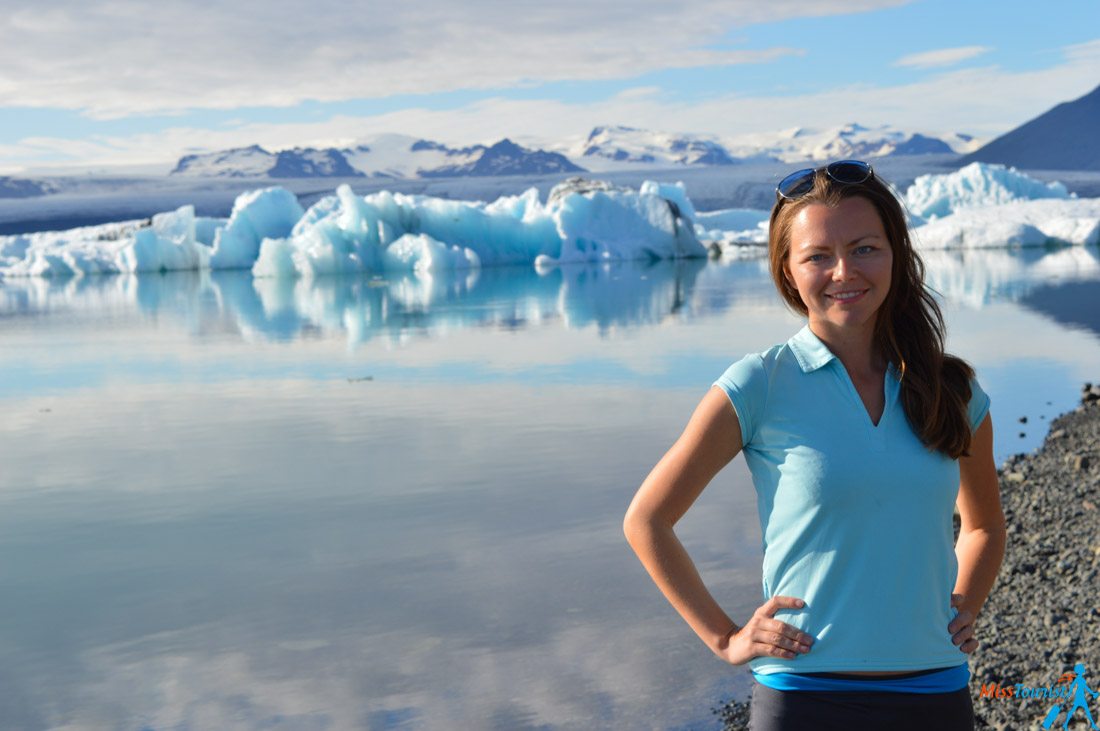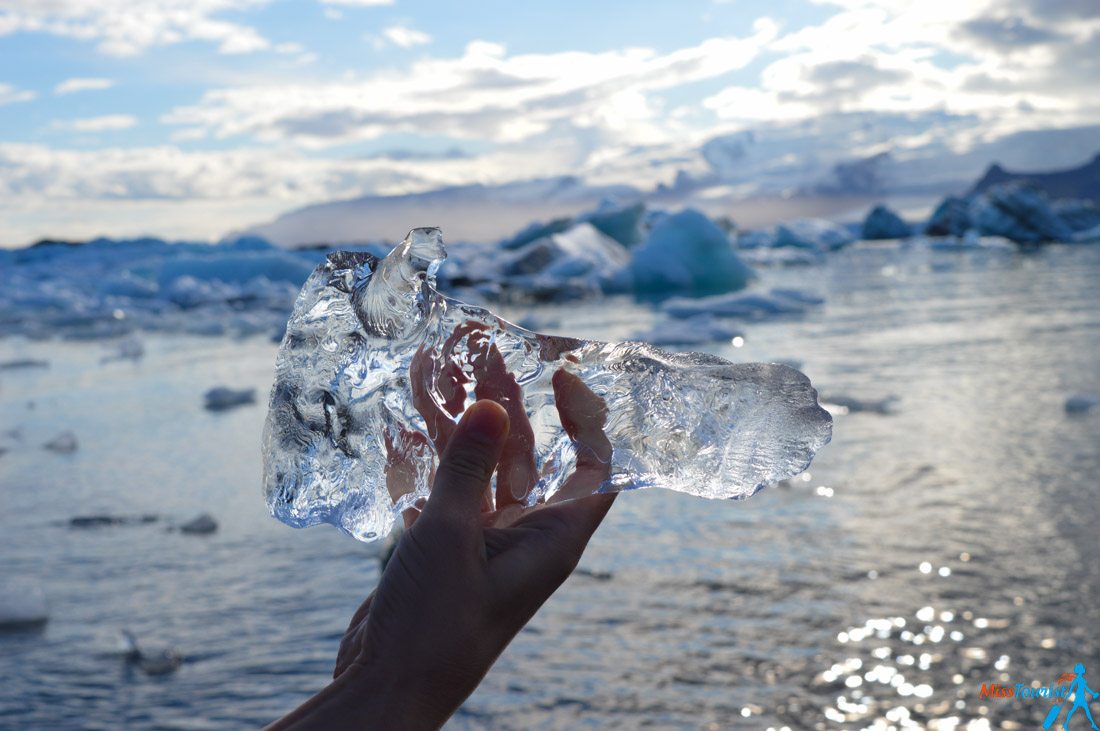 There are two types of boat trips you can take (with the big amphibious vehicle or with a speedboat). I suggest you take one of them as the glacial lagoon is really a unique experience worth paying for!
PRICE: around 70 euros for the Amphibious boat, the speedboat is more expensive. You can buy your ticket on the spot, no need to book way in advance. This way, you will avoid booking fees.
You can also do the glacier hike and the Jokulsarlon trips together in one by ordering this tour (it is more expensive, but totally worth the money!).
---
| | |
| --- | --- |
| 🤩 Range of activities: | Large |
| ♨️ Best hot springs: | Blue Lagoon |
| 🏛️ Best for culture: | Reykjavík |
| 🏖️ Best for beaches: | Snaefellsnes Peninsula |
| 🌋 Best for volcanic landscapes: | Golden Circle |
| ☀️ Best time of year: | June – August |
---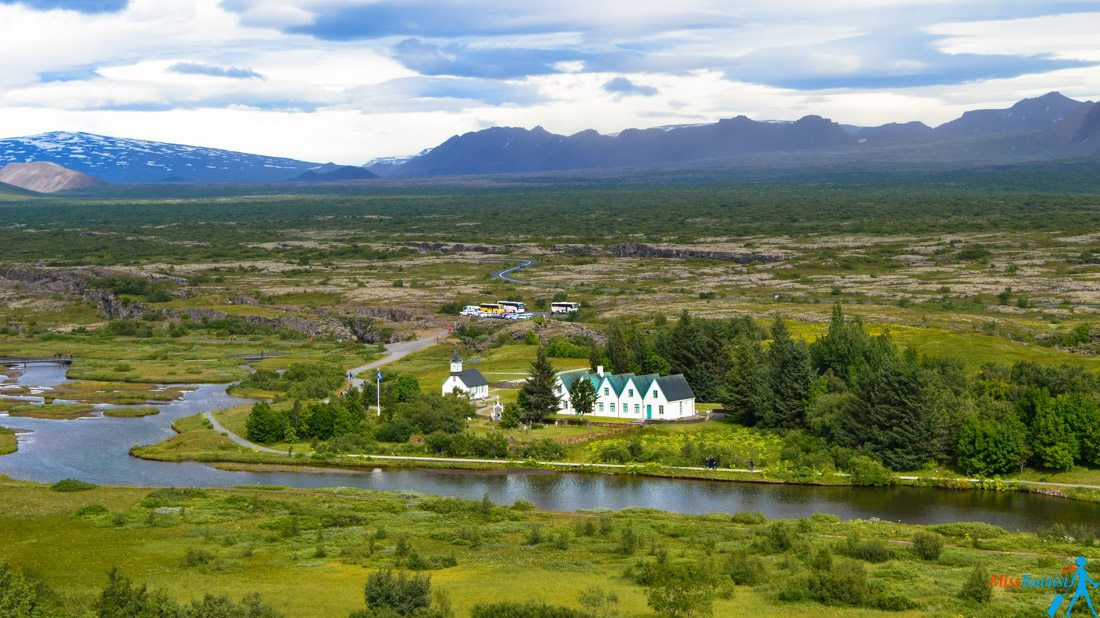 If you are only doing a 4 day road trip in Iceland, then it's time to head back to Reykjavik.
You have seen so many things in just 4 days. Iceland is full of surprises and I hope you will come back to see the rest!
And now, it's a 4 hour and 30 minutes drive back to Reykjavik so, if you are late, you might consider booking accommodations somewhere around the return route!
If you are continuing with the 14-day route, read on Part 2, that is just the beginning! 🙂
For those who are continuing the trip ahead, for accommodation I suggest the Hofn area or to drive as long as Egilsstadir. We chose the second option, but I warn you, it is quite a drive!
Fuel up as there are also not many gas stations on the way!
---
OK, I have shown you some of the best things to do in Iceland. But our road trip through Iceland continues so let me take you to some breathtaking part of this one-of-a-kind country!
Next up on the route are the East part and the North part of Iceland.
If you want to skip ahead to read about the Western Fjords click here or click here to read about the end of the itinerary.
What do you think is a must visit for an Iceland holiday trip? Have you been?
Your questions are always welcomed, I am waiting for you in the comments! 🙂
Yulia
---
---
Pin it for later!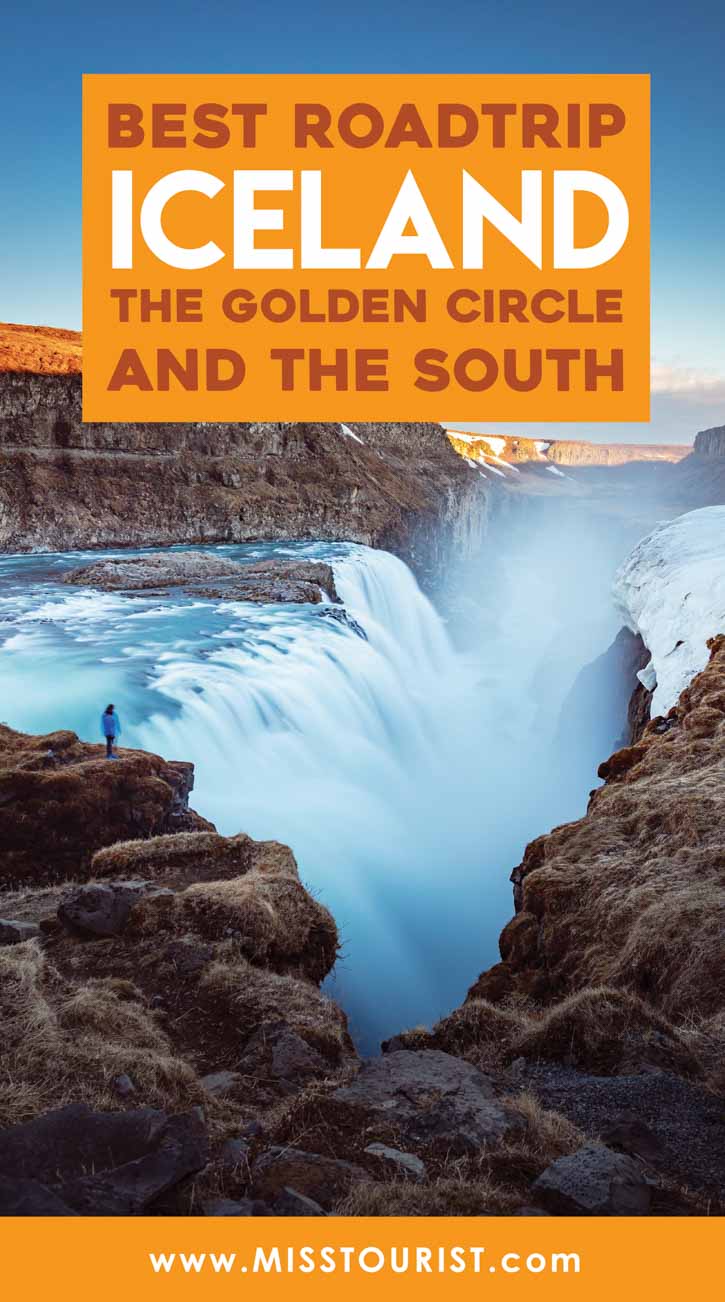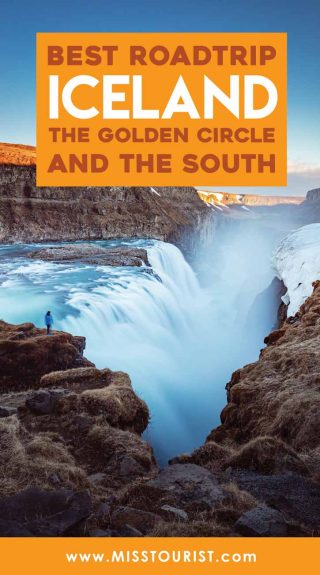 Pin it for later!