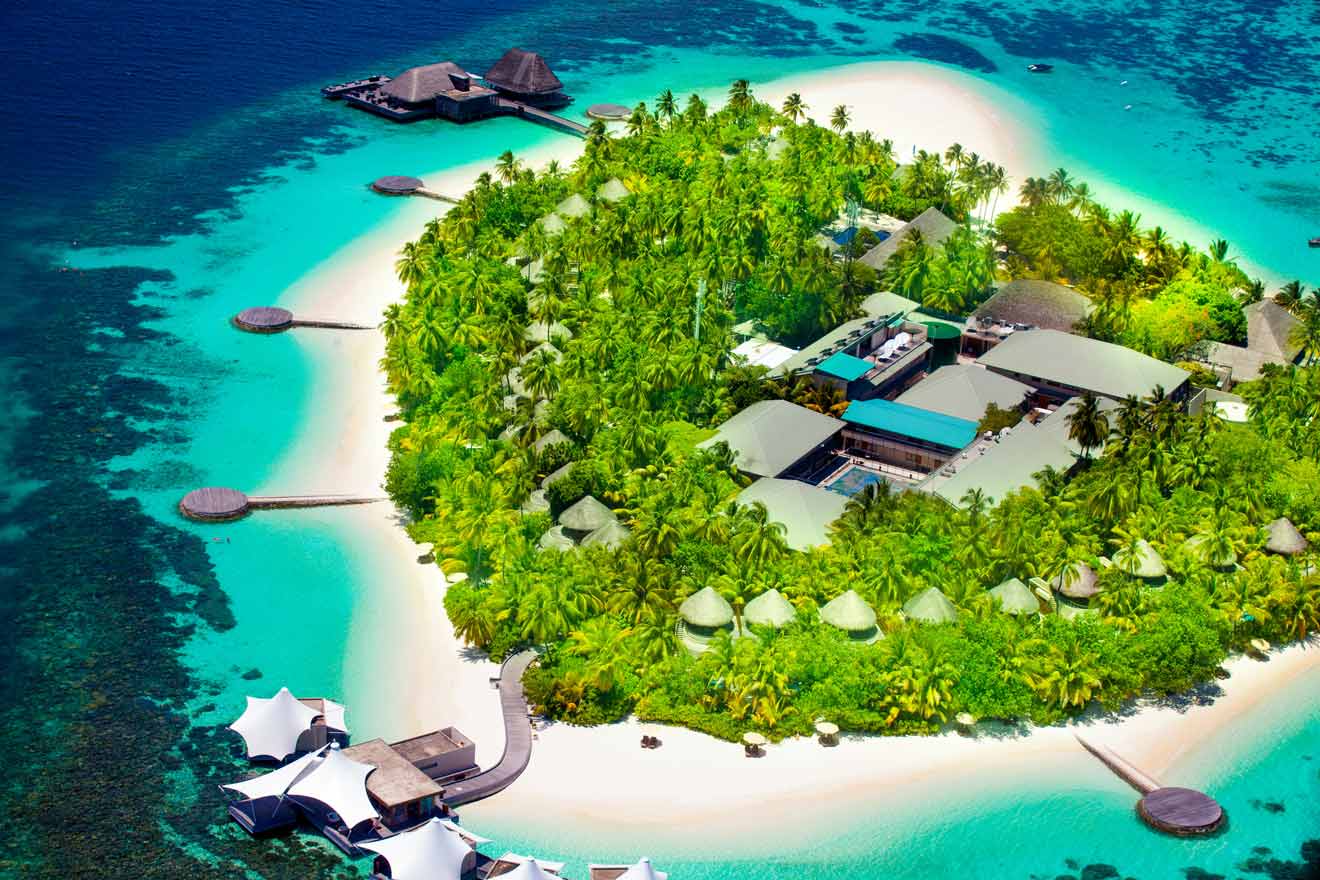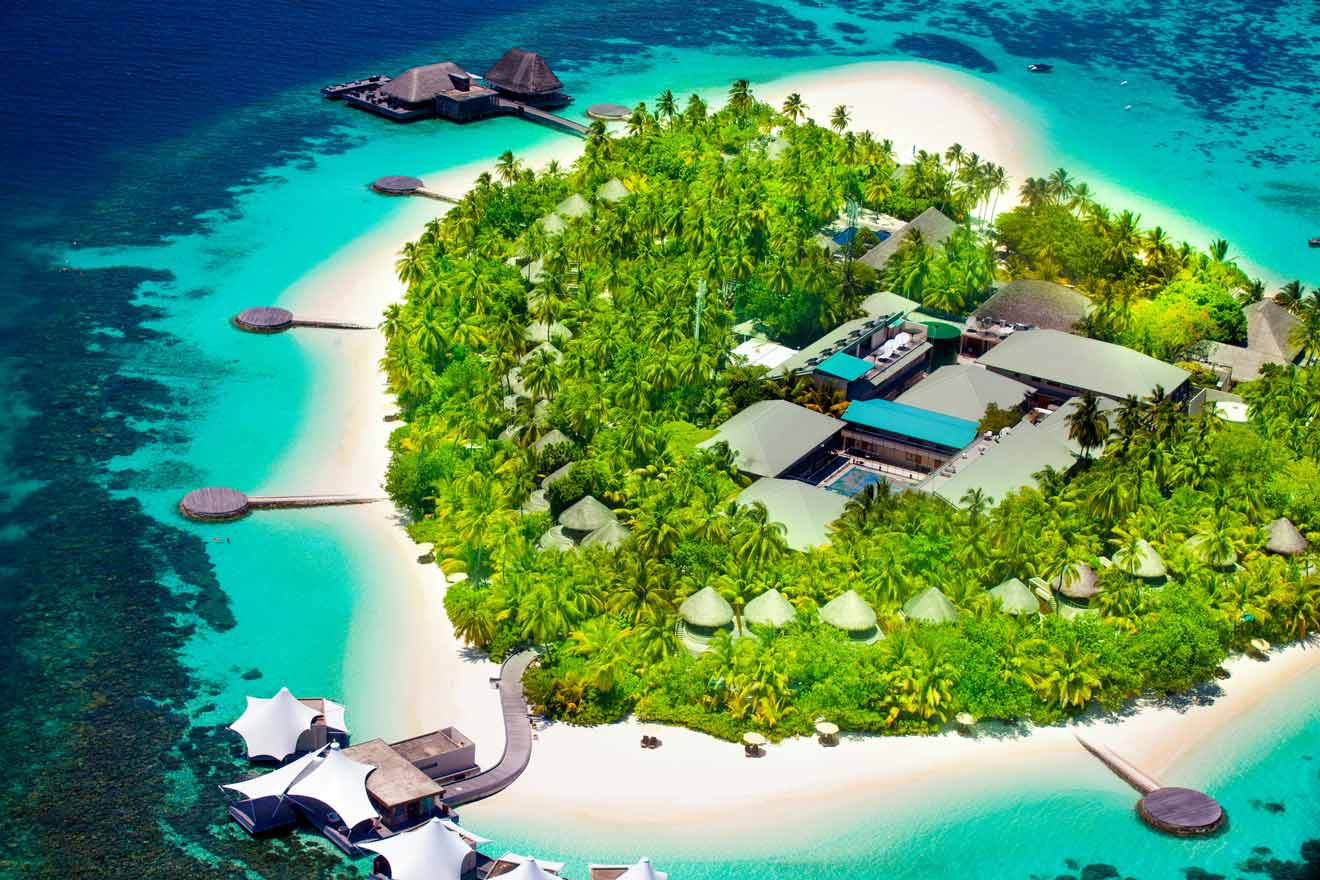 If you are looking for the best overwater bungalows in the Bahamas, I have bad news for you. Unfortunately, there aren't any overwater bungalows in the Bahamas itself, but you don't have to worry because I decided to help you find some other accommodation options that are as great!
After going through all the best booking websites, I collected here the best overwater bungalows NEAR the Bahamas and the top beachfront hotels in the Bahamas, both giving you access to the Caribbean's finest turquoise waters and snorkeling.
So whether you have your heart set on staying at an amazing hotel in the Bahamas, or are prioritizing staying in an overwater Bungalow, I have both choices covered for you!
Here you'll find everything from all-inclusive hotels located on some beautiful beaches, overwater bungalow resorts and overwater villas on private islands, suites with a plunge pool, beach cabanas, resorts nestled in green mangroves, and much more.
Just remember to book your favorite at least one some months in advance. These accommodations are very requested and rooms get booked out in the blink of an eye!
Enough talking… let's start exploring them all!
If you are in a hurry
If you just want to quickly book your accommodation, check out the best beachfront hotels in the Bahamas and overwater bungalows near the Bahamas.
Here's a map that will help you visualize all the hotels that I will be talking about in this post:
1. Overwater Bungalows near the Bahamas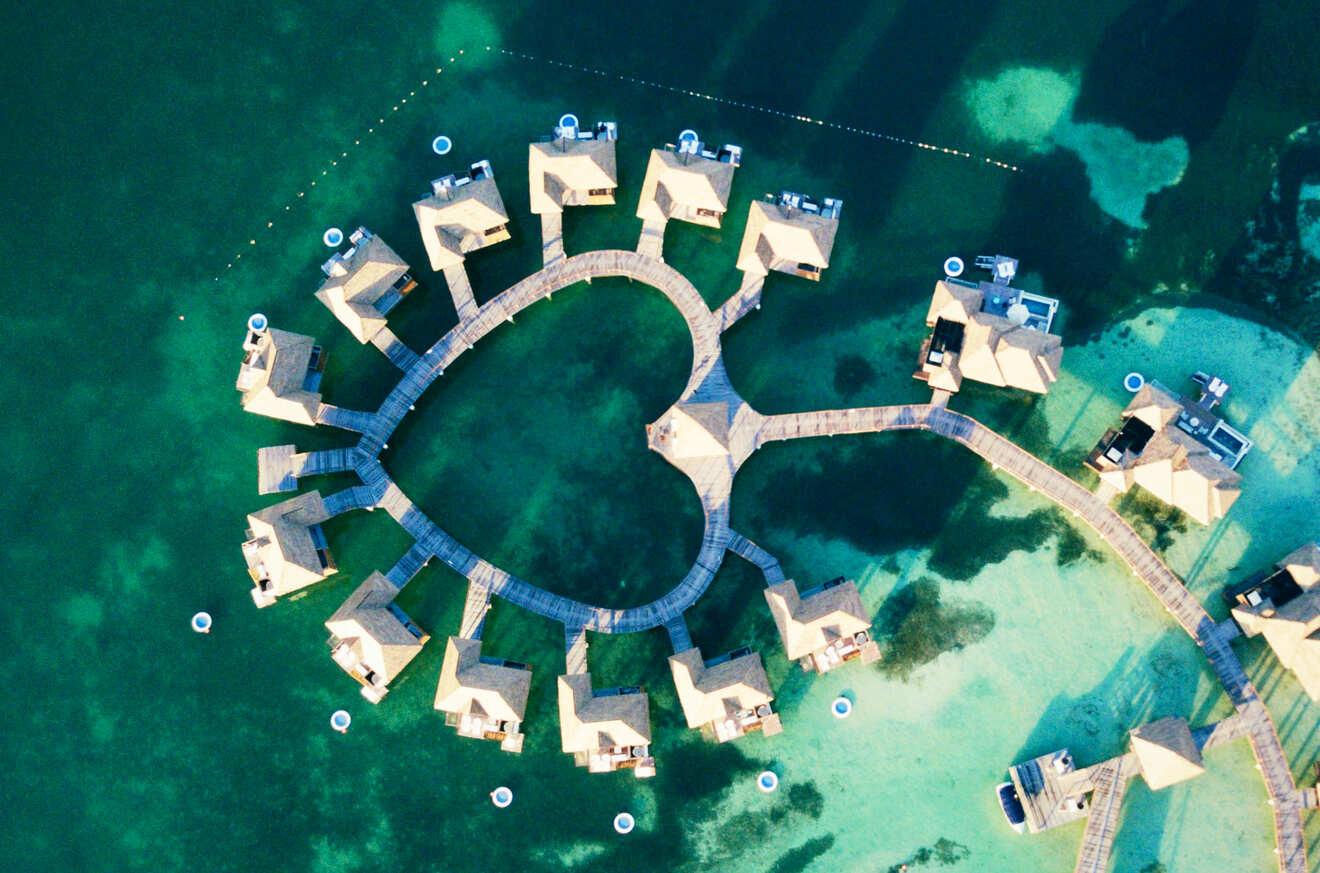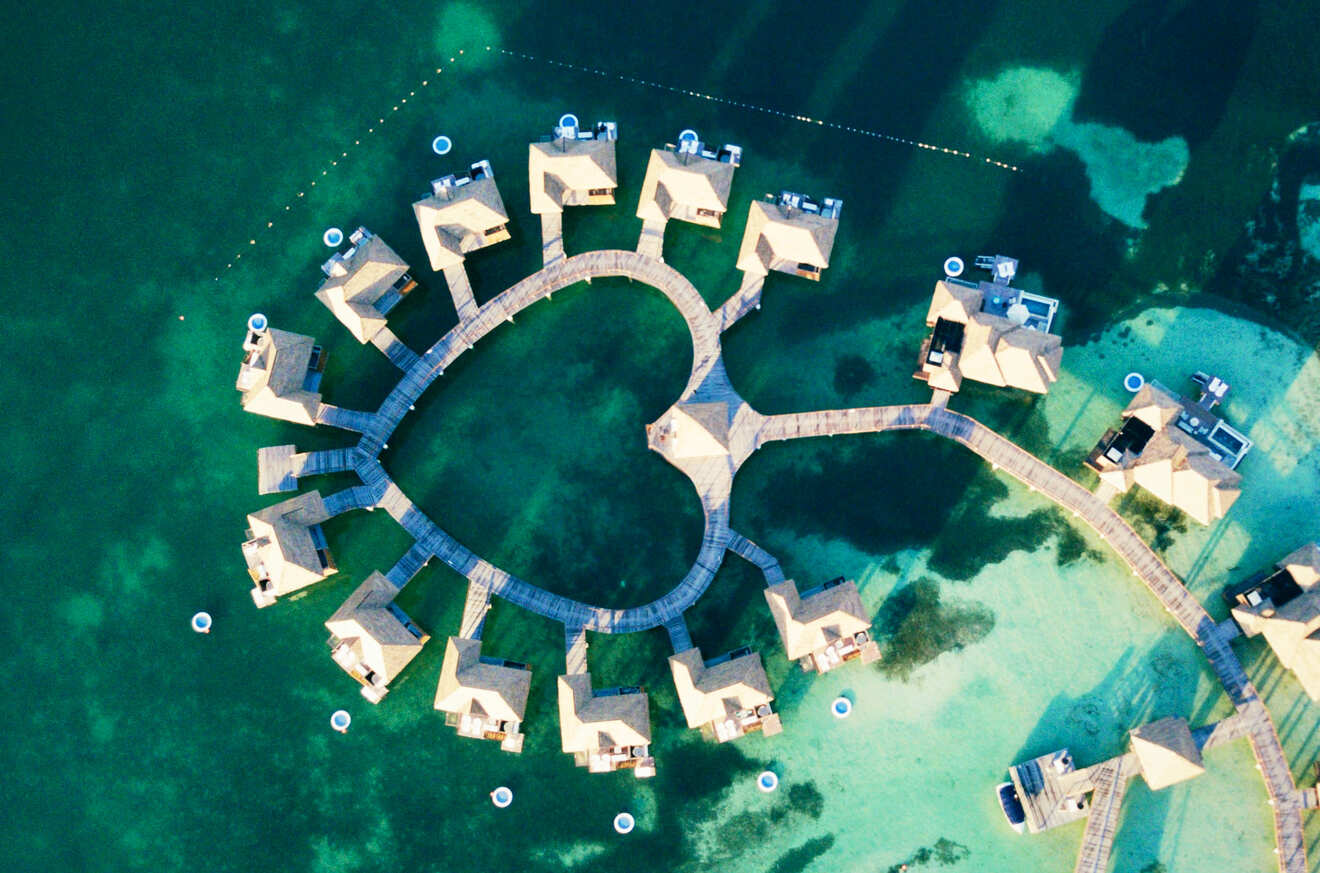 If you really want to spend your holiday in some luxury over-the-water bungalows, and you don't really mind where they are located, I gathered in this special section of the post the BEST overwater bungalows near the Bahamas in the Caribbean. These are located in some dreamy places like Aruba, Jamaica, Panama, Mexico, Saint Lucia, and Belize.
All these overwater the water bungalows have something special to offer: suites with a private pool, overwater cabanas with their own private decks/swim-up platform, overwater villas with glass floor panels, access to their own private island to an overwater bar, and much more.
Are you ready for an exclusive holiday on sparkling waters? Then check out the amazing overwater bungalows here below listed from most to least expensive. But if this isn't enough options for you, check out our post dedicated to the best overwater bungalows in the Caribbean.
1.1 Palafitos Overwater Bungalows – best choice of overwater bungalows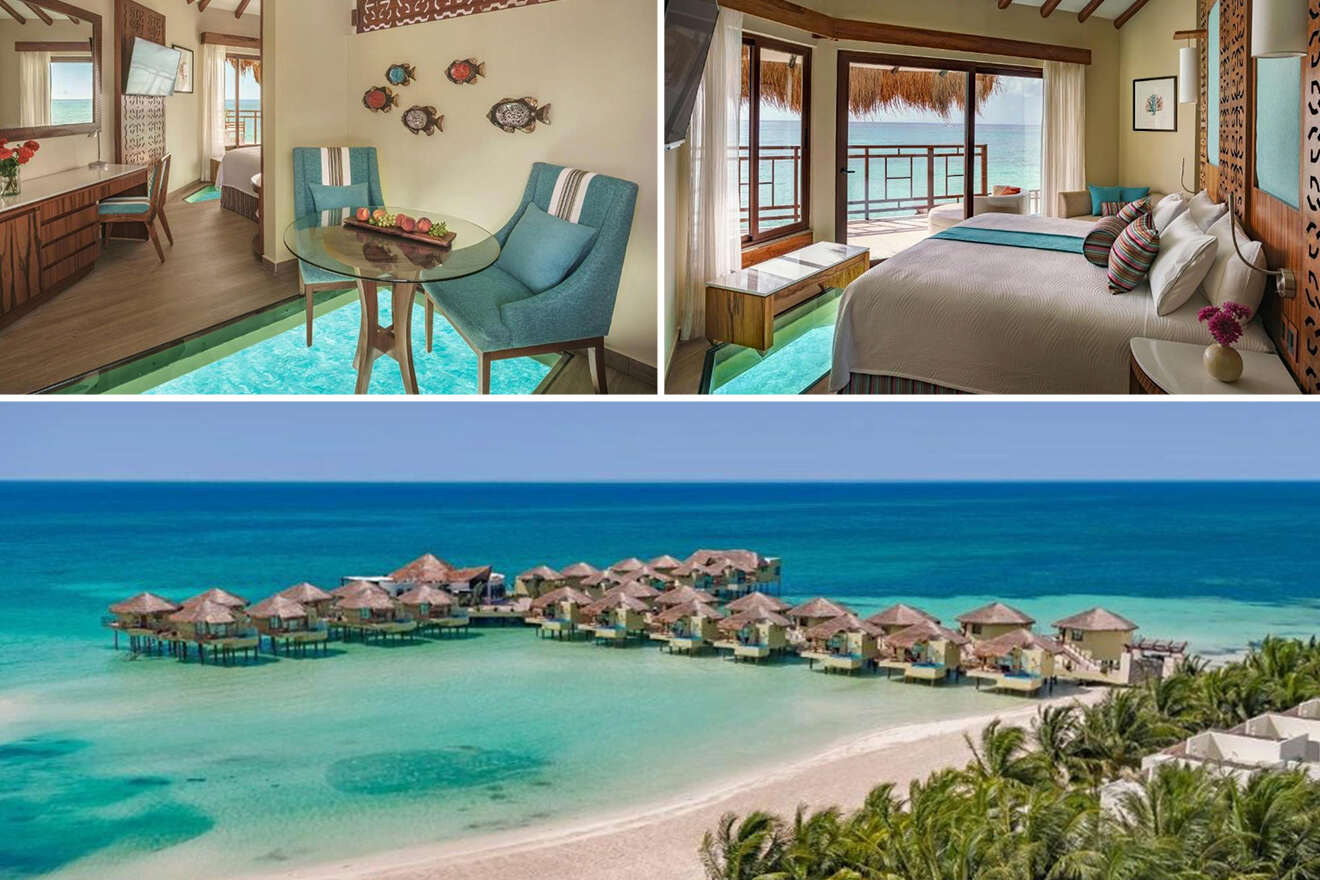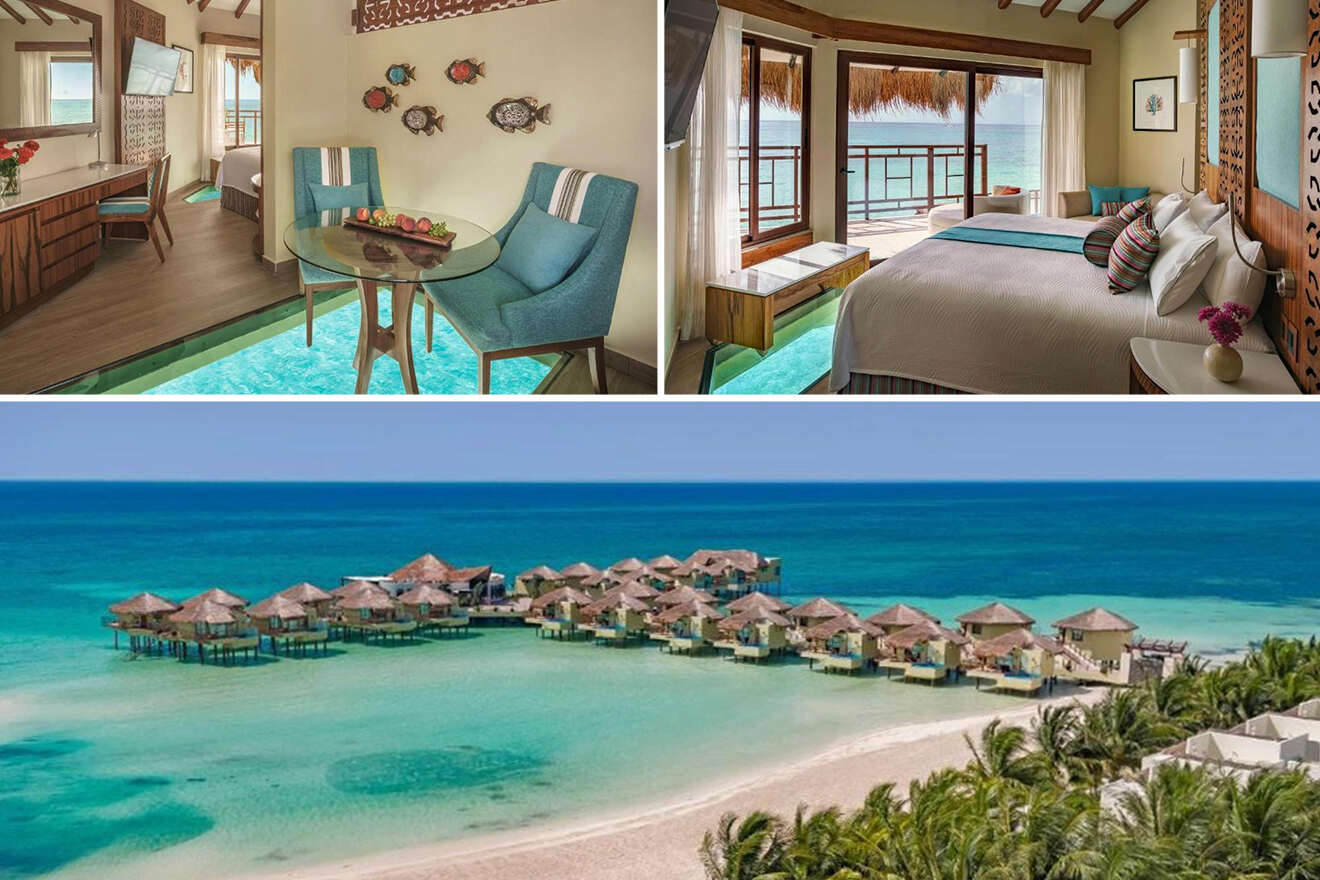 Located in Playa del Carmen (Maroma Beach), this adults-only, all-inclusive resort offers some of the best overwater bungalows in the South Pacific.
Here you can either stay in an overwater bungalow with a private outdoor shower and butler service or in lagoon suites with a balcony and private infinity pool. Whichever you choose, I assure you will be in love with it! Another plus? The overwater bungalows are only a 30 minutes drive from the Cancun Airport, so they are very easy to reach!
1.2 Rosewood Mayakoba – top luxury resort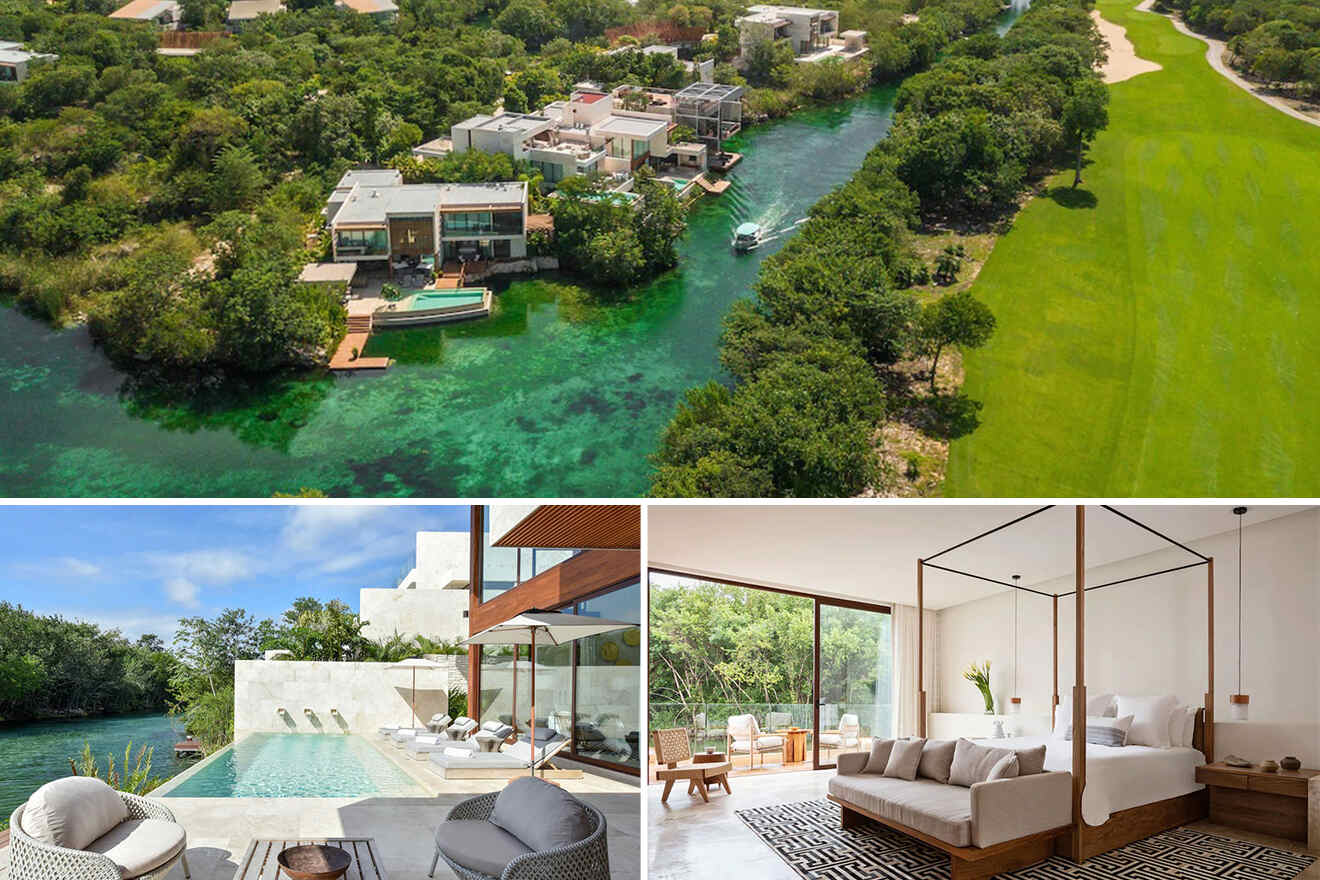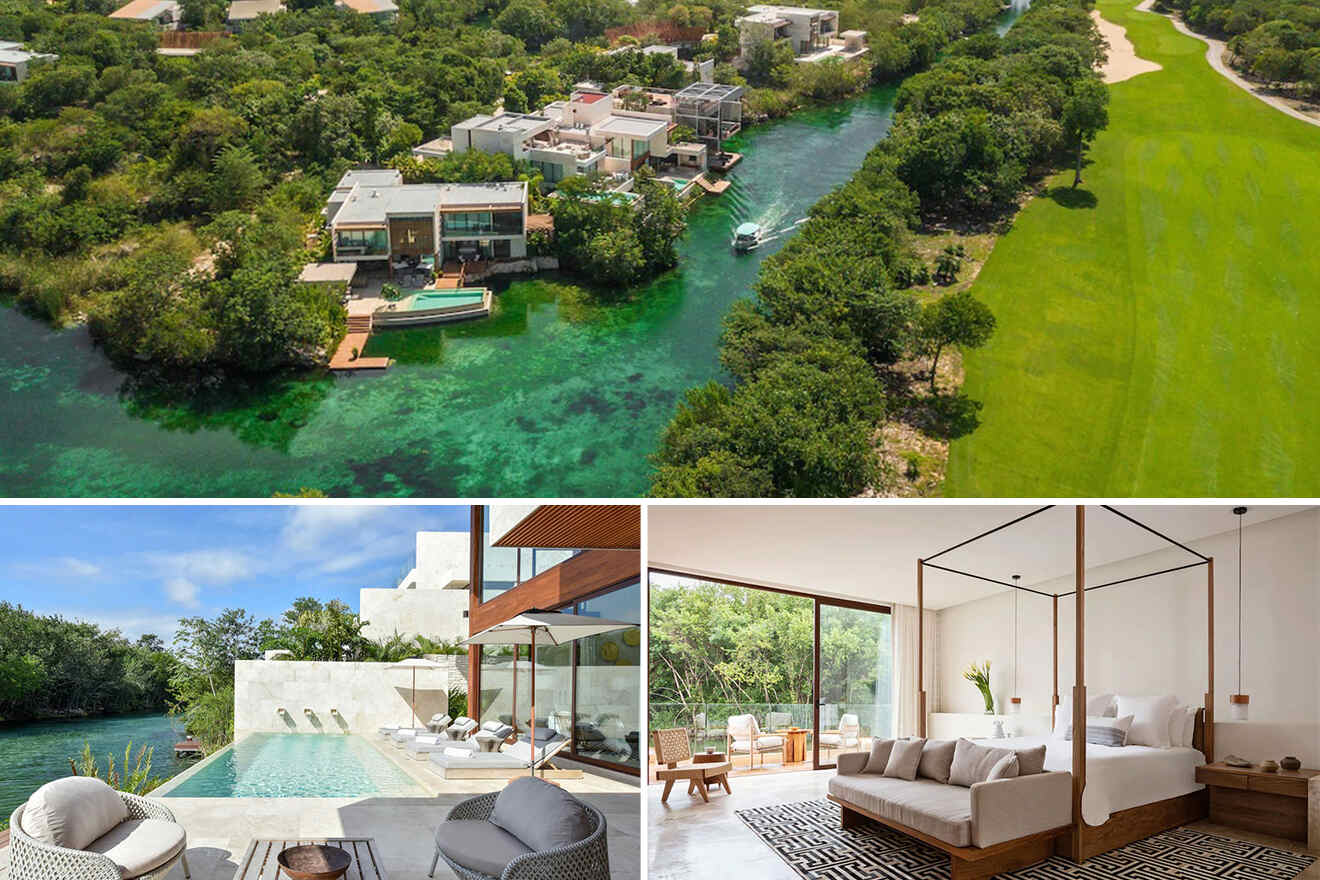 This is one of the most luxurious overwater bungalows in Mexico, located right on the beach in Playa del Carmen, and offers overwater bungalows with a heated plunge pool, outdoor garden shower, and a private sundeck!
Get ready to wake up with a breathtaking view of the Caribbean Sea, spend your day getting relaxing treatments and massages at the on-site spa (the #1 in the world by Forbes Mexico), and end it with a tropical cocktail on the beach bar.
1.3 Aruba Ocean Villas – top eco-friendly bungalows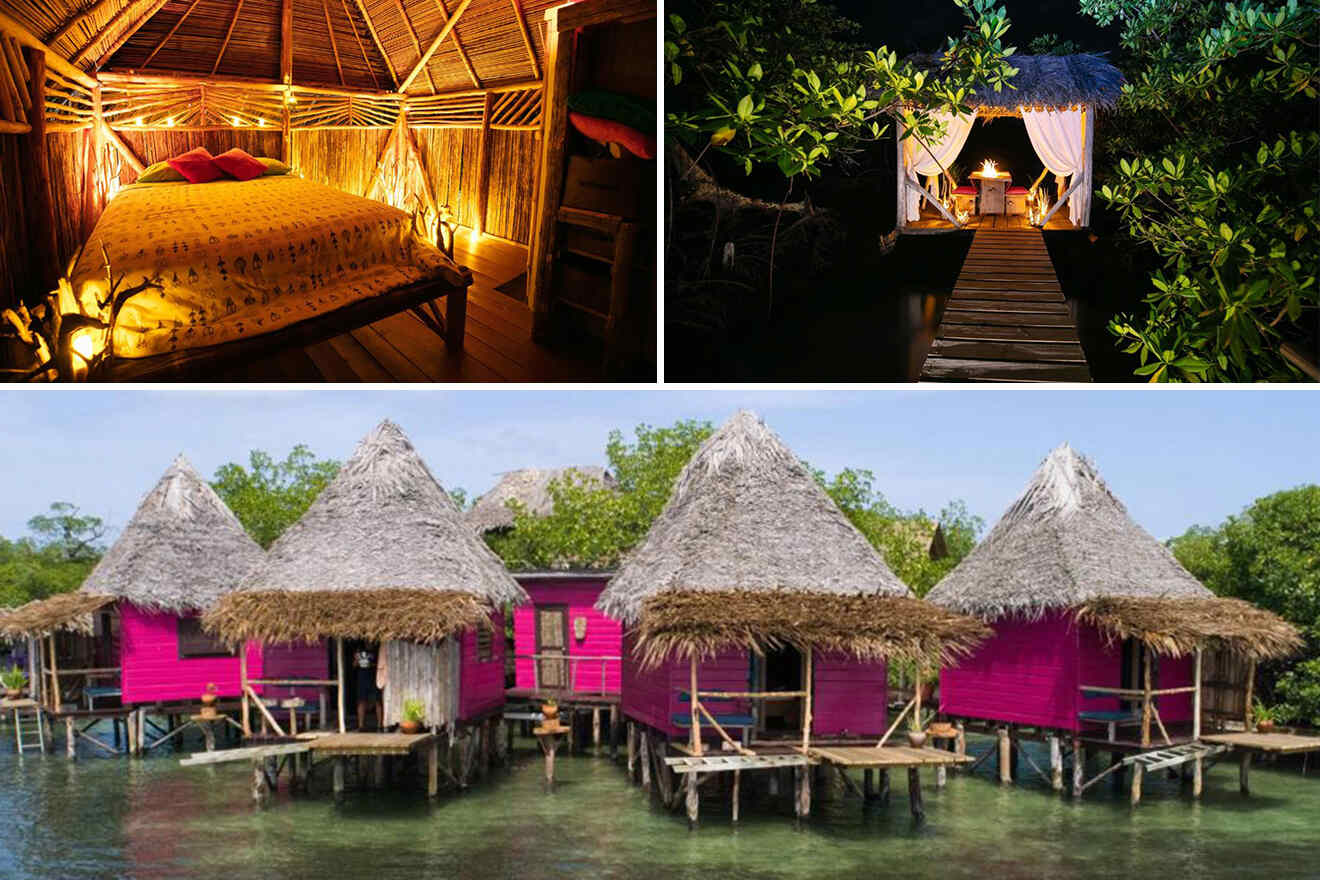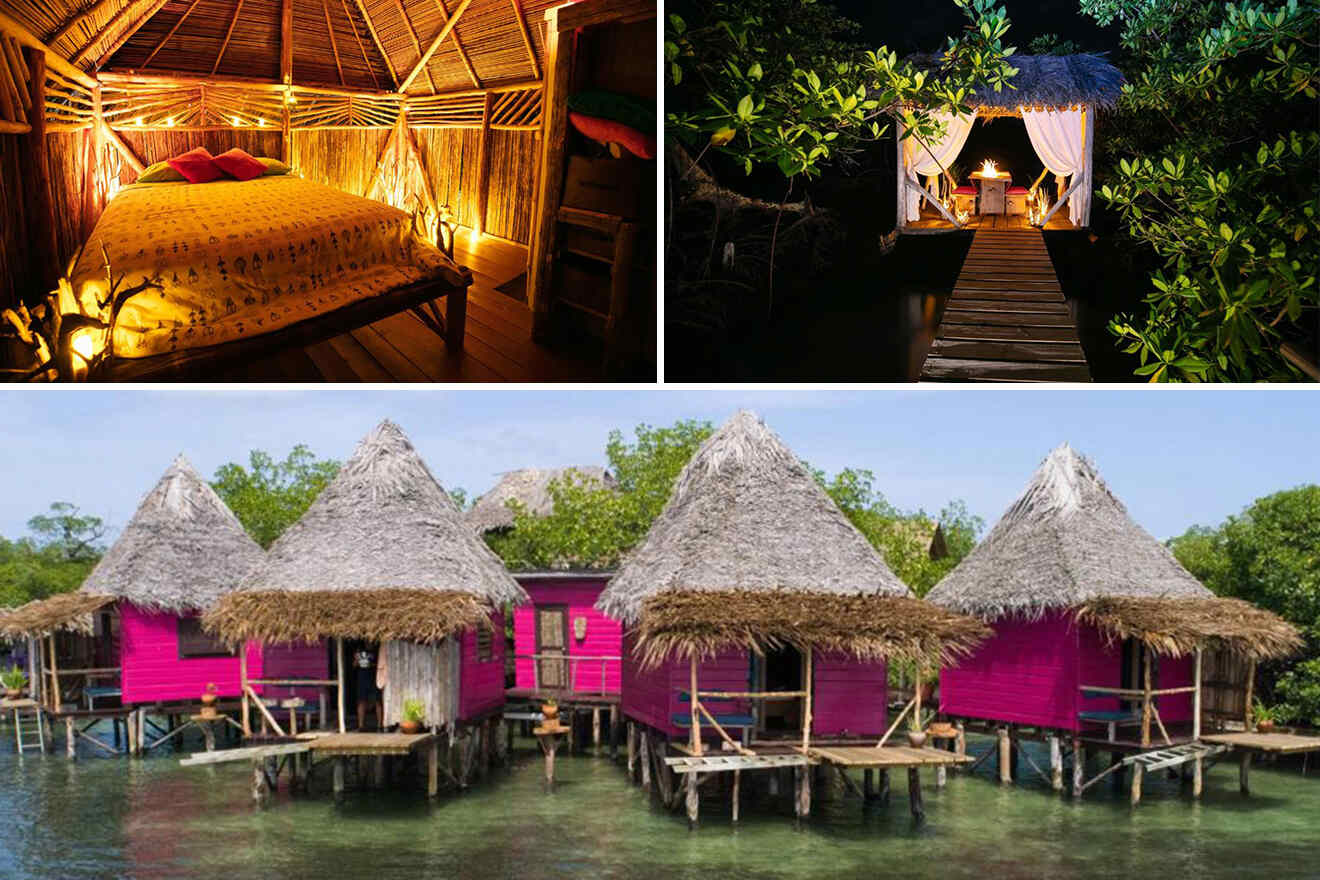 Nestled in front of lush mangroves in Aruba, Aruba Ocean Villas offer some of the best eco-friendly overwater bungalows you can find out there! All the overwater bungalows and villas feature Indonesian design, a private deck with a covered jacuzzi, an outdoor shower, and a staircase going directly to the ocean… just a dream!
In this quiet and adult-only resort, you can also join many cool activities and experiences like overwater dining, kayaking, snorkeling, paddle boarding, and paddle boating to explore the Caribbean sea.
1.4 Sandals South Coast All Inclusive – only for couples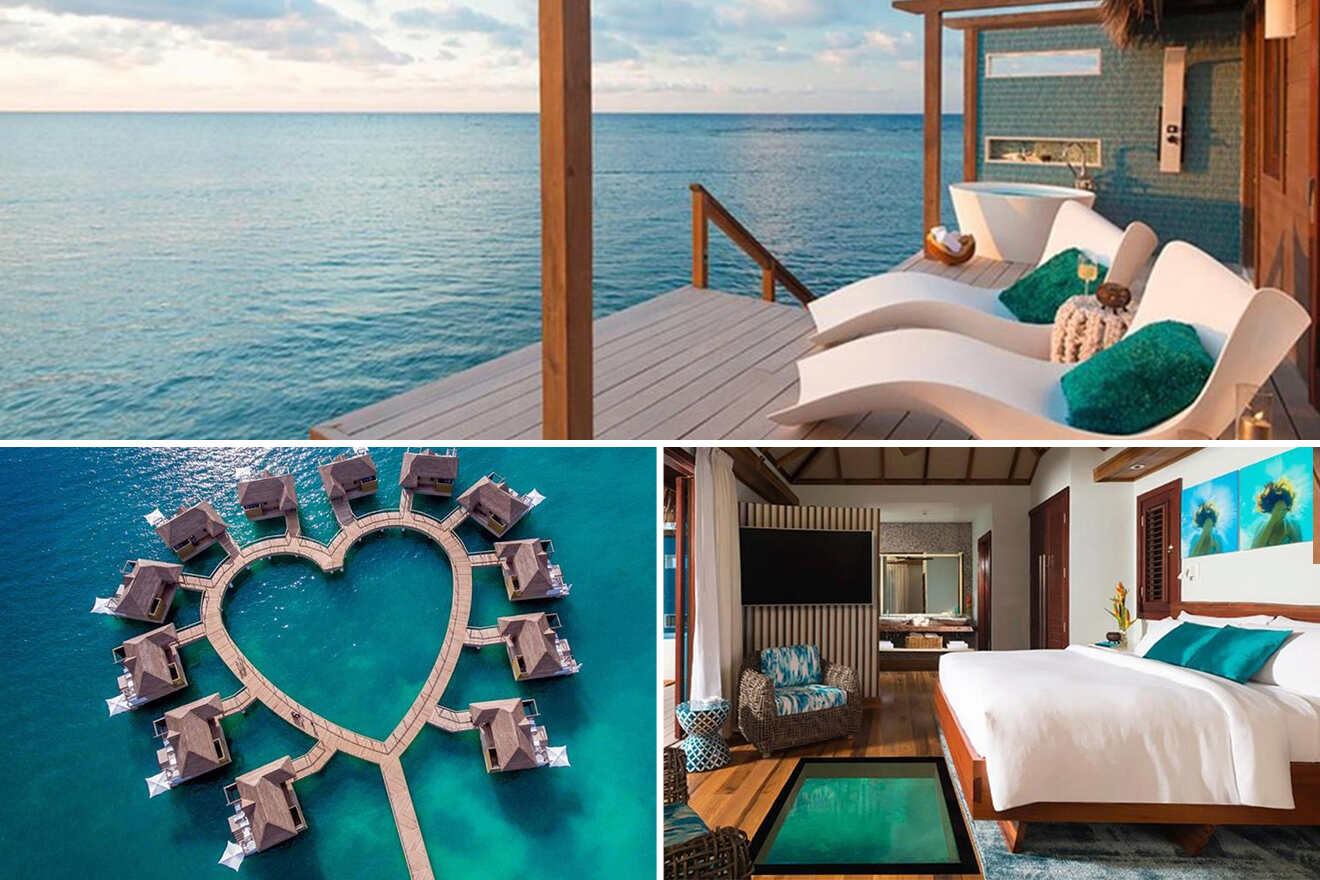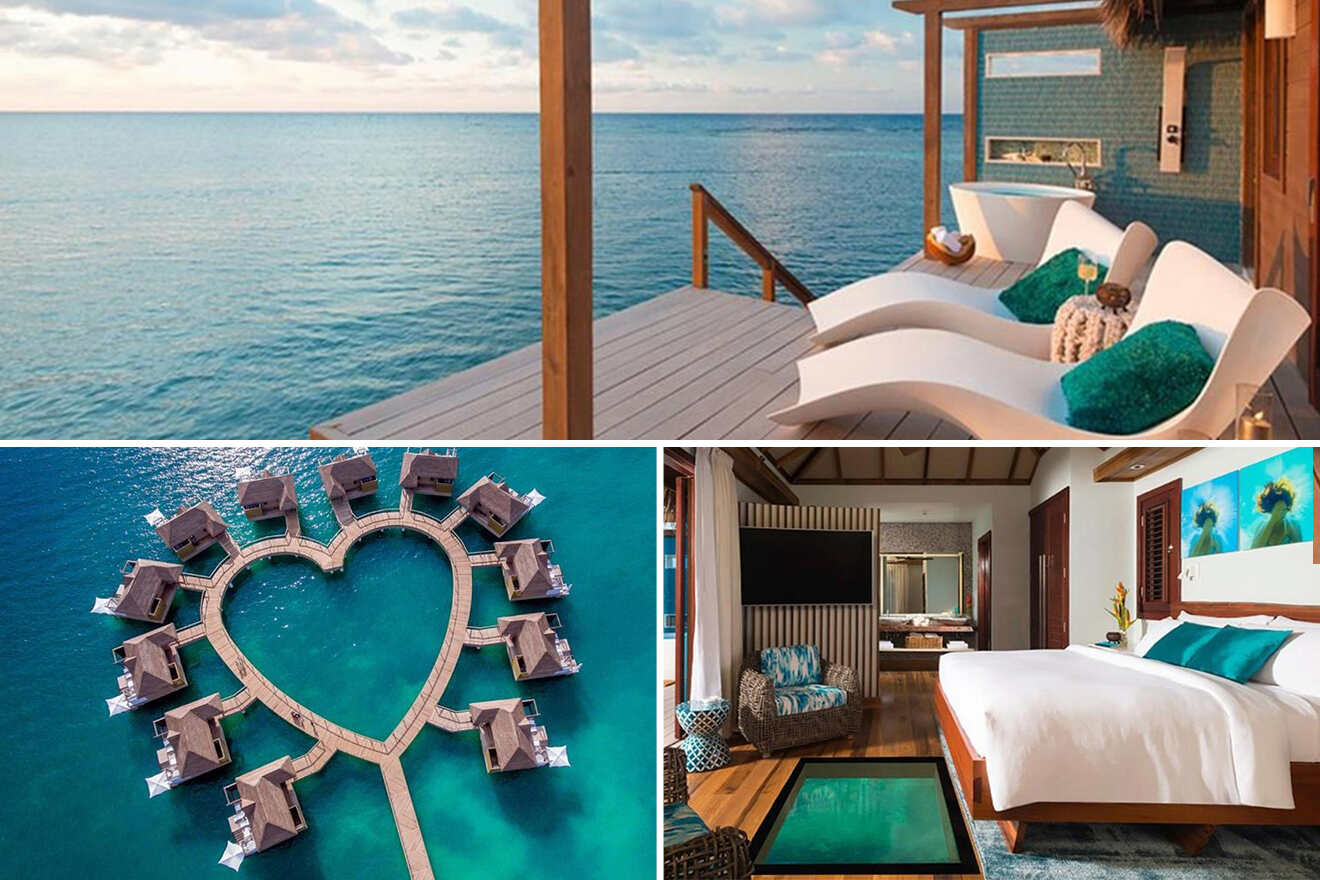 Located on the beautiful south coast of Jamaica, this luxury beachfront resort offers some amazing overwater bungalows for a romantic getaway with your partner!
Each accommodation here is just stunning, offering access to a suspended patio, an outdoor shower, an over-the-water hammock, spa-style bathrooms, a butler service and even an overwater Chapel. But that's not it, there's also 9(!) on-site restaurants serving delicious international cuisine, perfect for a romantic date night.
1.5 Sandals Royal Caribbean – top resort on a private island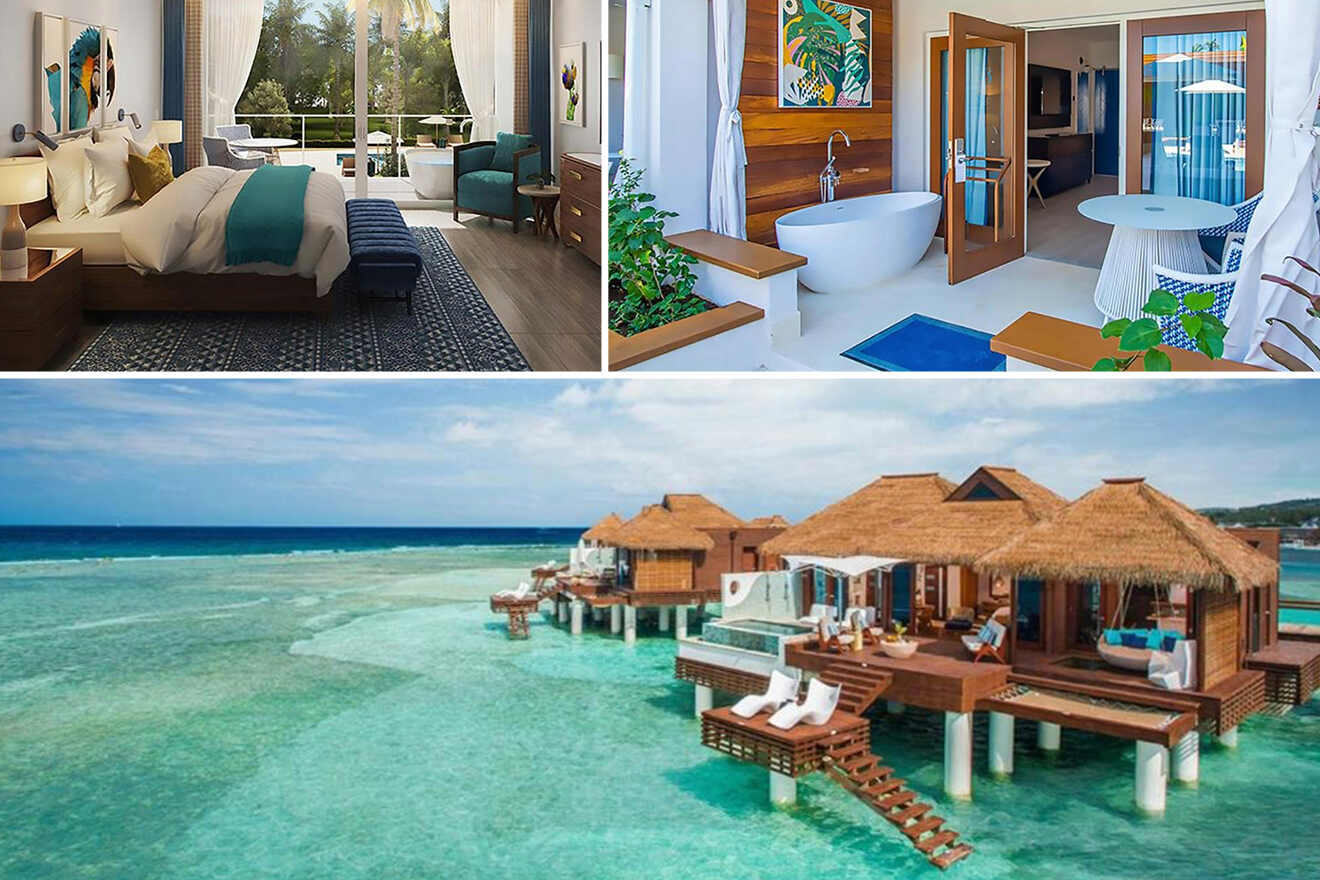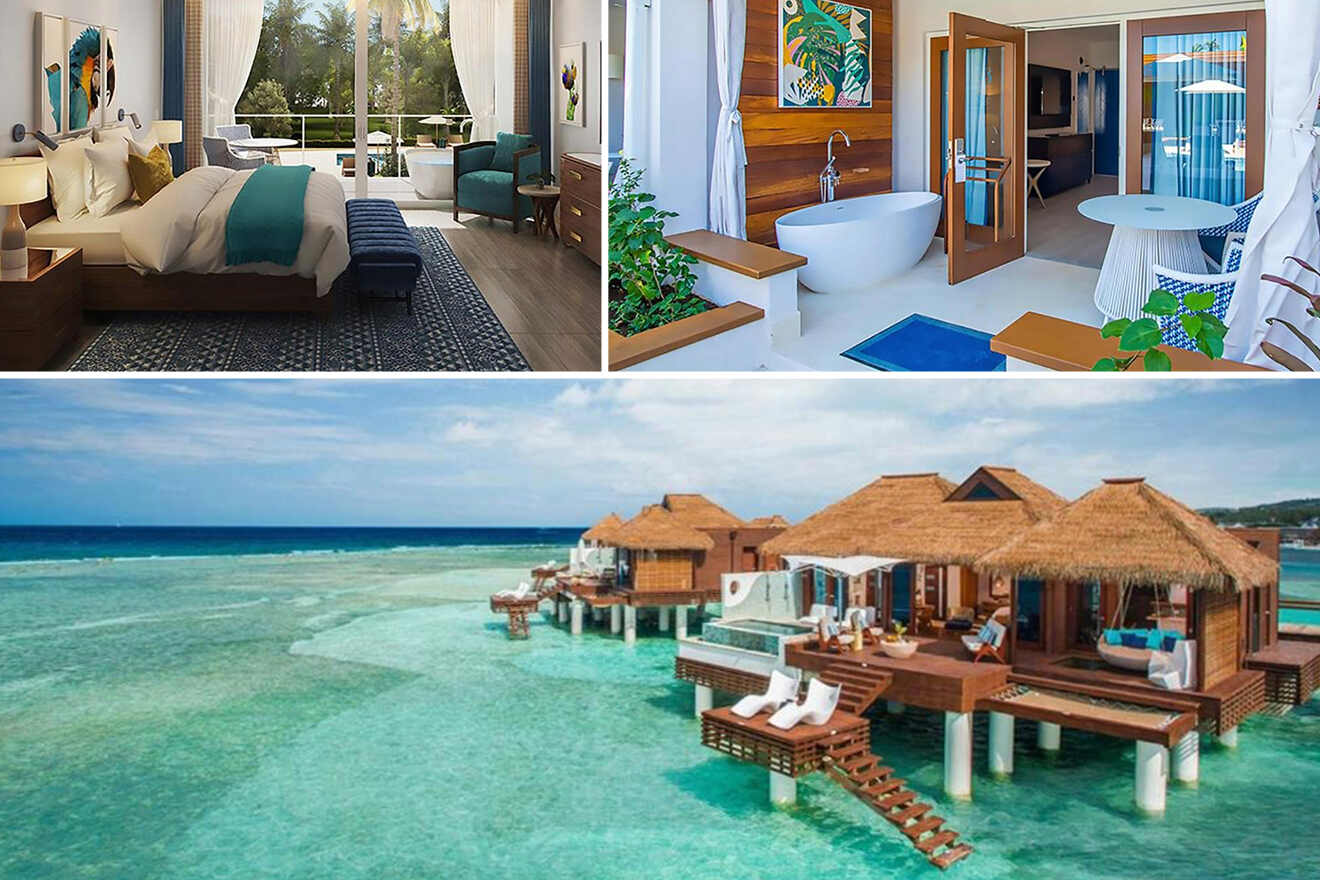 Looking for an overwater bungalow on its own private island? Well, you just found it! This unique resort in Jamaica (only 1 mile from Sangster International Airport in Montego Bay) offers luxury overwater bungalows and villas, honeymoon suites, deluxe rooms, and more, with direct access to a fairy-tale beach.
The resort preserves some unique British traditions, like the afternoon tea served every day, and offers many exciting activities at the same time like snorkeling and windsurfing in the surrounding waters, as well as billiards, table tennis, and darts.
1.6 Sandals Grande St. Lucian Resort – to connect with nature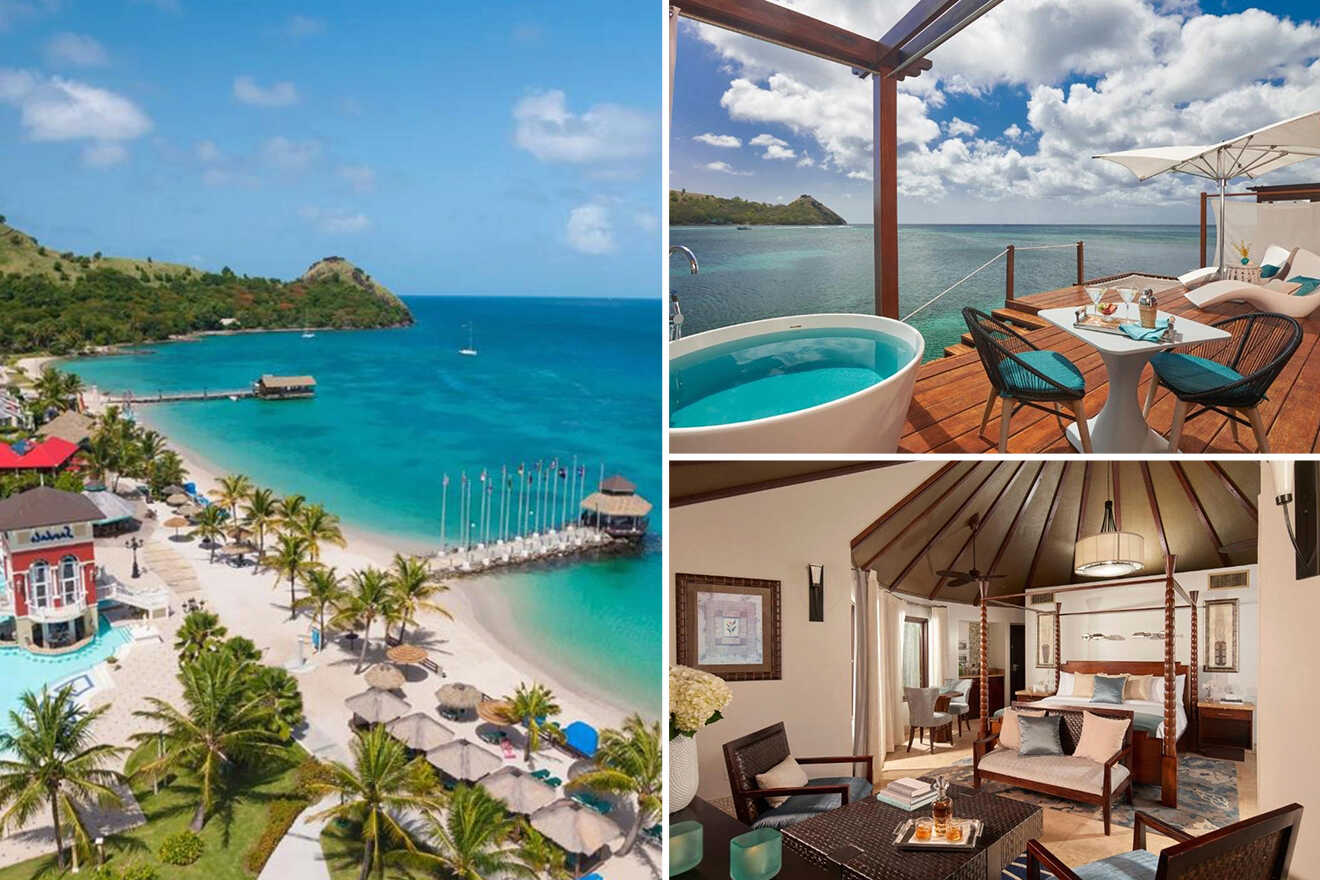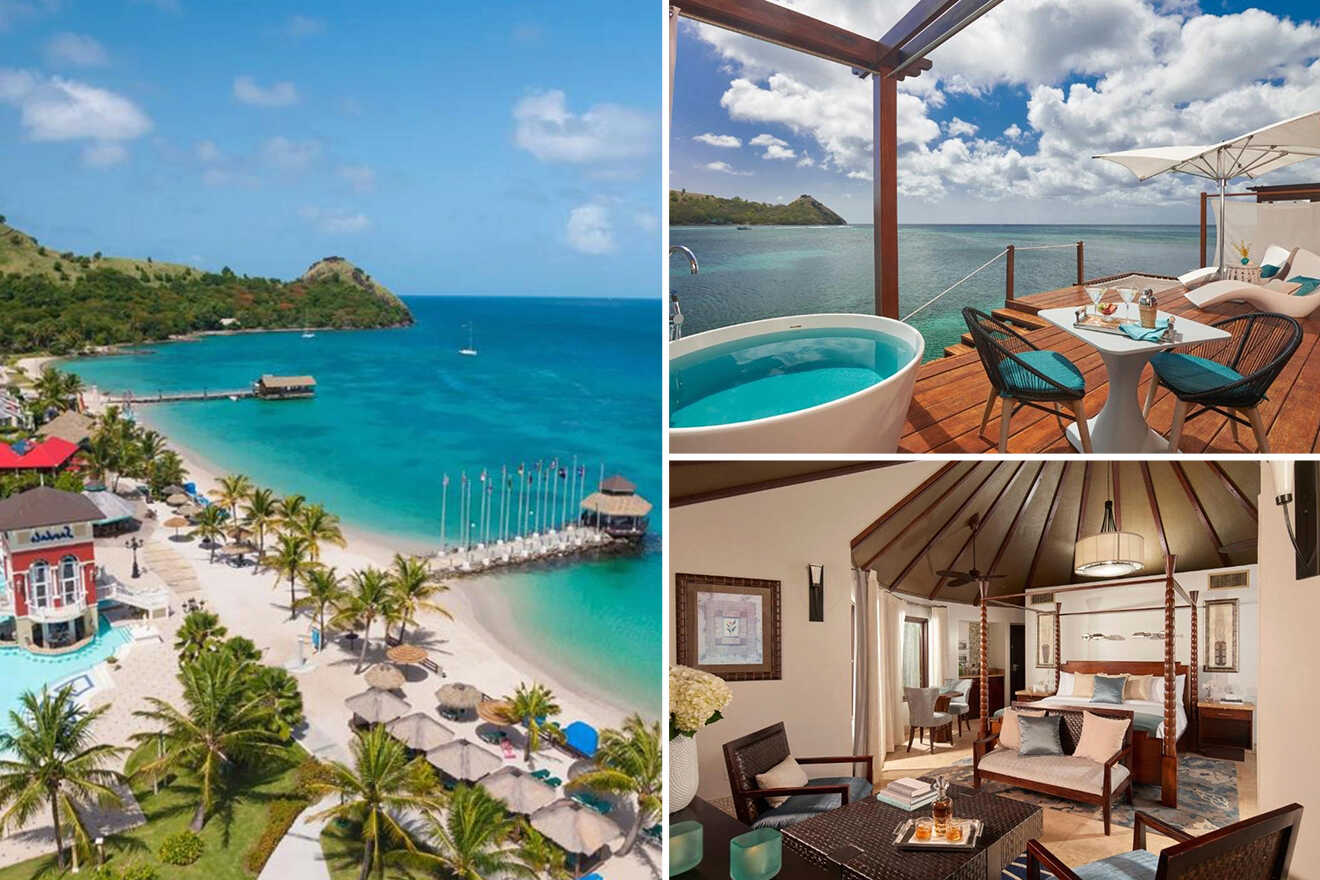 Located on the dreamy St Lucia island, at this all-inclusive resort you will have full-time connection with the sea and its rich marine life!
In fact, all the stunning overwater bungalows here have glass floors, so you can see the underwater world at any time, a tranquil terrace overlooking the ocean so you can splash directly into the water, and a soaking tub for two or over-water hammocks to just relax with a gentle sea-breeze.
1.7 Banyan Tree Mayakoba – for a relaxing getaway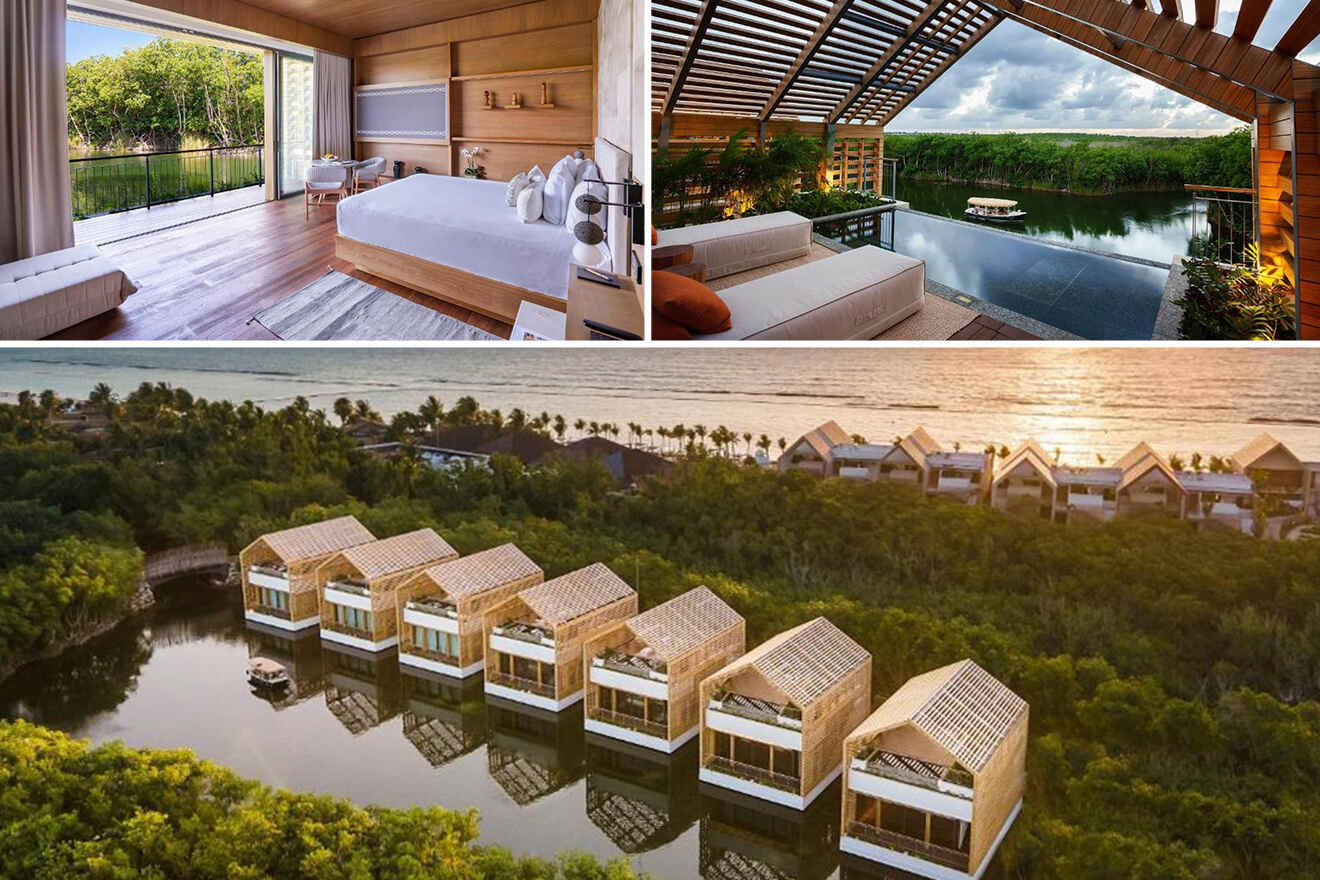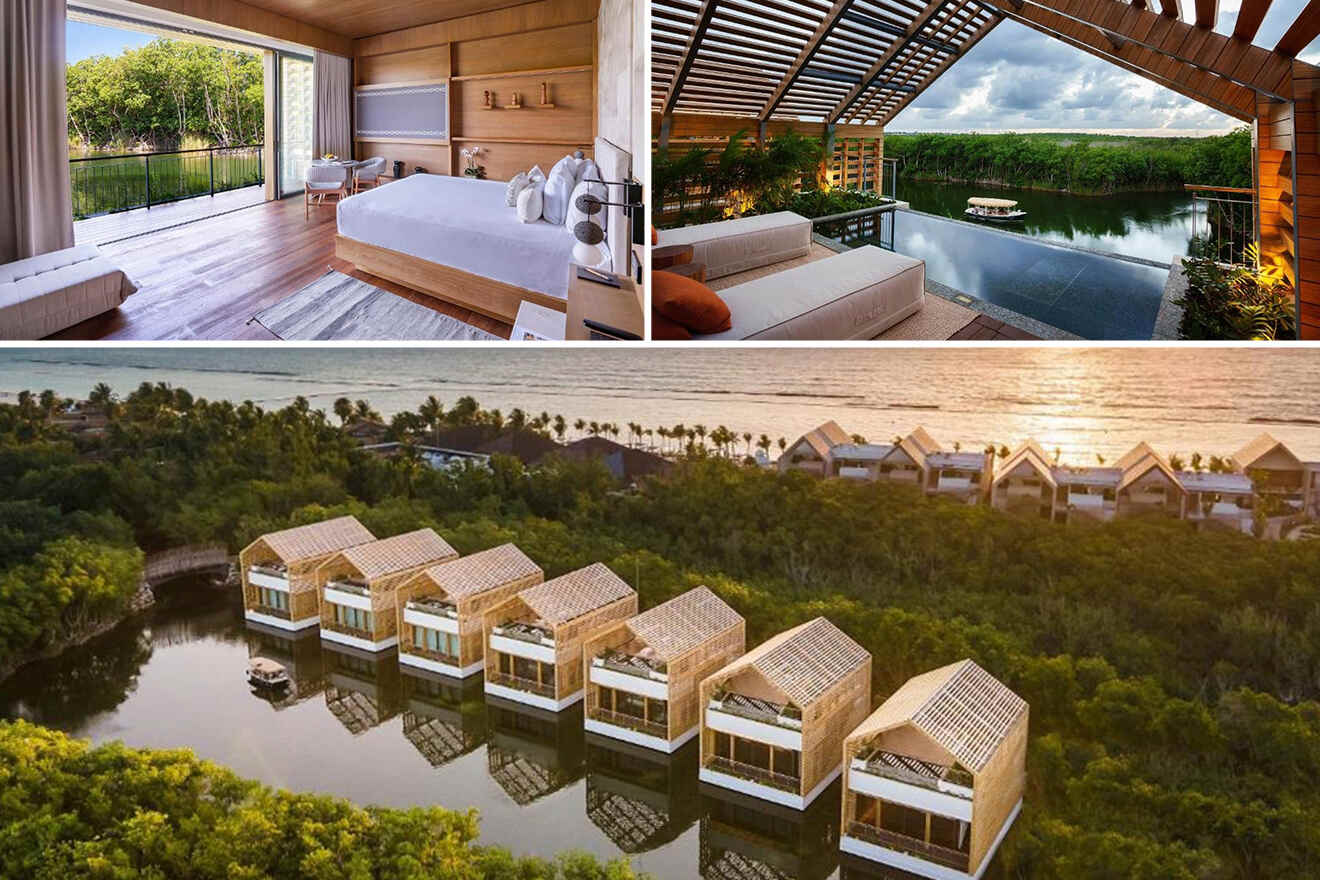 This is one of only 3 overwater bungalows in Mexico. Located in Playa del Carmen, it will just blow your mind! This accommodation is known for its eco-friendly values and stylish design matching nature… perfect to enjoy some peace and relaxation.
All the luxurious overwater bungalows or villas (like the lagoon and sunset villa) offer access to private plunge pools, a private dock, an outdoor shower, private butler service and a huge veranda where you can gaze at sea views with a drink in your hand!
1.8 Thatch Caye Resort a Muy'Ono Resort – best all-inclusive package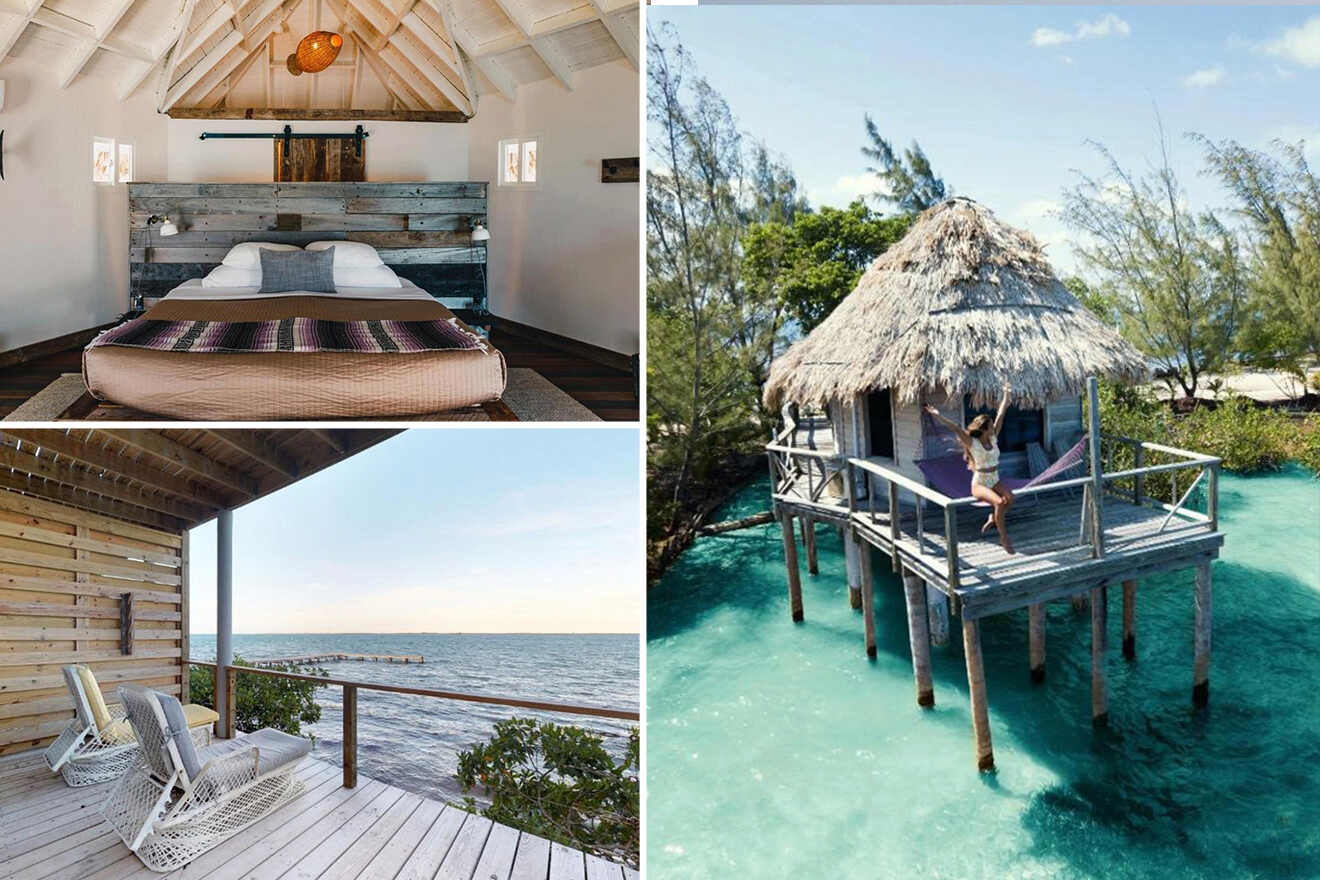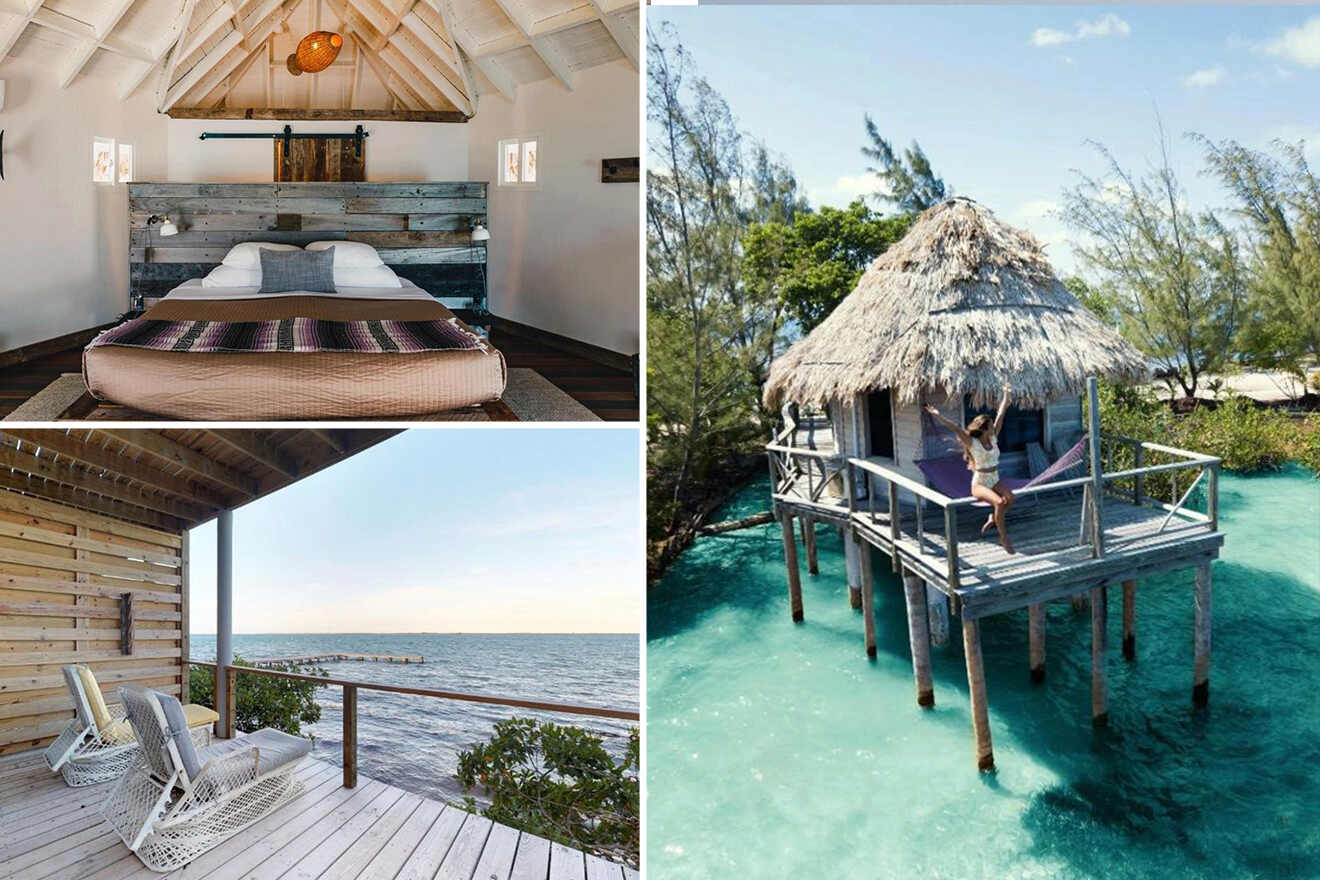 Thatch Caye, located on a private island in Belize, is the perfect place to enjoy both a unique stay in the breathtaking overwater bungalows and all the comforts of an all-inclusive package!
Here you can chill on your overwater hammock, swim in the natural saltwater pool, get a relaxing seaside massage, and take advantage of the included cocktails at the overwater bar and delicious Belizean food at the on-site restaurants… What else could you ask for?
1.9 St. George's Caye Resort – for an intimate holiday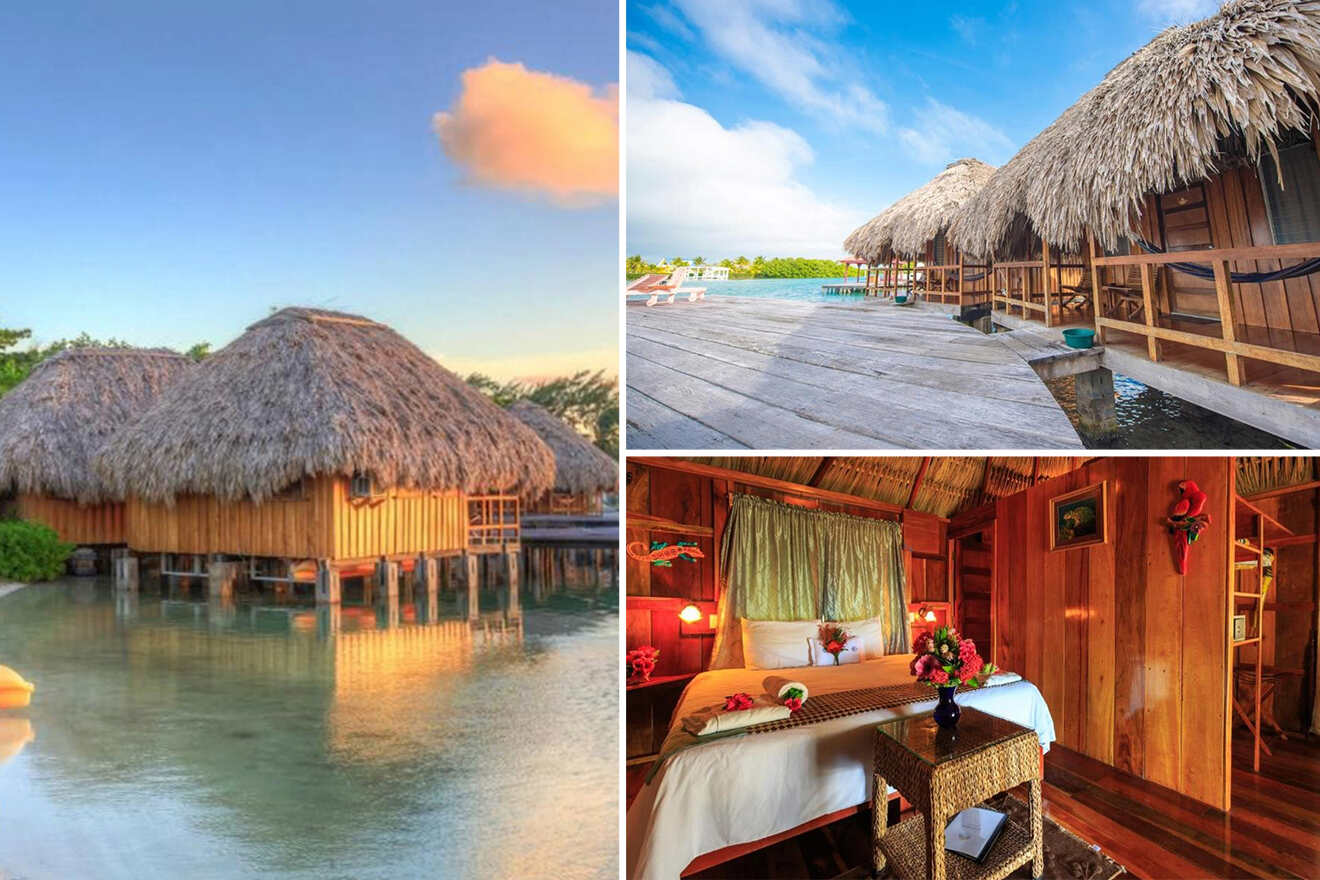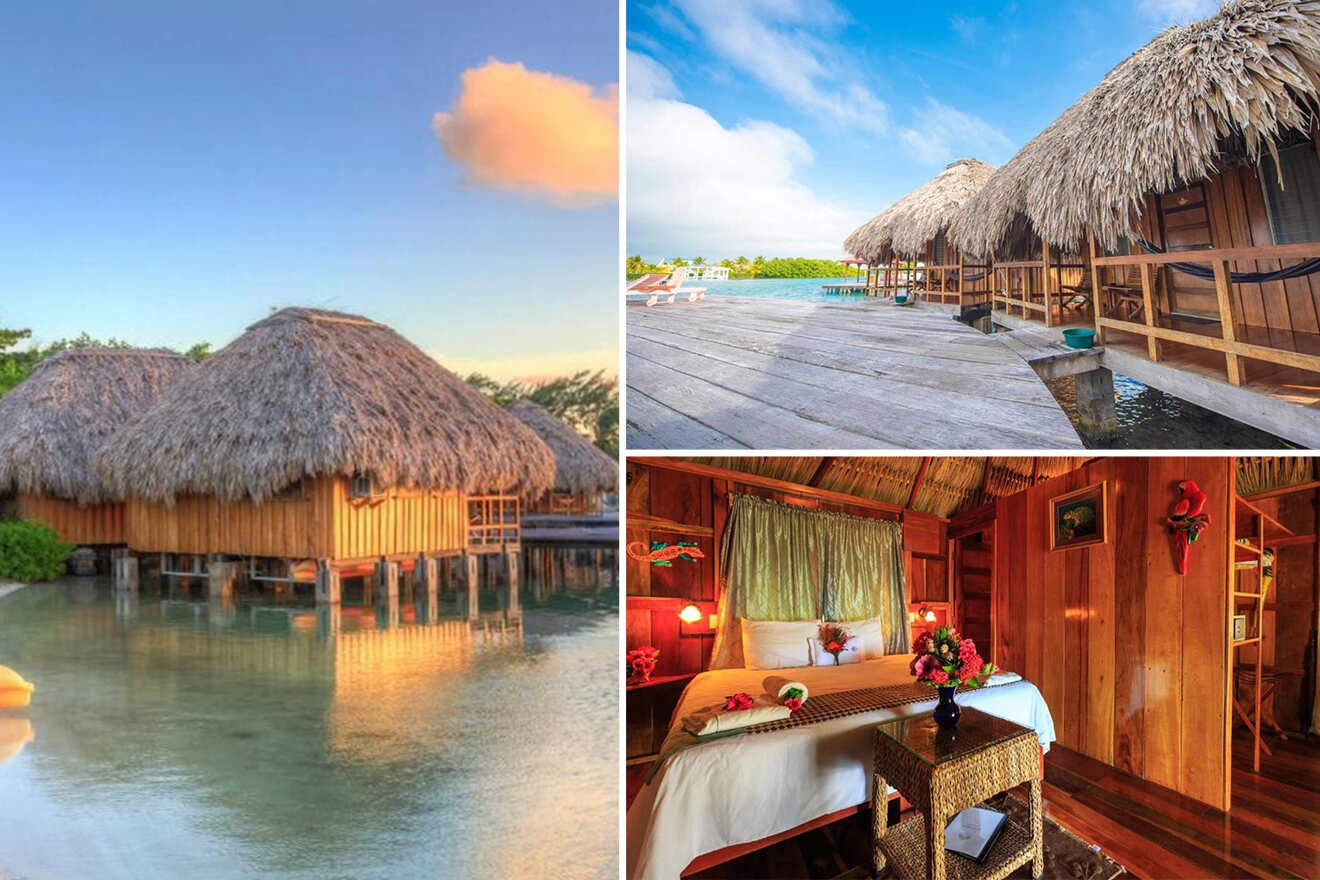 If you want to have an intimate and quiet holiday, this beachfront resort located on a private island in Belize is for you, offering 12 elegant overwater bungalows and cabanas.
Here you can wake up early to gaze at unforgettable sunrises, have a delicious made-to-order breakfast served each morning and end your day with a dinner in one of the fine dining restaurants serving traditional Belizean and international cuisines.
1.10 Punta Caracol Acqua Lodge – best for access to water sports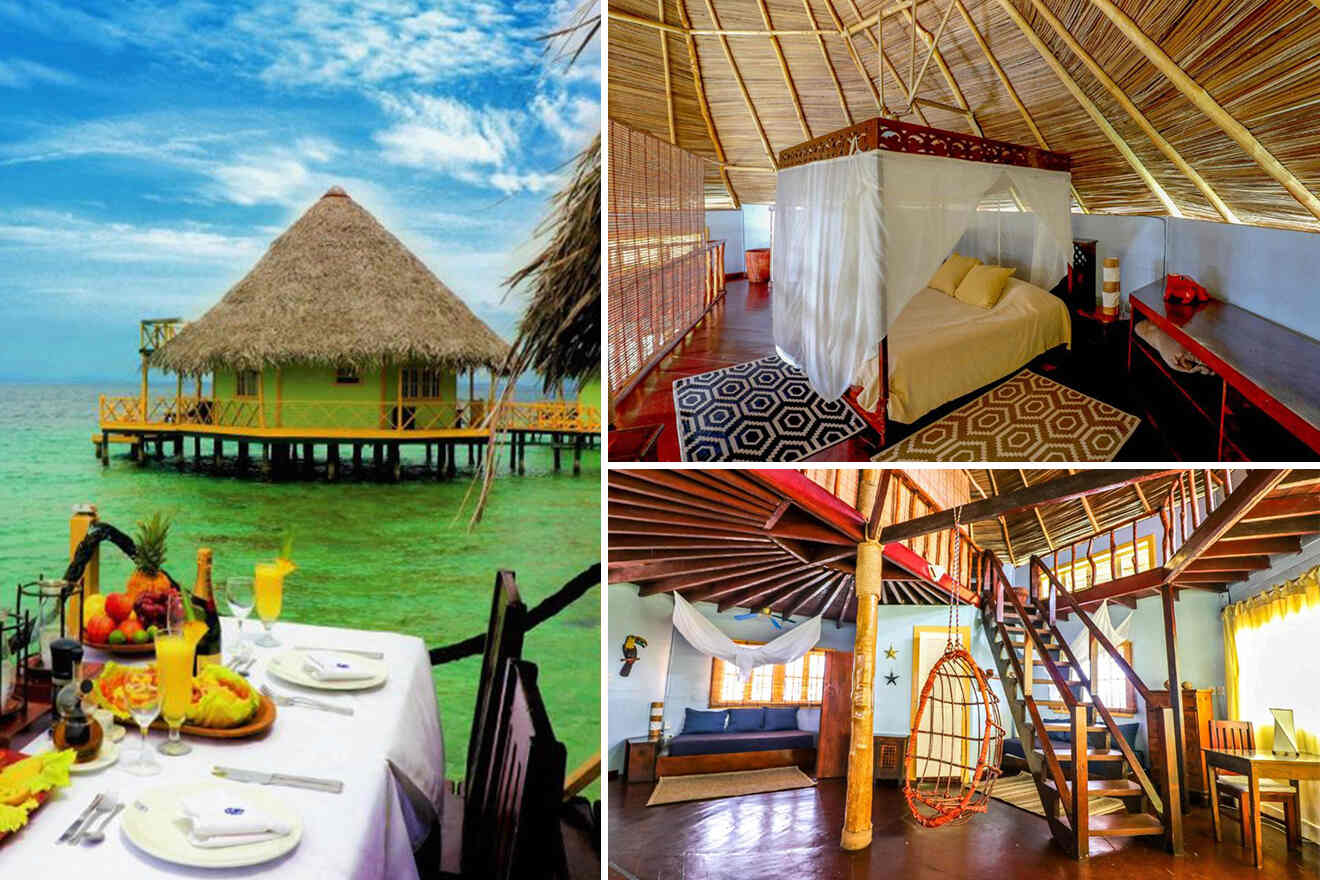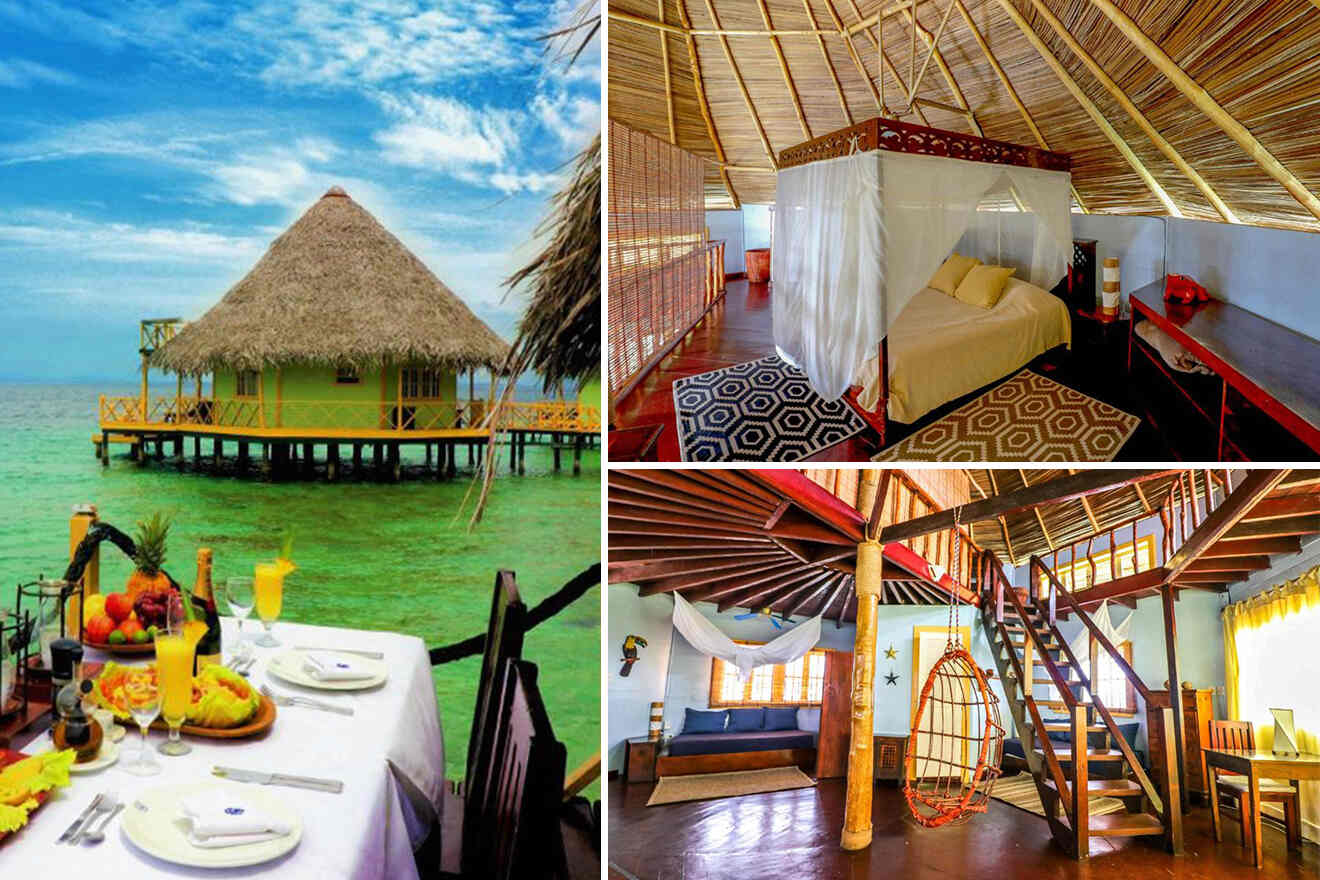 If you love snorkeling, this overwater bungalow in Panama is for you. Located on a reef that is home to many tropical fish and other marine life, you can see them directly from the glass-bottom sections of the overwater bungalows or go swimming with the snorkeling gear provided by the property!
And after a day exploring crystal clear waters, enjoy a candlelight dinner at the restaurant's impressive palm leaf roof restaurant (with breathtaking sunset views), serving a wide variety of Caribbean and International dishes… all delicious!
2. Top beachfront resorts & hotels in the Bahamas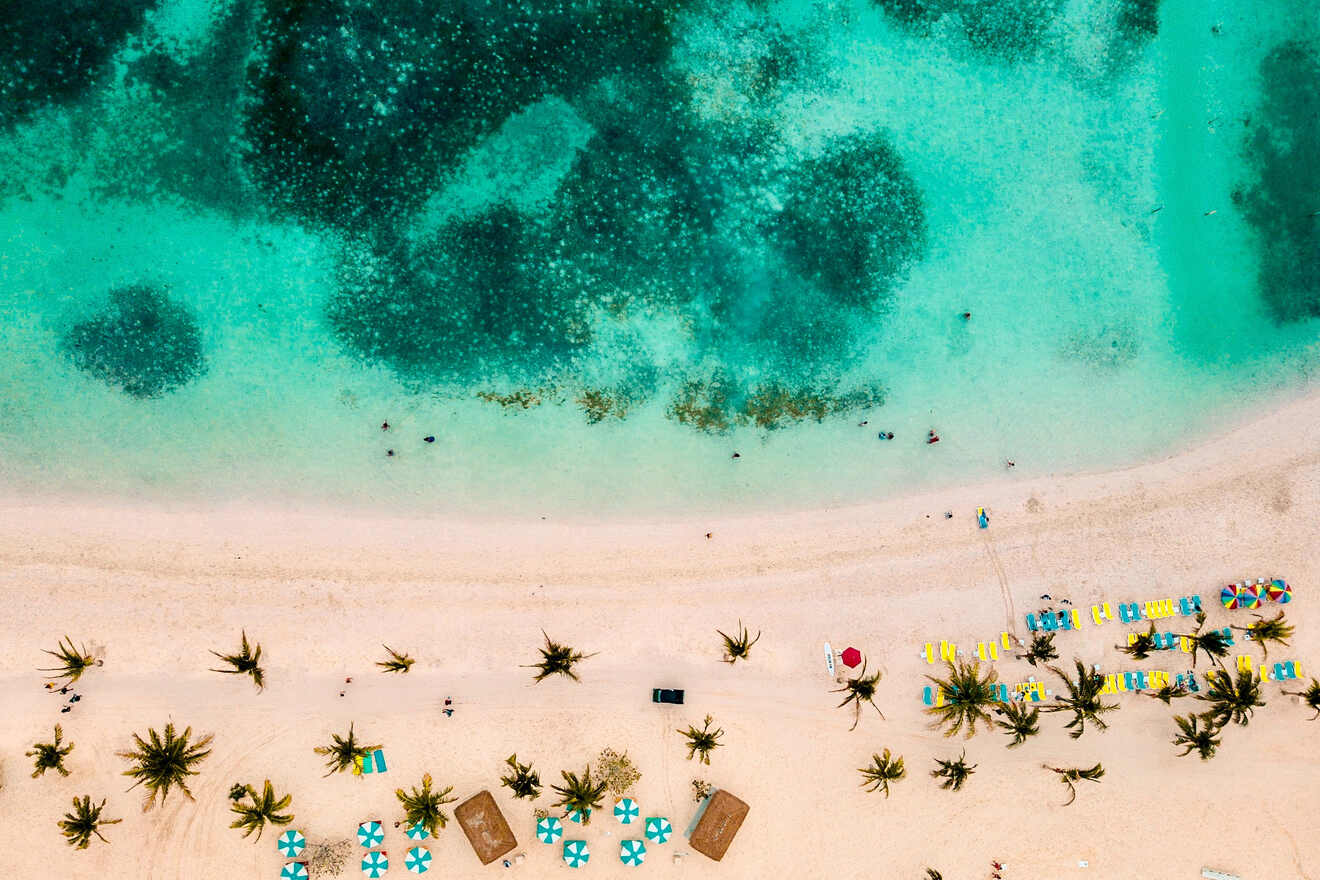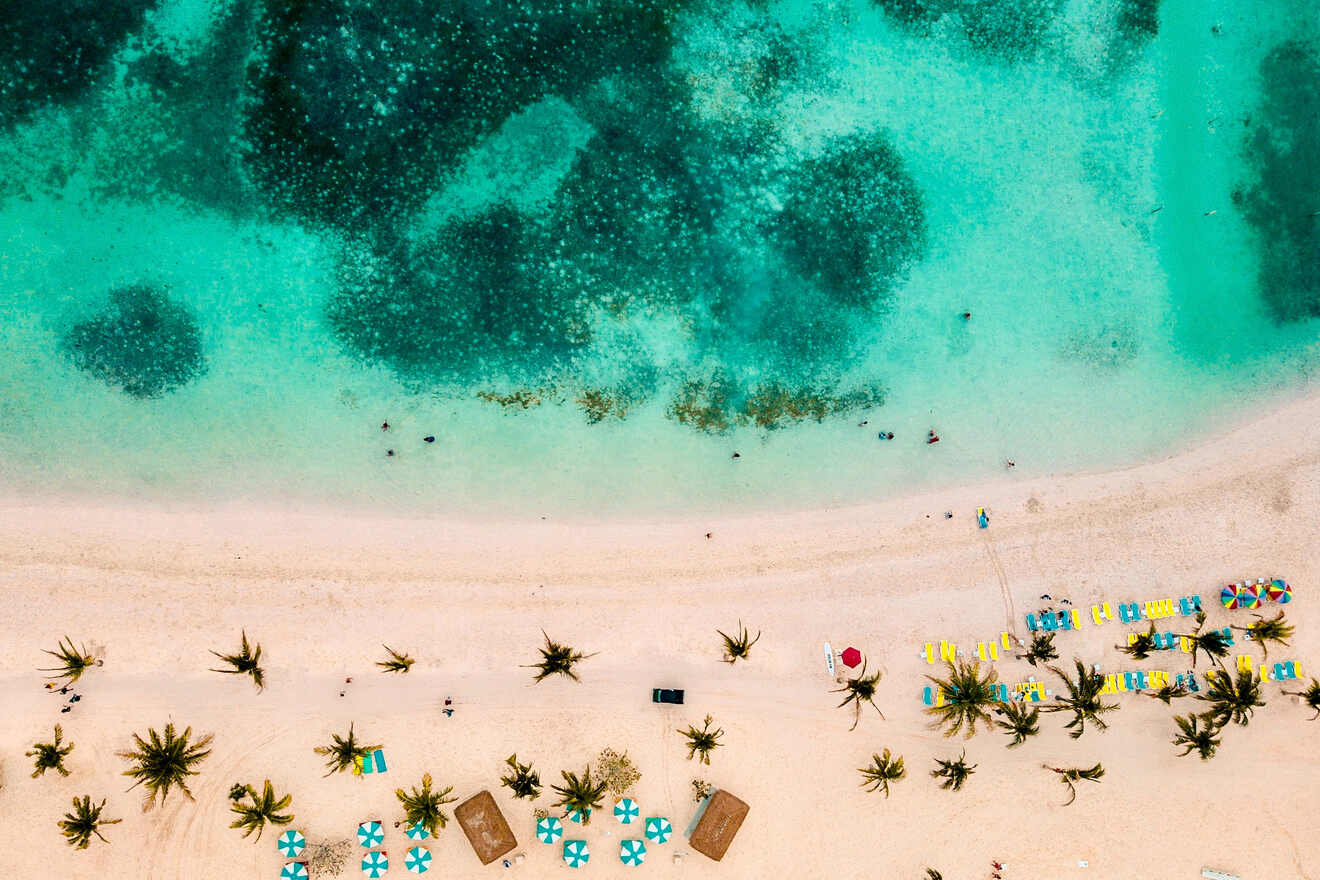 If you want to prioritize the location and have your heart set on staying in the Bahamas rather than the type of accommodation, there are a lot of stunning beachfront hotels that still give you access to the crystal clear waters of the Caribbean sea, without having to stay over them.
I collected here the top hotels in the Bahamas with a prime oceanfront location: from luxury hotels for a romantic getaway to family-friendly all-inclusive resorts and beachfront villas… check them out below:
2.1 Sandals Royal Bahamian All Inclusive – featuring swim up rooms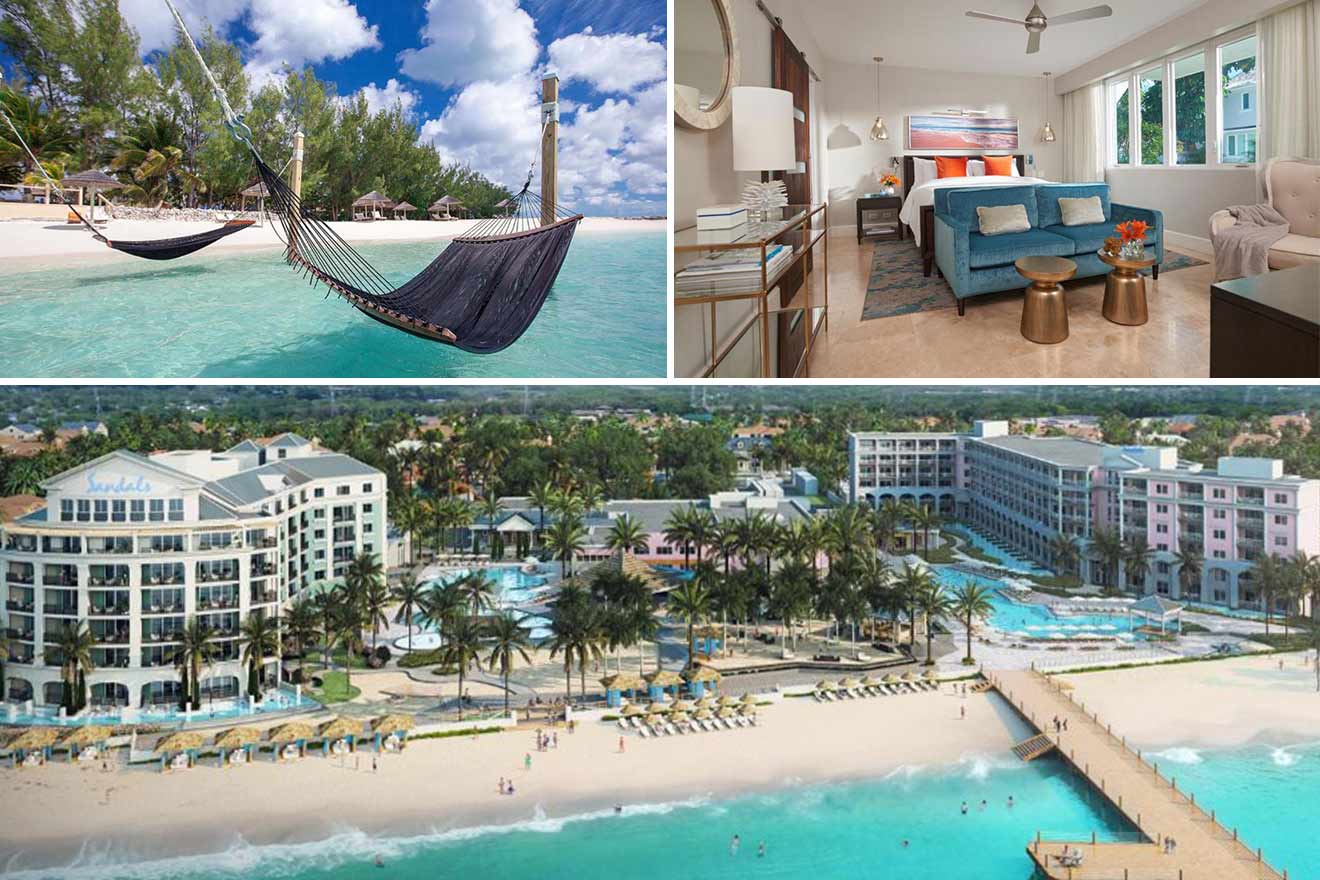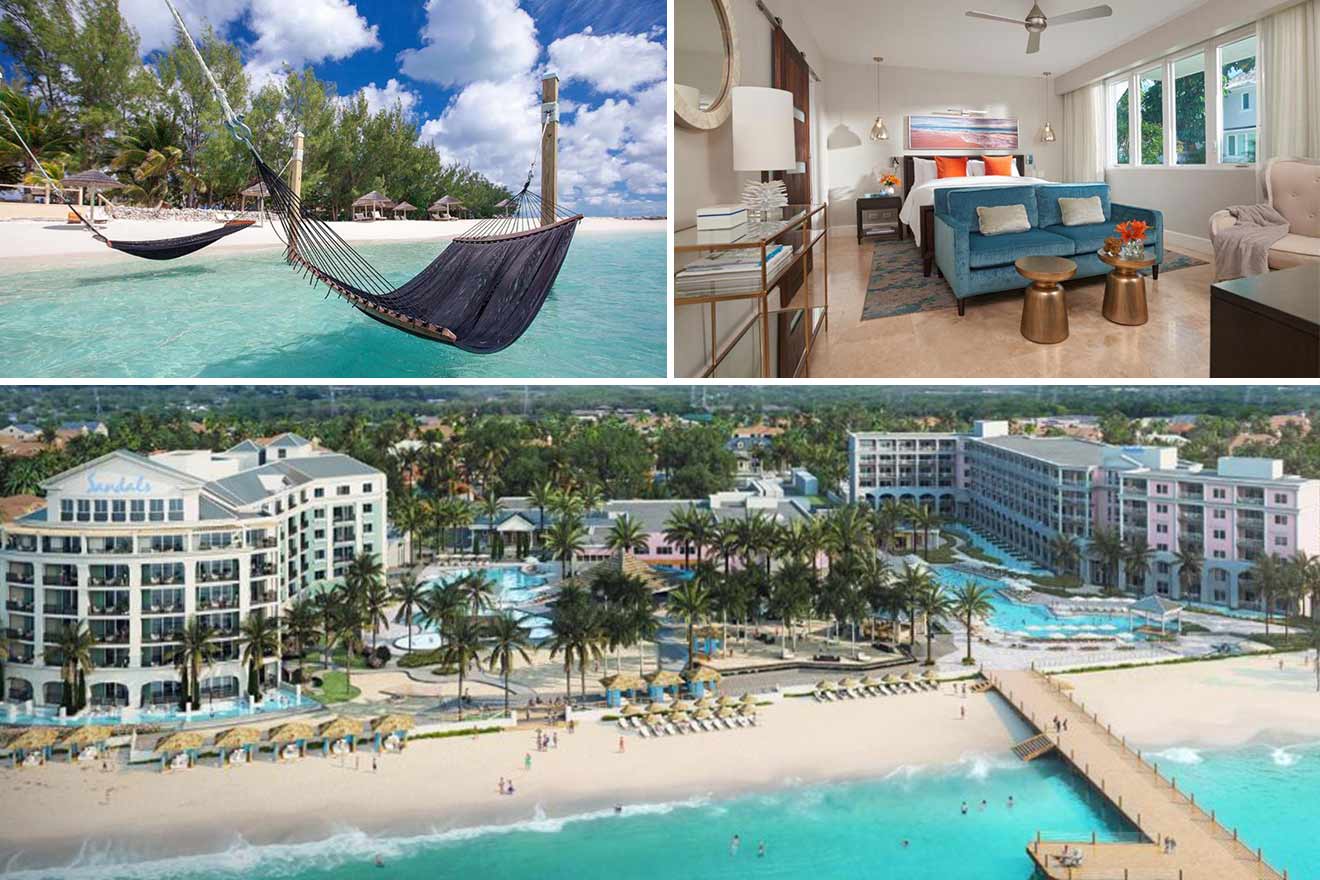 This all-inclusive resort in Nassau is one of the best places to stay in the Bahamas and is reserved only for couples, so it is THE place if you want to have a romantic getaway with your special one! Here you have all the amenities to spend some relaxing and intimate moments with your couple: an outdoor pool and hot tub, a spa center offering massages and treatments, and a private beach area.
The rooms are just stunning, featuring panoramic views of the sea, air conditioning, and a king-size bed (and some of them even have a private plunge pool!), and they will give you access to 10 delicious restaurants… all perfect for a candlelit dinner.
NOTE: This hotel is a little lower rated than we normally recommend, but I decided to include it in this list because it has swim-up rooms, which is the closest thing to an overwater bungalow you will get in the Bahamas.
2.2 Grand Hyatt Baha Mar – top pet-friendly beachfront resort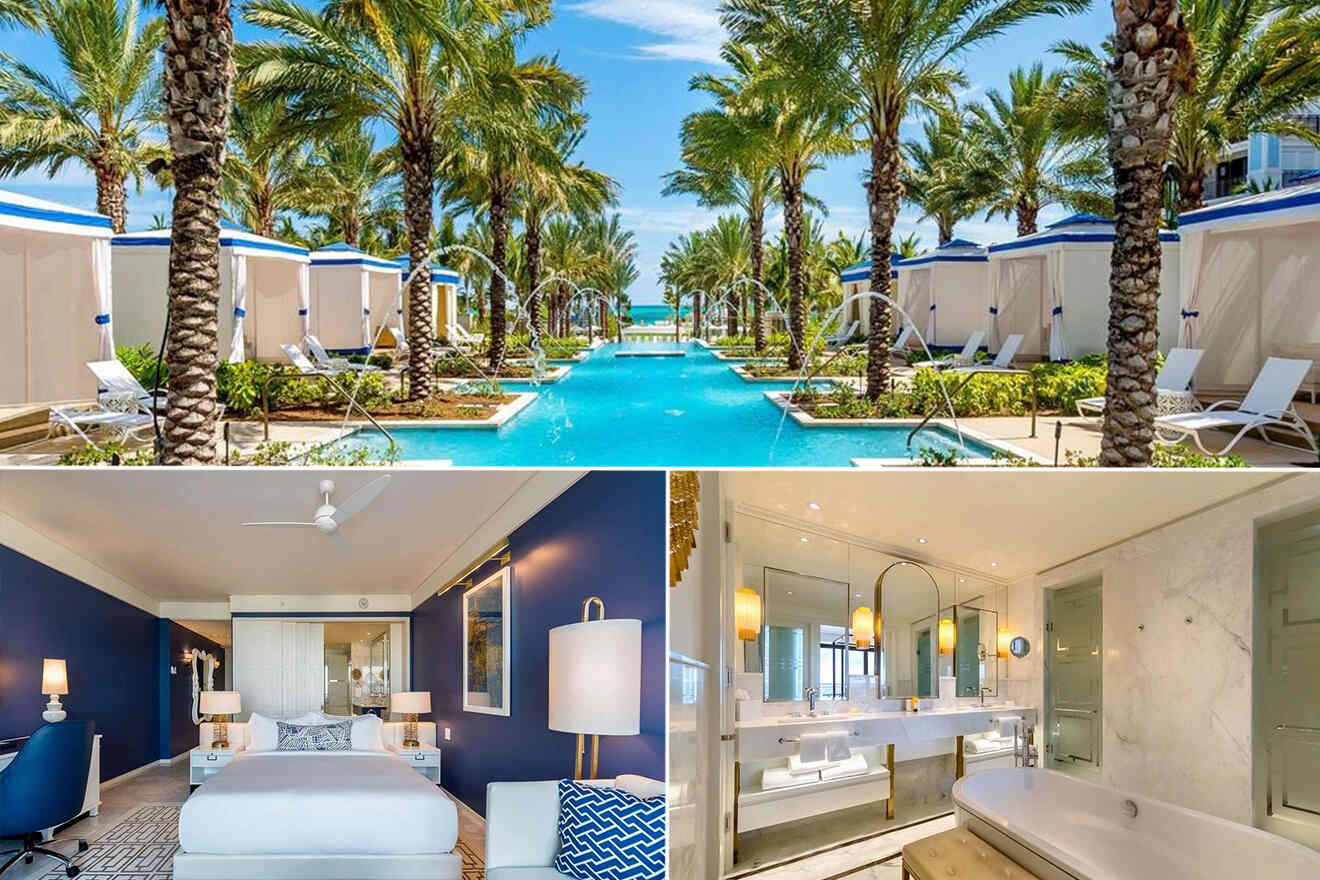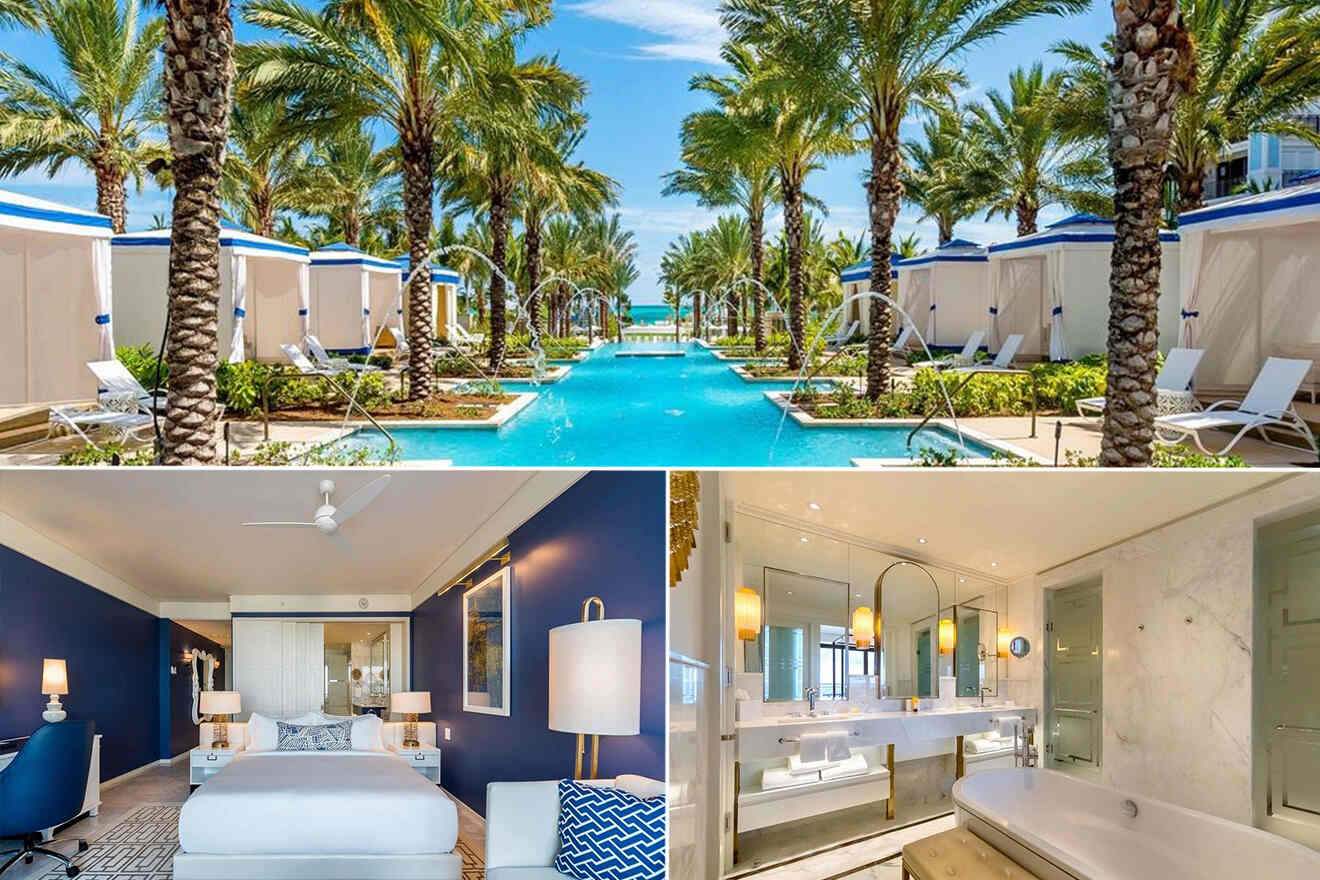 If you are going on a dreamy holiday to the Bahamas but you want to bring your four-legged friend with you, this luxury resort is the perfect place for you, located in Nassau and overlooking the sparkling waters of Goodman Bay.
Here you will have access to not one, but 6 outdoor pools, a private beach area where you can soak up some sun in total privacy, a spa and wellness center to enjoy some deserved relaxation, countless restaurants and bars, and 9 tennis courts… What else do you need?
2.3 La Bougainvillea – the perfect beachfront hotel for families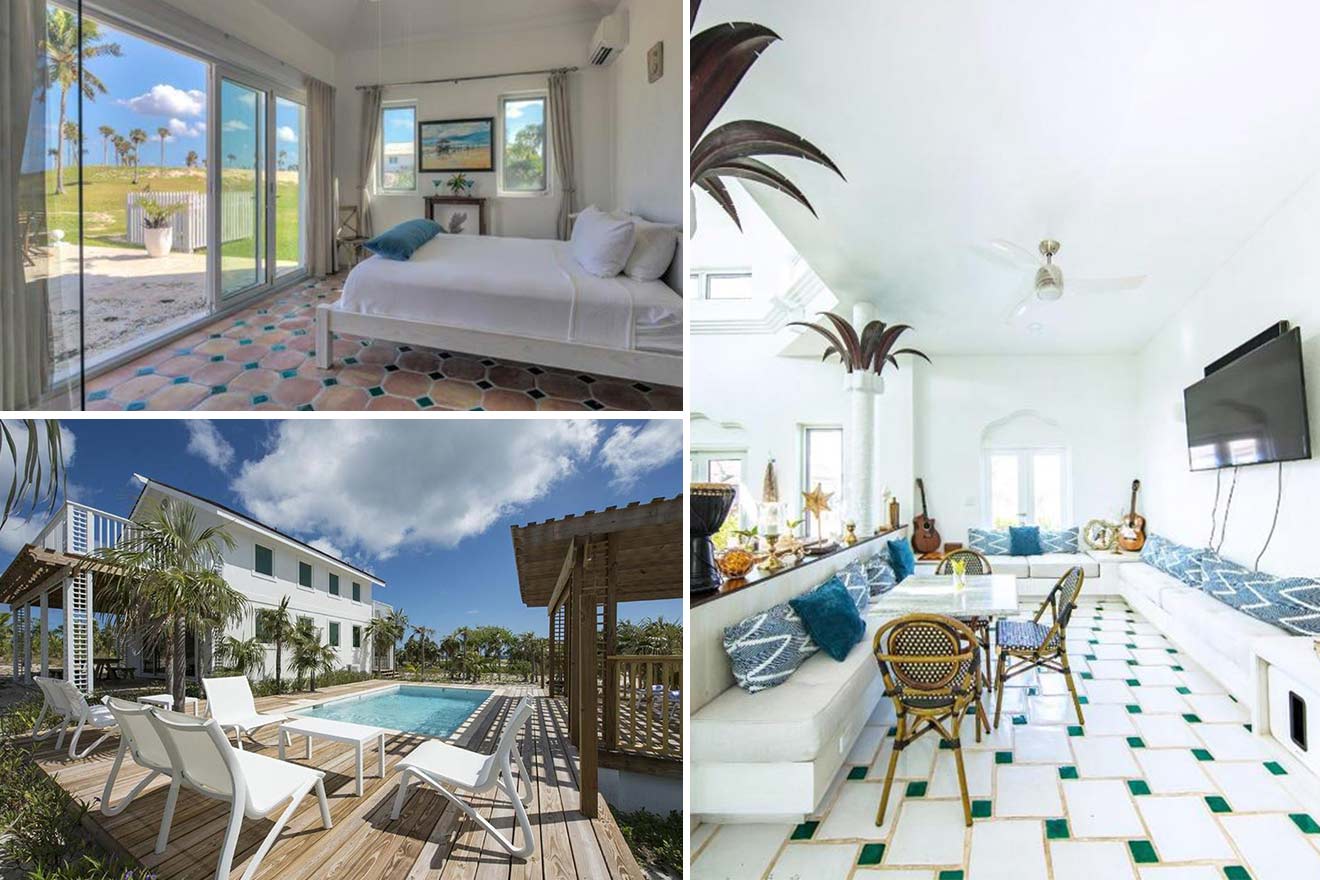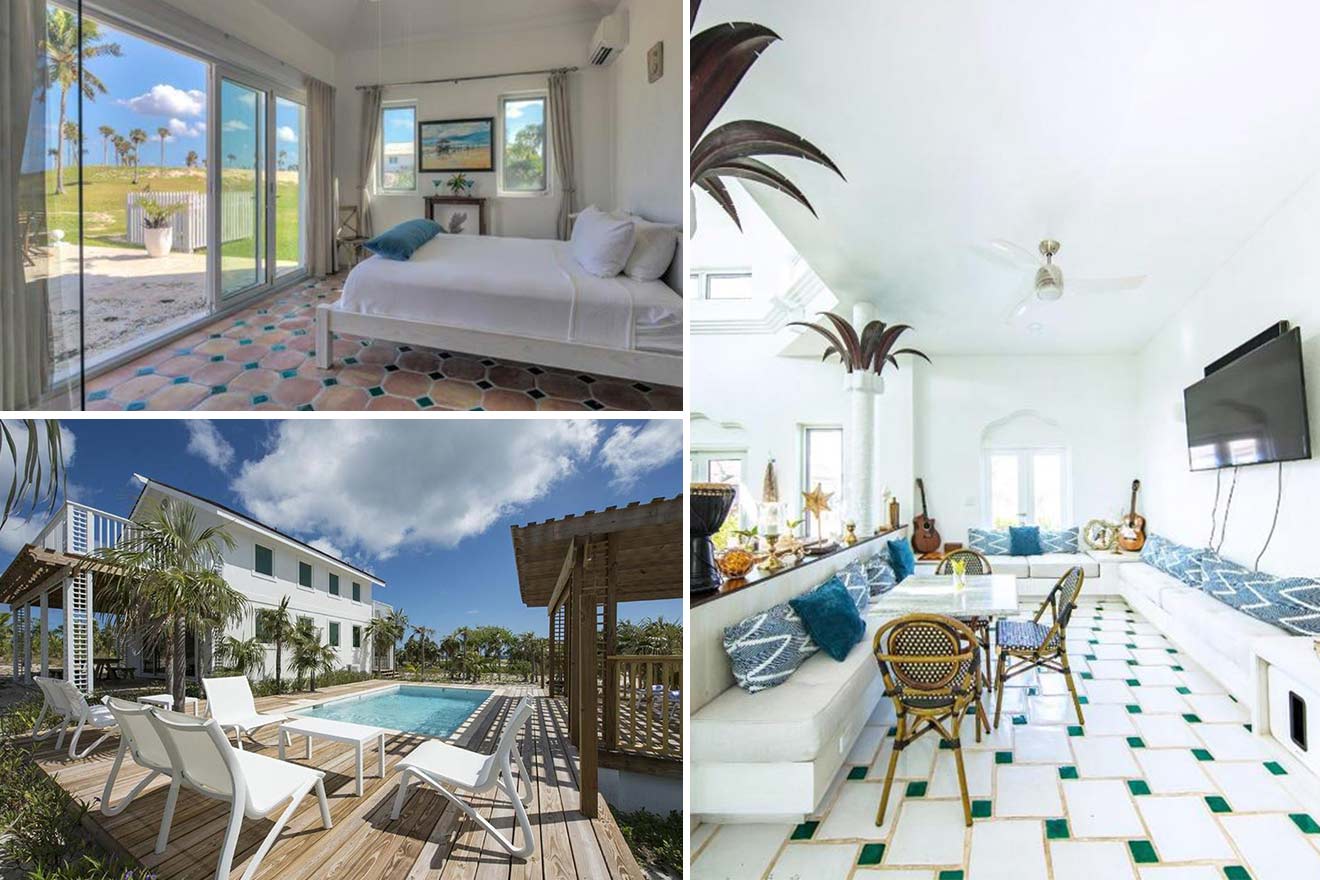 Located in Governor's Harbour, this hotel is perfect for a vacation with the family, offering many kid-friendly facilities to keep your children entertained, like a games room, a children's playground, a swimming pool with pool toys, and babysitting/child services for an additional charge.
The stunning accommodations at the property are also family-friendly. You can stay in spacious villas with a private pool hosting up to 12 people, fully equipped with a full kitchen and a spa bath, or in a one-bedroom villa if you are going on a holiday with your couple, offering a comfy king-size bed.
2.4 Grand Isle Resort & Spa – for the best activities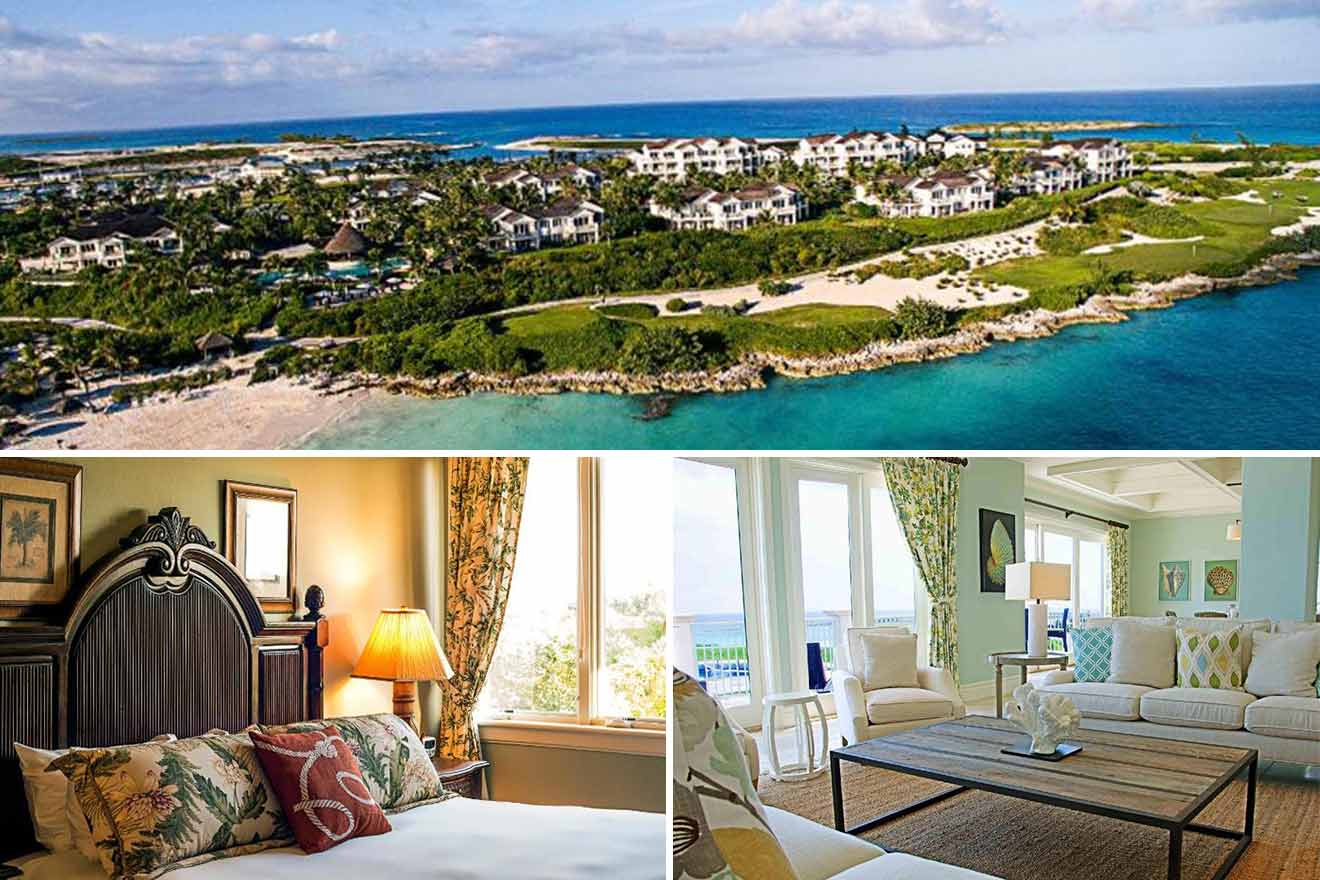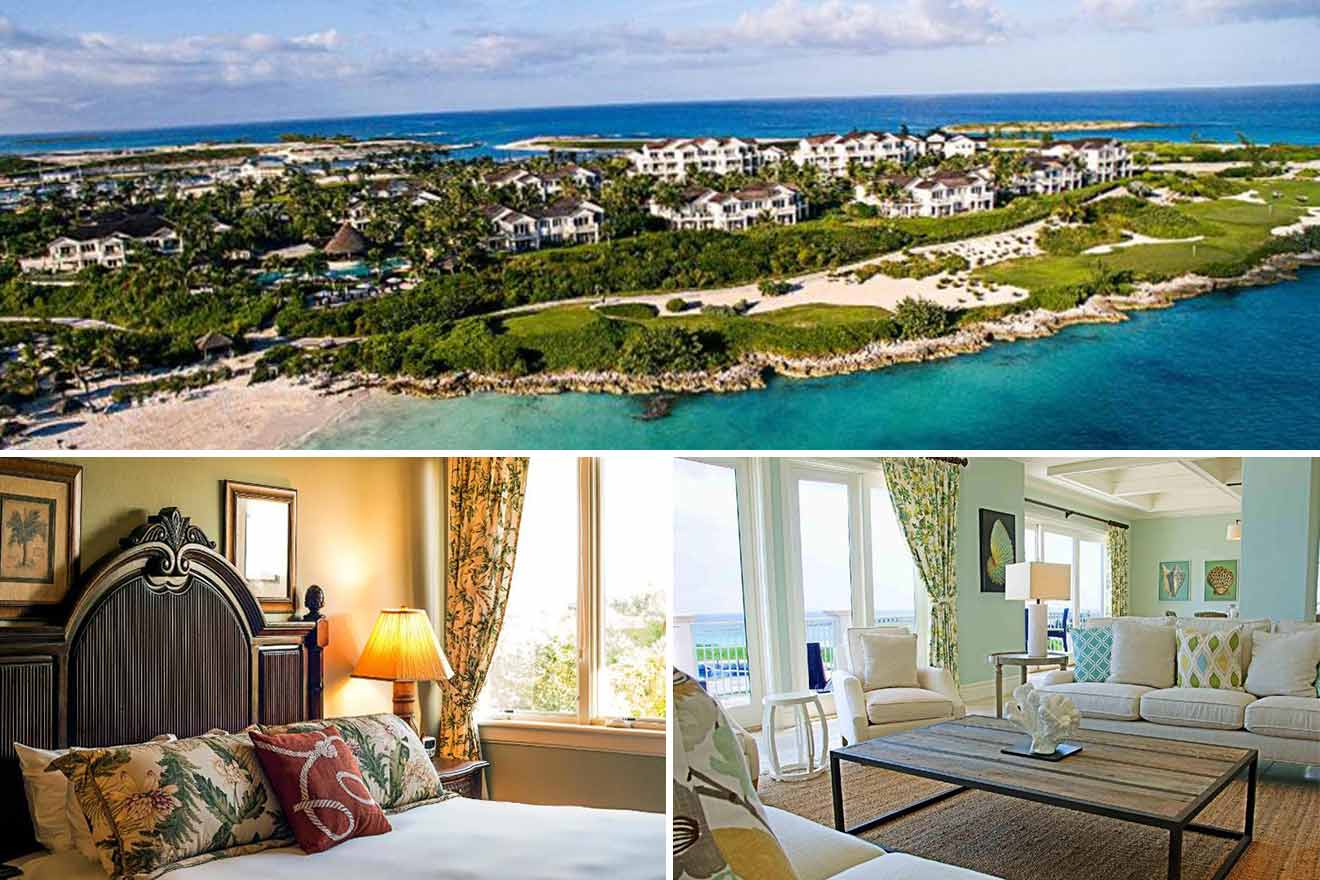 Conveniently situated in Rokers Point Settlement, close to many attractions and interesting dining options, this 5-star resort offers activities and amenities to keep you entertained from when you wake up to when you go to sleep. Some examples?
Here you can join some fun water sports with your friends, couple, or family, like fishing, snorkeling, and diving, or challenge the other guests to a golf match at the resort's huge golf course on site. And if you want to relax after all these activities, you can chill at the sauna, relax at the wellness center or have a refreshing drink at the poolside bar.
2.5 The Island House – top eco-resort in the Bahamas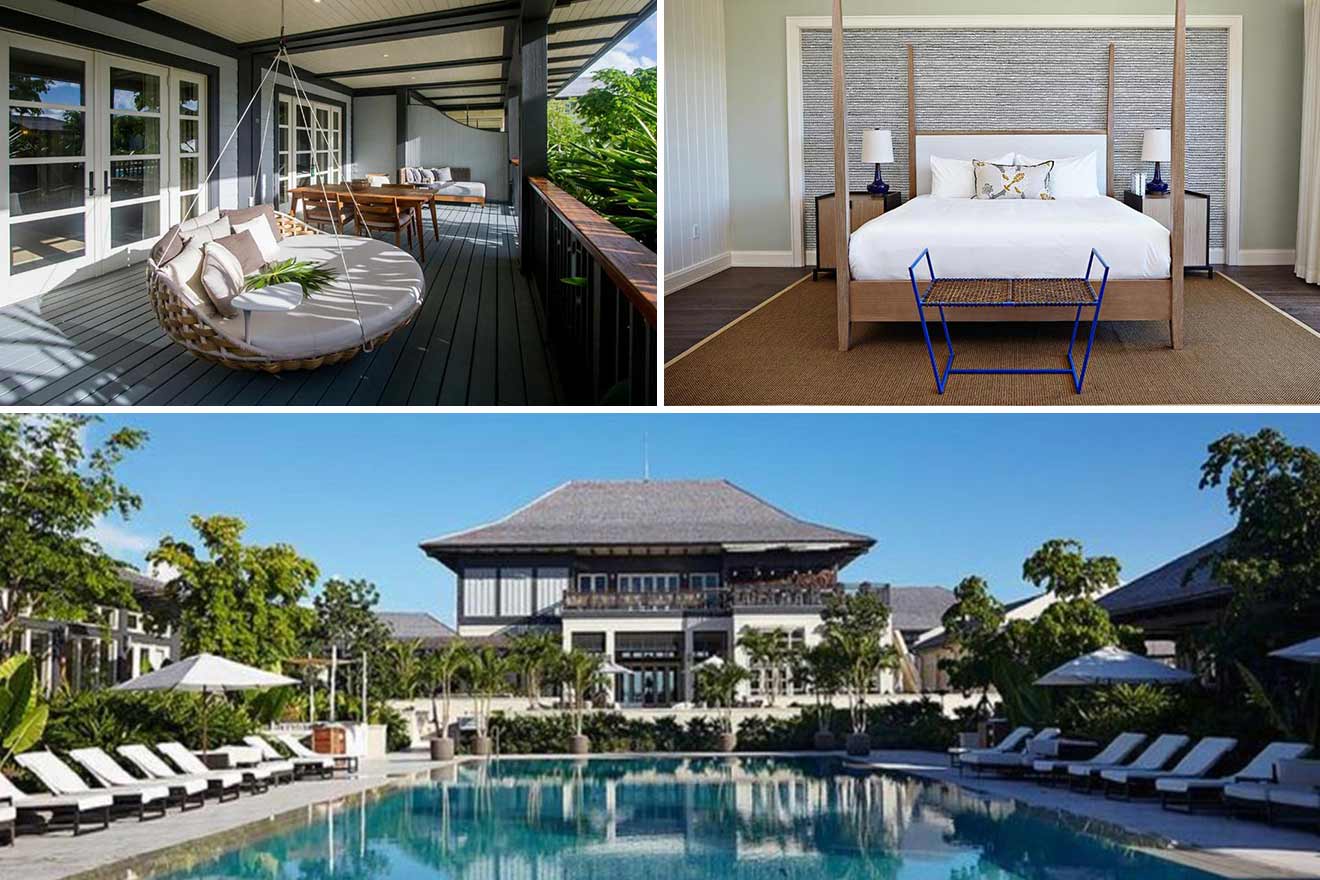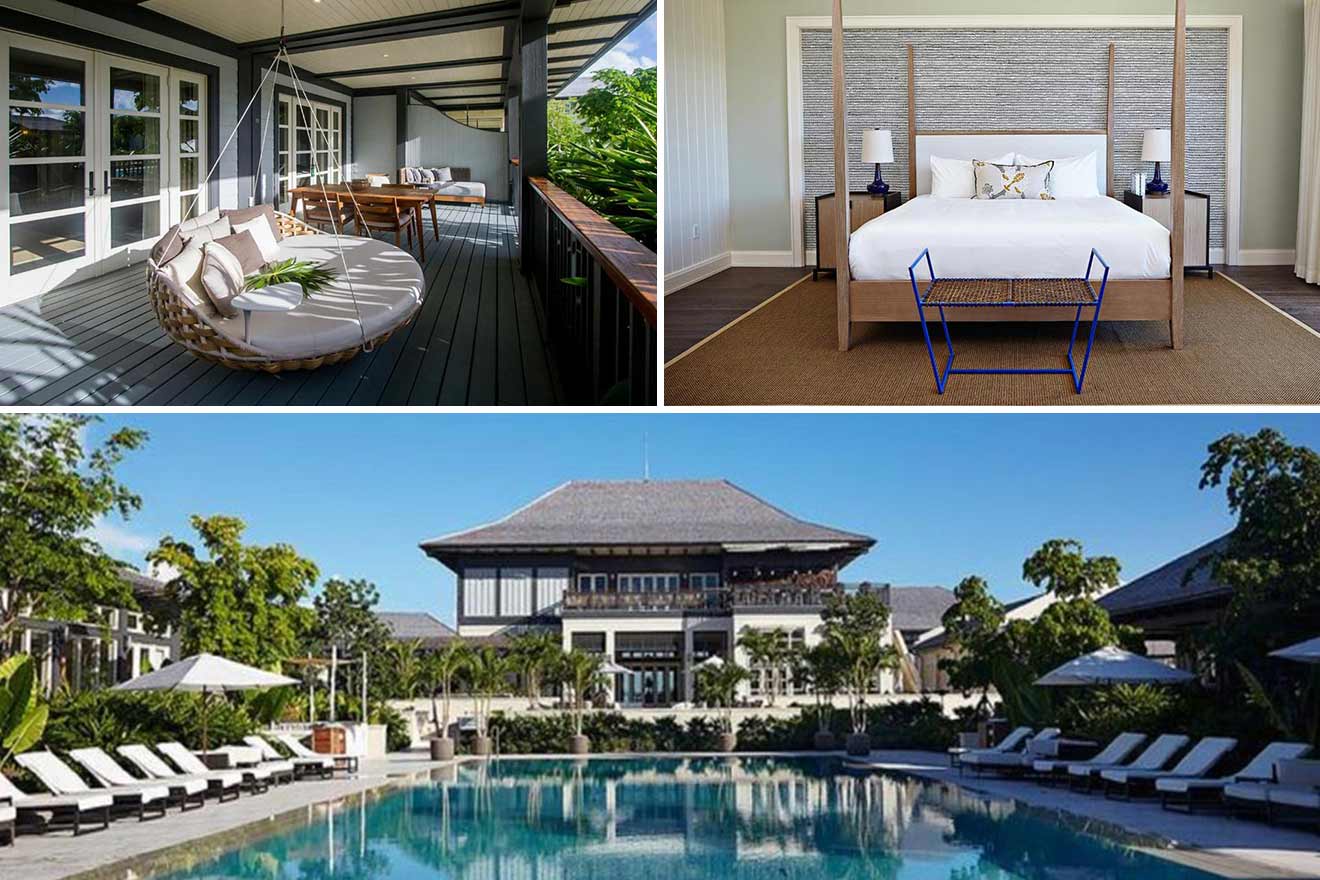 This stylish resort in Nassau offers eco-friendly rooms decorated with unique local art and energy-conserving automated lights. It also offers absolutely stunning views of the sea or of the property's garden.
And when you feel like leaving your accommodation, you will have access too many cool amenities and activities, like a relaxing spa center, a fitness room, a cinema with films featured every week, free yoga classes, a squash court, and paddle tennis court, as well as snorkeling, diving and fishing in the nearby beaches… you will have a blast here!
2.6 Cape Santa Maria Beach Resort & Villas – best private beach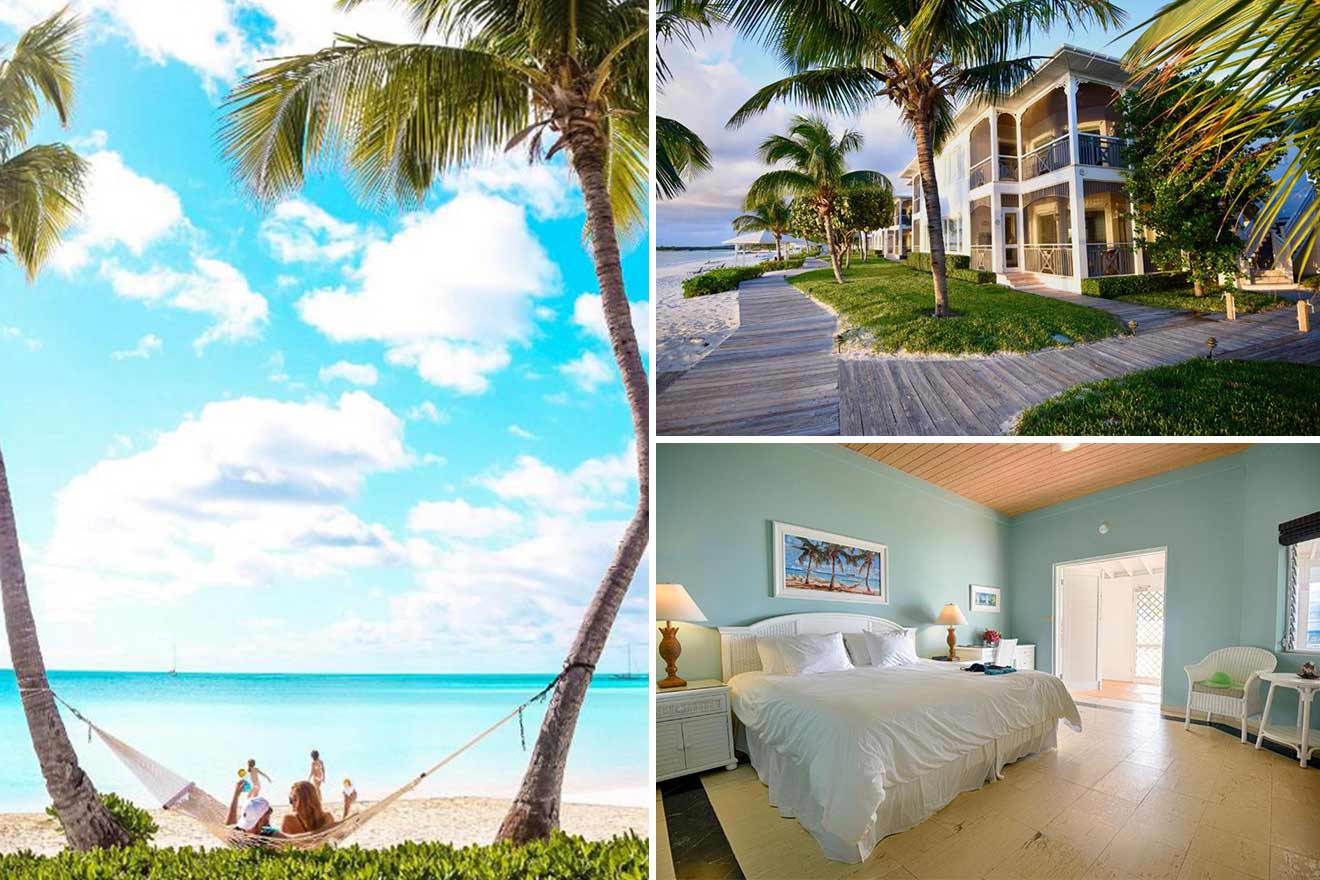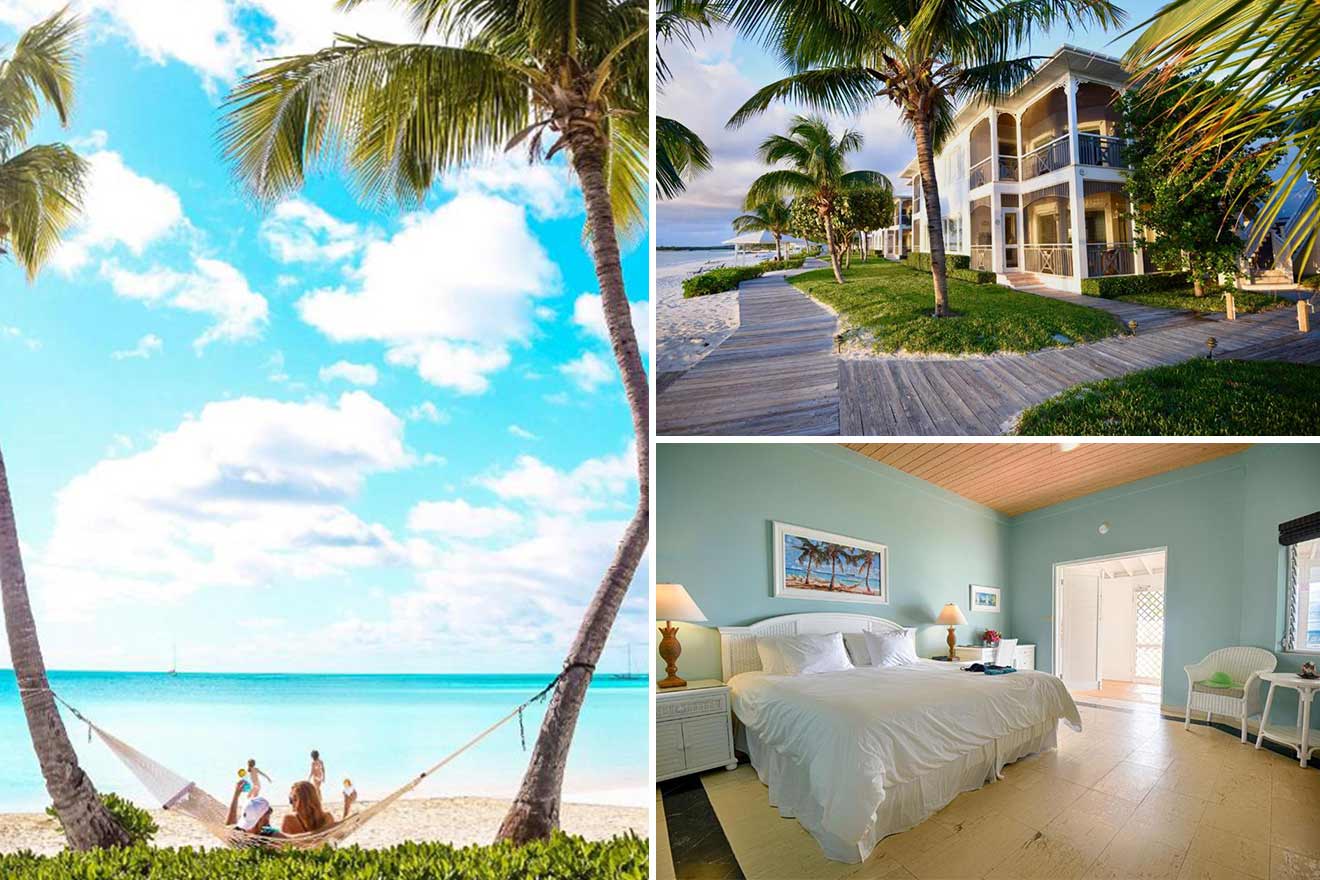 Located on the stunning Long Island, this resort will give you access to 4 miles of a talcum powder sand beach where you can relax, splash, soak up some sun, go beachcombing and shelling or use the water sports facilities offered (like catamarans) to explore the Caribbean sea!
And accommodations here are absolutely great, you can choose from beach villas or bungalows, both literally a few steps from the turquoise waters, offering a private patio, Italian tile floors and Bahamian-style decor, a fully equipped kitchen to cook delicious meals with your beloved ones and ensuite bathrooms.
2.7 The Ocean Club, A Four Seasons Resort – an exclusive service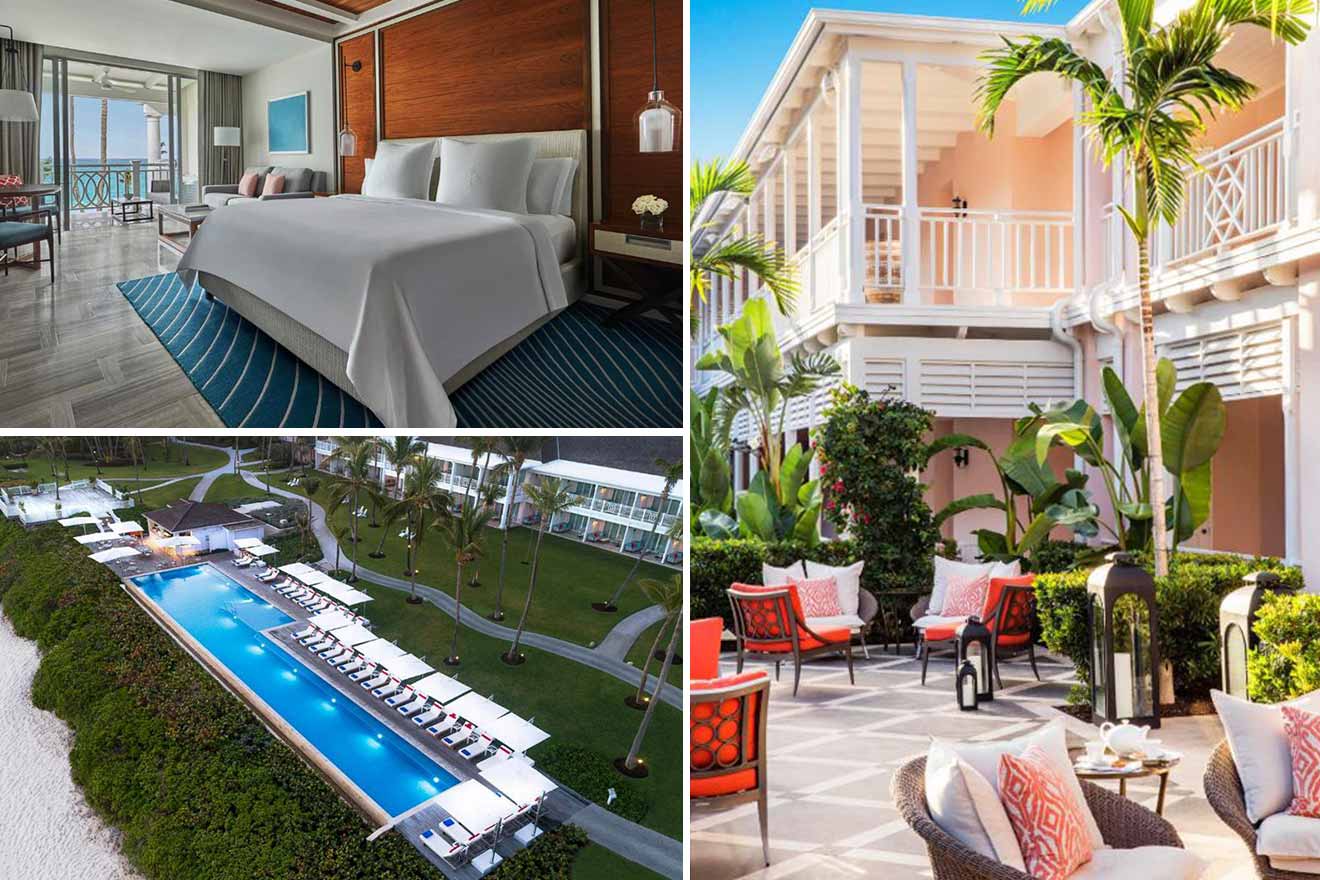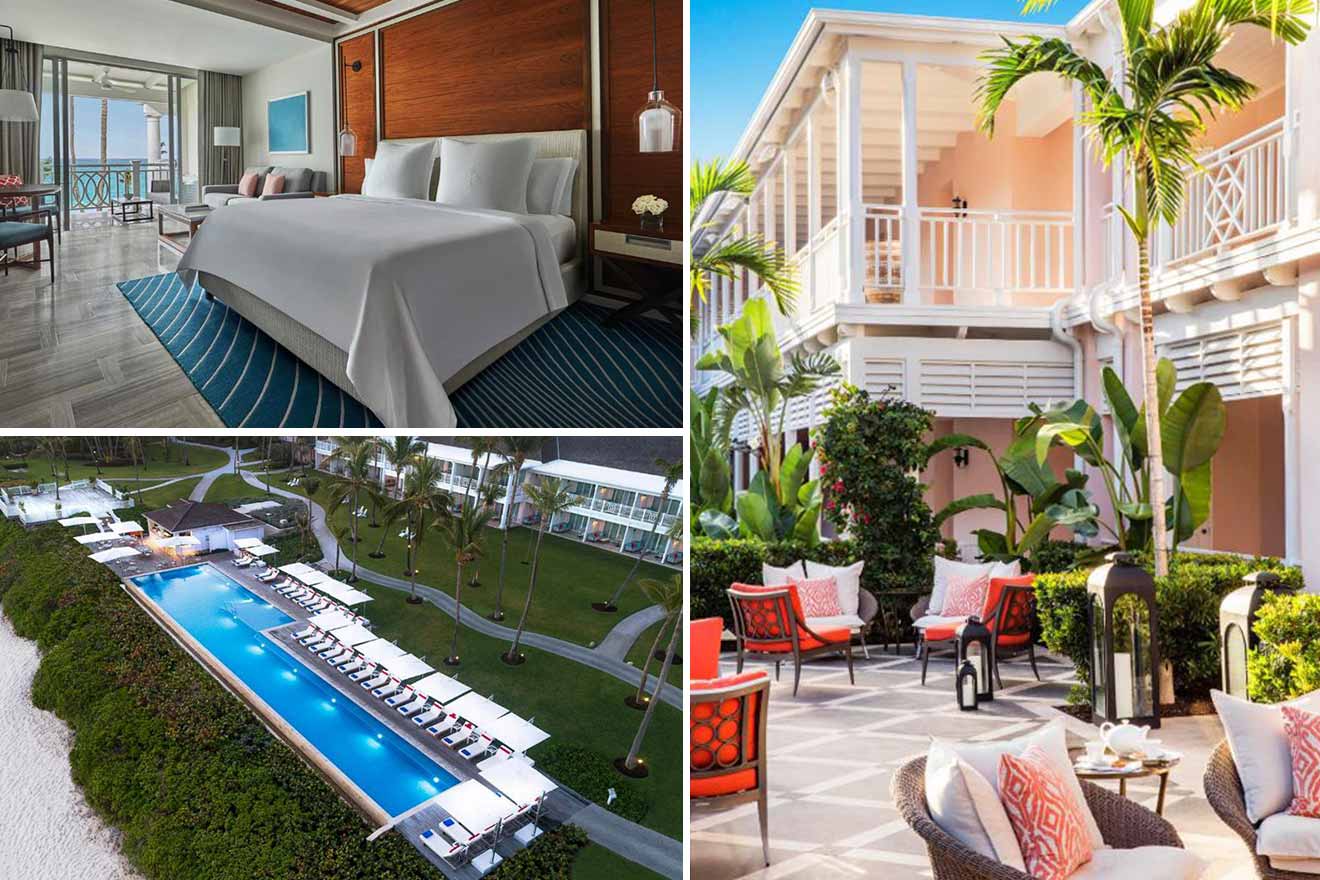 In this 5-star luxury resort located on the north shore of Paradise Island, the friendly staff will go above and beyond to make you feel welcomed and have an unforgettable stay! In fact, here you will get a beach bag, champagne, and strawberries at sunset daily and SUV transfers to the nearby golf courses upon request.
But that's not all! You can also ask for complimentary newspapers, overnight shoeshine service, one-hour ironing, 24-hour laundry, and dry-cleaning services… you will literally have everything at your fingertips!
2.8 Rosewood Baha Mar – the top facilities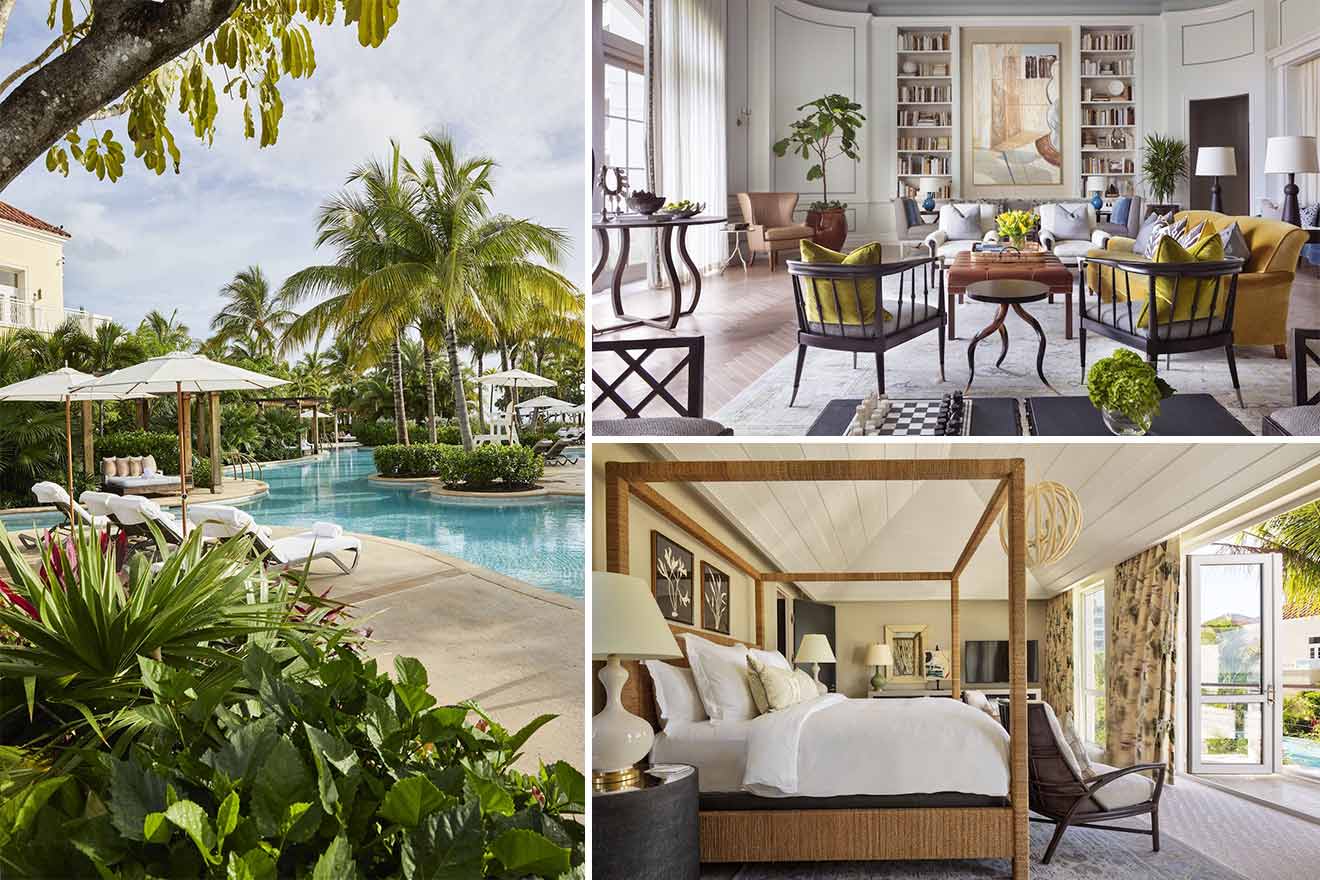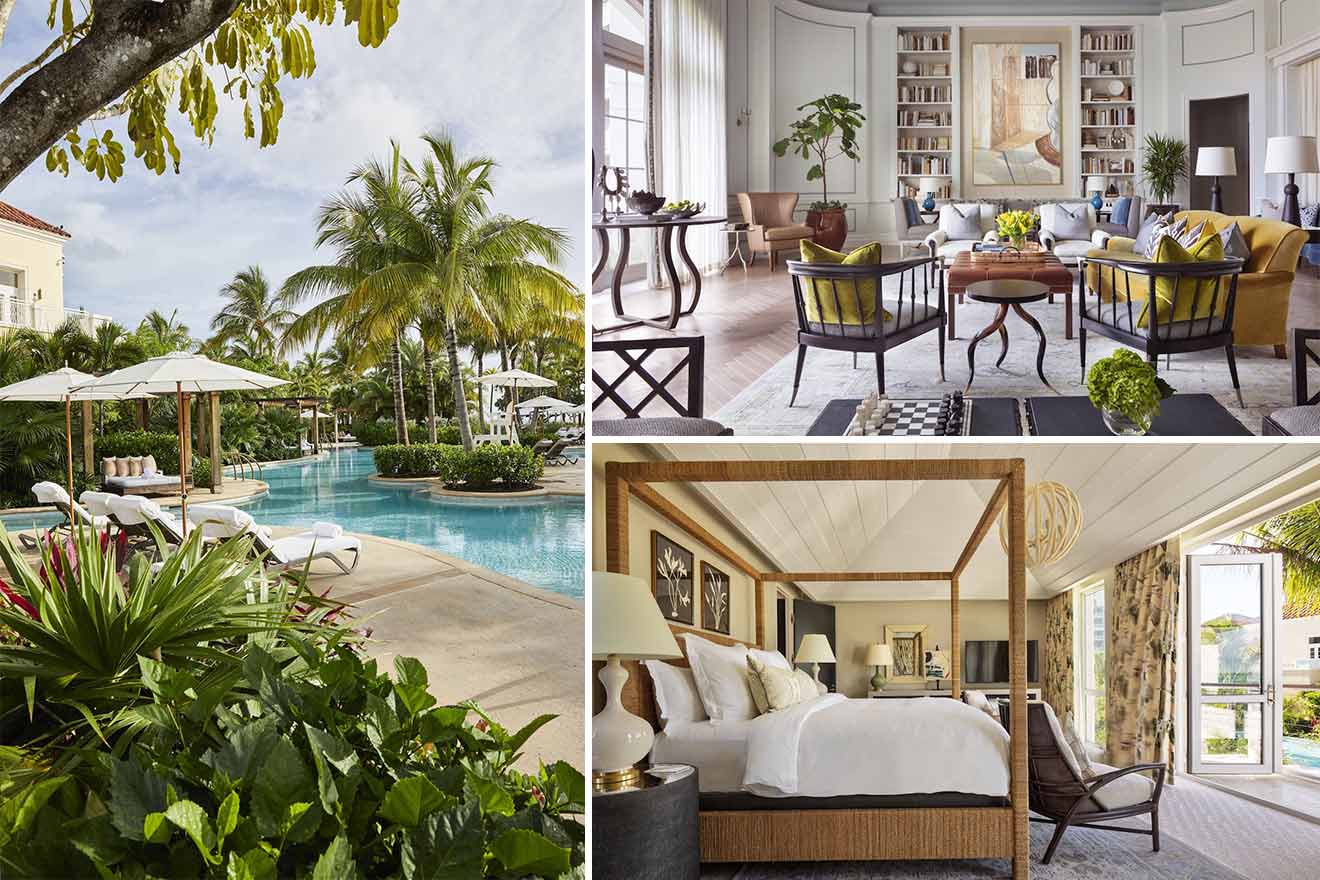 This 5-star luxury resort in Nassau offers beach villas with plunge pools and literally everything you could want and need during your vacation! Apart from a long white sand beach, here you will have access to an 18-hole golf course, a casino where you can try your luck and go for a gamble, a free water park to enjoy some family fun, and 3 onsite restaurants serving delicious French cuisine with ocean views.
If you want to relax, you can get a massage, a body treatment, or a manicure/pedicure at the onsite spa, while if you want to stay active, you can join different activities, from aerobics classes offered at the gym to sailing, kayaking, and snorkeling in the property's surroundings!
2.9 Palm Cay Luxury Design Townhome – an amazing holiday home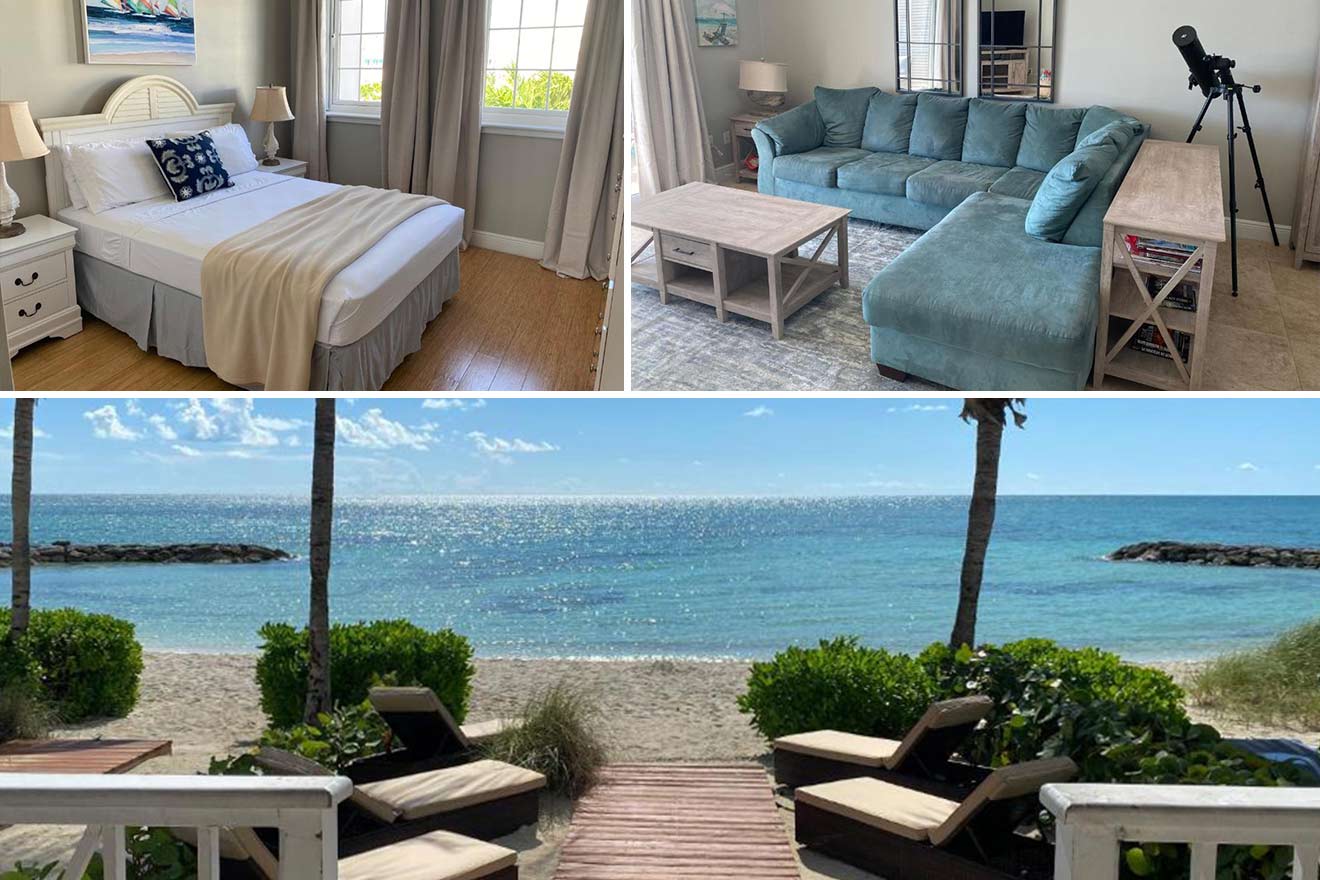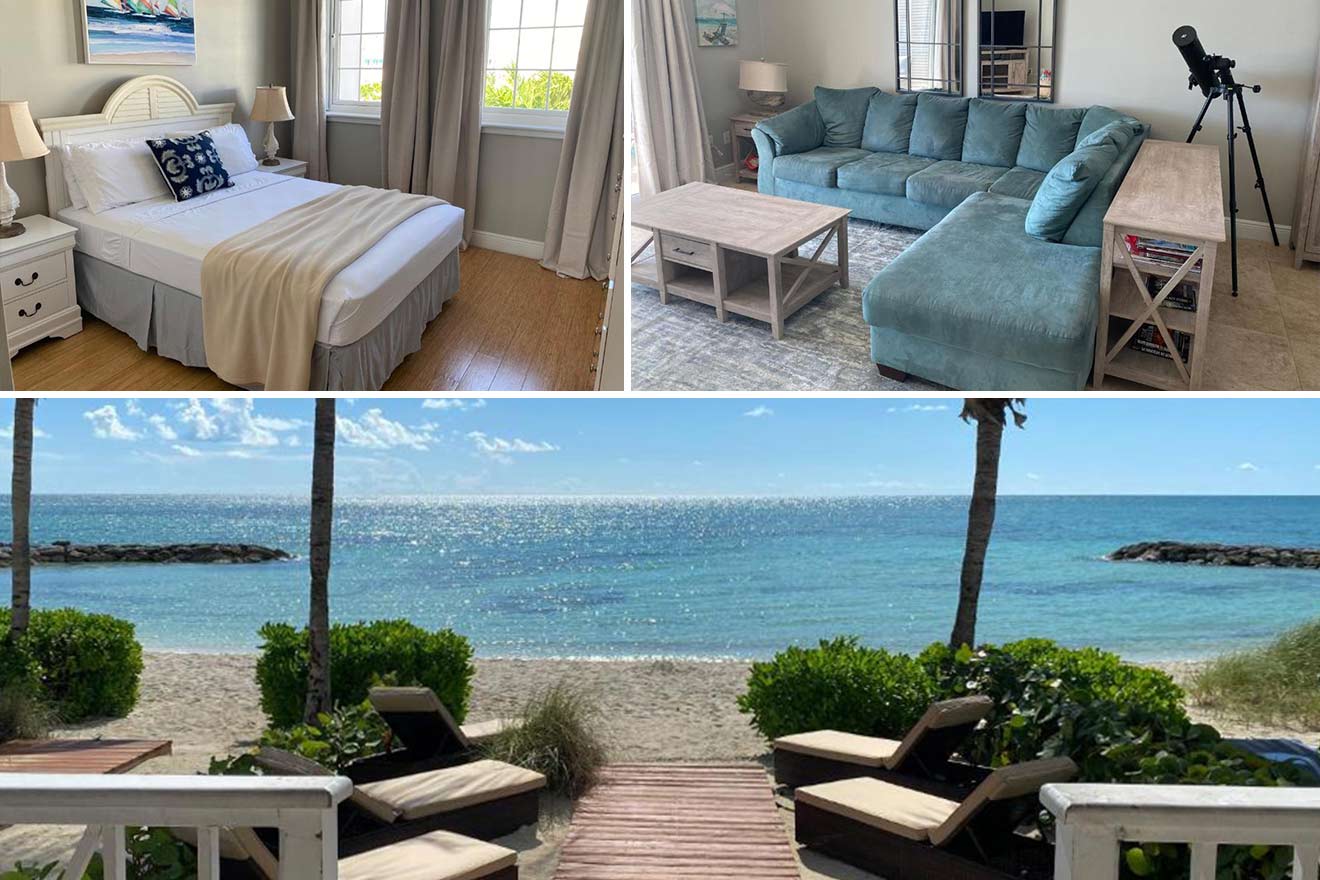 With a fabulous location on a private beach in Nassau, this accommodation is perfect if you want to feel at home away from home and have access to some great amenities at the same time, like a restaurant, a tranquil garden with a year-round outdoor pool and private parking.
In fact, here you will stay in a beachfront holiday home hosting up to 8 people, with 4 bedrooms, 4 bathrooms, a flat-screen TV with cable channels, a dining area, a fully equipped kitchen to prepare your favorite meals, and a private patio to enjoy them while gazing at breathtaking sea views. The perfect mix between comfort and luxury!
2.10 Hideaways Exuma – most convenient location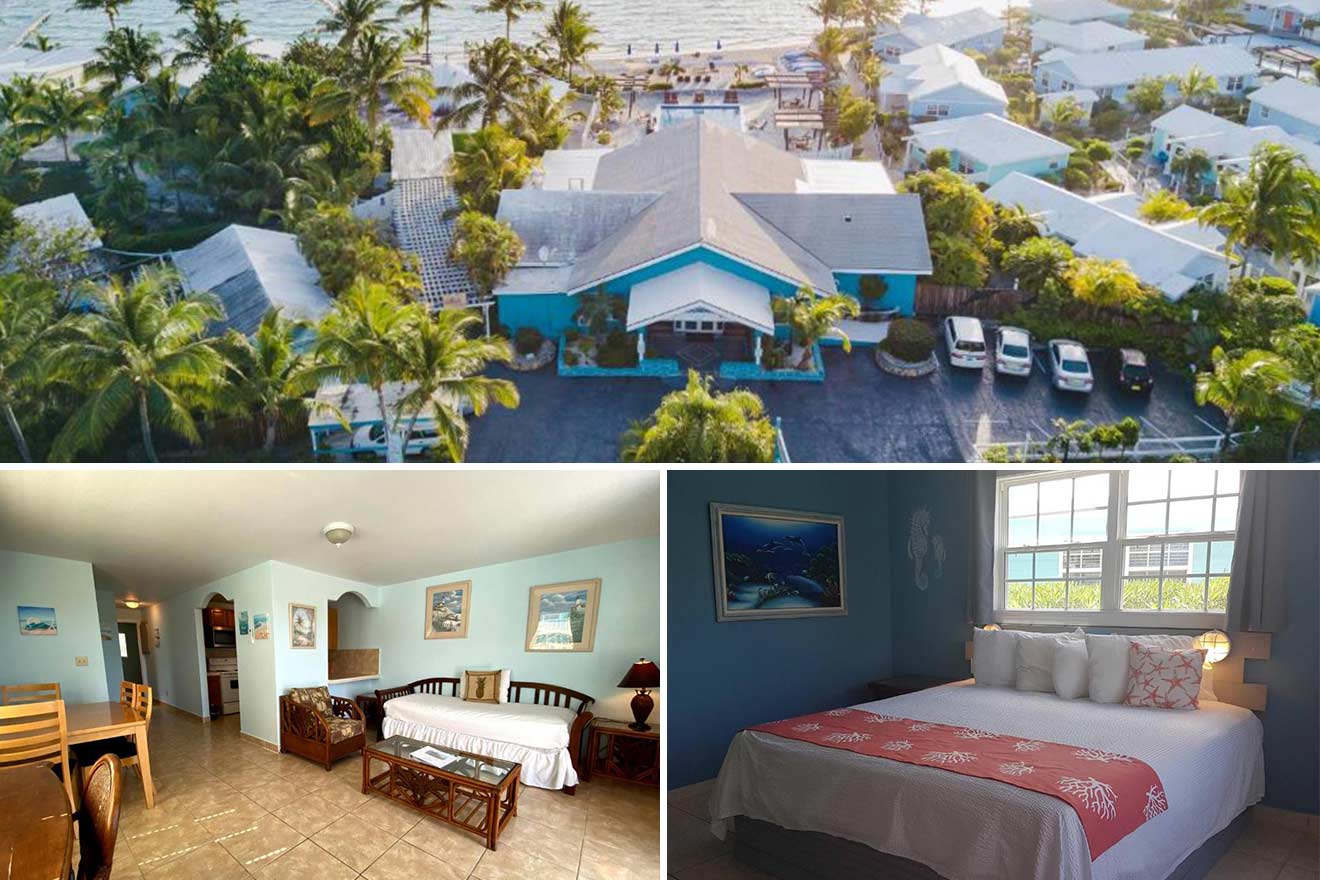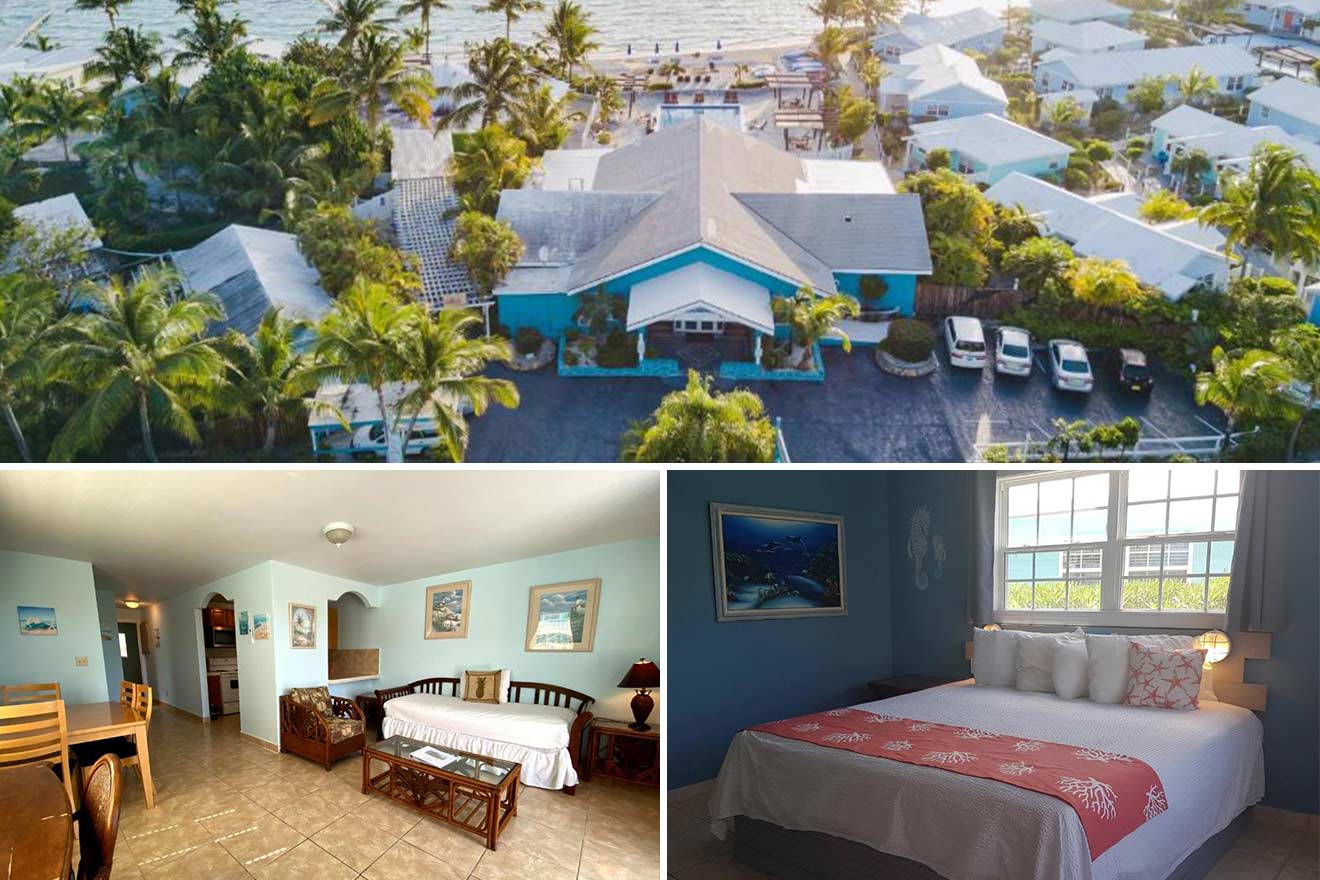 This stunning hotel has the best location ever, sitting right on Palm Bay Beach and only 5 minutes' drive from George Town! So you can easily explore it whenever you want, plus it is surrounded by charming green hills… you will feel like you are in a dream!
But the property offers much more than that! An outdoor swimming pool where you can chill, a restaurant serving delicious Caribbean cuisine, a bar to enjoy refreshing cocktails gazing at the sunset, a fitness center to stay active, and free kayaks and paddle boards. And the apartments are also great, featuring a terrace with a seating area and a fully equipped kitchenette!
FAQs about overwater bungalows near the Bahamas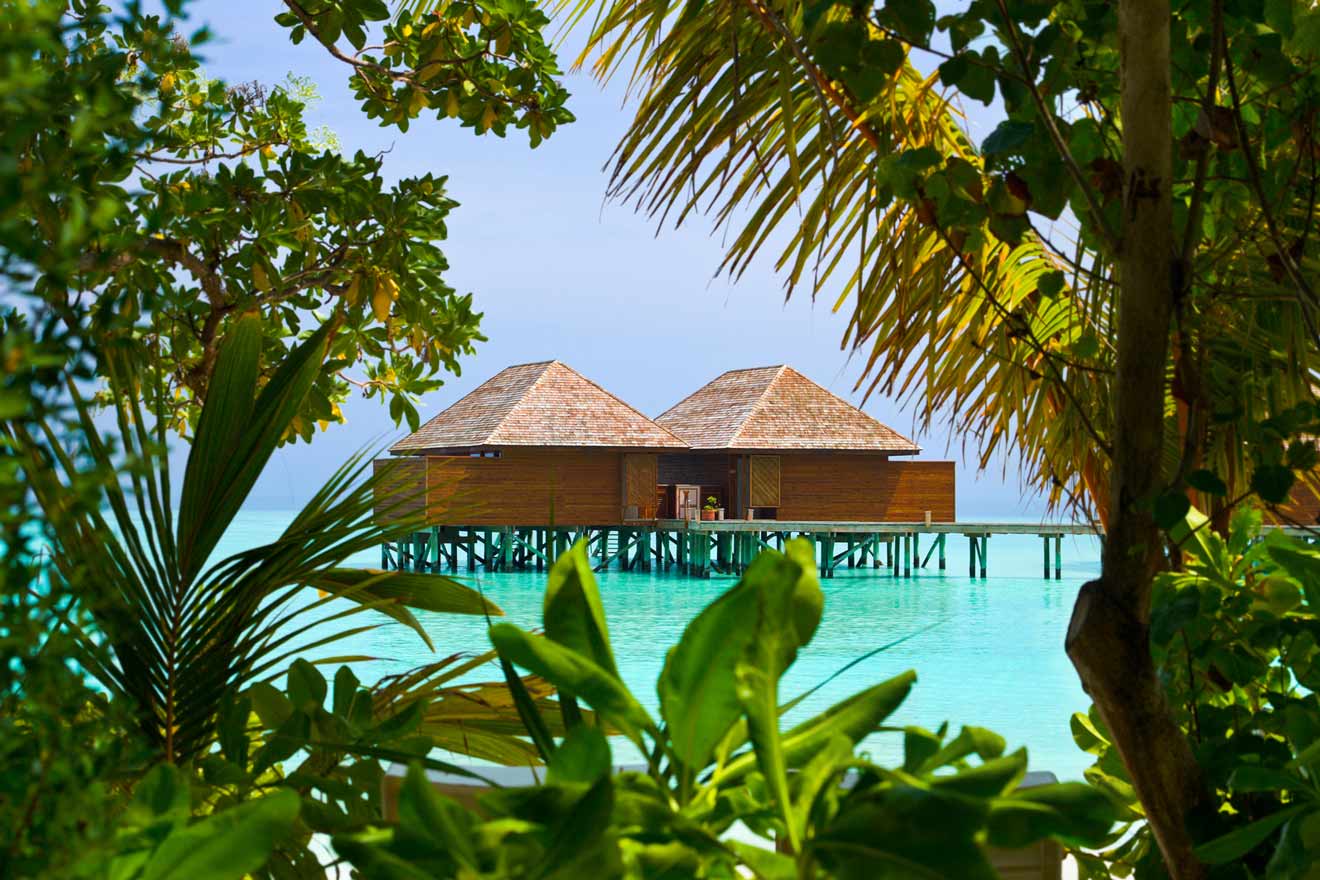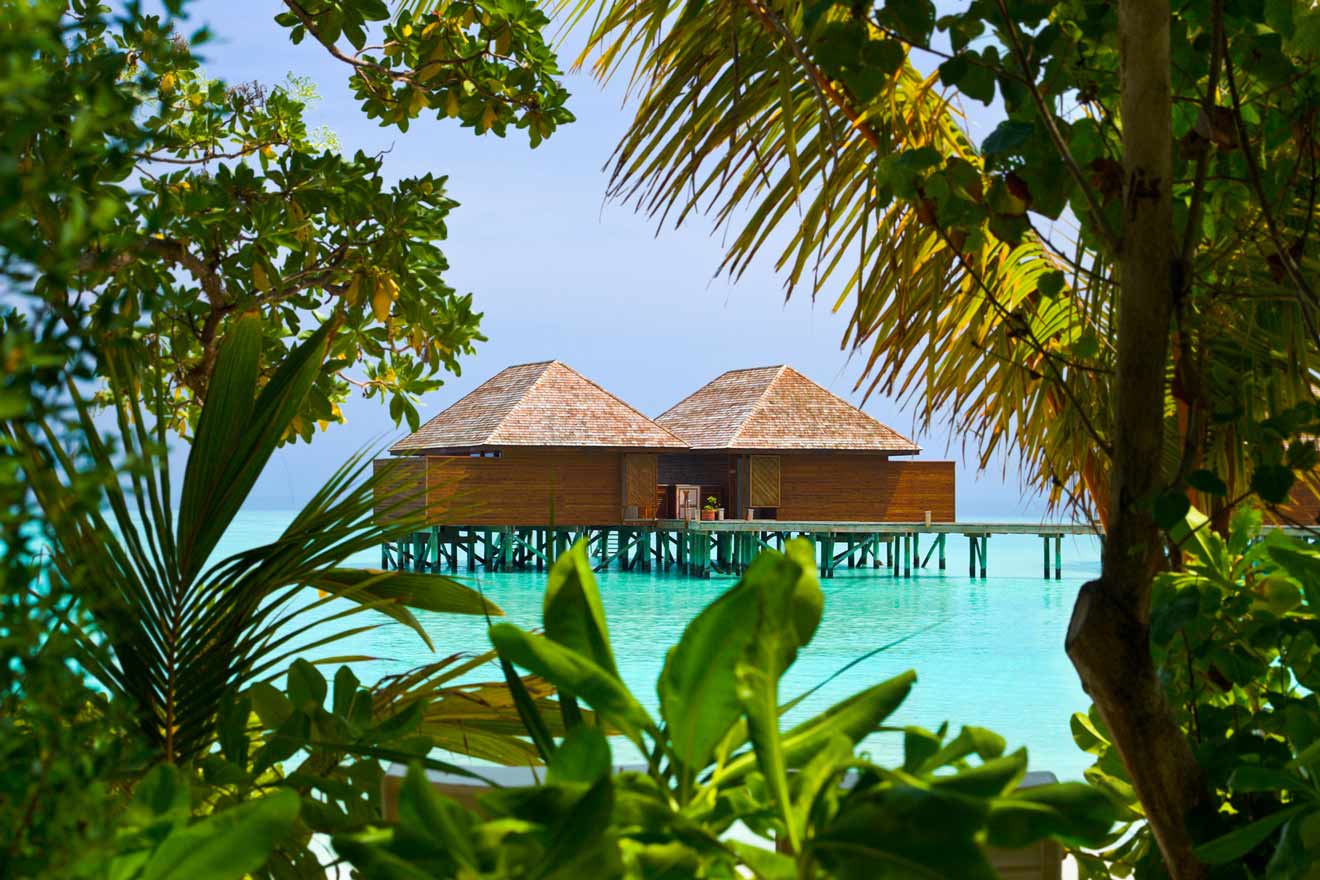 ✖️ Are there overwater bungalows in the Bahamas?
🏝️ What tropical islands have overwater bungalows?
💲How much are bungalows in the Bahamas?
Overwater bungalow resorts do not exist in the Bahamas, but you normally pay around $1500 for a one-night stay in a beachfront all-inclusive resort in the Bahamas or an overwater bungalow near the Bahamas.
🏖️ Which are the best overwater bungalows on a private island?
The best overwater bungalows on a private island are all-inclusive Thatch Caye Resort, in Belize, offering overwater bungalows and cabanas with stunning sea views, and Sandals Royal Caribbean, in Jamaica, featuring luxury overwater bungalows, water villas, honeymoon suites etc.
Conclusion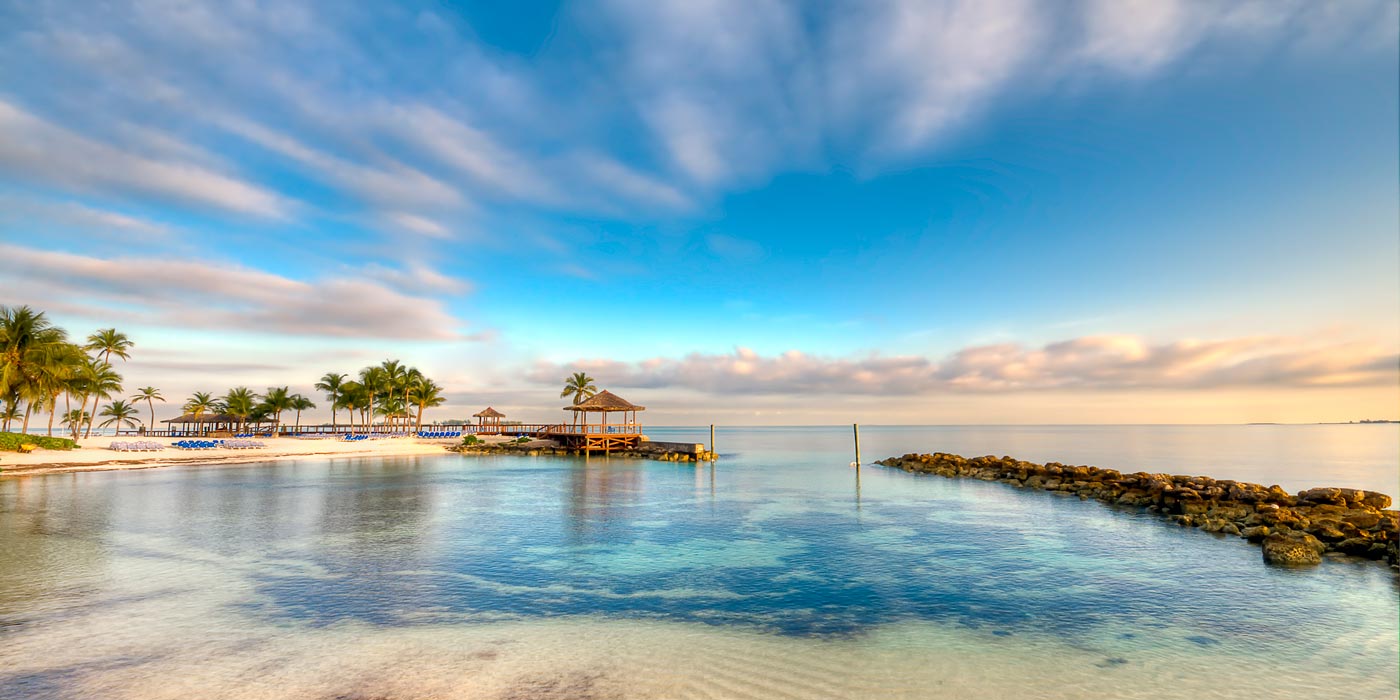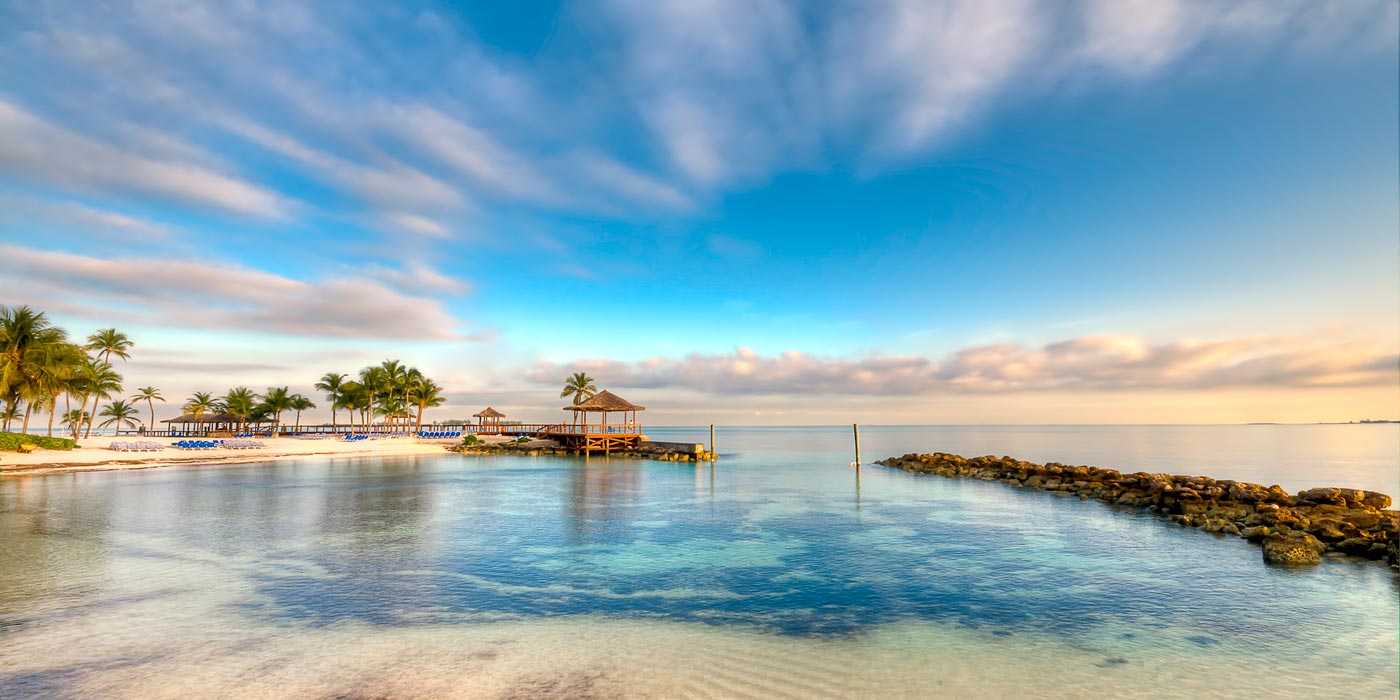 Can you believe it? We finally reached the end of this extensive guide about the best overwater bungalows near the Bahamas (as we said, there aren't any in the Bahamas themselves), and the top beachfront resorts in the Bahamas.
We saw soo many incredible accommodations: overwater bungalows on private islands, cabanas with glass floor panels, all-inclusive resorts for a luxury holiday, couples-only hotels and much more… which one did you like the most?
If you are still undecided (I definitely cannot blame you), here are my 2 favorite accommodation options in the post:
Sandals Royal Bahamian – This beachfront resort in the Bahamas is reserved only for couples: perfect for a romantic getaway with your special one!
Sandals South Coast All Inclusive – Located on a private island in Jamaica, this resort offers overwater bungalows, villas, and honeymoon suites with a spa-style bathroom
Do you like them? Then book something immediately so you can take advantage of some good offers and reserve yourself a spot… places get booked out super fast in these accommodations!
And if you want to share some questions or suggestions about what you just read, please do so in the comments below, I'll answer you as soon as I can.
Have an amazing stay!
Elena
---
Pin it for later!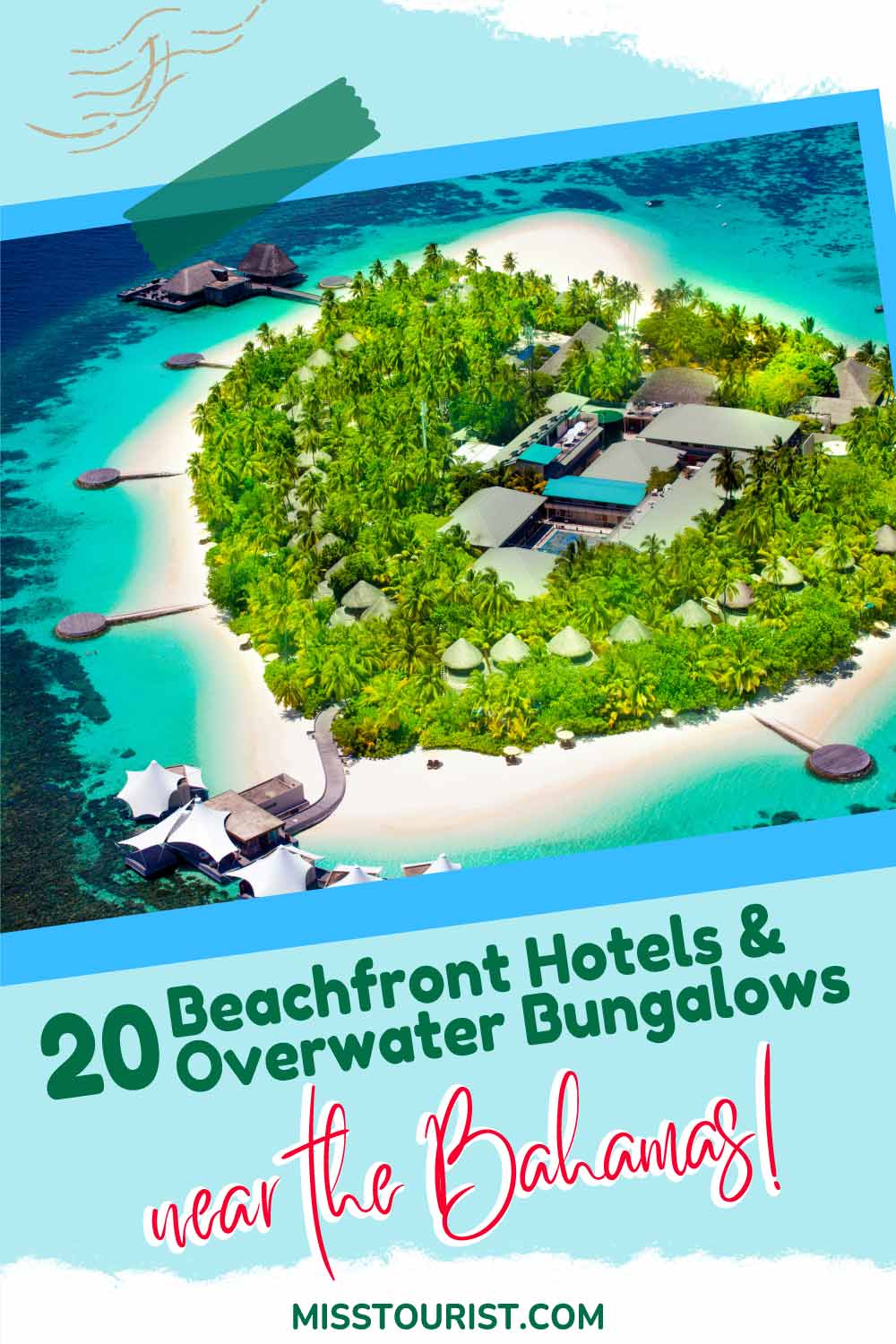 Pin it for later!