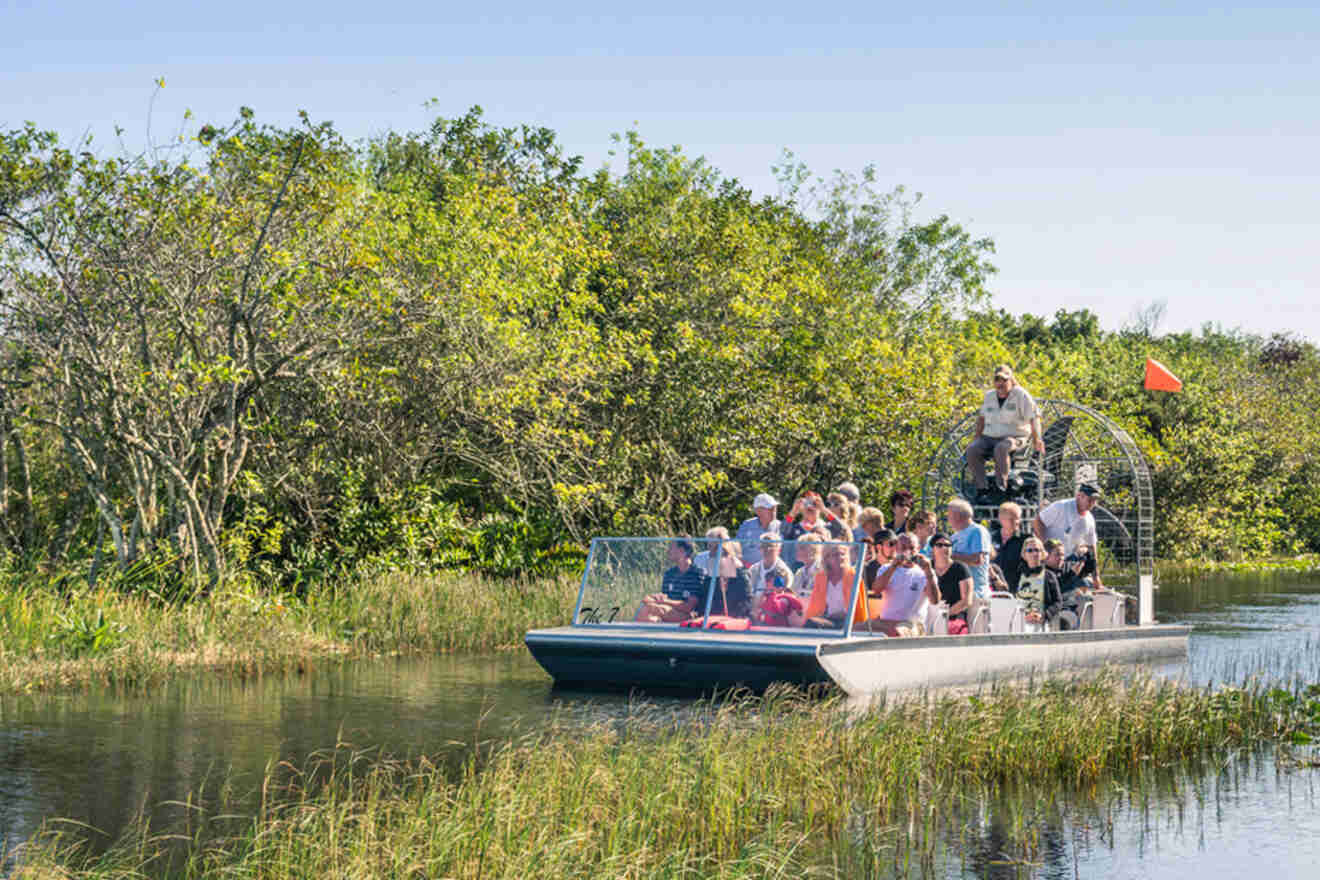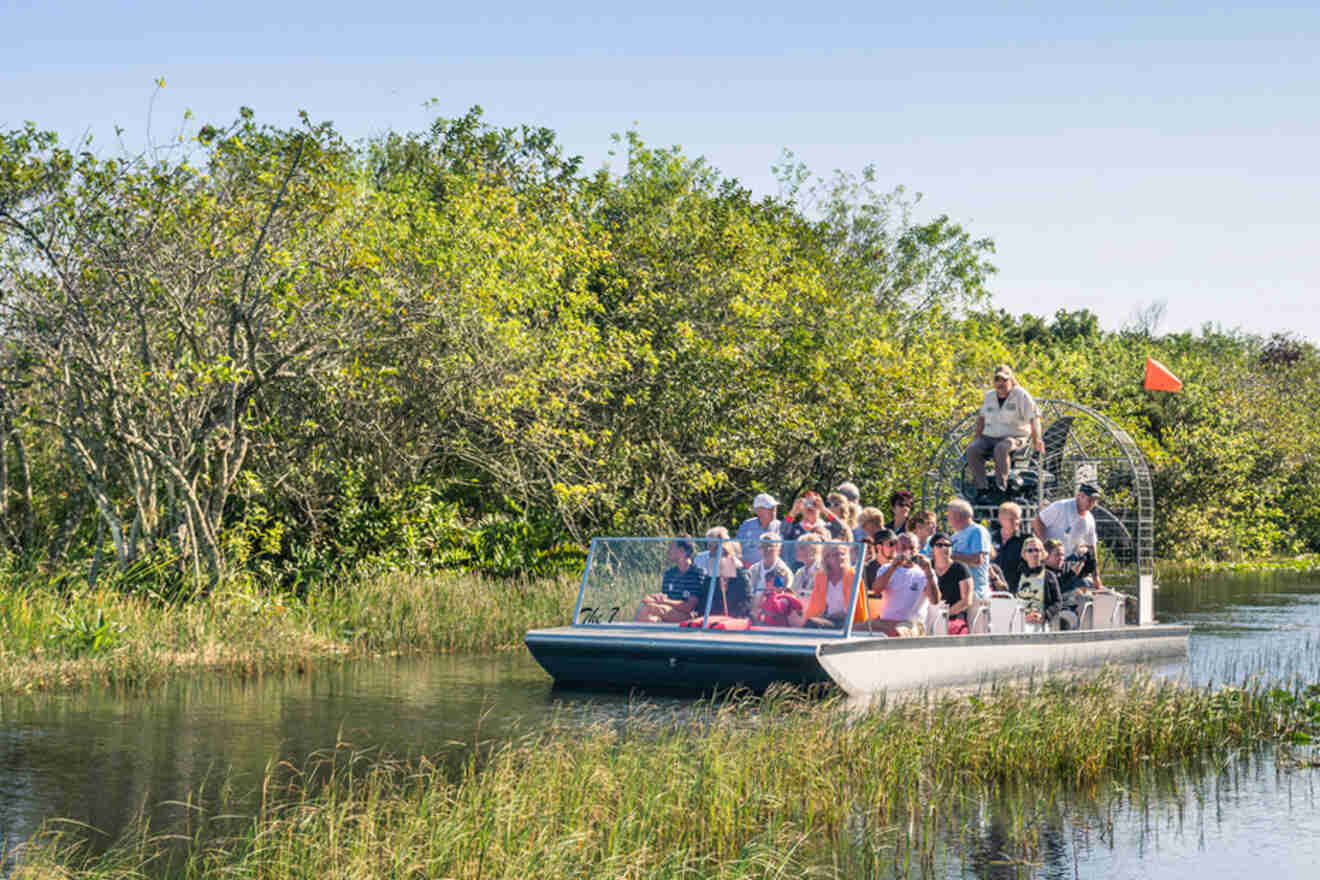 The Florida Everglades are unlike anywhere else on Earth, so if you're planning a Florida vacation and have the opportunity to see them, seize the chance! Encompassing a whopping 2 million acres (c. 800,000 hectares) across central and south Florida, the Everglades' subtropical wetland ecosystem is one of the most unique in the world, home to incredible flora and fauna, including many endangered wildlife or threatened species.
The best way to explore the Everglades and get up close to its resident wildlife is on an airboat tour! Everglades airboat tours are a quintessential Florida experience, as they're able to travel through Florida's shallow marshy water without damaging the vegetation. The thrill of zooming through the River of Grass with the wind in your hair and the breathtaking nature surrounding you is unforgettable!
I spent the majority of my life in South Florida, so I've had the opportunity to try quite a few different Everglades experiences, and I've narrowed down the best Everglades airboat tours for you in this article.
Just a few quick notes before we jump in! This list includes the best airboat rides in both Central Florida and South Florida to give readers a few options depending on where they're staying. If you've never been on an airboat tour before, I recommend bringing earplugs. They're super loud, especially if you're sensitive to noise like I am, and earplugs make all the difference.
Without further ado, let's get this adventure started!
If you are in a hurry
Here are the best Everglades Airboat Tours I recommend you book in advance:
The tours depart from different locations, so I thought a map might come in handy:
1. Check out the Everglades and enjoy a wildlife show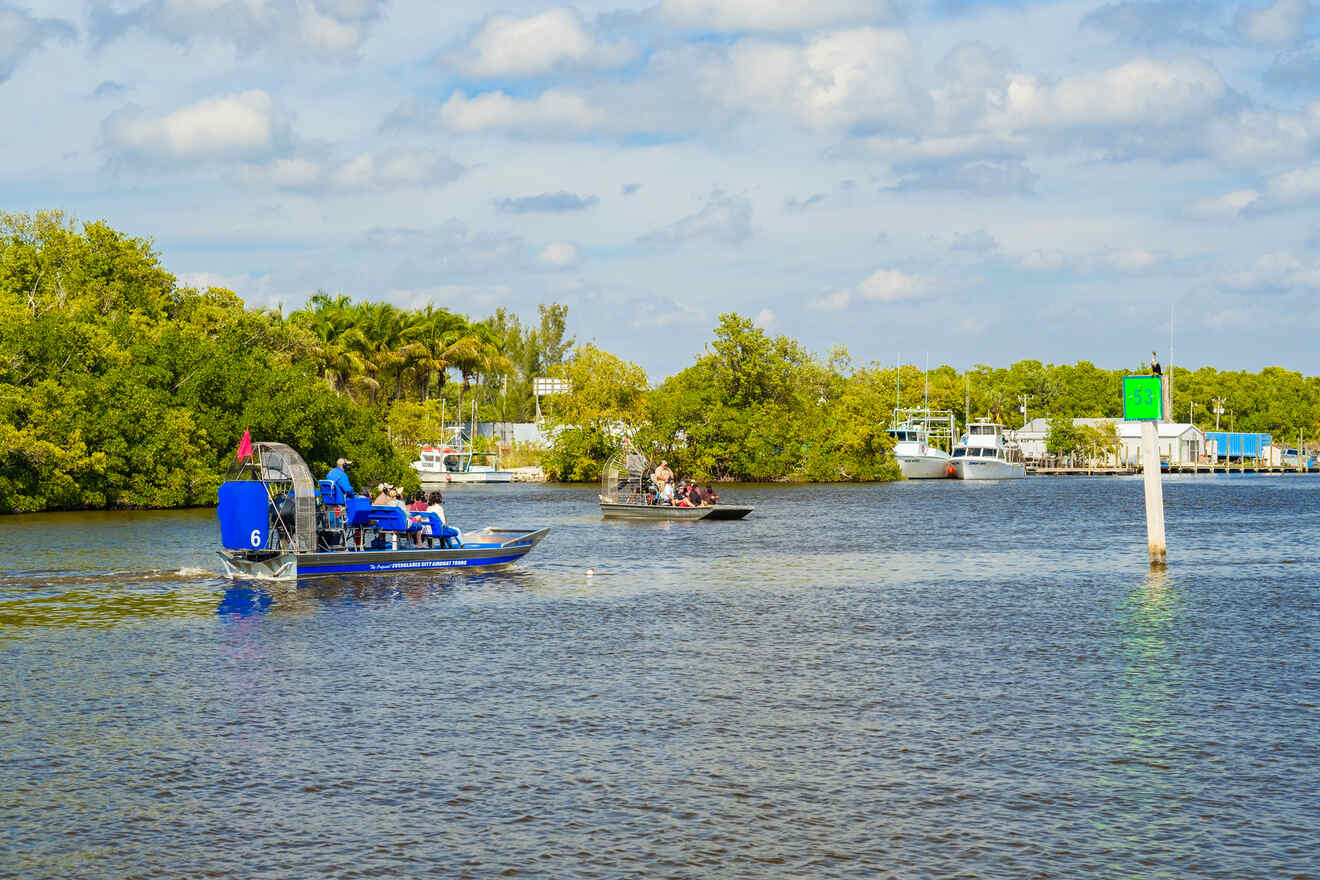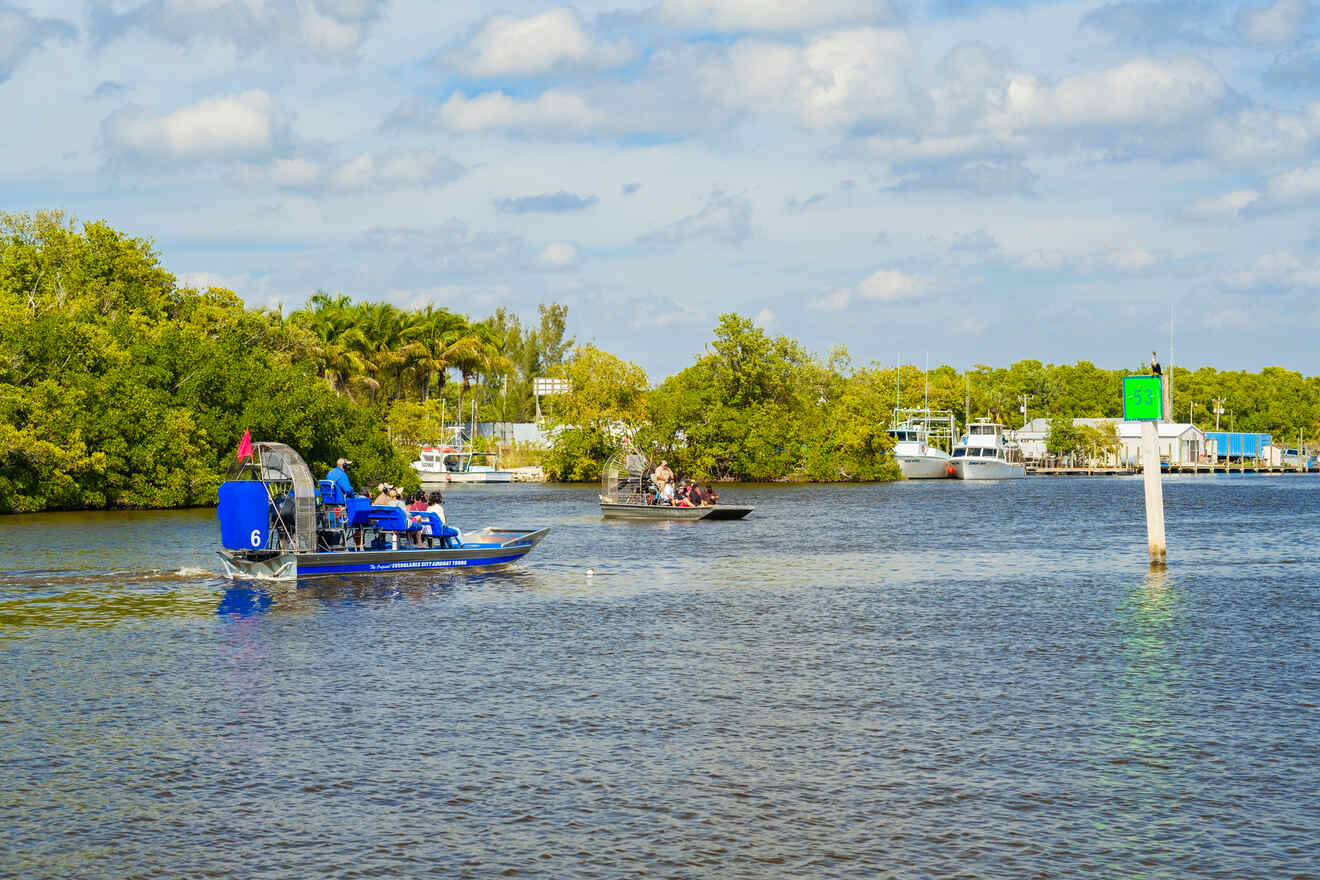 Duration: 35-40 min airboat ride, 30-minute wildlife show
Price: from US$33 per person + US$5 entry fee
Why you should take it: Gator Park offers affordable tours that include a wildlife show!
My #1 pick for the best Everglades airboat tour is the wildly popular Gator Park's Everglades National Park Airboat Tour and Wildlife Show, which departs 30 miles (50 km) west of Miami Beach.
Gator Park is one of only a select few tour operators authorized to give airboat rides within Everglades National Park, so this tour is ideal for first-time visitors looking to see what the famed national park is all about!
Airboat tour tickets include admission to the Gator Park Alligator & Wildlife Show (but not to the park), where you'll be amazed by demonstrations of Seminole Indian alligator wrestling that showcases the impressive agility and strength of these magnificent, albeit kind of intimidating, creatures.
2. Explore Sawgrass Recreation Park and the animal sanctuary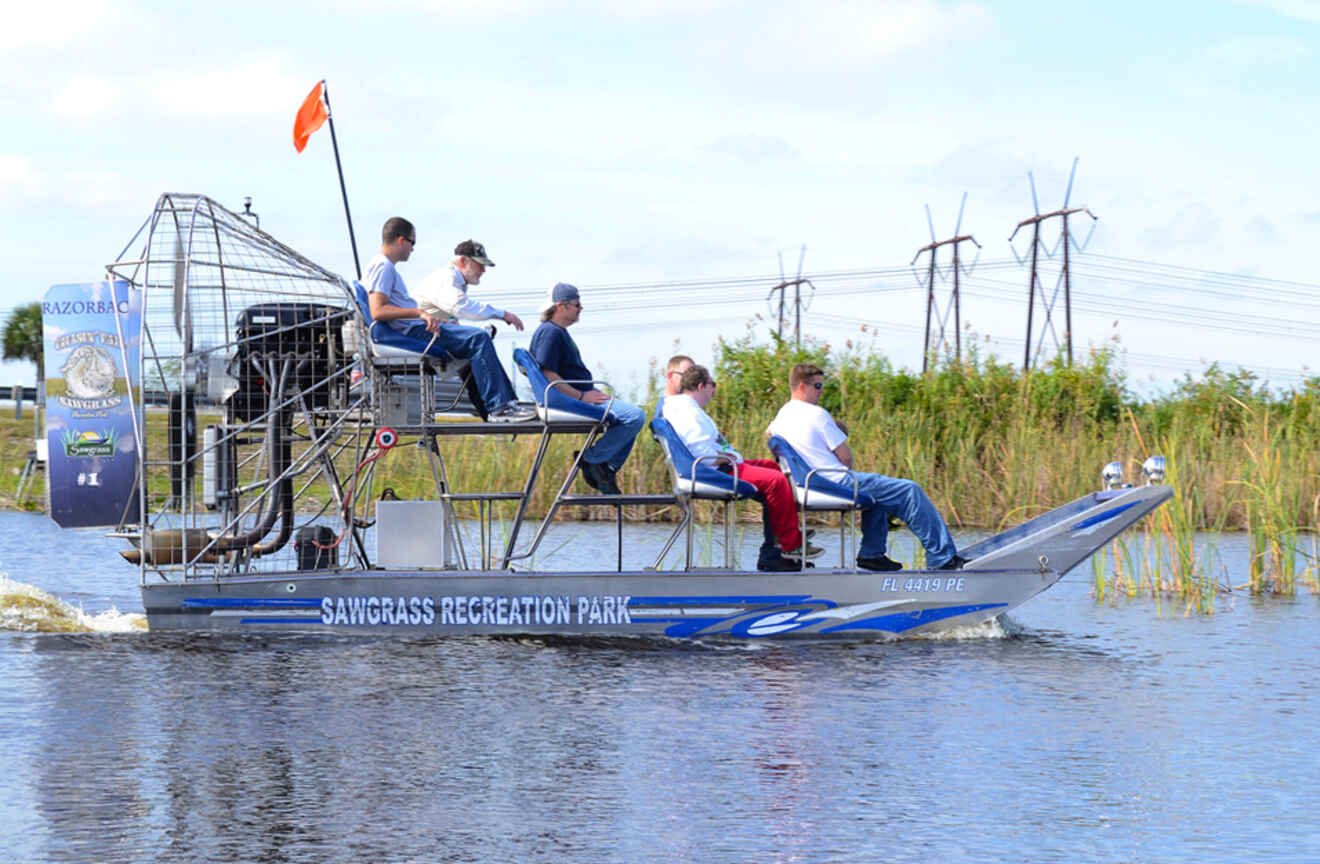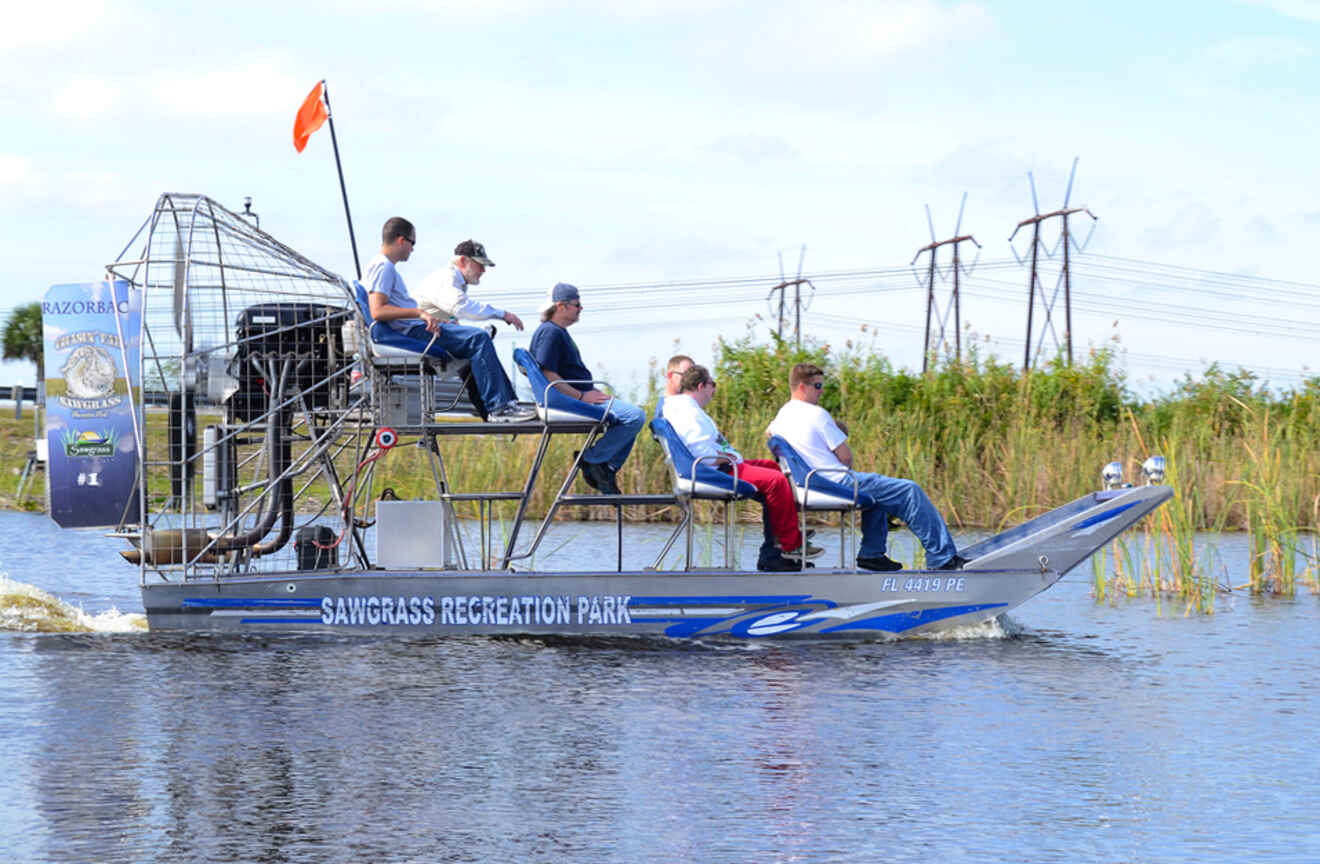 Duration: 40 min airboat ride + additional time to explore
Price: from US$30 per person
Why you should take it: for the convenient location just west of Ft. Lauderdale and their animal sanctuary (see also: baby gator)
Another one of the most popular airboat tours in South Florida is the Florida Everglades Airboat Adventure and Wildlife Encounter at Sawgrass Recreational Park. Located in Weston, FL, the park is under a 30-minute drive from Fort Lauderdale, making this one of the most easily accessible airboat tours on our list.
A few things really set this experience apart. The airboats feature stadium-style seating, with each row raised a bit higher than the one in front of it. This ensures everyone gets a fantastic view of the incredible flora and fauna in the Florida Everglades!
Also, Sawgrass Recreation Park provides protective earwear for guests during their airboat tours which is a huge plus – airboat tours are notoriously loud, so if you opt for one that doesn't include this, you don't want to forget yours at home.
In addition to a thrilling 40-minute guided tour through the River of Grass, tickets include entry to the Animal Sanctuary at Sawgrass Recreation Park, where you can meet the 50+ reptiles that have been adopted and rescued here. The best part about the sanctuary is that you'll have the opportunity to pet a baby alligator, and they are so stinkin' cute!!
3. Adventure on water and on land at Everglades Safari Park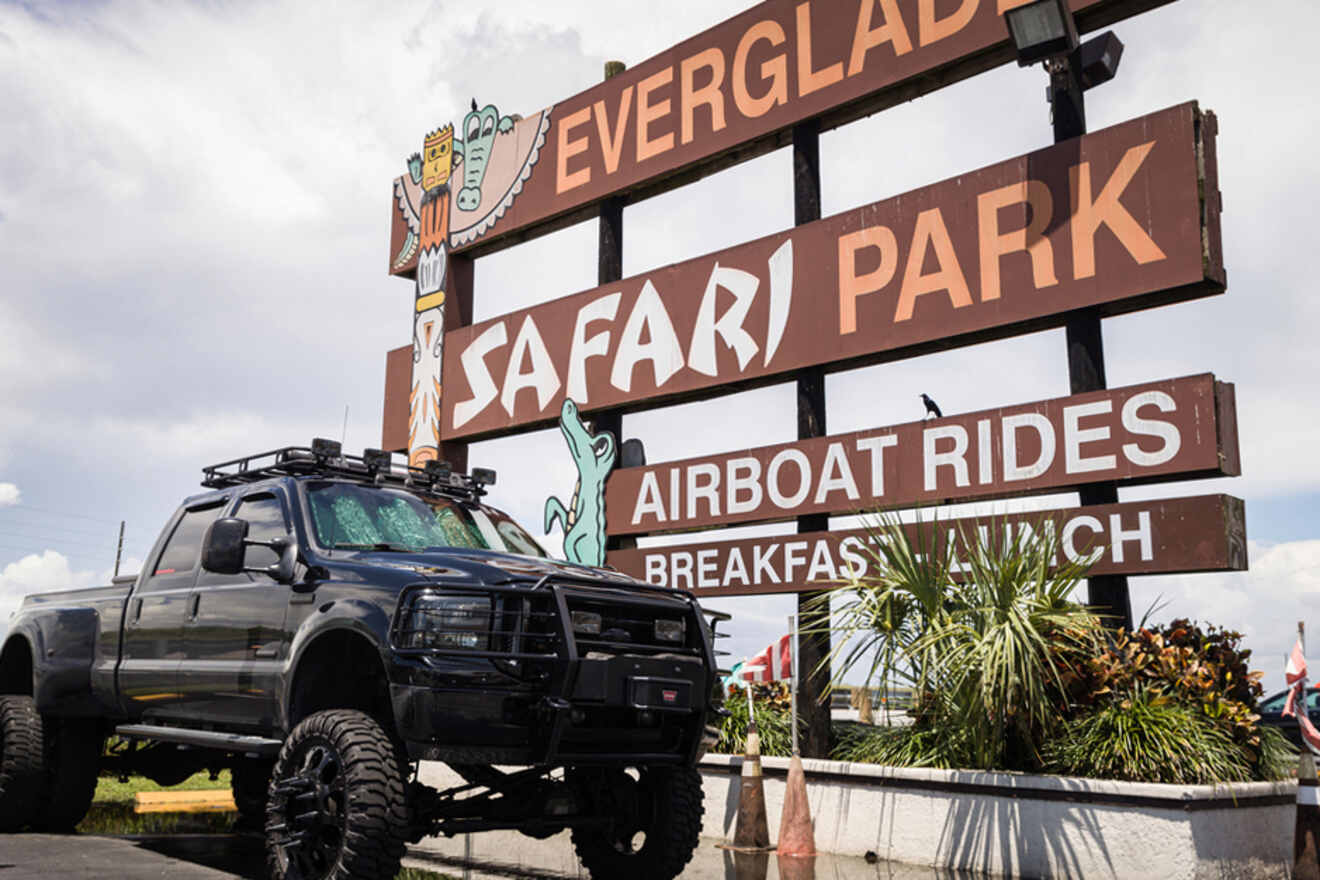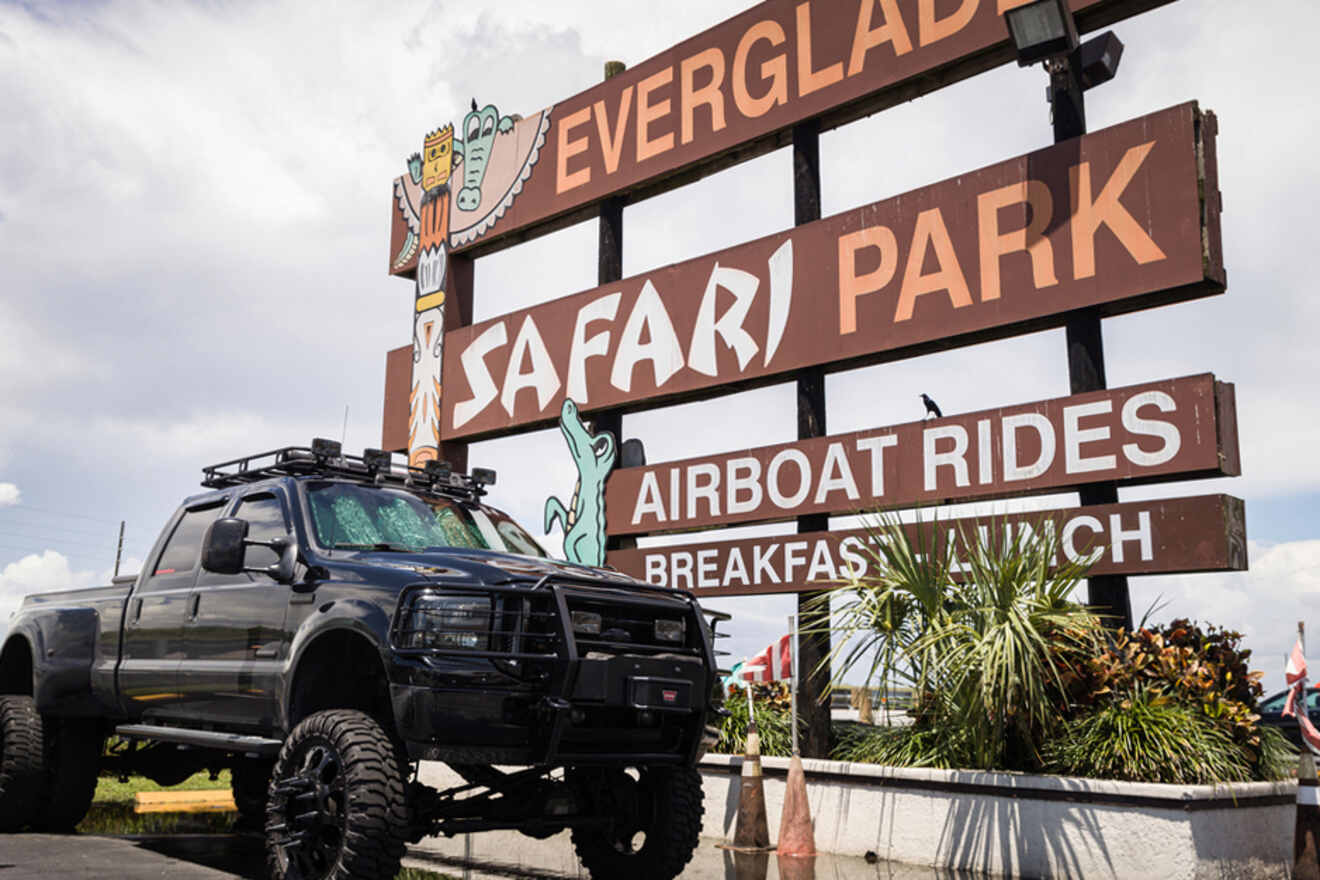 Duration: 40 min airboat ride + additional time to explore
Price: from US$34 per person + US$5 entry fee
Why you should take it: Everglades Safari Park offers authorized airboat tours within Everglades National Park, as well as other fun-filled attractions!
Like #1 on our list, Everglades Safari Park is also one of the authorized providers of airboat tours at Everglades National Park, located just over 1 hour's drive west of downtown Miami.
Since 1968, they've been offering some of the very best Everglades airboat tours in South Florida, and their Safari Park Airboat Tour and Park Entrance package is perfect if you want to experience a bit of everything. Their airboat tours are also wheelchair accessible!
You'll embark on a 40-minute airboat tour that takes you deep into the mysterious Florida Everglades, where you'll navigate through a secretly preserved jungle while learning all about the wetlands from your tour guide.
When the airboat tour concludes, you can explore Everglades Safari Park at your leisure. Take a stroll through the winding Jungle Trail, and don't forget to keep your eyes peeled for wildlife! At the interactive Wildlife Nature Show, you'll have the opportunity to get up close to amazing creatures.
There's even an on-site eatery, Safari Cafe, where you can try gator bites. I know what you're thinking, but they really do taste like chicken! 10/10, I would eat them again.
4. Take a semi-private airboat tour of the Florida Everglades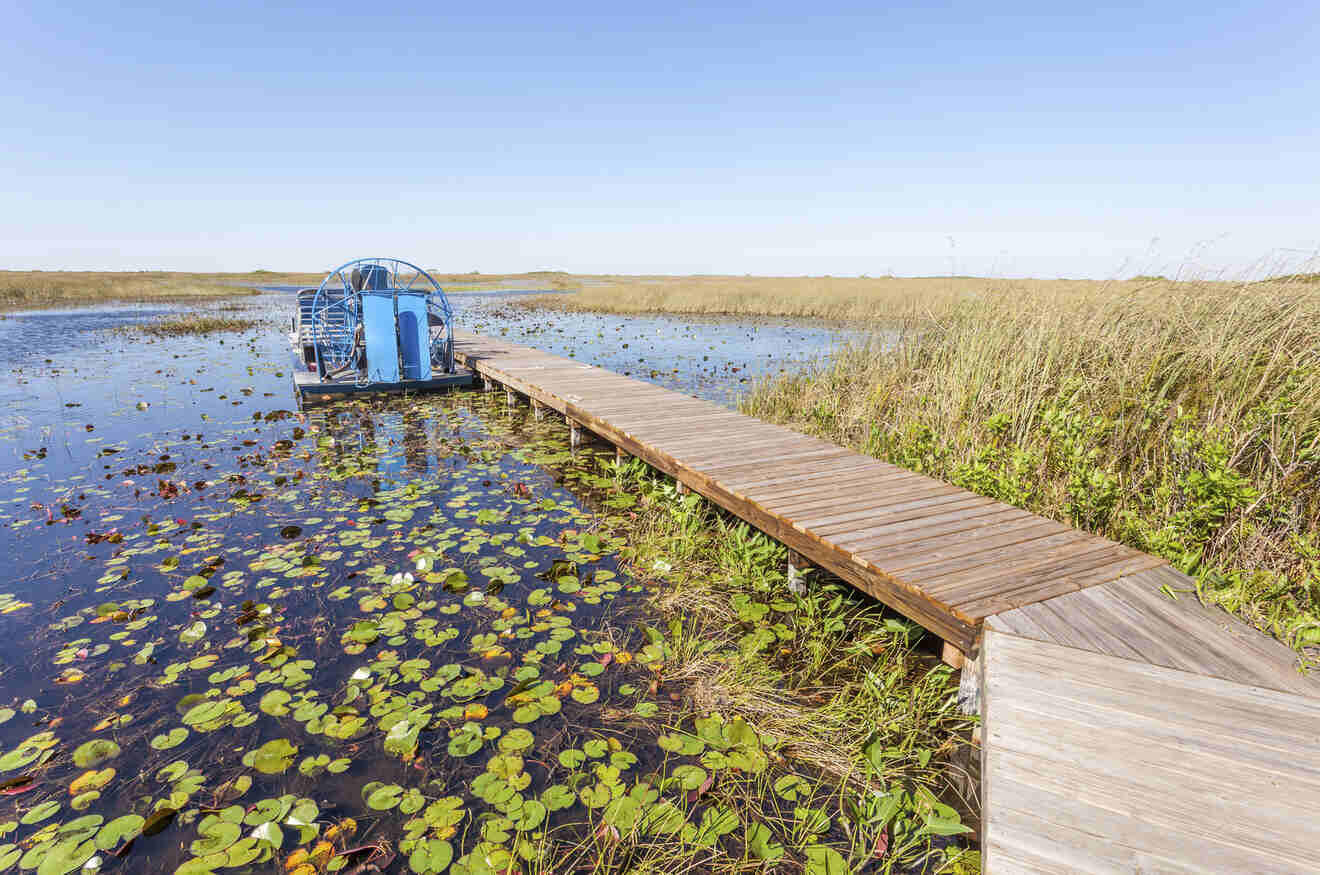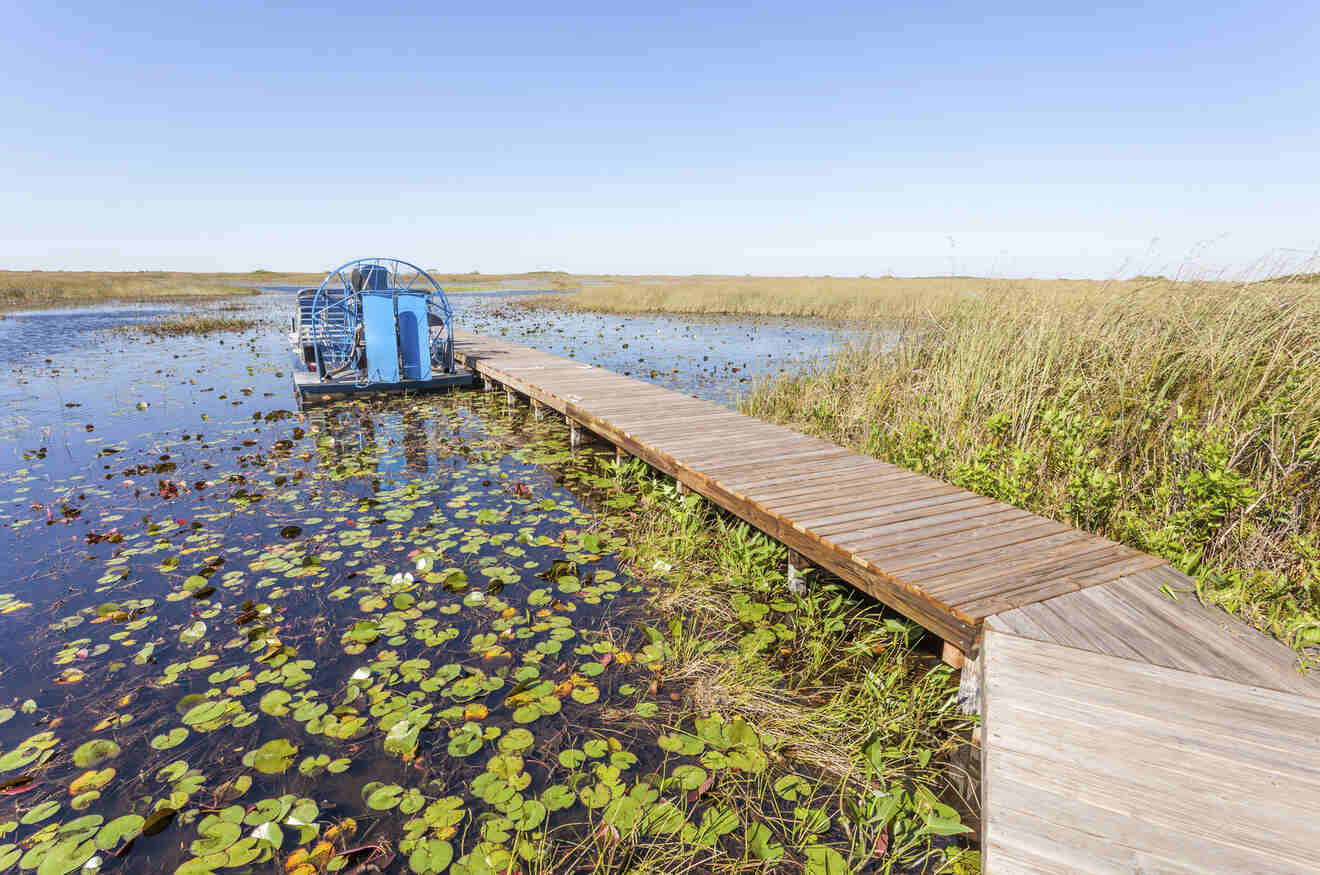 Duration: 90 min
Price: from US$90
Why you should take it: limited to just 5 guests, so you have the benefits of a private tour for a fraction of the price
The longest airboat ride on our list, this 90-minute Small Group Everglades Airboat Tour of the Central Florida Everglades offers all the benefits of a private Florida Everglades airboat ride but at a more budget-friendly price point. With a description like that, of course, it made its way to our list of best Everglades airboat tours!
The airboat tour departs from Kissimmee, FL, very close to Walt Disney World and Orlando's other major theme parks. It's limited to a max of just 5 guests (wheelchair accessible!), so it's an intimate excursion into Florida Everglades – you'll have plenty of time to chat with your expert guide in-depth about the incredible wildlife around you.
Marsh Landing Adventures, the company that runs these small group tours, prides itself on hiring airboat captains who are not only licensed by the US Coast Guard for the safety of the guests but are genuinely experienced in and passionate about the Florida Everglades and the wildlife that calls this unique area home. To me, the passion of the tour guides makes a massive difference!
This airboat tour is known to sell out quickly in advance, so I recommend booking this ASAP to secure a spot.
5. Bring the whole family for a Boggy Creek airboat tour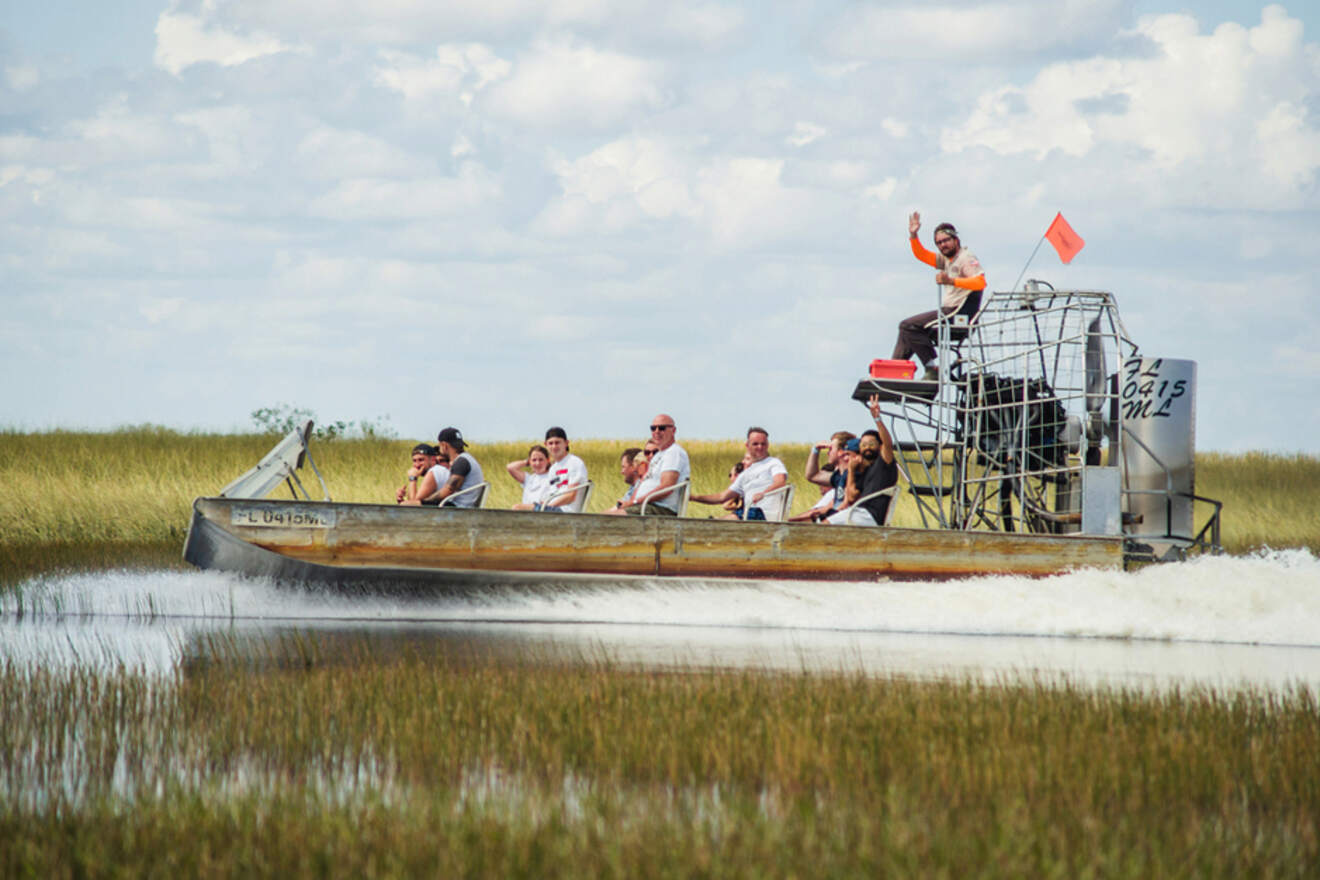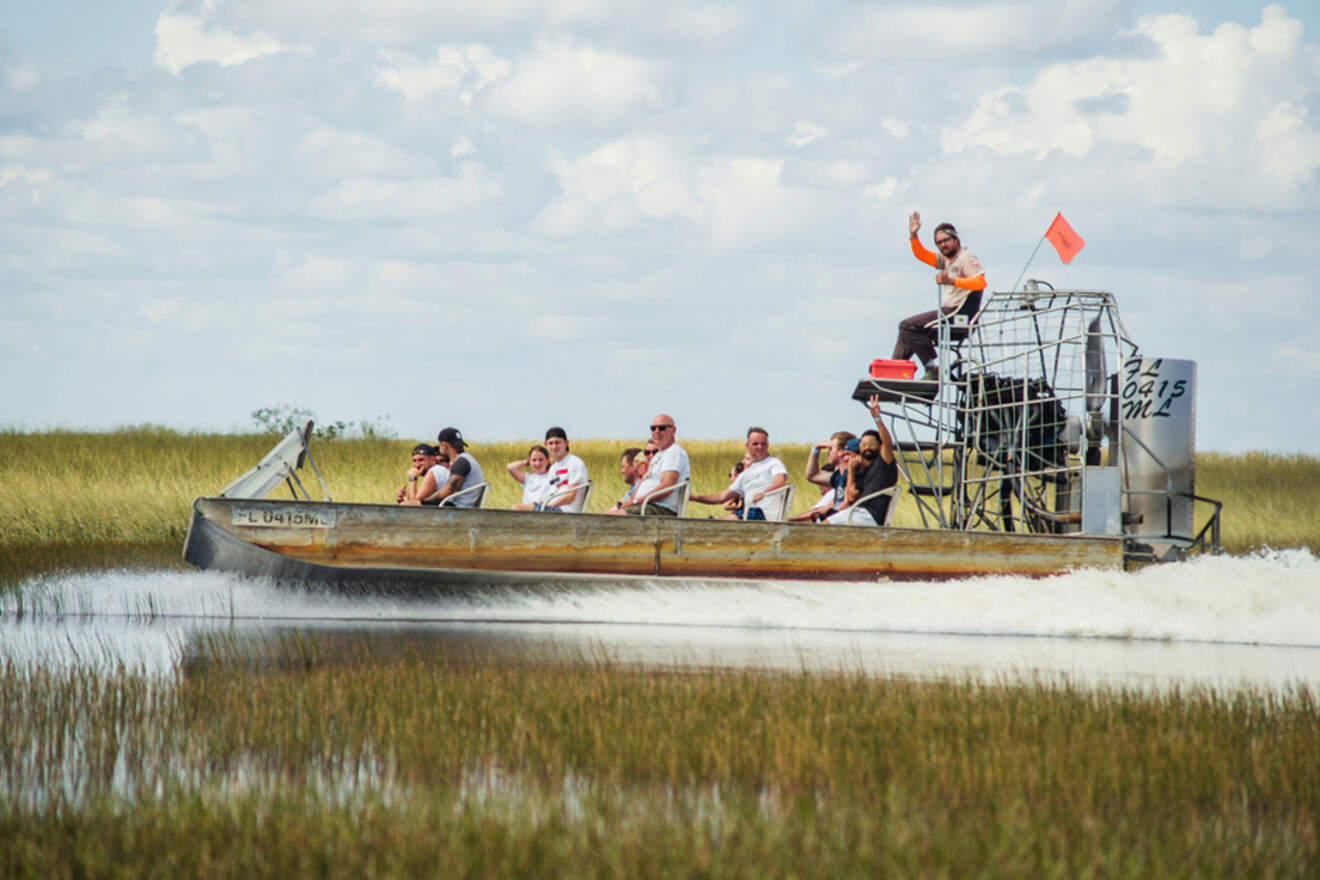 Duration: 30 min and 60 min
Price: from US$40 per person
Why you should take it: a fantastic break from the crowded theme parks
If you're visiting Orlando with kids, a Boggy Creek Airboat Ride is a must-do! The Boggy Creek airboat tours are loved by locals and visitors alike, and they've grown from a humble beginning in 1994 to becoming a staple Central Florida attraction.
Boggy Creek Airboat Adventures is aptly named, as you're able to "choose your own adventure" here. They have an option that's just the airboat tour (either 30 minutes or 60 minutes – it's up to you), which I really appreciate. That way, if you're short on time and trying to fit this into an already hectic Orlando vacation, you won't be paying for extras you can't enjoy.
If you do want to make a day of it, the package deal includes gem mining, park admission, and a meal at Boggy Bottom BBQ! There are some really cool things to see and do at the park, like the butterfly garden and Native American Village, which pays homage to Central Florida's Jororo Tribe.
6. Tour the Everglades with a master naturalist guide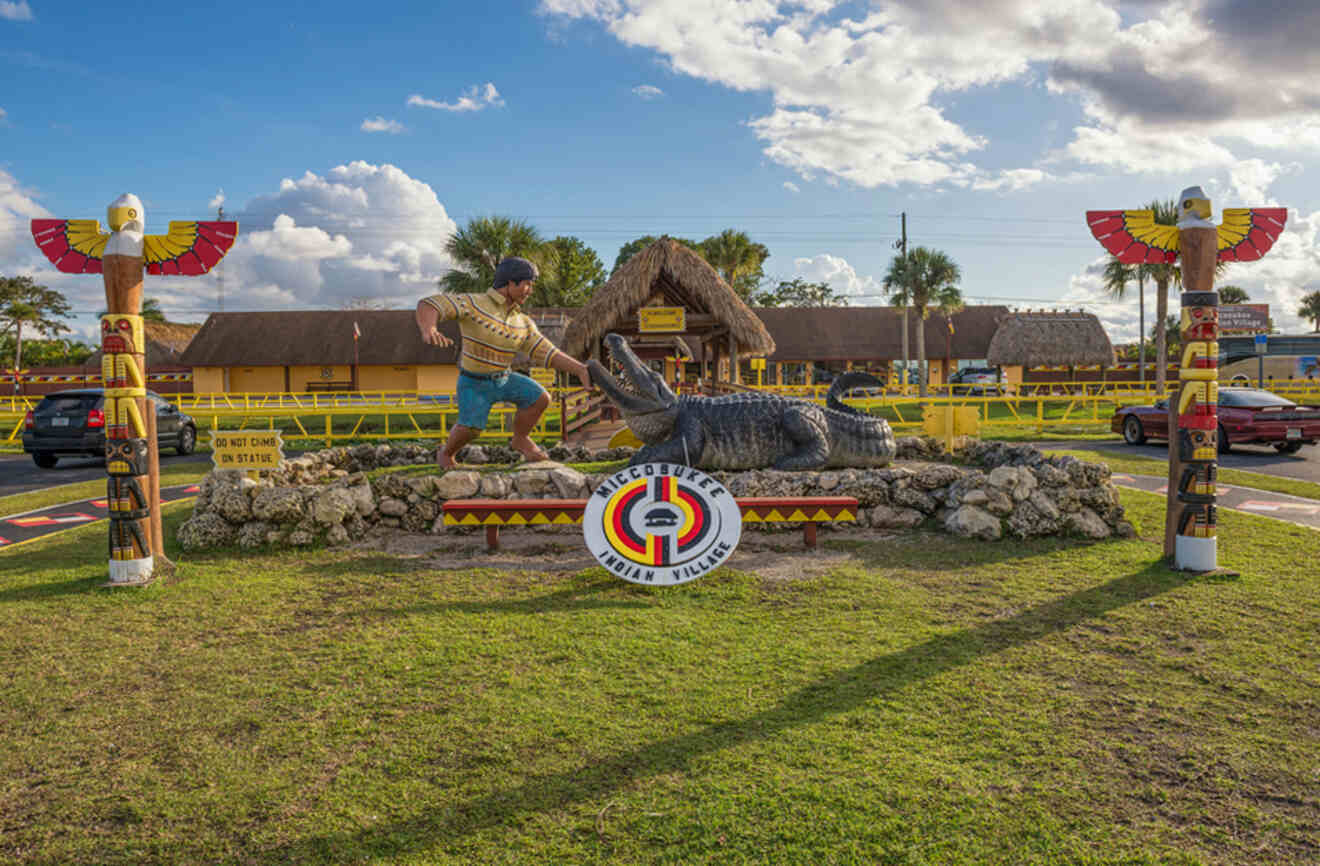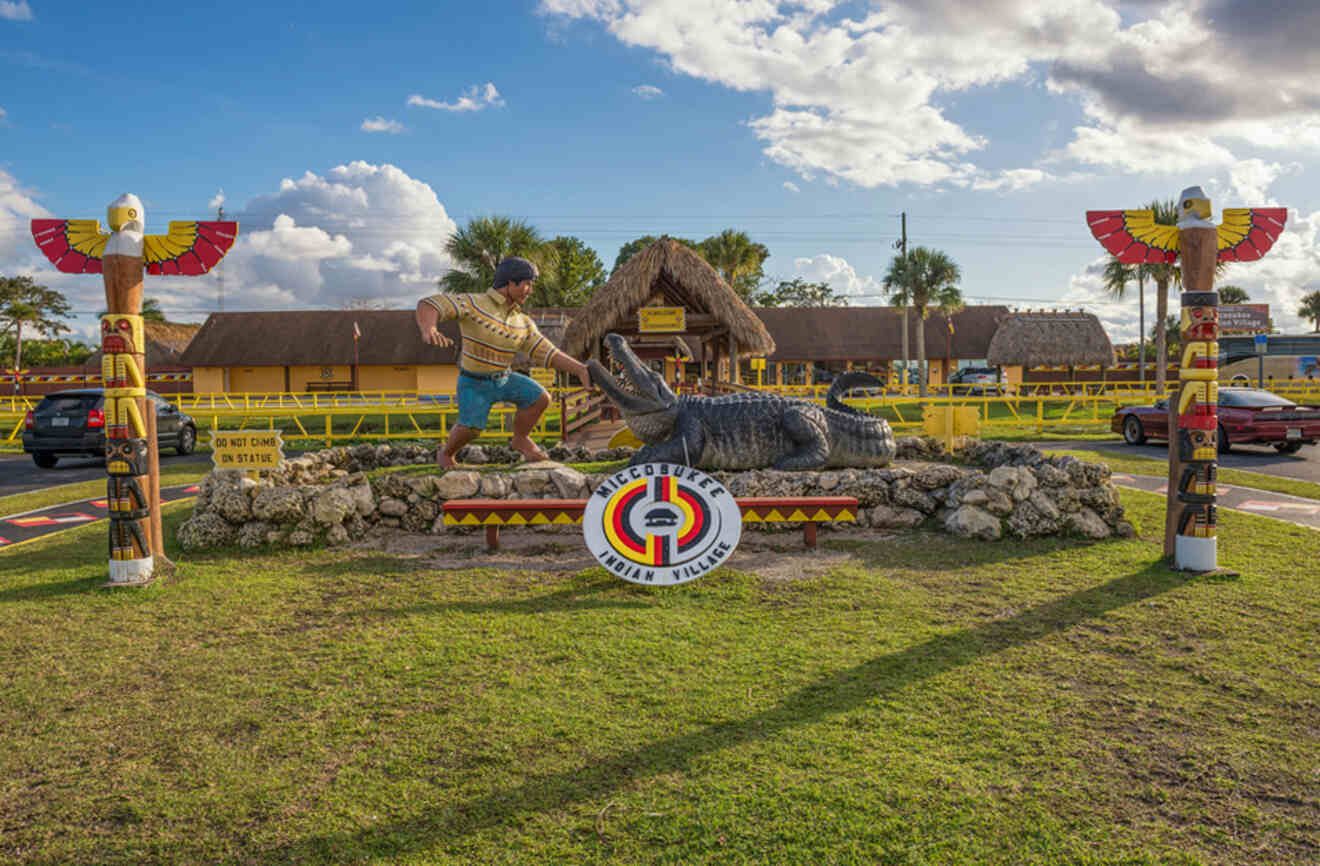 Duration: 1-hour airboat ride, 5.5 hours total experience
Price: from US$170 per person
Why you should take it: learn from a master naturalist as you experience the Florida Everglades by airboat and on a nature walk
This Everglades National Park Airboat Ride & Nature Walk provided by Wild Lime Adventures is the ultimate experience in the Florida Everglades for nature lovers and wildlife enthusiasts. If you fall into either of those categories, it's definitely the best Everglades tour for you! And it even includes round-trip transportation from hotels in the greater Miami/Fort Lauderdale area.
The half-day tour includes 2 experiences within Everglades National Park: a 1-hour airboat ride and a 1.5-hour nature walk, both led by a master naturalist who's part of the Miccosukee Indian family and knows the Everglades ecosystem inside and out. You'll even get to stop at a historic Miccosukee Indian Village, where you can learn about their customs and way of life.
Some of the other best Everglades airboat tours on our list include wildlife shows and exhibits, which can be a ton of fun for kids, but are definitely not for every taste. This experience is focused on seeing animals solely in the wild, as the company doesn't support the idea of putting animals in cages or on display.
7. See a stunning sunset in Central Florida Everglades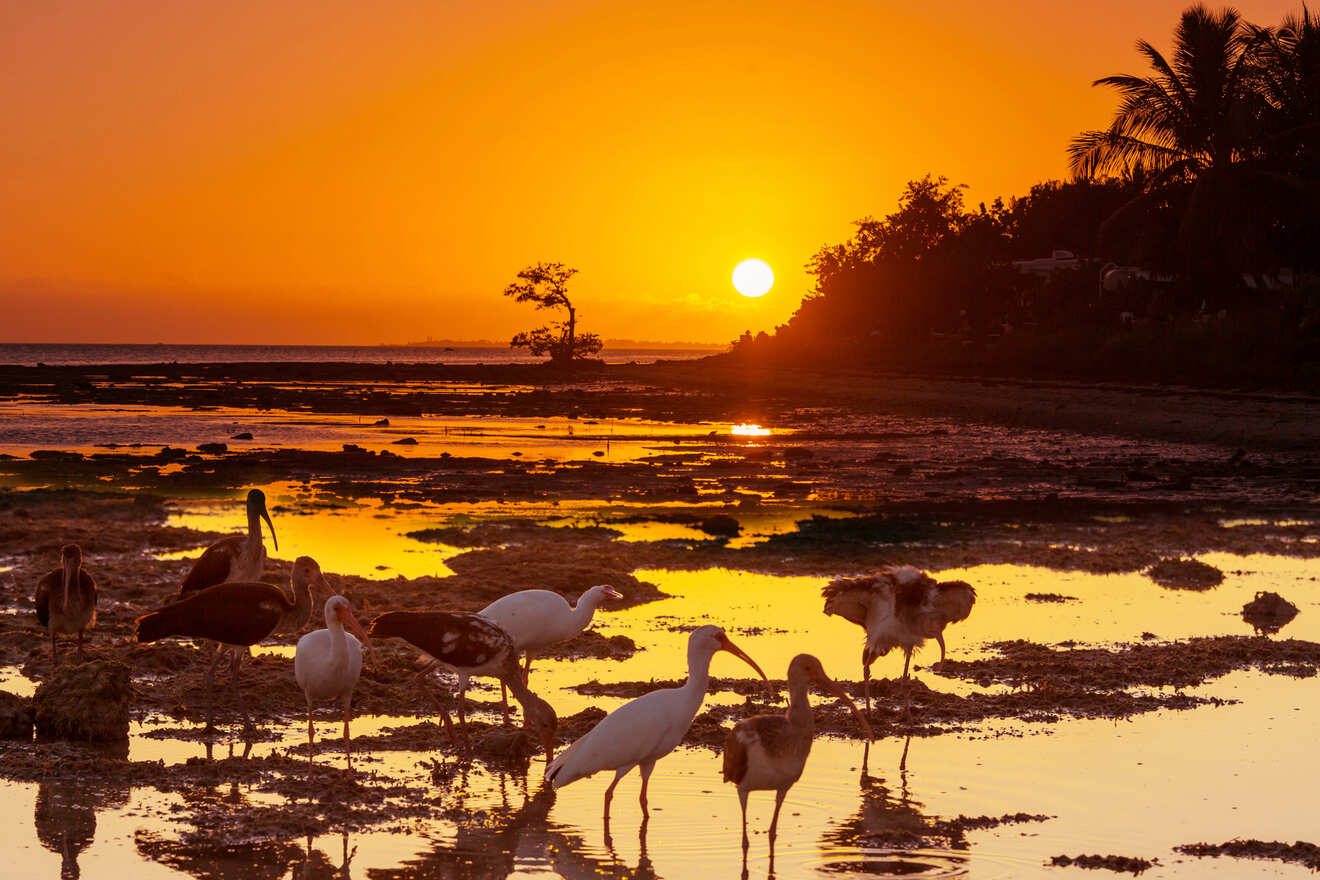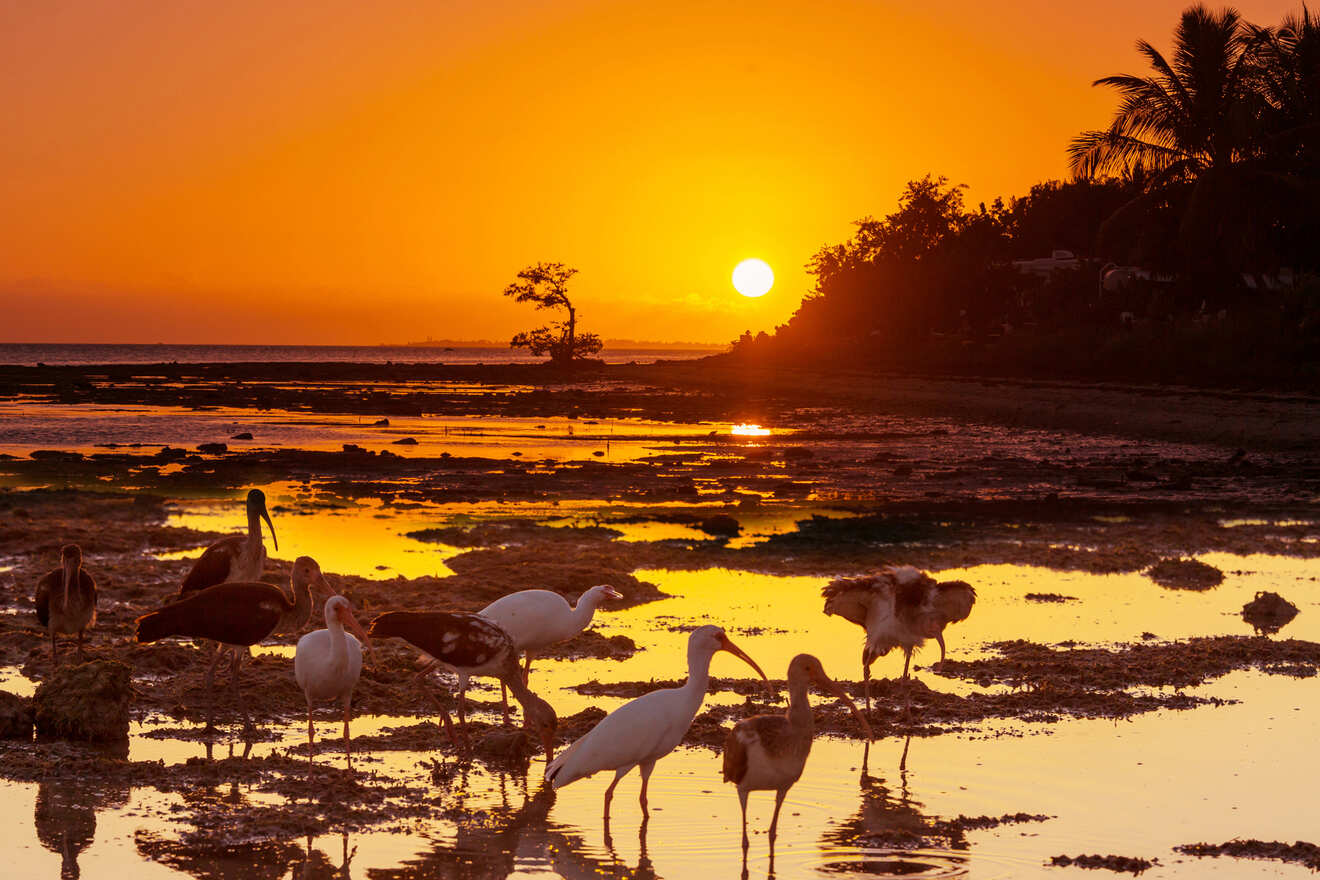 Duration: 1 hour
Price: From US$73 per person
Why you should take it: get a glimpse of how Florida Everglades wildlife transitions from day to night, and catch stunning views of the sunset
One of the most unique Everglades airboat tours on our list, the Boggy Creek Everglades Sunset Airboat Tour is a one-of-a-kind experience you don't want to miss!
While most airboat tours take place during the day, this airboat tour that departs from Kissimmee takes place during golden hour, so you can experience an epic sunset in the pristine wilderness of the Florida Everglades. It would make for a really romantic date night in Orlando. 😍
As you watch the sun set over West Lake Tohopekaliga, you'll have a fascinating glimpse at how wildlife changes from the daytime to the evening – watch how the Florida Everglades come alive at night! And keep your eyes peeled for turtles, birds, and alligators, of course.
There are a very limited number of seats per tour, so you'll want to book this activity in advance!
Ear protection is provided.
8. Take an after-dark Everglades airboat tour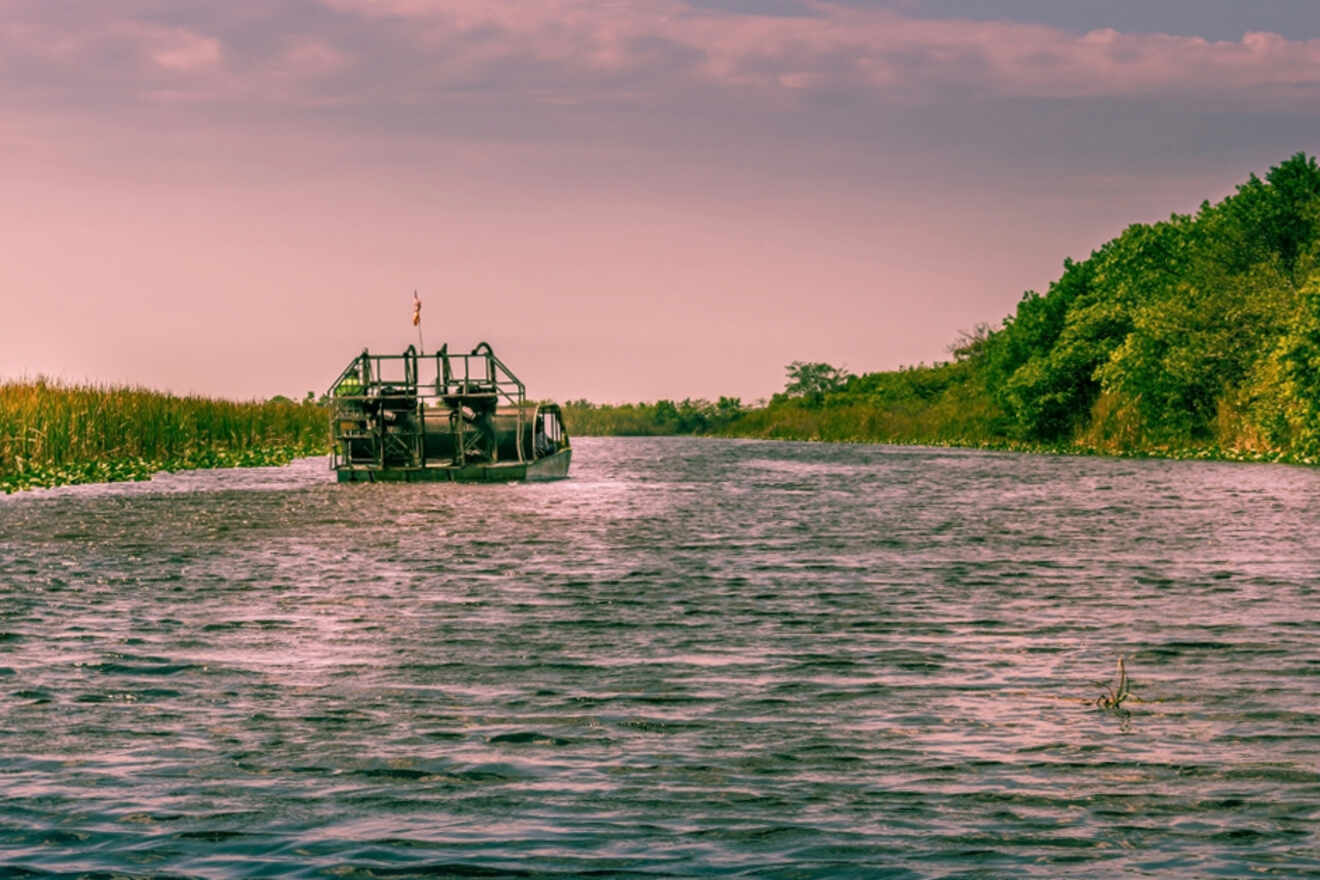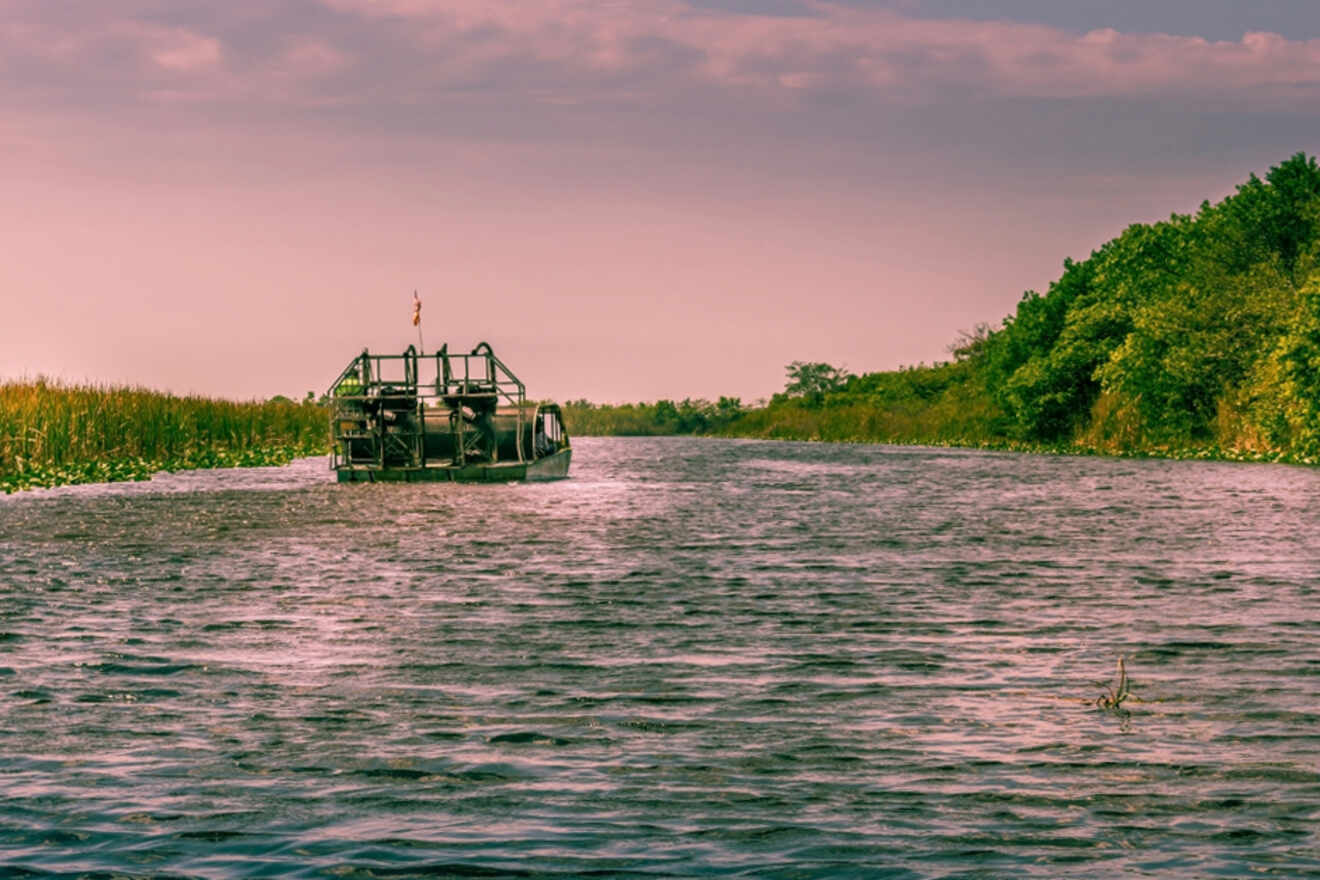 Duration: 1 hour
Price: from US$50 per person
Why you should take it: the most popular spooky airboat tour
If the image of red eyes glowing in the dark of the swamplands gives you the heebie-jeebies, this may not be the airboat tour for you. But if your heart just did a backflip at the idea of cruising through the Florida Everglades in the dead of night, well, you're going to love this one!
The 1-Hour Everglades Airboat Night Tour at Sawgrass Recreation Park near Fort Lauderdale is an Everglades experience unlike any other. Departing well after the sun goes down, this tour gives you a front-row seat to the nocturnal side of the Florida Everglades.
Your knowledgeable airboat captain will use a flashlight to point out the creatures and critters along the way, and you'll likely spot alligators – they tend to be quite active from dusk to dawn.
Like many of the other best Everglades boat tours, the nighttime airboat rides at Sawgrass Recreation Park book up very quickly, so I recommend booking as soon as possible to ensure availability.
9. Learn and explore on an Everglades day safari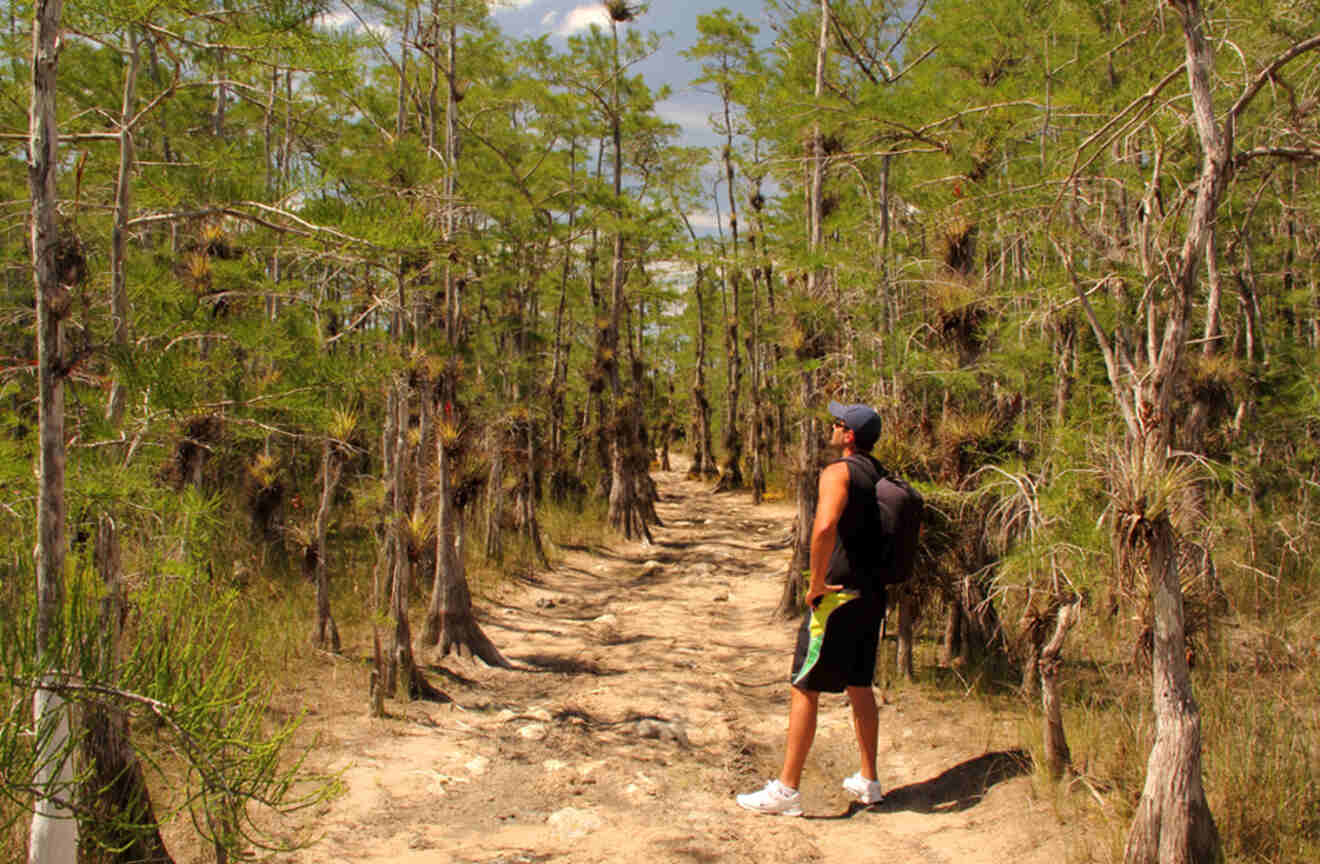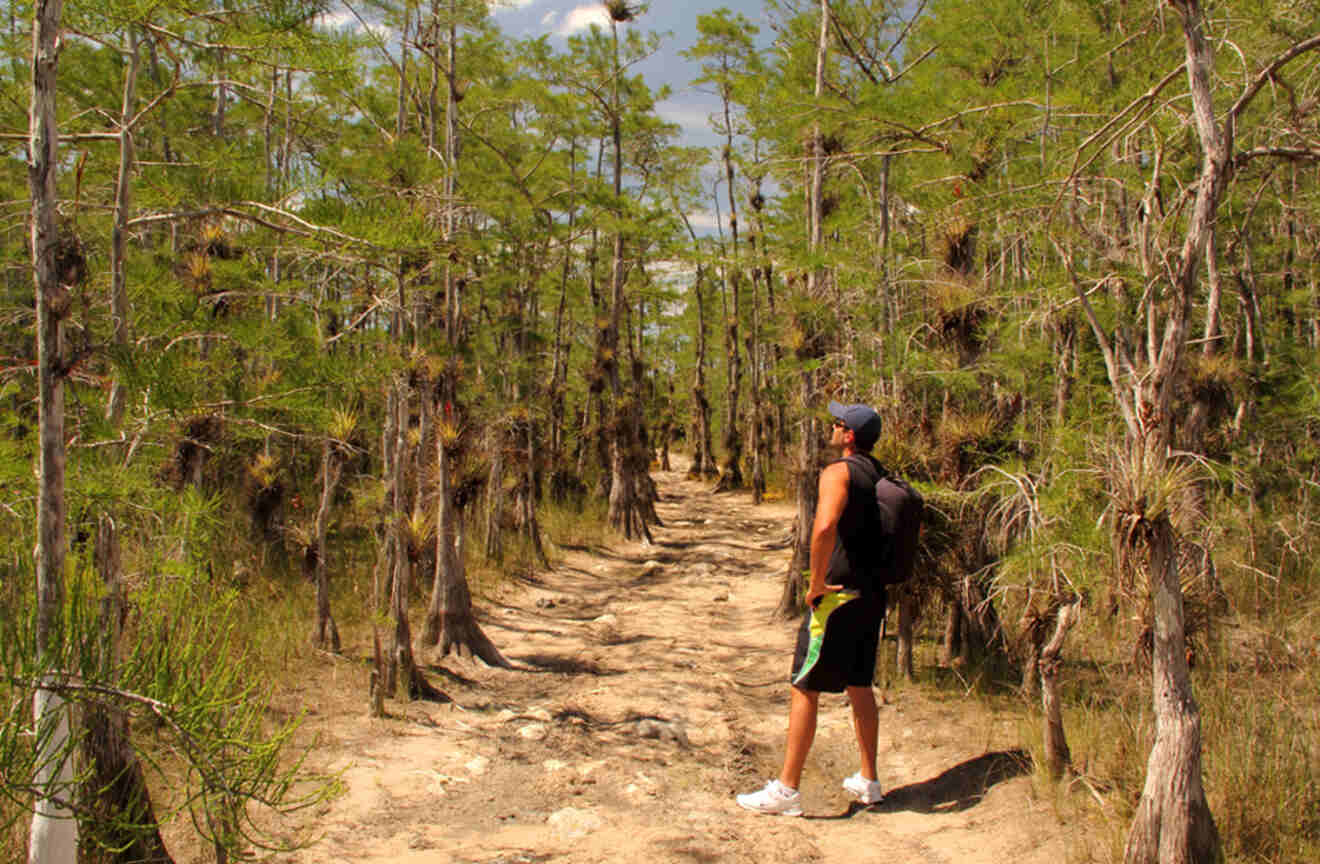 Duration: 1 day
Price: from US$200 per person
Why you should take it: this all-inclusive excursion into the Everglades packs a whole lot of adventure into just one day
The Everglades Day Safari includes everything you need for a once-in-a-lifetime experience in the Florida Everglades!
This full-day excursion departs from Fort Lauderdale and includes roundtrip transportation to/from the Florida Everglades. Once you arrive, you'll adventure by foot, airboat, van, and pontoon with a naturalist as your guide – this tour really takes exploring to a whole other level!
The adventure begins with an exhilarating Everglades airboat tour through the shallow waters of the sawgrass prairies and continues with a wildlife drive into Big Cypress National Preserve, where your guide will lead you on foot through the ancient cypress swamps of the Everglades backcountry, and you'll enjoy the spectacular scenery.
After you've explored flora and fauna and enjoyed an afternoon break and lunch, the excursion wraps up with a relaxing, scenic boat ride through the mangrove tunnels and forest of Everglades National Park, which means the chance to see dolphins, manatees, sea turtles, and more.
10. Go on an airboat adventure at Wild Florida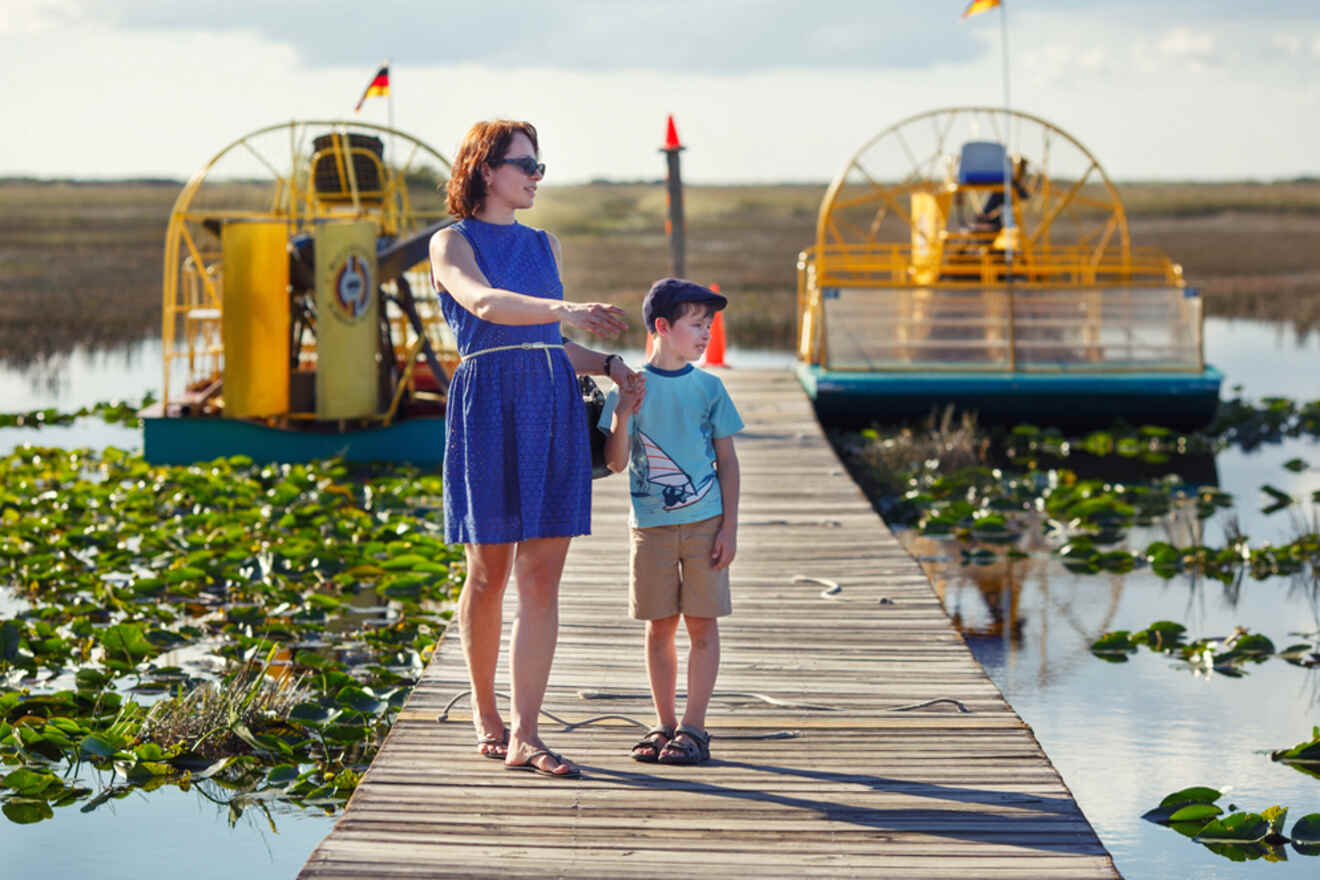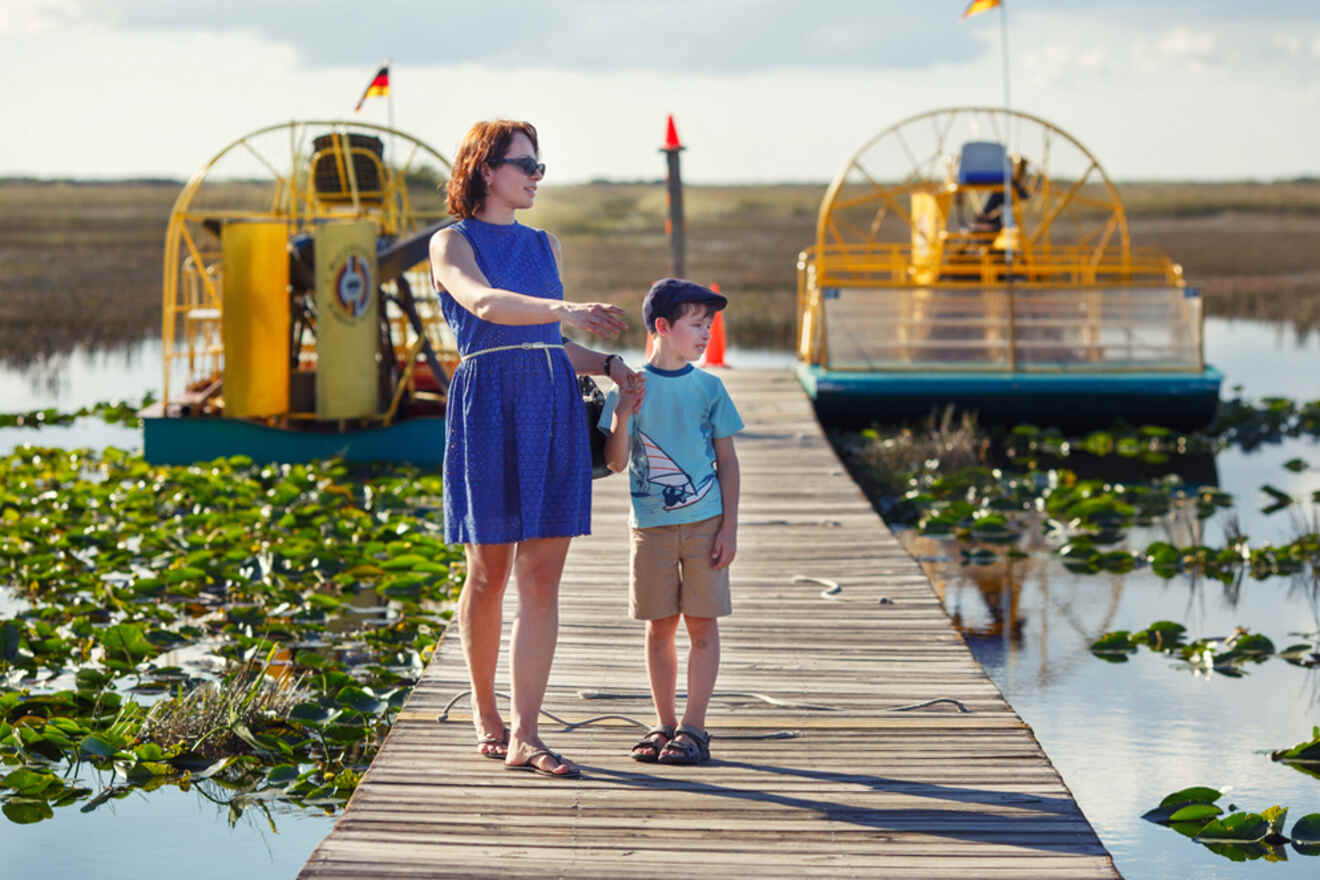 Duration: 6 hours
Price: from US$190 per person
Why you should take it: includes an airboat adventure and admission to a wildlife park with over 200 amazing animals
Wild Florida is a super popular family-friendly attraction in Central Florida that boasts amazing shows, animal encounters, a wildlife park, and even a drive-thru safari experience, but they're especially known for offering some of the best Everglades airboat tours near Orlando. The Wild Florida Everglades Airboat & Gator Park bundle is ideal for a day full of fun and adventure!
Start with a 30-minute airboat ride through Cypress Lake, then explore what Gator Park has to offer, including 200+ native and exotic animals at their wildlife park, including lemurs, bobcats, 2-toed sloths, and many more. You can even chat with the animal care team to learn more about these amazing animals!
Take a break with a BBQ basket lunch at Chomp House diner with amazing lake views, and then hop on your drive-thru safari experience to get the feel as if you are in the African savanna. You'll even get a chance to feed the giraffes!
11. Take a private Everglades airboat tour near Miami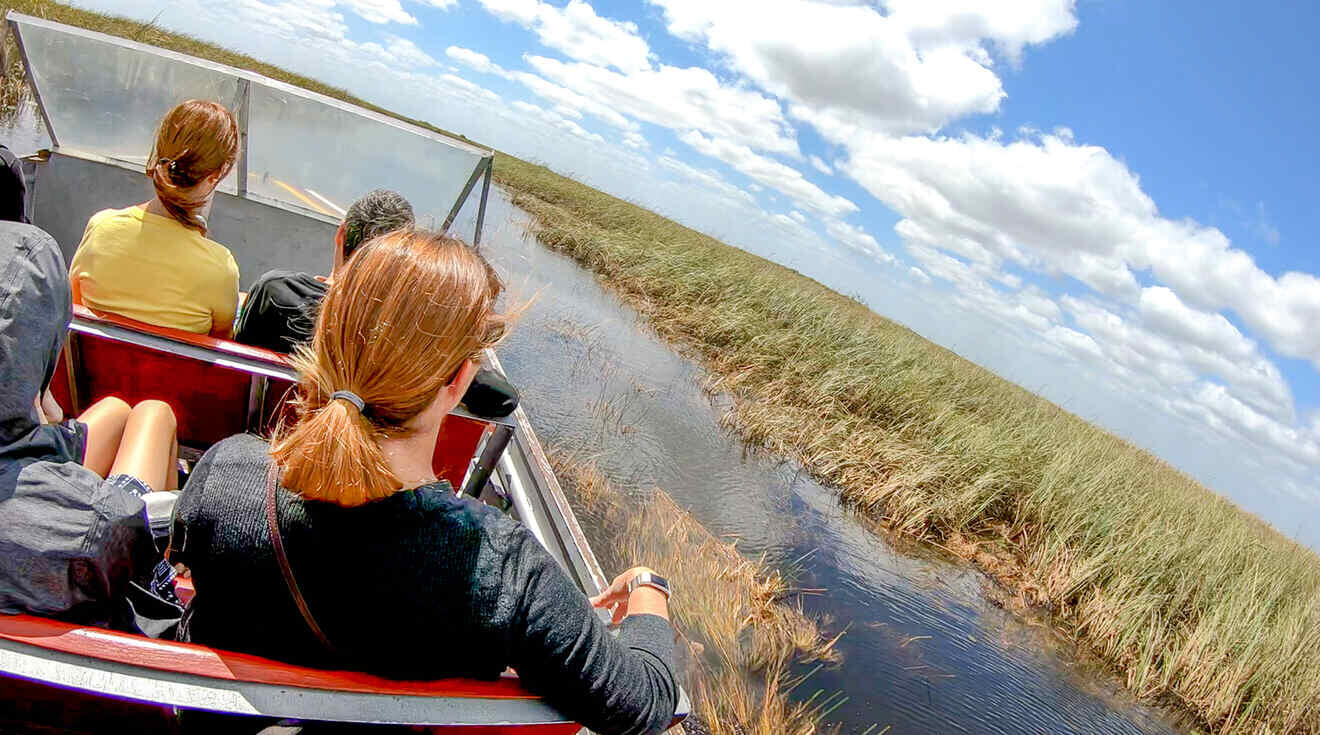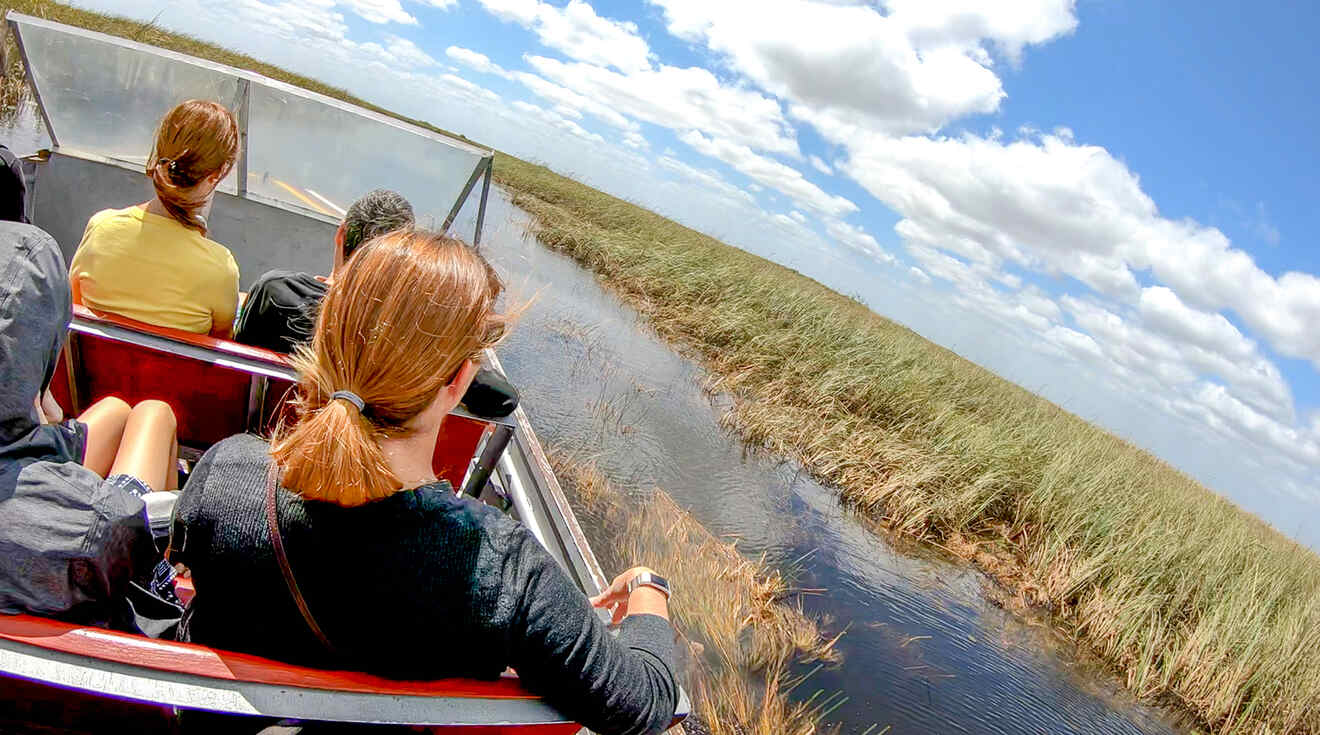 Duration: 90 min
Price: from US$184, varies by group size
Why you should take it: the most conveniently located from the Everglades
For a truly special experience in the Everglades, I recommend taking this 90-Minute Private Airboat Tour in Miami. You just can't beat the quality time with loved ones or the personal attention from your guide that you get on private airboat tours! I am always that person on tours asking way too many questions, so private tours benefit both myself and the general public. 😂
Since this tour is 1.5 hours, you'll have plenty of time to take in your surroundings, keep an eye out for wildlife, and learn about what makes the diverse habitats within the Everglades so spectacular. Sometimes the shorter tours can feel rushed, so this is a big plus.
Of all the airboat tours on our list, the private tour has the most convenient location: just a 27-minute drive from Miami Beach and 22 minutes from the Miami International Airport! This experience is also wheelchair accessible.
If you're interested, you'll want to book the tour ASAP – it's known to sell out in advance!
FAQs about top Everglades airboat tours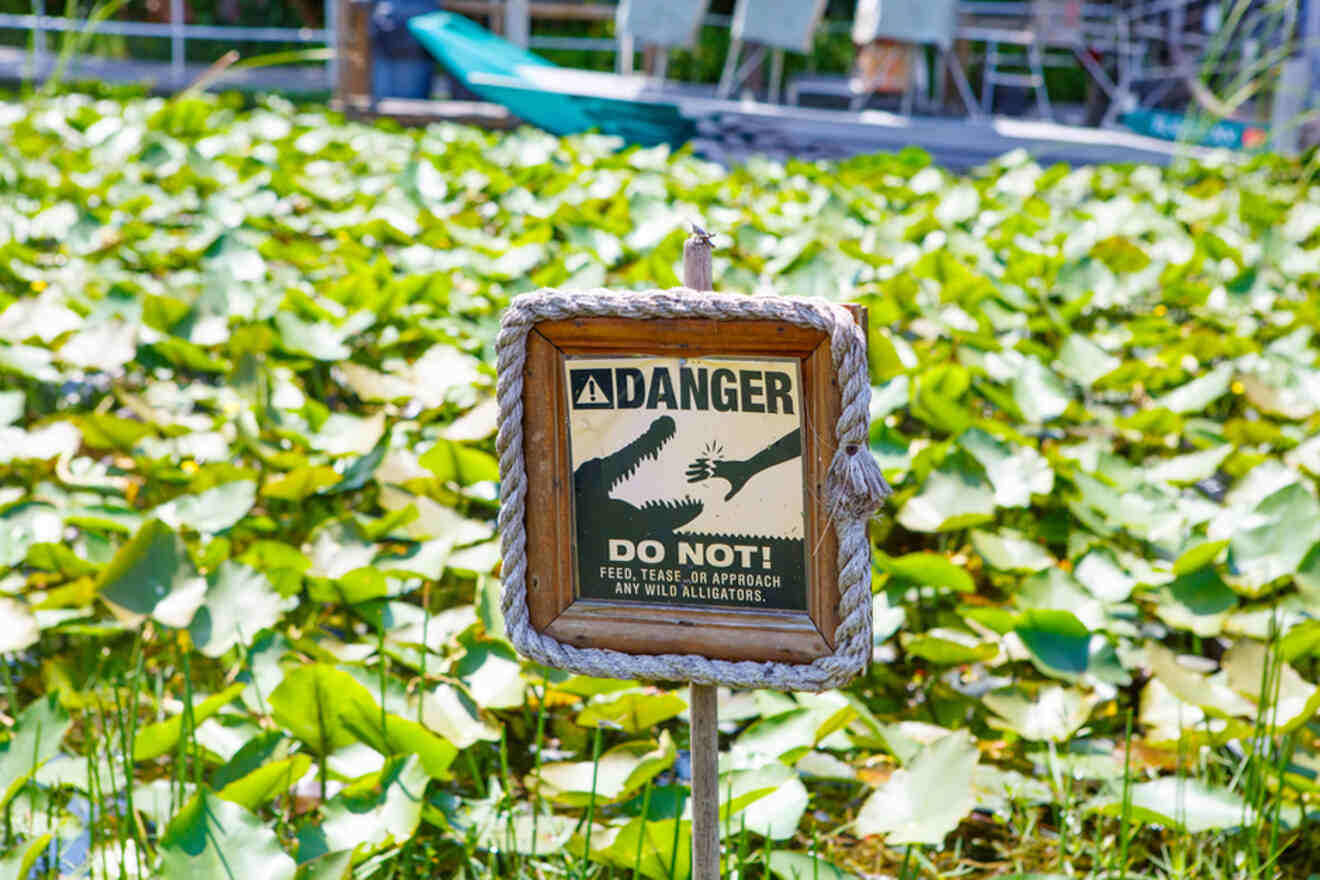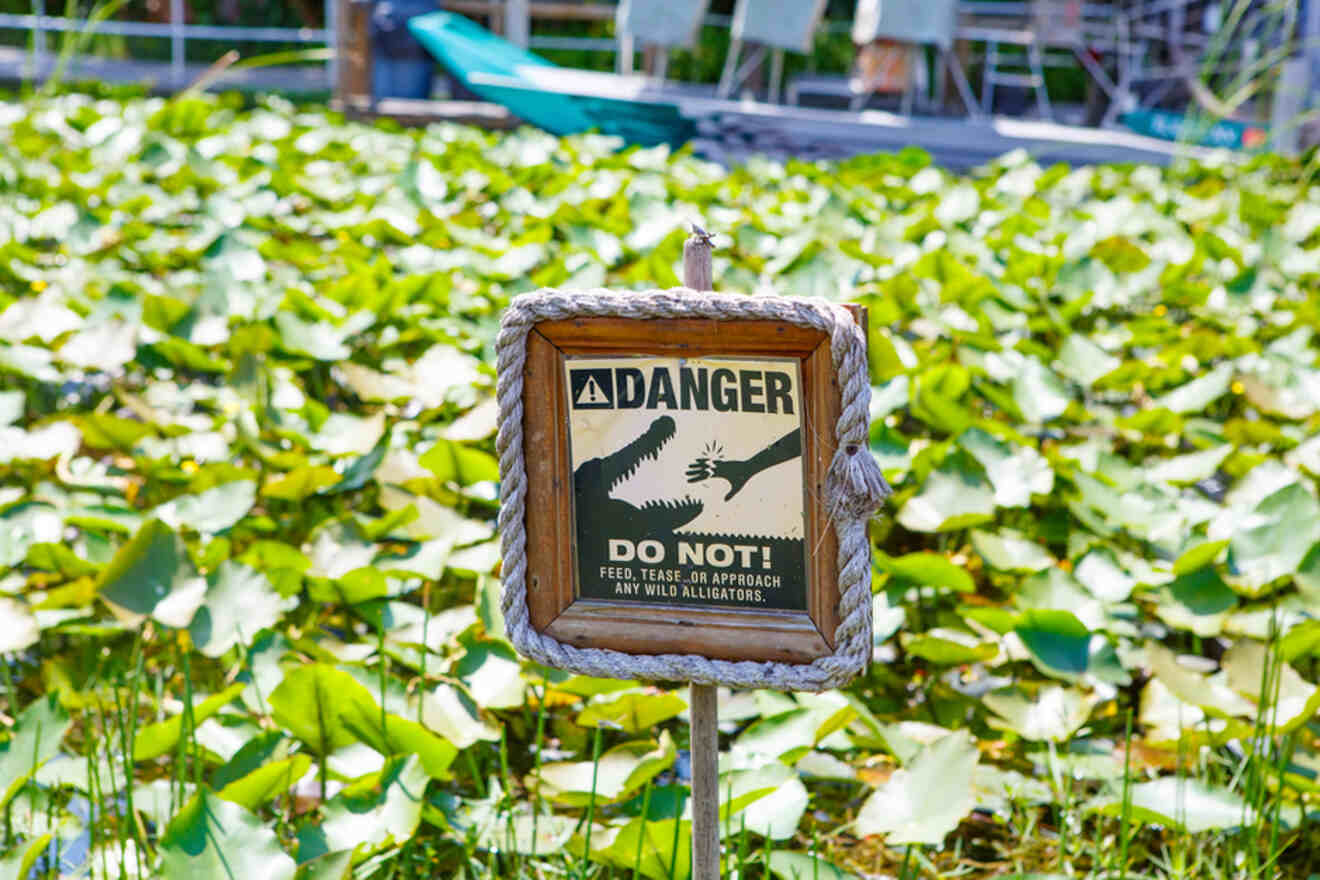 🐊 Is the Everglades airboat tour worth it?
⌚ What time of day is best for the Everglades airboat ride?
The best time to explore the Everglades on an airboat ride is in the morning or at dusk – that's when the alligators are most active, and you'll avoid the extremely hot afternoon temperatures.
💵 How much do Everglades airboat tours cost?
A standard Everglades airboat tour typically costs from US$30 to US$40 per person, depending on what's included.
🚪 Which Everglades entrance is the best?
First-time visitors to the Florida Everglades should opt for the Shark Valley or Homestead national park entrance for the quintessential Everglades experience.
Conclusion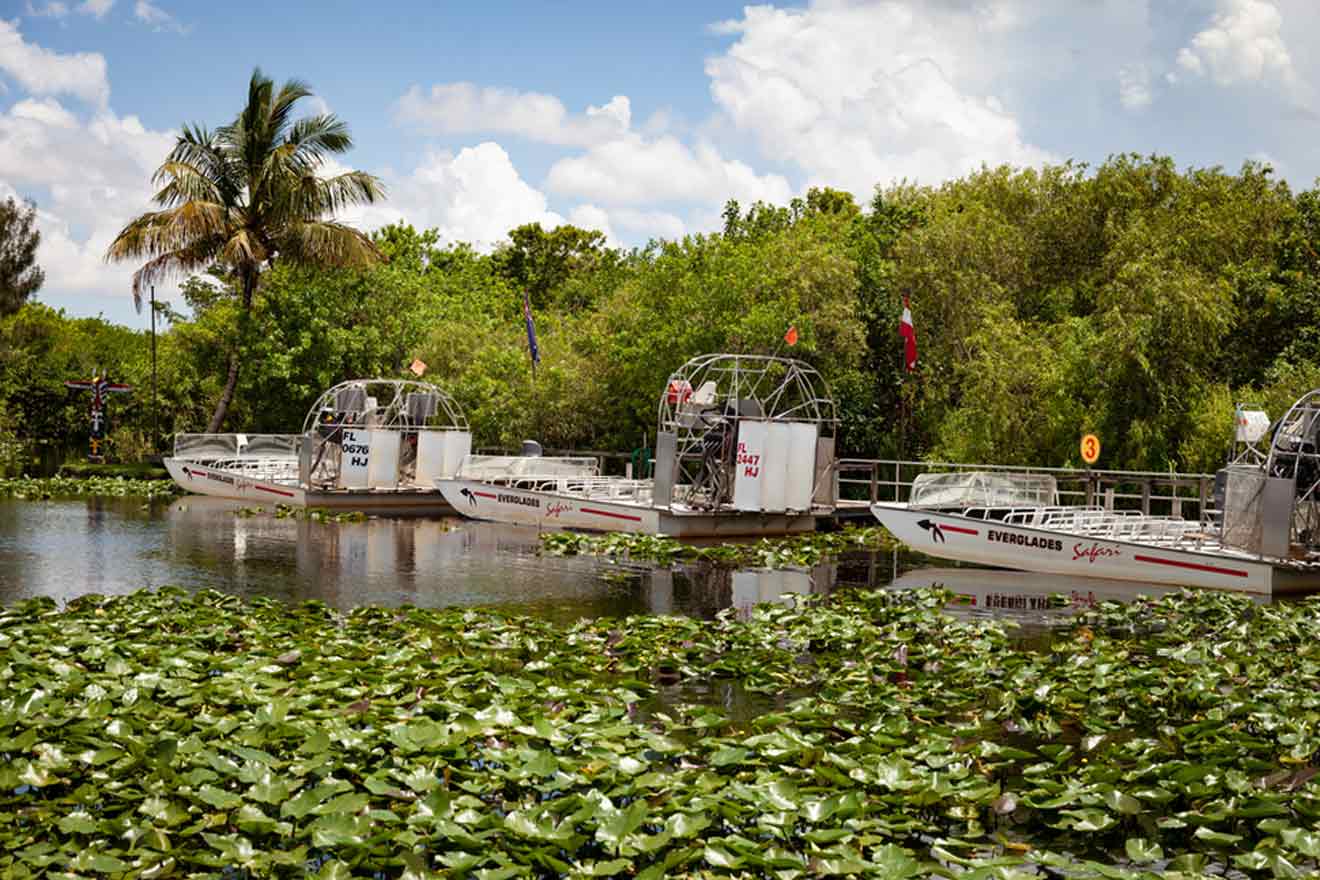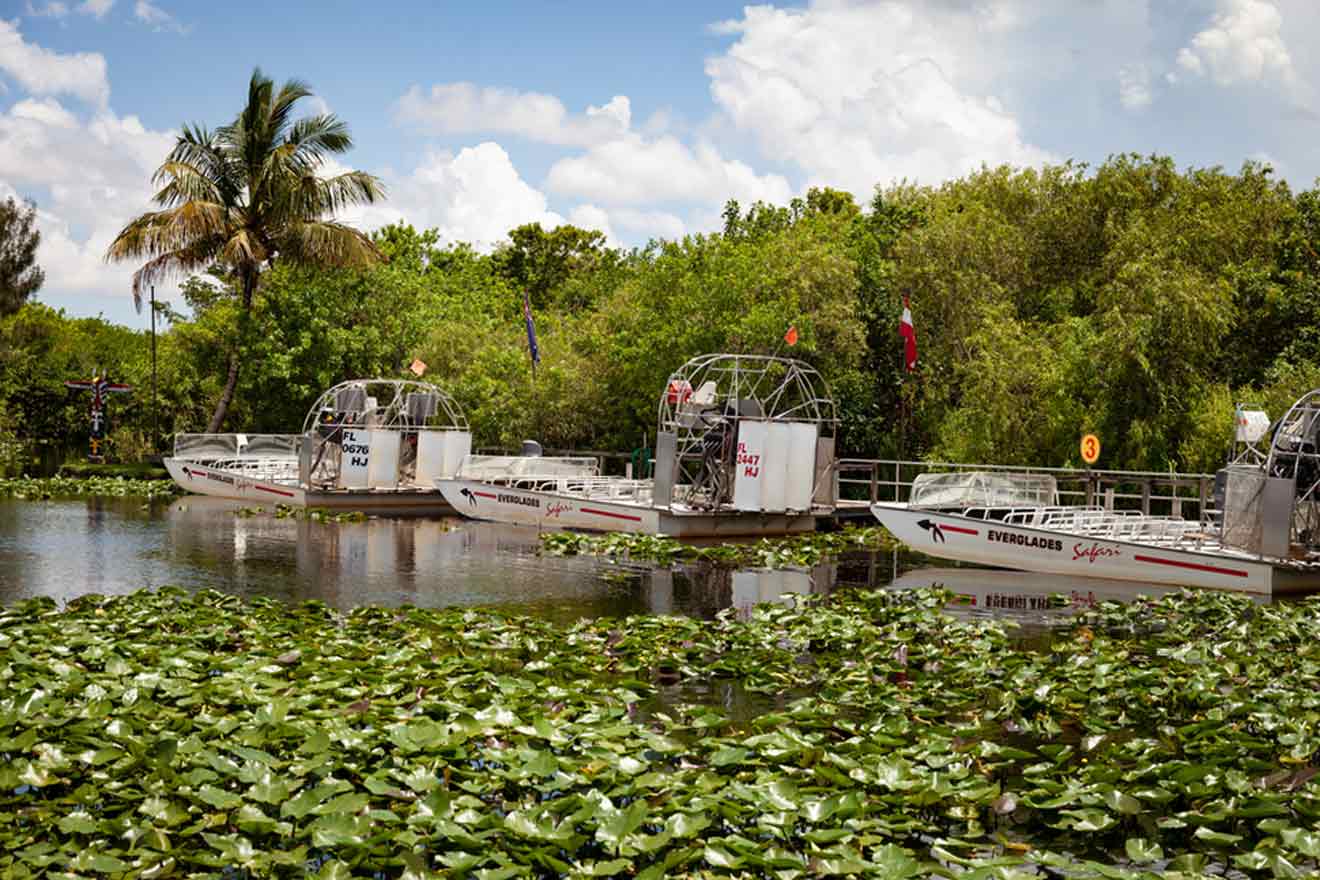 The Florida Everglades is such an incredible place to visit – I'm seriously excited for your next wildlife adventure there! Hopefully, this article helped make planning a little easier for you. There are so many options out there, but I can confidently say the ones we talked about today are some of the absolutely best Everglades airboat tours available!
Since we covered so many, here's a reminder of my personal favorite Everglades tours:
If you have any questions or comments, I'm here to help! Leave me a comment below, and I'll get back to you ASAP.
Happy exploring!
Montana
---
Pin it for later!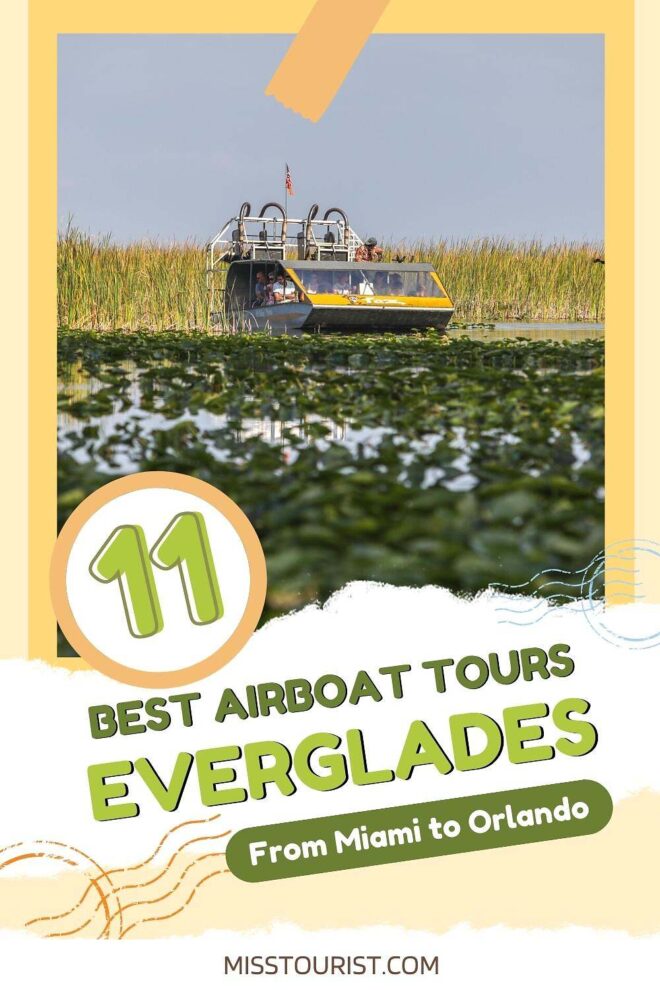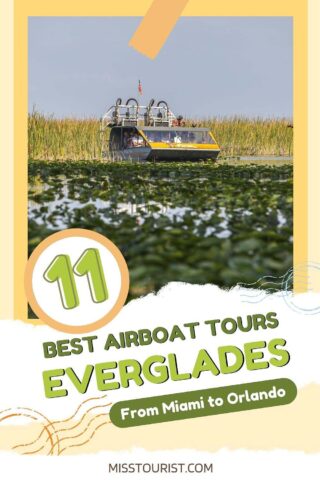 Pin it for later!