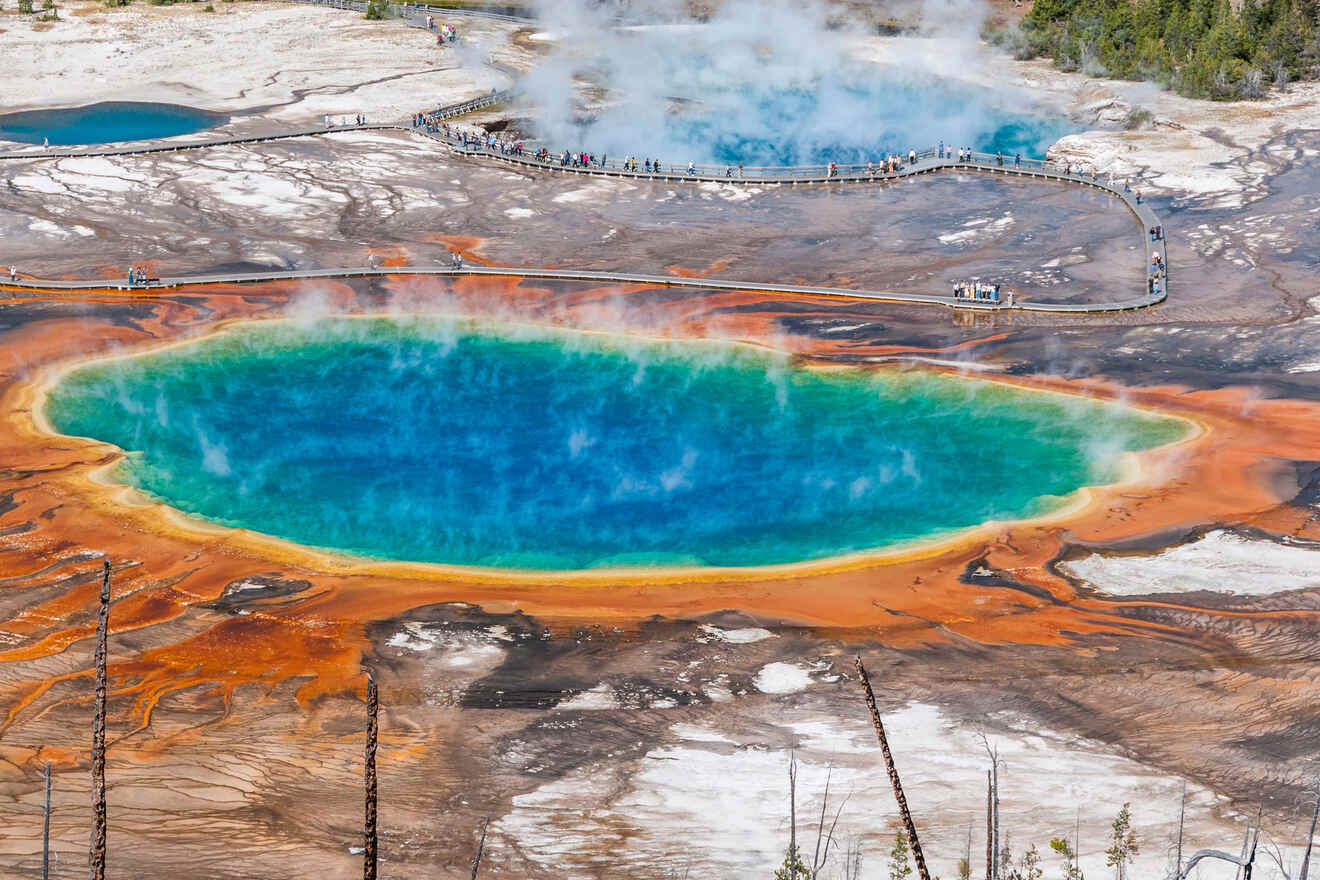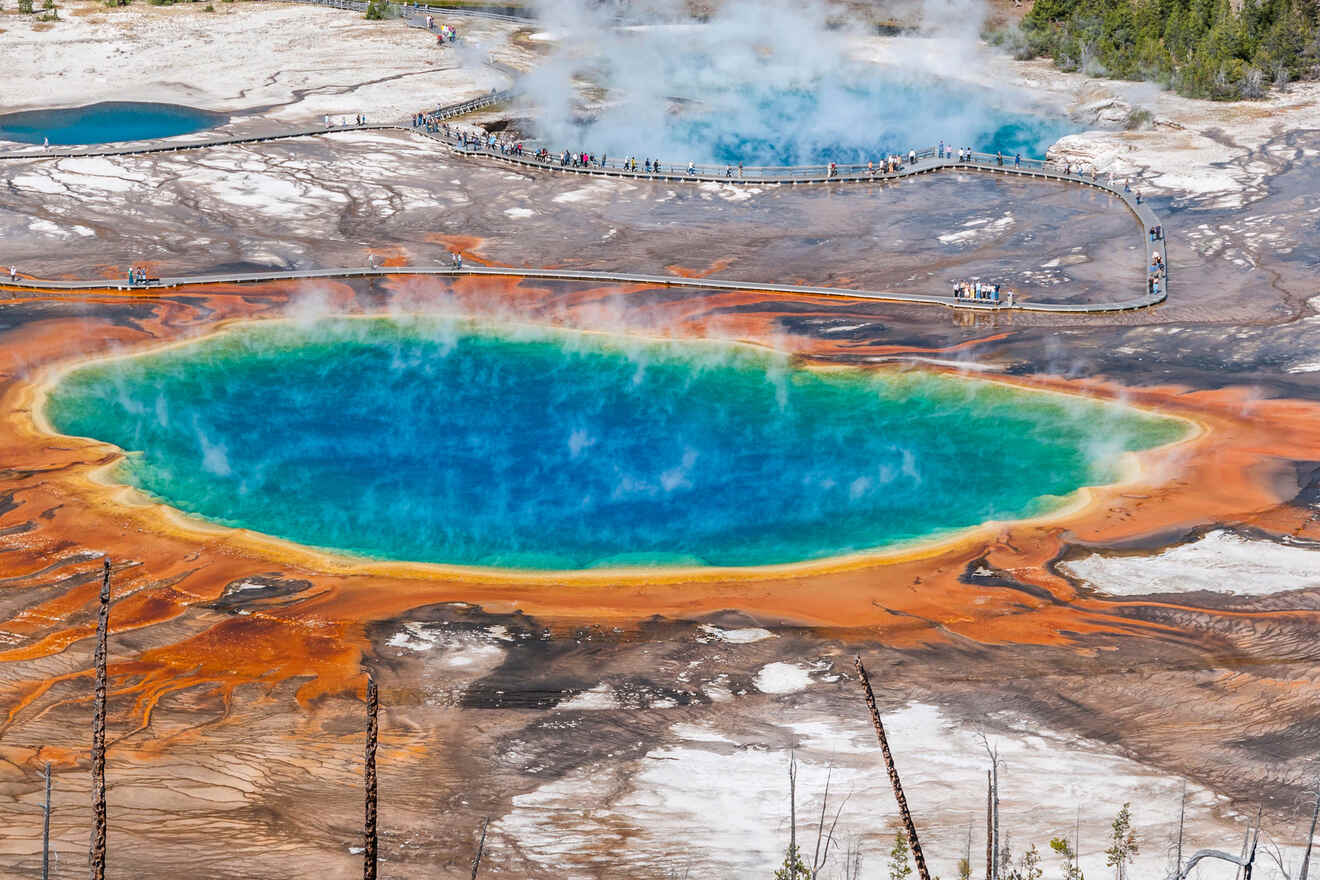 Get ready to share roads with the bison herds, to remain in awe with the wonders of mother nature, and to discover that the Old Faithful geyser isn't as trustworthy as its name may suggest! Welcome to the world's first National Park! Yellowstone was established in 1872 and is named after the major lake running through it.
The park is spread over three states: 96% in Wyoming, 3% in Montana, and 1% in Idaho, and this UNESCO World Heritage site has 10,000 hydrothermal features! I hope you're ready to see geysers, hot springs, mud pots, fumaroles, and a huge canyon. Okay, I guess I've already given you more than enough facts!
I'm sure now you're wondering where to stay in Yellowstone! Fear not! I've looked through hundreds of hotel lists, cabins, and lodgings to find you the absolute best one for each price range and I only recommend the best-rated hotels that I would choose for myself! If I were you, I would book my hotels or cabins in advance to this place because its popularity has reached the ears of people all around the world!
I highly recommend staying in one of the towns close to the entrance because you will find better prices and you get to explore a whole different city. However, if you choose to stay inside the national park in one of the cabins, I will also share a list of the top 7 best accommodations, but bear in mind that the limited options inside the park are usually booked out many months in advance!
Let's discover this amazing natural wonder!
If you are in a hurry
Here is a list of the best hotels and ins in Jackson, WY, the south entrance to Yellowstone that will help you decide in a second what's the best choice for you:
Here's a map that will guide you through all the areas that I'm going to talk about in this post: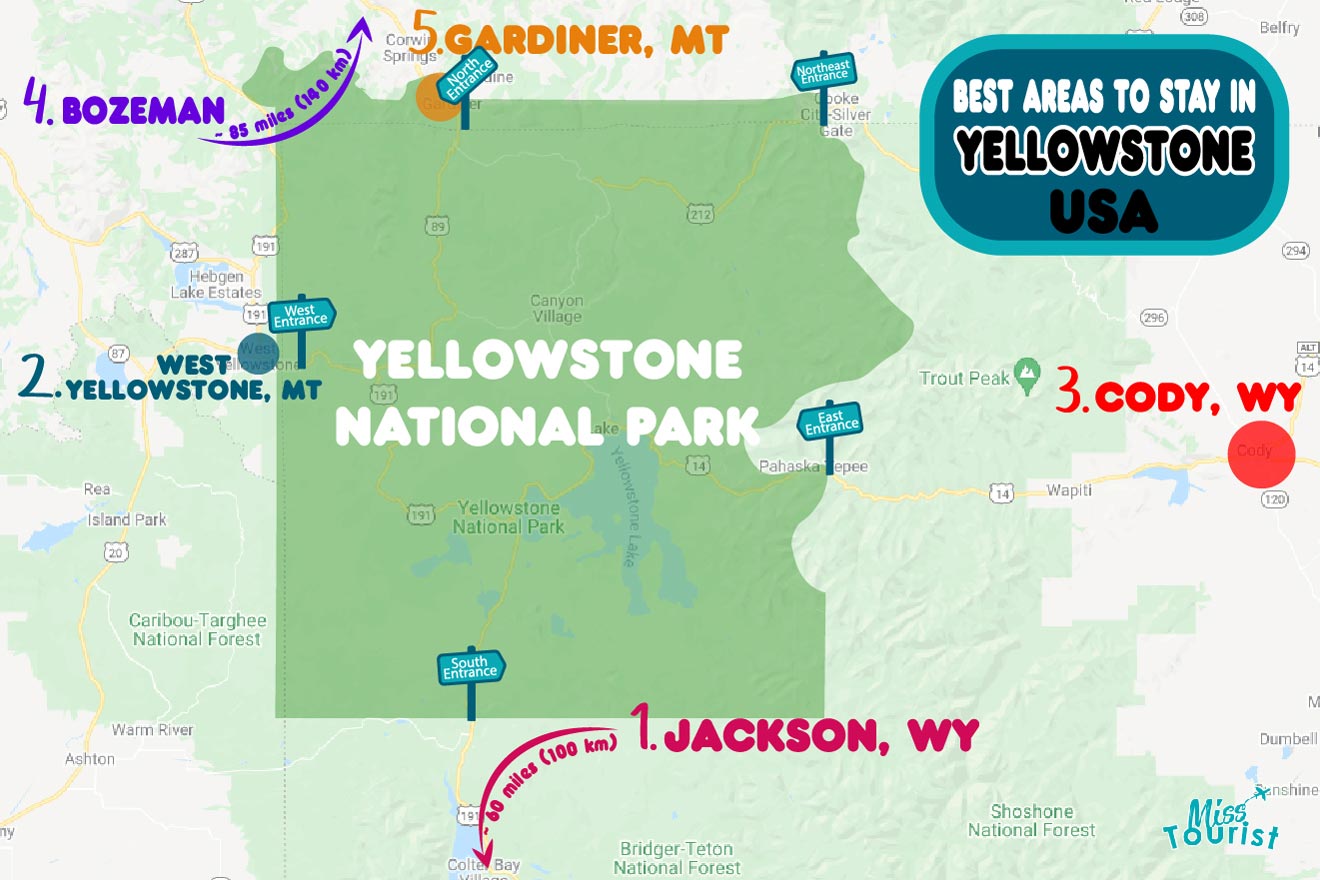 1. Jackson, WY – near the South entrance of Yellowstone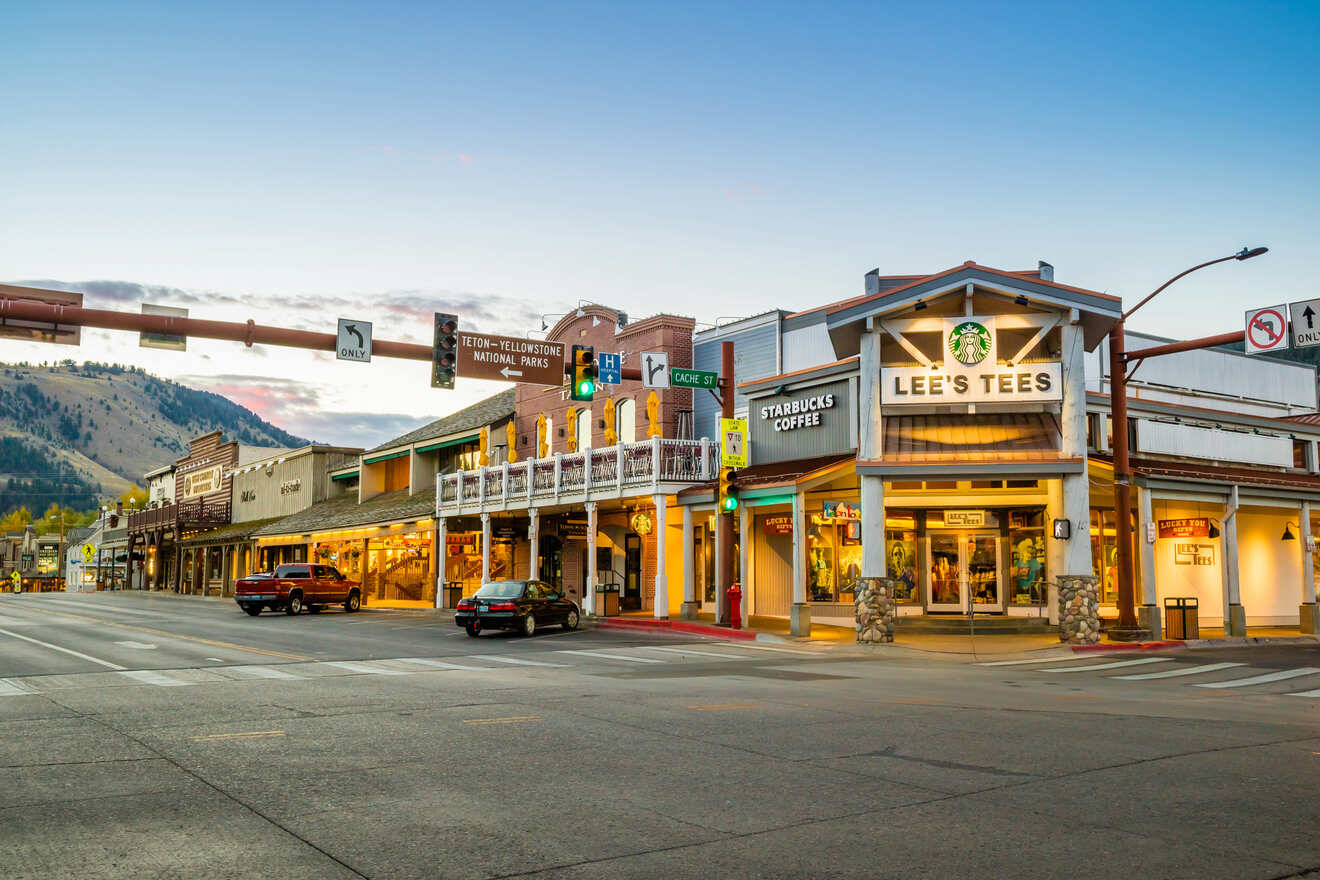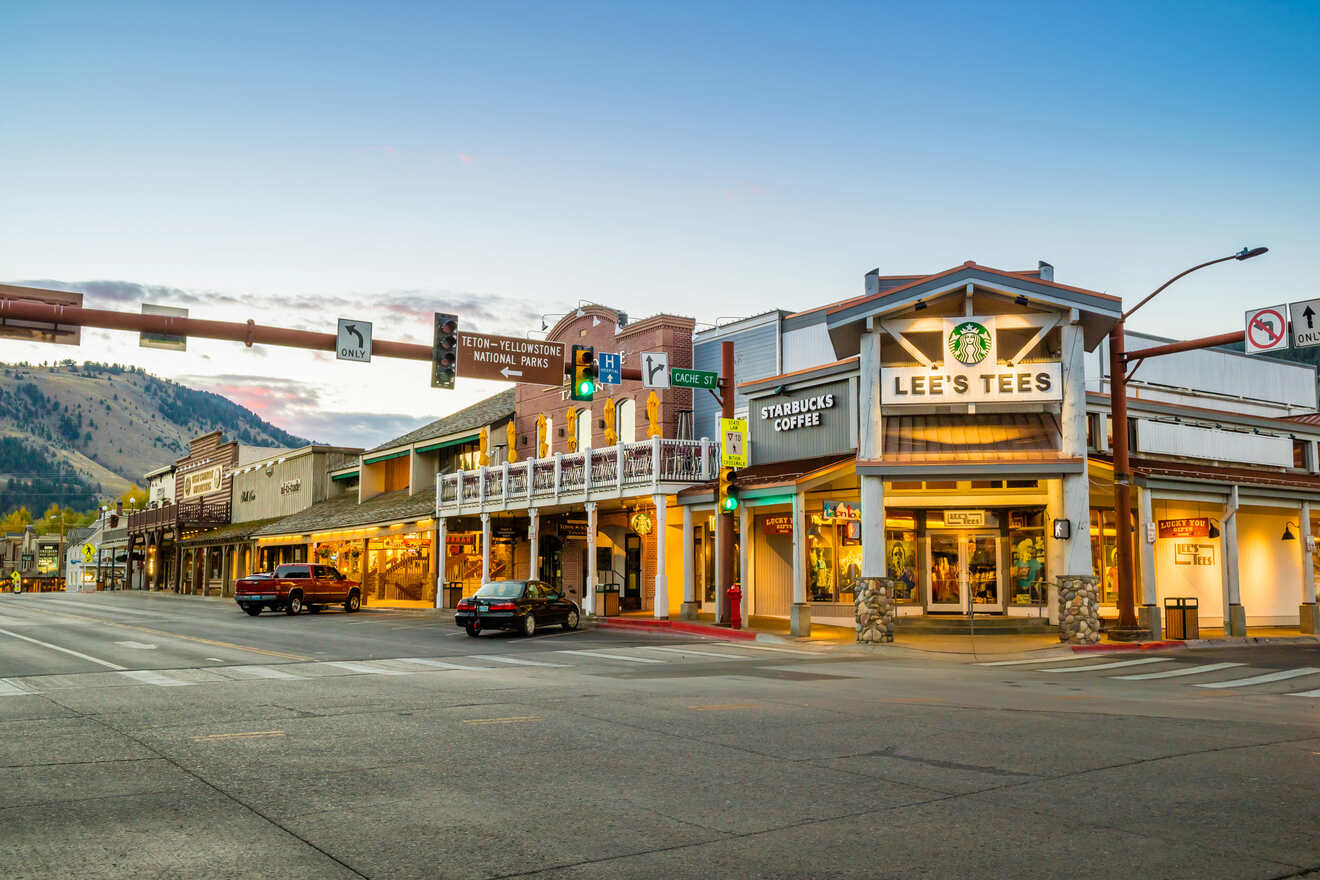 This beautiful town is located in Jackson Hole Valley, Northwest Wyoming and it's one of the most well-known entrances in the park, just 60 miles away from it. If you want to stay somewhere near the National Park South entrance, then Jackson is the best town for you!
When you come here, you'll feel like you're on a Hollywood set up for an upcoming Old West movie!
Before you head to the park make sure you check out some famous attractions in Jackson like the Jackson Hole Ski Resort, which was voted numerous times as North America's top ski resort, and the Grand Teton National Park just 20 mins away. Don't be surprised if you spot a moose, mule, or deer casually walking on the street at night, they are locals around the area.
If staying in Jackson is what you want, then definitely book your trip in advance as you'll find that all accommodations options from budget to luxury sell quickly!
If you're still not sold about staying outside the park, don't worry, you're going to enjoy the drive to Yellowstone National Park from here too! Mountain views, flower fields, and small rivers – these magical elements will help you relax and enjoy the ride!
In case you love it here and want to see more national parks check this post on the best areas in and around Yosemite!
Luxury hotel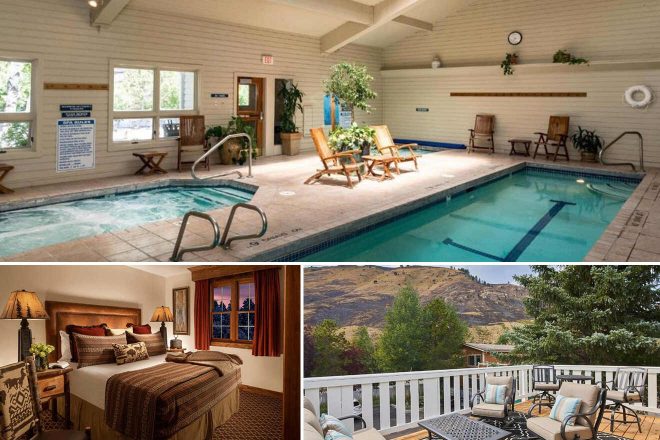 Your American dream location wish comes true! A great place to stay outside of Yellowstone that has a unique design and spacious rooms. Wake up in the morning and drink your coffee on the beautiful balcony with the most amazing view of the hills and wildlife. Make sure you have a swim in the pool at the hotel, it's the best!
Other accommodation options in Jackson, WY
mid-range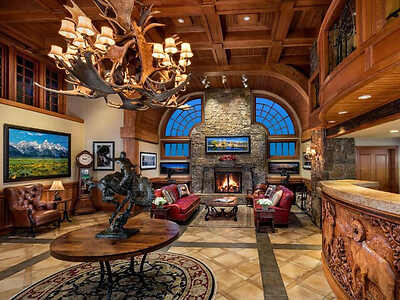 One of the best places to stay, with western-style decor, family rooms, and a restaurant on site
budget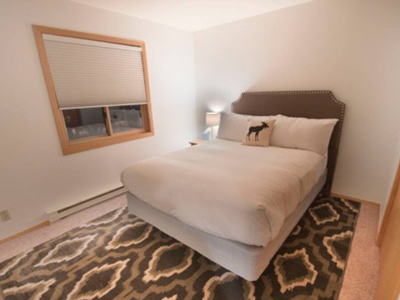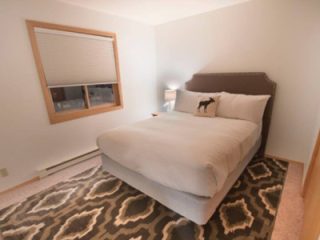 Private room in a modern spacious condo in the heart of Jackson within walking distance of Snow King Mountain 
airbnb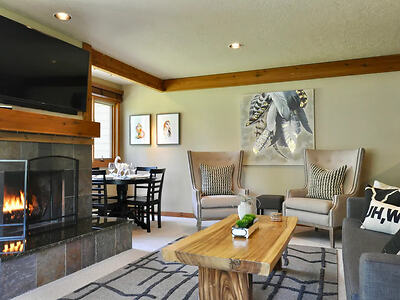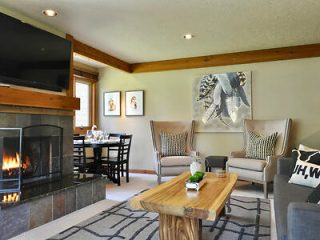 An accessible choice with a spacious living room, a fireplace, and a beautiful view from the terrace
Things to do in Jackson, WY and southern Yellowstone
2. West Yellowstone, MT – best location near the West Entrance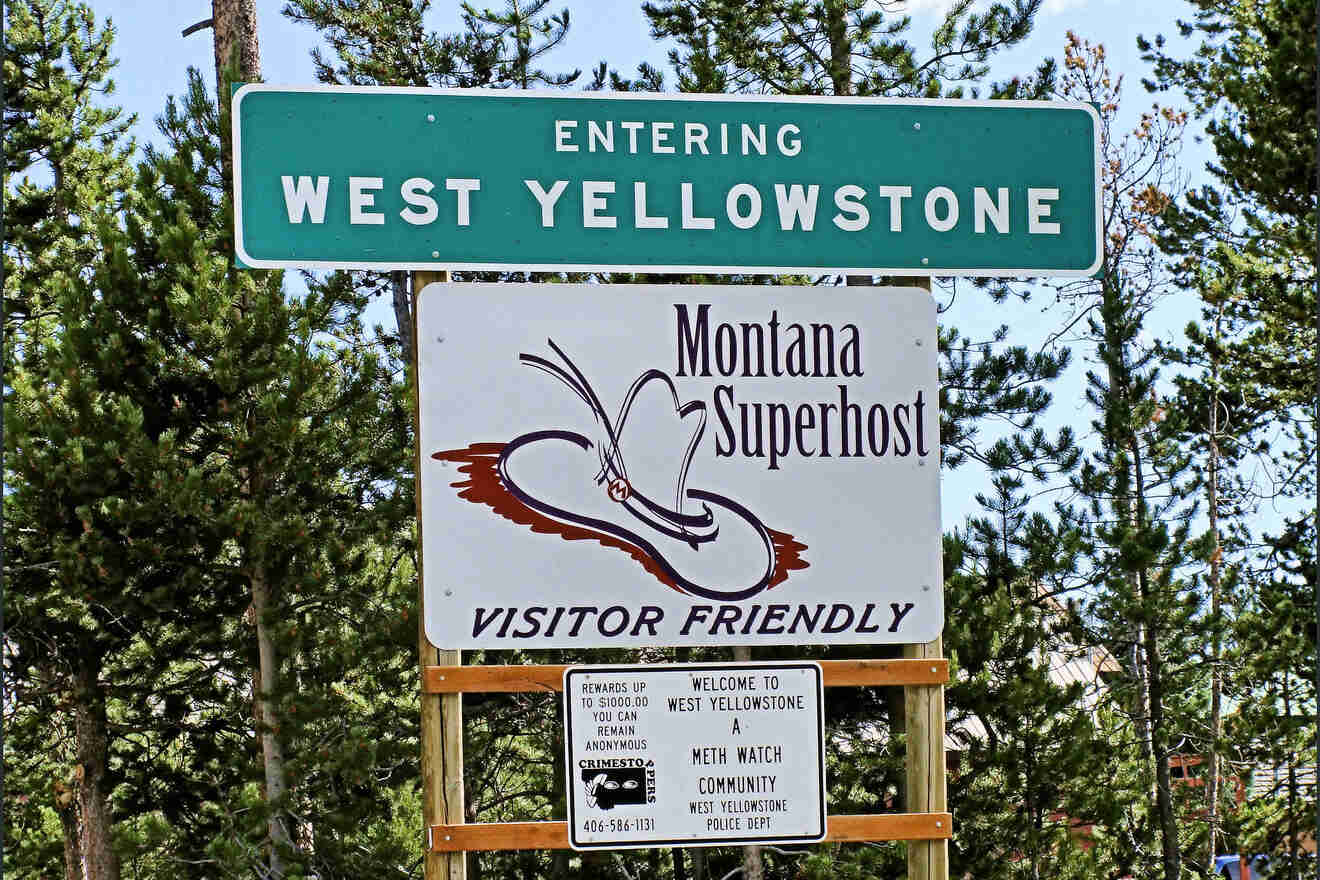 The best choice if you want to stay as close as possible to the park but at an affordable hotel. Located just one mile away, this mountain town even has a small airport, so you can catch a flight if driving long distances isn't for you. This small village situated in southern Montana is the park's busiest gateway all year round thanks to its proximity. West Yellowstone has some great places to stay from cozy cabins to nice hotels.
There are tons of activities that you can try no matter what time the year you decide to visit West Yellowstone, Montana. From fly-fishing to mountain biking, river rafting, or skiing, and snowmobiling during wintertime. However, you have to get a sense of the village's old atmosphere so I highly recommend going to the town square and visiting all the small businesses, museums and restaurants,
If you want to find out how to best plan your trip in and around the park, go visit the Museum of Yellowstone and they'll be happy to help you with information about its history, and how to enjoy all the cool spots here. If you want to experience the cowboy adventure head over to the Parade Rest Guest Ranch in West Yellowstone and enjoy horseback riding or have a nice delicious dinner! Fun for the whole family!
Luxury hotel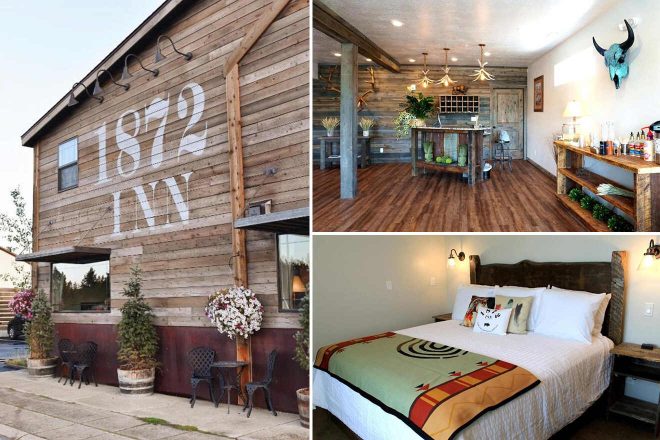 A great inn located in West Yellowstone that has a luxurious design and lovely lounge area. Wake up to the sound of birds in your spacious room and go downstairs to have a delicious breakfast. After a full day of visiting you can head to the sauna, relax and get ready for a new day of touring in the mountains. 
Other accommodation options in West Yellowstone
budget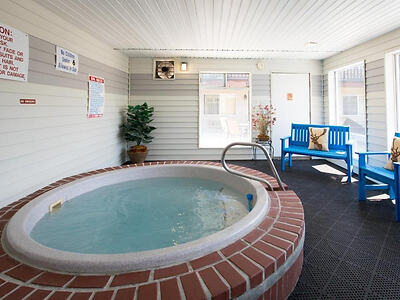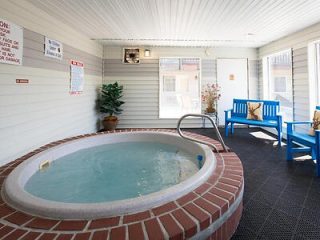 A budget central inn situated in West Yellowstone that has a swimming pool and breakfast
Things to do in Montana and West Yellowstone
3. Cody, WY – near the East Entrance of Yellowstone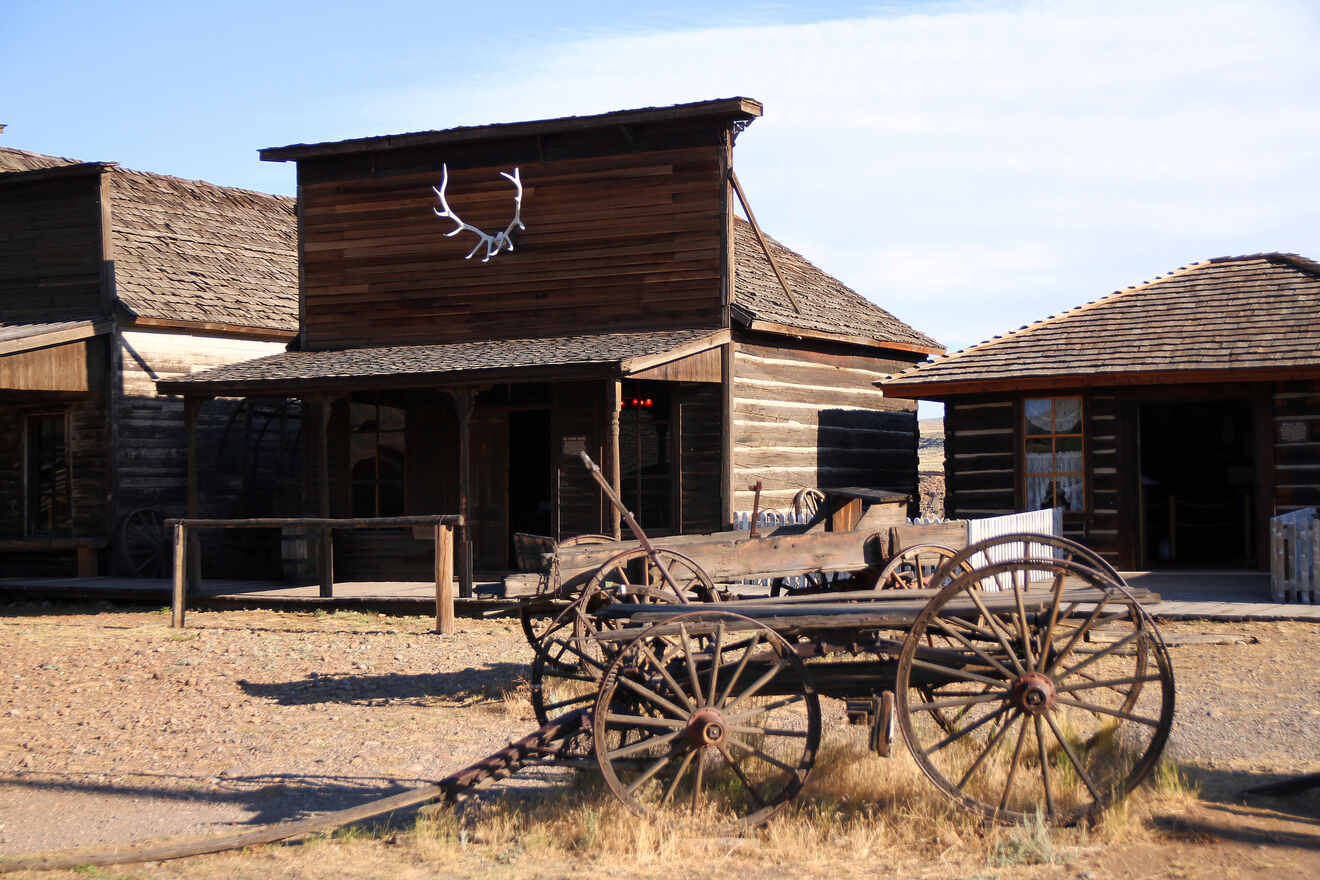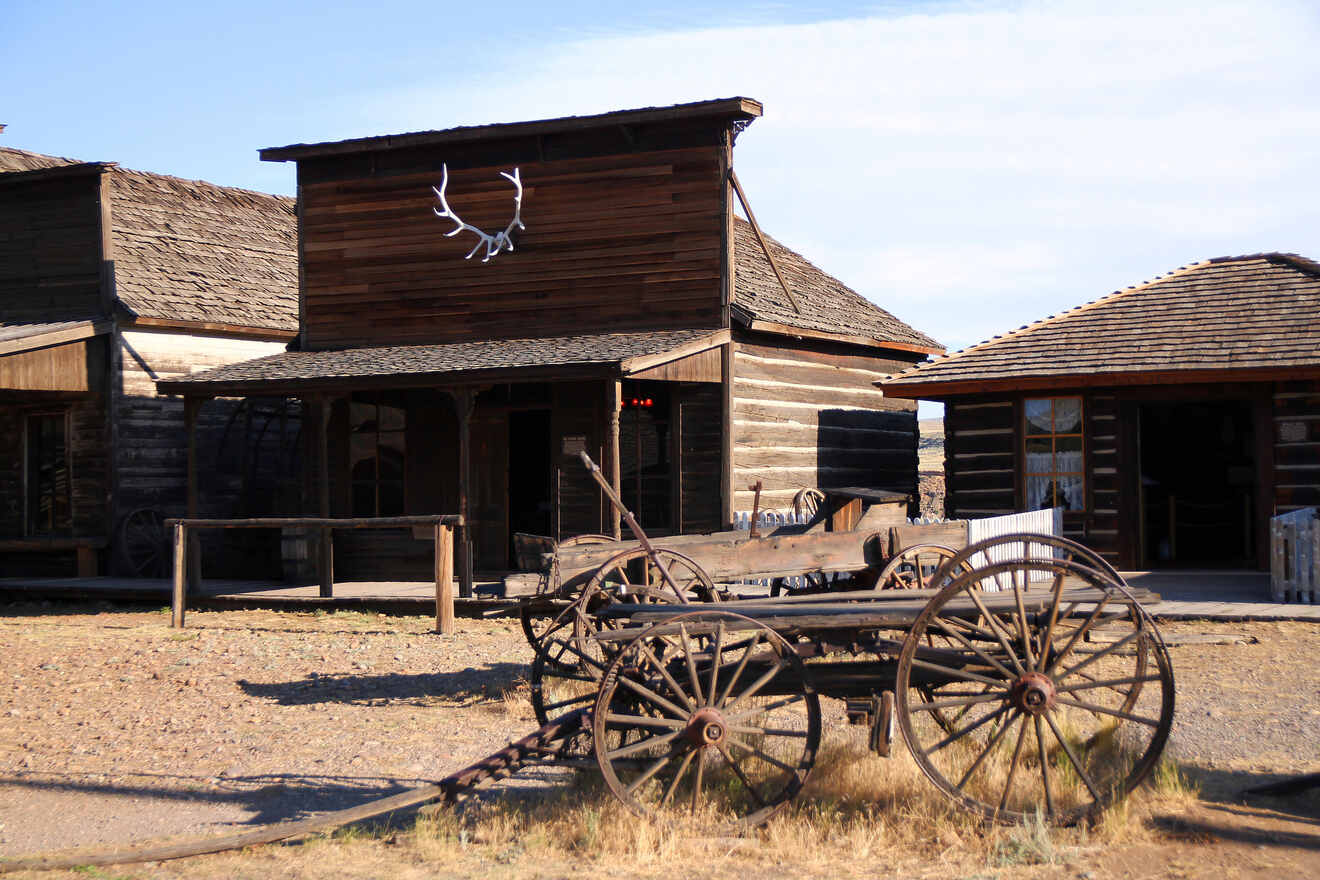 Located just an hour away by car from Yellowstone, this village is full of fun western activities, from horseback riding to visiting a dude ranch. You can set your base here, explore everything that this place offers, and then continue your trip in the National Park.
Just like West Yellowstone, Cody has some great hotels from luxury to budget and some offer breakfast so you don't have to waste time in the morning and can get straight to exploring.
Cody is situated in Northwest Wyoming and just an hour away from the Fishing Bridge Visitor Center at Yellowstone Lake. It was named after Colonel William Frederick "Buffalo Bill" Cody who helped bring the town to its glory. If you're a history enthusiast, then make sure you stop by the recreated historic town at the Old Trail where you can find relics from the 1800s and other amazingly unique stuff.
You can also visit the famous Buffalo Bill Center of The West and the Cody Dug Up Gun Museum where you can admire old firearms used during conflicts in the past.
Another cool fact about Cody is that it has its own airport so you can book a flight here instead of driving or if you're coming from somewhere further away. If you choose to drive, then I highly recommend passing by the beautiful Cedar Mountain, Buffalo Bill Reservoir on your way to Yellowstone National Park.
Luxury hotel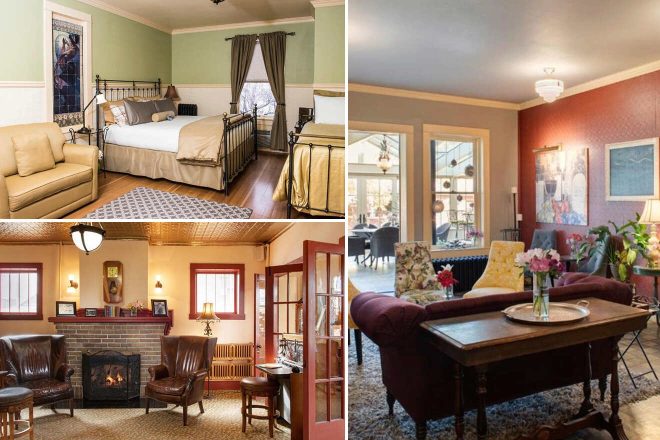 There's such a lovely and cozy atmosphere at this inn! Whether you enjoy a full night sitting by the fire with a drink and admiring the nice view, or browsing through their library after breakfast, you'll feel so relaxed at this nice American hotel. The rooms have an elegant design and they are quite spacious!
Other accommodation options in Cody, WY
mid-range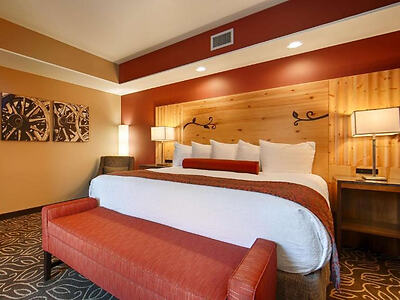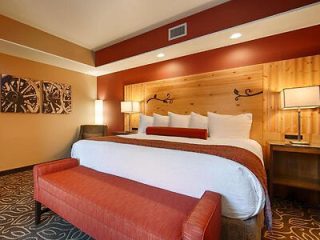 One of the best places to stay with cozy rooms, free wifi and a patio with a nice view
budget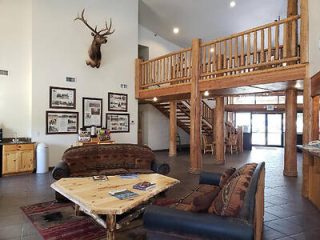 A beautiful on budget inn with a lounge area inside and outside of the hotel
airbnb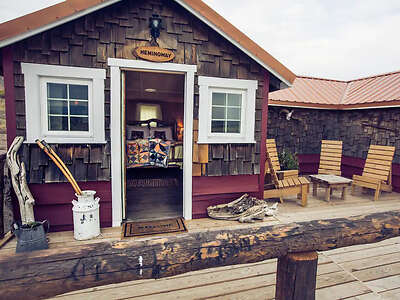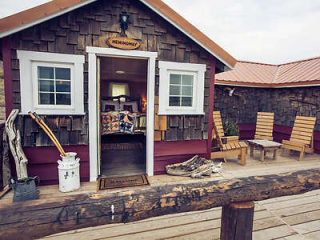 A lovely on budget lodge that offers free parking and has a balcony and free wifi
Things to do in Cody, WY, and East Yellowstone
4. Bozeman – close to Yellowstone airport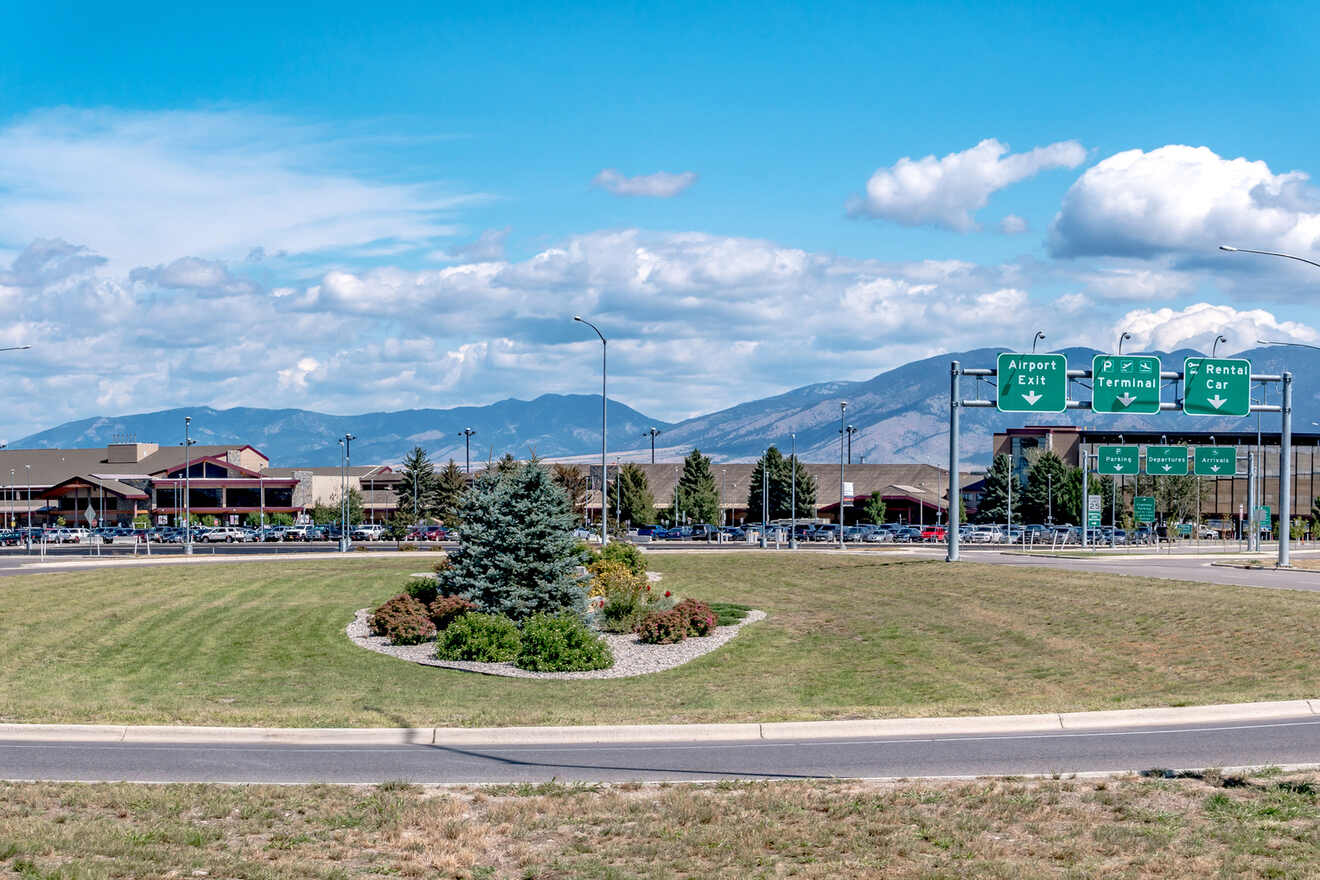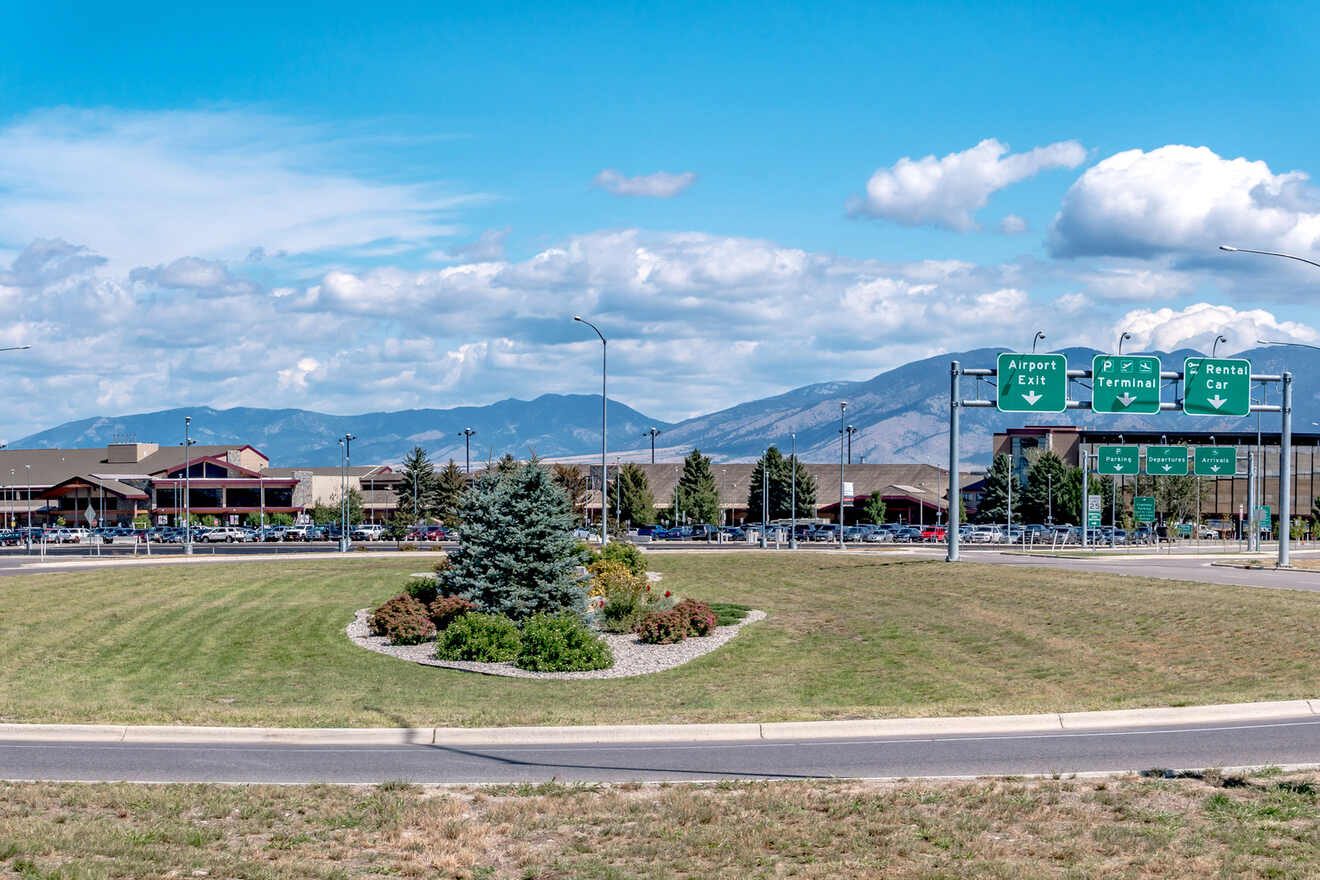 This is a great place to stay outside the park for those who are traveling from other parts of the world. With the Bozeman Yellowstone International Airport located in the northern part of the area, travelers will find it easy to look for hotels near Yellowstone. Situated 85 miles away from the park, just between the North Entrance at Gardiner Montana and West Yellowstone, you'll find some of the best places to stay here.
This village is also named after a person who helped increase its popularity. John M. Bozeman created the Bozeman Trail, a historic overland route that ends in Virginia City, Montana. Be prepared for some good old humidity, because of its proximity to the Rocky Mountains and two National Forests, this town in Montana can get very wet! You'll probably see a lot of college students as well, as Bozeman is known to be one of the top college towns in the USA.
There are plenty of things to do here before you embark on your Yellowstone National Park adventure. Make sure you visit the Museum of Rockies to see the biggest collection of dinosaur fossils in the country and catch up on your Native American history lessons at the Gallatin Museum.
There are also the Bozeman hot springs which are really famous among all travelers, there are 12 indoor and outdoor pools so choose your pick and relax after a day full of adventures inside the park! If you're craving a day full of urban activities, you can head to downtown Bozeman and see all the historic buildings and shops.
Luxury hotel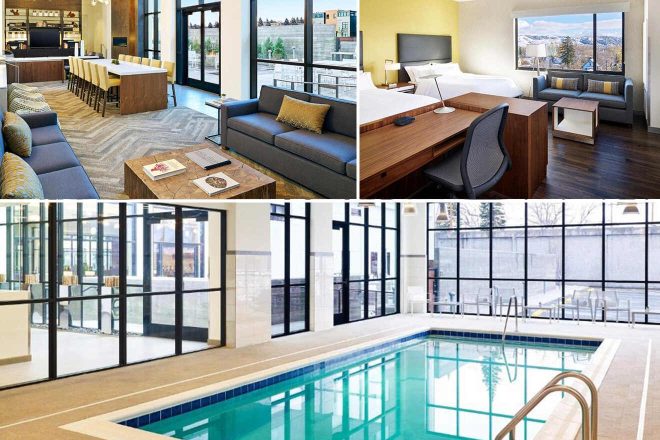 If you're looking for a nice place to stay near Yellowstone, this modern central hotel with spacious rooms and a lounge area can offer you a relaxing time during your vacation. You can end a day of exploring outside the park with a swim in the pool and then head to the bar for a cocktail or have dinner at the restaurant!
Other accommodation options in Bozeman
mid-range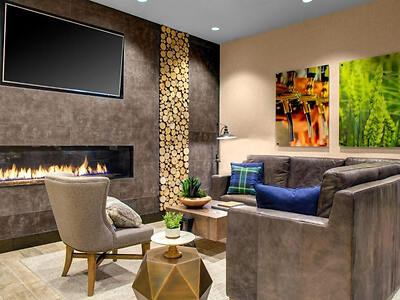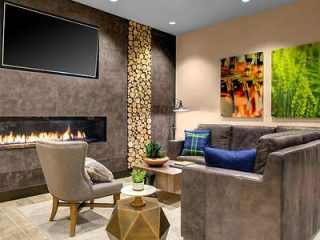 A great hotel near Yellowstone that has a fitness center a restaurant and a pool
budget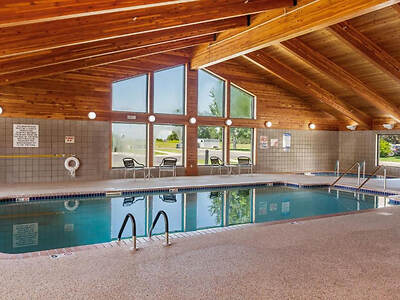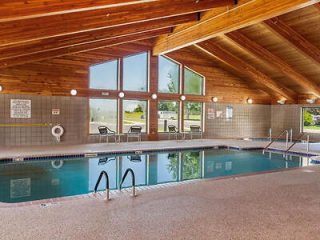 The best place to stay on a budget, this hotel offers breakfast and has an indoor pool
airbnb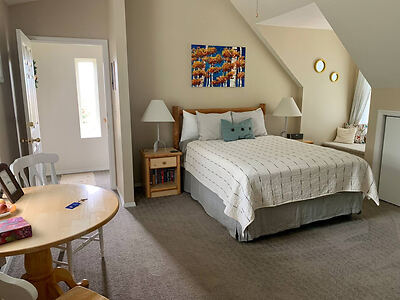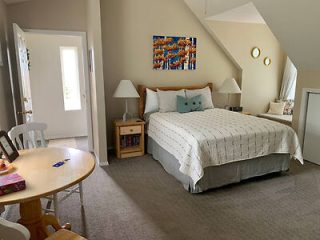 A cool accommodation where you can enjoy a big yard, a hot tub, and a beautiful view from the balcony
Things to do in Bozeman
5. Gardiner, MT – where to stay near the North Entrance of Yellowstone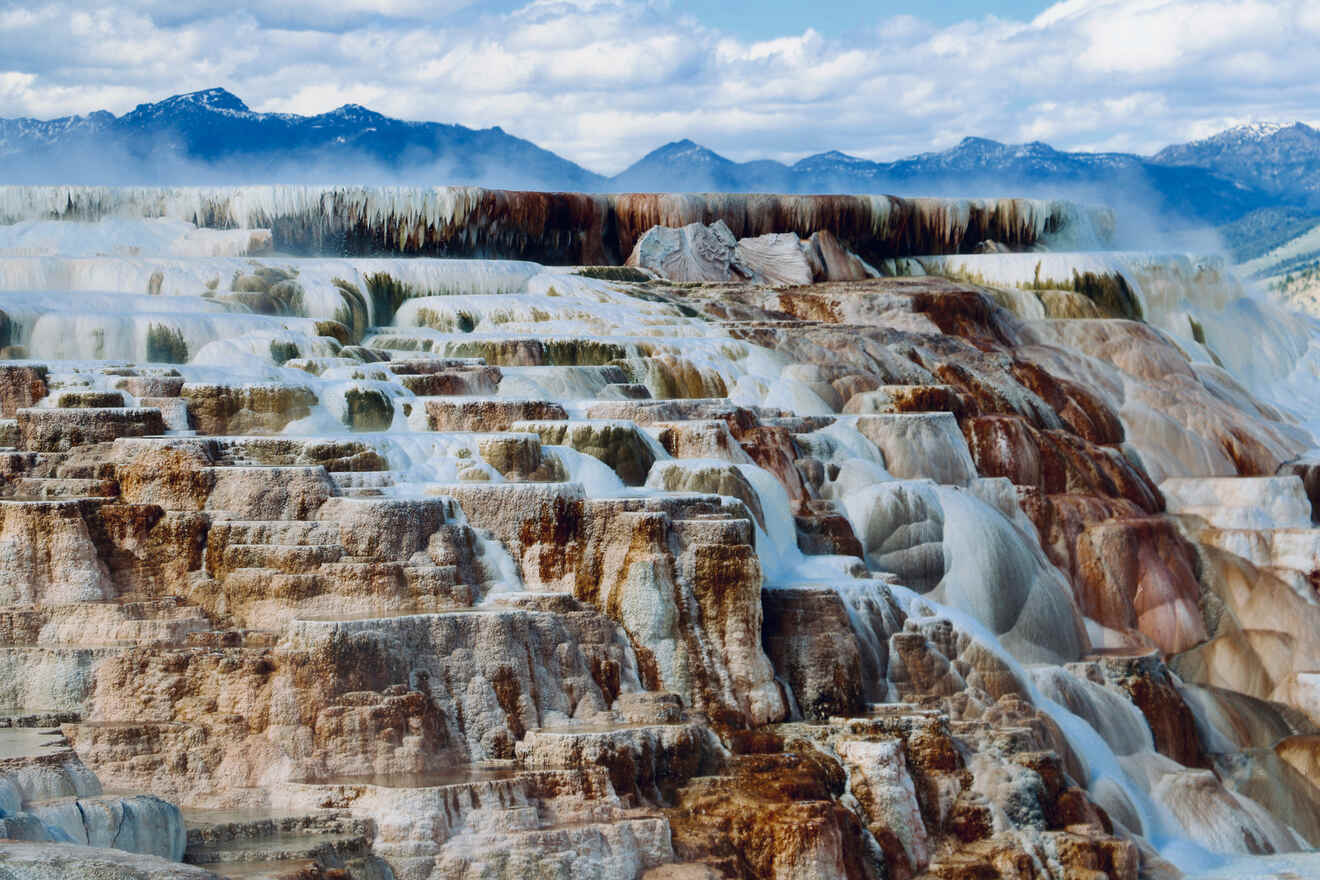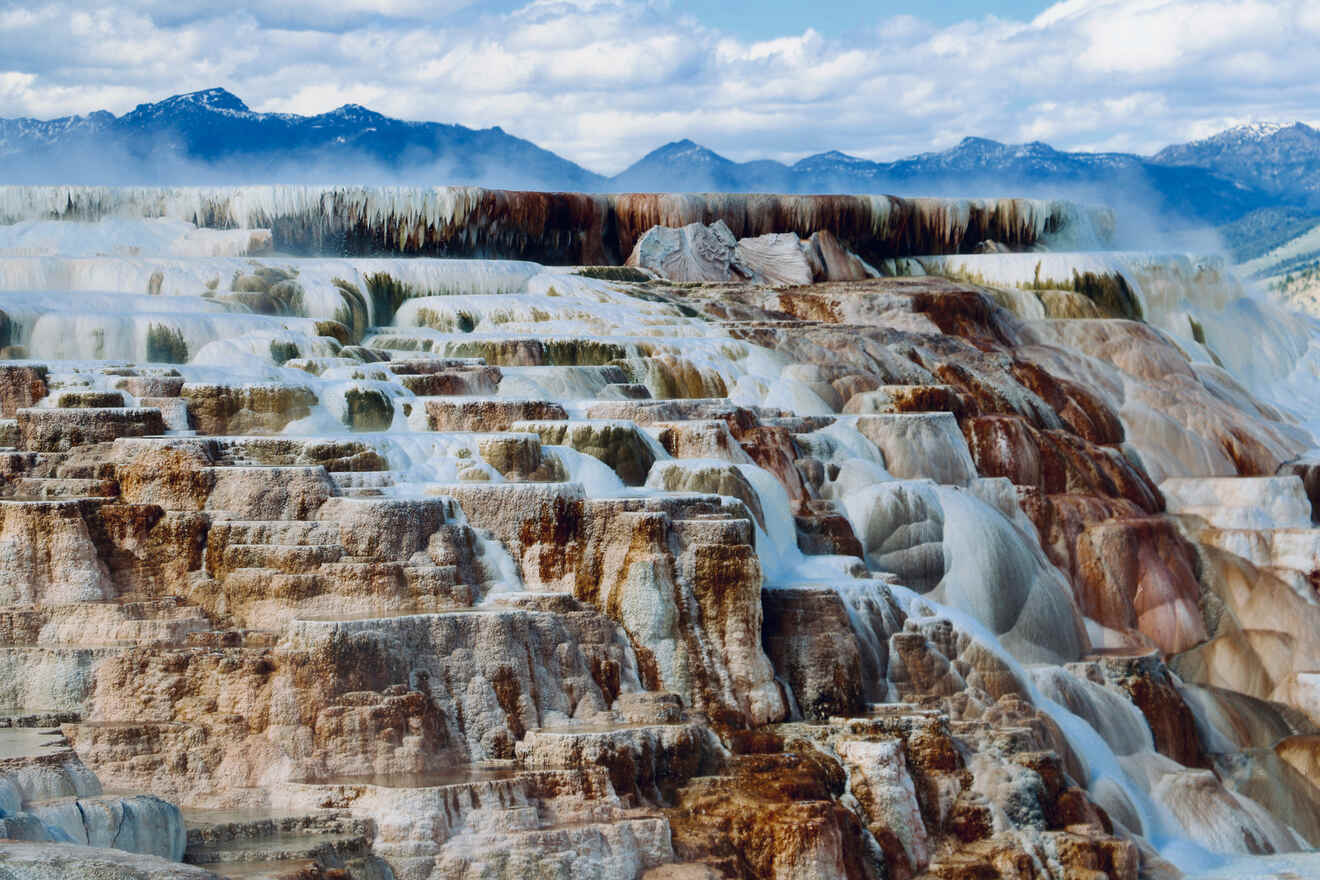 Founded in 1872, this entrance has been considered one of the main gateways for the Yellowstone National Park and it's located just a 15 minutes drive from the famous Mammoth Hot Springs. Just like in West Yellowstone, you'll find tons of accommodation options for on-budget hotels and cabins or lodges.
You'll be able to admire the beautiful picturesque scenery of the Yellowstone River and if you're into fly fishing, you should visit the Parks' Fly Shop, one of the oldest shops in this area founded in 1953. To get to the park, you'll have to pass by the beautiful Mammoth Hot Springs which will take your breath away! Make sure you take your camera with you for this unique experience, you'll want to remember it!
The authentic western atmosphere of Gardiner will make you want to spend as many days here as possible in addition to exploring the Yellowstone National Park. The town is very colorful and its inhabitants are friendly, so mingle away when you go there!
Also, I'm sure that you'll want to see the iconic Roosevelt Arch which was built in 1903 as an homage to President Teddy Roosevelt. He actually gave a speech during his holiday in Gardiner when they laid the arch's cornerstone. Cool right?
I didn't add a luxury hotel here as there aren't really any great options and I only ever recommend you the best of the best! If you are looking for luxury, consider West Yellowstone or any of the other great hotels near the park!
mid-range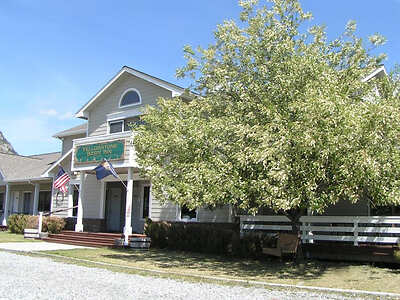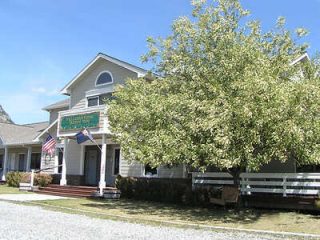 A beautiful, cozy hotel near Yellowstone Park with spacious rooms and a barbecue
budget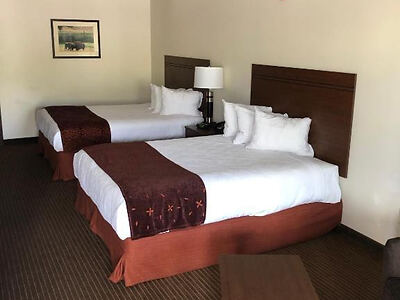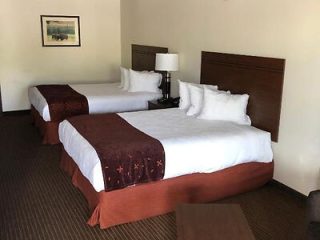 Visit Yellowstone and choose this on budget accommodation option with comfy rooms and free parking
airbnb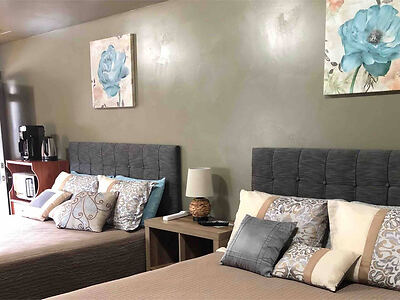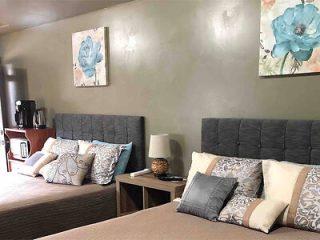 A great place to stay in Gardiner, Montana, which has a patio and offers free parking 
Things to do in Gardiner, MT, and Northern Yellowstone
| | |
| --- | --- |
| 👑 Luxury price: | $300 |
| 💵 Mid-range hotel: | $200 |
| 🛏️ Budget: | $130 |
| 🏠 Airbnb: | $250 |
| 💰 Accommodation prices: | High |
| 📍 Best Area: | Jackson, WY |
| 🛎️ Best luxury hotel: | Parkway Inn |
| 👛 Best budget hotel: | Best Western Tyrolean |
BONUS: How to stay inside the Yellowstone National Park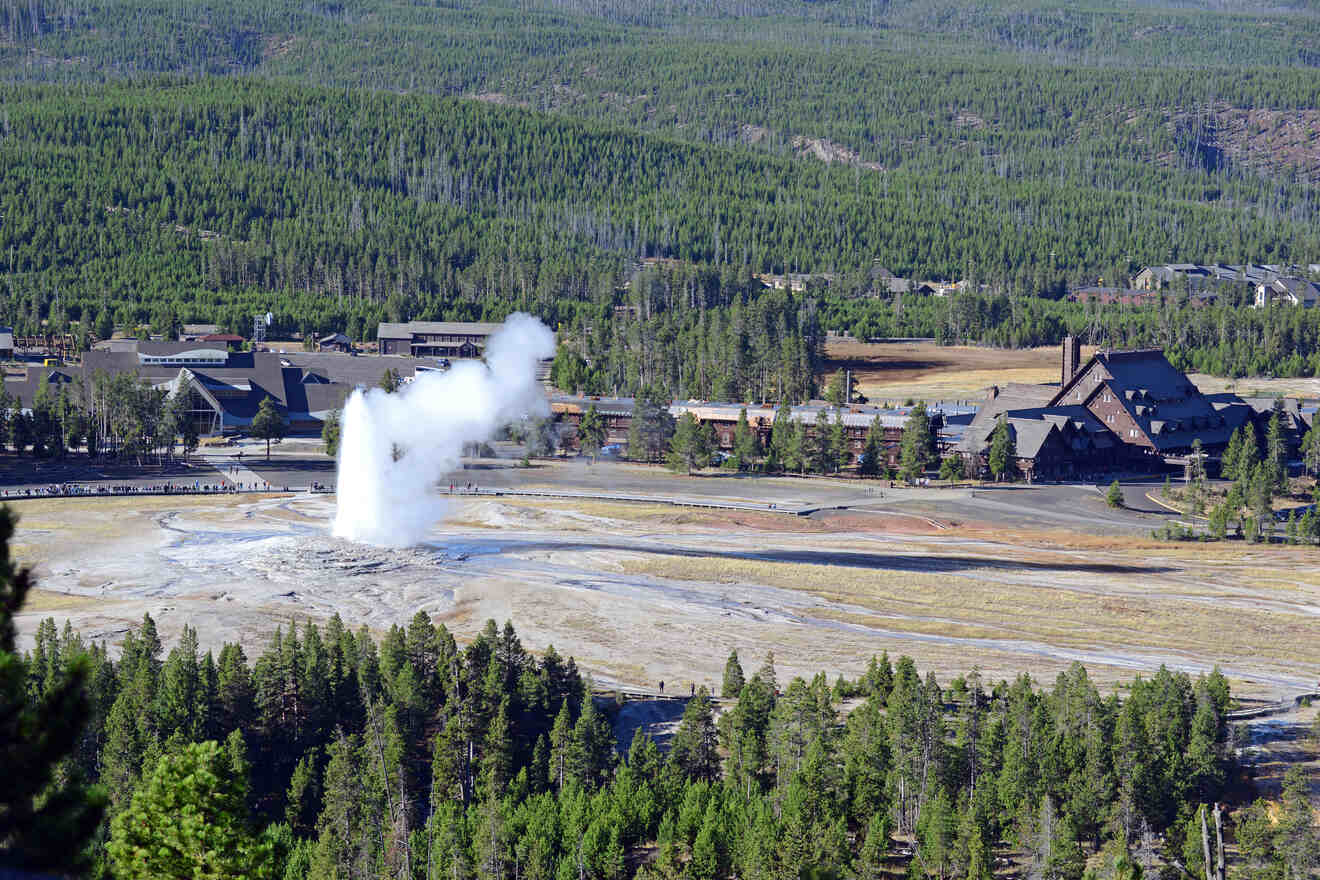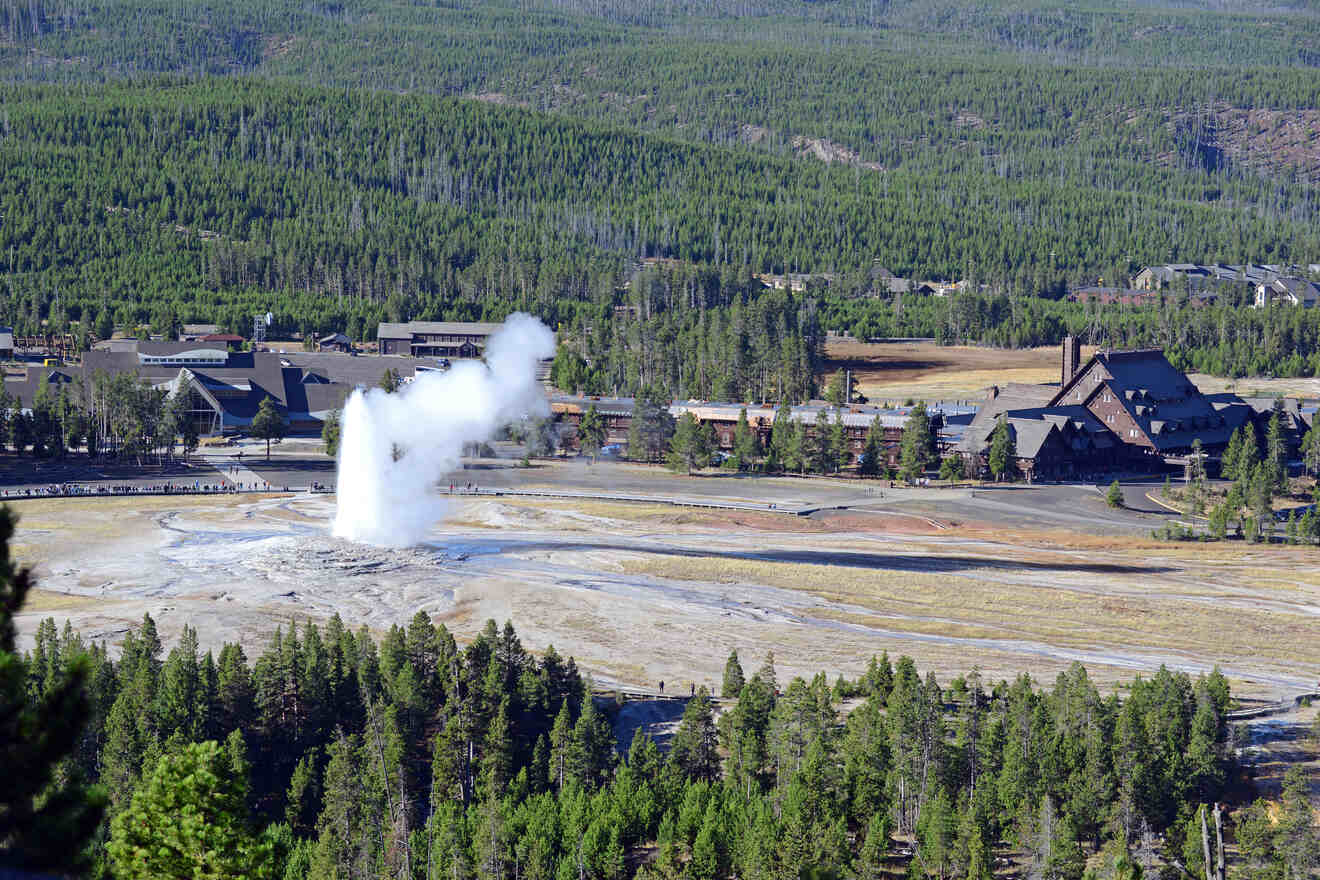 Although all the areas and cities outside the park are a great choice for any traveler as it gives you the chance to explore another town before venturing inside the park, I know some of you are eager to experience every little perk that Yellowstone has to offer. That is why I thought I would put together the best accommodation options for you to stay inside the park premises when you visit Yellowstone.
If you're planning another amazing trip in nature, check out this post for the most amazing Airbnbs near the Grand Canyon.
For those of you who love comfy rooms and having all the amenities at hand, I've found the most amazing lodge and cabin options if you choose to stay inside the park. However if you love waking up to a beautiful landscape, to the sounds of birds, and being neighbors with a cute rabbit, then I highly recommend choosing one of the following campgrounds where you can stargaze at night and drink your coffee by the lake!
Here is a useful guide for where to stay in Yellowstone. Let's go!
Cabins, Lodges & Inns
1. Old Faithful Inn
Located near West Yellowstone, Old Faithful Inn is one of the most famous inns inside Yellowstone National Park and a great place to stay that you'll have to book months in advance because there isn't much availability. I mean, who wouldn't want to stay in a historic landmark?!
Its construction lasted one year and it started in 1903, the builders used stones and wood they found on the local grounds. In the present, Yellowstone Old Faithful Inn represents the biggest log structure in the world!
If you visit Yellowstone and choose to stay at the Old Faithful, you'll have many dining options, from a yummy bakery to delicious cooked meals that will give you enough energy for another day of exploring. As you might have guessed, everything is made from wood and the rooms, have a beautiful design, and are quite spacious!
2. Canyon Lodge and Cabins
This is one of the biggest accommodation options in Yellowstone, with more than 500 rooms and cabins, it's located on the east side of the park. If you choose to stay here you'll be very lucky because the Yellowstone River and Grand Canyon are nearby. The rooms are very elegant and spacious and of course, they are mostly made out of wood and the cabins. The balcony views of the forest are so beautiful! You can enjoy some peace and quiet at night while drinking a glass of wine.
You'll find many dining options at Canyon Lodge. Not only a great restaurant but also a cafe and ice creamery which the kids are going to love! The adults as well, who am I lying to? This is a great choice for a lodge and cabins type of accommodation! Make sure you explore the Canyon of the Yellowstone.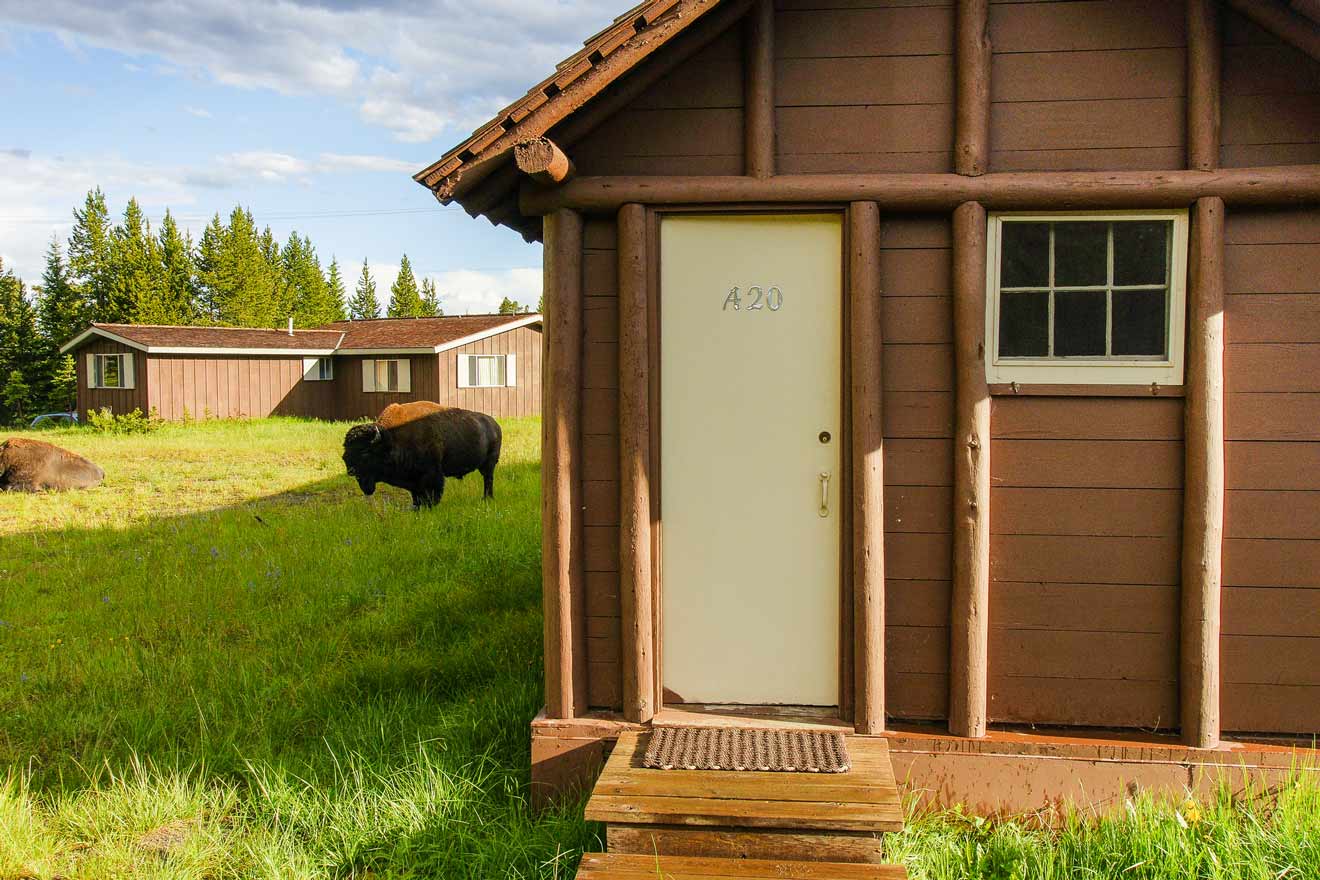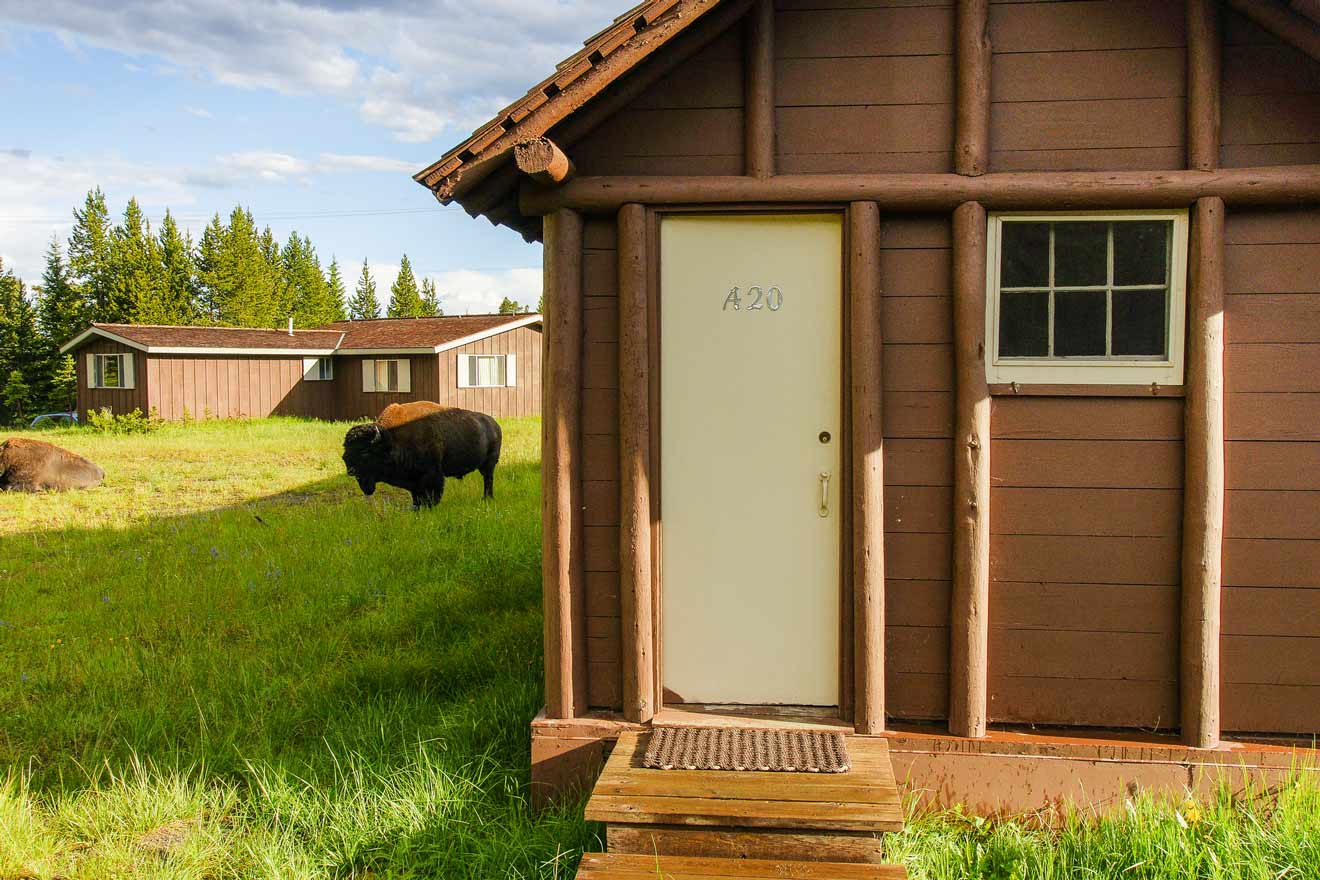 3. Mammoth Hot Springs Hotel and Cabins
Located at the northern end of Yellowstone National Park the cabins here were built in 1936 but they kept a part of the old structure that dated back to 1911. Here you'll find the famous wooden map of the United States which is made out of 15 different types of wood gathered from 9 countries! Amazing!
The cabins and rooms look very cozy and don't be surprised if you spot an elk around the hotel, they casually pop up out of the blue! So get your camera, maybe you can snap a cool pic! The design is very elegant, with a few wooden accents and there's a terrace grill where you can eat before going hiking or ranch visiting or have dinner at night.
4. Roosevelt Lodge & Cabin
One of the best places to stay which is located just 20 miles from the Upper Falls of Yellowstone near the campgrounds that were actually used by president Theodor Roosevelt himself! Roosevelt lodge was built in 1920 and has a beautiful terrace from where you can admire the forest while having a glass of wine at night after a full day of exploring near Yellowstone. The cabins are really cozy with comfortable beds, a shower, and a sink.
Stay in Yellowstone in these beautiful cabins and make sure you eat at the Old West Dinner Cookout, they serve the best steak ever and the sights are breathtaking!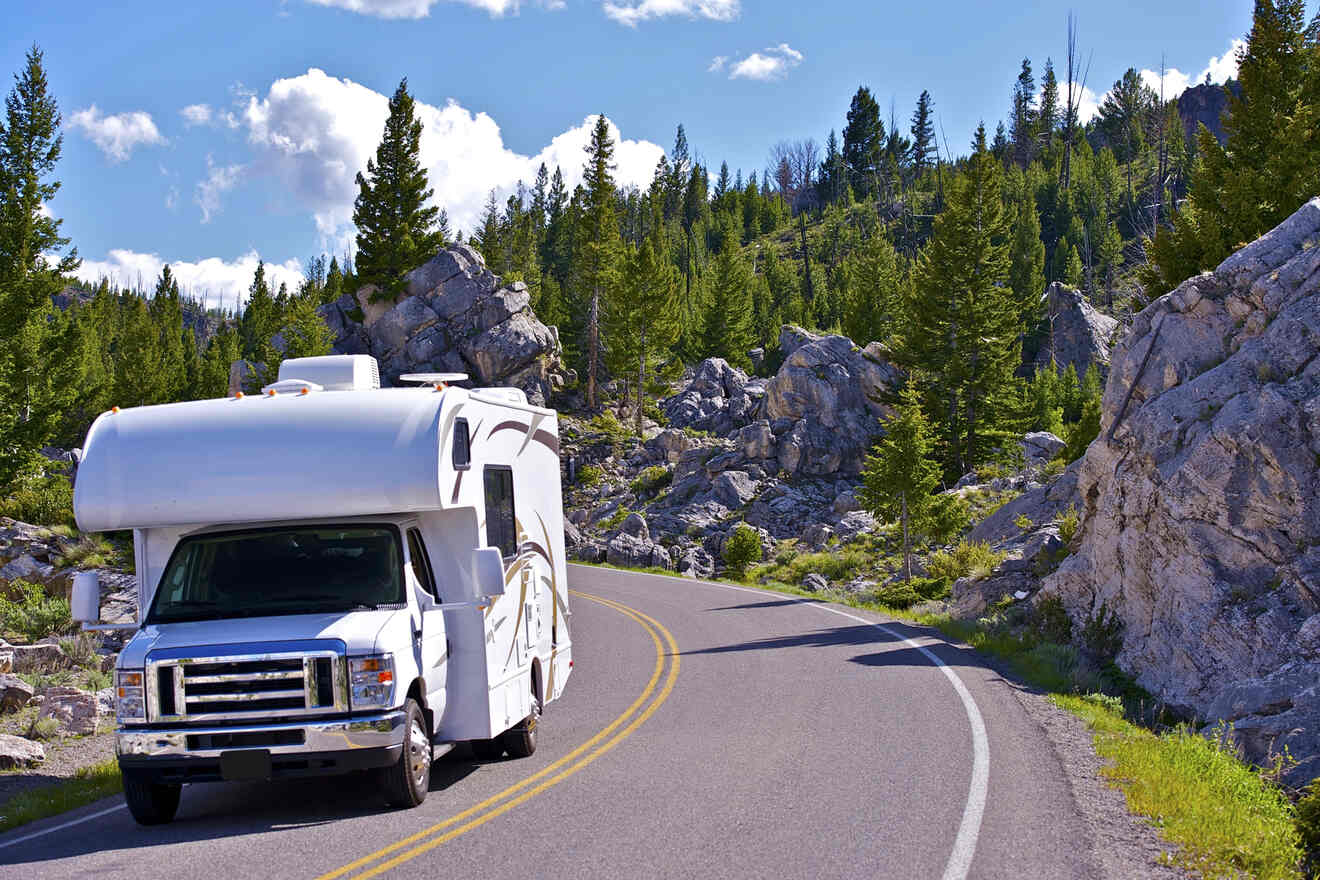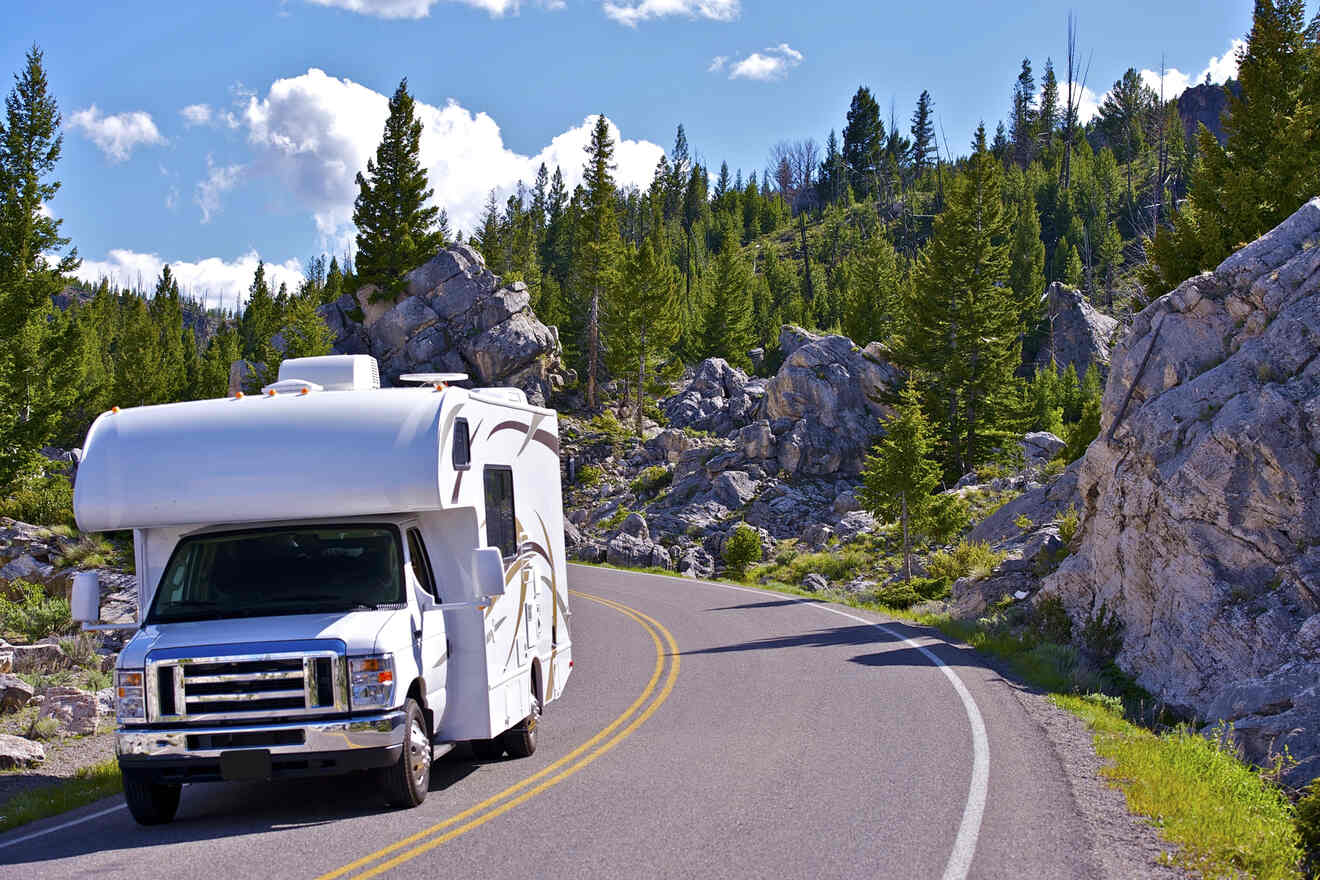 Campgrounds & RV Sites
1. Norris Campground
This one is very popular among people who want to stay in Yellowstone in a campground. It's located on the west side of the park, near Steamboat Geyser, 20 miles south of Mammoth Hot Springs and 10 miles west of Canyon. You can access their website to find out more details and start planning your trip.
Stay in Yellowstone in this campground and you'll make many beautiful memories. The surroundings are so unique plus the Norris Geyser Basin it's nearby so you can visit it at any time! Be careful because RV sites are very limited, you don't have to make reservations, it's based on the first-come-first-served principle.
2. Towerfall Campground
Located in the northeastern region of the Yellowstone National Park, along the way which leads to the famous Dunraven Mountain Pass, this place is perfect if you want to enjoy some peaceful moments in nature. There are only 31 RV sites and it works the same, first-come-first-served. You can look online on their website to get all the details you need when visiting Yellowstone.
This campground is situated near the unique Lamar Valley which means that the wildlife here is spectacular! There are also some hiking trails that you can take in this area during your trip to Yellowstone. Make sure you stargaze at night, it's beautiful!
3. Canyon Campground
A lovely campground located just one mile away from the Grand Canyon in Yellowstone National Park and it's a much larger campground with 270 individual sites. Unlike the others, here you have to reserve your spot, they accommodate tents, RVs, and trailers.
This can be a good choice if you wish to have some comfort, thanks to its proximity to Canyon Village! You can go there and do your laundry, shower, do some shopping at one of the stores or head to a restaurant and have a delicious dinner!
Frequently asked questions about Yellowstone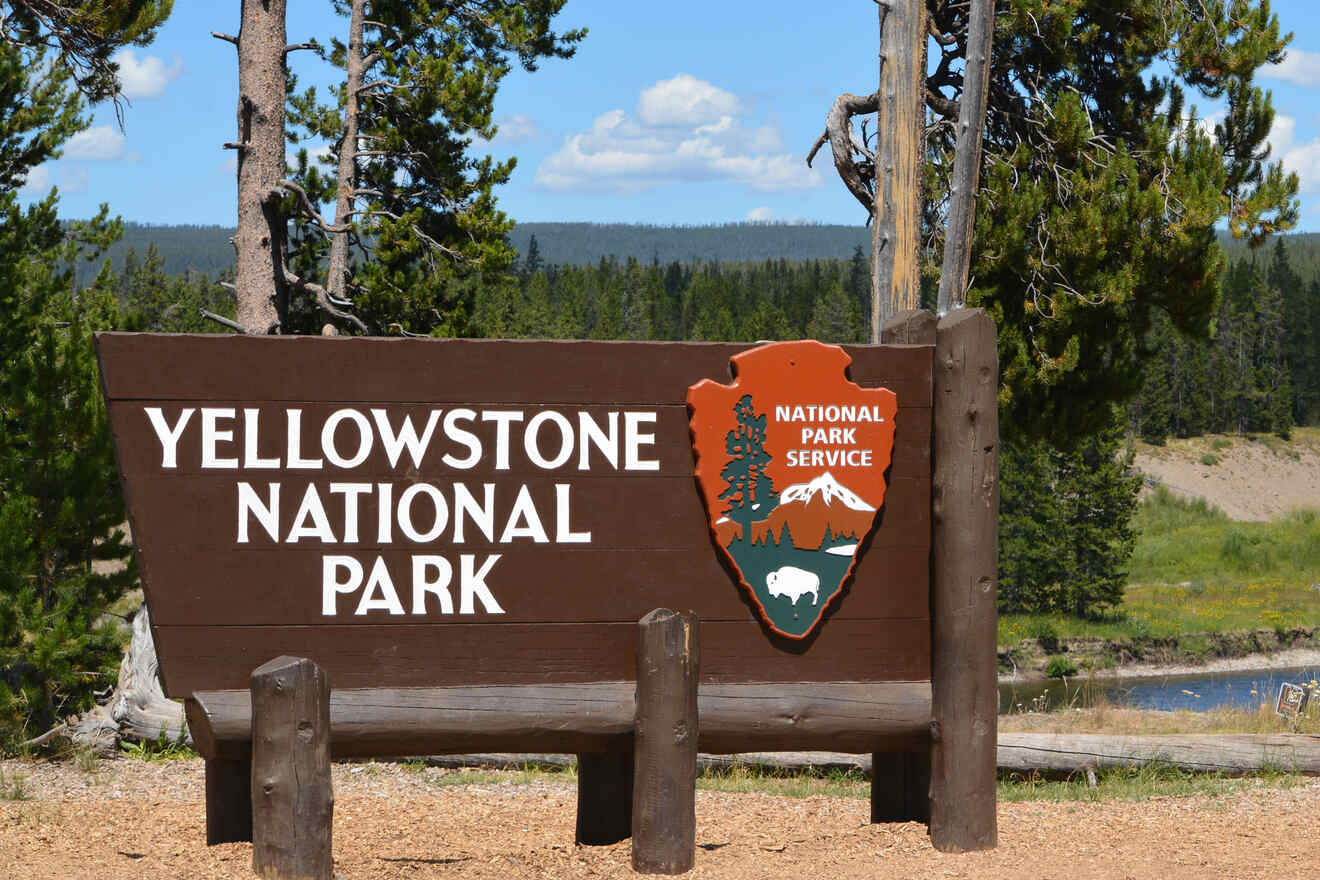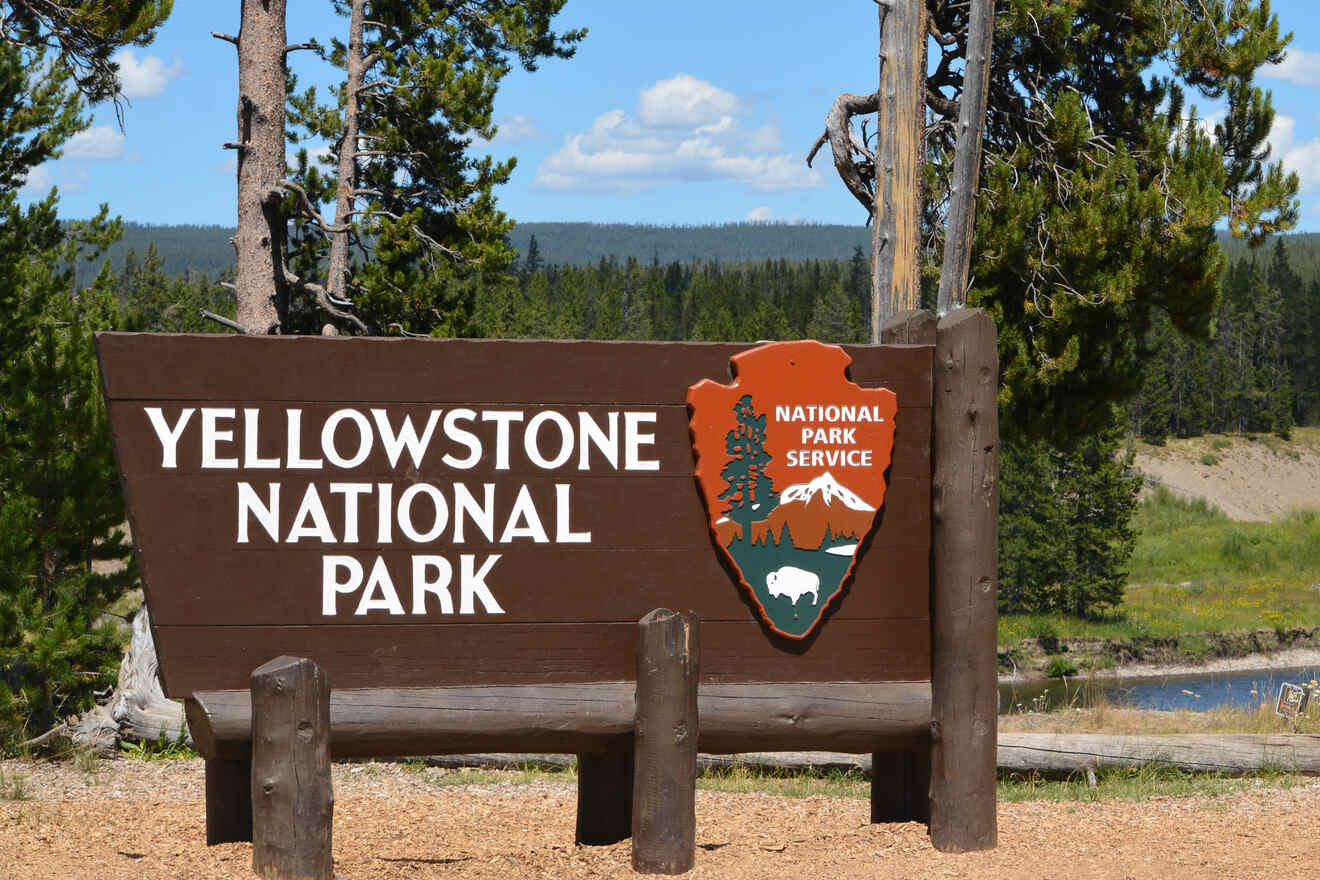 🏠 Where should I stay when visiting Yellowstone National Park?
You can stay in Jackson, WY (South Entrance) as it is a nice area to stay near Yellowstone and you'll find the best hotels, like the Parkway Inn or Wyoming Inn, and activities plus the road trip to the park is full of unique sights.
🗺️ Which part of Yellowstone is the best?
The best of Yellowstone is the "Geyser Paradise," definitely the most scenic spot here and the closest area; in order to access it easily, you can stay in West Yellowstone.
⏱️ How many days do you need in Yellowstone?
In order to experience all the amazing adventures during your trip to Yellowstone, I would stay between 5-7 days.
🏡 Can you stay at Yellowstone National Park?
Yes, you can stay at a Yellowstone hotel, lodge or cabin, inside the park, however, you should make sure you check for spots many months in advance as there isn't much availability.
🤔 Are the best hotels inside or outside of Yellowstone National Park?
Although some of the hotels inside the park are quite special, the hotel choices around Yellowstone in the villages nearby are much cheaper and they offer more facilities.
👨‍👨‍👧‍👦 What is the best family hotel near Yellowstone National Park?
The Parkway Inn is one of the best hotels near Yellowstone for families, the rooms are very spacious and the hotel is located just 5 minutes away from the historic downtown in Jackson Hole.
Conclusion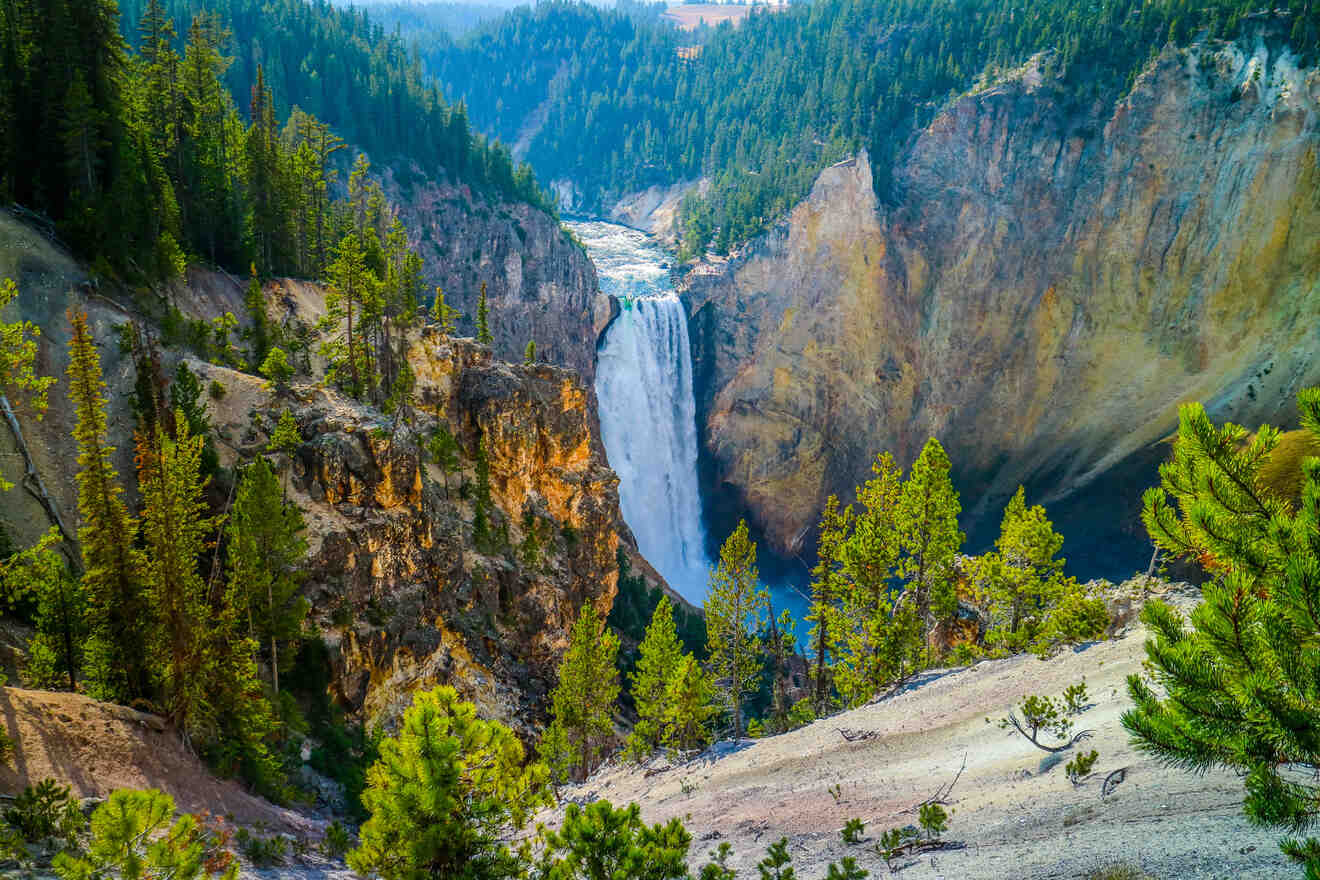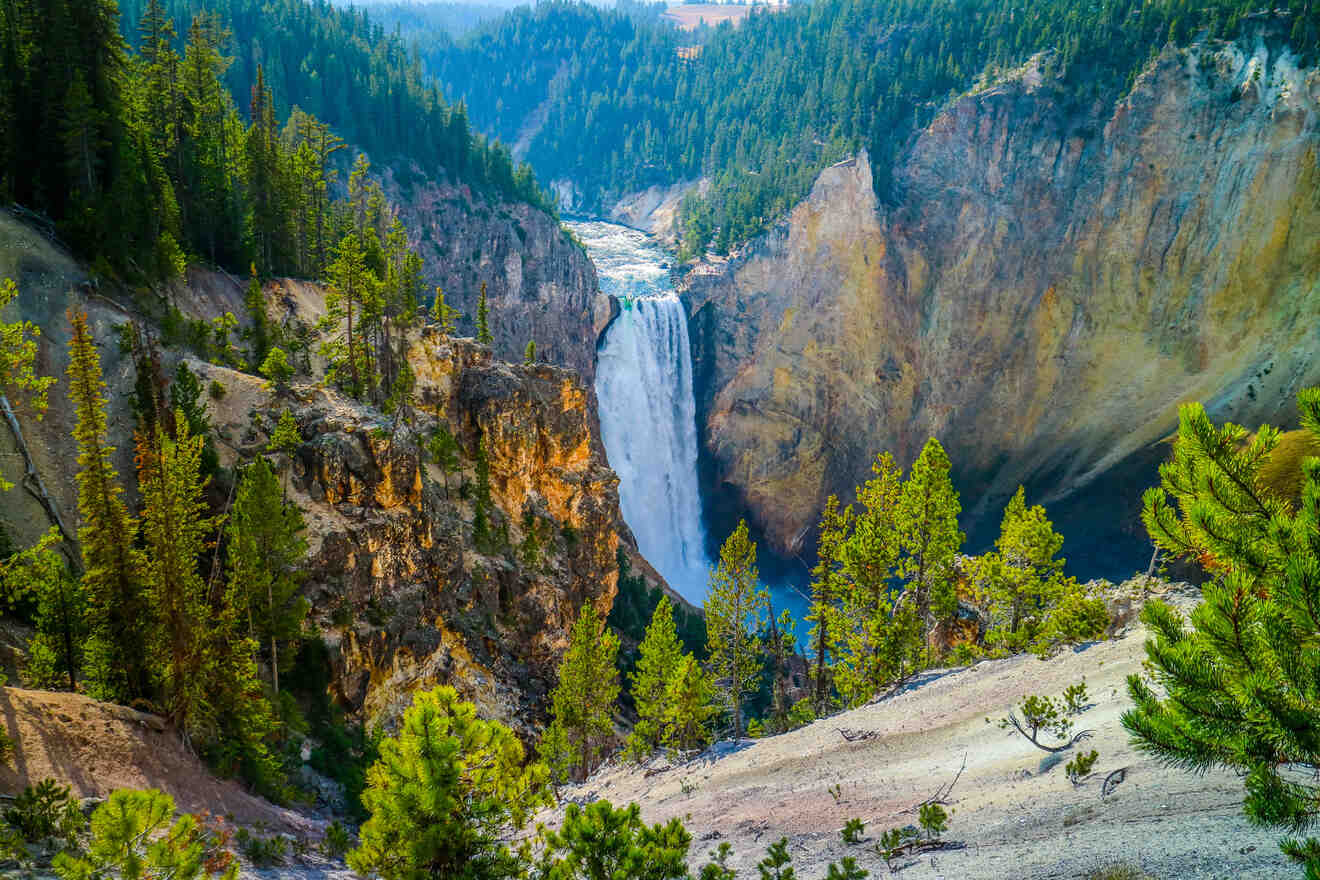 How amazing was this adventure? Imagine how cool it will be to see everything that I've written about in person! I already get the chills when I think about the Old Faithful geyser that erupts once every 44 minutes! Not to mention the Canyon of the Yellowstone with its beautiful views!
I know I've given you so many choices for where to stay in and near Yellowstone National Park, from cabins to campgrounds and others, so here are my top 2 favorite hotels located in Jackson, WY at the south entrance. Make sure you book these in advance as they sell out months before you even begin planning your trip!
I hope you have the most amazing time, whether you go during the cold season to ski in the mountains or during the warm season and hike all day long on the trails of the Yellowstone National Park! Wherever you stay in Yellowstone, I'm sure it will be amazing!
Have a good journey,
Victoria
---
Pin it for later!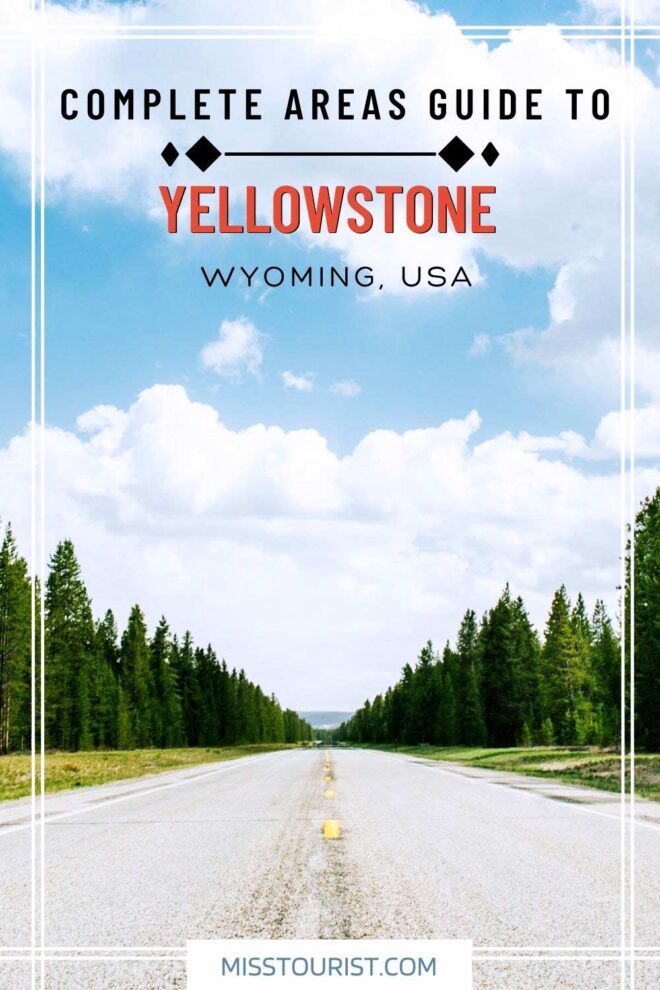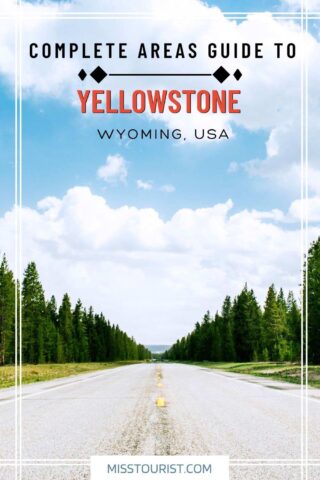 Pin it for later!