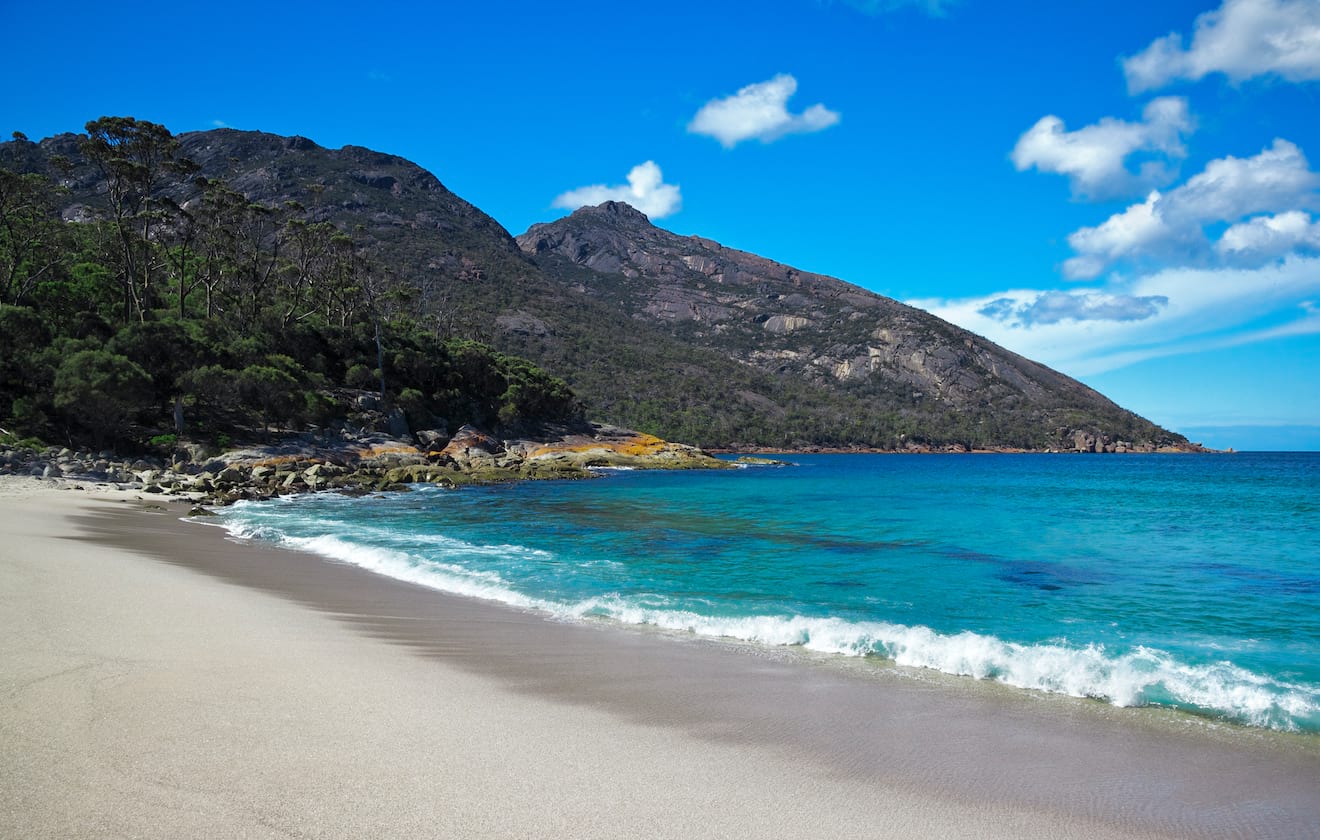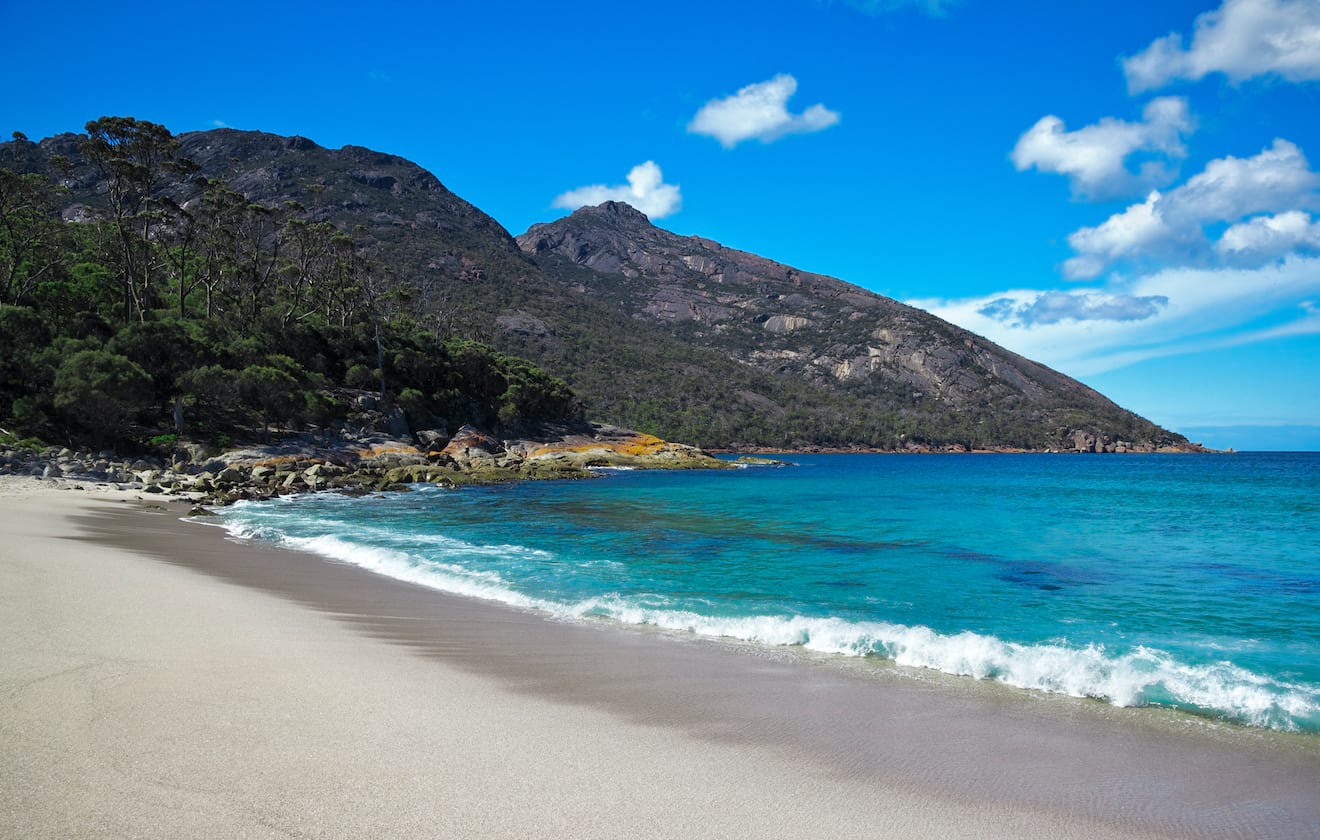 Australia has so many incredible national parks but Freycinet, Tasmania, is definitely one of it's best!
Located on the eastern coast of Tasmania, Freycinet National Park is famous for its crystal clear water, pure white sands, pink granite mountain ranges and of course, the perfectly rounded coastal beach of Wineglass Bay.
Freycinet National Park made my list for the top things to do in Tasmania for those reasons!
Here are some of the best walks in Freycinet with everything from a quick stroll to the full Freycinet peninsula trek, as well as all the other information you may need when visiting the park.
1. Best Day Walk: Wineglass Bay – Hazards Beach Circuit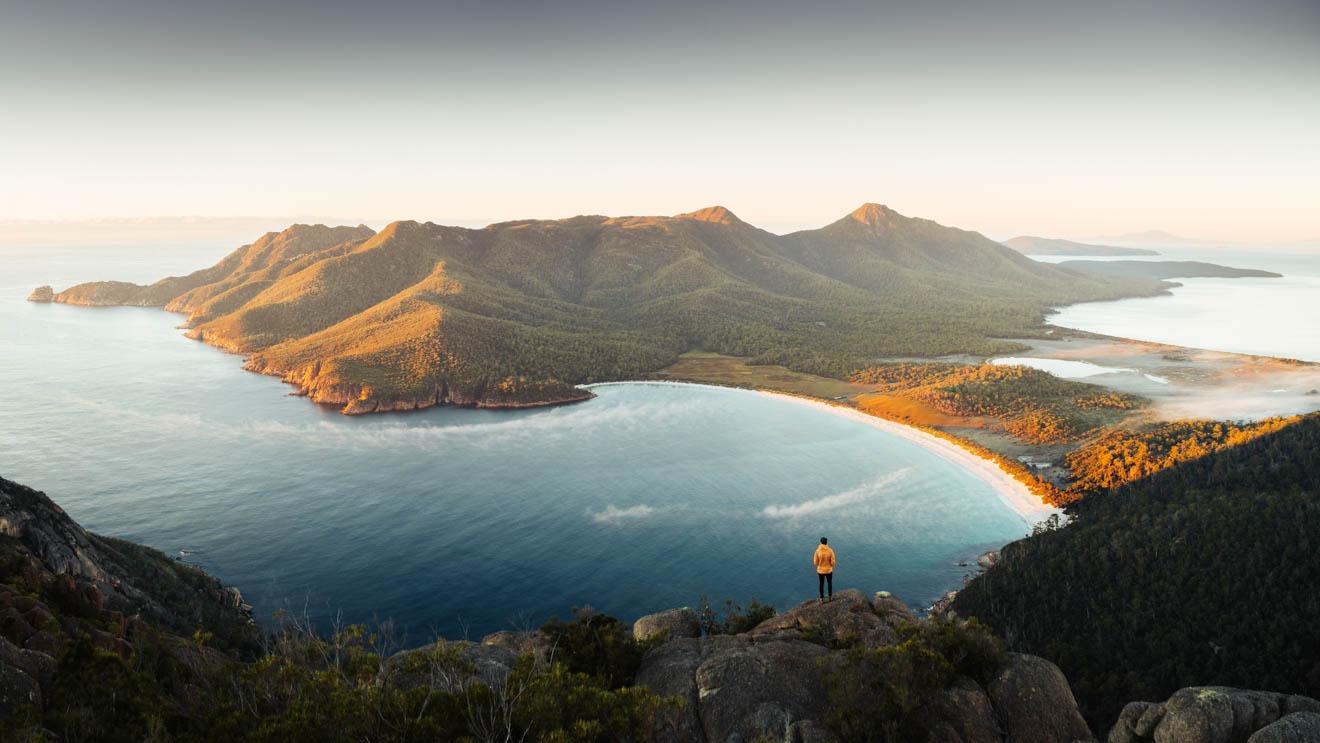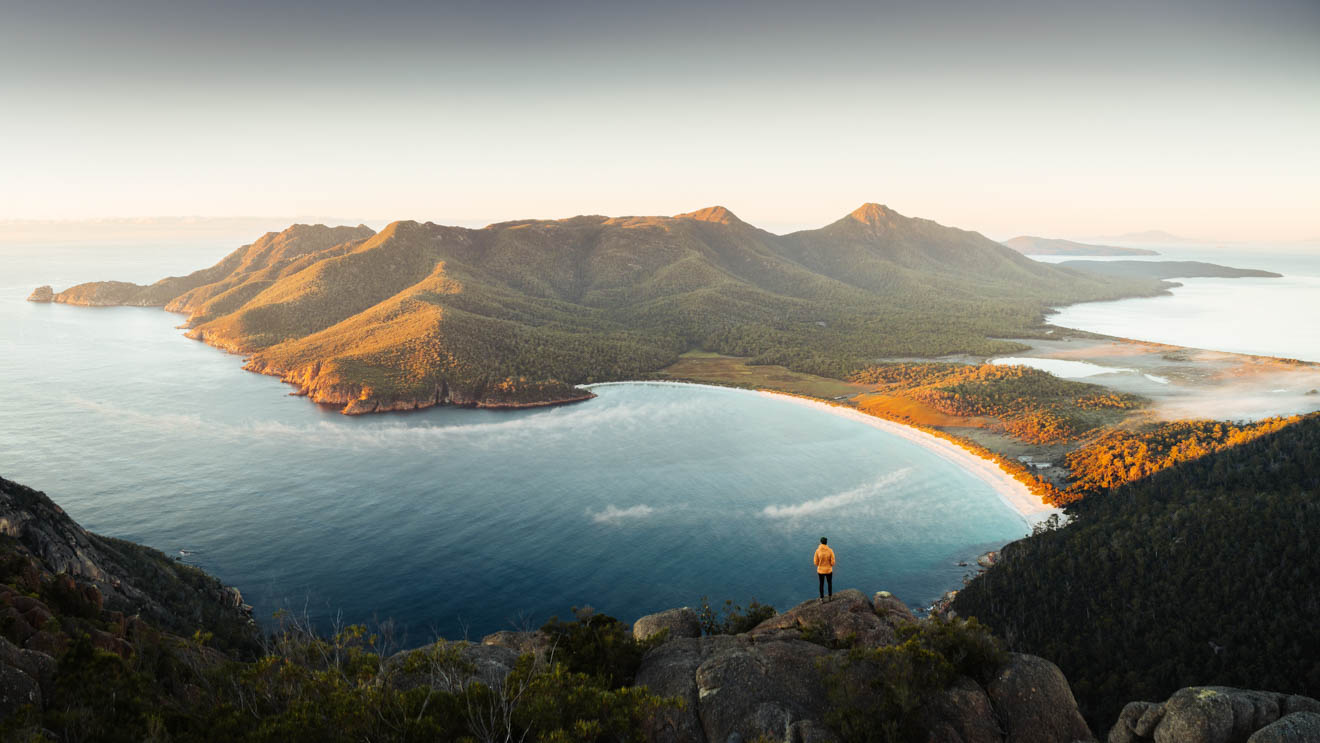 The most visited path in the park, the hike to Wineglass Bay gives you incredible views of the east coast, Freycinet Peninsula as it peaks at the saddle between Mt Amos and Mt Mayson.
TIP: Take the short side trip here to the Wineglass Bay lookout!
The majority of day-trippers and tour groups turn around here to return to the car park. Continue on down the trail which winds through the forest all the way to Wineglass Bay beach.
This is the steepest section of the walk but the trails are well maintained so it shouldn't be too difficult for anyone of moderate fitness.
Tip: Walk to the far end of Wineglass bay to take in the gorgeous east coast vistas of the hazards granite mountain range, before returning to the start of the beach to continue the circuit.
Cross the peninsular to Hazards beach by following the signs. Turn right when you reach Hazards beach and continue following the path north, along the western side of the peninsular. Here, you will cross many deserted coves with pristine views of Great Oyster Bay. This is the perfect place to take a private dip, before eventually winding your way back to the car park.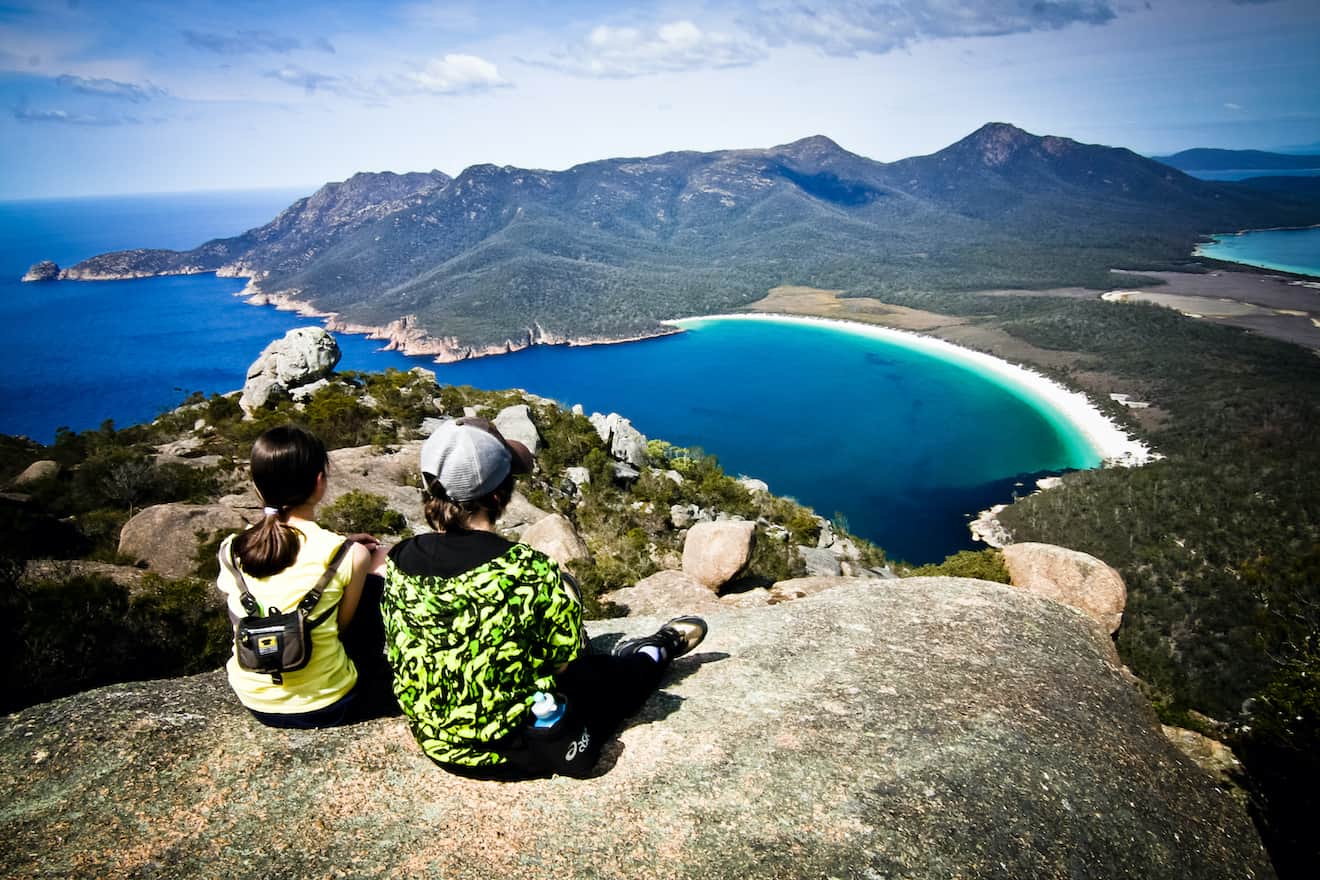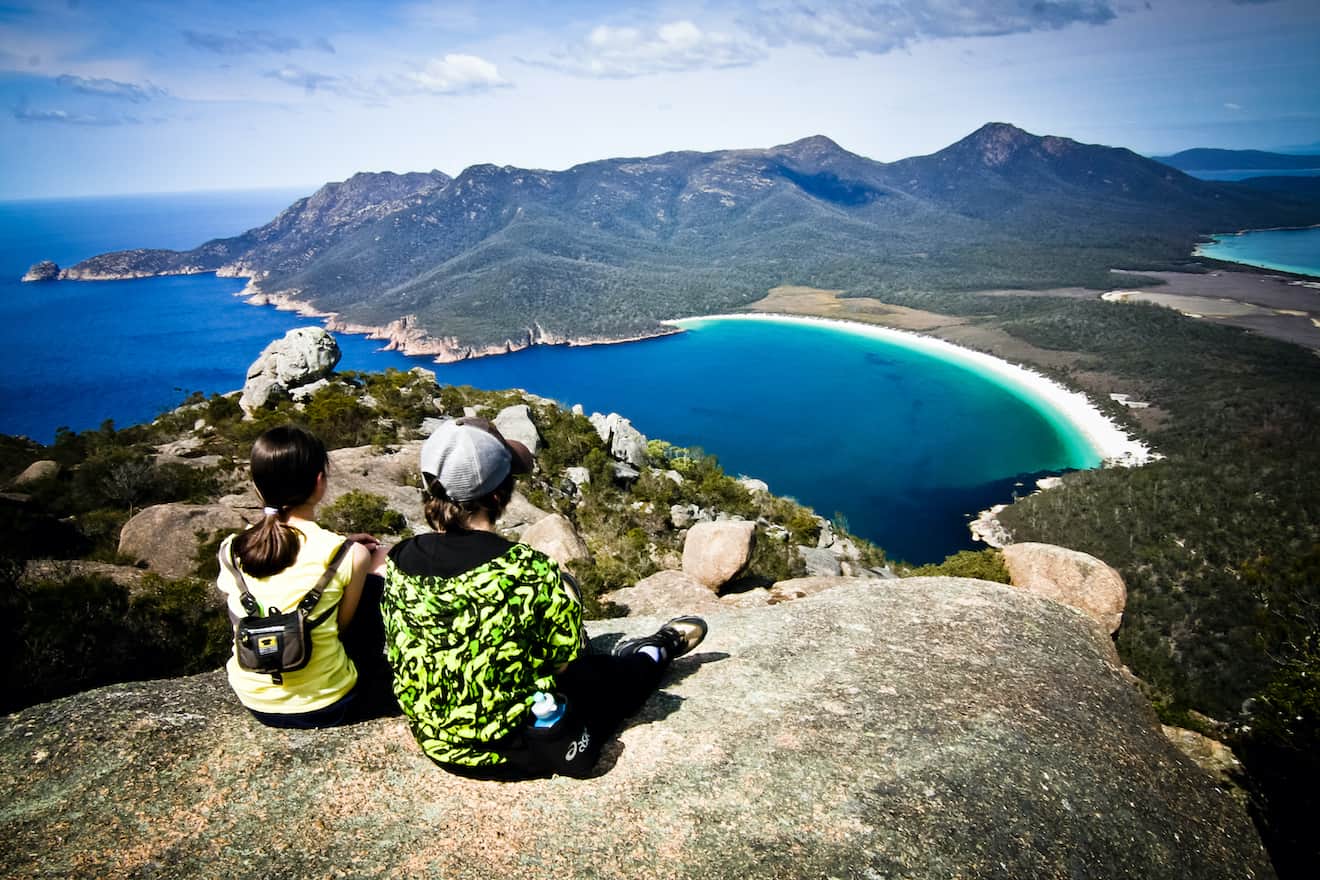 Although this hike is easily done as a self-guided walk, get the most out of your day by participating in a small group guided tour where you will learn all about the east coast history, the natural diversity of the hazards mountain range, as well as the wildlife that lives there. This tour departs from and returns to Freycinet lodge.
NOTE: If short on time, simply visit the Wineglass Bay lookout. A Moderate 1.3km, 1-1.5hrs return walk from Wineglass Bay car park takes you to an incredible viewpoint over the sea, showing off the spectacular crescent moon shape, white beach and turquoise waters of Wineglass Bay. (This is where everyone gets their incredible Instagram pictures of the bay!)
LENGTH: 11km
TIME: 4-5 hours
DIFFICULTY: Moderate
PARKING: Wineglass Bay car park. 4km past the visitor centre.
2. Best Mountain Hike: Mount Amos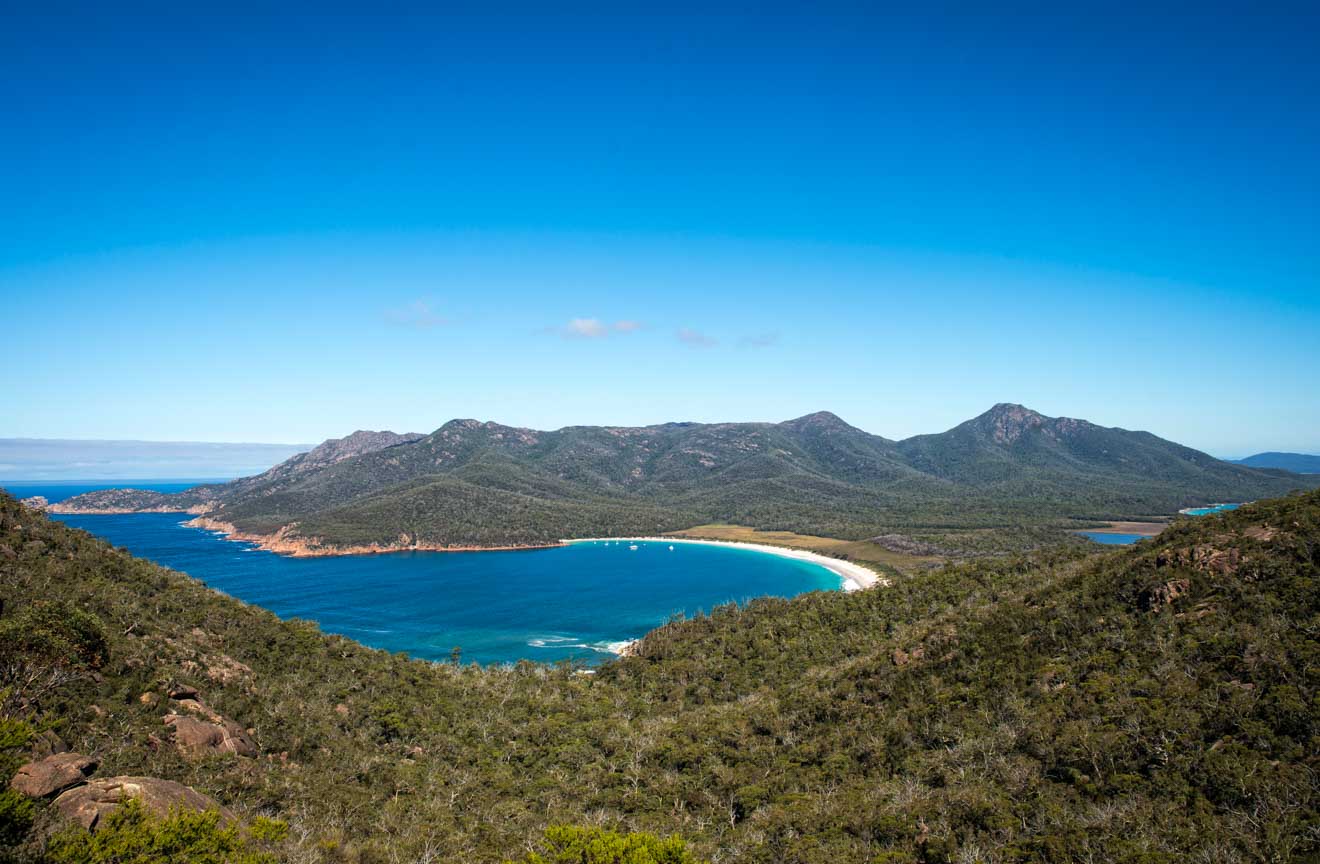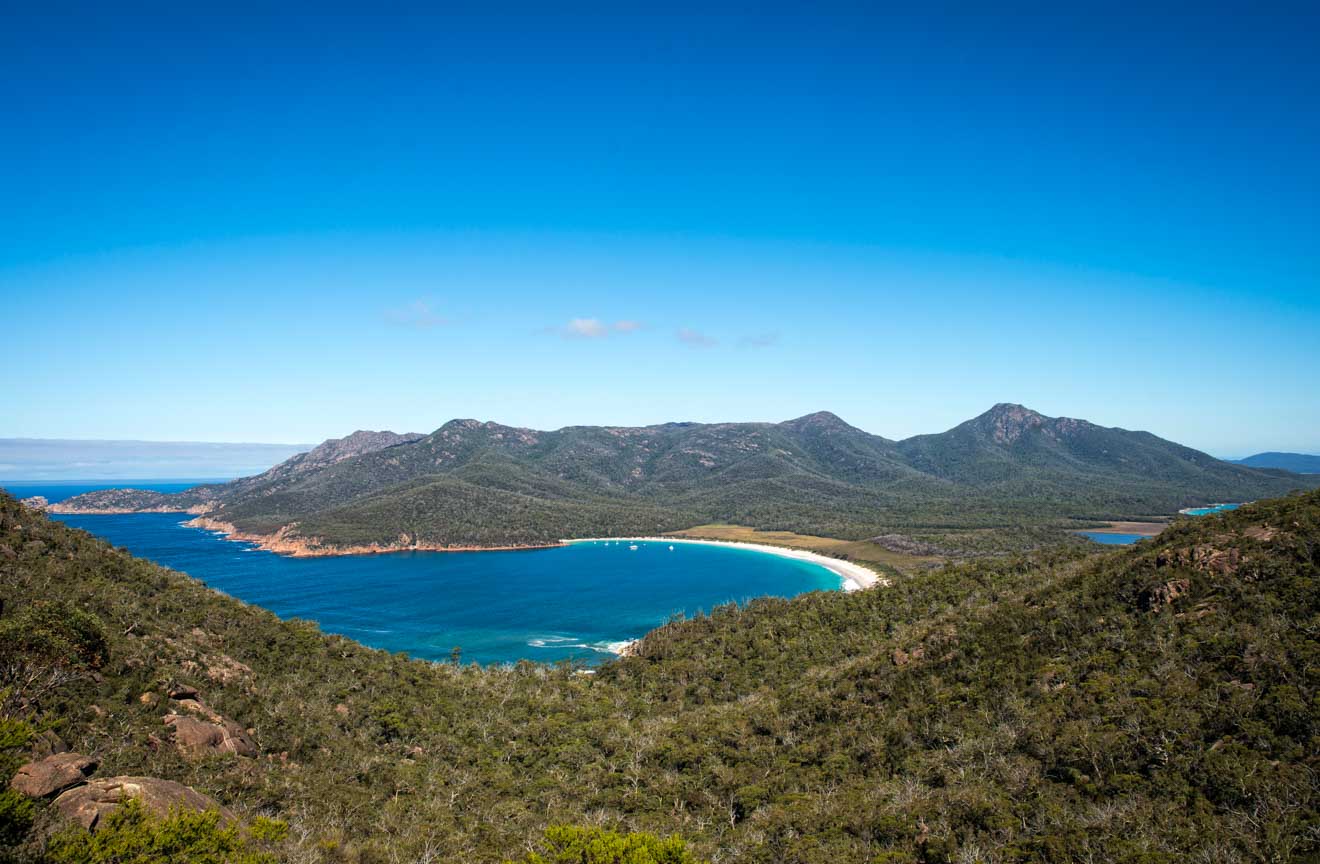 Beginning on the same path as the Wineglass Bay lookout hike, the trail to Mount Amos splits off to the left fairly early. A clear sign marks the split.
After a short section of well-groomed, fairly easy trails, the path begins winding its way through the pink granite, mountains boulders. This is where the trail gets tricky and it continues like this all the way to the top.
Quite a lot of scrambling up, over, and through the granite rocks is required to reach the top but trust me when I say the views over the east coast, Wineglass Bay, The Hazards mountains range, and the entire Freycinet Peninsula are 1000% worth it.
Keep a close eye on the path as the markers on the rocks can sometimes be difficult to see.
NOTE: This hike shouldn't be attempted during, or directly after heavy rainfall as granite becomes extremely slippery and the trail is steep!
LENGTH: 4km
TIME: 2-3 hours
DIFFICULTY: Hard
PARKING: Wineglass Bay car park. 4km past the visitor center.
3. Best Easy Stroll: Cape Tourville Circuit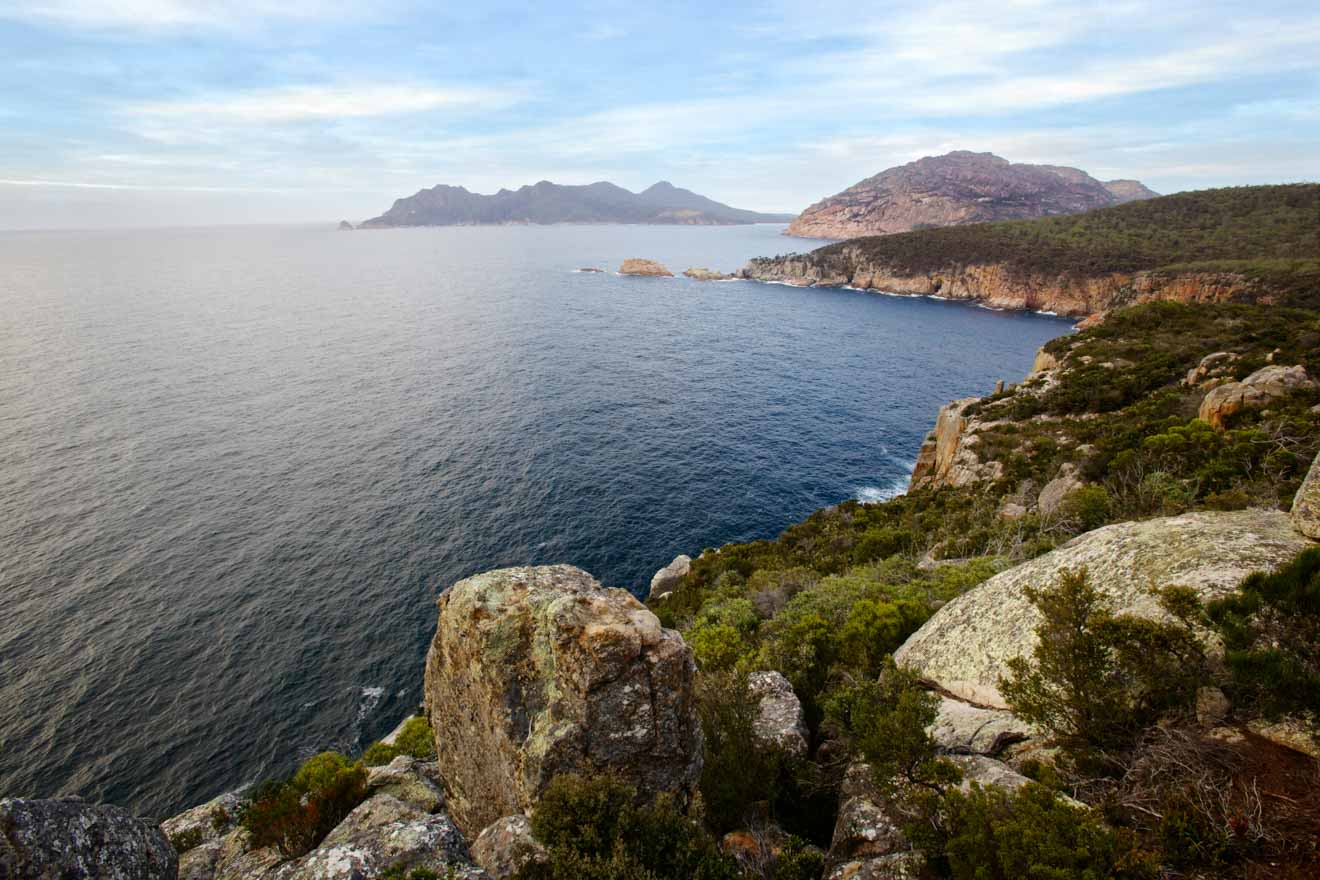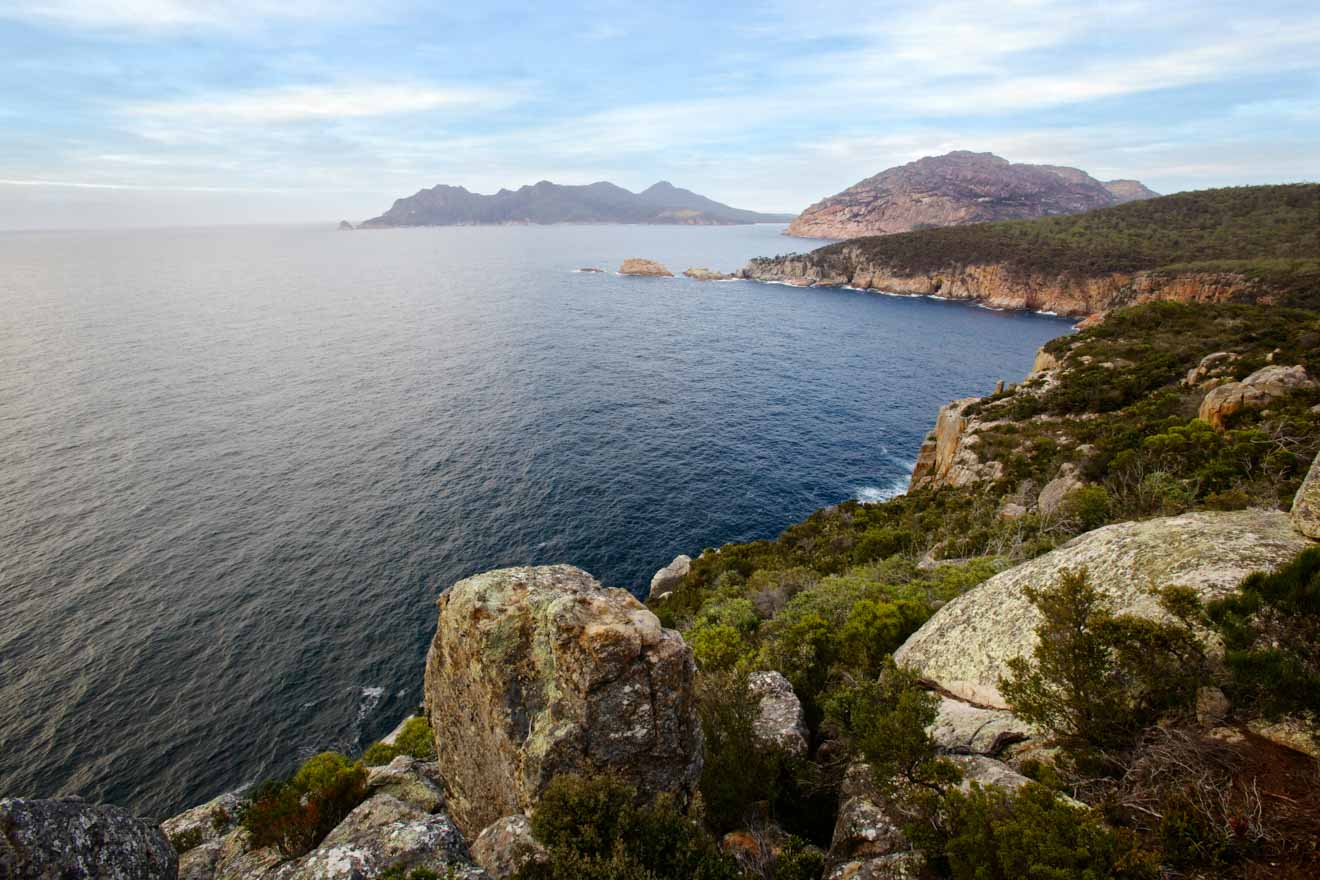 Perfect for those with a short time limit or those with limited mobility, the Cape Tourville Circuit takes just 30 mins and is completely accessible by wheelchair or prams!
Can't even spare half an hour? A spectacular lookout point can be found just 100m from the car park with sweeping views of many of the beaches of Tasmania's east coast!
TIP: This is the perfect place to watch the Sunrise as it offers incredible views over the entire Freycinet Peninsula.
LENGTH: 600m
TIME: 30mins
DIFFICULTY: Easy
PARKING: Cape Tourville Lighthouse Car park, 7.2km past the visitor center.
4. Best Multi-Day Hike: Freycinet Peninsula Loop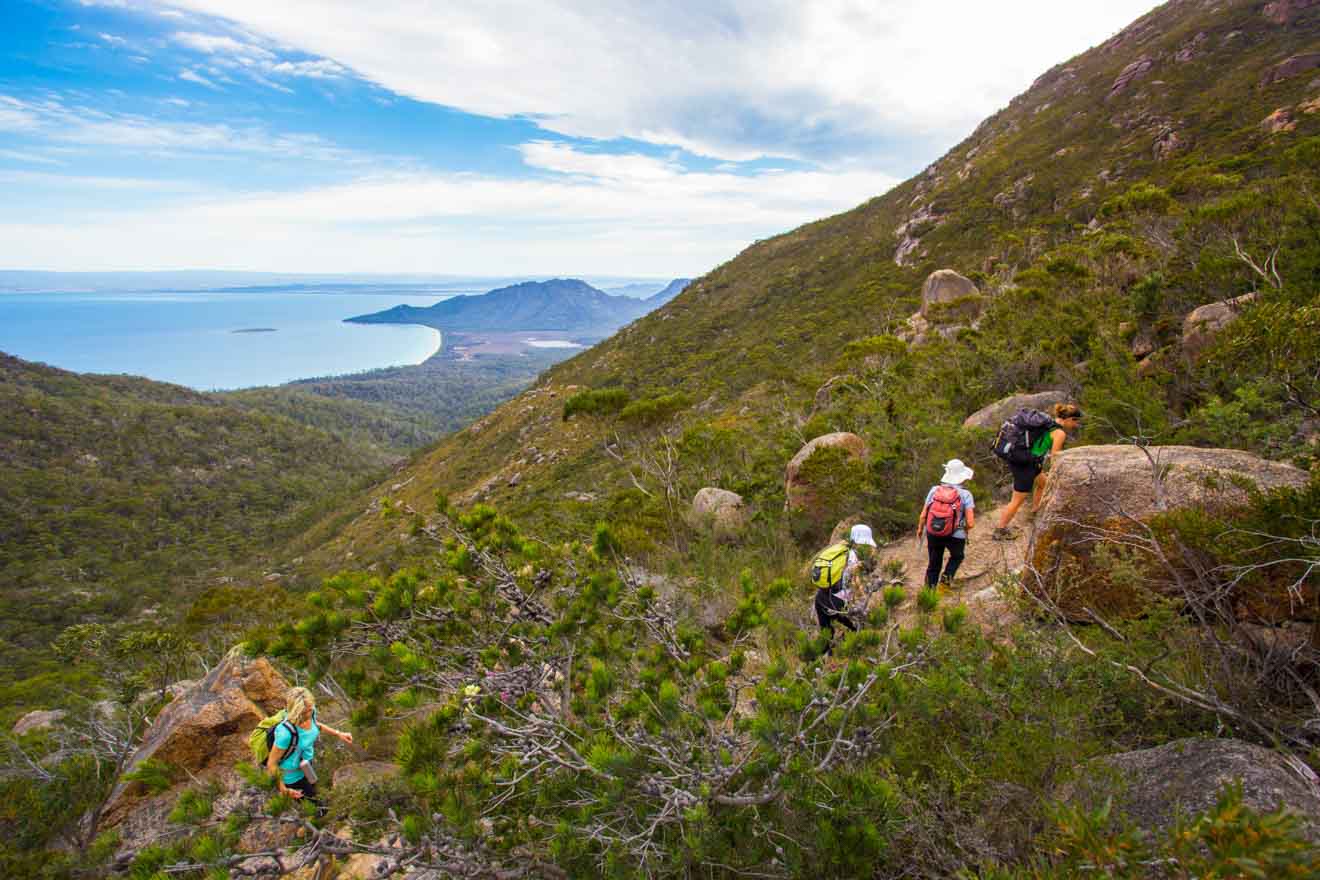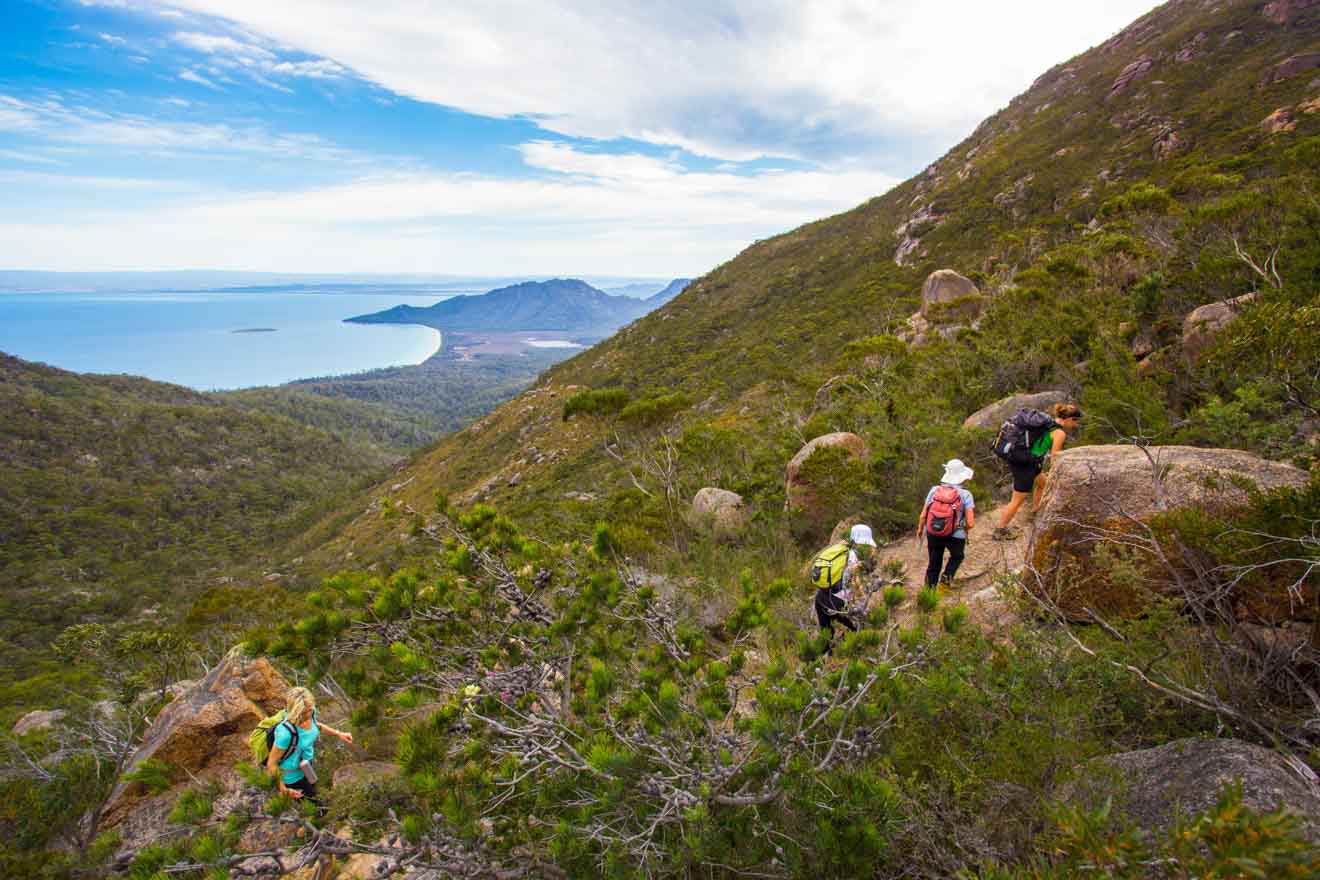 Cover all the best Freycinet National Park walks (including Wineglass Bay) in one go with the complete Freycinet Peninsula Circuit, covering the entire length of the Freycinet Peninsula on both the east coast and west.
With 2,110m of elevation gain throughout the hike, you will witness incredible views from great heights and the beautiful secluded beaches of Tasmania's east coast.
Stop overnight at Hazards Beach, Cooks Corner, and Wineglass Bay campsites which are free to visit and no reservations are required. You will find simple composting toilets to accompany the serenity of the locations.
NOTE: It's best to walk the circuit in an anticlockwise direction to help the park manage the spread of root rot, a disease that kills the beautiful trees of this national park.
If you've never done a multi-day hike before, this is a great one to start with and I highly recommend you join a small guided group. With a maximum of 10 people, you will be totally looked after and all your food, drink and accommodation in lodges will be arranged for you.
LENGTH: 56.5km
TIME: 2-3 days
DIFFICULTY: Hard
PARKING: Wineglass Bay car park. 4km past the visitor center.
| | |
| --- | --- |
| 👨‍👩‍👦 Family-friendly score: | Medium |
| 🚶🏽‍♂️ Best hiking trek: | Wineglass Bay and Hazards Beach |
| 😍 Best views: | Mount Amos |
| ☀️ Best time to go: | Any time of the year |
| 📅 How many days: | 1-2 |
Practical Information about Freycinet National Park:
How to Get To Freycinet National Park
Freycinet National Park is located nearly an equal distance between Launceston and Hobart in Tasmania, Australia.
DRIVING
The best way to get to Freycinet National Park is to drive. Driving allows you the flexibility to enjoy everything this magical place has to offer, on your own terms. If you don't have your own car, rent one from either Hobart, Launceston, or Devenport, and check out my other post for a full Tasmania road trip itinerary!
Driving from Launceston, take National Highway 1 and B34 for 149 km, 1 hour 50 mins towards the east coast.
If departing from Hobart, head north along the Tasman Highway for 167km, 2 hours 15 mins.
TOURS
If you prefer not to drive yourself, there is an abundance of tours to choose from to experience Freycinet's incredible beaches and beautiful scenery. Here are some of my top recommendations:
Freycinet National Park and Wineglass Bay Day Trip:
Launceston to Hobart Via Freycinet National Park:
How long should you spend in Freycinet?
I recommend spending 1 or 2 days in Freycinet National park if you just want to see the main sites and spend a little time relaxing. If you prefer to cover absolutely everything, you will need around 4 days to check out the entirety of Freycinet.
While you're in the state, don't forget to head west to Cradle Mountain, another recommendation on my list of the top national parks in Tasmania.
Accommodation Near Freycinet National Park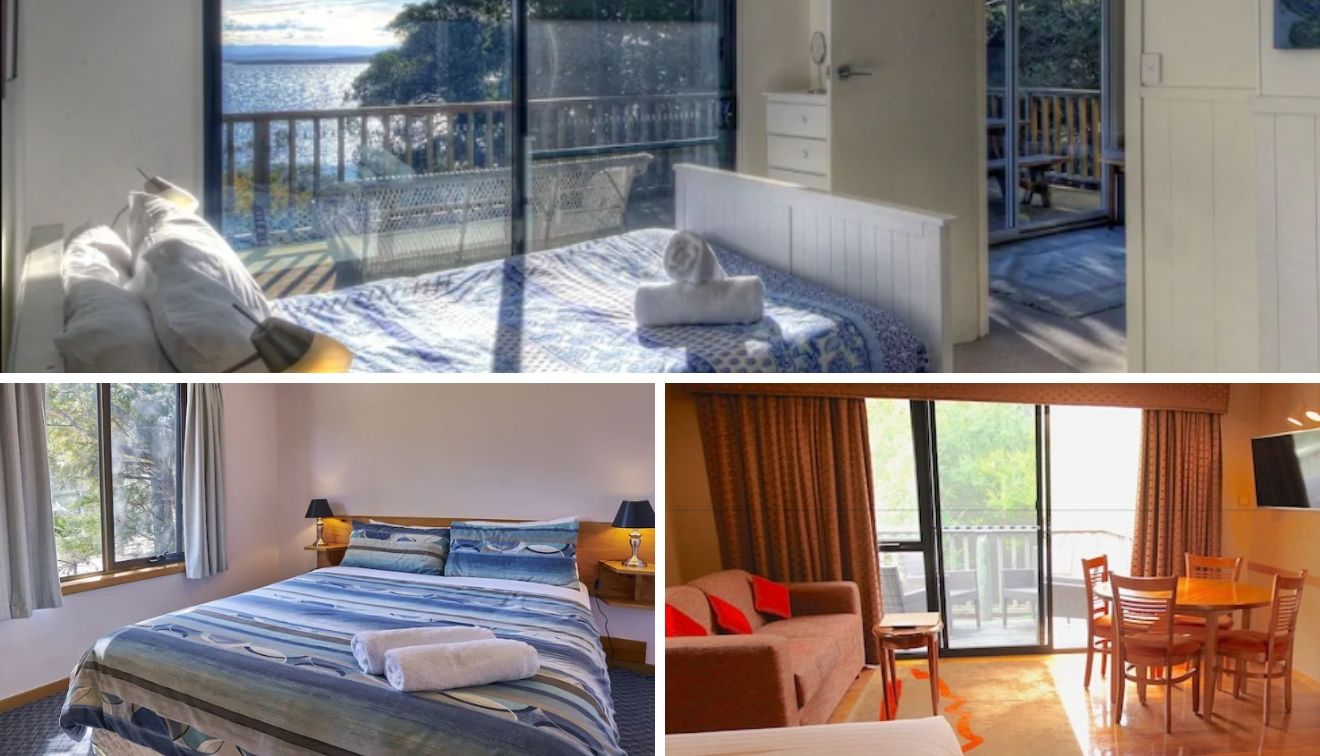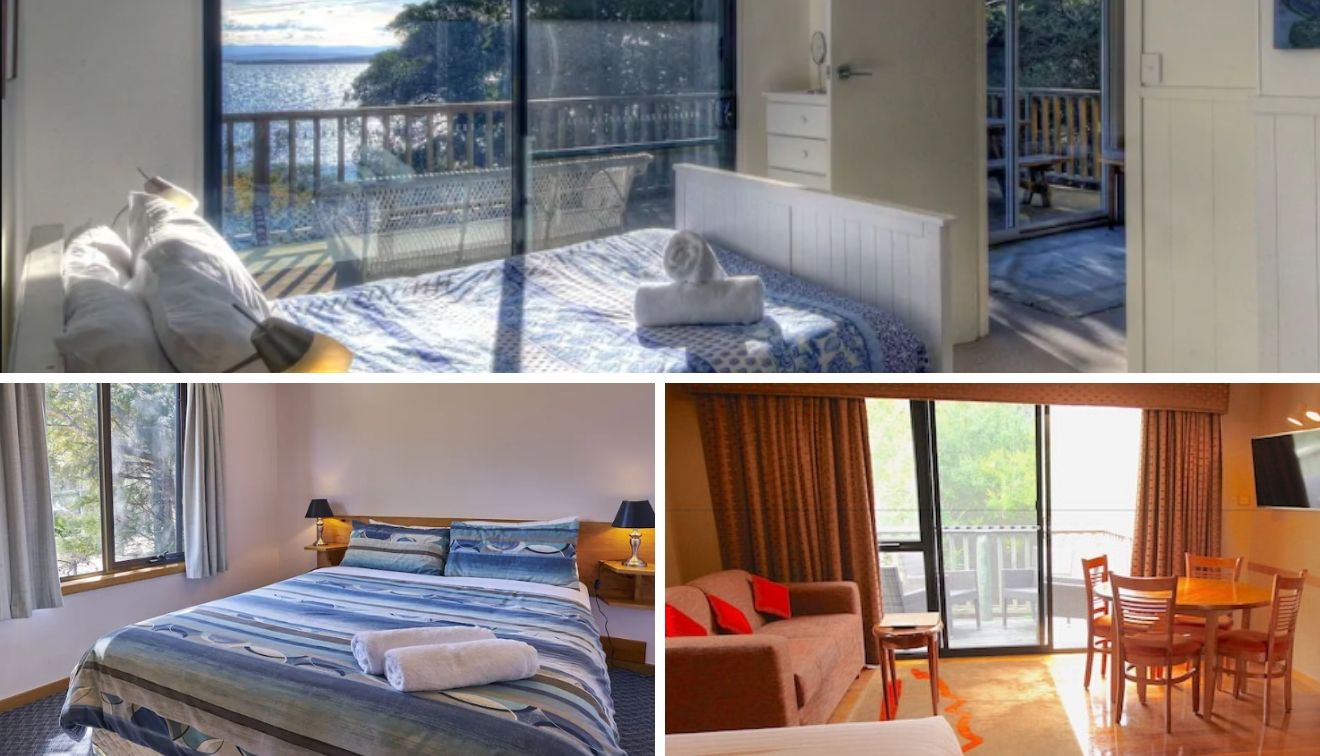 Luxury ($300+ AUD):
Located just a 5 min stroll from Coles Bay, Freycinet Lodge is my absolute top choice of accommodation near Freycinet. With beautiful spacious rooms, an onsite bar and restaurant as well as private balconies in each room, there's not much more you could want from Freycinet Lodge!
For a little more privacy, try the incredible Hazards Rim, a private vacation home set deep within Freycinet National Park. The secluded forested area is a great view from its large, glass windows and the property is just minutes from many of the parks walking tracks.
Middle-Priced ($200-$250):
Another private accommodation located in the heart of the park is Cove Cottage. This rustic 4 bedroom cottage offers beautiful ocean views and a wrap-around patio, perfect to relax with a drink after a long day of adventures.
Alternatively, head to one of the Cove Beach Apartments to be close to local cafes and restaurants as well as have access to a private beach.
Budget (Under $150 AUD):
Iluka Holiday Centre offers cozy cabins with private bathrooms, and basic kitchen facilities in Coles Bay for those on a budget.
Otherwise, BYO tent and camp at one of the campsites in Freycinet National Park below.
Food in Freycinet National Park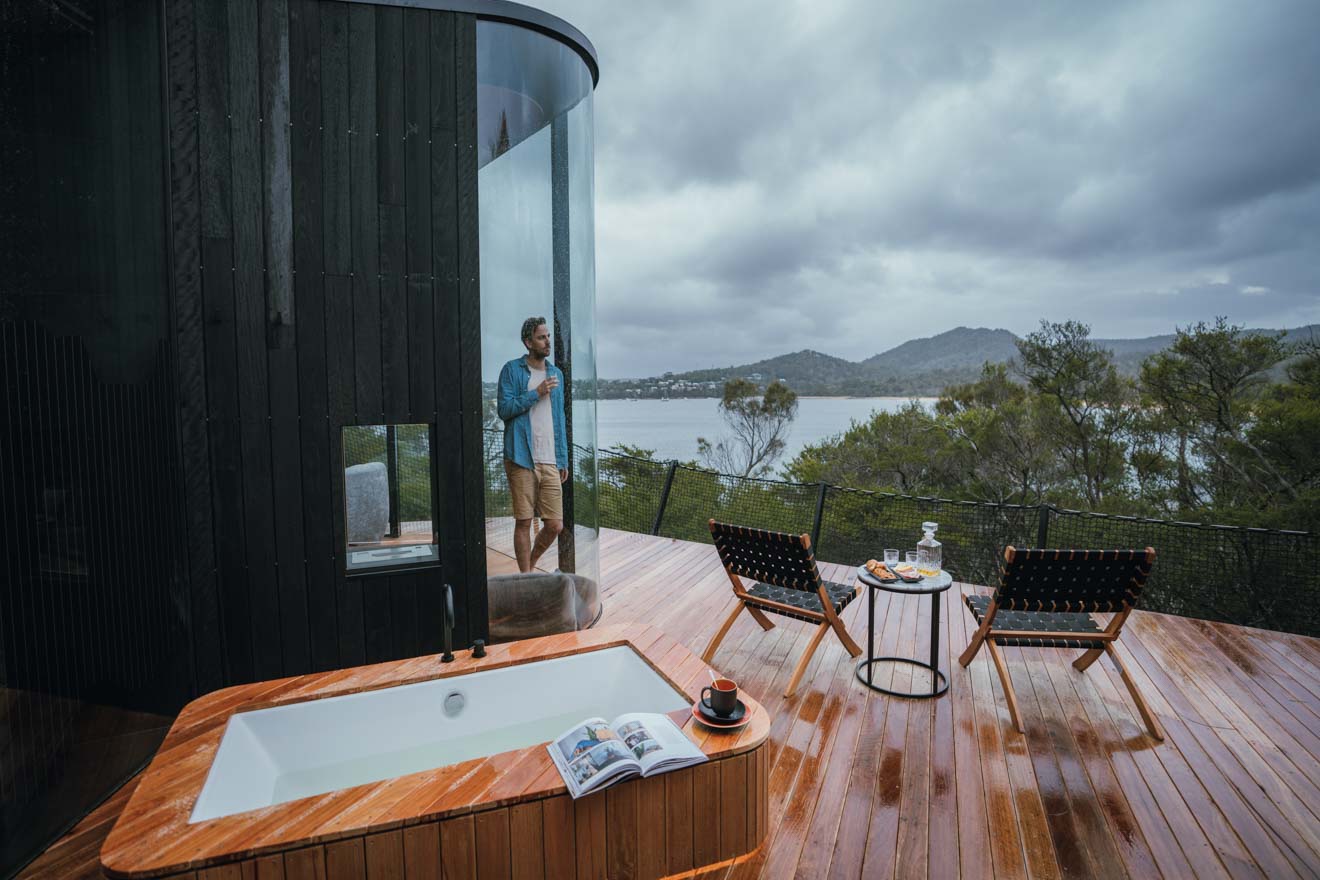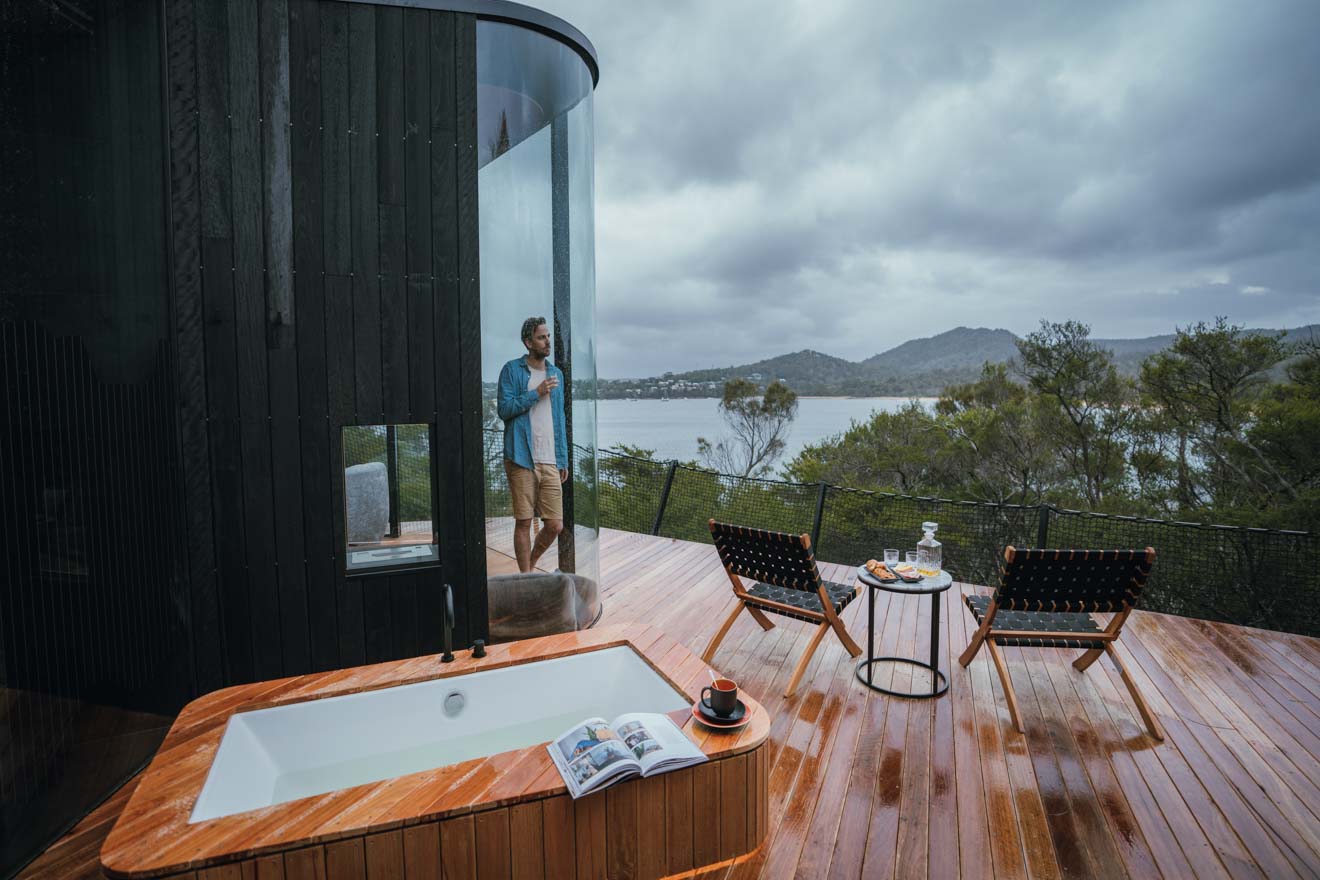 Most hotels in Freycinet National Park offer breakfast and dinner at their onsite restaurants however, if you are camping or heading off on a day walk, you will most likely need to bring your own food.
Pack a sandwich or plan a trip to Honeymoon Bay or Ranger Creek (close to the visitor center) for picnic tables, toilets, and BBQ facilities.
You will find small (and expensive) grocery stores just before the Freycinet visitor center at Coles Bay for your basic needs however, you might save some pennies by planning ahead and shopping in a bigger city before heading to Freycinet.
Around the same area, you will also find some cafes and restaurants dotted all the way up the more populated western side of Freycinet if you prefer to dine out.
TIP: Drop by the Freycinet Marine Farm for locally grown fresh oysters and great fish and chips!
Camping in Freycinet National Park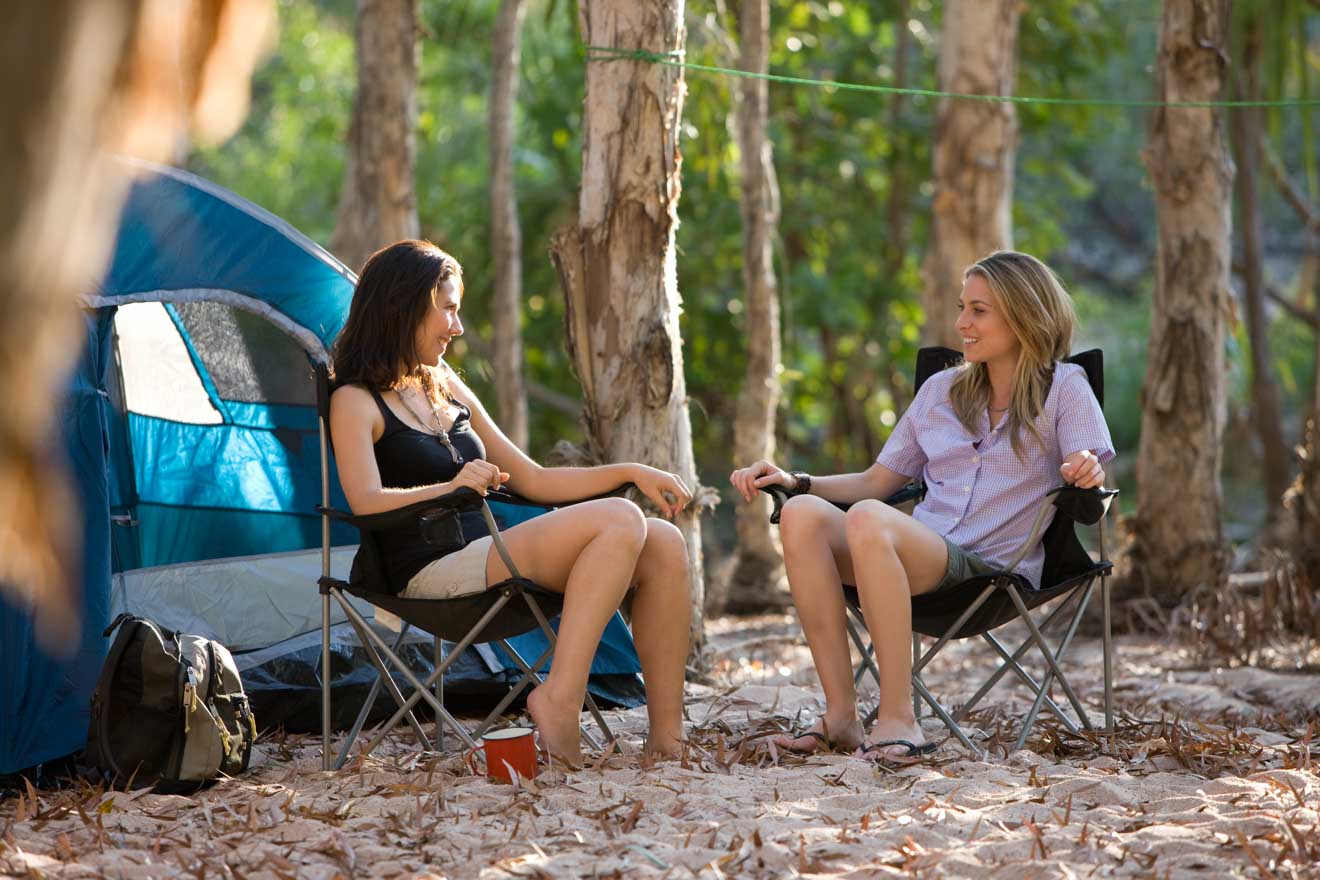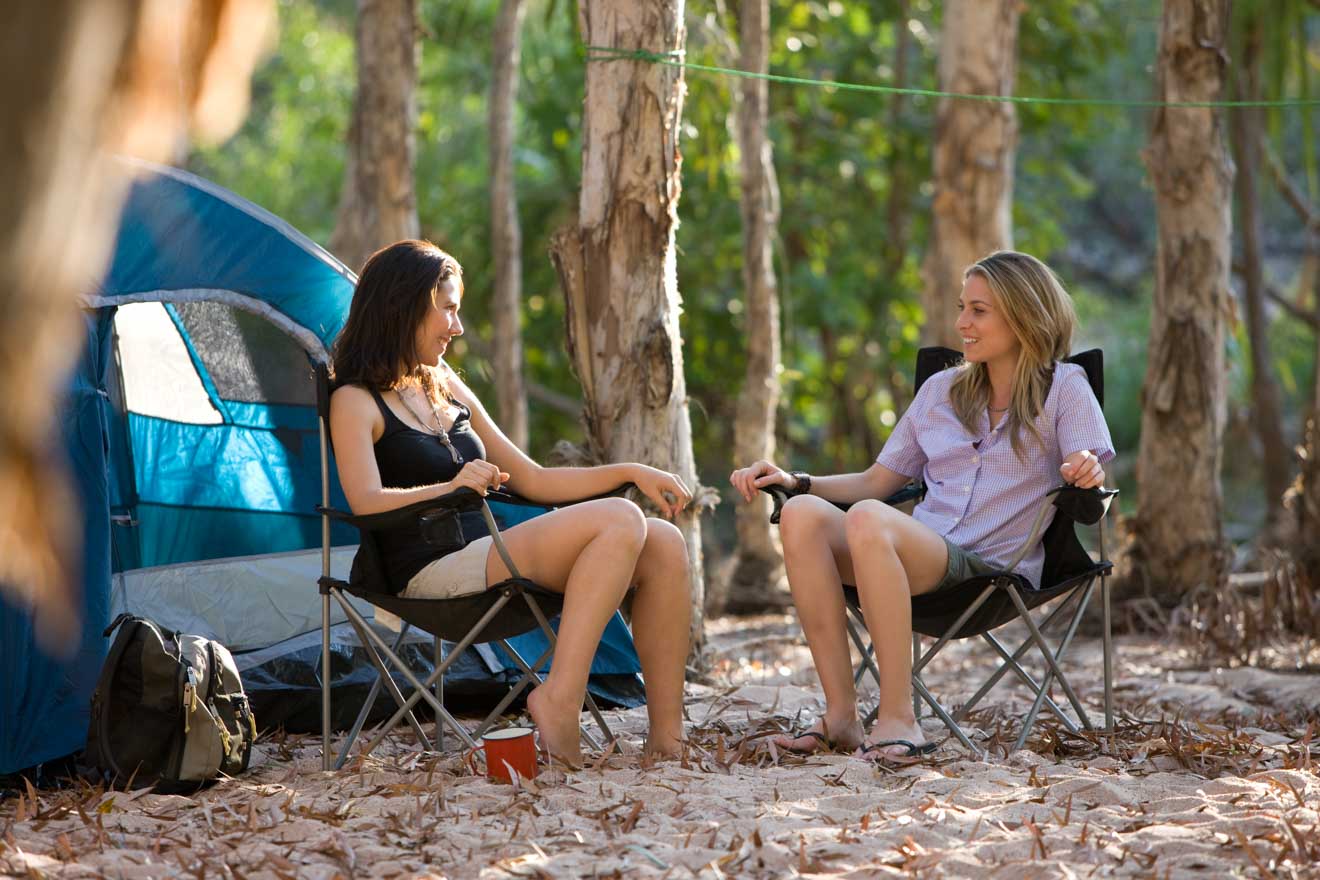 Aside from the hike-in campsites that I already mentioned for the Freycinet Peninsula loop hike, there are also a few options for car camping in Freycinet National Park along the coastal beaches.
For basic free camping on the beachside, head to Friendly Beaches. Friendly Beaches are suitable for both tents or small campervans, these campsites are filled on a first come first serve basis and have pit toilets, but no freshwater supply. Friendly Beaches camping is located 23km north of the visitor center up Coles Bay road.
Alternatively, paid sites with extra facilities are available at Richardsons Beach, Ranger Creek, and Honeymoon Bay, Freycinet, starting from $13 per night for an unpowered site. Bookings can be made by contacting the visitor center on 03 6256 7004 or [email protected].
ATTENTION: In the summer months, coastal camping in Freycinet National Park is so popular that bookings can only be made by winning a ballot drawn in August (except Friendly Beaches). Entries close at the end of July!

Remember, fires are forbidden in Freycinet National Park and thus you must use fuel stoves only or one of the BBQs located at Ranger Creek and Honeymoon Bay picnic areas.
Hiking Gear for Freycinet National Park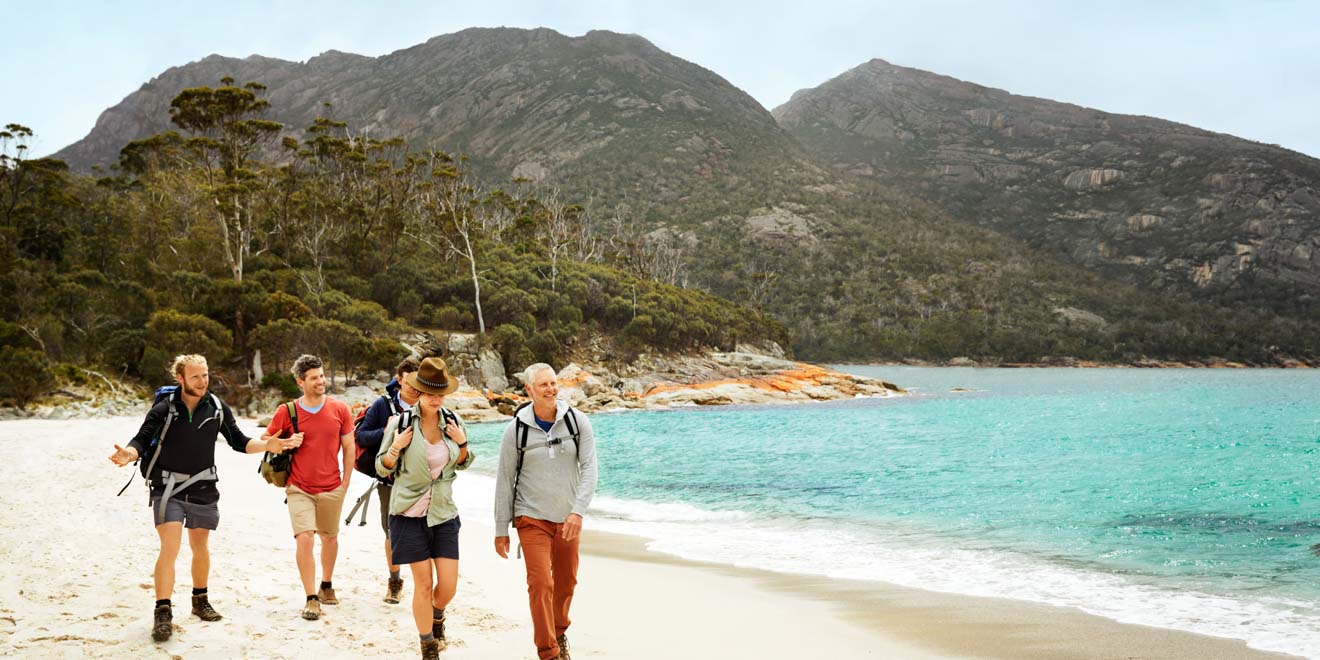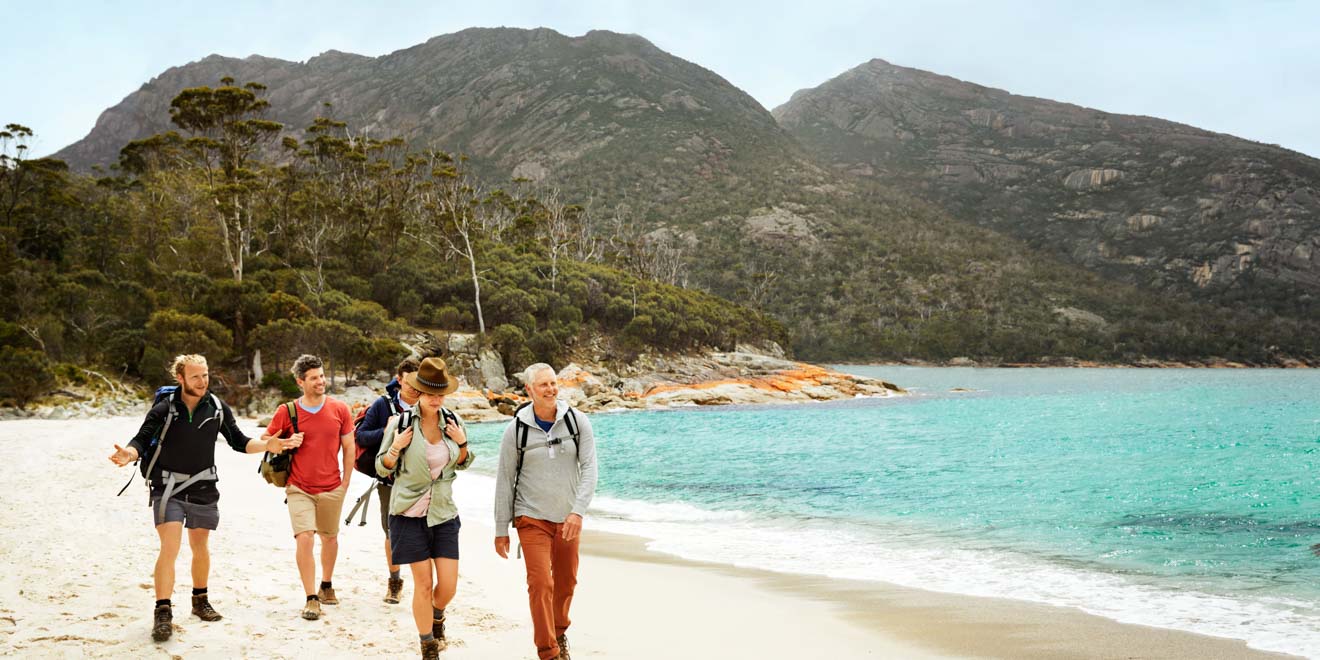 Weather in Tasmania is notorious for being unpredictable and that is why, even in Summer, it helps to be prepared.

As someone who spends 90% of her time outdoors, I know the real value of good quality gear, and trust me when I say, you'll have a much better time if it starts to rain during your trip, when you have the right layers to protect you.
When it comes to dressing for changing conditions, it's all about layering. I recommend this 3-in-1 jacket from Kathmandu. It allows you to detach the fleece from the rainproof shell if it's warm and wet, wear the fleece by itself if it's cold but dry, or zip the two jackets together to make one, comfortable, warm, and waterproof jacket.
For walking in Freycinet you will need some solid footwear, Salomon X Ultra 3 are a great choice for day hikes, whilst for multi-day hikes carrying a large pack, I love the ankle support in the mid-height length.
As the terrain can be quite steep and rocky here, although not essential, hiking poles can be very useful to take. When choosing your perfect pair, don't worry too much about the features, as long as they are lightweight and fold up small, they honestly don't vary much between models, any brand will be a tremendous help to your balance on uneven terrain.
Tasmania National Parks Passes
For access to any of the National parks within Tasmania including Freycinet, a Parks Pass is required. If you're planning on spending more than 2 days in any of Tasmania's national parks, it's worth purchasing the Holiday Pass which is valid for up to 2 months!
Freycinet National Park Visitor Centre will be your first stop at the entrance to the park. Here you can purchase your National Parks Pass, get detailed information about hikes and other things to do as well as purchase unique souvenirs to commemorate your time here.
| | | |
| --- | --- | --- |
| | Daily Pass | Holiday Pass |
| Vehicle (< 8 people) | $24 | $60 |
| Adult (18+ years) | $12 | $30 |
| Child (5-17 years) | $12 | $30 |
| Family (2 adults 3 children) | N/A | N/A |
Children under 5 years old have free entry.
Passes can be purchased online or in person at each of the national park visitor centers.
Conclusion


Now that you are fully prepared with everything you need to know about the best walks in Freycinet National Park, you should be ready to go out and enjoy the beautiful coastal beaches and the rocky Hazards mountain range on the east coast of Tasmania. (I know I am!)
If you've only got time to visit one Tasmanian national park. Freycinet is the park to choose! Comment below if you have any other questions for me and I'll answer them as best I can. 🙂
Now go live your best life and take a selfie with the local wildlife or relax on a gorgeous bay. Freycinet national park is calling you!
Happy Hiking!

Kate Fletcher
---
Pin it for later!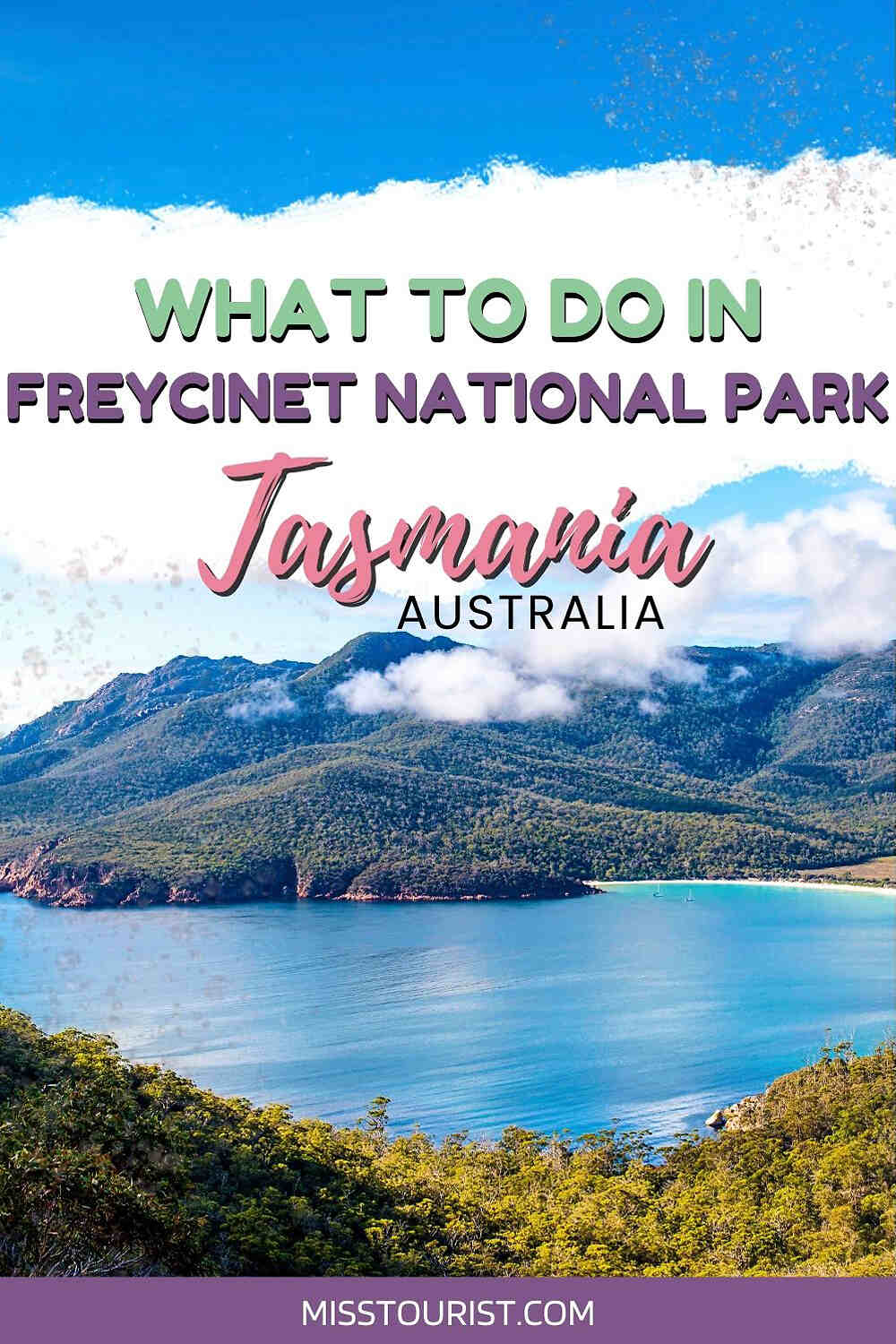 Pin it for later!