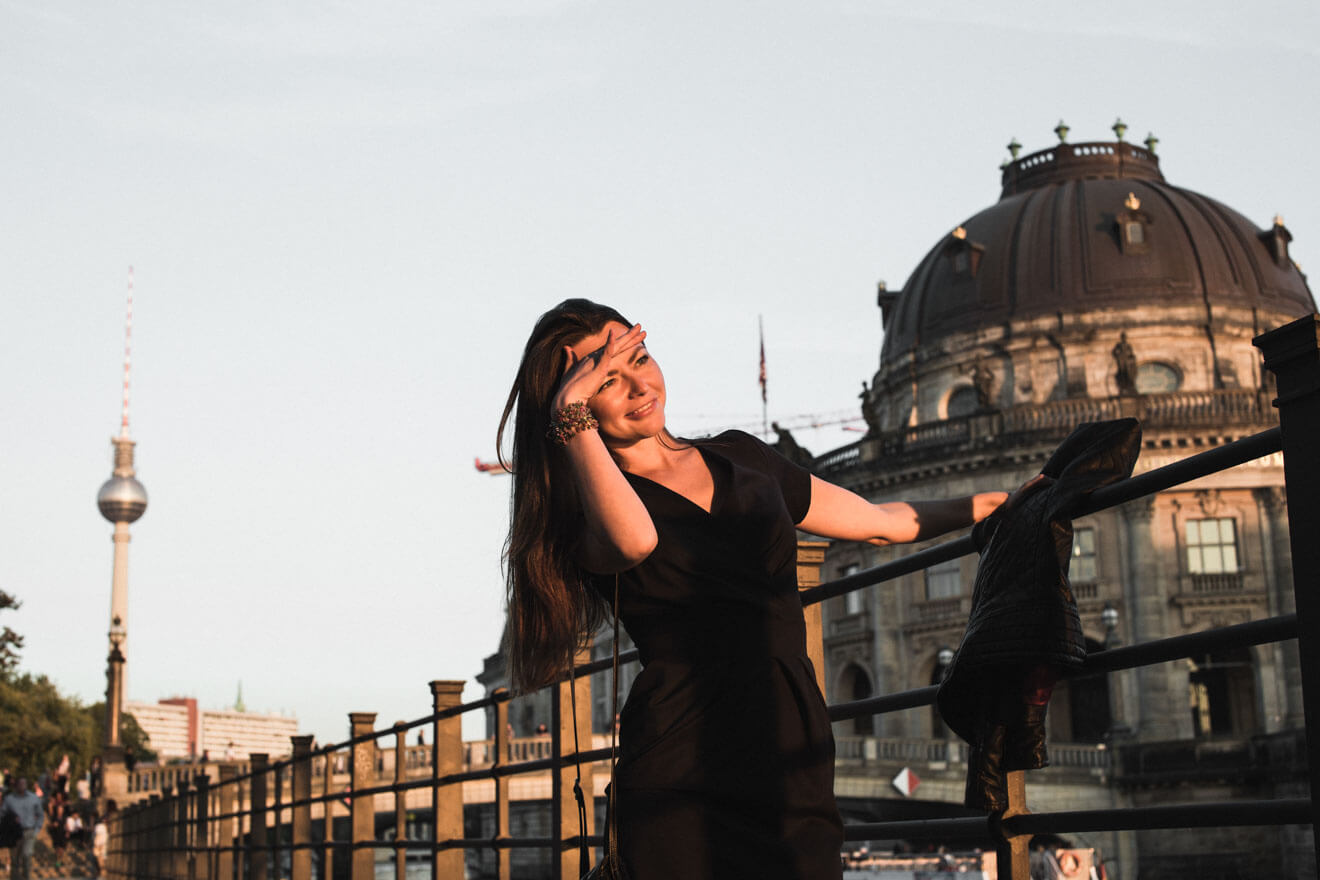 Berlin is by far one of the most free-spirited, diverse, and exciting cities in Europe, and I totally recommend it to anyone who wants to have a taste of the complex history of Germany!
If you are planning a visit in the near future, that's great! Prepare to be amazed by the unique mix of people, atmospheres, and neighborhoods that you will find in this amazing city.
But where to stay in Berlin? Mitte, the city center, Prenzlauer Berg? That's a tricky question, as the city is massive!
Because the districts can be a bit confusing, here is my Berlin neighborhood guide with my recommendations with great hotels for each area, all sorted by price for your convenience:
Let's go!
If you are in a hurry:
If you are here just to book your hotel and you do not have the time to know all the details about the areas, worry not, here are Berlin's best hotels in a nutshell:
Which area should you choose?
Berlin is one of the only cities I know of that has a couple of city centers to stay in (due to the Berlin Wall that was dividing the city for decades). Here is a district map of Berlin I made with my recommended areas: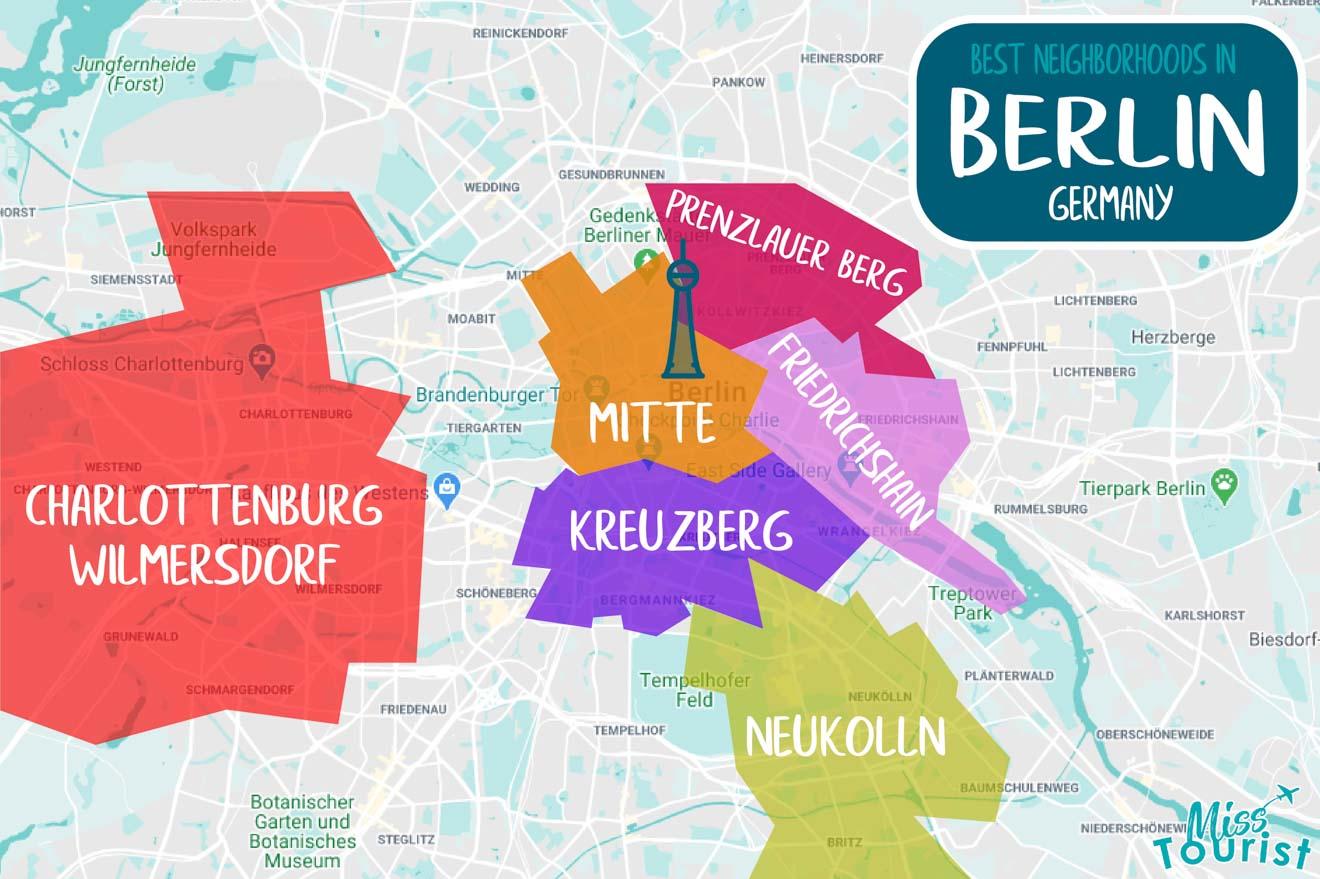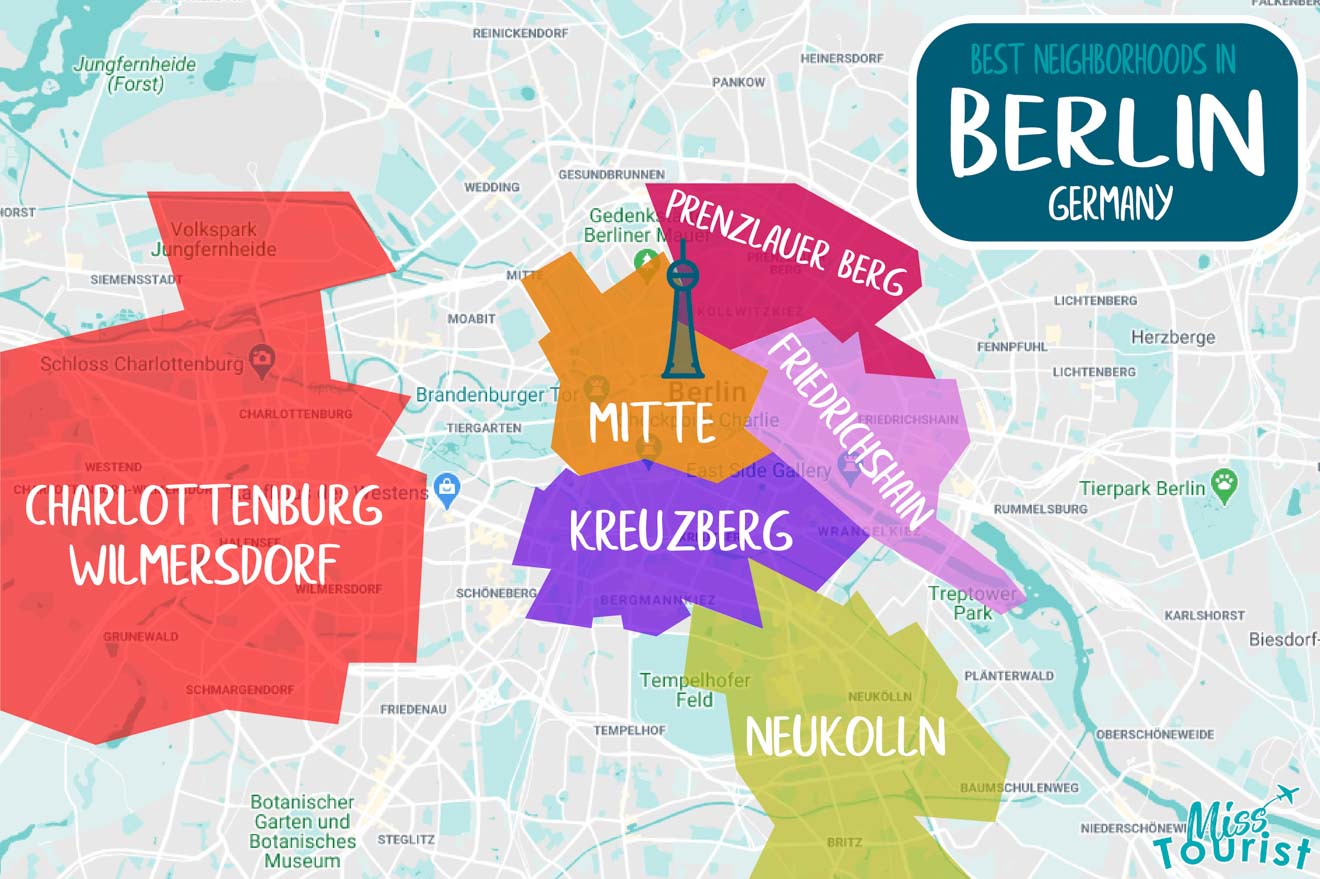 The city is divided into 12 administrative districts ("Bezirk" in German), and each Berlin district is divided into other smaller neighborhoods ("Kiez"). Each "kiez" has its own distinct people, specifics, and hidden gems. and all of them complete the complex image of Berlin.
As you may already know, Berlin has a strong history behind it and some of that history can still be seen today right in the middle of the city.
You are right, I am talking about the Berlin Wall, whose bricks are still being preserved in parts of the city as a memory of the past or transformed into new attractions (such as the East Side Gallery). So let's dive a little deeper into each of the neighborhoods:
1. Mitte – Where to stay in Berlin for the first time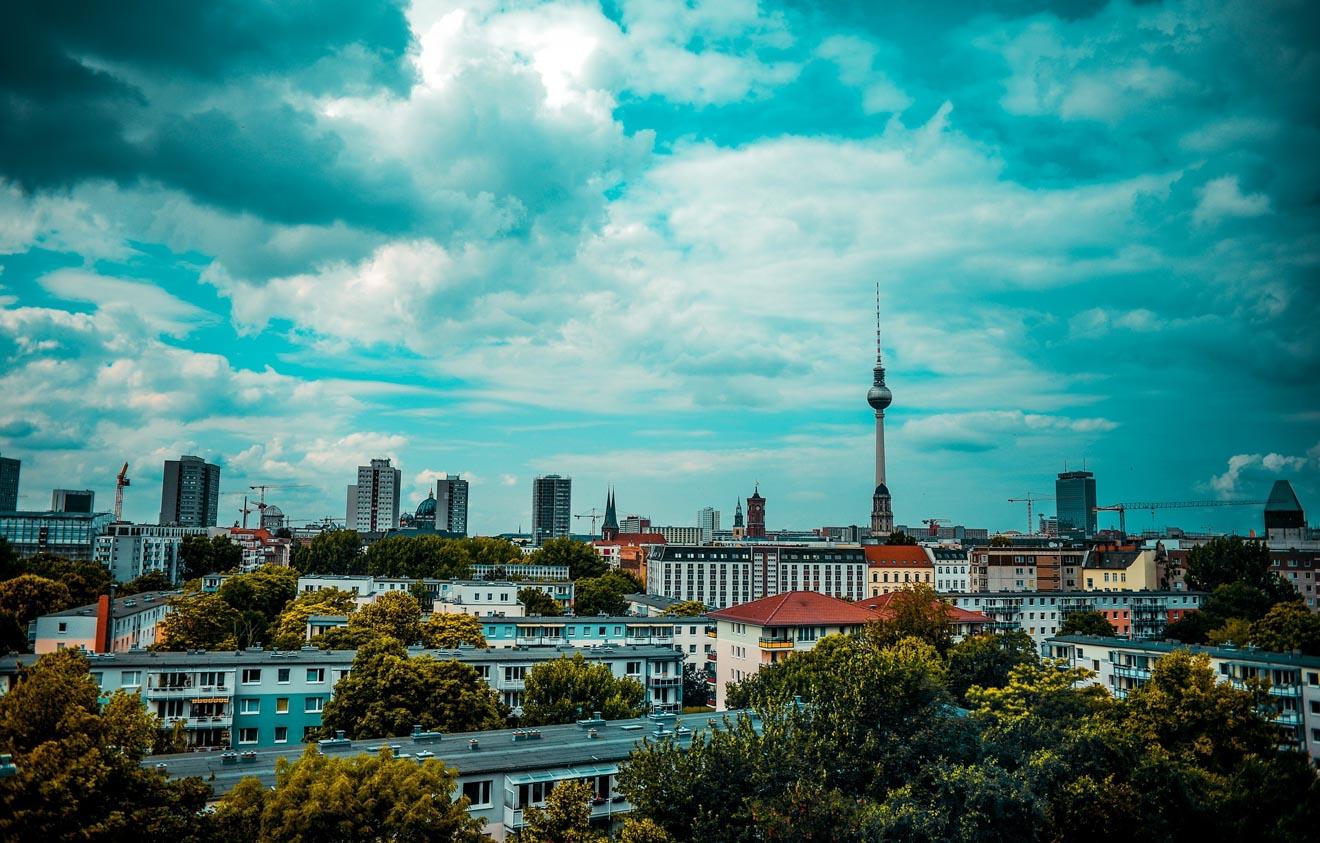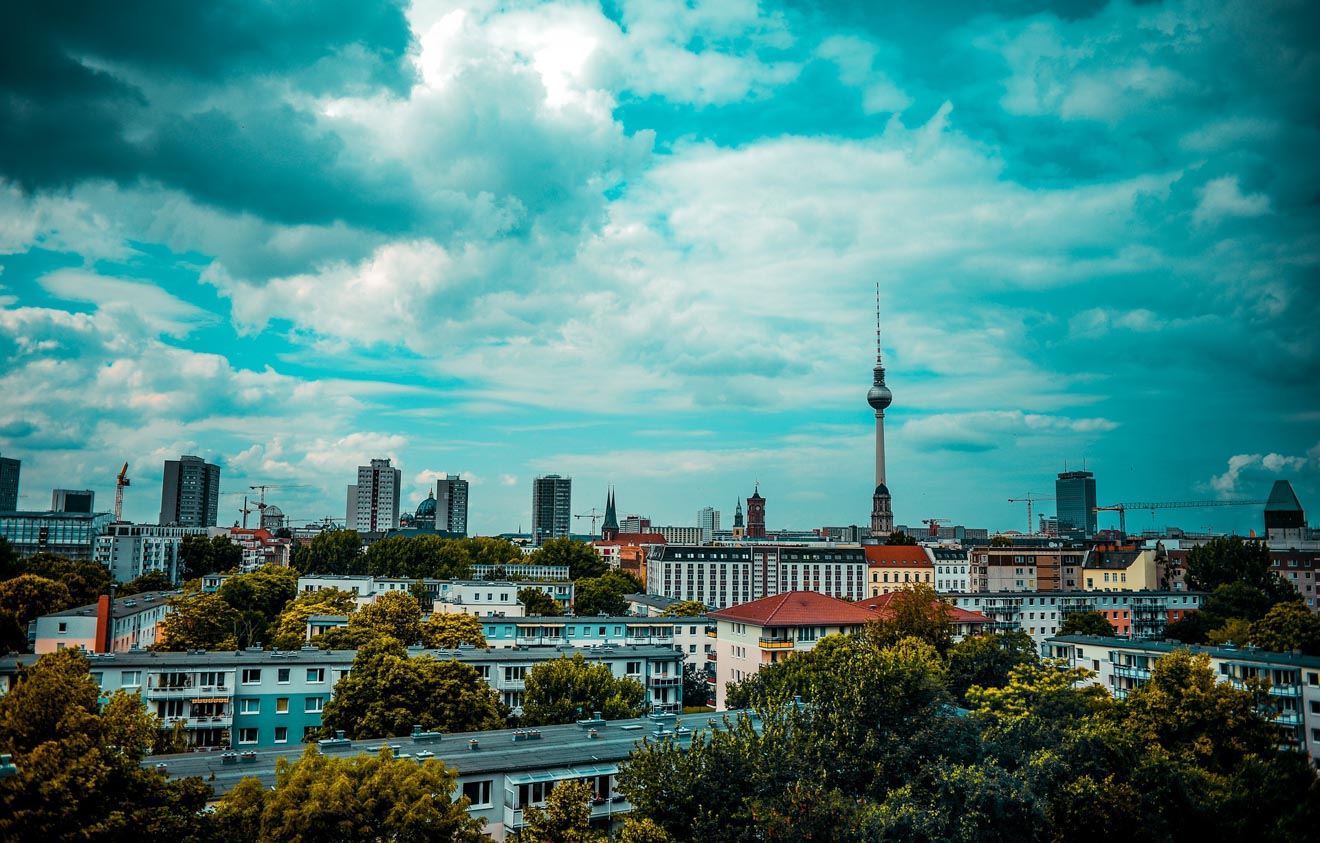 Is this your first time in Berlin? Then you should consider staying in Mitte with its world-class museums and location within walking distance to the main attractions!
Mitte is the area where all the most famous central Berlin attractions are located: Alexanderplatz, Brandenburg Gate, Museum Island, etc.
Even though the neighborhood has suffered through many transformations during the years, you can still see some traces of the old times if you just roam around the streets and observe the buildings and details.
In addition, when staying in Mitte, you'll be within walking distance from the East Berlin wall. If you want to explore more of the city, you'll have a U Bahn station to take the metro and see what more Berlin has to offer, including the nearby district of Prenzlauer Berg!
Needless to say that because it is so central and popular, Mitte can be expensive at times. If you wish to get the best prices possible for this neighborhood, I recommend you book way in advance!
Here are my carefully chosen recommendations for hotels in Mitte, Berlin: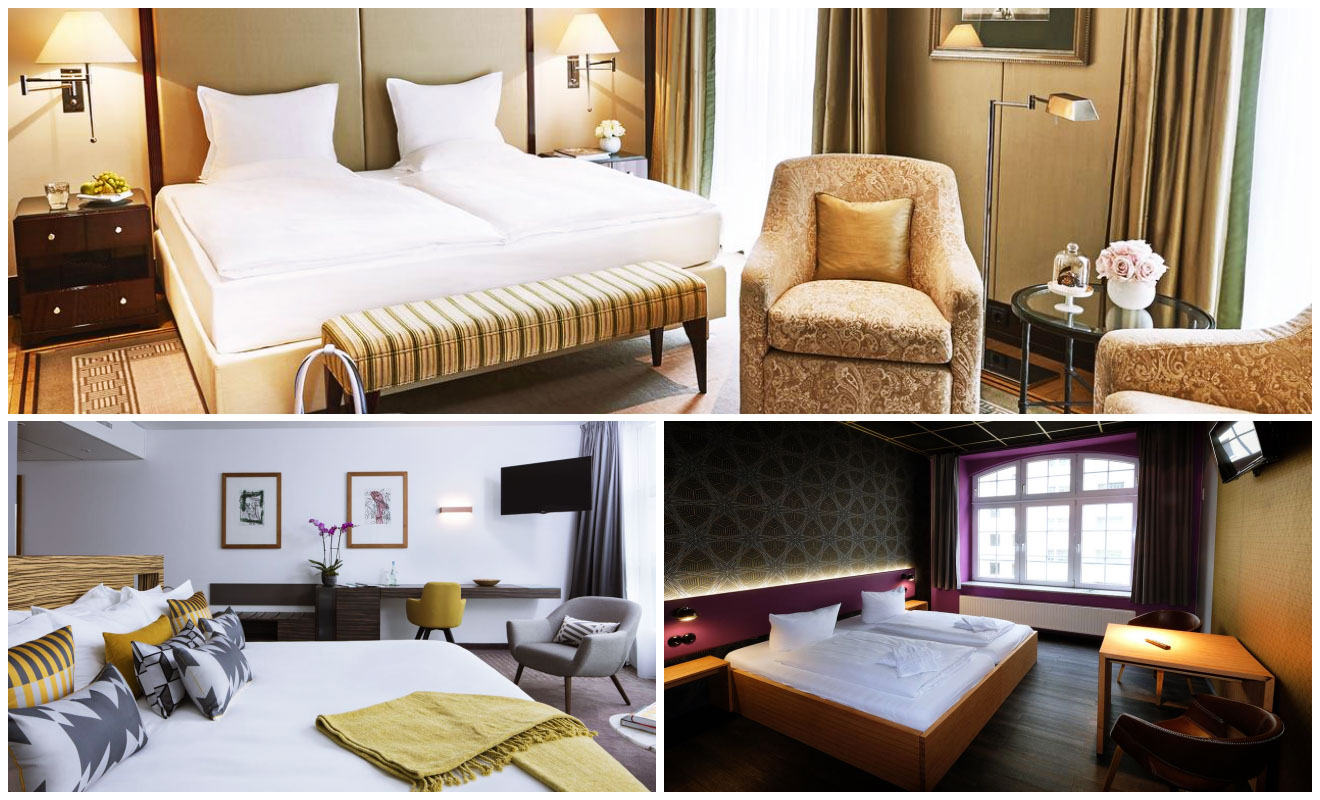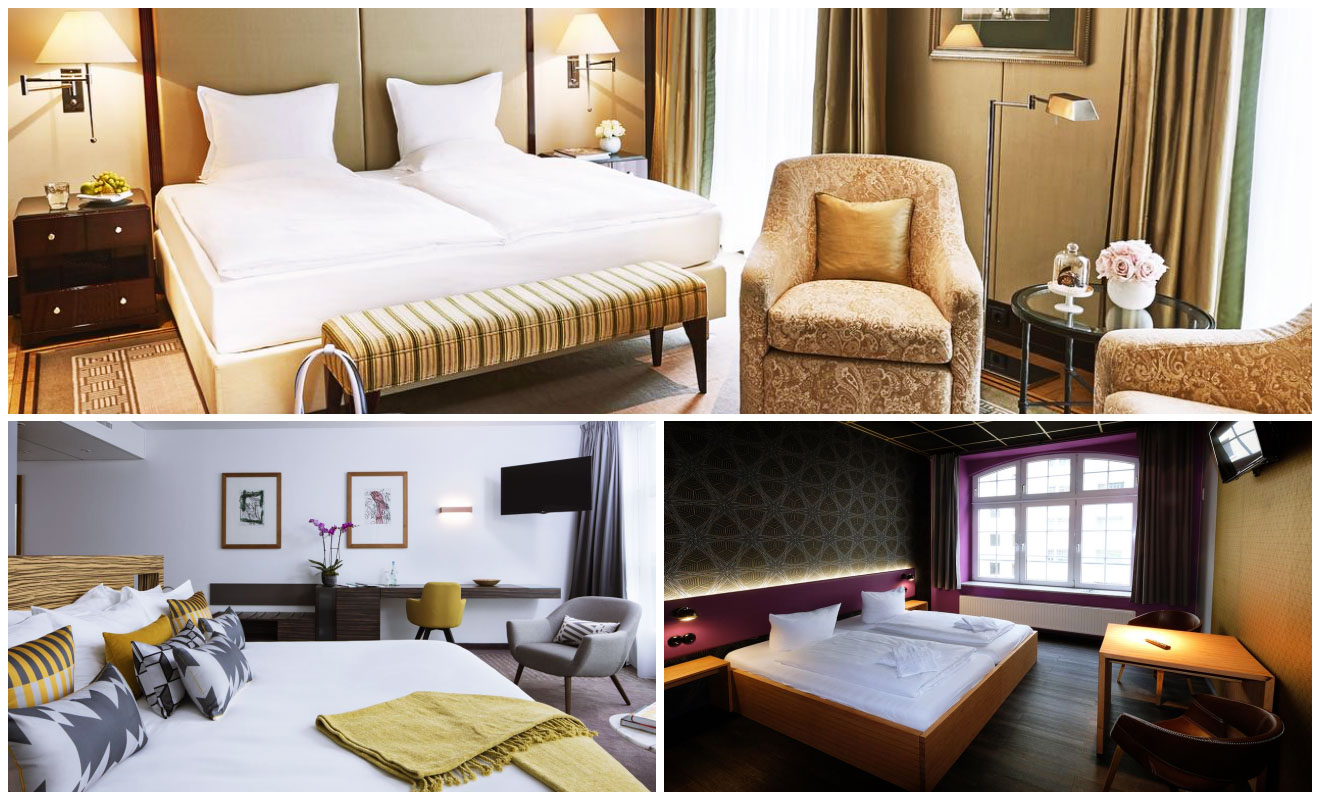 Luxury (more than 150€)
Hotel Adlon Kempinski Berlin – is an amazing 5-star hotel with great luxurious amenities and decorations. This accommodation is so upscale; they even have a double Michelin-star onsite restaurant where you can enjoy delicious food! Plus, they also have a neoclassical indoor pool, a fabulous gym, a spa, and even private dining!
Regent – Berlin – If you want to stay in one of Berlin's best hotels, this luxury one is for you. This 5-star hotel is close to the underground station, which is very convenient. The rooms and bathrooms are spacious and spotless, and they even have a breakfast restaurant. You'll be transported back in time and astonished by the interior decor!
Middle (between 100-150€)
Art'otel Berlin Mitte – This is a very good option with a wide variety of prices, including some mid-range ones. You will enjoy free WiFi, modern rooms, and a great onsite bar called The Upside Down, where you can enjoy delicious drinks and food/
Mercure Hotel & Residenz Berlin – The Mercure hotel is a very clean and comfortable hotel, right in the center of Mitte and only minutes away from Checkpoint Charlie! The rooms are bright and tidy, and I think they're just perfect for some relaxation after a day full of exploring and adventures in the city!
Budget (between 30-100€)
Singer109 Hotel & Hostel – Here is a gorgeous hostel, perfect for anyone who is searching for cheap accommodations in Berlin. It has different bed types, ranging from bunk beds to private rooms. You will also get free WiFi and a fun lounge area where you can unwind or even make friends!
Motel One Berlin-Alexanderplatz – Another beautiful hotel with extremely convenient prices and a clean interior. The rooms and bathrooms are very stylish, and you will be very close to Berlin Cathedral and the Neues Museum!
2. Prenzlauer Berg – Best place to stay in Berlin for cool vibes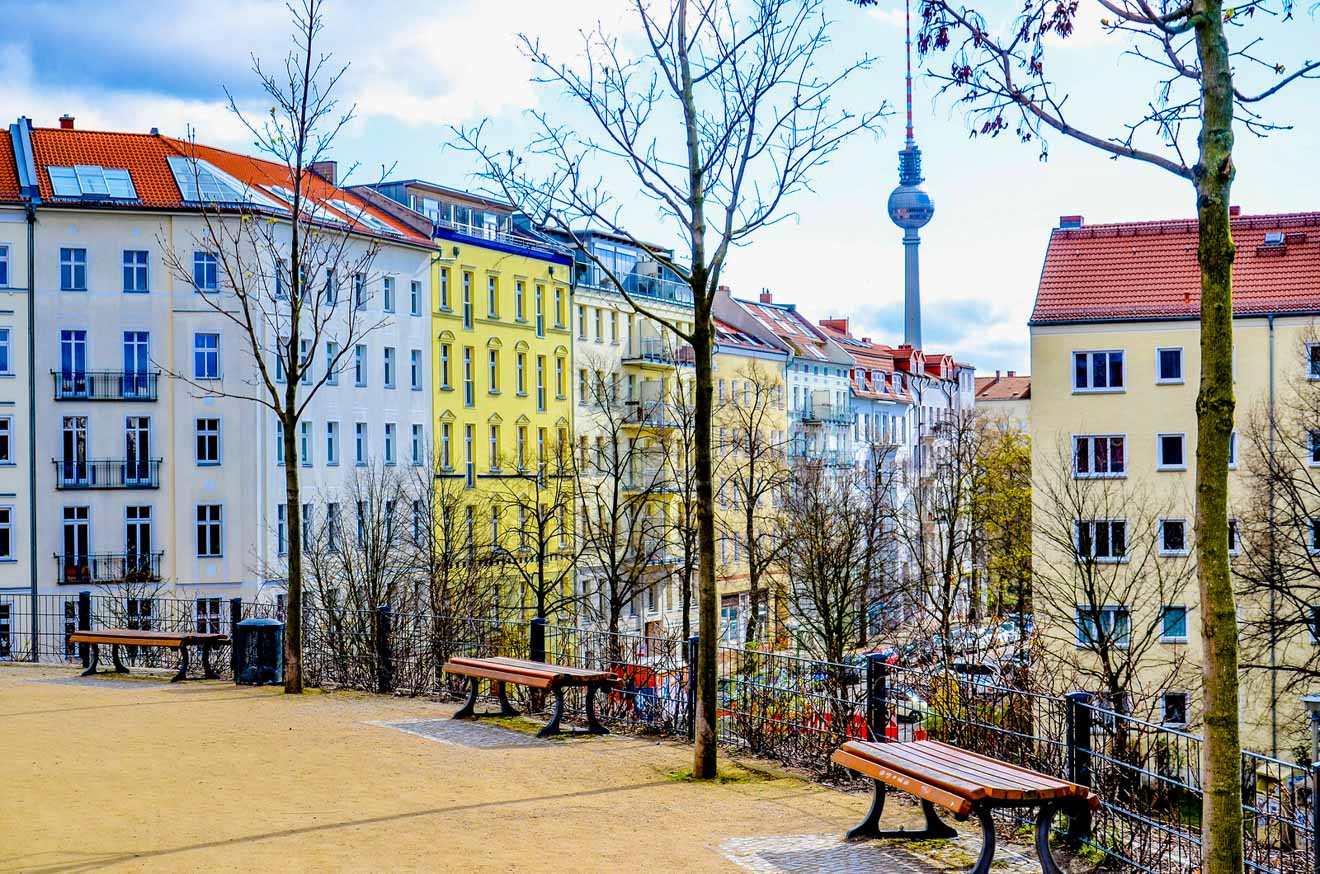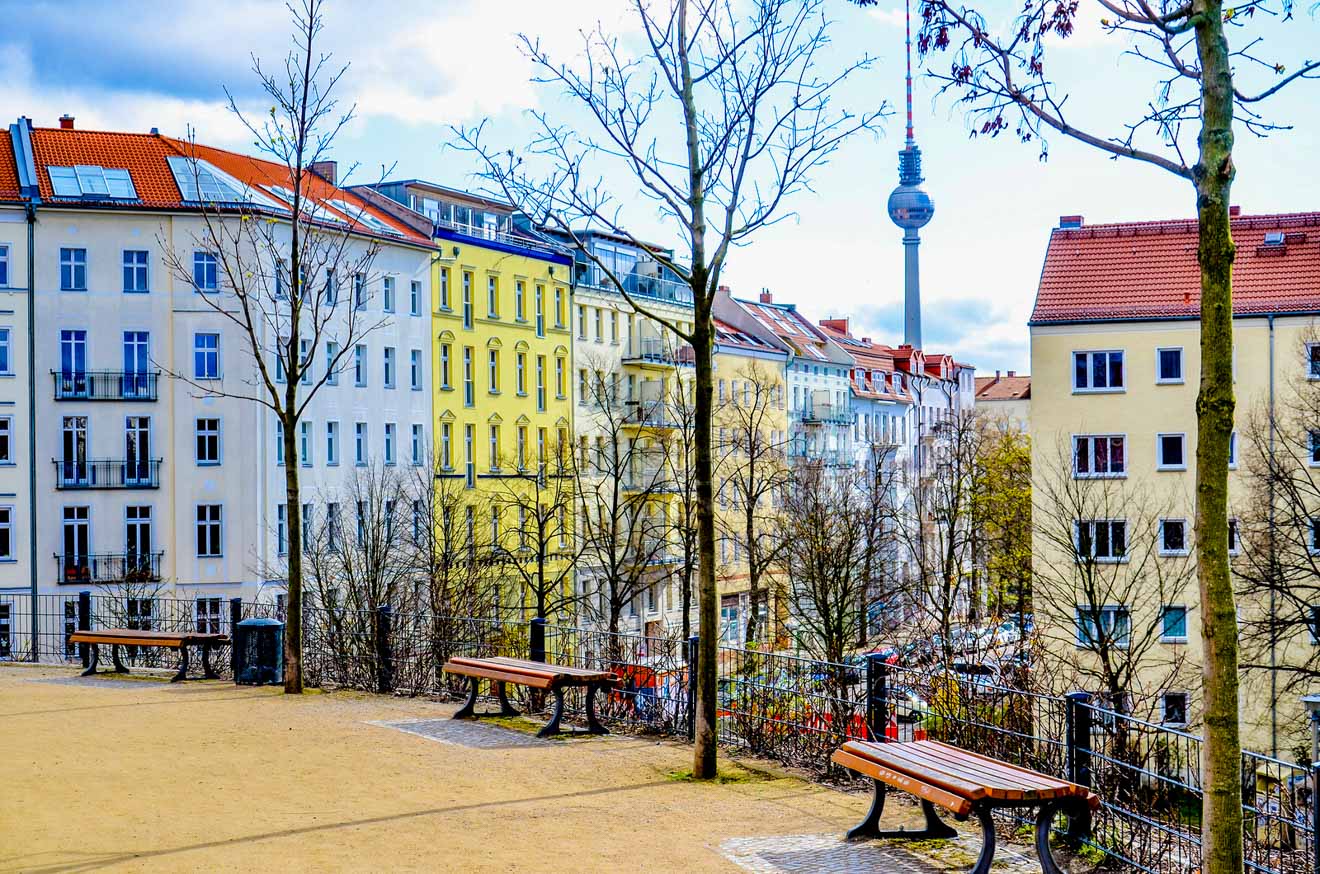 Do you want to stay in the coolest area in Berlin, surrounded by art galleries and bars, with an overall young vibe? Prenzlauer Berg is your place!
Prenzlauer Berg has a complicated history full of changes. In the 80s and 90s, it was massively transformed by the subculture that was forming here thanks to many artists of that time.
Now you can stroll around the beautiful streets of East Berlin and stop in a hip café to enjoy a flat white. After that, continue to visit some art galleries or even designer shops around Prenzlauer Berg. It is now considered the upmarket Berlin as many wealthy families live here.
On your way, make sure to admire the street art and street musicians you will encounter on every corner!
One of the most special things about Prenzlauer Berg is that many of the buildings (old breweries and old factory buildings, for example) were transformed into hotels and sophisticated restaurants. So you can definitely have a unique experience while being within walking distance of all the attractions in the area.
Being one of the most popular neighborhoods in East Berlin and loved by young urban families and individuals as well, the rooms sell out fast all year round, so make sure to book your preferred accommodation as soon as possible.
Here are my recommended Berlin hotel deals in Prenzlauer Berg: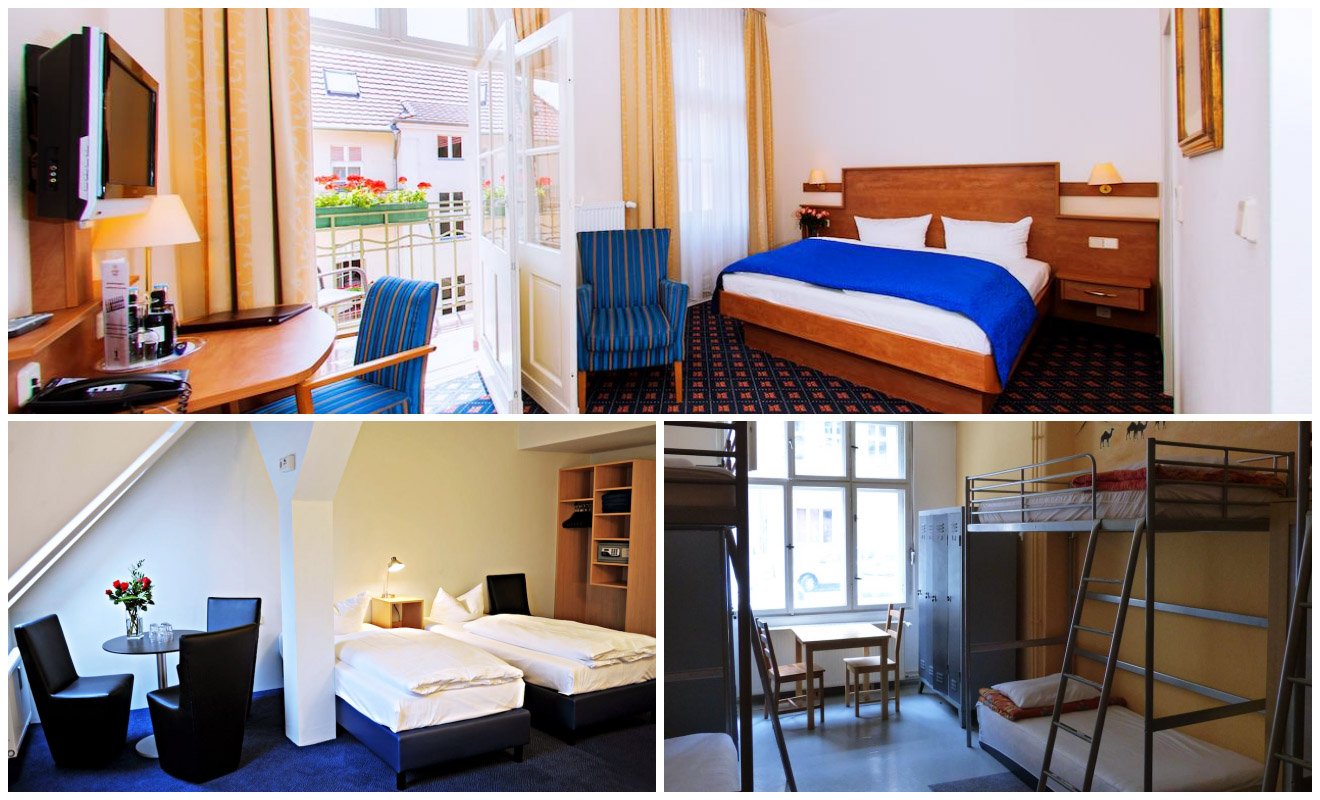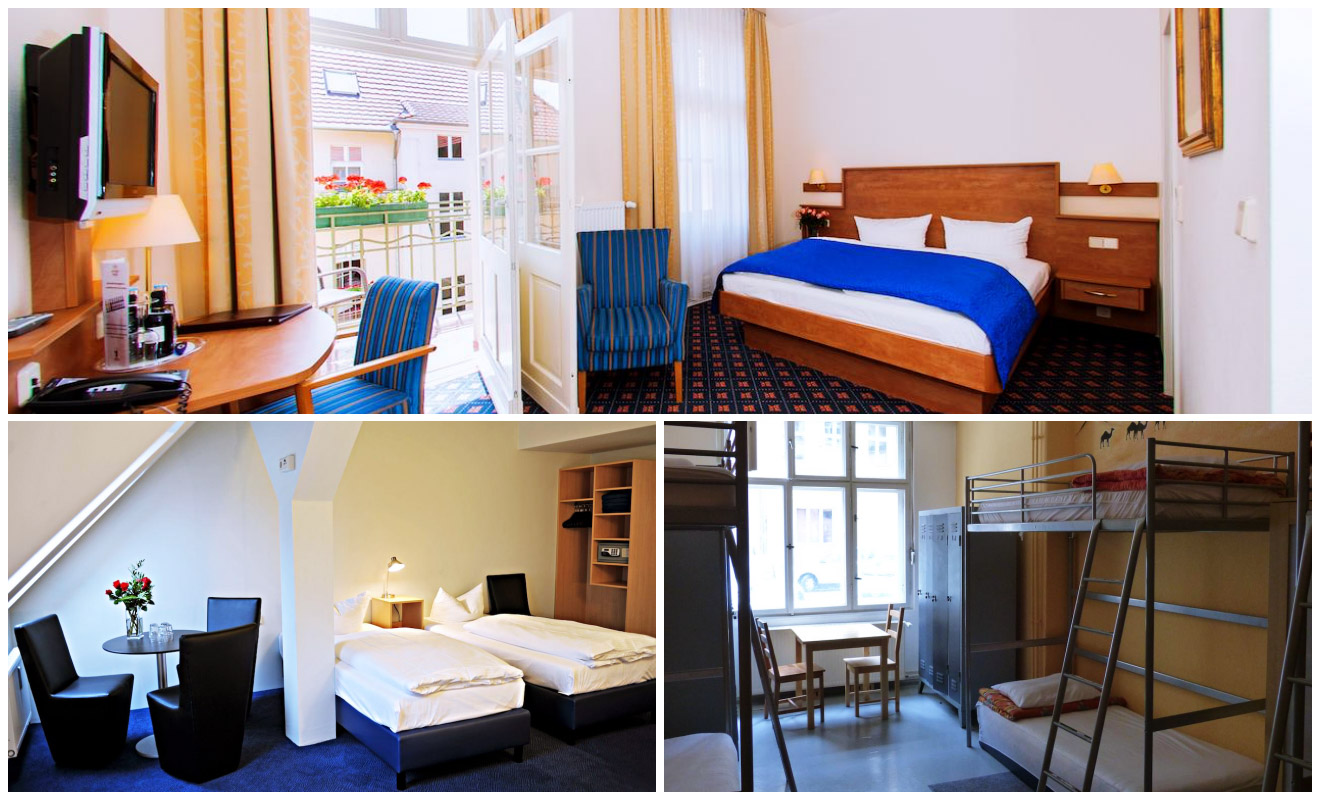 Luxury (more than 150€)
Holiday Inn Berlin City Center East –

Here is an excellent 4-star accommodation near all the landmarks in the area. This place has beautiful rooms and a cozy shared lounge – definitely recommended! You can take advantage of the free WiFi and even bike rentals, so you can easily explore this beautiful neighborhood and city.

Myer's Hotel Berlin – This historic hotel is another gorgeous 4-star property in Prenzlauer Berg. The rooms are clean and exquisite, and you will find art hanging all around this accommodation. You will also enjoy the onsite restaurant, and a U Bahn station to take the subway to other parts of town!
Middle (between 100-150€)
Pension Absolut Berlin – Pension Absolut is a good middle-priced solution for people who wish to stay in an unconventional setting, as the building is actually a renovated 19th-century factory building! The rooms are clean, cozy, and perfect for a good night's sleep.
Schoenhouse Apartments – This is my recommendation for travelers who wish to stay in a self-catering apartment hotel in Prenzlauer Berg. You can choose from different types of rooms, all of them being bright, tidy and spacious!
Budget (between 30-100€)
Pension Parlamento – Another Pension I recommend is this great cheap hotel in Berlin. I think it is nice to be within walking distance of many museums and monuments. Plus, it has beautiful and warm rooms that will create a unique environment for any occasion you're traveling for!
Pfefferbett Hostel – This one is another good option for travelers that are on a tight budget and want to visit the upscale district of Prenzlauer Berg – the hostel is actually located in an old 19th-century brewery. How cool is that? The rooms are clean and nice, and you can relax on the terrace.
3. Kreuzberg – Where to stay in Berlin for nightlife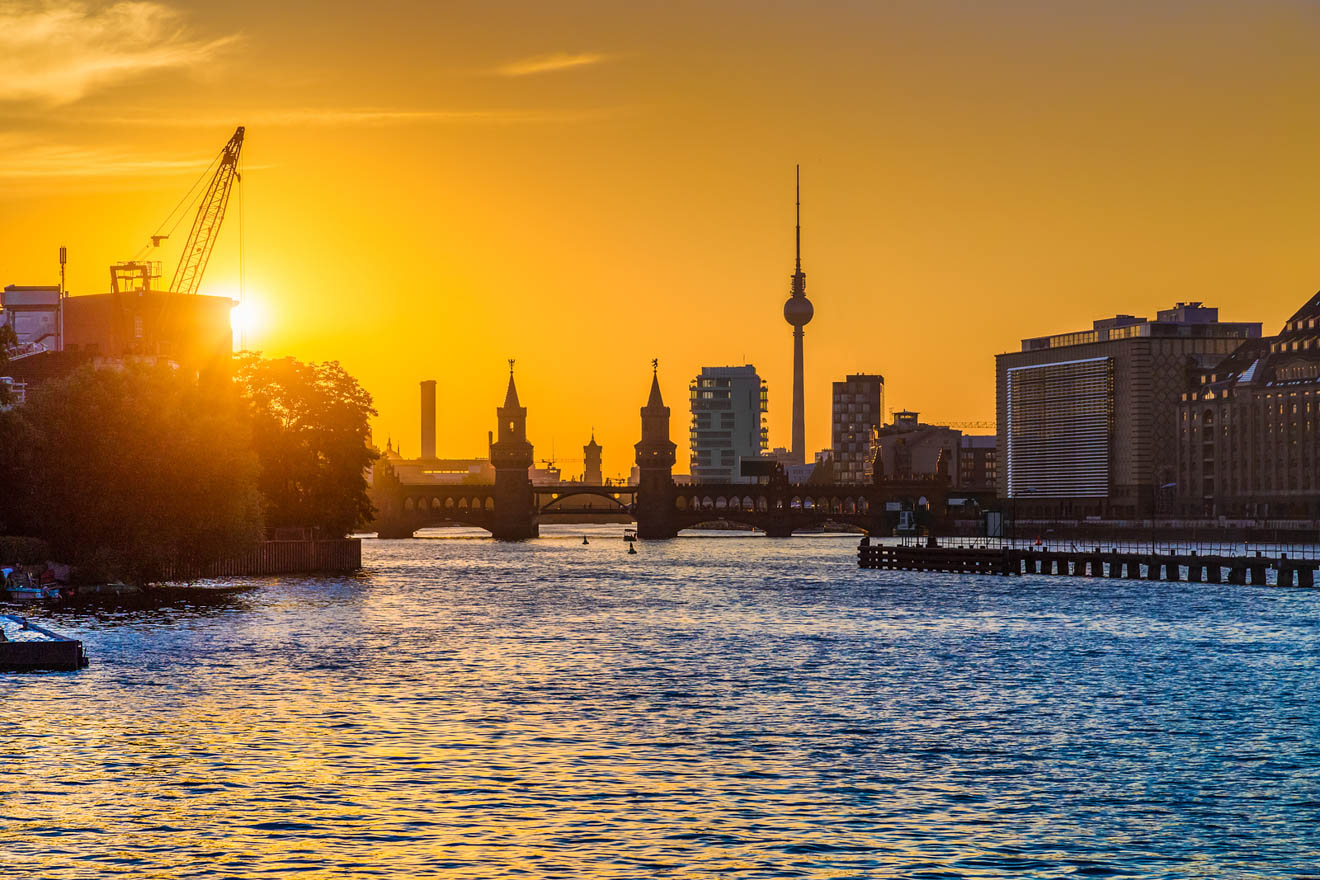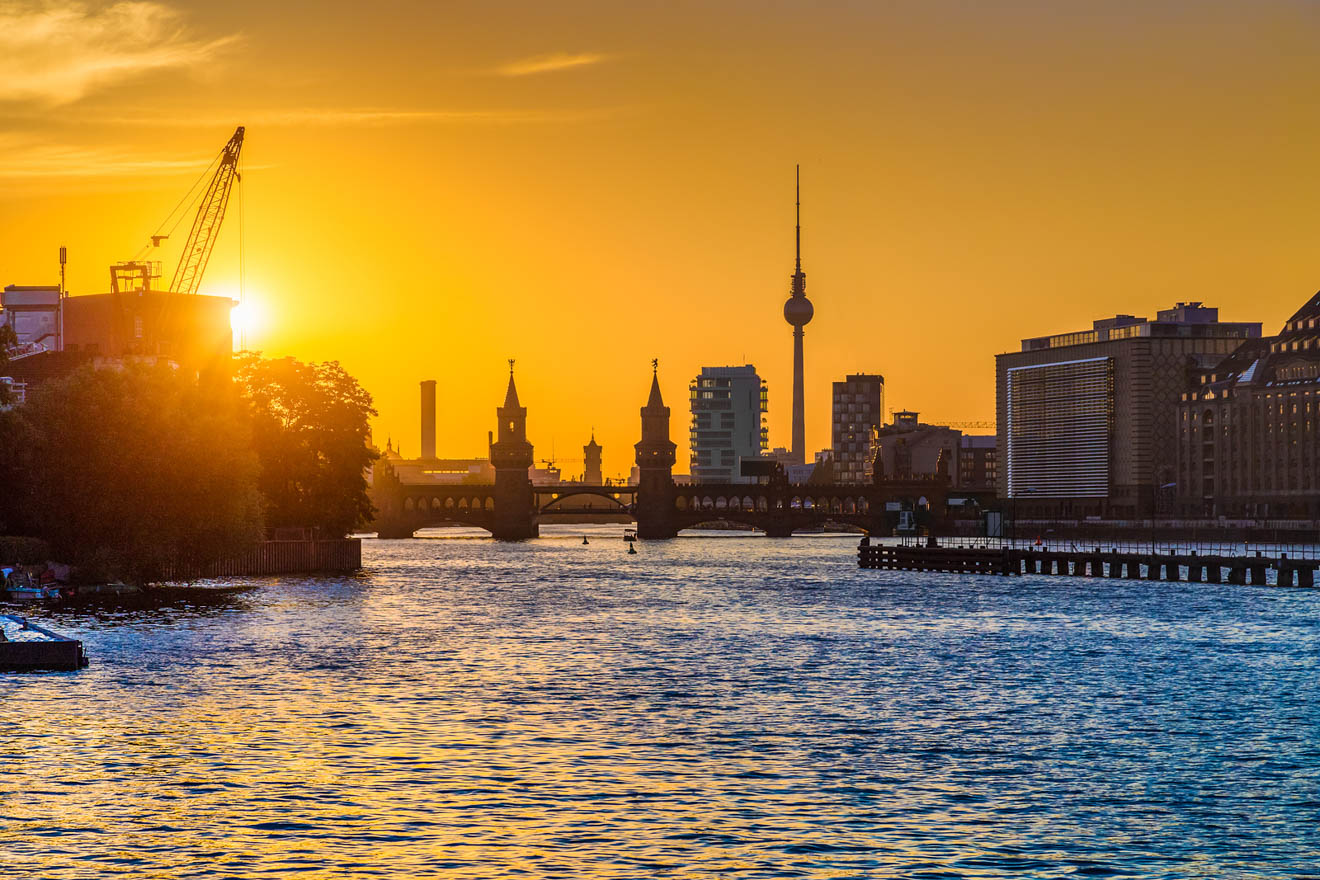 Kreuzberg is the best Berlin nightlife area! When I lived in Berlin for 2 months, this was the area I chose and I could not have loved it more!
For all the travelers who prefer partying, nightclubs, and dancing, my recommendation for the best area to stay in Berlin is Kreuzberg! This area, also known as "Xberg", boasts clubs, hipster restaurants, and beautiful street art, and you will soon realize that the people here rarely sleep!
If you decide to stay here, you must try as many restaurants as you can as many ethnic communities live here, each with its own fantastic cuisine, so you will get to taste the real deal!
Of course, any day of exploring the neighborhood should include a visit to the Checkpoint Charlie, the nearby Holocaust memorial, and a drink at a cool coffee shop to relax.
I would say that Kreuzberg is the alternative Berlin that you should check out. You can also just stroll around the beautiful streets, see the street performers, and admire this fantastic area.
Here are my recommendations for Berlin accommodation in this area: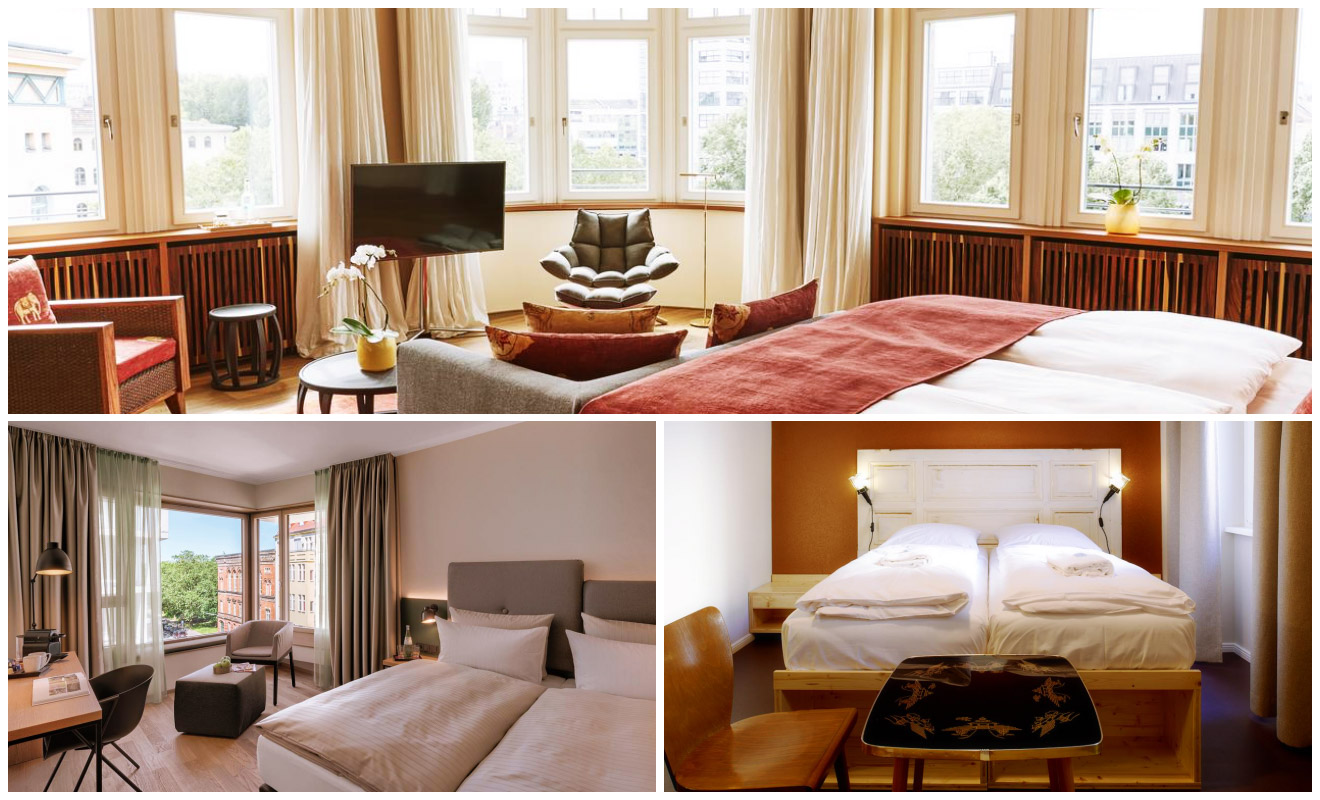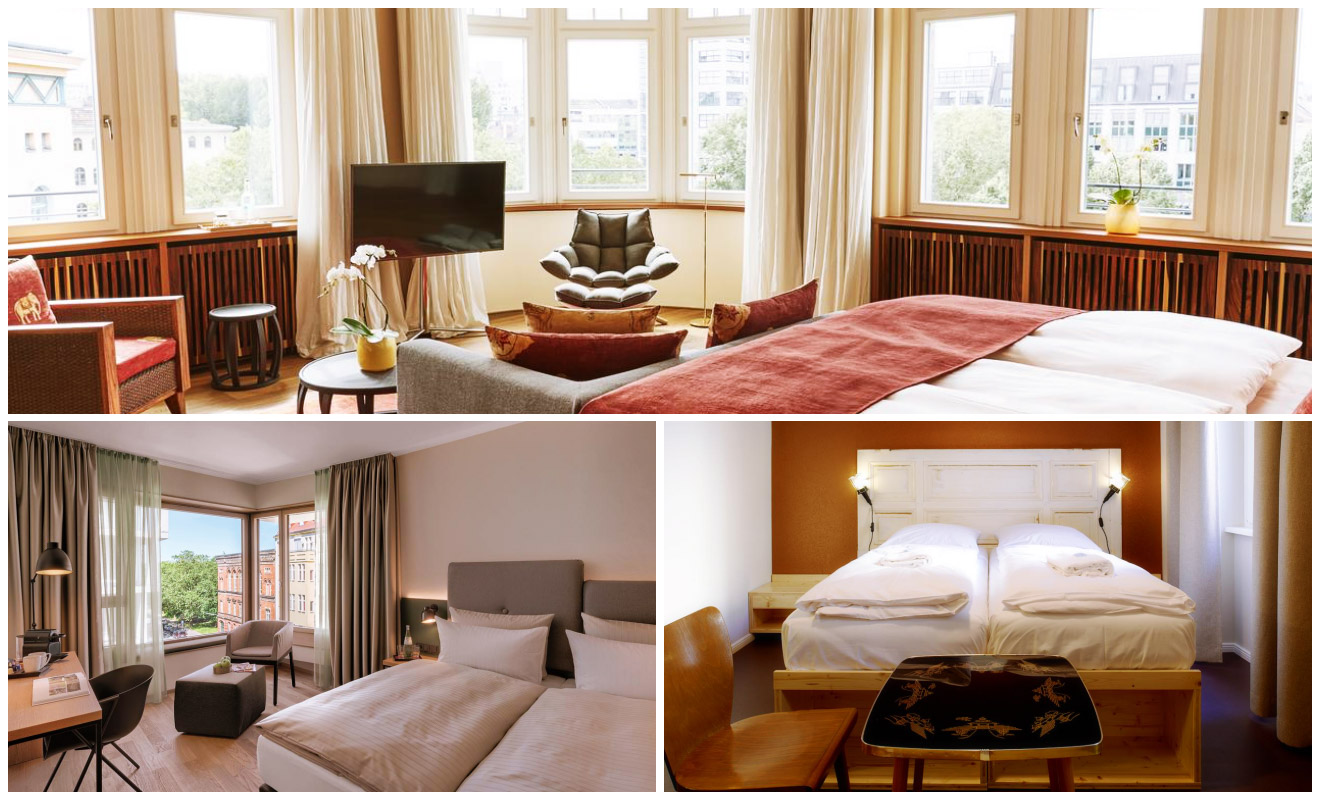 Luxury (more than 150€)
Orania.Berlin is a stunning 5-star hotel in Berlin, Kreuzberg, located in a historic building famous for hosting artists. The rooms are absolutely gorgeous, and some of them have a great view of Oranienplatz. While there, you can enjoy their onsite restaurant and the music and cultural events they sometimes host.
Crowne Plaza Berlin – Potsdamer Platz – Here is one of the nicest boutique hotels in Berlin and the place to be if you want to feel like a queen or king. You can enjoy the fitness and wellness area, the onsite restaurant, and you can even rent bikes onsite – perfect for exploring around, Checkpoint Charlie is only a few minutes away!
Middle (between 100-150€)
Hotel the Yard is a super nice 4-star boutique hotel in Berlin with very good prices. The overall design is very chic and contemporary, and the rooms are simply amazing.

You will find many bars, shops, and restaurants in the surrounding area, which is always good!

Grimm's Hotel am Potsdamer Platz is a superb hotel in Kreuzberg, Berlin with some middle-priced options. It is only a 10-minutes walk from Potsdamer Platz Square and Brandenburg Gate, and you will also find many nice parks close by. The rooms are modern and simple, and the breakfast options are very good!
Budget (between 30-100€)
ibis Berlin City Potsdamer Platz – Located in central Berlin, this ibis is a very convenient Kreuzberg hotel with very reasonable budget prices, close to the underground station, and right across from Hermannplatz Square. The rooms are tidy and comfortable, and this place has everything you will need for a good budget stay.
Grand Hostel Berlin Classic is super close to public transport and has great budget-friendly facilities. One of the best things about this accommodation is that you can rent bikes right from them, and the staff is super friendly! Did I mention that Checkpoint Charlie is only 10 minutes away?
4. Friedrichshain – Where to stay in Berlin on a budget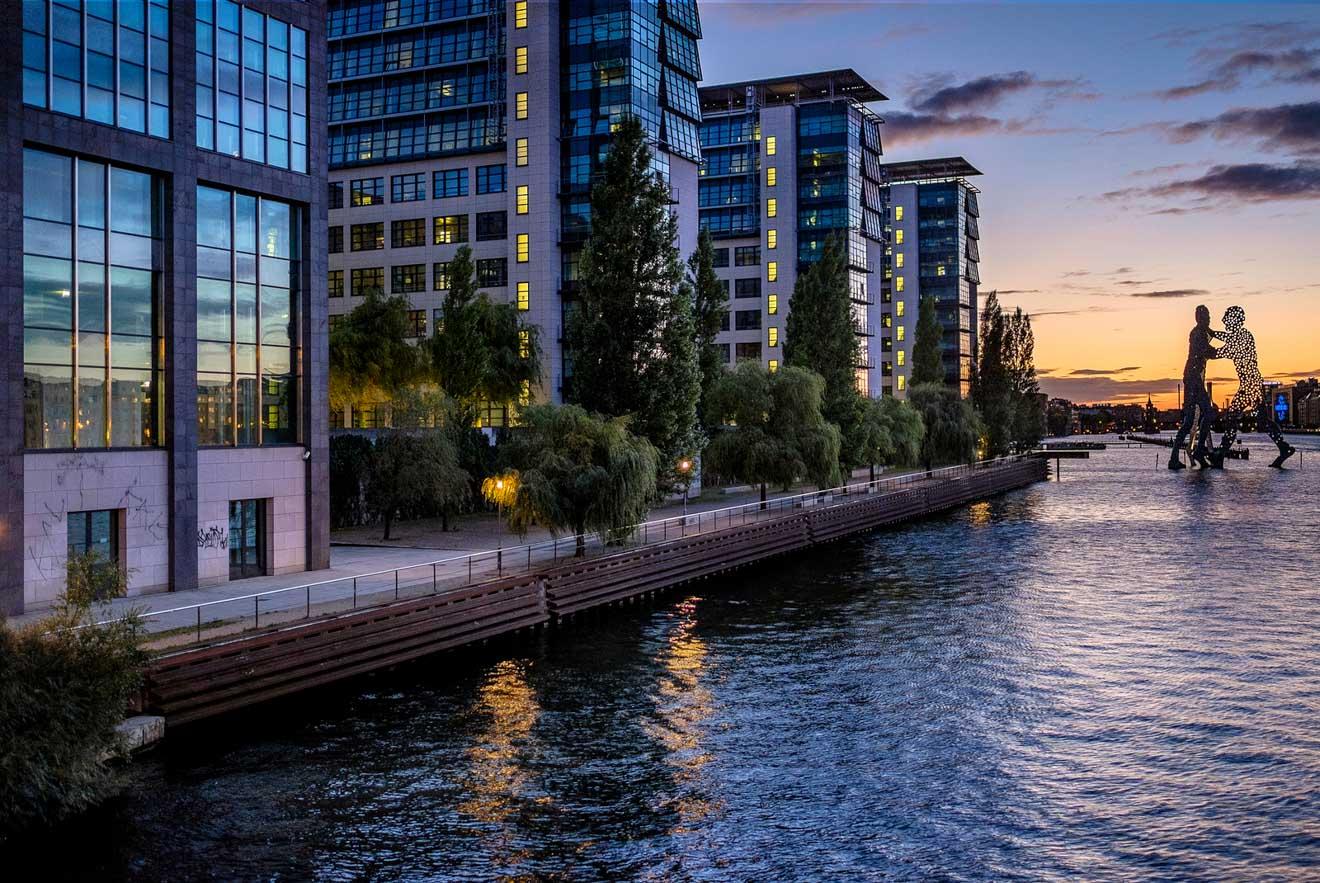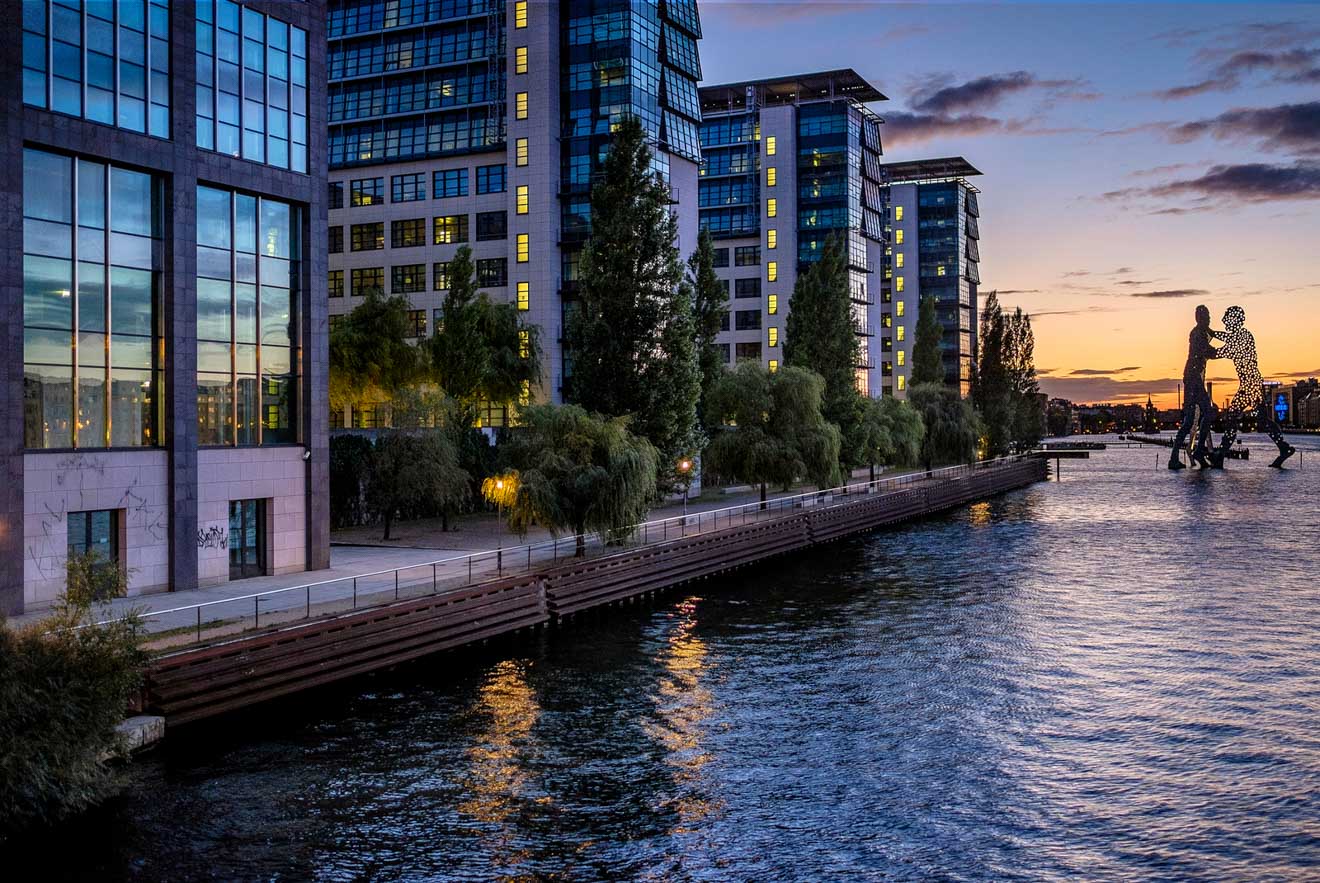 Friedrichshain is a magical place where you will encounter street musicians, young energy, and a ton of parties!
Friedrichshain is one of the coolest places in Berlin and another party hub in the city; this time recommended especially for budget travelers who want to be in the center of the action.
This amazing neighborhood is a mix of old and new, calm and energy, and the perfect place to meet very diverse people who like to dance and make friends.
Warschauer Strasse is right in the center of this neighborhood and it is surrounded by both cool bars and old buildings. Here you will also find the East Side Gallery; an open-air gallery created right on the biggest piece of what was once the Berlin Wall.
If you feel like you will fit in with this crowd, here are my recommendations for your hotel in Friedrichshain: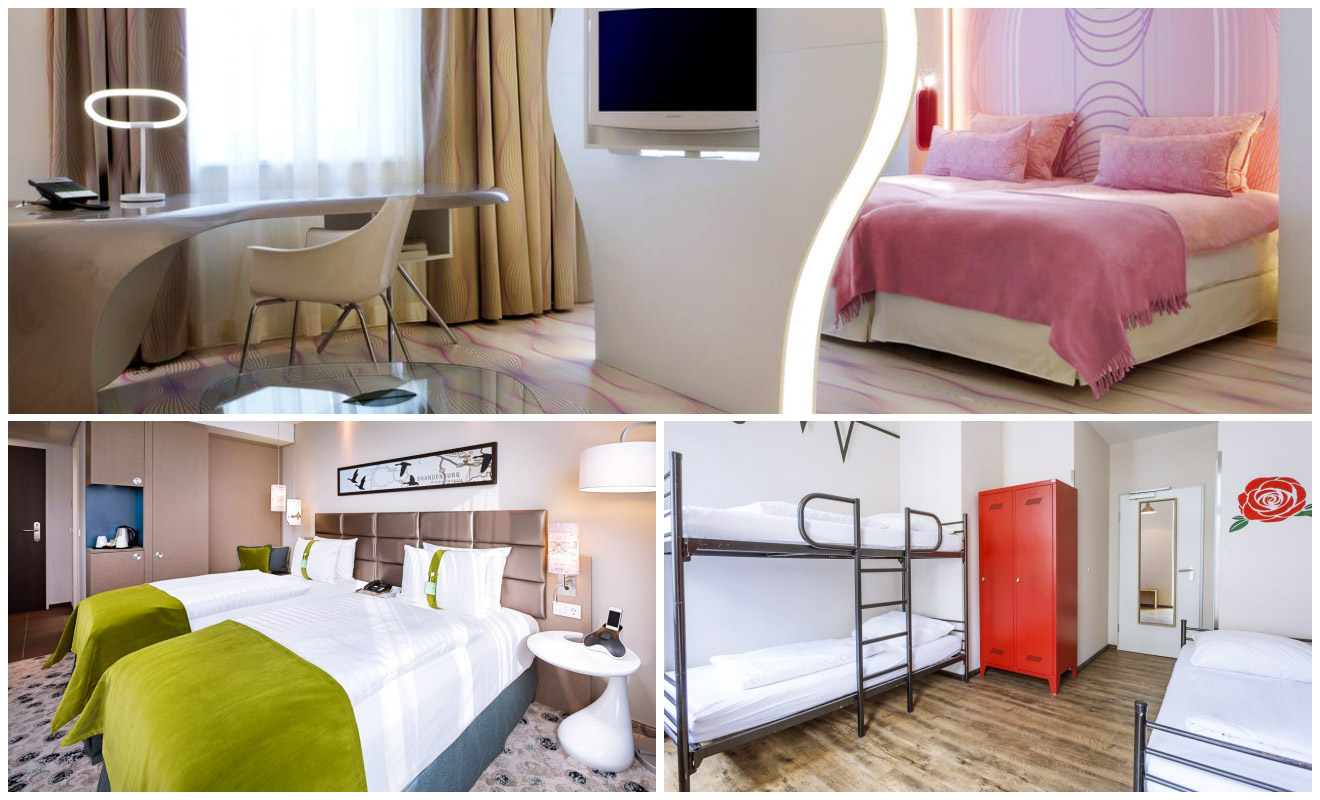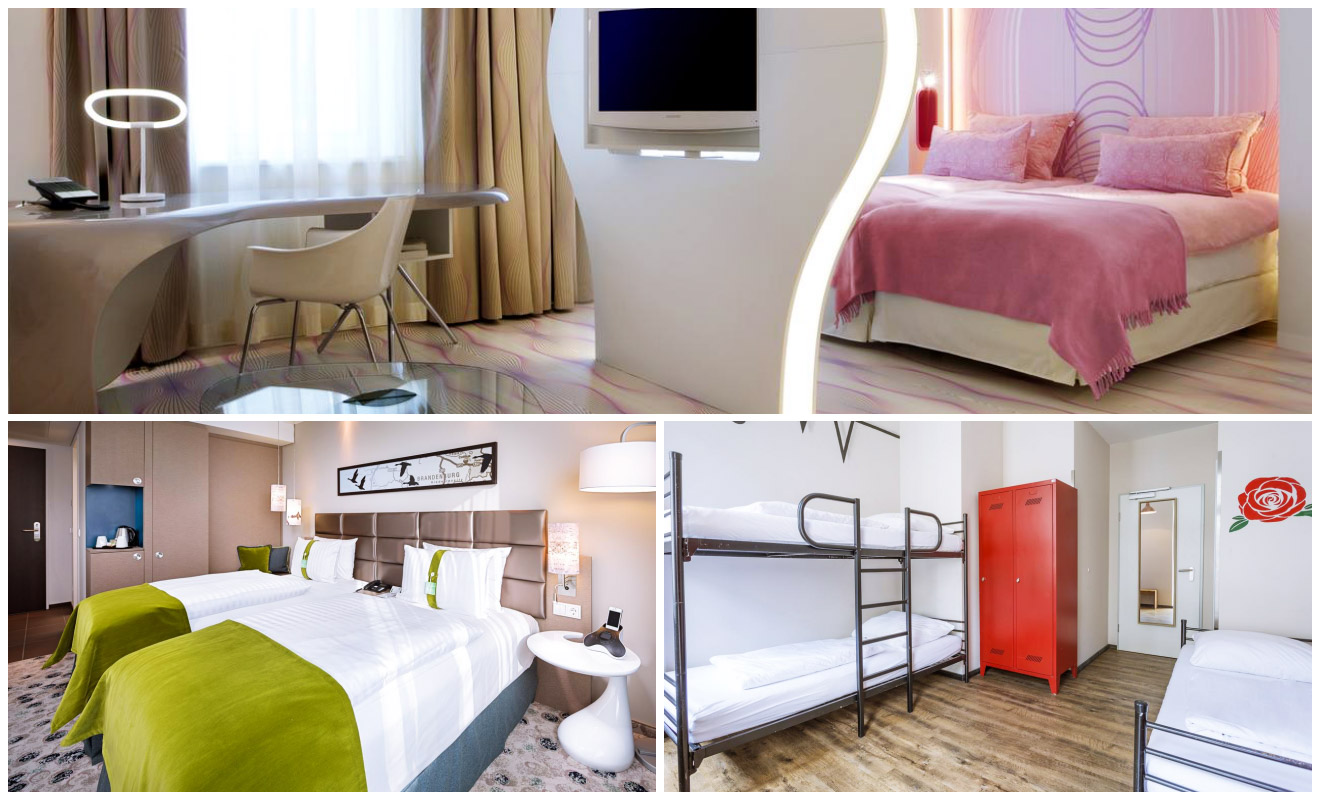 Luxury (more than 150€)
Hotel Indigo Berlin – Here is one of the coolest hotels in Berlin, Friedrichshain, located right on the banks of the river Spree, which means you can enjoy a great view any time! The facilities are very modern and ready to make you feel at home. You'll

undoubtedly

appreciate the common areas, the fitness center, and the delicious breakfast!
Michelberger Hotel – Michelberger is a unique accommodation reflecting great, tasteful décor. You can enjoy some time in their stylish café or have a good night's sleep in the comfortable and super clean rooms. After that, you can indulge in some delicious meals at their onsite restaurant with vegan and vegetarian options!
Middle (between 100-150€)
Holiday Inn Berlin City East Side – This Holiday Inn is right near the East Side Gallery and will welcome you with clean, cozy rooms and good amenities. The seating area is also great whenever you want to relax a bit after a day full of walking.
The Niu Hide – Here is an amazingly modern hotel with some good middle-priced rooms. You can reach Alexanderplatz Square in 9 minutes by tram, and I'm absolutely sure you will enjoy their onsite restaurant with international cuisine! Their original decor will also show you another side of Berlin, which is cool!
Budget (between 30-100€)
Kiez Hostel Berlin – If you want a hostel specifically designed for party lovers, search no more! Here's a cozy hostel with modern rooms, laundry facilities, and even free city tours! You can even choose from shared or private rooms, depending on your budget and preferences, which makes it very convenient!
Gold Hotel – Located right in the heart of Friedrichshain, Gold Hotel is waiting for you with beautiful décor, great facilities, and some very affordable prices! You will also benefit from free WiFi everywhere, a buffet breakfast, and a super friendly staff that's always ready to help you!
5. Neukölln – most international area in Berlin


If you don't want to stay right in the center of the city, but you still want to have an authentic experience in Berlin, then Neukölln might just be the place for you!
Neukölln, also known as "Little Istanbul" is very popular among young people and one of the best neighborhoods in Berlin if you don't want to be exactly in the center. It got its nickname due to the large number of Turkish people who live there and, of course, the amazing Turkish bars you can find on each street.
If you're ever in this neighborhood, make sure to enjoy a coffee or a beer by the canal at Westerstrasse or at Maybachufer and enjoy the view and relaxed atmosphere.
You will also find many art galleries, bars, and funky restaurants here, perfect to end the day with an unforgettable meal or drink! At night there are many parties and clubs where you can go to feel the real spirit of Berlin.
I think Neukölln is a great choice for budget travelers as well because you will find many good hotels here, but not a big variety of luxury hotels. If you think your choice of neighborhood is Neukölln, I advise you to book your rooms way in advance, as there aren't that many options here. Here is what I recommend:
NOTE: Neukölln is a pretty small area, and it's quite difficult to find hotels here, especially good ones. So I've included the best of the best, one for the price range.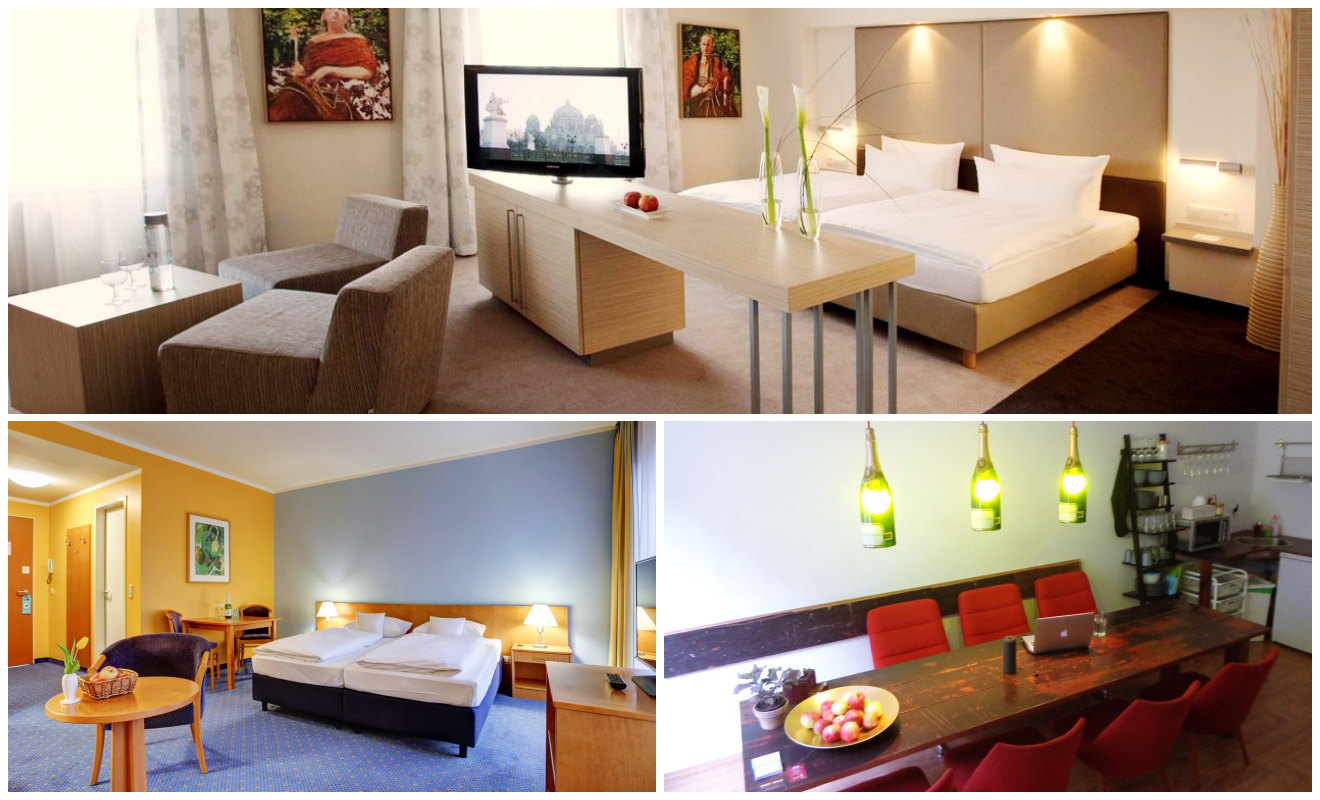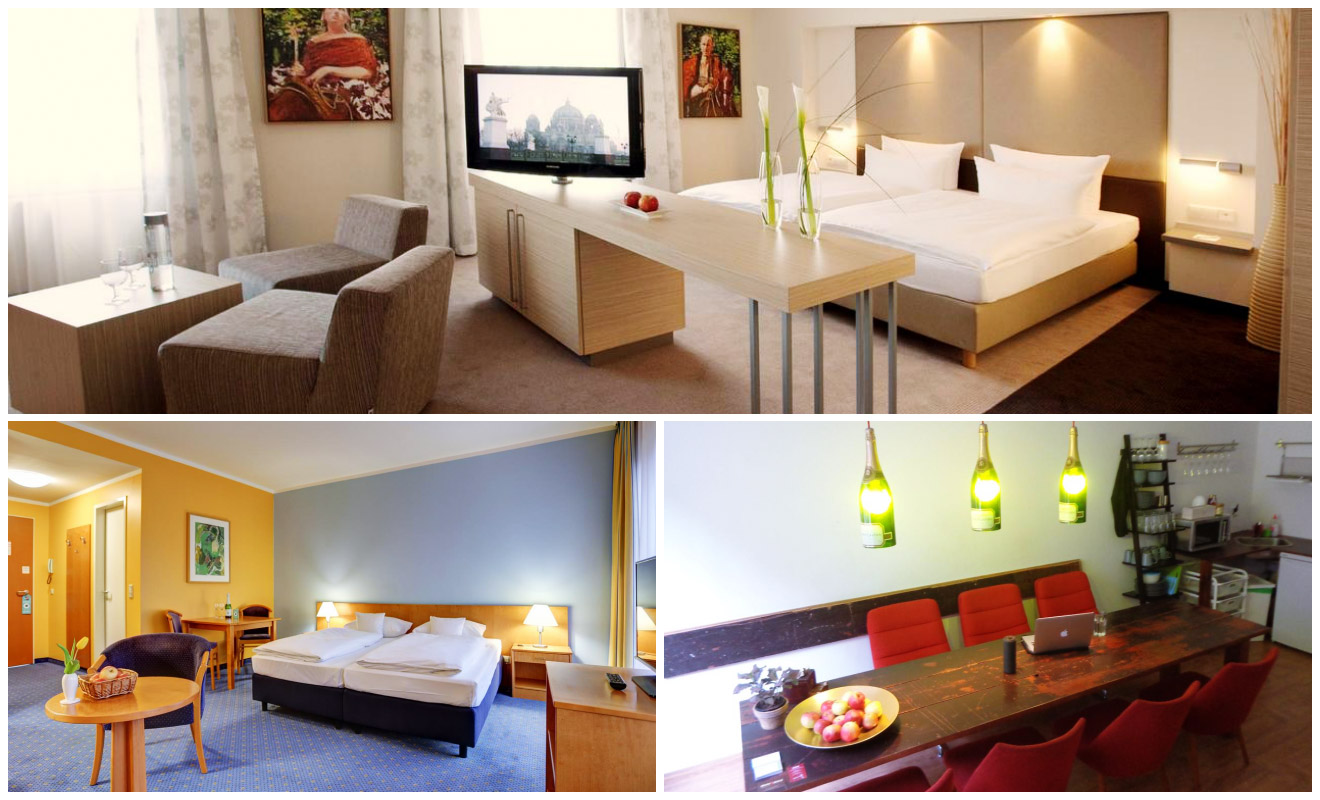 Luxury (between 150-200€)
Estrel Berlin – This is the only luxury hotel I could find in this area. Estrel hotel is actually part of a large convention and entertainment center where live shows happen frequently. One of the best things about this luxury hotel is that it offers a direct bus link to Schönefeld Airport – how convenient!
Middle (between 100-150€)
Erlanger Hof – This is one of the best 3-star hotels in Berlin with great prices. They serve a breakfast buffet with lots of options. The rooms are very simple and cozy, which makes them perfect for a comfortable stay in Neukölln.
Budget (between 50-100€)
Minimal Hostel – Here's a fantastic budget recommendation for this neighborhood. The rooms are very comfy, and you will get free WiFi in all the rooms of this hostel. The rooms are simple and cozy and each of them includes a nice kitchenette and a shared bathroom.
6. Charlottenburg-Wilmersdorf – for families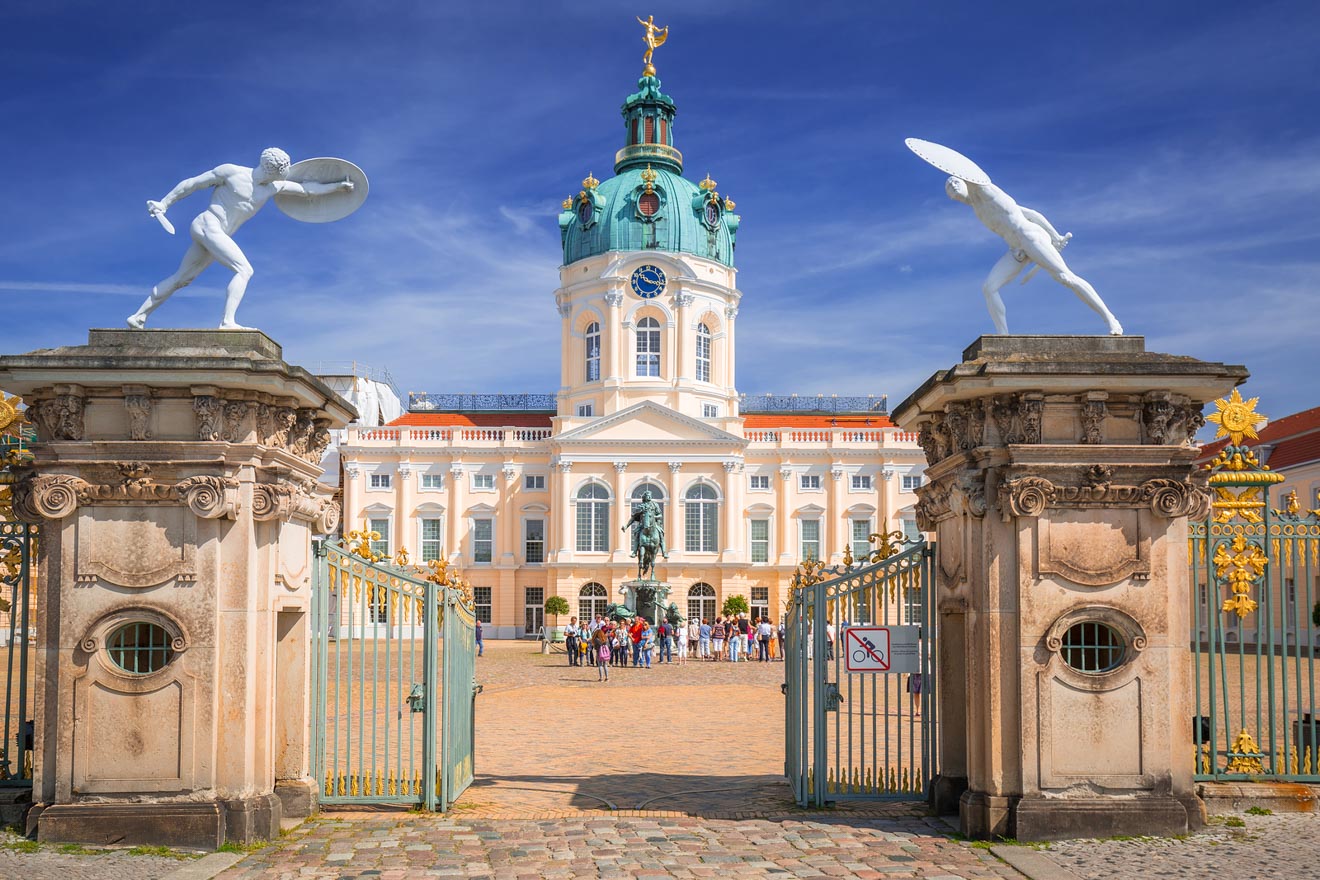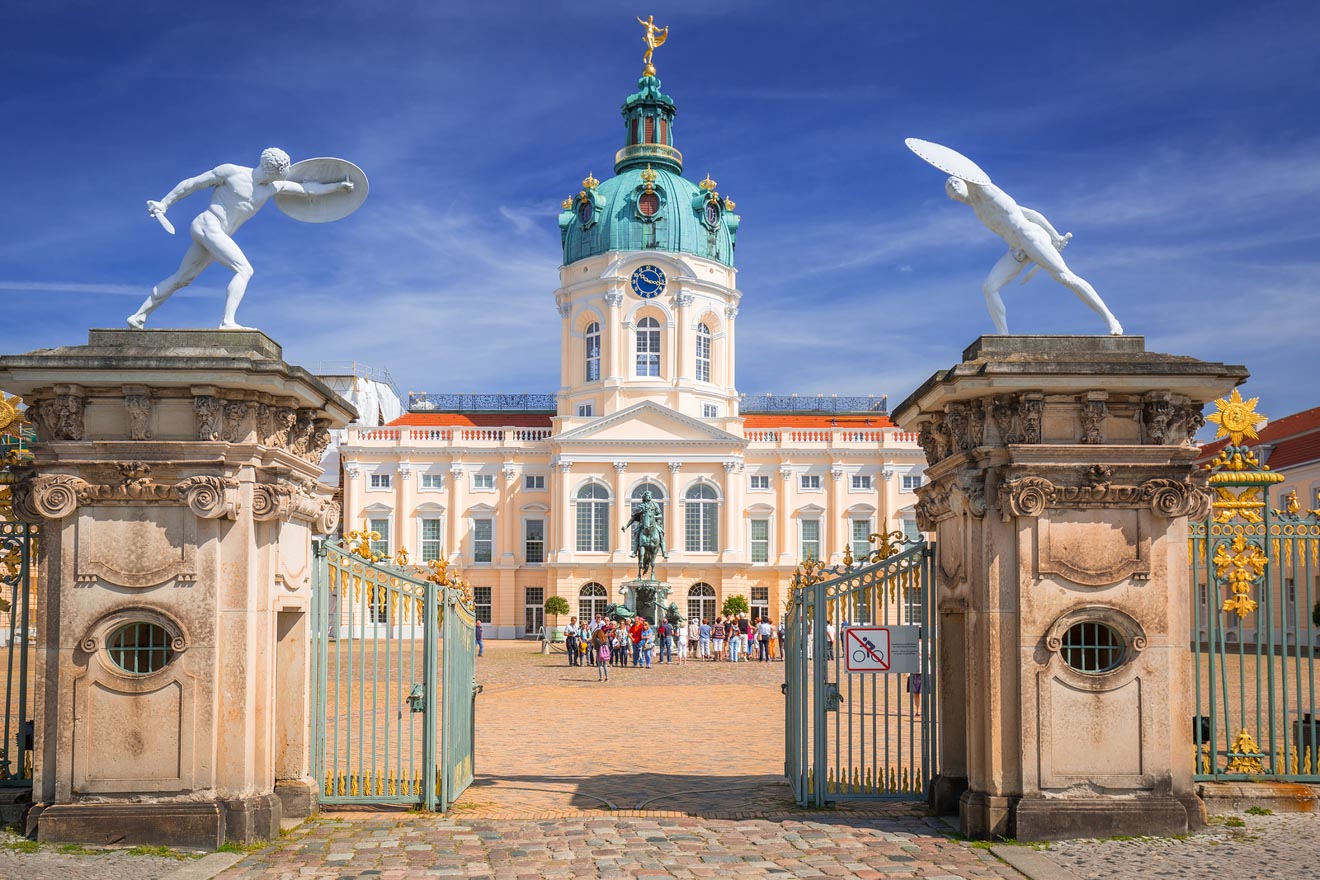 Charlottenburg-Wilmersdorf is one of the best choices for a family that wants to explore West Berlin with kids. Besides being full of child-friendly and family-friendly hotels, this is one of the most luxurious areas of Berlin as well, with many great restaurants around Savignyplatz.
Some beautiful places to visit in this West Berlin neighborhood are Charlottenburg Palace (the attraction for which this neighborhood is named), Lake Lietzensee, and, of course, Kurfürstendamm – the famous shopping street in Berlin full of luxury and high-end designer stores.
A short walk in this neighborhood will instantly teleport you back to the royal times of Berlin because of the historical buildings, old theaters, and gorgeous facades that are well-preserved to this day.
Charlottenburg-Wilmersdorf has a very family-friendly vibe and it is rich in small parks where children can safely play. For more information on how to visit Charlottenburg Palace, please read my post about things to do in Berlin here.
I recommend you watch this visual overview of where to stay in Berlin (Charlottenburg is also included in the list):
Here are my accommodation recommendations for this calm and sophisticated neighborhood in Berlin:
Luxury (more than 200€)
Louisa's Place – Located on Charlottenburg's shopping street, Louisa's Place is an amazing luxury accommodation in Berlin. All the rooms are very spacious, and they even have a private garden outside where you can relax. Or, you can enjoy the great onsite restaurant that serves many incredible dishes.
Schlosshotel Berlin – My second luxury recommendation is Schlosshotel, originally designed by the fashion celebrity Patrick Hellmann. It's a luxurious accommodation with an indoor pool, stunning decorations everywhere, and lovely staff that will answer any possible request.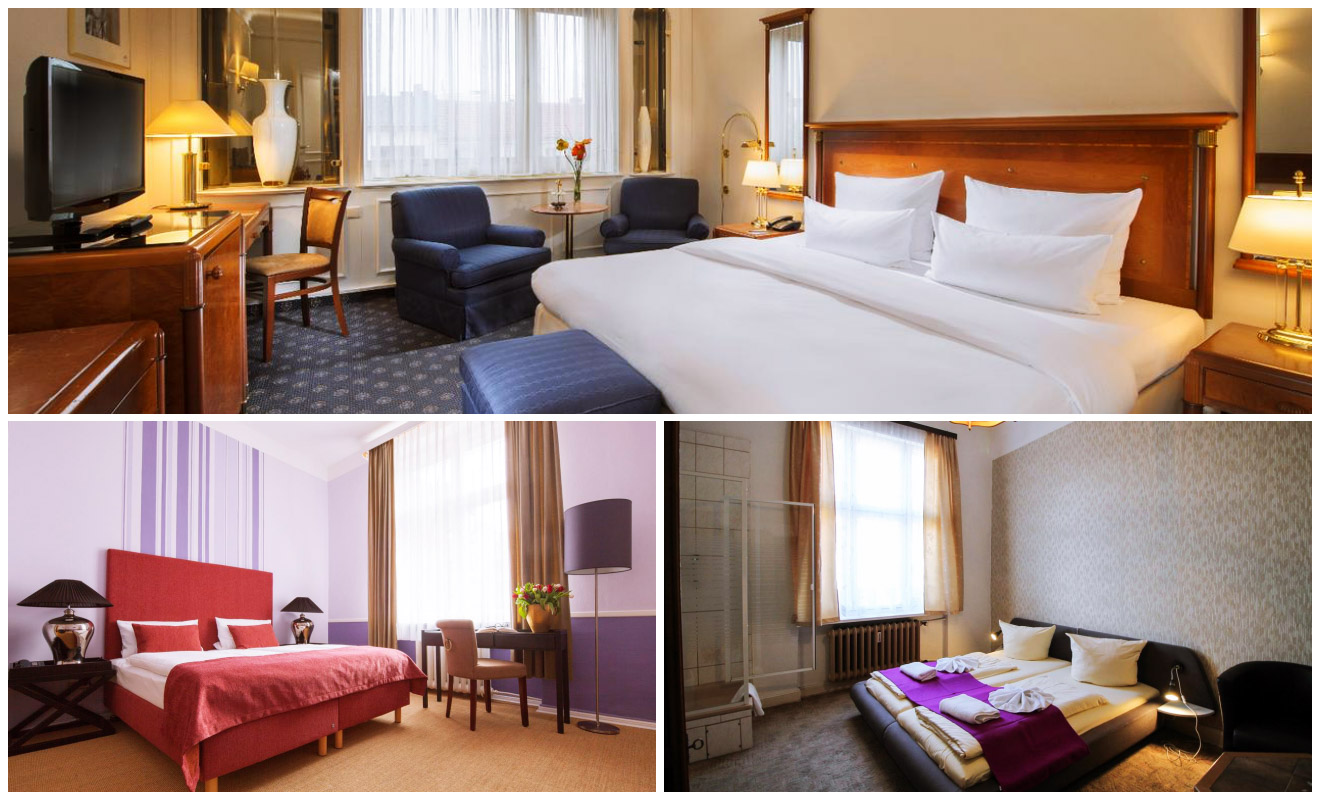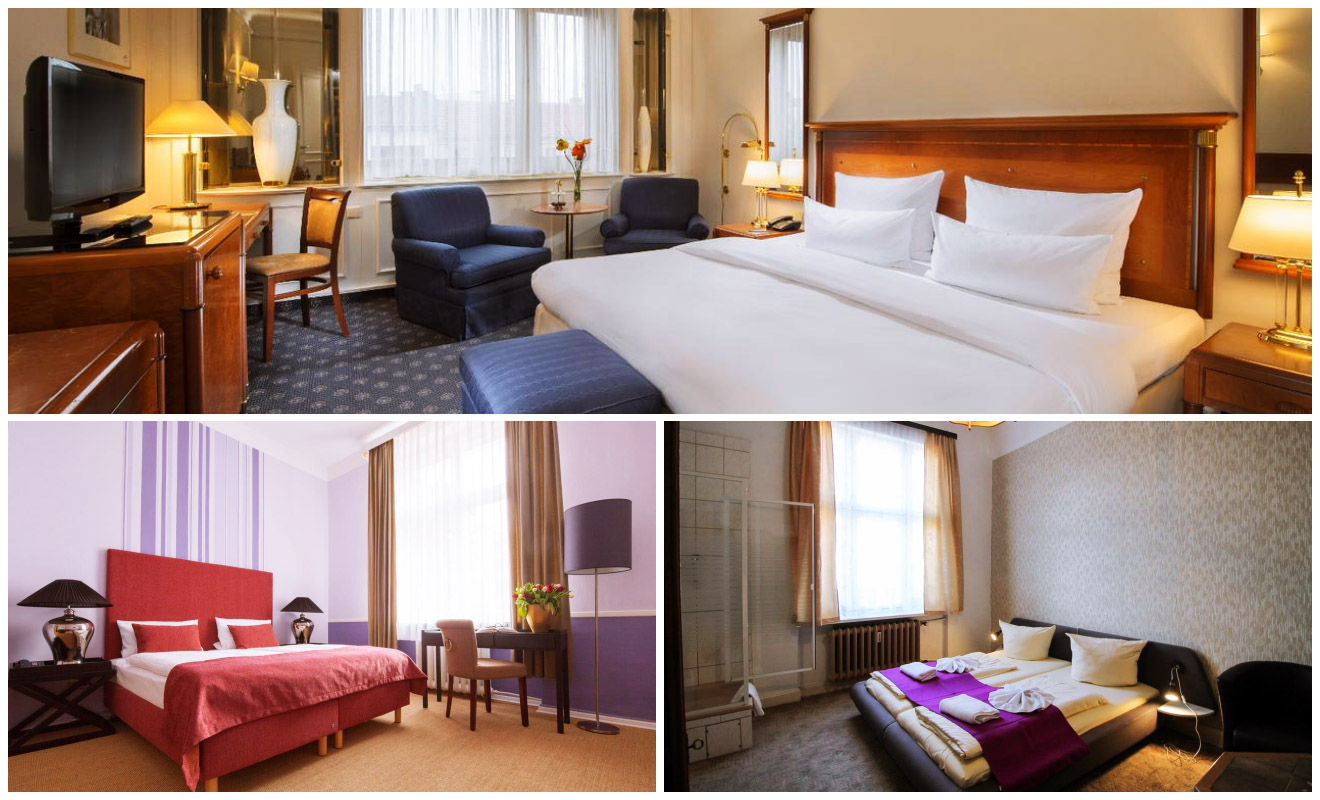 Middle (between 100-150€)
about:berlin Hotel – This original and unique hotel in West Berlin has great prices that you'll want to check out. They serve a breakfast buffet with lots of options. The rooms are very simple and cozy, which makes them perfect for a comfortable stay in Charlottenburg.
Hotel Brandies an der Messe – Meticulously decorated with Art Nouveau details, this historic hotel is only 1 minute from the subway station. All rooms are tidy, nicely decorated, and include a minibar and a safe. Their breakfast buffet includes healthy and not so healthy, yet delicious, food for everyone!
Budget (between 50-100€)
Apartments am Brandenburger Tor is a great option for families on a tight budget. The rooms are clean and spacious and the amenities are very modern, so I'm sure this hotel will offer you anything you need for a pleasant stay in the city.
Max Brown Hotel Ku'damm – If you want to be near the subway station and the Tiergarten park, you should consider Max Brown Hotel. It offers free WiFi all around the hotel, a daily buffet breakfast, and even free parking spaces on site.
BONUS: Airport hotels in Berlin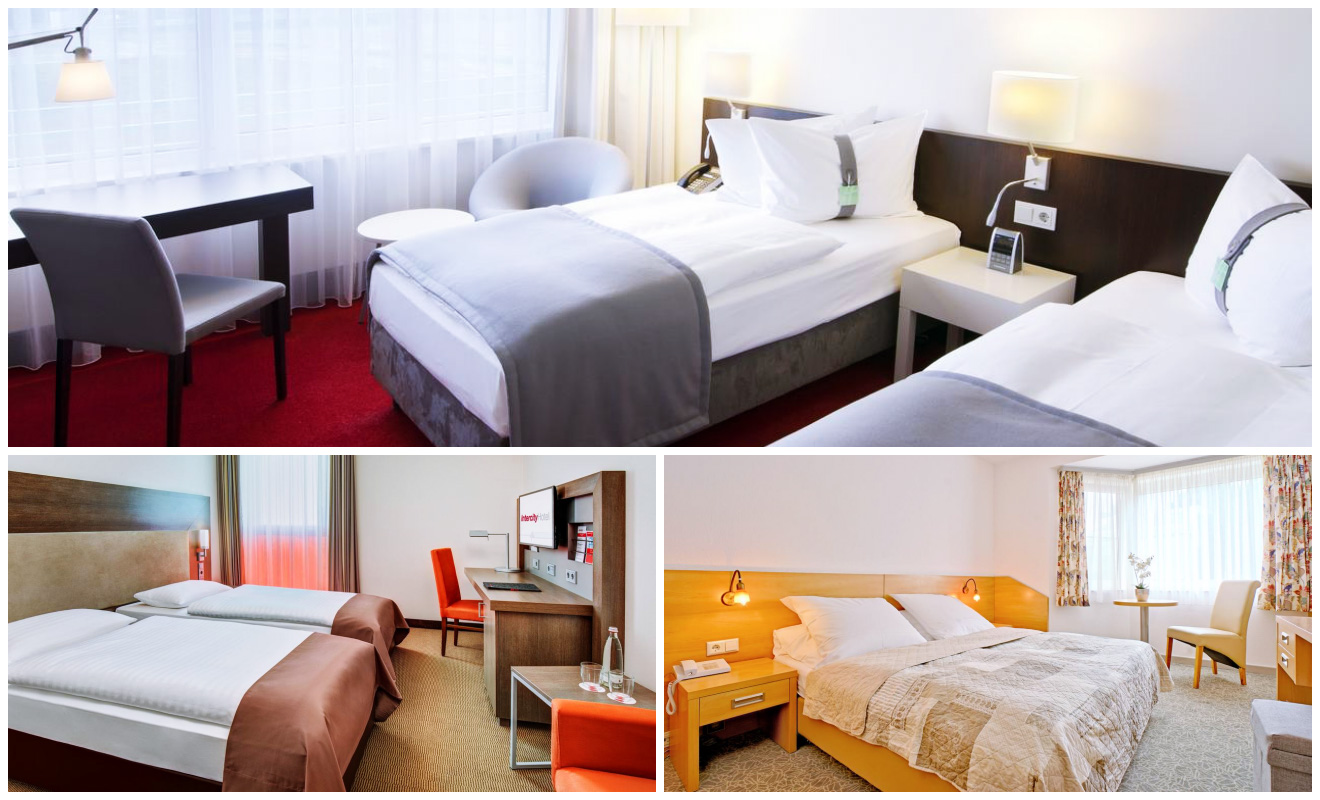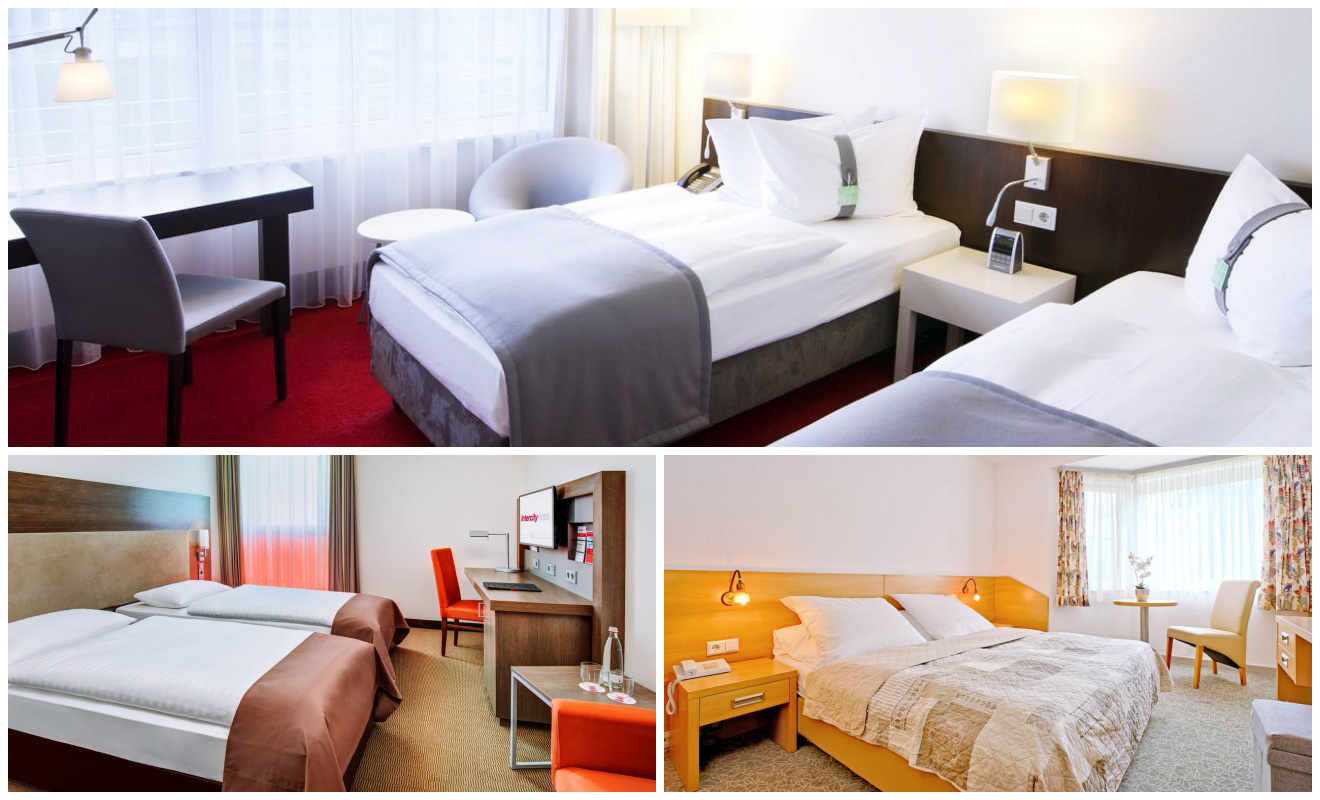 Getting a taxi or a shuttle bus to the airport in such a big city as Berlin can be stressful, especially if you go during peak hours!
If you want to travel as hassle-free as possible or simply have a layover in the city, then you'll want to stay near the Berlin airport. There are actually two airports in Berlin so below you can find my hotel recommendations located close to the two airports in Berlin – Schönefeld Airport and Tegel Airport. I am recommending 3 hotels for each airport, one for every type of budget/traveler:
Berlin Schönefeld Airport
(Luxury): Holiday Inn Berlin Airport – Conference Centre – this is a great 4-star airport hotel that has an advantage over others: a 24-hour shuttle to Berlin Schönefeld Airport! The rooms are very nice and spacious, and the service is very good!
(Middle-priced): IntercityHotel Berlin Brandenburg Airport – this amazing 4-star hotel is located only 400m from the airport and train station, so booking a room here would be very convenient! They have a spa, a gym, and nicely decorated rooms.
(Budget): 7 Days Premium Hotel Berlin-Schönefeld – this is a 3-star hotel with clean, simple, and comfortable rooms. You will free WiFi and private bathrooms and the airport is just 2km away.
Berlin Tegel Airport
(Luxury): Schlosspark Hotel – A great choice if you want to stay in a hotel with a swimming pool, a bar, modern rooms, and free WiFi! Tegel Airport is 3.5km away from this hotel.
(Middle-priced): Hotel Axel Springer – This excellent 3-star hotel is located only 5km from Tegel Airport, in the Mitte district. It has a wonderful garden, a delicious breakfast each morning, and friendly staff!
(Budget): Pension Laabs – This Pension hotel is located very near the Tegel airport and the local train station. The hotel is located in a safe residential area, and the service is great! Apart from that, the rooms are basic but very clean, and you'll find everything you could ever need.
Frequently Asked Questions about hotels in Berlin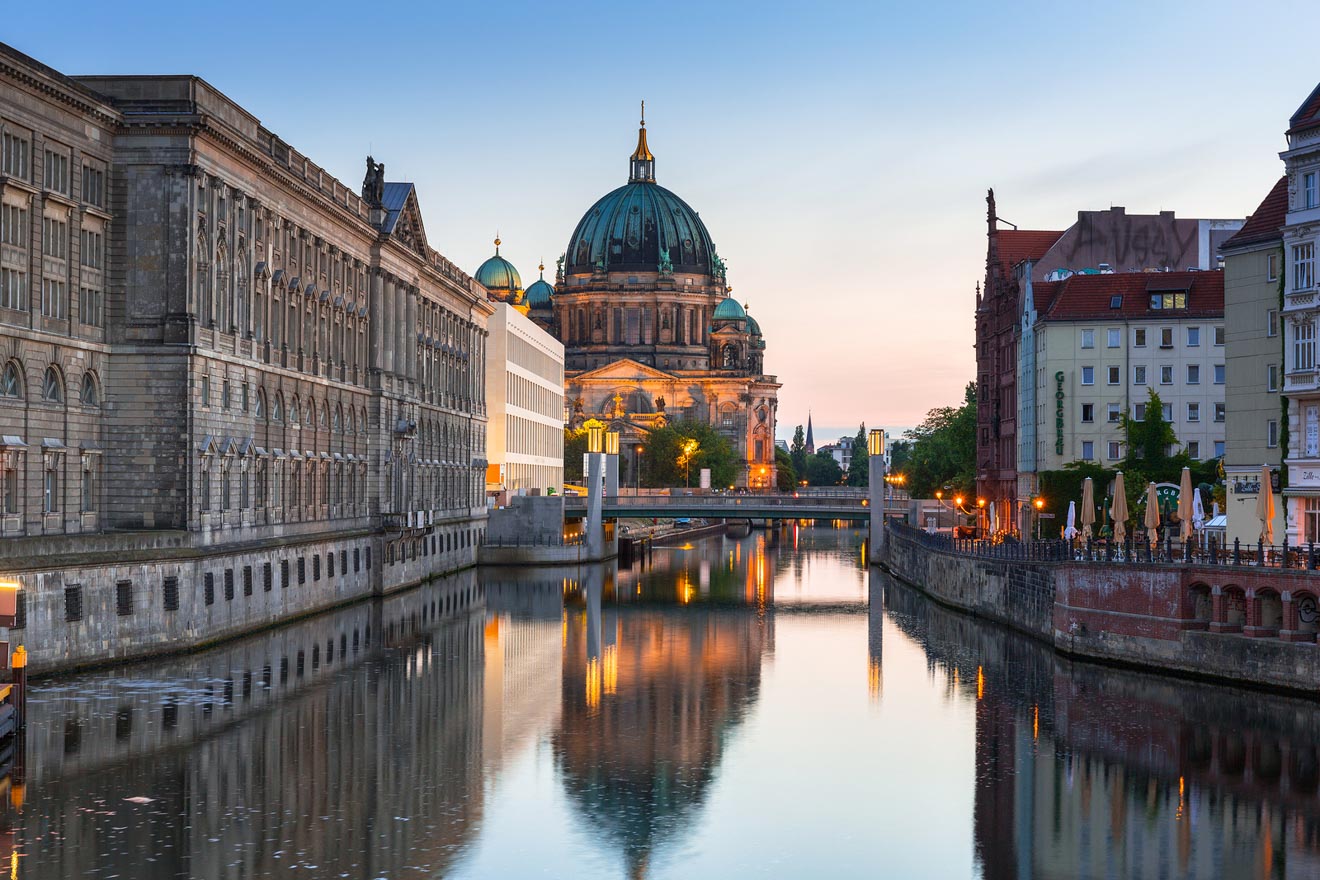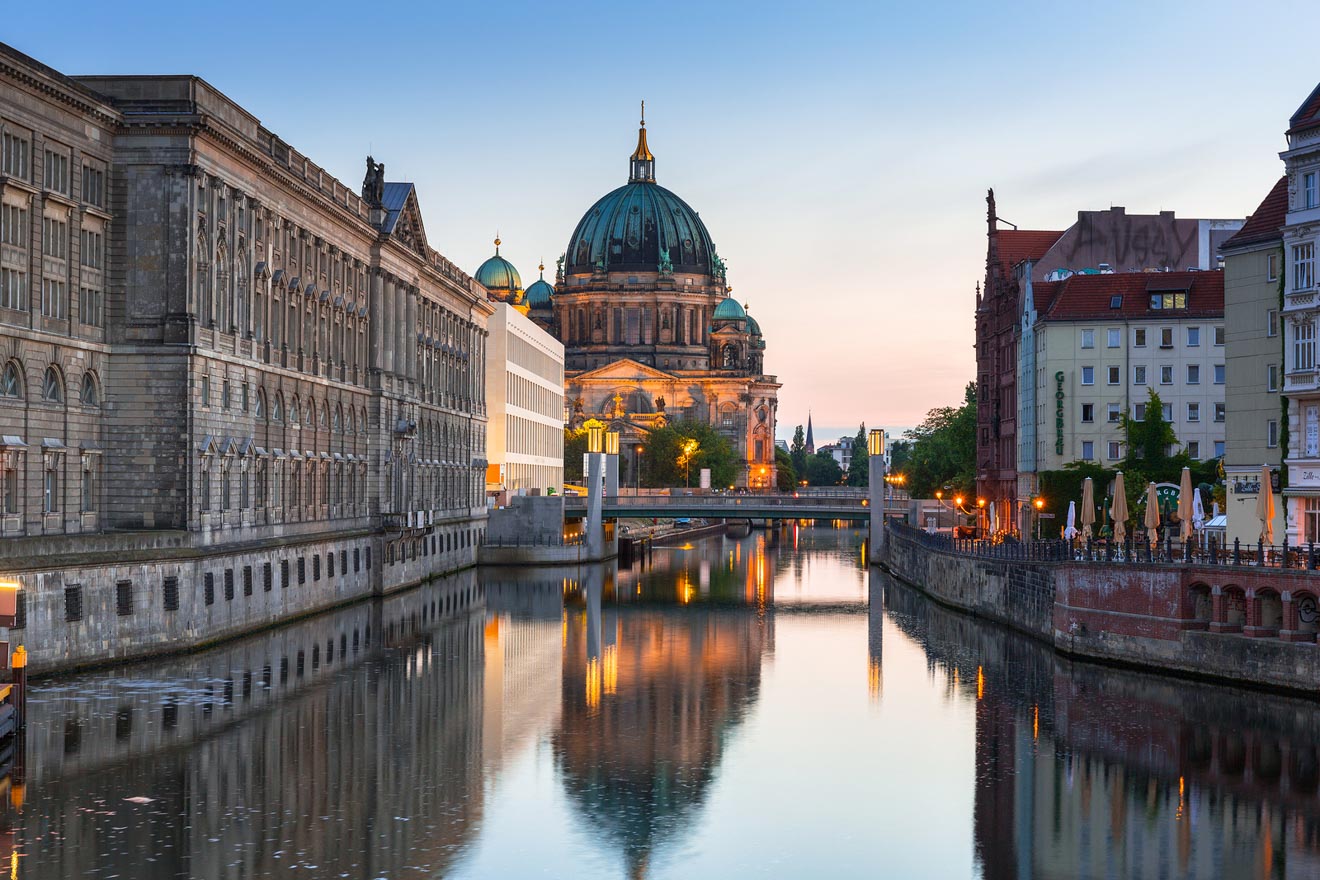 📍What is the best area to stay in Berlin?
🌤️ What are the best months to travel to Berlin?
You should visit Berlin between May and mid-September. The weather is perfect for exploring the city, its park, and landmarks. However, be prepared to spend a little more on your hotel room.
👪 What is the best area in Berlin for families?
The best place in Berlin to consider as a family is Charlottenburg. It's peaceful, walkable, and many attractions are located here. Make sure to check out the exclusive Schlosshotel Berlin or the Hotel Brandies an der Messe for a more reasonable budget.
🎉 What is the best area in Berlin for nightlife?
The best place in Berlin to enjoy the night is Kreuzberg, with lots happening around like bars, clubs, and more. The best hotel to stay in here is Orania.Berlin but Grimm's Hotel am Potsdamer Platz is the best alternative for a lower price,.
Conclusion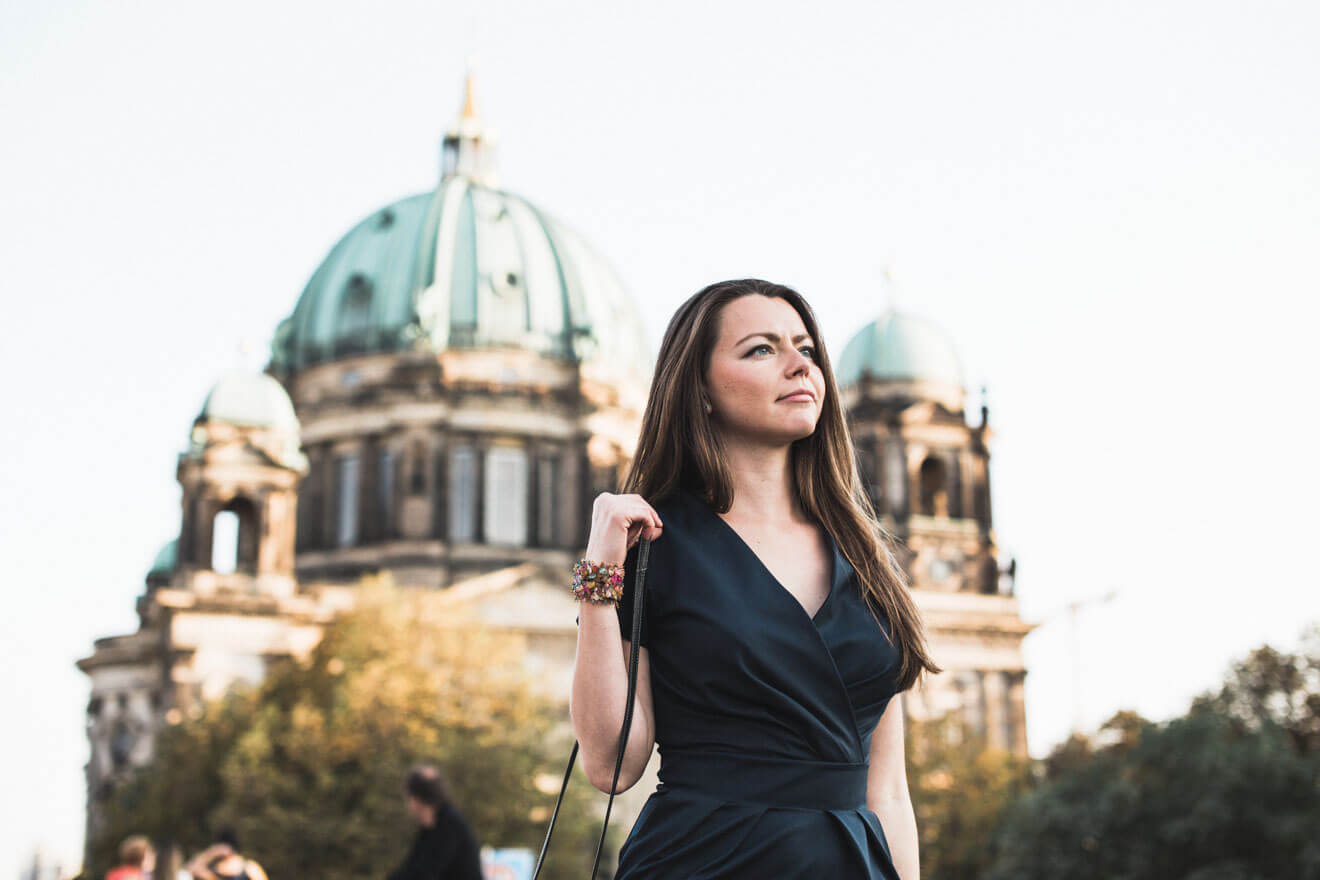 That's it! That's all! These were my recommendations for 5 great neighborhoods and the best places to stay in each of them in Berlin, regardless if it is your first visit or you are returning there for the 10th time.
I have carefully selected the best hotels for each neighborhood, from Mitte to Prenzlauer Berg and more. And I broke them down into sections based on each budget type: luxury, middle and tight budgets.
On a side note, it's worth mentioning that Berlin is one of the most popular travel destinations in Europe. For this reason, you'll want to book your accommodation as soon as possible, and I highly recommend the following:
I am sure you will find something that fits your preferences in this article!
If you want to read more about this amazing city in Germany, here is my article with 22 Things To Do in Berlin – The Ultimate Bucket List.
As always, if you have any questions, feel free to leave them in the comments section! I enjoy receiving questions from my readers!
Yulia
---
Pin it for later!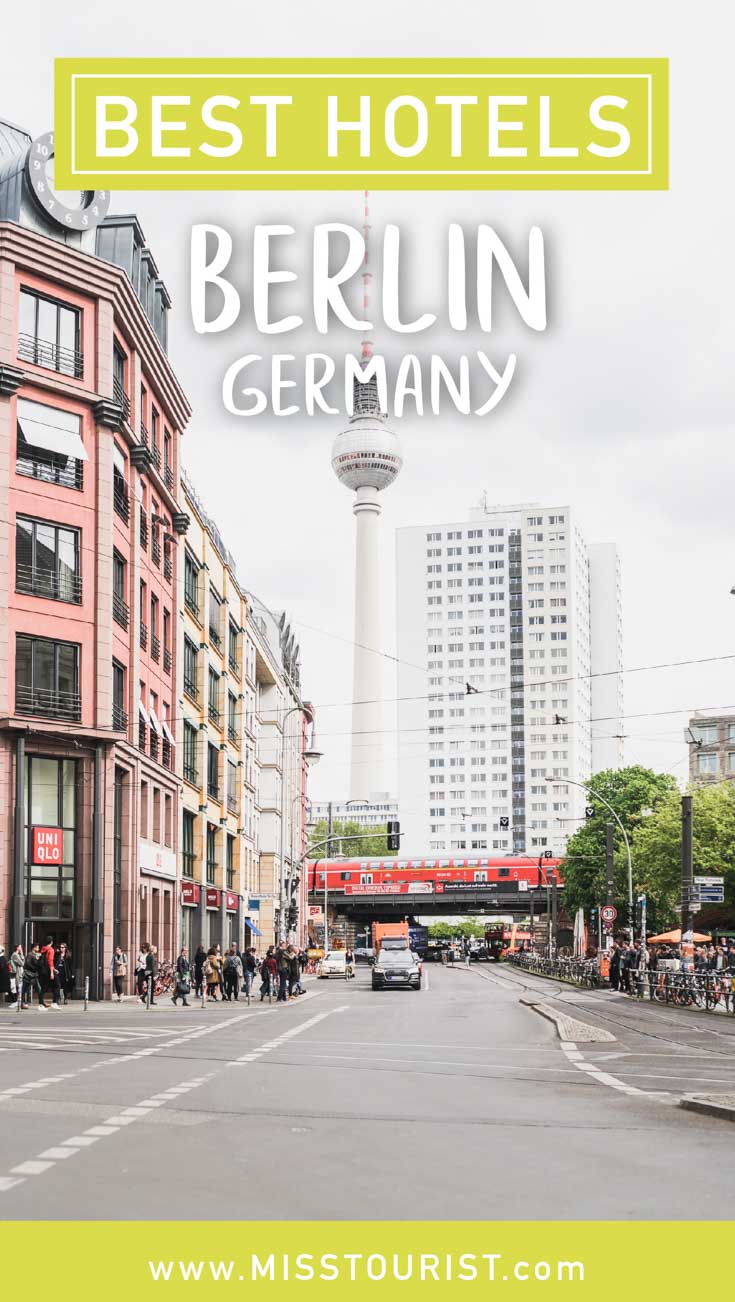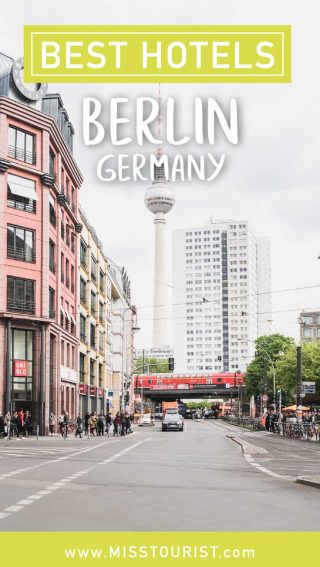 Pin it for later!