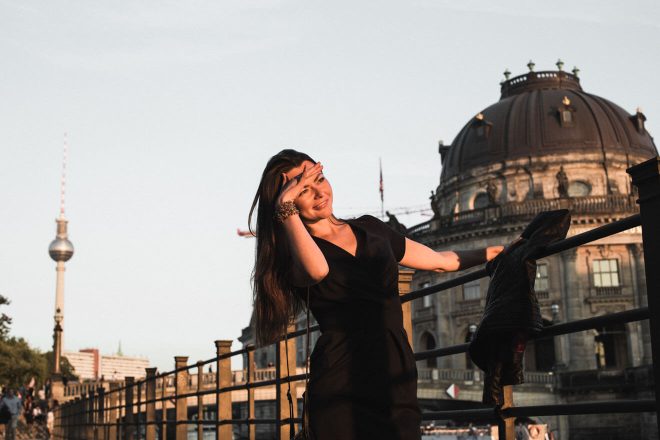 Berlin is by far one of the most free-spirited, diverse and exciting cities in Europe and I totally recommend it to anyone who wants to have a taste of the complex history of Germany!
If you are planning a visit in the near future, congrats! Prepare to be amazed by the unique mix of people, atmospheres and neighborhoods that you will find in this amazing city.
Because the districts and neighborhoods in Berlin can be a bit confusing, here are my recommendations (in no particular order) of where to stay in Berlin, with great hotels for each area, all sorted by price for your convenience:
If you are in a hurry:
If you are here to just book your hotel and you do not have the time to learn about the areas, worry not, here are Berlin's best hotels in a nutshell:
Best luxury: Hotel Adlon Kempinski Berlin
Best middle-priced: Art'otel berlin mitte
Best budget: Singer109 Hotel & Hostel
Which area should you choose?
Berlin is also one of the only cities I know of that has a couple of city centers to stay in (due to the Berlin Wall that was dividing the city for decades). Here is a district map of Berlin I made with my recommended areas: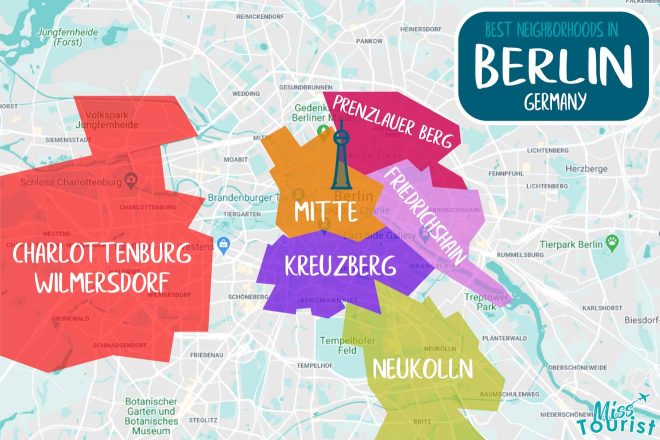 Berlin is divided into 12 administrative districts ("Bezirk" in German) and each district is divided into other smaller neighborhoods ("Kiez"). Each "kiez" has its own distinct people, specifics and hidden gems and all of them complete the complex image of Berlin.
As you may already know, Berlin has a strong history behind it and some of that history can still be seen today right in the middle of the city. You are right, I am talking about the Great Berlin Wall, whose bricks are still being preserved in parts of the city as a memory of the past, or transformed into new attractions (such as the East Side Gallery).
Best area to stay in Berlin for budget travelers: Friedrichshain
Where to stay in Berlin for first timers: Mitte
Where to stay in Berlin for nightlife: Kreuzberg
Where to stay in Berlin for families: Charlottenburg
1. Mitte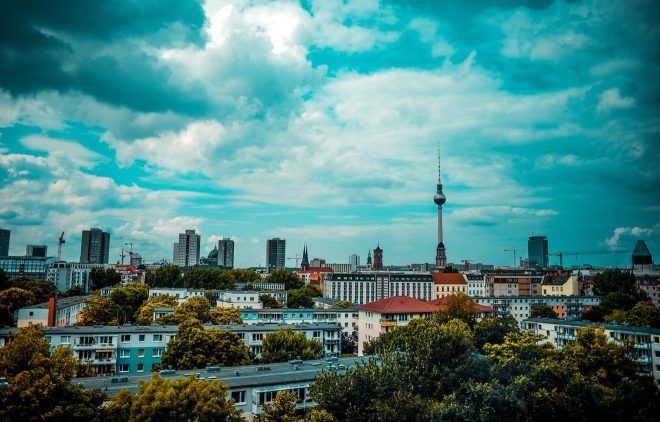 Is this your first time in Berlin? Then you should consider staying in Mitte!
Mitte is the area where all the most famous Berlin attractions are located: Alexanderplatz, Brandenburg Gate, Museum Island etc.
Even though the neighborhood has suffered through many transformations during the years, you can still see some traces of the old times if you just roam around the streets and observe the buildings and details.
Needless to say that because it is so central and popular, Mitte can be expensive at times. If you wish to get the best prices possible for this neighborhood, I recommend you book way in advance! Here are my carefully chosen recommendations for hotels in Mitte, Berlin: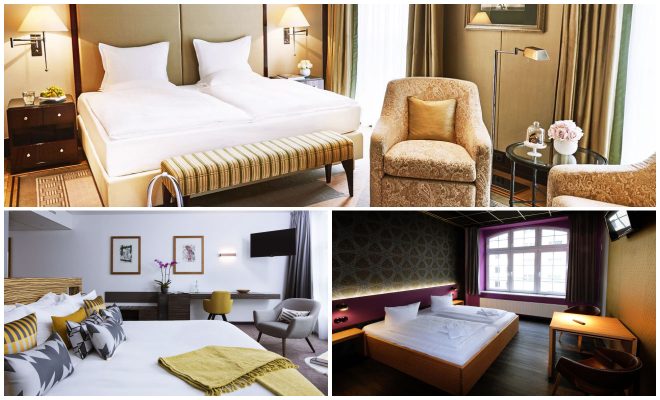 Luxury (more than 150€)
Hotel Adlon Kempinski Berlin is an amazing 5-star hotel with great luxurious amenities and decorations. This accommodation is so upscale, they even have a double Michelin-star on-site restaurant where you can enjoy delicious food! Plus, they also have a neoclassical indoor pool, a cool gym, a spa, and even private dining!
Titanic Chaussee Berlin is another great luxury accommodation. This 4-star hotel is super close to the Berlin Main Station, which is very convenient. The rooms and bathrooms are spacious and beautiful and they even have a breakfast restaurant.
Middle (between 100-150€)
Art'otel berlin mitte is a very good option with a wide variety of prices, including some mid-range ones. You will enjoy free Wi-Fi, modern rooms and a great on-site bar called The Upside Down where you can enjoy delicious drinks and food.
Hotel Gat Point Charlie is a very clean and comfortable hotel, right in the center of Mitte and only minutes away from Alexanderplatz Square! The rooms are bright and tidy and I think they're just perfect for some relaxation after a day full of exploring and adventures in the city!
Budget (between 30-100€)
Singer109 Hotel & Hostel is a gorgeous hostel, perfect for anyone who is searching for cheap accommodations in Berlin. It has different kinds of beds, ranging from bunk beds to private rooms. You will also get free Wi-Fi and a fun lounge area where you can unwind or even make friends!
Motel One Berlin-Bellevue is another beautiful motel with extremely convenient prices. The rooms and bathrooms are very stylish and you will be very close to Bellevue Palace and the Tiergarten Park!
2. Prenzlauer Berg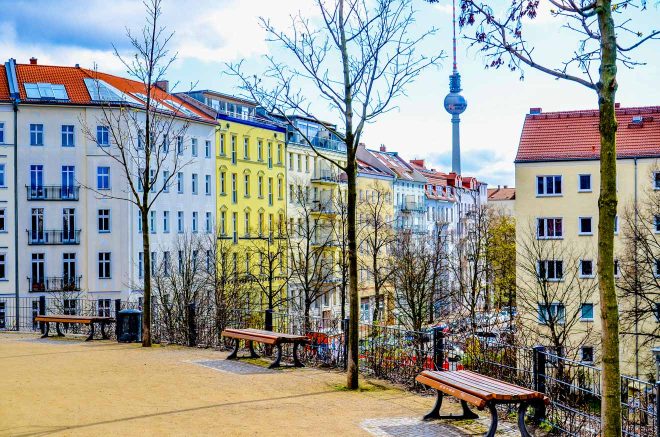 Do you want to stay in the coolest area in Berlin, surrounded by art galleries and bars, with an overall young vibe? Prenzlauer Berg is your place!
Prenzlauer Berg has a complicated history full of changes. In the 80s and 90s it was massively changed transformed by the subculture that was forming there, thanks to many artists of that time. Now you can stroll around the beautiful streets, stop in a hip café to enjoy a flat white and then continue on to visit some art galleries or even designer shops. On your way, make sure to admire the street art and street musicians that you will encounter on every corner!
One of the most special things about this neighborhood is that many of the buildings (old breweries and old factory buildings, for example) were transformed into hotels and sophisticated restaurants, so you can definitely have a unique experience there.
Being one of the most popular neighborhoods in Berlin and one that is very loved by young urban families and individuals as well, the rooms sell out fast all year round, so make sure to book your preferred accommodation as soon as possible. Here are my recommended Berlin hotel deals in Prenzlauer Berg: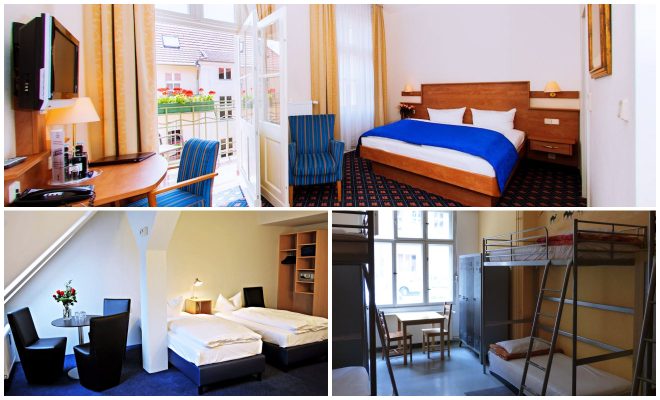 Luxury (more than 150€)
Hotel & Apartments Zarenhof Berlin Prenzlauer Berg is a great 4-star accommodation in a beautiful Art Nouveau building. You can take advantage of free Wi-Fi and even bike rentals, so you can easily explore this beautiful neighborhood and city. This place has a Russian flair, so the breakfast includes Russian specialties – definitely recommended!
Myer's Hotel Berlin is another gorgeous 4-star hotel in Prenzlauer Berg. The rooms are clean and exquisite and you will find art hanging all around this accommodation. You will also enjoy the on-site restaurant with a wide selection at the buffet breakfast!
Middle (between 100-150€)
Pension Absolut Berlin is a good middle-priced solution for people who wish to stay in an unconventional setting, as the building is actually a renovated 19th-century factory building! The rooms are clean, cozy and perfect for a good night's sleep.
Schoenhouse Apartments is my recommendation for travelers who wish to stay in a self-catering apartment hotel in Berlin. You can choose from different types of rooms, all of them being bright, tidy and spacious!
Budget (between 30-100€)
MEININGER Hotel Berlin Tiergarten is my first budget accommodation recommendation and a great cheap hotel in Berlin. I think it is great that i really close to many museums and monuments. Plus, even though you will be surrounded by bars and restaurants, you can also use the hostel's kitchen.
Pfefferbett Hostel is another good option for travelers that are on a tight budget – the hostel is actually located in an old 19th-century brewery. How cool is that? The rooms are clean and nice and you can relax on the terrace.
­­
Pin it for later!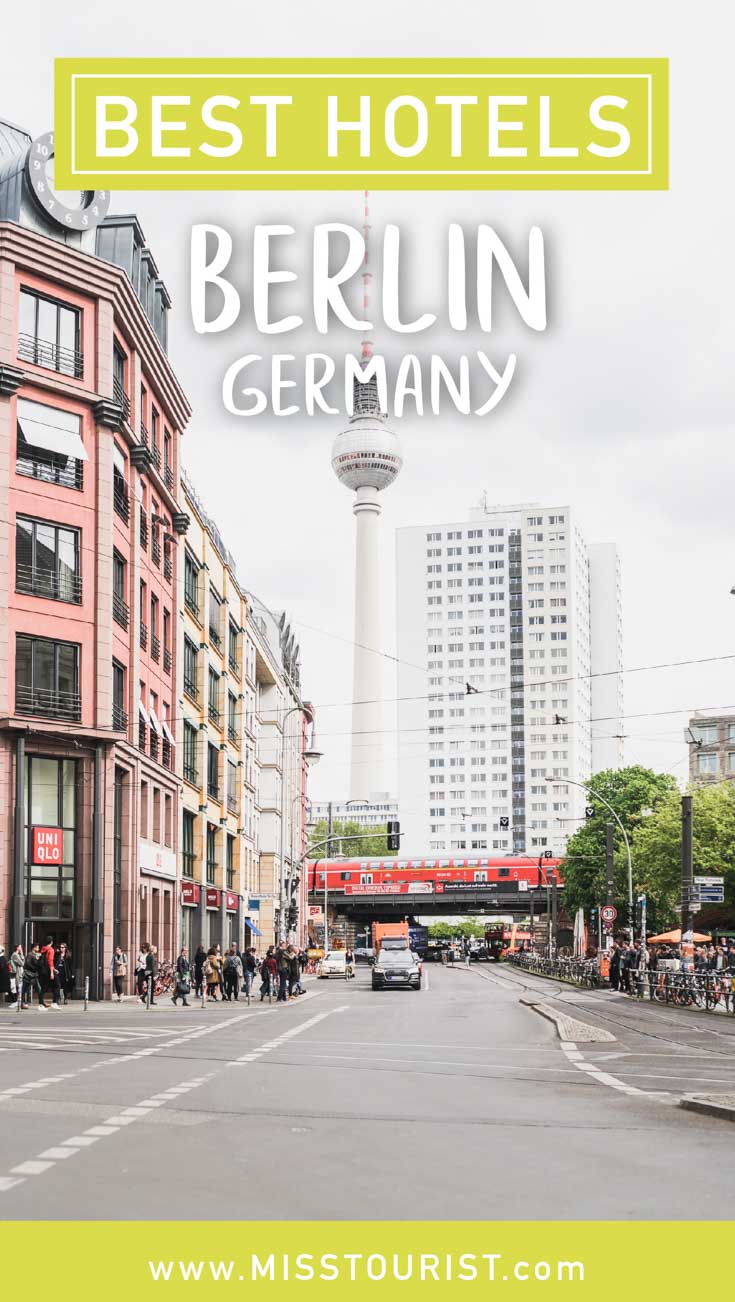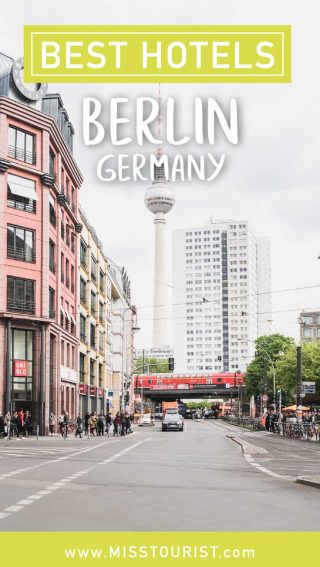 Pin it for later!