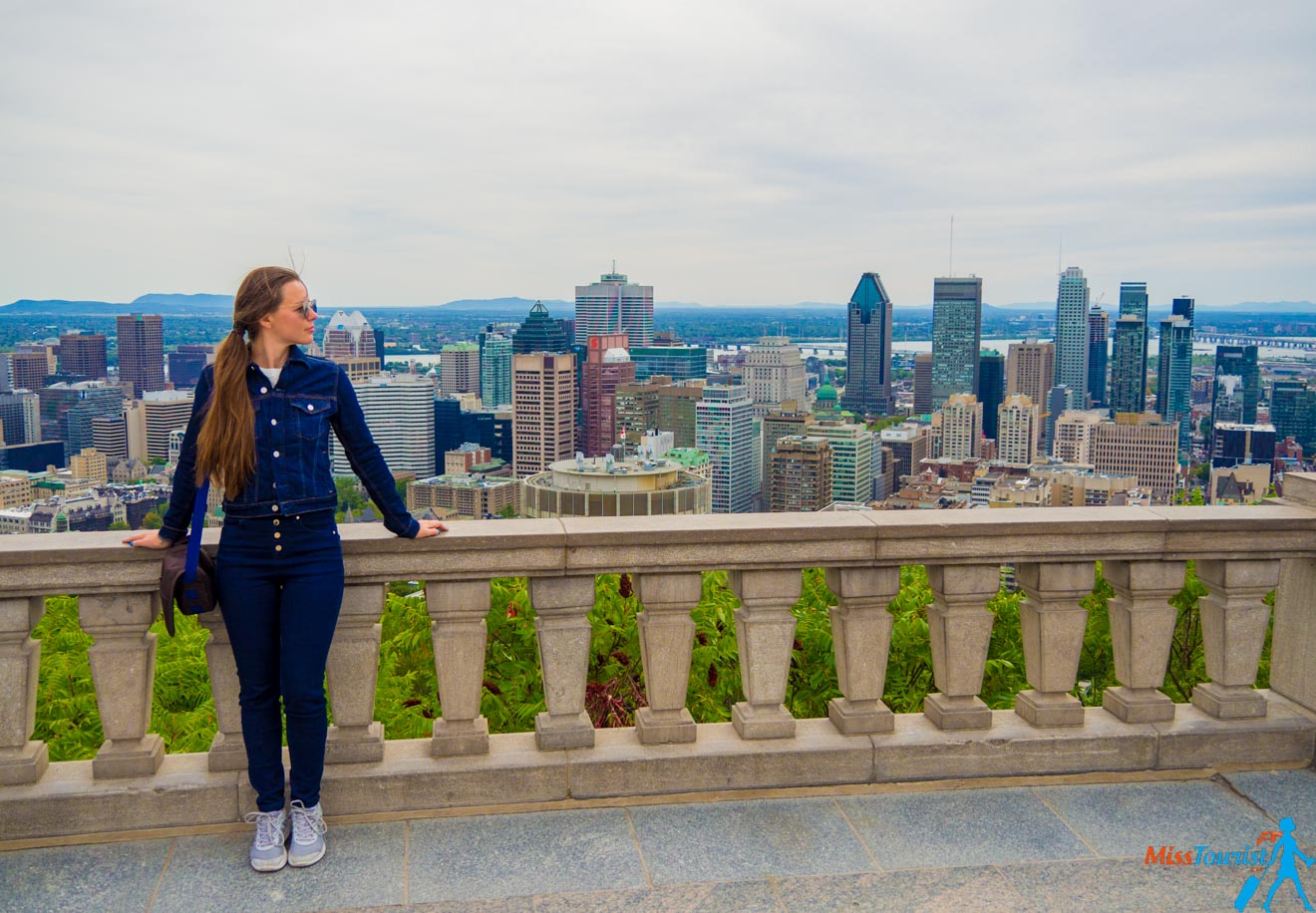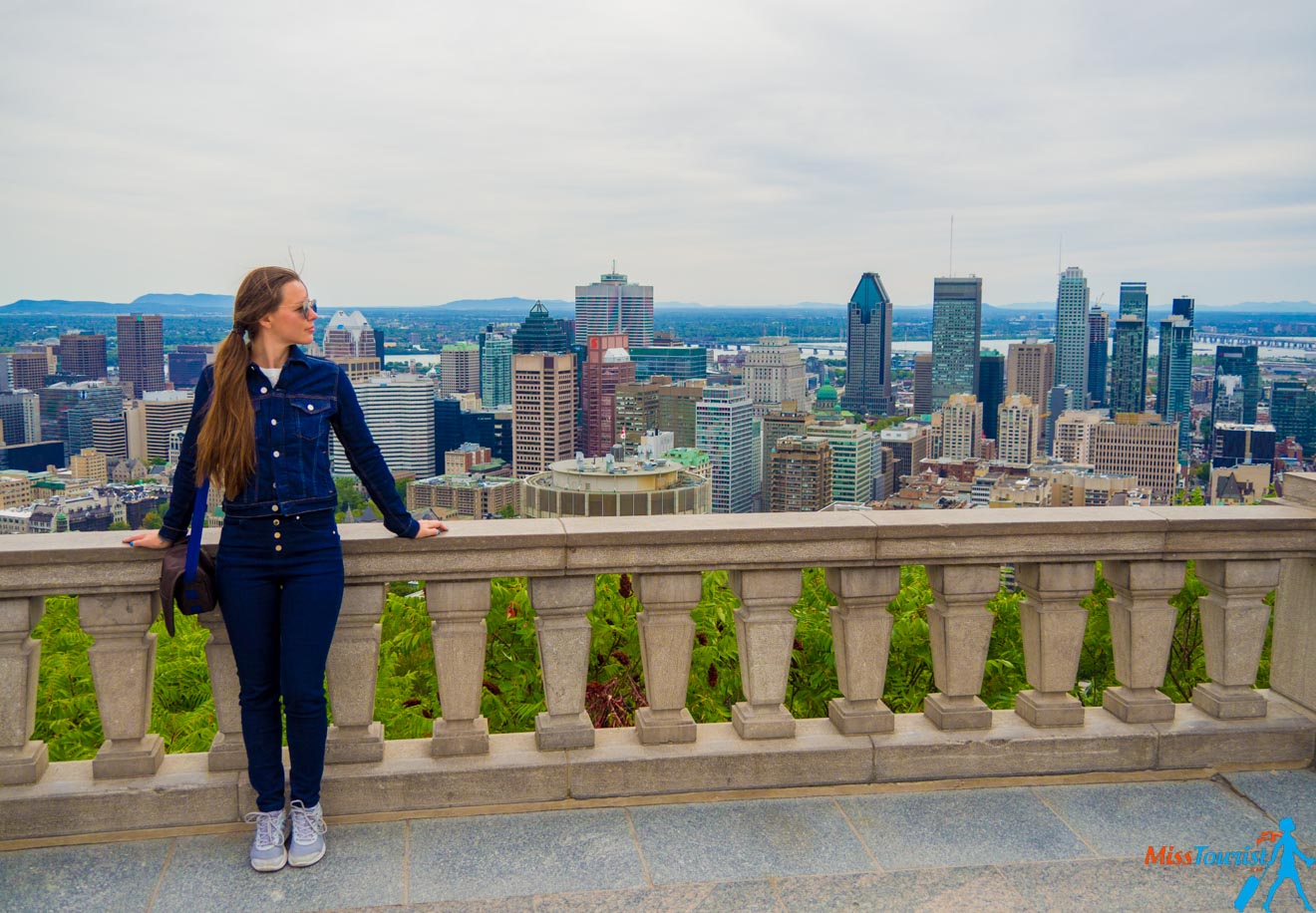 Montreal is the biggest city in the Quebec region of Canada. If you want to explore this French province of Canada, this article is definitely a place to start as there are an endless number of things to do in Montreal!
Let's start with a little bit of background of the city – Montreal is an island in the St. Lawrence River which was originally inhabited by the native aboriginal people. It was then discovered and conquered by a French explorer named Jacques Cartier who claimed the whole land of Canada for France in the mid-1700s. Fast forward 1 century, France had a battle with the UK about the territory and lost. Now the Quebec province is a multicultural region of Canada and the people living there are usually bilingual – they speak French and English.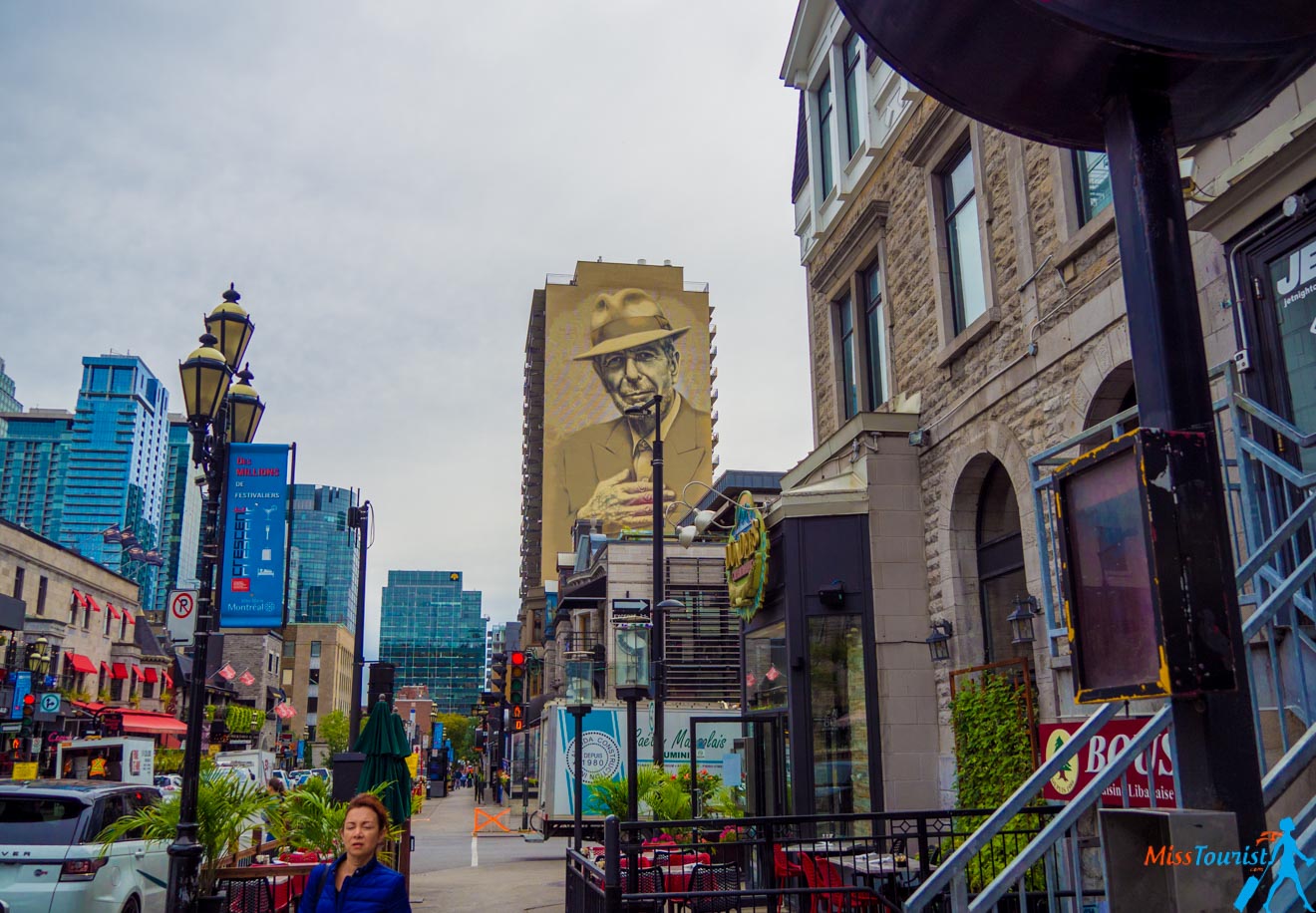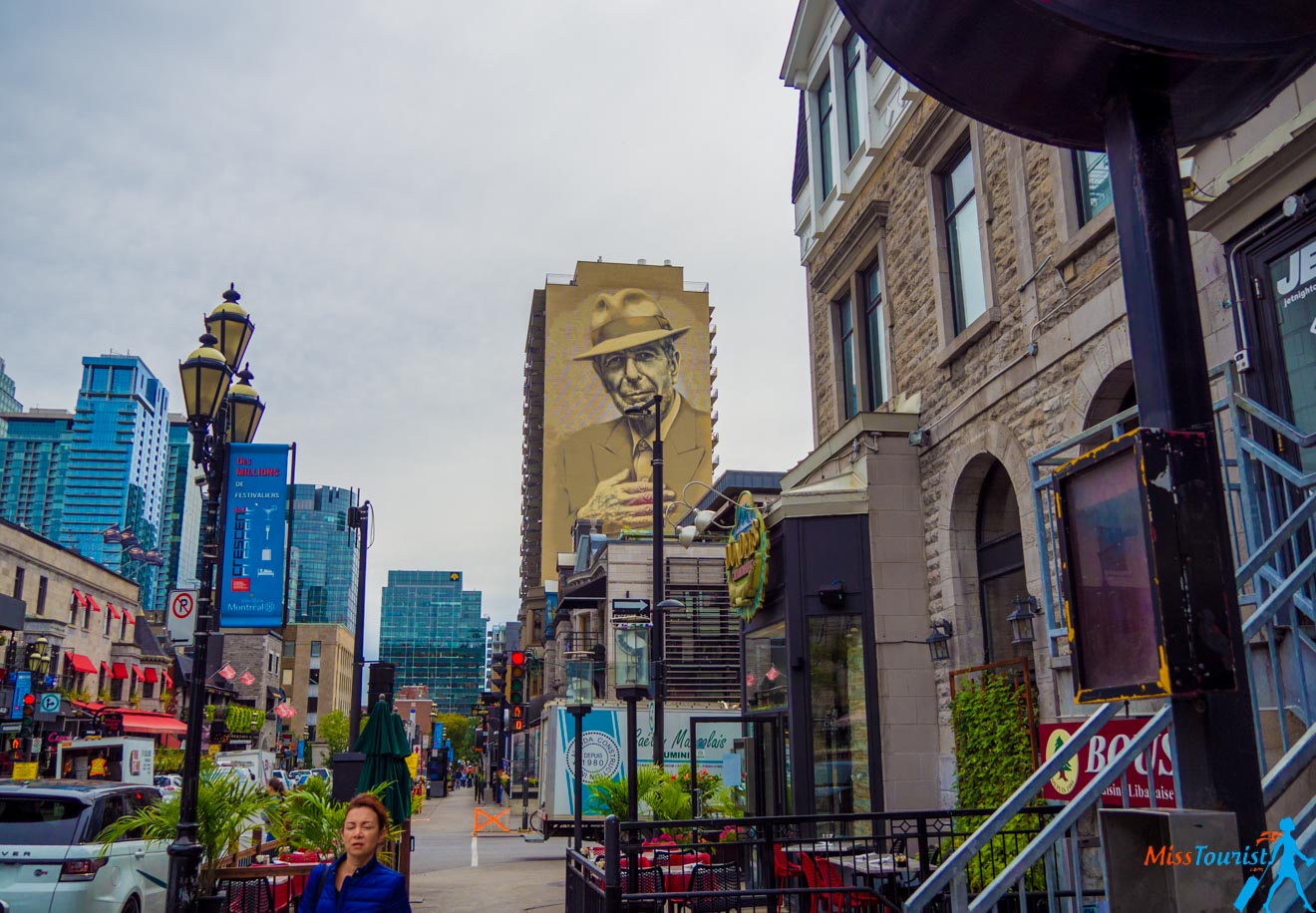 In short, it is such a unique destination that has so many things to discover!
In fact, my flight landed in Montreal and that is where I started my exploration of the country and my 2 week road trip around Canada!
Let's begin! Here is the list of Montreal attractions that you cannot miss:
Allons-y!
1. Feel the history in the Old Town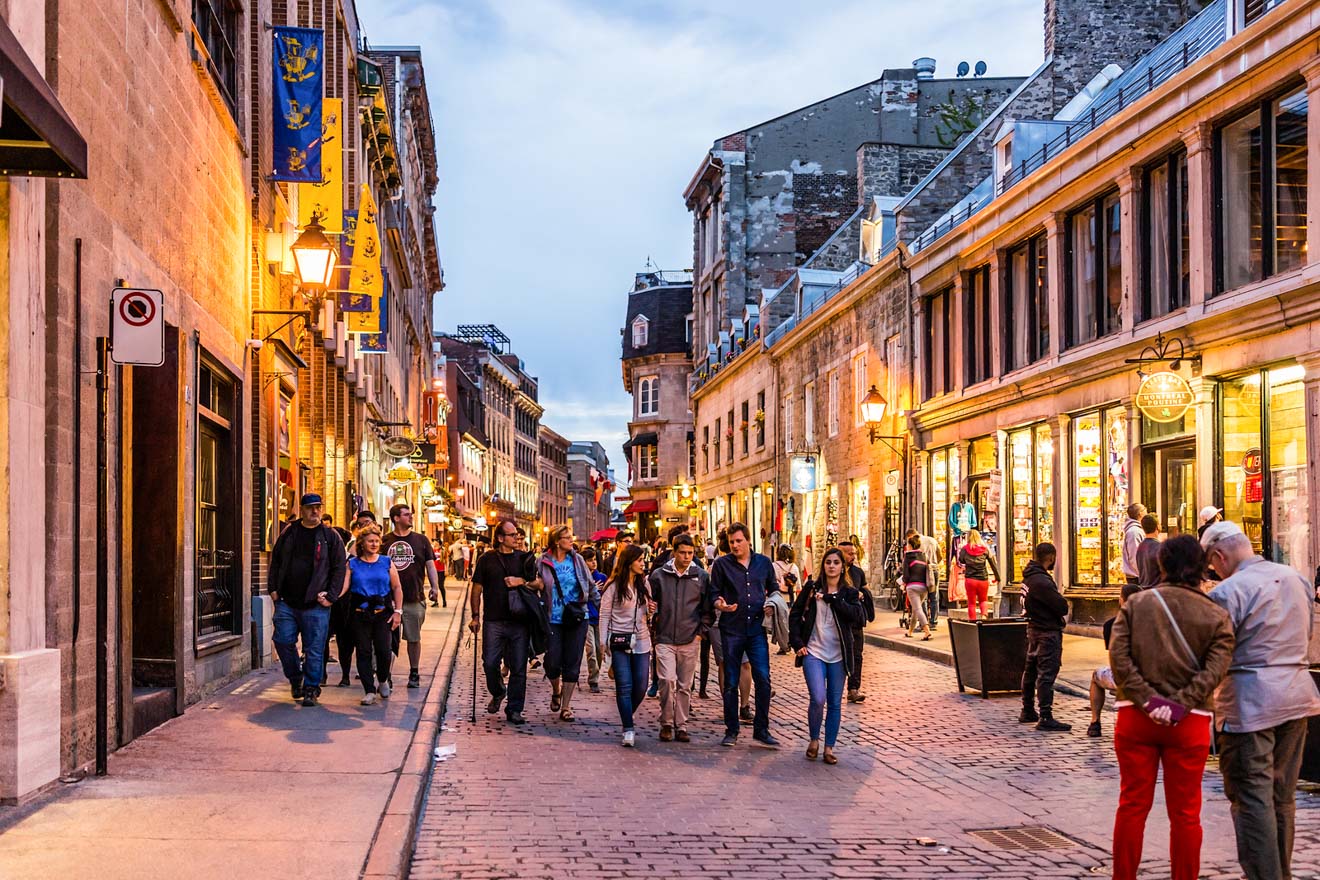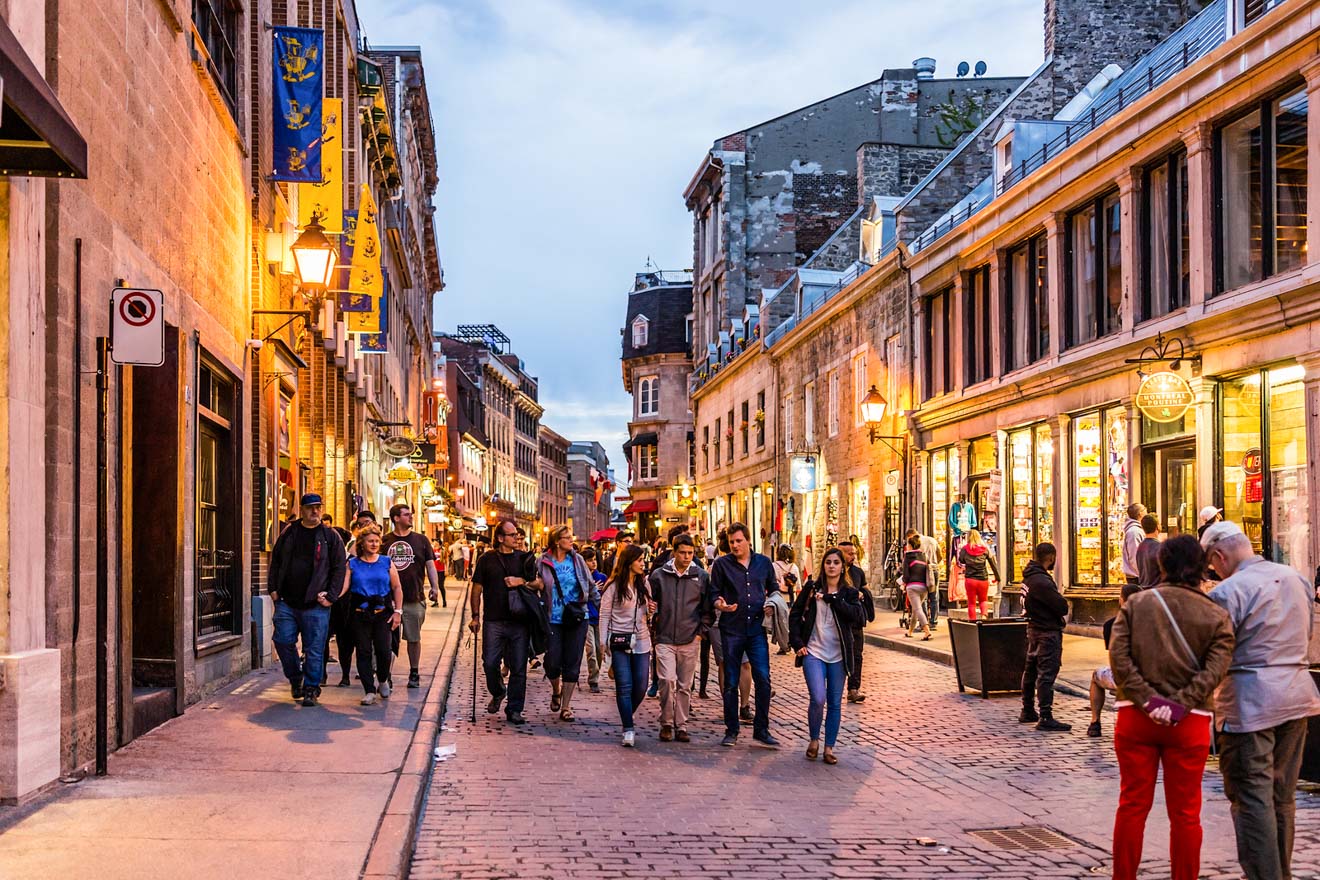 Old Montreal is probably the first place you should go to! Vieux Montreal, as the French-speaking population calls it, is full of all kinds of fantastic architecture – 19th-century buildings, early 20th century buildings, and skyscrapers!
Here are just some of the things to do in Old Montreal:
For a taste of French charm, venture through the narrow streets of Old Montreal and gaze at its cobblestone lanes full of majestic architecture that will make you feel like you are in Europe!
Pay a visit to St. Paul Street when in Old Town in Montreal. I think it is a good idea to take a tour of the area as it will help you gain a greater understanding about the history of the place and how it shaped its culture.
Check out Place Jacques Cartier to feel like you have stepped back in time
If you are searching for free things to do in Montreal, a free walking tour of the Old Town would be a great option for you (but make sure to book it in advance through their website) – super interesting and affordable (you decide how much it was worth it at the end, basically it works on tips)
Visit the Notre Dame Basilica at Place d'Armes (more about it in #4 on my list)
Stop by Bonsecours Market – the oldest and the biggest market in Montreal
Old Port (more about it in #6 in my list)
2. Hike Mont-Royal for a beautiful view of the whole city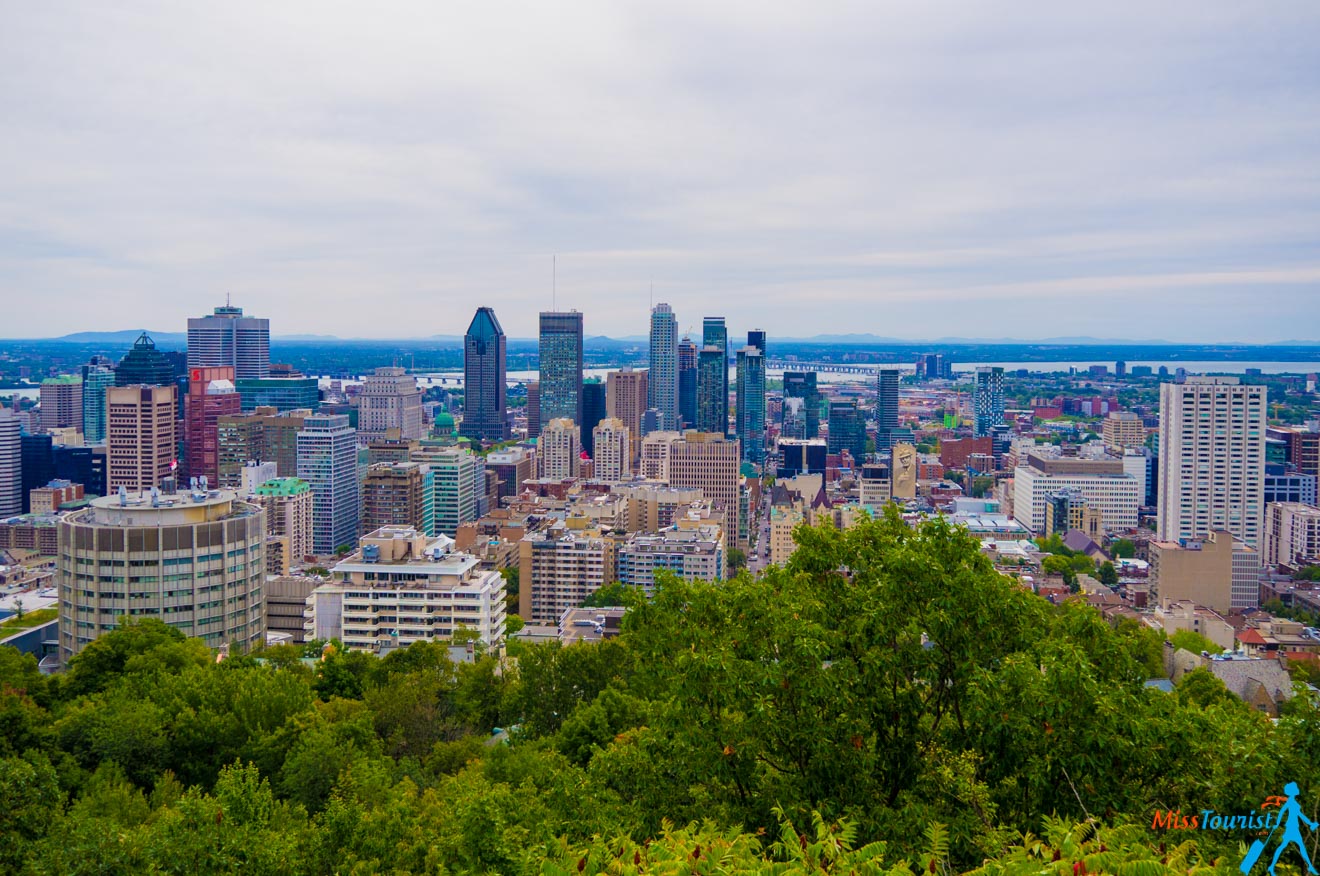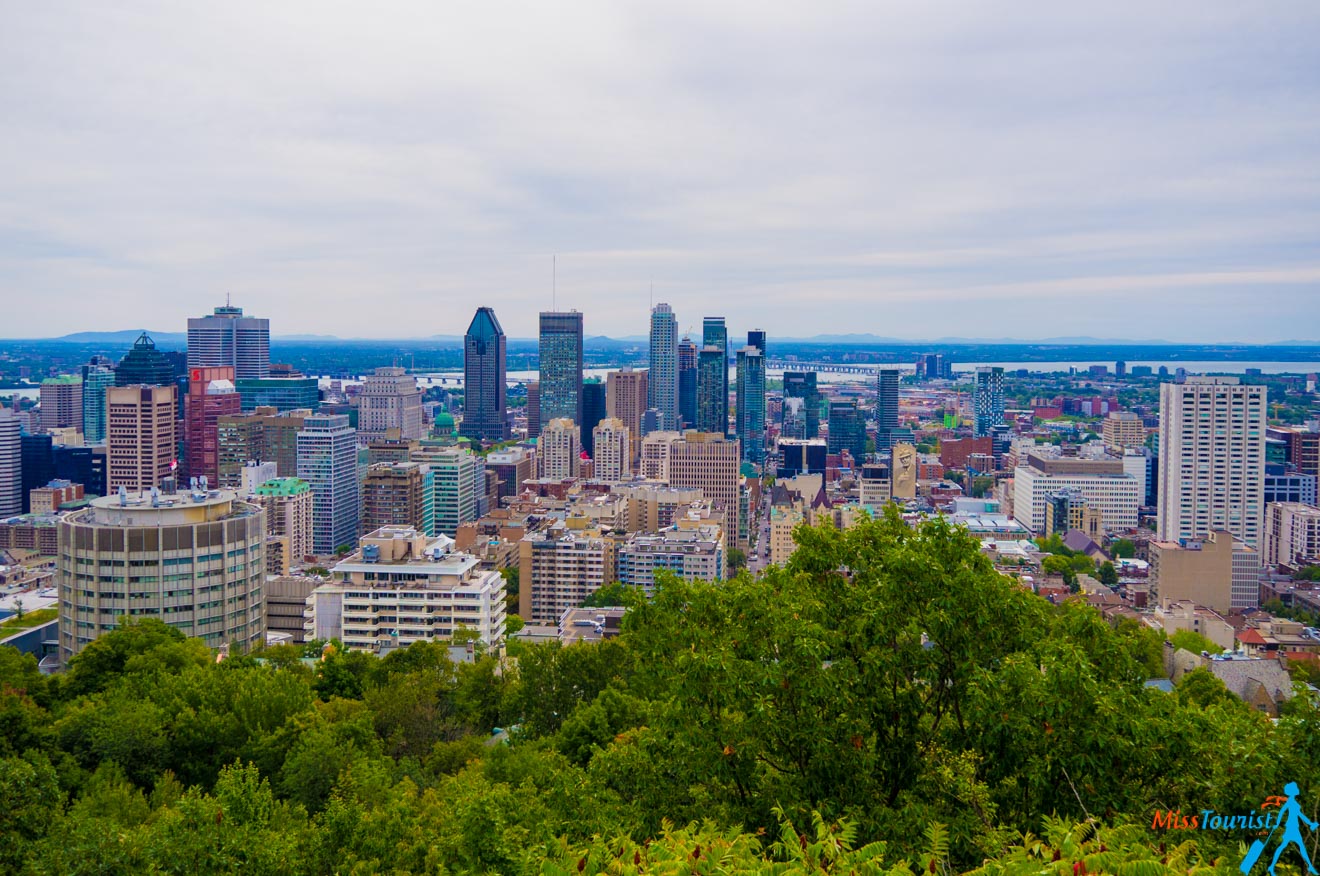 Hiking a small hill that locals lovingly call "a mountain" (it is just 200m) is one of the best things to do in Montreal because its lookout offers an amazing view over the entire city!
You can get to the top by walking uphill for 15 minutes (it is a very easy and beautiful walk) or you can take bus #11 or a taxi that will take you all the way to the top.
Every Sunday, there are countless tam-tam performers and locals on the east end of Mont-Royal enjoying their day off! It is a very nice experience, so, if it is sunny, I recommend grabbing a blanket and enjoying the beat in the park!
3. Try a traditional Canadian poutine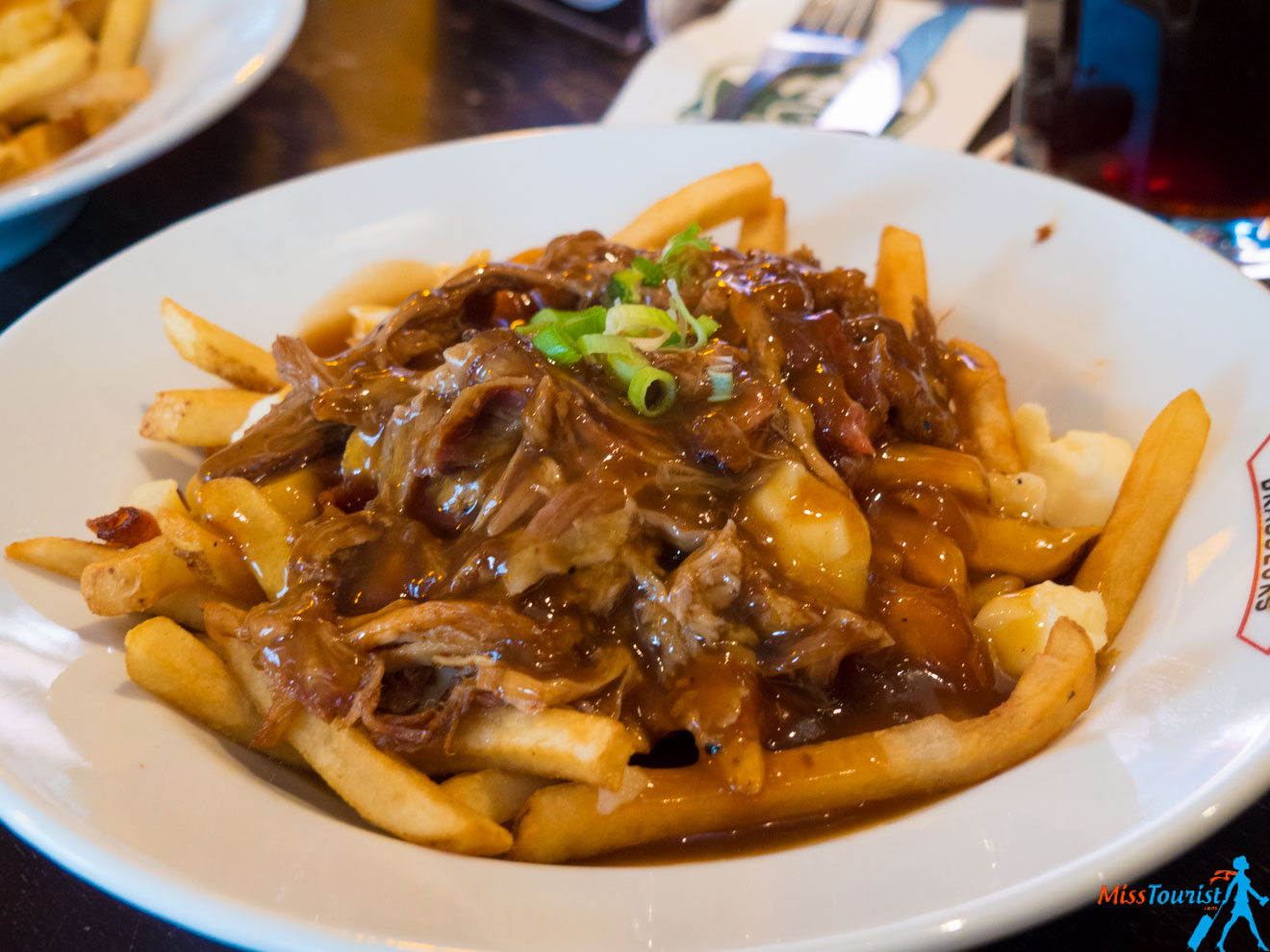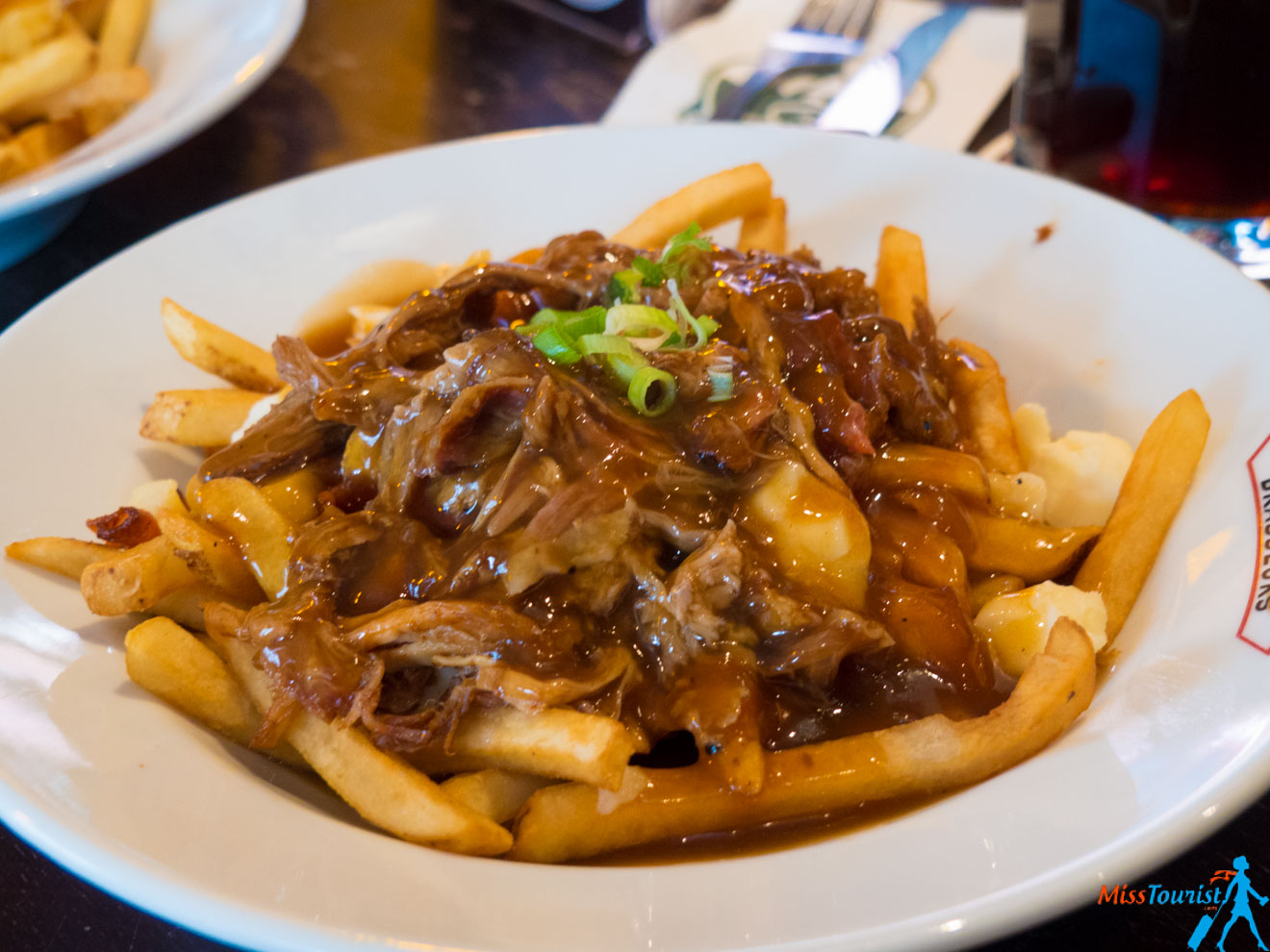 You absolutely cannot miss trying the traditional Quebecois dish called "poutine"!
Poutine is a famous Canadian food that consists of French fries, cheese curds and brown gravy (that is the classic recipe, but there are many variations as well, with added meat or vegetables).
I have to warn you – it is quite a heavy dish!
You can try the best poutine in:
NOTE: Please check out some other things you should definitely try in Montreal below. I have a whole food section for you there!
4. Pay a visit to the Basilique Notre-Dame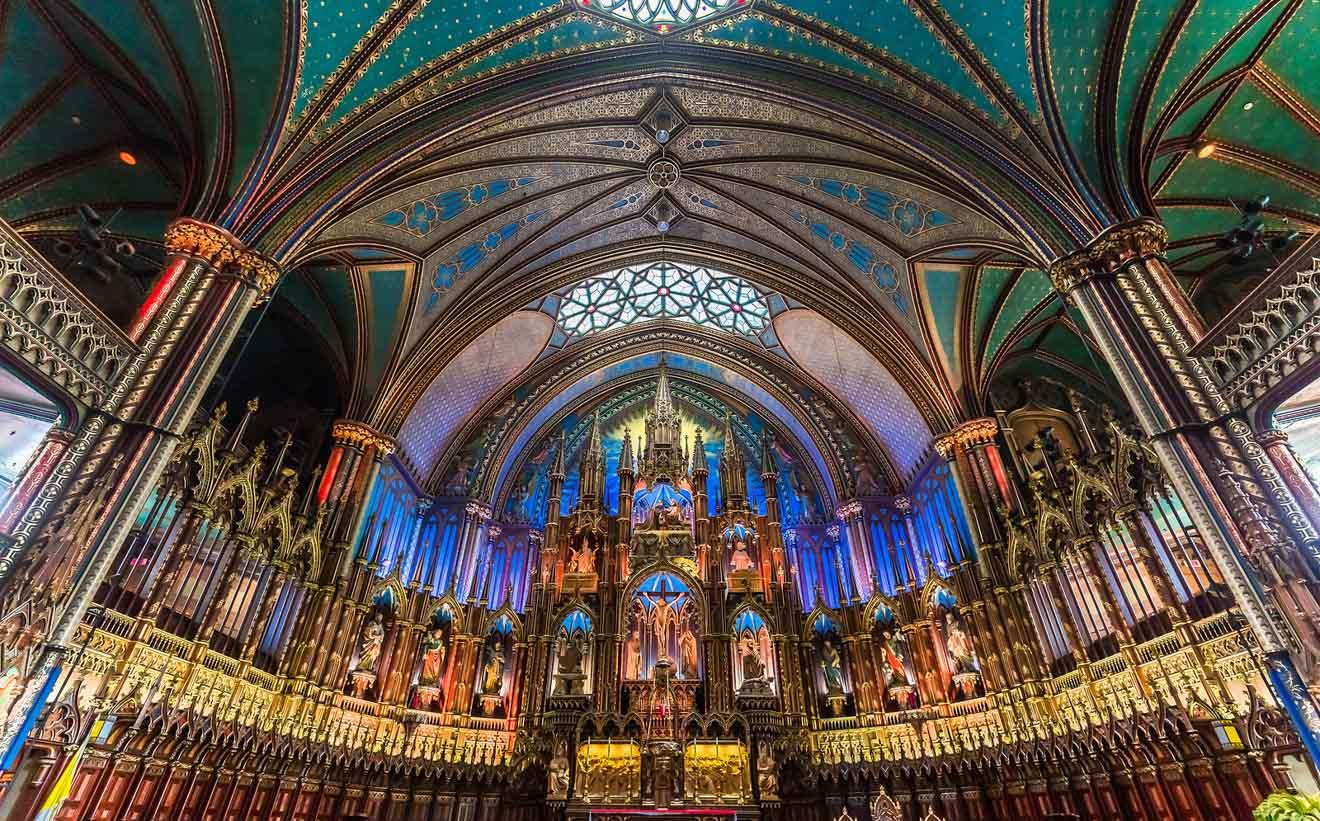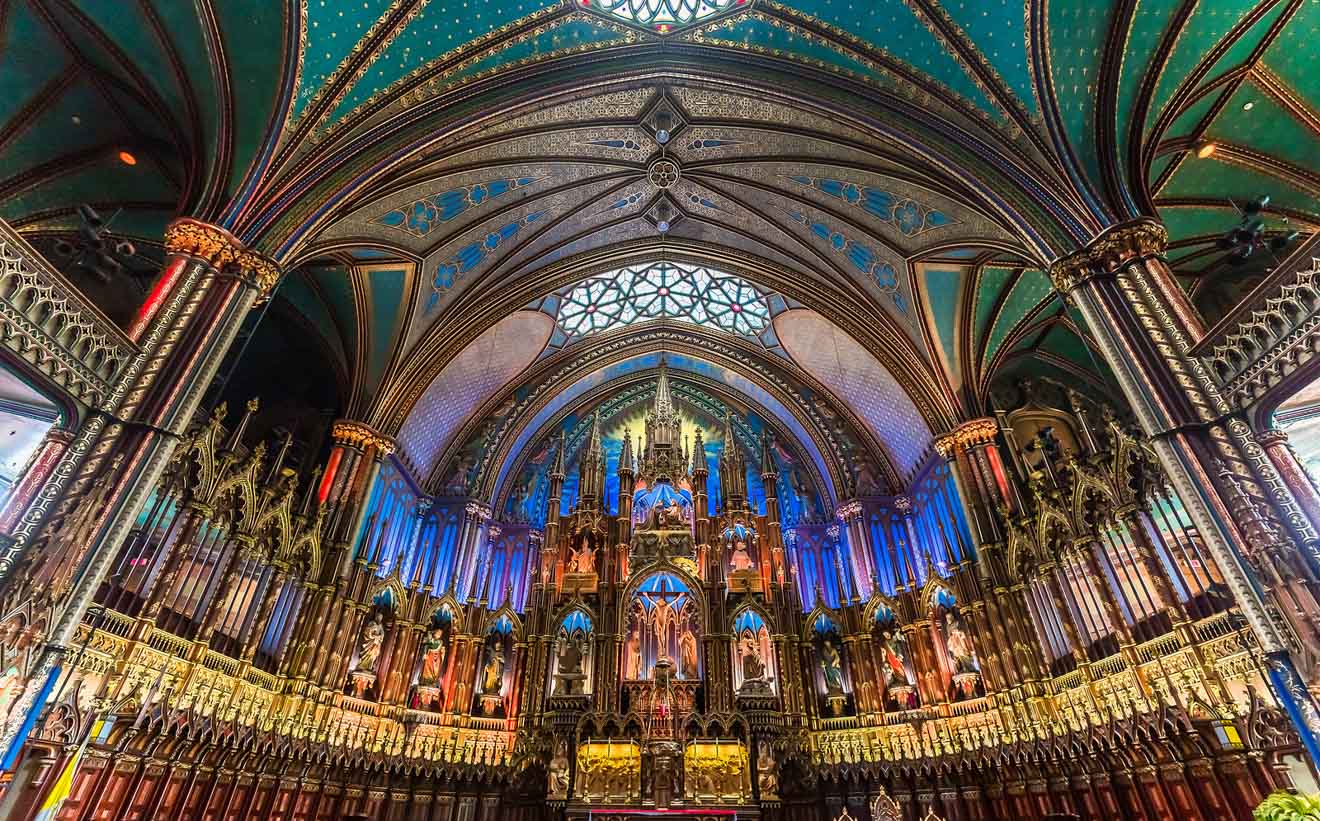 The famous Cathedral located at Place Jacques Cartier is definitely in the top 10 things to do in Montreal for me!
Step inside and admire its interior, gold-adorned altar and stained glass – it is worth a visit!
The entrance price is 6 CAD and a guided tour of 20 minutes is included in the price or it is free to look at during Mass (which is held numerous times a day – see the full schedule here).
There is a very beautiful light show inside the basilica called AURA. It is held every evening and the price is 25 CAD. You can see the schedule and the updated prices here. I haven't been, but my guide highly recommended it. Here is a sneak preview of what you are going to see.
5. Try craft beer in one of the local breweries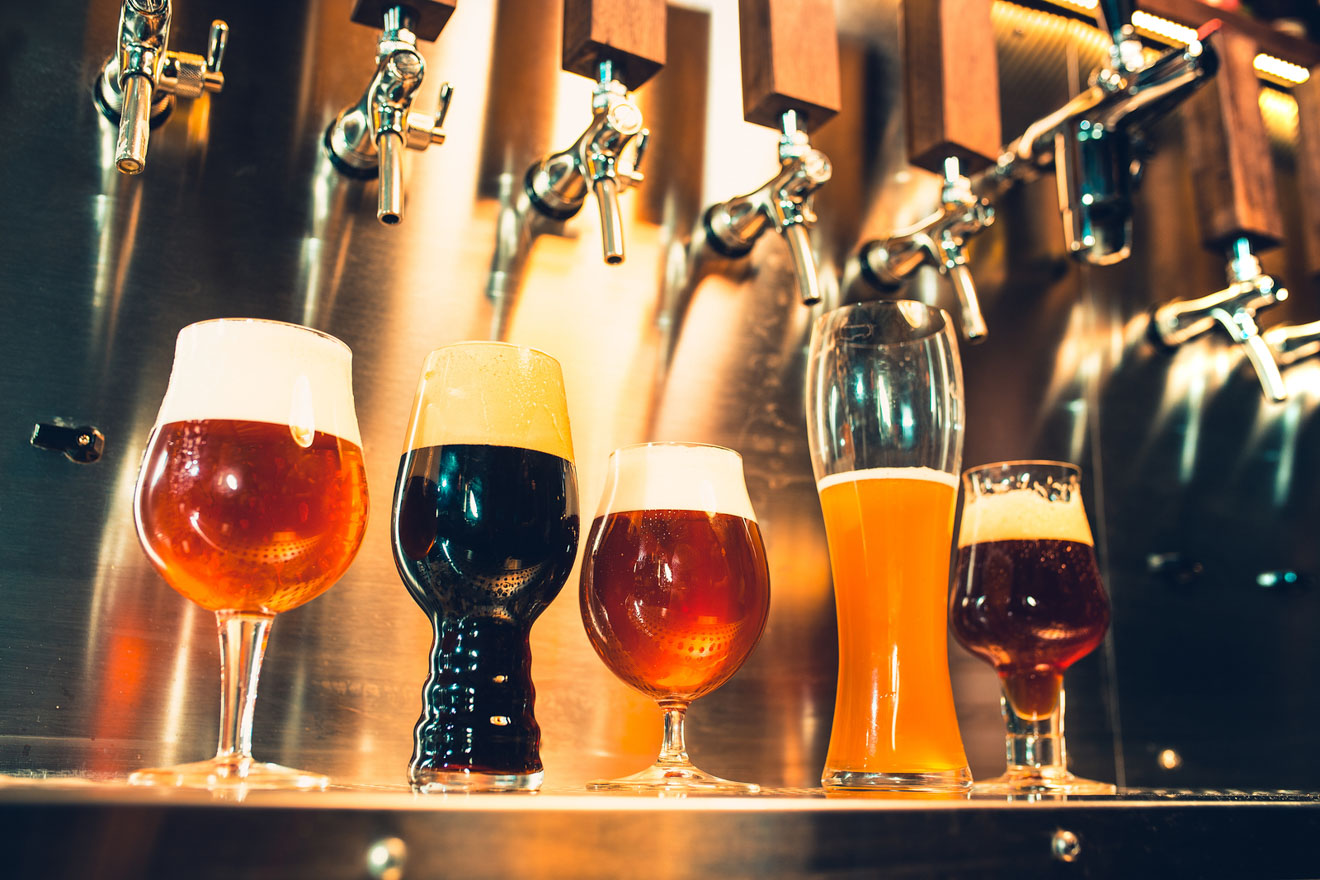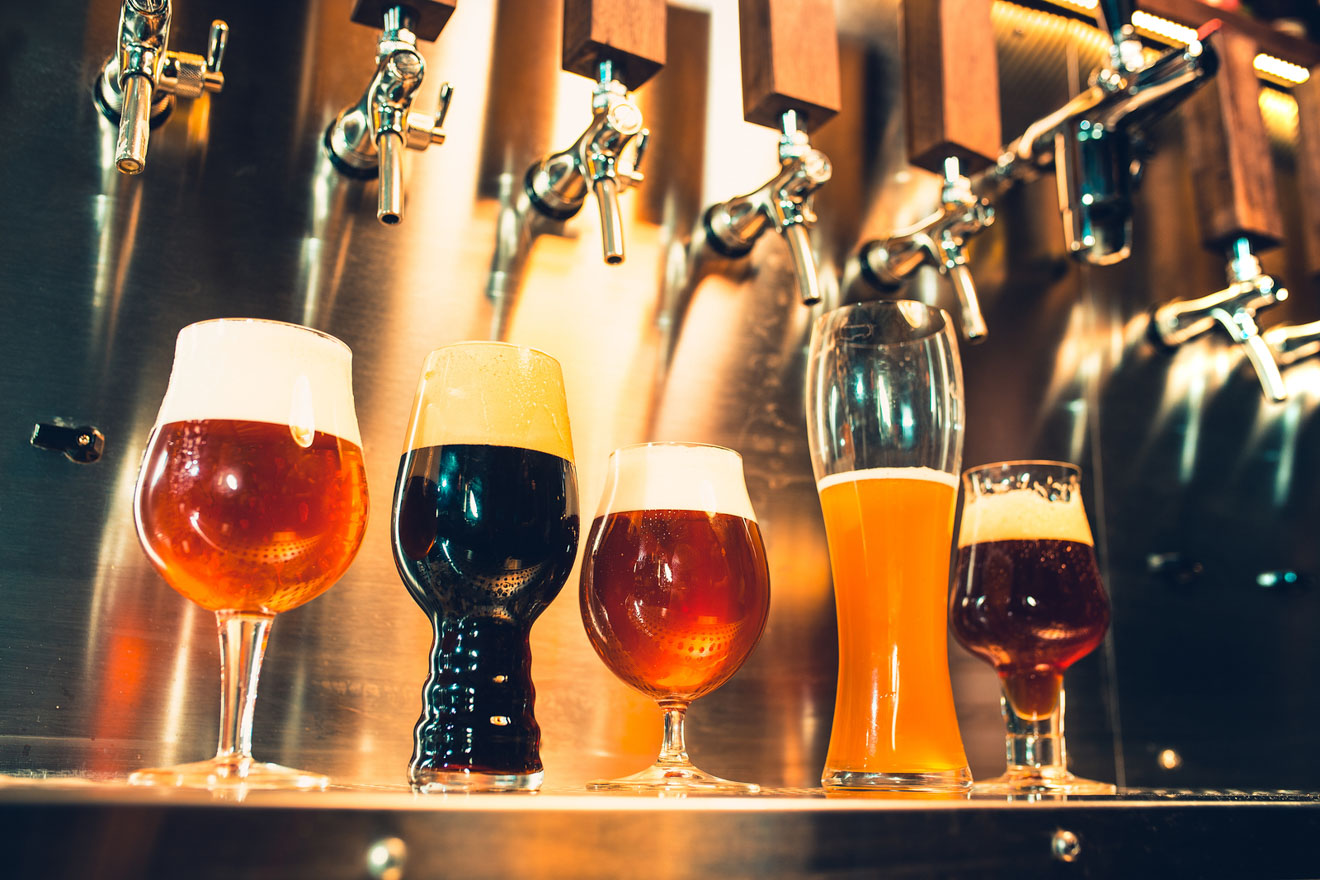 Montreal's brewpub experience is one of the most fun things to do in the city! The locals absolutely LOVE their craft beers and there are tons of small local brasseries with different types of beer here and there.
If you are a foodie, this food tour with beer tasting might interest you.
If you want to try some local craft beer on your own, my recommendations for a good local brewery would be…
NOTE: Montreal is actually the home of the oldest brewery in North America founded in 1786 called Molson!
6. Wander around the Old Port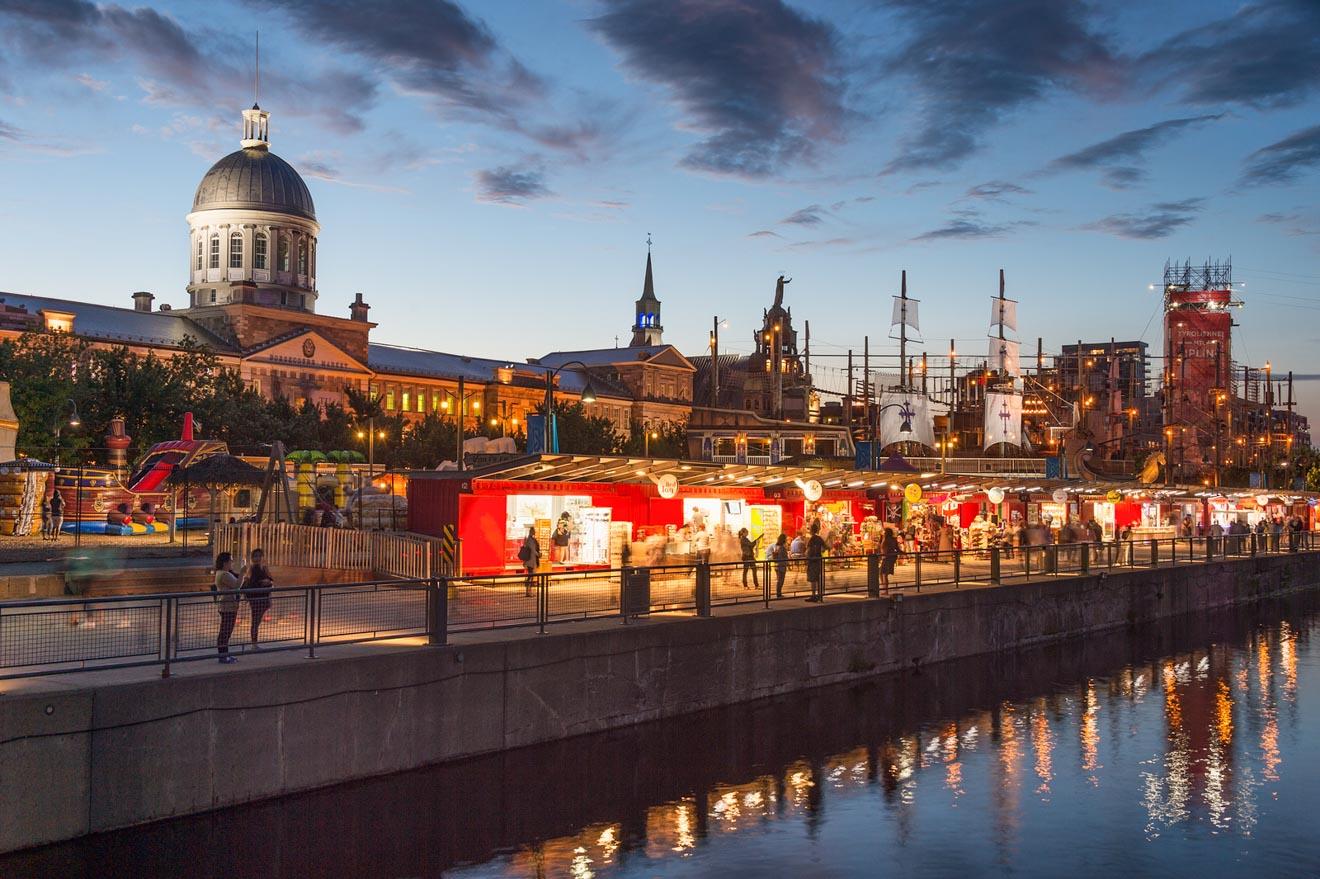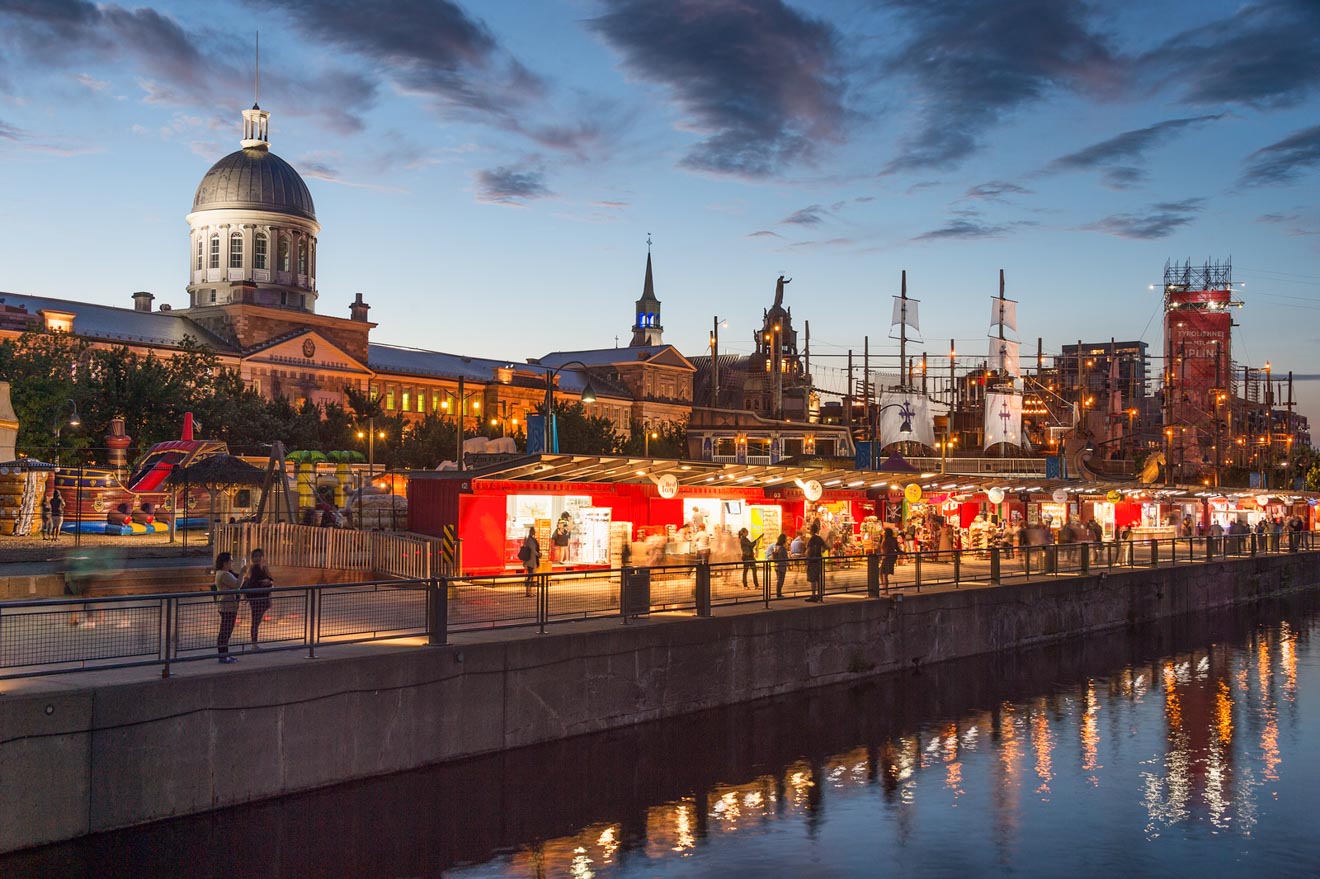 Le Vieux Port de Montreal located in the Old Town is a great place to relax and walk along the waterfront.
During the winter they make an ice rink there, so you can rent some ice skates and practice your skills while gazing at the waterside views! And during the summer, you can try the zip line above the Old Port! 😉
Weather permitting, you could alo take a boat tour in Old Port (more on that in #11)
7. Montreal Museum of Fine Arts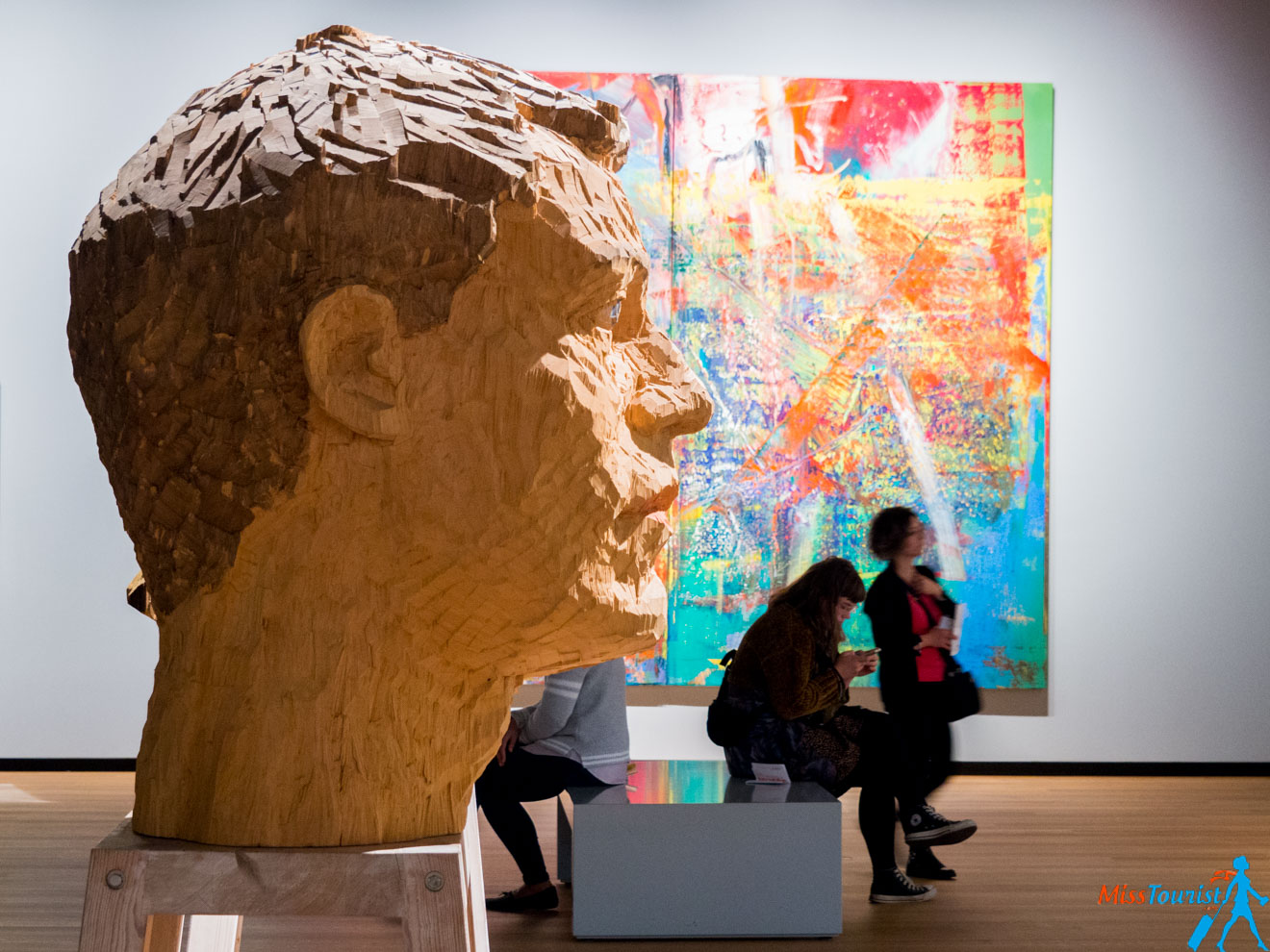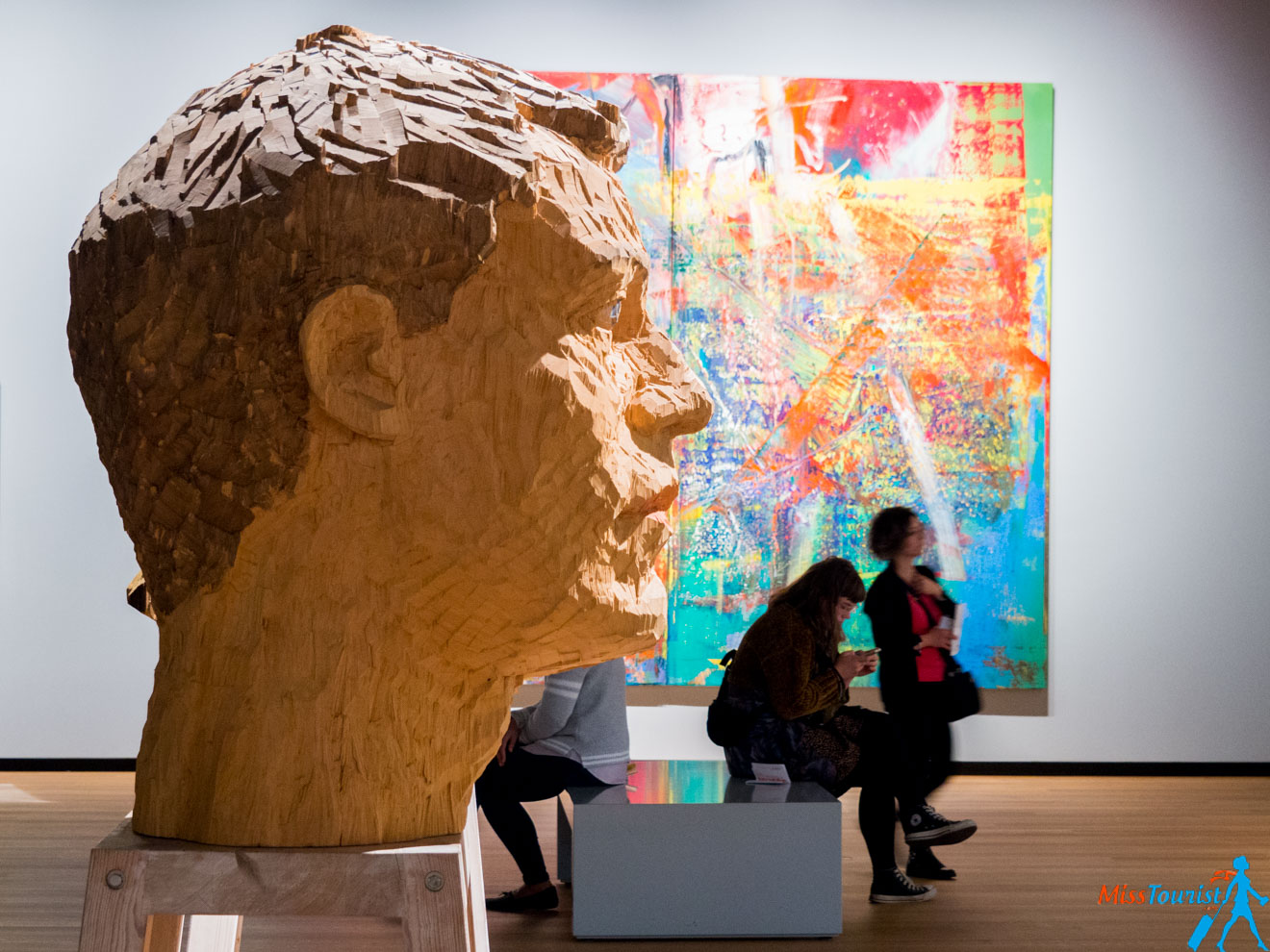 The Montreal Museum of Fine Art (MMFA) is huge and I spent about 3 hours there on a rainy day! The permanent collection includes over 44,000 pieces of art and there are many interesting temporary exhibits too!
The entrance is free for people under 31 or over 65 years old. For everyone else the price is 23 CAD.
8. Like a local – ride a bike in Montreal!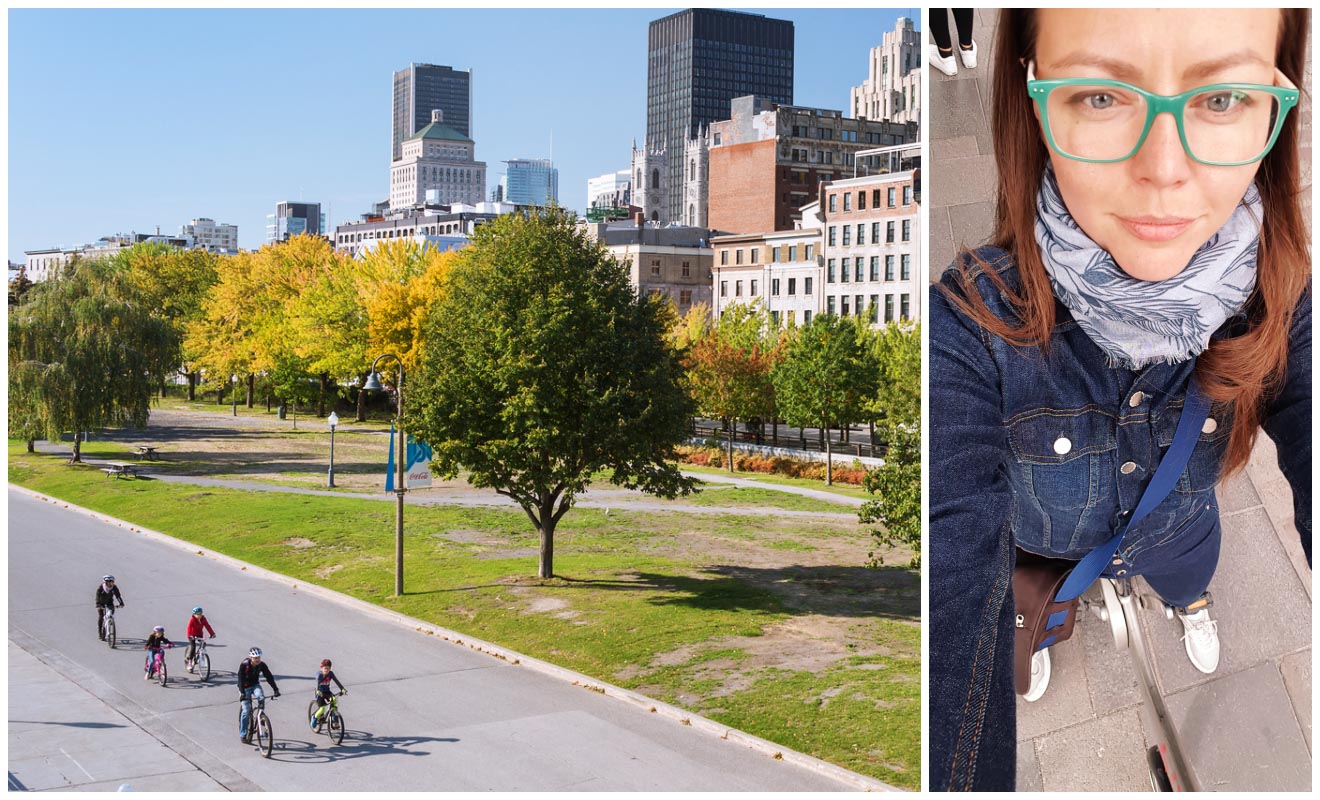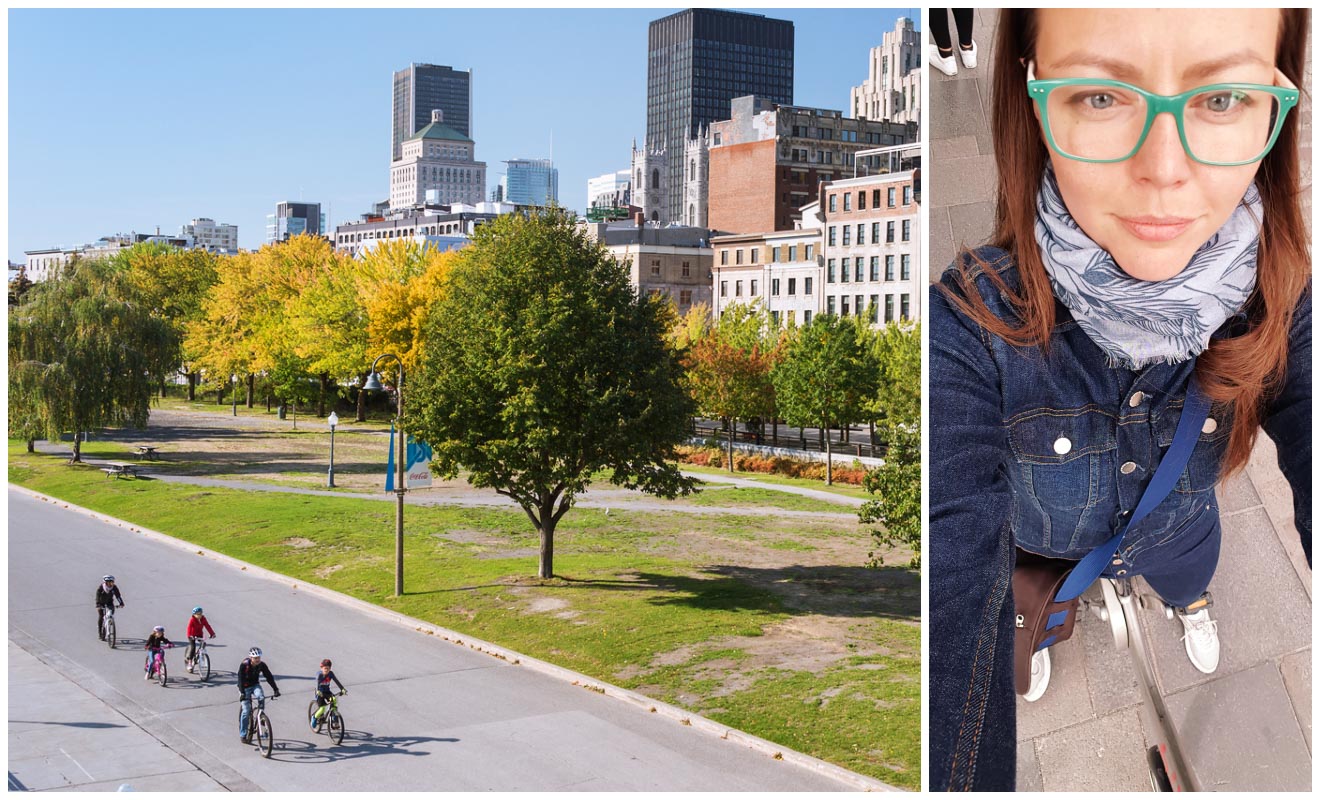 When in Montreal, do like the locals do – grab a bicycle and ride it around!
Montreal is a VERY bike friendly city! With countless bike paths and tons of people using them, you will not feel uncomfortable riding one! That said, I, of course, recommend renting a bike only in the warmer seasons.
How to use Bixi bikes in Montreal: This system is very similar to Velib in Paris if you are familiar with it. Bixi lets you hire out the bikes for a few hours or a full day, and you can return them at any bike station in the city. I recommend downloading their app on your phone to find the closest available parking to you – for Android, for iPhone.
The price is 5 CAD a day (unlimited amount of rides, but maximum 30 minutes each), or 3 CAD for a one time use of a maximum of 30 minutes each ride.
9. Ride the Ferris Wheel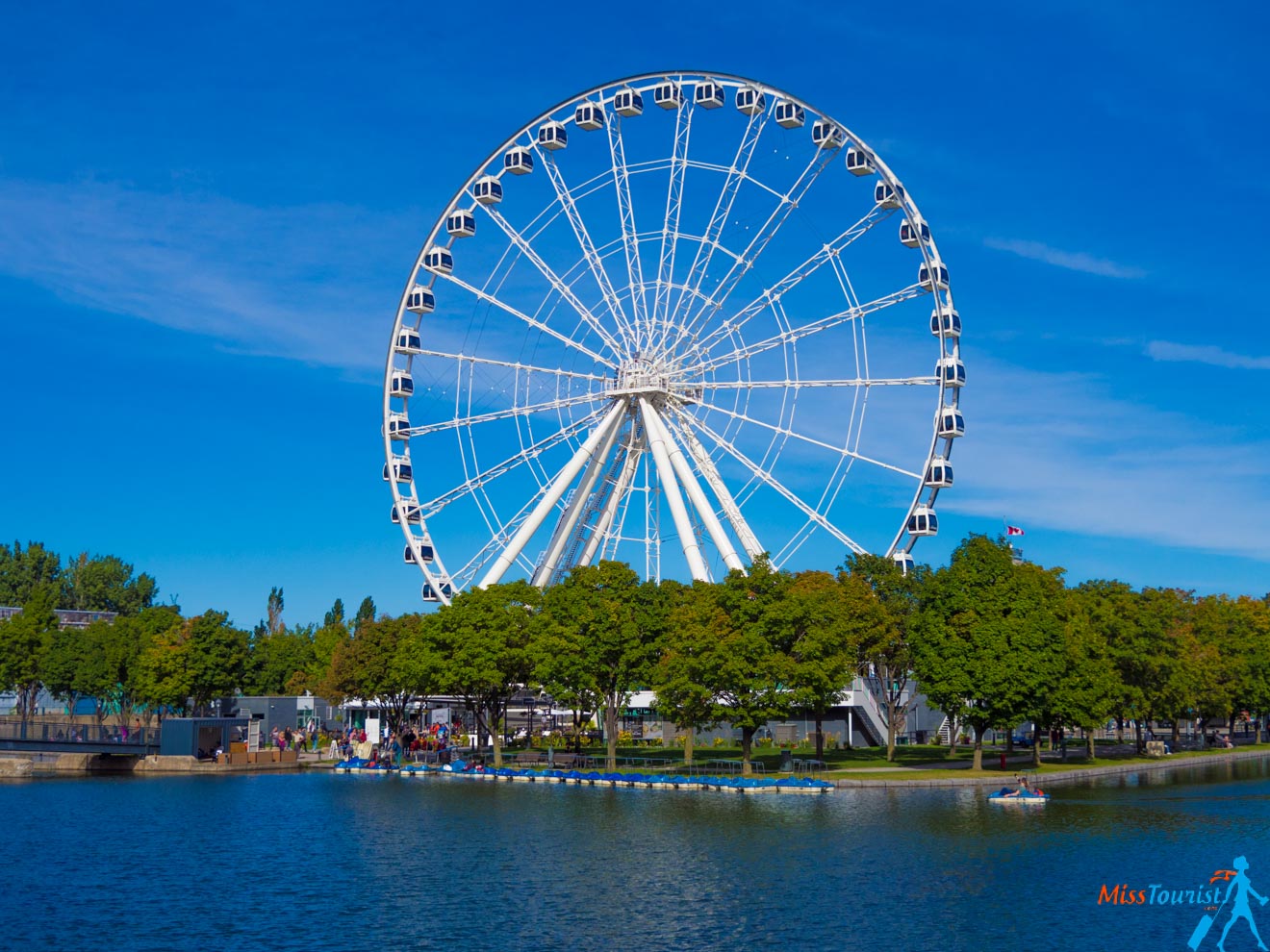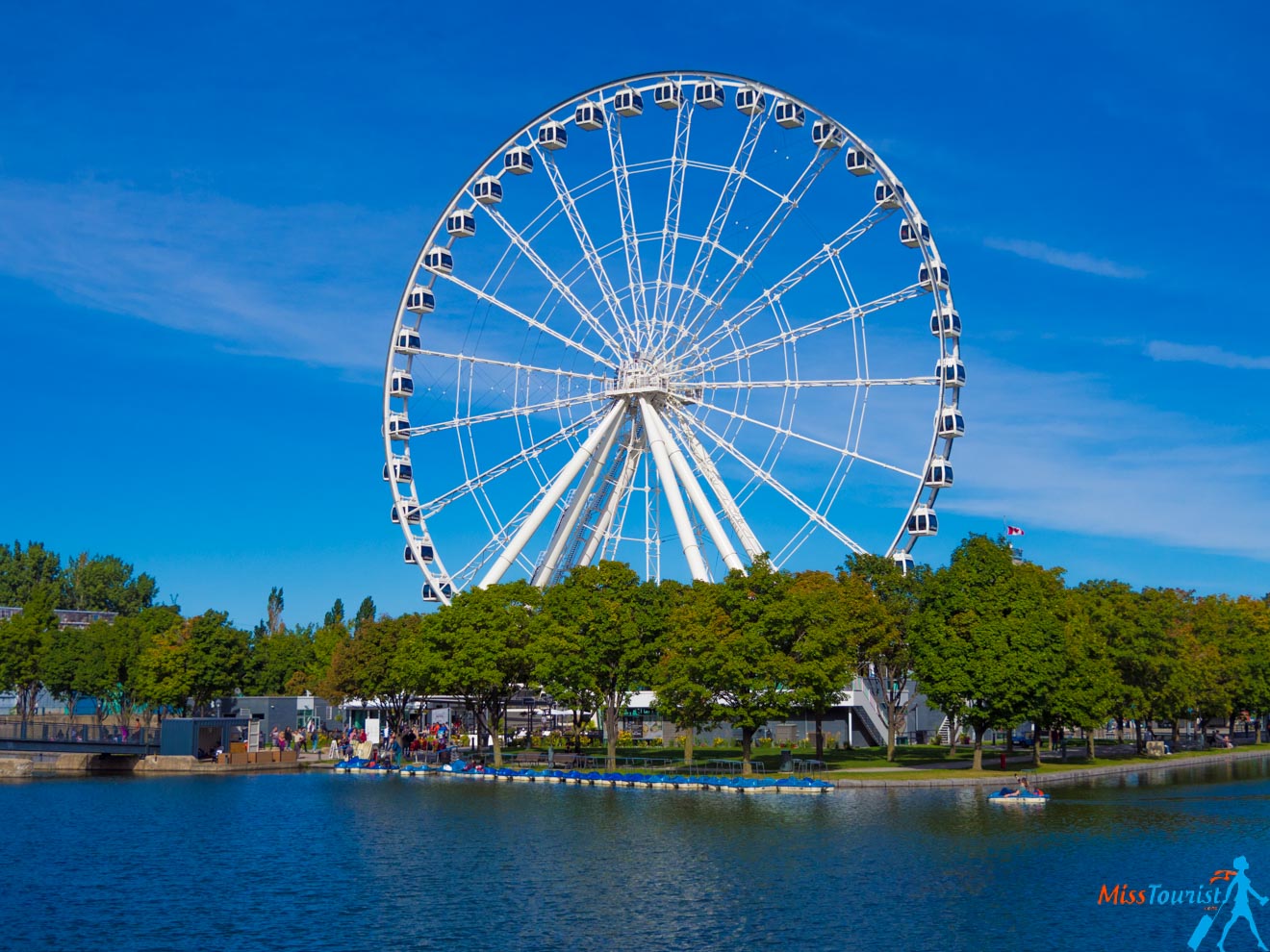 You should ride the Ferris Wheel (called La Grand Roue de Montreal) for the best view of the city! You will get a full 60 m high panoramic view – it is fun for travelers with kids and adults alike!
The cabins are heated during the winter and air-conditioned during the summer, so you can take a ride in any season! For the most magical scenery, I recommend going during the sunset hours.
10. Relax in the Montreal Botanical Garden (Space for Life)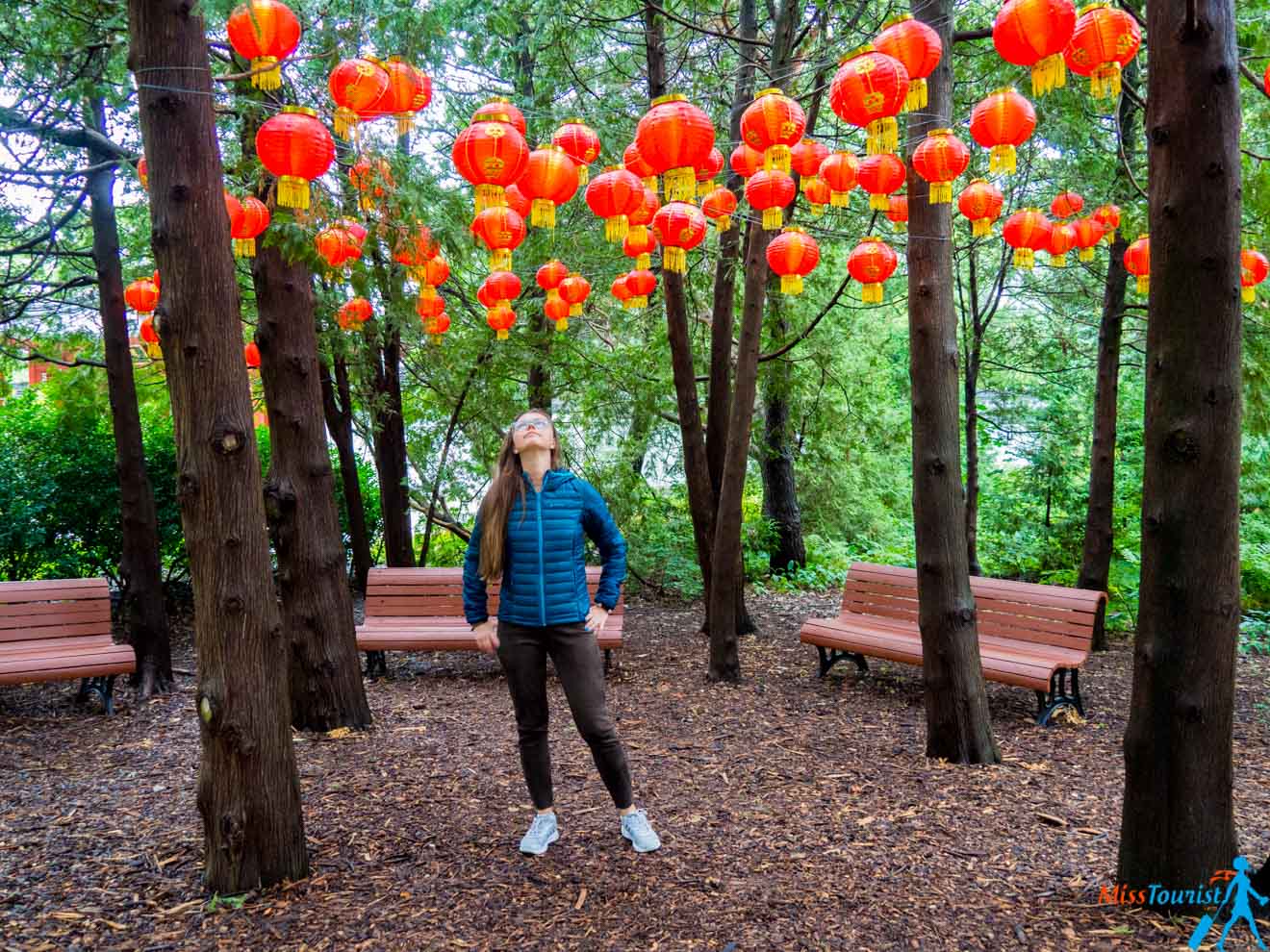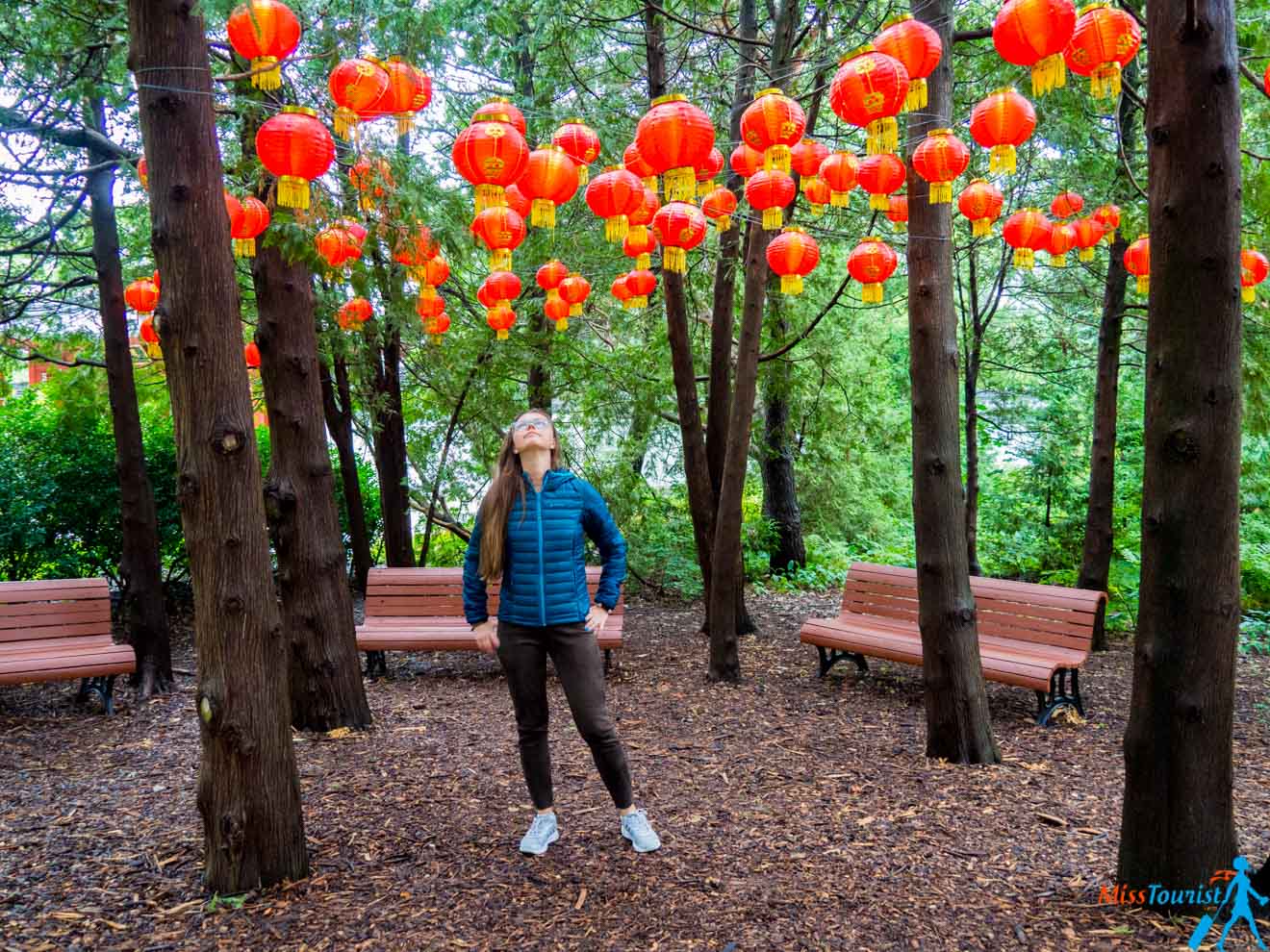 I love visiting botanical gardens whenever I discover a new country for some reason. I guess it helps me disconnect from the hustle and bustle and think about my actual impression of the city.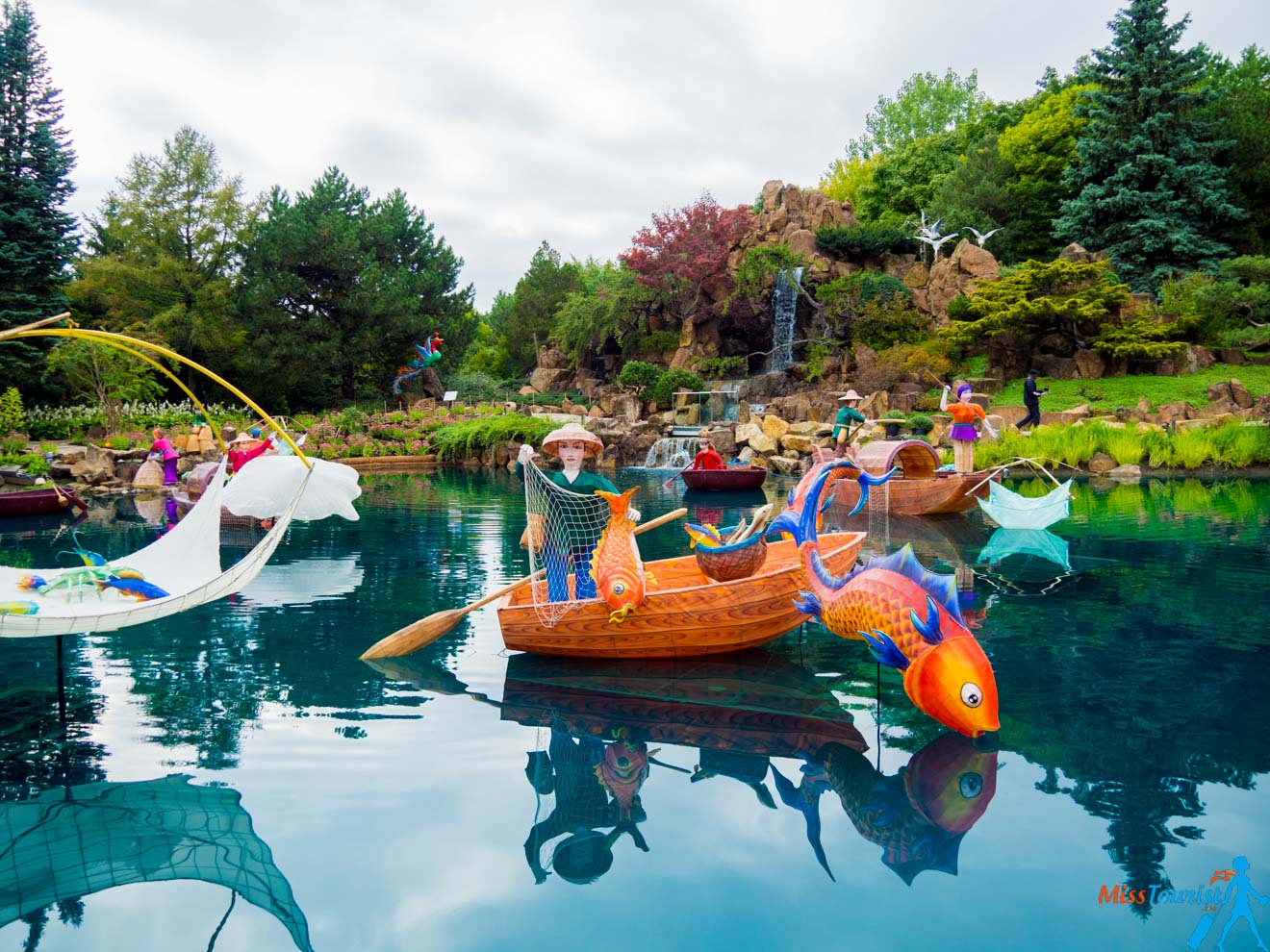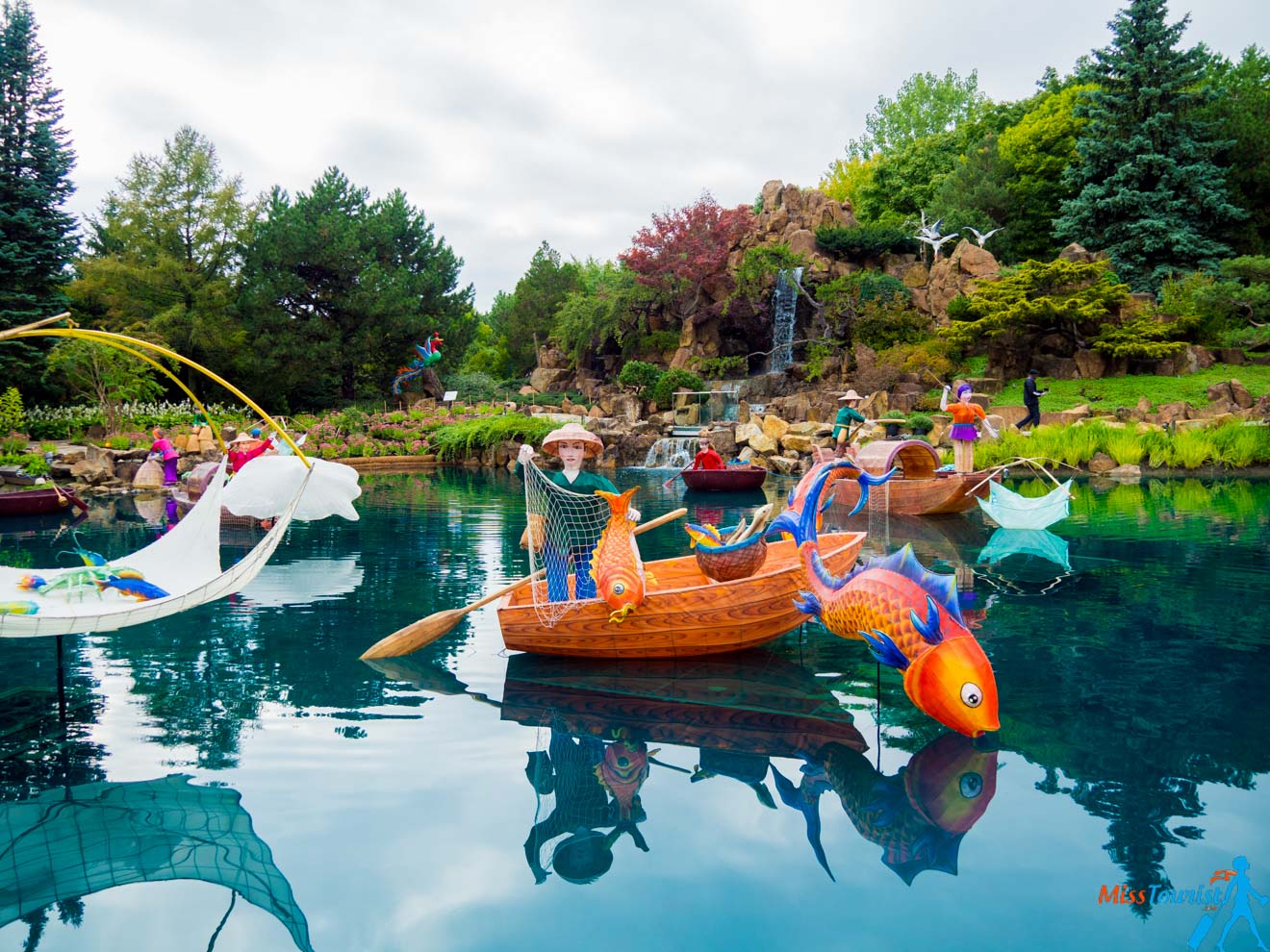 If you are searching for some awesome things to do in Montreal with kids, then take a look at Jardin Botanique (Botanical Garden) – there is plenty to see there! They have Japanese, Chinese, and even Alpine gardens. Some of the gardens are breathtakingly beautiful; I especially liked the Japanese one!
They sometimes organize Jardins de Lumiers (when the park is beautifully lit up), so I suggest you try to catch that one too!
NOTE: Don't miss the green house! We left it for the end, but it closes earlier than the park itself closes.
The admission for Jardin Botanique and Insectarium is 20.50 CAD for an adult and 10.50 CAD for kids.
11. Cruise around Montreal on a boat tour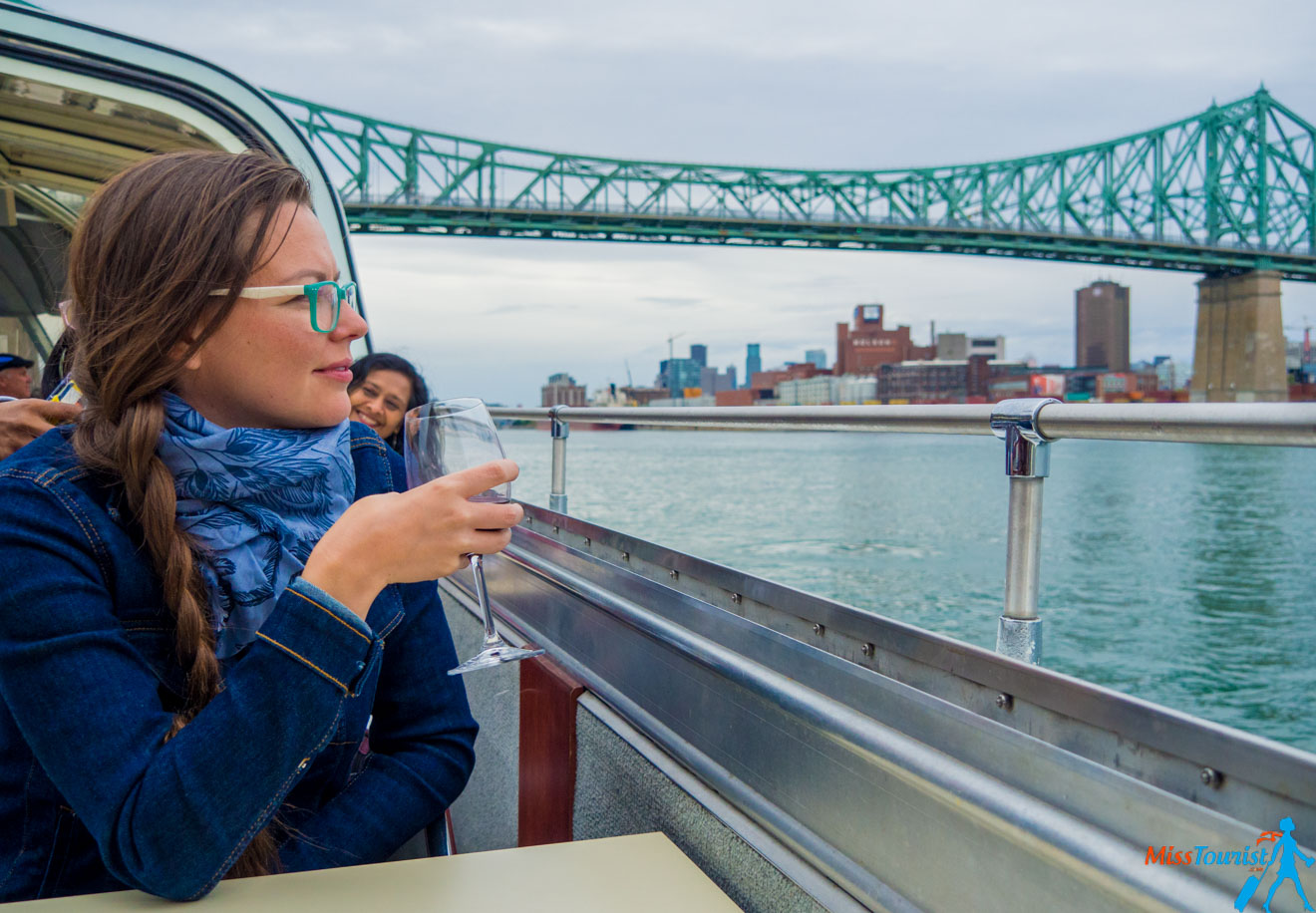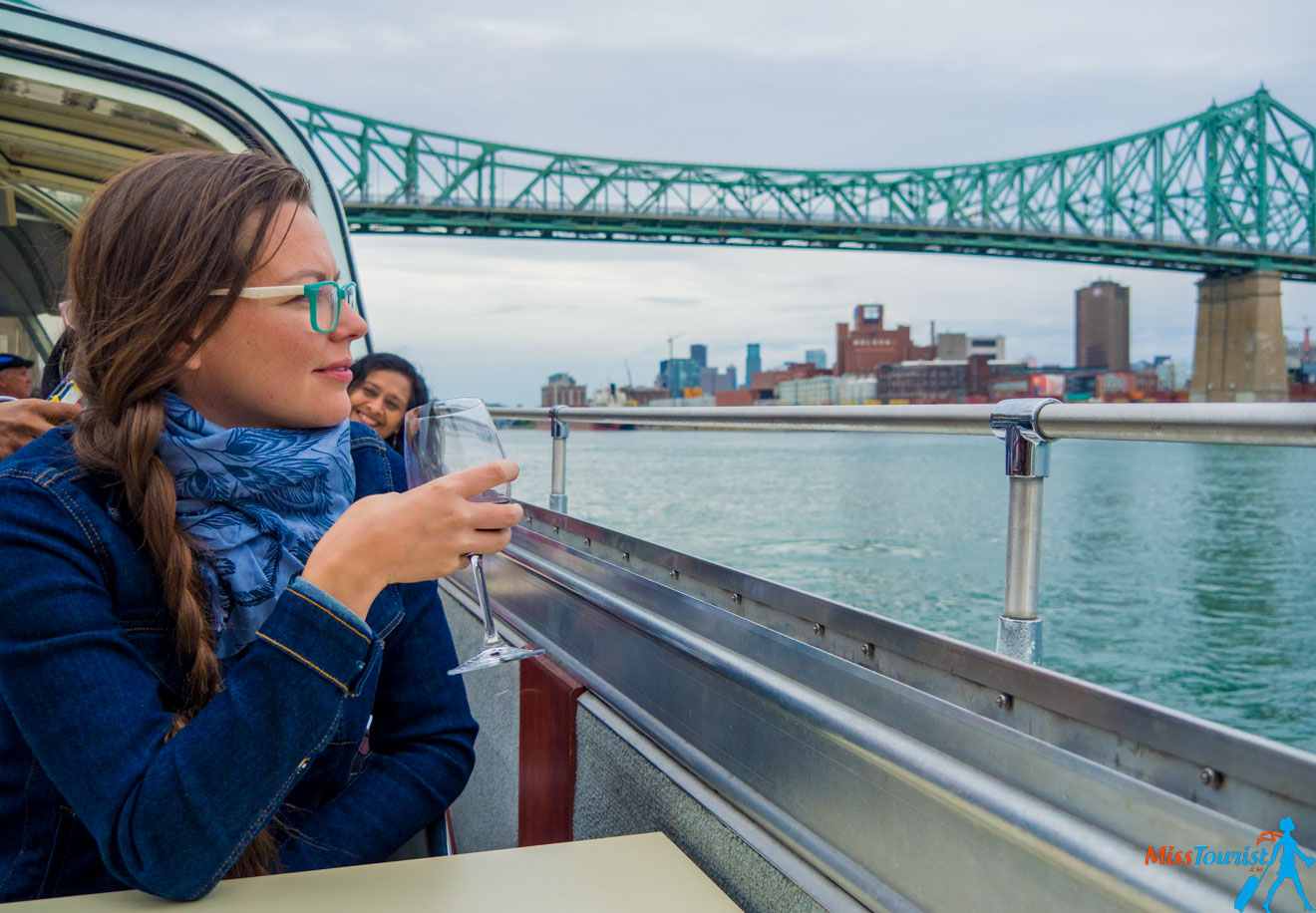 Montreal is basically an island, so why not discover it from the water as well?
Cruise through the Montreal marina to see best Montreal tourist attractions from another angle!
The boat on the tour you are about to take is called le Bateau-Mouche and it translates from French as a "fly boat" (a fly being an insect in this case).
The tour I took was 25 CAD per person plus tax and it was 60 mins long (we bought it right there on site). A live guide gave us information in 2 languages – English and French. The departures are numerous times a day (usually 3-4, depending on the season), so you can choose the one that fits your schedule. All boat tours depart from the Old Port.
NOTE: If it is cold outside, you can take a covered panoramic boat tour with a dinner on board.
For us, the weather was decent (it was mid-September), so it was nice to stay outside with a glass of wine. I bet it is even nicer when it is hot outside!
12. Get lost in the underground city of Montreal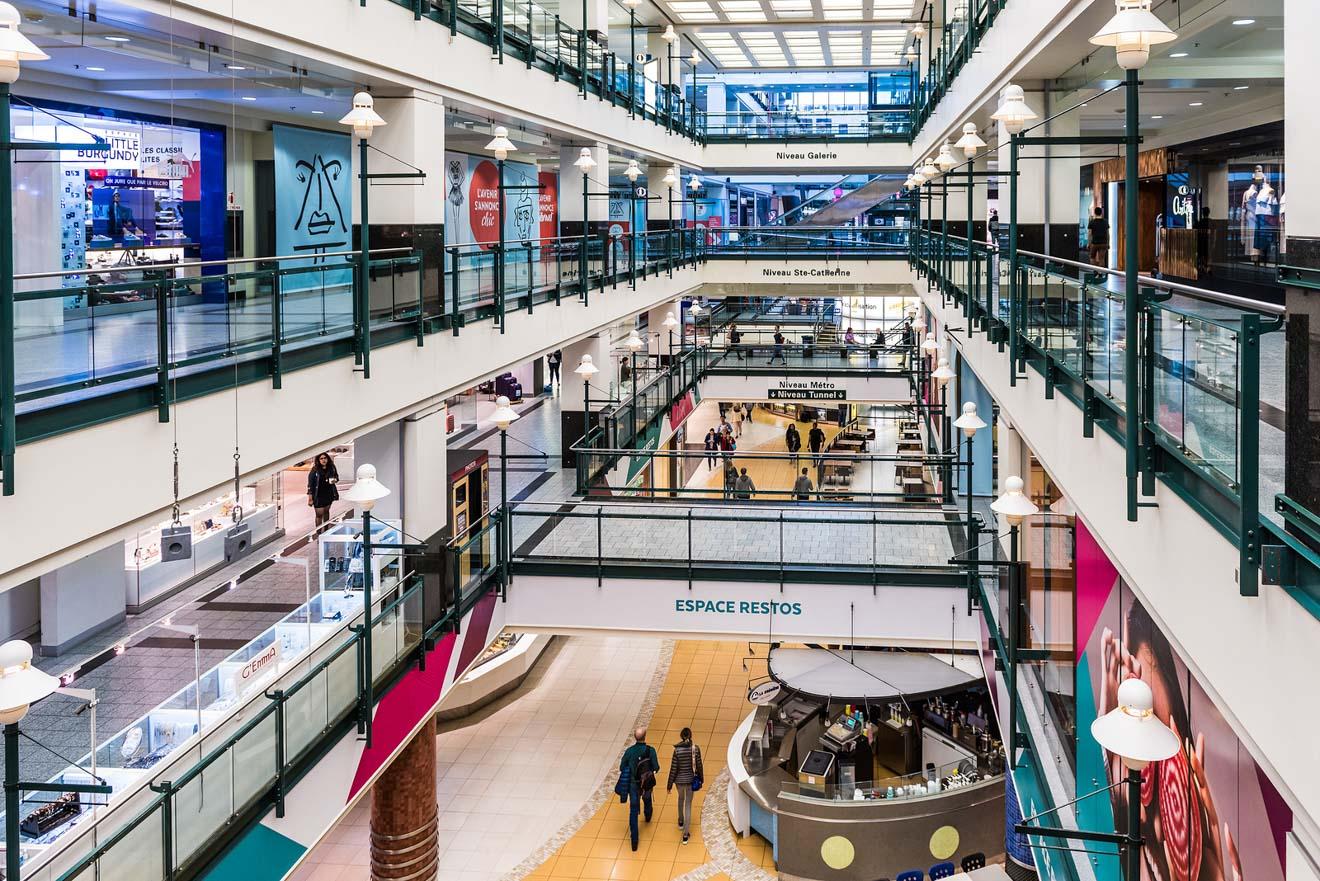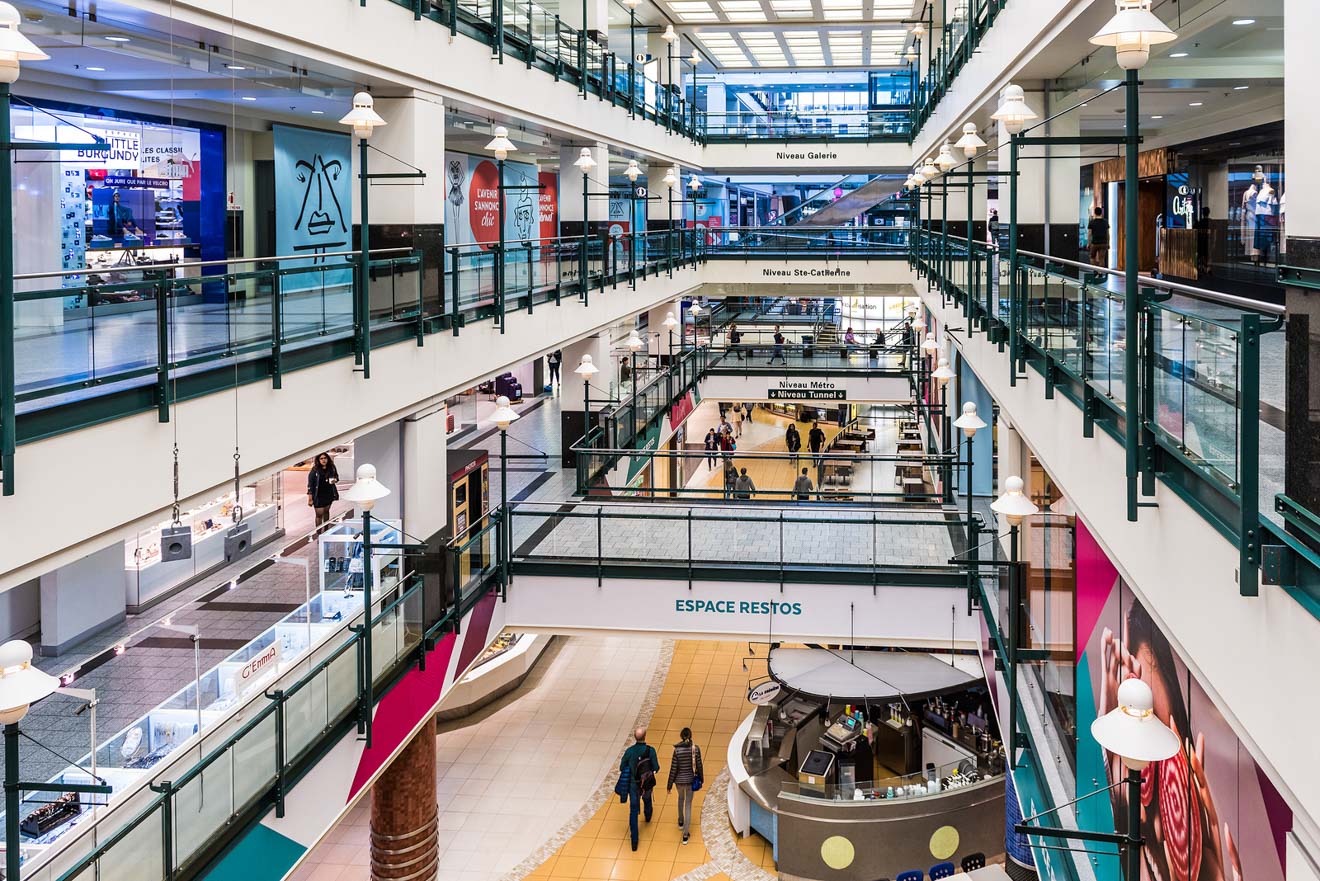 Montreal tunnels stretch for over 33 km! The tunnels form a whole new city with shopping malls, parking lots, restaurants and even fountains, all underground!
The reason Montreal has this underground city is because of the type of soil they have there. In order to build skyscrapers in this kind of soil, they had to dig a really deep foundation.
Unlike the underground city in Toronto, the one in Montreal is actually used by the locals and it is especially convenient to use during winter or on a rainy day!
Most of the downtown area is interconnected by underground paths so that you do not have to be out in the cold – it has cafes and shops inside too! But I have to warn you that it is a little hard to navigate, so here is a downloadable map of the underground city just in case!
13. Visit Biodome Montreal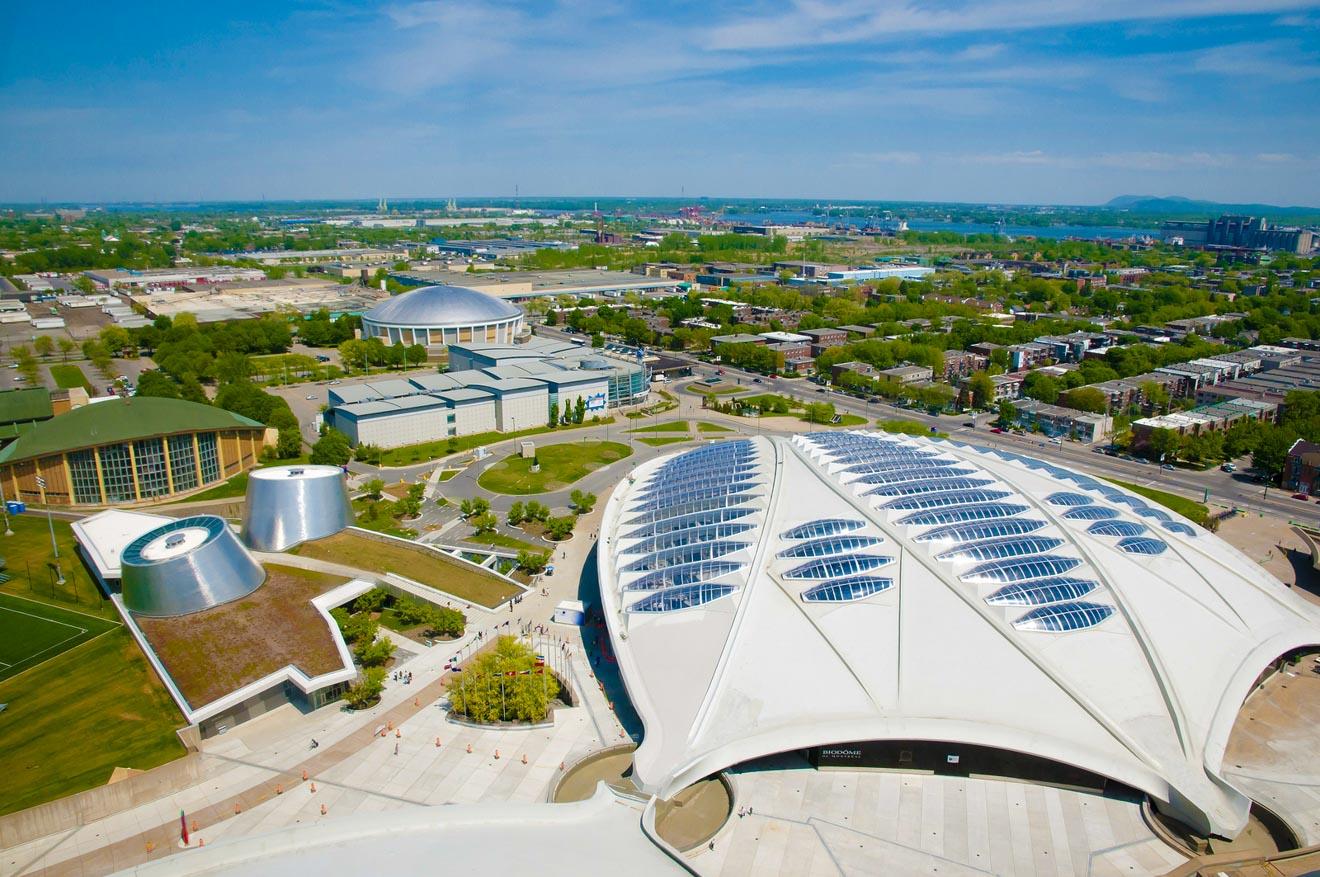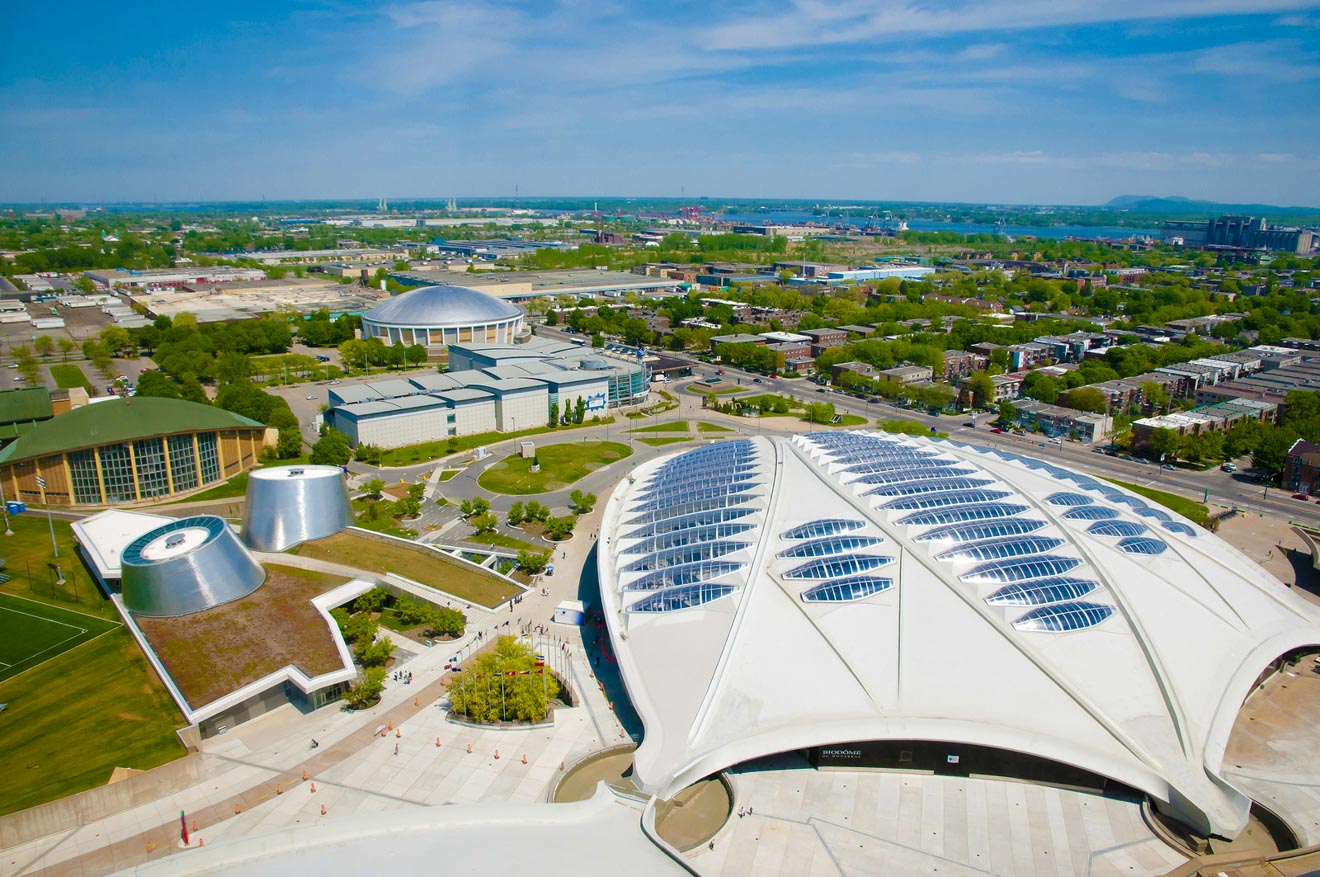 ATTENTION: Montreal Biodome is temporarily closed for restoration until the summer of 2019!
Biodome Montreal is a popular attraction for families with children.
NOTE: Please do not mix up Biodome and Biosphere (I know, it was confusing to me too!). The Biosphere is a dome like museum dedicated to the environment and it is located at Parc Jean-Drapeau on Saint Helen's Island.
The Biodome is located very close to the Botanical Garden (see above) and it gives you the rare opportunity to walk through replicas of different ecosystems found in the Americas!
I haven't been there unfortunately because it was already closed for renovation when I visited Montreal in September 2018, but my friend was almost crying that I could not visit it as it is one of the best things to do in Montreal in her opinion! So, make sure to go there if you are visiting in the summer of 2019 or later!
14. See the weirdest architecture – Habitat 67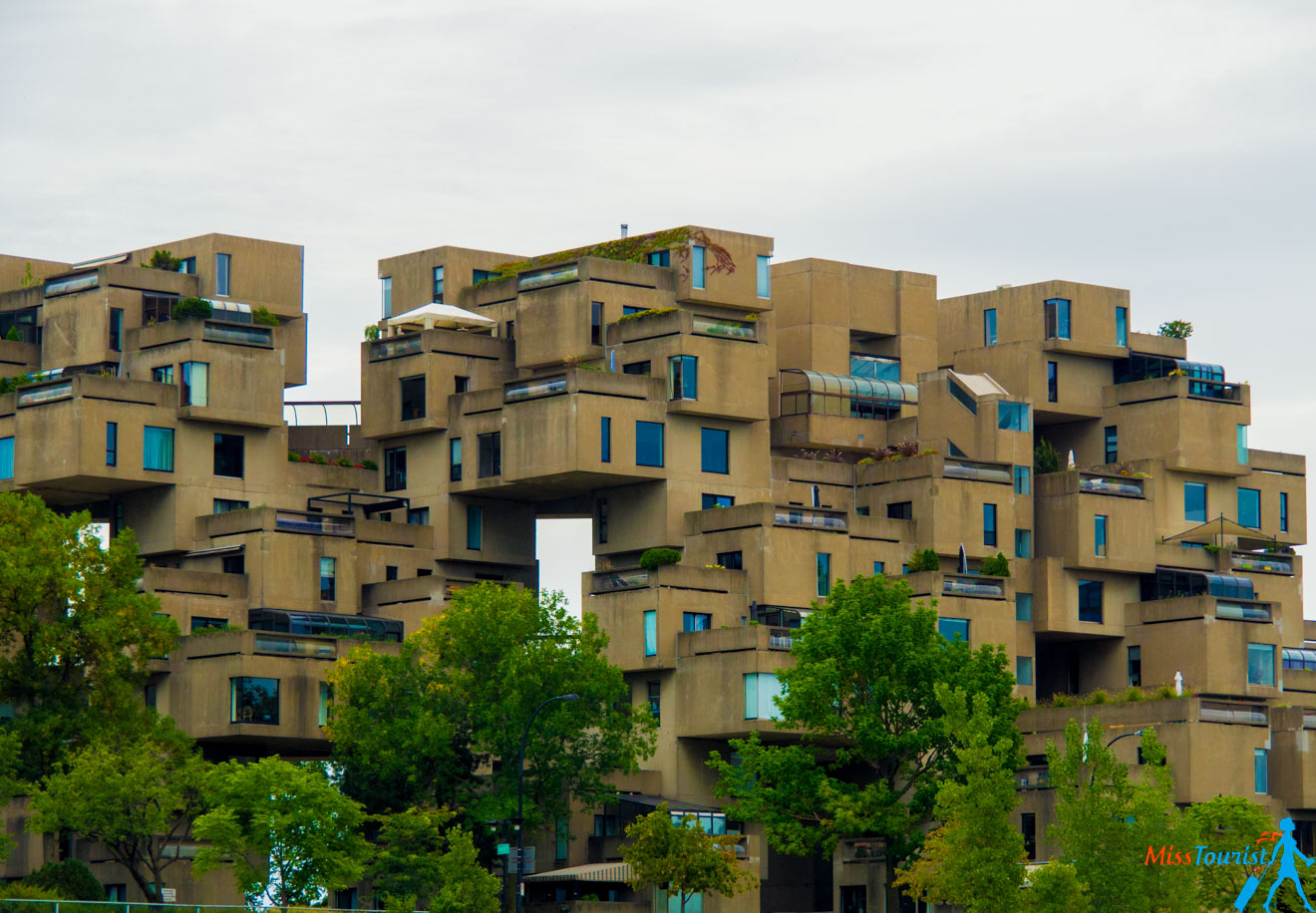 What happens when an architect decides that everyone in the building should have a river view? We end up with interesting architecture like Habitat 67!
The architect decided to reinvent apartment living and I must say he ended up with a very interesting solution – Habitat 67 is definitely one of the most interesting architectural landmarks in the city! It is a very controversial building; some call it a "failed dream", but it still remains one of the most expensive real estate properties in the city.
Habitat is located outside of the tourist center so it might be inconvenient to go there just to see it, but we passed it during the boat tour so that was a 2 for 1! Otherwise, you can reach the place by bike as there is a bike path. It will be a bit hard to reach it by public transport and it requires at least 20 minutes of walking.
15. Check out Jean Talon Food Market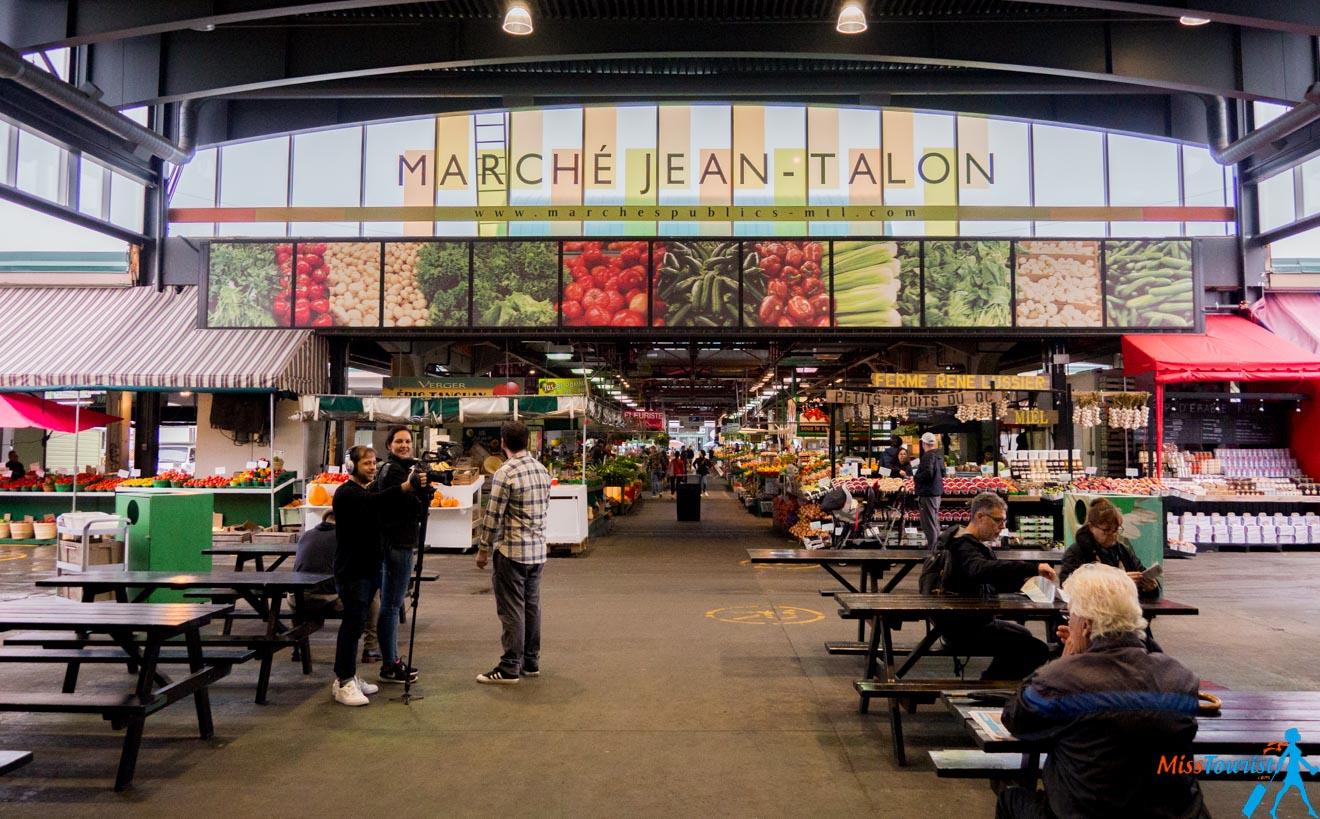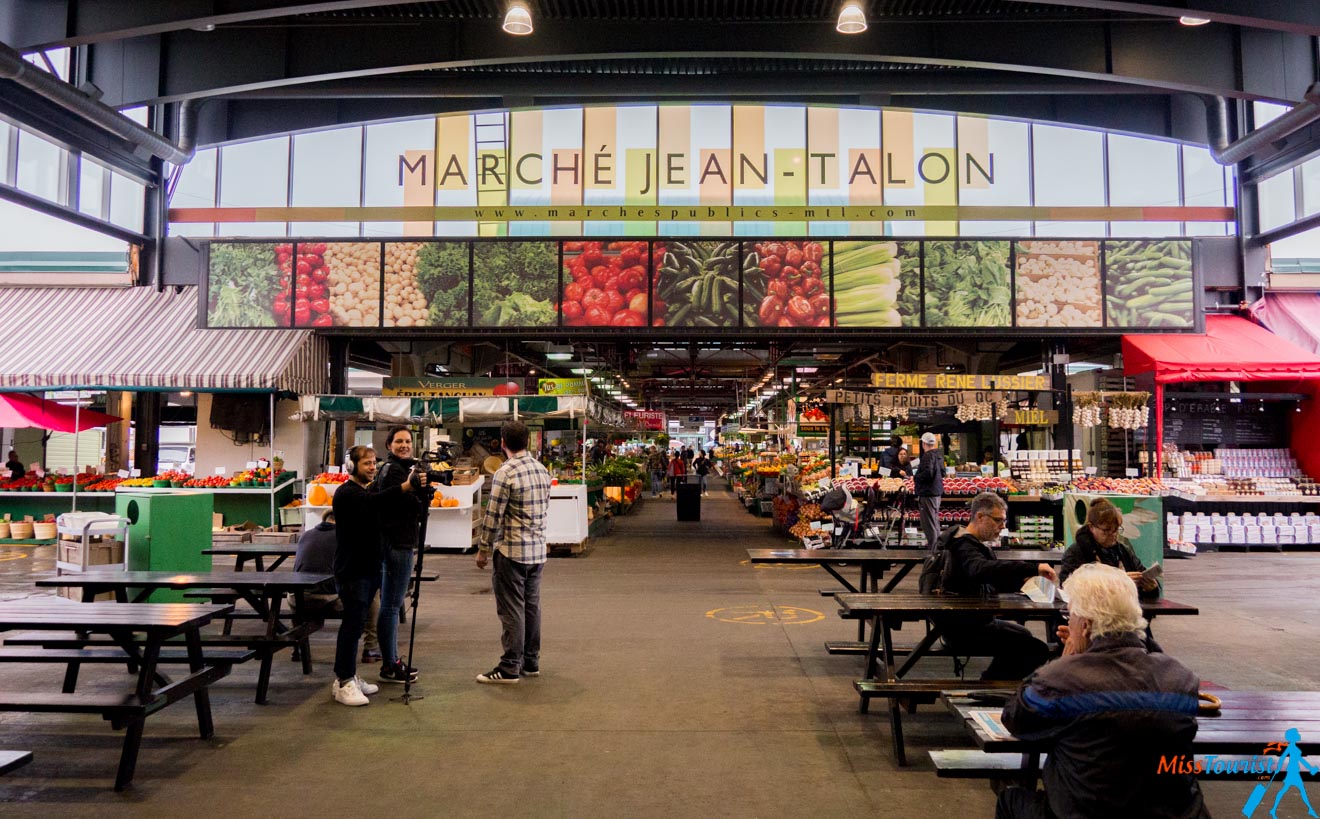 Situated in the heart of Little Italy, Jean Talon Market is the oldest public food market in North America!
In the market, expect colorful fruits and vegetables of all sorts, fresh fish and meat, cheese and flowers to buy, and of course, the famous maple syrup! And the way they organize the food stalls is so darn pretty! There is a nice place where you can have oysters and enjoy your Francais belle vie!
Some alternative markets to Jean Talon would be Atwater Market or Maisonneuve Market.
---
Extra – 14 not-so-touristy things to do in Montreal
I could not just stop at 15 with the list of what to do in Montreal so I decided to add a list of 14 extra lesser known attractions – do you mind? 🙂
These sights will be great for you if you have more time on your hands or you are searching for unusual things to do in Montreal:
1. Six Flags Montreal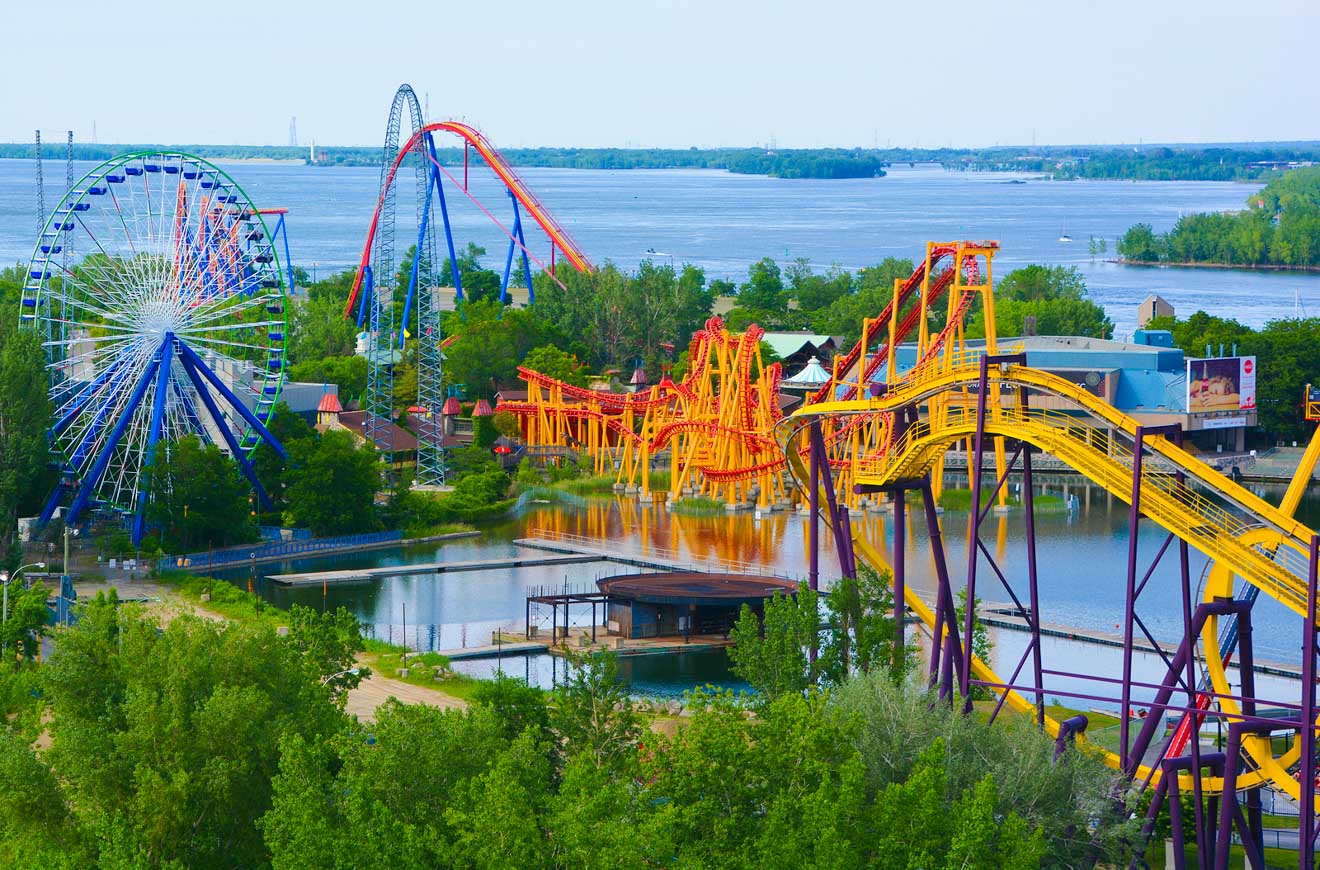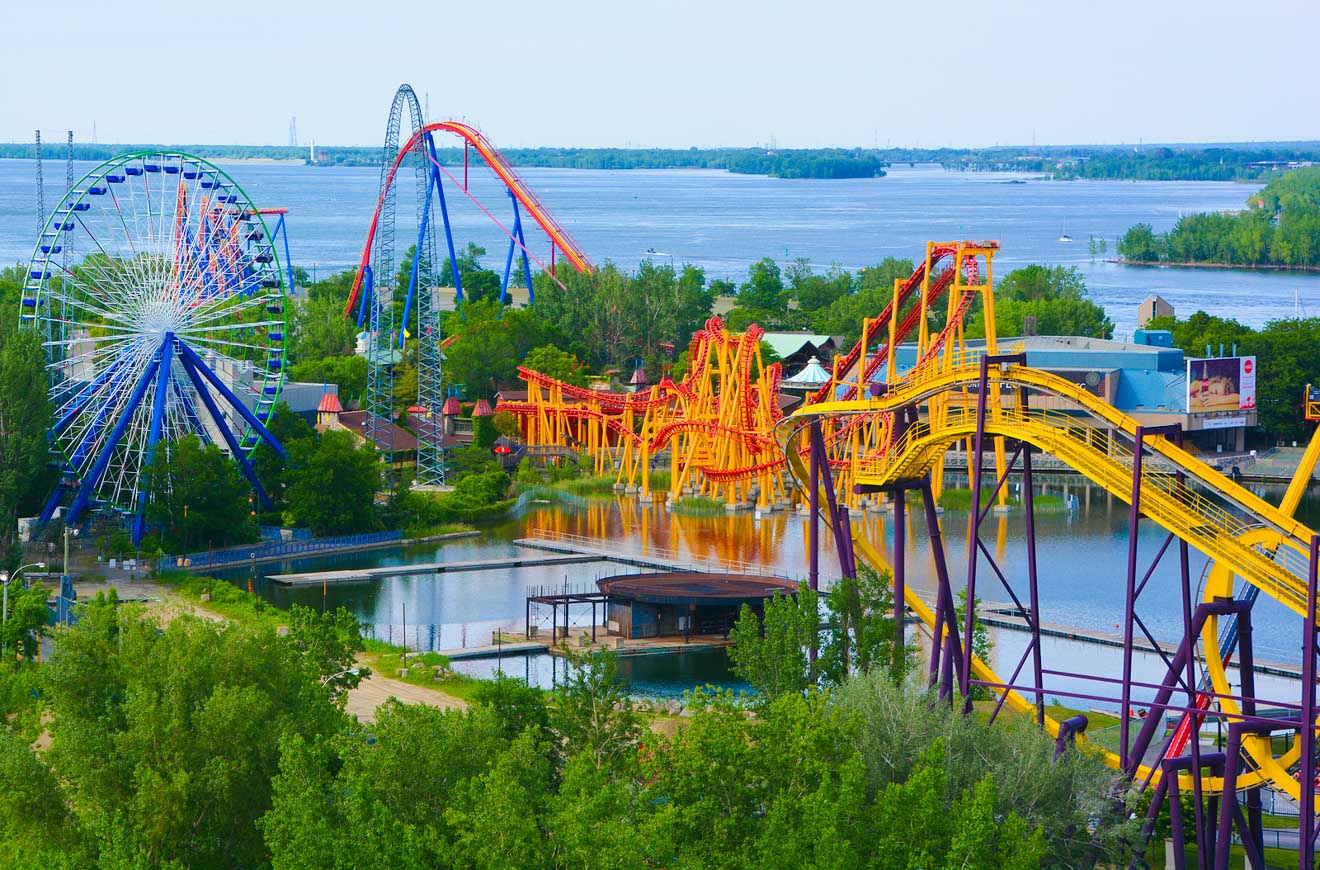 Six Flags, or La Ronde, which is the park's second name, is an amusement park with roller coasters of all kinds. Make sure to go there if you are in search of some crazy things to do in Montreal!
The park was originally built in 1967 for the World Expo, but do not worry about its age – it is owned by an international chain now and it has all kinds of new thrill rides, fireworks, and shows!
PRICE: The adult tickets are about 55 CAD, but it can be lower if you catch a promo!
2. Wander around Le Plateau and Mile-End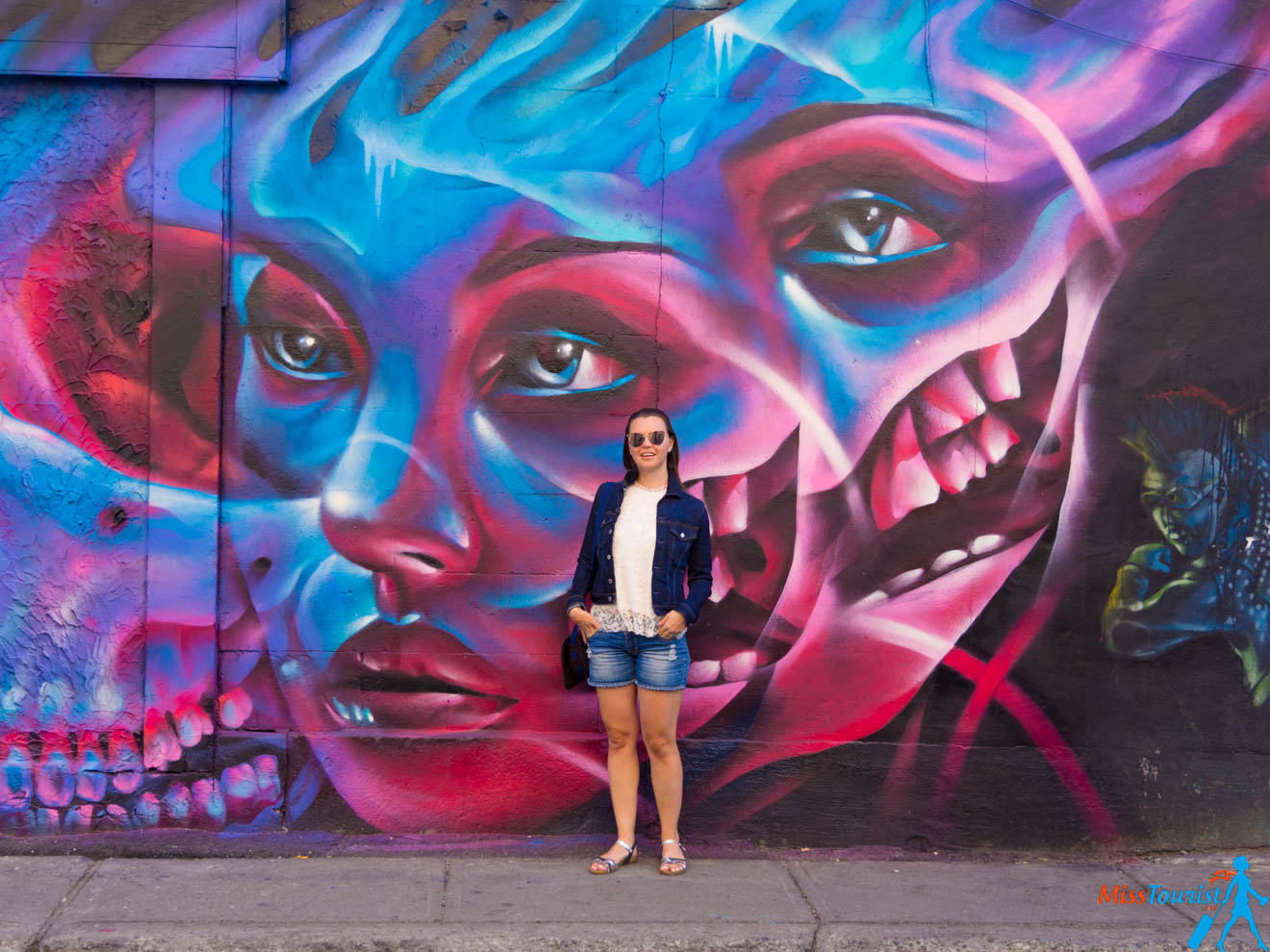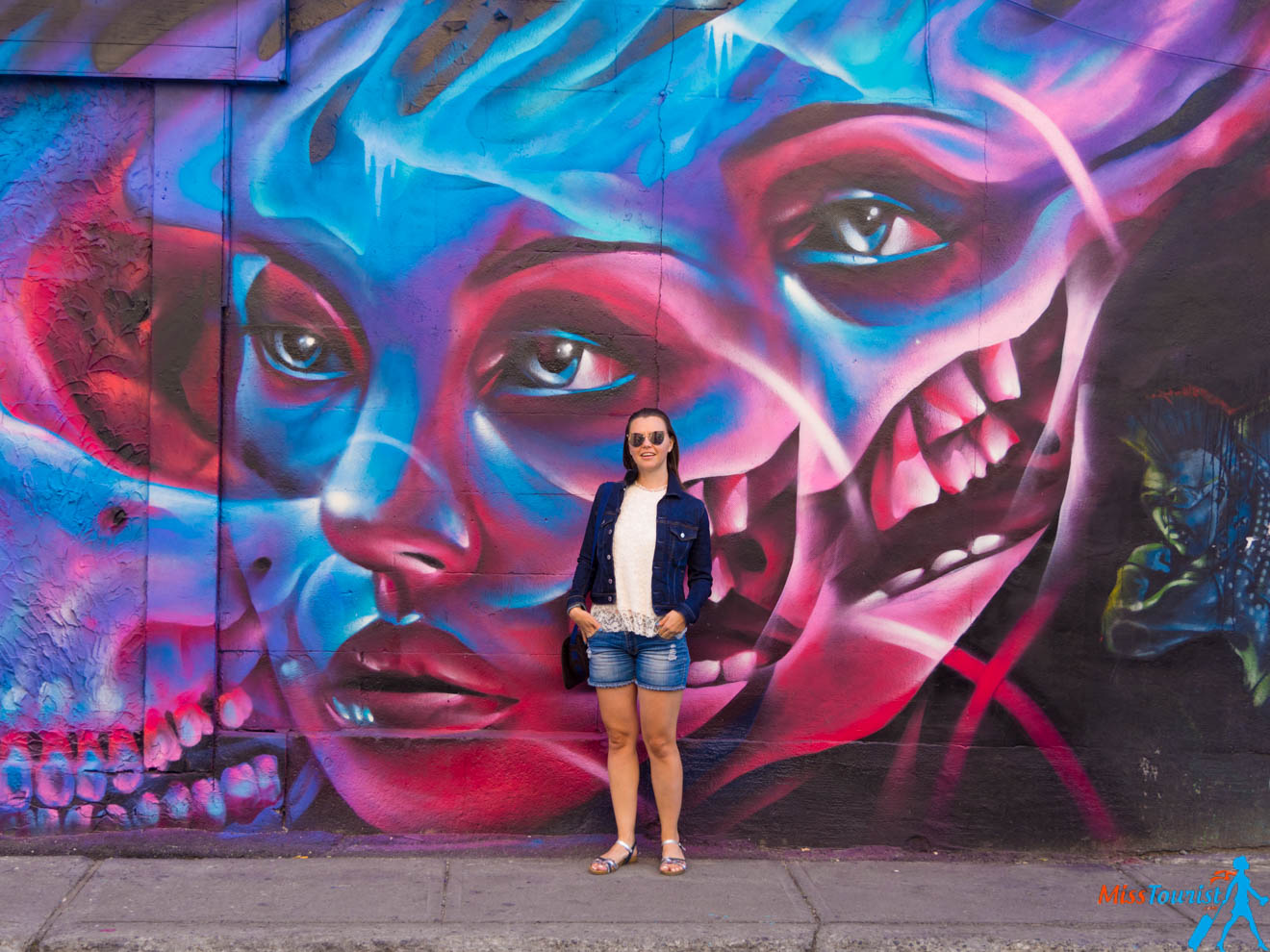 Le Plateau is a nice laid back trendy area of Montreal known for street art. Wander around the neighborhood, feel the artsy vibe, notice the spiral staircases, gaze at the graffiti… If you are searching for something different, make sure to take a stroll there (Montreal Street could be your first choice as it has a lot of nice shops and street art there).
In fact, I chose to stay in the Le Plateau area during my stay in Montreal partly because it is lively and it has many bars, and I did not regret my choice!
Mile End is a small enclave located just 2 steps away from its big brother, Le Plateau, and it has a Bohemian feel to it. If you are looking for a district full of local breweries and trendy boutiques, Mile End is worth stopping by!
3. Saint Joseph's Oratory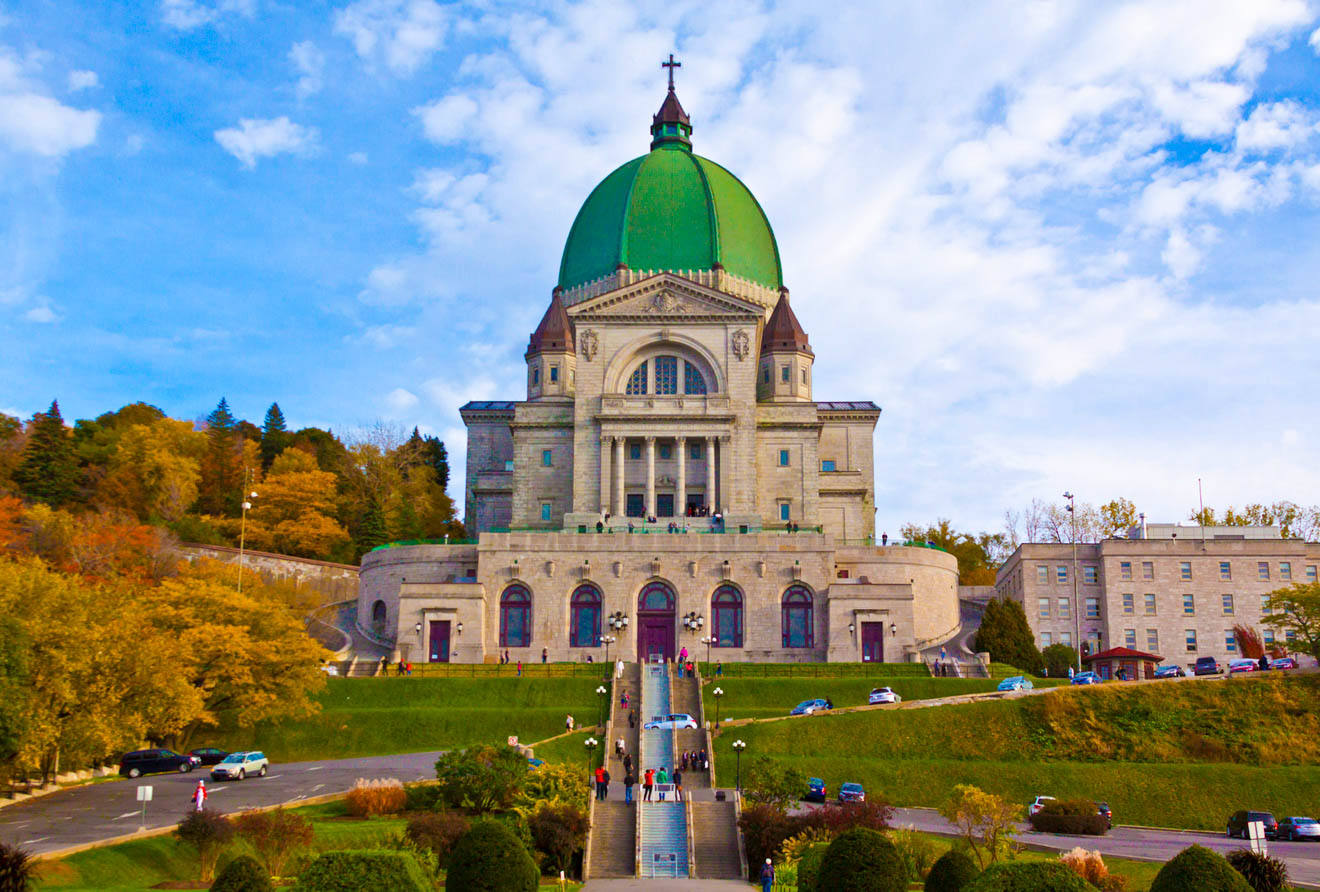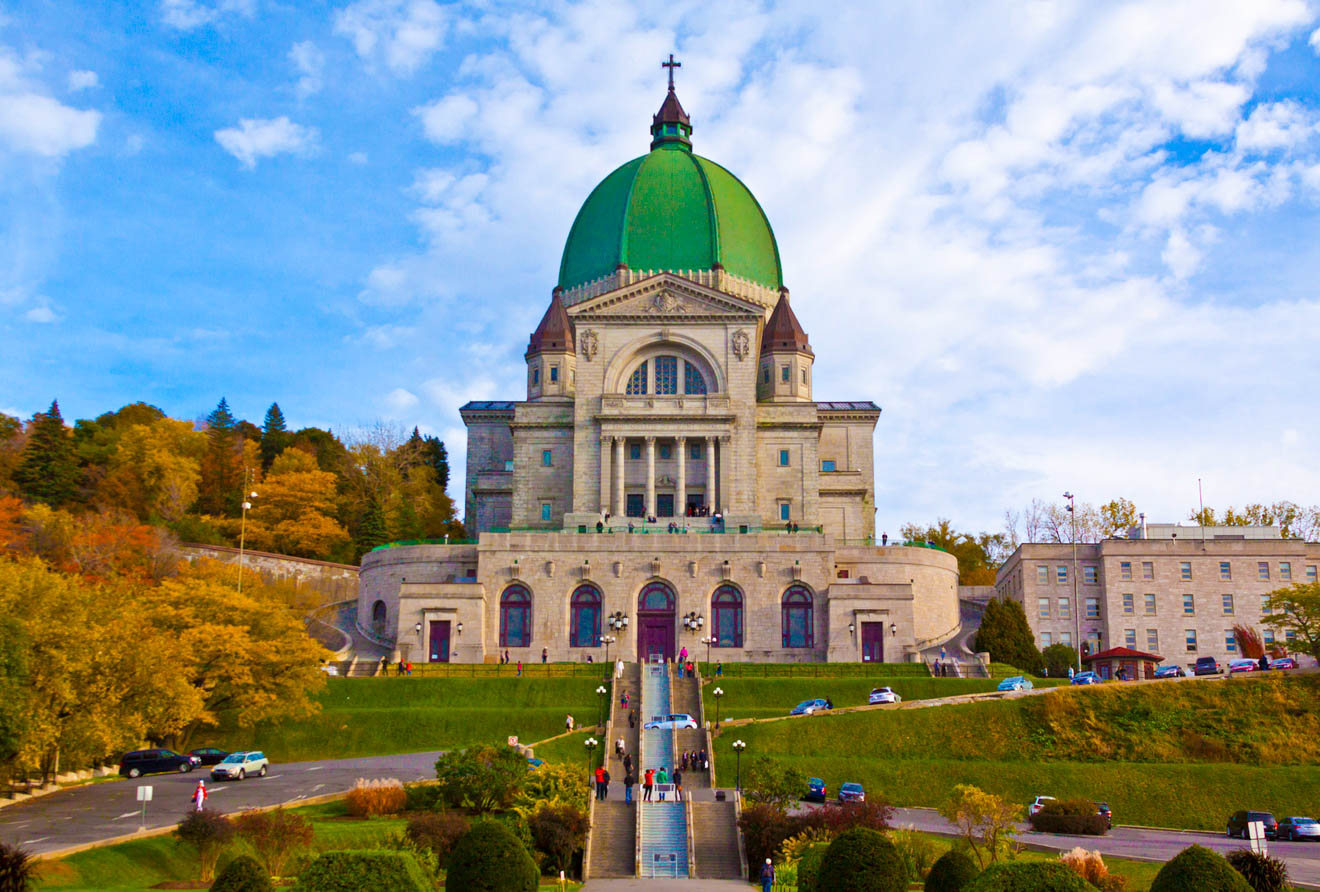 Saint Joseph's Oratory is the biggest church in Canada and it attracts many pilgrims every year.
Even if you are not really into churches, you can climb this Roman Catholic basilica for a pretty great view! Be sure to enter the oratory and have a quiet moment for yourself.
NOTE: There are 283 steps to the top, but it is worth it!
4. Lachine Canal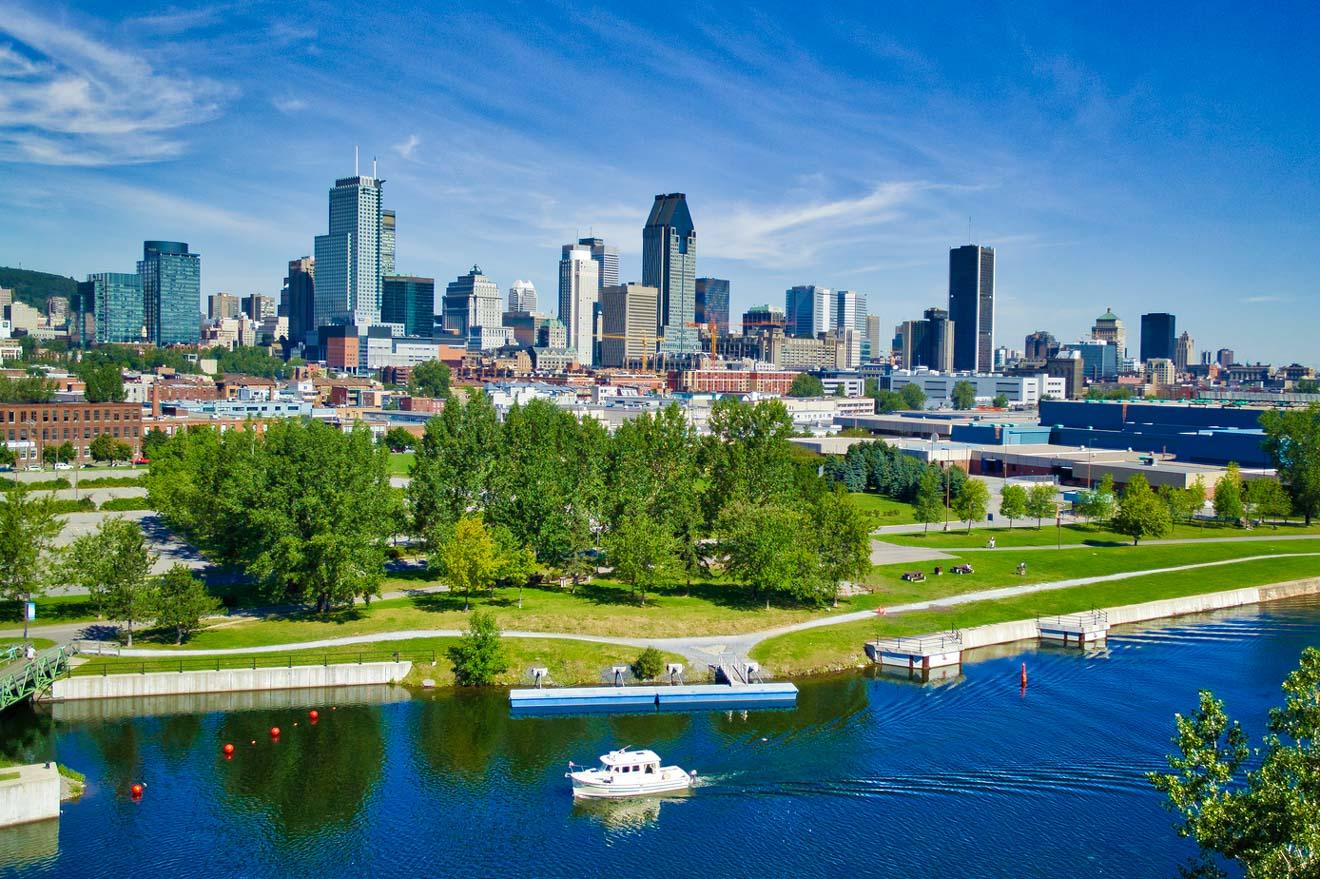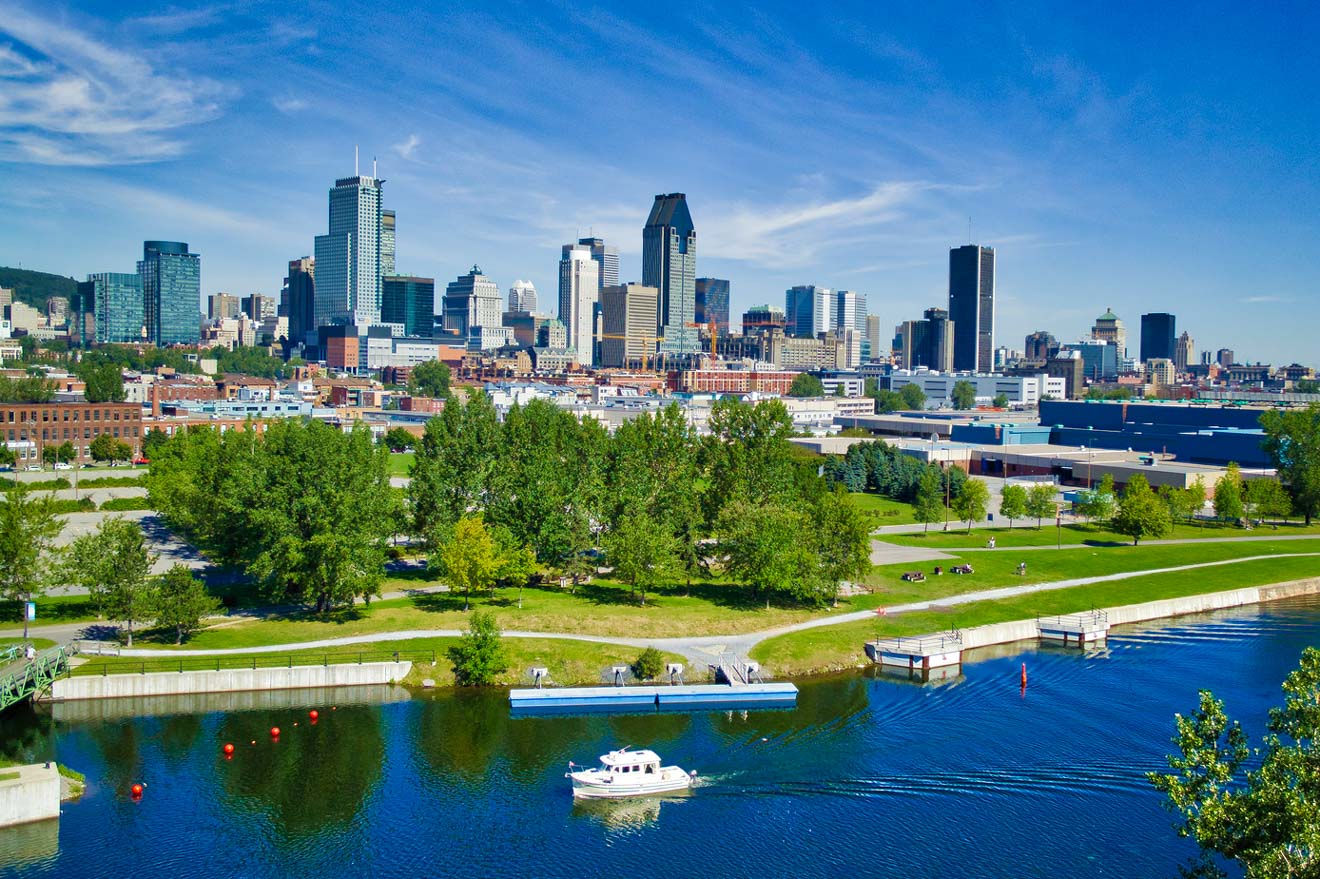 Lachine Canal got its name from the early settlers who believed that following the canal would take them directly to China!
Locals love to have picnics along the canal and, in my opinion, it is one of the overlooked Montreal points of interest! It stretches from the Old Port to Lac St. Louis so, on a sunny day you could organize a picnic near the water just a couple of minutes away from Old Town.
There is a beautiful bike path that goes along the river bank (the bike rental is located right there as well!). You can also take a guided bike tour – expect gorgeous scenery! You will get a knowledgeable guide, a helmet, a lock, a map etc.
5. Watch the Cirque du Soleil Show
Did you know that Cirque du Soleil originated in Montreal?
Here is a sneak video of what the show is about:
It is a fascinating performance that takes you into a different world. If you have some extra time, I would definitely go see the show in the Citque du Soleil "headquarters", especially if you have never seen it before.
PRICE: The tickets for Cirque du Soleil show in Montreal start at 100 CAD, but the price really depends on the show and on your chosen seats.
6. Stade Olympique de Montréal and the Montreal Tower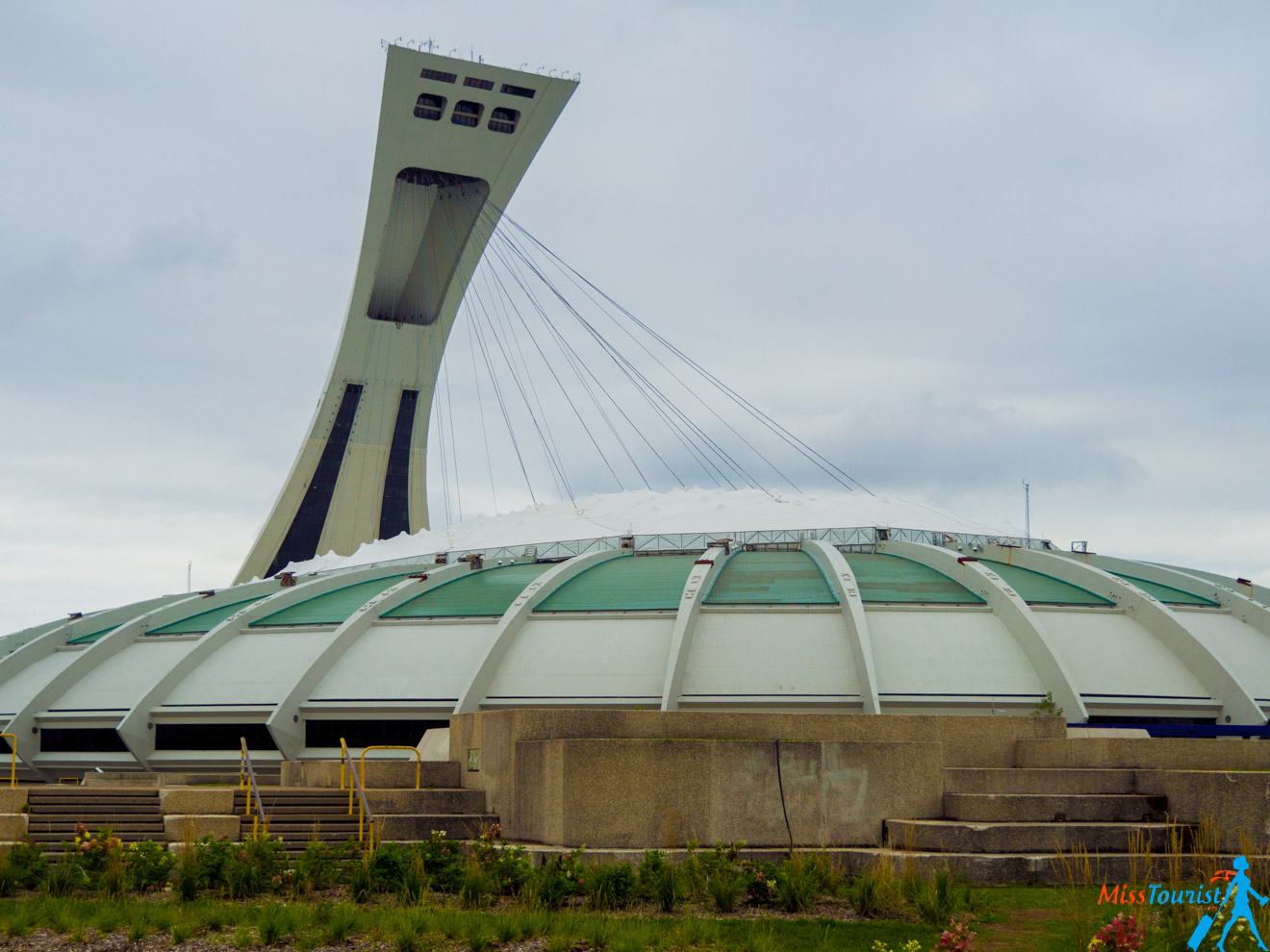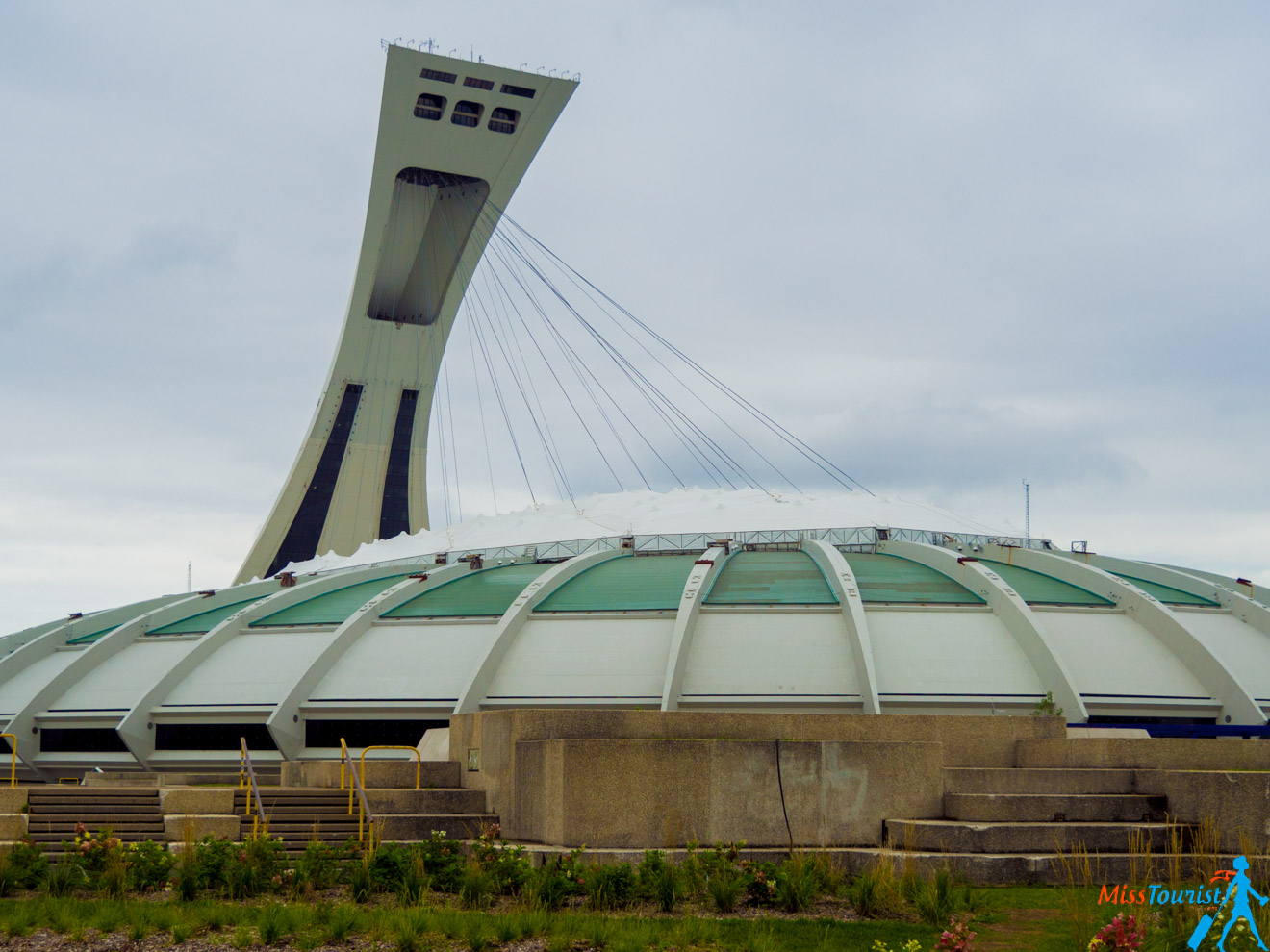 Olympic Stadium of Montreal used to be the former stadium of the Olympics that were held here in 1976. It is still the largest stadium in Canada and has become an icon of Montreal today.
Now, I know that I have already suggested a couple of great view points in the city, but how about enjoying the city view from a 45 degree reclining tower?
For comparison, the Tower of Pisa tilts at just 5 degrees!
The Montreal Tower is the tallest inclined tower in the world! It is basically attached to the stadium and it offers a view up to 80 km in the distance on a clear day!
PRICE: The adult price is 23.50 CAD and you can buy your ticket right there, no need to reserve anything in advance. If you decide to get a combo ticket with a guided tour of the Stadium + the Observatory, the price will be 32 CAD. There are also some other ticket options – you can see all the offers here.
7. Montreal Science Center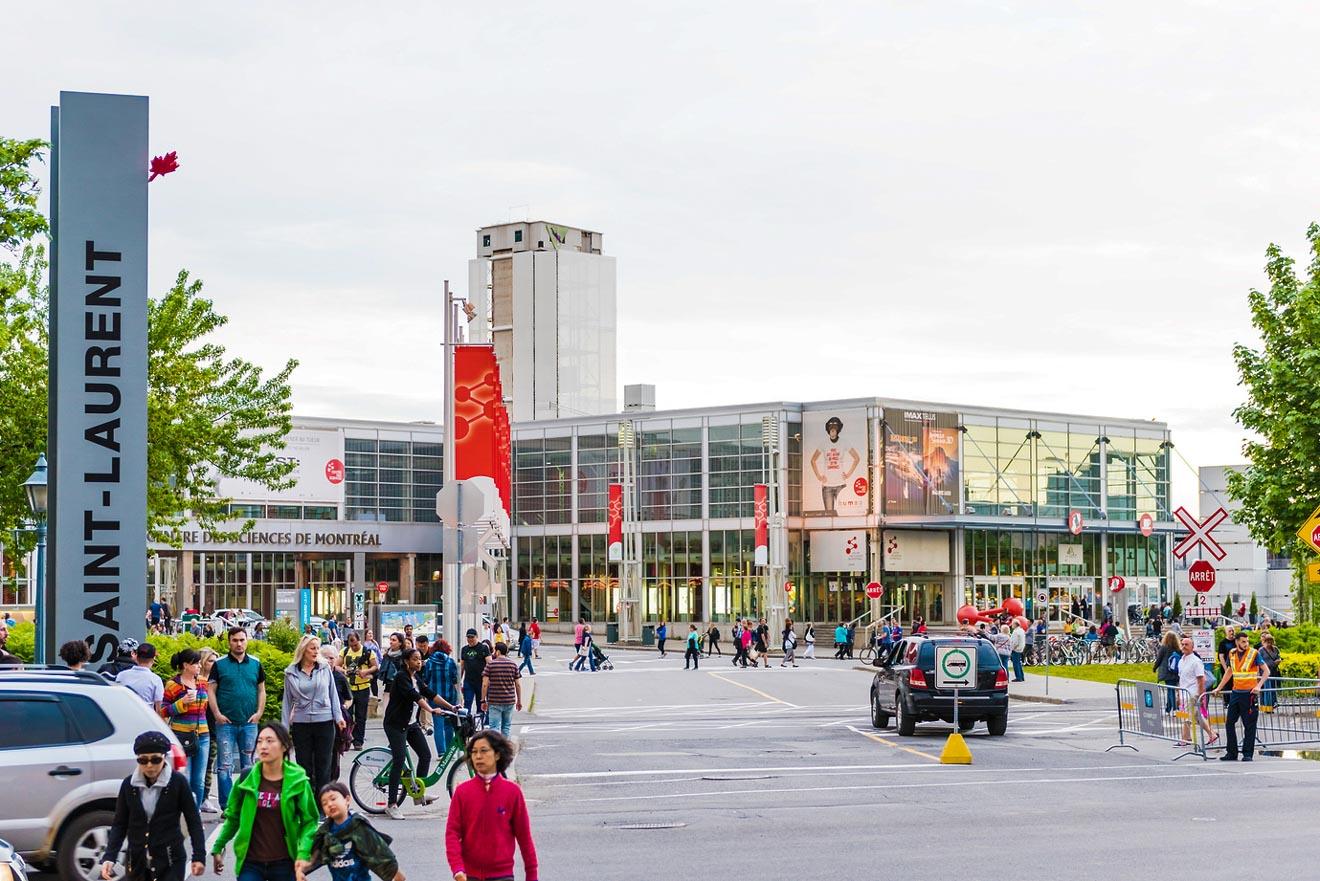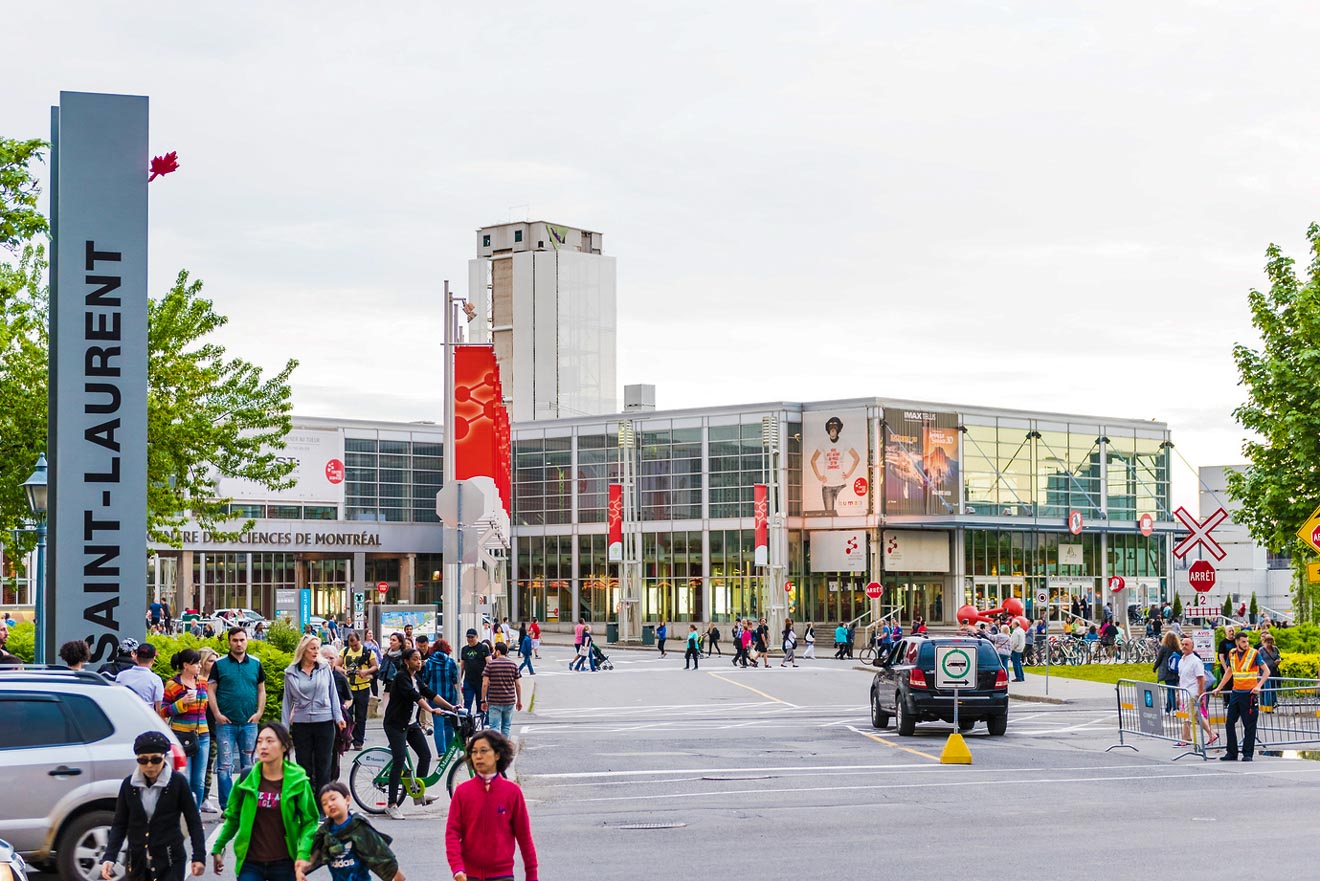 The Science Museum of Montreal is a fun place to visit, especially for those of you who are visiting Montreal with kids. There are some cool interactive permanent exhibits and many engaging things to see and play with! Make sure to visit their DreamWorks exhibition – your kids will thoroughly enjoy it! I think it is an excellent family visit and you will easily spend more than 3 hours there!
PRICE: 12 CAD – adults, 10.50 CAD – teens, 8.50 CAD – kids.
8. Shop at trendy boutiques in Bonsecours Market and St. Catherine Street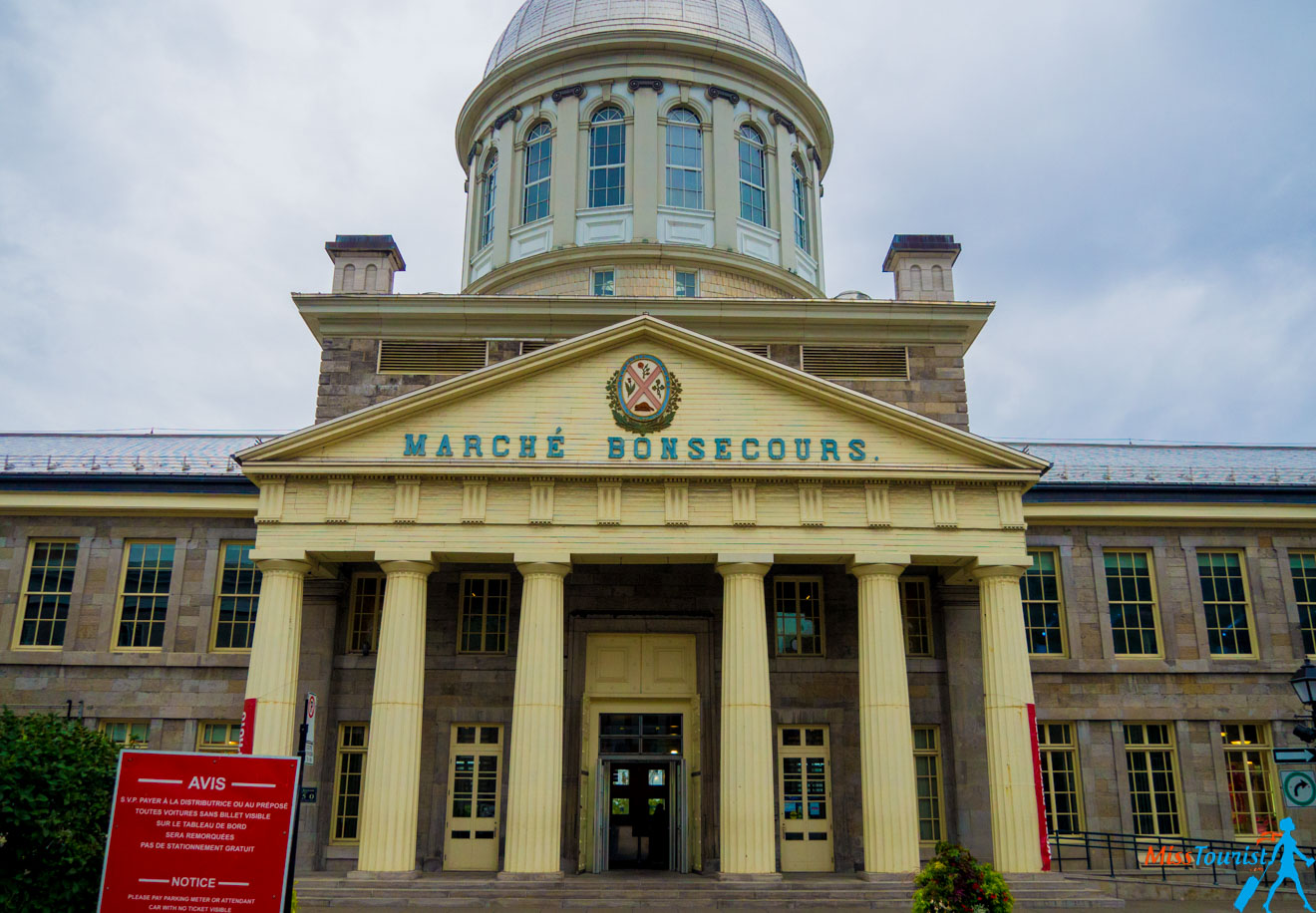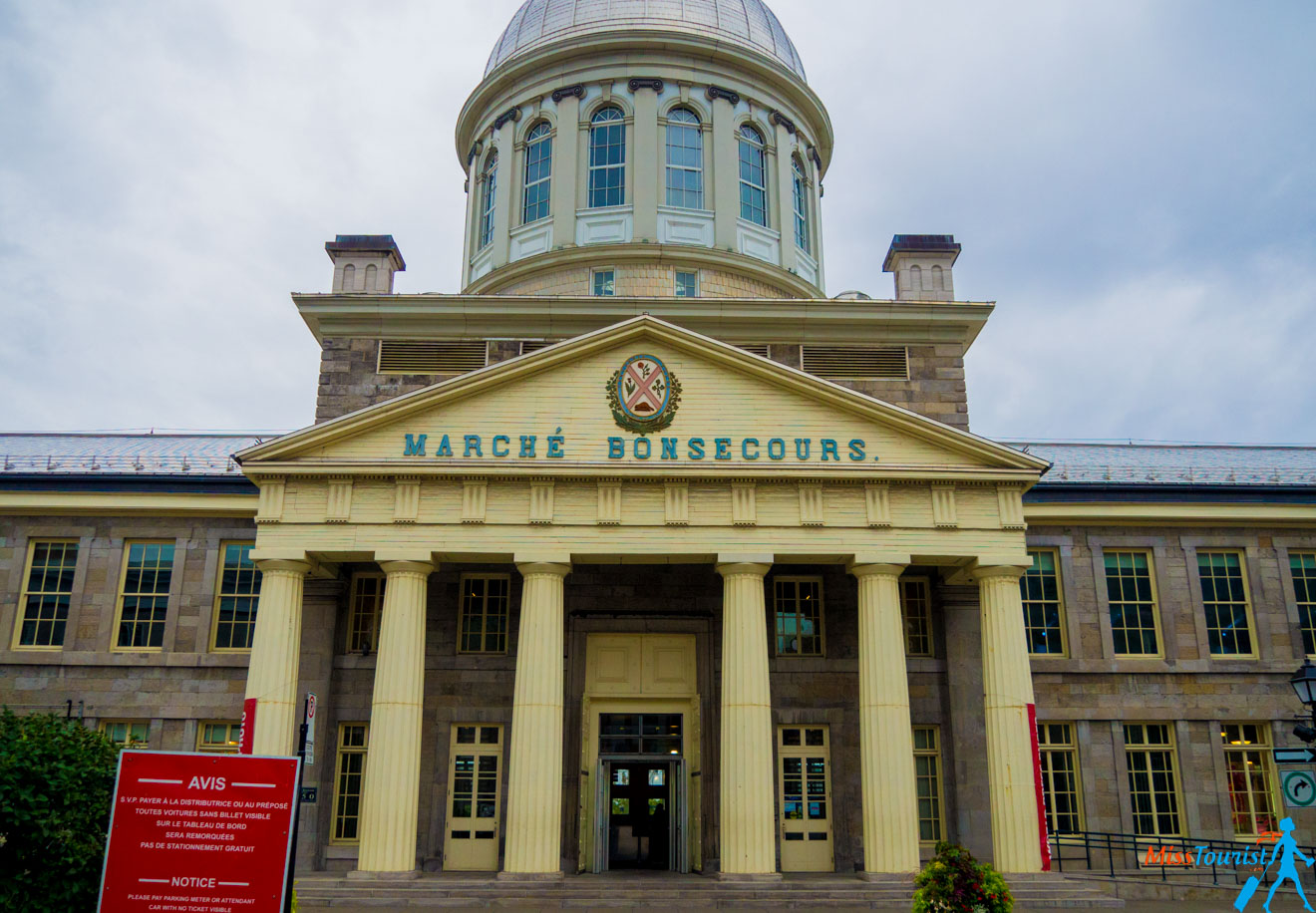 For fine dining and shopping in trendy boutiques, you can hop into the Marche Bonsecours (note that it does not function as a market anymore but is more like a small shopping center nowadays).
The building itself is beautiful and with a nice historic feel and inside you will find many souvenirs and artisanal products.
If you are the shop-until-you-drop type, you will love it at St. Catherine Street – it is the main commercial artery of the city! Visit its high-end stores or just people watch in one of the numerous cafes there!
9. Pointe a Calliere Museum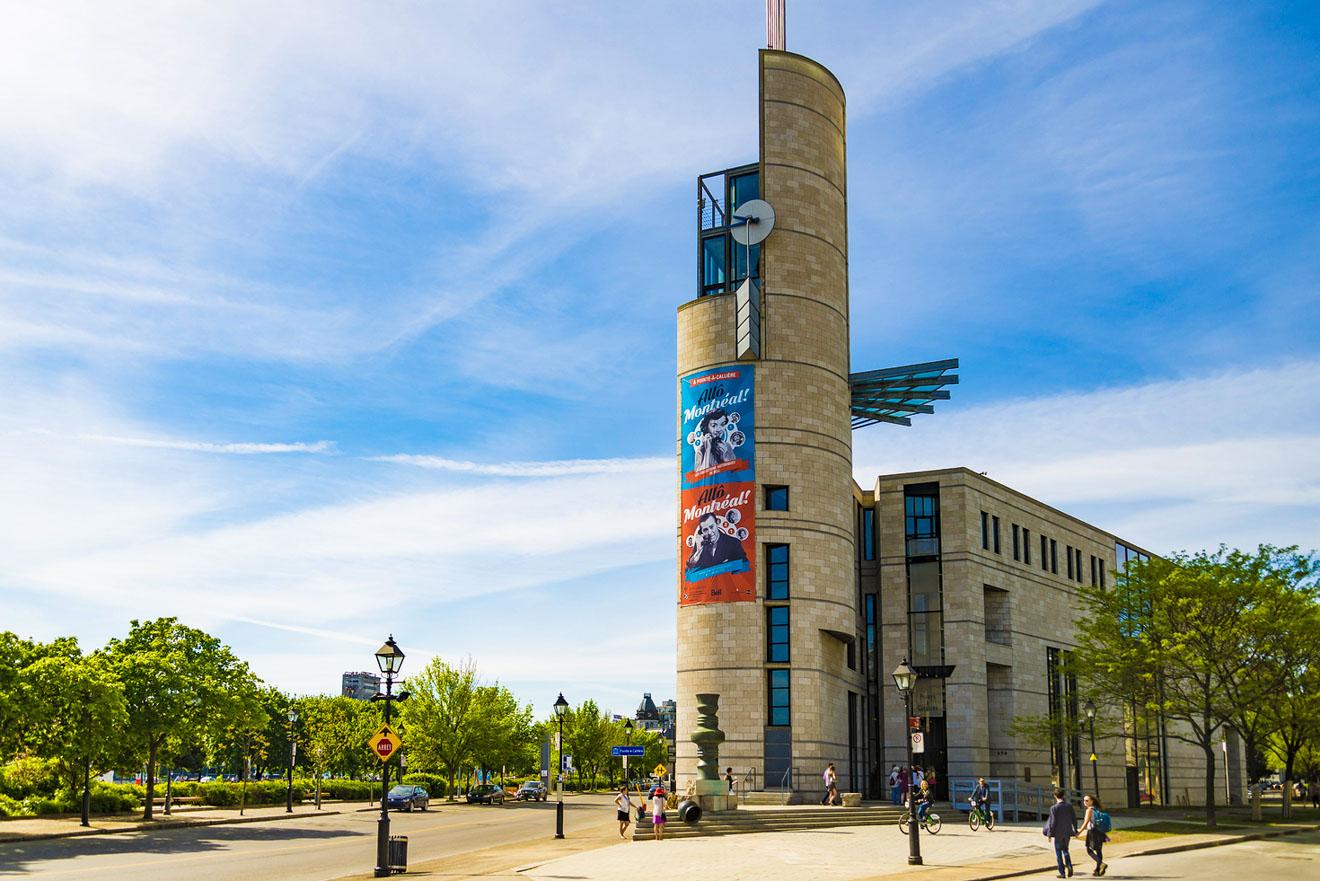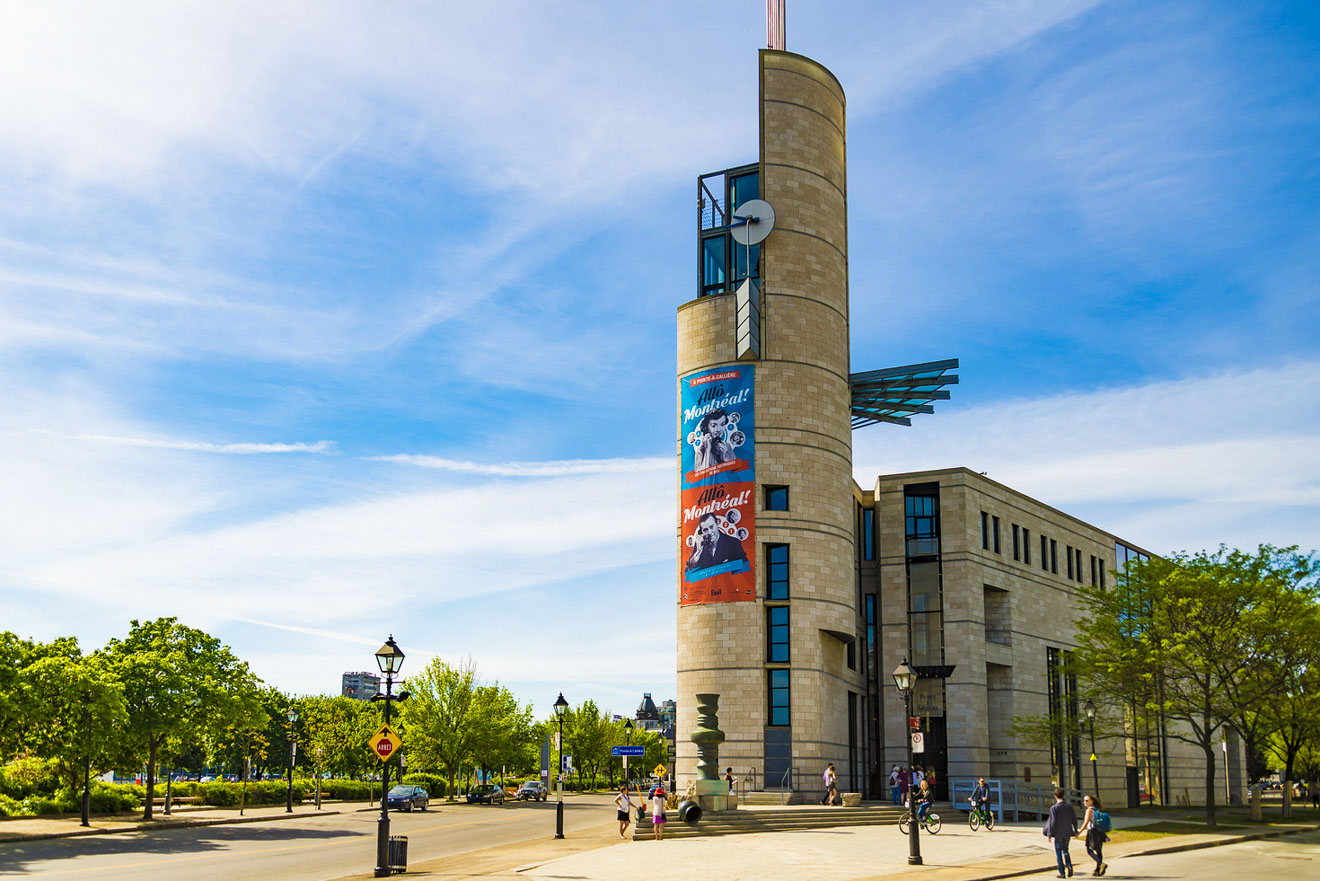 If you are interested in getting to know more about Montreal's history, Pointe a Calliere is the right place to go! You will see the country's history starting from the First Nations communities to the current days.
It has an interesting permanent exhibit about the old Montreal settlement, as well as temporary exhibits that change over time.
PRICE: about 10 CAD for adults
10. Enjoy the view from Au Sommet
If you did not make it to the Ferris wheel or your heart desires more views of the biggest city in Quebec, you can check out the 360° view at Au Sommet Observatory!
While enjoying the view, you will see an old historic picture next to each window along with some information about the area, so you will definitely learn new things about Montreal!
NOTE: You can also eat at the restaurant called "Les enfants terribles" on the 44th floor which has decent prices and good food. Not to mention you will enjoy quite a view while eating!
PRICE: about 22 CAD for an adult (included in Montreal Passport)
11. Musée d'Art Contemporain de Montréal (MAC)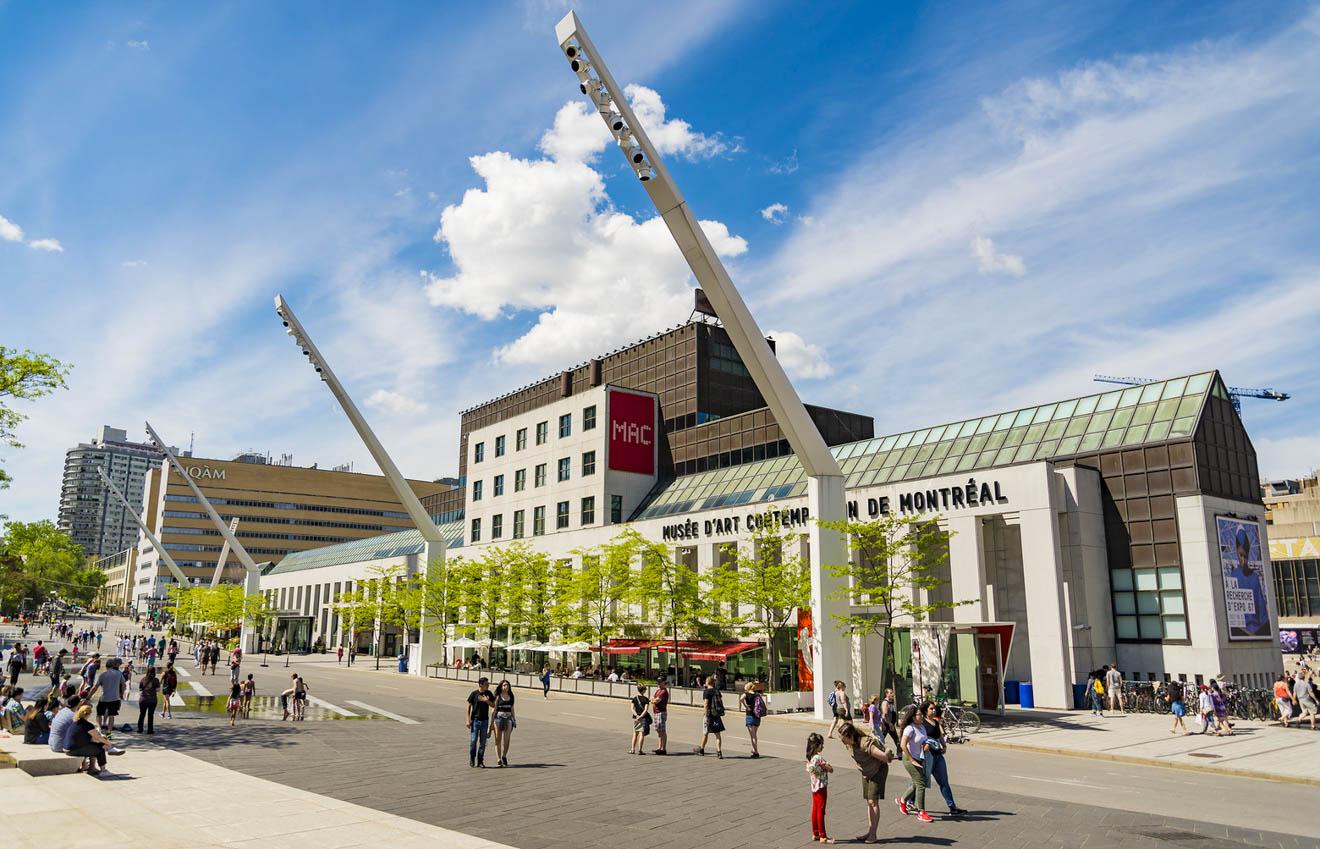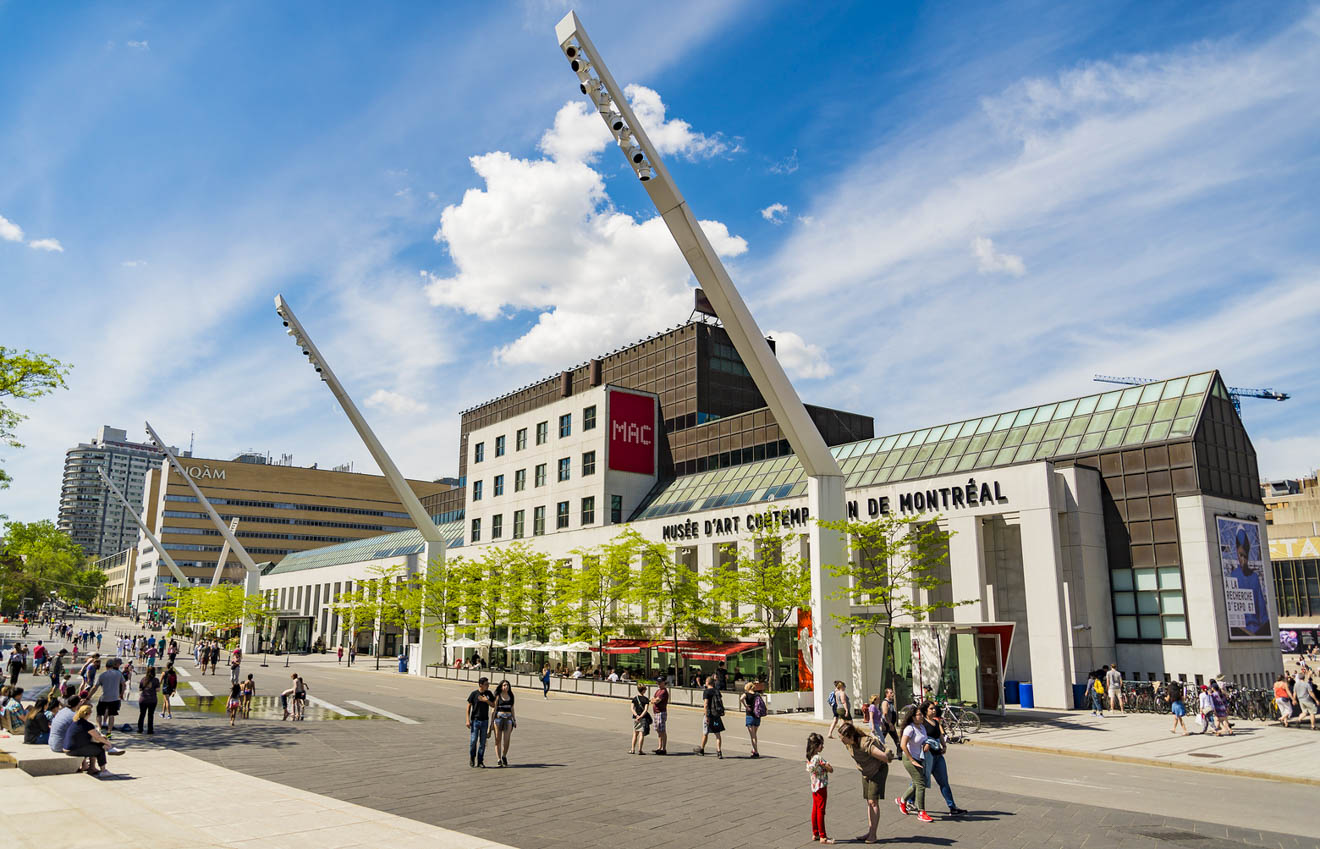 To be honest with you, I was never really a fan of contemporary art so I skipped this one, but if you are into modern art, The Contemporary Art Museum of Montreal has over 7,000 pieces of artwork on display and people do enjoy it a lot!
PRICE: 17 CAD for adults
12. The Stewart Museum at Isle St. Helene in Montréal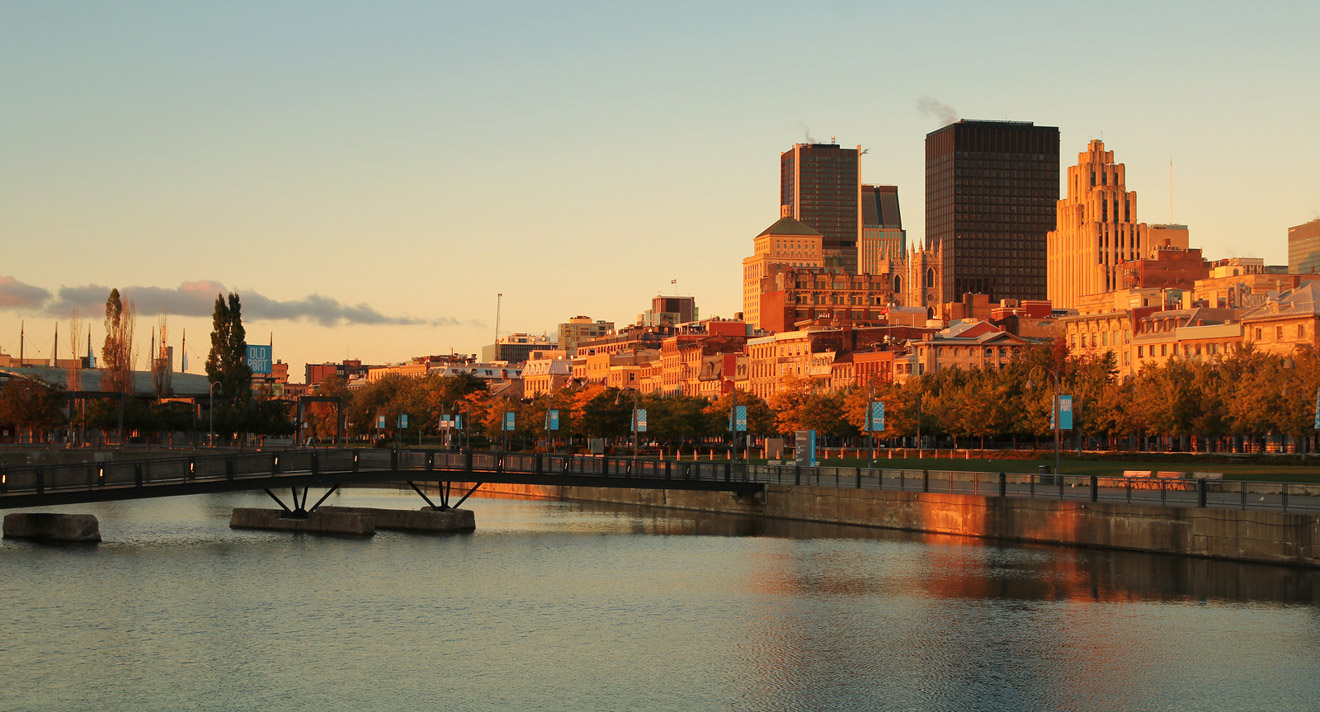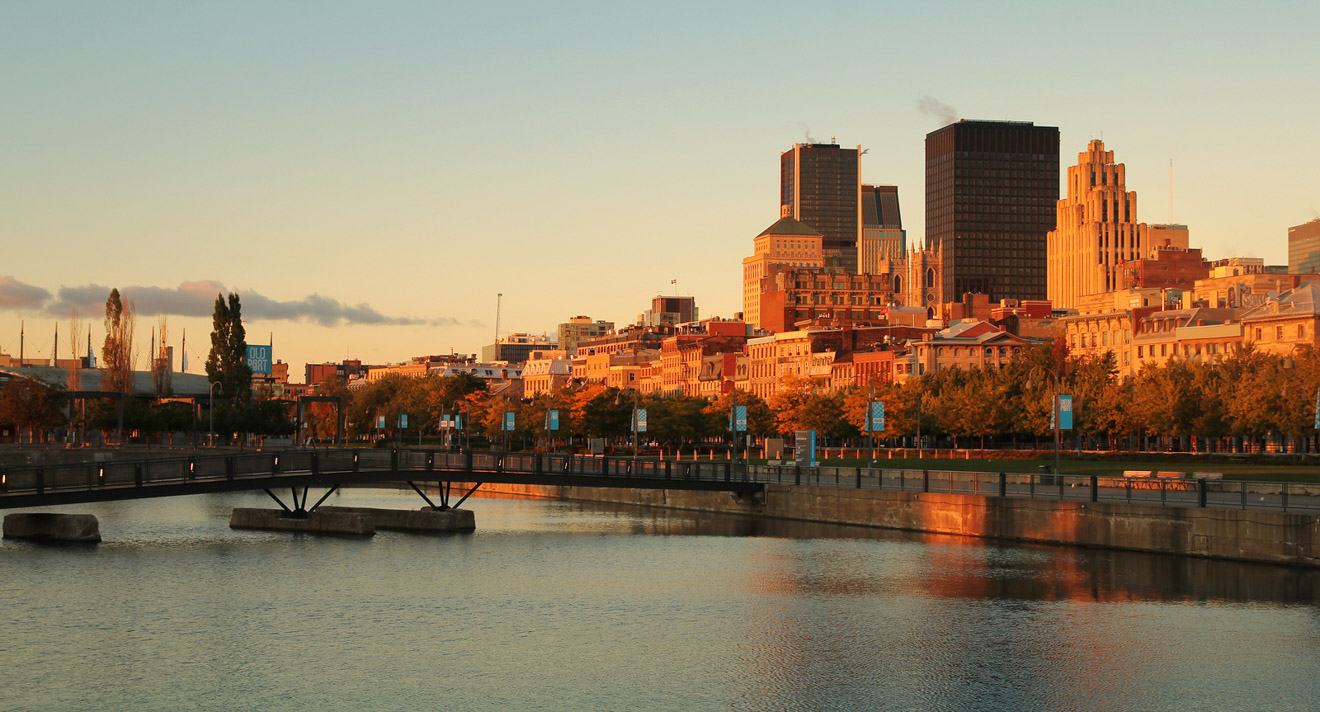 If you are interested in knowing more about the European influence on Montreal and North America in general, I invite you to visit Stewart Museum, which is tucked away on the tiny island of St. Helene.
The museum is located in Montreal's only fort and it mainly covers the history of the Quebec province with reading panels and interactive videos. If you are a history buff, expect to spend at least 2 hours there!
PRICE: 15 CAD for adults (free with your Montreal pass)
13. Things to do during the summer – Montreal plage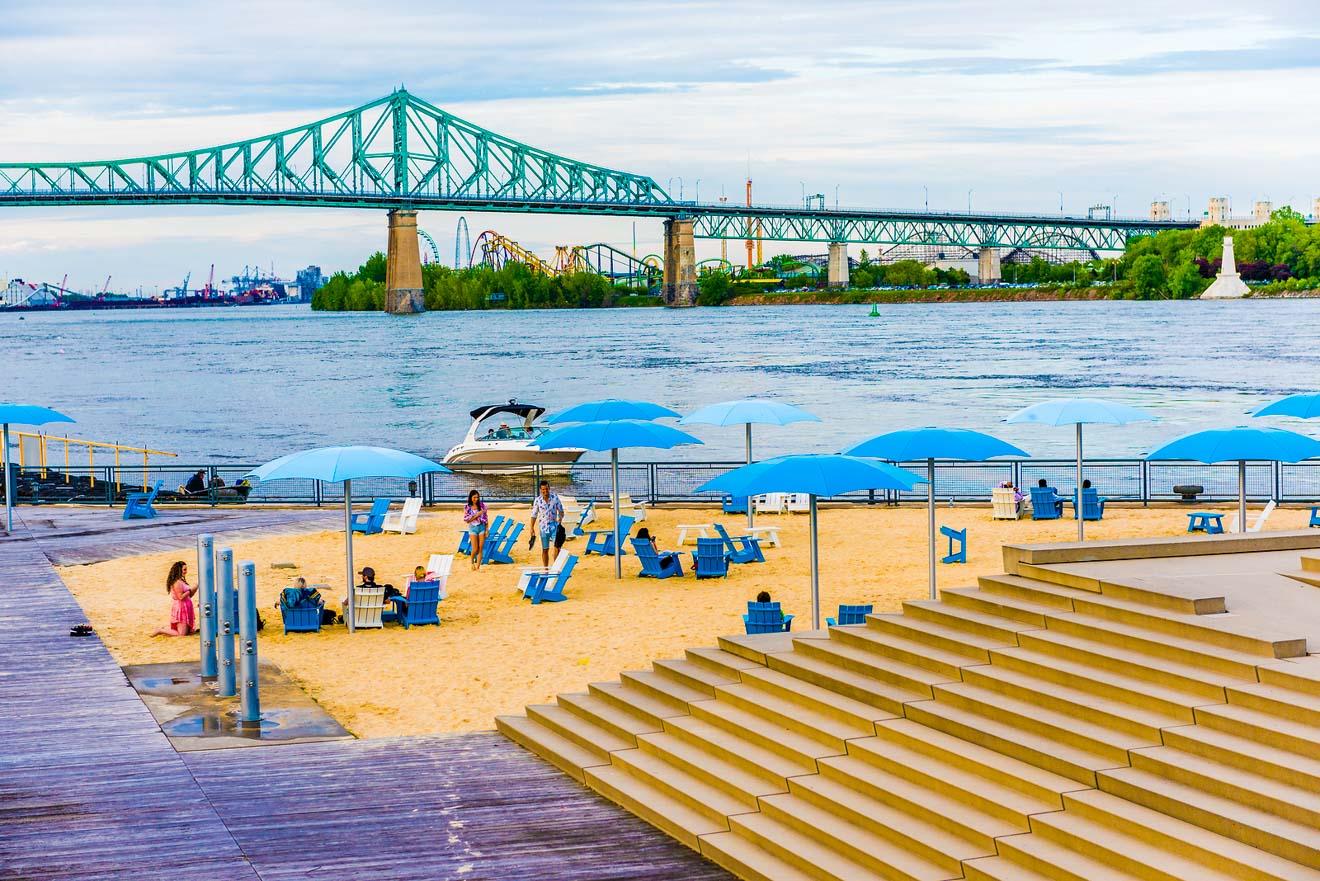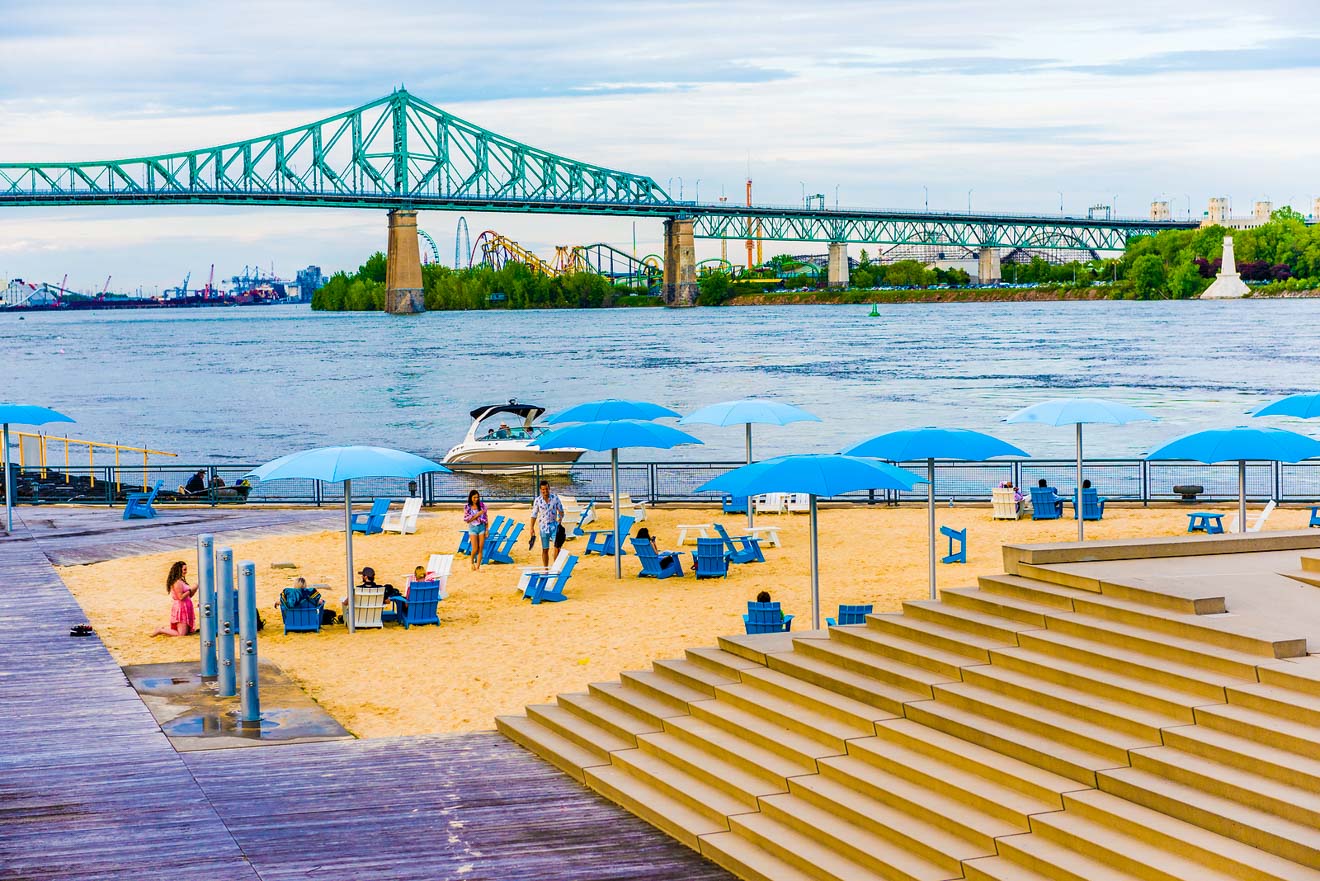 Did I already tell you that Montreal can feel really Parisian at times?
This time they decided to follow the successful concept in Paris and build a beach in the city, because why not? It is 5 CAD to rent an umbrella and it can be really fun on a sunny day!
I could not find any information in English about it, but if you search for "la plage urbaine Montreal" during the summertime, you will find its exact location.
PRICE: 5 CAD for the use of an umbrella
14. Things to do in Montreal in the winter – ice skating and more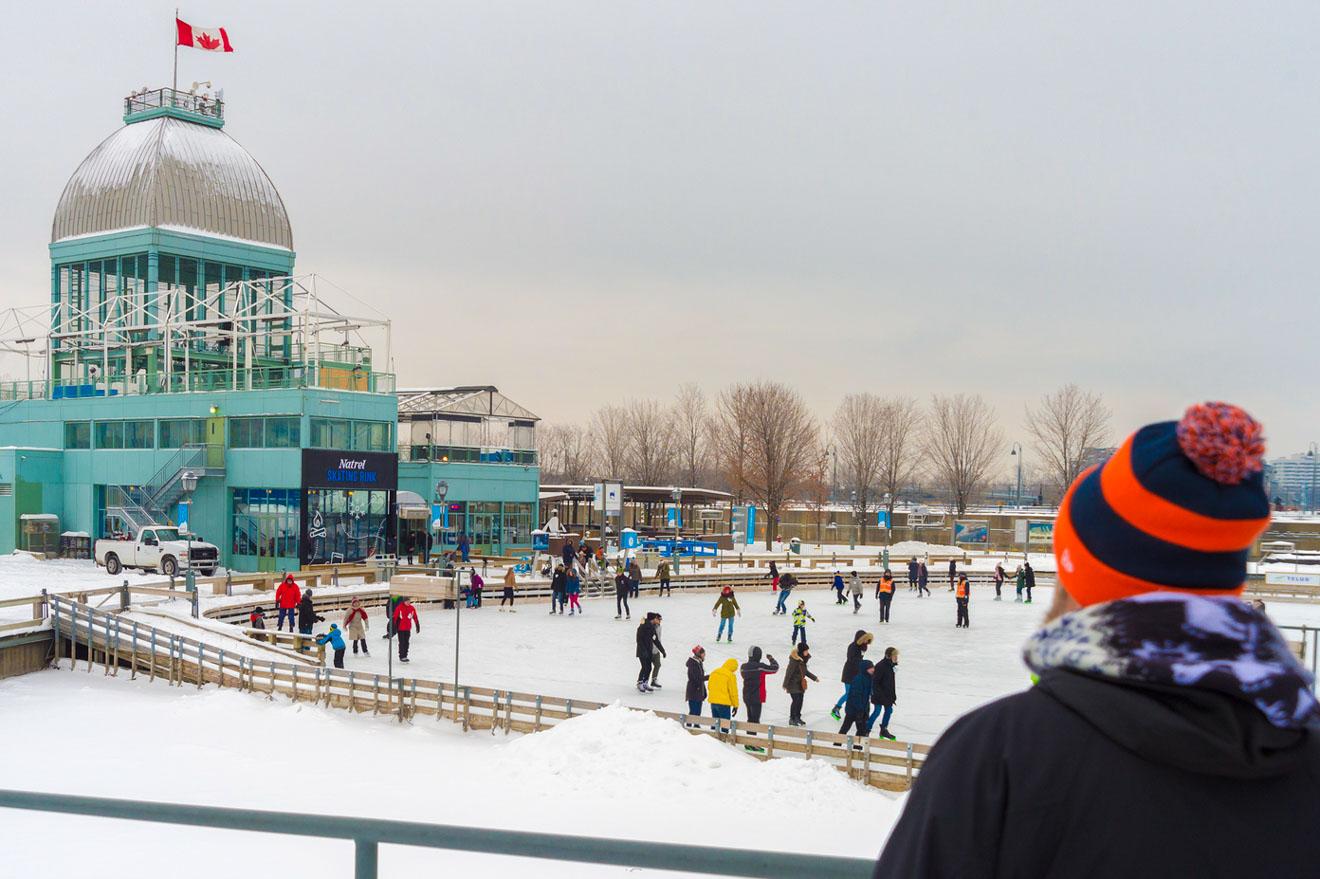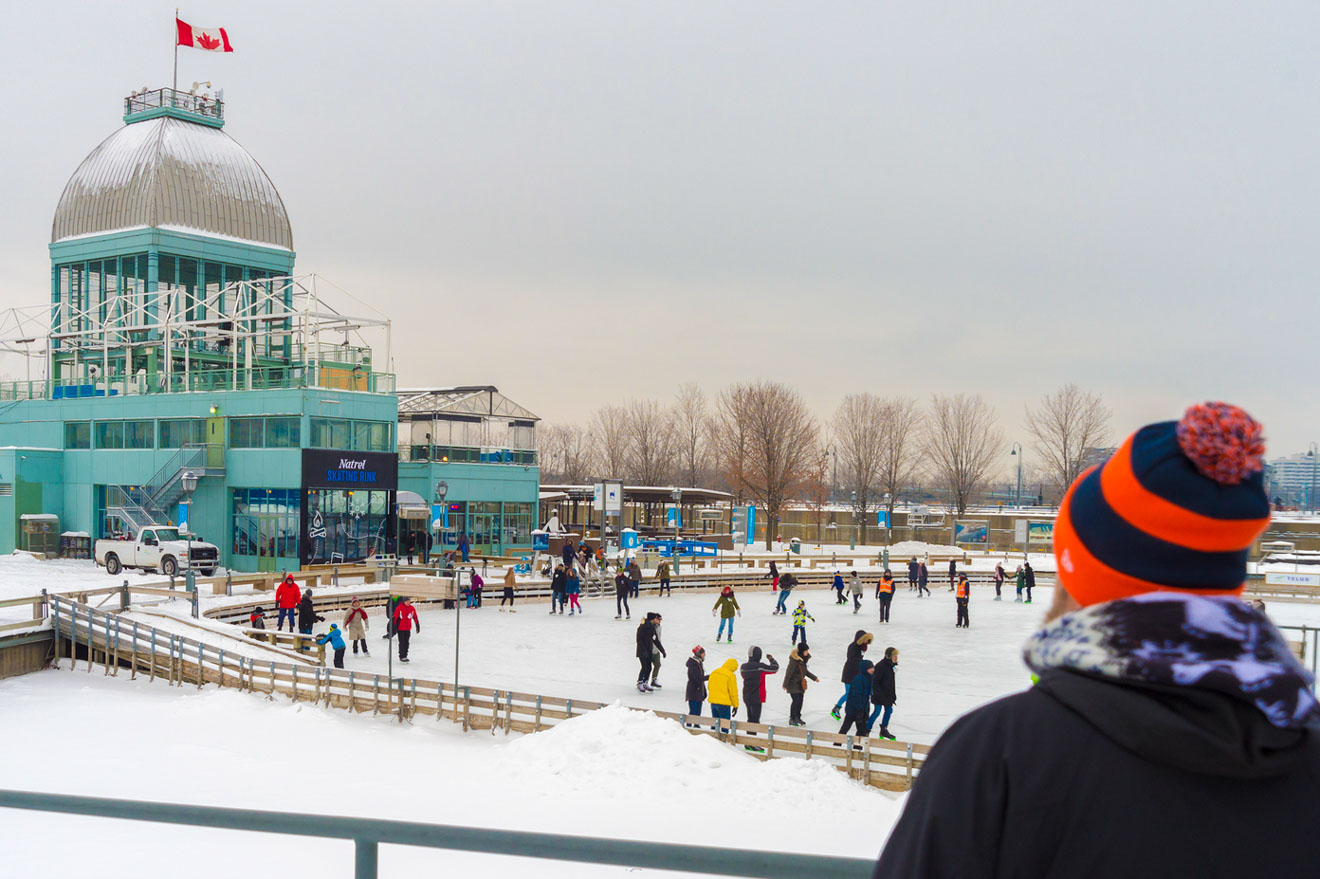 If you are visiting Montreal during the colder months, you should try to ice skate at a skating rink. The most well-known and picturesque one is called "Patinoire du Vieux-Port de Montréal". It is a very affordable outdoor rink located in the heart of the Old Port and it looks like a winter wonderland! They organize some fun events like DJ sur la glace (DJ on ice) which takes place every Thursday. You can find more information about the timing and prices on their official Facebook page.
Another cool way to tame the winter in Montreal is to attend IGLOOFEST – a cool electronic music festival. Get some mulled wine and you will feel warm even in the middle of winter! In 2020 the Igloofest will be held from January 16th to February 8th.
| | |
| --- | --- |
| 🤩 Range of activities: | Large |
| 🧒 Kid-friendly attraction: | Biodome Montreal |
| 🏛️ Best museum: | MMFA |
| 🚶🏽‍♂️ Best free activity: | Old Montreal |
| 🍟 Must try food: | Poutine |
| 📅 How many days: | 4-7 |
| 💵 Avg hotel price: | $180 |
Day trips from Montreal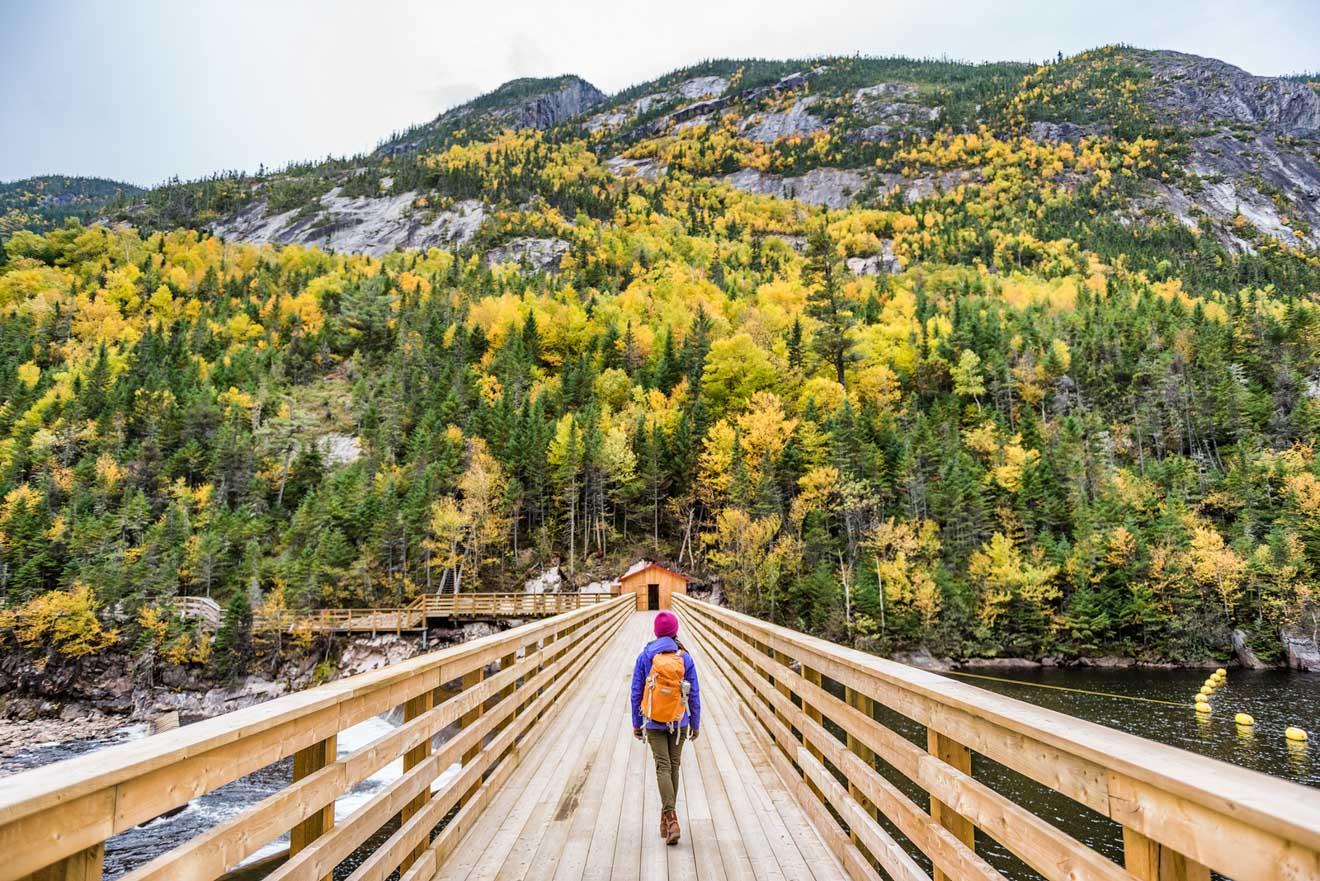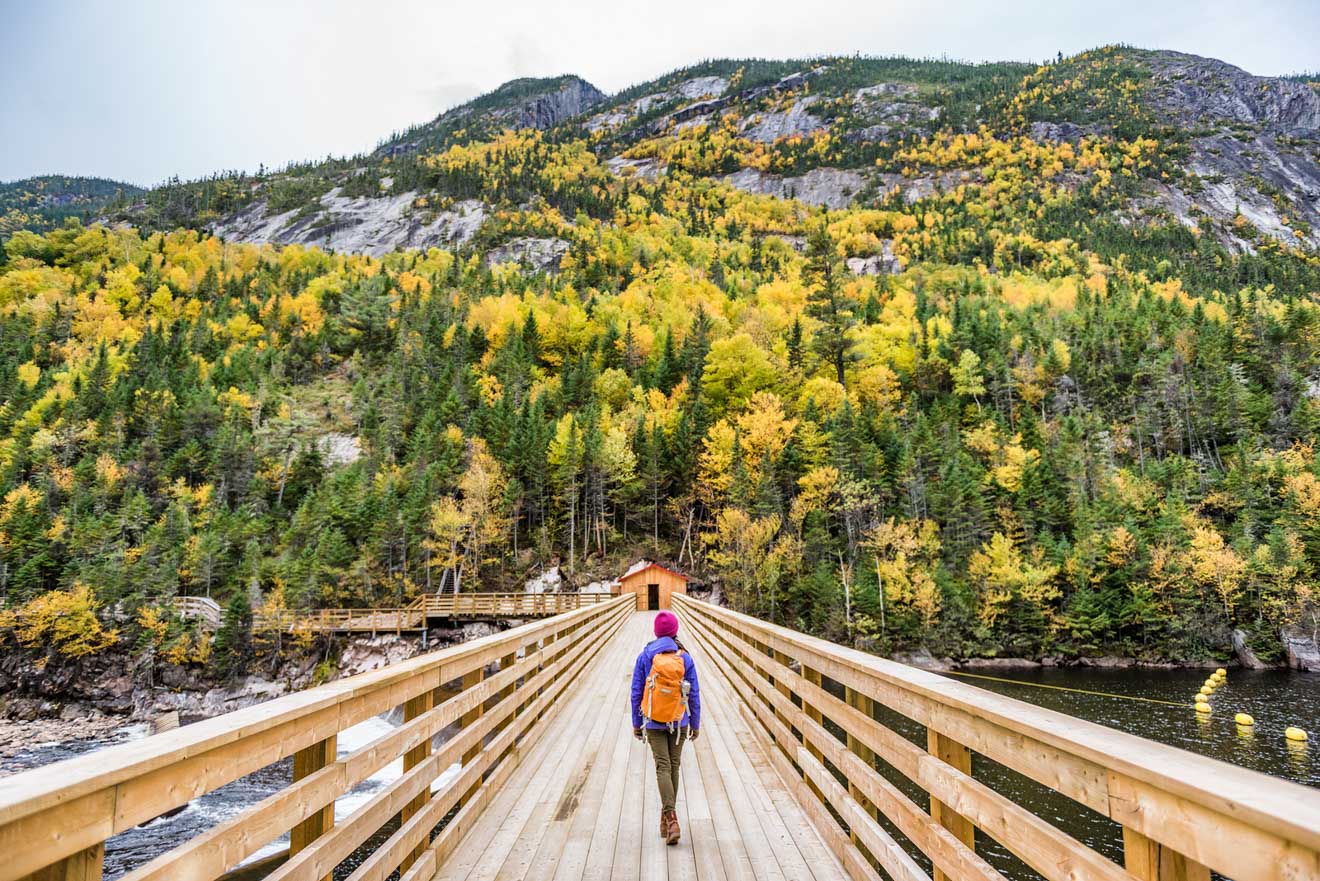 With so many activities to do in the city, it is hard to leave some time for a day trip outside of Montreal, but trust me, it is really worth it! The natural surroundings are simply breathtaking!
Here are some of the most interesting places to visit around Montreal:
Mont-Tremblant – a 2-hour drive to a Swiss-like, gorgeous village surrounded by mountains
Iles-de-Boucherville National Park is just a couple of miles away and you can hike, canoe, bike or ski there.
Hautes-Gorge-de-la-Riviere-Malbaie for some breathtaking hiking
Lac Saint-Jean
Ottawa and Quebec City (but I recommend staying overnight in both of them). Please read this detailed itinerary of my 2 weeks road trip around Quebec and Ontario for details.
Boldt Castle in Thousand Islands; I also recommend spending the whole day there
NOTE: Some of these places are reachable by public transport, but I recommend renting a car, especially if you are going to a national park, not a city. Please read my post 8 Things you should know about renting a car in Canada here.
Montreal tourism – some practical things to know about the city
Beyond the recommendations of things to see in Montreal, I thought you would find it useful if I added some practical information to this post. In this section you will find tips on where to stay, how to get from the airport to the city, how much a sim card costs in Canada, what food to try etc.
Where to stay in Montreal – best hotels for all budgets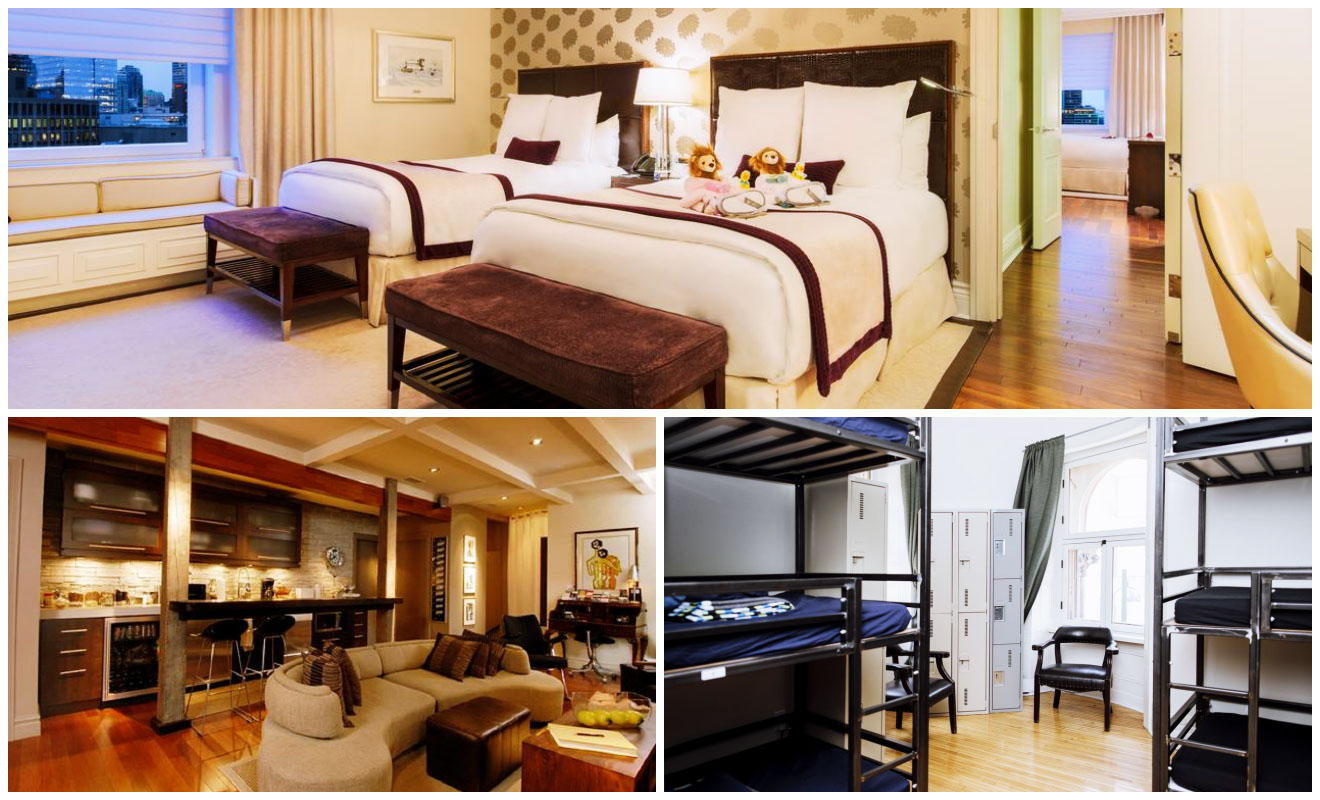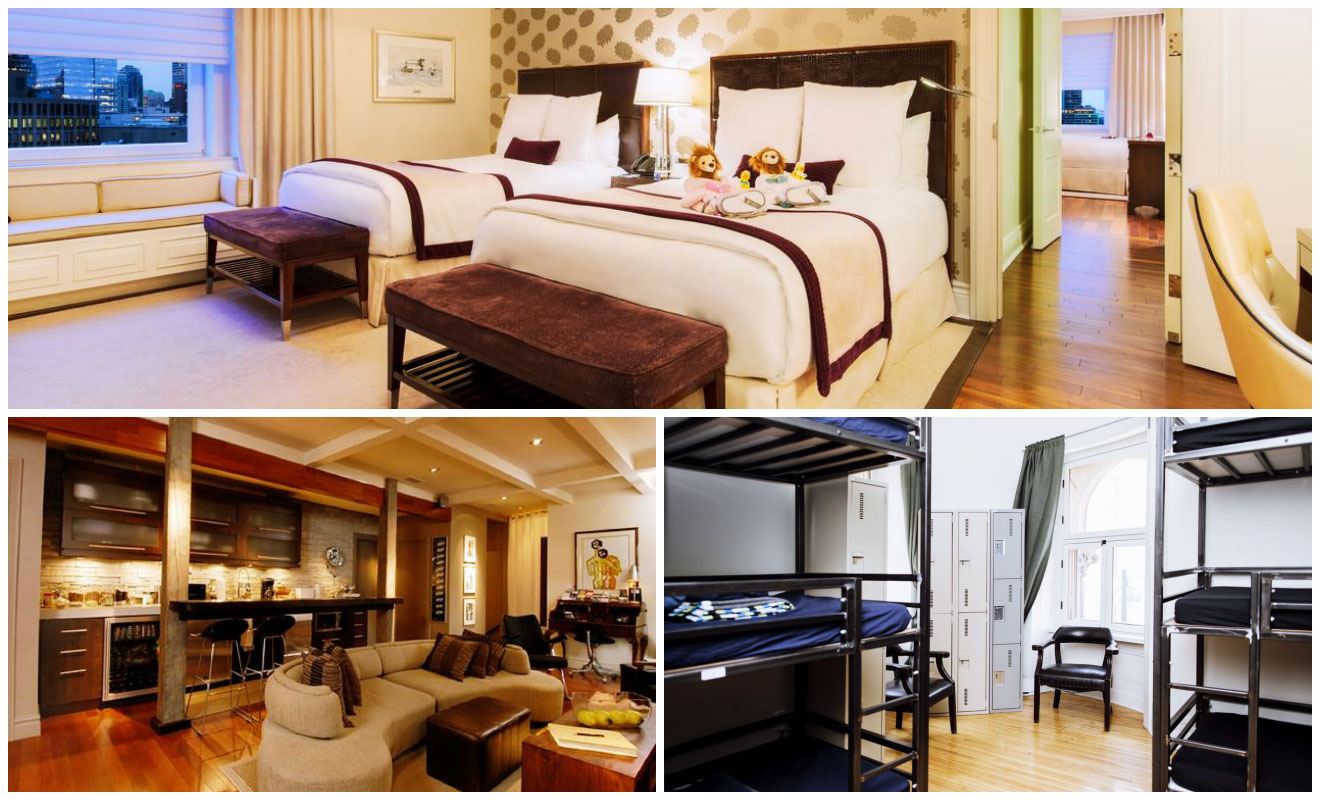 I carefully chose the best hotels in Montreal and sorted out by price (without tax) for your convenience. I also made sure my suggested Montreal accommodations have only fabulous reviews!
If you want to book a good hotel in Montreal (or in Canada in general), make sure to make your booking in advance to get a good deal!
Luxury (160 CAD and up): The Ritz-Carlton Montreal is a 5-star hotel and one of the top choices for your Montreal stay! This hotel offers impeccable, high-quality service and amenities – plus the staff is extremely friendly! Le Square Phillips Hôtel & Suites is one of the best places to stay in Montreal as well because of its gym, sun deck, and all the other cool facilities! This is an aparthotel in Montreal, so you will feel right at home!
Middle-priced (between 56-160 CAD): My first recommendation for middle-priced travelers is Sir Montcalm Gite B&B, which is a great Montreal bed and breakfast! It has excellent reviews and great service, including a fully equipped kitchenette that you can use during your stay! Gîte Ocoin is another great bed and breakfast located super close to the subway. You will surely appreciate the delicate décor!
Budget (up to 56 CAD): If you are traveling to Canada on a tight budget, I have two super good accommodation recommendations for Montreal! Chambre privée au village is a great homestay with tasteful decorations, free WiFi and a cozy terrace! On the other hand, Auberge Bishop is a great 3-star hostel with shared bathrooms and 3, 9 or 15-bed dormitories. And the price is really good!
Money and prices in Montreal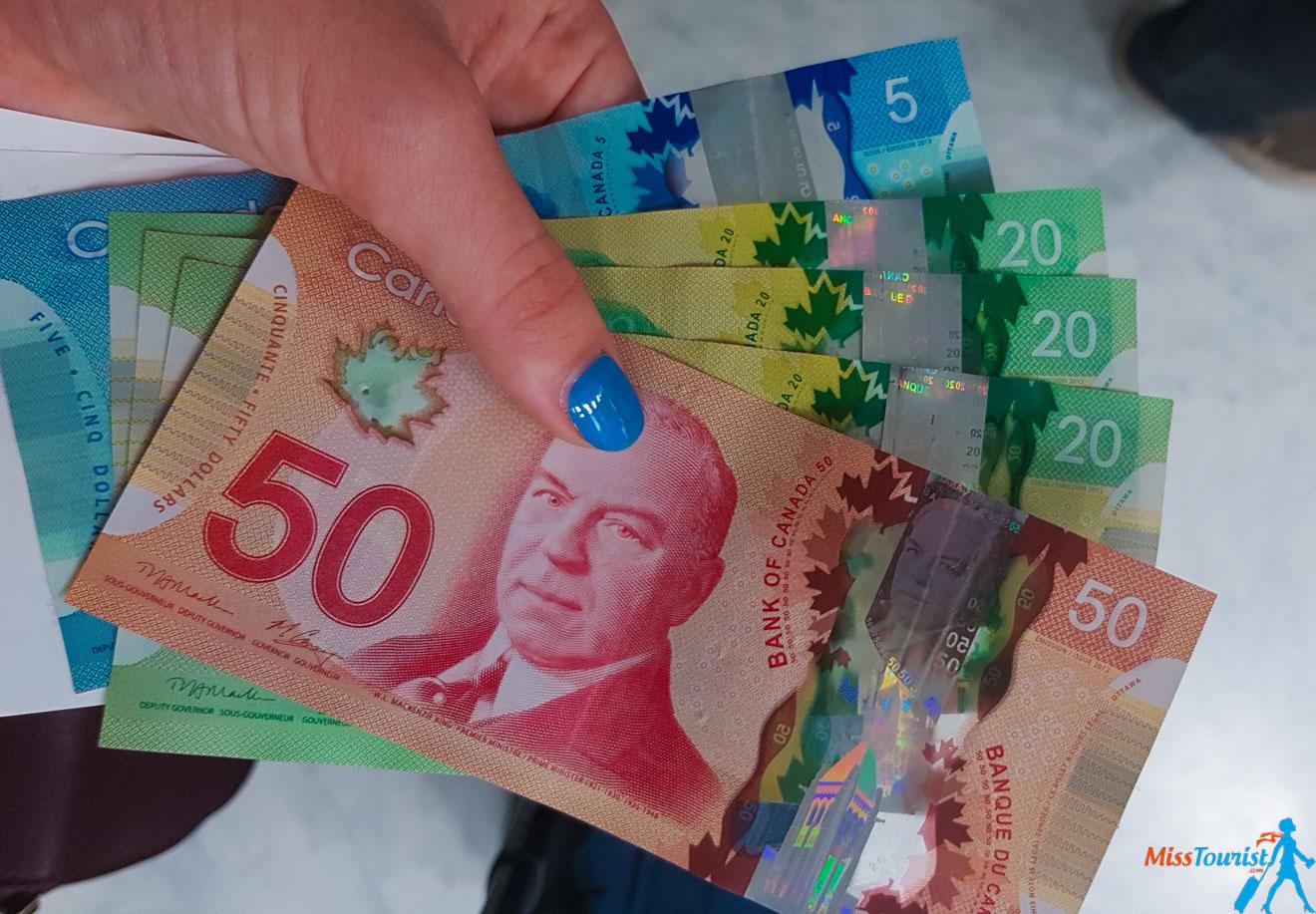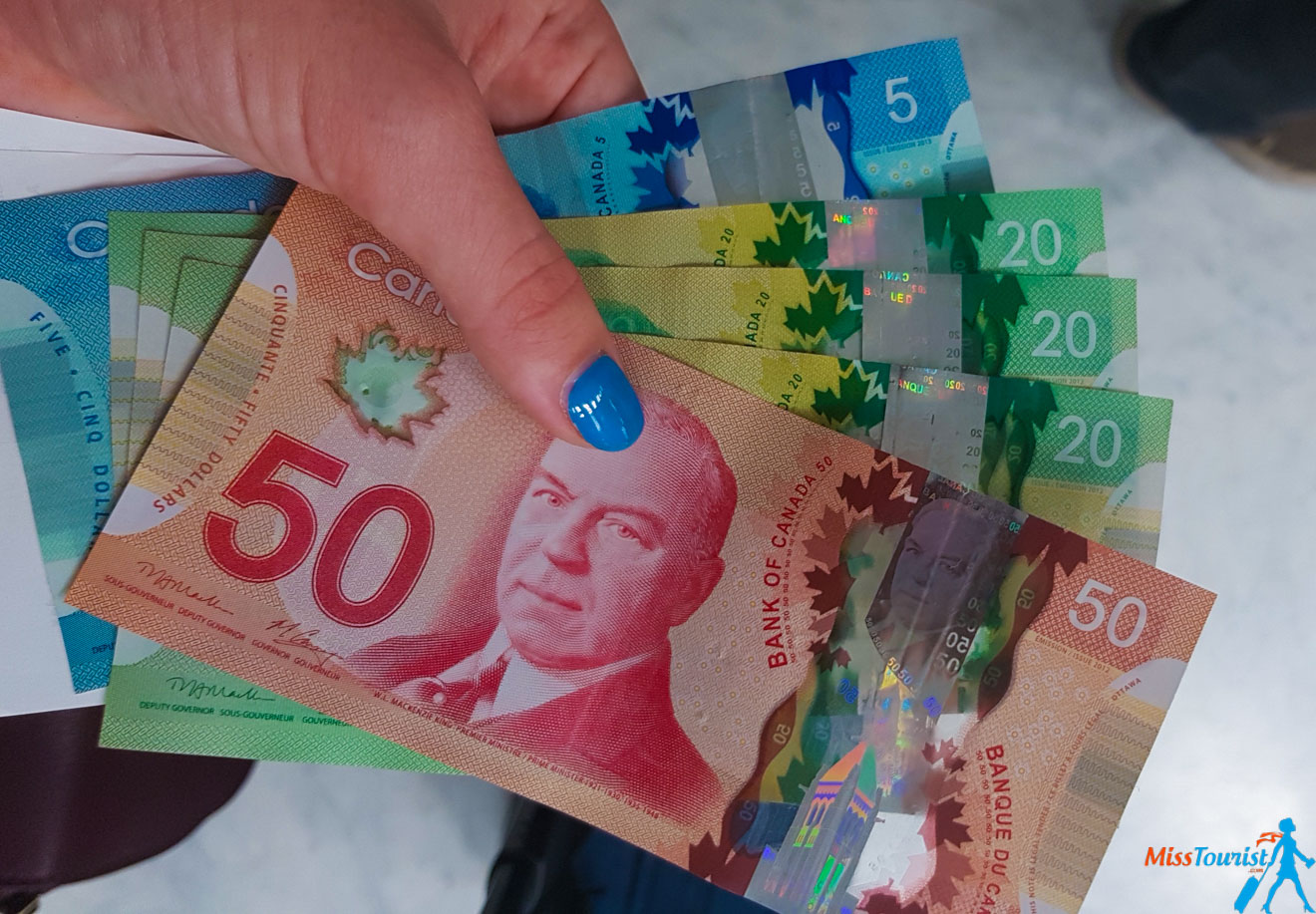 How about the prices? Montreal is the third most expensive city in Canada after Vancouver and Toronto. The hotels and the food are quite pricey, yet not as expensive as in the latter cities. If you book your accommodation in advance, you can find a decent price. The restaurants were also some of the cheapest from what I have seen in the country.
Before we even start talking about approximate prices in Montreal, I want you to know one thing – in Canada, just like in the US, the price that is displayed is most probably not the final price. You will need to add about 13-15% for tax to get to the final cost. This will not be surprising to Americans, but it can come as a shock to other people. You can use this calculator to see the tax for each province. I noticed that it is the lowest in Alberta (5%) and the highest in Quebec (15%).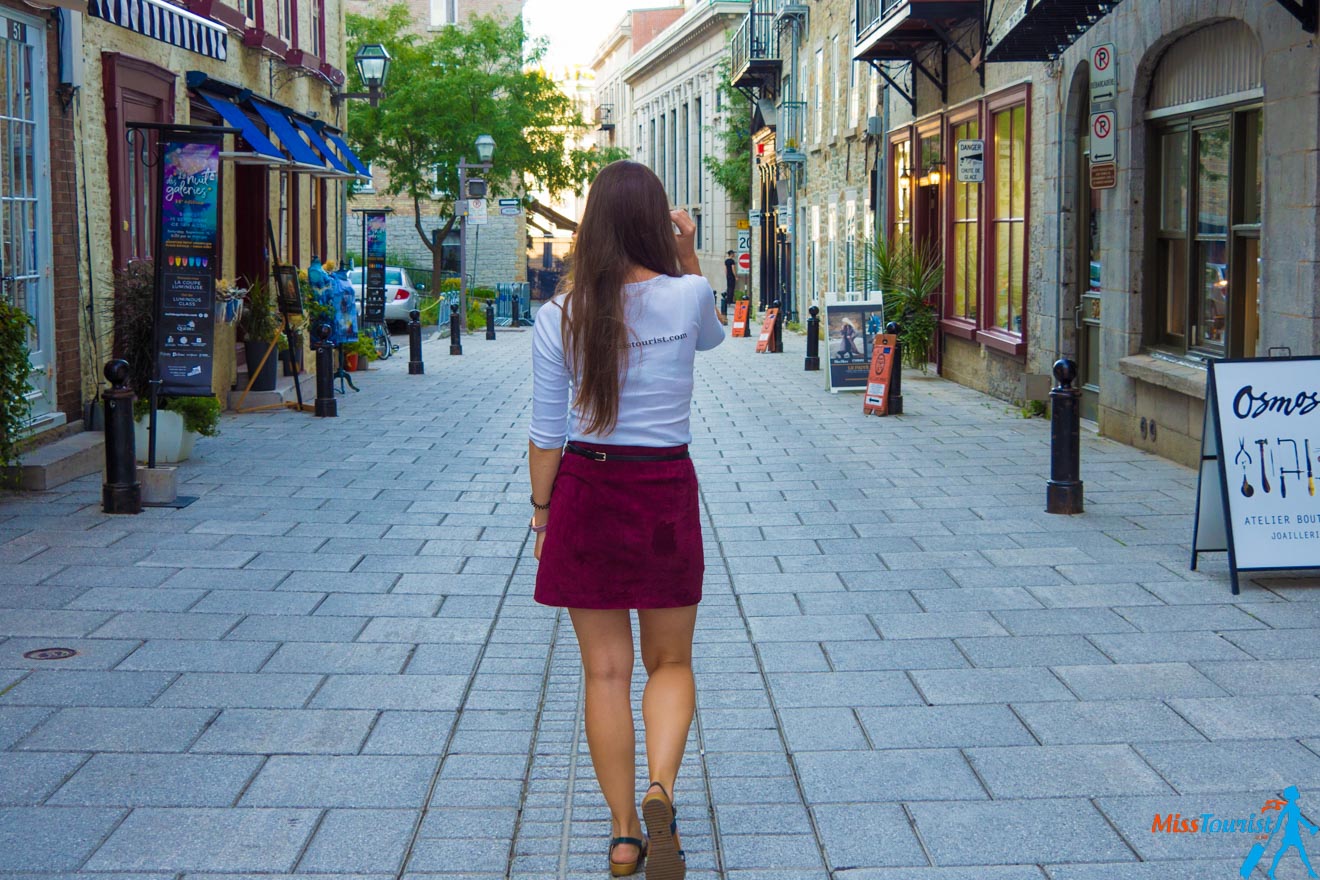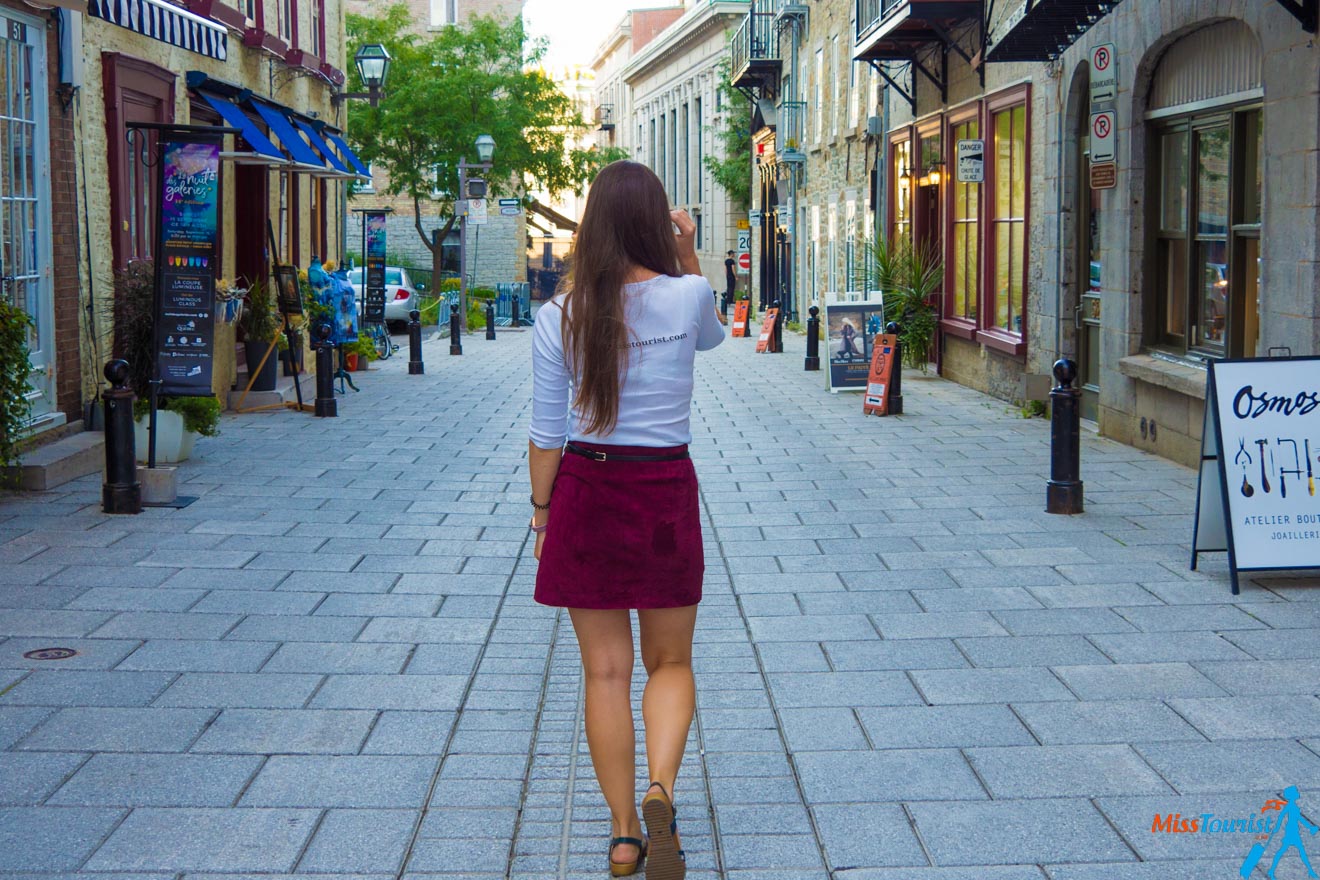 Below are approximate prices (in CAD, including tax, without tips if applicable):
A meal in an inexpensive restaurant for 1 person – 15 CAD
Dinner for 2 in a restaurant – 60 CAD
A night in a hotel (very approximate) – 100 CAD
Taxi –1.75 CAD per km + 3.50 CAD initial charge
A bottle of water – 1.5 CAD
Domestic beer 0.5L – 6 CAD
Metro ticket – 3.25 CAD
Average price for a museum – 18 CAD
1 l of gas (1/4 gallon) – 1.32 CAD
Tipping culture: Do not forget to leave a tip in restaurants in Canada – it is part of the culture and it is extremely rude not to! I have asked around and Canadians generally tip about 15%.
One other thing to note for tourists from Europe and Asia – you do not have to give the tips in cash to your server, as it can be deducted directly from your card. The payment terminal machine will ask you how much you want to leave (usually 15%) and it will calculate the final price for you.
By the way, I hardly used any cash in Canada, almost everything can be paid for by card!
Transportation in Montreal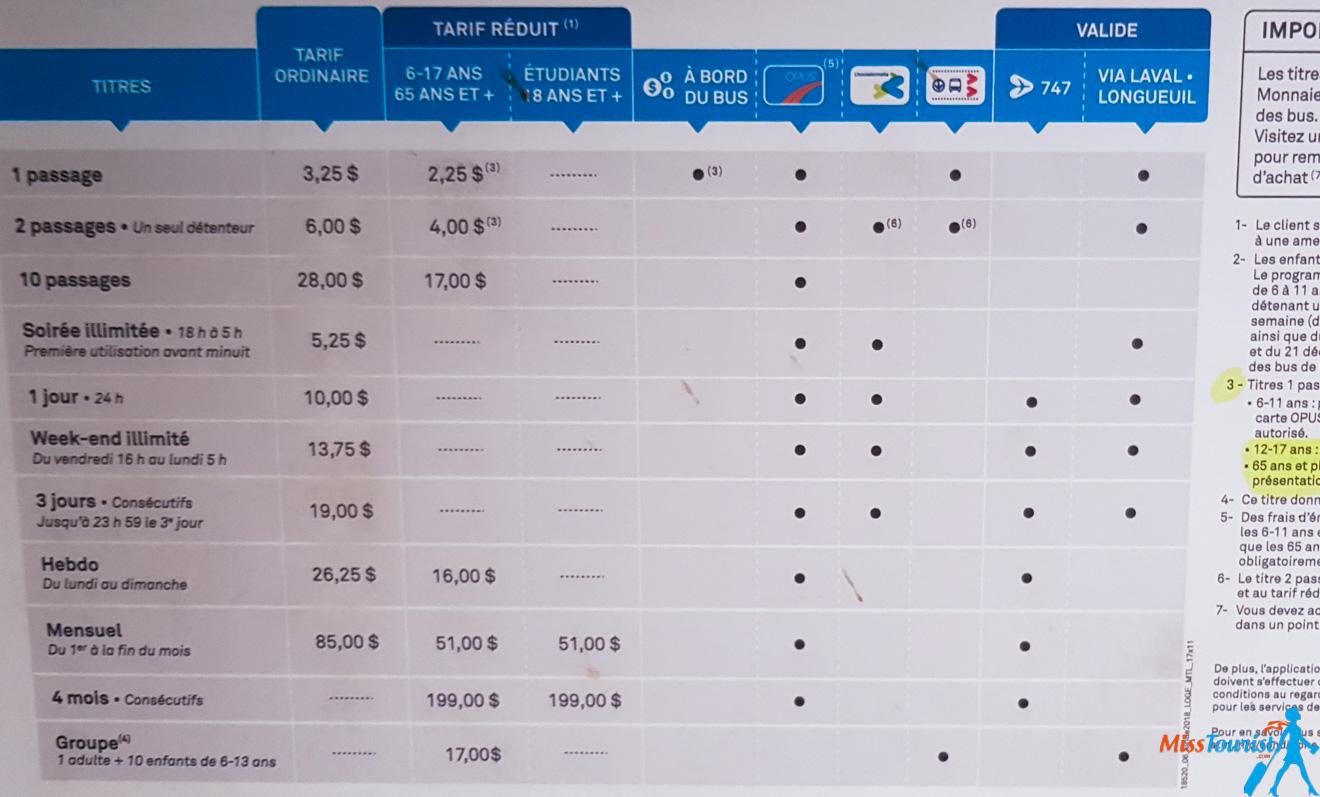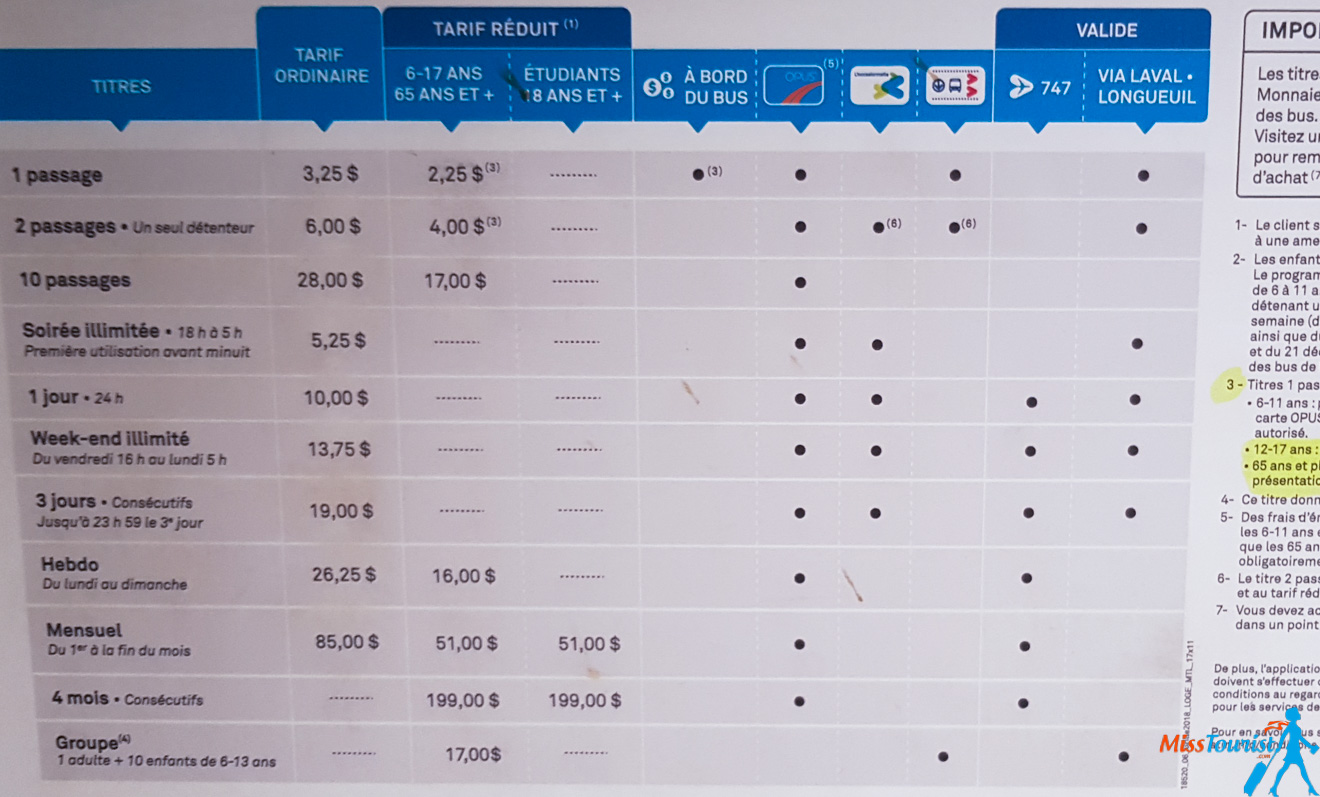 With so many means of transportation available in the city, I decided to break it down to public transport, bike rentals, and taxis.
a) Metro and bus
Montreal, being one of the biggest cities in Canada, has an extensive public transportation system.
The metro can take you pretty much everywhere, especially if you are only interested in sightseeing in Montreal. A single ticket price is 3.25 CAD at the moment, while a day ticket is 10 CAD (please check here to see if the price has changed in the meantime).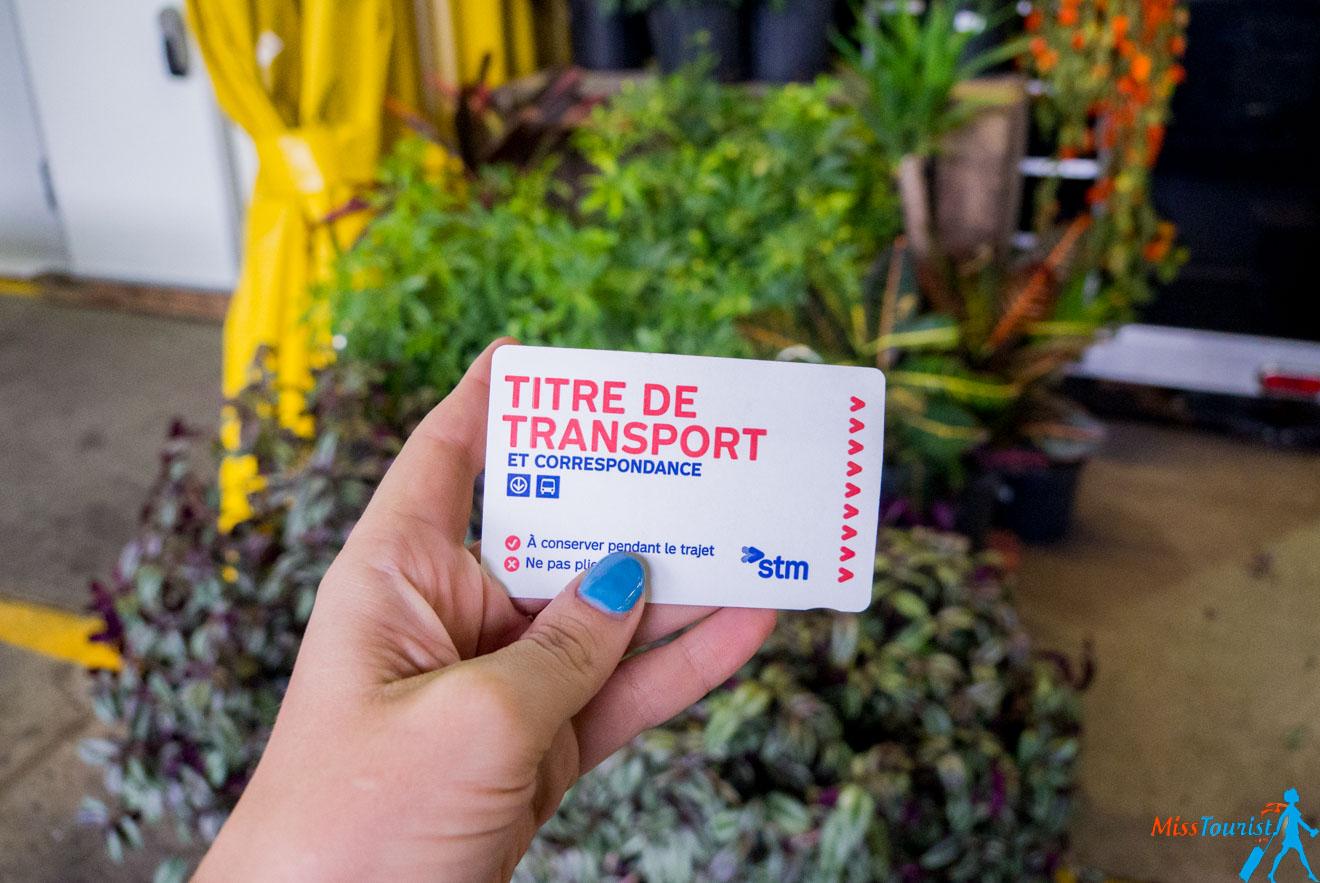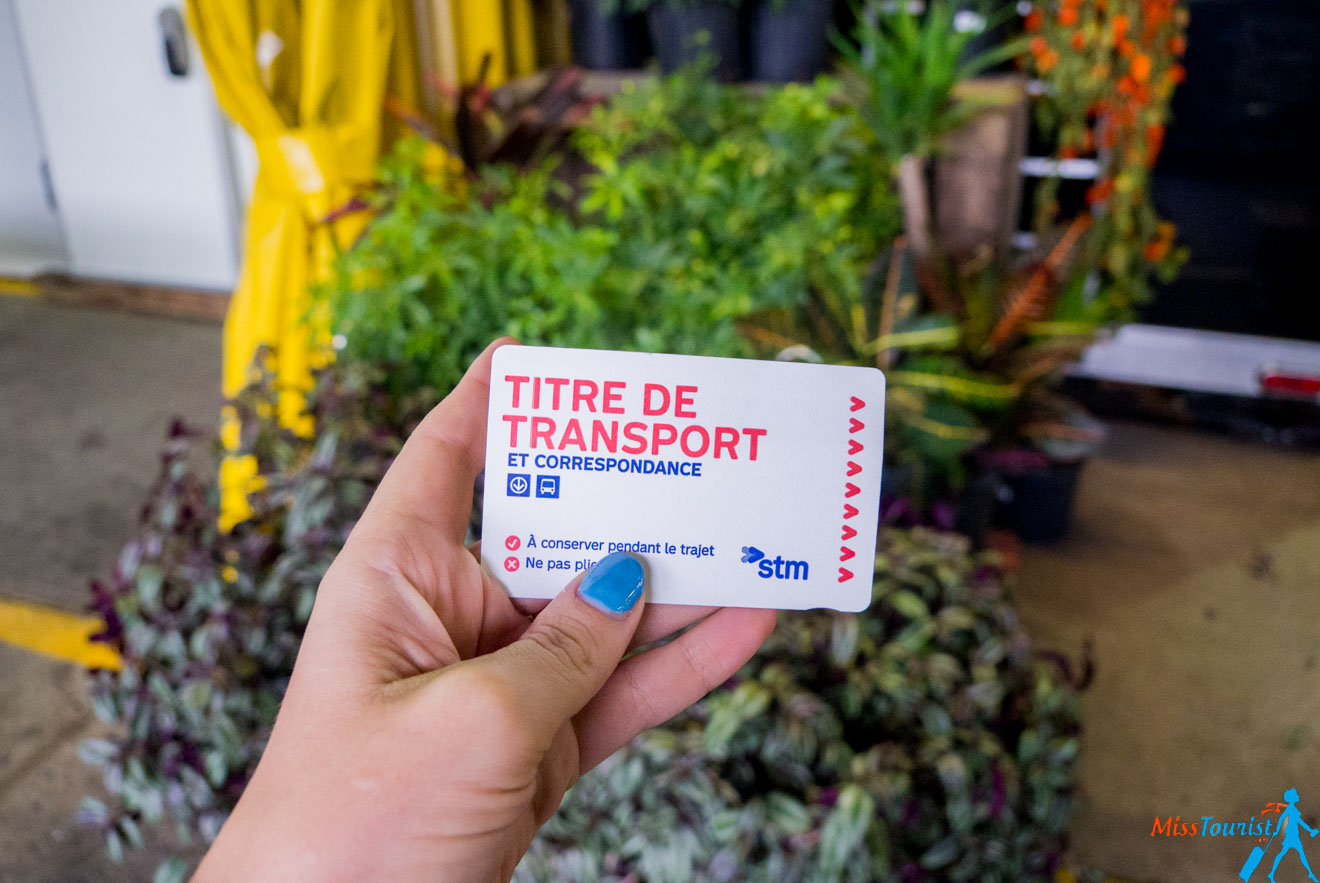 I do not think it is useful to buy an OPUS transportation card for tourists, as it costs 6 CAD. You can buy a metro ticket with the card but it is the same price as purchasing a metro ticket separately. Because the card is not refundable it doesn't make sense to buy a card for just a couple of days
A bus ticket costs the same as a metro ticket, but make sure you have the exact amount because drivers usually do not give change on the buses.
If you decide to get a Montreal Passport, all public transportation will be free for you with that card.
b) BIXI bike rental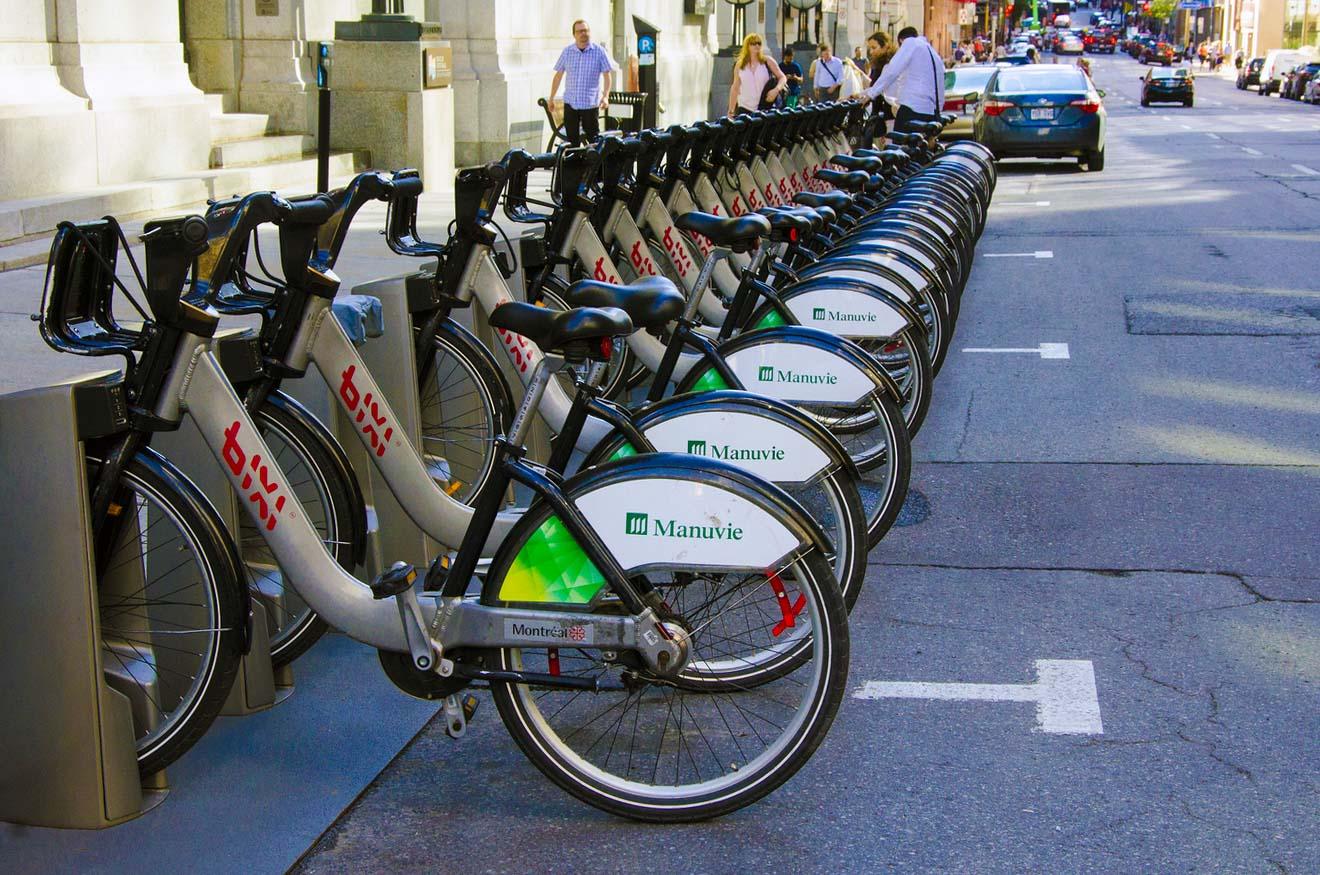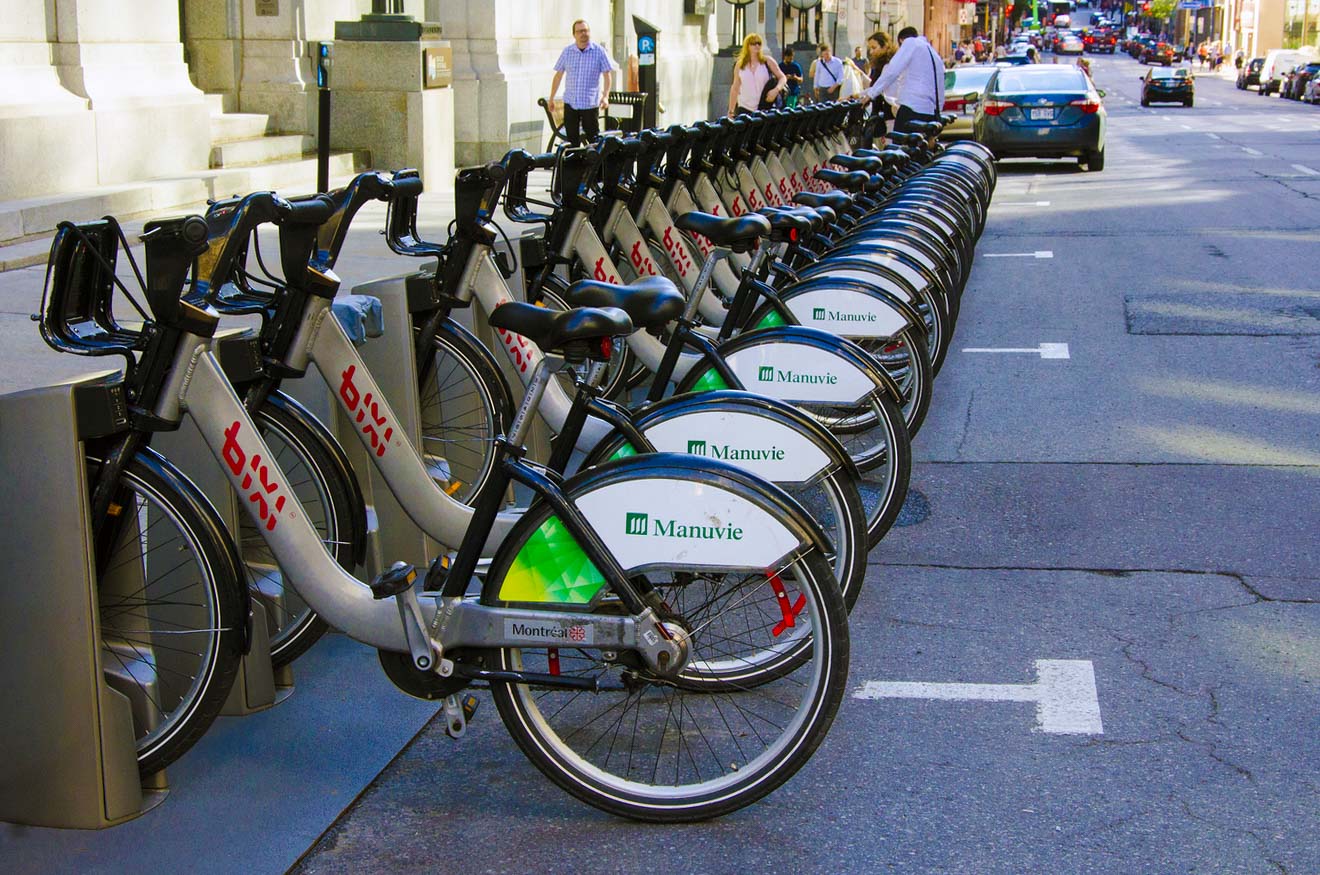 Montreal is an extremely bike-friendly city so I decided to rent a bike for a day!
The city bike rental is called BIXI and it is very easy to use, especially because you can leave your bike pretty much everywhere within a radius of 100m.
The system is exactly the same as in Paris – it costs 5 CAD per day and allows you use the bike for 30 mins at a time. After you leave it in one of the designated parking spots, walk around the area and do some sightseeing, then you can take the bike again (or any other bike – you choose one from the closest parking spot to you) and use it again for up to 30 minutes. You can repeat that for unlimited times during the day.
NOTE: The system will charge 100 CAD on your card, but the entire ammount will be returned to you in 1 week. You can use 1 card for up to 5 bikes (they will charge 100 CAD per each bike).
c) Taxi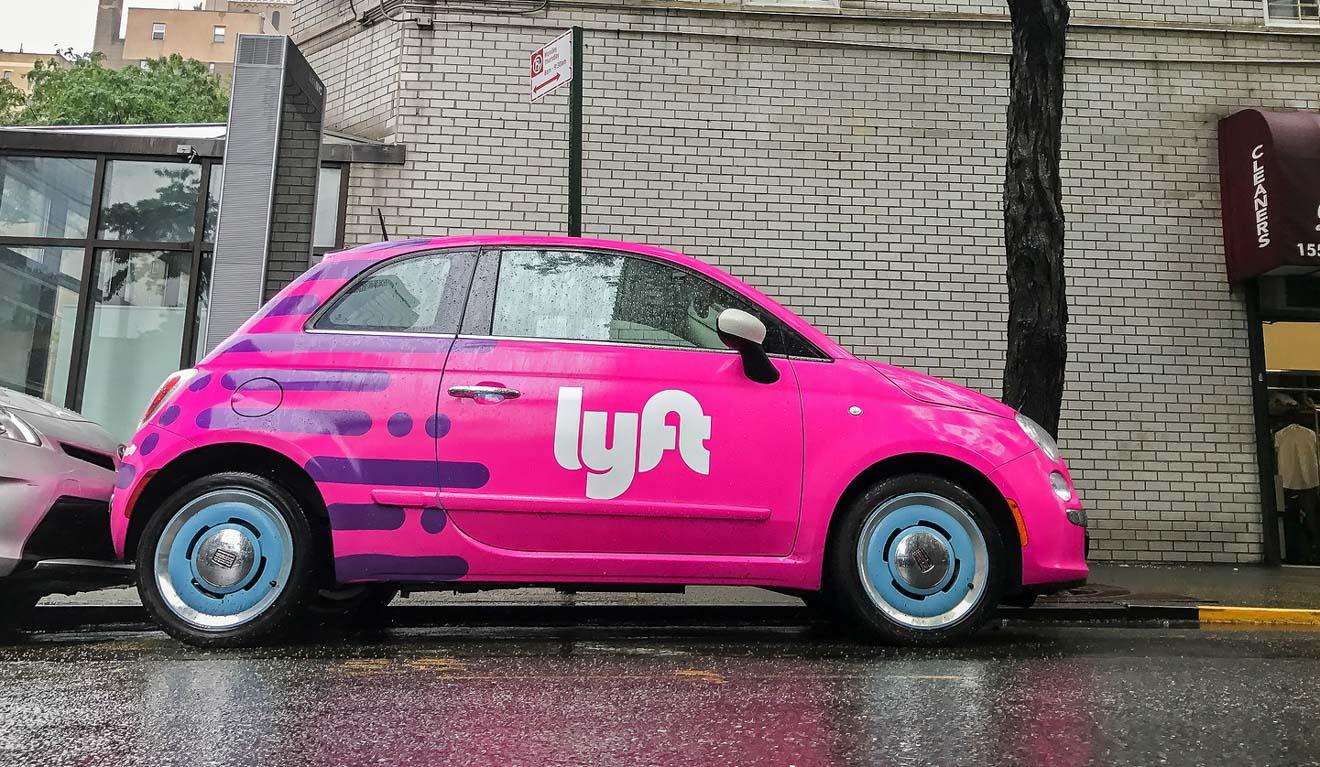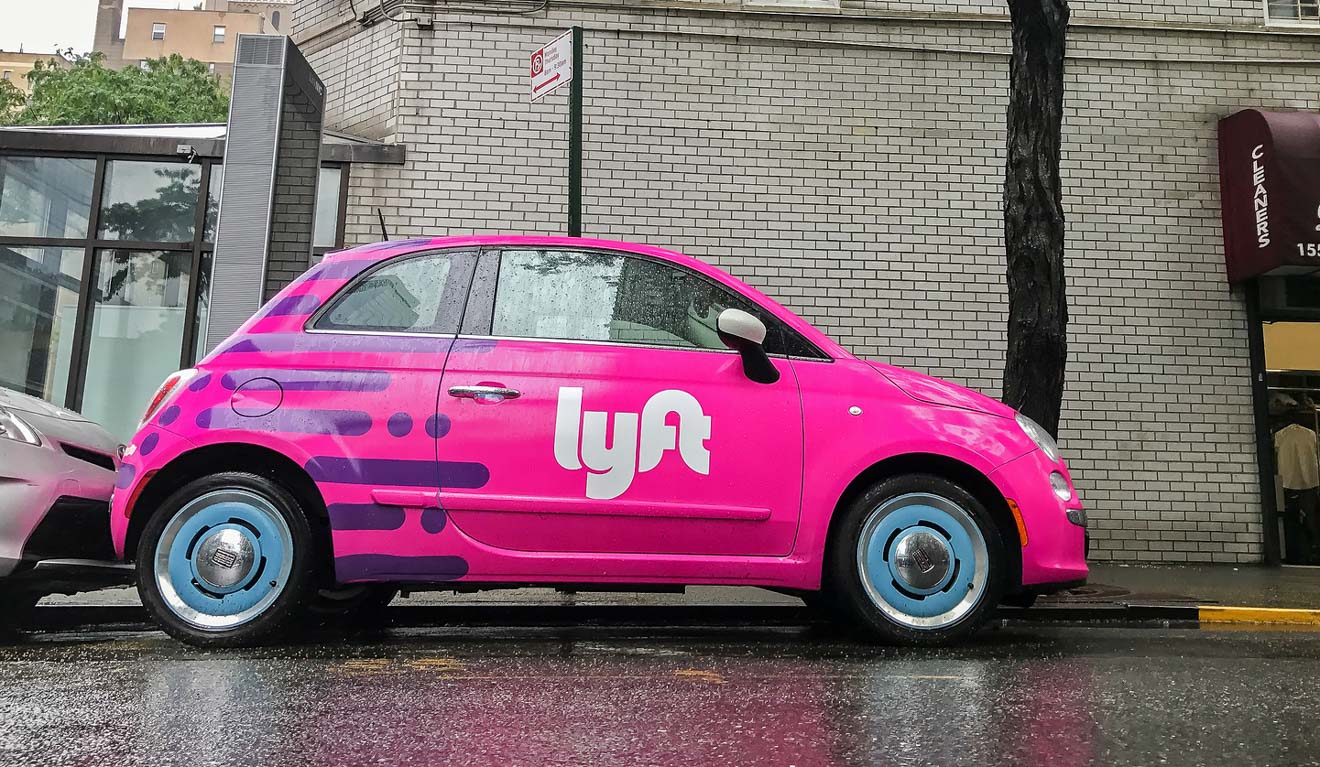 The taxis are not exactly cheap in Canada, but are still affordable, especially if you use one of the apps where the calculation is done automatically so no one can trick you. Currently, the price is about 1.70 CAD per km and 3.50 CAD as an initial fee. I paid 35 CAD to get from the airport to my accommodation near the city center.
I used Uber and apps similar to it a lot in Canada. Do you want to know how to save 40+ CAD on taxis there? Here is a life hack (it might not work forever though):
There is an app called Lyft (similar to Uber). I googled promo codes for Lyft and I found one that gives 20 CAD off to all new clients (you can find the updated code here). Once we exhausted my credit, I invited my friend to use the app and she also got 20 CAD from the promo code and then, once we spent that too (I know, we used taxis a lot!), I had something like a 50% discount on the next 10 rides because I invited a friend. Cool? That was a huge savings for us!
NOTE: If you can't find any working promo codes for Lyft for some reason, there are many other taxi apps in the city like Uber, Taxify and Facedrive. You might want to invest 10 minutes of your time and search for a promo code to save a lot of money later. I do not promise it will work, but it did for us!
Food to try in Montreal (and in the Quebec region in general)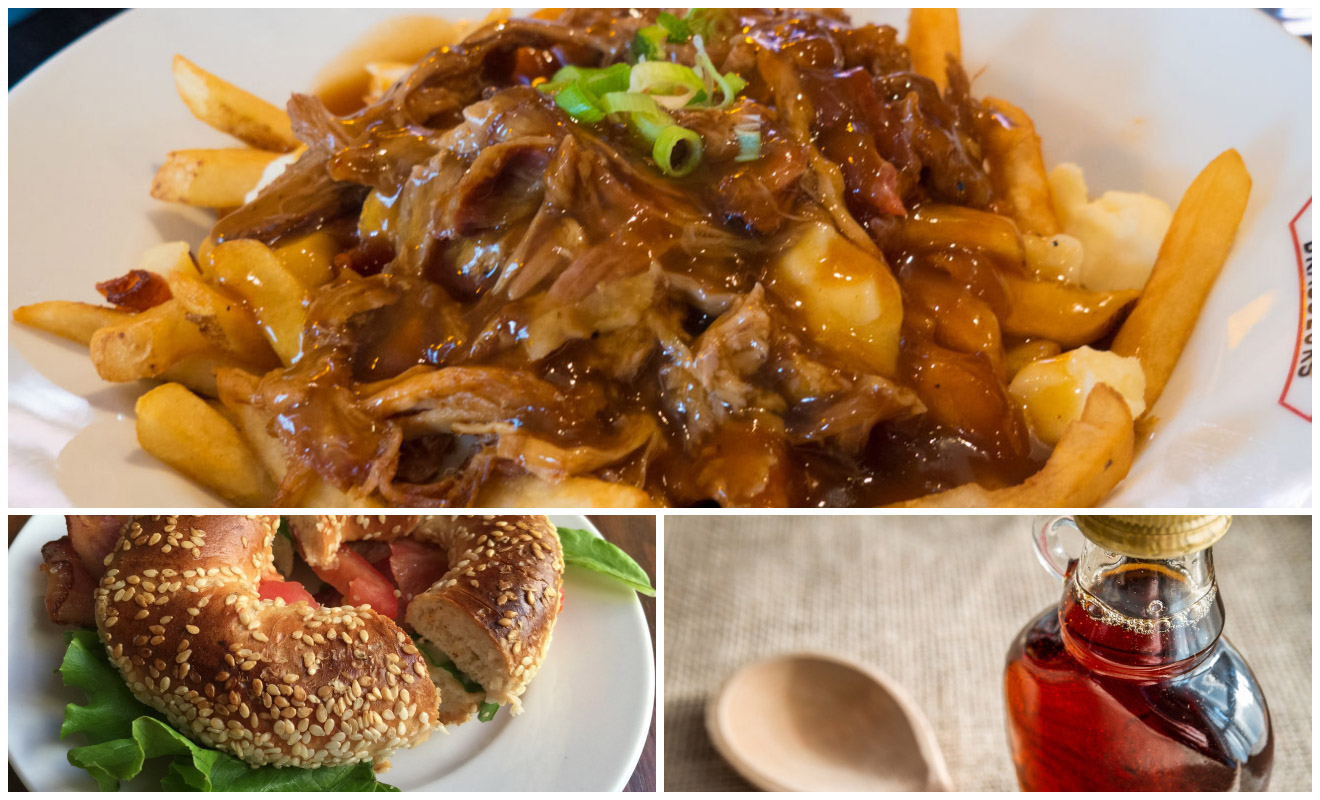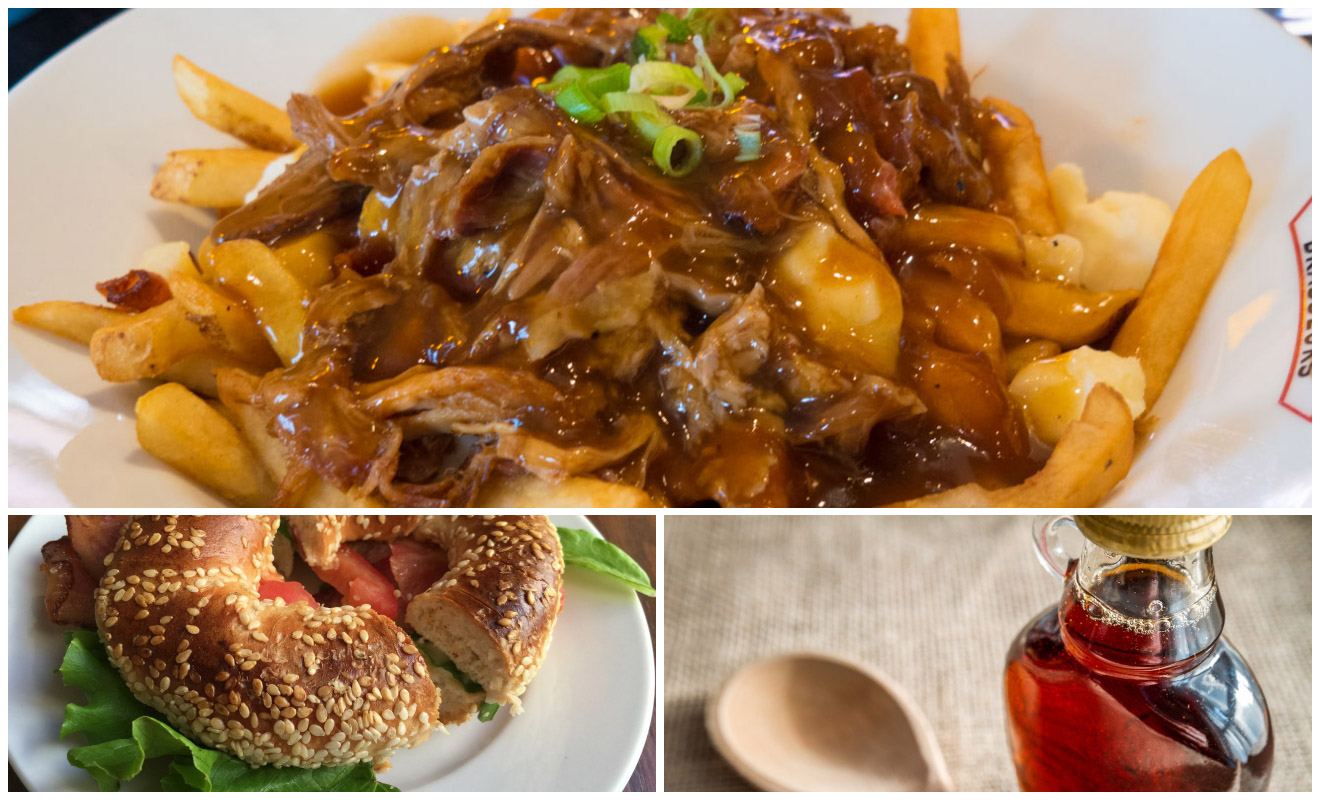 When in Montreal, get out and eat-eat-eat, it is foodies' heaven!
The food in Montreal is extremely multicultural – you can find Chinese, Brazilian, Italian, Jewish – you name it, it is there! What is great is that the food is actually really, really good as well!
Let me give you the list of things to try in Montreal and then you can look at the list of restaurants on WHERE to try those dishes below.
Try these in Montreal:
Poutine (and gourmet Poutine)
Smoked meat in Shwartz
Bagels
Ice wine
Ice cider
Maple syrup
NOTE: About the famous maple syrup in Canada – you can buy a really pretty glass bottle of maple syrup in any supermarket, but if you want to buy one for yourself, buy it in a can – that's how the locals use it!
Great Montreal restaurants and cafes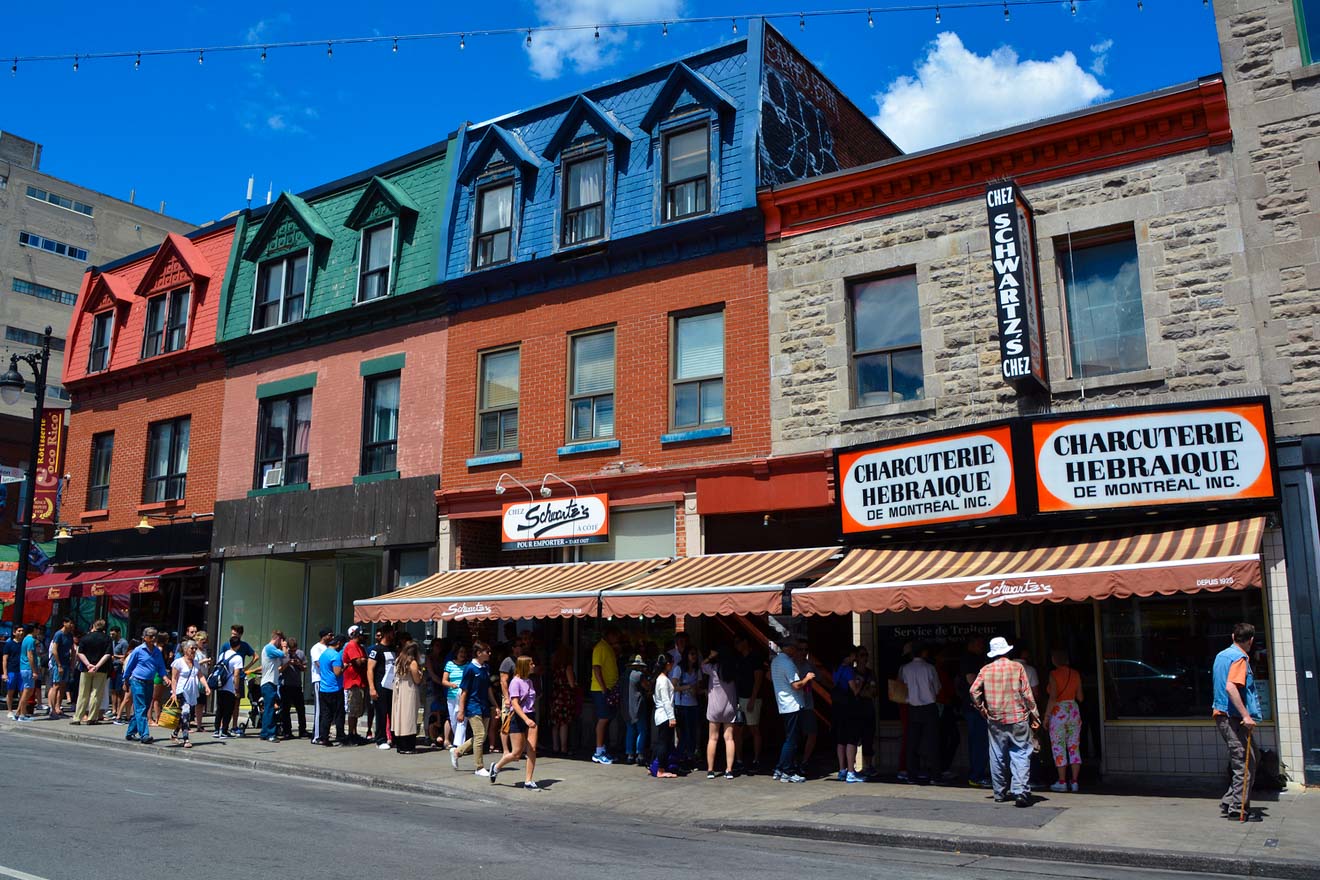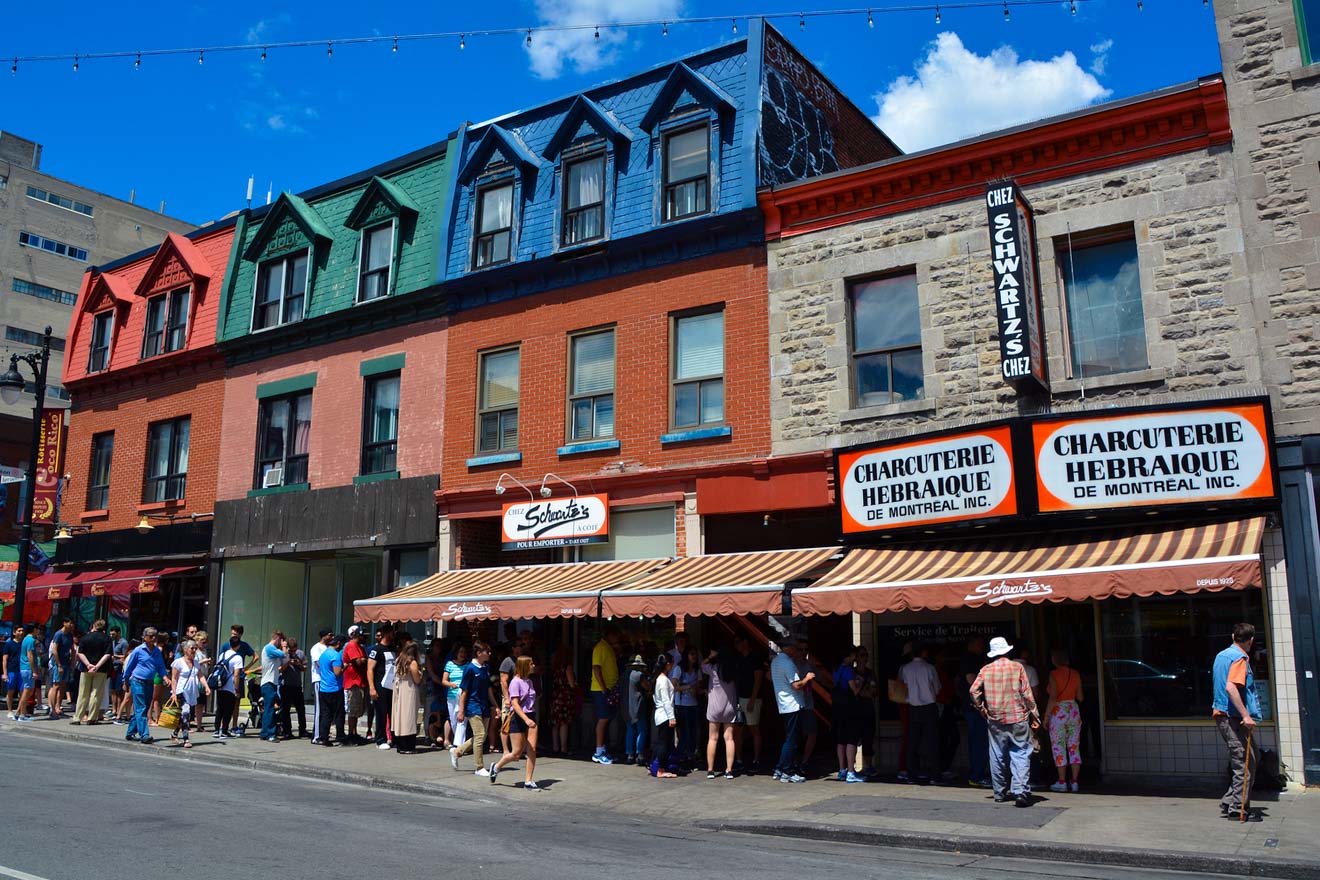 This is the list I could come up with during my short stay in Montreal; please feel free to add your recommendations in the comments, as this list is constantly updated:
If this is not enough and you are a big foodie, I invite you to challenge your taste buds on a food tour of Montreal – you will get to know all the delicious local places and relax in a local brewery afterward!
Things to do in Montreal at night
Montreal has some of the best nightlife in Canada; all party animals will love its great clubs and bars! The night scene here is fabulous and can only be compared to the one in Toronto, maybe.
Except for the nightclubs, there are some fantastic festivals and theatres there – it is full of events, especially in the summer! Here are some of them, just to name a few – Jazz Festival, Fireworks Festival, Piknic Électronik – you name it, they have it!
How to get from the airport to Montreal city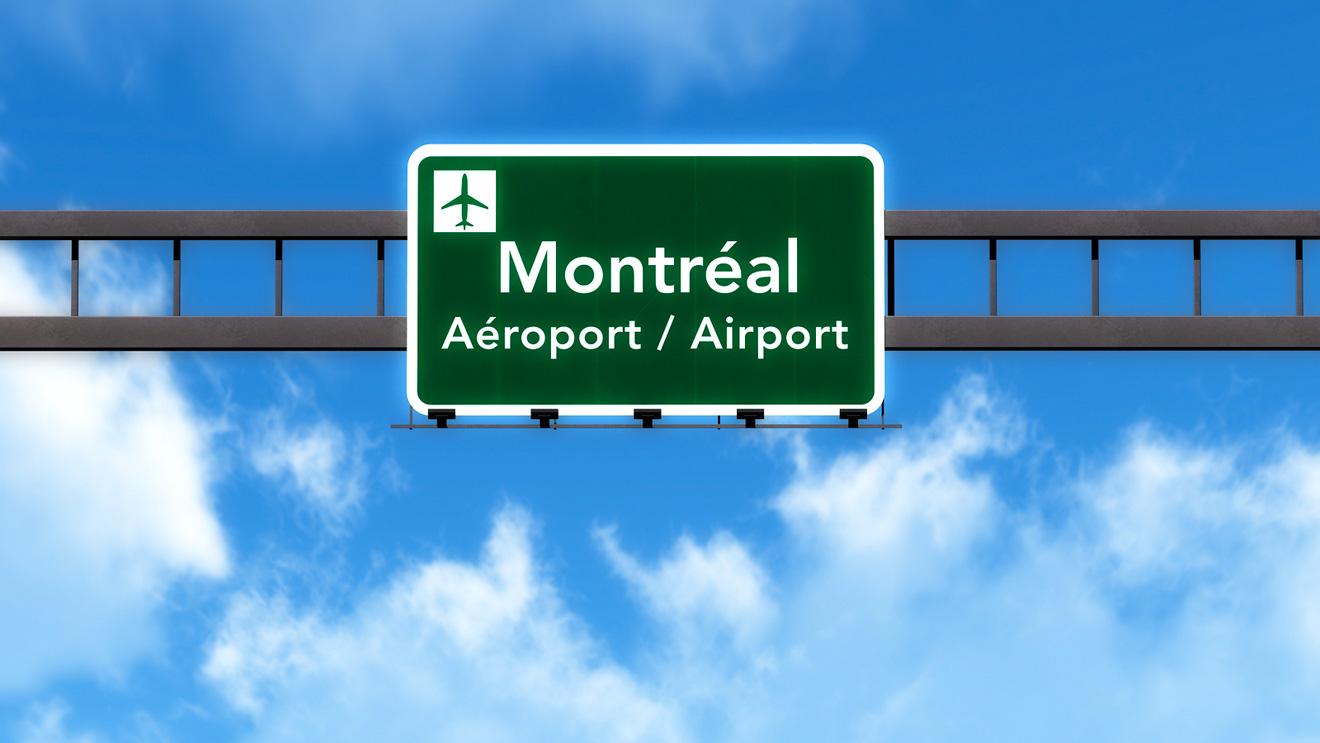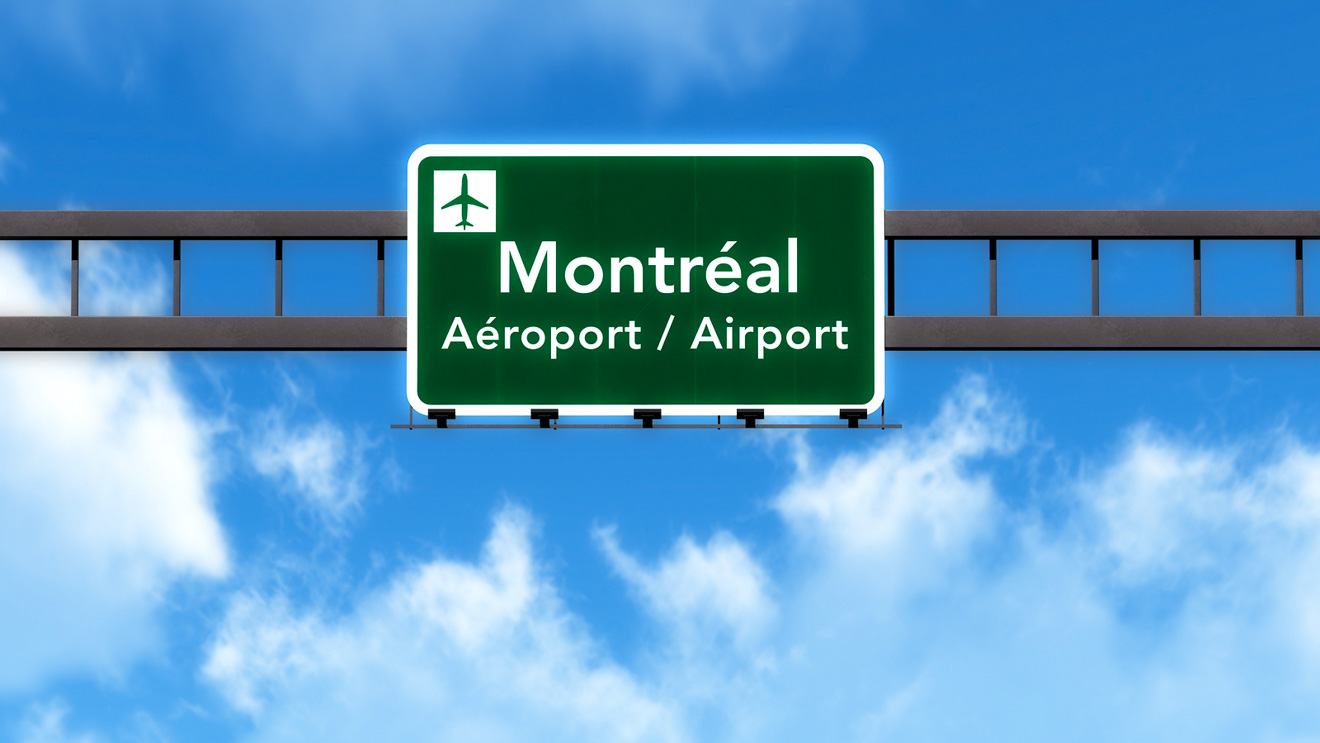 Nothing can be easier! Montréal Trudeau International Airport (YUL) is just 7 km away from downtown Montreal and there are different means of transportation available you can choose from to get there. I took an Uber from the airport and it was one of the easiest transits I have ever had!
Taxi/Uber
Throughout all my posts I always recommend using an Uber or a local alternative if Uber is banned in the country. Uber is completely legal in Canada and you can use it with no problem. Moreover, Uber has a special waiting area, so there is no chance you will get lost; you will know exactly where your taxi will arrive, without any confusion (and the Wi-Fi works there, too; you will see when the taxi arrives!).
Everything went smoothly for me. My ride was 35 CAD to get to the center and it took just about 20 minutes.
Public transportation
There is a shuttle bus #747 that runs 24/7 and it goes to the city center. The price is 10 CAD and you can buy your ticket in one of the vending machines/information centers inside the airport (card payment available) or you can buy it directly from the driver, but in this case you should withdraw cash in advance and have the exact amount ready as the drivers do not give change. It will take 45 to 70 minutes to reach the city center depending on traffic and you can see the schedule here (it generally comes pretty often).
NOTE: If you are returning from the city and you have a day/week transportation pass, you do NOT need to buy the ticket.
Sim cards in Canada (buy a pre-paid sim card in Montreal)


If you want to buy a prepaid sim card with GB and minutes, this can be done with 4 major cell service providers – Rogers (with sub-brands like Fido and Chatr), Telus, Bell and Freedom Mobile.
Rogers seemed to be the cheapest plan when I did my research (I paid 49 CAD with taxes for 4 GB), BUT it turned out it only worked in 17 places in Canada (say whaaaat?). I wasn't informed about that in the beginning, so I was without internet connection for a couple of days when we were hiking the national parks of Quebec. This was very frustrating, so make sure to ask if it works all over the country before you buy the sim card.
I also do not recommend Freedom Mobile as I read it does not work in all cities.
You can compare the up-to-date prices and make your decision accordingly here.
I bought my sim card in the city center in one of the Rogers offices, but you can also purchase it right in the airport if you are arriving during the daytime.
NOTE: Do not forget about adding the 5-15% tax to the price, depending on the province you are buying it in.
When to visit Montreal?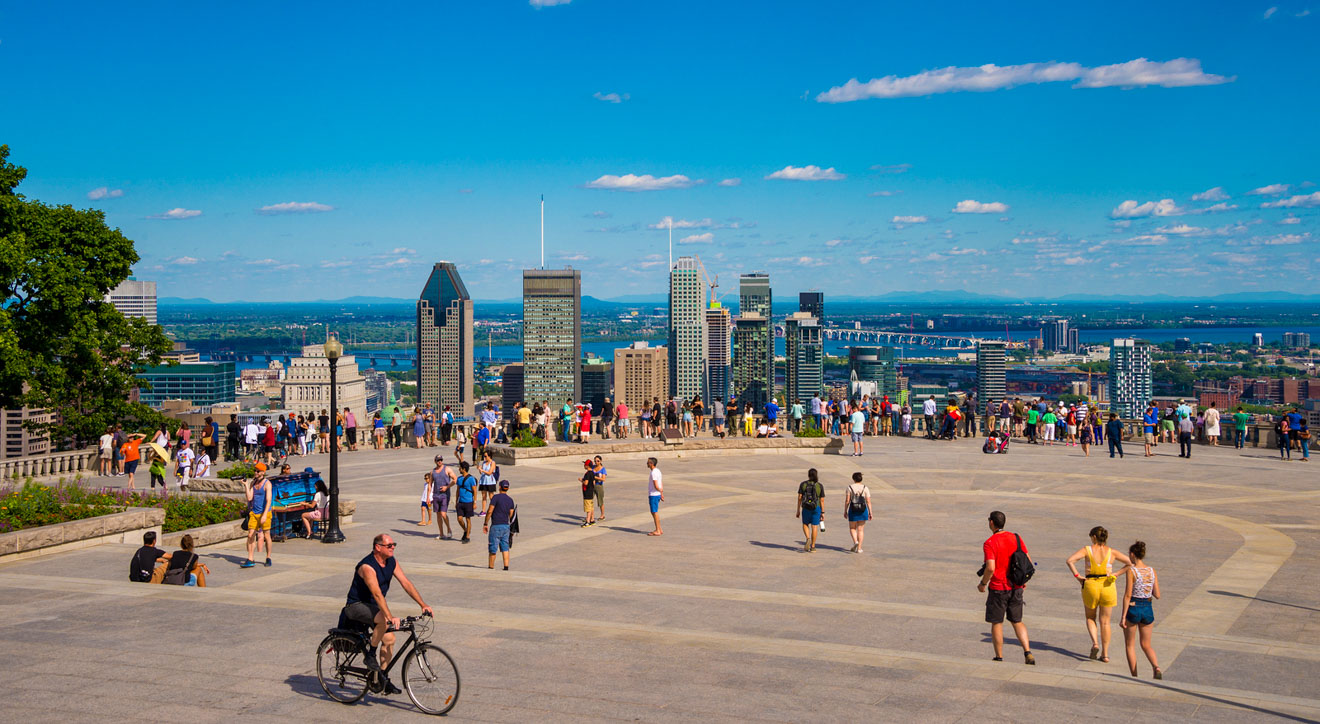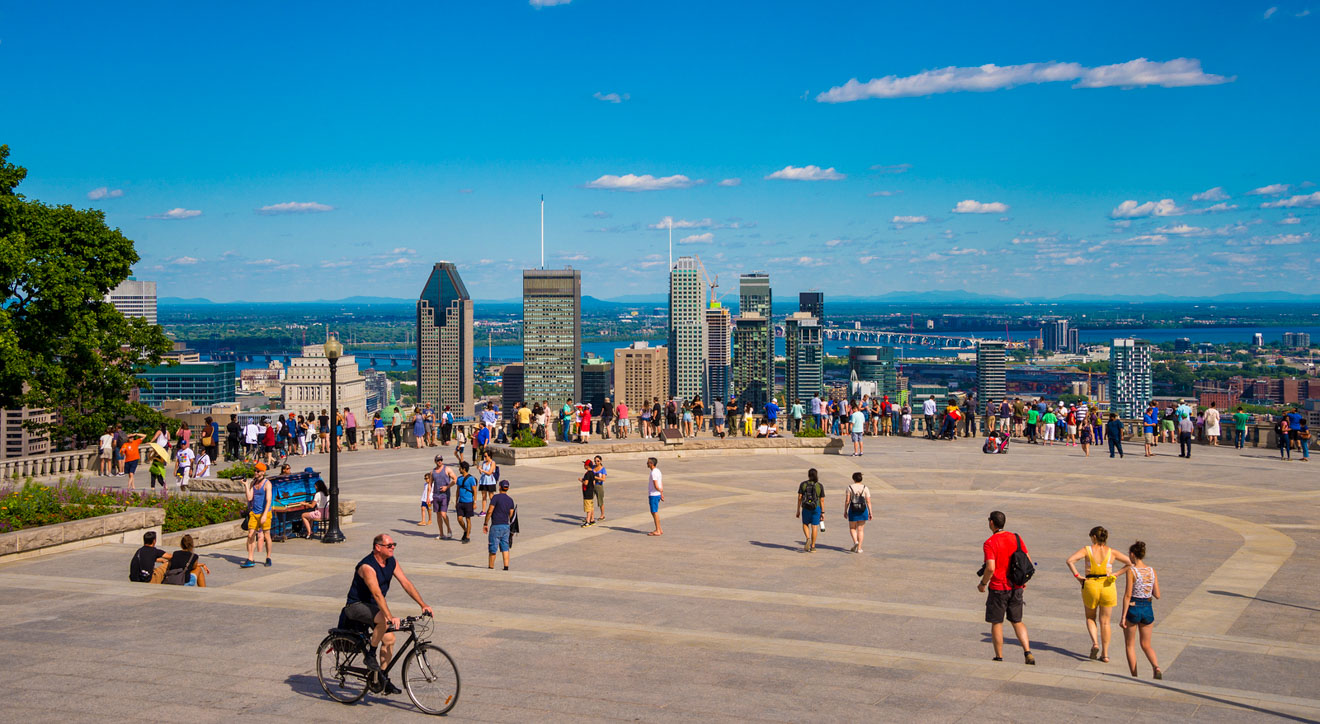 That is a really good question and the answer depends entirely on your preferences!
If you, like the majority of travelers, want to experience the capital of Quebec during the warm weather, take a boat tour around the city and do some outdoor activities, the best time to visit would be from June to the end of August. Note that there are many events constantly happening in the city during the summer and the demand is big. That is why I recommend booking your hotels as much in advance as possible.
I visited at the beginning of September and that is when it gets tricky – you might or you might not be lucky with the weather, it is so unpredictable! I, for instance, had a couple of really shitty days in Melbourne because it was raining at times and it was also very cold. But most times the weather was fine!
The good part about visiting during the shoulder season is that there are fewer tourists around and there is also a significant price drop for accommodations. If you are visiting after mid-October, please note that some of the open-air attractions will be closed.
Winters can get quite brutal in that part of the world, so make sure you bring many, many layers. But hey, you can try ice skating, skiing or even sleigh rides!
---
Conclusion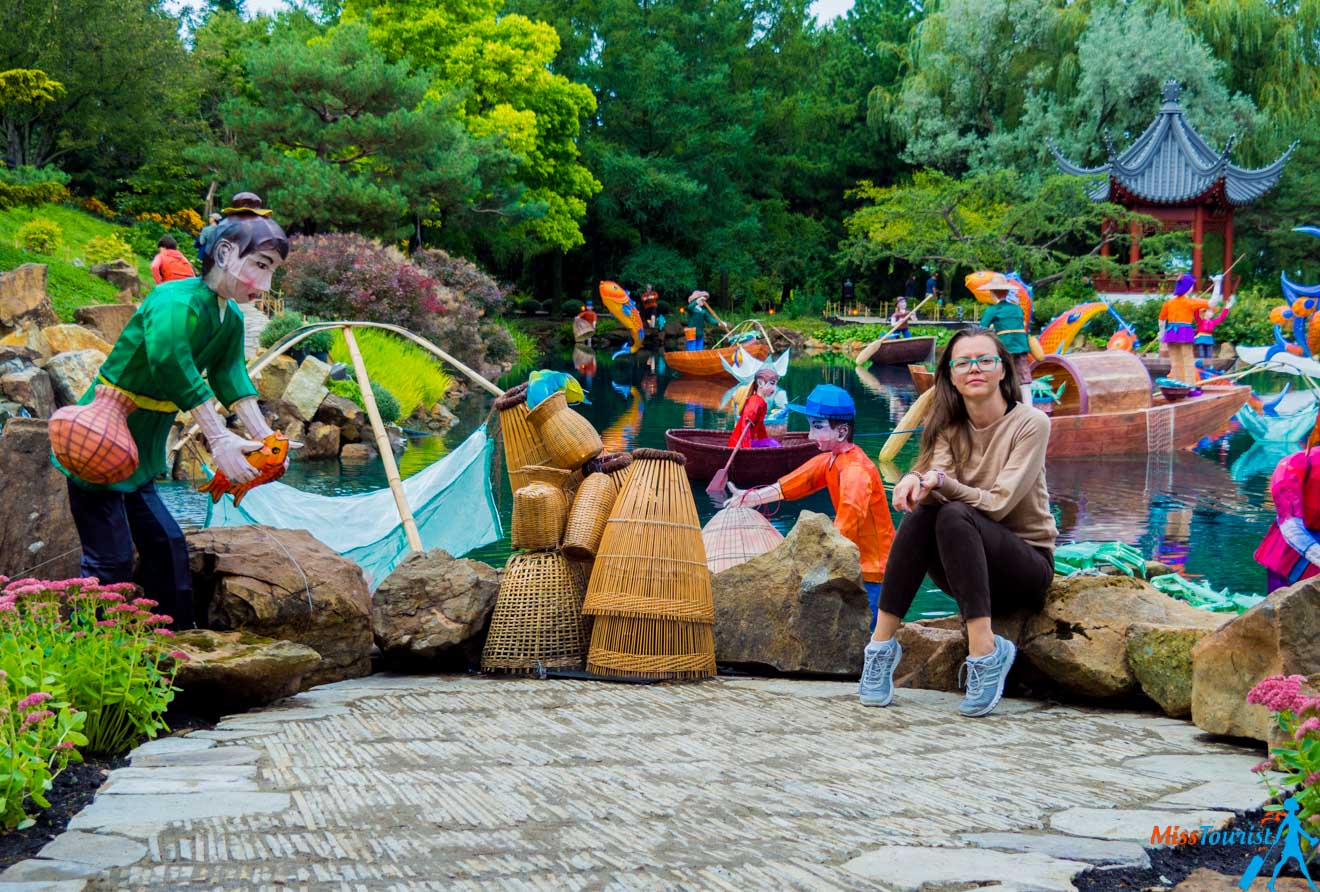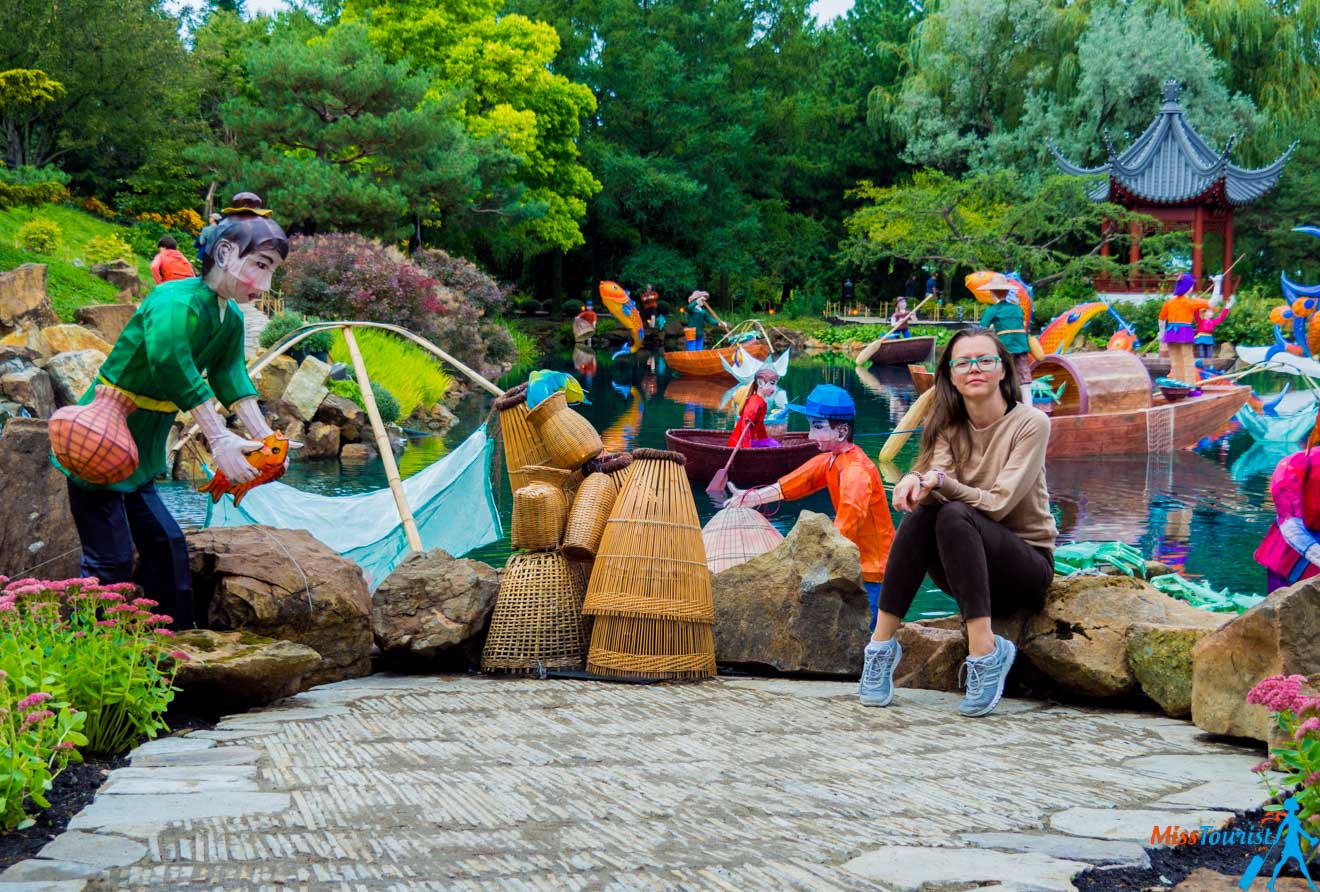 You have reached the end of this long article, bravo!
Montreal is such a unique city with its bilingualism and multiculturalism; even the flag of Montreal has 4 symbols on it – French, Scottish, Irish and English! You will discover the culture of French North America and you won't even need to speak French in order to get around, as everyone speaks perfect English there!
When I started to write this post I just planned to have just the 15 top things to do in Montreal, but I could not stop myself and it extended further and further, sorry about that, I guess. 🙂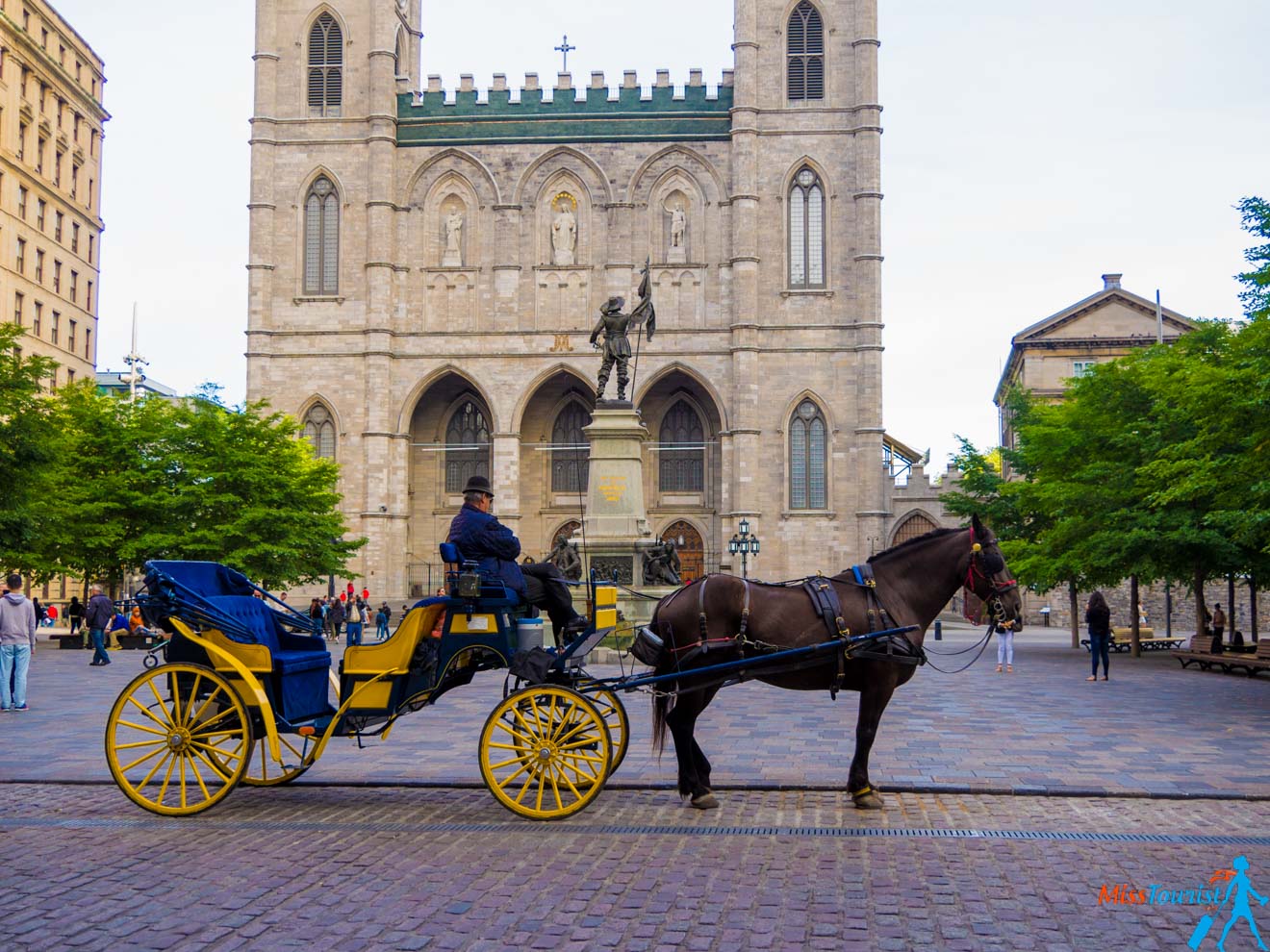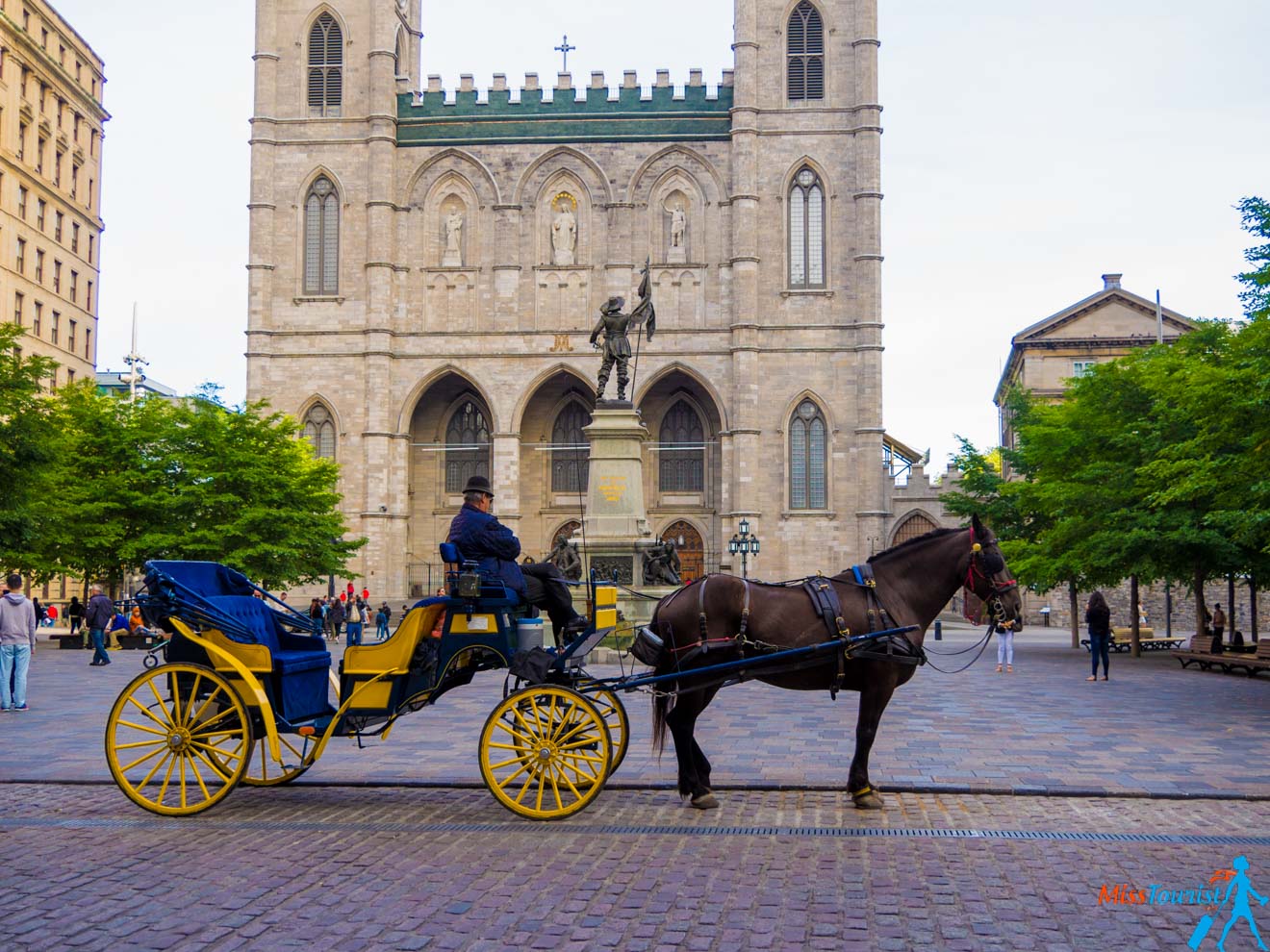 Above I talked about the 15 Montreal activities that you cannot miss, places to visit if you have more time and on top of that, I added A LOT of practical information about prices, transportation, food, and a lot of other advice.
I sincerely hope you have found this information useful! If you did, do not forget to press that "Like" button on one of the social media icons. 😉
If you still have any more questions, I will be happy to help! Just drop me a line below in the comments!
Yulia
---
Pin it for later!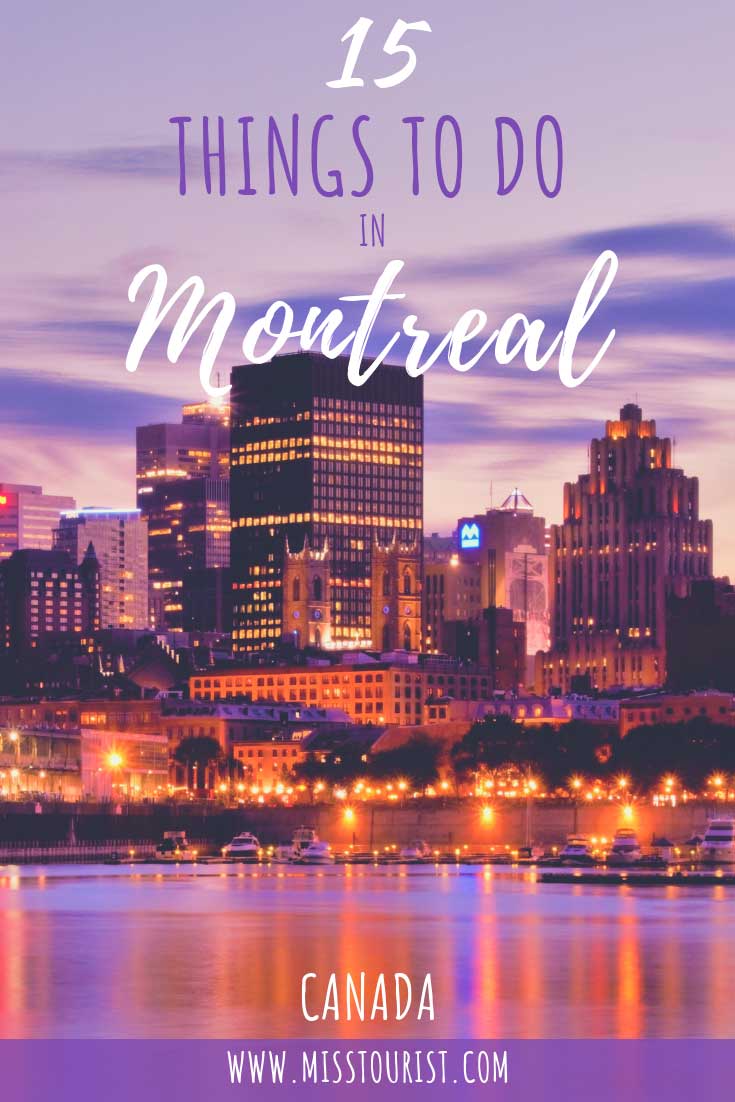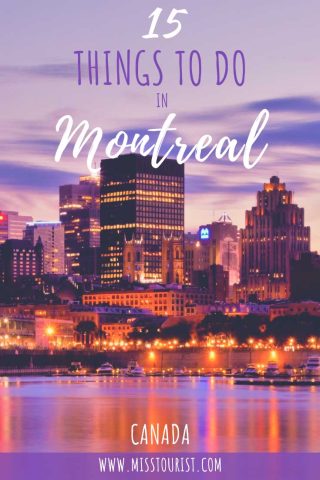 Pin it for later!