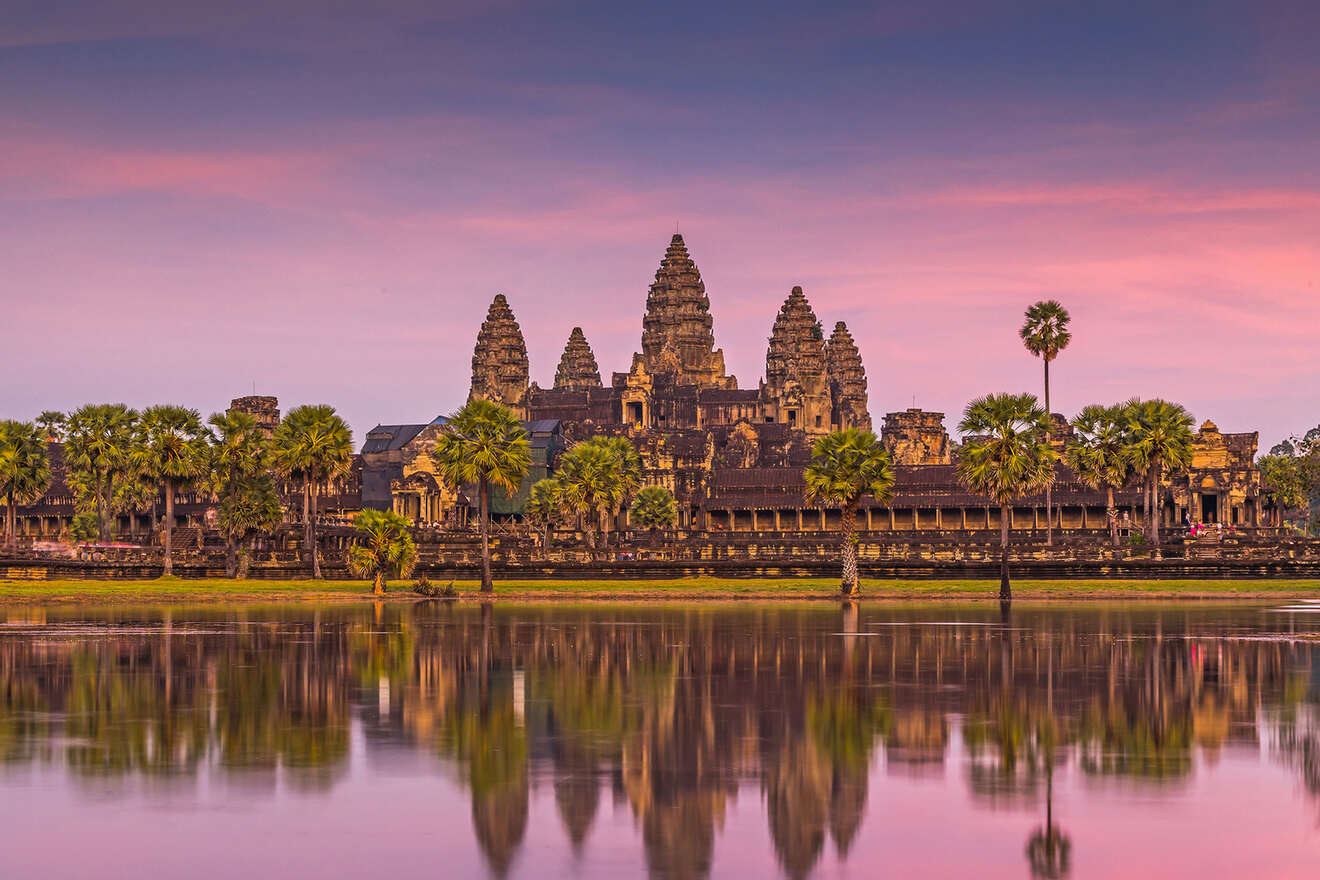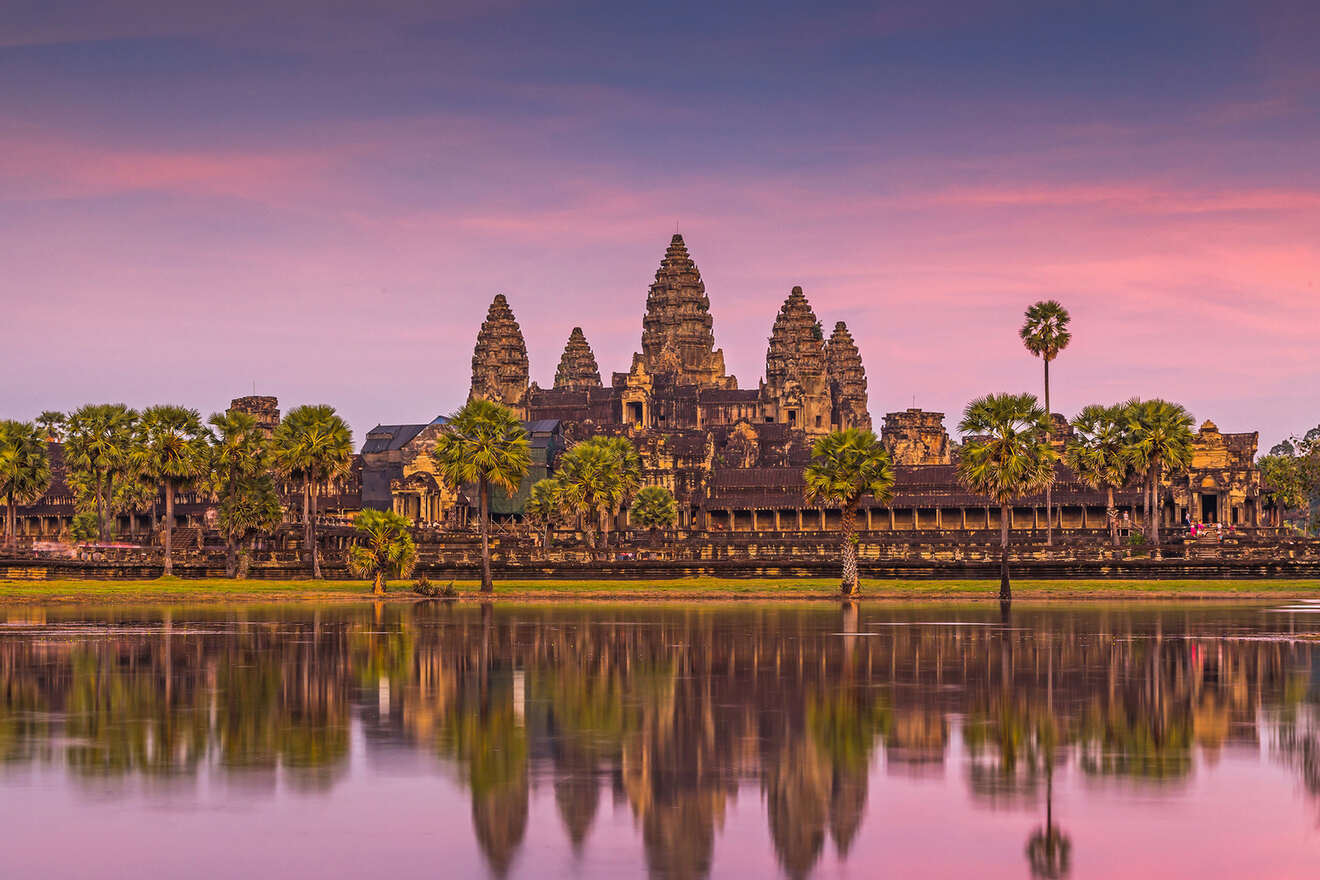 Most people probably know Siem Reap as the gateway city to the incredible Angkor Wat Temple! And while that's true, there are so many more reasons why you should visit this fantastic city! But with so many interesting neighborhoods it can be tough to decide where to stay and for that, I am here to help!
The best area where to stay in Siem Reap is the Old French Quarter! This is where you'll find top-notch hotels and bars where you can drink, and mingle with other tourists!
But of course, if you're looking for something a little different, I've added 5 more areas that cater to different interests like family activities, markets, luxurious hotels, clubs, and budget travelers. So make sure to check out the other areas too like Taphul Village, Old Market, Charles de Gaulle Boulevard, Pub Street, and Wat Bo.
And since many of you will want to stay at the best hotel near the temple, I also added a bonus section with the top resorts near Angkor Wat to really cover everything you need to consider before deciding. Make sure you don't skip that part because those places are awesome!
And once you decide which one is your favorite, make your reservations on the spot! Because these hotels disappear super quickly and I don't want you to miss out!
So much to say, so little time! Let's start our adventure!
If you are in a hurry
Who's ready to book right this minute? I know there are some courageous souls who can't wait to find a place. So if you don't want to read the whole post, check out the list below, it has the best hotels in the French Quarter:
If I were you I'd definitely check out the map below. It will help you visualize all the areas where to stay in Siem Reap that I'll talk about in the post:
1. Old French Quarter – where to stay in Siem Reap for the first time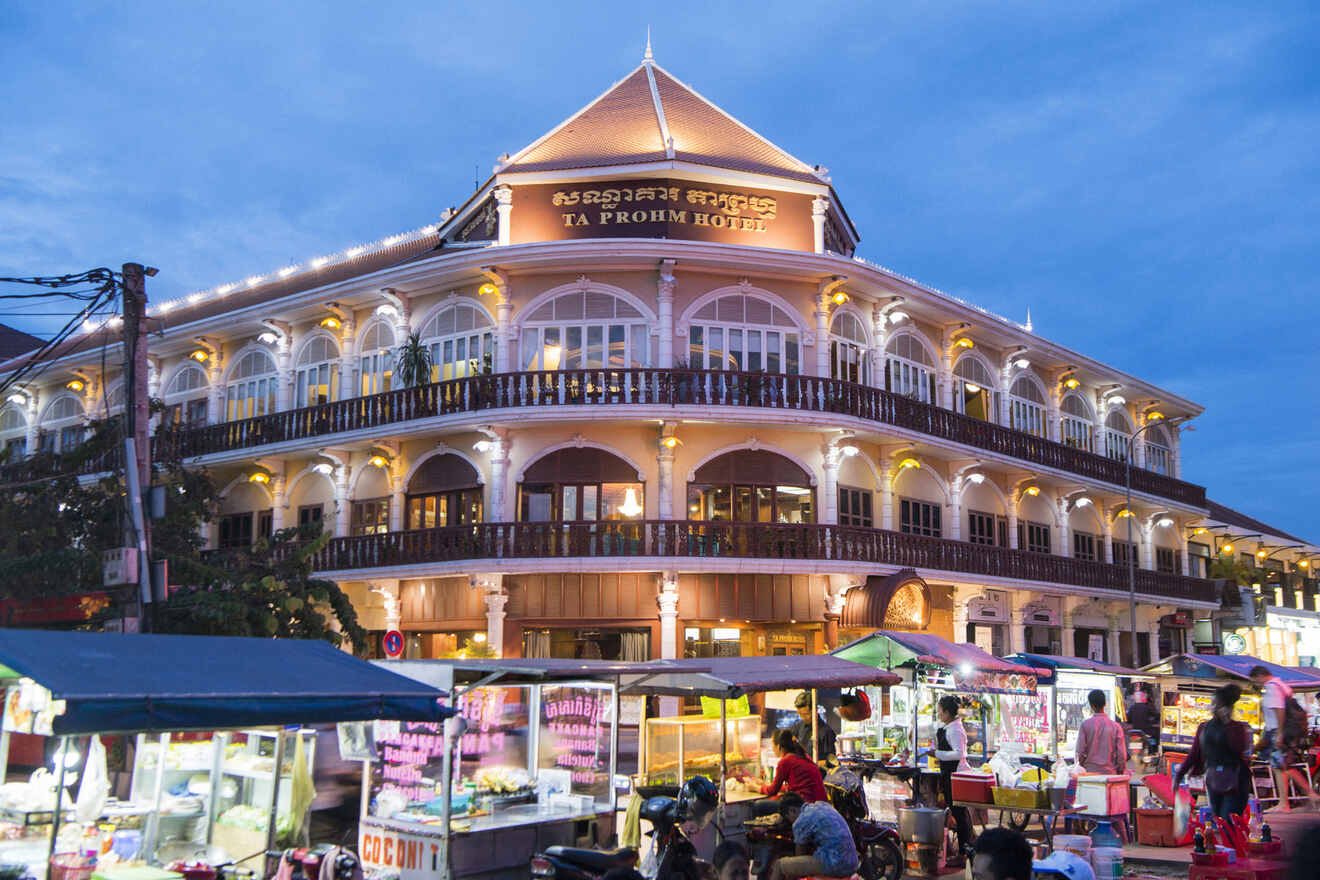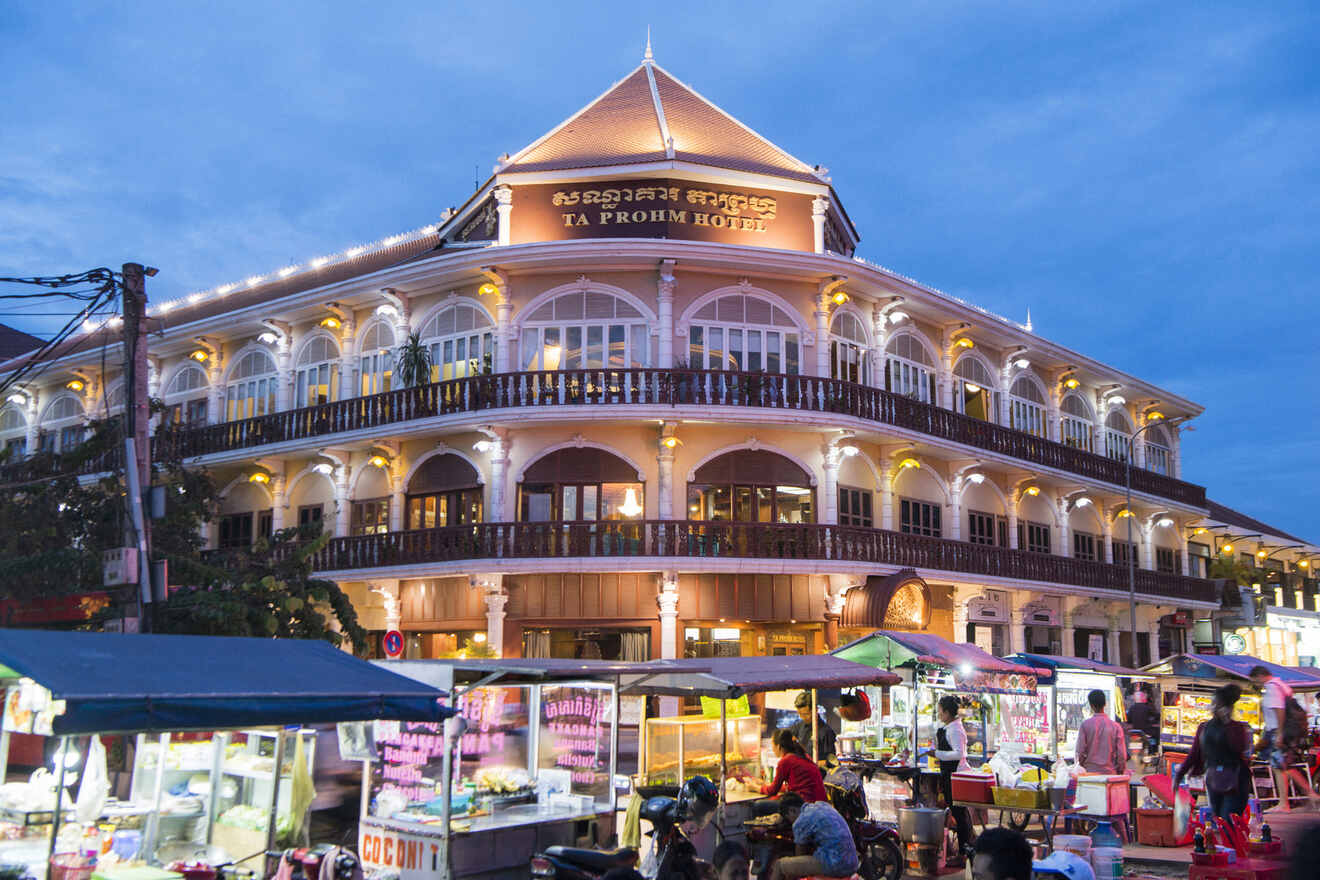 If you're looking for a well-rounded experience, then you can't pick a better area to stay in Siem Reap than the Old French Quarter!
Centrally located, this neighborhood offers the perfect mix of unique temples to visit during the day and fun nightclubs to party in at night! That's what is waiting for you while traveling through South-East Asia!
As you know, Siem Reap is the gateway town to the largest religious monument in the world, Angkor Wat, but there's more to the city than just that! And there's no better place than the Old French Quarter to start your Cambodian adventures!
There are still many colonial buildings and architecture, especially in this area, which, combined with the traditional temples and classic Chinese shophouses, give the city a super multicultural vibe.
Since the Old French Quarter is just a stone's throw away from most attractions like the Royal Residence and the iconic Angkor Archaeological Park, many tourists book their hotels here. So I recommend making your reservations super early, because this place is packed with visitors!
Of course, the Old French Quarter is also absolutely filled with restaurants where you can indulge in international cuisine and fun bars. So once you're fully rested, head out to explore this vibrant neighborhood!
Other accommodation options in Old French Quarter
As you've probably noticed, the Old French Quarter is pretty popular! Since it's set right in the center of Siem Reap, everyone wants to stay here, which means that the hotels will sell out super fast. That's why I decided to offer 3 more options in case the ones above are already sold out. All hotels are luxury with prices from US$100 and up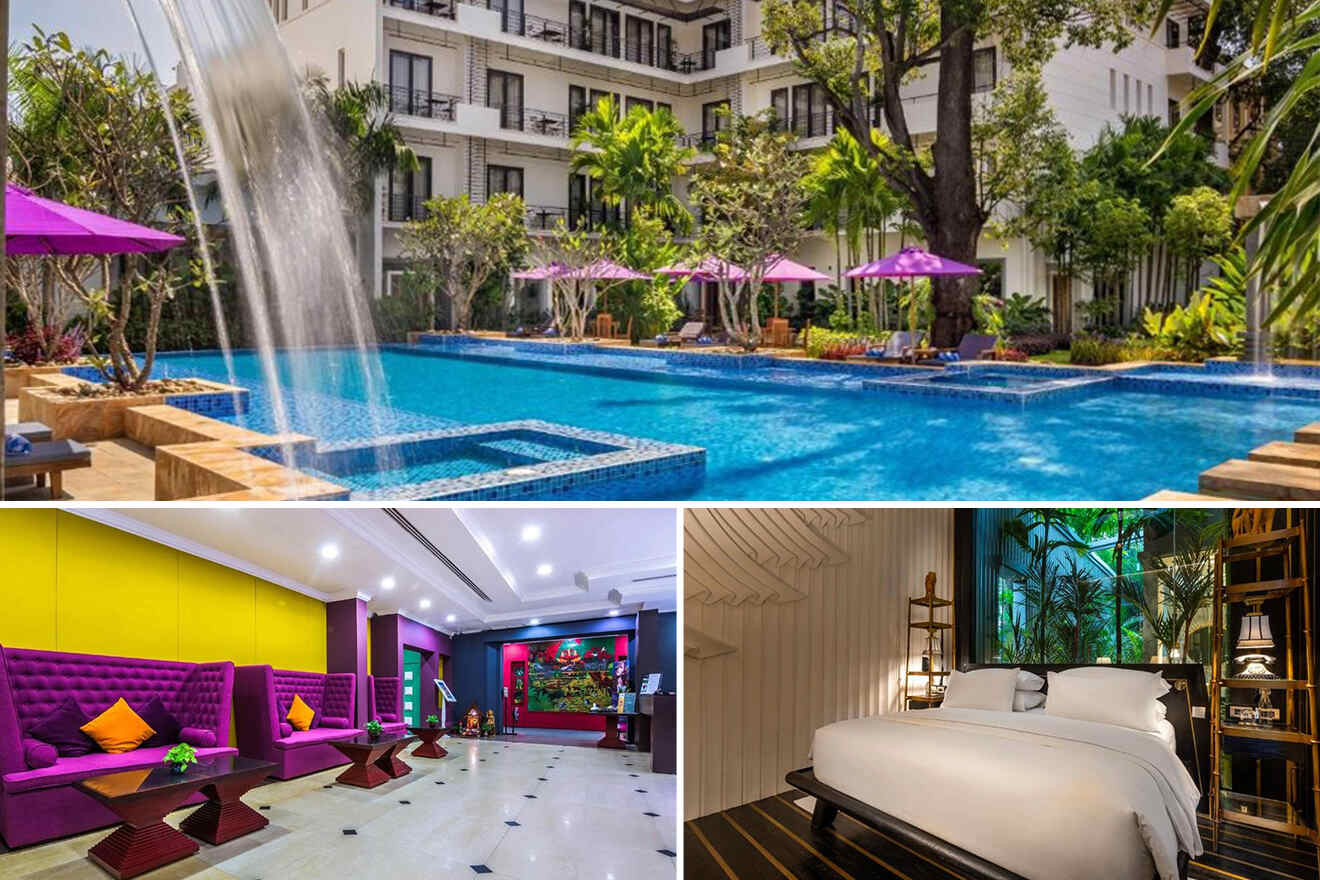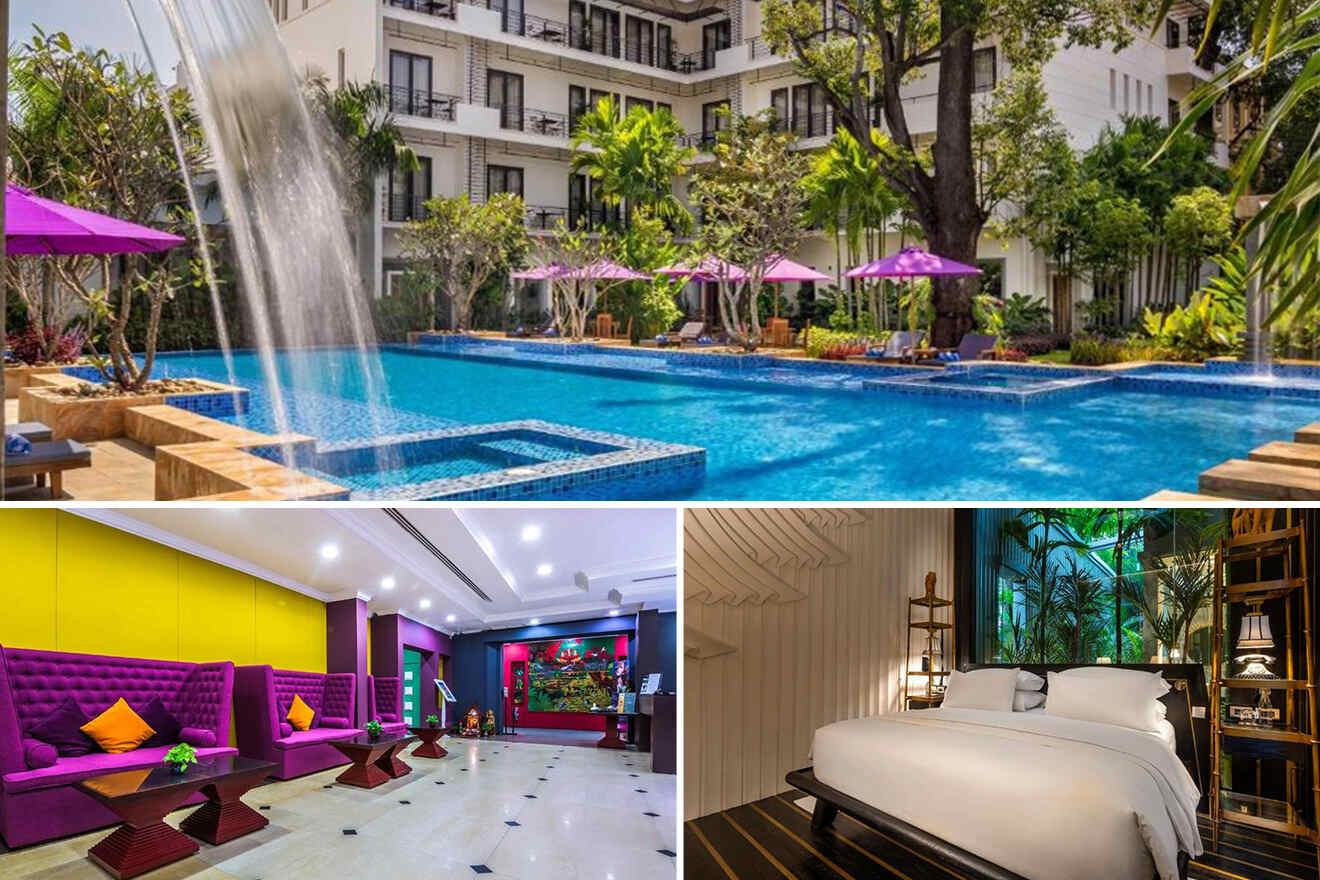 Things to do in Old French Quarter
2. Taphul Village – best place to stay in Siem Reap for families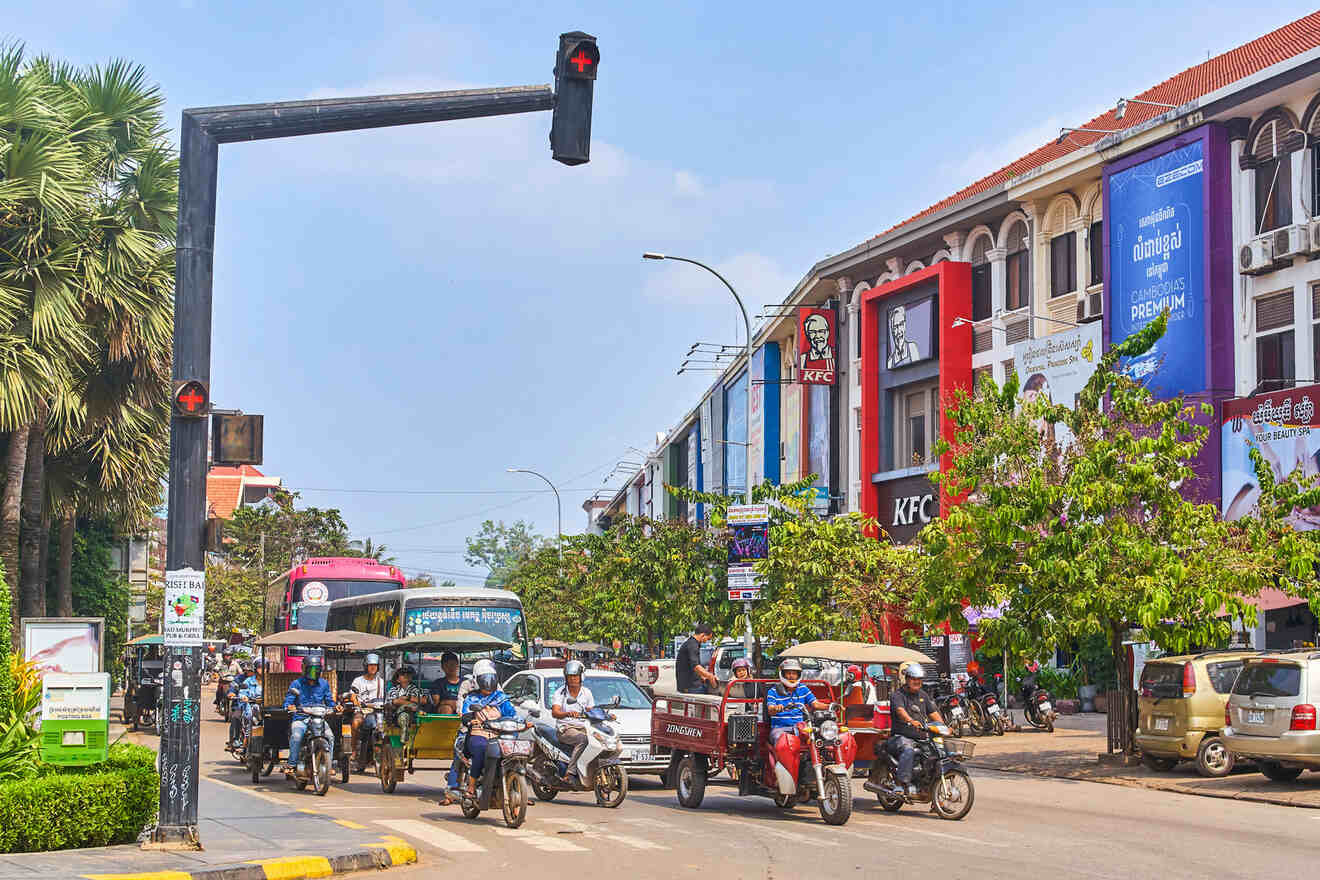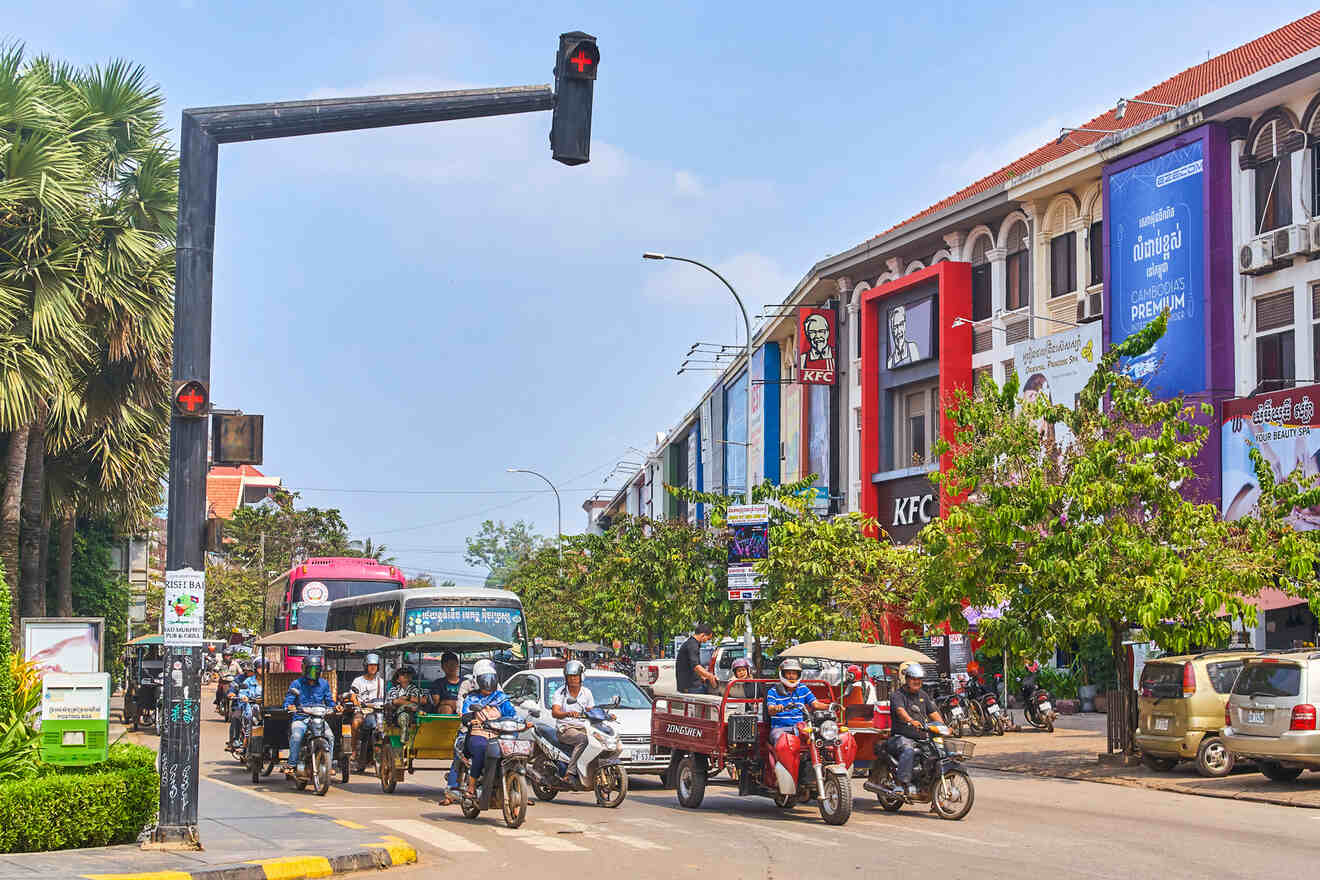 Exploring one of the most exciting cities in Cambodia with the kids? Well, then I'd recommend looking for hotels in an area that's close to central Siem Reap, but not exactly in the city center as it's super busy and crazy!
I'd recommend Taphul Village, which is located west of the Old French Quarter, just far enough for you to enjoy a bit of tranquility in this busy area!
You'll be within walking distance from many shopping malls, and lots of restaurants, obviously! While the neighborhood doesn't really offer many attractions itself, it's super well connected to public transport that will take you to the Angkor Wat temples, plus you're just a stone's throw away from the other temples in the Old French Quarter and the Royal Independence Gardens where you take the kids to play and enjoy a breath of fresh air.
Now let's check out the hotels here:
Other accommodation options in Taphul Village
Things to do in Taphul Village
3. Old Market – where to stay in Siem Reap for the markets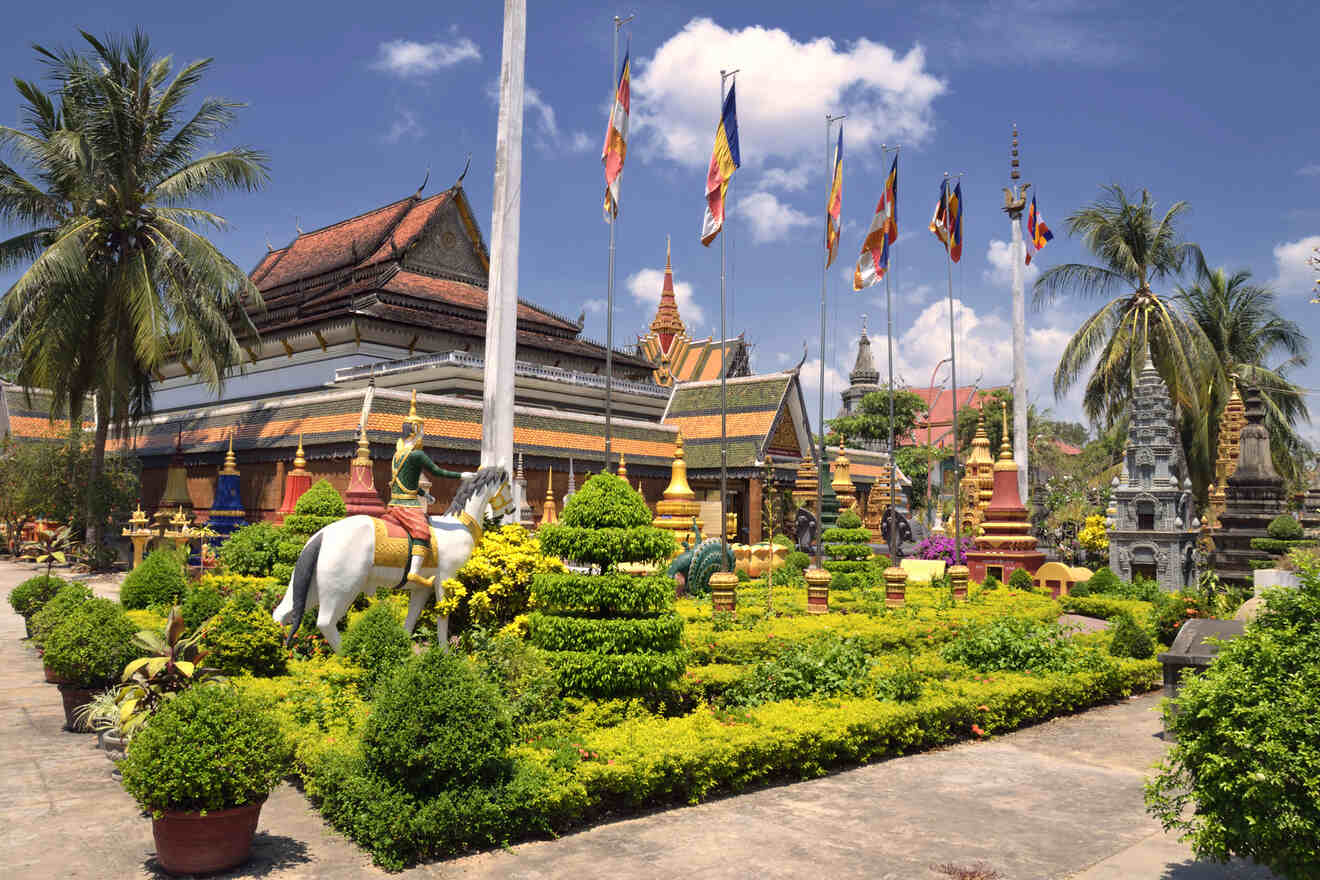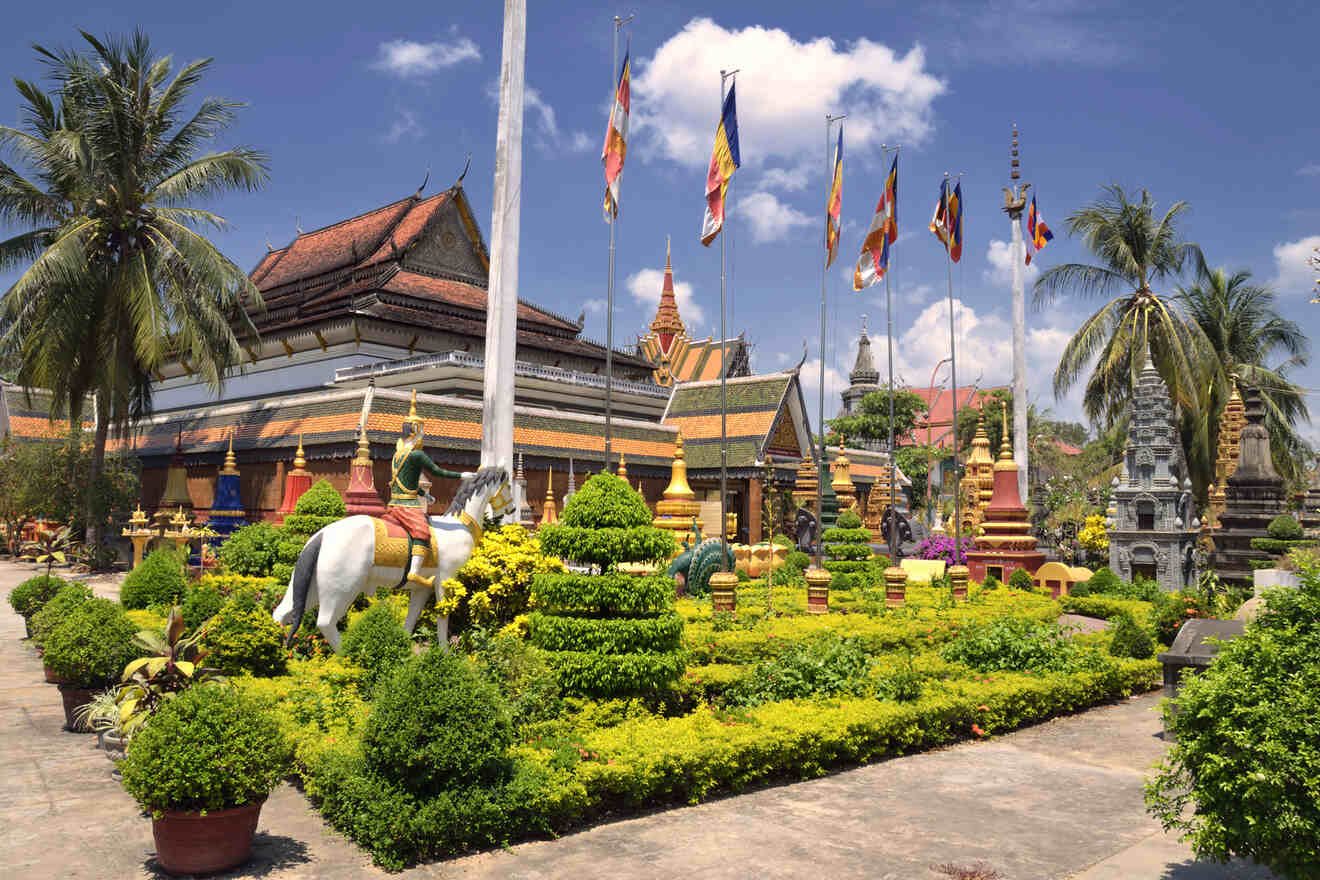 This is the ultimate place for anyone who wants to experience as much of Siem Reap markets at night as possible!
The Old Market lies on the banks of Siem Reap River and it's famous for its night markets and clubs! Yep, this is where everyone comes to shop, eat and drink!
This is a super lively neighborhood, and although during the day you can roam around the streets, the best way to enjoy its magic is after the sun is setting between the countless temple columns.
Named after the actual Old Market, which is the place to go if you want to buy clothes, souvenirs, and food (basically anything and everything), the area is also home to a beautiful Buddhist temple and gardens, which you should surely visit.
Sharing the same busy atmosphere as most of the places in Siem Reap, the Old Market sits just a 15-minute drive away from the famous Angkor Temple. The best way to get there is by joining a tour and luckily there are many that take you from Siem Reap to the temple.
Other accommodation options in Old Market
Things to do in Old Market
4. Charles de Gaulle Boulevard – best place to stay for luxury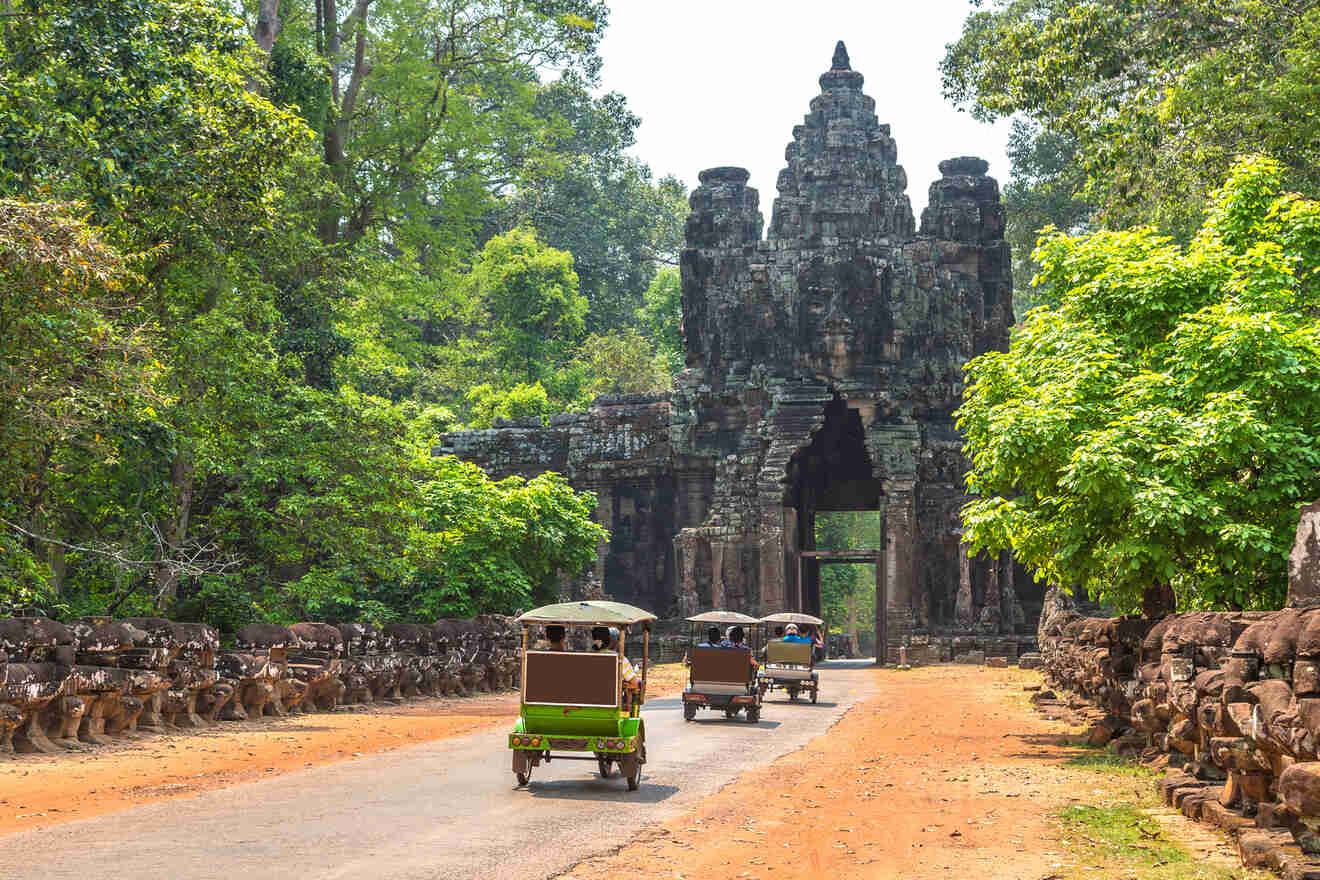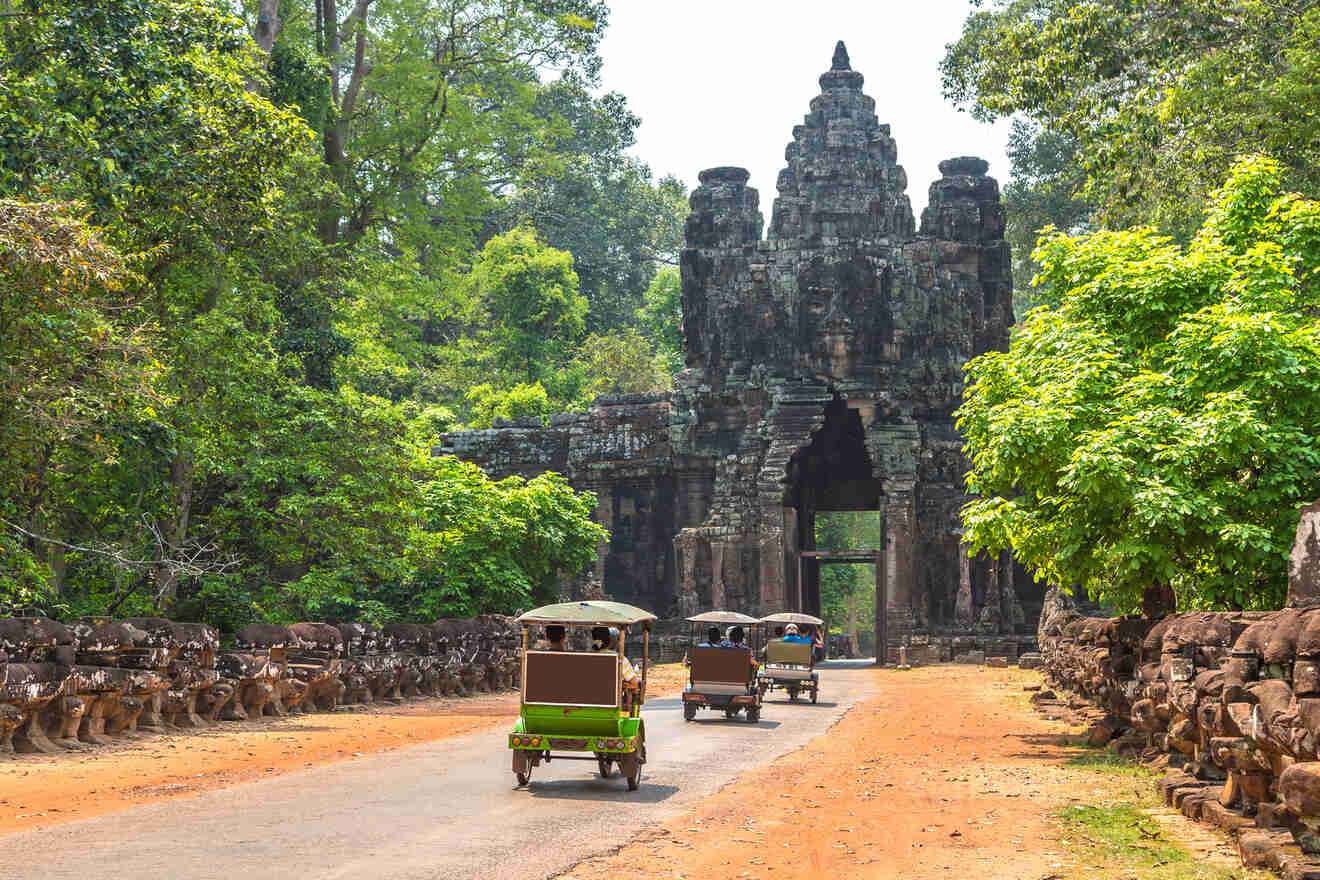 As one of the most exclusive places to stay in Siem Reap, this boulevard is lined up with luxury hotels and resorts.
The area is perfect for those of you who left the partying days behind and are looking for an area that isn't super busy or packed with clubs. On the contrary, on Charles de Gaulle Boulevard you'll find a few cultural attractions like the Angkor National Museum, but also shopping malls!
Many tourists prefer to stay here because the Boulevard is directly linked to the road leading to the Angkor Wat Temple complex, and you'll most likely arrive quicker if you stay at one of the hotels here.
As I mentioned this area is pretty chill and most people who come here are looking for a peaceful getaway. Plus, there are numerous gardens around Charles de Gaulle Boulevard, which are worth a visit!
However, you can always head to the Old French Quarter or Old Market if you're craving some evening entertainment!
Now let's see all the amazing hotels around here:
Other options in Charles de Gaulle Boulevard
Things to do in Charles de Gaulle Boulevard
5. Pub Street – where to stay in Siem Reap for nightlife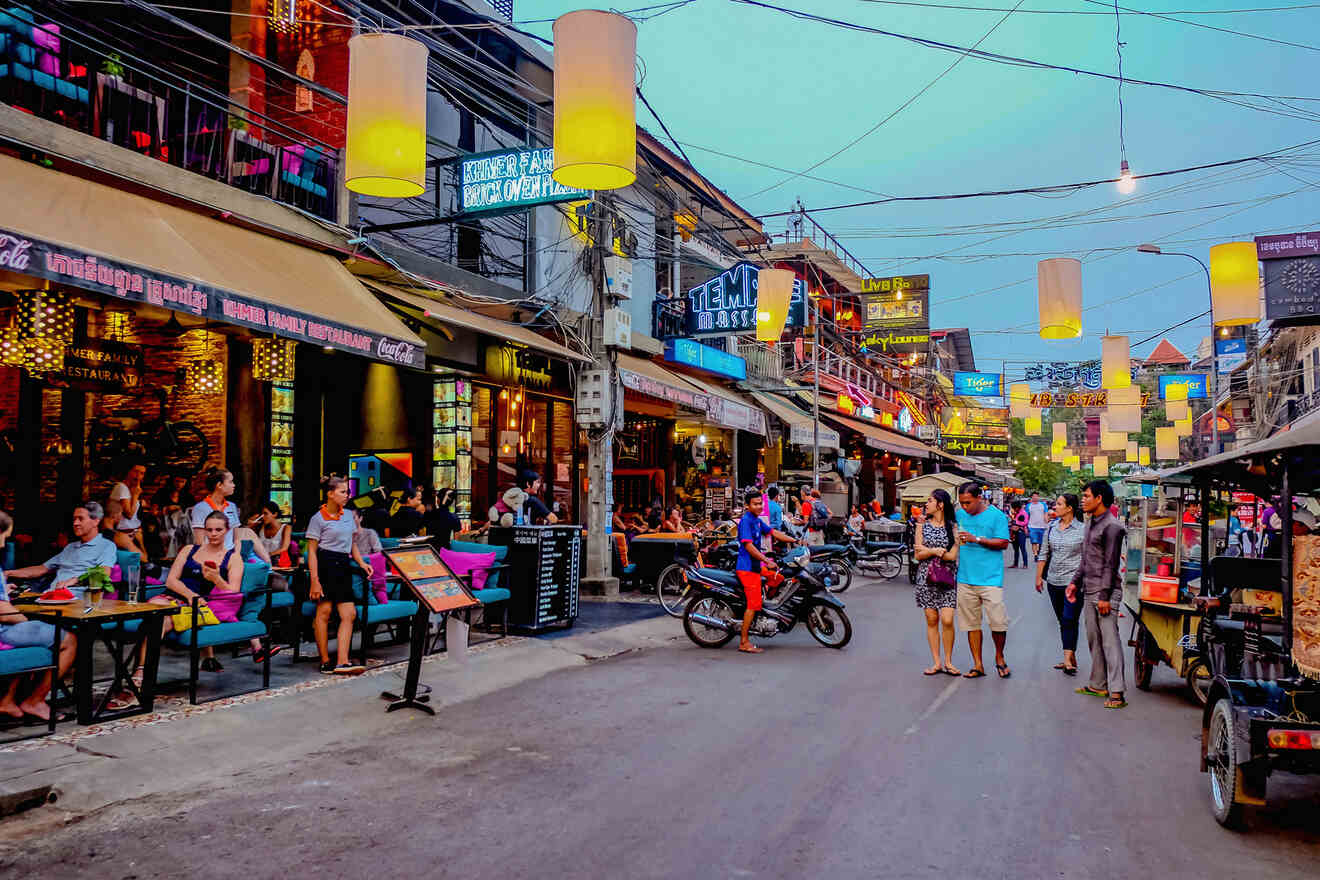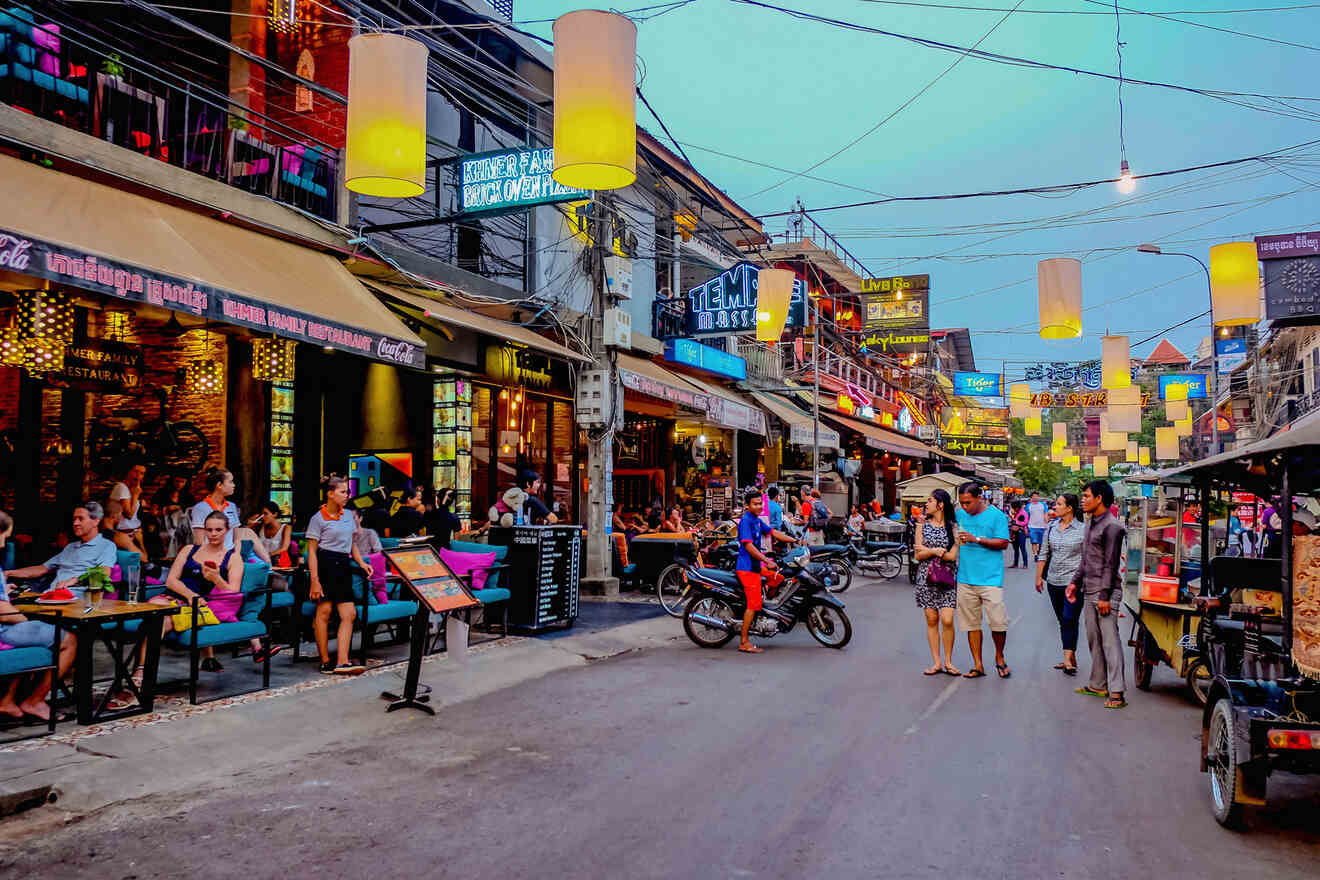 Looking to party and explore Siem Reap at night? Well, then I think you'll love the lively Pub Street!
As you may have guessed, this area is basically a street filled with nightclubs and is super popular with backpackers, so you'll most likely meet lots of new and future friends here!
What's great about the famous Pub Street is that it's located right near the Old Market, and not too far from Downtown Siem Reap so you can easily walk to any of the attractions there.
Here you won't find any cultural attractions or things like that however after the sun sets, the fun begins! That's when everyone opens their doors, the night market starts and the drinking begins!
Although the restaurants are great here, I highly recommend experiencing the night market, it's basically a must to attend one of those while traveling around Southeast Asia, and the atmosphere at this one is super unique! Plus the food is absolutely delicious!
Other accommodation options in Pub Street
Things to do in Pub Street
6. Wat Bo – best place to stay in Siem Reap on a budget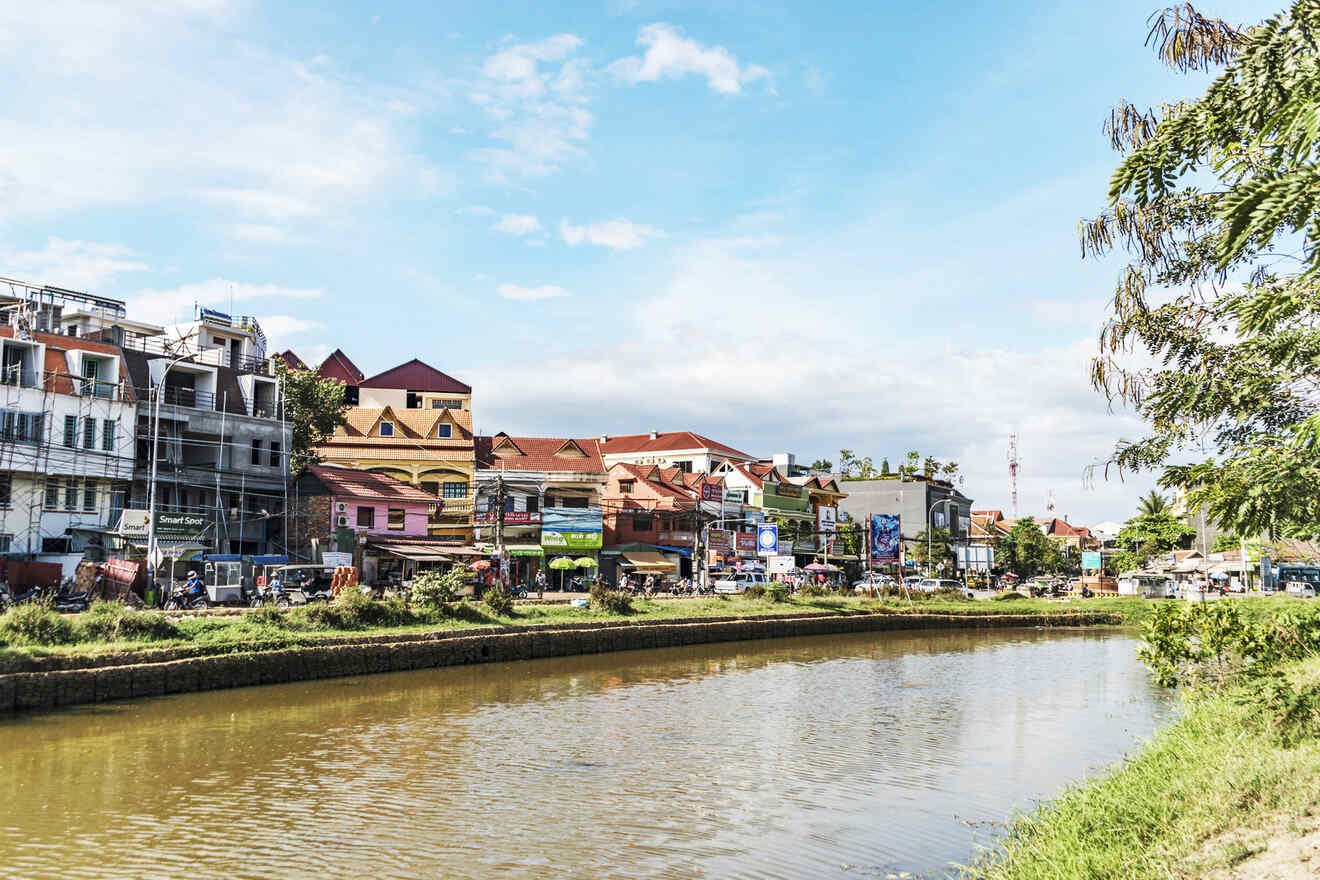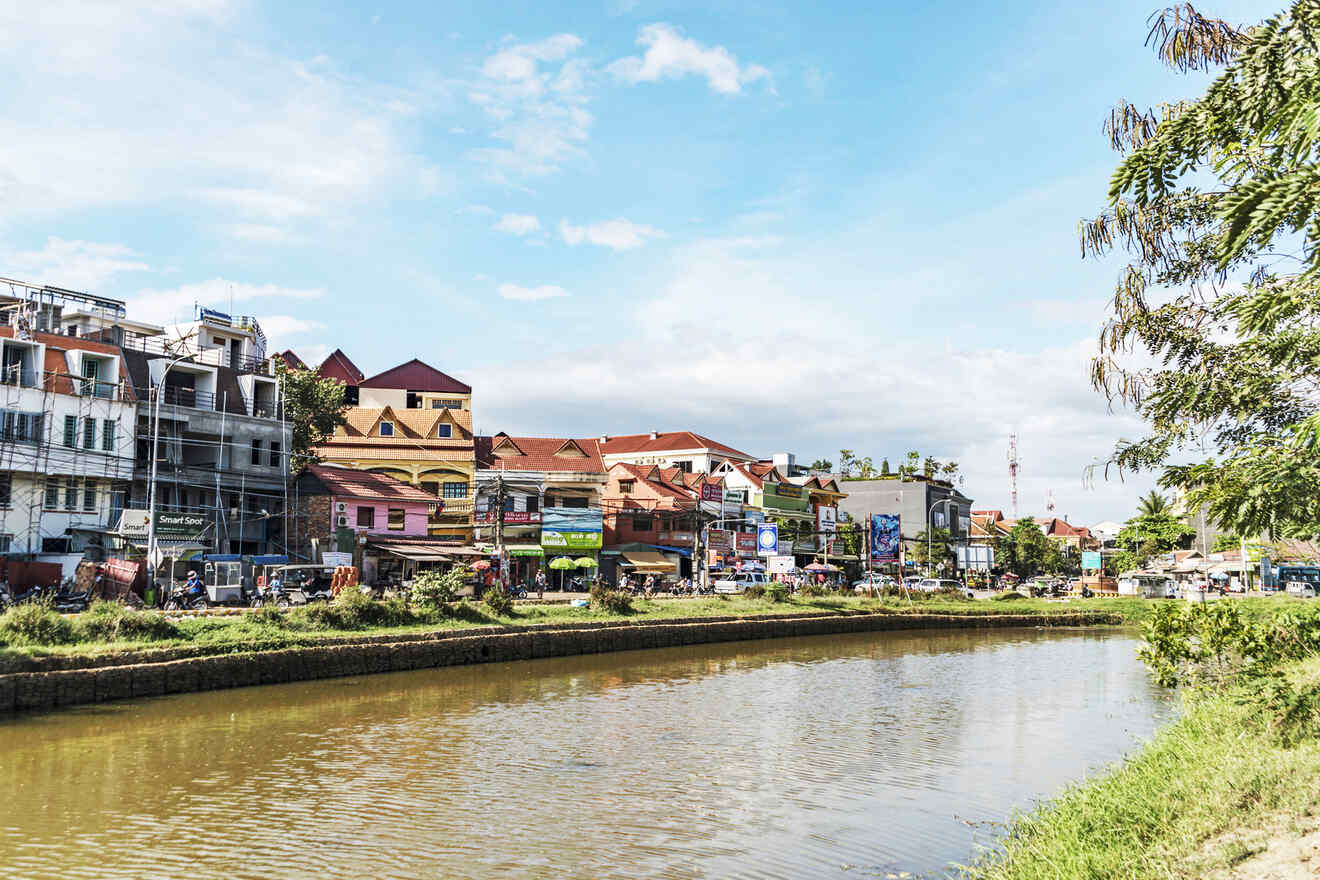 Looking for a super affordable place to stay in Siem Reap? Well, by now you probably know that this area is any budget backpacker's dream come true!
Yep, if there's one thing that you can find cheap in Siem Reap is hotels! However, the area that has the biggest concentration of hostels and budget places is Wat Bo.
Set right across the Siem Reap River from the Old French Quarter, Wat Bo is home to one of the oldest temples in the city (that's how the area got its name) plus to a few unique art galleries where you can see the works of local artists and even attend workshops.
Wat Bo also has a super convenient location within walking distance from the city center, where you can find even more art galleries and other attractions as well.
However, the atmosphere in this area will definitely make you want to spend as much time as possible here! Wat Bo is full of green spaces, and if you explore around for a bit, you'll notice tons of colorful flower decorations which make the perfect picture background (if you ask me).
But I don't want to give you too many spoilers so let's find the best hostel in Wat Bo:
Other accommodation options in Wat Bo
Things to do in Wat Bo
BONUS: Best resorts near Angkor Wat Temple
If you're heading to Siem Reap mainly to visit the famous Angkor Wat Temple, then you'll need a place that's close enough so you can arrive there as quickly as possible and probably want to avoid staying right in the hustle of Siem Reap.
Luckily I've found a couple of incredible resorts not too far from the temple, that offers incredible facilities and everything you need! And if you're looking for the best way to visit the temple, check out this post. It has many helpful tips!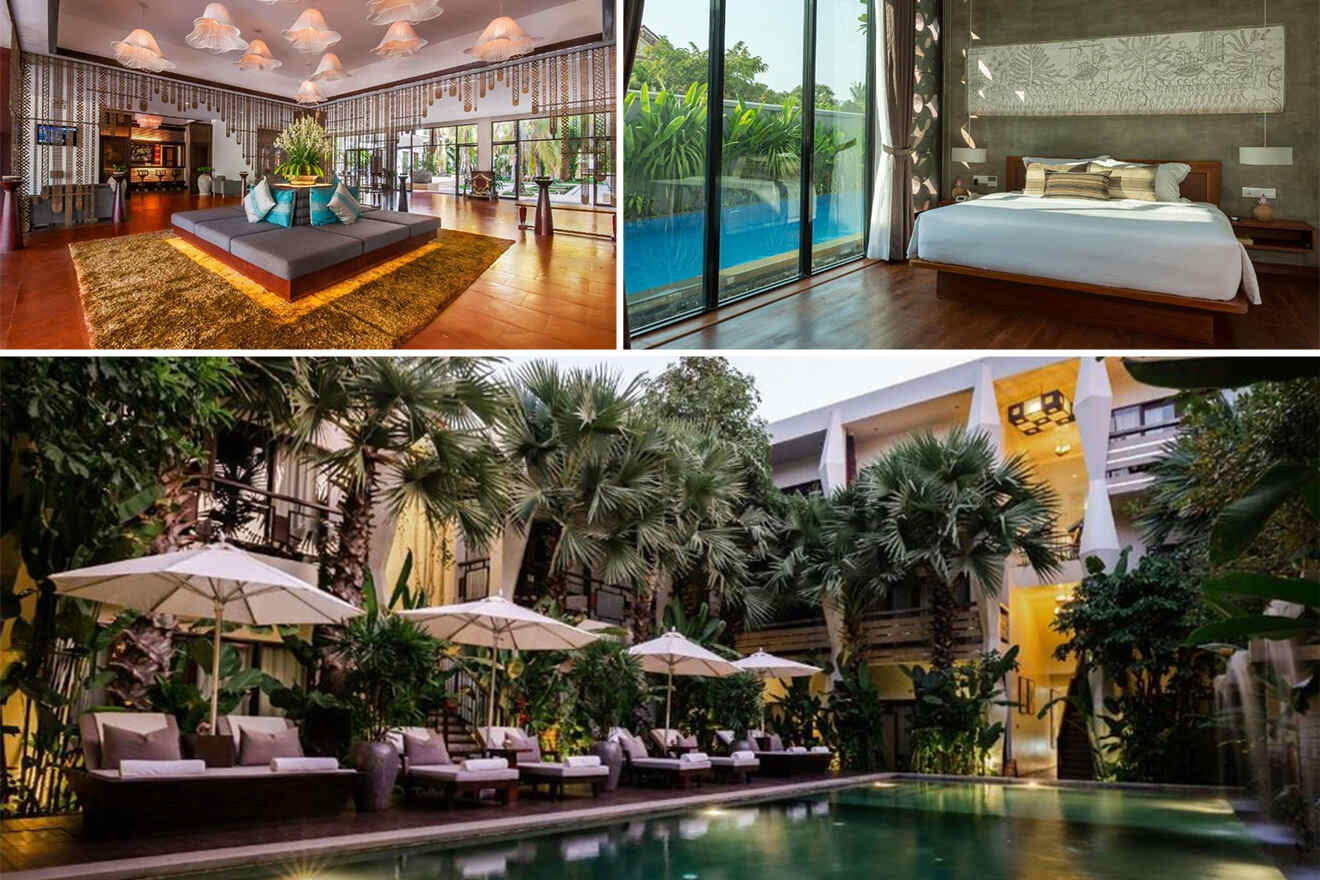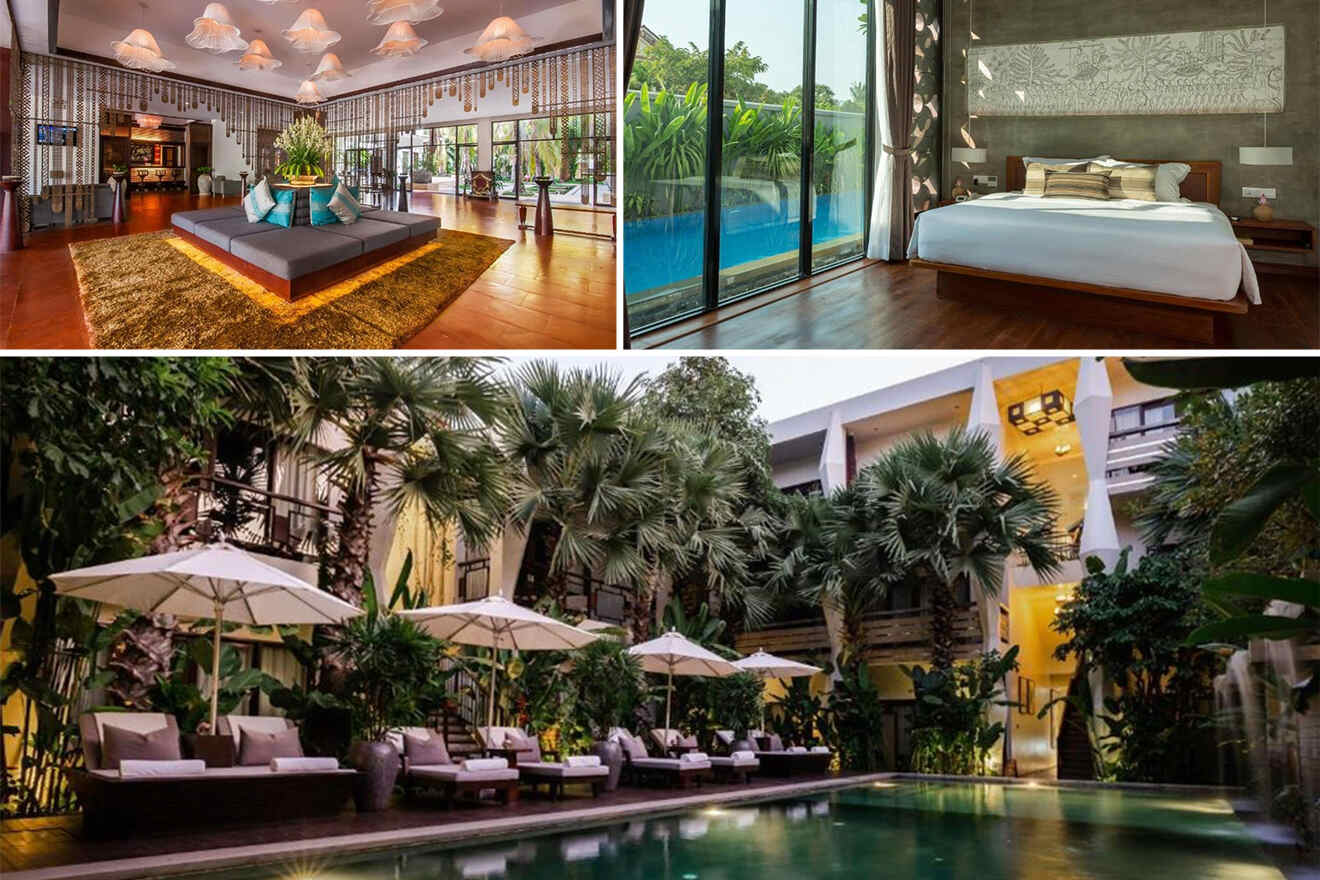 Luxury (US$150 and up)
Mid Range (US$40 – US$80)
FAQs about hotels in Siem Reap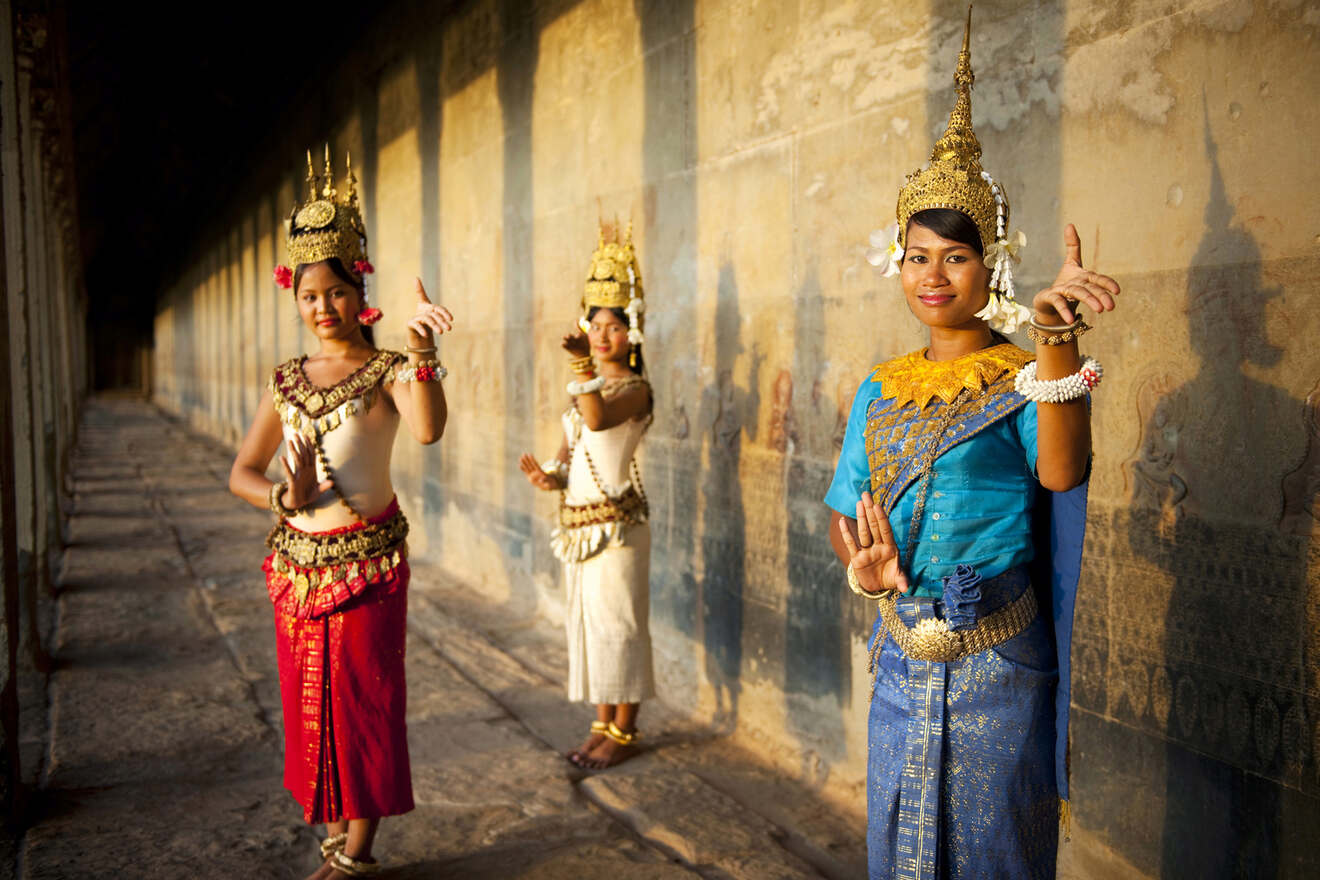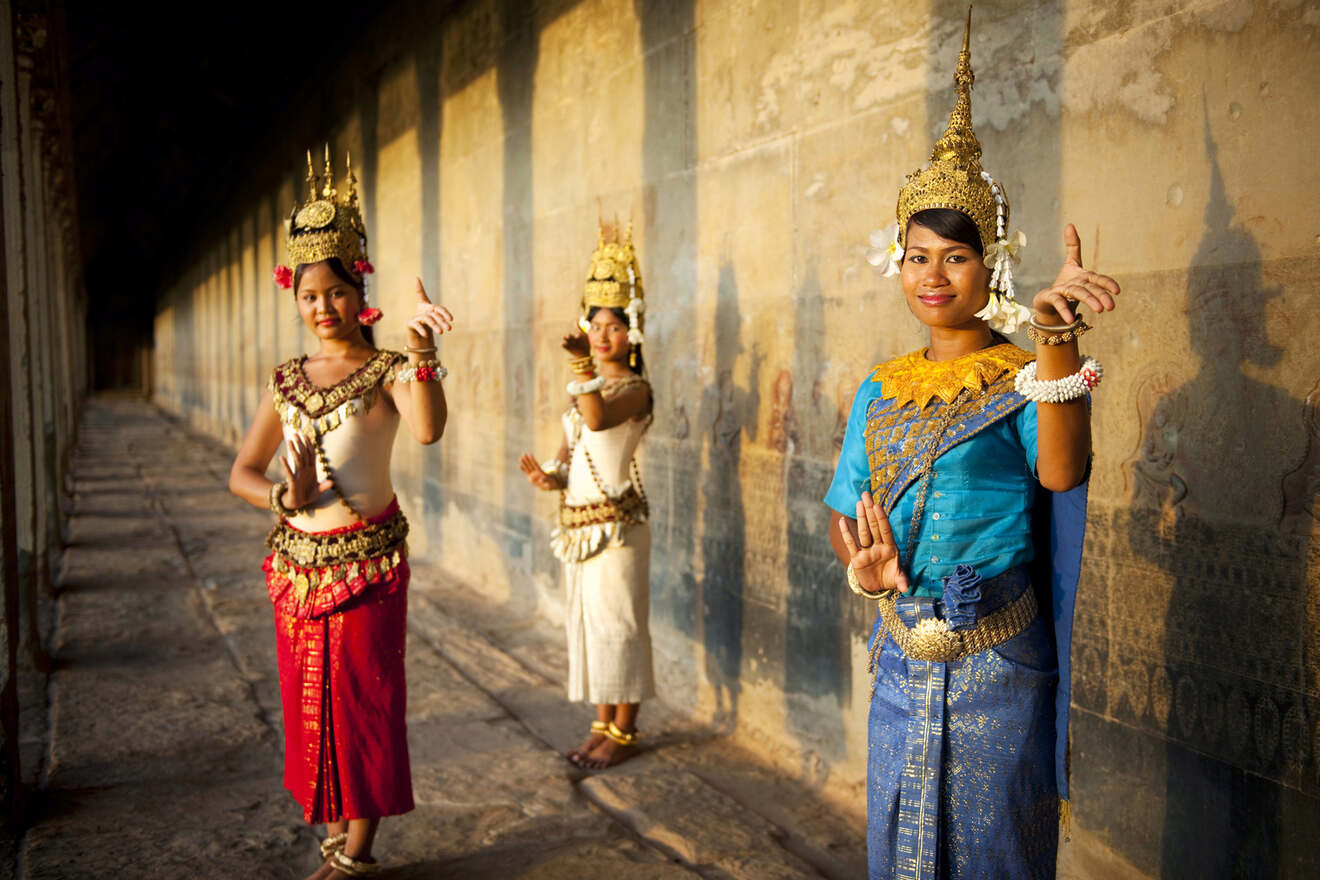 Conclusion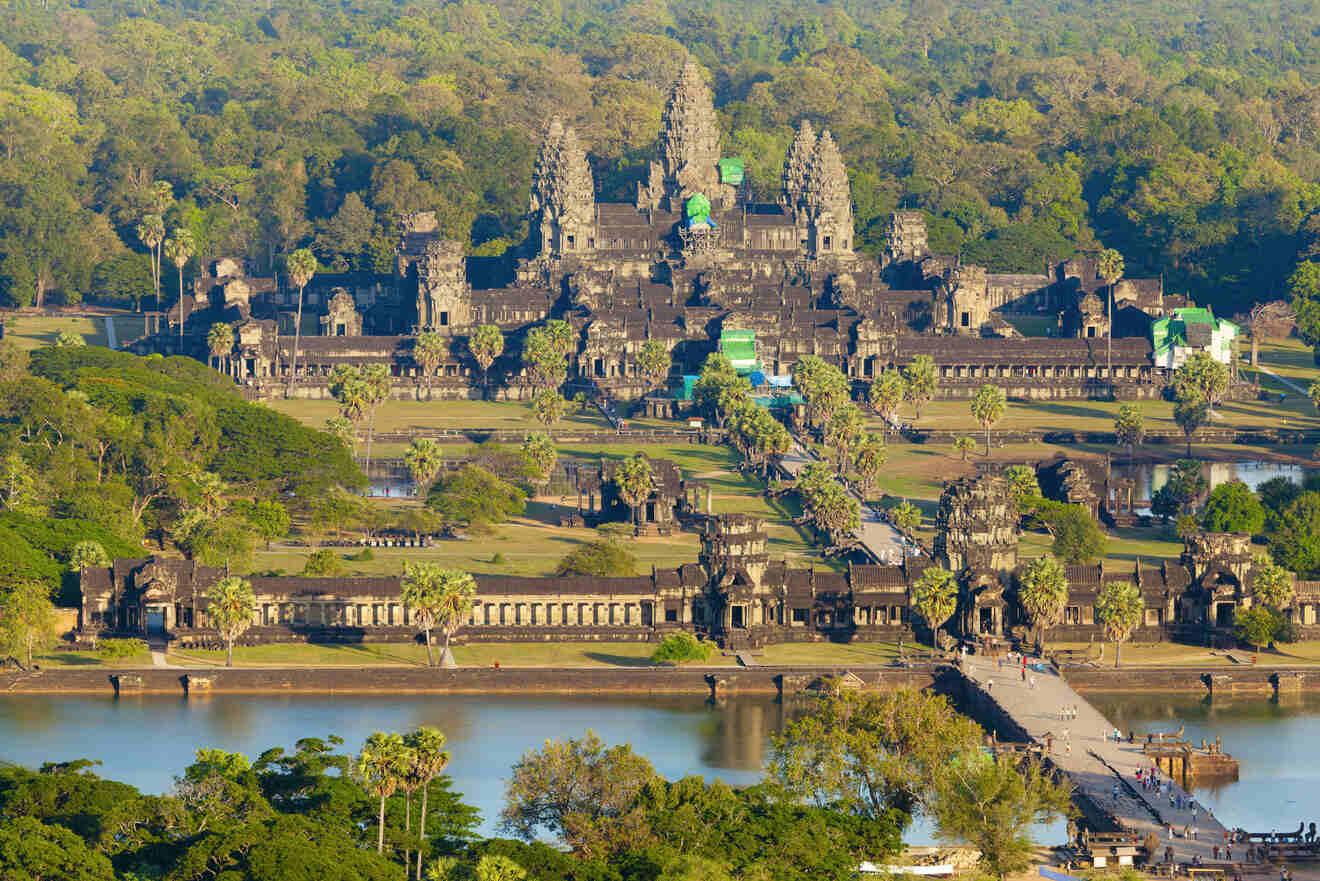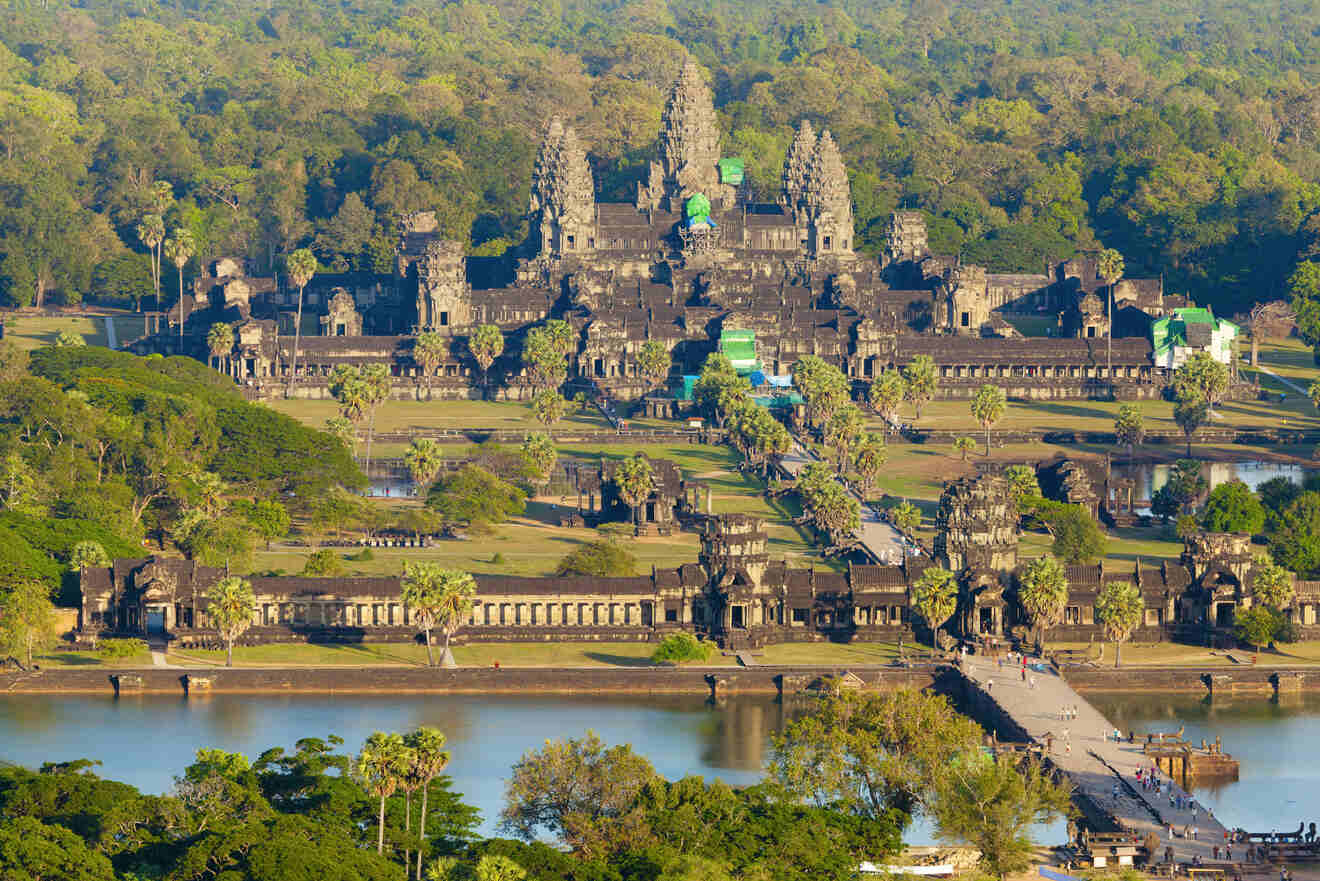 Already falling in love with Siem Reap and Cambodia? Well, at least now you're more than prepared to make the best decision and pick an area that's suited for you, whether that be a luxury resort or the best hostel.
We've now gone through all the best areas where to stay in Siem Reap, plus a list of the top resorts near the famous Angkor Wat Temple so you should have plenty of options.
But I know it takes forever to pick the best hotel whenever you're traveling, especially in such a unique place like Siem Reap. So if you need some extra help, check out my 2 favorite hotels below. Both are located in the Old French Quarter:
I've searched the whole web for the most amazing hotels and what I've noticed is that they all sell out fast! Especially the good ones, so book yours in advance and know that you've secured your holiday!
Now you've finished this super insightful guide with the best places to stay in Siem Reap! I know it was a lot to take in, but I always like to keep you super informed. However, if I missed anything, just pop a comment in the section below and I'll answer as soon as I can!
Happy Exploring,
Victoria
---