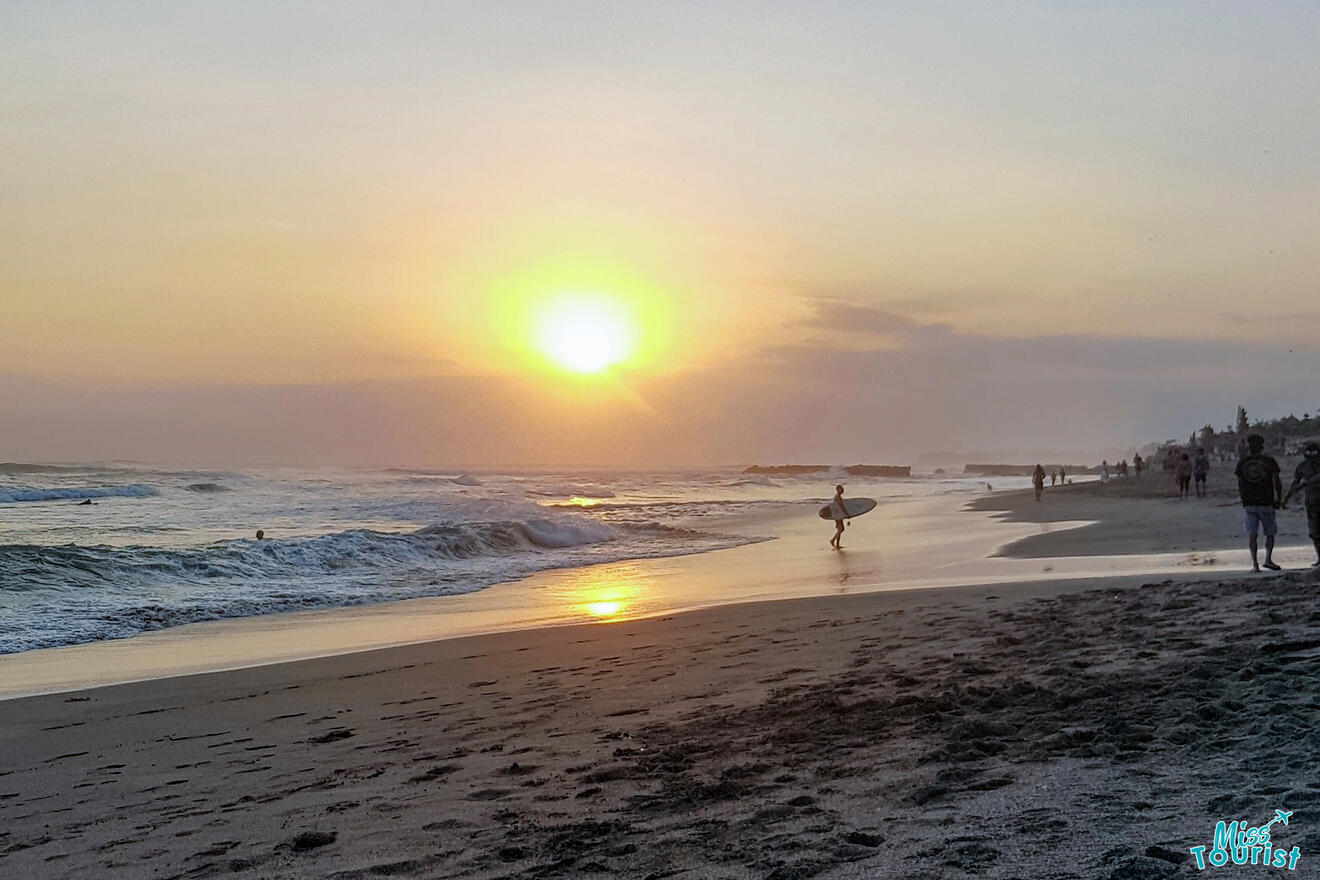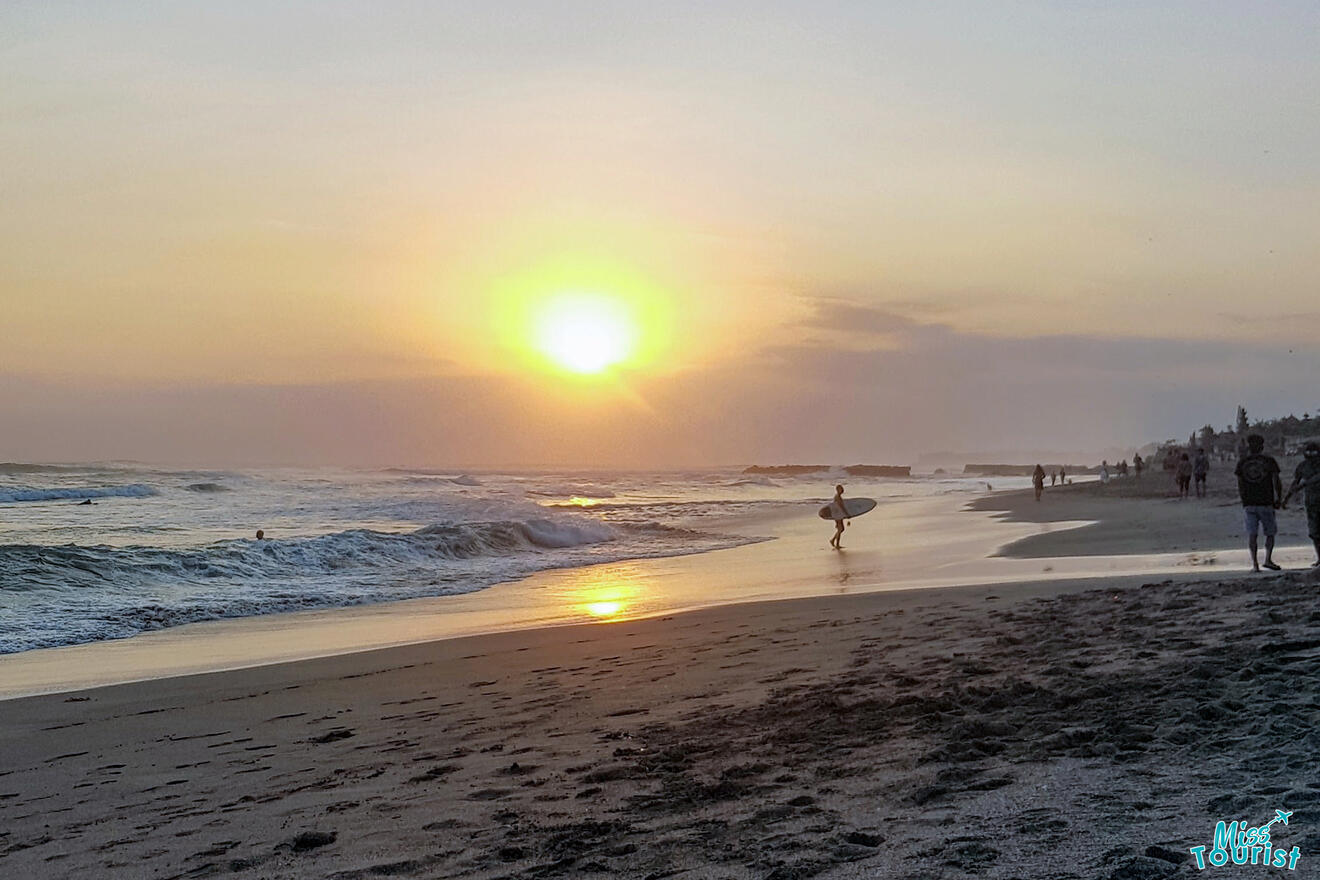 Greetings from Canggu, the trendiest place in Bali adored by digital nomads, tourists, and surfers alike. It may sound like I just summed up myself so it's probably no surprise to you that this is also the neighborhood that I live in now and I am so excited to share the best activities to do in Canggu with you!
Once you arrive in Canggu the first thing you will notice is the gorgeous rice paddies, numerous cafes and restaurants, and of course the stunning ocean view. Imagine watching the best pink sunset, visiting the famous Tanah Lot Temple by the ocean, and devouring super Instagrammable smoothies!
In this blog post on what to do in Canggu, I will give the most fun activities that every traveler can enjoy from beach bums to cultural buffs or families. I have done all of these activities myself and loved them all so you are in safe hands!
If you are ready, here are the best things to do in Canggu, Bali!
1. Discover the beaches in Canggu, Bali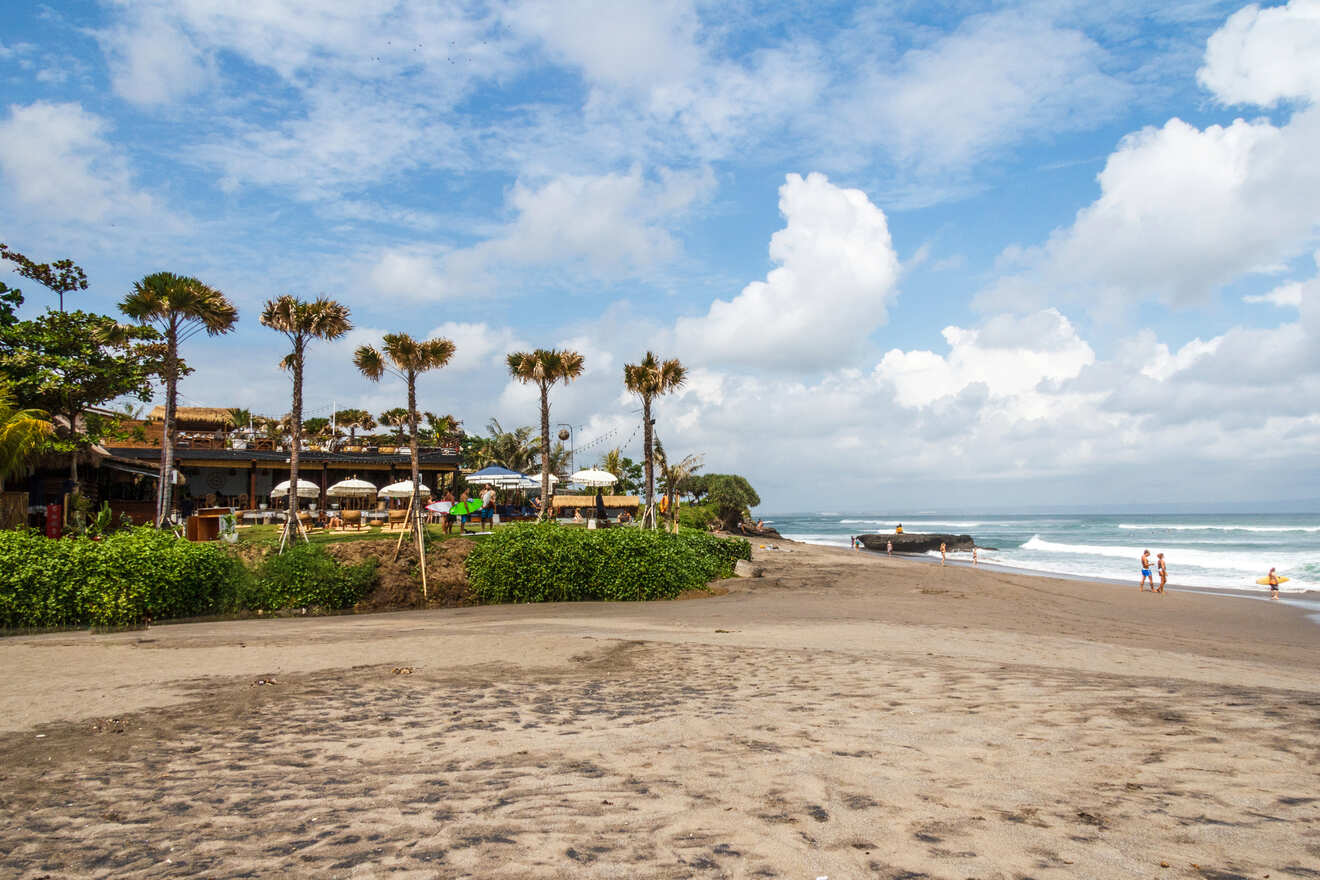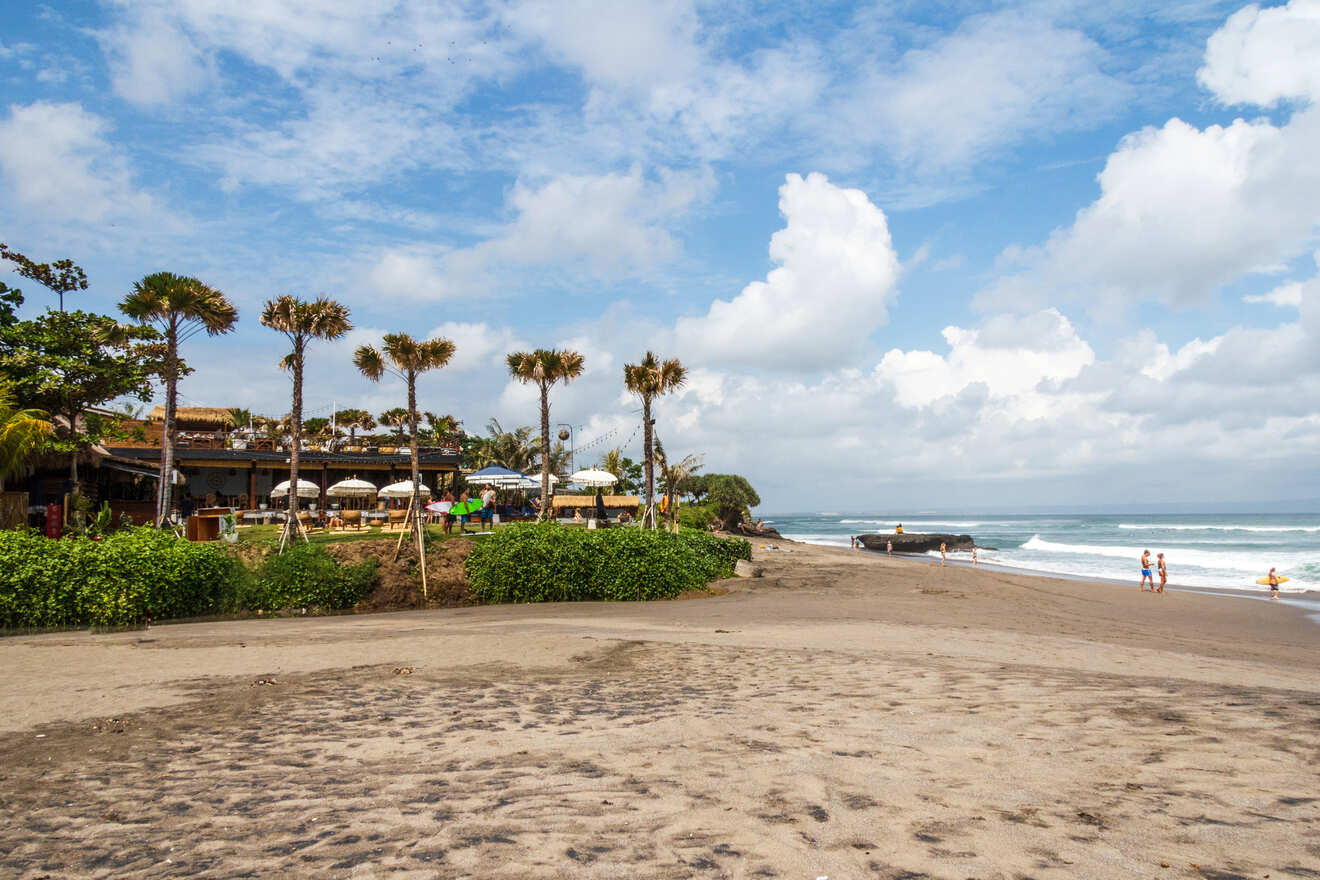 One of the best things to do in Canggu is of course spending time on the beach. Canggu has 4 long stretches of sandy beaches, south to north they are:
Berawa Beach (Pantai Berawa)
Canggu Beach
Batu Bolong Beach (Pantai Batu Bolong)
Echo Beach
All of these beaches are adjacent to each other and easily walkable from one to another and although they are not the perfect ones for swimming because of the waves, they are great for all levels of surfers (which I will talk about shortly).
I love having a sunset walk starting from Echo Beach until the end of Berawa Beach and do not forget to enjoy a coconut on the bean bags! If you want to spend every second on the beach, I highly recommend you book one of the beachfront hotels in my guide for where to stay in Canggu.
PRO TIP: Head to the beaches at sunset during your stay in Canggu, Bali for some of the best pink sunsets you will ever see!
2. Swim in an infinity pool and party at Canggu's beach clubs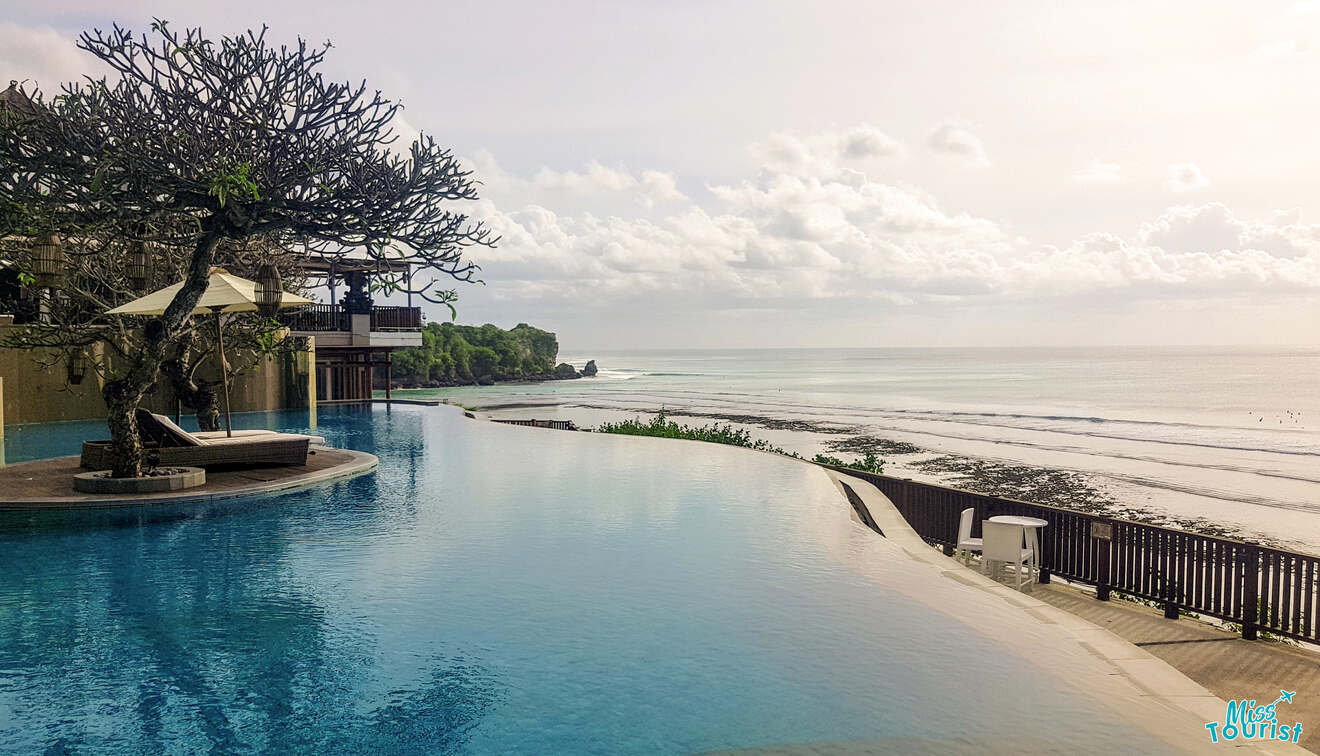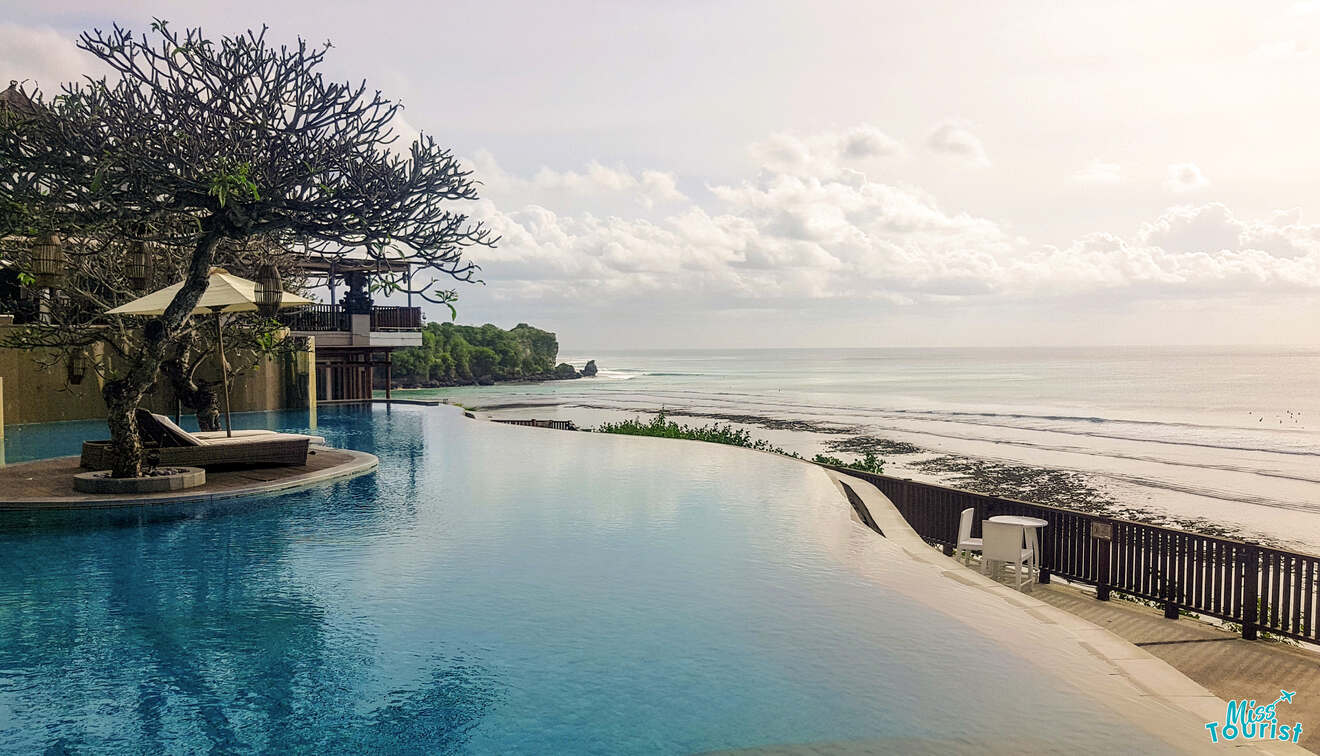 Maybe you've already heard about the famous beach clubs in Canggu. I can tell you that they really do deserve their reputation! Imagine swimming in an infinity pool while watching the waves of the ocean or having a cold beer while relaxing in comfortable sun lounges listening to good music.
Beach Clubs are a little more expensive than other bars in Canggu so in order to give you an idea, you can expect to pay around 60k IDR (US$4) for a beer or around 120k IDR (US$8) per cocktail, and most of them are open Wednesday to Friday from 12:00 pm – 22:00 pm.
PRO TIP: Most of the beach clubs have happy hour promotions like 1 for 2 on cocktails usually between 16:00 pm to 18:00 pm.
1. Finn's Beach Club
Located in Berawa Beach, Finn's Beach Club is one of the most famous beach clubs in Canggu known for its parties, epic swimming pool, and stunning ocean view. During the day you can simply chill by the beach having a delicious cocktail while watching the beautiful scenery, and during the sunset catch an epic DJ performance and dance all night!

Entrance: Minimum spend of 400k IDR (US$28) until 7 pm
2. La Brisa
La Brisa is situated in Echo Beach and once you step in you will be amazed by its glamorous decoration, chic swimming pools, and lively atmosphere. It is one of the top places to watch the sunset in Canggu thanks to its oceanfront location and perfectly designed seating set up. If you like partying you should also check out the DJ events at night.

Entrance: Free
3. Vue Beach Club Canggu
Vue Beach Club is located in Berawa Beach and is a fancy beach club with an amazing infinity pool overlooking the ocean. You can enjoy getting a suntan by the pool, having a happy hour cocktail, and dancing with the live music.

Entrance: Free
3. Take a surf lesson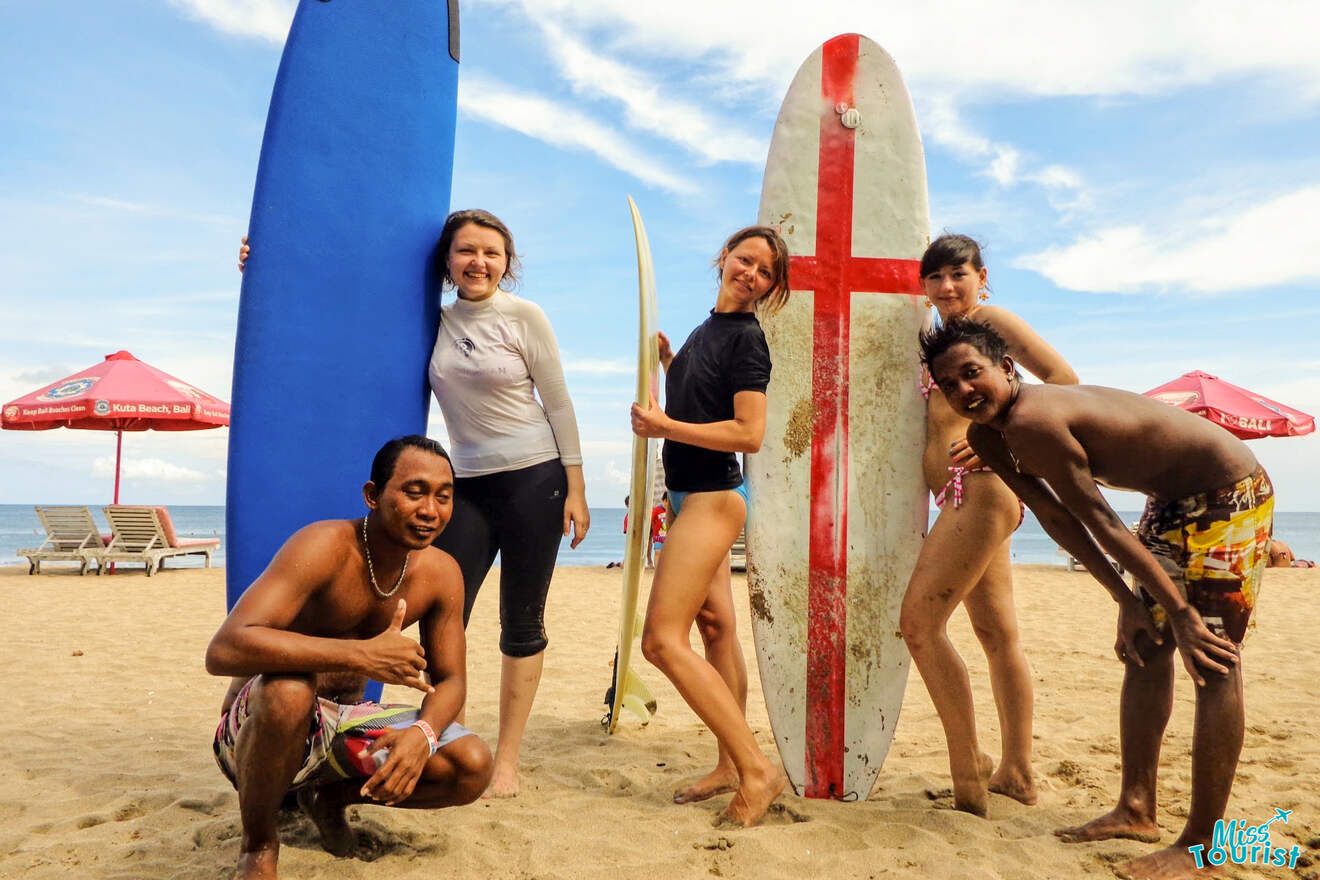 Canggu is a surfer's paradise for all levels thanks to its consistent waves all year round. Don't worry if you have never surfed before, this is where I learned to surf!
If you already know how to surf you will find many surf rental shops on the beach but if you are a beginner or never surfed before I definitely recommend you take a surf lesson as surfing is way harder than it looks!
By taking a lesson you can learn more quickly how to stand up on a board and catch a wave. You can take surf lessons on Batu Bolong and Berawa Beach.
Surfboard rental: 50k IDR (US$3.50) for 2 hours
Surf lessons: 350k IDR (US$25) for 2 hours lessons including board rental
4. Go to one of the best yoga studios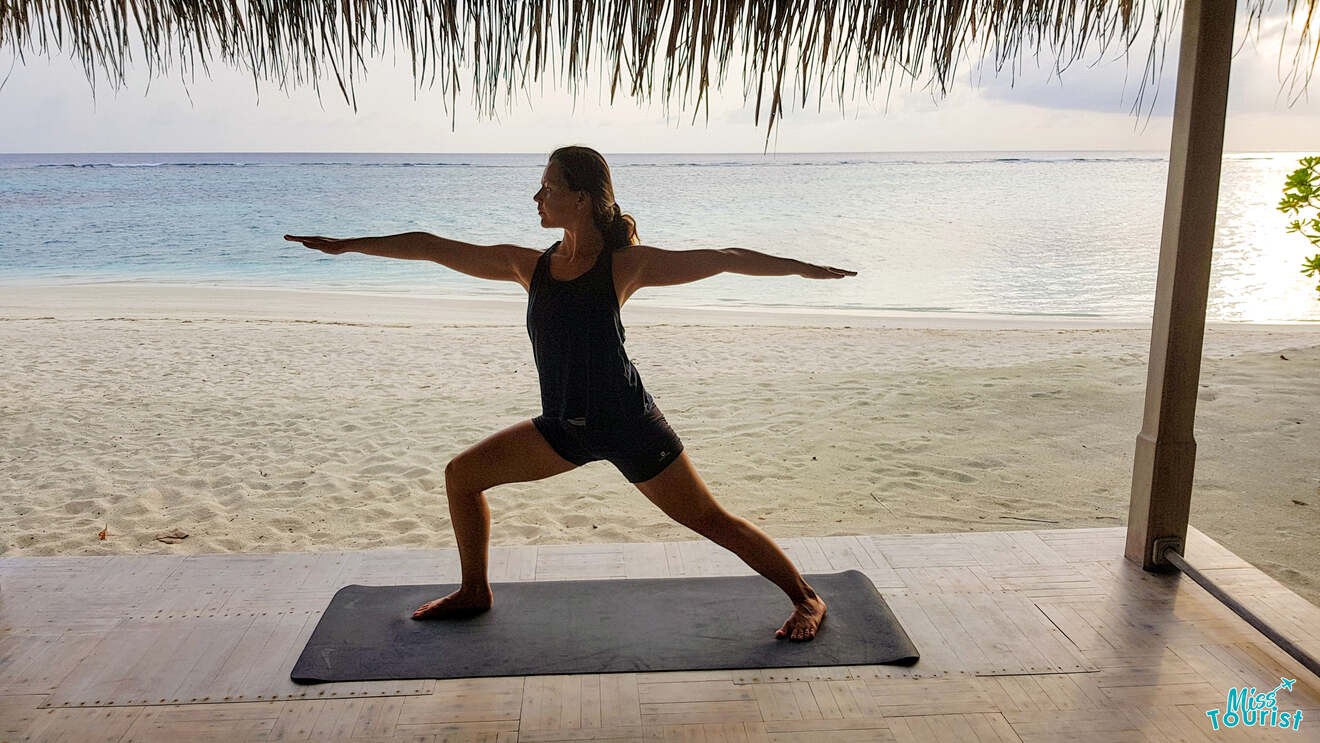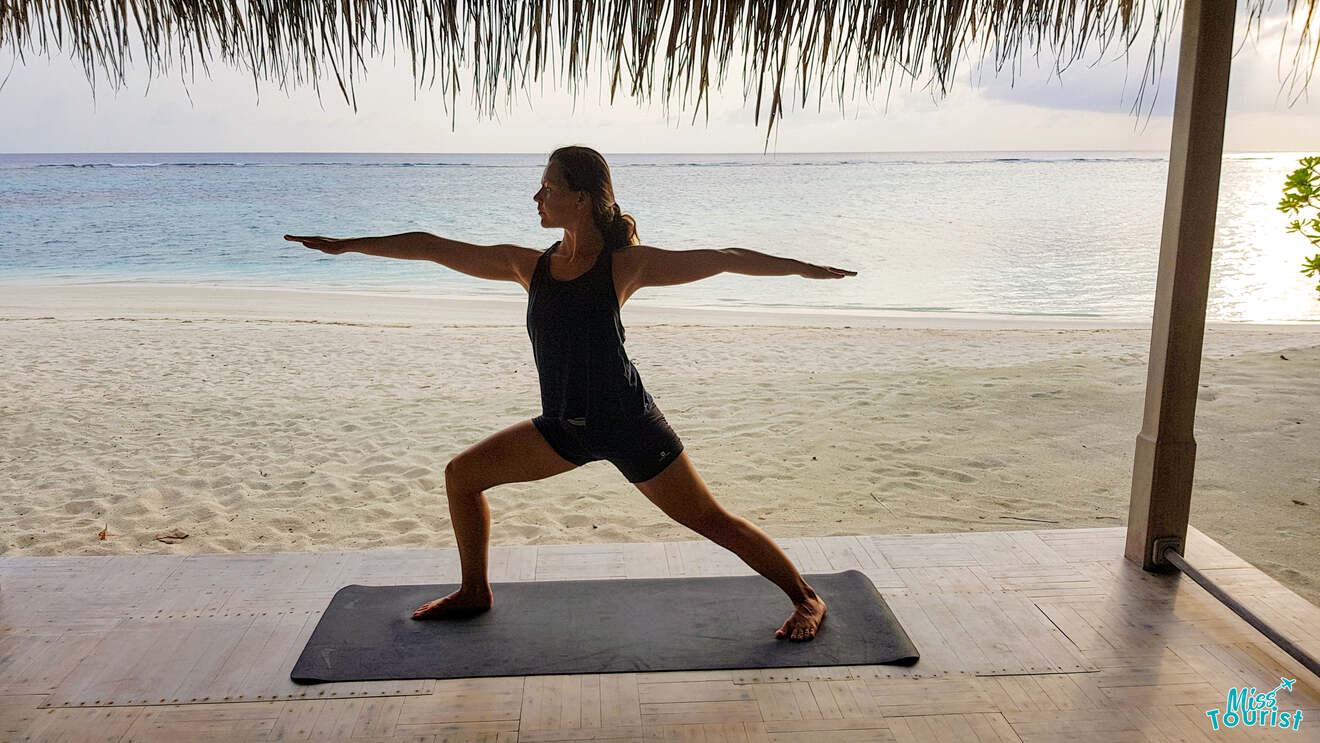 Bali is the mecca of yoga and you will see a lot of yoga studios all around Canggu with all different kinds of yoga classes. If you're dreaming of scenes from Eat, Pray, Love you will love these yoga studios in Canggu.
The Practice – One of the most famous yoga studios that have a variety of yoga and meditation classes.
Open: Monday to Friday
Drop-ins: 120k IDR (US$8)
Serenity Yoga – Serenity Yoga has many different yoga classes suitable for all levels and there is a nice swimming pool and a healthy food cafe that you can enjoy after your class.
Open: Every day
Drop-ins: 100k IDR (US$7)
The Canggu Studio – The Canggu Studio offers all kinds of yoga classes plus dance lessons and fitness classes.
Open: Monday – Saturday
Drop-ins: 120k IDR (US$8)
Samadi Bali – Samadi Bali offers yoga lessons, breathwork classes, and also has a wellness center and an organic cafe
Open: Every day
Drop-ins: 1140k IDR (US$8.50)
5. Party all night and enjoy the nightlife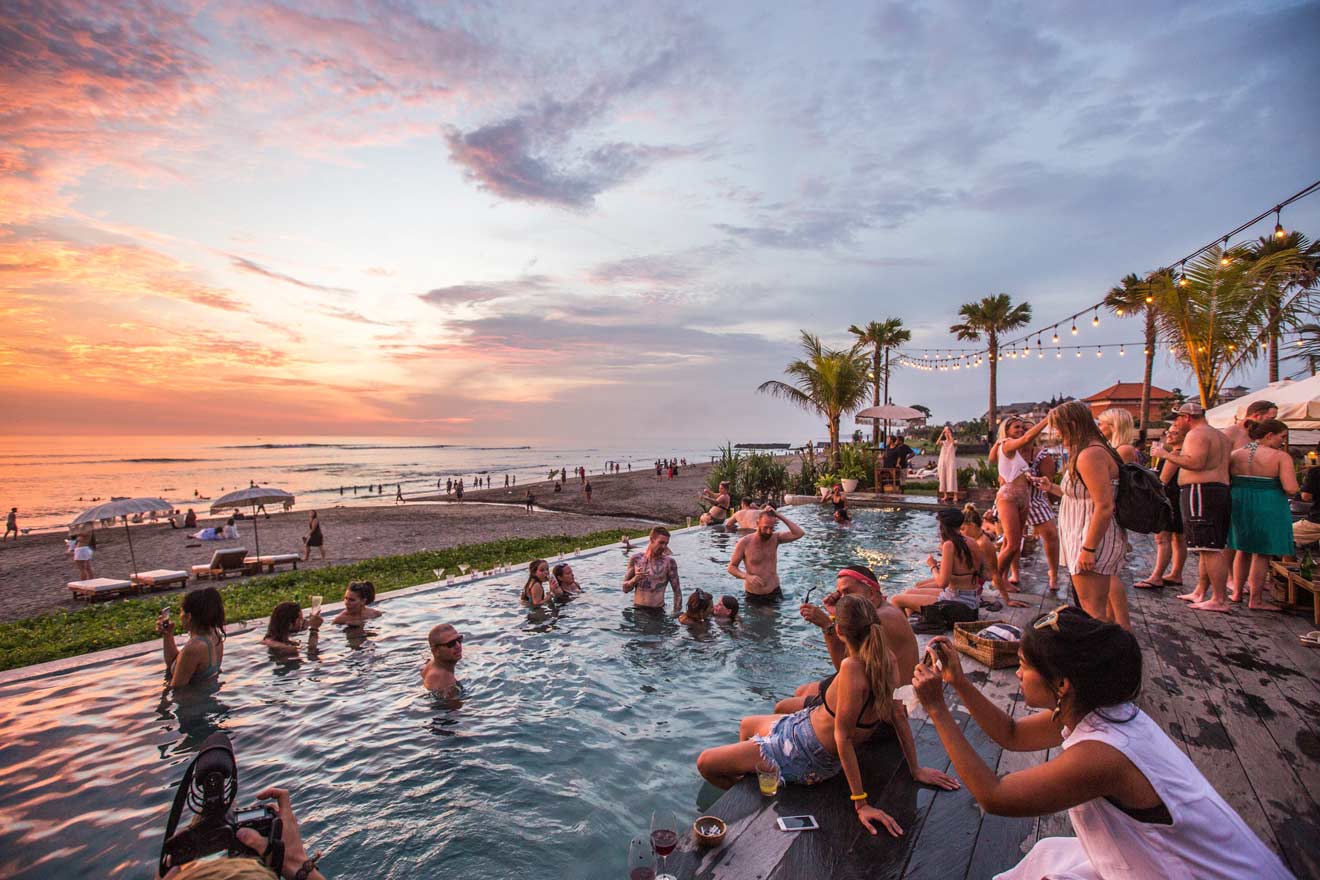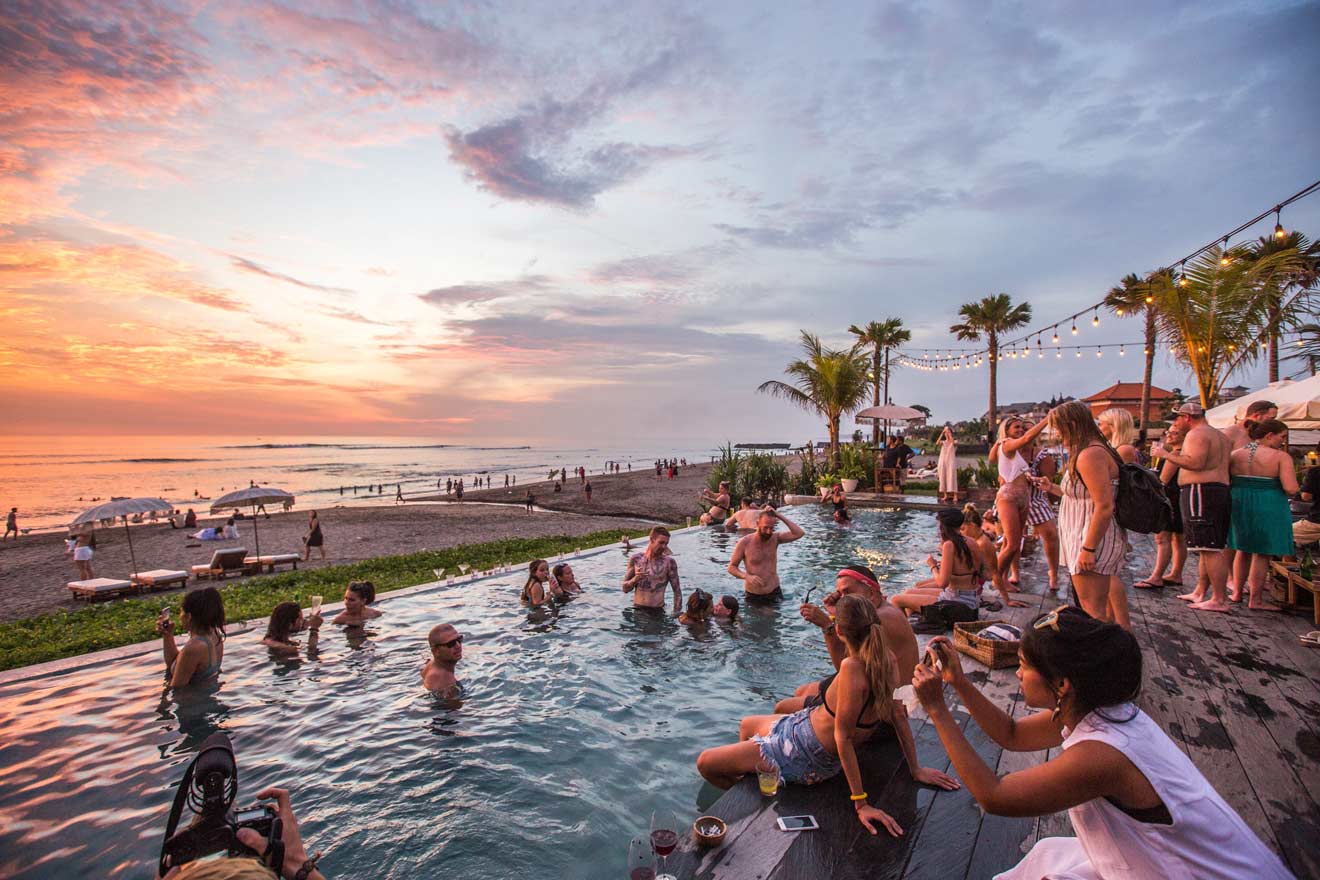 Canggu is one of the best places in Bali for partying. You will find tons of restaurants, bars, and nightclubs. I picked the best ones for you here you go:
6. Go shopping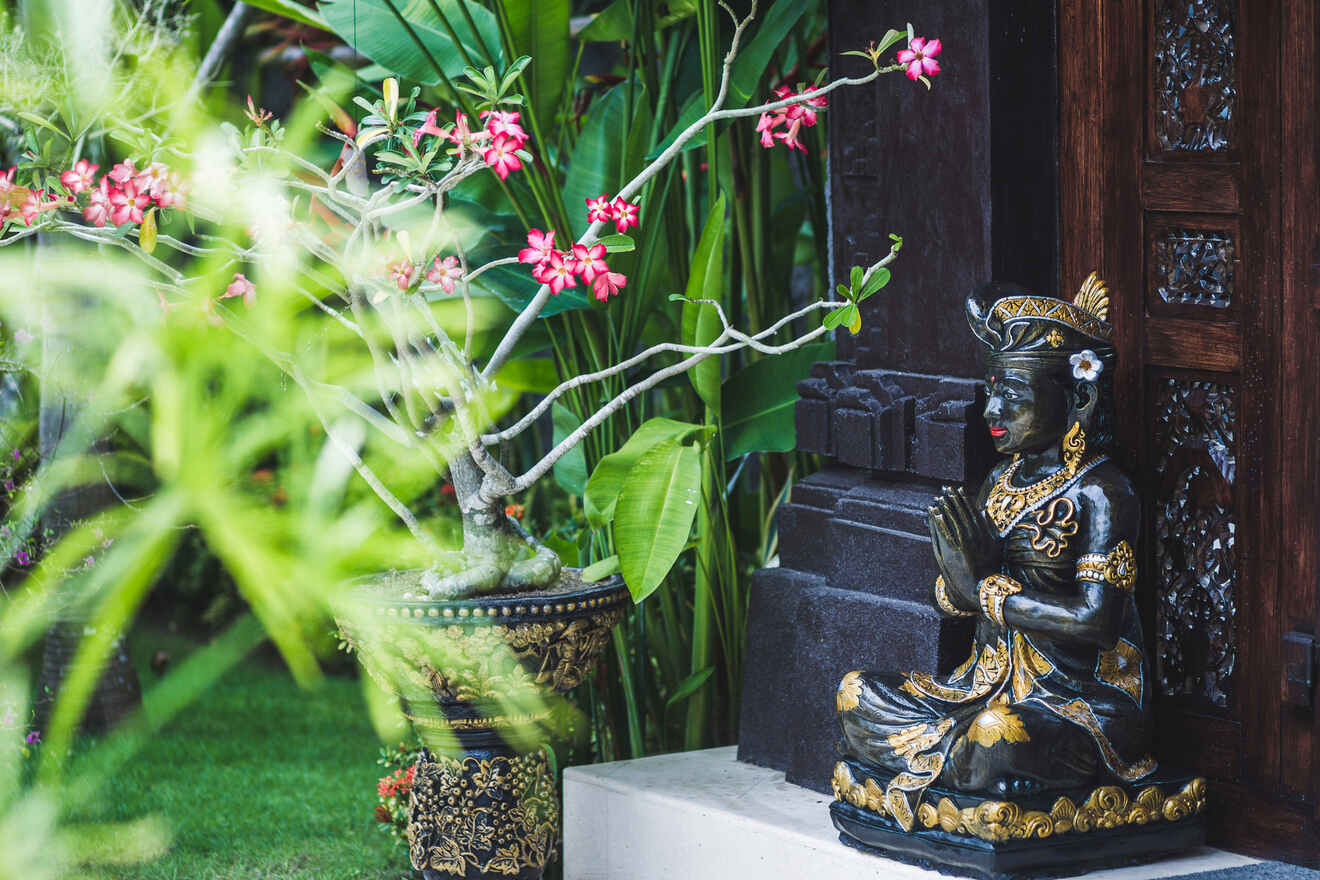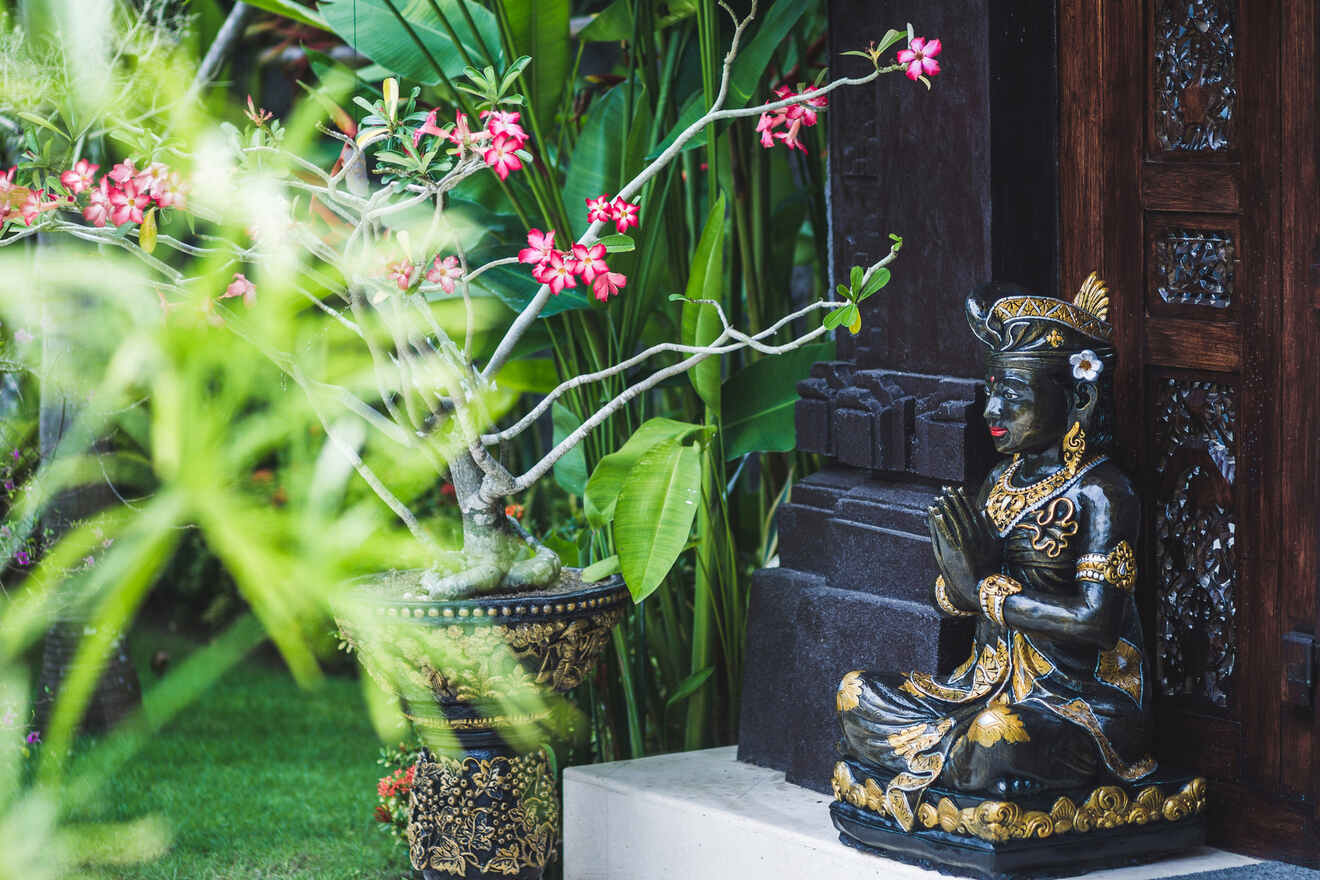 For shopping lovers you will find cute small boutiques and also there are some big shops and shopping malls around Canggu. Here are some of my personal favorites for shopping:
7. Visit Tanah Lot Temple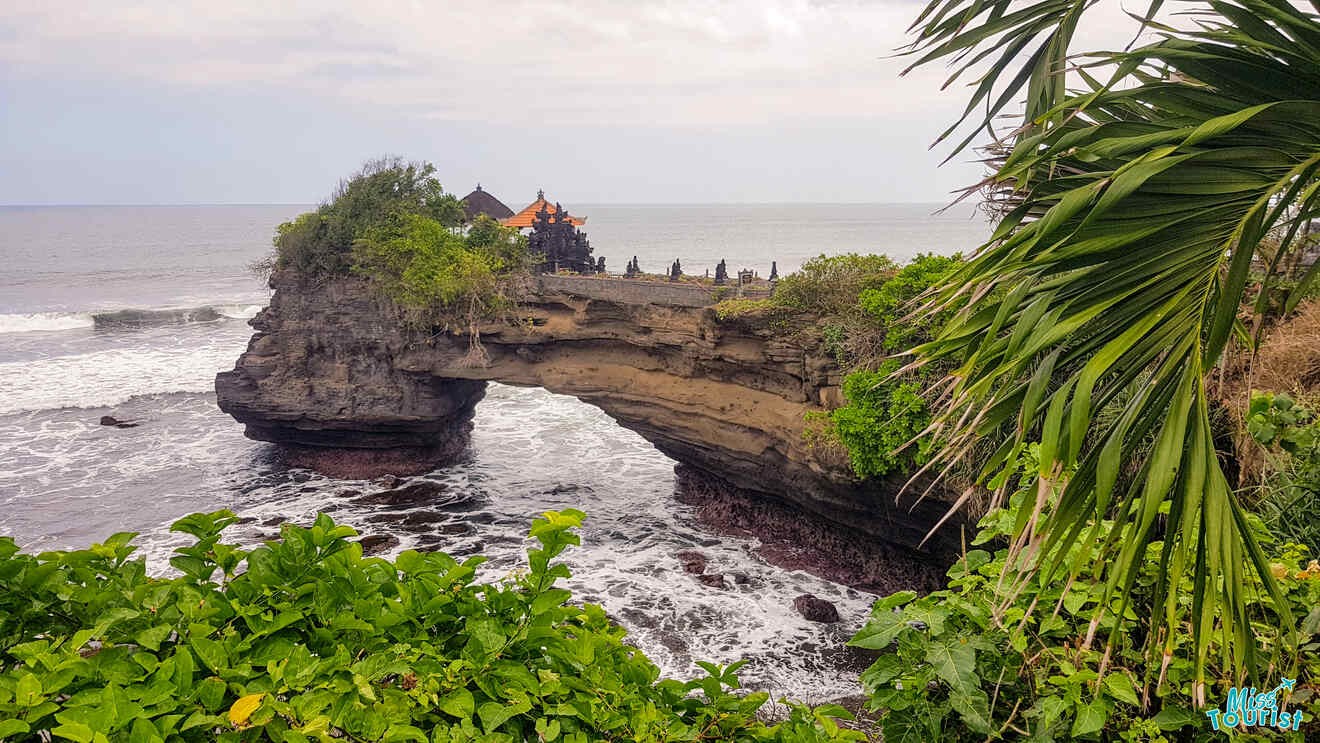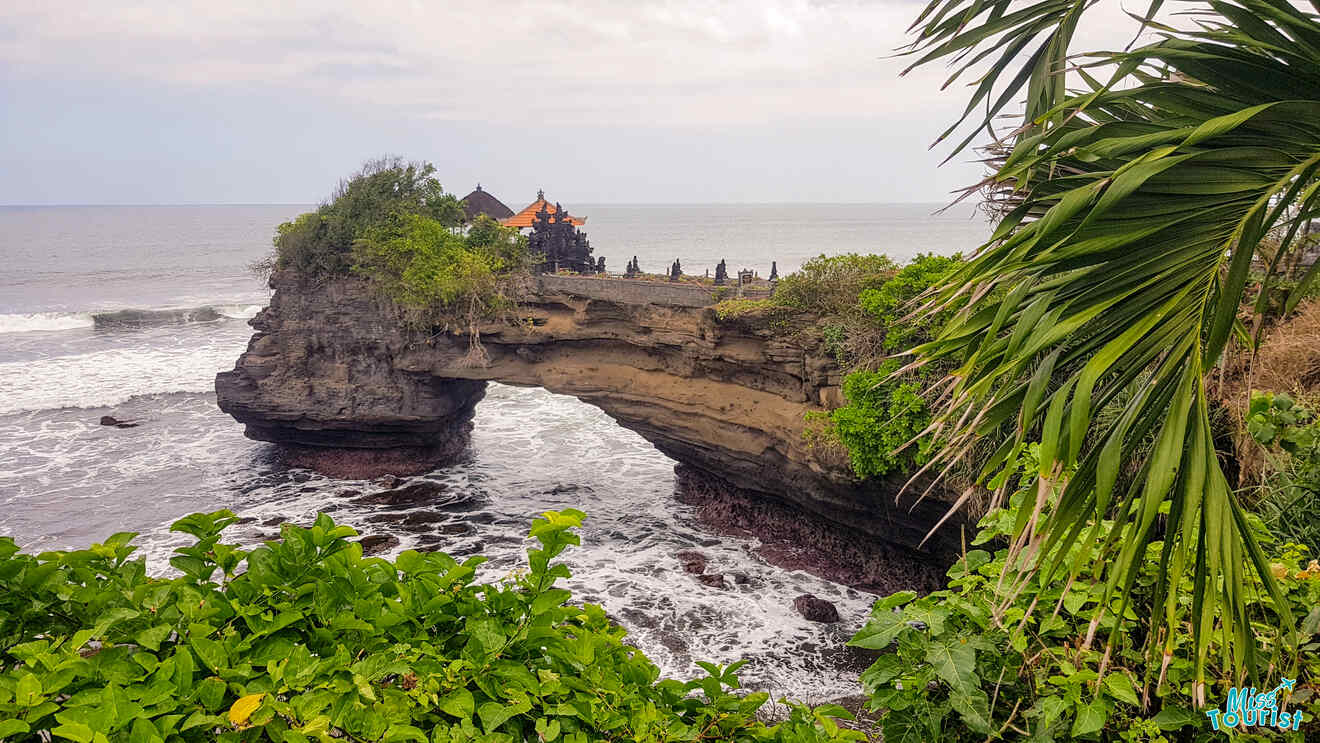 Tanah Lot Temple is half an hour drive from Canggu Batu Bolong Beach and a must-see temple during your stay in Canggu. Tanah Lot Temple is located on the water and it is believed to be protected by a holy snake.
Some people say that during the low tide you are able to see the snake on the rock at the base of the temple. I recommend visiting this magical temple during the sunset to capture the best photos and book a tour for easy transportation!
PRO TIP: In order to have the best photo of the temple without the crowds try to go during the weekdays for sunset or early hours in the morning.
Entrance fee: 60k IDR (US$4.10) for adults and 30k IDR (US$2.05) for children
Opening hours: Wednesday to Friday 06:00 am – 19:00 pm
Location: Beraban, Kediri, Tabanan Regency
8. Treat yourself to a Balinese massage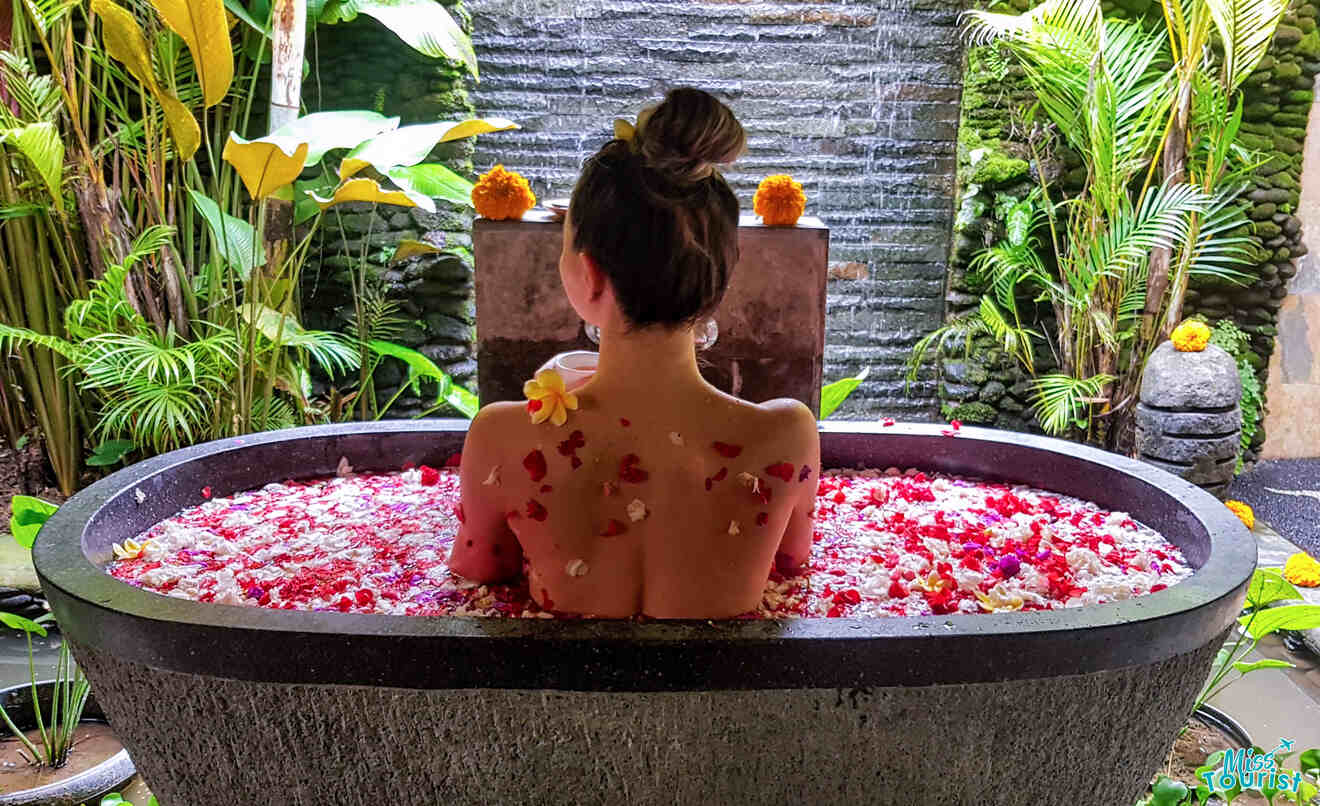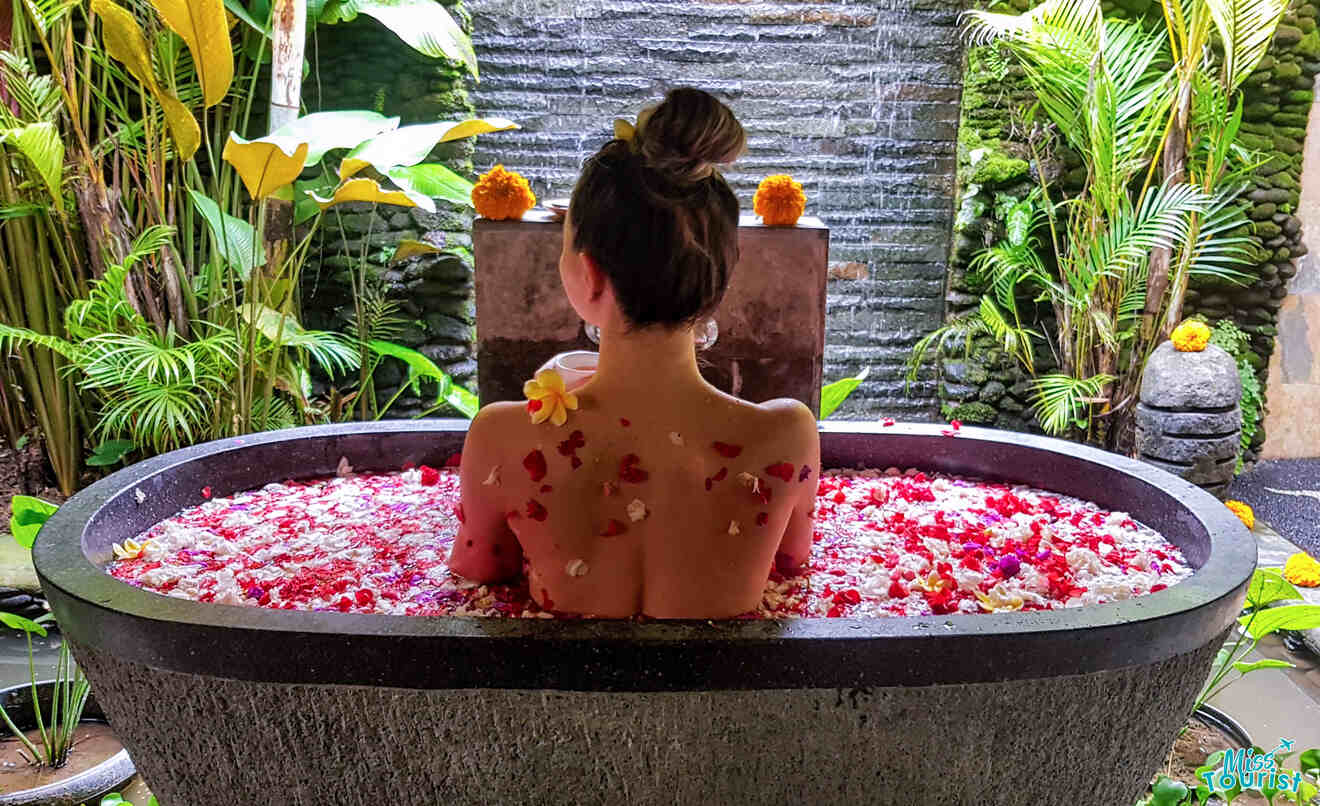 It is not possible to skip the famous Balinese massage in Canggu, Bali. You should definitely treat yourself with an hour-long massage with Balinese aromatherapy oils in one of the massage parlors or spas that you can find on every corner in Canggu.
Here are some of the best ones that I highly recommend:
Goldust Beauty Lounge – Famous for its signature Balinese massage with hot stones. They also offer gold dust facials and many beauty treatments.
Price: 1,5-hour massage 390k IDR (US$27.10)
Amo Spa – One of the most famous spas in Canggu offering a very good Balinese massage and face and body treatments. There is also a sauna, cold bath, and cool cafe inside.
Price: 1-hour massage 245k IDR (US$17.10)
Chillax Massage Therapy – A great massage parlor that offers Balinese massage as well as facials and beauty treatments.
Price: 1-hour massage 150k IDR (US$10.50)
9. Join a coworking space in Canggu, Bali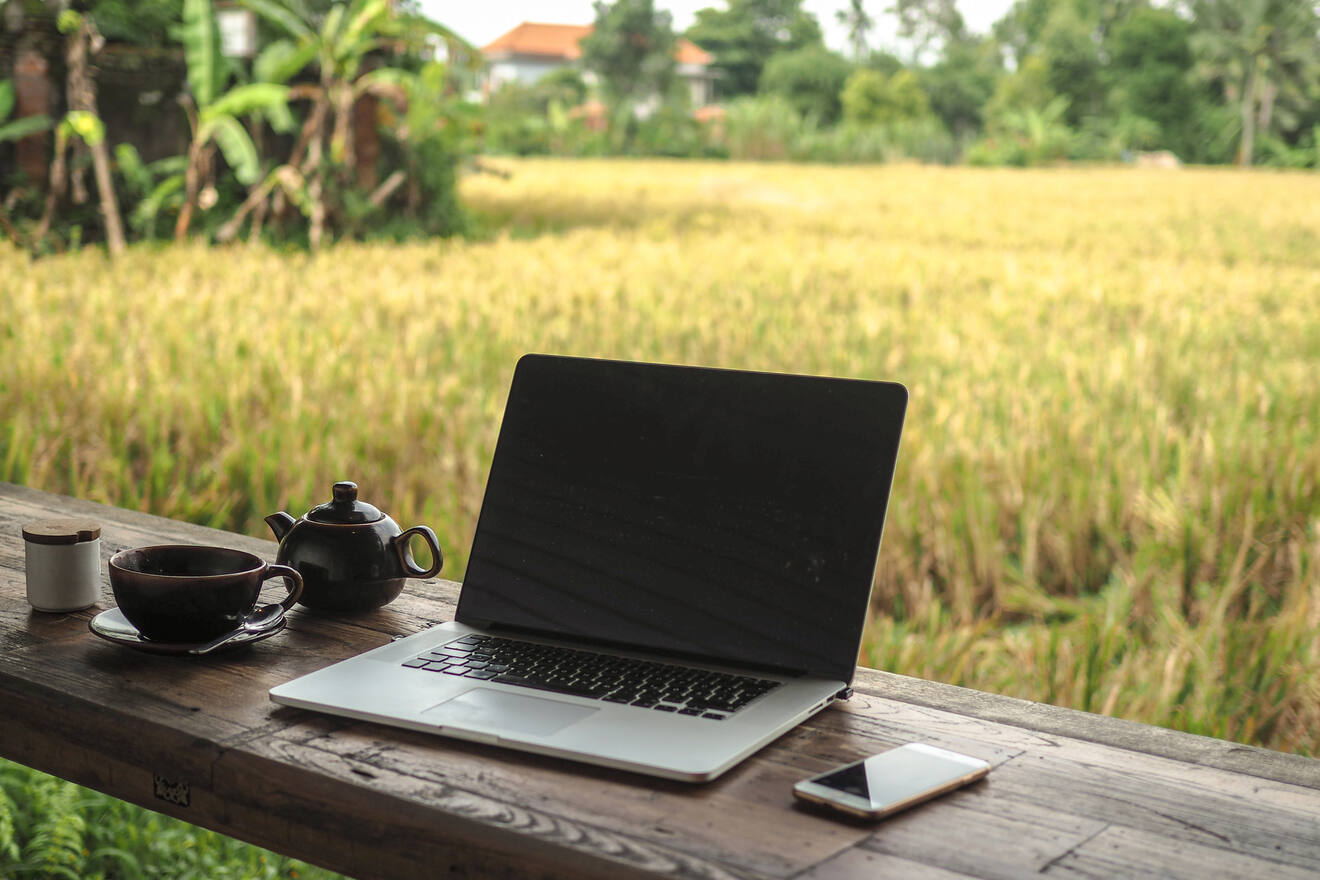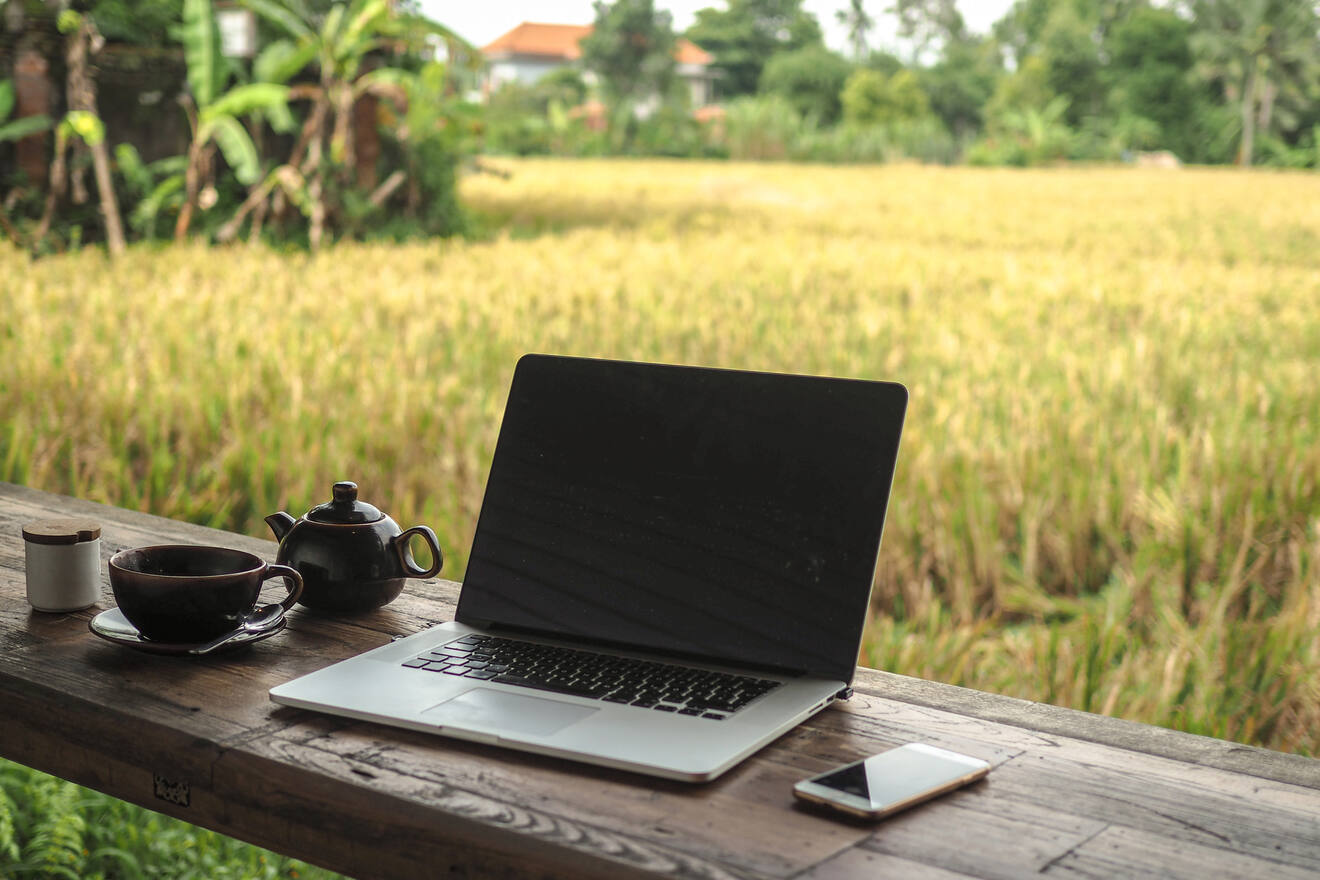 Canggu, Bali is known as a digital nomads' paradise and you will find so many cool coworking places here. If you plan to stay longer or just want to work for a day, here are the best coworking places in Canggu.
Outpost Canggu Coworking – Located near Berawa Beach, Outpost Canggu Coworking place has a very cool decoration and air-conditioned working space. You can also enjoy their pool and cafe. Daily access and monthly membership are available.
Price: Day Pass 70k IDR (US$5.50), monthly membership 600k IDR (US$42)
B Work Bali – This coworking place not only has a cool working space but also has an amazing view and yoga area. You can even join their yoga classes and weekly events. Daily and monthly memberships are available.
Price: Day Pass 230k IDR (US$16), monthly membership 700k IDR (US$118)
Camp 308 – Located in a laid-back area of Canggu, this coworking space offers a quiet and spacious working environment, a large swimming pool, and a cool cafe. Daily access and monthly membership are available.
Price: Day Pass 70k IDR (US$5.50) monthly membership 600k IDR (US$42)
10. Eat some good food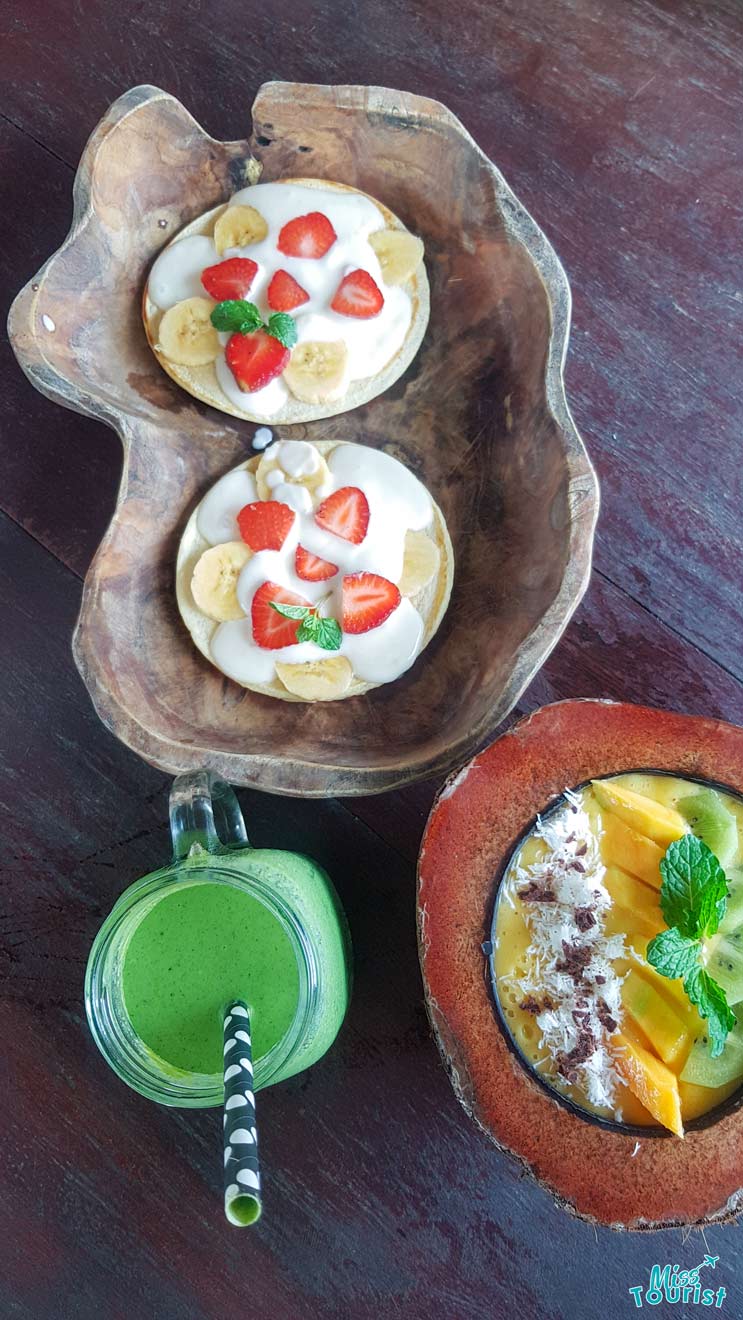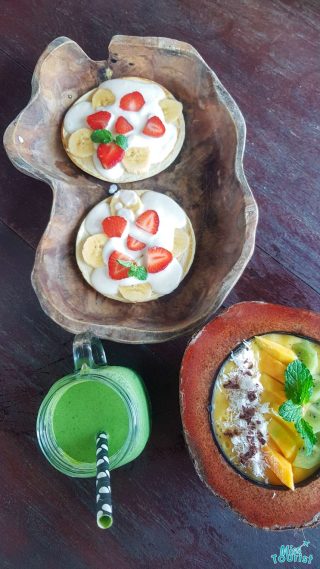 The local restaurants in Bali are called warung and I highly recommend trying local foods in a warung that you will find all around Canggu.
Of course one of the answers to what to do in Canggu is to eat as much delicious food as physically possible! Canggu is a foodie heaven where you find all types of international cuisines as well as local Indonesian food. I have a whole guide for where to eat in Canggu but here is a quick list to get you started.
What to eat:
Smoothie bowl – smoothie that is topped with fruits, granola, and nuts. Even though it is not a local food they are super delicious and very popular in Bali.
Nasi Goreng – Most famous Indonesian food is fried rice served with vegetables or choice meat and fried egg
Mie Goreng – Fried noodle served with vegetables or choice meat and fried egg
Gado gado – Indonesian salad made with steamed vegetables and egg
Bakso – Indonesian meatball that you can buy from the street sellers
Where to eat:
The best Instagrammable cafes in Canggu, Bali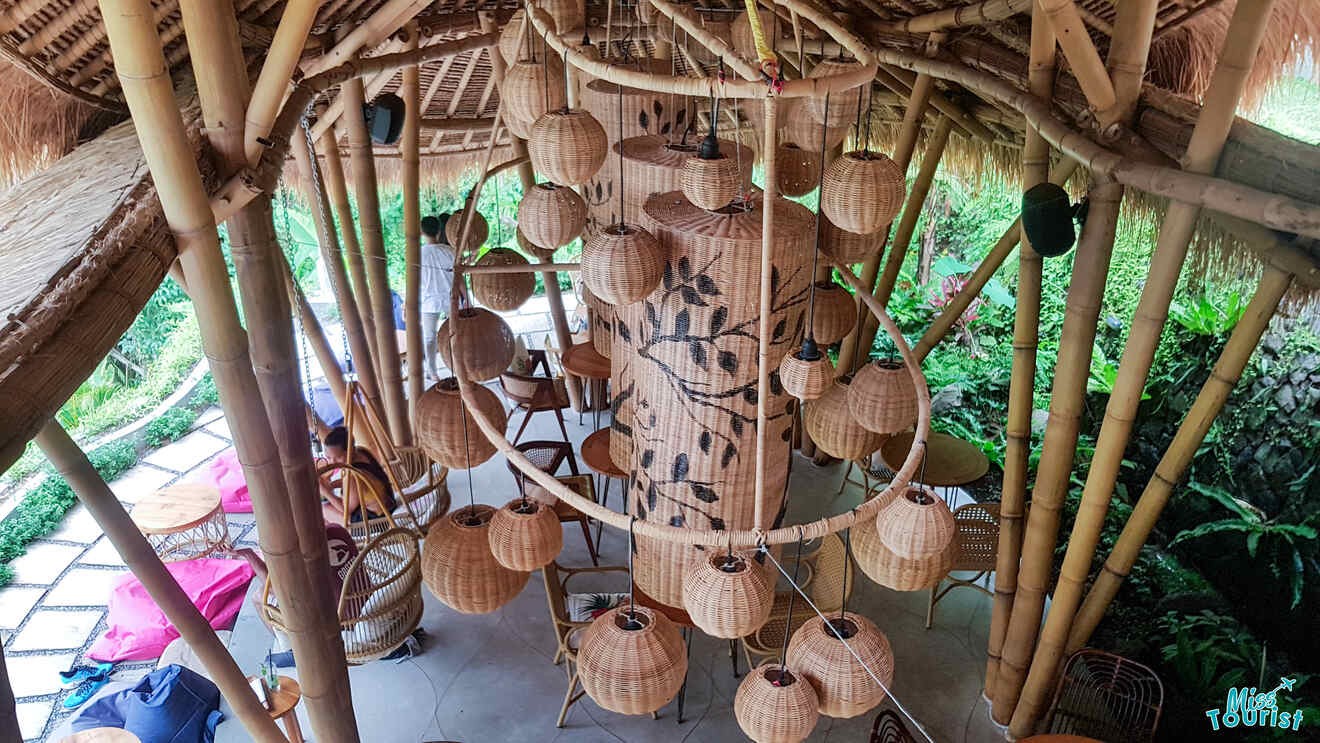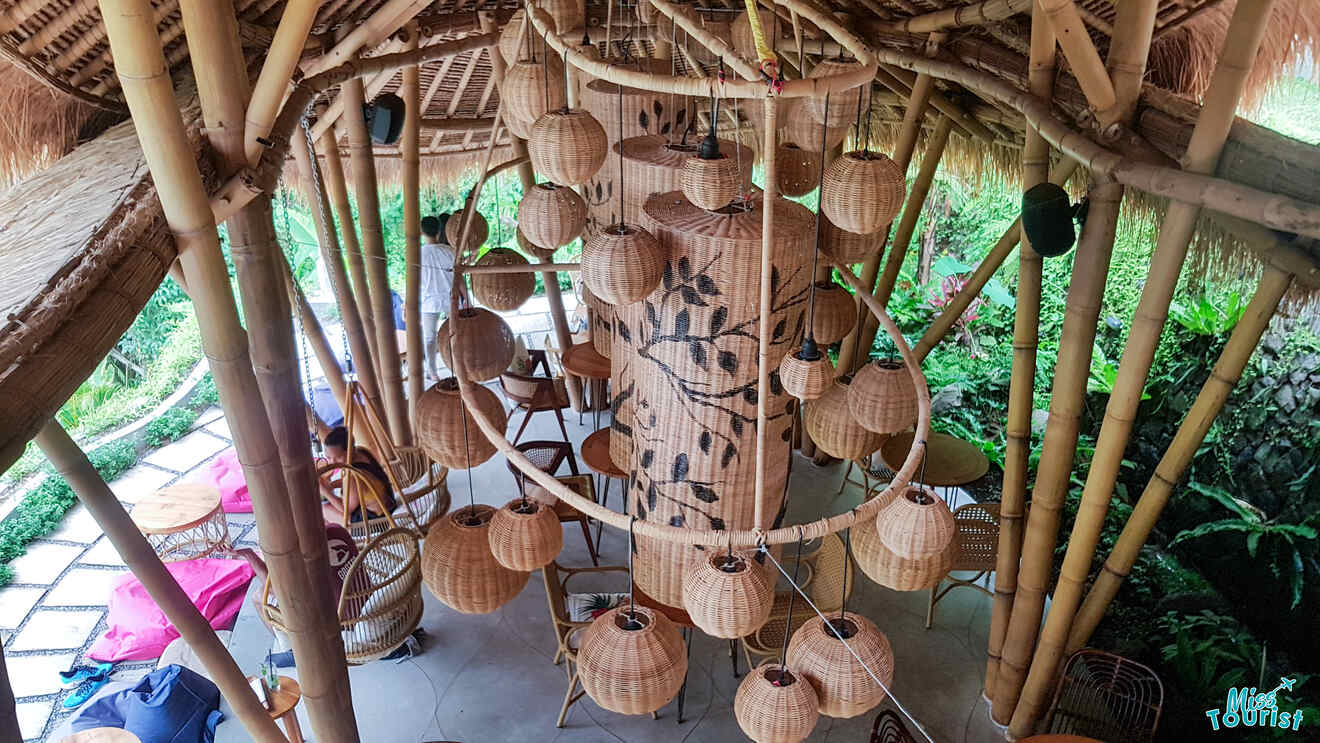 Canggu is a heaven for those who like to discover hipster cafes with interesting interior design and one of the best things to do in Canggu is cafe hopping. You will find so many places with unique designs that will make you go crazy. Here are my favorites…
11. Stay in a glamorous villa in Canggu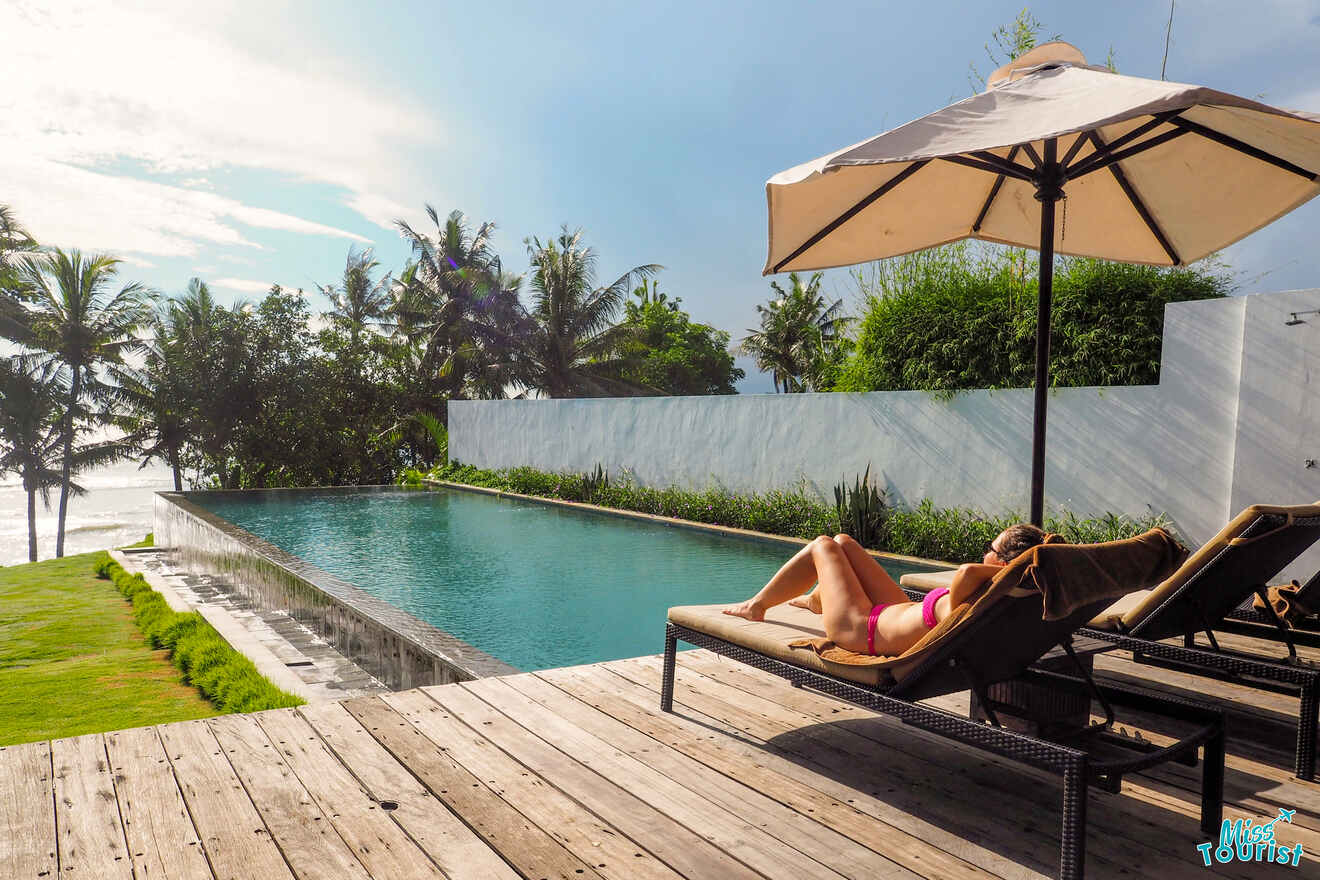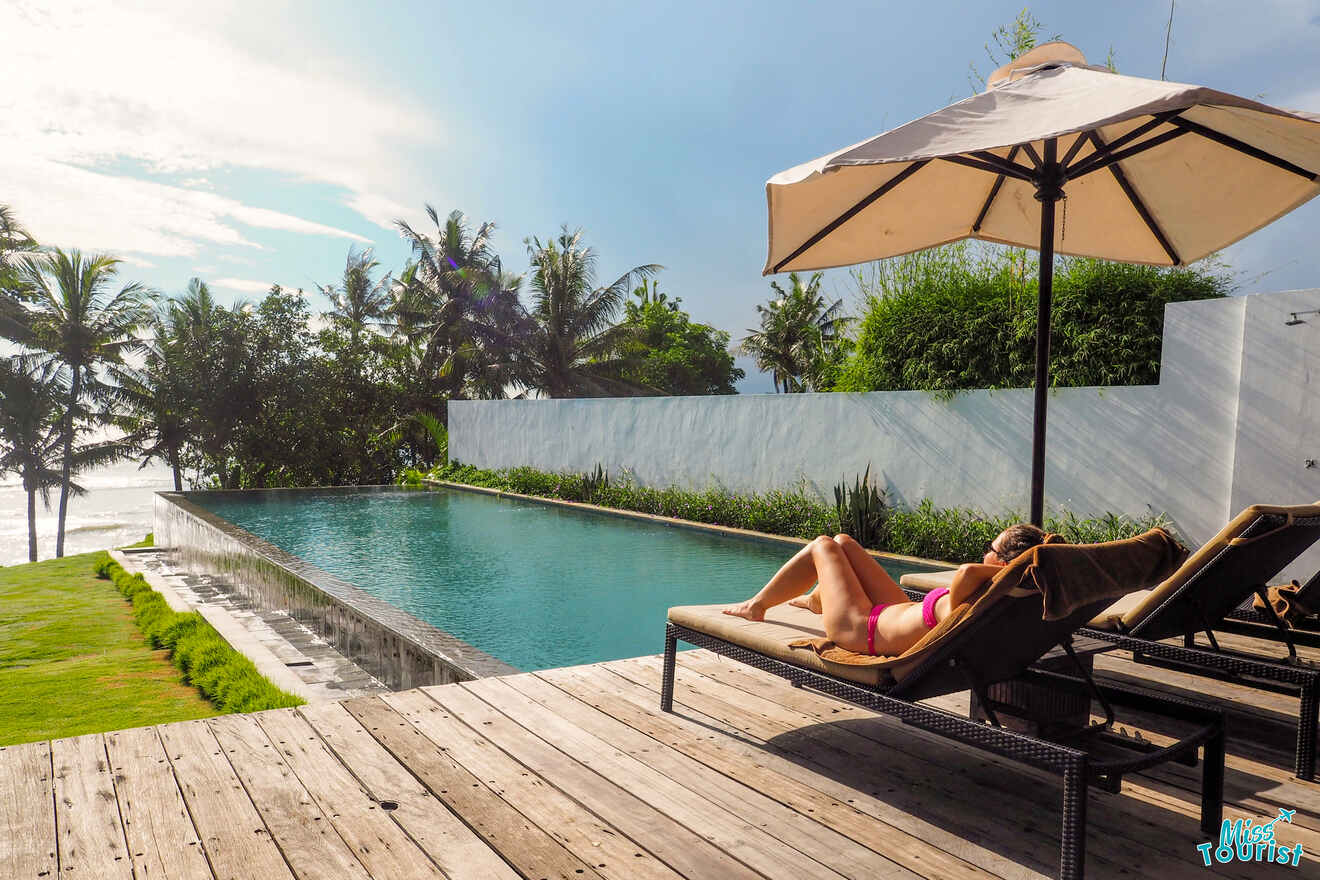 Bali is known for its fancy and stylish villas with private pools and amazing facilities. The good news is you do not need to pay a fortune to stay in these posh villas! So why not stay for a couple of days and have a unique holiday experience?
Here are some of the best villas I found for you in Canggu in descending price order:
Mayana Villas – Imagine jumping into a pool from your room and sunbathing in your private garden. This fancy villa has everything you need! You will love the spacious rooms and Balinese style open bathroom with luxury amenities. There is an onsite bar, full service, and a large common pool as well. Thanks to its great location the beaches and restaurants are just within walking distance.
Ametis Villa – This cool villa has a private pool surrounded by lush green gardens and a large terrace. Centrally located in Canggu, Ametis Villa offers an on-site restaurant, free airport shuttle, free parking, and a great breakfast. You can pamper yourself with a good Balinese massage in the upscale spa and have cocktails by the pool bar.
Imani Villas – Just a 5-minute drive to the beach, Imani Villas has one-bedroom villas with a private pool and garden area. I love the chic bathtub in the bathroom and you can have breakfast in your private garden while watching the beautiful scenery. There is also a common pool area and by staying here you will have free access to Finns Beach Club.
Villa Sally – For those traveling on a budget, this affordable villa has everything you expect from a luxurious villa. You will have your own private pool, a fully equipped kitchen, and a fancy bathroom. How does it sound to have a floating breakfast in your private pool? There is also an upscale spa, free parking, and room service plus, you will be just a short drive away from the beaches!
BONUS: The 3 best day trips from Canggu, Bali
1. Hike an active volcano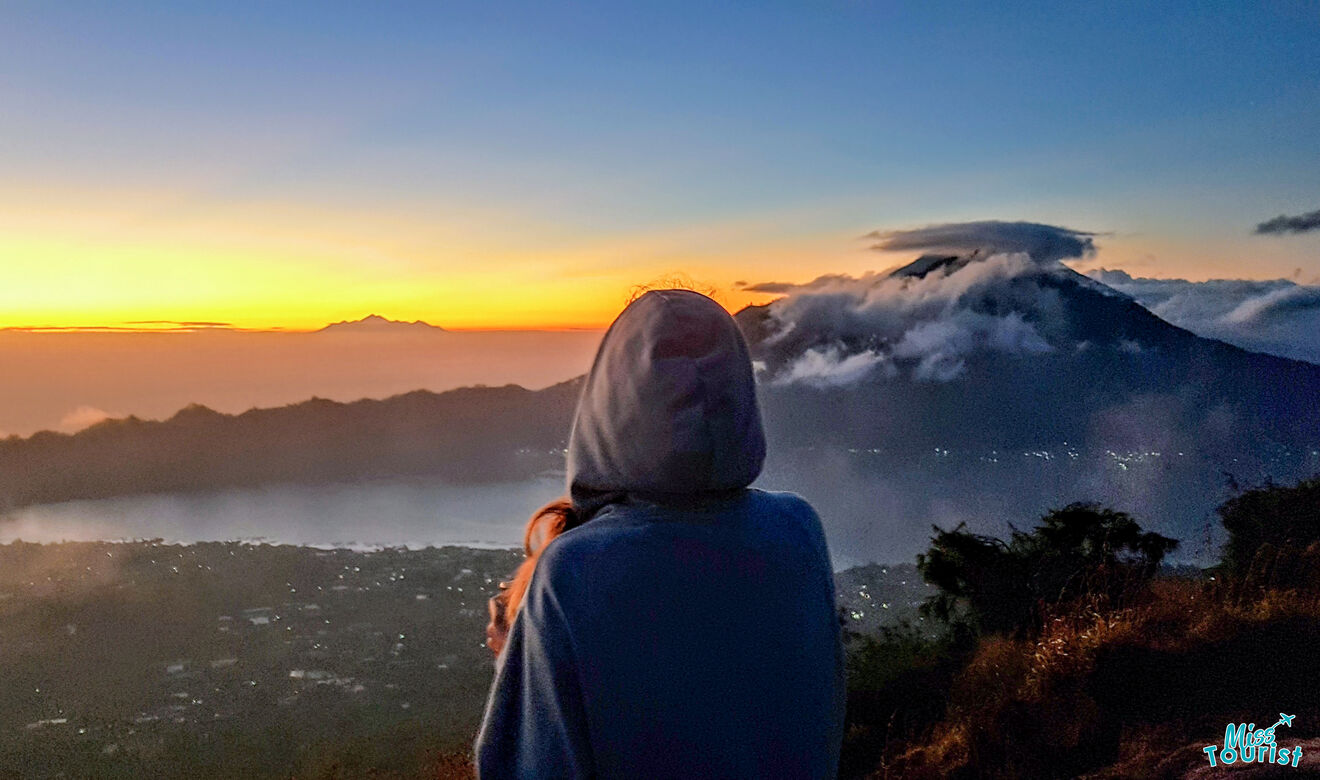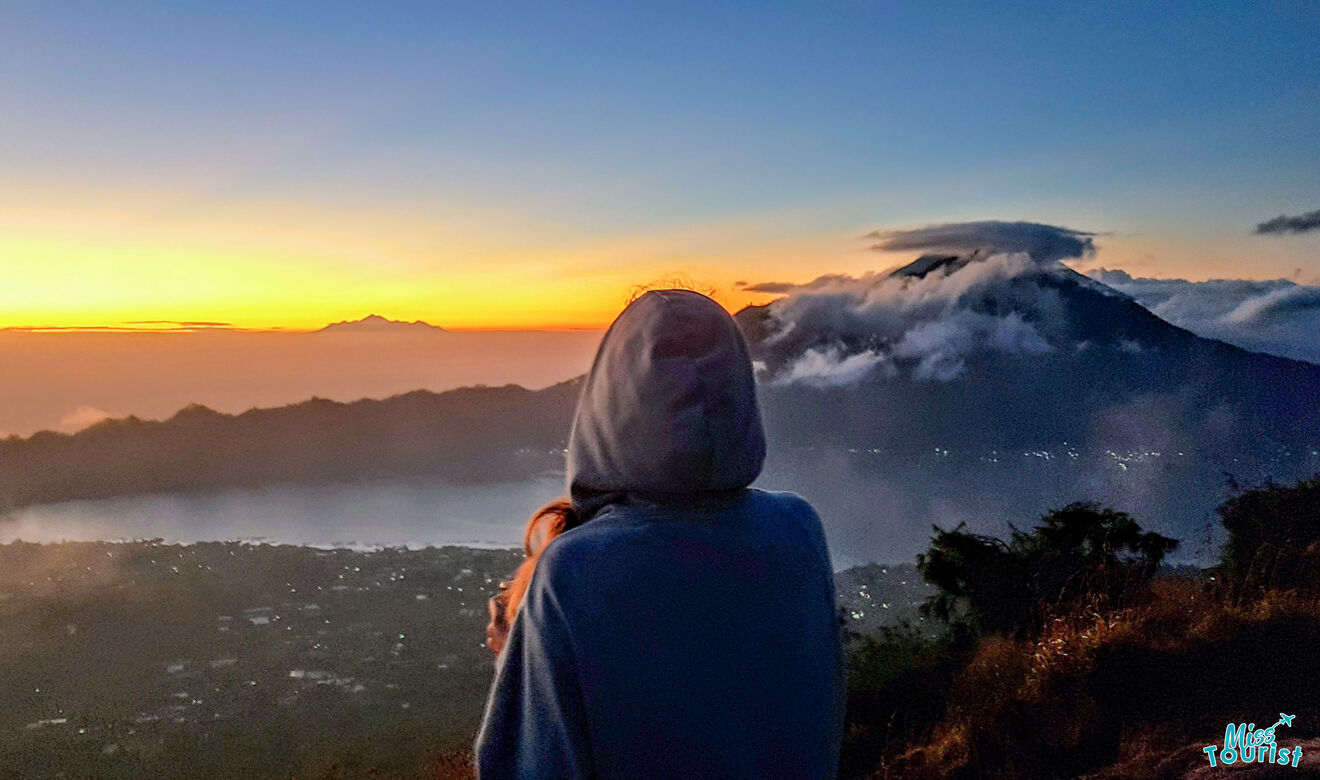 One of the most fun and interesting activities you can do in Canggu is hiking at the active volcano Mount Batur. In order to do this hike, you should have a guide and usually, tours provide the pick up from your hotel in Canggu. The drive takes about 2 hours then it is time to tie your boot laces.
Mount Batur is a 1717 meter mountain that offers spectacular views. You start hiking around 03:00 am to make it to the top of the mountain before sunrise. Even though it is a bit of a challenging road if you have little fitness, you won't have difficulty.
The hike in total takes around 4 hours and you will be rewarded with an amazing view over the clouds. I really enjoy this experience and highly recommend you to do it!
2. Have fun at the waterpark in Kuta
Waterbom Bali is half an hour drive from the heart of Canggu and an amazing water park for all ages. There are more than 20 waterslides, a lazy river, and a bungee trampoline. Even though it seems like a fun place for kids I assure you, you will have more fun than them! It is definitely one of the best things to do for families in Canggu, Bali.
Price: 300k IDR (US$20.50) per person
3. Take a day trip to Ubud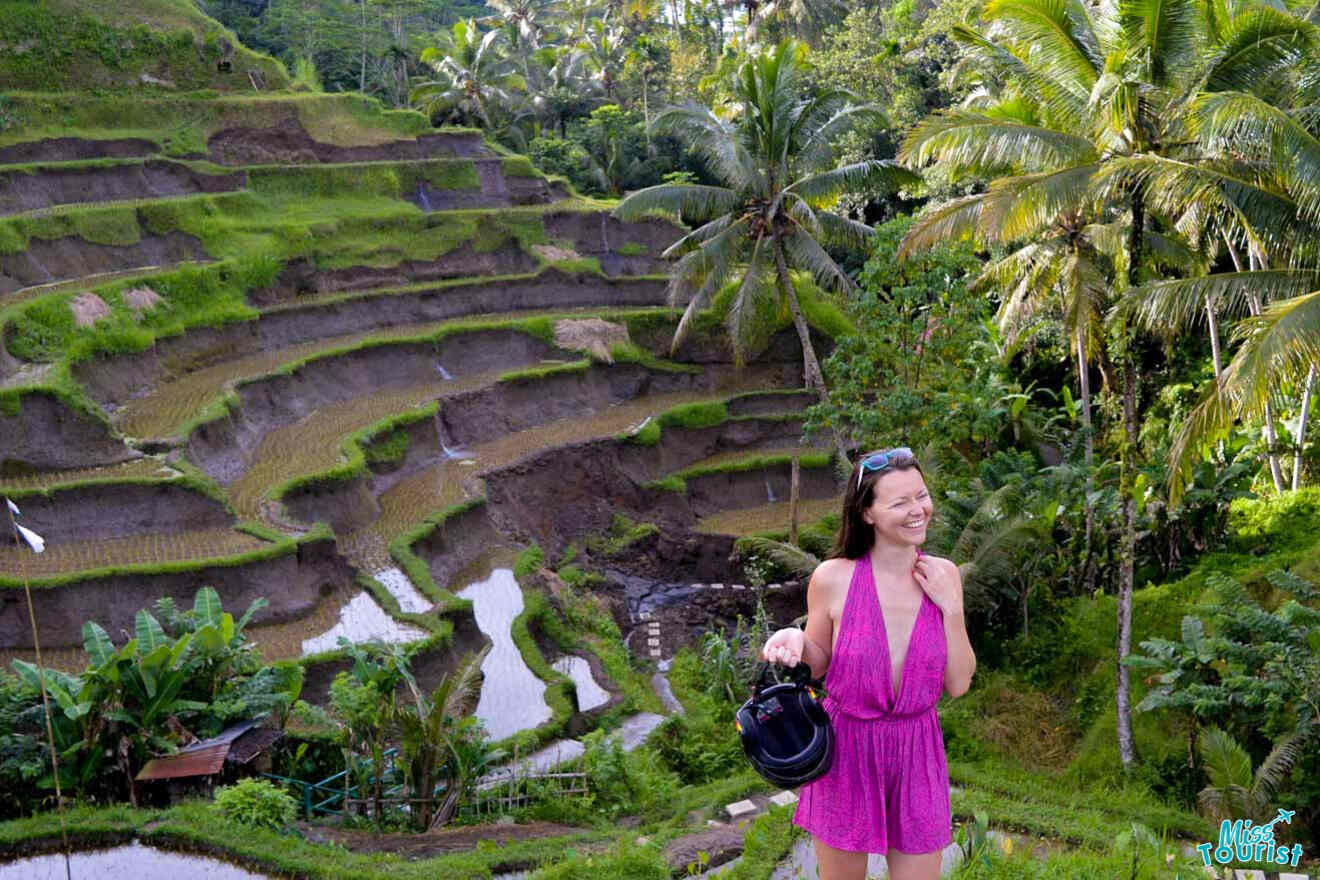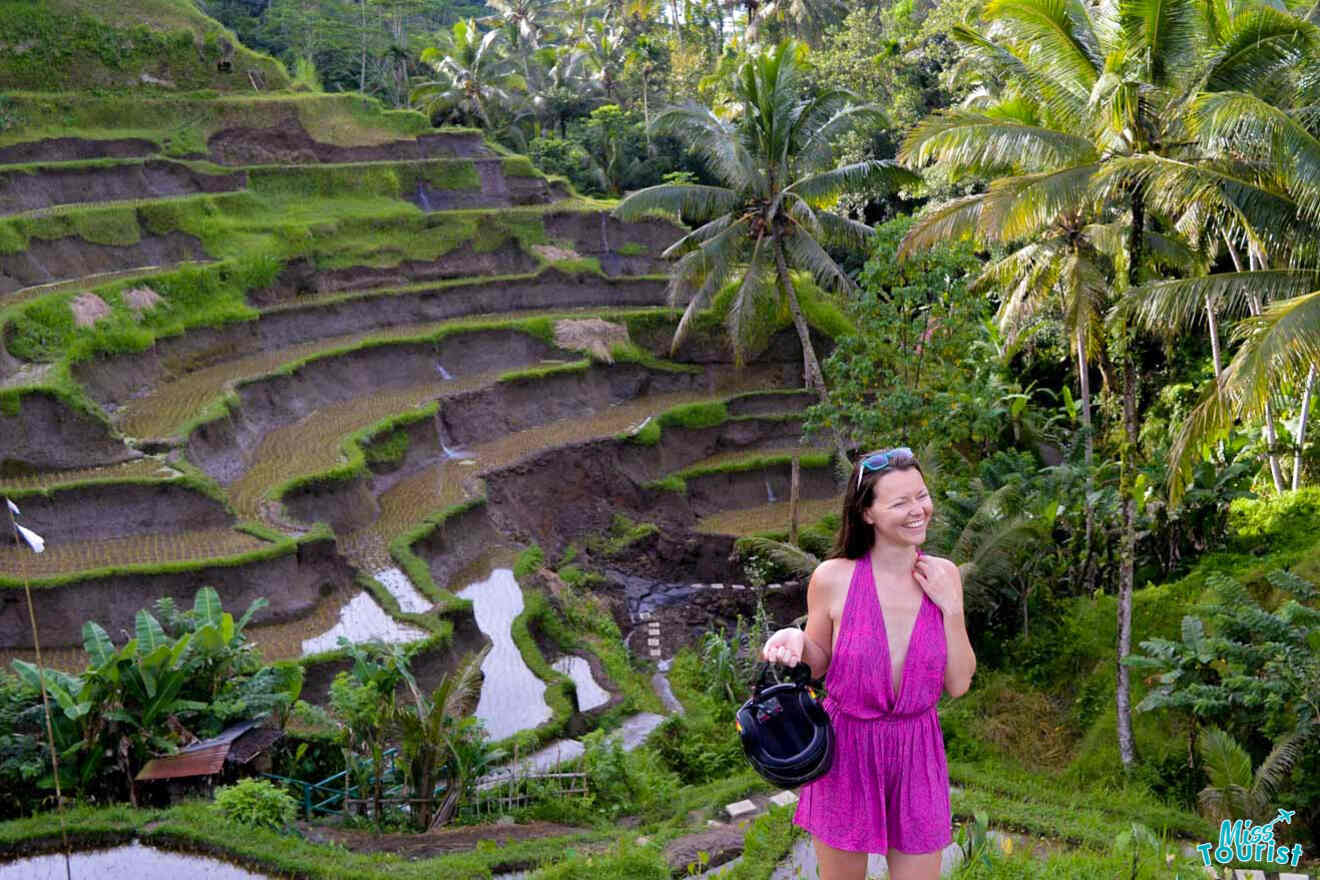 Within a half an hour drive from Canggu you can reach lush green jungles and the famous rice paddies of Ubud. Personally, my favorite rice fields views are the ones in Ubud and I am sure you will have the best photos there.
But that's not all there is, some of the other things that you can expect to see in Ubud are beautiful waterfalls, an epic handicrafts market, the Monkey Forest, and the Luwak coffee plantations. You can also check out local shops, trendy cafes and spot many temples. I highly recommend making a day trip to laid-back Ubud during your stay in Canggu.
PRO TIP: Watch out for monkeys when you are in the jungles as they may try to steal your food and things!
Getting to Ubud:
You can easily self-drive from Canggu to Ubud by renting a scooter or taking a Grab or GoJak car which takes 50 minutes and costs around 150k IDR (US$9.50). But the best way to visit is by taking a tour which will guide you to all the best places.
| | |
| --- | --- |
| 🤩 Range of activities: | Large |
| 👪 Family-friendly score: | Great |
| 🏛️ Best attraction: | Tanah Lot Temple |
| 🚤 Best paid activity: | Beach clubs |
| 🚶🏽‍♂️ Best free activity: | Echo Beach |
| 👧 Best attraction for kids: | Waterbom Bali |
| 🕺 Nightlife: | Black Sands Brewery |
| 🍴 Must try food: | Nasi Goreng |
Practical Information about Canggu, Bali
Now that we know what to do in Canggu, Bali I want to give some practical information that can be useful during your holiday. Here we go!
Where to stay in Canggu, Bali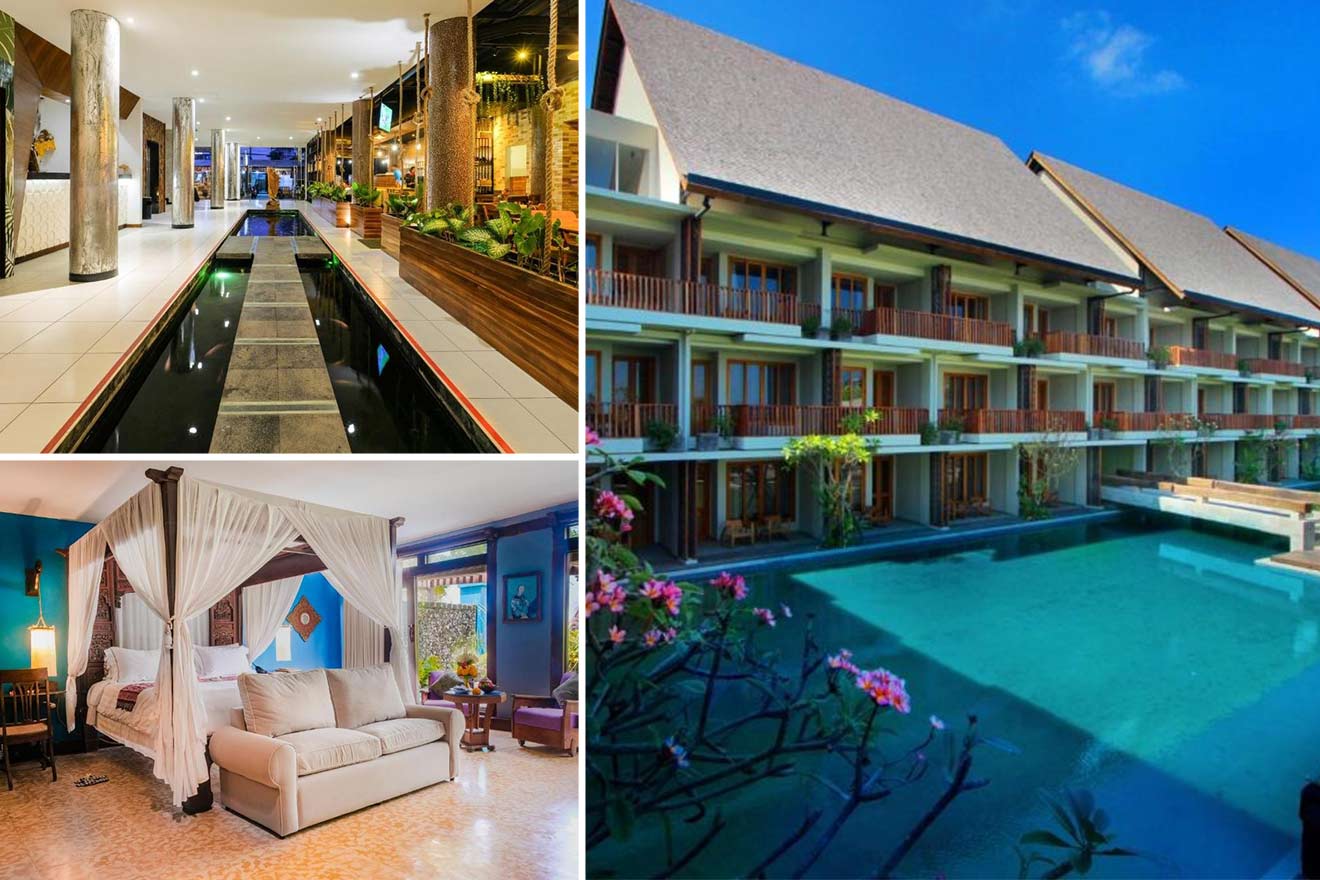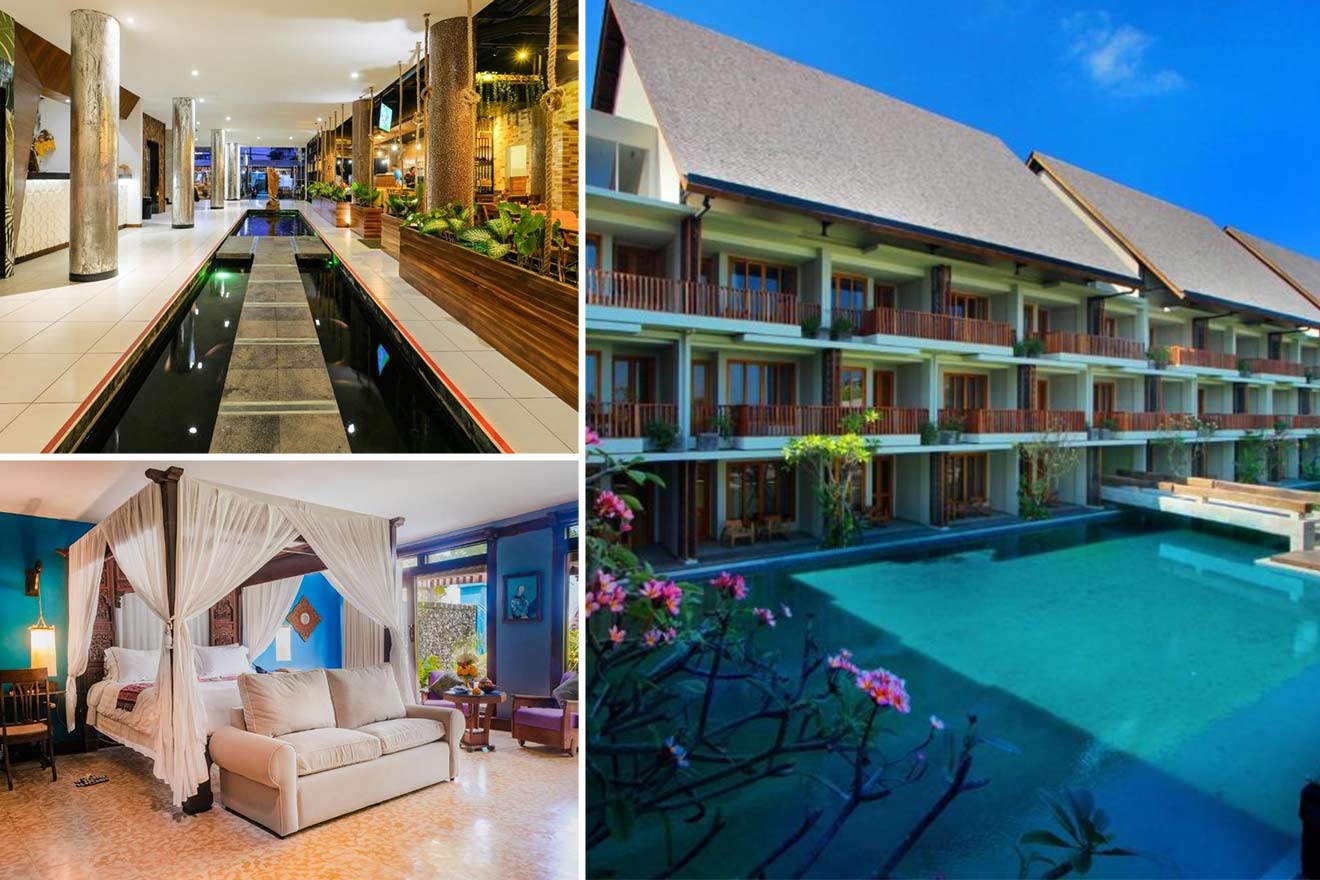 If you are looking for a place to stay in Canggu, Bali, and want to hear my top hotels, I got you covered. Let me talk about the best hotels in Canggu from luxury to budget in descending price order. If you need more options there is a whole blog post dedicated to the best areas and hotels in Canggu.
Luxury (US$110 and up)
Hotel Tugu Bali – Located in Canggu Batu Bolong Beach, this is one of the top luxury hotels to stay in Canggu, Bali. You will fall in love with the beach bar overlooking the ocean and chic swimming pool. The luxurious hotel rooms have a private pool, a fancy bathtub, and modern amenities. There is also a good on-site restaurant where you can have mouthwatering Indonesian food.
Aston Canggu Beach Resort – Right on Canggu Batu Bolong Beach, this luxury hotel features an epic rooftop pool, a fitness center, an on-site bar, and a restaurant. I love the spacious rooms that have private balconies and stunning ocean views. You can have a great selection of drinks at the beach bar and in the morning, a great breakfast is waiting for you!
Mid Range (US$65 – US$90)
Theanna Eco Villa and Spa – Just 2km (1mile) away from Echo Beach, Canggu, this hotel offers a swimming pool, a full-service spa, a very good breakfast, and a pool bar. If I were you I would spend my whole time sipping a coconut in the chic sun terrace by the pool. The fancy hotel rooms have modern facilities and free wifi and there are even luxury suites with a private sun terrace and swimming pool.
The Haven Suites – Situated just next to the famous Finns Beach Club, this hotel is just a few minutes walk to Berawa Beach. There is a glamorous swimming pool, kids pool, an upscale spa, and fitness center. All of the hotel rooms have a pool or ocean view and you have the chance to have your breakfast on your private balcony. You can also have a nice dinner in the on-site restaurant while watching the spectacular views.
Budget (up to US$60)
Citadines Berawa Beach – Just a 5-minute walk to Batu Bolong Beach, this 4-star hotel has an amazing rooftop pool and bar. You can have delicious cocktails while watching the best sunset. You will love the spacious hotel rooms with a private balcony overlooking the ocean and you won't wanna leave the rooftop sun terrace!
Papillon Echo Beach – Located on Echo Beach, this hotel is a great place to stay in Canggu, Bali for those traveling on a budget. There is a swimming pool surrounded by lush green gardens, an on-site cafe, and free parking. The comfortable hotel rooms have modern amenities, a private terrace, and free wifi. Thanks to its great location all of the trendy restaurants and cafes are within walking distance.
Getting around Canggu, Bali
There is no public transportation in Canggu, Bali and the most convenient way to get around is to rent a scooter. Other than regular roads you will see many shortcuts in Canggu which are narrower roads that run through rice fields and enable you to access other neighborhoods quicker.
Let's have a look at all the transportation options.
Rent a scooter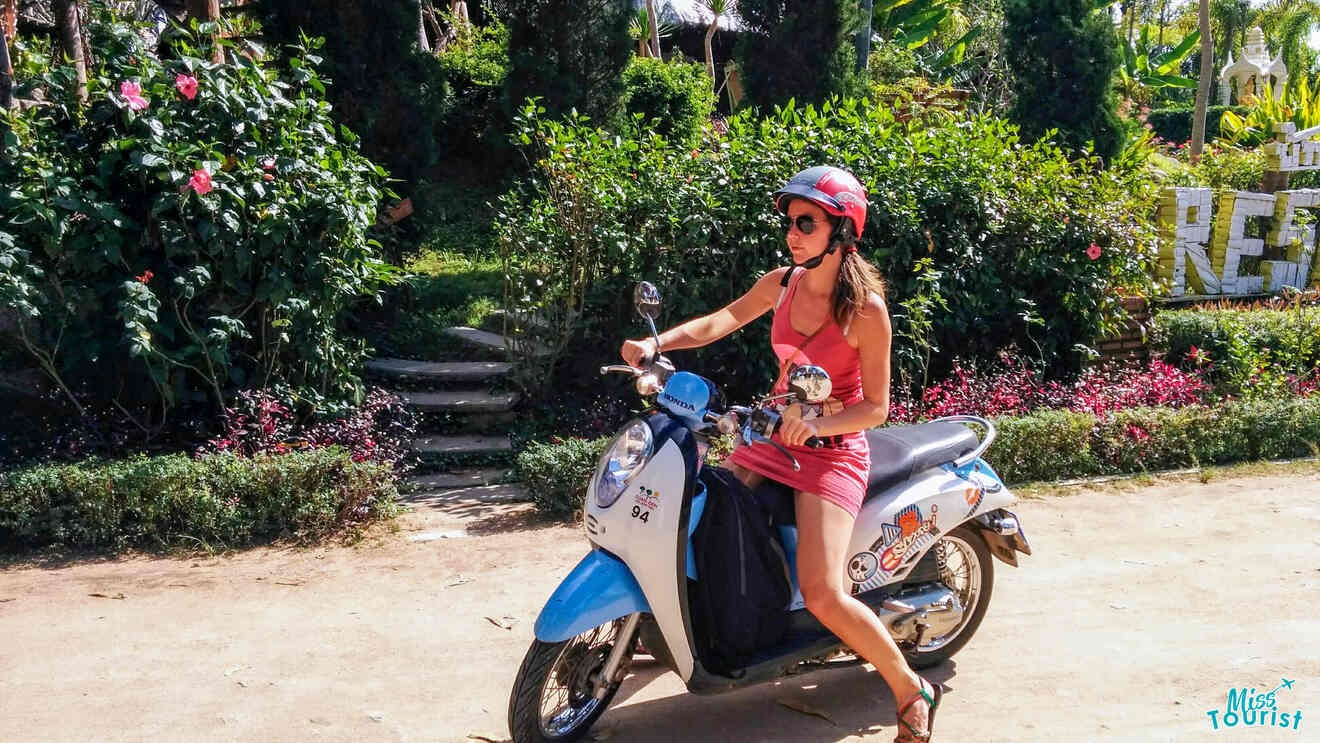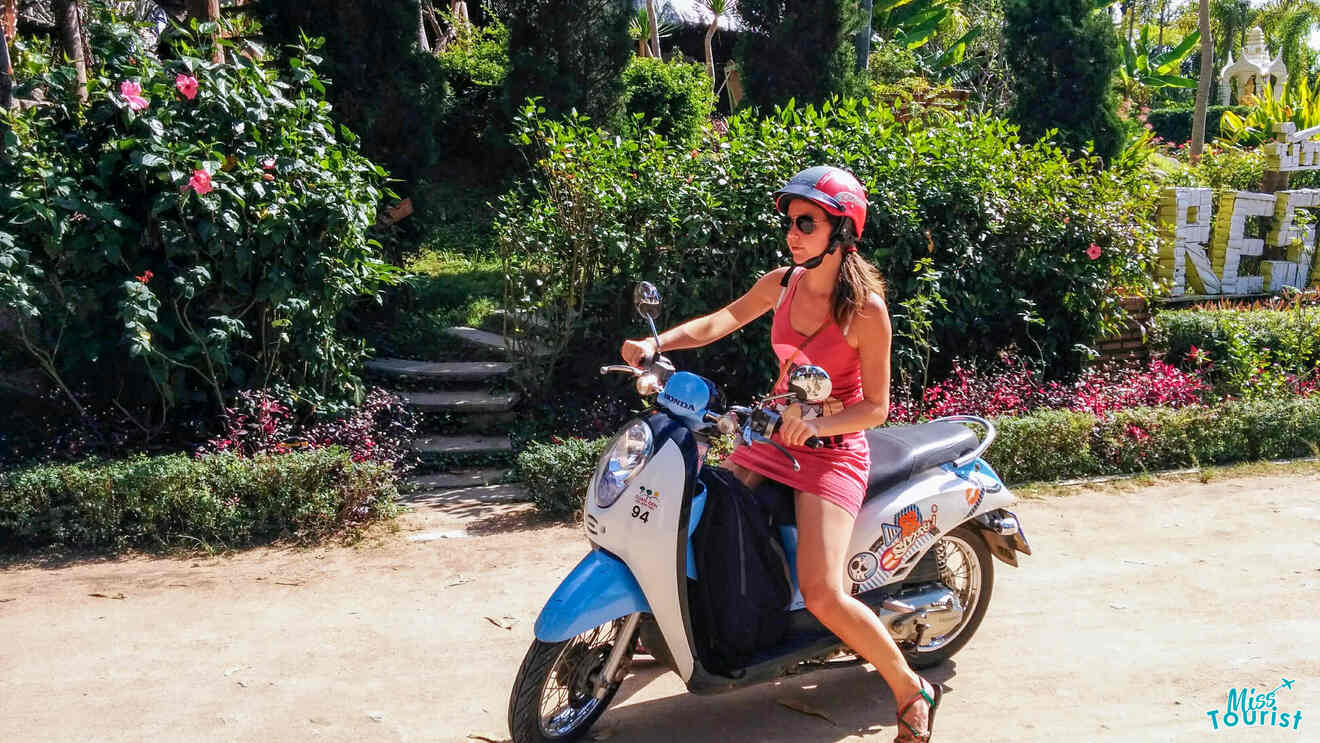 The best way to get around in Canggu, Bali is by renting a scooter. There are not many big rental companies but you will find scooter rental shops in almost every street and daily rental prices start from 50k IDR (US$3.50). If you want to have everything organized before your vacation, you can book your scooter rental and they will drop it off at your hotel for you.
You will need to show your passport in order to rent a scooter and legally you also need to have an international driving license, however, in general, rental shops don't ask about it. It's up to you whether you take the risk or not though as police can still pull you over and give you a fine.
Also, make sure to check with your travel insurance company if they have coverage for possible accidents as this is often an issue.
Use ride-hailing apps
There are no normal taxis in Canggu but if you don't wanna ride a scooter you can easily order a scooter or car driver by using the apps. The 2 apps that you can use in Canggu, Bali are Gojek and Grab. Their prices are pretty much the same and a 10-minute ride costs around 20k IDR (US$1.50).
How to get to Canggu, Bali from the Airport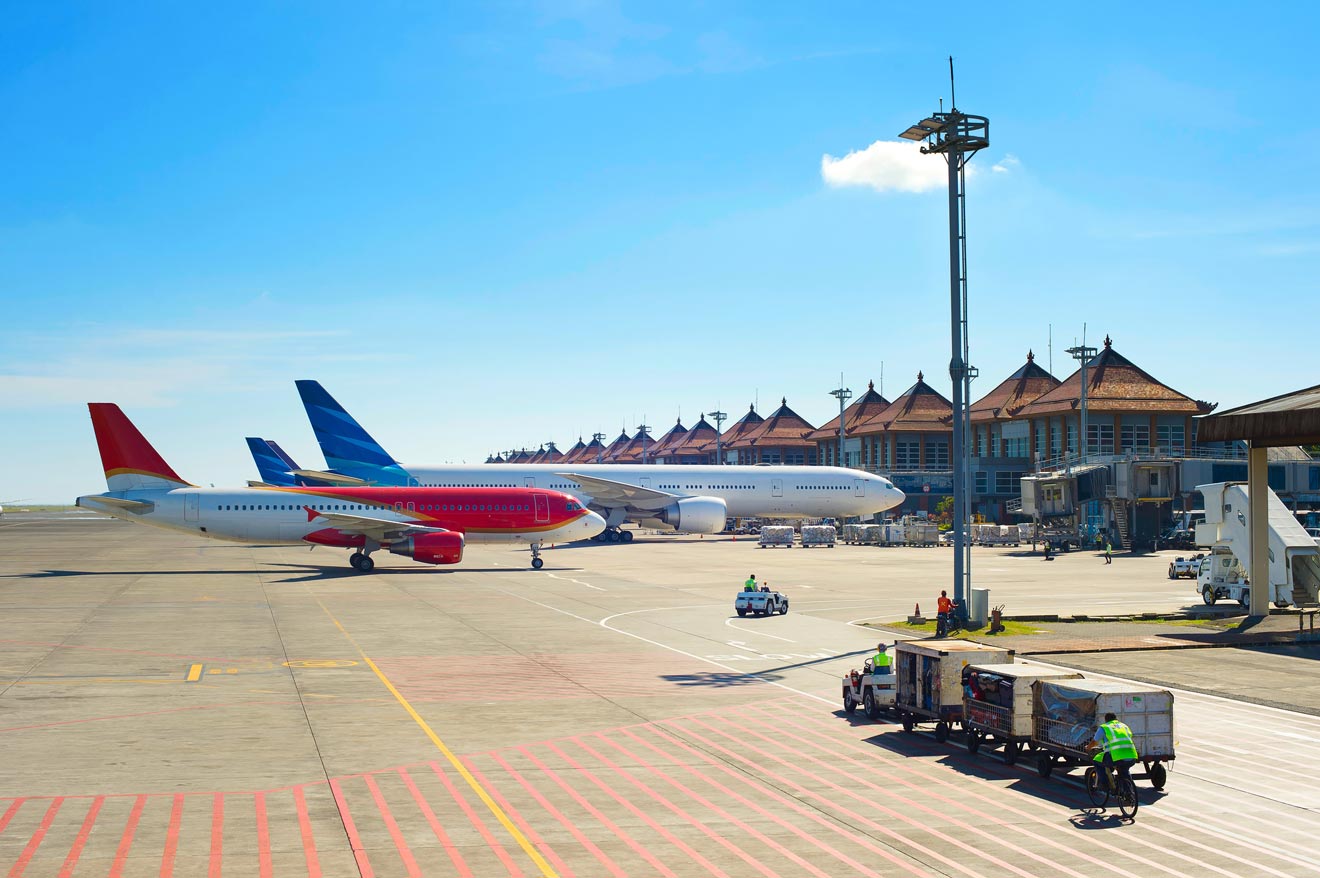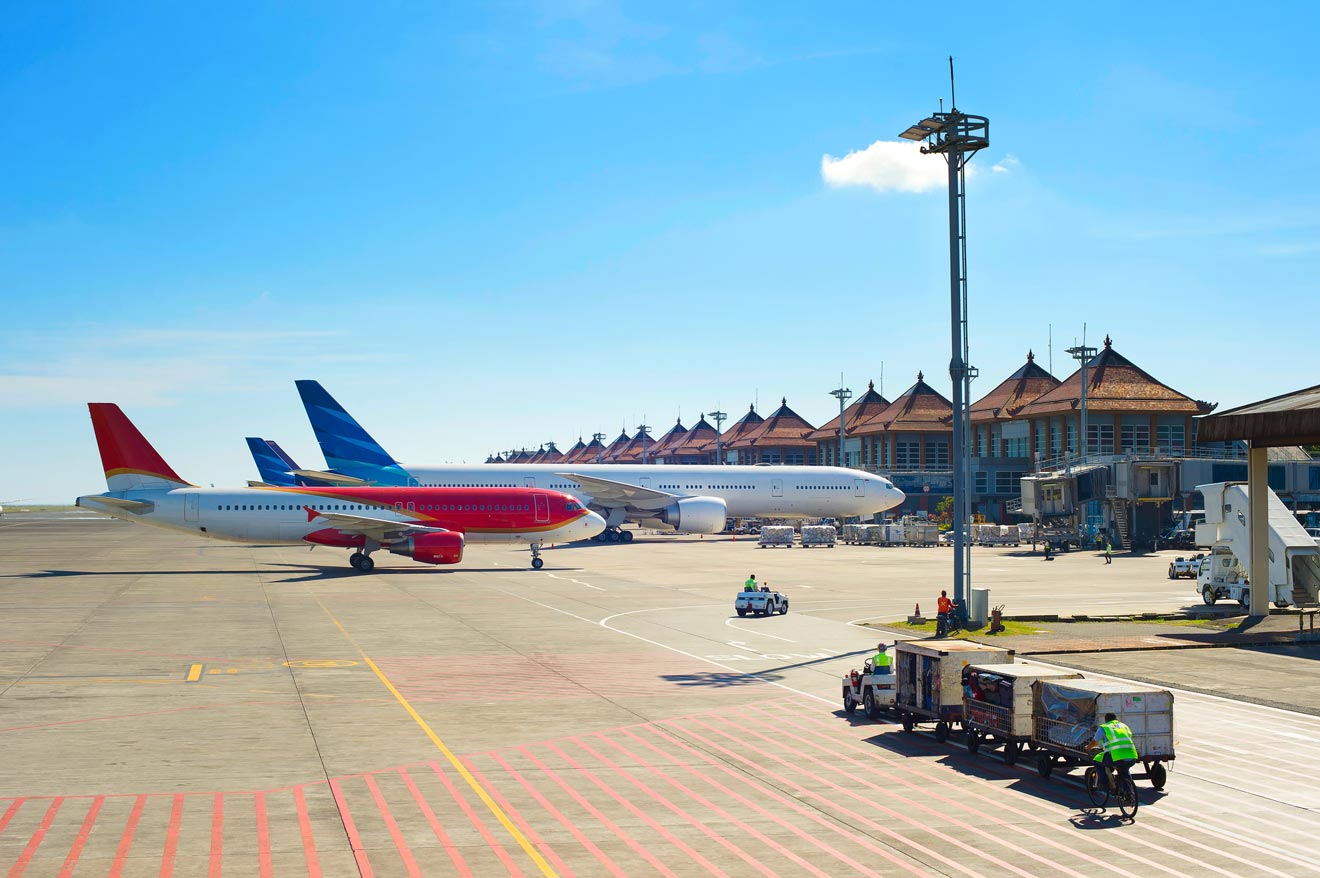 The airport you will be landing in Bali is Ngurah Rai International Airport which is located in Denpasar city. Once you leave the airport you will see tons of taxi companies trying to offer you a service.
I recommend taking a taxi from the companies Bluebird or Grab and negotiating on the price.
It should cost around 150k IDR (US$9.50) and the journey takes half an hour to Canggu. In order to avoid crowds and negations at the airport, I recommend booking your airport transfer online before your arrival.
Frequently Asked Questions About Canggu, Bali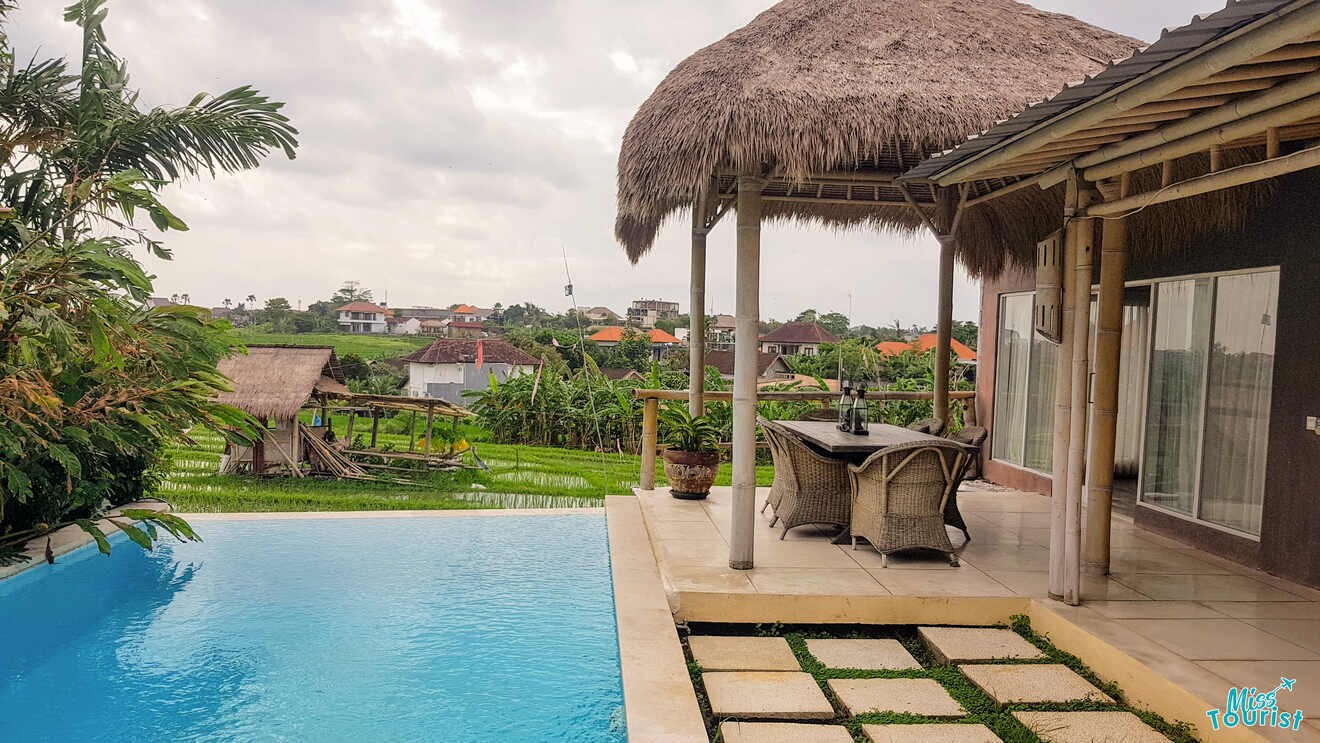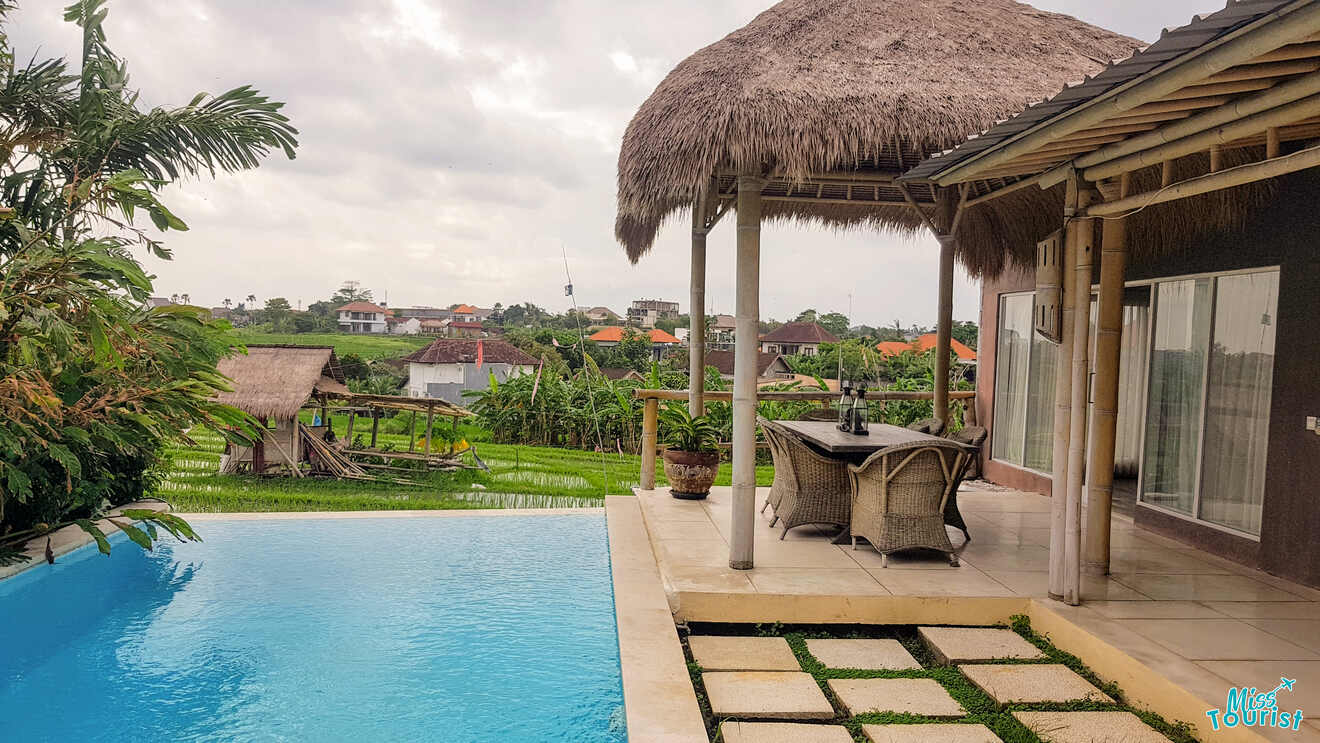 ❓ Why is Canggu, Bali so popular?
Canggu is one of the trendiest places to stay in Bali and is preferred by many digital nomads thanks to its great number of coworking places, cool cafes, and international restaurants. 
🧍‍♀️ What is there to do in Canggu, Bali alone?
There are so many activities to do in Canggu, Bali alone such as taking a surf or yoga class, having a walk on the beach, and discovering Instagrammable cafes. 
🌴 Where should I go – Canggu or Seminyak?
If you like a more modern and luxurious vibe I recommend staying in Seminyak and if you like hipster cafes and want to see rice fields, Canggu is a better place. The best hotels in Canggu are Aston Canggu Beach Resort and Theanna Eco Villa.
 👨‍👩‍👧‍👦 Is Canggu, Bali family-friendly?
Yes, there are many family-friendly hotels, restaurants, and attractions in Canggu, Bali. Hotel Tugu Bali and The Haven Suites are some of the good hotels to stay in Canggu with families. 
🤟 What is a must-do in Canggu, Bali?
Here are some of the must-do activities in Canggu:
● Visit Tanah Lot Temple
● Have a smoothie bowl in cool cafes
● Go to a beach club
● Spot rice fields and the street art 
● Watch the sunset in Canggu Beach
● Have Indonesian food in a warung
🤔 Is Canggu, Bali safe?
Yes, Canggu, Bali is a safe place to walk around. You just need to watch out for your valuable stuff while driving a scooter and make sure to put them under your seat. 
Conclusion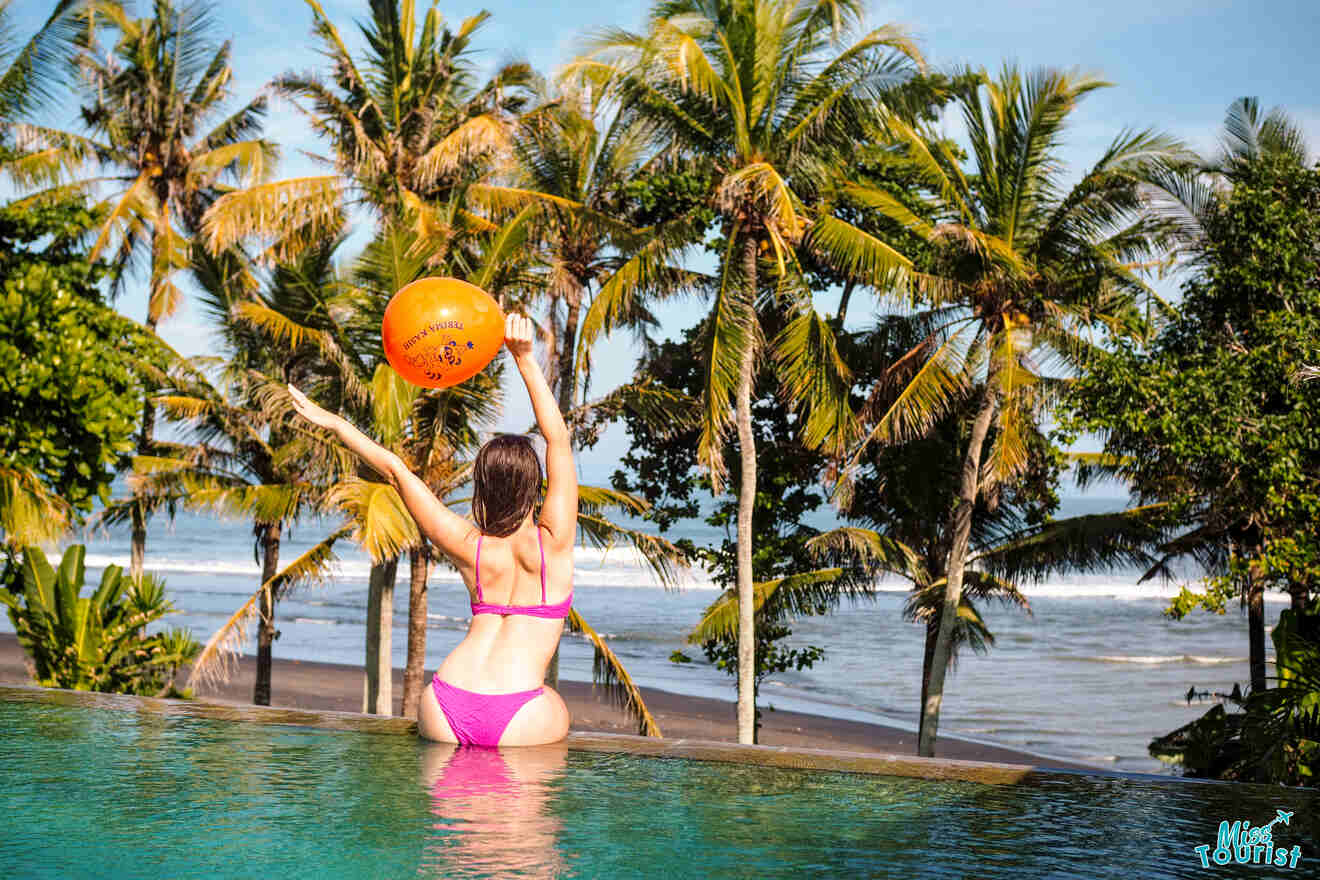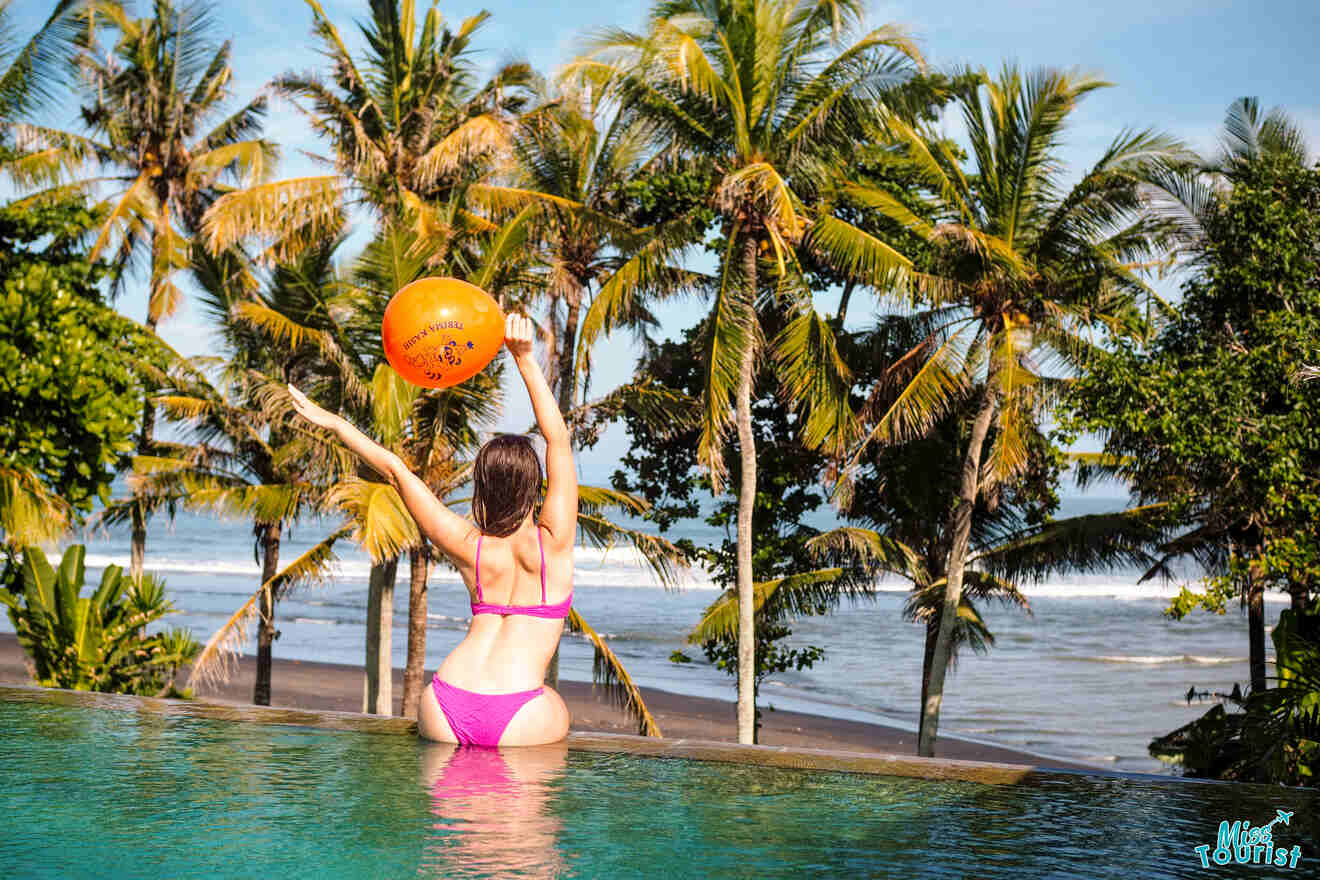 That was fun! Sadly this is where I leave you, dear travelers. I hope this blog post on what to do in Canggu, Bali helped you to prepare your travel itinerary.
I have no doubt that you will have a great time in Canggu, Bali, and will love your time here as much as I do. Take a lot of photos of your photogenic smoothie bowls, have fun passing the Canggu shortcut by your scooter, watch the sunset with a happy hour cocktail and enjoy the walks on the beaches!
If you plan to join a tour especially for Tanah Lot Temple make sure to book it in advance to avoid crowds and also book your hotel as Bali is one the most touristy destinations visited by travelers all year round.
If you have any questions or suggestions on what to do in Canggu, Bali please do not hesitate to leave a comment below. I will be more than happy to reply to them!
Enjoy your trip to Canggu,
Eylul
---
Pin it for later!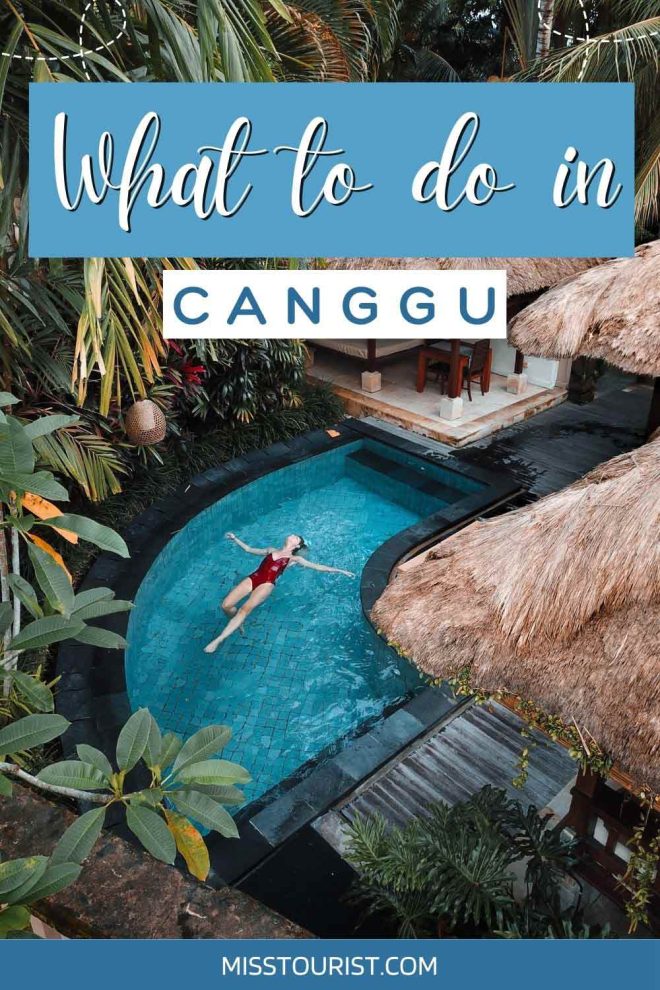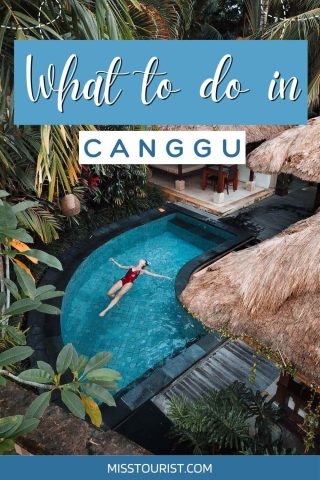 Pin it for later!