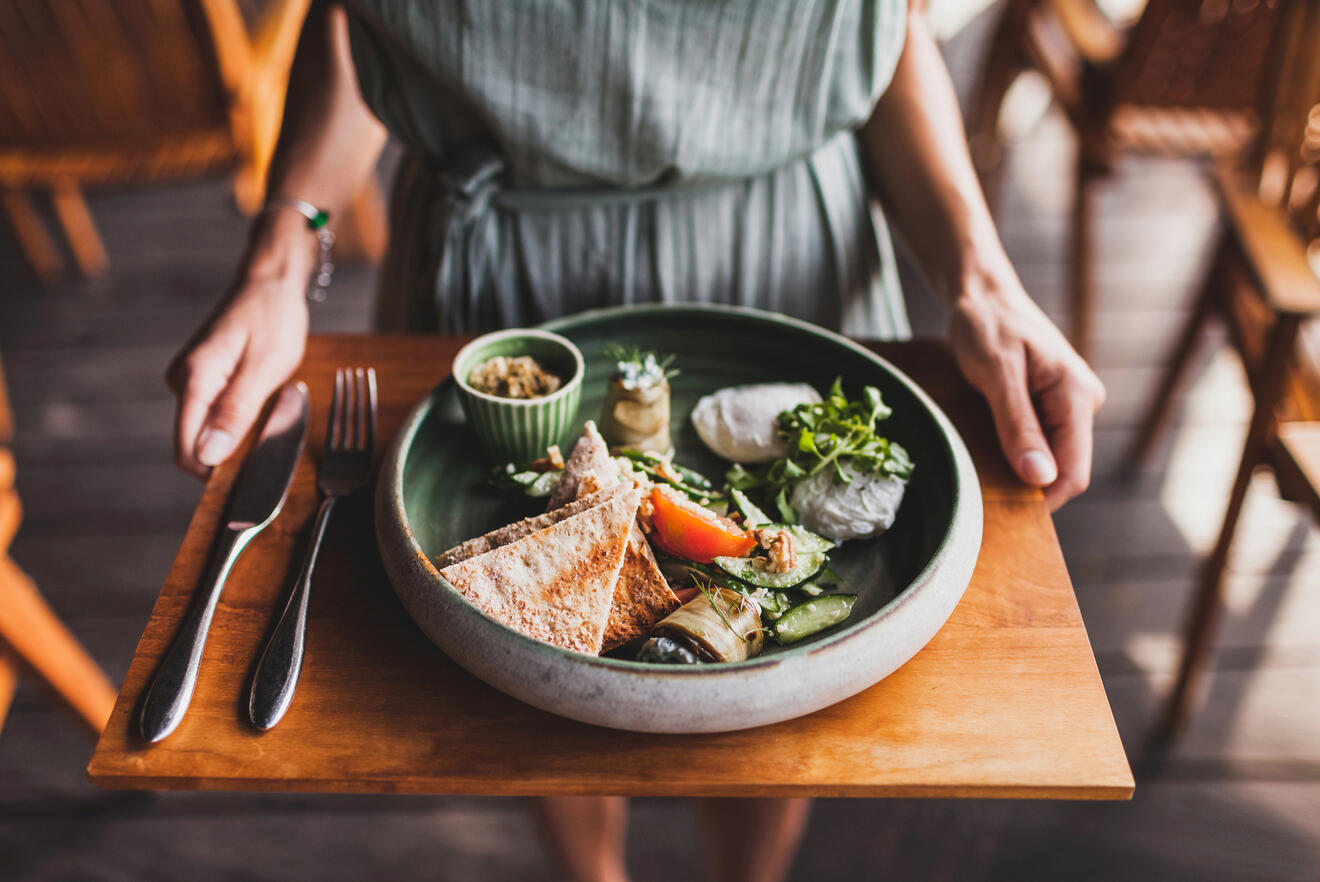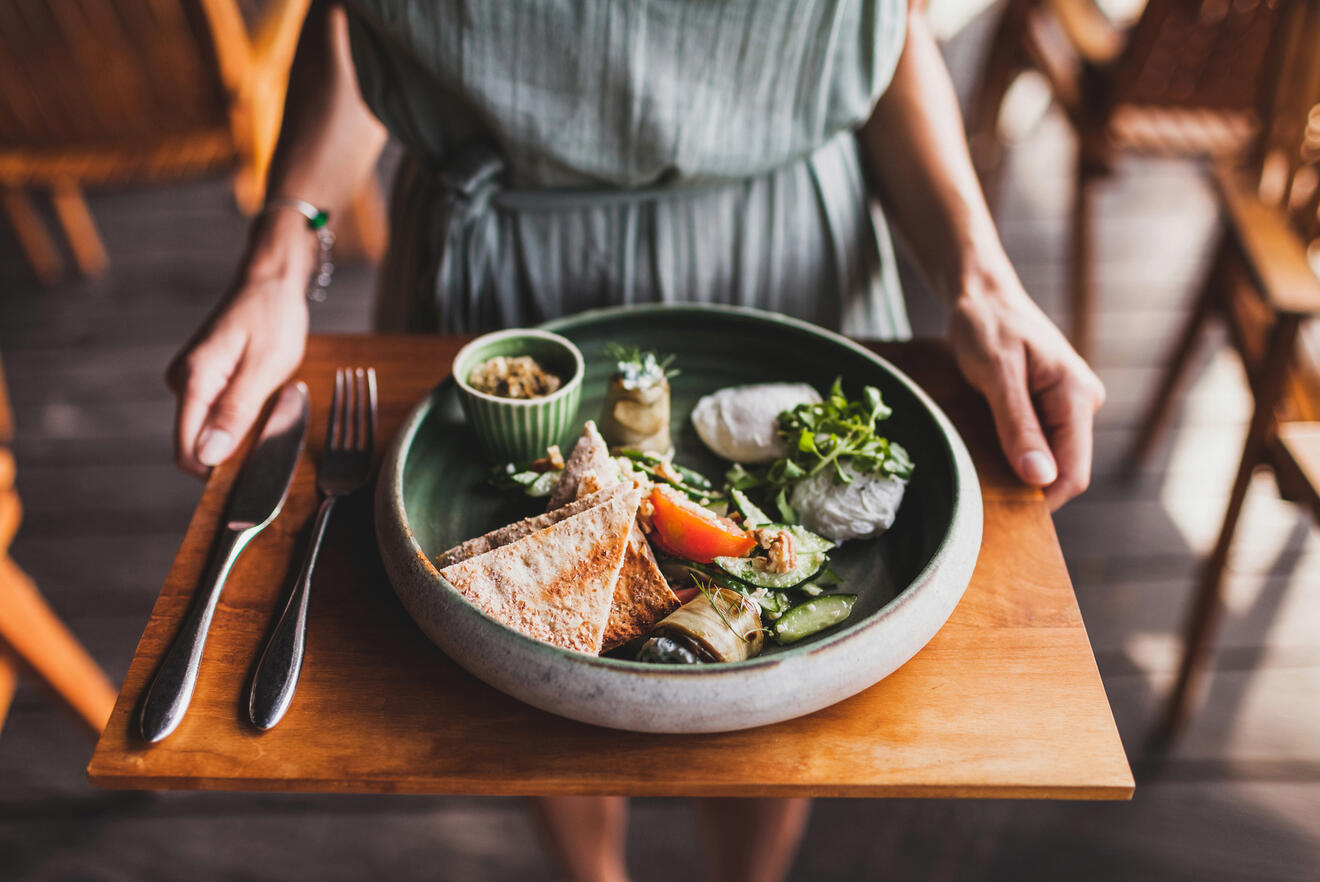 Are you ready for an epic food scene? Canggu is the best place in Bali to have all kinds of food in one place and you will go crazy with the selection of restaurants and cafes. I've been living here for quite some time and I am looking forward to sharing the best restaurants in Canggu with you!
Canggu is known for its Instagrammable cafes, all kinds of international restaurants, and cool coffee shops. Whether you wanna have a family feast, looking for a cafe to work, have a fancy dinner, or a vegan cafe, I've got you covered!
In this blog post on Canggu restaurant, I will share all my dining experiences with you, give you tips about where to eat and what to eat as well as where to go out for the vibrant nightlife. Even though it is hard to keep up with the food scene in Canggu as every day you can come across a new cafe, I've been to all of the places that I will talk about so I can guarantee that you won't be disappointed by any of it!
If you are ready, let's have a feast!
Best cheap restaurants in Canggu, Bali
The most budget-friendly places are local restaurants called "warung" but I've also picked some cool cafes offering tasty food for a good price in Canggu.
Best fine dining in Canggu, Bali
Want to dress up and have a fancy evening? Here are your top options for the best restaurants in Canggu for fine dining. And if you are looking for a luxury hotel to complete your experience, check out the best places to stay in Canggu!
Top vegan places to eat in Canggu, Bali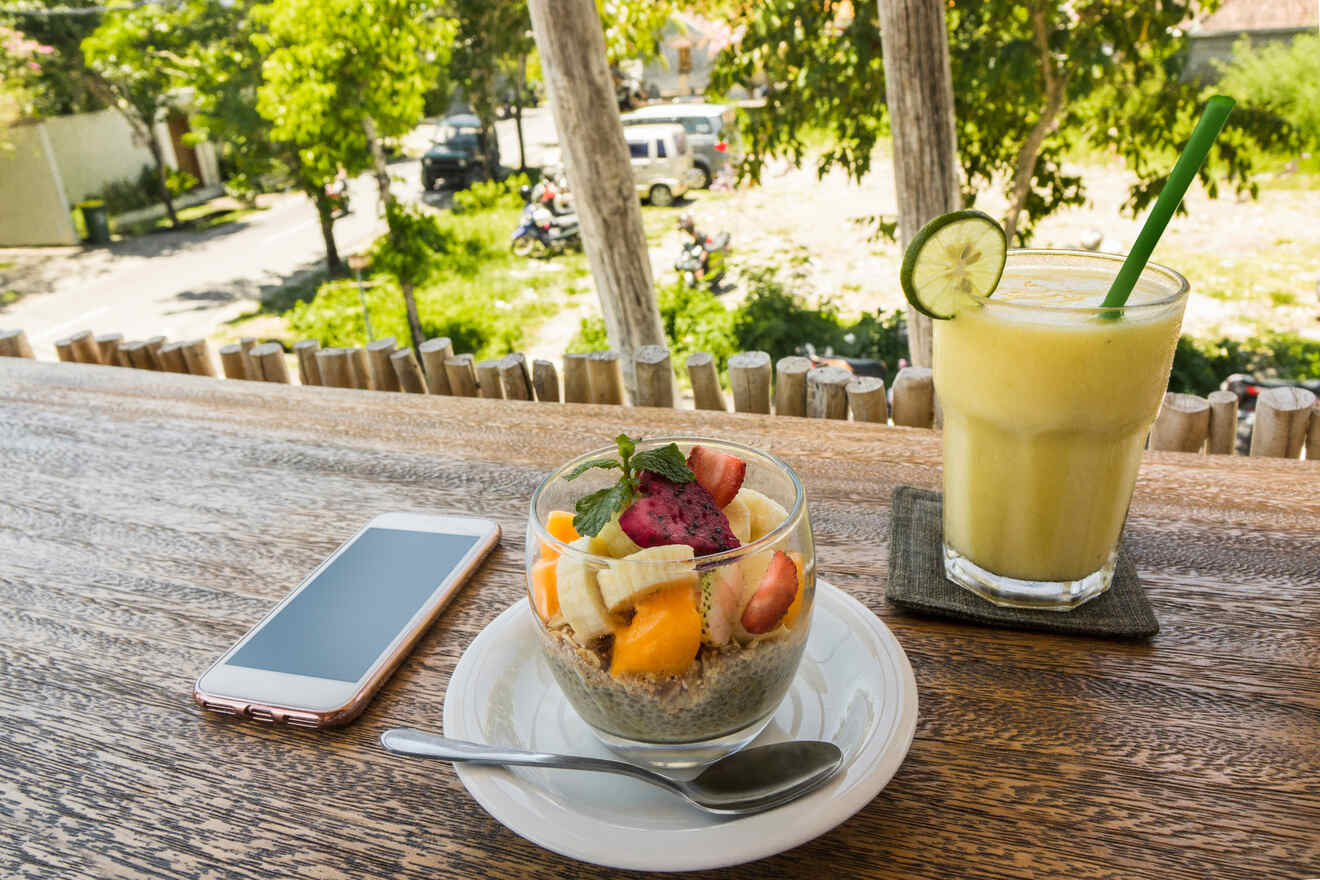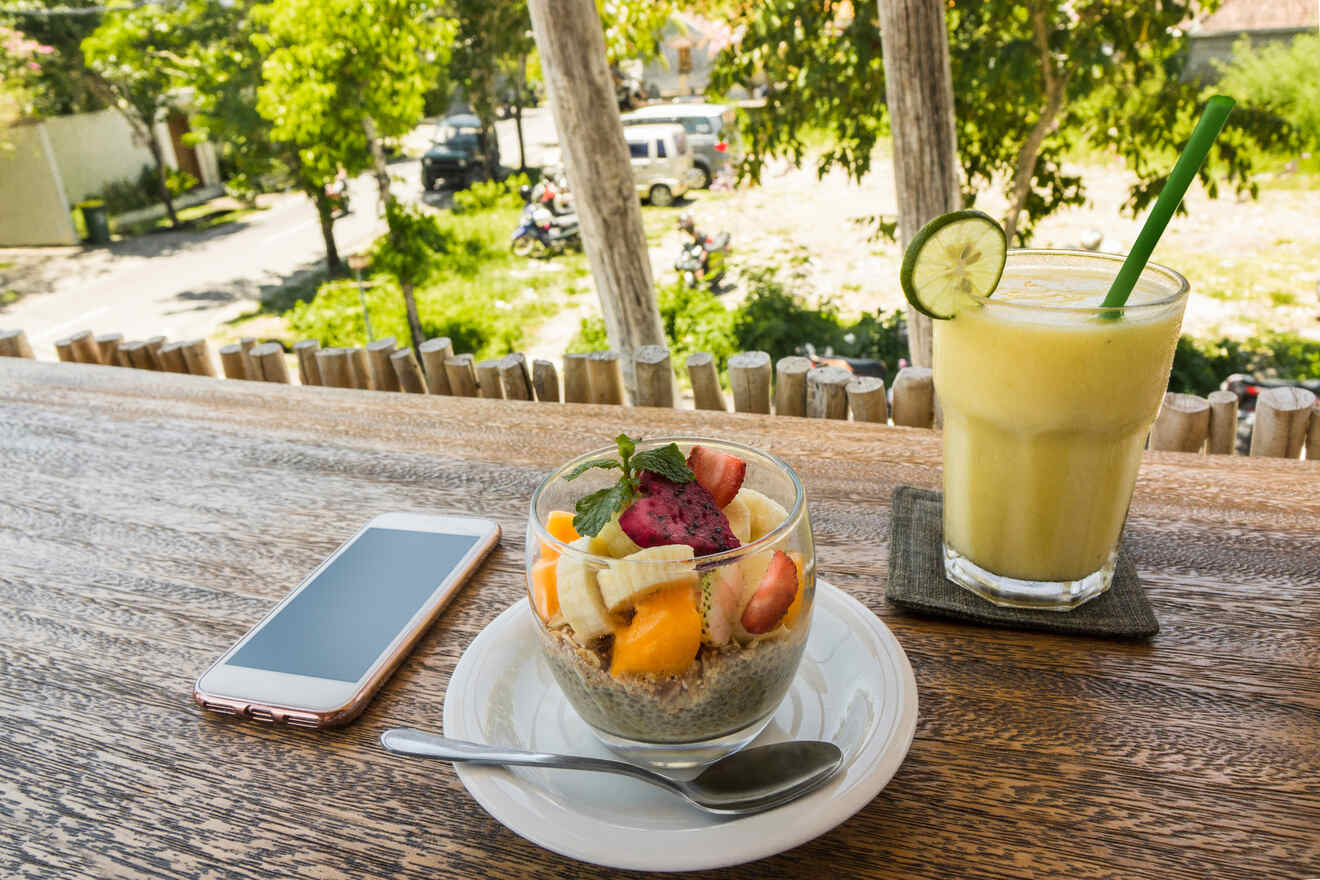 Canggu is a place where you won't have any difficulty finding vegan food. Even the non-vegans will love the food in these cafes because they are so delicious!
Best restaurants to watch the sunset in Canggu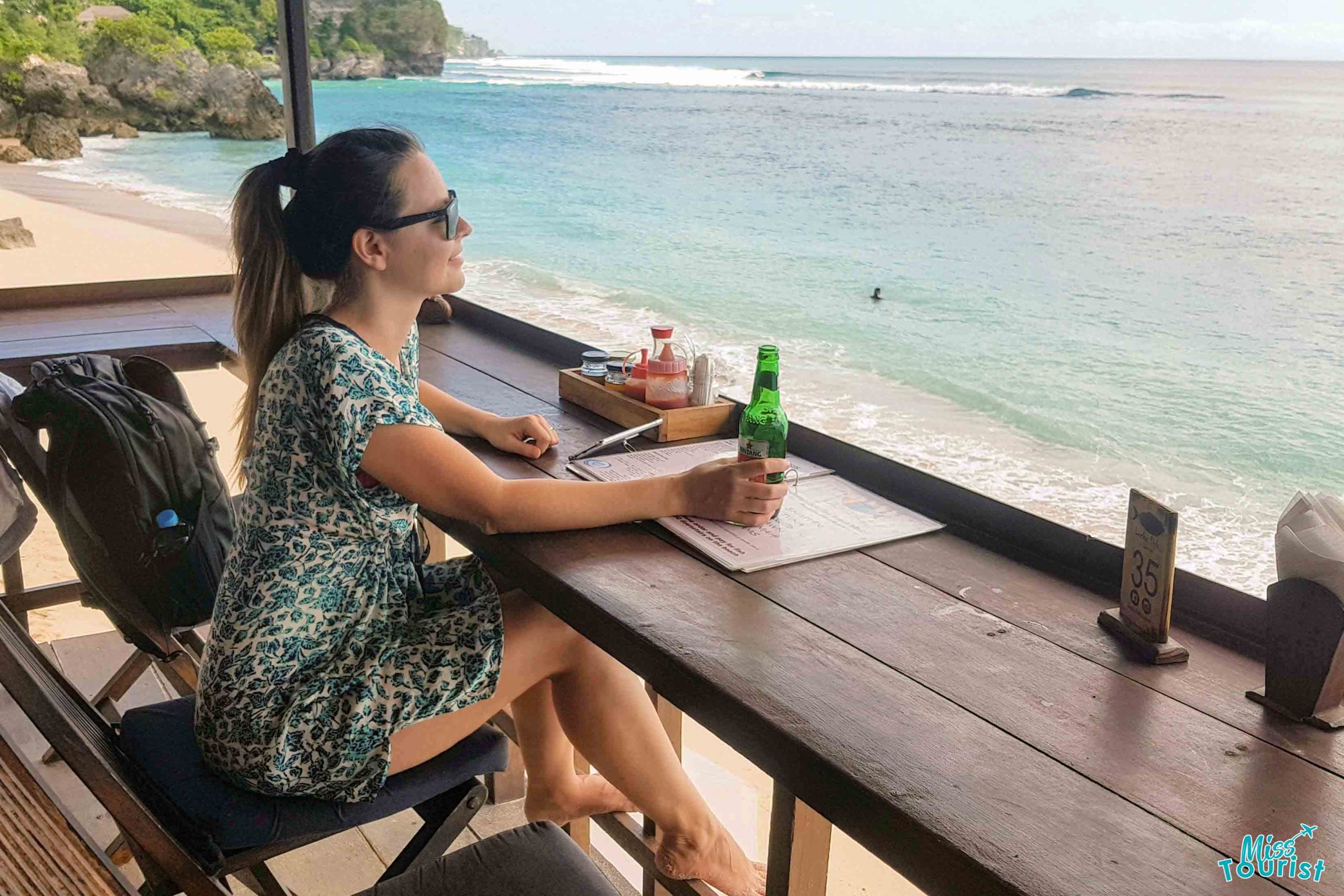 Bali has one of the best sunsets and watching the sun dip behind the horizon is one of the best things to do in Canggu. Let me talk about my top picks of places for you.
Best restaurants in Canggu, Bali for pizza
For sure Canggu has great Italian restaurants famous for their good pizza. Here are some of the best ones.
Best breakfast places in Canggu, Bali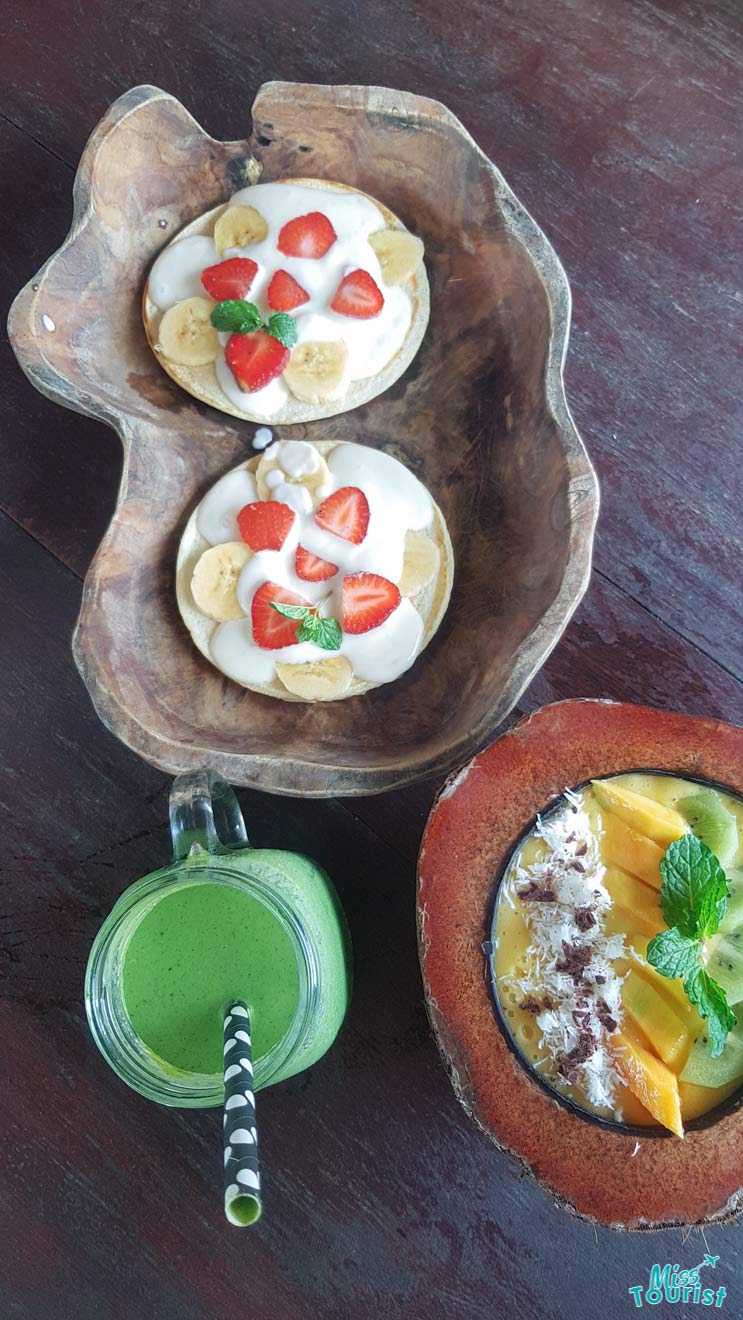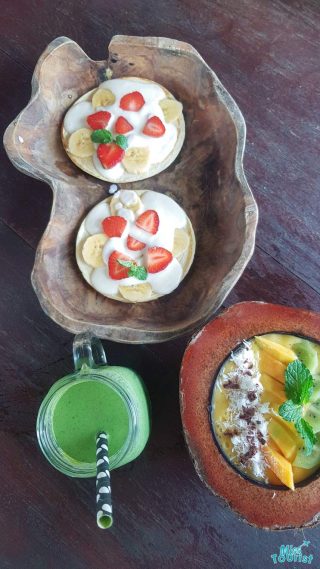 Breakfast is a big thing in Canggu. Whichever cafe you go to you will find a great breakfast menu but here are my top picks for you that you should definitely try their breakfast!
Best coffee shops in Canggu, Bali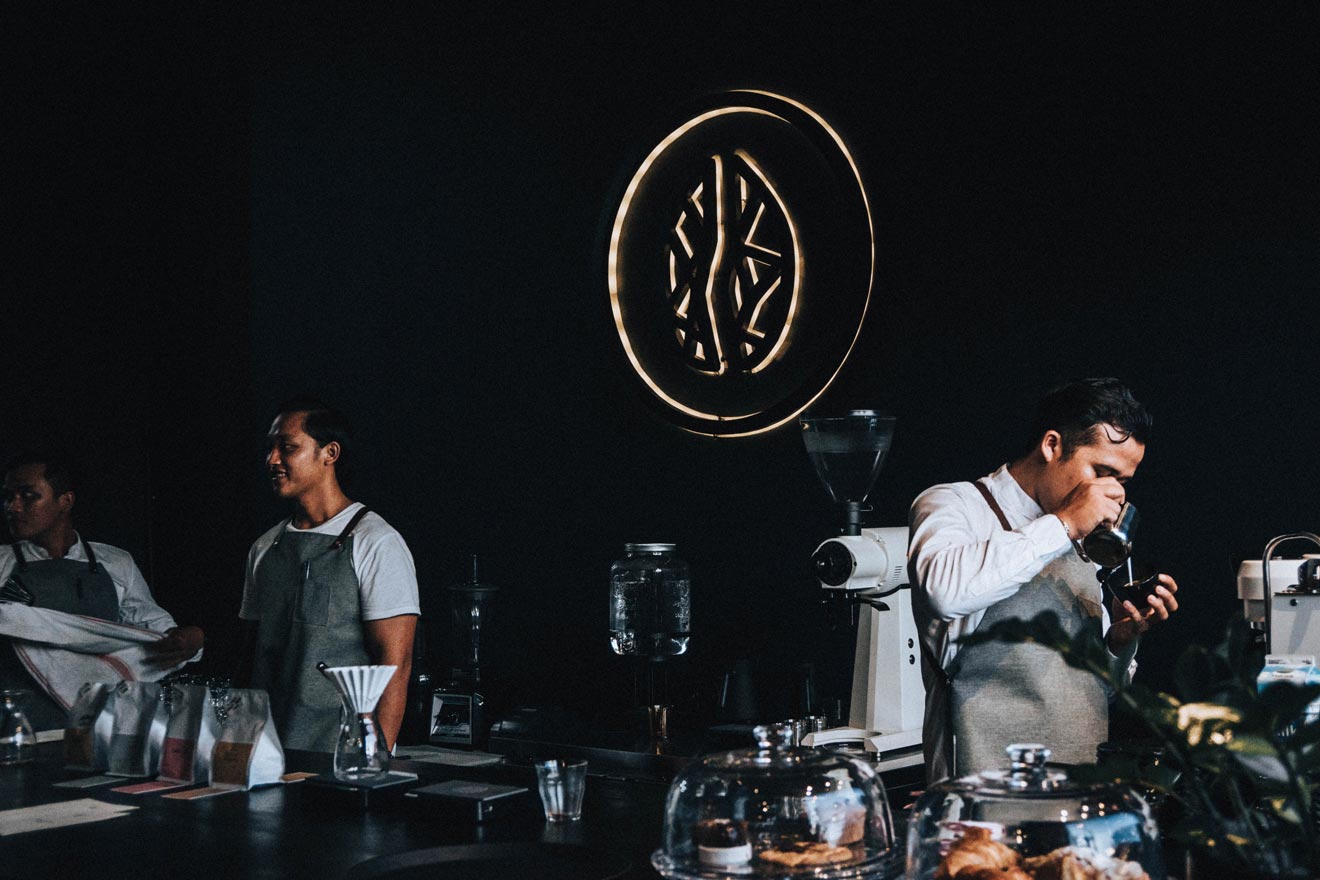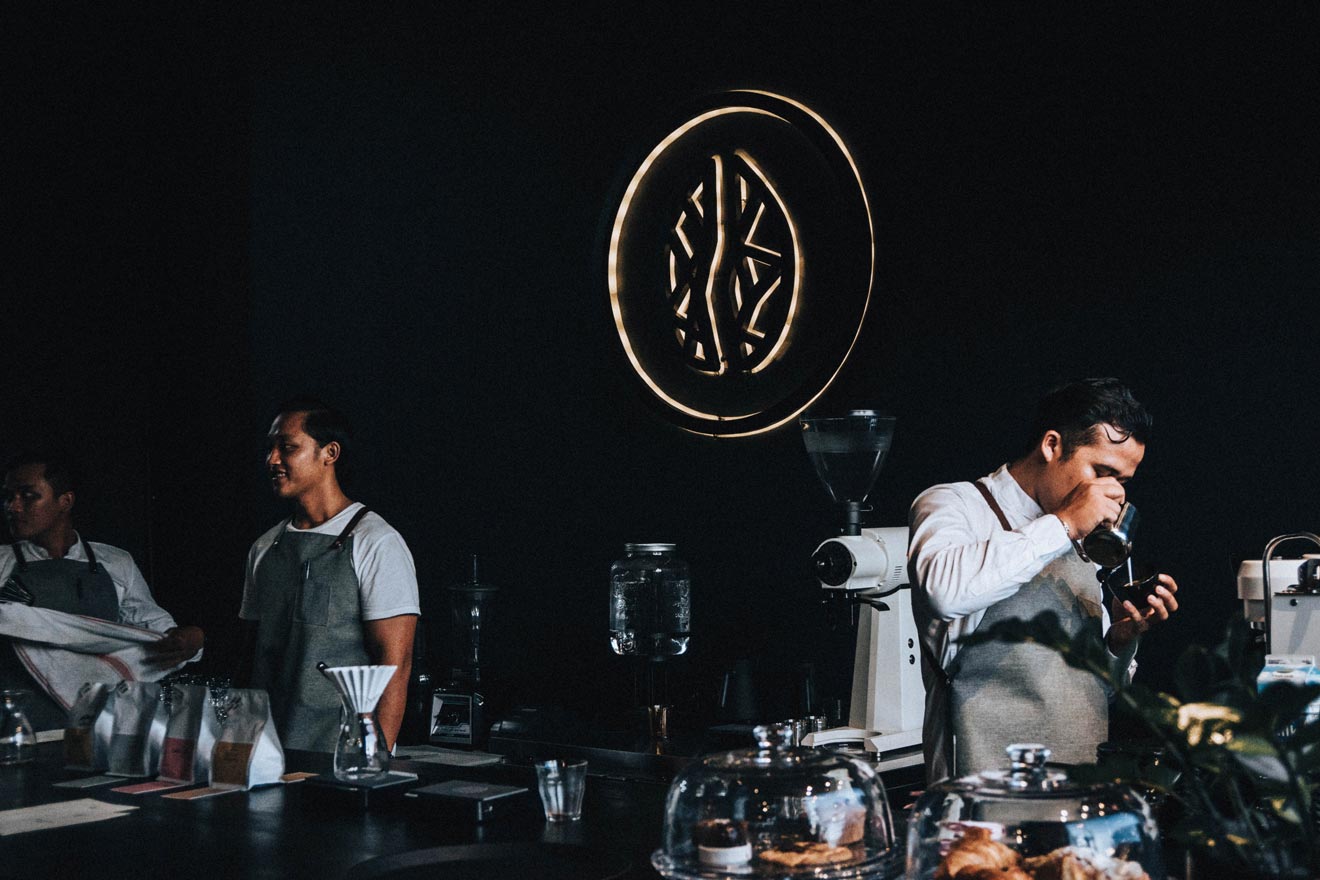 It is not possible to be disappointed with coffee in Canggu. You can easily find good coffee in every cafe but there are the best of the best ones that I want to share with you. Here you go:
Most Instagrammable cafes in Canggu, Bali
Canggu is famous for its Instagrammable cafes and restaurants. You will see so many cool places that have creative and unique designs. Here are the most Instagrammable places in Canggu not only have amazing decorations but also have amazing food presentations.
Best cafes to work from in Canggu
There is a reason that Canggu is the favorite place of many digital nomads. You will find more than enough cafes to work comfortably.
Best pubs in Canggu, Bali
Canggu has a very vibrant nightlife and I cannot skip the best pubs. If you are a beer fan you should definitely take a pint in these pubs.
Best beach clubs in Canggu, Bali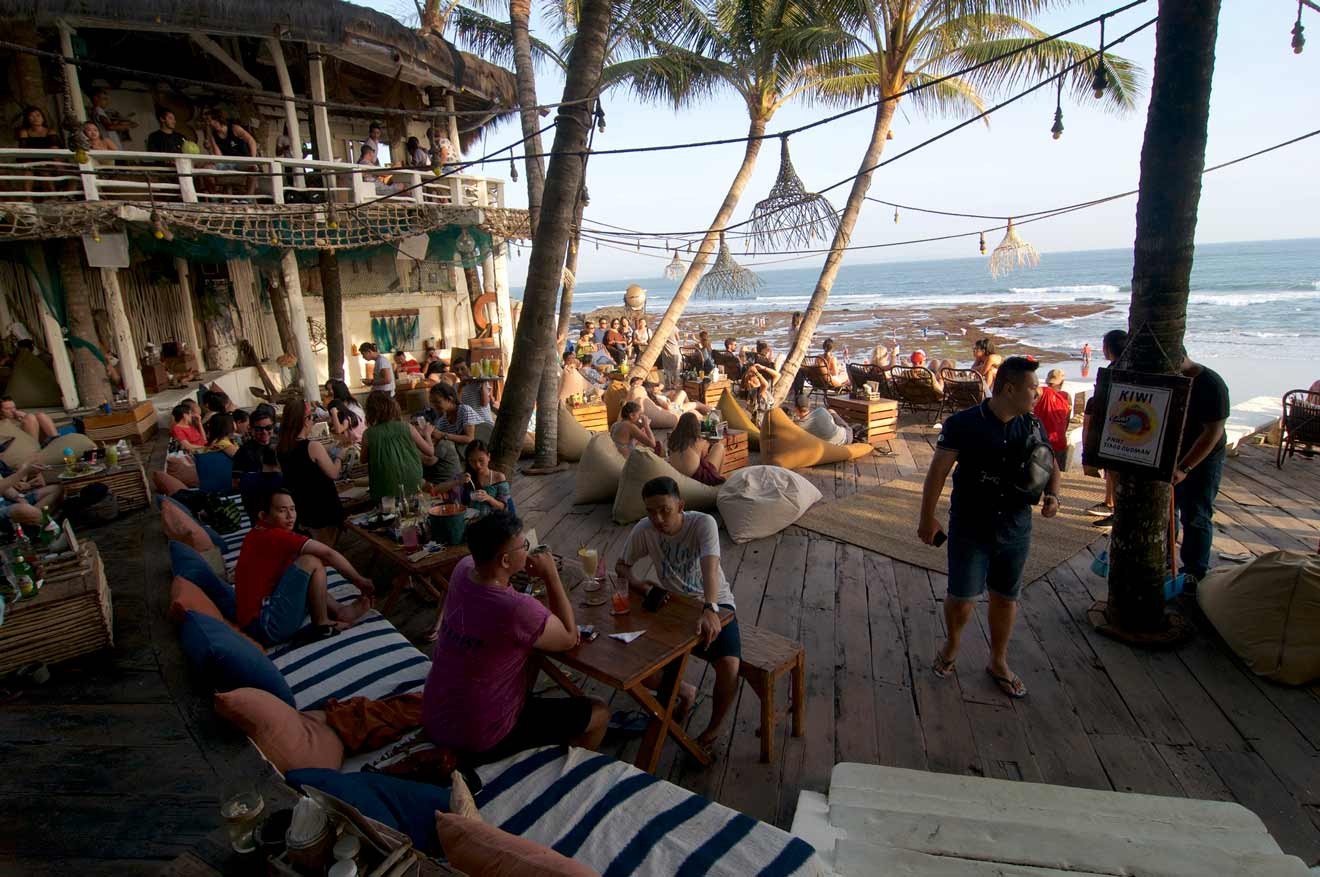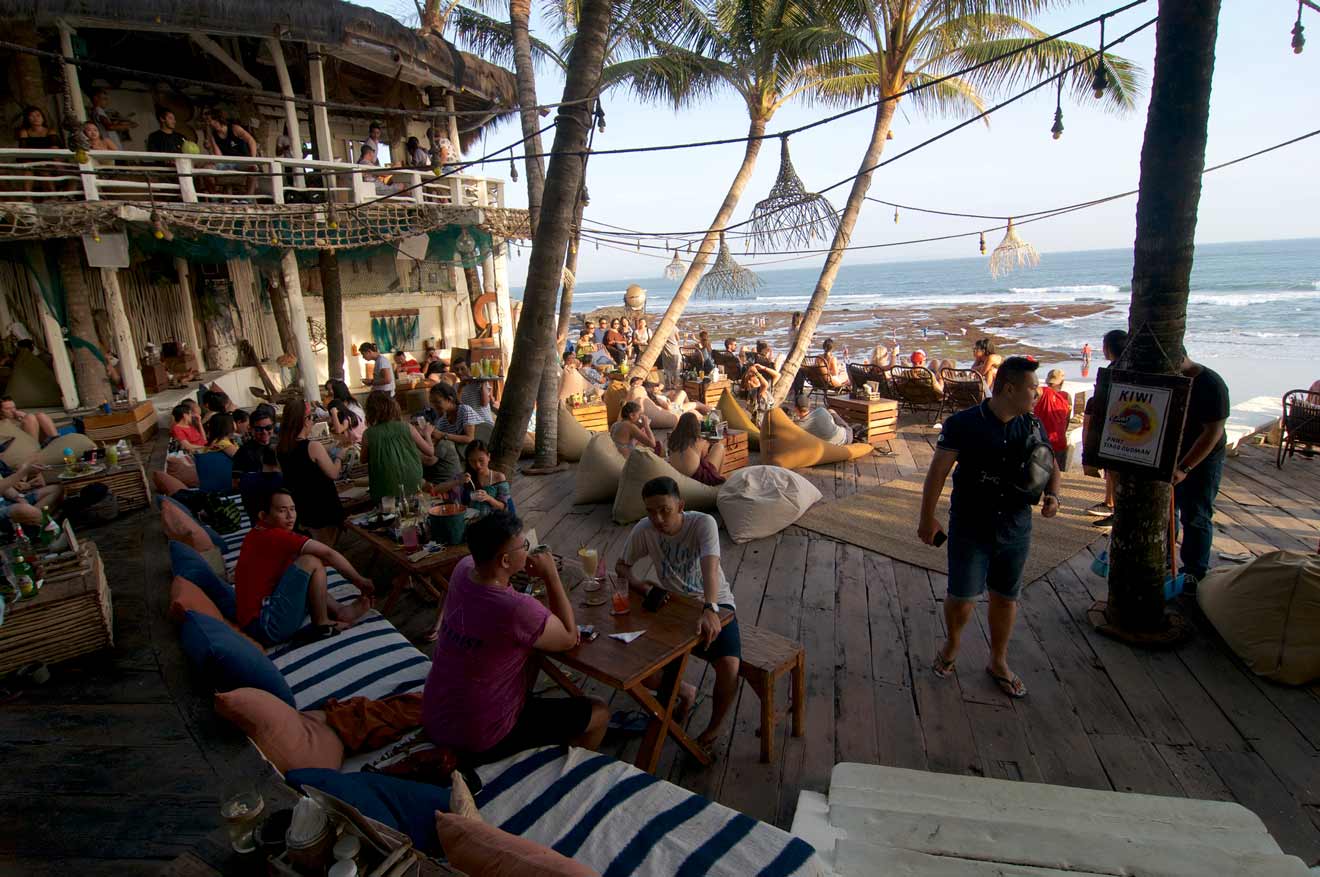 Of course, a trip to Canggu without visiting a beach club would not be acceptable. You will find the coolest and most fun beach clubs here where you can sunbathe by the ocean and have delicious food.
Best nightclubs in Canggu, Bali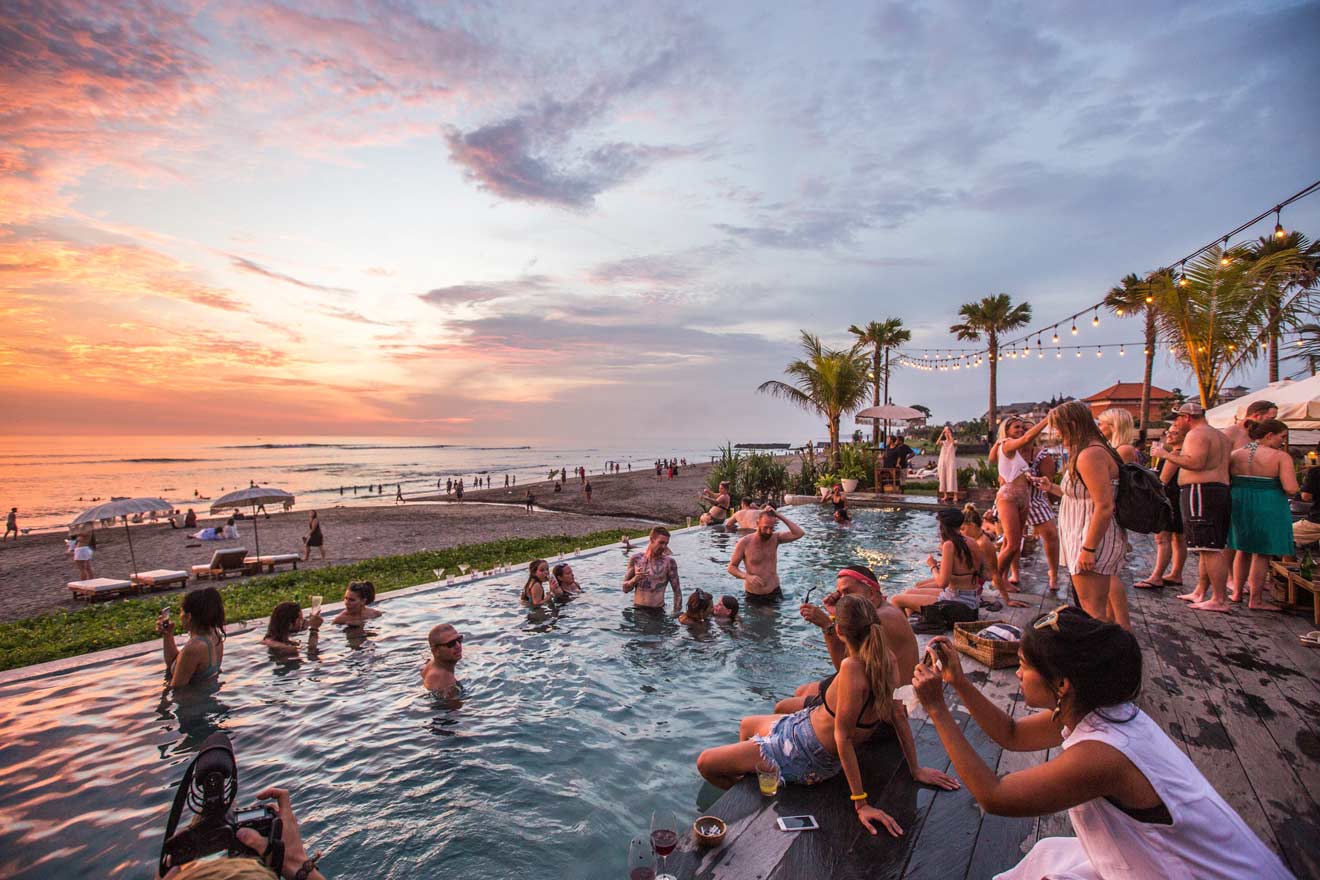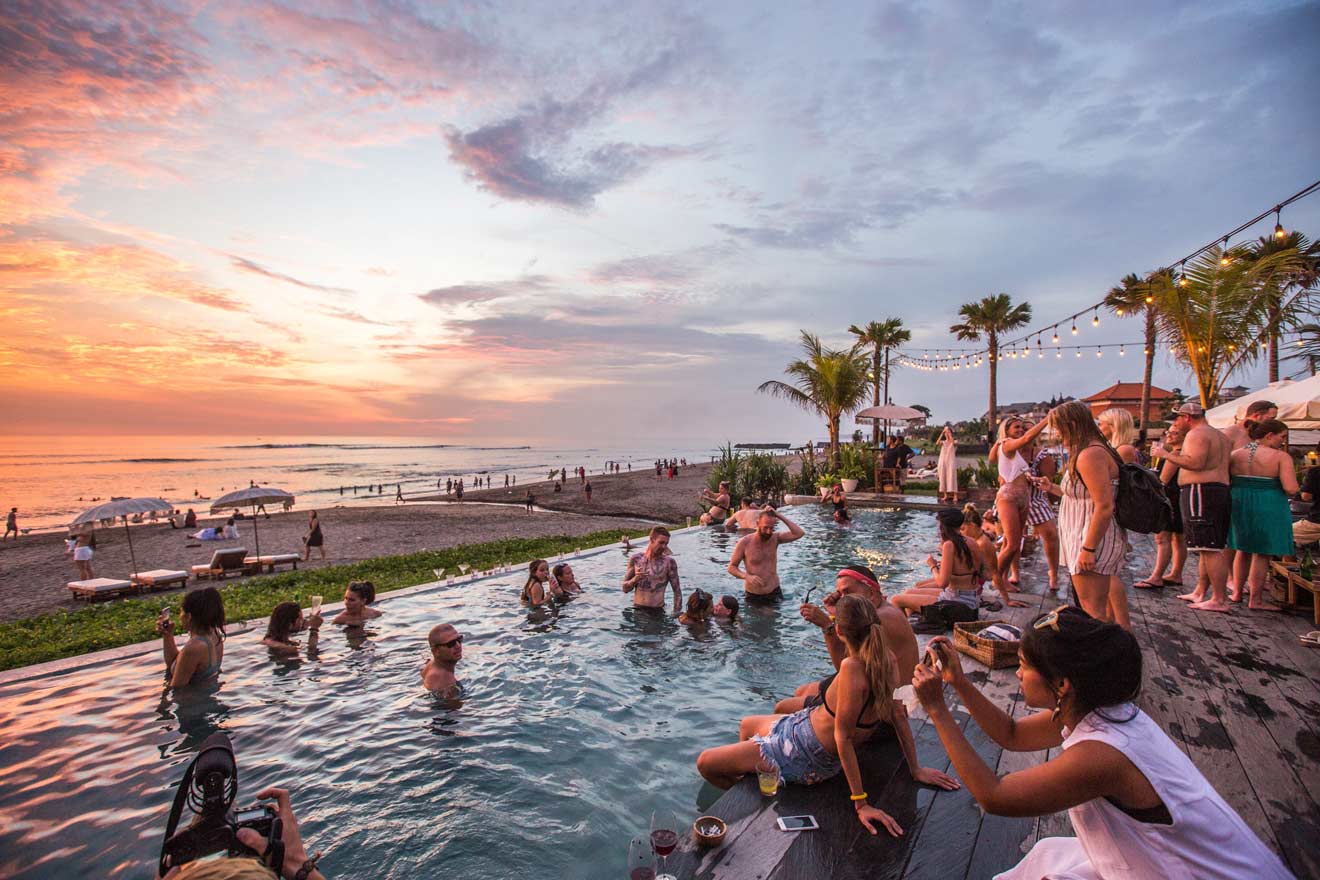 What to eat in Canggu, Bali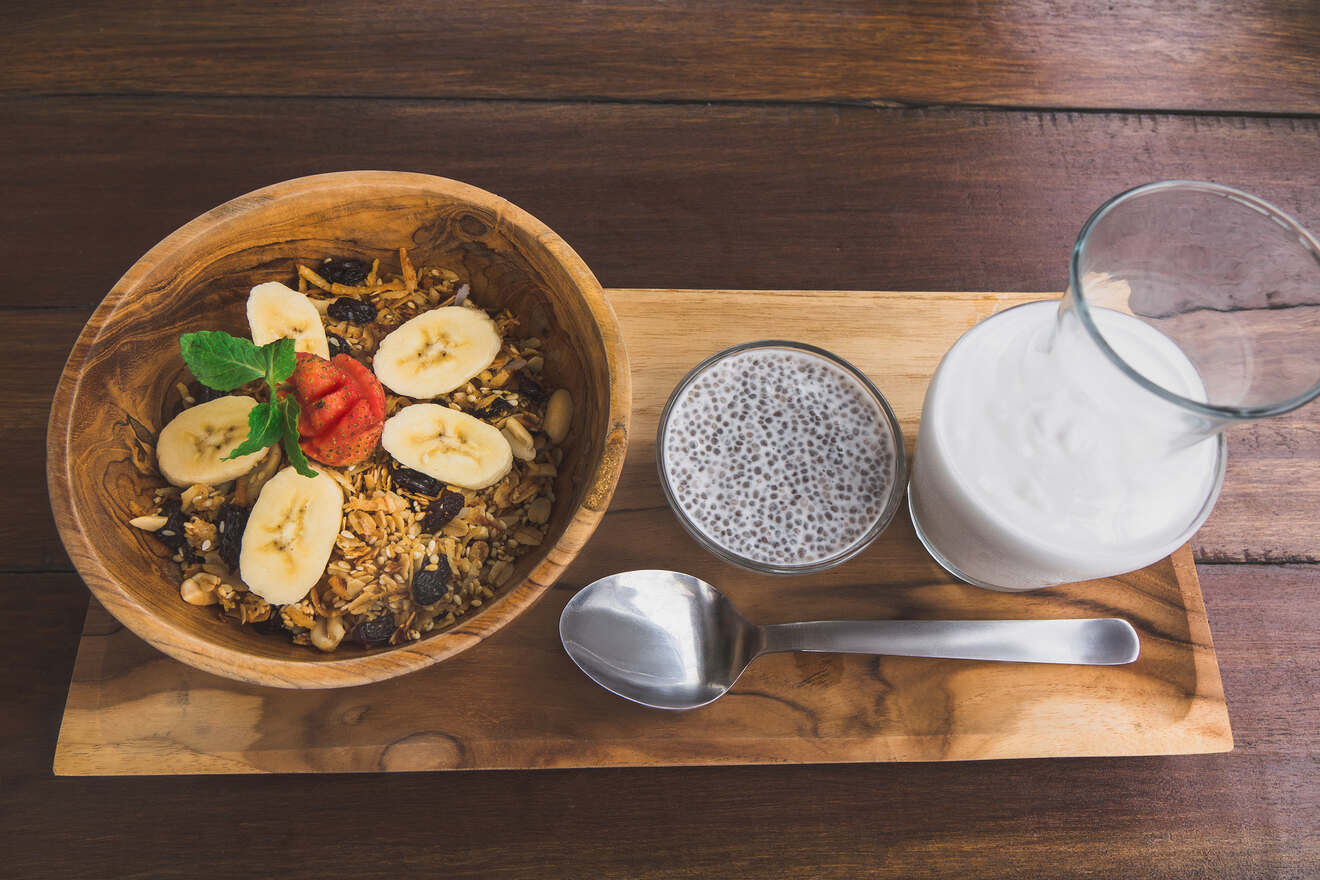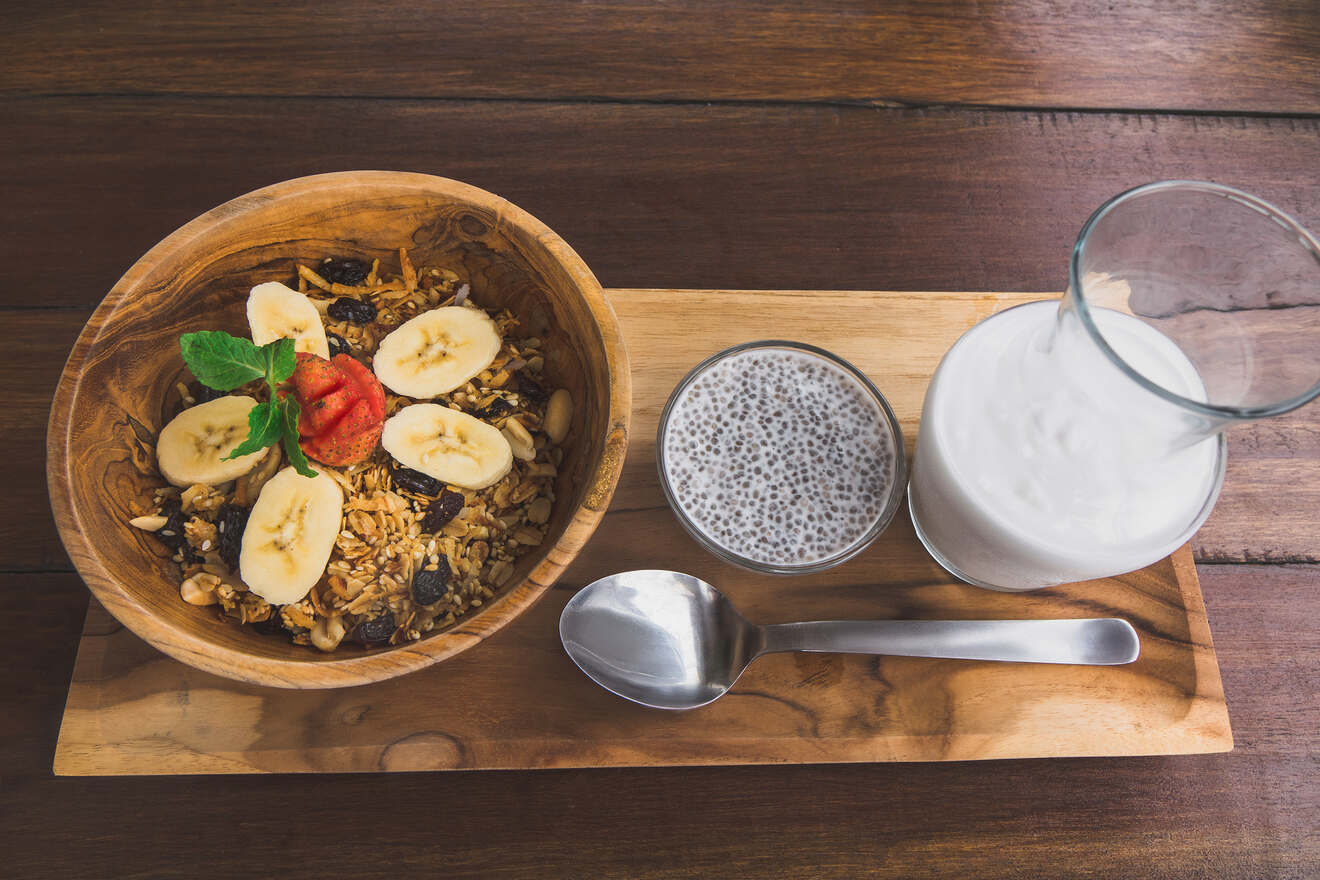 I am sure you'll be familiar with food names in many restaurants offering international cuisines but for those who want to taste some local food in Canggu, give these things a try!
Nasi goreng – most famous Indonesian food that is fried rice served with vegetables or choice meat and fried egg
Mie Goreng – fried noodle served with vegetables or choice meat and fried egg
Gado gado – Indonesian salad made with steamed vegetables and egg
Bakso – Indonesian meatball that you can buy from the street sellers
Satay – Indonesian grilled pork or lamb skewers
Ayam Goreng – deep-fried crispy chicken
Smoothie bowl – while it isn't a local food, Bali is famous for its smoothies topped with fruits, granola, and nuts
Some useful information about restaurants in Canggu, Bali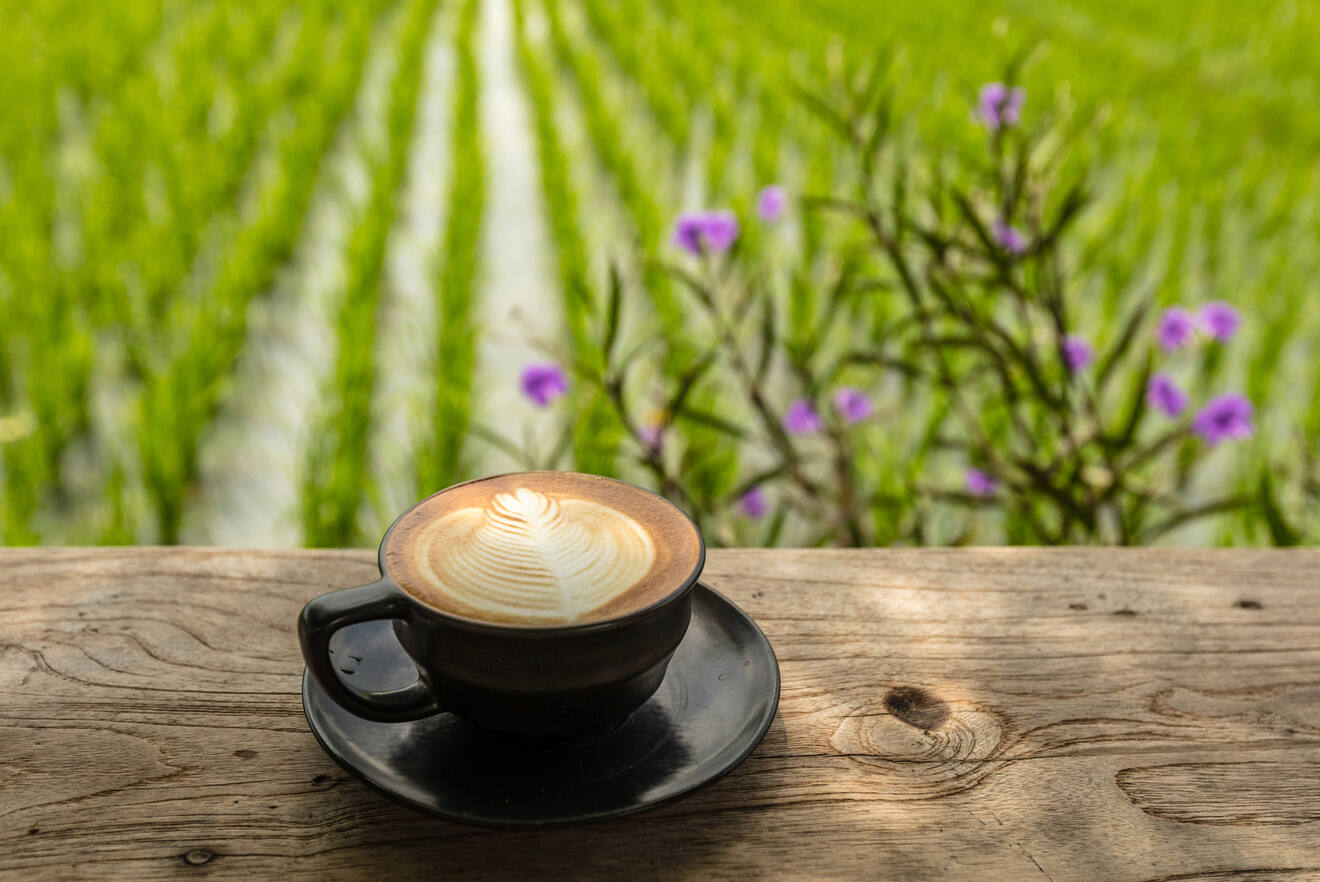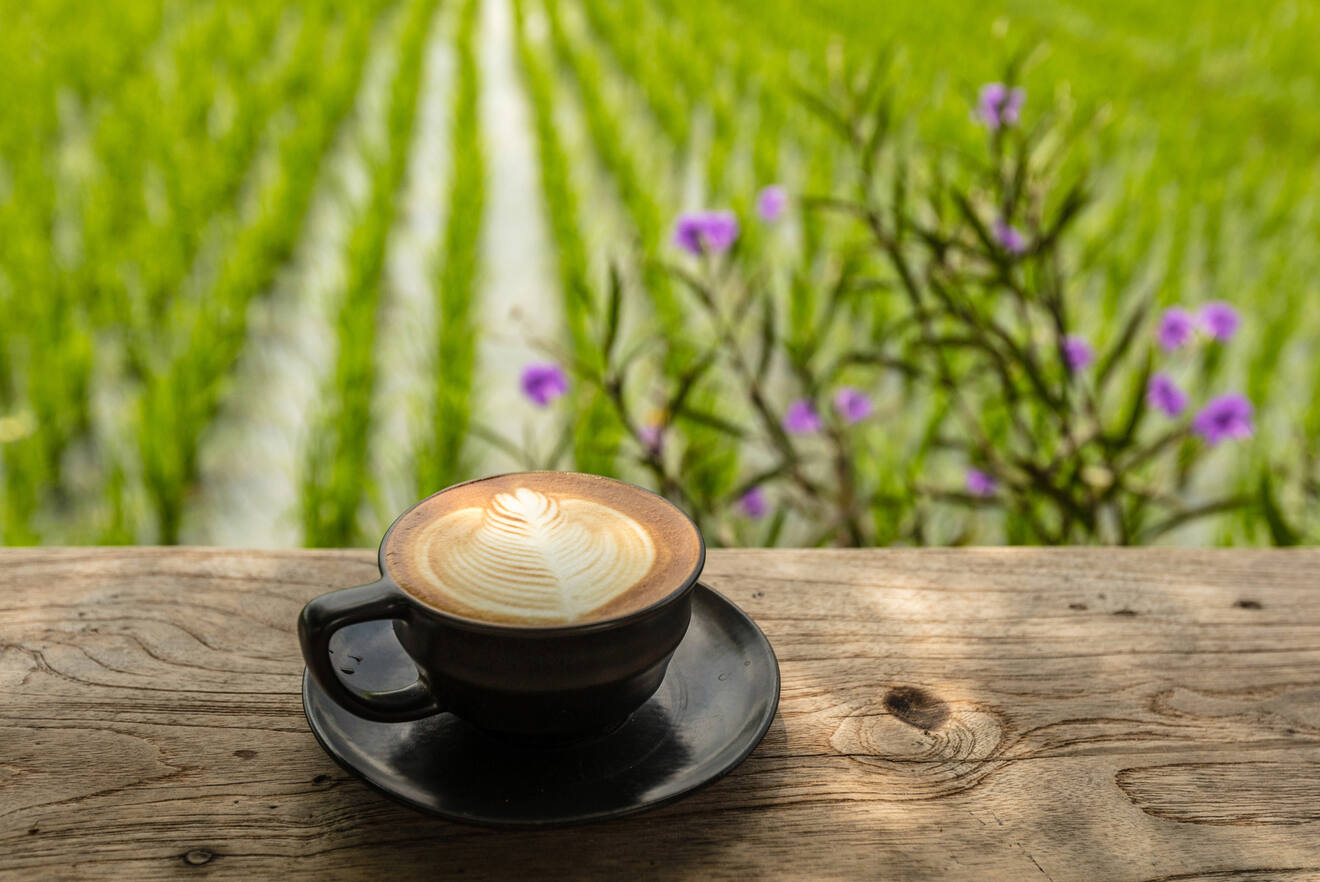 Here is some information that might be helpful while discovering the food scene in Canggu.
Tipping
Tipping is not mandatory nor expected most of the time in Canggu, Bali, but would always be appreciated as local workers are often paid a very low wage.
Food Delivery Apps in Canggu
There are two delivery apps you can use in Canggu which are Grab and GoJack. They both have English versions and deliver all around the Canggu area within 40 minutes. Many of the restaurants I talked about before also have delivery services within these apps.
Prices
I would say that food prices are quite cheap in Canggu but still more expensive than in other areas of Indonesia. Only the alcohol prices like wine and cocktails in nightclubs might be a bit relatively expensive.
Let me give you an average price of a meal and a drink would cost in Canggu for you to have an idea:
Local Restaurant: 20k IDR (US$2) – 40 IDR (US$3)
International cafes and restaurants: 100k IDR (US$7) – 150 IDR (US$10)
Fine Dining Restaurant: 300k IDR (US$20) – 500 IDR (US$35)
Coffee & Croissant: 50k IDR (US$4) – 80 IDR (US$7)
Frequently Asked Questions About Eating Out in Canggu, Bali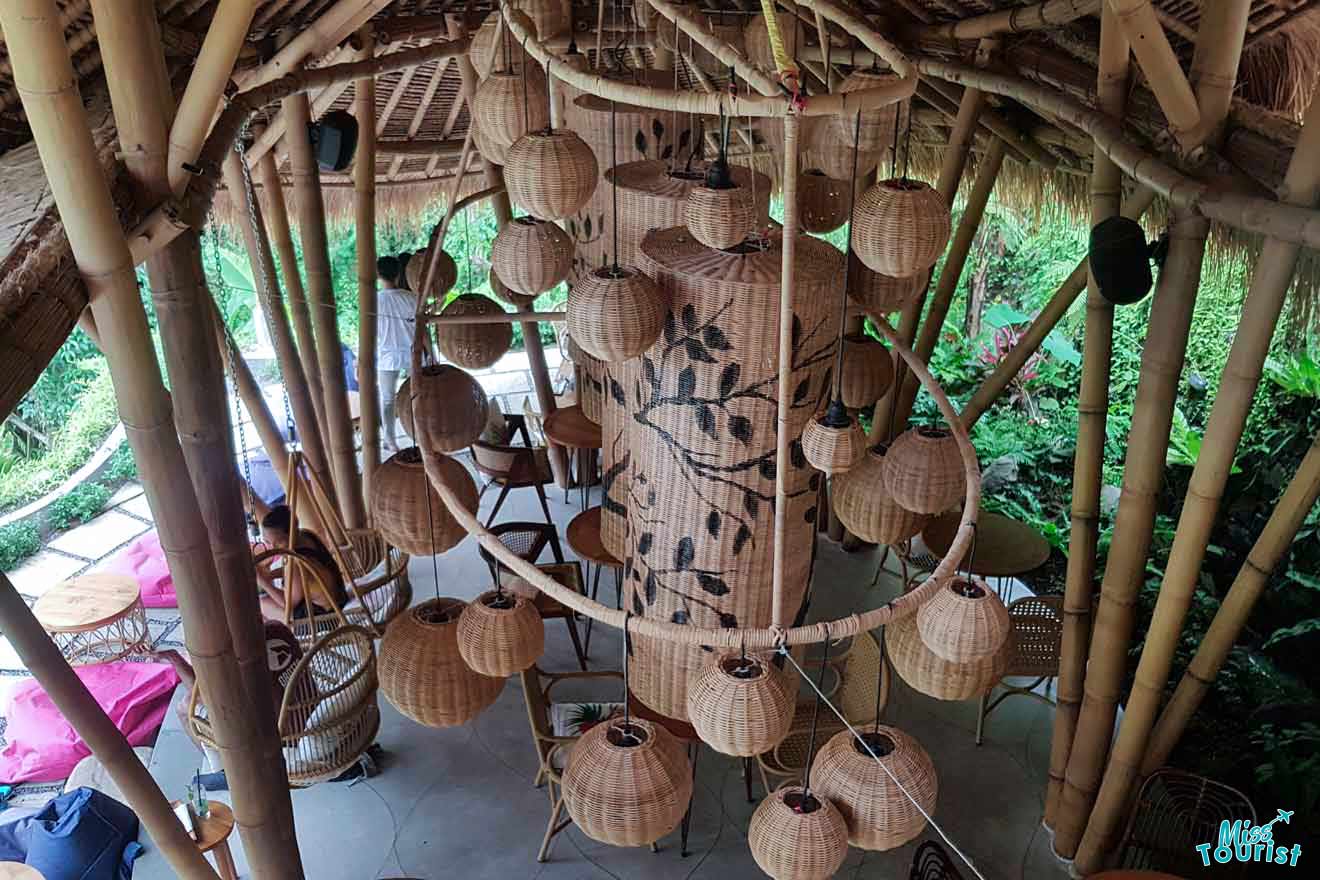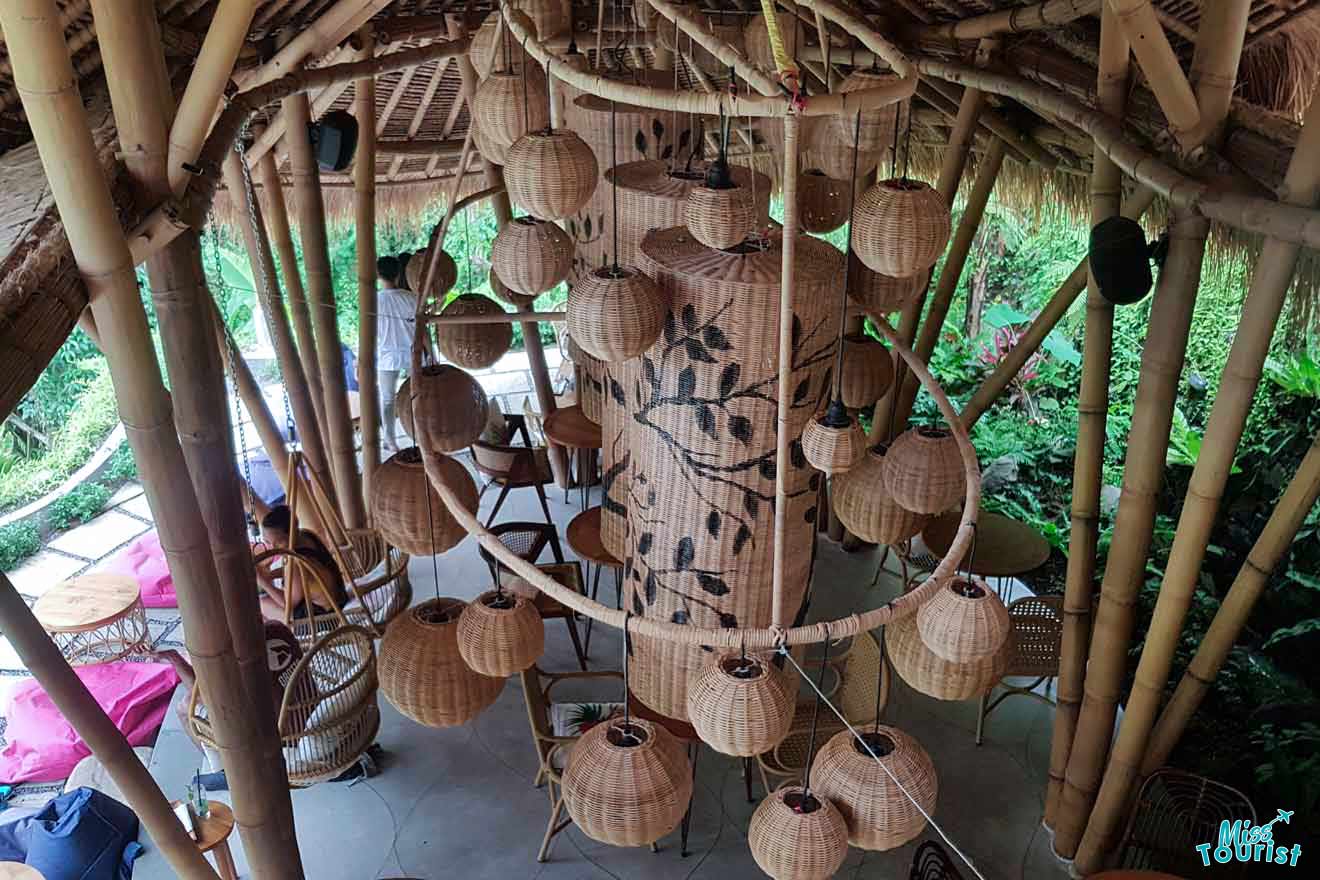 ☕ What is the best coffee shop in Canggu, Bali?
Crate Cafe, BGS Canggu, Cinta Cafe, and The Hula are some of the best coffee shops in Canggu that have a great selection of good coffee. 
🍸 What is the best nightclub in Canggu, Bali? 
The Lawn, The Vault, Warehouse, and Morabito are some of the best nightclubs in Bali offering DJ events. 
💰 What should I eat on a budget in Canggu, Bali?
Nasi Goreng and Mia Goreng are delicious and affordable Indonesian food that you can eat for 20k IDR (US$2). 
👧🏻 What is the best kids-friendly cafe in the Canggu area?
La Baracca, Times Beach Warung, and Moana Fish Eatery are the best family-friendly restaurants in Canggu that have spacious areas for families and kid-friendly menus. 
🌱 What are the best vegan cafes in Canggu, Bali?
The Shady Shack, I am Vegan Babe, The Sloth, and Living Food Lab are the best vegan Cafes in the Canggu area with a great selection of tasty vegan food that I highly recommend. 
🤔 How Can I order food in Canggu, Bali?
You can order food at your place by using the Grab and Go Jek apps. Many of restaurants are available on these apps and they almost deliver everywhere in the Canggu area.
Conclusion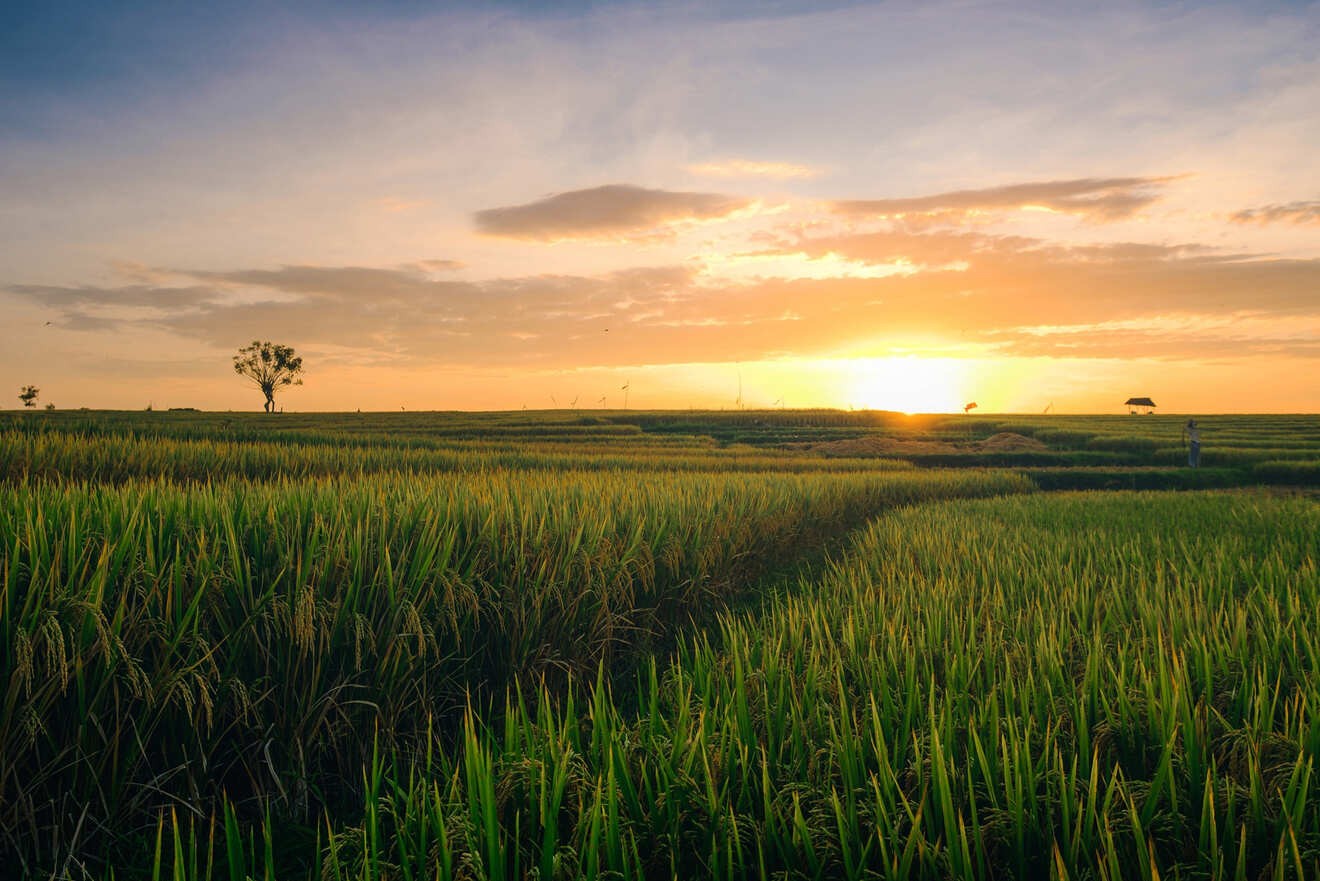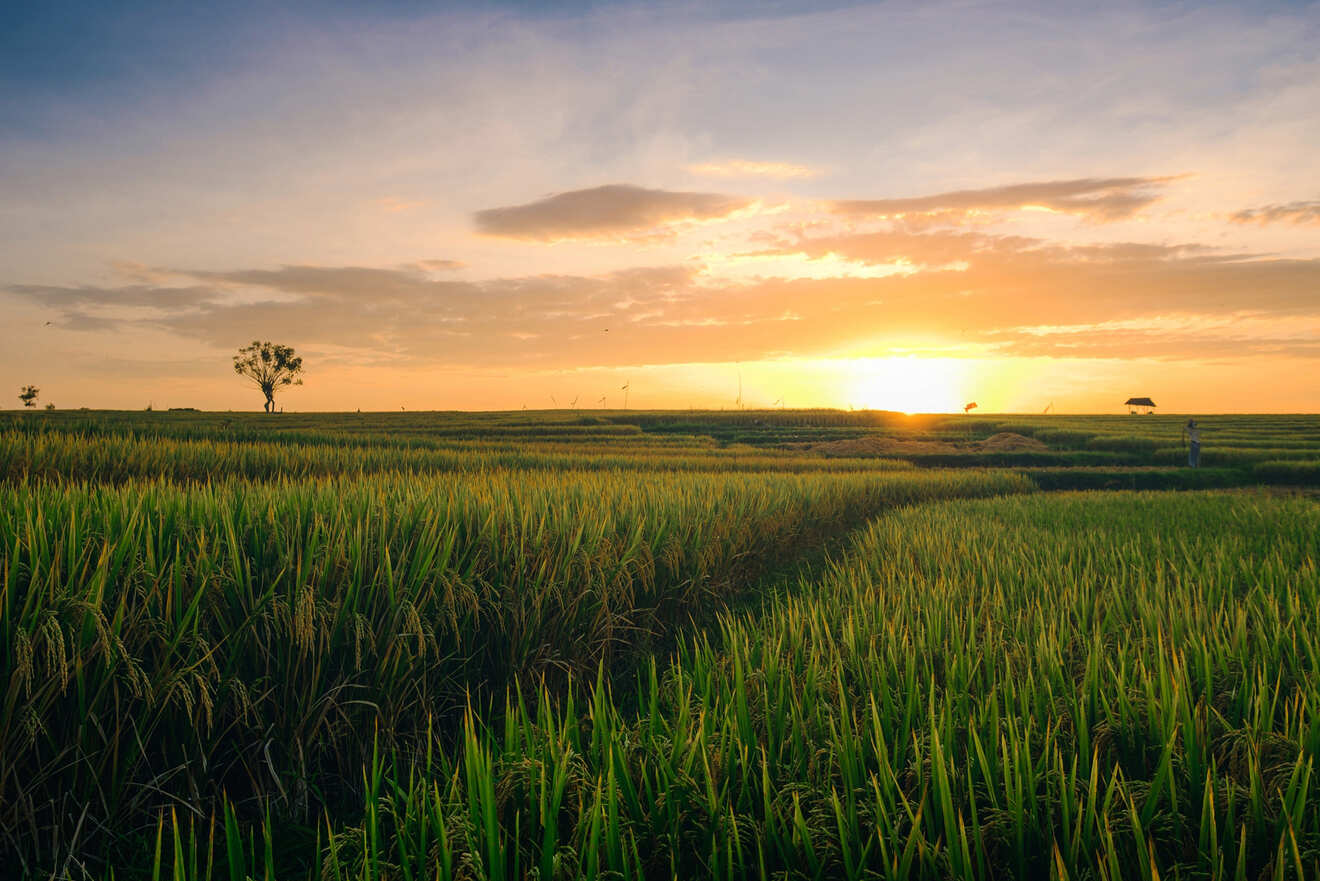 Now I am hungry. I have no doubt that you will have so much fun while discovering the best restaurants in Canggu. Try to make the most of it by taking a lot of Instagram photos, having sunset drinks, and enjoying the delicious food!
I hope this blog post about the best restaurants in Canggu helped you to make a list of things to try during your visit to Canggu and you already know where to have a coffee, breakfast, and party!
Enjoy your time in Canggu, Bali, and let me know if you have any more questions or suggestions about the best restaurants in Canggu by leaving a comment below. I will be more than happy to give a reply!
Bon Appetit,
Eylul