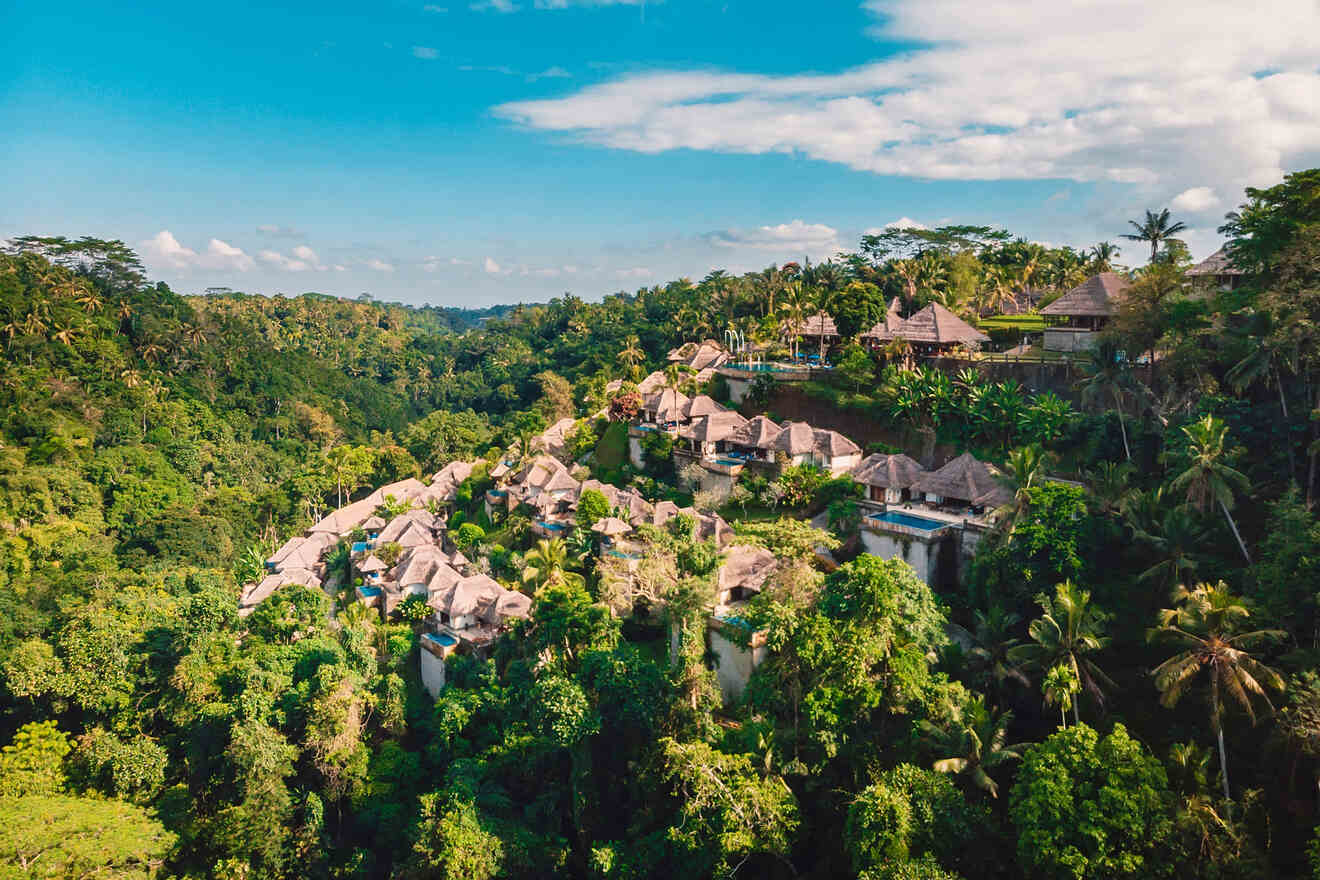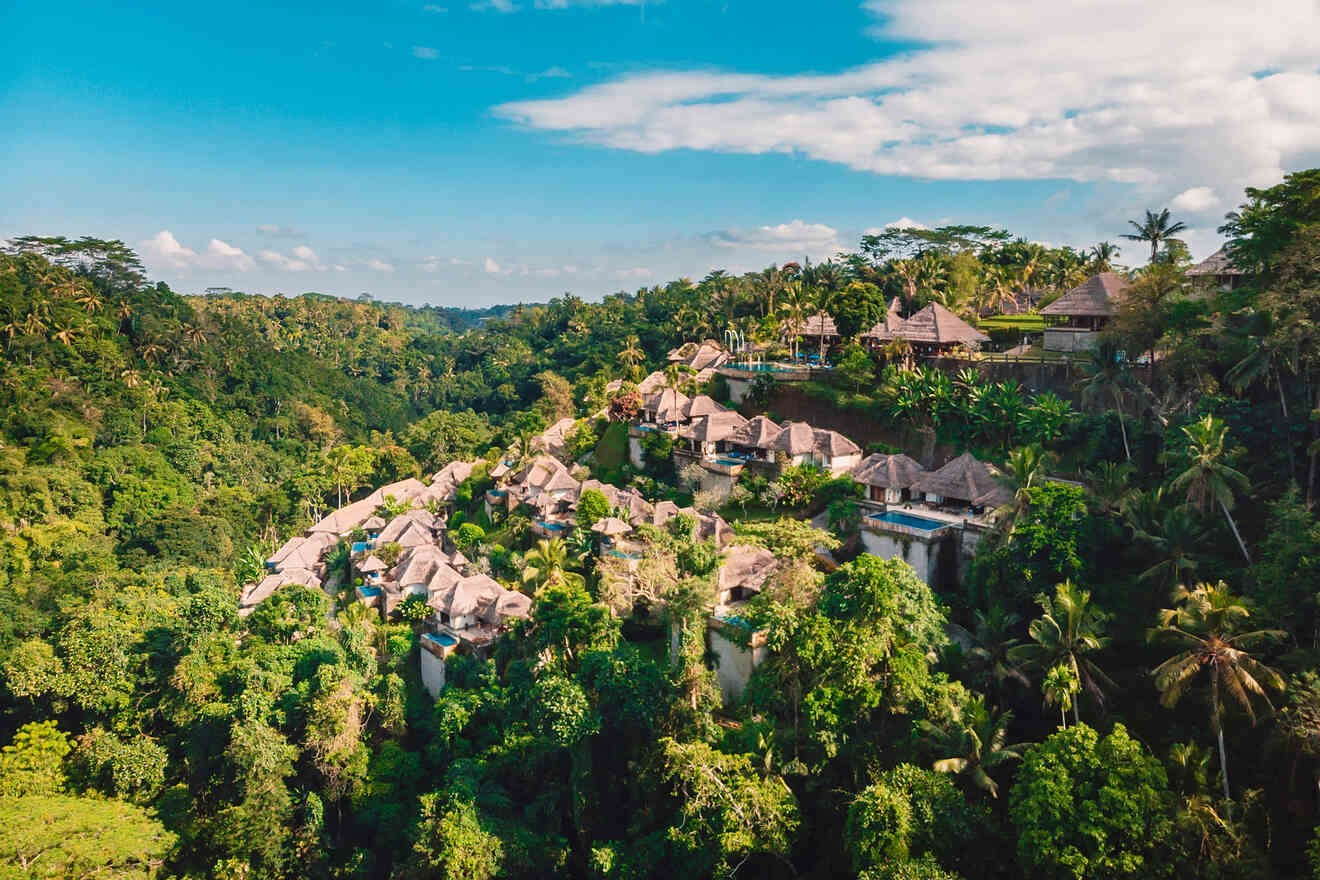 Hey you lucky traveler! Planning a trip to the island of Bali soon? What can I say…you're pretty lucky to visit this paradise! Known for its incredible beaches, tropical greenery, lush rice fields, surfing, and many other unique things, Bali is for sure the ultimate holiday destination!
Obviously, there are so many places to stay on the island but in this post, you'll find the best of the best luxury hotels in Bali, all these sites will take your breath away! Ready to dive into the Balinese culture, swim in a private pool, and wake up each morning with the best views of Bali's jungle in your open-air villa?
Sure you are! The accommodations in this post are listed from most to least expensive so you easily decide which one to pick! But you better be quick, Bali, Indonesia is super popular so I can't emphasize enough how important it is to book in advance!
Let's go, the beach clubs are waiting for us!
If you are in a hurry
If you want to book now, quickly browse this list of the best luxury hotels in Bali:
Here's a map that will help you visualize all the luxury hotels in Bali that I will be talking about in this post:
1. Bulgari Resort – 5-star hotel with an infinity pool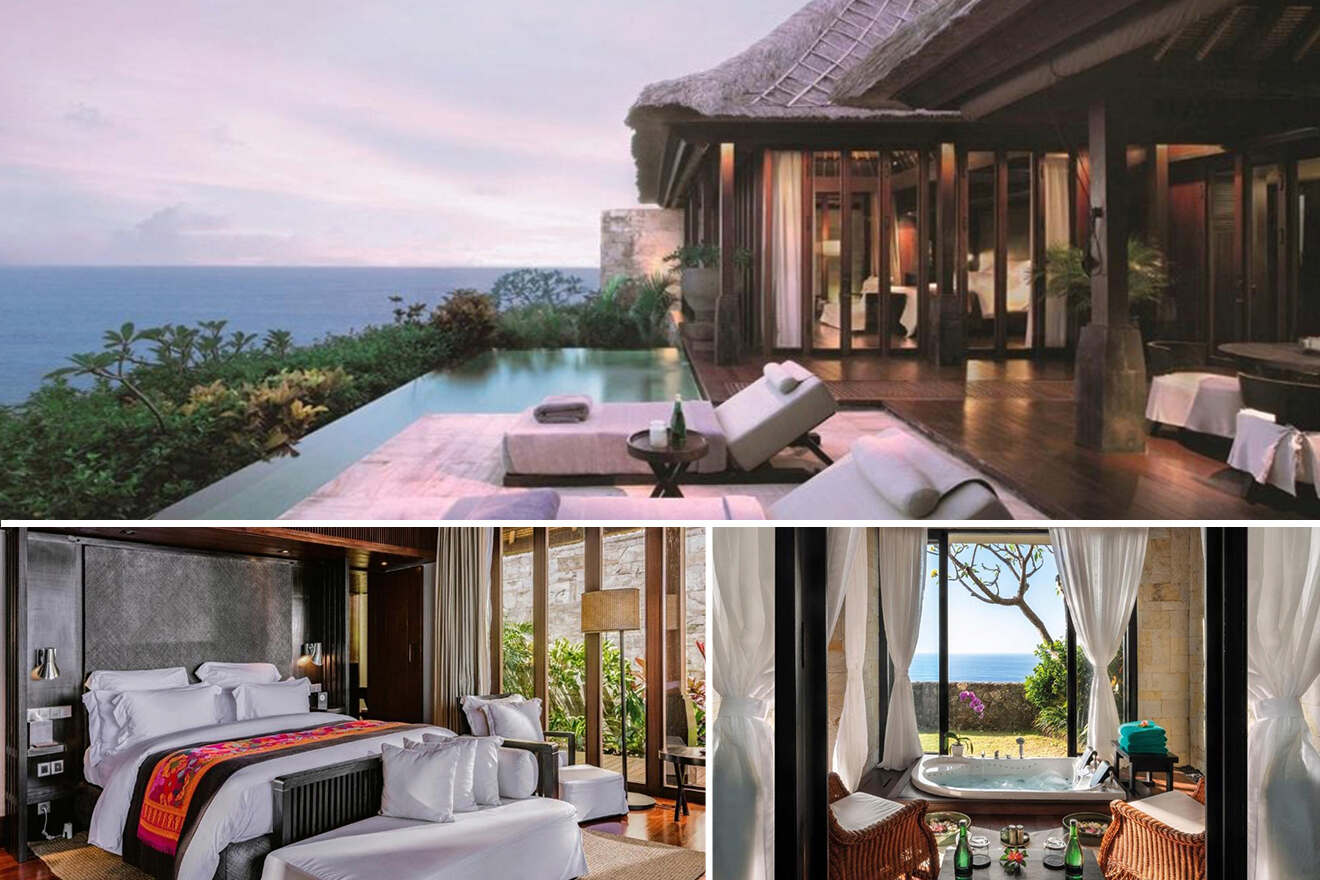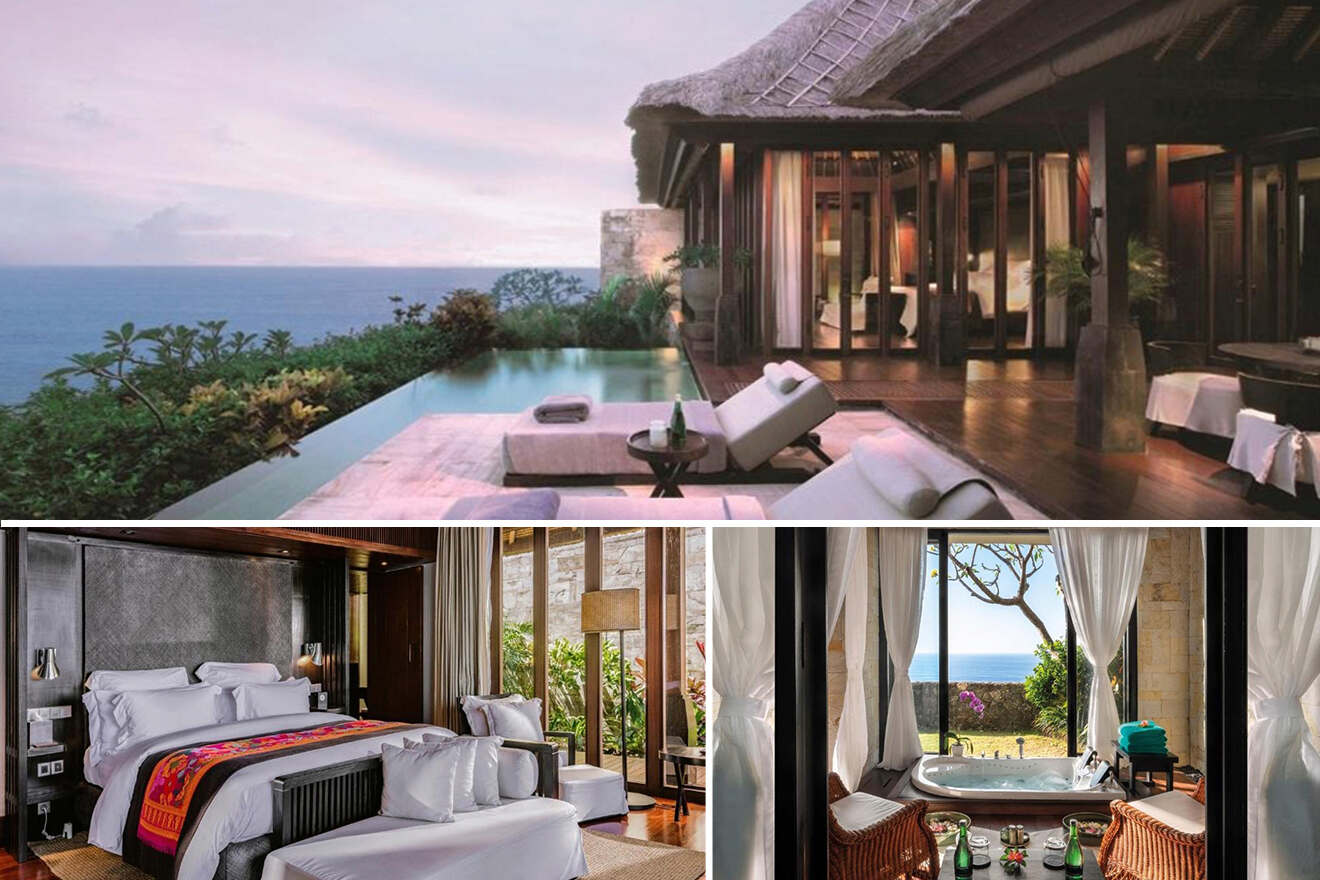 Is this place a dream because it sure looks too good to be true! Except, it's not! Set atop a cliff above the Indian Ocean, this ultra-exclusive Uluwatu resort offers suites and villas that have traditional Balinese decor, as well as a private sundeck and plunge pool!
Just wait until you catch a sunset near the infinity pool! This tropical destination is the mecca of yoga, so of course, you can try a few classes here at the wellness center or just relax with a massage at the spa. The hotel also features 4 restaurants and a private beach area for utter perfection!
2. Capella Ubud – great views of the rainforest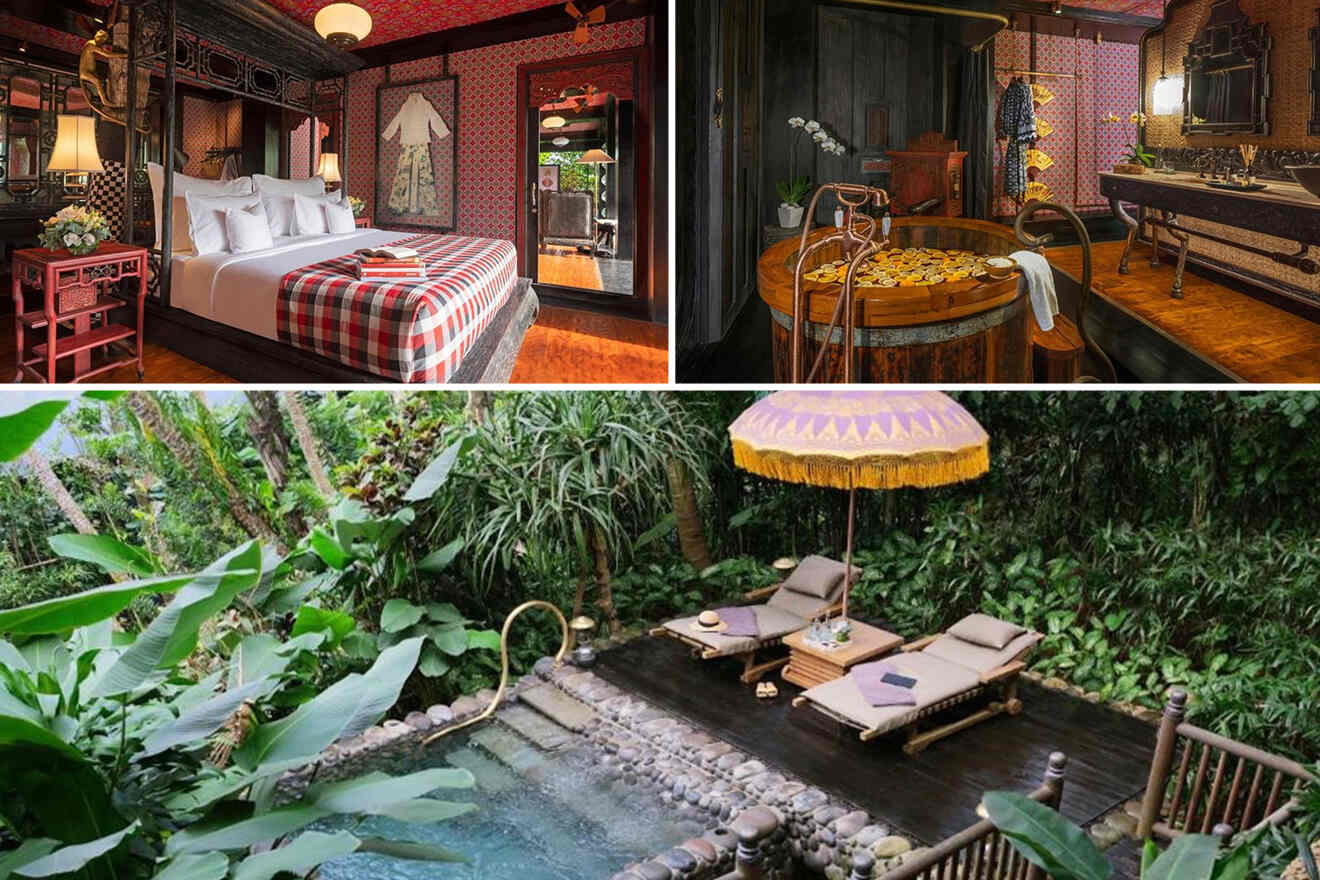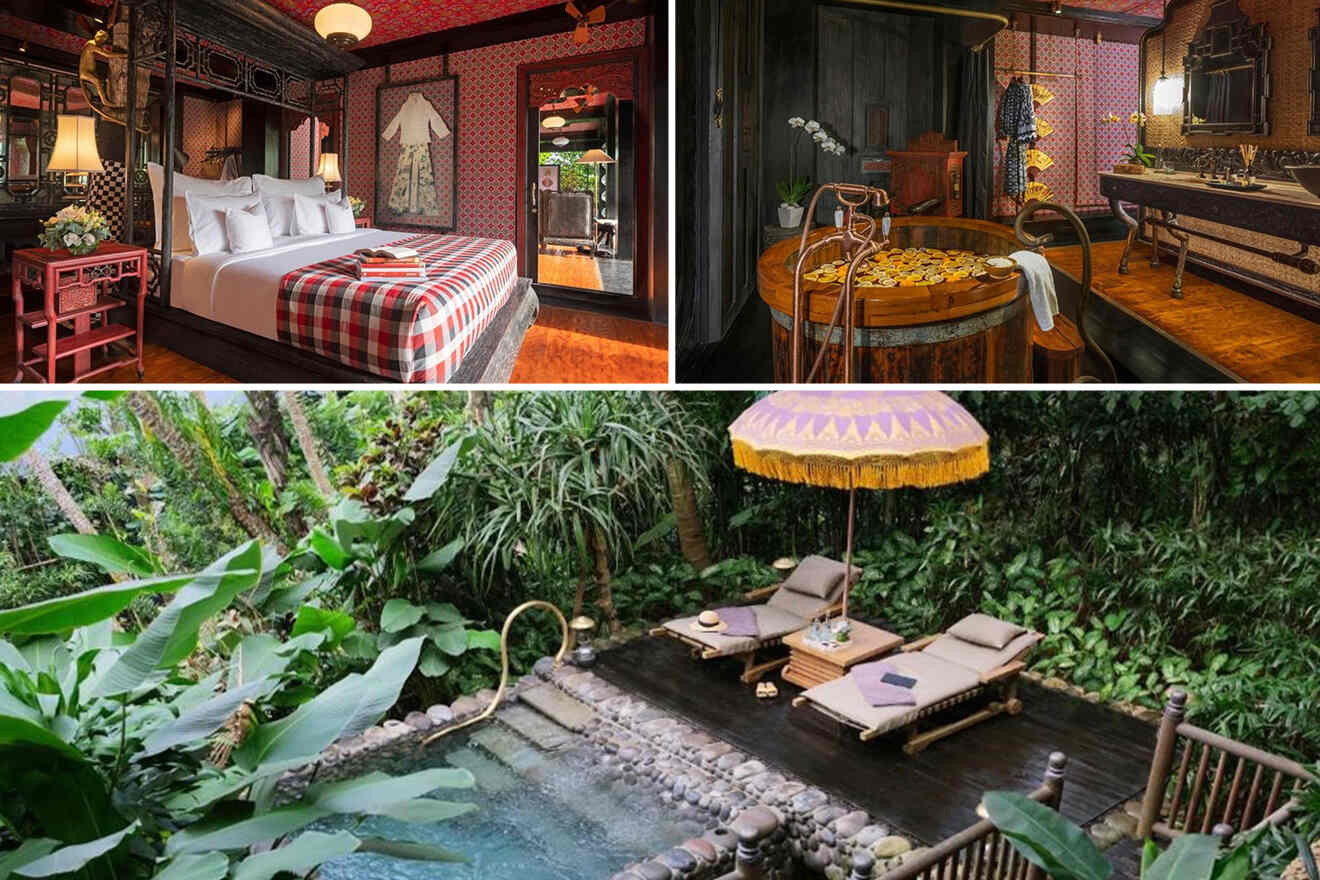 Relax and forget all about the outside world while staying at this fancy estate that's set amongst Ubud's lush greenery. Enjoy your coffee on the terraces that feature a stunning view of the rice fields and rainforest. Make sure you book your villa in advance though, the island is super popular and all of them sell out quickly!
The suites have a stunning Balinese design and are decorated with different antiques and unique furniture. A spa session at the wellness center will feel divine, especially after that long flight! You can also chill in the saltwater pool or go on day trips – choose your adventure!
3. Mandapa (Ritz-Carlton Reserve) – looks like a traditional Balinese village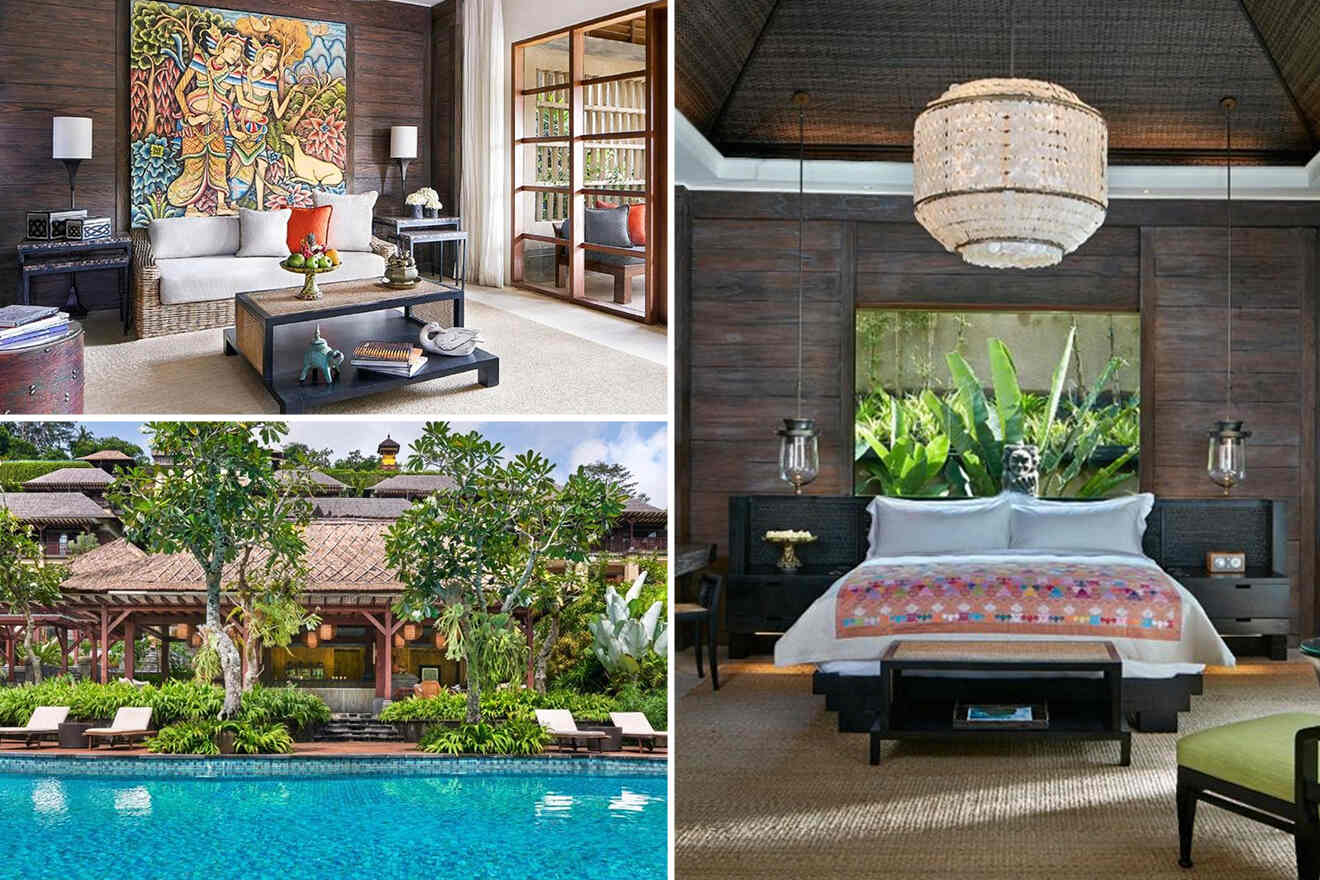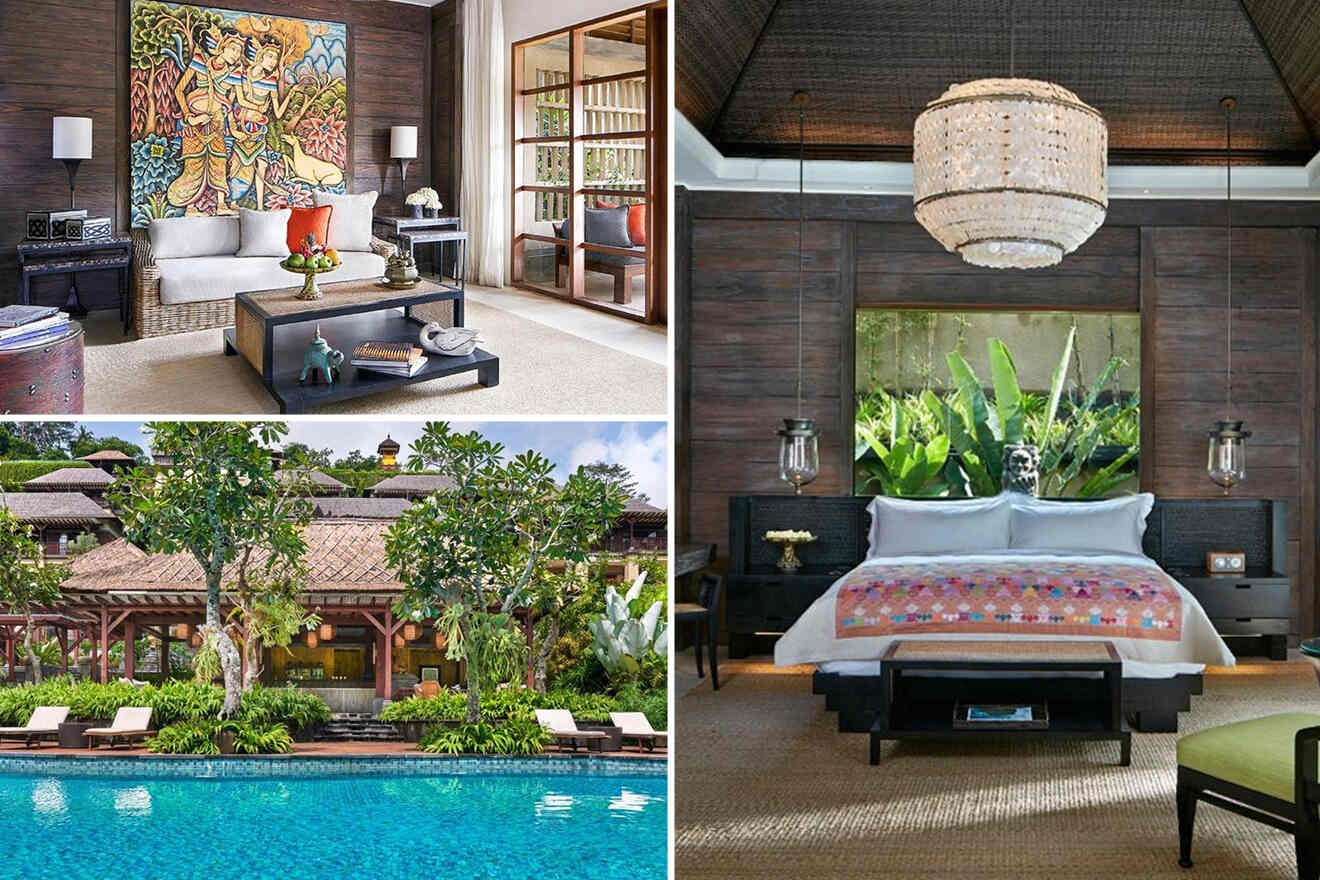 Ever wanted to live like a local in beautiful Ubud, Bali? Mandapa, A Ritz-Carlton Reserve, replicates a traditional Balinese village and offers villas with unique furniture that feature views of the Ayung River and tropical surroundings. Each villa bedroom has a private outdoor area and a pool as well.
This resort lives up to its name, Mandapa means "temple" in Sanskrit, and has 4 restaurants on-site that serve food harvested from their organic garden. If you're looking to get in touch with your spiritual side, know that the spa & wellness center at Mandapa, A Ritz-Carlton Reserve features many different programs for that!
4. Hoshinoya Bali – mixes Japanese and Balinese styles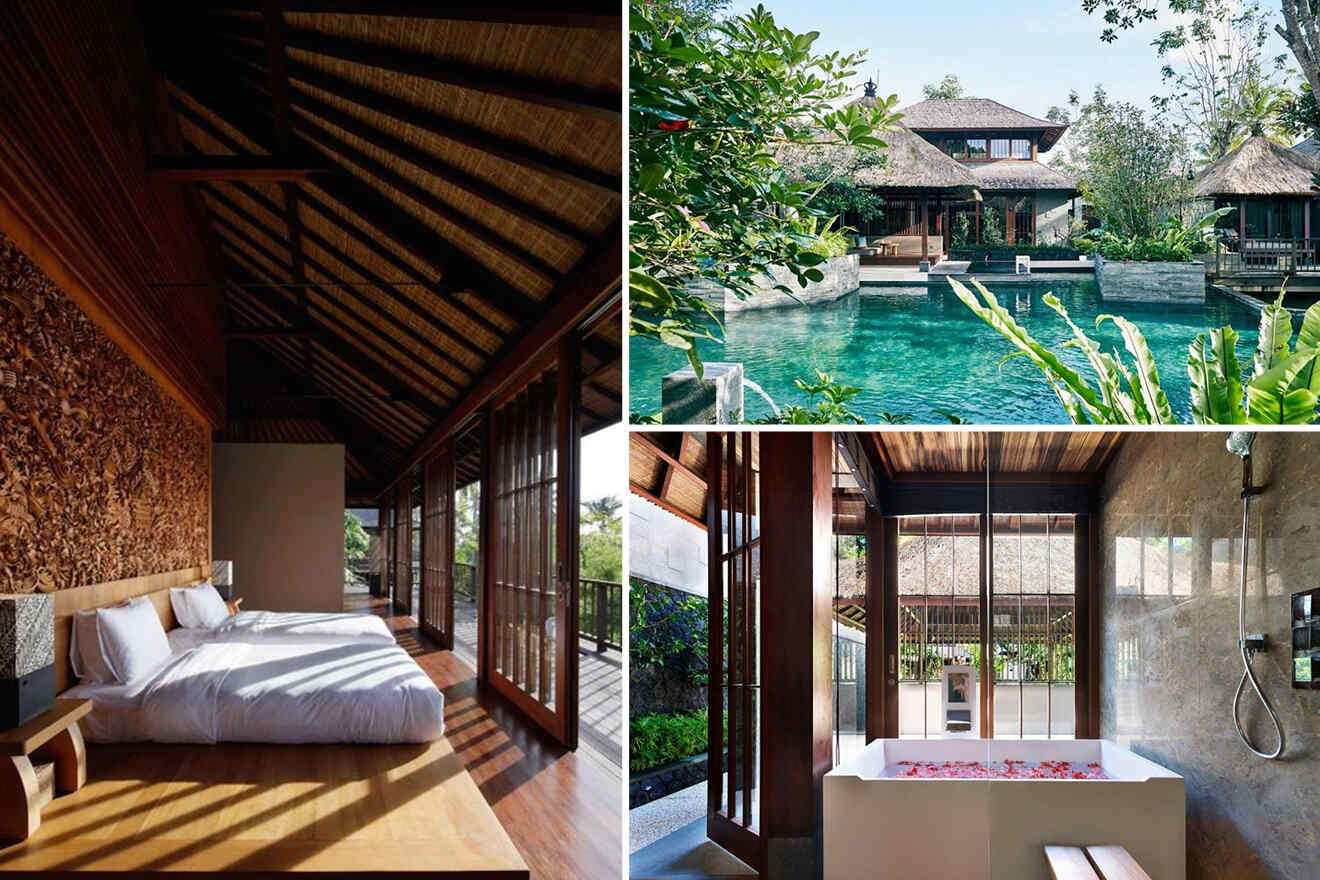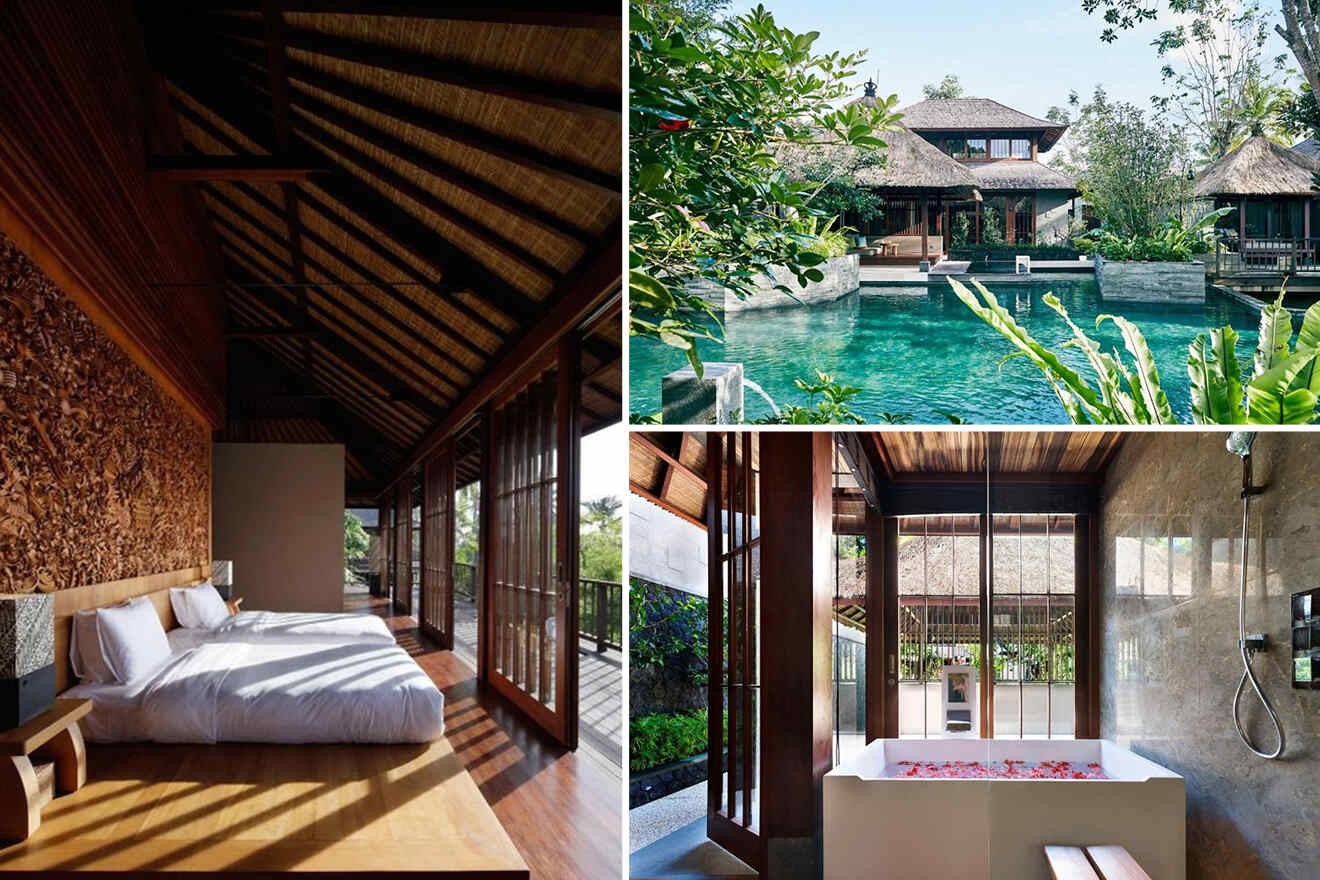 Ready to chase sunsets in Uluwatu, eat delicious food, and go swimming in the ocean? Bali is a paradise and this resort that combines Japanese and Balinese styles fits perfectly in this picture-perfect tropical location!
Surrounded by lush greenery, the resort has an outdoor swimming pool and each villa features both Japanese and Indonesian elements like carved-wooden artwork by local artisans. Every morning you can drink your coffee on the balcony of your room and admire the tree views!
5. Four Seasons Resort – oceanfront villas with private plunge pools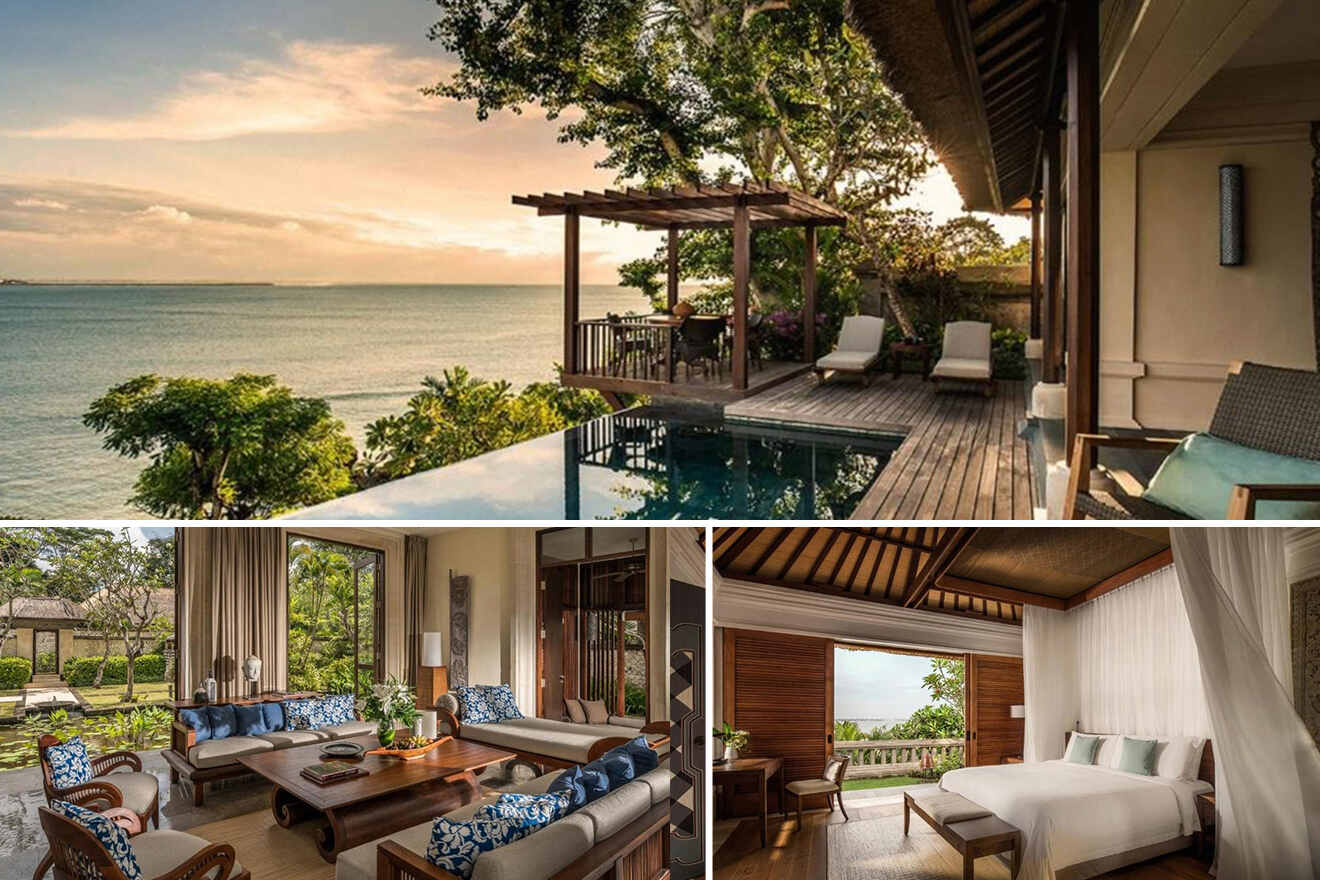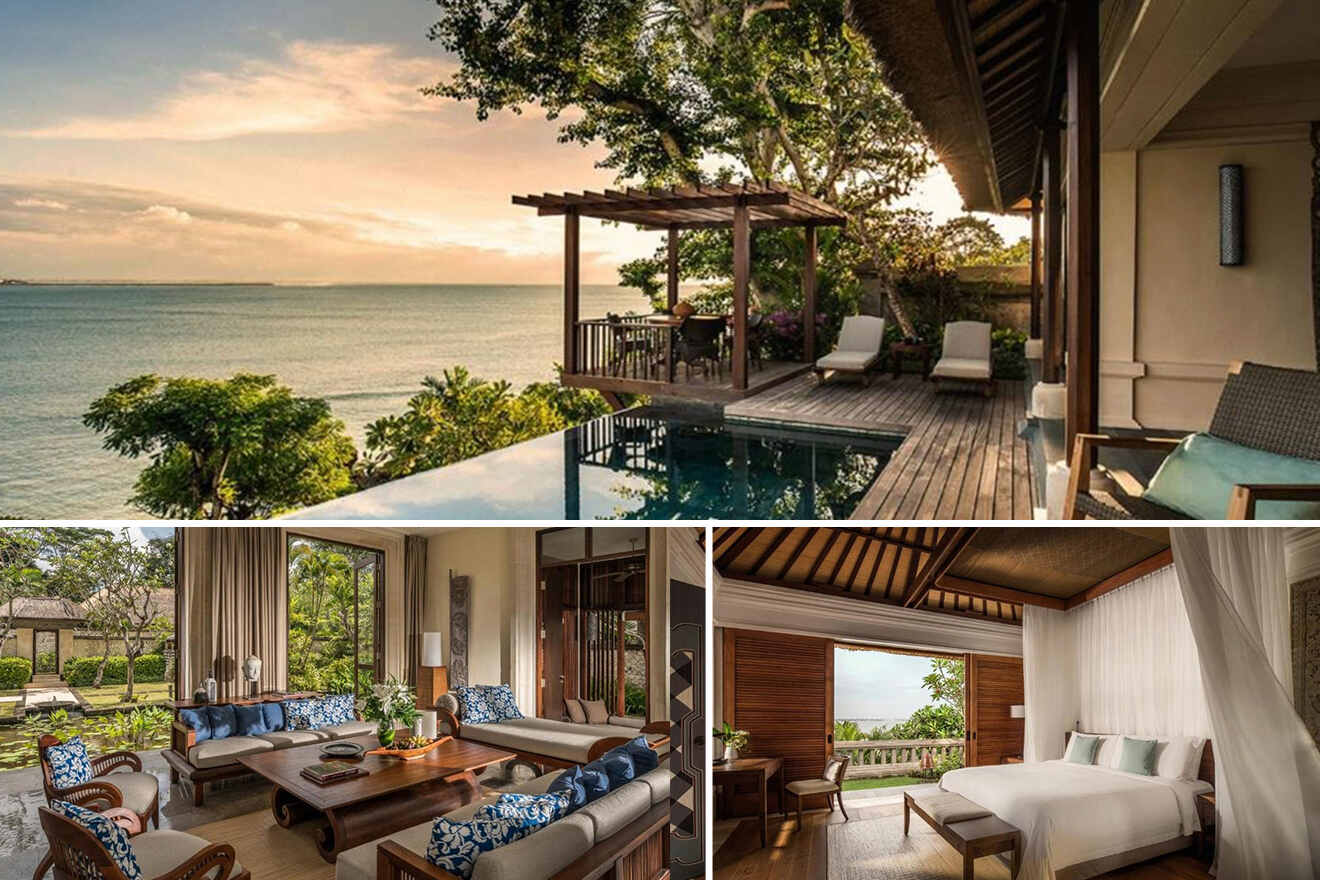 Mother Nature provides us with everything we need in this life. All we have to do is honor her! This is another fabulous oceanfront resort that was built to resemble a Balinese village! Four Seasons Resort Bali at Jimbaran Bay also offers guests direct access to the beach.
Dive into the local island culture while relaxing at the holistic spa & wellness center and eating super delicious food at the beachfront restaurant. Then head back to your bedroom villa for some relaxation!
6. Four Seasons Resort at Sayan – featuring a rooftop lotus pond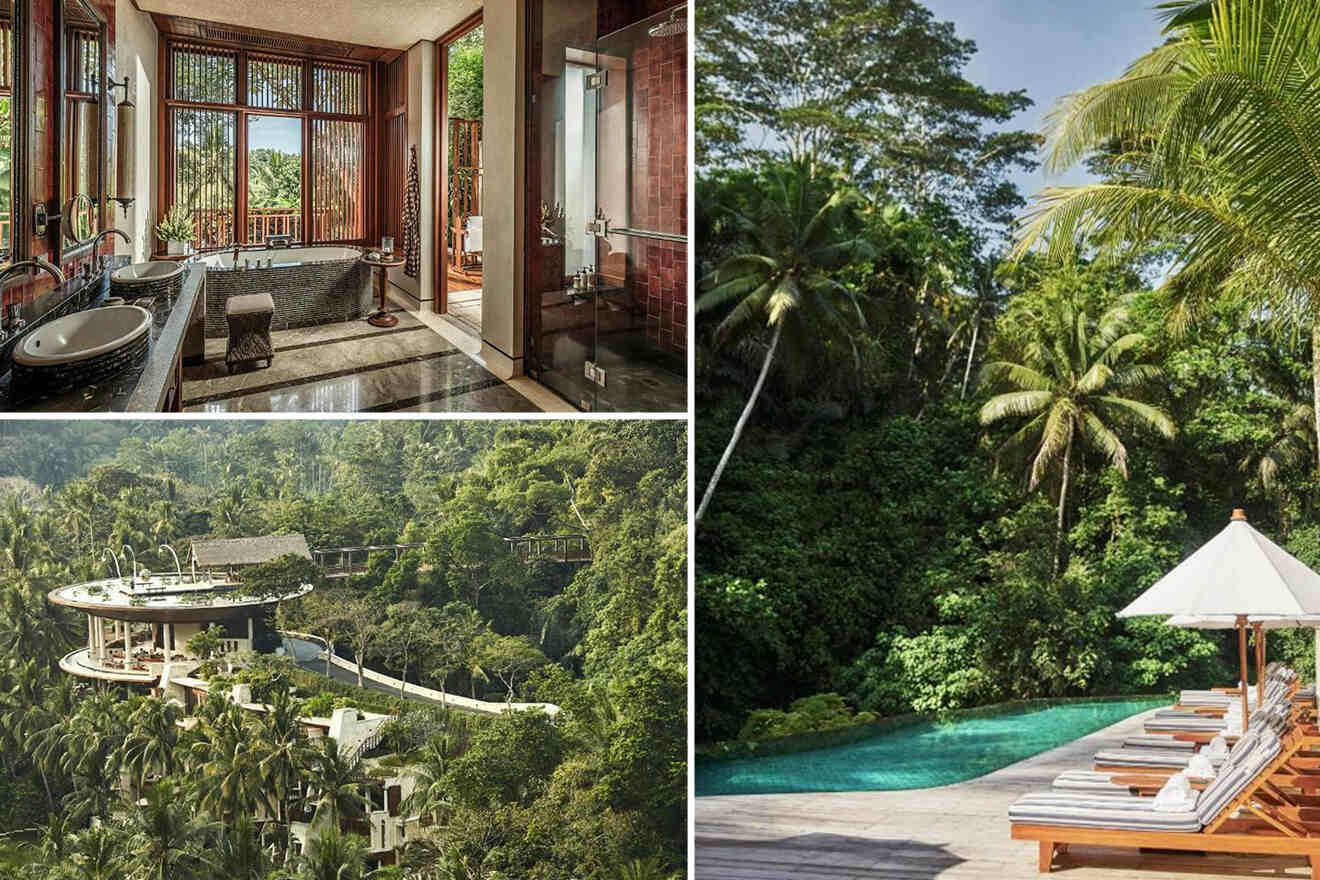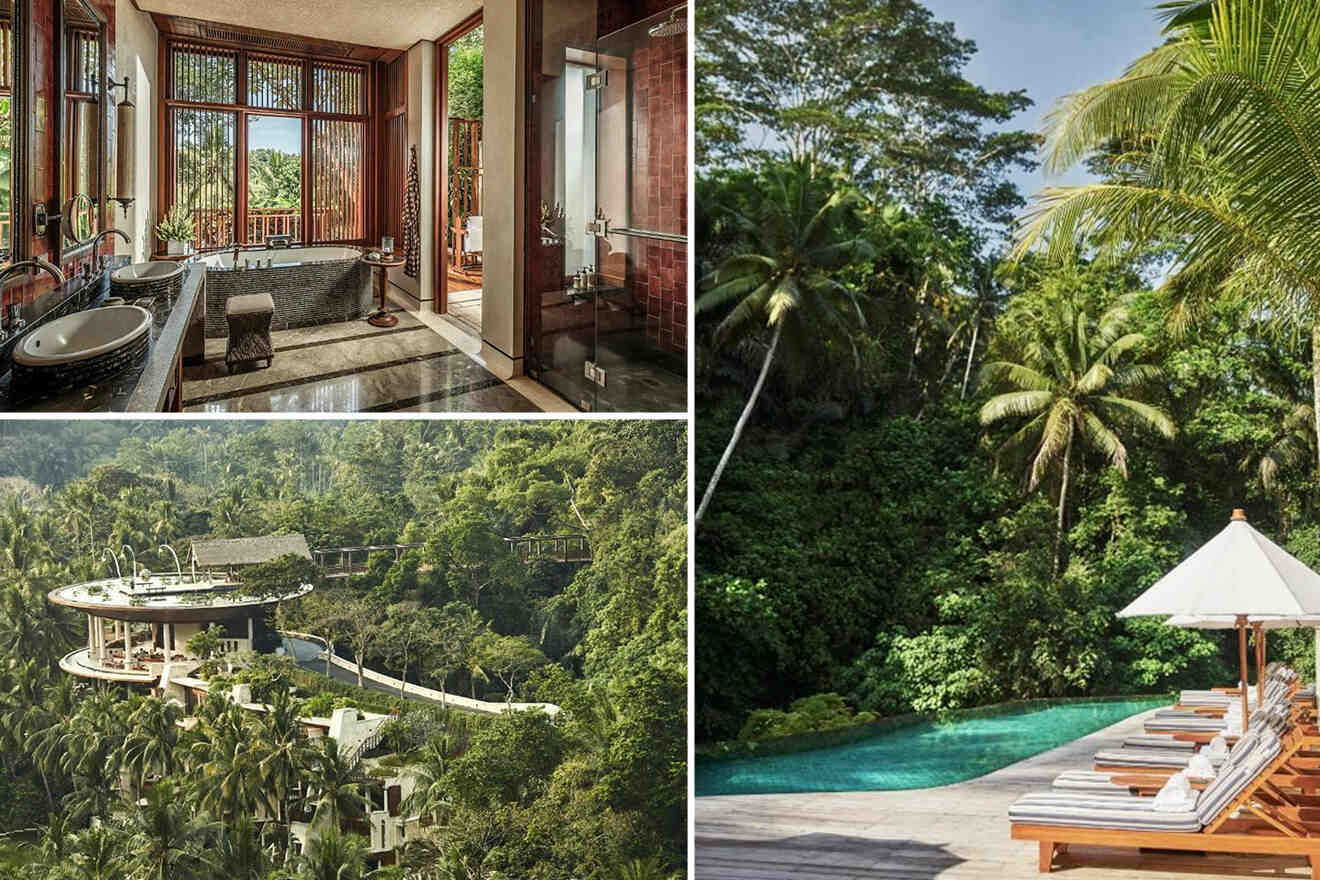 Bali's unique essence is captured perfectly in every piece of furniture and design at this resort that was voted the number 1 hotel in the world by Travel&Leisure magazine! It's a place where guests can live their dream lives while surrounded by lush greenery and a hillside view in Ubud.
Guests will arrive at a very impressive bridge and then walk towards their private room and villa. Each villa has an indoor dining area and a terrace where you admire the scenery. With 2 pools, 2 restaurants, and a wellness & health center, Four Seasons Resort Bali at Sayan is definitely a keeper!
7. The Ungasan Clifftop – with a fine dining restaurant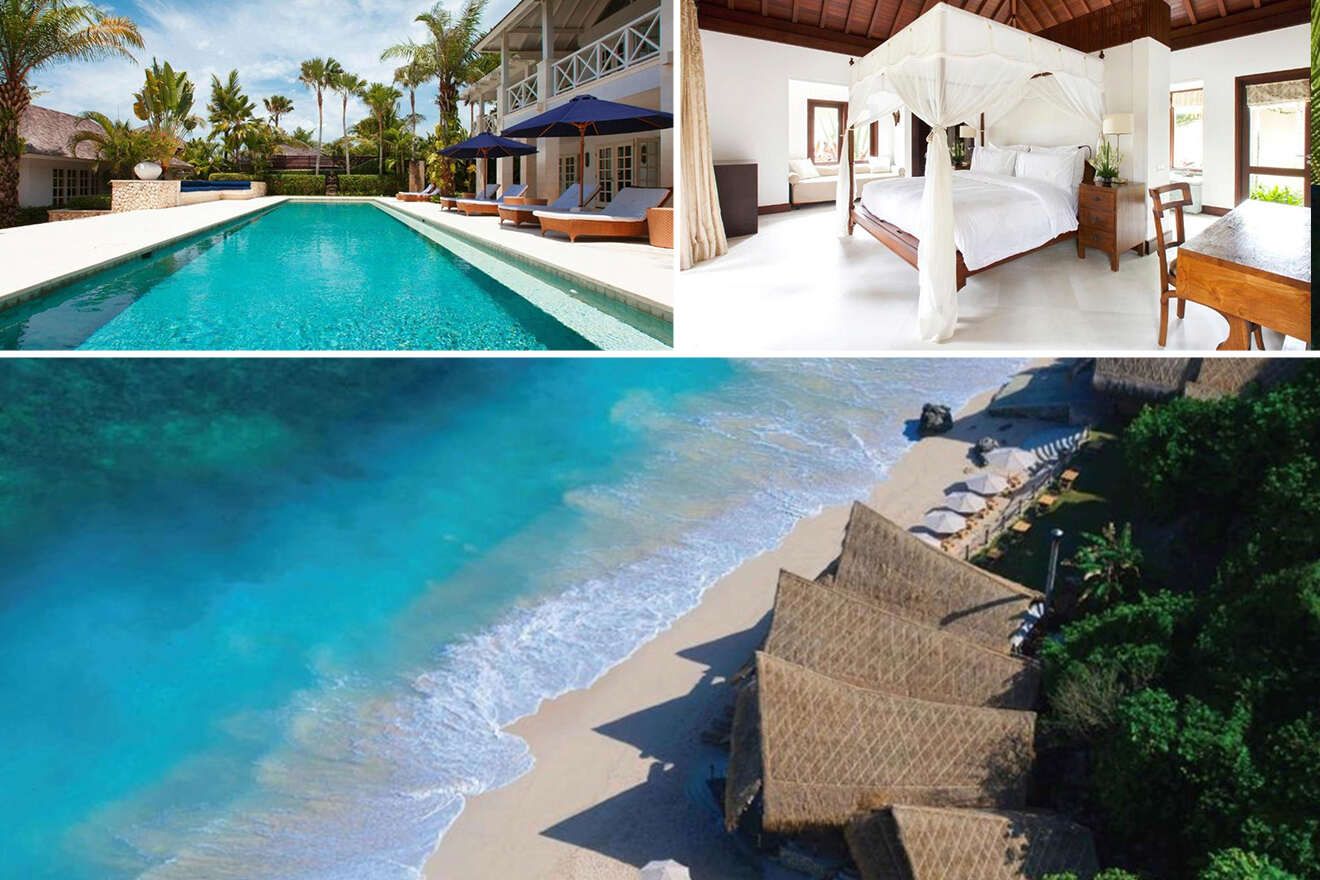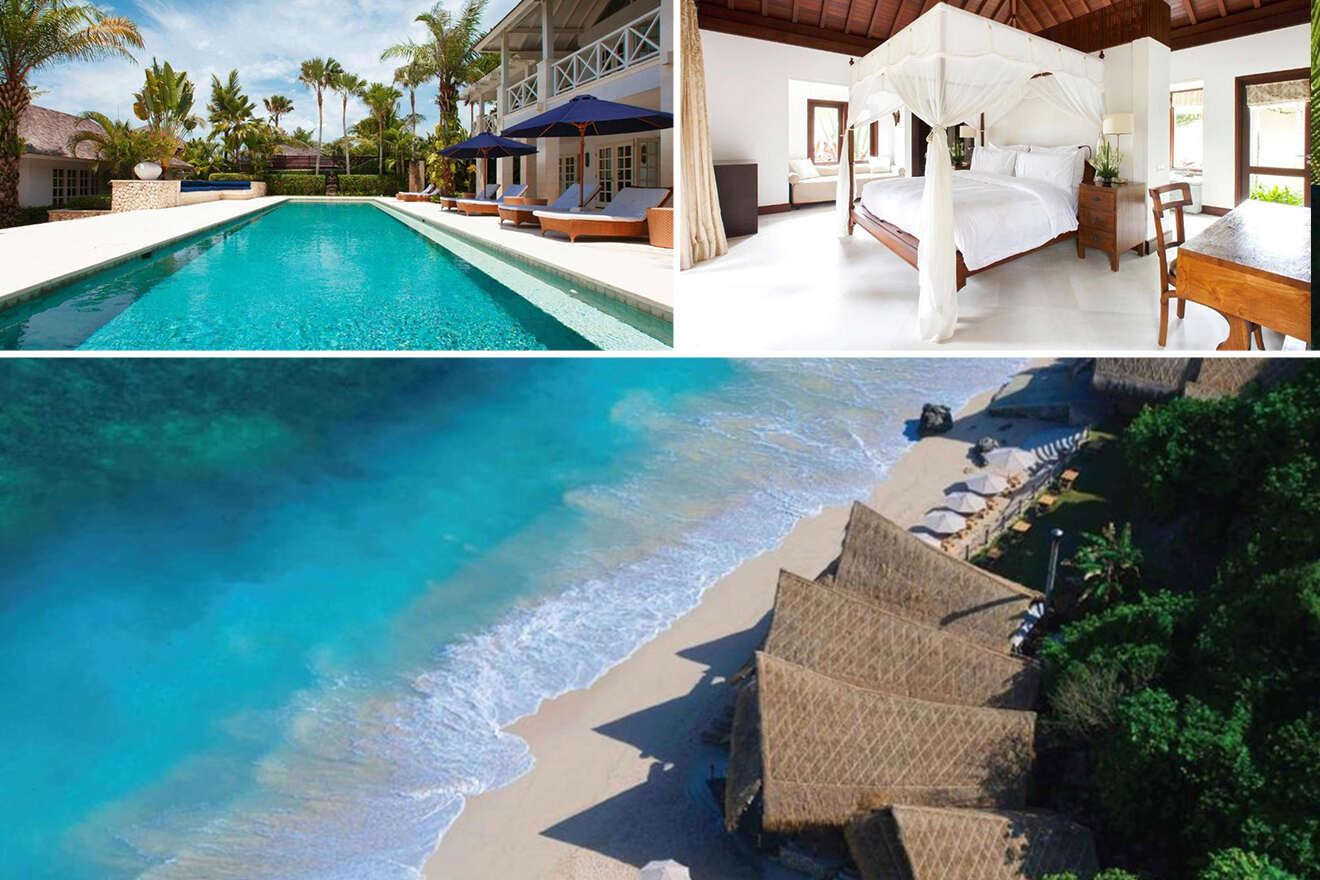 Catch a scenic Bali sunset by the outdoor infinity pool of this stunning resort in Uluwatu that's set on a cliff above the Indian Ocean. The beachfront resort offers a private beach area where guests can relax and drink cocktails!
After exploring the beach or playing some tennis you can head to the wellness center to relax for a bit. The villas have a super elegant design. Each room has a rain shower and indoor/outdoor lounge areas. At the end of the day treat yourself to a delicious dinner and some seafood at the restaurant.
8. Natya Resort Ubud – perfectly decorated for unique photos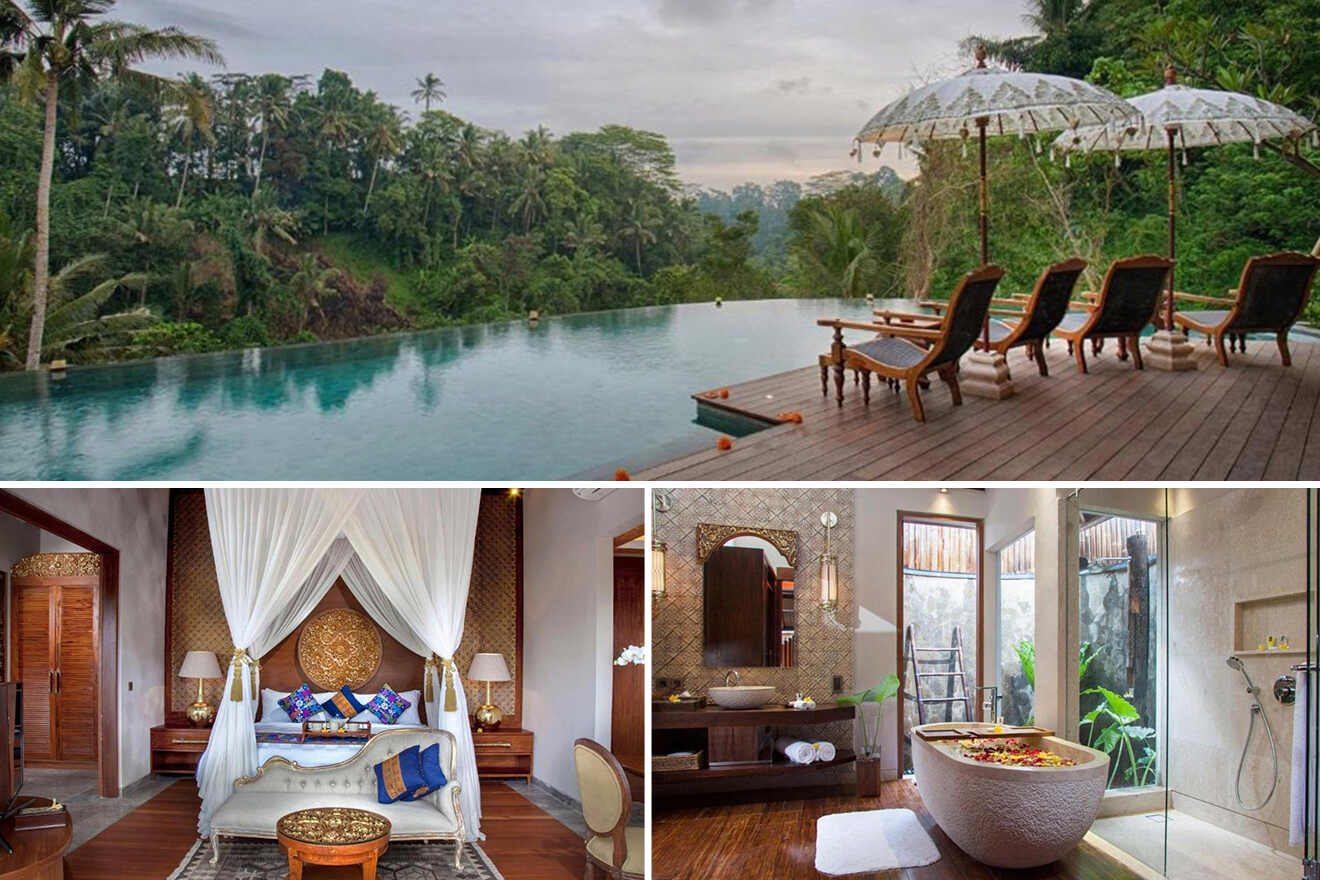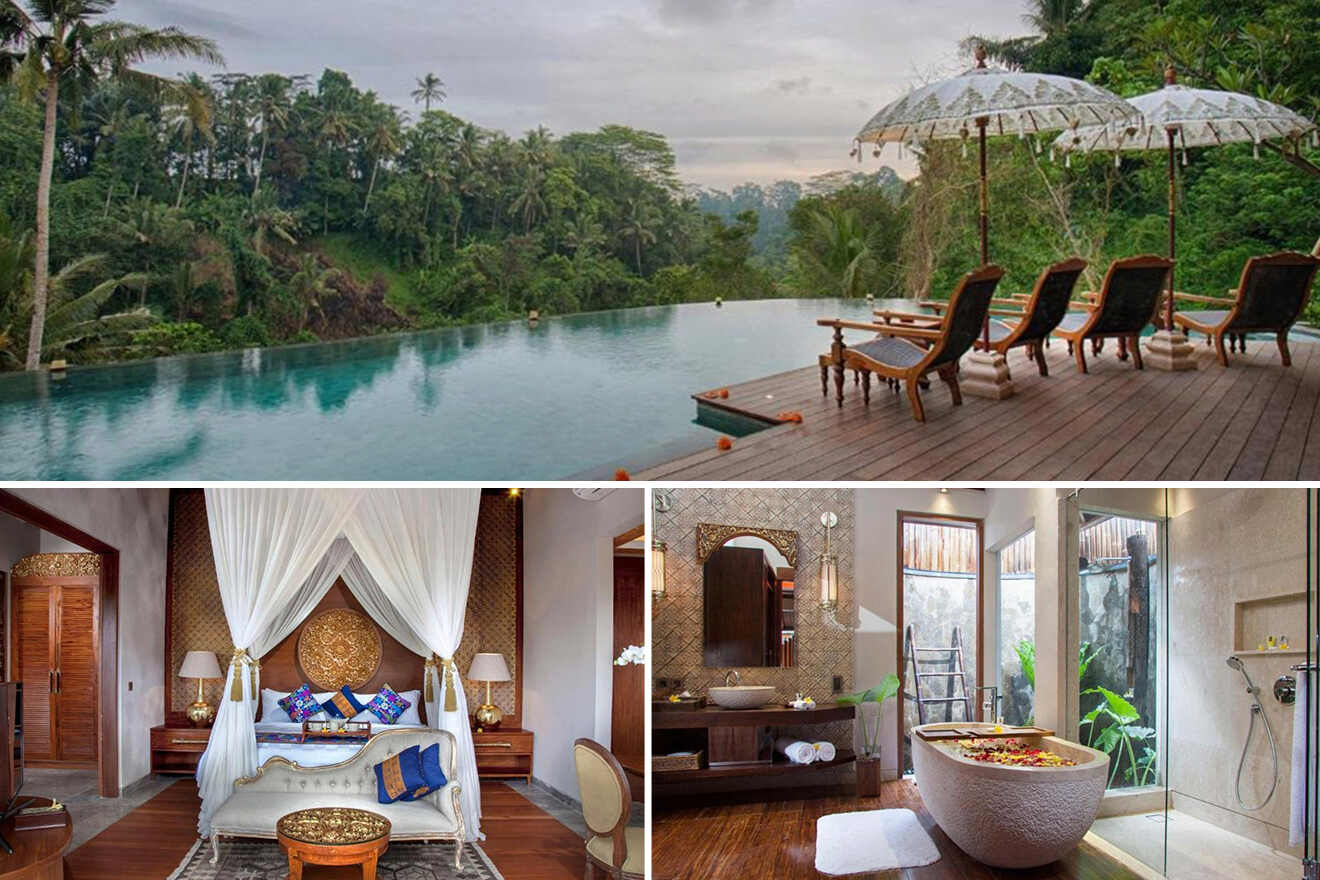 Fancy a rose bath after a full day of exploring the local area? This luxury resort has certain suites with private pools and some suites with a terrace and dining area. No matter which you choose, every villa and bedroom has an incredible design and features awesome views of the estate.
Order some breakfast in your room and get ready for a fun day in this Indonesian paradise in Ubud! Head to the infinity pool to admire those awesome jungle views and sunbathe on the sun terrace. There's nothing like a bit of vitamin D to improve your mood!
9. Puri Wulandari – a relaxing hotel with spa services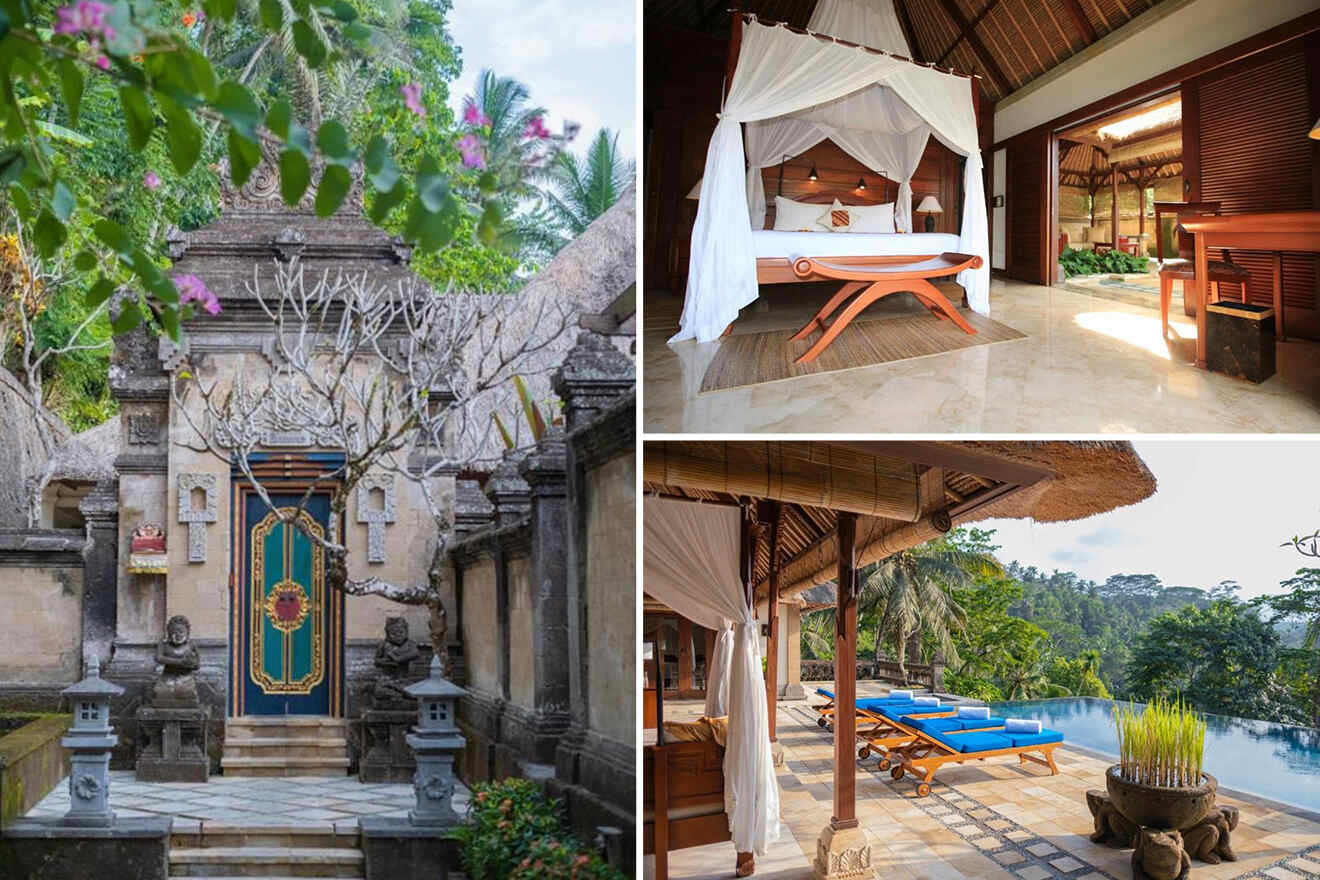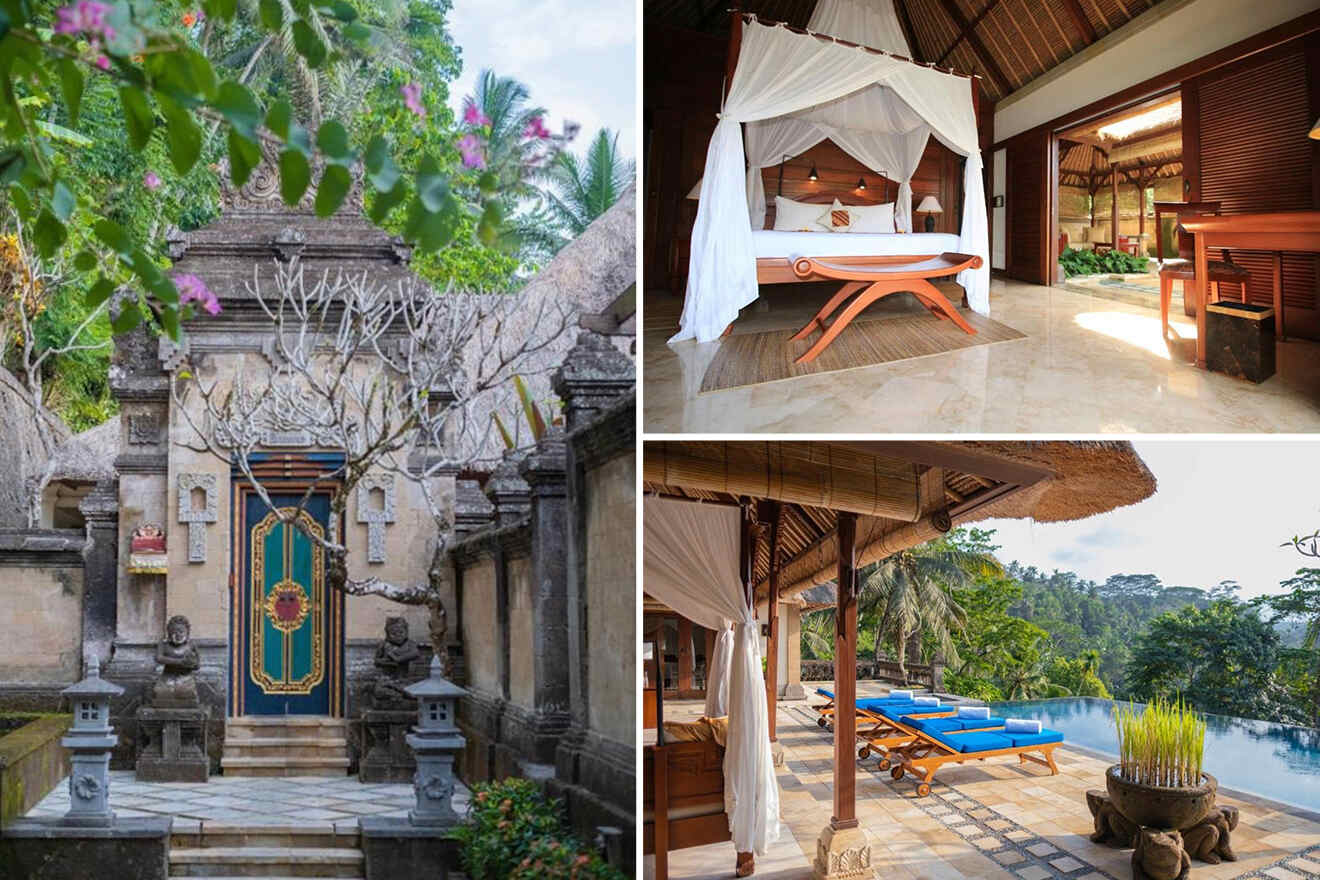 Yoga classes, delicious dining, and Ubud's magical tropical forests! This health security verified resort offers open-air villas with private pools and unique wood furniture. Guests can enjoy different massages at the spa center and there's also a beauty salon on-site.
If you want to explore the area, join one of the walking tours that the luxurious resort offers, or maybe go on a cooking class! Each room has a lounge area and traditional outdoor showers.
10. Warwick Ibah Villas – romantic hotel perfect for honeymoons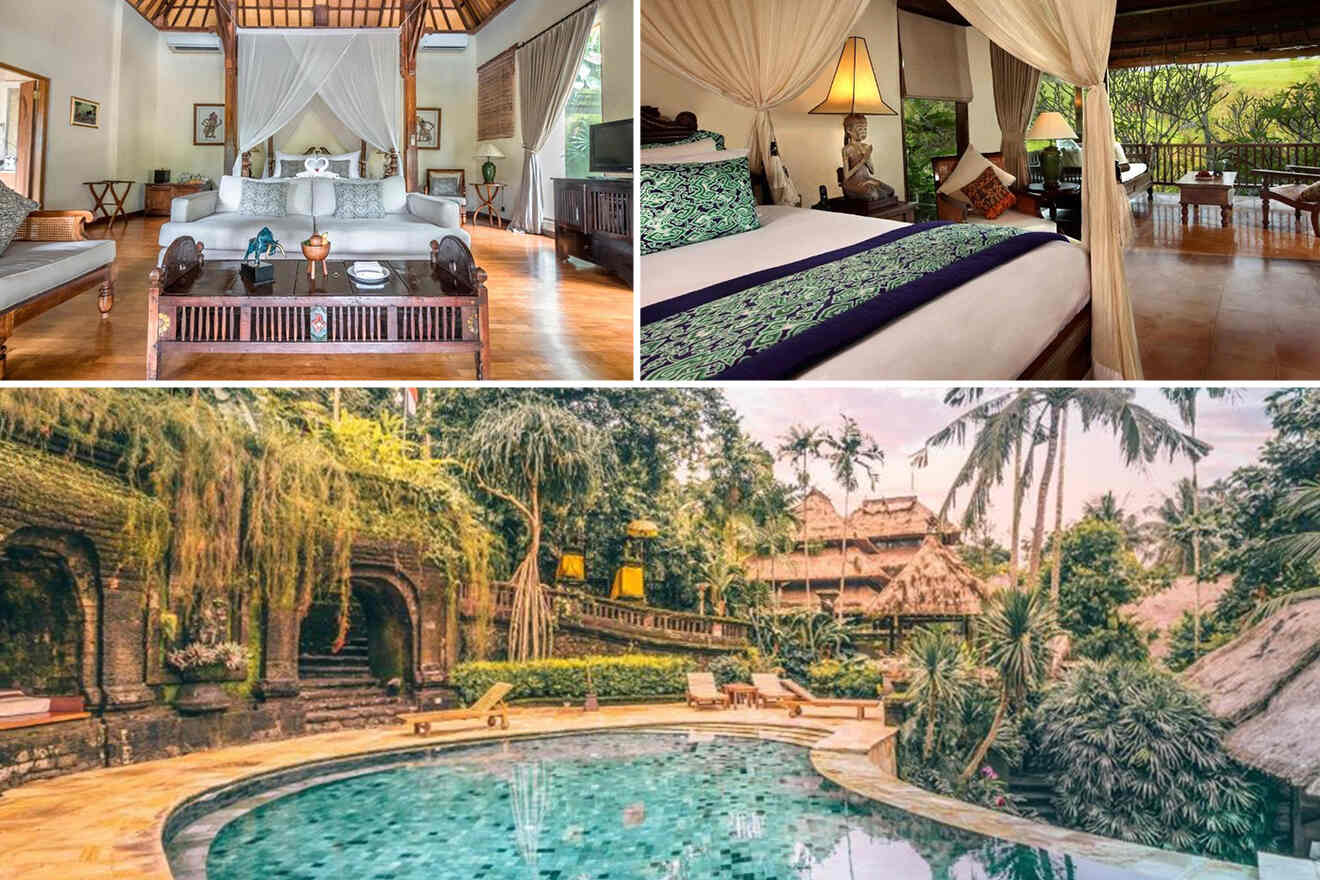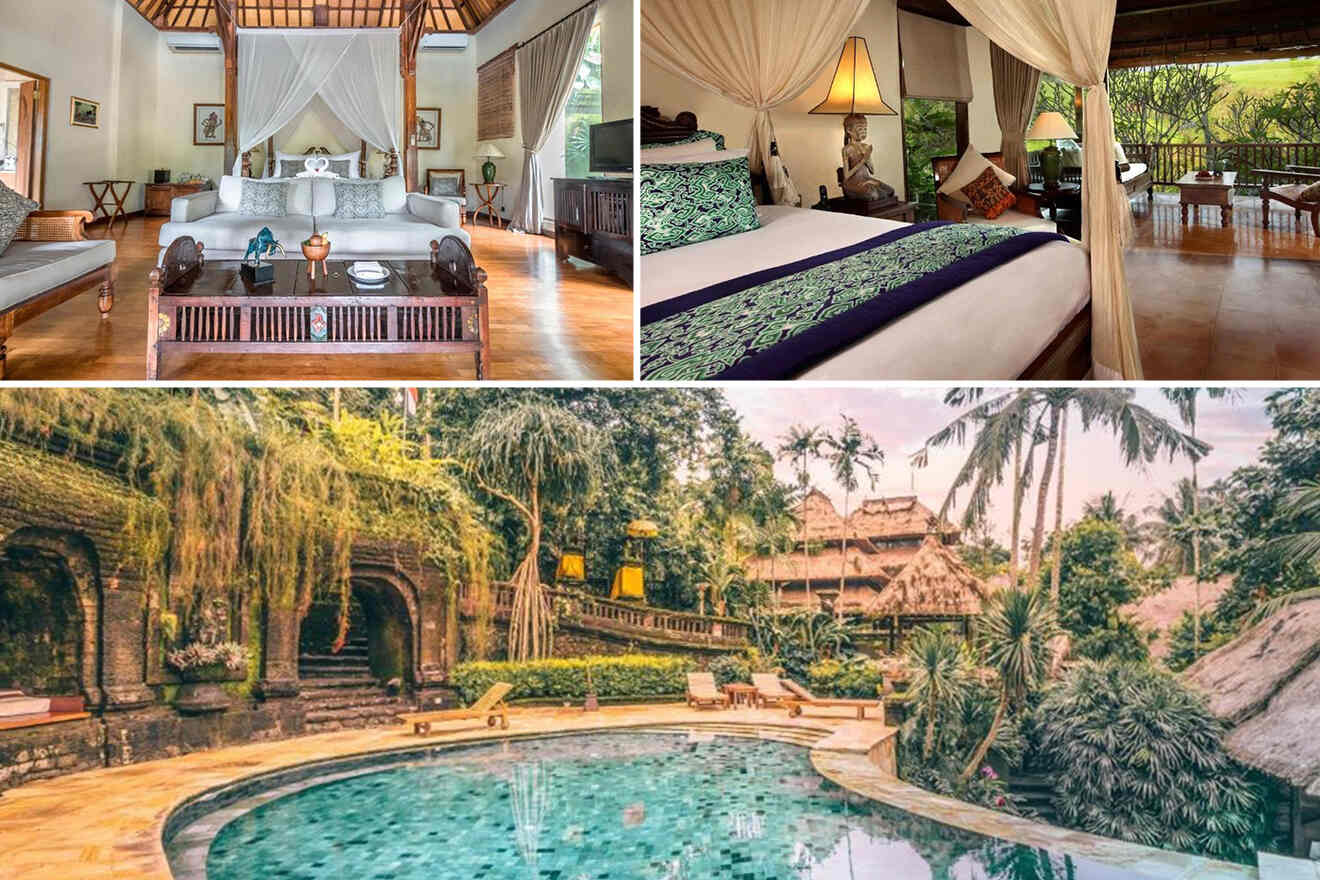 Bali has long been a top destination for honeymooners looking to spend some unforgettable weeks in this corner of heaven in Ubud! And with reason, everything from the views to the open-air resorts screams romance!
This hotel reminds me of an old temple (definitely a modernized one) and what better way to kick-start your Balinese adventure with your partner than with a meal by the pool in the garden. The suite villas are decorated in traditional Balinese style and feature breathtaking tree views and marble bathrooms.
11. Como Uma Ubud – luxury resort with free tours & yoga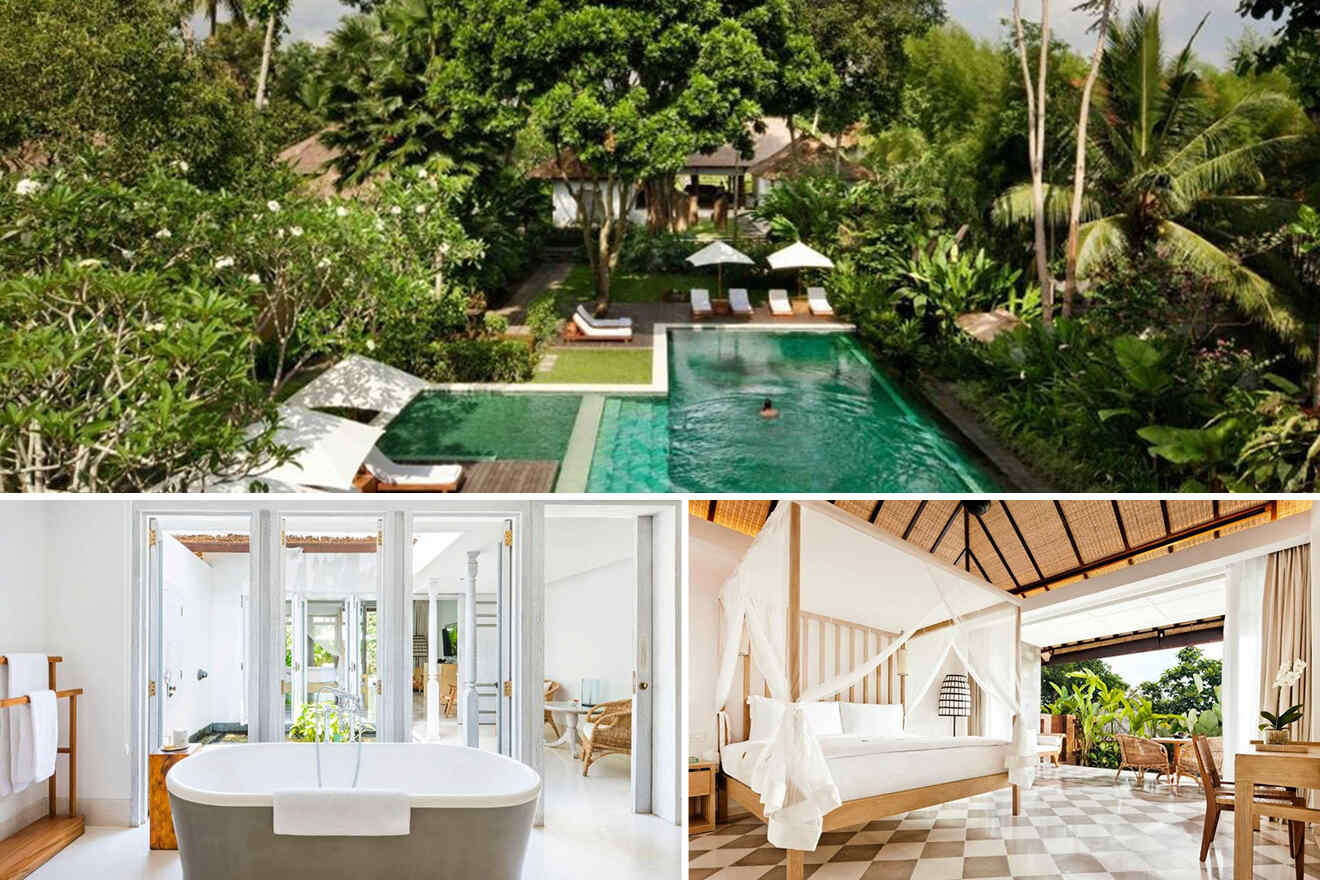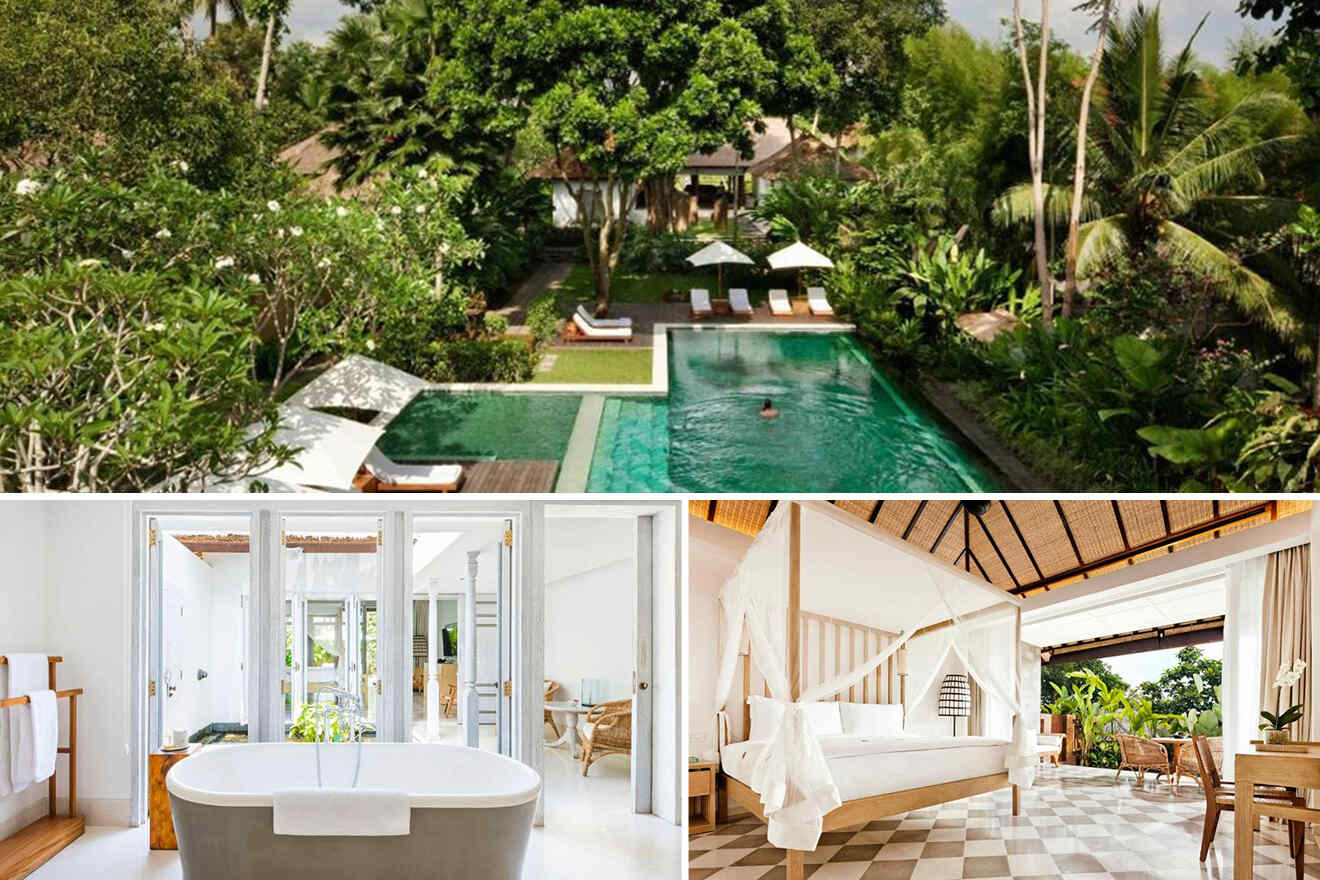 When it comes to health and well-being Bali sure knows how to treat its travelers. It's not only all the nature and fresh air that makes you feel like a brand new person, but the food and all the yoga they offer certainly help with that!
Como Uma Ubud is the best luxury hotel in Bali for health nerds! The resort offers free yoga classes with a teacher and also free guided walks each morning so you can start your day the right way! Surrounded by lush greenery, the estate has rooms with marble flooring and an infinity pool.
12. Bisma Eight – a resort with a rooftop restaurant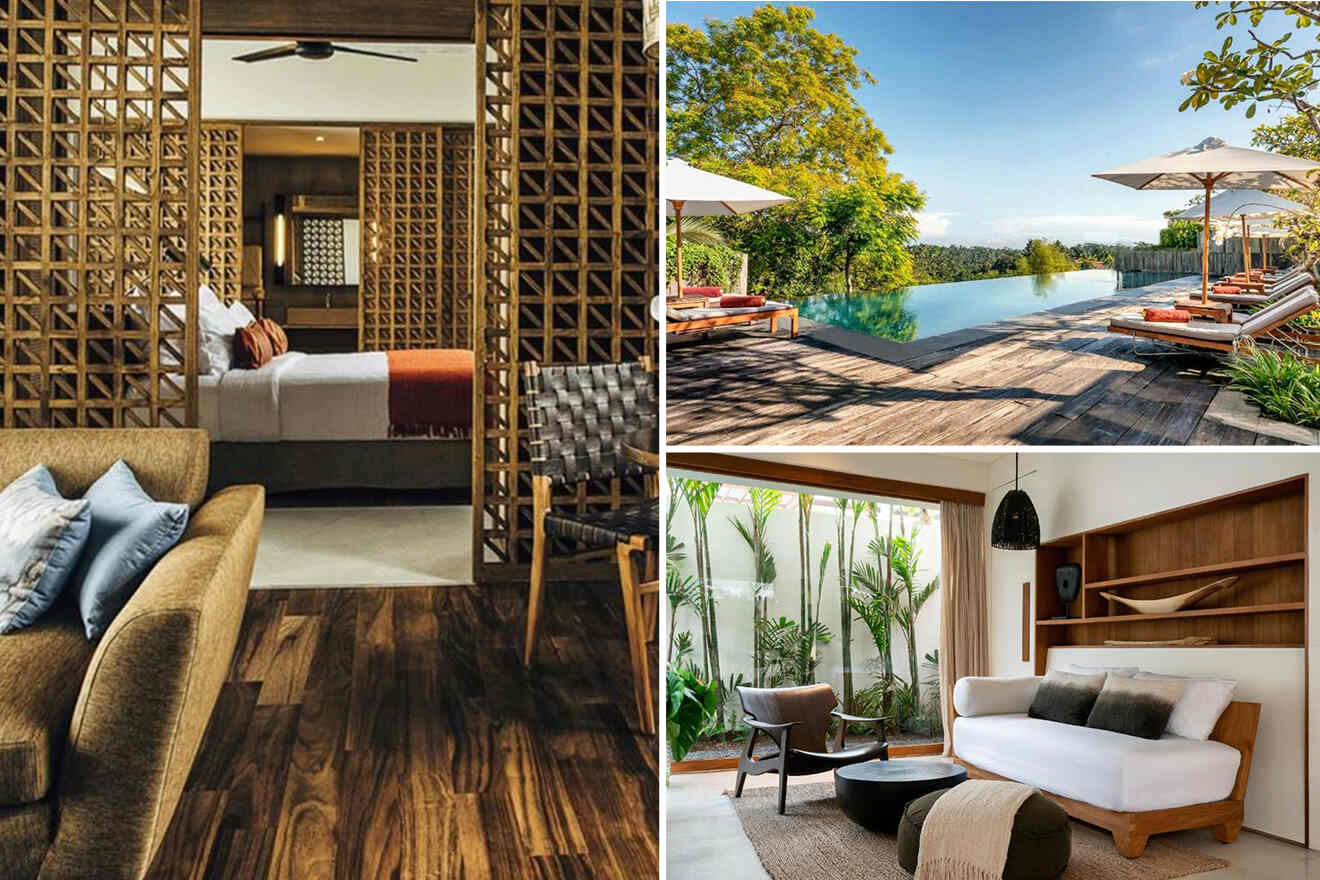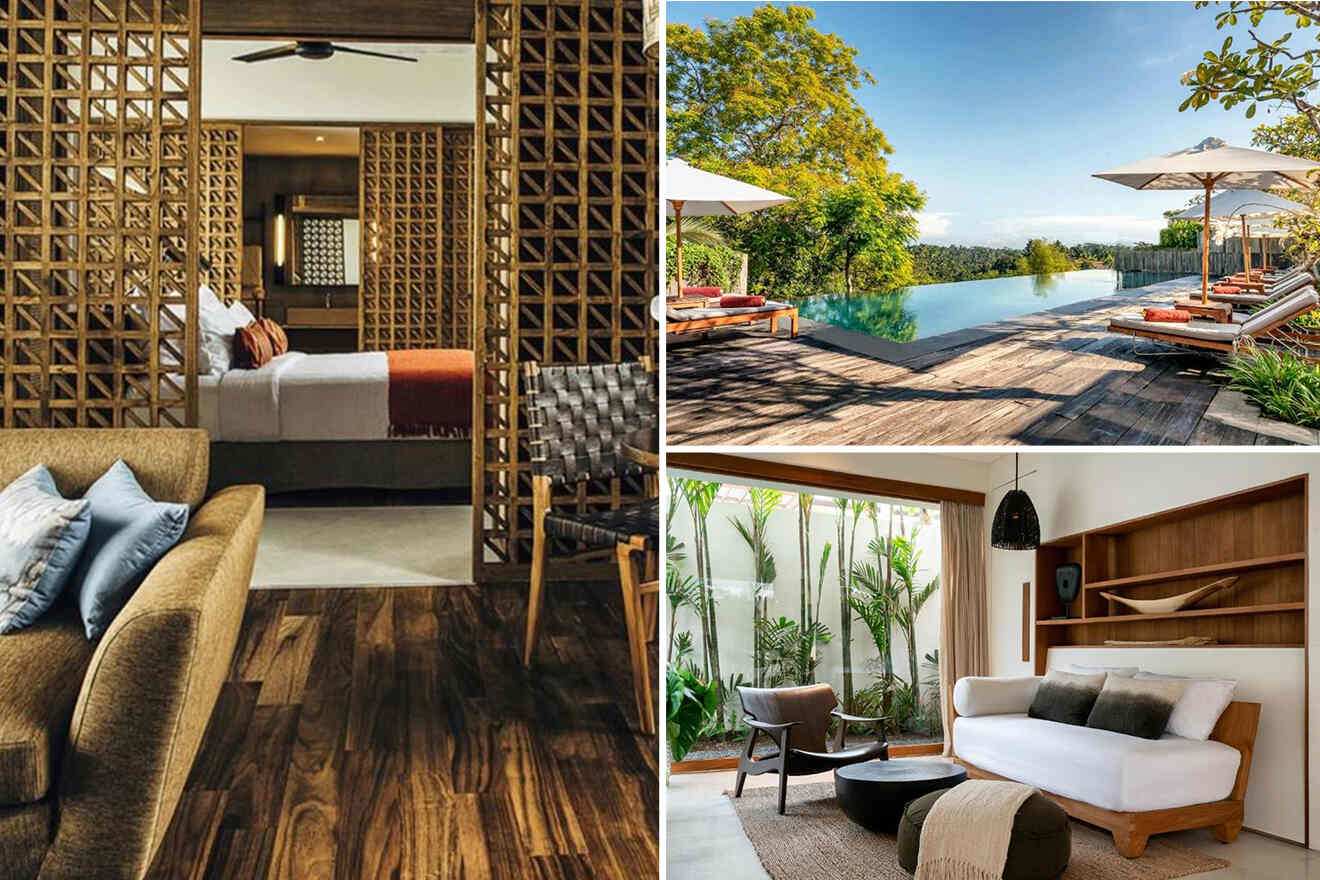 You're such a lucky traveler if you're planning a trip to Bali, Indonesia! It's one of the best destinations in the world and the hotels sure don't disappoint here! Each bedroom at the health-certified resort has an indoor dining area.
Settle in your super spacious rooms and take advantage of the Japanese soaking tub before you hit the rooftop restaurant for dinner and an epic sunset! Can it get any better? Oh yes! Just wait until you see the infinity pool. You'll want to spend hours there admiring the estate in Ubud.
13. Jimbaran Puri Belmond – beach resort with breathtaking sea views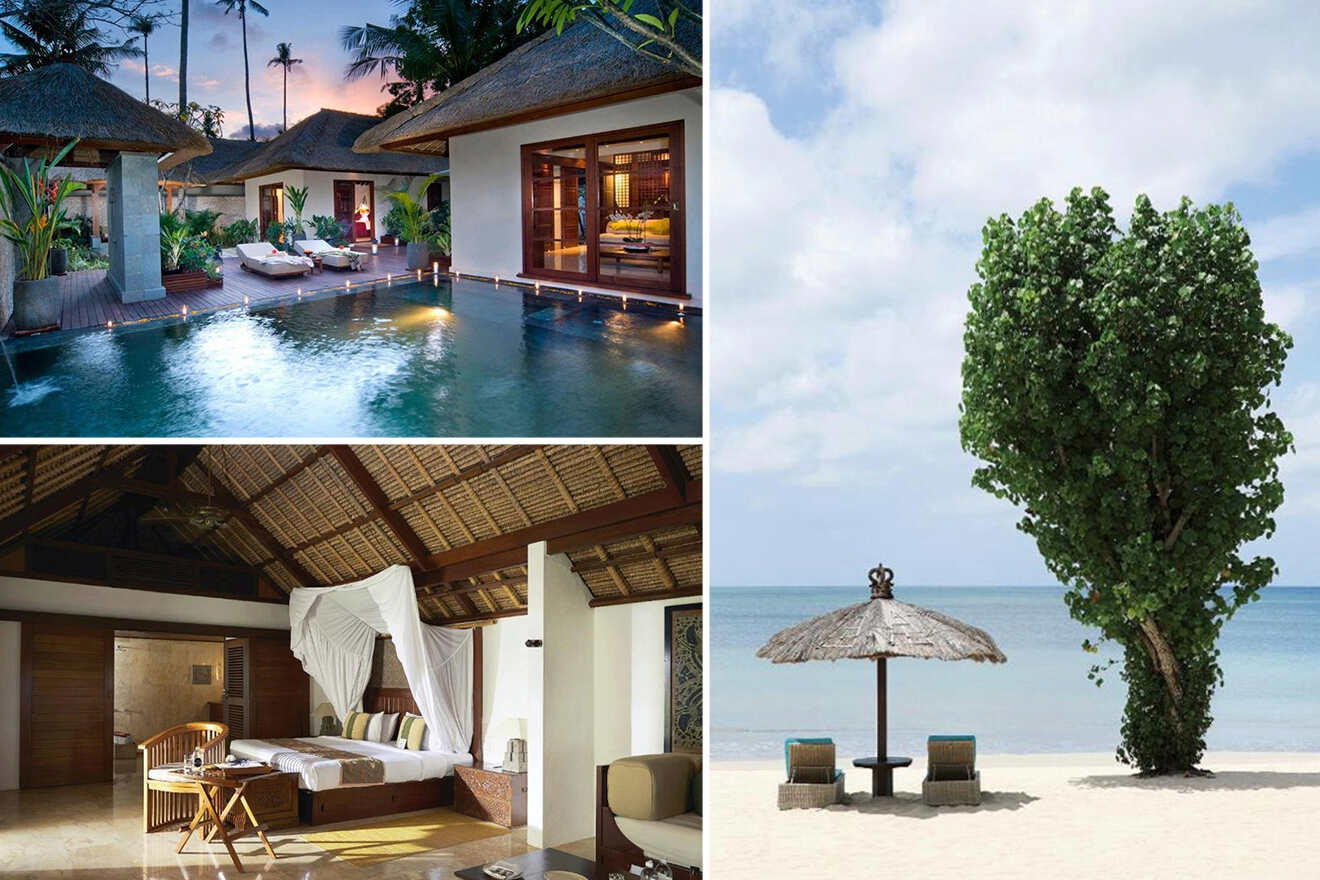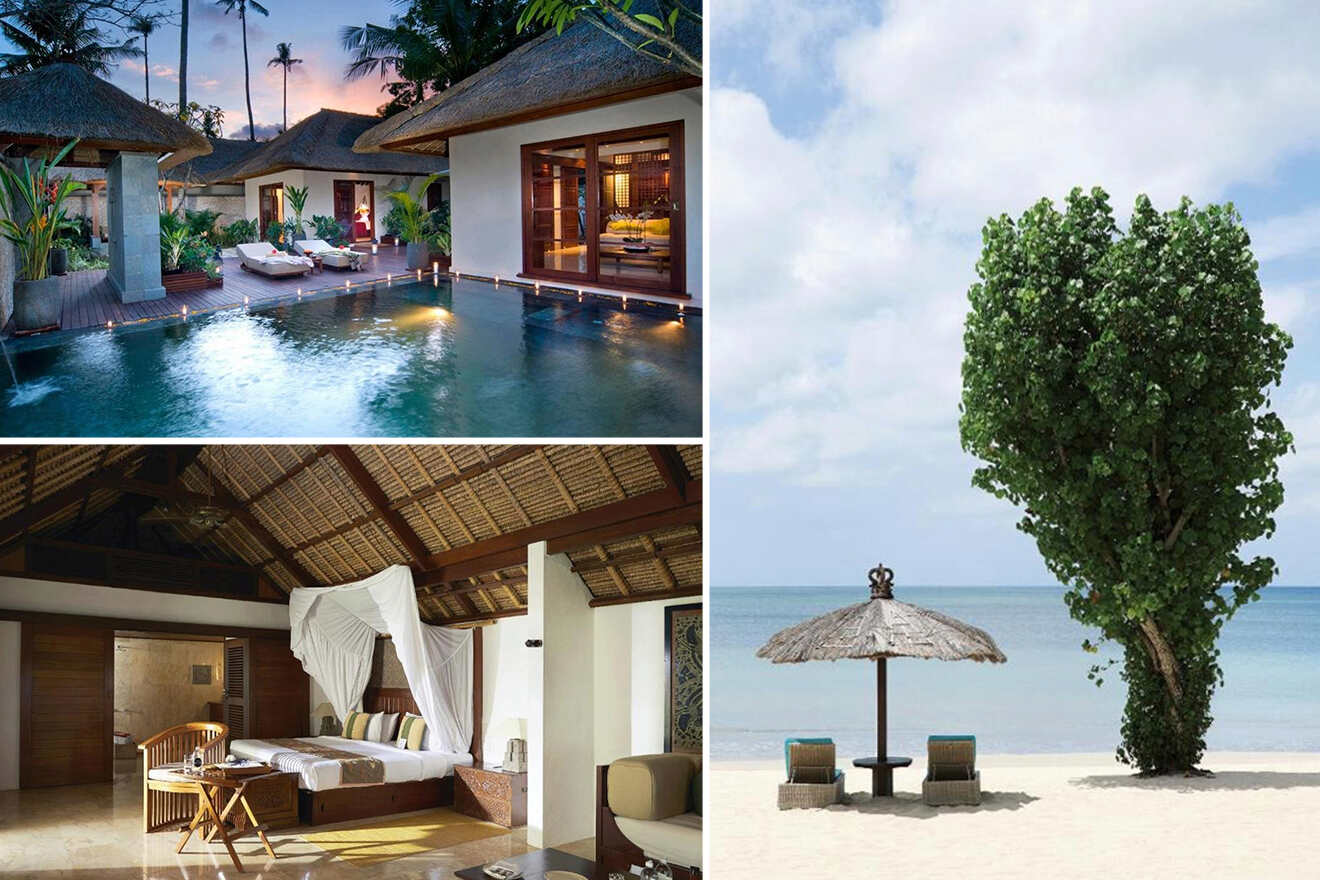 Cocktails on the beach and delicious dining with an ocean view! This luxury resort, that's right on the beach in Uluwatu has Balinese-style cottages and villas with indoor and outdoor bathrooms (some suites even have private pools). That's the room of my dreams!
You can try different activities like snorkeling, canoeing, and cycling! Or just head over to the spa & wellness center and get ready for some pampering! Massages, beauty treatments and you can also take some yoga classes!
14. Komaneka at Tanggayuda – luxury estate with a library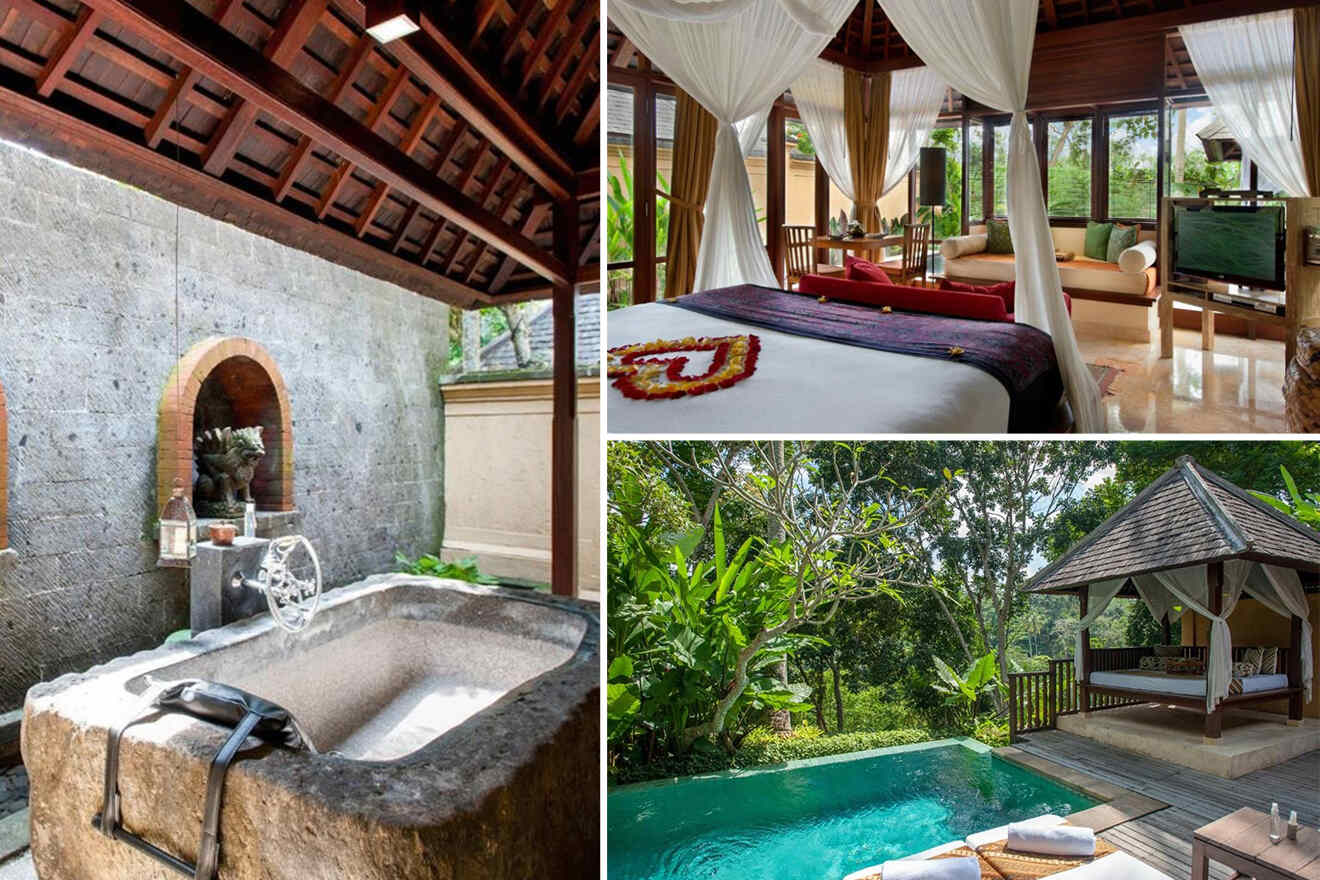 Wake up to the most amazing view of the jungle in the super spacious suites that have a bathtub and four-poster beds. There are so many cool things to try here that you won't know where to begin!
Let's just say that the library will keep some book freaks busy! But make sure you also sign up for the Balinese dance and wood carving lessons, why not leave Bali with 1 or 2 more skills? Then you can go to the spa and wellness center to relax after all the exercise in Ubud!
15. W Bali – beachfront hotel for party people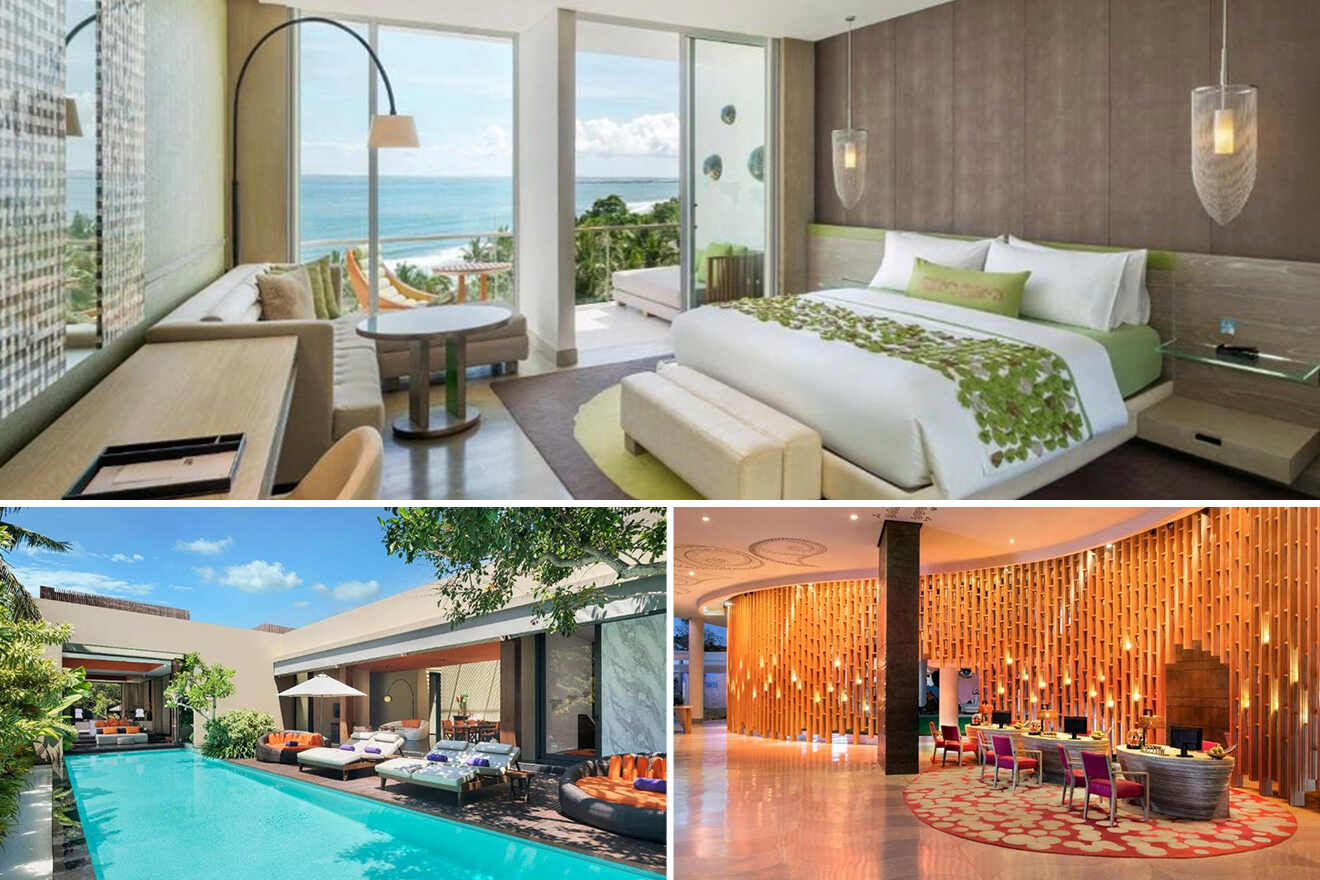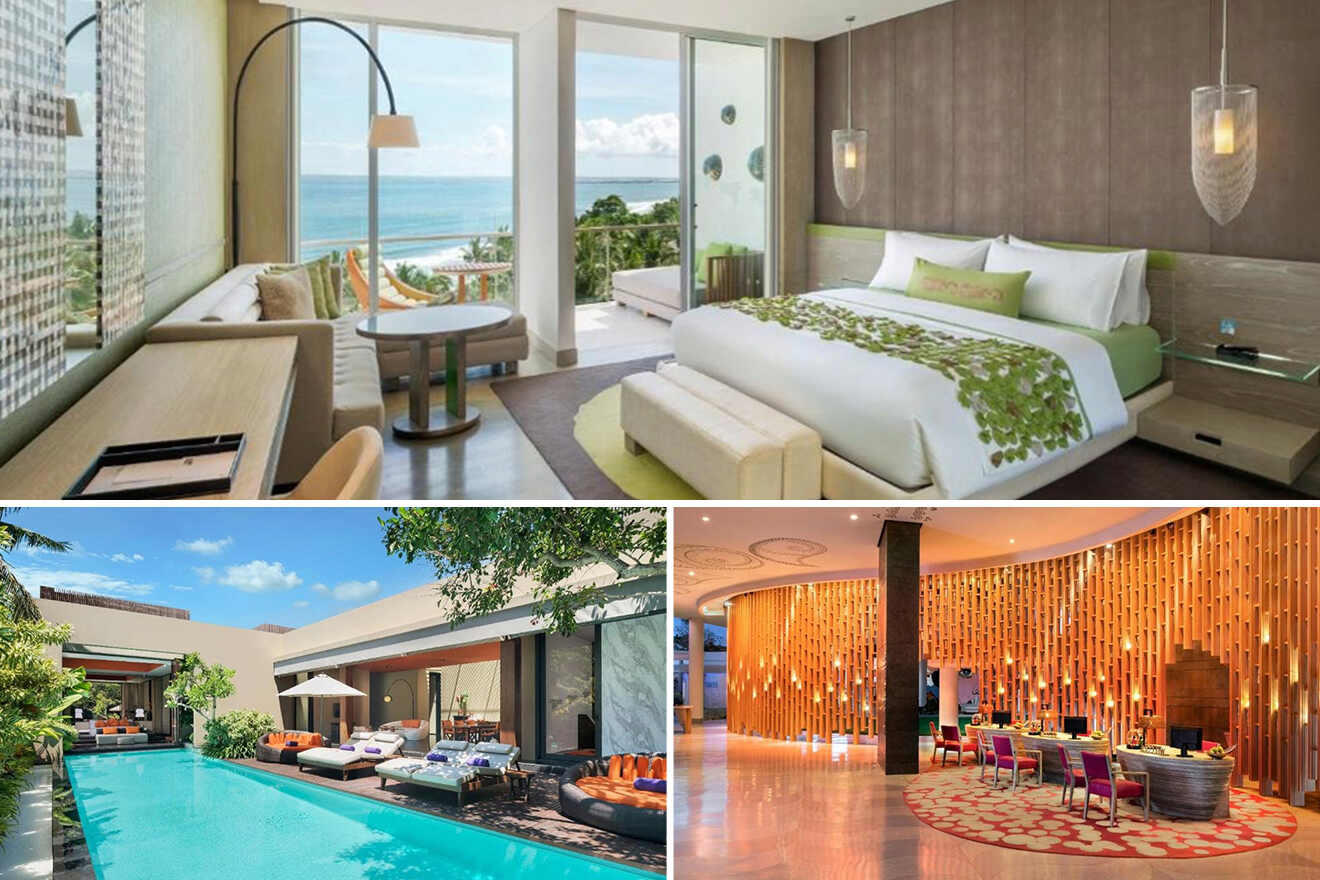 Sure, Bali is great for tourists who want to be in nature, do yoga and take care of their health, but it is certainly a great place to party! If you want to discover the nightlife here, I recommend staying at this beach hotel that's centrally located near all the bars in Seminyak!
W Bali also offers live music performances and different activities like pub crawling! After a night of drinking and dancing, leave your bedroom and head to the swimming pool, order a smoothie or coffee, and get ready to start all over again in a few hours!
16. The Apurva Kempinski – luxury estate great for kids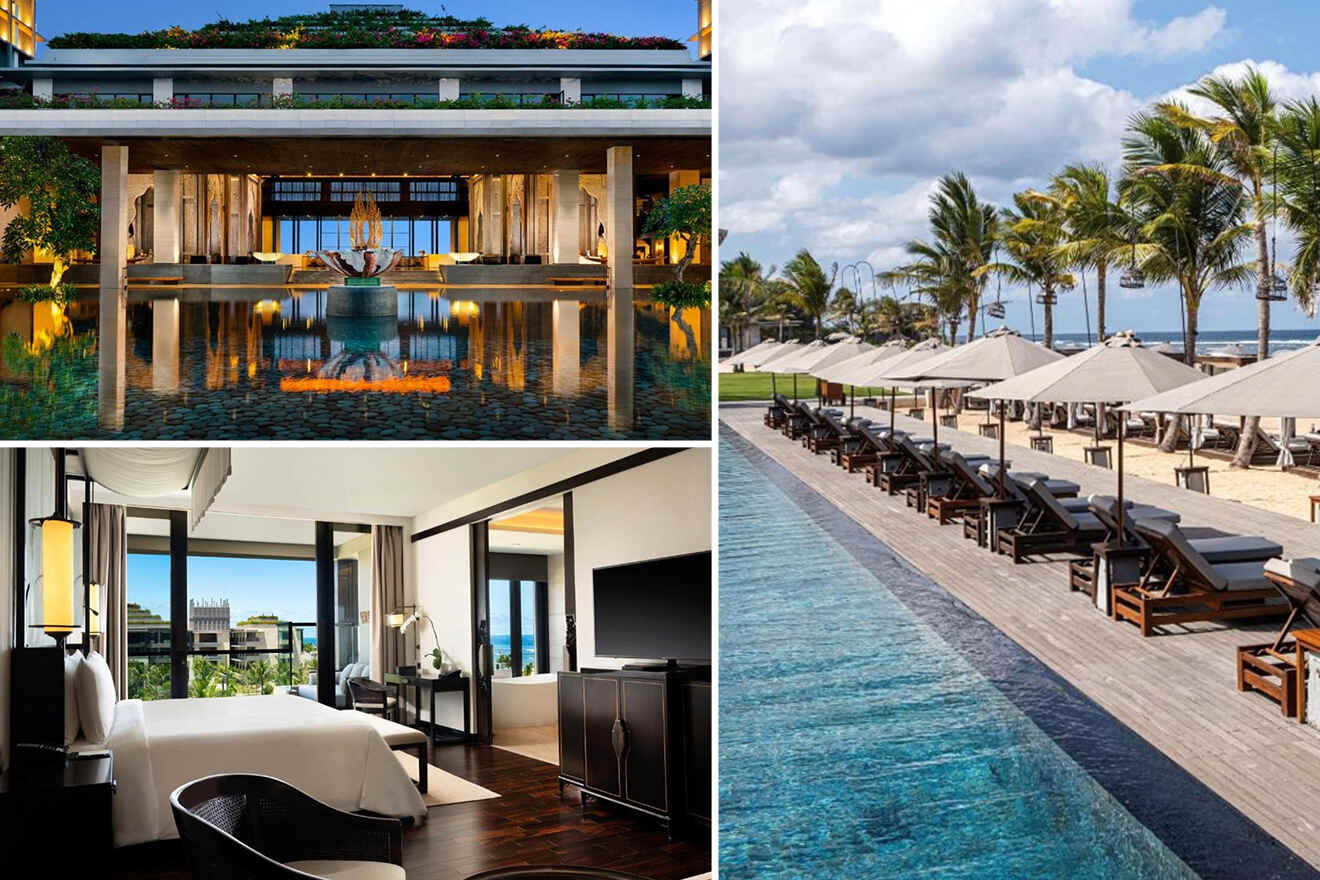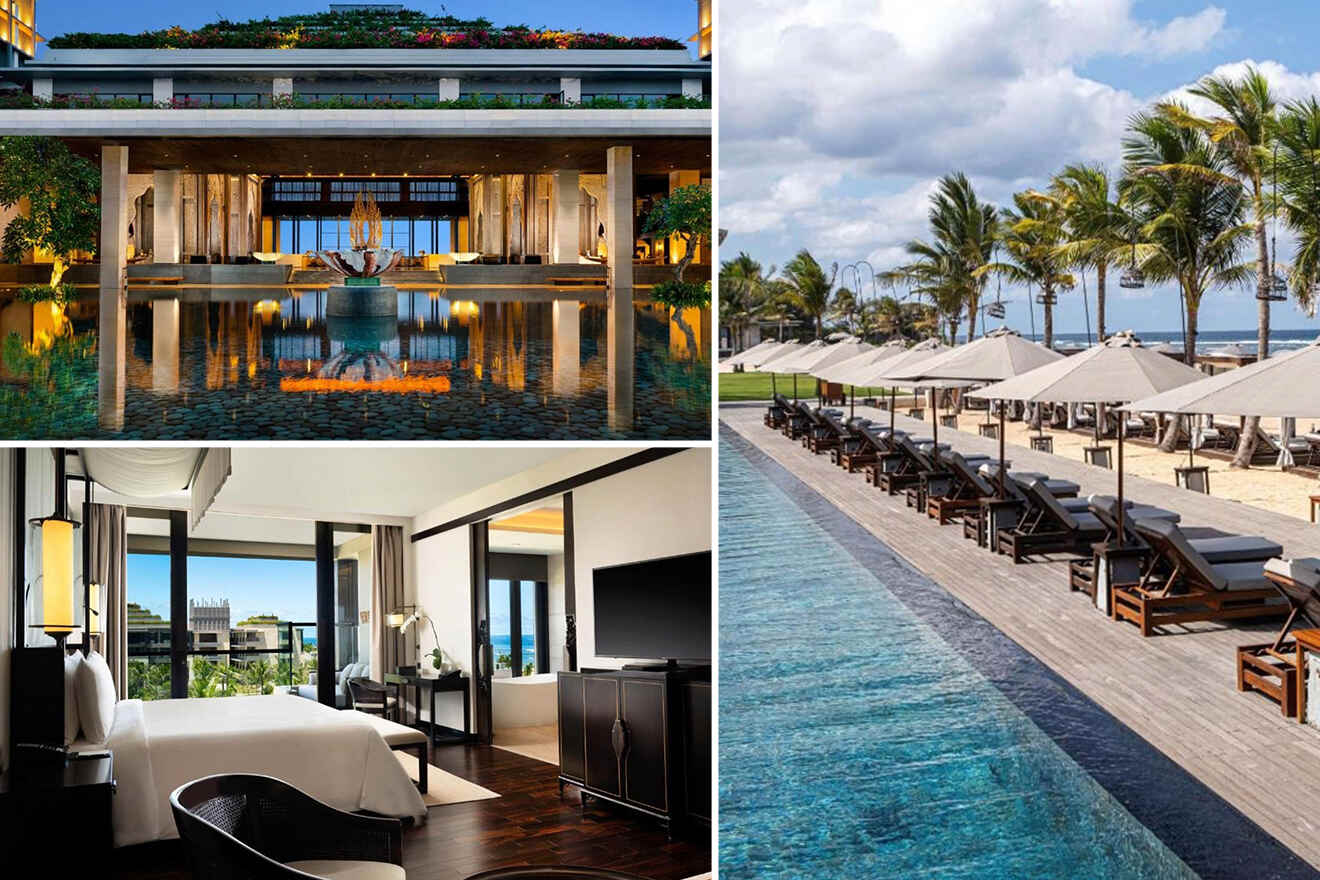 Ready for your tropical holiday? I hope you pack tons of bathing suits because you'll wear them a lot! This great resort features modern rooms in Nusa Dua that have beach views or tree views and some even come with private pools!
Surrounded by lush greenery, the Nusa Dua resort also has an outdoor swimming pool and a spa and wellness center! If you're coming with your kids then you'll be happy to know that there's also a children's pool and plus a kids club!
17. Alaya Resort – elegant resort with live-music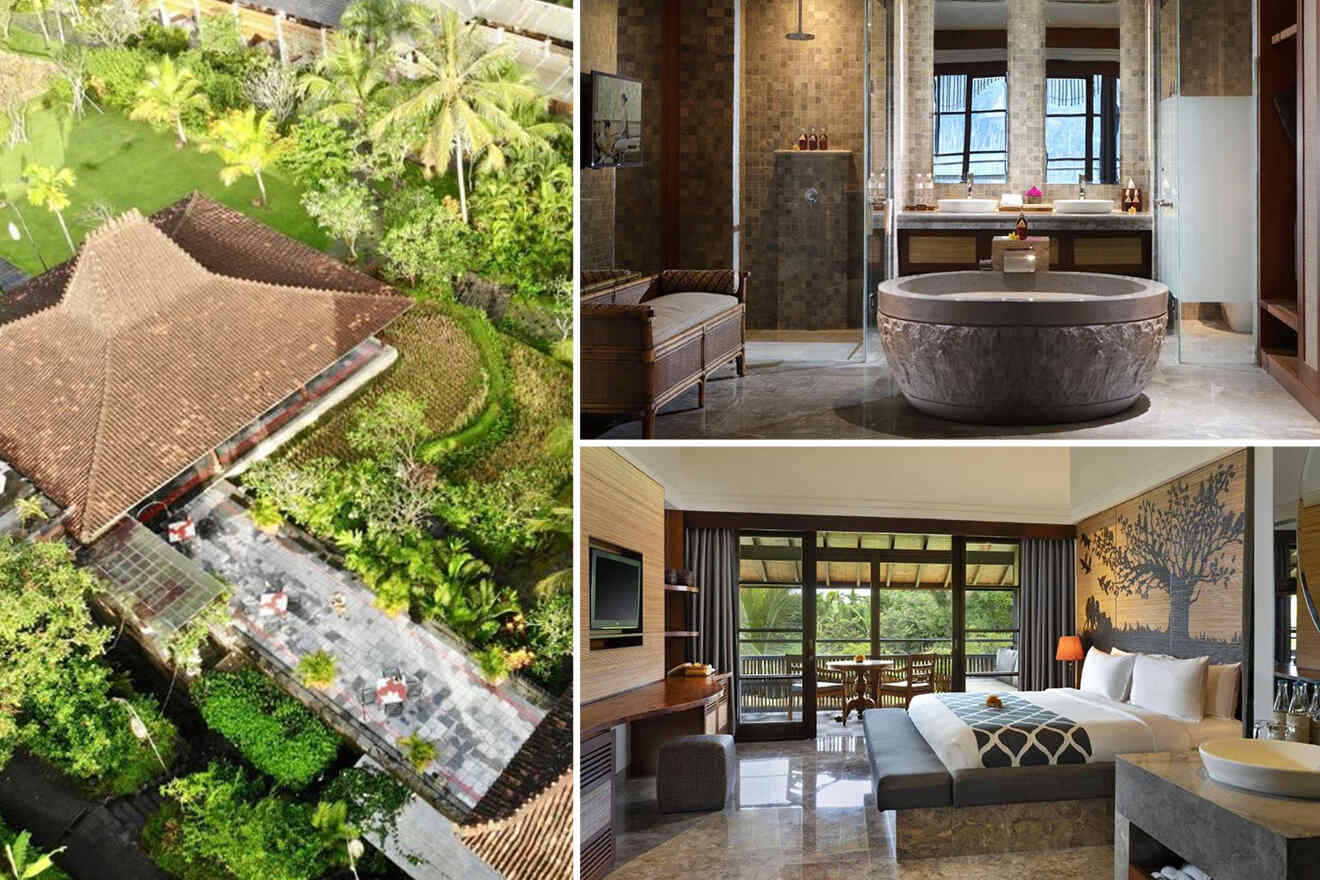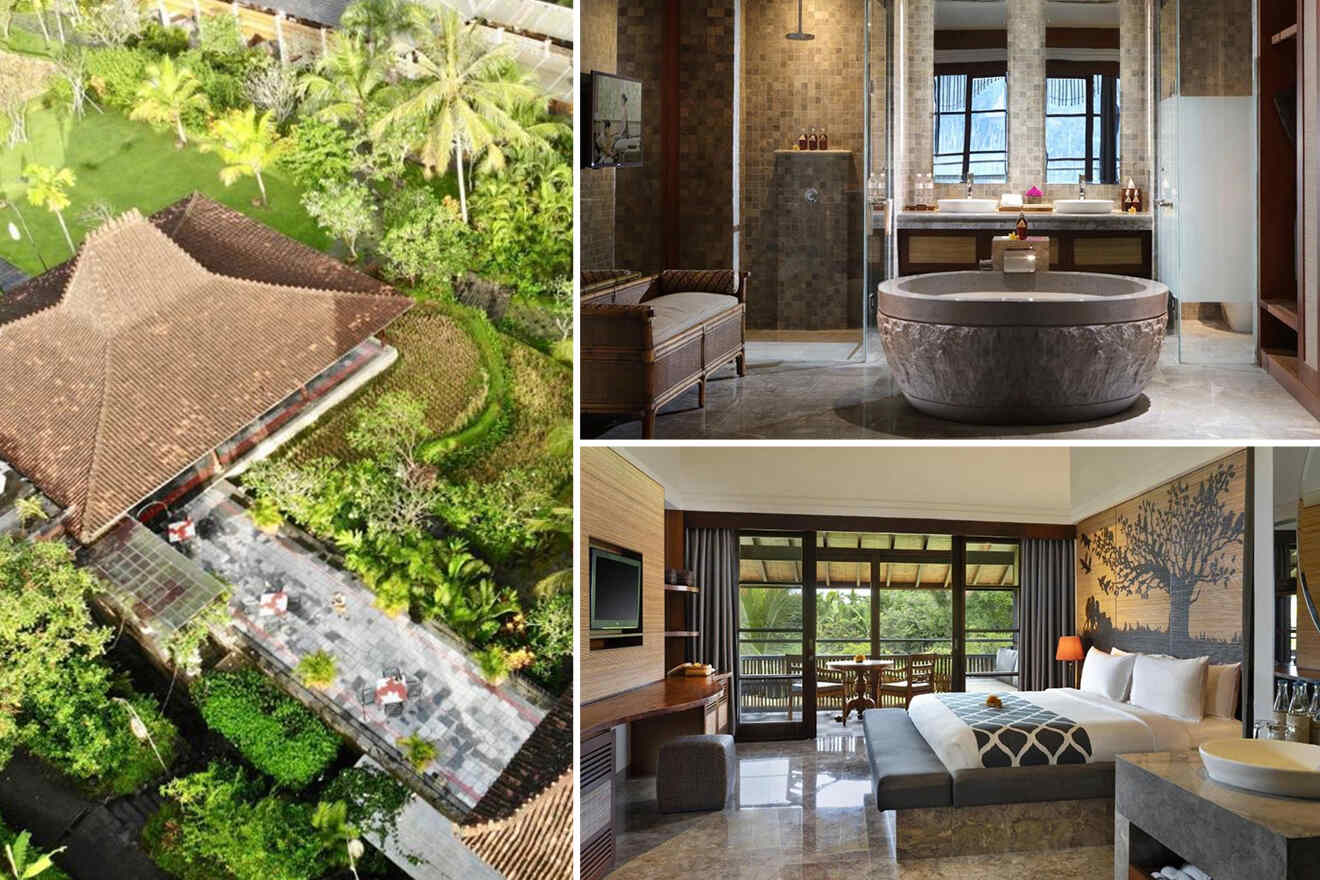 How dreamy does this location look? Set among the rice fields this luxurious hotel in Ubud, Bali's cultural center offers free daily afternoon tea and tropical fruits. Guests can enjoy some pretty nice views from their Balinese-style room, which has a private terrace and is decorated with artwork.
Dining is available at the on-site restaurant. So get ready to indulge in some delicious dishes and have fun while watching live music performances!
18. Kamandalu Ubud – dreamy hotel amongst the treetops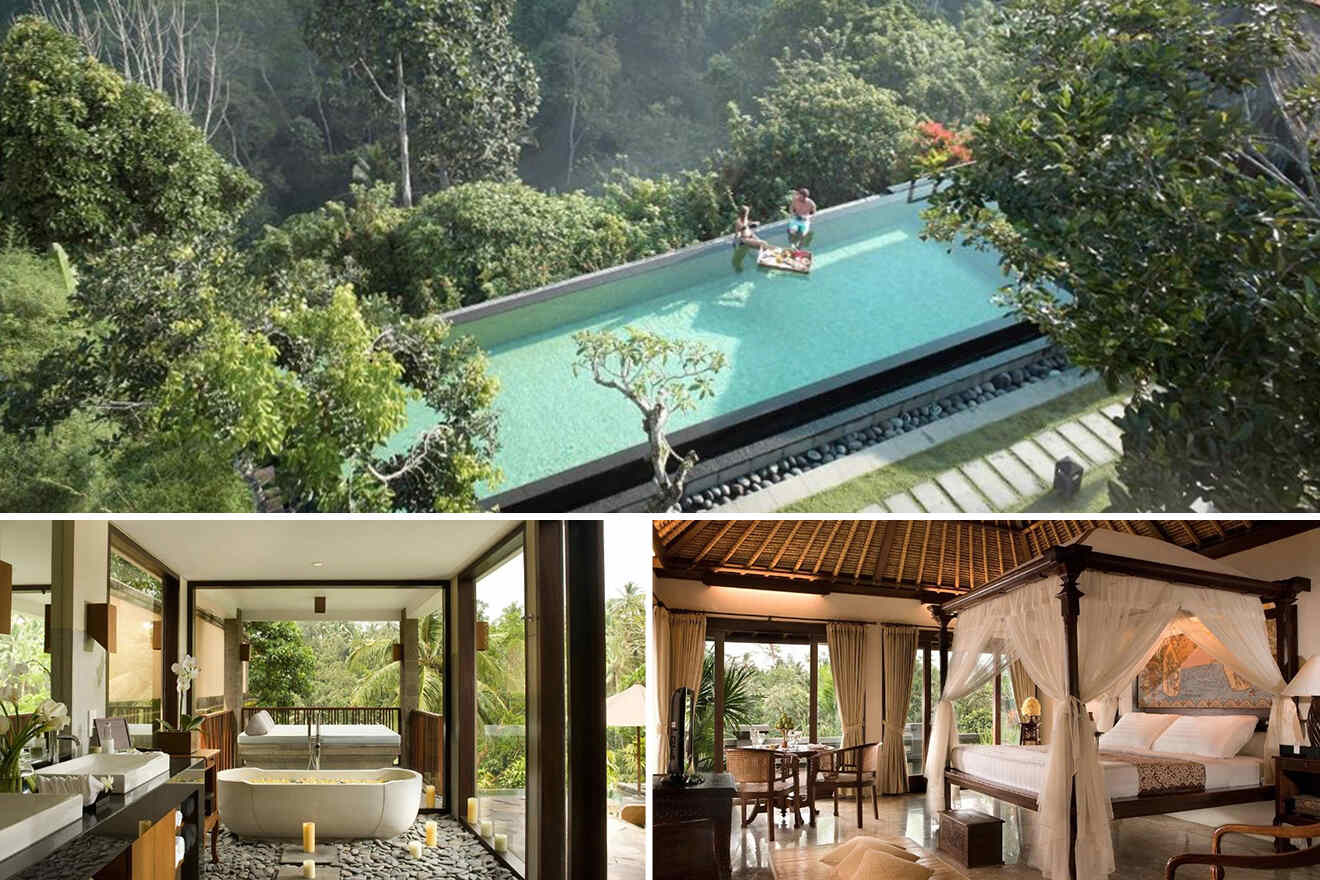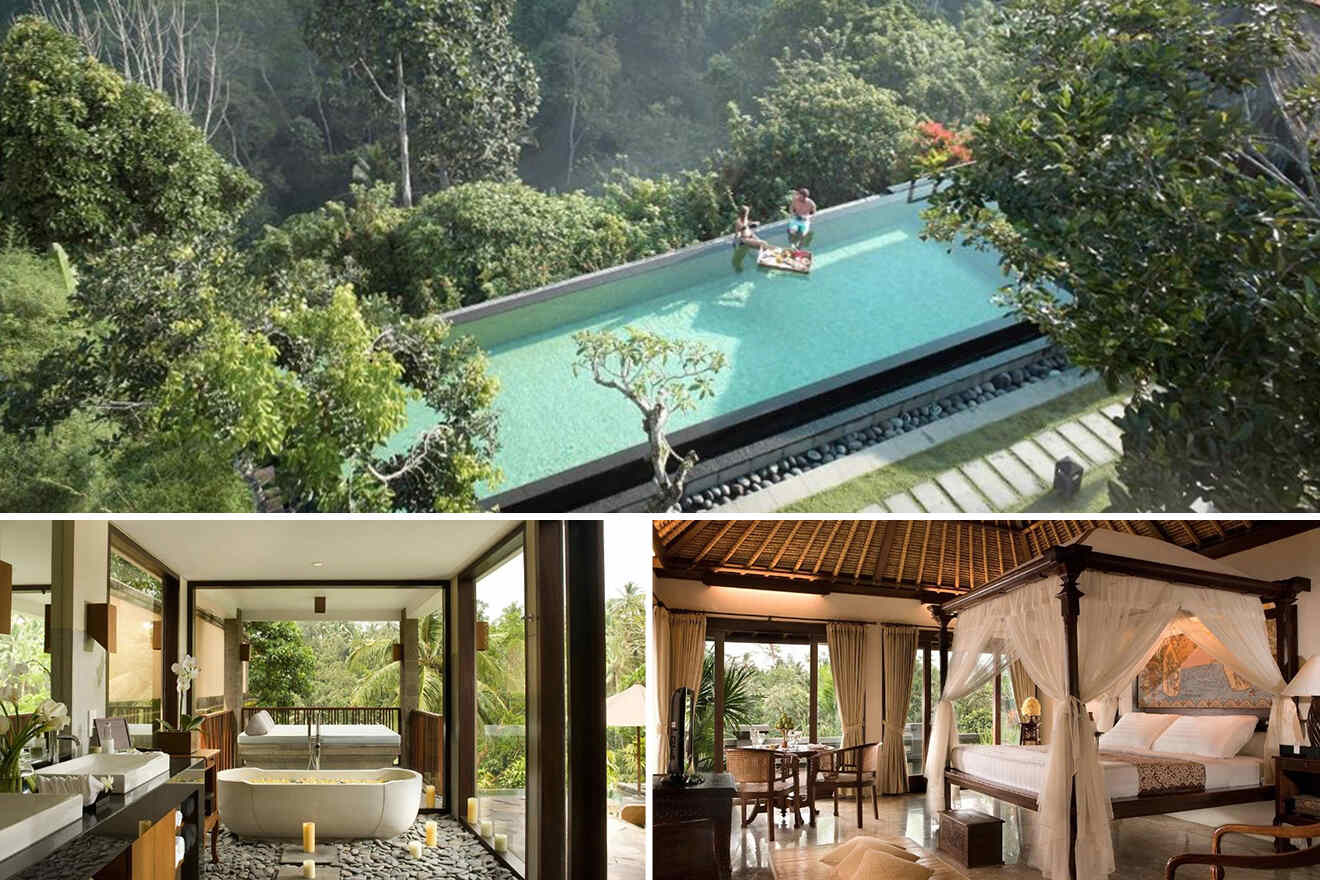 Serenity and bliss. This should be the motto of this incredible resort in Ubud that's surrounded by Bali's tropical greenery and overlooks the Petanu River. Wake up in your room villa and catch those amazing morning views of the hills. After you can go swimming in your own private pool!
And guess what? You can rent a bicycle at the hotel and start exploring those rice paddies! Or maybe you'd fancy some dance lessons? Honestly, there's never a dull moment in Bali!
19. Wapa di Ume Sidemen – rooms with private hot tubs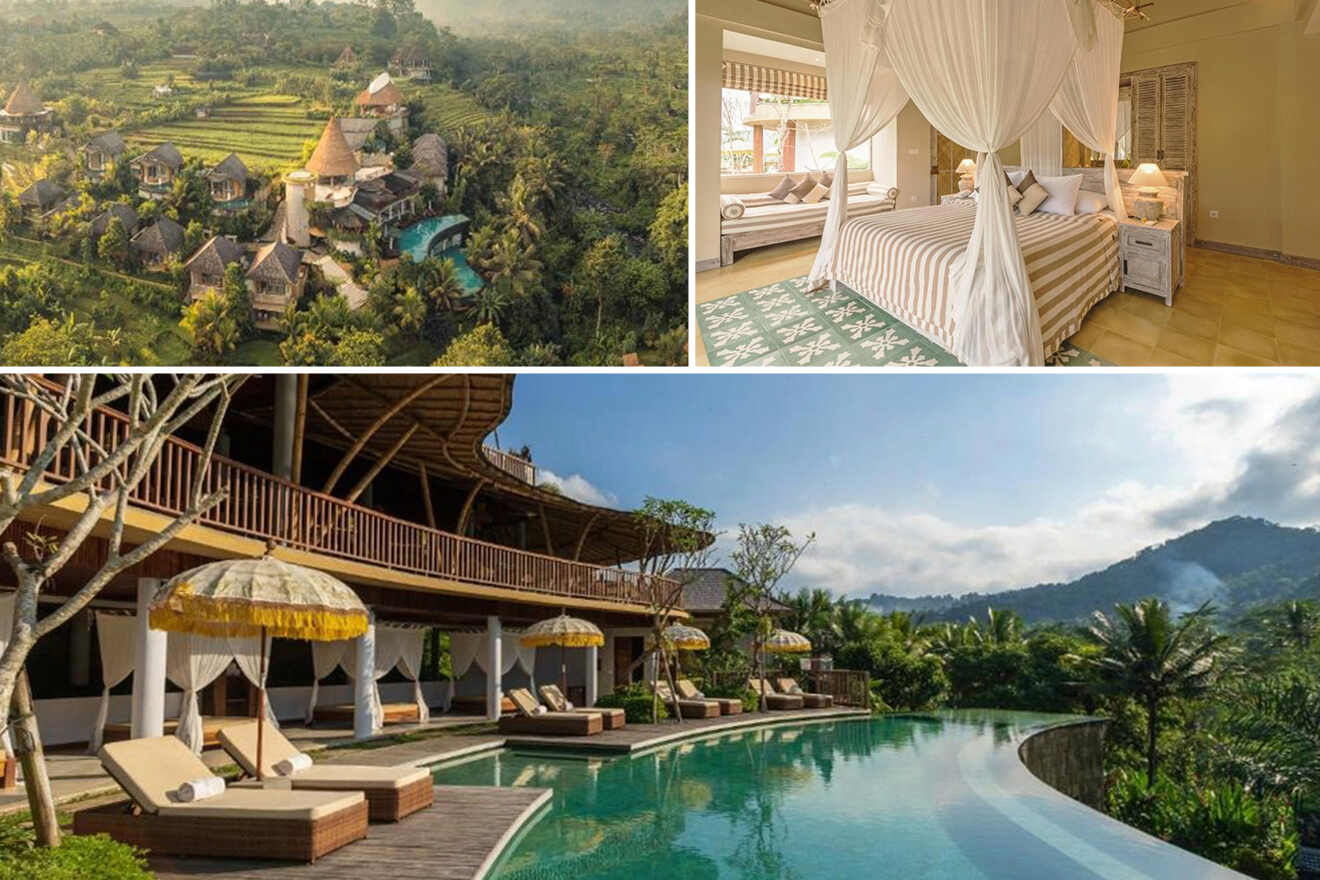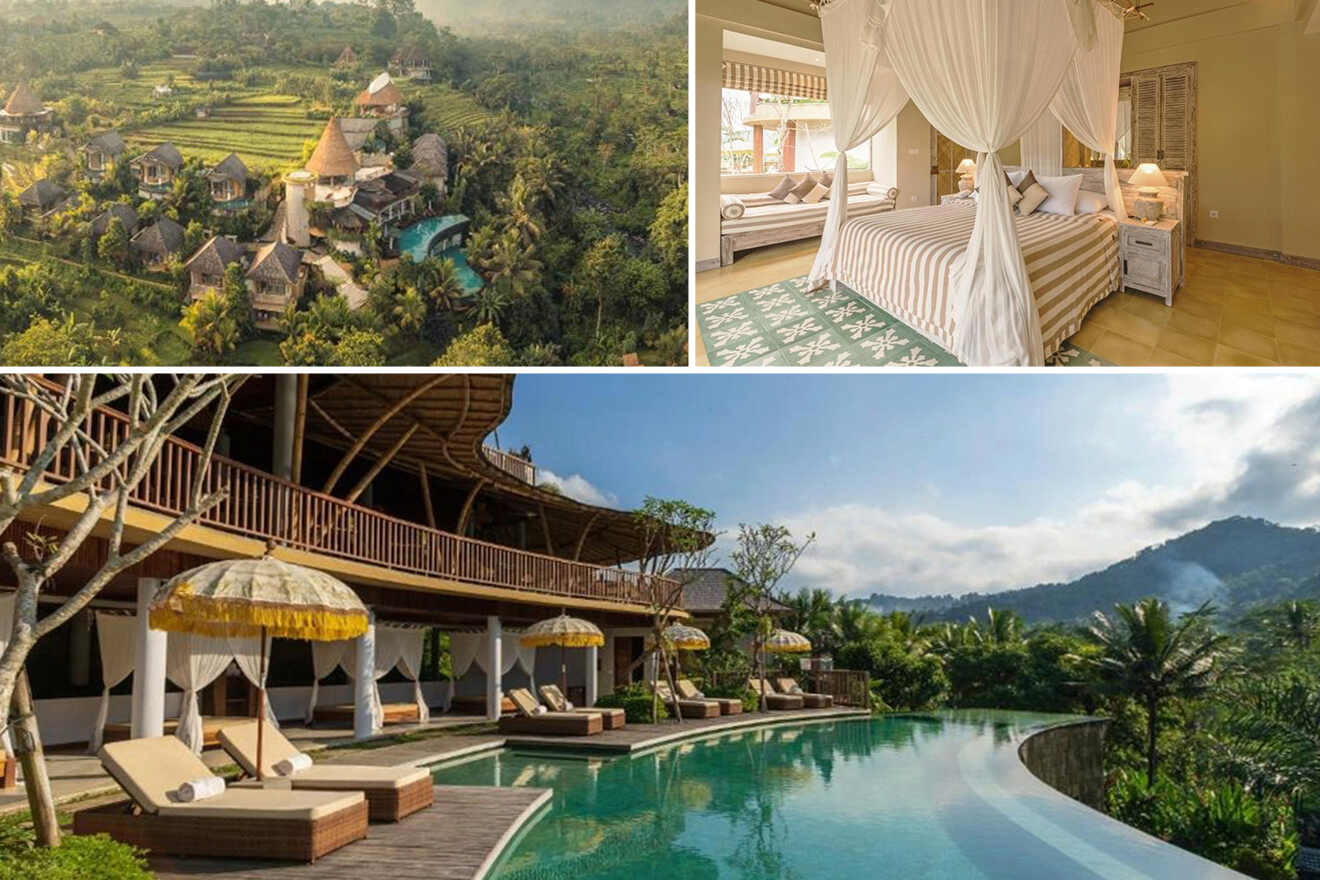 This estate is a dream come for any nature lover! I mean, who wouldn't love to have lunch underneath a tree, surrounded by lush tropical plants in Sidemen? The resort is, of course, built with wooden elements and features great jungle views.
Your bedroom will have a balcony that overlooks the garden and a hot tub! But I guess the best views are the ones by the infinity pool. You can't beat those ones!
Frequently asked questions about hotels in Bali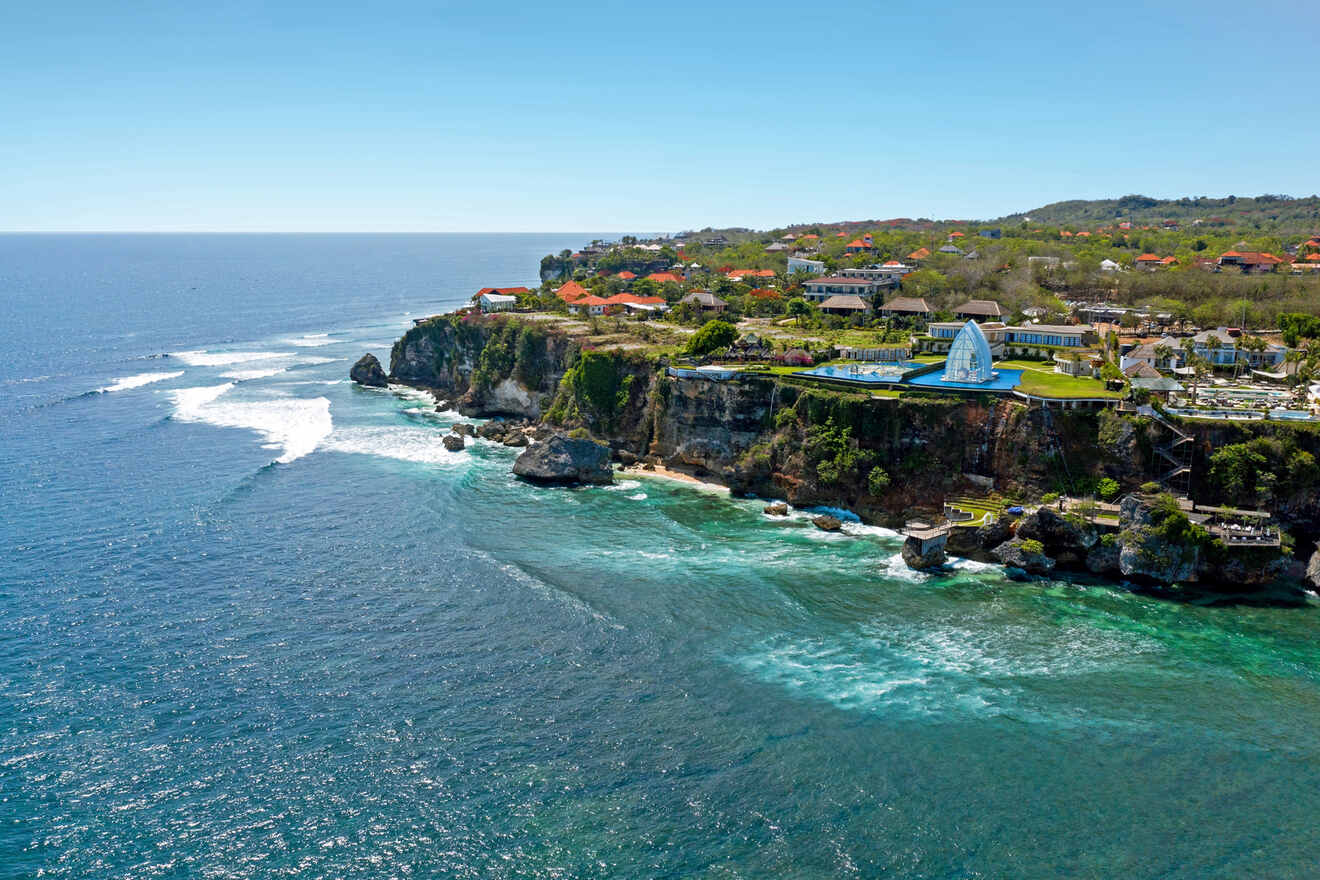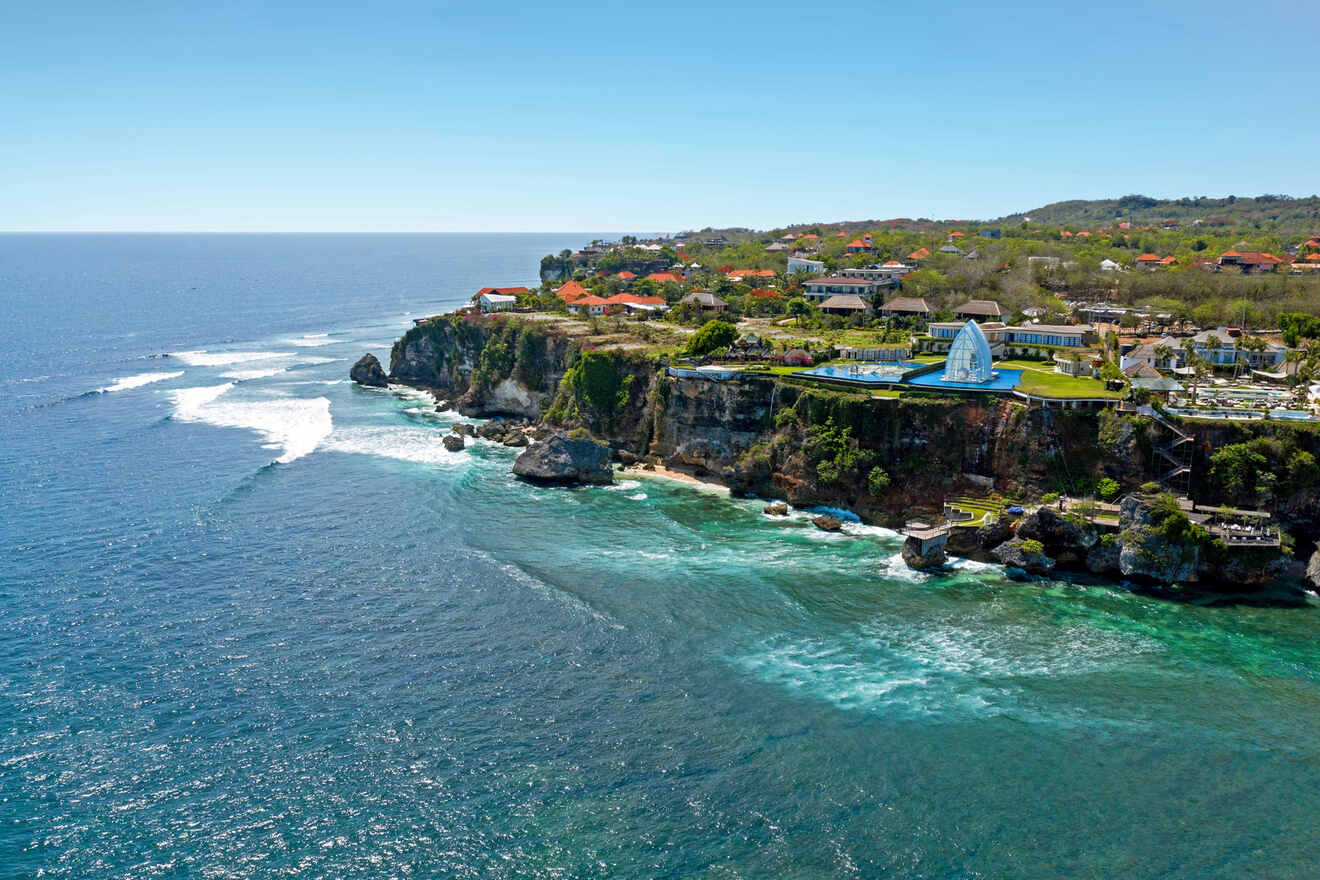 📸 Where do celebrities stay in Bali?
Ana Beach House and Seseh Beach Villas are two of the hotels that celebrities like the Kardashians, the Beckhams, Kate Moss, and Kate Winslett choose when they visit Bali. 
🤩 What is the most luxurious hotel?
Bulgari Resort is the most luxurious hotel in Bali. It has suites and villas that have traditional Balinese decor, a private plunge pool, and an infinity pool. 
🤔 Why are hotels in Bali so cheap?
Hotels in Bali are cheap because daily expenses are lower than in other countries. Everything from meals to transport fees costs less than in other places. 
🚫 What should I avoid in Bali?
Some things that you should avoid are: driving a scooter without a license, dressing disrespectfully, and stepping on ceremonial offerings.
Conclusion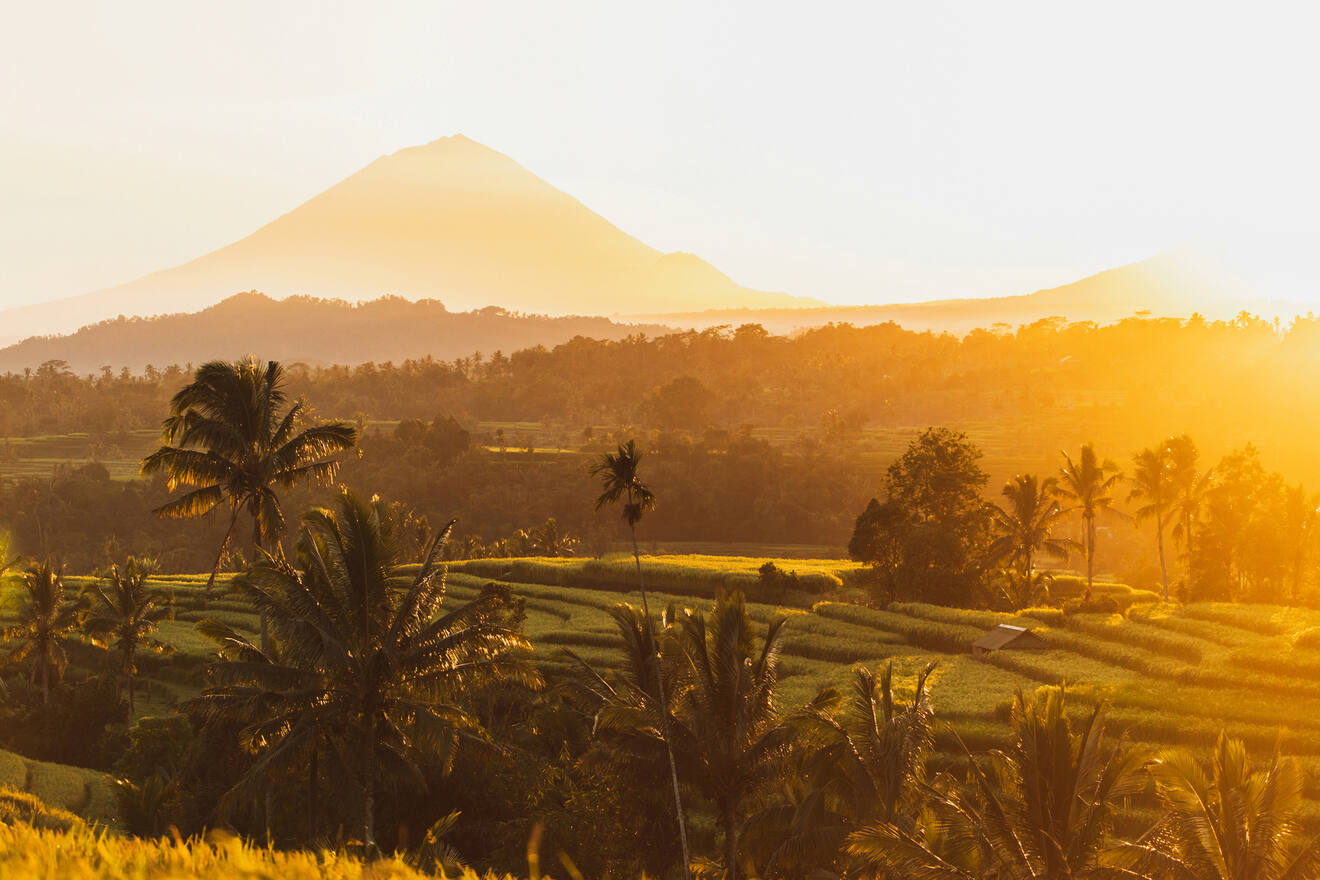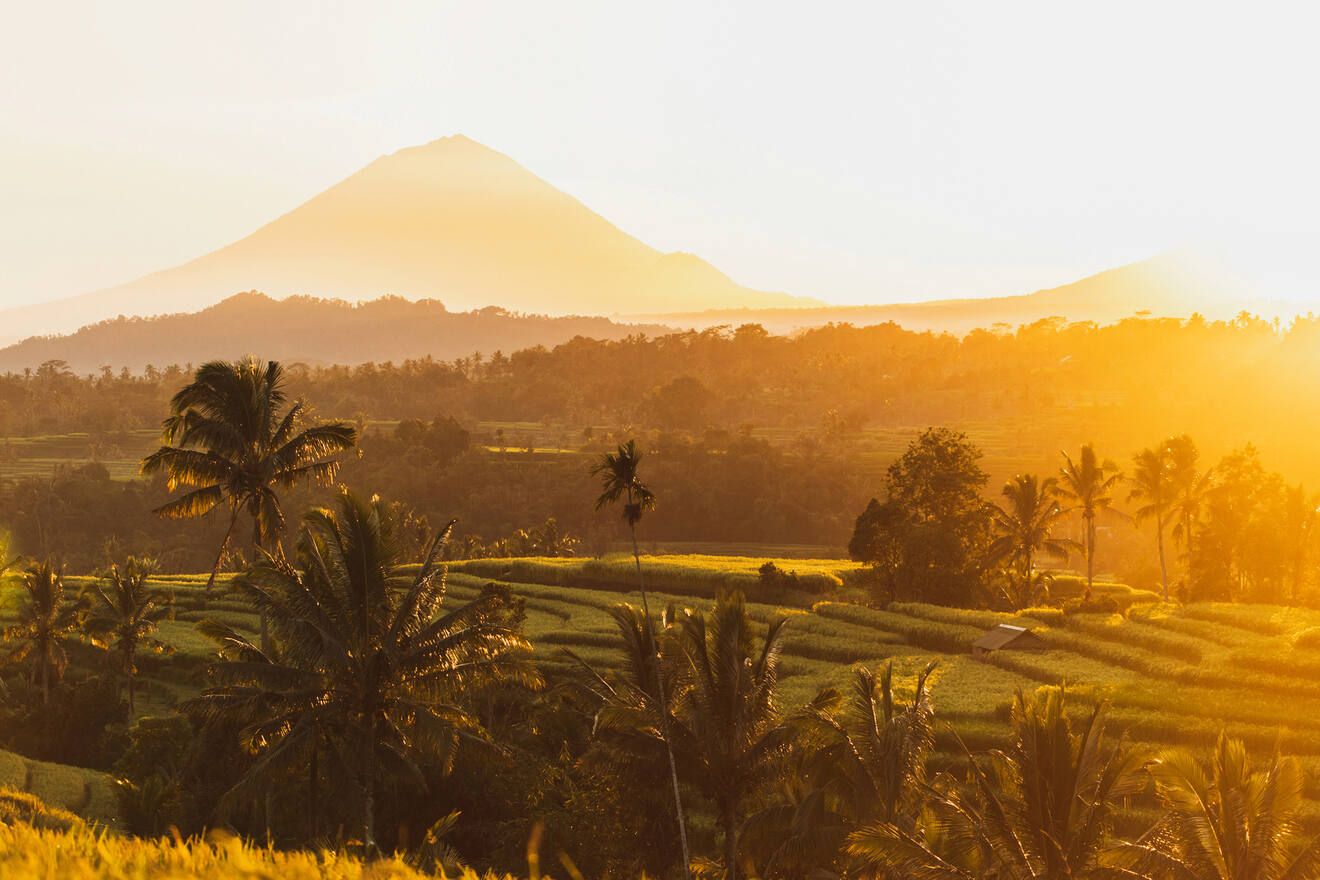 By now I'm sure we're all under Bali's spell! And how could you not be? This Indonesian island is fantastic!
This post features a list of the best luxury hotels in Bali, listed from most to least expensive. For each, I've written down all the amazing facilities and incredible amenities that you'll find, from unique river views to health & wellness centers.
In case you're having a hard time trying to decide which are the best hotels, here are my top 2 favorite ones:
Bulgari Resort – An Uluwatu estate with a private beach area and rooms with pools
Capella Ubud – Stunning bedrooms with antique furniture
But I highly recommend booking a room in your favorite Indonesian hotel in advance! The resorts are some of the best ones on the island and will sell out super fast!
Enjoy your trip to paradise and Bali's unique vibe! Go party in a beach club in Uluwatu, explore beautiful Ubud, and chill in your luxurious room or villa while admiring the views of the Ayung river and Mount Agung.
Safe Travels,
Victoria