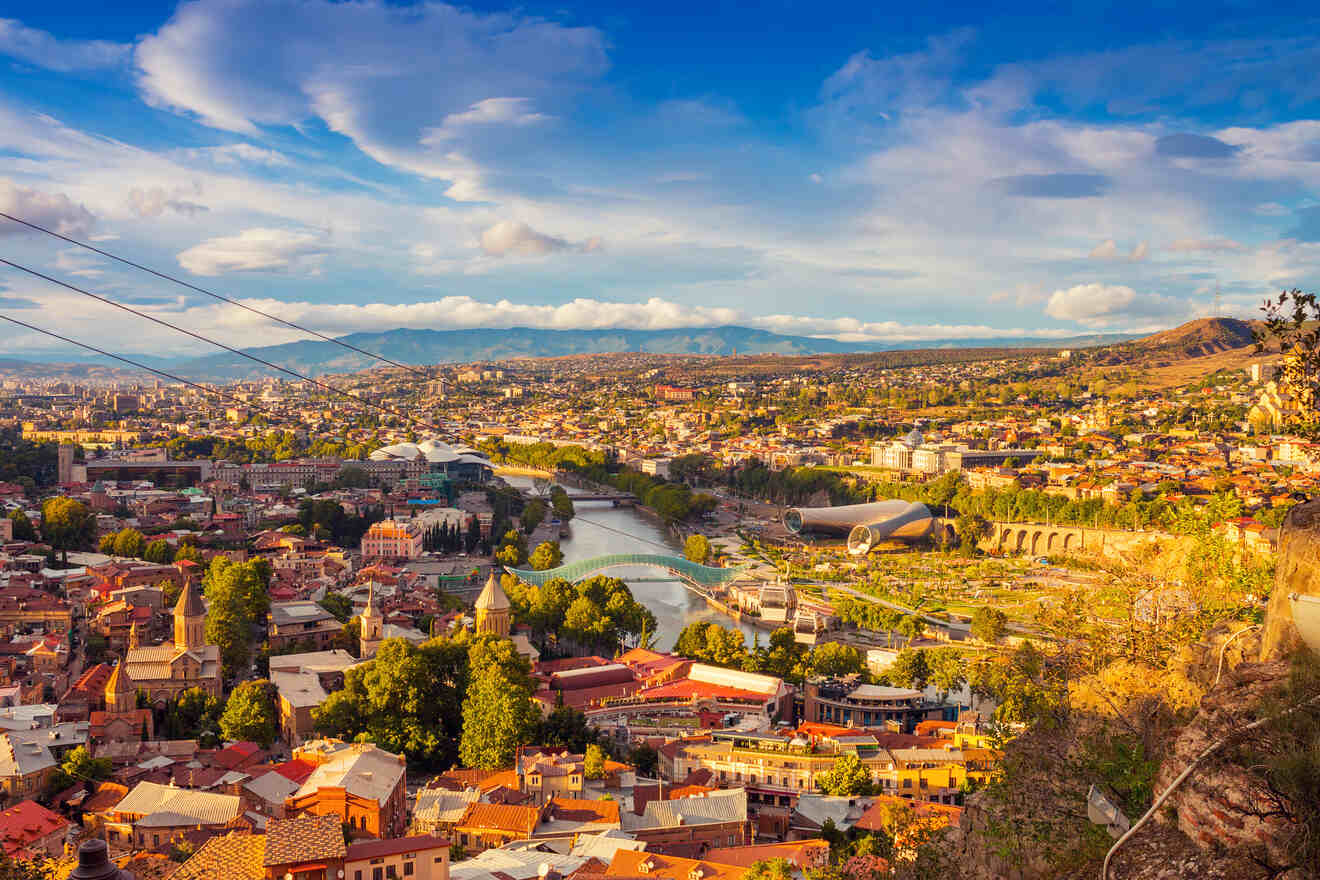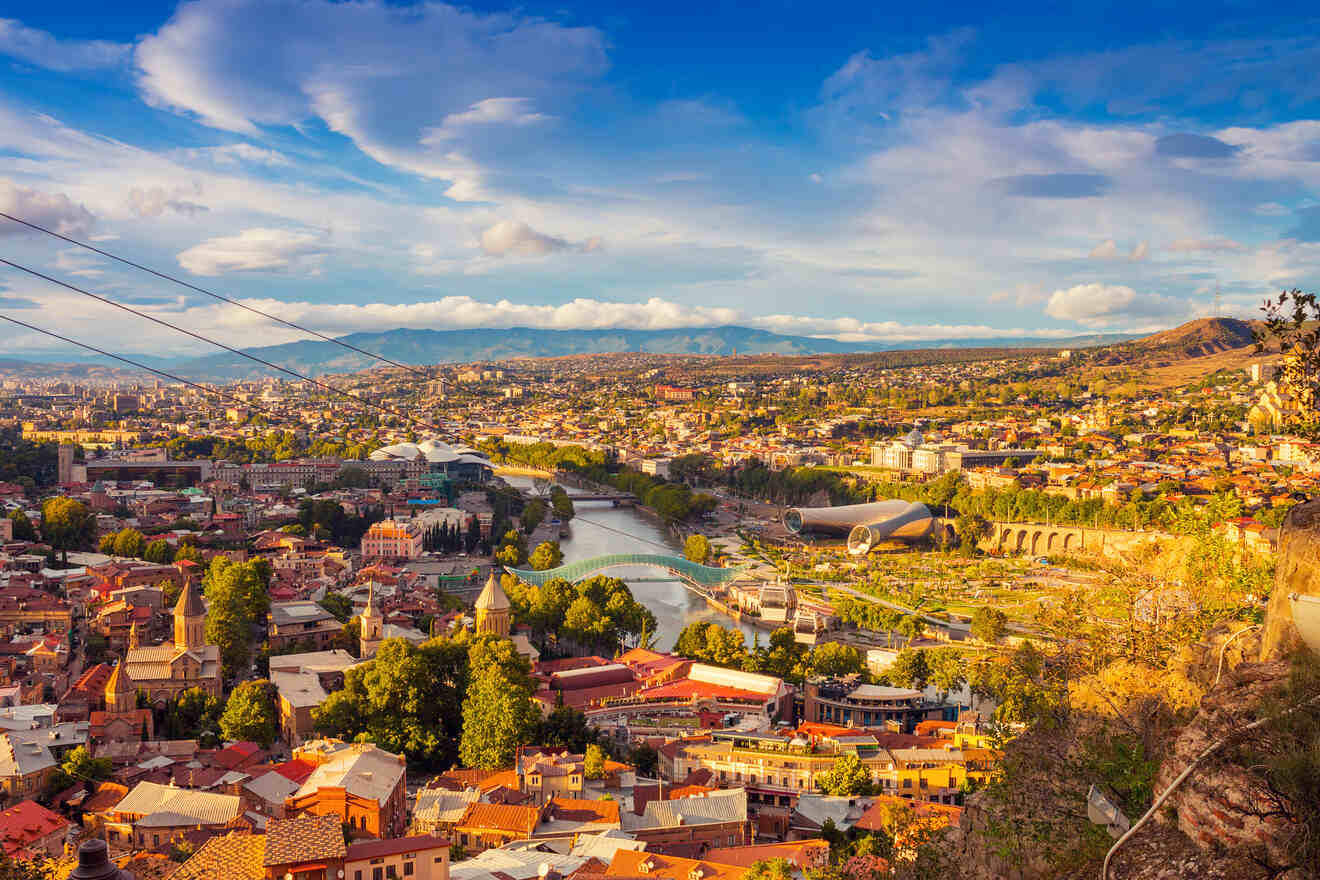 Welcome to this amazing ancient city that is home to some of the most incredible architecture in the world! The history of this place dates back to either the 1st or 2nd century AD, that's a really long time ago! Whether you come here for all the historical places or enjoy the bohemian atmosphere of the city, there's something to see and do in Tbilisi for every type of traveler!
Georgia has been producing wine for 8000 years, so I guess they pretty much invented this drink; that's why UNESCO has included their traditional method of making wine through the use of qvevri, on its Intangible Cultural Heritage of Humanity list. So if you love a good glass of wine like me, you are sure to love your time in Tbilisi!
Enough with the reasons why you should visit this town, I know I already convinced you! Now you're probably wondering where to stay in Tbilisi but don't worry! I've looked through hundreds of hotel and hostel lists to find the absolute best one for each price range, and I only recommend the best-rated hotels that I would choose for myself!
Make sure you book the accommodations quickly, no matter in which area they're located so that you can get the best deals!
Let's go!
If you are in a hurry
Here's a shortlist of all the best hotels located in Tbilisi Old town:
This map will help you visualize all the areas where to stay in Tbilisi, Georgia that I will be talking about in this post
1. Old Town – where to stay in Tbilisi for the first time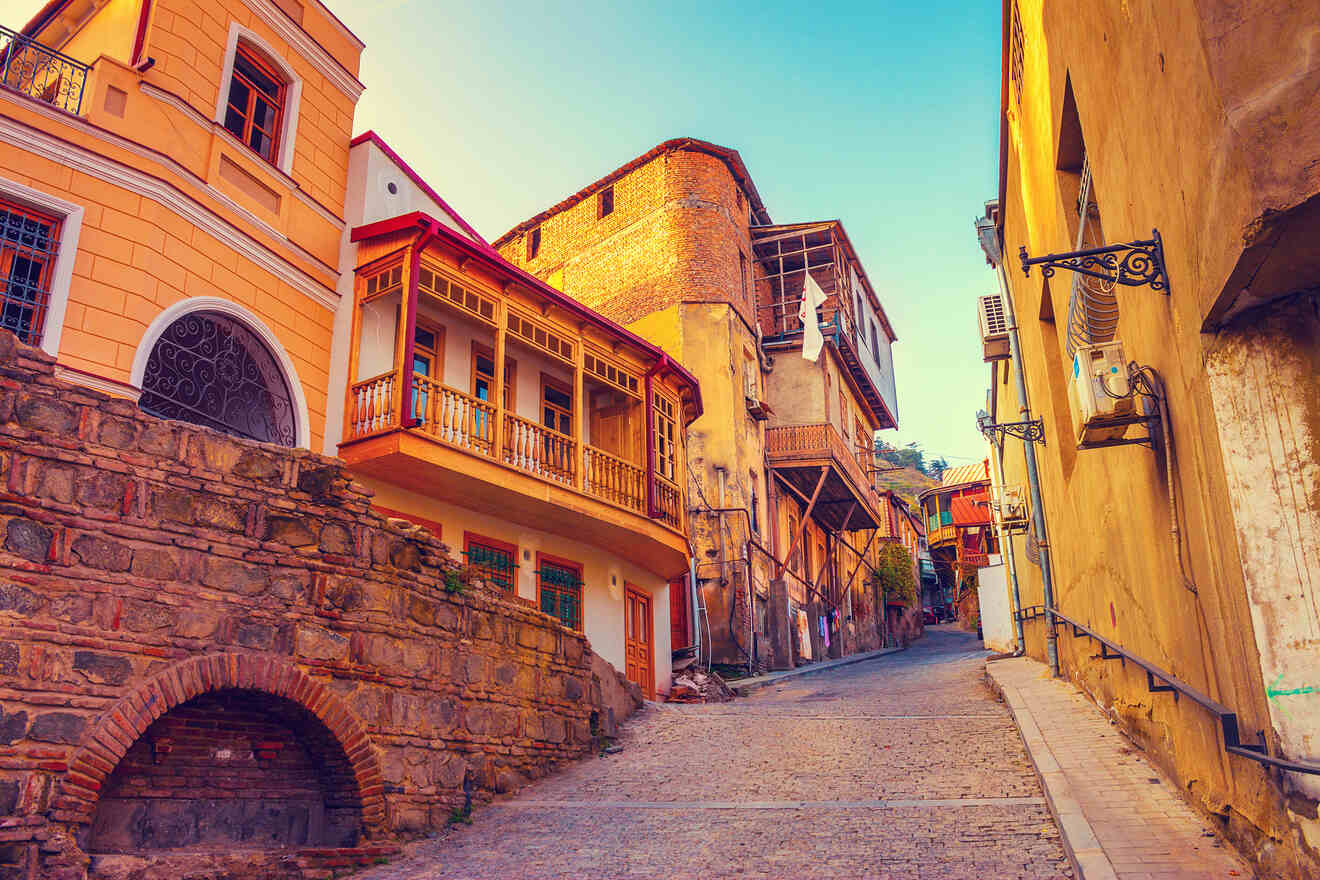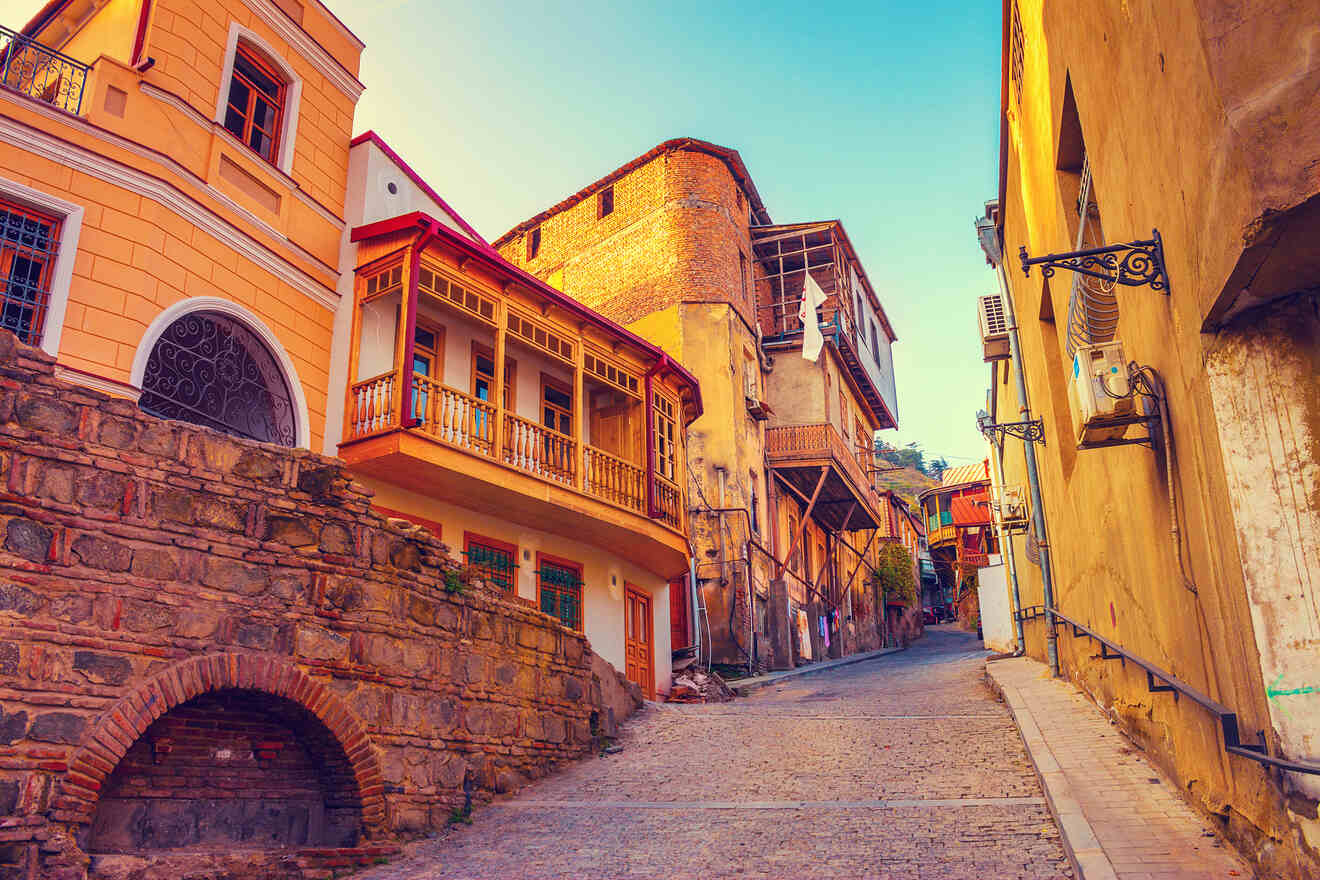 As a tourist, you want to get to know the city you're visiting as much as possible. There's no better way than to stay in the heart of the city to get a feel for it! With small colorful houses placed one right next to the other and narrow cobbled streets, this area of Tbilisi is very dreamy!
The neighborhood is full of churches, museums, and other landmarks, and even though some require renovation, they just add to the area's charm. The residential architecture found in the Old Town is also worth taking in, as many of the buildings date back to the 18th century. Ok, well, the city is extremely old, so you can find some structures from back in the 5th century too!
The Old town consists of Liberty Square (also known as Freedom Square), the Abanotubani area with the traditional Sulphur baths, and Sololaki with some trendy cafes. Over the years this area of Tbilisi has just gotten better and better. Now the streets are filled with art shops, wine houses, and many other interesting places that will keep you away from your hotel!
All in all, you cannot go wrong if you decide to stay in the Old Town, all the attractions like the beautiful Narikala Fortress, restaurants, and shops are pretty much walkable from anywhere you stay here and since I love combining all types of activities when I travel, for any of you who are in the mood to have some fun during your holiday, you can hit the bars in the Old town, there are so many here!
Pssssst! While you are in the city you're going to want to use your time wisely so make sure to check out this article for the top 11 things to do in Tbilisi that will keep you entertained!
Other accommodation options in Old Town
Things to do in Old Town
Take a traditional sulfur Georgian bath at the Royal Baths
Check out the view of the city from the top of Narikala Fortress
Walk on the Bridge of Peace at night
Take a picture of the unique Mother of Georgia statue
Enjoy the beautiful atmosphere in Liberty Square (Freedom square)
Go shopping on Rustaveli Avenue
Check out the architecture of the Anchiskhati Basilica
Get a souvenir from the Dry Bridge Market
Visit the Georgian National Museum, National Gallery, and Georgian National Youth Palace
2. Avlabari – best place to stay in Tbilisi for budget travelers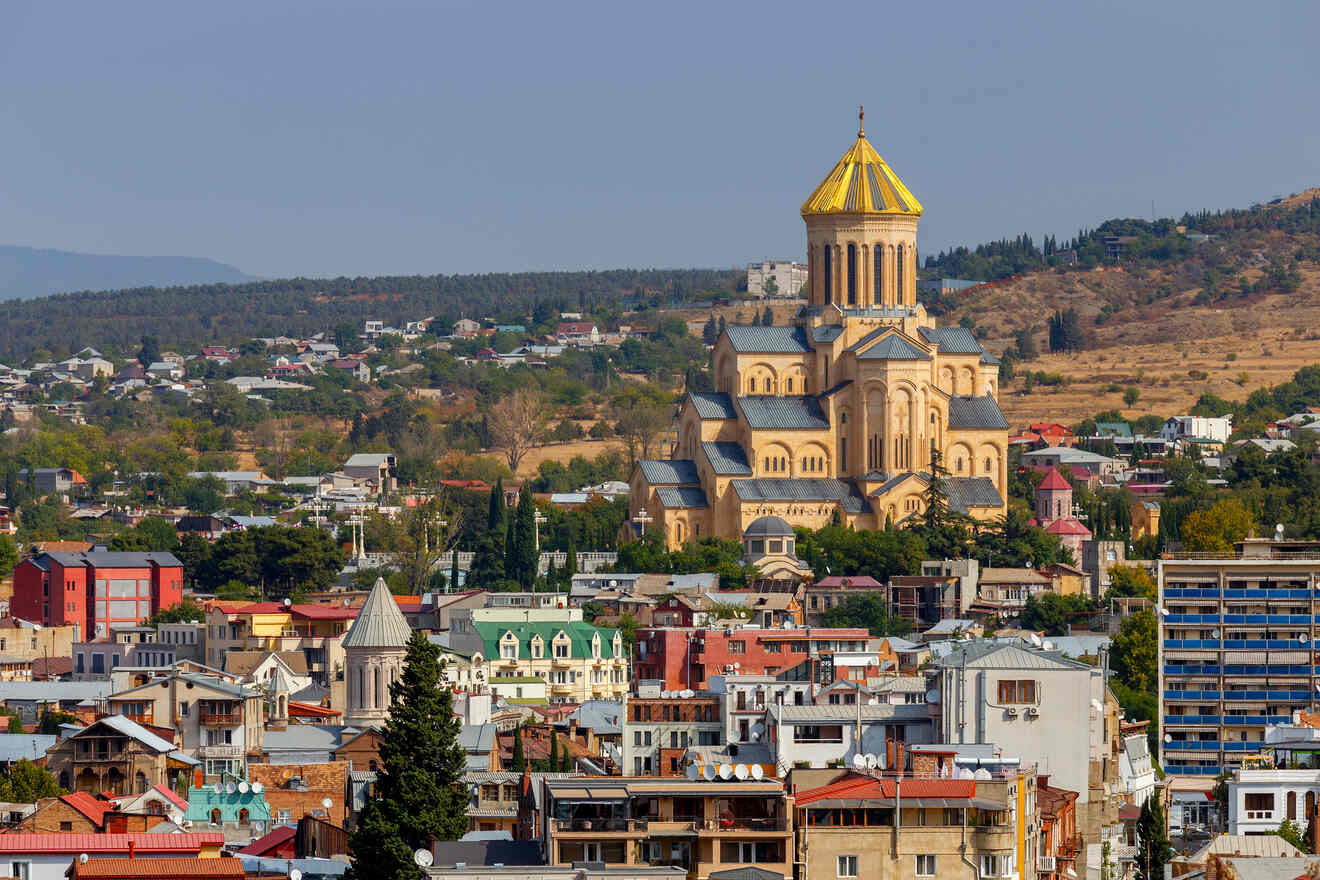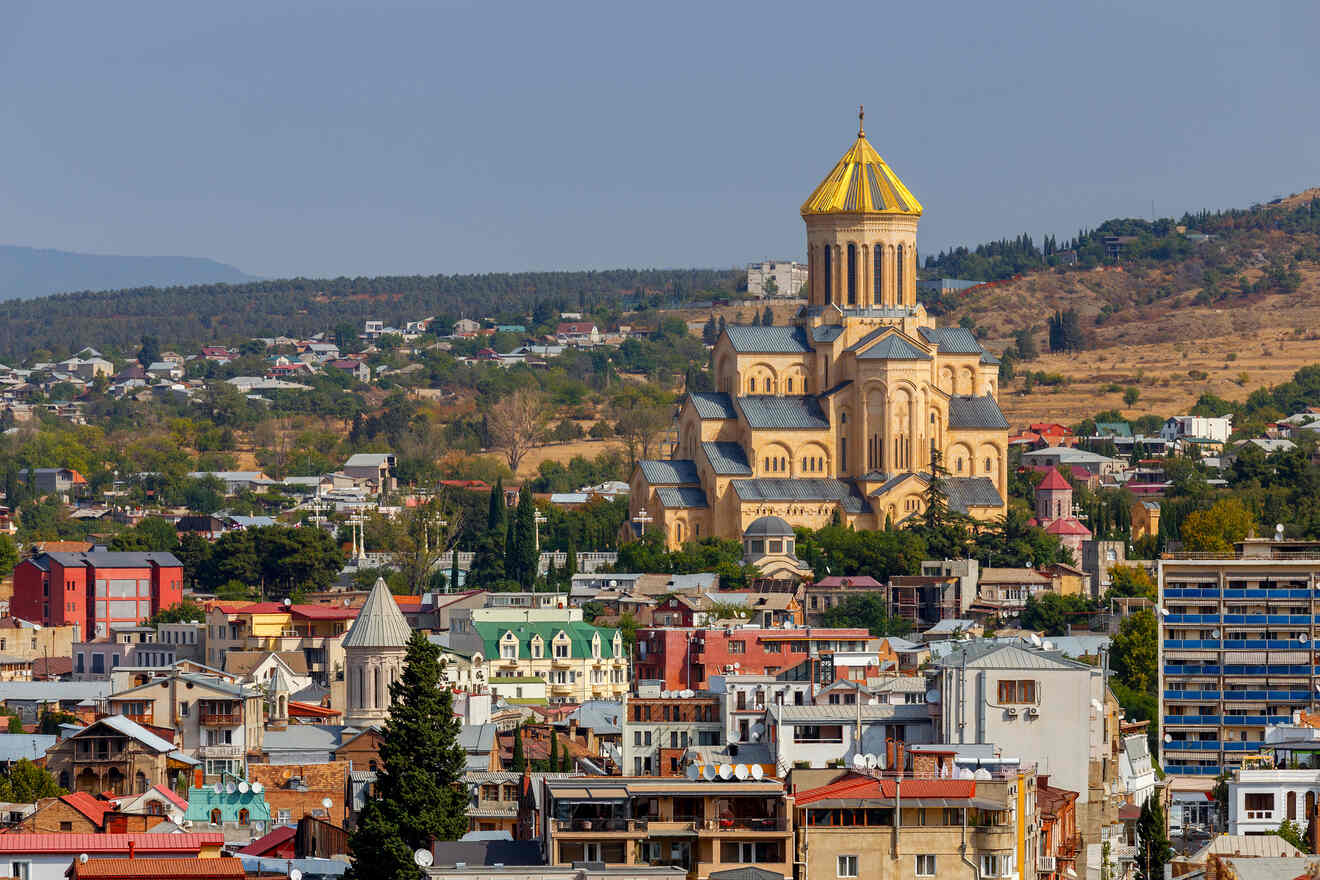 Located just across the Kura river from the Old Town, there's only a 20-minute walk to Tbilisi's City Center from Avlabari. This is one of the best places to stay in Tbilisi for all budget travelers as you can find cheap hotels but at the same time, you're really close to all the big attractions.
Although some landmarks are within walking distance, you have a metro station in this area so don't worry if you feel like your feet might give up on you!
Avlabari is a lively neighborhood with a lot of cafes, restaurants, shops, and clubs. Grab some food in one of the many restaurants in the area or buy souvenirs at the countless shops before spending an evening bar-hopping!
The area is also home to most of Tbilisi's gay community. It can get a little loud at night and some people love that about this neighborhood, however, I don't recommend this area for couples who are looking for a quiet and romantic evening.
You still have to see all the Georgian architecture in Avlabari. There are some great churches to visit such as the Holy Trinity Cathedral of Tbilisi, and let's not forget the Metekhi Church which has such a cool location! I'll let you find out for yourself but all I can say is that there's a cliff and a river involved! Curios?
Make sure to book your trip here in advance and find out why everyone raves about this place!
Other accommodation options in Avlabari
Things to do in Avlabari
Admire the Georgian architecture of the Holy Trinity Cathedral
Visit the Presidential Palace in Avlabari
Take the metro and explore the rest of the city
See the Queen Darejan Palace
Climb up to see the Matekhi Church and enjoy the views of the city
Spend a fun afternoon in Rike Park in Avlabari
Walk on the Metekhi bridge that connects Avlabari to the Old Town
See the beautiful ruins of the Karmir Avetaran Armenian Church
Take a picture of the sculpture in Avlabari Square
3. Vera – where to stay in Tbilisi for families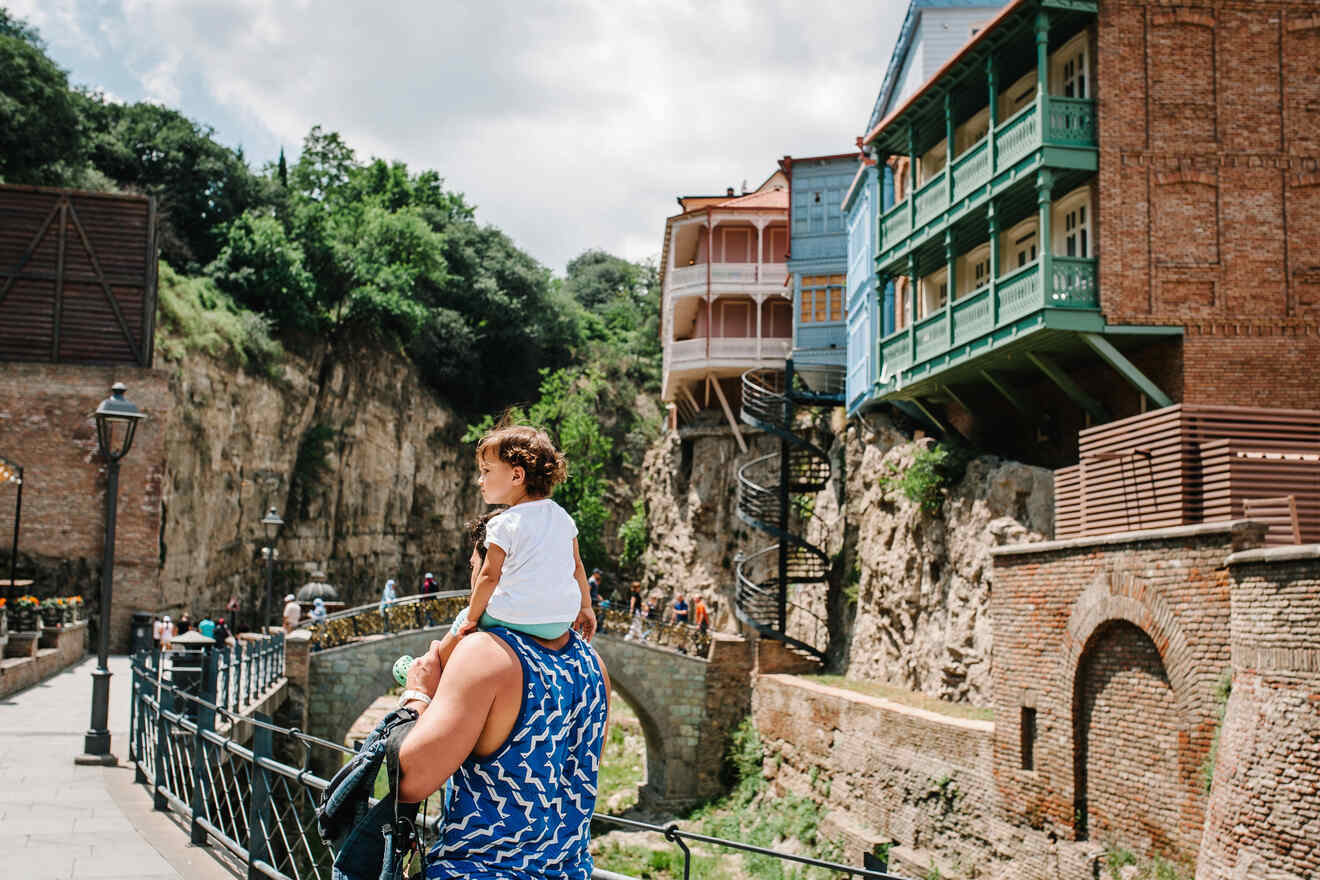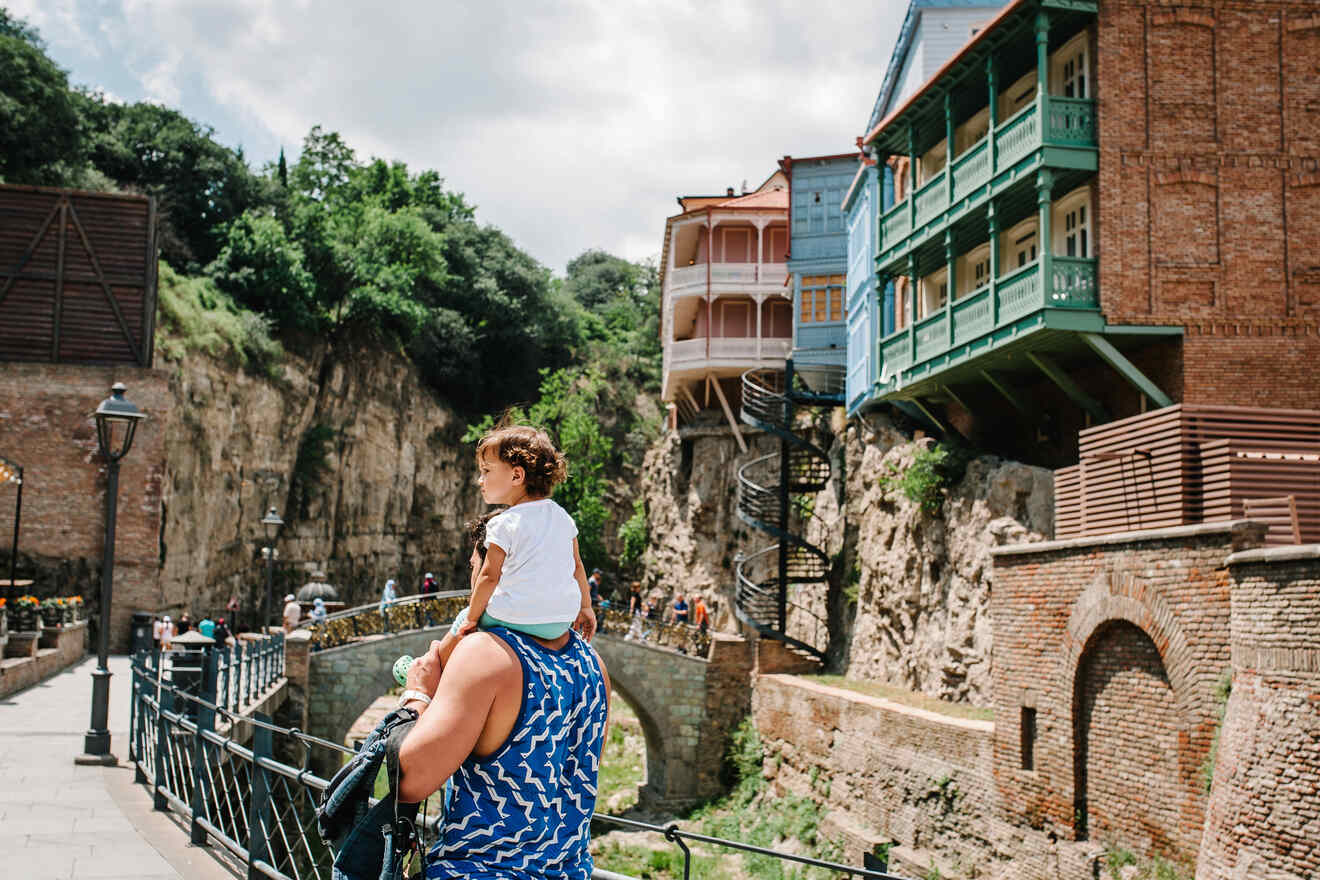 Vera is located on the north side of the city, quite close to the Old town but in this area, you'll enjoy some peace and quiet, which makes it one of the best places to stay in Tbilisi if you're traveling with kids. It is an up and coming area in the city that is becoming super trendy as we speak.
This residential neighborhood is known to have a beautiful green location and a park at every corner. You'll find that it is very good for any person who is traveling with families as there are plenty of picnic spots or playgrounds that will keep the kids occupied while you enjoy the atmosphere in Tbilisi, Georgia.
Do keep in mind that Vera is located in a hillside area, so you will need some good shoes!
The view of the city is so worth it though and I'm sure the families will love spending a fun afternoon at the Zoo! I know I loved it so much when I was traveling with my parents as a kid!
You're probably going to want to take some quick day trips to the Old town to find all the cool museums and explore Freedom Square but fear not, since Vera is located close to Old Tbilisi you can walk to that area, past the Rustaveli metro station to get there!
Other accommodation options in Vera
Things to do in Vera
4. Mtatsminda & Rustaveli Avenue – an area with great views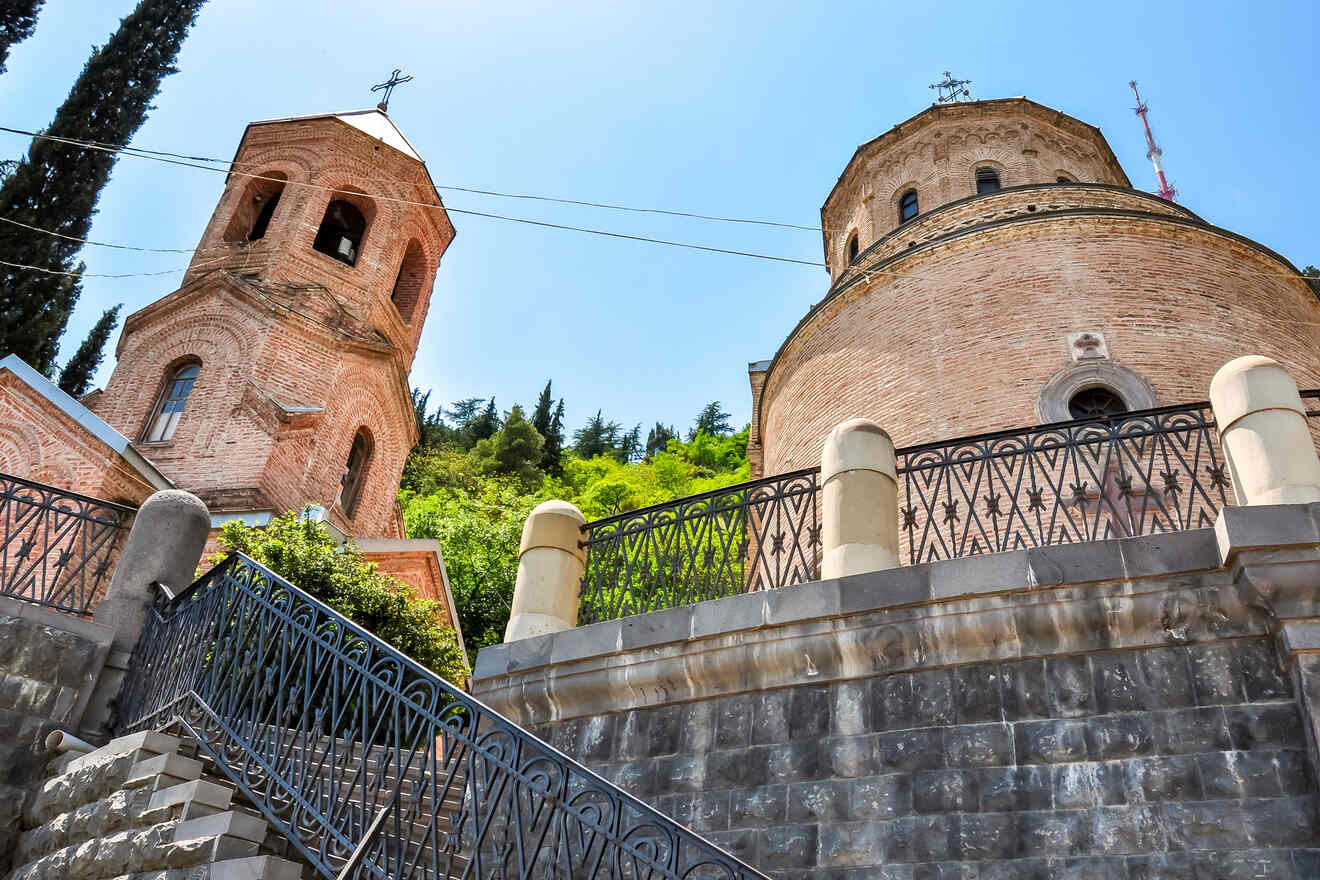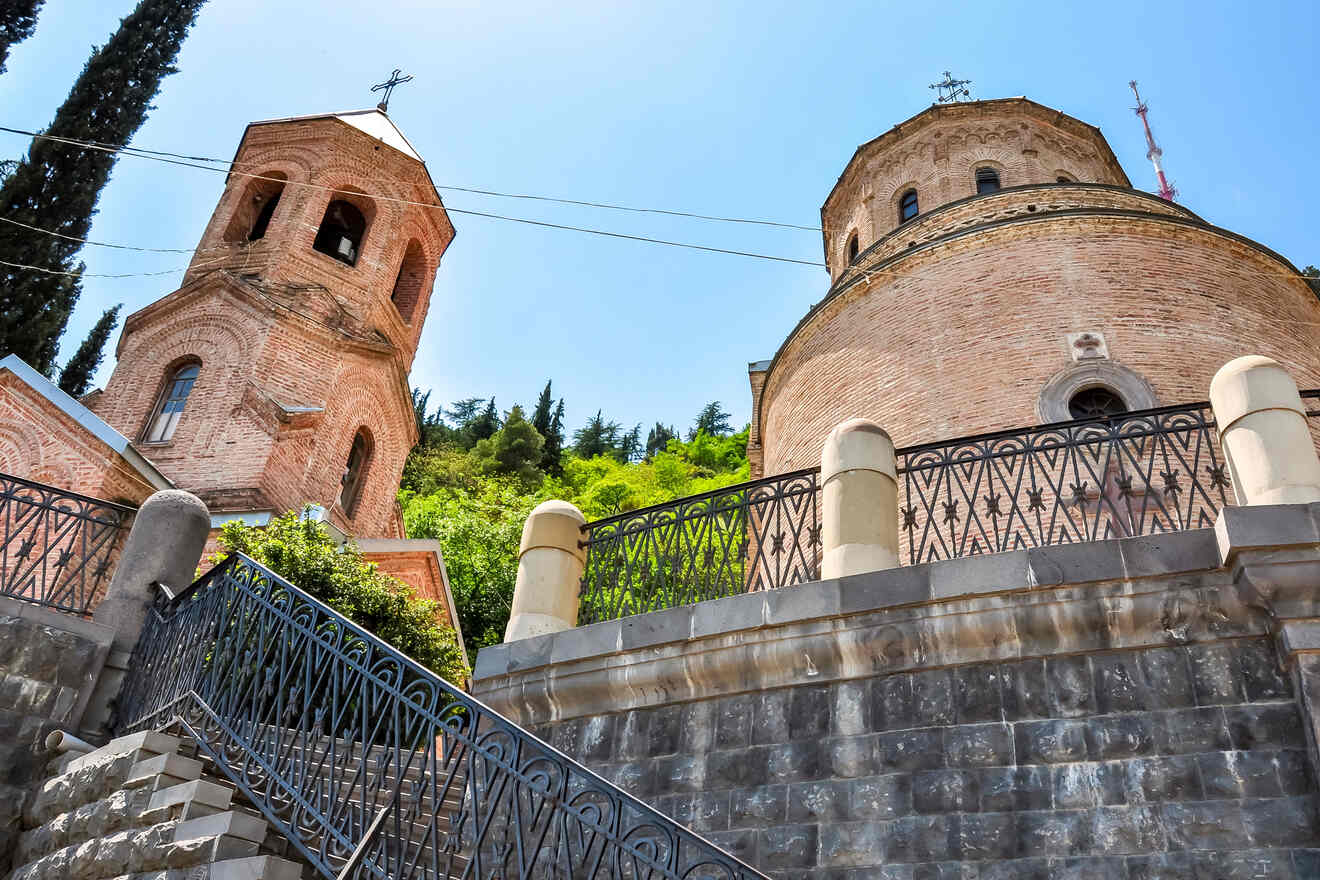 The biggest district in Tbilisi, located west of the Old town, was named after the mountain Mtatsminda, the highest point here and a city symbol. It's a lovely area to stay in, especially because it's so close to the Old town. Rustaveli Avenue is located just a minute's walk away and this is the main street in town that connects Liberty Square with the rest of the city.
Rustaveli Avenue is full of nice shops, so if you're looking for where to stay in Tbilisi to treat yourself to some new clothes or souvenirs, then definitely check out this area!
Mtatsminda is known for its panoramic views and for the Ferris Wheel, which by the way it's the coolest thing ever to do while you're on holiday here! If we have any hiker lovers among us, I recommend checking out the Tbilisi TV Tower trail, but only if you are an experienced hiker. The views as you climb up are the best!
For someone who is looking for an easier hike, I think you'll love the Mtatsminda Pantheon. It's one of my favorite spots here as it's very bohemian and it's where the most prominent writers, authors, and artists in Georgia are buried!
Here you'll get to experience the authentic local atmosphere as there are some old Georgian residential spots in this neighborhood. You'll find the best hotels here however the prices might be a bit high as the Old town is located within walking distance.
Other options in Mtatsminda & Rustaveli Avenue
Things to do in Mtatsminda & Rustaveli Avenue
Visit the Mtatsminda Pantheon in Tbilisi
Climb the Tbilisi TV Tower trail and see the panoramic views of the city
Go shopping on Rustaveli Avenue
Walk to the Old town in Tbilisi
Admire the views of the Mtatsminda Mountain
Go to Rustaveli metro station and explore the city center
Take the funicular up to Mtatsminda Plateau to see the TV Tower
Have fun in the Mtatsminda Amusement Park and ride the Ferris Wheel
5. Marjanishvili – where to stay in Tbilisi for hip & trendy vibes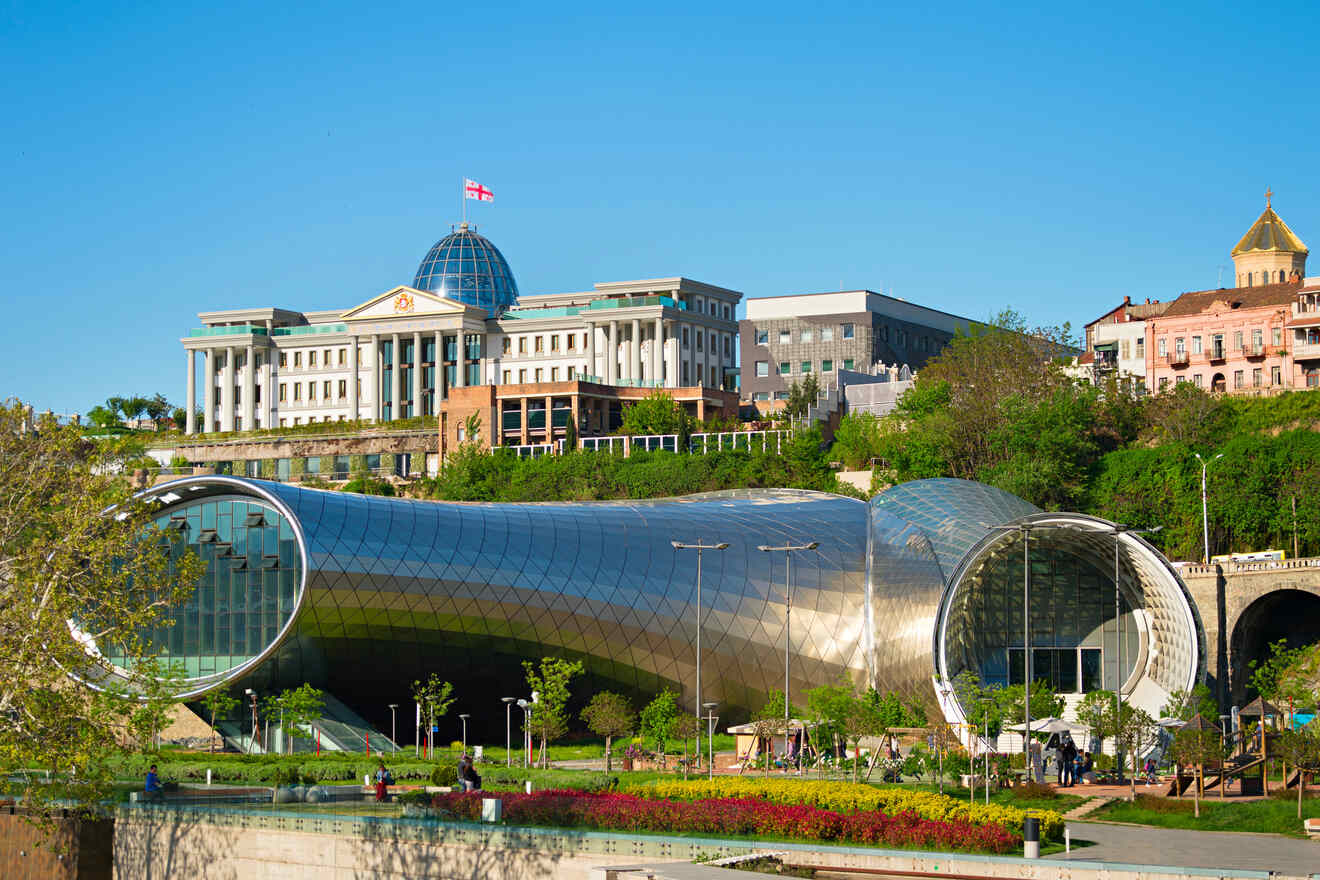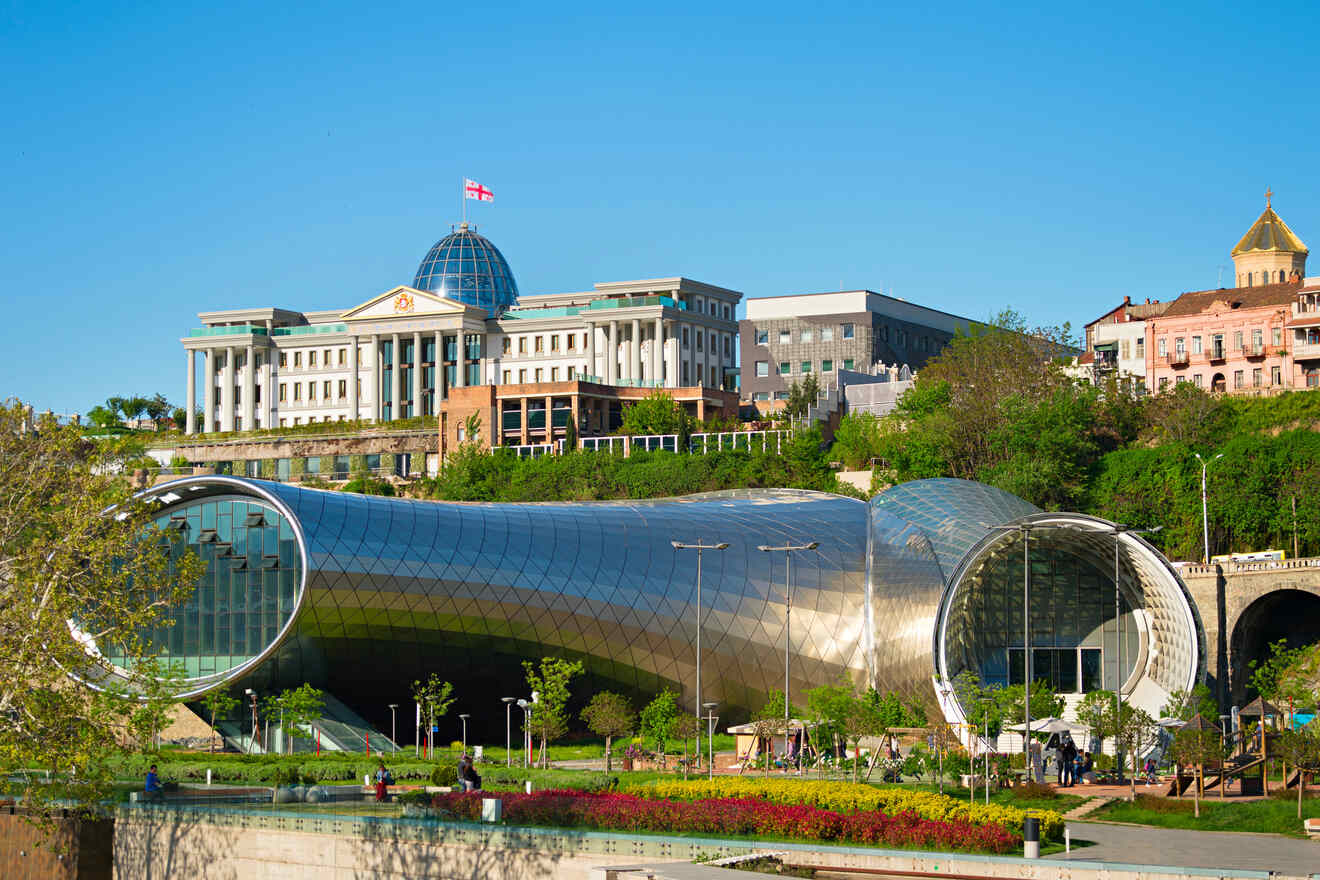 Located west of the Old town, this area is very friendly and full of trendy restaurants, bars, and cafes. You will definitely experience the local authentic vibe here as the new side of Tbilisi blends perfectly with its old side.
I love when I find these raw places that haven't been touched up to look good for the tourists! I always bring my camera with me on holiday and you should too as Marjanishvili is full of cool and hip street art and not to mention the old soviet mosaics and monuments! I love it, it's so original! Speaking of originality, in this neighborhood, you'll find the coolest hostel you've ever seen – this area is known for its unusual accommodations.
Dive into the local cuisine and wine bars and find some really cheap restaurants here. The best one is Barbarestan, it's among the top things that you have to try here and it's inspired by one of the most popular feminists in Georgia, Barbare Eristavi-Jorjadze.
You can use the Marjanishvili metro station if you want to see other parts of Tbilisi but while you're here, I highly recommend visiting Rose Park, it's such a quiet and serene place! The perfect escape from all the city noise and I know that sometimes all that can get really tiring. I always like to look for a place like this to walk around and think about my next move.
Other accommodation options in Marjanishvili
Things to do in Marjanishvili
Explore the beautiful urban street art in Tbilisi
Eat dinner at the friendly Barbarestan
Take pictures of old Soviet Mosaics
Check the trendy bars and restaurants
Relax in the Roses Park located in Marjanishvili
Catch a street performance
Have fun at the Museums of Selfies
Walk along the bank of the Mtkvari river
Catch a play at the Marjanishvili Theatre
6. Vake – best place to stay in Tbilisi for luxury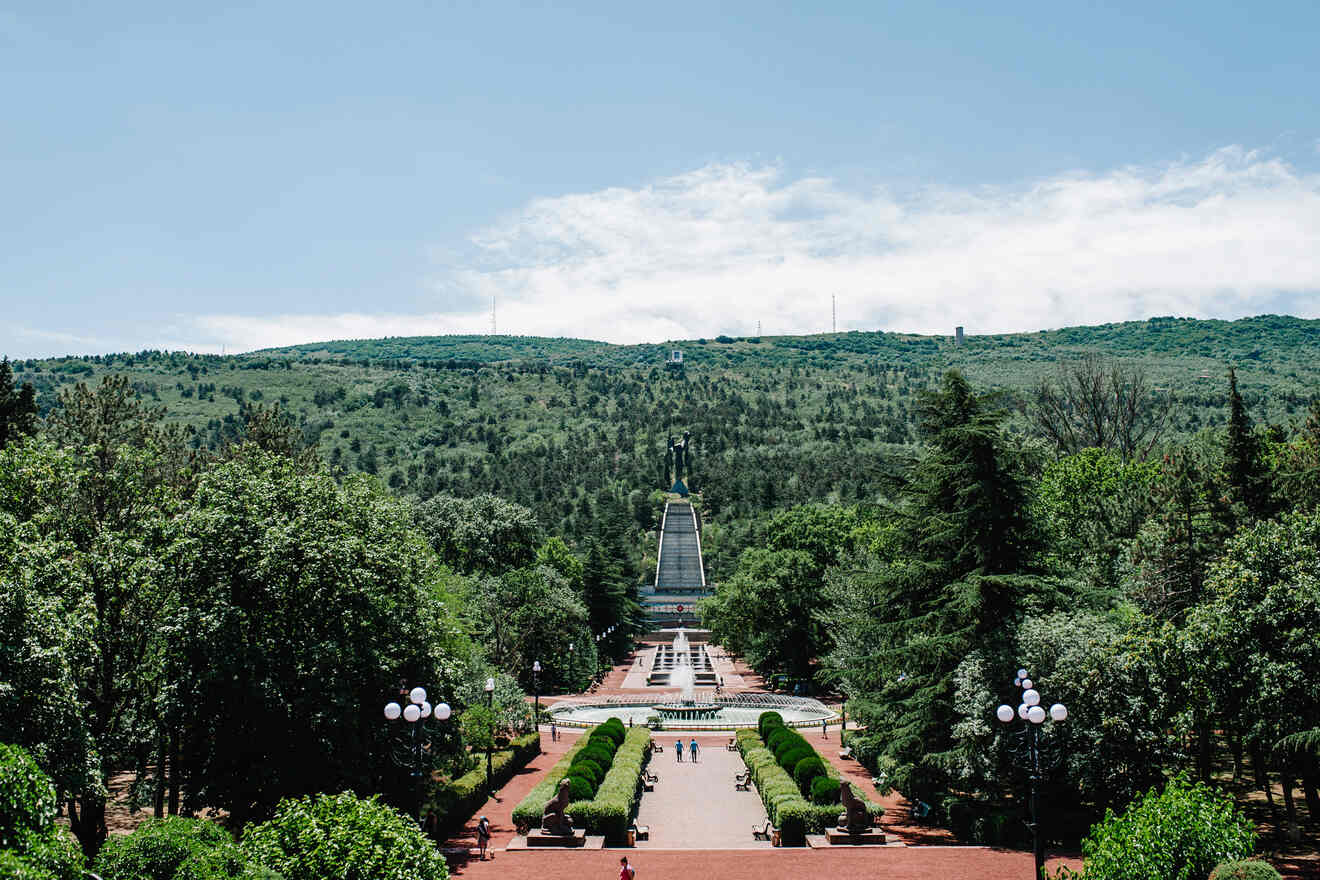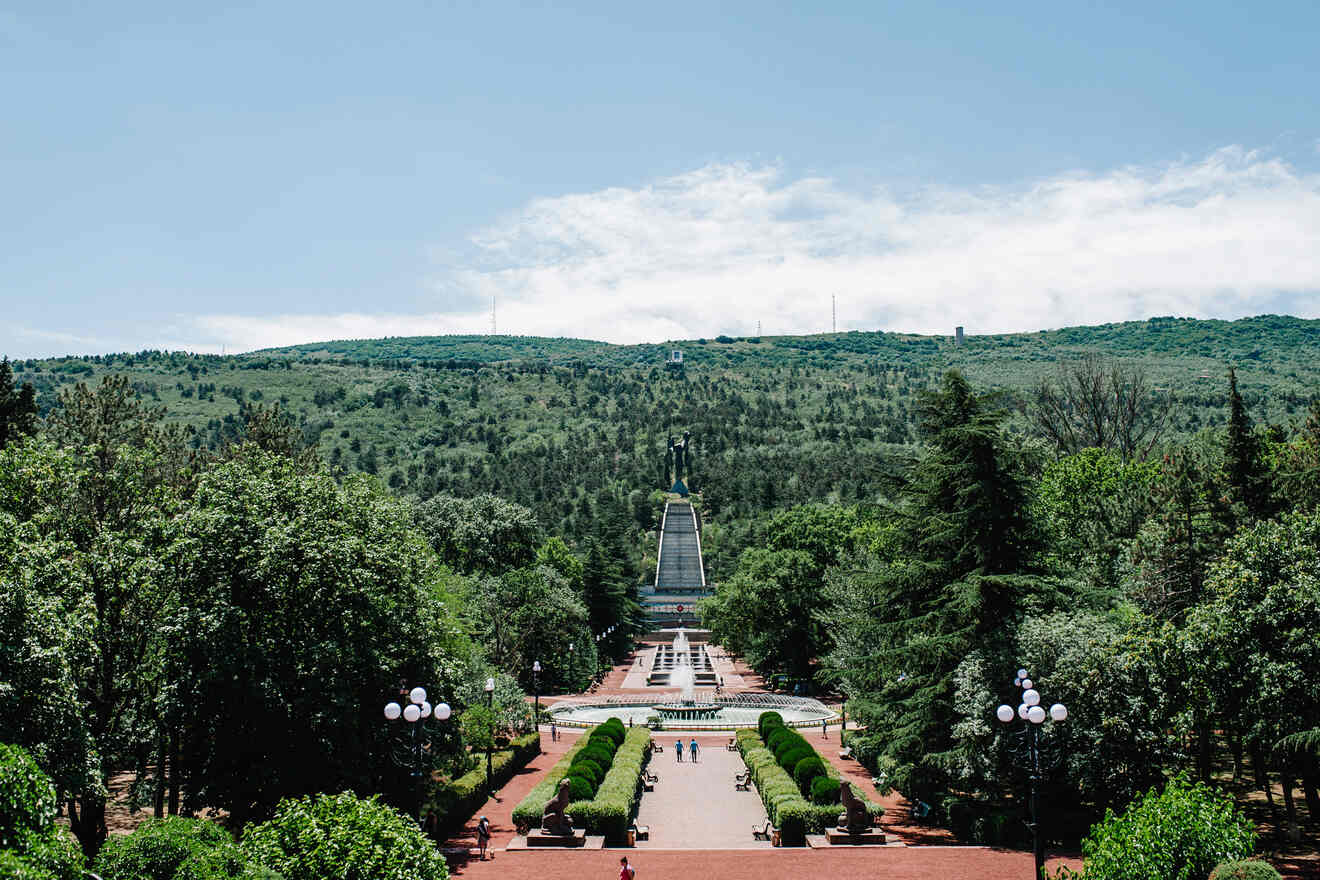 Located in the southern part of Tbilisi, this area is the perfect place for all travelers who aren't afraid to go all out when they're on holiday! Important politicians and rich people in Georgia used to live in this neighborhood and as a result, the luxurious hotels here are a bit more pricey but they are so worth it!
One of the best areas of Tbilisi is home to a combination of old vintage houses and new buildings. Of course, you'll find tons of luxurious restaurants and bars and if you're in the mood for some shopping, you can head to Rustaveli Avenue and walk towards the city center, or get a bus if you're not really in the mood to walk.
This posh area in Tbilisi, Georgia is covered by the huge Vake Park. The views of the city are great here and there's a bit of history surrounding the place as there's a WWII memorial and a grand fountain that looks very majestic!
Other accommodation options in Vake
Things to do in Vake
BONUS: Enjoy the Tbilisi nightlife in these top 4 bars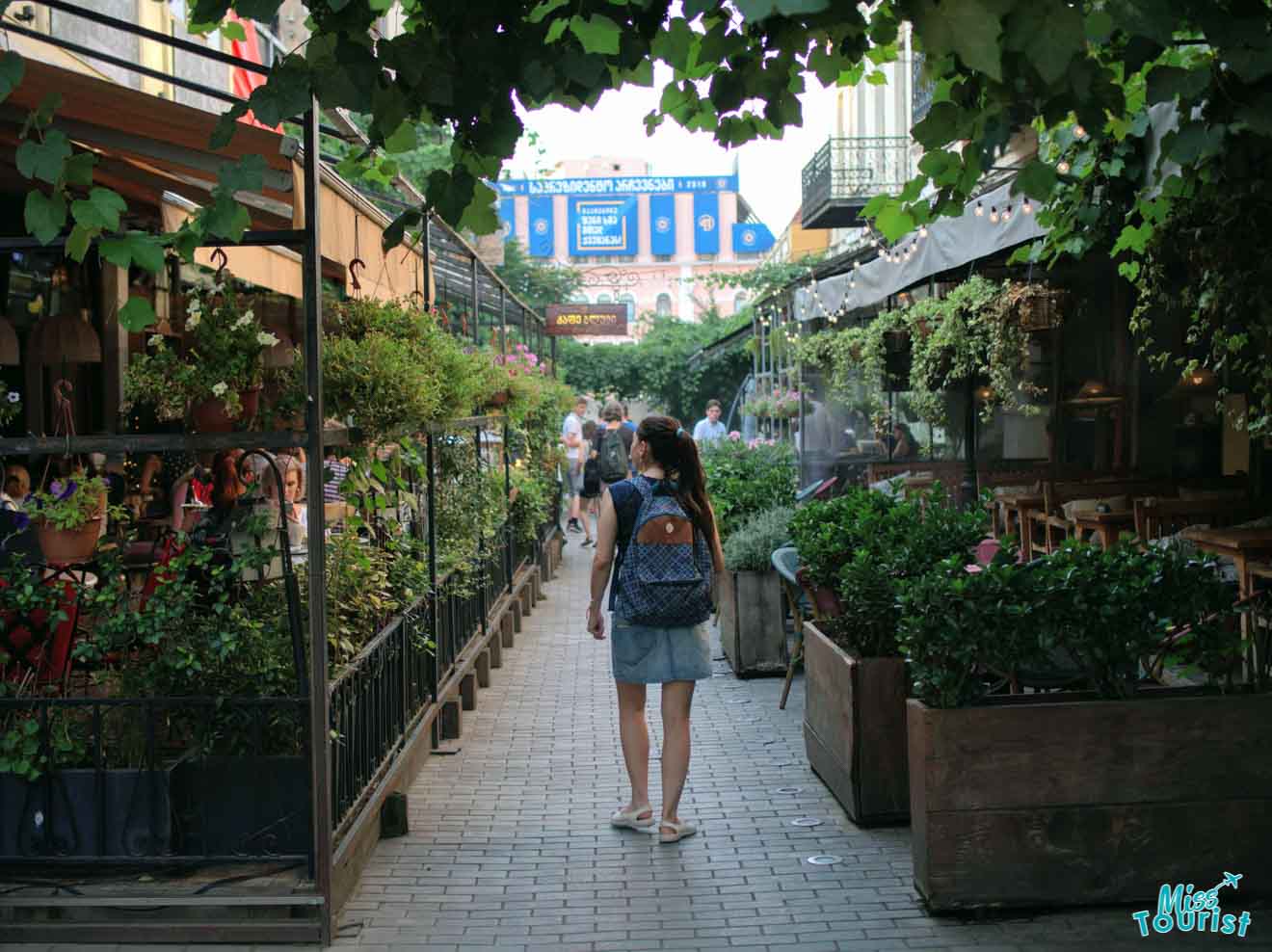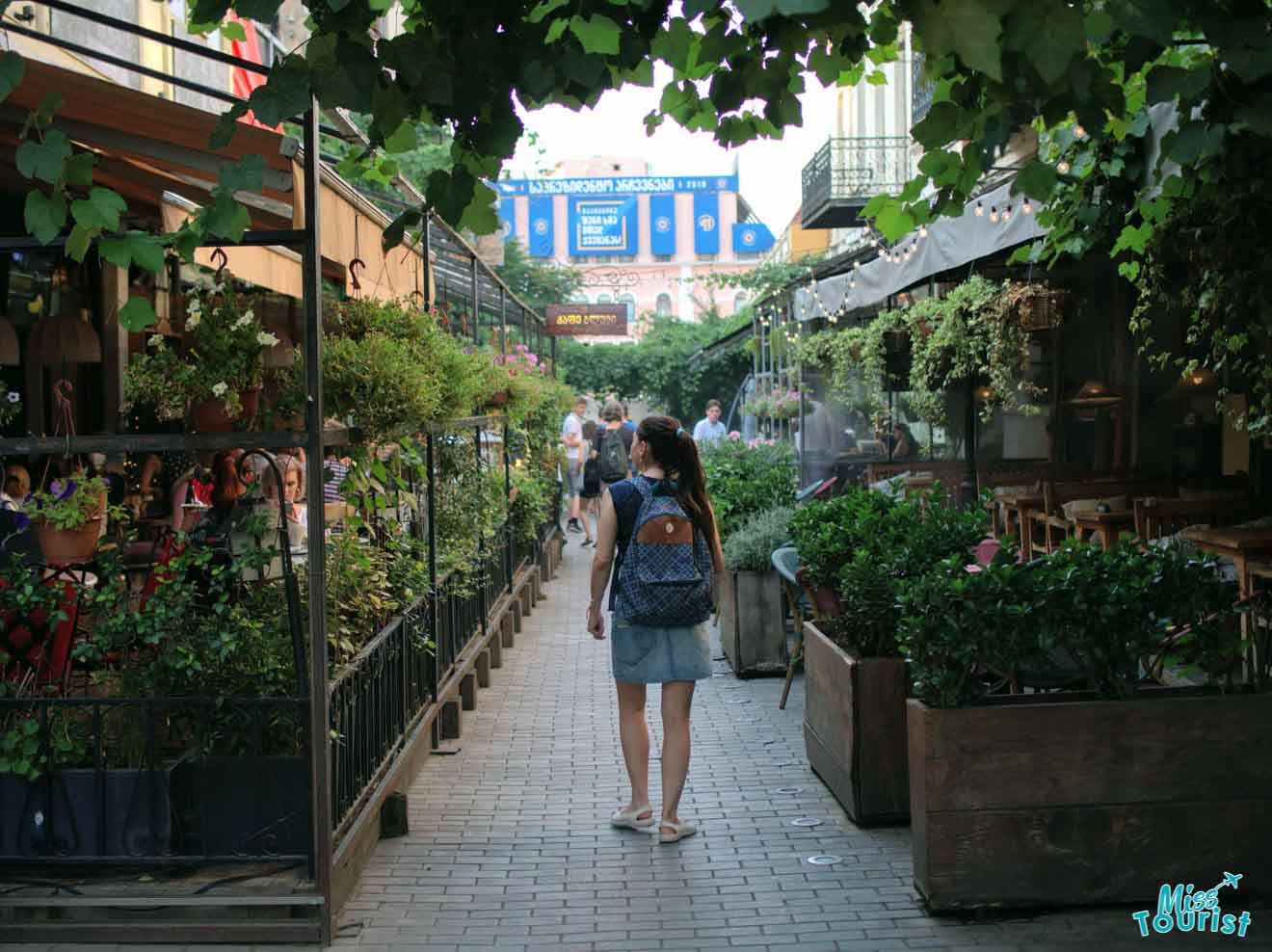 Over the years the capital of Georgia has suffered some big changes but now the bohemian atmosphere in the city and the magic of the Tbilisi Old Town have drawn many different types of tourists!
This town is definitely close to becoming a party hub center in the area so let's see which are the most amazing bars and nightclubs that you should visit. Because the Old town area is the most popular and frequented by tourists, all the cool bars are located here.
1. Bassiani
For all of you who like to party until the sun rises, I recommend going to Bassiani in the Old town. It's located in an old swimming pool at Dinamo Stadium and I've heard numerous times that it's called the "the Berghain of the Caucasus" (Berghain is the famous techno club in Berlin). That means you know it will be fun and super exclusive!
They bring a lot of famous DJs and it can be tricky to get inside, you have to register online and get verified in order to get in so make sure to check it out if you are planning on going here!
2. Sakhelosno Bar
Located in Tbilisi Old town, close to Freedom Square, Sakhelosno Bar is perfect if you love going out on a weekday as usually, during the week most bars are closed! Designed with cool graffiti, this friendly bar doesn't have wifi so get ready to mingle all night and listen to some live music if you're lucky!
3. Black Dog Bar
Are you traveling with your furry friend? Well, now you both can party the night away at this cool pet-friendly bar located in Tbilisi best area, the Old town. You can enjoy some nice craft beer, pub food and mingle with the friendly staff here!
4. Lucy Tattoo Studio
I just love these types of places! Located under the Zaarbruken Bridge, this bar is also a tattoo studio with artists performing on Fridays and Saturdays! It's so cool! If you like hip-hop, disco, jazz, or electronica, then definitely check this place! Maybe get a tattoo as a souvenir, why not? Keep in mind that there's a small fee if you want to come here after 11 pm.
Frequently asked questions about Tbilisi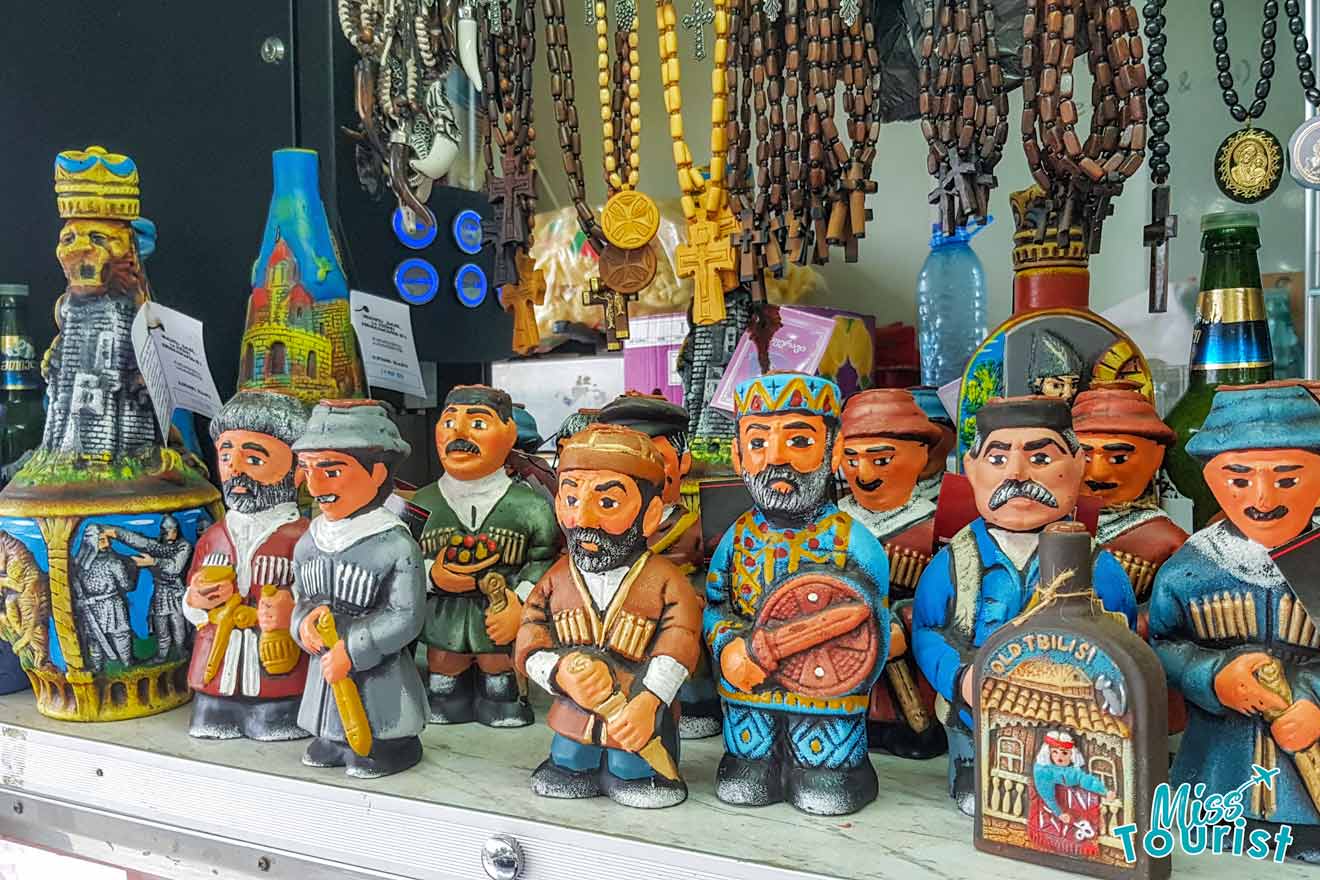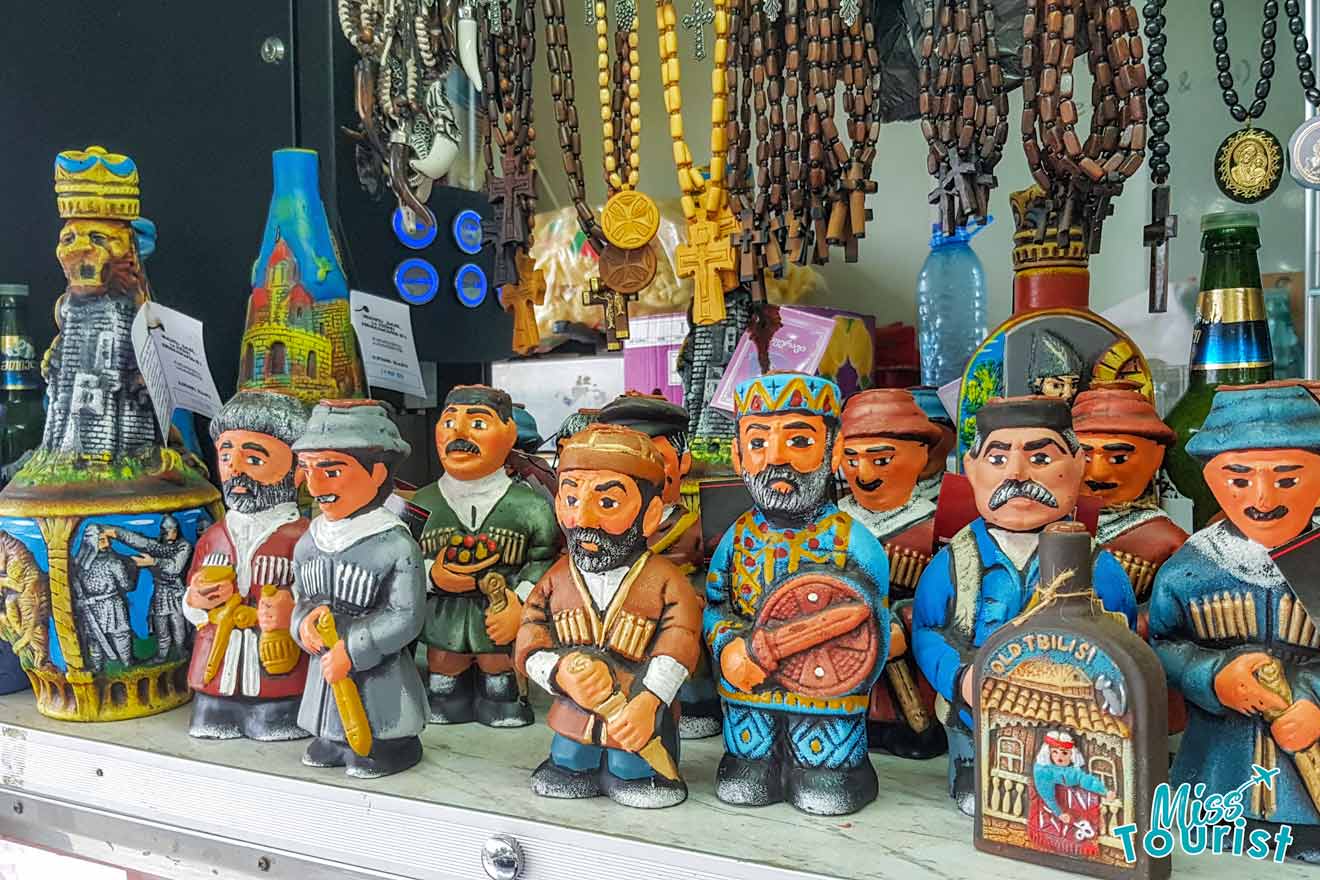 Conclusion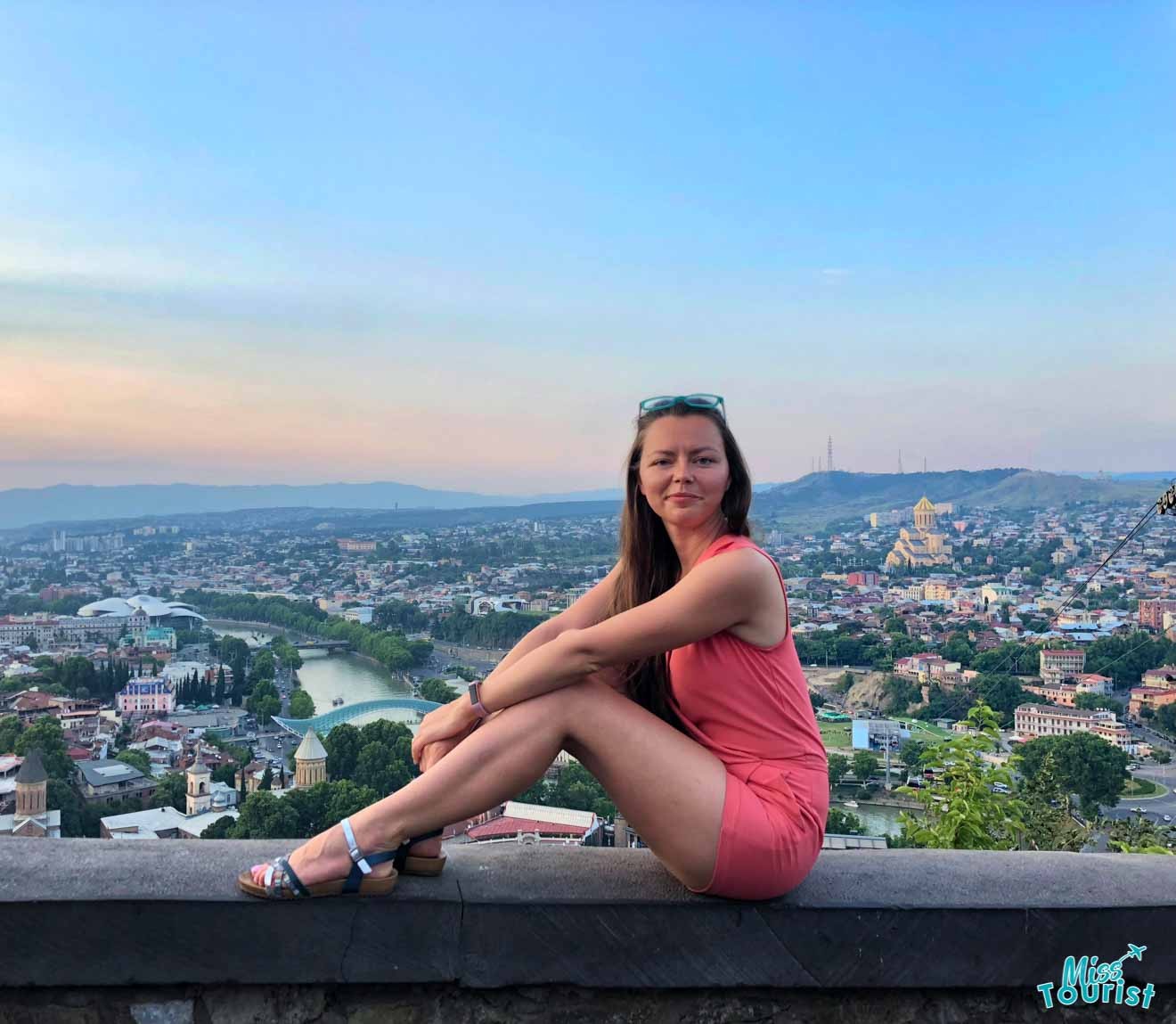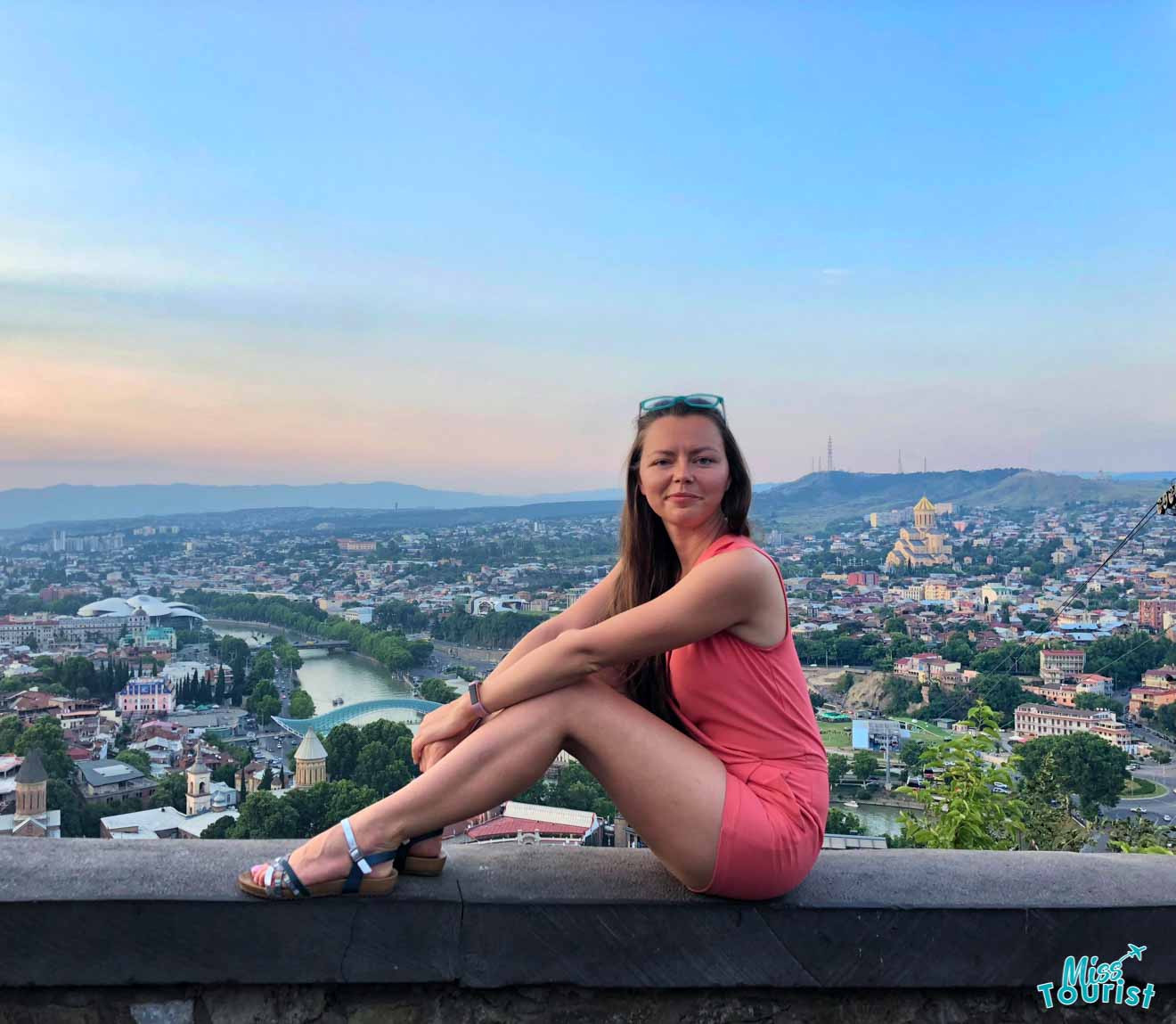 Well, that's it from me! I hope this article helped you decide where to stay in Tbilisi, which hotel or hostel is the best for you, and what activity you want to do first!
I know I've given you tons of hotel options but here are my top two favorites both located in Tbilisi Old town. Just make sure you book them in advance as this city is getting more attention from travelers every day!
Explore the beautiful Old town of Tbilisi, eat the amazing traditional food and go out to enjoy the nightlife of this amazing complex town!
Do leave a comment if you have any questions or suggestions for our traveling community!
Safe travels,
Victoria
---