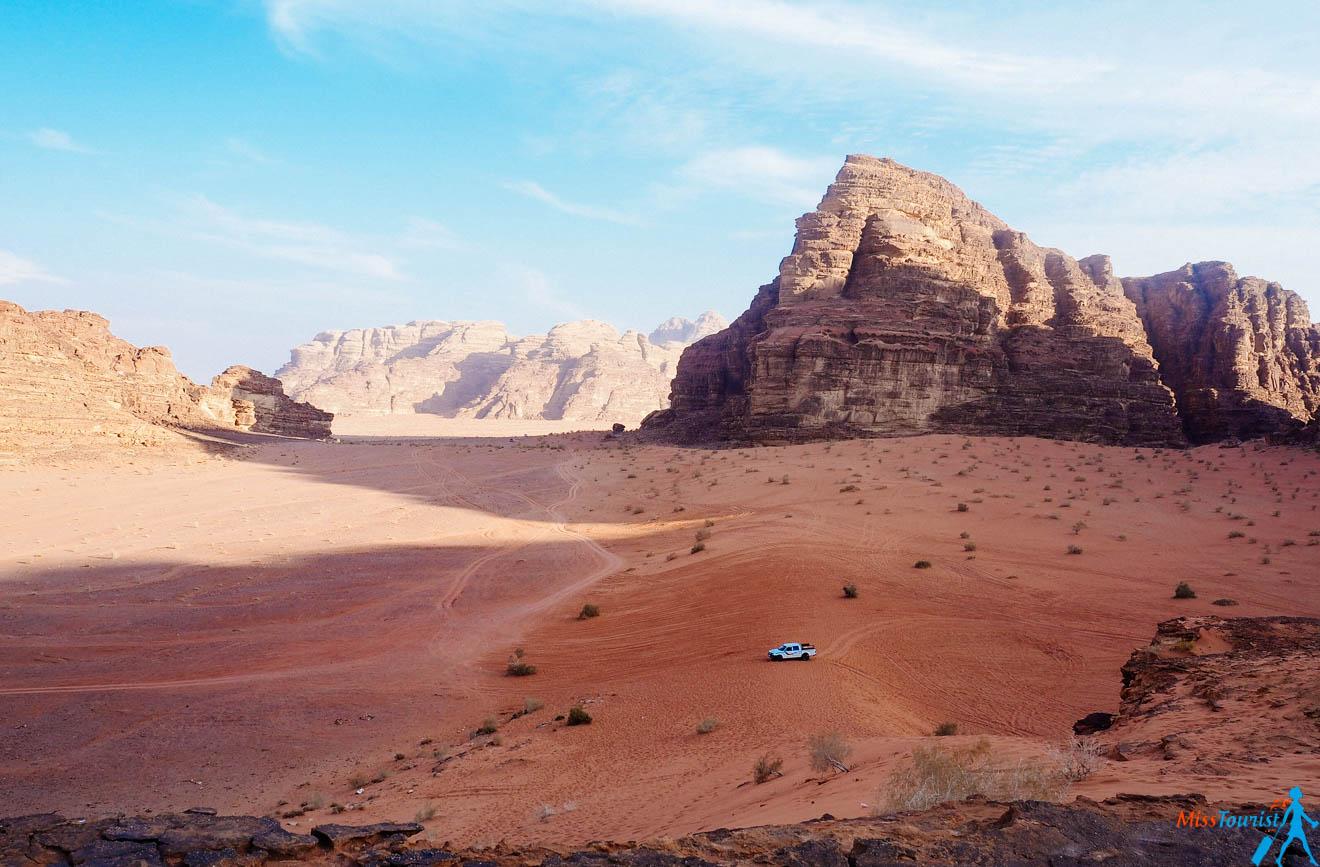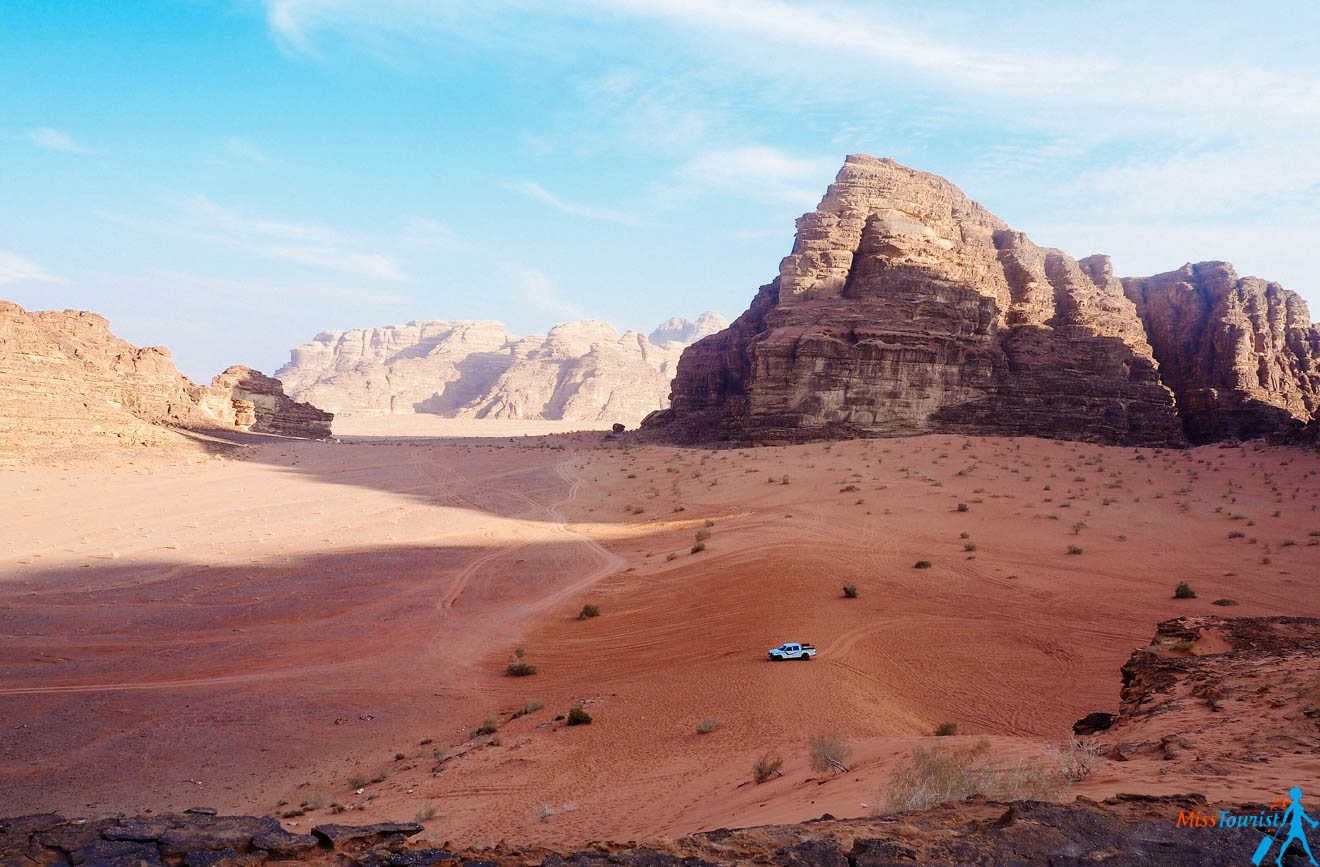 Jordan is an amazing country! I never expected to see so much diverse beauty in this Middle-Eastern country.
It has it all – a beautiful desert (where the movie "The Martian" was filmed), a new wonder of the world called Petra (also captured in one of the "Indiana Jones" movies), the lowest sea in the world, some of the most well preserved Roman ruins I have ever seen, some of the most hospitable people aaand, last but not least, delicious middle-eastern cuisine!
Convinced?
In this post I will help you plan your daily itinerary around those places and suggest transportation options between the must-dos of Jordan.
Here I offer a 6-day itinerary, but depending on your available time, you can make it a bit longer, or cut out some of its parts.
I did this exact itinerary myself, so I can vouch for it.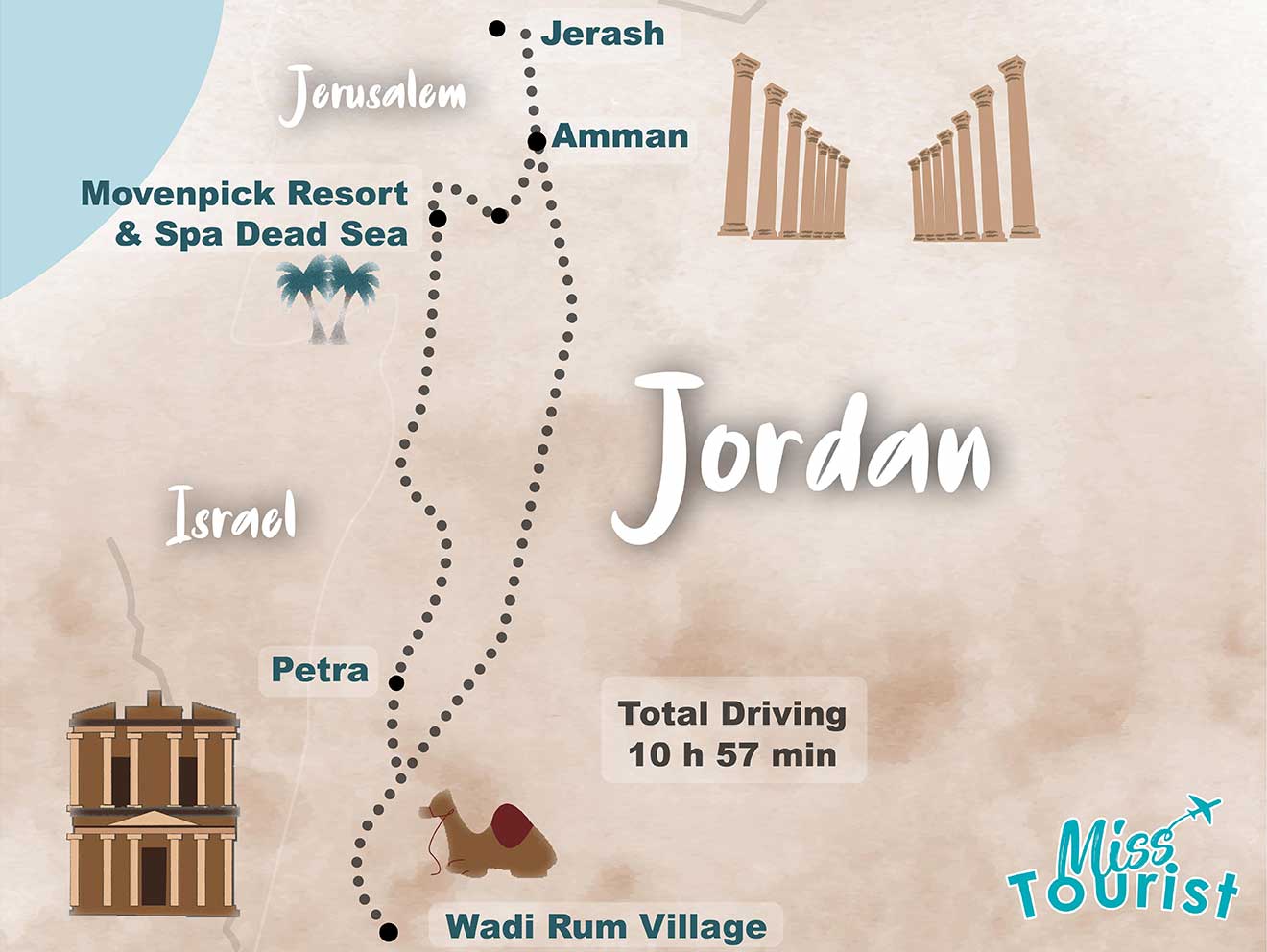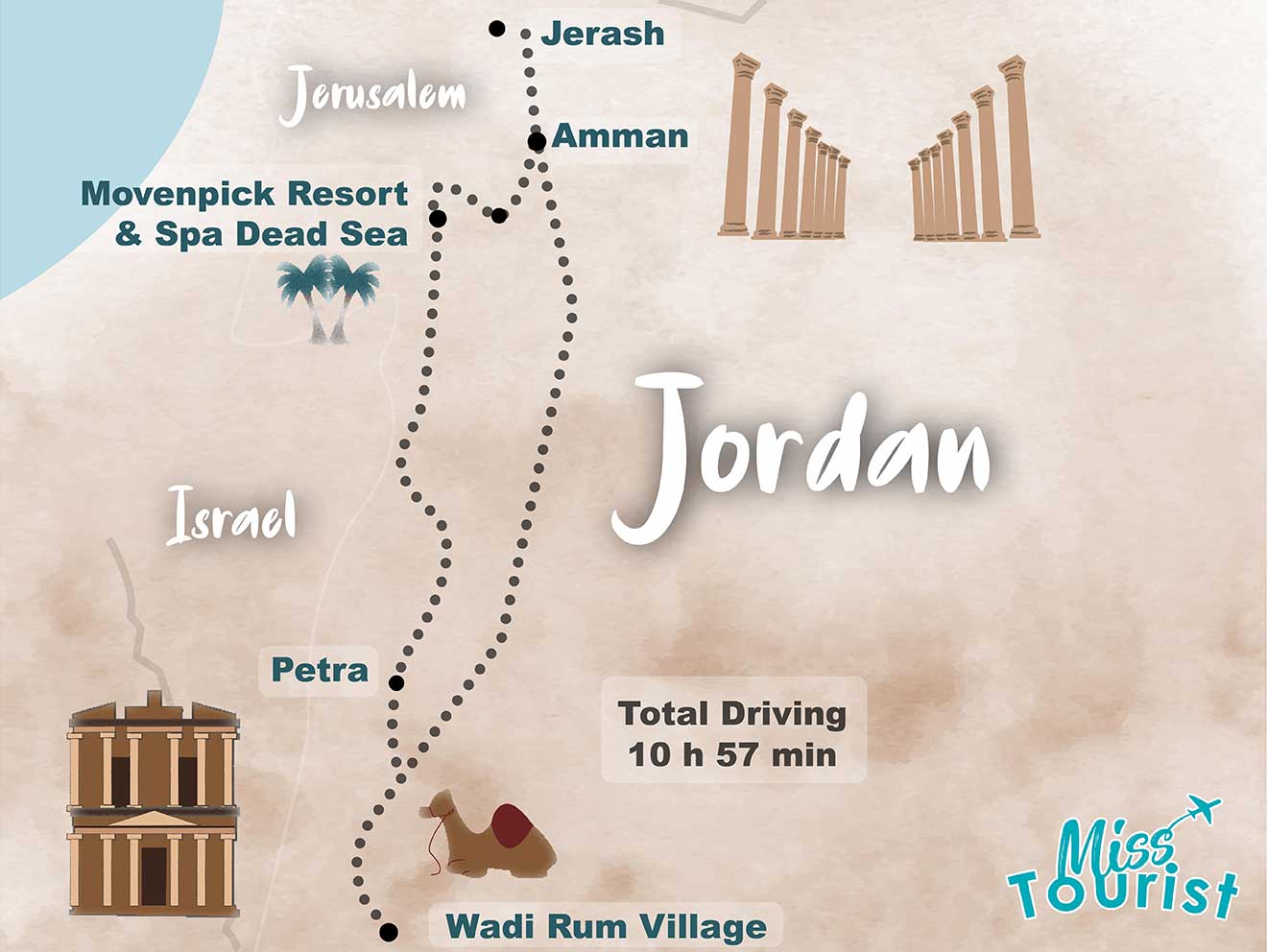 Ok, let's get into it, your Jordan 6-day sample itinerary:
Day 1 – Amman. See the capital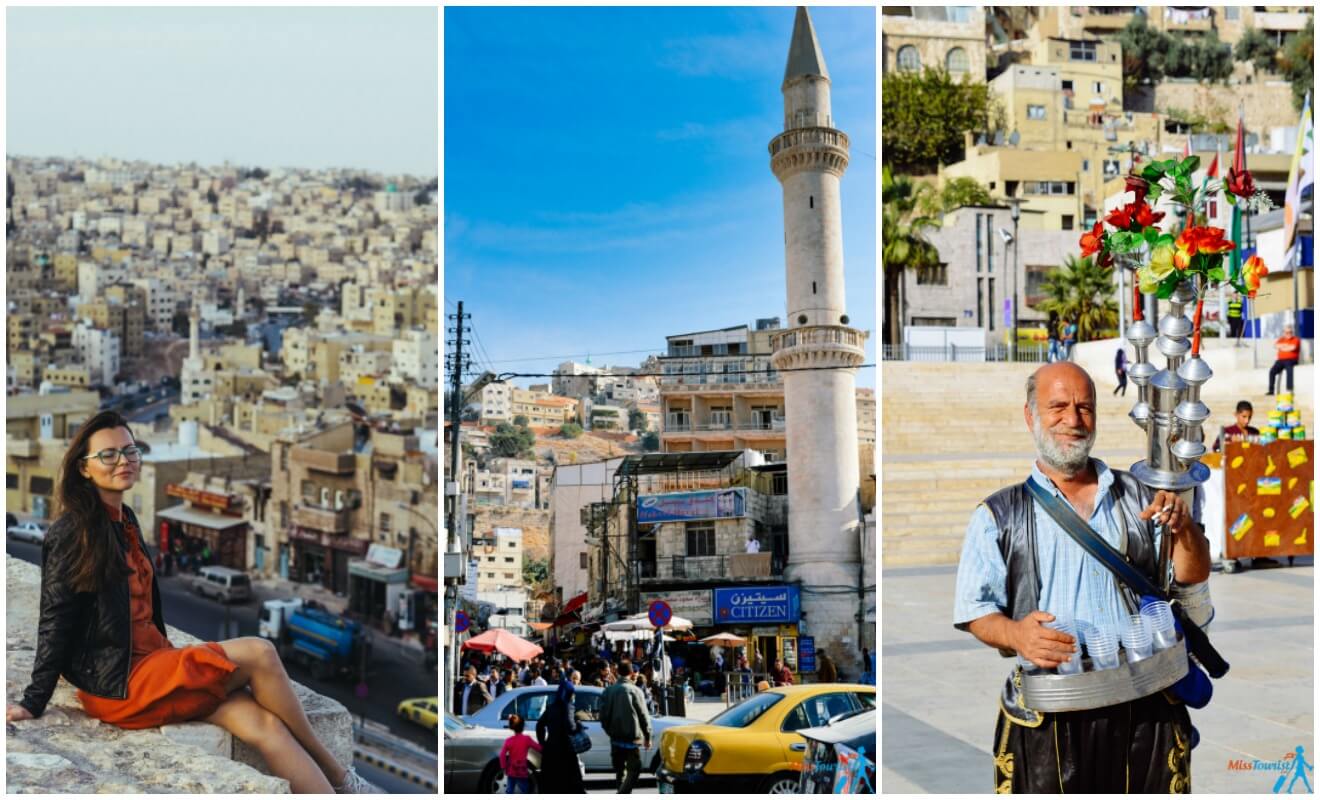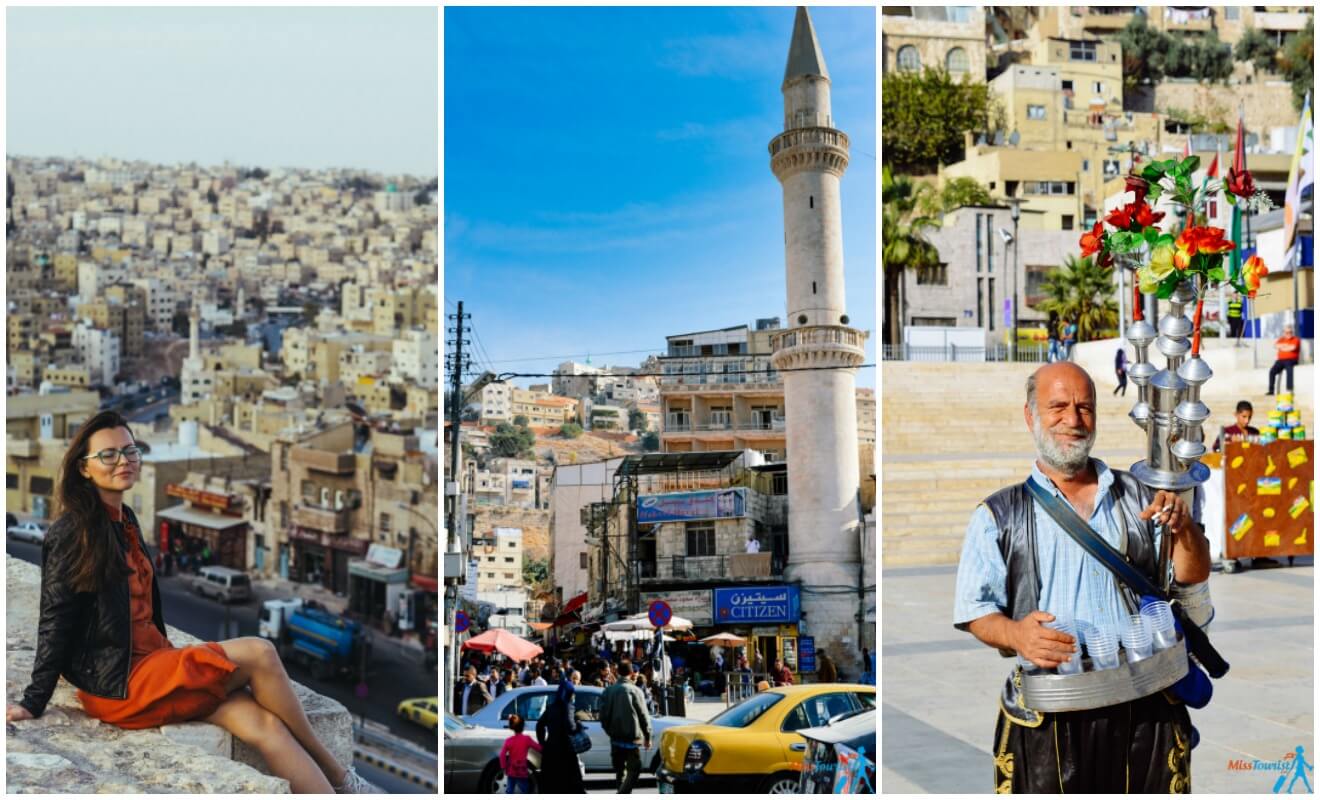 Amman, the capital of Jordan, is one of the oldest, continuously inhabited cities in the world! Thus, you will have plenty of historical sights to visit. This, combined with the unique opportunity to experience the metropolitan life of real Jordanians makes Amman a must visit. Plus, you will most probably land there anyway.
Things to do in Amman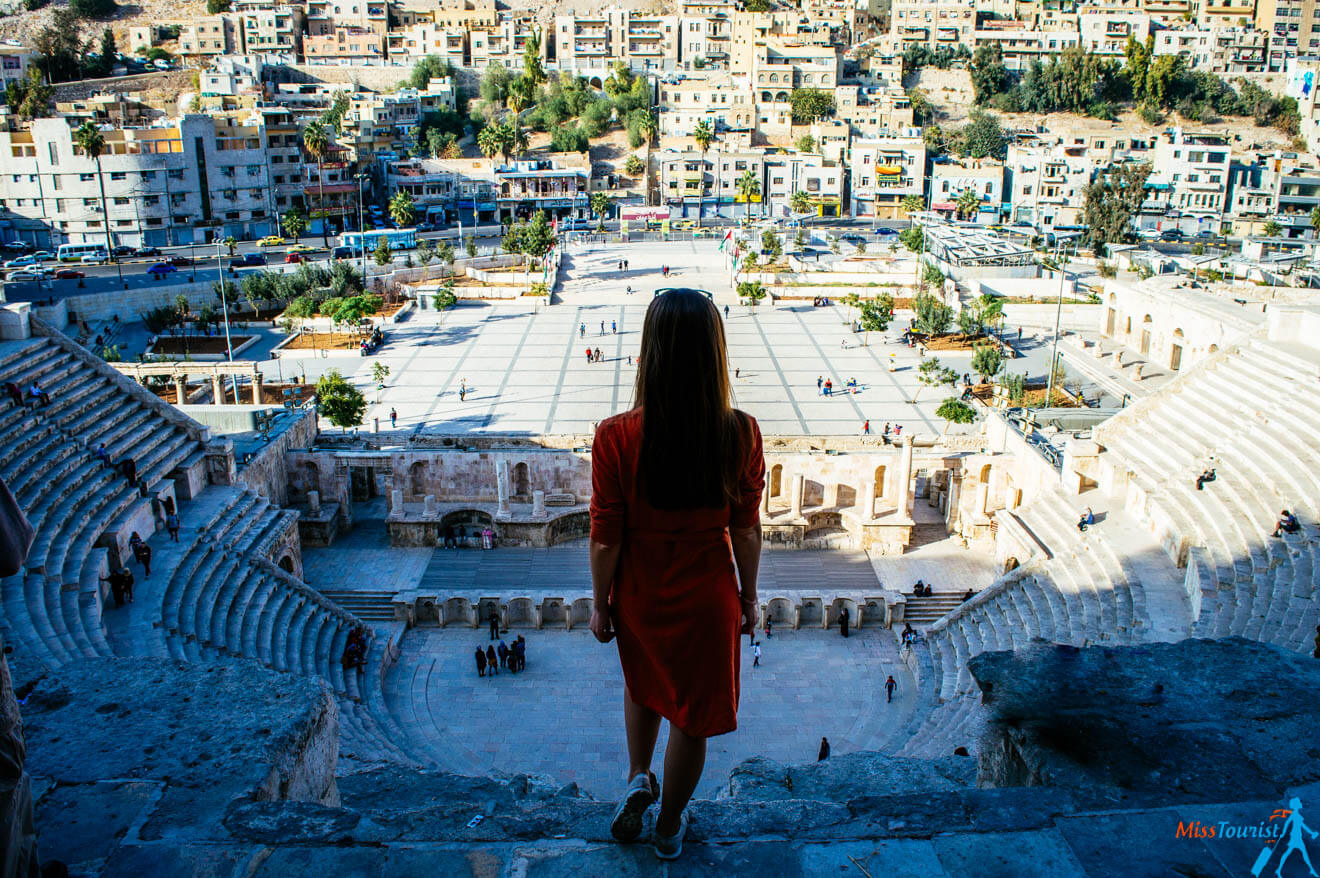 Go to the Roman Theatre! The amphitheater was built around 138-161 AD and it had a capacity of up to 6,000 people! The entrance fee is US $3, open until 5 p.m.
NOTE: There are museums on the left and on the right that are included in your ticket so don't miss them!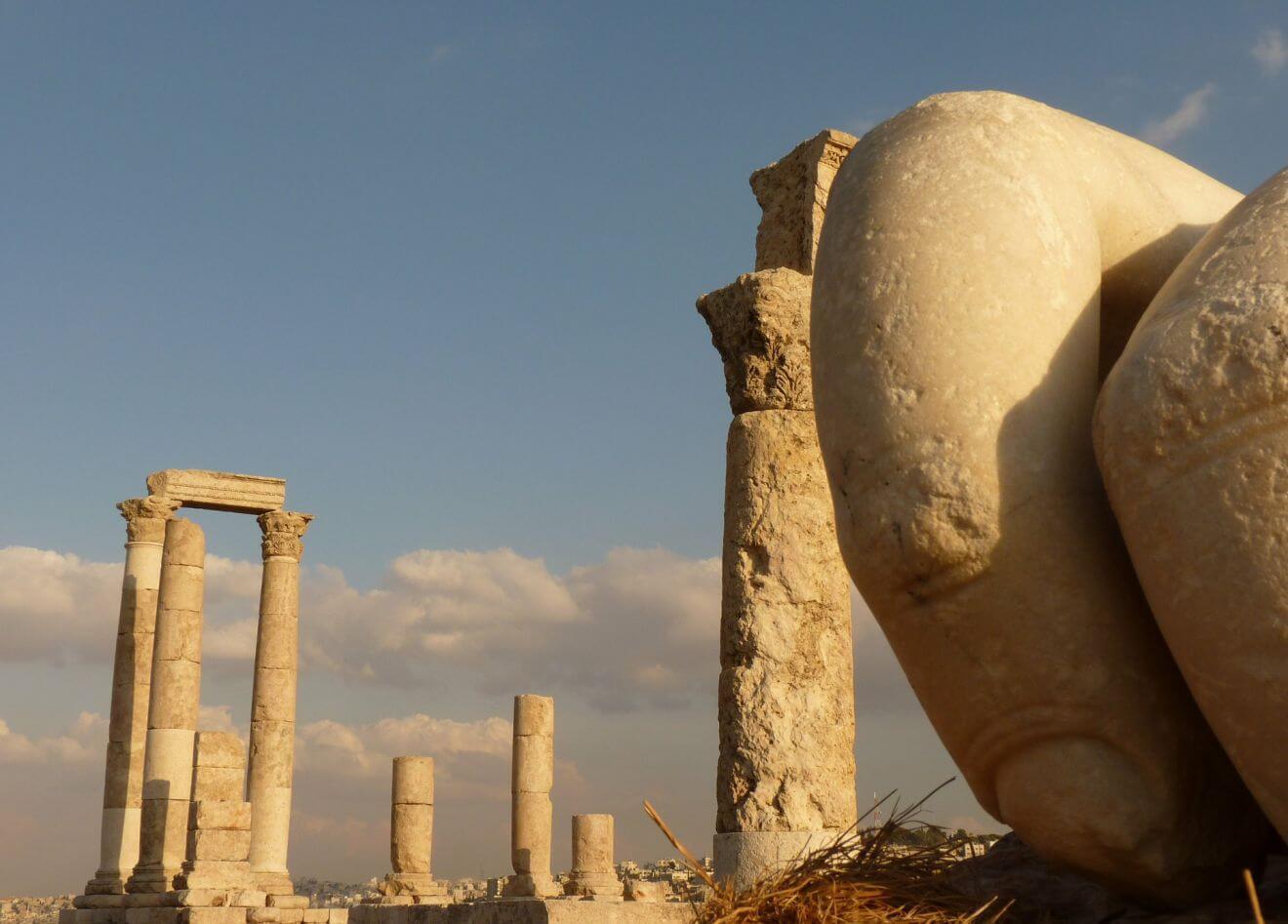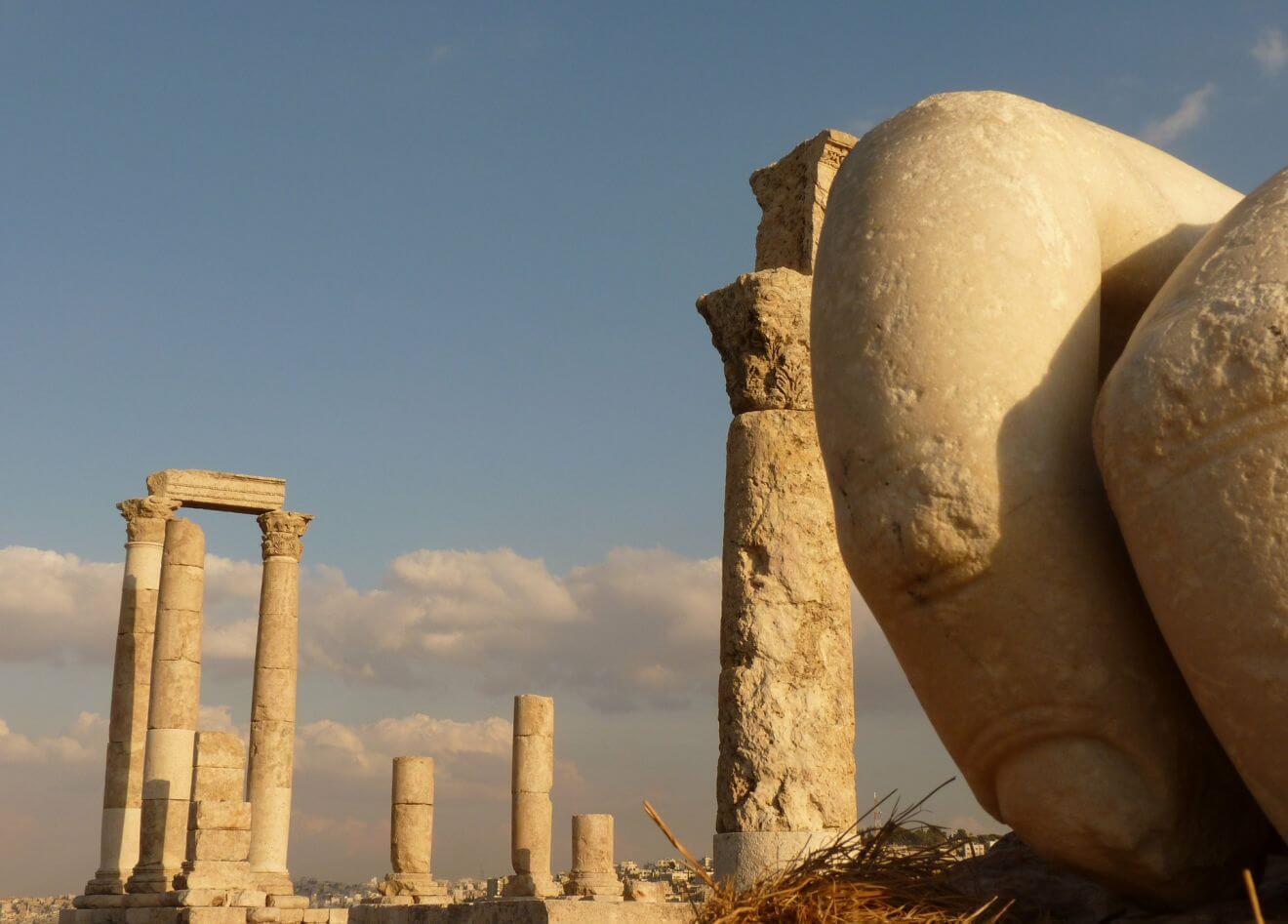 Visit the Amman Citadel overlooking the city from the hill. The Citadel will give you a full panoramic view of the city where you will notice how many limestone buildings there are!
The entrance is US $5, and it closes at 5 p.m. during winter time and 6 p.m. during the summer time. I think it is quite a hike to get there without a car, so I recommend taking a taxi.
Where to eat in Amman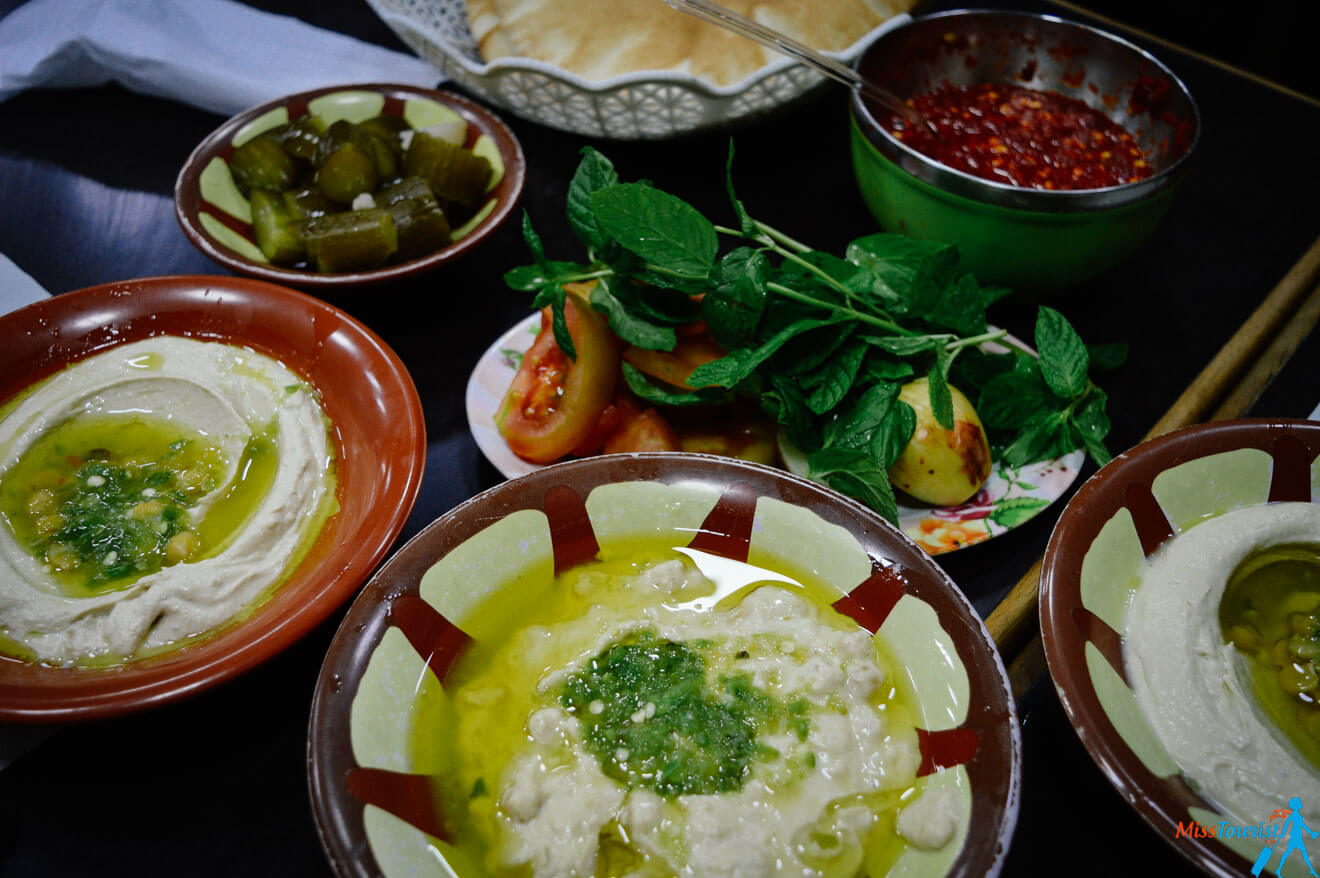 We had lunch in Hashem Al Balad which was a great way to sample the local cuisine.
For dinner, we went to Sufra Restaurant for the best falafel and hummus in Amman. It is located just near Rainbow Street (which is a trendy Amman road). Get around by taxi or walk from the hotel if you are in the city center.
Hotels in Amman
I stayed at the InterContinental Amman for 2 nights and it was an amazing experience. Crystal clear, inviting lobby and spacious, light rooms. Not only that, but the InterContinental Amman is the oldest 5* hotel in the country, thus, it has a rich history and a fantastic location!
I love to stay in Intercontinental hotels, it is one of my favorite chains!
Here is a selection of fabulously ranked hotels in Amman, all located in the heart of the city and good for any wallet.
Luxury (US $110 and up) – InterContinental – the pictures of my stay is above, I can totally recommend it! Naylover Hotel Suites – brand new, clean hotel with welcoming staff. Located in the calm area but close to the center.
Middle price (US $60 – $110) – Ayass Hotel – all rooms and suits are spacious, heated indoor swimming pool, breakfast buffet with fresh bakery. Sulaf Luxury Hotel – another 4* hotel with great reviews and good location, it has not been open long, so everything is new!
Budget option (up to US $60) – Sydney Hotel – excellent location, pleasant clean rooms for a very affordable price. Nishan Hotel – client oriented, spacious hotel, it is a bit outside from the city center, but the taxi will be much less than what you save by staying here!
Day 2 – Jerash. Amazingly preserved Roman ruins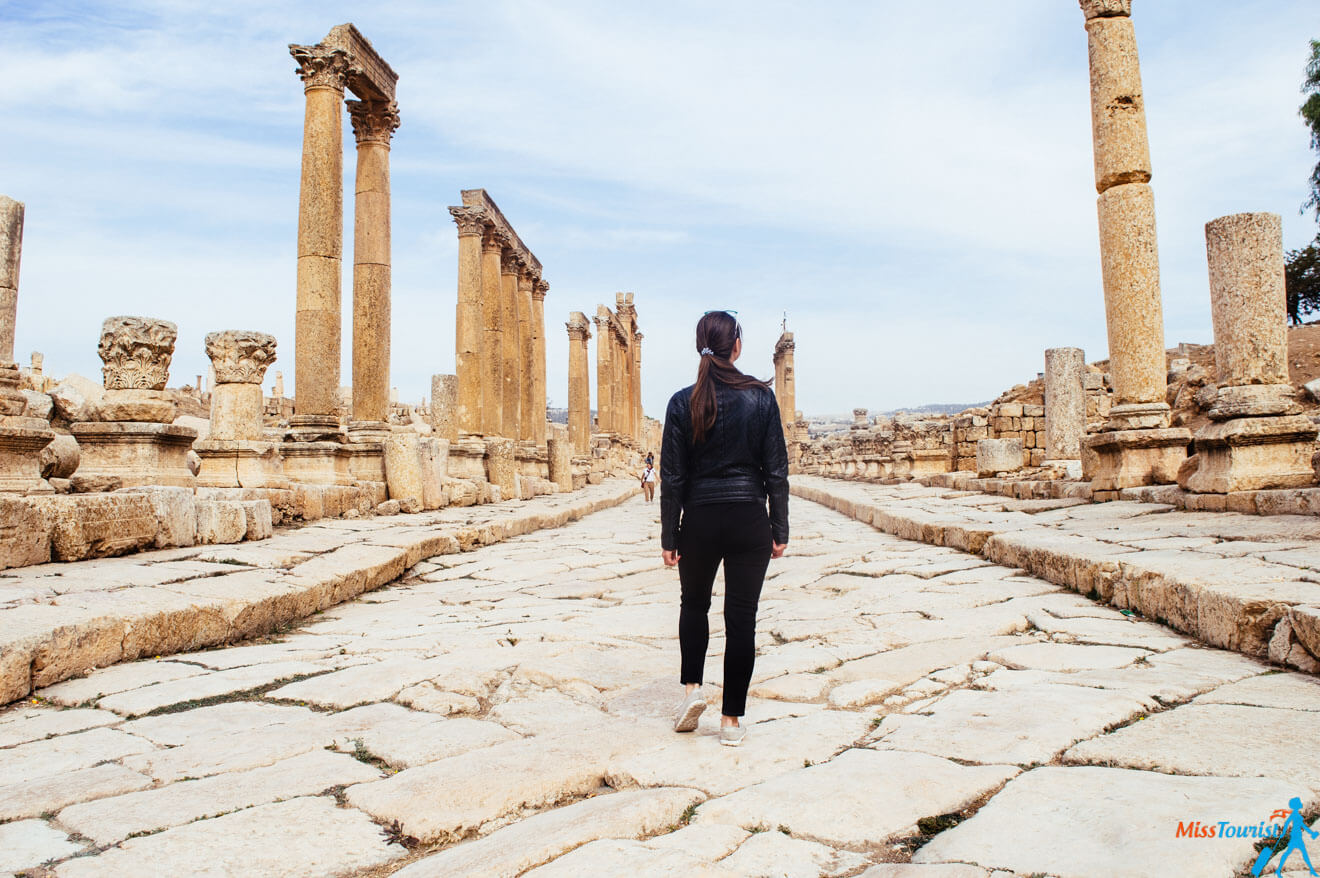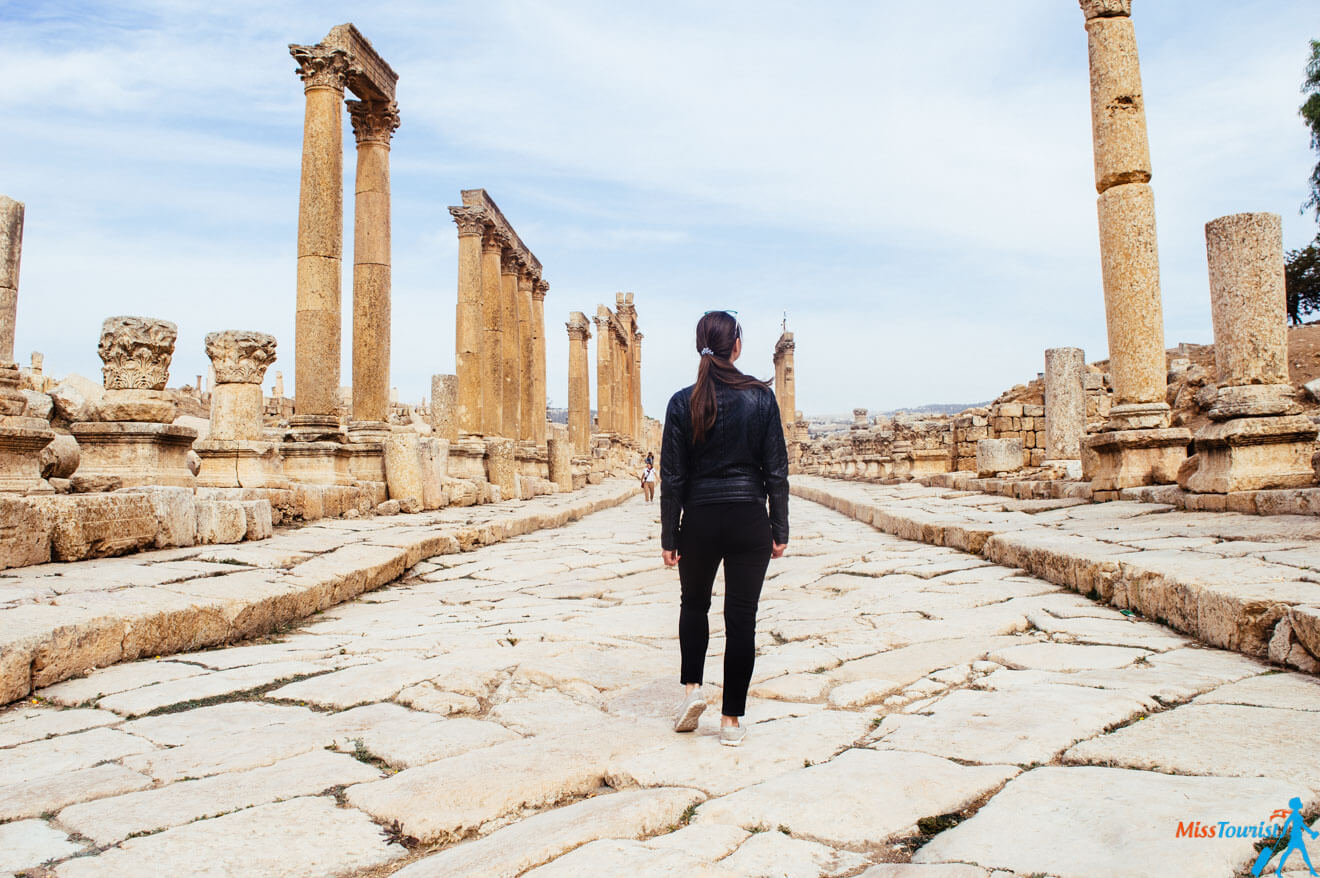 Move on to Jerash, the city of amazingly preserved ruins. I recommend renting a car (more on that below in this post, or, for more detailed recommendations, check out my new article on car rentals in Jordan!). It is a bit less than a 1-hour drive. Alternatively, you can take a day tour. Come back to Amman for an overnight stay. There is also a public bus that leaves from downtown Amman, but using it is a bit more complicated.
Things to do in Jerash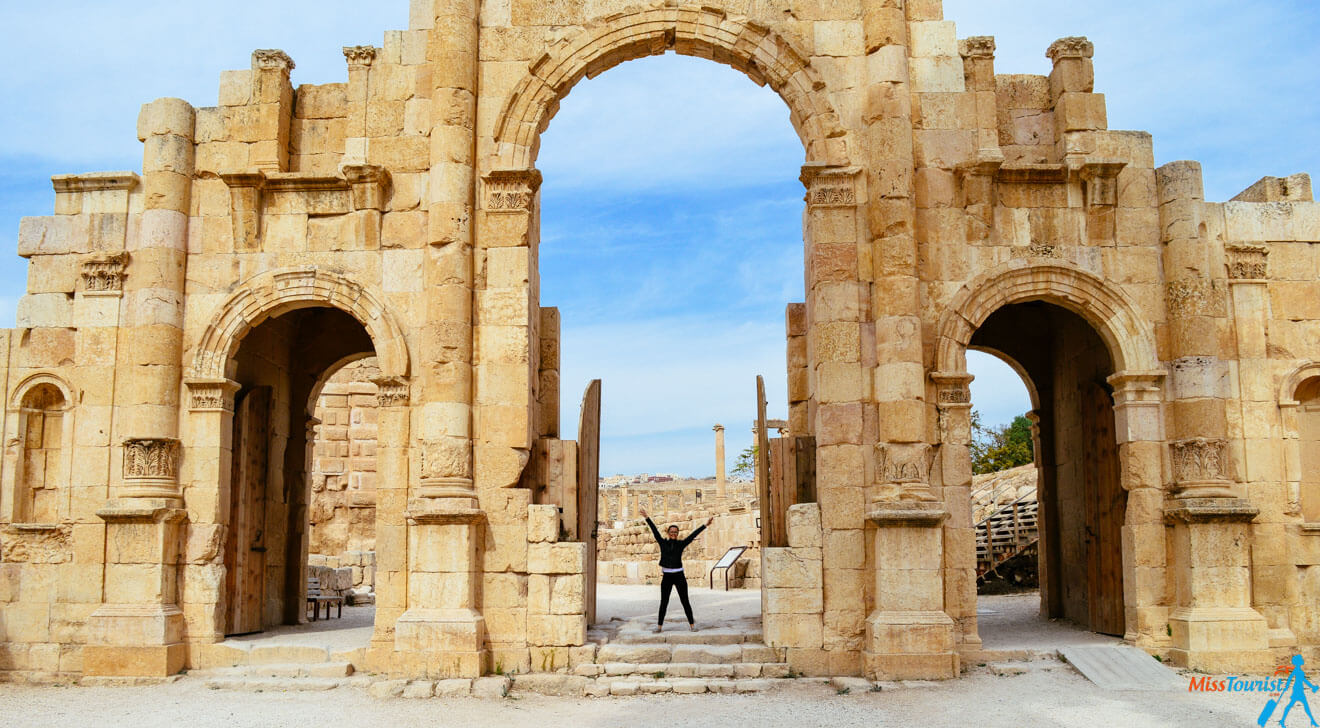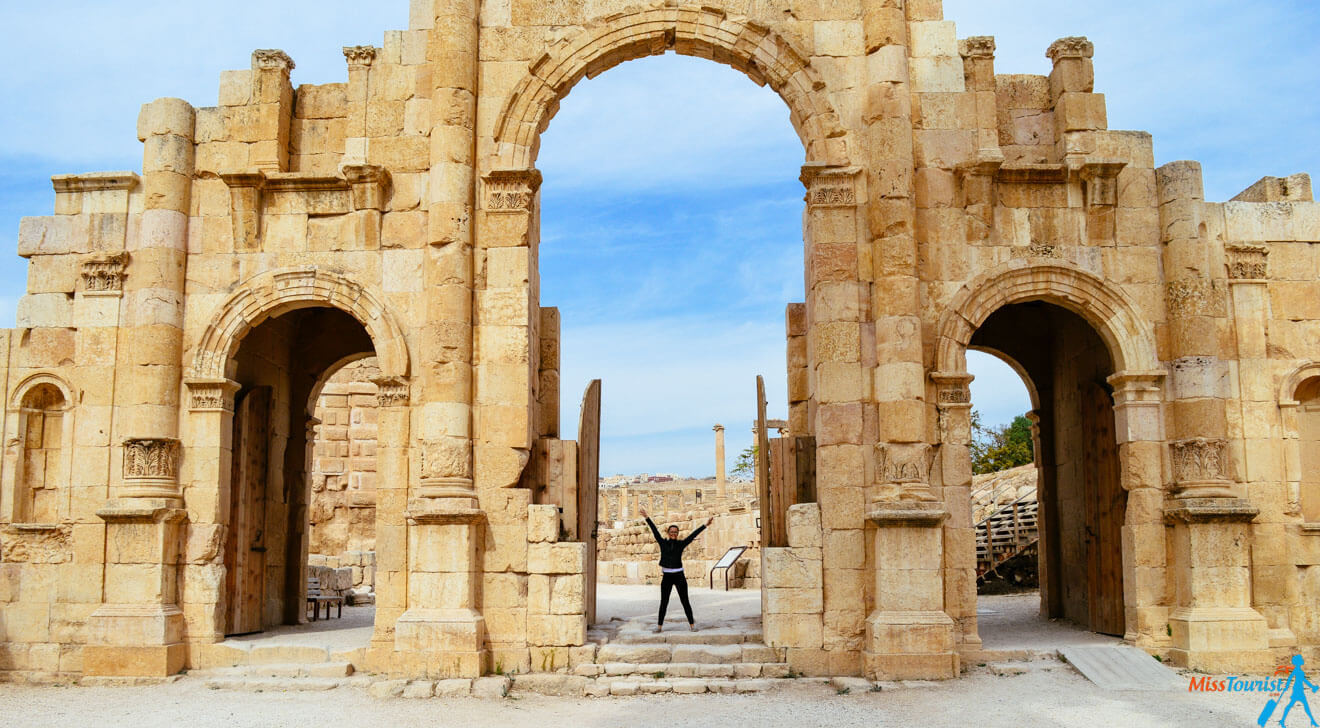 If you feel like skipping Jerash because you think it is boring to see the ruins, don't! I am not a history freak, but I really appreciated the place because I have never seen such well preserved roman ruins!
Jerash was conquered by General Pompei in 63 BC and it came under Roman rule (when it was known as Gerasa). Thanks to the sand that covered the city for centuries, it is amazingly unspoiled! It was only discovered in 1807 and excavated about 70 years ago. You can now walk around the city and you don't really need to have a wild imagination to see how people lived 2000 years ago.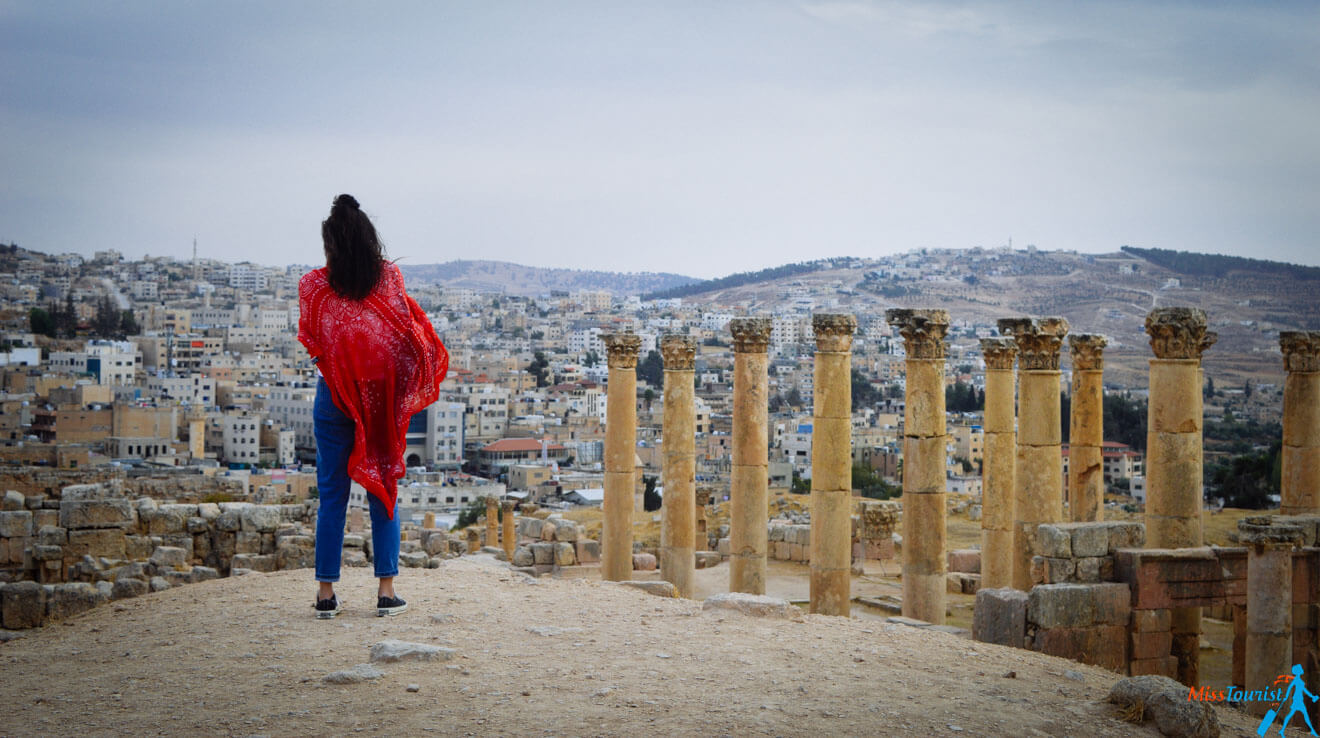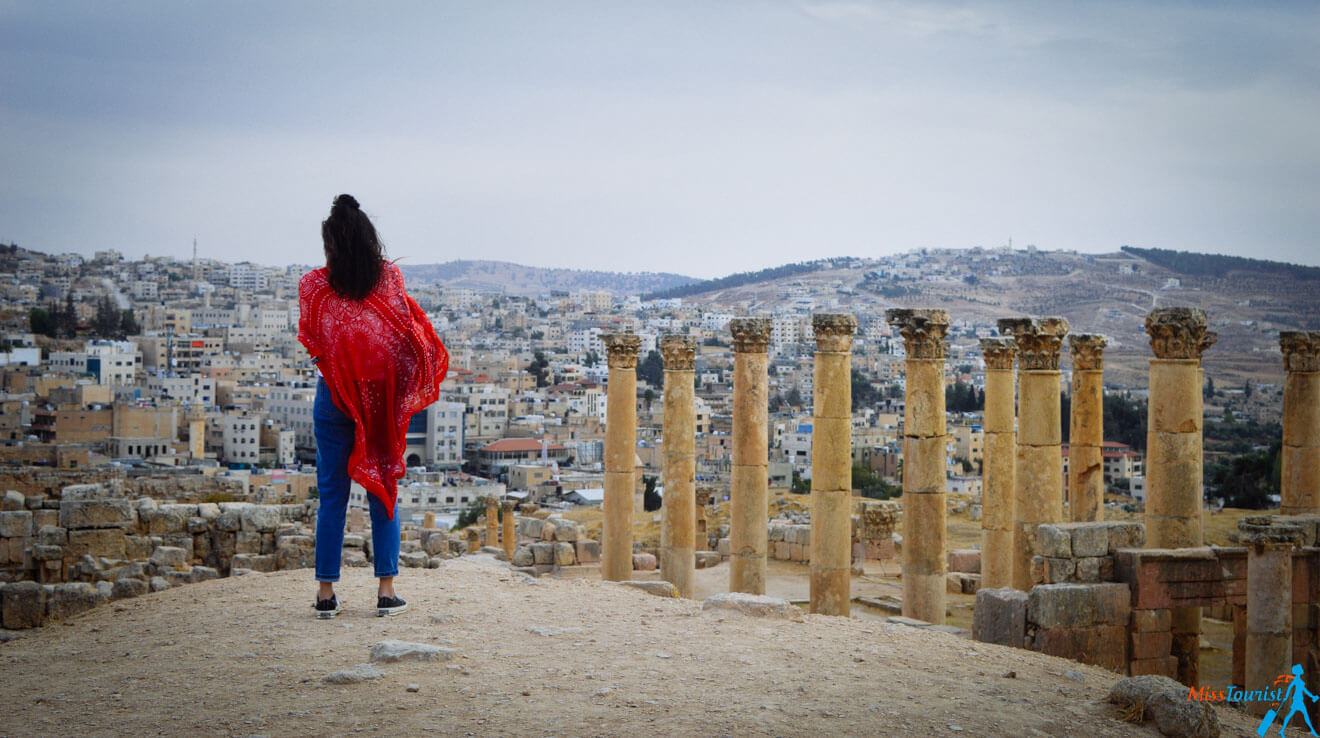 I have lived in Rome and I have been to Pula, saw Persepolis in Iran and visited numerous other ancient ruins, but this one can't be compared to them! It is by far the best preserved Roman ruins I have ever seen!
And you can hardly call it ruins because it actually looks like an almost functioning Roman city. I felt like I traveled back 2000 years!
I highly recommend taking a guide there to learn more about this fascinating place!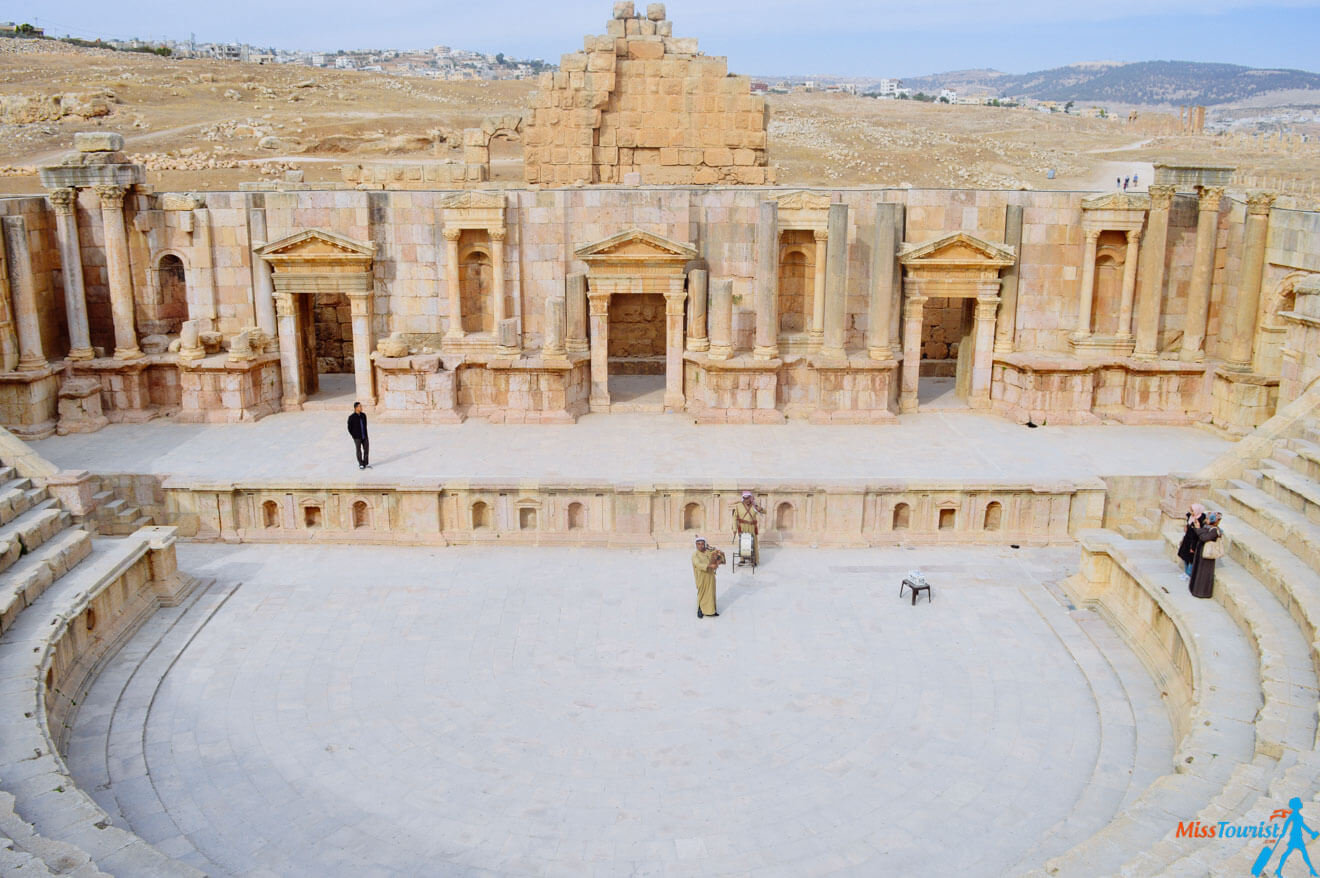 The entrance is 10 JOD (~ US $14)
Where to eat in Jerash
We took a BBQ set in Artemis Restaurant and it was amazing!
Hotels in Jerash:
I would not stay in Jerash as Amman has so many more options and it is just a 40-minute drive back.
Day 3 – Explore Wadi Rum Desert, feel like a Martian!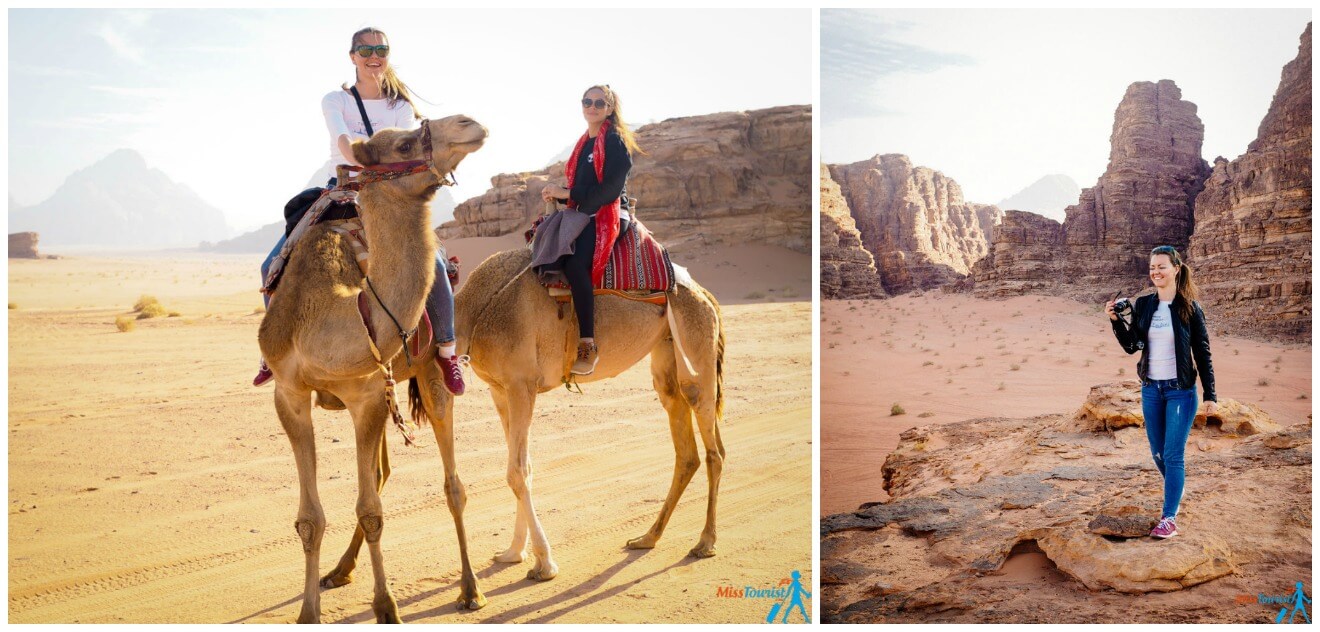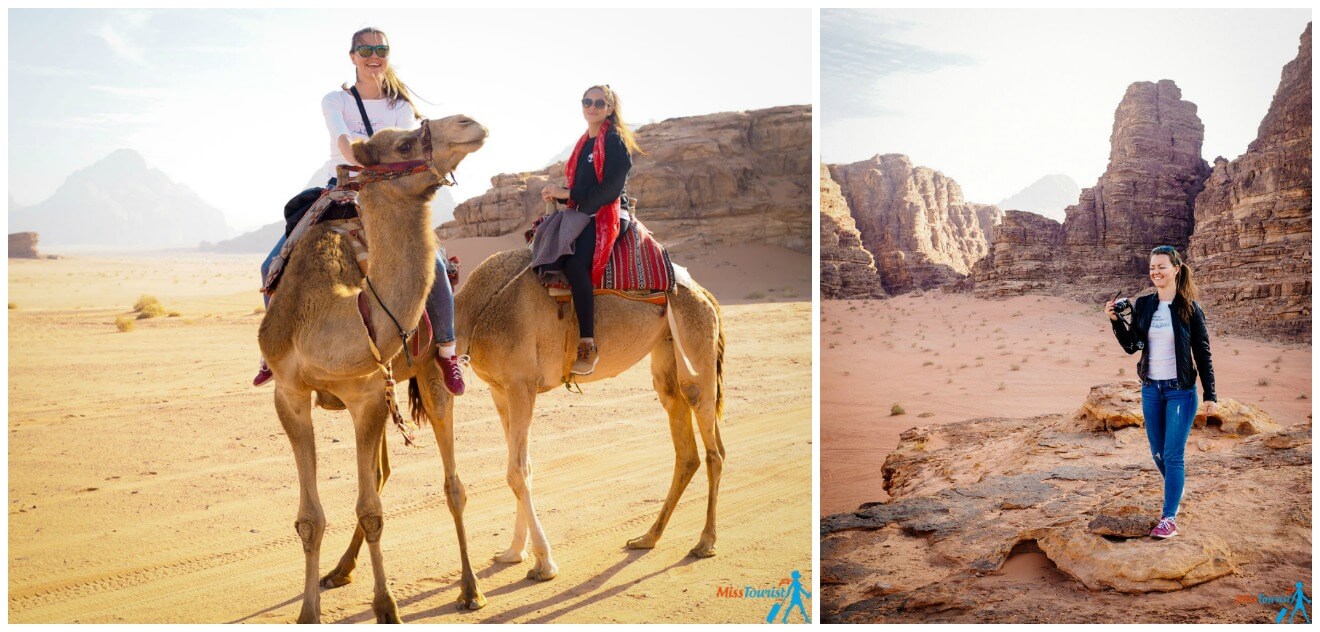 Drive all the way down south of the country to reach the stunning Wadi Rum Desert. Attention! You can get there only with a car or organized tour, no public transportation is available to the site for the moment! The drive will take you about 4 hours and it is the longest part of the trip (Jordan is a fairly small country).
Wadi Rum tours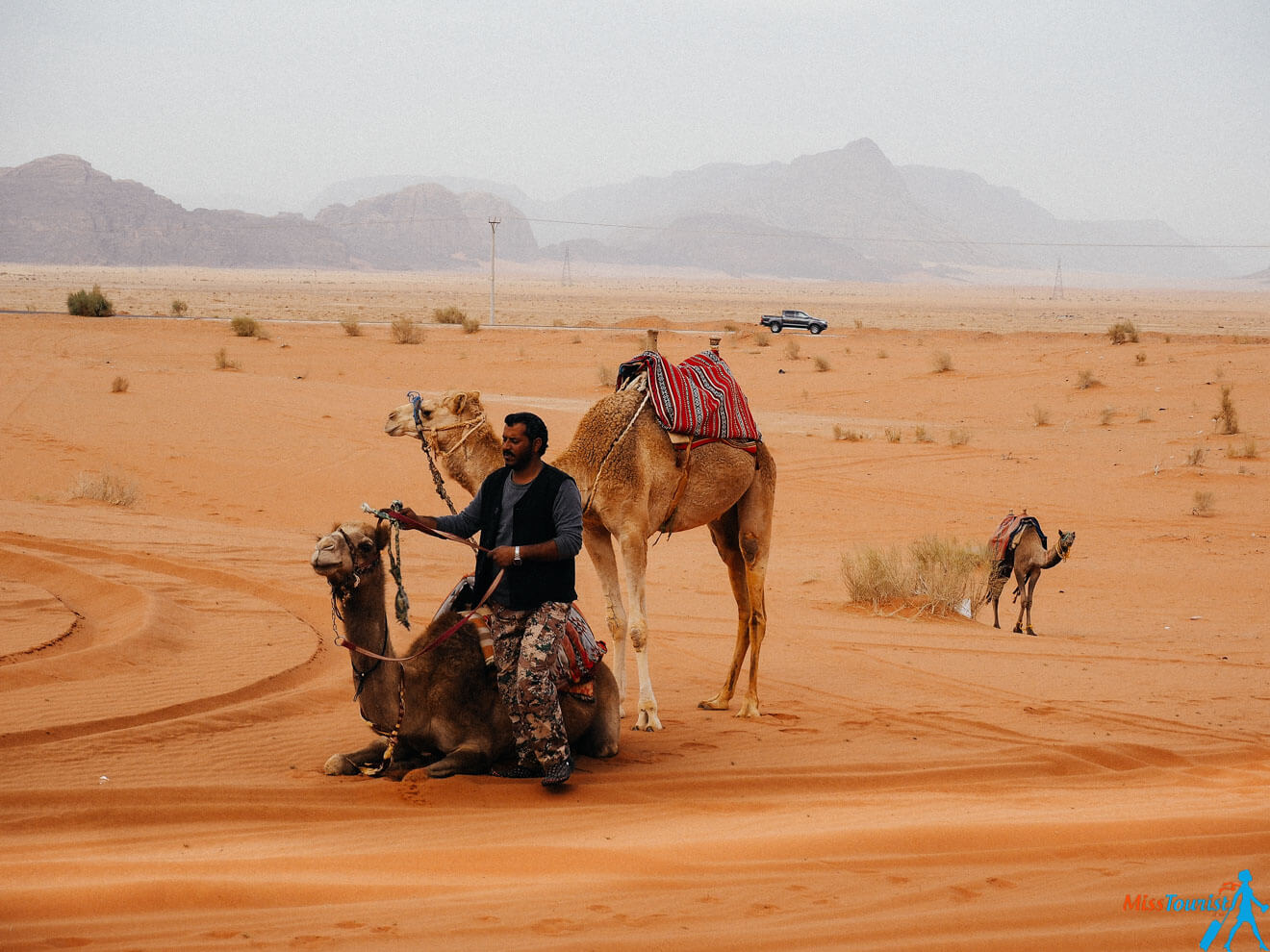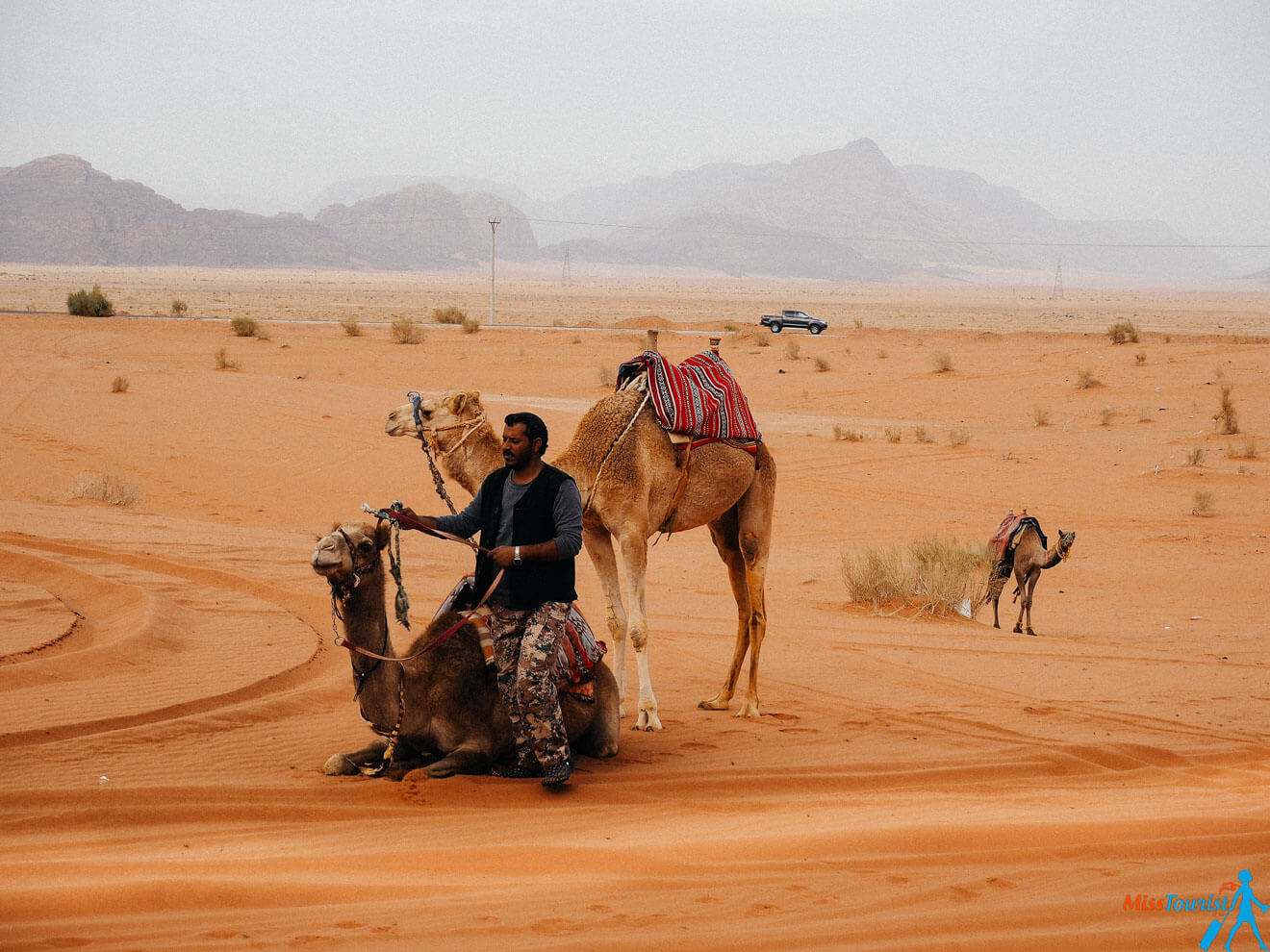 Wadi Rum means "the Valley of the Moon" in Arabic. It is a desert valley filled with narrow gorges, natural stone arches and towering cliffs.
Does this crazy landscape look a little bit like Mars to you? That is right! That is why the movie The Martian was filmed there!
Many other movies were filmed there, too, by the way, for example, Lawrence of Arabia.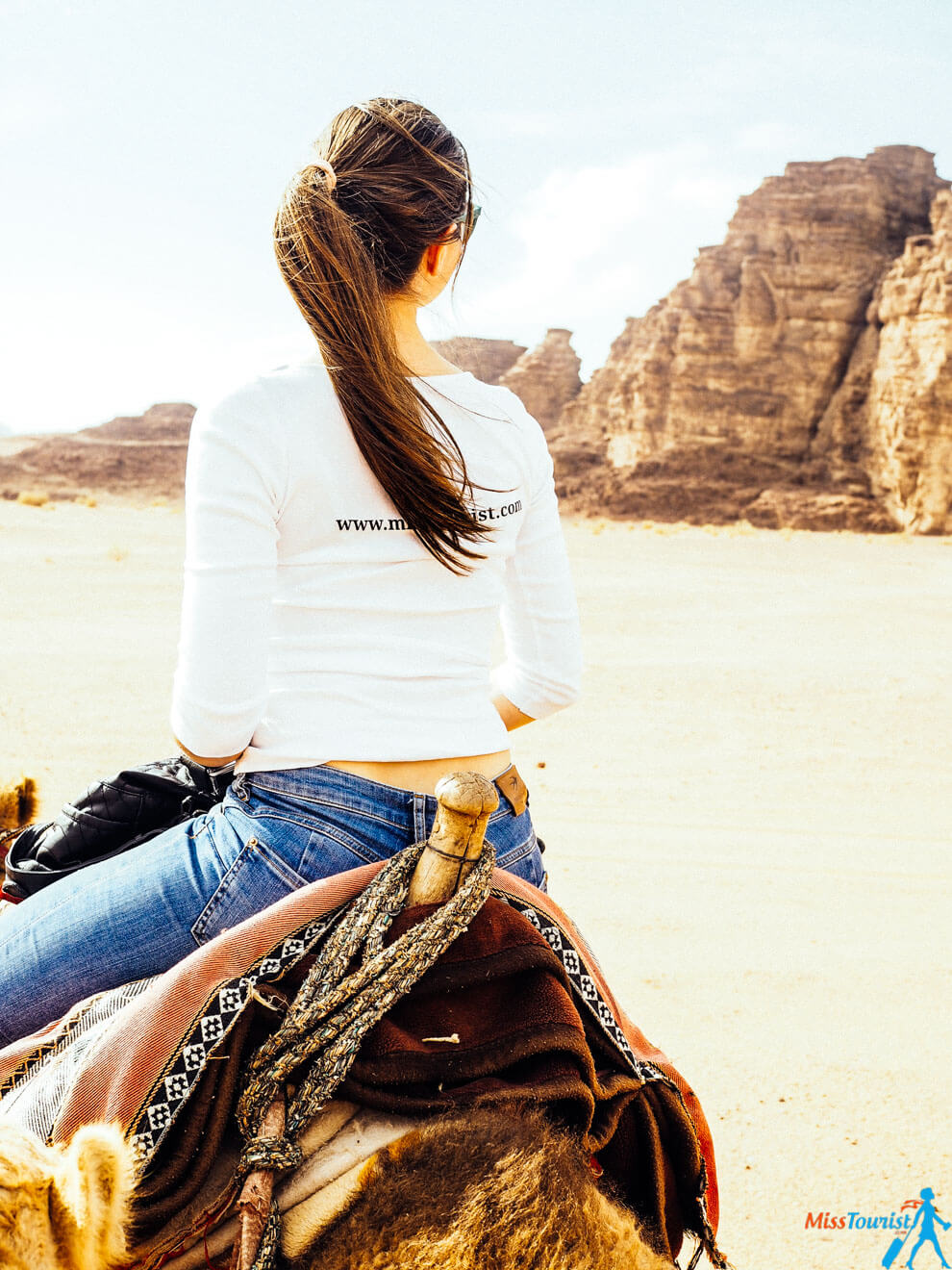 Here is the recipe for an ideal Wadi Rum adventure for me –
Ride a camel to some fantastic scenery (it can be a sunrise tour, too!),
take a 4×4 jeep tour to go deeper into the desert,
drink some sweet spicy tea in a Bedouin camp,
meet the sunset in the desert,
come back to your Bedouin lodge for a good night's sleep.
By the way, if you are lucky to get the proper sunset, as the sun goes down, the color of the sand will change from yellow to red. It is so unreal, you will be pinching yourself.
Other optional cool things to do in Wadi Rum – hot air balloon rides and land sailing.
The entrance to this protected desert wilderness is only 5 JOD (~ 7 USD).
Wadi Rum Hotels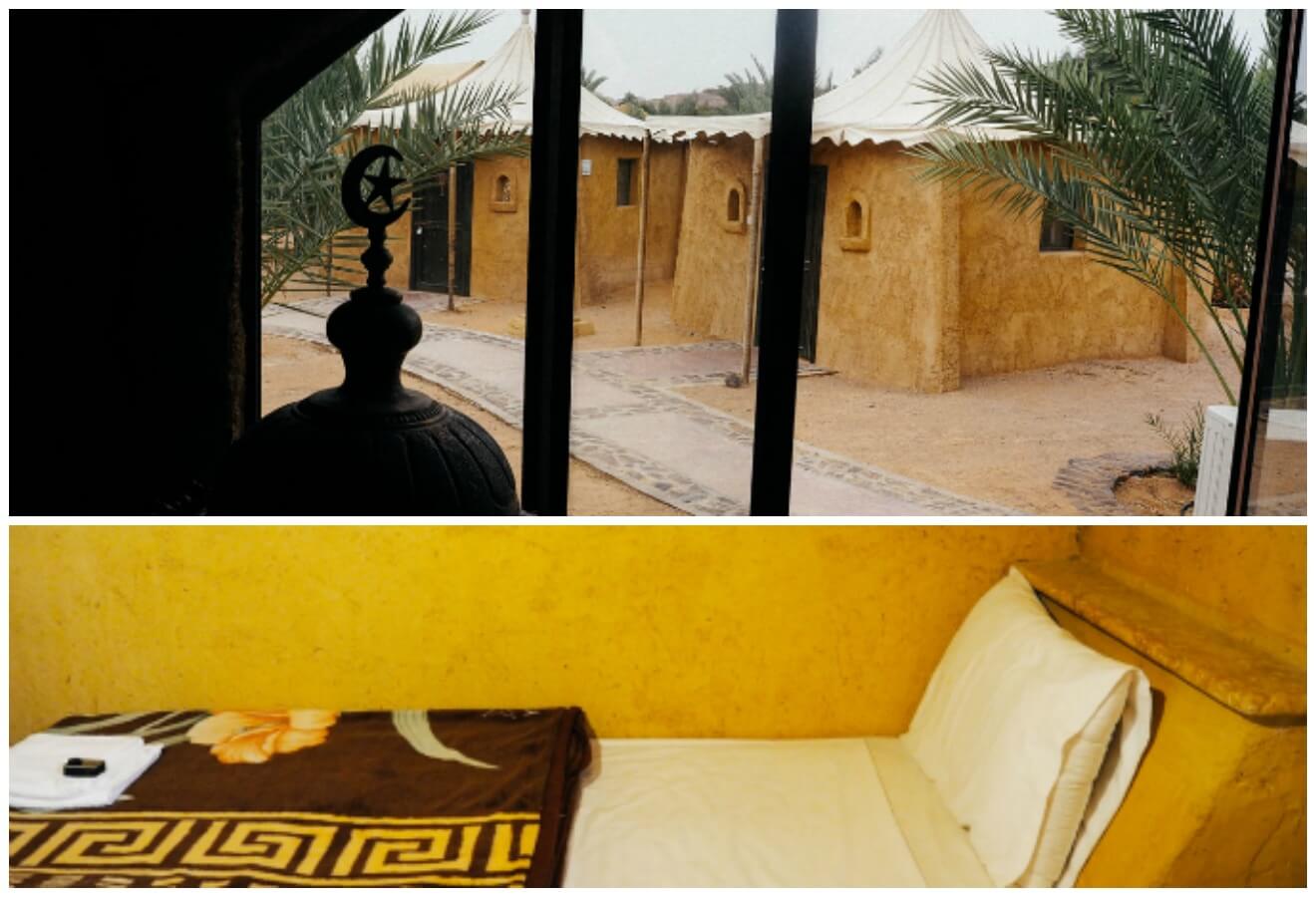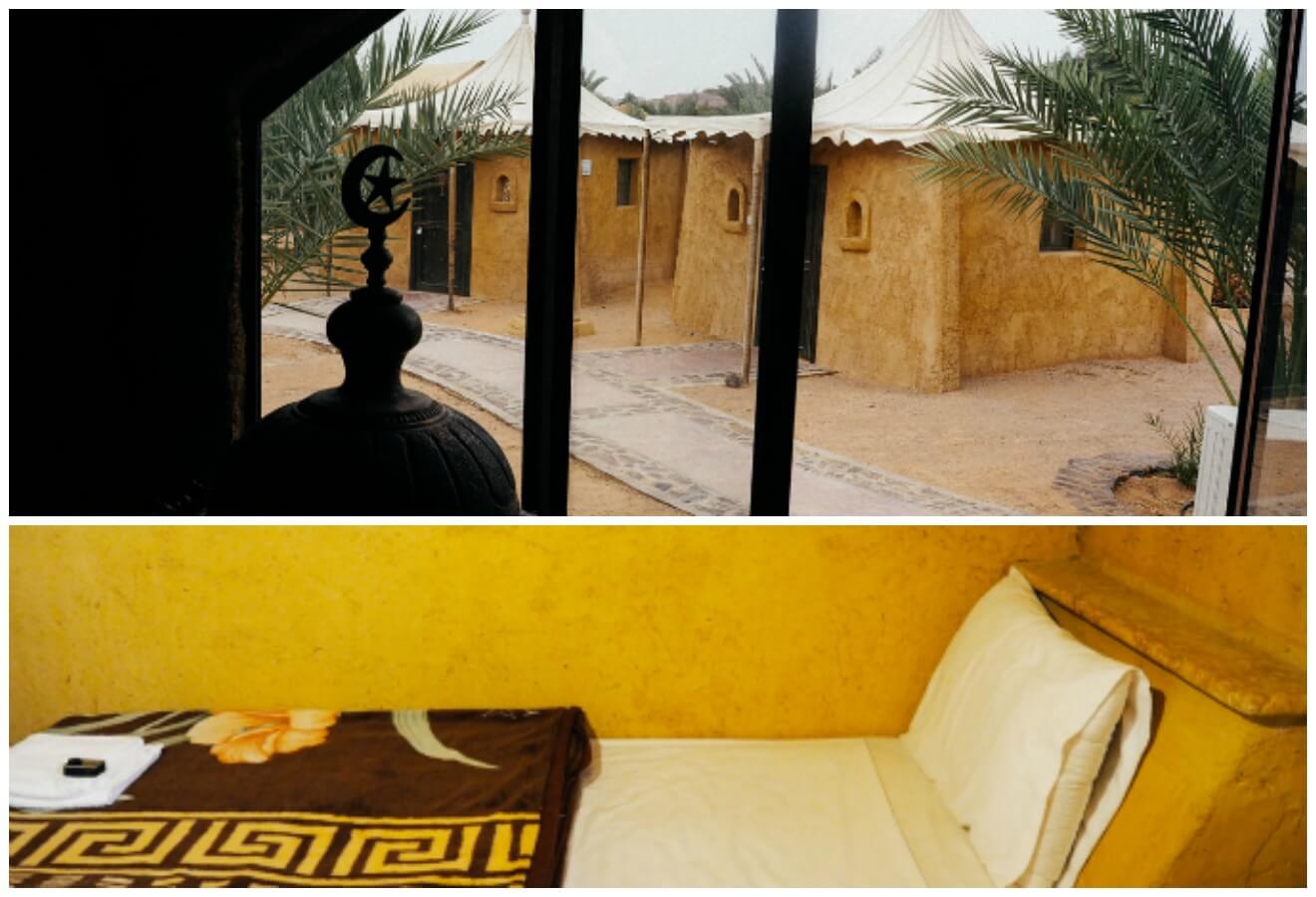 After such an active day, you should definitely stay overnight in one of the Bedouin hotels in Wadi Rum!
Now, please be aware that you are in the middle of nowhere in the desert and you won't find luxurious 5* hotels here. But I still have some good choices for you, no worries.
A Bedouin hotel called Bait Ali Lodge is considered to be the best one in Wadi Rum; it features tents and chalets, some with a private bathroom, some with a shared one. We stayed in a chalet with a private bathroom.
The room itself is simple and basic, but clean and warm. The common area is very pretty and they also have a seasonal swimming pool, but when I was there (November) it was already closed. A buffet dinner near the evening campfire and barbeque was great!
Here are other accommodation options in Wadi Rum in case this one is fully booked: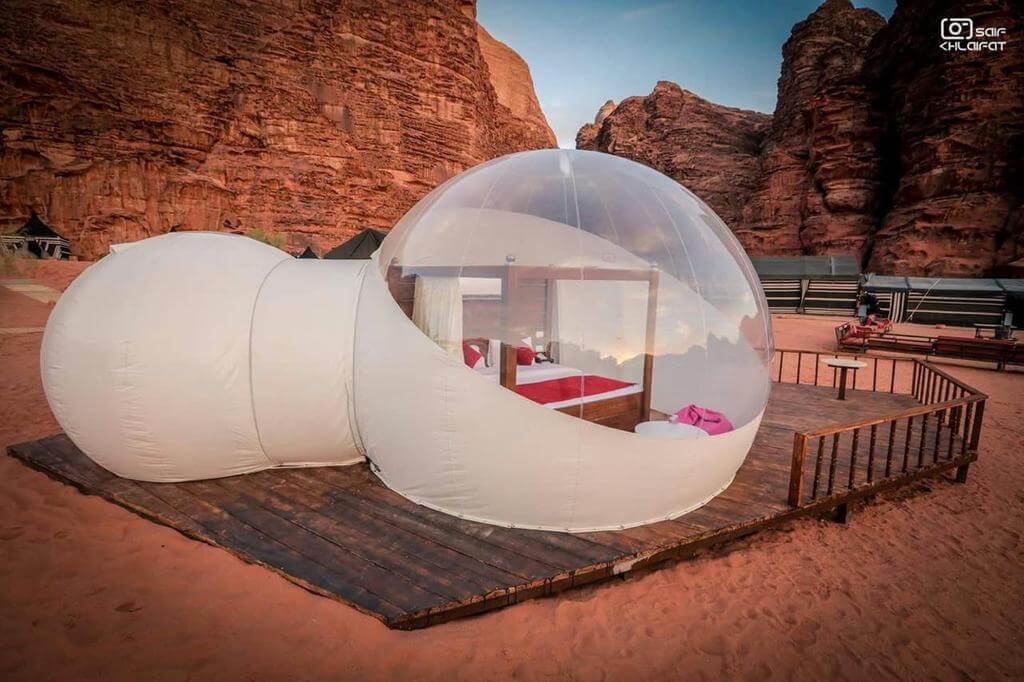 Luxury (US $110 and up) – Wadi Rum Night Luxury Camp – searching for that comfort away from home (also… in the middle of the desert?) It can be done here! Each tent has a private terrace with a terrific view and the rooms are no different from the ones in good hotels in cities. Try their "full of stars tent"! Sun City Camp – choose their Martial Tent to see the stars at night!
Middle price (US $60 – $170)– Bait Ali Lodge is in this category, with the pictures and description above. Rum Stars camp – a very friendly, clean property. You will get a private permanent tent with electricity inside.
Budget option (up to US $60) – Martian Camp – this is your place if you are searching for a cheap option to stay in a real Bedouin camp that at the same time includes showers and toilets. Wadi Rum Nature Camp is very similar to the previous hotel, but the reviews are even better! Check it out now!
Day 4 – Petra. See one of the New Wonders of the World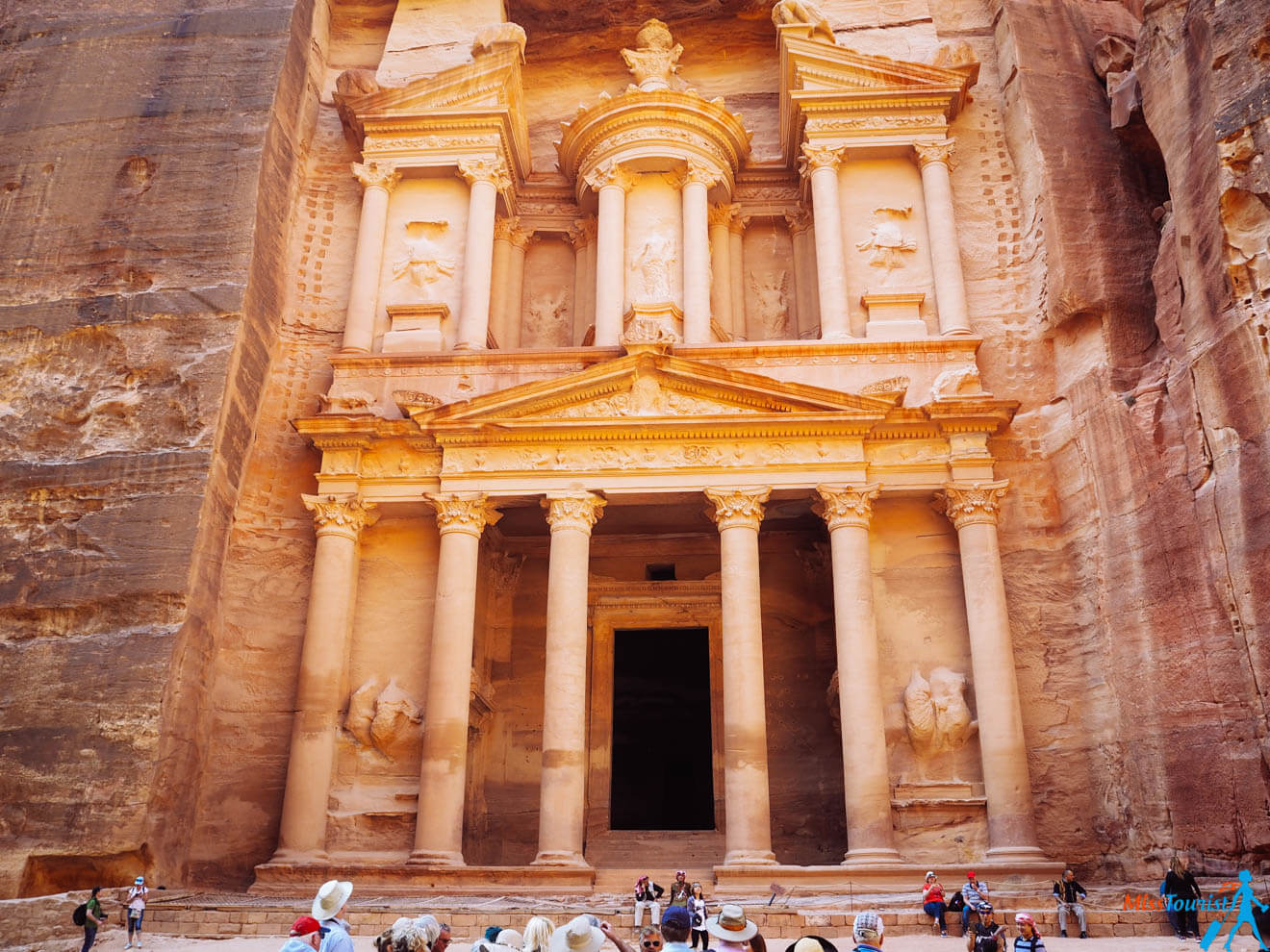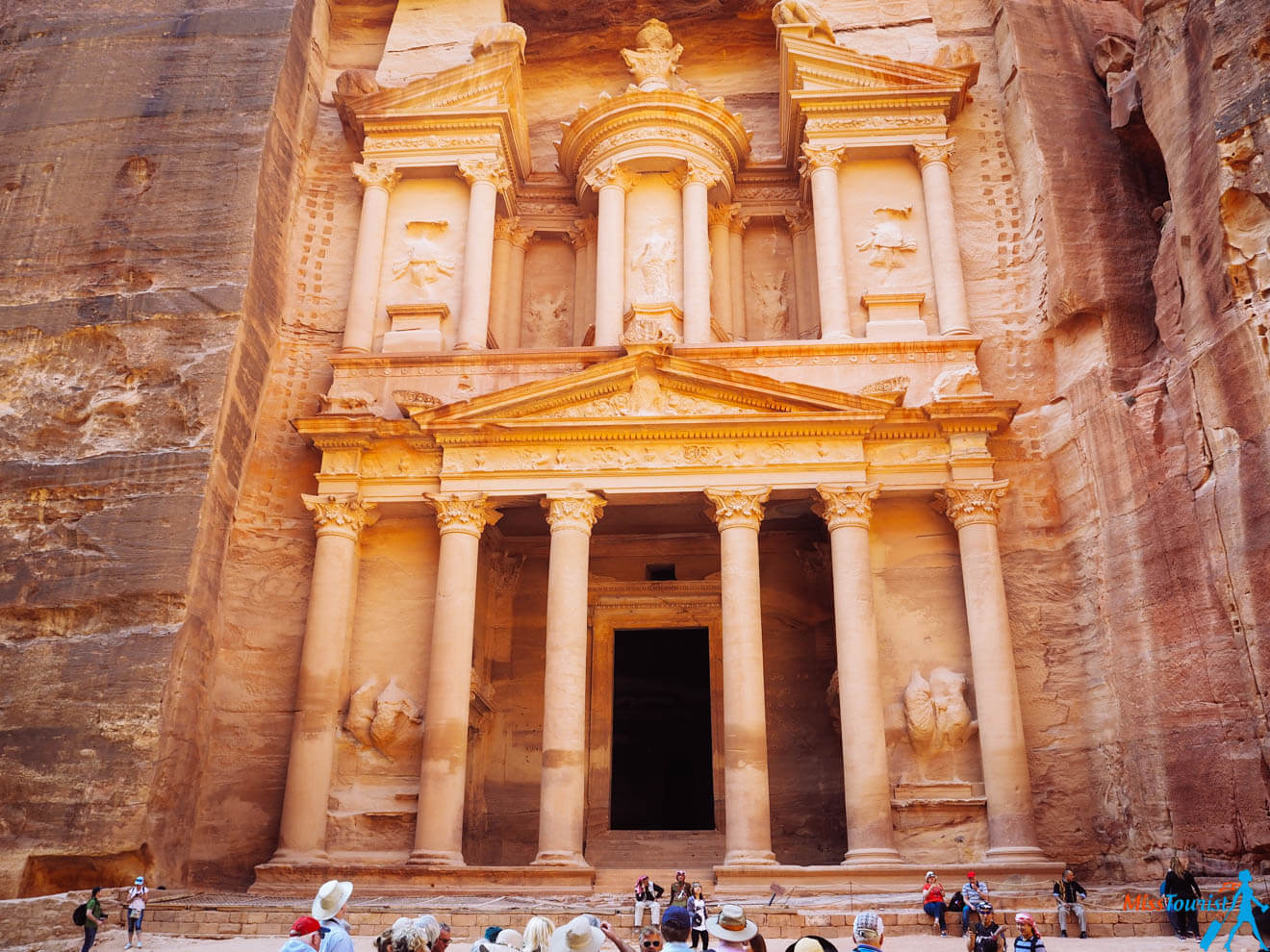 Petra in Jordan is without a doubt the most visited sight in the country! It's no wonder – the place got hugely popular after the "Indiana Jones" movie and the fact that it was chosen as one of the New 7 Wonders of the World.
It is definitely worth it and it is indeed a magnificent experience!
How to visit Petra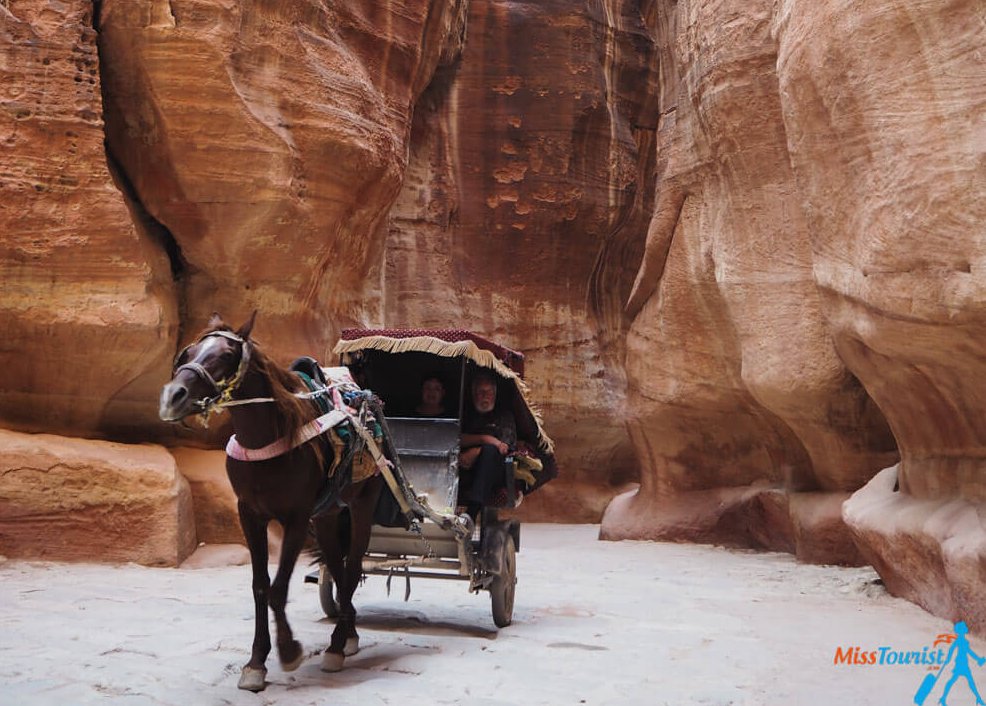 I have written a separate post about Petra – the prices, how to get there, things to consider.
Also, I explained more about the small hack on how to save US $100 per person, all about Petra weather, a Petra by Night show, how to get there from Amman and so on in my post.
READ MORE – Petra tours – everything you need to know before visiting the Ancient city
Petra Hotels: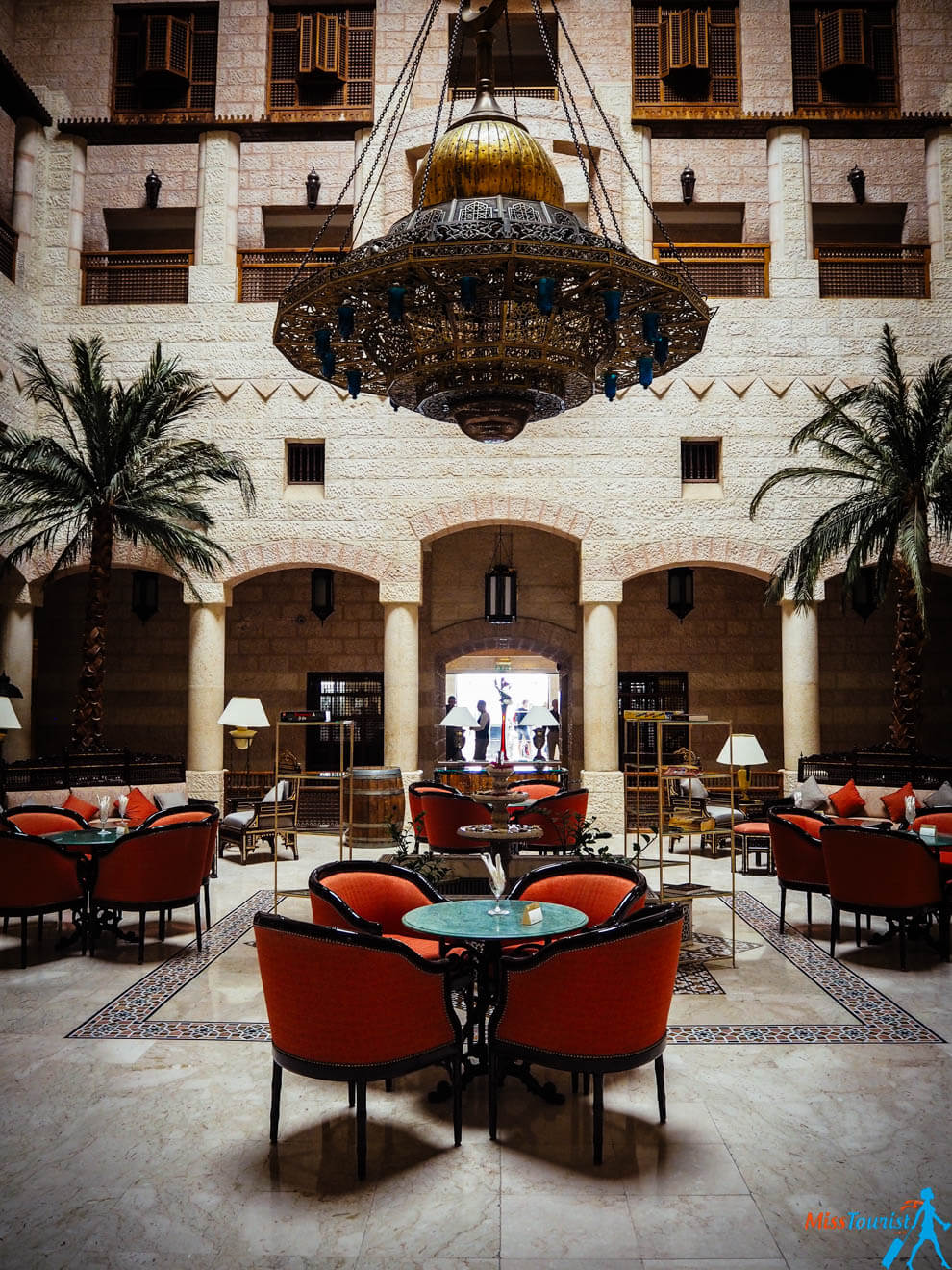 For your convenience, I have made a selection for every wallet
Luxury (US $150 and up): Mövenpick Resort Petra is the best one out there with its spotless rooms, great service and amazing rooftop that will leave you speechless. Totally worth the money! Tetra Tree Hotel is a 5 minute drive from the Petra entrance and features spacious modern style rooms and indoor and outdoor swimming pools!
Middle (US $55 – $150): Marriott Petra Hotel is another great 5* hotel with an outstanding view that does not break the bank. Keep in mind however, that it is 2.3 km away from Petra. Petra Palace Hotel – a couple of swimming pools, warm decorations in rooms, proximity to the Petra entrance – all these make this hotel worth considering.
Budget (up to US $50): Peace Way Hotel is a great option for budget travelers as it is very close to the Petra main gate, the staff is friendly and it has fabulous reviews! Hotel Cleopetra is, again, located in the center of Wadi Musa. The rooms are simple, but they are clean and they have private bathrooms. Great value for your money!
Day 5 – Float like a mermaid in the Dead Sea of Jordan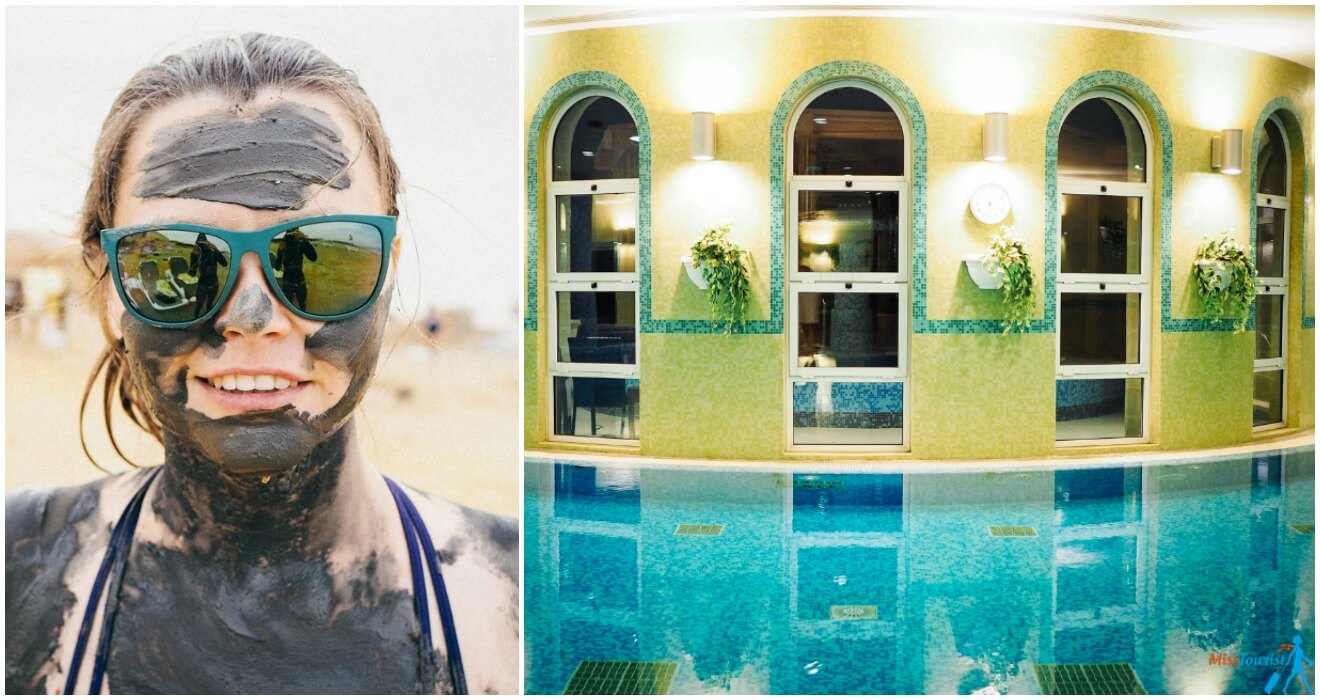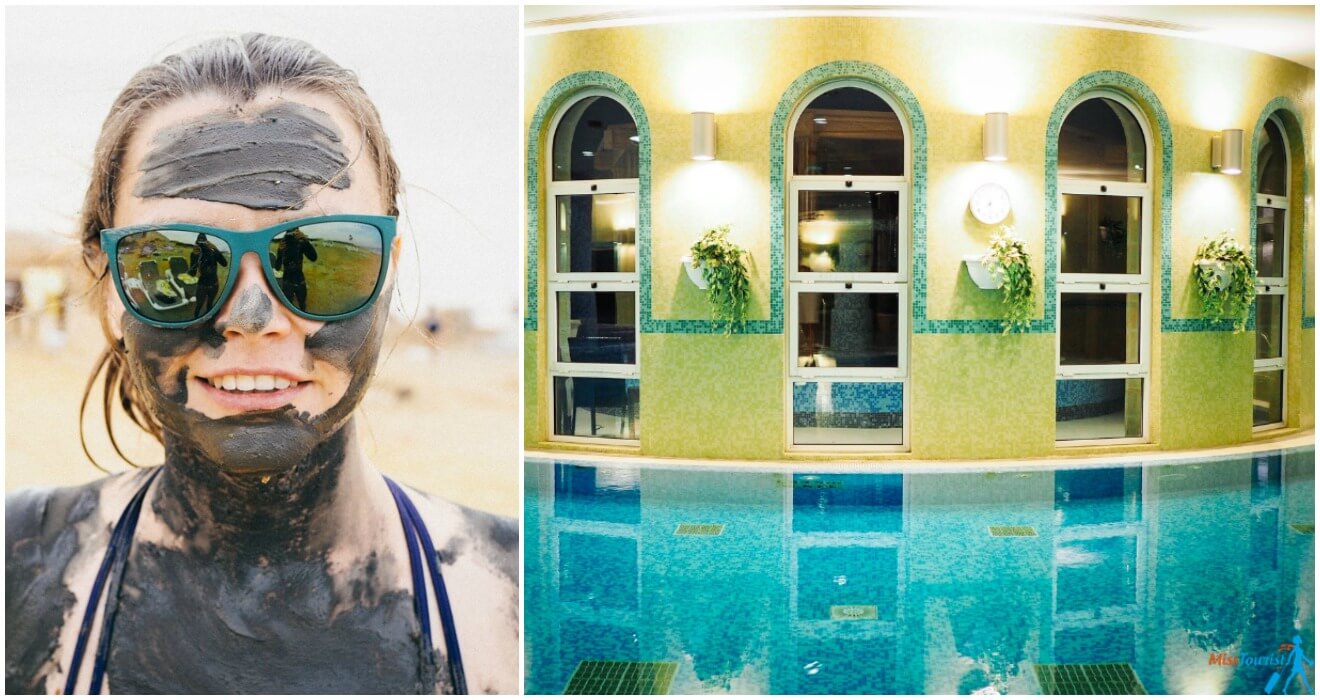 The Dead Sea is so salty that fish cannot survive there which is the reason it is called "Dead". The high concentration of salt pushes objects out (yay for physics lessons!), which makes us float on the surface without much effort! Don't miss this opportunity; you can only try this in the Dead Sea (which is divided by Jordan and Israel).
It is another 3 hour drive from Petra to the Dead Sea (because you go almost all the way back north to Amman).
Vacation near the Dead Sea, Jordan
So far it has been quite a journey, hasn't it?
You deserve a vacation during your vacation at the lowest point on earth recorded at 416 meters below sea level. A sea below sea level? Say what?
The Dead Sea is 200 meters below sea level (??) and it is so rich with salt that you don't even need to be a swimmer to swim there – the salt will make you float!
Dead Sea mud is well known for its healing powers and can be used as a face and/or body mask. I tried it (of course!!) and I could actually feel my skin became super smooth afterwards!
In our plan, the Dead Sea visit is only one day, but if you have the time to stay longer and relax a bit, you totally should do it for 3-4 days!
As it is almost the end of our trip, it is time to shop for some souvenirs, right? Why not get some Dead Sea products, cosmetics from the Dead Sea and of course some mud masks as well! Your relatives and friends will certainly appreciate it! I know I would! 🙂
Dead Sea Jordan Hotels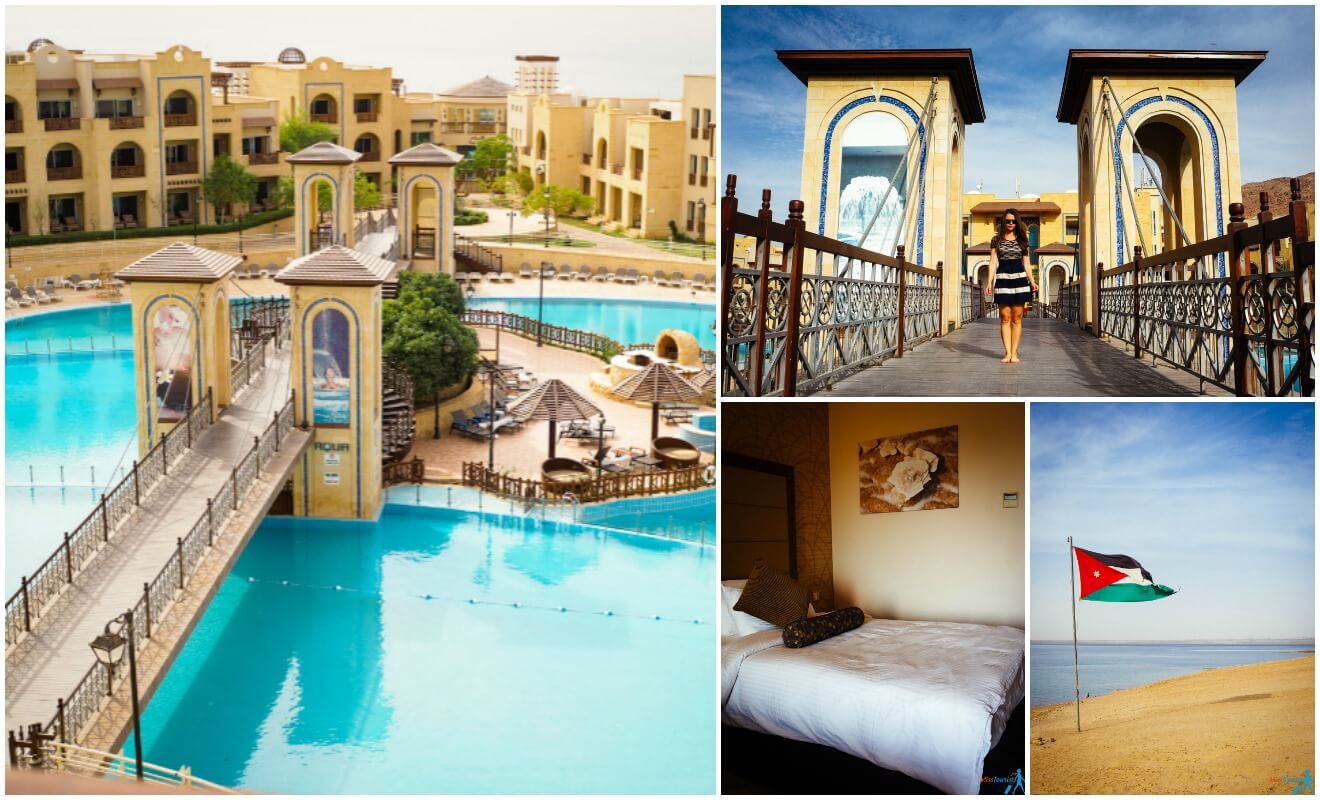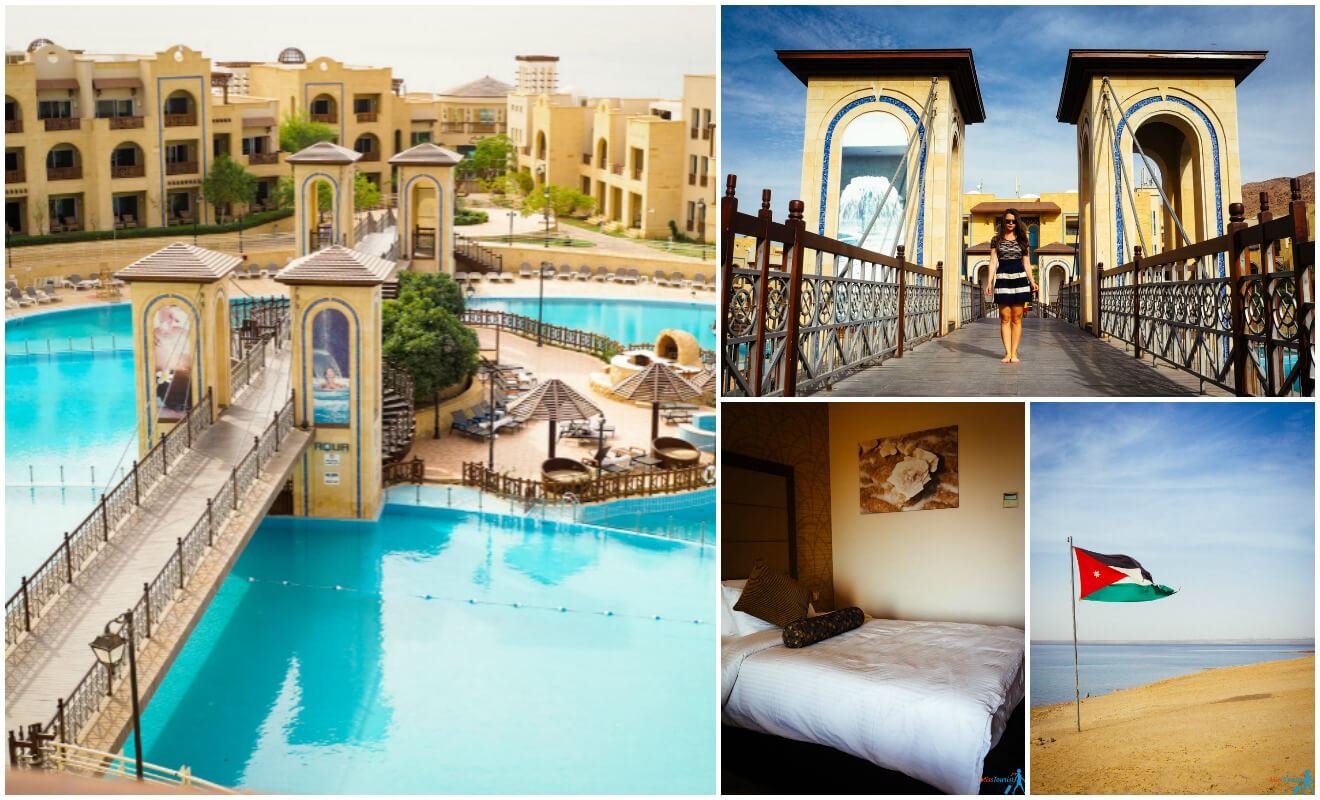 I stayed in the Crowne Plaza Jordan Dead Sea Resort & Spa. It is a big 5* hotel right on the beach, but they also have their own big swimming pool. The rooms are equipped with everything needed and we had a view of the sea! There is also an (amazing) spa and a gym.
As it is an all-inclusive resort, there was a breakfast buffet with an endless amount of choices, same goes for lunch. There is a buffet for dinner, too, which we did not find very exciting. I recommend going to an a la carte restaurant for dinner.
Here are other options, all with great reviews depending on your budget:
Luxury (US $110 and up) – Kempinski Hotel Ishtar Dead Sea is a world class hotel boasting tree-lined outdoor pools overlooking the sea. This 5* hotel features a private stretch of beach and a spa offering sea mud and sea salt treatments. Jordan Valley Marriott Dead Sea Resort & Spa – All rooms are equipped with AC and some overlook the Dead Sea. The beds are made with luxurious down comforters and feather pillows and it's just a 3 minute walk from the beach!
Middle price (US $60 – $170) – Russian Pilgrim Residence – No, I'm not recommending it because I am Russian! It has fabulous reviews and a great location for a good price, what else do you need? Thara Real Estate is for those who prefer to have an apartment (suites) instead of a hotel room with the comfort of a hotel. Keep in mind that it is a 3-minute drive from the beach.
Budget option (up to US $60) – If you want budget options, you will need to stay in Madaba, which is close to the Dead Sea (30 km). Good hotels I can recommend are Tell Madaba and Black Iris Hotel, both with amazing reviews and helpful staff.
Day 6 – Follow Moses' footsteps in Madaba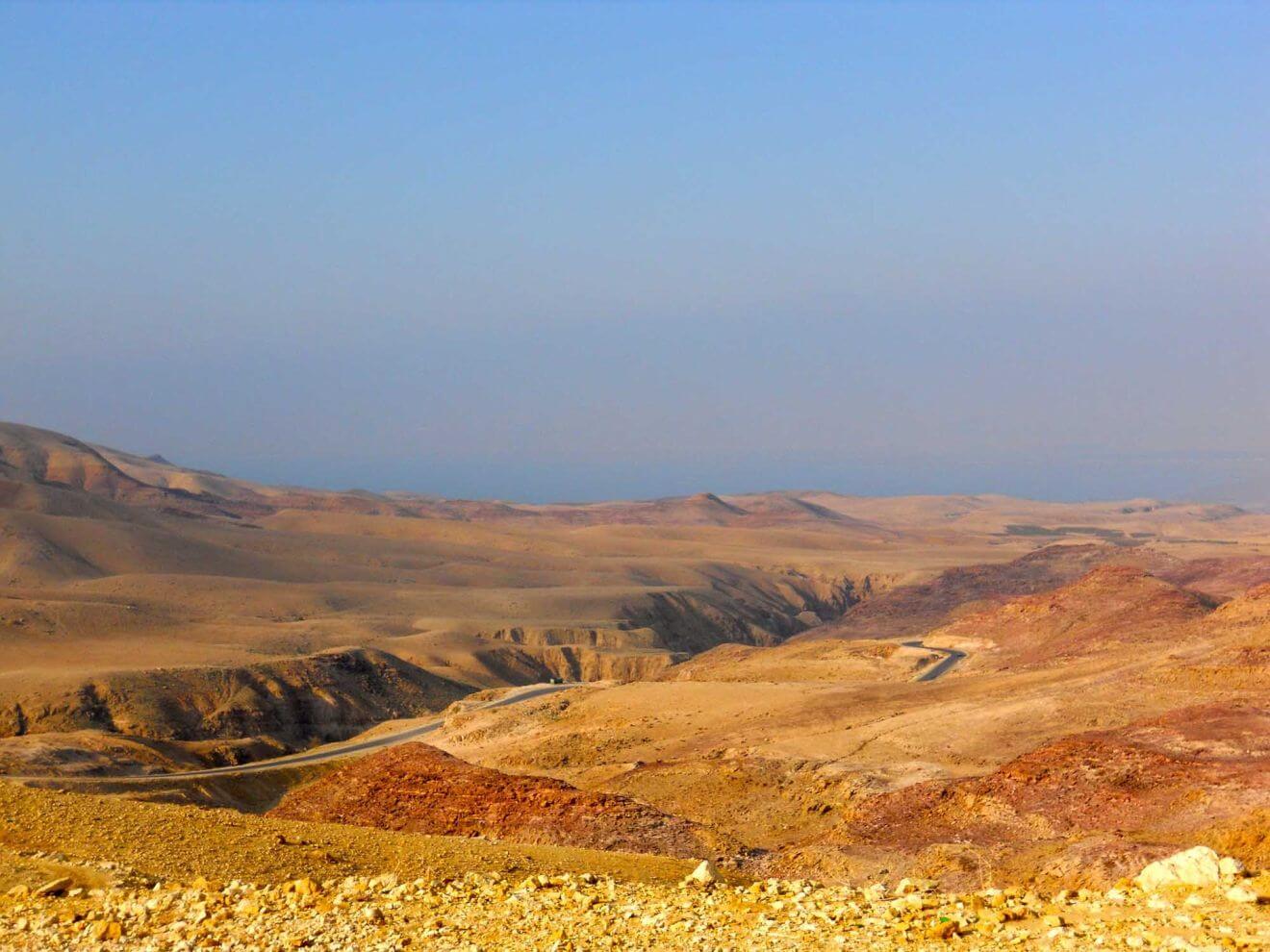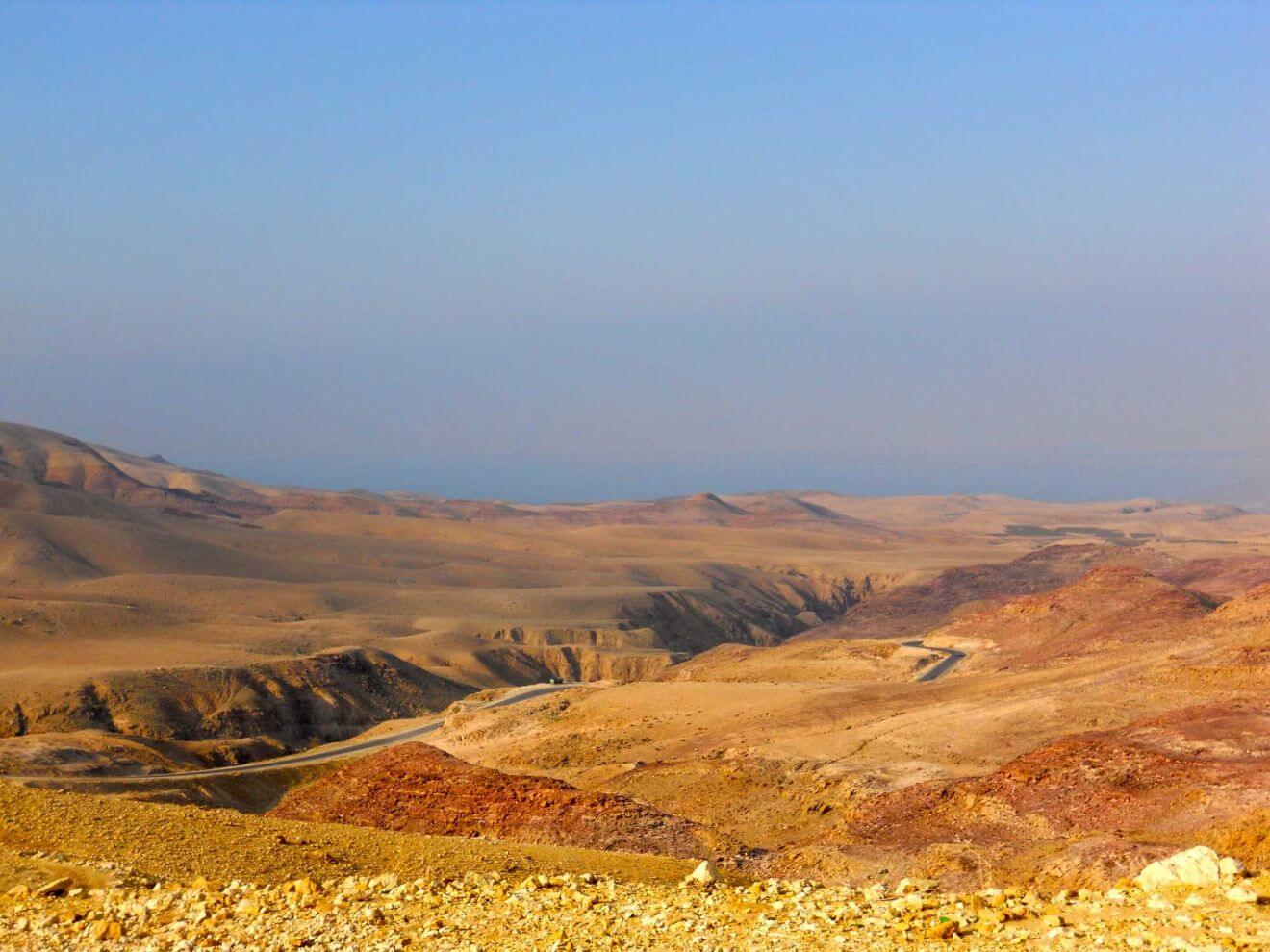 And this is our last day in Jordan, guys!
It is about a 45 km ride (less than an hour) by car from the Dead Sea resorts, and again, no public transportation options are available.
Visit Madaba, the City of Mosaics. If you still have some time left before your flight (or your flight is the next day), you should also stop by Mount Nebo, the place where Moses was buried.
Come back to the airport if you have an evening flight. Otherwise you can stay overnight in Madaba, or better, in Amman.
Things to do in Madaba
St. George's Church in Madaba cradles the 5th century mosaic Map of the Holy Land and it is amazingly preserved!
On Mount Nebo, if the sky is clear enough, you can see Jericho, the Dead Sea, and the Jordan Valley from the top.
Here is what our 6-day itinerary looked like through the eyes of my awesome travel companion – Amandine, a travel blogger from Les Berlinettes (but I have a couple of appearances there too! :).
| | |
| --- | --- |
| 🤩 Range of activities: | Great |
| 🏛️ Most visited place: | Petra |
| 🌊 Top water activity: | Dead Sea |
| ☀️ Best time of year: | October-December / March-May |
Other things to do in Jordan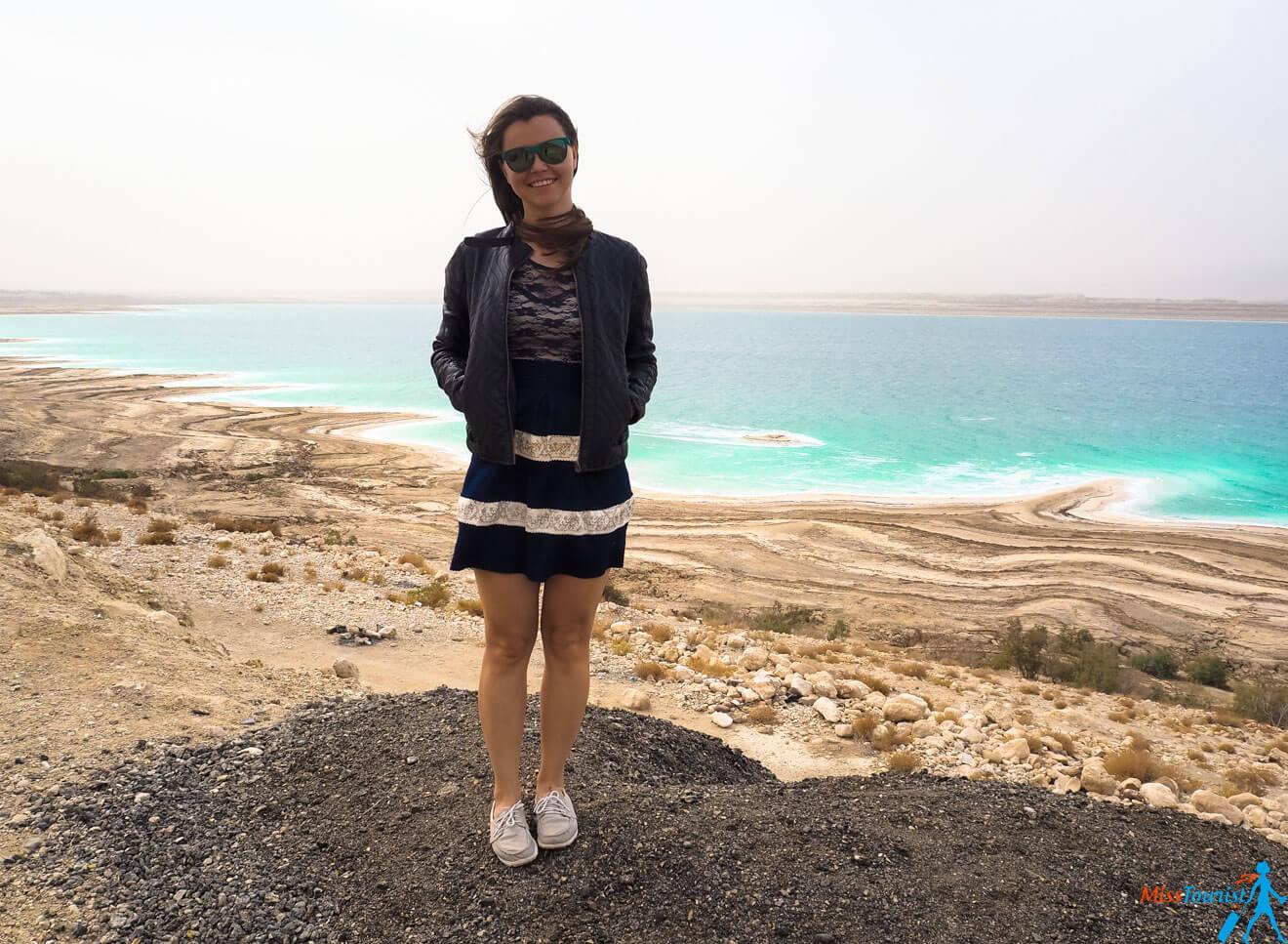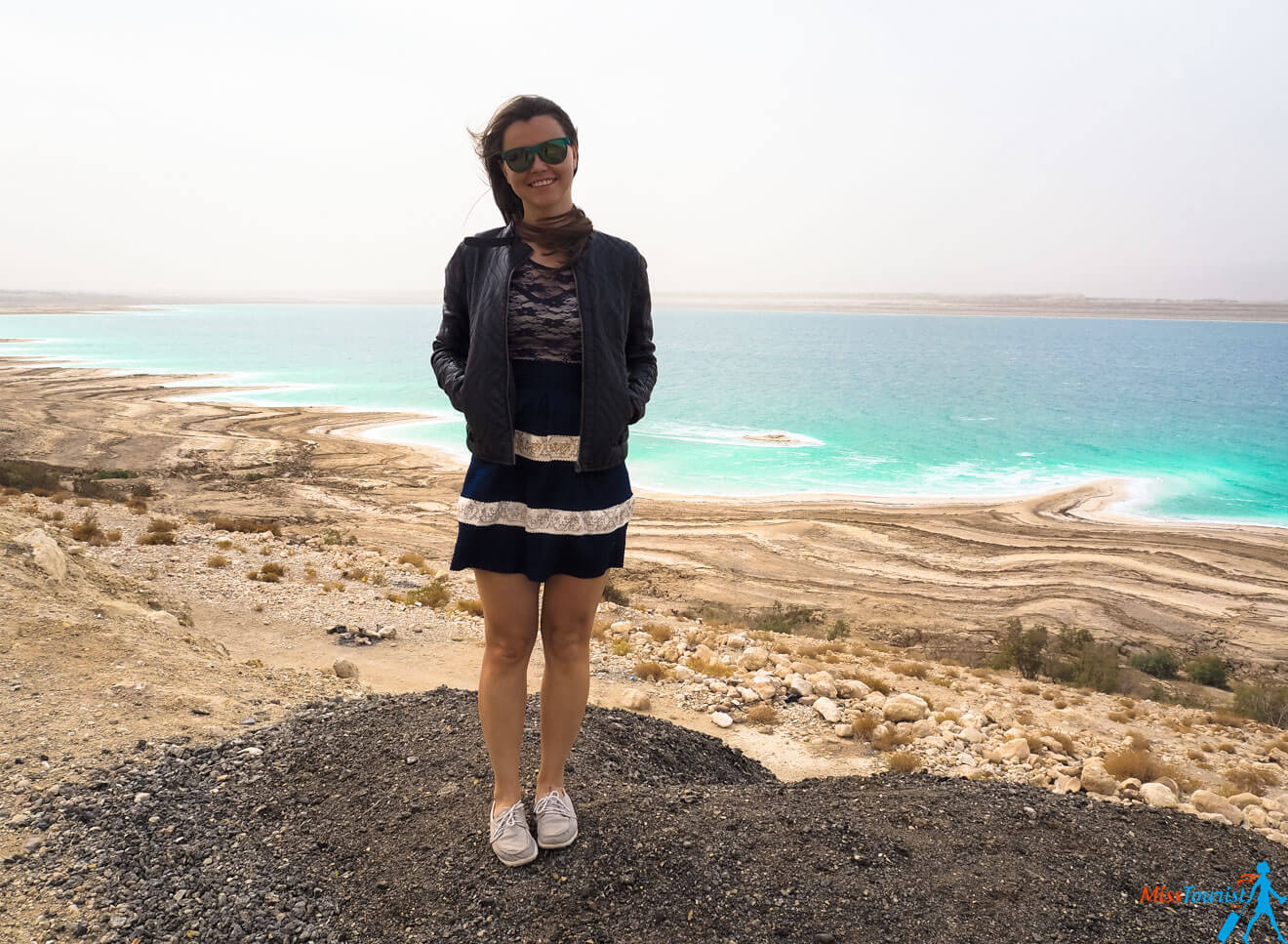 If you have more days, there are many other interesting cities in Jordan to visit:
Mount Nebo
Ajloun Castle
Wadi Mujib
Aqaba – a resort city on the Gulf of Aqaba located close to Wadi Rum where you can go snorkeling and diving.
---
Transportation in Jordan
Now, as we have discussed which places to visit and in which order, let's talk about how to get there, shall we?
Jordan is very drivable; you either need a driver or you should rent a car (hardly any public transport to tourist places in the country).
You basically have a few of options:
You take buses (very limited as buses don't go everywhere)
You choose an organized tour for the whole duration of the trip
You rent a car and drive to places yourself
You hire a private driver (and a private guide)
Let's talk about each of them in detail:
Public transport in Jordan
As I mentioned before, public transport is not really the best way for tourists to get to places as you will be very limited in your options of things to see in Jordan.
Since tourists tend to arrive either in private buses or in private cars, the transport is geared to the needs of the locals.
All signs are in Arabic, so unless you speak and read Arabic it will be somewhat hard to understand the directions. I have heard there is a bus from Amman to Petra (at least there's that, right?) and it is quite safe to take. But if you want to discover more, you will have to go for one of the other above options.
Or you can take taxis but do not forget to negotiate haaaard. Like in most countries, taxi drivers in Jordan tend to overcharge!
An organized tour for the whole duration of your trip
An organized tour might be a great option for you if you don't want to deal with booking accommodations or finding guides, and you simply want to relax during your vacation and see interesting places.
This is a good option if and only if (IMHO) you do not choose those huuuuge tourist buses. What's wrong with them? Well, nothing pretty much, I just personally cannot relax and I feel like I am in a herd when I take those massive tours. They might be cheap, but that's because you will constantly stop near overpriced tourist shops that "sponsored" your tour so that you buy stuff there. You are not obliged, of course, but stopping by these stores numerous times everyday for 30 minutes is not fun, is it?
That is why, I would only go for a small, good quality tour so you would actually be able to enjoy your vacation.
For example, here is an amazing tour I can recommend – you don't even need to organize anything, you will stay in great hotels and it will be a small group (around 12 people), so you don't need to worry about the crowds. The tour has the exact same itinerary I described above, except that it is 8 days, not 6 (there are some extra things that I did not manage to see).
If you don't have 8 days, I would go for this one. It does exactly what I described in the post in 4 days. Again, you don't need to think about accommodations or transportation.
If you have just 3 nights (I am sorry in this case!) this is the tour of all the highlights of Jordan.
Car Rental option in Jordan
I always prefer to rent a car when I can! It gives you a sense of freedom and helps you feel more immersed in the local life.
In some countries you just don't have other options as there is no public transport between points of interest (like Iceland) or it is just way more beautiful (like in Croatia). In the case of Jordan, it is both.
UPDATE: I now have a full detailed article about renting a car in Jordan, that includes prices and safety tips! Check it out here!
As I said, I did not drive myself in Jordan, but I have been in a car long enough to understand that the traffic is normal (nothing crazy like Vietnam or Cambodia).
Since you are going to drive mostly in the desert zones (literally), there won't be many cars to start with. The quality of the roads was also great and some of them were literally built just half a year ago.
If you are looking for a good car rental company, I recommend Car Rentals, they always had the best prices in my experience and great customer service!
Private driver (and a private guide)
This option is the most expensive, but it is worth it, in my opinion, because I learned so much about the country and its incredible traditions! The price of a driver and a guide was US $100 per person, per day (plus gratuities that are not obligatory, but appreciated at the end of the trip).
The rest is up to you as to where you want to stay and where you want to eat; the prices can really vary.
If you want to know the contact information for my guide (he speaks amazing English and is extremely knowledgeable about his country), just drop me a line by e-mail and I will find his contact info!
Useful things to know about Jordan
Here are some more things that you guys asked me on my Instagram and my Facebook:
What to wear in Jordan?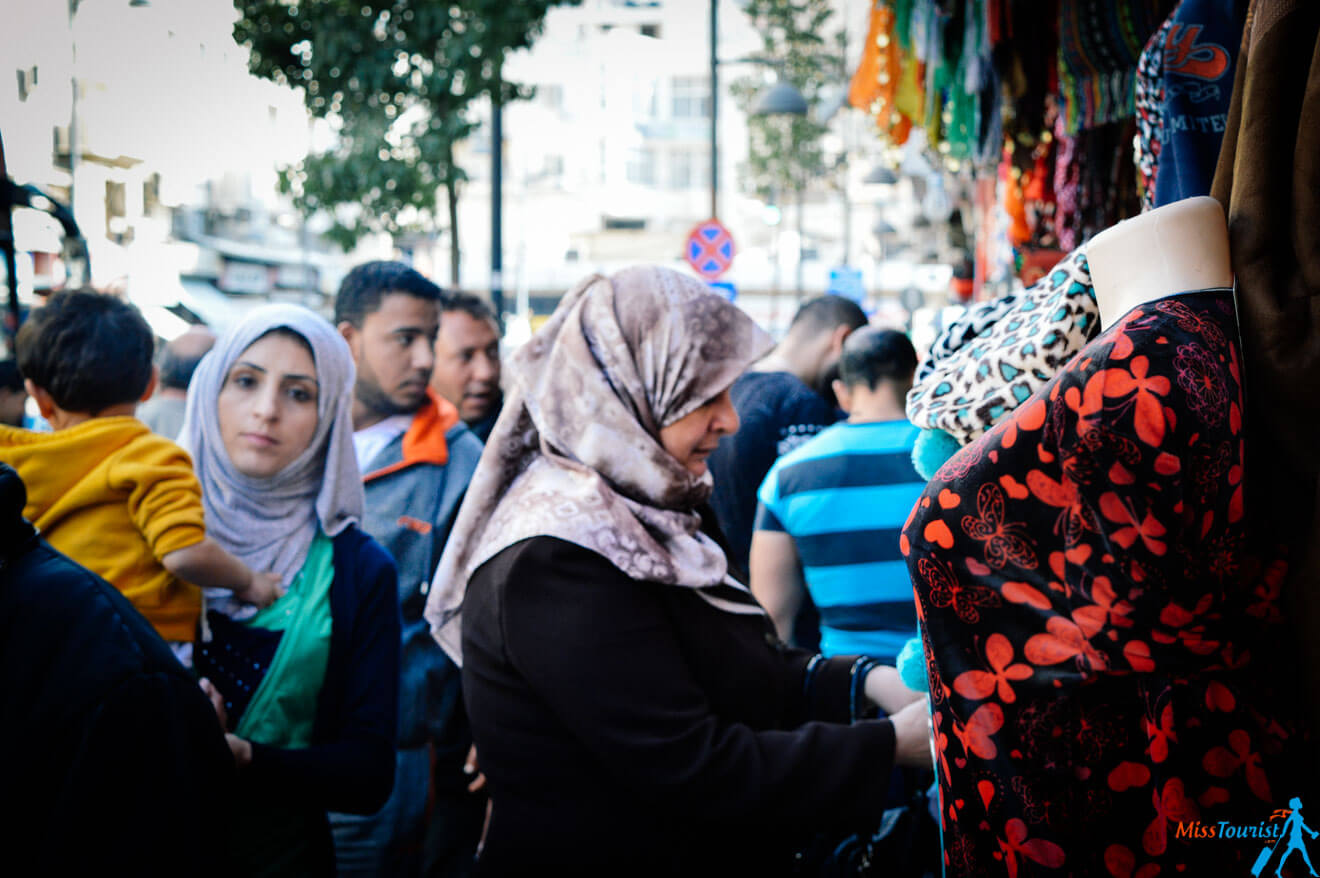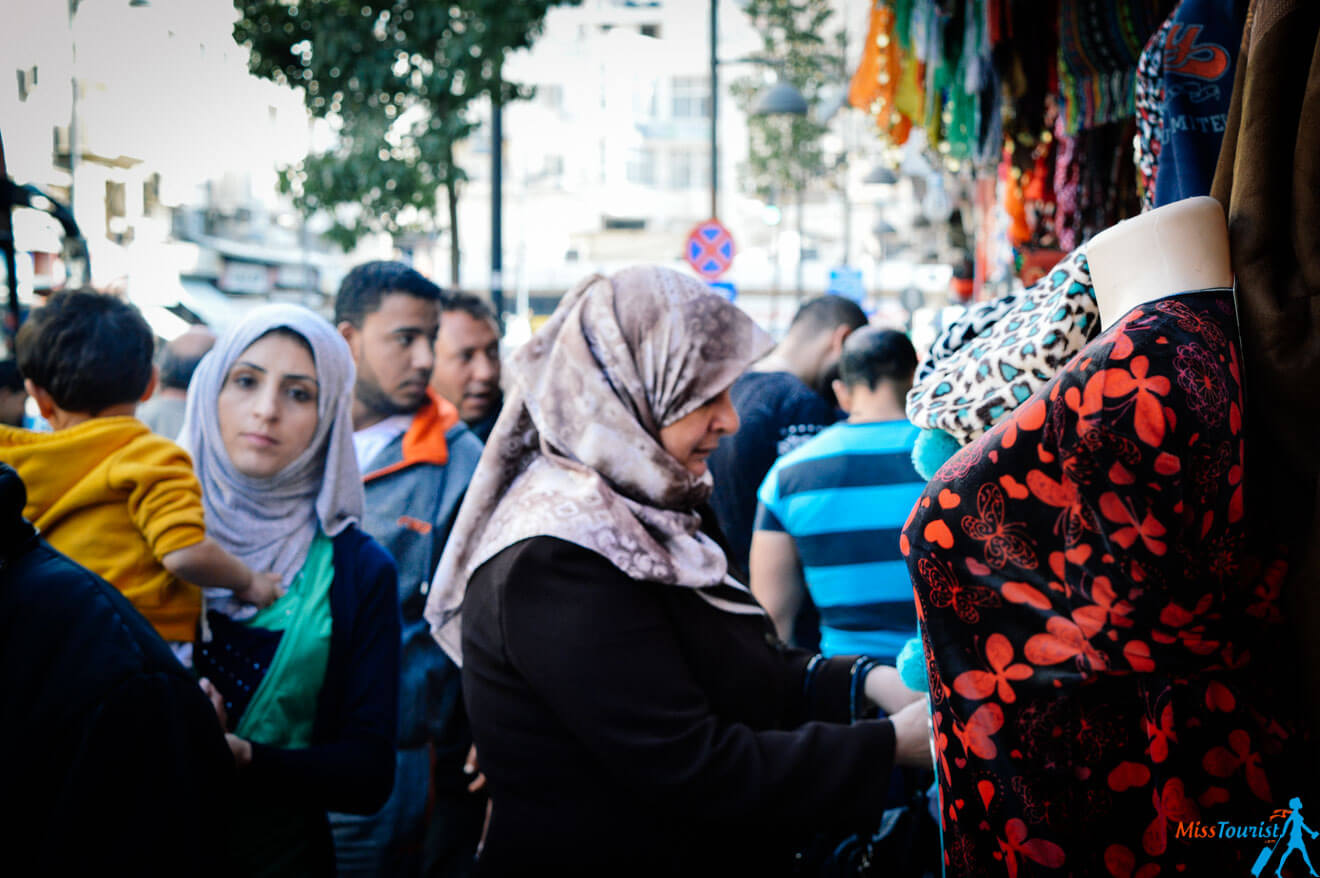 Although there are no restrictions about clothing in Jordan, try to dress modestly as the locals will appreciate it. Long sleeves, no short skirts for women.
There are no rules like in Iran where a woman is obliged to wear a scarf in all public places right after she gets off the plane, but I felt like I would attract too much attention if I wore something really revealing.
Best time to visit Jordan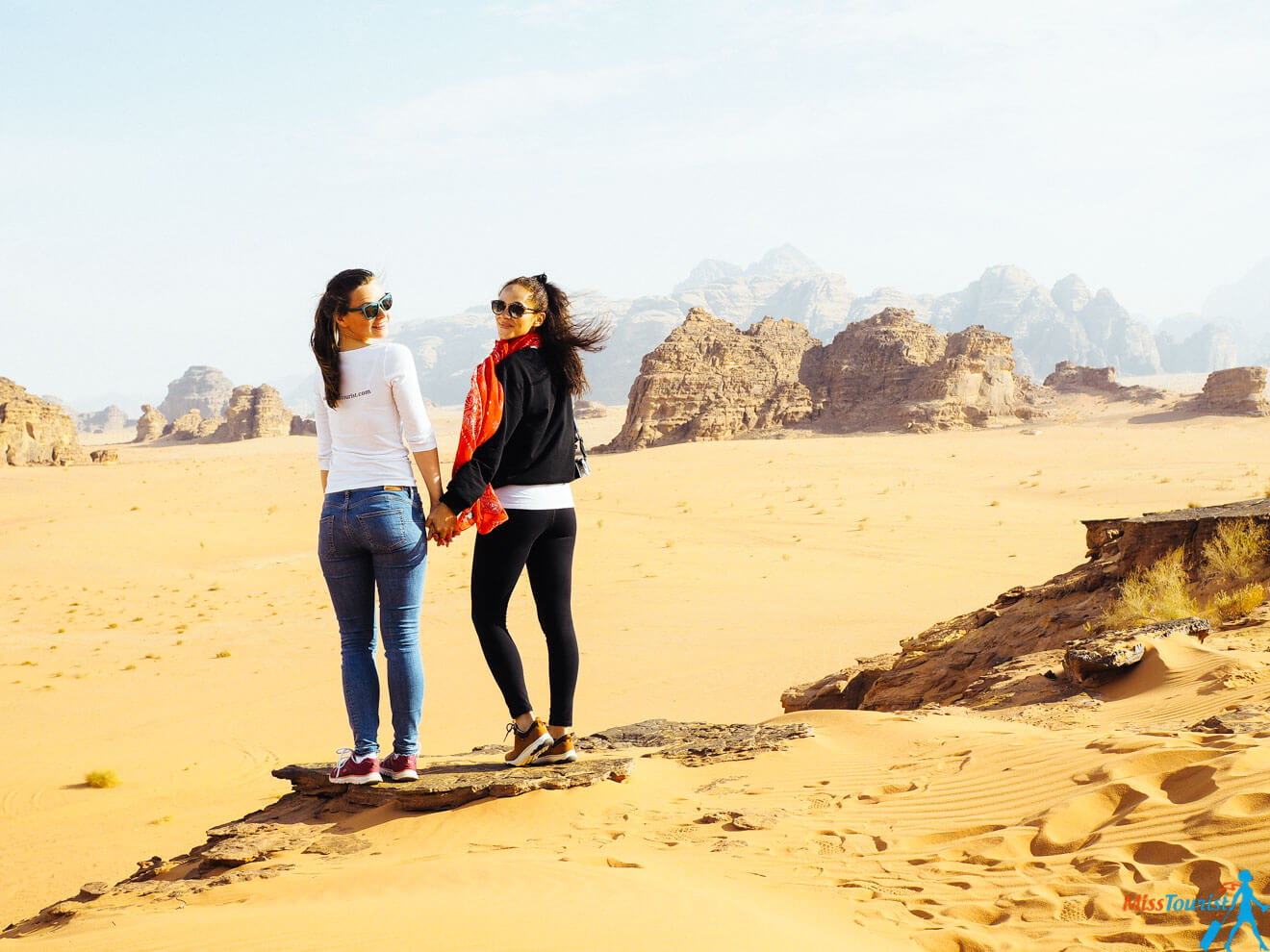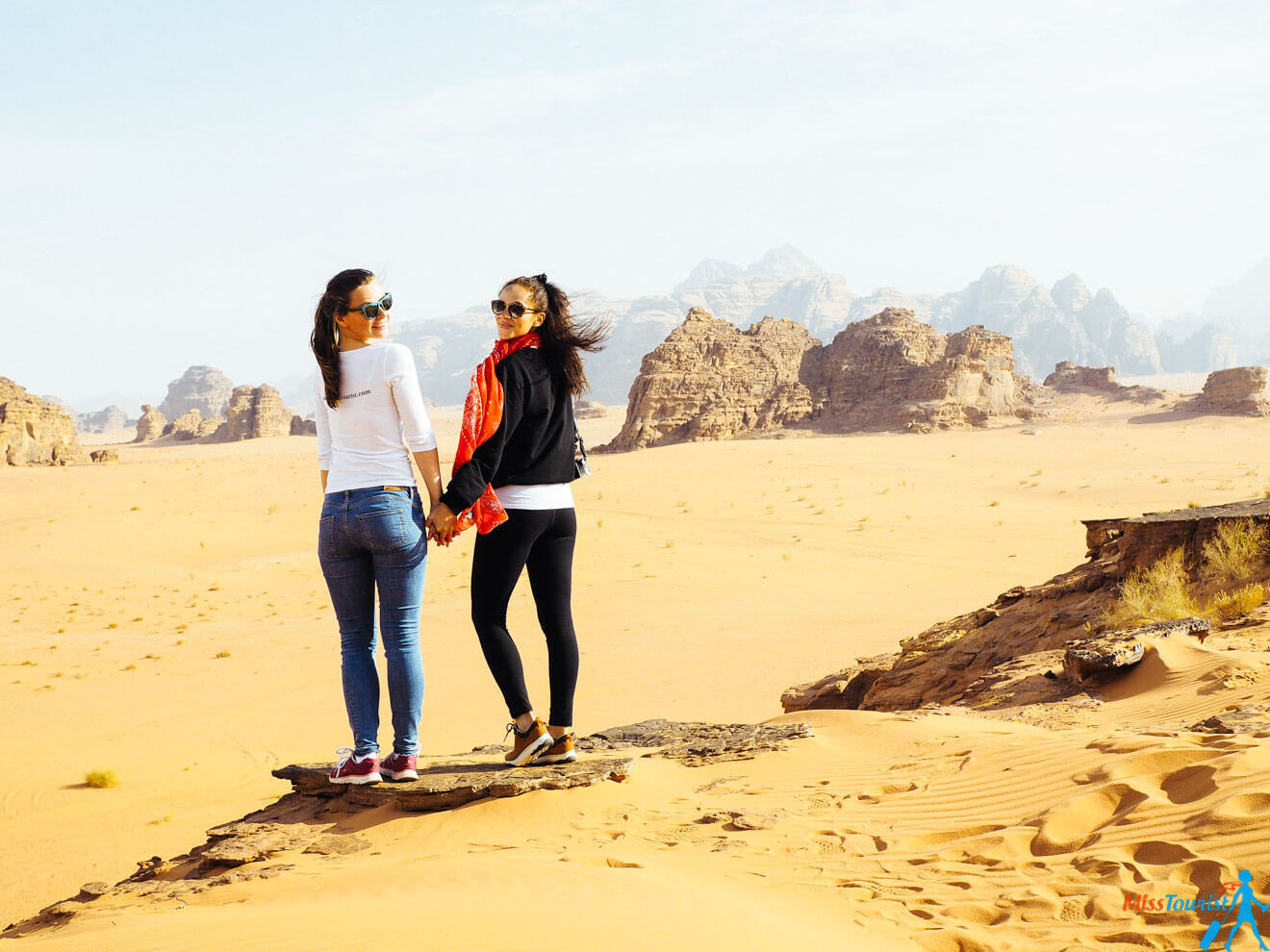 October to December and March to May is the high season, but also the best weather to visit. You will probably not like February, as it is too cold and rainy (you'll freeze, if you choose a backpacking travel adventure to Jordan), and July and August are the hottest months, so you might want to avoid them. I have been in late November and it was still ok, but quite cold to swim in the Dead Sea.
You might want (or not? It is a very special experience I believe) to avoid Ramadan. During the month of Ramadan, Muslims are forbidden from eating, drinking and smoking. The fasting lasts 29-30 days and the dates are different so google it for your year. It will be quite challenging to find an open restaurant before sunset, but that is the only issue. All tourist attractions remain open.
Also, keep in mind that most shops are closed on Friday.
Is Jordan safe?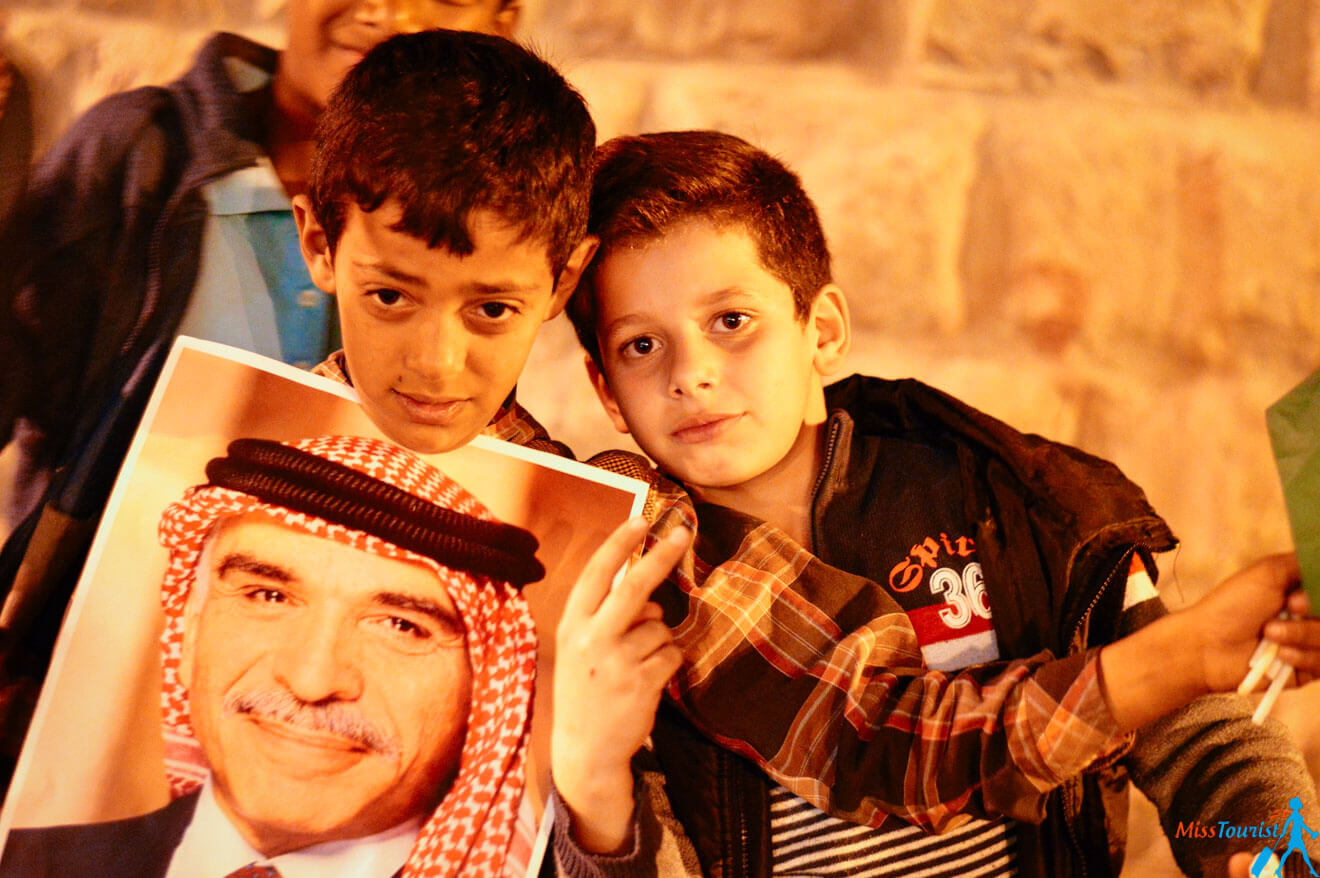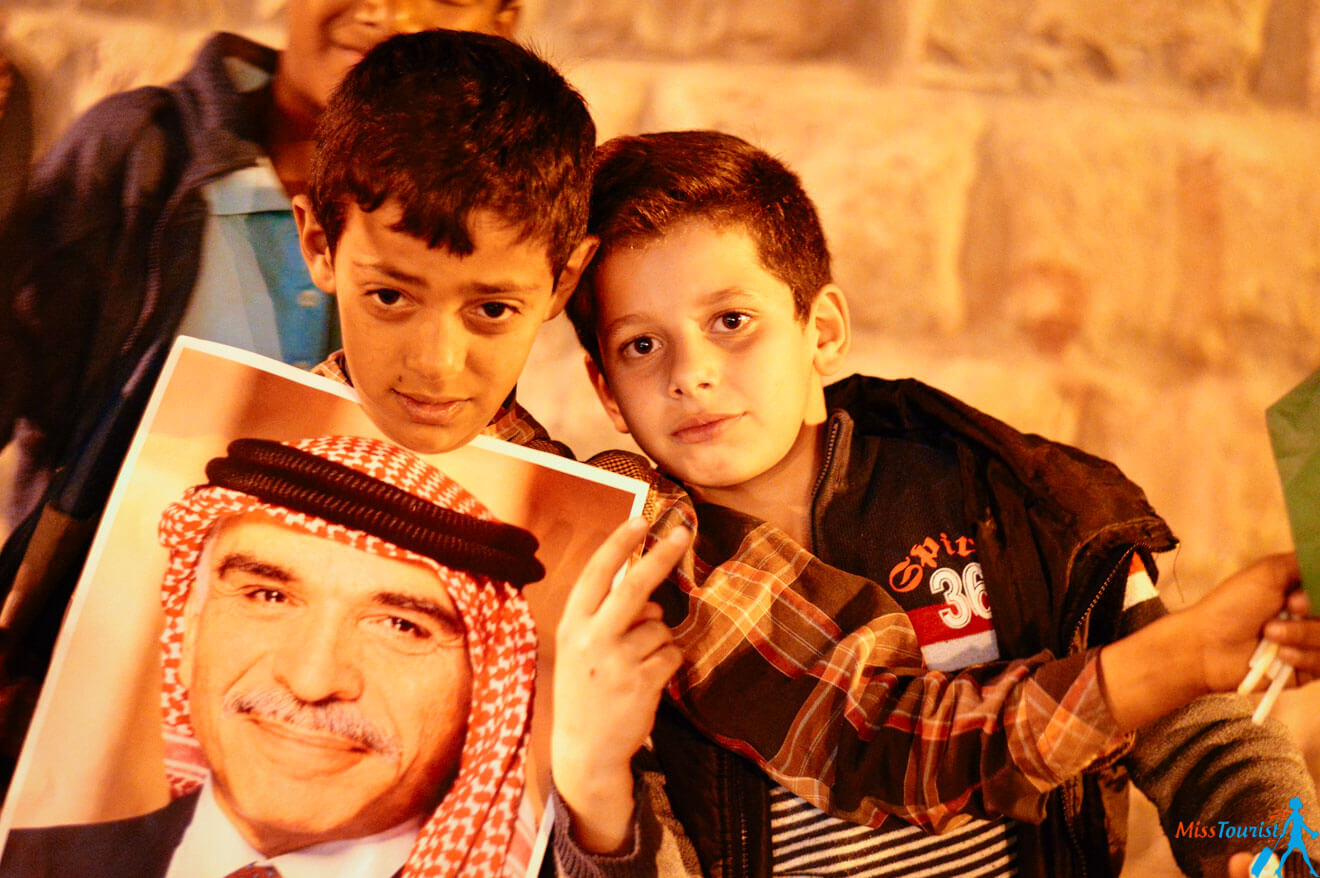 That is why everything that happens around Jordan affects the country. The tourism dropped significantly a couple of years ago because of ISIS and terrorism.
But the country itself? I did not ever feel unsafe there, on the contrary, I felt more protected.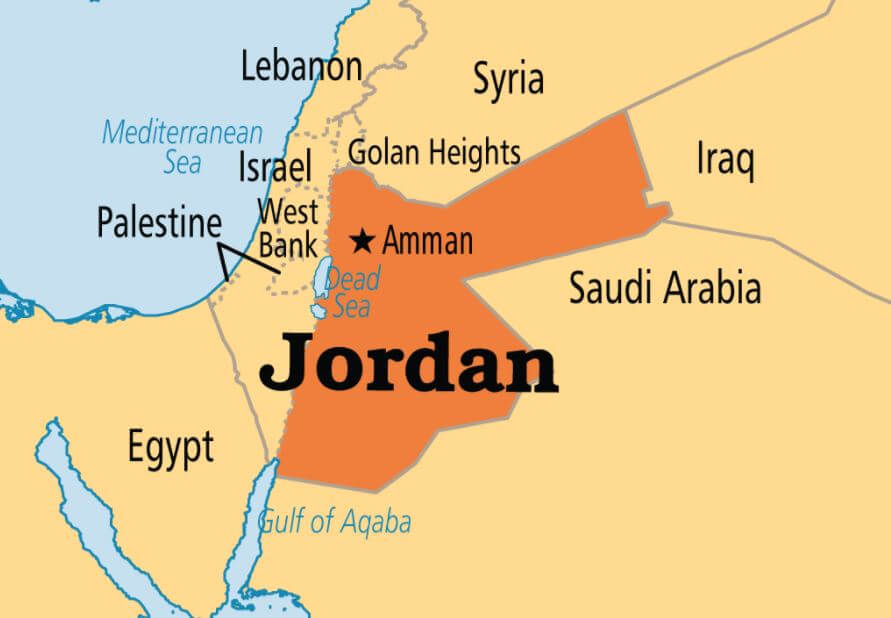 The government cares so much about the safety of the tourists that it is now required to have policemen in each tourist bus accompanying the people. If you ask me, this is absolutely unnecessary, and maybe even scary for some – why is there a policeman on my bus? Is it that dangerous?
But the truth is, tourism in Jordan has dropped a lot in the last few years and the authorities are trying to do everything possible to make sure all the tourists are safe.
I was traveling with my friend, Amandine, who is also a blogger. And even if we were accompanied by a guide most of the time, I could see that there is no disrespect to solo female travelers or anything of that sort.
Prices in Jordan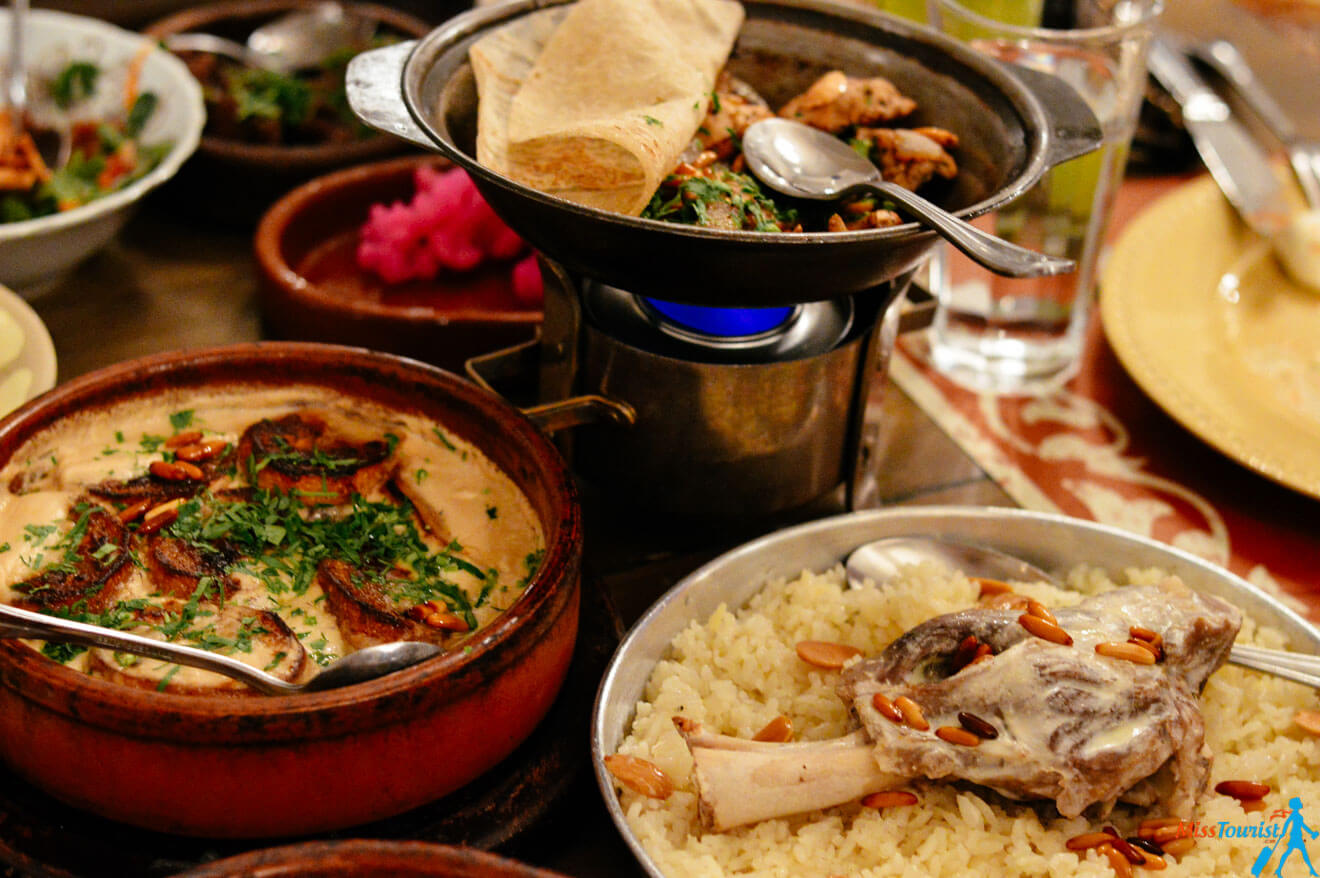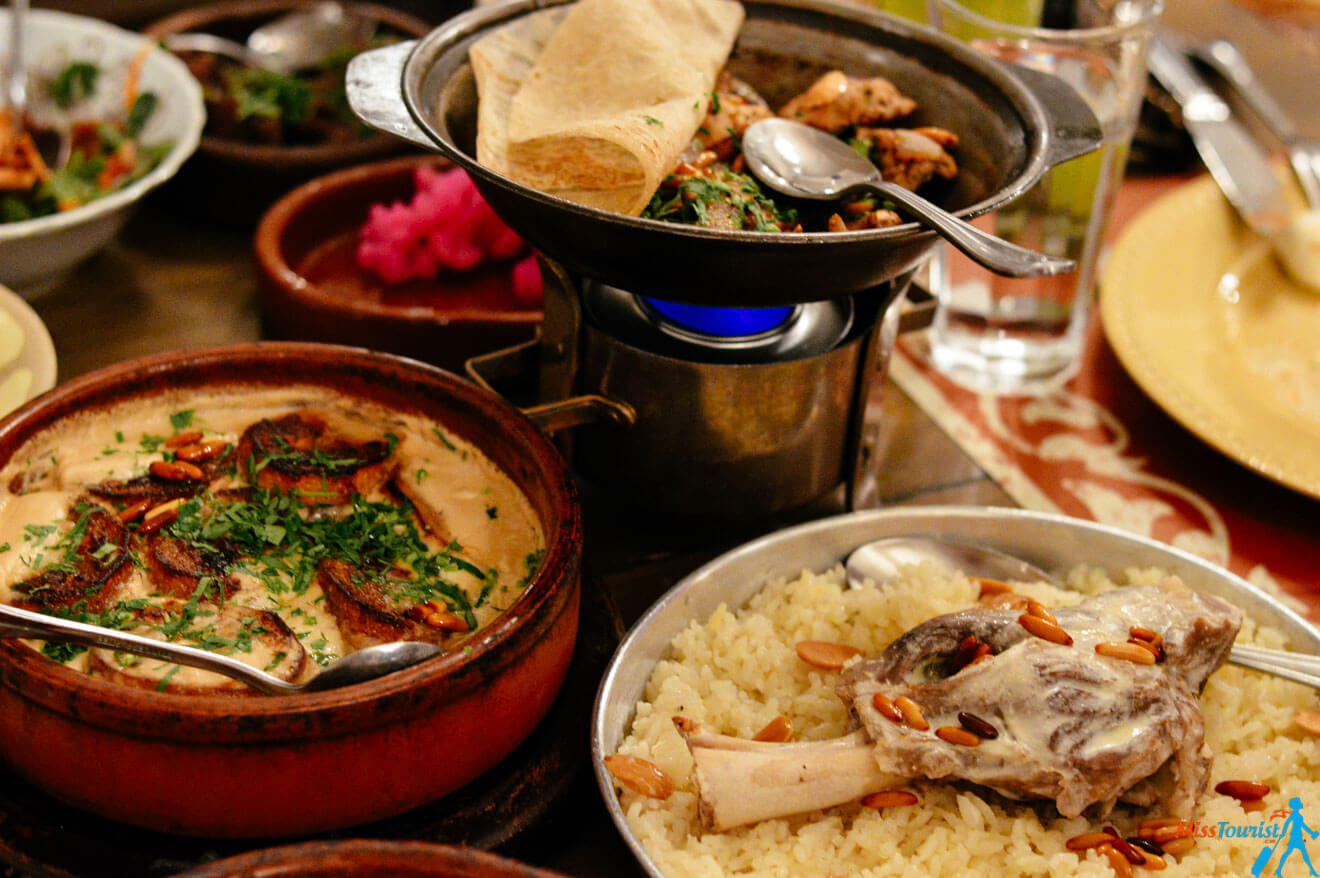 What can I say – it is definitely not Thailand, but it is cheaper than Sweden. 🙂
You will have to negotiate haaard when buying souvenirs. I remember I was buying Dead Sea Salt for my mom as a present and the pack was something around US $5 (already bargained). But that same Dead Sea Salt can be bought in a pharmacy for way cheaper! Makes no sense to me.
The currency is the Jordanian Dinar (JOD) and you should definitely have some cash when traveling in Jordan.
NOTE: All the prices do not include the +16% tax, just like in the US and it is not written on the price tag. Keep in mind that I am not talking about tourist shops where you can negotiate; the rule applies to supermarkets, tech stores, etc.
Tipping in Jordan
We left about a 10% tip for our guide and driver, each. It is common to leave a 5-10% tip in a restaurant (if a service charge was not added already).
Currency of Jordan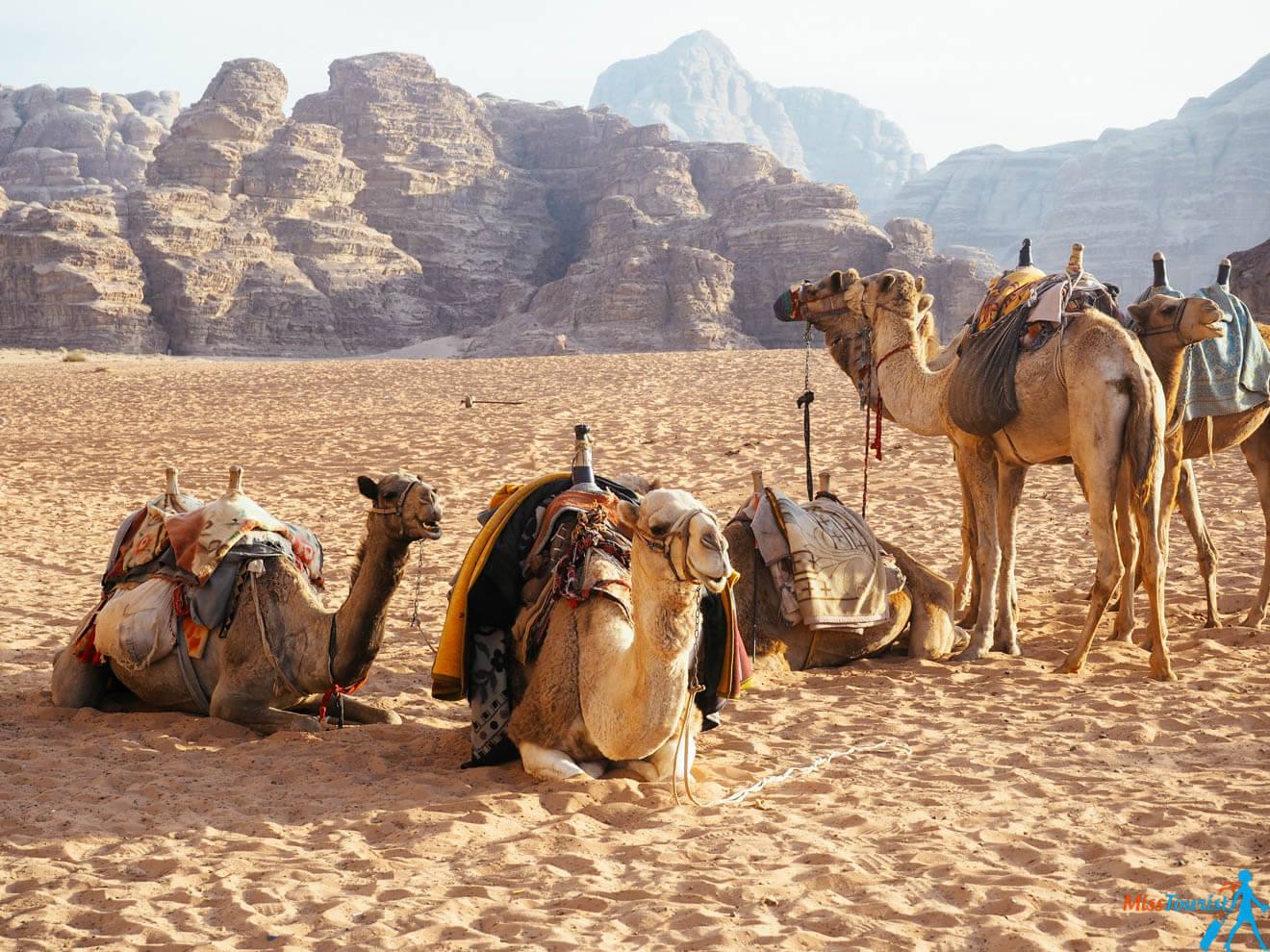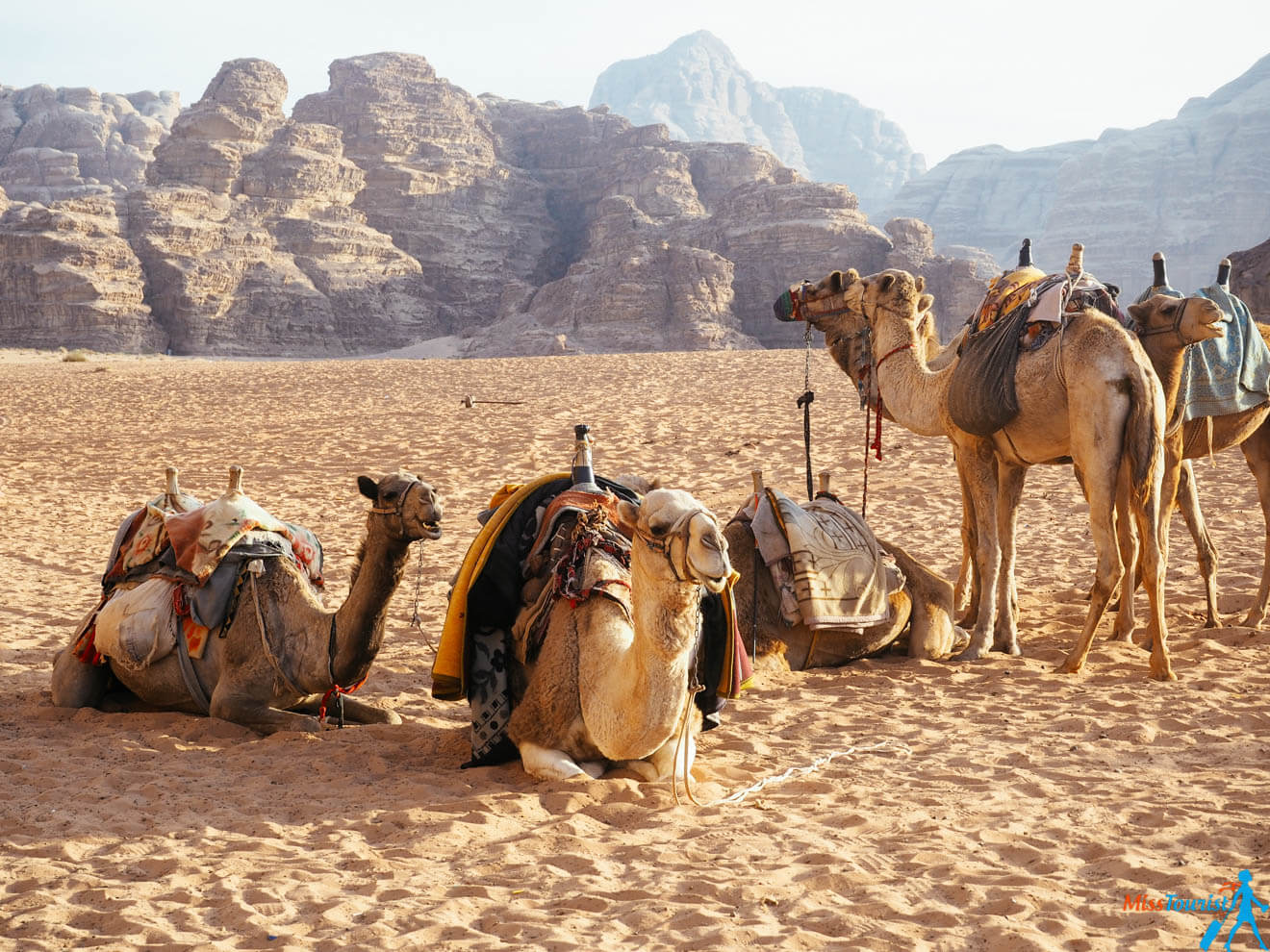 The currency is Jordanian Dinar (JOD) and at the publishing date 1 JOD = US $1.40 and 1 JOD=1,3 EUR.
Please consult your up-to-date currency exchange rate here.
Is English spoken in Jordan?
The official language in Jordan is Arabic. I might be wrong, but from my experience most youngsters speak English.
Jordan flights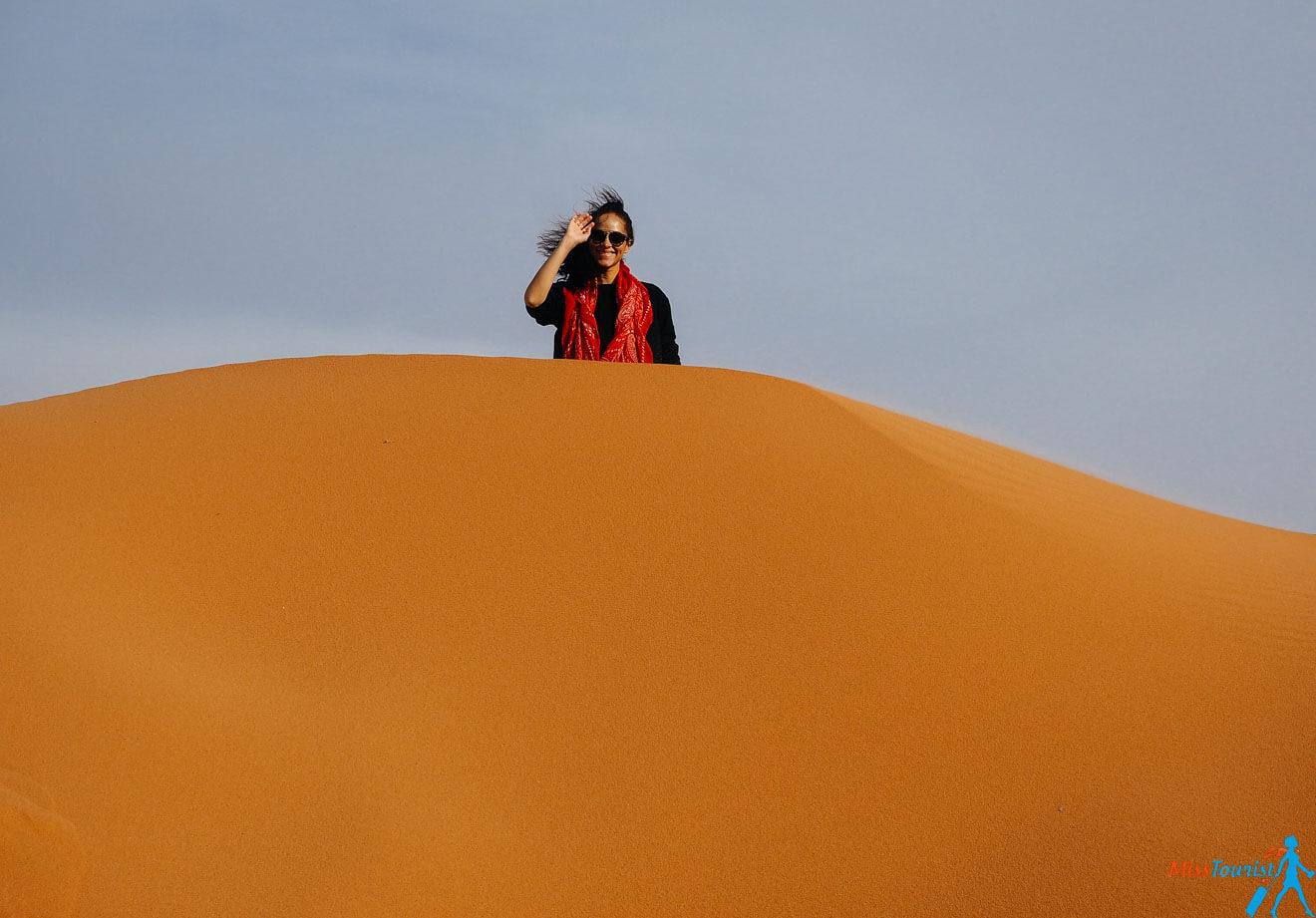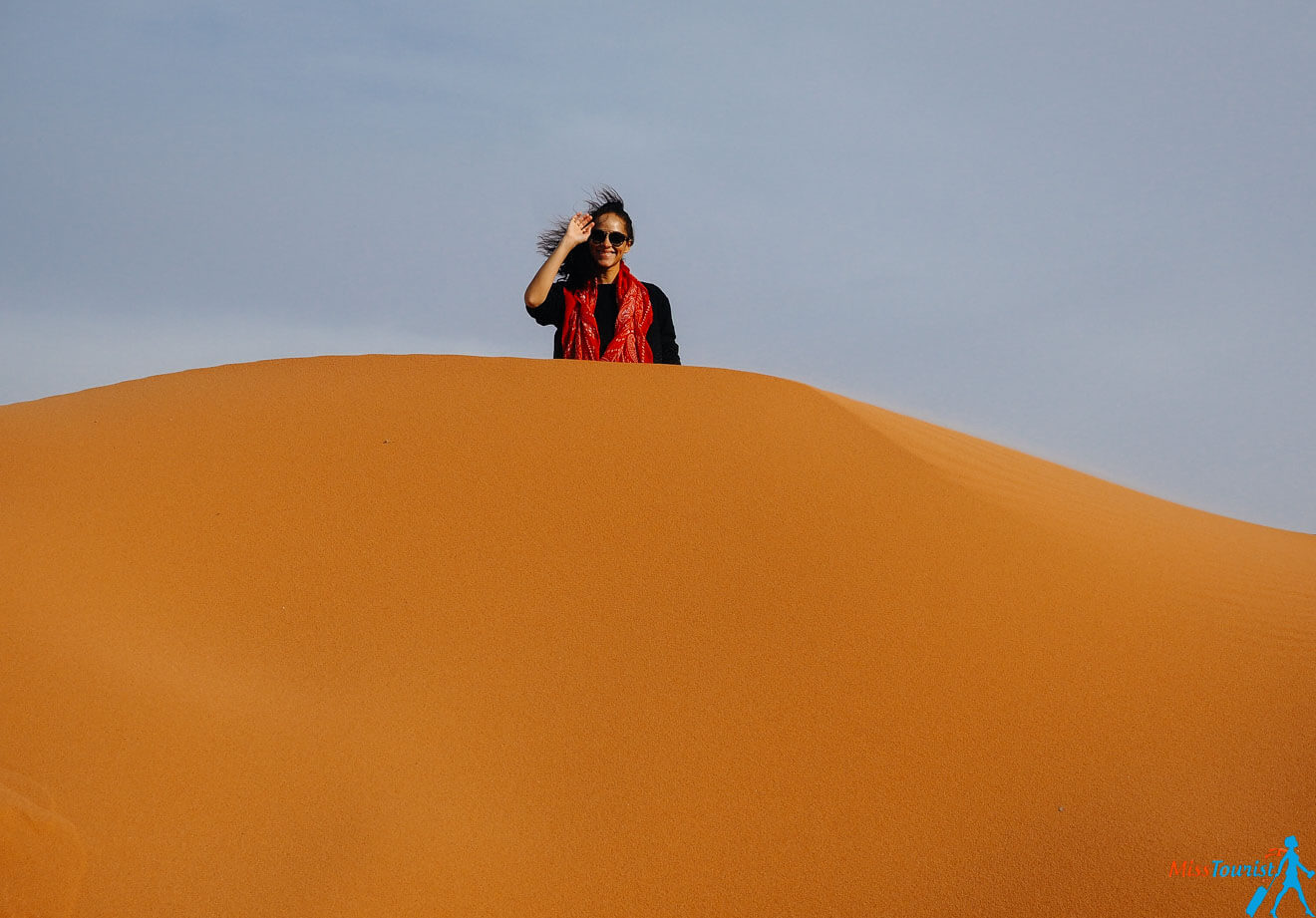 You will most probably fly to Amman.
I flew from Tel Aviv which is just a 45 minute flight, and I could have taken a bus from Jerusalem, but I was told that the border check on land would be really tough and the plane was much better.
The only company flying my route was Royal Jordan, which I liked until the moment I figured out my luggage was severely damaged.
So, what happened was – I locked my luggage with a TSA lock (this is accepted by both Jordanian and Israeli rules), but the strict border control (I believe in Israel) could not open the bag and they decided to cut it. Unfortunately, after all the emails, Royal Jordan failed to reimburse the price of my baggage.
The communication with the airline was unfortunately unsuccessful, even though I tried to contact them numerous times. Just in case, don't lock your bags, especially if you travel to/from Israel.
Some of my friends crossed the border by bus. I have heard it is a long procedure (due to inspections of all kinds), but it is possible, and definitely more economical.
Visa to Jordan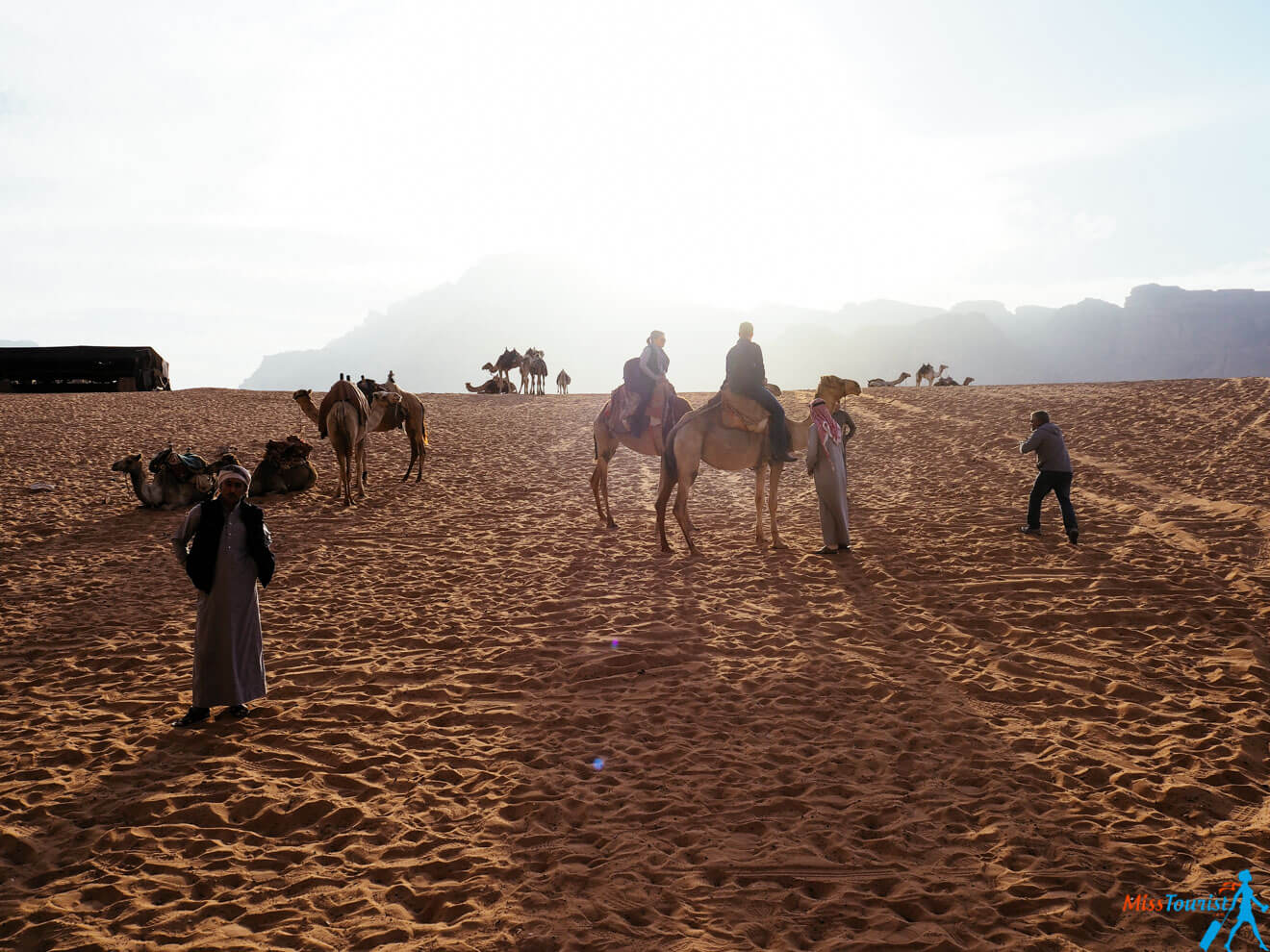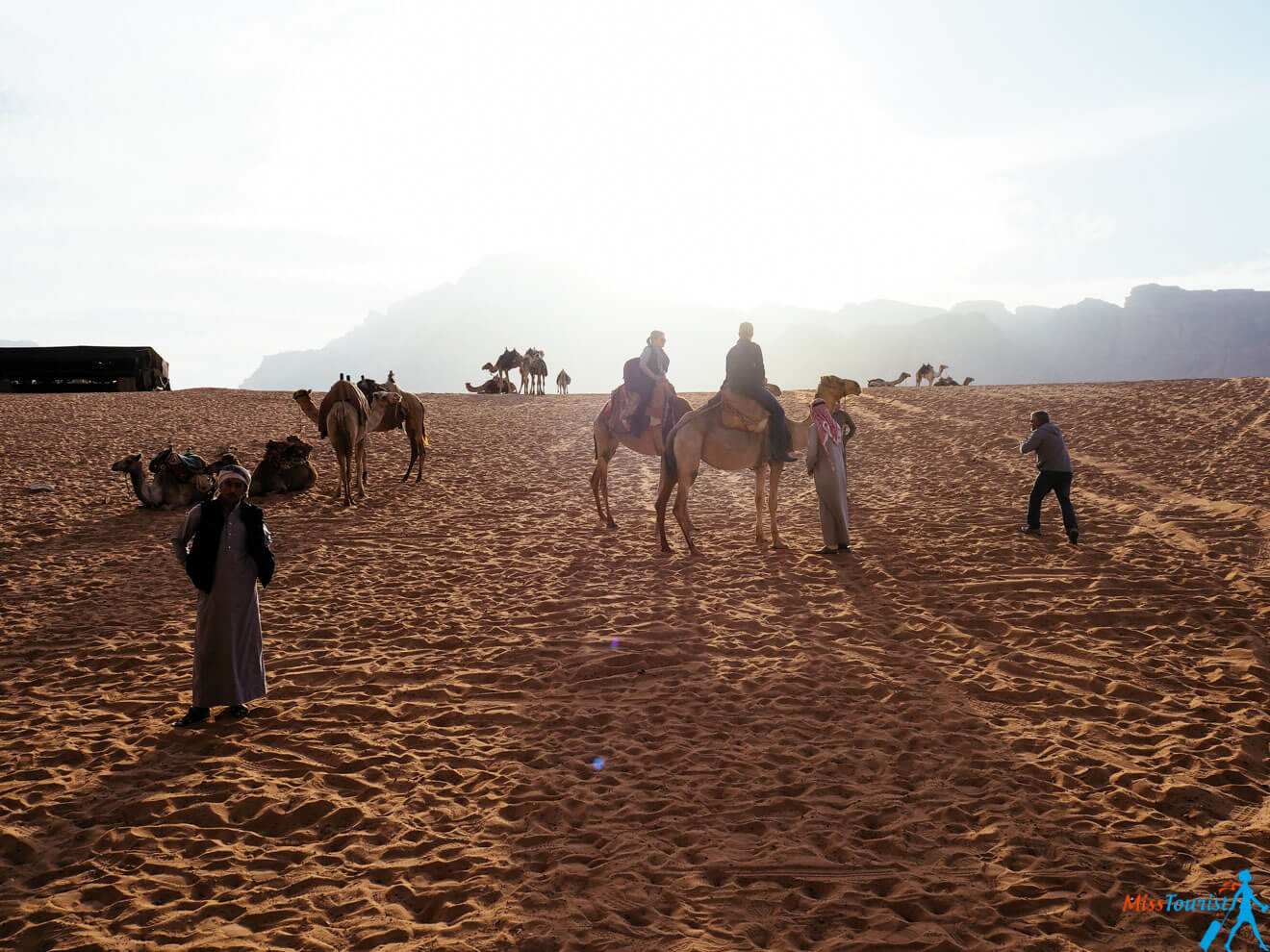 In most cases, you can get your visa on arrival; see how much it will cost for your nationality here.
You will probably need to pay 40 JOD (~US $55 USD) on arrival and 10 JOD if you leave the country by LAND.
---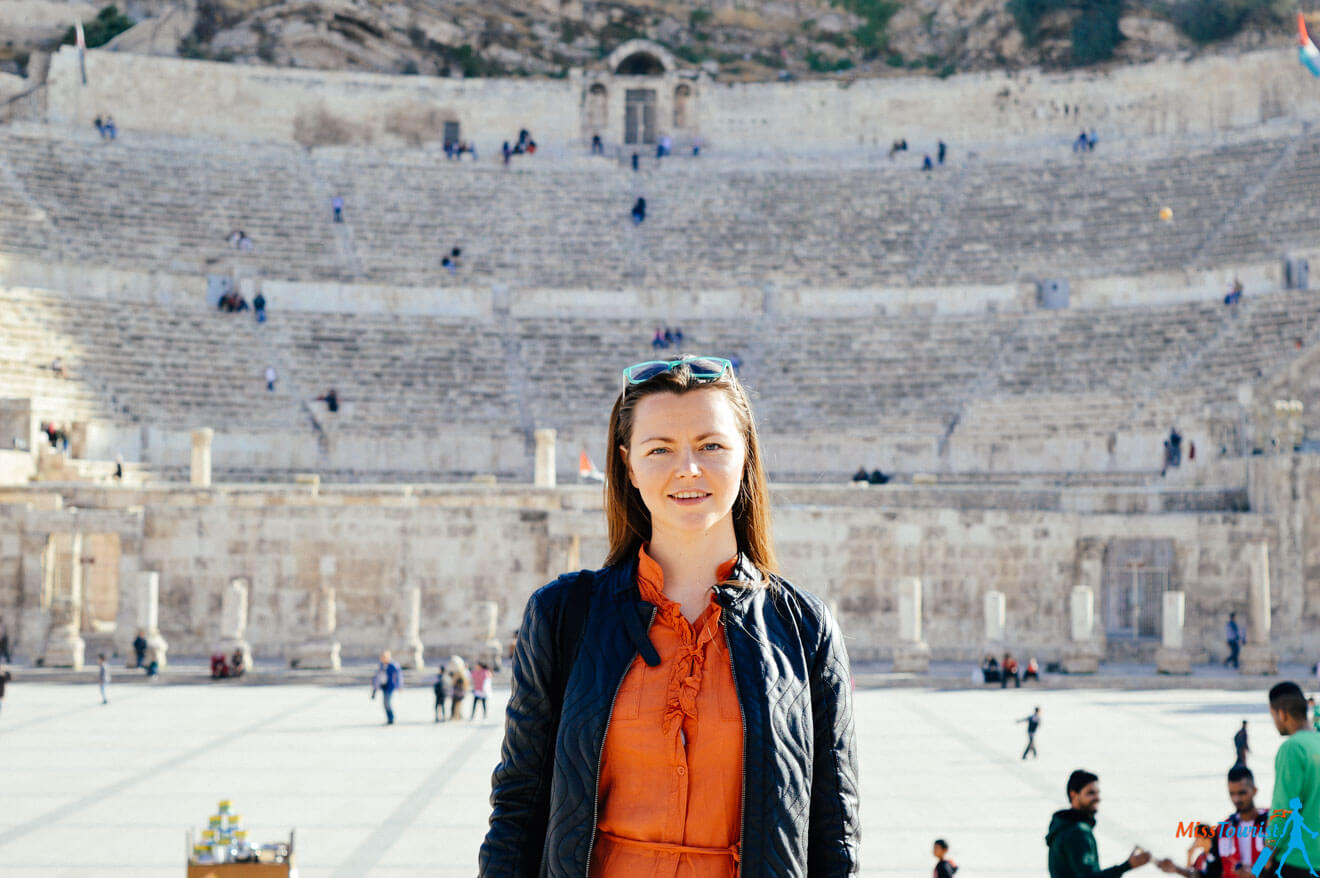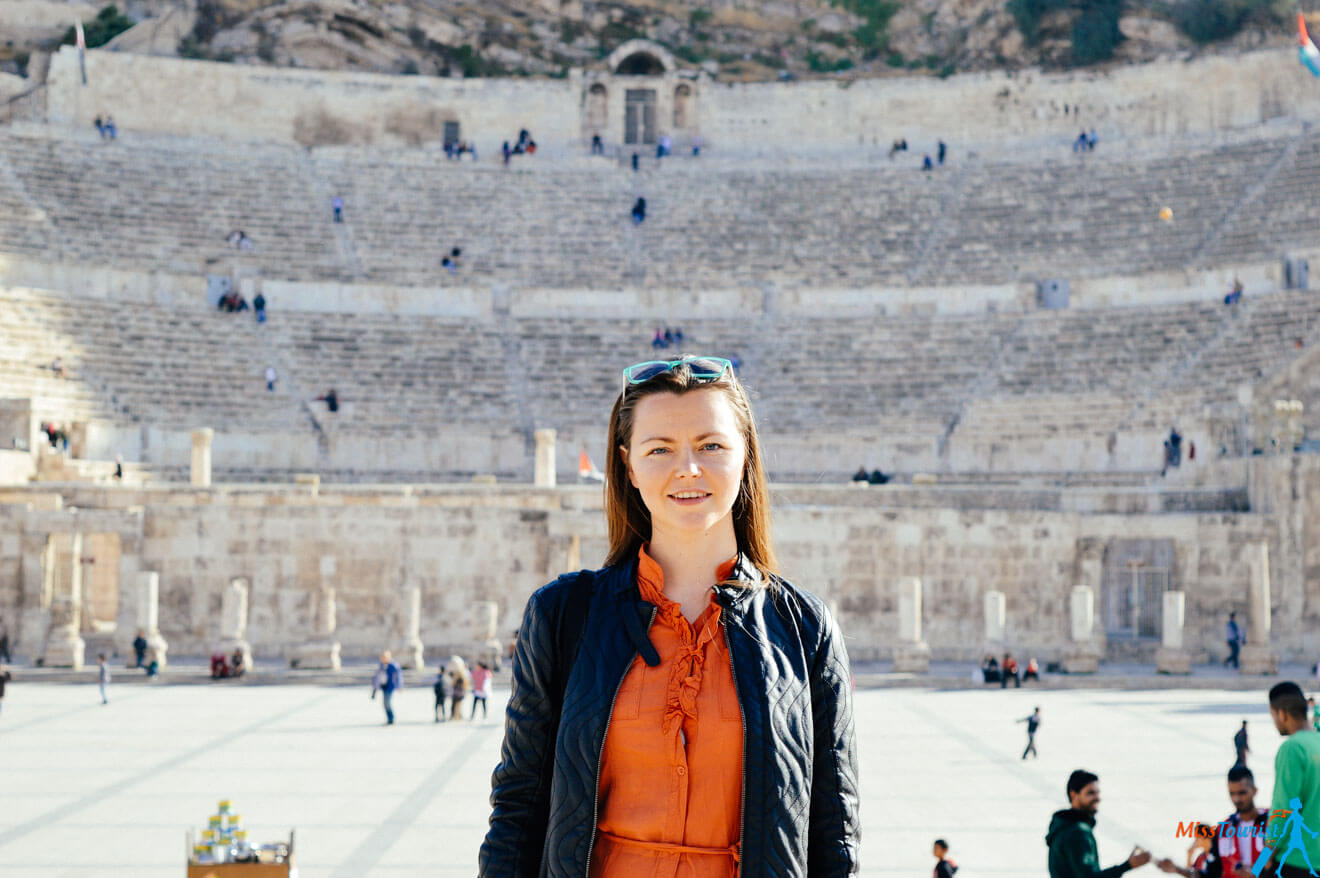 Ok, I think I have shared EVERYTHING I know about Jordan in this article. I loved traveling in Jordan and I am happy to share my information with you!
P.S. This article was possible thanks to the hospitality of the Jordan Tourism Board who invited me to the country to discover it. My opinions are as usual, my own.
---
Conclusion:
I have created a ready-to-use itinerary for 6-7 days of all the highlights in Jordan. For each sight you have information in great detail on how to get to the sight, how much it would cost you, where to eat, where to stay, some other smart tricks about the destination, tons of tips about the transportation etc.
I hope you will have an amazing Jordan holiday!
Pheeew, I think I covered every possible question about Jordan you might have by now, have I?
Be sure to let me know if you have more and share it if you liked it!
Yulia
---
Pin it for later: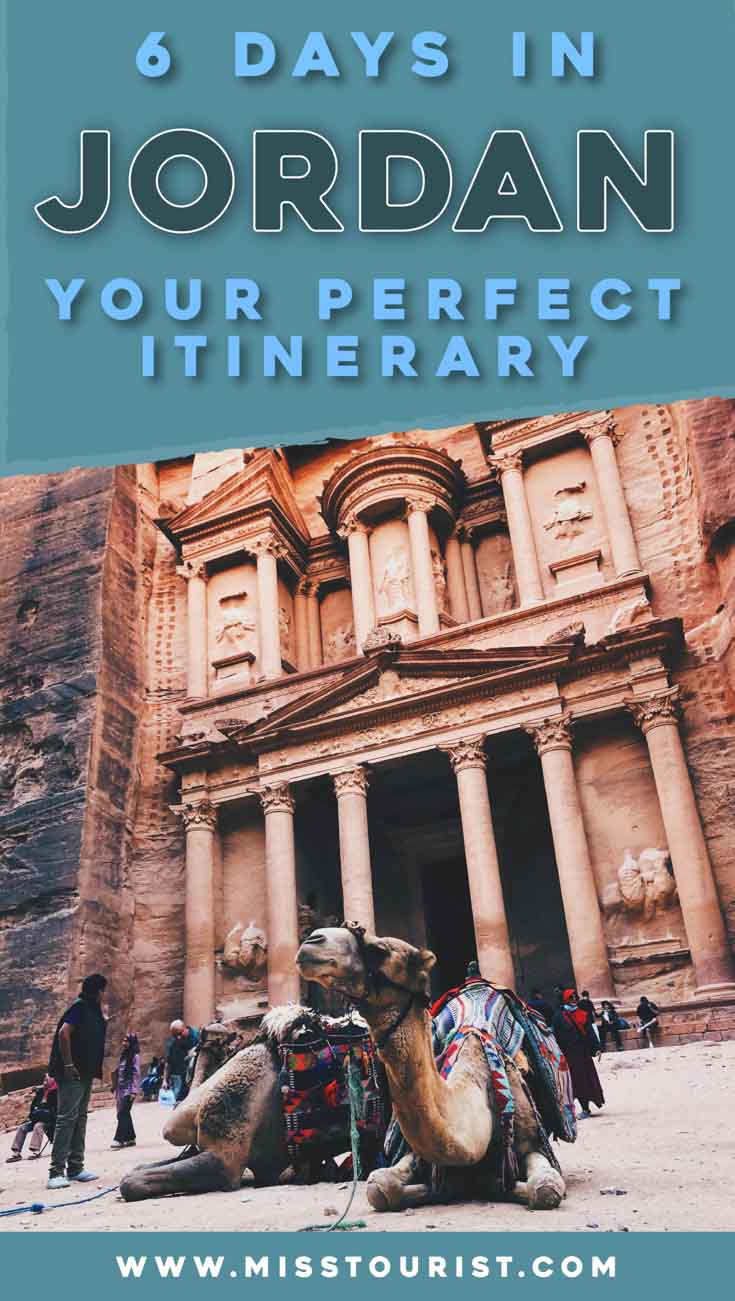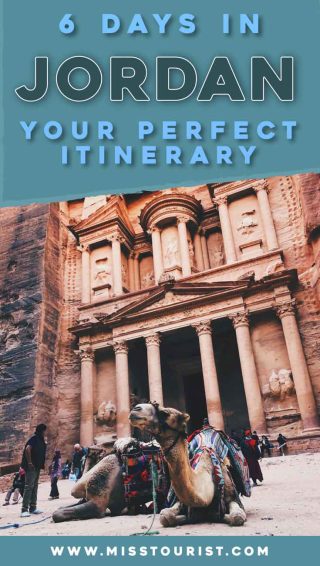 Pin it for later: