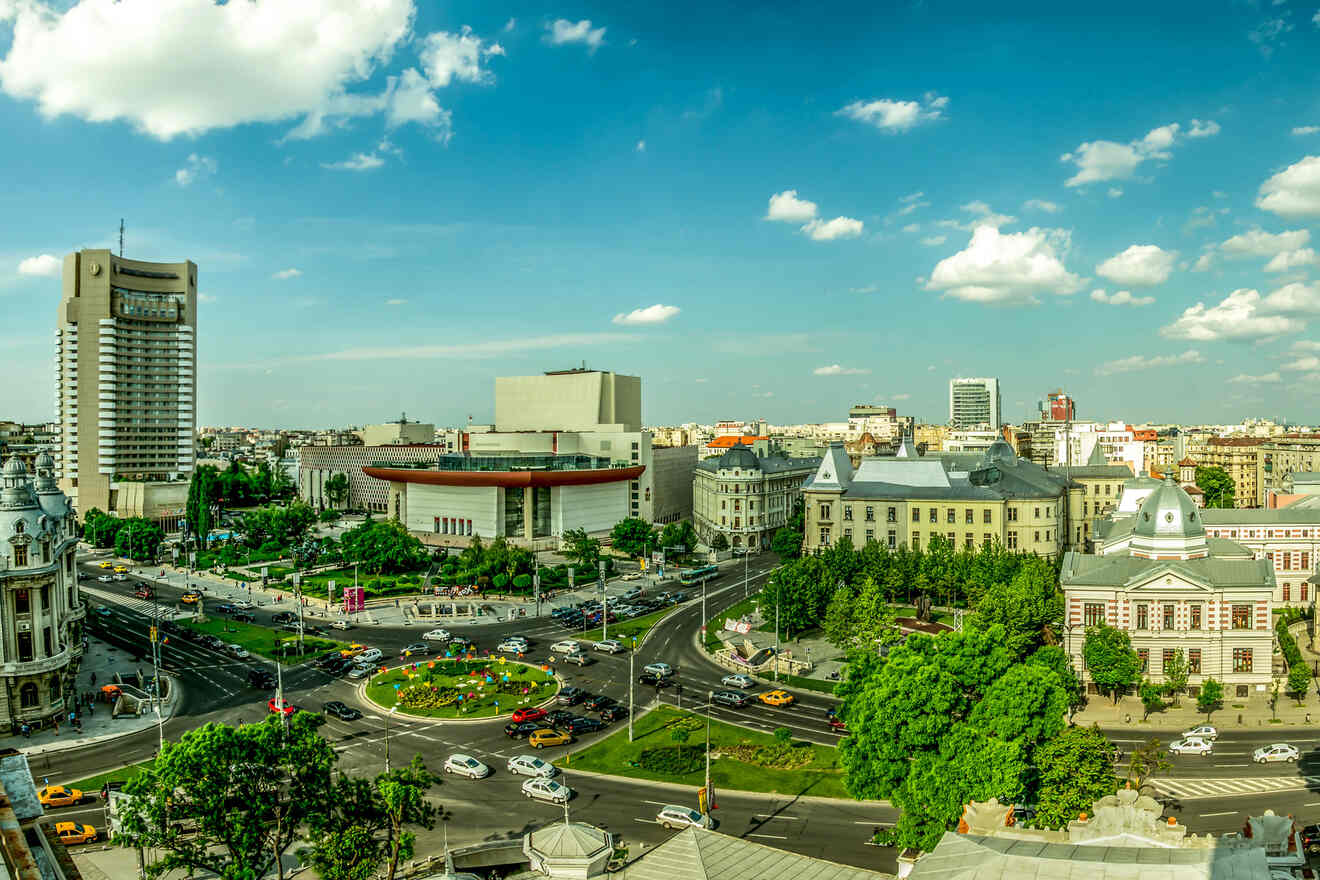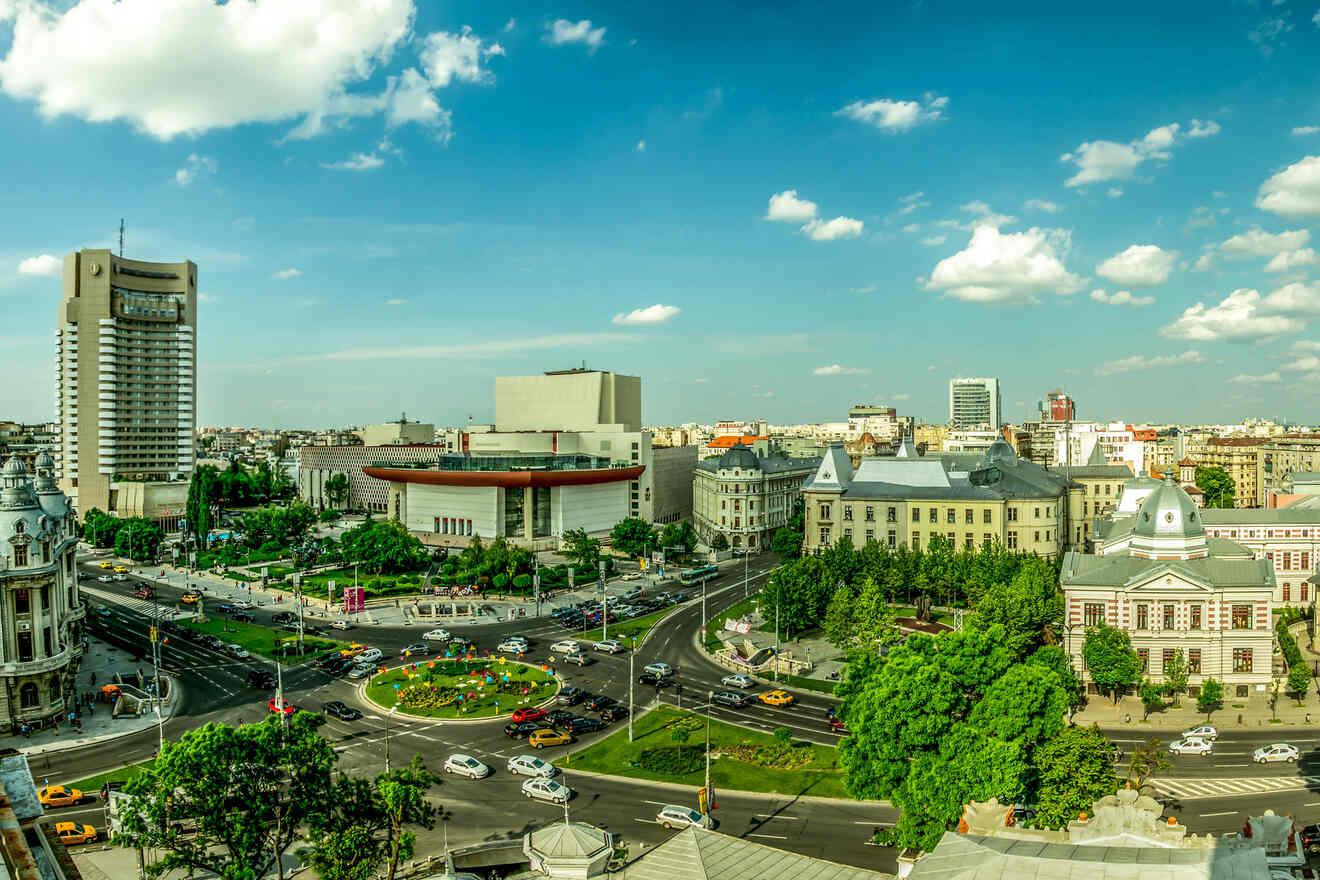 It's no wonder Bucharest was once considered the "Little Paris"! I'm Romanian and I've been living here for some time now, and I've got to tell you that the city is so much more than you see in the pictures! With its tumultuous past, stunning architecture, Art Nouveau buildings, and amazing churches from the 17th century and 18th century, this city is one place on the map that you shouldn't overlook!
Not only is Bucharest a dream place for anyone who's into Romanian history, art, and culture, but this capital city is also a party destination for people all around the world! So get ready because you're going to spend a lot of sleepless nights here!
There are so many amazing things to do in Bucharest that I don't even know where to begin! All I can say is that you'll find an activity here suited for every type of traveler! Whether you want to explore the famous Palace of Parliament, learn about Nicolae Ceausescu or party in the clubs until the sunrise, don't worry, I've got you!
Let's go, we've got lots of things to check out!
1. Explore Bucharest's Museums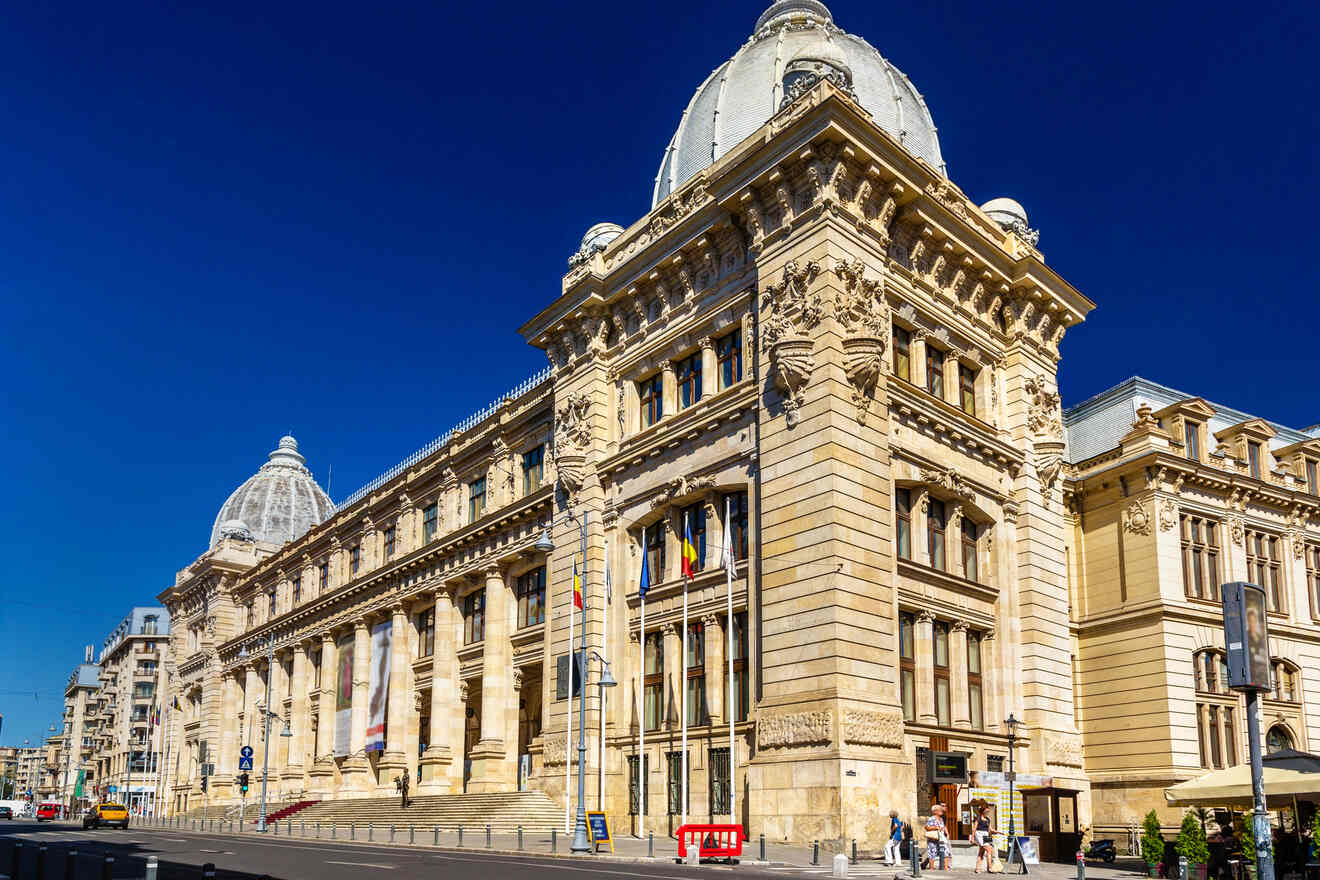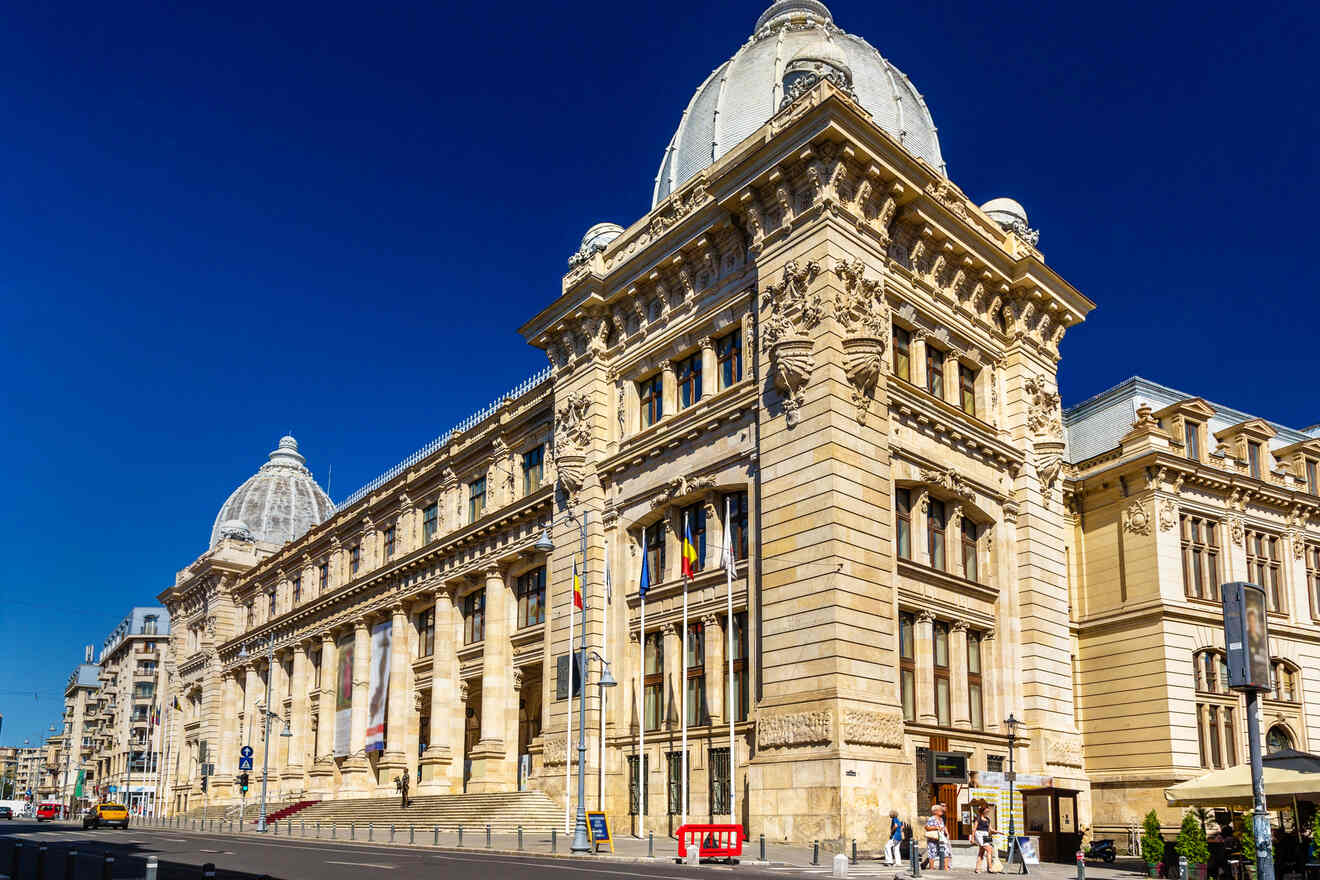 I don't know about you guys, but I'm a big fan of visiting museums when I go to a new country as it offers me a great insight into the city's culture. Romania's capital city doesn't play when it comes to its culture! With more than 60 museums, you could spend your whole trip indoors learning about the country's tumultuous past if you wish so!
If your time in Bucharest is short and you don't know which museums to see first, here's my list of the most impressive ones:
Pro Tip: If you want to get a first start at the museums, you can book your tickets online to avoid any queues.
1.1 The National Museum of Art Romania
This museum is located in one of the most important buildings in town, the Royal Palace, which served as the official residence for the Kings of Romania until 1947, when the communist regime was installed.
In 1950 they turned the Palace into The National Museum of Art, which now hosts its most important Romanian, European, and Oriental Art collections. So if you're looking to learn more about Romania's art scene, this is the spot for you.
Open: Wednesday to Friday: 10:00 am – 6:00 pm
Price: Adults – 20 Ron (US$5), Students – 5 Ron (US$1.20), Seniors – 10 Ron (US$2.30)
Location: Victoria Avenue 49 – 53
Check out the Museum of Contemporary Art if you are looking for a more modern scene.
1.2 "Dimitrie Gusti" National Village Museum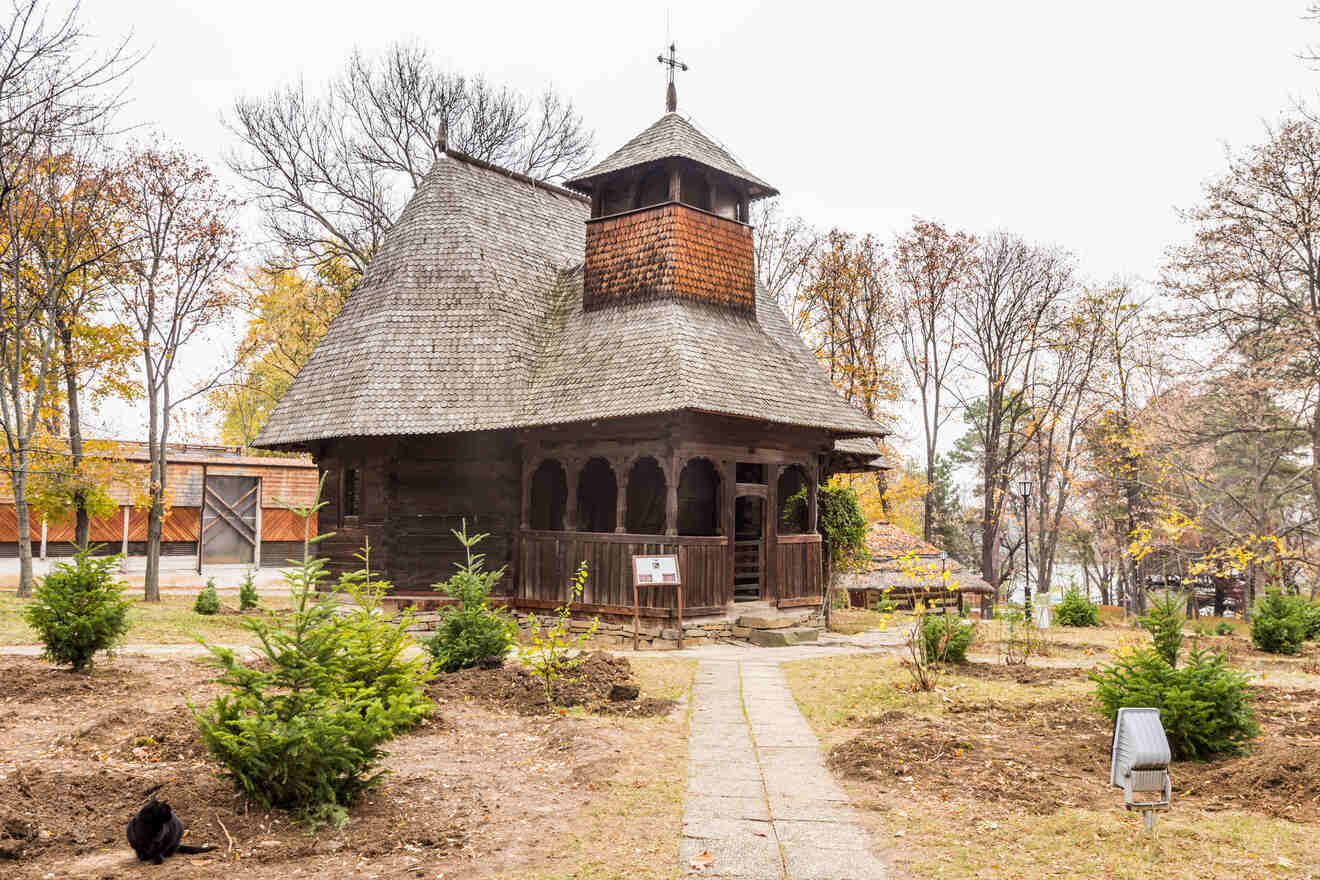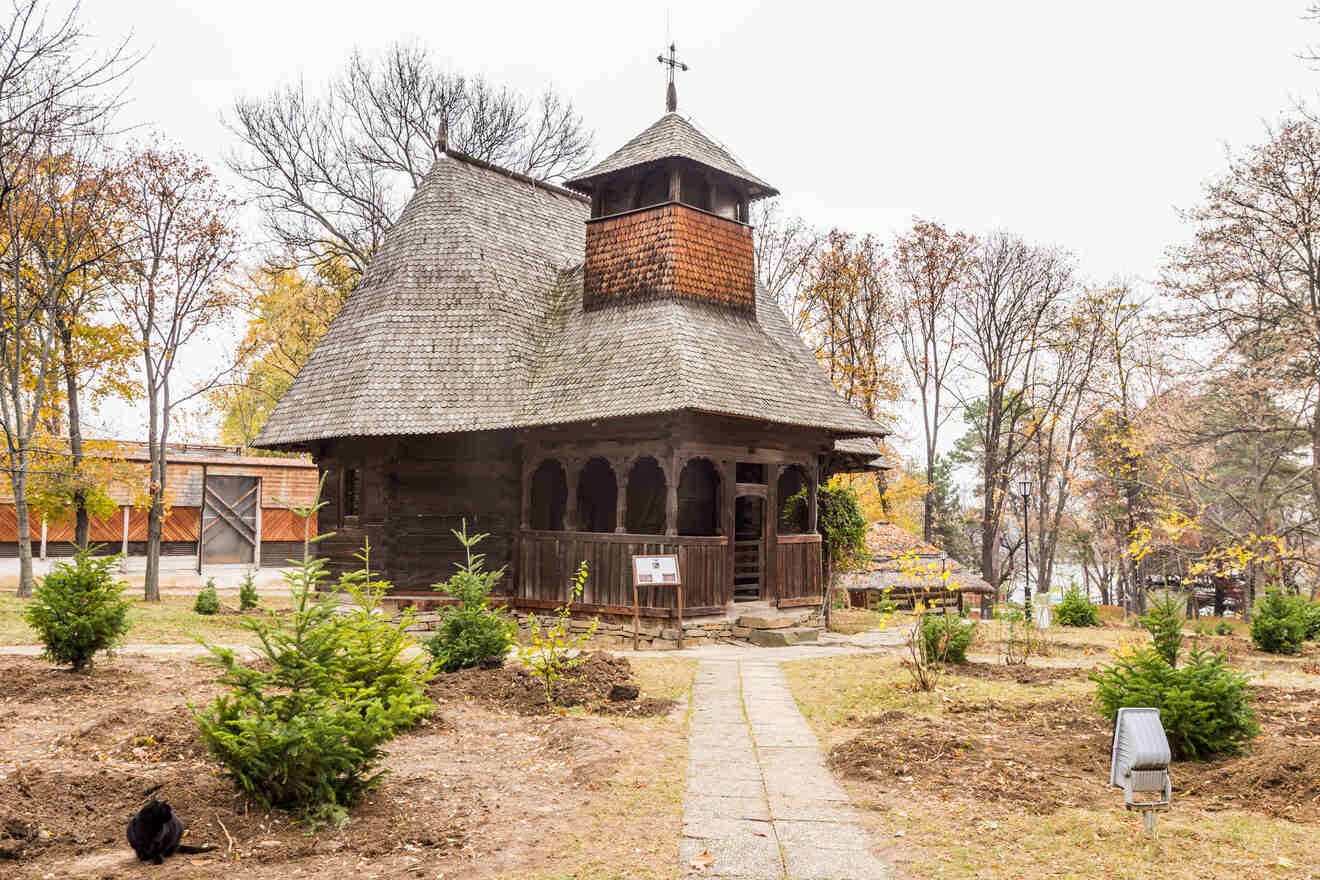 Also known as the "Museum from the heart of the capital," this open-air museum gives you an insight into the life of a Romanian peasant from the 17th century to the 20th century. "Dimitrie Gusti" National Village open-air museum has different elements like old houses and monuments that will make you feel like you've traveled back in time to a Romanian village!
Suppose you want to learn more about the museum and the life of a Romanian peasant from a professional. In that case, I highly recommend going on this city tour which includes a visit to the "Dimitrie Gusti" National Village Museum with a guide.
Open: Monday to Sunday: 9:00 am – 5:00 pm
Price: For adults: 20 Ron (US$5), Students: 5 Ron (US$1.20), Seniors: 10 Ron (US$2.30), Free for preschool and people with disabilities
Location: Herastrau Park (Also known as King Michael I Park)
1.3 National Museum of Romanian History
Suppose you want to learn more about the country's history during your visit to Bucharest. In that case, you should check out The National Museum of Romanian History, which is home to artifacts from prehistoric times! With some cool permanent exhibitions like "The historical treasure" and some seasonal ones, the History National Museum is one of the most interesting places in Bucharest.
Open: Wednesday to Sunday: 9:00 am – 5:00 pm
Price: Adults: 5 Ron (US$1.30), Free for Kids (up to 7 years old)
Location: Victoria Avenue 12
1.4 The "Grigore Antipa" National Museum of Natural History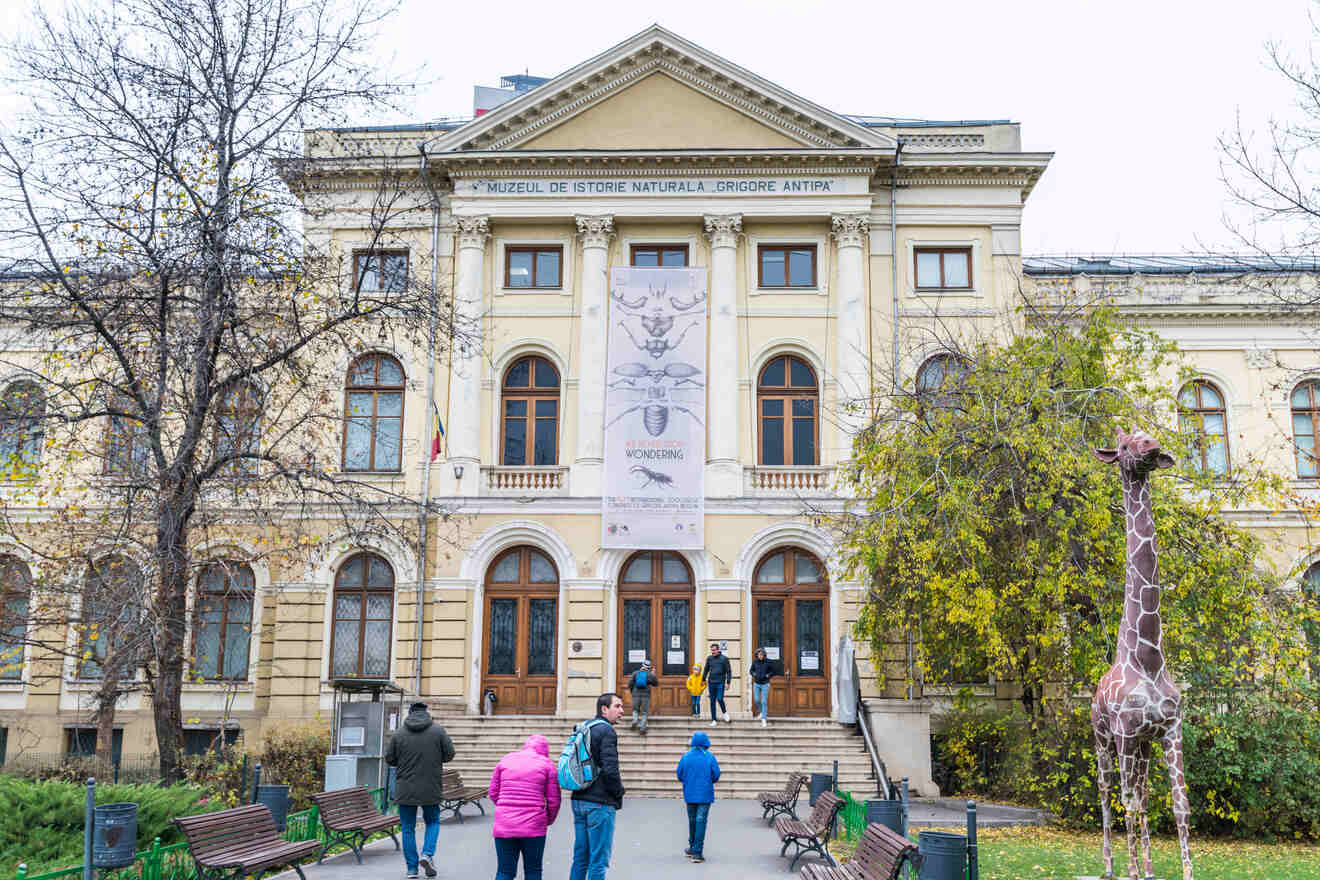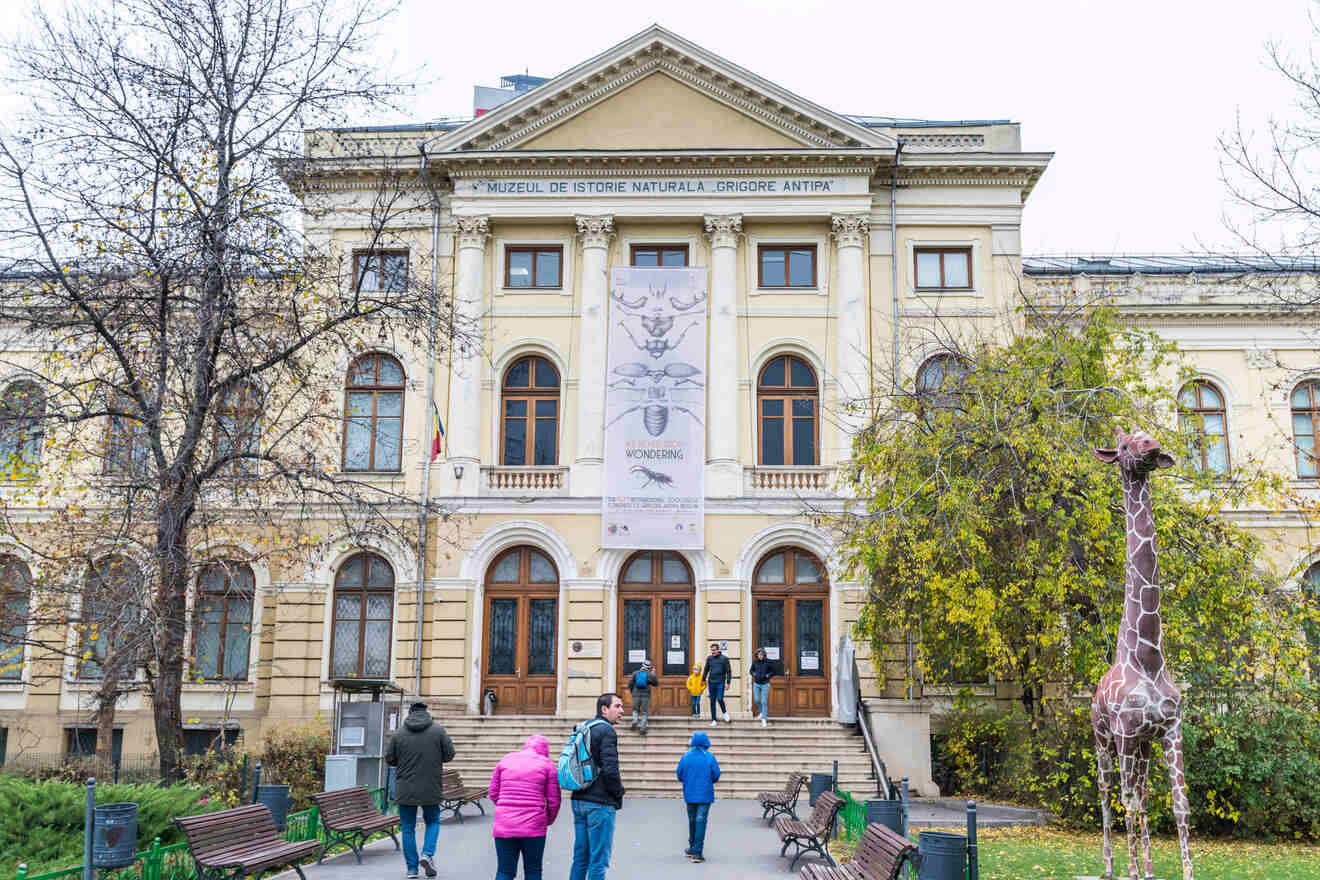 This museum may appeal especially to children or people who are fans of natural history! The "Grigore Antipa" National Museum of Natural History has many exhibitions, including some cool Jurassic skeletons! The place is super interactive, and it features 3D films and artificial caves!
Open: Summer (April – October): Tuesday to Sunday, 10:00 am – 5:00 pm / Winter (November – March): Tuesday to Friday, 10:00 am – 6:00 pm / Weekends 10:00 am – 7:00 pm
Price: Adults: 20 Ron (US$5), Students: 5 Ron (US$1.20), Free for Kids (up to 7 years old)
Location: Street Pavel D. Kiseleff 1
Another fun museum that I recommend for kids is the interactive Museum of Senses which is full of optical illusions.
2. Eat some interesting traditional food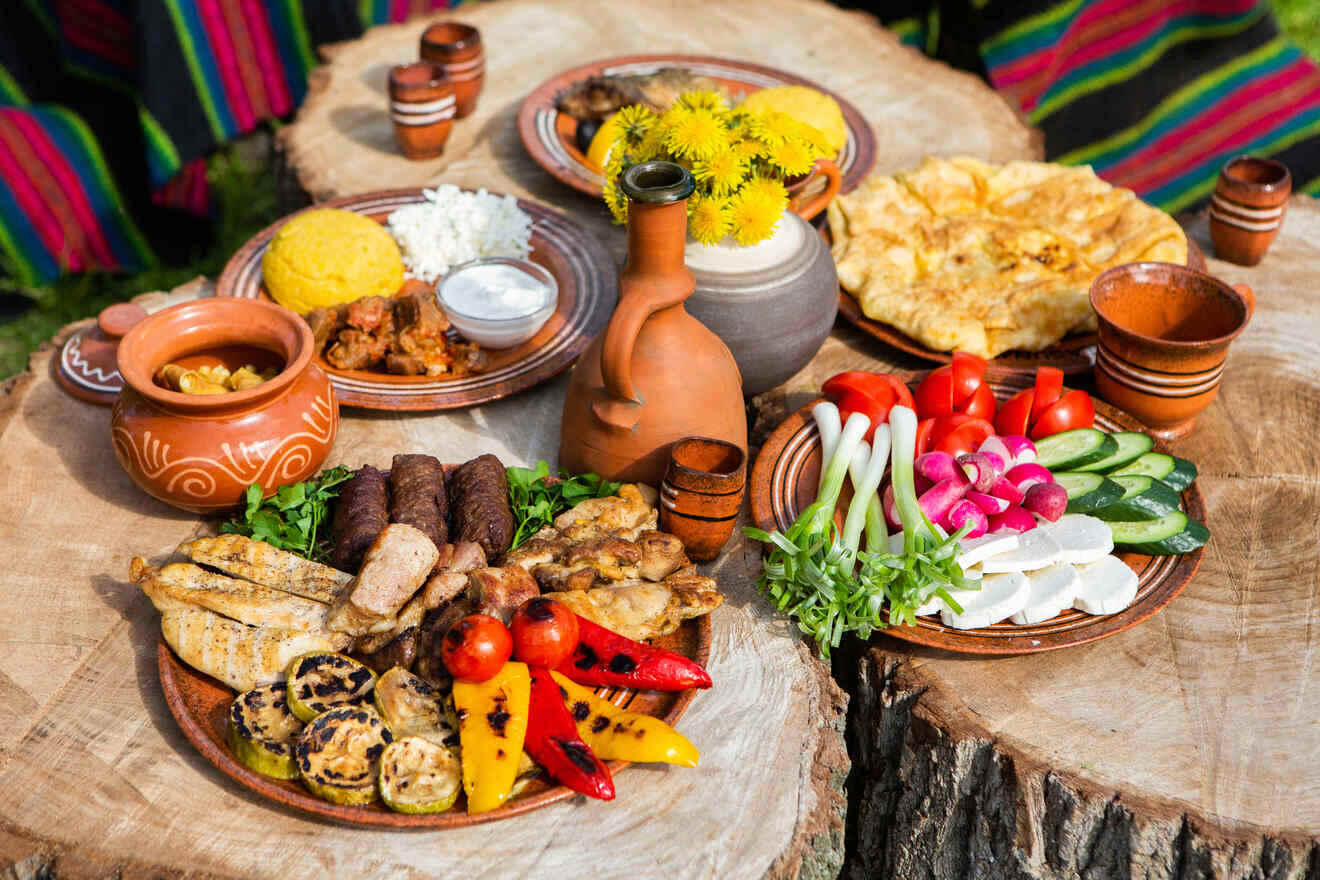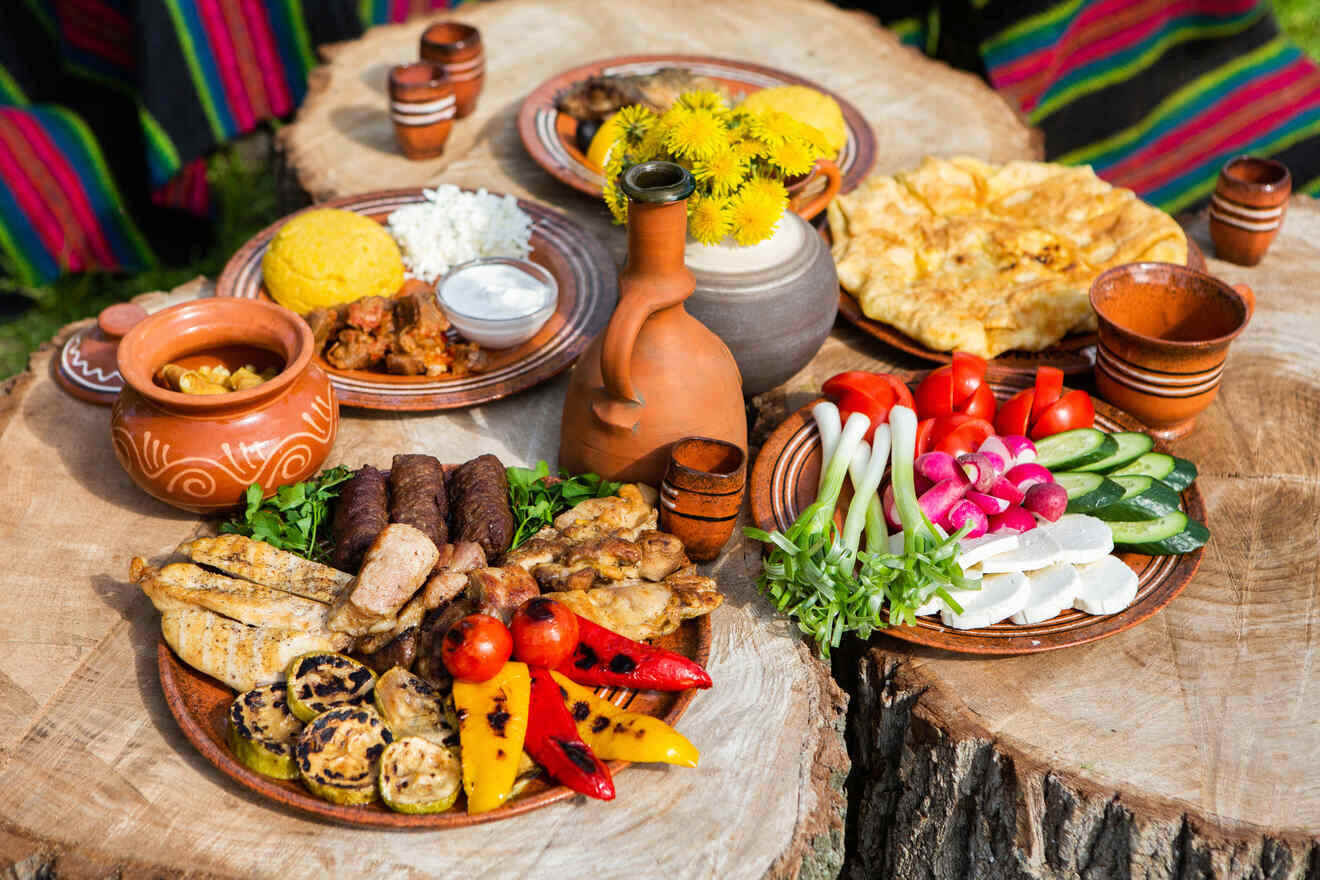 After all those museum visits, you must be famished! So I think now it would be a good time to introduce you to Bucharest's food scene! I'm always a fan of trying traditional dishes when I'm on holiday.
Still, if you don't want to risk it and try something new or you're vegetarian (most of the dishes here have meat), don't worry, the town has tons of other places to eat that serve amazing food, and I talked about them all in my guide to the best restaurants in Bucharest!
And let's not forget that Romania has one of the oldest wine-making traditions globally. Its viticulture dates back more than 6,000 years, so I highly recommend going on a wine-tasting tour in Bucharest!
Here's a list of the best traditional dishes that you should try during your stay in Bucharest and some amazing restaurants in the city!
What to eat:
Sarmale (Cabbage Rolls) – One of the most important meals at weddings, this dish is made of minced meat mixed with rice that is rolled up in fermented cabbage leaves
Mamaliga (Polenta) – This side dish goes perfectly with the cabbage rolls, and it's made of corn flour boiled in water
Papanasi – A dessert like no other! You can't leave Bucharest without trying it. Papanasi is a donut made out of a mixture of cottage cheese and semolina, fried in a pan and covered with jam and sour cream. Yum!
Ciorba de Burta (Tripe Soup) – One of the most popular soups in the country and a real hangover cure, tripe soup doesn't sound so appealing, but it does have a delicious taste and it contains the stomach of a cow, vegetables, and some special animal bones
Zacusca (Vegetable Paste) – I know my vegetarian readers may find it difficult to eat traditional food in Romania, but that's why we have zacusca, a vegetable paste served on bread that tastes delicious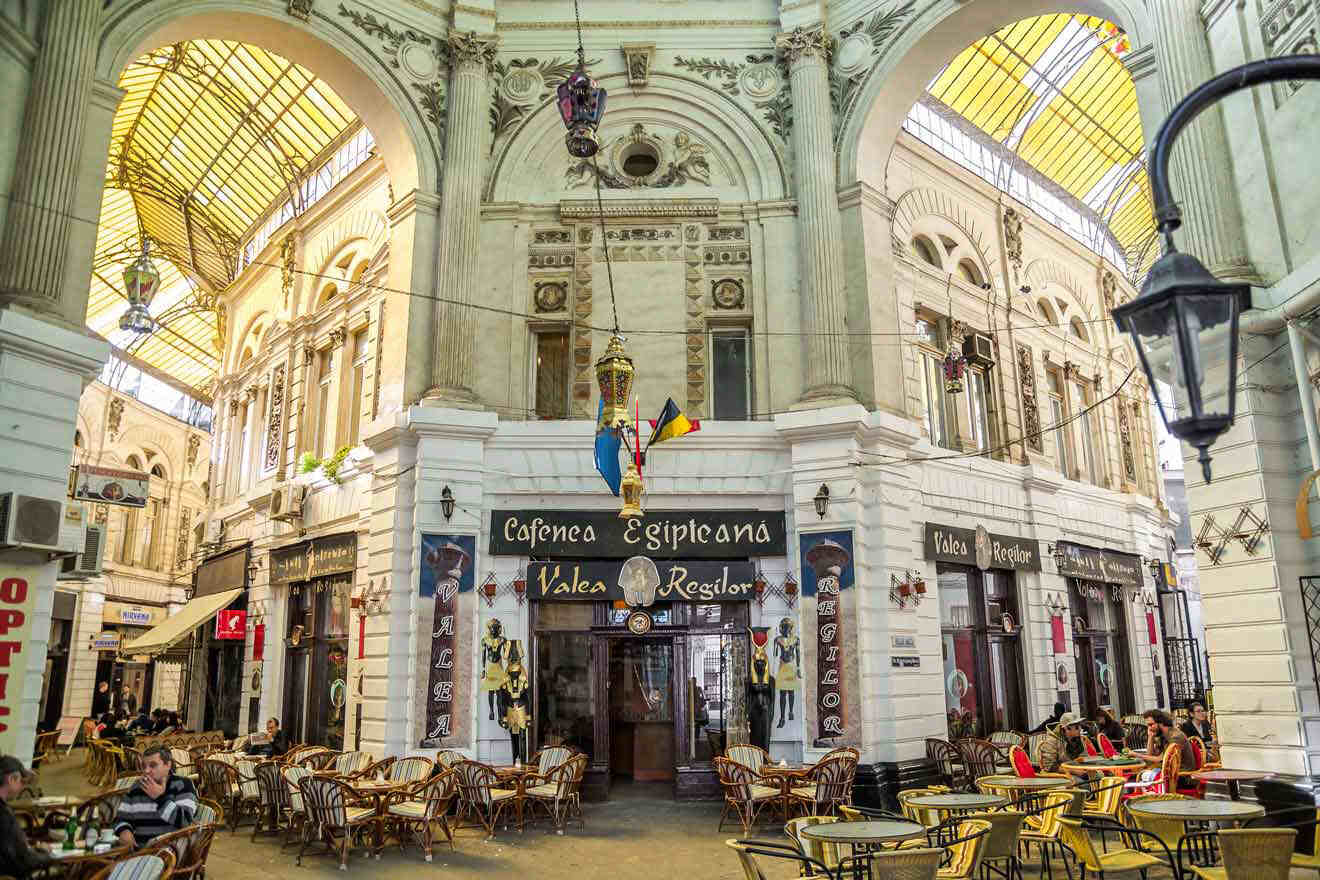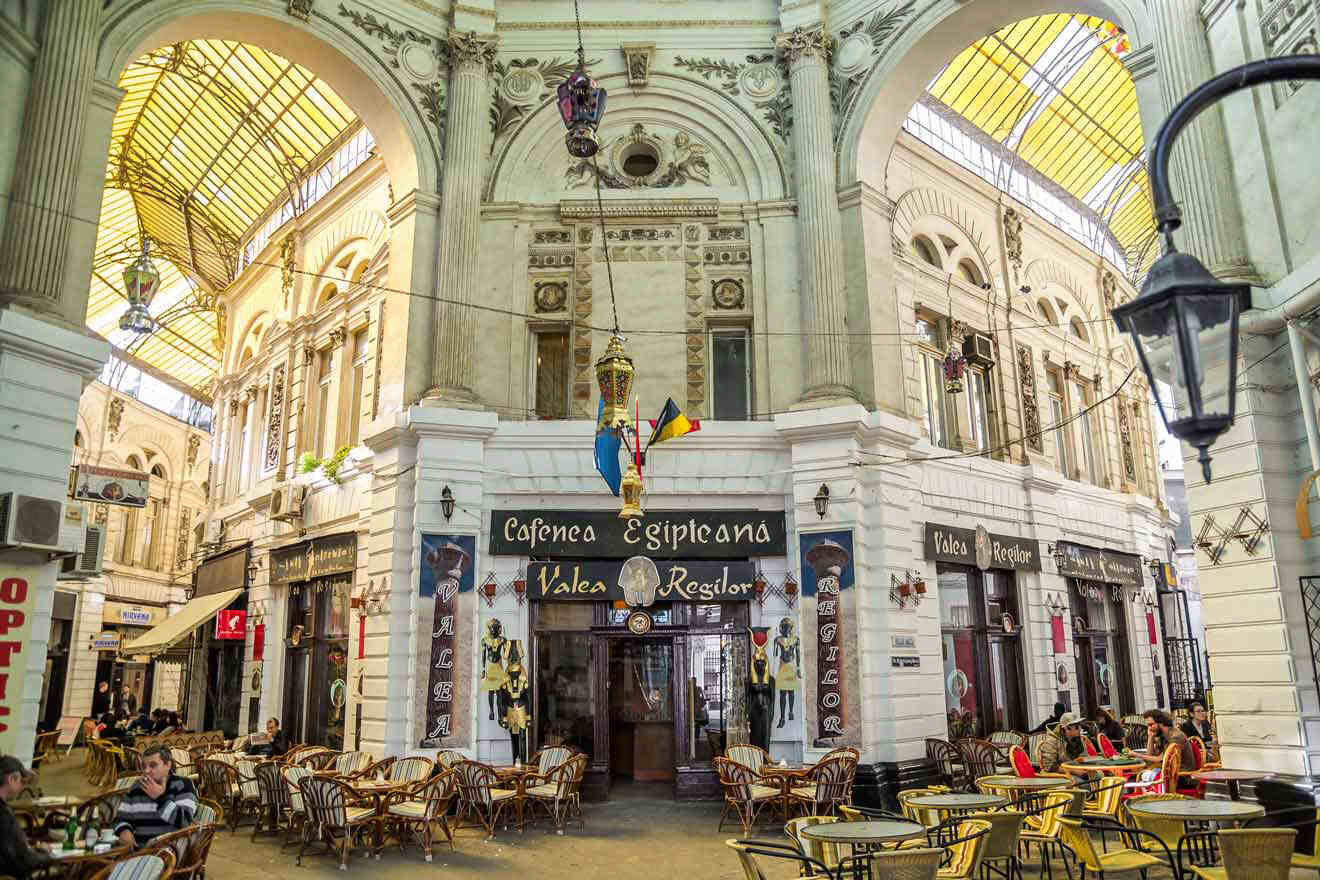 Where to eat:
Hala Mahala – Famous for their meat dishes and barbecues, you can't miss the experience of eating in their super cool location! I highly recommend trying the hot wings and homemade BBQ sauce!
Lacrimi si Sfinti – This one is located in Old Town Bucharest and it serves some of the best traditional dishes in Bucharest. So if you're up to trying some of the dishes that I've mentioned above, this restaurant is a good place to start your food adventure in Bucharest
Caru' Cu Bere – One of Bucharest's most famous restaurants, located in the Old City part, has a history of over 130 years old. You must try their beer made after a unique recipe from 1879
Arome – Vegetarian food for the soul! Arome's magic location and delicious healthy dishes and desserts are the perfect combos! Soups, vegetarian burgers, yummy desserts, and smoothies! If I were you, I would try them all!
POT Stories – With a unique design, and a menu that will please even the pickiest person, this restaurant is one of the finest ones in Bucharest, and a visit there will convince you of that!
Take a tour – Going on a food tour is one of the best things to do in Bucharest, as the guide will help you discover the best places where you can eat like a local and know what you order so you don't end up with something you won't like!
3. Visit the Palace of the Parliament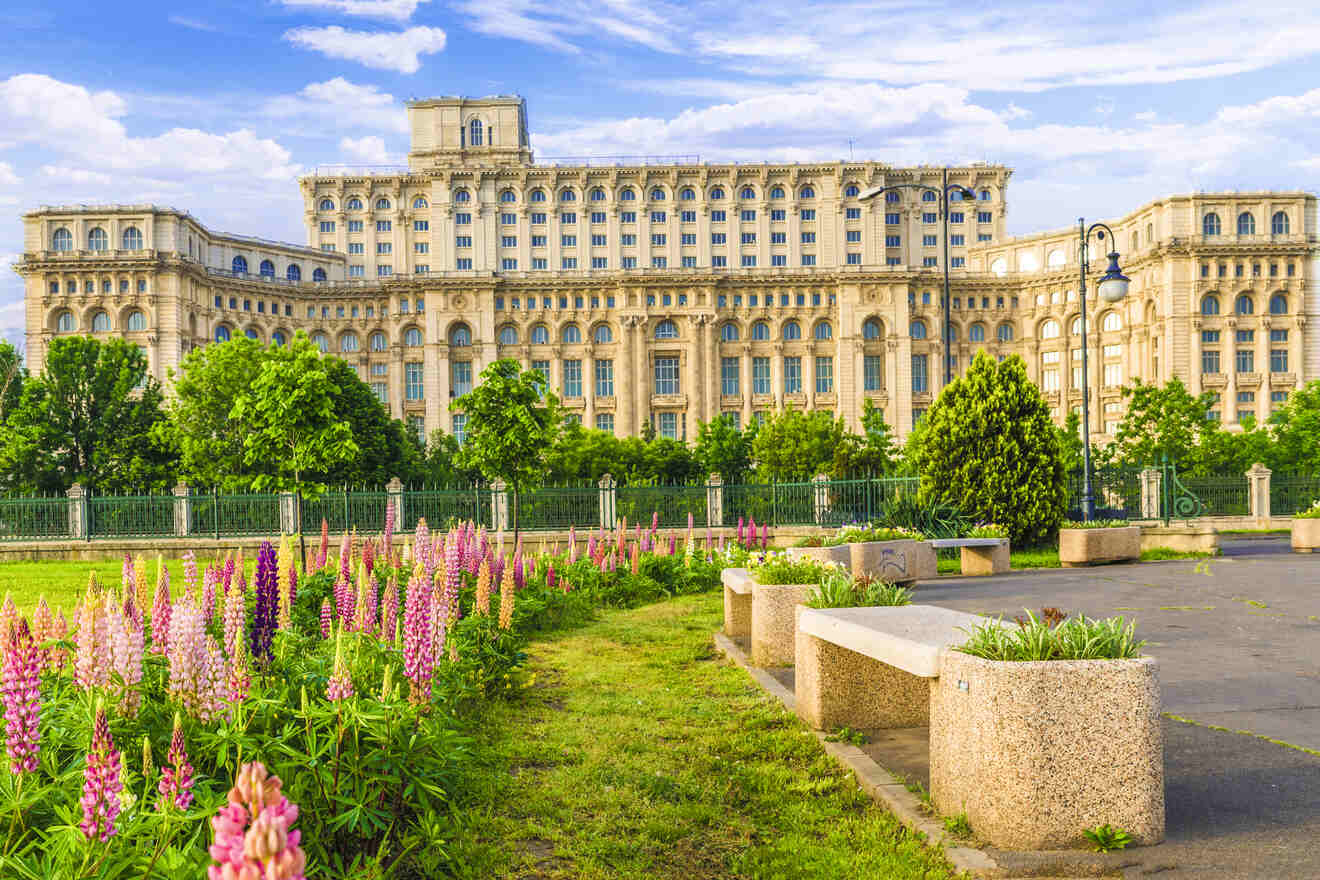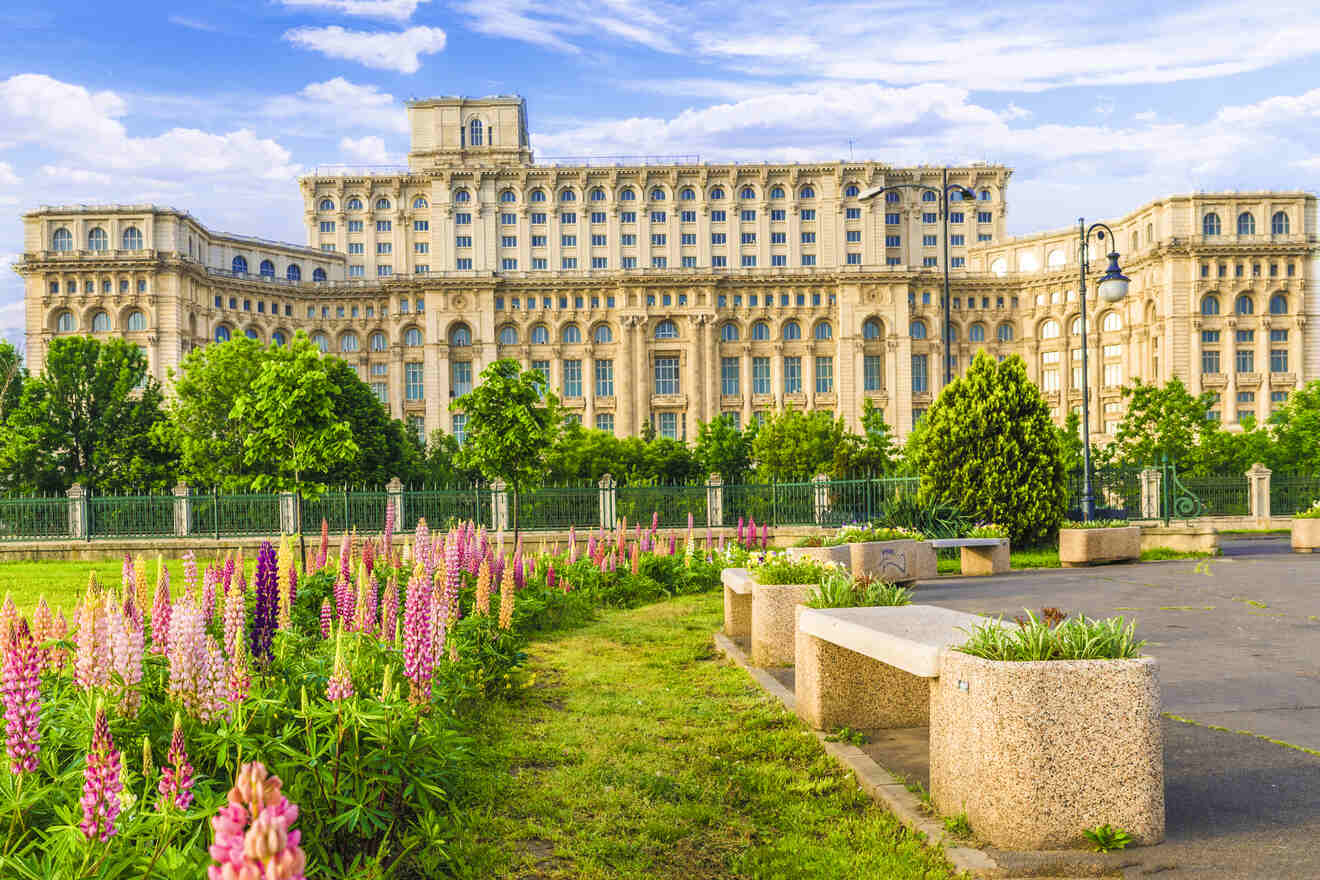 It's commonly said that you can see the Palace of the Parliament from the moon, while that's not exactly true, the building is the second-largest administrative building in the world!
It's kind of hard not to notice the Palace of the Parliament in Bucharest, and you'll probably spot it from your taxi/uber or bus when you're exploring the city. Visiting this enormous and prestigious building should, for sure, be on your list of things to do in Bucharest!
The Palace of Parliament is the 2nd-largest administrative building globally after the Pentagon and was built under the orders of Dictator Nicolae Ceaușescu, the president of Romania at the time. Also known as the "People's House," the building has more than 3000 rooms, and for most Romanians, it represents a symbol of communism. If you're super passionate about this topic, I think a tour of communist Bucharest will answer any questions you might have!
Currently, the Palace of Parliament houses the 2 chambers of the Parliament of Romania, the Senate and the Chamber of Deputies, 3 museums, and an international conference center.
HACK: Book your tickets online in advance to skip the line tour of Parliament Palace

NOTE: You can also book your tour directly by calling +40 733 558 103, but you must book the day before your visit.
Open: March – October: 09:00 am – 17:00 pm, November – February: 10:00 am – 16:00 pm
Entry: Adults: 40 Ron (US$9.30), Students: 25 Ron (US$5.85), Children (7 to 18 years old): 10 Ron (US$2.35)
Located: 2-4, Izvor Street
4. Admire the beautiful Old Town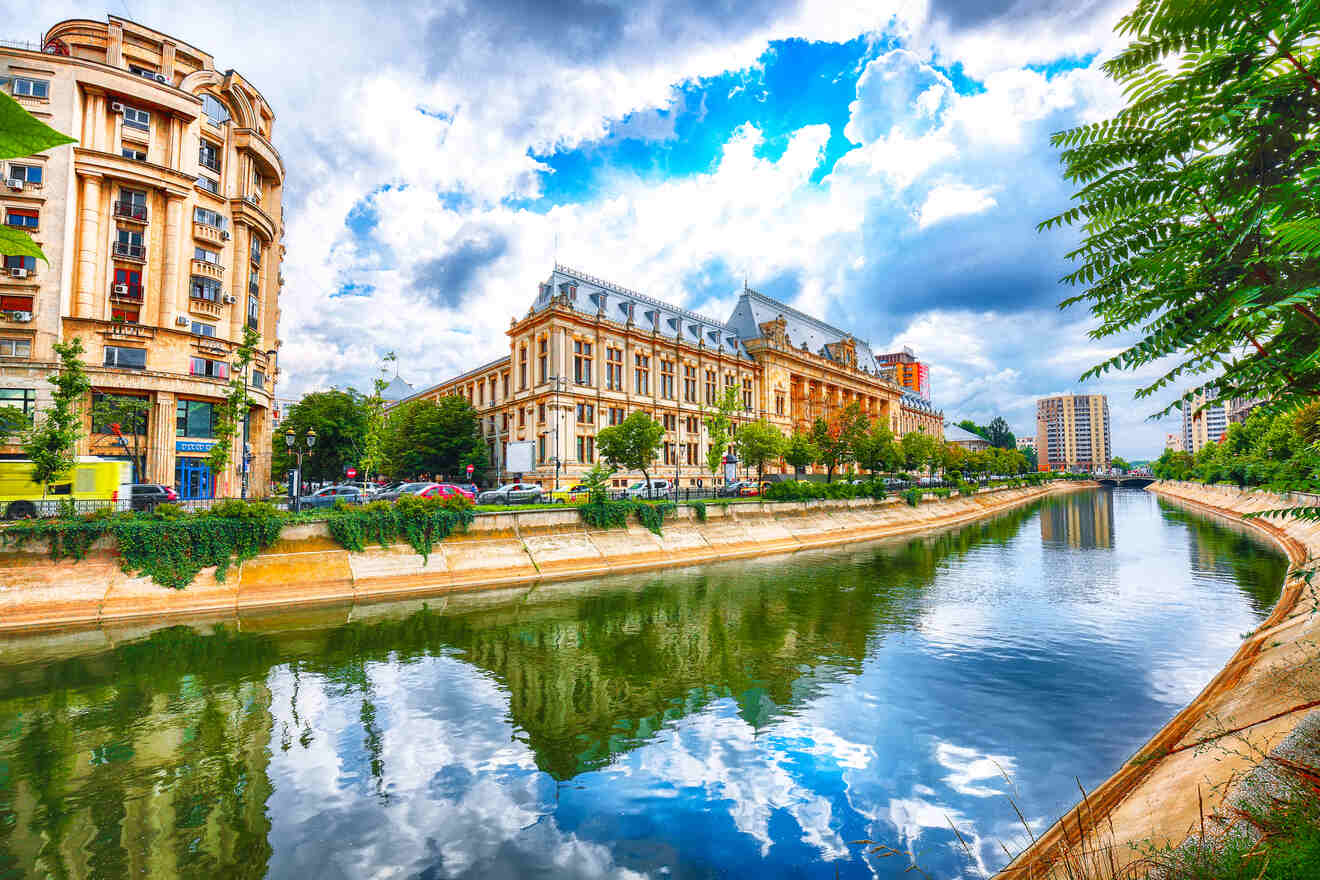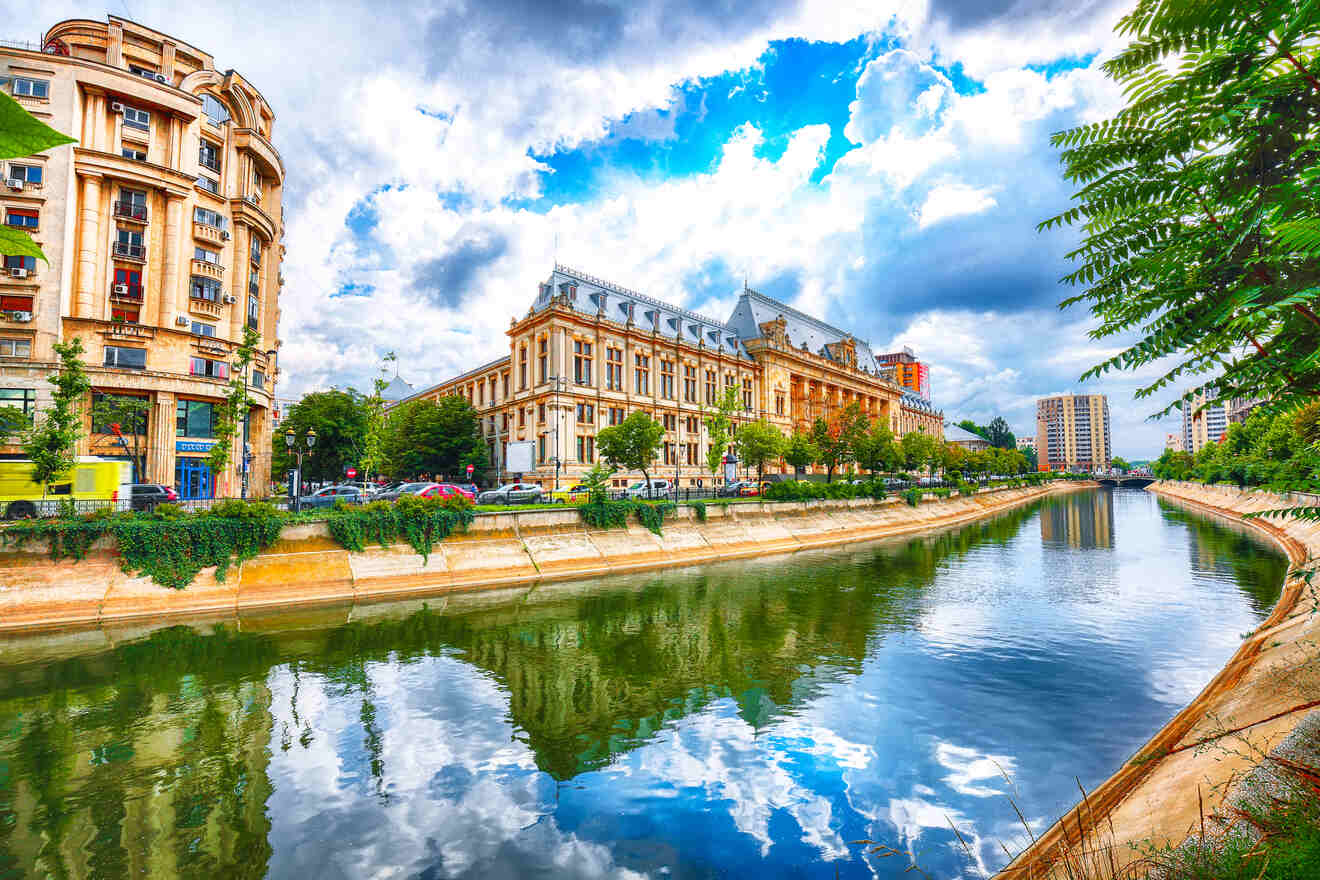 The Old Town is a historic part of Bucharest city center that has suffered a lot of changes over the years! Before World War II, and before the communist party came to power, the Old Town covered a larger area of the city with its art nouveau buildings, which resembled the ones in Paris. That's why Bucharest even gained the name of "Little Paris."
Now the Old Town is one of the most vibrant parts of the city! One of the most important things to do in Bucharest during your trip is to spend at least one full day and night here because there are so many places to discover!
From nightclubs to shops, cafes, and architectural wonders, this part of the city has something for each type of traveler! I'm going to give you all the details about walking tours in Bucharest in the next section but if you want to take a tour specifically focused on Bucharest Old Town, this tour is highly recommended.
4.1 Visit a church or two in the Old Town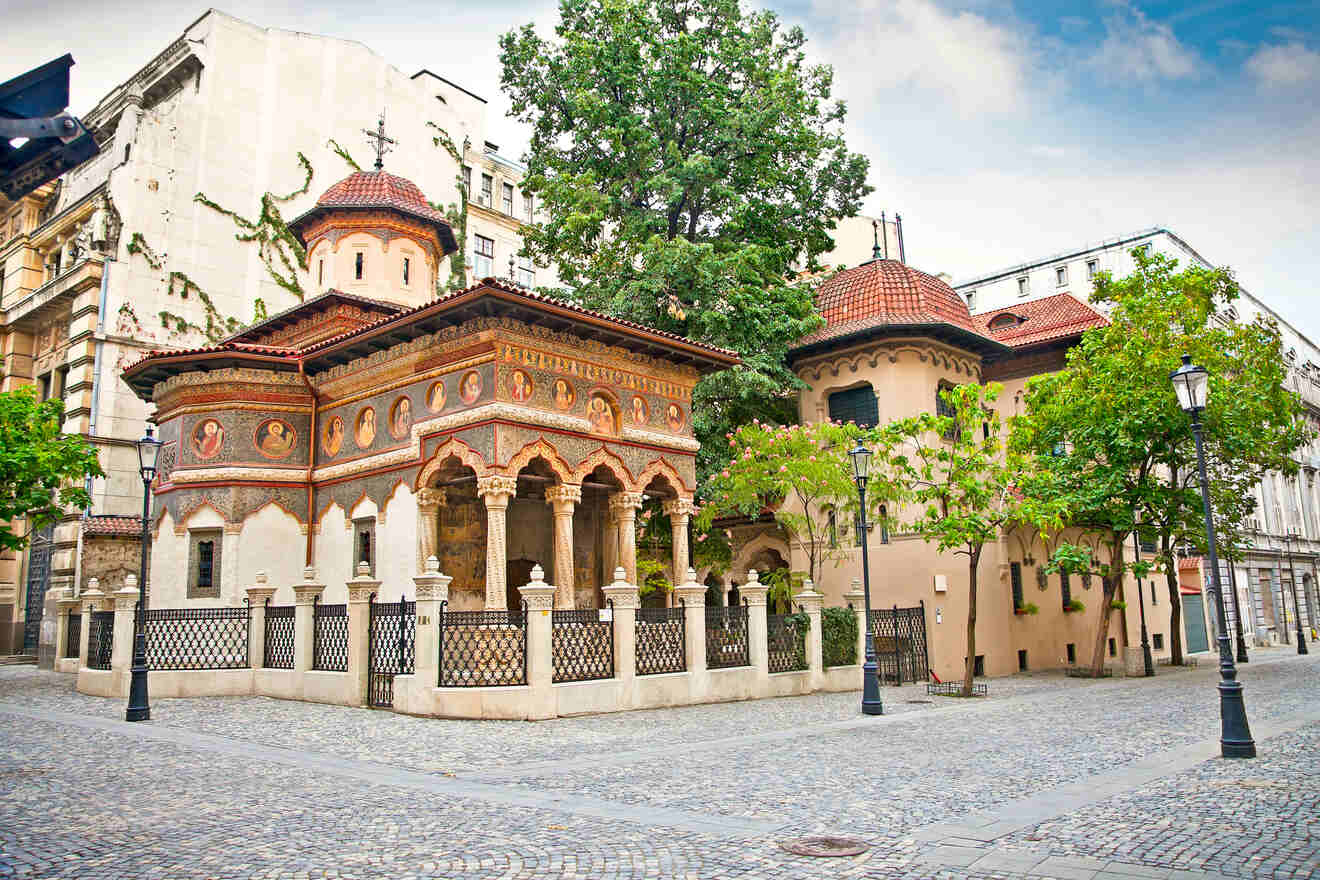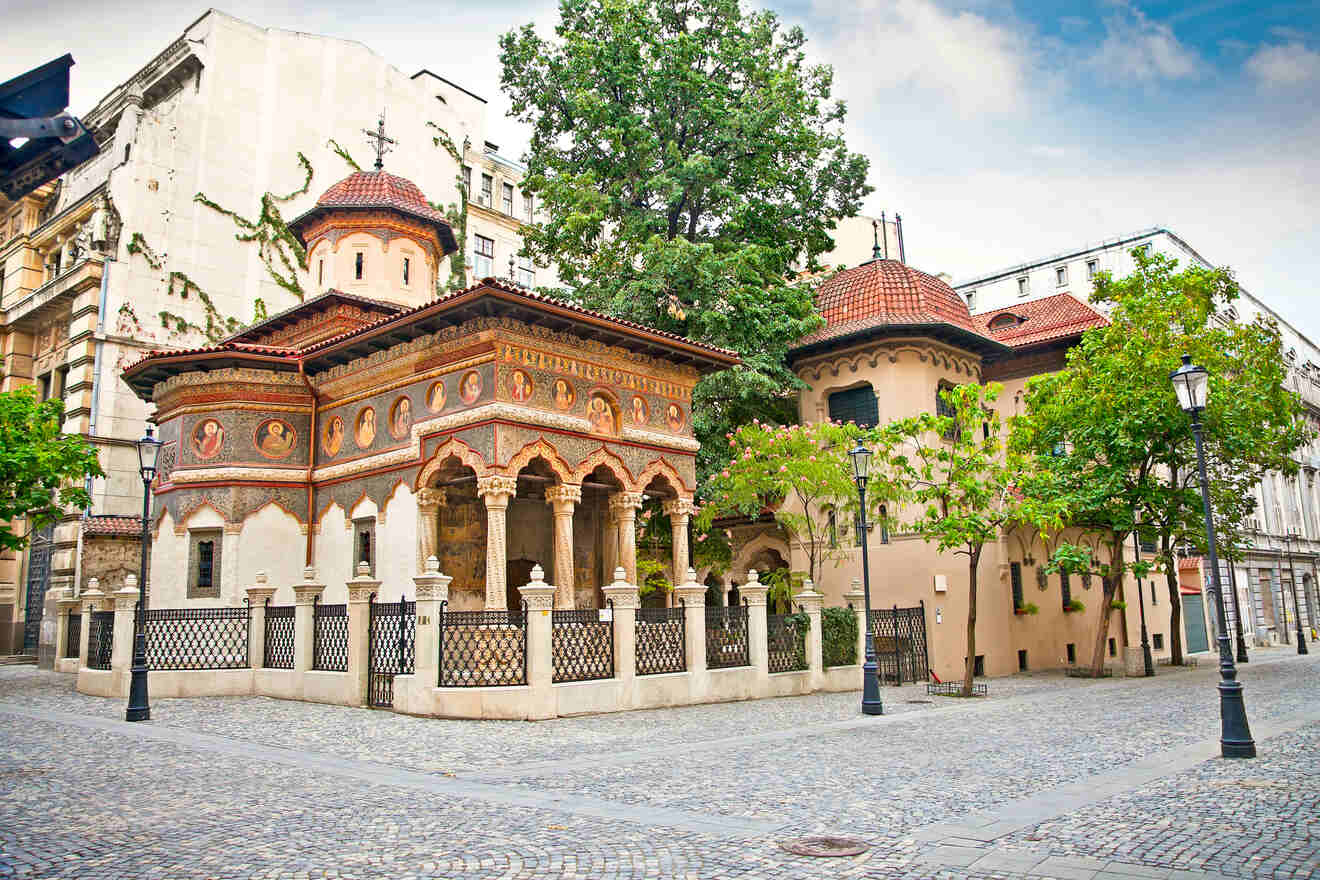 Stavropoleos Church: Although it's so tiny, this beautiful piece of architecture stands out from the other buildings in the Old Center! The original Stavropoleos church was finalized in 1724, but had to be demolished and re-done in the beginning of the 20th century. If you love architecture, I highly recommend visiting this Orthodox church, it has a lovely backyard and other impressive elements!
St. Anthony Church: This church is the oldest religious building in the city maintained in its original form. Here you will find frescoes in the neoclassical style, painted in 1852, and other elements of great value like a ciborium donated by Prince Constantin Ipsilanti.
Church of Saint John Church: When Nicolae Ceausescu (whose former home you can visit) came to power, he wanted to replace many Old Town buildings with modern ones. This church was tucked away between 2 big apartment buildings when a high number of churches in Bucharest were saved by an engineer who came up with a plan to move the buildings around on a structure similar to railroad tracks so they wouldn't face destruction!
4.2 Party all night in the clubs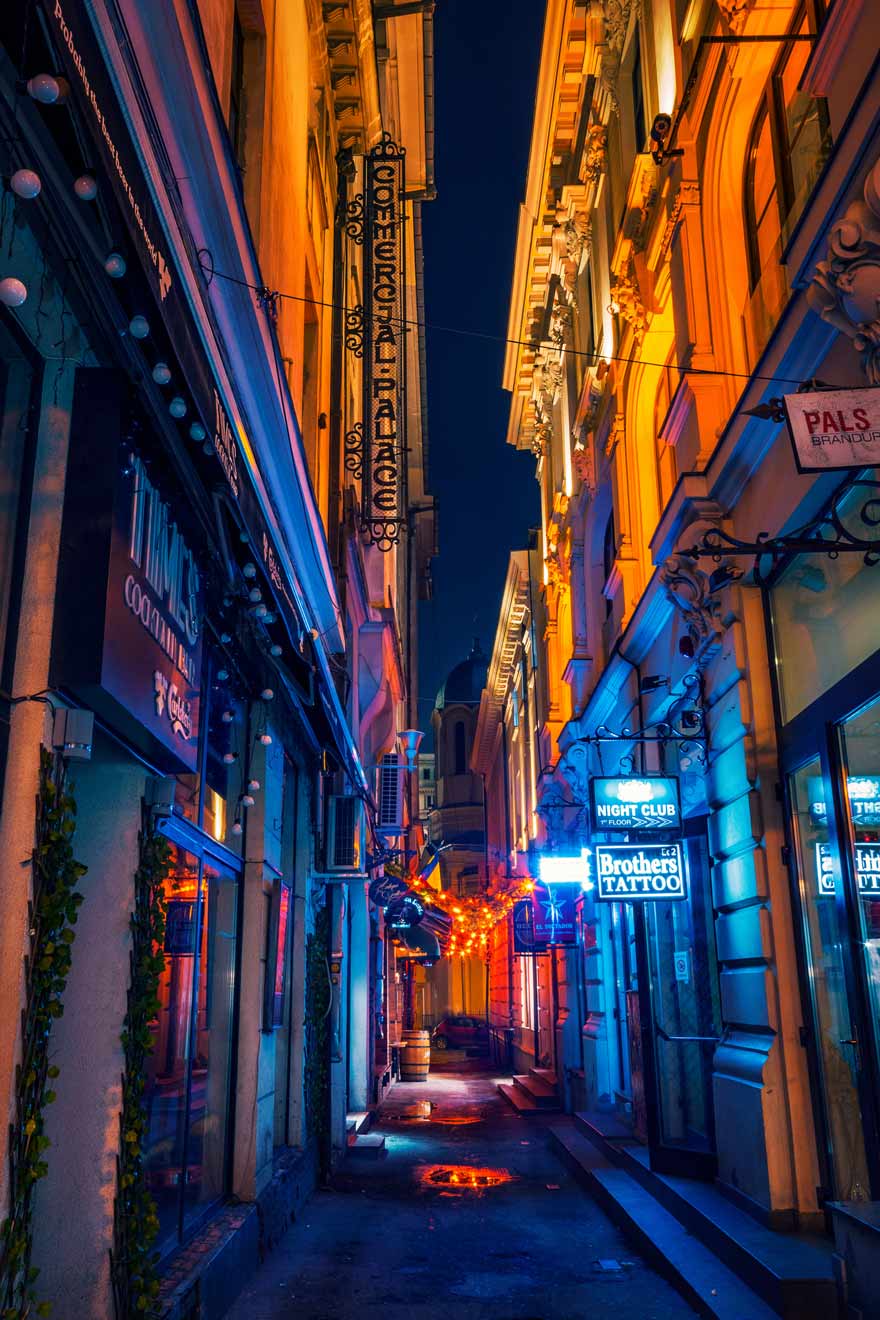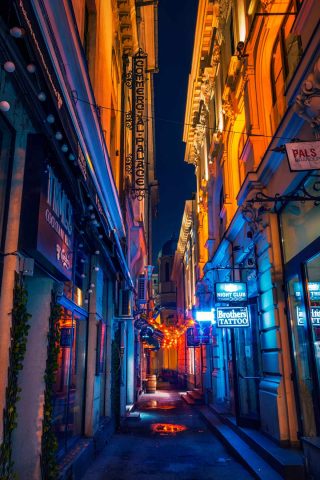 As the sun goes down, you'll see many people making their way into the Old Town! One of the main things to do in Bucharest is a party in its clubs! This city is well known to have a super fun party scene compared to other European capitals. The booze is super cheap!
The Old Town lights up as the night comes, and you can hear the loud music and people having fun the minute you arrive there.
PRO TIP: If you're traveling with the family or not a fan of crowded, loud places but you want to visit the Old Town, I highly recommend doing that in the morning or at noon. Anytime before 7:00 pm as that's when the party gets started.
Although the best way to check out the clubs is by simply exploring the cobblestoned streets around the Old Center, here is a list of the best clubs in the area to help you start your adventure!
Freddo Bar & Lounge – Get the party started at one of the best clubs in Bucharest, and dance all night long! This club hosts different events, and sometimes they even play live music and hey, if you get hungry after all that dancing, you can order something to eat because they have a food menu as well!
The Vintage Pub – Although this club is kind of small, somehow it manages to fit anyone who wants to have a good time! So get yourself one of those delicious cocktails or a glass of champagne if you're feeling fancy and get ready to have the best night ever!
True Club – Are you a big fan of live music? Because if you are, then I think this club will be the perfect place to start your night in the Old Town! Hosting different bands and singers, this club sure knows how to offer you a great time visiting Bucharest.
If you want to see as many clubs as possible, mingle with the locals and make some new friends, then I think you should go on a pub crawl around the Old Town. It's so fun, and if you're a fan of partying in as many places as possible, then this is the best solution for you!
4.3 Explore the Old Princely Court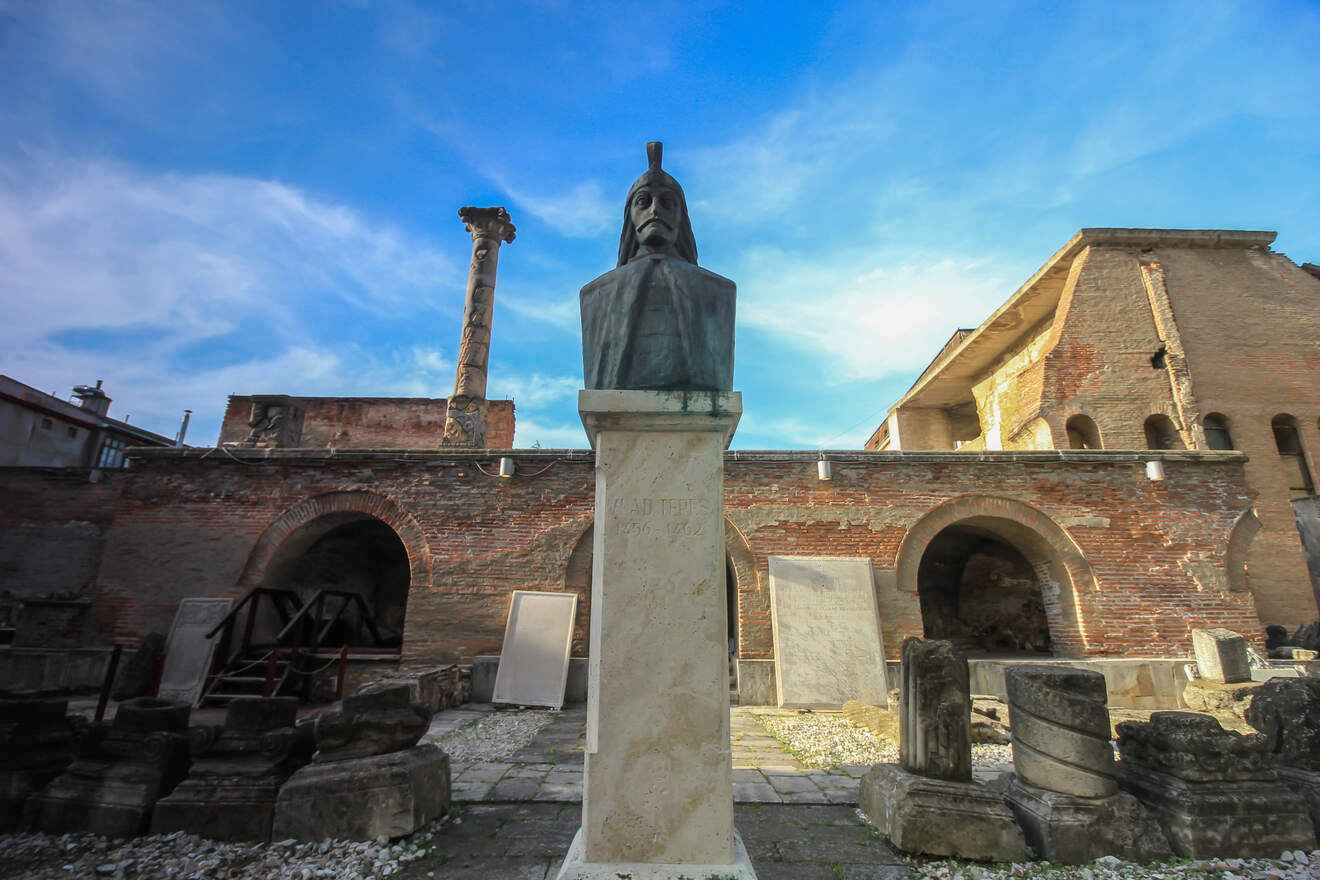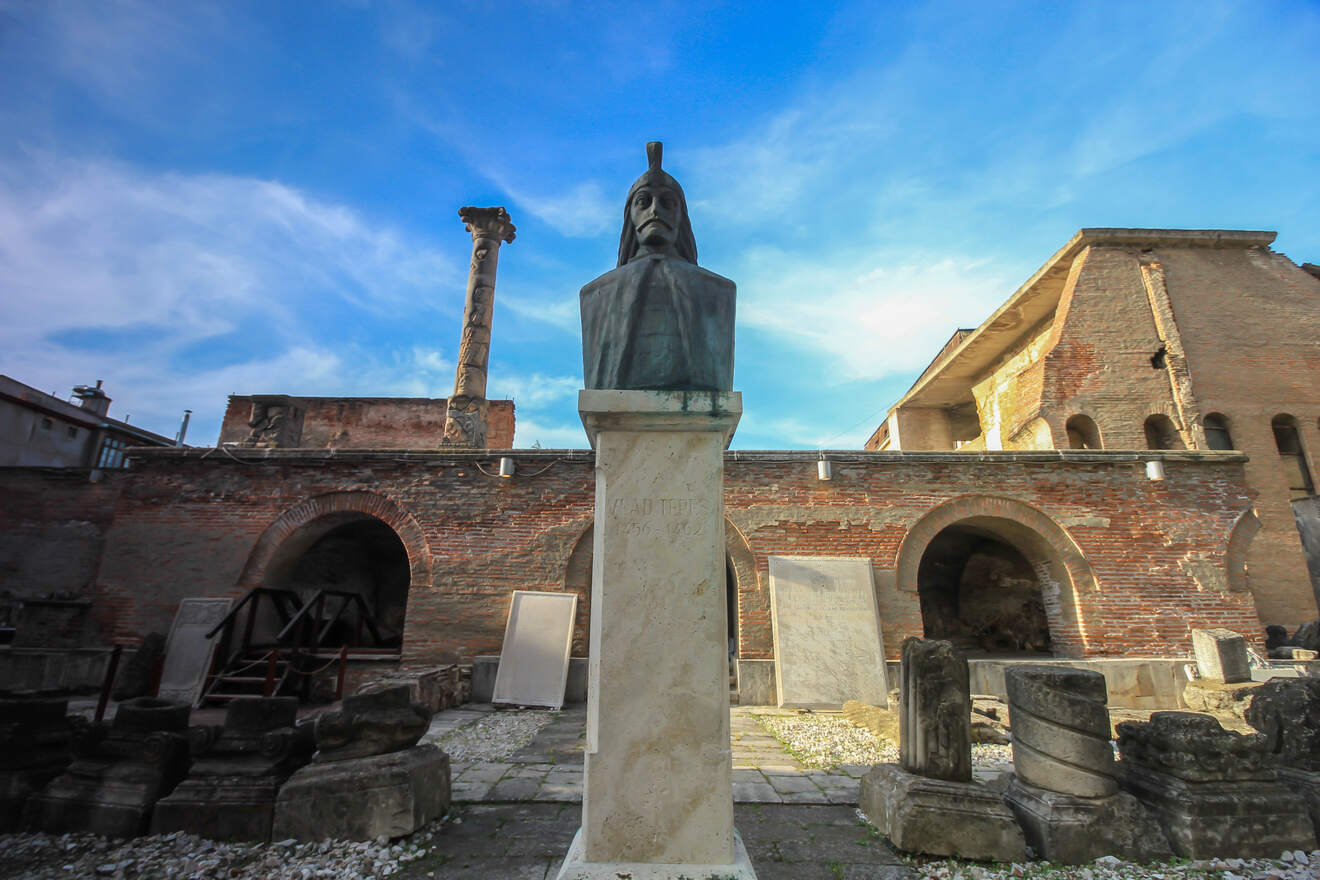 This place is often overlooked by many tourists visiting Bucharest, as they don't know about its existence, and it's mostly because there's not much left of the former Princely Court nowadays, which was built as a palace and residence during the rule of Vlad the Impaler!
I'm sure you've all heard at least once about the notorious Vlad the Impaler, or "Dracula." If you find the topic fascinating, then I highly recommend going on a day tour from Bucharest to the city of Brasov to see his famous castle and learn more about the legend.
But before that, make a stop at the Old Princely Court, here in the Old Town, and admire the statue of Vlad the Impaler and what is left of this medieval court.
5. Go on a city walking tour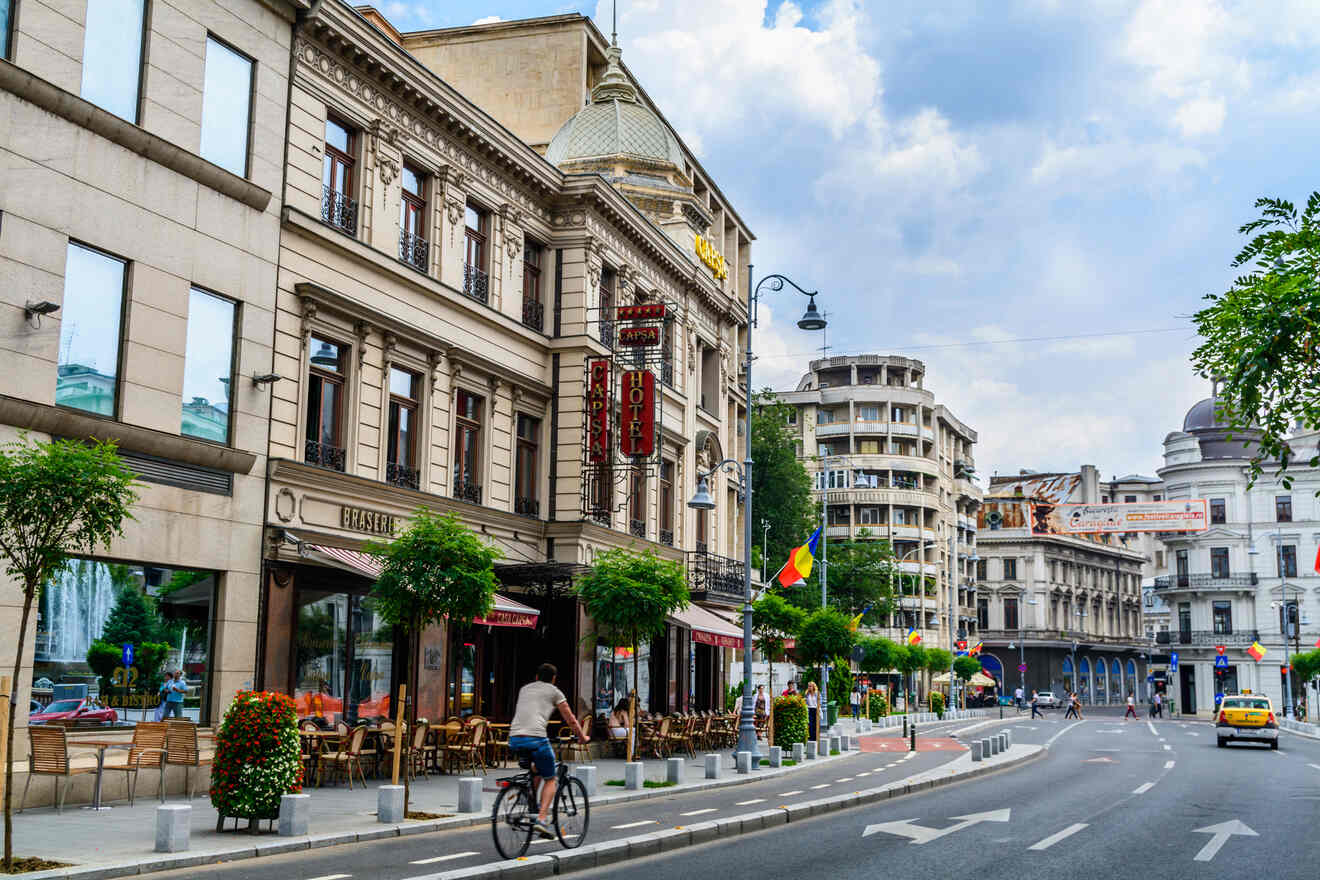 Joining a walking tour in a new city with the right tour guide and a load of really cool history is always a good idea as you can learn so much about the city while having a good time! Bucharest has such an interesting past, and it would be a waste not to learn more about it as you visit some of its best places!
Here is a list of some interesting walking tours that you can take around Bucharest:
6. Enjoy Bucharest's green side in the prettiest parks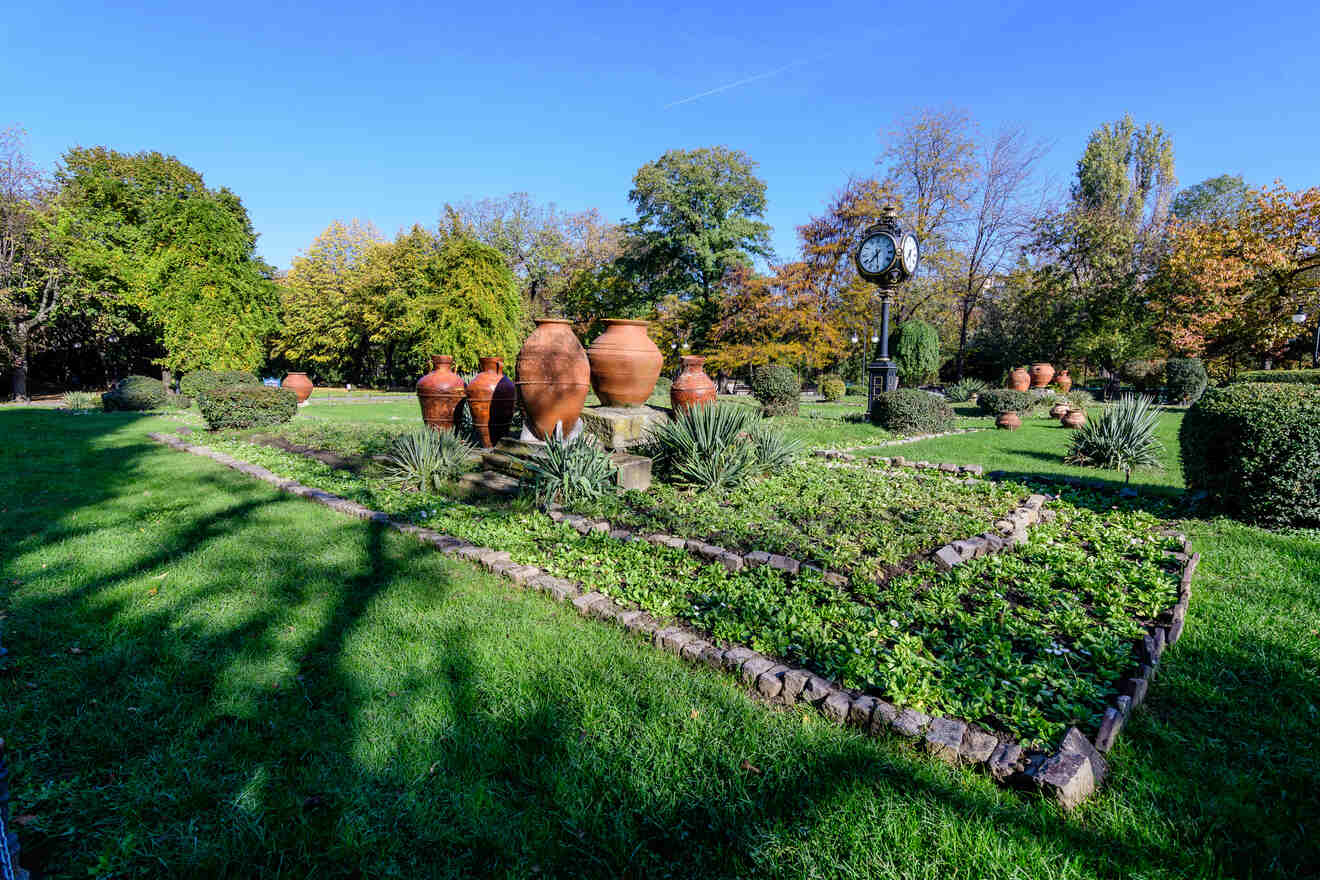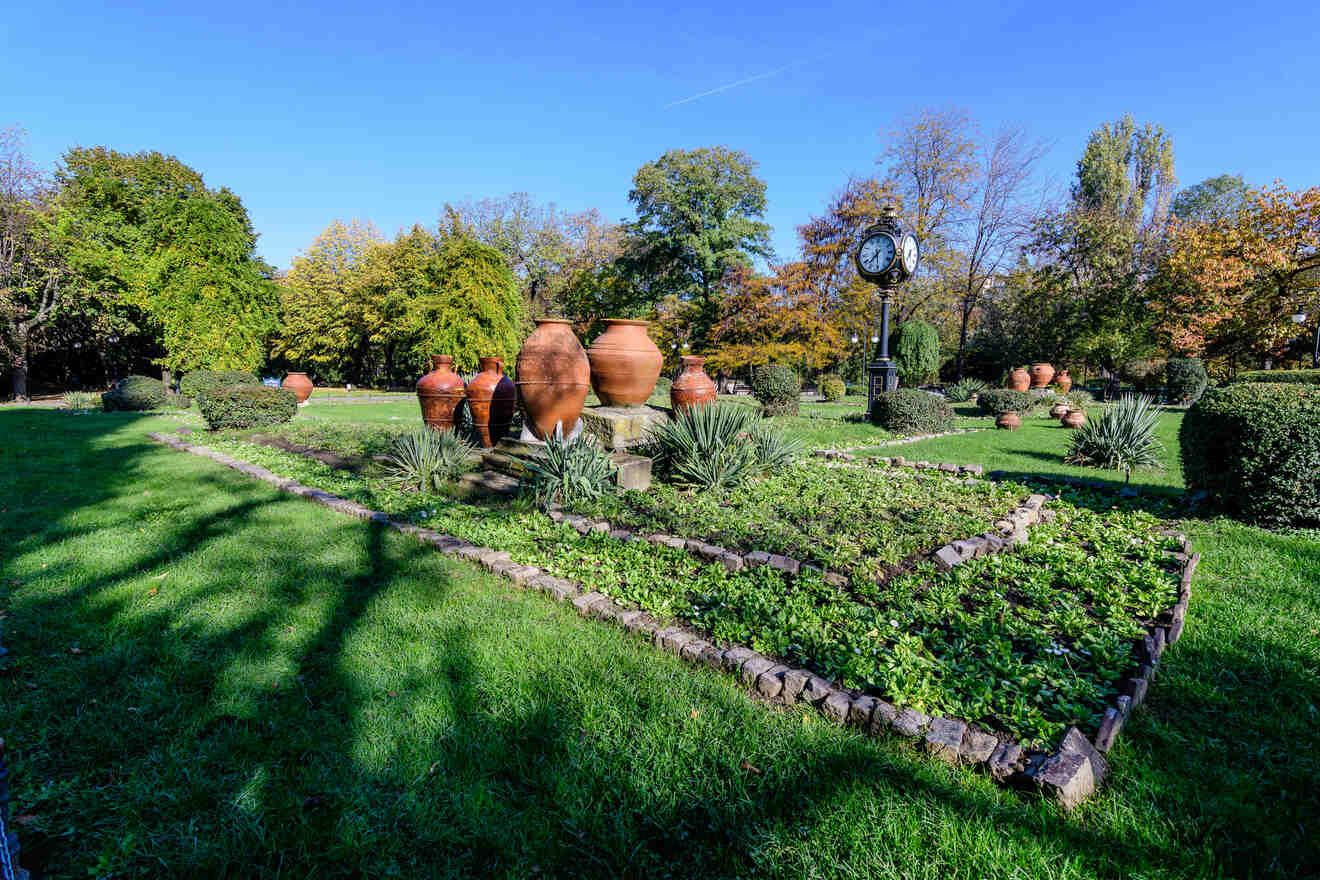 Bucharest can get super noisy at times, and although I love that urban experience, when I'm in a new town, it can get a bit tiring. Luckily for you, Bucharest has some amazing parks perfect for picnics or watching the cute squirrels. And if you want to look for accommodations near a park, here's a post with the best places to stay in Bucharest!
Cismigiu Garden Park
Cismigiu Garden is a unique spot! Just imagine tons of flowers, many trees, a lake, and a few cute ducks! The atmosphere is super bohemian. It just looks like that kind of place where artists and poets used to come a long time ago to meet with their loved ones!
My favorite way to enjoy the views is with a boat ride on the lake! You can either rent a boat that will fit up to 3 people or a paddle boat for 2 people.
PRO TIP: Visit Cismigiu Garden Park during the weekend, and you might be lucky enough to catch someone playing the violin!
Getting there: Take the M2 from Piata Unirii Station 1 stop to Universitate and walk 15 mins to Cismigiu Garden on Regina Elisabeta Boulevard
Herastrau Park (King Michael I Park)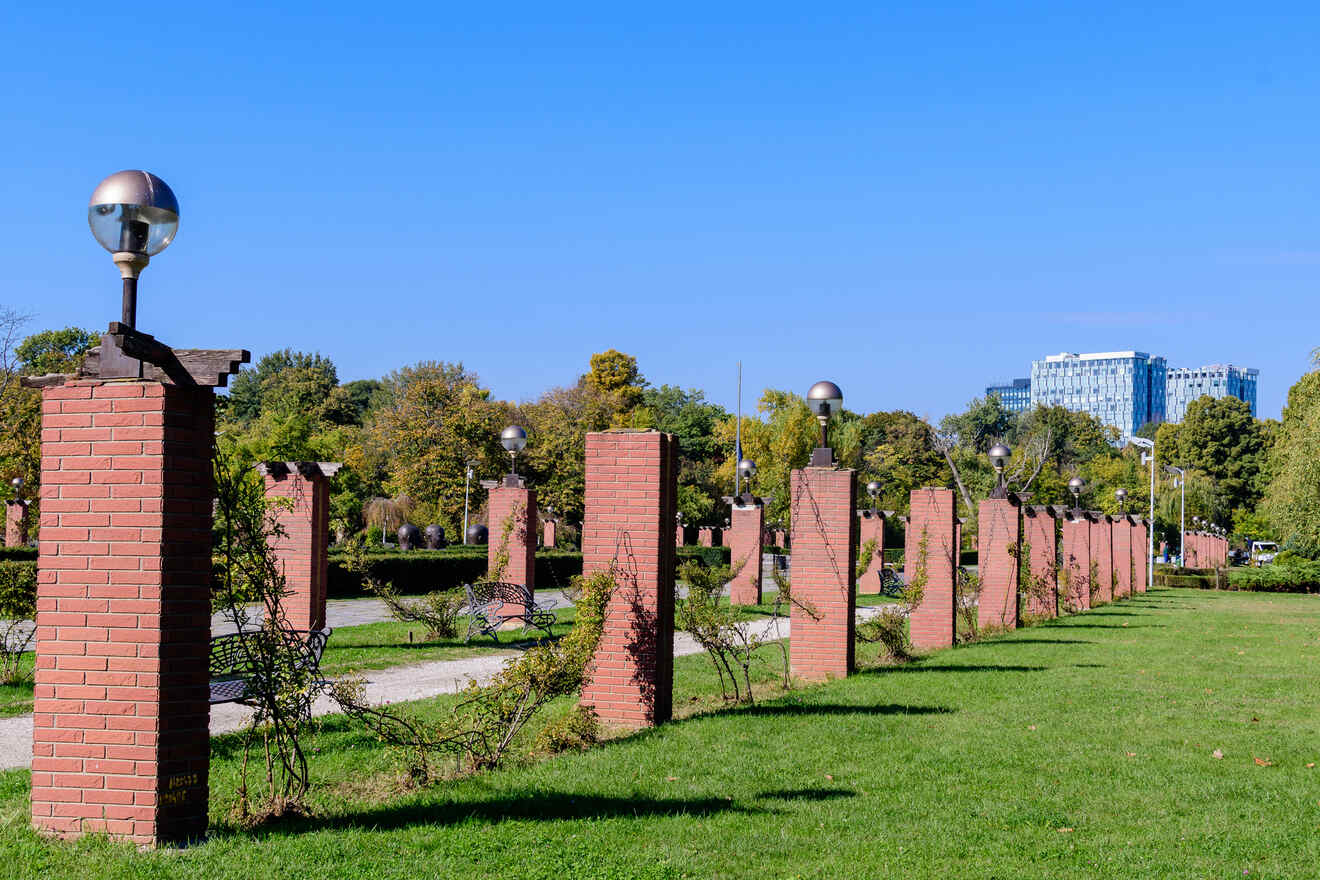 This park is one of the most frequented ones in the city. As you explore its grounds, you'll see the lovely Herastrau Lake and the Japanese Garden, whose pink trees bloom during the springtime (March or April).
That's not it! In Herastrau Park, you will also find bike rental services, or you can go on a boat ride on the lake:
Bike Rental: At the park entrance near the Aviatorilor metro station, which costs 5 Ron (US$1.20) for an hour, or 20 Ron (US$5) for a full day, you will need to bring an ID with you.
PRO TIP: If you're under 16 or over 65, you can rent the bikes for free for 2 hours.
Boat Ride: What better way to enjoy the views of the park than to go on a nice boat ride! The boat looks like a little ship, and it offers a full tour of the lake. The place is open from Monday to Sunday from 8:30 am to 8:30 pm and the costs are:
Adult: 15 Ron (US$3), Family (2 kids and 2 adults): 20 Ron (US$5), Children: 10 Ron (US$2.30), Under 2 years: free
Getting there: From Piata Unirii, take the M2 line to Pipera, and stop at Aviatorilor station, walk for 1 minute, and there you are!
7. Check out some important monuments & take some Instagrammable pictures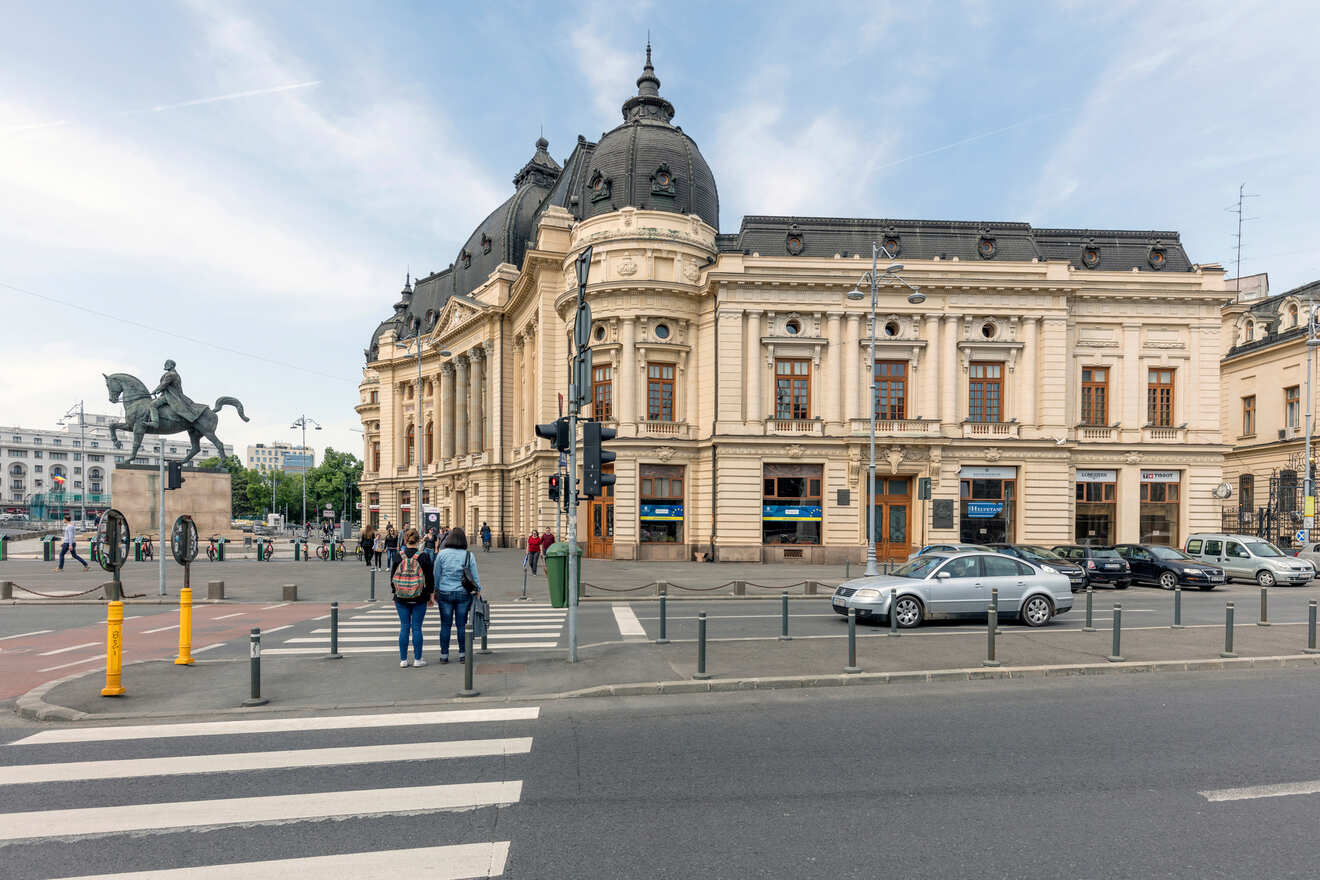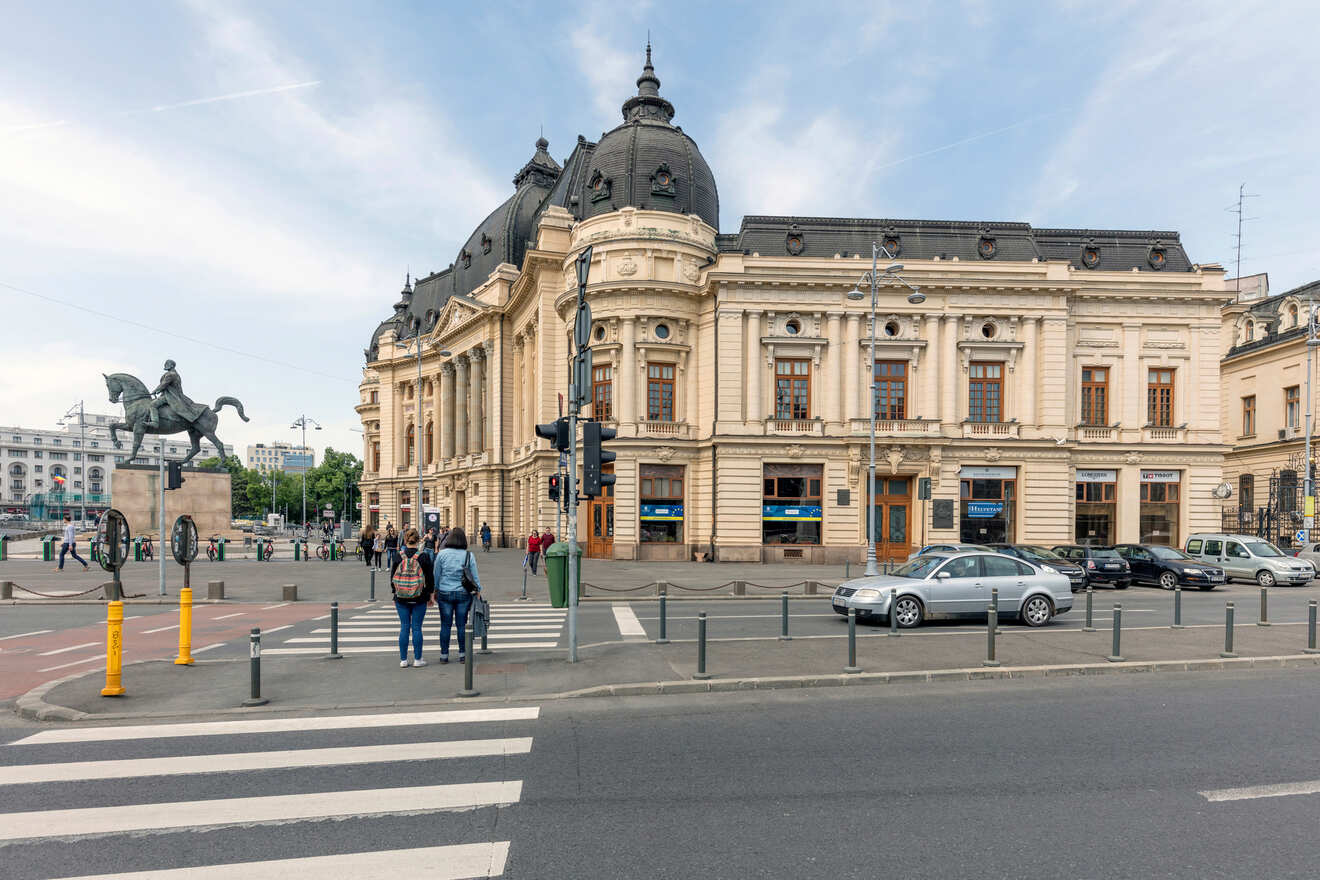 Bucharest has so many unique monuments and spots that you shouldn't miss, plus all of them make great places to take some cool Instagram pictures! I should know. I've probably taken dozens of pics around these places.
Here are some of the best monuments and locations in Bucharest:
7.1 Calea Victoriei (Victoria Avenue)
This major, historic street is located in central Bucharest, and it's home to some of the most amazing buildings in the city, such as the Cantacuzino Palace and CEC Palace.
Over the years, Calea Victoriei (Victoria Avenue) was filled with shops and bars, but its charm was maintained! If you're looking to take some cool candid pictures, you've come to the right place!
Getting there: Take the M2 line from Piata Unirii, and stop at Piata Romana Station, from there just walk 5 minutes
7.2 Athenaeum Romanian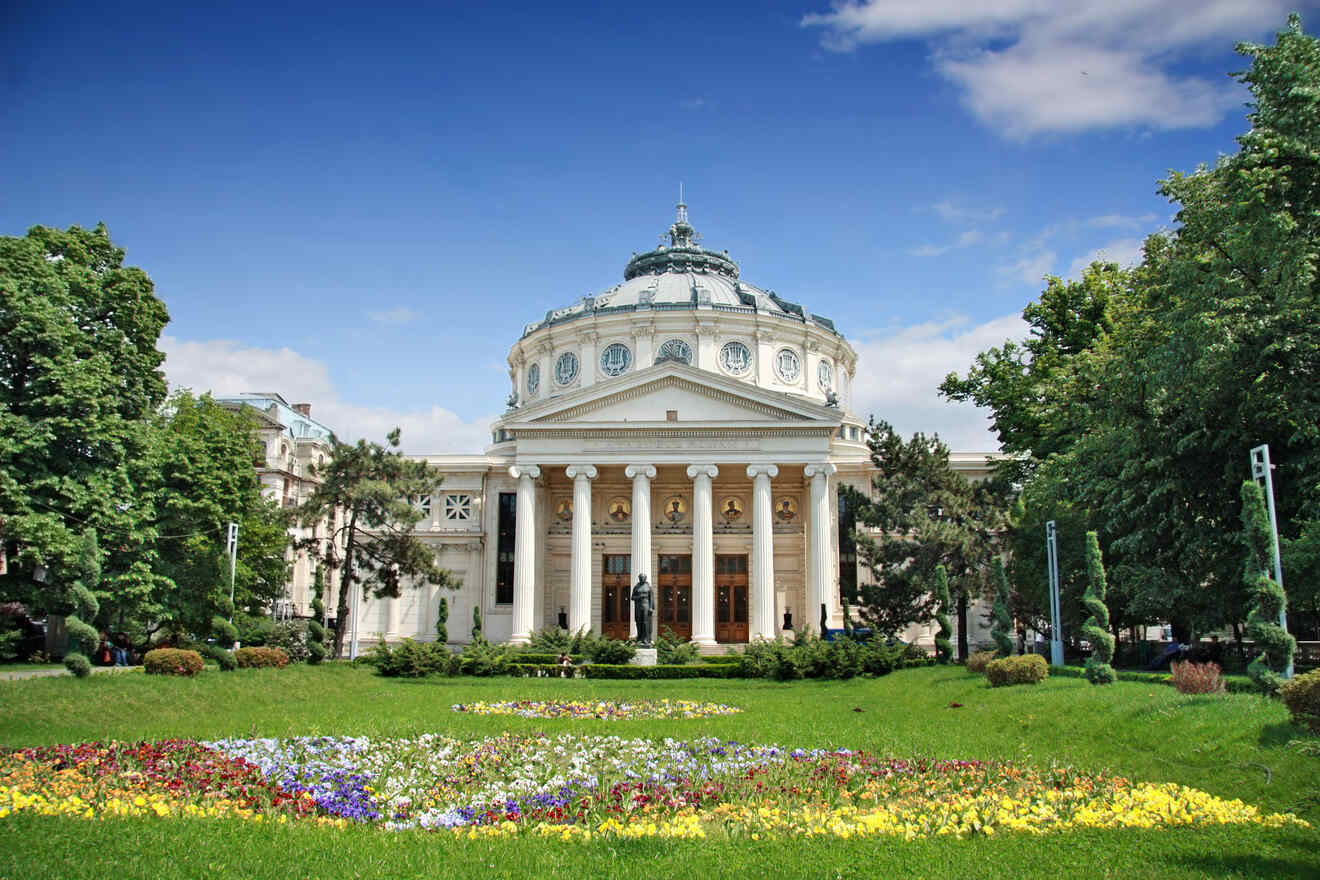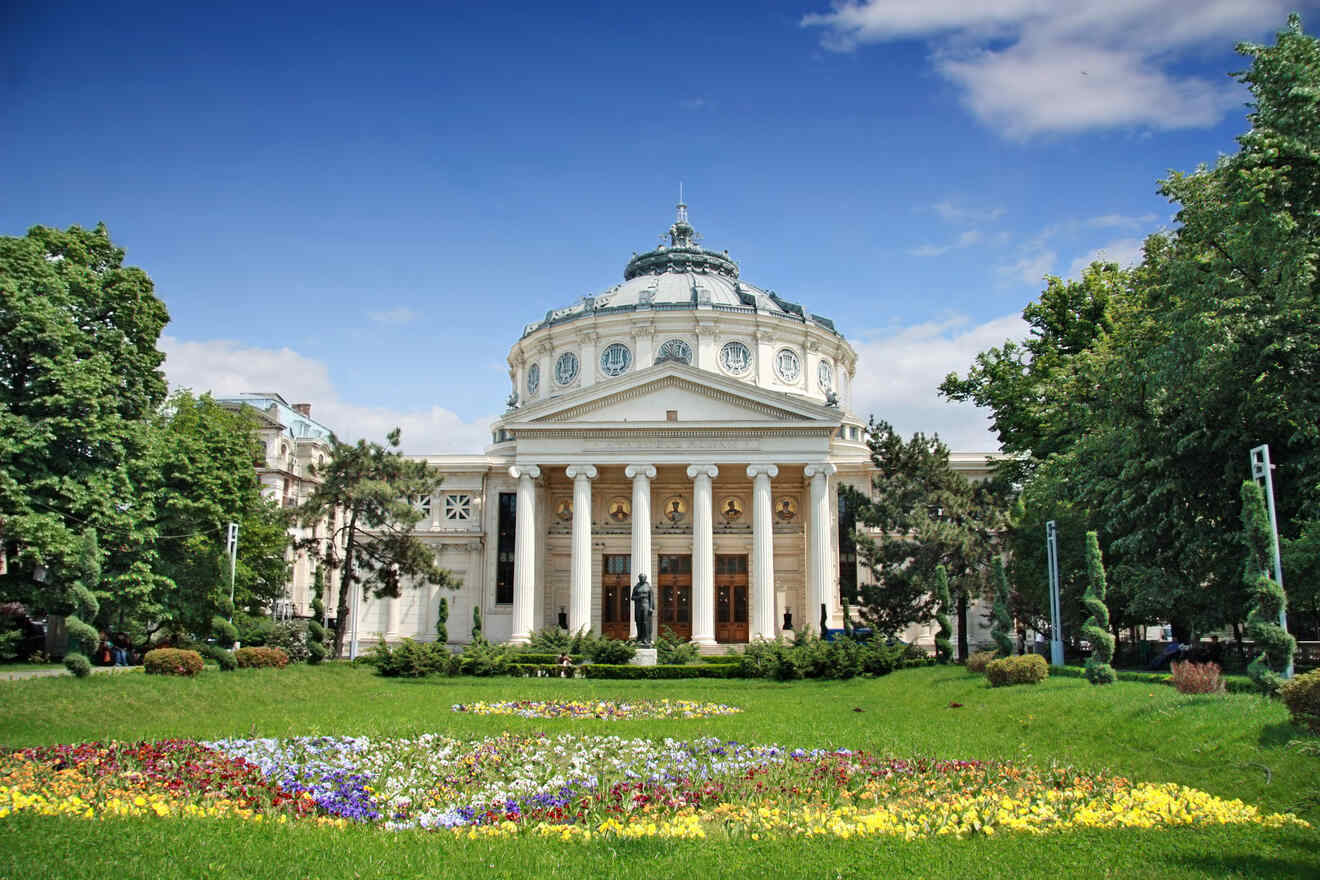 Located near Calea Victoriei (Victoria Avenue), the Romanian Athenaeum is an important landmark in Romanian history! The concert hall is home to the George Enescu Philharmonic Orchestra, and it's usually open for concerts.
PRO TIP: If you want to get the best photos, I recommend coming here as the sun is setting over the city!
NOTE: If you're coming on a Saturday or Sunday, the Romanian Athenaeum may be super crowded, so I recommend coming during the week if you want to get solo shots.
Getting there: From Piata Unirii, take the M2 line and stop at Piata Romana Station, from there you'll have to walk 5 minutes and enter Calea Victoriei (Victoria Avenue) to get to the Romanian Athenaeum
7.3 Union Square Fountains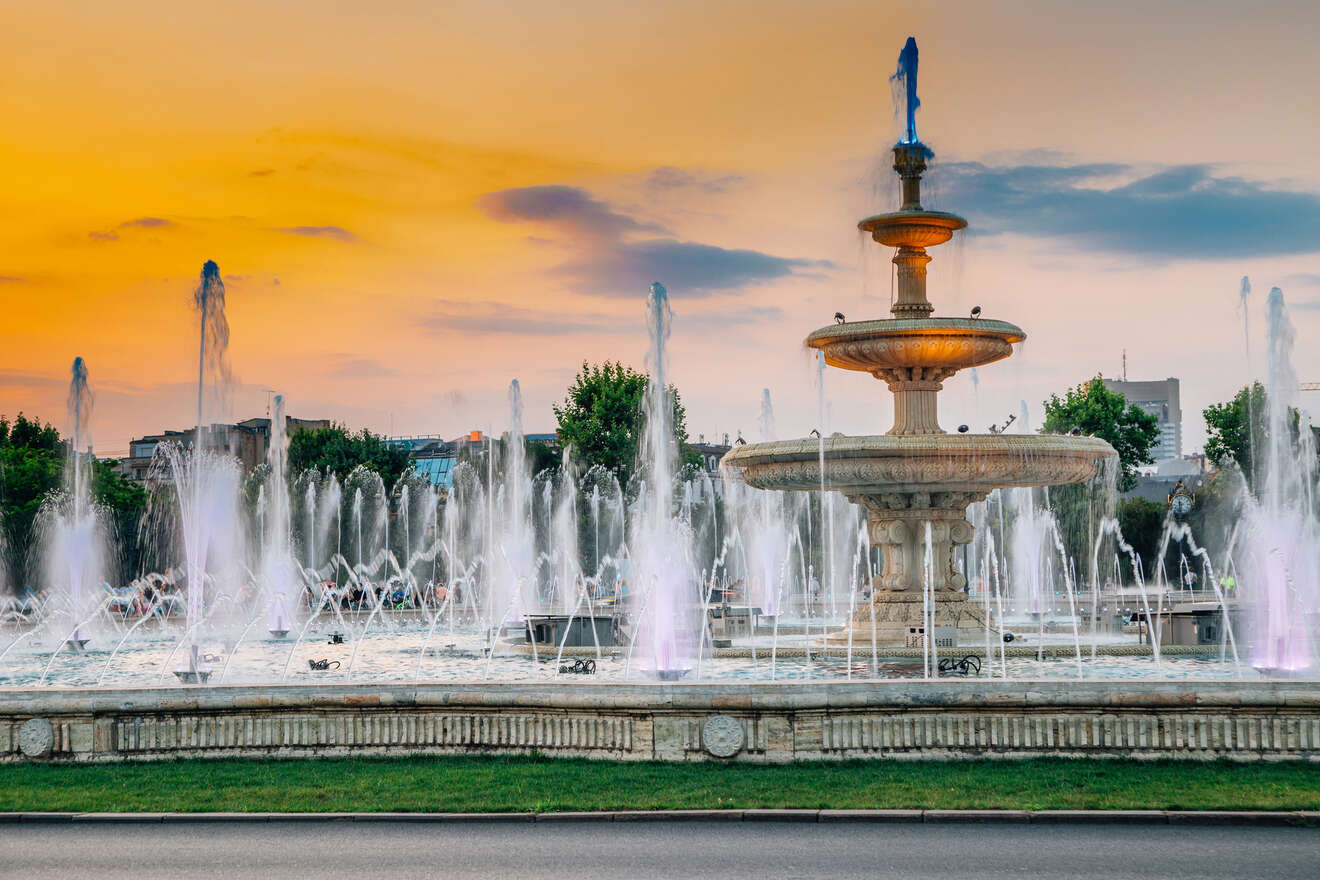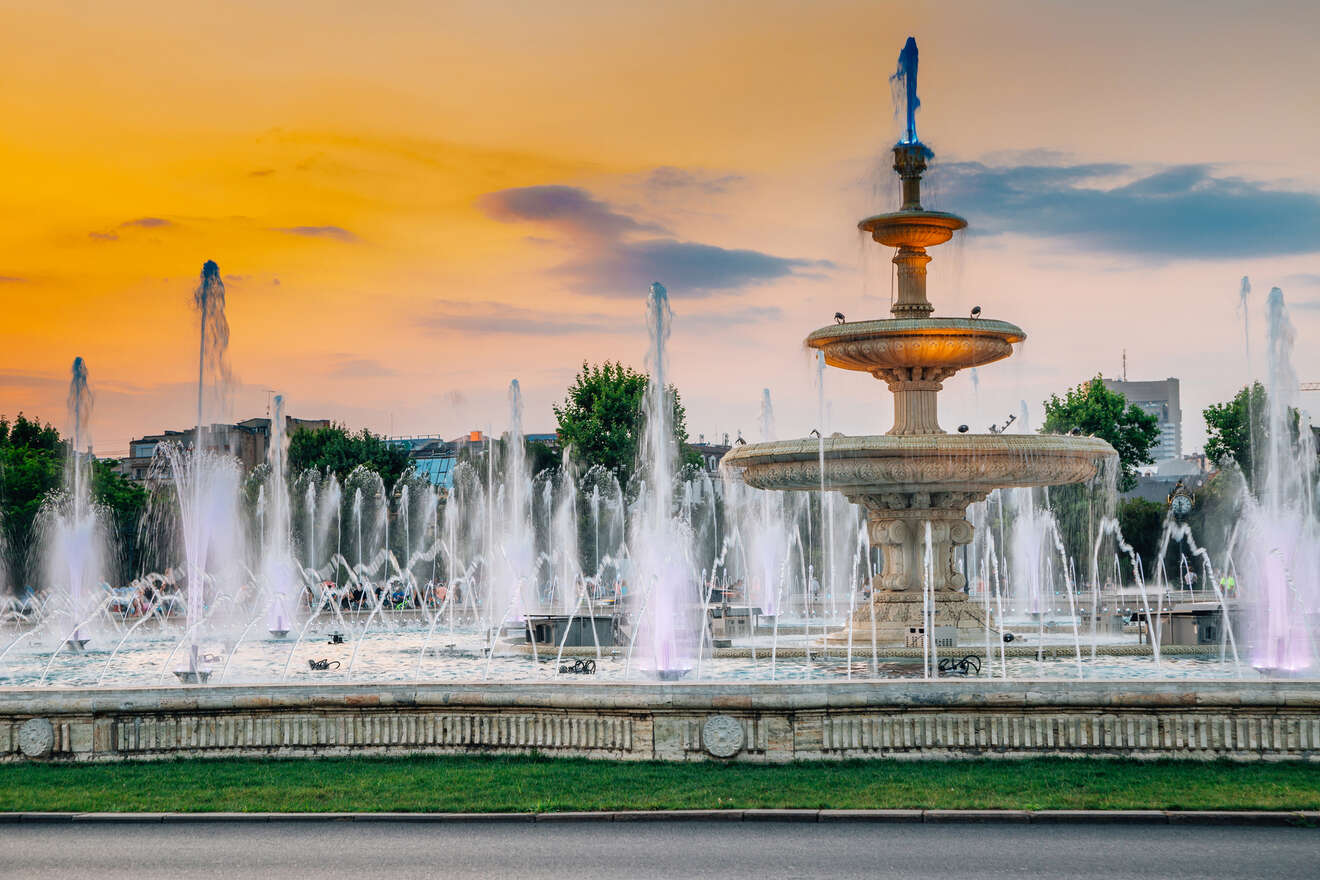 For this spot, you'll get the best pictures at night! Although the Union Square Fountains look pretty cool during the day, I highly recommend visiting this spot when it's dark. That way, you'll enjoy the lighting show as well, and the pictures will come up looking amazing!
The Union Square Fountains is located in the city center, and you'll see them as soon as you exit the Piata Unirii Metro Station.
7.4 Revolution Square
The Revolution Square is super important in Romanian history. This is where the Revolution of December 1989 took place, which marked the end of the dictator Nicolae Ceausescu and communism. As you explore it, you'll find many spots for pictures near the iconic buildings in Revolution Square, such as the Royal Palace (now the National Museum of Art of Romania).
Getting there: Take the M2 line from Piata Unirii and stop at Universitate Metro station, exit the station and then walk 10 minutes, and you'll reach the Revolution Square
7.5 Arch of Triumph (Arcul de Triumf)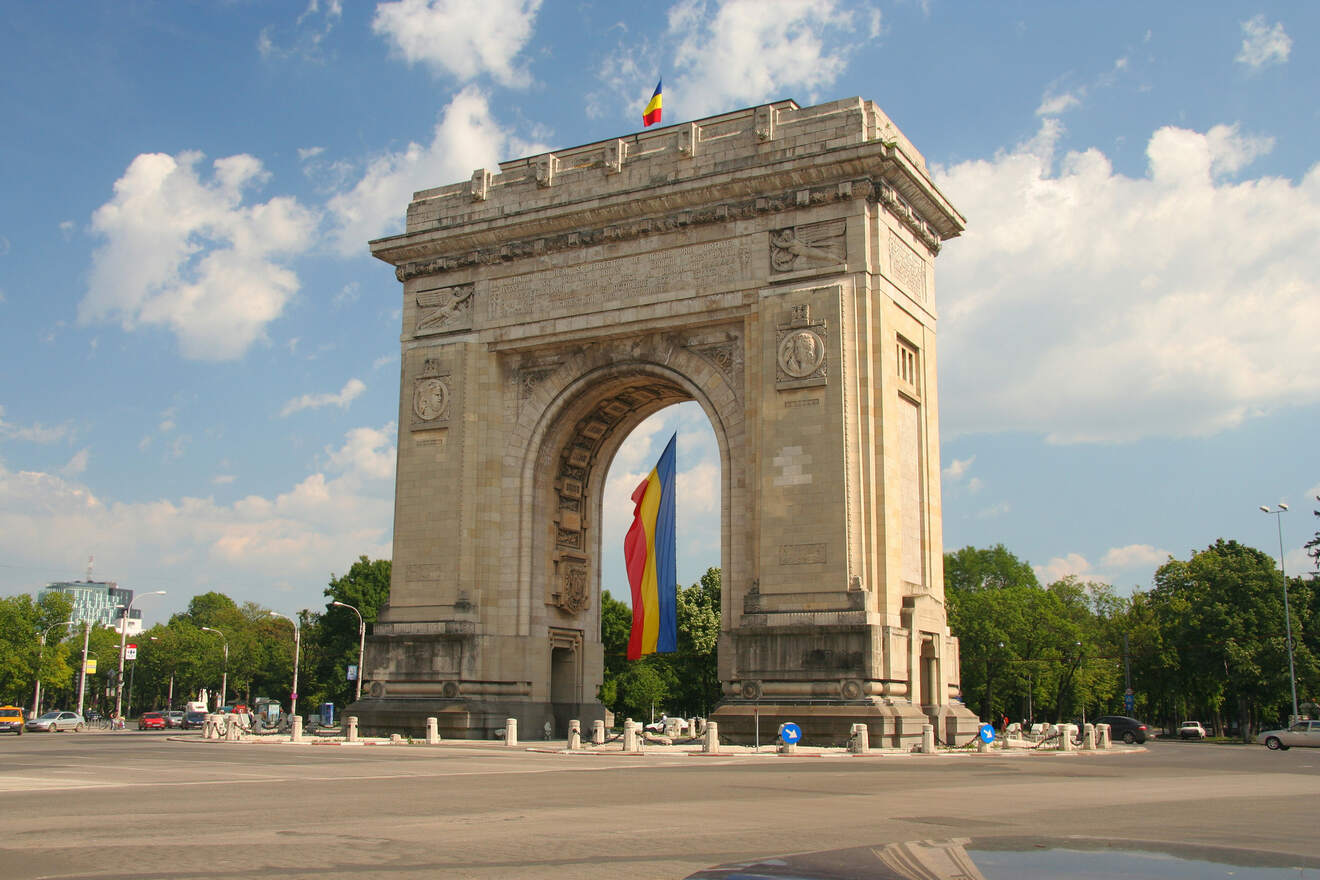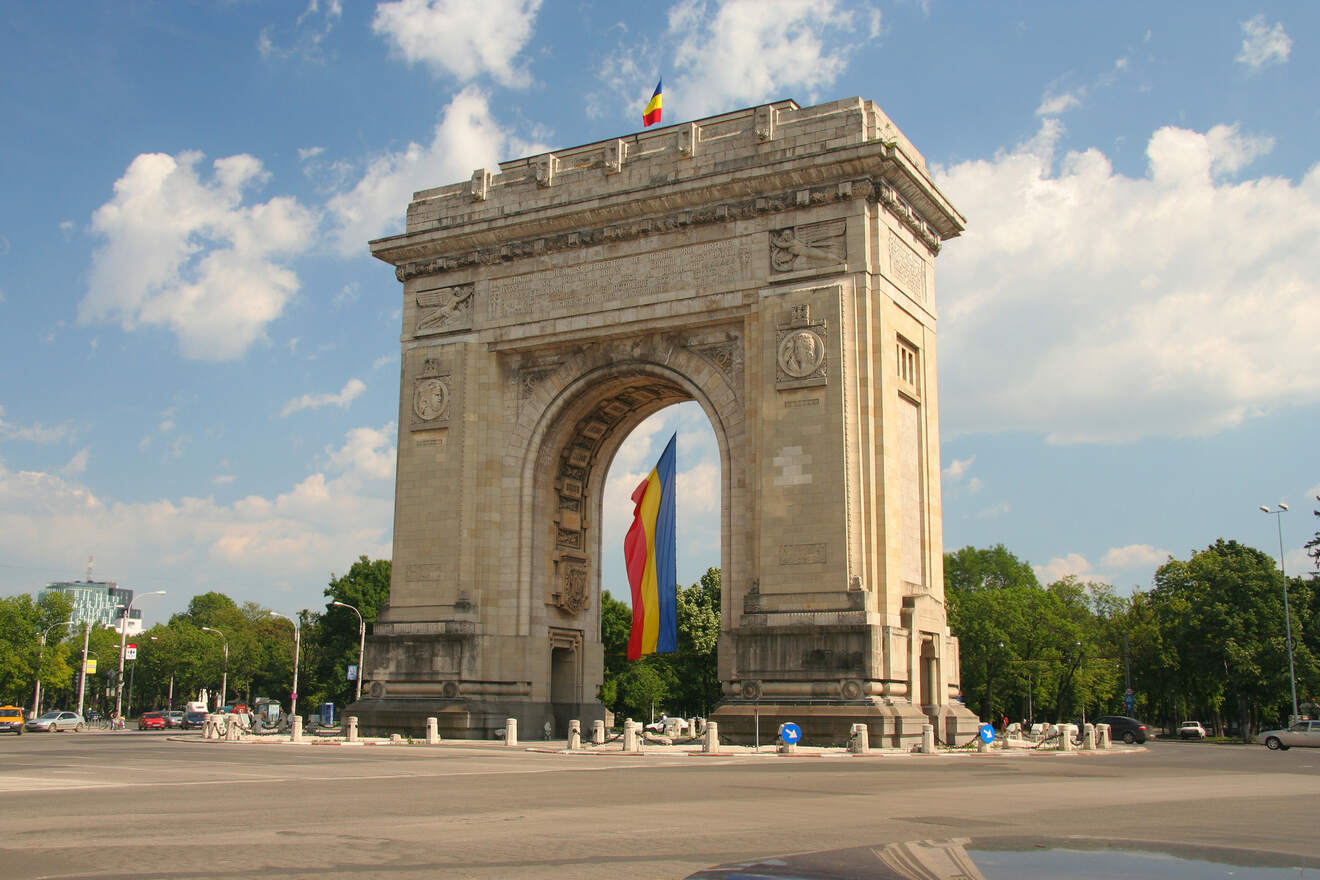 I bet you didn't know Bucharest had an Arch of Triumph (Arcul de Triumf) which resembles the one in Paris, quite a lot I would say! You can't leave the city without taking a picture here! It represents a symbol of Romain's Great Triumph of 1918.
Getting there: Take the M2 line from Piata Unirii and stop at Aviatorilor Metro station, exit the station and then walk for 15 minutes to reach the Arch of Triumph (Arcul de Triumf).
| | |
| --- | --- |
| 🤩 Range of activities: | Large |
| 💯 Top attraction: | Palace of Parliament |
| 🖼️ Best museum: | The National Museum of Art |
| 🍩 Must-try food: | Papanasi |
| 🍹 Nightlife: | Freddo Bar & Lounge |
| 👶 Best attraction for kids: | National Museum of Natural History |
| 🏛️ Top monument to see: | Romanian Athenaeum |
| ⛲ Best free activity: | Union Square Fountains show |
Practical information about Bucharest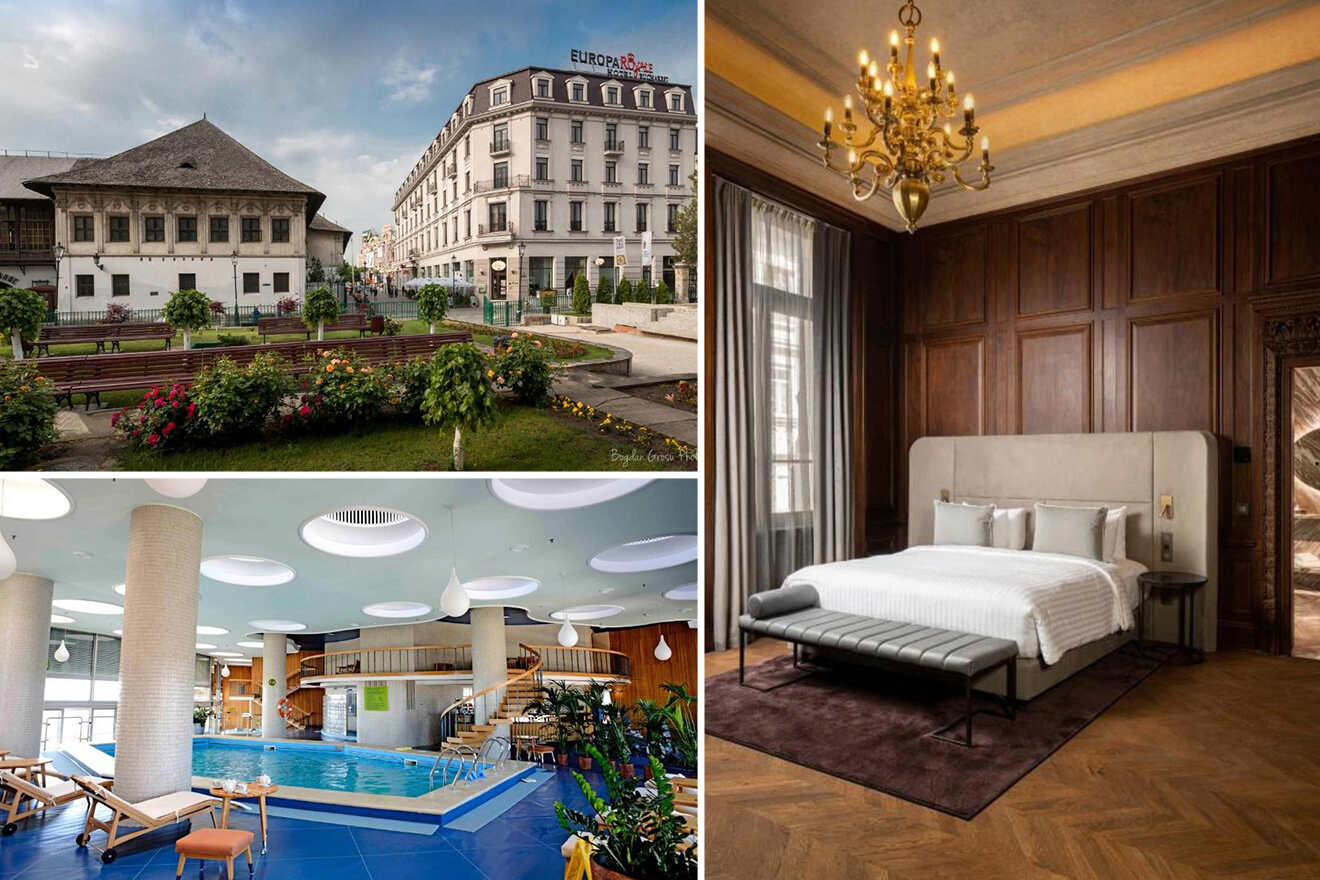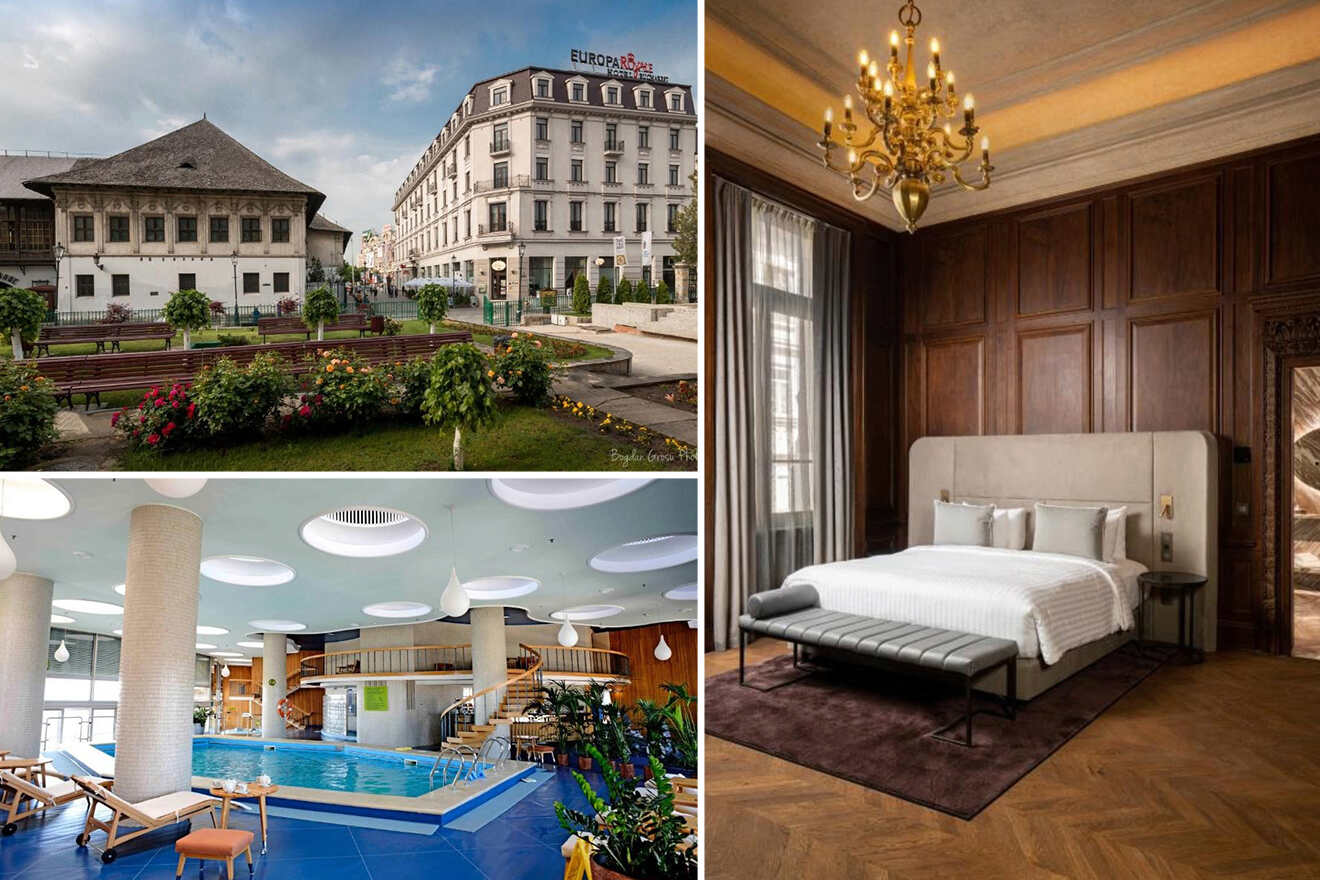 Now that you're up to date with all the things to do in Bucharest, let's get to the more serious stuff, like how to get around Bucharest and which are the best hotels in the city.
Where to stay in Bucharest
Luxury (US$240 and up)
The Marmorosch – A 5-star accommodation located near the Old Town of Bucharest, that has a restaurant and a fitness center. The hotel's design looks incredible, and the views are pretty cool as well!
Europa Royale Bucharest – Located in a 19th-century building in Bucharest, this luxury hotel offers some amazing views of the city's central area! So order some room service, a cup of coffee and enjoy some people watching from your room's balcony!
Mid Range (US$180 – US$200)
Intercontinental Bucharest – Enjoy the stunning views from the comfort of your room that has ceiling-to-floor windows! This accommodation is located in the central area and it has a restaurant and a fitness center. Relax with a swim in the pool or with a massage at the spa center.
JW Marriott Bucharest – A modern hotel that has 6 restaurants on-site, a convention center, a shopping gallery, and a casino! Never a dull moment here! Try a new restaurant each day, go shopping in some stores, and have fun at the casino!
Budget (up to US$120)
Capitol Hotel – Situated in a 1901 building, this hotel is close to many city attractions, and it has a restaurant on-site. The rooms have great views of the city, so order some room service if you're not in the mood to head out and chill.
Grand Boutique Hotel – I love the vintage decor of this amazing hotel! The antique furniture gives such a classy note, and the rooms look like they belong to the royal family! The accommodation has a restaurant on-site, and it offers free wifi.
How to get around Bucharest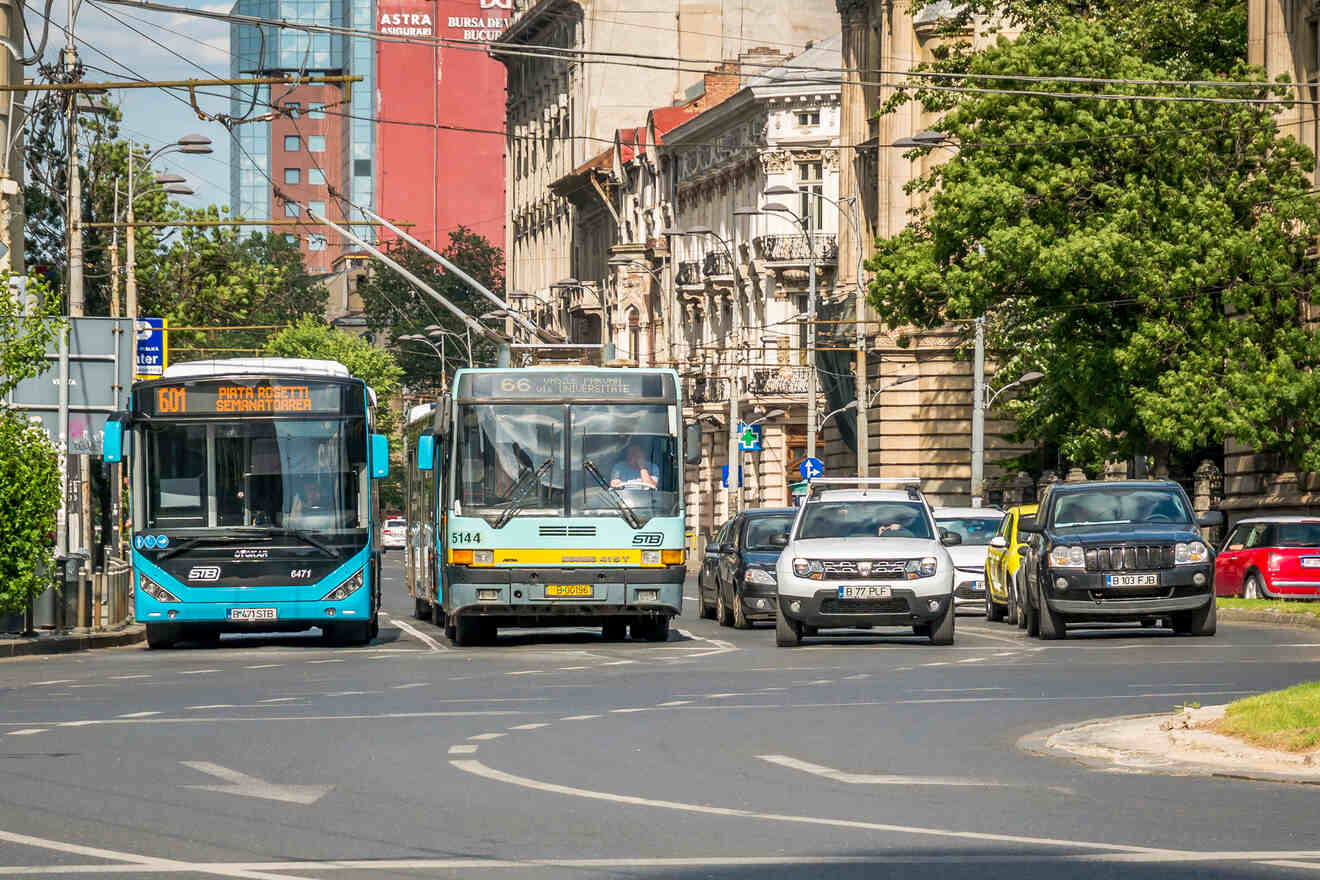 Public Transport
I recommend using the metro as much as you can, although the buses run often, the drivers don't usually speak English so it might be difficult for you if you have any questions.
Even though there are signs in English in some areas, the announcements are usually just in Romanian, so you'll probably need to figure out on your own where you need to stop if you're using the bus or tram. Still, if you're on the metro, you should be able to check the maps onboard.
PRO TIP: Avoid the rush hour between 7:30 am, and 9:30 am and at the end of the day between 5:00 pm and 7:00 pm.
Metro – The Metro is called Metrorex in Bucharest, and it usually runs pretty smoothly, although there aren't as many trains as during the week during the weekend. While you don't have to buy a physical ticket since you can pay contactless with your card, I highly recommend either getting a 72 hours pass which is 20 Ron (US$5), or a weekly pass if you're staying for a longer time, which is 30 Ron (US$7).
Buses & Trams – Although Bucharest is a pedestrian-friendly city and you can walk to most attractions or take the metro, the bus and tram systems can prove to be helpful at times. The bus and tram stations are marked and easy to notice, however, you will need to buy a ticket from stalls near the station but keep in mind that not every station has a stall.
Taxi and Uber or Bolt
Before Uber and Bolt, everyone in Bucharest used a taxi. However, the times have changed, and people no longer use taxis as they charge more, and sometimes you can only pay cash.
I recommend using Uber and Bolt if you're traveling to areas far from the center as they're super cheap.
PRO TIP: Avoid using Uber and Bolt during rush hour (7:30 am and 9:30 am and 5:00 pm and 7:00 pm), the city gets super busy at that time, and it can take you even an hour to get to somewhere that's pretty close meaning it will cost much more.
Money & currency in Bucharest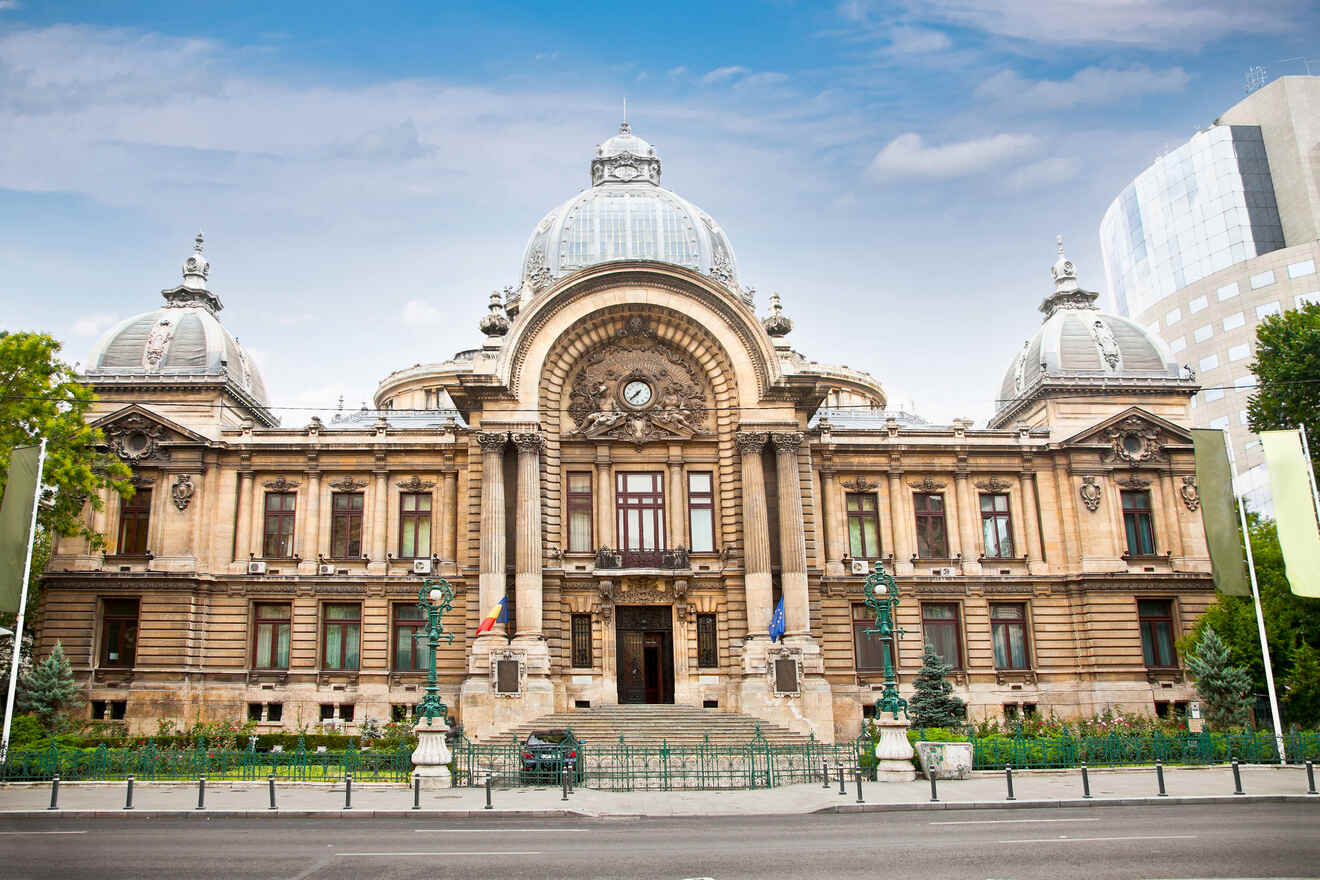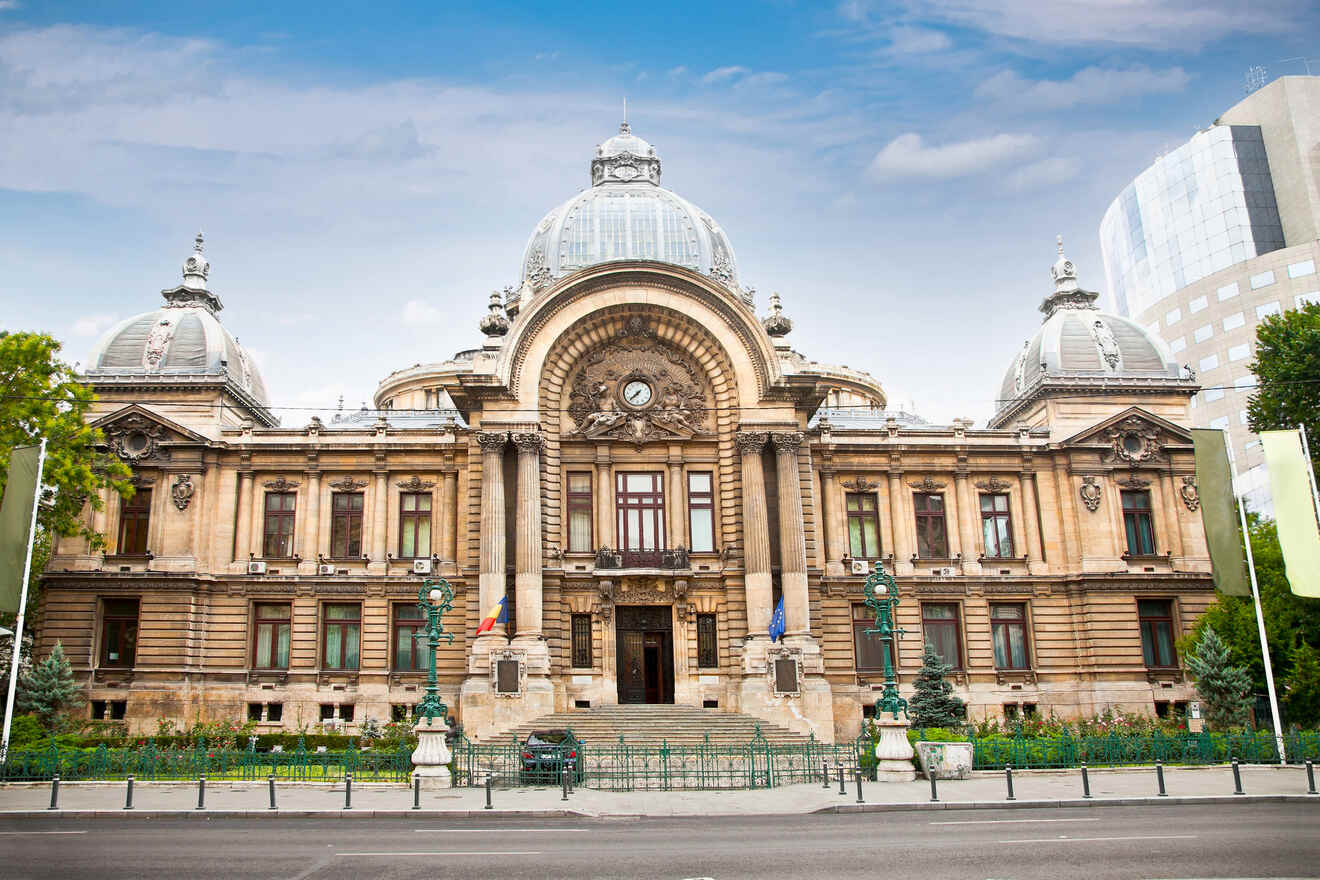 Although Romania is part of the European Union, the country has its currency, the Romanian Leu (Ron in plural), and the common abbreviation is Ron.
You might need cash during your trip if you go to a market or to really small shops, so I recommend exchanging your money at an exchange office or bank. You can also withdraw money with your card from an ATM, but there might be some extra fees that you'll have to pay if you have a foreign card.
All about sim cards
You can buy your pre-paid sim card from the provider's stores (Orange, Telekom, Vodafone, Digi Mobil) which you'll find all over Bucharest or in shopping centers (Afi Palace, Sun Plaza, Baneasa, Park Lake). Just ask for an English-speaking representative, and they'll help with getting a new sim card. You can also buy sim cards from newsstands and kiosks.
You will need proof of identification, so bring your passport. The average price is between (30 Ron (US$7) and 45 Ron (US$10) for calls, texts, and 4GB of data.
There are 4 prepaid sim card providers for you to choose from:
Orange
Telekom
Vodafone
Digi Mobil
I highly recommend getting a Vodafone sim card, they usually offer the best connection and the internet runs smoothly no matter where you are.
Frequently Asked Questions About Bucharest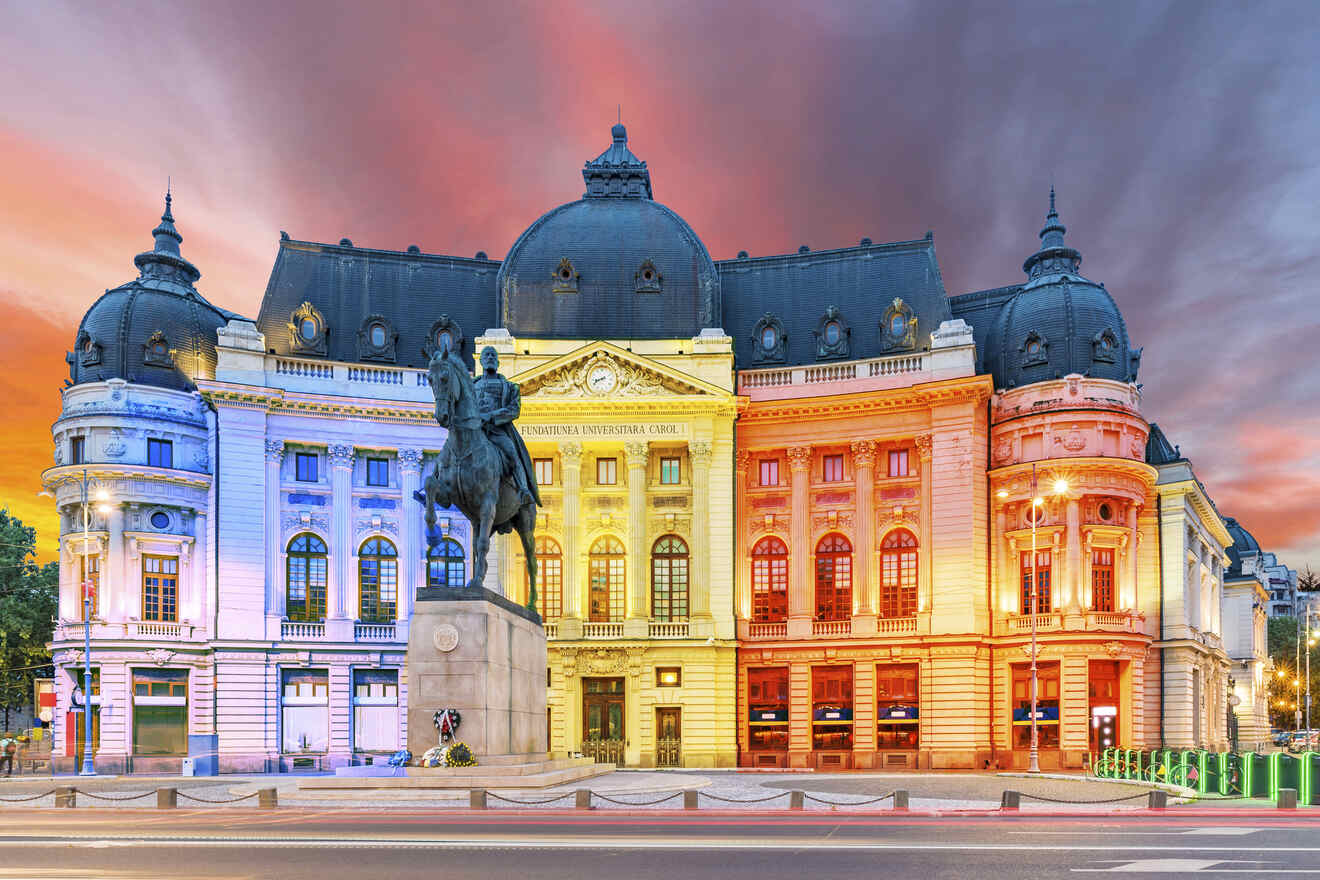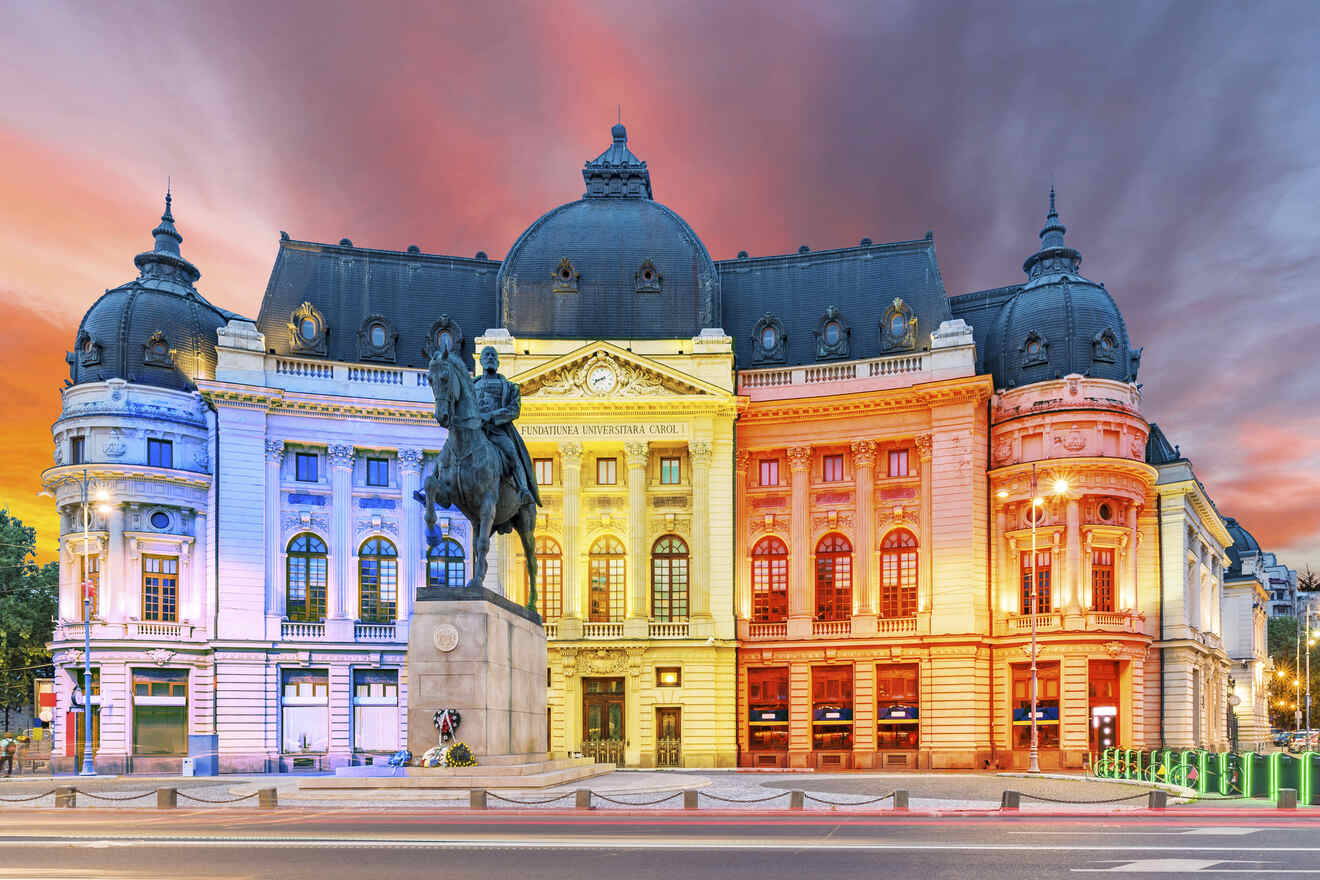 🤔 Is Bucharest worth visiting?
Yes, Bucharest is a stunning city that you shouldn't miss! Its architecture, the mixture of old historic buildings and the new modern ones, and the fun nightlife make Bucharest a top destination for your holiday. 
🚶‍♀️Is it safe to walk around Bucharest?
Yes, Bucharest is one of the safest cities in Eastern Europe, however, you should be careful not to walk alone in secluded areas too far from the center.
🍹 Is Bucharest a party town?
Yes, Bucharest is known for its cool party scene, music festivals, and nightclubs that keep the party going for 2 days straight! 
🧳 What are the best day trips from Bucharest?
🤪 What are the unusual fun things to do in Bucharest?
Visit the famous Bellu Cemetery, where most of the most famous Romanian writers are buried, or try to eat "brain food," a dish of pork brains fried in a bread crust at La Gil Restaurant.
👨‍👧‍👦 What should I do in Bucharest if traveling with kids? 
Conclusion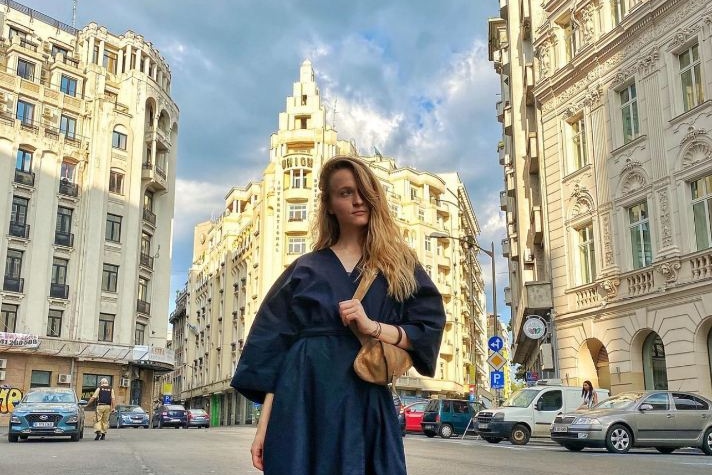 What an amazing trip! I hope this post helped you decide which are the best things to do in Bucharest for you! As you've noticed there's a wide range of activities and places to visit suited for every type of traveler! One of my favorites is the Romanian Athenaeum, a concert hall home to the George Enescu Philharmonic Orchestra.
At first, I thought my stay in Bucharest would be super short, but as it turns out, this city has a way of making you want to spend a lot more time here! And I'm sure that once you discover its magic, eat the delicious food and party in its clubs, you'll want to spend a few more days here (or years in my case)!
Bucharest has become a super important holiday destination, and the city gets super packed at times, so you might want to book your tours early as it may even save you some money!
Let me know in the comments below if you have any more questions about the attractions in Bucharest and I'll be happy to answer them!
Safe Travels,
Victoria
---
Pin it for later!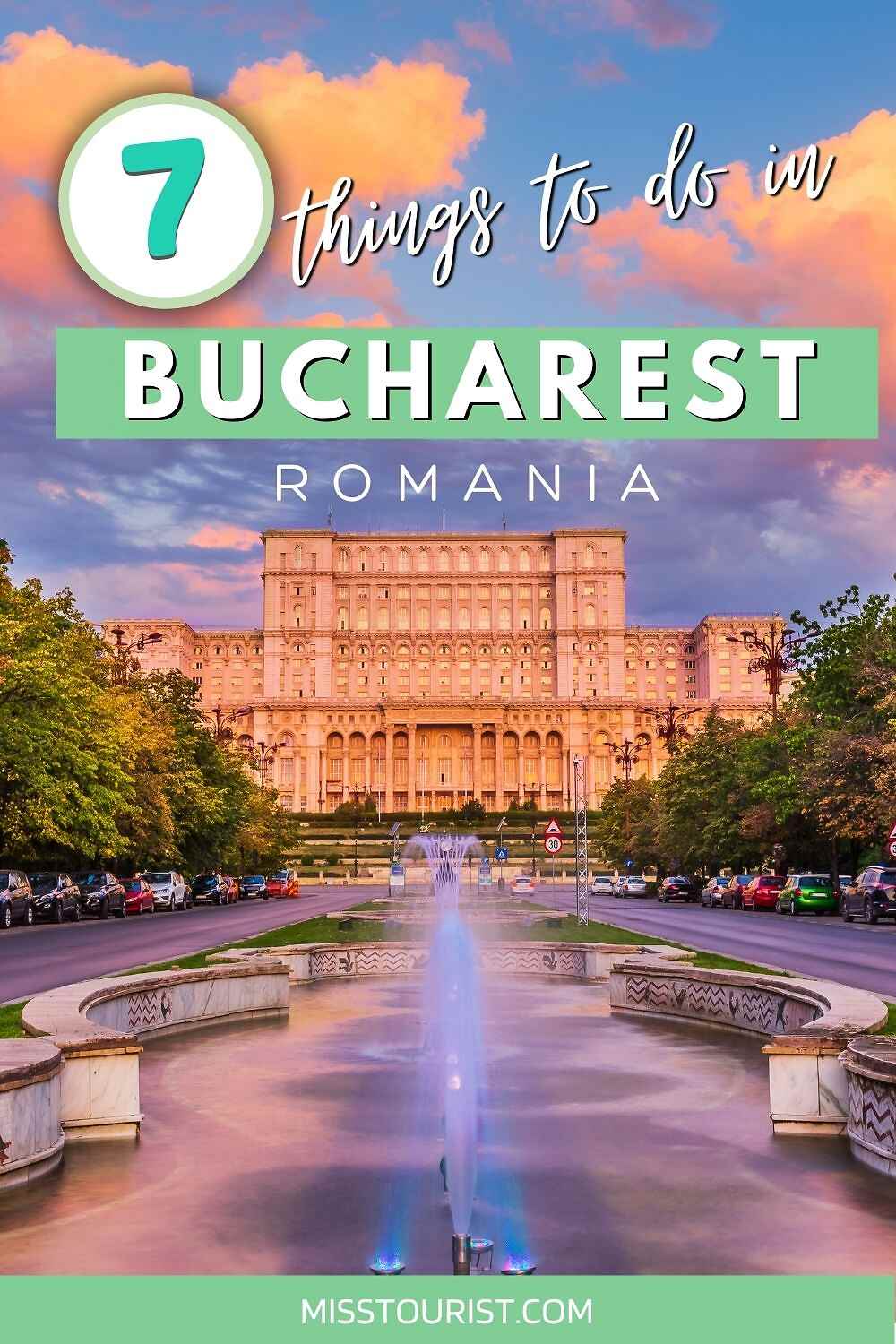 Pin it for later!