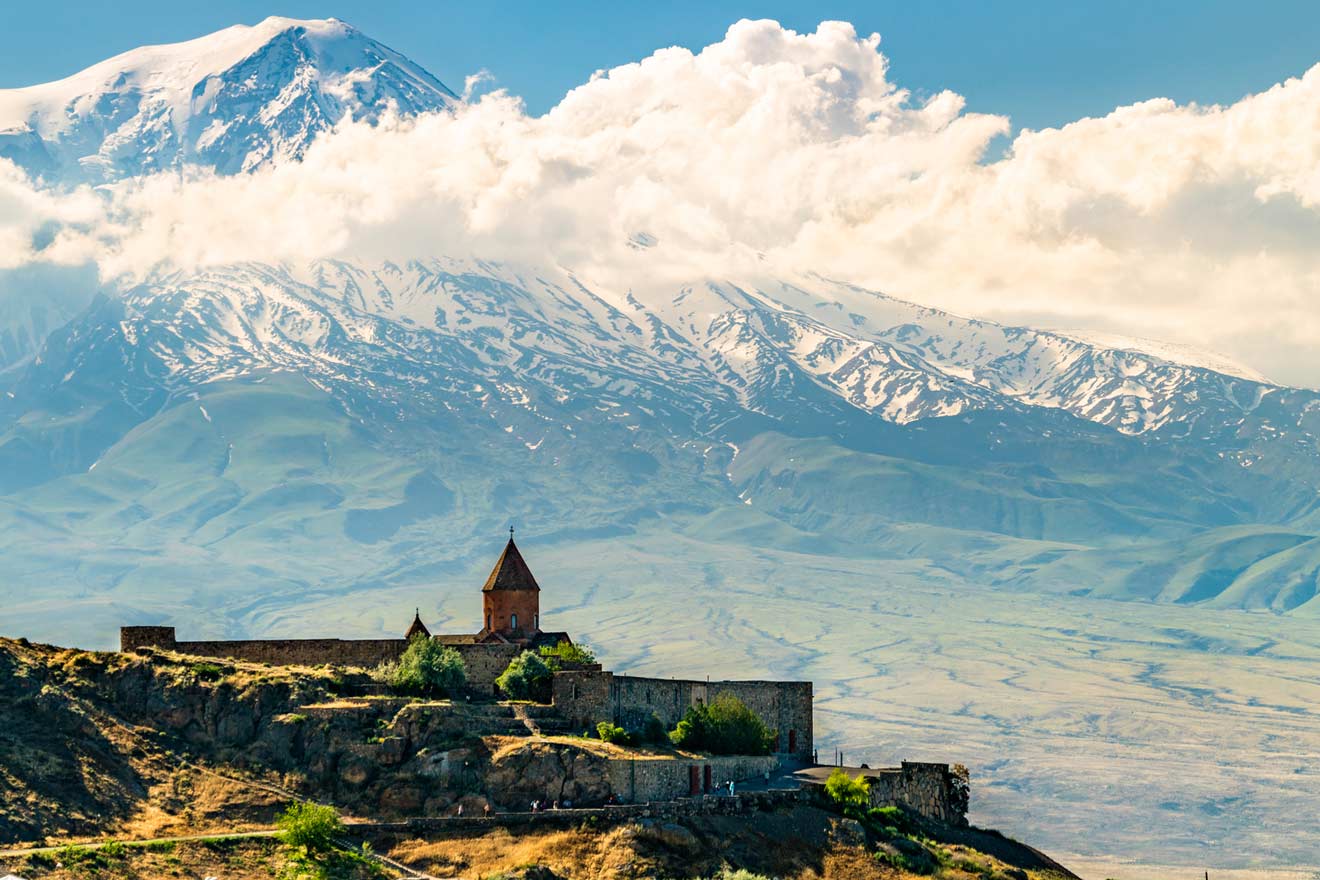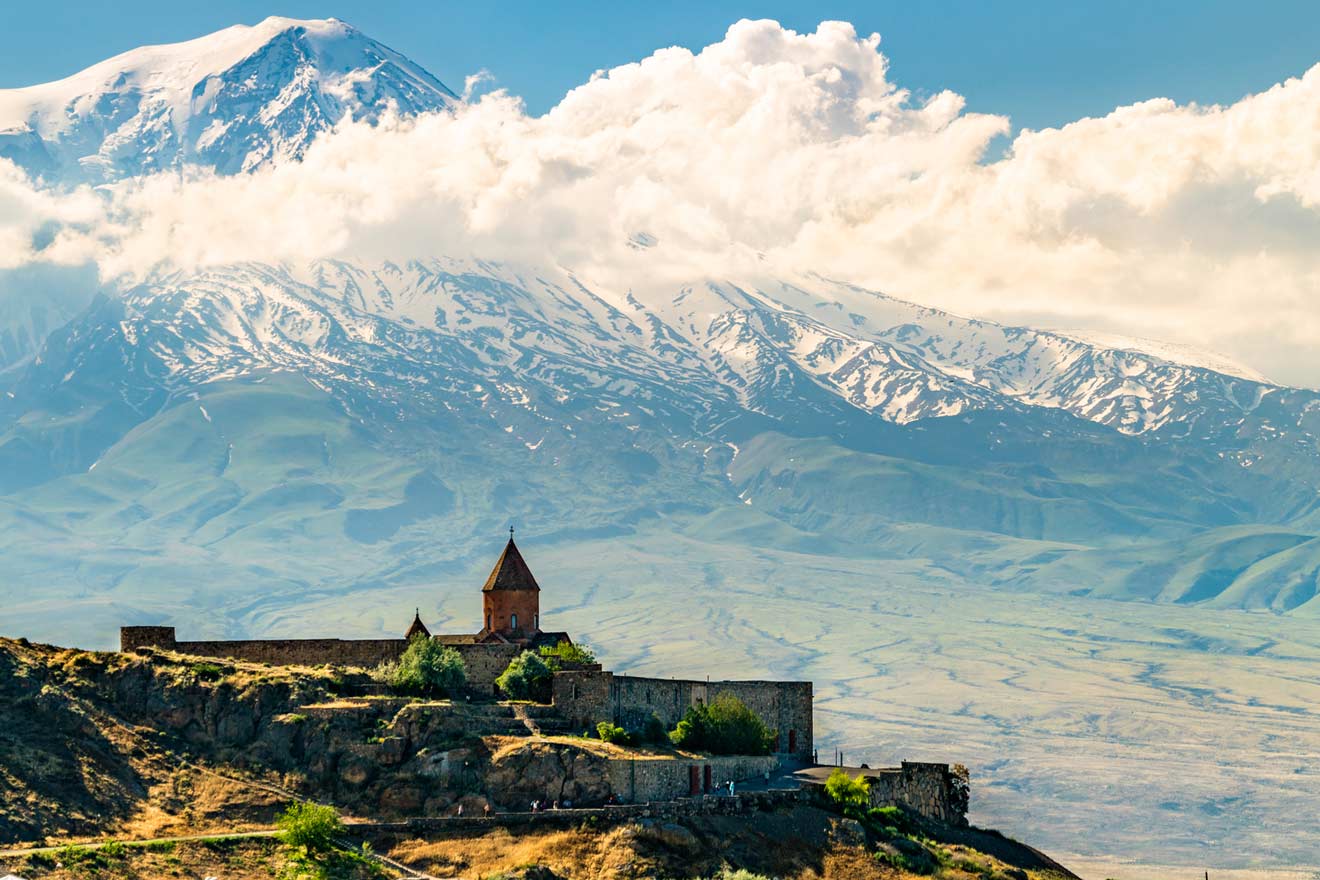 Incredible mountainous landscapes, medieval churches, and delicious food! It's easy to see why more and more tourists are booking tickets to Armenia!
If you're looking for the best places to visit in Armenia, then get ready because I've looked through long lists and selected the top attractions that no one who comes to the country should miss!
But that's not it, I also added a section with the best towns where to stay in Armenia and gave some incredible hotel options for each place!
NOTE: Armenia is a safe country but make sure you avoid venturing off in the Nagorno Karabakh region, which is a disputed territory by Armenia and Azerbaijan
I've noticed that more and more tourists are going to Armenia, so if you're also planning a trip, make sure to book your tours, tickets, and hotels in advance so you won't risk waiting in lines or missing out on a specific tour.
Let's start!
If you are in a hurry
I know some of you don't have the time to read this whole post so here is a quick summary of the main points.
Here are the main things to book in advance:
And here are the best hotels: The Alexander (Luxury), Phoenix Boutique Hotel (Mid-range), Ris Central Apartments (Budget)
1. Explore Yerevan, the capital city of Armenia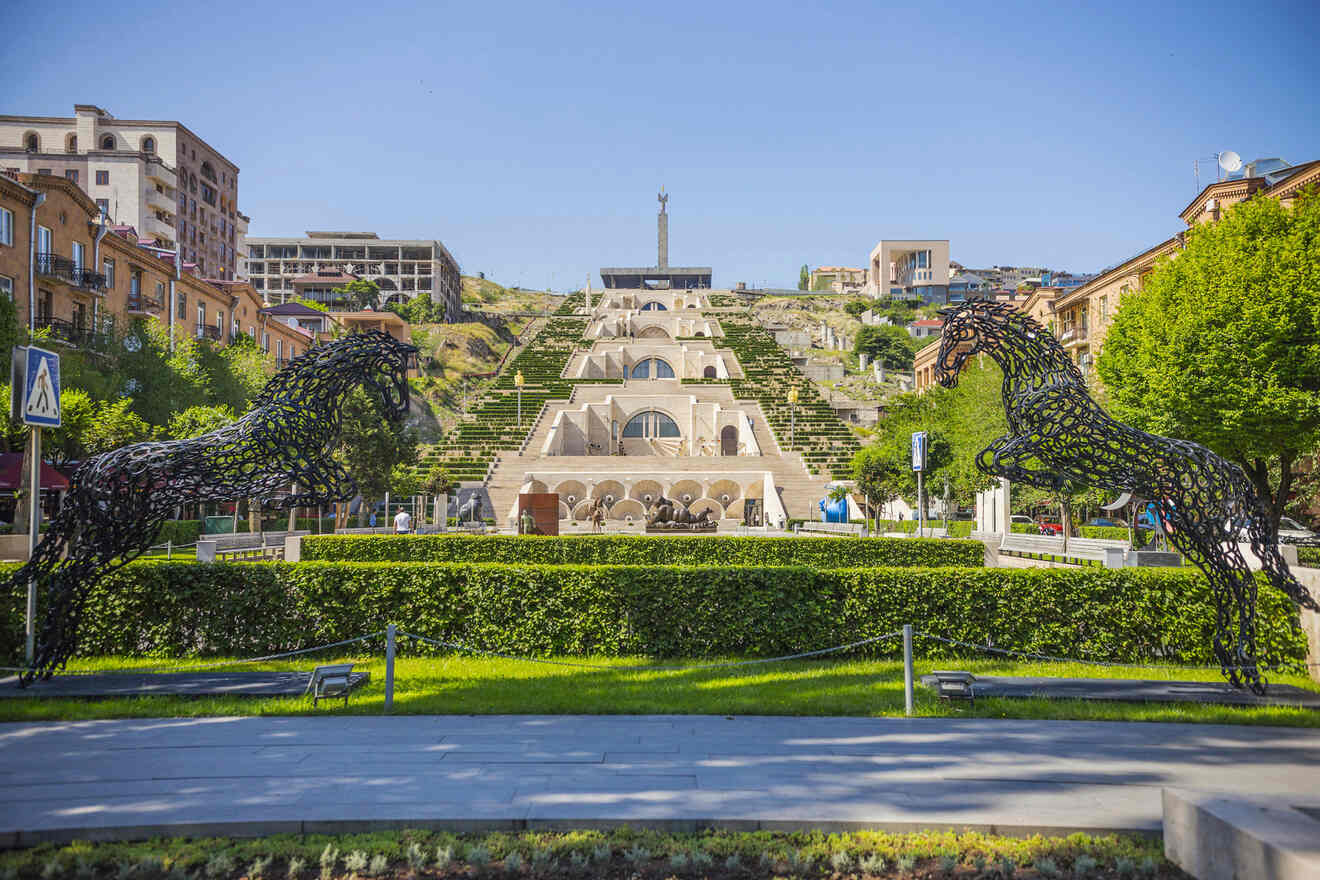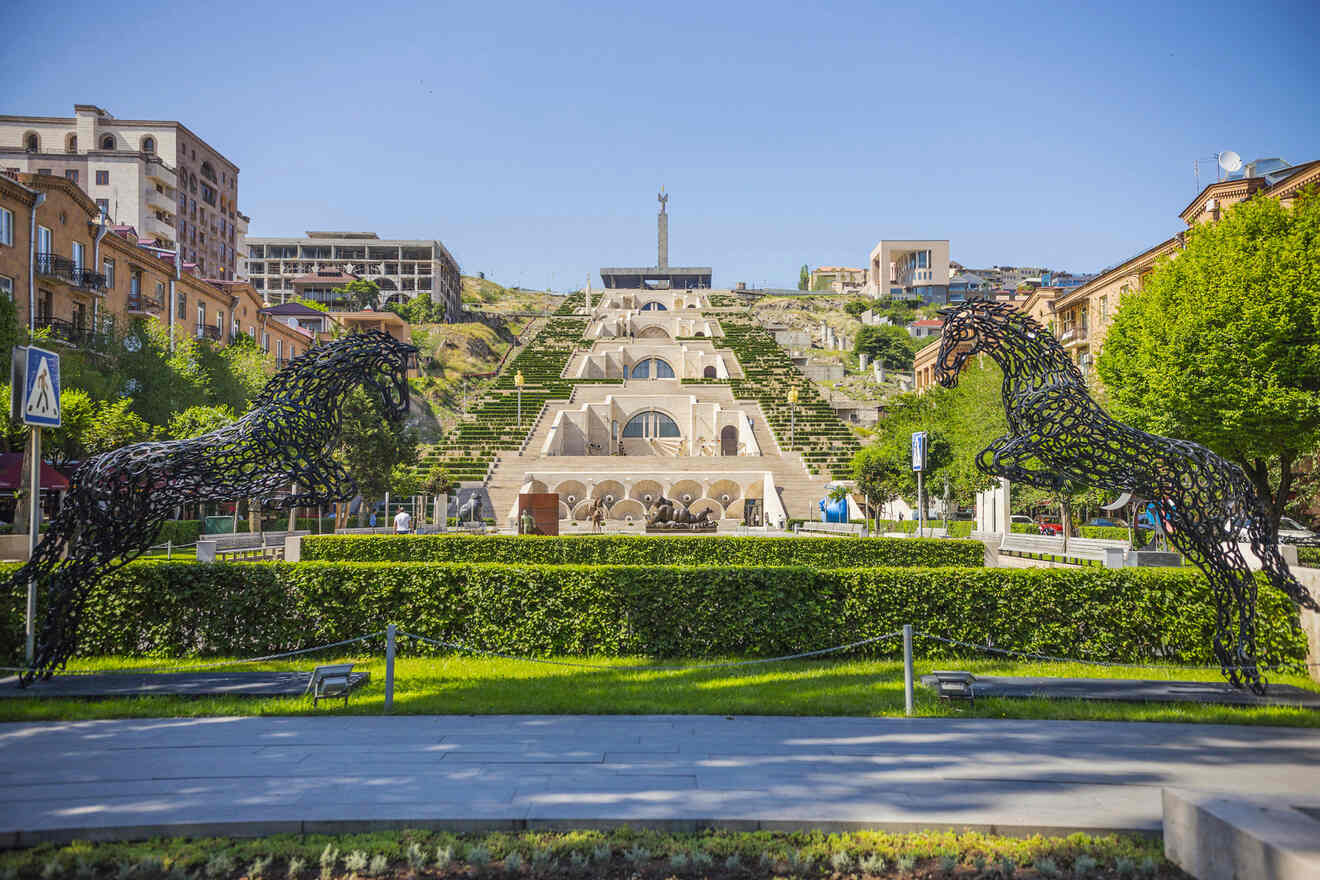 You'll probably start your trip in Armenia's capital city and its largest town, Yerevan!
Old inscriptions show Yerevan in 782 BC, which makes the city older than Rome!
Although you'd expect to find ancient buildings and architecture, Yerevan is pretty modern because the Soviets rebuilt the entire city in the 1920s. However, this place is still worth visiting for its cultural side and churches.
Called the "pink city" because of the volcanic tuff that was used when building its buildings, which creates this pinkish aesthetic, Yerevan is a great place to just walk around and indulge in Armenian food.
I highly recommend joining a walking tour in a place so rich in history like Yerevan. It's the best way to get as much insight into the city and also see most of the main attractions.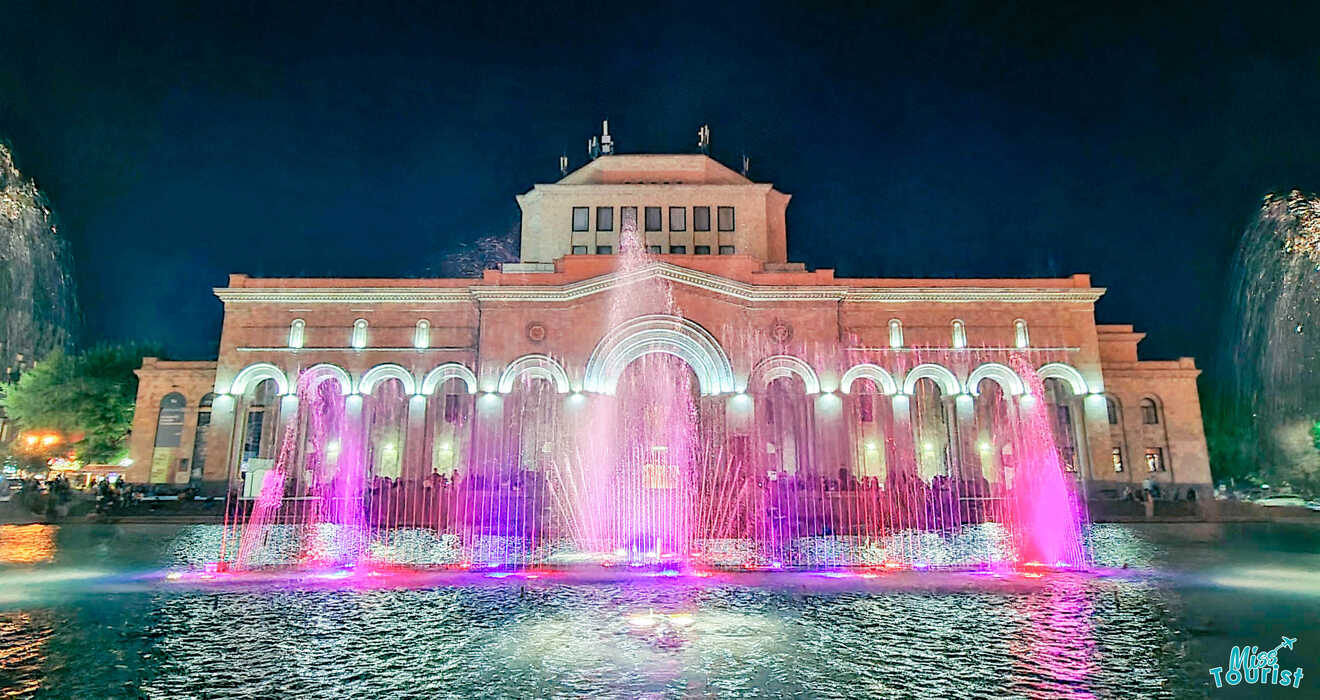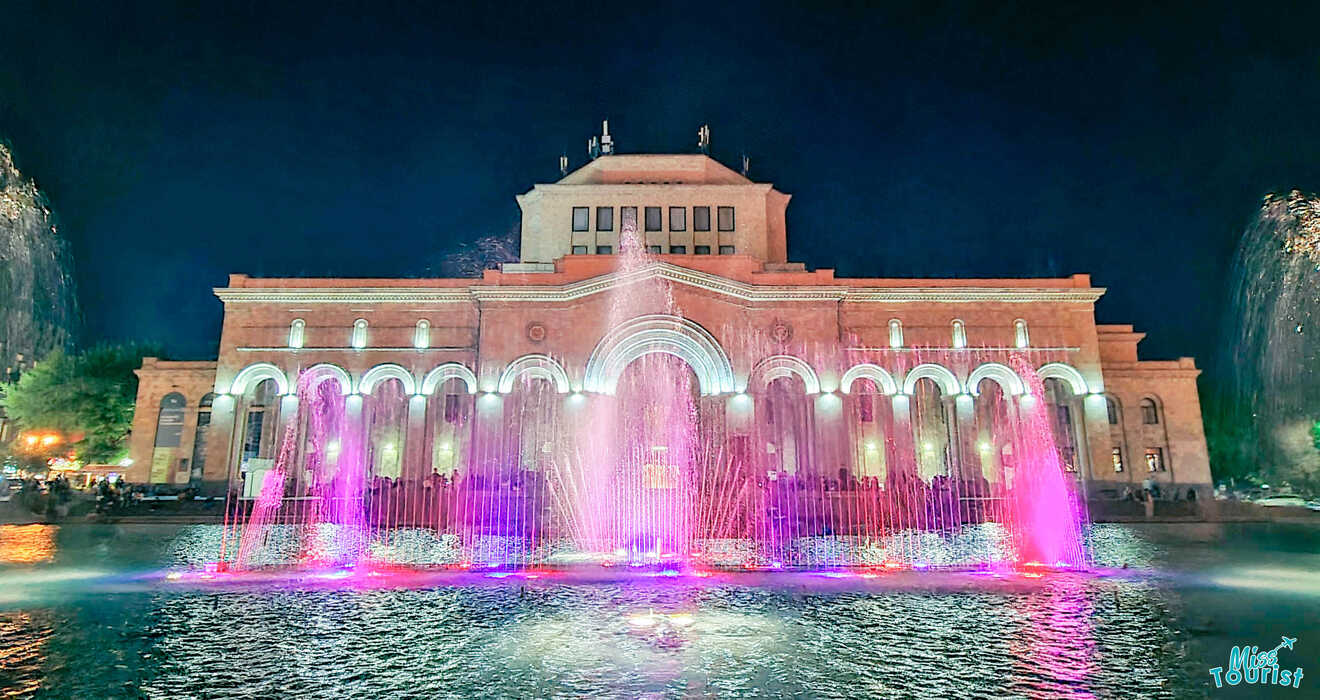 There are lots of interesting sights that you can visit in the city like:
See the fountain show in the famous Republic Square with its important buildings such as the History Museum of Armenia and the Art Museum
The Armenian Genocide Memorial Complex
Their Cascade Complex, which is made entirely from limestone and is still incomplete!
Zvartnots Cathedral, a 7th-century-old ruin
Once you check the most popular tourist sites in the capital city then you'll most likely go on day trip tours from Yerevan. That's what most people do when visiting the country, or alternatively, you can rent a car and explore on your own! So let's have a look at everywhere else you can visit!
2. Chill on the beach at Lake Sevan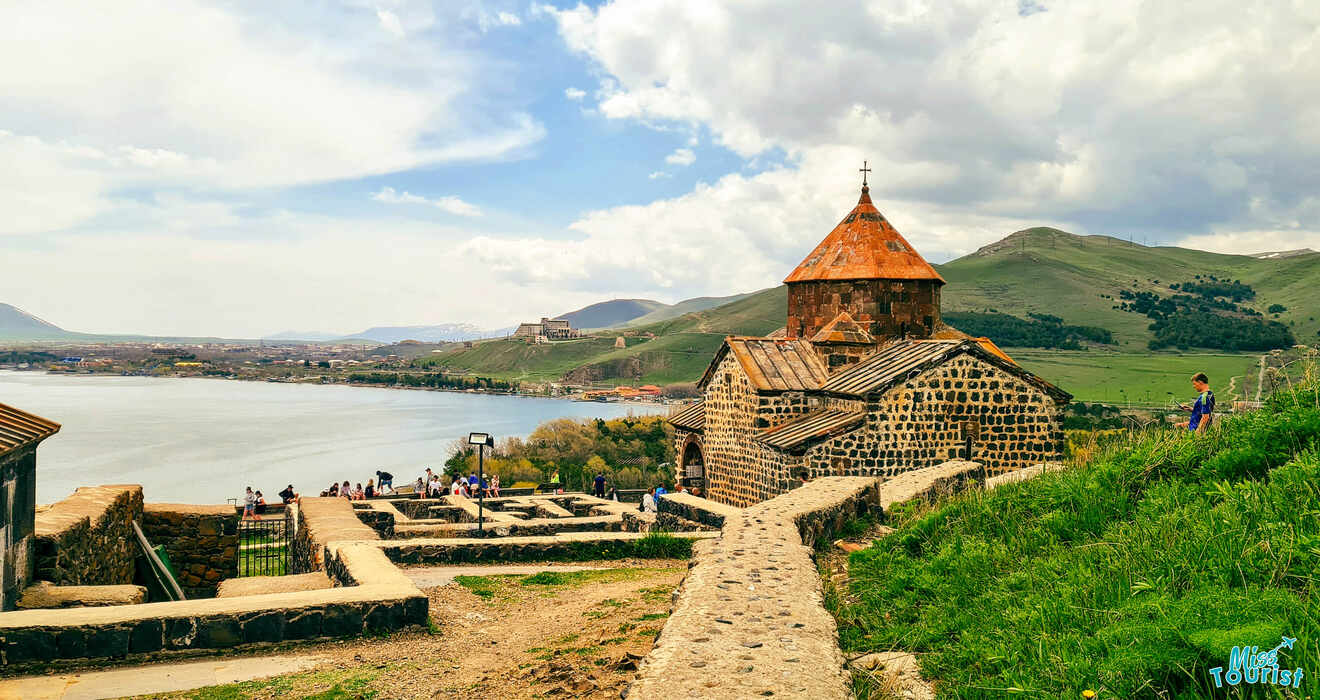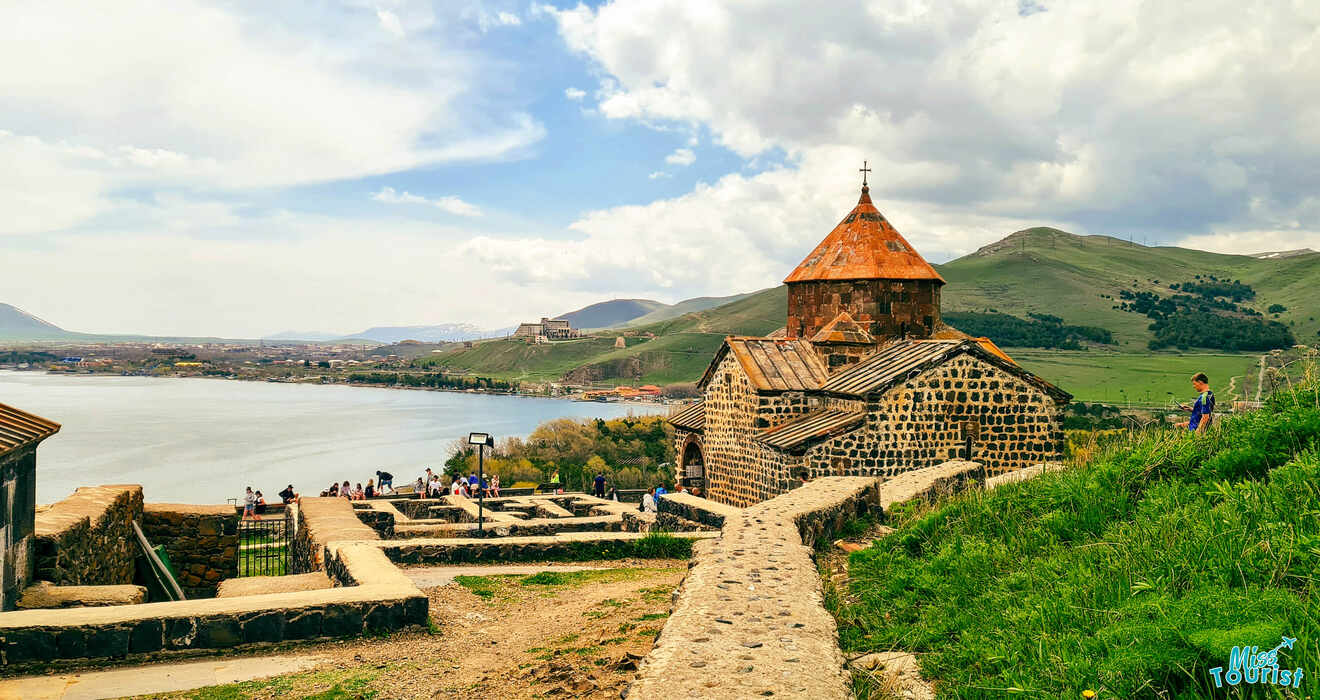 Now that you've got acquainted with this wonderful country, you're ready to see one of the most interesting places to visit in Armenia!
Lake Sevan is the largest lake in the Caucasus region and one of the world's highest lakes. Part of the Sevan National Park, a protected area in Armenia, this lake has a spectacular location!
Located 45 miles (70 km) away from Yerevan, more or less 1h and 30 mins drive, Lake Sevan is one of the most visited places in this beautiful country by tourists and locals as well as it offers lots of things to do like sunbathing on its tiny beaches, sailing and hiking its coastline.
But it's not only the amazing landscapes that make Lake Sevan worth visiting. Around its shorelines, you'll find unique old monasteries (the country is filled with these ancient holy places) like Sevanavank and Hayravank.
Most villages and towns around Lake Sevan are super tiny but you can visit them if you want to get a taste of the local life and try some delicious Armenian food! There are many restaurants around, especially in Sevan town, the main village.
3. Visit the unique Garni Temple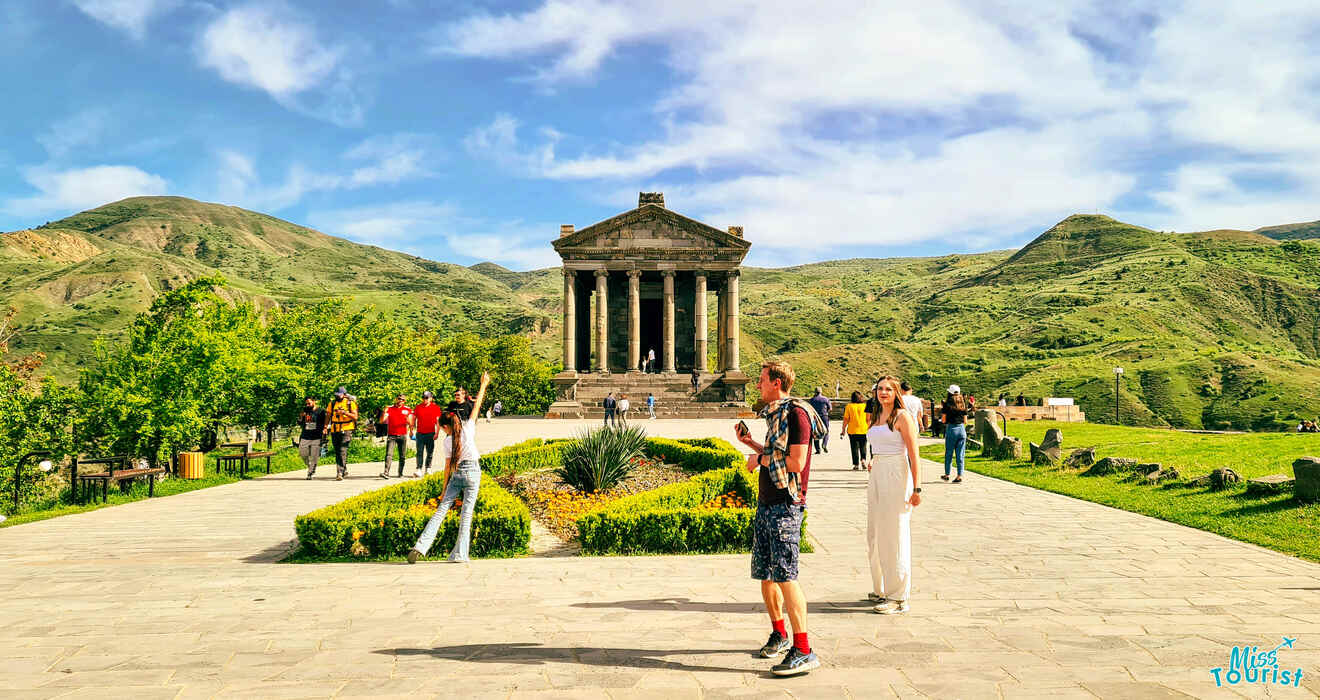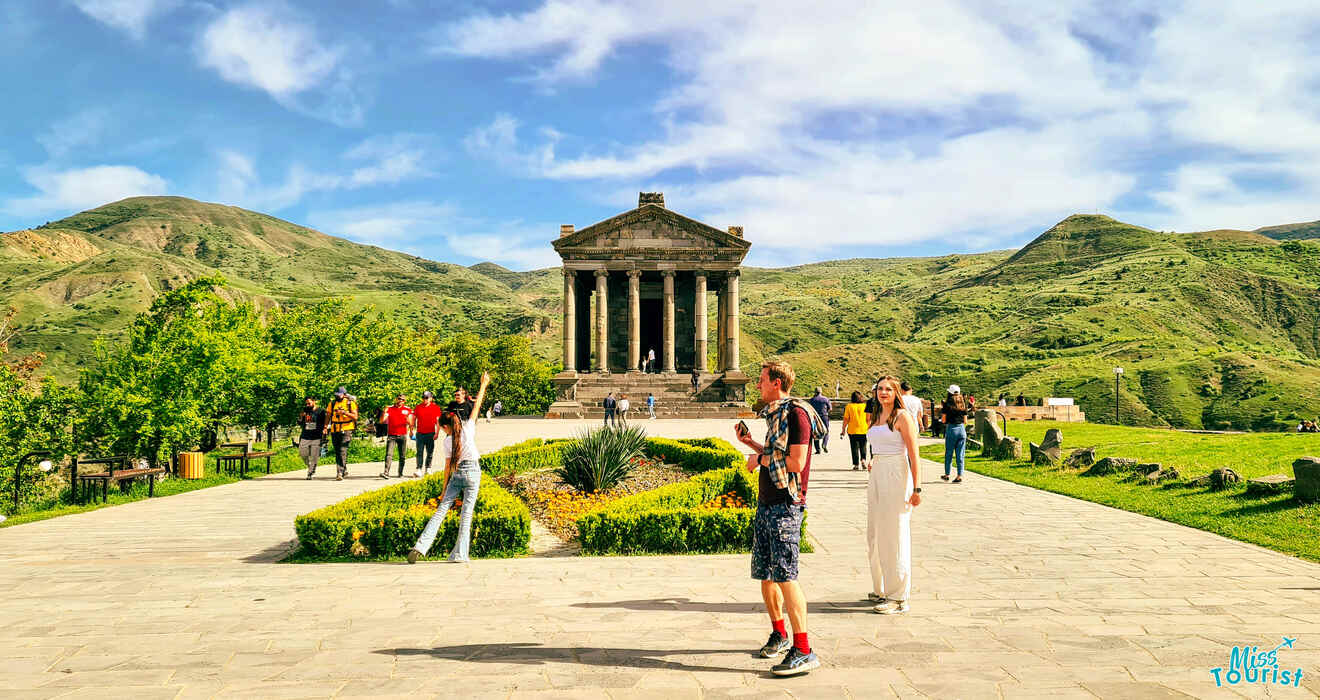 Undoubtedly one of the most interesting places to visit in Armenia, Garni Temple is the only Greco-Roman building that is left in the country and a beautiful piece of architecture!
FUN FACT: Kim Kardashian who is half Armenian from her father's side actually visited this temple during her 2019 trip to Armenia!
Located in Garni village at the foot of the Khosrov Forest State Reserve, in central Armenia just 18 miles (30 km) away from Yerevan, the pagan temple is probably one of the last pre-Christian monuments in Armenia!
It is believed that king Tiridates I built it in the first century AD as a temple to the sun god Mihr!
You've got to love Armenia. Most sites here are ancient and have such a rich history! Plus you can't go anywhere without seeing the fantastic scenery! The Garni Temple is set up on a cliff edge with a stunning backdrop of the Armenian hills!
NOTE: Since Garni village is super close to Yerevan, you can easily visit this place as a day trip tour or rent a car and head that way. It's only a 50 min drive to get there.
Entrance: 1500 AMD (US$3.70)
4. Take lots of pictures at the Symphony of Stones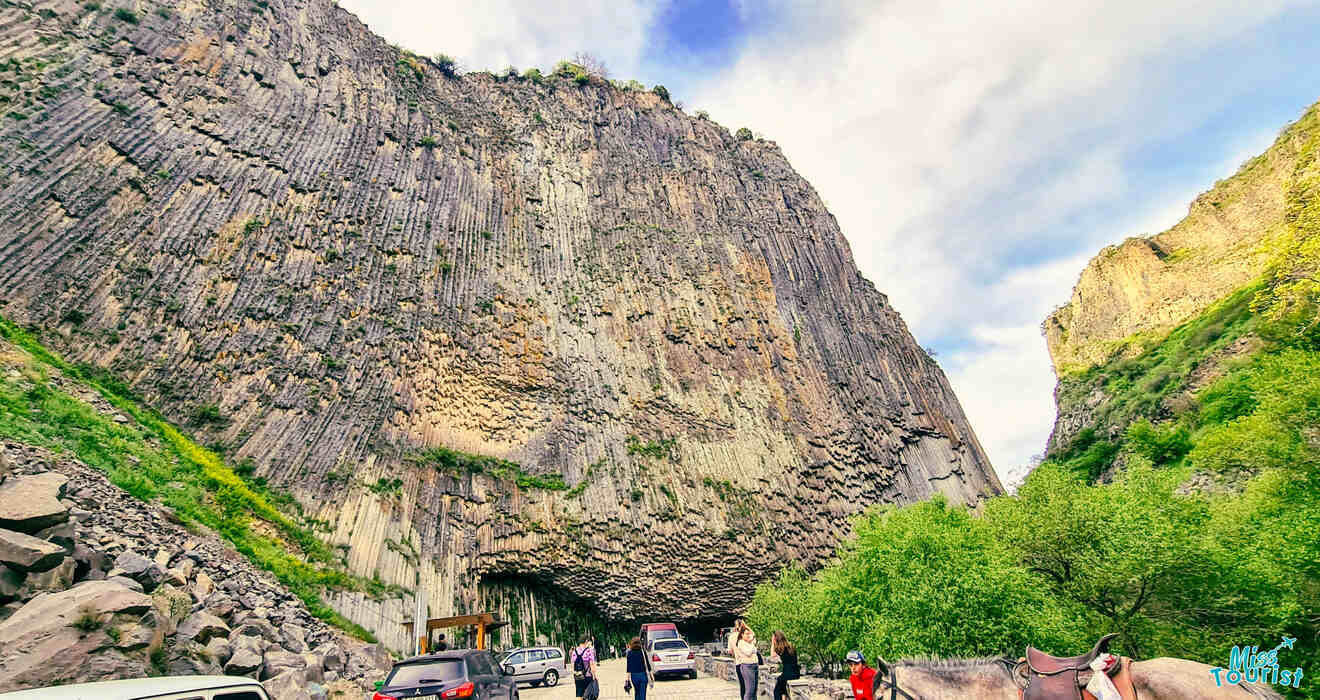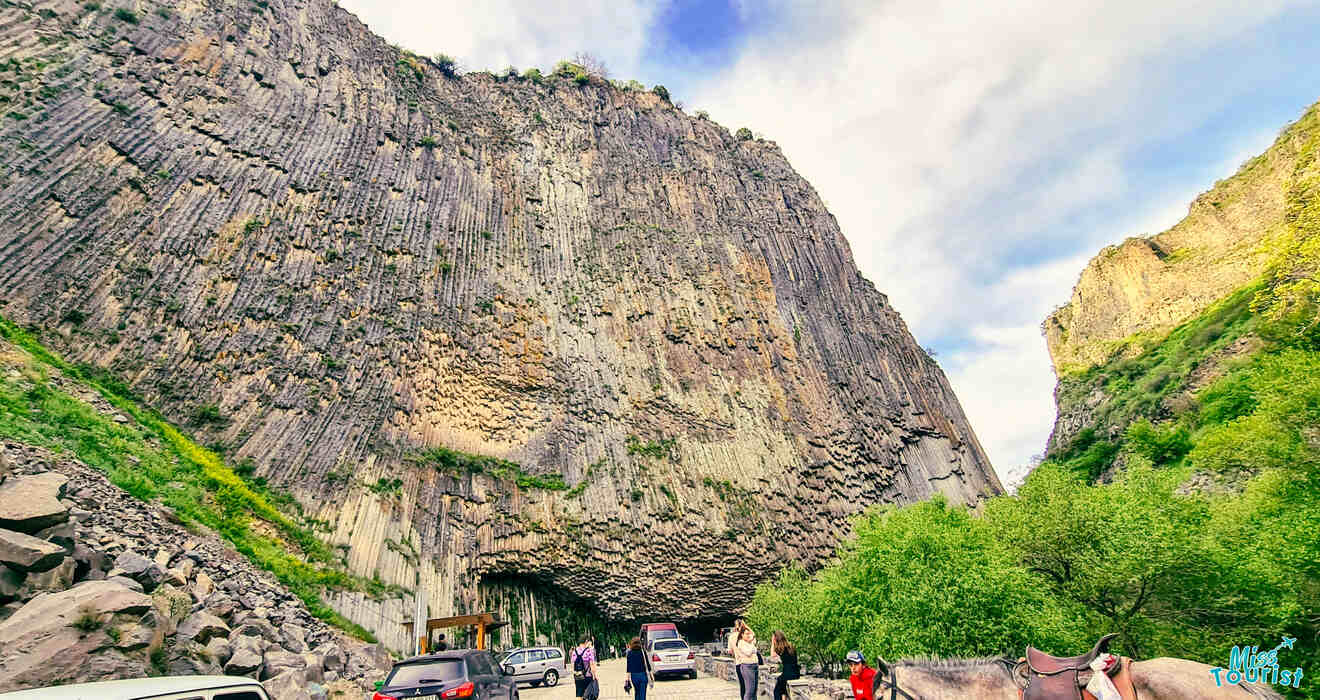 If you've researched some things about Armenia, you probably know by now that their natural monuments are pretty incredible!
If you've made it to Garni Temple, you must stop by one of the most fascinating places to visit in Armenia (which has such a fun name), the Symphony of Stones, only a 15-minute drive away from the Garni temple.
The natural monument is part of the Garni Gorge and it's made of huge symmetrical hexagonal and pentagonal basalt columns (almost 50 meters high) which were created by the cooling and contracting of lava. This causes the ground to crack into long, geometric columns that look super cool!
The name came about because when you look from afar, the stones look exactly like a giant organ (the instrument), and to be honest, each stone is so precisely built that you'll think twice before believing that it wasn't man-made!
5. Admire the sights at Ararat viewpoint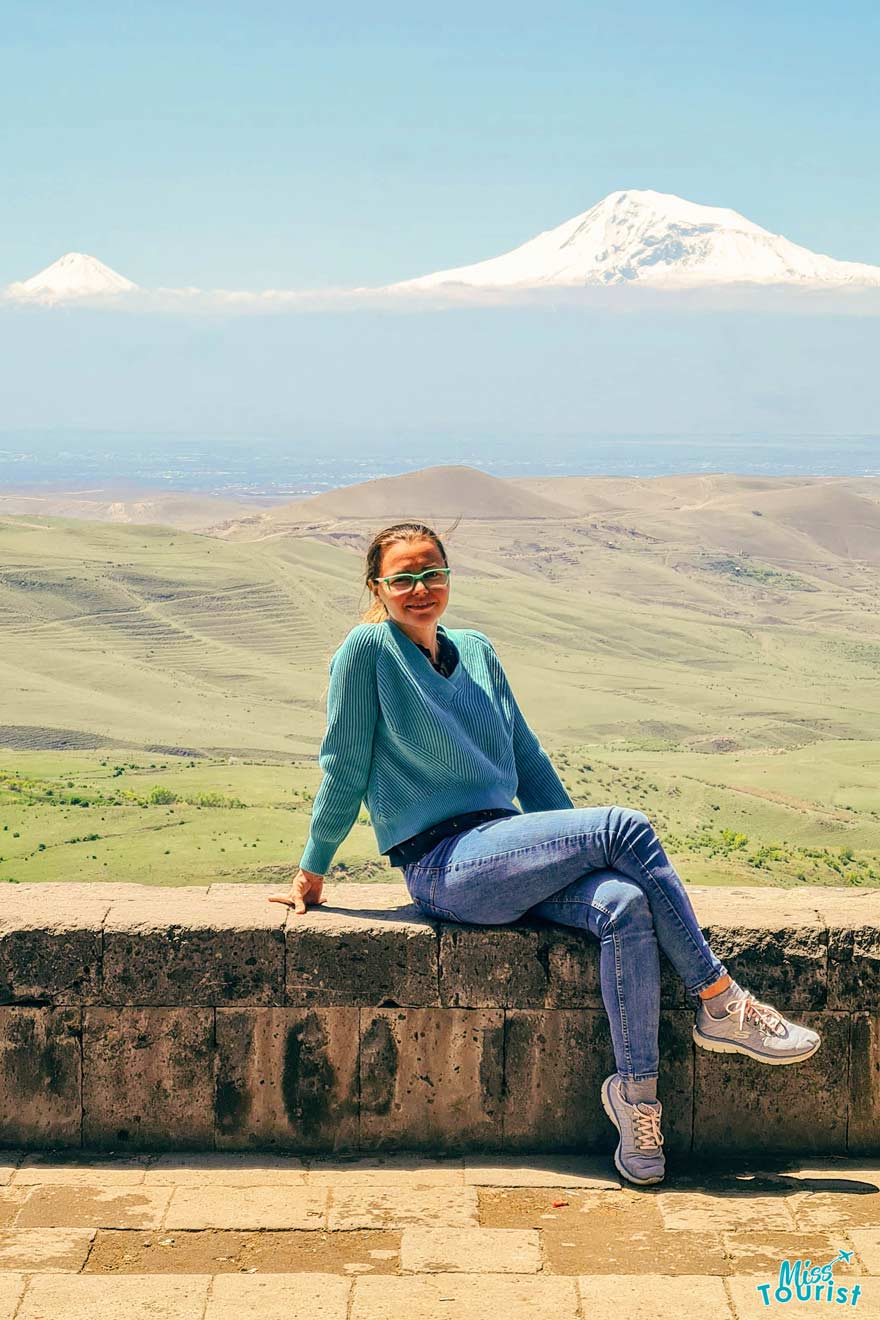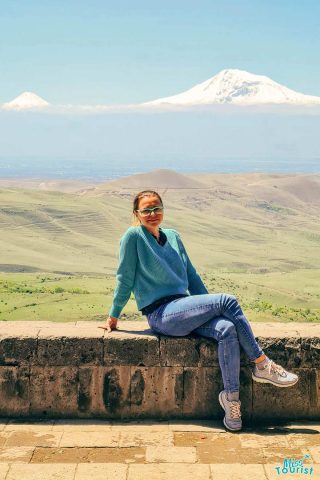 This country is filled with hidden gems and right outside Yerevan, approximately a 30-minute drive away, you'll find a stunning viewpoint of Ararat Volcano.
Ararat is a snow-covered, dormant volcano that is still considered a symbol of Armenia, despite not technically being inside the country's borders. It used to be, but Stalin gave it to Turkey during the USSR!
Armenians still consider it a sacred mountain and it appears many times in literature, art, and on the bottles of their traditional cognac/brandy!

FUN FACT: Ararat brandy was one of Winston Churchill's favorite drinks!

Now that you know the backstory of this beautiful mountain I'm sure you'll want to see it! This viewpoint (which is also known as Charente's Arch) is the best spot to admire Ararat in its full glory!
6. Check out Geghard Monastery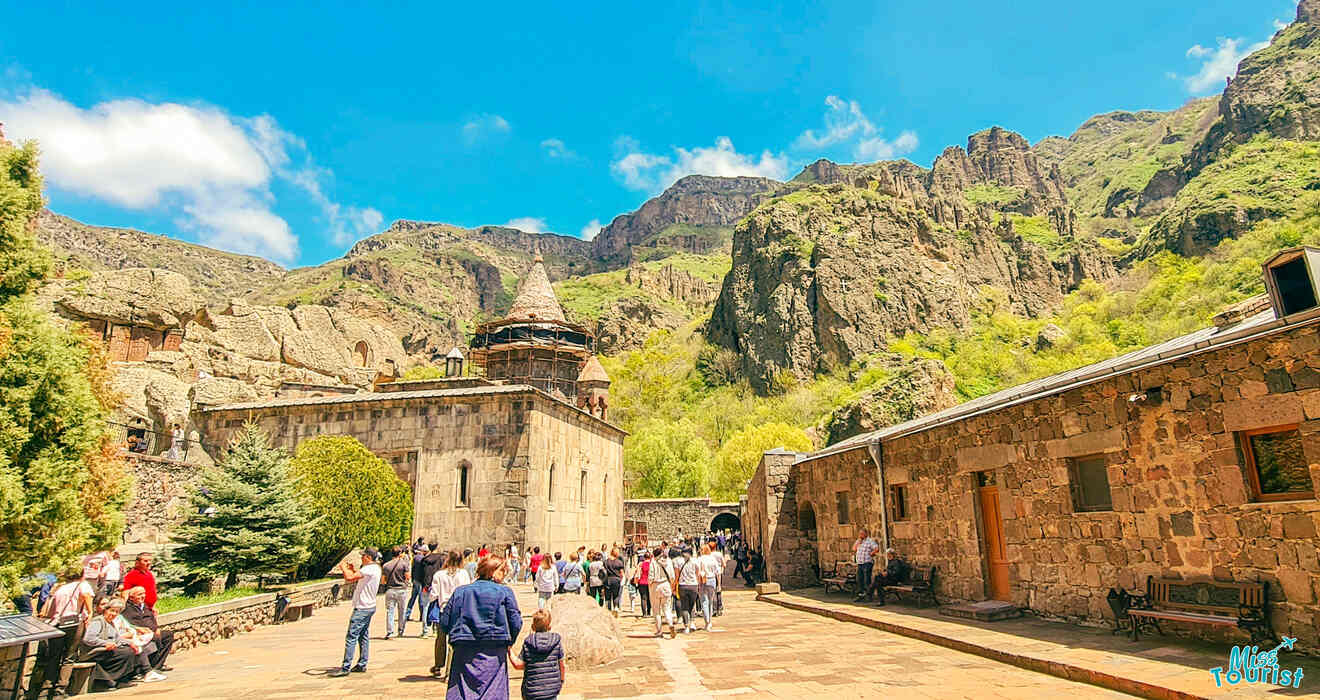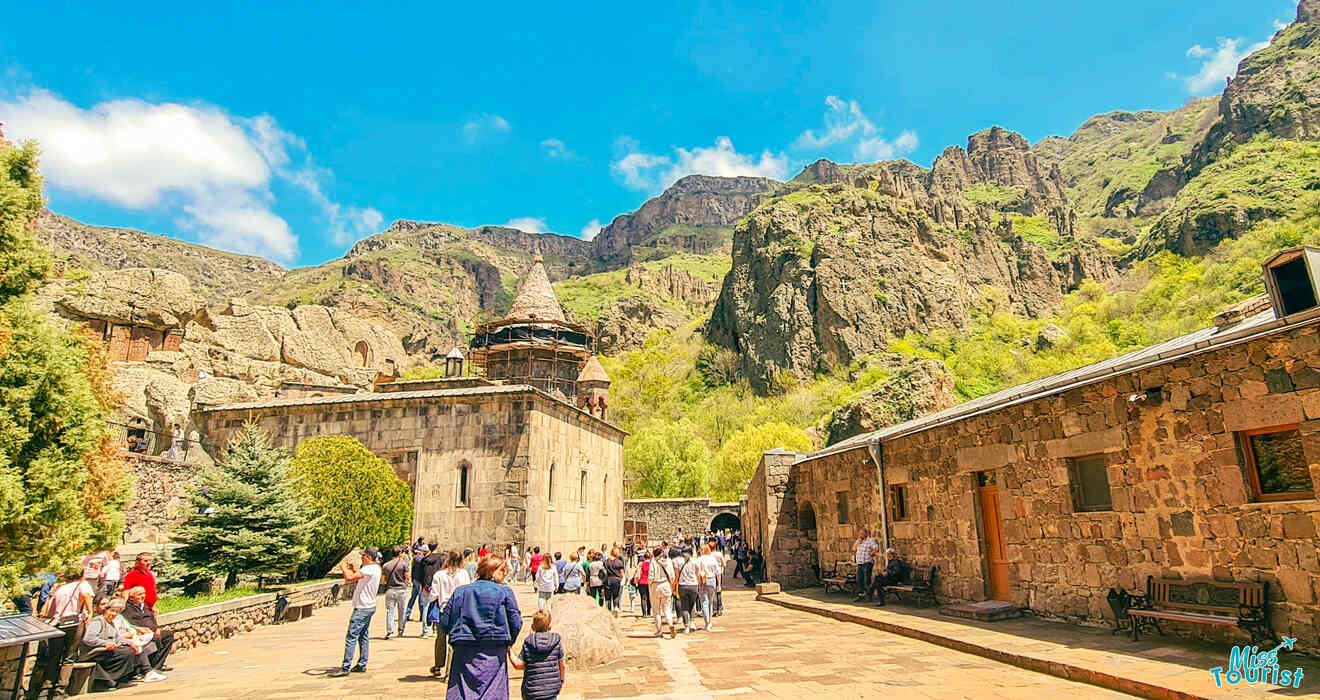 Armenia looks exactly like a history book! It has so many old sites from thousands of years ago that will take your breath away, especially if you're into these subjects!
The country prides itself in having many famous churches, and Geghard Monastery is one of the main ones thats listed as a UNESCO World Heritage Site.
Located in the Azat River gorge, 23 miles (37 km) outside of Yerevan, Geghard Monastery is partially carved out of the mountain, and it's surrounded by cliffs!
Oh, yes, it looks so spectacular!
Take your time to explore the ground of this famous monastery and also see its unique chapels which showcase one-of-a-kind carvings, but don't forget that this is a holy place for many people and it should be treated as so.
PRICE: Free
7. Spend a fun day in Gyumri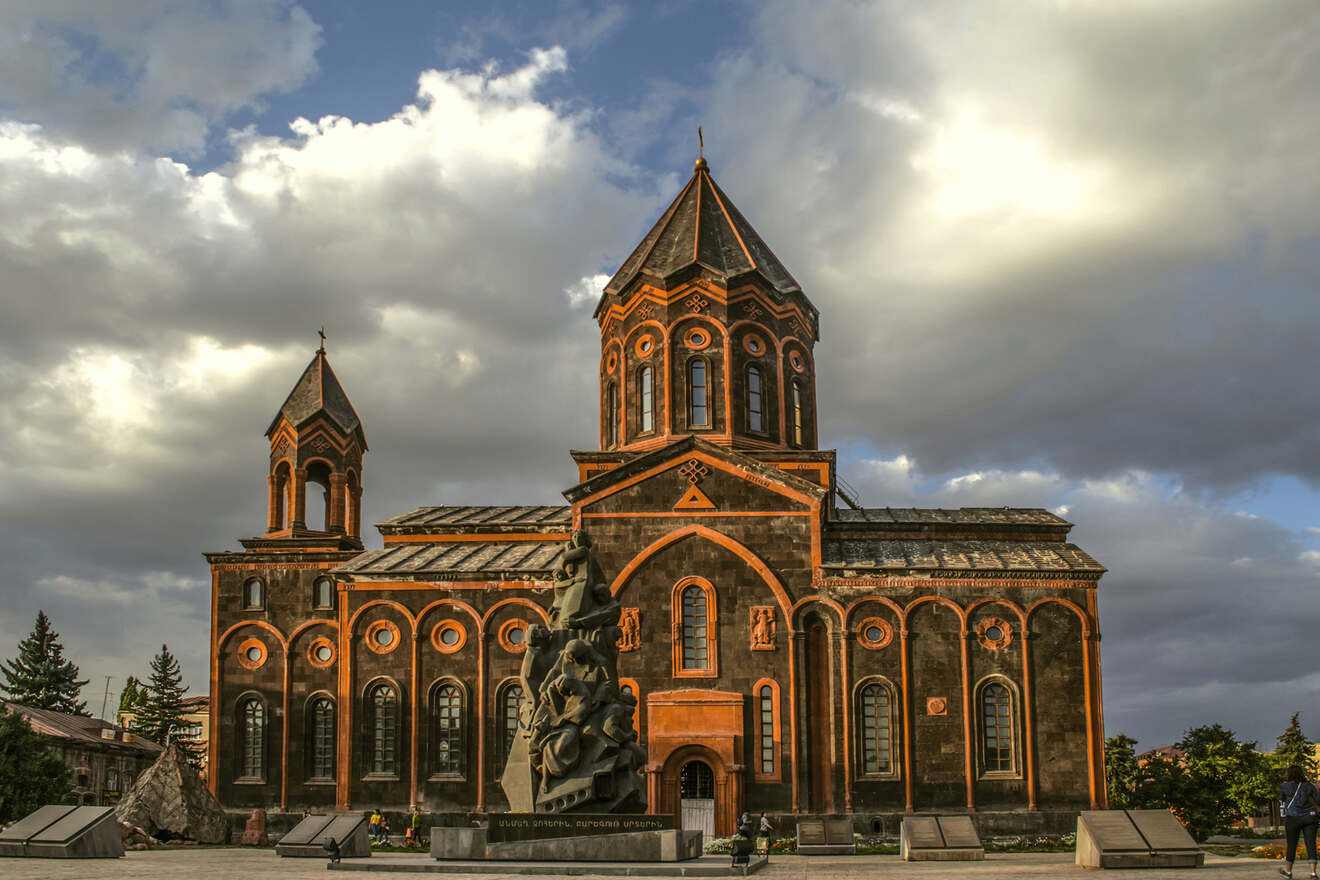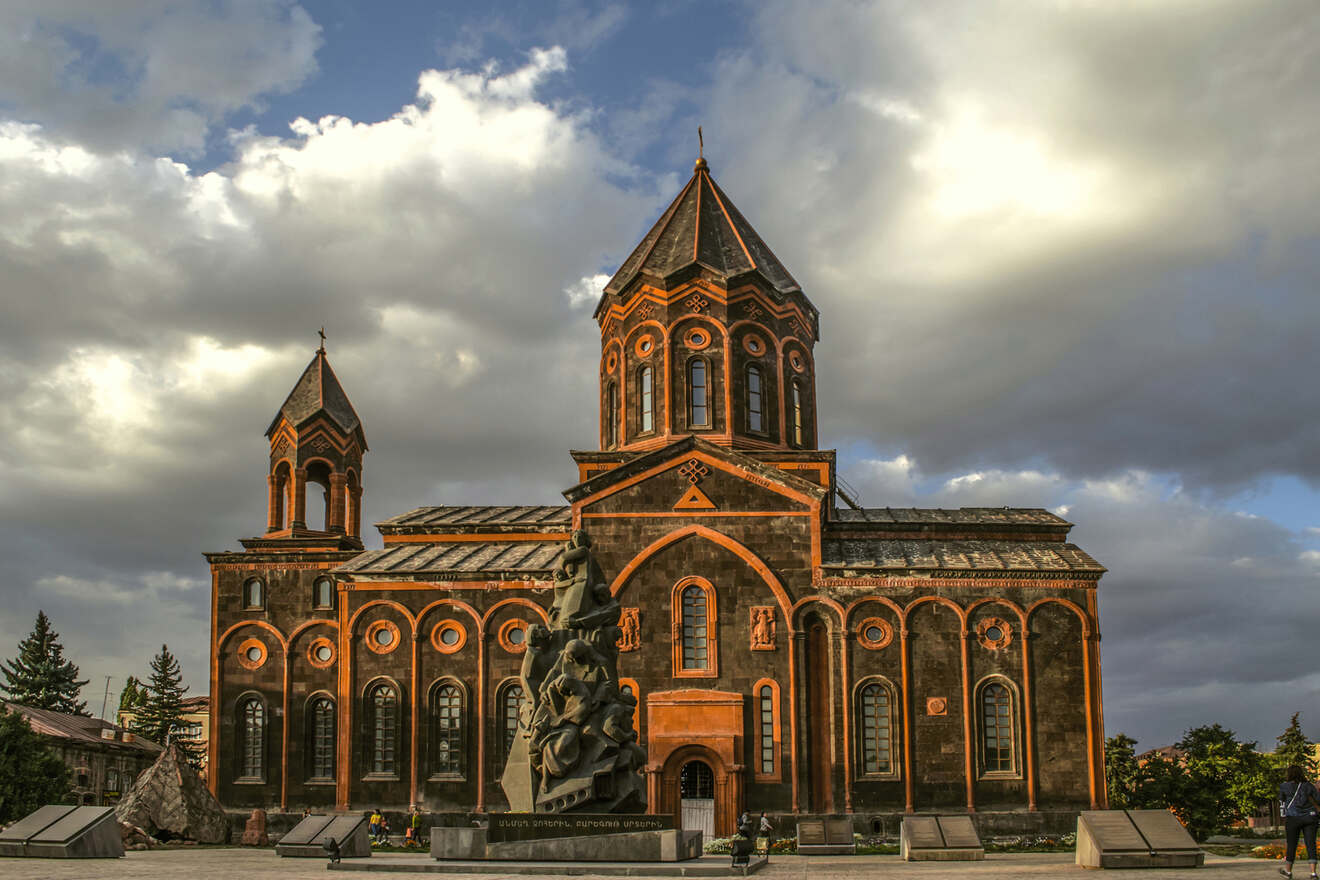 After Yerevan, Gyumri is the second largest city in the country, and it serves as an important cultural center as well!
This is a small country, and luckily the most important spots are all located close together. Gyumri is only a 2 hours drive away from Yerevan so you can visit it as a day trip tour or rent a car and spend a night or 2 there!
Gyumri is a lovely place and home to many unique sites such as:
The Black Fortress: this national cultural heritage monument was built in response to the Russo-Turkish War, and you can visit it for free
Vartanants Square: this is the town's largest square where you can walk around to admire the fountains and some statues
Kumayri Historic District: an area where you can see the city's oldest buildings
Museum of National Architecture and Urban Life: for 1000 AMD (US$2.50) you can learn all about the town's history at this awesome small museum
NOTE: Before the 1988 earthquake Gyumri was known as the most beautiful city in the country, but unfortunately most of it was destroyed during that horrific earthquake. Still, the city holds a certain charm, and you should definitely check it out!
If you're looking for hotels in Gyumri, then check out my last section in this post with the best places to stay in Armenia, I've made a list of some pretty awesome hotels!
8. Go hiking in Dilijan National Park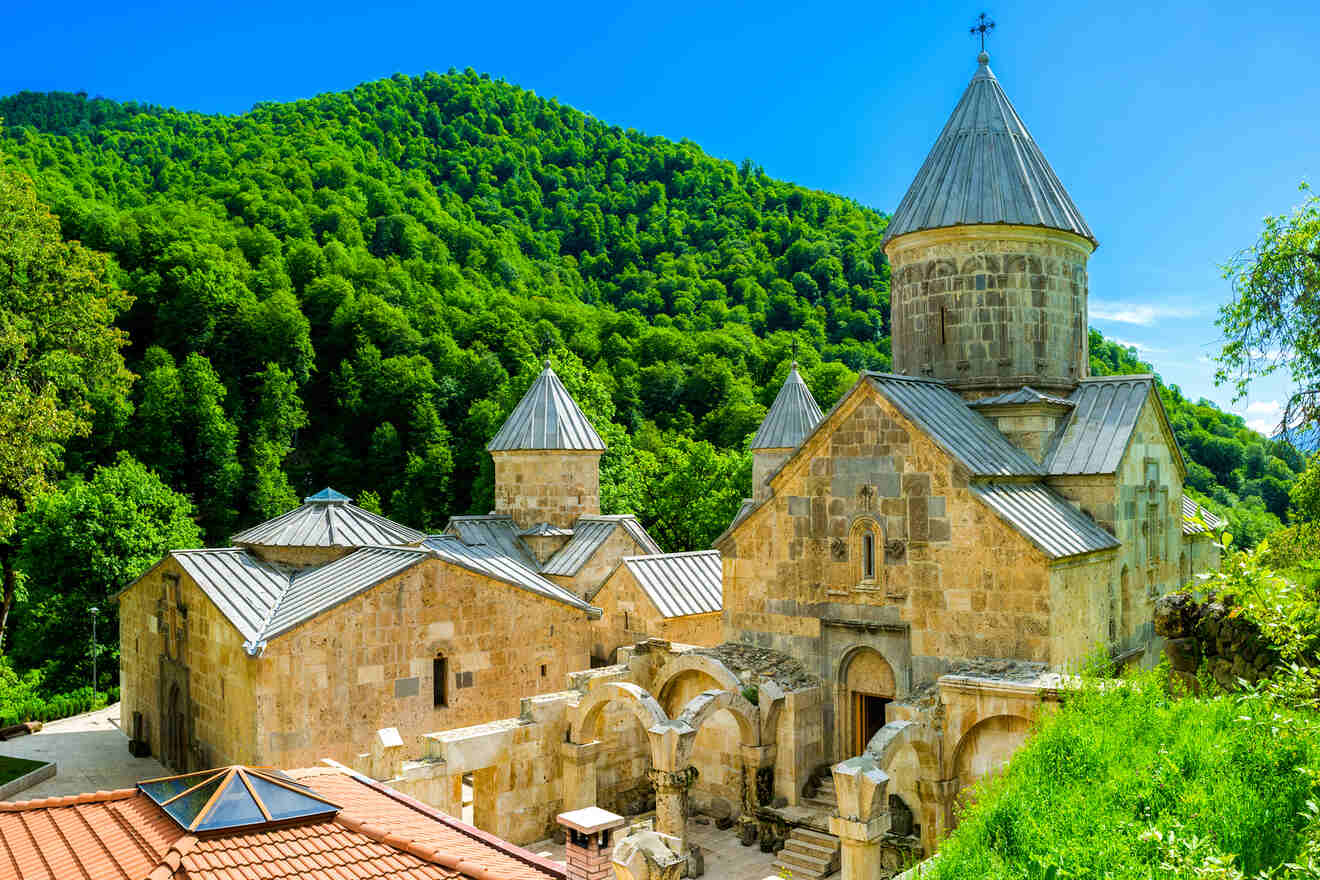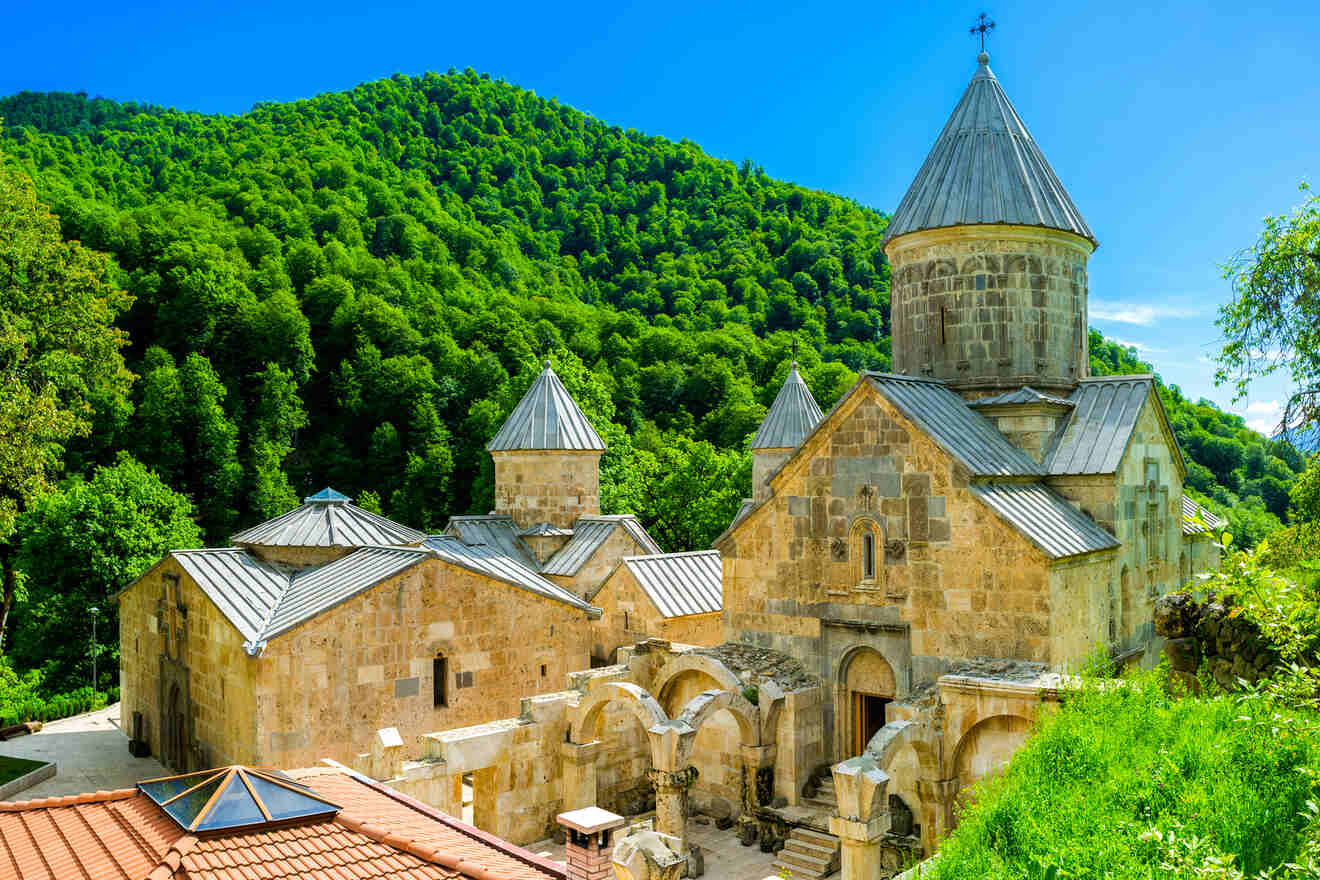 Nature lovers and outdoor enthusiasts, you're going to love this spot near Lori Region, which is by far one of the best places to visit in Armenia!
Located in the north-eastern part of Armenia, just a 2 hours drive away from Yerevan in the province of Tavush, Dilijan National Park is a wonderful place filled with beautiful flora, fauna, hiking trails, and the medicinal mineral water springs which made the area super popular in the first place!
But it wouldn't be Armenia if you didn't have a few churches as well! Within the grounds of the park, you can find Haghartsin Monastery, Goshavank Monastery, and Jukhtak Vank, as well as Matosavank Monastery.
You can visit Dilijan National Park on a day trip tour from Yerevan, where you also get to hike in the park accompanied by a tour, or you can make your own way there with a rental car! Entrance to the park is free.
The closest town to Dilijan National Park, is also called Dilijan, this spa town is super famous for its mineral water and also its many resort hotels, which attract lots of local and international tourists.
Also known as the "Armenian Switzerland," Dilijan has been a great retreat town since the Soviet era. Many creatives (composers, writers) would come here to relax and enjoy the fresh mountain air.
Nowadays, the area is a bit more modern, and it has other attractions like amusement parks, art galleries, and of course, many hiking trails since it's surrounded by the National Park. There's also a visitor center in Dilijan Town that can help you with details about the Park.
9. Learn about Armenian's past at Khor Virap Monastery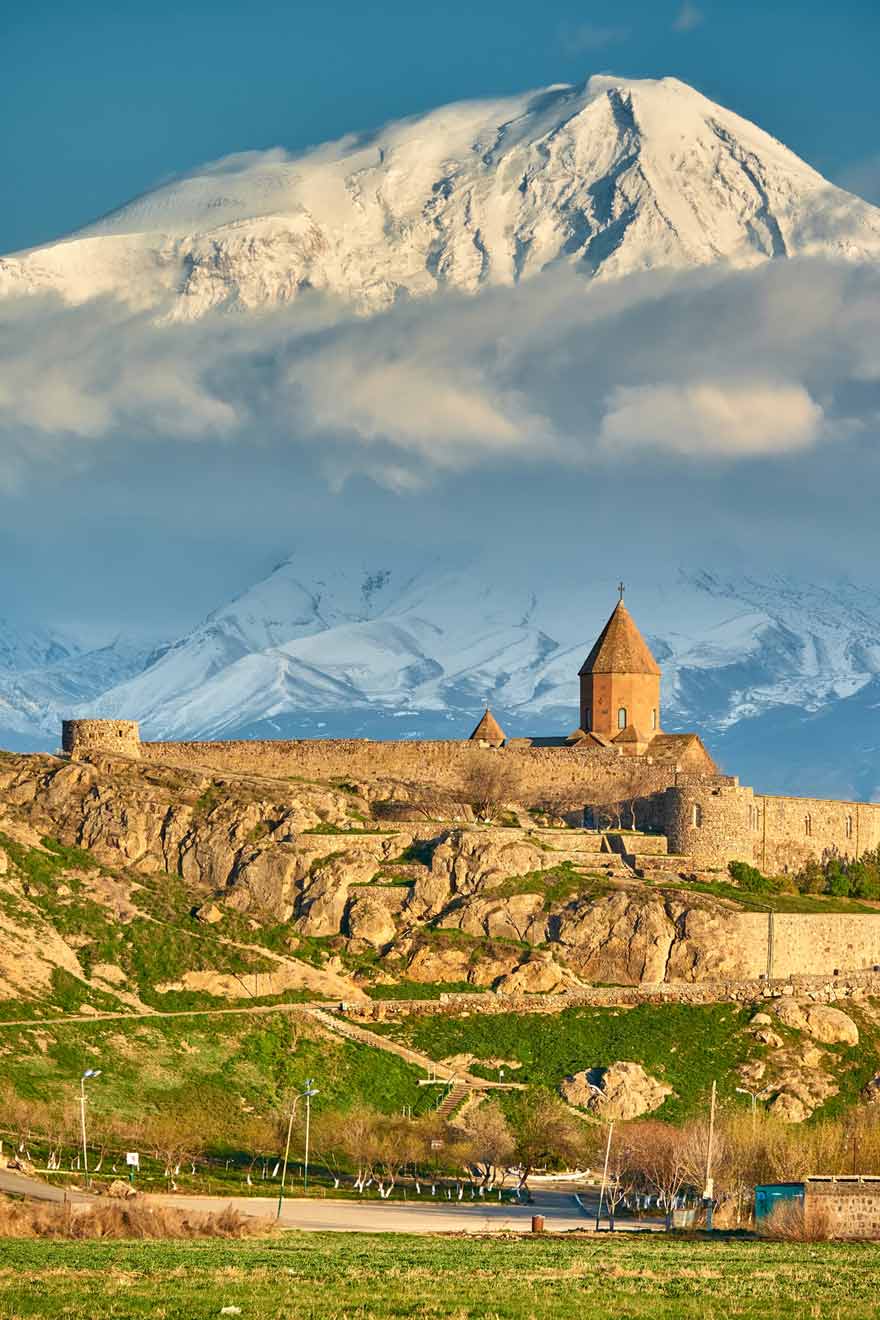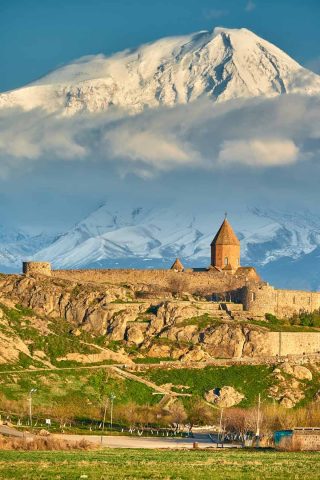 Khor Virap Monastery is a super popular pilgrimage site due to the fact that Saint Gregory the Illuminator was imprisoned here. After his release, he converted King Tiridates III to Christianity which paved the way for Armenia's religious future.

You can visit the church for free and even climb down to see the dungeon where Saint Gregory was held! But definitely take extra care as there is a 27-step iron ladder down and you can imagine it is not very pleasant being down there.

Located just 1h away by car from Yerevan, this ancient church is also famous for the incredible views of Mount Ararat (which I mentioned in section #5), and you should definitely stop there after exploring the church to admire the incredible views!
10. Discover Armenia's spiritual capital in Etchmiadzin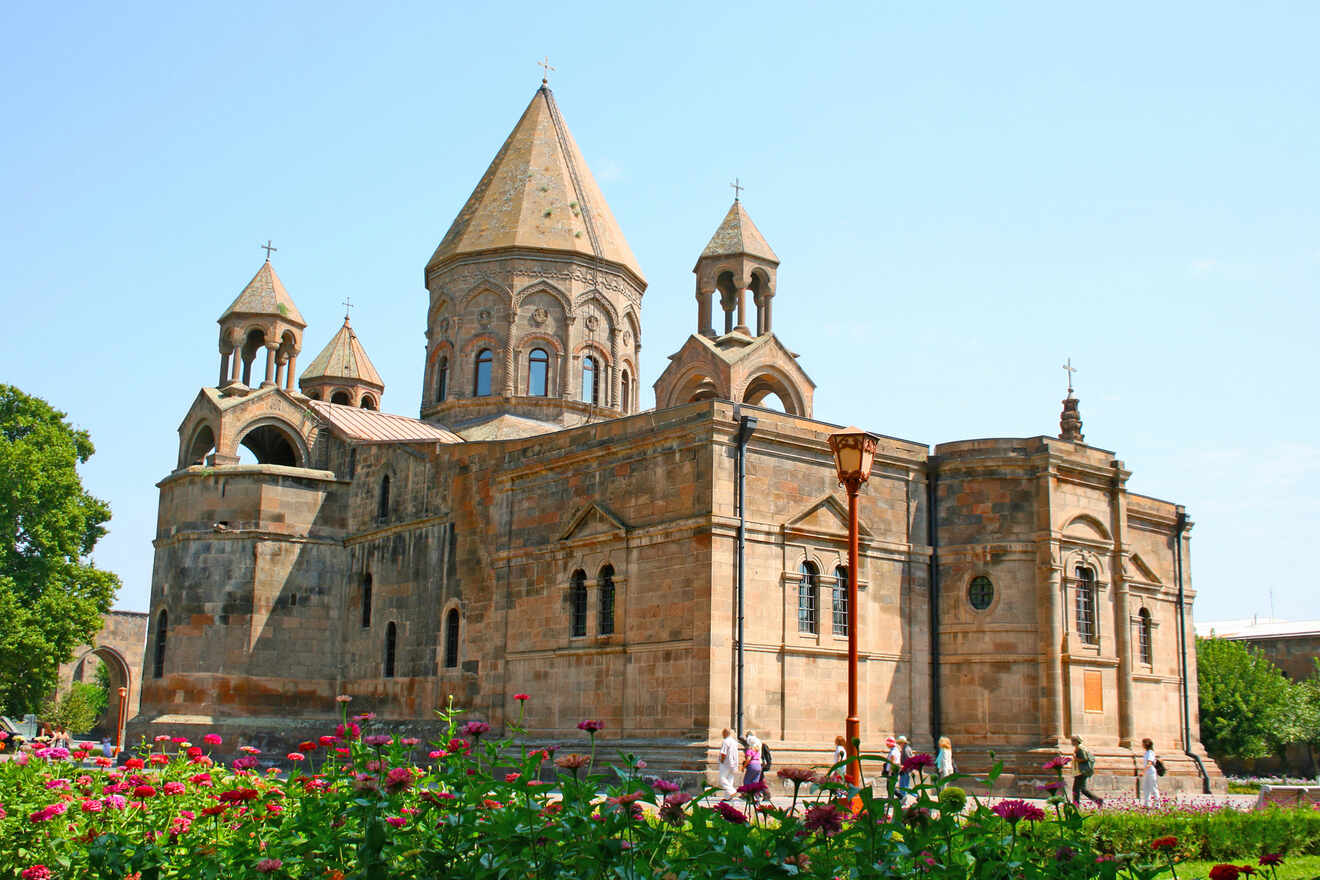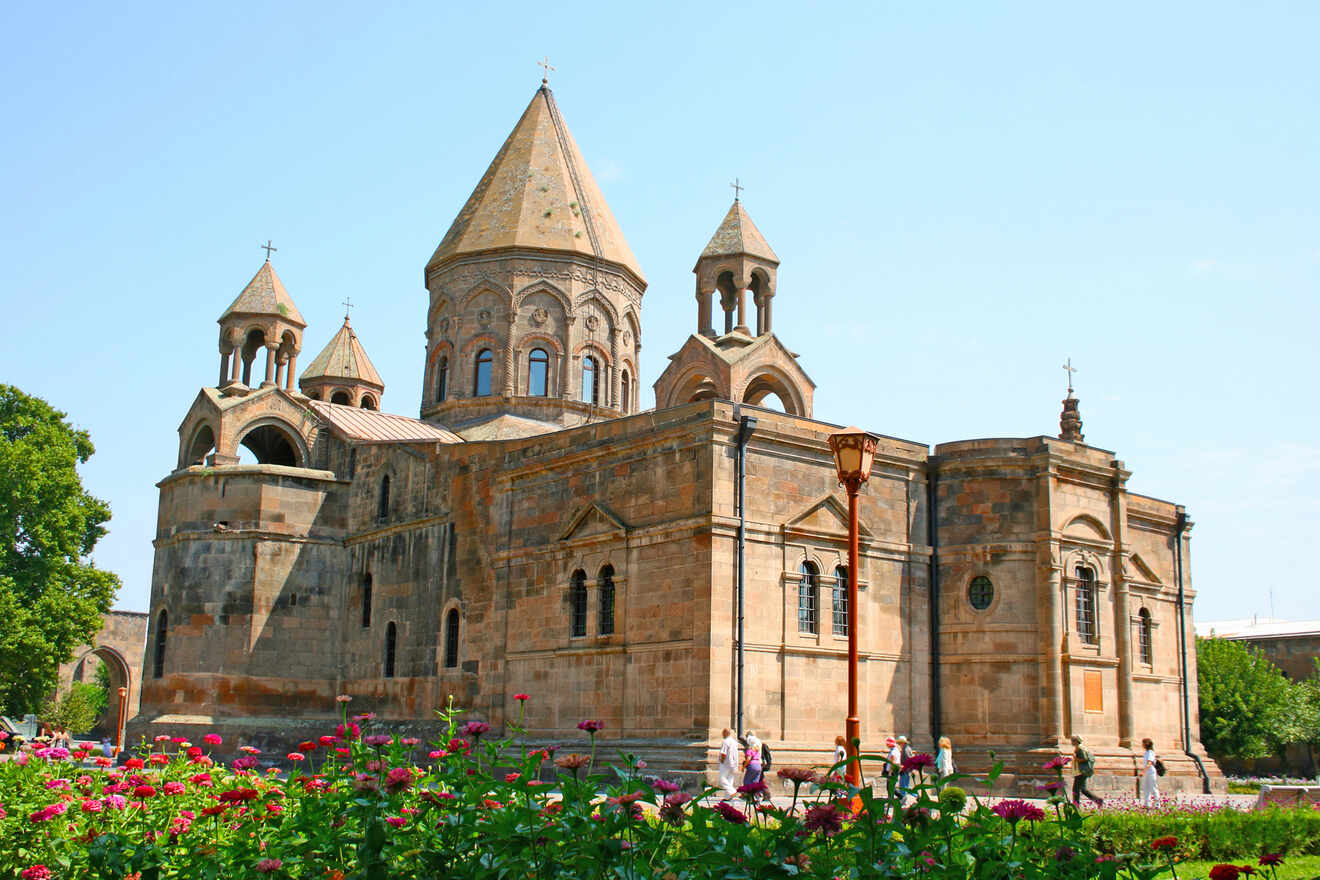 Set only a 30-minute car drive from Yerevan, Etchmiadzin is a super important spiritual spot for this Christian nation.
FUN FACT: Etchmiadzin is a really small city which is also known as Vagharshapat. But most people use the first option!
Etchmiadzin is kind of like the Vatican for the Armenian Church! As the first country that adopted Christianity as a national religion a really long time ago, this place represents a lot for them, and it's also one of the UNESCO World Heritage sites in the country that you shouldn't miss out on!
The main church to should see here while visiting Armenia is the Mother See of Holy Etchmiadzin and the Alex and Marie Manoogian Treasury House Museum, which is home to some of the really important relics in human history like ancient manuscripts! You can visit the museum for US$5!
Besides these 2 important sites, there are other places to visit here like the Holy Mother of God Church and the ruins of Zvartnots Cathedral.
11. See the ruins of Amberd Fortress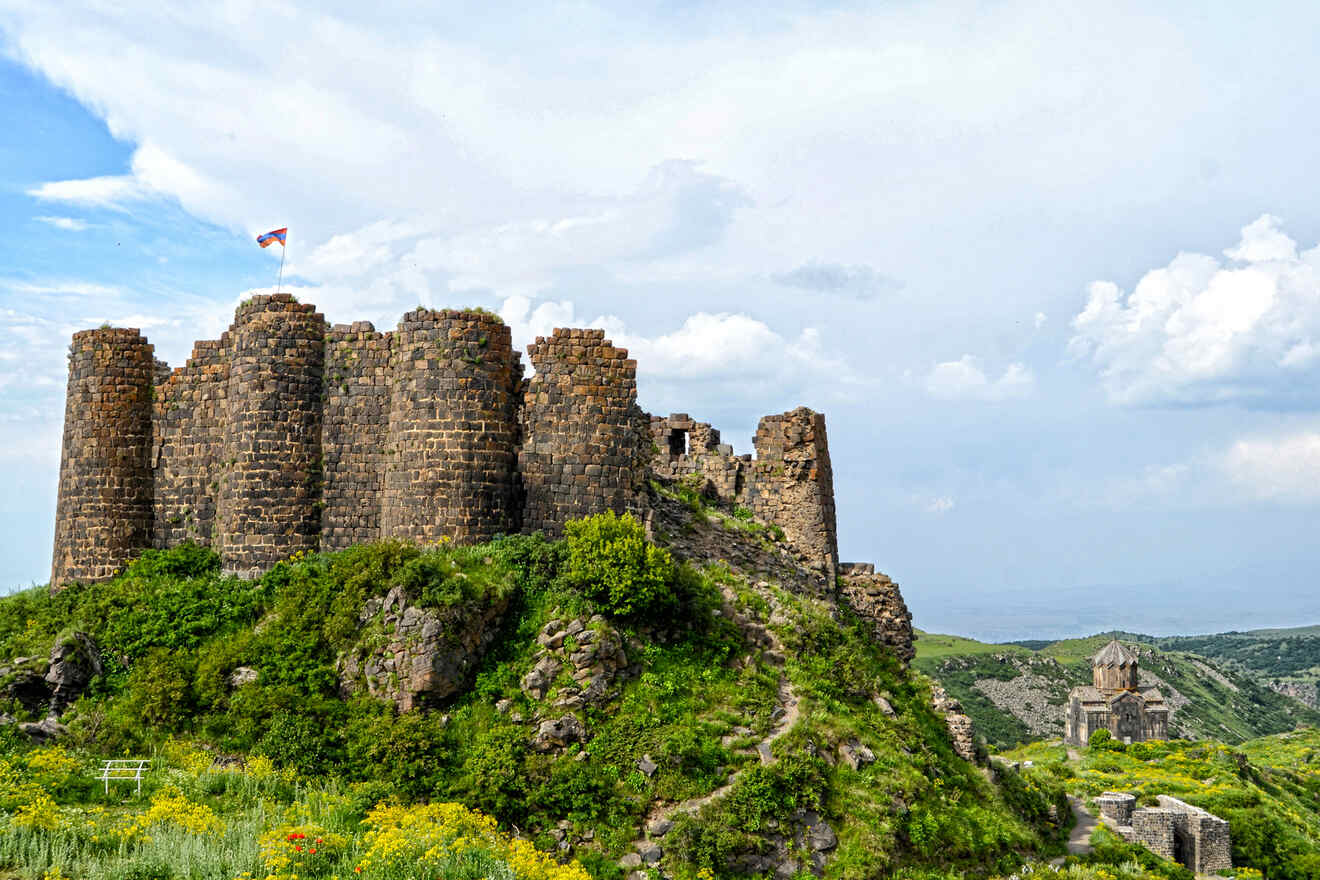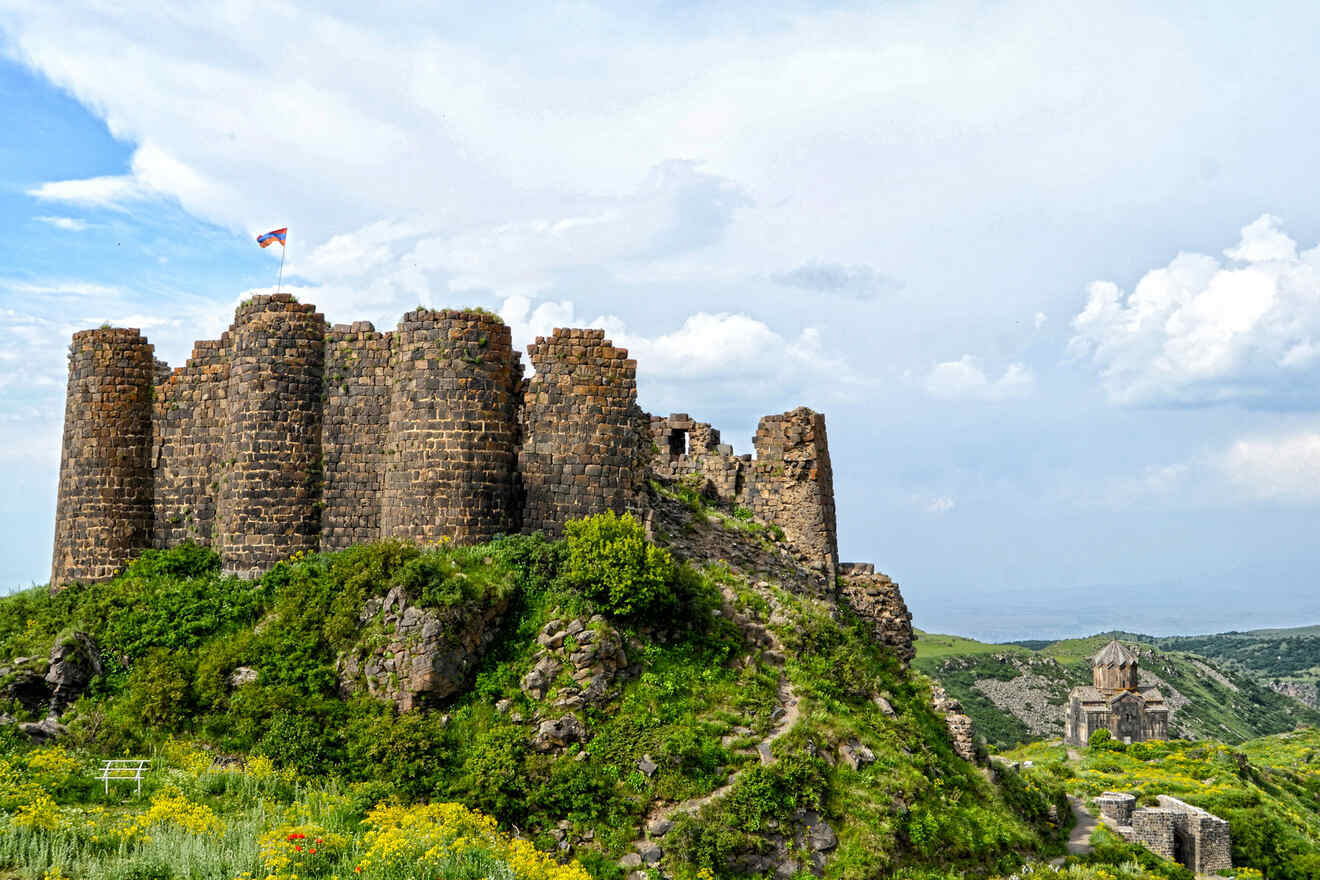 Ready to admire more incredible views? This time we're headed to northern Armenia to see Amberd Fortress, which is located only 1h away from Yerevan.
The name translates to "Fortress in the clouds," which is an appropriate name as the site is located pretty high!
You'll love this one if you're looking for another place to catch some iconic views!
This fortress was built between the 10th and 13th centuries, and it used to be a crucial defense point of the Armenian territory. Now there are only some ruins left of the Amberd Fortress and the Vahramashen Church, built in the 11th century.
12. Learn a few letters from the Armenian alphabet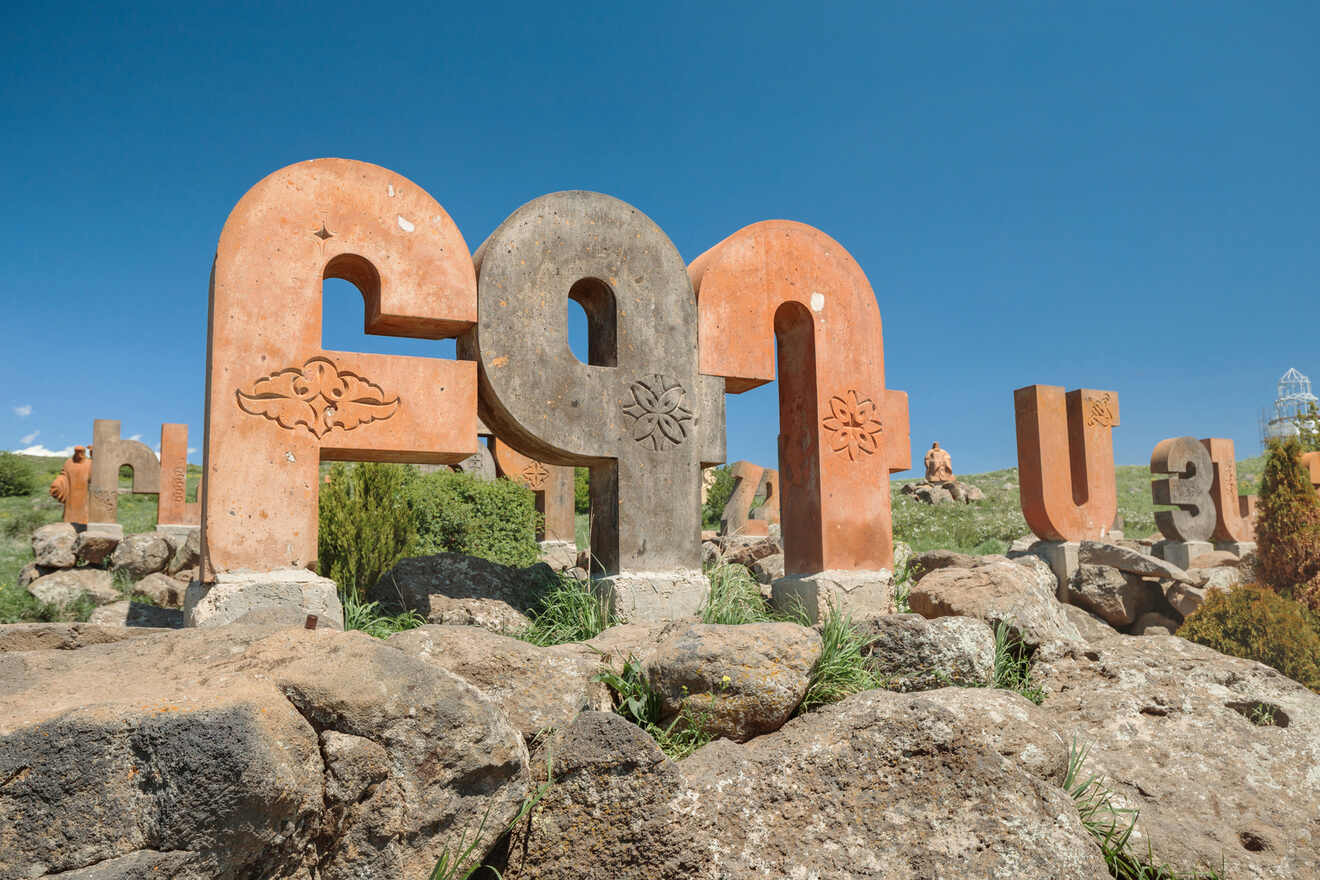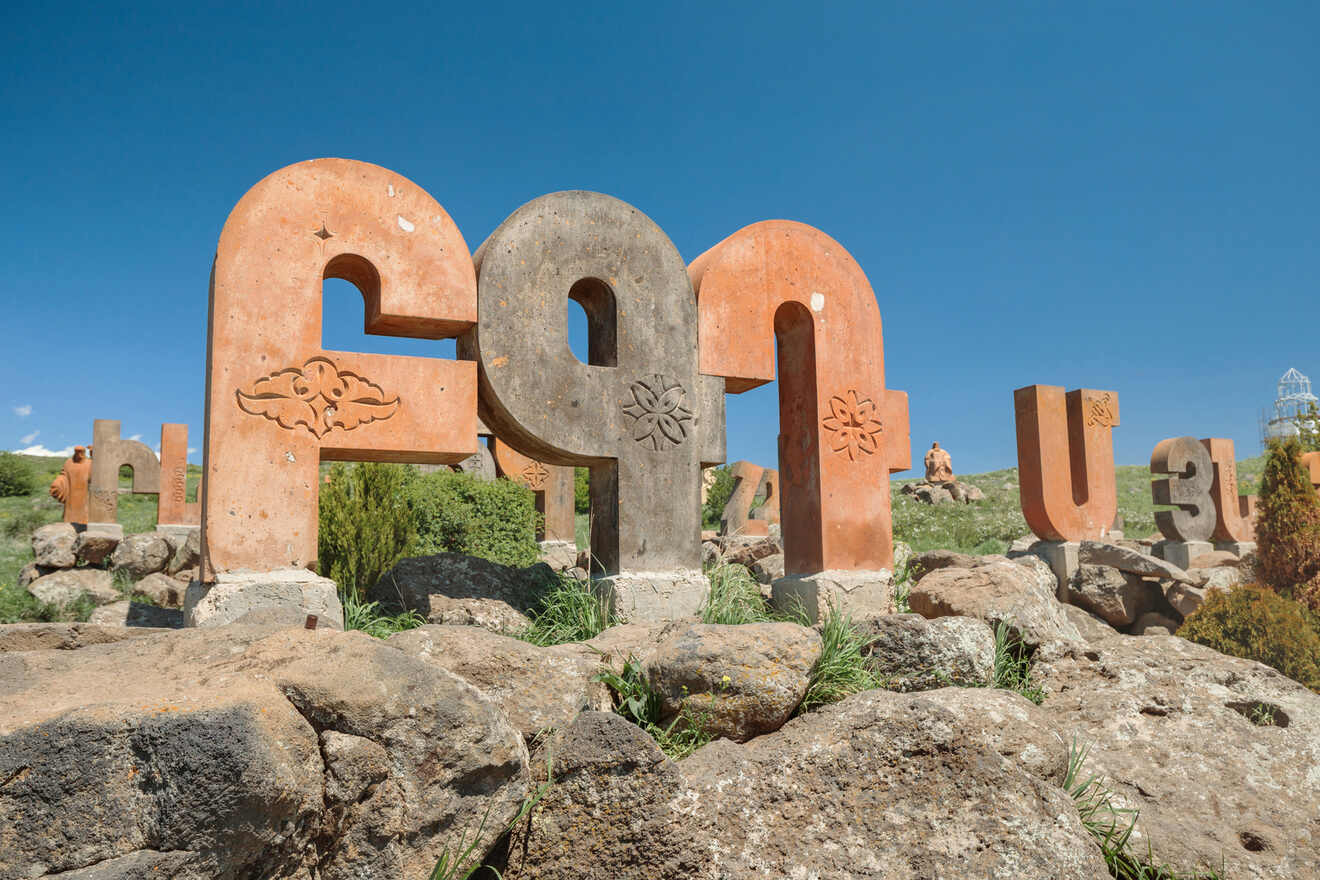 You don't even have to open a book for this! Just head over to the Armenian Alphabet Monument, which is located only a 50-minute drive away from Yerevan.
This is one of the coolest monuments and places to visit in Armenia, where you'll find 39 giant letters from the country's alphabet!
And yes, Armenia has its own alphabet, created in 405 AD by Mesrop Mashtots (whose statue overlooks the letters). This monument was created in 2005 to celebrate his invention!
The monument is a unique place to visit in Armenia, where you can take lots of pictures and admire the views (for free)!
13. Spend some time in nature at Shikahogh State Reserve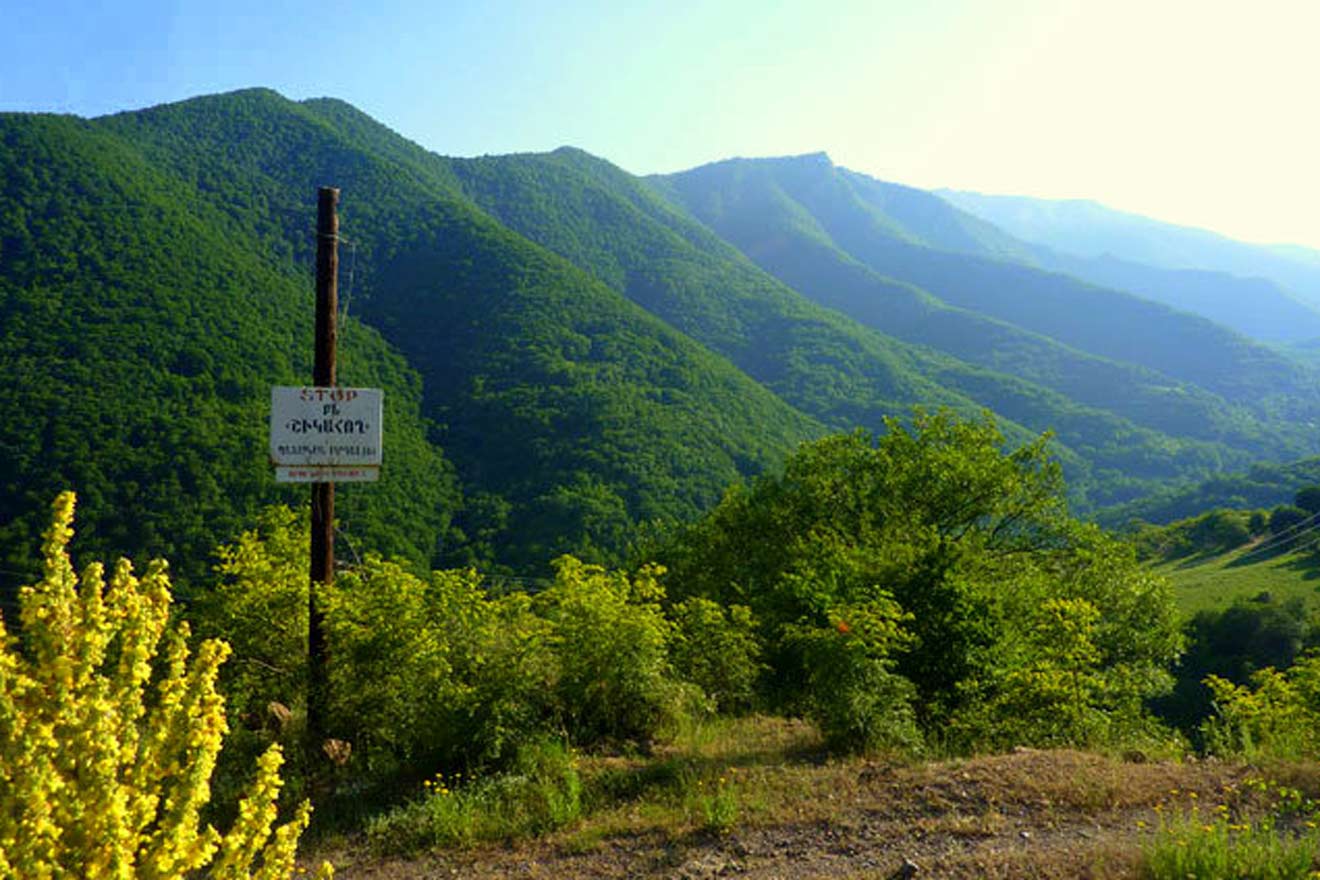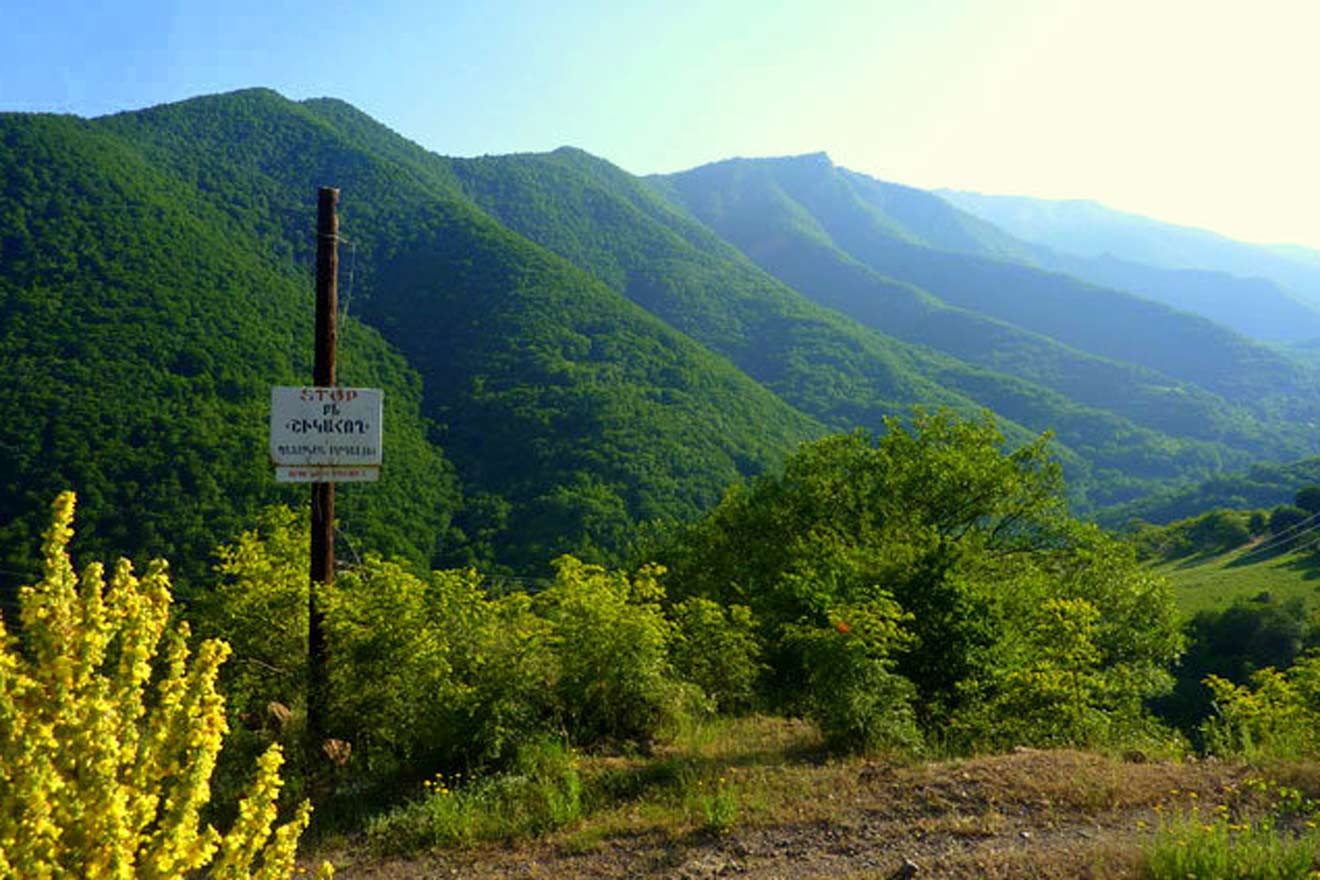 Shikahogh is the second largest forest reserve in the country and is a magical place where you can admire the beauty of Armenian nature!
Shikahogh State Reserve is located in southern Armenia, pretty far from the capital city in the Syunik Province, around 8h by car on the border with Azerbaijan.
This beautiful forest is believed to be the home of various animal species like leopards, bears, wild goats, and vipers, and of course to lots of plants and mineral springs as well as mountain rivers.
To visit the Shikahogh State Reserve, I recommend renting a car from Yerevan to go there but look for places to stay nearby the Reserve, so you have time to explore the forests. There's also a visitor center in Kapan, where you can go to find out more information.
14. Catch a sunset at Noravank Monastery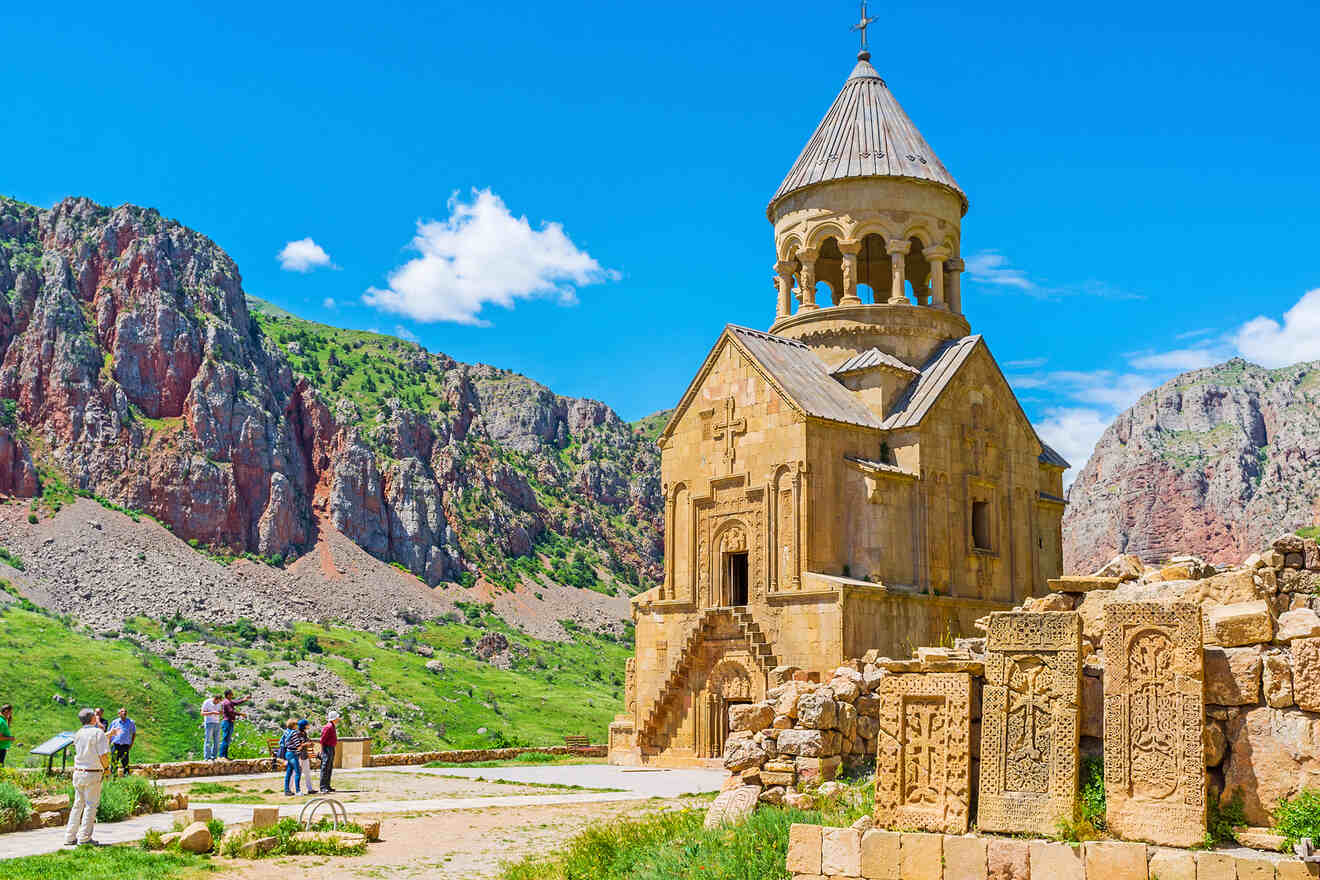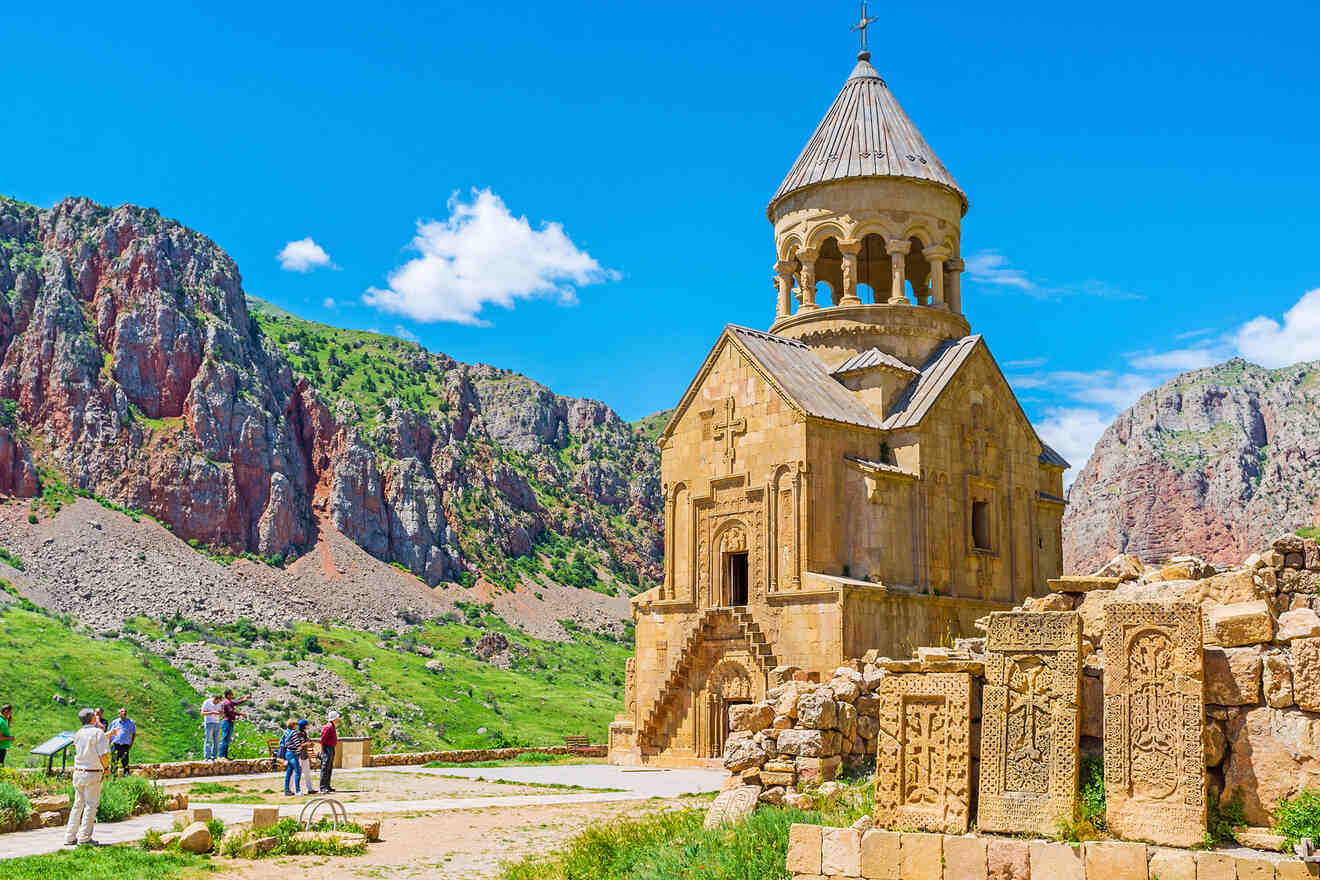 Continue your Armenia sightseeing trip with a visit to Novarank Monastery!
Located 2h car from Yerevan, this monastery complex is simply beautiful, and it's surrounded by the most amazing cliff views! I recommend visiting the complex on a guided tour, which combines other important sites in the country!
This is another important site for spiritual people, as legend has it that the monastery was saved by God's will whileArmenia was conquered by Mongols, a really long time ago.
Dating back to the 13th century, the whole complex features the two floors, Surb Astvatsatsin Church, Surb Karapet Church, Surb Grigor Chapel, and some khachkars, which are stones carved with a cross on them, specific to medieval Christian Armenian art.
15. Stop by a real life cave village in Goris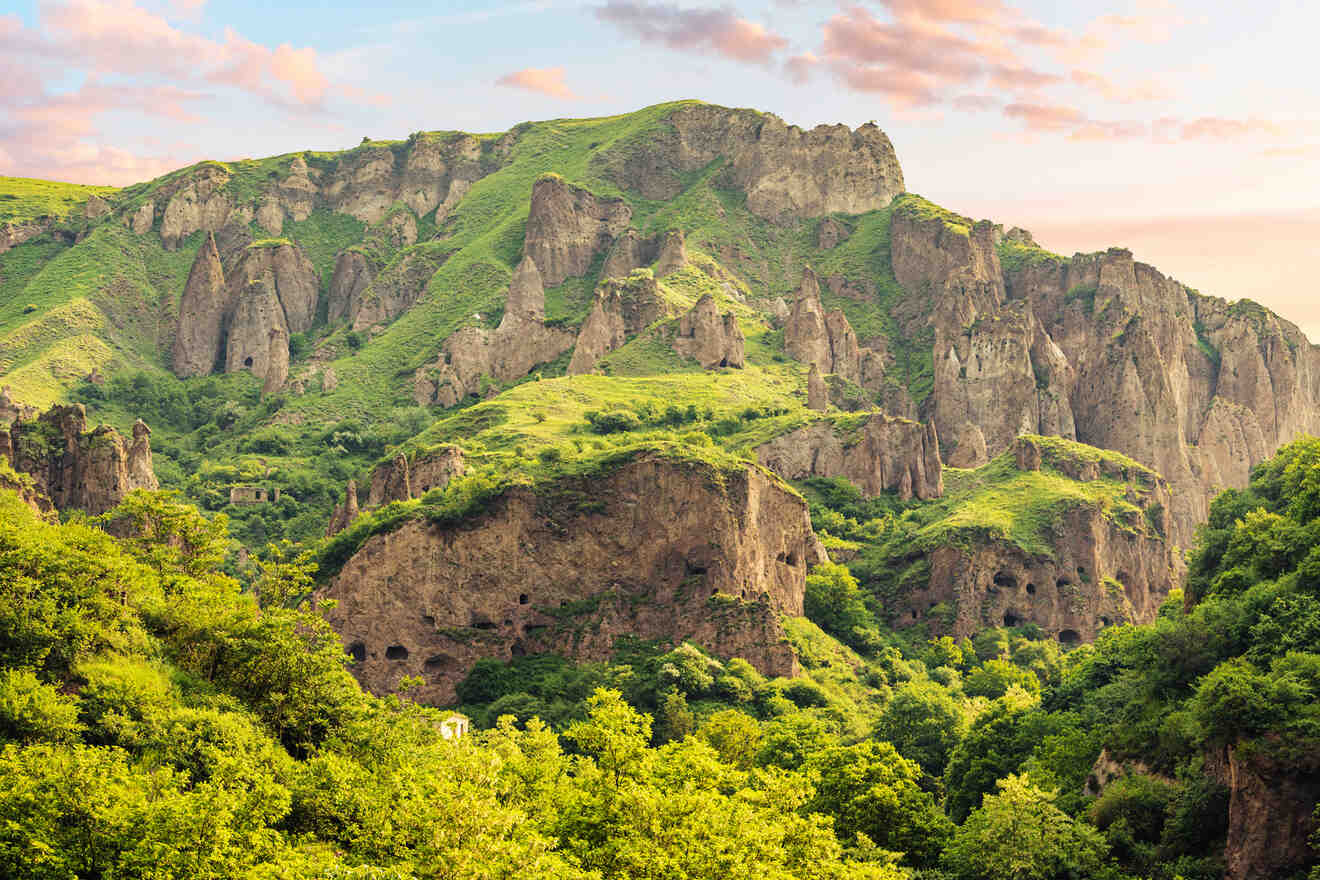 Located in Syunik province, Southern Armenia, just 4 hours by car from Yerevan, Goris is a fascinating small village with an even more interesting past and one of the best places to visit in Armenia!
Goris was the first planned city in the Caucasus during the Russian Empire, and it has a few museums and churches as well, but its main attractions are the old Goris caves!
Apparently, the medieval Goris cave dwellings date back to the 5th century and were built by cutting into rocks on steep slopes! The little cave rooms are linked together and you can explore them for free!
16. Take the cable car to Tatev Monastery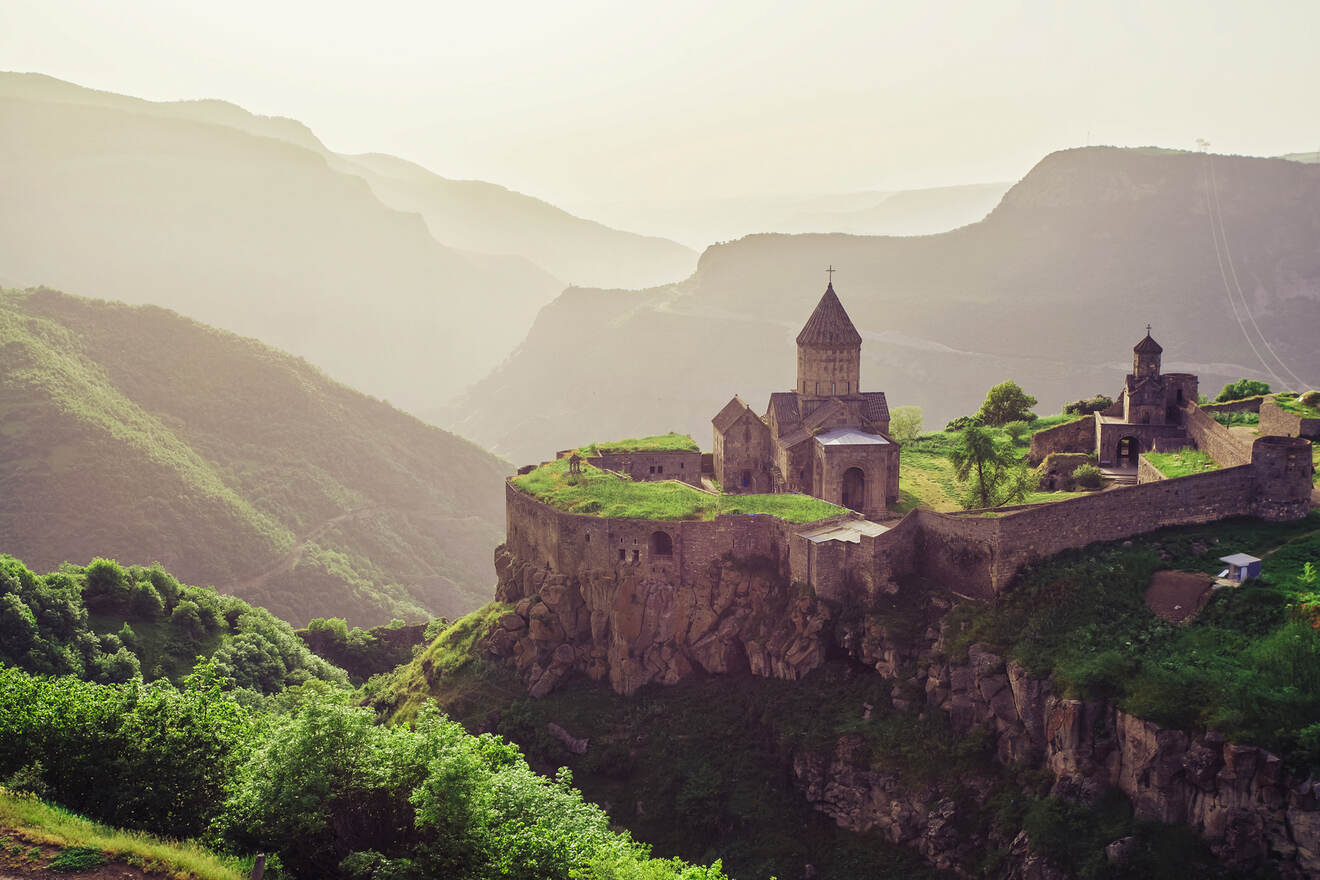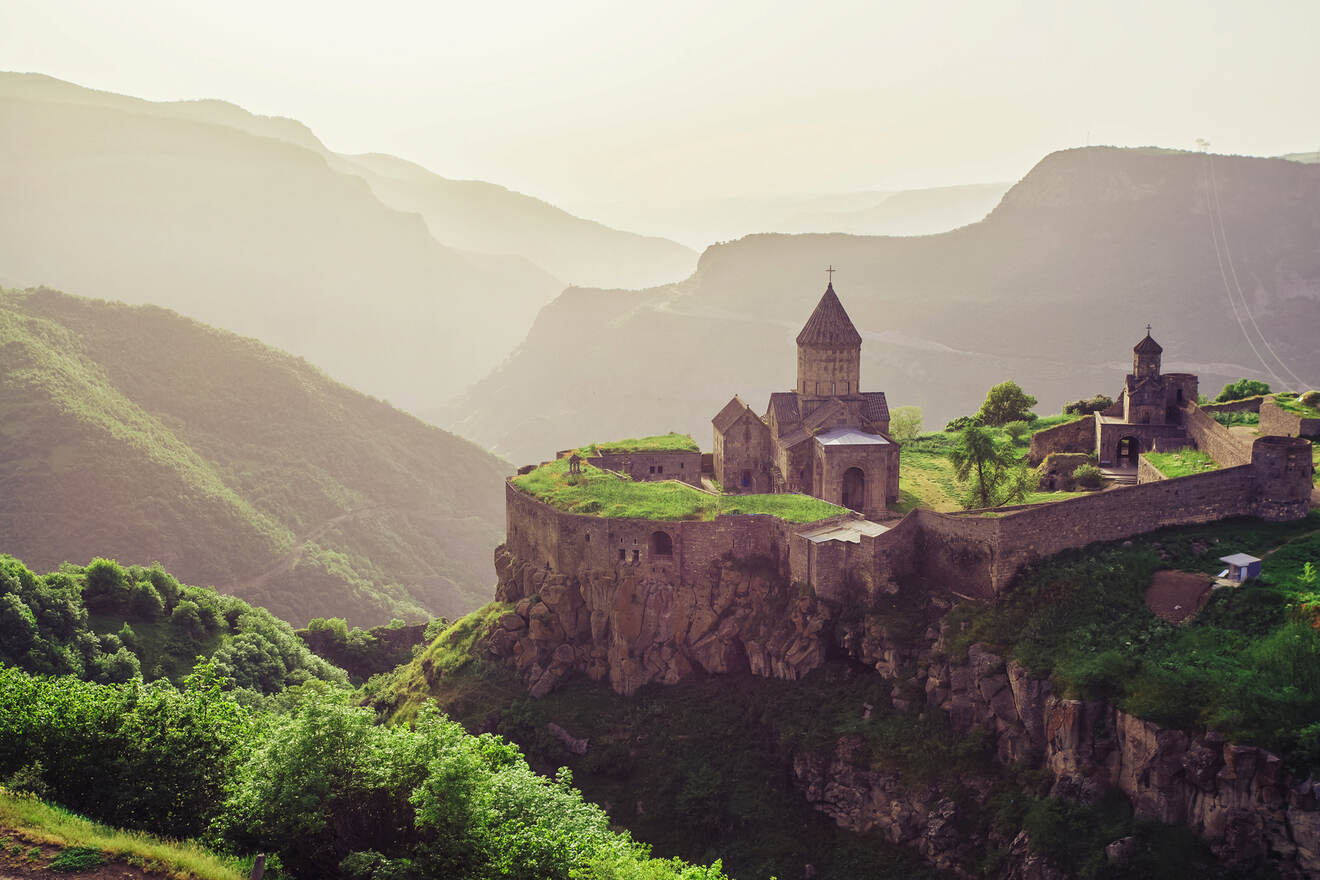 "Just 1 more monastery and we're leaving" this probably going to be the motto of your trip!
Indeed all these holy historic buildings are incredible and offer a great opportunity to admire some super old Armenian architecture, but can't end your visit in Armenia without stopping by Tatev Monastery.
Located near the Iranian border, 4h and 30 min from Yerevan, the complex in the mountains offers incredible views and an even more fun way to get up there.
You can take the Wings of Tatev Tramway which is actually the world's longest reversible non-stop ropeway for 7000 AMD (US$18).
The whole ride up there is incredible and you get to admire the sights of the deep gorge, the mountains, and even some waterfalls and valleys!
Tatev Monastery complex was built in the 9th century, and later on, this is where they opened the biggest university in the Southern Caucasus in the 14th century (but it has since been closed)!
Now you can visit the 3 churches here (Saints Paul and Peter, Saint Gregory the Illuminator, and Holy Mother of God), a library, the bell tower, and a mausoleum!
| | |
| --- | --- |
| 💯 Top attraction: | Garni Temple |
| ⛪ Unique Monastery: | Geghard Monastery |
| 😋 Must-try food: | Herb-stuffed lavash |
| 🚗 Best day trip: | Lake Sevan |
| 🤩 Unusual attraction: | Symphony of Stones |
| 🤑 Best free activity: | Ararat viewpoint |
| 🏞️ Top outdoor activity: | Dilijan National Park |
Places to stay in Armenia
Now that we've discovered all the best places to visit in Armenia we can move on to our last thing on today's post agenda which is finding some great hotels and accommodations. A lot of people just stay in Yerevan and take day trips around, but I decided to also give you options in another town where tourists usually stay in Armenia, Gyumri.
So let's check them out:
Yerevan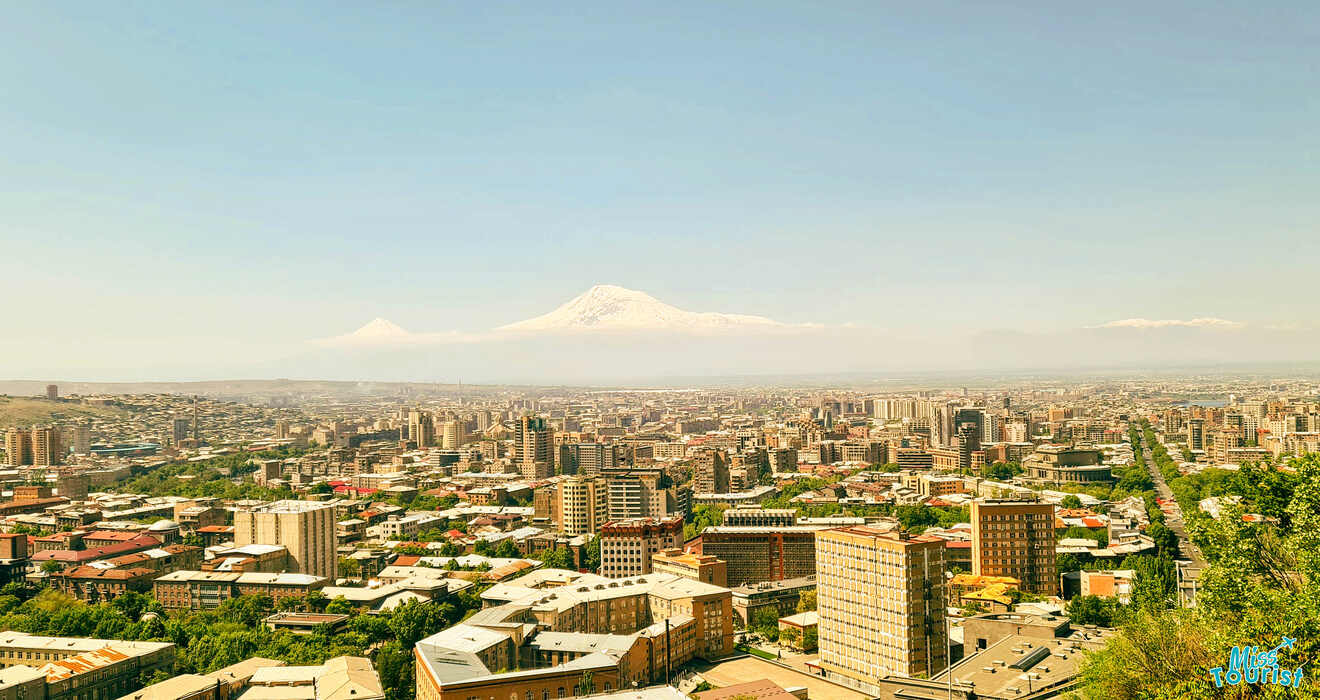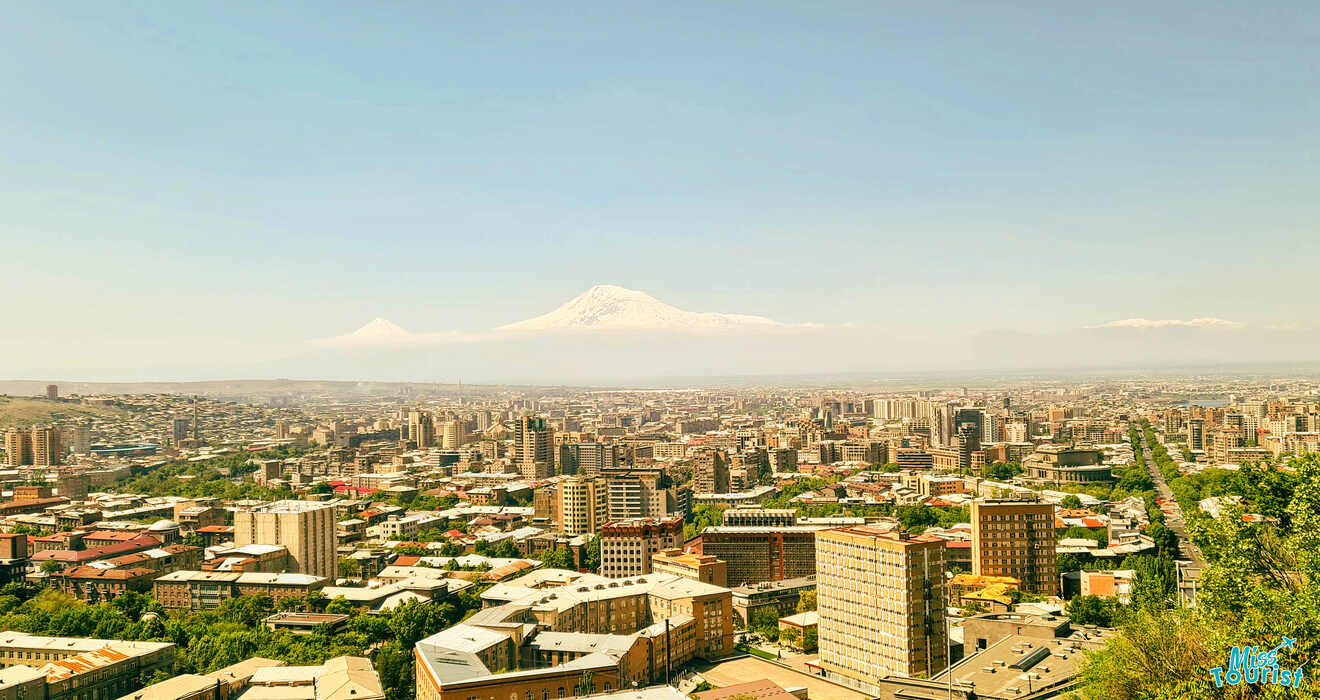 Armenia's capital city and one of the top places to visit in the country is where you'll start your holiday. As I mentioned, most tourists find accommodation here and then they go on day trips to see the top attractions.
Luxury: The Alexander – Located in the city center, just a few steps away from Republic Square, this hotel has a super elegant design and many luxurious facilities including a spa, 4 restaurants, and an indoor pool.
Mid Range: Phoenix Boutique Hotel – A great hotel with spacious rooms that have comfortable beds and free wifi. The accommodation offers free breakfast and pool access.
Budget: Ris Central Apartments – These budget-friendly apartments are set only a short walk from all the places to visit in Yerevan and offer lots of space, a balcony, and a kitchen.
Gyumri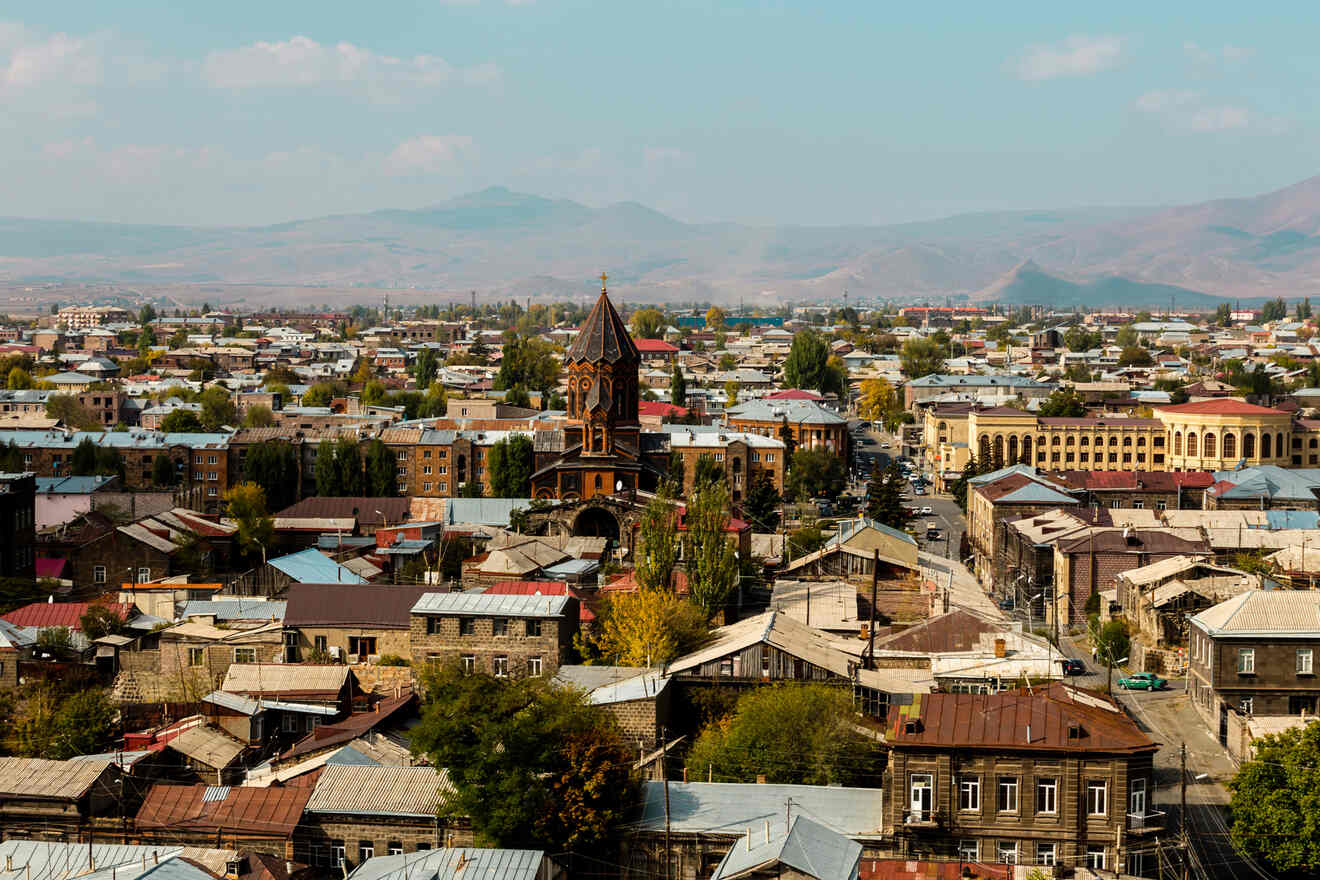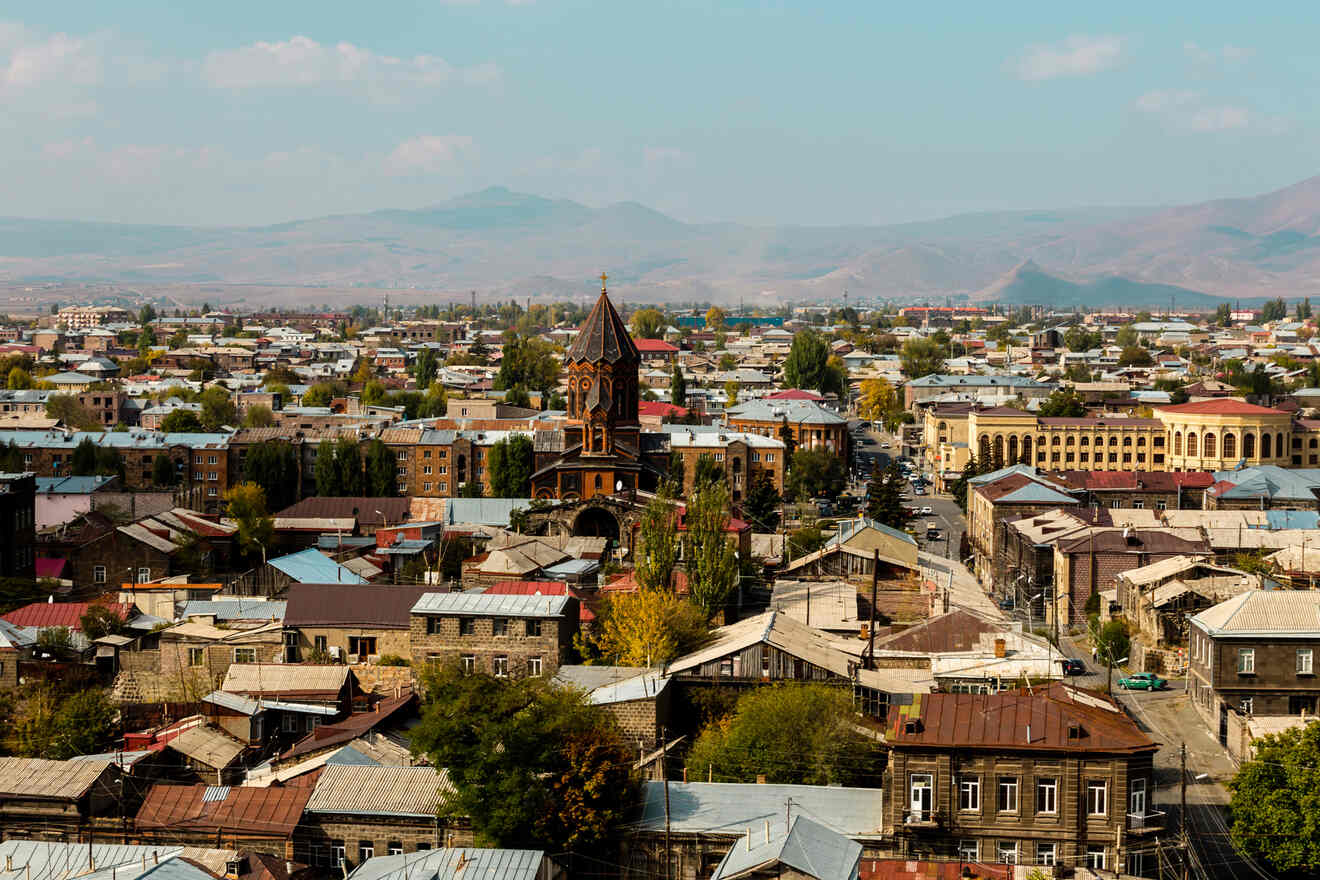 Welcome to the second-largest city in Armenia, which is an important cultural center with lots of places to visit. (I have you all the details in section #7 of this post.)
Now let's see the best hotels here:
Luxury: Grand Hotel – With charming, spacious rooms, that have a private bathroom and free wifi, this hotel will offer you a fabulous stay in town and free breakfast!
Mid Range: Toon 55 – A well-equipped guesthouse with a balcony that features city views, and rooms with a private bathroom and free wifi.
Budget: Araks Hotel Complex – If you're looking for something super affordable then I recommend this accommodation which has family rooms, a pool, and a bar.
FAQs about places to visit in Armenia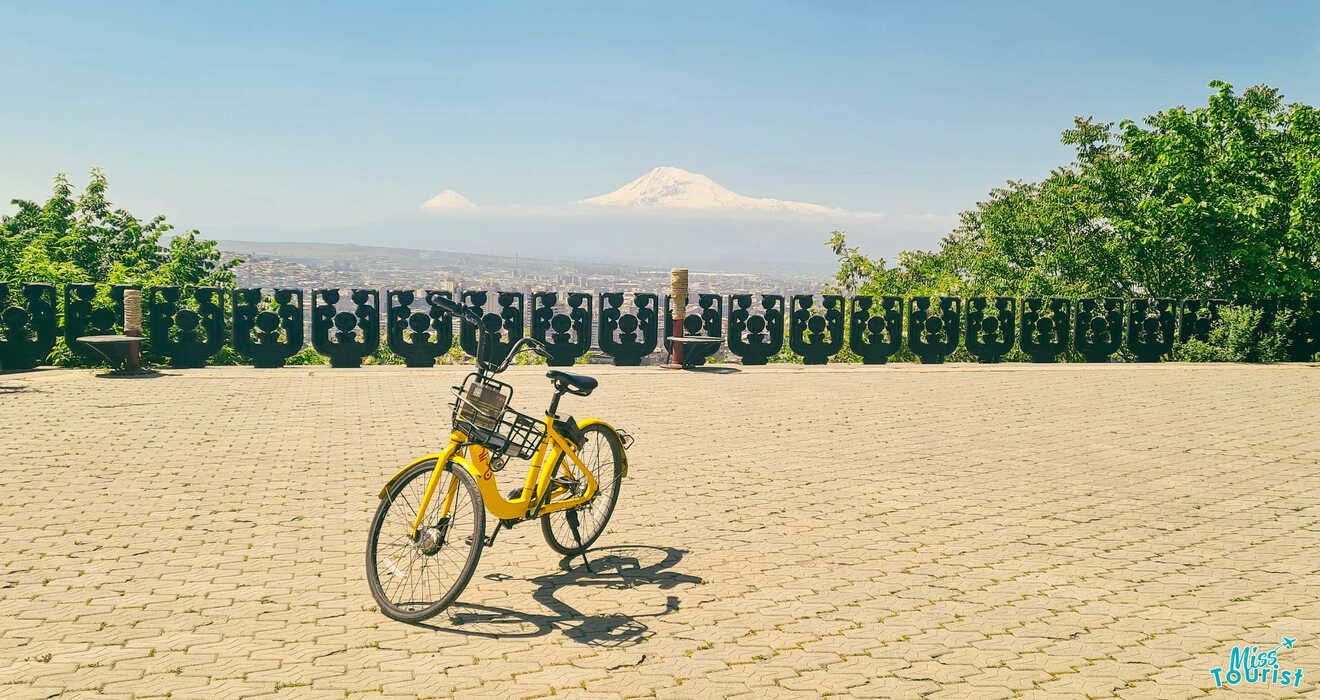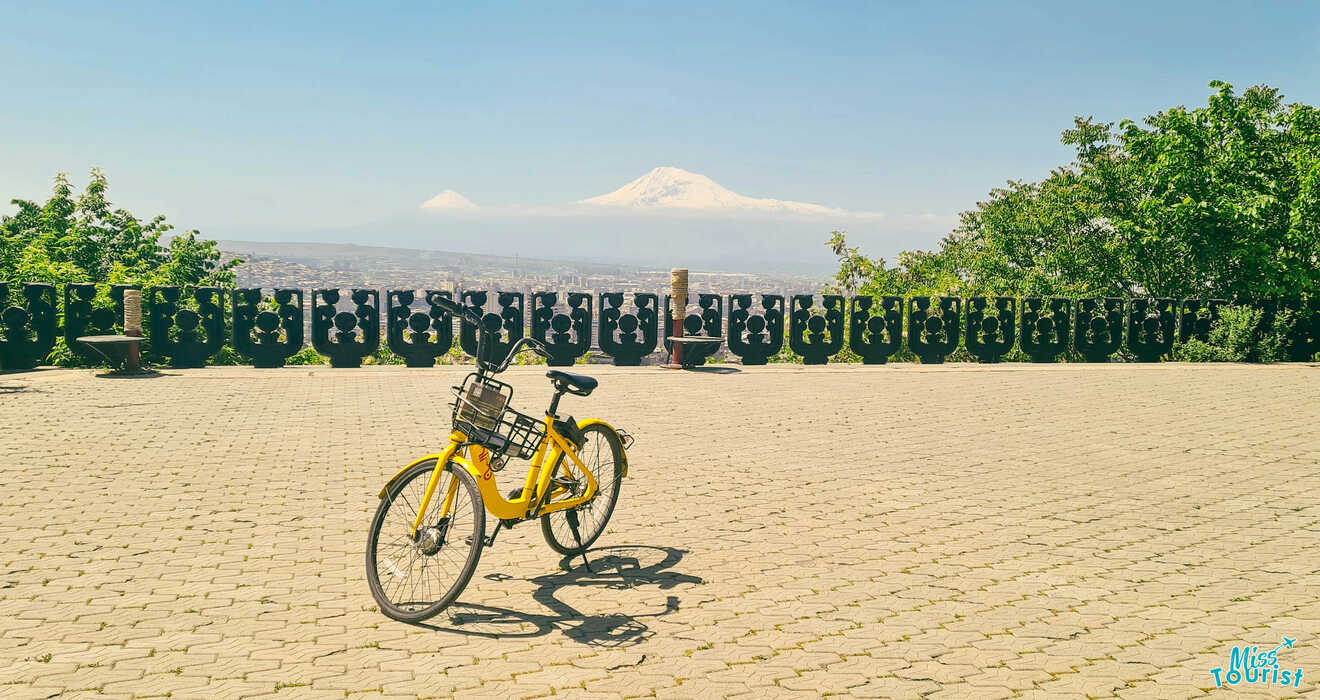 🤩 What is Armenia famous for?
Armenia is famous for its breathtaking landscapes, its delicious cuisine, and many historical places to visit! Armenia was also the first country to adopt Christianity, so here you can visit some of the oldest churches in the world!  
🤔 Is Armenia good for tourists?
Yes! There are so many unique places to visit in Armenia, from ancient churches to museums, and some nature reserves as well. 
📅 What is the best month to visit Armenia?
The best time to visit Armenia is May to September, that's when the weather is at its best! 
💰 Is Armenia cheap for tourists?
Yes! There are so many places to visit in Armenia for free, including churches and nature reserves. Plus the prices for hotels and food in the country is super affordable for tourists. 
Conclusion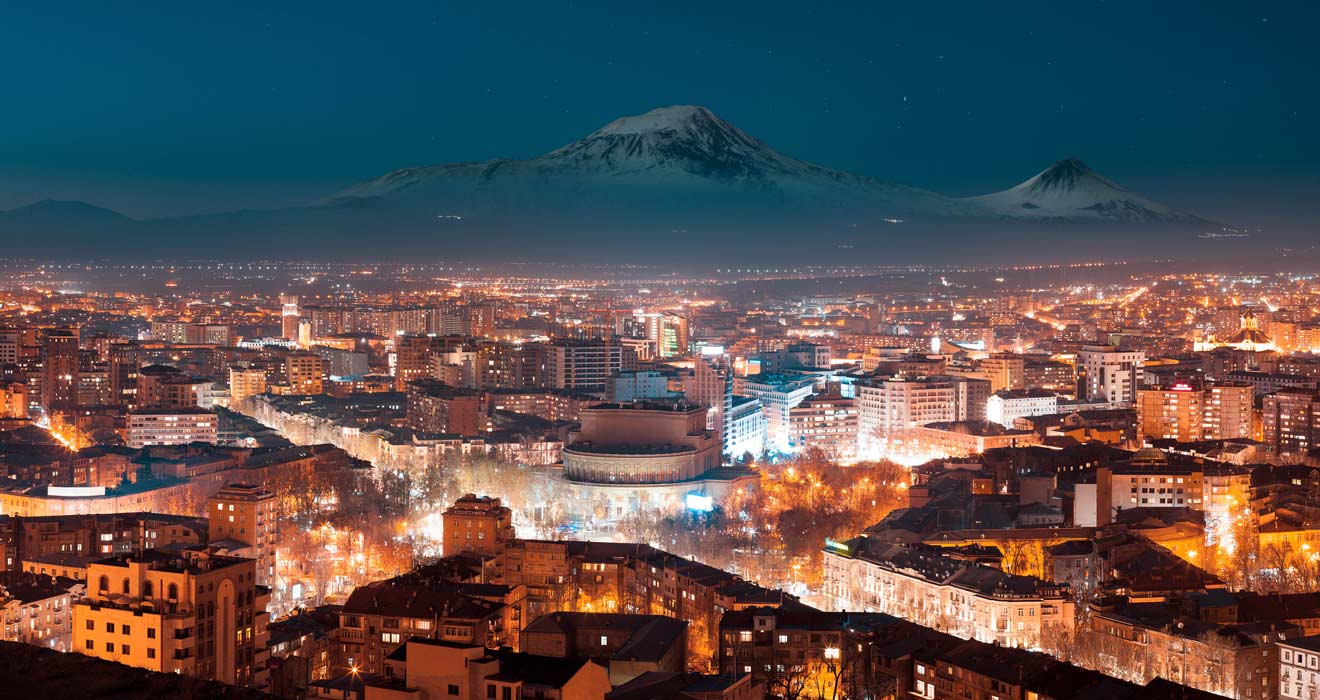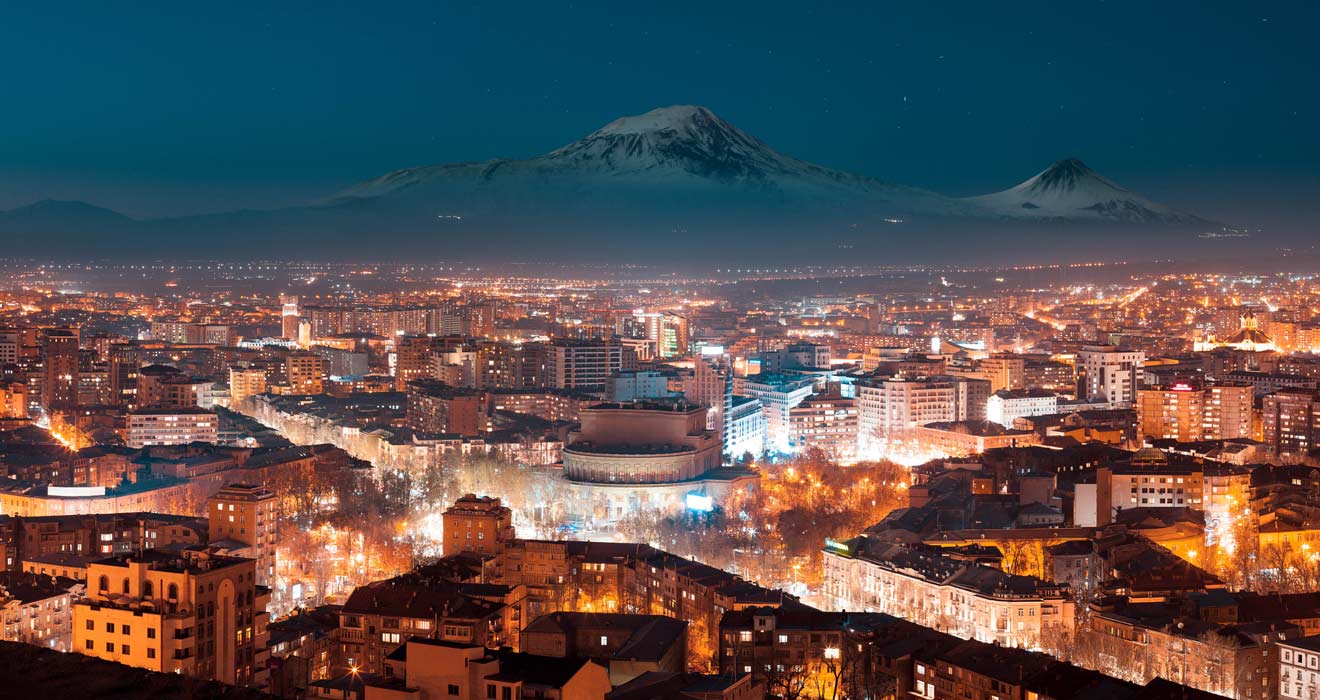 Who's already super in love with all those dramatic landscapes and views of Mount Ararat?
Armenia is such a precious gem!
We've gone through all the best places to visit in Armenia, plus a list of the best town and the top hotels in each of those places.
But don't forget to book your tickets and accommodations in advance, as this place is becoming more and more popular with tourists every year!
This is where our virtual journey ends, for now but don't shy away from asking any questions. Just pop them in the comment section below and I'll answer ASAP!
Have a wonderful trip,
Victoria
---
Pin it for later!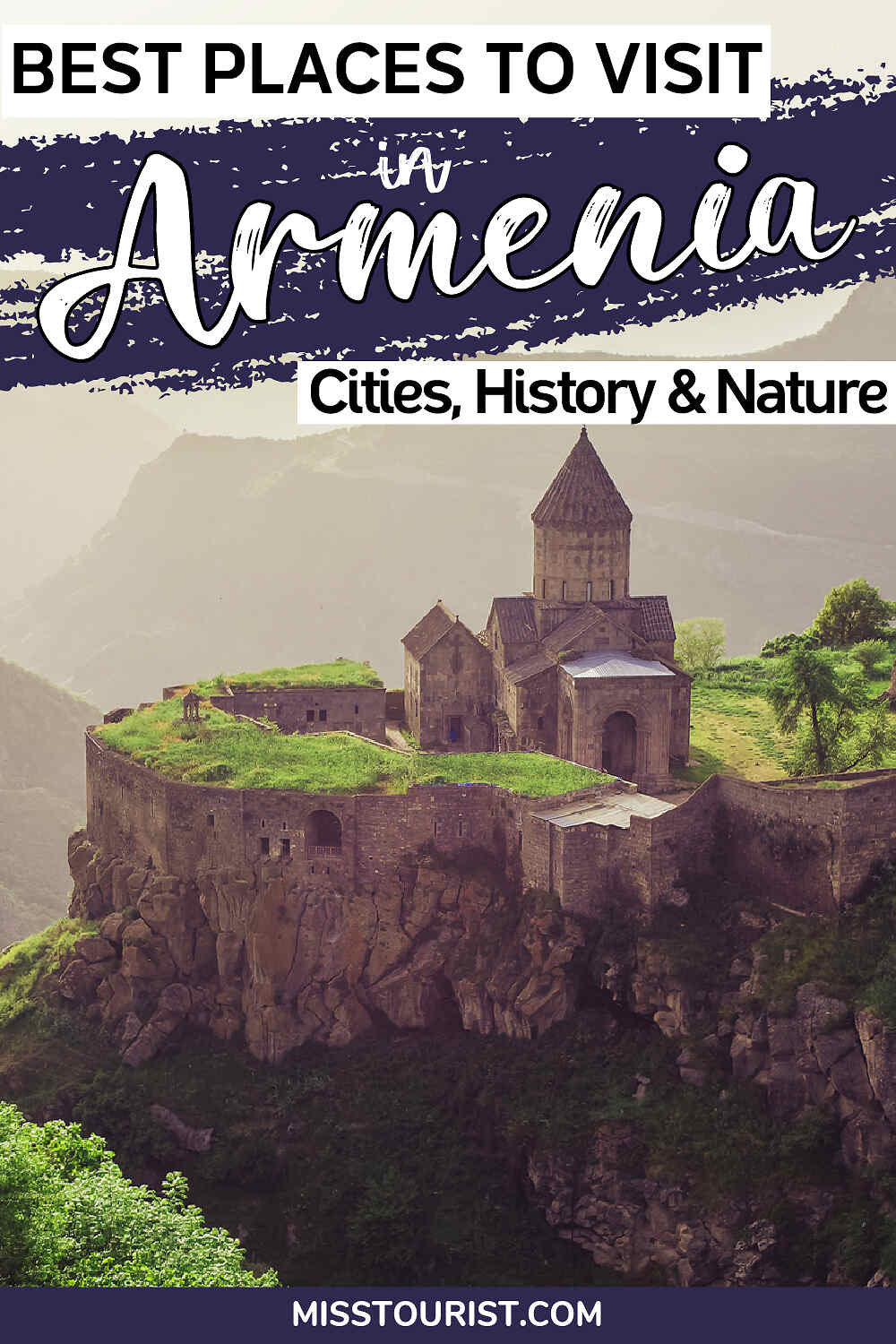 Pin it for later!