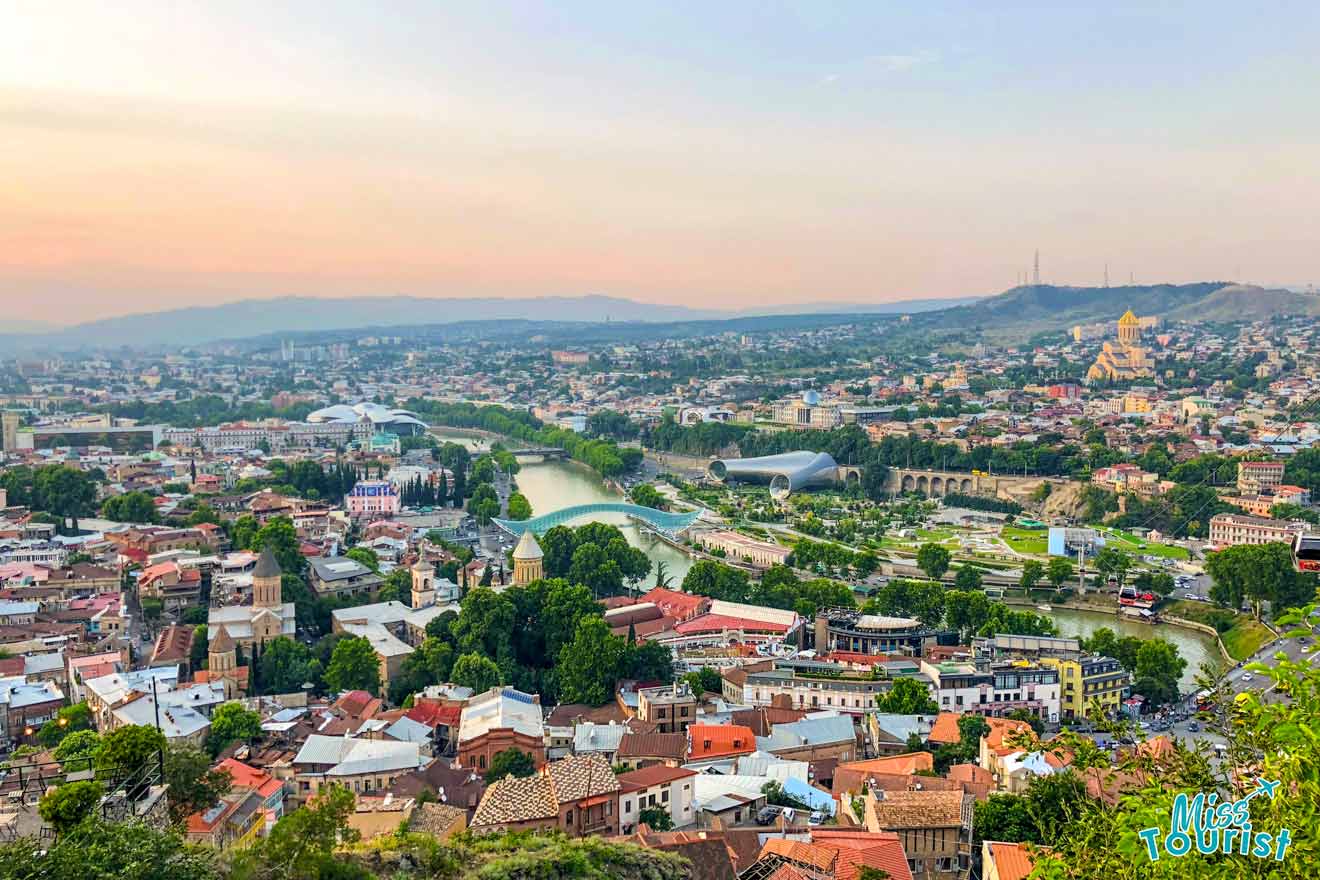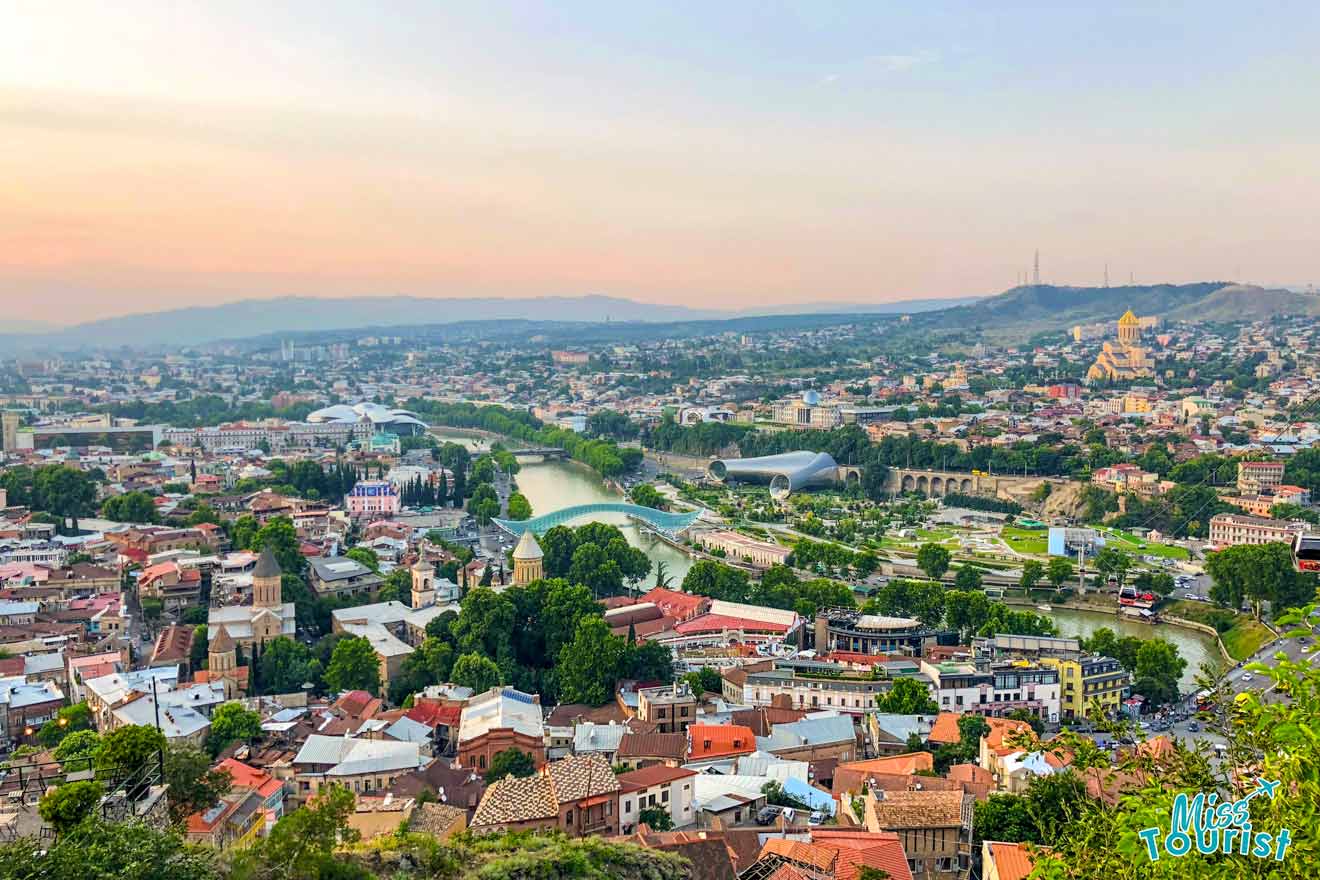 Tbilisi, the capital of Georgia, is a bustling city of wonderful contrasts that rivals much larger cities in Europe in terms of its architectural beauty and historical significance. Yet, it is surprisingly easy to navigate and get around, with most of the major sights located in the Old Town within walking distance of each other.
With its charming courtyards covered by wine leaves, Tbilisi is a very authentic city that I dearly love! Why? Well, because it breathes history, it has one of the most hospitable people in the world and some of the most delicious food (I am sure you will agree with me when you try it for yourself, mmm!).
Here are some fast facts about Tbilisi:
Tbilisi is the capital of Georgia (duh) and its largest city too (1,5 mln people live there). Official language is Georgian, and most people speak Russian too (Georgia used to be part of the USSR and Stalin was georgian actually).
Geographically it is located in between Europe and Asia and so is its culture – it has this intricate blend of Europe, Asia and definitely its own twist too. No wonder why – throughout the ages they were under Mongols, Iranian, Russian and others, what a crazy mix!
Tbilisi became a capital in the 6th century (originally the capital was in Mtskheta, a charming town less than an hour away that you should definitely visit!)
I have traveled to Tbilisi several times now (and will definitely come back many more times too!) and these are my top 11 things to do in this fantastic city:
1. Get lost in the Old Town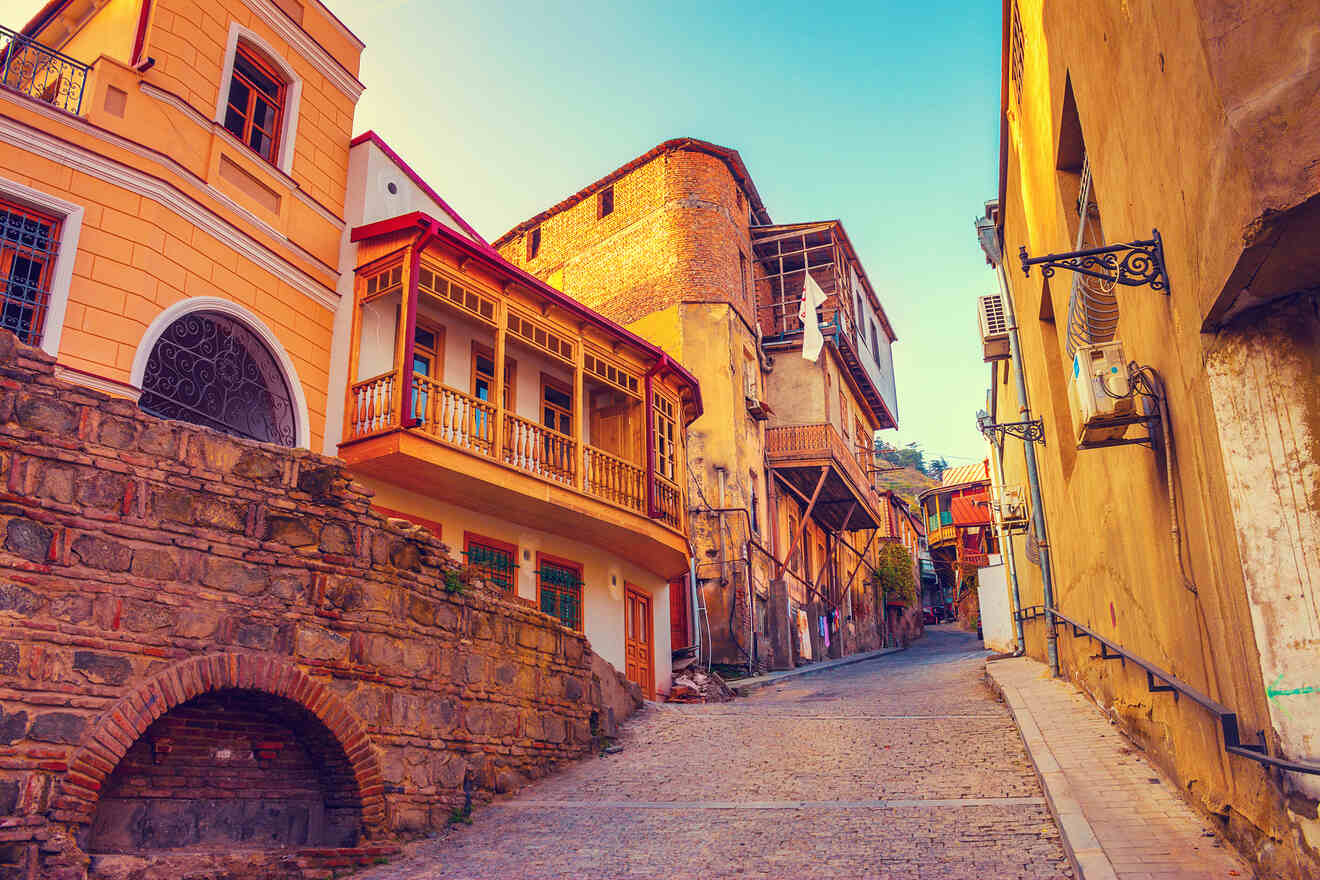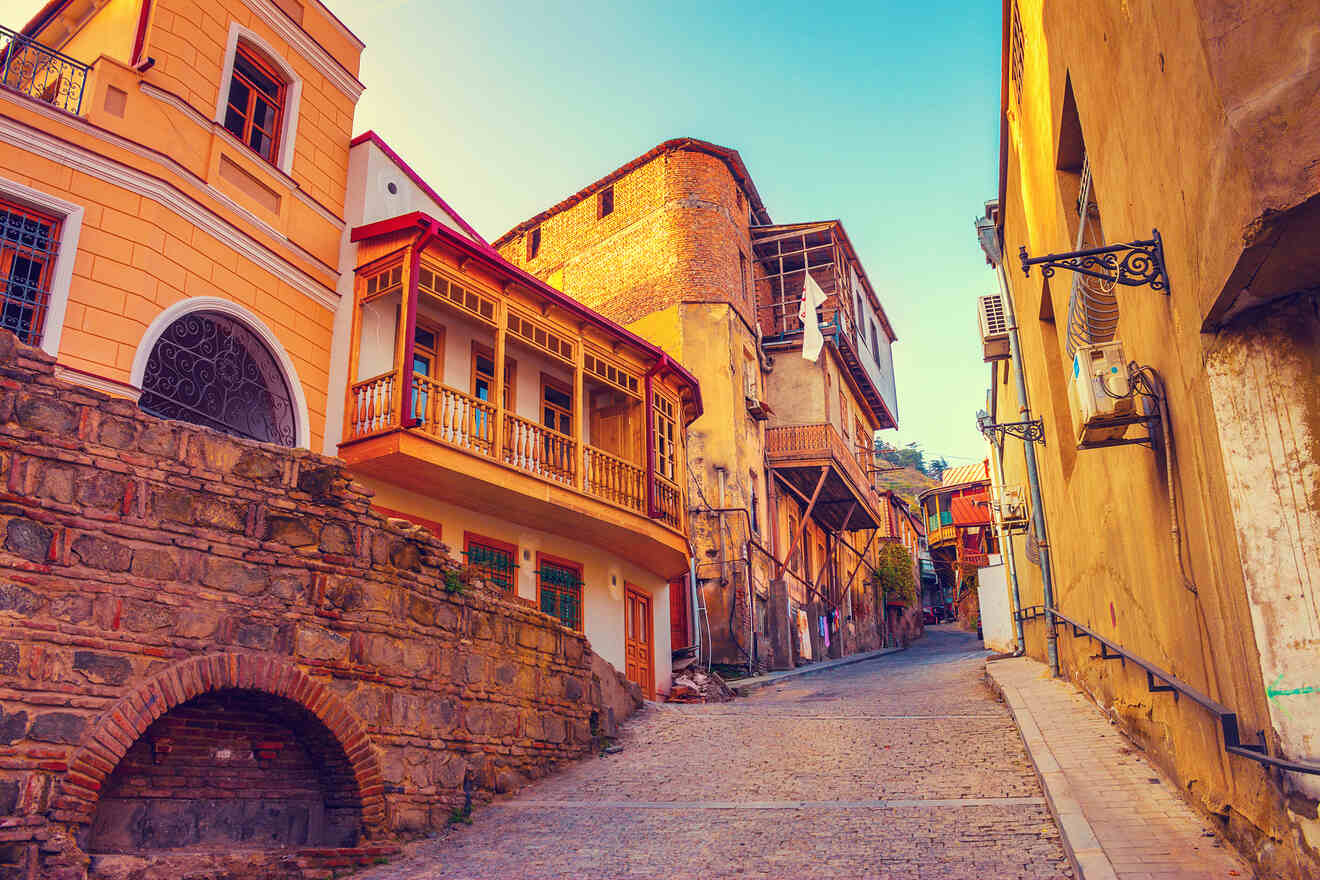 Old Tbilisi is extremely picturesque with many hidden gems tucked in the courtyards and walkways. If you are looking for an authentic taste of Georgia, then you need to spend a day wandering around this area – don't miss the chance to explore the charming little lanes and hidden courtyards.
Best way to explore it is by getting lost – wander around and stop at anything that looks interesting! Forget about your GPS and get lost in its cobblestone streets, curved lanes, tiny streets where locals dry their colorful clothes outside, houses hanging over the road despite the laws of physics and famous colorful balconies (oh, they looove watching the world go by from those balconies!)!
You could potentially discover the whole area in 3-4 hours, it is not so big. But I would highly recommend to also take a tour of this area – the locals will be able to show you some absolutely wonderful gems that you would not notice otherwise and tell you some fantastic stories about the city's past (and it has quite some).
I remember I took one of the free walking tours (the ones where you just pay tips), but if you want a more personalized experience, I can highly recommend this one, it is also super affordable and definitely less crowded (or the private one here).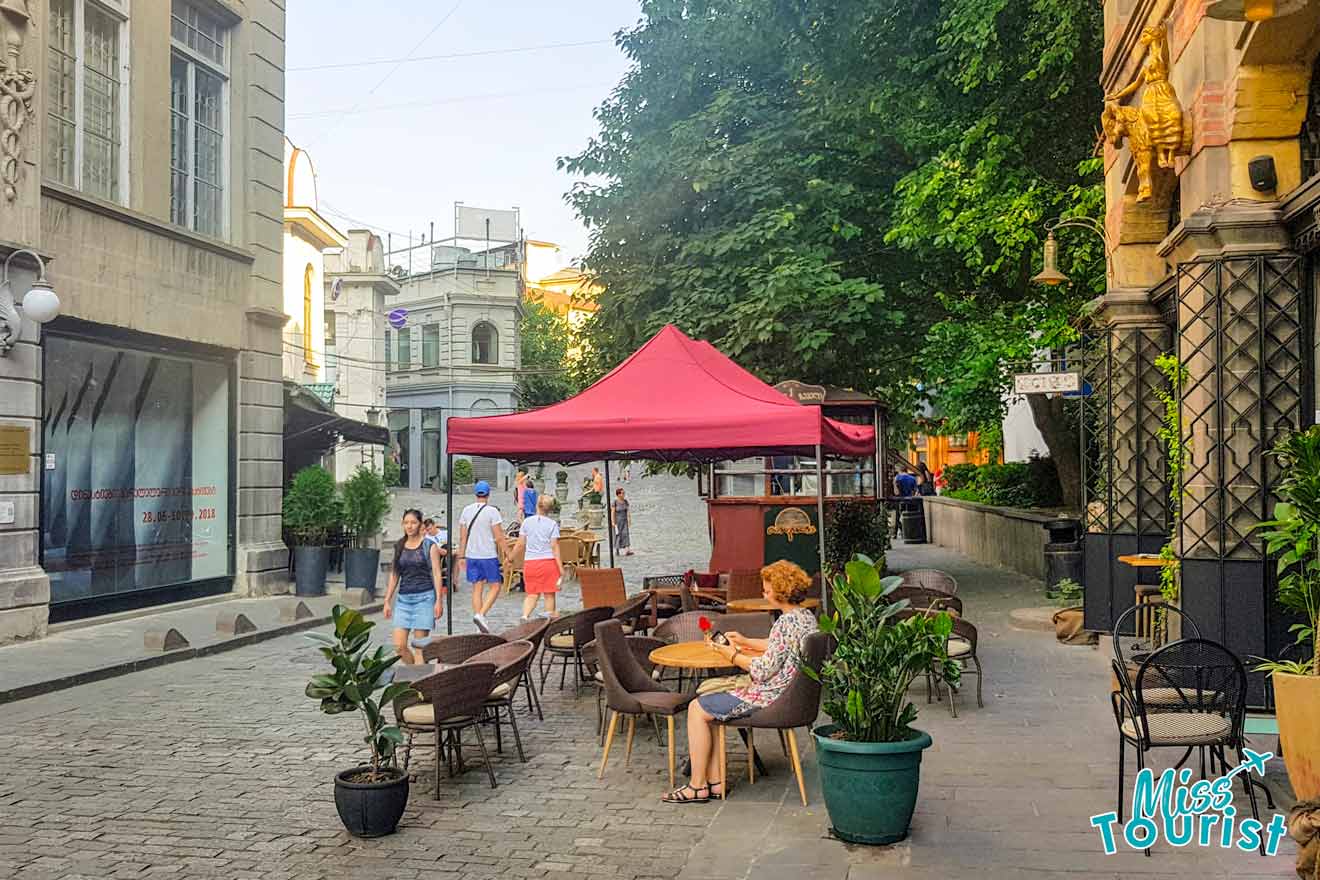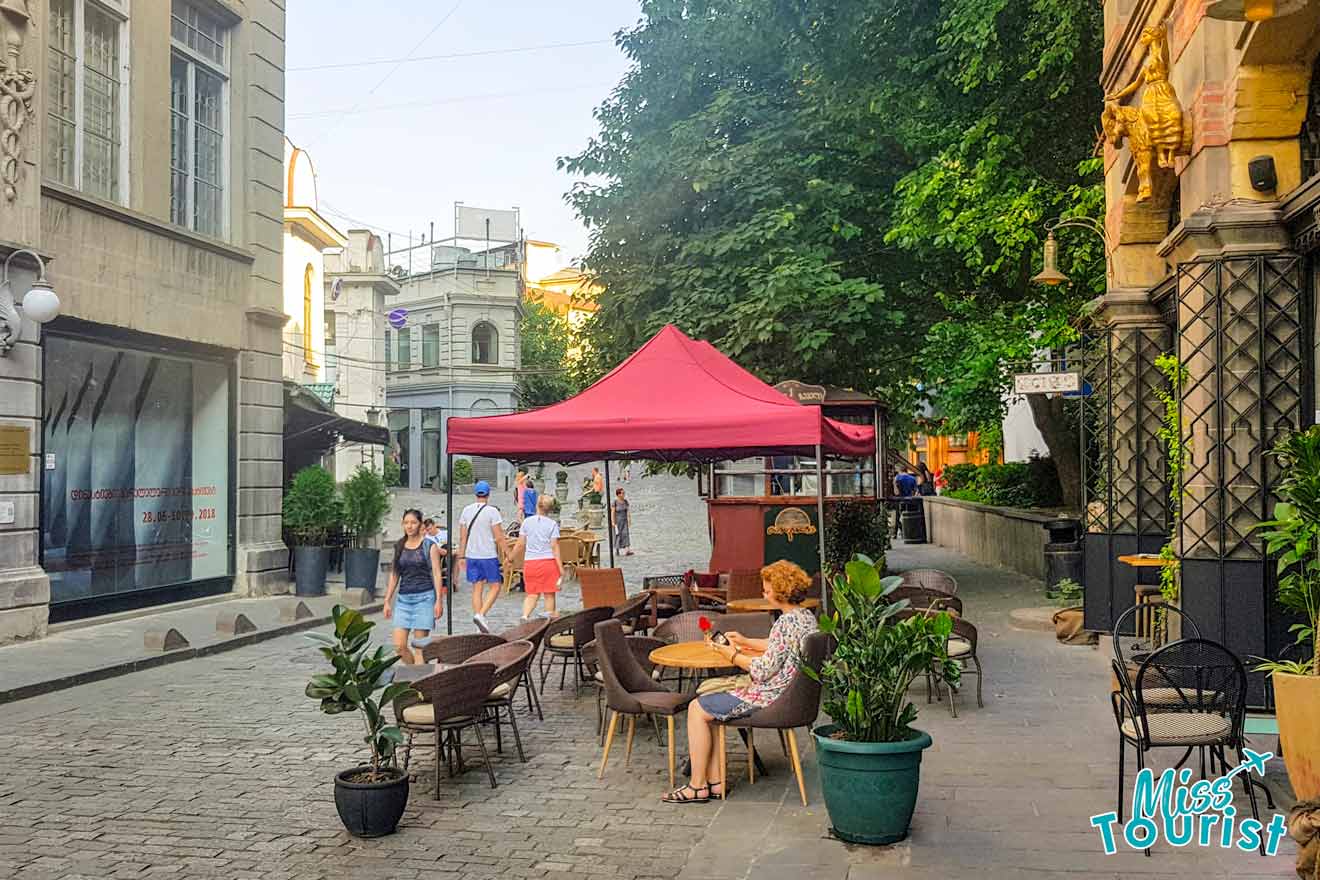 PRO TIP: If you are traveling with kids, or if you want to make an unusual surprise for your family/loved ones, there is this amazing tour called Farolero. We took it when I organized a bachelorette party for my best friend (nothing crazy, just magical, I assure you) and we loved it!
You will discover the city wearing a cloak and a mask following an old Lamplighter that can literally create a fairy tale from your experience. NOTE: I took the tour in Russian, but I know they have the tours in English too, just write them to double check that.
When there, do not forget to stroll around the riverside and see the Bridge of Peace.
The Bridge of Peace is a pedestrian bridge that lights up with over 10 000 little lamps after the sunset!
Also, be sure to visit one of the oldest churches in Georgia, Sioni Cathedral.
PRO TIP: women need to cover their hair to enter an orthodox church. They will usually have something for you to use at the entrance free of charge, but if you don't want to use it, bring your own scarf with you.
2. Take a cable car/funicular up to see the view of the city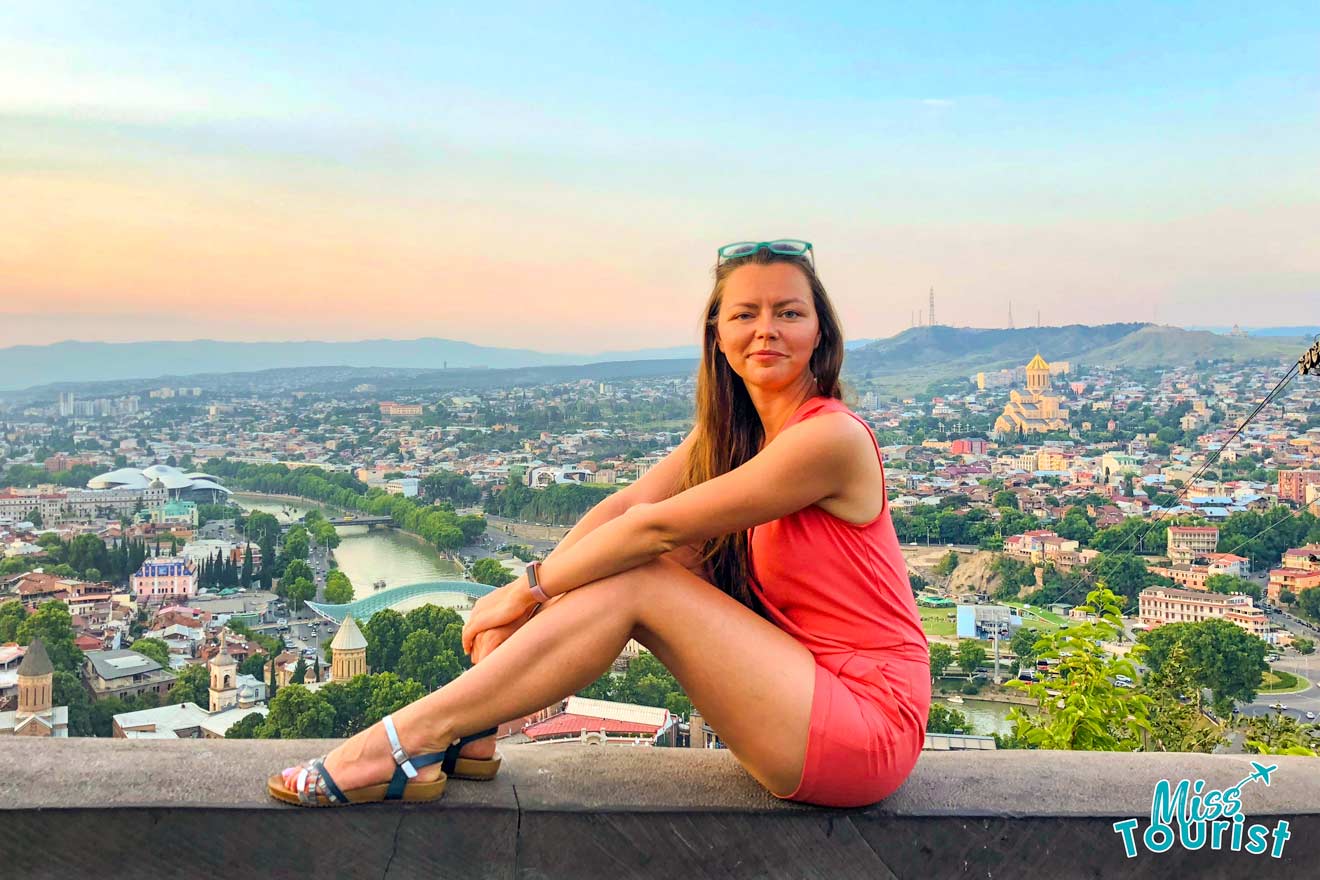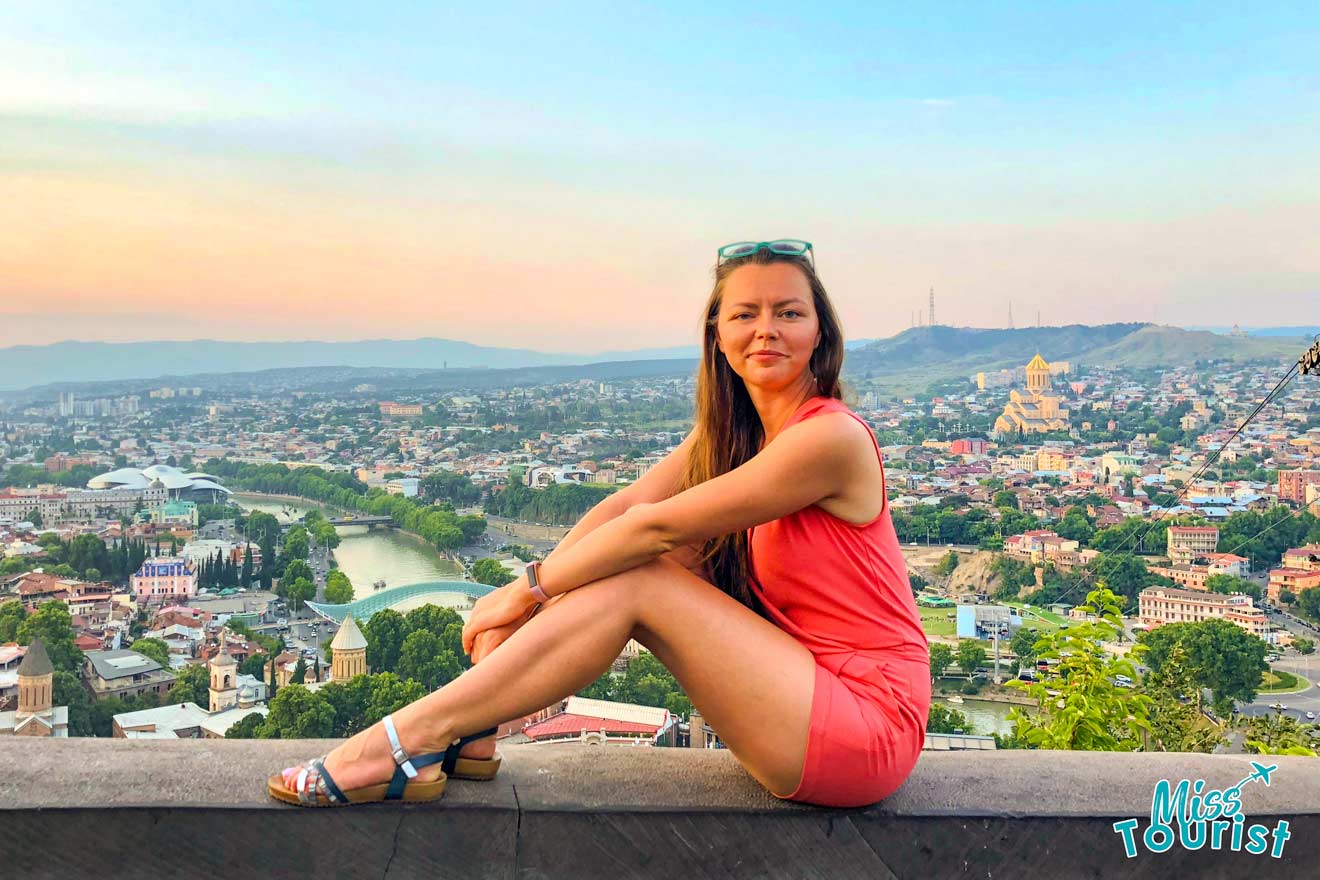 No one has ever returned from Tbilisi without a photo of the view from Narikala Fortress. It is very popular, so you will be able to get some great pics!
The cable car starts from around the Bridge of Peace area, it is actually pretty modern and the cost is only 2.5 Lari (~US$0,7). When you get to the top you will be able to see the amazing view of both the city center and the statue of Mother Georgia.
Yes, you saw it right, Mother Georgia has a bottle of wine in her hand, the other one has a sword.
It symbolizes the fact that Georgians are extremely hospitable people, but if someone attacks them, they are ready to fight back. 😉
When there you should go up to the remains of an IV century Narikala fortress (the legend has it that it was one of the stops on the Silk Road). You can visit the fortress too, the entrance is free of charge.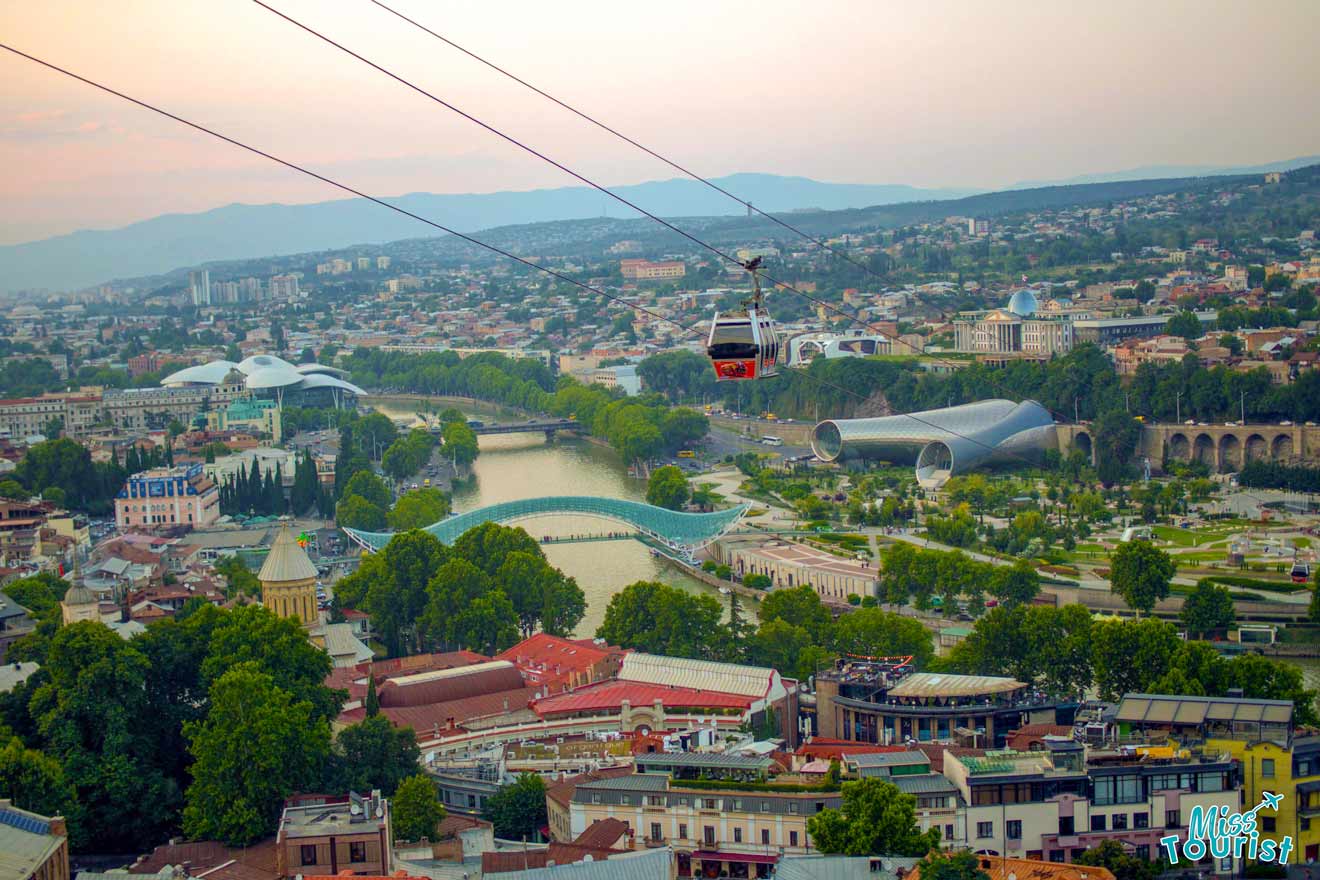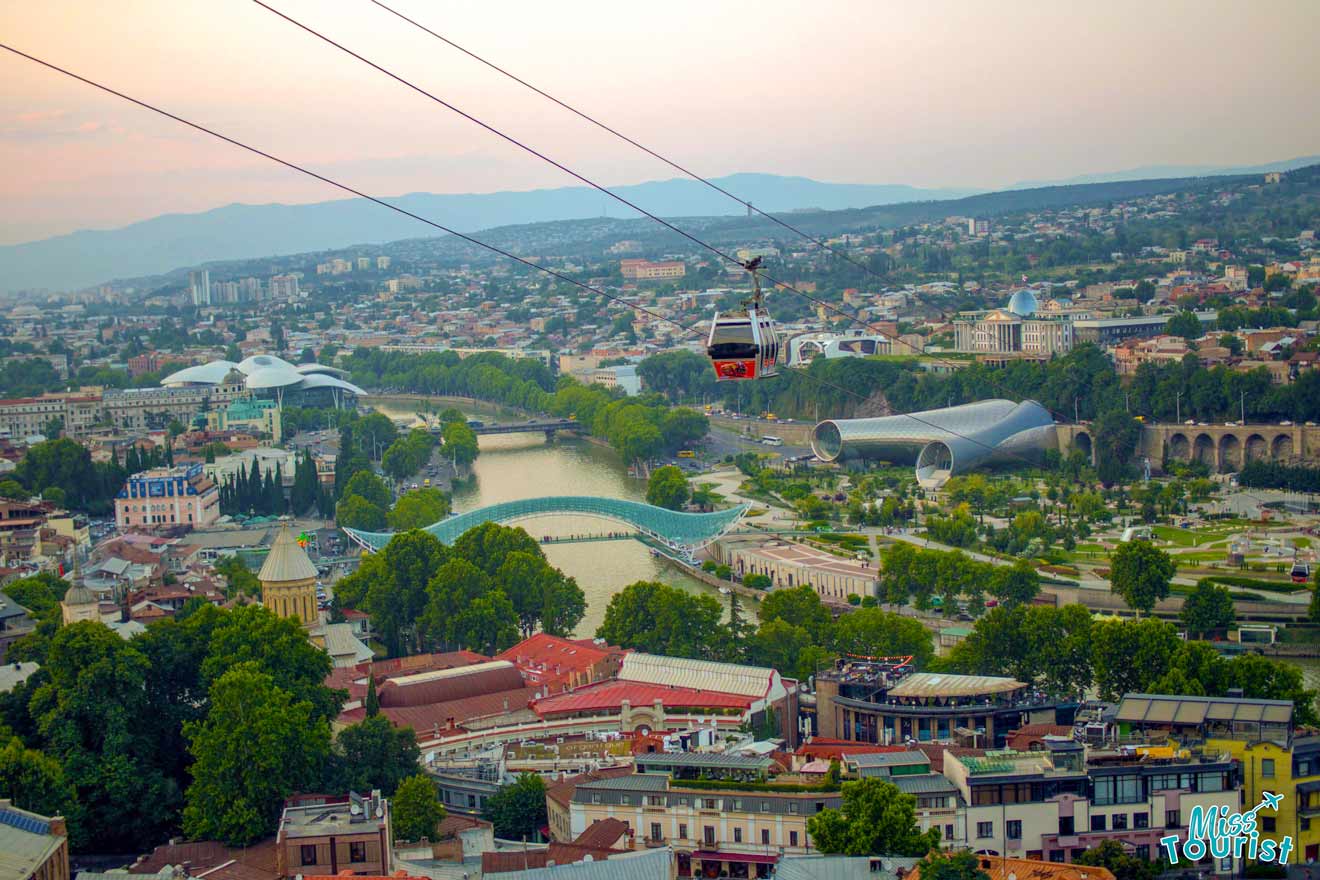 Unless you have some troubles with mobility, I recommend you walk down by foot – you will see some really authentic beautiful houses along the way! Btw, you will get down to my Thing to do #7 – Sulphur bath (read on to learn more).
There is actually another cable car in the city – it is called a cable railway (does anyone really know the difference between funiculairs and cable cars/railways, btw? Just take me up, duh!).
The cable railway goes up to another mountain, this time to Mtatsminda Amusement Park which I highly recommend visiting even if you are not into the rides – the 360-degree views are fantastic and so are the donuts (check out point #6 for details). The ticket is 2 Lari one way, but this time you will definitely need a ride back (by either this aerial tramway or taxi).
3. Admire the Rezo Gabriadze Marionette Theater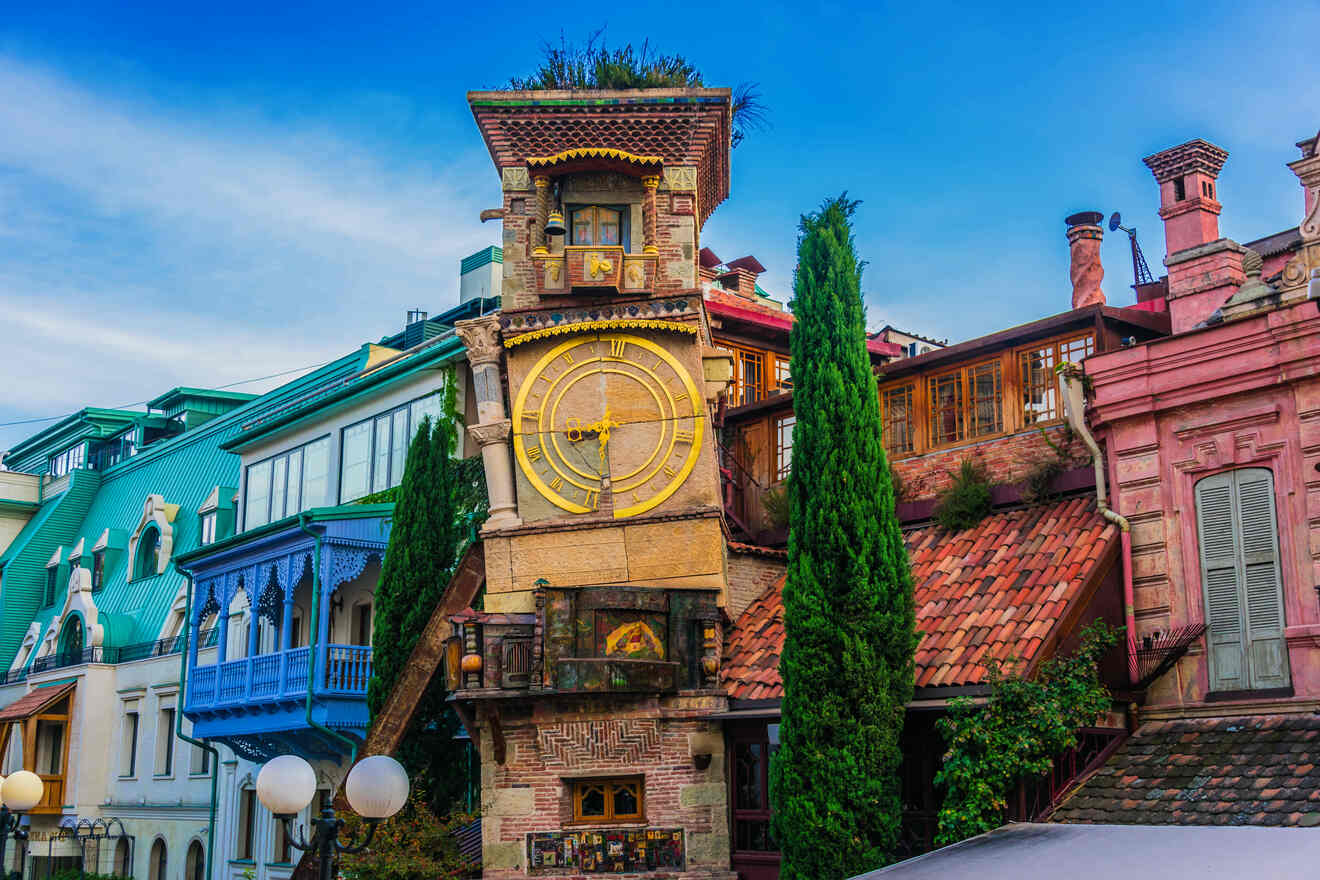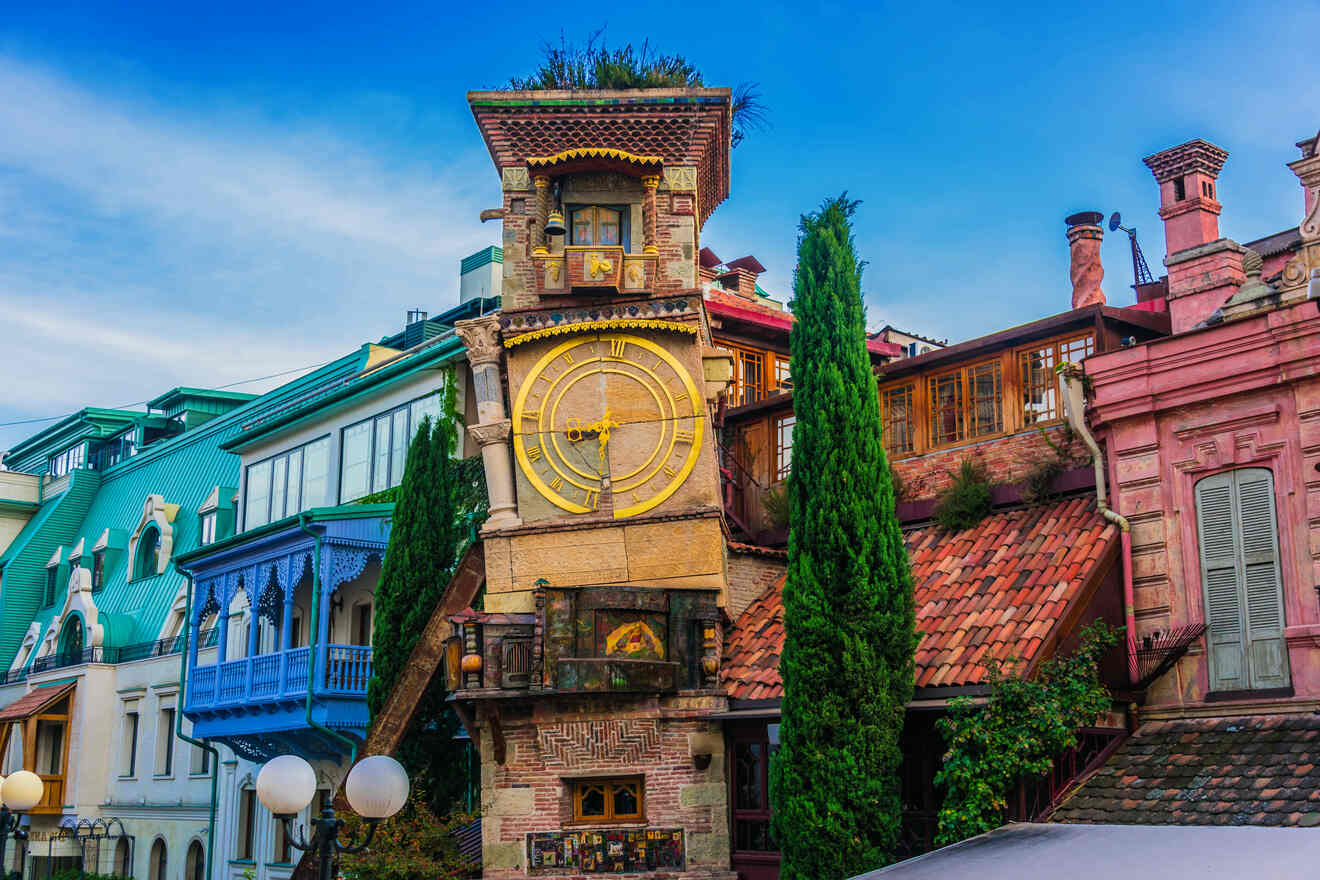 I would normally not recommend something like this, but this theater is one of a kind!
Rezo Gabriadze, a famous Georgian film director, created the museum and used his personal collection of puppets from around the world. Rezo is an artist that struggled to express himself or his opinions through his art in Soviet Georgia, and so he found a method to express his political thinking in a seemingly naive way, through marionettes.
I don't know why, but I found the building and the clock show so interesting that I enjoyed every minute of it!
The building itself is an art-style masterpiece and well worth a visit!
It is very "instagrammable" – it is a beautiful mix of all kinds of materials that somehow blend together very nicely.
It has a very peculiar clock too – every hour an angel will come out to a special balcony and strike the bell with a small hummer, how cool is that?
Except for the every hour small angel appearance, there is also a bigger, special performance called "The circle of Life" happening every day at midday and at 7 pm – do not miss it (you will see by a bigger crowd around the tower that soon is the time in any way). You can find updated performance times here.
If you want to actually go inside to see one of the plays, here is the schedule (the price is anywhere between 10-30 Lari ($US3-9).
Pssst – if you are looking for another cool insta-worthy place, here they are – Gallery 27 and Gardenia Shevardnadze.
4. Try its fantastic food (and wine!)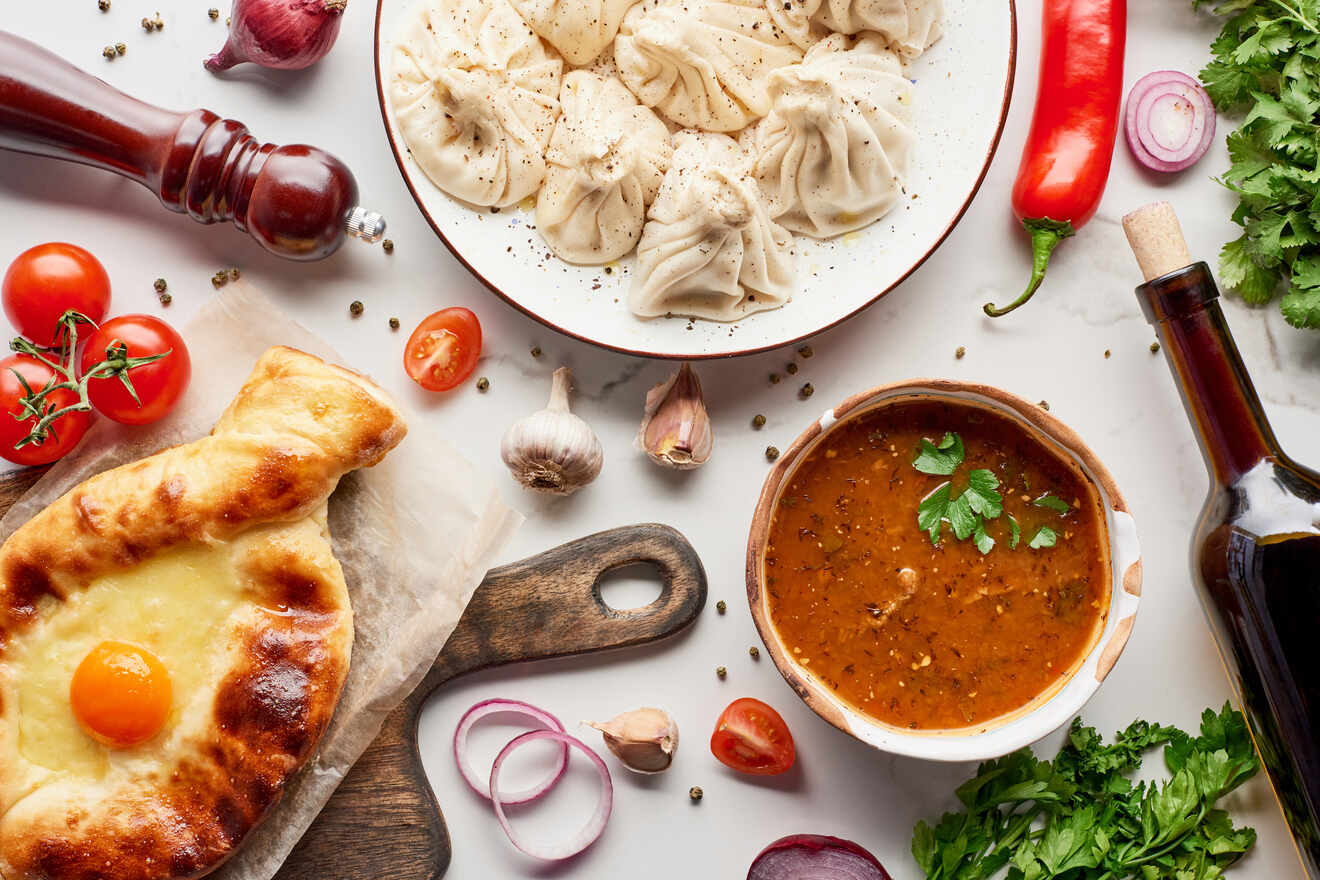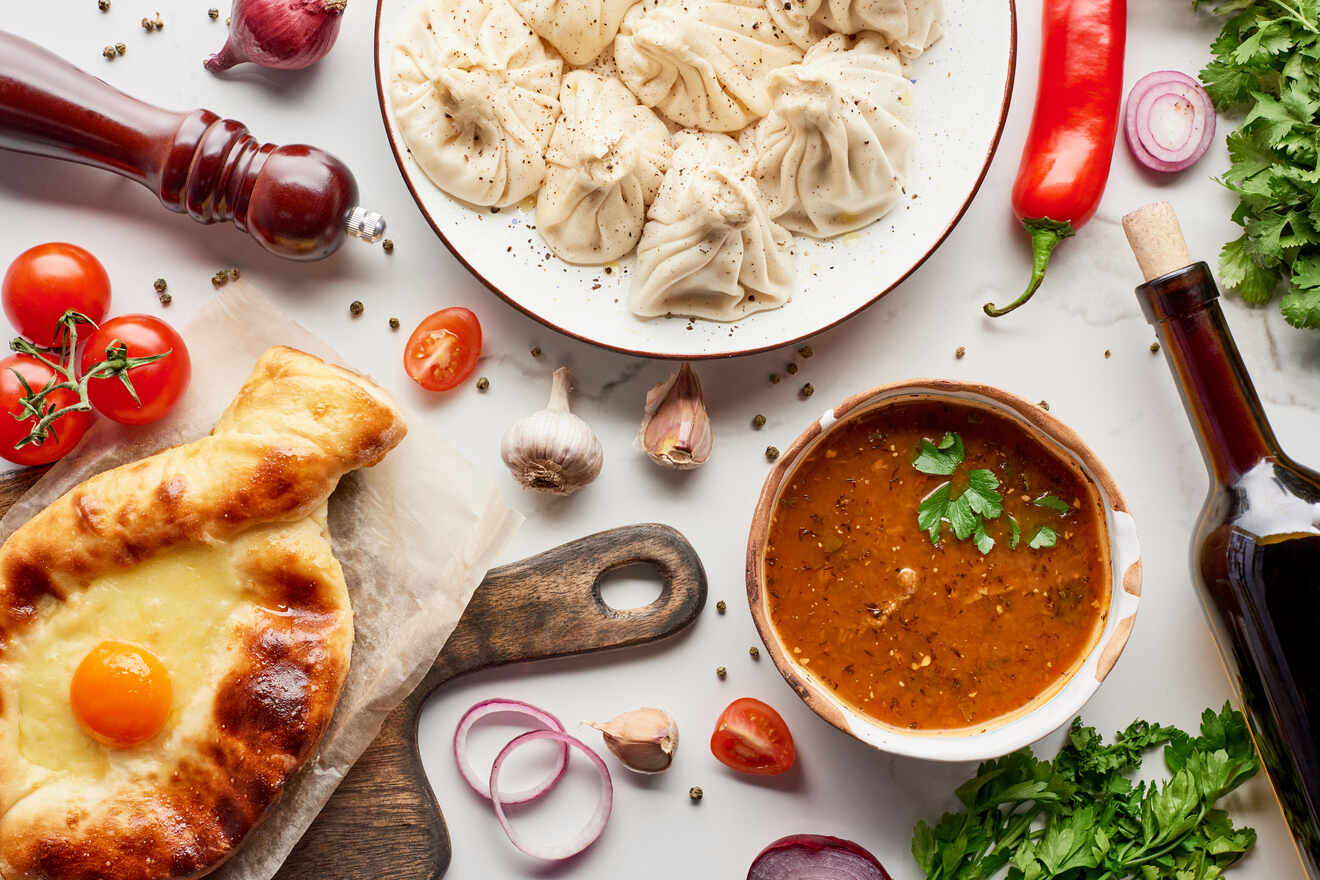 If you had any diets prior to going to Georgia, forget about it! This is just too delicious to resist (and please don't, but truth to be told – we all need a diet after going to Georgia 🙂 )
I am all serious though, Georgian cuisine is my second-favourite after Italian and I am only happy I became vegetarian AFTER I visited Georgia! But don't worry, if you don't eat meat there will be plenty for you to indulge in too (khachapuri, mmmm), but I still see their khinkali in my dreams sometimes, haha 🙂
So, what are all those weird food names that you probably never heard of? Let me immerse you in the world of Georgian cuisine:
Food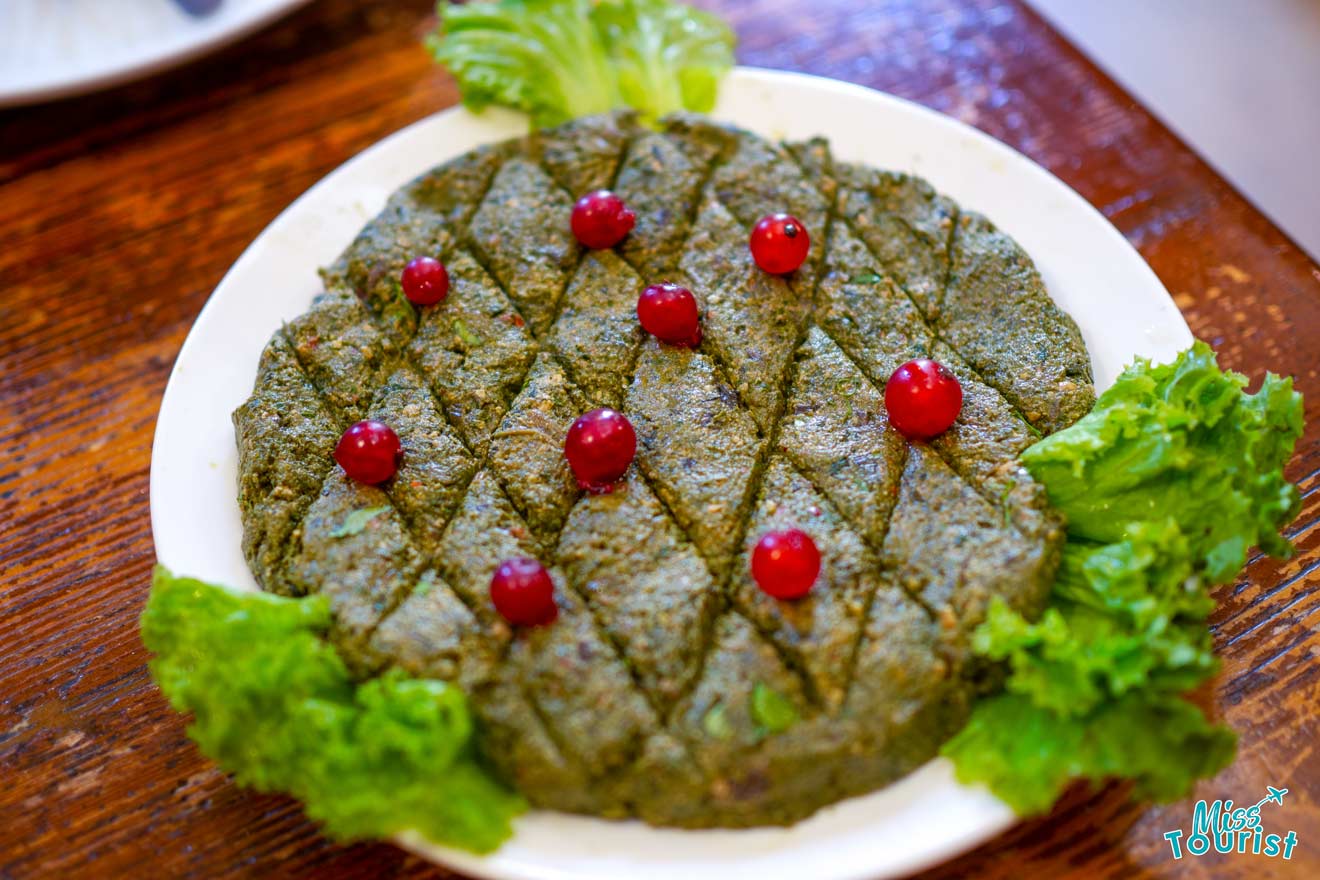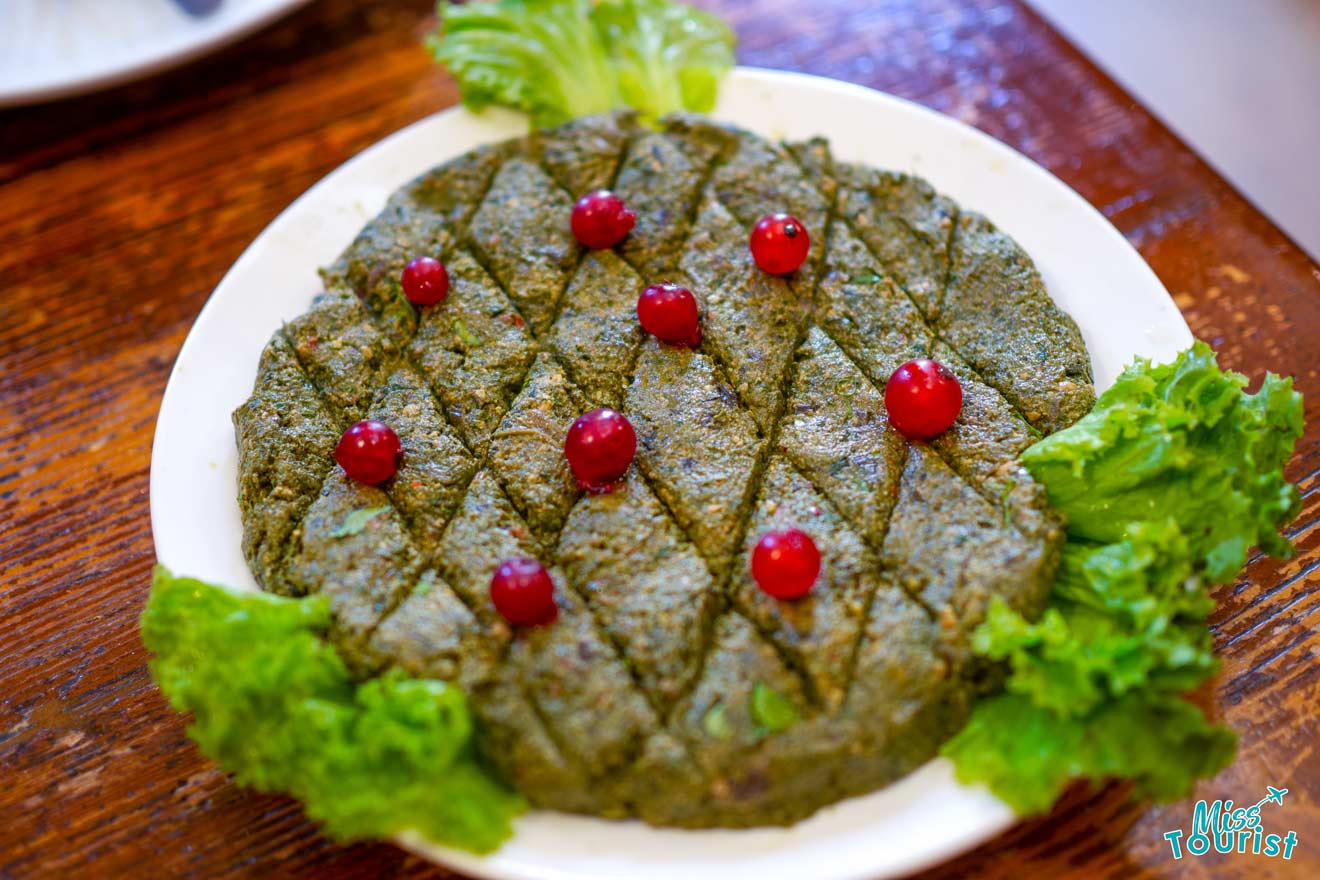 If you hate to go to a restaurant, check the menu and have no idea what would be best to order, the following list will be your best friend while in Tbilisi. You can thank me later (I starred vegetarian options for your convenience):
Khinkali – dumplings the Georgian style, can come not only with meat, but with potatoes, cheese, mushrooms and many more fillings. This is how to eat it
Khachapuri* – Cheese pie in different styles, soooo good! My favourite is Adjaruli (adjarian style), it is a ship shaped bread with an egg on top. This is how to eat it
Phkali* – minced vegetables balls
Lobio* – bean dip
Badrijani* – fried eggplant stuffed with walnut and garlic paste. (I told you they have tons of veggie options, didn't I?)
Kharcho – Yummy slow cooked meat and tomato stew with polenta
Churchkhela* – it is a candle shaped candy that you will find in a lot of stalls as street food. I think it is made of dried nuts and flour – I am really not sure how to explain it, but you have to try it!
If you are into food, you HAVE TO go to one of their cooking classes by one of the Gerogian babushkas! I took one and I learned how to do the most famous dishes – khinkali and khachapuri, and we got to eat all of that and drink wine, heaven! This is the one I can highly recommend.
Wine and other alcoholic drinks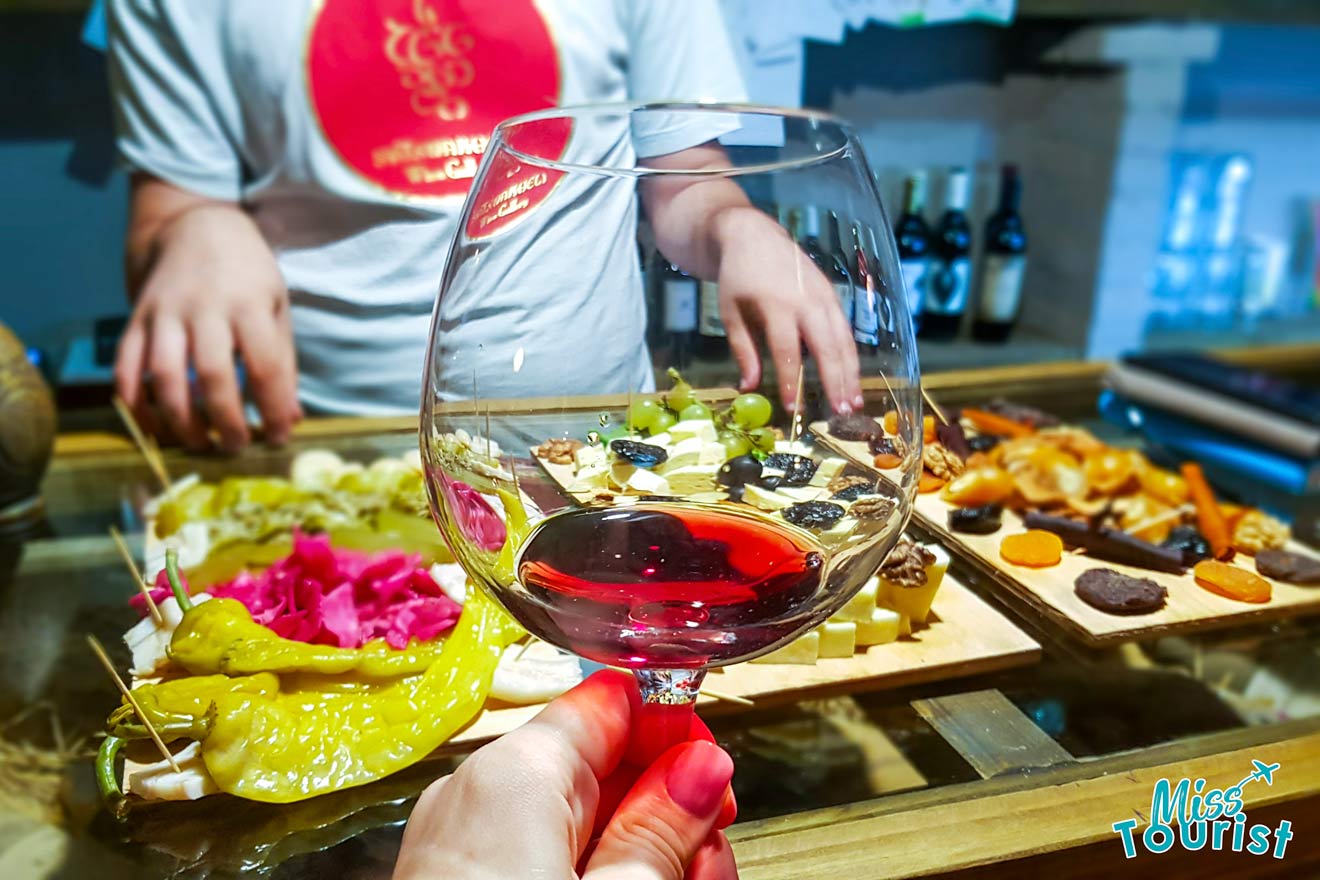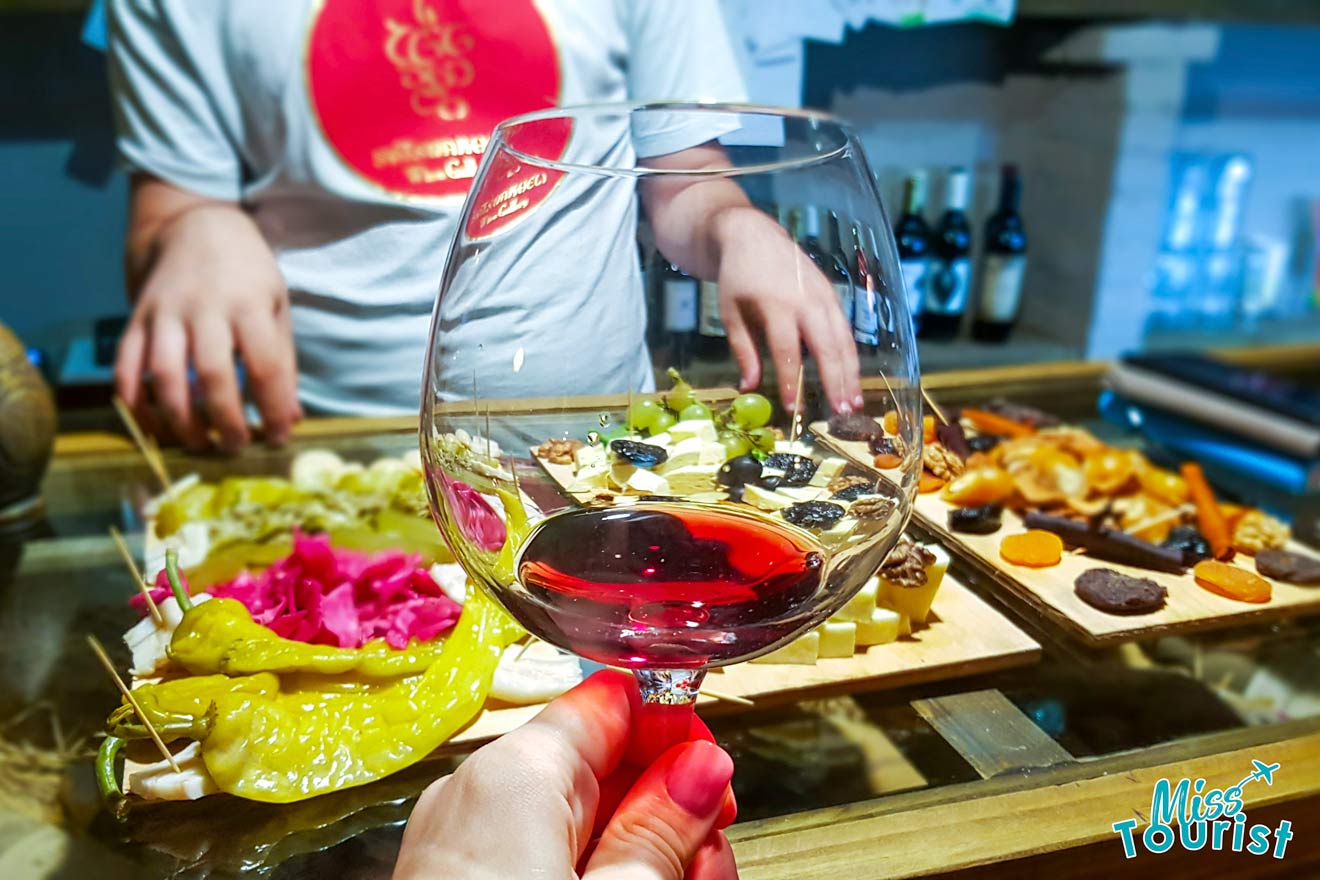 If having out-of-this-world food would not be enough, there is a wide choice of Georgian wines, but the most popular ones are Kakheti white and red wines!
Wine is everywhere in Georgia – in the restaurants, small local shops, big supermarkets. Kote Abhazi street is full with countless cellars (some offer free wine tasting too!). If eating out, you can try their house wine, it usually is really good and much cheaper too!
Find below some of the best wine tasting experiences found in Tbilisi:
For my readers who are REALLY into wine, I highly recommend going to Kakhetia region (it can be done as a day trip from Tbilisi). I did it myself and you can see tips about how to organize it in the BONUS section of this post.
Except wine, you can also try Georgian cha-cha and cognac.
PRO TIP: Wine Ice-cream? Yes, it is a thing! But do not give it to your kids because it actually does contain lots of wine. 😉
Awesome cafes and restaurants in Tbilisi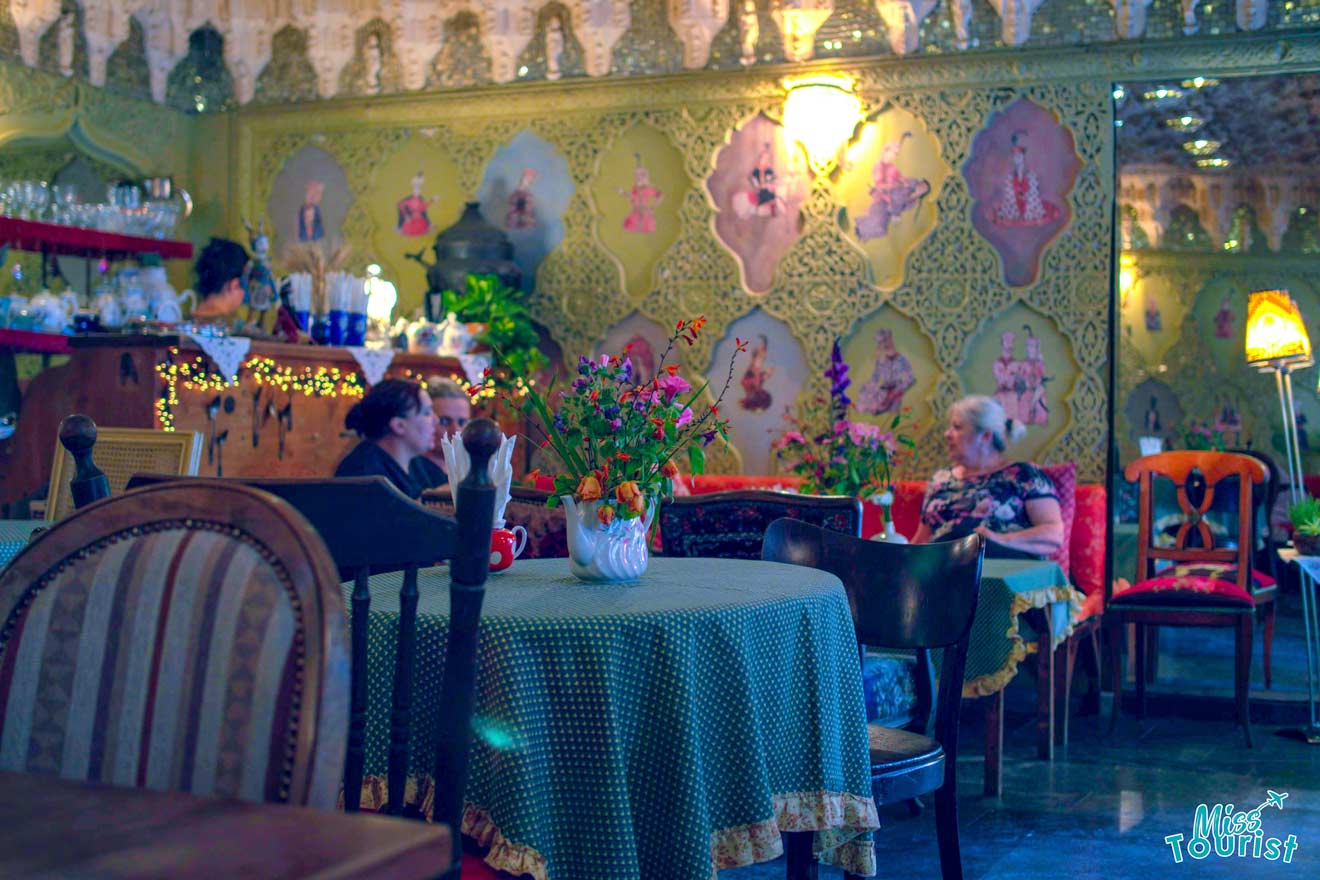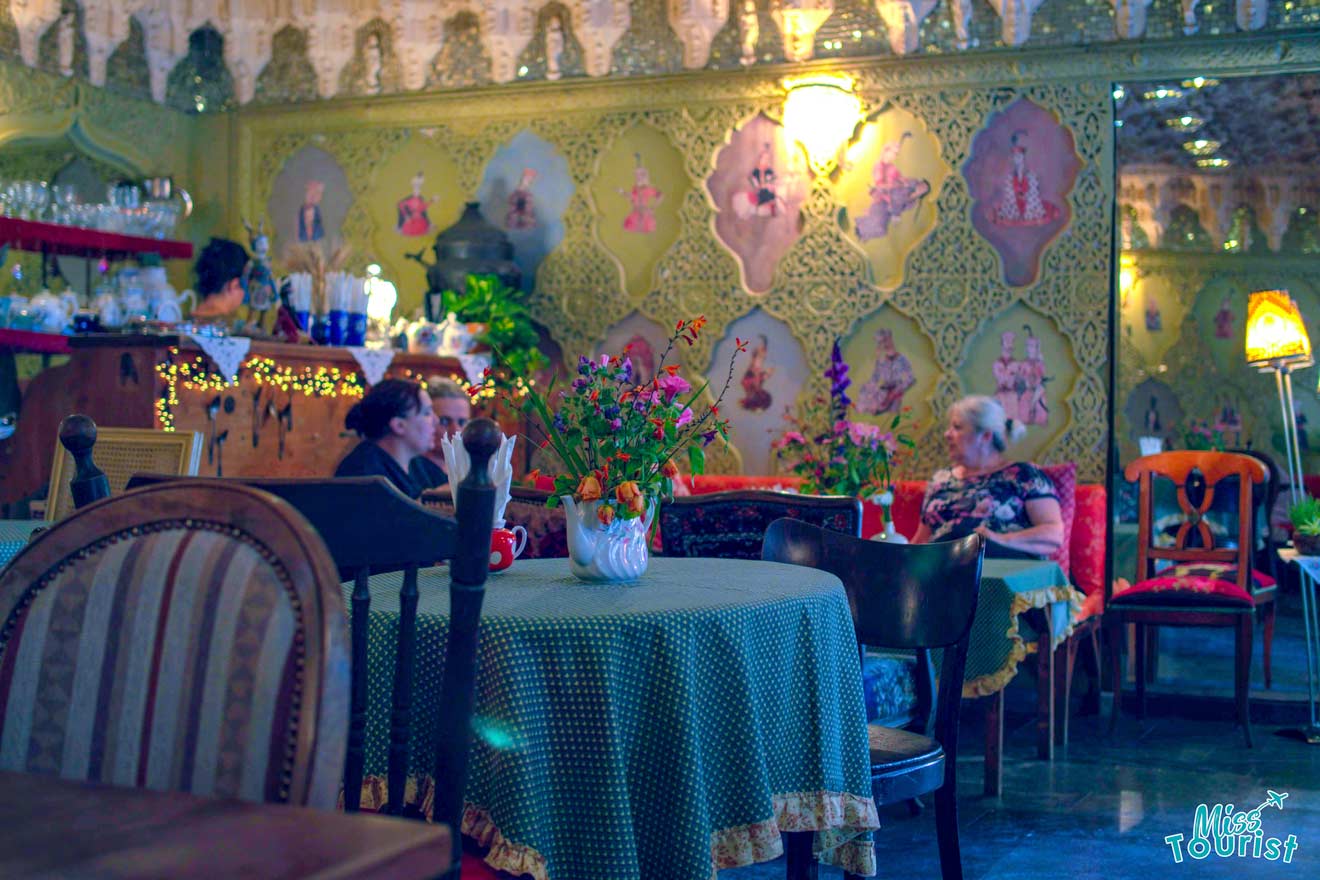 Do not worry, I would not leave you without some recommendations of the most awesome places where you can try all of the above:
Pasanauri – great khinkali
Hilltop Cafe – nice pancakes and an amazing view!
Leila – super nice decor and great vegetarian food, right in front of the puppet theatre
In the shadow of Metekhi – near "I love Tbilisi" sight for khinkali (might be closed tho)
Keto & Kote – nice terrace
Shavi Lomi – pretty garden and yummy food
Sakhachapure – great hachapuri
Nikolozi – small and budget friendly restaurant
Barbarestan – modern Georgian food
Zakhar Zakharich If you still haven't had enough khachapuri yet 🙂
Kiwi vegan cafe – great place for all my vegan readers out there (and not only!)
Bassiani – Not sure where to add this one as I don't have a "nightlife" section, but this club is considered to be the second best nightclub in Europe!
NOTE 1: Most of the restaurants charge 10% service fee by default.
NOTE 2: there will be many restaurants attracting tourists from the street and inviting you to go in, they are generally not bad (it is hard to find bad food in Georgia, frankly), but don't be shy to move on if you already have a place in mind).
NOTE 3: Usually the portions are HUUUGE, so do not order half a menu if you are hungry, chances are you will not finish everything.
And, last but not least, I highly recommend to just go with the flow and enjoy it – sit somewhere in a nice cafe (outside if the weather permits) with a nice glass of Georgian wine and just watch the world go by – this is the way to enjoy it!
5. Take a boat trip of Kura river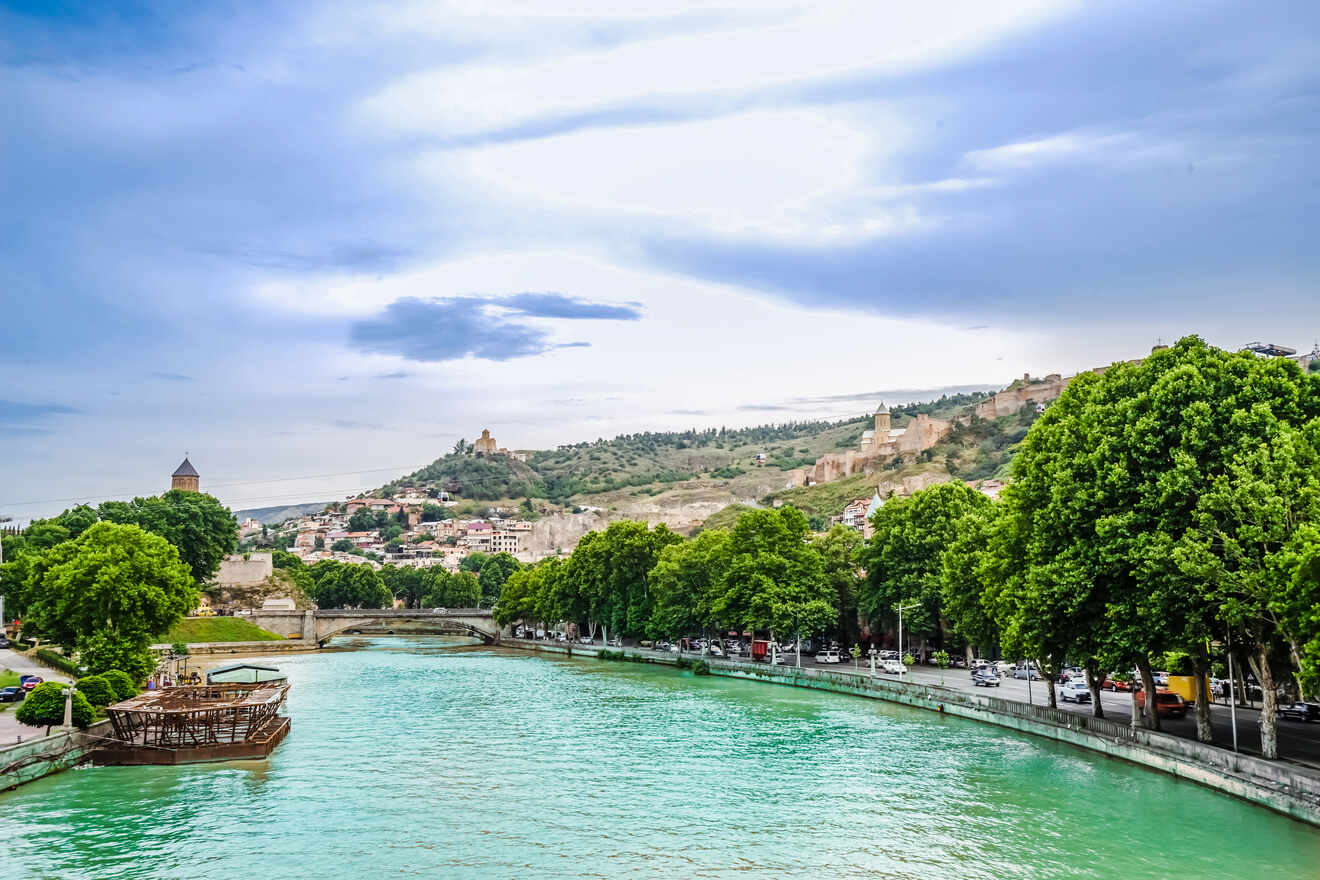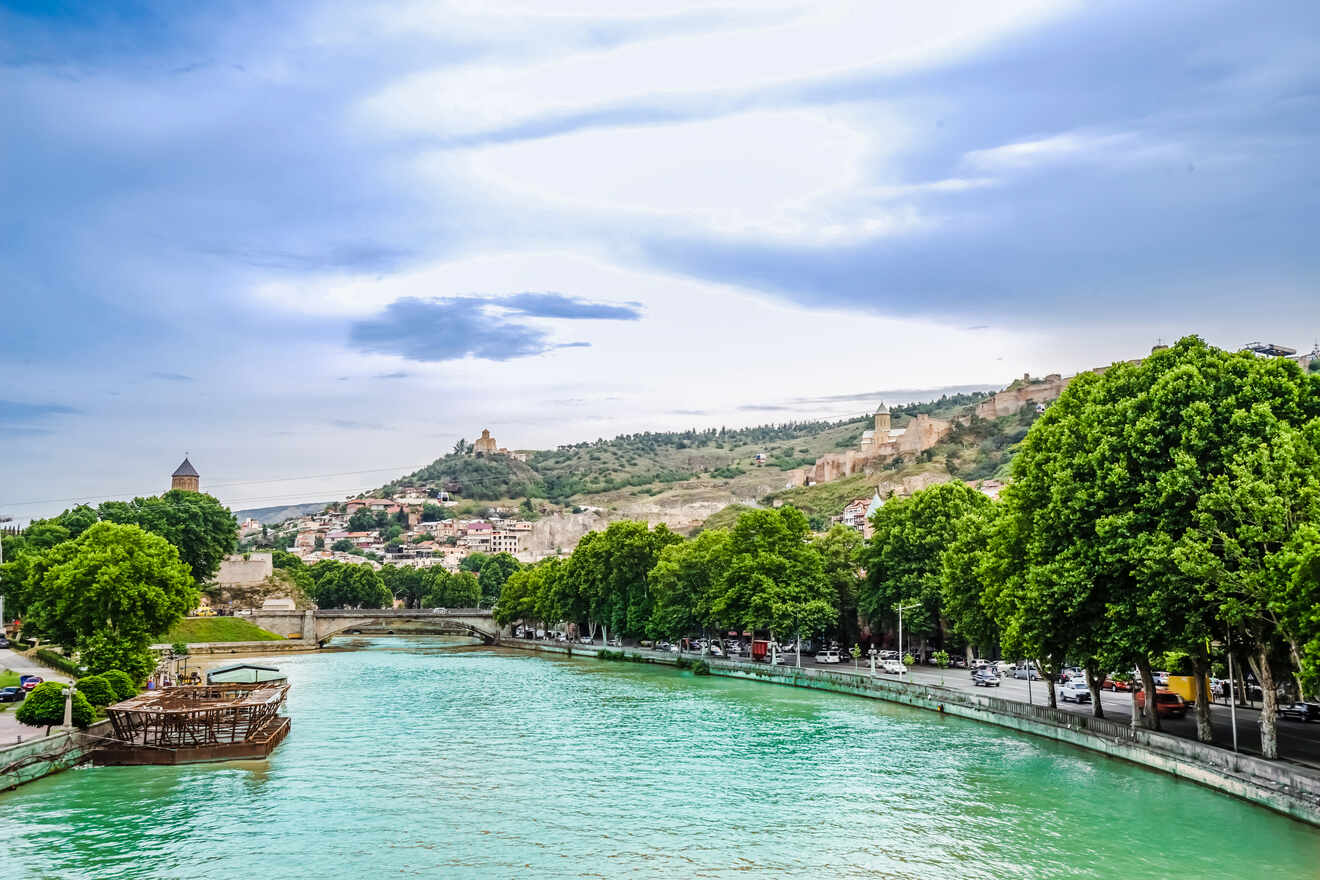 Ok, I seriously need to cut down on the words here, otherwise I will write a small book here, let's try to keep it shorter 🙂
Kura river is a great way to take in the sights of Tbilisi from another angle. Several companies offer short river trips and boat cruises.
The tour is usually from 40 mins to 1,5 hour depending on the route and the price starts from US$ 10. Check out this and this site for more info.
6. Indulge into donuts in Mtatsminda Amusement Park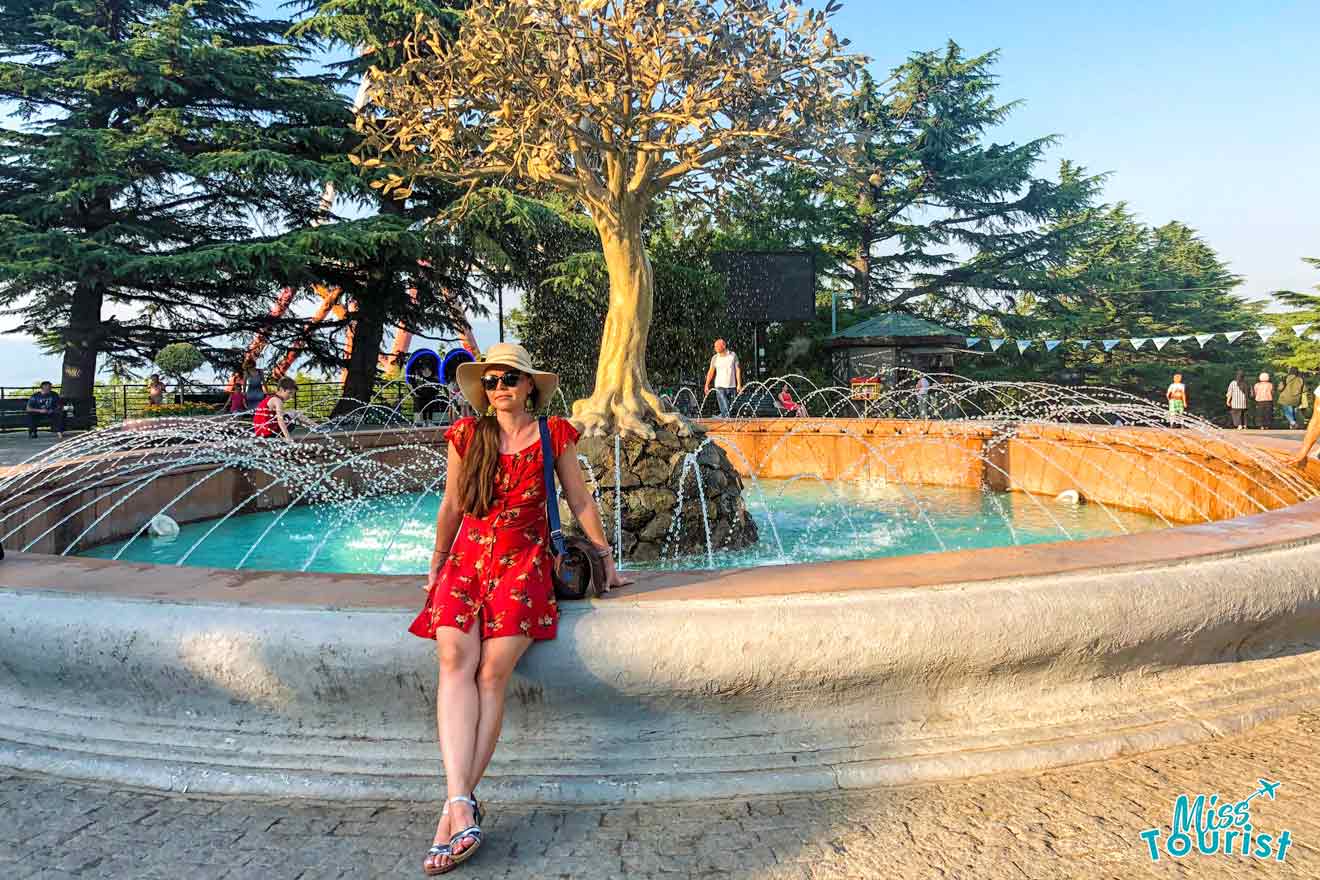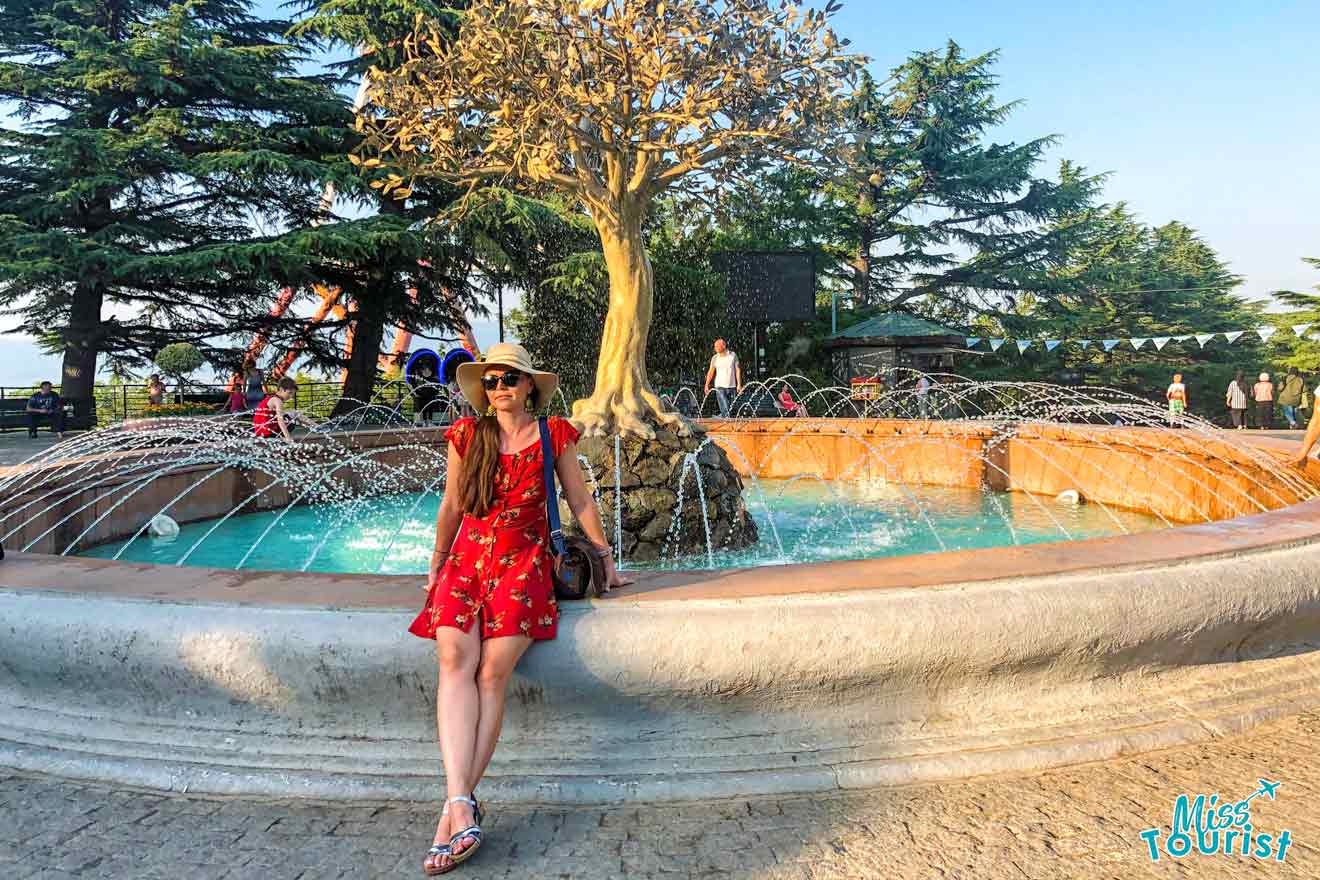 Remember I mentioned donuts earlier? That is THE place!
Mtatsminda is a hill located 770 meters above sea level and it is the highest point in the city. The area is huge, it covers over 100 hectares and it offers a fantastic 360-degree view to the city (best time – sunset!).
Here is the official website of the park that also briefly explains how to get there. In 2 words – you can get there by cable car and funicular (shortest way) or you can go by taxi.
If the elevation is still not enough for you, try their ferris wheel, I am sure the view will be even more scenic!
And what about the donuts you ask me? Check out their restaurant on the hill – it looks very fancy (but European standards very affordable) and it offers a great view to the city. All food is super delicious, but they are most famous for their desserts and, in particular, donuts (also known as "ponchiki"). It has some cream inside, plus their "chocolate lemonade" which tastes really different, just try it!
7. Go to a sulphur bath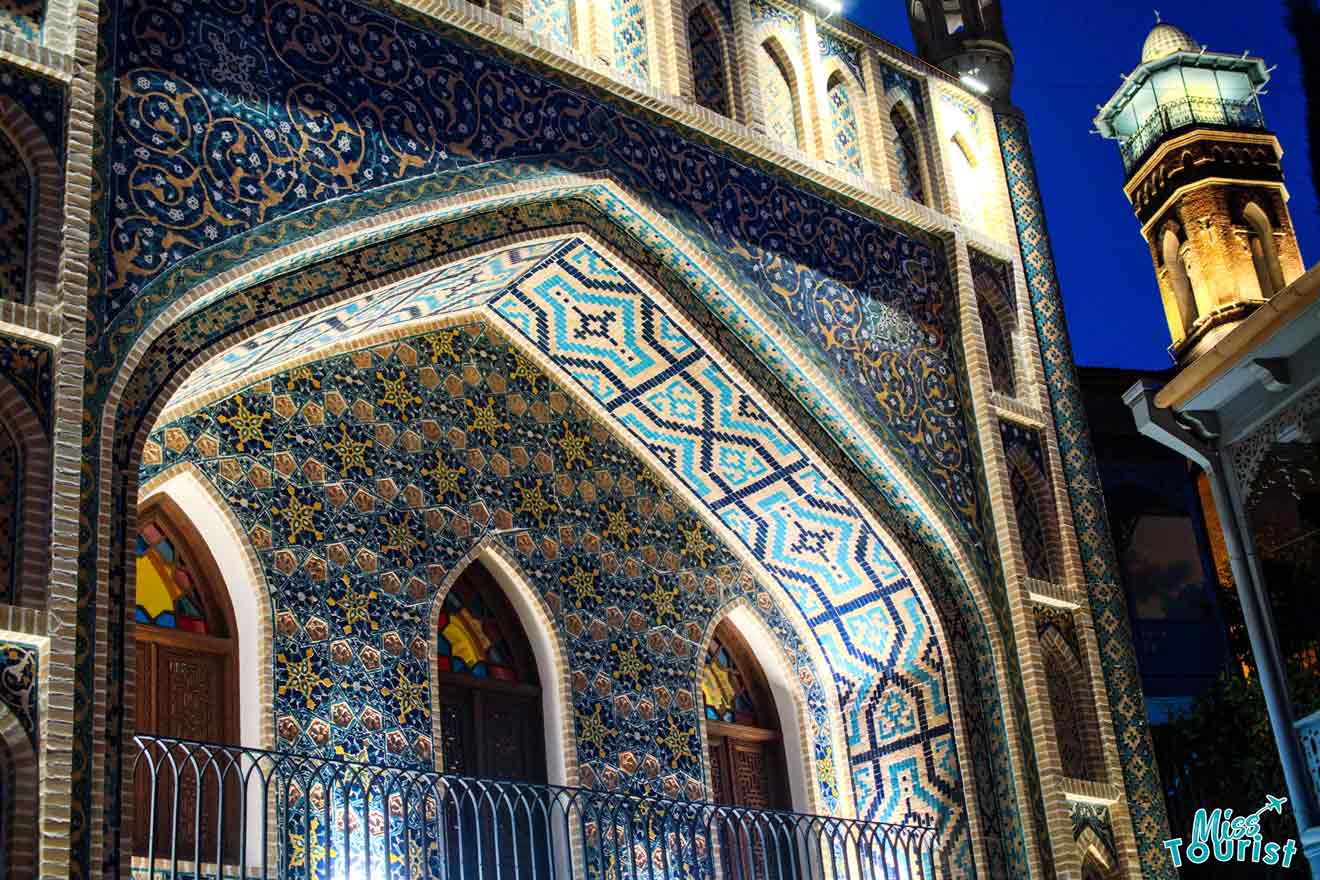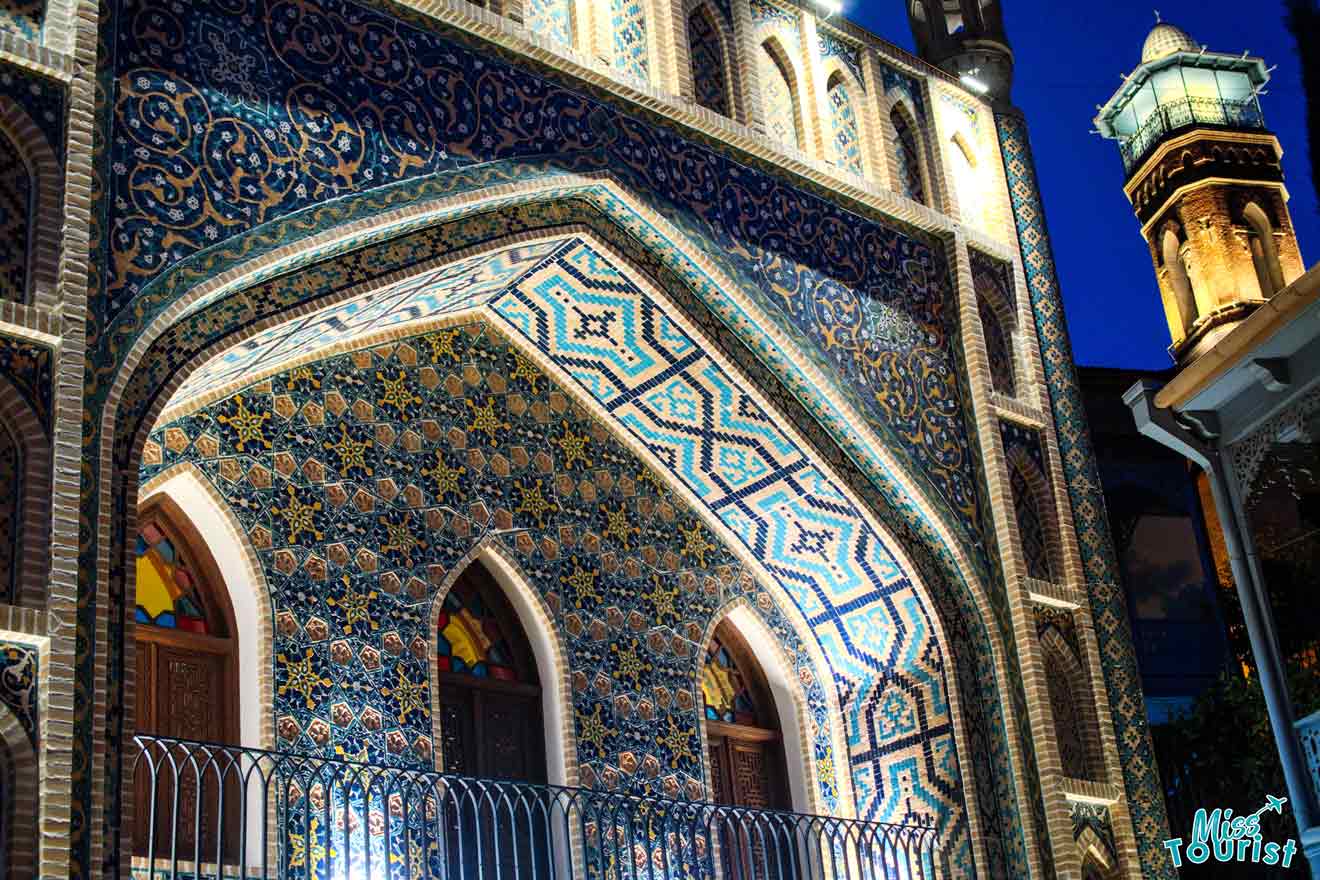 How about going to a spa, the Georgian style?
Sulphur baths (sour baths) are very popular in Georgia and they do wonders for the skin and health. No wonder it is a tradition for them, Tbilisi actually means "warm waters" because they have so many streams right in the city.
I have been to the bath (there are public ones and private ones, I went for the private one) and I liked it very much. You have the actual hot both and a cold pool, you can also ask for a massage the Georgian style (I remember first it felt like a torture, but then it felt really good, I felt like a newborn!).
PRICE: The average price is 40 Lari (~US$12) an hour to rent a small room, 70 for 2 people. A 10-15 minute massage was about 20 Lari.
WHICH ONE: There are many of baths in the Abanotubani area, they all line up in the same street, so you can choose any of them.
The most fotogenic one is definitely the Blue one (I think it looks pretty normal inside, tho). The second choice should be Gulo's Spa. I myself have been to a pretty simple one (didn't not read this post before, haha!). It doesn't even have a website it seems (find the pin to Google maps here) but I liked it. If you decide on going to the sulphur bath, here is a great guide I found that covers pretty much everything on the topic.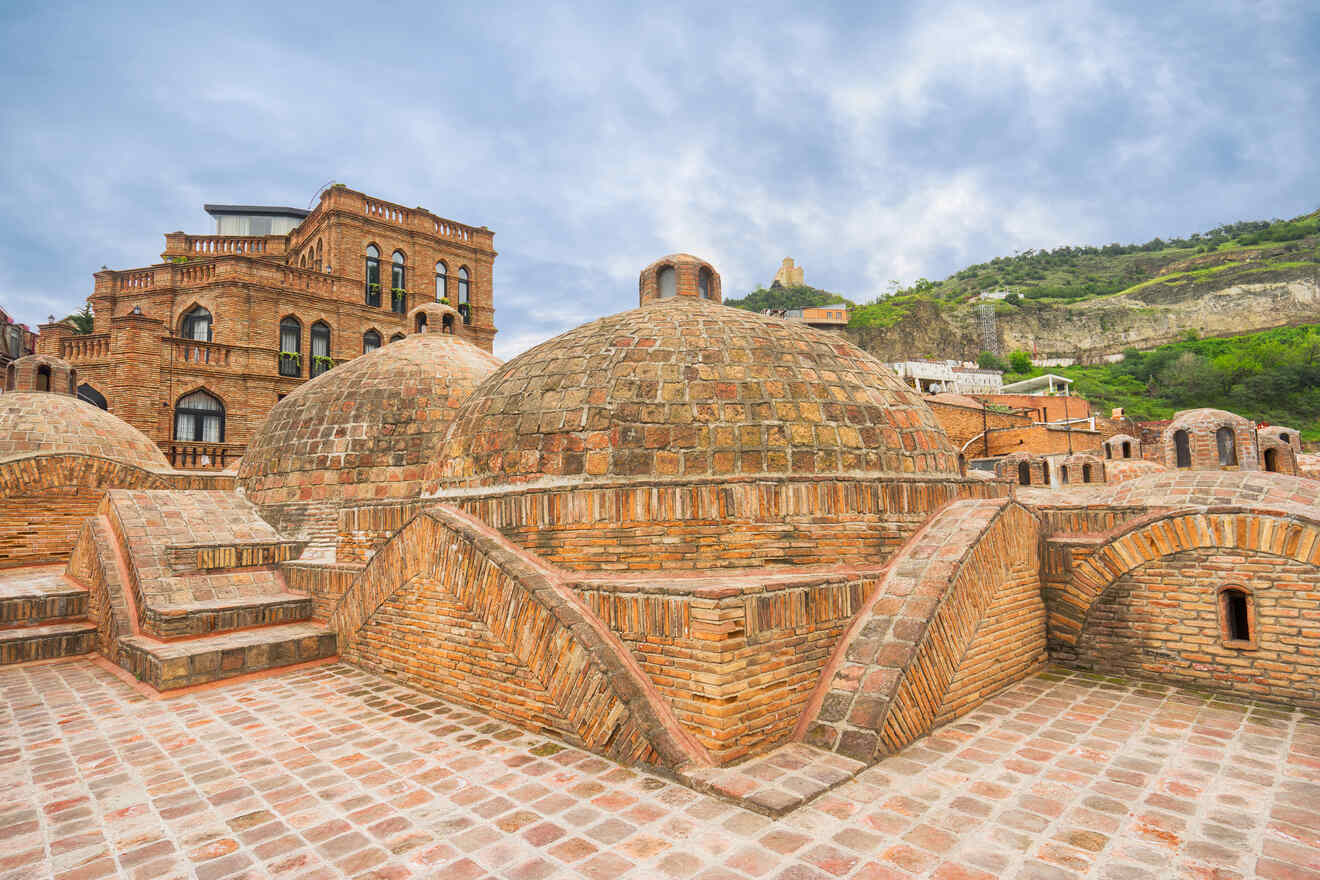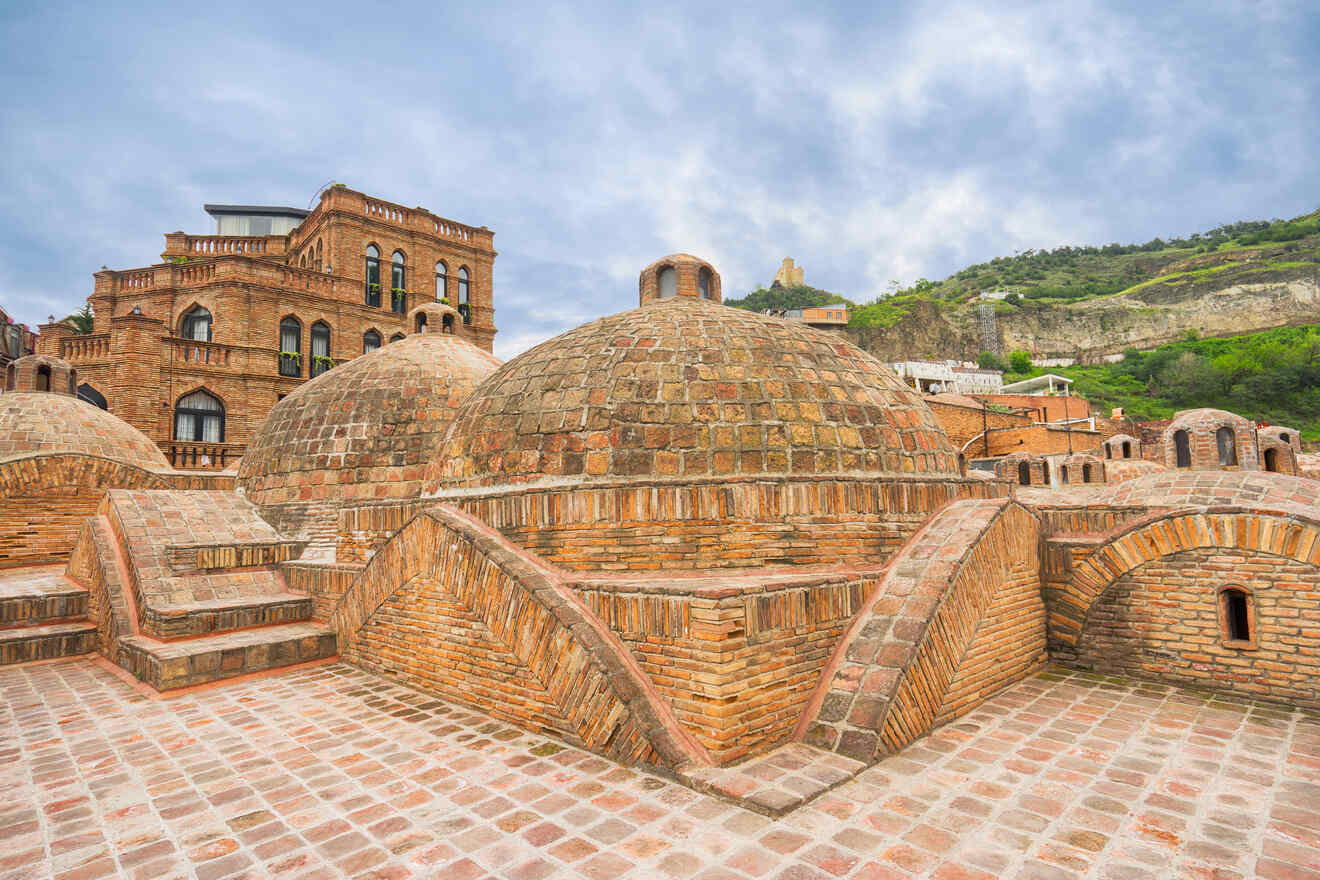 PRO TIP 1: If you are a bit freaked out by the words "old baths" or "sulphur", I've got you! Don't worry at all, once you get to one of these houses and before you pay or decide on different treatments you can get them to show you their facilities and even get a private room. Georgians and their kindness strike once again!
PRO TIP 2: Do not forget to take off your jewelry before going inside the bath, sulphur reacts with silver and it can darken up!
Now, even if you do not want to go inside, be sure to just walk around the area, it is absolutely stunning! And bonus points for those who will find a real waterfall around there (it is hidden a bit, just follow the river and you will see it!). You can even freshen up there if the weather is too hot, I saw people doing it!
PRO TIP: Super nice restaurant with the view to the old town located just around here – Marani Restaurant & Bar.
8. Walk around the Rustaveli Avenue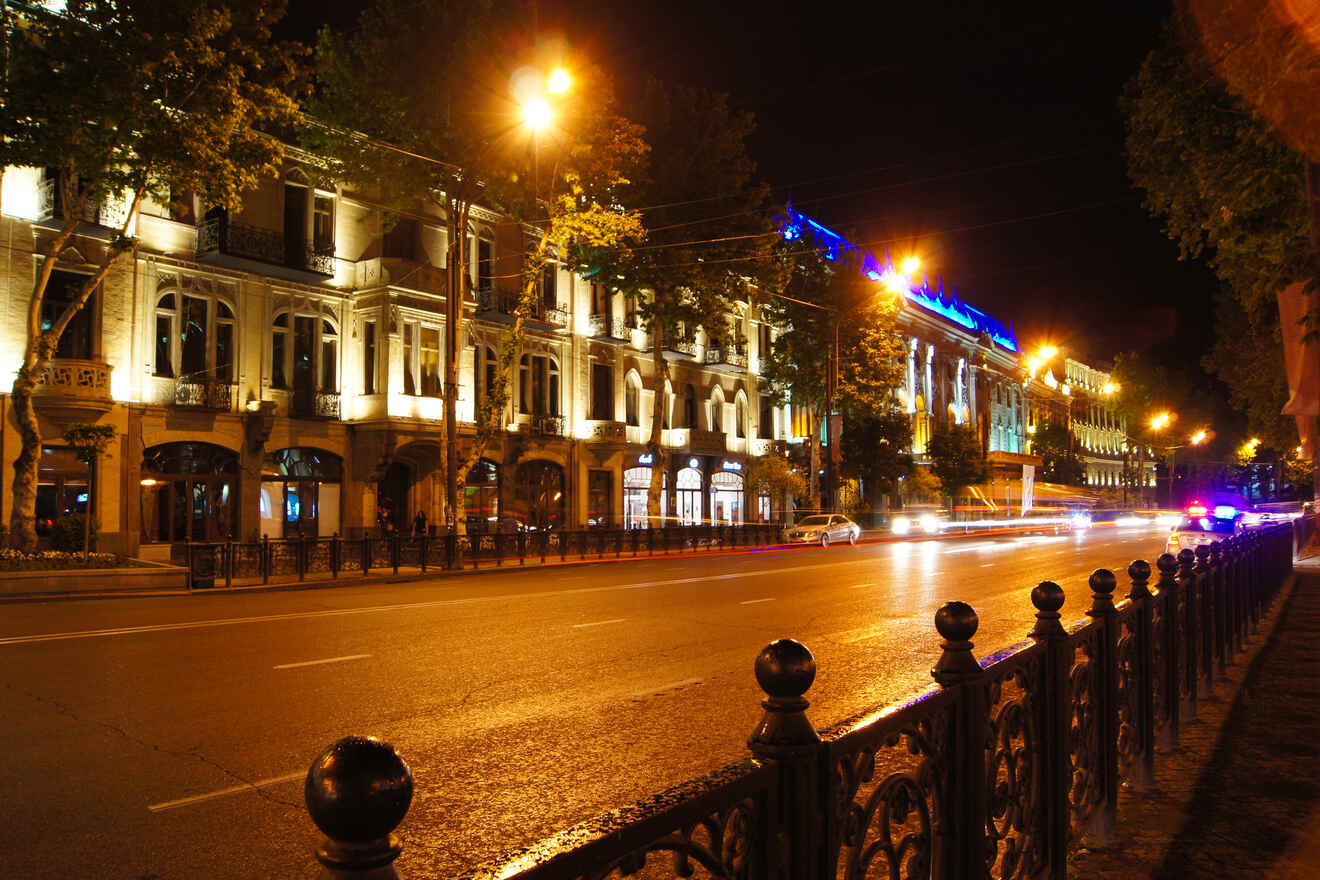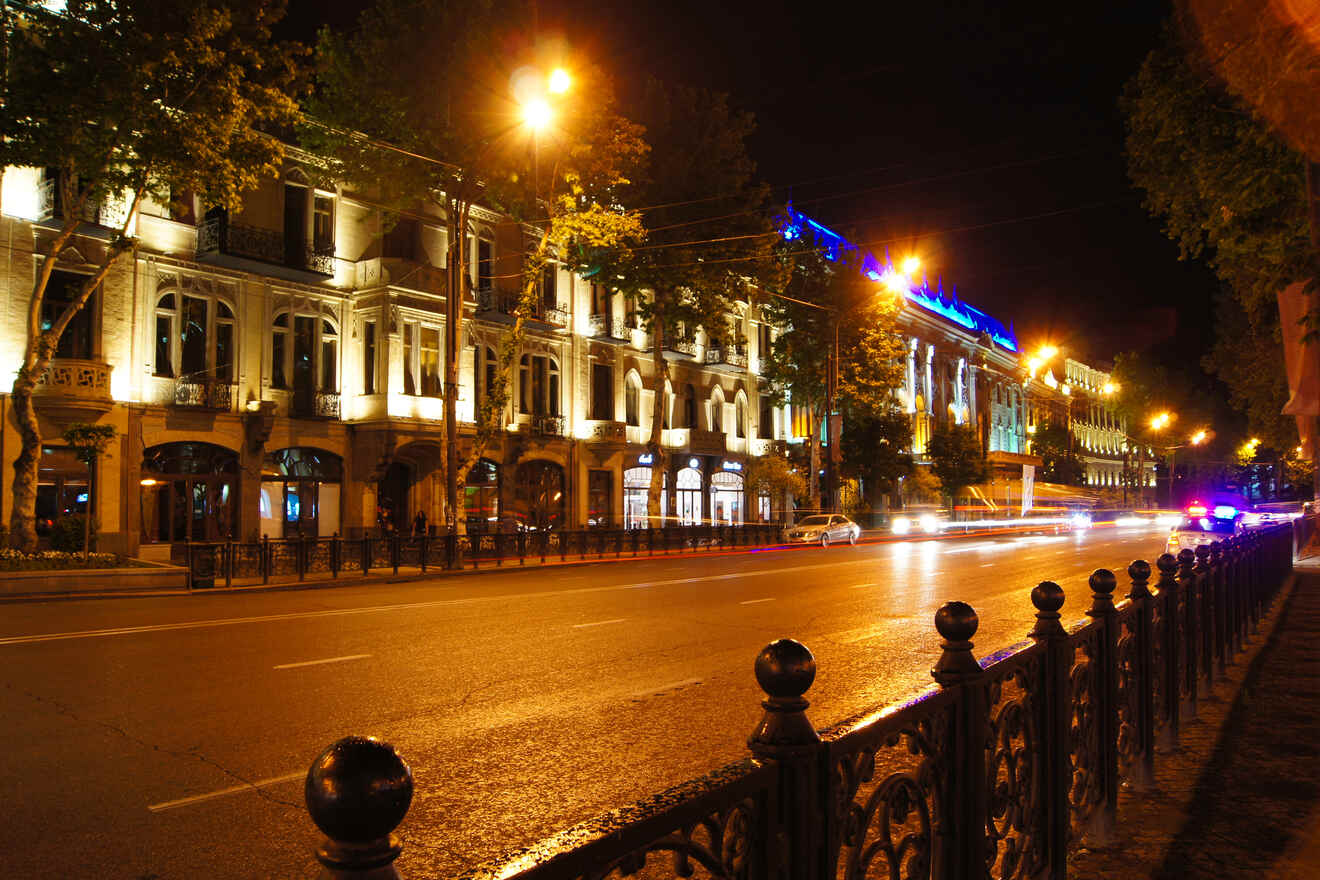 One of the most popular streets in Tbilisi, Shota Rustaveli Avenue forms the main street of the old town as well as being one of the most beautiful places to walk around. It is named after Georgia's national poet and runs from Freedom Square down to Old Town.
Rustaveli is a wide street that is good for luxury shopping and also people watching. If you are into shopping, it has pretty much everything (the food too!), so it can be a great idea to stay around there too. By the way, check out my post on Where to stay in Tbilisi if you haven't yet.
9. Off-the-beaten path – Sololaki area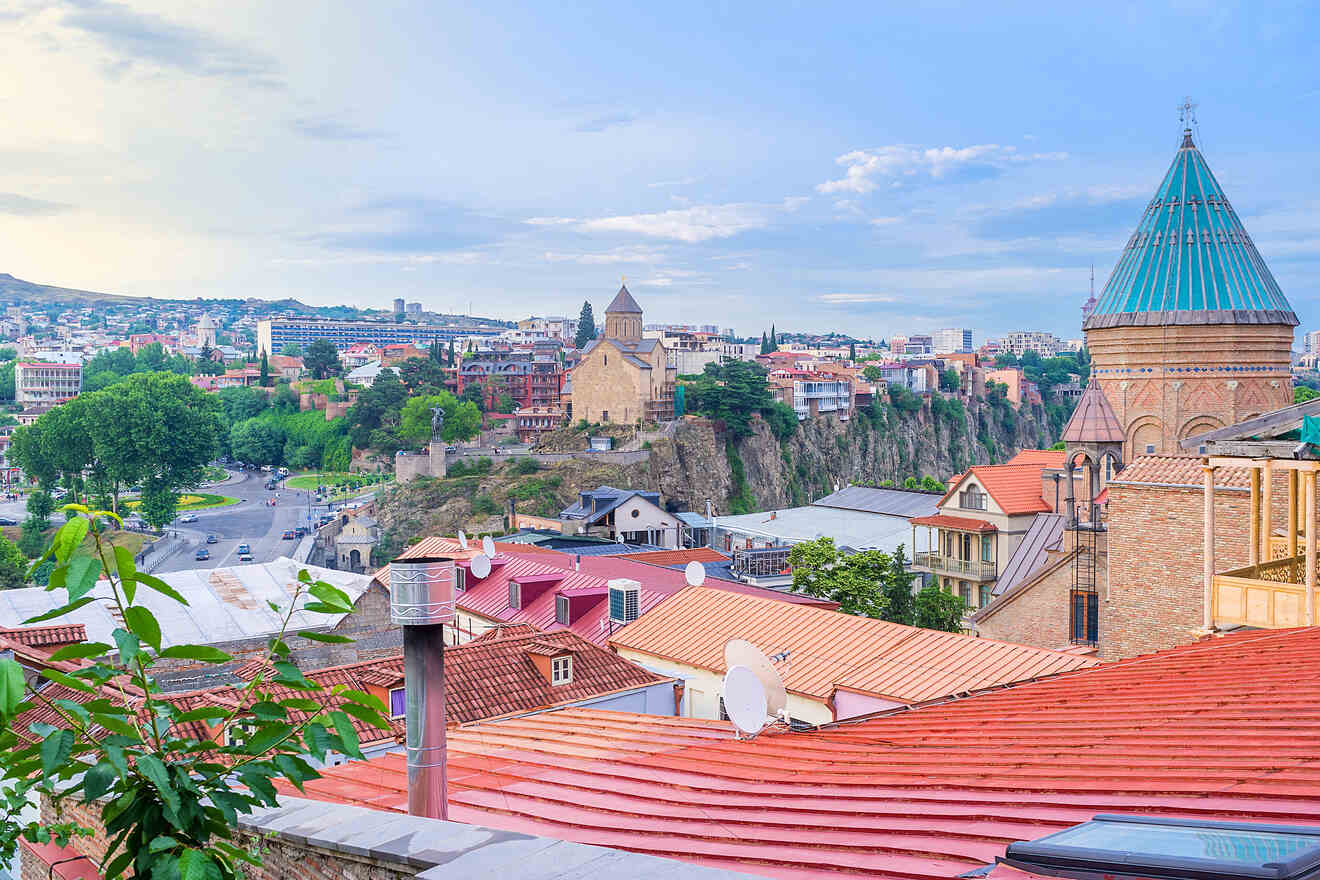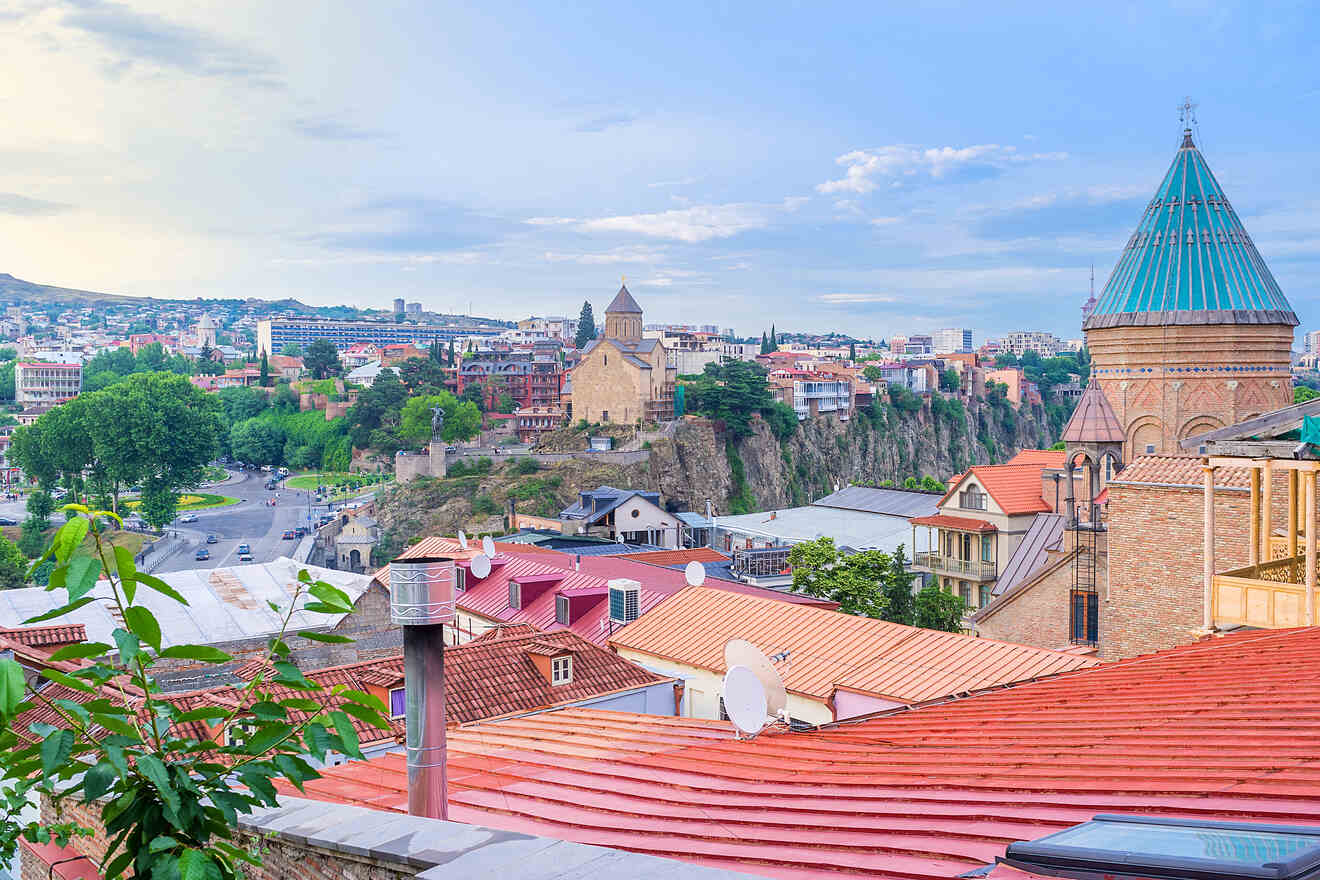 This area is the hippest part of Tbilisi. It is a popular location for artists, musicians and students, and also has some very trendy cafés and bars. It is also one of the most photogenic neighborhoods with its balconies, stucco molding and echoes of the former time. Pass by as it is part of the Old Town, but tourists usually overlook Sololaki!
There are many authentic buildings with twisted marble staircases and carved wooden verandas that can tell stories.
Here are some special houses I would like you see at if you happen to be in the area (links are to Google maps):
10. Don't forget the museums!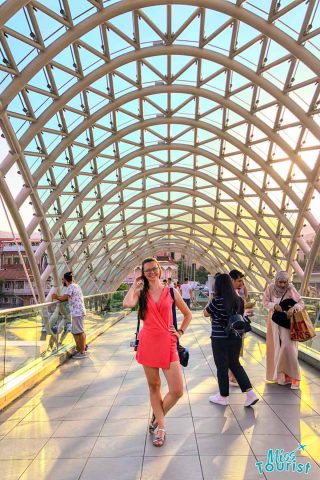 If you read my other city guides, you will see that I generally recommend A LOT of museums – that is because I like them and I think they can offer a ton of useful (and interesting!) information.
In this case I might have gotten a bit carried away with my list, but seriously, there are so many other awesome things to do, I had to prioritize them!
If you are into museums like me, here are the ones that I can recommend in Tbilisi
(I had troubles finding some of the official sites of the museum, so sometimes I might link to Wikipedia. Don't worry, the places exist and you can simply find them on Google maps and call if you want to double check the info):
11. Watch them dance and hear them sing
What does a traditional Georgian dance look like? Well, if you saw the video that I included above, you will have a pretty good idea!
The dance elements are combined with acrobatic movements and rhythmic steps that have not changed over the centuries. Dancing is part of georgian culture, something that is engraved in their blood and something that is forever part of their culture.
If you want to witness it live (it will probably not be as polished as on the video, but you will definitely see the real deal!).
Singing – Georgian polyphonic singing is actually a UNESCO world heritage, did you know? It is one of the most ancient and exclusive types of music in the world. The origins of Georgian polyphonic singing are buried in antiquity. The singing is usually done by groups of male singers (usually 10 to 12 in the group) called "chorus". Those who sing together are usually from the same village and they sing a cappella, without any musical instruments.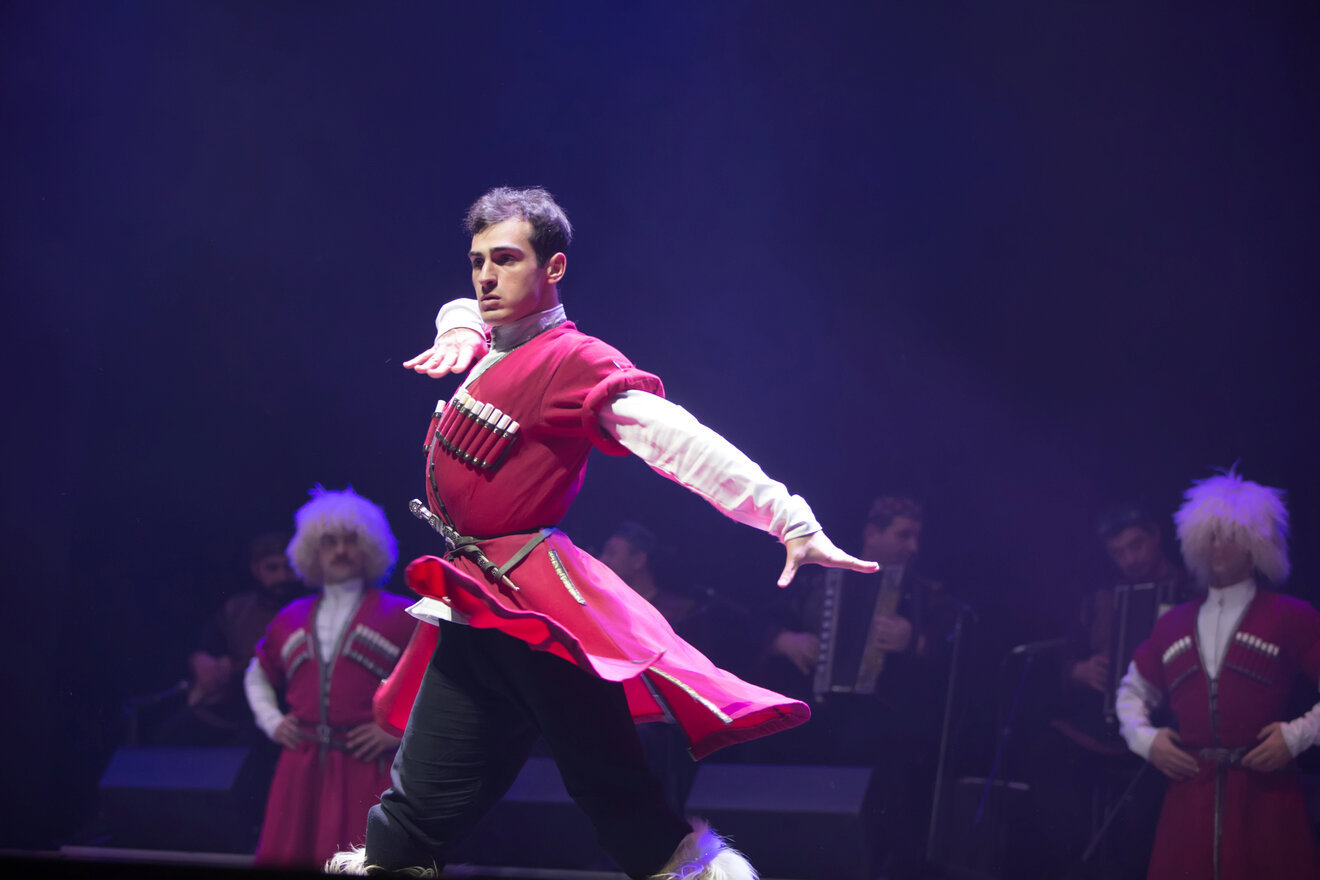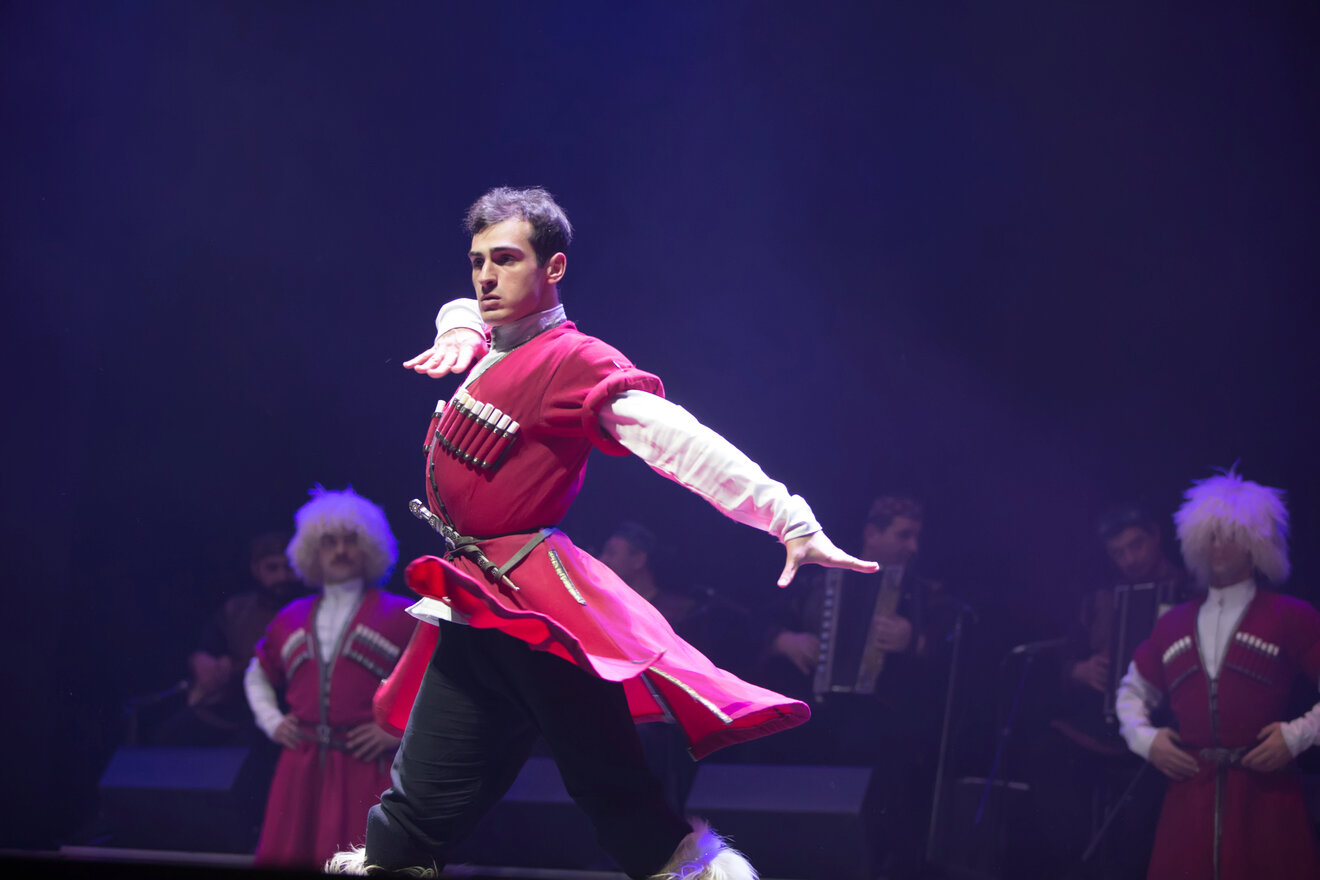 The shows are beautiful, mesmerizing, I can highly recommend attending one of those. Especially as you can actually combine it with a dinner in a traditional restaurant, why not?
Here is the list I made after researching in the internet and asking around (again, I apologize for the sites in advance, not all of them are working properly, you might need to do some extra web-surfing to find them on Facebook or Instagram to see if they are active):
UPDATE: if you want a full organized-for-you service, I found this great tour.
Where to stay in Tbilisi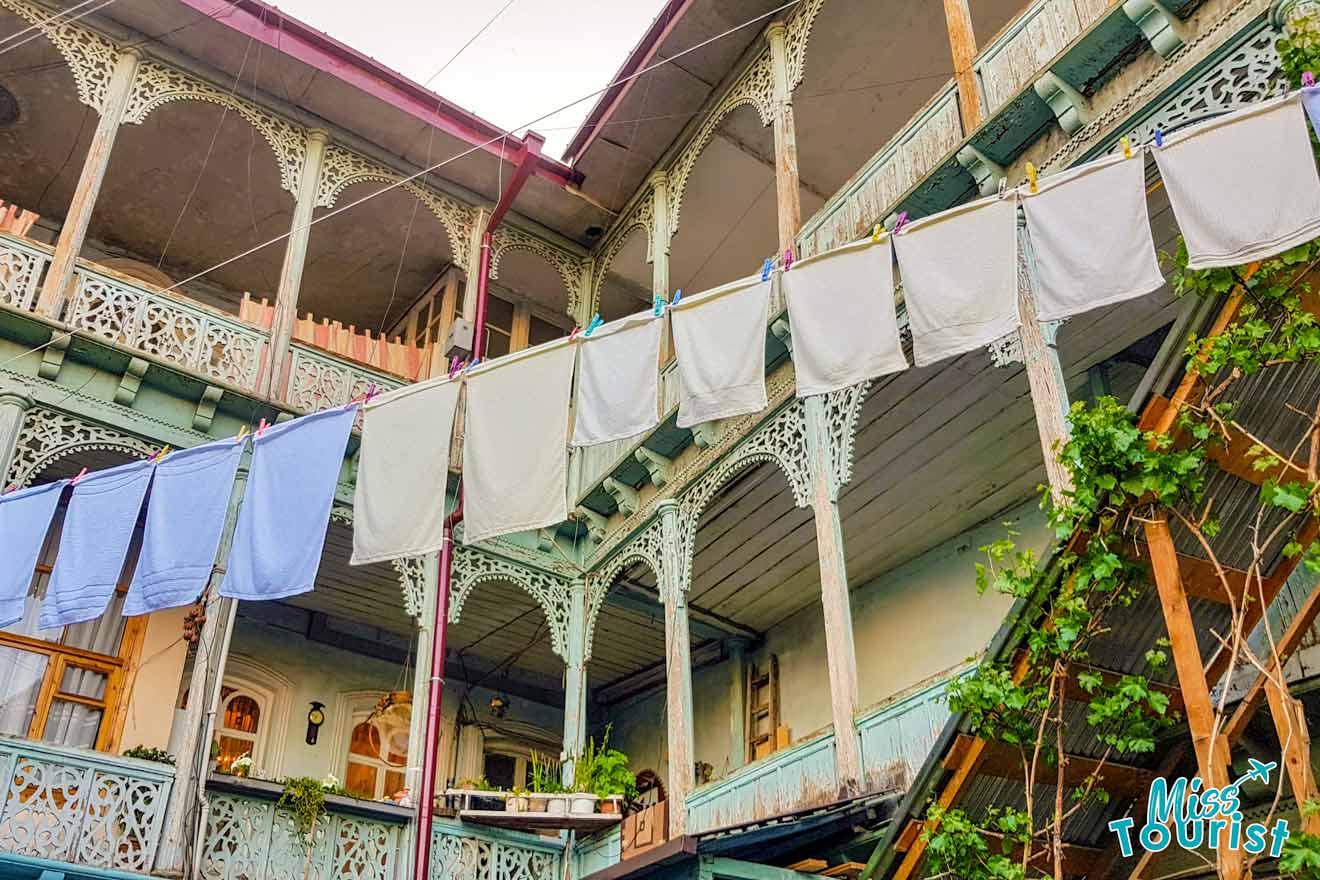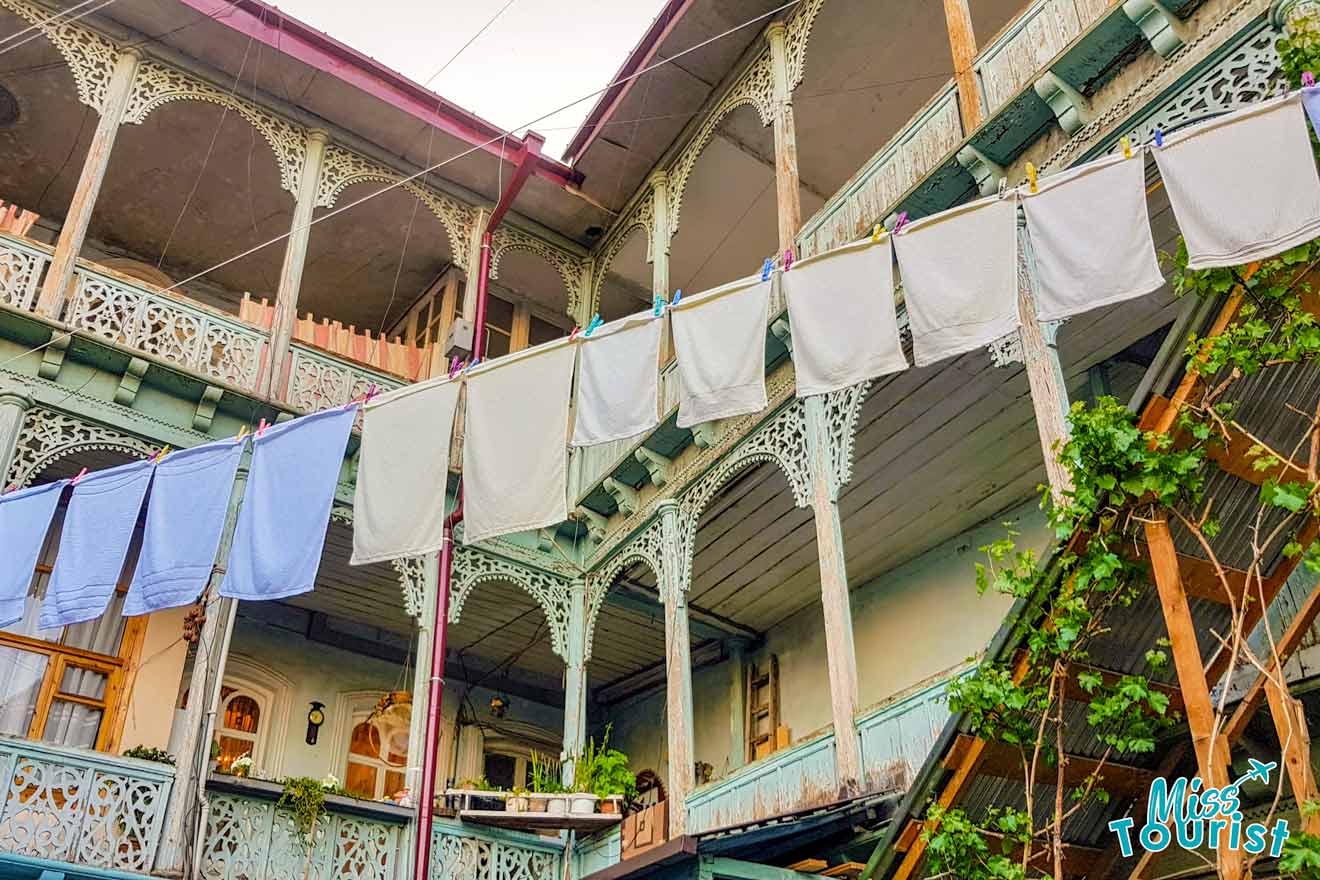 As usual make sure that you book a bit ahead of time so you have a wide variety of choices. If you haven't, don't worry as Tbilisi has an ever-growing number of hotels/hostels due to the Georgian government investing heavily on tourism!
Here is a list of different type of accommodation that I have carefully curated for you, depending on your budget:
Luxury (US$230 and above)
On one hand, Veranova Hotel is the perfect place to stay if you're looking for stunning rooftop bars with outstanding views! On the other hand, with its impeccable décor, Nana's apartment Sololaki is the place to be if you're looking to see what contemporary Tbilisi is all about.
Middle-Priced (US$110 – US$230 per night)
Choose Fabrika Hostel if you'd like to stay in the centre of the biggest creative hub in the country, only one con, you will never want to leave! For a quieter and more relaxing stay, head up to Diplomat Apartment, a clean and modern apartment located in the heart of the city.
Budget (up to US$110 per night)
Guest House Rafael, cozy and minimalistic spot, located right in the historic Old Town. Perfect for those that don't want to miss a thing! Another recommendation would be Solo Room Apartment, a charming old Georgian apartment, super clean and with fantastic reviews!
PRO TIP: if you did not find anything in the city center, my 2nd favorite district is called Vera, it has this bohemian vibe and very very pretty buildings around. Since recently it has become a very trendy place to stay so you will have not only some really nice hotels to choose from but also some amazing restaurants around. My 2 favourites are:
Rooms Hotel (you will also find its brother Rooms Hotel Kazbegi, if you will go to the mountain area)
Stamba Hotel (just check the pictures, it has an amazing design!)
P.S. I have an article about Where to stay in Tbilisi which offers more hotels and apartments in more areas of the city (as usual, sorted by budget), check it out!
BONUS 1: 4 Awesome day trips from Tbilisi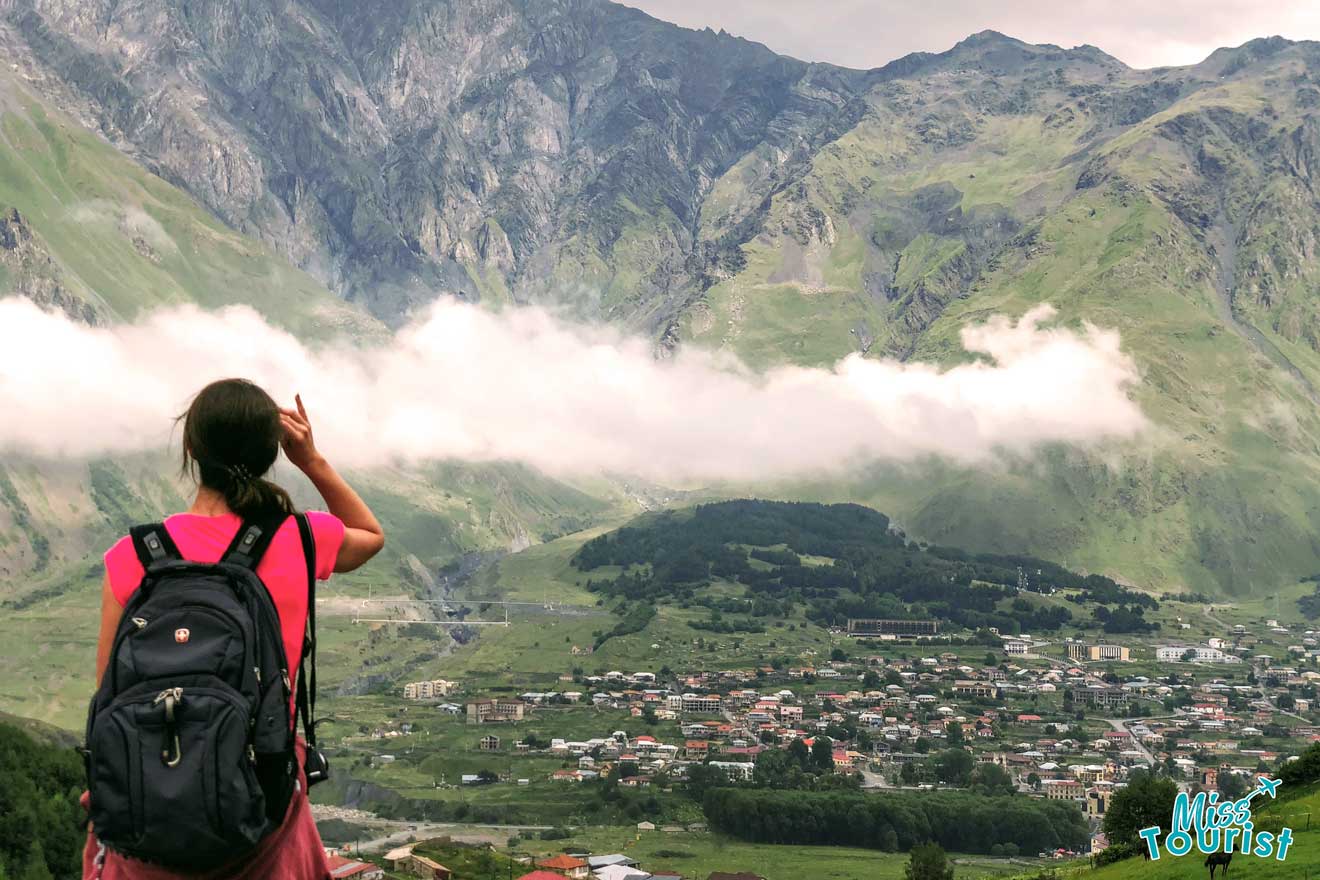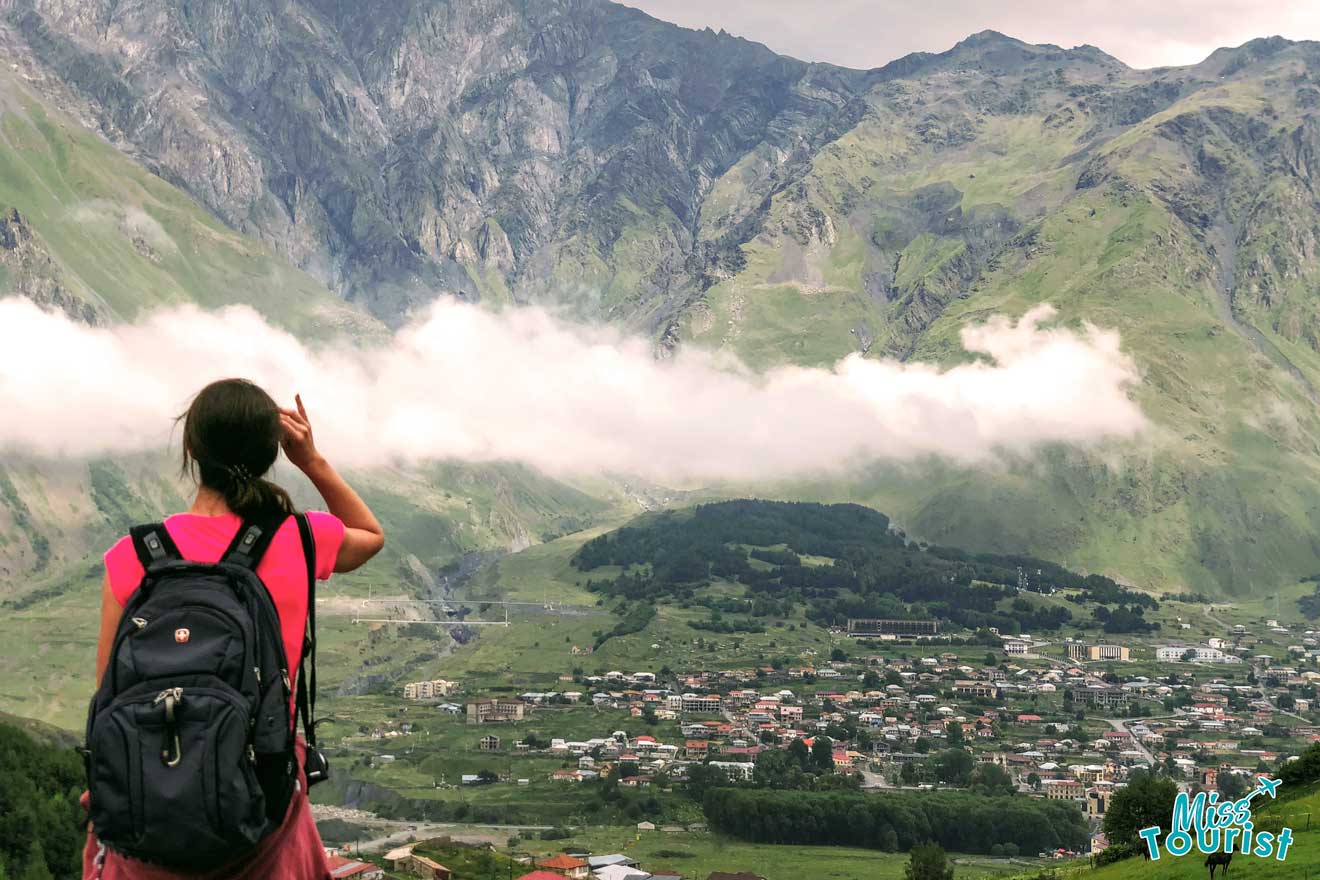 If you look at the map of Georgia, you will see that Tbilisi is very well located between the mountains, wine region and other places of interest. That makes the capital of Georgia a great base for some epic day trips, agree?
There are plenty to choose from, but here are four of my favorites that are sure to keep you busy. (The second one is just obligatory, it is literally 20 minutes away from the city!)
1. Kazbegi (Stepantsminda)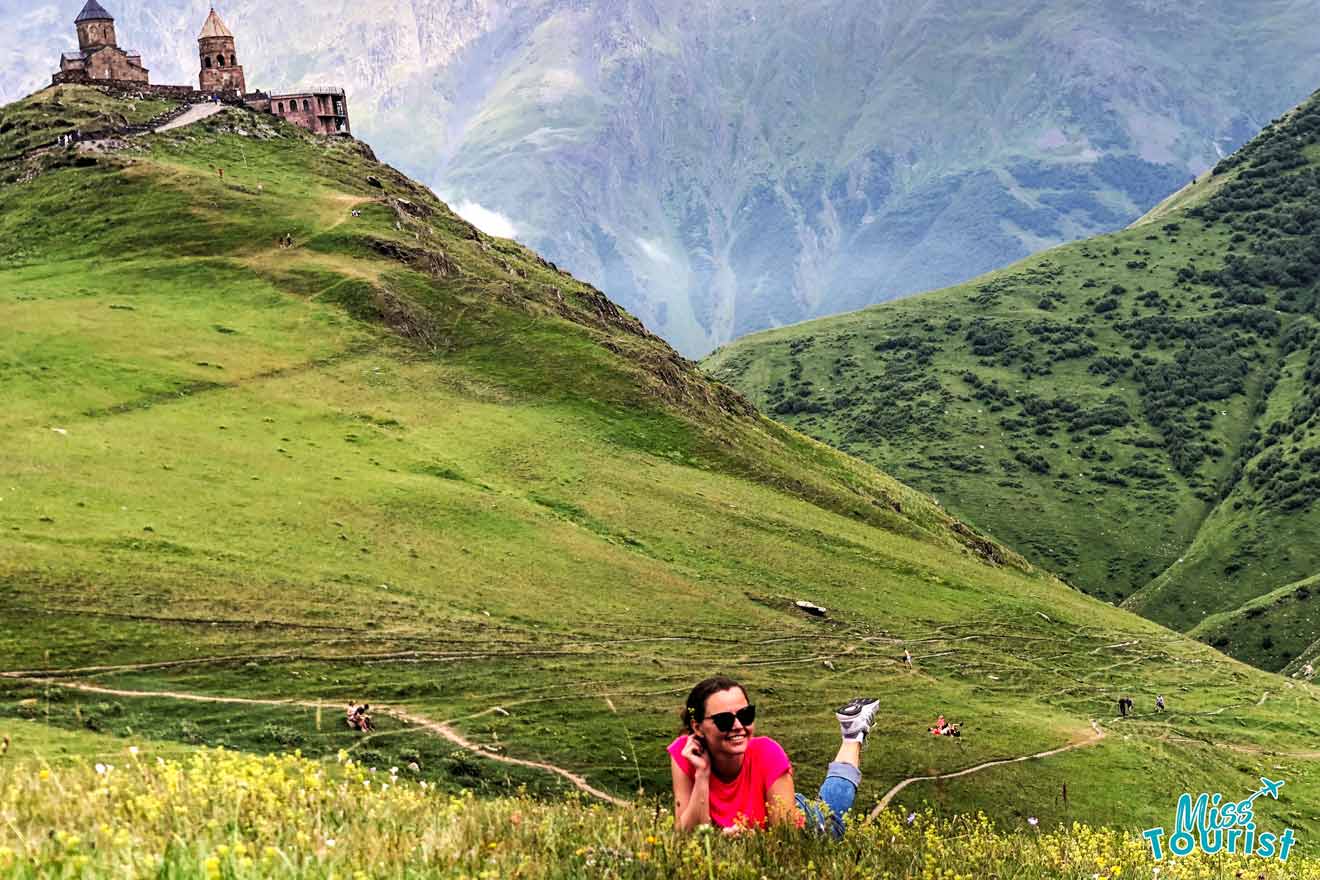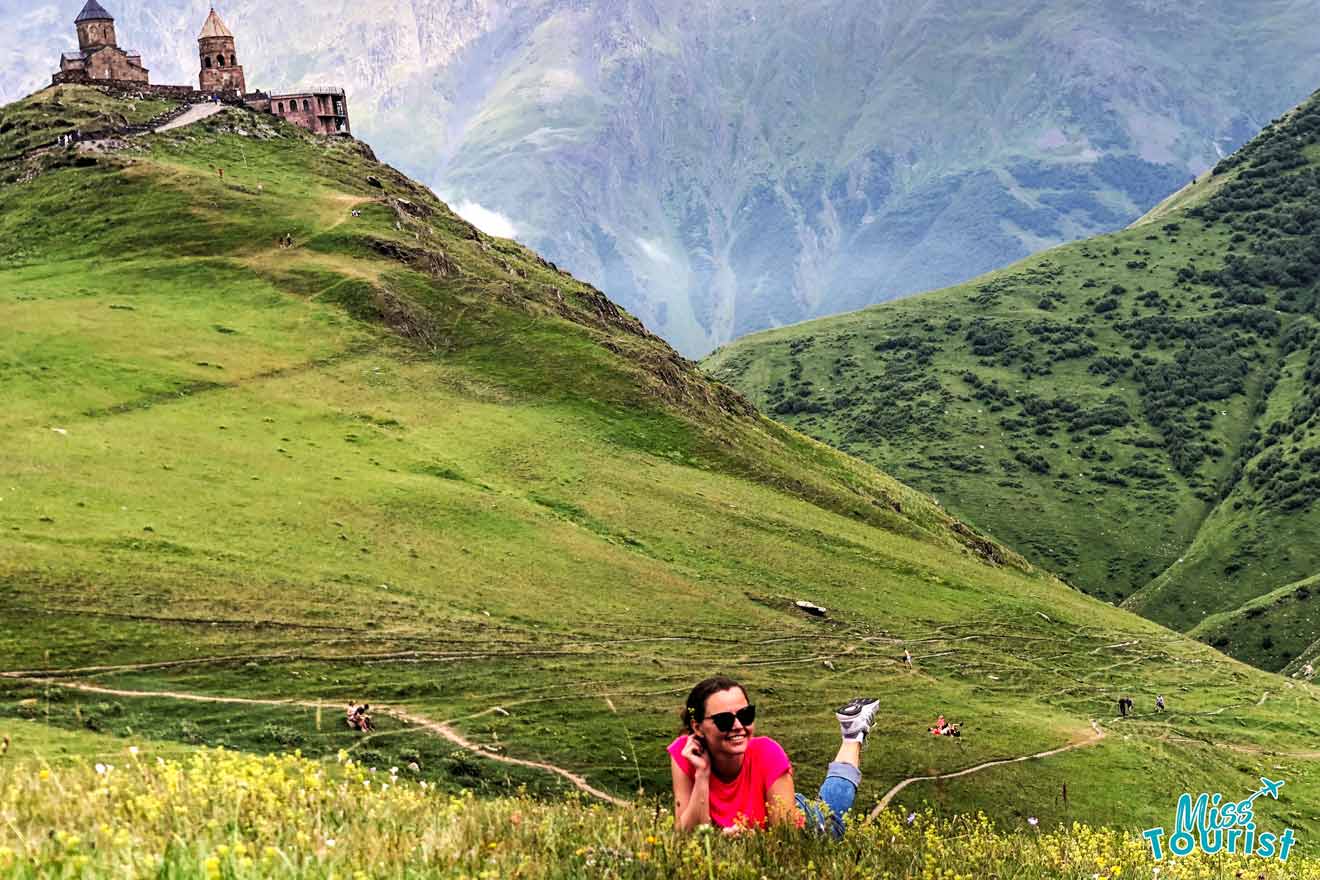 Stepantsminda (or the old name of the city, Kazbegi) is the highest town of the Caucasus mountain range at an altitude of 2493 meters and the region is truly one of the most beautiful places in Georgia. I mean, take a look at the pic above, seriously!
In order to get there you will need to take the Georgian Military Highway – it connects Georgia and Russia and it is pretty famous as it is very scenic.
The most convenient way to go there is by car (it is 156 km or ~97 mi). The quality of the roads are pretty good, so you can totally do it yourself if you rent a car (pssst, I have a great post about renting a car in Georgia here) or you can go as part of the tour (I guess that is the best, if you go in a day trip). There is also a "marshrutka" – a minibus (cheap, but need to figure out directions) and taxis (more expensive, but comfy).
The driving time would be something like 3.5 hours buuuuuut I would schedule some extra time as there are many stops on the way you will want to take, trust me. 🙂
Here are the ways to get there (with prices):
By car – this is the best case scenario in my opinion! And I would also stay for a night or even two if you have a chance. Try this site to get the best local deals on a car rental (it is a totally legit site, do not worry) or this one if you prefer something more international. I checked the first site and it seems like the price is about US$25 per day, not bad, huh!
With a tour – seems like it is only US$35 if you take this tour (meals not included), or a private one for 70 per person.
Marshrutka (minibus) – catch it from the Okriba bus station near the Didube metro station, the price is 25 GEL (US$8).
Taxi – I recommend taking an Uber or Yandex Taxi, it is much cheaper than bargaining with drivers. There is also this service where you can book a taxi from a local, it will be about US$45 one way to get to Kazbegi.
2. Mtskheta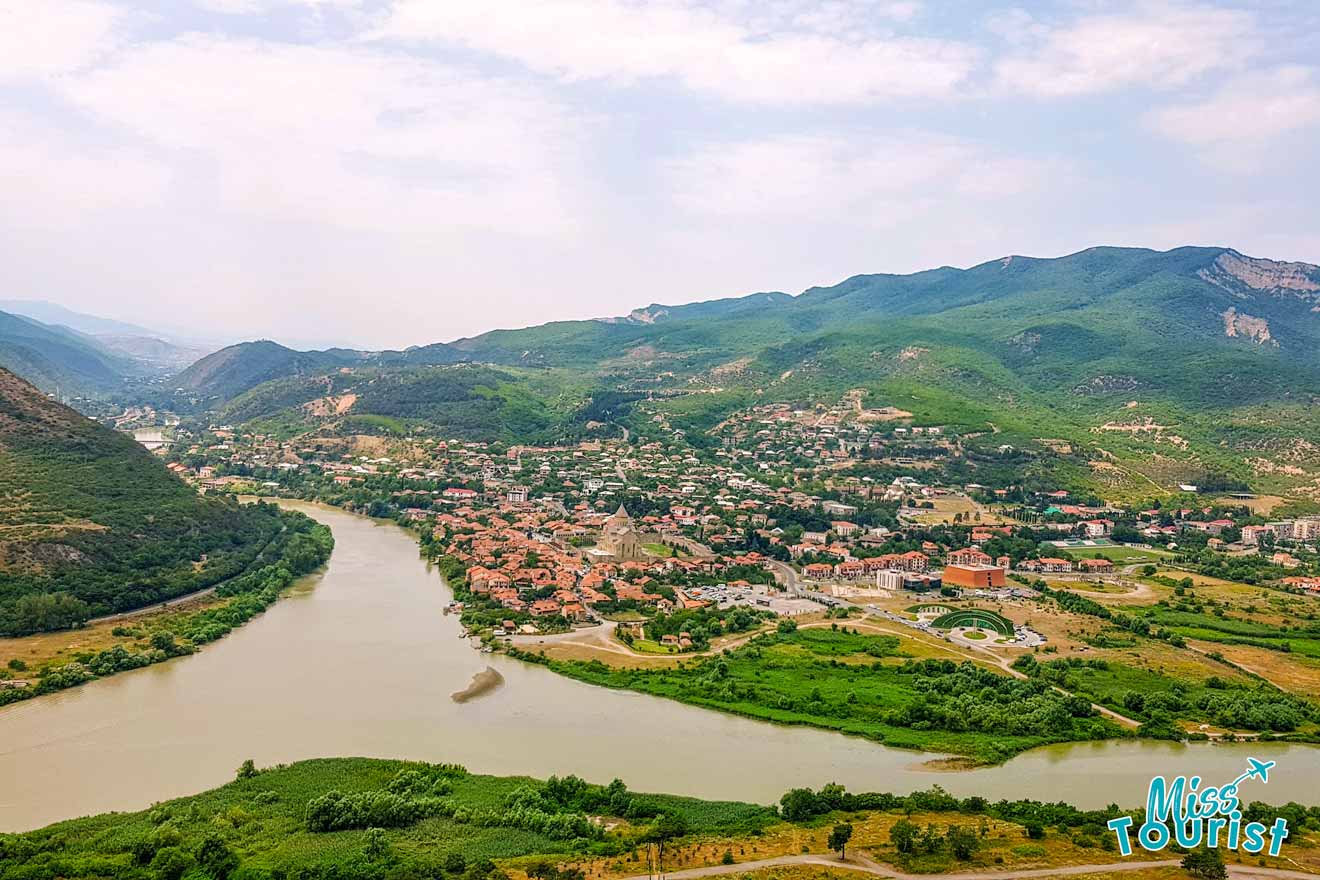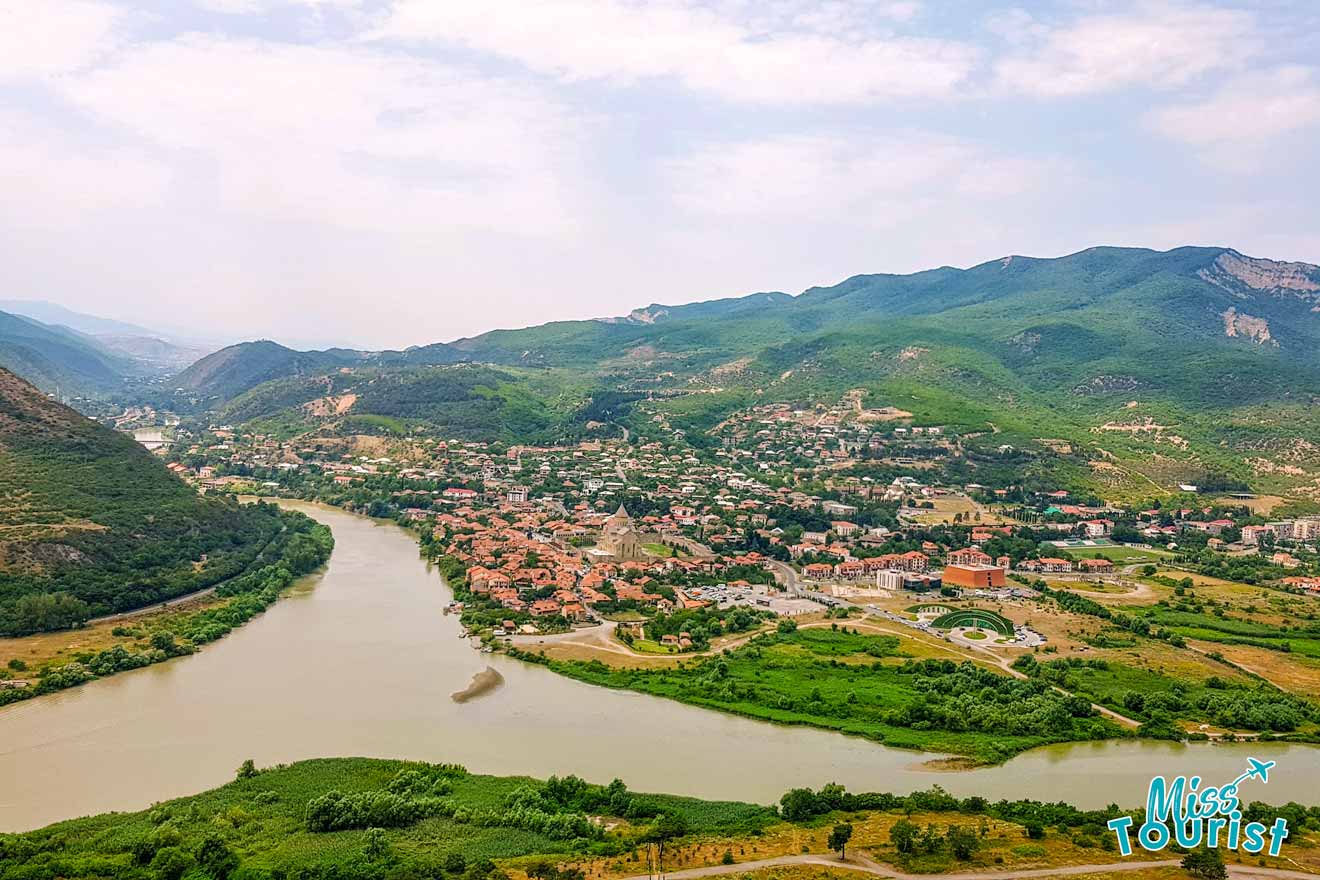 Located at the confluence of 2 rivers – Mtkvari and Aragvi in the picturesque setting of the Mtianeti region, Mtskheta is considered to be the oldest town in Georgia. Due to its historical and religious significance, Mtskheta was nominated as a World Heritage Site by UNESCO in 1994. The first ever capital of the country, It is a sacred place for Georgians.
Mtskheta is a charming town with rich history, beautiful churches and monasteries, old fortresses and an ancient botanical garden. It is the best place to see the traditional culture of Georgia.
Mtskheta is located just 20 km away from the city which makes it a perfect day (half-a-day) trip from Tbilisi.
Where there, please pay a visit to Jvari Monastery – it is an ancient orthodox church with an amazing panoramic view.
How to get to Mtskheta from Tbilisi: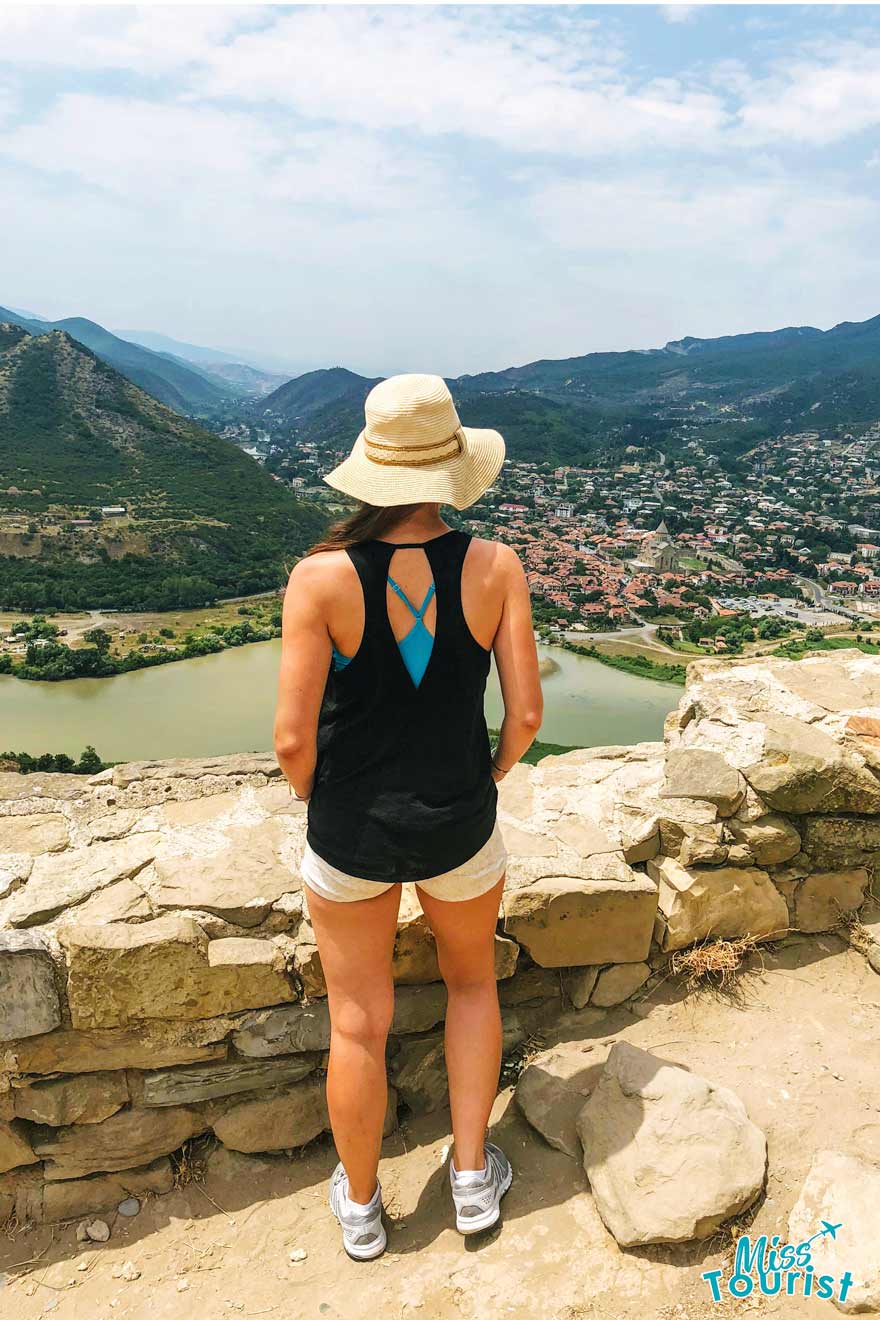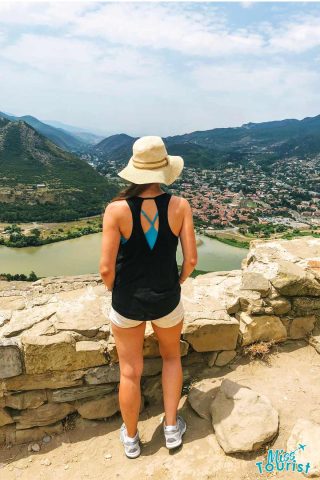 "Marshrutka" (minivan) – catch a minivan from Didube metro station, it comes every 20 minutes, the ride will take ~25 min and the price is 1,5 Lari (~US$0,5) (ask if it goes to Mtskheta first to make sure you are taking the right route). NOTE: it goes to the city center, if you want to get to the monastery, you will need to take a taxi from there (otherwise it is a 2 hour walk because the monastery is surrounded by the river).
Rental car – (that is what we did) the easiest way to get there in my opinion, it is easy to get, to find a parking spot and go around between the city and the monastery (there is a highway, not walkable) (~US$25 per day).
Taxi – the price should be about 50-60 Lari (~US$20) round trip (waiting time included in the rate).
Organized tour – I found this affordable organized tour (~US$35 per person). It is a 4 hour tour and they will pick you up and drop you back off to your hotel!
3. Kakheti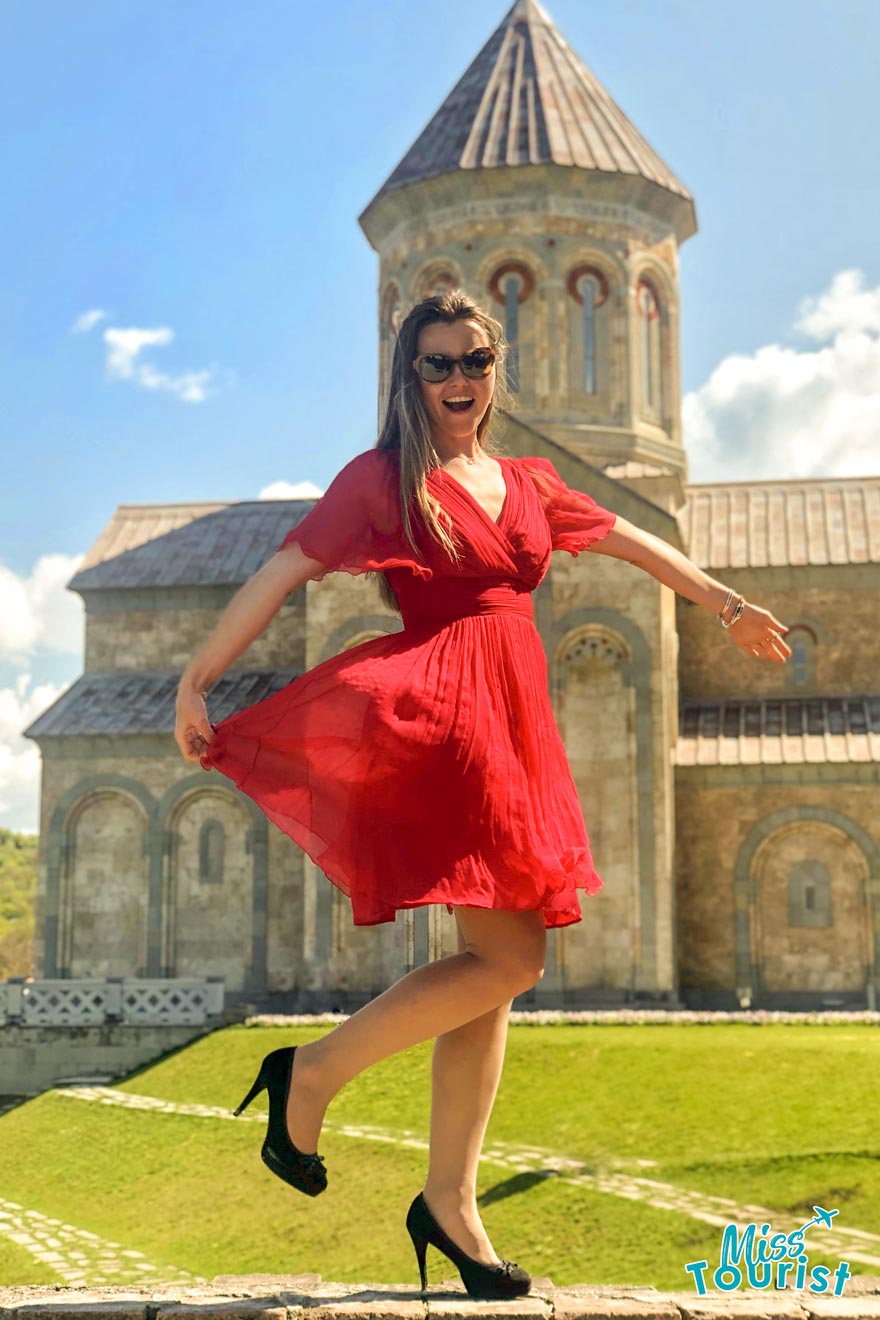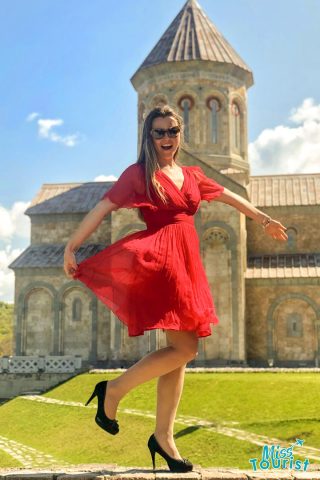 Kakheti is a beautiful region of rolling hills and valleys, of forests of ancient trees and wildflowers, of medieval churches and ancient castles. It is a place of incredible natural beauty, a place where you can experience the rich history, food and wine of Georgia.
Kakheti is the most southern region of Georgia, and its many vineyards produce some of the most unique wines in the world!
NOTE: possible side-effect: irresistible urge to visit Georgia for the rest of your life!
I recommend going with a tour (or a private tour guide) so that you stop in some small vineyards and villages, this tour would be a good example.
If you are going yourself by car, make sure to stop by Sighnaghi, the most romantic city in the country!
4. Davit Gareji Monastery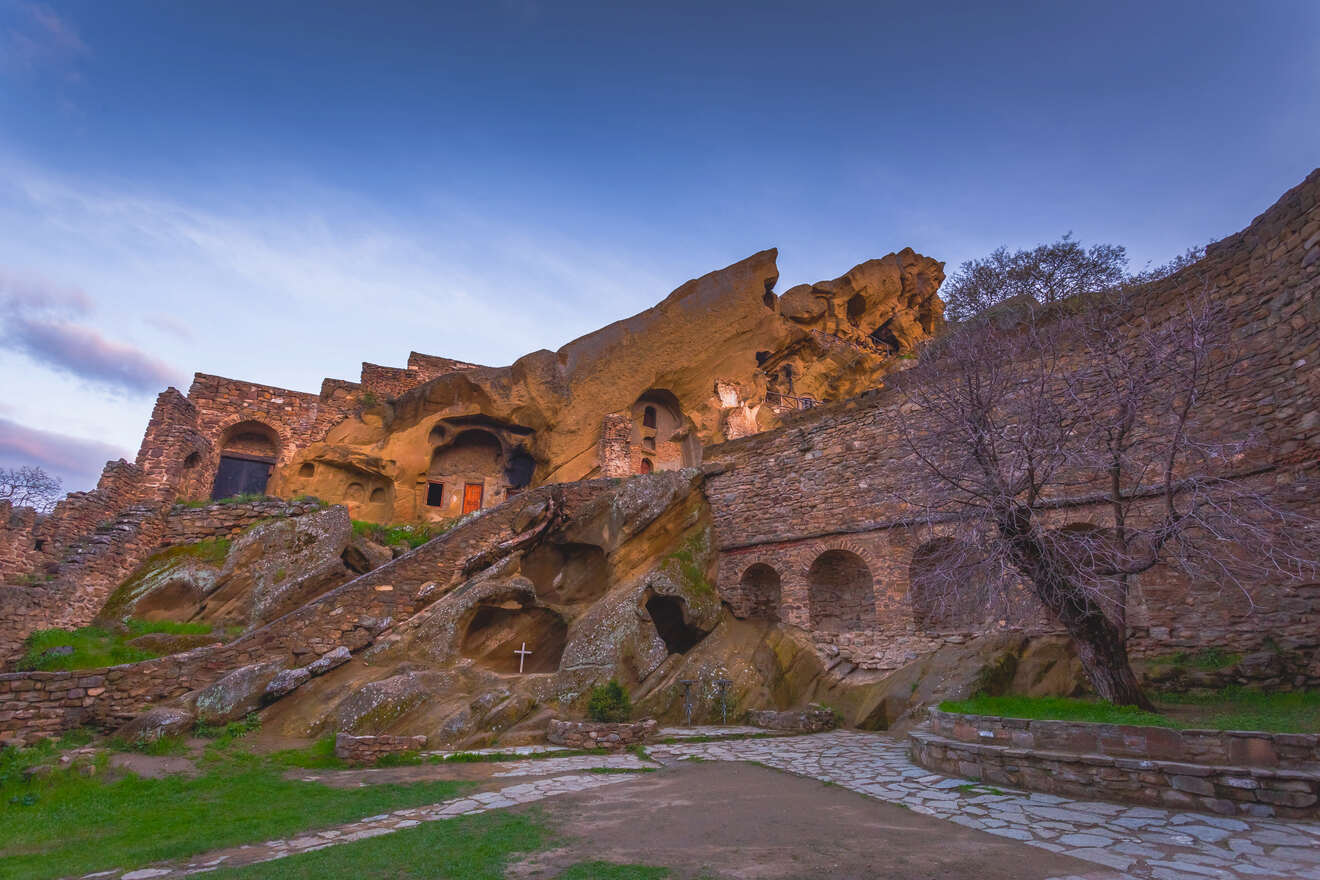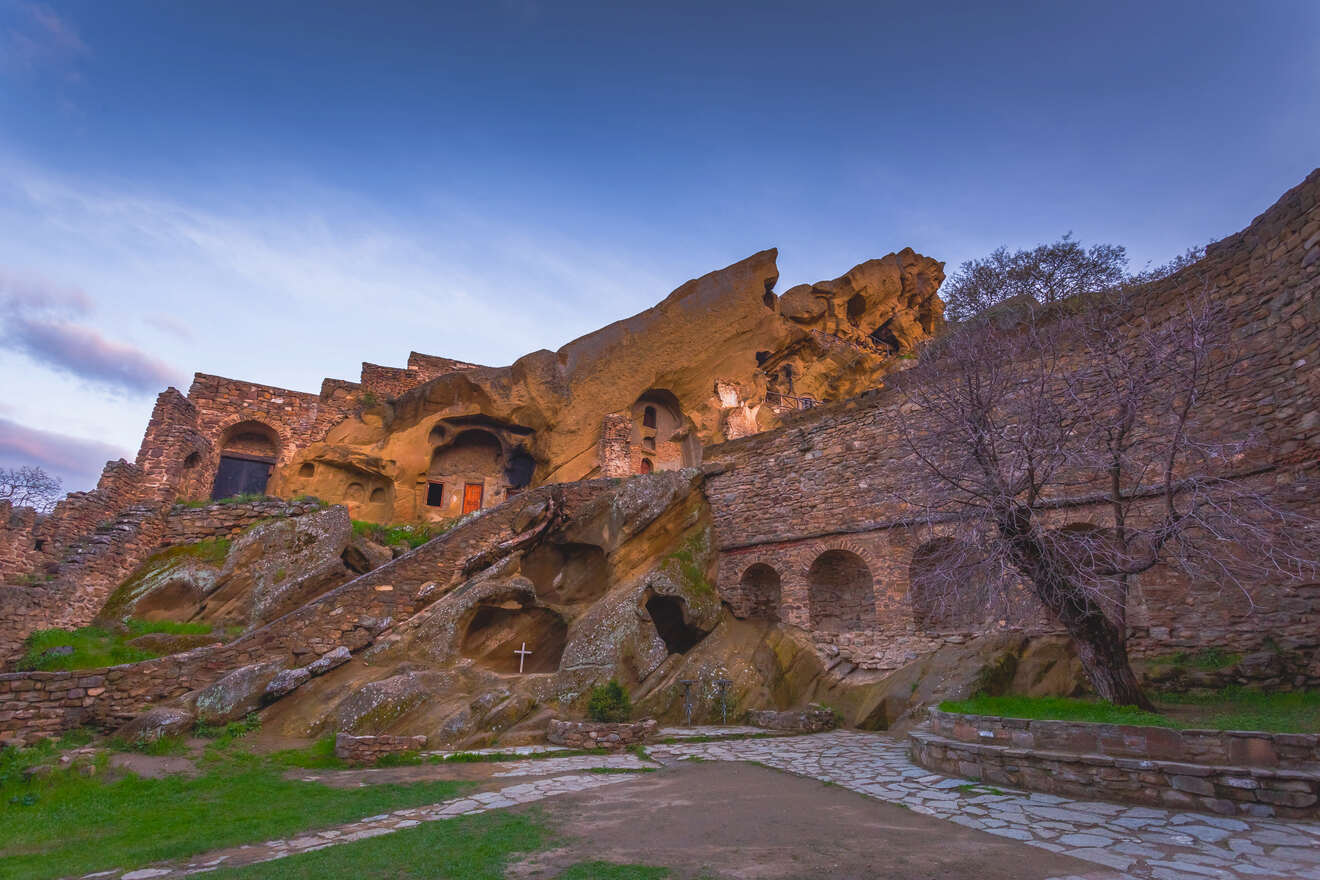 Located in the remote Caucasus mountains in the beautiful Georgian countryside, Davit Gareja is a beautiful rock-hewn monastery that fully functioned back in the 11th century!
I personally haven't been (yet), but I really wanted to go, just look at those pictures!
The monastery is located very close to Azerbaijan (South-East of Georgia), it is about a 2 hour drive from Tbilisi (a bit less) – 75 km (~45 ml) to be exact.
The best way to get there is to rent a car, you could get there by public transportation too, but I do not recommend this way as it would take you the whole day and many changes. The taxi would be about US$50.
NOTE: Plan about 2-3 hours for a visit, plus ~4 hours for the road.
BONUS 2: Transportation in the city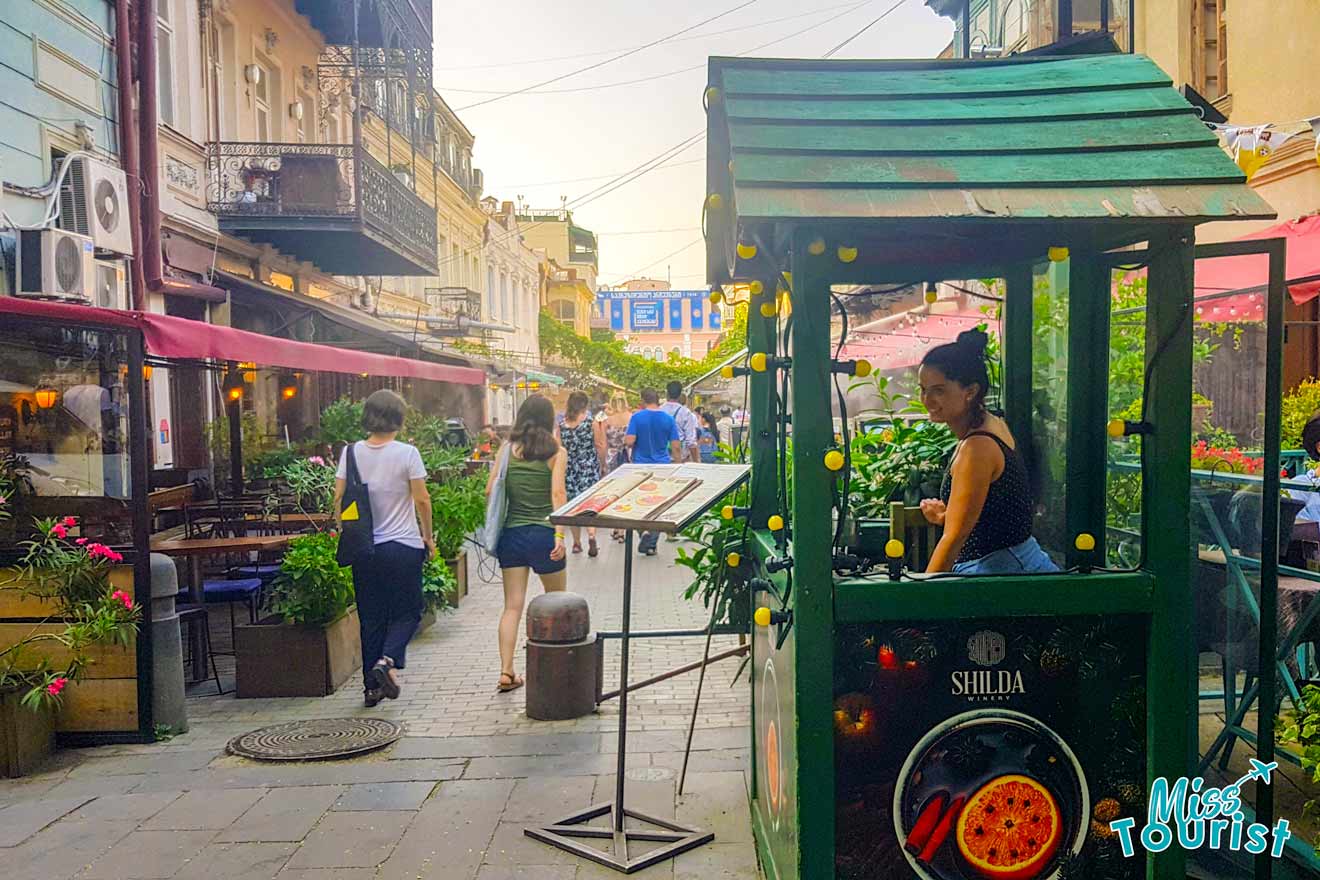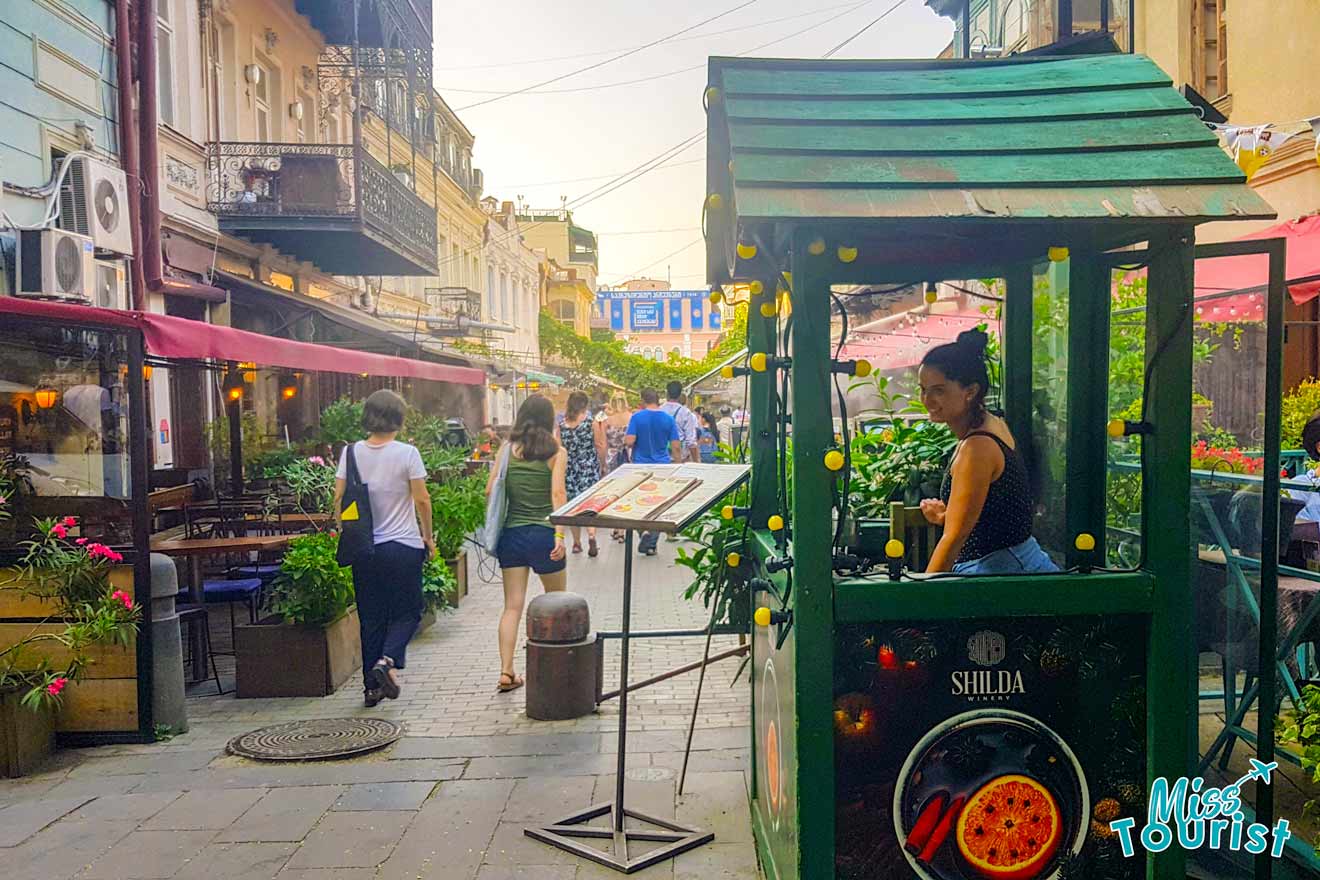 While the Old Town is easily walkable (and I advise you to do so, that's the way to get to know any city!), there's a chance that you are staying outside of it or you want to get to the random attraction in the suburbs.
I know what it is like to navigate a city whose language you don't speak, so don't worry we've got you covered on how to use public transport in Tbilisi!
Buses
The yellow buses in Tbilisi are pretty straightforward to use and super affordable, you can either buy the public transport card at a metro station and top it up, or you can pay straight in the bus. However, if you choose to do the latter make sure you have the exact amount needed as the driver won't have any change.
PRICE: 2 GEL (US$0.7) to buy the card and 50 Tetri (0.5 GEL or US$0.2) each trip.
Metro
Another efficient form of transportation in Tbilisi is the metro. A little bit rusty and old (though still almost the same beautiful like the metro in Moscow), this is one of the favourite modes of transportation for the locals! You would need to buy the Metronami travel card in one of the metro stations in order to get in.
PRICE: 2 GEL (US$0.7) to buy the card and 0.5 GEL (US$0.2) each trip.
Marshrutka (minibus)
These yellow minivans will take you to the end of the world and back, if you know how to. They're a bit more expensive than the bus or the metro but they go to way more places. It is the adventurous way to go if you're looking to explore a bit outside town, but beware, they don't follow a clear schedule! You can also use the public transport card in this case (how cool is that?).
PRICE: 2 GEL (US$0.7) to buy the card and 0.8 to 1 GEL (US$0.25 – 0.35) each trip.
Taxi
If you can't be bothered to navigate Tbilisi's public transport system you can always get a taxi. However, bear in mind that taxi drivers are a bit cheeky and they will try to overcharge you. That is why I recommend using an app – there will be no way to trick you in this way! The most popular ones are Taxi Maxim, Yandex Taxi and Bolt.
PRICE: It is usually about 1 Lari (another way they call the currency GEL) for 1 km.
Practical info about Tbilisi/Georgia
How to get from the airport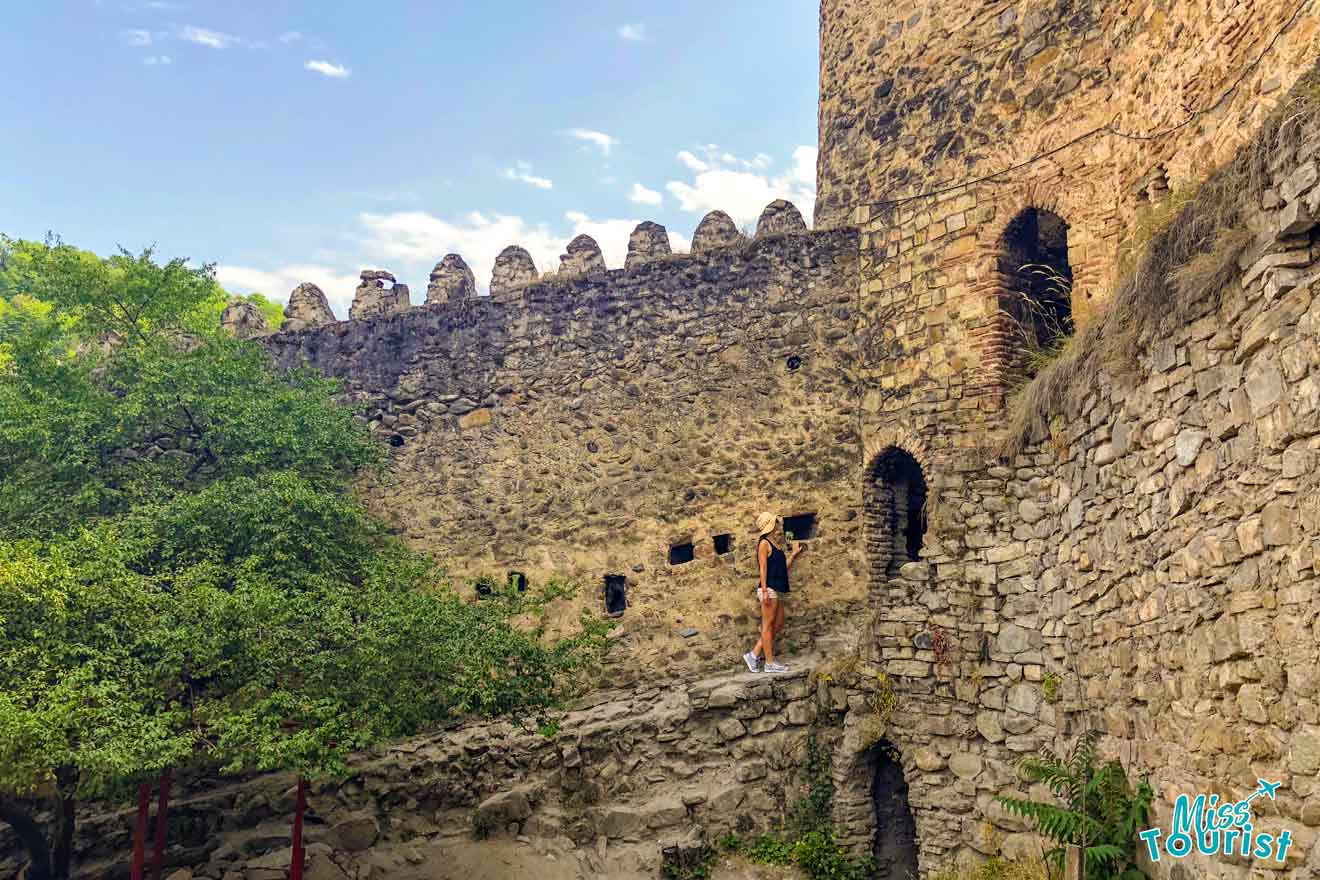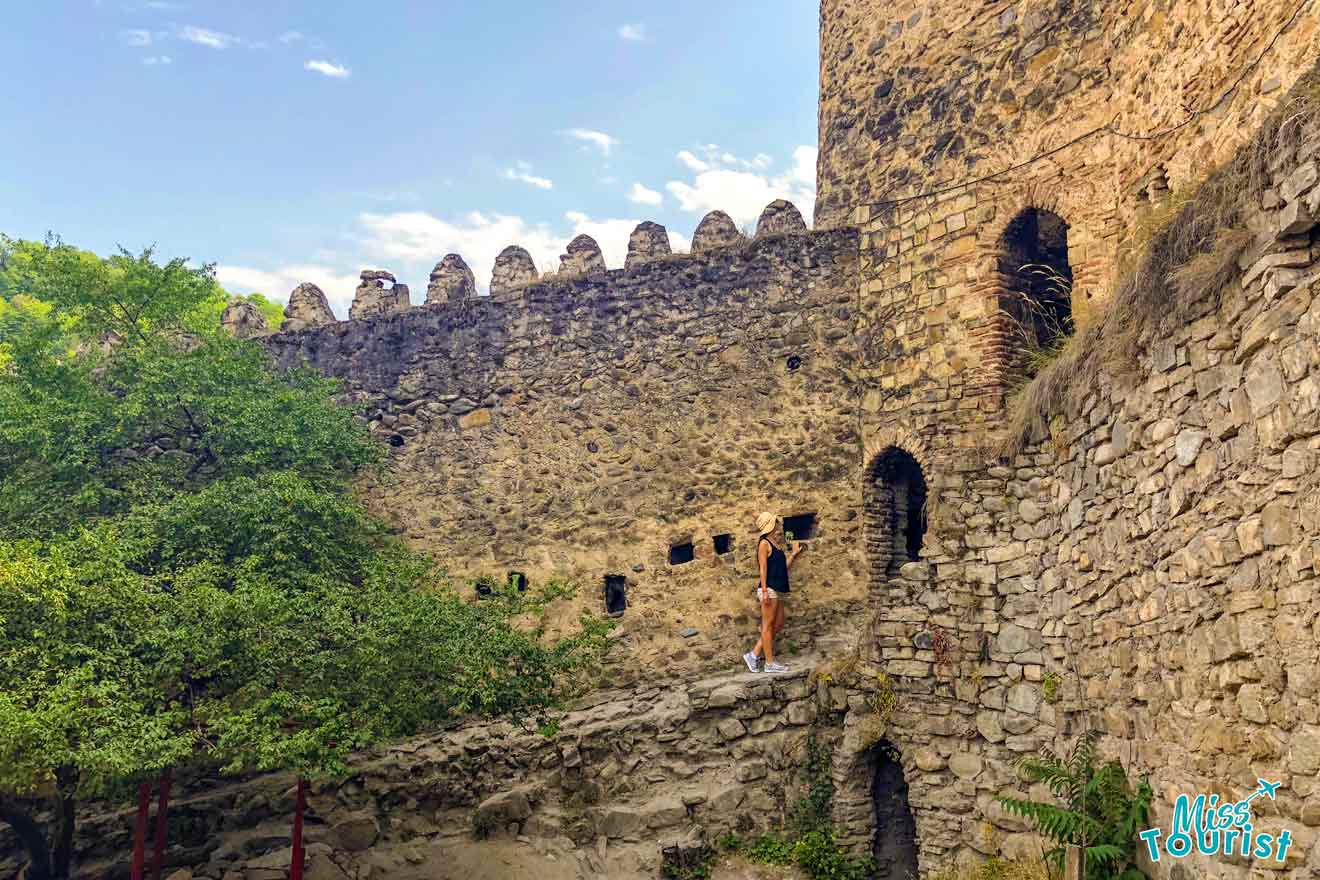 Taxi
A taxi from the airport to the city centre ranges from 35 to 45 GEL (US$10-15) if you get it at the place. It should be about twice cheaper if you book it though one of the apps- I recommend using the Yandex Taxi app – it has the best prices.
You can also get an organized private transfer – it is just a bit more expensive, but someone will meet you at the airport with a sign and you won't need to worry about the sim card/paying with cash etc. Here is a great transfer option.
Bus
If you'd like a more budget friendly option, you can take buses 37 or 137, that leave right outside Arrivals every 15 to 30 minutes and drop you off right in the city centre. The cost is only 0.5 GEL (~15 cents!) – make sure you've got the exact amount as the driver is not likely to have any change.
Prices in Tbilisi/Georgia
Find below a list with the typical prices in the city:
A meal in an inexpensive restaurant for 1 person – 20 GEL (US$6)
Dinner for 2 in a restaurant – 65 GEL (US$20)
A night in a hotel (very approximate, this varies enormously) – 130 GEL (US$40)
Taxi – 1 GEL per km + 3 GEL initial charge (~US$0.2 + US$1)
A bottle of water – 0.85 GEL (US$0.3)
Local beer – 3 GEL (US$1)
Bus ticket – 0.5 GEL (US$0.15)
1 l of gas (1/4 gallon) – 2.5 GEL (US$0.8)
Shopping, buying souvenirs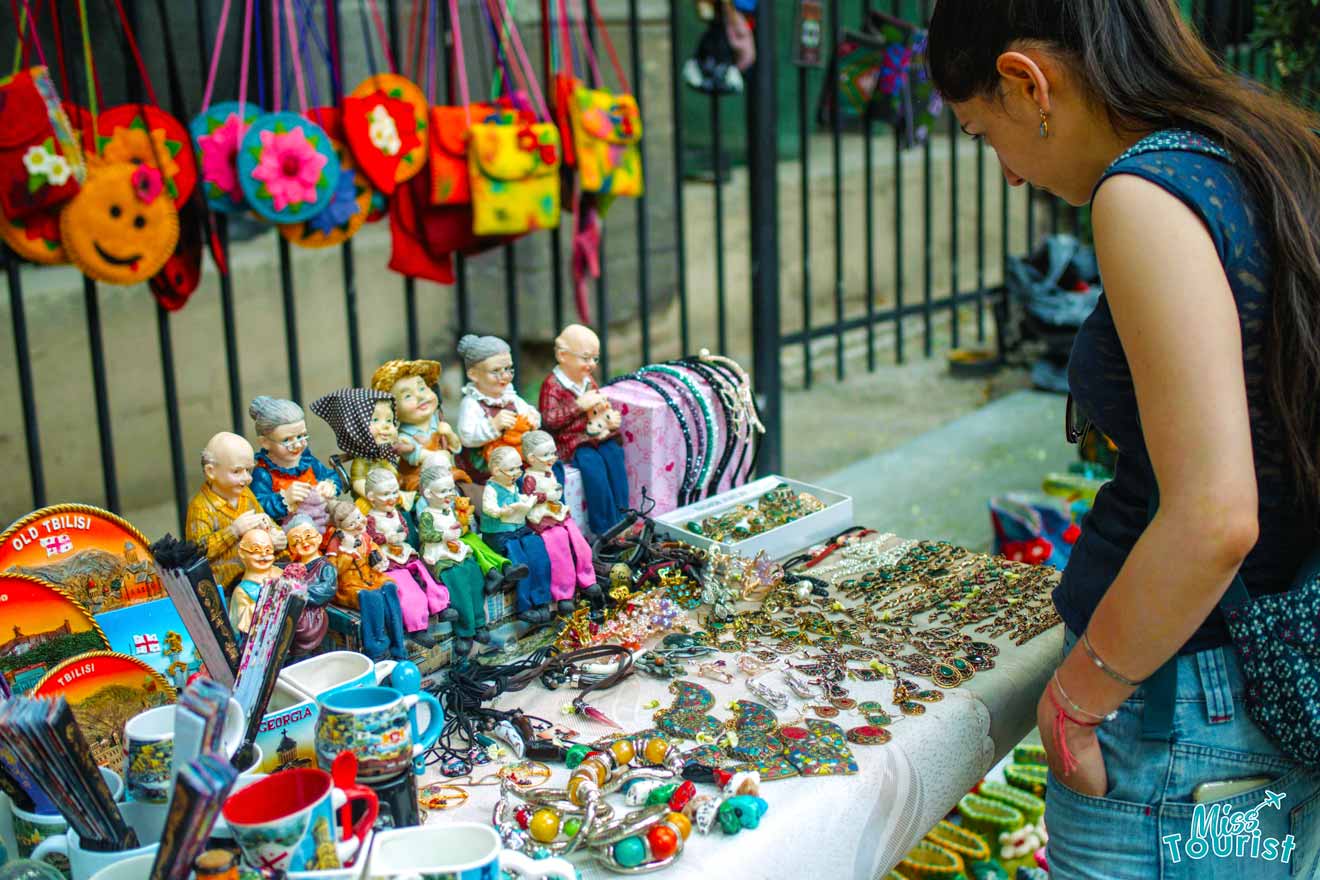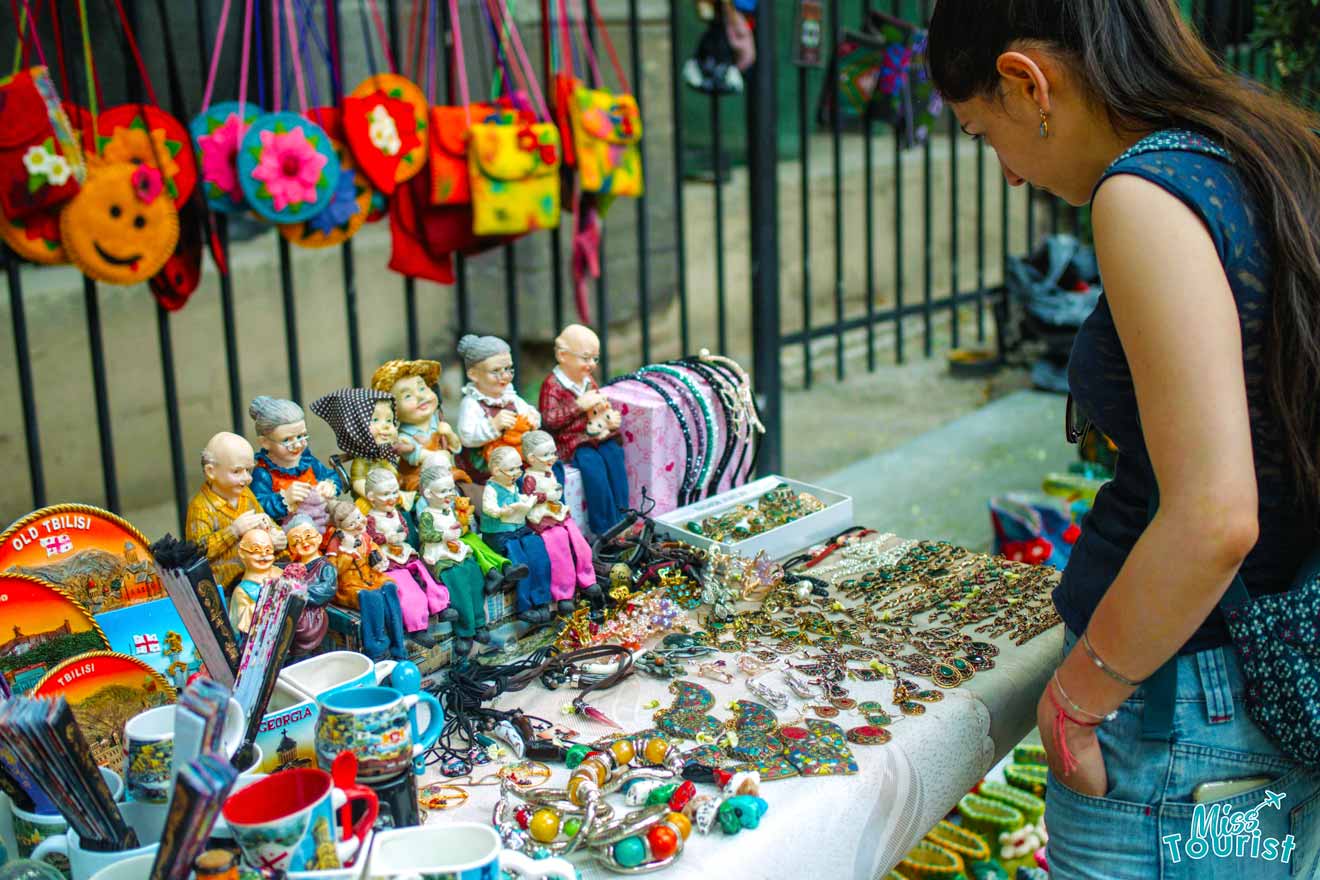 Looking to buy some stuff for your family/friends back at home or maybe something for yourself to remember the trip?
Dry Bridge has a really cool flea market that has all kinds of cool things like daggers and wine horns, paintings by local craftsmen and hats from Svanetia. Other things to buy are clay wine and spices. The market is open from 9 to 5 everyday, but if you have a choice, come in the weekend, there are much more sellers then.
I bought myself some earrings and could not have been happier with them!
PRO TIP: Do not forget to bargain – this is not Sri Lanka where you are supposed to bargain, but you can definitely expect a 10-20% discount if you just ask.
There are some great local designers in boutique stores on Rustaveli Avenue and in the Old Town, you will definitely like something if you are into shopping!
Expats in Tbilisi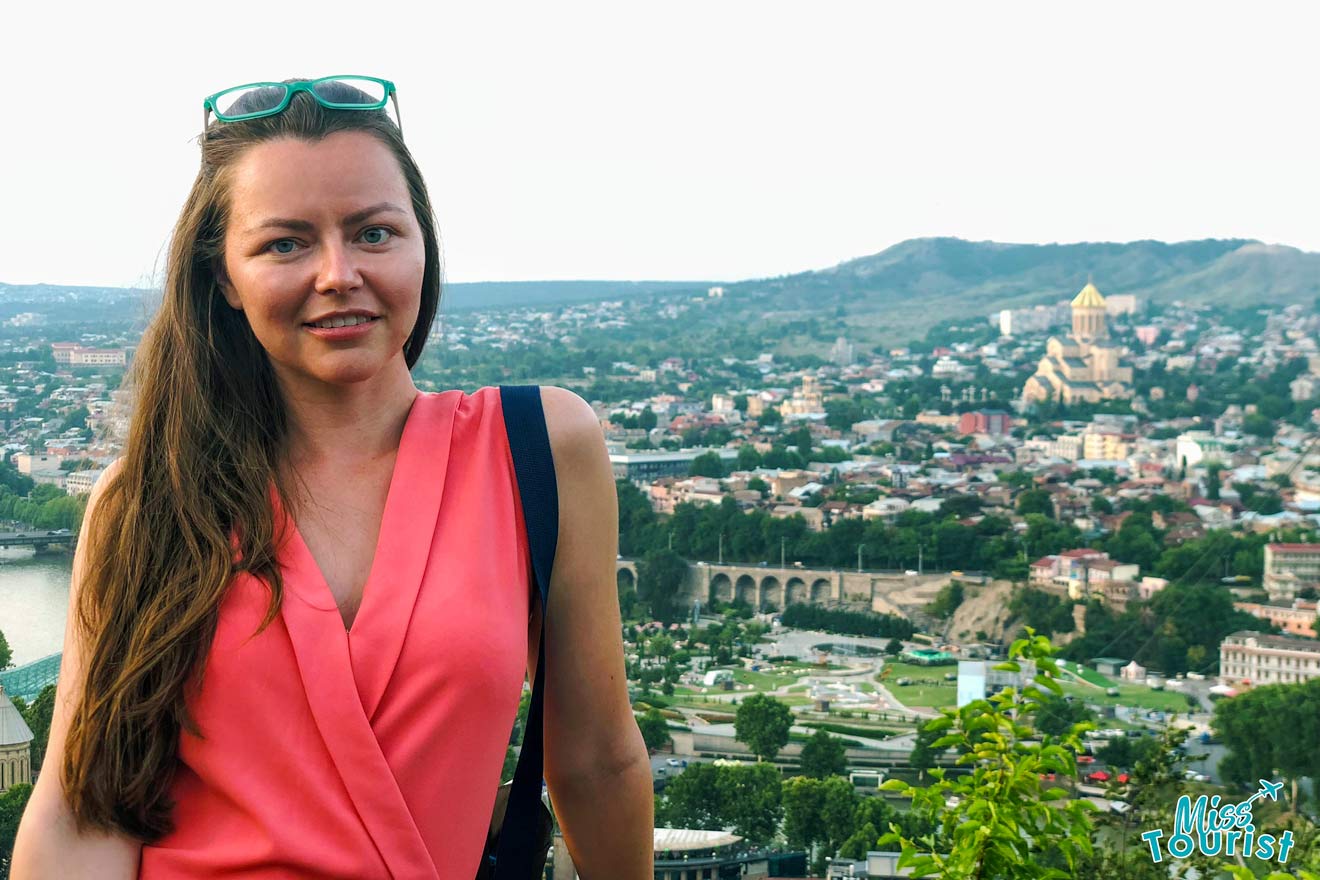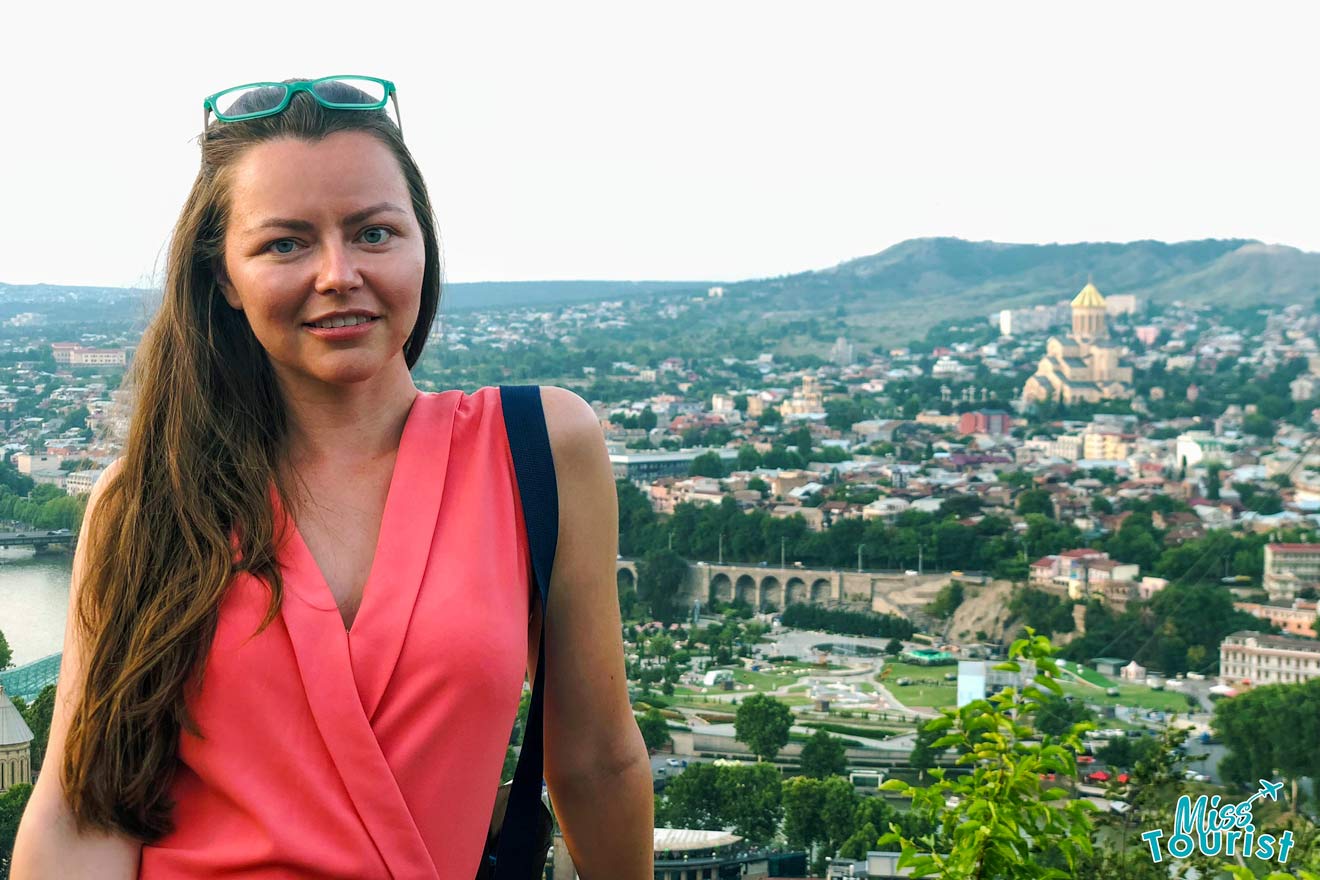 I think a lot of people who can afford to work online first come visit the country as tourists and then decide to actually relocate. Why? Well, Georgia has low taxes, amazing food and weather and that means digital nomads and long-term travellers are starting to move to Tbilisi in numbers, there is a pretty big expat community over there!
If you are thinking about relocating to this sunny country I recommend doing a search on Facebook, there are some really active groups where you can ask all the questions you might have and make up your mind if you would go ahead to do it.
If you do, please drop me a line in the comments, I would love to hear your experience (as well as many of Miss Tourist readers, I am sure!).
| | |
| --- | --- |
| ✈️ Cost of traveling: | Cheap |
| 📅 How many days: | 2-3 |
| 📍 Best neighborhood: | Old Town |
| 🍽️ Dinner for 2: | $18 |
| 👶 Family friendly score: | Great |
| 🚕 Average taxi price: | $4 |
| 🏨 Avg hotel price: | $50 |
FAQs about Tbilisi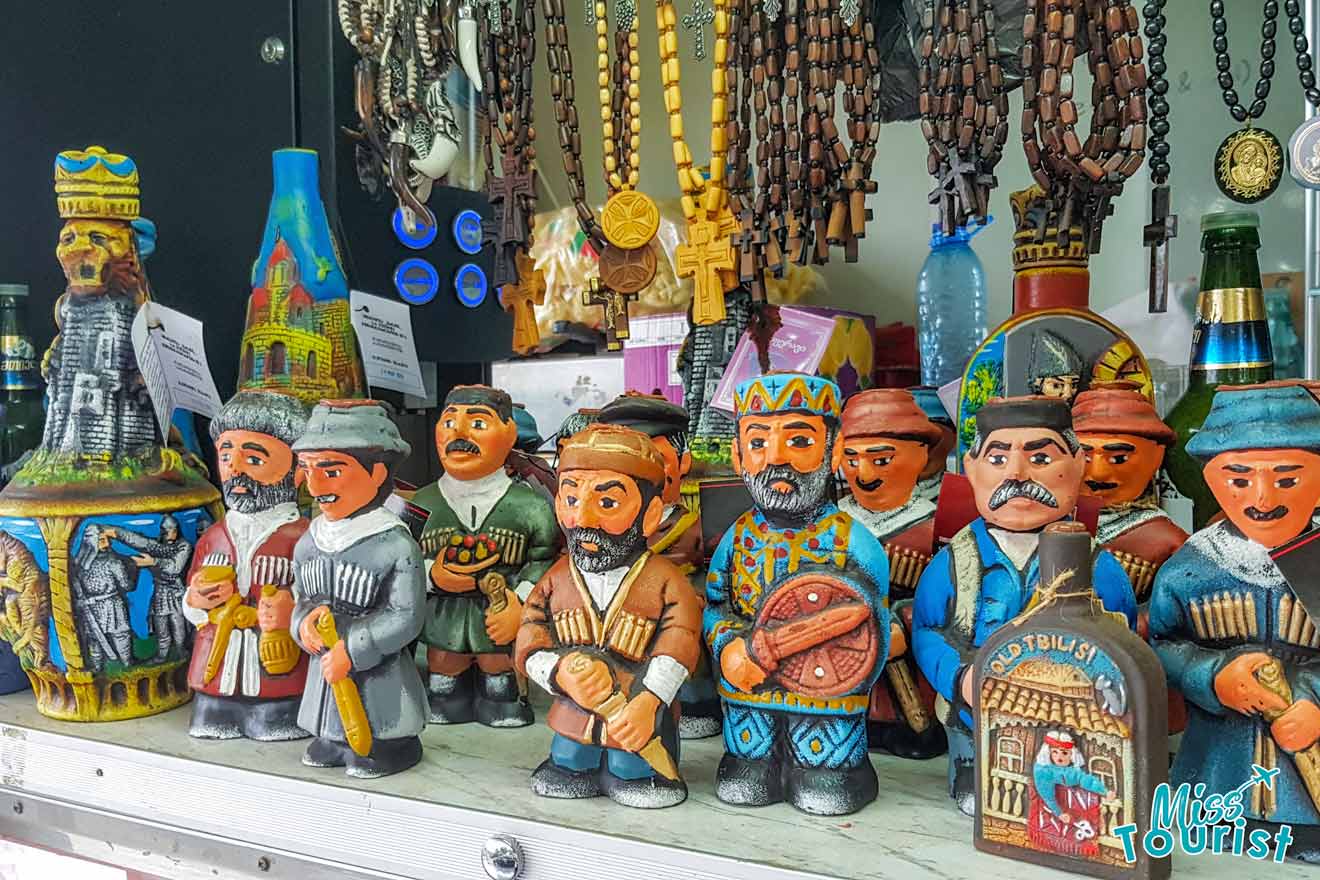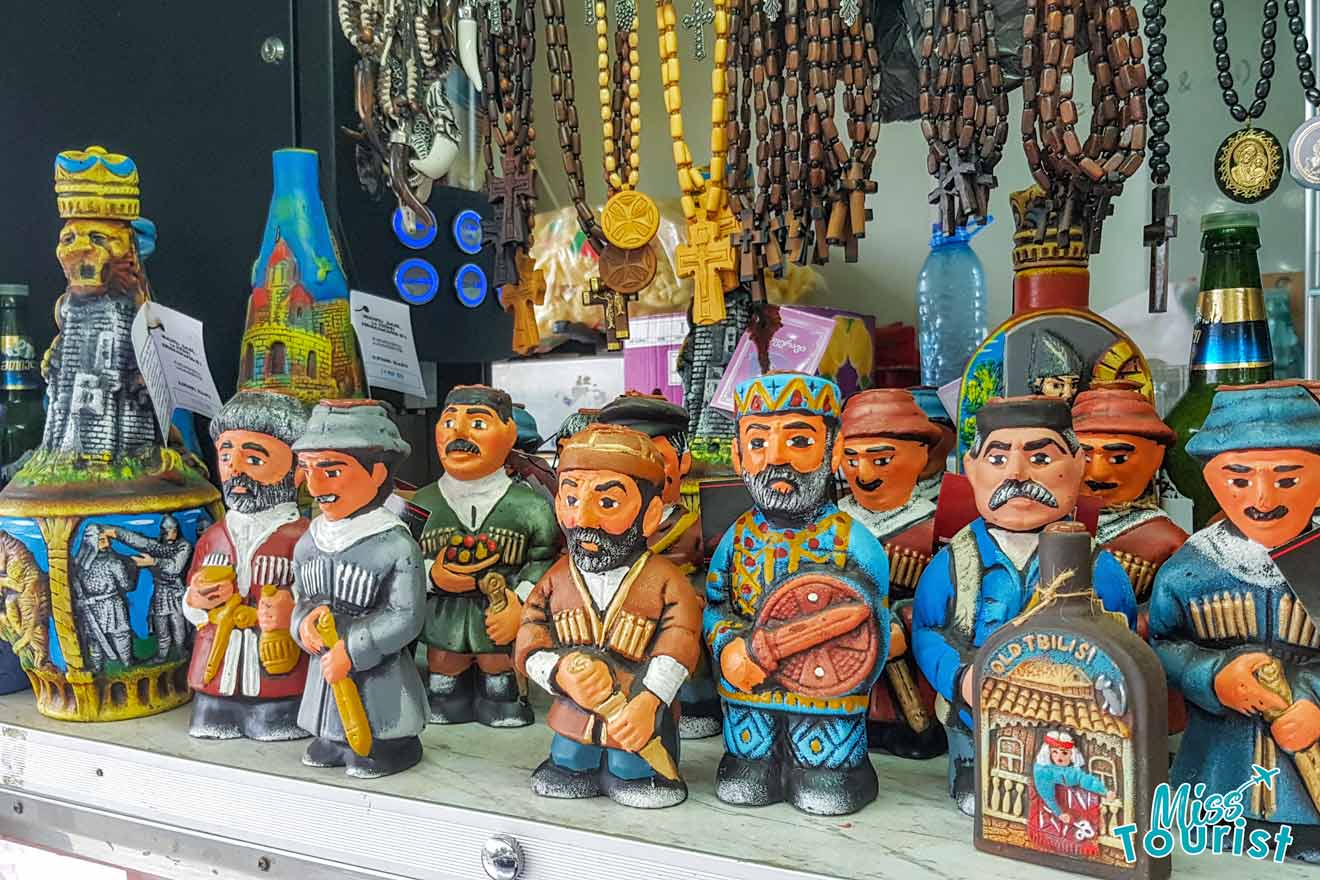 📅 How many days to spend in Tbilisi?
1-3 days is great, if you want to see absolutely everything with no rush – 5 days. 
I invite you to check my other post in 2 weeks in Georgia where I talk about other amazing places to visit around Tbilisi and some practical info such as sim cards, prices etc. 
☀️ When to visit Tbilisi/ Georgia?
Luckily for us, Tbilisi is not a city with extreme weather such as tropical storms so you can actually visit it any time of the year! As every European city the most popular time to visit is from April to July. August is OK too, but it can get REALLY hot. September/early October should be very nice too! If you are going in the winter it is nice too, it is not so cold in the city, but hey, you can go to the beautiful Kazbegi mountains to ski! 
👋 Is Tbilisi safe?
Yes, no worries, Tbilisi is a very safe city where you can walk around at night without worrying about your life. The recent changes in the country's politics actually played a really important role in this – the level of criminality in Tbilisi is very low. Having said this, I obviously recommend using common sense and not leaving your expensive camera alone when you go to the cash register etc., but I definitely felt so much safer in Georgia than in, say, Colombia or Bolivia. 
📱 Which sim card to get in Georgia?
After lots of research, I found the best sim card to use while on your trip to Georgia. Beeline has numerous offices in the city or you can purchase it at your arrival at the airport so you can start using it straight away! Another good one is definitely Geocell, just compare the current prices on their websites. It should be about US$5-6 for ~8GB of data. 
👅 How to pronounce Tbilisi correctly?
Google is actually wrong on this one! You actually do NOT pronounce it "Tiblisi" as referred in this video. Ask any local – you pronounce it exactly the way it is writer -"tbi-lee-see".
Here are some proofs from locals if you don't believe me: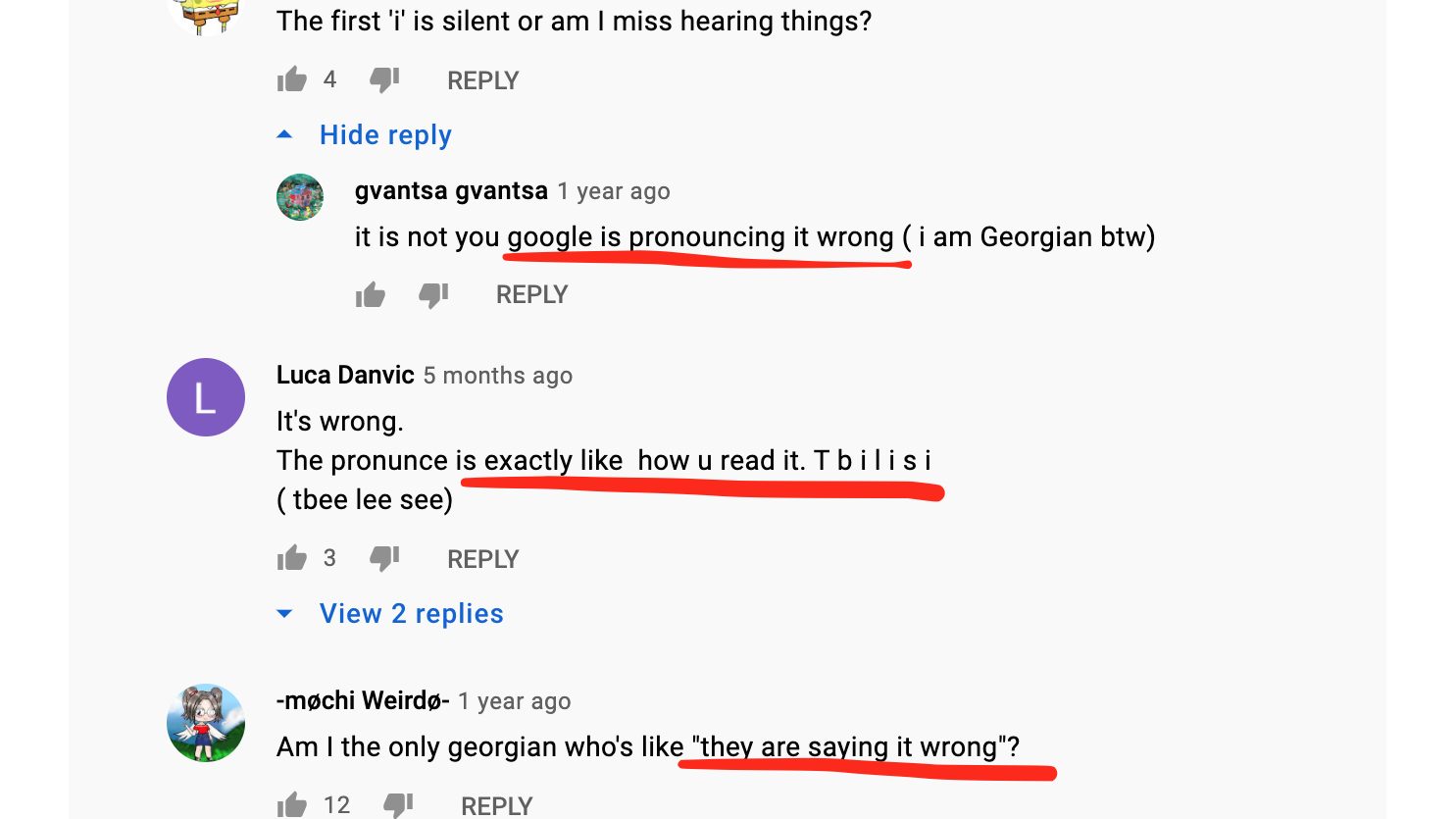 Conclusion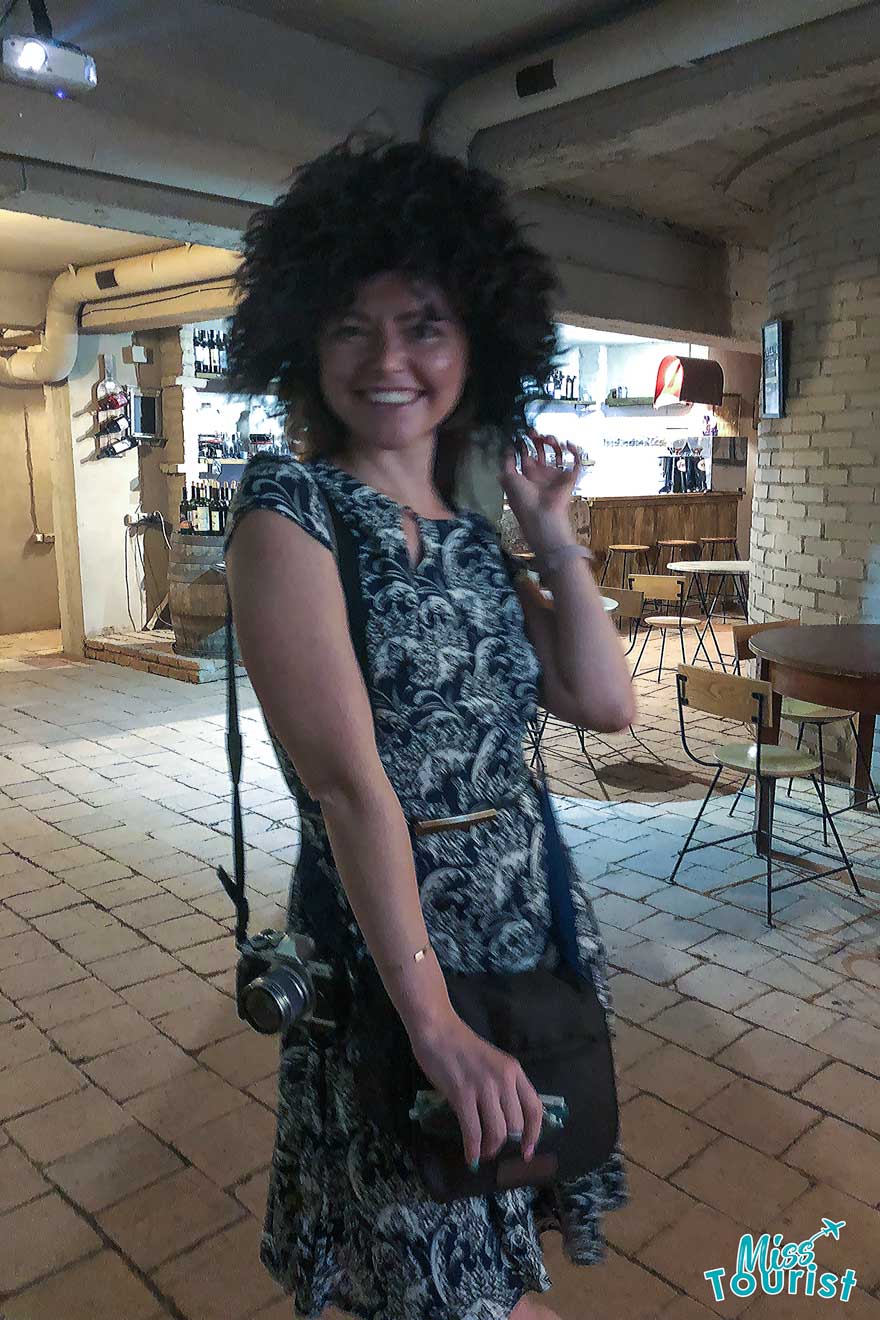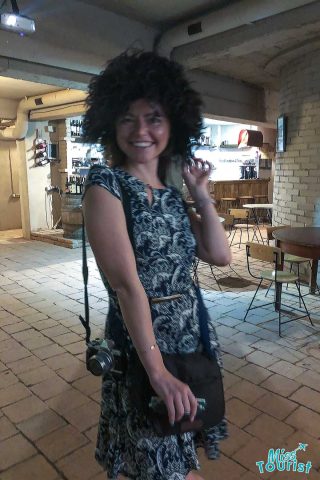 If you have read this far, I congratulate you, you are now a certified Tbilisi expert! 🙂
Now you can rest assured that you will visit all the landmarks and hidden gems in Tbilisi and you won't miss a thing, and even experience some activities that not even the locals know. Navigating Tbilisi is now a piece of cake for you and after all these tips the only thing left for you to do is to sit back, relax and enjoy your trip!
I love Georgia dearly, and if you have been to all the most popular destinations like Italy, Spain, Bali etc. and craving for more special experiences that no-one had yet, go to Tbilisi and Georgia overall, and I guarantee you will talk about your trip for years to come!
If you found this article useful or you have any other doubts, please let me know in the comments below, I'll be happy to help you. And of course, if you liked this article, don't forget to click "Like" and share it with your travel mates.
Yulia
---
Pin it for later!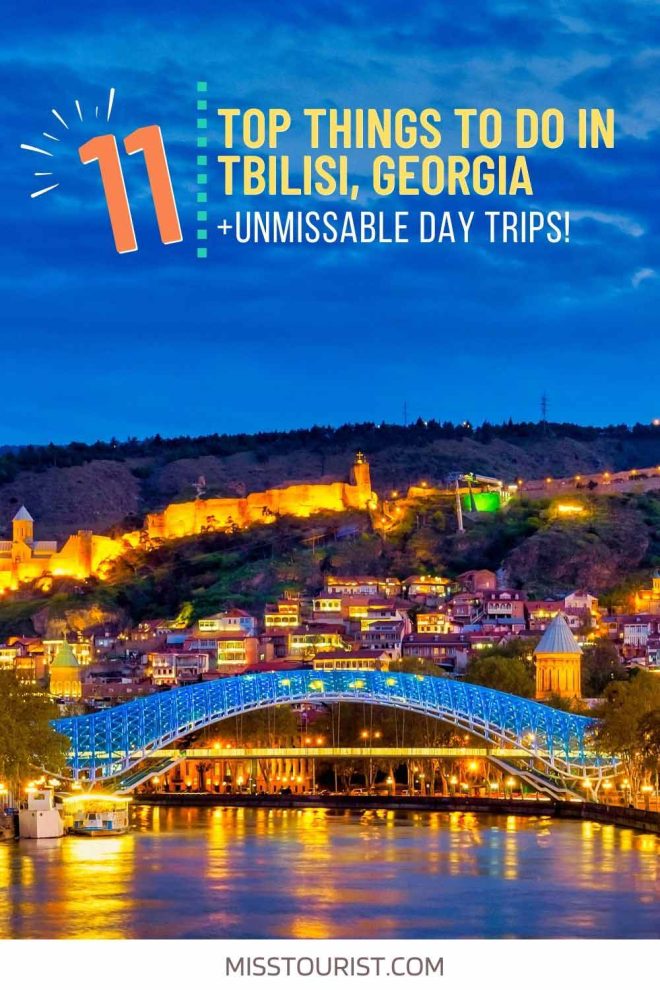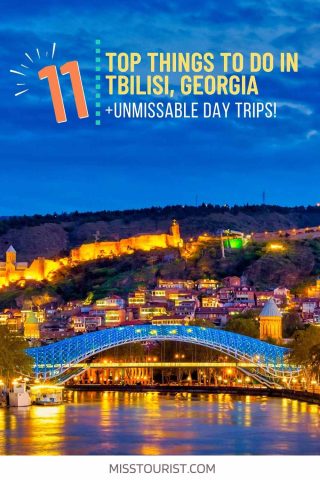 Pin it for later!