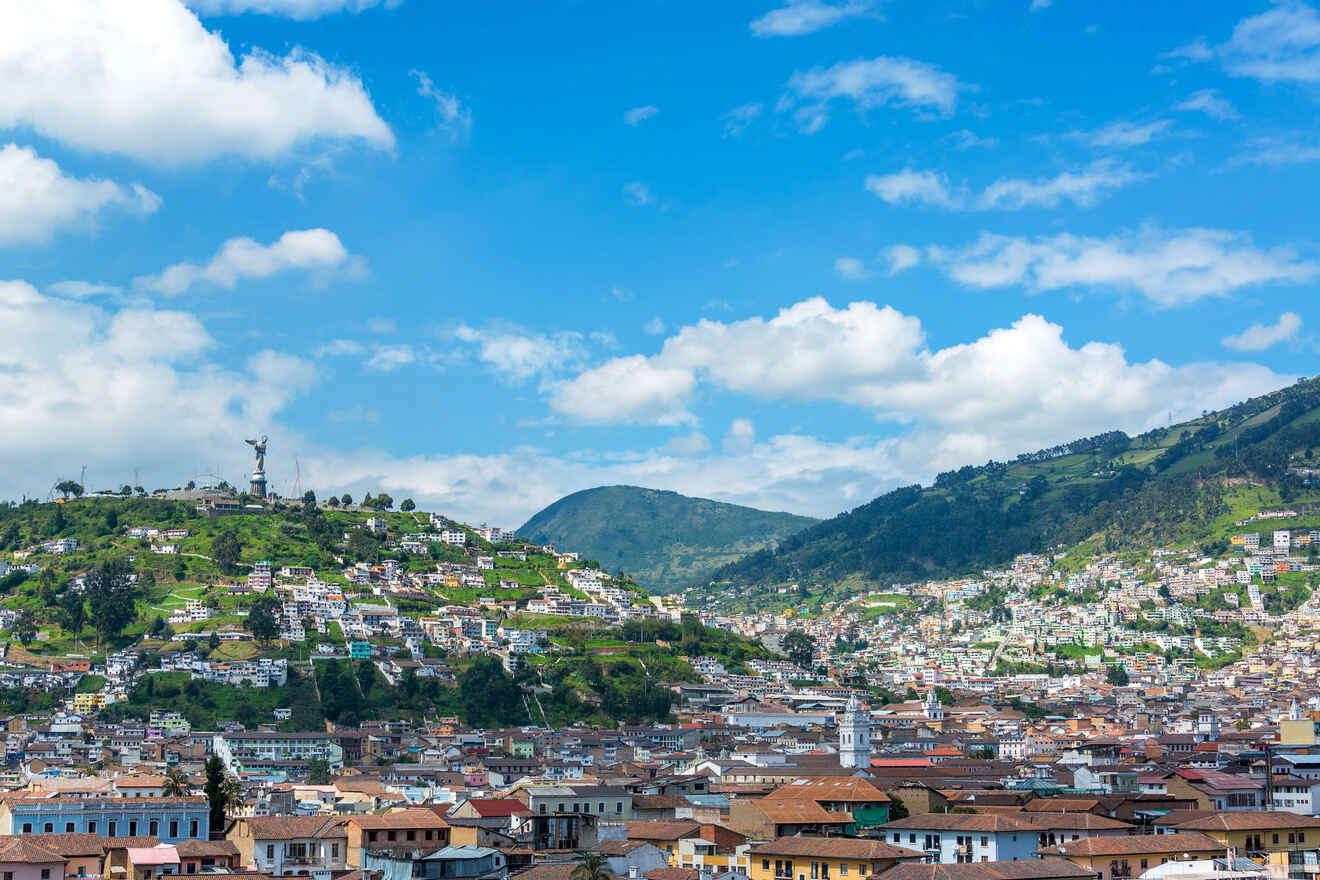 The capital city of Ecuador is rich in culture, history and it's home to many architectural marvels. No wonder it was the first World Heritage Site City named by UNESCO! Yes, Quito has so many interesting aspects and I'm sure you'll love every minute of your holiday here.
South America is a place full of wonders, and Quito is nothing less than that. Also, it's the home country of one of the most beautiful birds ever (and my personal favorite), the black-breasted puffleg hummingbird!
Formerly known as San Francisco de Quito, this place is the best-preserved colonial city in South America. Which I'm so excited for you to see! So let's get straight to the point here and find the best areas where to stay in Quito, Ecuador!
I've looked through hundreds of hotel lists and found the best options that I would choose for myself. But I've noticed that all the accommodations are booking super fast here, so I highly recommend booking yours in advance to avoid any issues.
Come on, Quito's Old Town is waiting for us!
If you are in a hurry
Don't have the time to read the whole post? Not to worry, check out the list below, and you'll find the best areas where to stay in Quito, Ecuador, all located in the Old Town (Historic Center)
This map will help you visualize all the areas where to stay in Quito, Ecuador that I will be talking about in this post: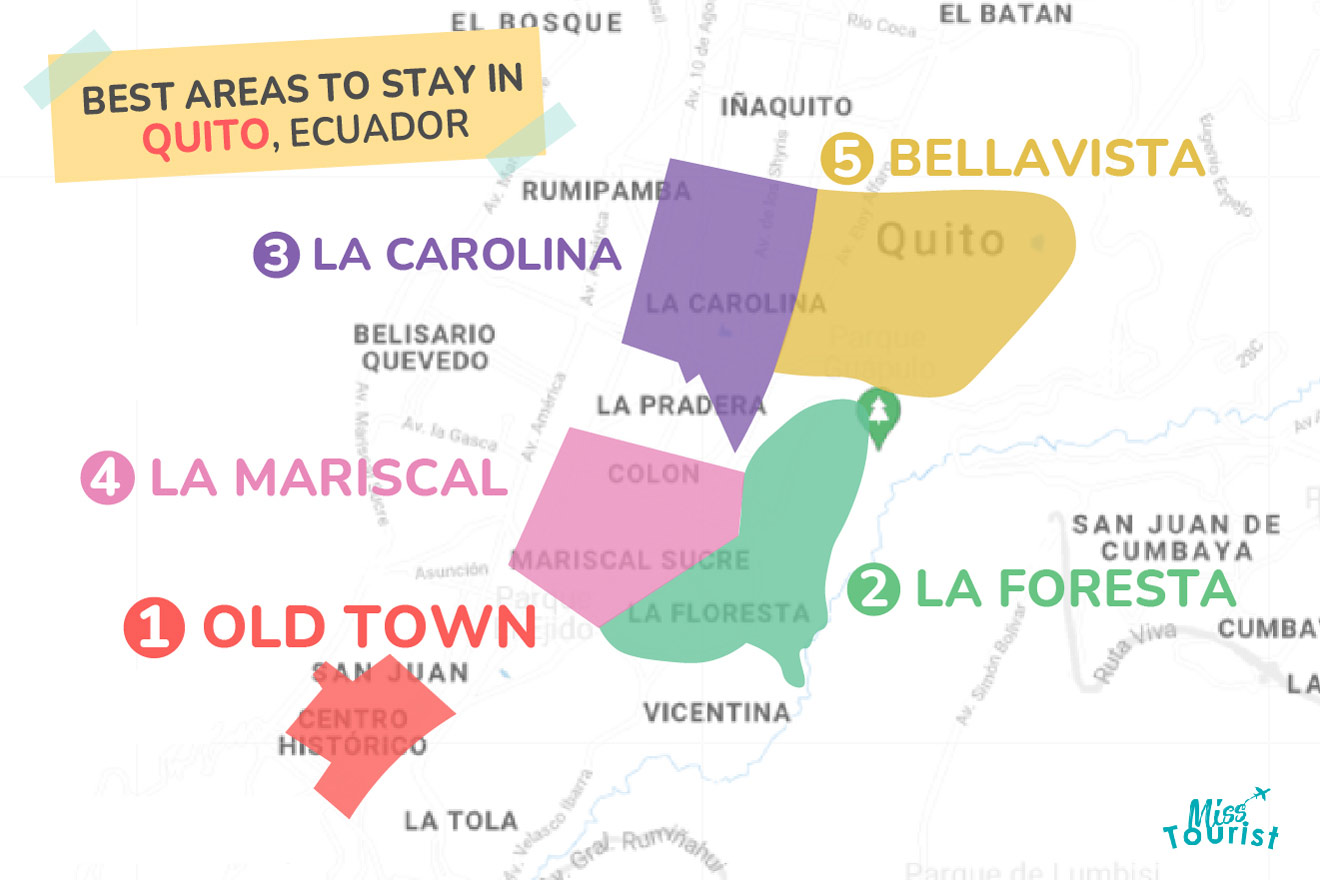 1. Old Town (Historic Center) – where to stay for the first time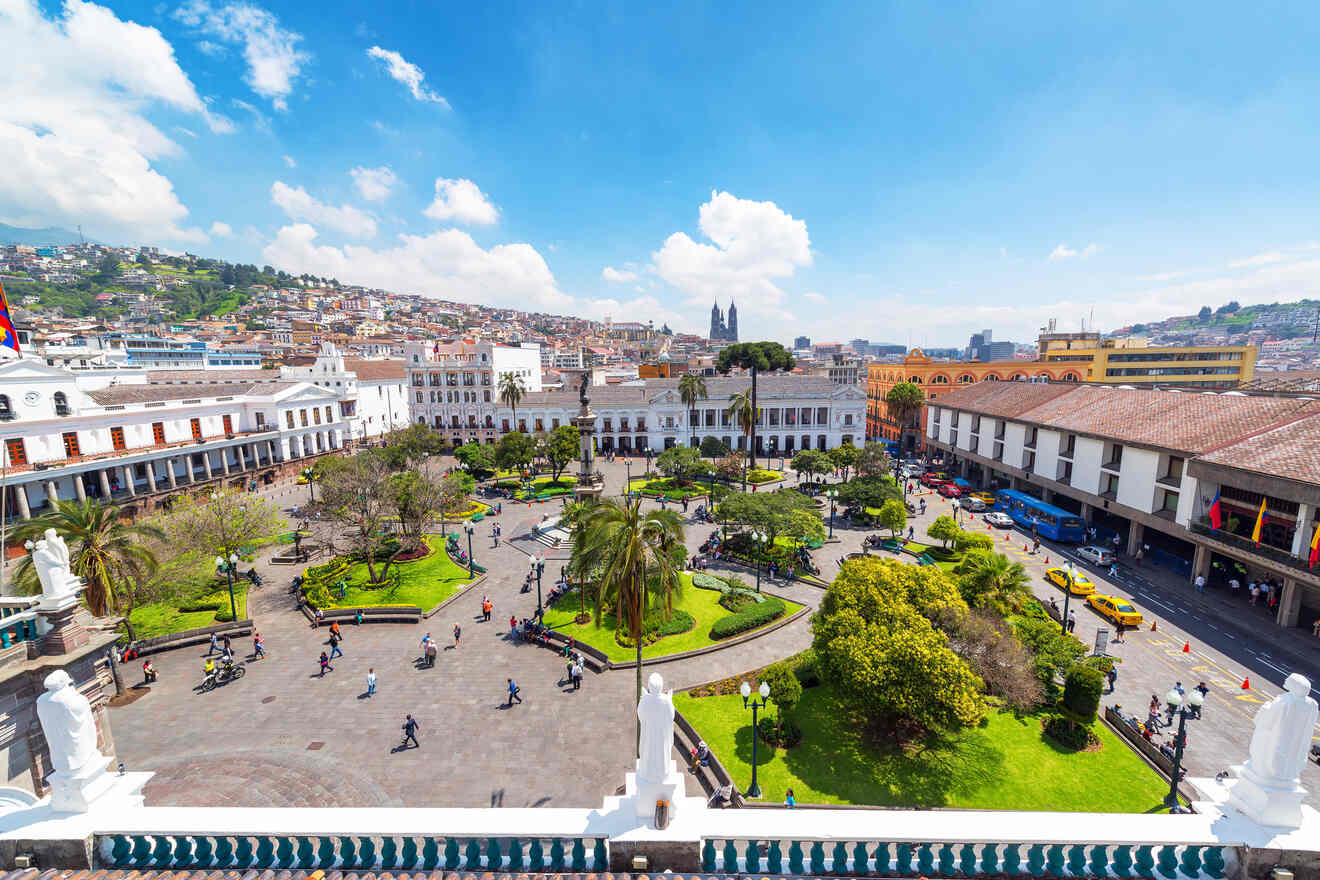 Opening the door to the past for its tourists, the Old Town (Centro Historico) is, as the name suggests, the focal point of Quito, and it's filled with tourist attractions and restaurants.
Luckily, Quito's stunning buildings have made it through to the present times without many "injuries," helping the Historic Center become a Unesco World Heritage site. If you choose to stay in the Old Town, you'll be located within walking distance of old churches and Plaza Grande.
The Historic Center is one of the best places to stay in the city if you want to learn more about the country's history. Here you will also find La Ronda, a pedestrian street occupied with the best restaurants in the city, and Iglesia de San Francisco, Quito's oldest church.
And if you're feeling adventurous, the Galapagos Islands are only a 2 hours flight away from the city, and I'm sure you've heard about them. They're one of the most iconic destinations in the world!
For this location, I can't forget to mention that the hotels in this neighborhood sell out super fast! It's one of the best areas in Quito, so naturally, all the tourists will want a spot here! I highly recommend booking your room a few months early if you can.
Luxury hotel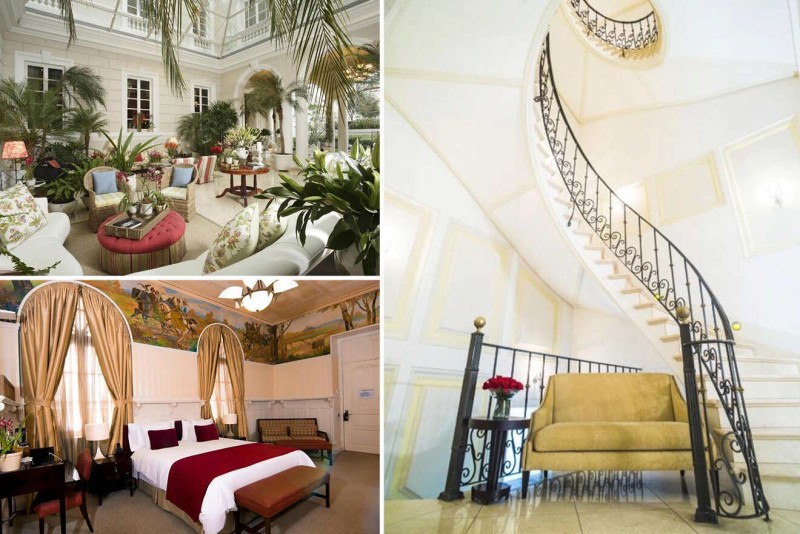 Located in Quito's San Francisco Plaza, this hotel has a chic design, has great views of the city, and offers free breakfast! The rooms are super spacious, and you can sign up for different activities or relax all day long at the spa center.
Other accommodation options in Old Town
Mid-Range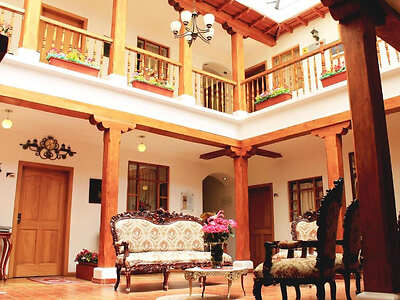 This boutique hotel has a great location near La Ronda, and it offers room service, a terrace, and free wifi
Budget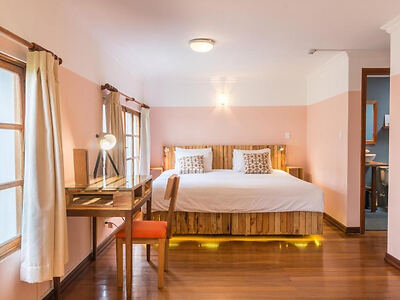 You can play tennis at this hostel and you'll also be super close to San Francisco Plaza and La Ronda
Airbnb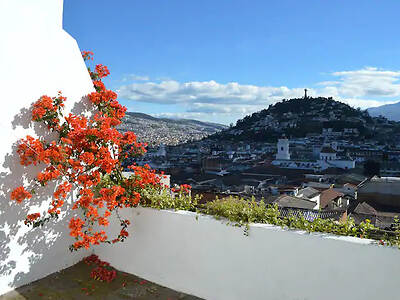 Located in a colonial house, this apartment has 2 spacious rooms, a kitchen, and a balcony
Things to do in the Historic Center
Check out the colonial architecture in Plaza Grande
Admire the architecture of the Iglesia de San Francisco
See some pre-Columbian art at Casa del Alabado
Take a walk around San Francisco Plaza
Grab a drink on Calle De La Ronda in Quito
Explore Quito's best attractions during a tour
Check out the Yaku Water Museum
Visit the Basilica of the National Vow and the Museum of the City
2. La Floresta – the trendiest place place to stay in Quito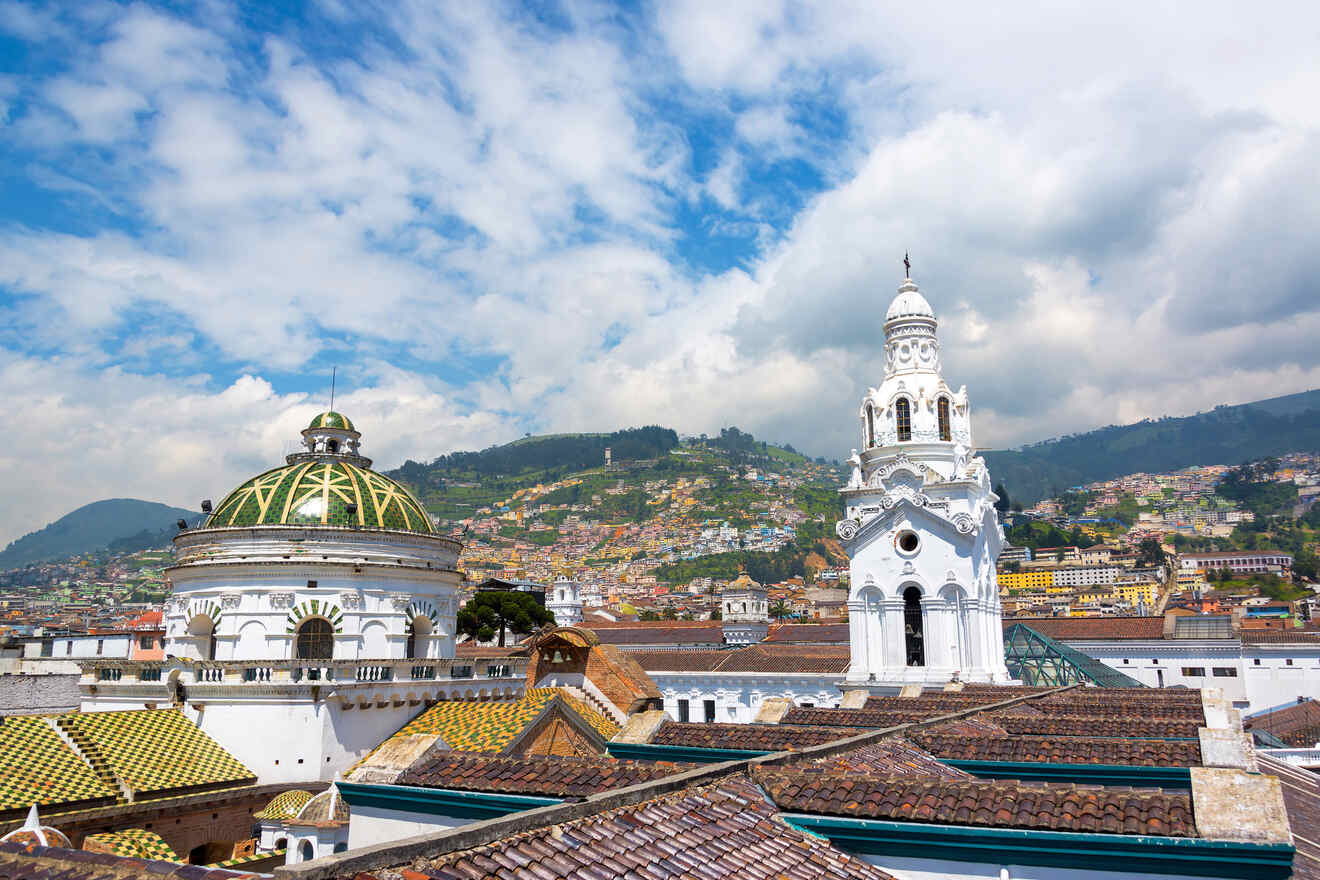 Located 3 miles (4 km) northwest of Quito's Old Town (Historic Center), this colorful and bohemian neighborhood is one of the best areas in the city for coffee lovers, artists, and students!
La Floresta is a paradise for foodies looking for where to stay in Quito, Ecuador! You'll see so many food trucks that you'll want to stop at each and every one. Who can't say no to those deliciously looking fruits?
There's even a local fair that you can check out in this area of Quito, it's called Mercado De La Floresta, and it offers traditional Ecuadorian food! I would definitely not miss this one!
As you explore the neighborhood on a lookout for the best food trucks, you'll probably notice a lot of local street art. La Floresta is famous for that! You may also get distracted by the neoclassical mansions from the 20th century.
There's always something to do in La Floresta during the day so don't expect less than that at night. That's when the tavernas and restaurants/pubs open, so if you're up for a cocktail, you'll find some cool sots in this neighborhood.
Luxury hotel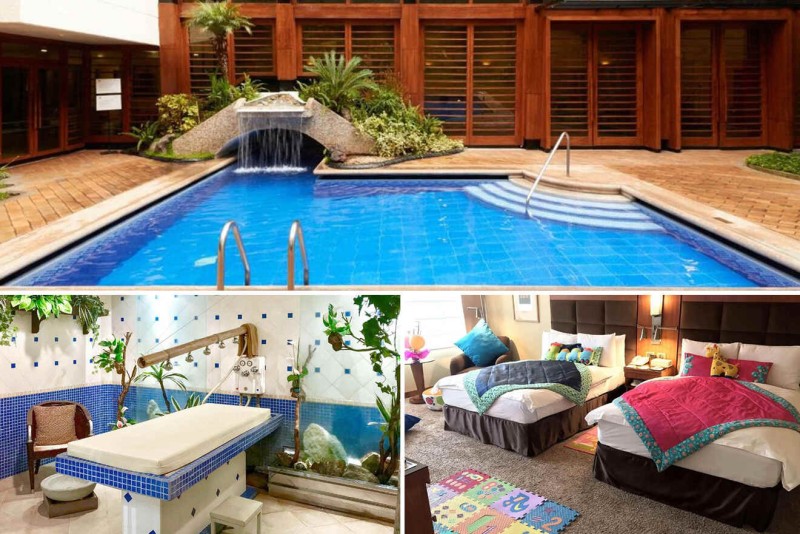 With 5 restaurants on-site and 2 swimming pools, it will be hard to leave the hotel and head to town to explore! Providing all the comfort you need, and a great location, this hotel in Quito has a modern design, spacious rooms, and free wifi.  
Other accommodation options in La Floresta
Mid-Range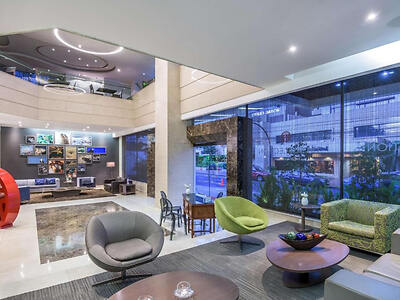 Relax in the spa center of this Quito La Floresta hotel that has family rooms, a fitness center, and a bar
Budget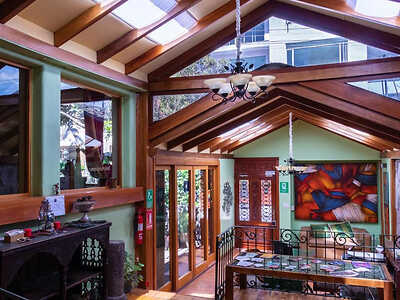 This boutique hotel has such an excellent design! Guests can order breakfast and they have access to a backyard
Airbnb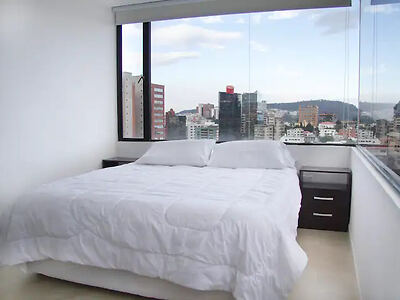 Minimalistic and simple! This spacious apartment offers city views, 2 rooms, and a kitchen
Things to do in La Floresta
Attend the Mercado De La Floresta
Eat lots of chocolate at Pacari Casa de Experiencias
Go for drinks at Notun in Quito, La Floresta
Explore the area and admire the local street art
Have dinner at Casa Warmi, one of the best restaurants
Take up a cooking class in Quito, Ecuador
Visit the Gustavo Orcés V. Natural History Museum
3. La Carolina – where to stay in Quito for families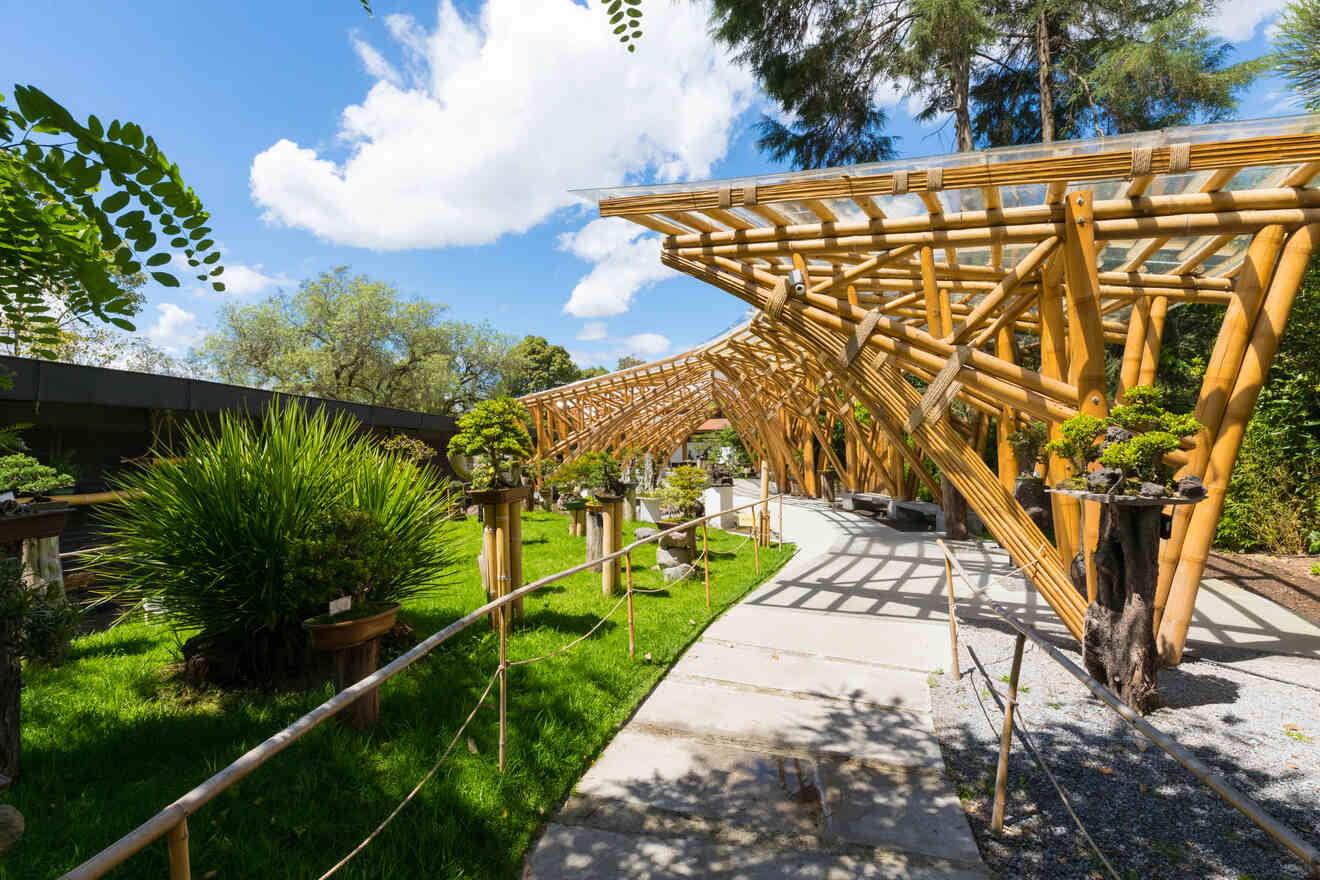 Probably Quito's greenest area to stay in, La Carolina is a neighborhood located 4 miles (6 km) northwest of the Old Town (Historic Center) that I recommend for families planning on organizing a trip to this part of Latin America.
La Carolina is focused around a park that has the same name as the neighborhood. La Carolina Park is super huge and is the perfect place to bring the kids to play, have a picnic or relax. Quito's Botanical Garden is also located within La Carolina Park, and it's worth a stop, plus in addition to the garden you will also find a few museums to explore with the family.
As it is located near the park, there's a sort of peacefulness that you encounter only in natural spots, making the neighborhood the perfect place for tourists who aren't big fans of the city noise.
At the same time, this is also one of the more modern areas and the city's financial district, so you'll find all the facilities you and your family need here plus some excellent restaurants. And if you're planning on visiting other stunning locations in South America, I think you'll like Bogota, Colombia's capital city.
Luxury hotel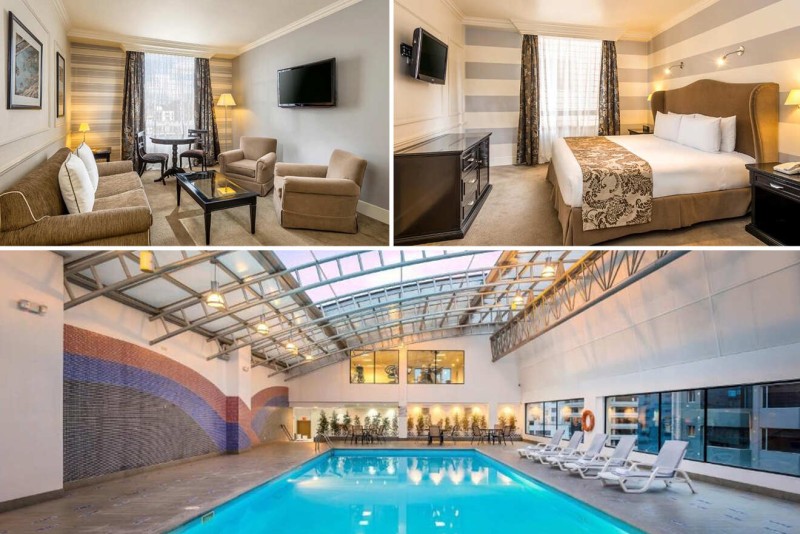 Go for a swim in the pool after a whole day of exploring the tourist attractions and restaurants in town Quito! This fantastic hotel has a fitness area, family rooms, and it offers a buffet breakfast for its guests.
Other accommodation options in La Carolina
Mid-Range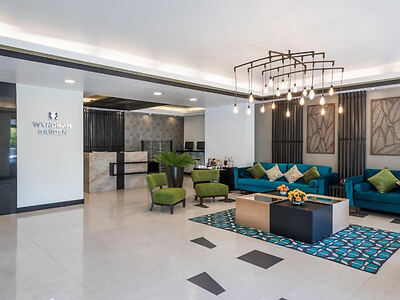 Enjoy your stay in Quito, Ecuador, in this hotel that offers room service and family suites
Budget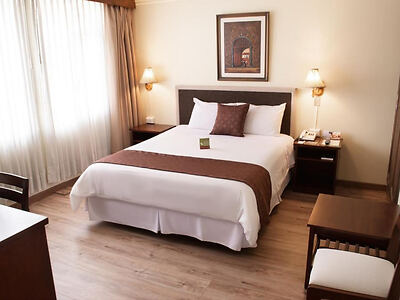 Have a family dinner at the restaurant of this Quito hotel that has a spa center and spacious rooms
Airbnb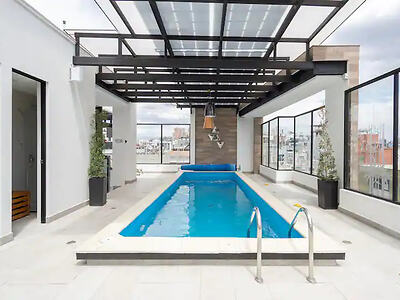 Admire the city views and chill in the jacuzzi while staying in this apartment with a shared pool
Things to do in La Carolina
Spend a fun day with the kids in La Carolina Park
Visit the local Botanical Garden
See some reptiles at Vivarium
Take the kids to the Museum of Dinosaurs
Go for a walk in Plaza Argentina
Enjoy a family dinner at Nubori restaurant
4. La Mariscal – the best place to stay in Quito for nightlife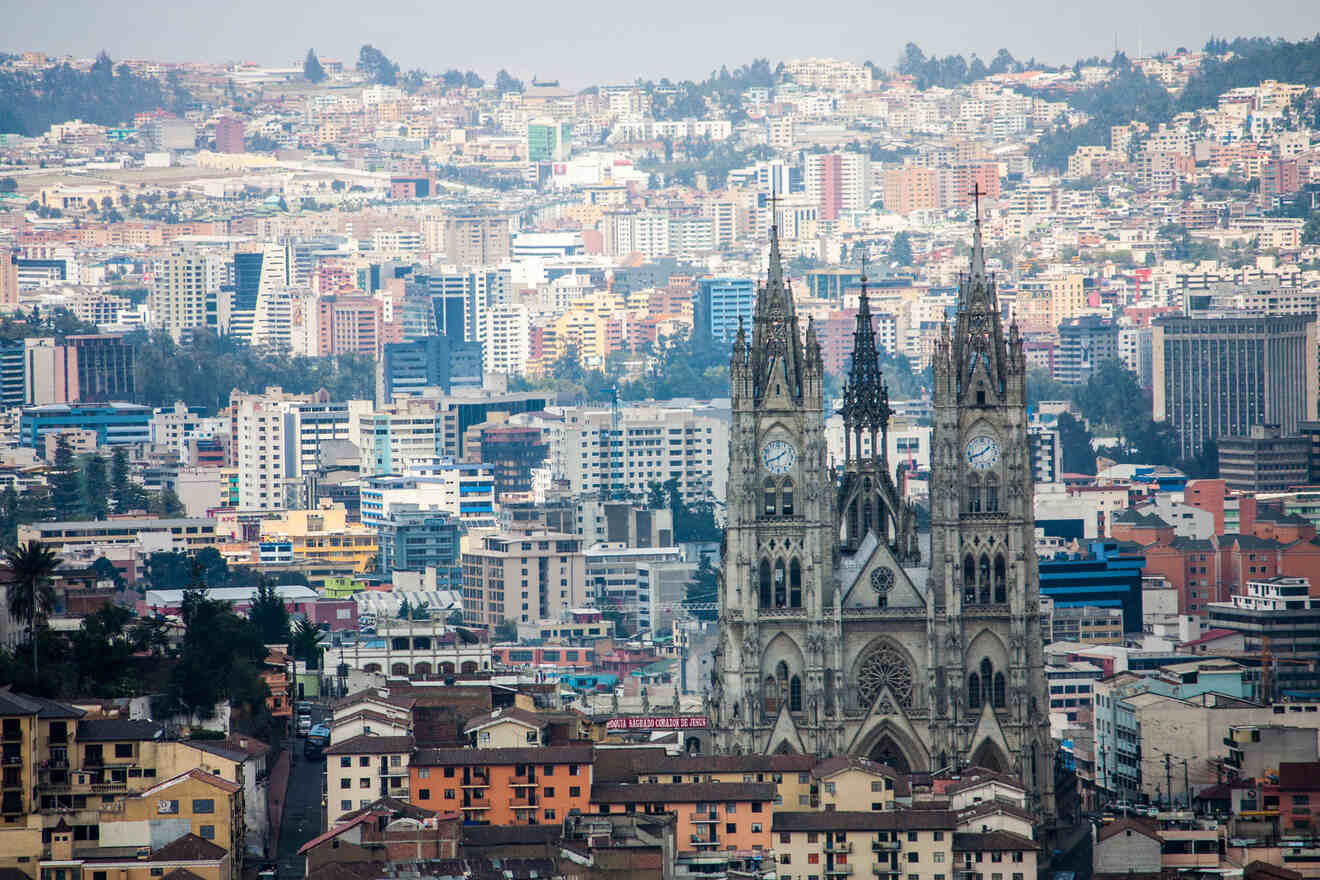 Looking for a neighborhood where you can party during your holiday? Well, you've come to the right place because I'm about to talk about the La Mariscal area. Also known as Mariscal Sucre, this is the best area to stay in Quito for backpackers and people who want to bar hop!
Located 2 miles (3 km) northwest of Quito's Historic Center (Old Town), La Mariscal promises the best of both worlds, meaning that you can easily spend a quiet afternoon at one of the cafes or restaurants, do some people watching and explore the area. Then, during the night you can drink cocktails and listen to some live music!
Plaza Foch in La Mariscal is the place to be once the sun sets over the city. That's where you'll find the most significant concentrations of clubs and restaurants. Whether you like rock music or want to hear some Latino music, you'll find every genre here!
Because it's such a hip place, La Mariscal is filled with foreigners and tourists alike, so you will never feel alone as you'll most likely find a fellow traveler and what better way to make new friends than over a glass of wine?
Luxury hotel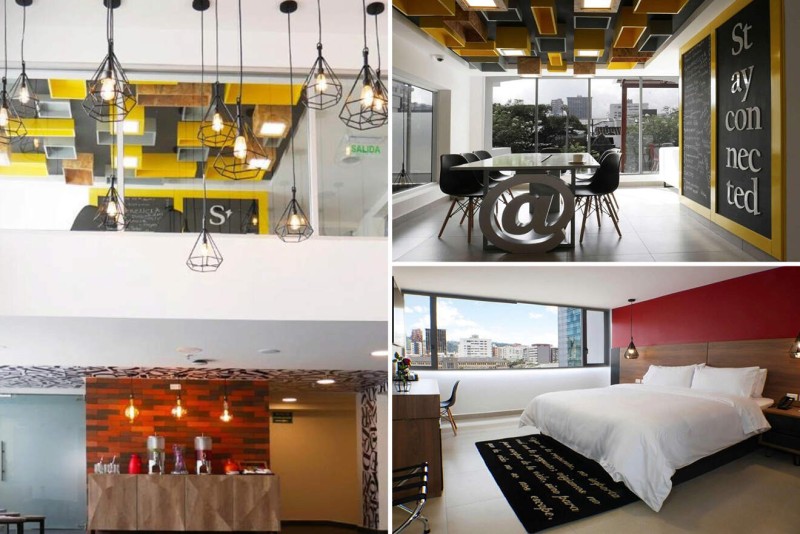 Hit the gym in the morning before you head out to explore Quito's best areas, or relax in your room if you've partied a bit too hard the night before. This hotel is located in Plaza Foch and features rooms equipped with a coffee machine and a flat-screen tv.  
Other accommodation options in La Mariscal
Mid-Range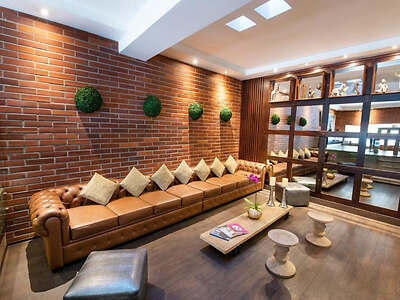 Located near Plaza Foch, this hotel has a sun terrace where you can chill and a fitness center
Budget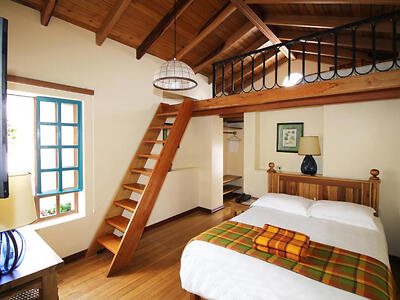 I love the design of this boutique hotel that's set in a modern colonial mansion and has a bar and free wifi
Airbnb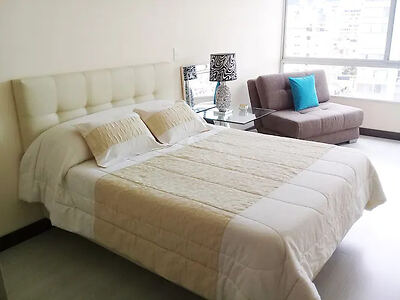 Enjoy your stay in Quito, Ecuador, in this spacious apartment that offers excellent city views and a kitchen
Things to do in La Mariscal
Dance all night at Bungalow 6
Buy souvenirs from the Artisanal Market
Sing all night long at Pravda Bar Karaoke
Head to Plaza Foch and check out the bars
Go for a walk in El Ejido Park in Quito
Visit the Amazonico Museum in La Mariscal
Drink lots of cocktails at the Tijuana bar
Have a delicious dinner at Fairuz restaurant in La Mariscal
5. Bellavista – where to stay in Quito for nature lovers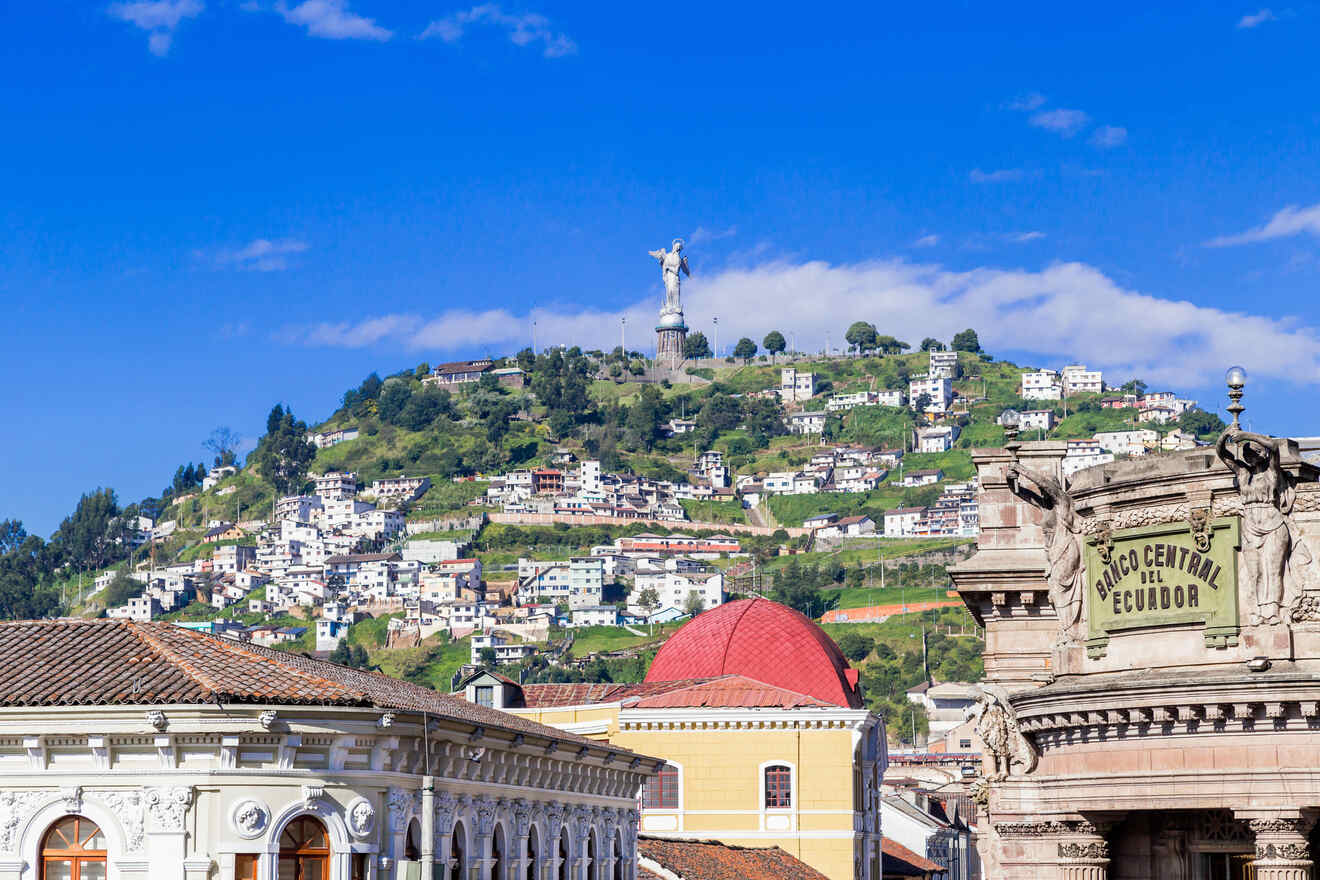 Located 4 miles (7 km) northwest of the Old Town (Historic Center), this is one of the best areas to stay in Quito if you're craving sometime in nature.
I know that a lot of people love the city atmosphere and the busy streets, however, I'm sure others would prefer to find hotels in areas that aren't as busy and have a bit of nature where they can relax, take walks and spot different animals. Luckily, Quito is such a big city that you can enjoy the urban life while also going to a quieter place when that feels like it's too much, which is the best of both worlds if you ask me!
A large part of the neighborhood is made out of the Metropolitan Park of Quito, the park is super big though and the rest of it doesn't fall within the neighborhood's borders. Nether the less you can spend your days exploring the hiking trails, climbing the hills that overlook the city, and maybe if you're lucky, you may be able to spot one of the native llamas!
There are also a handful of restaurants in this area of Quito, and the famous Capilla del Hombre museum it's also located here.
Unfortunately, there are no luxury hotels in this area to stay in Quito so if you're set on booking a super fancy hotel during your holiday I think you'll love Dann Carlton hotel, located in La Carolina, just a 20-minute walk away from Bellavista.
Otherwise, here are the best hotels for the other price categories:
Other accommodation options in Bellavista
Mid-Range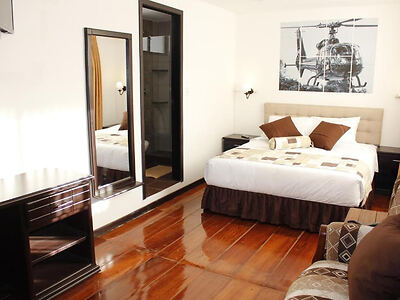 Drink your coffee on the balcony and get ready for a new day at this hotel that has family rooms
Budget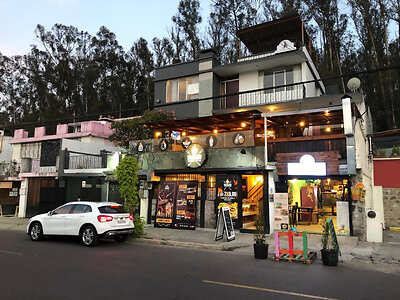 Feel as if you're at home during your stay in Quito at this B&B that has a bar and rooms with city views
Airbnb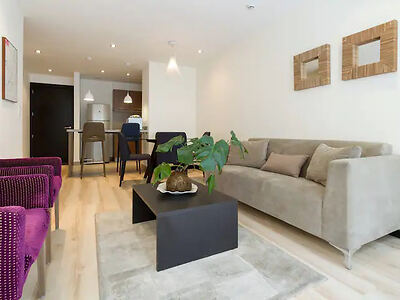 Elegant and minimalistic accommodation where guests have access to a pool and a fitness center
Things to do in Bellavista
Check out the beautiful art at Capilla del Hombre
Explore the hiking trails in the Metropolitan Park
Learn new things at Casa Museo Guayasamín
Spend a fun day at Room Escape Ecuador
Spot some cute llamas in the Metropolitan Park
Enjoy dinner at Somos restaurant in Quito
| | |
| --- | --- |
| 👑 Luxury price: | $250 |
| 💵 Mid Range: | $140 |
| 🛏️ Budget: | $80 |
| 🏠 Airbnb: | $45 |
| 💰 Accommodation prices: | Medium |
| 📍 Best area: | Old Town (Historic Center) |
| 👪 Best area for families: | La Carolina |
| 🛎️ Best luxury hotel: | Hotel Casa Gangotena |
| 💵 Best mid-range hotel: | Casa Hotel Las Plazas |
| 👛 Best budget hotel: | Masaya Quito |
Bonus: The best hotels to stay near Quito Airport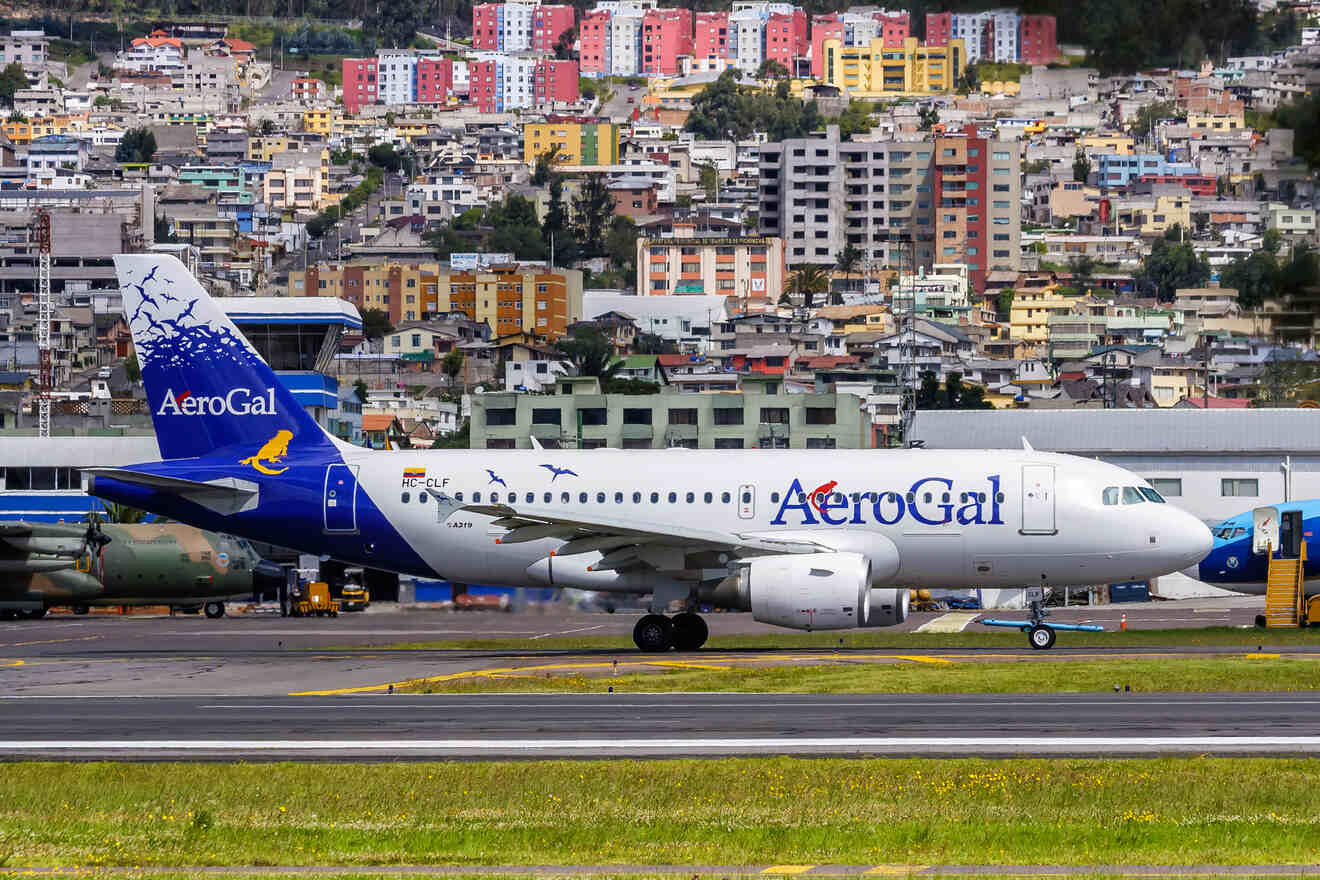 Just passing through the city on your way to another destination? Then you might be looking for some hotels in Quito near the airport! If that's the case, you're lucky because I've made a list of the best accommodations there!
Here is a list of hotels from most expensive to least:
Luxury: La Palma Polo Club – Surrounded by trees and nature, this place to stay in Quito, Ecuador, has a beautiful design and activities like horse riding and a kids club. Relax by the pool, go for a swim and enjoy the nice weather! The accommodation is located a 30-minute drive away from the airport.
Mid Range: Wyndham Quito Airport – If you want to be as close as possible to the airport during your stay in Quito, I recommend booking this hotel, it's situated only a 10 minute walk away. The design is super modern, and the guests have access to a spa center as well as an indoor swimming pool. You will also find a few restaurants nearby the hotel.
Mid Range: Holiday Inn – Eat, swim in the pool, and enjoy your stay in Quito, Ecuador, in this great hotel that's located a 10-minute drive away from the airport. The pet-friendly accommodation offers a business center and a free airport shuttle.
Frequently asked questions about Quito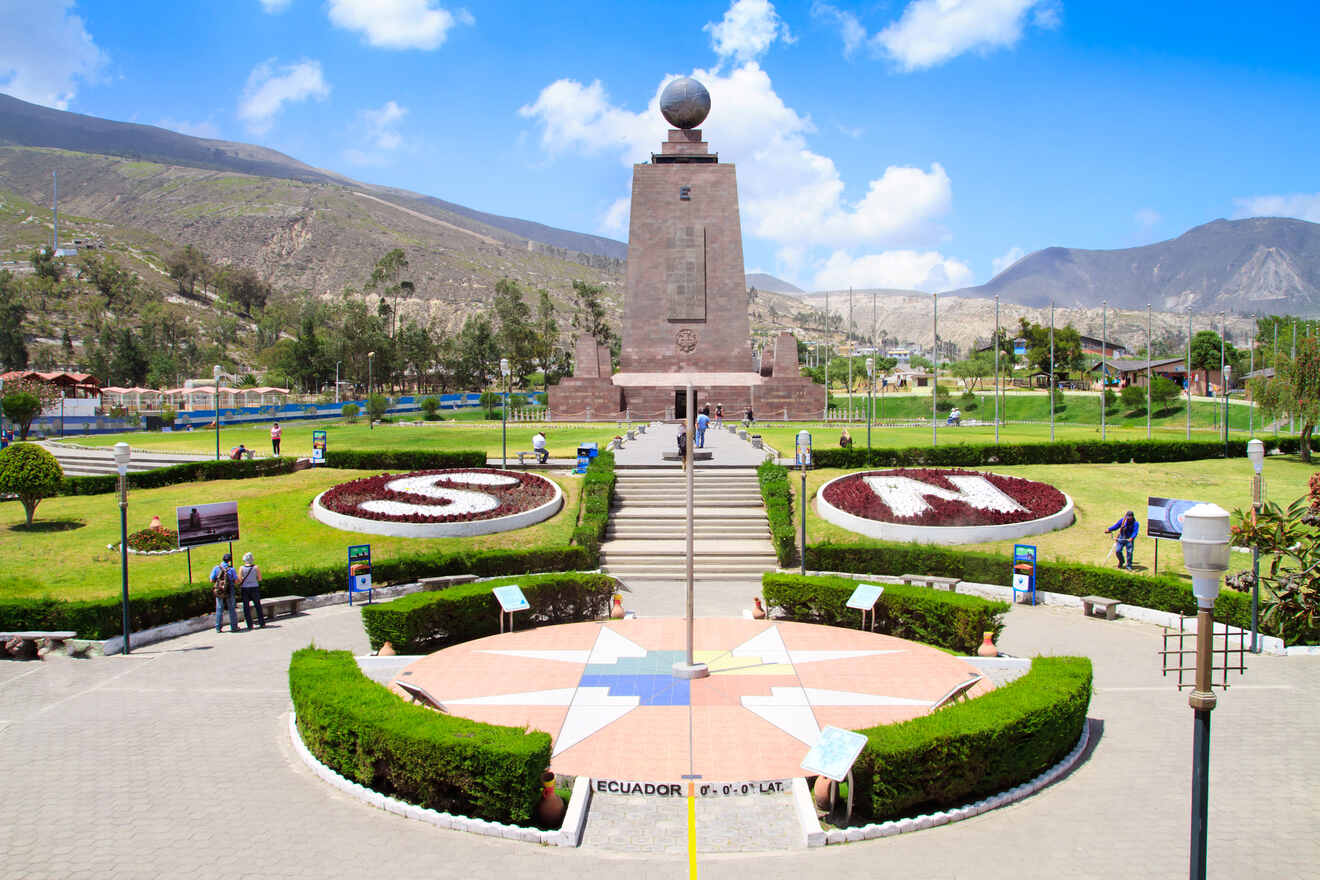 🇪🇨 Where should I stay in Ecuador?
Quito, the capital city of Ecuador, is one of the best places to stay in the country! It offers so many excellent areas, historical attractions, and unique attractions. Plus many great hotels such as Hotel Casa Gangotena, in the Old Town.
📅 How many days do you need in Quito?
I think  4 or 5 days should be enough for your stay in Quito, Ecuador. That way you can explore all the best areas in the city, and all the incredible attractions. 
🛑 Is Quito a safe place?
Quito, Ecuador, is considered as safe as any other capital city in South America. However, tourists should still be on their guard and avoid walking alone at night on dark alleys. 
🤔 Is La Mariscal Quito safe?
As long as you stay on the main streets of La Mariscal, you should besafe. Avoid wondering on your own at night in parts of the neighborhood that you don't know.
Conclusion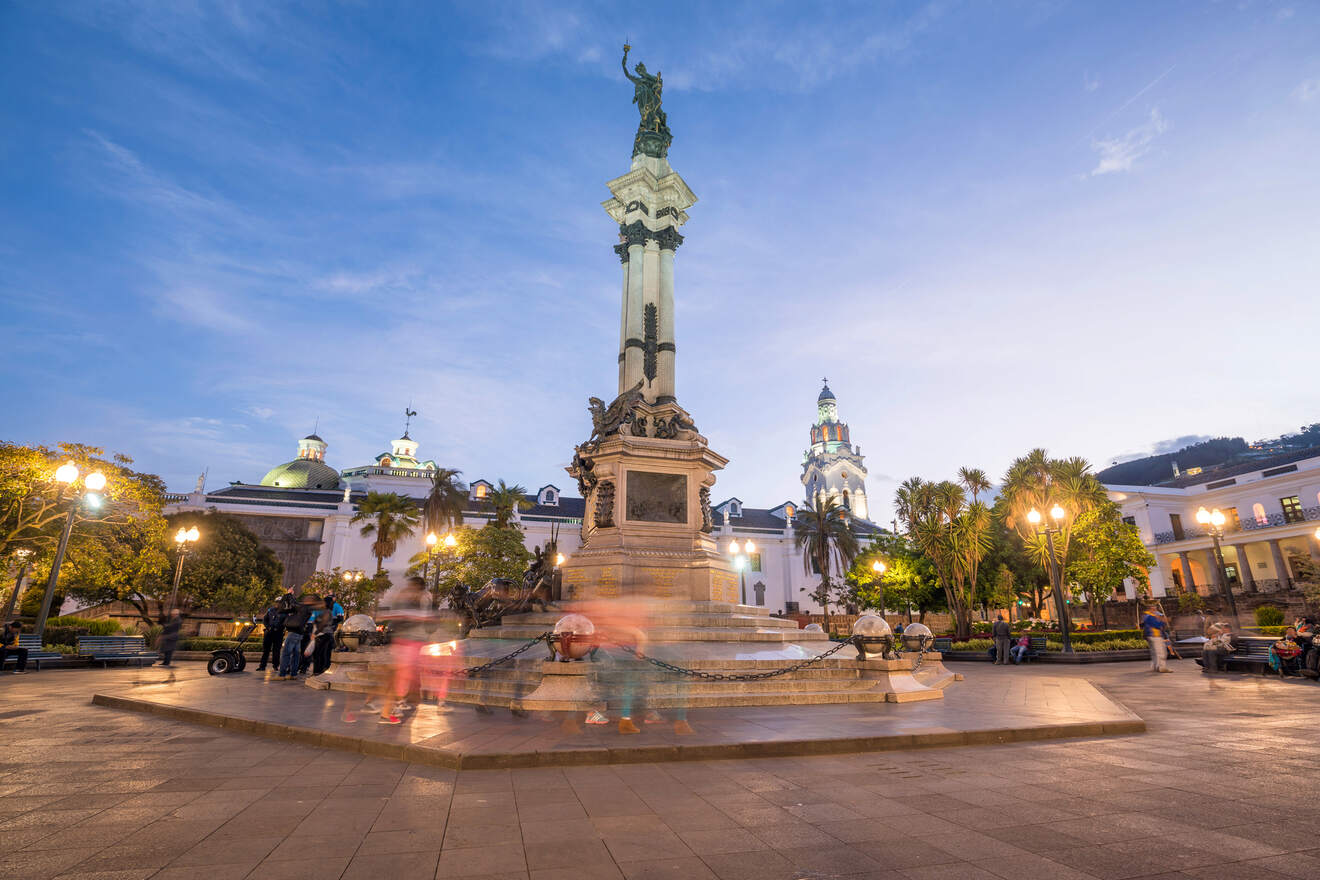 What an amazing location! I hope this post helped you decide where to stay in Quito, Ecuador and which hotels to pick.
I know the decision-making process is so hard. That's why I thought I would help you and offer you my top 2 favorite options, both located in the Historic Center of Quito:
Just remember what I said earlier about these places to stay in Quito, Ecuador, they are the best of the best, so you'll have to book them in advance to secure a room.
Now, this is where I say my goodbyes! I think we've had a lovely virtual trip to Quito, Ecuador, and I'm excited for you to go there in person. I want to hear all about it, so leave me a comment below! Or about the city and its hotels. I'll answer them ASAP!
Take lots of pictures in the Historic Center of Quito. You'll want to remember every minute of it, drink cocktails in Plaza Foch and La Ronda street, and explore around! You'll love every minute of it!
Safe Travels,
Victoria