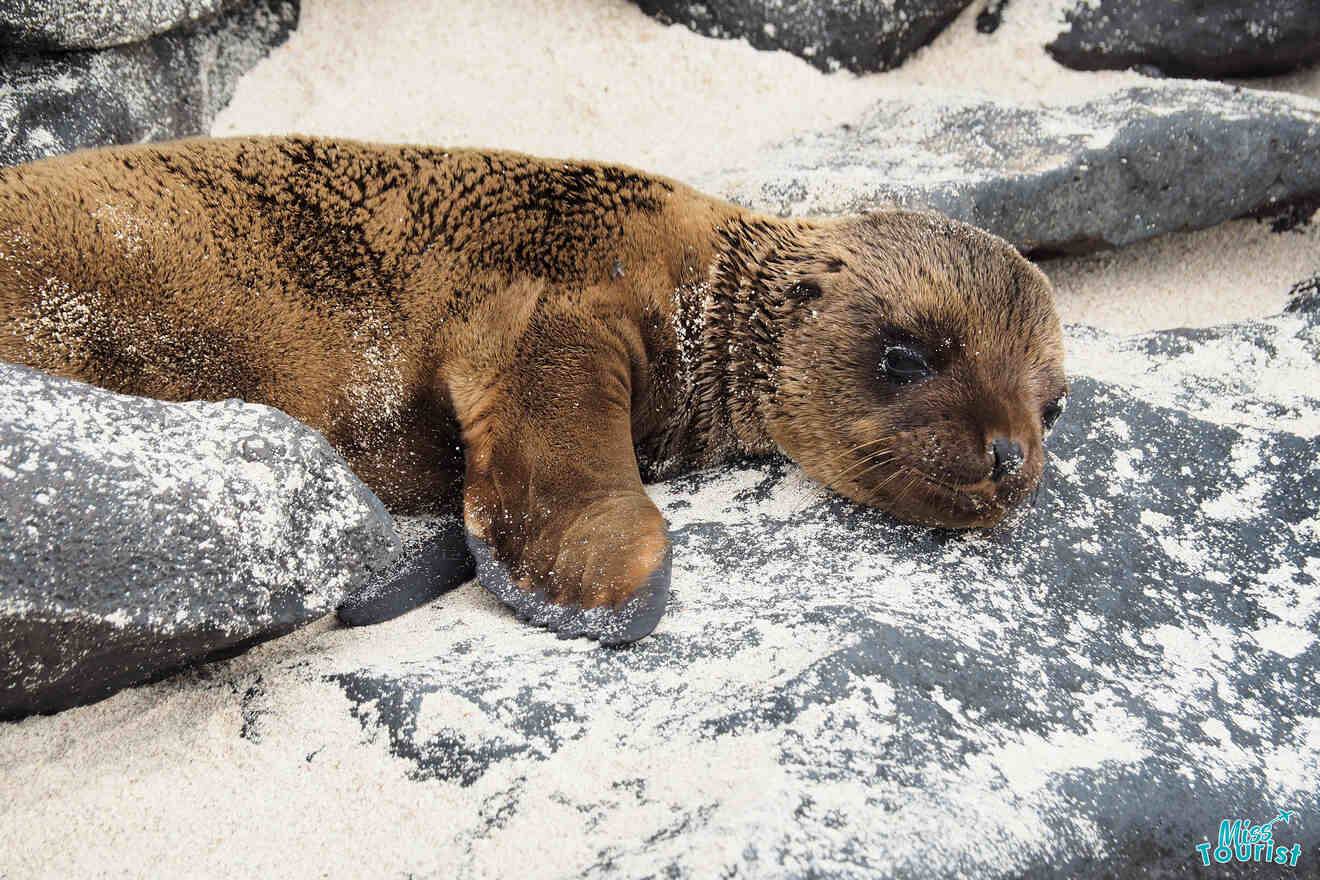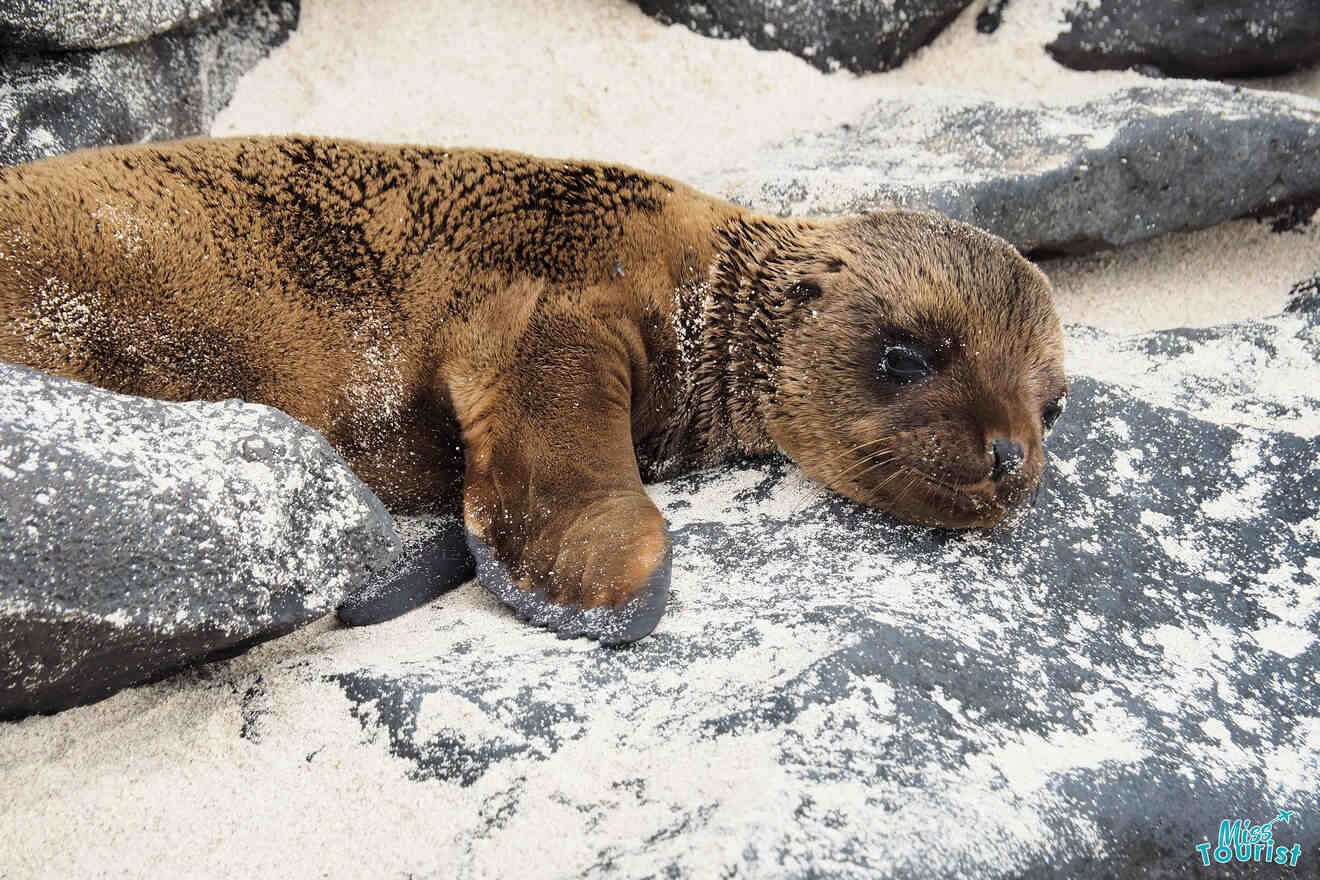 Planning a trip to the Galapagos Islands? Wow, you're super lucky because this destination is so unique that it will be so hard to leave it! I'm sure you've heard about the diverse plant and animal life that you can find on the "Enchanted Islas."
Almost 97% of the Galapagos Islands is a national park, and there are over 400 species of fish, different types of birds, iguanas, and other native and endemic Galapagos wildlife. No wonder Charles Darwin came up with his theory of evolution by natural selection after visiting the archipelago!
There are rumors that you can only visit the Galapagos islands if you go on a tour/with a cruise, but luckily that's not true, and I am here to show you the best places where to stay Galapagos Islands and give you all the other details that you should know if you're planning to travel to the archipelago by yourself! But if you prefer someone else to organize everything for you, I will also recommend some great tours at the end of the post.
Keep in mind that you have to book super in advance for this location! Also, you will have to show copies of your return flights and cruise/hotel reservation to be allowed onto the archipelago, and since so many people want to come here on holiday yet there aren't so many places, it might be difficult to match up all those dates if you book last minute!
Let's go, the iguanas are waiting!
If you are in a hurry
If you want to book now, there's no reason to wait any longer! Browse this list with the best hotels in the Galapagos Islands, all located in Santa Cruz, the most popular island:
Here's a map that will help you visualize all the areas where to stay in Galapagos Islands that I will be talking about in this post:
Things to Know About the Galapagos Islands


As I mentioned, visiting the Galapagos Islands isn't your average vacation. If you are planning a trip, you need to understand some very important details before making any decisions…
There are no boats from mainland Ecuador to Galapagos, you must fly to reach the islands (there are no international flights, you will definitely have a connection in Quito or Guayaquil

There are 4 inhabited islands, the main three each have their own airport:

Santa Cruz Island with its main town called Puerto Ayora (Seymour Airport)
San Cristobal – also have many day tours so it is worth staying there (San Cristobal Airport)
Isabela Island – it is the biggest island of them all, but only ~3000 people live there, all of them in Puerto Villamil. If you have some time you should DEFINITELY visit, they have an abundance of wildlife there, including penguins (General Villamil Airport, but it is for small inter-island flights only)
Floreana – that's where you should see some super rich underwater life. There are almost no hotels there, most people go as a day tour/cruise, but it is possible to stay overnight if you book ahead (check my Bonus section)
You will need to buy an INGALA Transit card (US$20) AND pay the Galapagos National Park Entrance fee (US$100) at the airport in cash. Don't lose the receipt of your transit card, as you must return it when leaving the Galapagos.

You must also show proof of a return flight, cruise booking, and/or hotel booking, so make sure you have everything organized in advance and print your confirmations.

Bring cash (USD is the official currency in Ecuador) – there is an ATM at the airport, but I would not really rely on it. You will be able to pay by card in most restaurants and tourist shops, but they will all charge you a 3% fee on top of that. So, cash is still king there.

There are only public ferries between Isabela <> Santa Cruz <> San Cristobal, the prices are around USD$30 for adults and USD$17 for children (2 to 10 years old). You do not need a cruise/tour to get to the island, but if you want to visit the main attractions, you will still need to take a guided tour (it is a protected area).

Internet access can be limited, so make sure you won't have to rely on it if you need to work during your trip. There is decent Internet in Puerto Ayora and San Cristobal center of town, but that's pretty much it.
1. Santa Cruz – where to stay in Galapagos Islands for the first time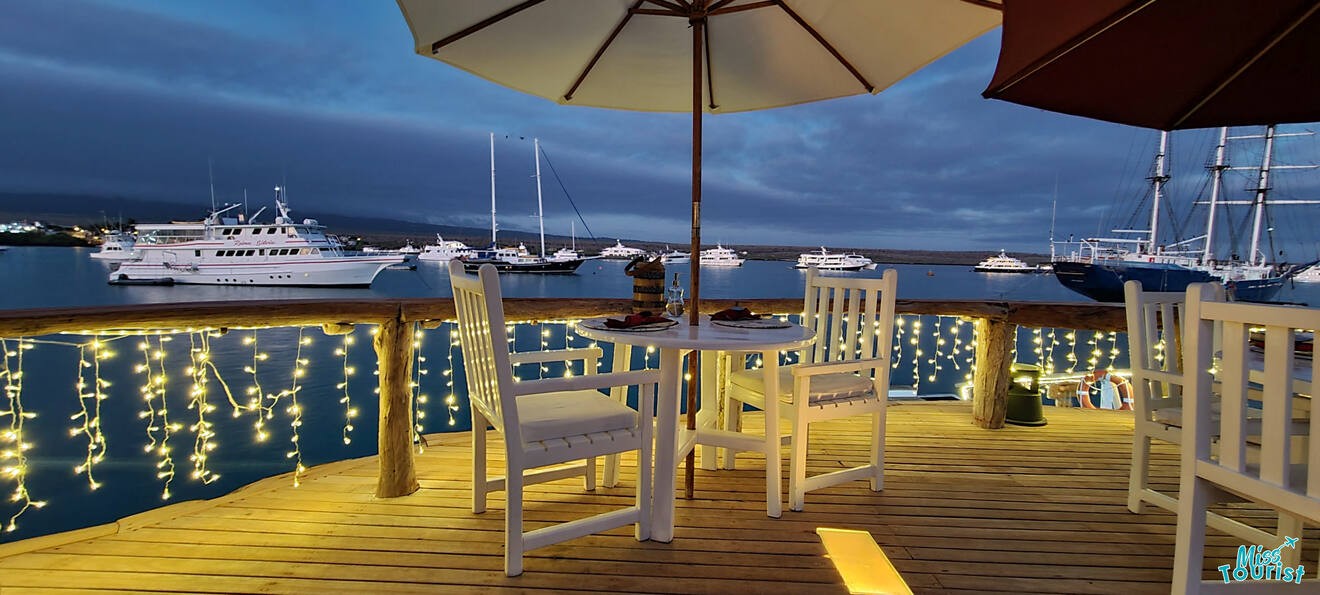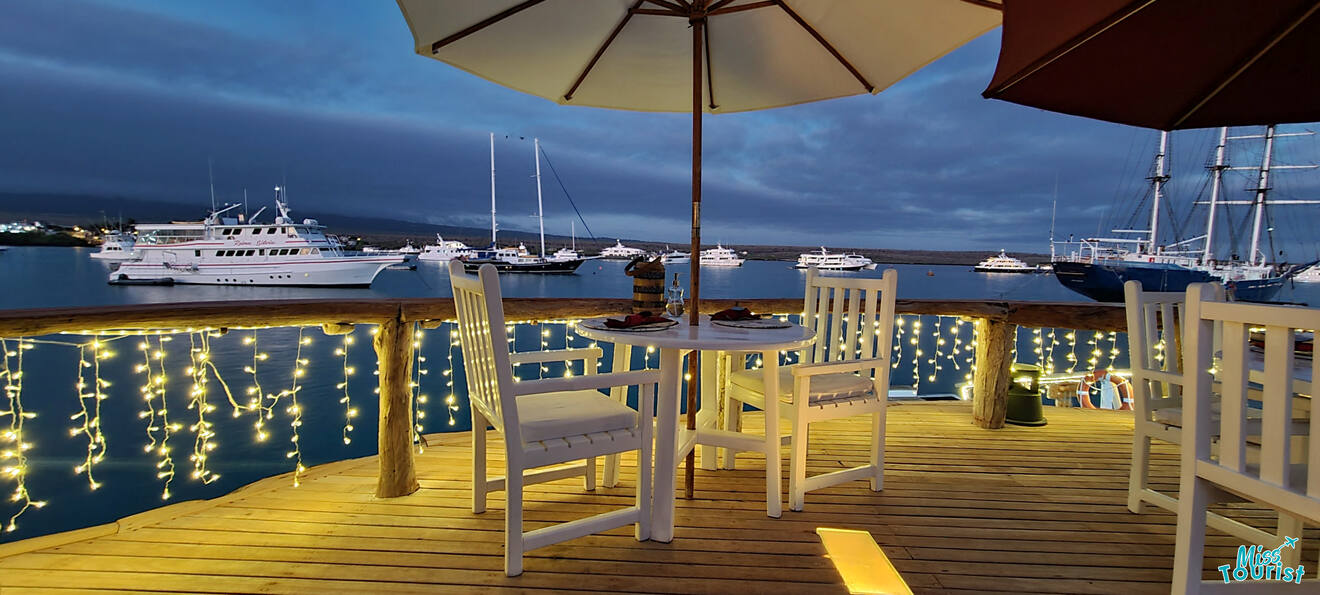 All the Galapagos Islands are a dream destination for many travelers! Out of the 4 inhabited islands, Santa Cruz island (or its town called Puerto Ayora to be precise) is the most popular one for tourism.
If you just base yourself in Santa Cruz, I am sure you would have the stuff to do for at least a week! The island itself has a lot to offer, but there are also a lot of day trips you can take from there. So buckle up and enjoy your days of swimming, snorkeling, and scuba diving!
To get here you will fly into Seymour Airport which is located on its own tiny island attached to Santa Cruz. There is a bus from the airport to the ferry, then a ferry to Santa Cruz (literally a 3 min ride), and then about an hour ride by car/bus to Puerto Ayora – the town with all the infrastructure. Leave about 1,5 hours for transportation and about (it is 11 USD per person if you go by bus or 25 USD for the taxi of up to 4 people + 6 USD per person to get to the taxi).
Puerto Ayora is the island's main town, and this is where you'll find all the shops, restaurants, and hotels. Many people choose this island as their first destination in the Galapagos as you can take ferries to visit the other 3 islands in the archipelago as well as visiting the attractions in Santa Cruz such as the Charles Darwin Research Station, where you can learn all sorts of things about the animals on the island and explore the Fish Market!
Since it's the most popular starting place and most of the accommodation options are well .. simple, you will for sure have to book everything months in advance to secure a spot!
Other accommodation options in Santa Cruz
Things to do in Santa Cruz
Learn about the wildlife of the Galapagos Islands at the Charles Darwin Research Station
Rent a kayak in Tortuga Bay and see turtles and rays
Dive with hummerheadsharks (if you are lucky!), I went with these guys and was more than happy
Take a day tour to Pinzon Island and Palmitas Bay
Explore the uninhabited island of North Seymour on a day tour
Go for a swim at El Garrapatero beach
Take a day trip to check out the beaches on Bartolome Island
Spot some really old tortoises at Rancho Primicias Giant Tortoise Reserve
Take adorable pictures of sea lions at the fish market in Puerto Ayora
Refresh in Las Grietas
2. San Cristobal – where to stay in the Galapagos Islands on a budget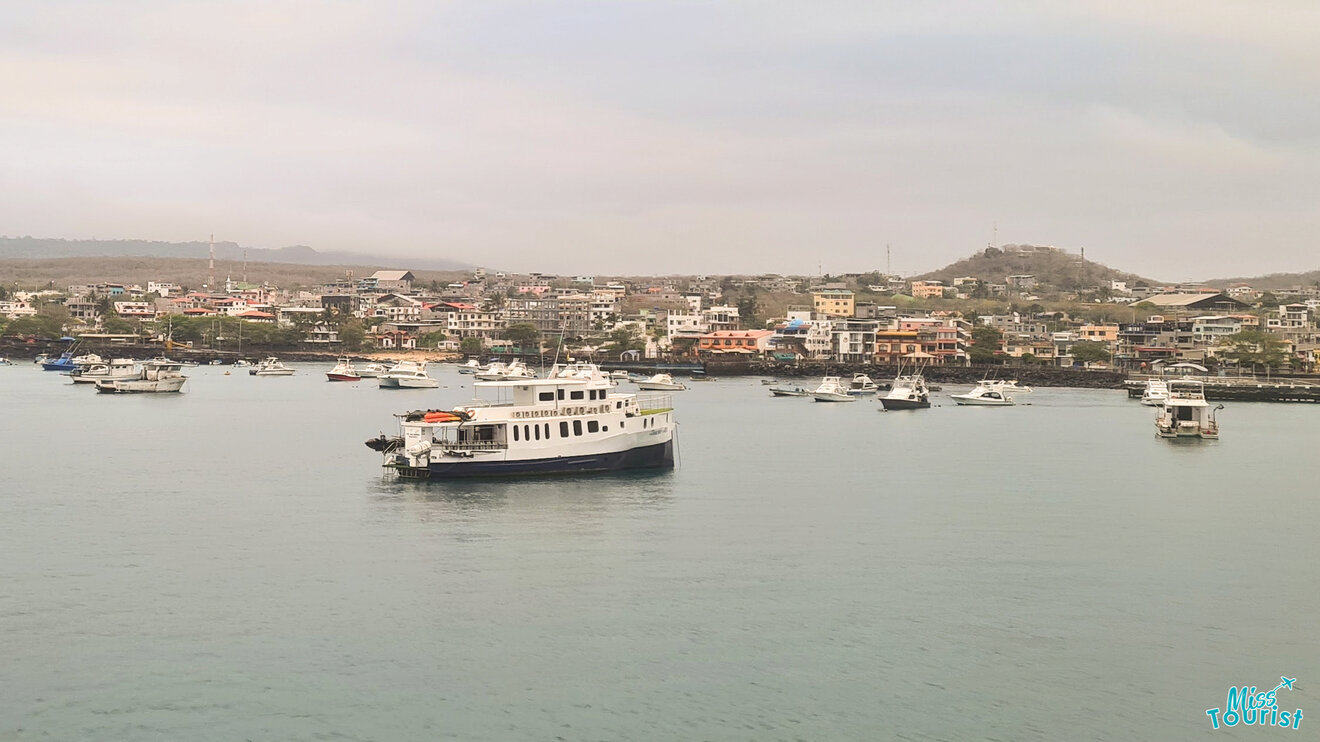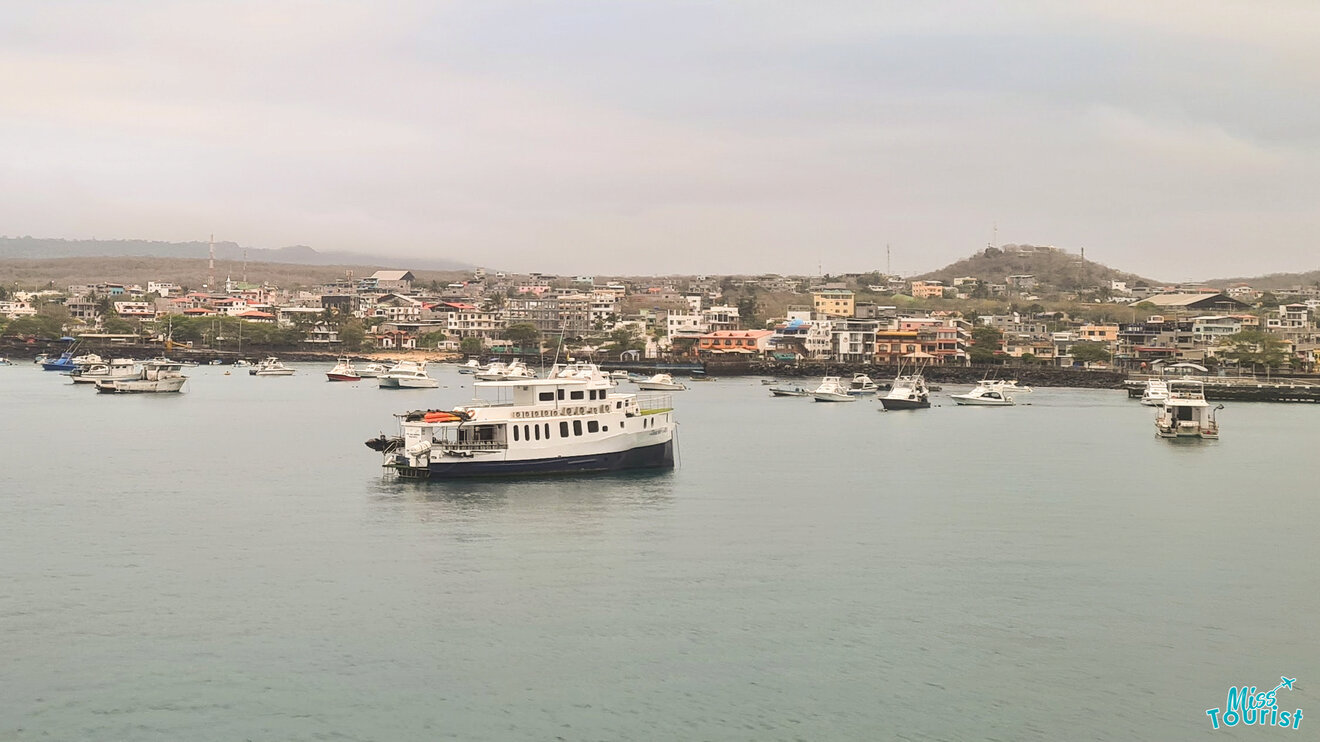 Lying 60 miles (100 km, ~2 hours by boat) east of Puerto Ayora (Santa Cruz Island), San Cristóbal Island is the second island travelers choose to fly into after Santa Cruz as it has the San Cristobal Airport which receives flights from both Quito and Guayaquil, Ecuador.
San Cristobal is also home to Puerto Baquerizo Moreno, the administrative center of the Galapagos Islands, and the location where you'll find a lot of restaurants and pubs. This island might be a good place to look for places to stay for people traveling on a budget as it's fairly cheaper than the first one.
Although most people come to the Galapagos Islands to spend time in nature and enjoy the wildlife, I know some of you will still want to party and see the islands at night. You can do this in San Cristóbal as there are a few bars and clubs where you can grab a drink and dance.
Of course, the island is filled with panoramic spots that you should visit during your time here. Mother Nature sure knows how to surprise us! Probably one of the most beautiful places on San Cristóbal Island is El Junco Lagoon, but hey, that's just my opinion. I'm sure you'll find many more spots, as incredible as this one!
Other accommodation options in San Cristobal
Things to do in San Cristobal
Admire the scenic views at Cerro Brujo island mountain
Learn the history in San Cristobal Interpretation Center
Do a hike to Cerro Tijeretas
See all different types of animals during a day tour to Lobos Island
Hike, snorkel, and explore Espanola Island during a day tour from San Cristobal
Explore El Junco Lagoon, one of the most beautiful places on the island
Relax and spot some cute sea lions at Point Carola Beach
Party at night at Neptunus Club in San Cristobal
Explore the Galapaguera de Cerro Colorado nature reserve and Puerto Baquerizo Moreno
3. Puerto Villamil (Isabela Island) – for nature lovers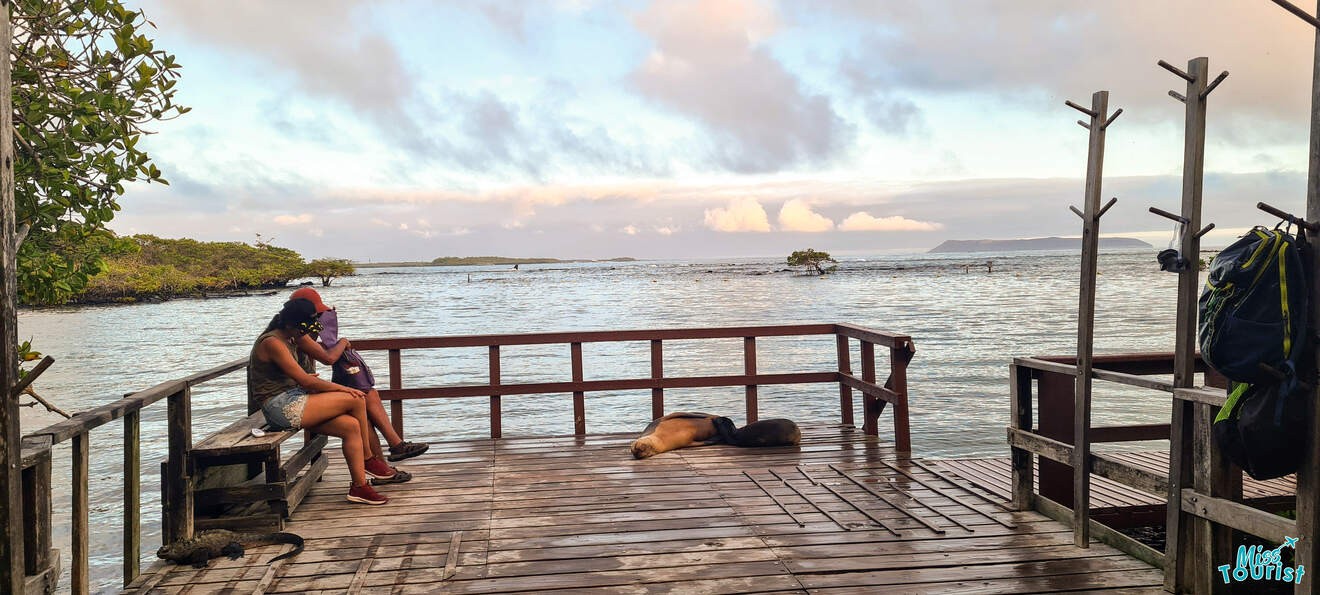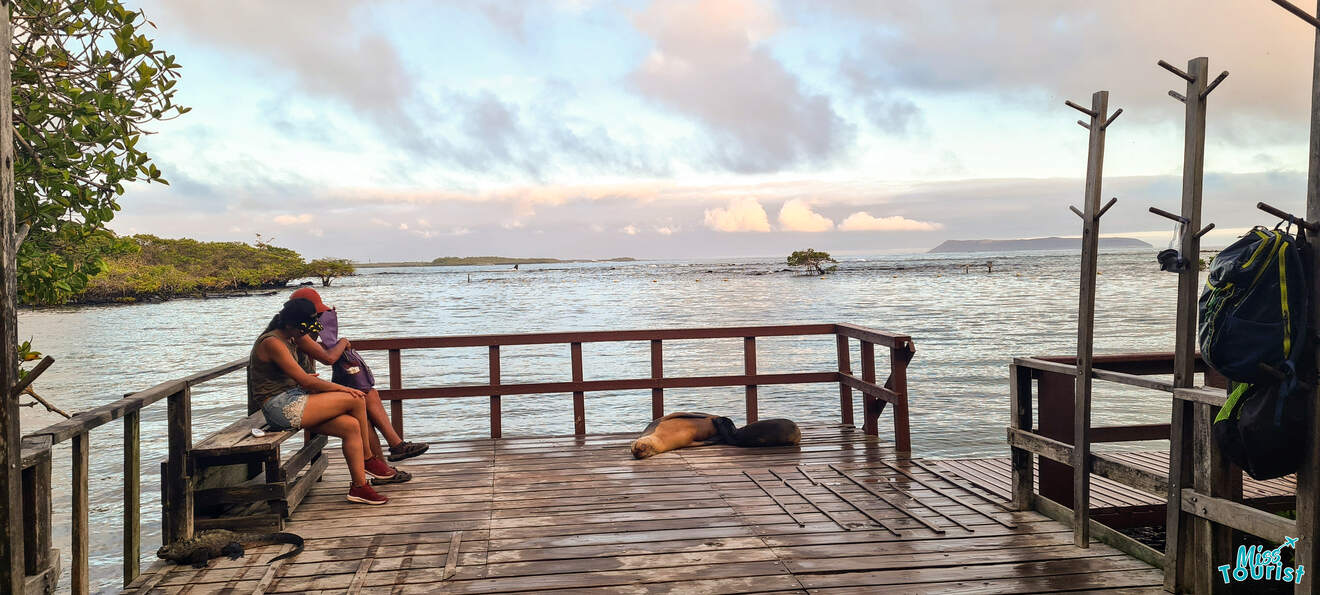 Located on Isabela Island 45 miles (75 km) west of Santa Cruz island, Puerto Villamil has a wide range of places to stay and it's a great spot for people traveling with their families. To get to the island you will first need to fly into one of the main islands above and then you can take a local flight to General Villamil Airport or a boat (but I have to warn you, it will be a bumpy ride).
Out of all the inhabited islands, Isabela Island has the smallest number of people living here. All 3000 of them are based in Puerto Villamil and that is where all the tours start from as well
There are tons of activities and beautiful places to explore on Isabela for both adults and children. The Arnaldo Tupiza-Chamaidan Giant Tortoise Breeding Center is a great spot to learn about wildlife and spot some really cute tortoises!
And if you guys are into hiking and spending time in nature, you can hike to see the Sierra Negra Volcano! Check out the Los Tuneles tour – you might spot dolphins (we did!) and penguins (we did!) and definitely many sea lions and sea turtles. Oh, and blue-footed boobies too! 🙂
Don't forget you're on a stunning island surrounded by nature and beaches, so head over to Isabela beach to sunbathe, swim in the ocean, and relax all day long!
Other accommodation options in Puerto Villamil
Things to do in Puerto Villamil
Snorkel with penguins (maybe) and sea lions (definitely) in Concha Perla
Spot blue footed boobies during Los Tuneles day tour
Go on a kayaking day tour from Isabela Island
Spend a fun day at the Arnaldo Tupiza-Chamaidan Giant Tortoise Breeding Center
Enjoy a beautiful sunset from one of the beach bars
Take a day trip to Tintoreras Bay from Isabela Island
Visit the Wall of Tears
Go hiking around Sierra Negra Volcano (take water and strong sunscreen!)
4. Floreana Island – for adventure seekers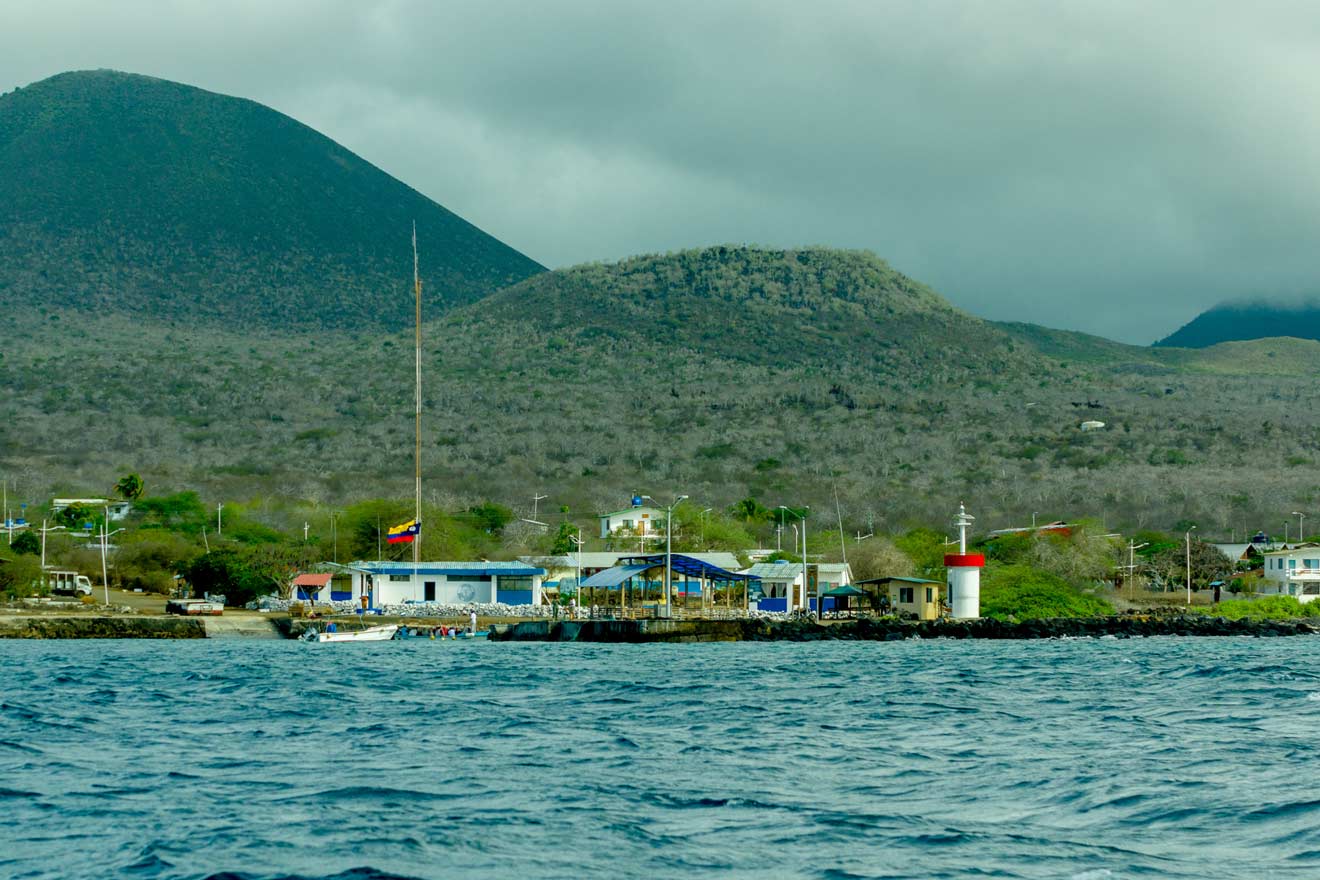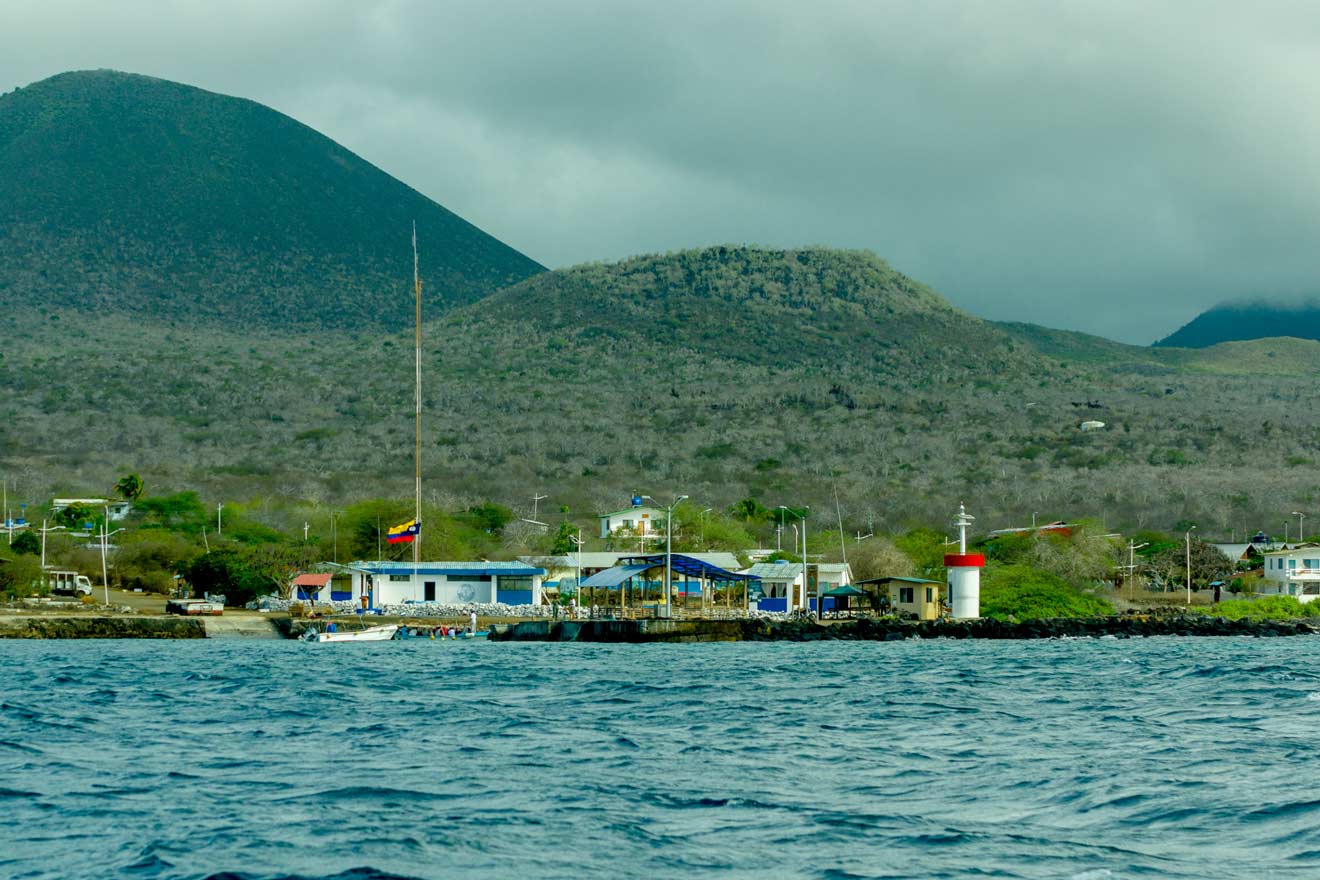 Floreana Island is one of the least populated out of the main 4 Galapagos Islands inhabited, so naturally, you won't find many hotels or restaurants in this location, but it's still worth a visit! Like her other island sisters, Floreana Island is filled with beautiful wildlife, unique natural spots, and different animals!
The best way to see the island is to go on a full-day tour from Puerto Ayora, located 60 miles (100 km) north of Floreana Island. On the tour, you will go snorkeling at Black Beach and see penguins, sea turtles, flamingos, and iguanas in their natural habitat while exploring some of the biggest attractions on Floreana Island such as Scalecias Forest and Asilo de la Paz.
If you prefer to experience the tranquility of the island for a little longer, you can also take the ferry from Puerto Ayora and stay in one of the two hotels here. Now, as far as I know, the ferries from Santa Cruz to Floreana are not regular and don't have an exact schedule. You will need to ask in Puerto Ayora, you might need to organize your own private boat for that.
If you decide to stay overnight, here are your two hotel options on Floreana Island:
Black Beach House – Wake up to the sound of the waves crashing on the sand in this spacious house with free wifi and a kitchen! You can chill in the garden during the day or at night before going to bed, spend a little time enjoying the silence in the hammock!
Floreana Lava Lodge – This eco-friendly lodge has 10 different cabins that you can rent for your stay on Floreana Island. The accommodation offers breakfast and different land-based programs that you can join.
BONUS: The best cruises around the Galapagos Islands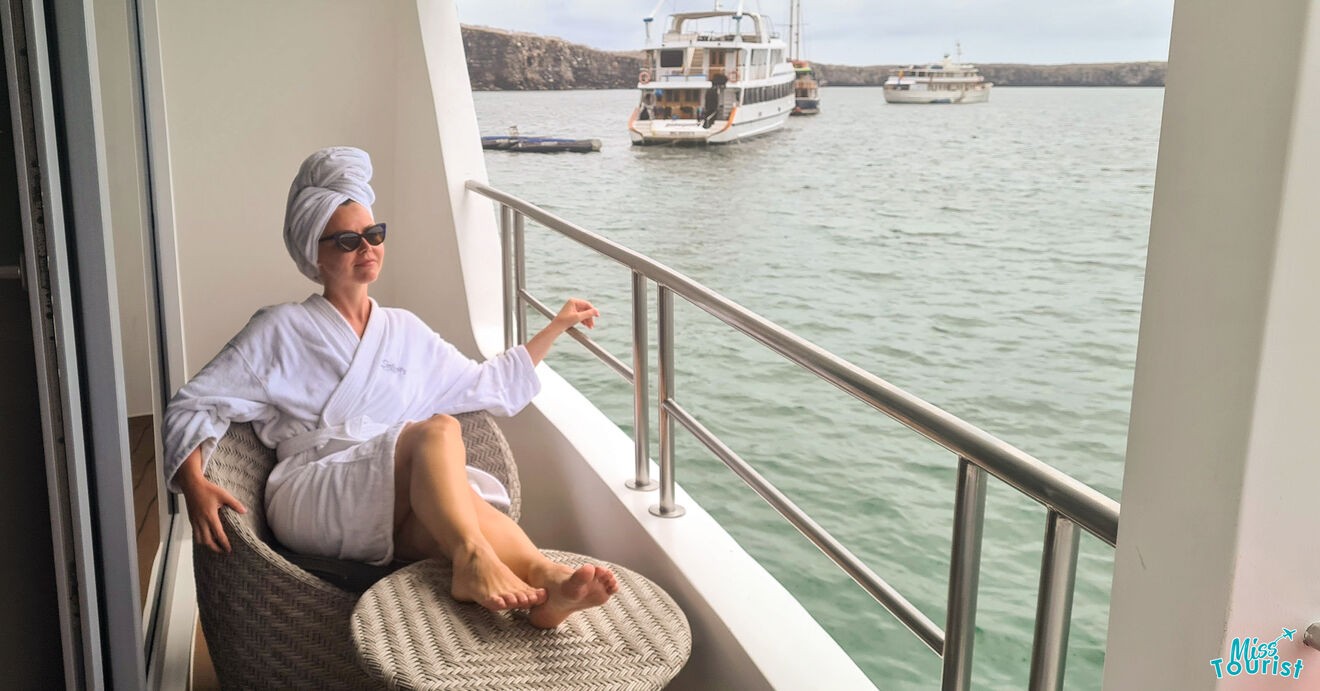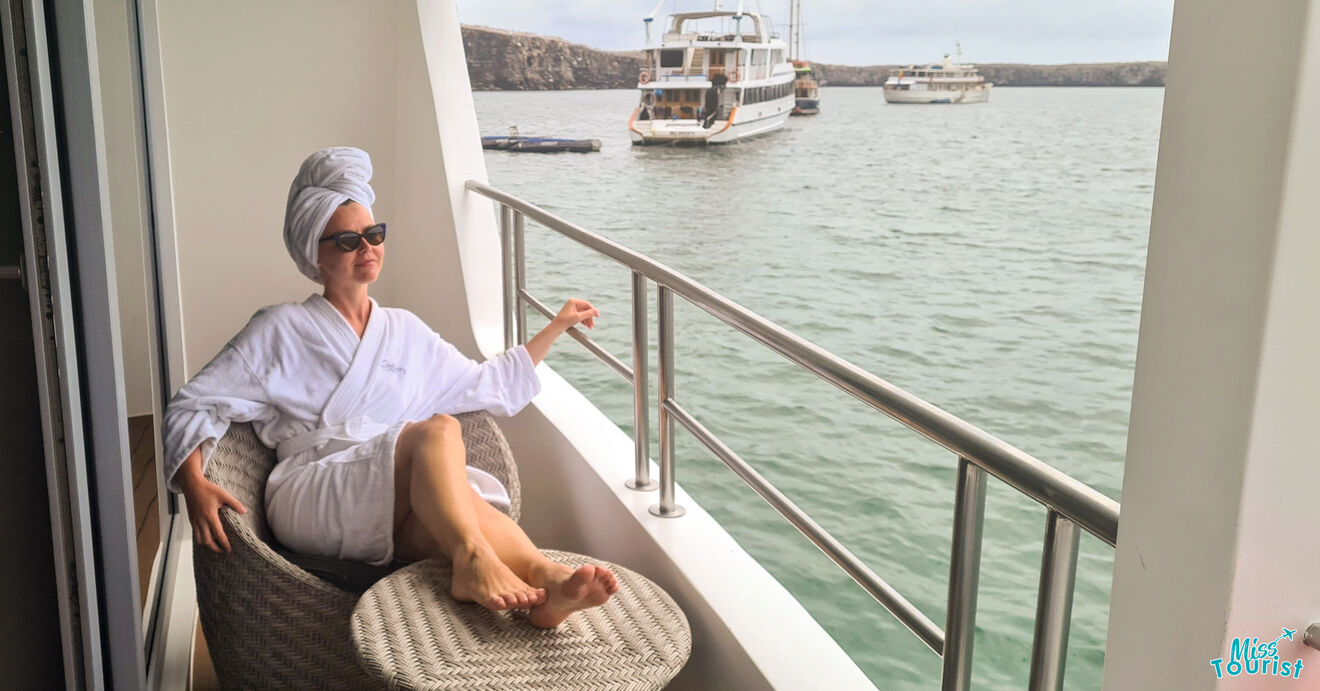 Planning a visit to the Galapagos Islands can be difficult at times, as there are a few quirks and things that you need to figure out on your own, and if you're not a fan of organizing holidays, then I recommend booking a cruise or a land tour. That way, you won't have to worry about finding hotels in Galapagos Islands or about any other details!
So let's see which are the best tour cruises that you can book!
1. Galapagos Land and Sea Adventure
10 days
San Cristóbal, Isabela, Santa Cruz
Includes flights
From $5460 per person
This is a luxury cruise trip of 10 days that starts with a flight from Quito in Ecuador to the Galapagos Islands. Then you'll be cruising around the islands doing different activities like snorkeling and hiking, so you'll be doing a few on-land activities as well. The cruise includes accommodation at the hotels in Galapagos, flights, guides, meals, and transport, among other things.
5 days
Isabela, Santa Cruz, Floreana, Baltra
Flights not included
$4110 per person
Another luxury cruise that lasts 5 days but doesn't include the flights from Ecuador, so you'll have to make your way there. The cruise includes accommodation, meals, exploring the Galapagos Islands, guides, and snorkeling.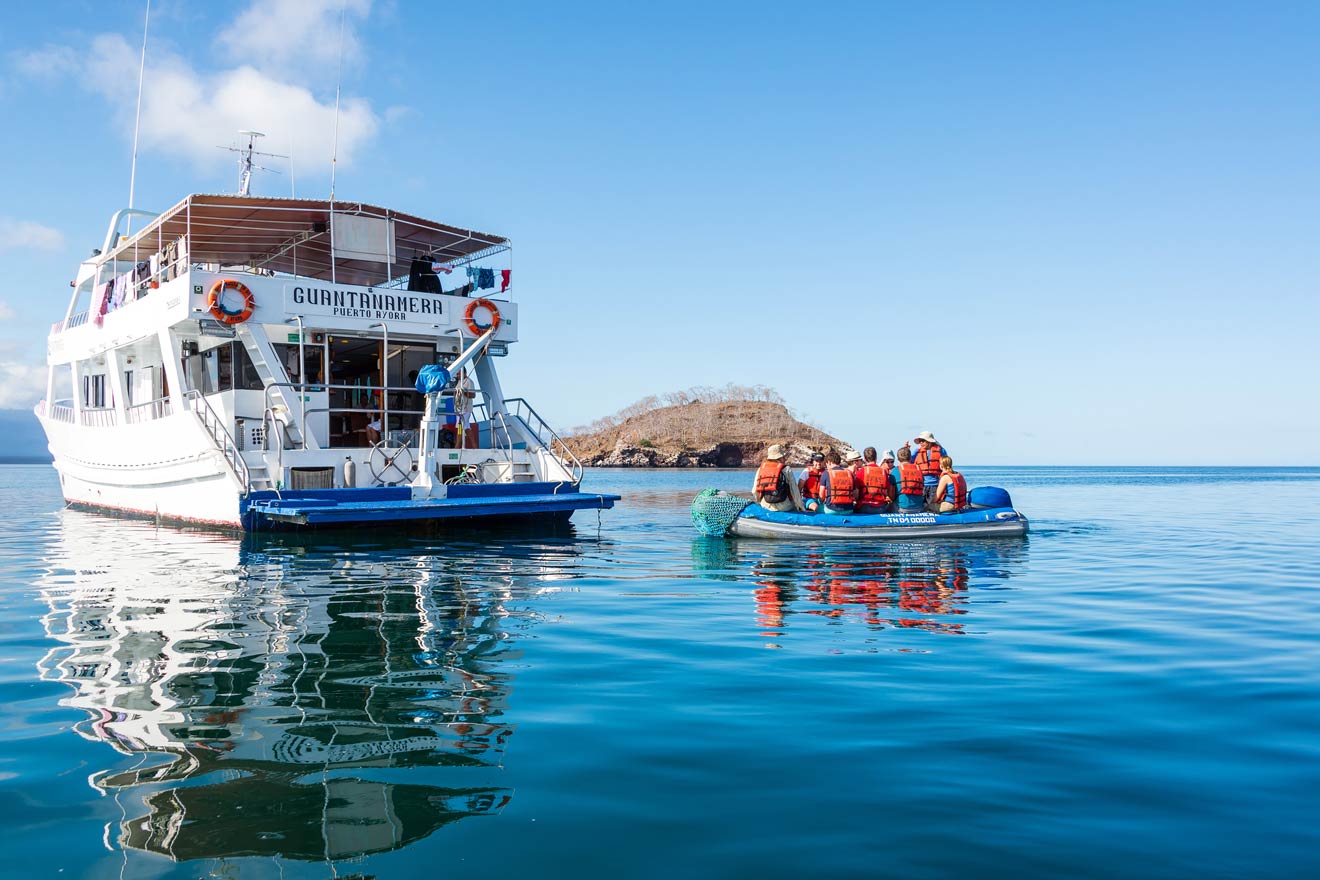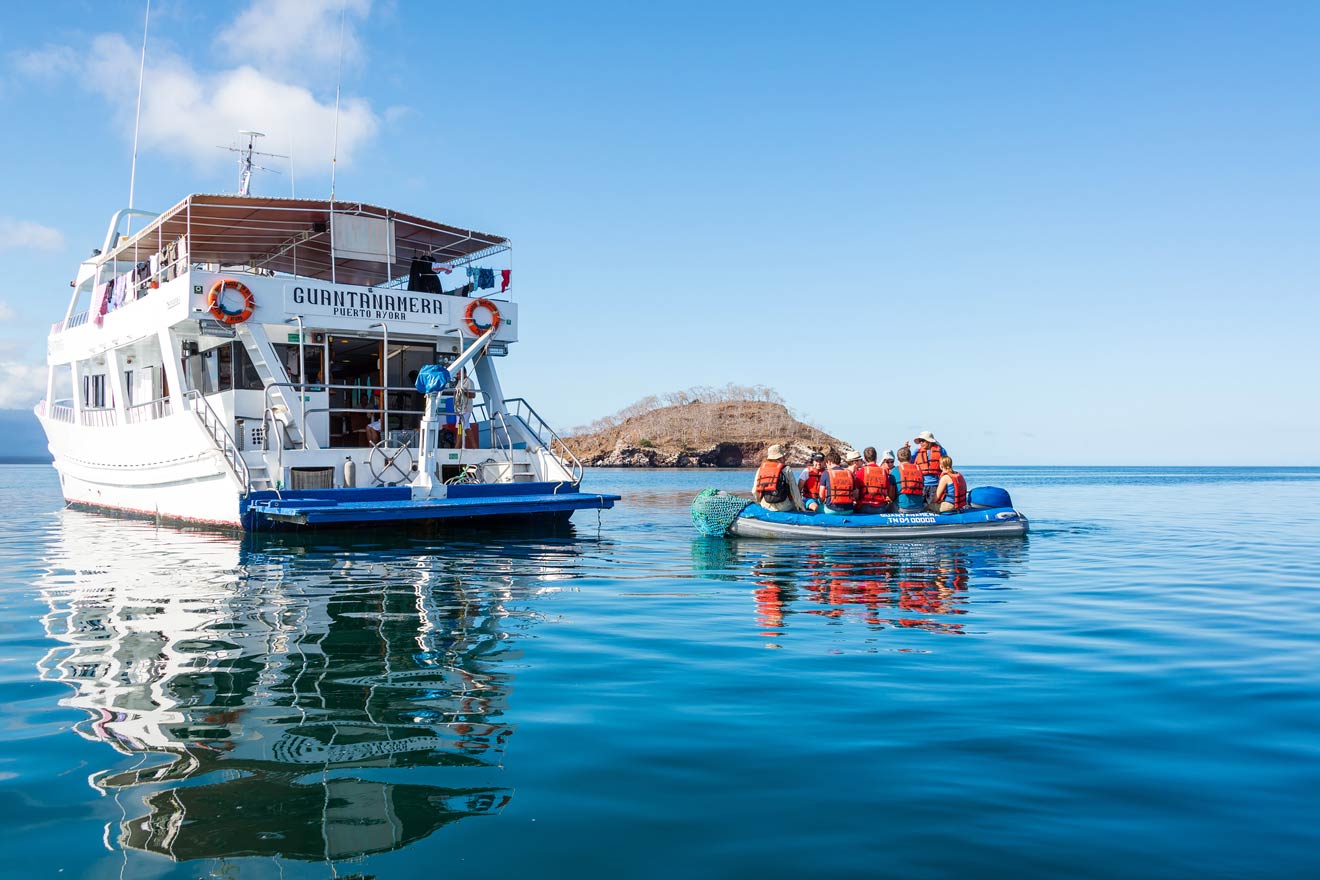 3. Family Holiday to Galapagos Islands
8 days
San Cristóbal, Santa Cruz
Includes flights
$2550 per person
You can only book this 8 days cruise to the Galapagos if you have a child with you as it is organized especially for families! The tour provides travelers with a flight from Ecuador, accommodations, meals, and different activities on the Galapagos Islands.
8 days
San Cristóbal, Santa Cruz, Isabela, Bartolome
Includes flights
$1980 per person
Enjoy an 8 days holiday around the Galapagos Islands on this cruise that includes a flight to the islands. You will be spending your trip exploring Santa Cruz, San Cristobal, and Isabela Island. You will be provided with accommodation, meals, transport, and many other things.
7 days
San Cristóbal, Santa Cruz
Flights not included
$1060 per person
This budget cruise is perfect for anyone looking for a way to save during their trip to the Galapagos Islands. You will have to book your flights from Ecuador, and once you're there, you will explore 2 of the islands, Santa Cruz and San Cristobal. The cruise also includes accommodation, food, a guide, and other things like snorkeling and visiting attractions.
Frequently asked questions about Galapagos Islands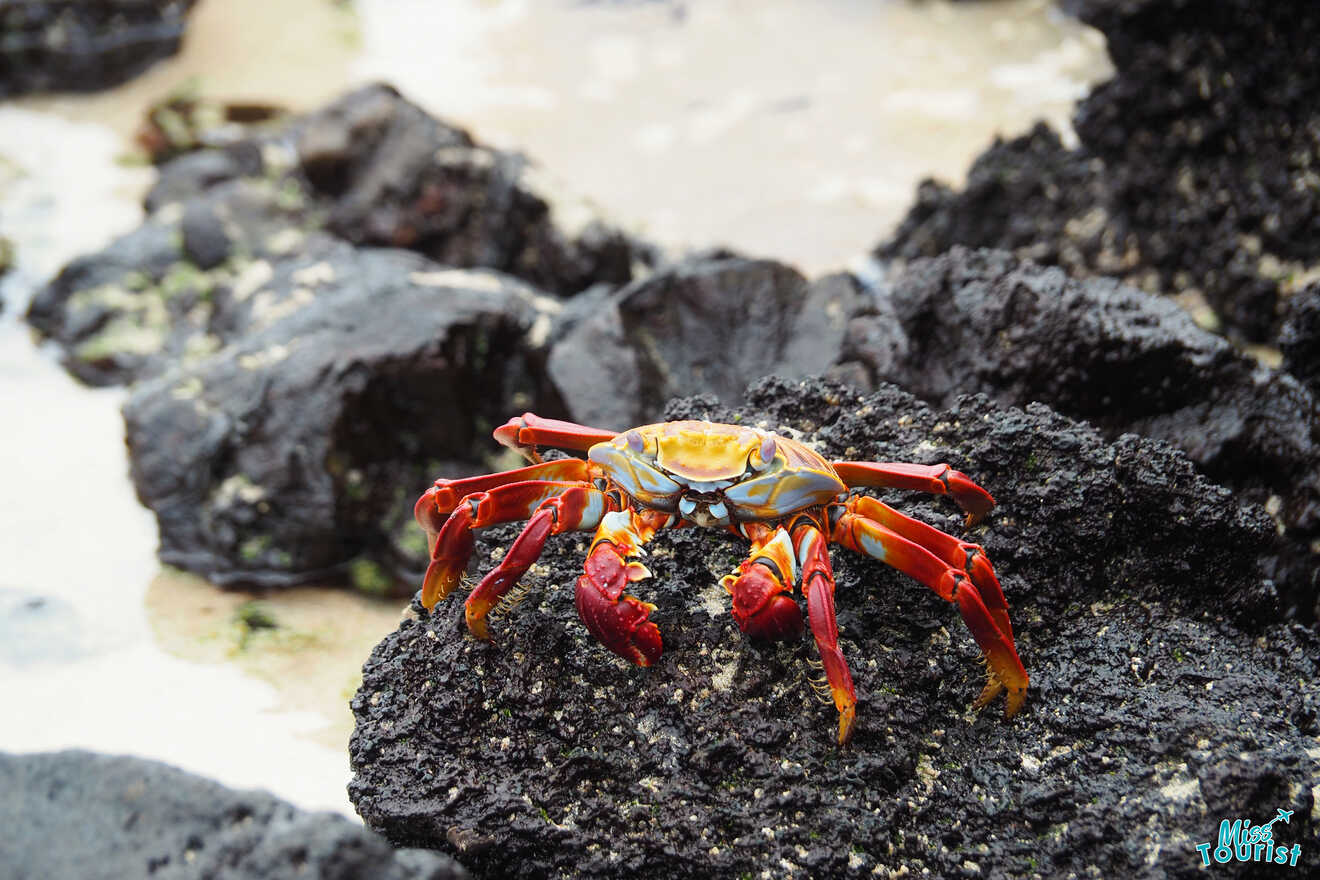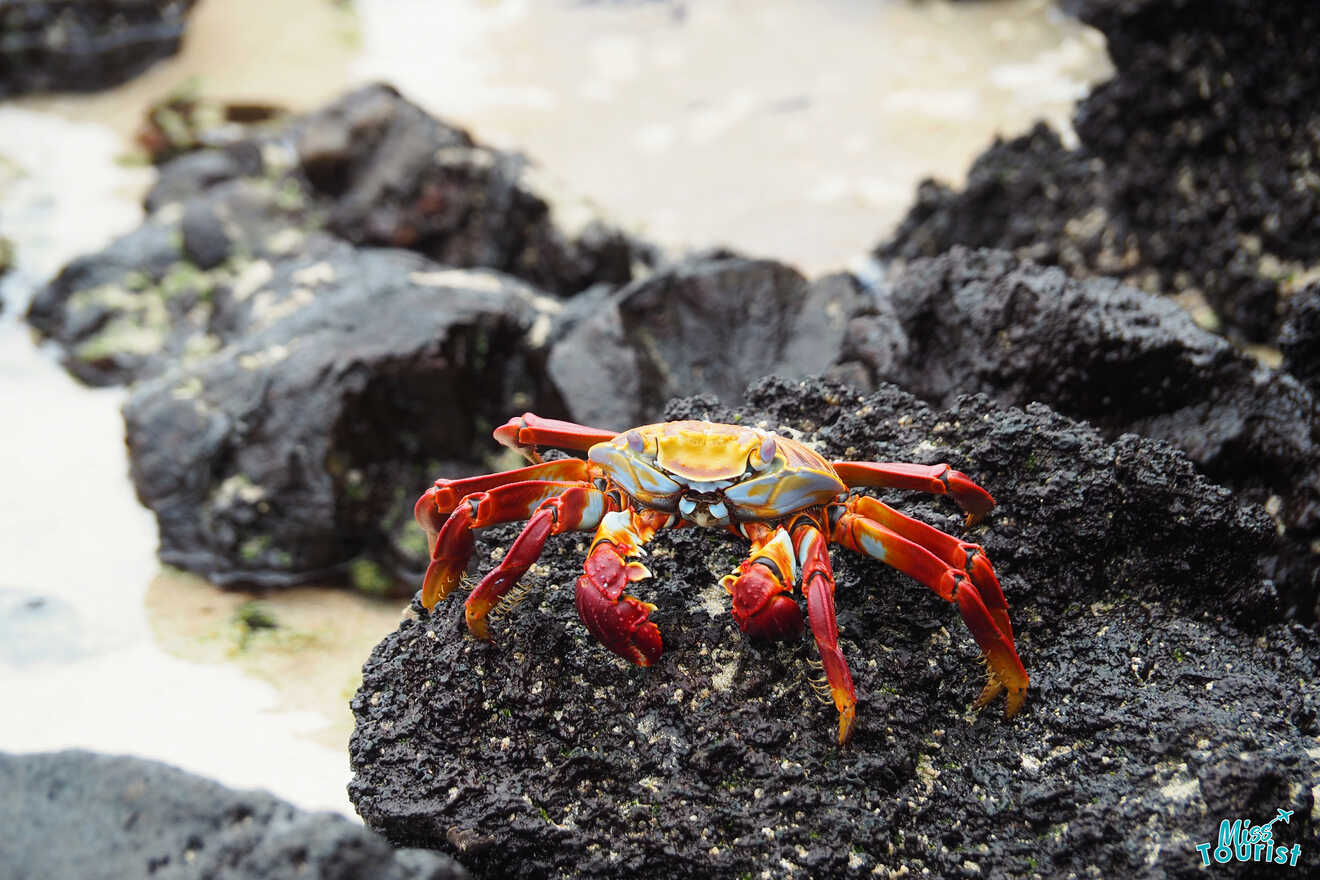 Conclusion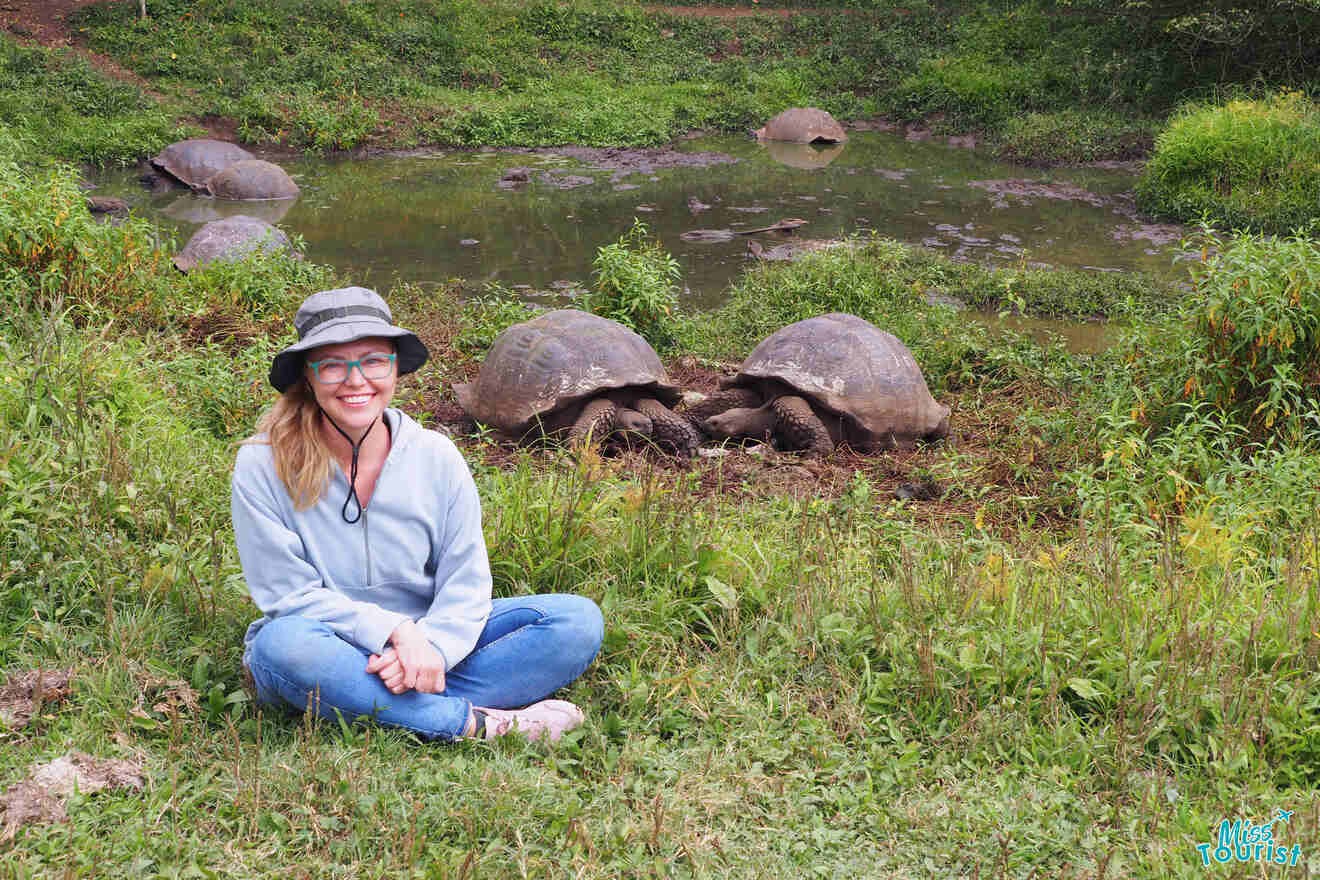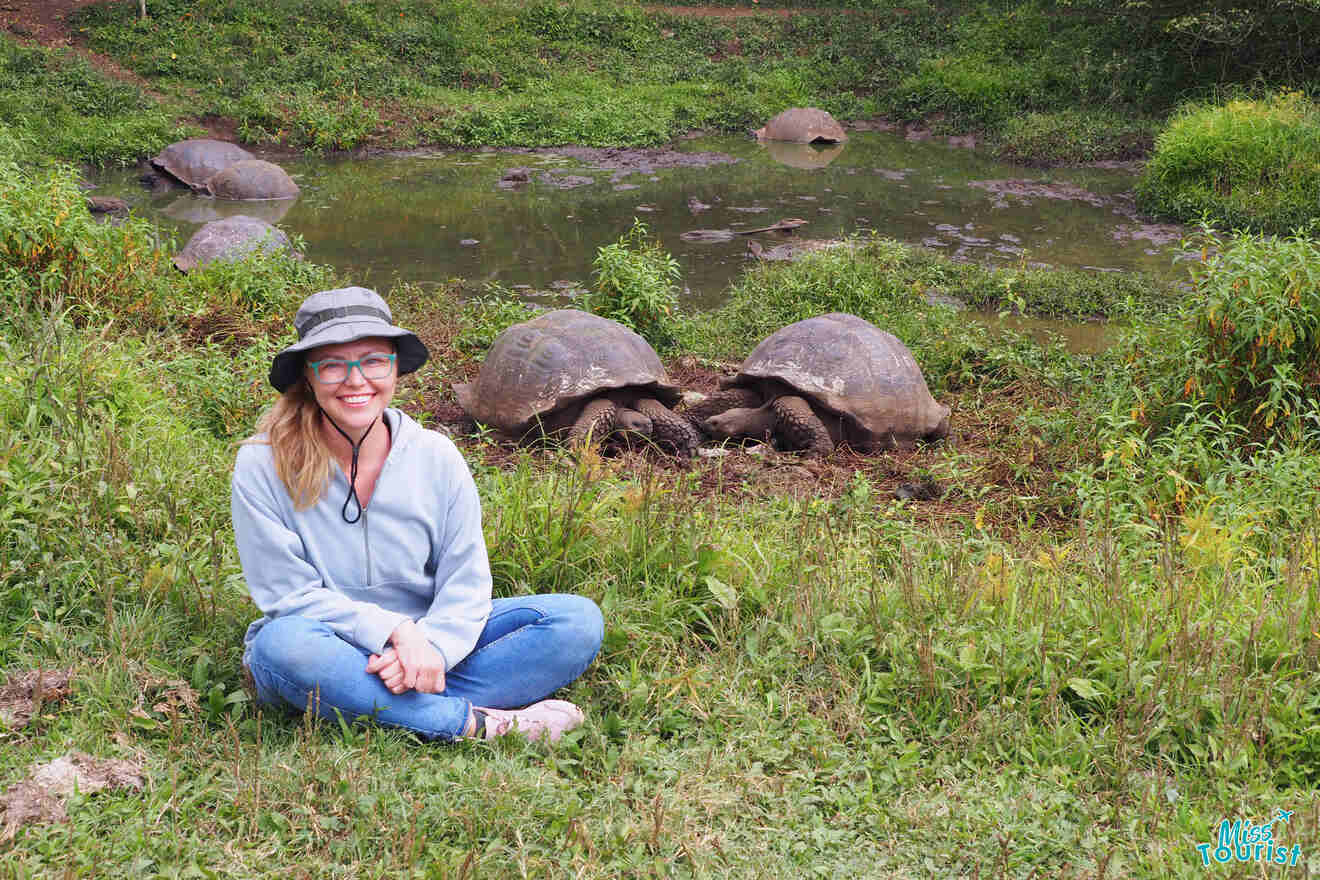 Are you as taken aback by this destination as I am? It really is one of the most special places in the world! I hope this post helped you decide where to stay in the Galapagos Islands and which hotel or cruise to book.
There are a lot of accommodation options in this post, and I know it takes so much time to decide, so here are my top 2 favorite ones, both located in Santa Cruz:
Just remember to book all your hotels and cruises in advance! This place is on the list of every avid traveler in the world!
Enjoy your trip to paradise! Explore every hidden corner, beach, and bay. Observe the unique animal in their natural habitat, take lots of pictures, and party all night in the clubs. You'll want to remember everything! And don't forget to leave me a comment below if you have any questions or suggestions for our readers!
Safe Travels,
Yulia