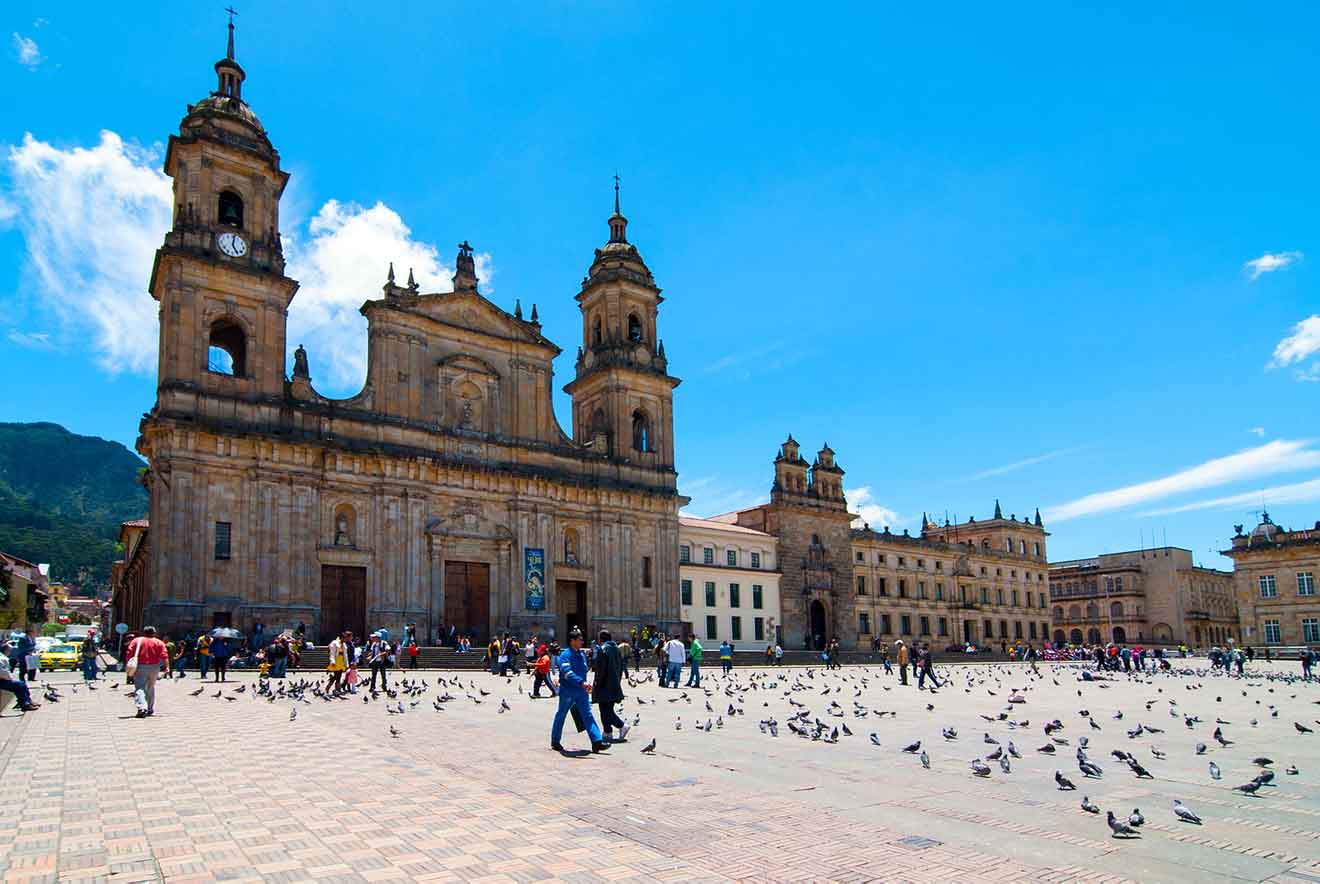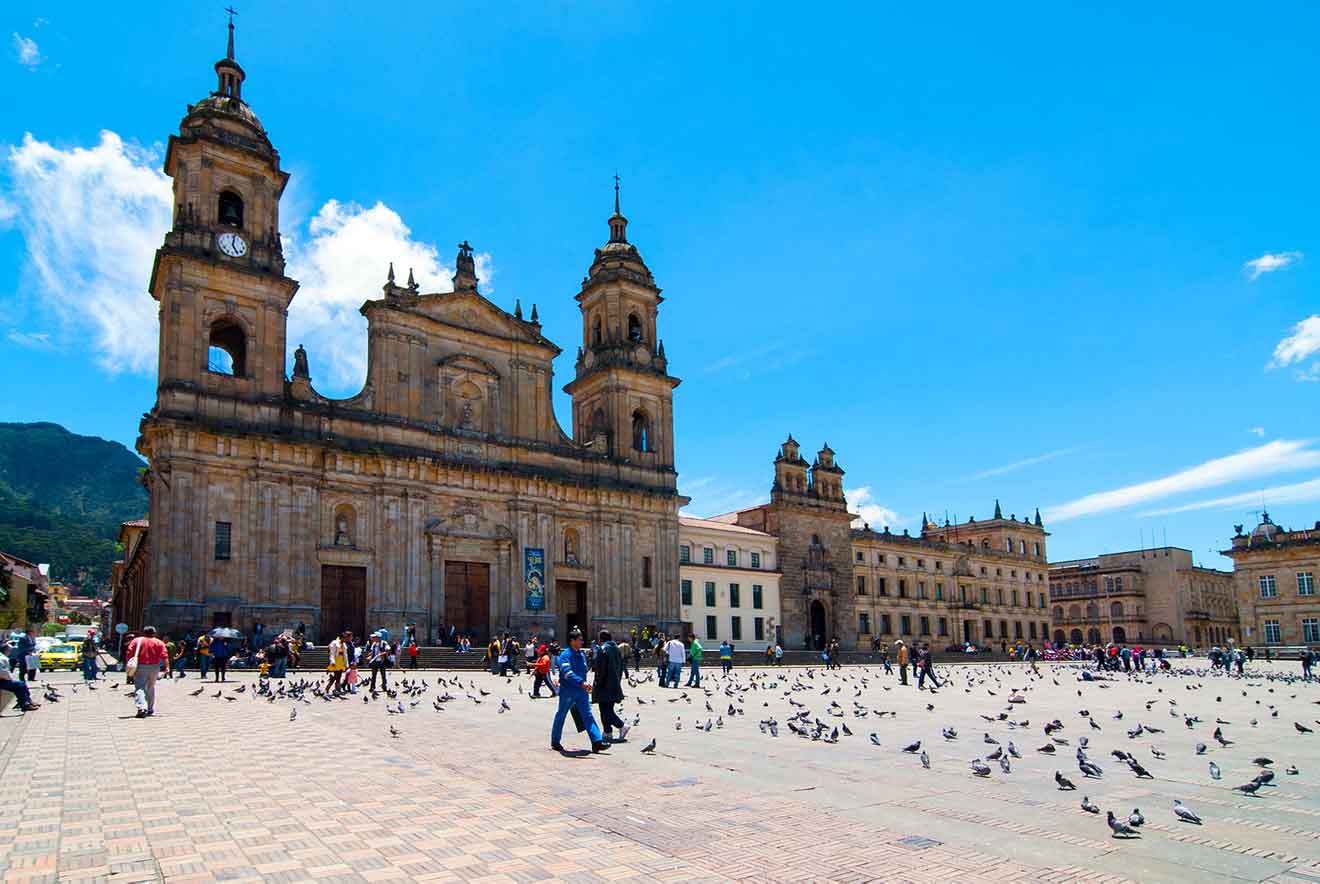 Bogotá, the capital and largest city in Colombia is a historically significant and stunning destination for travelers to enjoy, with a temperate climate that offers a nice escape from the heat and humidity from the rest of the country!
Located right in the middle of the country and surrounded by national parks, green spaces, and the famous Monserrate mountain, Bogota is bursting with things to do. Now that you're planning a trip to this city, you might be wondering where to stay in Bogota, right? No worries, I'm here to help!
In this ultimate guide on Bogotá hotels, you'll find everything you need to know from hotels, apartments, and even airport hotels as well.
Are you ready? ¡Empezamos!
If you're in a hurry…
The best area to stay for first-time visitors to Bogota is Teusaquillo. This is the ideal base if you're looking for convenience, as it's very well connected to the rest of the city!
Which area should you choose for your stay in Bogota?
Here is a map of all 5 neighborhoods in Bogota I'll be talking about in this post, so you can get a better idea about where each of them is located: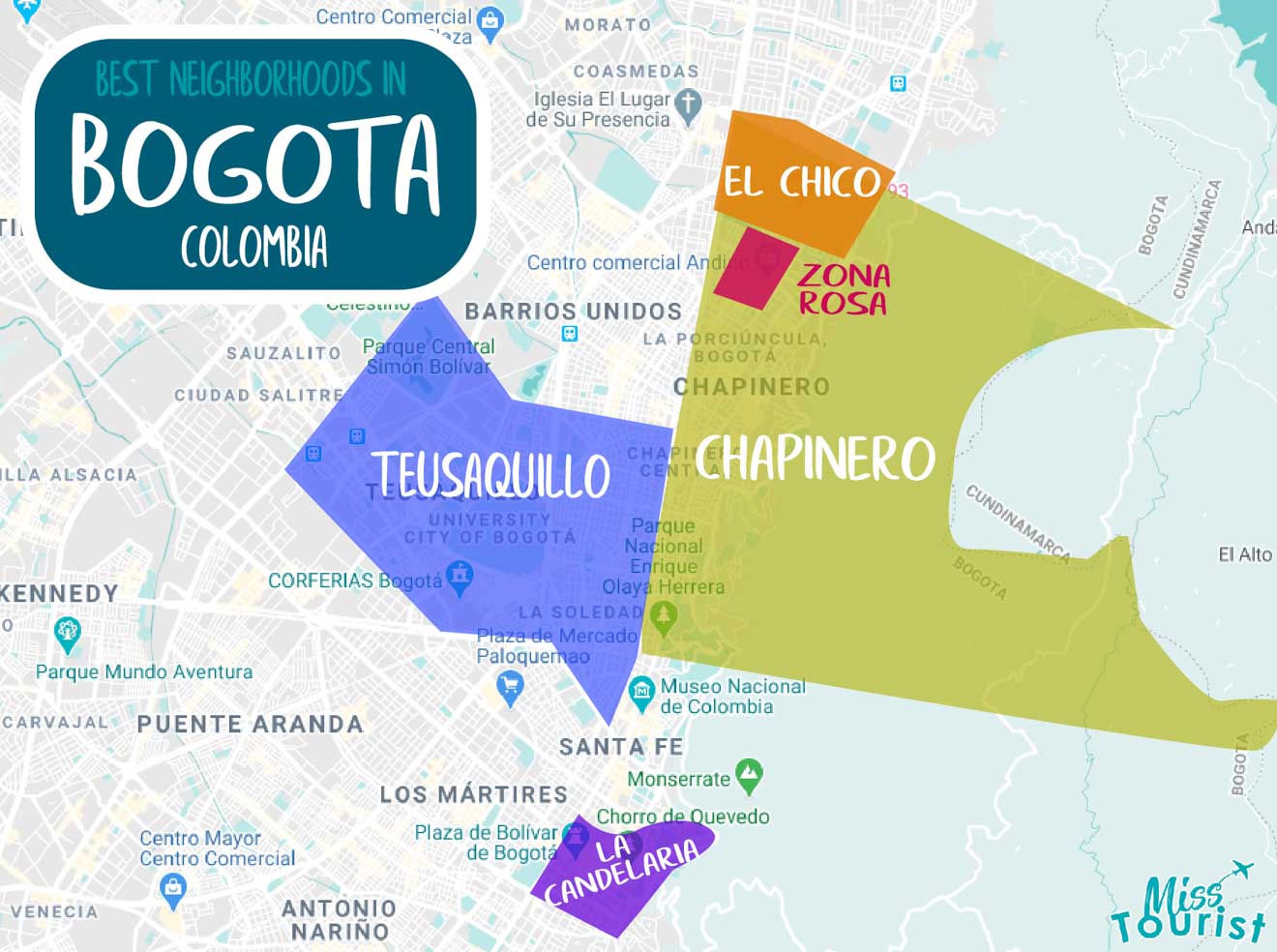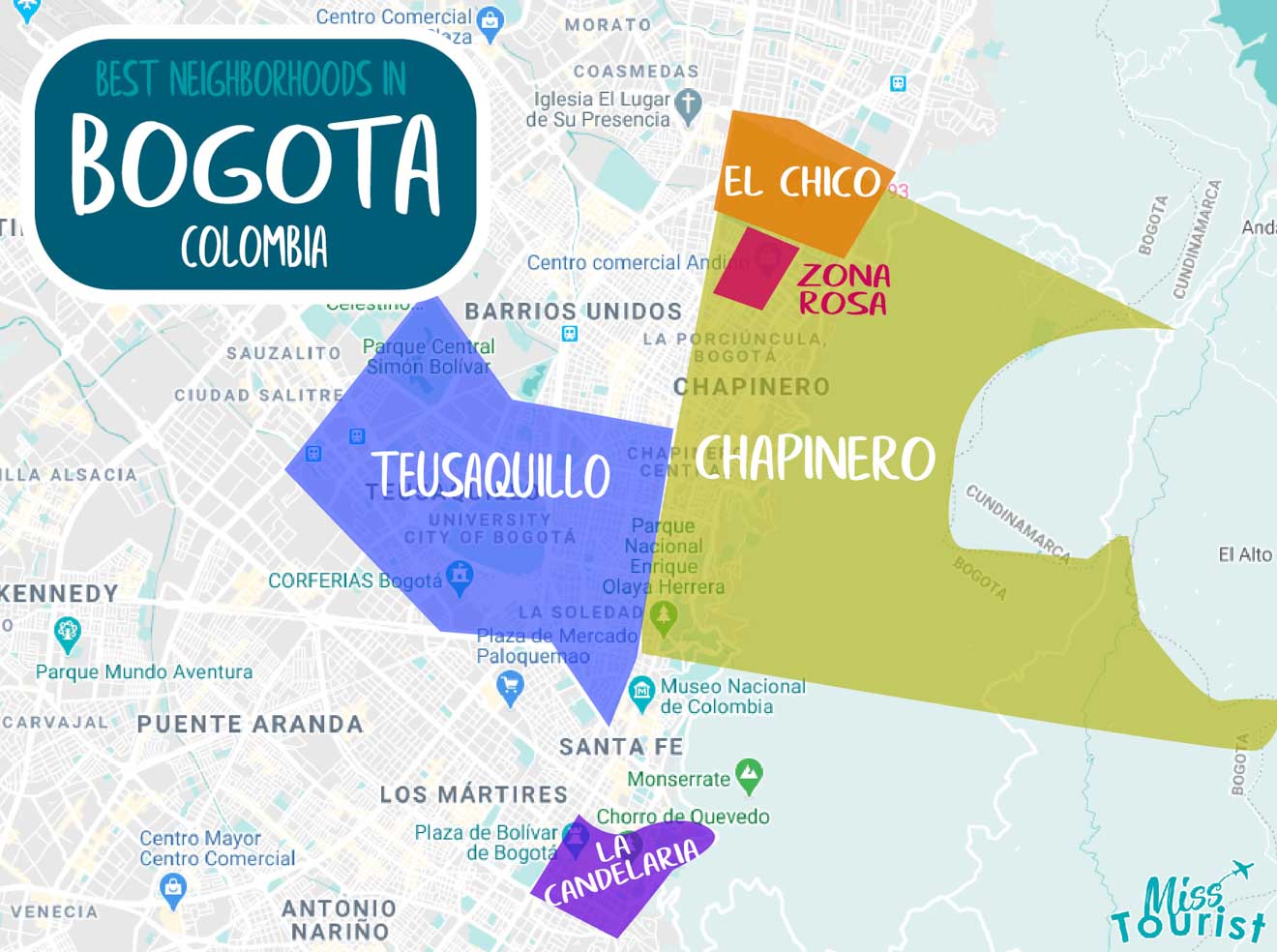 Scroll down to find my personalized list of recommendations that will help you make your decision for the best area depending on your interests, budget, and travel itinerary:
1. Teusaquillo – where to stay in Bogota for first-timers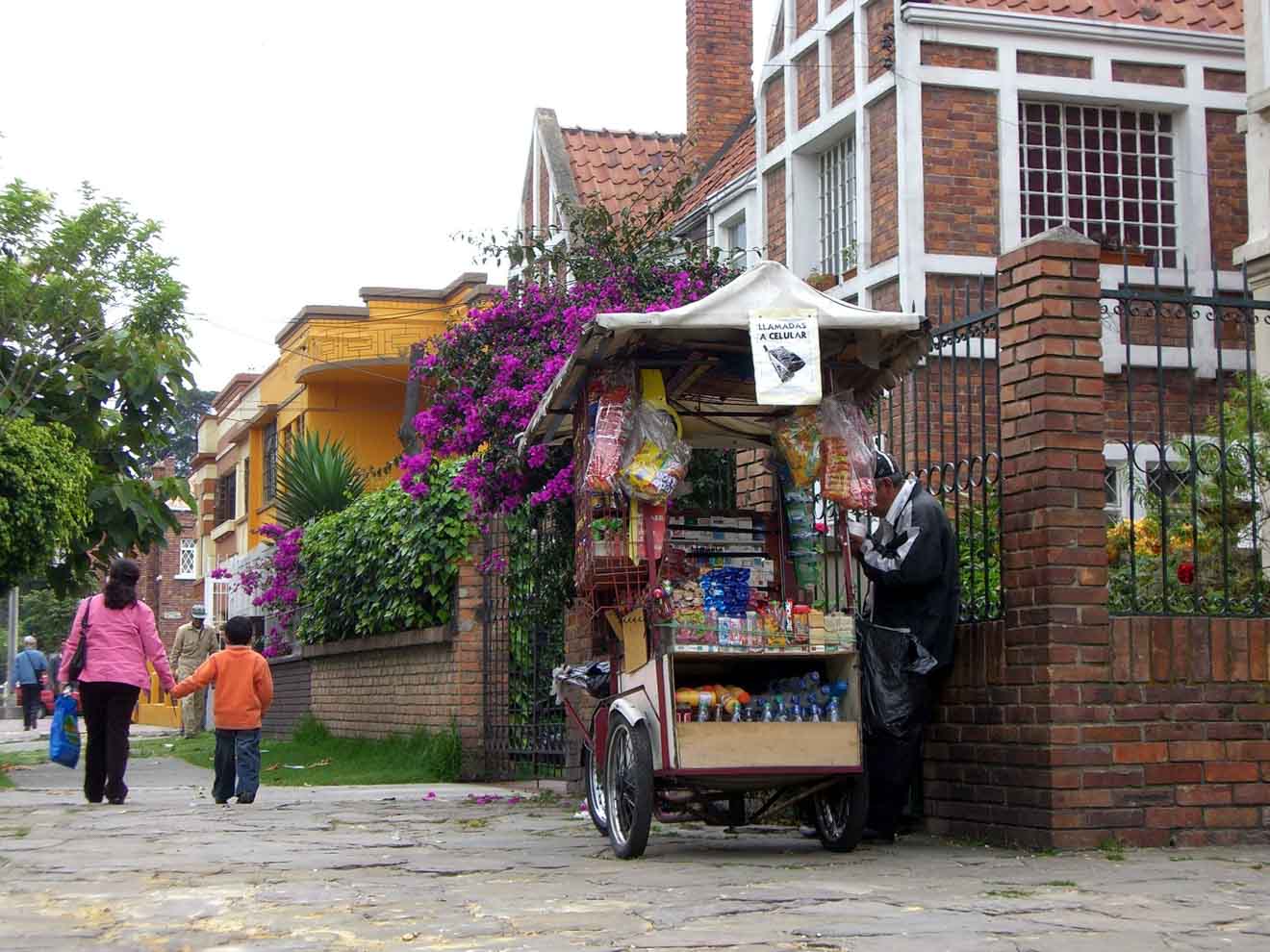 Teusaquillo is the heart and soul of the city and definitely the best place to stay in Bogota if you're visiting the city for the very first time!
One of the reasons is that you can easily get to this neighborhood straight from the airport thanks to a linking road making it easy to get in and start exploring. Even though Teusaquillo is not a historical area of the city, it is very well located right next to downtown, which means you'll have easy access to the rest of Bogota.
Another advantage of the area is that this is also one of the best places to stay for people who love nature and the outdoors! In fact, some of the highlights of Teusaquillo include the Simón Bolívar Metropolitan Park, Bogota's biggest public park featuring a beautiful botanical garden, Kids Museum, Parque de Los Novios, and more.
And if you are a football fanatic, here you can even catch a soccer match at El Campín, the city's football stadium!
Teusaquillo is my recommendation for where to stay in Bogota for your first time as it neighbors the downtown district and has easy access to the top tourist attractions.
Pros of Teusaquillo:
Many green parks
Quieter area
Access to best tourist attractions
Good connection with the airport and downtown
Cons of Teusaquillo:
Not many restaurants and bars
Not many shops
If you feel like this is the right area for you, scroll down to find my selection of hotels in Teusaquillo:
Luxury (US$100 and up)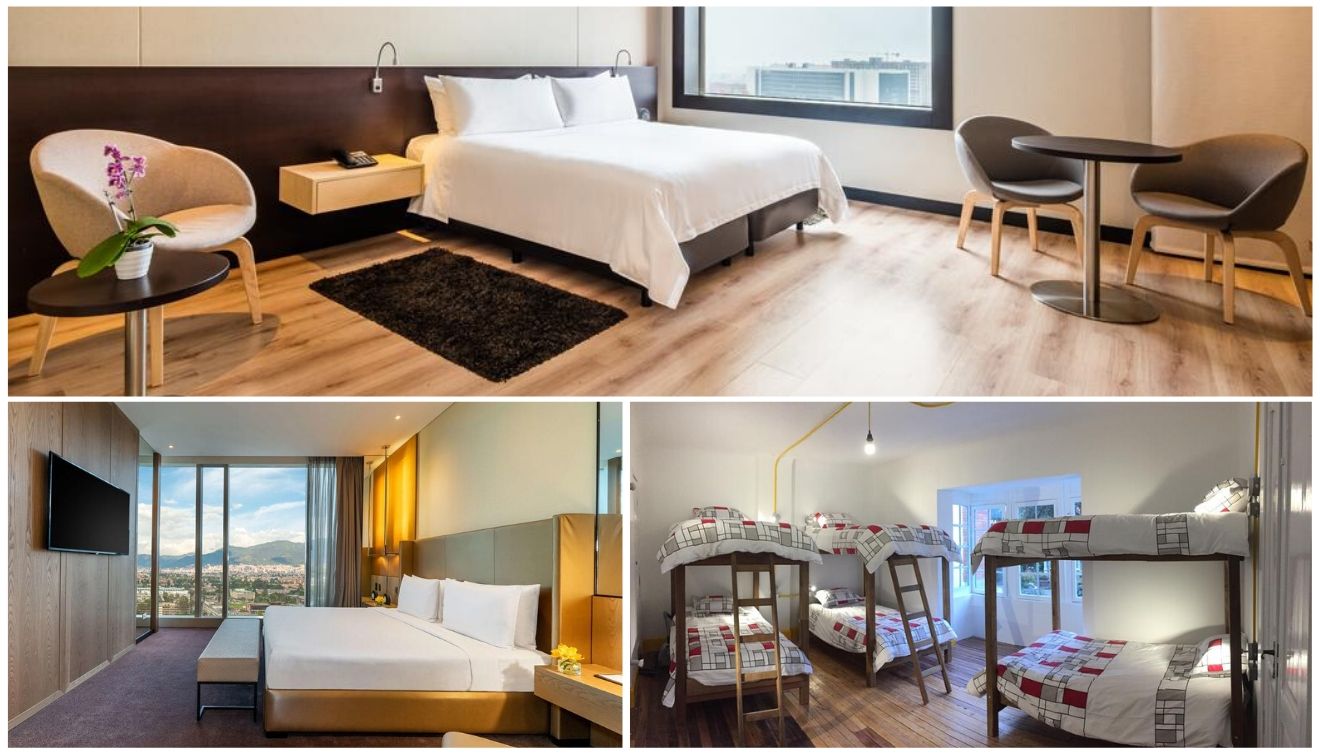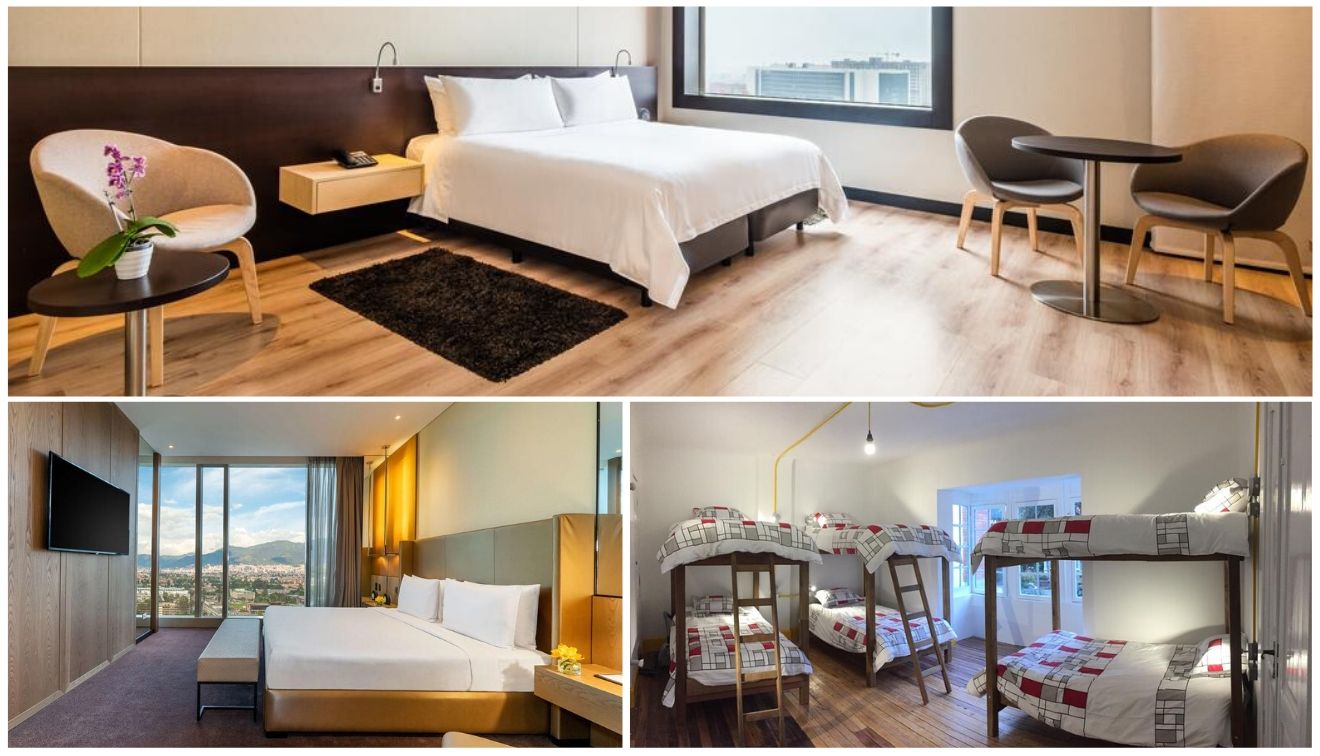 In this section, I will be discussing the best of the best! Let's head straight into the Bogota 5-star hotels section:
Mid-range (US$20 – US$100)
Budget (up to US$20)
If you're traveling to Bogota on a budget, don't worry, the city is full of budget accommodation options that won't make you feel like you're living out a scene from a horror movie!
Here are the best places to stay in Bogota, Teusaquillo on a budget:
2. La Candelaria – where to stay in Bogota on a budget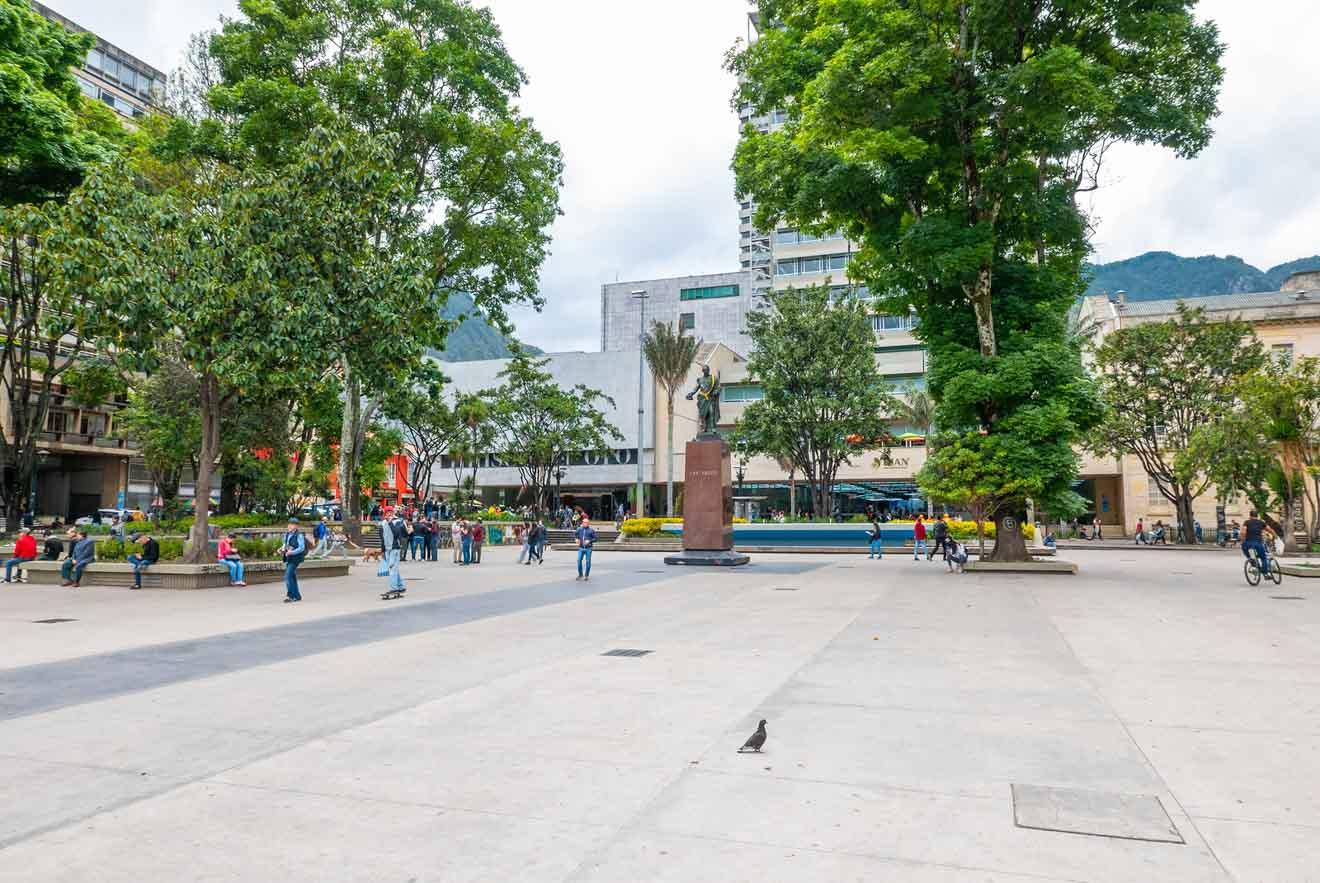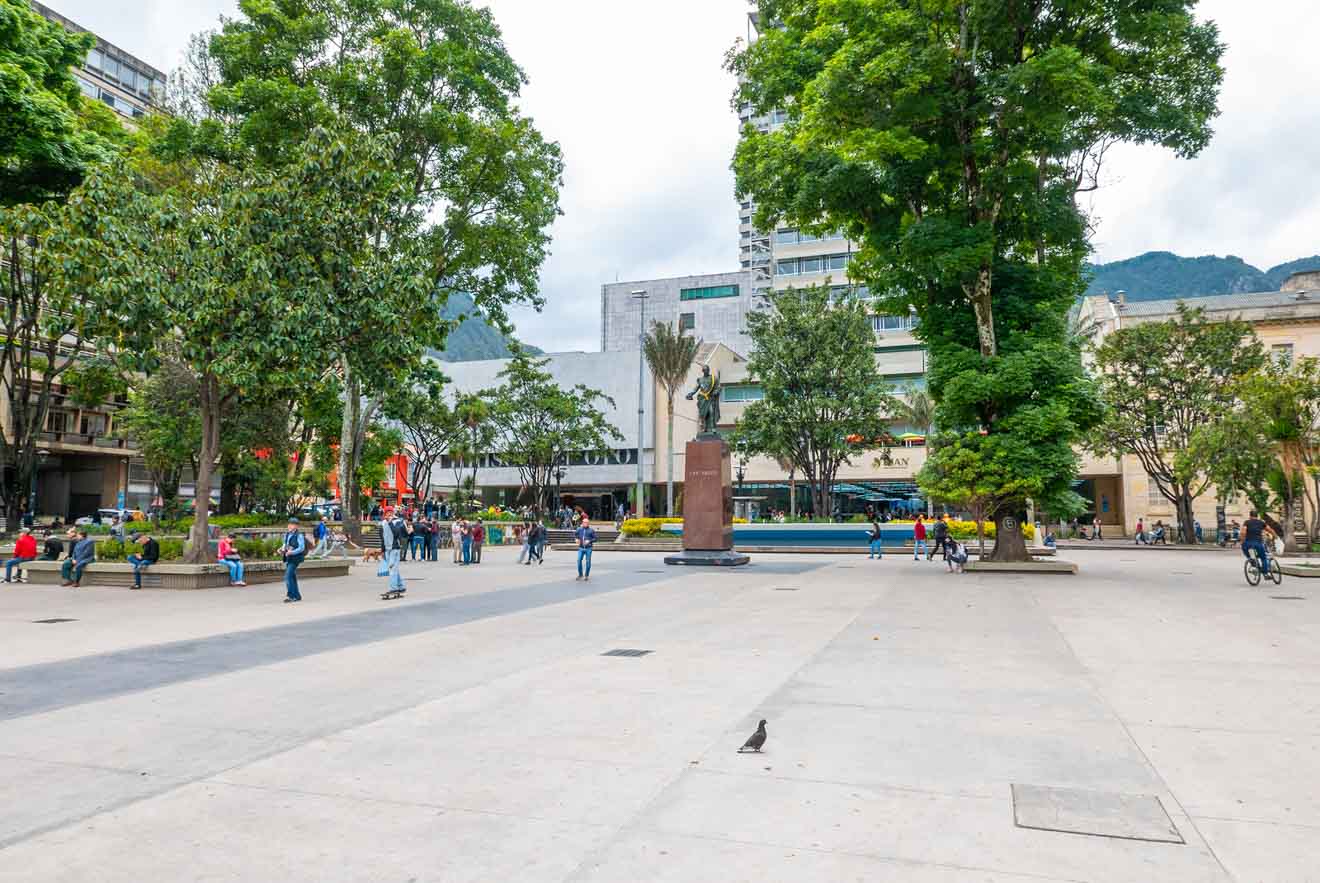 La Candelaria is a great historical neighborhood (the oldest one, actually!) and a true gem among all the areas of Bogota!
This area is close to Santa Fe and Bolivar Plaza and can be considered the downtown district, as it is the historic center of Bogota – some people even call it the "cultural capital" of the city!
In fact, this is the first-ever neighborhood in Bogota, where the city was founded by the Spanish Conquistadors in 1538. If you're a history (and culture) passionate, this is definitely your place: here you'll find colonial architecture, cobblestone streets, and also a lot of street art!
This neighborhood is also home to some other notable attractions for your bucket list including the National Capitol, Palacio Liévano, the Gold Museum, Museo Colonial, and more! Plus, if you want to have one of the most beautiful city views, from here you can head up to Monserrate – the beautiful church overlooking Bogota from the top of a mountain.
But another reason you could love la Candelaria is the incredible concentration of budget accommodation… no surprise it's the favorite choice of backpackers. The only "problem" here is that this is area is considered to not be very safe, so while during the day it's fine, you should be extra careful at night, and don't go too far from the main street!
Pros of La Candelaria:
Lots of history and culture
Budget accommodation
Centrally located
Cons of La Candelaria:
Less safe at night
Lots of tourists
If you feel like this is the right area for you, here are my hand-picked hotel choices for La Candelaria, just make sure you book them far in advance: everyone loves cheap accommodations!
Luxury (US$110 and up)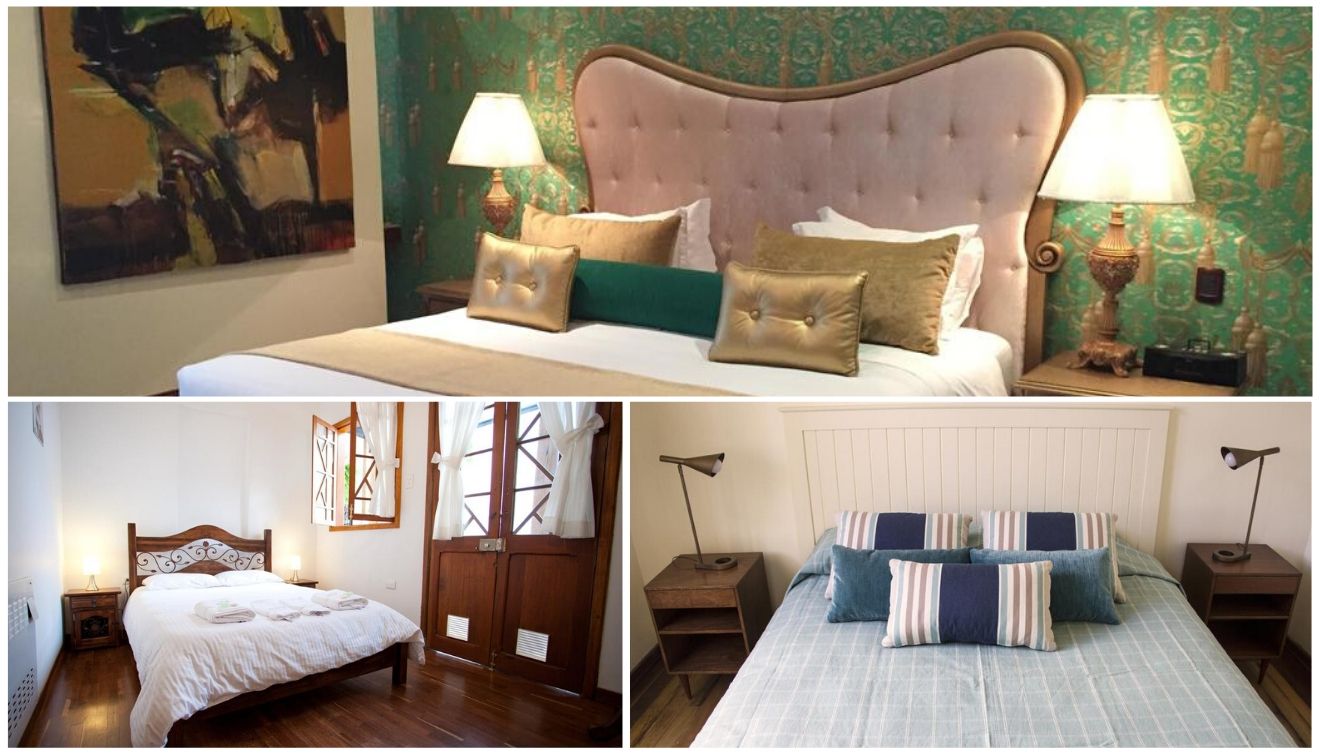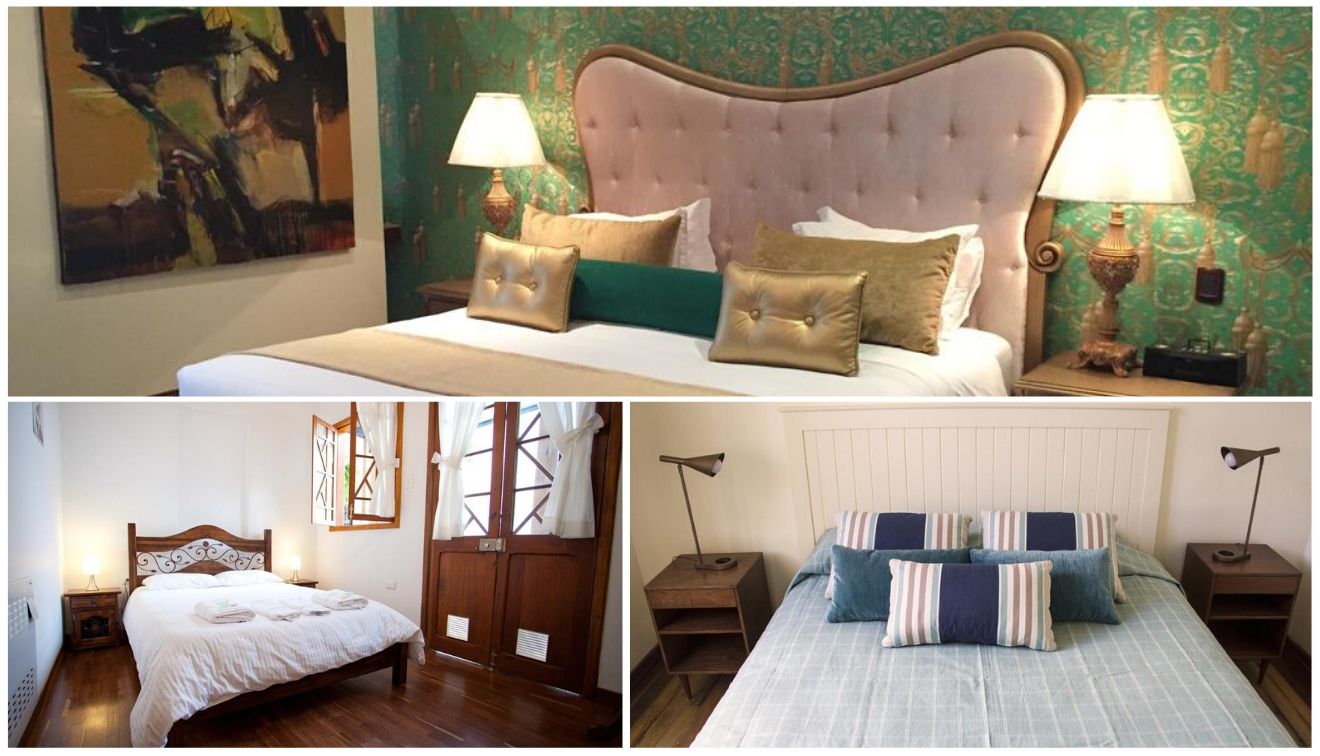 Mid-range (US$40 – US$110)
Budget (up to US$40)
3. La Zona Rosa – where to stay in Bogota for nightlife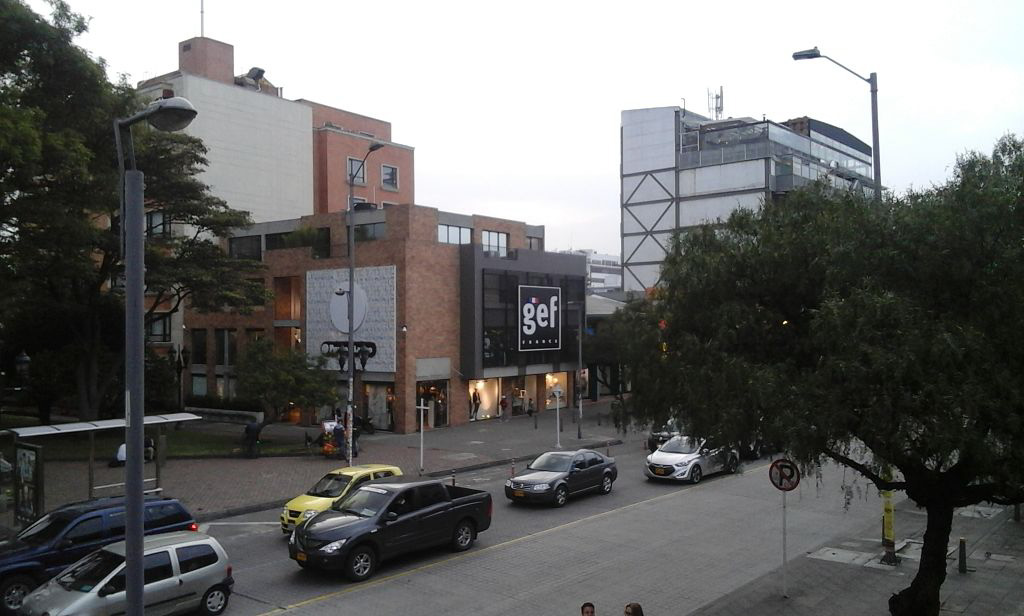 La Zona Rosa is the nightlife center in all Southern American cities – and Bogota is not an exception! Located in the North of Bogota, this is the ideal place to base yourself if you want to be surrounded by tons of bars, pubs and, of course, nightclubs… the nightlife here is going on 7 days a week so you'll be ready to dance until early hours!
This neighborhood will give you a feeling of the typical local party life: here you'll find all the Bogotanos (old and young) going out or congregating after work. La Zona Rosa is definitely the greatest area to stay if you are looking for a vibrant atmosphere and many choices to dance the night away.
And if you are also shopping (other than a party) addicted, this will be your paradise, hosting two of Colombia's most exclusive shopping malls (Andino and Atlantis), boutique shops, and big brands.
That being said, even though this area is very safe, I wouldn't recommend it to families traveling to the city or to people looking for a laid-back atmosphere.
Pros of Zona Rosa:
Great nightlife
Good for meeting local people
Wide shopping choice
Lots of good restaurants
Cons of Zona Rosa:
Very busy and noisy
More expensive
If you have decided to stay in La Zona Rosa, here are the best hotels I could find for you, all broken down by budget:
Luxury (US$100 and up)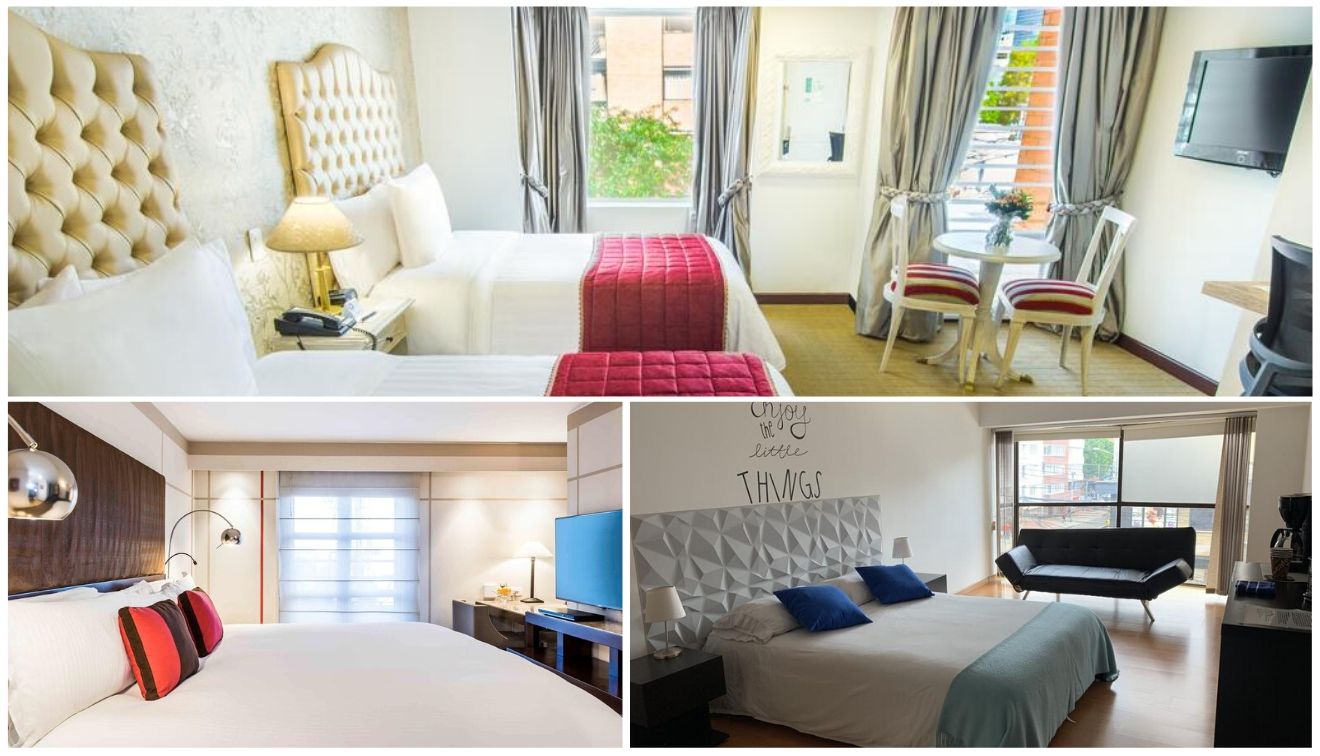 Mid-range (US$30 – US$100)
Budget (up to US$30)
4. Chapinero / Zona G – the coolest area to stay for foodies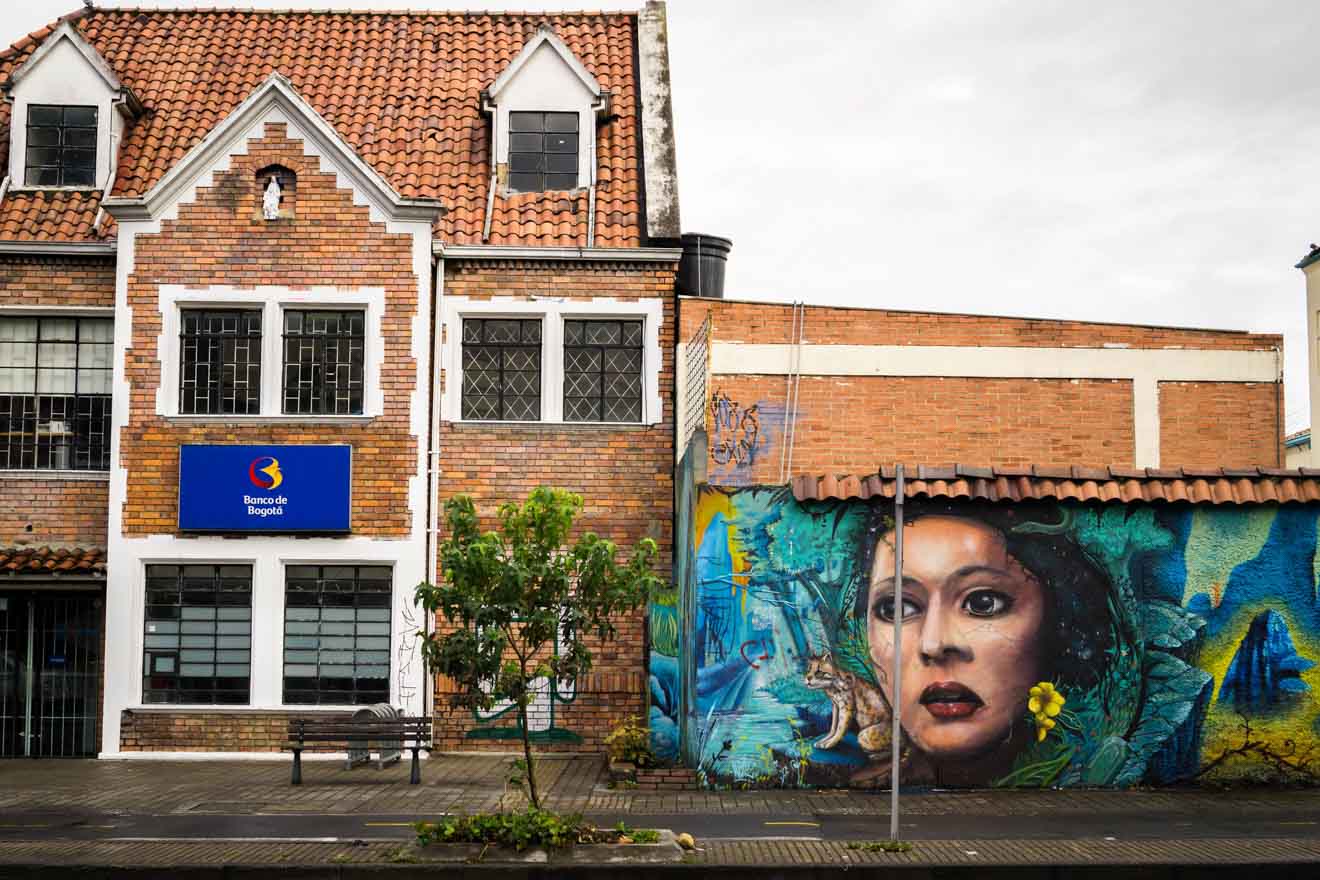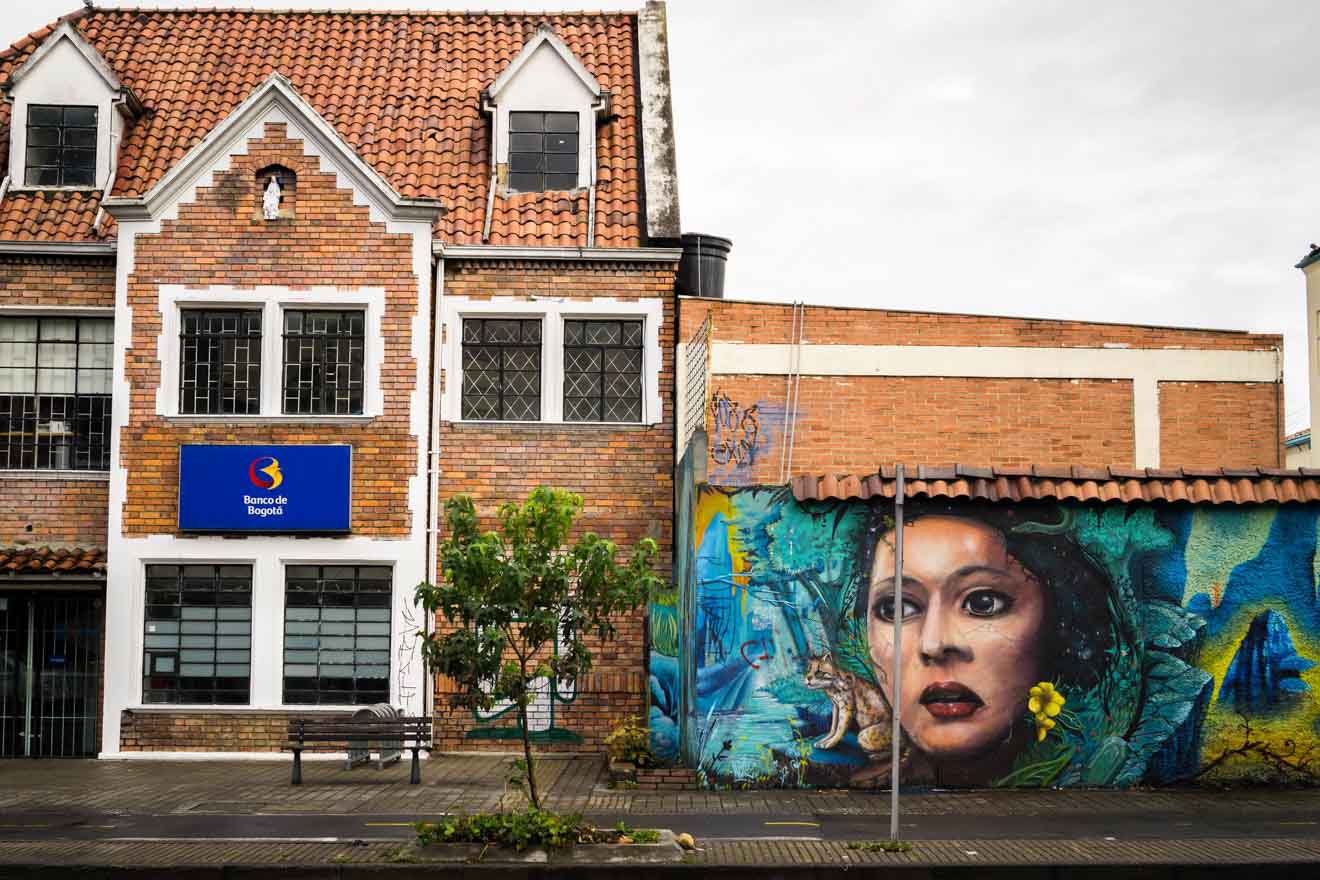 Chapinero is a super cool neighborhood in Bogota and it's also home to Zona G – the best place for all foodies out there (yep, G comes from "Gourmet"!)
In this neighborhood, you'll have the chance to experience Colombian food culture, as well as restaurants with food from all over the world.
Chapinero has a great central location, very very close to the city center, so it's a great area if you want to be in the middle of the action at all times and get easily anywhere else in the city. Plus, this is a very culturally diverse neighborhood, so you can make friends from all over the world here!
Apart from amazing restaurants, you'll also find tons of awesome shops, vegetarian restaurants, bars, markets, theaters, and everything in-between here, so it will be pretty much impossible to get bored.
Of course, the coolest area is home Bogota's LGBT community, from which it takes the nickname "Chapigay" and "Gay Hills" and crazy clubs such as Theatron (the largest LGBT club in the world)… if you love parties, you should definitely pass from here!
Pros of Chapinero:
Great choice of restaurants
Central location
LGBT nightlife
International neighborhood
Safe area
Cons of Chapinero:
Very big, spread out neighborhood
That being said, here are the best hotels in Chapinero / Zona G I have selected for you:
Luxury (US$100 and up)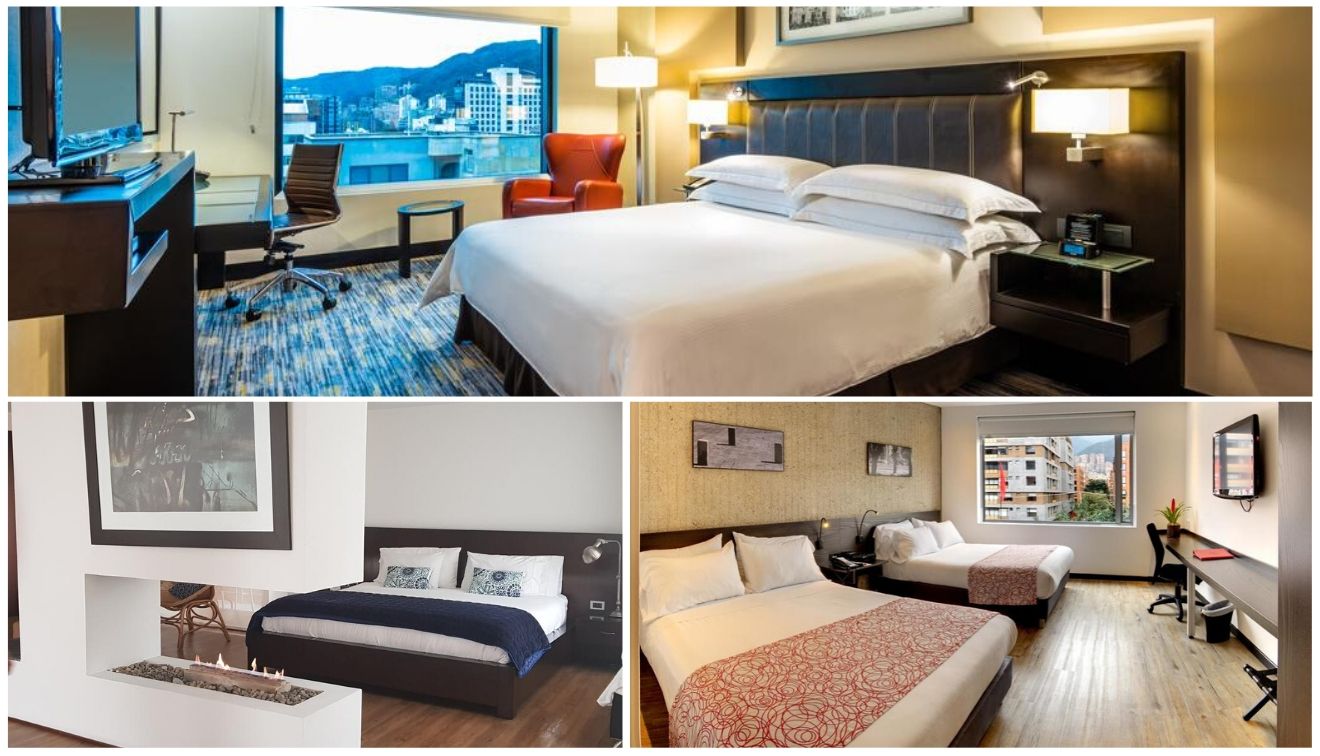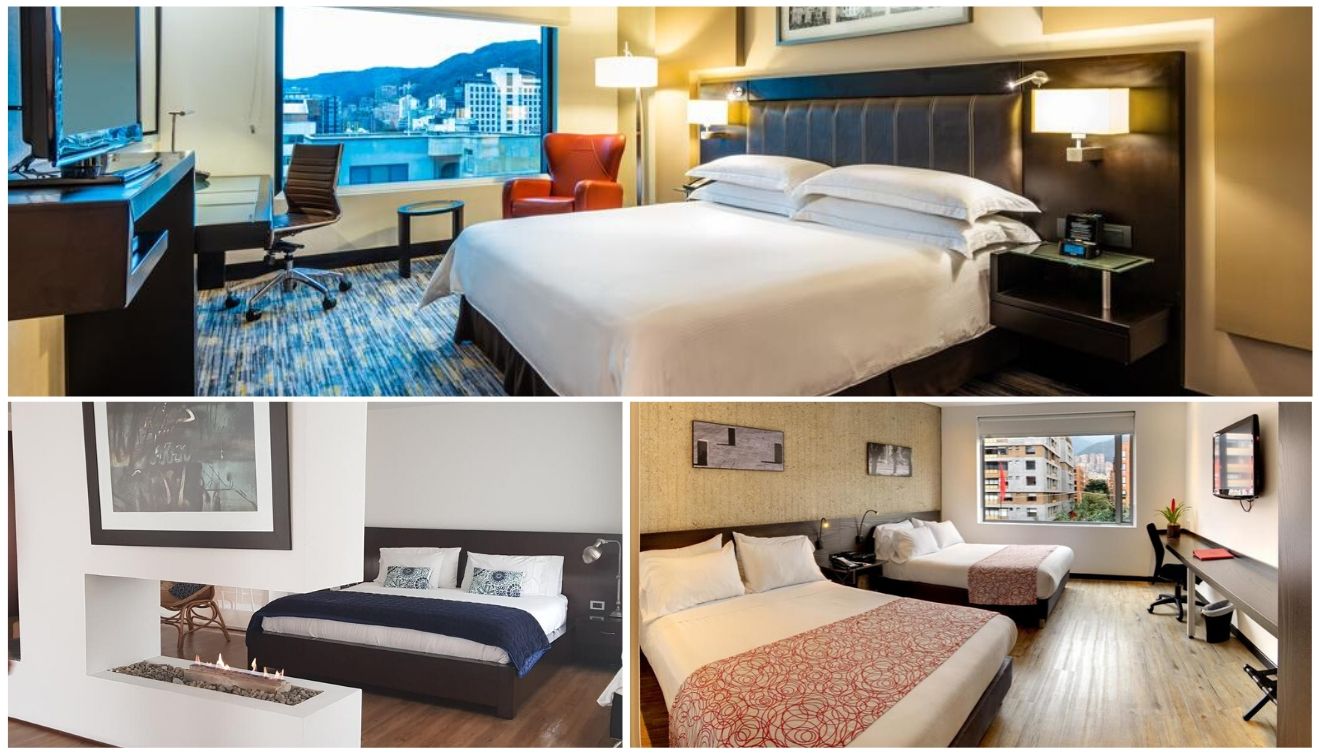 Mid-range (US$50 – US$100)
Budget (up to US$50)
5. El Chico / Parque 93 – the best place to stay for luxury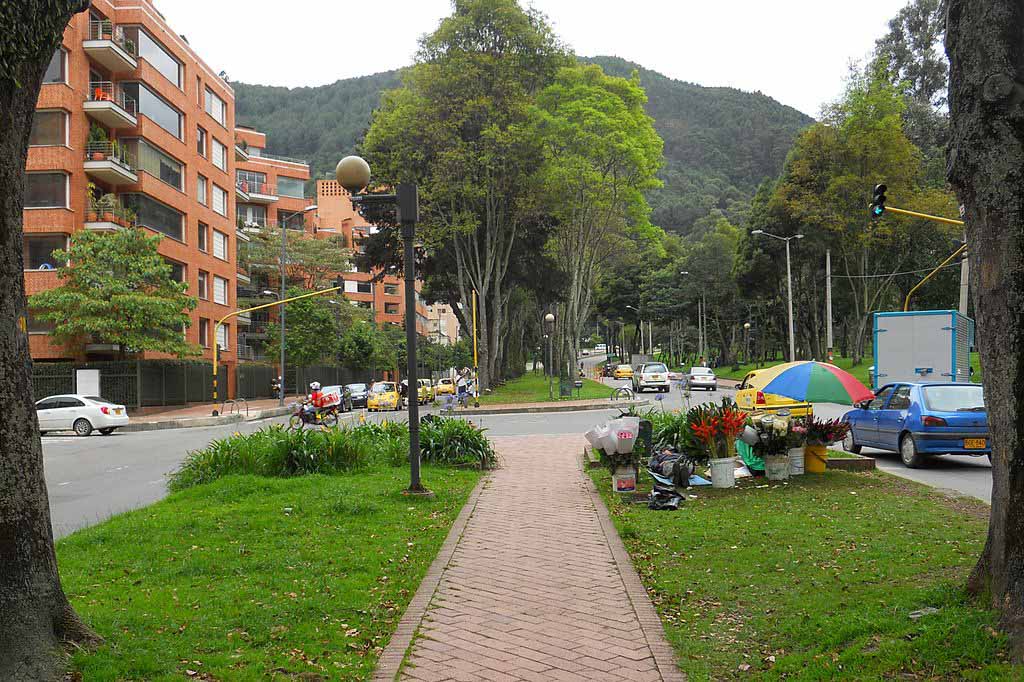 If you're looking for an upscale experience during your vacation in Bogota, then you should know that you'll find tons of amazing luxury hotels in the El Chico area!
But don't get scared – you'll also find countless accommodation options for all types of budgets here, not only luxurious 5-star hotels! This is also one of the safest areas that you can choose from, with very walkable streets. At the same time, it's also a great hub of nightlife, but it's a more quiet alternative to the busy and sometimes overwhelming Pink Zone.
El Chico is located a bit North of Zona Rosa and one of its main attractions is, of course, Parque 93 (a gorgeous park), the heart of the neighborhood! This park often hosts events, music concerts, outdoor art galleries, and handmade product markets, so you'll have plenty to see just here! Around park 93 are many cafés, upscale restaurants, bars, and boutiques.
Some other interesting sights around include Parque El Chico and Parque El Virrey, so this area is pretty ideal for all nature lovers!
Pros of El Chico:
Safest area to walk around day and night
Lots of green parks
Many good restaurants
Cons of El Chico:
More expensive
Quiet far from the historic center
Part of the area is the financial district (Distrito Financiero)
If you feel like this is the best place for you, here are the best hotels in El Chico, close to Parque 93 that I have selected for you:
Luxury (US$100 and up)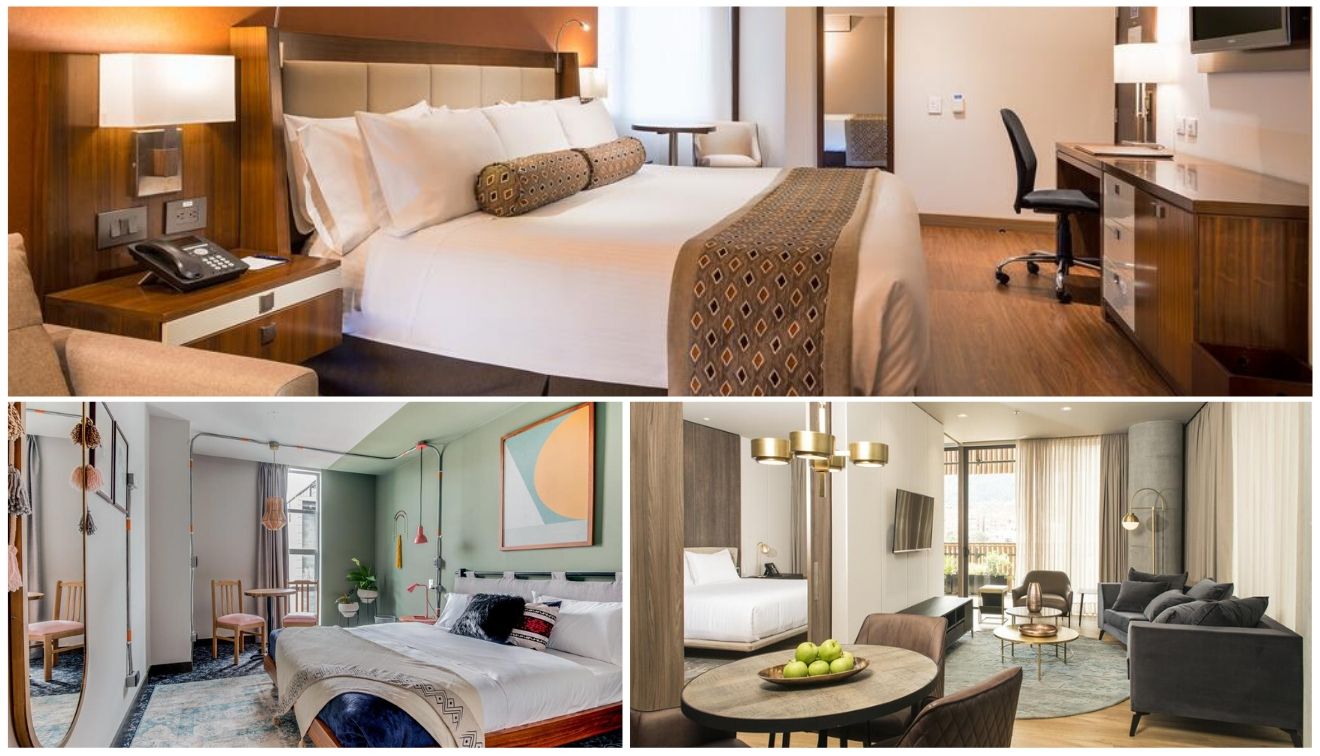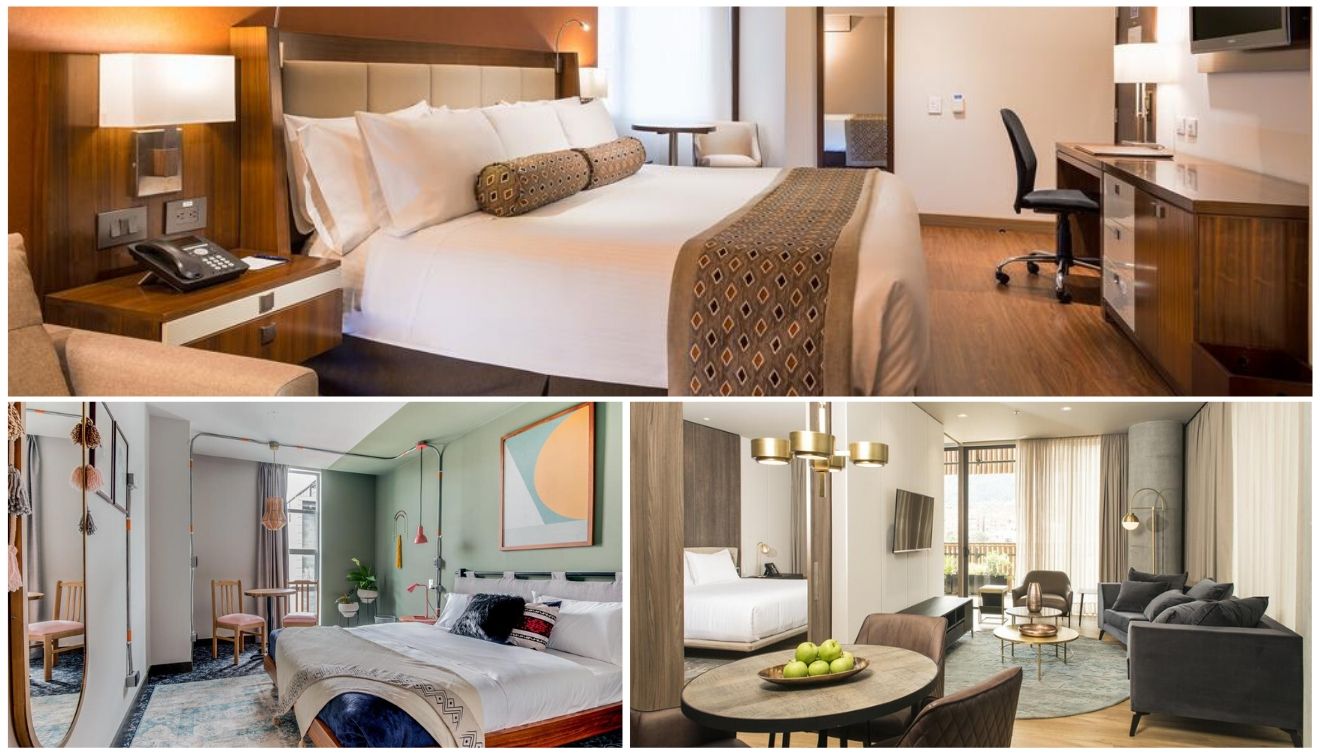 Mid-range (US$50 – US$100)
Budget (up to US$50)
| | |
| --- | --- |
| 👑 Luxury price: | $100 |
| 💵 Mid Range: | $50 |
| 🛏️ Budget: | $30 |
| 🏠 Airbnb: | $40 |
| 💰 Accommodation prices: | Low |
| 📍 Best neighborhood: | Teusaquillo |
| 👪 Best area for families: | El Chico / Parque 93 |
| 🛎️ Best luxury hotel: | Grand Hyatt Bogota |
| 💵 Mid-range hotel: | DoubleTree by Hilton |
| 👛 Best budget hotel: | Hostel Bandido |
BONUS 1: best apartments in Bogota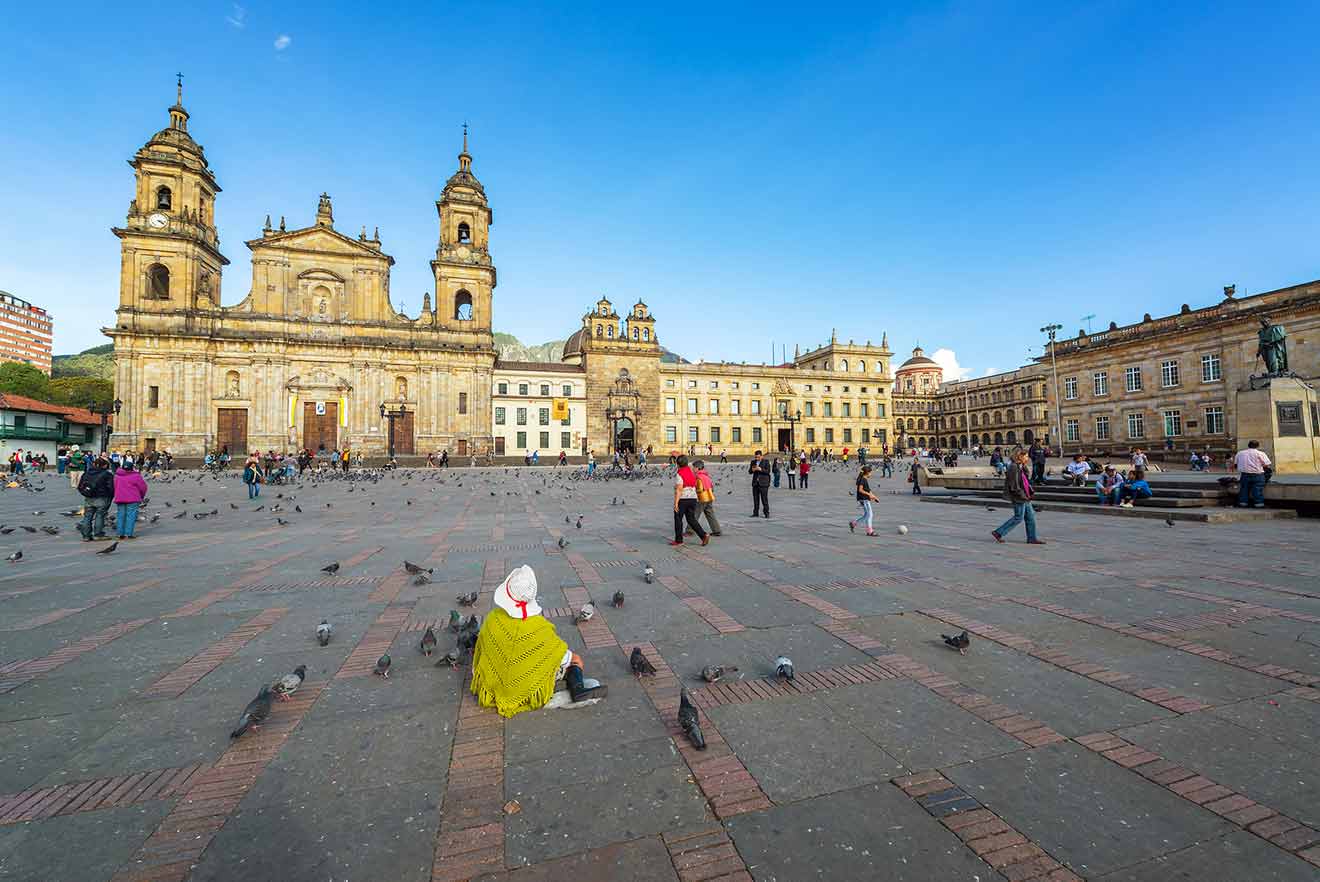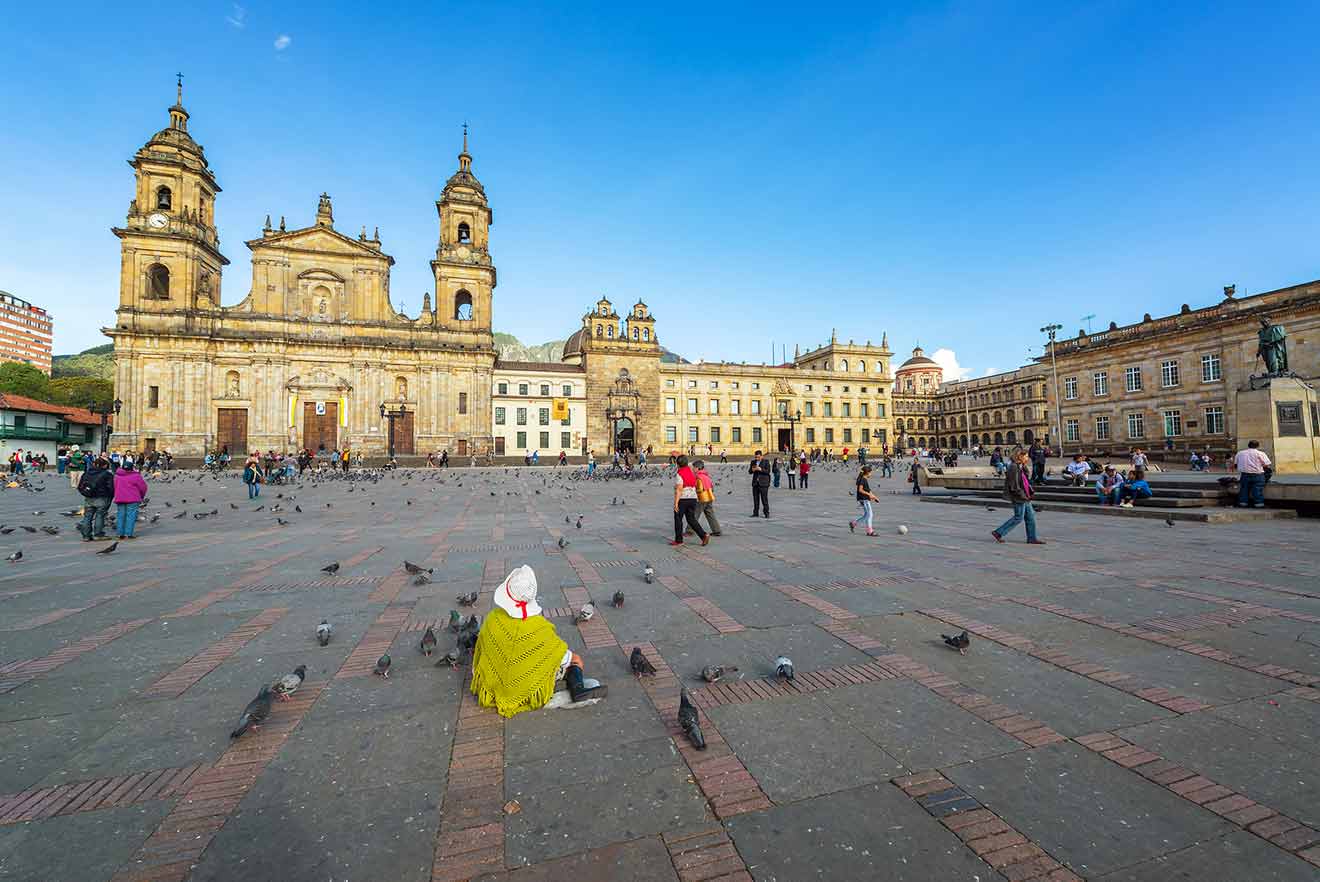 If you are the kind of person who prefers a touch more privacy and independence whilst you travel, Bogotá is a paradise of apartments and self-contained properties that will allow you the freedom to really set up camp and relax!
Here are the best apartments for rent in Bogota, Colombia:
Luxury (US$100 and up)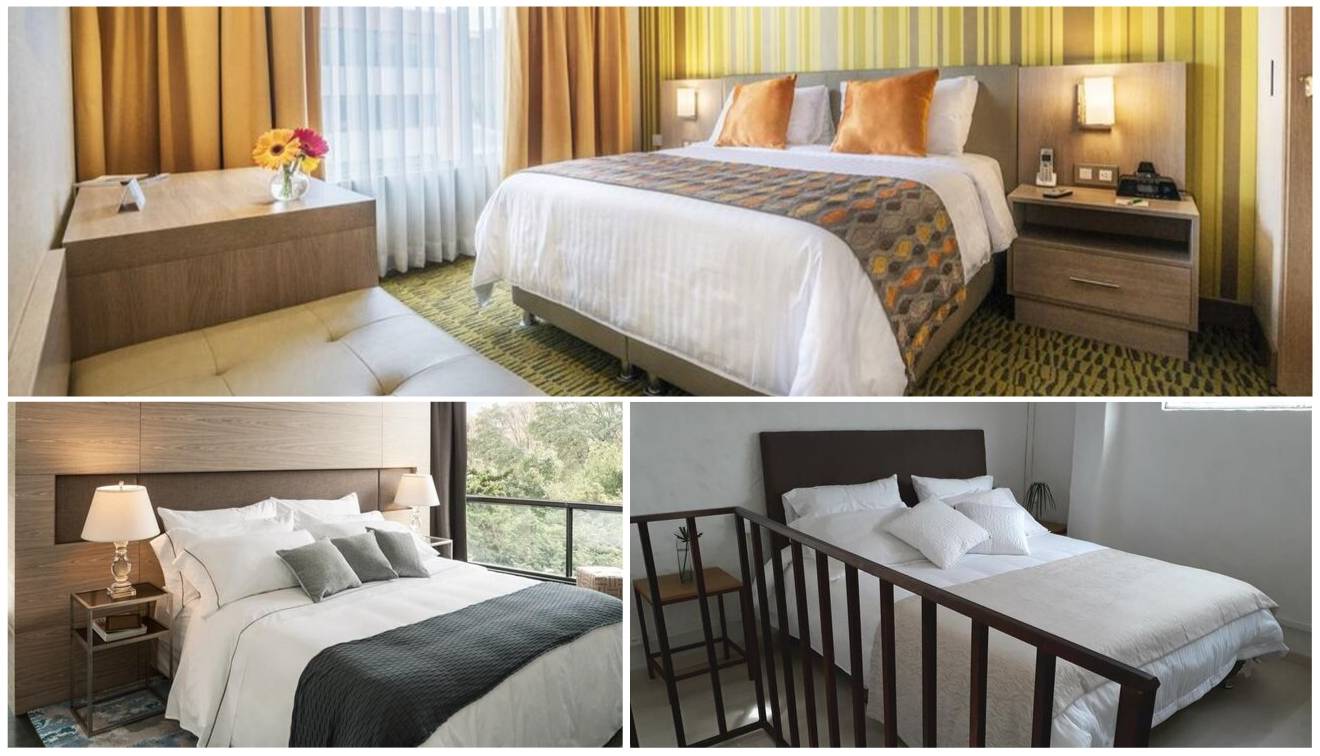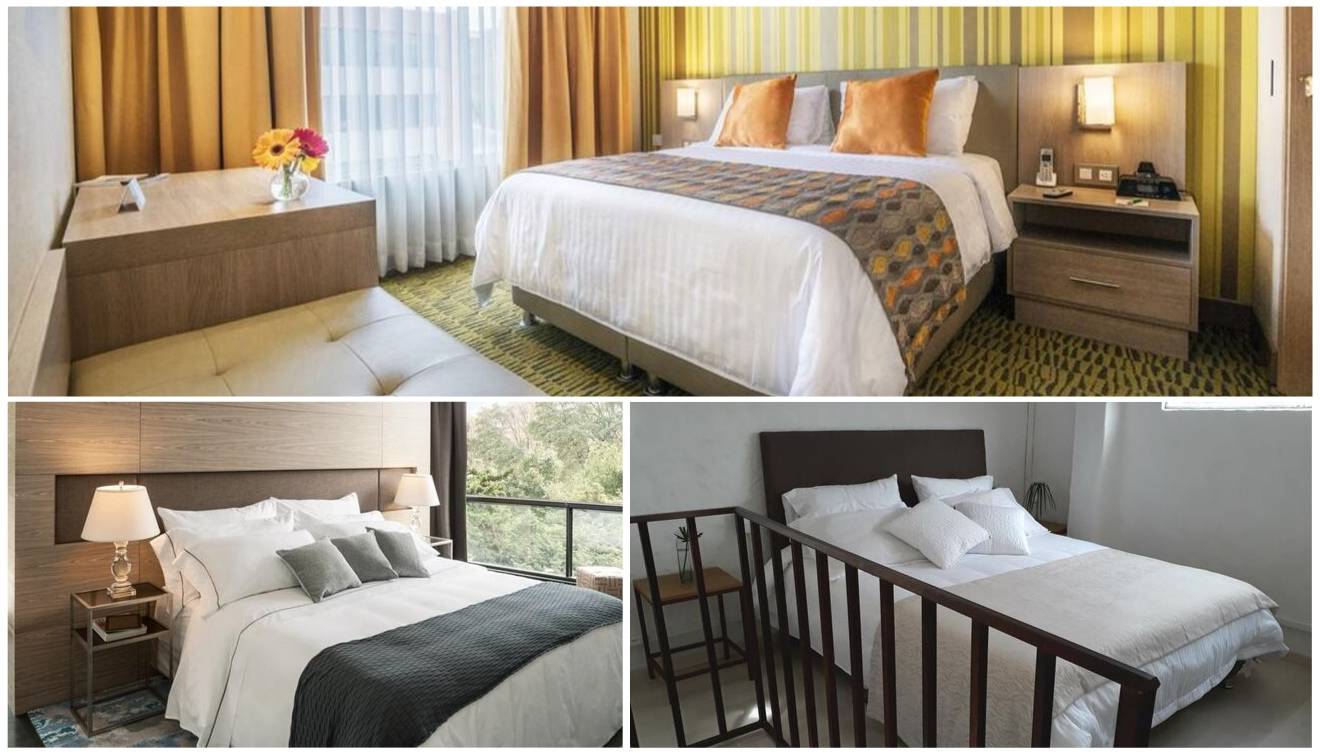 Mid-range (US$50 – US$100)
Budget (up to US$50)
BONUS 2: where to stay in Bogota near the airport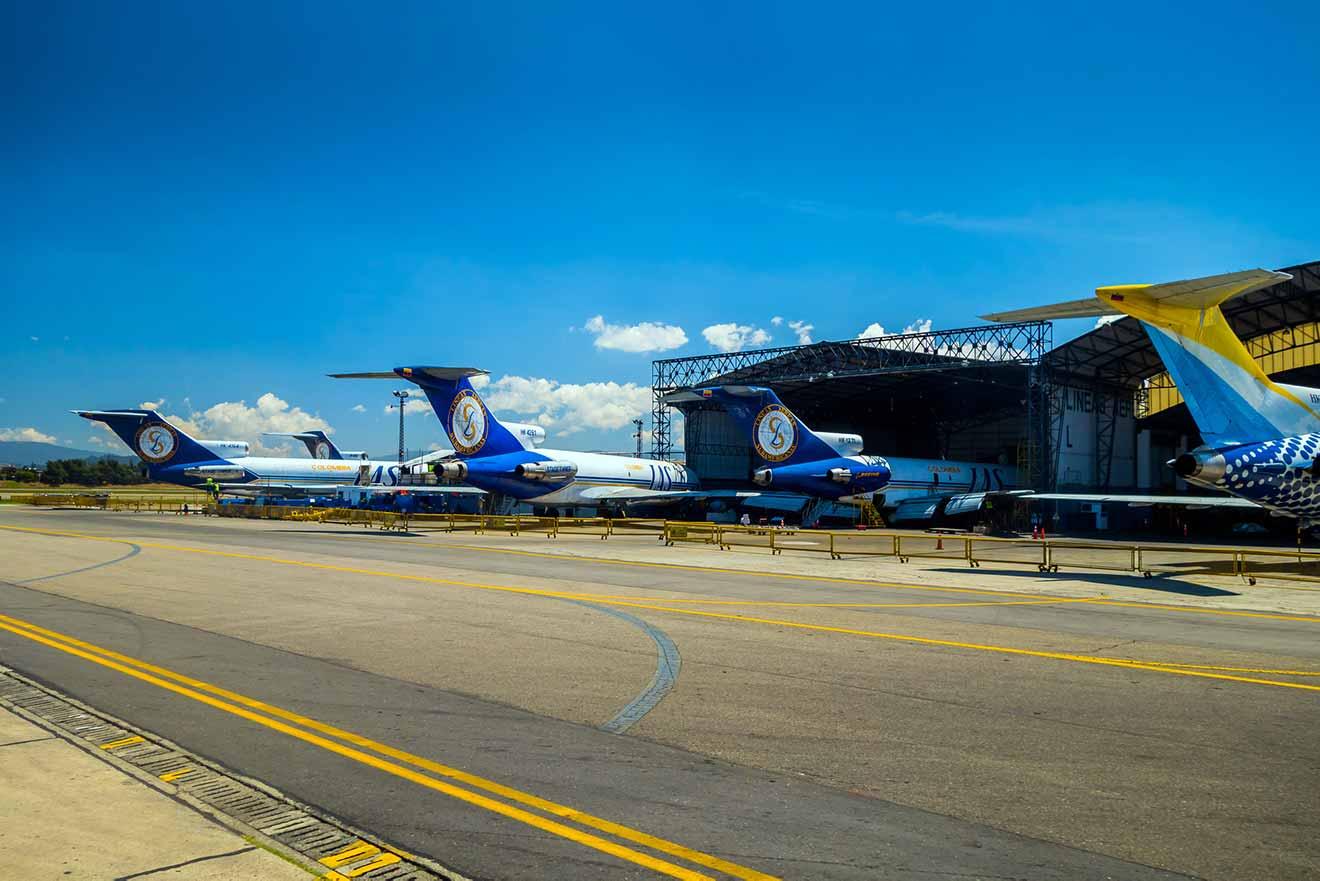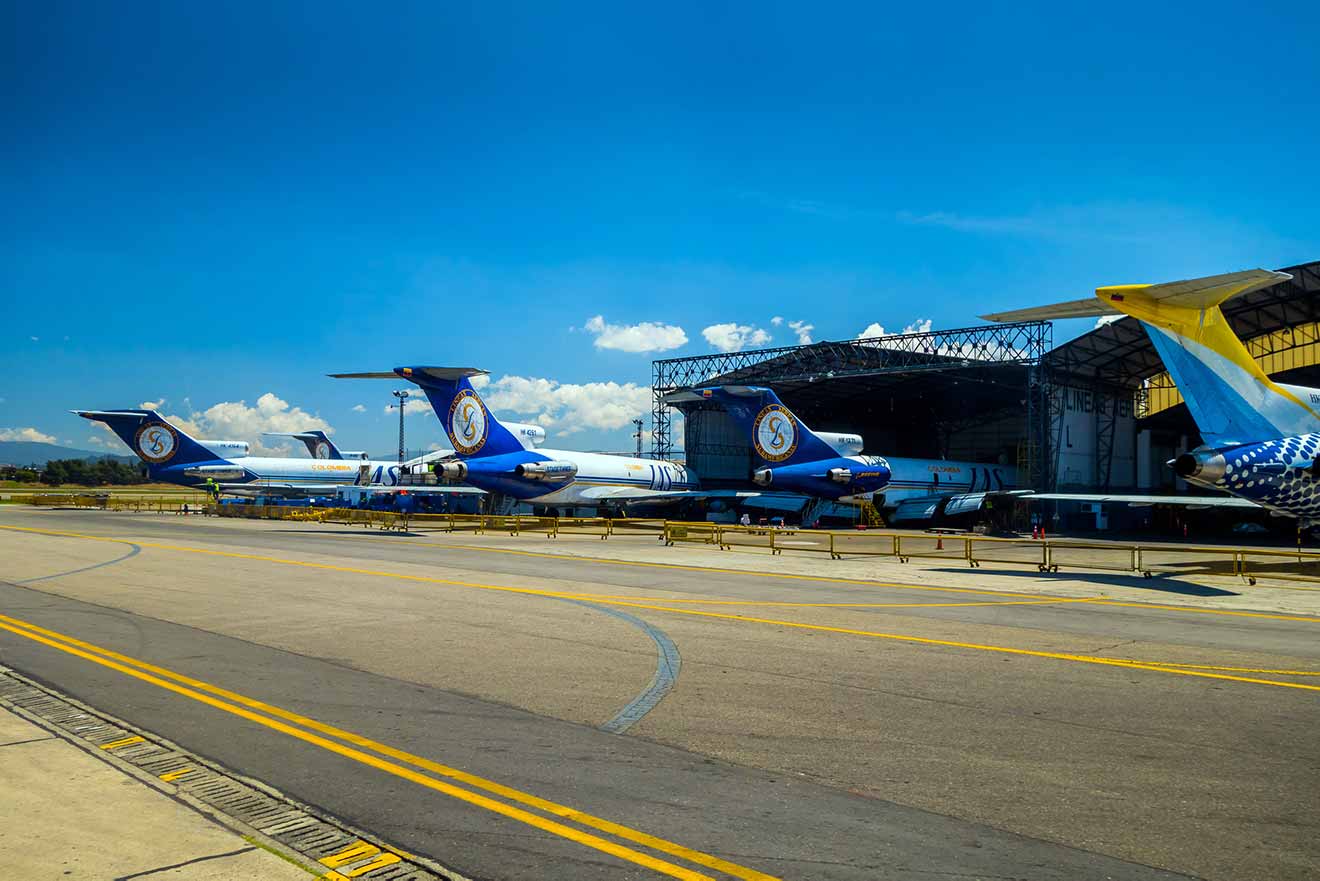 If you are like me and absolutely hate getting to/from the airport/hotel, sometimes you just want to find somewhere to stay close to the airport. And because Bogotá is no exception, I have created this list to find the best Bogotá airport hotel close to El Dorado Airport (BOG):
---
Frequently Asked Questions about Hotels in Bogota
📍 What is the best part of Bogota to stay in?
The best area where to stay in Bogota, especially for first-time visitors, is Teusaquillo, either at the luxurious Grand Hyatt Bogota or
DoubleTree by Hilton if you're looking for good value for money.
🕵️‍♀️ What are the safest neighborhoods in Bogota?
The safest areas in Bogota are the upscale El Chico / Parque 93 or the cool Chapinero / Zona G neighborhood.
🤔 Is Bogota Colombia safe for tourists?
Bogota is actually one of South America's safest urban areas, with a low violent crime, but of course, you have to be careful and avoid walking in certain areas especially at night, like La Candelaria.
🕺 Where to stay in Bogota for nightlife?
Conclusion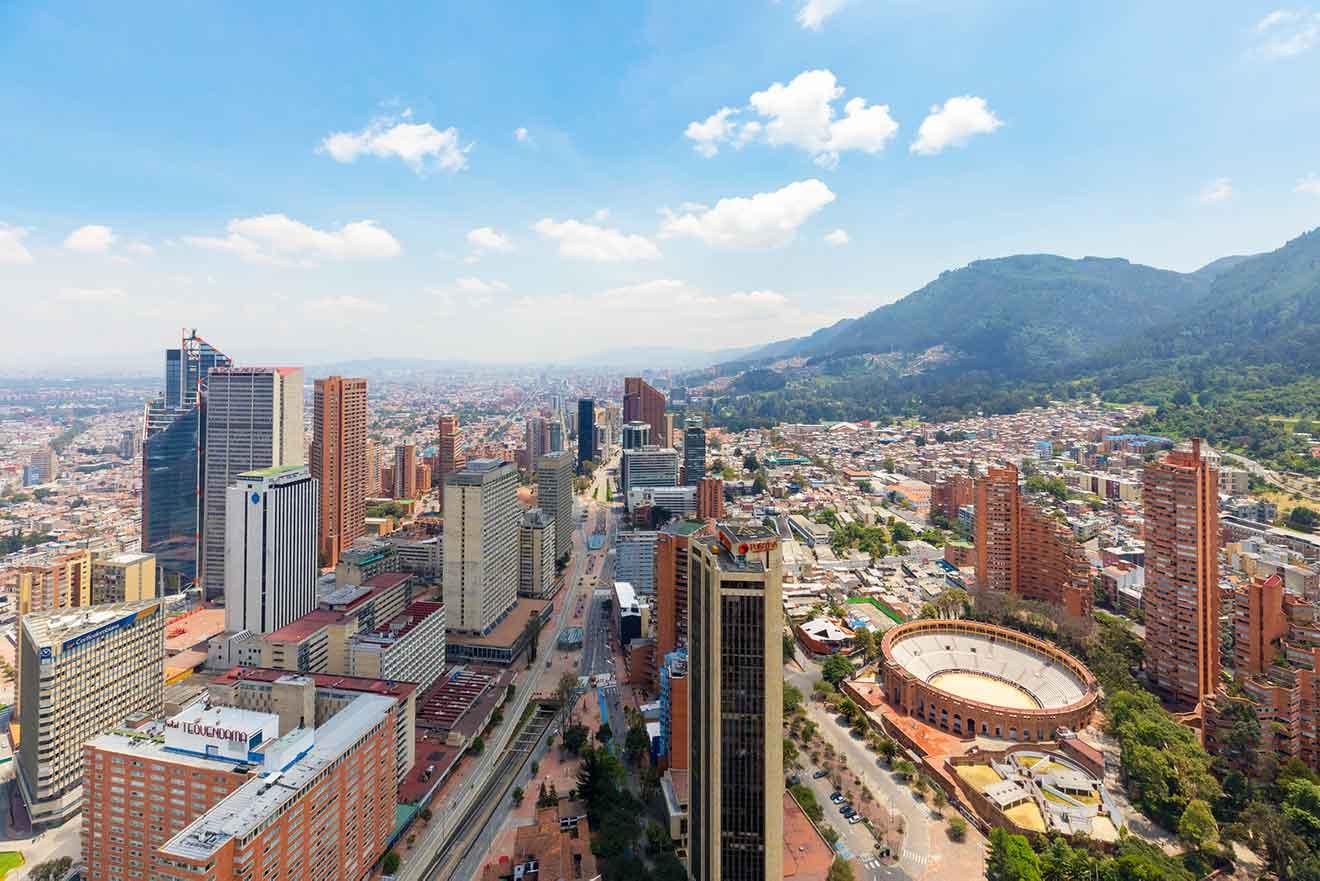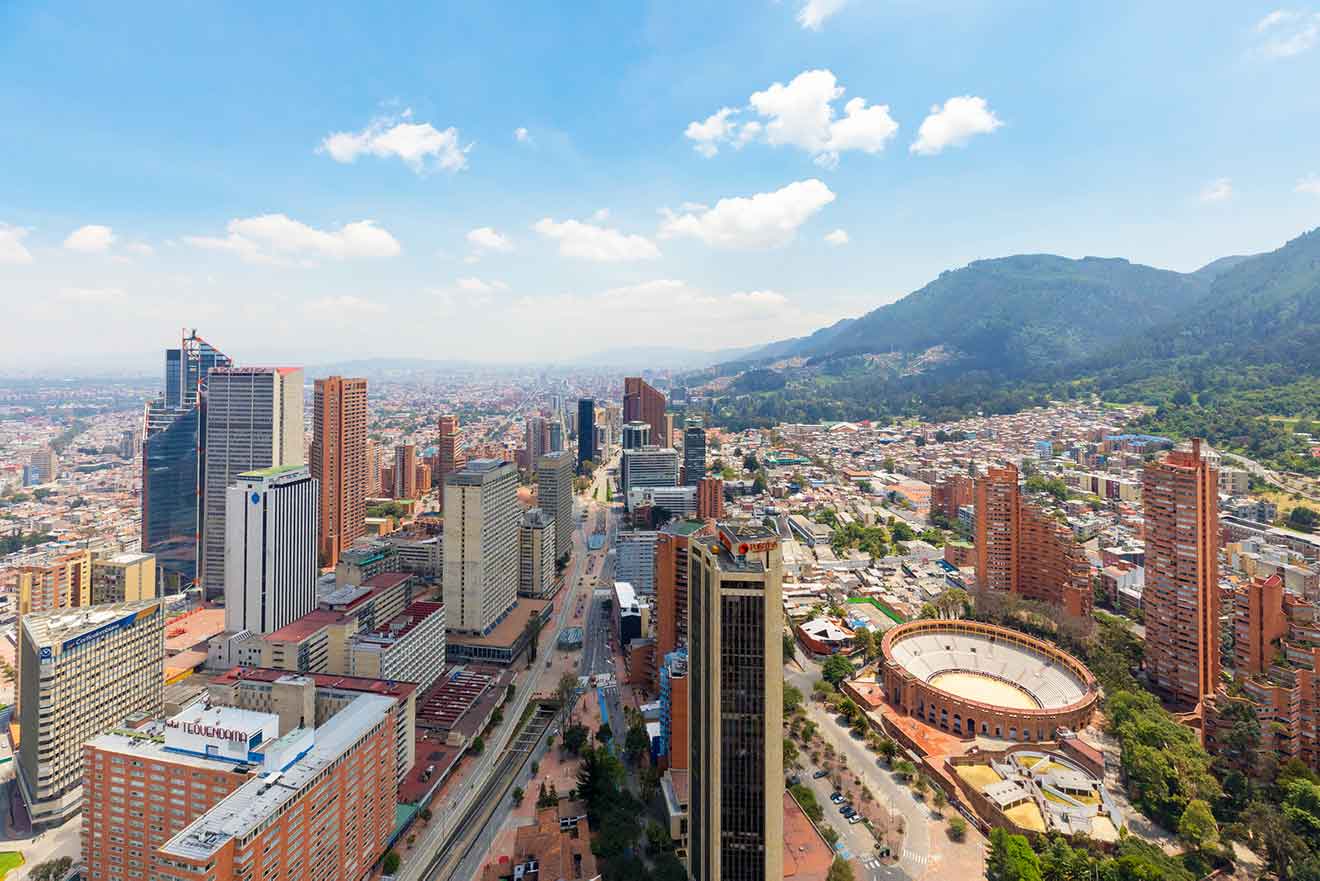 We made it to the end!
That is my complete guide on where to stay in Bogota! No matter whether you're a baller businessman, a regular family or a budget backpacker, there are countless options for you to rest your weary traveling head Bogotá every night. From budget hotels and apartments to boutique hotels and even a couple close to the airport, I have done the hard work for you, and now the hard part belongs to you, the choosing.
But let me give you the last help, I can imagine you could be a little undecided after so many great options! Here are the 2 best hotels with great reviews and locations:
A word of warning: Bogota accommodation is often booked far in advance. Therefore, I recommend booking as soon as you know your travel plans, there's nothing worse than having to settle for a second-rate hotel on your dream trip!
Oh, and by the way, if you want to find out about the best things to do in the city, I recommend checking out my article – Best Things to do in Bogota!
I absolutely loved my time in Bogotá (my favorite Colombian city) and I know you will too! If you have any questions or queries feel free to drop me a comment below and be sure to check out the rest of my posts about Colombia here.
Happy travels!
Arantxa
---
Pin it for later!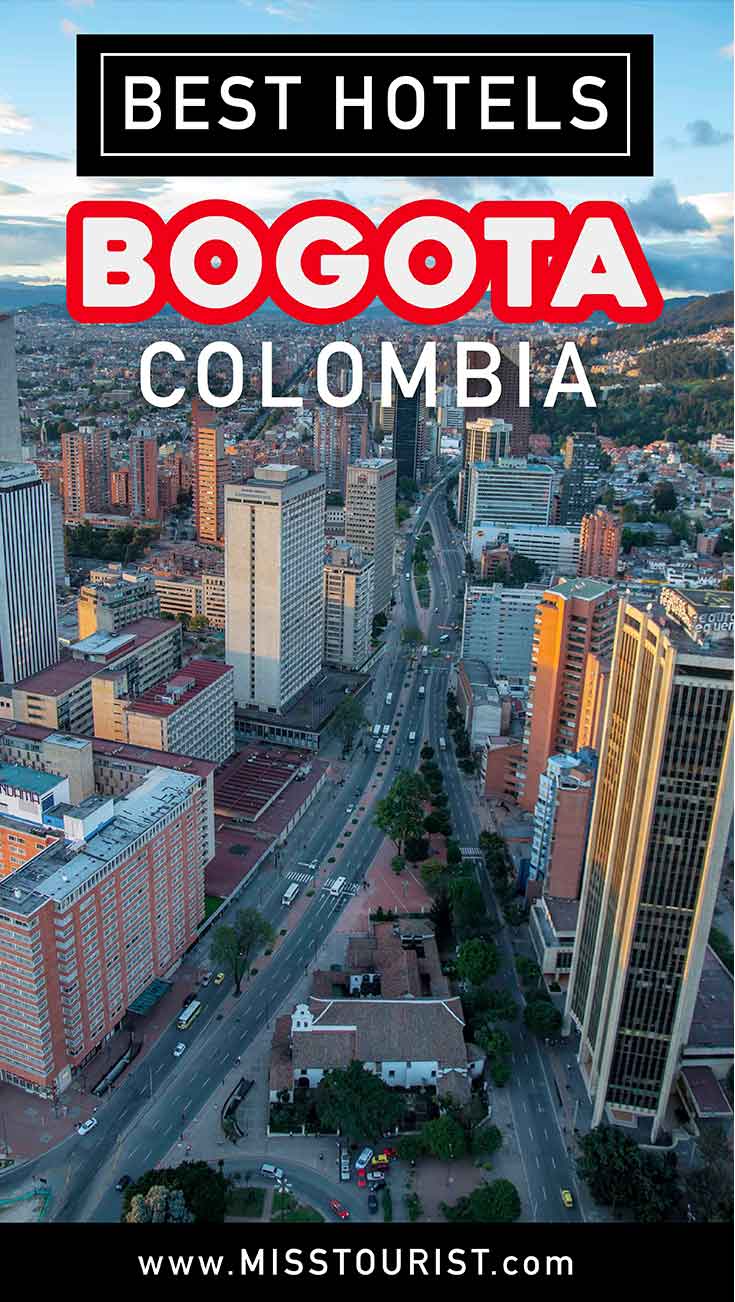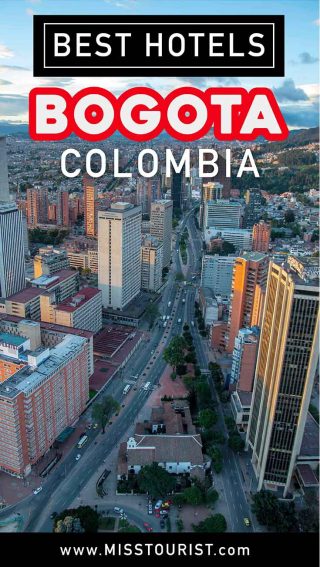 Pin it for later!