Bogotá, the capital and largest city in Colombia is a historically significant and stunning destination for travelers to enjoy, with a temperate climate that offers a nice escape from the heat and humidity from the rest of the country!
Located right in the middle of the country and surrounded by national parks, green spaces and the famous Monserrate mountain, Bogotá is bursting with things to do and see and requires at least a few days to fully appreciate! Luckily, I have done the hard work for you and in this guide, I will take you through some of the best places to stay in the Colombian capital for all budgets and preferences!
PRO TIP: A word of warning, Bogotá is a city of over 7 million people and an important finance and commerce city for not only Colombia, but also for Latin America, so Bogota accommodation is often booked far in advance. Therefore, I recommend booking as soon as you know your travel plans, there's nothing worse than having to settle for a second-rate hotel on your dream trip!
The only remaining question is: where to stay in Bogota? So here it is, your ultimate guide Bogotá hotels, as they would say in Colombia: ¡Empezamos!
Best Hotels in Bogotá, Colombia
Bogotá plays host to millions of travelers every year from all different kinds of backgrounds and with equally differing budgets. From famous Hollywood stars and billionaire businesspeople right down to budget backpackers who are looking to save at every chance they get. So, you just know that there will be a wide range of accommodation options catering to every travel style!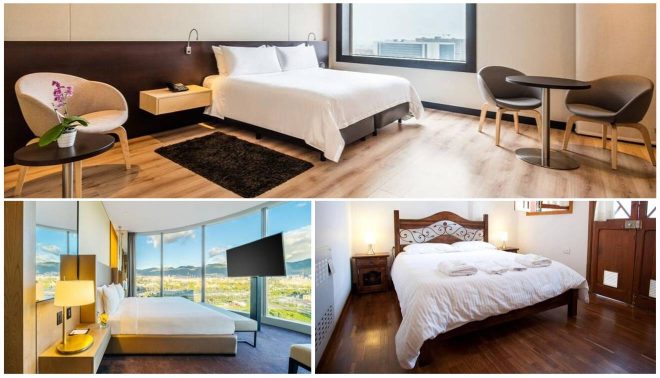 Luxury ($160 USD and up)
In this section I will be discussing the best of the best! If you like to indulge and have every available luxury at your disposal after a day of sightseeing, then this section is for you. Let's head straight into the Bogota 5-star hotels section!
Grand Hyatt Bogota – If you love to be charmed by stunning views, impeccable service and unparalleled amenities, look no further! Boasting amazing facilities such as sauna, pool, gym, restaurant and even a bar, The Grand Hyatt is, in my opinion, the best 5-star hotel in Bogota, Colombia!
Marriott Bogota Hotel – In a similar fashion, The Marriott offers many of the same facilities as the Grand Hyatt, and their breakfast is delicious, some of the best hotel coffee ever! The Marriott boasts two restaurants and an added bonus is that it is somewhat close to the airport, making it the best area to stay in Bogota!
Hilton Bogotá – Location, location, location! If location is important to you, then this hotel is the pick of the three. Located in downtown Bogota and with many of the same facilities as the other two hotels in this section, you can't go wrong with The Hilton!
Middle-priced (From $55 USD to $160 USD)
If great service and good facilities are something you look for but you don't want to spend all of your travel budget on accommodation, then this is the section for you.
Here I have provided excellent options that will allow you to feel comfortable and welcome and at the same time save a few pesos for extra shopping, eating or partying!
Hotel Radisson AR Bogotá – This hotel is home to an excellent in-house restaurant that will allow you to eat for a reasonable price. In addition, the decor is tasteful, modern and contemporary! In reality, the Radisson Bogotá could really be in the luxury section, the quality-price relation is amazing.
GHL Hotel Capital Bogotá – This hotel is an excellent choice for an extended stay as the in-house facilities are so many! Offering two restaurants, a bar, an outstanding gym and health facility, The Capital will really feel like home! The hotel also offers an airport shuttle service free of charge.
Hotel Dann Carlton Bogotá – This hotel is an impressive building! Grand, bold and classy, the decor matches the service provided by the staff and you will feel like a million bucks throughout your stay! Located in the financial district, this is an excellent boutique hotel in Bogotá!
Budget (Up to $55 USD)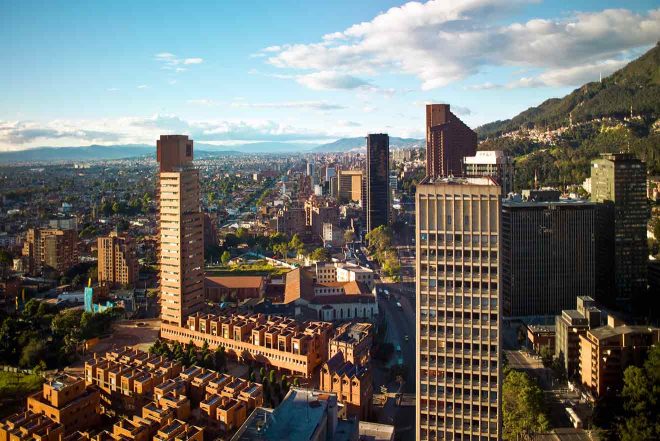 If you're travelling to Bogotá on a budget, don't worry, the city is full of budget accommodation options that won't make you feel like you're living out a scene from a horror movie!
Colombian accommodation properties in general take pride in cleanliness and service, so even cheaper alternatives in the capital will make you feel comfortable and welcome. Don't be scared by the word budget, this section may contain some of the best places to stay in Bogotá and even some hotels in Zona Rosa, Bogotá.
Arche Noah Boutique Hostel – This boutique hostel is exactly that: boutique. It has an extremely impressive terrace to enjoy a nice cold beer or warm cup of tea on those cool mornings! The decor is impressive too, styled as a traditional high-altitude Colombian house. This is one of the best hostels in Bogotá, highly recommended!
Hotel B3 Virrey – Although B3 Virrey has a modern, classy restaurant and outdoor terrace bar, my favorite aspect of this hotel is the façade! Featuring a living wall from top to bottom, it is always a stunning welcome returning to the hotel after a long day! B3 Virrey is located in the Zona T Bogotá area, an added bonus!
Hotel Ibis Bogotá – This hotel does not disappoint! The rooms, as always, are simple, clean and comfortable (especially the beds). Ibis has an impressive terrace dining area with equally impressive views. The hotel's location is also great, close to museums and cultural installations!
Best Apartments in Bogotá, Colombia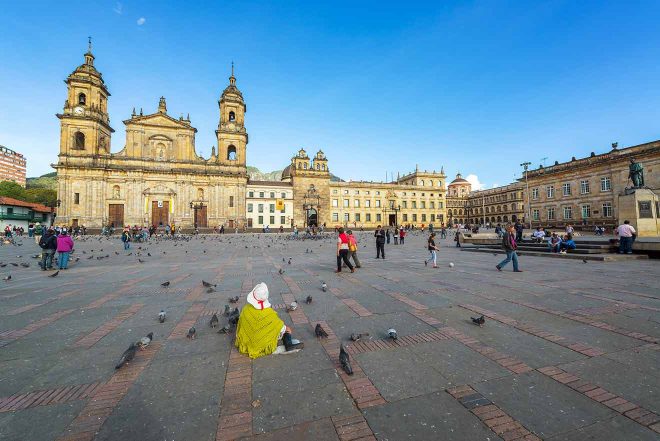 If you are the kind of person who prefers a touch more privacy and independence whilst you travel, Bogotá is a paradise of apartments and self-contained properties that will allow you the freedom to really set up camp and relax! Offering benefits such as the ability to cook your own meals (and therefore save money to splurge elsewhere), I often choose to stay in an apartment.
Much the same as the hotels, The Colombian capital has options to satiate the needs of all different types of budgets. So jump in to my guide of apartments for rent in Bogotá, Colombia!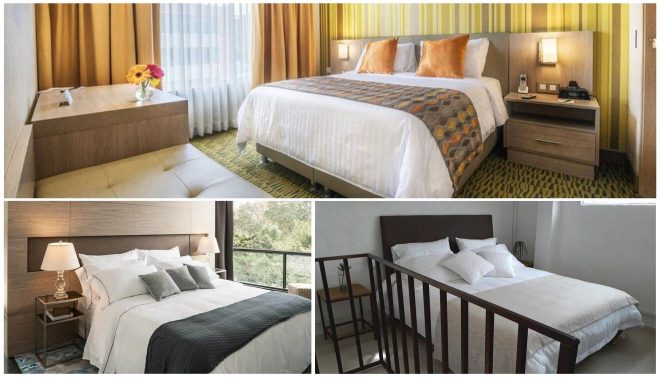 Luxury ($160 USD and up)
8010 Urban Living – The best choice of Bogotá apartments! If you want to feel like you're staying in a park avenue loft whilst in Bogotá, then this is the place to stay! In addition, it's located in one of the best neighborhoods in Bogotá, Chaperino which is within the Zona Rosa in Bogotá.
93 Luxury Suites & Residences – Another super choice in Bogotá, this apartment features simply some of the most stunning interior design and decor that I've ever seen! The views are breathtaking and the location is great. These apartments truly feel like a home, not a temporary residence!
100 Luxury Suites – Classy, spacious and opulent! One thing to note is that this property is a hotel/apartment hybrid, meaning there are many facilities you would find in a hotel (gym, wellness center, restaurant) but having an apartment, it is highly recommended! The suites are located in one of the best Bogotá neighborhoods.
Middle-priced (From $55 USD to $160 USD)
In this section you will find lovely apartments that are comfortable, cozy, clean and spacious, basically all the aspects one would look for in a home. There are also some really great properties in here that won't require a big nightly fee!
Apartamentos Plaza Suites – A self-contained apartment that ticks all the boxes; spacious, clean, good location, great facilities and little bit of luxury sprinkled over the top all within a reasonable budget? Yes, it is possible and it's what you'll find at Apartments Plaza Suites! The price even includes a buffet breakfast, however, the location in Usaquen is my favourite part about this property!
Loft Centro Internacional – This is another great option with a pool and a fitness center, plus all the trappings of a home! The apartments themselves are tidy, simple and spacious, make sure you request one with a view as they are simply stunning. With a modern tv and balcony, the apartment will make you feel right at home!
Kalos Meraki ApartaSuites – Another property that falls into the category of hotel/apartment hybrid, these suites are a great choice for those aren't quite decided between a hotel or apartment. One of my favorite features of these suites are the beautiful wooden floors, I'm a sucker for wooden décor!
Budget (Up to $55 USD)
Despite the fact that these properties are on the cheaper side, there are also some great finds in here. You can stay in a very nice apartment in Bogotá for the fraction of the price you would in Europe or North America, so check out these budget options:
Casa Del Arbol – Do you want to stay in a cool, art deco style apartment with two levels, all for around $50 a night? Well this is your perfect destination! Watch out! It is often booked out months in advance. The property is located inside La Candelaria which is the best place to stay in Bogotá for nightlife, making this one of the best cheap hotels in Bogota!
Apt Nororiente 203 – This property is a great budget choice! For quite an affordable price, guests can enjoy their own apartment which includes your own bathroom, kitchenette and even an outdoor terrace. The terrace is roofed off; which makes it a nice place to sit and relax the Bogotá night away.
Apartaestudios Los Andes – For a budget option these apartments are really great. They have a frequent cleaning service, kitchenette and are located close to the action, surrounded by cafes, restaurants and bars. There is an in-house restaurant and conference center, and the rooms are modern and spacious.
Best Hotels in Bogotá near the airport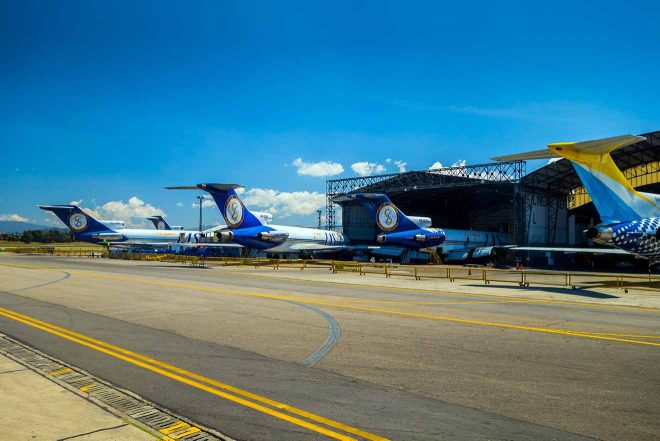 If you are like me and absolutely hate getting to/from the airport/hotel, sometimes you just want to find somewhere to stay close to the airport. And because Bogotá is no exception, I have created this list to find the best Bogotá airport hotel close to El Dorado Airport (BOG)!
Oh, and by the way, sometimes these airport hotels can even be better than those in the city center!
Luxury ($160 USD and up)
In this section I have gathered a few hotels that are both close to the airport (some even including a free transfer) and also are either 5 star or very close to, enjoy!
Hilton Garden Inn Bogotá Airport – If you want the luxury and service of some of the city center hotels right next to the airport, this is your choice! The amenities and service are at a very high level, in house dining, in-room coffee machine, spa and wellness center and most importantly a free airport shuttle which couldn't be quicker or easier!
Movich Buró 26 – The main benefit of Movich Buró is its proximity to the airport itself. The hotel, of course, has a restaurant and steak bar which is amazing, definitely grab a drink here during your stay! It is impossible to stay closer to the airport in Bogotá than Movich Buró!
Hotel Sheraton Bogotá – This is an example of excellence that is often only achieved by international chains! From the moment you arrive until the moment you leave, you will feel so welcome, really at home. The services are what really make this a great hotel! One of the great luxury hotels in Bogota.
Middle-priced (From $55 USD to $160 USD)
In this section I've compiled a list of hotels that will allow you to indulge, relax and unwind all for a reasonable price and all in close proximity to the Bogotá airport!
Hotel Habitel Bogota Premium – Hotel Habitel has many different types and sizes of rooms to cater to different groups, but fits perfectly into this category as it offers great service, amenities and spacious rooms for a reasonable price! And of course, it is close to the airport for a late arrival or quick getaway!
Courtyard by Marriott Bogotá Airport – This hotel has everything you could want in a hotel, including a great price! Close to the airport, check. Modern, stylish rooms, check. Exceptional services and customer attention, check. You won't regret staying here as it's close to the airport and offers in house dining and drinking and 24-hour reception.
Hotel Habitel y Centro de Convenciones – Functioning mainly as a convention center and connected hotel, this property is often fully booked. However, if you can manage to grab a room, go for it! Located extremely close to the airport and offering a fabulous place to stay for a reasonable price, it would be my go-to choice!
Budget (Up to $55 USD)
If you are looking for affordable hotels near the airport, then this section is for you! Bonus: there's a real hidden gem in here, a hotel that behaves way above its price!
Oporto 83 – Located in one of the Bogota districts close to the airport, Oporto 83 is a great choice for those on a budget wanting to be able to get there quickly! It is my top choice in this section as it looks and feels like an expensive hotel without the price tag! Oporto 83 is great value for money, hidden gem!
Hotel Casa Modelia – For me, this is one of the best places to stay in Bogota near the airport on a budget. It really has that homestay feel and the hosts will make you feel very welcome from the very beginning! The room is very simple, but does the job perfectly.
Habitaciones Bogotá Aeropuerto – One of the things I love most about this property is that it has a 24-hour front desk, which can sometimes be rare in budget options! It is especially pertinent as a main factor in booking airport accommodation is late check-in or early check-out. All boxes checked for my point of view!
---
Conclusion
We made it to the end!
That is my complete Bogotá accommodation guide. No matter whether you're a baller businessman, a regular family or a budget backpacker, there are countless options for you to rest your weary travelling head Bogotá every night. From budget hotels and apartments to 5 star luxury experiences and even a couple close to the airport, I have done the hard work for you, and now the hard part belongs to you, the choosing.
Just ensure one thing, book ASAP. As I've mentioned, the city is an important international business and tourism destination so the popular hotels get booked up quickly, don't miss out!
Oh, and by the way, if you want to find out about the best things to do in the city, I recommend checking out my article – Best Things to do in Bogota, Colombia!
I absolutely loved my time in Bogotá (my favorite Colombian city) and I hope (know) you will too! If you have any questions or queries feel free to drop me a comment below and be sure to check out the rest of my content about Colombia here.
Happy travels!
Arantxa
Pin it for later!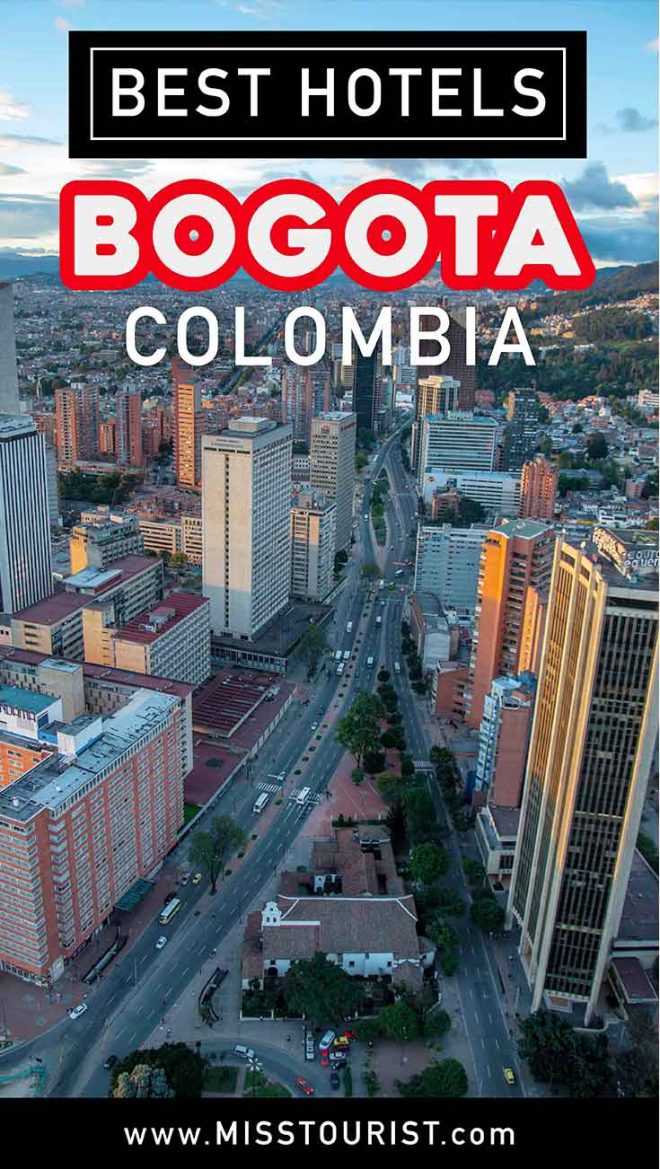 Pin it for later!