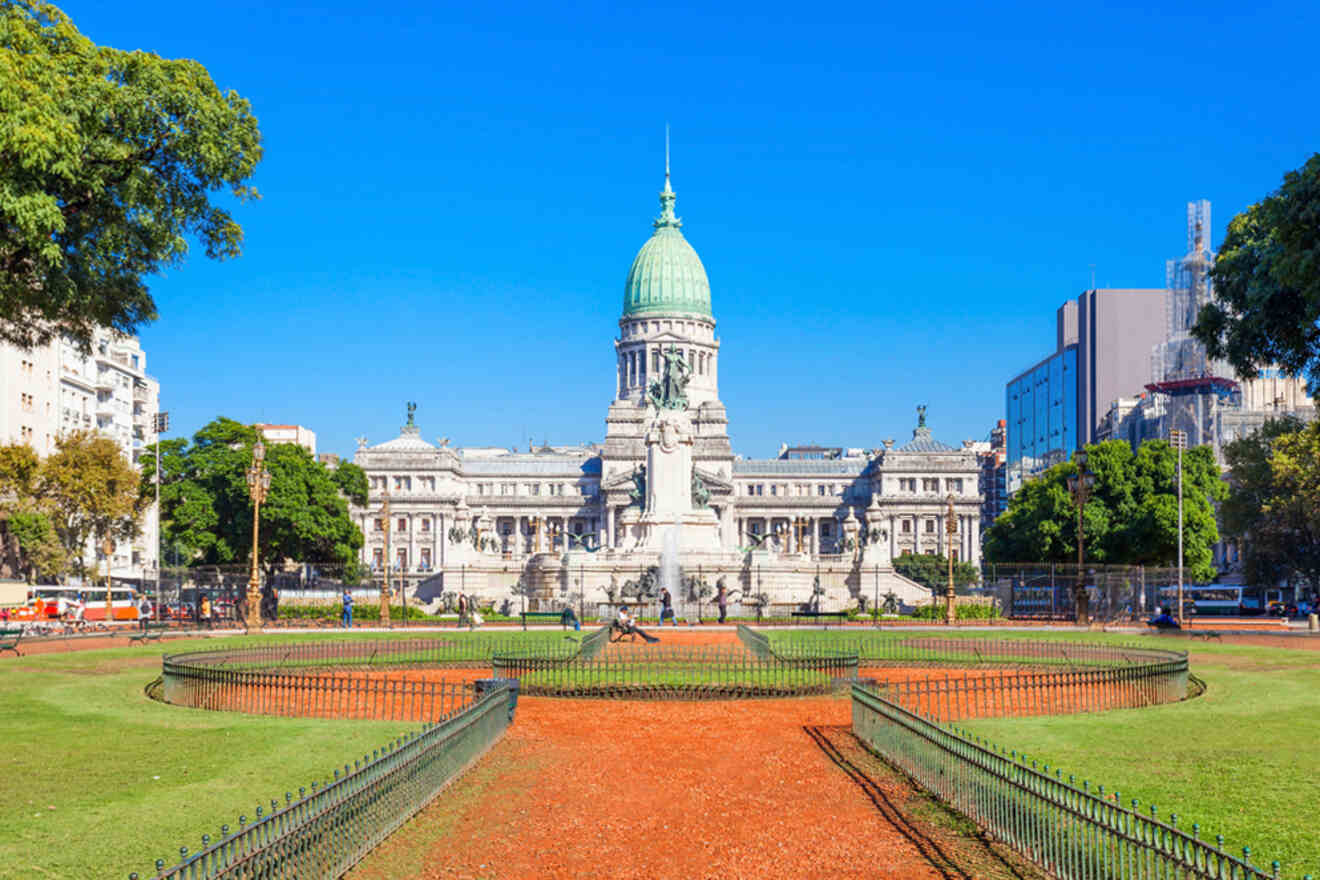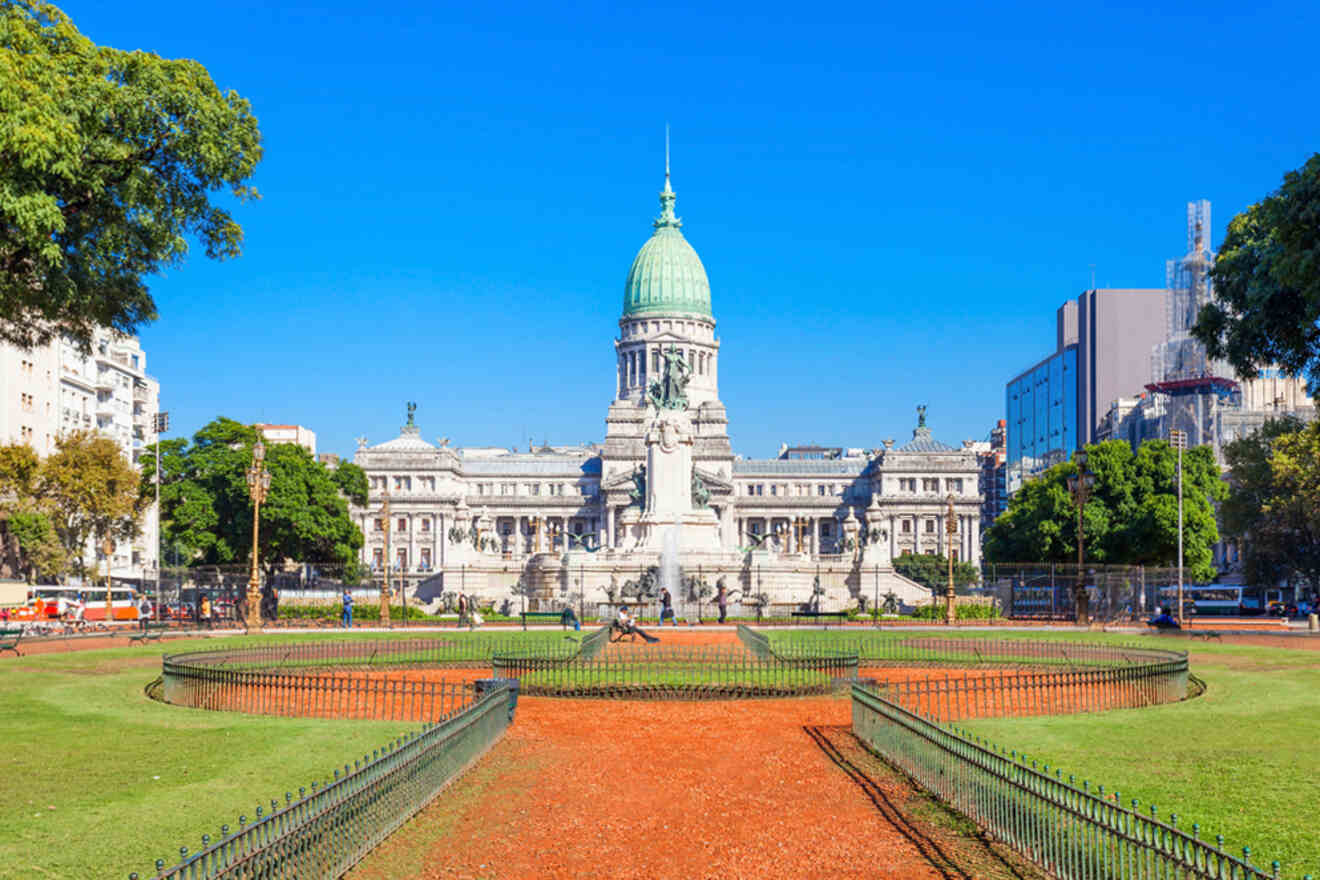 I am so happy you are visiting the city I was born in, which has such a rich history and much to offer! Argentine culture is so diverse and has so much to offer that after this trip, you will leave the country like a new person! So if you're visiting Buenos Aires and want to see the best attractions in the city, I've got you. I know my city, and I am more than excited to give all the pro tips!
I have gathered 24 unique things to do in Buenos Aires, so you can learn about the city's past and present while having the best time of your life! If you are interested in art, history, architecture, and amazing food, stay with me and discover all the highlights of Buenos Aires!
Are you ready to check out the best and most unique Buenos Aires attractions?
Let's dive in!
If you are in a hurry
If you don't have a lot of time to read the whole article and want to book the best tours in the city fast, here are the main things to book in advance:
1. Go for a walk in Puerto Madero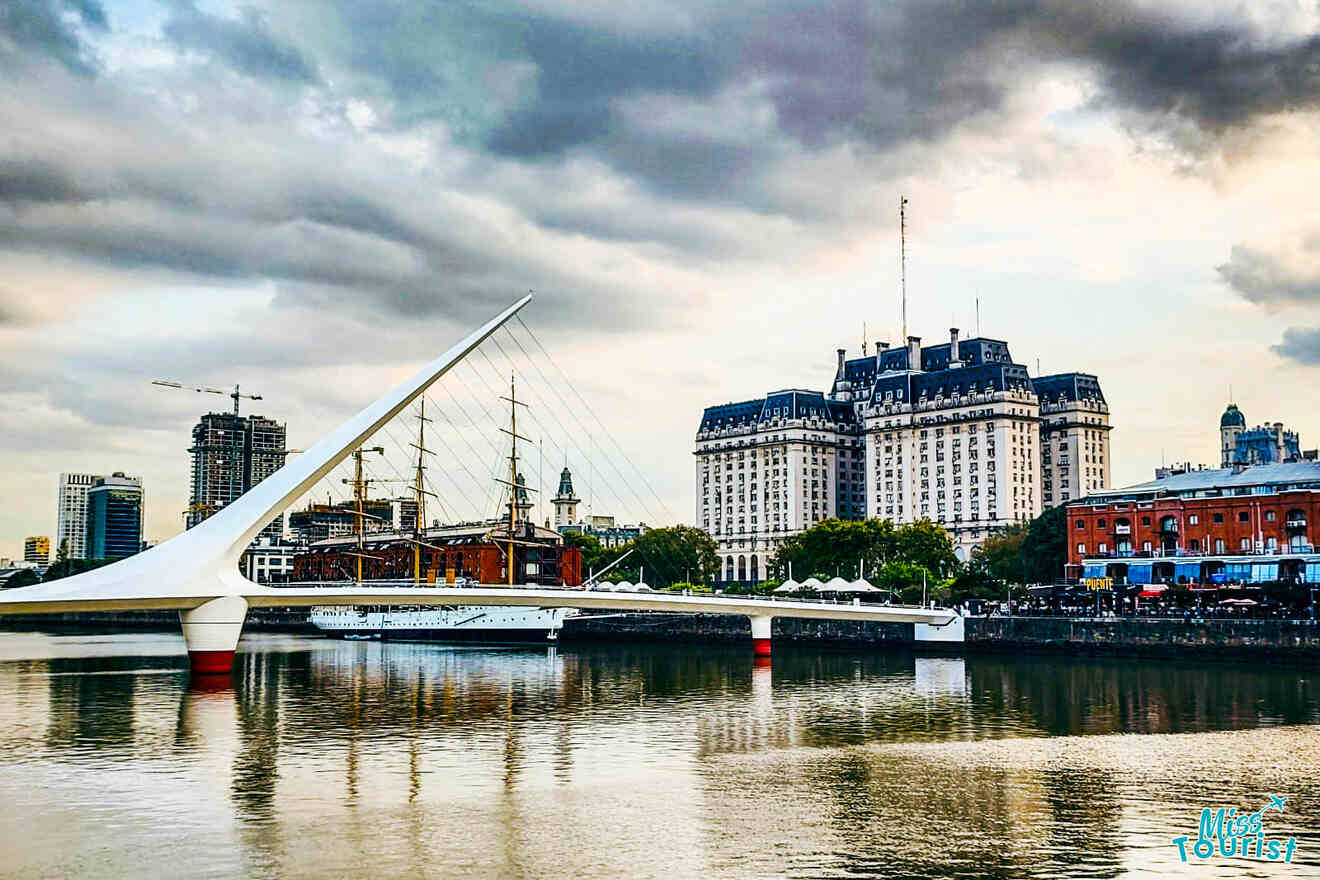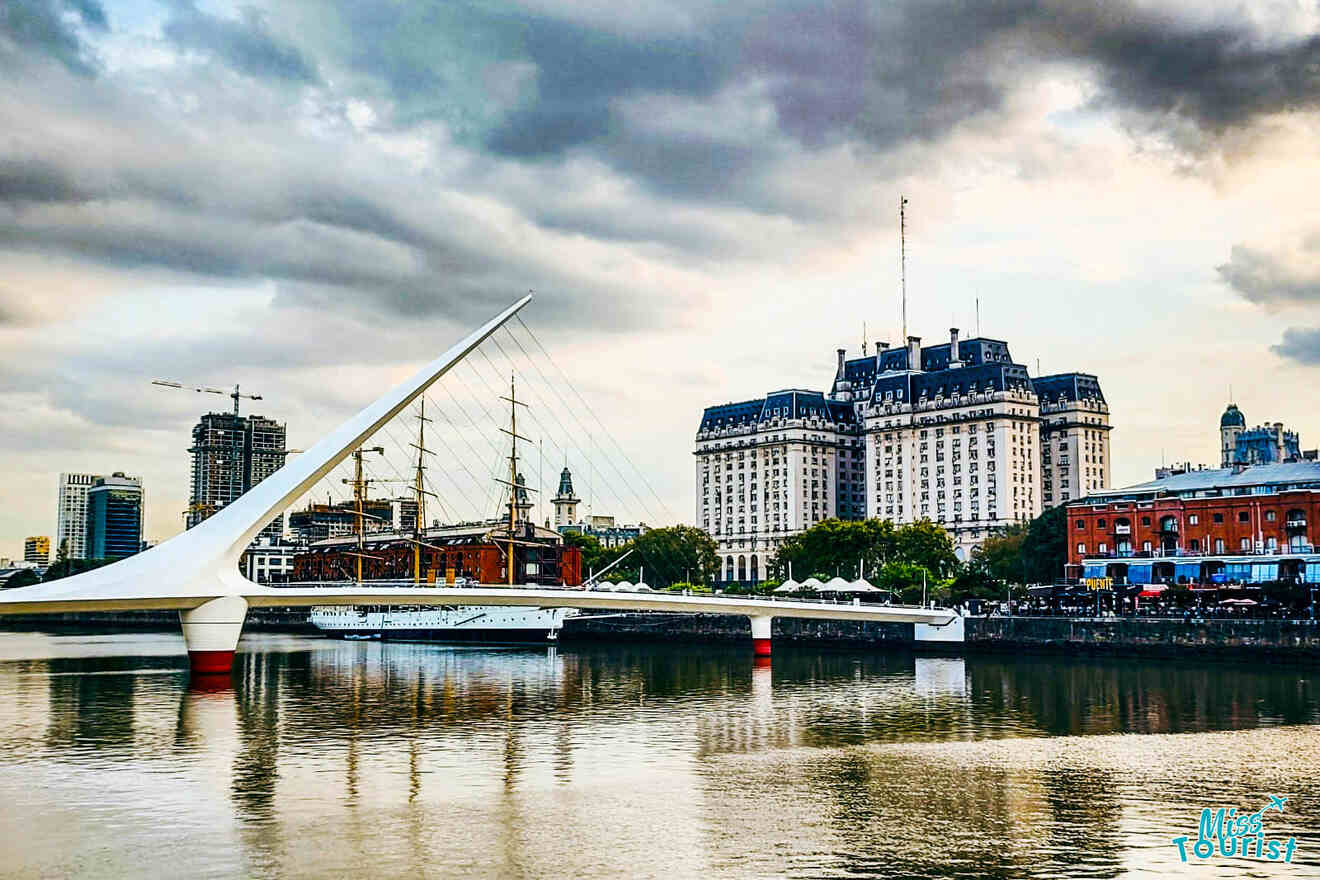 One of the must-stops in the city is the beautiful neighborhood of Puerto Madero, it is probably one of the fanciest districts in the city center, and it is truly stunning! Nothing better than a stroll by the Puerto Madero waterfront to enjoy a beautiful sunset. One of the must-stops in this area is El Puente de la Mujer, which symbolizes a couple dancing tango!
Another must-stop while in the neighborhood is any of the hundred restaurants located in front of the Rio Darsena Sur. The area is super romantic, so if you are traveling to Buenos Aires with a partner, you will love it! Even if you aren't, you will love it, too!!
Buenos Aires is a big city! If you want to master the city before your trip, here you have our guide on where to stay in Buenos Aires.
I've found a great 3 hour walking tour that shows you different parts of the city, one of them is Puerto Madero. The tour starts in Plaza de Mayo and ends in Recoleta!
TOUR PRICE: from US$27
2. Visit the historic Recoleta Cemetery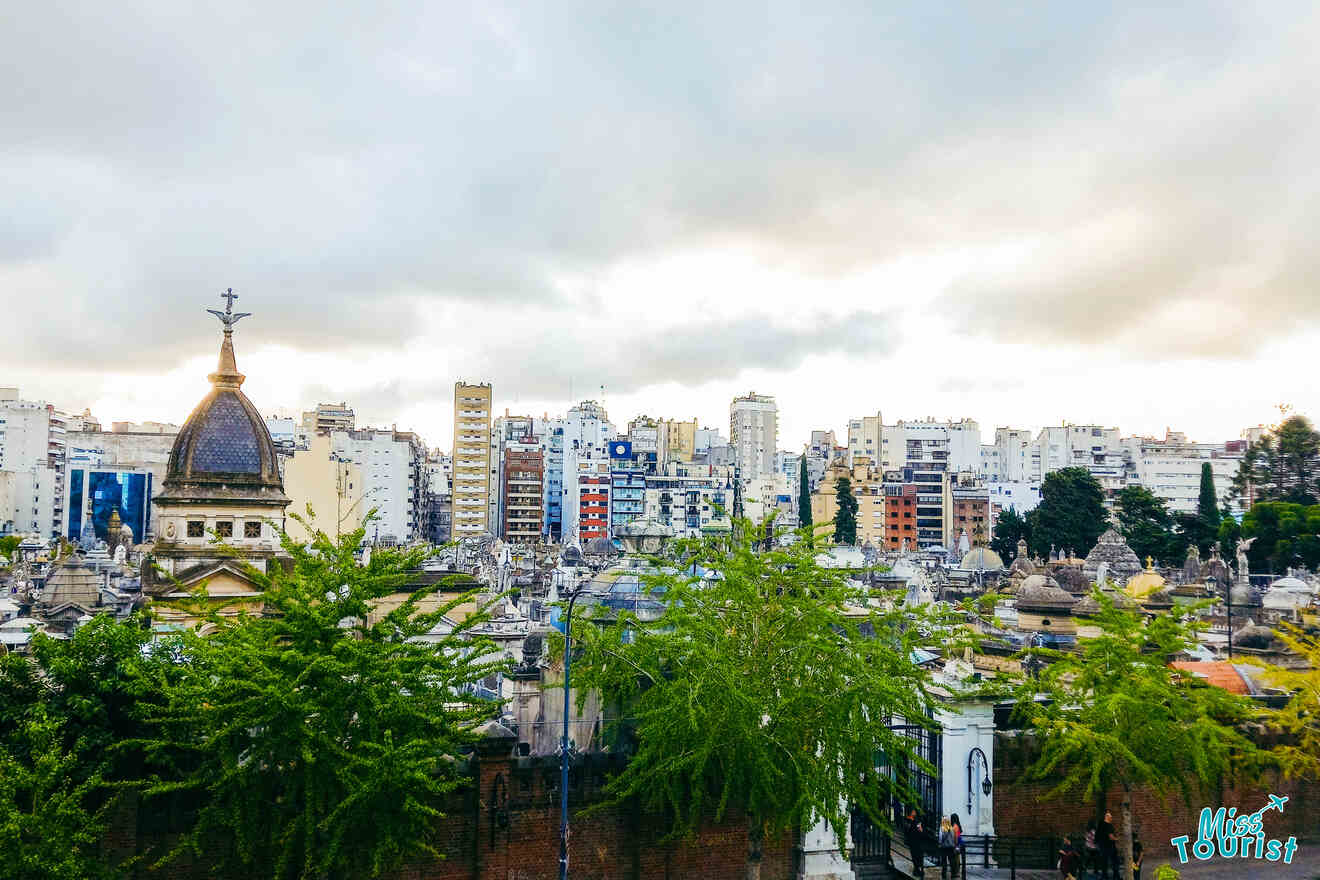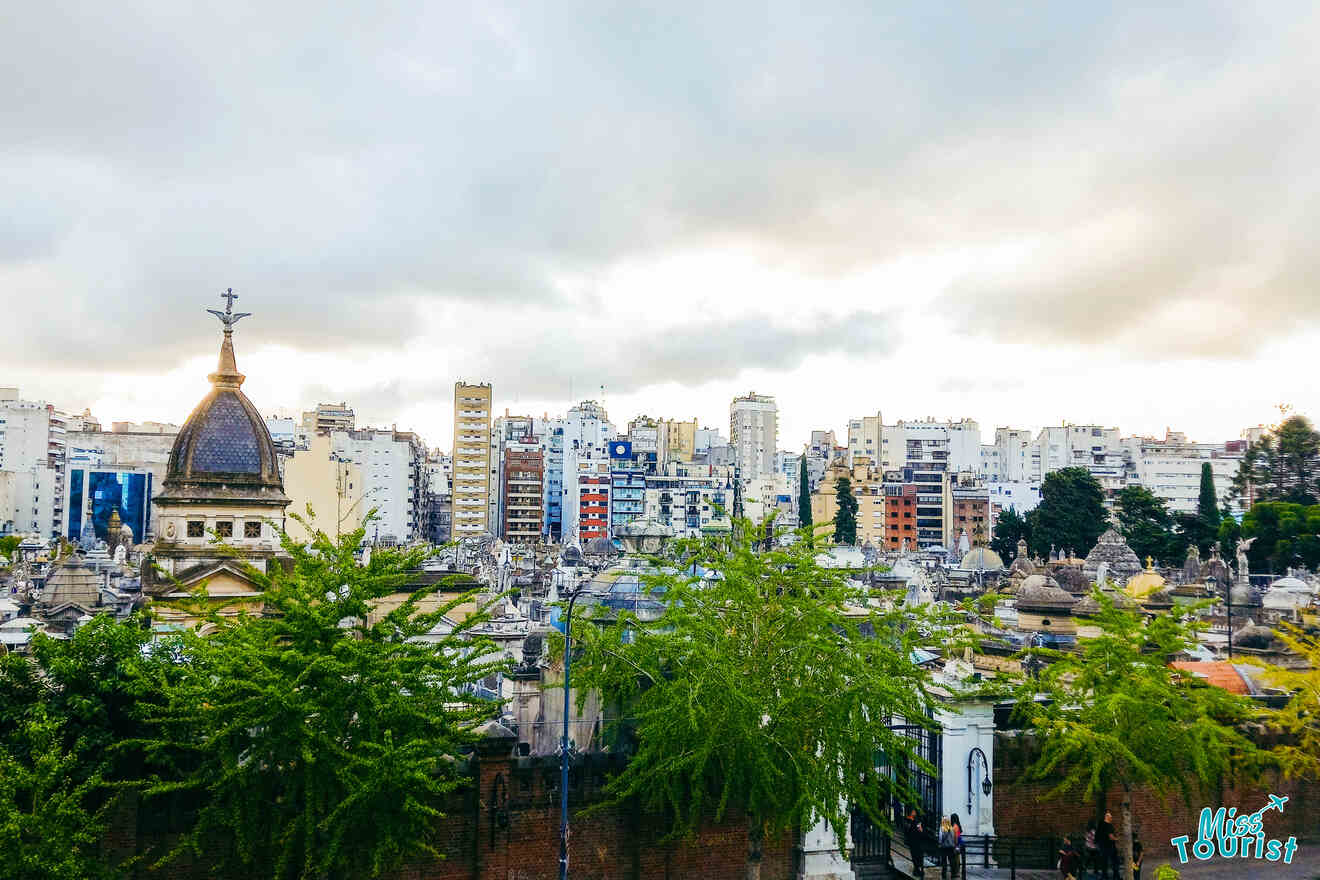 Is it odd to love a cemetery? I don't think so! This one is truly a work of art. The cemetery is located in the middle of the city of Buenos Aires, in the neighborhood of Recoleta, and it is such a big place! You will get lost in the small streets of the cemetery, and you will be amazed by the amazing sculptures and mausoleums.
There are a lot of famous figures buried in this cemetery museum, for example, Eva Perón, and other historical political figures, such as Raúl Alfonsín. I recommend taking your time since it is super big. If you want to learn about all the tales and stories of the cemetery, a walking tour with a local guide is the best way to go!
TOUR PRICE: from US$10 per person
3. Watch an exciting football game in El Monumental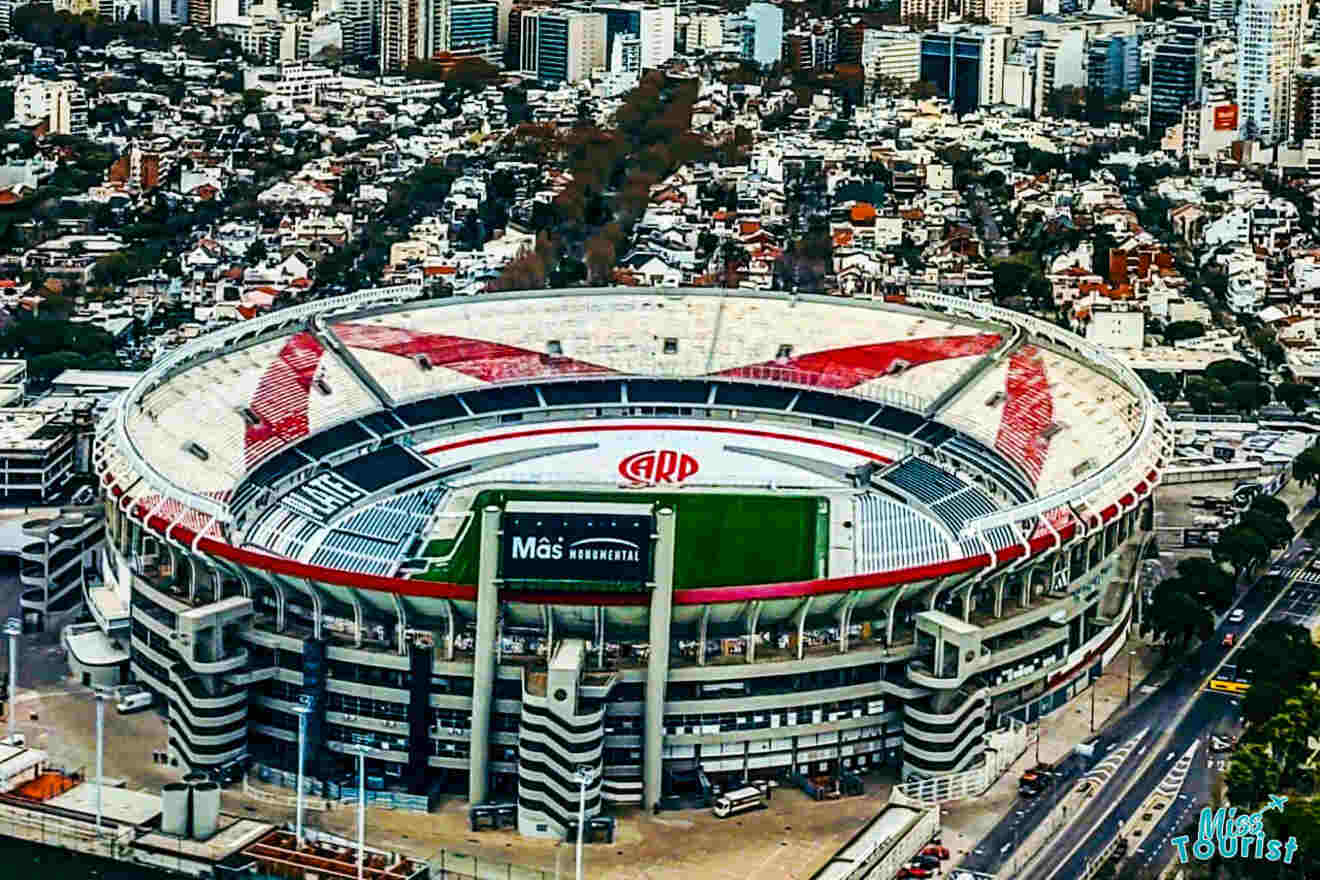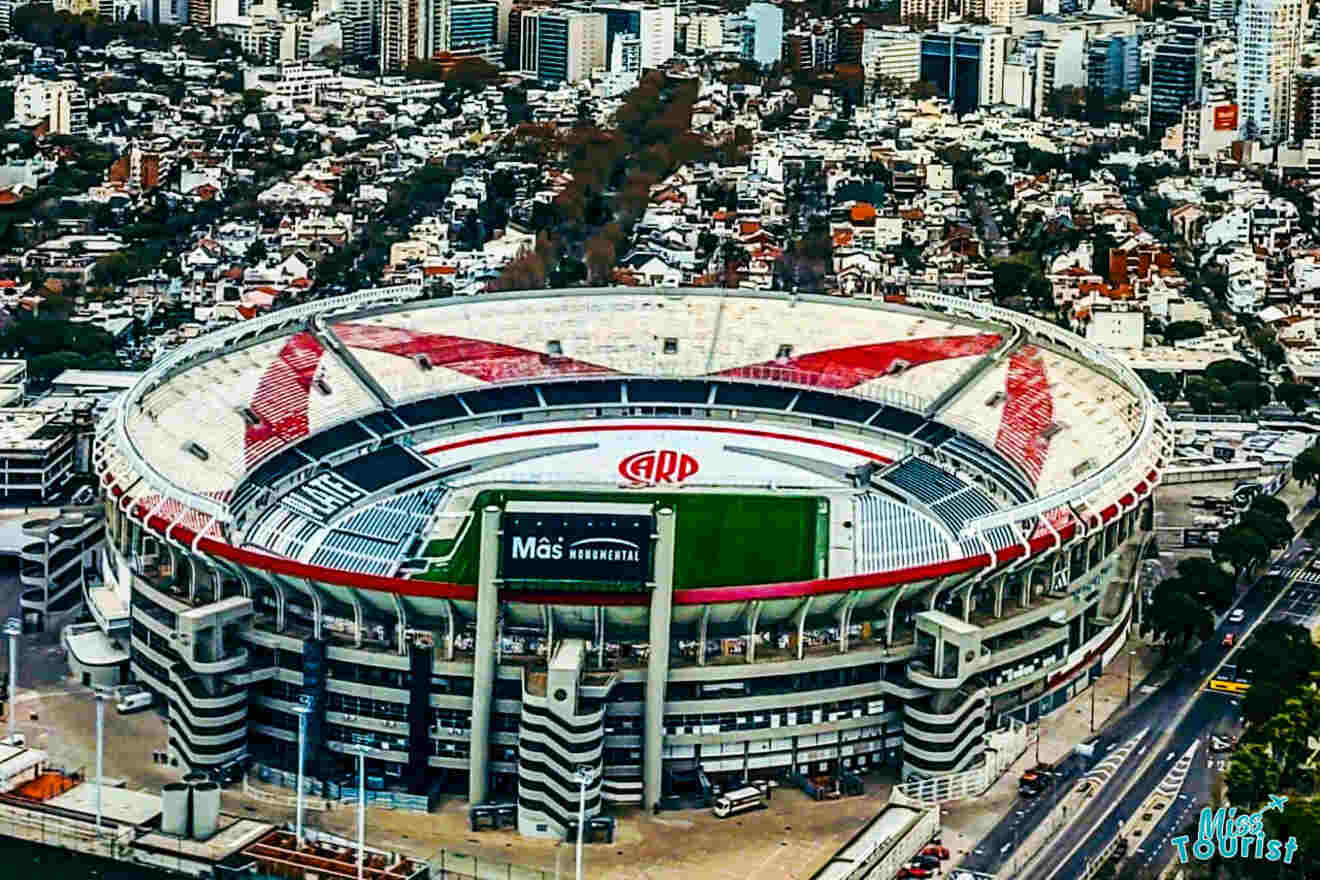 I am pretty sure you know how important football is for us Argentinians, so if you want to experience the culture firsthand, I highly recommend going to a football match! But not any – watch a River Plate match at El Monumental! This football team is the biggest in the country, and El Monumental is the biggest stadium in all of South America!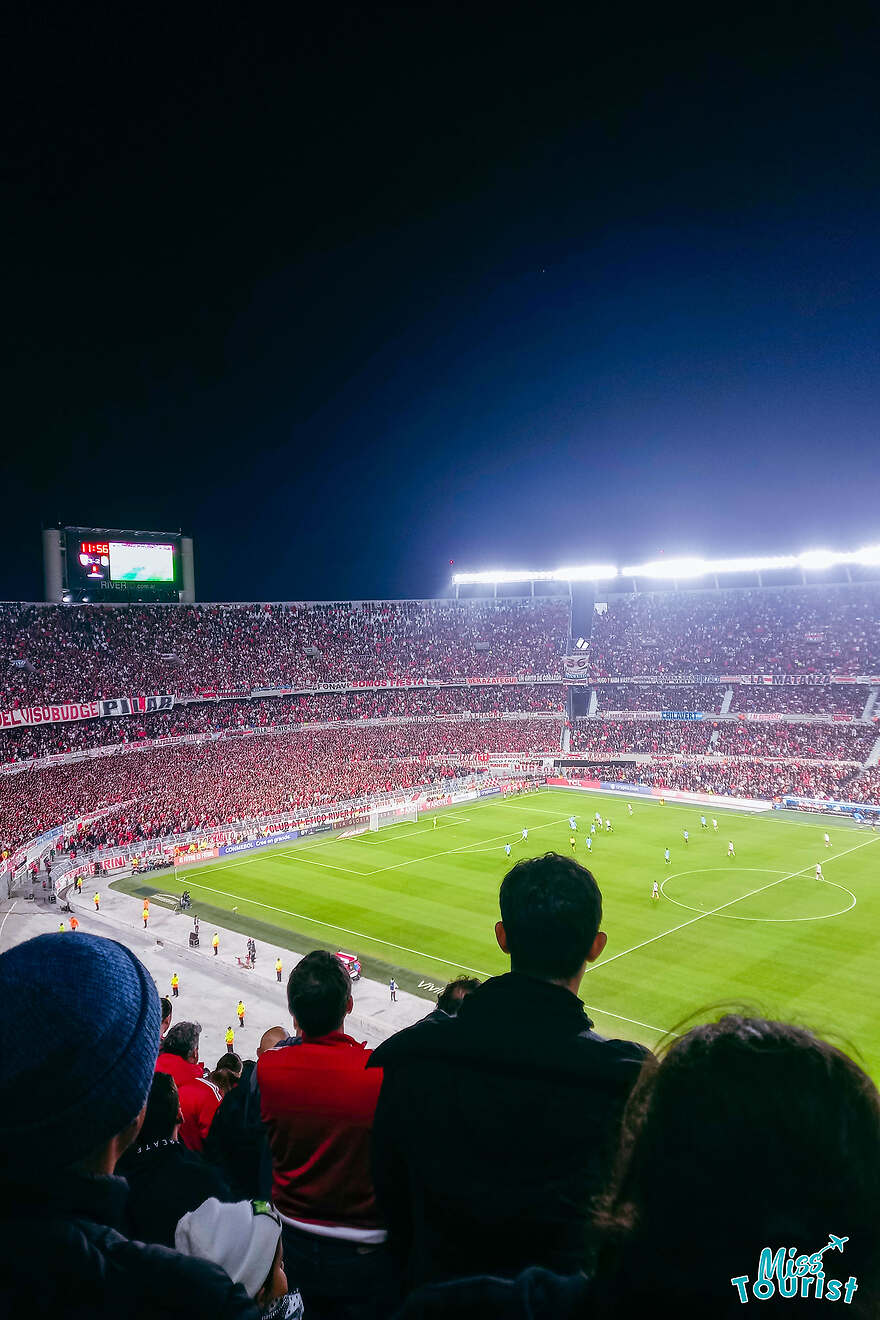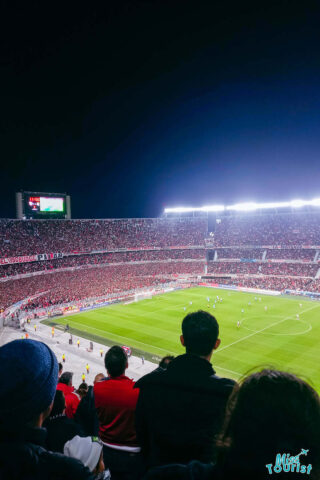 Can you imagine how impressive it will be there?!
You might even visit when a super Clasico is happening, which is River Plate playing against Boca Juniors. So get ready to sing and scream all of River's goals.
If you don't have time to watch a game, you can always visit the River Plate Museum and learn about the team and football history, and, of course, see the stadium itself! As a passionate River Plate fan, I highly recommend it!

PRO TIP: if you are watching a game, go early to avoid crowds and long lines. Keep in mind that the seats don't have numbers, so your spot is not guaranteed if you go late.
NOTE: if you are visiting during winter, take a jacket with you, the stadium is near Rio de la Plata, and it can get super cold!
PRICE: from US$10 per person
Book your museum & tour tickets
4. Romanticize life in San Telmo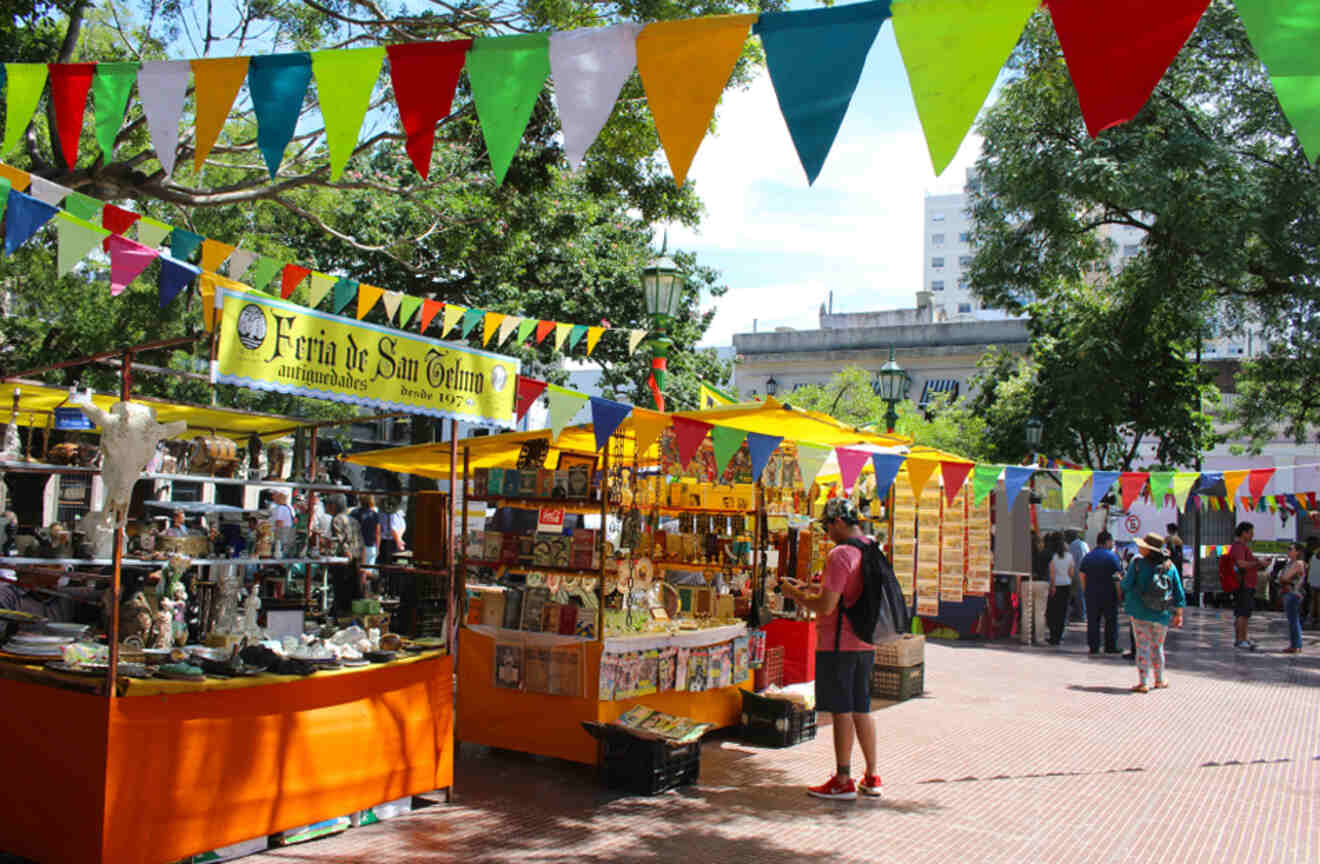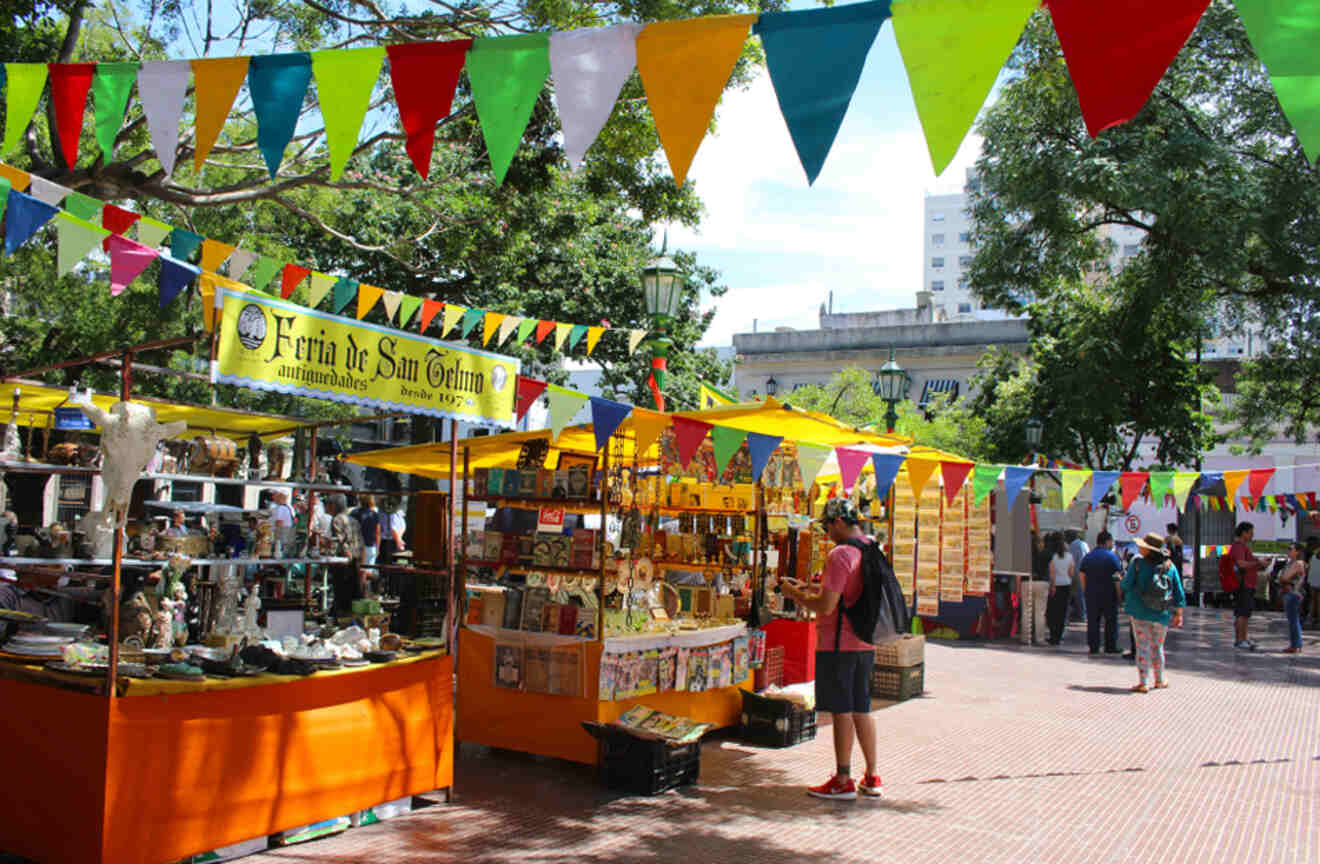 What can I tell you? San Telmo has something special: history, art, and amazing restaurants! Everything in this area will make you feel like you are in a different world! Plaza Dorrego is significant for Argentine history – it is here where the Independence reaffirmation happened in 1816!) and where the Feria de San Telmo takes place.
You also have the very famous San Telmo market, filled with antique shops, fresh produce, and street food stands. Nothing better than strolling through the historic San Telmo market on Sundays! Honestly, this is the perfect place to relax and try traditional food, from alfajores with dulce de leche to fresh empanadas!
Want to dance the night away at a traditional tango club but don't know where to go? This Tango show is the perfect start!
SHOW PRICE: from US$50 per person
Save your spot on the Tango show
5. Take photos at the unique library of El Ateneo Splendid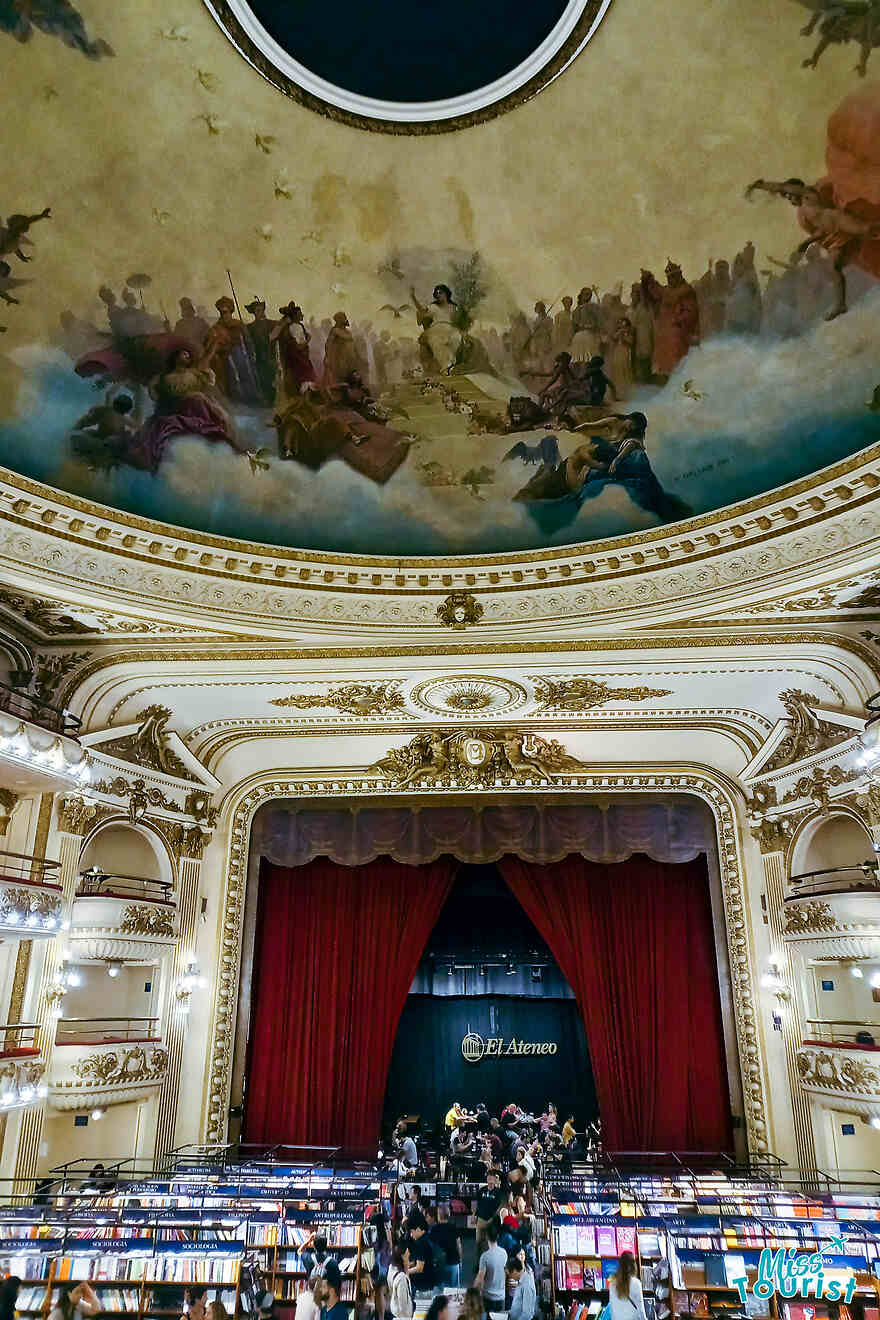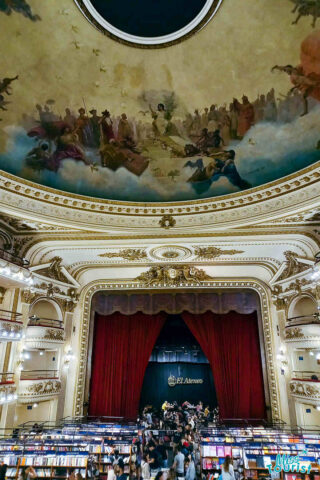 Visiting the mysterious El Ateneo Grand Splendid bookstore!? El Ateneo Splendid is known to be one of the most beautiful libraries in the world! It was a theater originally called "El Teatro Grand Splendid," created in the 1900s. It used to host opera, ballet, concerts, and big plays, but later on, it became a cinema.

Now it functions as a library, but with all the beauty of its creation, the stunning dome and frescos make it like a museum!

I highly recommend visiting it, buying a book, and having a nice cuppa coffee on the stage of the library. It is truly a unique experience you shouldn't miss! The library is located in Avenida Santa Fe, in Recoleta, only a 20-minute walk away from Plaza San Martin, a beautiful park where you can have a picnic under the sun!
PRICE: free
6. Learn about Latin American Art in MALBA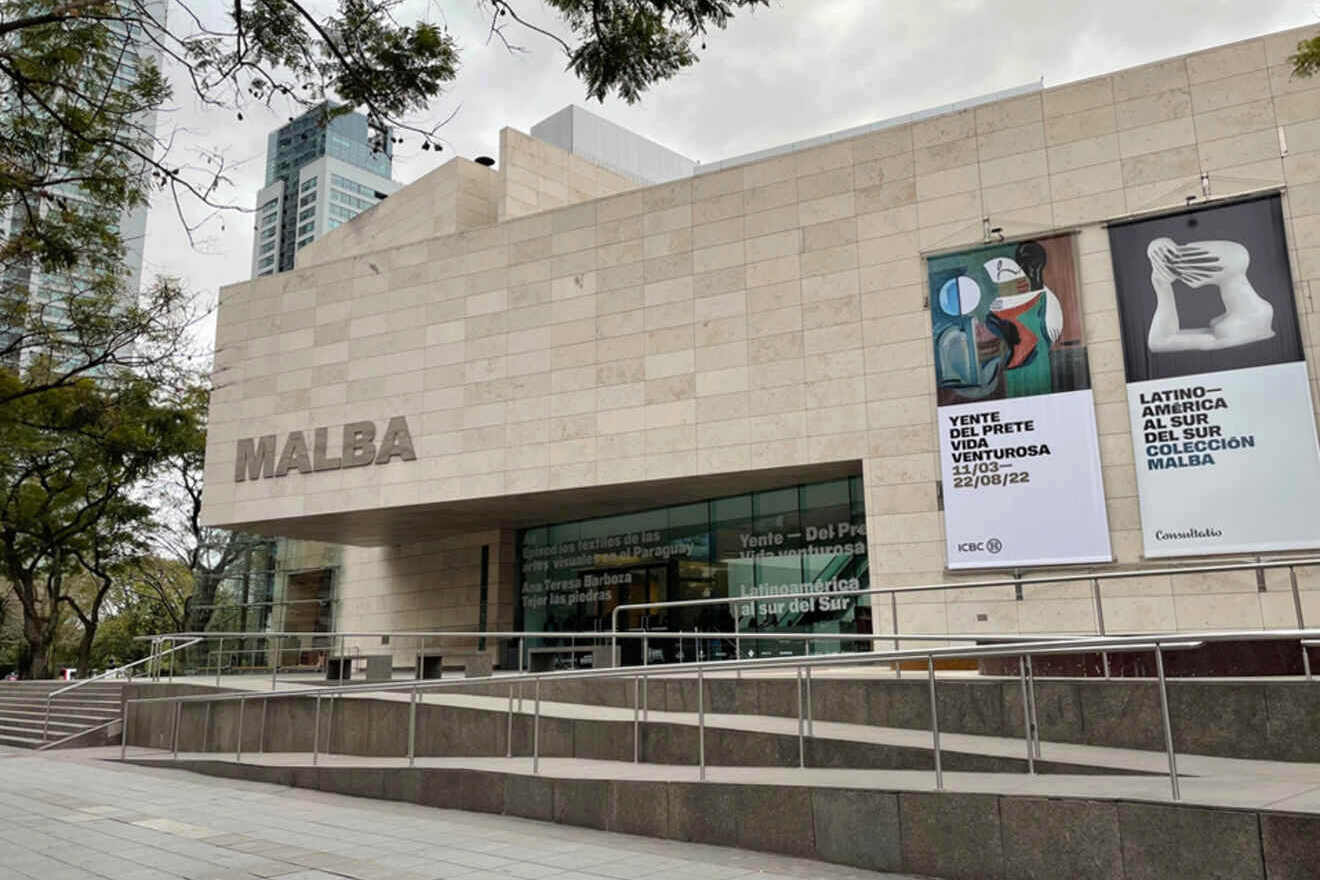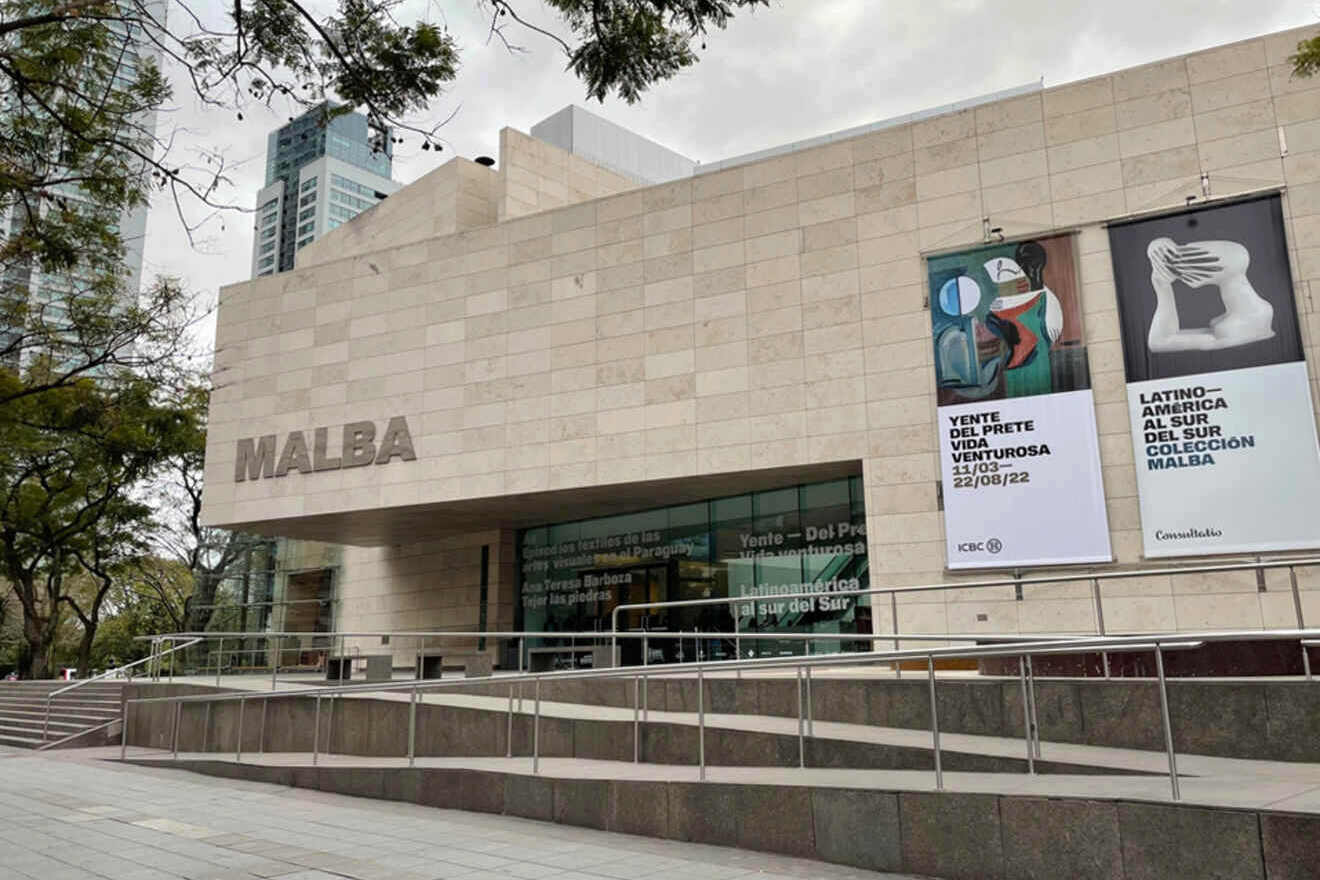 This is one of the most important art museums in the city! It features art from local artists, and of all Latin America, it promotes inclusion for all Latin American modern art, understanding, and fraternity between the nations!
The museum has an impressive collection of Latin American art and changing exhibitions of amazing artists every time!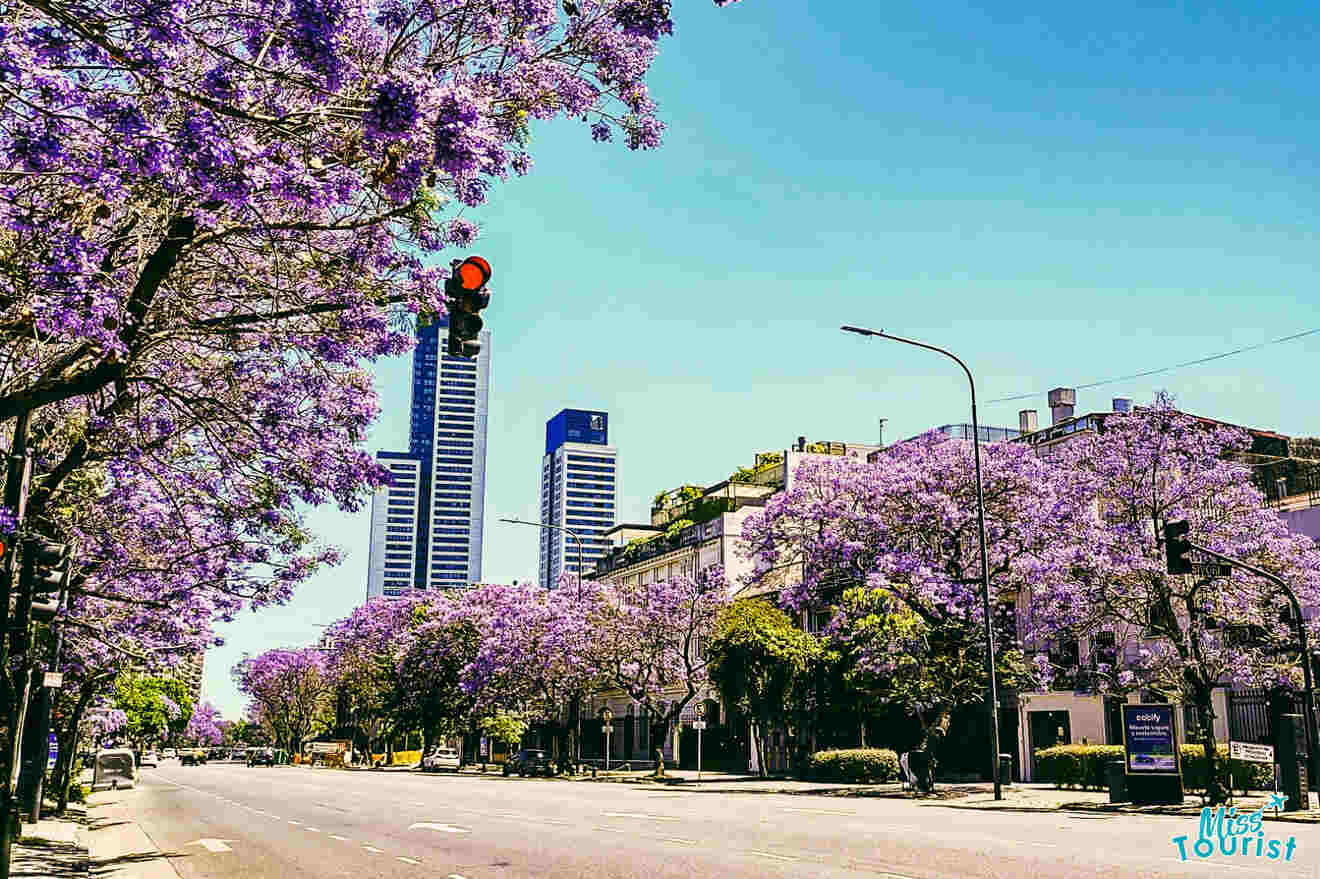 The building itself is stunning and has an avant-garde vibe. It comes with a beautiful shop where I suggest you buy a nice souvenir and a restaurant and café with amazing dishes and pastries! The museum is in the middle of Palermo Chico, in Avenida Figueroa Alcorta, where the jacaranda usually grows and paints the sky and floors purple!
HACK: if you want to skip lines, buy the museum tickets online on this website!
PRICE: US$6 per person; US$3 on Wednesdays
7. Feel like a local in Palermo neighborhood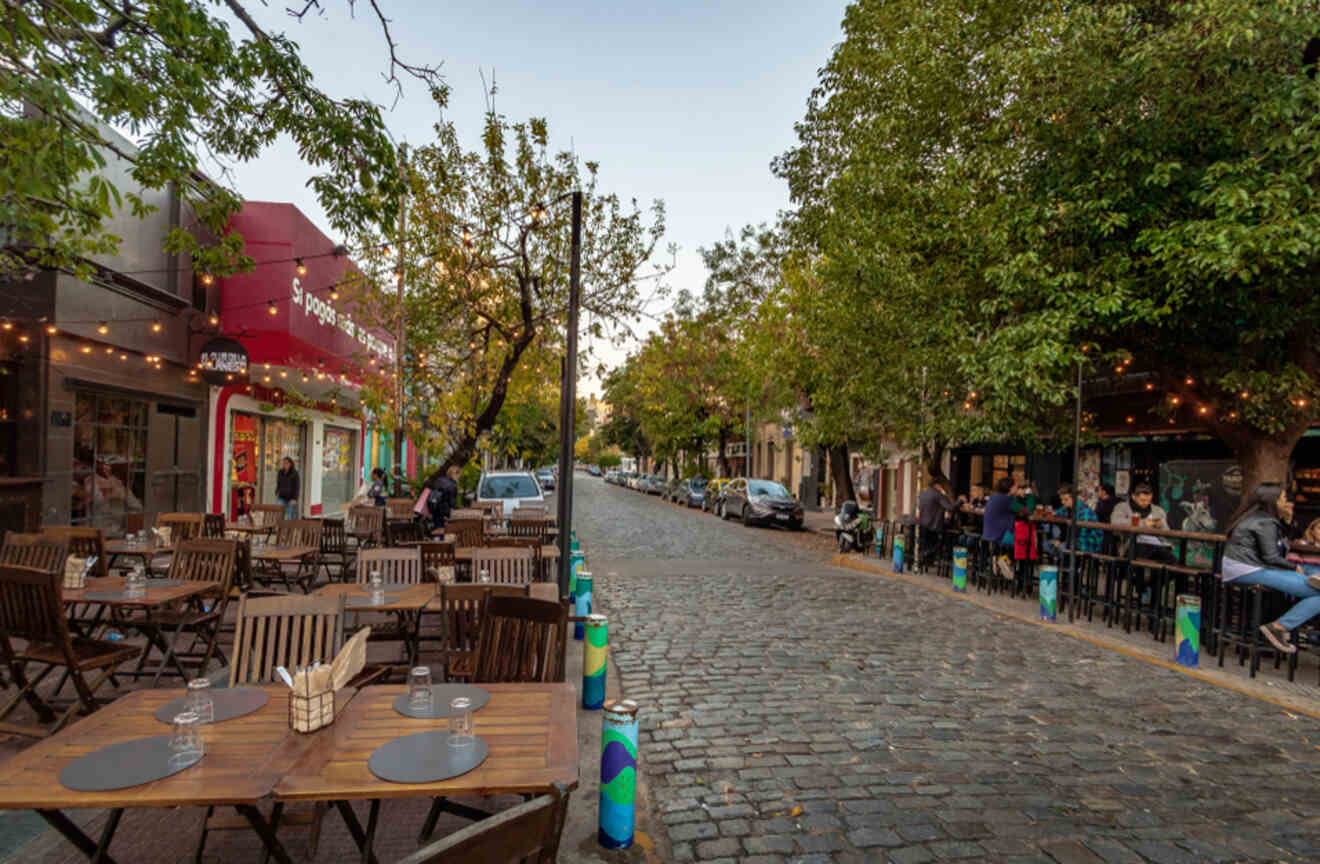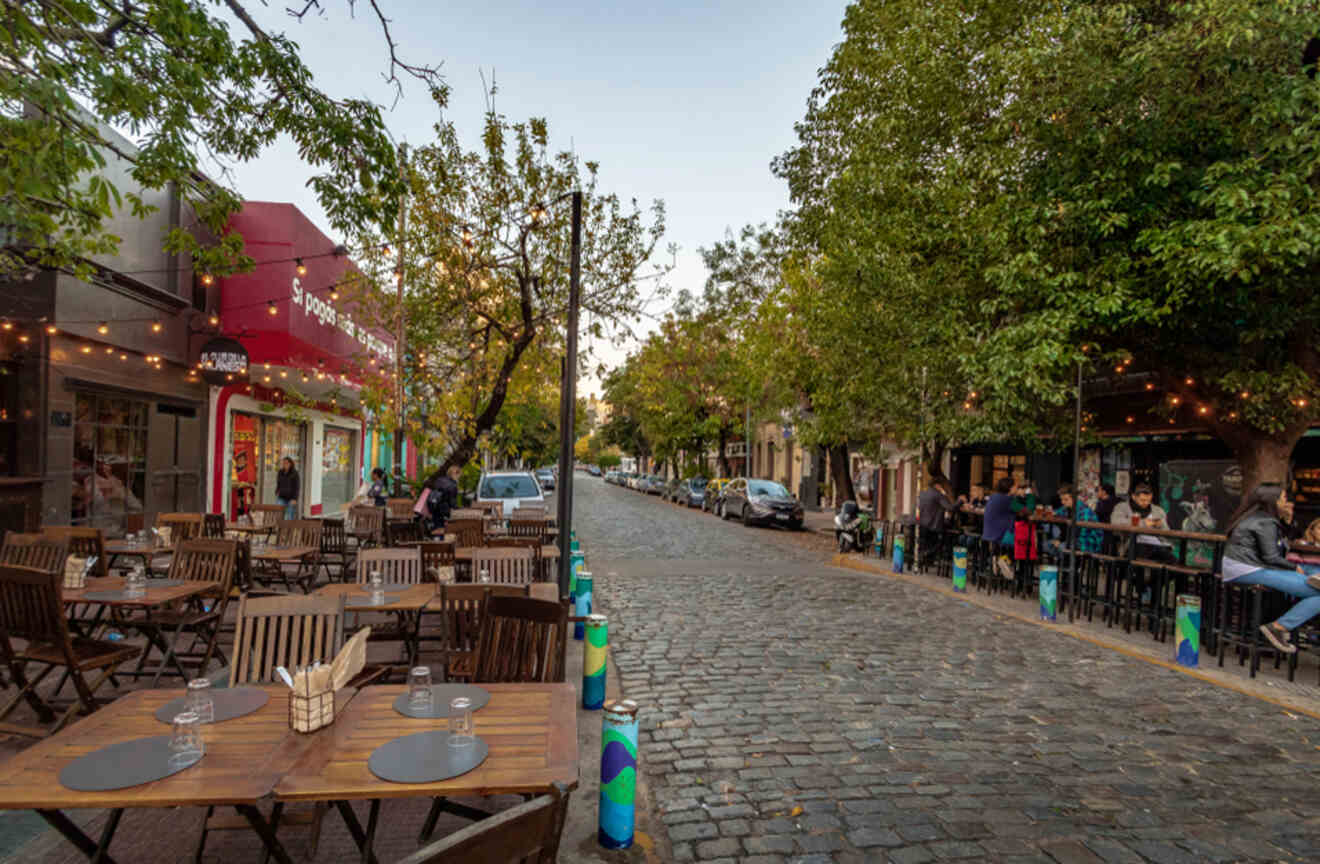 What can I say about Palermo? This place is perfect and has different areas in the district. Palermo Hollywood is where most of the TV and radio studios of the city are located and where amazing bars and restaurants open their doors to locals during the night. Definitely, this area is super vibrant!
Palermo Soho is a neighboring area in Palermo. It has amazing restaurants as well, and a special bohemian vibe, and where you can find a nice weekend market in Plaza Serrano. Definitely worth stopping by at one of the cafés in the area, sitting on the terrace with a coffee and medialuna, and watching the day go by!
If you want to learn about the historical and present importance of graffiti and street art in Palermo, Buenos Aires, you will love this 2-hour street art walking tour!
TOUR PRICE: from US$10 per person
8. Visit La Casa Rosada, the Pink House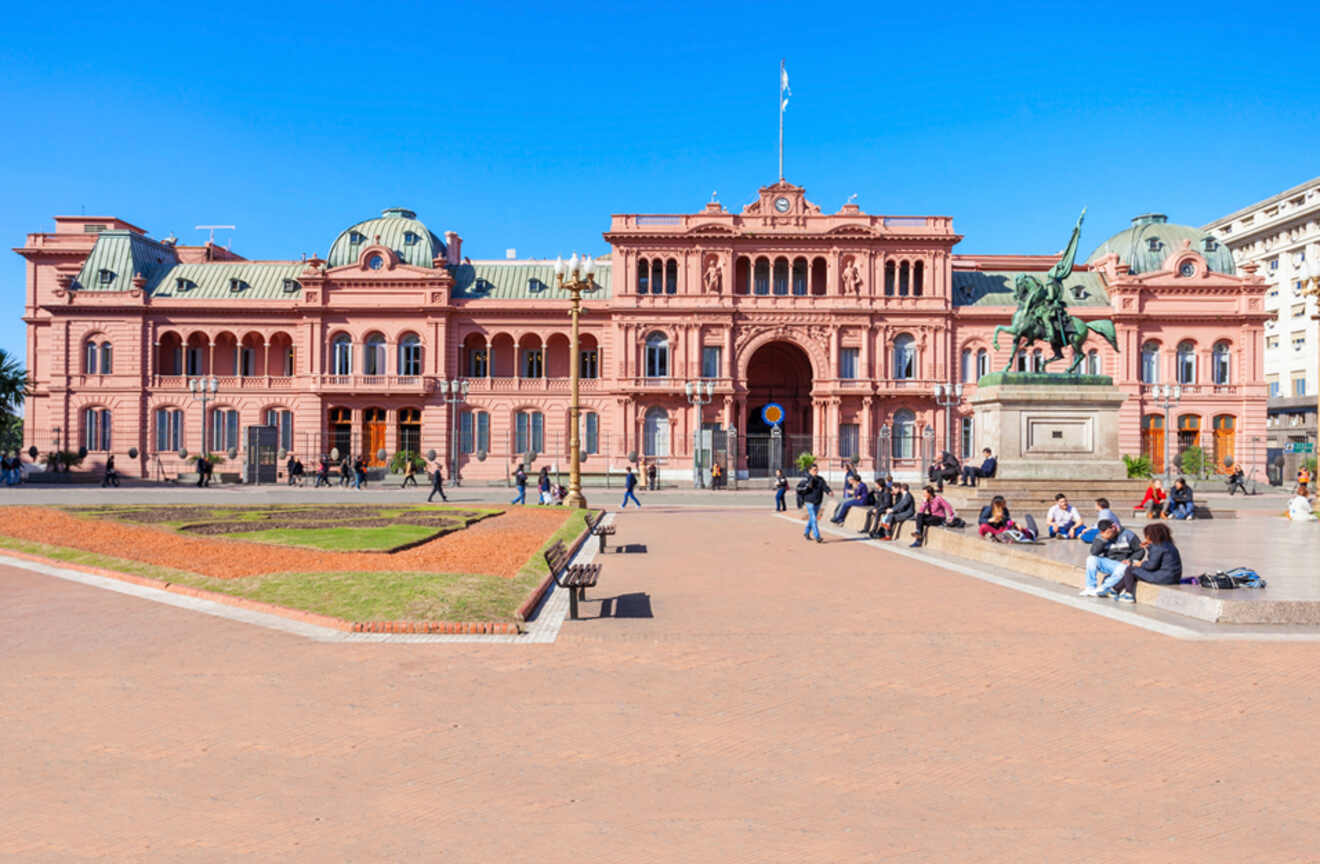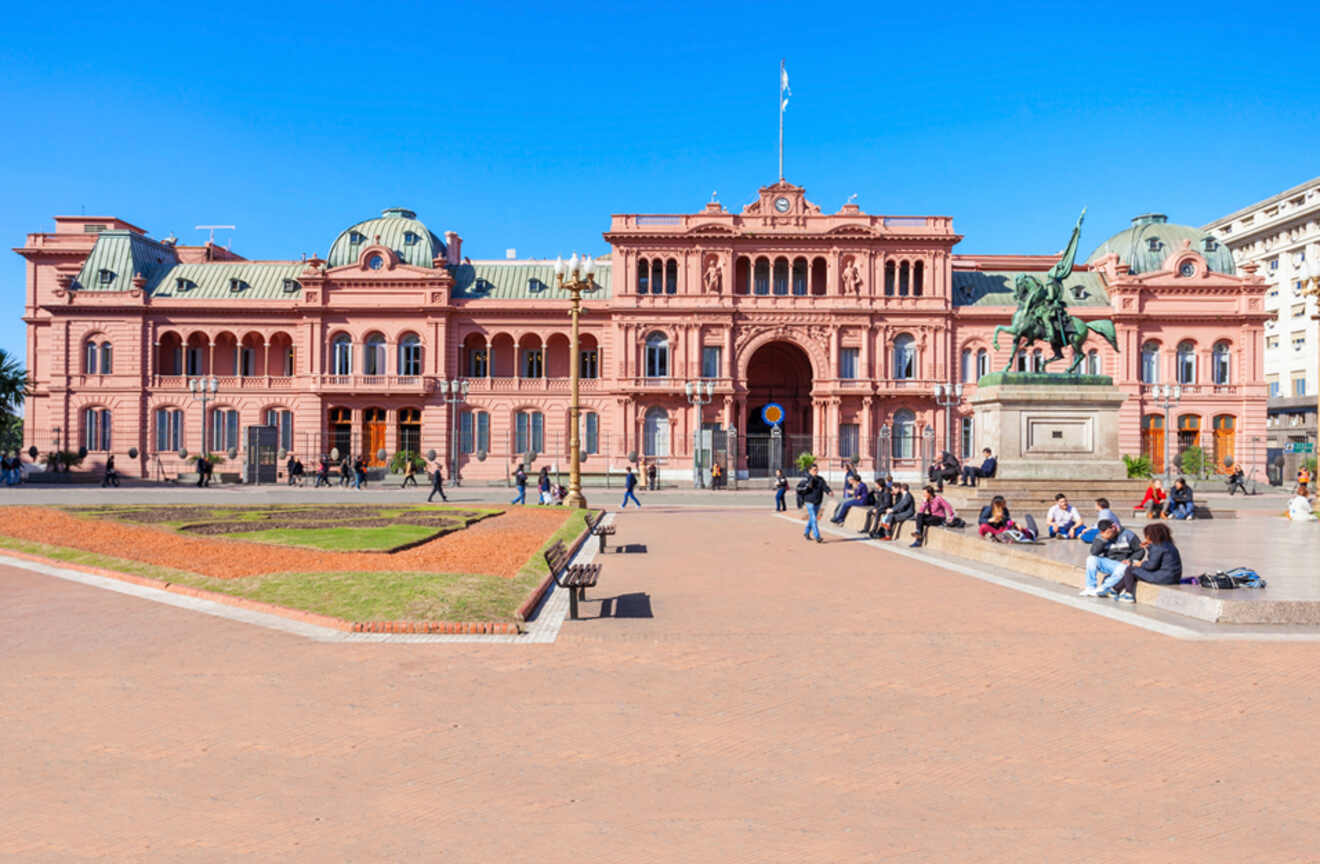 La Casa Rosada is the government house, and if you visit Buenos Aires, it is the one landmark you don't want to miss. It was built in the 1500s and was home to Spanish kings before Argentina's Independence, and after it, it became the home of national governments.
The picturesque pink house is located in front of Plaza de Mayo, which connects with the Avenida de Mayo and the Avenida 9 de Julio (the widest avenue in the world), which hosts the landmark El Obelisco. This is where all the locals go and celebrate when the national team wins a football championship!
There is an amazing free walking tour of the area that stops by La Casa Rosada, and explains Argentinian history. It is completely free and it is based on tips.
TOUR PRICE: tip-based
9. Explore the colorful streets of La Boca and its street art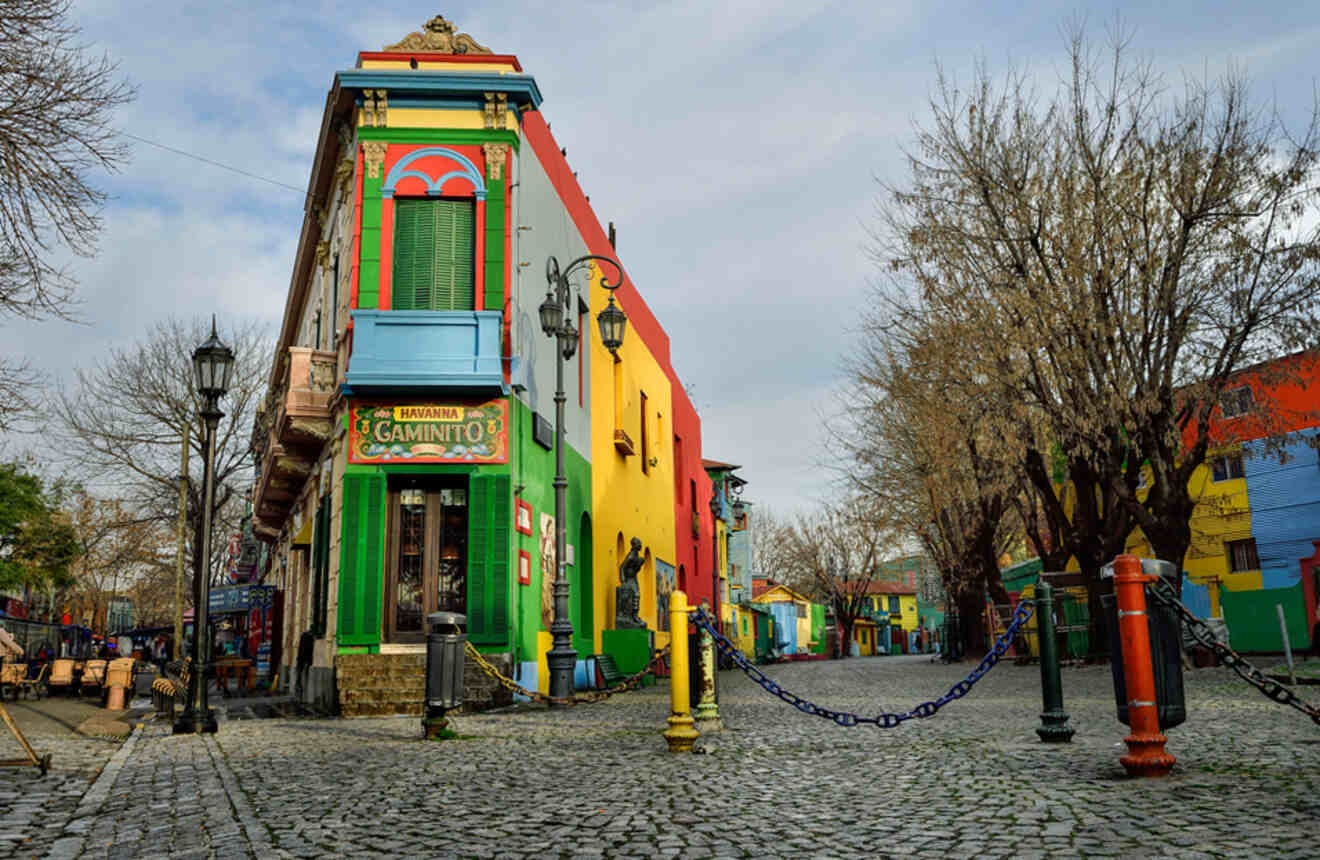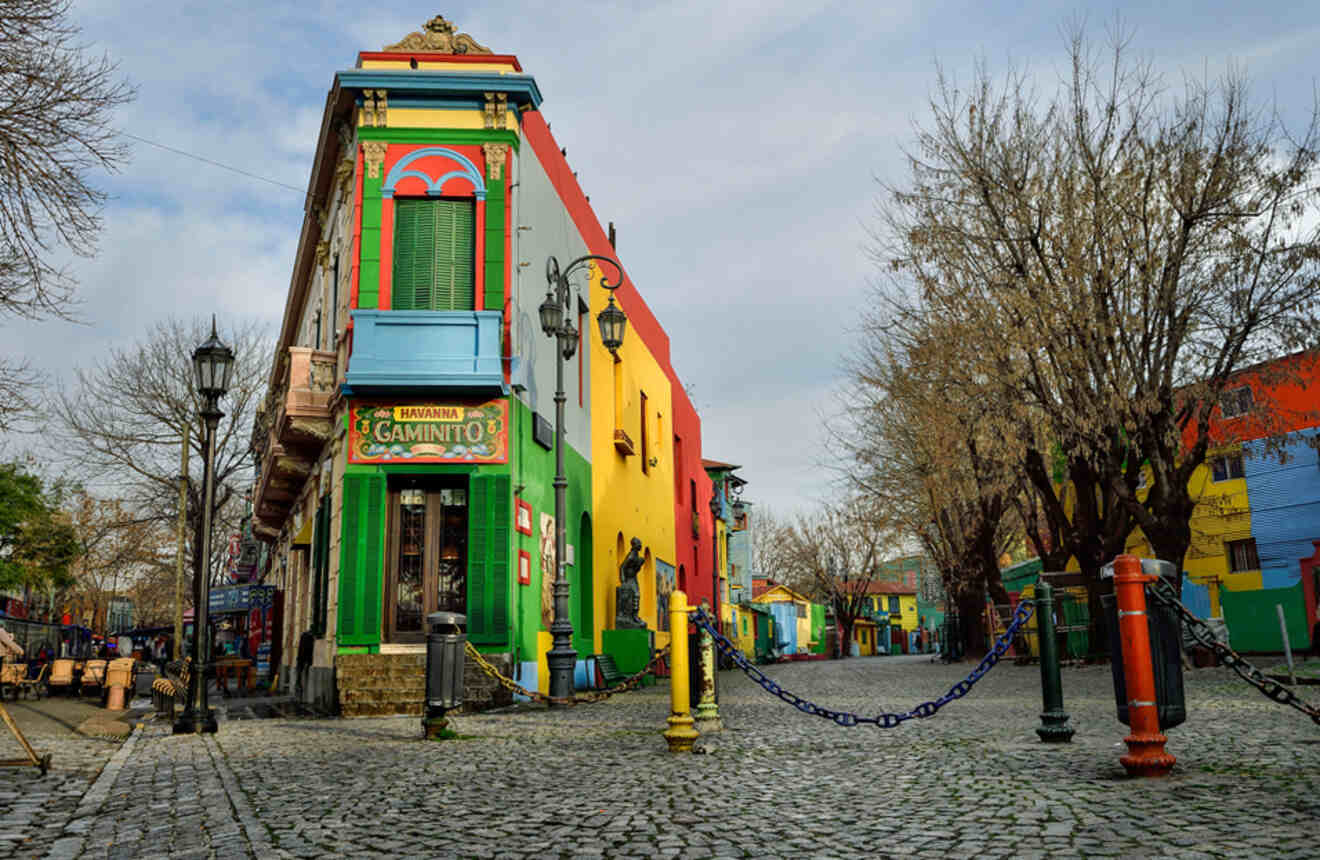 La Boca is definitely another must-stop in the city. It is a super picturesque neighborhood, where one of the biggest Argentinian artists was born, Quinquela Martin, and home of Museo de Bellas Artes de la Boca Quinquela Martín, where you can find the most impressive collection of oil paintings of this emblematic artist!
Another must-stop in the area is Calle Museo Caminito, where you can find metal sheet houses painted in bright colors, nice artisan shops, and traditional coffee places. La Boca is great for sampling Argentinean cuisine at a local "parrilla" (grill). If you love art, La Usina de Arte is in La Boca and features concerts and art!
PRICE: free
10. Check out the Museo Nacional de Bellas Artes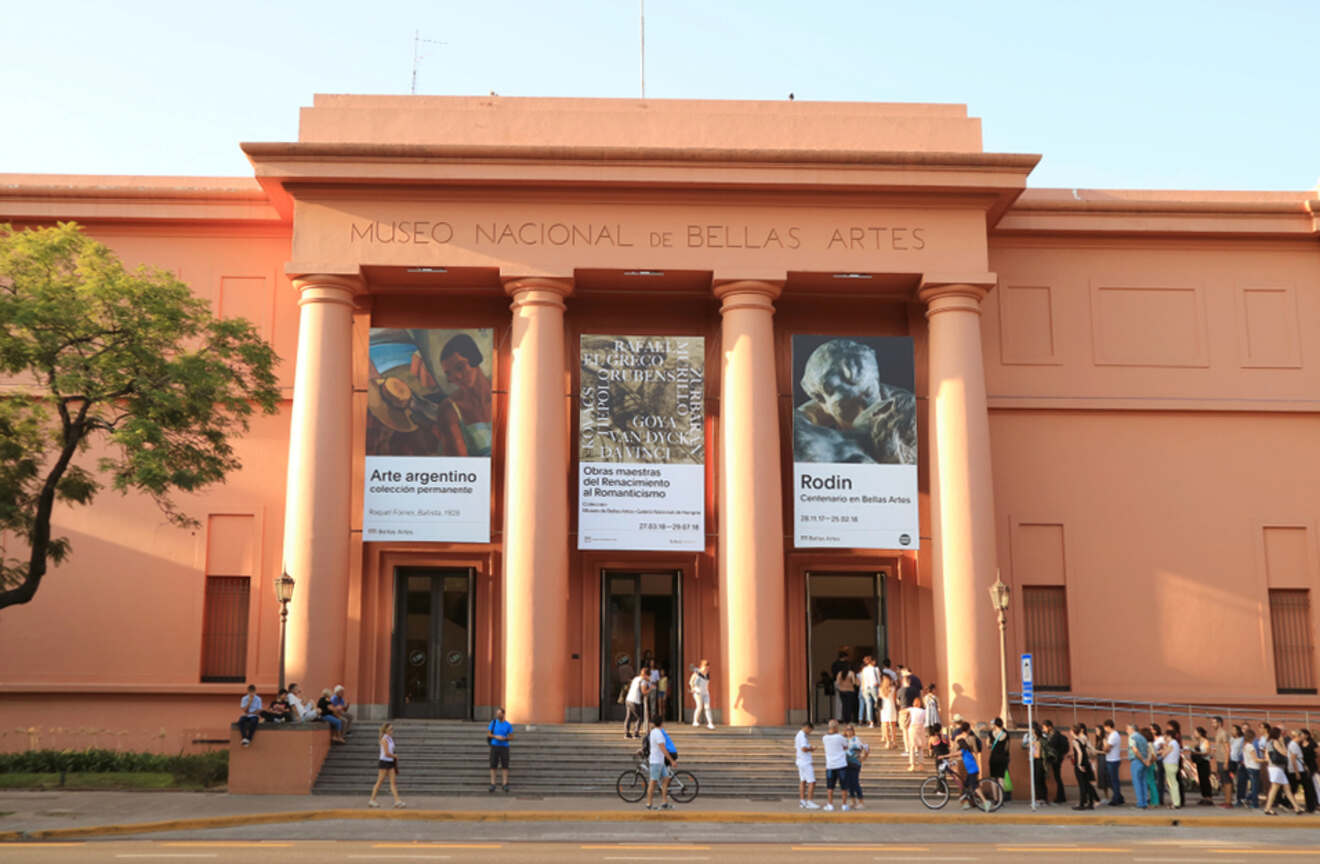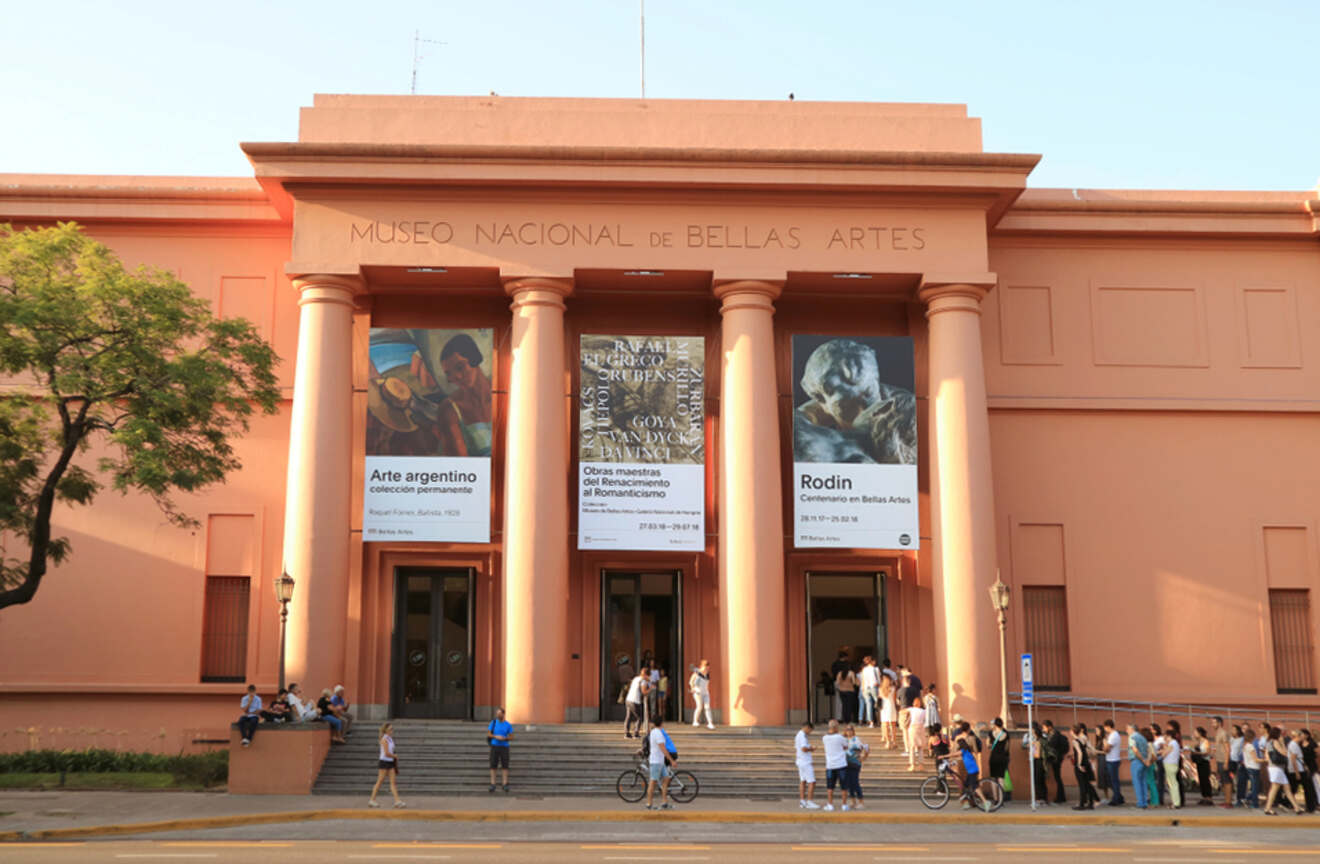 If you are into art galleries, the National Museum of Fine Arts is a must. Honestly, it is one of my favorite museums in the city. Apart from being completely free, it has amazing art from Latin America and the rest of the world. One of my favorite permanent collections of this museum is the Spanish painter Goya's pieces – it just never gets old!
The museum has a lovely shop where you can purchase amazing books, tote bags, and items related to the changing exhibitions that are showcasing at the moment. Every time I visit the shop I buy something! The museum is located in Avenida Figueroa Alcorta, and you can access this area easily from anywhere in the city!
PRICE: free
11. Feel like royalty in Museo Nacional de Arte Decorativo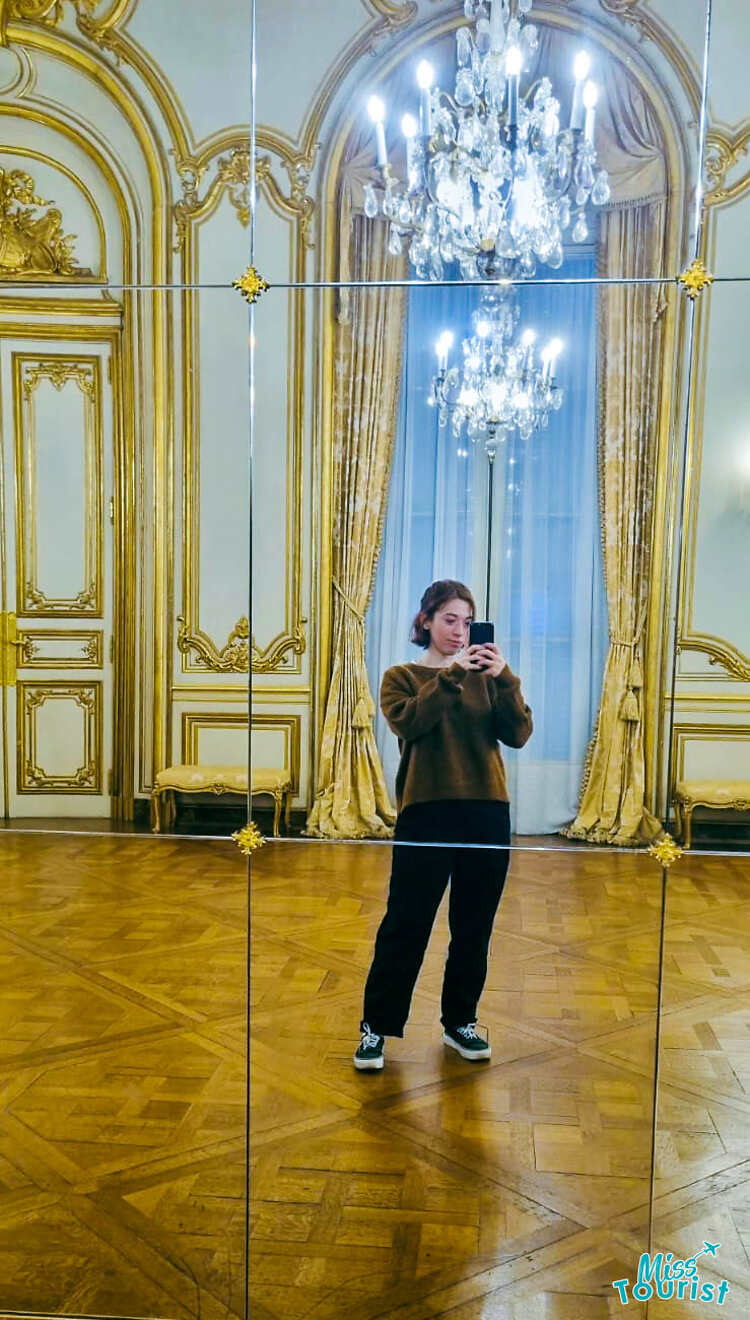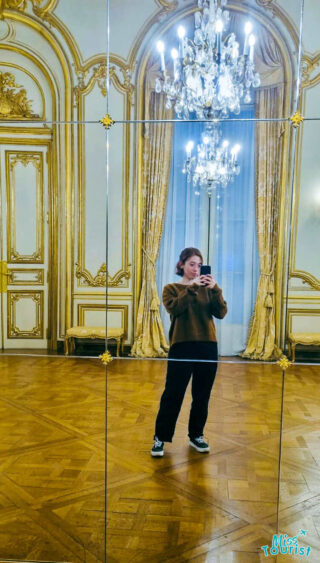 This interesting museum is another of my favorite museums in the city. It is so aesthetically pleasant that all you can do is take amazing photos! The palace has a Neoclassic French style and features furniture and decorative pieces from Europe and Asia.

Museo Nacional de Arte Decorativo is truly a beautiful place, and the garden is super peaceful. Nothing better than sitting there on a summer afternoon!
If you want to enhance your experience, I highly recommend sitting on the museum's coffee terrace by the entrance; you will feel like a royal having a fancy afternoon tea, a complete must!
PRICE: free
12. See amazing art in Centro Cultural Recoleta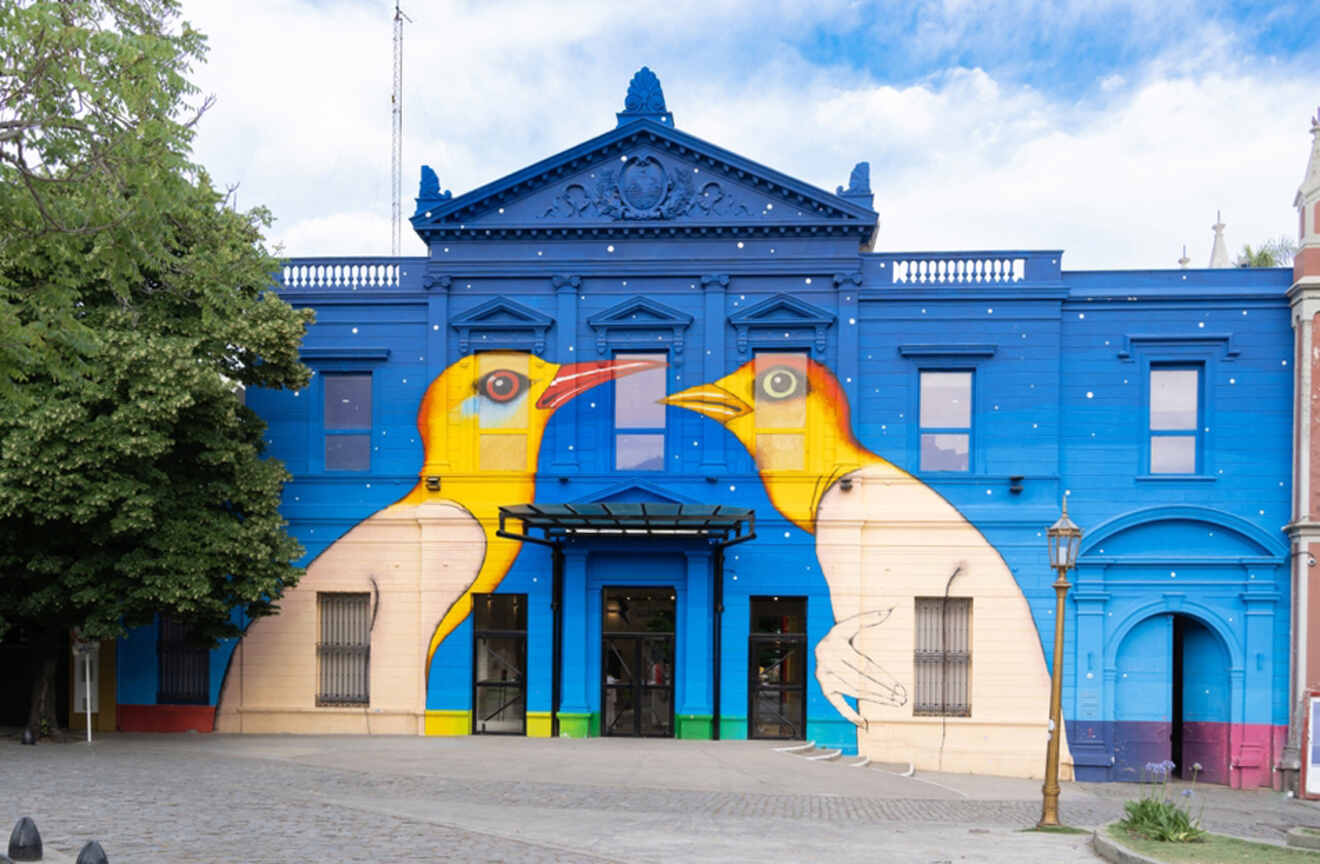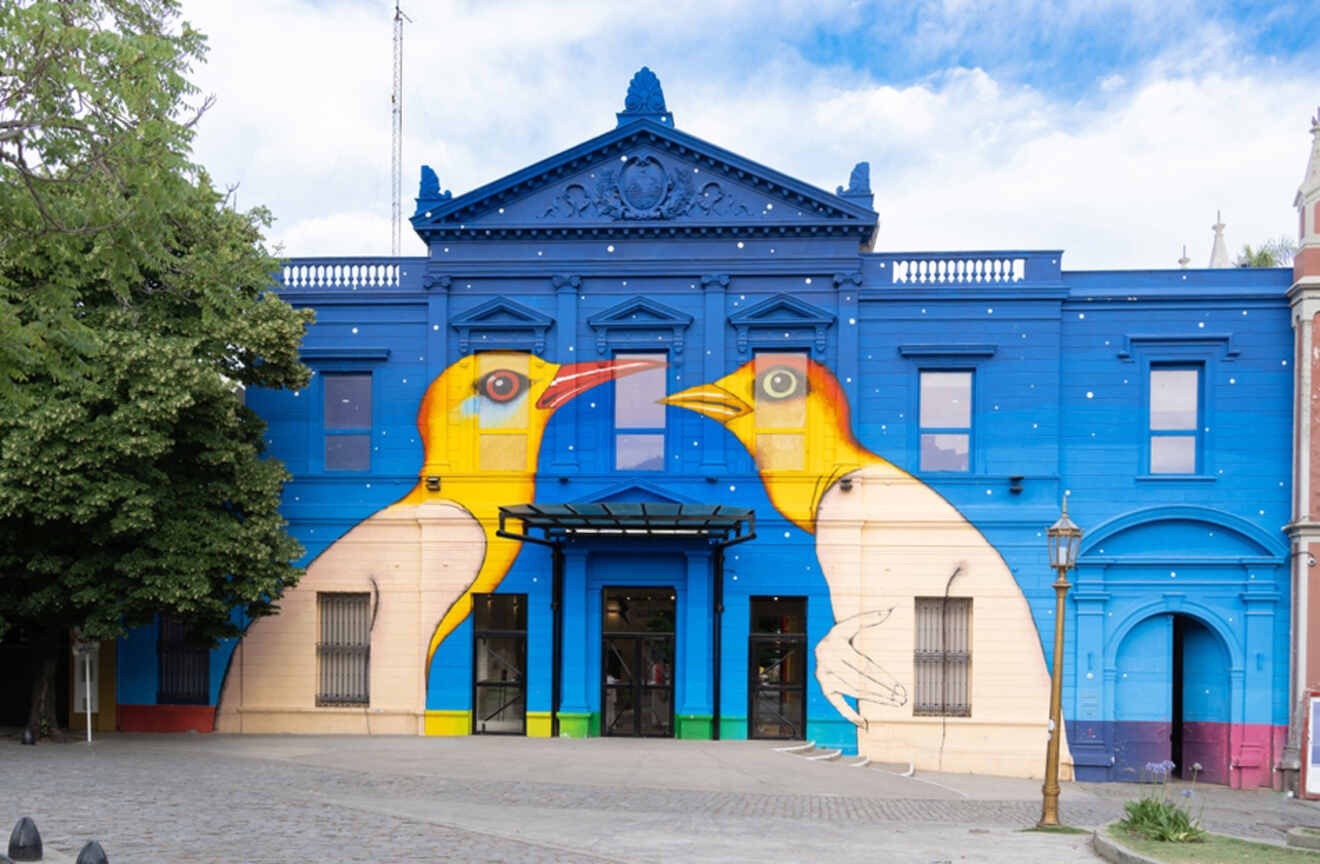 This place is truly stunning and another of my favorite places in the city! If you love music, all forms of art, movies, or plays, this place is ideal for you! It doesn't matter when you are visiting, there is always something cool happening, and all the shows and events are usually completely free!
The Cultural Center is open to everyone and is a great place not only to see art but also to relax. It comes with a beautiful garden, a terrace with a café, and views – everything in this place is meant to be enjoyed. The center is located steps away from Recoleta Cemetery, Plaza Francia, and an artisan market that is open during the weekends.
PRICE: varies
13. Shop and see art in Galerias Pacifico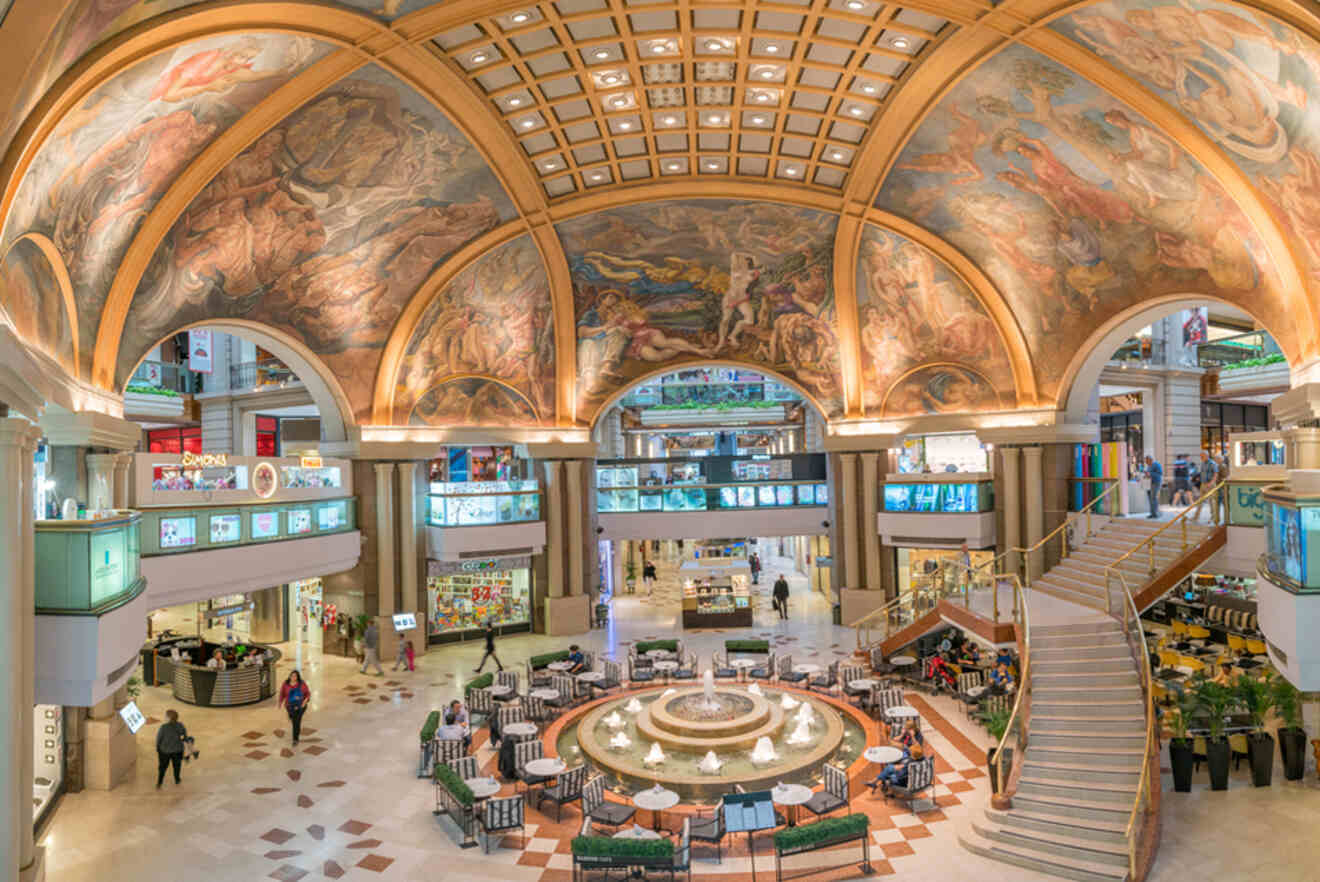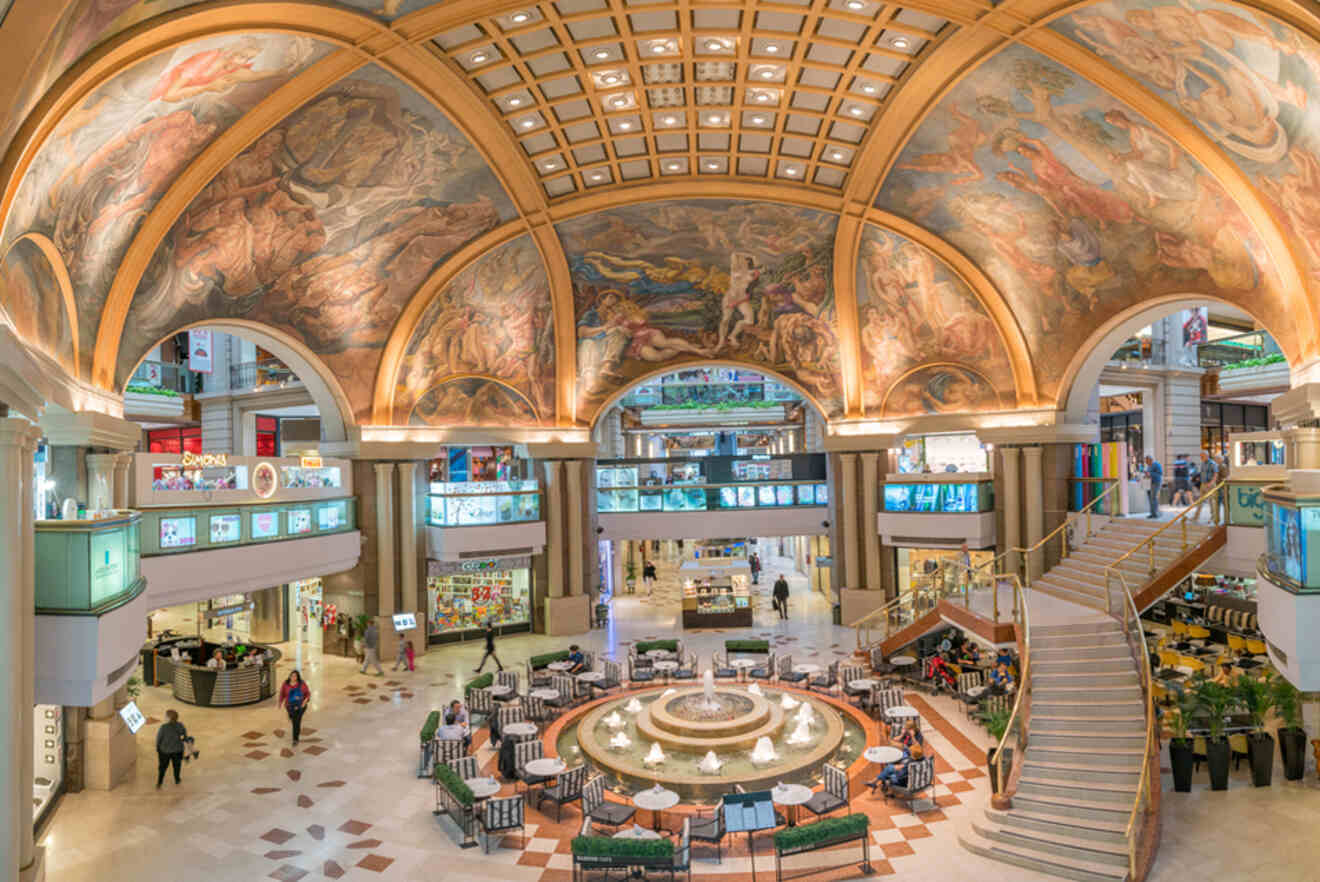 Oh well, you know Buenos Aires, just art and beauty wherever you go! This beautiful shopping center was built at the end of the 19th century, and its beginning and present haven't changed. Copying the French shopping centers, Galerias Pacifico wanted to offer Porteños the best fashion options and trends in the world.
The gallery's dome is beautiful and features frescos of very important Argentinian artists, such as Antonio Berni, Juan Carlos Castagnino, Demetrio Urruchú, and Lino Enea Spilimbergo. So either if you want to check out the amazing architecture, or the cool shops, this stop in Buenos Aires is a must!
PRICE: free
14. Be amazed by the Metropolitan Cathedral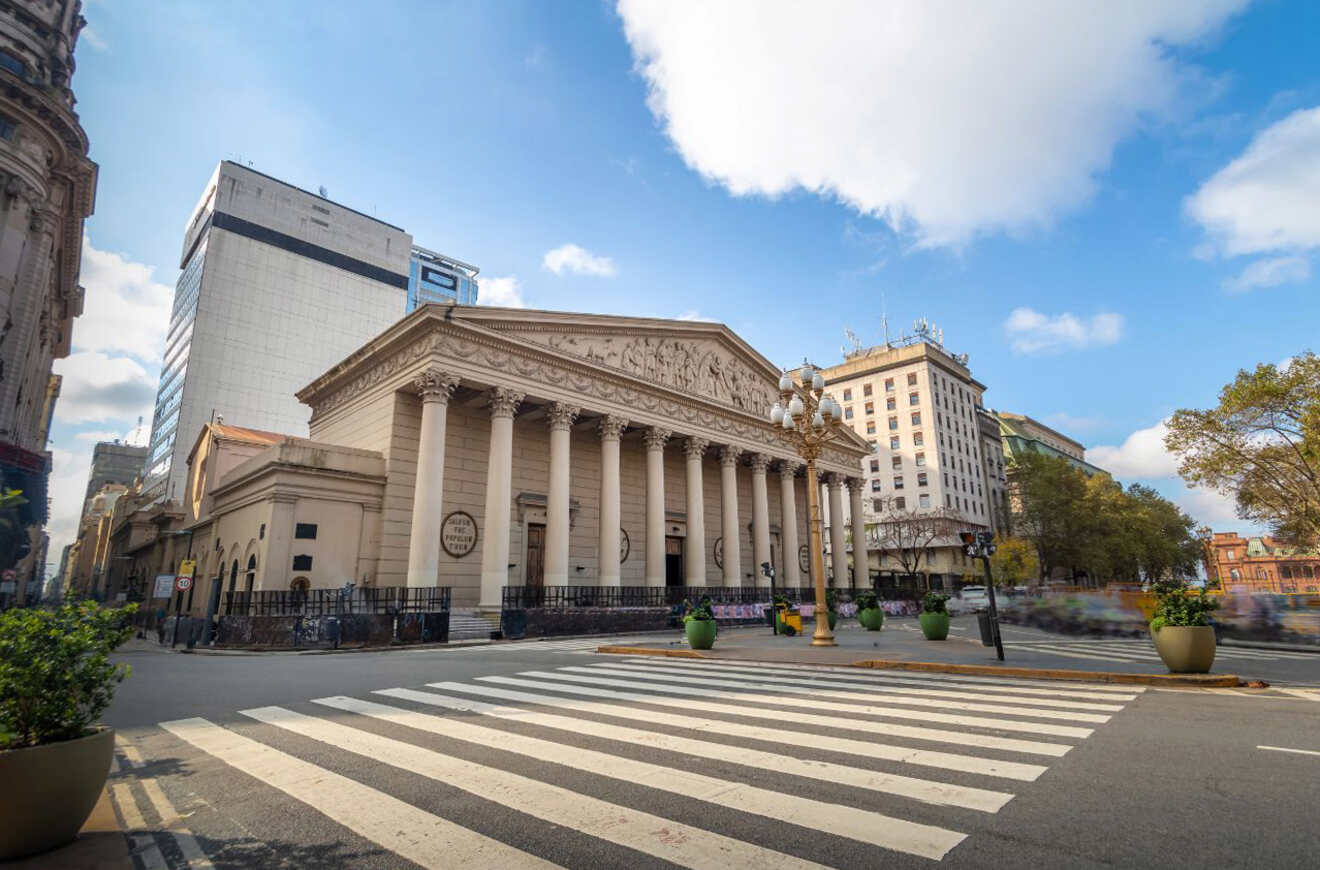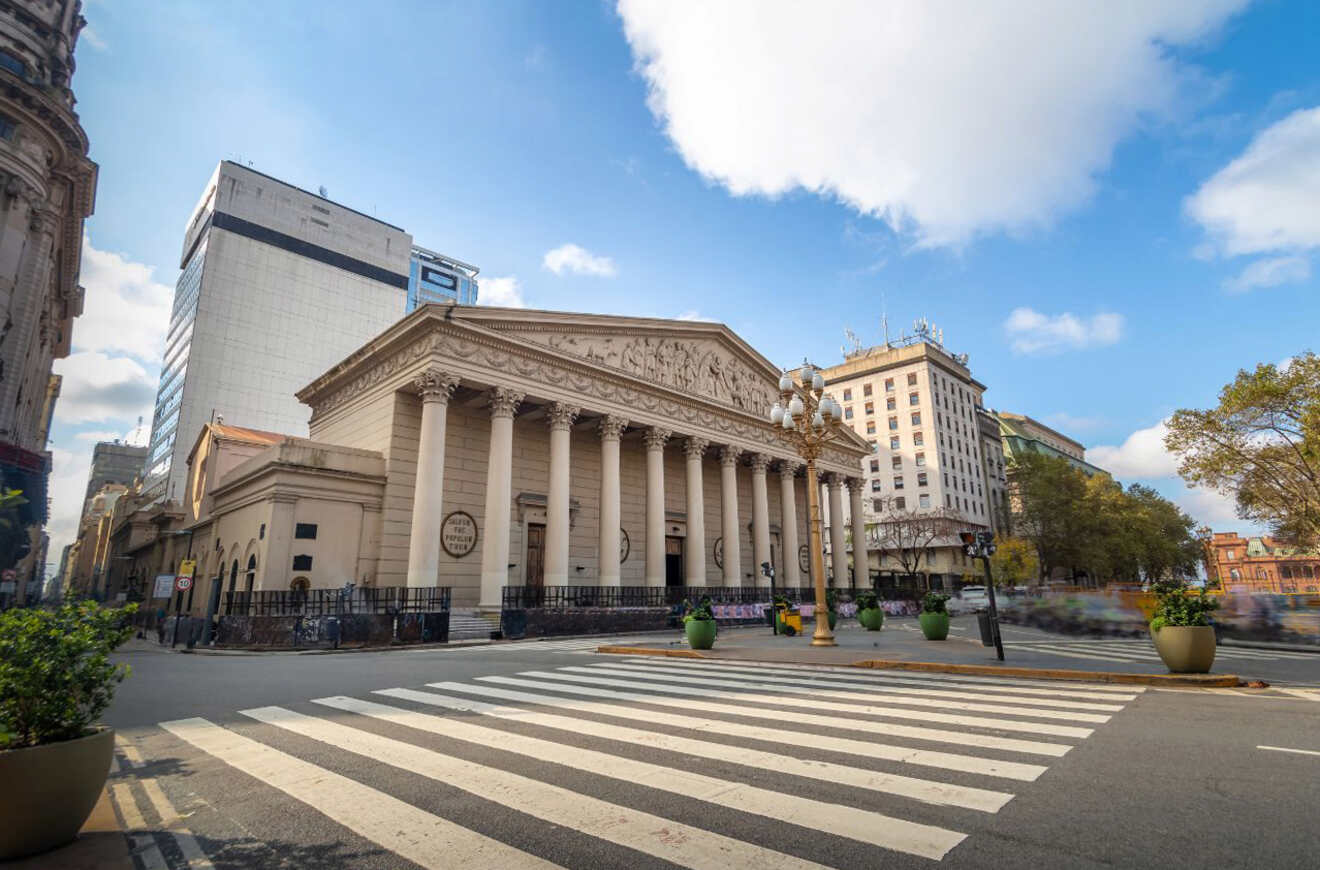 If you are walking in the historical area of Monserrat, with its beautiful European-style architecture, you need to visit the Metropolitan Cathedral – the facade is simply stunning and you'll feel in another world. The cathedral is still functioning, and it is of great significance for the Catholics.
I highly recommend visiting the Cathedral for its beauty and all the amazing attractions surrounding it, such as Plaza de Mayo, la Casa Rosada, and Museo Histórico Nacional del Cabildo y la Revolución de Mayo, an important historical landmark (he 1st Argentinian was celebrated in the Cabildo).
PRICE: free
15. Feel like a kid at the Planetario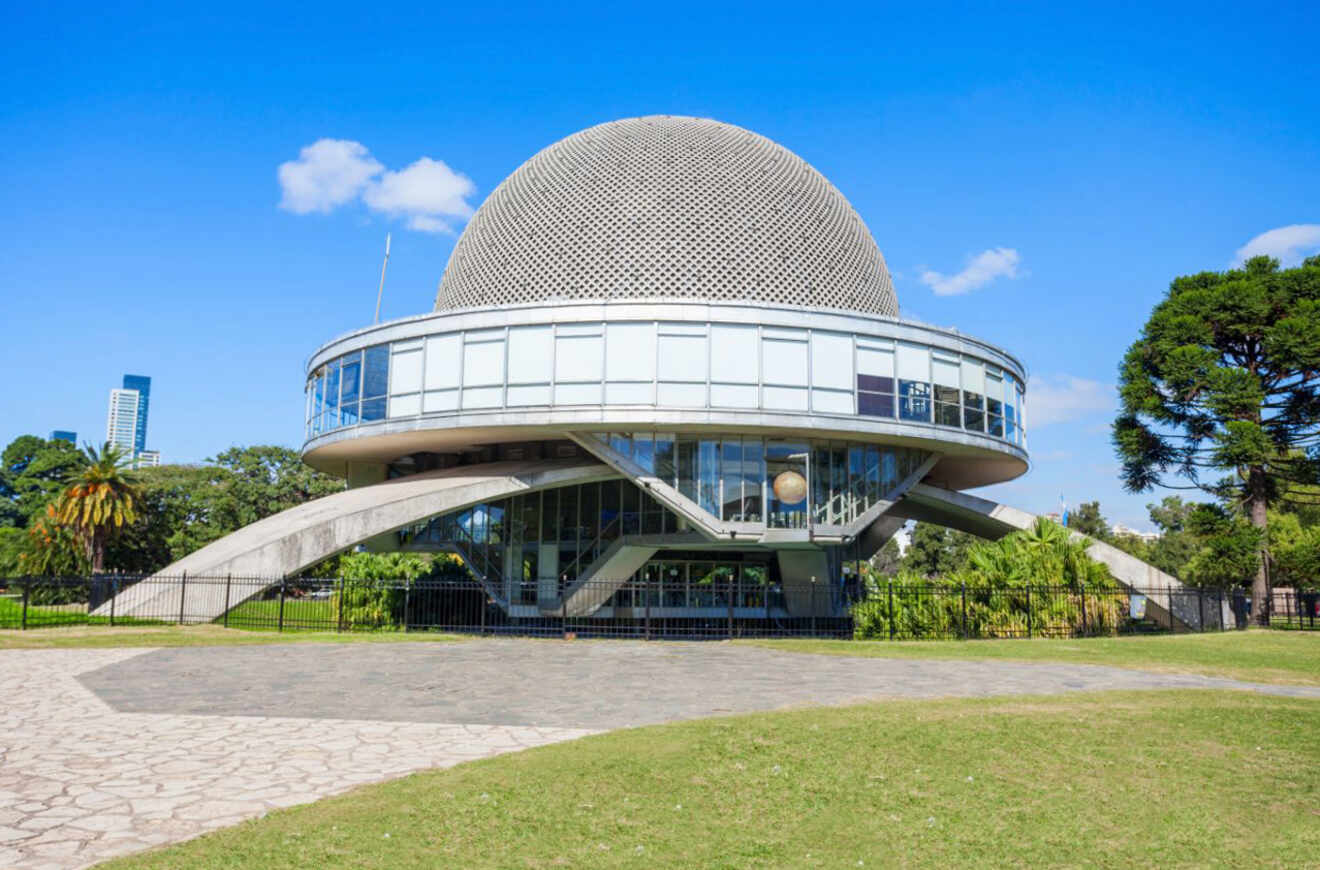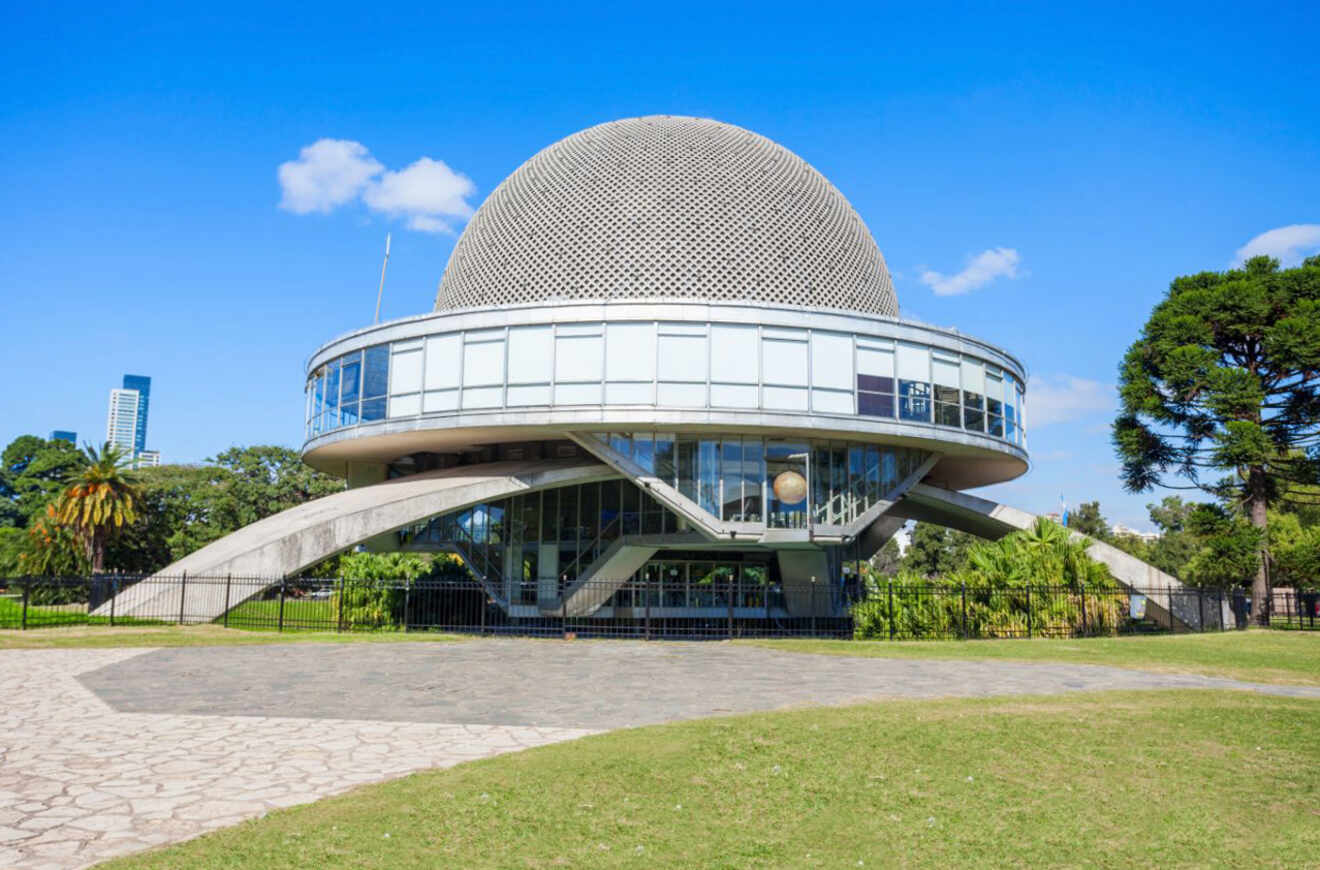 I still remember the first time I visited the Planetarium on a school trip when I was a little kid – what a memorable experience it was! If you are interested in astronomy or simply love looking at the sky, you will most definitely love visiting this place, it really transports you to space!
Another great plus of this amazing attraction is its amazing location in Palermo. If you wish, you could even visit Plaza Italia and walk through all of Palermo's beautiful parks and green areas until arriving at the Planetarium, surrounded by beautiful nature! What a lovely city!
Below I left an amazing bike tour that explores the amazing area of Palermo and the parks where the Planetario is, and another stop is the neighboring area of Recoleta.
PRICE: from US$2 entrance fee
16. Take a day trip to El Tigre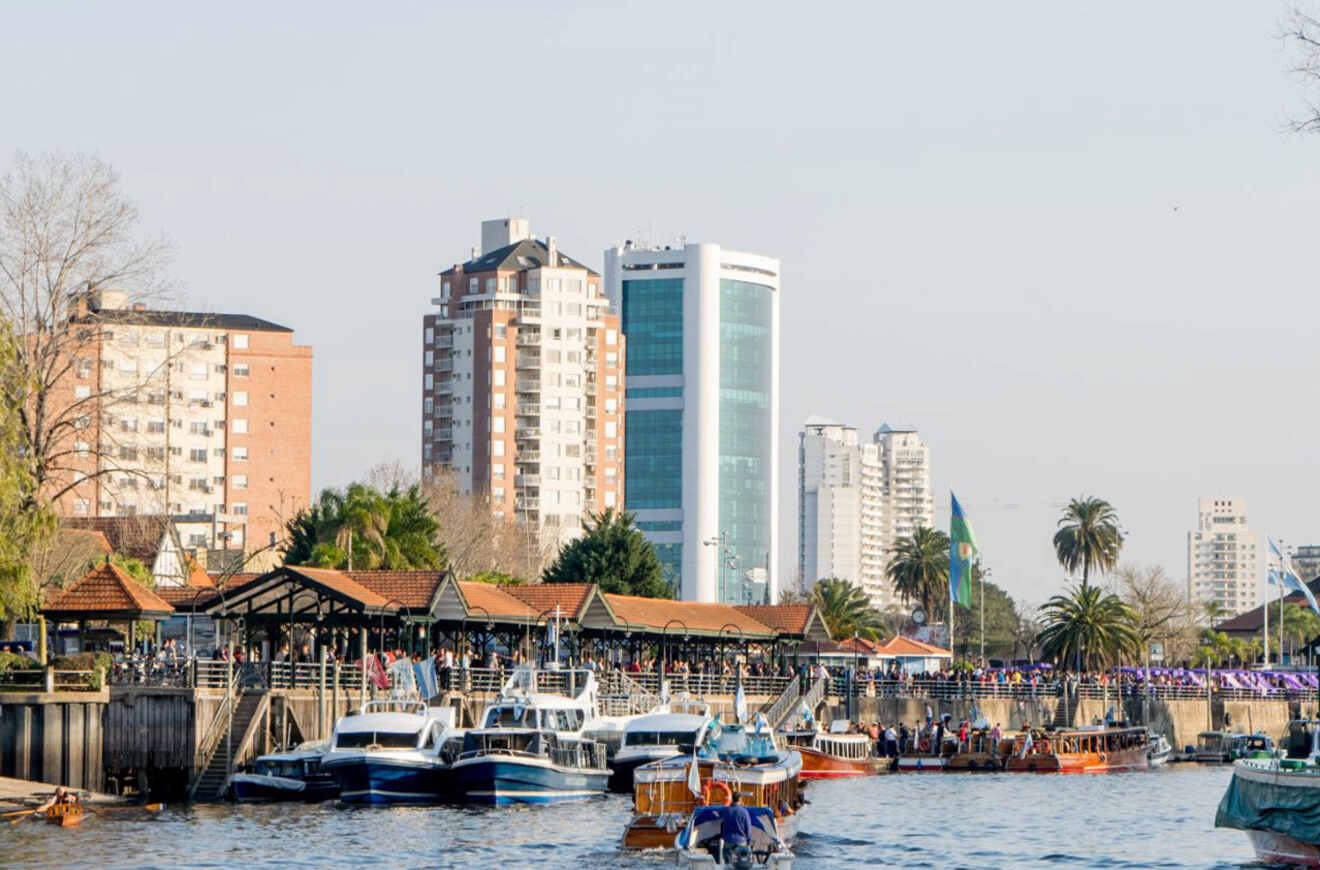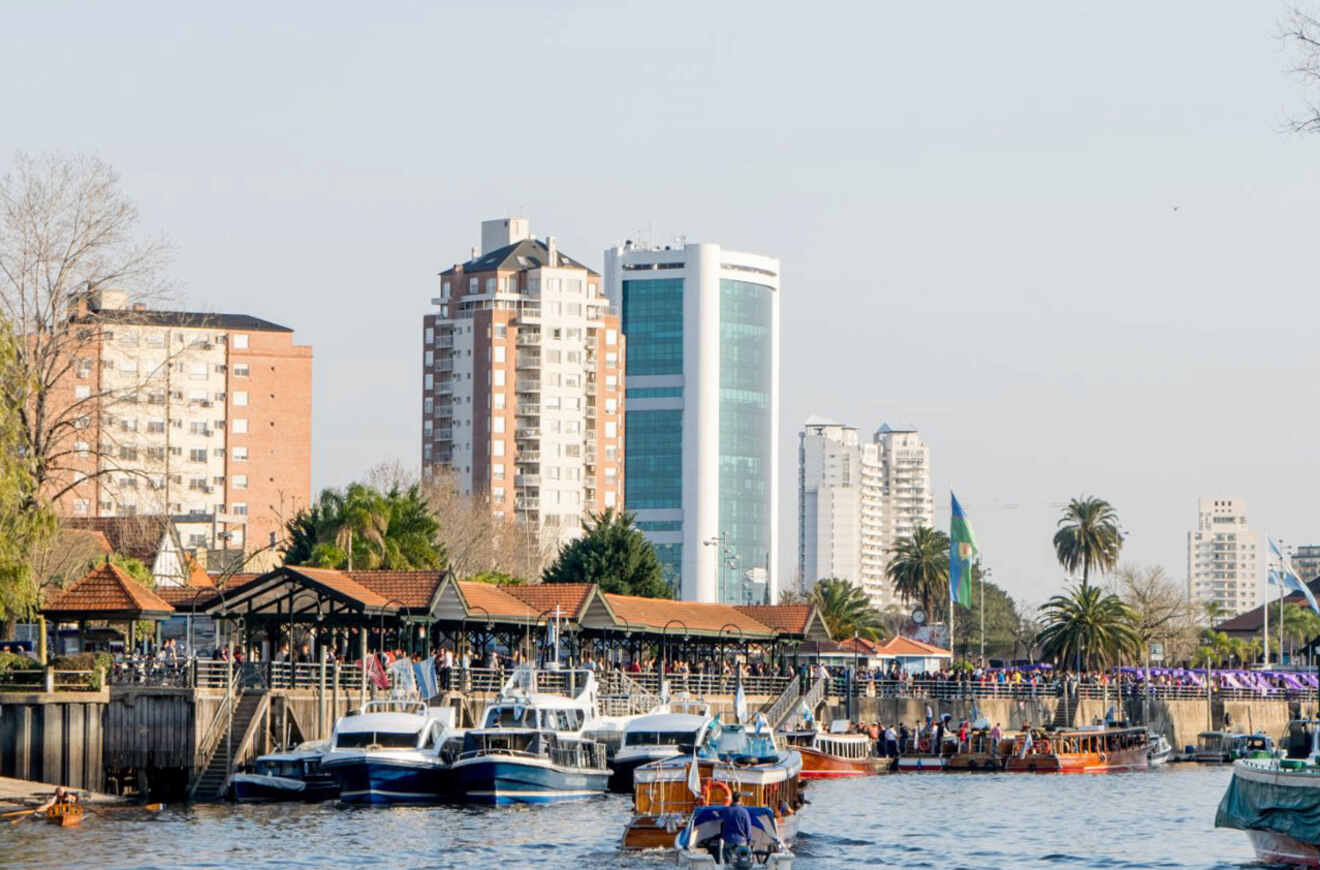 If you love day trips, you will love visiting El Tigre, which is only 1 hour away from the city center. This place is full of beautiful nature and is where the Delta River extends. When you visit Tigre, you can go to Puerto de Frutos, a market where you can buy fresh products and even some crafts!
If you are into theme parks or have kids, Parque de la Costa will entertain the whole family; the theme park is located in Tigre and has a wide range of roller coasters and water attractions. This park is super popular amongst locals, and we all visited it at least once!
Getting there: you can take bus number 15 from Plaza Italia to Belgrano and take the train Mitre to Tigre. My suggestion is to book a guided tour and make the experience hassle-free for you.
PRICE: from US$90 per person
17. Enjoy a bike tour around the city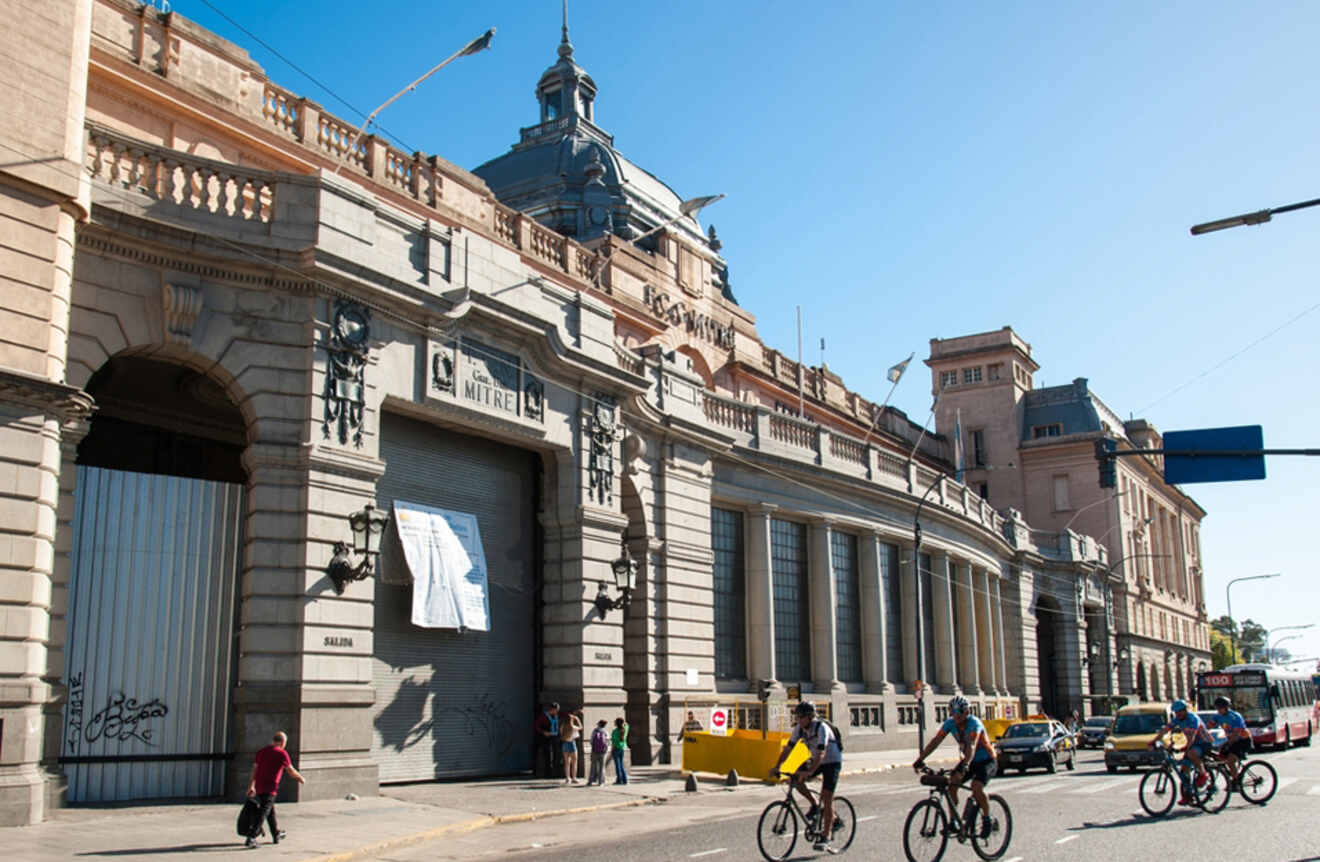 If you are like me and love to stay active, then a bike tour around the city might be the thing you need! You could take the South of the City option, which includes the beautiful and artsy San Telmo district, the colorful neighborhood of La Boca, and the fancy Puerto Madero with its beautiful views and upscale restaurants.
The next day you could visit the North part of the city, which includes the beautiful Recoleta, its historic street and iconic cemetery, and the trendy neighborhood of Palermo, where you can find famous artists and TV broadcasters to cool bars and restaurants.
PRICE: from US$35 per person
18. Relax in Tres de Febrero Park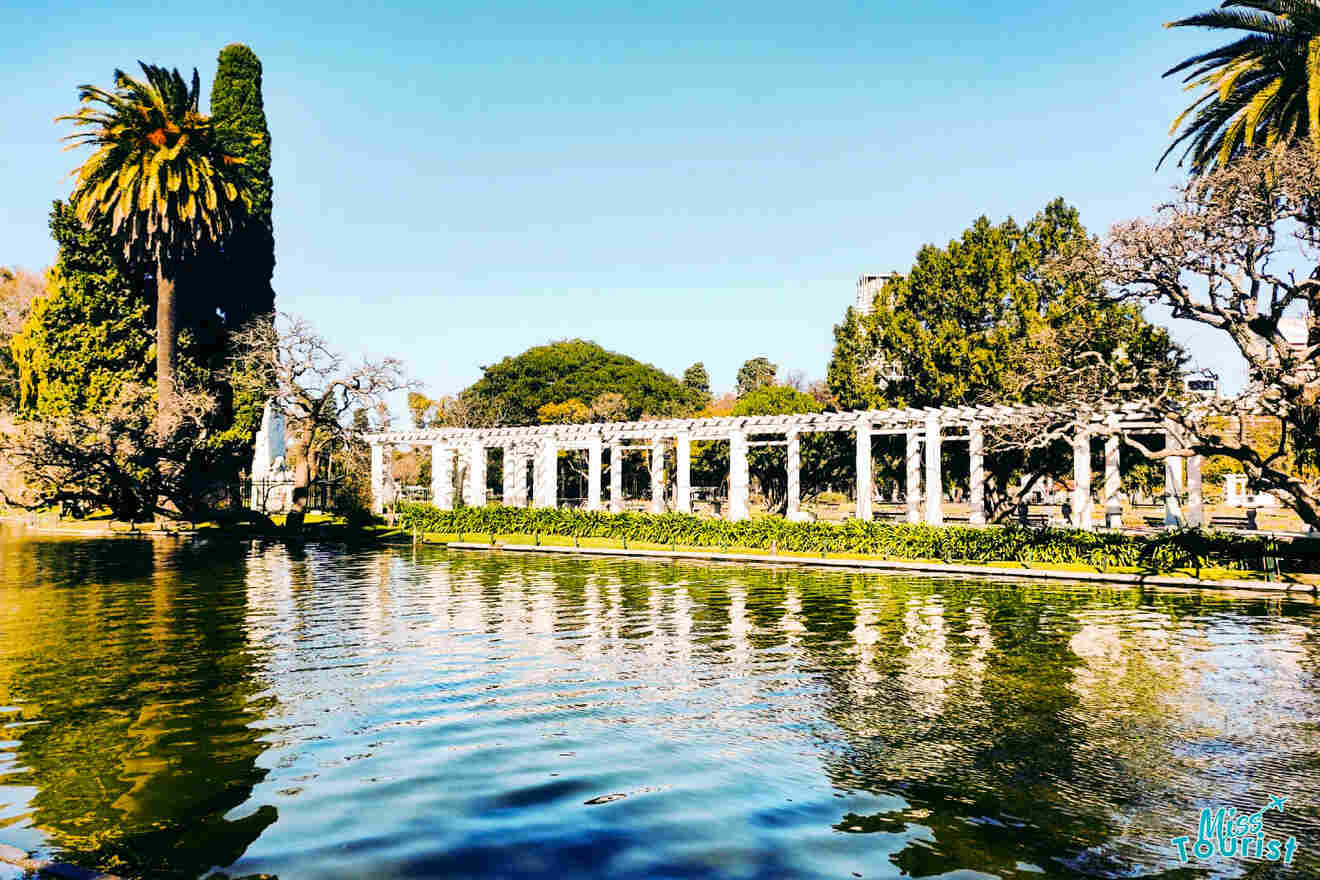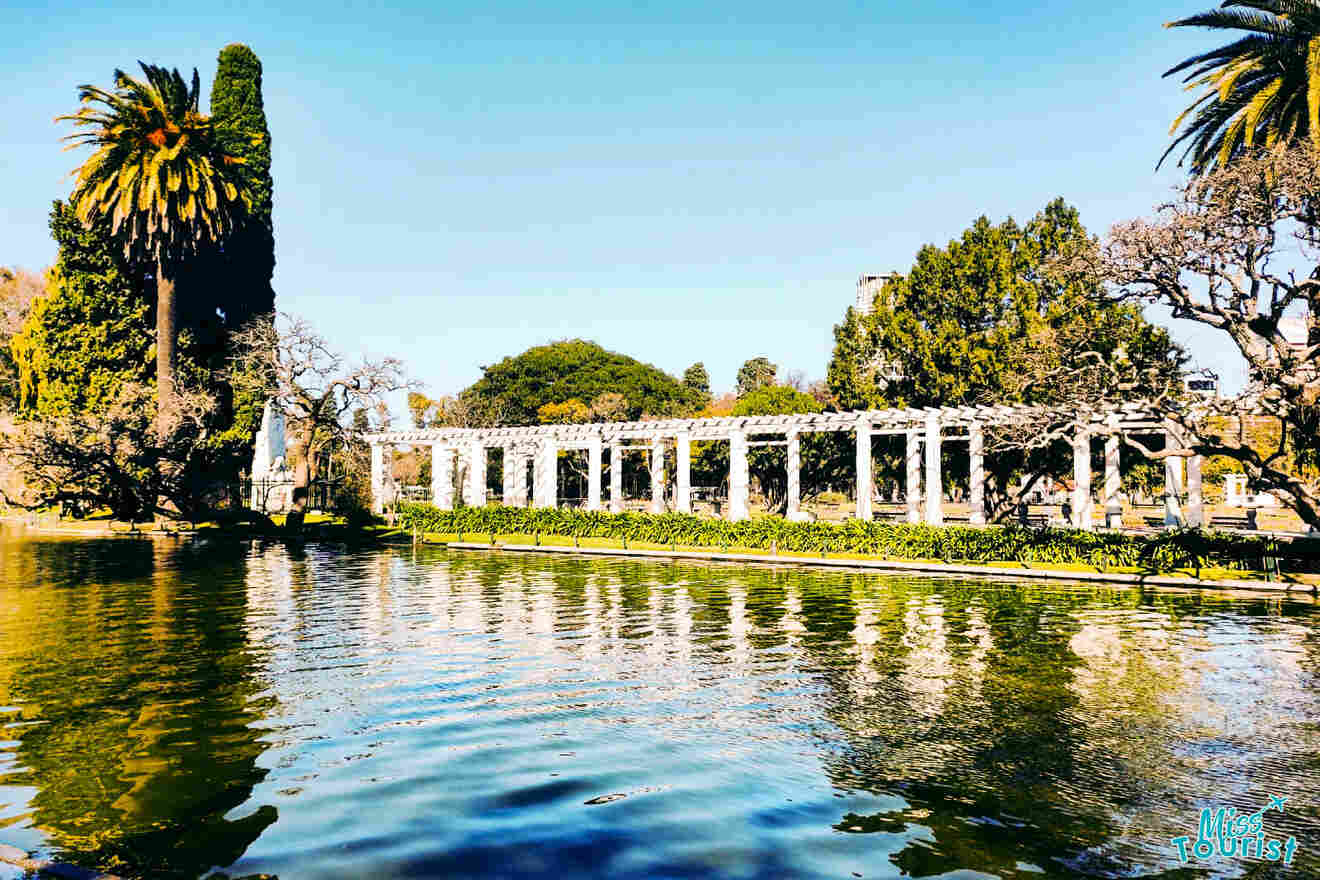 This stunning park is located in Palermo and is perfect for relaxing in the city. Whether you want to read a book, enjoy a picnic, or simply walk through the different areas of this huge park, you will be amazed by the stunning beauty of nature you can find in the middle of the city.
In 3 de Febrero Park, you can find the Rosedale, a little lake where you can rent a boat and admire your surroundings, and a Patio Andaluz that will make you feel like you are in Seville!
PRICE: free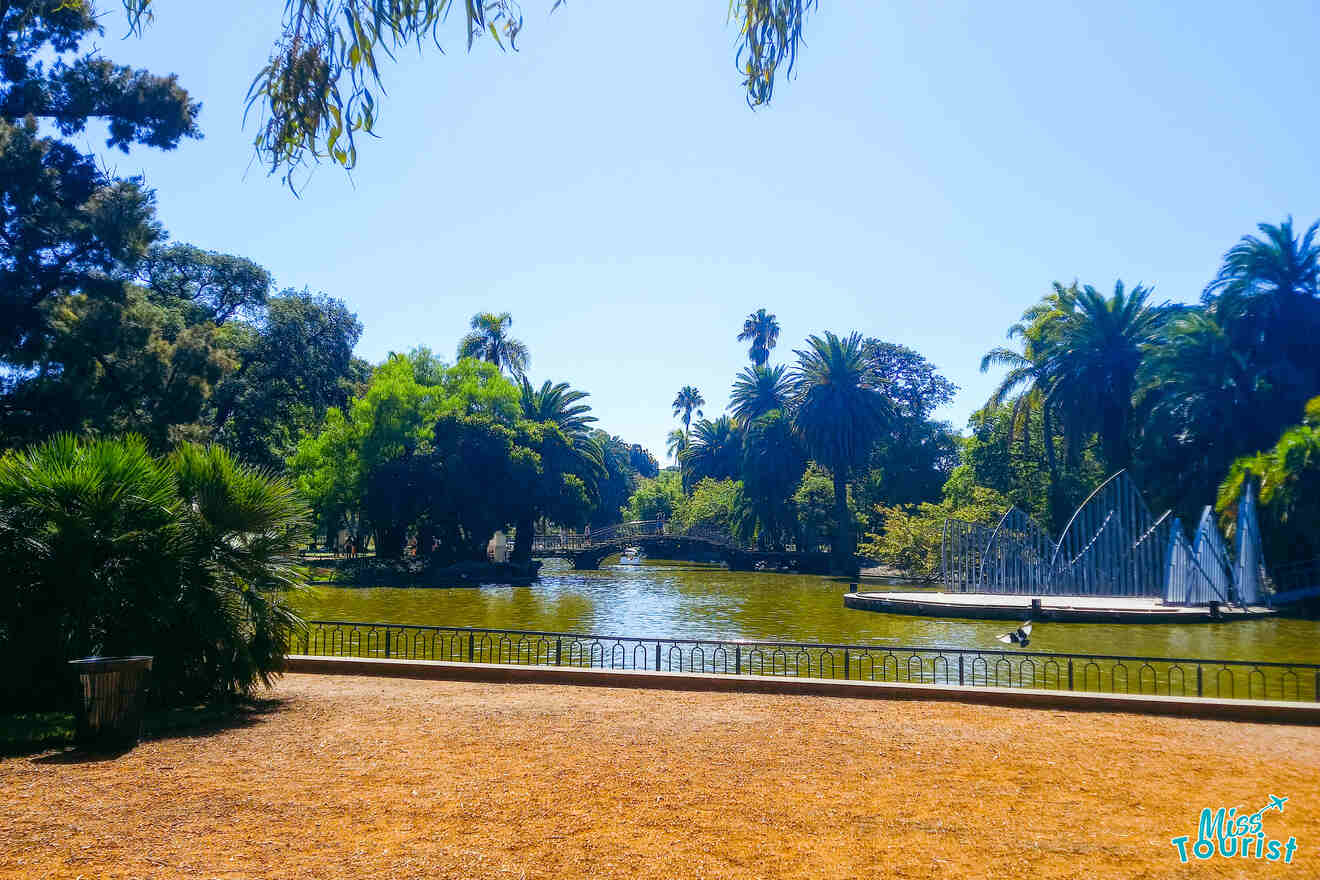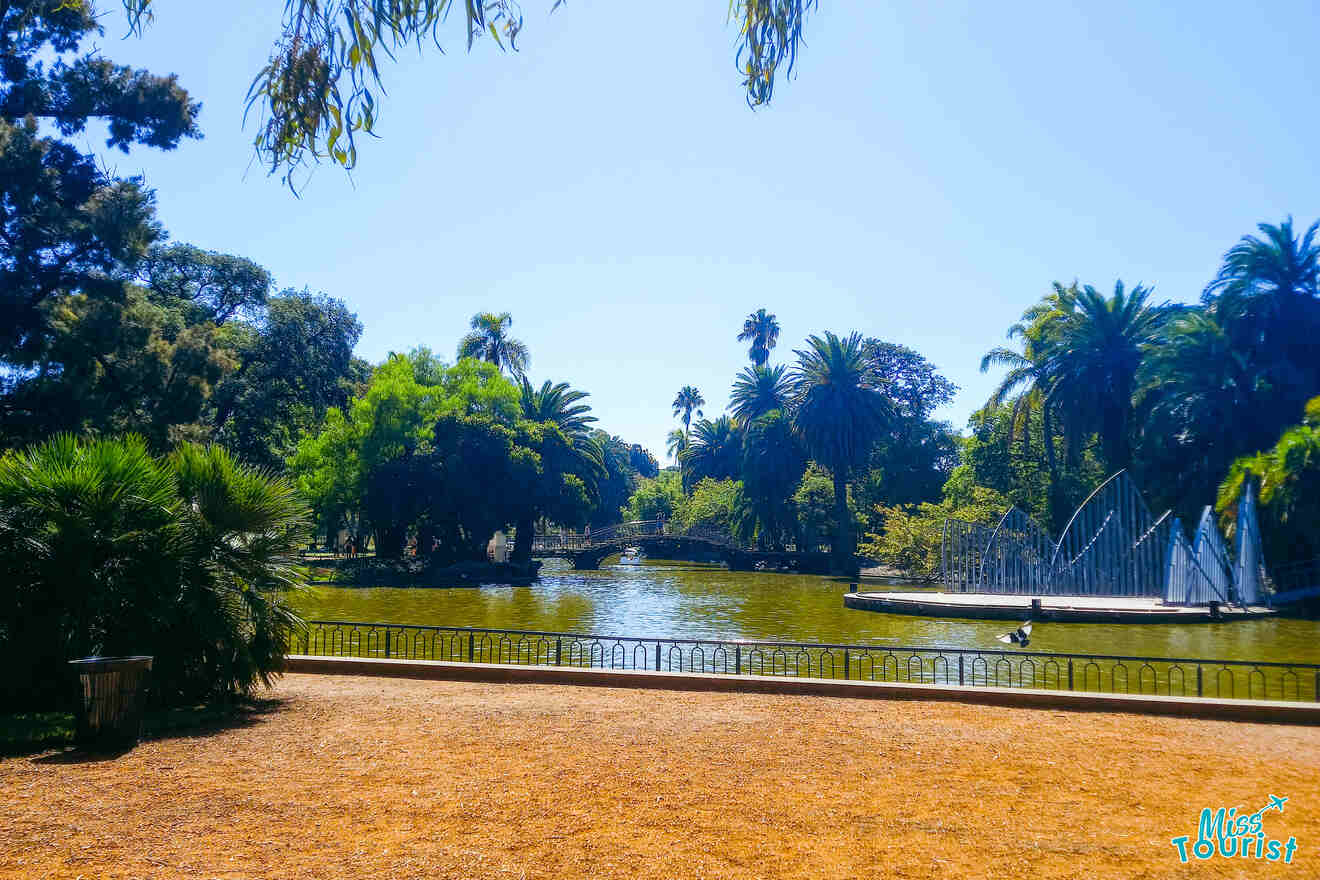 By the way, if I triggered your curiosity about Seville, worry not. We have a detailed guide on the best areas and hotels in Seville and the most exciting things to do. Check them out!
Back to the park, nearby you have hundreds of amazing cafés and restaurants. A nice stroll in the park and breakfast at a nearby bar will make you feel like a real Porteño!
PRICE: free
19. Go wildlife watching at Reserva Ecologica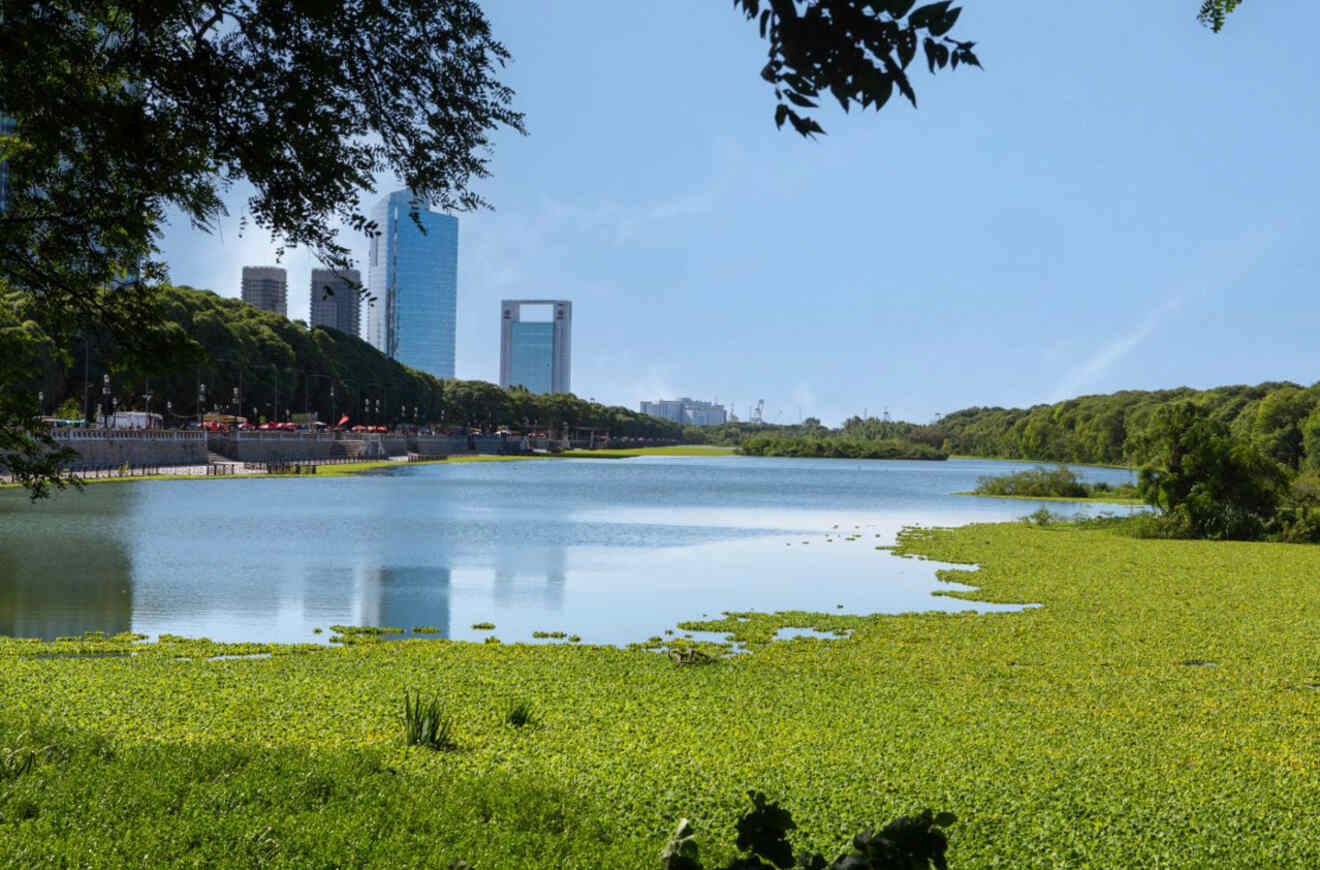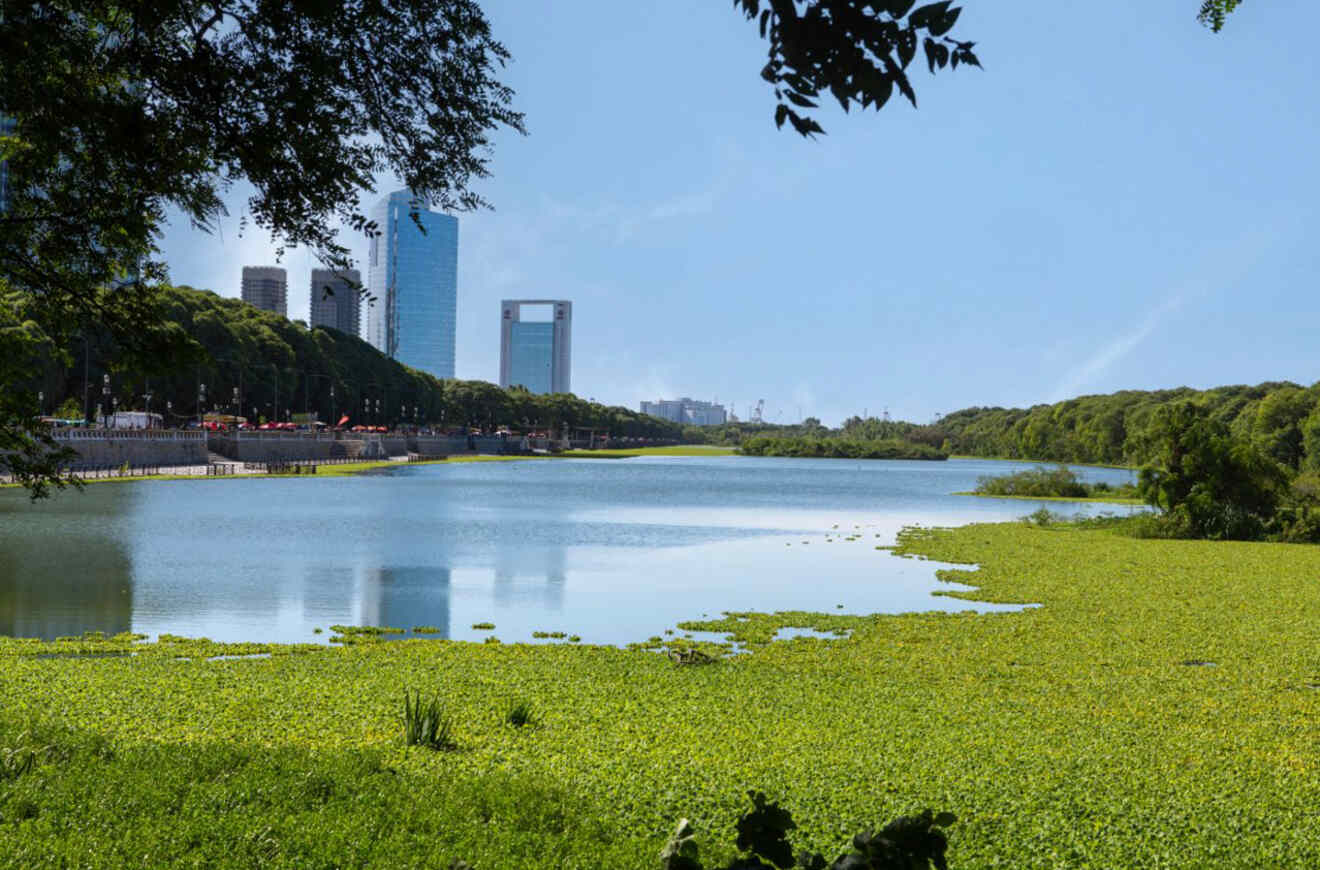 Would you believe me if I told you that in the middle of Buenos Aires, you could find a massive natural reserve with the most incredible species? Well, you can! It is located in Costanera Sur, near Puerto Madero, and you can find from black neck swans to tegu, a type of lizard! There are around 1,700 species in the reserve, stunning!
Another amazing thing is that the reserve offers night tours during the summertime, when there is a full moon, since the moon lights up some paths! This Natural Reserve is perfect for seeing animals in their natural habitat, practicing sports, or relaxing under the sun!
PRICE: free
20. Centro Cultural Konex and La Bomba de Tiempo
Centro Cultural Konex is known for its wide range of cultural activities and events, from music concerts to theater plays and art exhibitions. It is super trendy, and all the events feature local artists, so if you want to understand the cultural art scene, I highly recommend it!
On another note, every Monday, the mythical show of La Bomba de Tiempo takes place, but to attend, you need to be at least 18 years of age. La Bomba de Tiempo is a vibrant and fun drum show that will awaken all your senses, don't be shy and dance!
PRICE: US$11 for Bomba de Tiempo; buy tickets here.
21. Travel to a relaxing oasis at Jardin Japones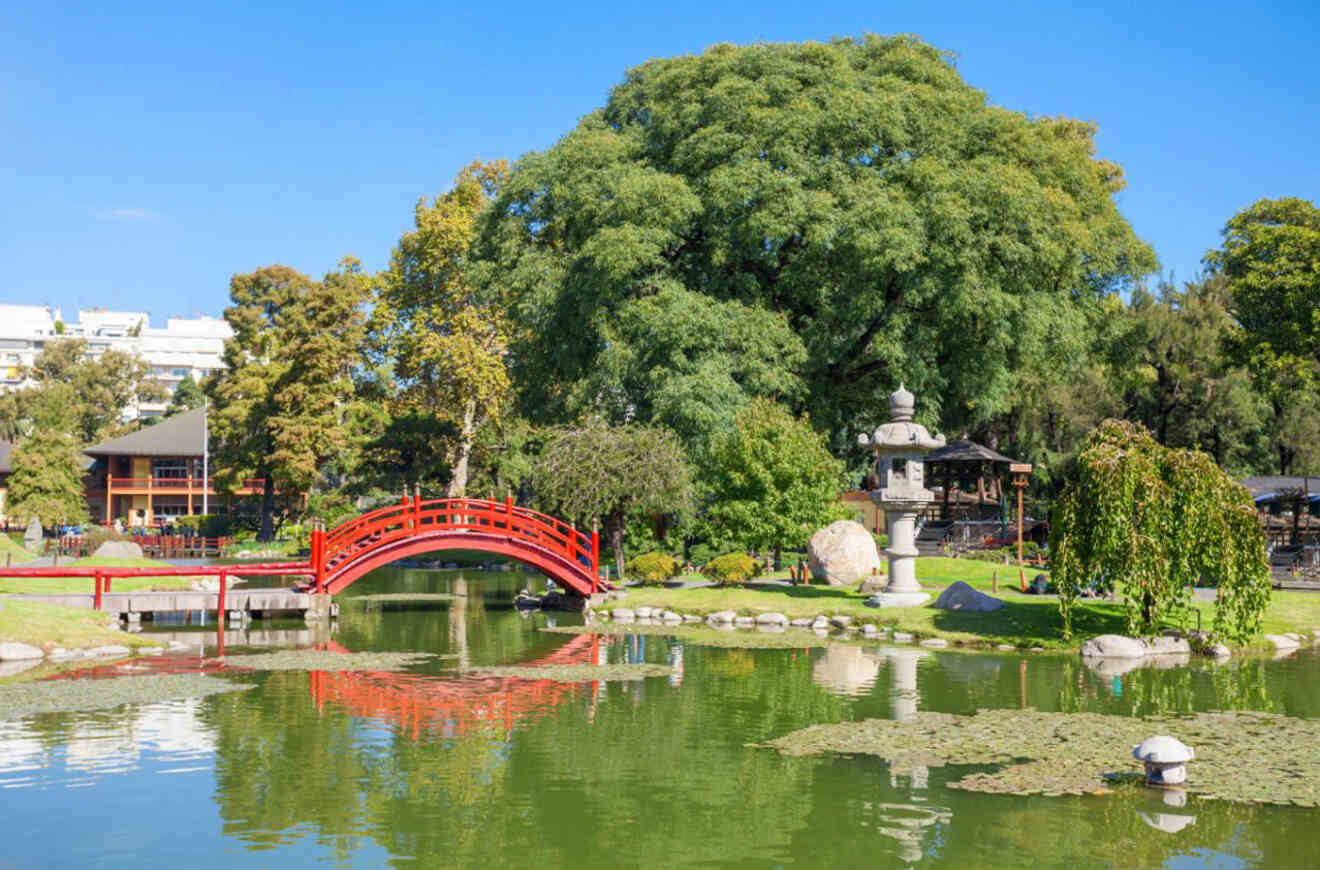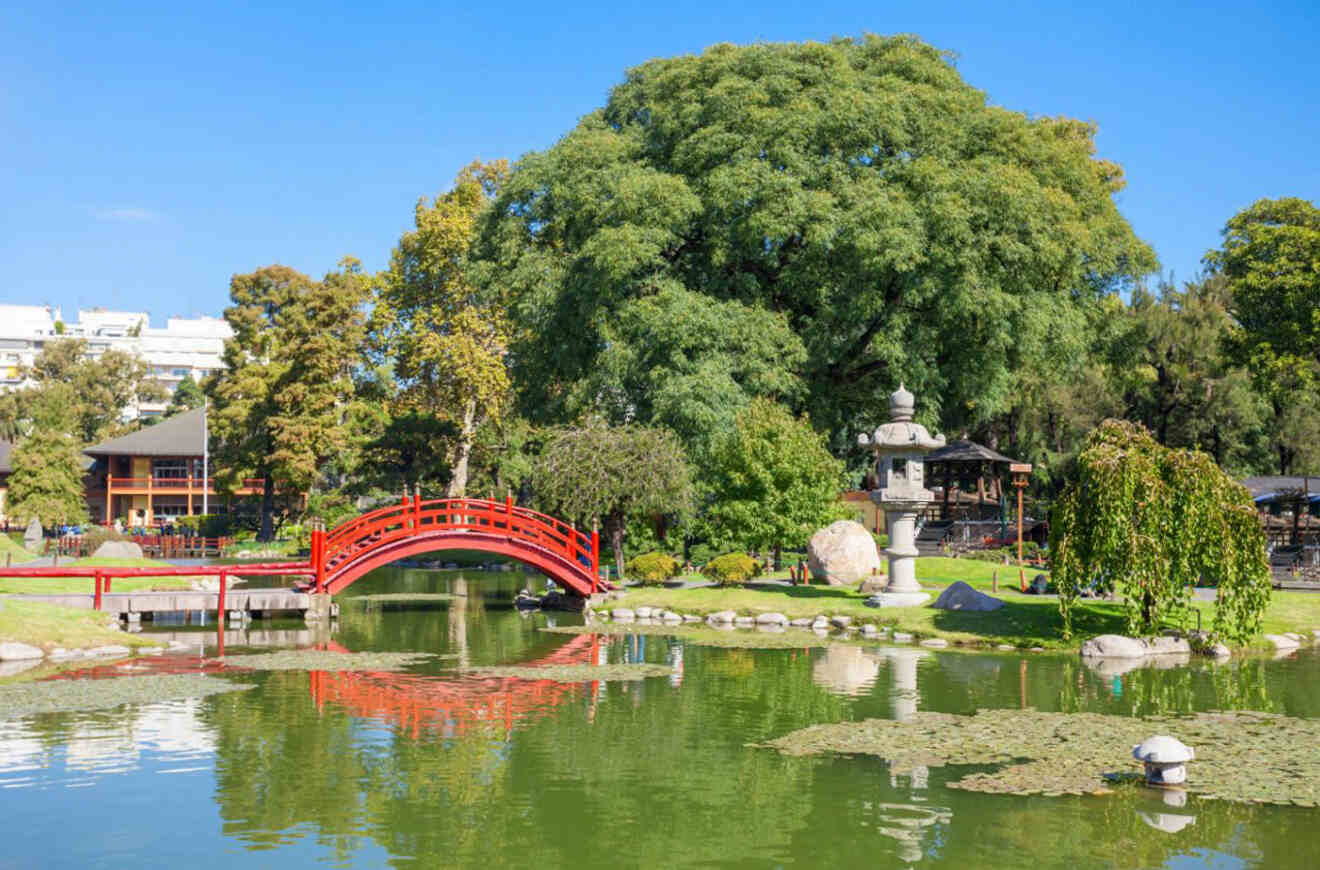 I love this little oasis of peace and quiet in the city! The garden is truly beautiful and resembles Japanese culture. The space has a beautiful terrarium, a restaurant serving traditional Japanese meals, many sculptures, traditional bridges, and a big koi pond!
Sometimes the garden hosts Japanese movies, art galleries, and guided tours. This attraction is perfect for relaxing and indulging in all the beauty of Japanese culture, alone, in family, or with your partner. Before leaving, stop by the gift shop and buy a souvenir! I highly recommend purchasing any of the beautiful tea sets!
PRICE: US$3 per person; buy tickets here.
22. Try Argentinian cuisine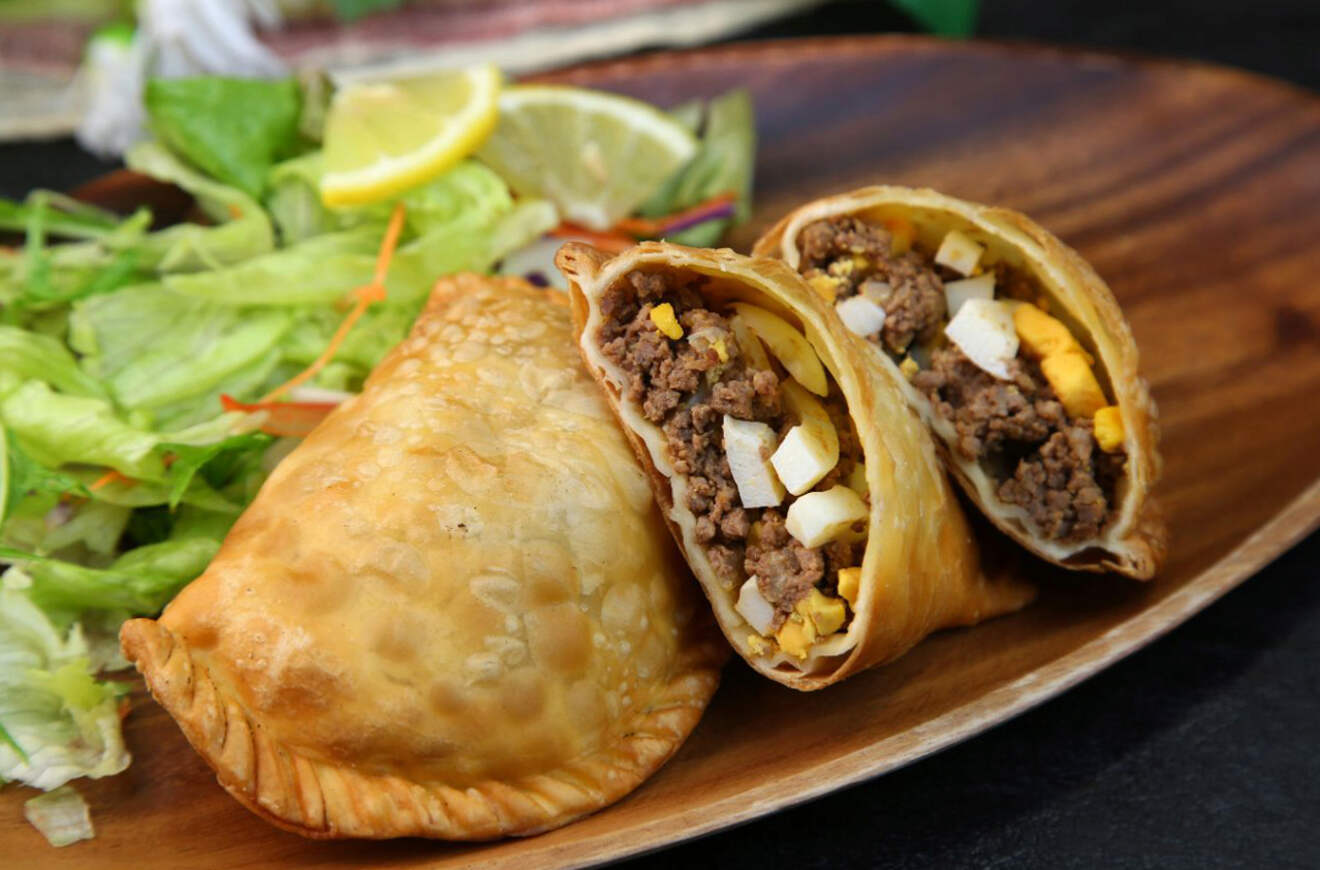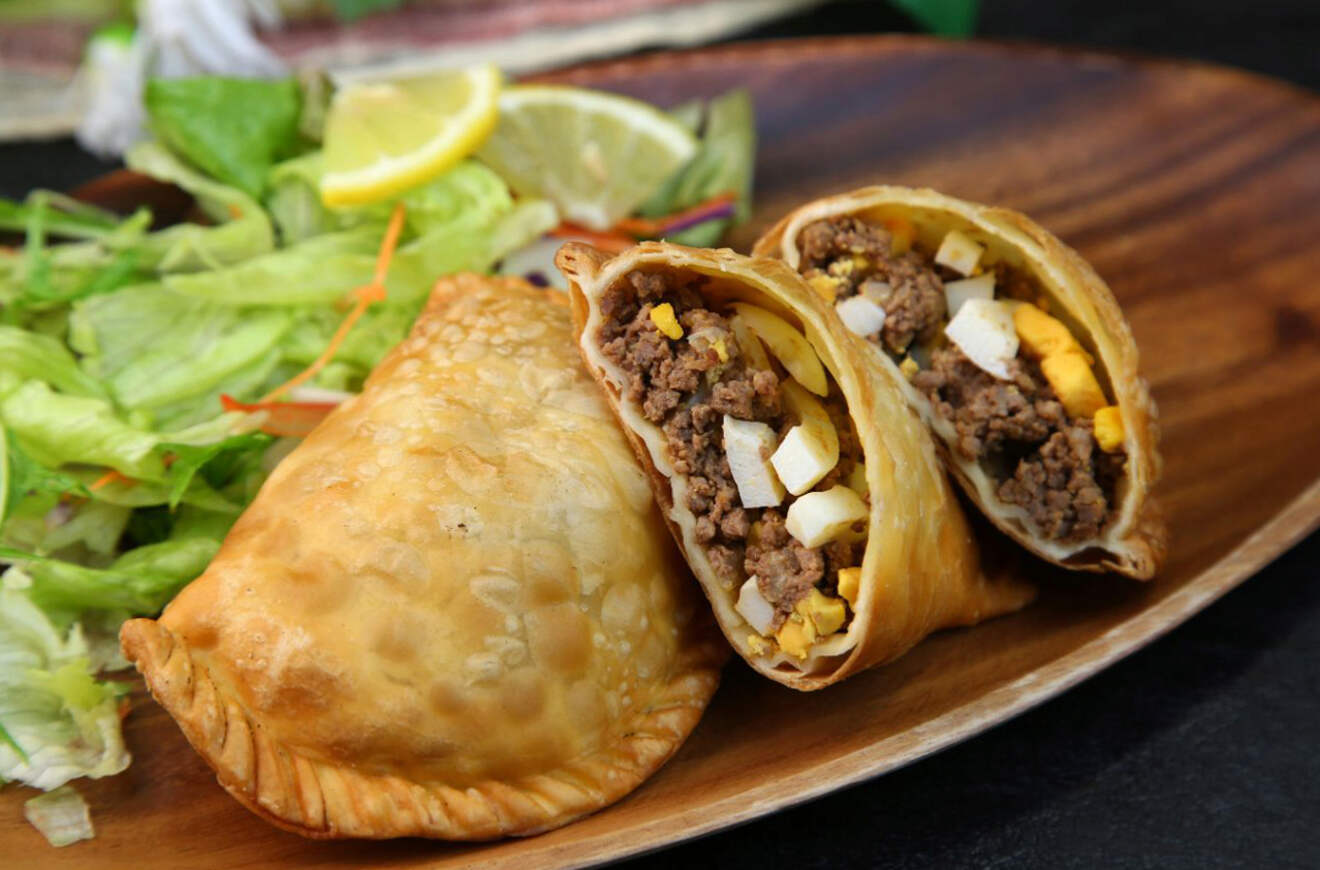 What is to be said about food and Argentina? Everything we do, all the friend gatherings, nights out, or afternoon walks, always involve food! So trying Argentinian food in an Argentinian social setting is an experience of its own! This is your chance to try empanadas, milanesas, and other traditional dishes, accompanied by a good glass of Malbec! And better yet, why not go food and wine tasting on tour?!
There is a neighborhood in the city limits called Mataderos, and every weekend it hosts Feria de Mataderos, where you can listen to folklore and try traditional food. Join this tour to see what the best places and dishes are, and then go back to them in your own time.
TOUR PRICE: from US$70 per person
23. Learn about history at Manzana de las Luces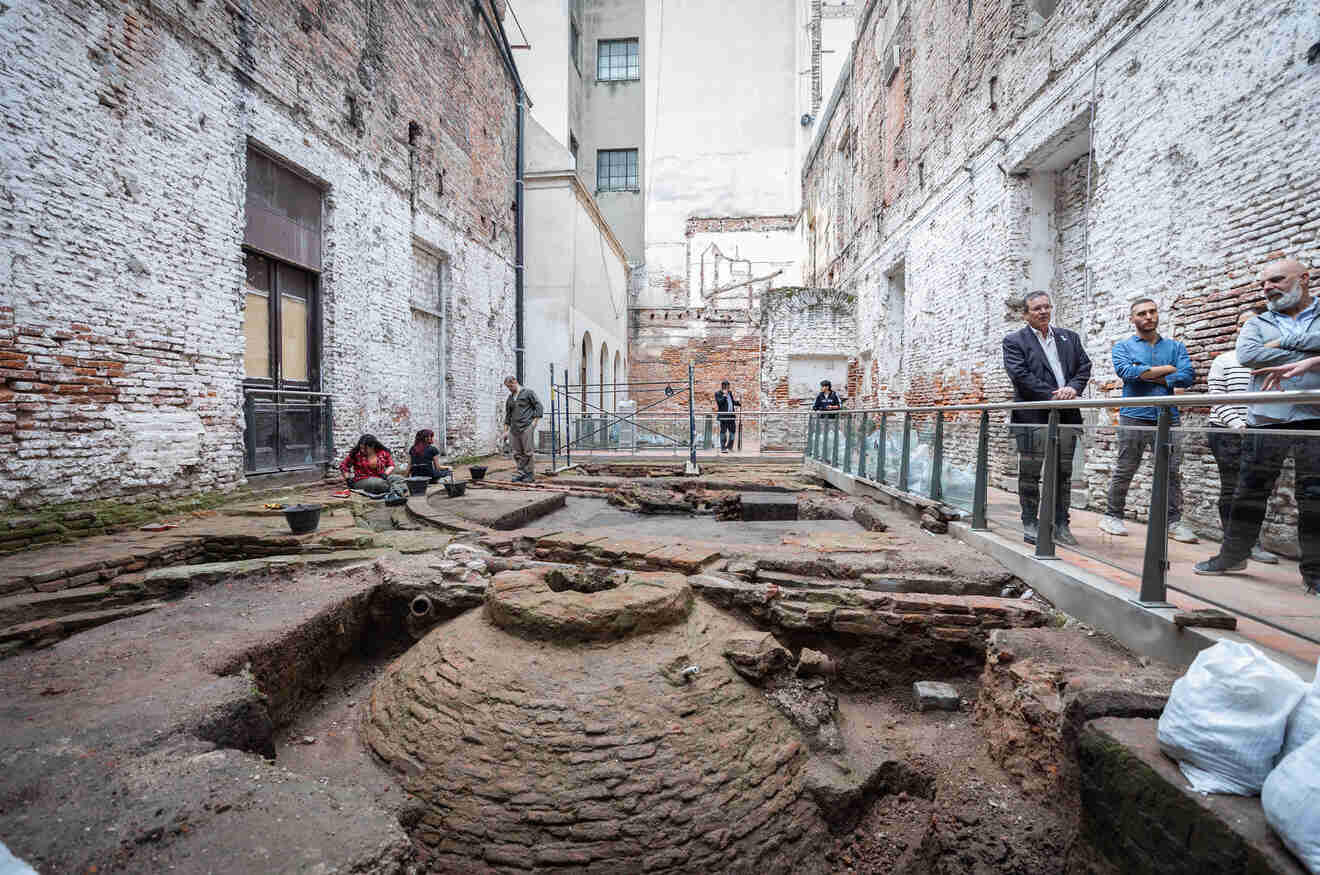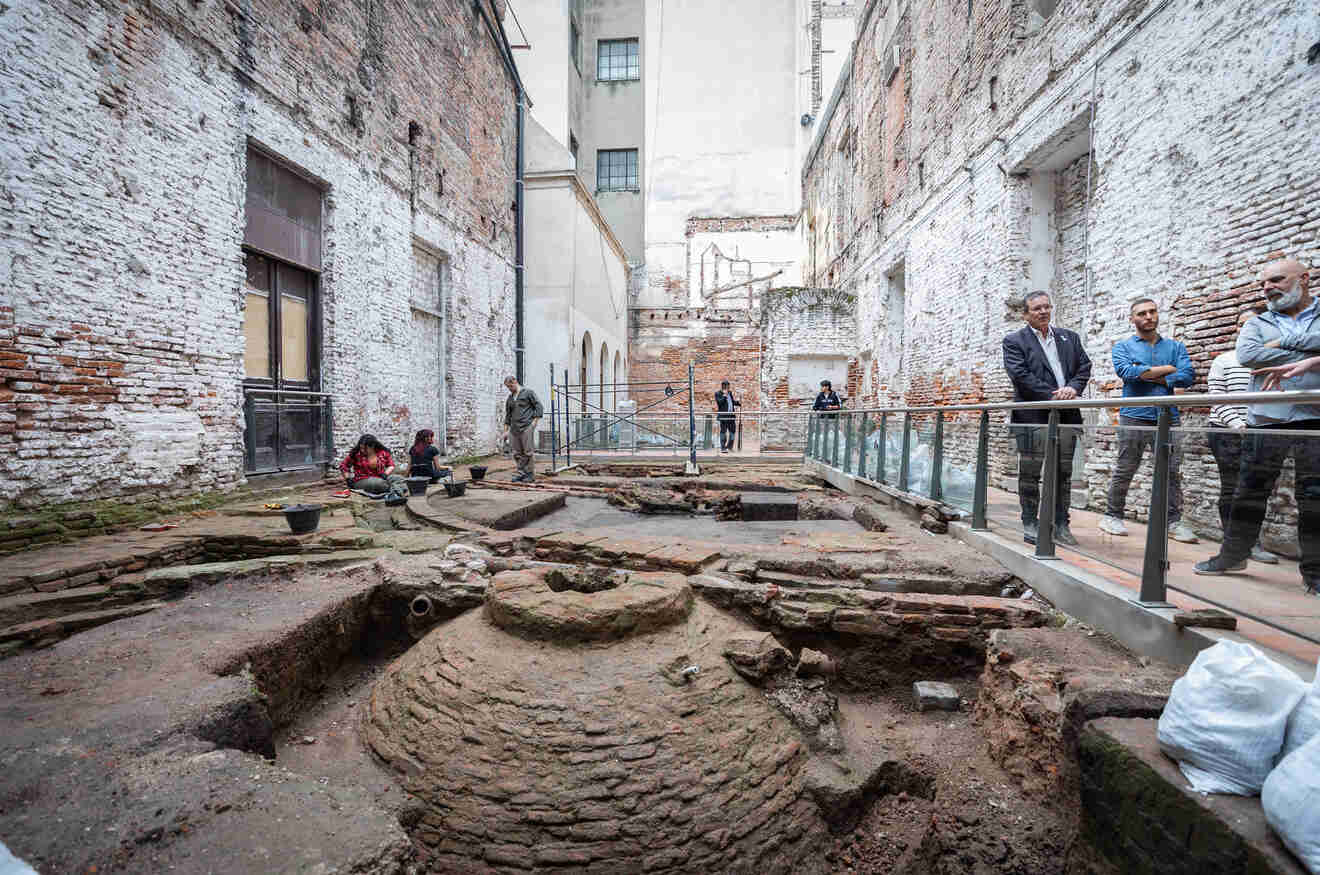 This beautiful historic complex comes with the most stunning architecture and is home to Inglesia San Ignacio, which is one of the oldest churches in Buenos Aires. It was built by the Jesuits and Colonial Tunnels that connected churches underground and served as a defense during Colonial times.
Another cool thing about this attraction is that it hosts hundreds of concerts and cultural events throughout the year, as well as art exhibitions. So, if you find yourself without a plan in the city, this attraction has your back! Manzana de las Luces is located in the beautiful area of Monserrat!
PRICE: from US$156 per person
24. Experience art in Palacio Barolo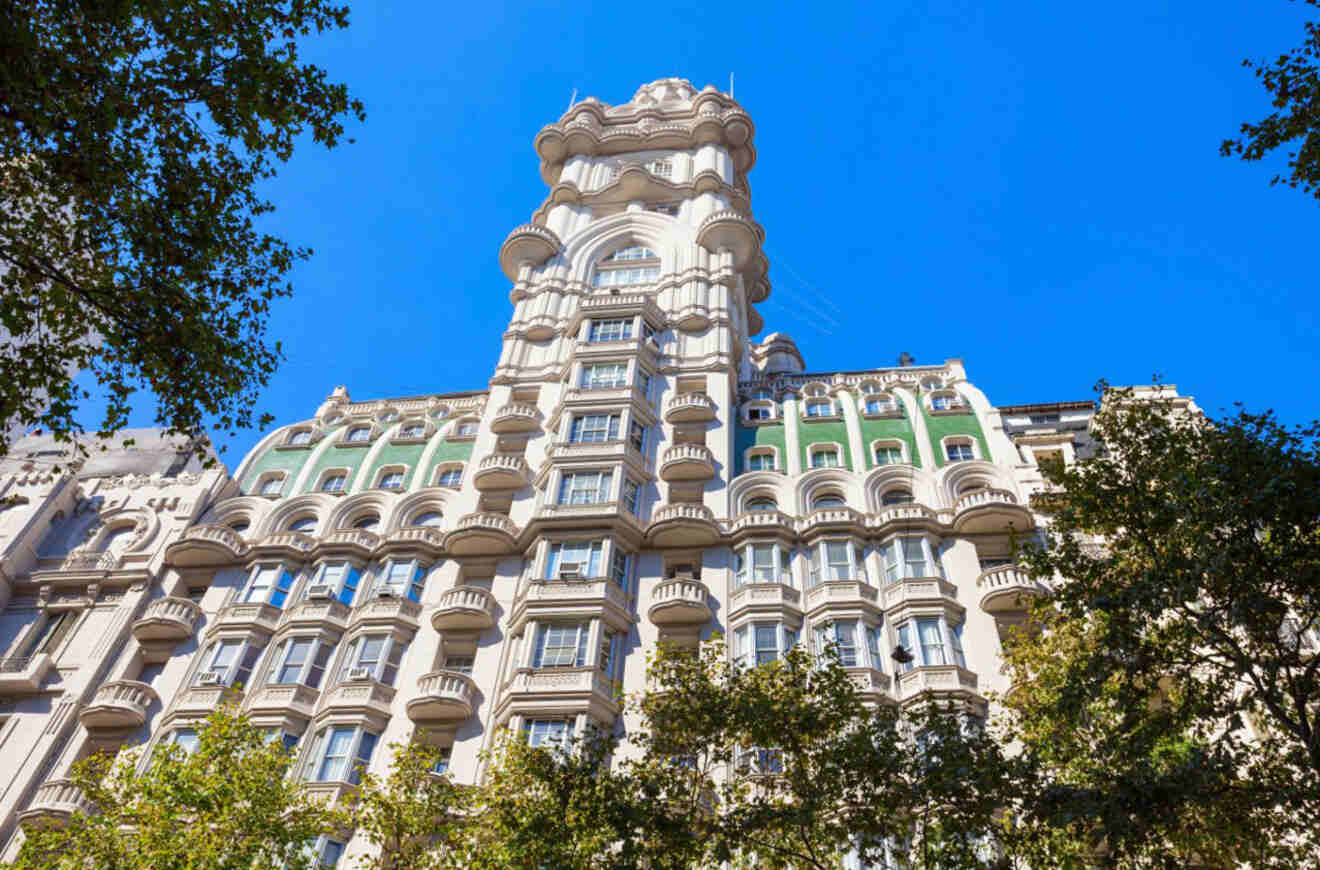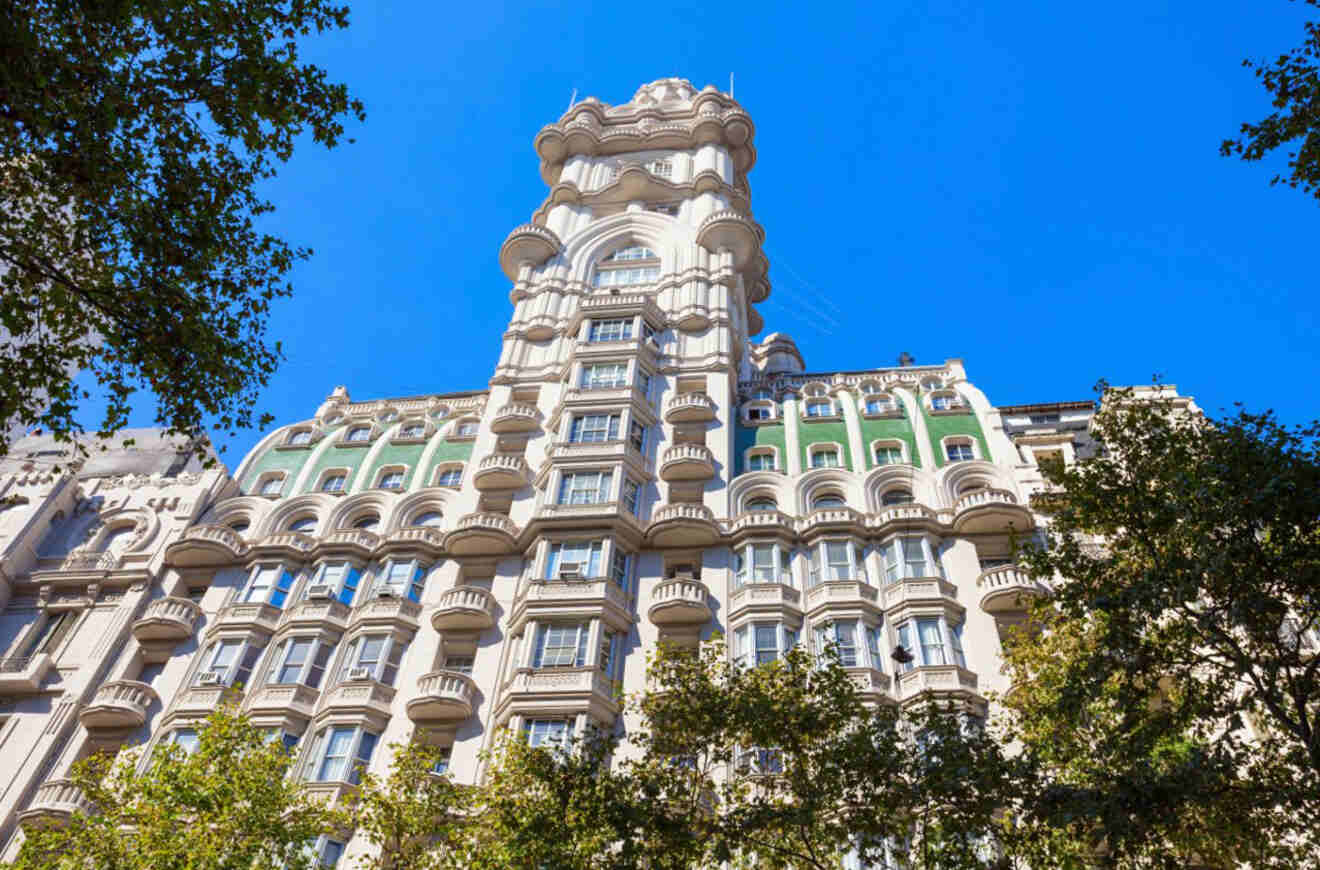 Did you know this is the tallest building in South America? It is also one of the tallest in the city, breaking all the rules!
The palace architecture is hard to describe since it resembles so many different schools, from neoclassical, neo-gothic, and even neo-romantic styles. Book a guided tour to learn all the fine details about it!
Another curious fact is that there is a big reference to Dante's Divine Comedy. Indoors you can find the 3 divisions: Inferno, Purgatory, and Paradise. Definitely a must-visit attraction in the city!
You can visit the Palacio Barolo by yourself and the ticket costs around US$30. I suggest you take a guided walking tour which includes the entrance as well, and will fill you in all the details about the palace's intricate architecture.
TOUR PRICE: from US$104 per person
| | |
| --- | --- |
| 🏛️ Best museum: | MALBA |
| 🎢 Top paid attraction: | Tango Show |
| 🚶🏽‍♂️ Best free activity: | Cementerio de la Recoleta |
| 👧 Best attraction for kids: | El Tigre and Parque de la Costa |
| 🕺 Nightlife: | Palermo District |
| 🥟 Must-try food: | Empanadas |
FAQs about unique things to do in Buenos Aires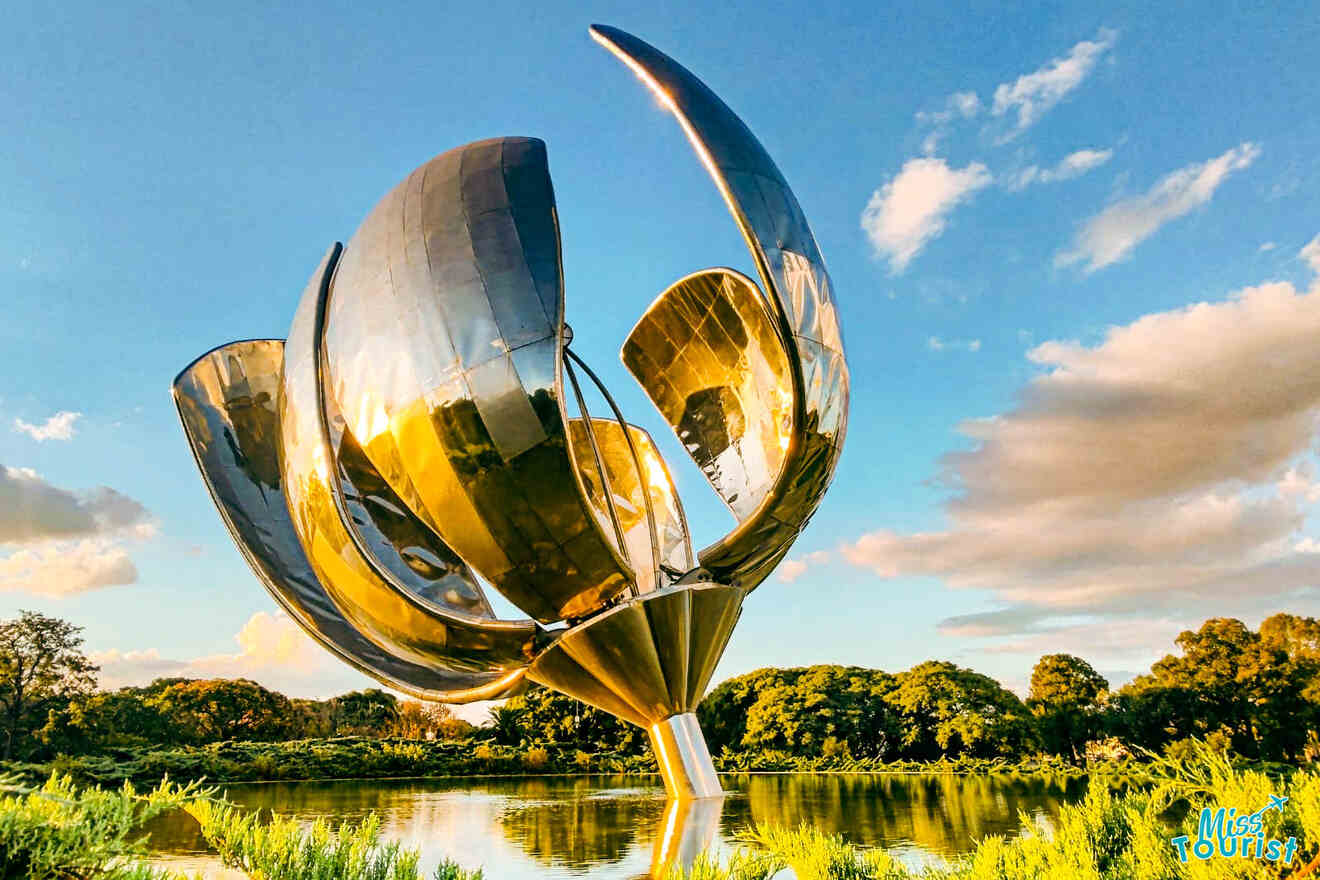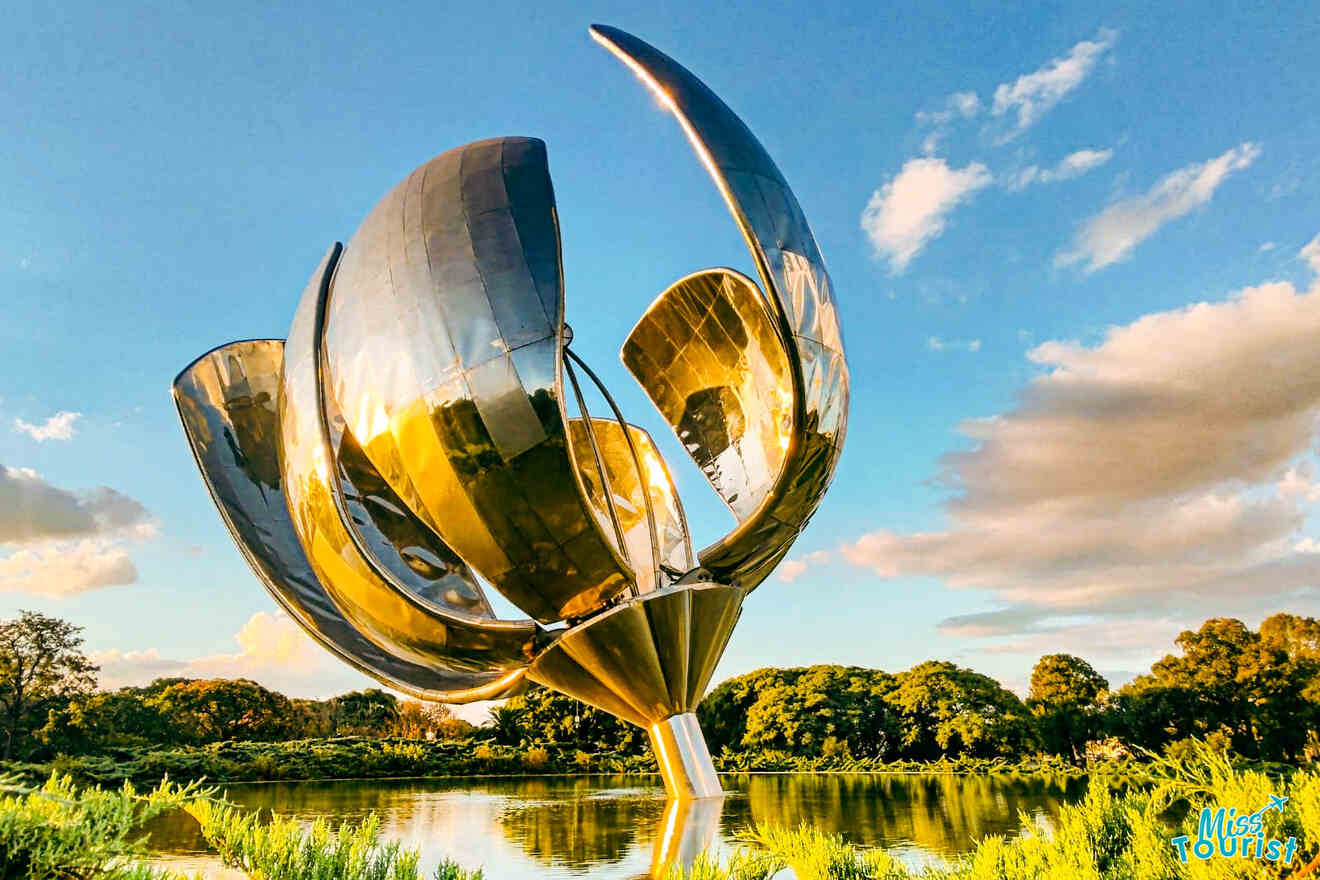 🇦🇷 What is Buenos Aires known for?
Buenos Aires is known for its cultural heritage and history, amazing food, and passionate spirit that is expressed through art, tango, and football! Take this tour to learn more about the city!
🧉 What is the best Argentinian traditional food?
If you want to try the most traditional food in Argentina, you need to try empanadas ( simply heavenly!), alfajores (the ones with dulce de leche), and mate( this is a drink but traditional). Here you have a food tour to enhance the experience!
🌃 How is the nightlife in Buenos Aires?
It is vibrant! If you want to go out dancing all night or have a nice meal at a bar at midnight, it is more than possible. Like we say "La noche está en pañales". Here you have a night tour of the city.
🌆 Is Buenos Aires a walkable city?
Yes, but keep in mind that it is a big city. If you want to go from Palermo to Puerto Madero, you definitely will need to take public transport. But if you want to go from Palermo to Recoleta, it is more than doable!
💃 What is the prettiest part of Buenos Aires?
It is hard to say! All of the areas have a special charm and something cool to do, Palermo is beautiful to go out or go for a picnic, and Puero Madero is amazing for a fancy dinner and beautiful views!
Conclusion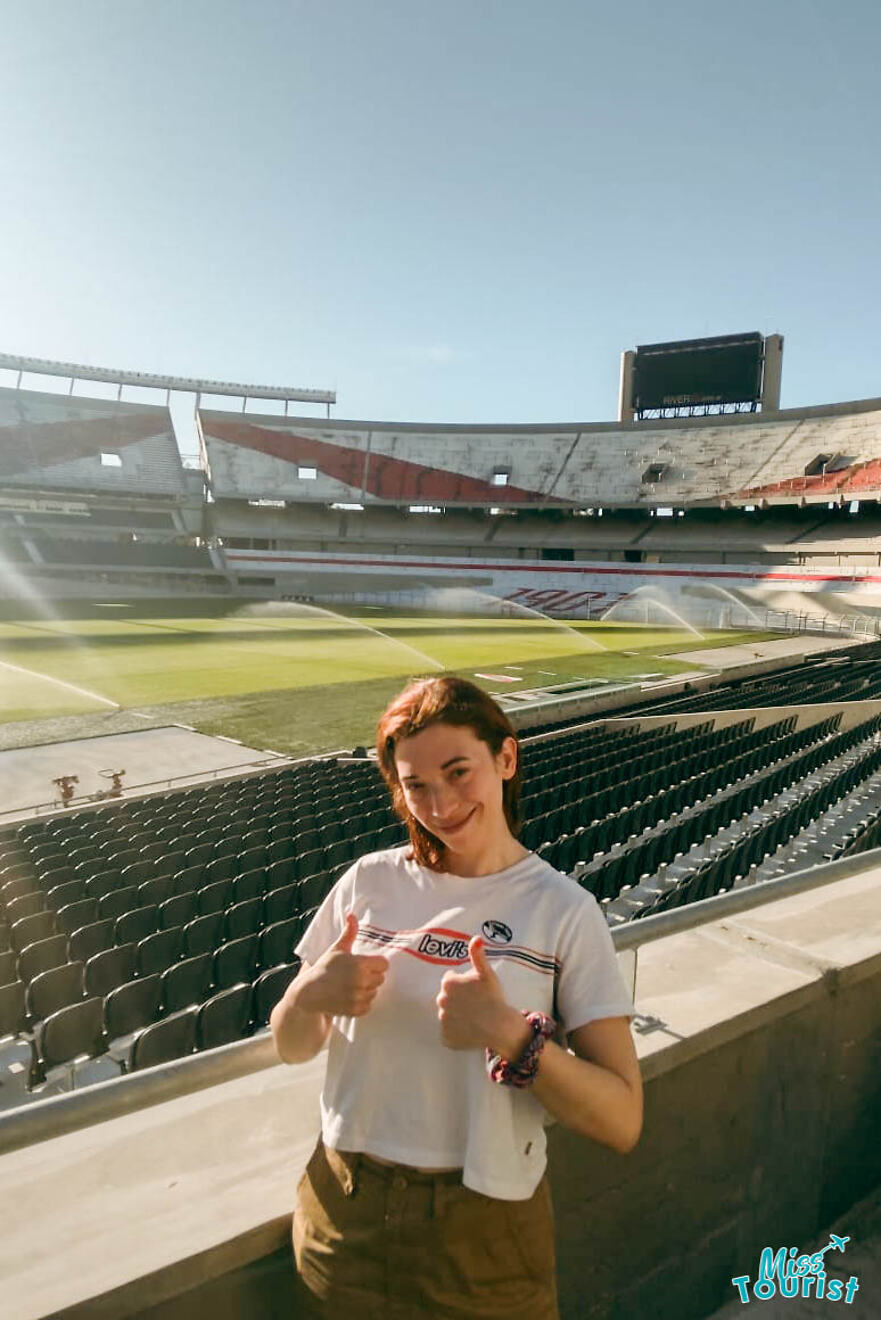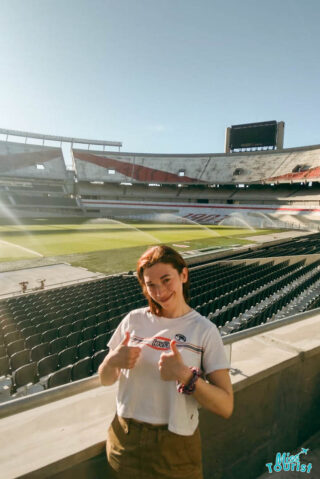 That is a wrap for today, my lovely travelers! Those were the most unique things to do in Buenos Aires. I shared with you amazing options that will make you feel like a local and will make you fall in love with this incredible city that has so much to offer, from art, sports, culture, and cuisine!
The city of Buenos Aires is super big, so sometimes it is not possible to walk from one attraction to the other but walk as much as you can in every neighborhood. You will be surprised by the number of cute shops and cafés you will see and will want to try out!
Are you ready to explore Buenos Aires, Argentina? Which of these amazing activities are you excited to try out? Let me know in the comments!
Most of the tours featured in this article are popular, so the best thing you can do for yourself is book your tours in advance!
Until the next adventure,
Daniela
---
Pin it for later!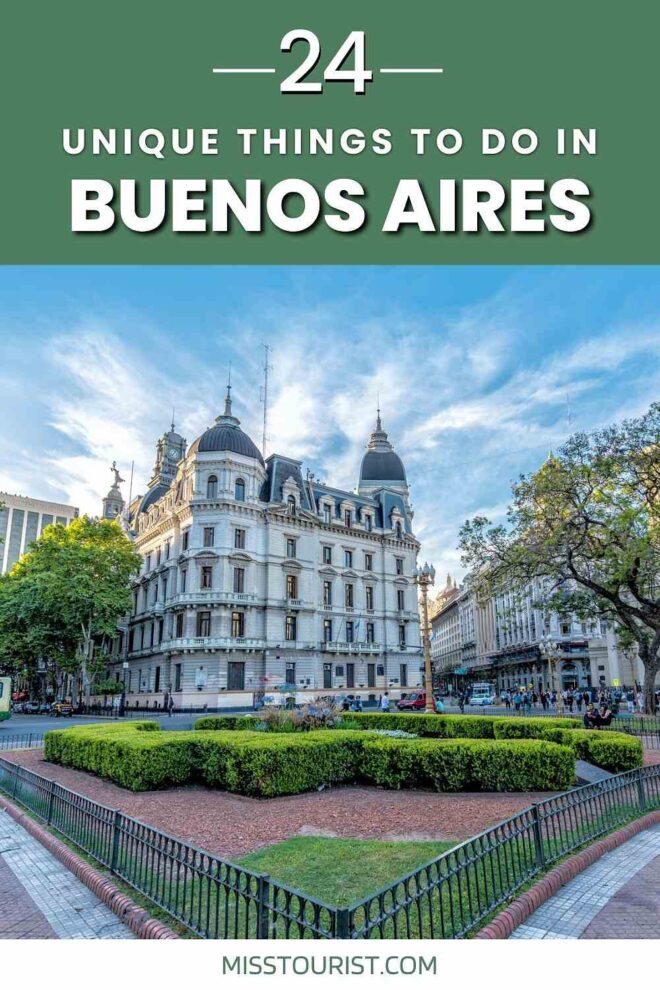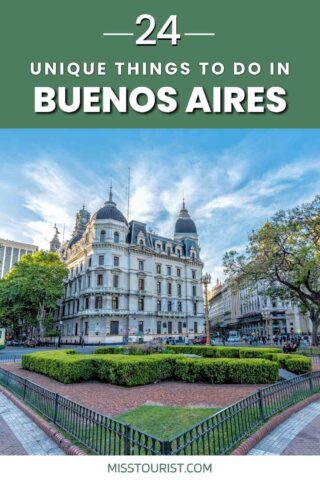 Pin it for later!