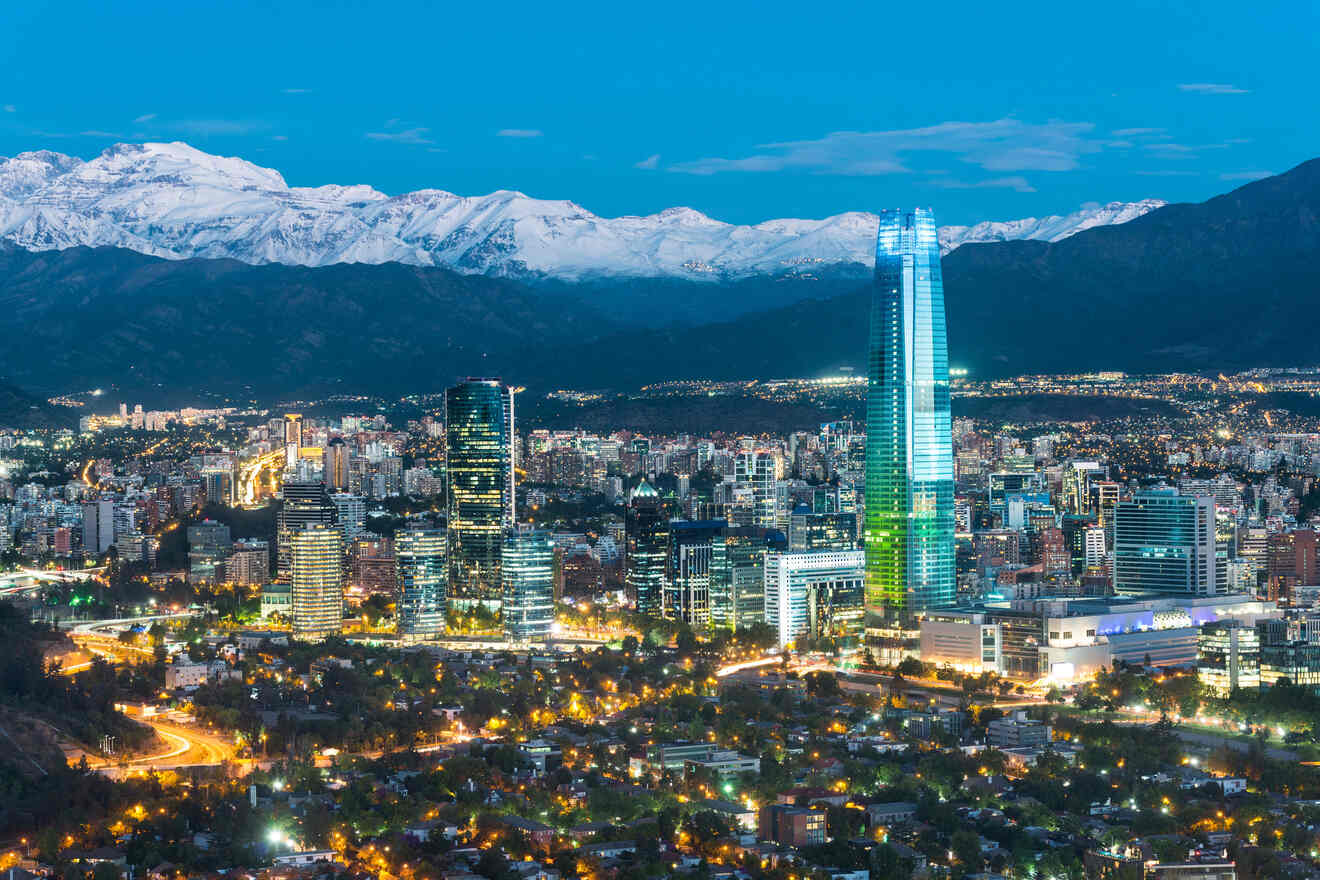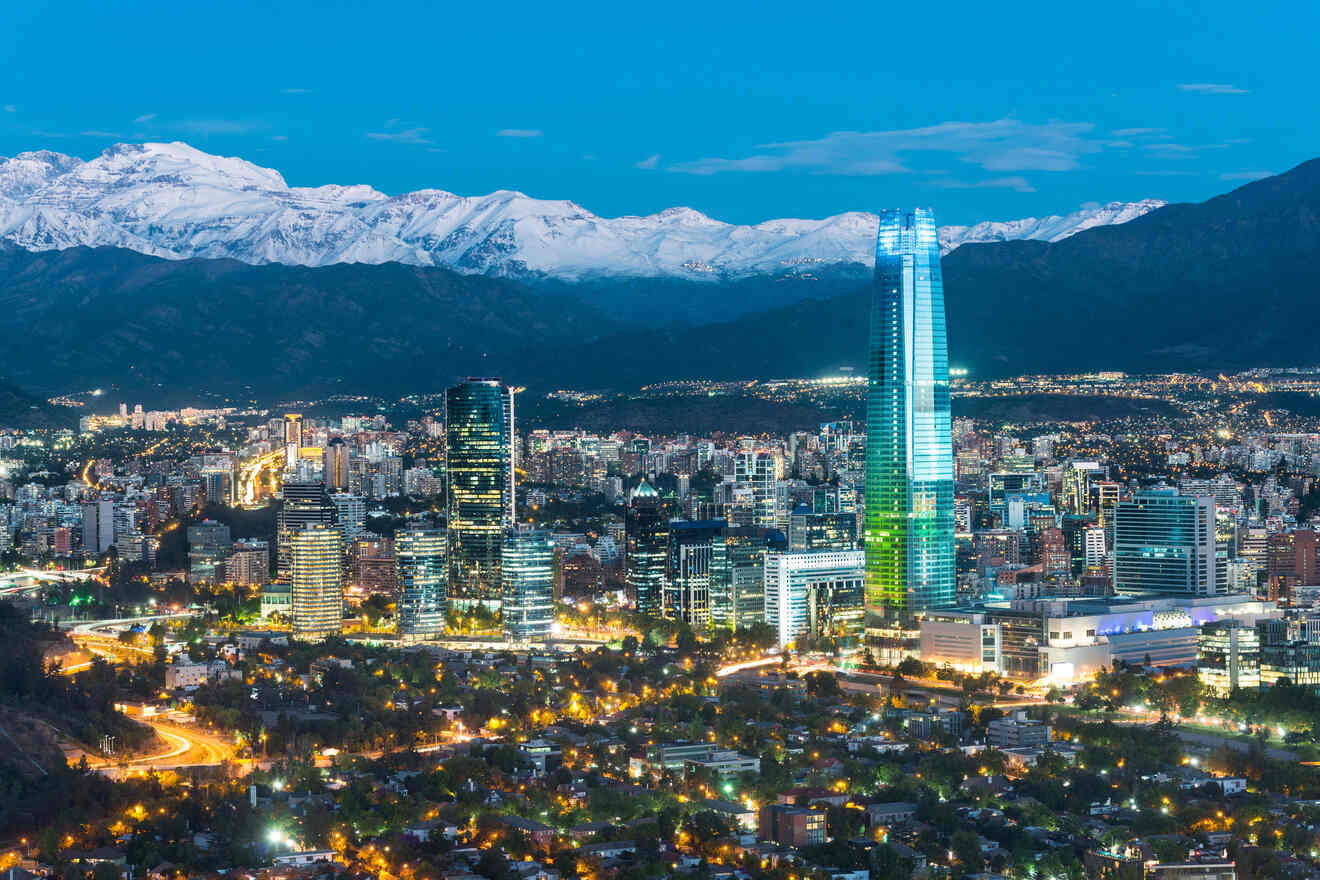 In the slimmest strip of country in South America, you will find one of its biggest metropolises, Santiago, the vibrant and diverse capital of Chile with a population of 5 million people (7 if we count the metropolitan region)!
Even if often overlooked, this surprising city is definitely worthy of your attention for the cultural, natural, and historical landscape that it has to offer. In fact, Santiago de
Chile is home to La Moneda Palace, where Pinochet's bloody coup took place, as well as the home of the activist and poet Pablo Neruda.
But regardless of its political turbulent past, the city is still a gem for tourists, offering a great culinary and drinking scene… don't forget that Chile is one of the major hubs of wine production in the Americas, offering great wine tours in the romantic wineries scattered around the country!
Not to mention the nature here: Santiago de Chile is surrounded by the Andes Mountains, which make an incredible backdrop to the city, and at the same time is just an hour away from the beaches of the Pacific Coast, so you'll have easy access to the best skiing, hiking, and surfing on the continent!
In a nutshell, there's no reason you won't love this incredible capital, at least I would! So at this point, you only have to decide where to stay in Santiago, Chile, and with its 34 comunas or barrios (the Spanish name for district) it can be hard. That's why I decided to make this accommodation guide, to help you find the best hotels for your budget in the areas that most suit your interests!
Just a tip: when you find the best option for your dreamy vacation in Santiago de Chile, make sure you book it at least 2 months in advance if you want to find a place with some good deals.
So make yourself comfortable and come with me on this amazing journey!
Ready? Let's go!
If you are in a hurry
If you need to make a quick decision and book immediately, I got your back, check this list with the best hotels located in downtown Santiago:
Here's a map with the 8 best areas to stay in Santiago de Chile that I will be talking about in this post, so you can visualize them:
1. Plaza de Armas – where to stay in Santiago de Chile for the first time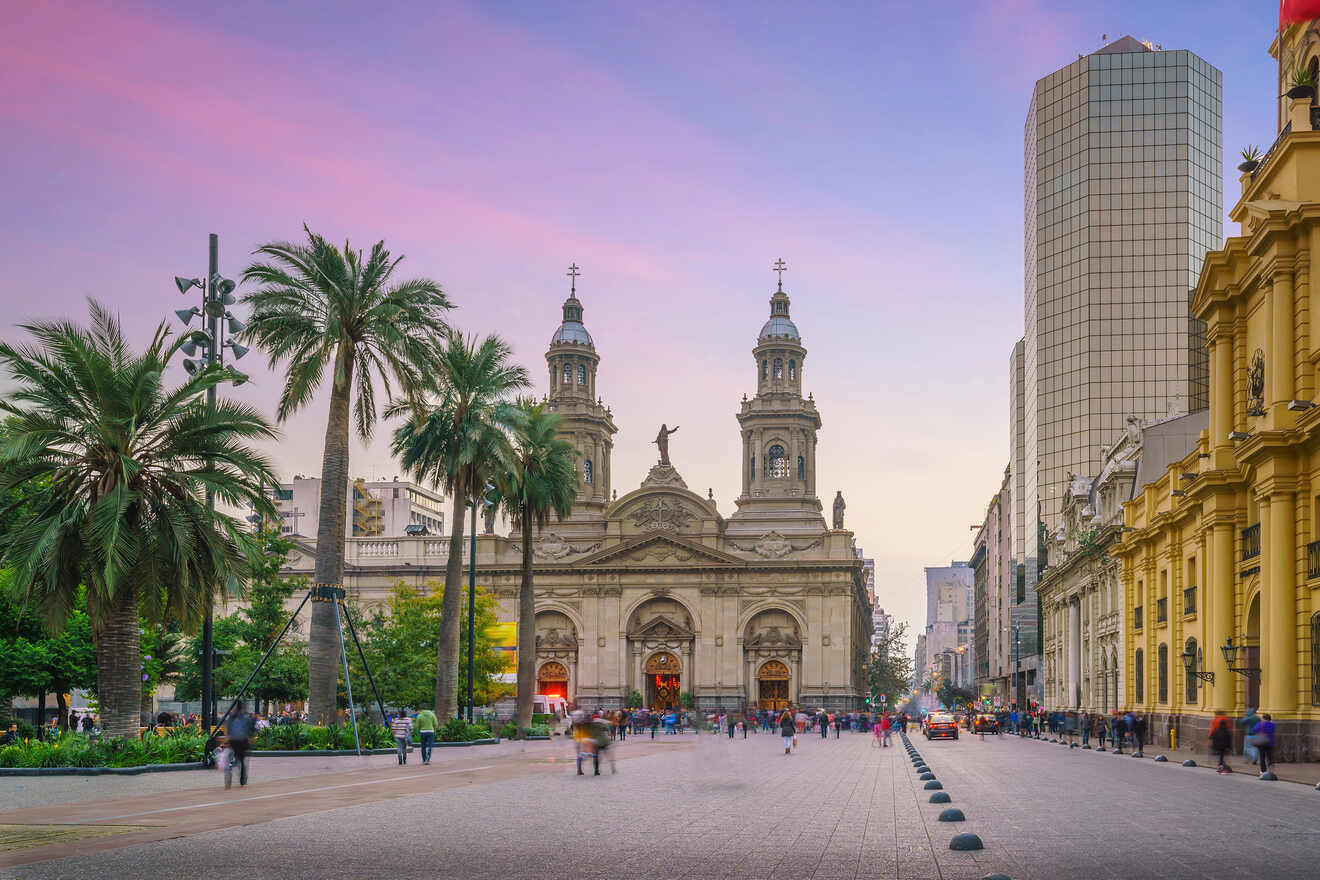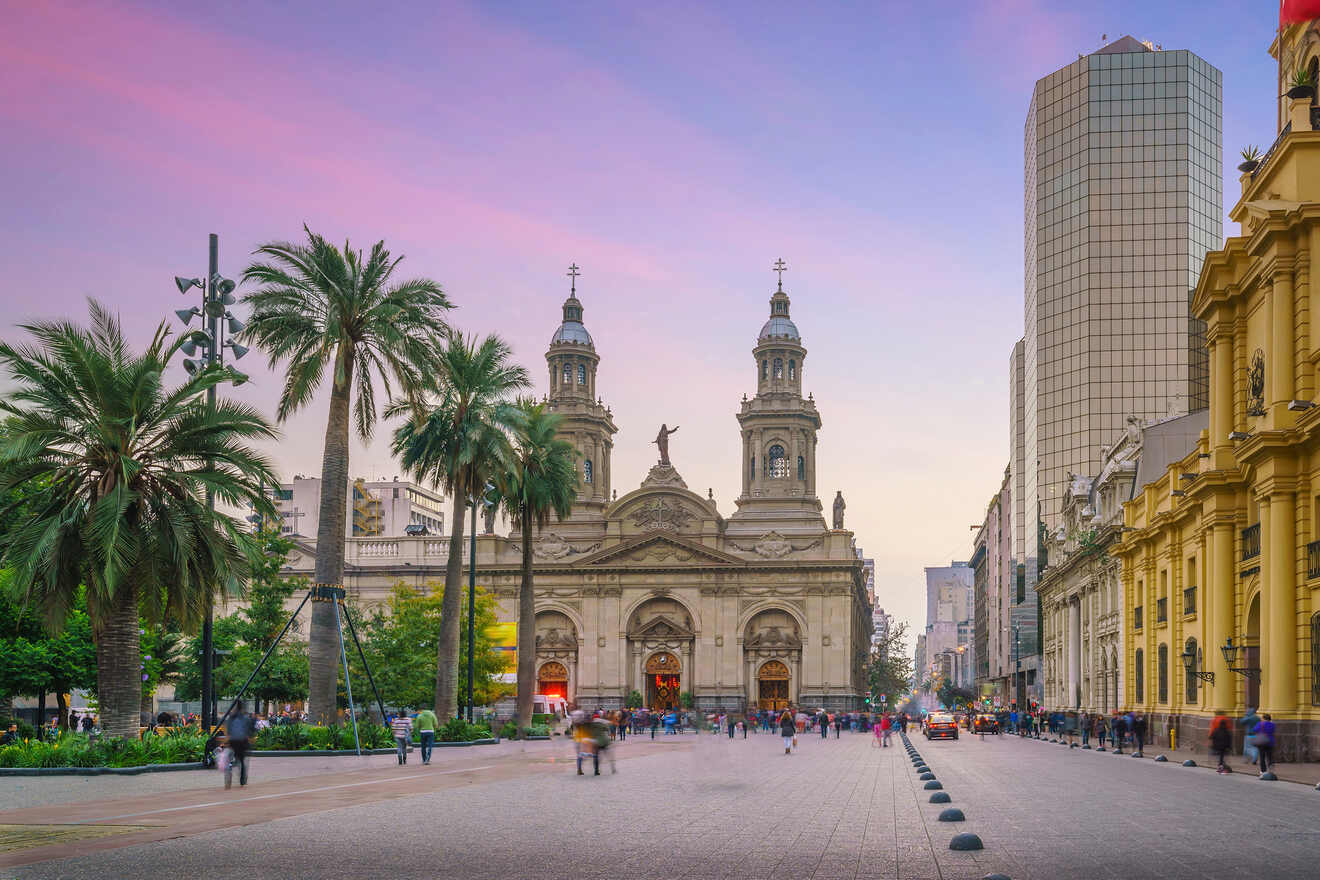 If it's your first time in the city, the area around Plaza de Armas (also called the Centro District) is definitely where to stay in Santiago: with its central location, it will offer you the perfect mix of history, authentic culture, shopping, and great restaurants!
Here is where you'll find the famous La Moneda Palace, the presidential palace, as well as many beautiful landmarks of the city such as the Cathedral of Santiago and the National Historical Museum.
But just wandering around its streets and neoclassical buildings you will soak up the Chilean culture through live art and street performers, food vendors selling traditional snacks and drinks such as mote con huesillo or the sopaipilla (check them out!).
In Plaza de Armas you will find a lot of great accommodation options, but many of them are boutique hotels, so I don't recommend the area if you're on a tight budget, but I could find some good hotels for each price category… Let's take a look together!
Other accommodation options in Plaza de Armas
Things to do in Plaza de Armas
Gaze at the important La Moneda Palace
Try Chile's traditional snacks: mote con huesillo or the sopaipilla!
Visit the National Historical Museum
Dine at La Piojera for some traditional food from Chile
Have a full-day wine-tasting tour of the Casablanca Valley!
Check out La Vega farmers market for shopping and local meals!
Eat, drink and shop at the famous Santiago Central Market!
2. Bellavista – the coolest area to stay in Santiago, Chile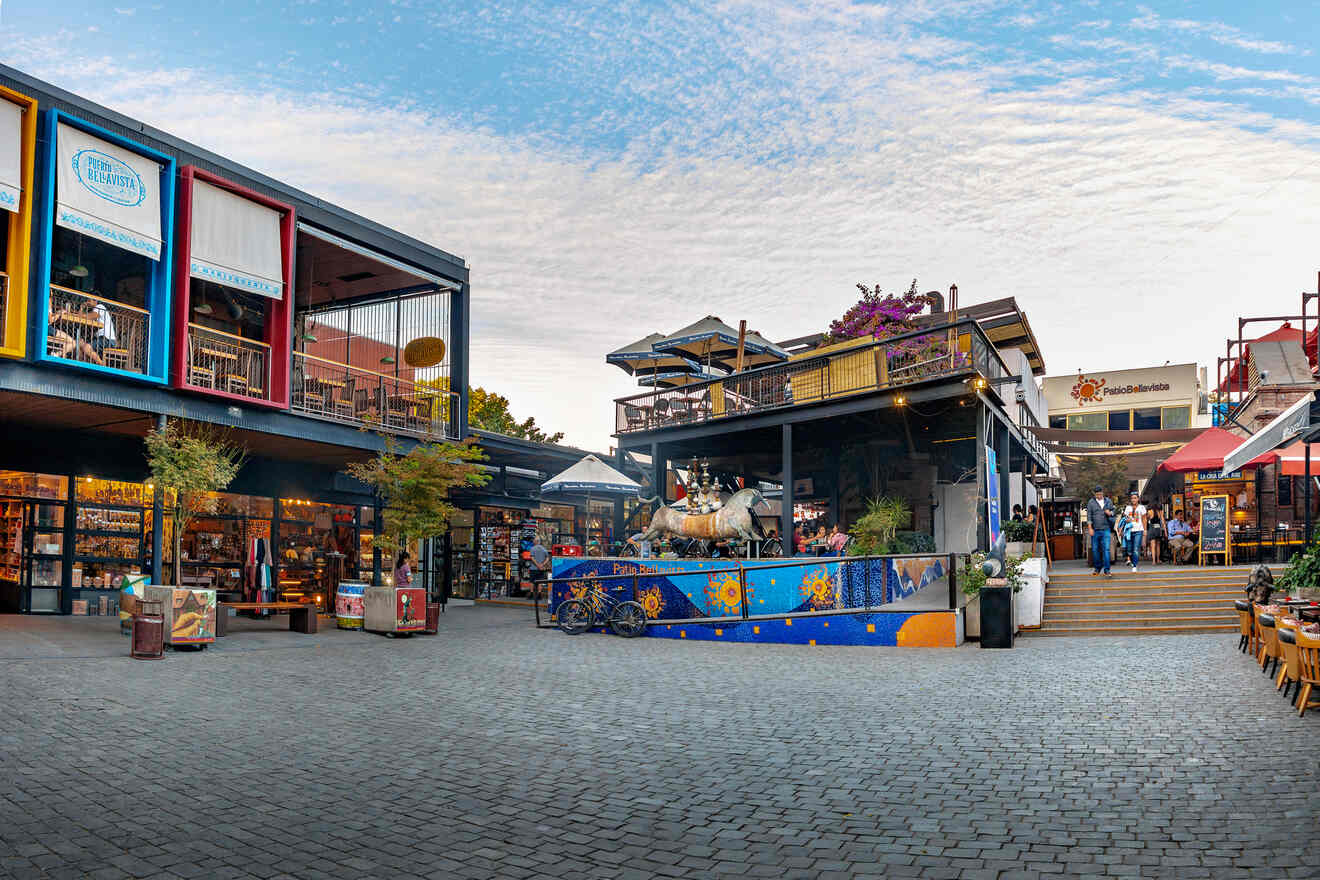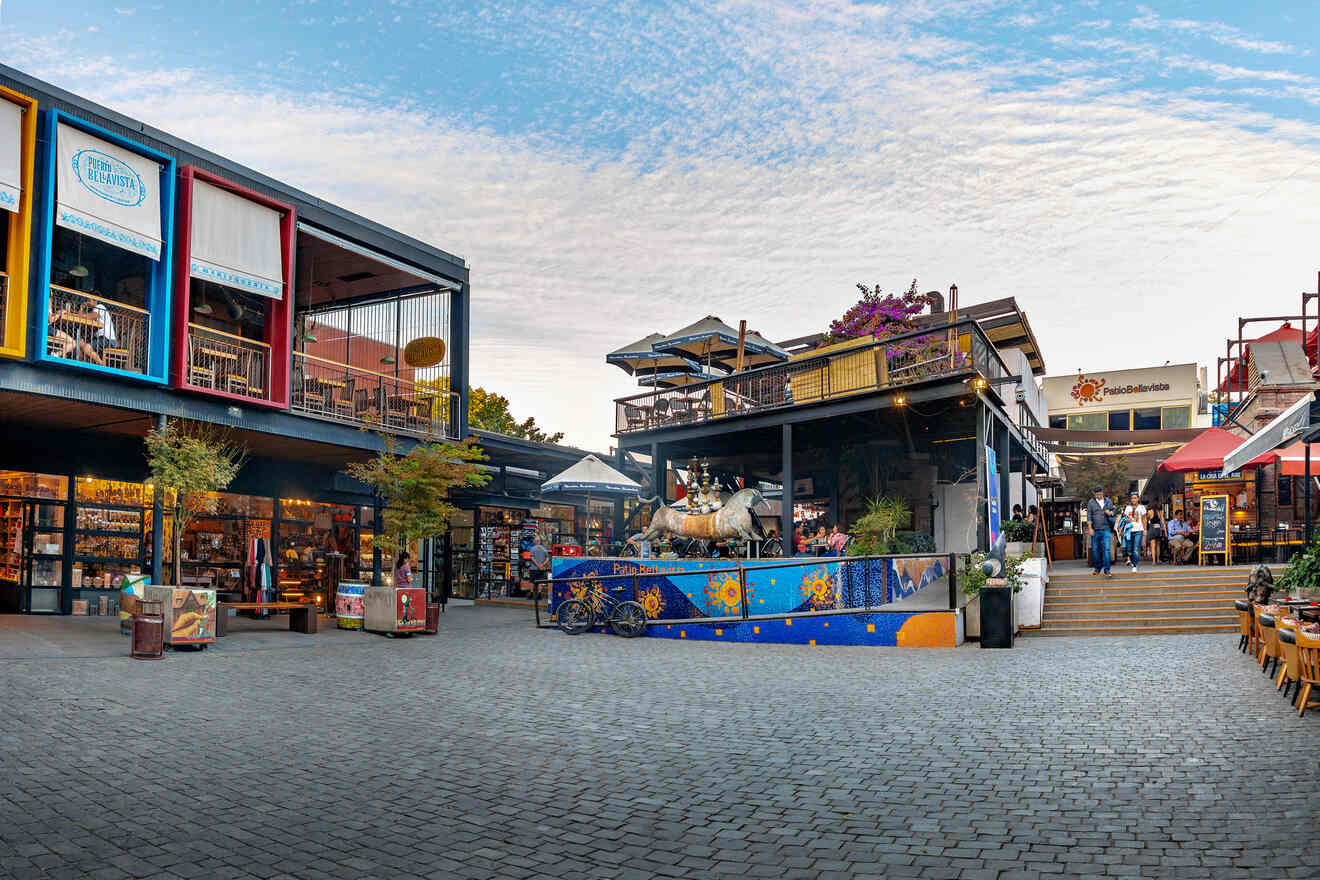 Located just near downtown Santiago, you will find barrio Bellavista: an artsy and bohemian area that blends together with its neighbor Lastarria for its proximity and vibe, the reason they are loved both by tourists and locals!
Bellavista is characterized by colorful buildings covered with big and expressive murals, showing the city's past and present, perfect to take some great pictures and understand Santiago Culture!
Compared to its sibling Lastarria, Bellavista is definitely more bohemian and consists for the most part of lively bars and nightclubs, perfect for an exciting night out! This is one of the most artistic districts in Santiago, brimming with galleries, boutiques, and alternative cafes! It's not a chance that here you'll find the house of the former house of the poet Pablo Neruda (La Chascona), now converted into an interesting museum.
Enough words, let's check out some great hotels, but don't forget to book them as far as you can if you want to secure yourself a spot here!
Other accommodation options in Bellavista
Things to do in Bellavista
Climb to Cerro San Cristobal for the best views of Santiago!
Find all the big, colorful murals in Bellavista!
Visit La Chascona, the former house of Pablo Neruda
Have a fun visit at the Chile National Zoo!
3. Barrio Lastarria – the most exclusive area for luxury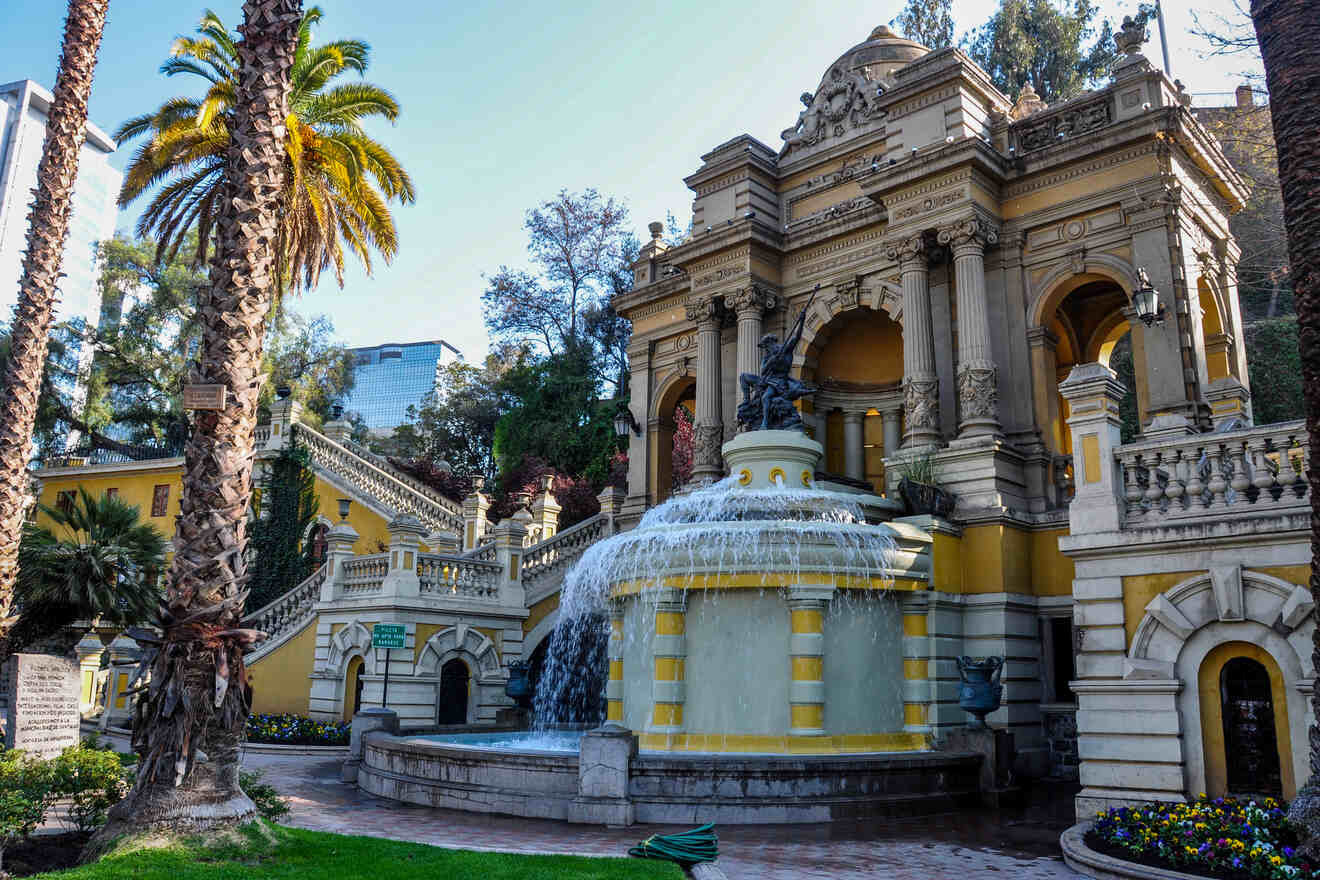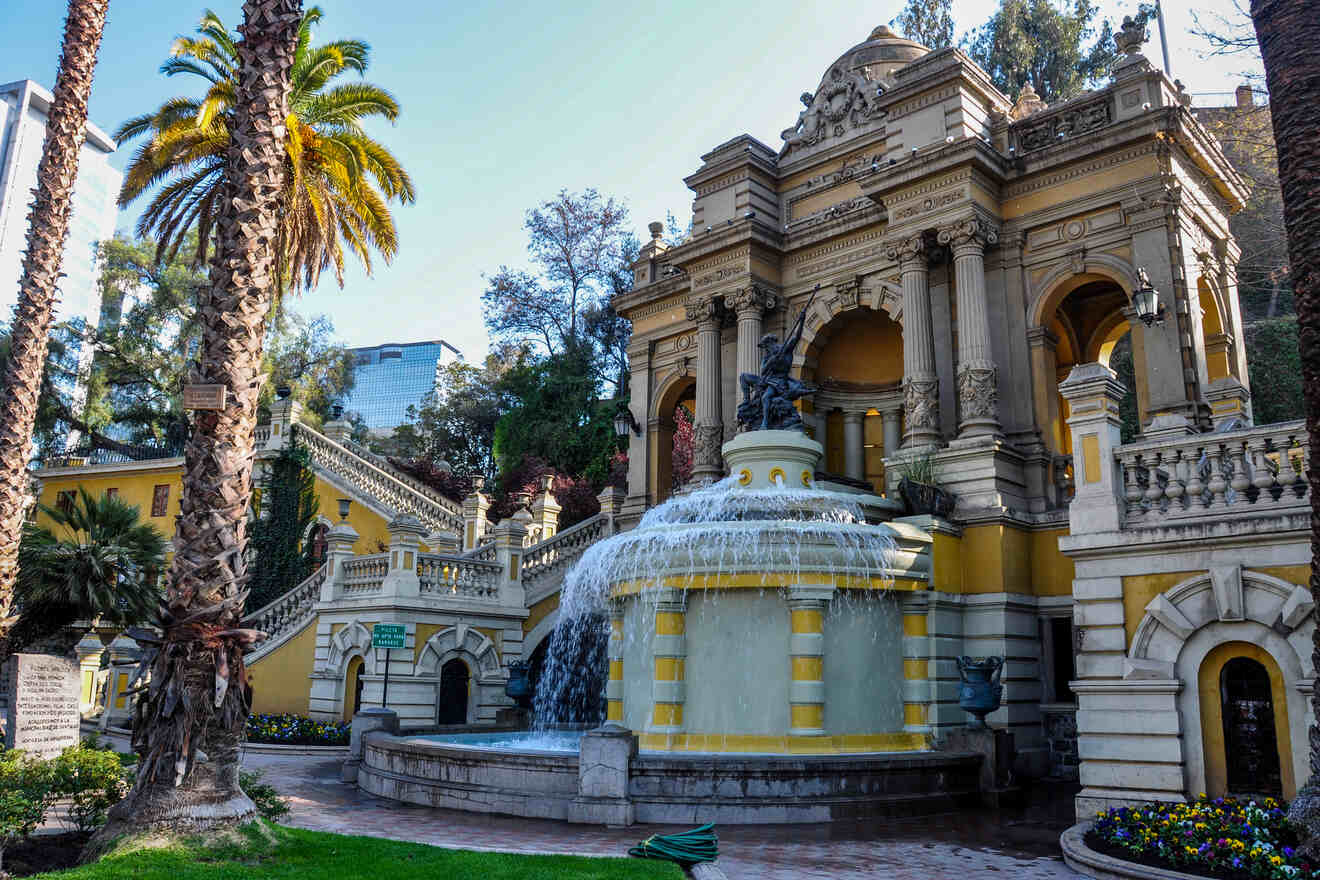 Right next to Bellavista you'll find the Lastarria neighborhood, a little more upper class, recognizable for its European cafes and cobblestone streets, in big contrast to the modern towers and buildings typical of Santiago.
If you have some money to spend and you like doing that, this could be where to stay in Santiago de Chile for you! From fine dining restaurants, boutique shops, cool bars, and artisans galleries, you'll be just spoiled of choice!
And even if you're looking for art you won't be disappointed: the Centro Gabriela Mistral Cultural Center (located super close to the neighborhood) is a real hotspot for art, where locals meet to dance, sing, play instruments and perform live theater and music.
And if this is not enough for you, from here you can also engage in some outdoor activities such as hiking up the nearby Santa Lucia Hill, for great panoramic views! Talking about nature, if you love the outdoors, I highly recommend you think of trekking in Torres Del Paine, in Patagonia, or if you have a long vacation, you can extend your trip to see Bolivia's Salt Flats, something unique in the world!
Being a touristic area, Barrio Lastarra offers mostly mid-range and luxury boutique hotels, set in older buildings but offering great modern amenities. Keep reading below to check some of them!
Other accommodation options in Barrio Lastarria
Things to do in Barrio Lastarria
Hike up Santa Lucia Hill (Cerro Santa Lucia) for stunning panoramic views of the city!
Try one of 100 different piscos, the national drink of Chile, at Chipe Libre
Go see cool art performances at Gabriel Mistral Cultural Center
Drink the best coffee at Ines Artecafe!
Do some Chilean wine tasting at Bocanariz, a famous wine bar
Have a family picnic at Forestal Park (Parque Forestal)
Visit the Museo Nacional de Bellas Artes
4. Las Condes – financial district best for business travelers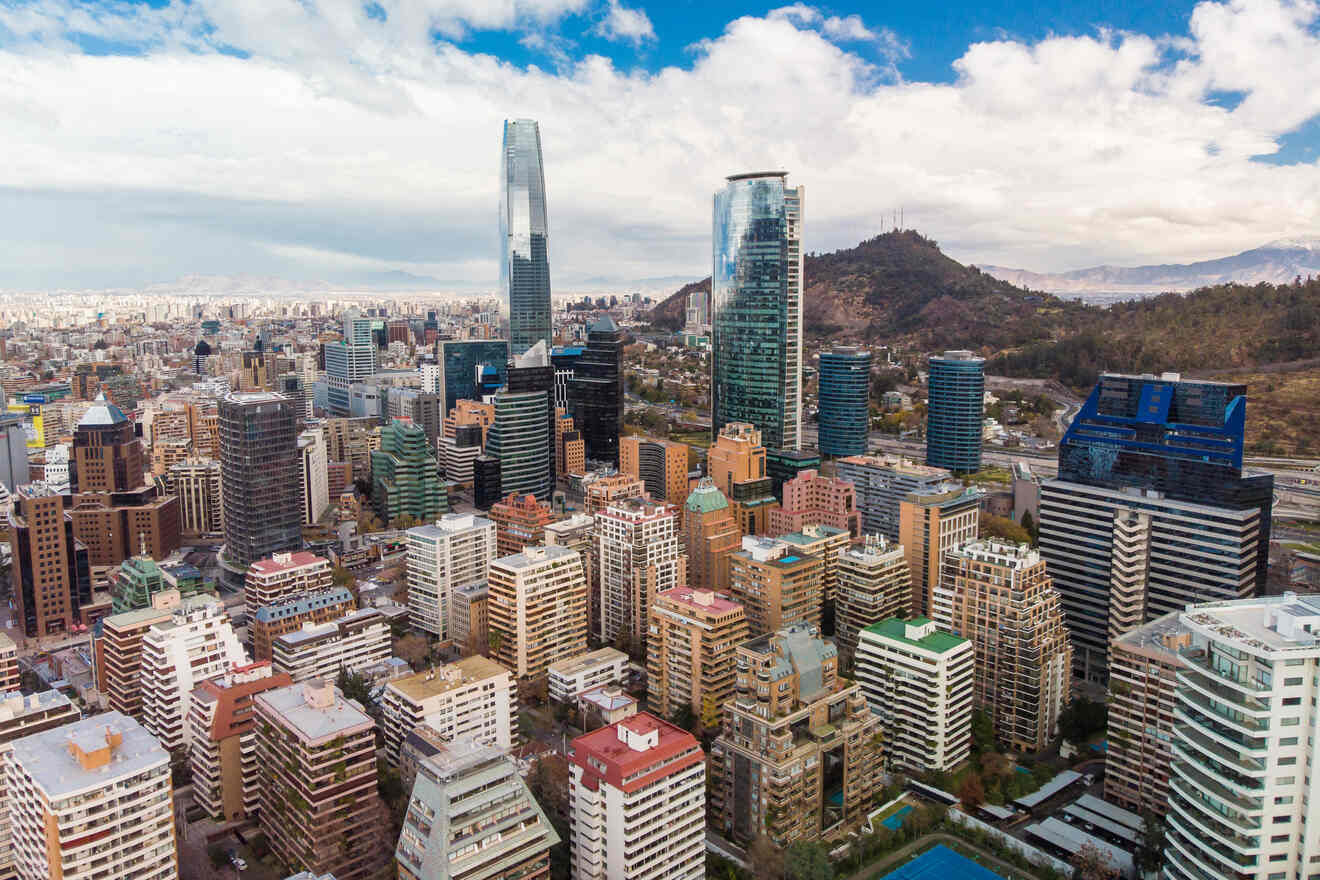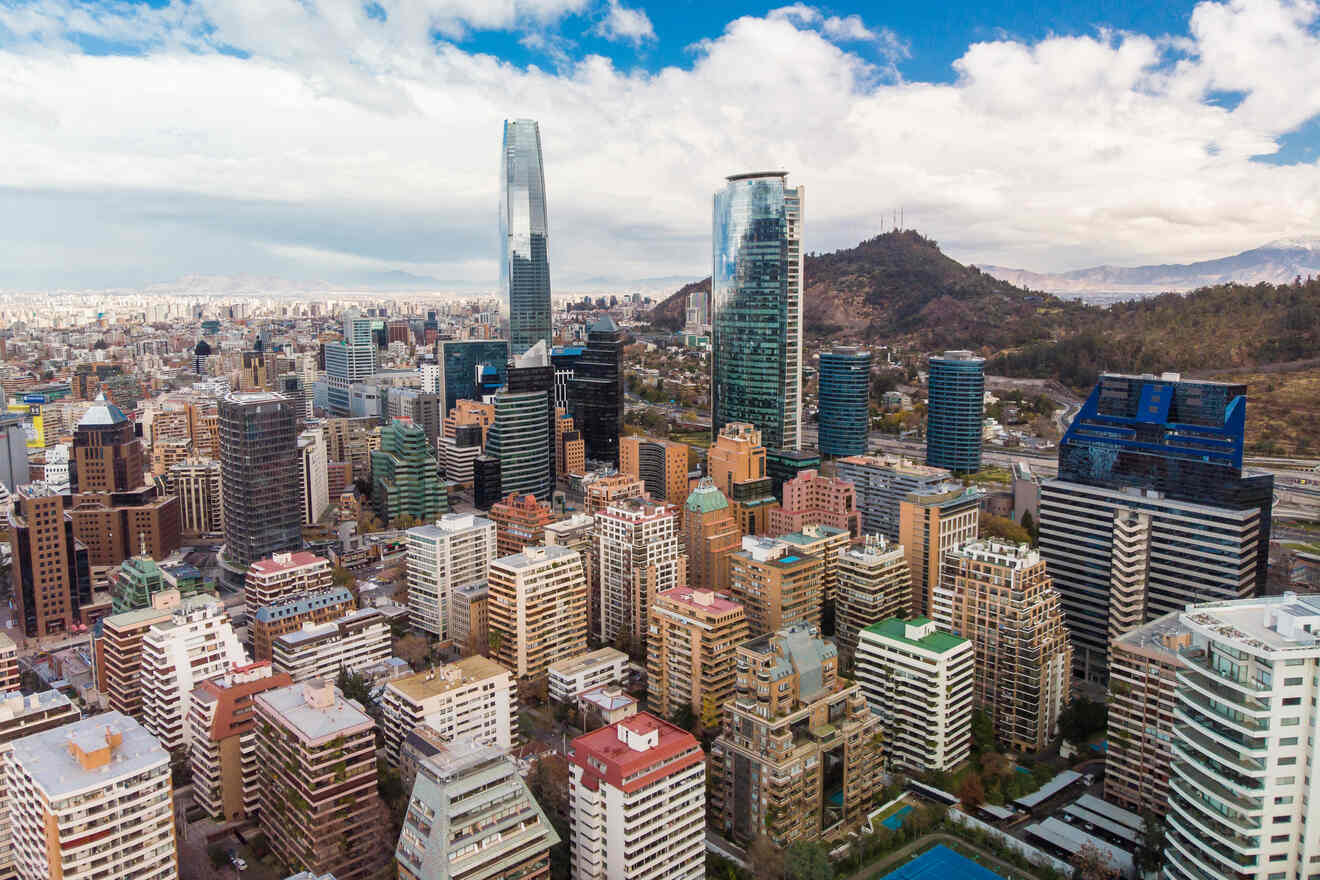 In complete opposition to Lastarria, las Condes is the financial district of Santiago, brimming with tall, glass skyscrapers, for which it has earned the nickname of "Sanhattan", referring to the famous and bustling Manhattan, New York.
Located northeast of the city center, this residential neighborhood is basically the impersonation of the economic growth of Santiago.
Needless to say, business travelers have found their place here, but it can be a good choice for any traveler out there. In fact, with its parks, innovative and trendy restaurants, upscale shopping (in Alonso de Córdova and Nueva Costanera streets), and the national stadium, you'll have plenty of options to fill your days!
Moreover, Las Condes is geographically the closest area to the Andes, so the perfect spot to take a break from the city and access the major ski centers in Eastern Santiago! Did I convince you? Then check the below hotels for an amazing stay:
Other accommodation options in Las Condes
Things to do in Las Condes
Gaze at the incredible architecture of the Sanhattan buildings!
Go shopping on Alonso de Córdova and Nueva Costanera streets
Check out La Pastora, a beautiful open-air museum
Find all the constellations from the National Astronomical Observatory
Take a day off from the city and go skiing in the Andes!
Explore Santiago on this private vehicle tour!
5. Providencia – where to stay in Santiago for families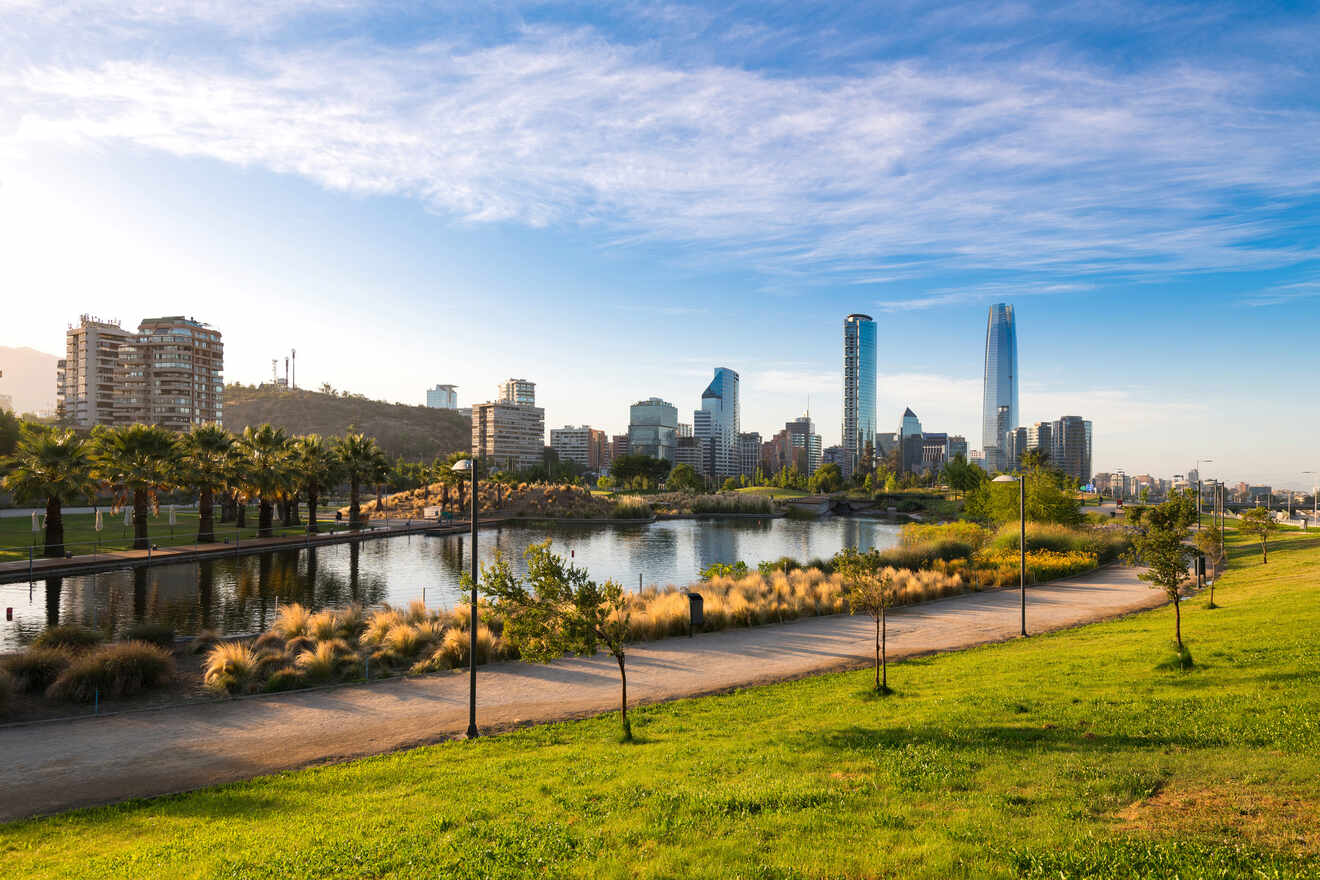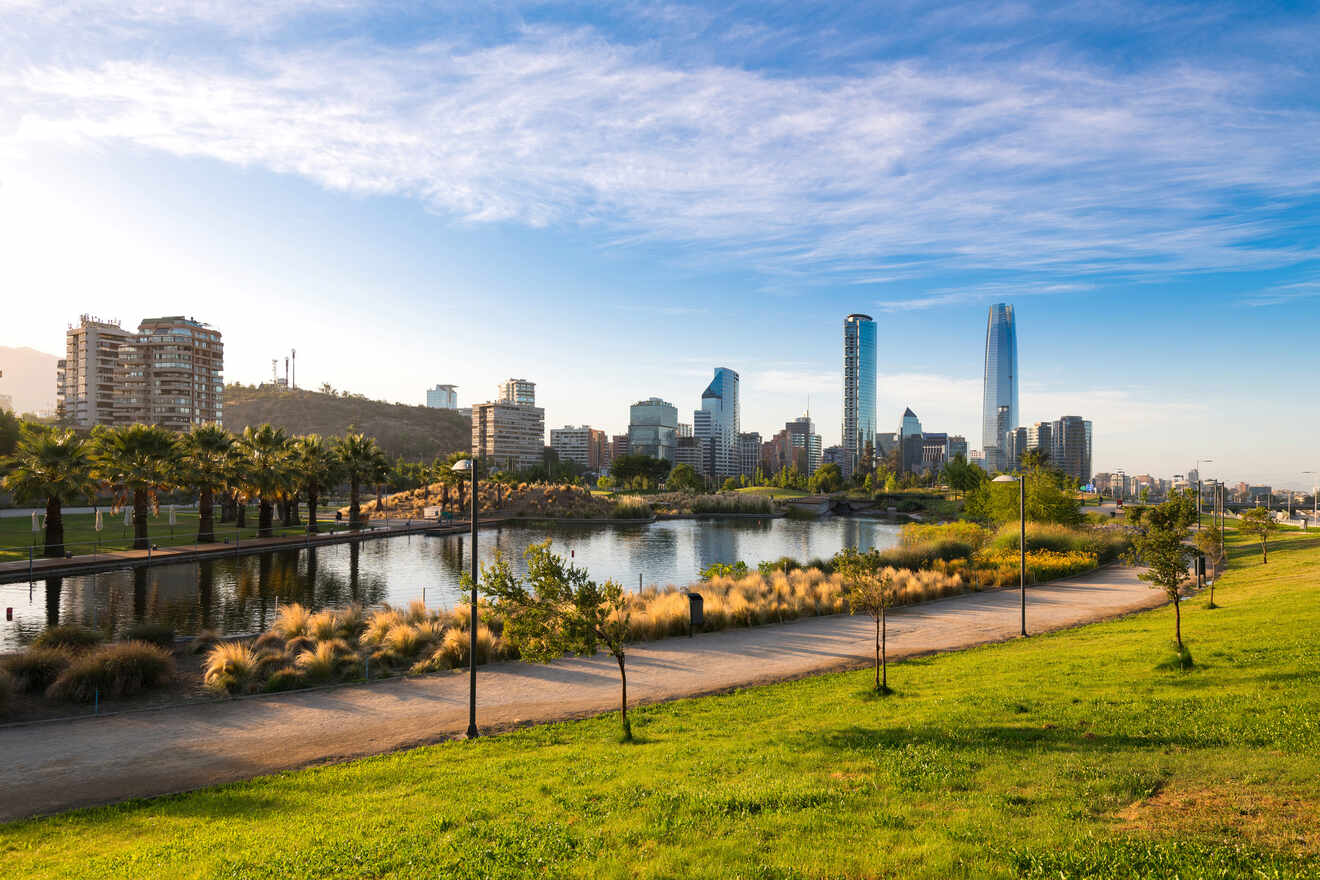 If you're looking for a more laid-back and quiet area where to have a relaxing vacation with the family, Providencia is for you. This area, located east of Santiago city center, is definitely residential, brimming with houses and apartments of classical architecture, green areas, and plazas.
You can save the museums, galleries and especially tourist crowds for day trips. How great is that? But that doesn't mean you'll get bored here: Providencia has plenty of restaurants and shopping options (mostly concentrated in Providencia Avenue), including Costanera Center, one of the largest malls in the country!
Here you can even get to the top of the Sky Costanera Observatory, the tallest building in the city, and have one of the most breathtaking views of Santiago… a great activity to do with the family!
Other accommodation options in Providencia
Things to do in Providencia
Go shopping at Costanera Center mall
Check out the cool sculptures in the Sculpture Park
Get dizzy on Torre Gran Costanera
Relax in Parque Bustamante with the family
Grab a cup of coffee while reading a good book at Cafe Literario
Bring your kids to the cool Skatepark in Parque Bustamante
Attend a concert or an event at the National Stadium
Have 360-degree city views from Sky Costanera, the tallest building in South America!
6. Barrio Brasil – where to stay in Santiago de Chile on a budget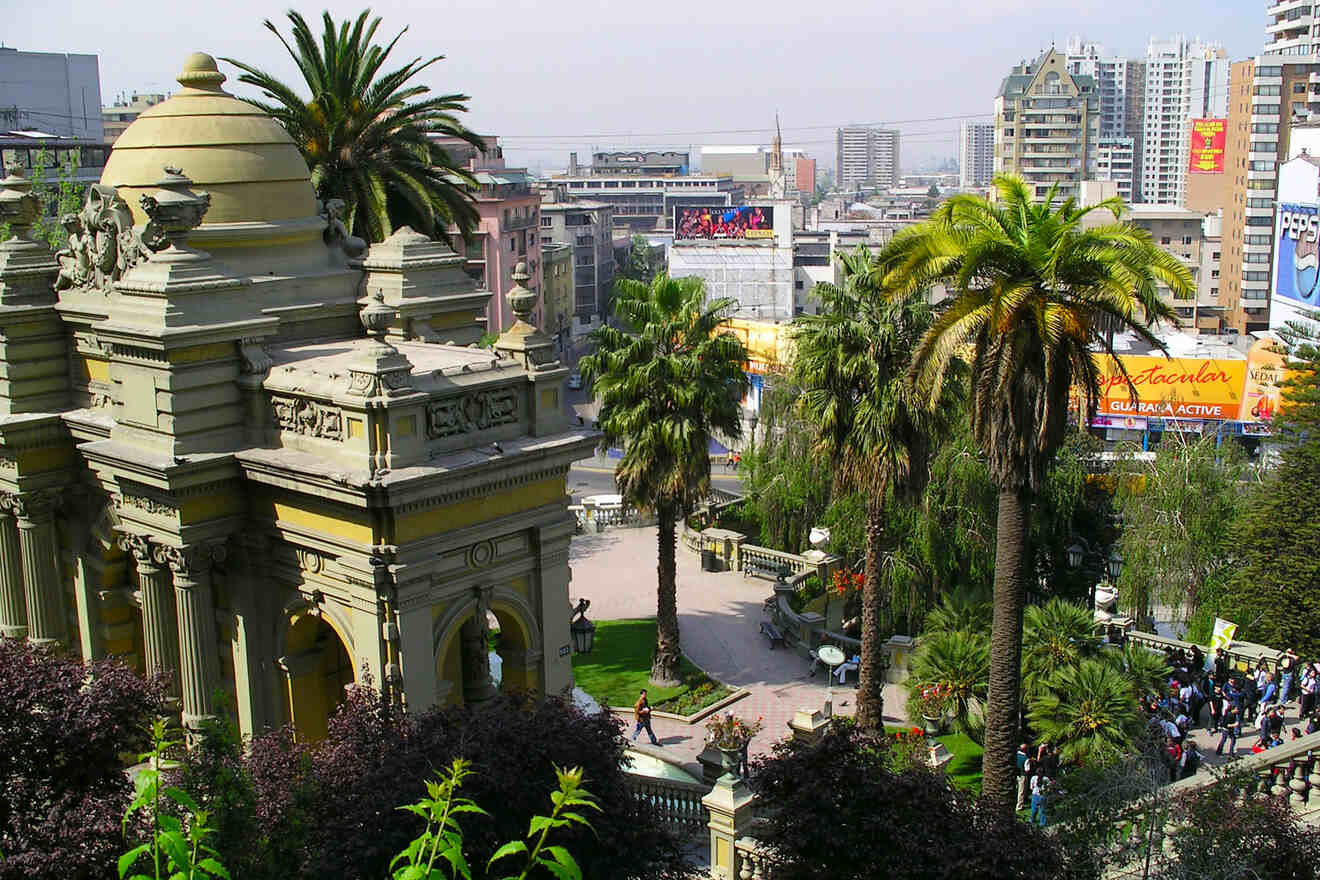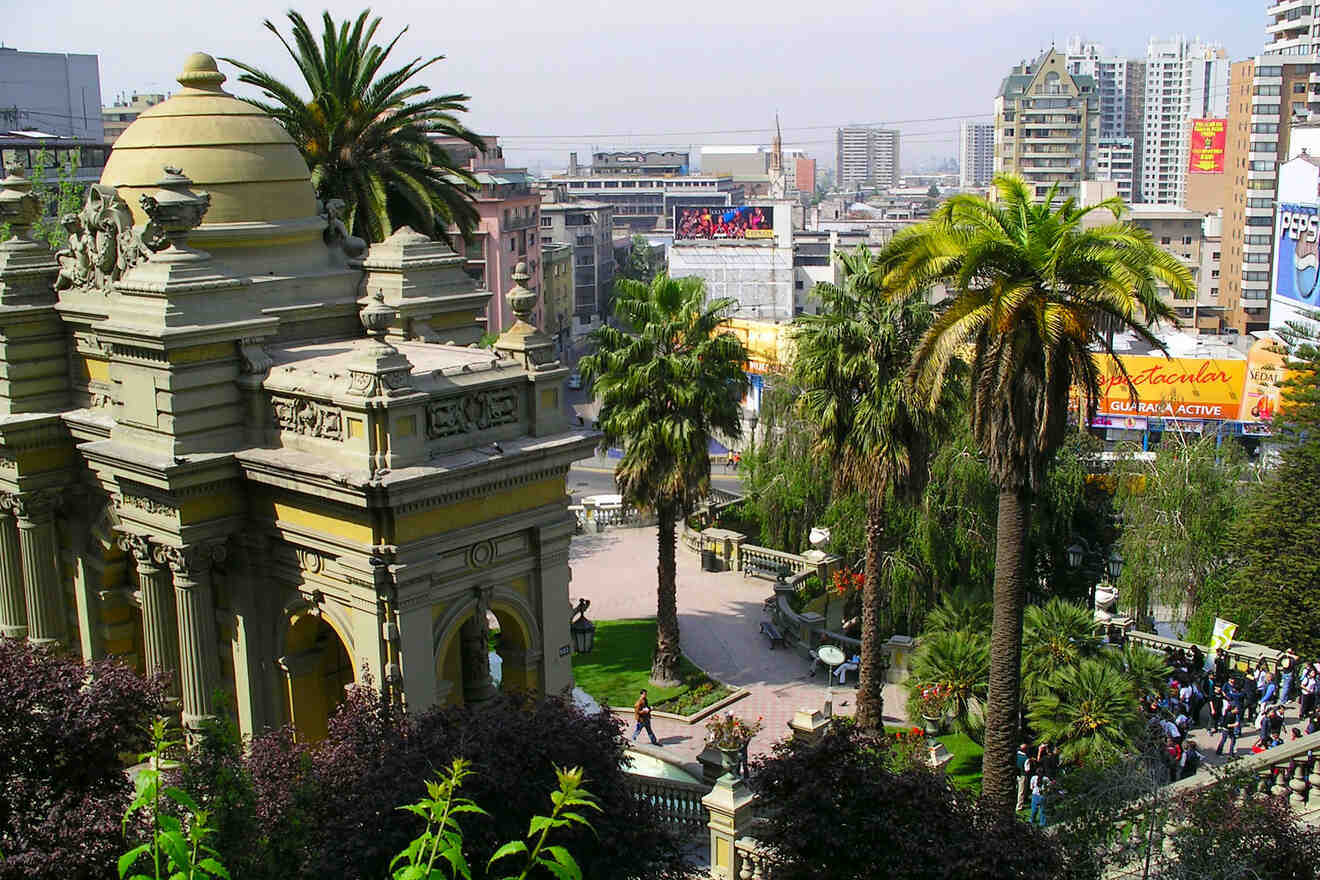 Contrary to what its name may suggest, Barrio Brasil is one of the most authentic neighborhoods in the city: low budget, super safe, and very artistic! Located west of the city center, this area hosts the hippest bars, some great parks, and squares, like Plaza Brazil, where you can enjoy some street performers playing and singing!
In this area, you will find street art and musicians on every corner, mixing with real working-class Chileans in their routine lives to create a magic vibe!
But one of the biggest pluses of Barrio Brasil is its extremely cheap prices, which makes it a great option if you're traveling on a tight budget: here you'll find many budget hotels and hostels available… I inserted some of them here below, let's check them out!
Unfortunately, I couldn't find any good luxury options in Barrio Brasil. If you really want to have an upscale experience during your stay, I suggest you check out Barrio Lastarria, offering more exclusive hotels and being right close to Barrio Brasil!
Other accommodation options in Barrio Brasil
Things to do in Barrio Brasil
7. Barrio Italia – the most laid back area in Santiago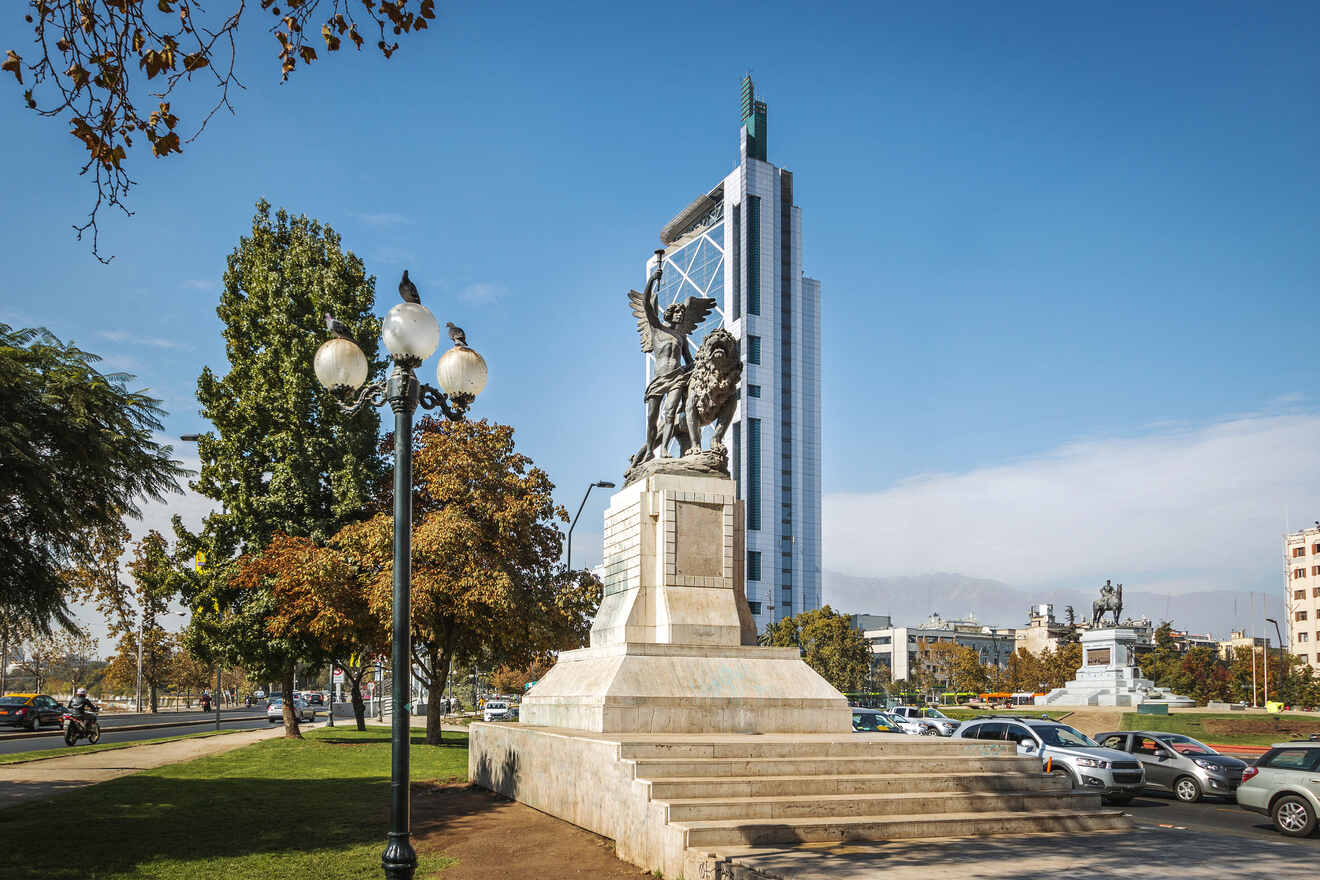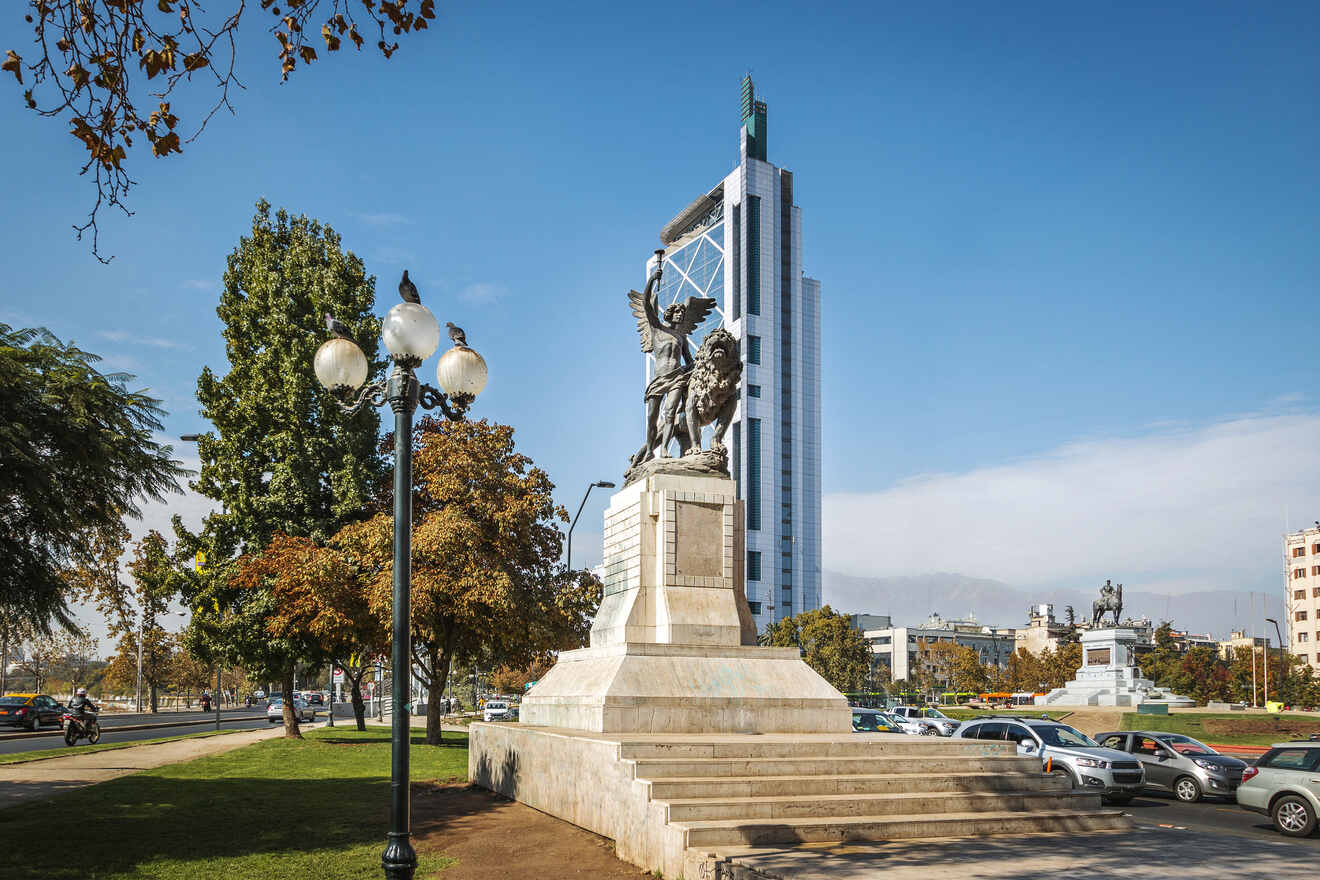 Southeast of Santiago de Chile city center, Barrio Italia was settled by Italian immigrants in the 19th-century, and maybe that's why it's characterized by a slower and quieter pace of life (but still active on weekends and after work!).
So if you're looking for a laid-back and artsy atmosphere, I suggest this bohemian neighborhood, brimming with cool restaurants, jazz clubs, tiny cafés, galleries, and coffee shops. And good news for the shopping addicted: Barrio Italia is also a top shopping destination for antique and modern furniture and boutique clothing, most of them concentrated in Caupolican street!
Another great advantage of Barrio Italia is its excellent location, only a few metros stops to Barrio Lastarria and the Plaza de Armas, but without the hustle of the city center.
Even if there aren't too many accommodation options here, I could find some good hotels for you, go check them out!
Other accommodation options in Barrio Italia
Things to do in Barrio Italia
Browse the assorted bric-a-brac shops in Caupolicán street!
Eat some traditional Italian dishes at Pizzeria Tio Tomate
Listen to some good live music at The Jazz Corner
8. Vitacura – where to stay in Santiago for shopping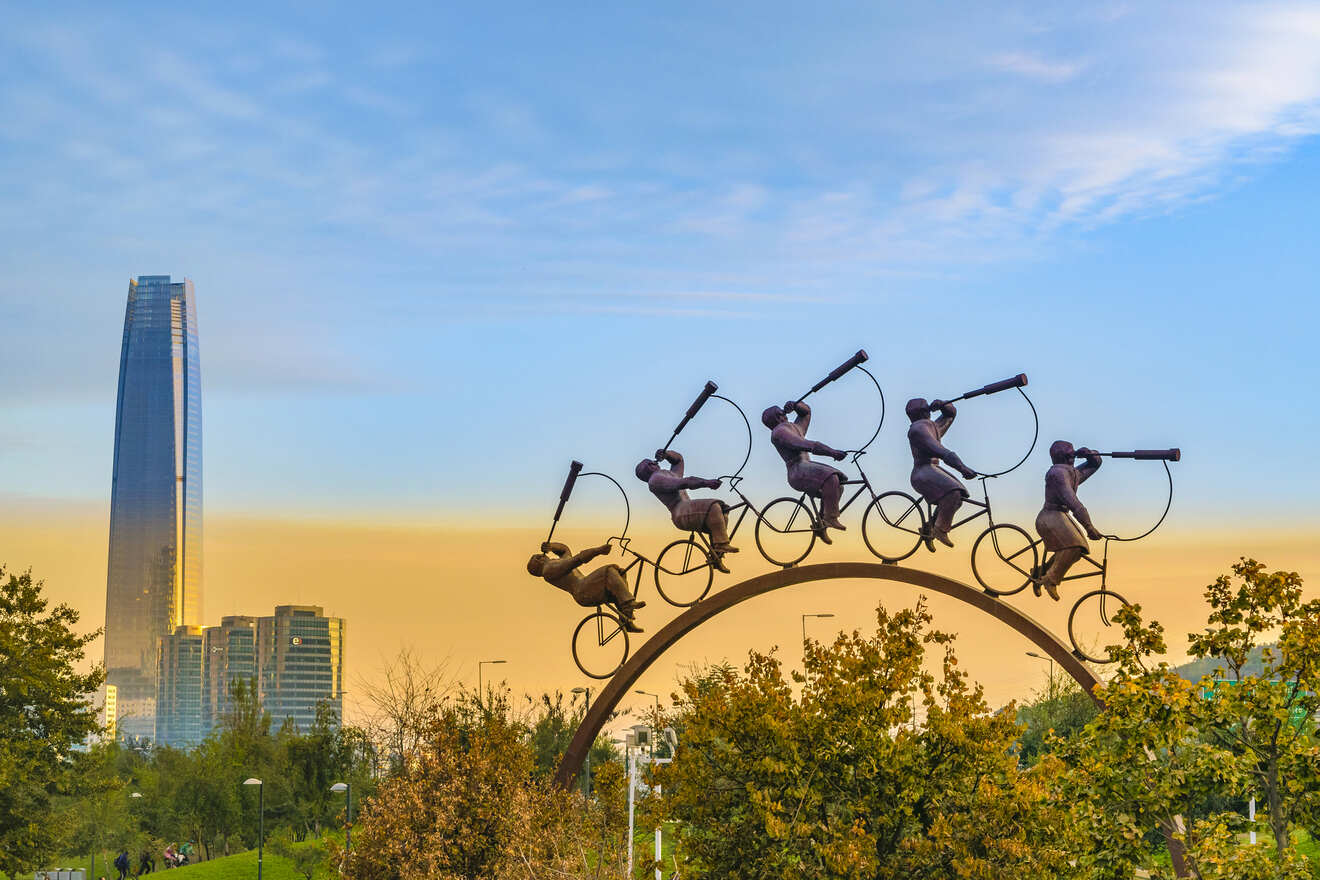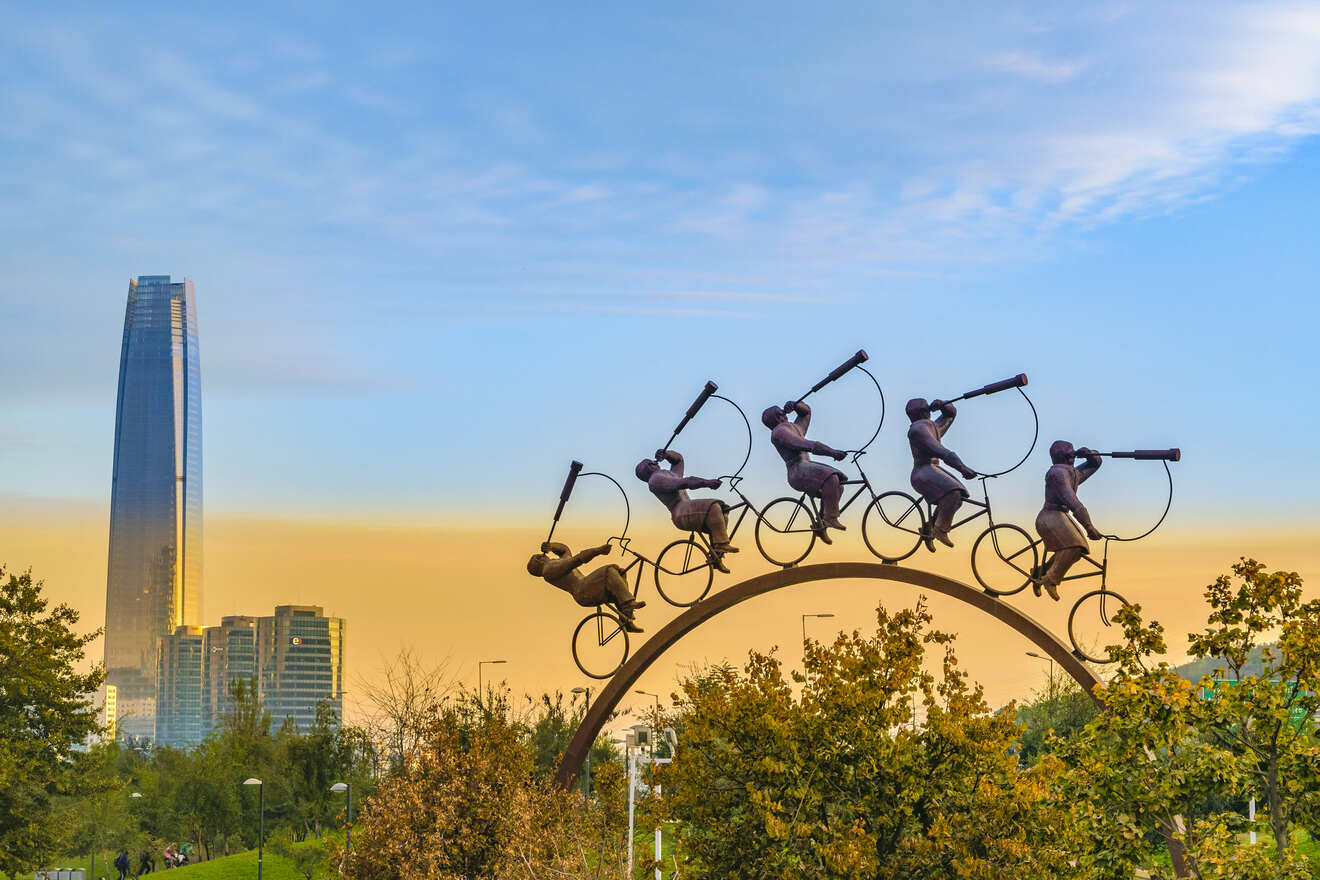 Very similar to its neighbor Las Condes, Vitacura is another exclusive neighborhood characterized by modern and tall buildings with great views of the Andes mountains!
In this residential area, you will find luxury in every corner, from high-end boutique hotels to luxurious shops and malls (shopping lovers, I am talking to you!). And if you love to take home some souvenirs when you travel, The village of Los Dominicos should be on your list, a heritage site featuring a cool craft market with more than 200 vendors, located a few metros stops from Vitacura.
Apart from the countless shops, in Vitacura you can find lots of restaurants and bars, mostly concentrated in Isidora Goyenechea street, where you have to try the traditional white wine of the country or a Pisco Sour, a typical Chilean drink.
Otherwise, the super green Bicentenario Park is worth a visit, running along the Mapocho river and offering picnic areas and different trails… Vitacura has something to offer for anyone!
buffet-style breakfast served daily, this is the perfect accommodation where to relax after an intense day of visiting Santiago's best attractions!
Other accommodation options in Vitacura
Things to do in Vitacura
Buy some Chilean souvenirs at Los Dominicos Village
Try Mestiza, one of the most famous (and expensive) restaurants in Chile!
Go for a walk with the family at Parque Bicentenario along the Mapocho river
Feed flamingos and koi fish at the Bicentenario park!
Do some luxurious shopping in Alonso de Cordoba Avenue
Have a full day tour of Valparaiso!
BONUS: Where to stay in Santiago near the airport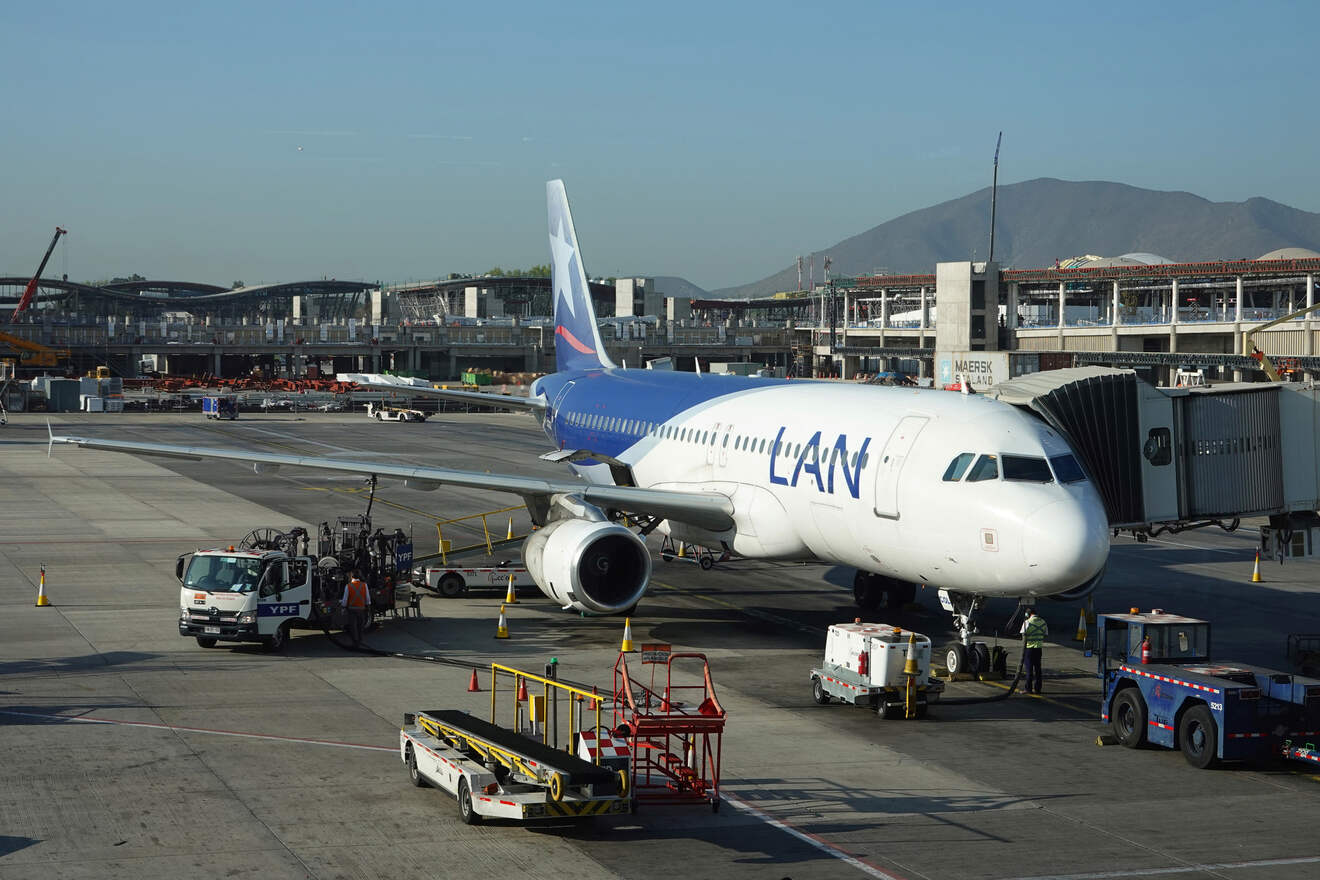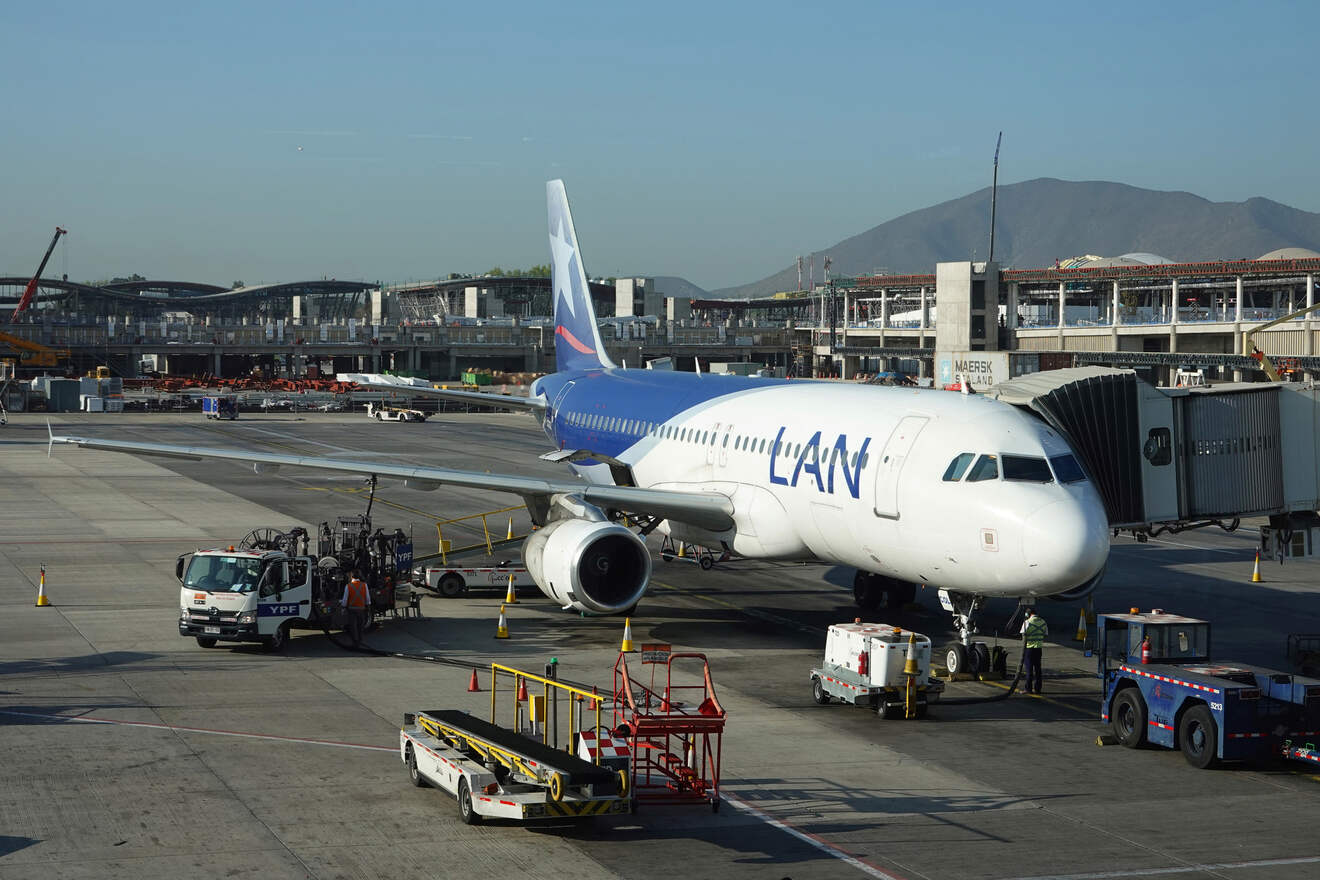 If you're in town for business or just for a few days and you don't want to stress about having the chance to miss your flight, staying close to Santiago airport (Airport Comodoro Arturo Merino Benitez) could be the best choice!
And good news: the airport is quite close to Santiago, about a 20-minute drive from the heart of the city (where Plaza de Arma is), so it has the perfect position for exploring Santiago city center and being a few minutes away from your flight at the same time!
Here are the best hotels where to stay in Santiago de Chile close to the airport, divided by price category:
Luxury:
Holiday Inn Santiago – Airport Terminal – The Holiday Inn Santiago Airport offers luxurious rooms right opposite the International Airport of Santiago (Comodoro Arturo Merino Benítez International Airport), literally a 2-minute walk from the terminal! Here you'll have free access to wifi, a sauna, gym, and indoor pool, plus free parking on site.
Mid Range:
La Quinta by Wyndham – This 4-star hotel has a strategic position just a 5-minute drive from the airport and 20 minutes from Santiago city center, and it offers a free airport shuttle service! On top of that, you'll have access to a swimming pool, a great on-site restaurant, a fitness centre, and business facilities!
Budget:
City Express Aeropuerto – Save some money in this great budget hotel with free private parking and shuttle service by reservation to the airport, just a few minutes away! The rooms are spacious and comfy, breakfast is delicious and the service is excellent! What do you need more?
Hostal S&G – Feel at home in this pet-friendly hostel offering cozy family rooms (fully equipped) and airport shuttle service, in a beautiful and unique house! The perfect choice for those who are staying in Santiago just a few nights in between flights… the airport is only 4 miles away!
Frequently Asked Questions about Hotels in Santiago de Chile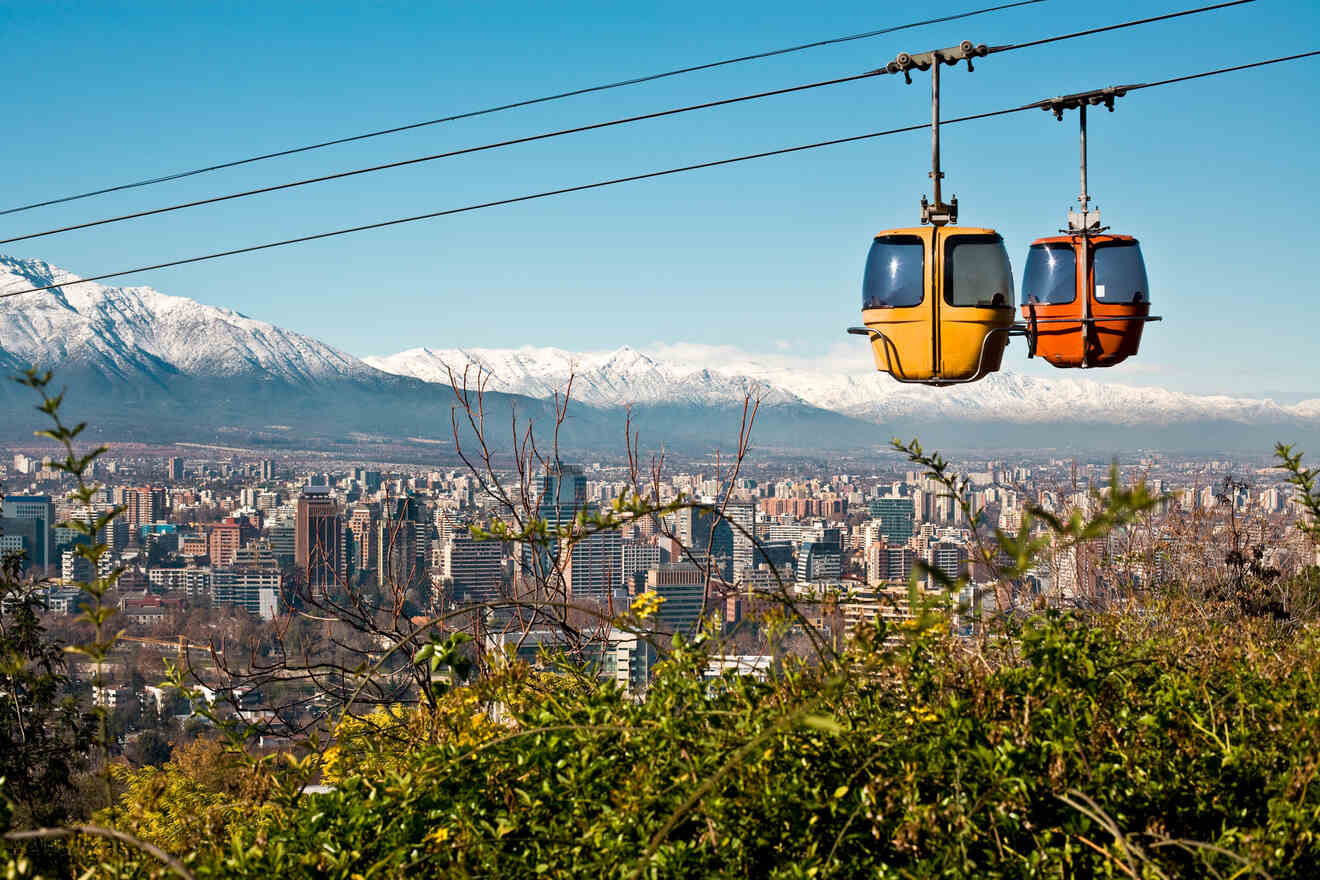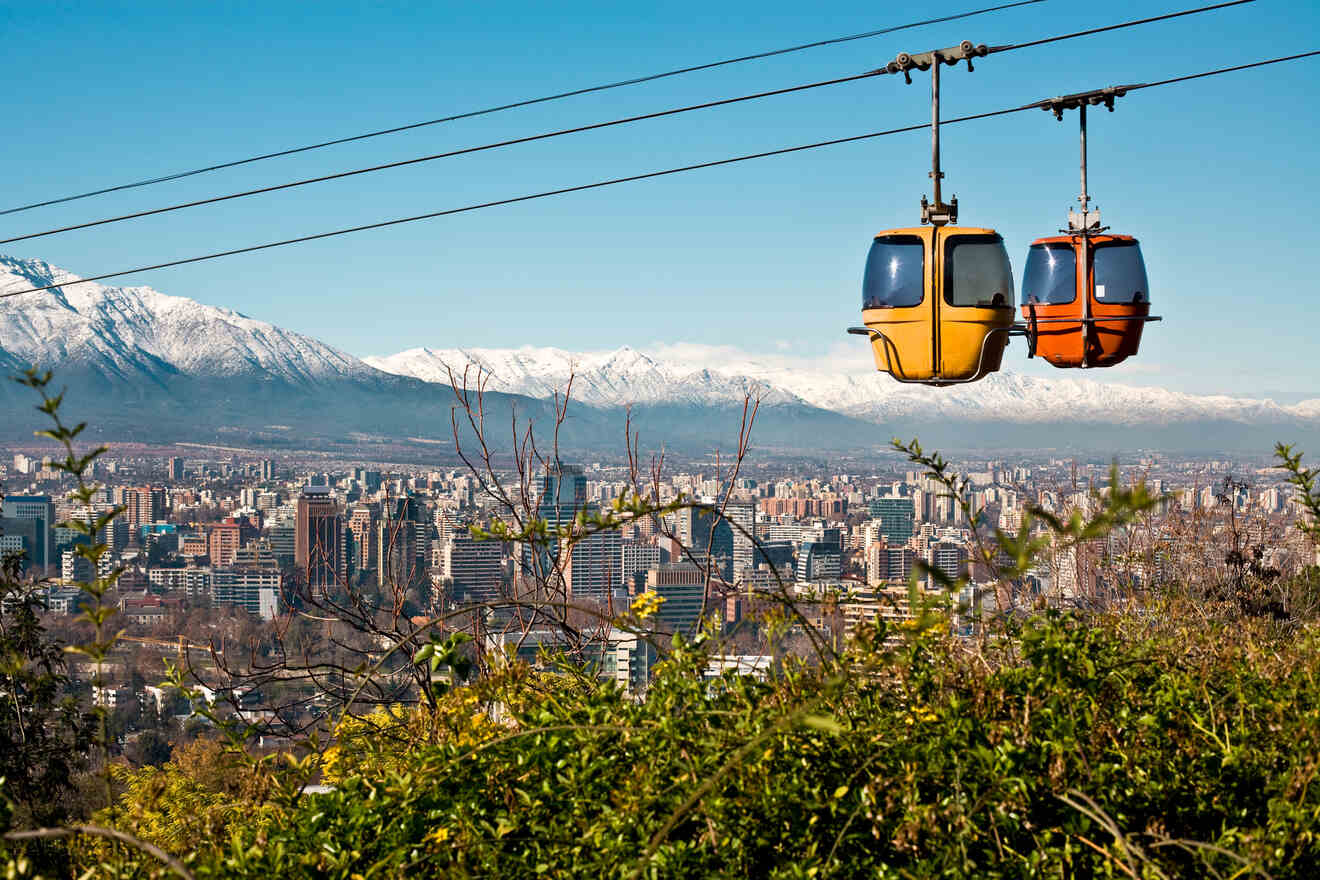 Conclusion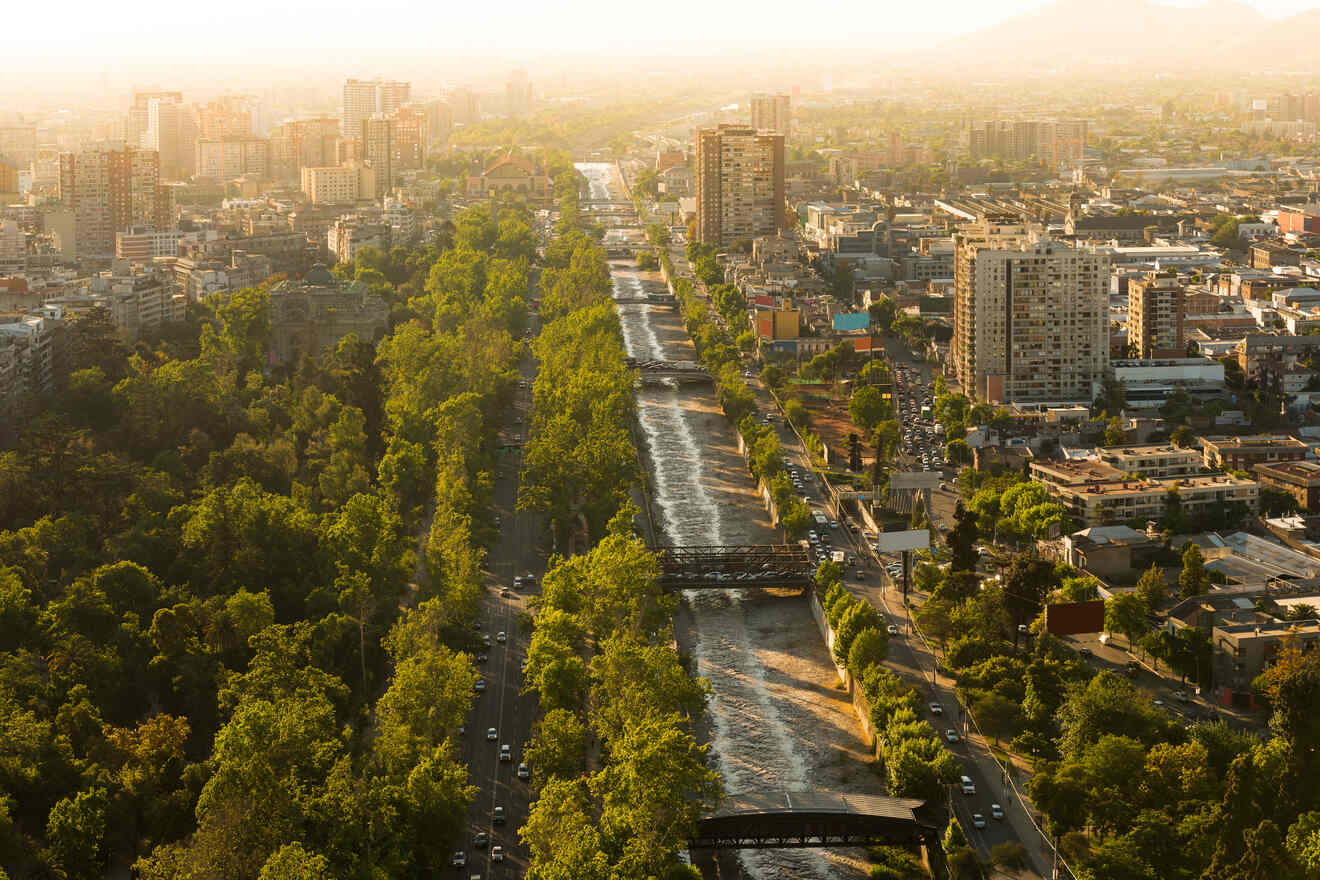 We made it to the end of this incredible journey through the best accommodation options in Santiago, the capital of South America's skinniest country: Chile. With its 5 million inhabitants, Santiago has so many different areas to offer to tourists of any interest and budget.
Whether you come to Santiago for culture, leisure, business, as a backpacker, or just for a vacation with the family, this amazing city has the right accommodation for you, which I carefully divided by price category.
Since we went through countless hotels, apartments, and Airbnbs, I want to give you some last help and suggest my top 2 favorite hotels in Santiago city center, both with great location and reviews:
Hotel Cumbres Lastarria – 5 stars luxurious accommodation right in the heart of Santiago!
Hotel Panamericano – get great value for the price in this 3 stars boutique hotel with spacious rooms and free wifi in Santiago!
I hope you enjoyed reading my accommodation guide, as much as I enjoyed doing the research to help you find the best option! If you are already imagining yourself walking around Santiago's busy streets, I strongly suggest you book at least 2-months before your trip, as this is one of the most popular destinations in Chile!
Have you been to Santiago, Chile, and have any suggestions or comments for this blog? Or do you have any doubt about what I've written? Leave a comment below, I'm looking forward to answering you!
Have a great trip!
Elena