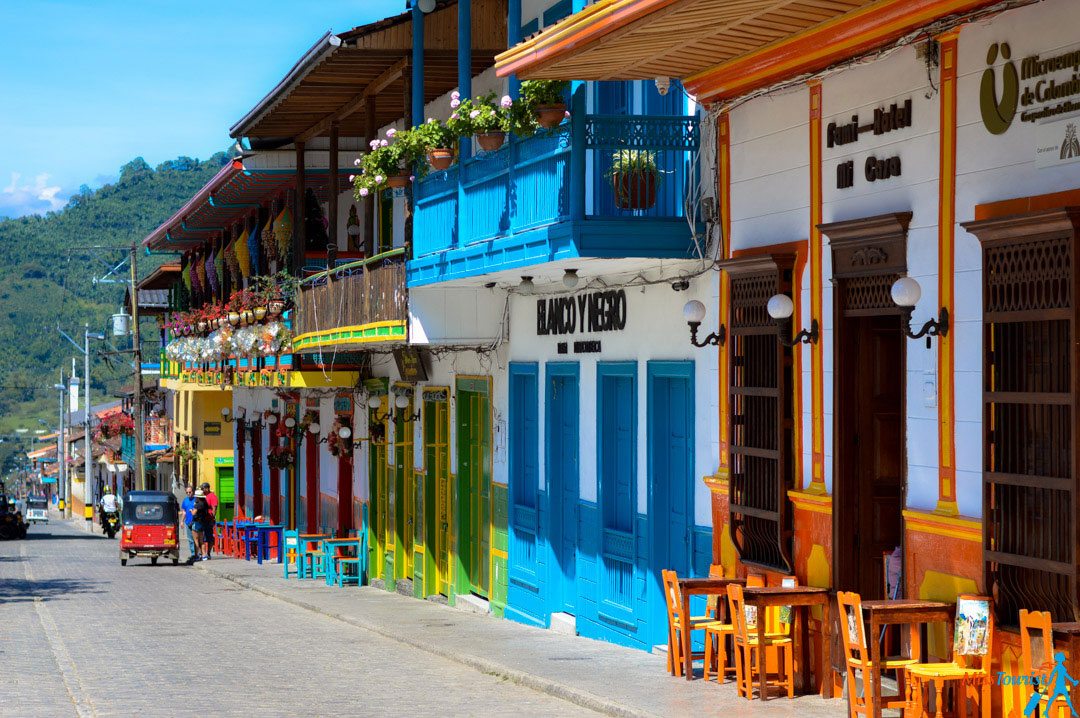 Were you ever curious how a real Colombian pueblo (a little town) looks like?
Oh-my, these guys knows about bright colors and celebrating life so much!
After living in Medellin, the second biggest city of Colombia for a month, I decided I want to visit one of those vibrant villages around Medellin. I chose Jardin, a place that is less touristy comparing to Guatape, another Colombia tourist attraction where the majority of tourists go to.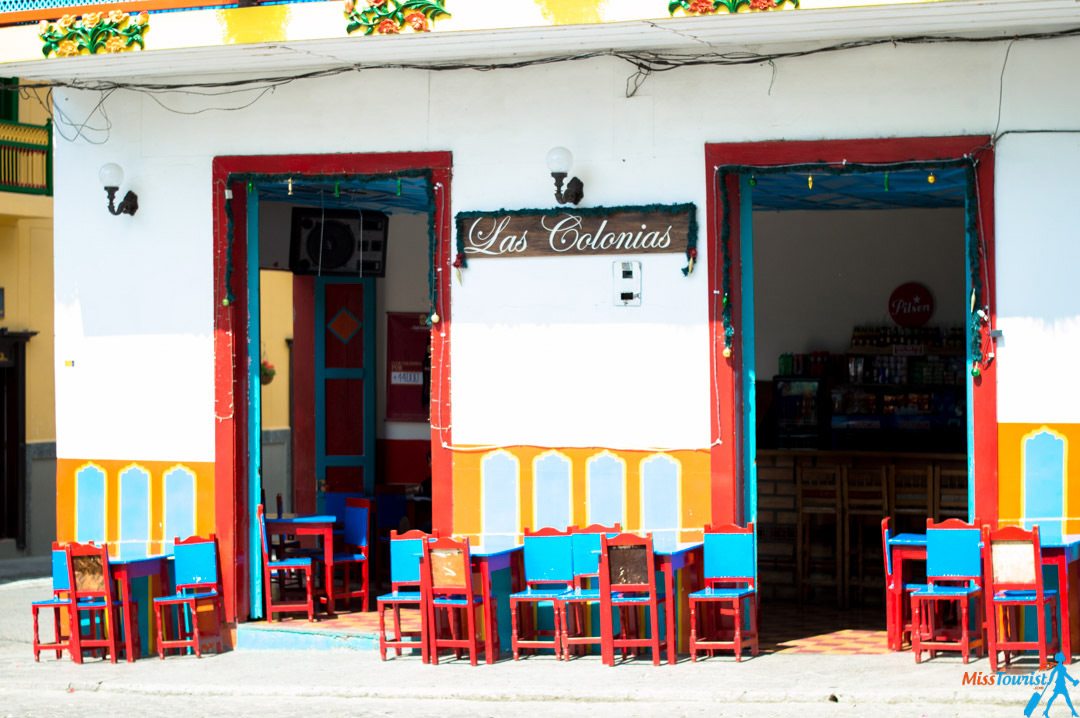 I visited Jardin, Colombia (Antioquia region) during Christmas, but seriously, any season is great, because the weather in that region is always perfect throughout the year!
Honestly, at first, I was not planning to write about Jardin, it was supposed to be just a Christmas getaway from the city. But then I liked it so much, I could not stop snapping pictures with my camera of this authentic bright-colored town!
There are no museums or world wonders in Jardin worth visiting, however that will be probably the most authentic place where you will get to feel what real Colombians are and how they live! You will see it in my travel guide below.
Here is what to do in the town:
1. People watching
Oh yes, that was by far my favorite activity!
Locals LOVE to sit in bars, drink tinto (local colombian coffee) and just enjoy their life over the conversation.
Maybe it was so full of people because of Christmas? I dont know, but something tells me it was despite of Christmas, that is just what they like to do the most!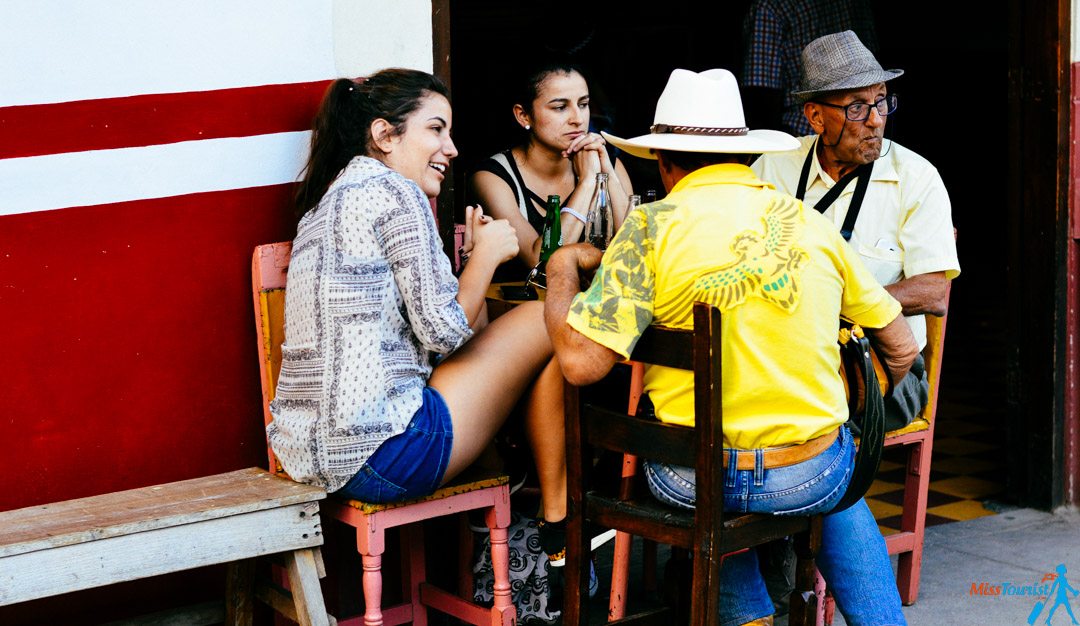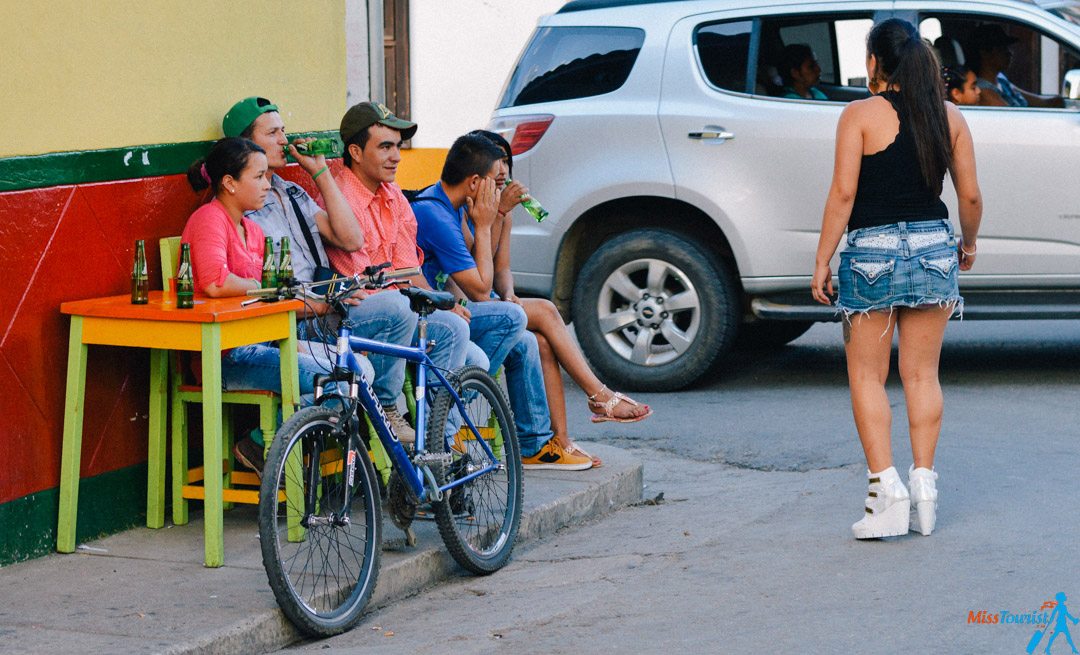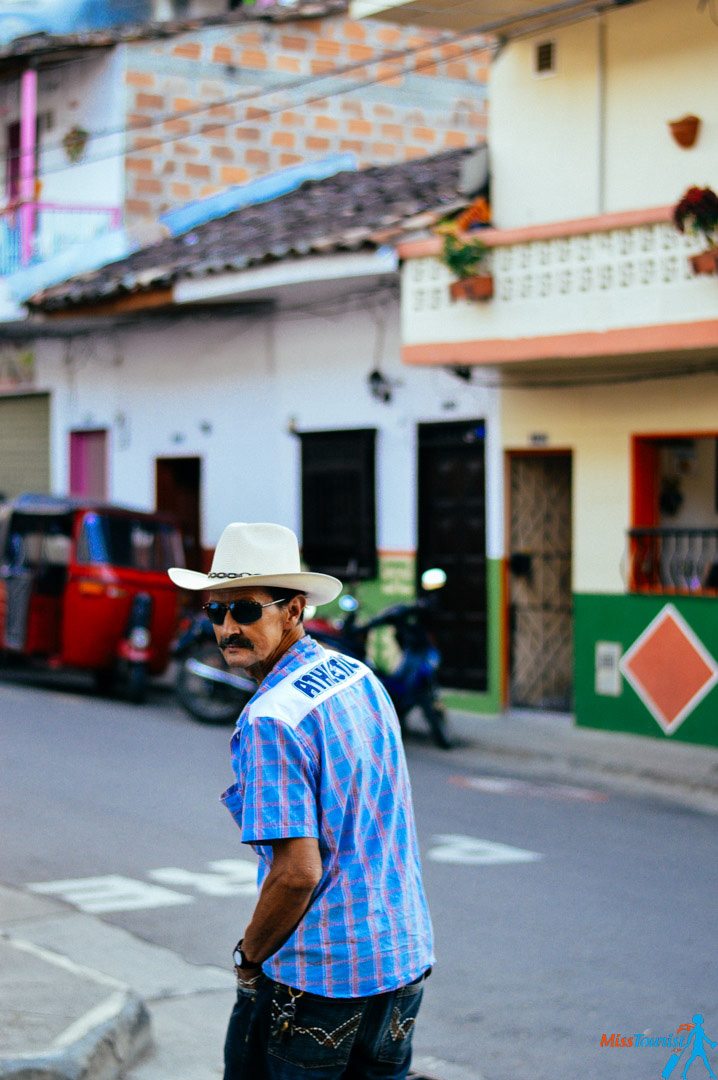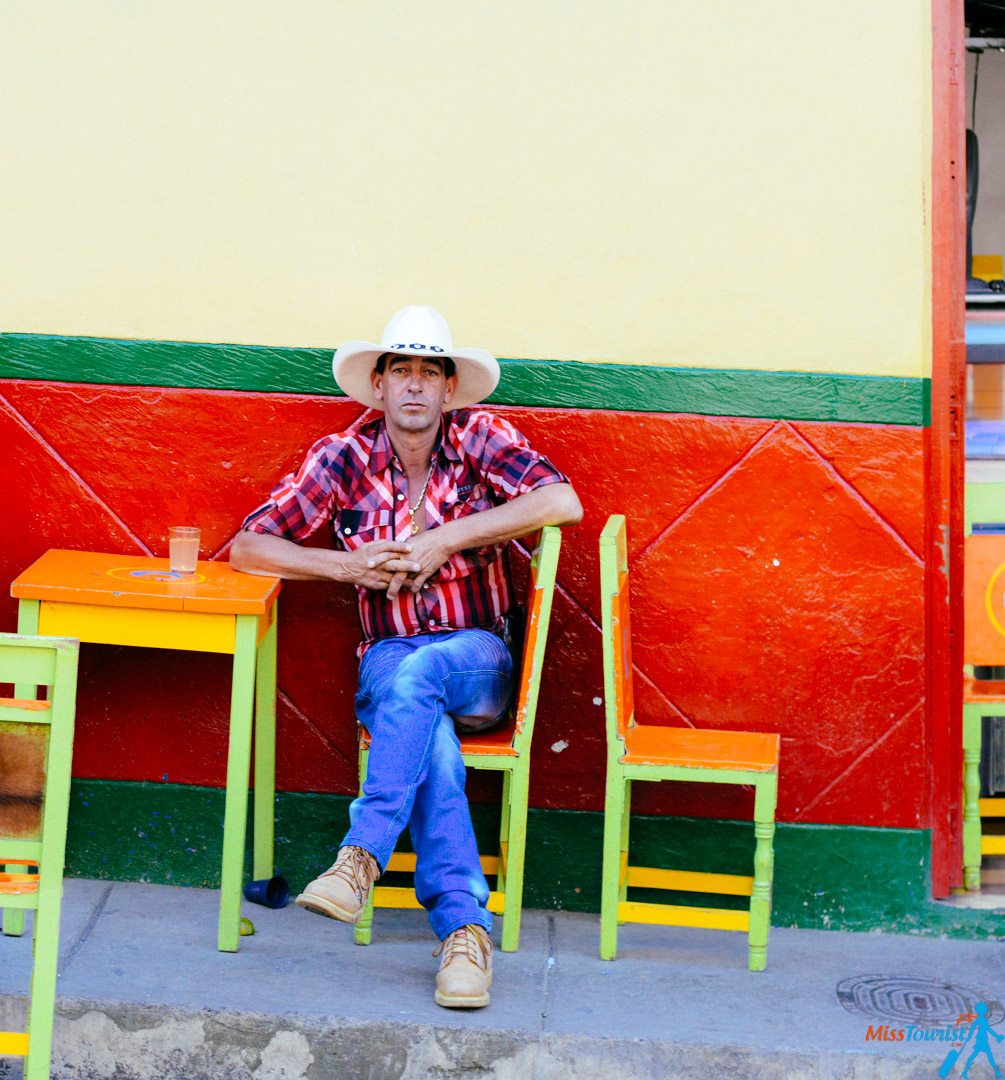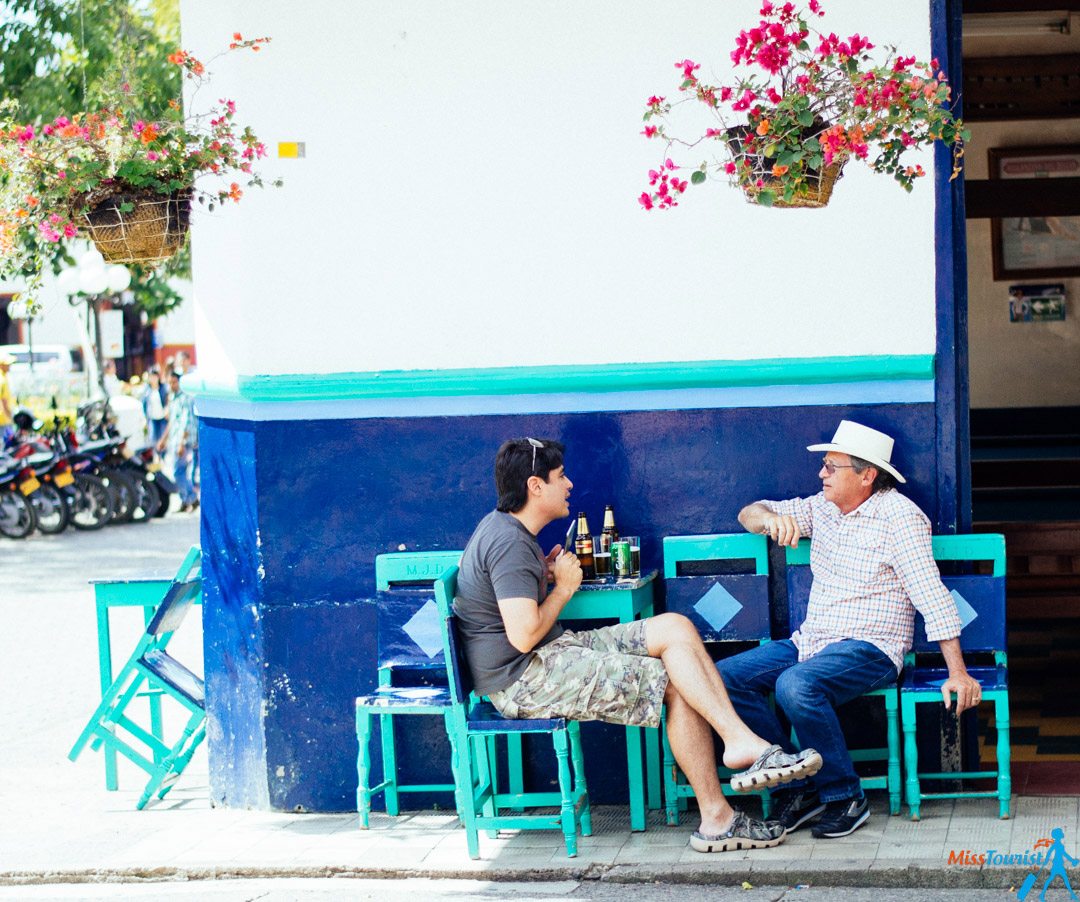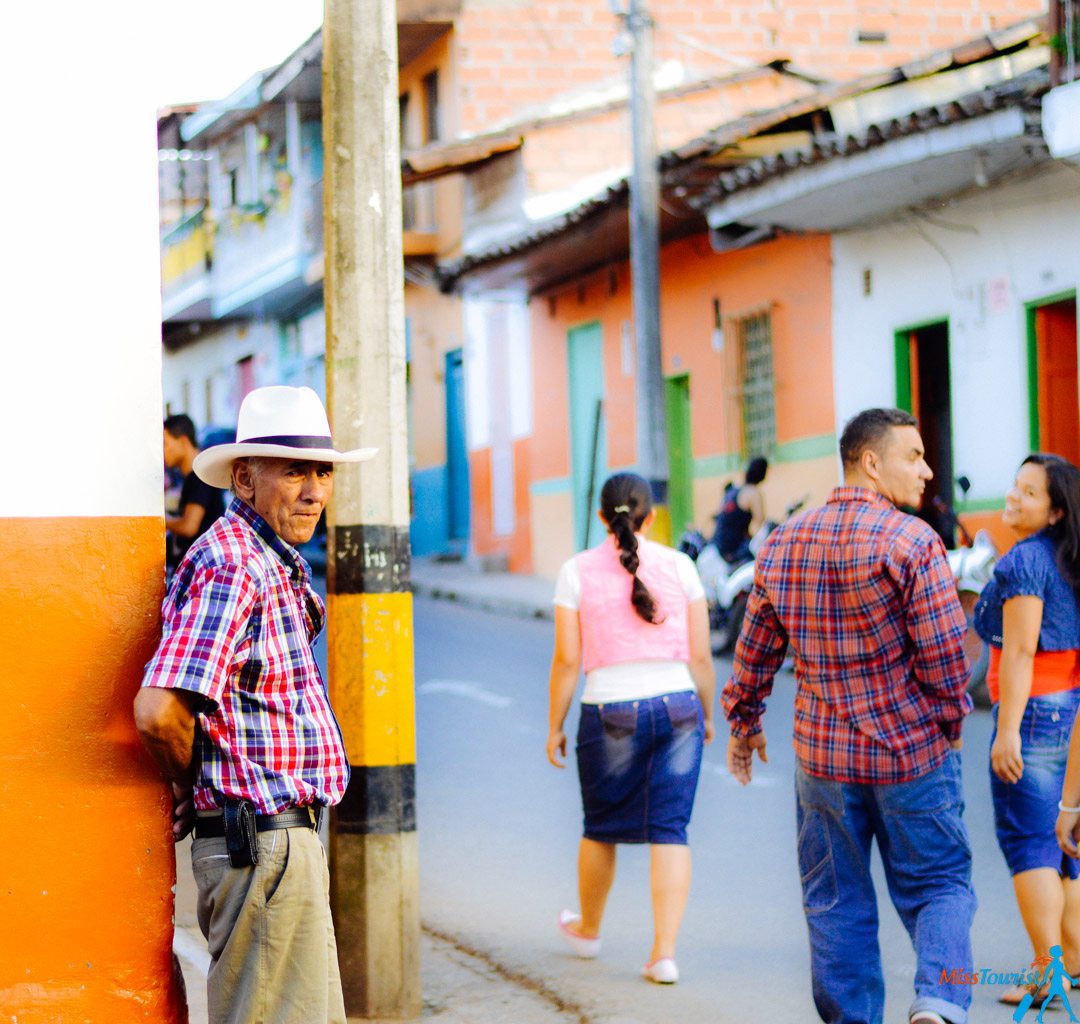 2. Take the oldest cable car up to see the view
There are 2 cable cars you can take in the town. The new one and the old one. And by old I mean OLD!
It is called La Garrucha cable car and it is by far the oldest cable car I have ever taken in my life!
I was scared that wooden thing will fall apart right during the mount, seriously!
But don't worry, it is safe! And fun! 🙂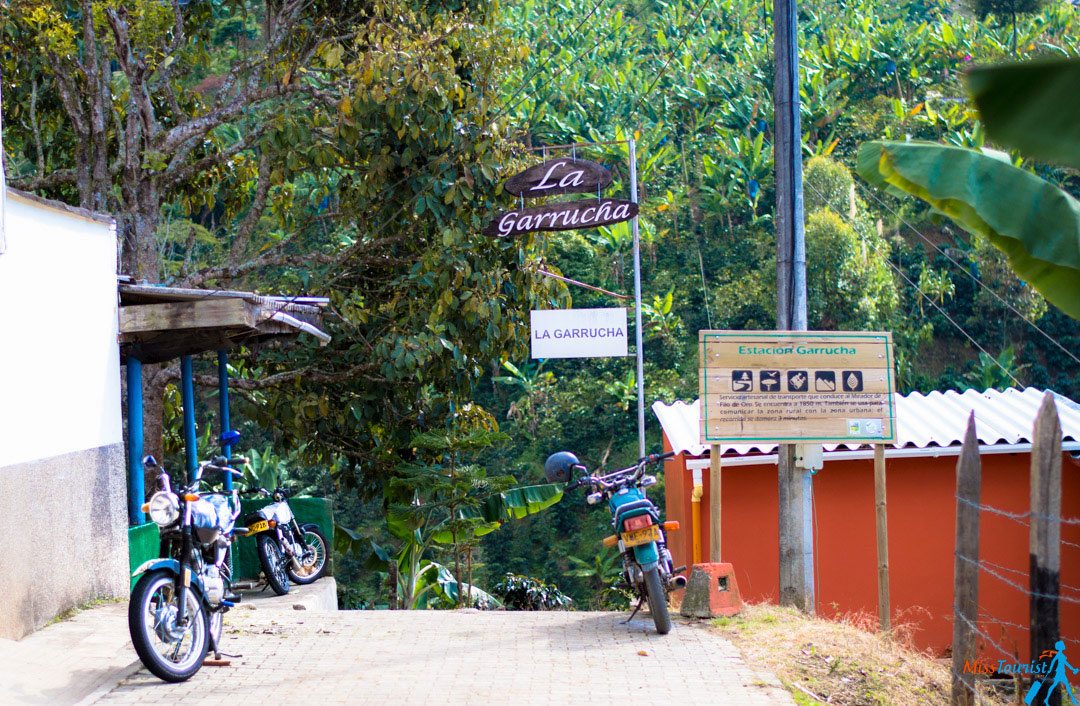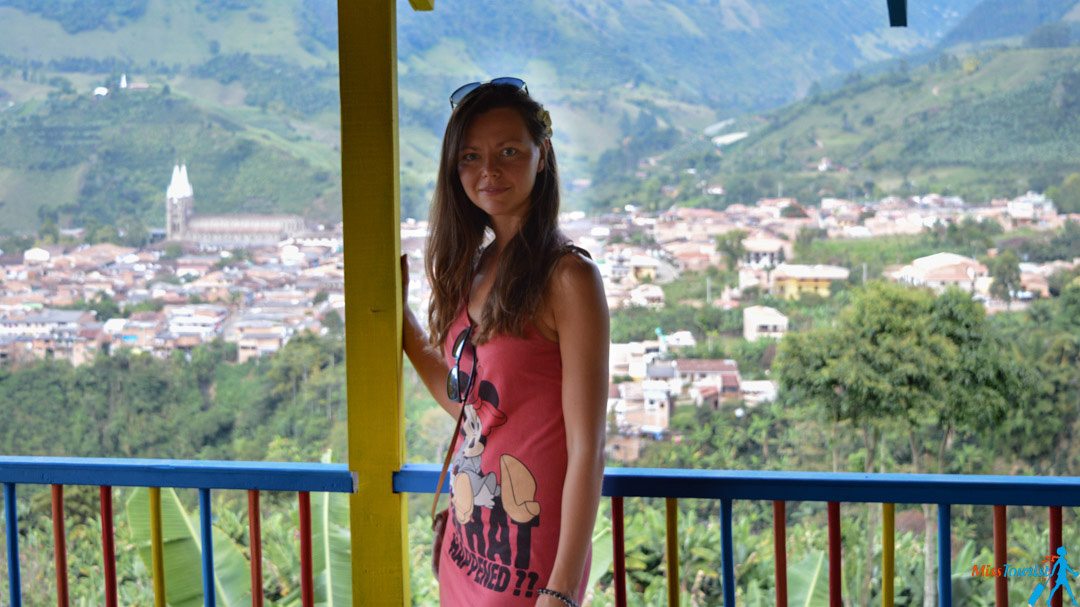 3. Visit a real coffee plantation in Colombia
If you don't have time to go to the Coffee Triangle – a region where the majority of coffee beans are produced, you should not miss a chance and go to Jardin coffee plantation!
It is a little household that produces a bit more than 60 tons a year (not much in Colombian scale) and it is not touristic at all! You will have the whole plantation just for yourself!
The price is 20 000 COP (~6 USD) for 4 hours visit including an AMAZING home cooked lunch!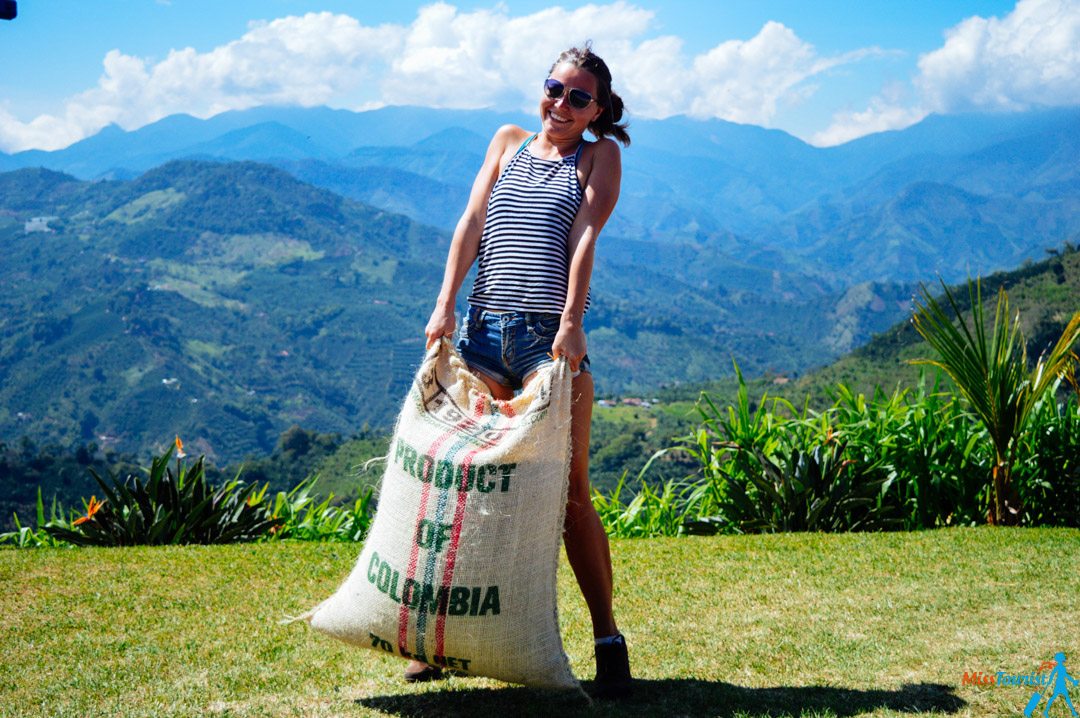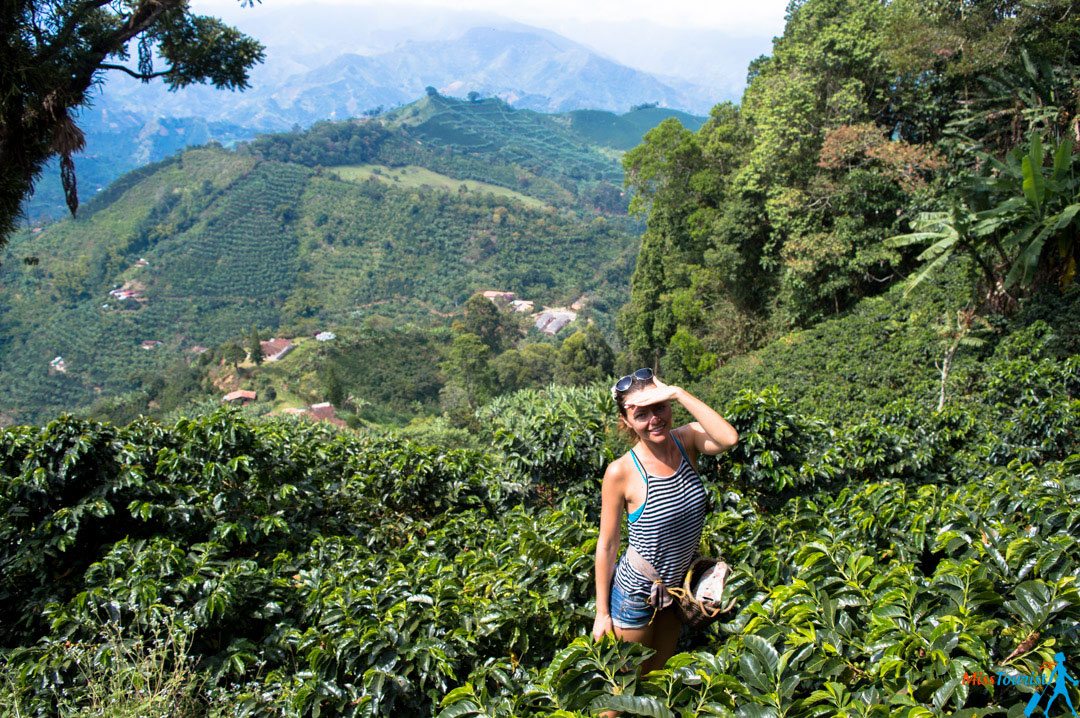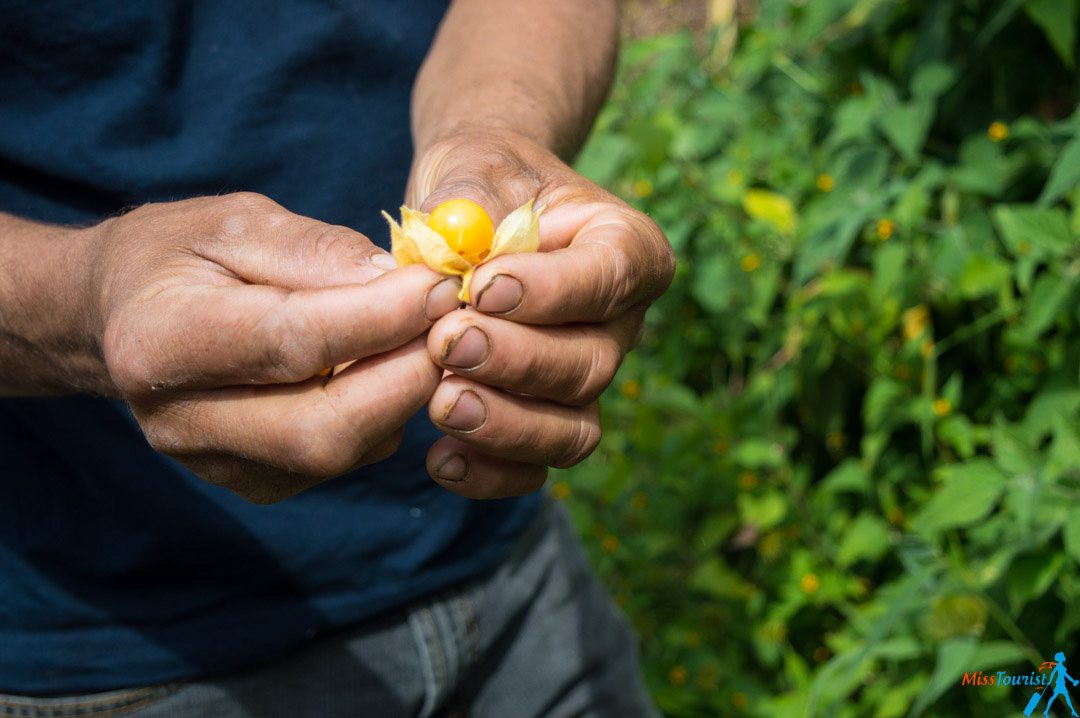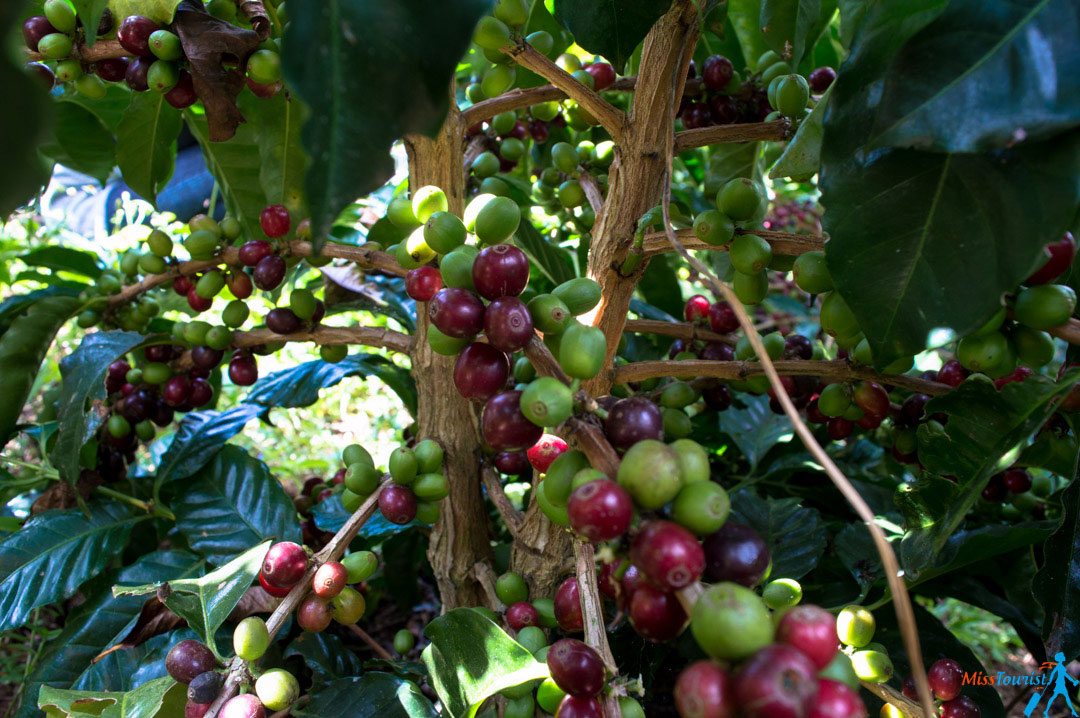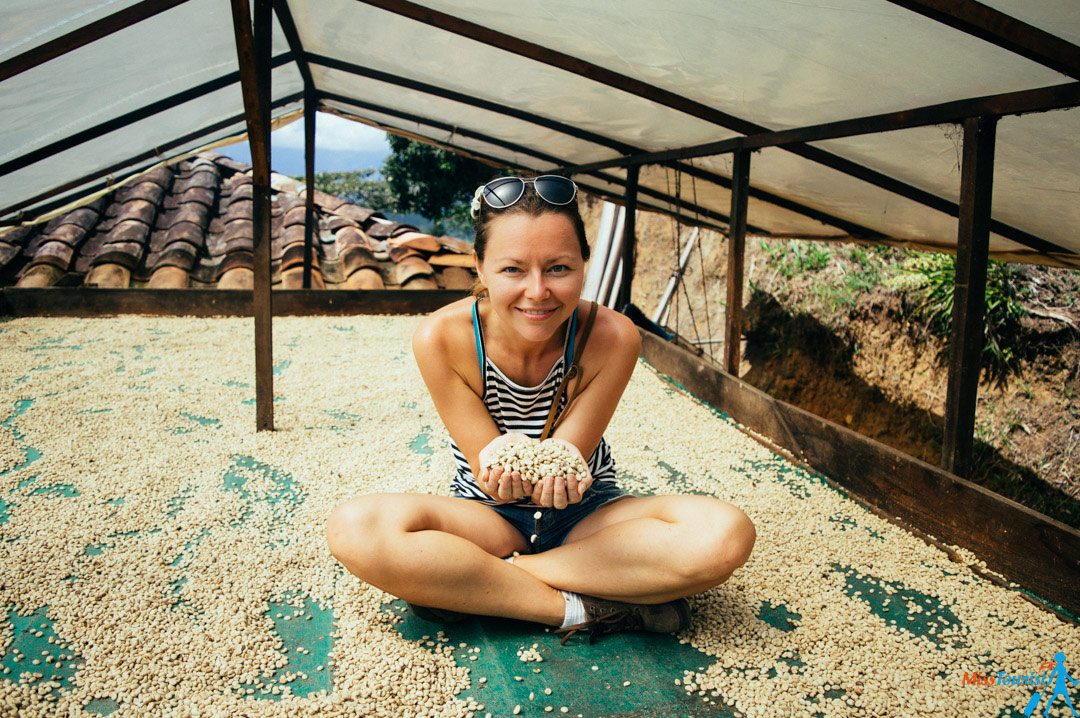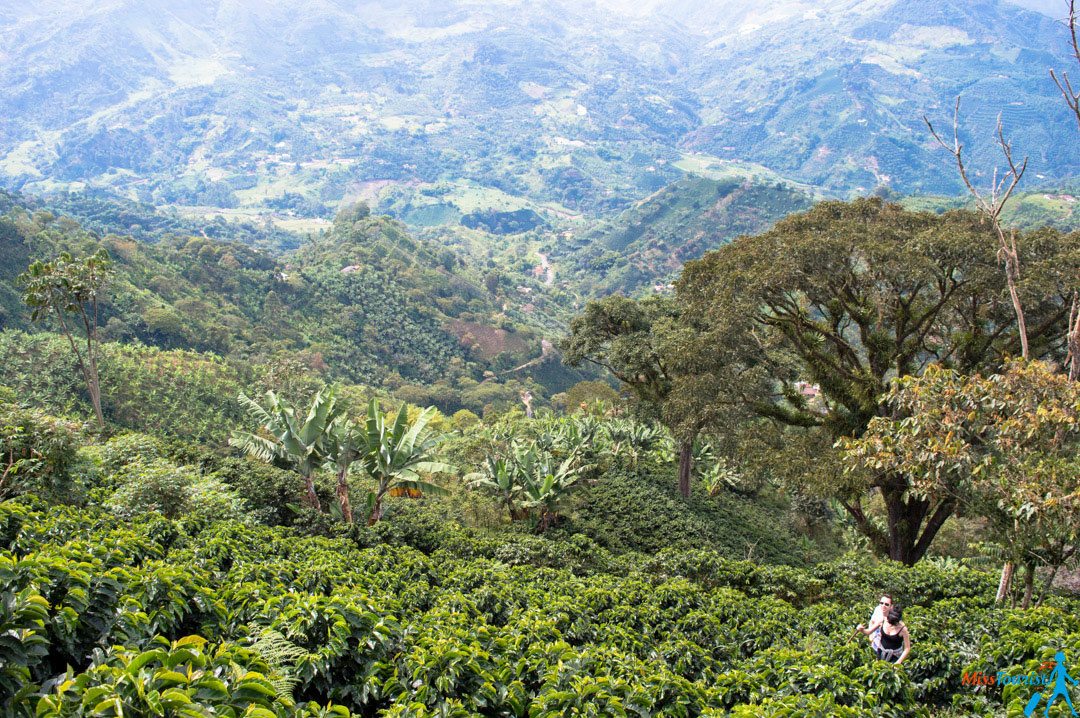 4. Just walk around the town
Can you even call a village that is a bit more than 10 000 people a town?
I don't know but it definitely has all the elements to be called so! There is a main square with numerous bars around, a big church right in the middle of it and endless people watching opportunities (see pictures above!).
Just walk around this radiant place, this is more or less what you will see: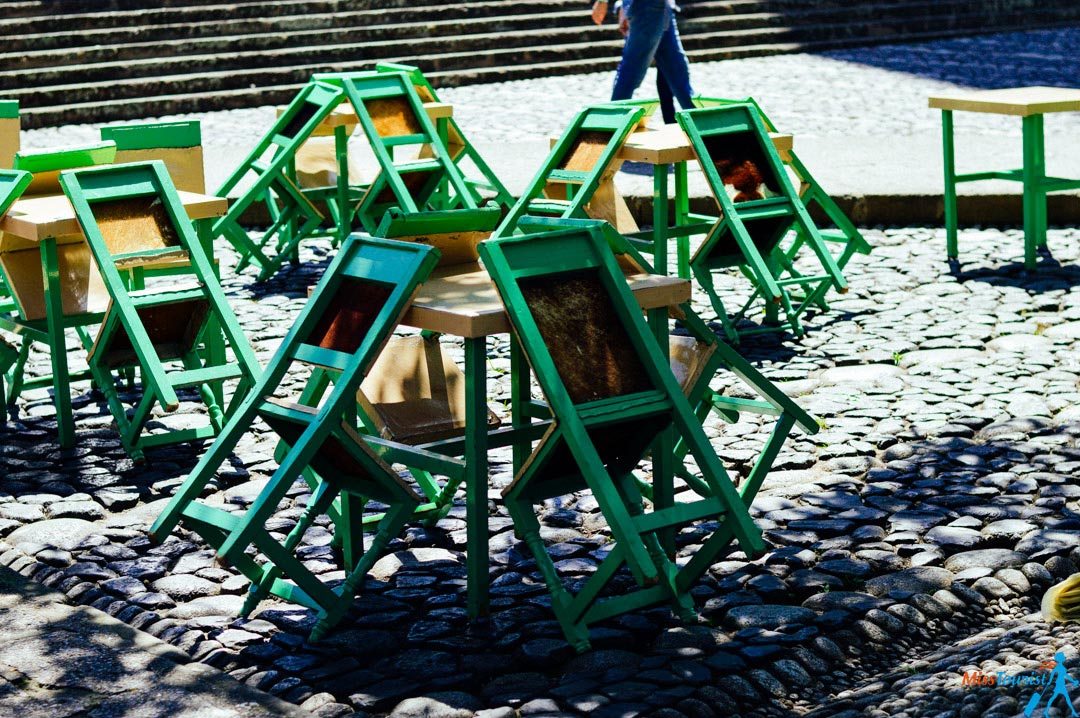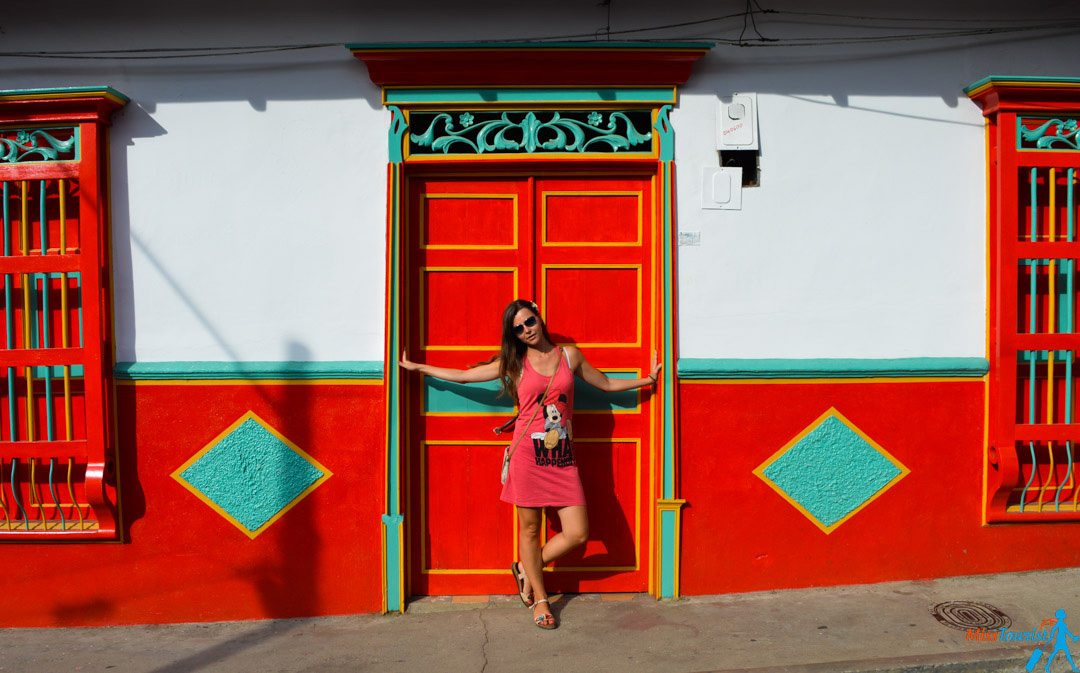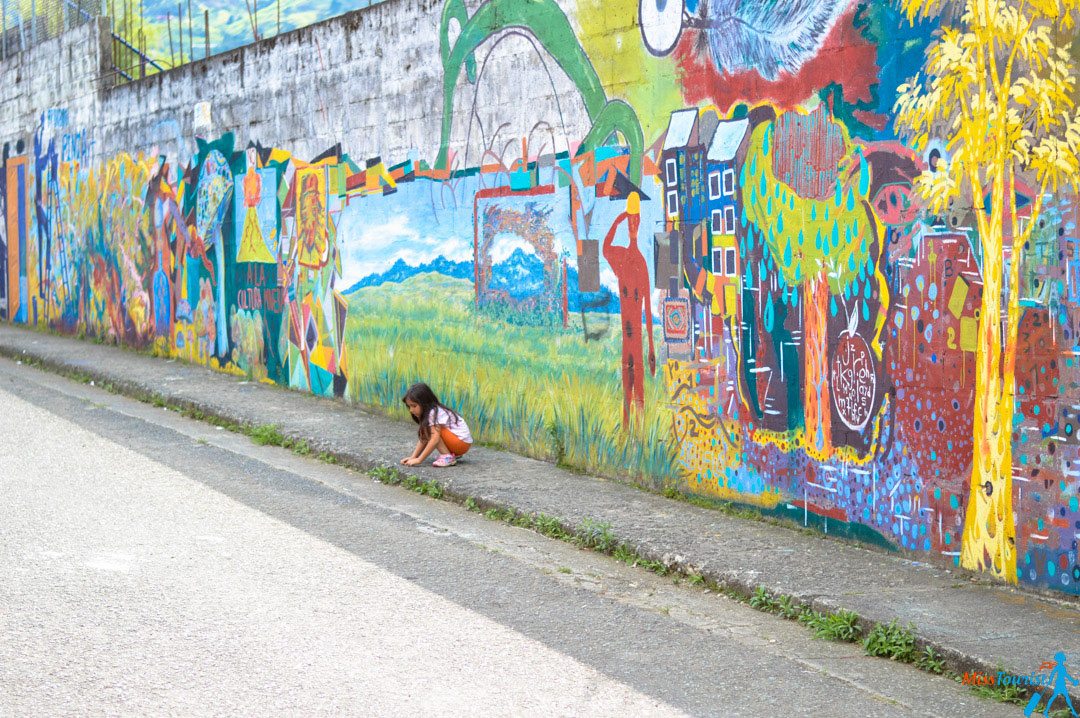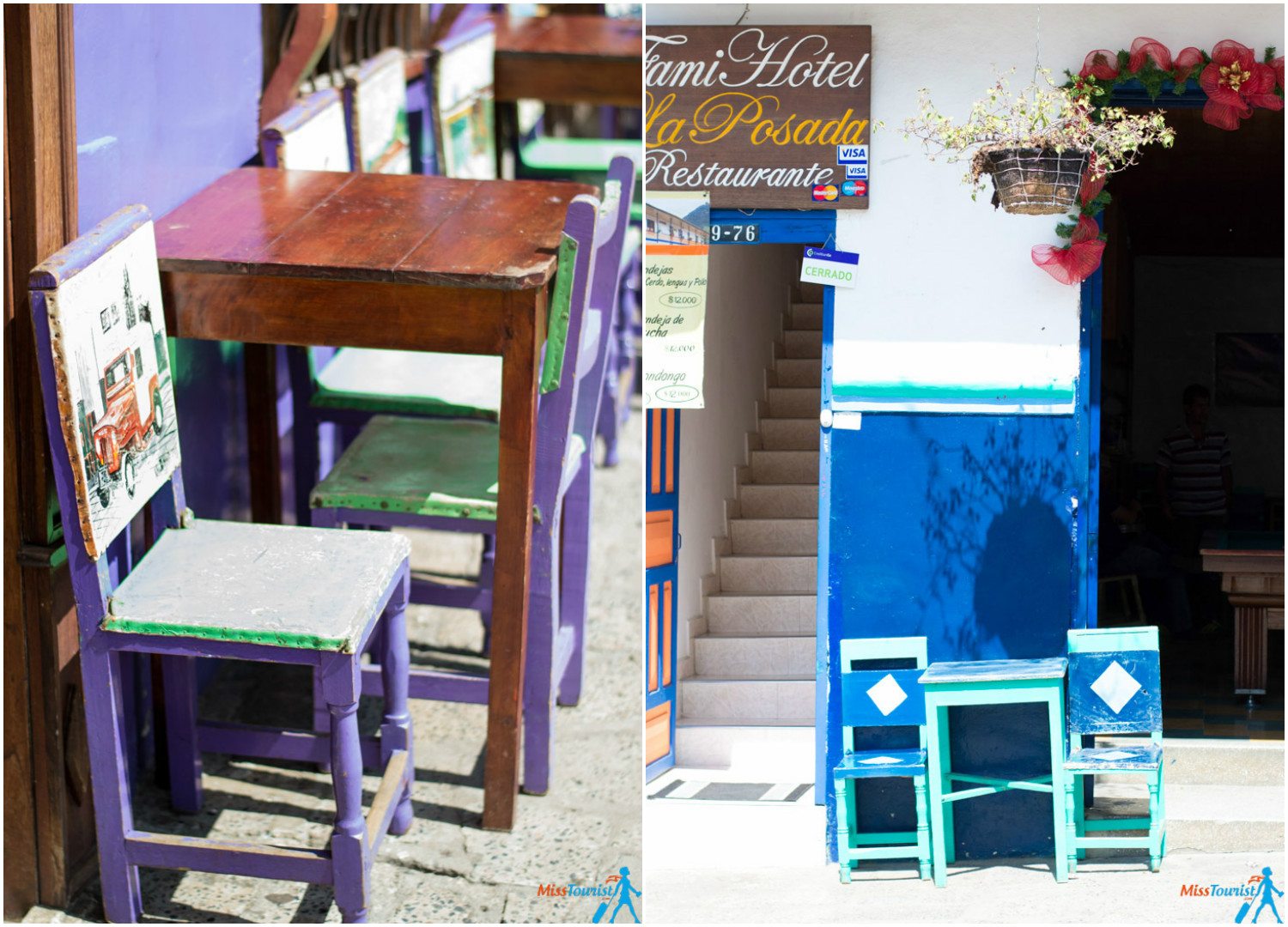 5. Go bird watching
In all honesty, I am not really the type of person who will sit for hours waiting for that lucky moment when a bird will fly over and I will be able to see its tail. That is exactly why I liked bird watching in Jardin: there is a specific time (around 4 p.m.) when these colorful birds fly more down and you can see so many of them at once in 15-20 minutes.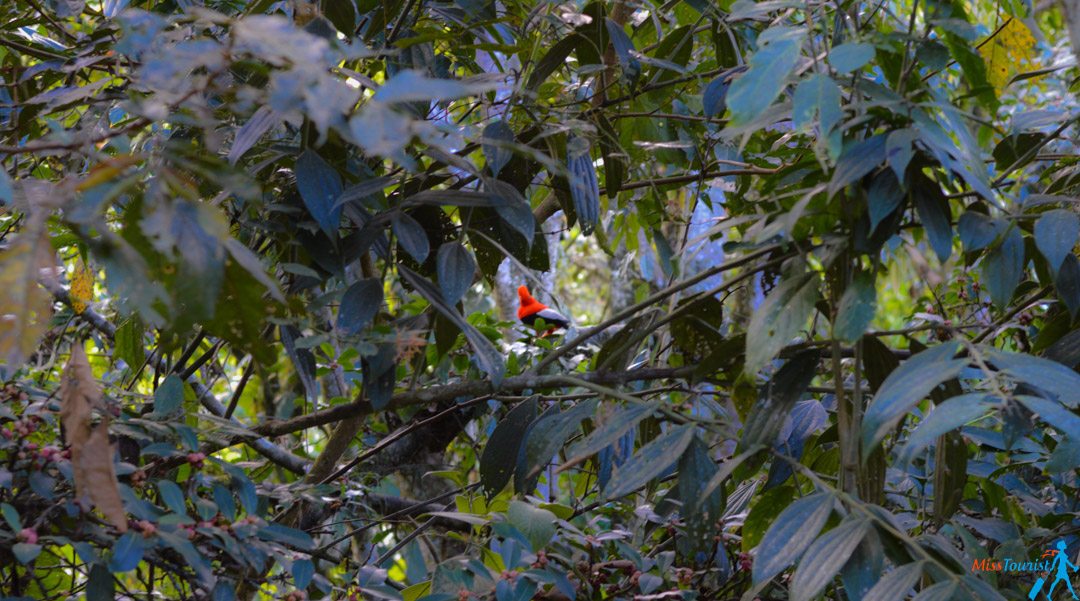 6. Where to stay in Jardin
I stayed in an amazing AirBnb called La Casa Amarilla (they also have private rooms, which I chose for my stay). Our host Maria Victoria could not have been more hospitable and thanks to her we felt like locals in Jardin de Antioquia!
The place is very well decorated and is located 2 minutes walking from the main square!
The price for the 17$ if you stay in a shared room and 38$ if you choose a private room.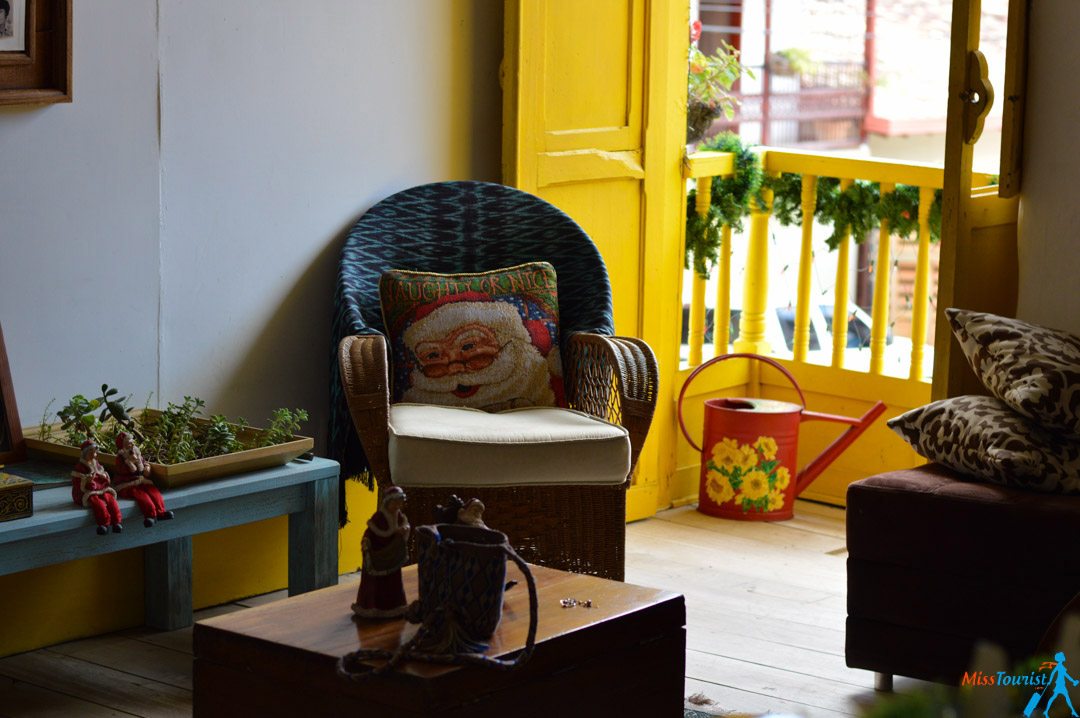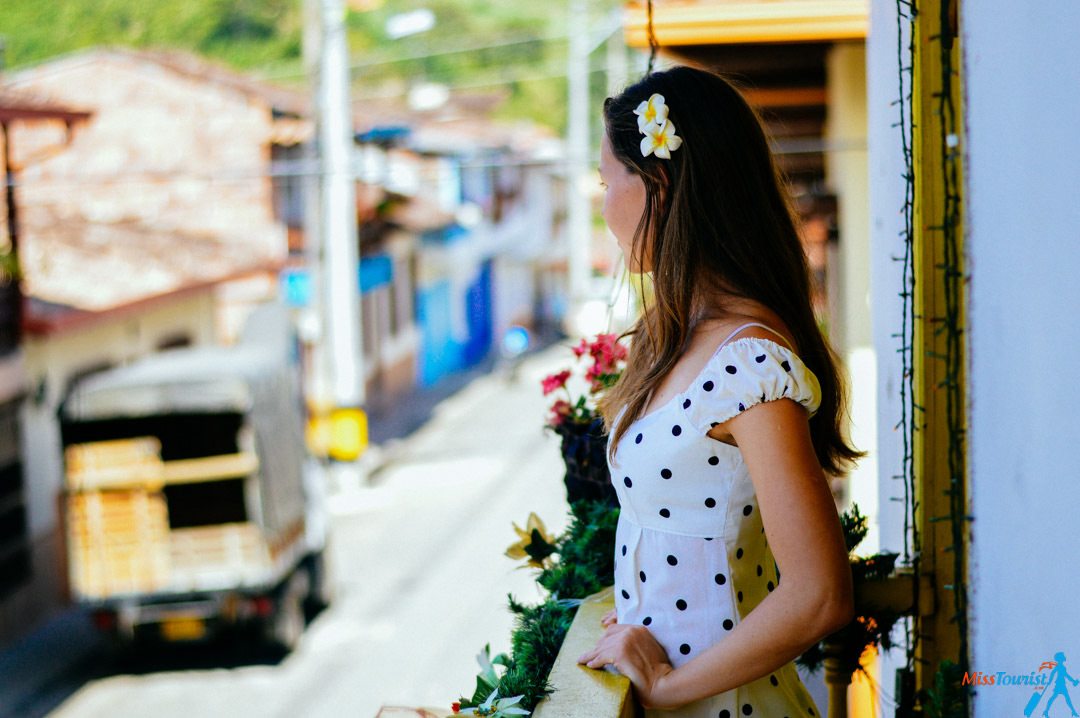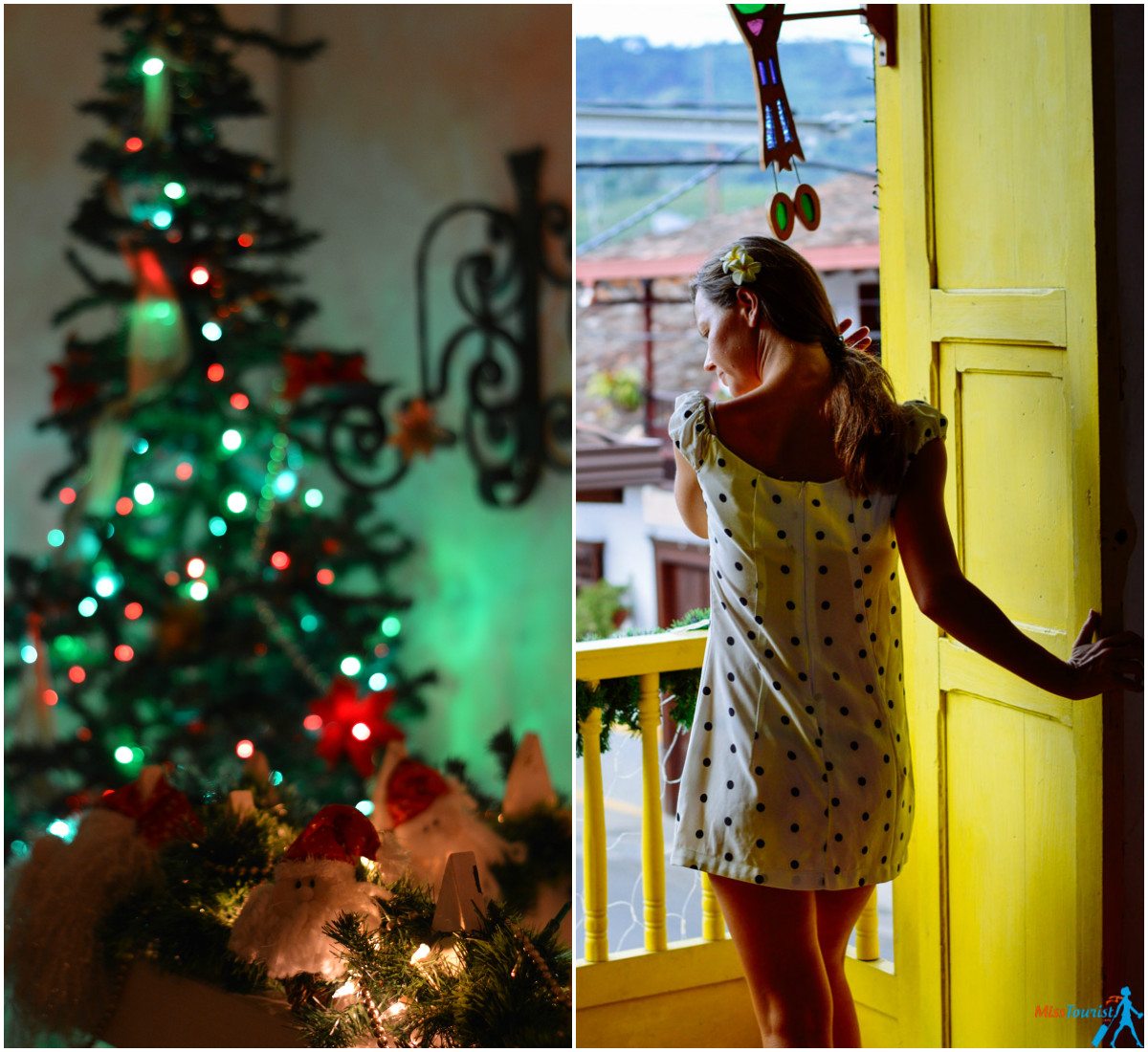 If you are more of a hotel person, I have some recommendations for you!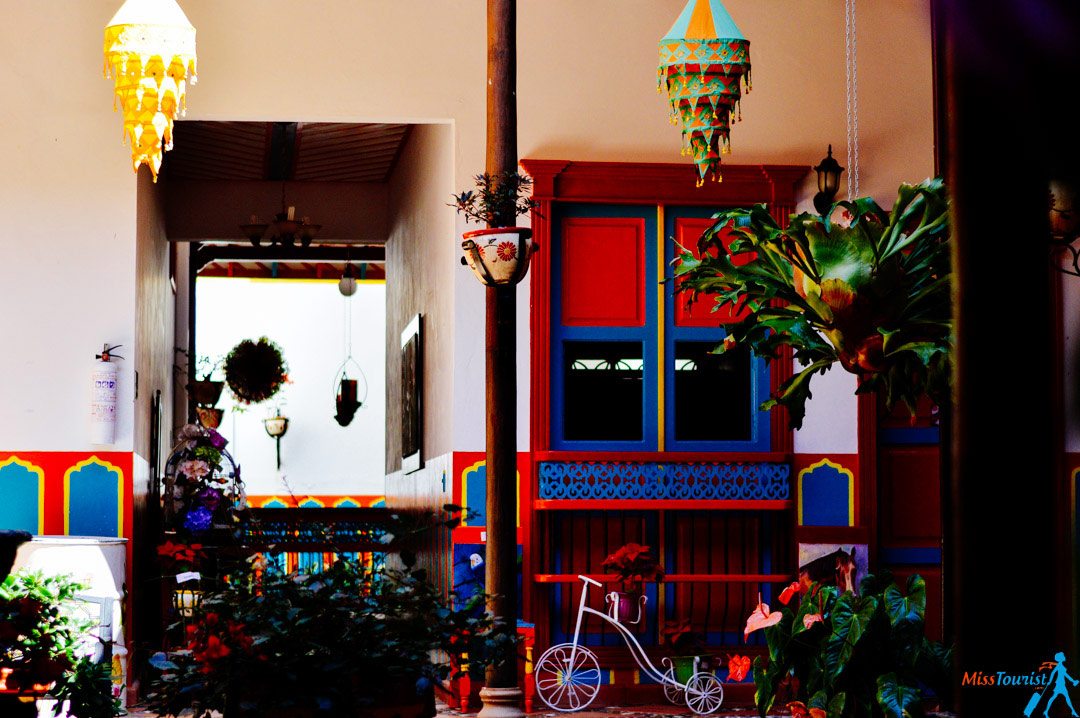 Jardin, Colombia hotels according to your budget:
LUXURY STAY: Gallito de las Rocas Guest House – this 2 bedroom chalet will leave you speachless by the breathtaking beauty that surrounds it. Can fit up to 6 people and the cost is US$110.
MIDDLE PRICE: Hospedaje Rural La Boira – 3* accommodation surrounded by amazing picturesque nature, the prices starts from US$44 per double room.
BUDGET STAY: Finca Hostal El Edén – amazing reviews, good decor, the prices starts from $25 for a double room.
7. Where to eat in Jardin
There are plenty of food choices in Jardin, all relatively inexpensive. You can try some traditional food in numerous restaurants around the square or Western food in "Cafe Europa".
I read some reviews on Tripadvisor and realized that there are 2 trout farms where you can get fresh fish, or even more! – you can first catch it yourself from a big swimming pool! I tried (it is free), but did not have enough patience, and just ordered it a regular way. It was delicious!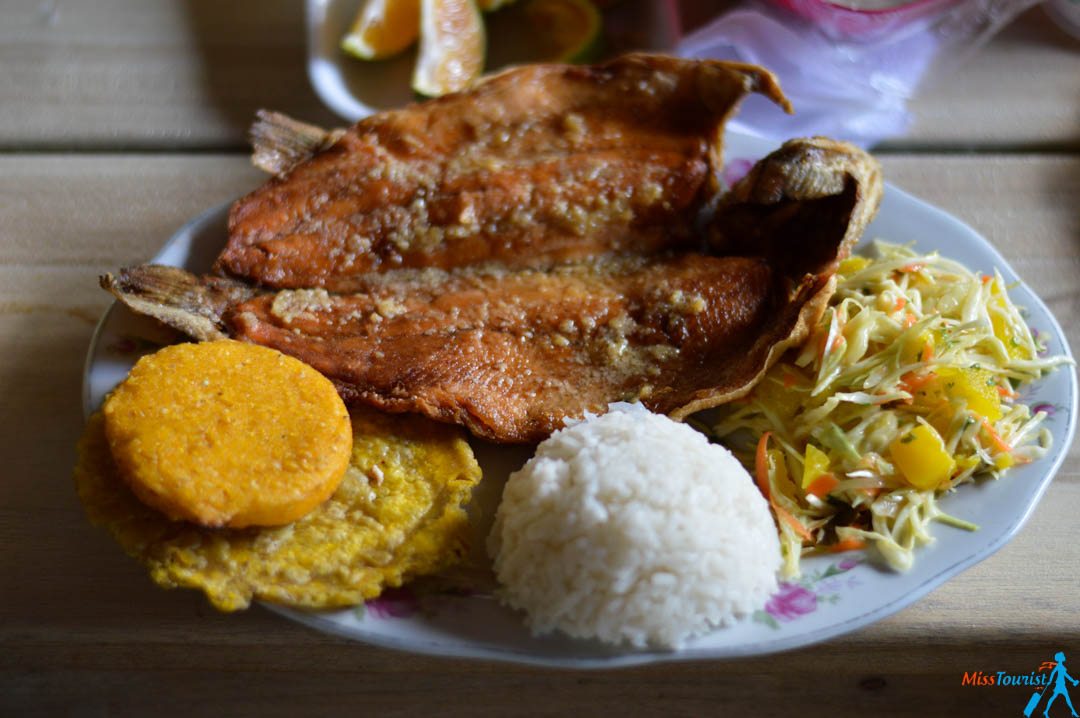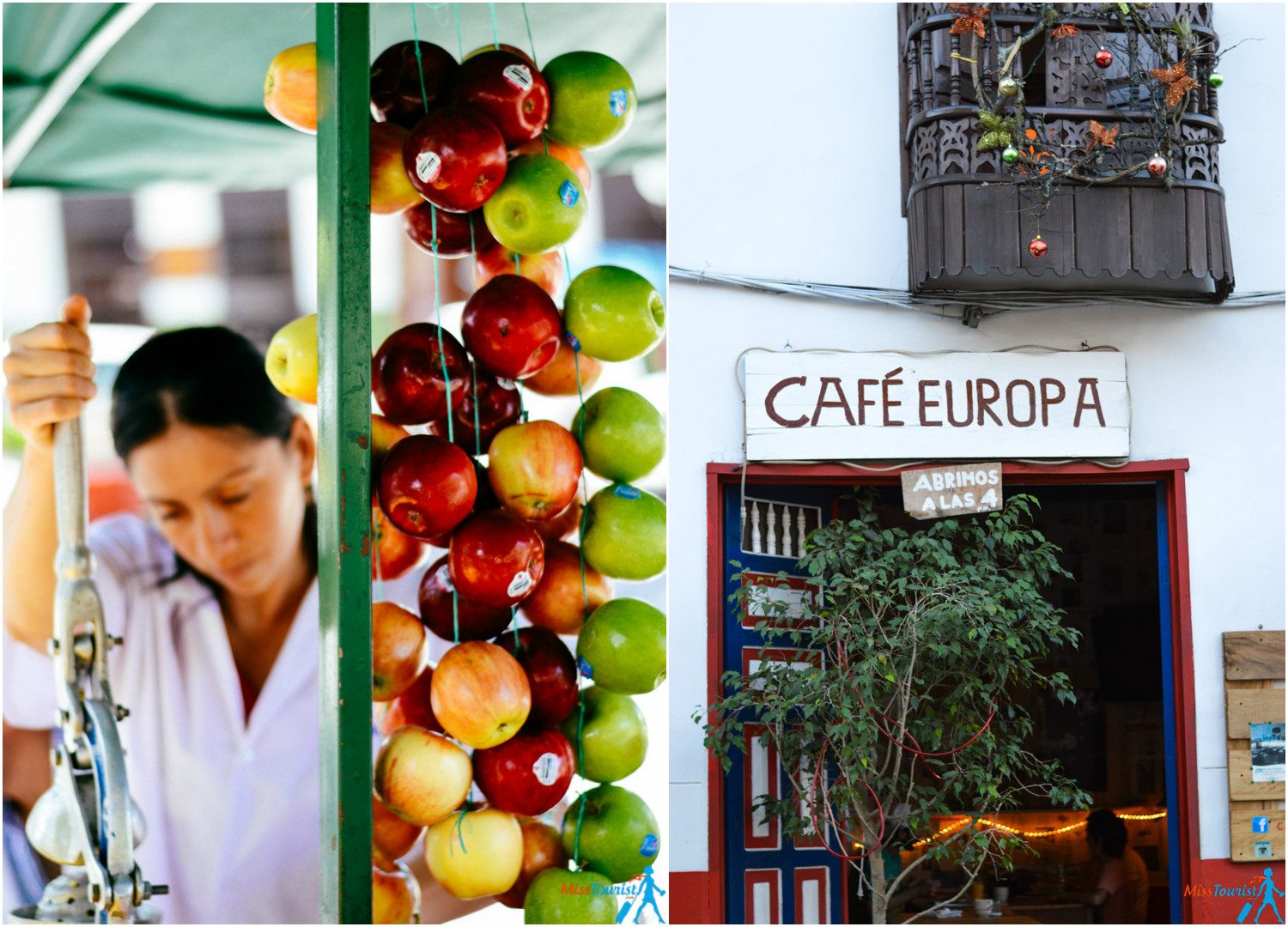 8. How to get to Jardin de Antioquia
You will most probably go to Jardin from Medellin, the biggest city around.
UPDATE: We now have a new article about Best Things to Do in Medellin, make sure you check it out!
If you will go by public transport (like me), that means you will have to take a bus. Buses in Colombia are generally inexpensive and often. Even if it is not far (130 km), it is a mountain road, that is why the way will take you about 3 hours. Bring some snacks!
You can buy tickets online here or just make your way to Terminal Sur and buy it on the spot. There are 6 buses per day to Jardin and the price is 20 000 COP (~US$6).
To see the schedule back from Jardin to Medellin click here and here.
| | |
| --- | --- |
| 🚠 Best views of the town: | La Garrucha |
| ♨️ Unusual attraction: | Coffee plantation tour |
| 💵 Avg hotel price: | $60 |
| 📅 How many days: | 2-3 |
| ✈️ Cost of traveling: | Low |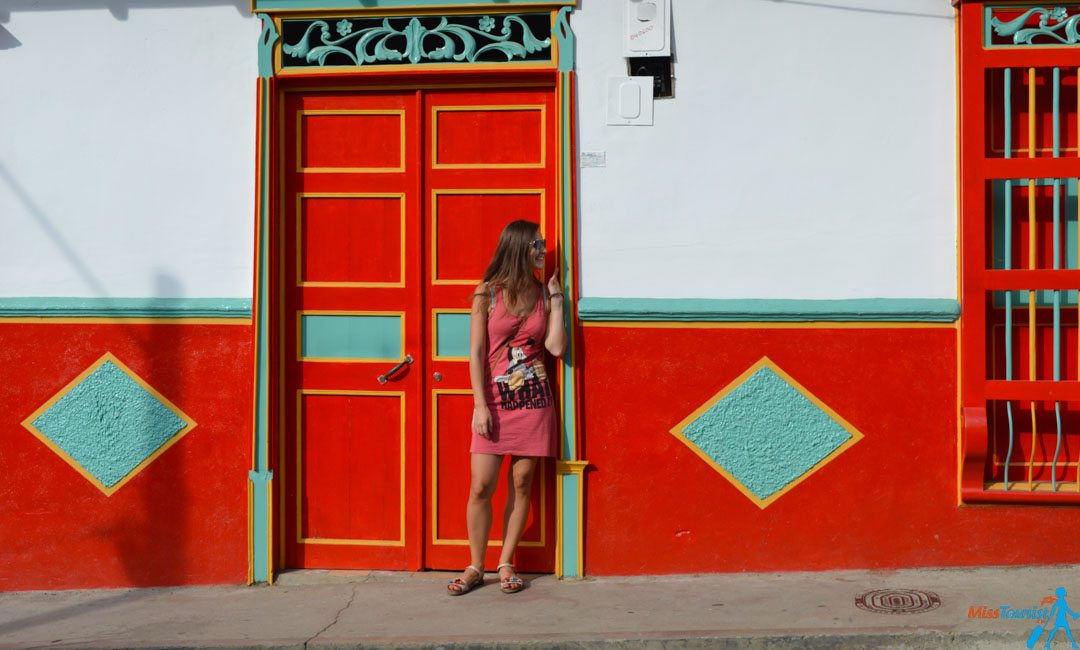 Thank you for reading this article!
I hope I convinced you that Jardin should be one of the places to go visit in Colombia, it is truly one of the most cutest pueblos I have been to!
If you liked my article, please don't forget to share the love and "Like" it on your social networks!
Yulia
---
---
Have you been to Colombia? What do you think of Jardin?
---
Pin it for later!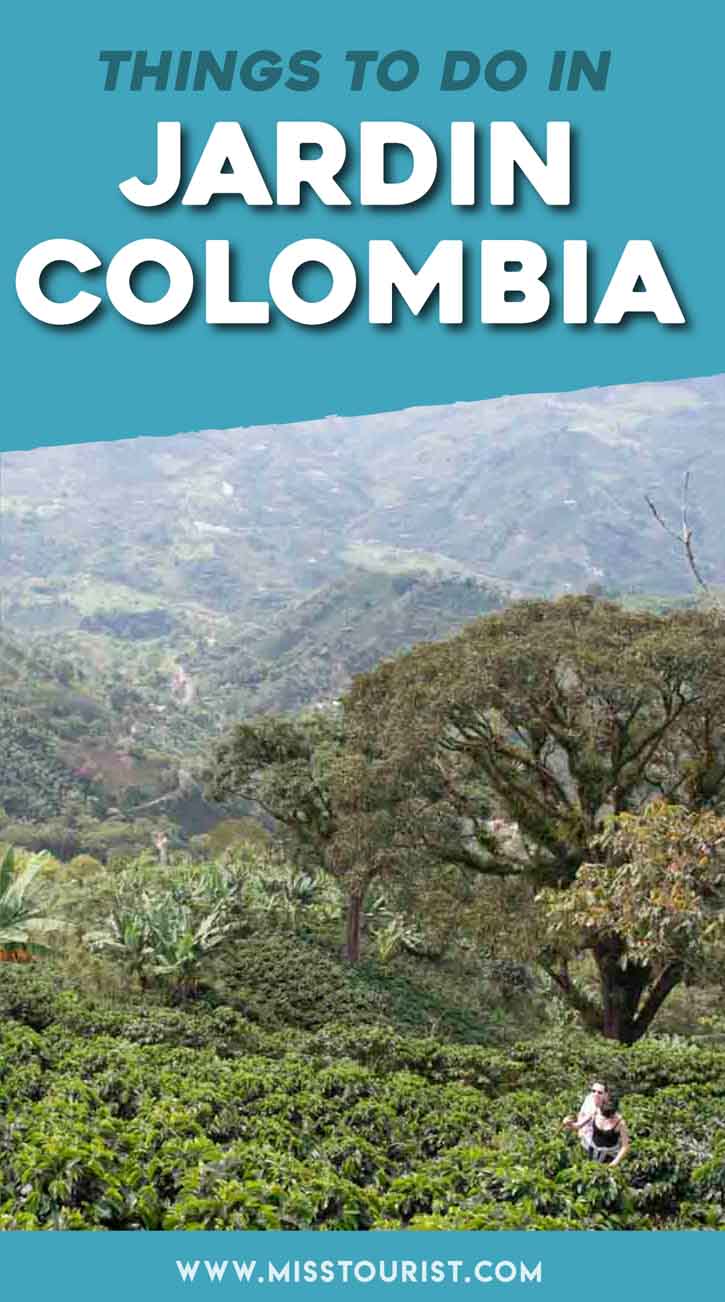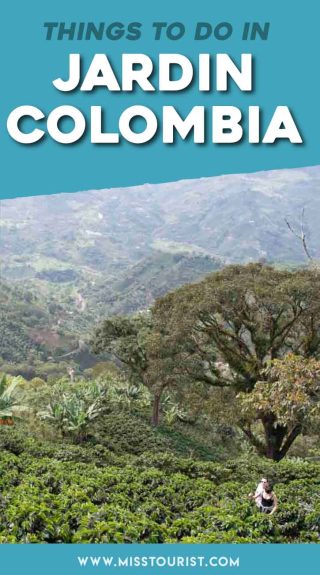 Pin it for later!