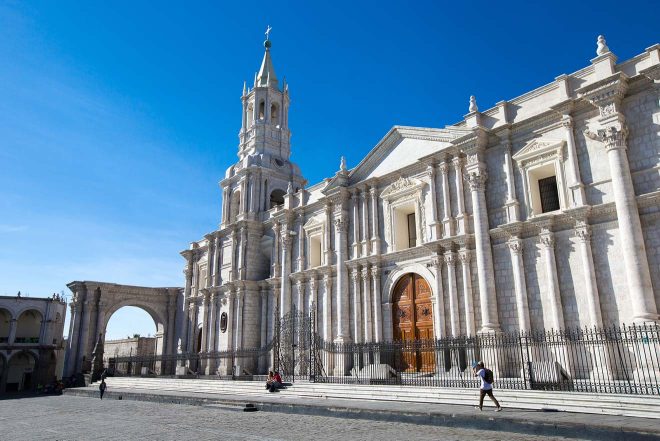 Are you planning a trip to Arequipa, Peru? Great choice!
The beautiful city of Arequipa has earned the nickname of the "White City" because a big part of its city center is built with a white volcanic rock called "sillar". Arequipa is the second largest city in Peru and it's surrounded by no less than 3 volcanoes.
One of the main reasons people go to Arequipa (usually on their way from Lima to Cusco) is to adjust a bit to the altitude before heading to Cusco.
Now that you know everything about the Best things to do in Arequipa from my previous article, it's time to figure out what would be the best place for your stay!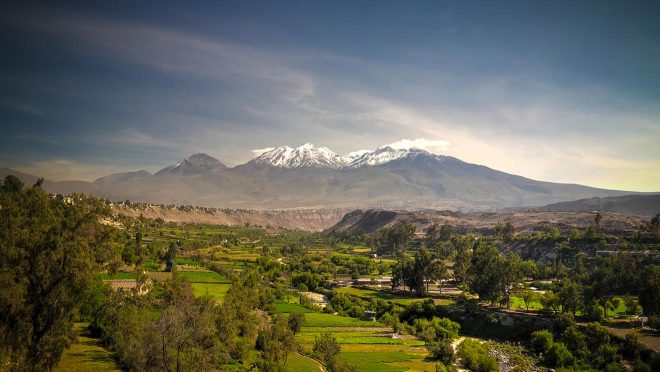 WHICH AREA SHOULD YOU STAY IN?
Before I went there myself, I used to wonder where to stay in Arequipa and which would be the best neighborhood choice. So I decided to ask some friends that live there and all of them recommended to stay near the historical center. It is definitely the best decisions!
The historical center has everything you might want to visit – from museums, cathedrals, restaurants, plus TONS of great accommodation options!
Here is my handpicked list of hotels in Arequipa, Peru! All of them have amazing reviews and I also broke them down by price range for your convenience:
Best hotels in the Historical Center of Arequipa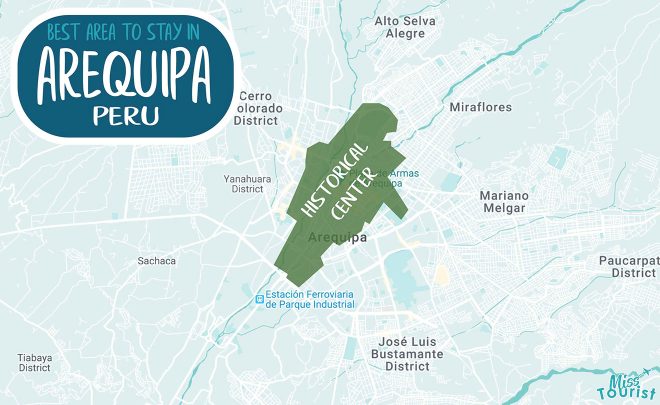 As I mentioned before, the best place to stay during your visit is the historical center of Arequipa.
This means you'll literally be in the heart of the city!
This area of the city is full of beautiful, colonial buildings (although most of the structures are replicas made in the 19th century, after the 1868 earthquake) and the main points of interest in the city.
Another reason to choose this location for your stay? Honestly, this is where most accommodations, restaurants, and city attractions are! You'll have plenty of fabulous hotels to choose from, for all budgets and tastes.
Here are the best hotels in the Arequipa Historical Center I can recommend: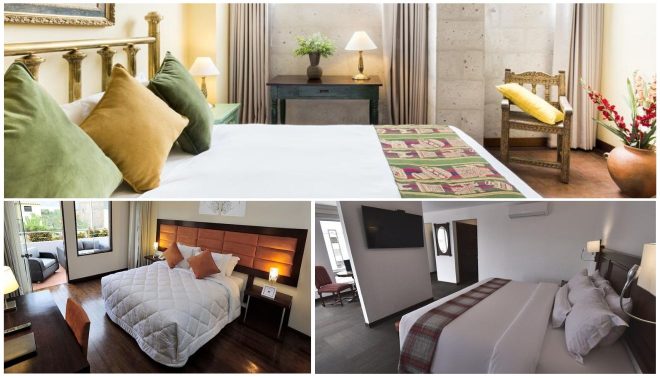 Luxury (US$160 and up)
Casa Andina Premium Arequipa – This is one of the best Arequipa hotels if you are looking for luxury! It's an elegant 5-star, colonial-style hotel built in an18th century mansion made out of volcanic stone. The amenities include a free airport shuttle, free Wi-Fi, and a sun terrace on the fourth floor with beautiful views!
Wyndham Costa del Sol Arequipa – This amazing hotel used to be known as "Hotel Libertador"; even though it now has a different name, it still offers luxury service every time. The property has an outdoor swimming pool next to a big garden and a playground for the littles ones, which are great bonuses!
Sonesta Hotel Arequipa – This is another one of the most beautiful Arequipa luxury hotels! All the facilities at this place will make you feel like a celebrity – some of these include a fitness center and an on-site bar. Every room comes with a flat-screen cable TV, free Wi-Fi, a wardrobe, and a private bathroom.
Middle-priced (from US$55 to US$160)
Katari Hotel at Plaza de Armas – This is a beautiful hotel in Arequipa center, right across the street from the local Cathedral, with a terrace that offers city and volcano views. Every room has a unique colonial-style décor with brick floors and alpaca textiles, topped off with colonial-style mirrors in the private bathrooms.
CasaBlanca Hostal – This is a charming and spacious inn-hotel in the historic area of Arequipa. They did a great job of keeping the colonial style of décor throughout the rooms and façade! This accommodation offers free Wi-Fi, a sun terrace, balconies with city views, and private bathrooms in each room.
Hotel Corregidor – This lovely, spacious hotel awaits you with accessible prices and some great rooms with air-conditioning, cable TV, city or volcano views. The larger suites include a hydro massage tub as well, so cool! Plus, the friendly staff can help you with organizing your excursion to the Colca Valley or Colca Canyon.
Budget (up to US$55)
Mint Hotel – Can you believe this great 4-star hotel has budget prices? It's so cool! They offer amazing service for an incredibly good price and all rooms include a minibar, cable TV, a private bathroom, and free Wi-Fi. Great deal!
Selina Arequipa – This colorful Arequipa hostel chain found everywhere in Peru is a great party place and an amazing option for budget accommodation. Their amenities include a garden, a swimming pool, a restaurant, and a bar.
El Portal De San Lázaro – This is a cozy hotel near the Main Square with an on-site restaurant and bar, plus room service anytime you want! The rooms at this hotel include a flat-screen TV, free Wi-Fi, a private bathroom, and some even have a balcony.
Best apartments and B&Bs in Arequipa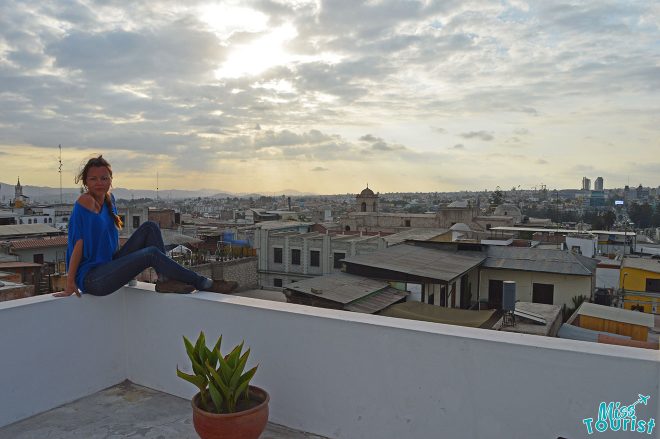 In case you prefer some other options other than hotels for your Arequipa accommodation, no worries, I got you!
I think apartments or bed & breakfasts are a great idea for this city. Most of the apartments and guesthouses here will give you a cozy feeling of being at home. Plus, sometimes, the shared areas are more spacious, so they're a great idea for people traveling in bigger groups and for families as well!
Although there are no luxury priced options for apartments in Arequipa, I have selected my best recommendations for apartments, inns, and B&Bs with great prices for you! By the way, all the options below have great locations, most of them in the Historical Center or even in Yanahuara:
Middle-priced (US$40 and up)
Azul Colonial – This colorful guesthouse is a perfect choice if you want to stay in Arequipa center. They have spacious areas and warm-colored decorations and you can even enjoy a nice meal at their on-site cafeteria while gazing at the life-like paintings of Arequipa!
Bella AQP – Another great guesthouse, with an amazing rooftop terrace where you can relax and enjoy the city views. Their amenities include a shared lounge, free Wi-Fi, and a grill on request. So good!
La Posada Del Fraile – This lovely guesthouse has preserved the historical interior décor and you will definitely feel like you are traveling back in time! But no worries, their service and facilities are modern and the rooms are very cozy and spacious. Each room has a flat-screen TV, free Wi-Fi, and a private bathroom.
Budget (up to US$40)
Casona Apartament – This apartment can fit up to 4 people in the 2 bedrooms, and it has 3 bathrooms and a fully equipped kitchen as well! It's a very good option if your are traveling with your family or friends because the property also has a playground and a grill area.
B&B Hostal El Remanso – This is a classic yet modern accommodation and one of the best options on my list if you are searching for an Arequipa bed and breakfast! The place keeps most of the original colonial décor and it's located in a tranquil area.
Misti Hostel B&B – This is one of the best hostels in Arequipa for budget travelers! It's basically a fusion between a hostel and B&B, so you can pick a shared dorm for your stay. Their amenities include a spacious balcony, a seating area with a flat-screen cable TV, free Wi-Fi, and a dining area.
| | |
| --- | --- |
| 👑 Luxury price: | $160 |
| 💵 Mid Range: | $100 |
| 🛏️ Budget: | $40 |
| 🏠 Airbnb: | $35 |
| 💰 Accommodation prices: | Low |
| 📍 Best area: | |
| 🛎️ Best luxury hotel: | |
| 💵 Best mid-range hotel: | |
| 👛 Best budget hotel: | Mint Hotel |
Best hotels near Arequipa airport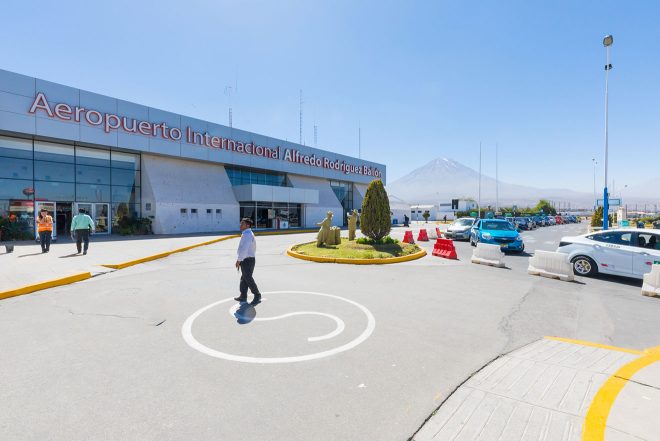 Rodríguez Ballón International Airport in Arequipa is the third busiest airport in the country, right after Lima and Cusco airports. The airport is only 10 km away from the city and it will take you, on average, 30 minutes by car to get there.
You can, of course, decide to stay near the airport instead of the city center in case your flight arrives late at night or departs early in the morning!
Although most of the accommodation options in Arequipa are near the city center, I made my research and found a couple of good budget apartments and guesthouses which you can consider if you want to stay near the airport. These are my suggested options: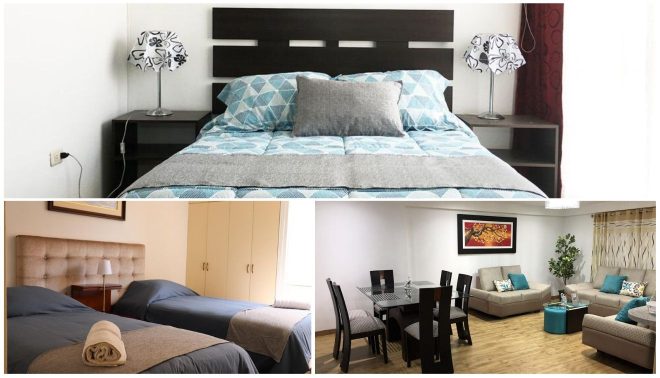 Hostal El Mirador – This lovely guesthouse is the closest accommodation to the airport you can get! It offers spacious and comfortable rooms with a closet, a work desk, a flat-screen cable TV, and a private bathroom. Some other advantages include room service, free Wi-Fi, and transport to the airport for a small fee.
Ayli Apart Hotel – Another great option located close to the airport, this hotel can fit up to 10 people if you are traveling in a big group! All the units have garden or city views, a fully equipped kitchen, a flat-screen TV, and there is even a playground for the kids.
Cayma's Apart – This cozy apartment can fit up to 8 people and comes with 3 bedrooms and 2 bathrooms, also perfect for a group trip. The unit includes a well-equipped kitchen with an oven, a seating area, and a playground outside. What more can you wish for?
---
Conclusion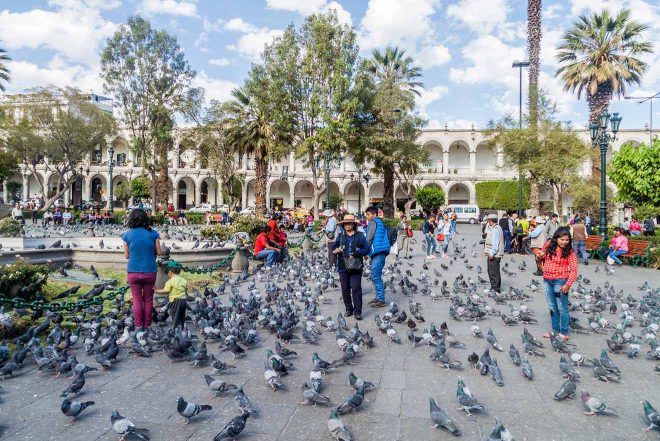 There you go, this was my complete list of Arequipa lodging options that fit every taste and pocket! I really hope you will find this guide useful because I tried to include only the best hotels in Arequipa, Peru for your vacation!
You will definitely enjoy your stay in the White City! What I can recommend is to start your vacation in the city by taking the first couple of hours to acclimate to the southern altitude (2,335m) and then move around the city. Going for a tour to the outskirts (most probably Colca Canyon) should take place at least on the second day of your visit.
In case you need help in planning your itinerary, I recommend my article about the Best 13 Things to do in Arequipa, Peru!
I wish you the best vacation in Arequipa! If you have any questions, make sure to leave them in the comments below and I will gladly help out!
Mariana
Pin it for later!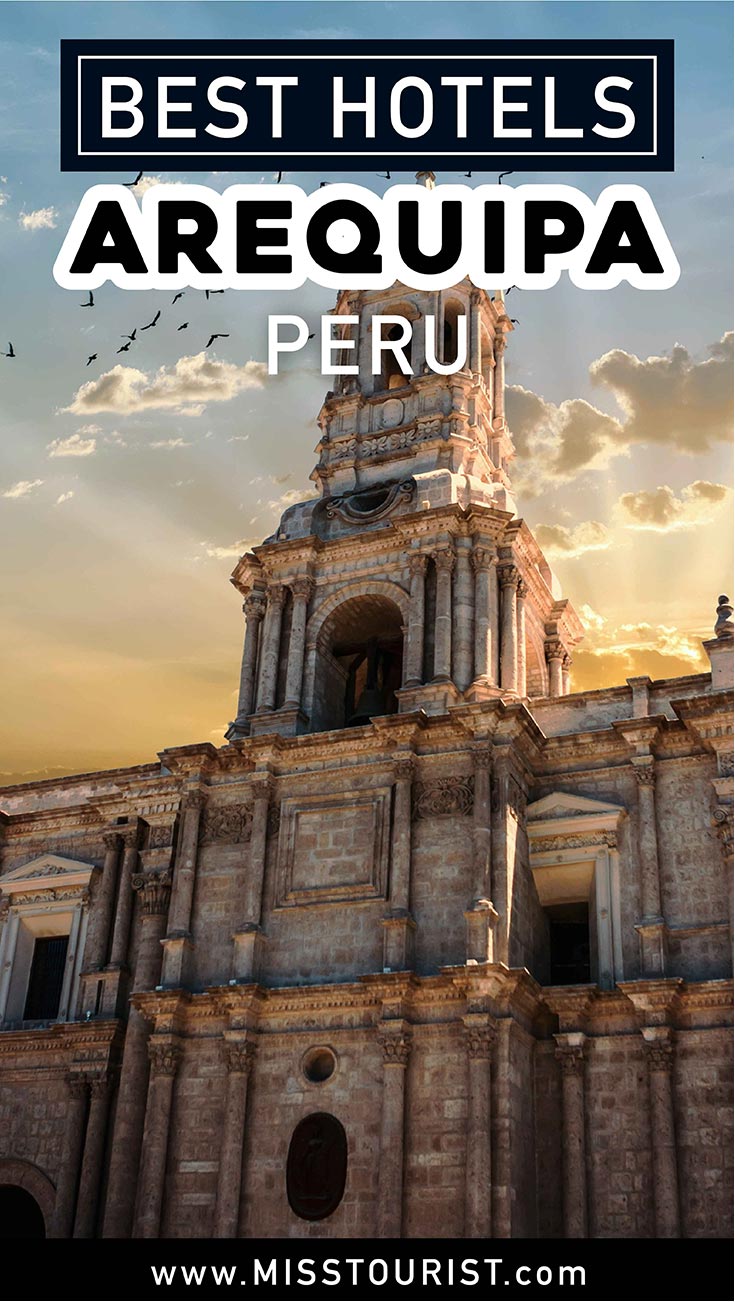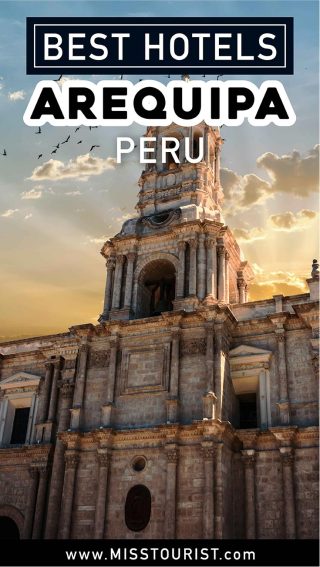 Pin it for later!