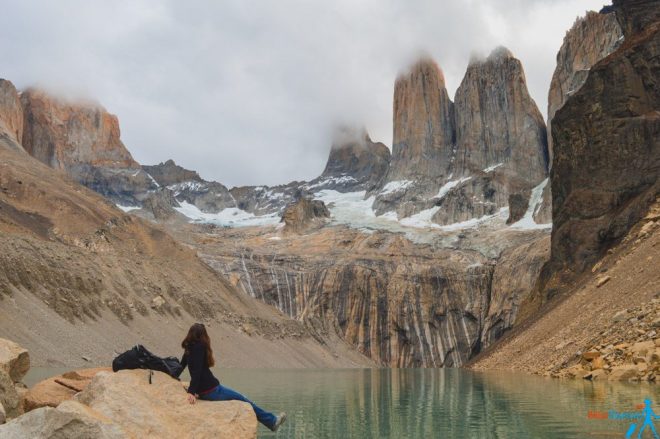 Torres del Paine National Park, located deep in the South of Patagonia in South America, was always considered to be one of the best treks in the world!
I was always curious if that is true, and while I was touring the continent, I could not miss the chance to hike the famous park myself.
Many people wonder, can you do the trek by yourself or it is obligatory to go with the tour?
As usual, pick up your badge of courage and get on with it. Independent travel is absolutely possible, moreover, it prevails in Torres del Paine! You can certainly go with a tour if you wish, but you don't really need to. Every path is well marked and it is very easy to orient yourself, don't worry. Solo hiking is very popular and is definitely allowed in Torres del Paine.
Local guides say the Torres del Paine treks are so easy and obvious, that, if you manage to get lost, they will put you on a wall of shame and make you famous!
There are many blog posts and books out there already helping you to prepare for the trek, but I found them missing this or that important info. Thus, to cover all the question that I could not find in the internet before and help you plan your trip, I decided to write my own Torres del Paine trekking guide: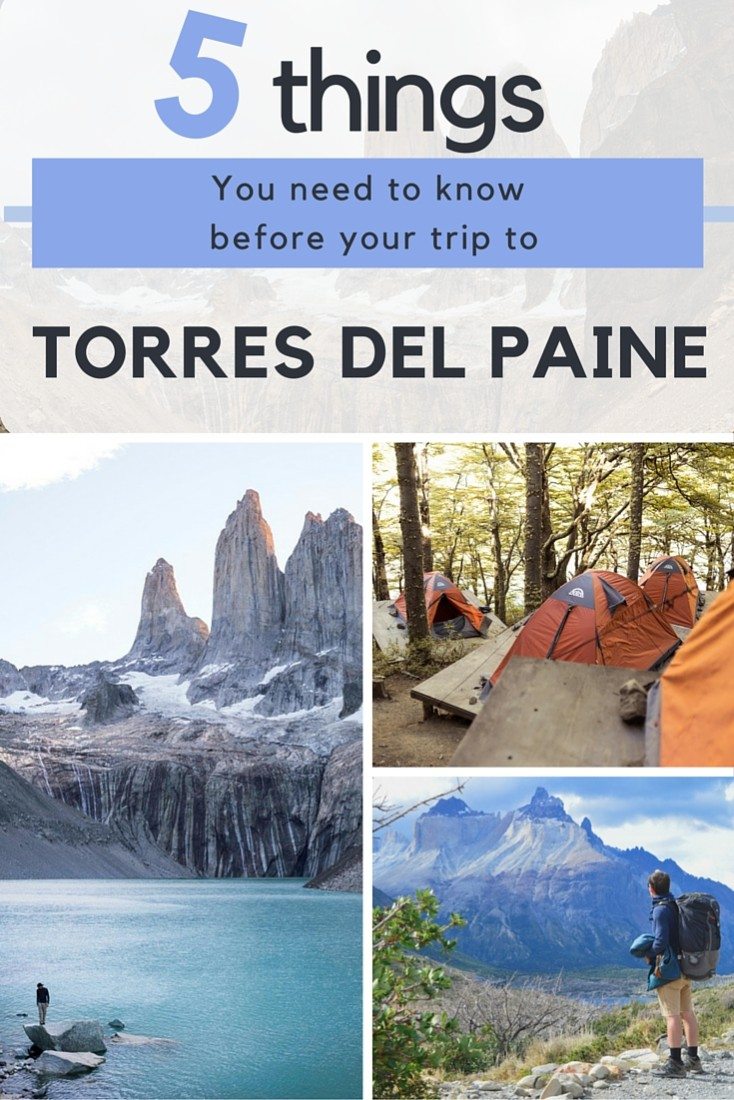 These are the questions you need to ask yourself BEFORE going to Torres del Paine in order to have a great time there. I counted 5 of them.
1. Summer or winter?
The weather in Patagonia is so unpredictable, it can compete with Iceland– a hot sunny day can change to strong wind gusts which will blow you away and cold in the blink of an eye.
Even though you cannot predict the weather, you can at least choose the season, so do it right.
October to April is considered to be a good time to visit. That is when the spring and summer time in the southern hemisphere is. Being far south, they don't last as long as you'd like.
Winter is coming in Patagonia after April, and, believe me, it is cold. And by cold I mean Russian winter cold (I am Russian, so I know stuff).
If you are searching for challenges, and you are an experienced hiker, you can go in the winter, sure!
But it sometimes got really windy in February (summer) when I went. And by really windy I mean I could barely stand! I wonder how is it during the winter? Brrr
The only advantage of the cold season, if you ask me, is that there are hardly any tourists during the winter time (May to August).
More information about the weather in Torres del Paine here.
2. O or W, or maybe the Q trek?
No, I am not inventing some secret code, this is how the trails are called (named for its shape).
Basically, there are 3 hiking routes in Torres del Paine: "W" (4-5 days), "O" (9 days) and "Q" (10 days).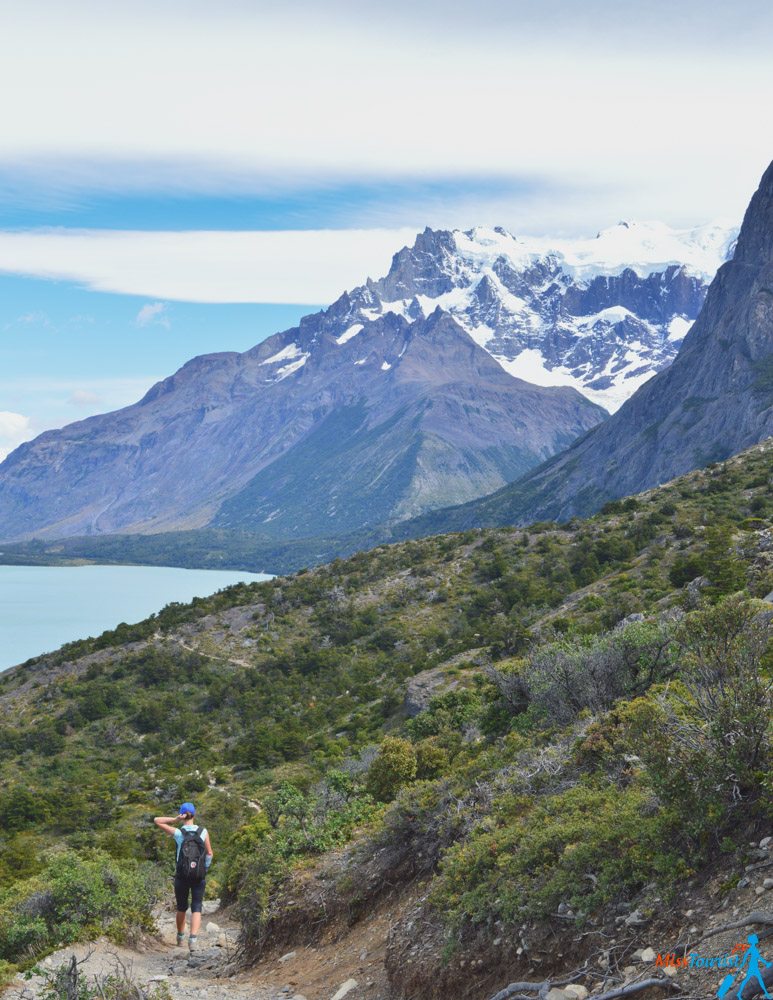 "W" is the most popular trek in the park, I also took this one. This trek will allow you to see the most important things including the torres, symbol of the park. Duration – 4-5 days.
"O" is a loop trail, it makes a circle around the whole park. I recommend taking this tour if you have more time and you want to deeper immerse with the nature. It gets to be really less crowded after it breaks away from the W trail. Duration – 9 days.
"Q" just adds 1 extra day to O, a little tail from O. Take it if you still didn't have enough of the beauty of the park. Duration – 10 days
If you are not feeling adventurous, you can do an easy 1 day trek just to see Torres and stay in a hotel close to it. Duration – 4-5 hours.
The W is basically part of the O, O is part of the Q.  Here is the picture so that it makes sense:
Which direction to go – East to West or West to East?
It does not matter, really. It really depends on the weather, plus you will still need to come back. I did my W from East to West and it was perfectly ok. I chose East to West because I knew that the first day is the hardest, so I didn't want to postpone it until the last. But that's just me, you might want to do it differently.
3. A tent or a hotel?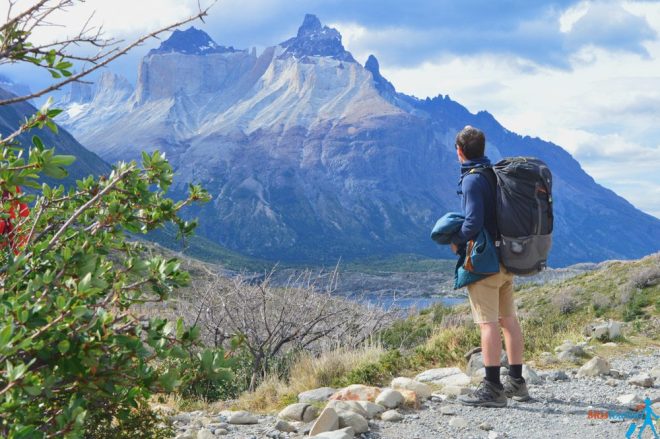 Where are you going to stay in Torres del Paine those 4-10 days?
Will you go for a budget option staying with the tent or you prefer a comfort of a room in a refugio (hostel in Torres del Paine).
I chose a combination of camping and lodging to have a good understanding of each of the alternatives of accommodations so I can report it back to you! Oh, you are welcome, don't even mention it! 🙂
Let's talk about both options:
A) Tent in a paid camping site
Even if saving money might not be your main reason for choosing a camping option (yes, it is really romantic to spend the nights in the nature – when it is not windy, haha), it is definitely much cheaper than staying in a refugio.
All of the paid campsites on the W trek are generally located near the refugios, which means you will be able to enjoy all the facilities there – showers with hot water, kitchen, toilets etc.
You can rent a tent from each individual refugio (+ sleeping bag and sleeping mat as an extra option). That is a cool option because you will not need to carry the tent from place to place. You rent it in one campsite, then you rent another tent in another campsite. Comfortable option! You need to also rent a campsite spot for this.
Alternatively, you can carry your own tent and use it on each campsite (you will only need to pay a small fee for using the facilities of the campsite)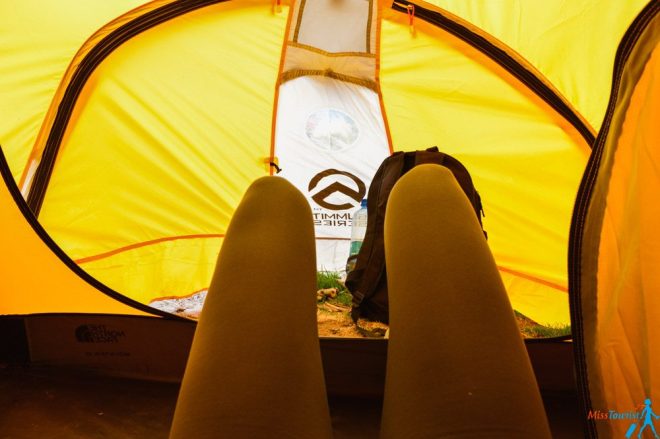 My experience – I am glad I could rent a tent in each camp (= no carrying involved), and overall it was a great experience. The tents are of very good quality and heh, they are already set up for you! You miss a bit of the camp experience but damn, I enjoyed having it ready. The facilities in camping sites are good – hot water, basic kitchen (you need to use your own stove). I saw many people trekking with tents. So, if the weight is not an issue for you, I think you will have a fabulous experience!
Booking the tent – I would say, given the amount of tourists treking, it's better to book your tent and/or camping spot in advance. If you want to rent a tent, for most of the W trek camping sites you should book the place here. For the Paine Grande campsite and other camping sites on the O trek, you can book here. If you go in the low season you can take your chance with not booking it in advance.
If you rent the whole thing (which includes a tent, tenting space, a sleeping bag) it will come up to about 50-60$ for 2 people. They have tents for 3 and 4 people as well.  Consult the prices here.
Price: About 15$ per person if you come with your own tent, and 50-60$ for 2 people if you rent a tent with all the supplements (sleeping bag, mat).
B) Tent in a free camping site
The free camping sites are owned by the park authority. They are of course, harder to reach (you'll be more tired at the end of the day) but they are placed deeper on the trek, so they provide you with a more genuine experience.  The camps lack many of the facilities of the paid campsites, but for sure they don't lack in good spirits, great atmosphere, and nice people!
Booking a place in a free camping site should be done, in order to secure your spot when you'll reach it tired, at the end of the day. The procedure for booking is not as simple as you might think. There are no online bookings and you can only book maximum one day in advance. So, as soon as you get to the first camp, you need to communicate with the rangers there that you are heading to the next one. They will, in turn, contact the next camp and pass on the list of bookings. Now, hurry to the next camp, adventurer!
C) Hotel (Hostel / Refugio)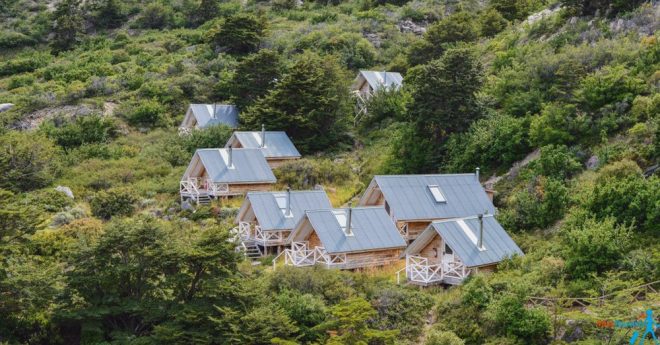 Hotels, or in majority of cases, hostels are owned by 2 private companies in the Torres del Paine park – Fantastico Sur (basically on the eastern part of the park) and Vertice Patagonia (everything on the western side of the park).
I have stayed in different refugios (hostels) for 3 nights and I actually recommend it.
In some areas there are also cabins with hot tubs, so that's also an option, sometimes.
Yes, it is pricey, but the territory of the refugios is so far away, they need to deliver employees and food by helicopter to most of the areas.
Even if the facilities are basic, it is all very nice and clean, I loved staying in Fantastico Sur refugios!
And the fact that I was staying with another traveler in the room allowed me to meet some awesome new friends on the road. I also took the full board option, the food was delicious and plentiful, see the next section for the pictures.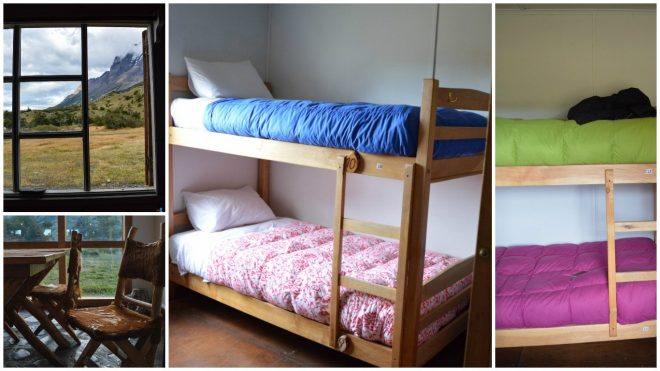 Note: Refugios are not built everywhere, if you are taking an "O" trail, there are parts where camping is the only option.
Booking the refugios –  Please book in advance. Refugios are very fast to be sold out, especially during the high season (Dec, Jan, Feb). You can book them here and here (depending in which camp you want to stay).
Price: Really depends on the particular refugio. The average price is 80$ per person. It again really depends on the season and the location.
The price is about 10% lower if you go off season, see the rates here.
4. Cooking or full board?
As you will be in Torres del Paine for some days and you probably want to eat something more than just chocolate bars, you should think about it in advance.
Are you going to cook your own food or will you use the full board option provided by the refugio?
Cooking your food yourself of course requires some preparation and most importantly, carrying everything on your back, but hey, it is much cheaper.
Packing food list in case you will cook:
can opener;
for breakfast – one serving of oatmeal per person;
for lunch – snacks like a carrot, chocolate bar, cookies, apples, or granola bar;
for dinner – pasta dish, tuna, or rice dish for dinner (be sure to mix in some sort of protein);
gas oven,
water filter (not obligatory, but quite useful)

PRO TIP: A friend of mine hanged her food to keep it away from mice and other rodents, but it was taken by a condor, so find a good place to store your food overnight.
Full board provided by refugios means you will eat breakfast, lunch and dinner cooked by the refugio. No worries about cooking and carrying all those cans of food. (I am saying it over and over again because, believe me, the weight question will become super important after you walk with it for a few hours).
You can get the full board option (or order just dinner/lunch/breakfast individually) even if you don't stay in the refugio. There were many people camping who came to the restaurant in the evening to enjoy a nice warm dinner.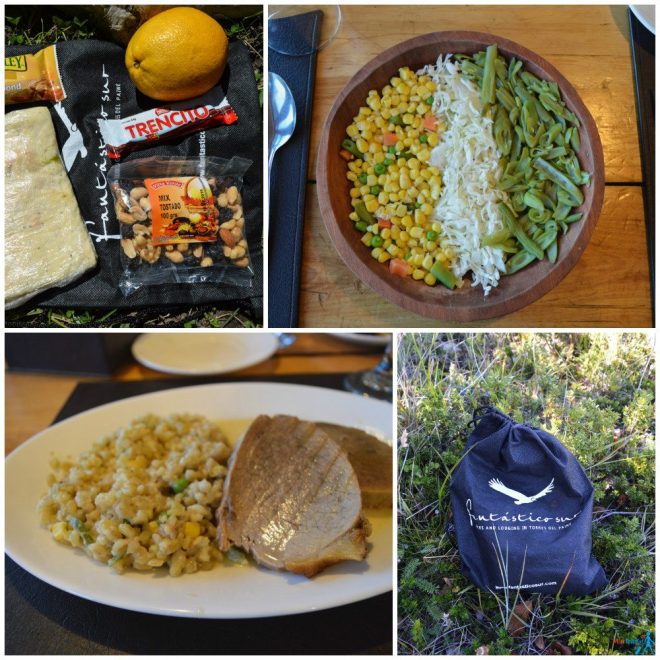 The dinner consists of 4 courses – a salad (an appetizer), a soup, a main course (meat or a vegetarian option) and a dessert with tea. Wine is not included, but you can get it for quite an affordable price if you wish.
I remember both breakfasts and dinners being heavy (meaning a lot!), which was great because it is exactly what you need before/after a day full of activities.
Lunch will be given to you in a lunch box. There is also a vegetarian option.
What about drinking water? Indeed, that's a very important question.
You don't have to bring liters and liters of water with you, thanks God! Luckily, you are in the National park and the streams of water coming directly from the glacier are cleaner than any bottled water.
Just one thing to keep in mind – the closer the running water is to the road, the more polluted it is. If you take the water directly from the river, there is a high possibility of other people or horses stepping in it. That brings dangerous bacteria that you don't want in your body, so be careful.
Refill your bottles up the stream and you will be safe.
Some cabanas (another name of a refugio) sometimes add chlorine in the water, try not to drink it, just ask in the canteen area to refill your bottle.
5. Light or heavy?
Oh, let me answer this question for you this time, can I?
The only possible answer is "Light" here. 🙂
You should leave your main luggage in Puerto Natales, each hotel/hostel there will take your bags, they are used to it. They have special storage, and it will be safe there for all the 5-10 days you are hiking the National Park. I used a lock just in case, but everything was fine.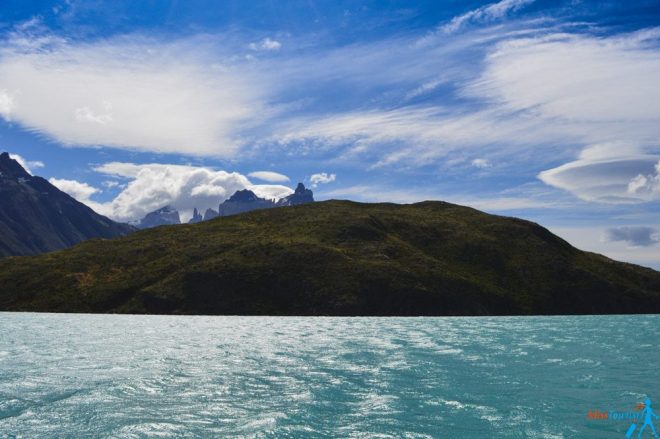 Take only the stuff that you will REALLY need.
The suggested packing list is below.
Packing list:
A backpack (duh!);
T-shirts;
GOOD waterproof shoes;
Hiking pants;
Walking sticks – highly recommended, don't kill your knees!;
A rain jacket;
Your camera – don't forget it!;
foodstuff if you are cooking (see the suggested list above);
sunscreen min SPF 30 (the radiation level is very high, try to always use it);
Sunglasses;
Toiletries;
Flip flops;
A towel;
wet napkins.
There is a possibility to hire a porter, but if you ask me, it is not the point of being in the nature. Just bring the most important stuff and enjoy the park without high-tech devices or dozens of dresses to wear in the evening. 😉
---
BONUS: How to get to Torres del Paine National park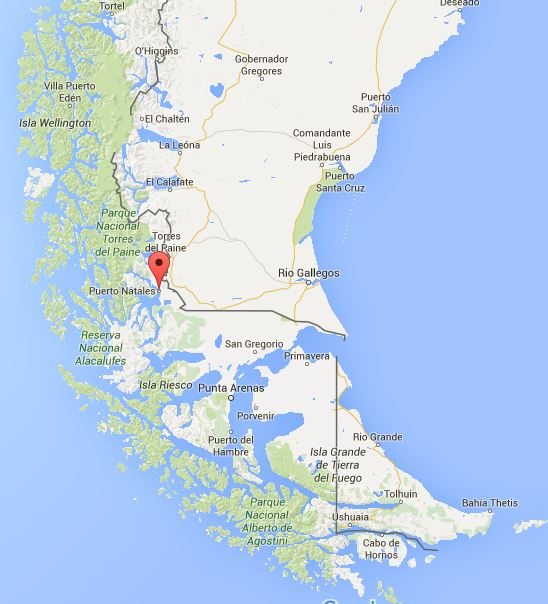 The closest city to Torres del Paine National Park is Puerto Natales. That is where I recommend to stay and have a rest for a day or 2 before the hike.
There are plenty of buses from Puerto Natales to different entrances to the park every day in the morning. You can buy your ticket from your hotel or just buy it from the bus terminal, whatever works better for you.
Entrance to the park costs 25$.
What will you see in Torres del Paine?
The incredible nature of Torres del Paine left many people speechless, it is a place where the color of the crystal-clear sky is just indescribable, the nature is unique, you can find plenty of wildlife to discover around you.
Here are a few highlights:
THE Torres – 3 huge granite towers, the torres (Es. – towers) is the symbol of the National Park. if you want to see them at the sunrise, you should stay at Campamento Torres (book in advance) as this is the closest place to get to the Torres (still a hike of about 1,5 hours).
I saw the torres during daylight, it was stunning nevertheless!
Grey Glacier that is fed by Southern Patagonian Ice Field, climbing up there and hearing thunderstorms from time to time (that are actually ice falls) –  unforgettable!
French Valley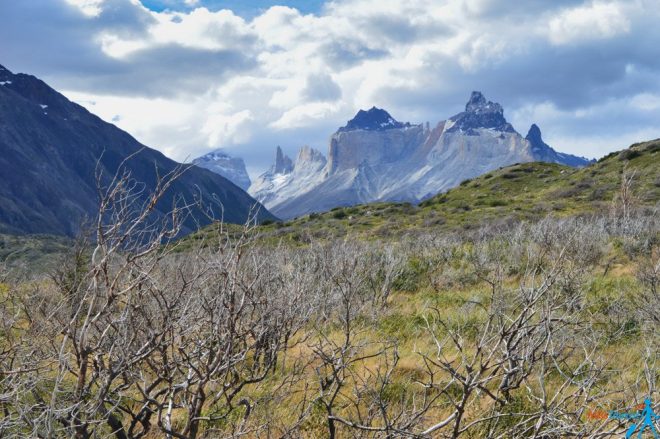 And many many more pictures of incredible nature!
So, how much is it again?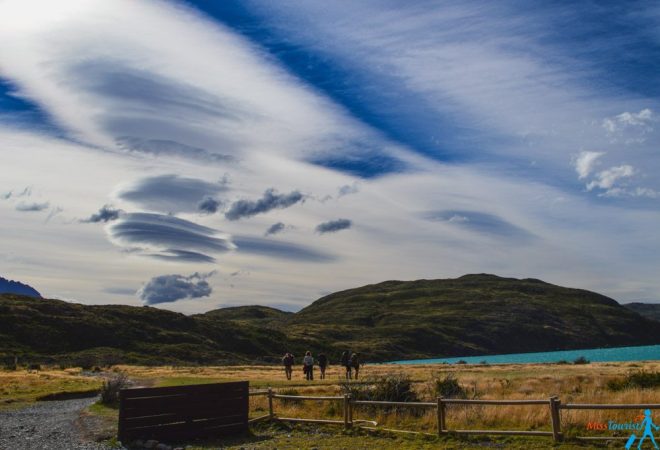 Yes, even if we already spoke about it a bit, there are too many variables in this equation, I know.
The price depends on what level of comfort you prefer and your budget, the season you are going, too.
Let's count together:
Cheap – carrying your own tent, camping in free places or cheap places. Cooking and eating (and carrying) your own food.
Medium – Renting tents from the camp and eating food provided by the cabanas from time to time
Expensive – staying in cabanas (a Lodge with bunk bed in a room for 6 with hot water etc), eating the food provided by the cabana
Luxury – staying in a luxury hotel and having your luggage carried by horses. The problem is, you choice of hotels will be very limited, as they hardly are any. However, there is a luxury 5* hotel called Las Torres, it is located relatively close to the Torres. The hike from the hotel up to see the torres is about 4 hours.
And yes, you read it correct – even staying in a hostel in Torres del Paine can be quite pricy. The hostels are owned by private companies and, it is hard to transfer goods there, that is why the price you pay for a hostel here can equal the price for a good hotel somewhere in Europe.
Me personally, I combined the medium and expensive options – I stayed 3 nights in cabanas and 1 night in a camp renting a tent from them.
And now, some more important things to remember …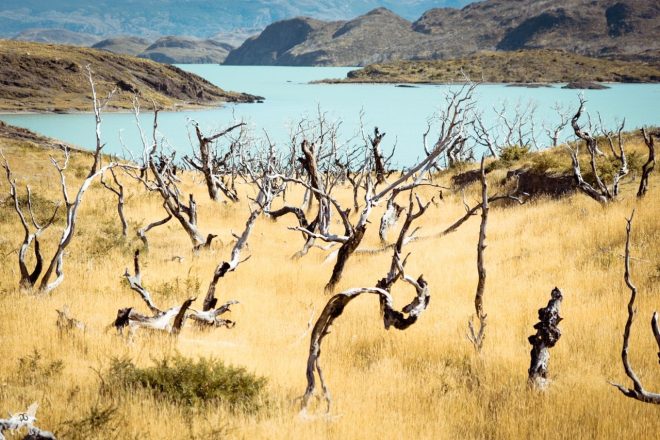 Fire safety regulations – NEVER, and I really mean never, light fire in Torres del Paine National Park! The fire will spread so fast, and the trees are dry, you won't be able to stop it. This is a really serious issue. Some guys did it 4 years ago, they destroyed 40% of the park trees, had to pay a huge fine and they are now not allowed to not only the park, but to the whole country. Please don't start the fire in the park.
There will be no Internet, unless you are willing to pay some extra, many refugios provide a "Wild-Fi" service. But I would recommend to connect with the nature, isn't that why you are there? No point to carry your laptop whatsoever.
Put your clothes in a plastic bag and then in the backpack, this way it won't get wet if it rains.
If you want to prepare even more, I recommend attending this seminar organized by Erratic Rock a day before. They organize it every day at 3 p.m.. It is free and it gives you a lot of valuable info.
Is it hard?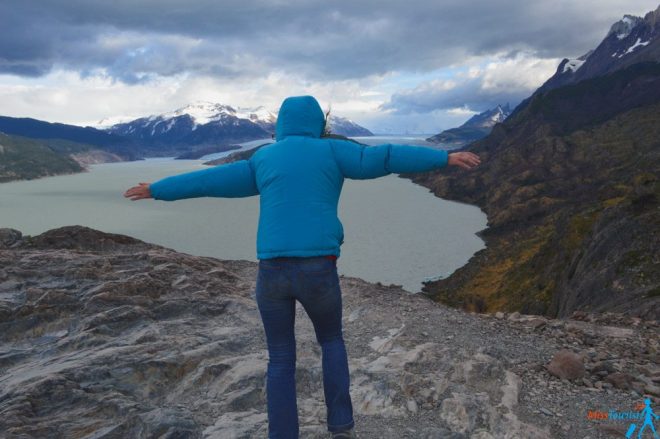 It is relatively easy. If you compare it with Colca Canyon in Peru, or, perhaps, the inca trail to Machu Picchu, it is much easier. No hills, just a bit of climbing, not even every day. However, if you are not in fit, or the weather is windy, it can be quite challenging, but still doable for all the ages and all the levels. If you are doing O or Q, I would suggest doing a long-distance hiking experience before as you will be carrying a loaded backpack for 8-10 days.
Occasionally you will have to go up steep steel ladders, climb across suspension bridges and go along deep mountain valleys. It is not easy, especially if you have heavy backpacks, but Torres del Paine has some of the most spectacular routes on the planet and it is so worth it! You will also meet many amazing like-minded people along the way!
Here is the hiking time estimate. It is pretty accurate, my time was maybe a bit faster, but that is because I did not have a heavy backpack.
People also ask me if it is easy to get lost in Torres del Paine?
No. In fact, if it's very difficult to get lost. The paths are clearly marked and unless you really want to, you won't get lost, don't worry.

Conclusion:
Here in this post I have included some important details that I couldn't find in other blog posts in the internet. The idea was that you have it all in one place – the info of which trek to take, how much exactly it is going to cost you, how long is this, what to take with you and many other little things that I noted down while doing the trail myself.
Even if it is not that cheap as the tour of salt flats in Bolivia, it is a different beauty and I recommend experiencing it!
P.S. While touring Torres del Paine, I met a talented photographer named Pehuen Grotti, who generously allowed me to use his fantastic pictures on my blog. Follow him on Instagram and Facebook for more!
Disclaimer: I was invited to Fantastico Sur as a guest, however all opinions are, as always, my own.
---
Pin it for later: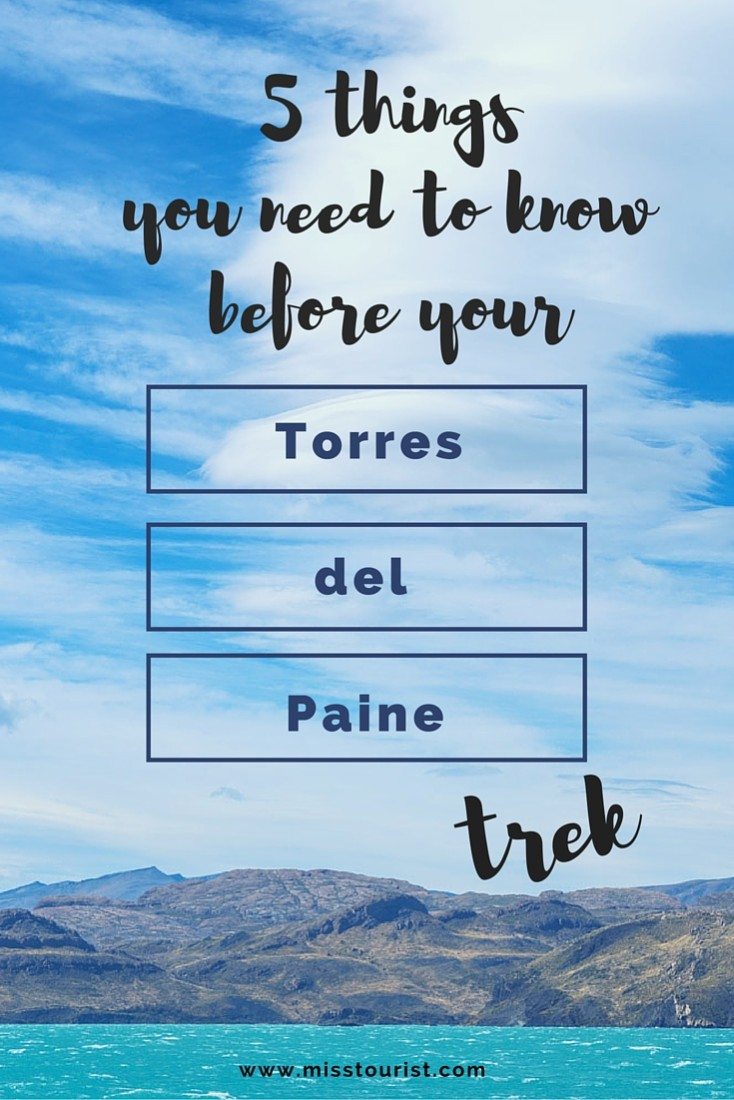 ---
Have you already done the trek? 
Are you thinking about it?
Share your thoughts in the comments!
And don't forget to "Like" this post, make me smile! 🙂
Yulia