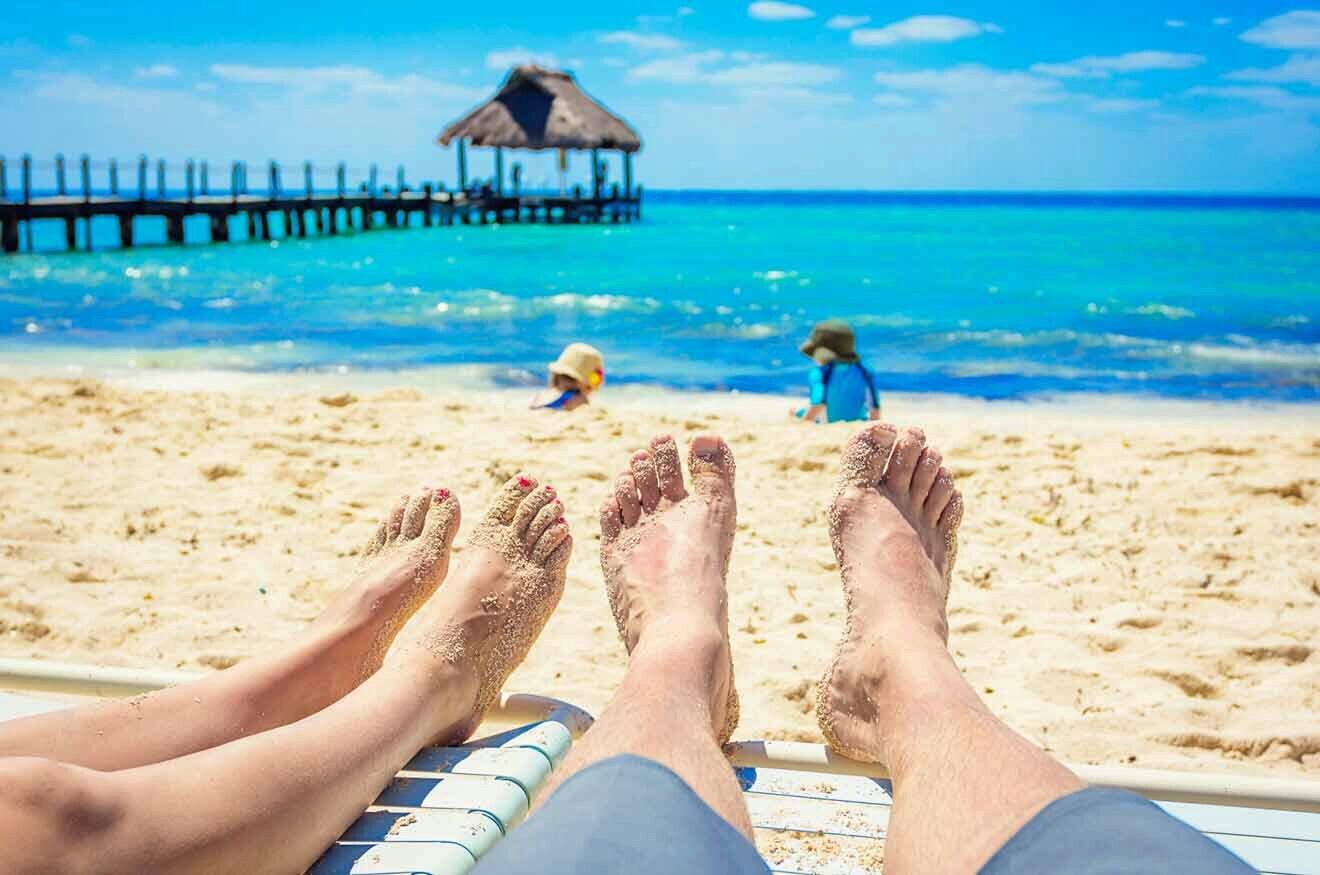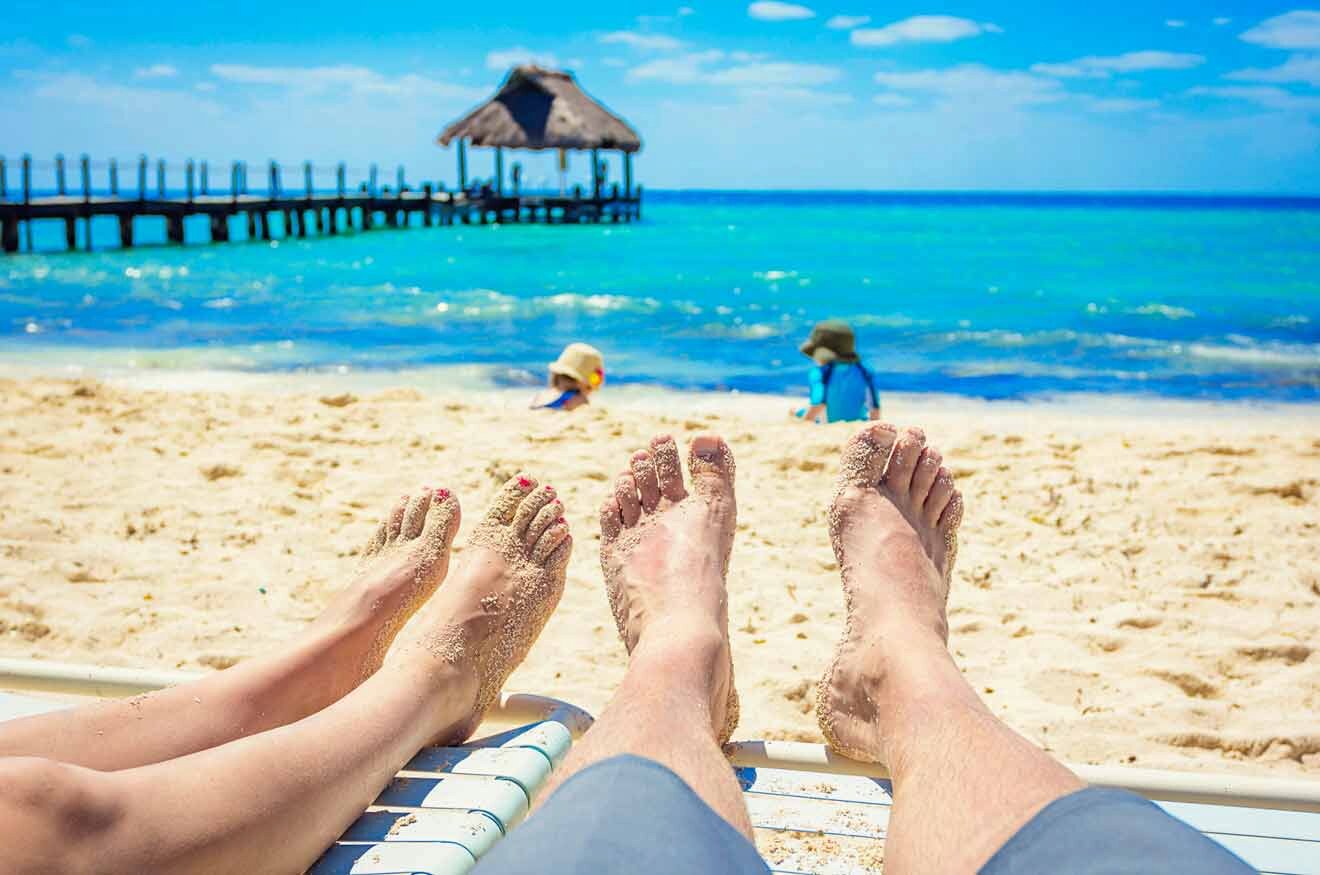 Are you looking for all-inclusive resorts in Cozumel? Are you planning the perfect family vacation, but you don't know where to start? Relax! I have been researching for hours on the World Wide Web on the lookout for Cozumel all-inclusive resorts for families! And I have to tell you I've found amazing all-inclusive family resorts, so I can tell you, you and your family will have the time of your lives in Cozumel!
I've arranged these resorts starting with the most luxurious first, and they all look fabulous! I couldn't help myself, and I added a bonus at the end of the article with the best family hotels in Cozumel.
Like I always say: book your hotel rooms in advance! These locations and the resorts featured in this post are super popular and book very fast! So once you make a decision, you and book your private oasis in Cozumel
Let's check out the all-inclusive resorts! Shall we?!
If you are in a hurry
I know not everybody has the time to read the whole article; that is why we have this amazing section for all of those who need to click and book Cozumel all-inclusive resorts for families!
1. Cozumel Palace – with 2 swimming pools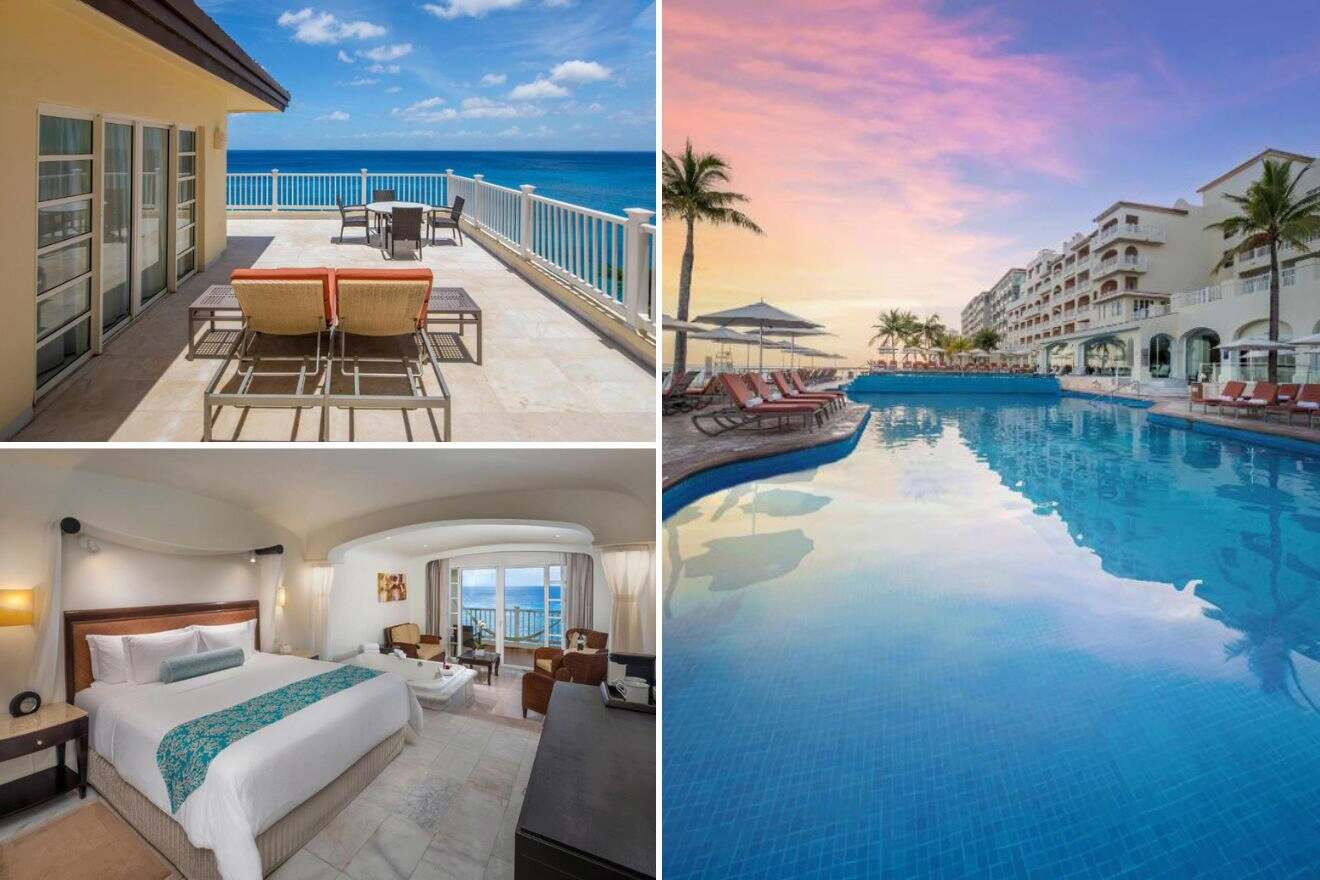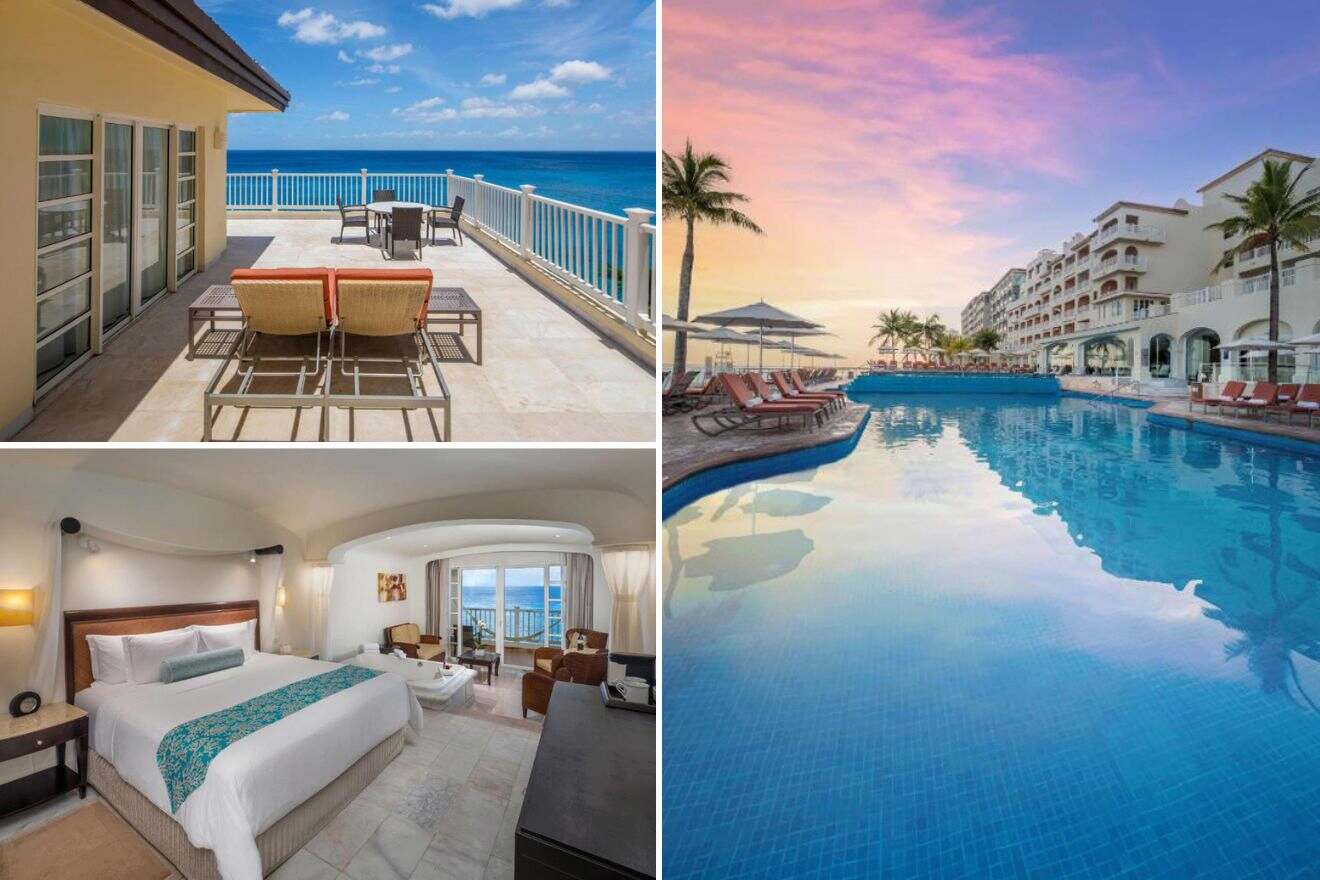 OMG! What an incredible style! This all-inclusive resort has elegance with an edgy twist and is located in Gonzalo Guerrero, Cozumel. It features everything you and your family need for an amazing vacation, a game room and kids club, 2 pools featuring views of the Caribbean Sea, a full-service spa, and snorkeling for a fee at the resort's private beach and discovering a coral reef.
The 2 bedroom presidential suite will give you and your family all the tranquility and privacy you all need. The suite has a living room and seating area, a private balcony with ocean views, and each one of the spacious rooms comes with a hot tub. This room can host families of a maximum of 6 members.
2. The Explorean Cozumel – for nature lovers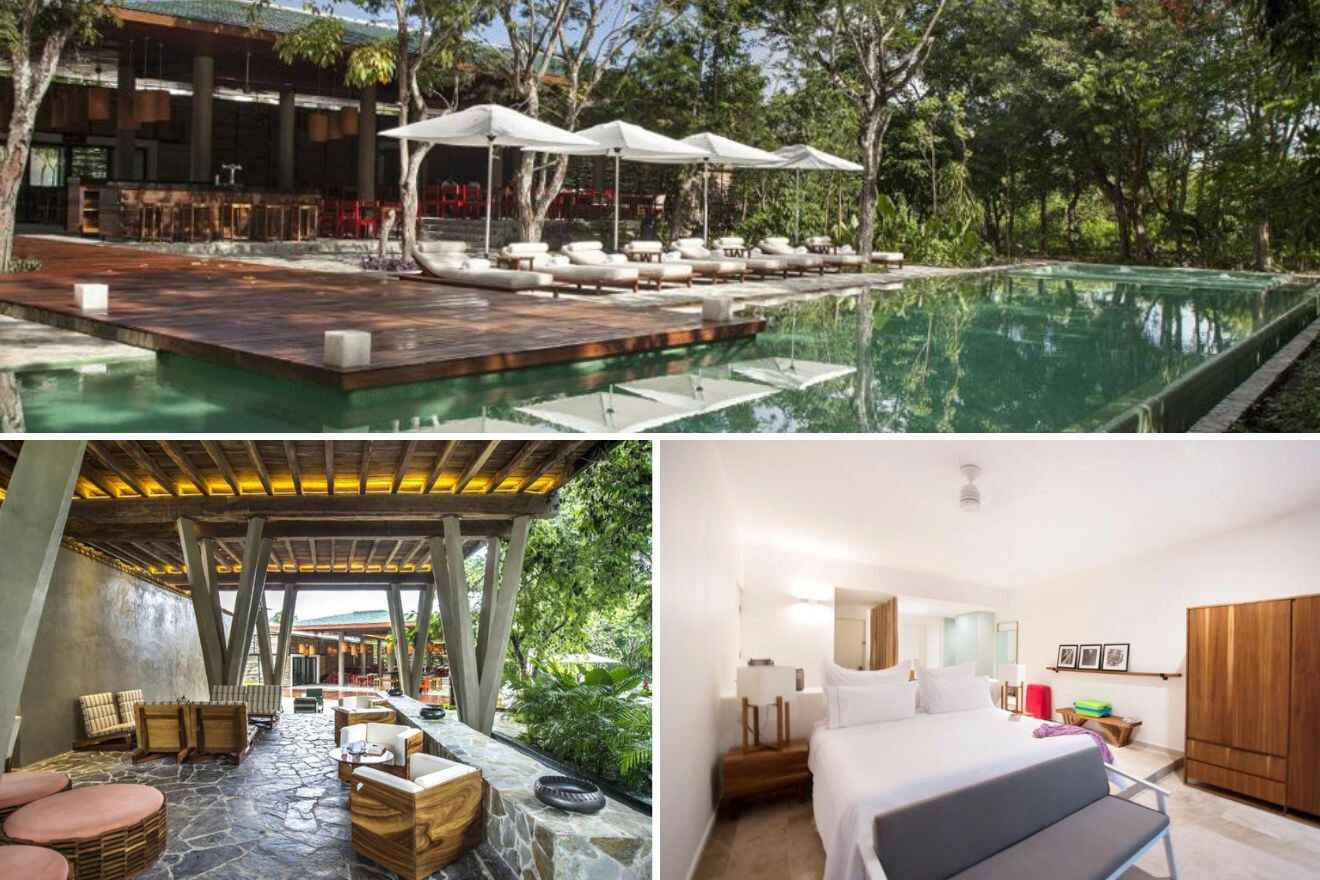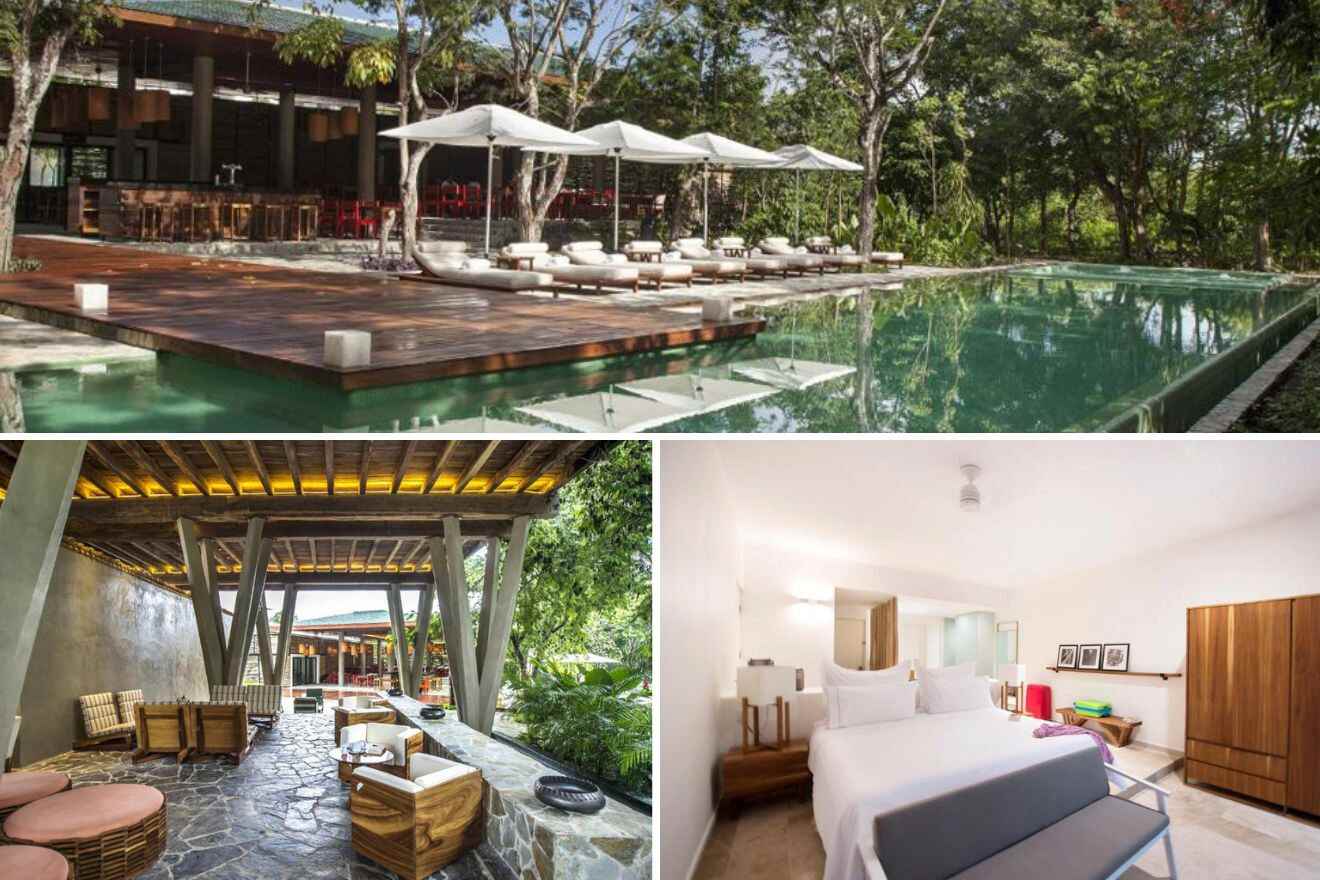 I love the vibe this all-inclusive family resort gives; super fresh and minimalistic, with a lot of bamboo decorations! This hotel is located on zona hotelera sur, Cozumel, and it is surrounded by beautiful tropical gardens and Chankanaab National Park, a 20-minute walk away, making it the perfect adventure for families! It features a swimming pool, a wellness center, a beach club, and cultural classes that the whole family can enjoy!
Casita stand-alone room comes with 2 double beds, a balcony with outstanding views, and amazing decor that will make you feel so relaxed. The biggest room can host 3 guests, so I recommend this resort for young families! Staying at any of the resort's rooms will allow you to enjoy its complimentary breakfast each morning!
3. Allegro Cozumel – for direct beach access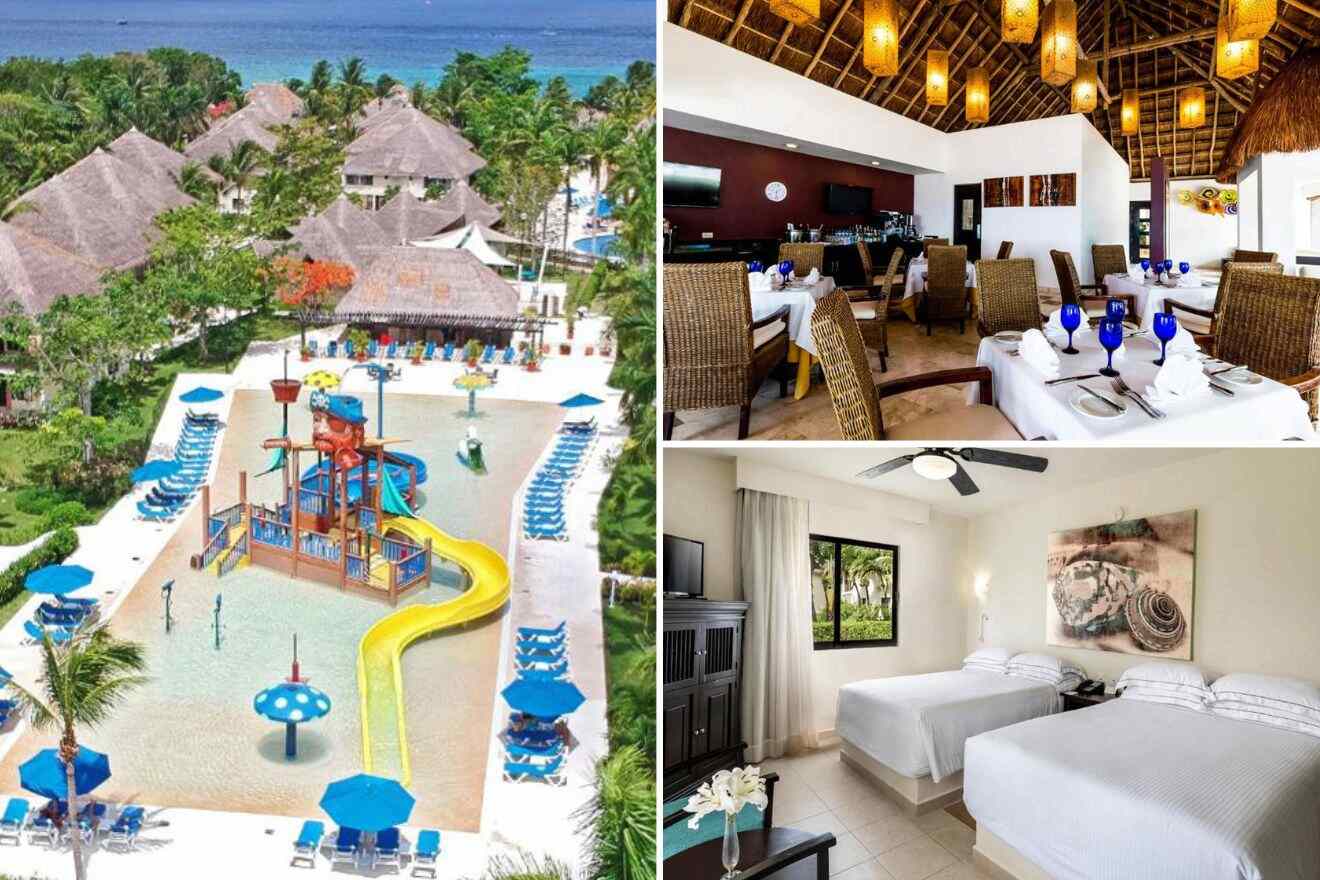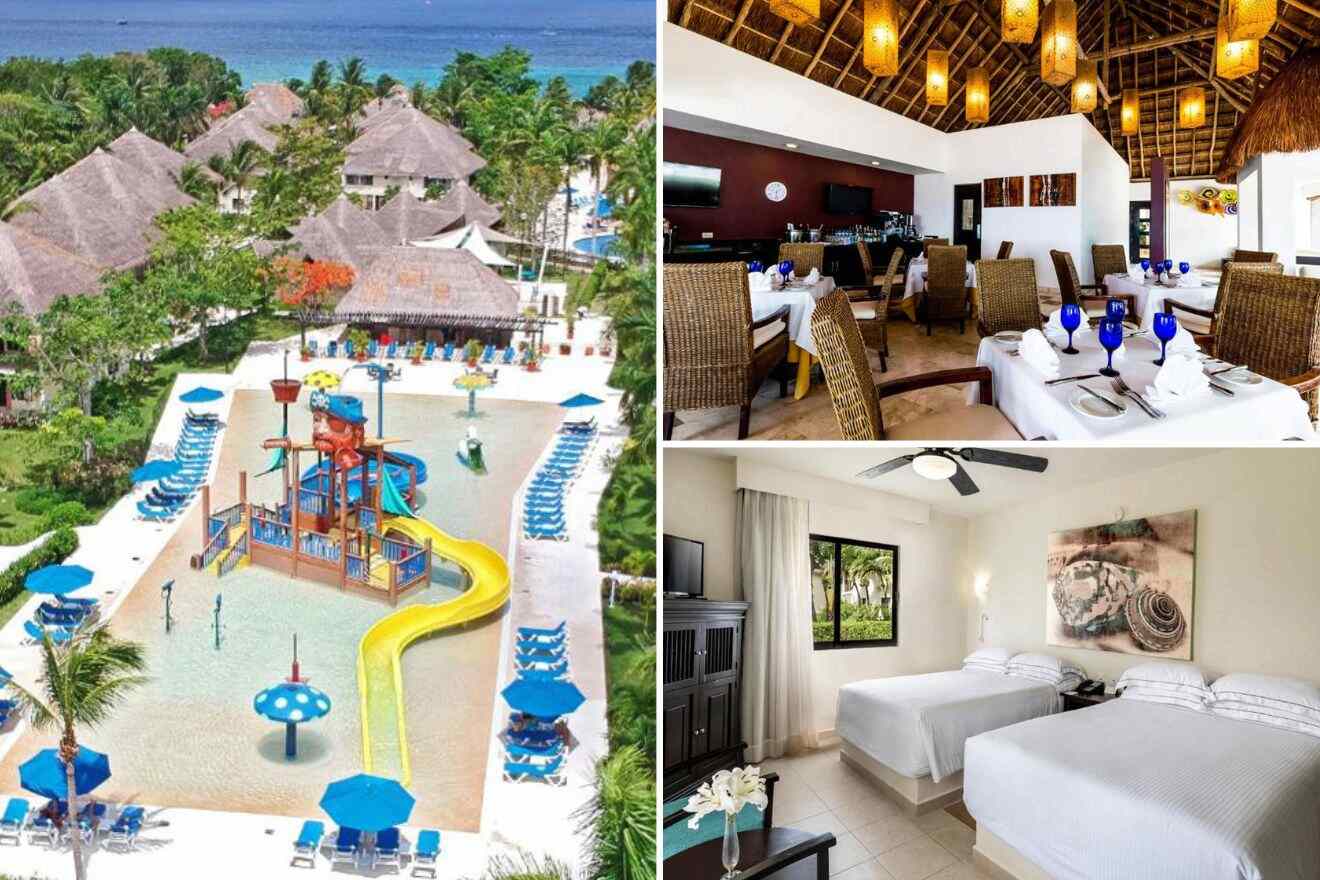 This is an outstanding family resort located in San Jose, less than a 30-minute drive from downtown San Miguel. The resort comes with three outdoor pools, one of them with a swim-up bar, a separate kids pool with an amazing water park, and direct beach access to play in the sand or play a beach volleyball match; if you are into water sports, you could try snorkeling or take scuba diving lessons, or you could play mini-golf.
This hotel offers many types of rooms that can fit families; for example, the double room has a master bedroom with 2 double beds, a patio, and a terrace, and can host 2 adults and 2 kids. The triple room, on the other hand, hosts 3 adults and 1 child, so pick whichever one you need!
4. The Westin Cozumel – for endless amenities!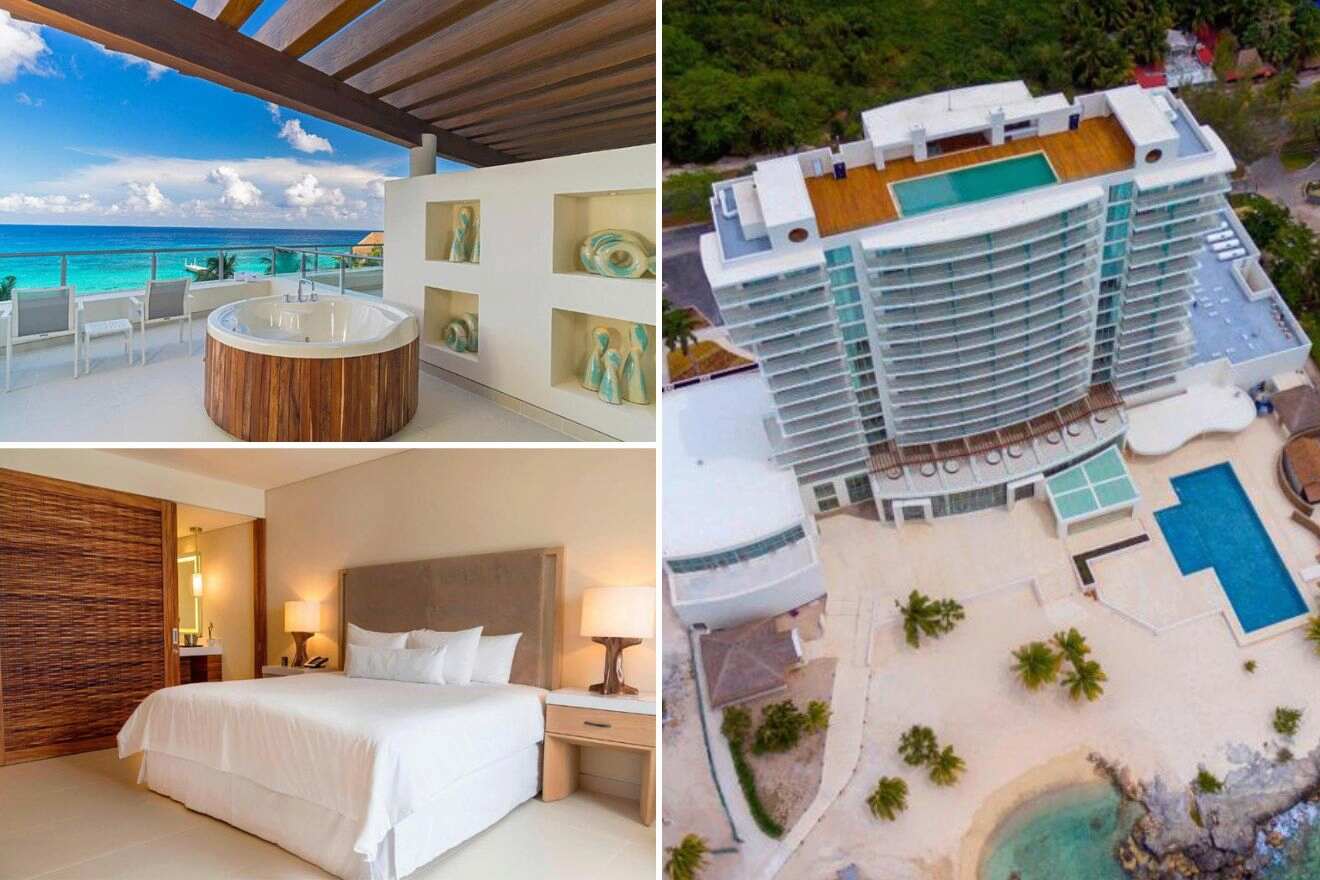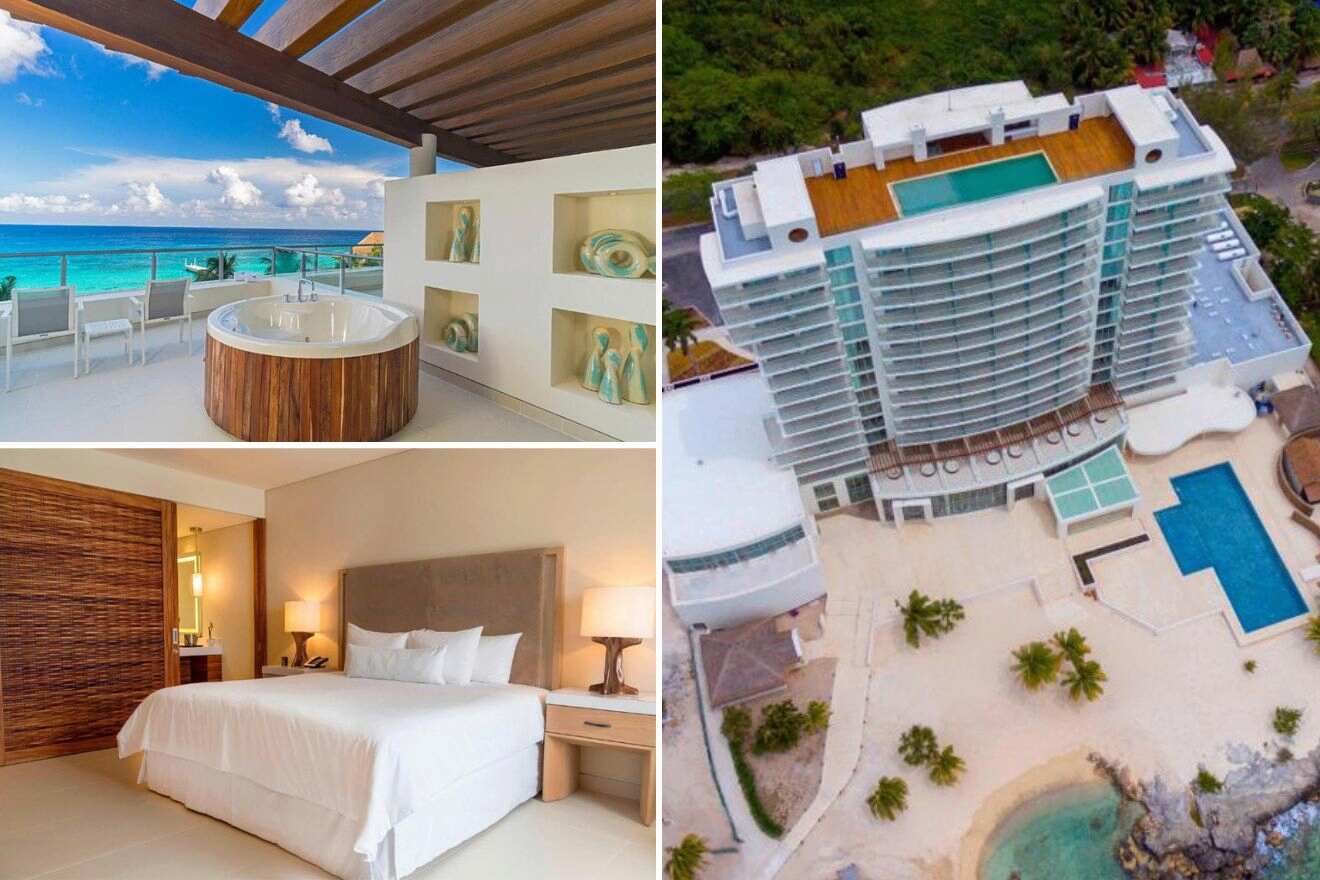 I love the easygoing and refreshing decor of this family-friendly resort that will provide you and your family with an amazing experience with its spacious accommodations, kid-friendly amenities like a kid's club where they can play, a kid's pool, and a playground! It also offers other amenities like direct beach access, 2 swimming pools, and an infinity pool.
The rooms will give you and your family all the modern amenities you need for a secure and relaxing vacation. All of the rooms come with amazing views, air conditioning, and amazing upscale furniture, and some of the rooms come with a whirlpool tub, so check with the hotel at the time of booking; these are located on the 3rd floor of the hotel!
5. Fiesta Americana Cozumel – for amazing family dinners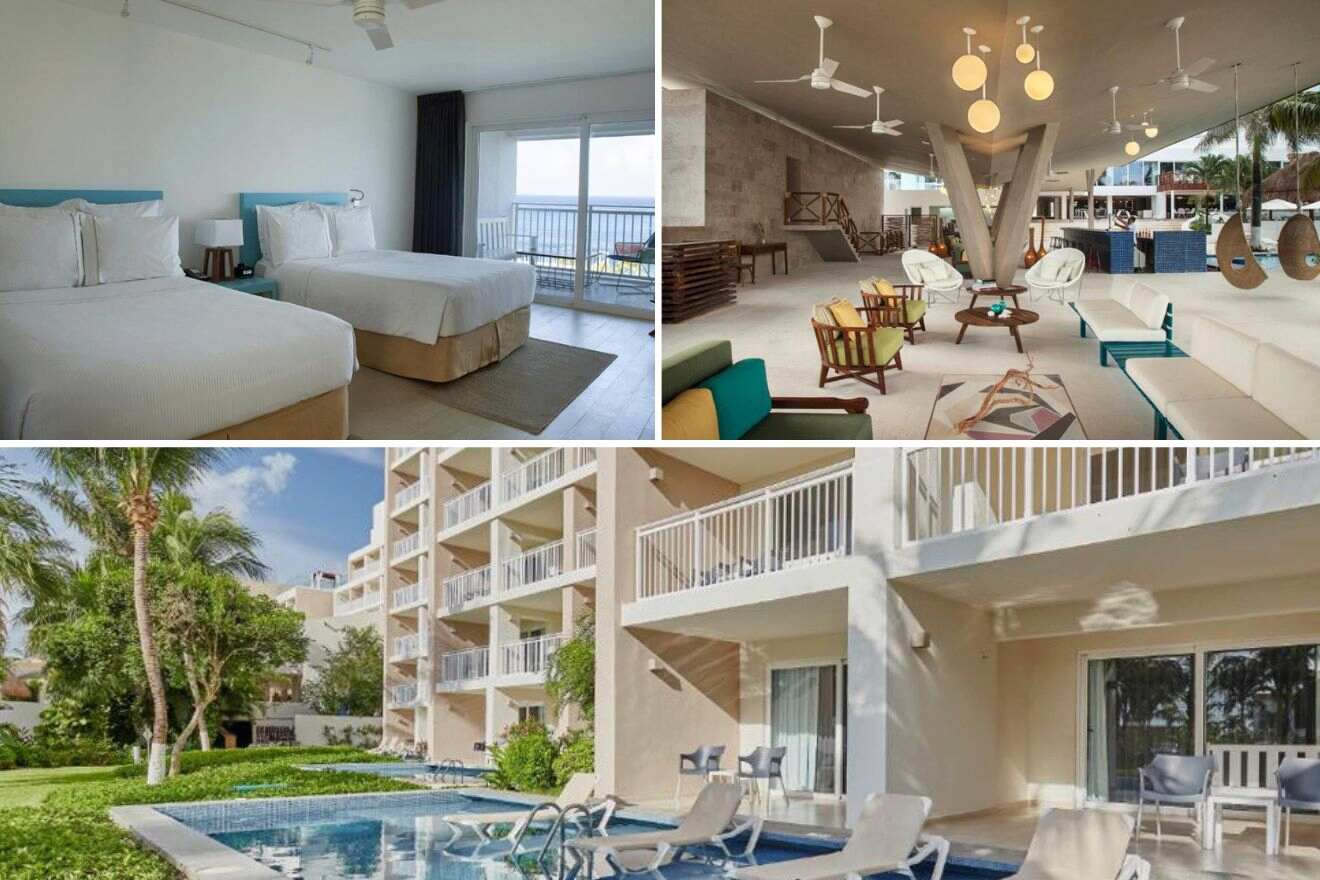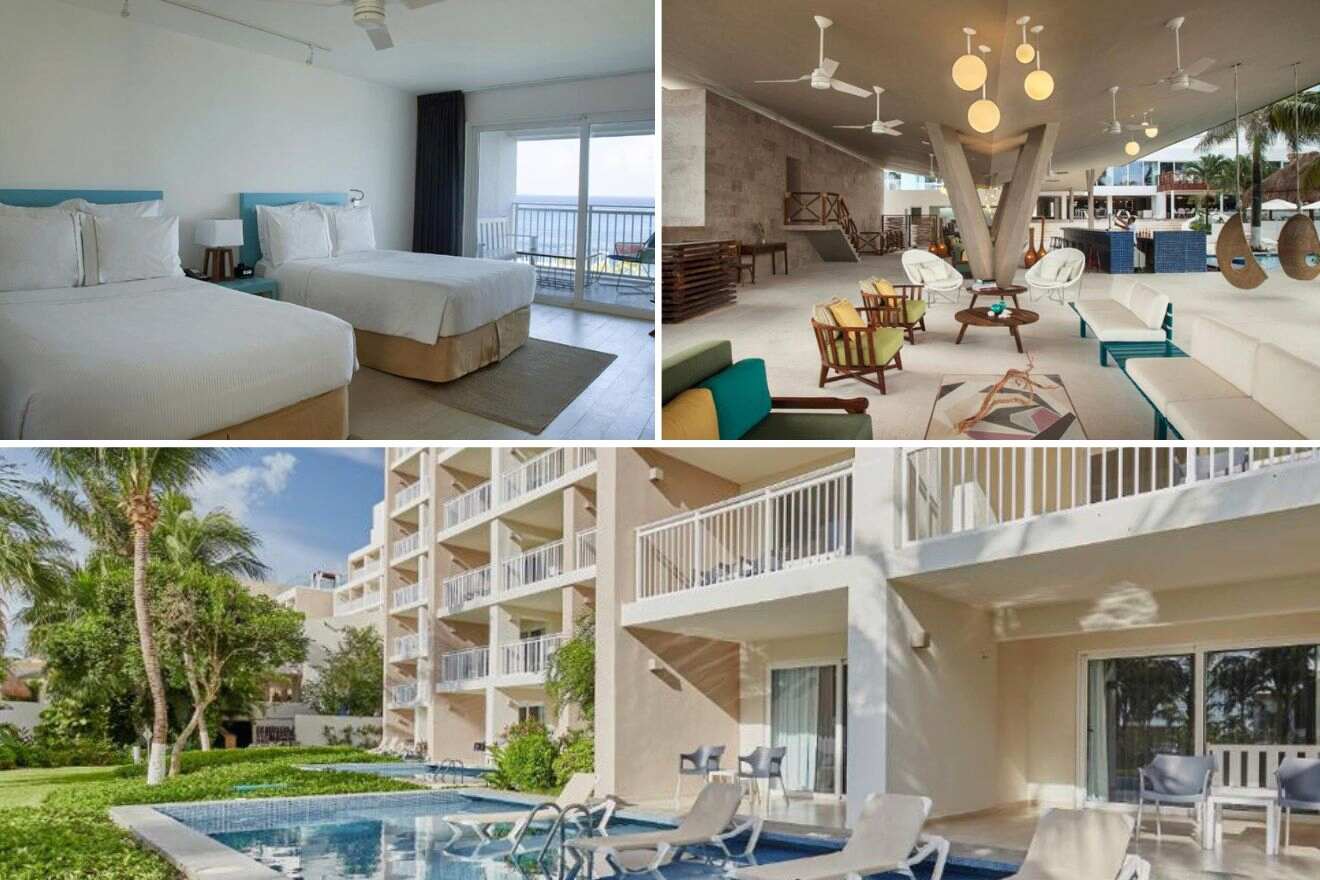 This lovely, modern hotel has an intimate setting, so you and your family can connect with each other for a wholesome family vacation. This hotel is located 13 miles (21 km) away from Playa del Carmen, you can get there by ferry! The hotel comes with an outdoor pool, onsite restaurants serving Mexican and International cuisine dishes (and kid-friendly meals!), a kid's club, and a spa and wellness center.
Some of the rooms at this hotel come with private balconies, and all of the rooms can make use of the hotel's room service and enjoy an in-room meal with the entire family. I want to recommend the 2-bedroom family suite for those traveling with big families, it comes with 3 double beds!
6. Occidental Cozumel – for family-friendly activities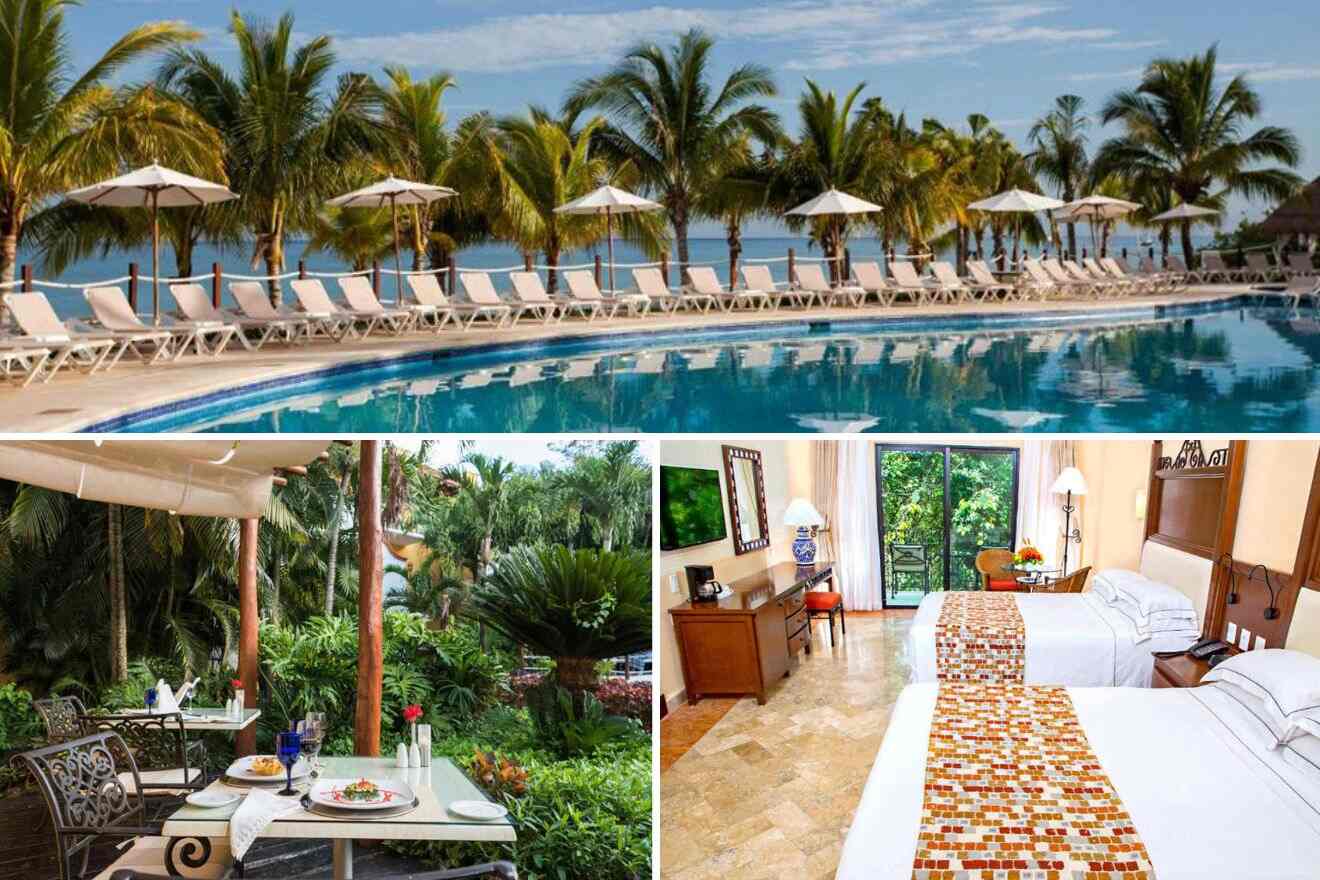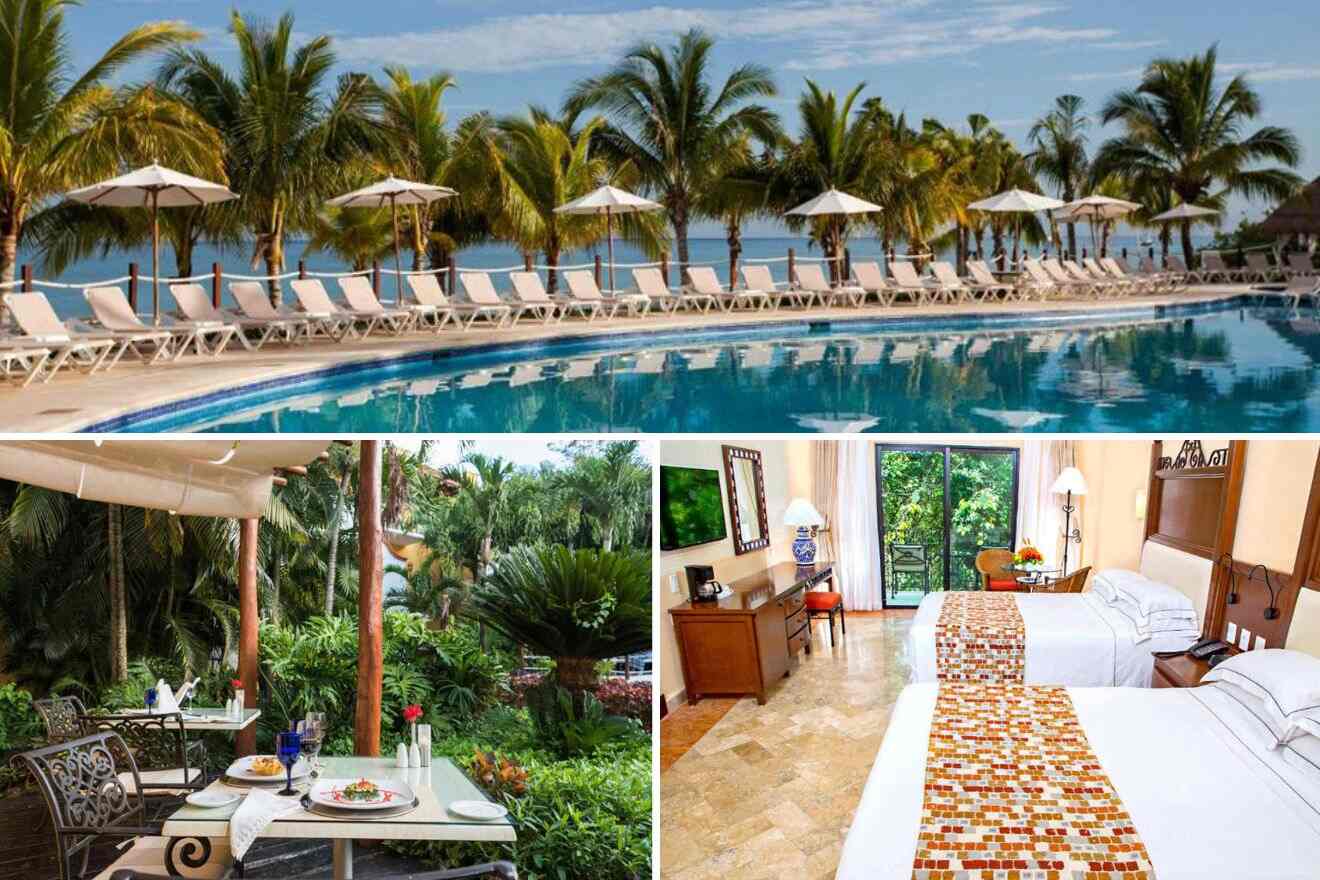 Occidental Cozumel offers families the incredible opportunity to spend a fun vacation, taking advantage of the hotel's amazing amenities and family-friendly activities! For example, this hotel comes with a kid's club, so your kids can play games or do arts and crafts while you swim in any of the 2 outdoor pools. Afterward, have an amazing dinner with your family and enjoy the hotel's amazing evening entertainment!
All the rooms come with comfortable beds, private bathrooms (most of them with bathtubs), balconies or terraces with nice views, a minibar, and air conditioning. The biggest rooms can host up to 4 guests, and all of them admit different adult and child ratios, so I recommend checking this out and booking according to your preferences and needs!
7. Grand Park Royal Cozumel – for a fun pool slide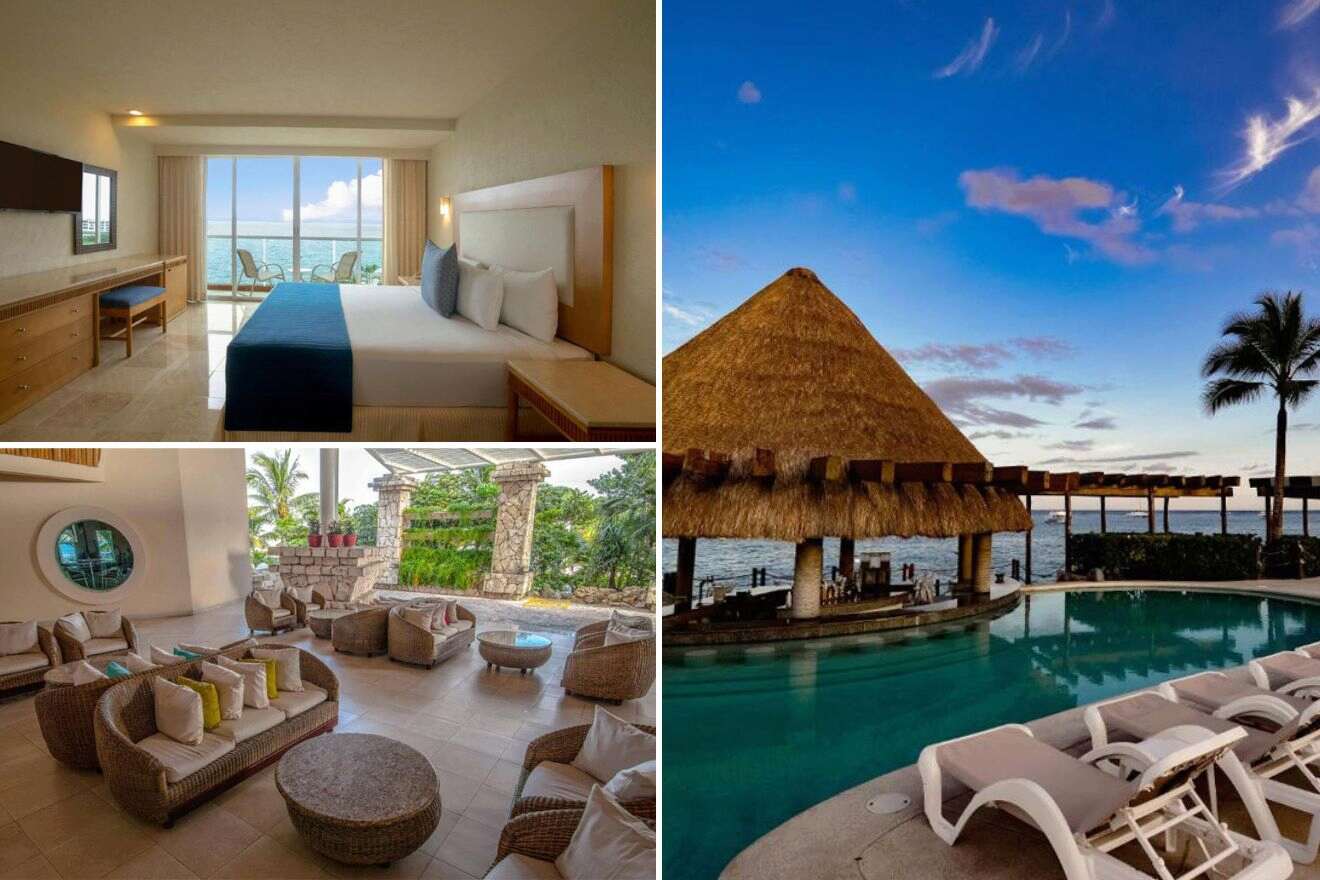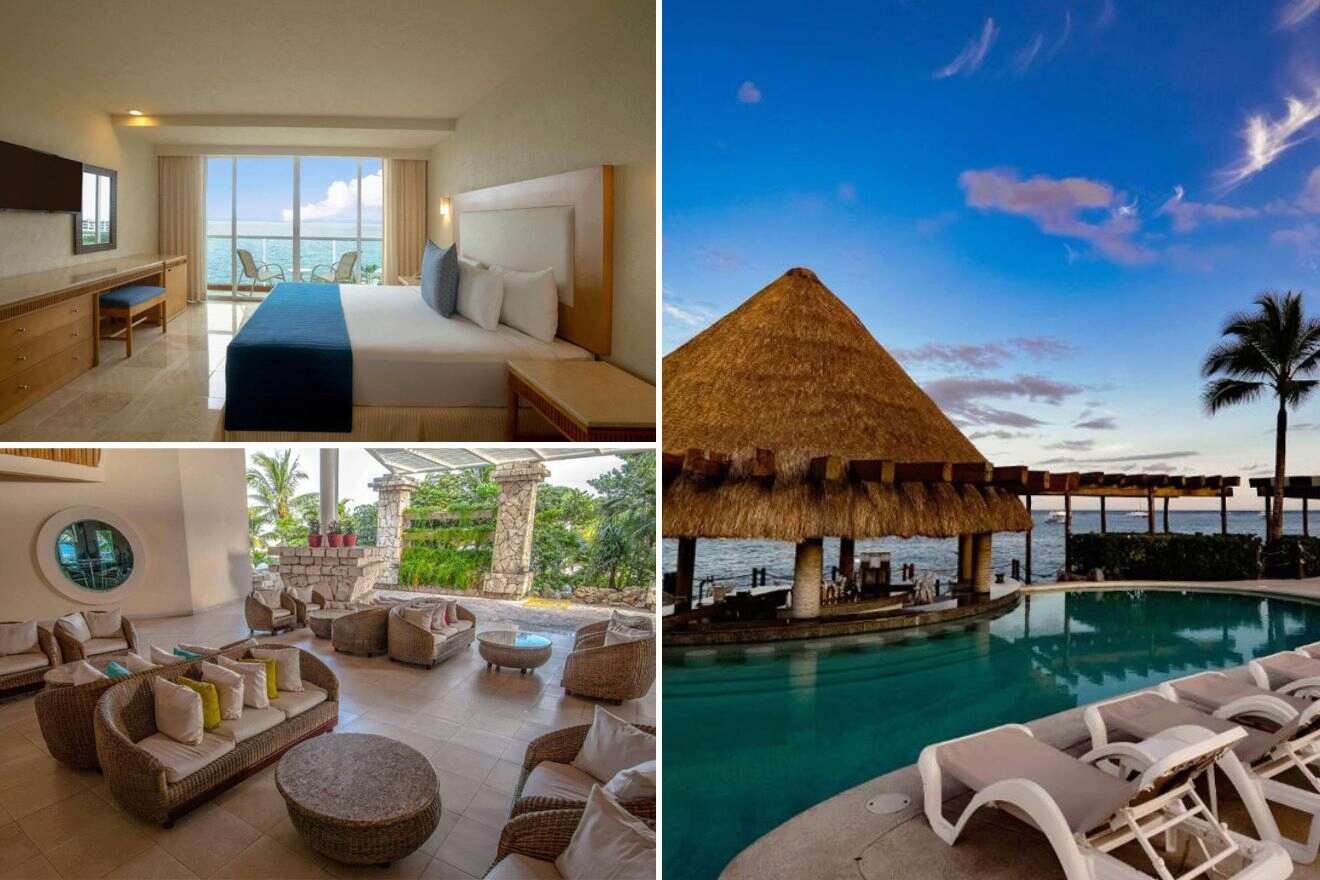 Wow! This hotel feels so special! Makes me feel like it is part of an Indiana Jones film! This hotel features a fantastic swimming pool with a waterfall, a kids' pool with a fun slide, a playground, an outdoor jacuzzi that overlooks the ocean, a private beach area, and amazing onsite restaurants to enjoy a majestic culinary experience. This hotel has everything you need to make you and your family feel blissful!
If you have a big family, don't worry! This hotel has a family suite that can host 6 guests! This room comes with a spacious balcony, an upscale bathroom with a marble sink and tile floors, and a flat-screen TV to watch movies with the family while you order room service!
8. Melia Cozumel Golf – for sports & family entertainment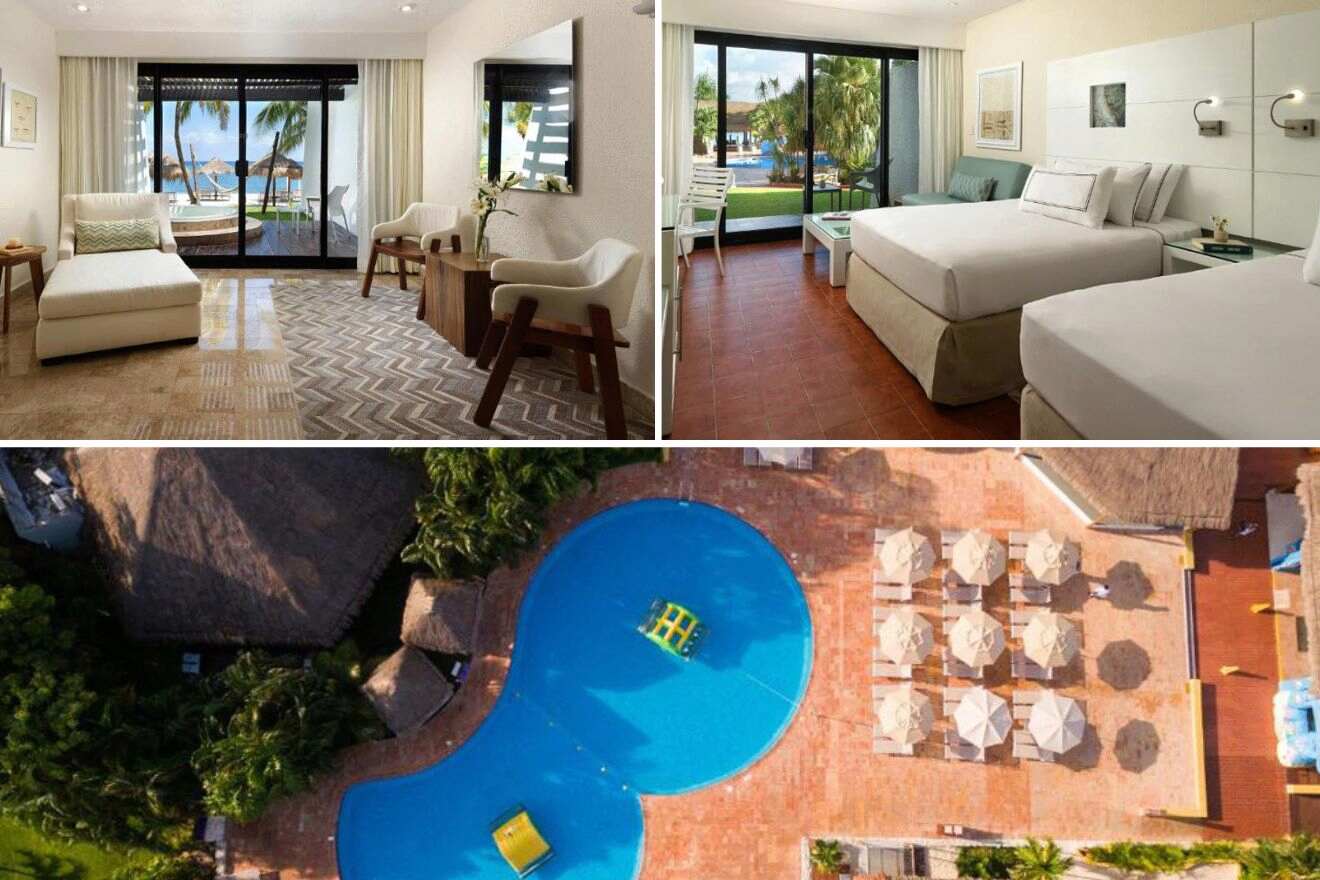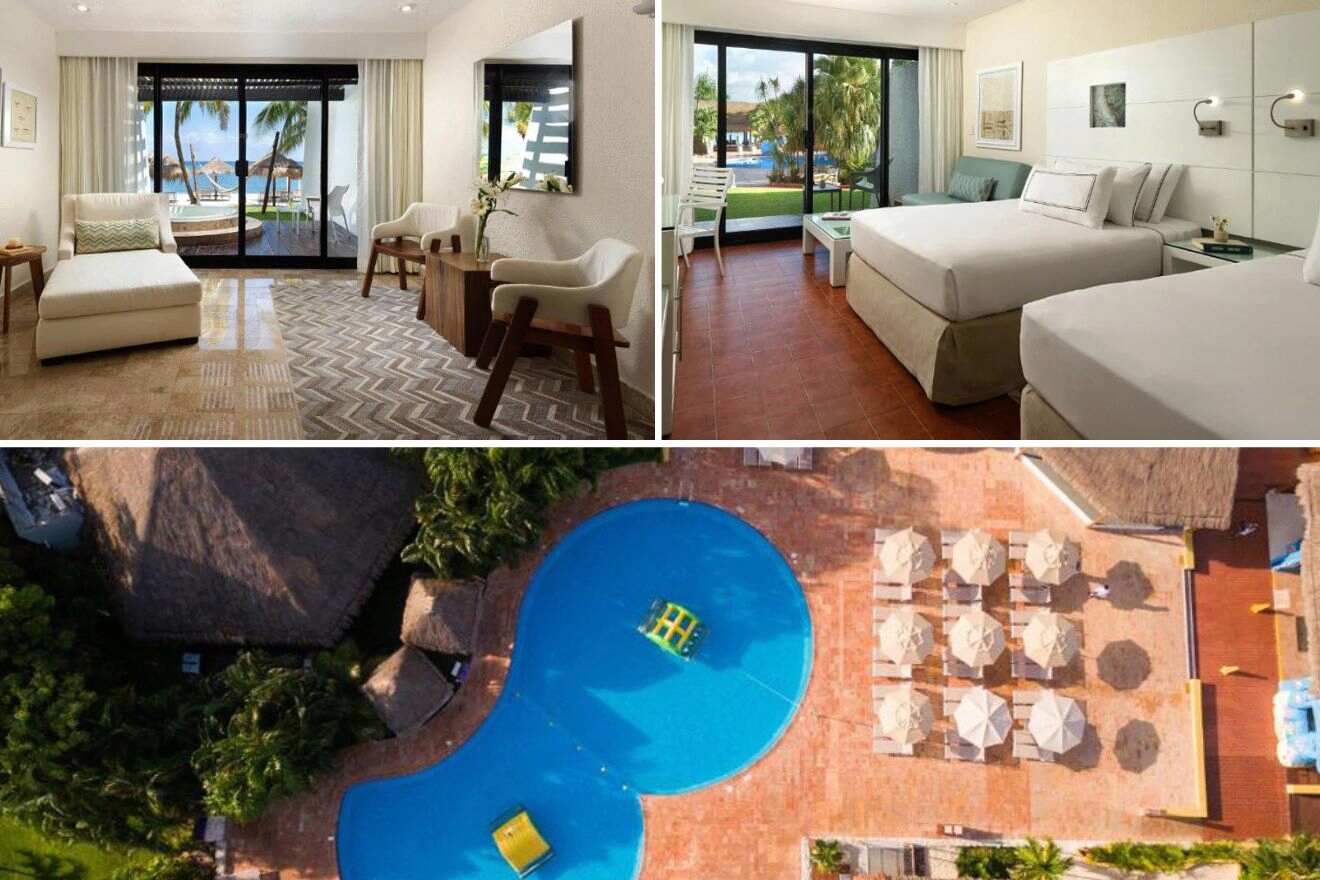 Oh, la la! This hotel is perfect for families that like to stay active during their holiday! Apart from featuring outdoor swimming pools, onsite restaurants, a kids club and playground, and a fitness and wellness center like other Cozumel family resorts, this one comes with a private beach area to play watersports! You can also enjoy a tennis court, a basketball course, and an amazing mini golf course to play with your family. Plus, there's evening entertainment for the whole family!
Apart from all of these amazing activities and amenities, this hotel comes with delightful and tasteful rooms that can host families of 5! All the rooms come with a balcony or terrace, a flat-screen TV, and complimentary Wi-Fi to stay connected with the outside world!
9. El Cid La Ceiba Beach – homey and fun vibe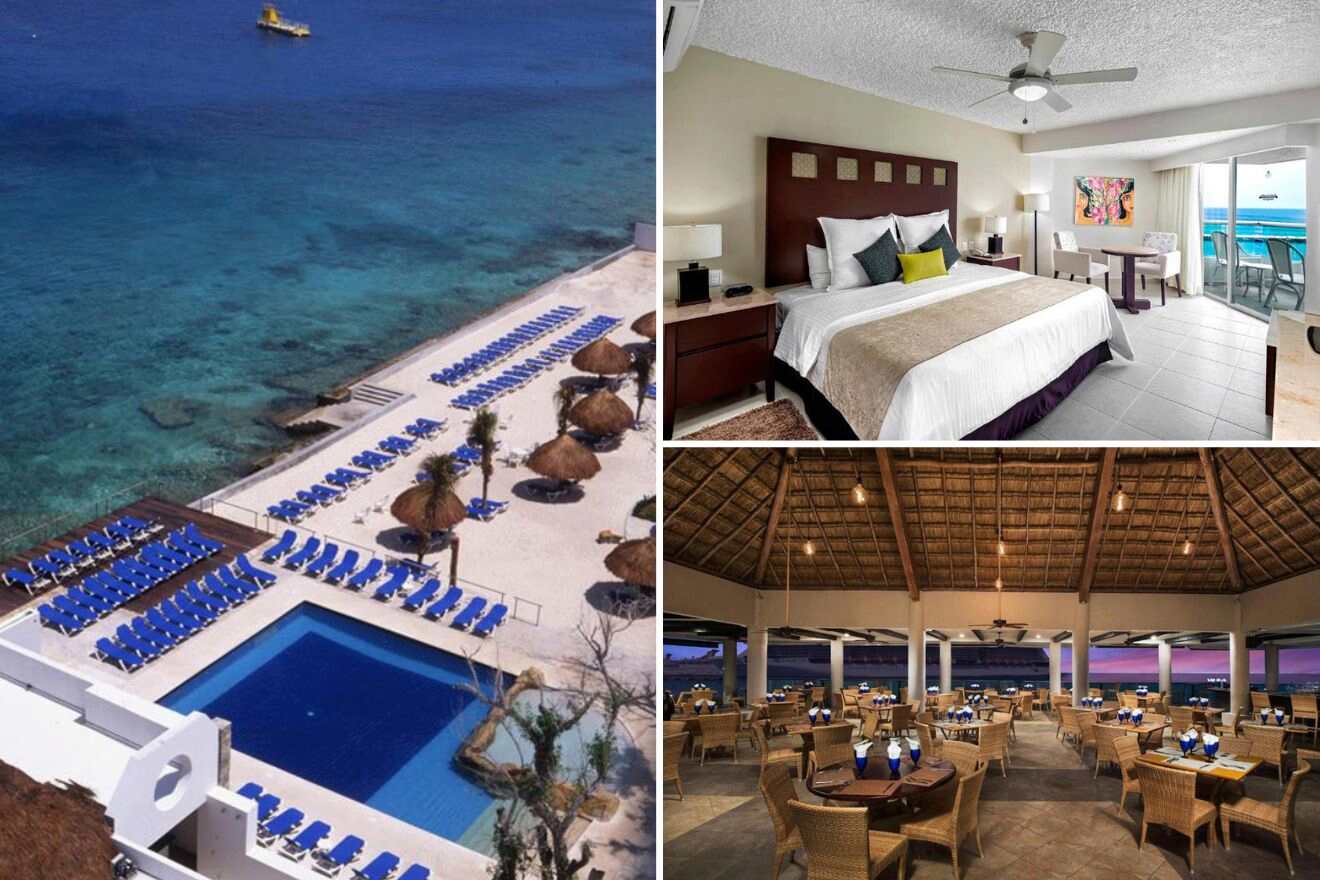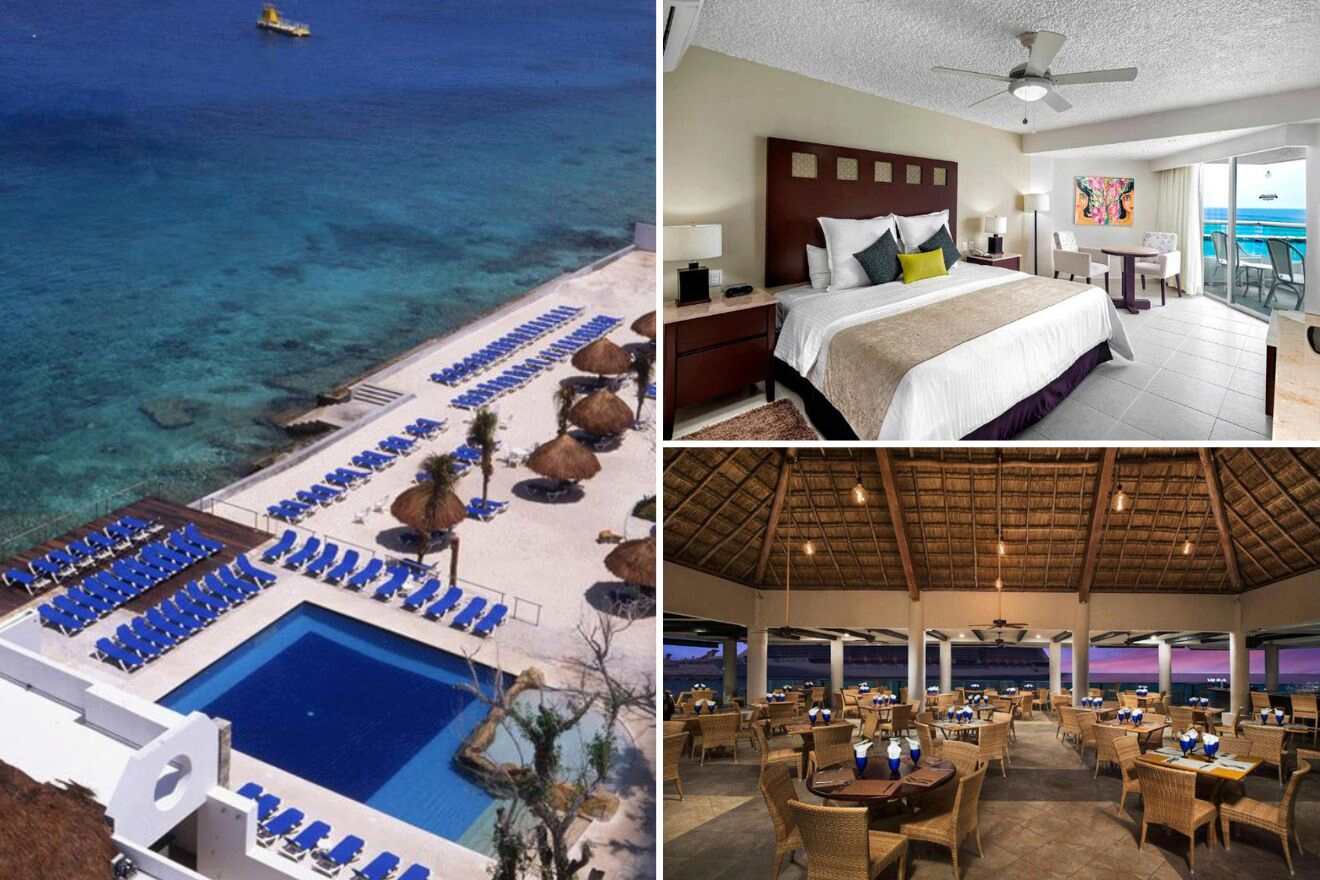 I am in awe; how amazing is this hotel?! It's the perfect combination between a homelike feel and exciting amenities for families! For example, this hotel has a life-size chess board, a swimming pool, a kid's pool, a spa overseeing the ocean, and hammocks over the pool! The hotel also offers diving and snorkeling tours, and if you like, you can play tennis on the tennis court!
All the rooms are super comfortable and have that homey vibe that we all love so much! The deluxe ocean view room comes with air conditioning, a flat-screen TV, an amazing balcony with sea views, and a private bathroom with a bathtub, perfect for those bubble baths in the nighttime! This room hosts a total of 4 guests.
10. Sunscape Sabor Cozumel Resort – for watersports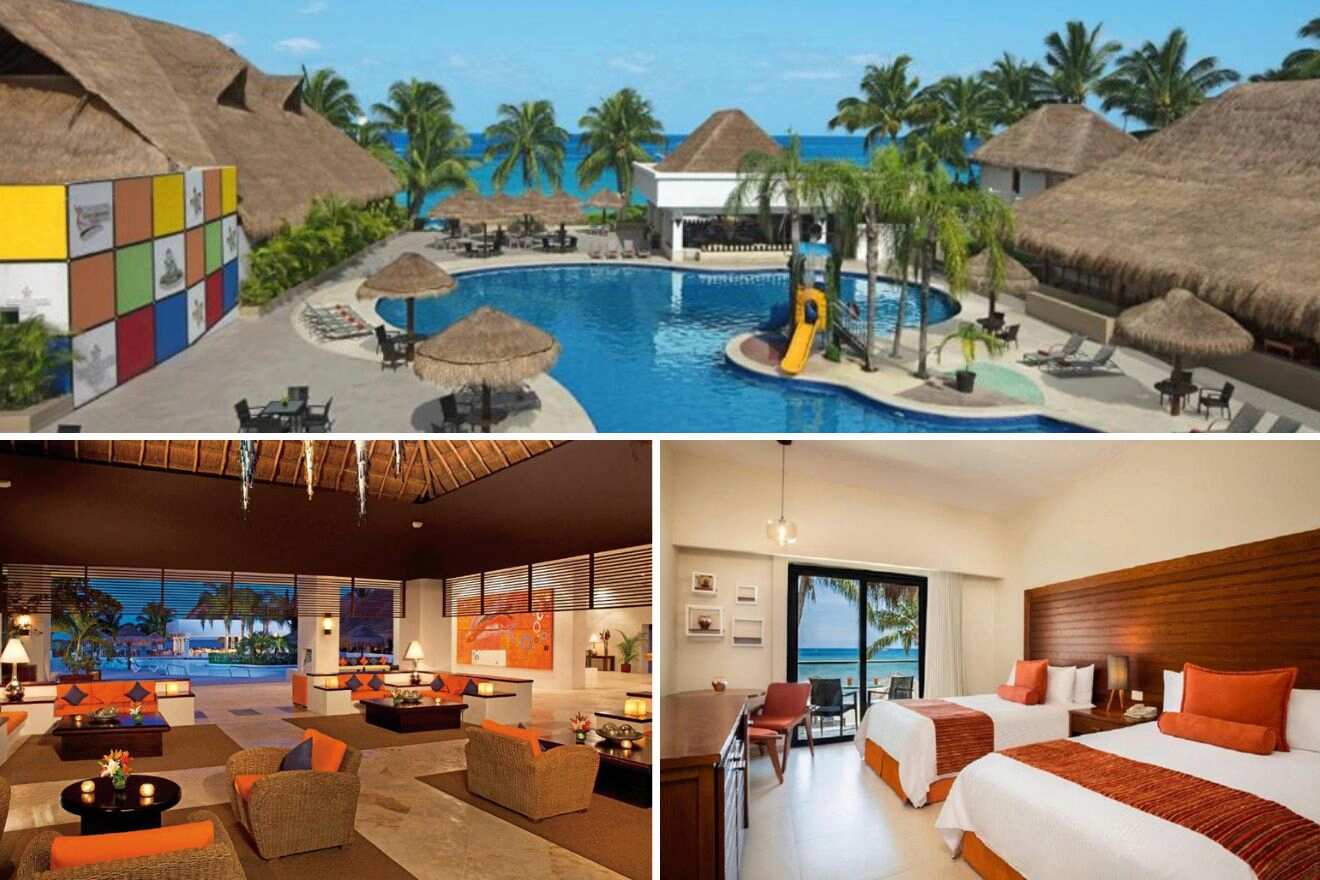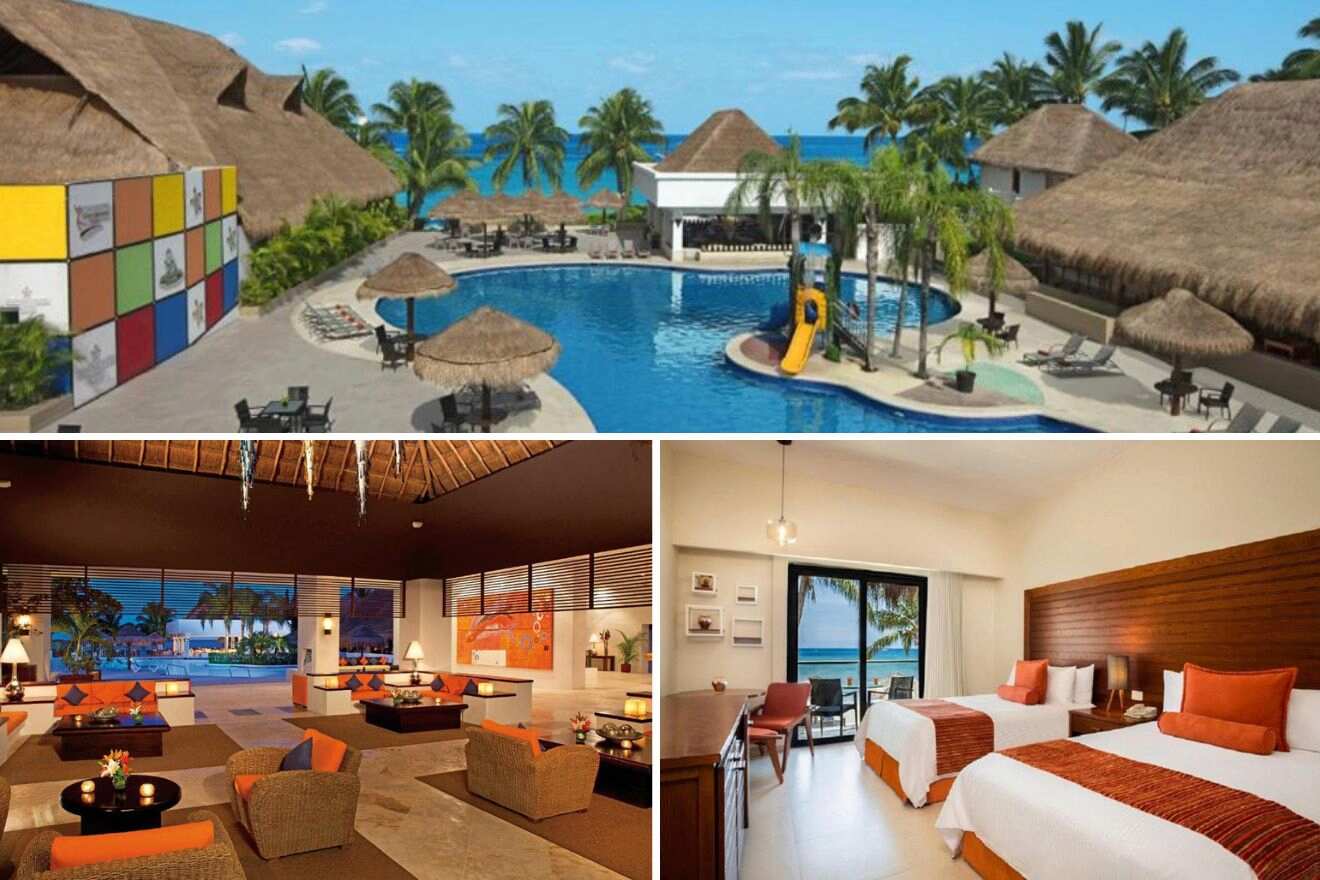 This resort looks like so much fun! Families staying at this accommodation will have such a wonderful time with all the activities designed for family fun! This resort features an explorer club for kids ages 3 to 11; here, they will play with other kids and participate in fun activities. It comes with a swimming pool, a fitness center, and a game room!
Located on a private beach, this hotel gives its guests the amazing chance to participate in different water sports and activities like snorkeling or canoeing, perfect to have an encounter with Caribbean corals and amazing animals! Some of the rooms can host up to 4 guests and come with a coffee station, an incredible balcony with views of the ocean, air conditioning, and a seating area!
11. Iberostar Cozumel – where tradition and modernity meet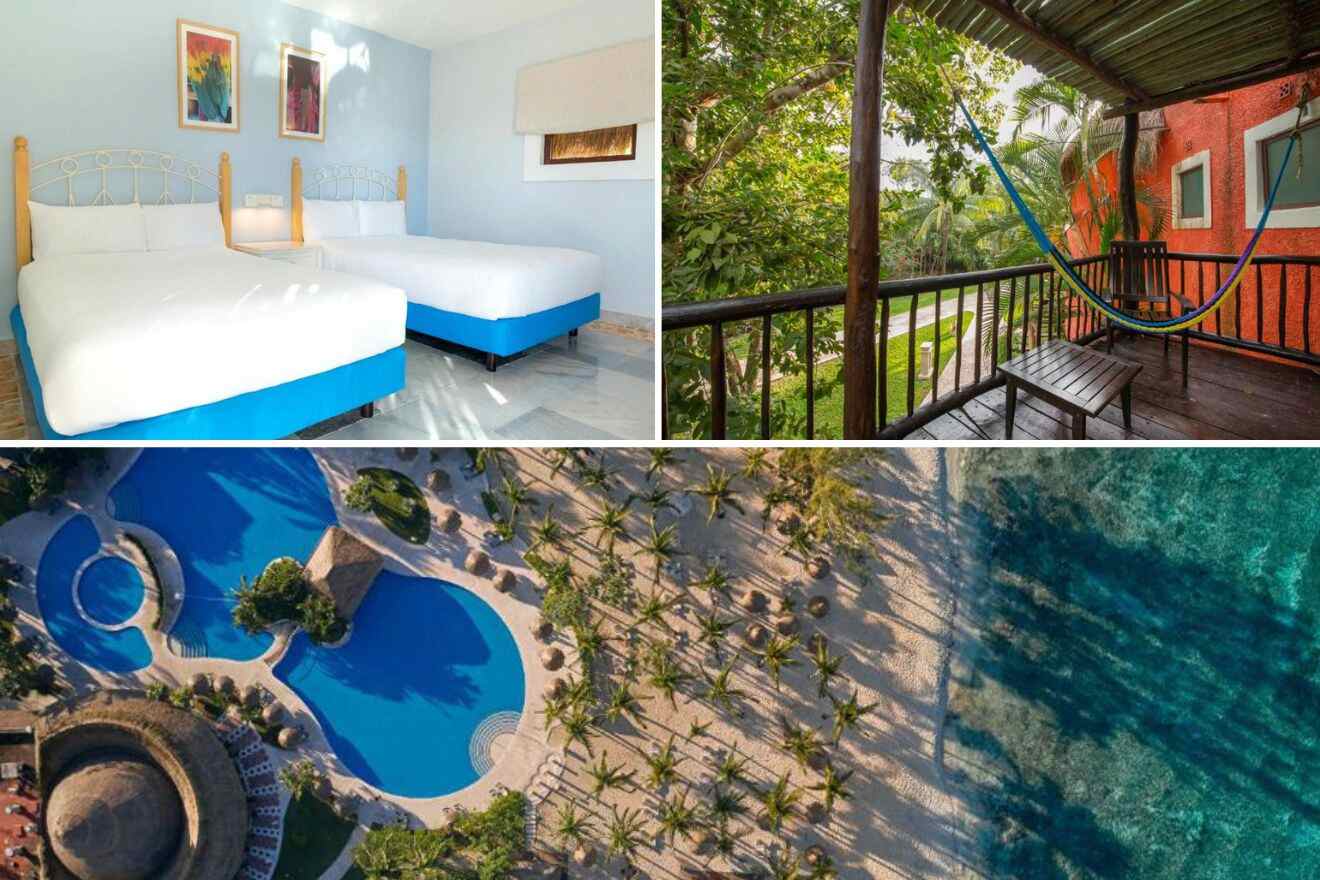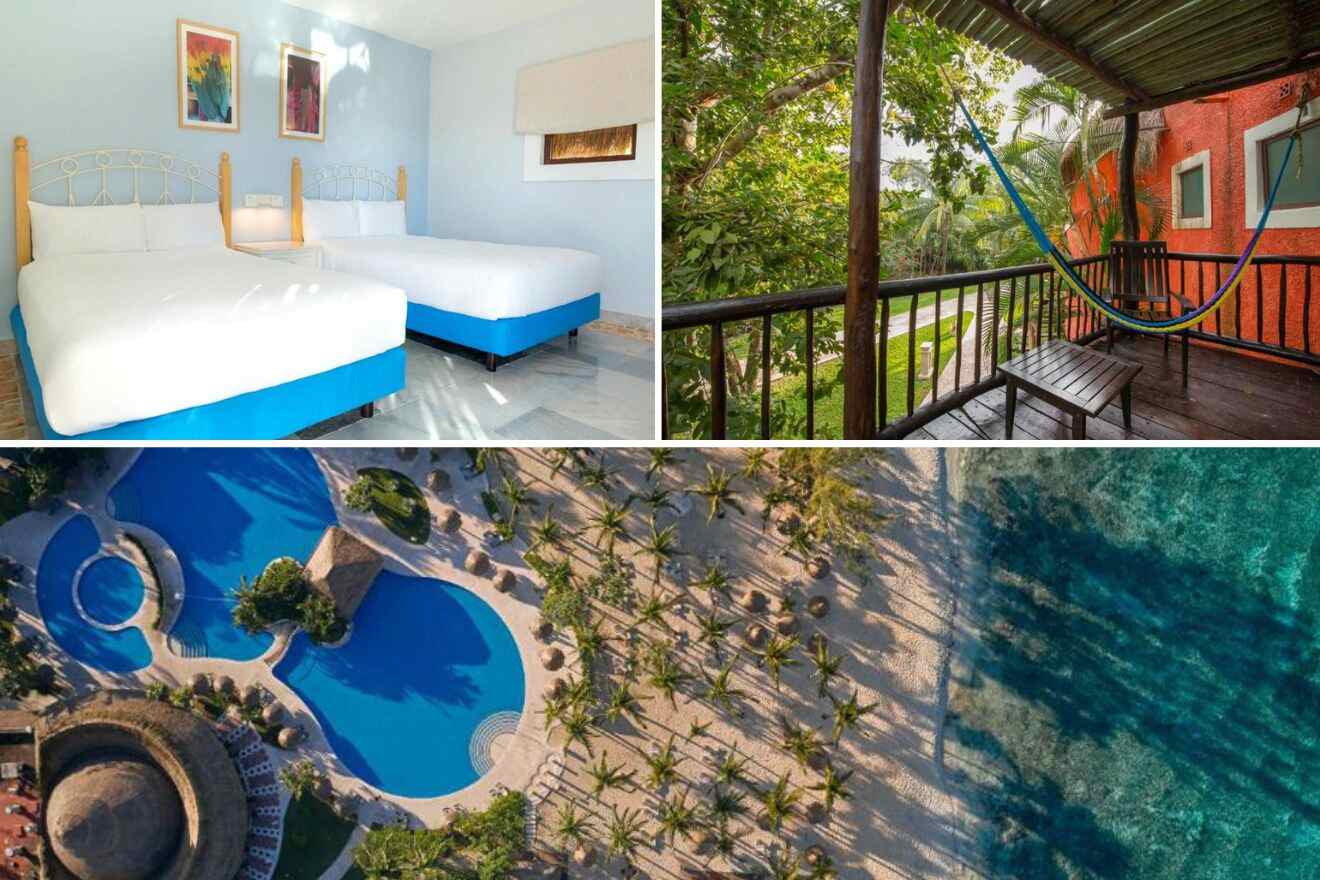 What a lovely hotel located by the beachfront! It has an amazing style mixing traditional Mexican and Caribbean styles with its little village houses with amazing colors and thatched roofs! It also comes with incredible amenities like 2 outdoor swimming pools, one of them for kids, a private beach for practicing water sports and playing in the sand, a tennis court, and a fully-equipped fitness center.
They offer many types of rooms designed for families, and most of these can host 4 family members; these rooms come with a private balcony or terrace with views of the ocean or the tropical garden. Each balcony comes with furniture and a hammock to relax in the sun!
12. El Cozumeleño Beach Resort – for free snorkeling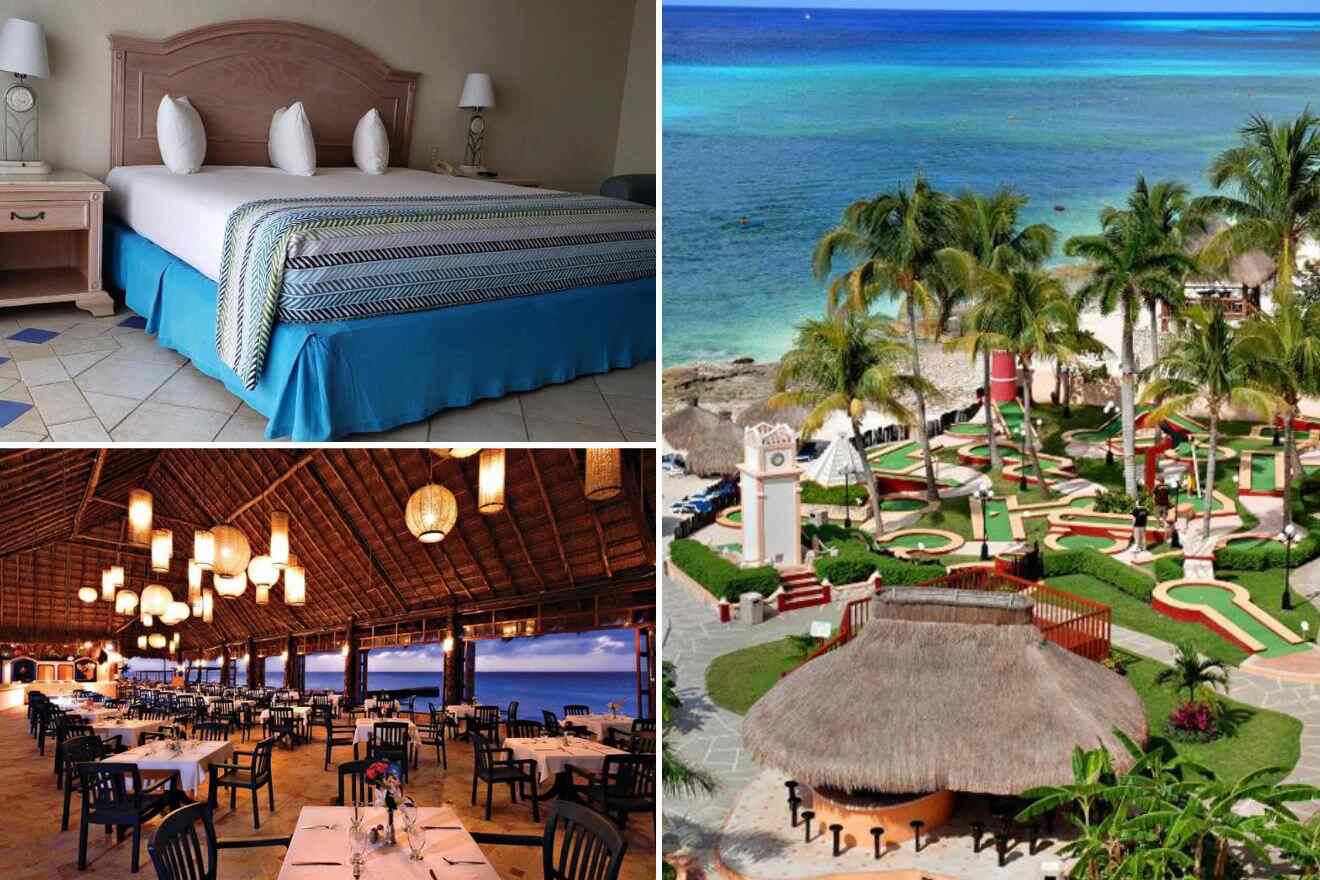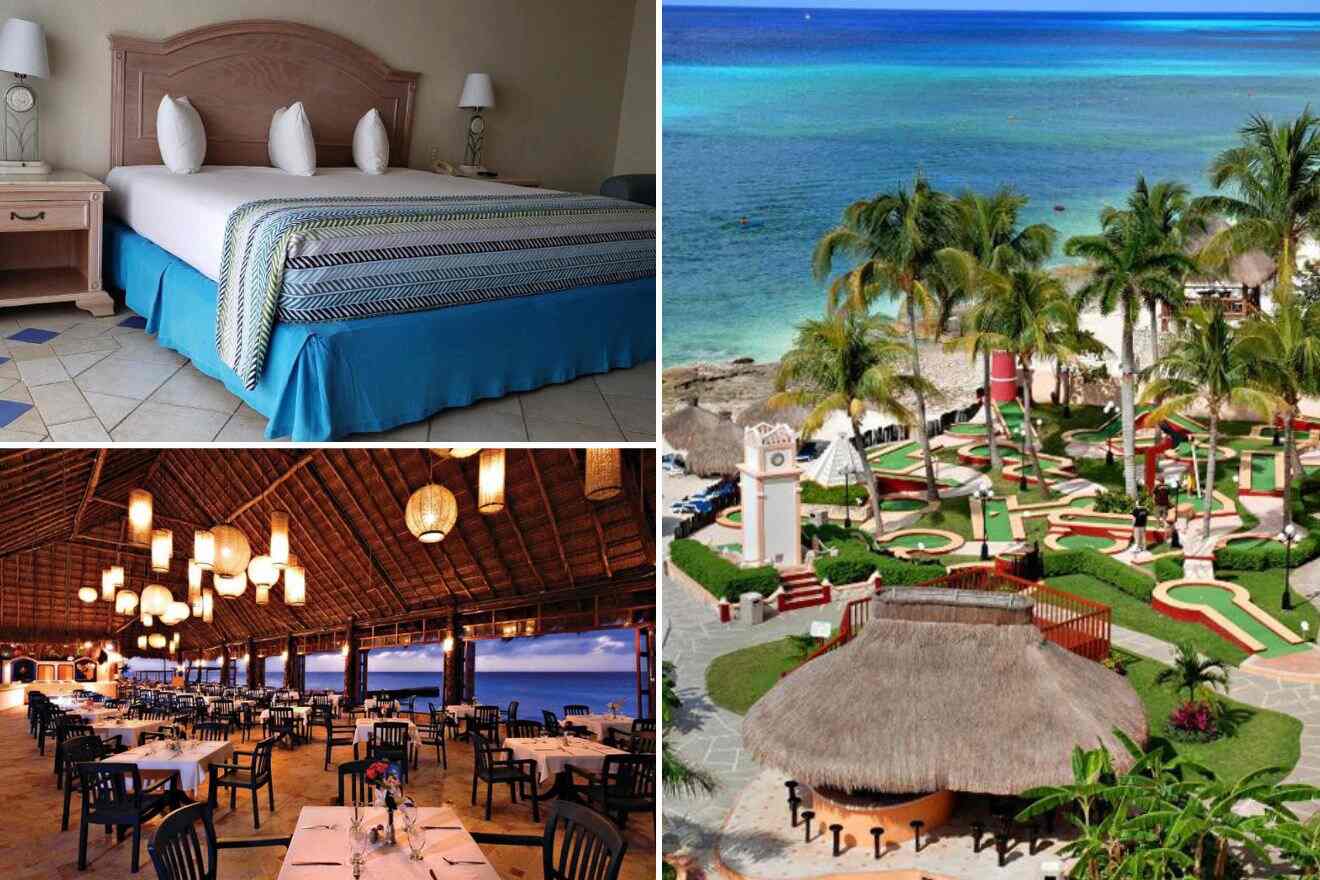 This super cozy resort next to Playa Santa Pilar comes with a private beach and the opportunity to go snorkeling and kayaking for free! It features the biggest pool I have ever seen, surrounded by a pool lounge area, a kid's club where they will play games or do arts and crafts, a super fun mini golf area, and more! For the adults, there is a fitness center and a spa and wellness center! I suggest going to any of their movie nights together with the family!
The rooms at this hotel come with nice and simple decor and beautiful tile floors. I highly recommend the premium sky top room to families, it comes with amazing views of the blue ocean and a private balcony with furniture.
13. Dreams Cozumel Cape Resort & Spa – for a teens club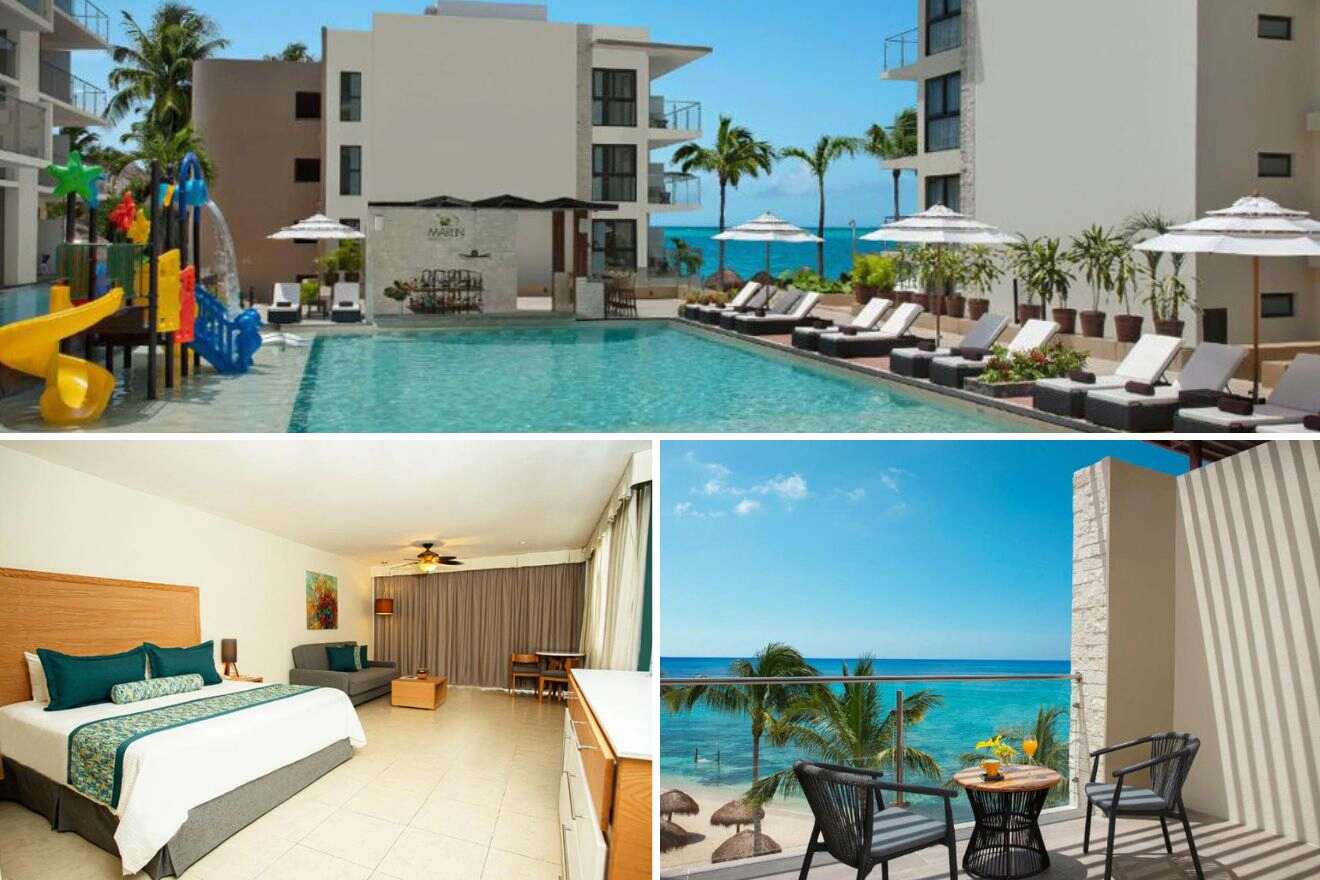 What a dream it would be to stay at this incredible hotel! It comes with so many activities and amenities to keep you and your family excited throughout the entire vacation! How does it sound to spend the night watching a movie at the beach? You can do it at this resort with the whole family! The resort also comes with a core zone teens club, a swimming pool with a slide, and the opportunity to practice multiple water sports!
All the rooms come with air conditioning, flat-screen TVs, and a minibar. I recommend staying at their Preferred Club Family Suite, it comes with 3 large beds, a sitting area, a spacious bathroom with luxurious toiletries, and a balcony with views!
BONUS: Best family hotels in Cozumel
I could end this post on Cozumel's all-inclusive resorts for families without sharing with you the best family hotels in Cozumel, so you have more options!
I have 6 amazing options for you, and the prices go from US$80 to US$660 per night. Are you ready to see the hotels?
Let's go!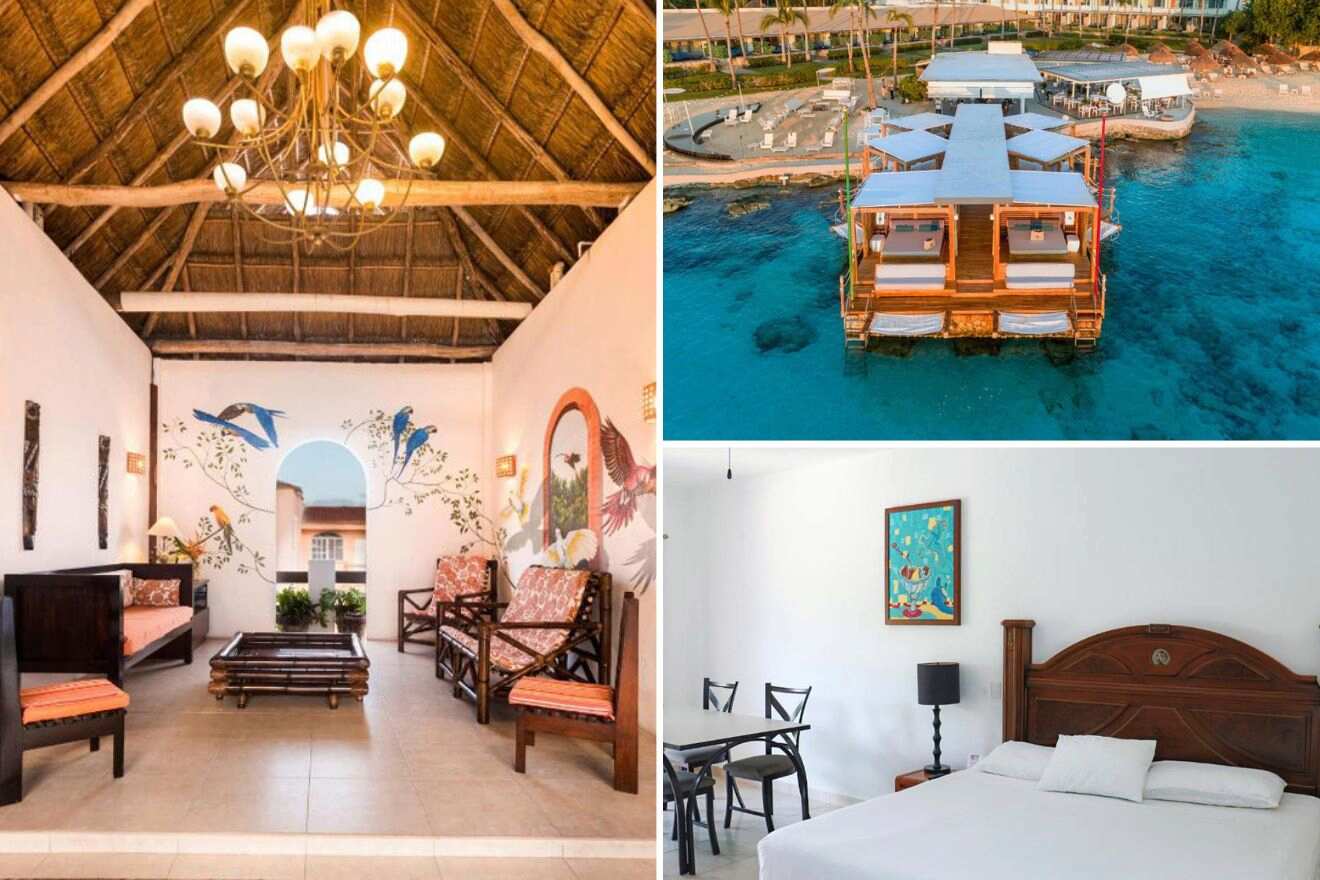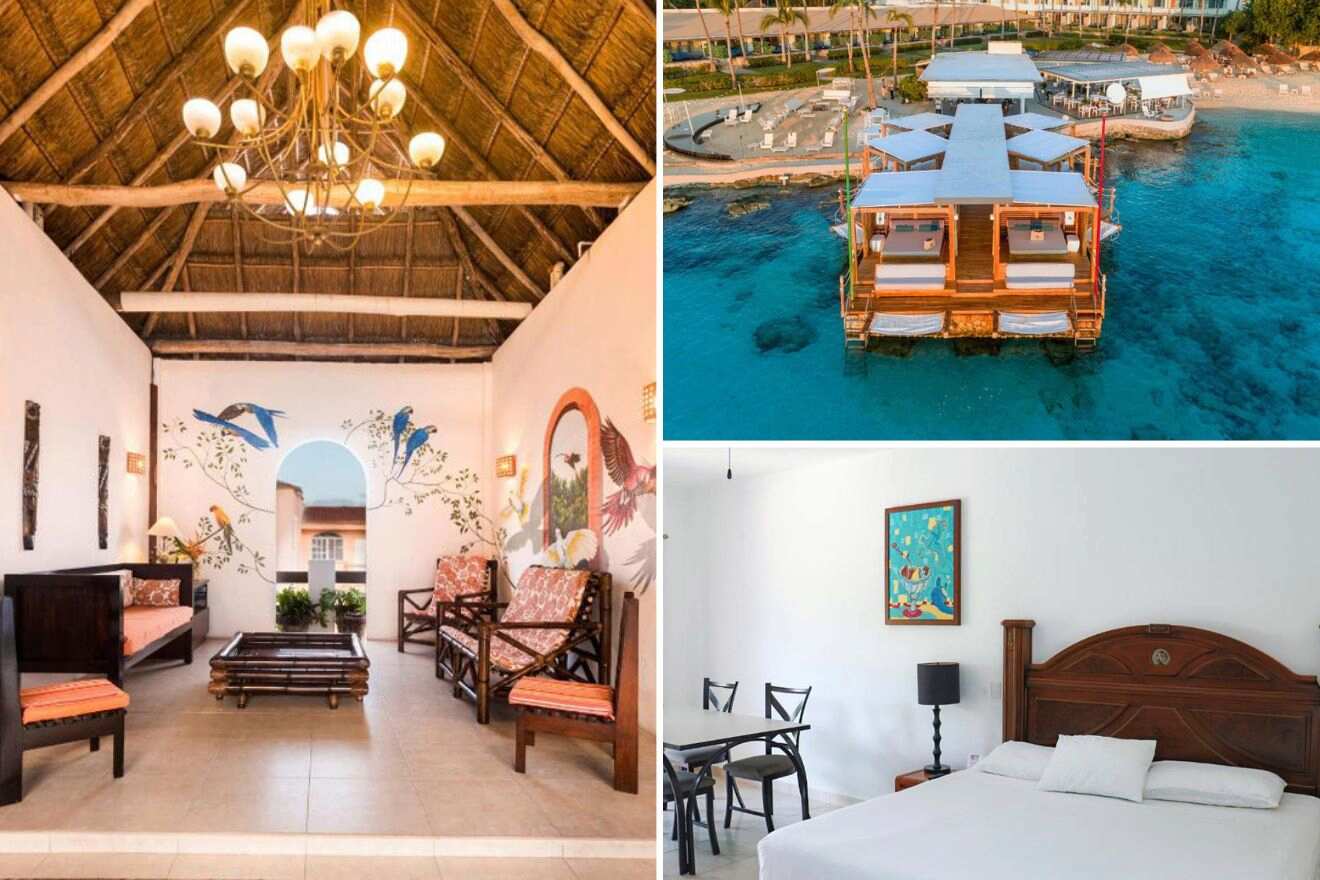 1. Presidente InterContinental Cozumel Resort & Spa, an IHG Hotel
This hotel has an amazing tropical vibe and comes with great amenities! Use the complimentary bicycle rental service and explore the area with your family, jump in the pool, or simply relax by the beach! I recommend their beachfront rooms to enhance the experience.
2. Maia Suites Cozumel
Wow! This hotel has a special Caribbean charm! It is located by the beachfront, which offers the possibility to practice water sports, snorkeling, or diving. All the rooms come with comfortable beds, and some of them come with a jacuzzi on the balcony!
3. Villas El Encanto Cozumel
I am obsessed with this hotel! It is super artsy, and the interior of the hotel and the rooms have a crafty feeling that will make you fall in love with the place! The hotel has an outdoor swimming pool to freshen up on the summer days. Some of the rooms come with a private pool!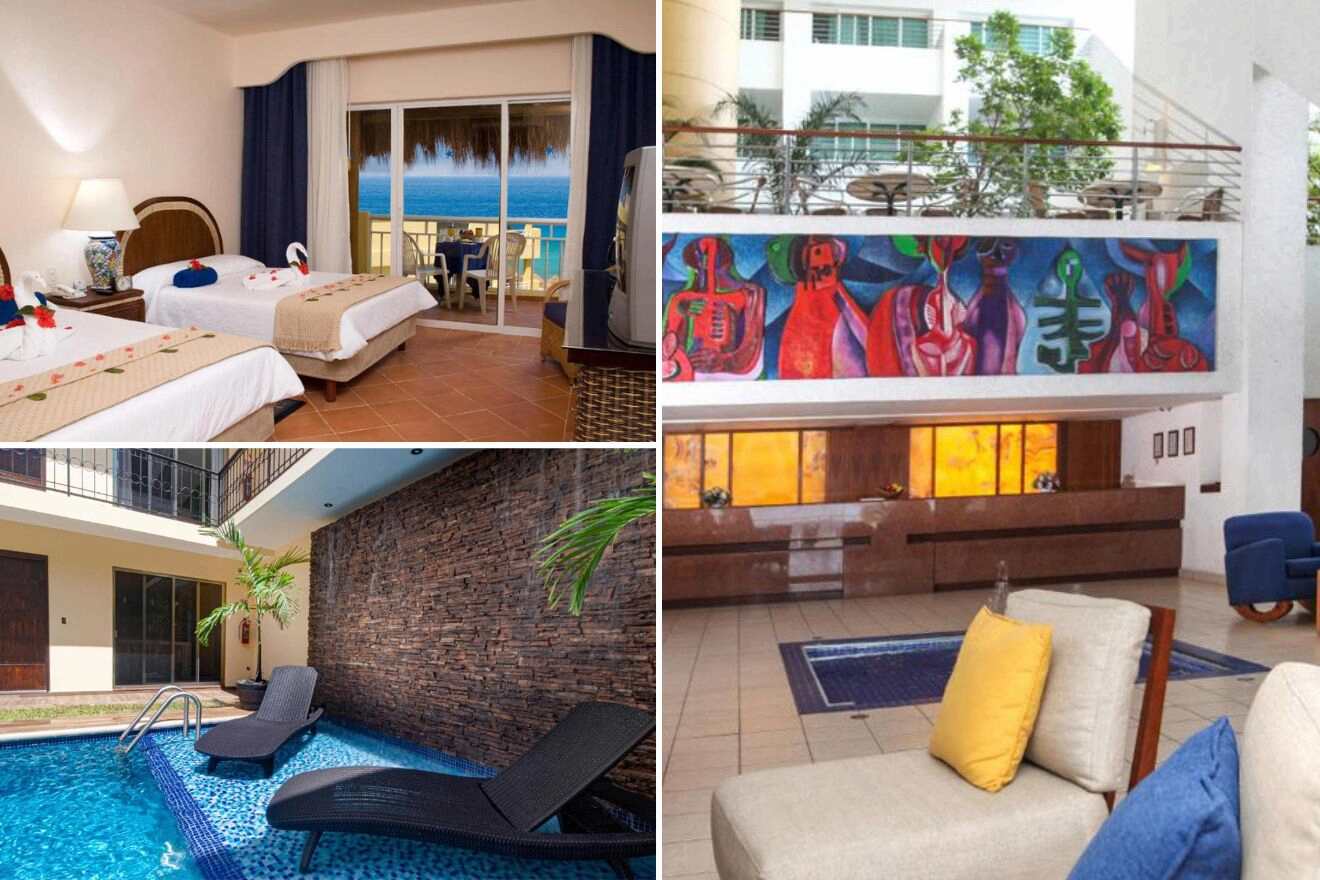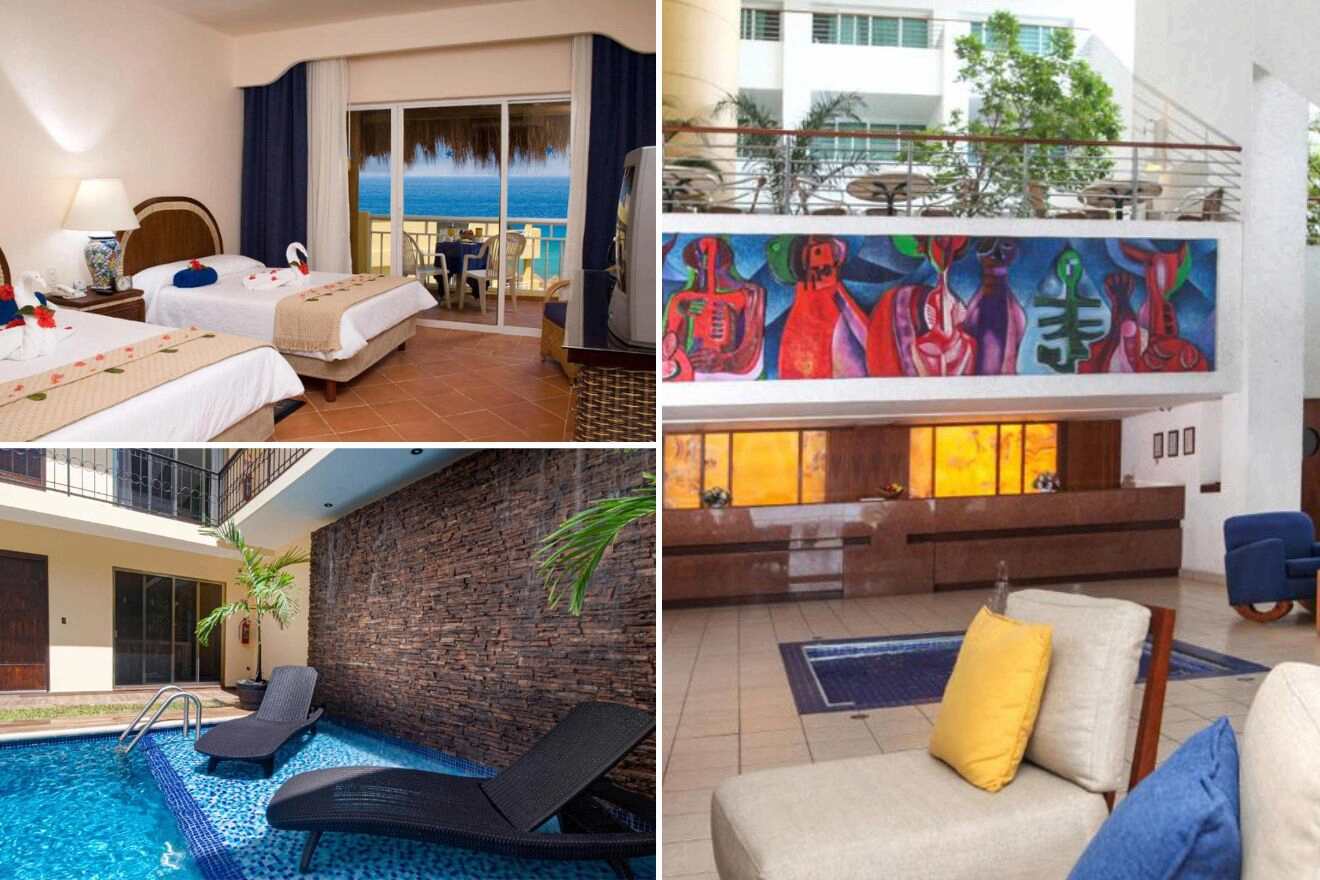 4. Playa Azul Cozumel
This lovely hotel is located by the beachfront and comes with a private beach area full of little cabanas where guests can relax, and there is also a beach bar! The hotel has 2 outdoor swimming pools and a game room! Their biggest room can host 4 guests and comes with ocean views.
5. Casa Mexicana Cozumel
This simple and convenient hotel located in San Miguel city center offers free breakfast and free Wi-Fi to all their guests. The hotel comes with an outdoor swimming pool with views of the ocean and has a convenience store just outside the hotel!
6. PRIME VILLAGE Cozumel
This hotel feels super cozy, it will make you feel like a local! You can book any of the many villas the property offers and enjoy an amazing summer, the property comes with a swimming pool, and the closest beach is 1 mile (2 km) away!
FAQs about Cozumel all-inclusive resorts for families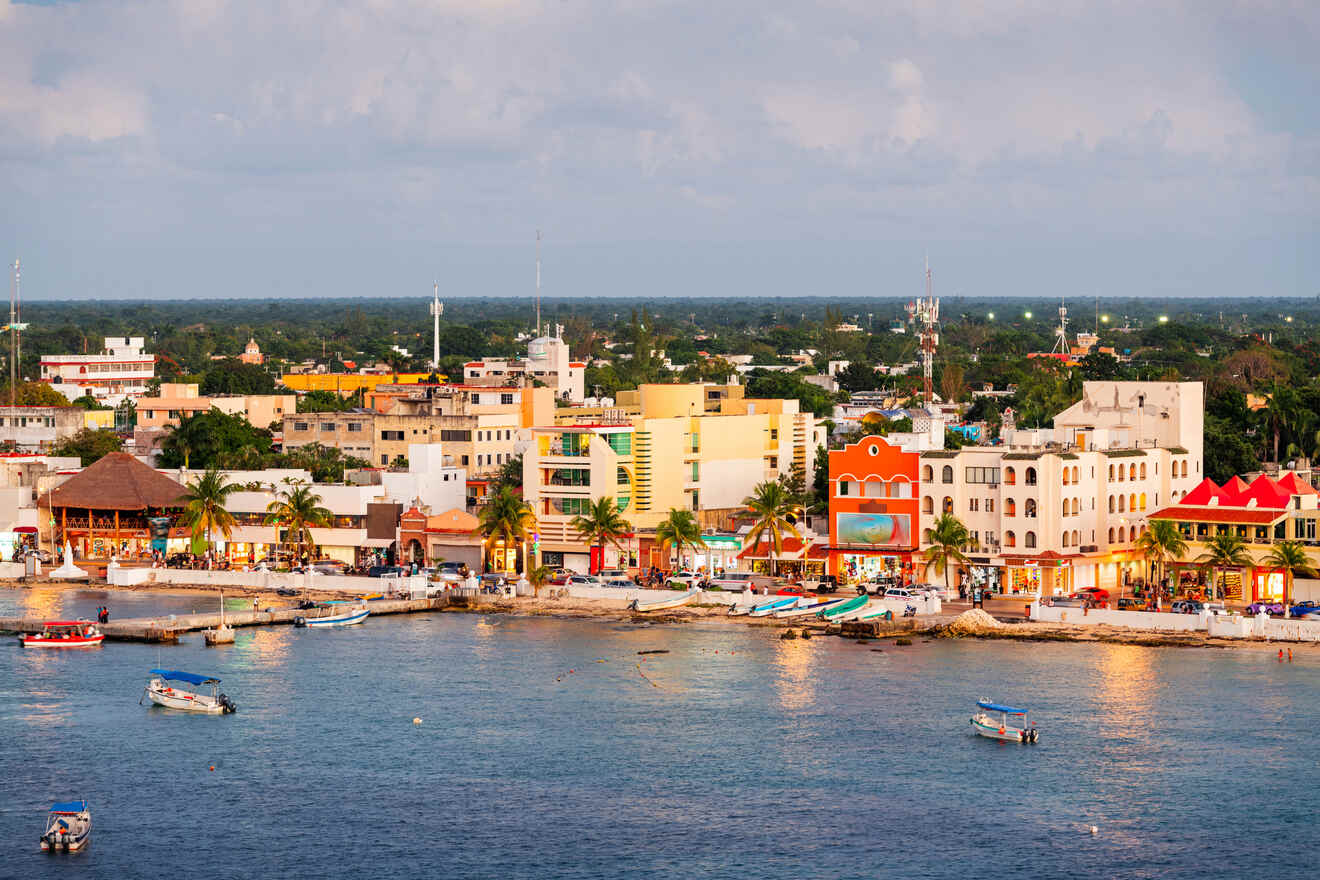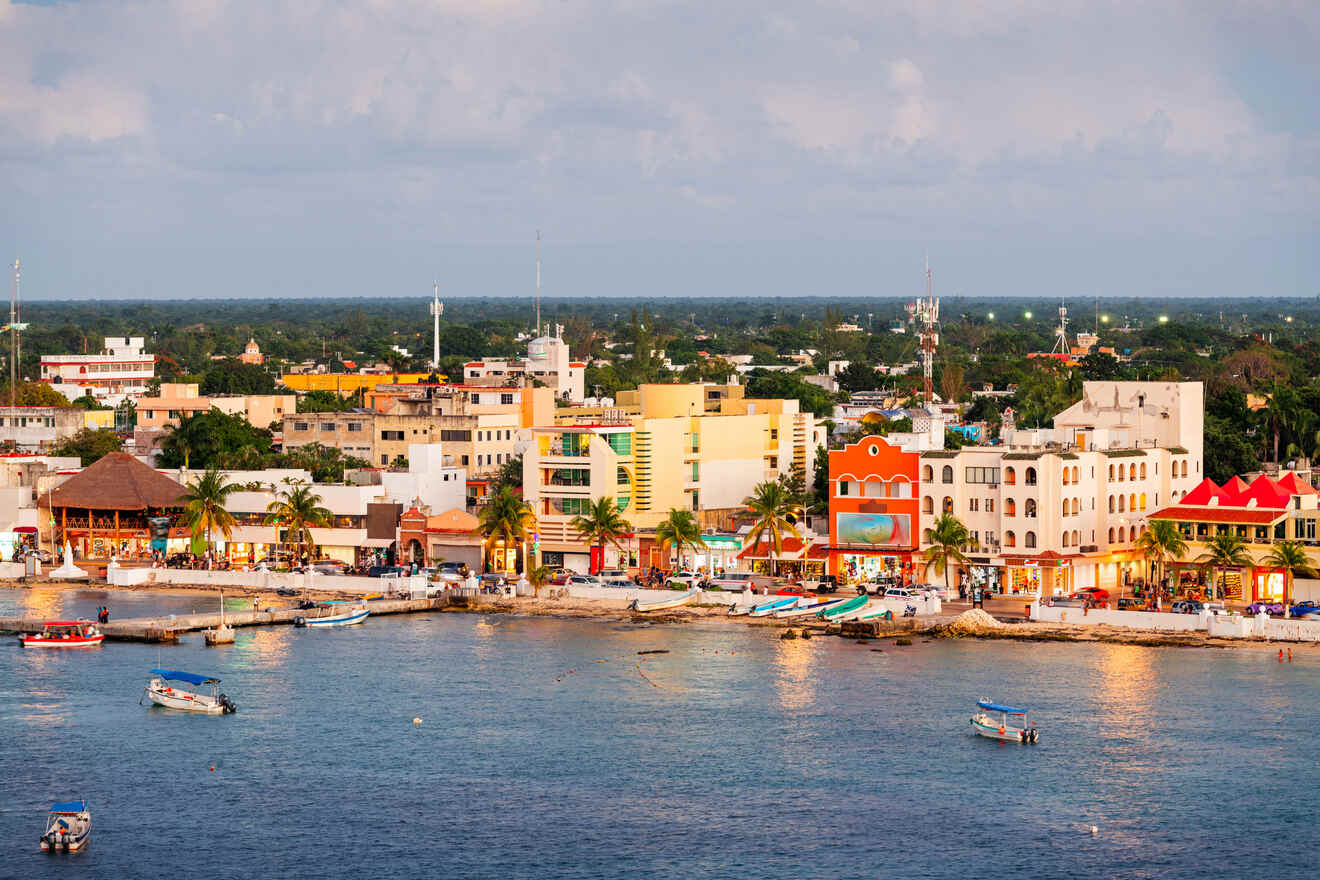 Conclusion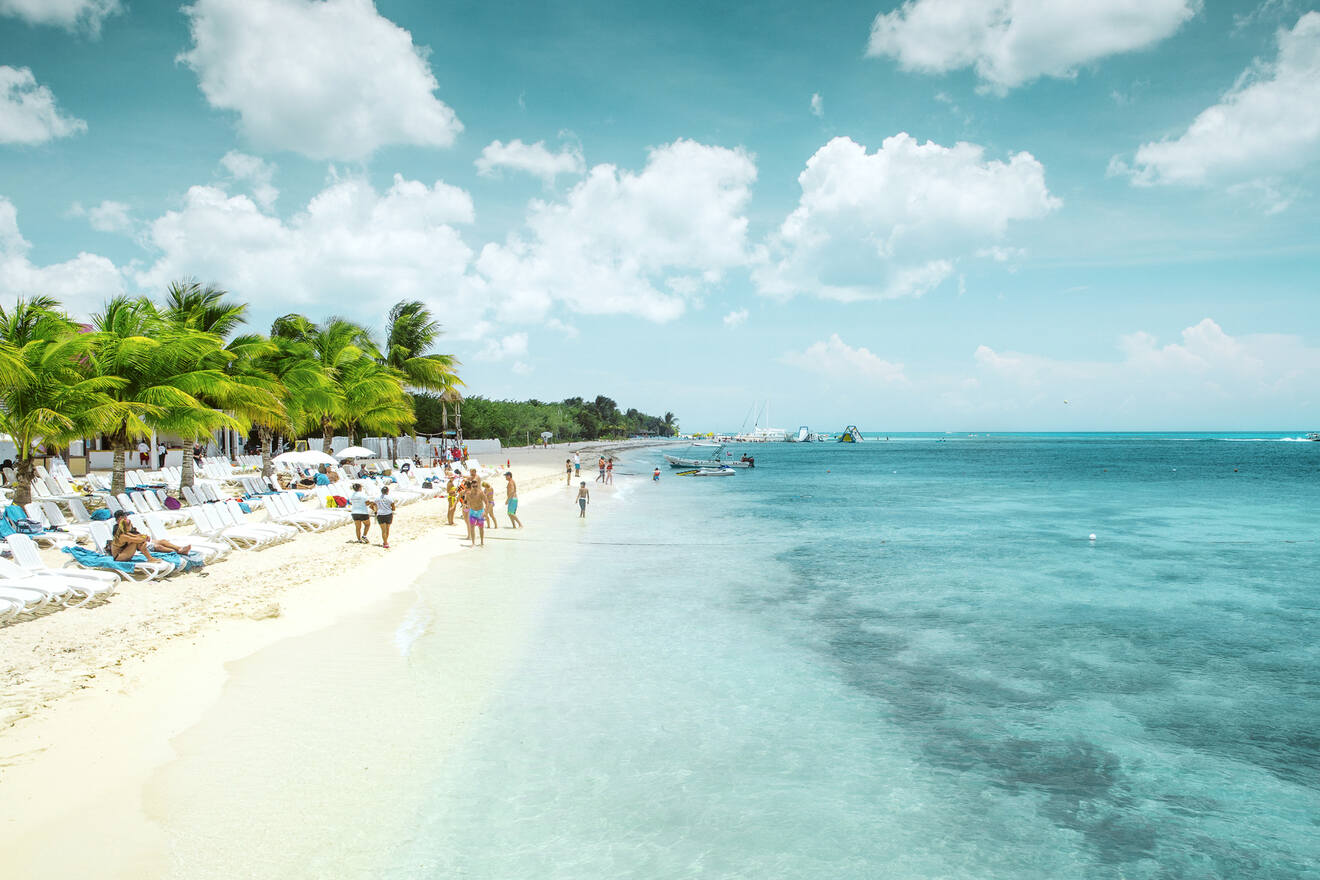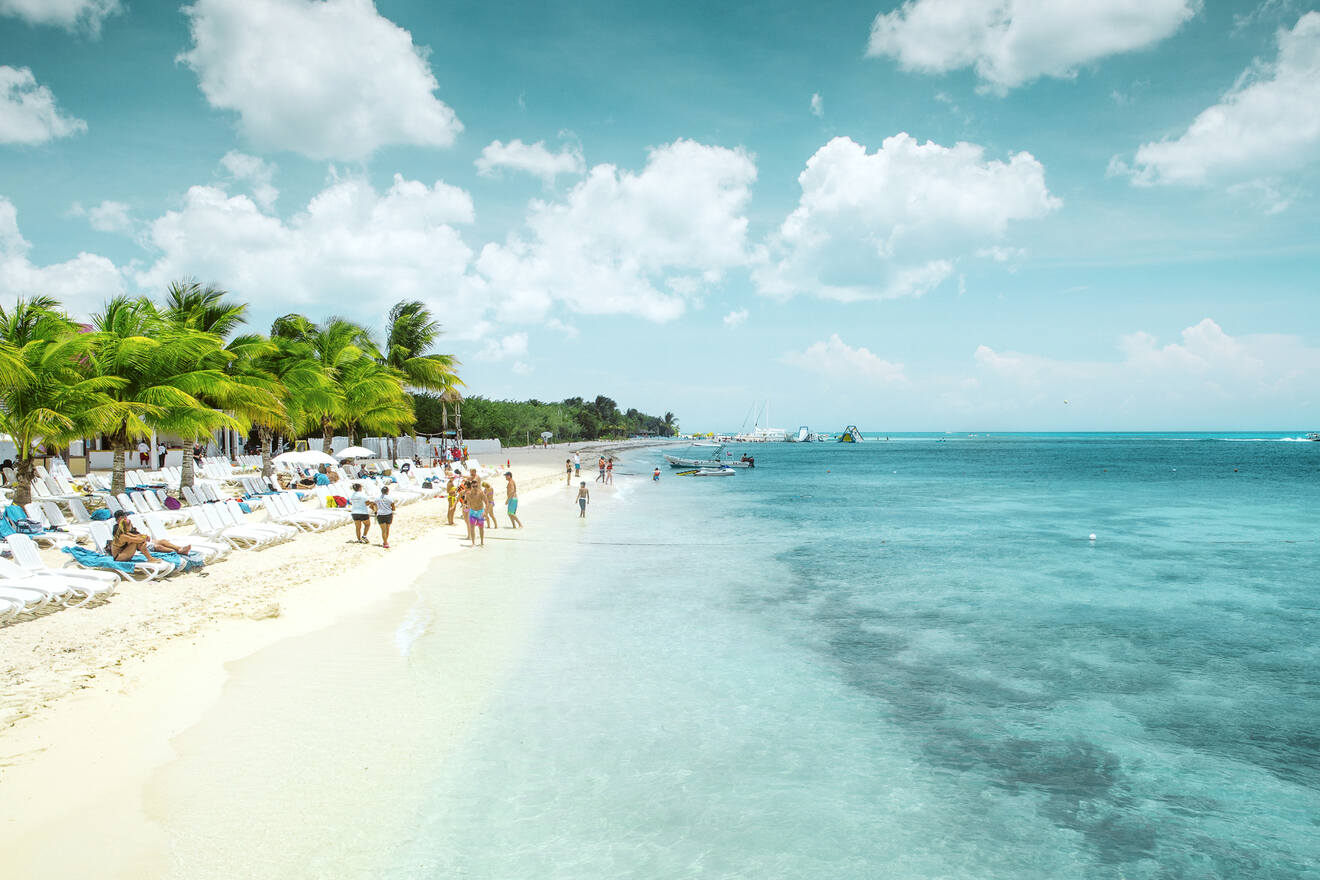 It is a wrap for today, my sweet angels! Those were the best Cozumel all-inclusive resorts for families! I have covered the best all-inclusive resorts in the area, all offering amazing amenities plus a bonus of the best family hotels in Cozumel!
Honestly, it is super hard to choose a favorite resort because all of them are really amazing, and I would be super happy to stay in any of them, but if I had to mention my 2 favorite family resorts in Cozumel, I would say:
The Westin Cozumel – I love that water park, and the hotel looks super fresh! Plus, it is on the beachfront and has a private beach area!
Cozumel Palace – You know I love a luxury option! Apart from being at the beachfront and having a private beach area, it is near the city center and its amenities!
Which one was your favorite all-inclusive resort for families in Cozumel? Let me know in the comments, and right after, go and book the room of your dreams before someone else does!
Until the next one,
Daniela
---
Pin it for later!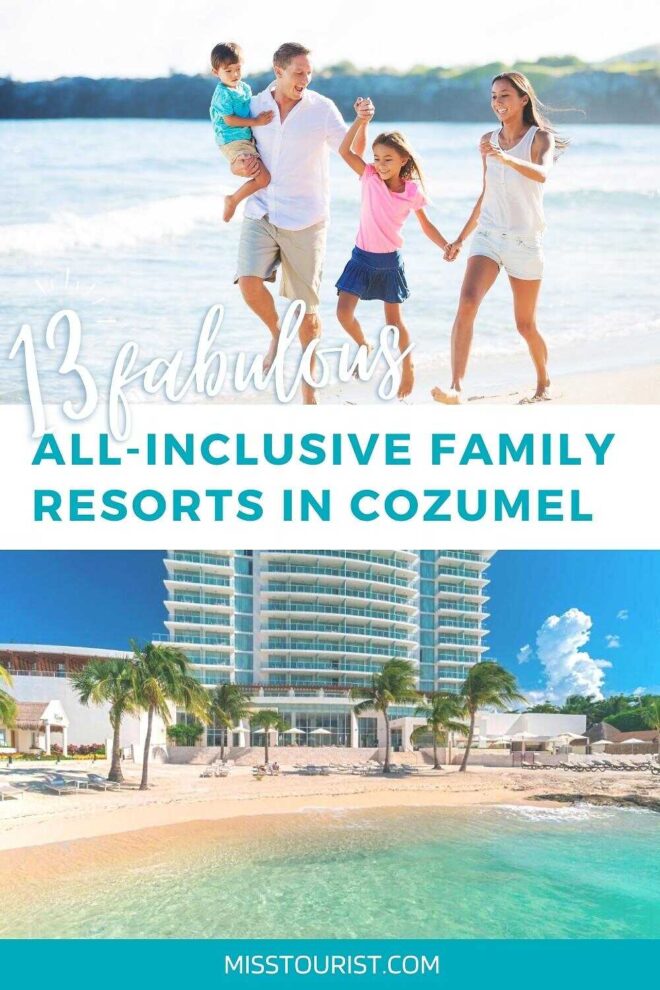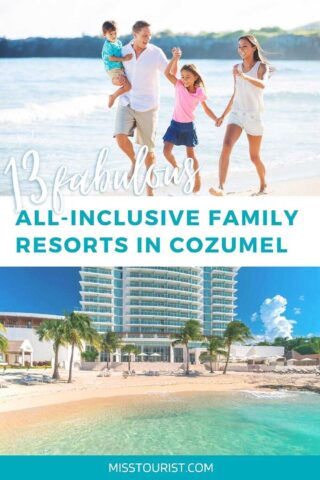 Pin it for later!