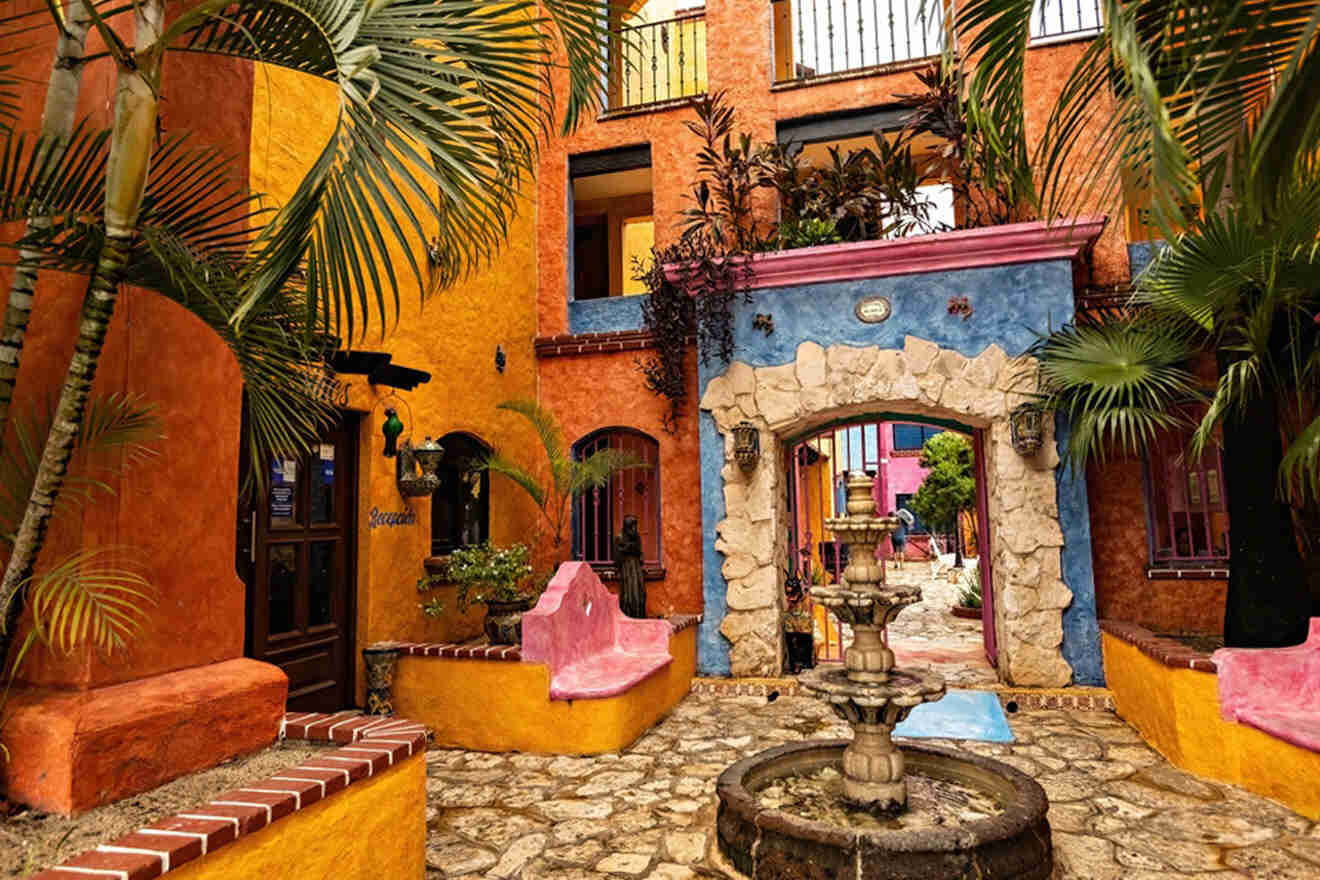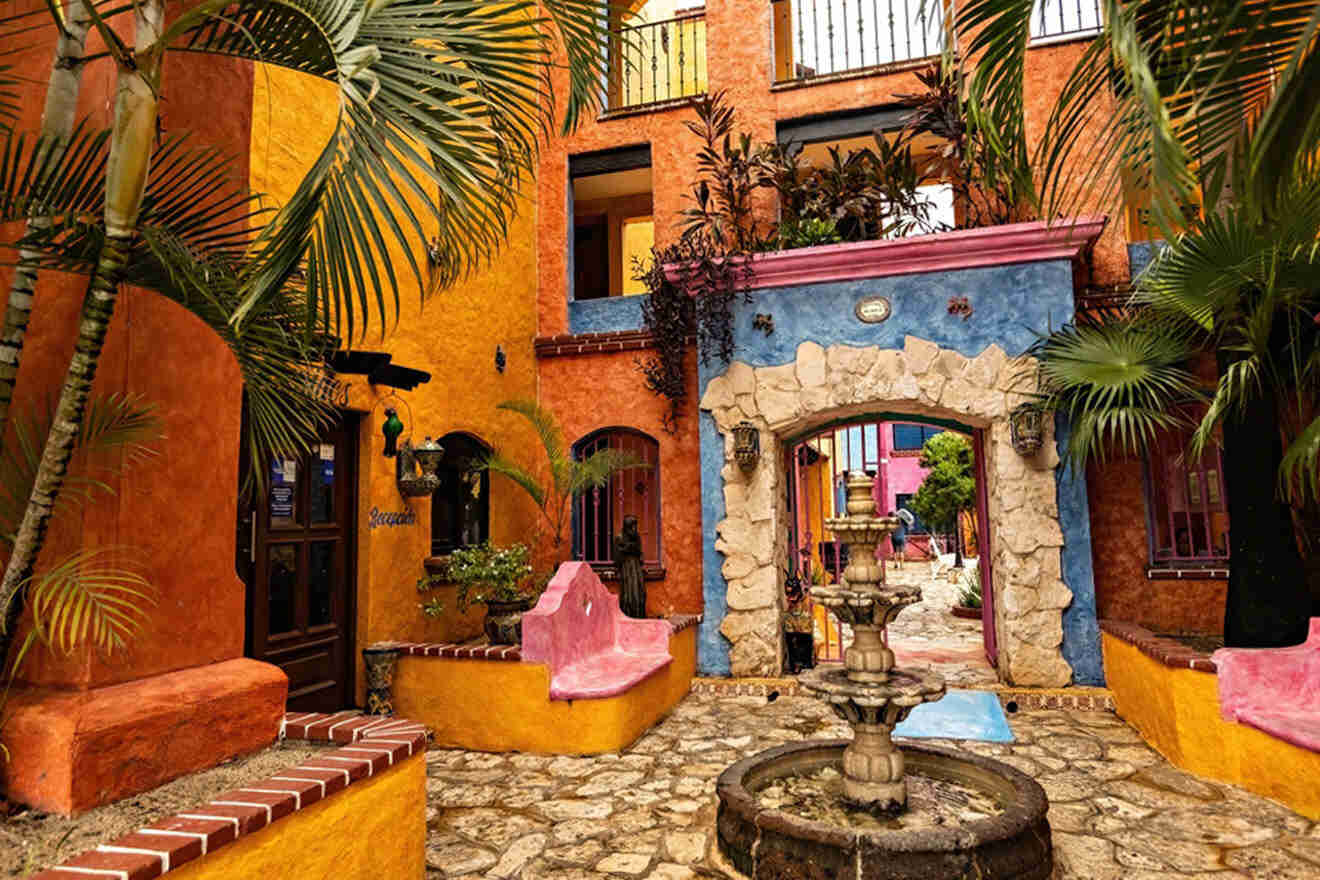 Are you looking for the best boutique hotel in Playa del Carmen? Then today is your lucky day because I have done all the research for you, comparing every hotel with the next one until I came up with the perfect list of the best hotels in Playa del Carmen with the most amazing amenities.
This list features boutique hotels and some amazing all-inclusive resorts in Playa del Carmen, and I have arranged them starting with the most luxurious first. And since I love giving you more options for your amazing vacations, I've added a bonus of the best luxurious hotels in Playa del Carmen!
Playa del Carmen is one of the most popular destinations in the world and with a good reason: amazing culture, beautiful beaches, and the most delicious food! So, if you want to secure the hotel and room of your dreams, book it as soon as you make a decision after checking out this article.
Buckle up; let's check out the best boutique hotels in Playa del Carmen!
If you are in a hurry
I know not everyone has the time to go through the entire article, which is why I gathered the top 3 hotels in Playa del Carmen, so you can click and book!
1. La Casa de la Playa – elegant and modern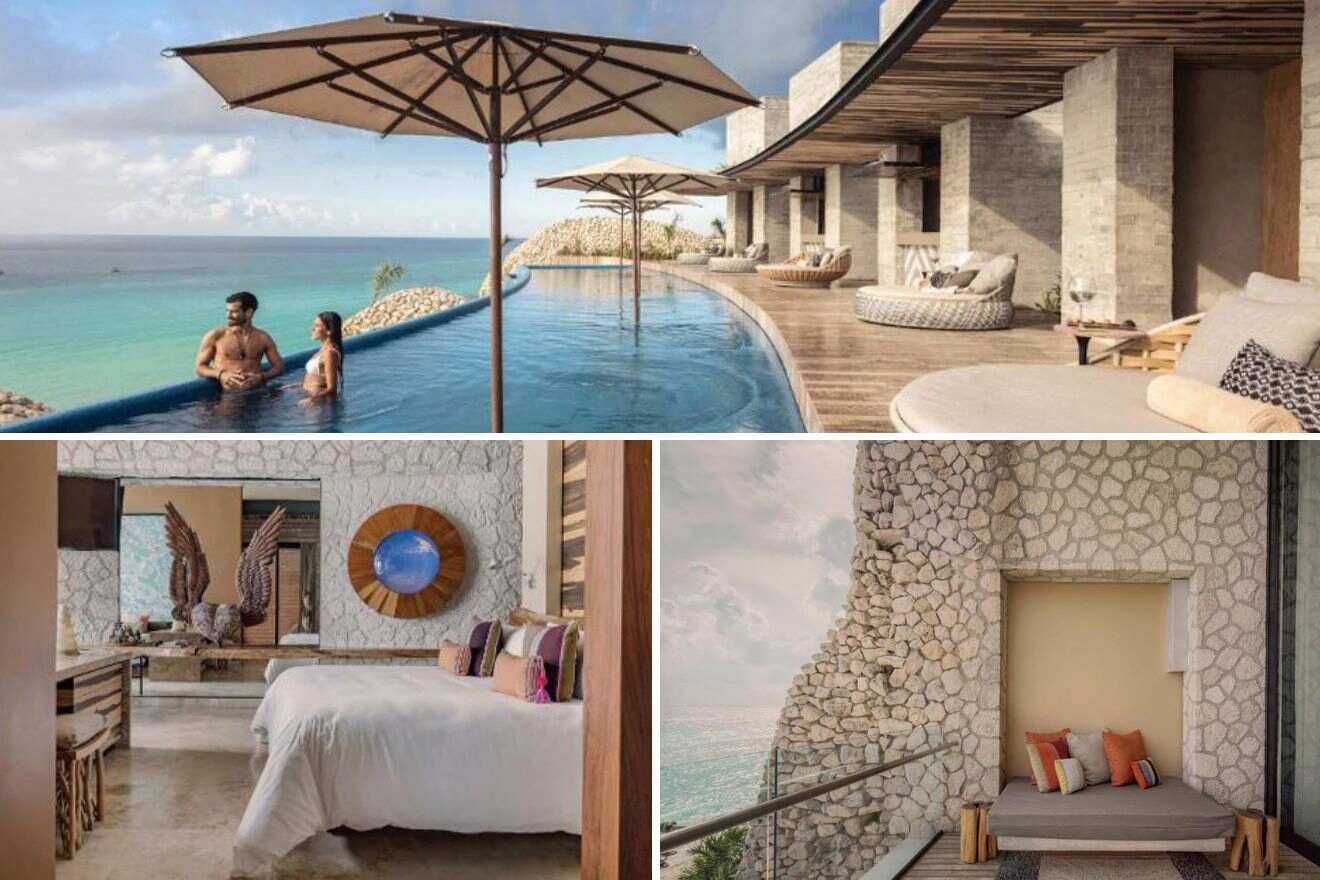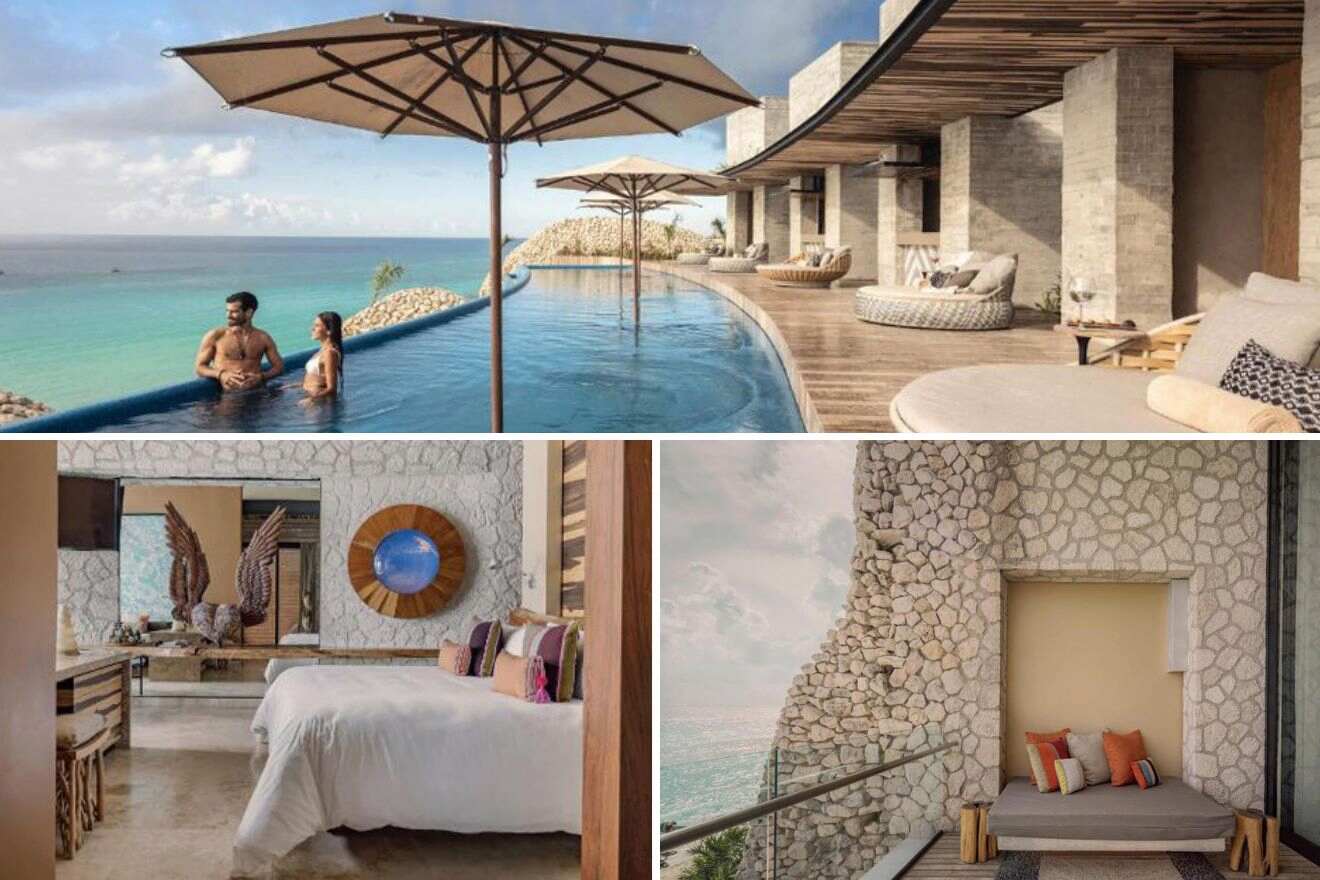 This charming all-inclusive tranquil beachfront hotel features delightful direct beach access through a stone path amongst palm trees that will make your small walks to the beach a dreamy experience. This property features a fresh modern style with natural elements in its furniture, like wooden walls with beautiful green plants coming through, stone tiles on the floors, and astonishing views of the Caribbean Sea.
Hotel guests can enjoy the wonderful spa service with a hot tub and beauty center, free on-site parking, complimentary à la carte breakfast each morning, an infinity pool with a view, water sports on site, and the property even offers bike hire! It offers air-conditioned rooms with a private sun terrace, a private pool or hot tub, and gourmet room service.
2. Palafitos Overwater Bungalows – for a wholesome retreat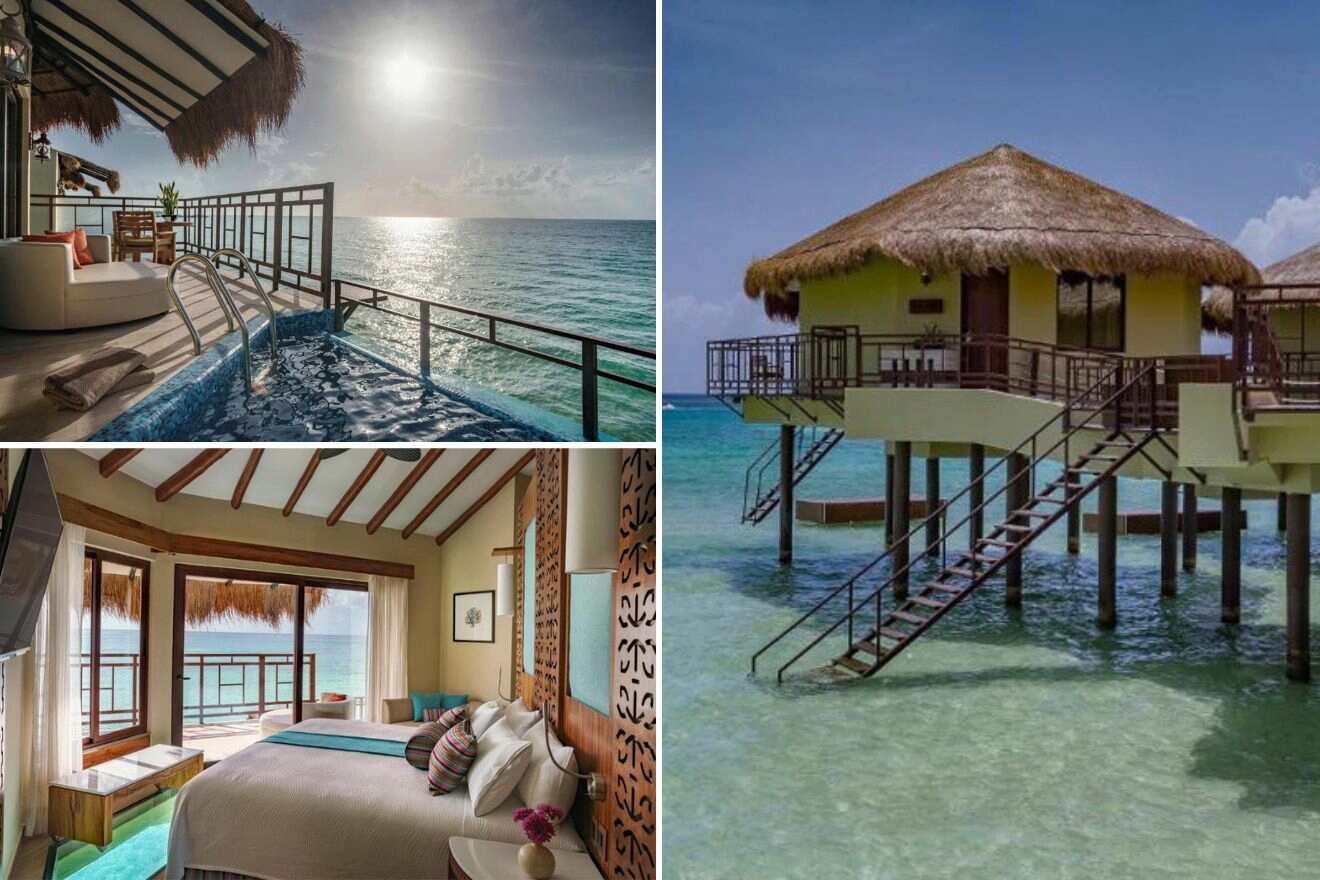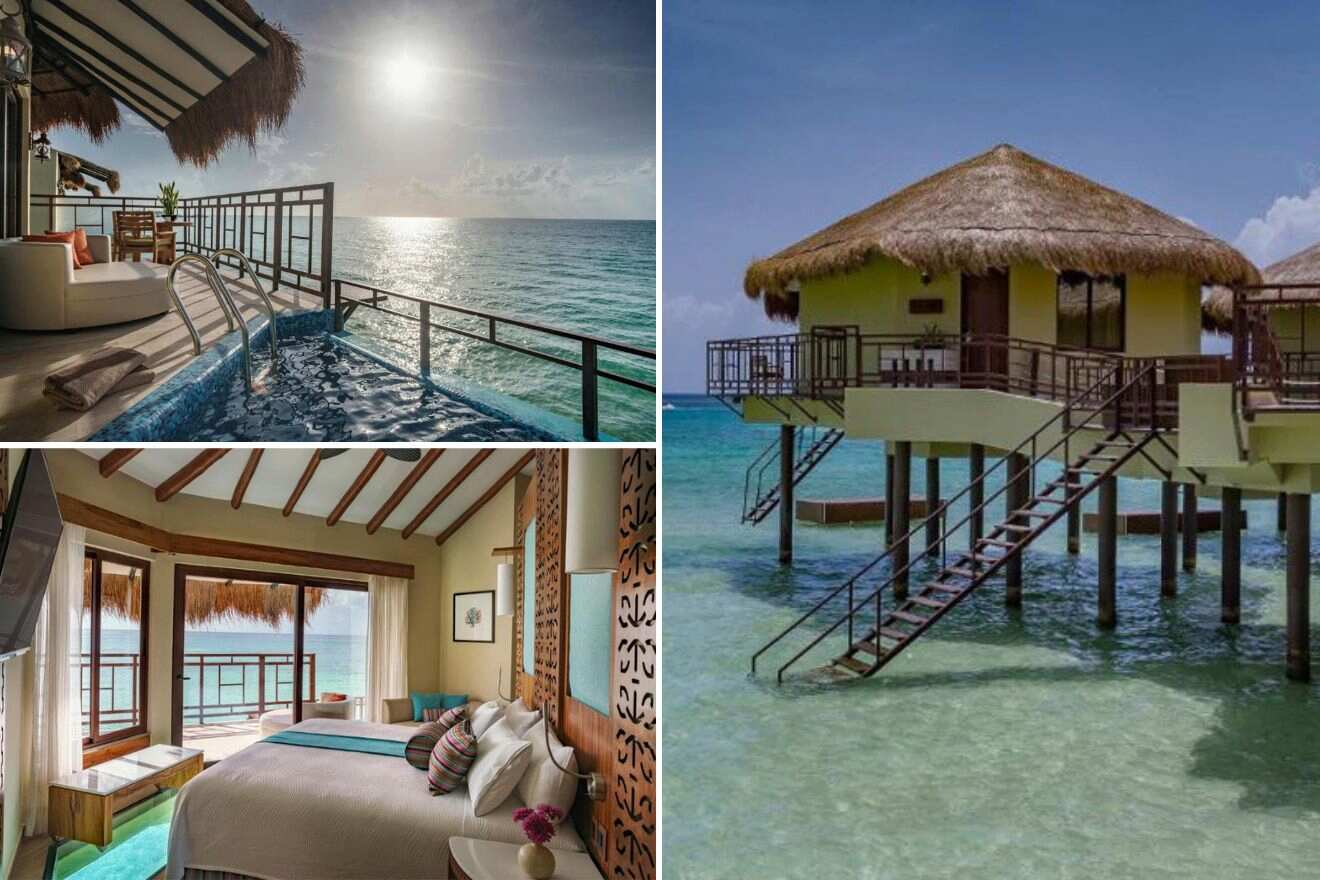 What a charming, luxurious, all-inclusive resort! With an incredible natural style, this hotel is perfect for all of those looking for a wholesome vacation to reconnect with themselves and their surroundings. This hotel features large outdoor pools, an onsite restaurant serving international dishes, a spa center, a fitness center, free private parking, and evening entertainment.
All the guests can enjoy karaoke with friends or practice diving or other water sports on-site. All the overwater bungalows come with breathtaking views that will make you feel blissful at every instant. All the rooms come with private terraces so you can relax while you admire the Caribbean sea. Some of the bungalows have a private fully equipped kitchen with a fridge, perfect for those who love homemade meals!
3. Chablé Maroma – fun and relaxation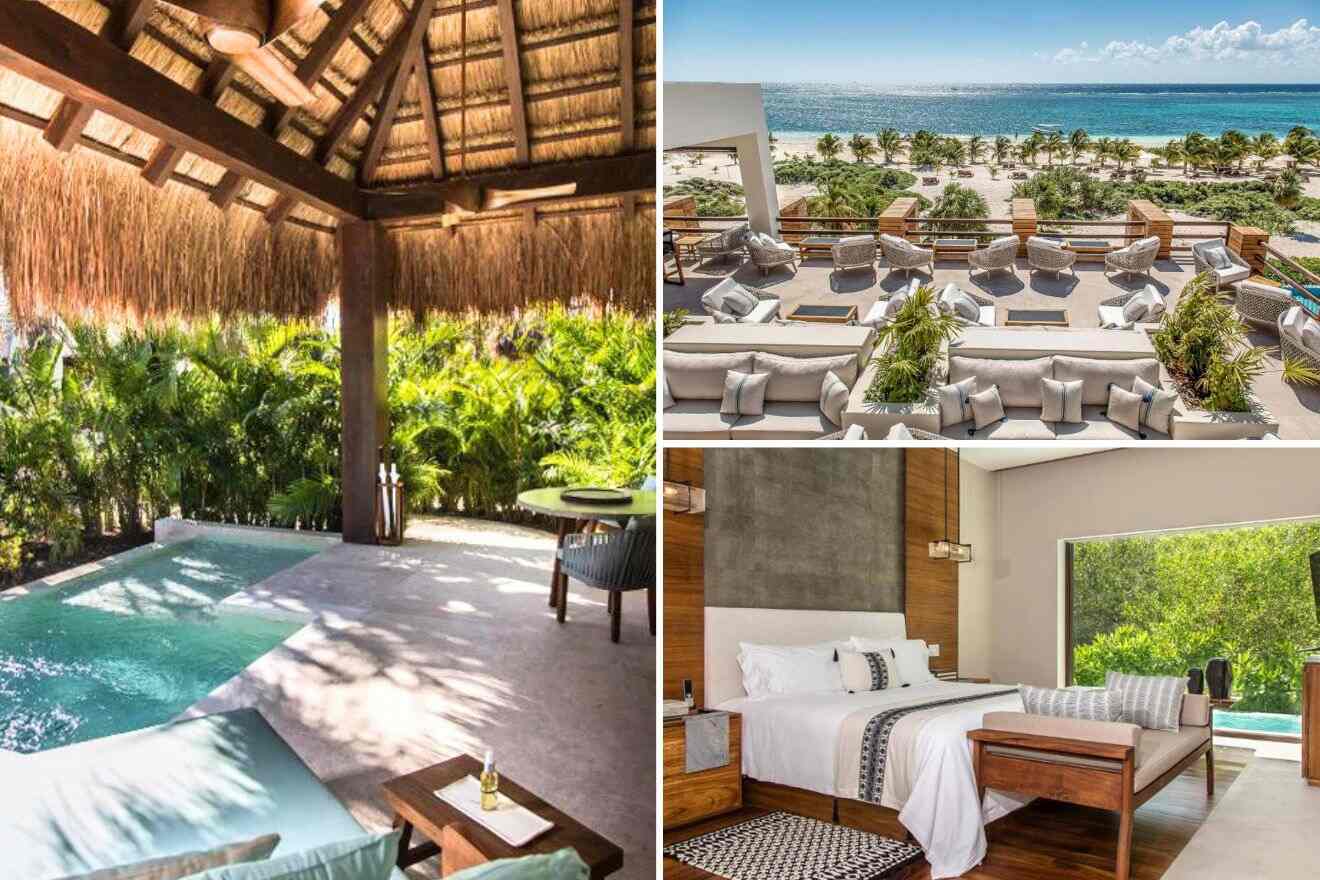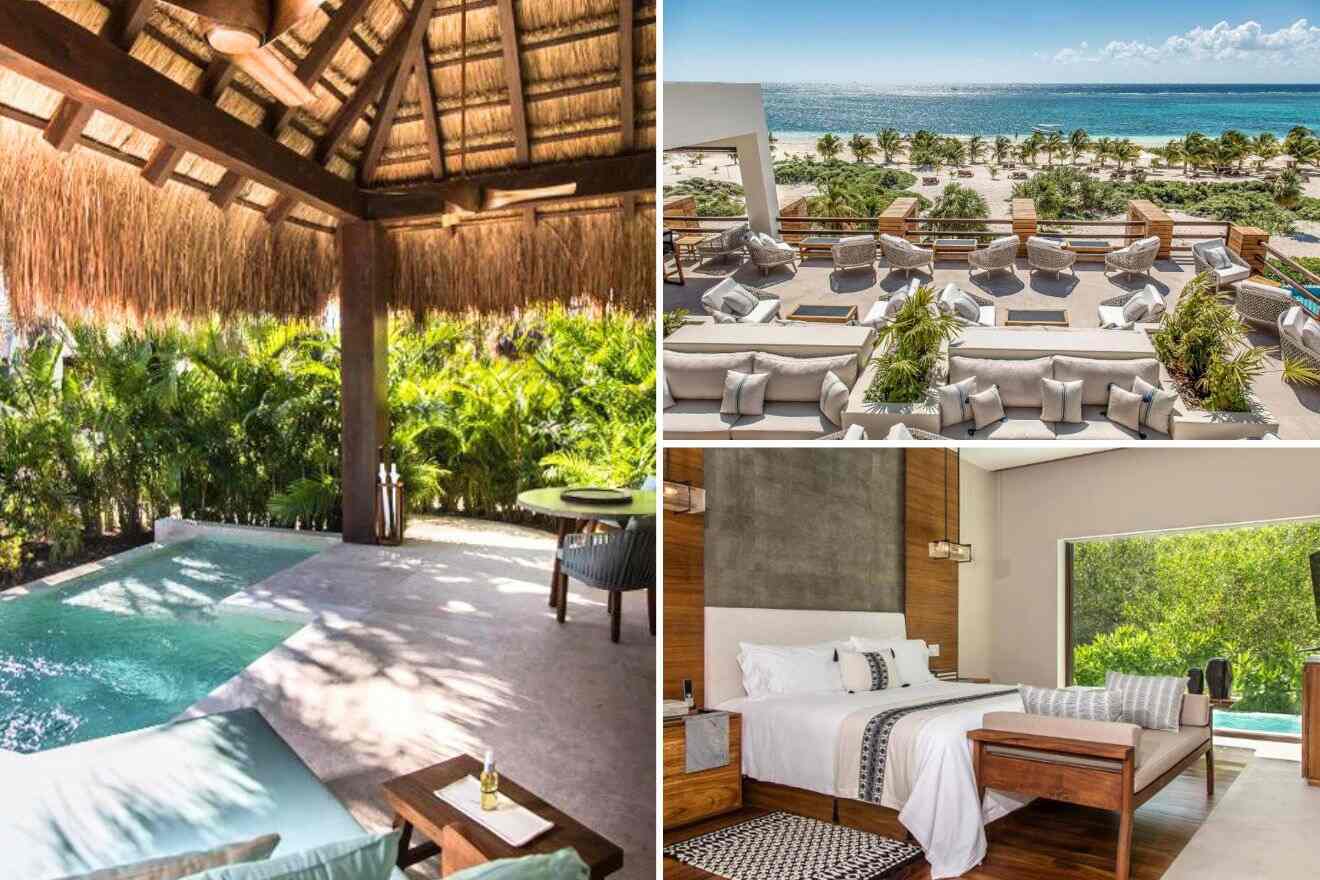 This hotel looks like a real dream! An amazing place to let go of all your worries and enjoy nature's wonderful gifts! This hotel is located by the beachfront and comes with a private beach area, Ado international bus station is 10 miles (16 km) away, and Playa del Carmen downtown and beach are just a 30-minute drive away.
This property features more than a restaurant and free bikes for all guests to use and explore the surroundings; it comes with evening entertainment, 2 outdoor pools, and themed nights! All the guest rooms at this hotel have amazing views of tropical gardens, upscale furniture, and an open space style. All the rooms come with free Wi-Fi access and private balconies with private pools for an amazing experience.
4. Viceroy Riviera Maya – a top-class luxury resort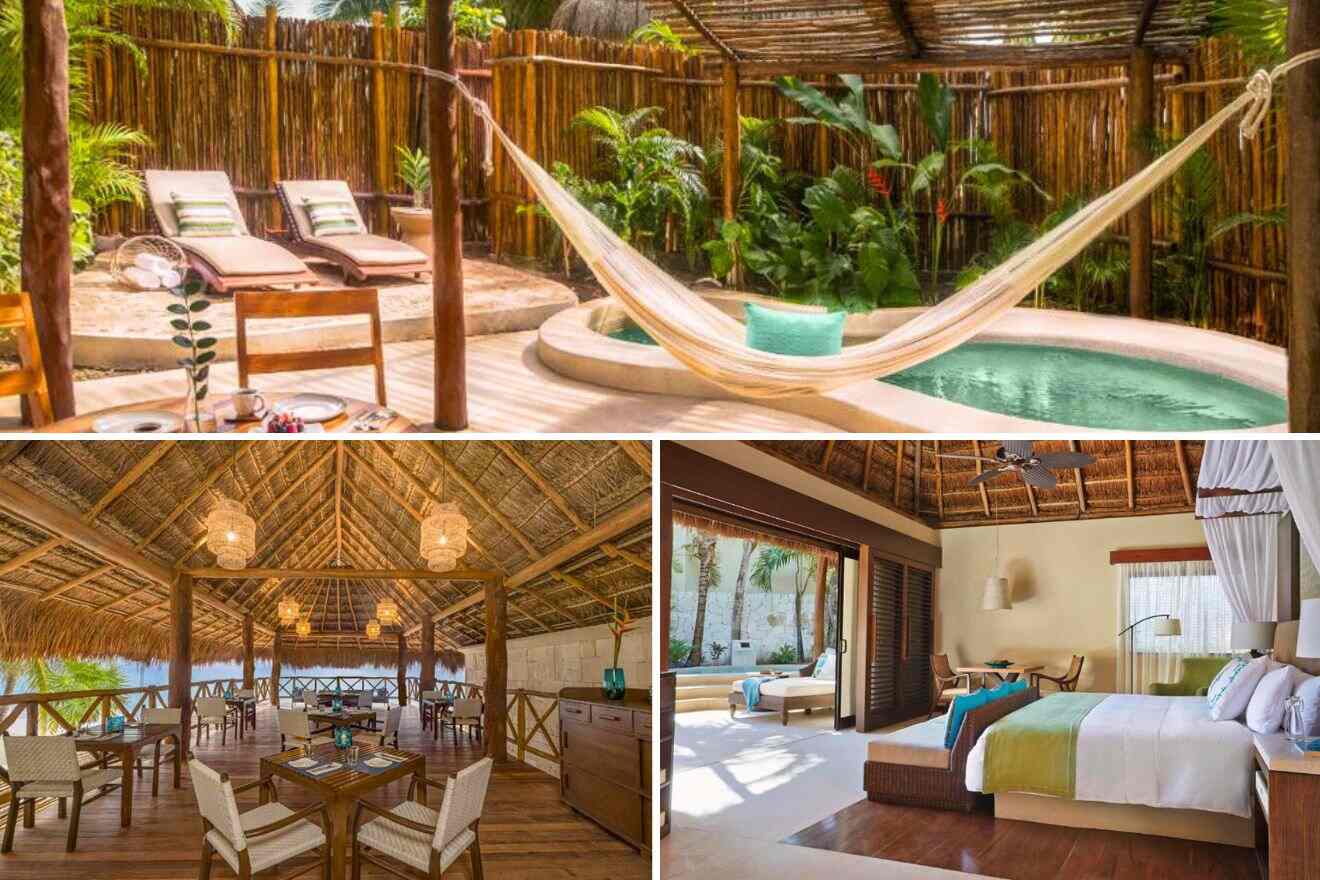 This elegant resort offers a fantastic beachfront location with downtown Playa del Carmen and Cancun International Airport just a 20-minute drive away, and Playa del Carmen Airport a 30-minute car drive away. The resort offers paid airport shuttle service, which comes in super handy! It features an outdoor swimming pool, cooking classes (for an extra fee), and the chance to try out windsurfing and scuba diving.
Another great feature of this incredible resort is the amazing spa and wellness center, with full body treatments, a sauna, and a hot tub. All the villas come with upscale furniture, a unique style, and private balconies or terraces with a private pool. The villa with a sea view is the biggest room, can host up to 4 guests, and comes with a flat-screen TV.
5. Petit Lafitte Beach – serenity by the beachfront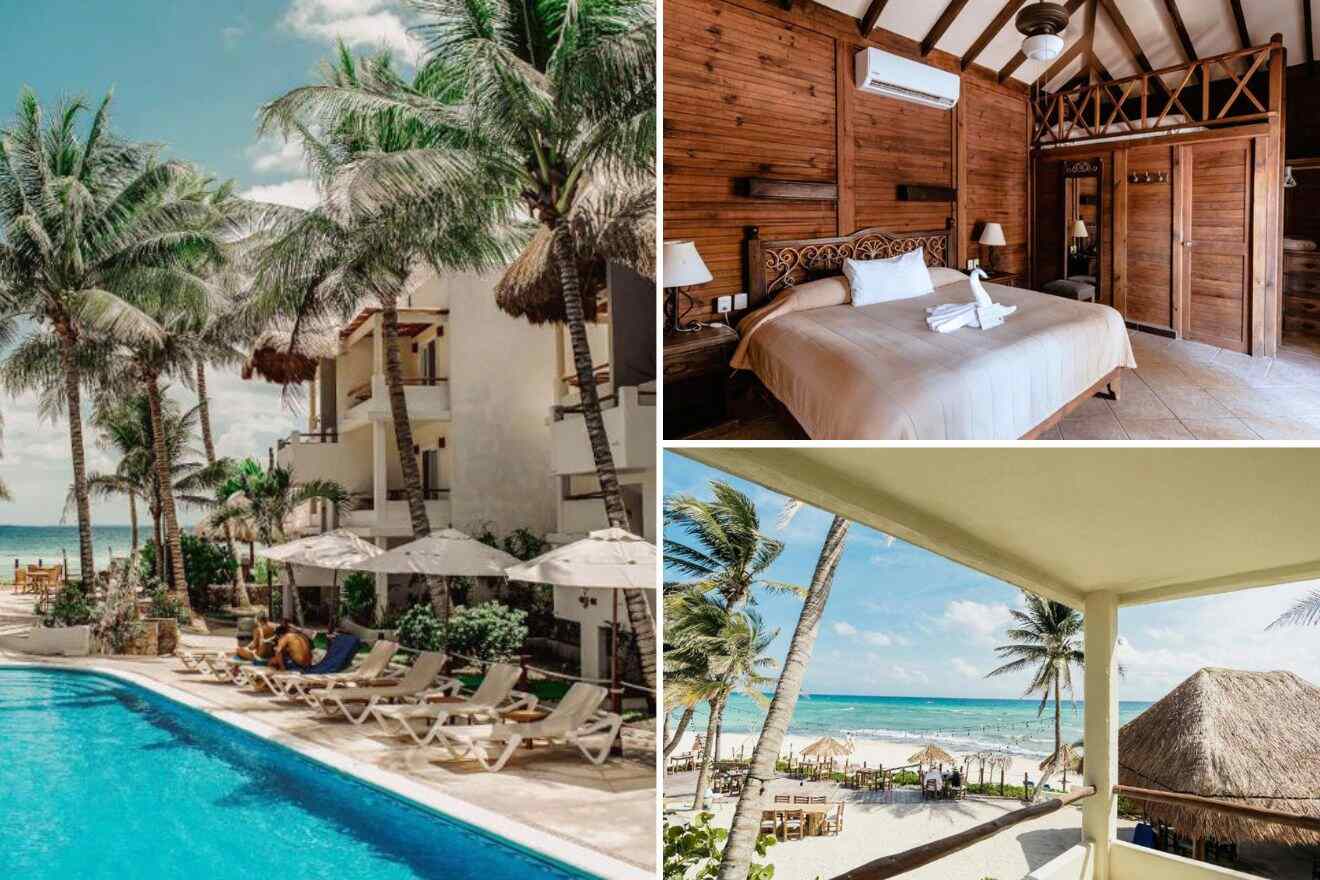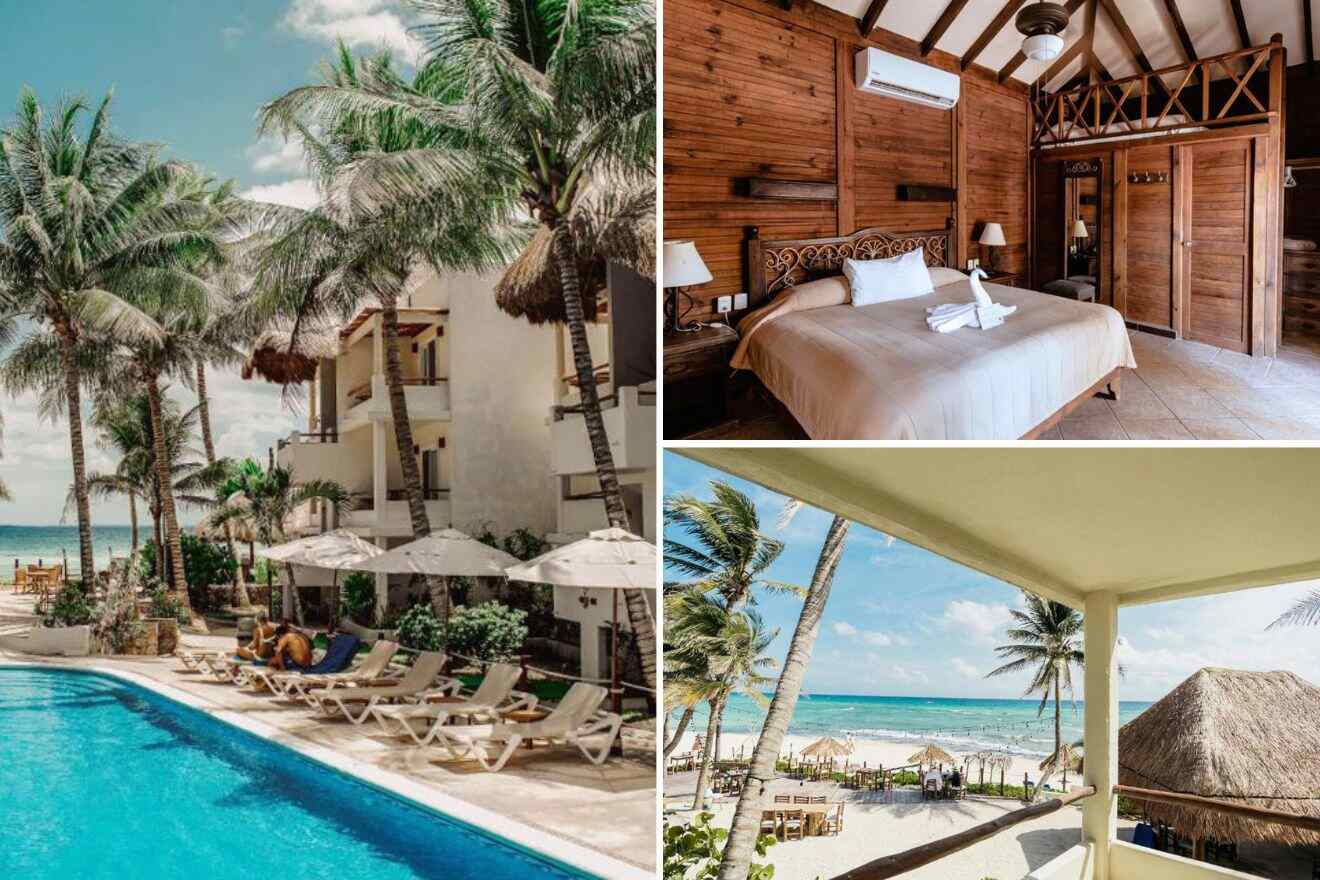 Take a deep breath and get ready for an indulgent stay at this special and homey hotel located on a beachfront area with a private beach zone for hotel guests just a tiny walking distance away from the bungalows. This property comes with a spacious outdoor pool with a nice lounge area to relax with a drink or a book, a game room with table tennis and billiards, and an outstanding wellness center.
All the bungalows and rooms feature tiled floors, ceiling fans, and air conditioning; some of them come with pool views, and some other rooms come with ocean views. Select bungalows can host up to 5 guests, and all of these bungalows have ocean views. There are bungalows and rooms with balconies suitable for 2 guests!
6. Mvngata Beach Hotel – for an indulgent retreat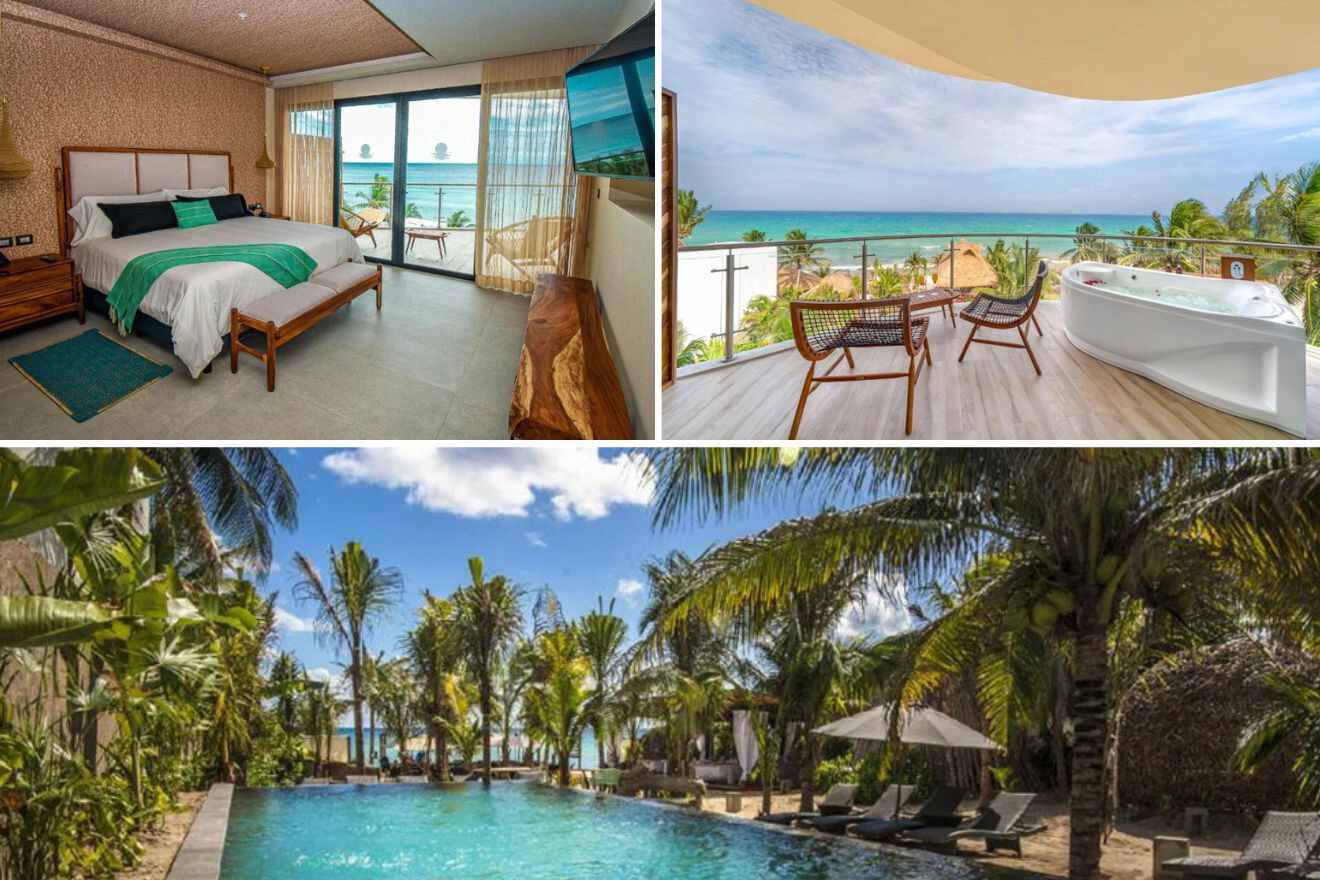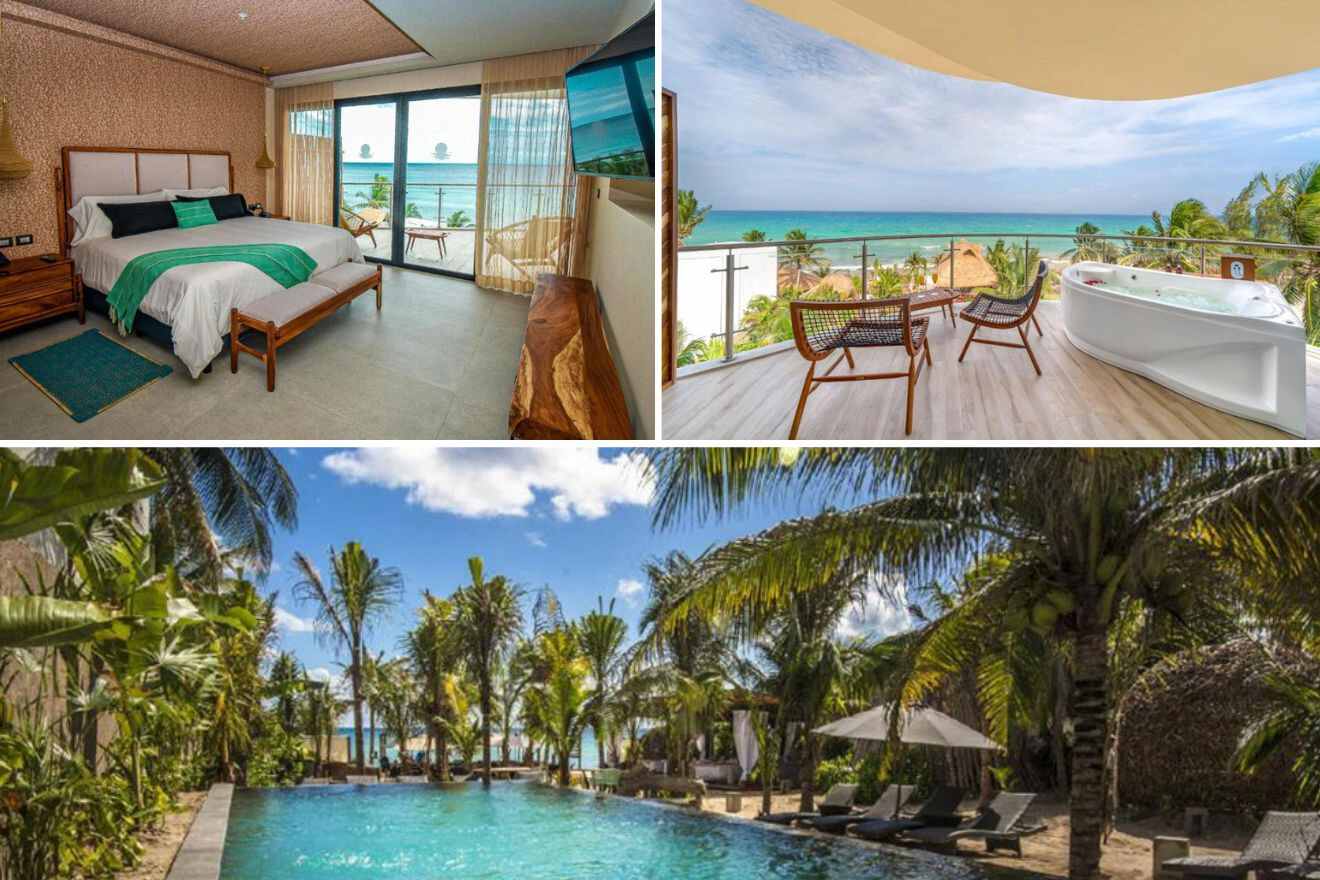 This top-class hotel comes with all the amenities to ensure a memorable stay in Playa del Carmen. For starters, it is located on a white sandy beach, with its own private beach area ideal for those adventure lovers who would like to play water sports in the Caribbean's crystal clear waters. This hotel features 2 swimming pools; one of them is a rooftop pool with a pool bar, perfect for those adults who like to relax in the sun with a drink!
On top of all this, Mvngata Beach has a world-class spa open to all guests, a beach bar, evening entertainment, and even DJ nights! Select rooms, like the bridal room, come with a bedroom, living room, and a spacious balcony with a private jacuzzi, perfect for couples!
7. Thompson Beach House – stylish and fun!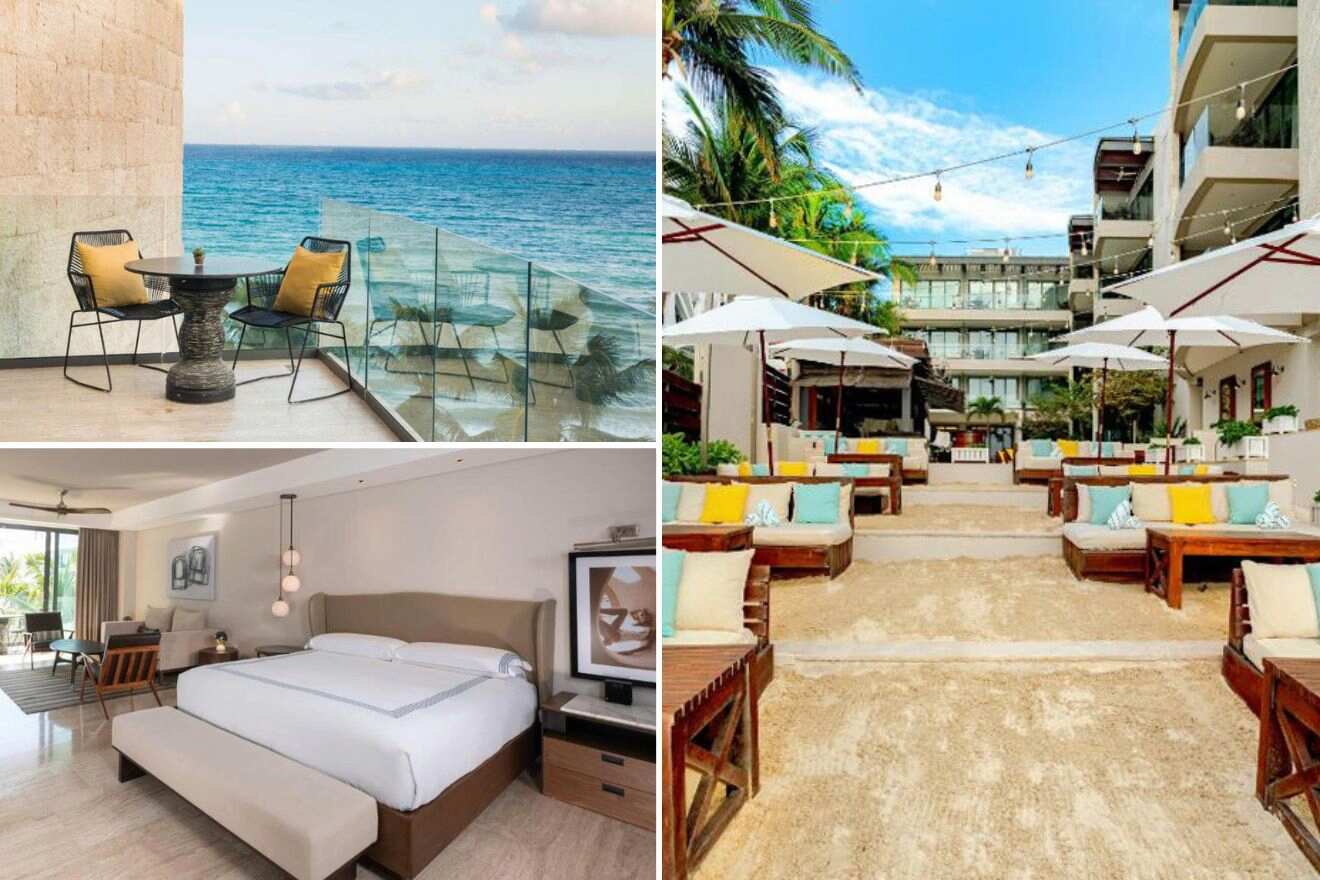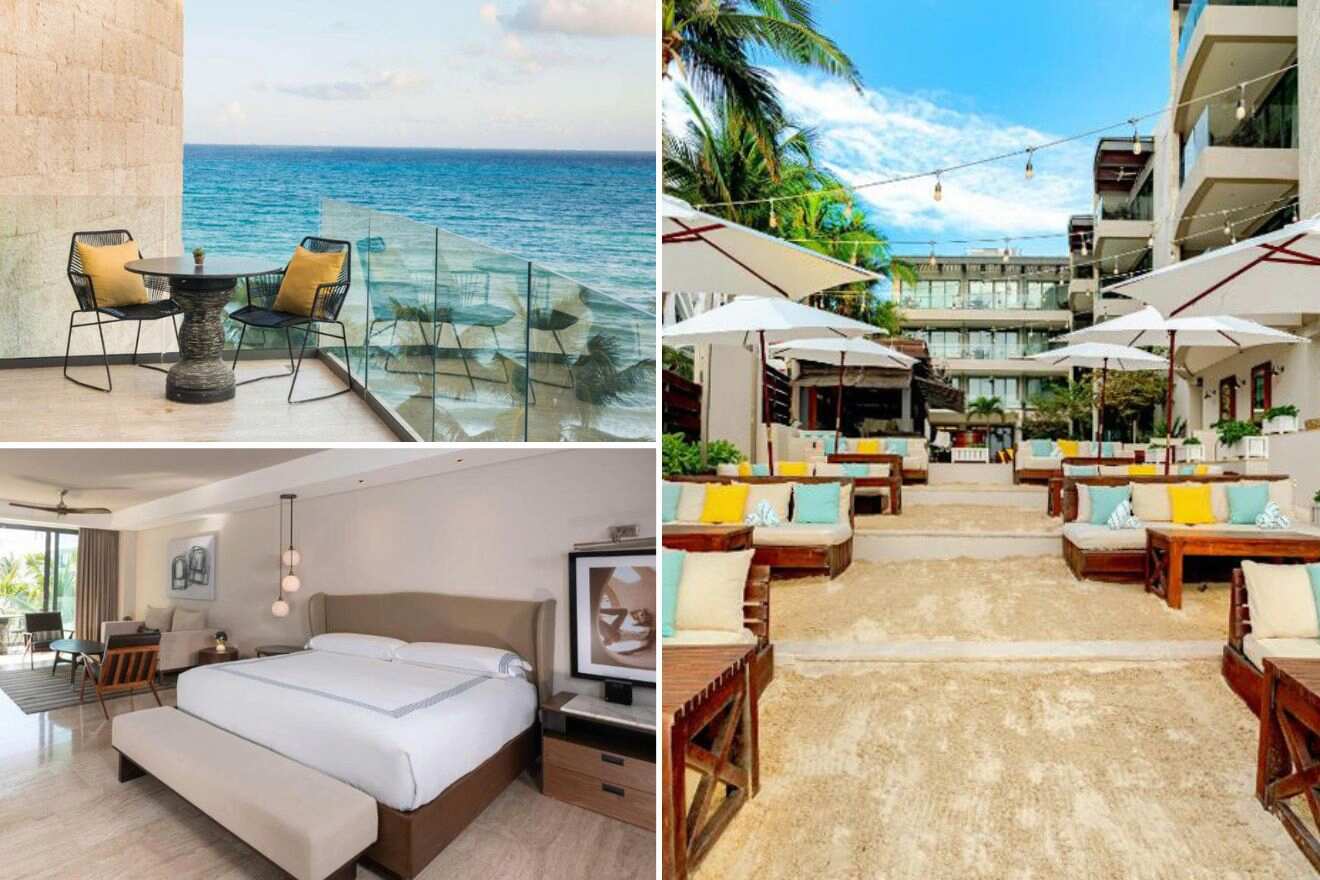 I love this hotel's modern and fun style! I think it is super cool when hotels find the perfect equilibrium between elegance and a vibrant look! This beachfront hotel with a private beach area is definitely the perfect example! Young couples and friends would love staying here! It comes with a communal outdoor pool with stunning ocean views, and there is a pool bar and a lounge area to relax and enjoy the surroundings.
This property offers bike tours, and they have complimentary live performances and shows off-site. I recommend the oceanfront suite balcony, it comes with a stylish marble bathroom and a large private balcony with a private pool and amazing views! You'll also get complimentary breakfast, plus rooftop yoga sessions, PLUS tequila tastings!!
8. Verandah Studios – for a natural experience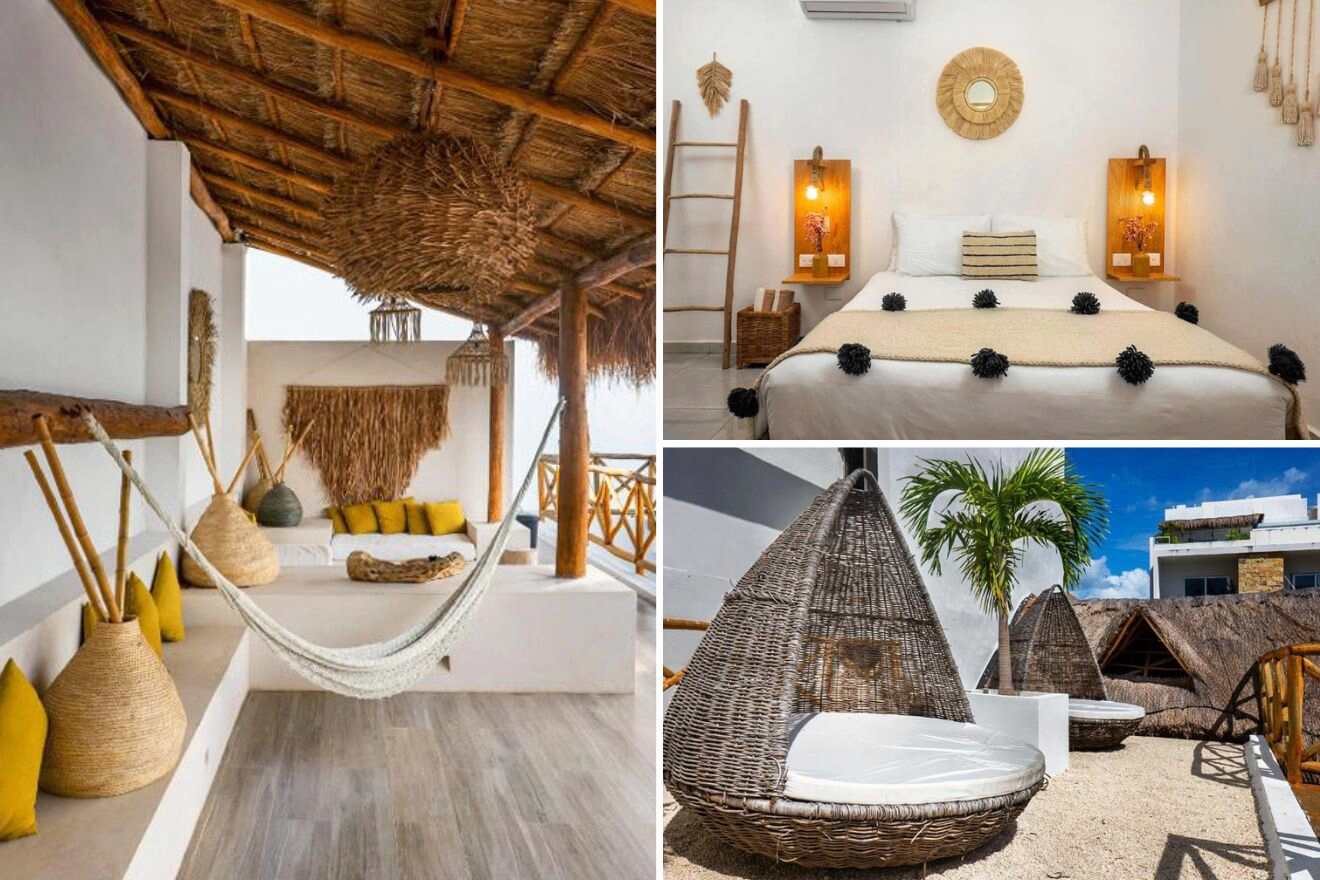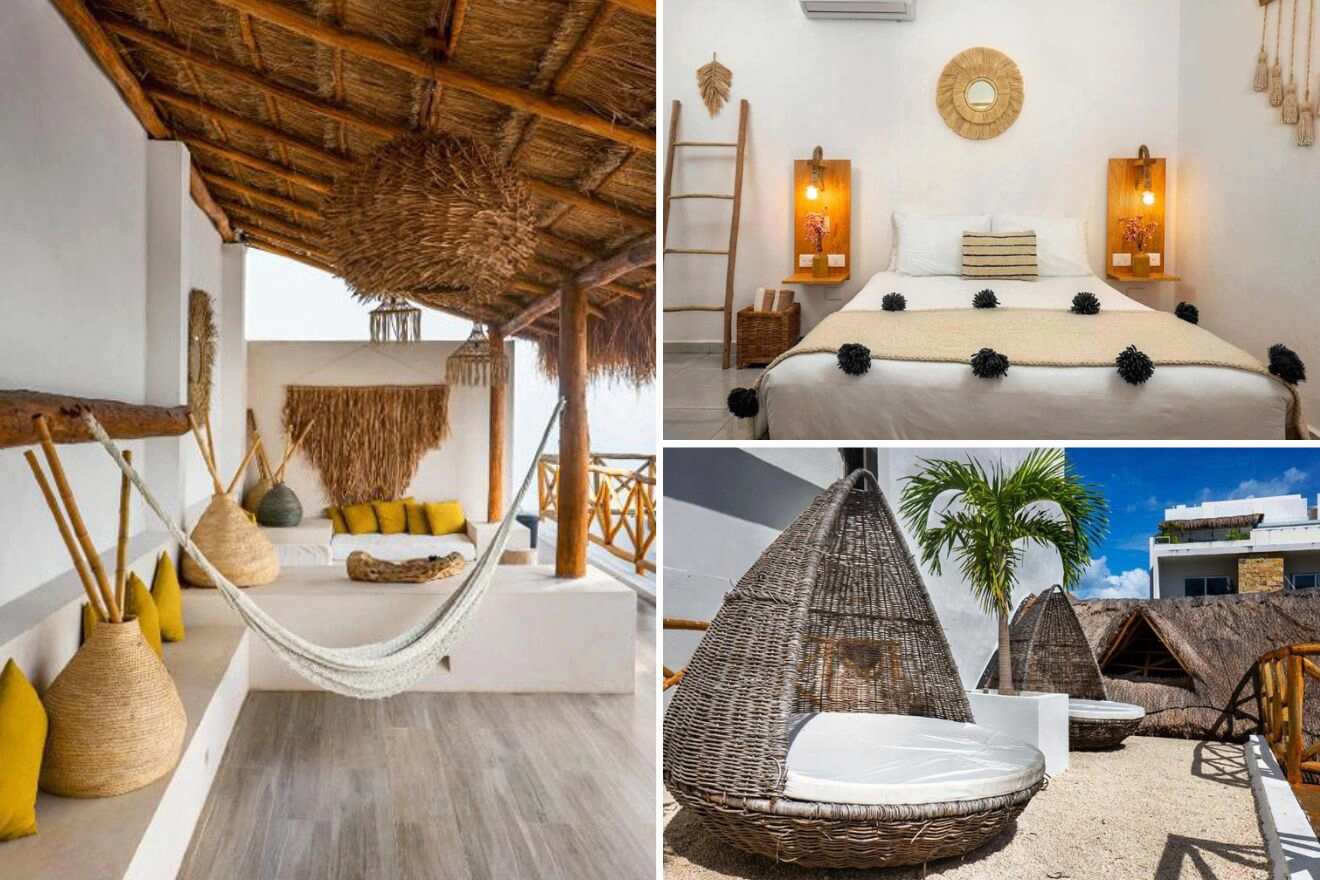 What a cute and crafty hotel! It is located by the beachfront, which means you will have a soft white sandy beach just steps away to relax under the sun and jump into the deep blue Caribbean ocean! I recommend using their bicycle rental service and going explore the area the hotel is located in, just minutes away from Playa del Carmen downtown and Playa del Carmen's beach.
The hotel's decoration is just lovely, with many natural elements in the furniture and decorations, for example, the thatched roof terraces and wicker chairs and tables, but with all the modern amenities you need for a perfect cozy stay! All the studios can host a maximum of 2 guests, and they all come with a private kitchenette and a private terrace.
9. Casarte Boutique Hotel – for an artsy vacation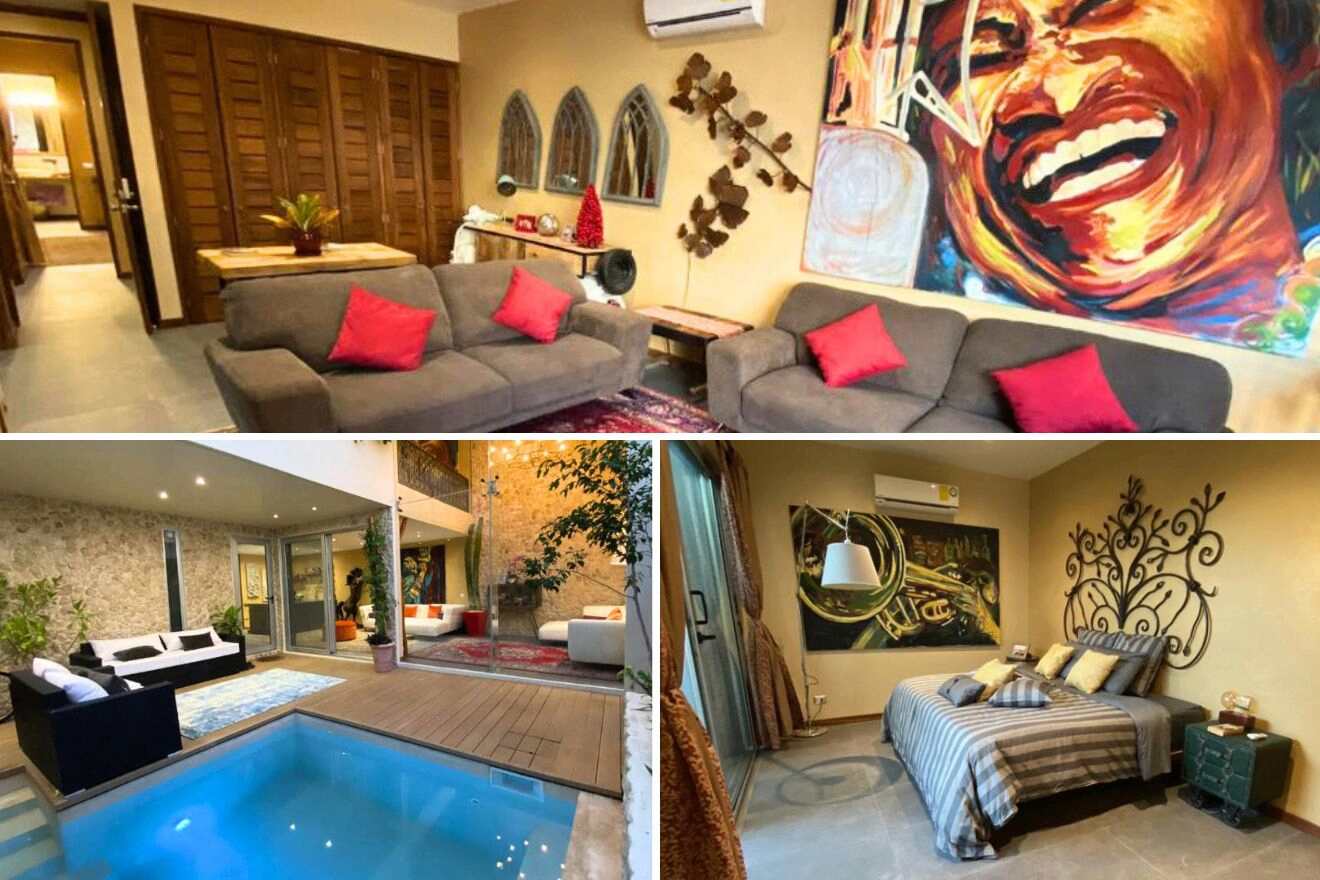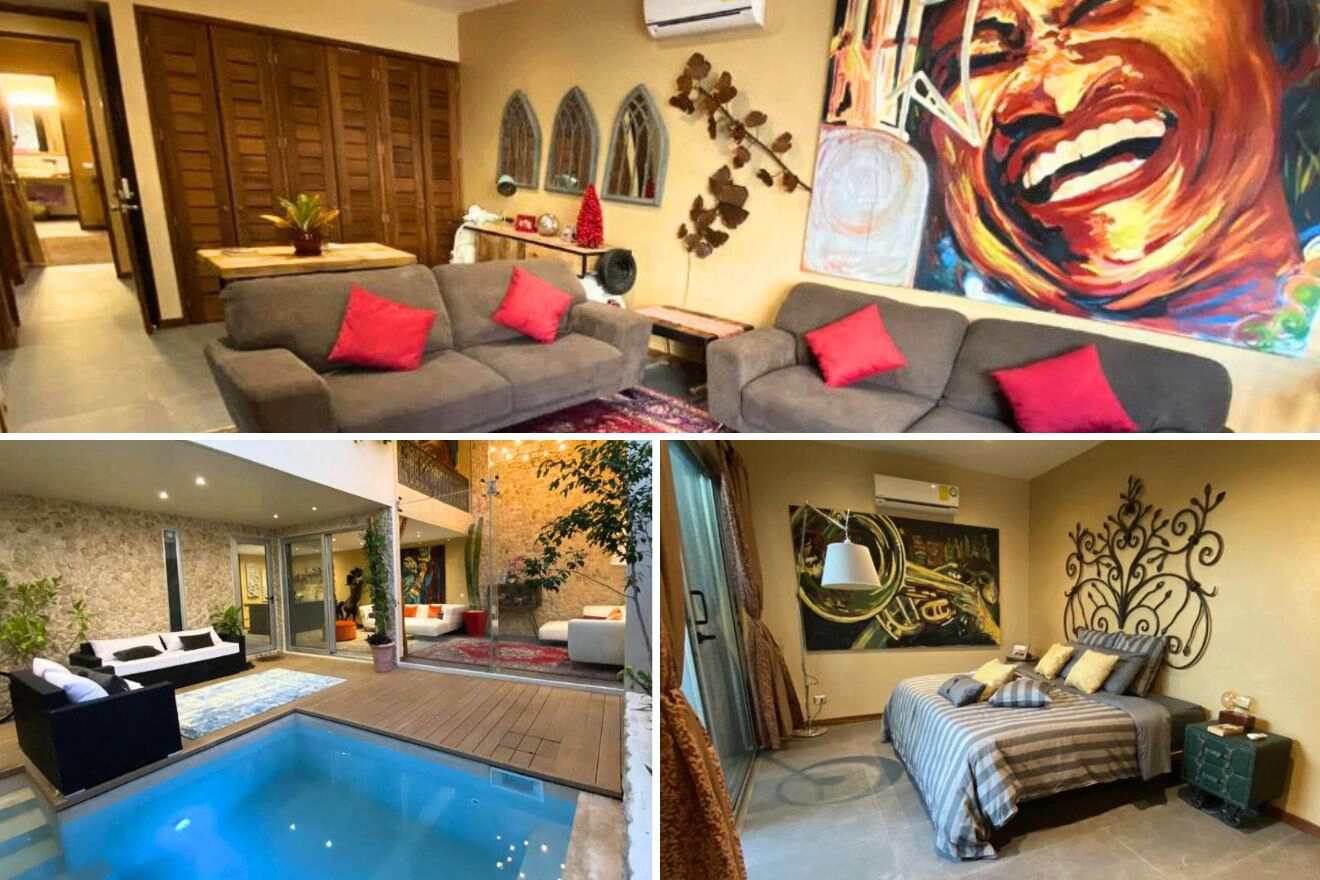 Wow! This is a fantastic unique hotel! Perfect for all of those looking for something different and standing out from the rest, with amazing art pieces on almost every wall, and different theme colors in every single room, this hotel will make you feel like you are staying at a modern art museum! This hotel features a terrace and an outdoor swimming pool to freshen up before heading out to downtown Playa del Carmen or Playa del Carmen Beach.
There is a tennis court off-site, which you can use for an extra fee, so if you are interested, you can hire this service at the 24-hour front desk! All the rooms come with amazing style and decorations; the 2-bedroom suite is the biggest room they offer and can host 4 guests!
10. Newport House Playa – a piece of paradise!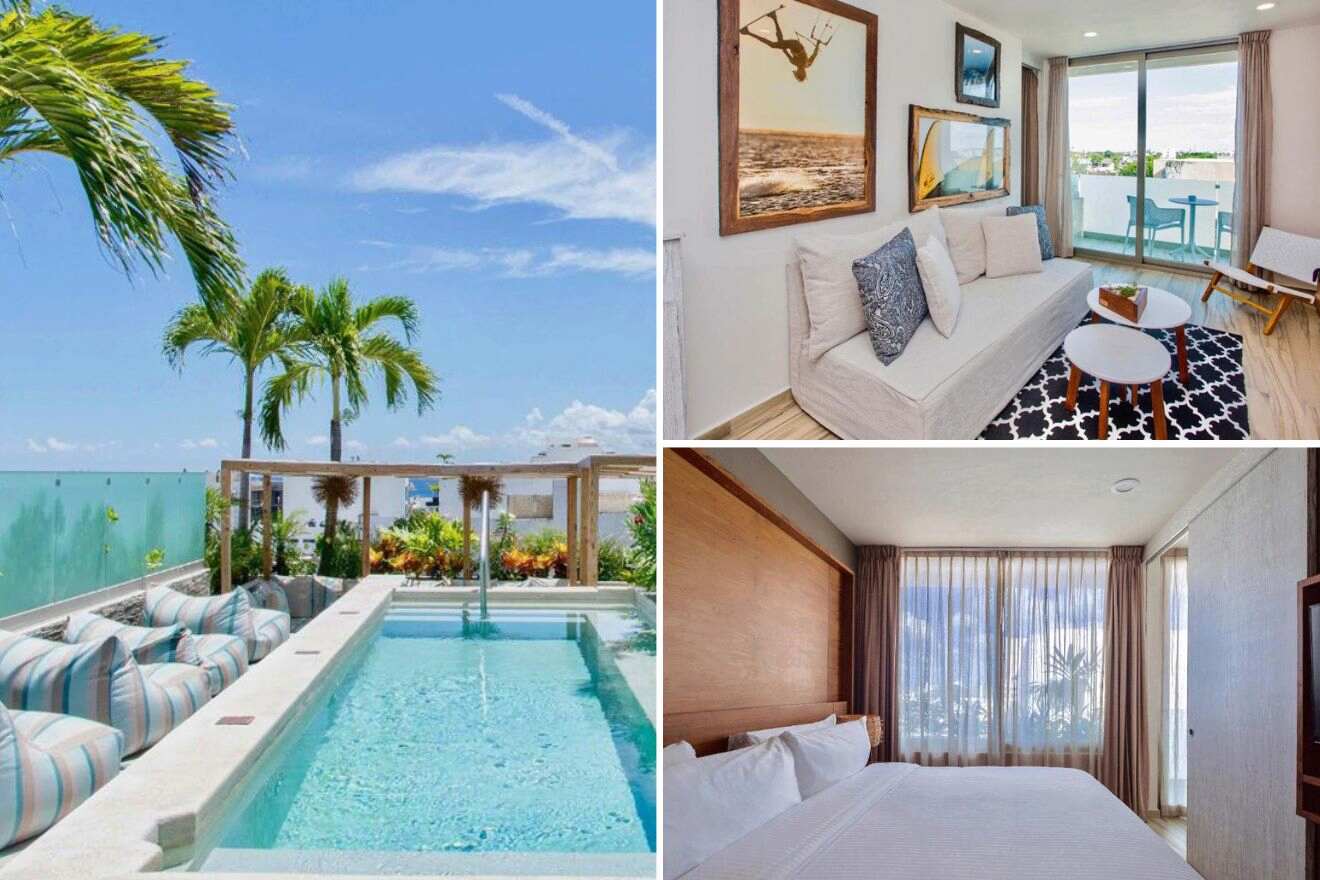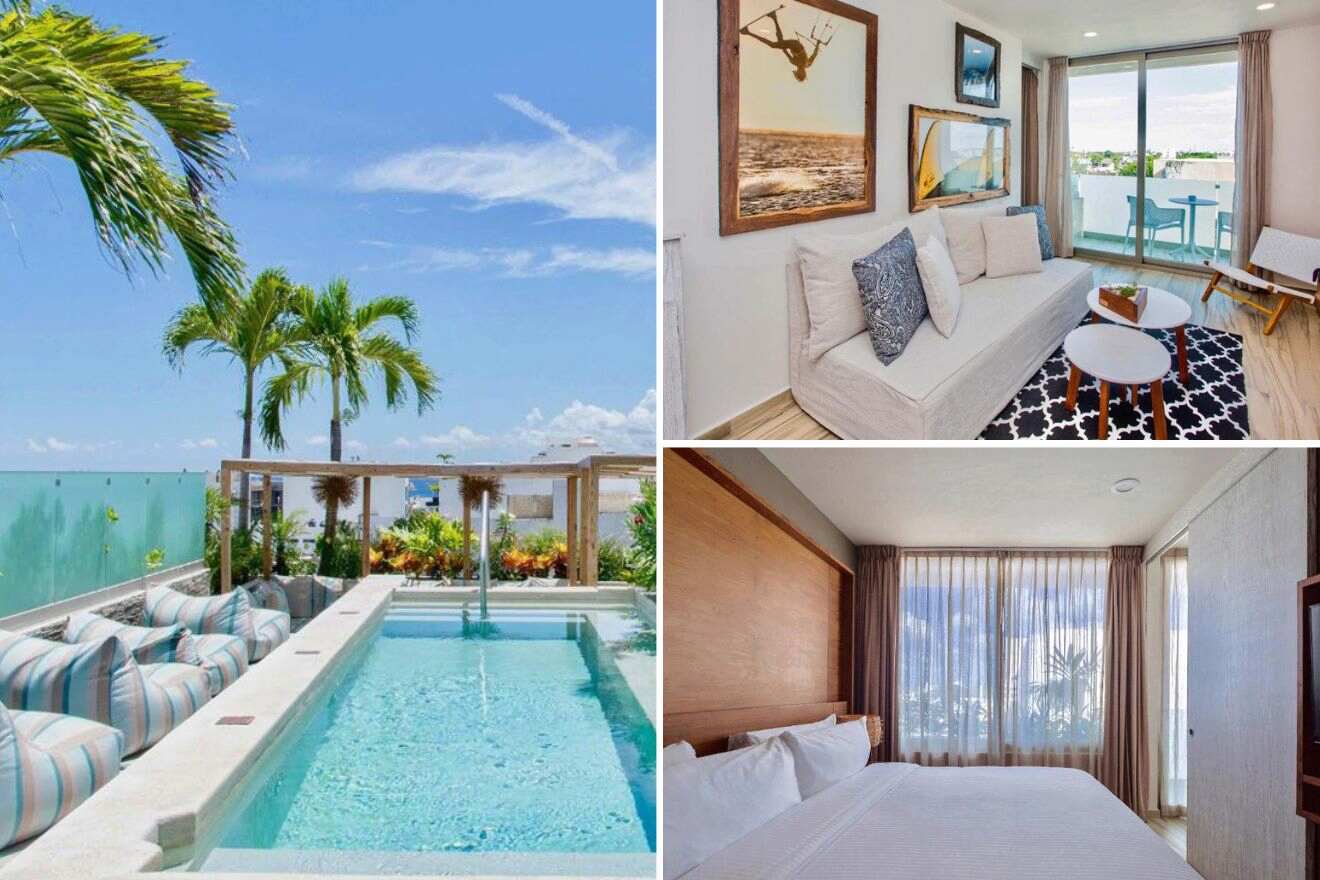 I am in awe! This hotel has amazing amenities that will help all guests create memorable experiences during their time in Playa del Carmen. The rooftop terrace is the perfect place to soak in the sun and relax while you watch all your worries fade away as you jump into the refreshing pool and sip on a fruity drink! The hotel's amazing location is perfect for those who are city lovers and love to walk around as much as lying on the sand!
All the rooms have a kitchenette or fully equipped kitchen, which is more than useful if you want to take it easy in the morning and prepare a nice breakfast before stepping out of the hotel. If you are traveling with a big group, I recommend their Newport Luxe Suite!
11. Acanto Hotel Playa del Carmen – for a cozy feel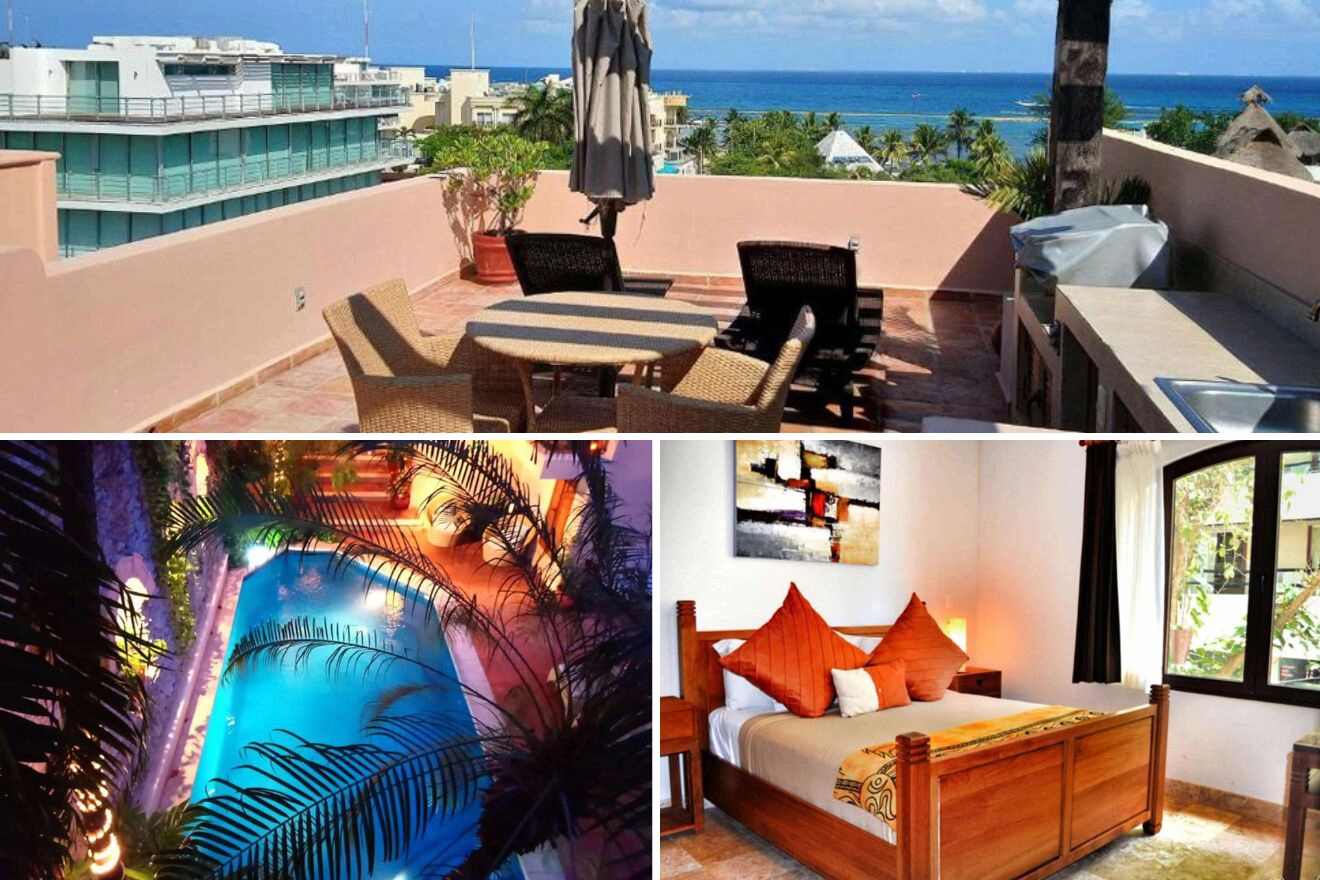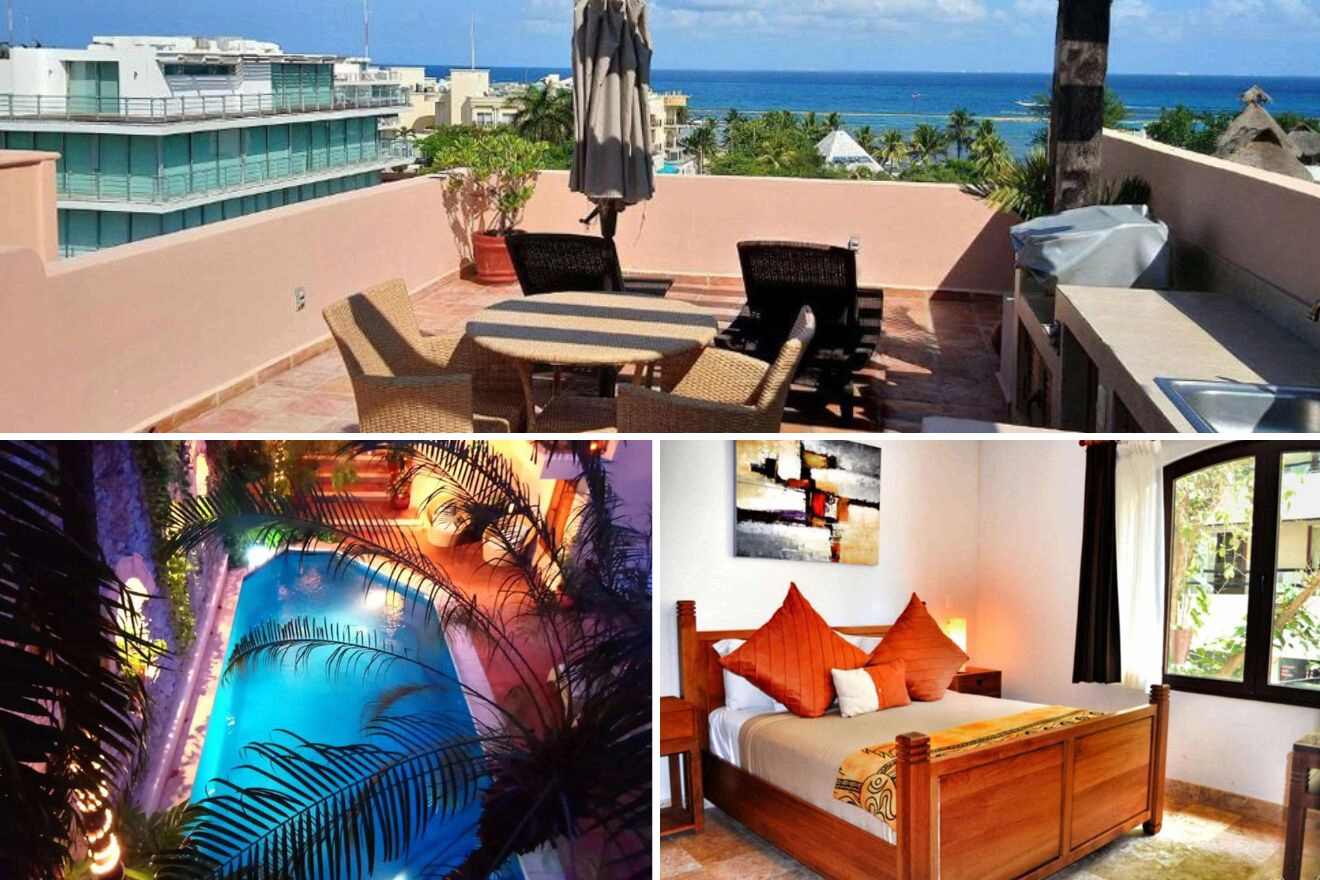 I love it when hotels have this amazing mix of cozy, homey feel and traditional decor elements! Everyone staying at this hotel will feel like a local! This hotel features a swimming pool which is more than ideal if you are gonna spend some time there in the summertime, and if you prefer sunbathing on a beach, you can find one just a few minutes away from the hotel.
The hotel's staff will make you feel pampered and taken care of with its 24-hour front desk service, spa, and wellness center with treatments, complimentary breakfast, and room service to indulge in from the comfort of your room. This property offers pool views from the rooms, and some of these rooms can host 2 guests and some 6 guests.
12. Hotel La Semilla – beautiful in every way!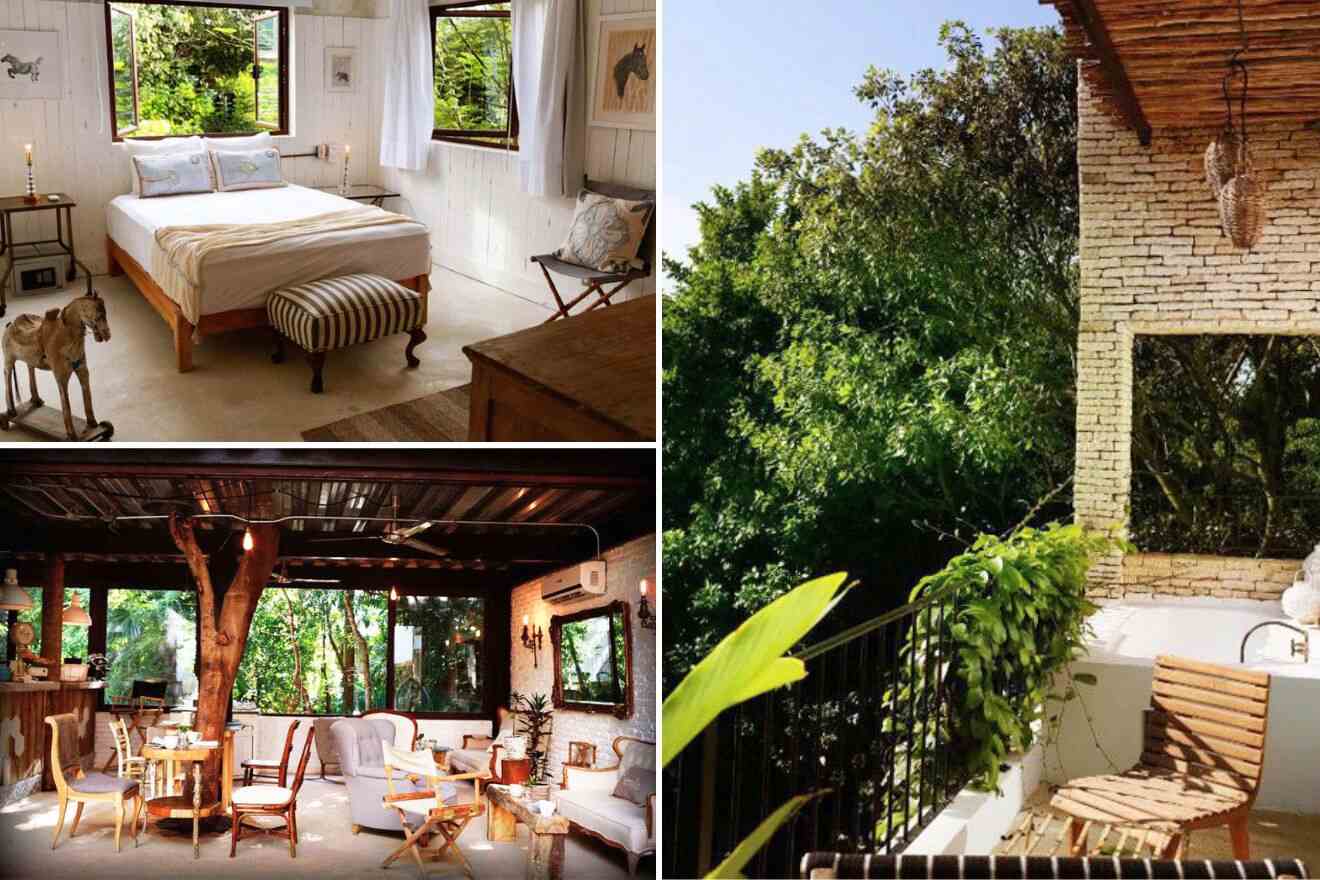 Oh wow, this is what I am talking about! I have to say I am super obsessed with this type of decor, the hotel is located in the middle of downtown Playa del Carmen, but the hotel's interior will make you feel like you are in the middle of a lush tropical garden! The perfect paradise in the middle of the city! And there's more – the beach is just a stone's throw away! All guests can enjoy a complimentary breakfast at the hotel.
The room's decor is a complete delight, with carved wooden furniture and a mix of brown, cream, and green color filling the space; super minimalistic and simply beautiful. All the rooms can host up to 2 guests, and I highly recommend staying at the suite with a terrace!
13. Hotel Lunata – for a traditional Mexican vacay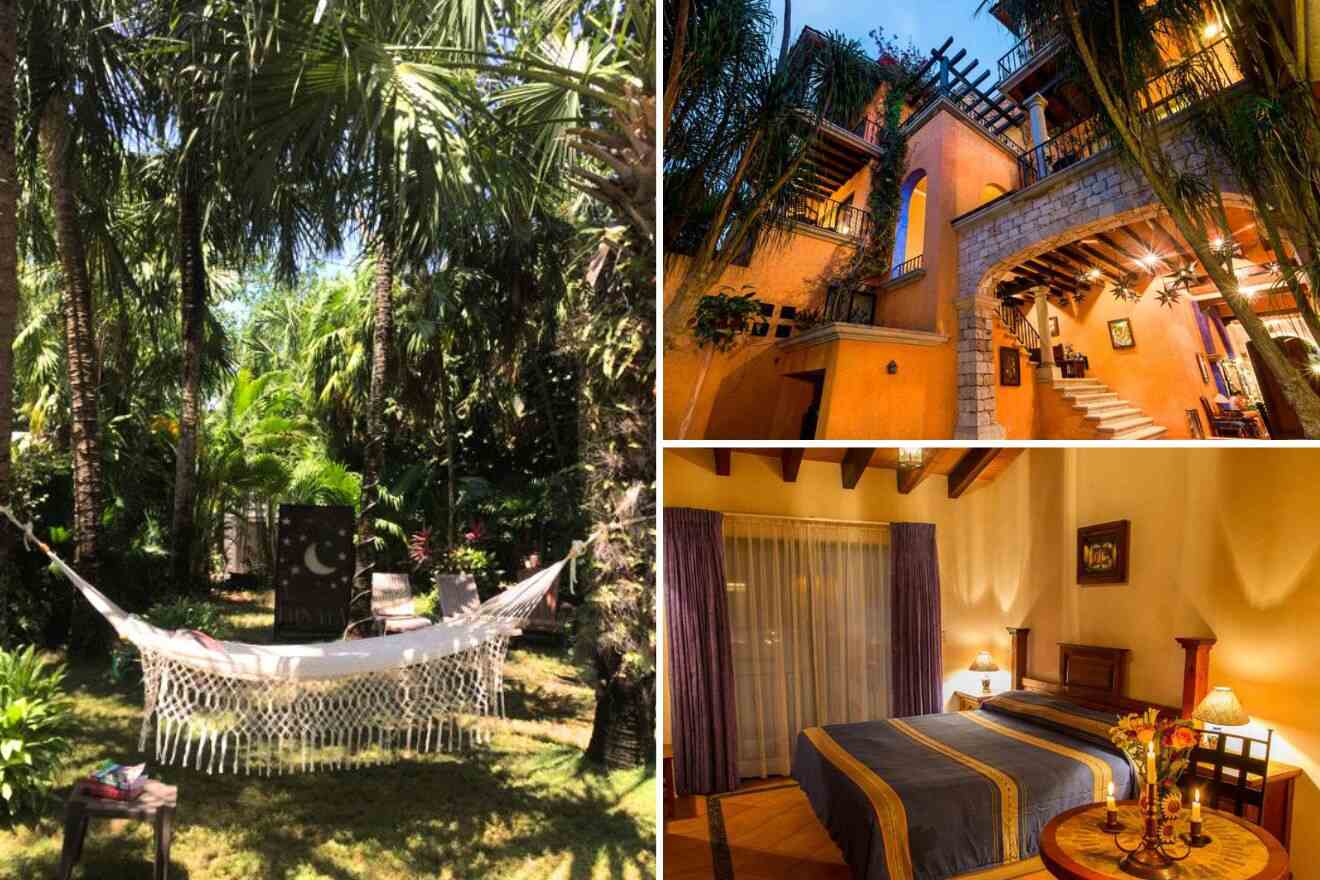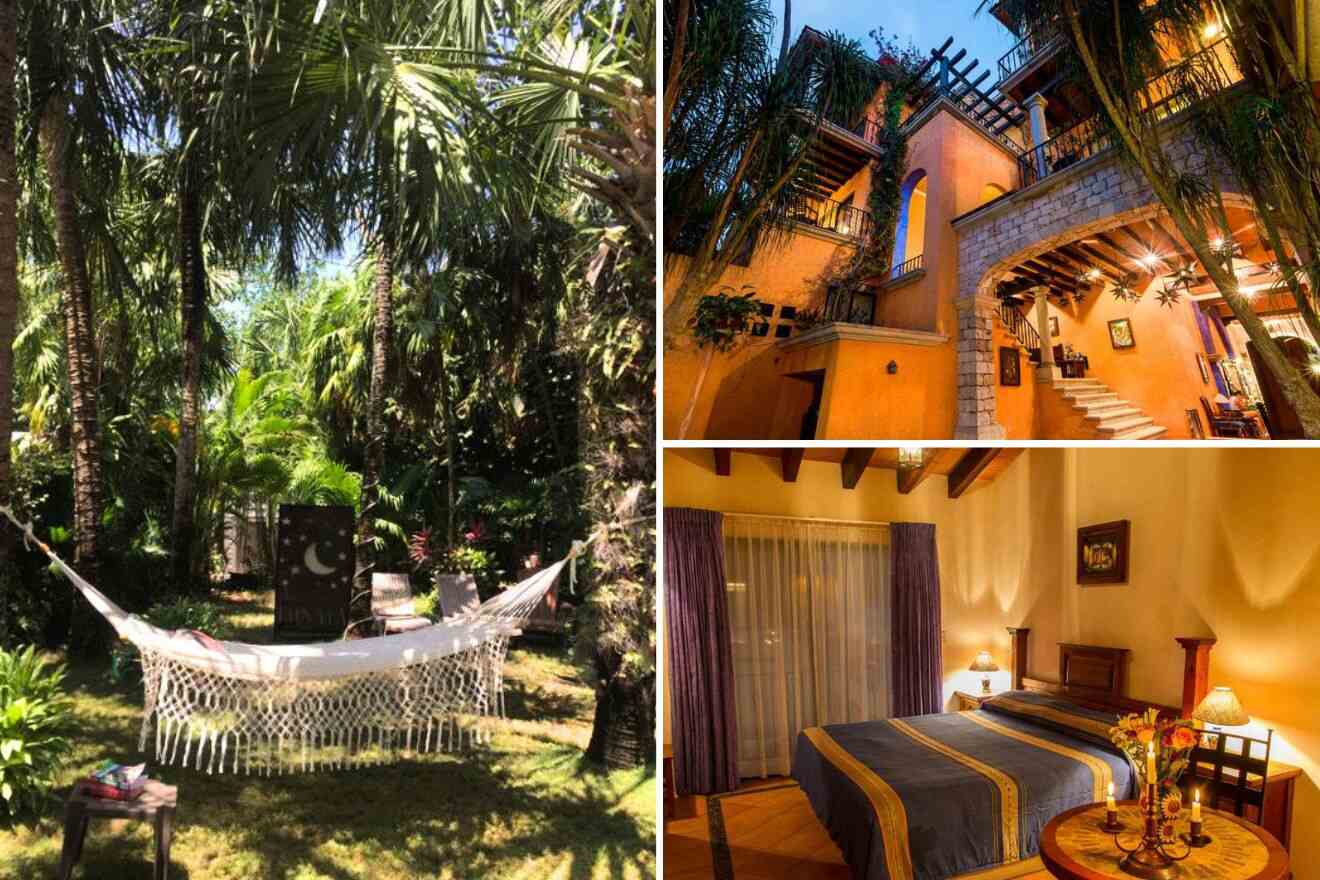 I love it! This hotel is super cute! It has an amazing traditional style, with an amazing orange sun color on the hotel's walls and beautiful traditional Mexican decorations and paintings that will make you feel connected with the culture! There is a lovely garden in the hotel with furniture and a little thatched roof area with a wooden table and chairs; this area is perfect for relaxing after a walk in the city or having a meal after a swim in the ocean.
All the rooms come with a balcony, some of the balconies have a view of the city, and some of them have an internal garden; all the private bathrooms in all the rooms come with beautiful and colorful tiles on the walls and wooden vanities.
14. Balkon Boutique Hotel – year-round outdoor pool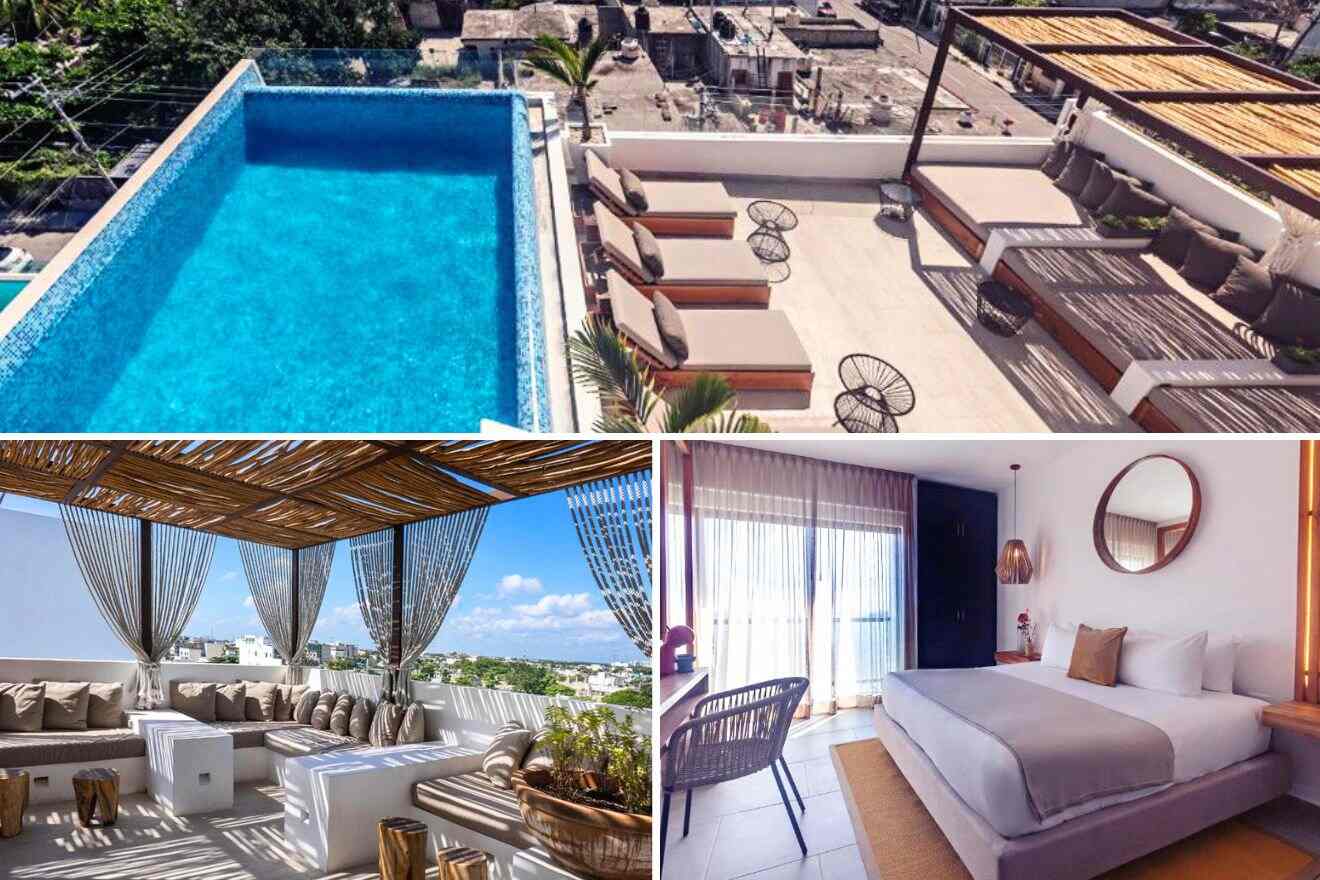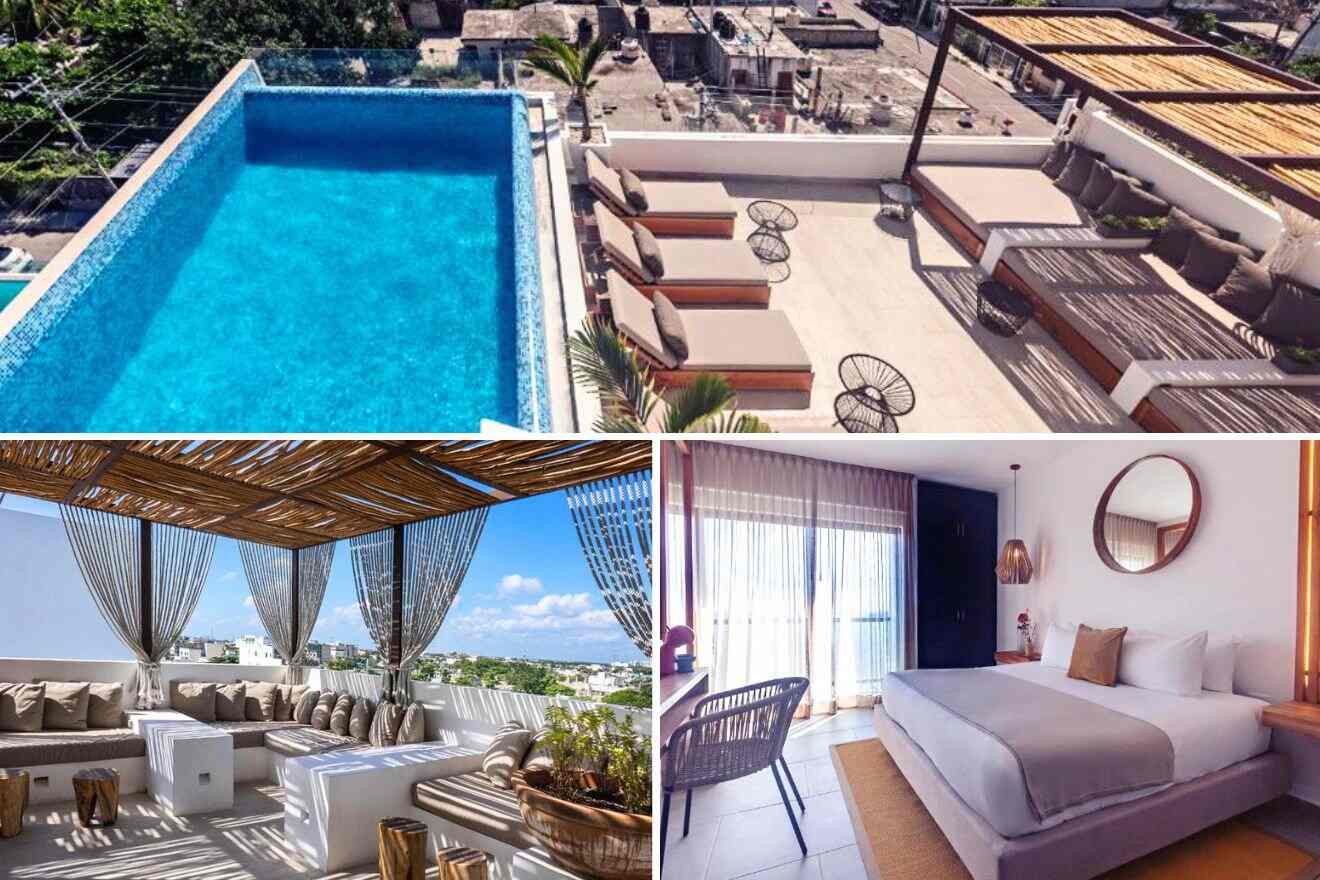 This Playa del Carmen hotel has the most incredible rooftop terrace, it has a lounge area and a swimming pool, perfect for relaxing in style and admiring panoramic views of the city and the Caribbean Ocean. The property features a tour desk in case you want to discover new places and a bicycle rental service so you can explore the city with the fresh Caribbean air on your face!
All the rooms come with all the amenities you could wish for a flat-screen TV with streaming services, a desk to organize your city tours, a minibar, and a coffee station, so you are always full of energy. I highly recommend the suite with a balcony for a lovely view of the city, the room includes bed linen and top-quality toiletries.
15. Terrasse Hotel Playa del Carmen – modern and convenient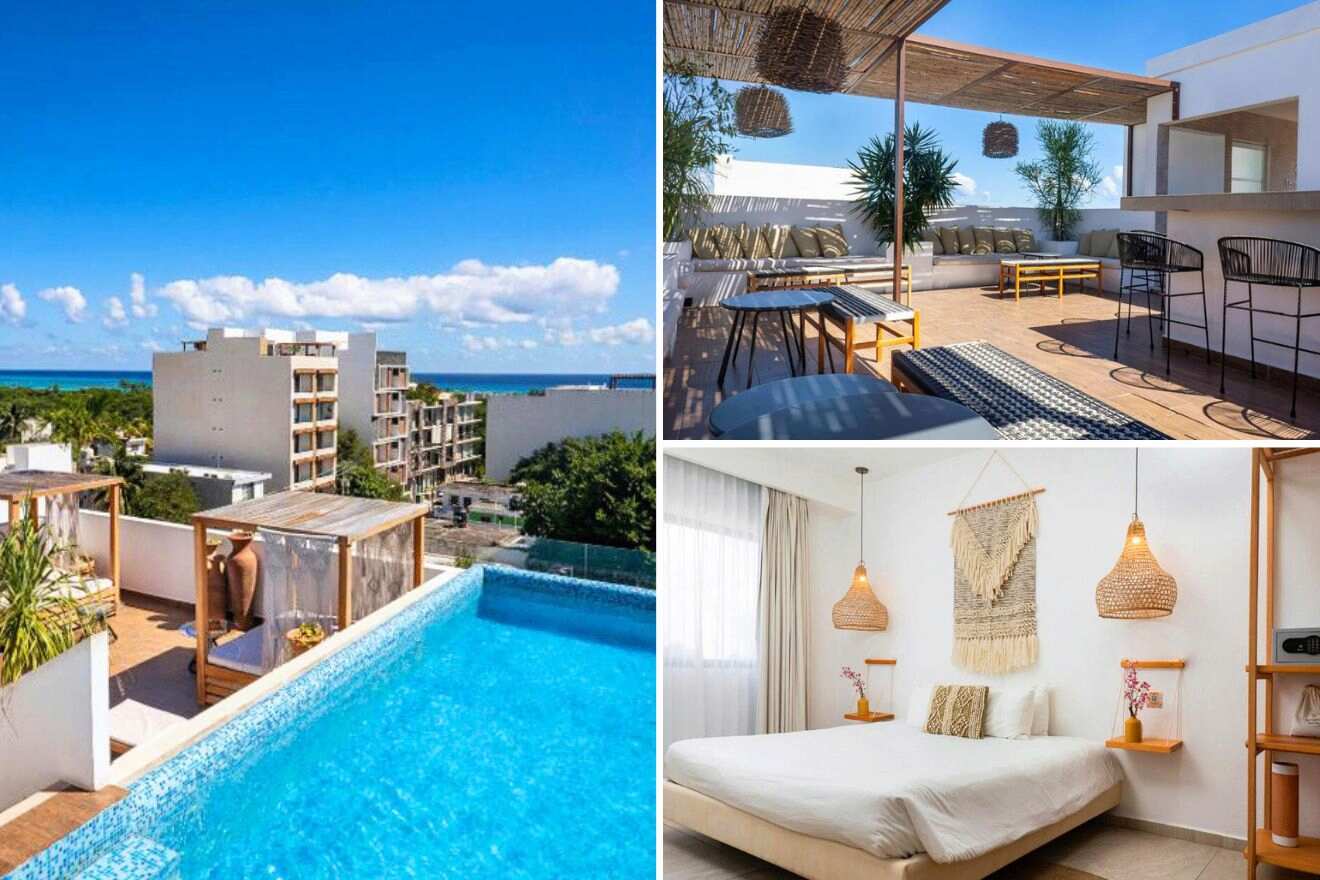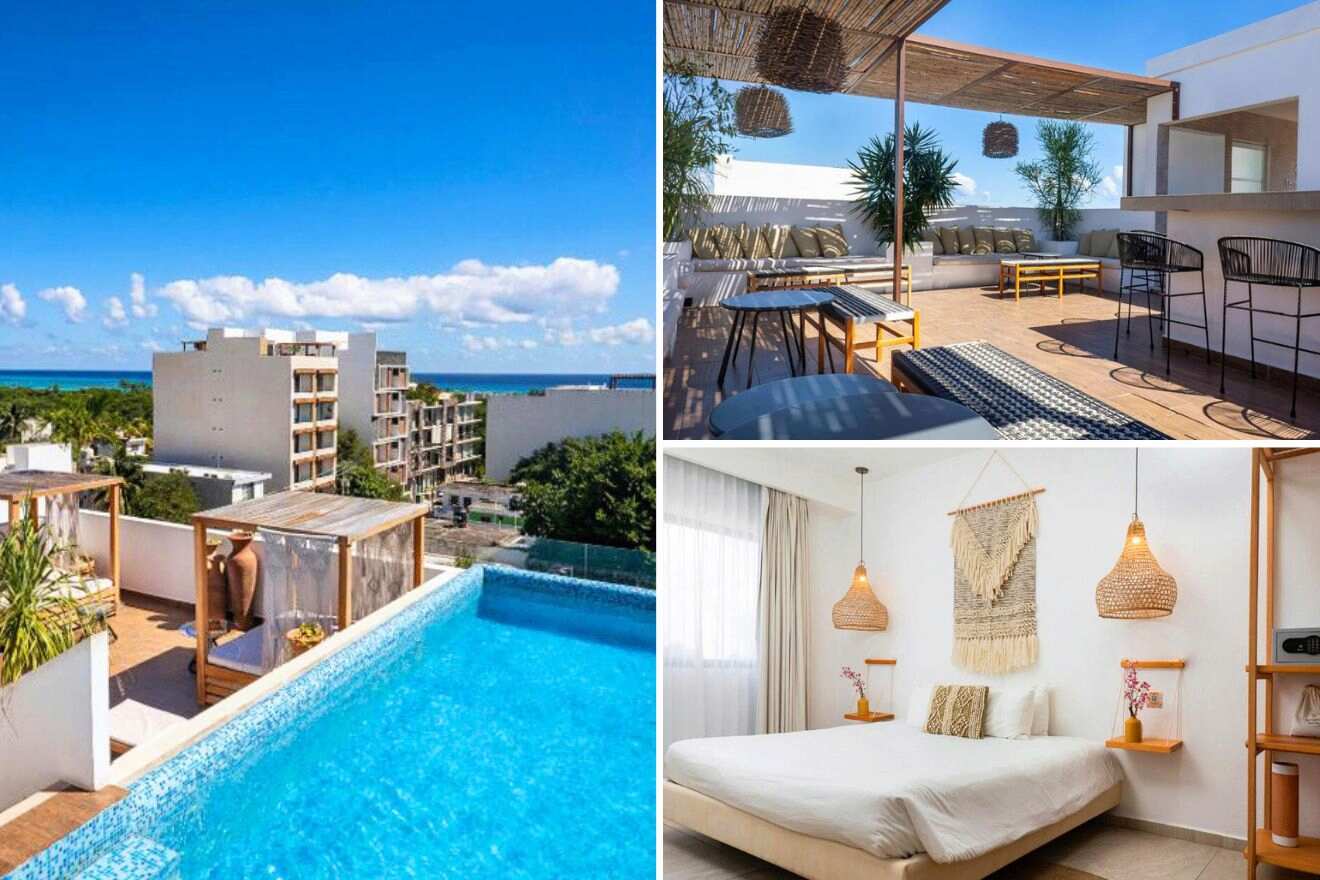 Oh me, oh my! This hotel looks super modern and fashionable, it is located near the city center and the beach, making it the perfect spot to indulge and discover local restaurants and taste amazing food, as well as enjoy the easy breeze on the beach! The hotel has its own onsite restaurant serving breakfast, lunch, and dinner. The rooftop terrace has a big swimming pool with views and cabanas to relax in after swimming!
This hotel features a Deluxe Double Room with Two Double Beds, which fits 4 guests perfectly, comes with a flat-screen TV with streaming services, and a private bathroom with shower. The rest of the rooms can accommodate 2 or 3 guests. The rooms at the Terrace Hotel come with nice views of the city.
16. Serenity Hotel Boutique – stylish and peaceful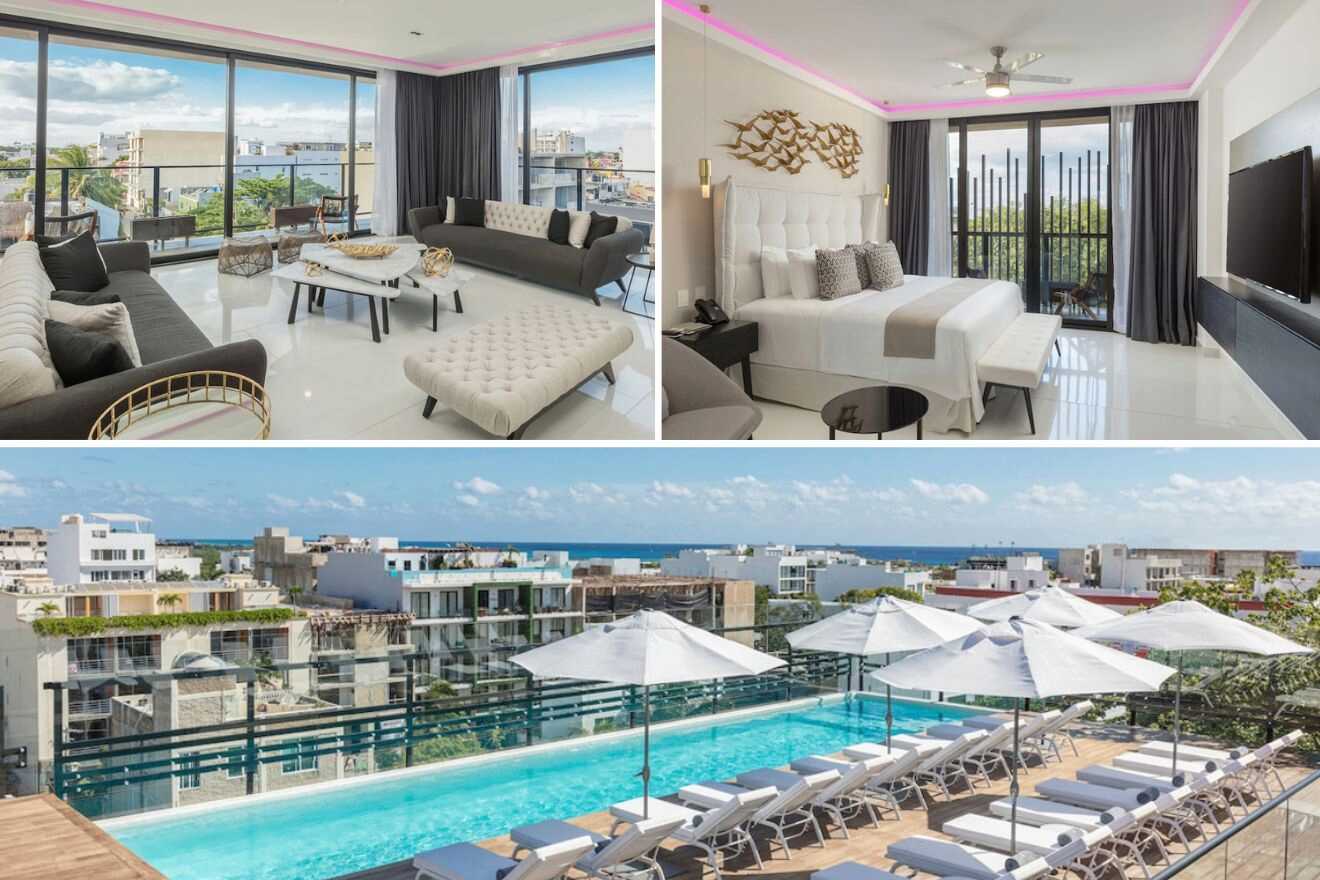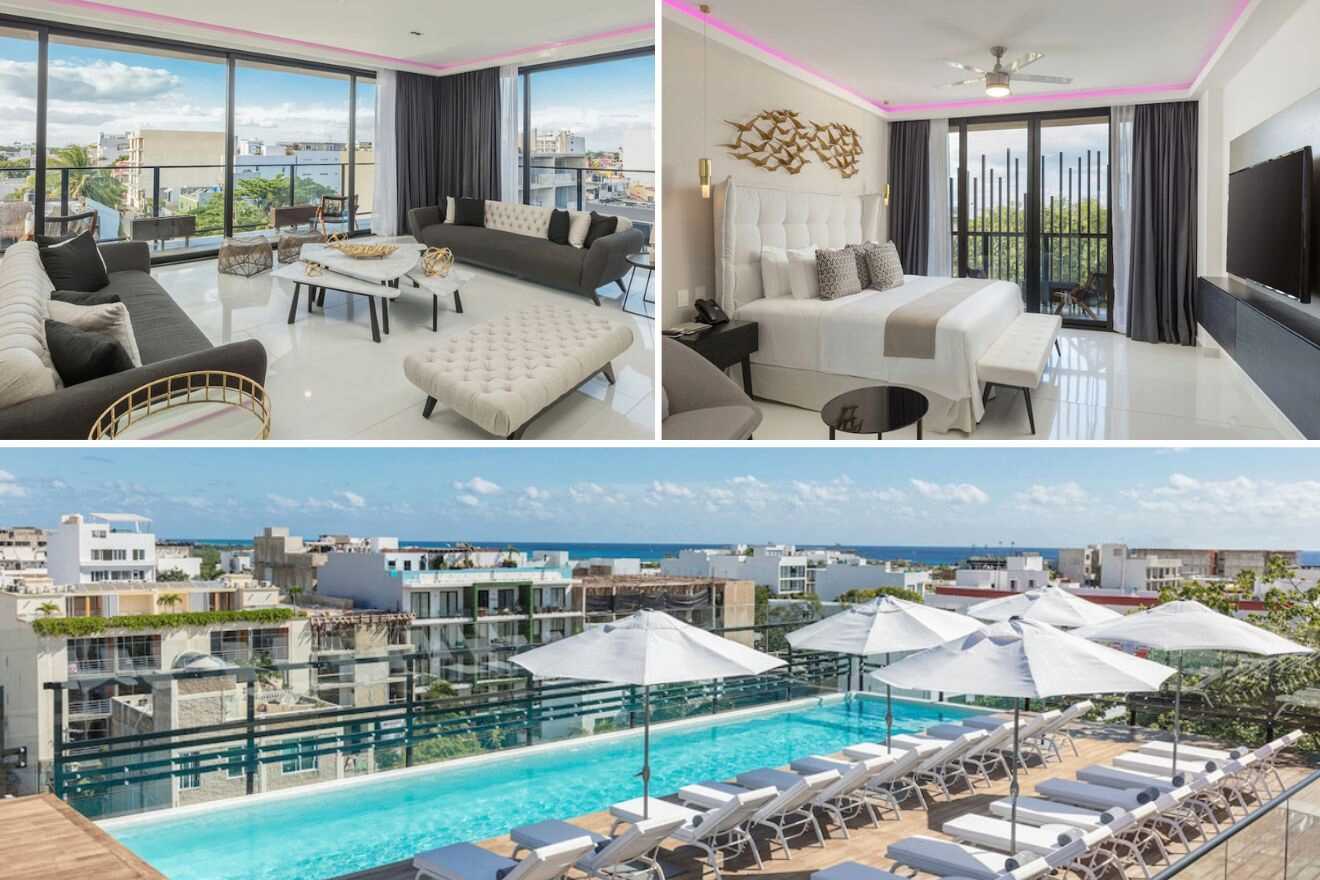 As the name of this boutique hotel suggests, this property is ideal for a rejuvenating and tranquil vacation! The hotel's decoration is super tasteful and minimalistic, everything looks fresh and beautiful. There is a rooftop terrace where guests can sit and relax, admiring the view, or they can jump into the pool and refresh during the Caribbean hot summers; there is a poolside bar, so whatever you choose to do, it can be sipping a yummy drink!
There is an amazing onsite restaurant in the hotel, which also serves a complimentary breakfast to the hotel's guests every morning. The hotel rooms are dazzling, the beds look so comfortable, perfect for watching a movie on the flat-screen TV, and the private bathrooms have beautiful marble vanities and gorgeous marble tiles.
17. Fabiola Condo Hotel – with a hot tub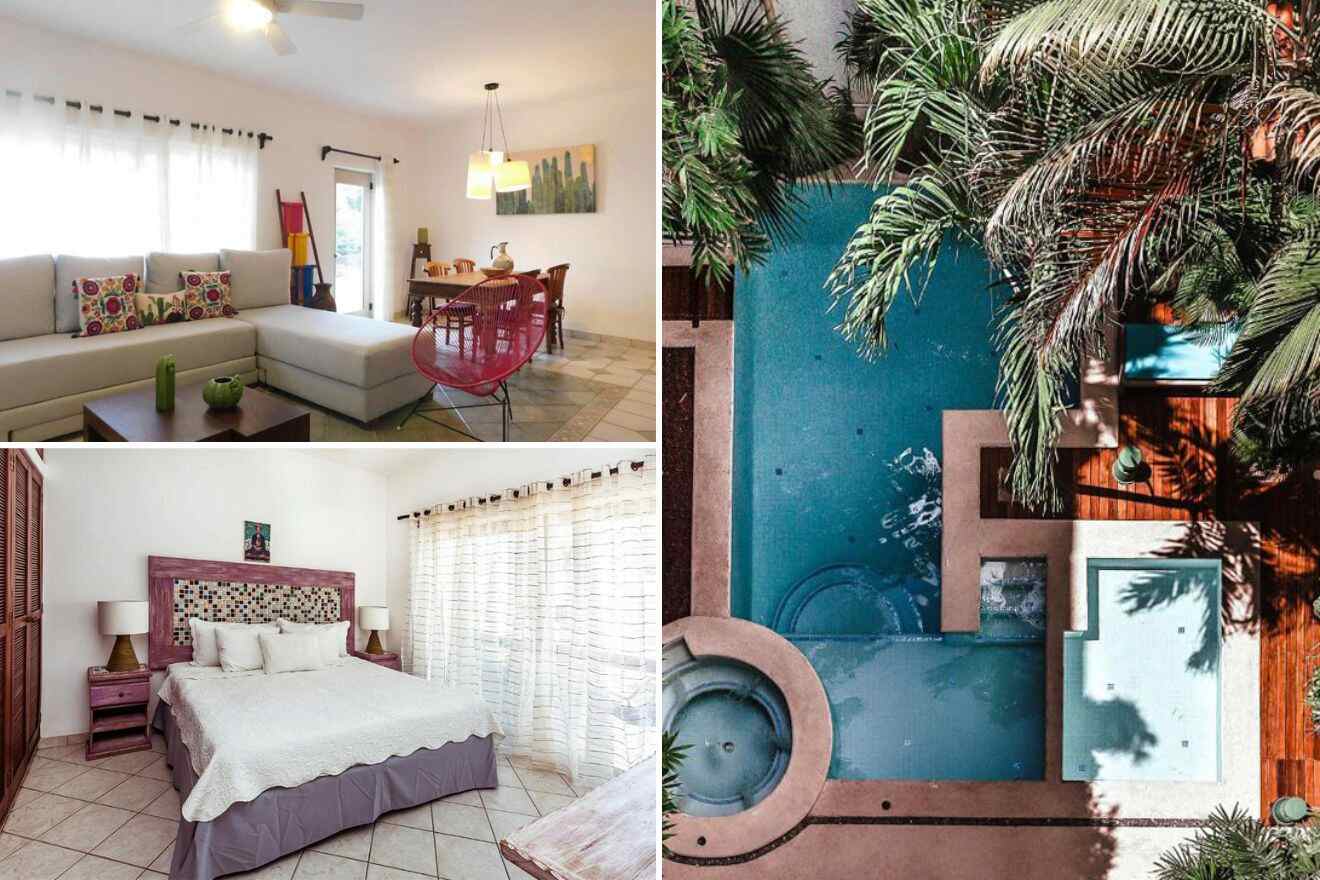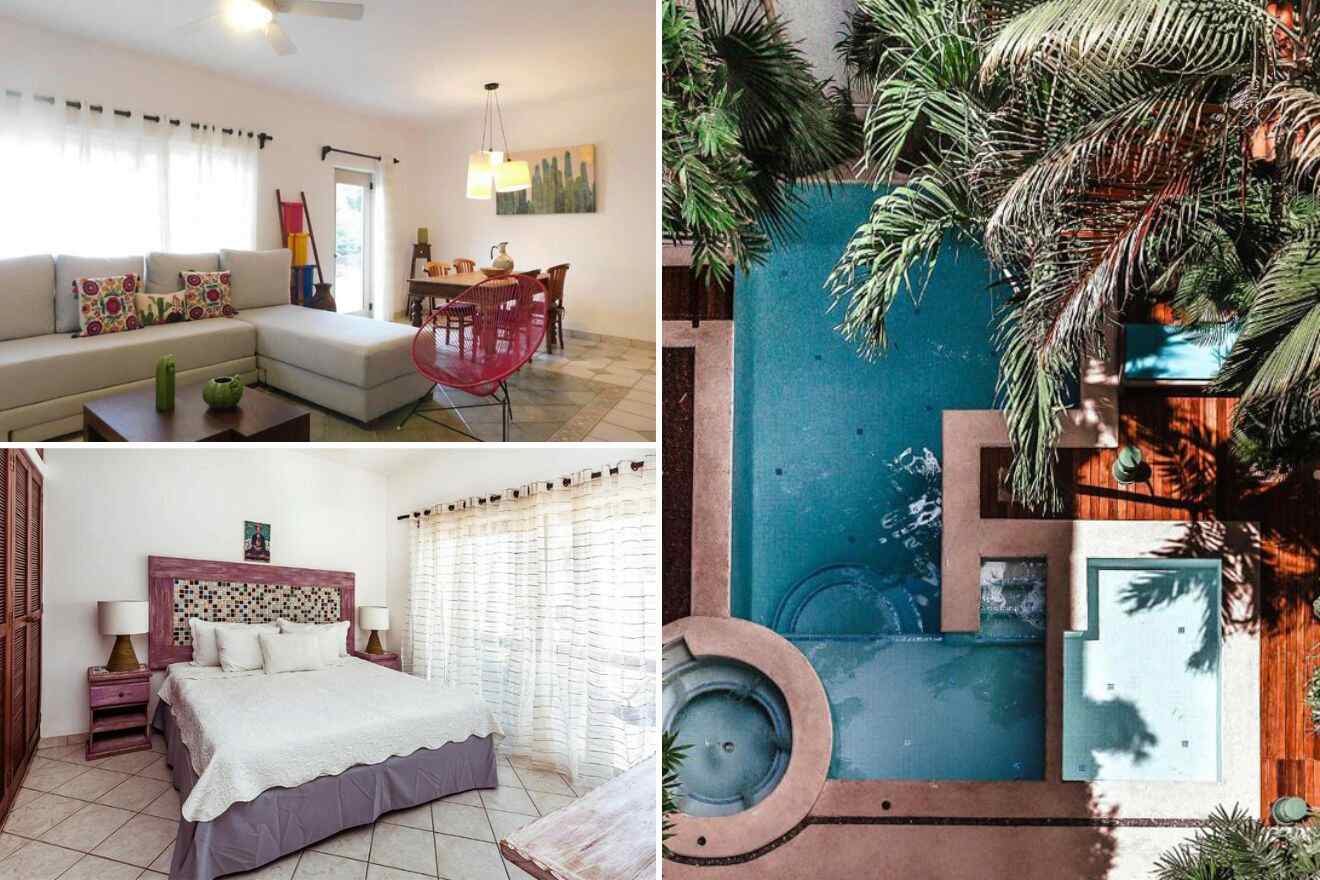 This hotel is definitely the best choice for all of those who want to feel like a local during their stay in the breathtaking Playa del Carmen. The location of this property is just unbeatable; located just next to the center of Playa del Carmen, where you can find restaurants and shops, and a few minutes away from Playacar Beach and its soft sand; El Camaleón golf club is just a 20-minute drive away in case you are a golf fan!
There is an amazing and spacious pool in the hotel's internal patio with a hot tub next to it and a dozen beautiful palm trees surrounding it! All the rooms come with stunning tile floors, hardwood furniture, and a cozy feeling that will make you feel at home!
18. La Pasion Colonial Hotel Boutique – elegant and simple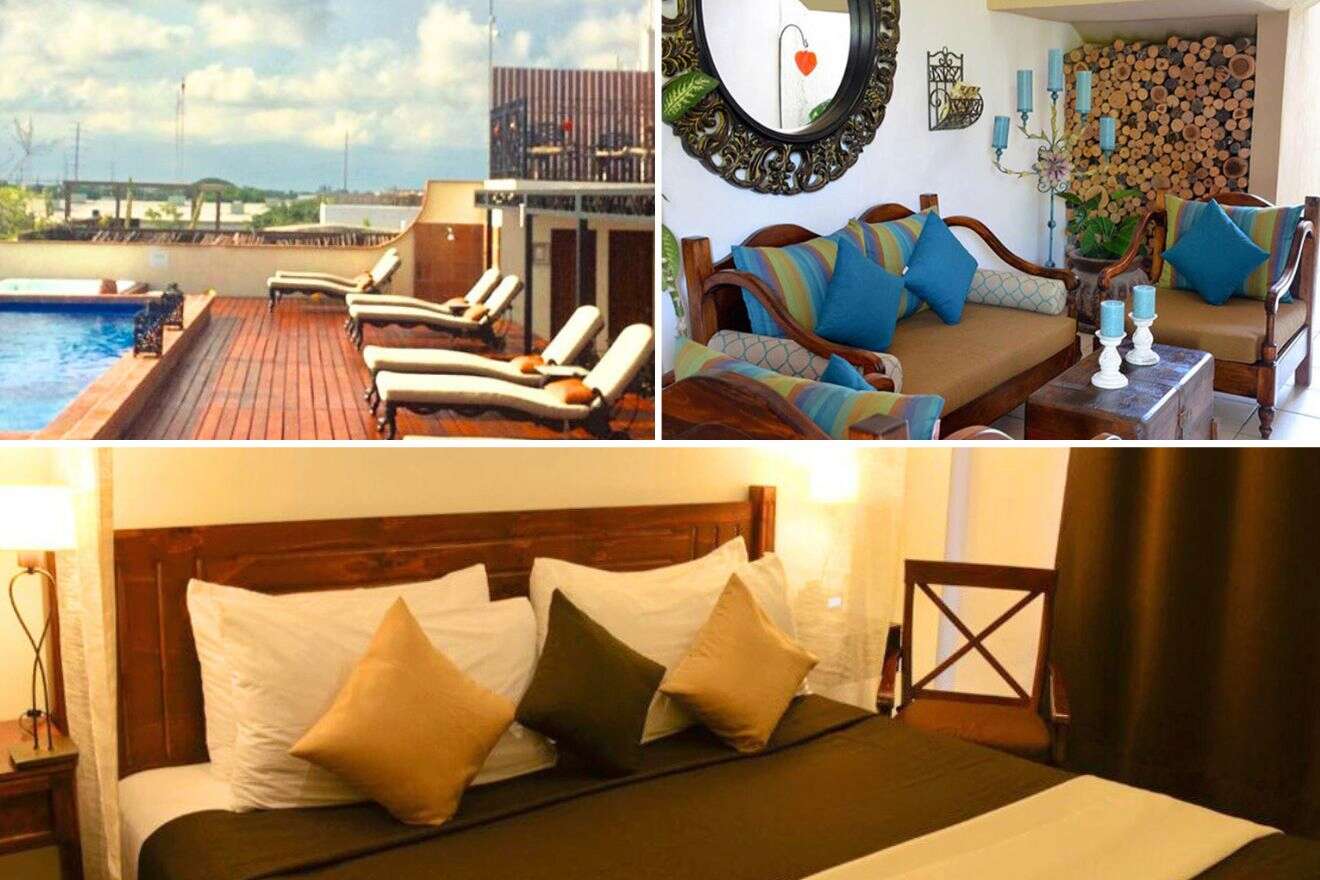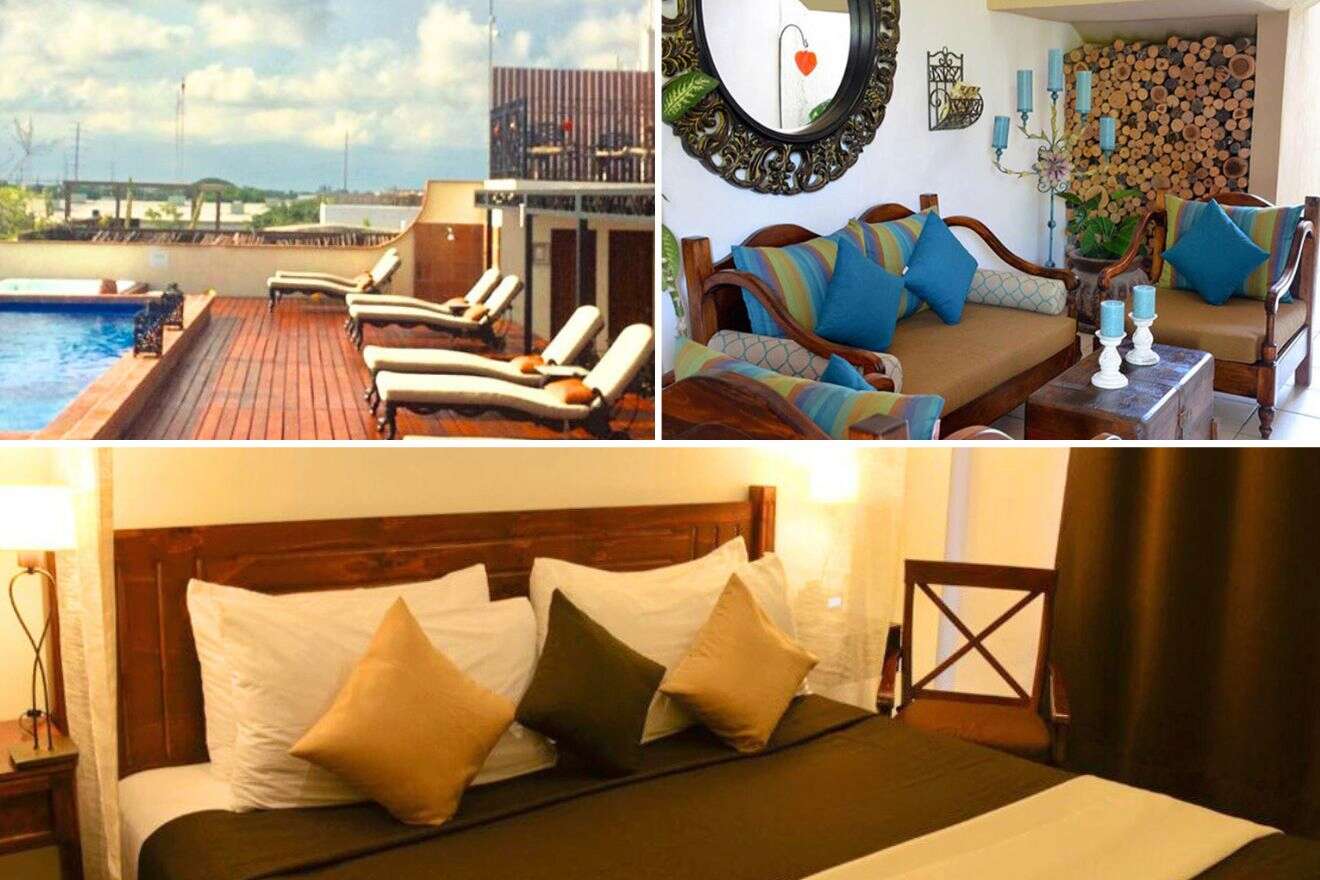 Incredible! This hotel's style will take you back in time with its amazing colonial-style architecture and tasteful decor; the mix of the architecture and decorations give a sense of elegance and vintage simplicity, which is just charming! The hotel is located in the vibrant downtown Playa del Carmen area to indulge in the different local restaurants and shops, as well as the beach just minutes away from the property.
I want to invite everyone to go to the hotel's rooftop terrace and take a swim in the amazing swimming pool and a second terrace with cabanas overseeing the pool and city. There is a hot tub and a bar on site to relax properly! All rooms can host a maximum of 2 guests, and some of them feature a bathtub.
19. Posada Mariposa Boutique Hotel – great location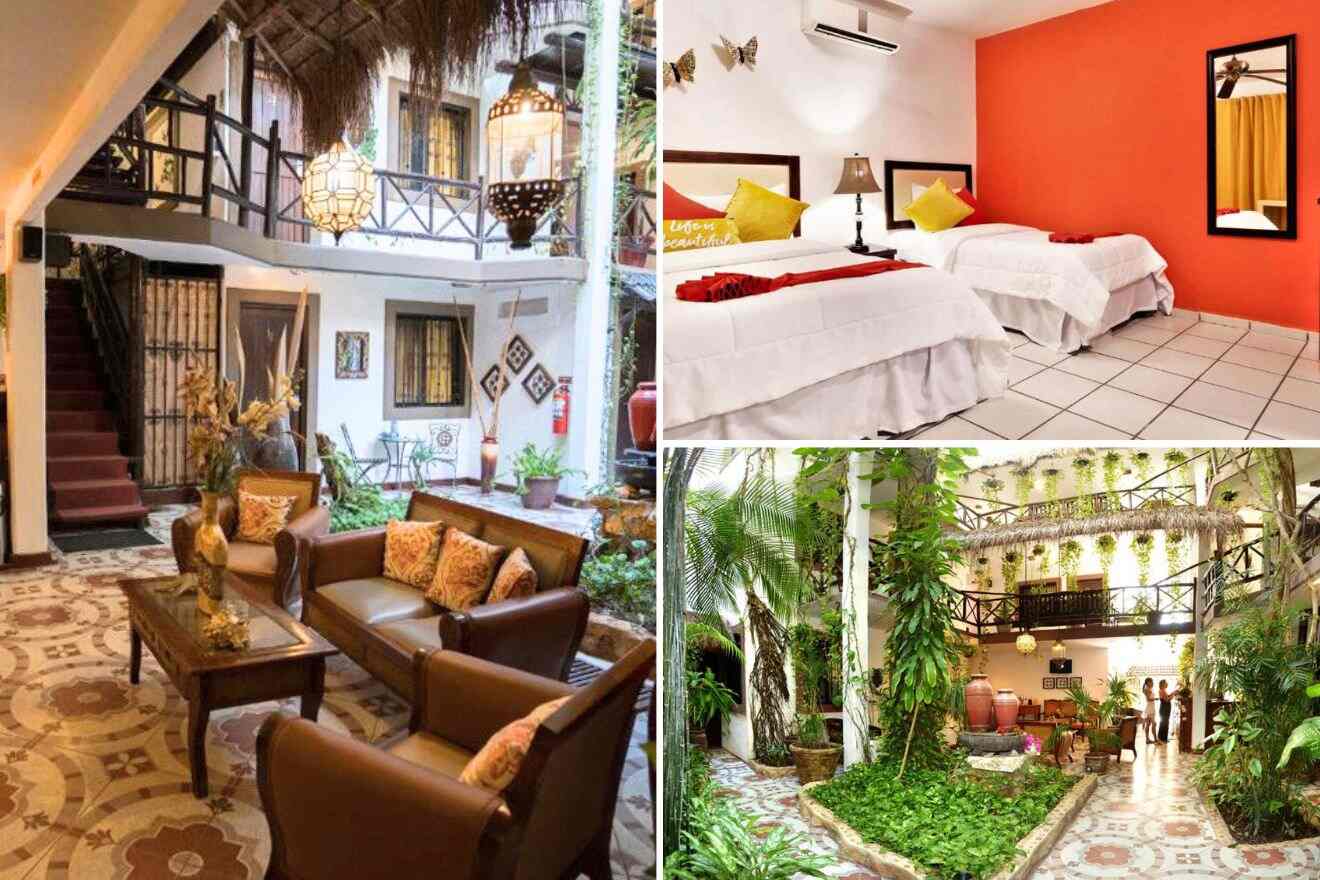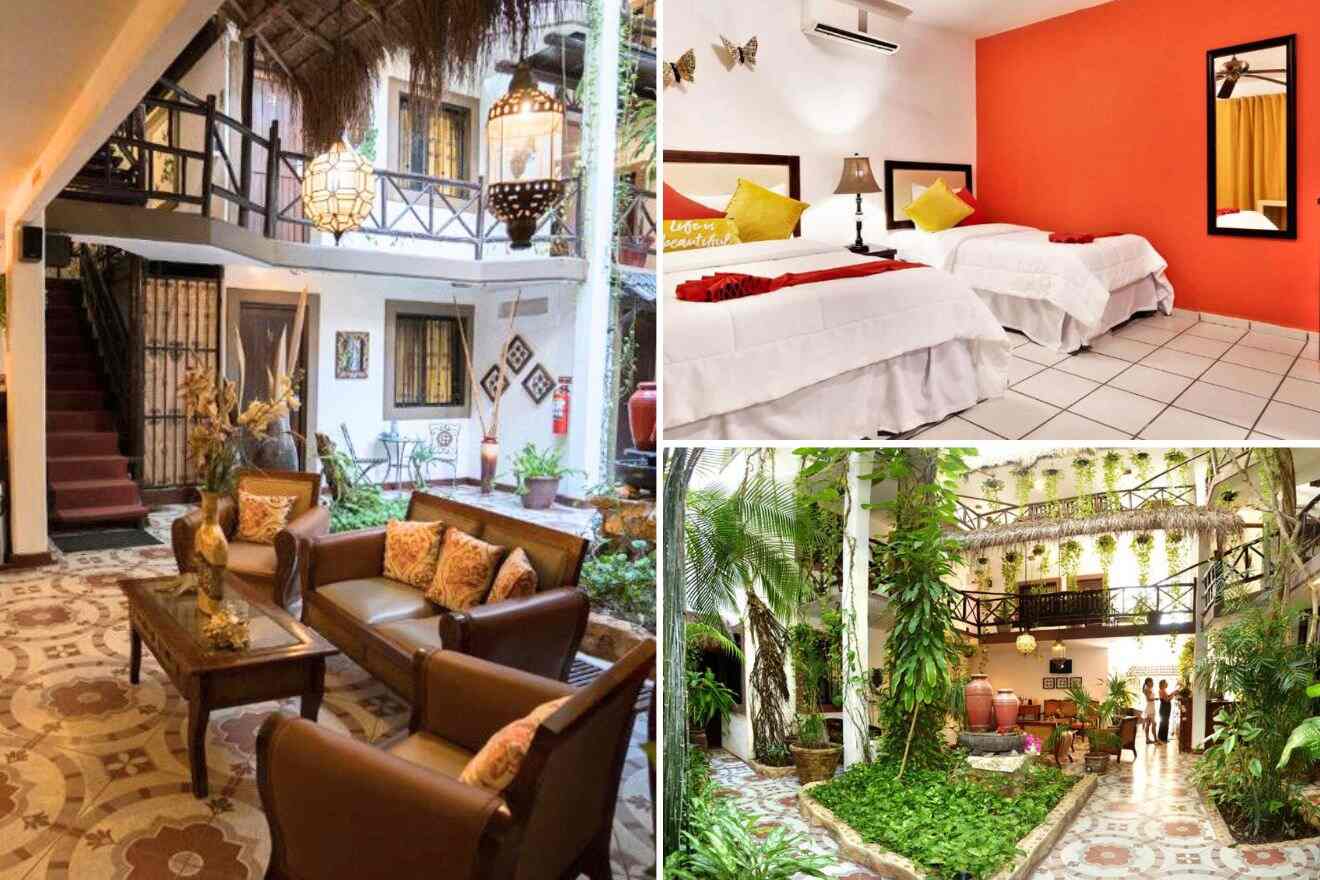 I love this hotel's design and decoration; it really gives that fresh Caribbean vibe, with all the natural elements integrated into the hotel. The internal garden, without a doubt, is one of the nicest things about the hotel; vintage furniture, designer tiles on the floors, and beautiful plants painting it all green making it the perfect place to relax after spending a busy day in Playa del Carmen!
The hotel has an onsite restaurant, and every morning they serve breakfast to all the guests staying in any of the rooms, the boulevard room is great for those traveling with families since it hosts 4 guests, and the Monarca suite is great for couples, the Monarca are the only rooms with a private rooftop terrace with a private jacuzzi.
20. Bed & Breakfast Casaejido – rustic and quiet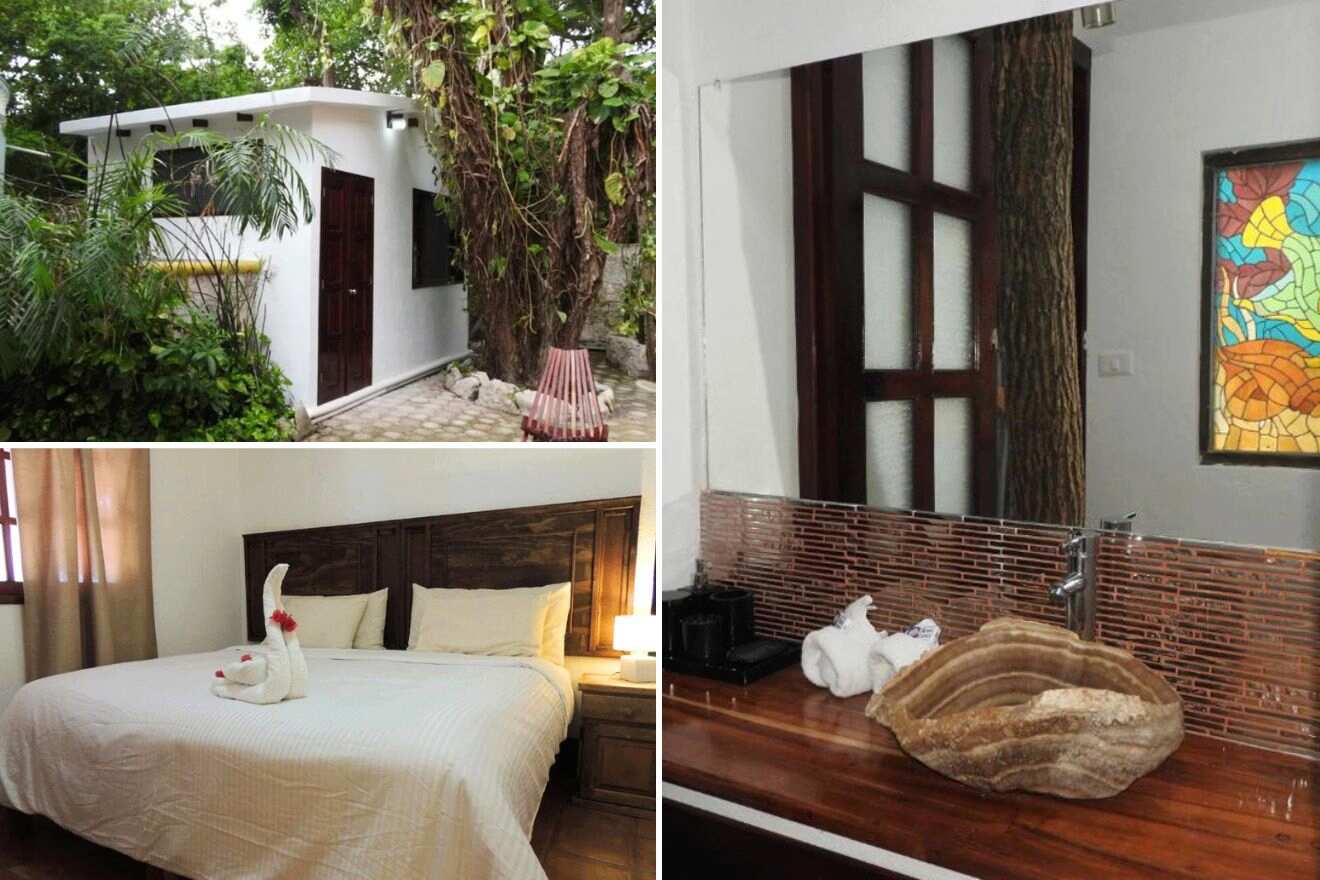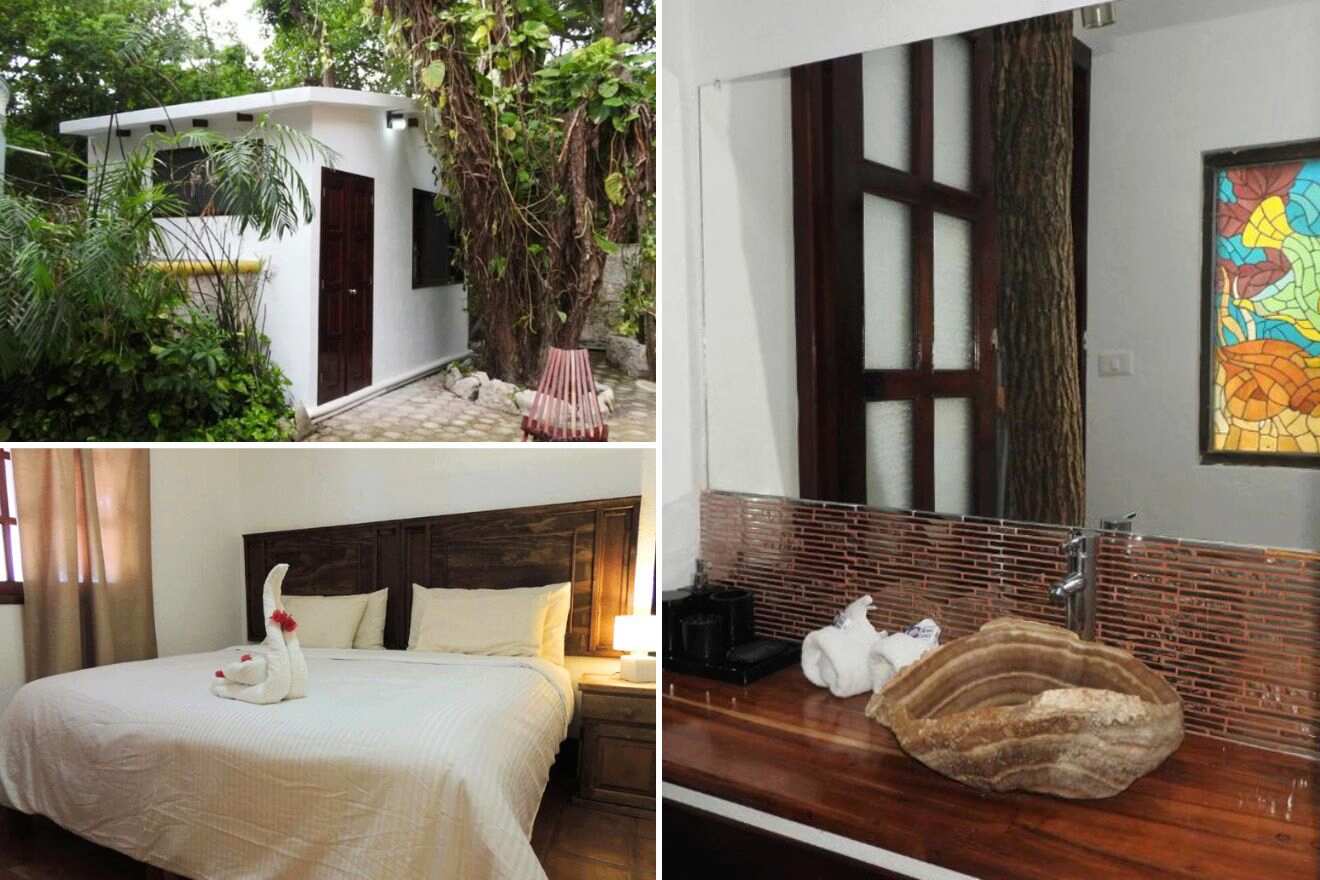 This charming little bed and breakfast is located in a residential area, which makes it great for all of those travelers who are light sleepers and want to stay in a calmer area but with Playa del Carmen's downtown and the beach just 20 minutes away. This bed and breakfast style has a lot of rustic elements, like thatched roofs, stone walls, and gorgeous hardwood floors!
The property has an outdoor pool which makes it perfect to relax and refresh onsite, it comes with a complimentary breakfast served on the hotel's terrace, which overlooks the pool and tropical garden. The family room is the biggest room, and it can host up to 5 guests; it comes with a private bathroom and 3 comfortable beds!
BONUS: Best luxury hotels in Playa del Carmen
After going through all of those amazing boutique hotels and resorts in this boutique hotel Playa del Carmen article, I thought to myself: " Wouldn't it be lovely if readers had a special bonus with the best luxury hotels in Playa del Carmen?" Honestly, the answer to that question is always "yes"!
I looked for hours and hours for the most luxurious and elegant hotels in Playa del Carmen, with deluxe amenities that will make you and your fellow travelers feel like real celebrities! The prices for these luxurious hotels go from US$800 to US$1900 per night.
Without further ado, let's check out the best luxury hotels in Playa del Carmen!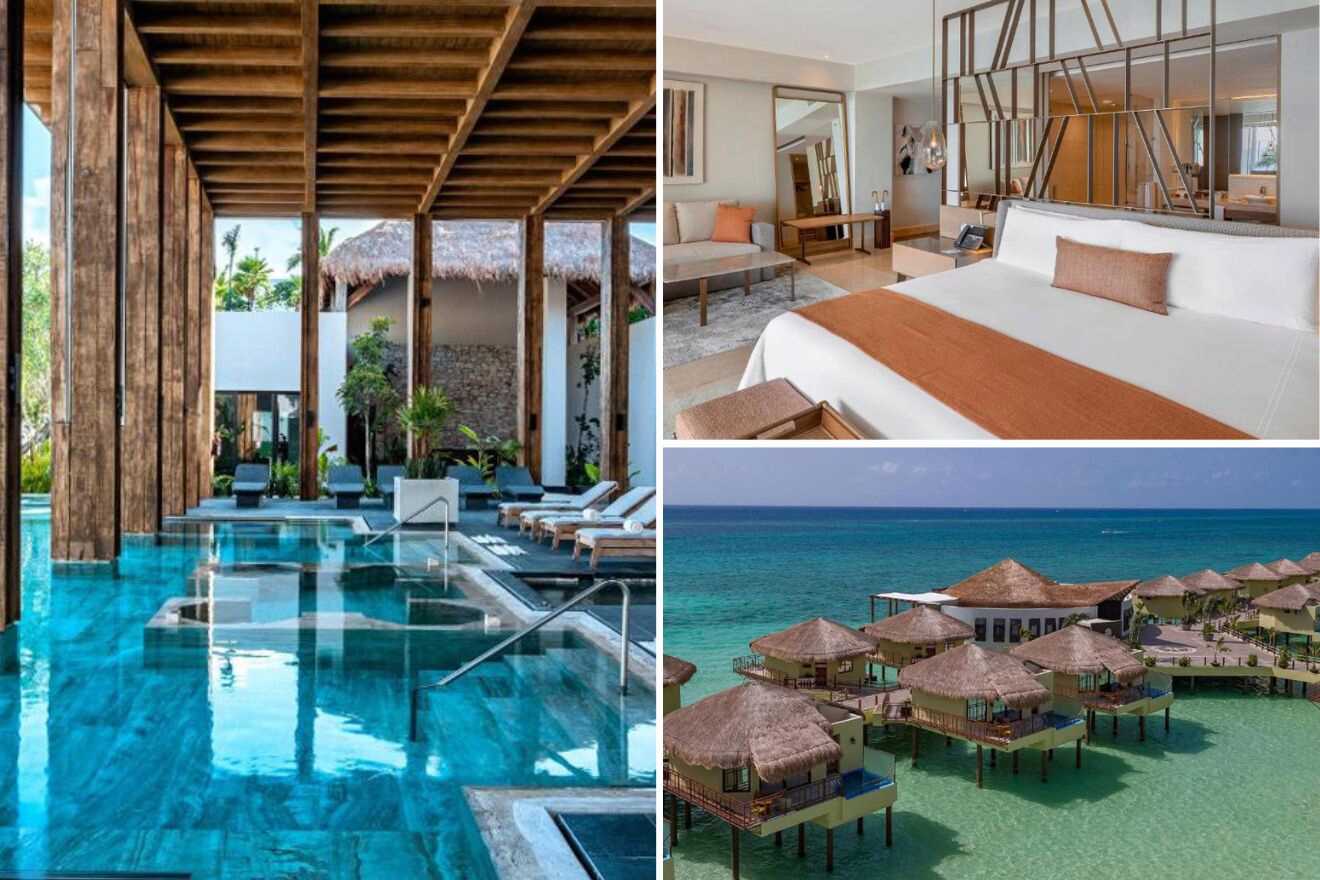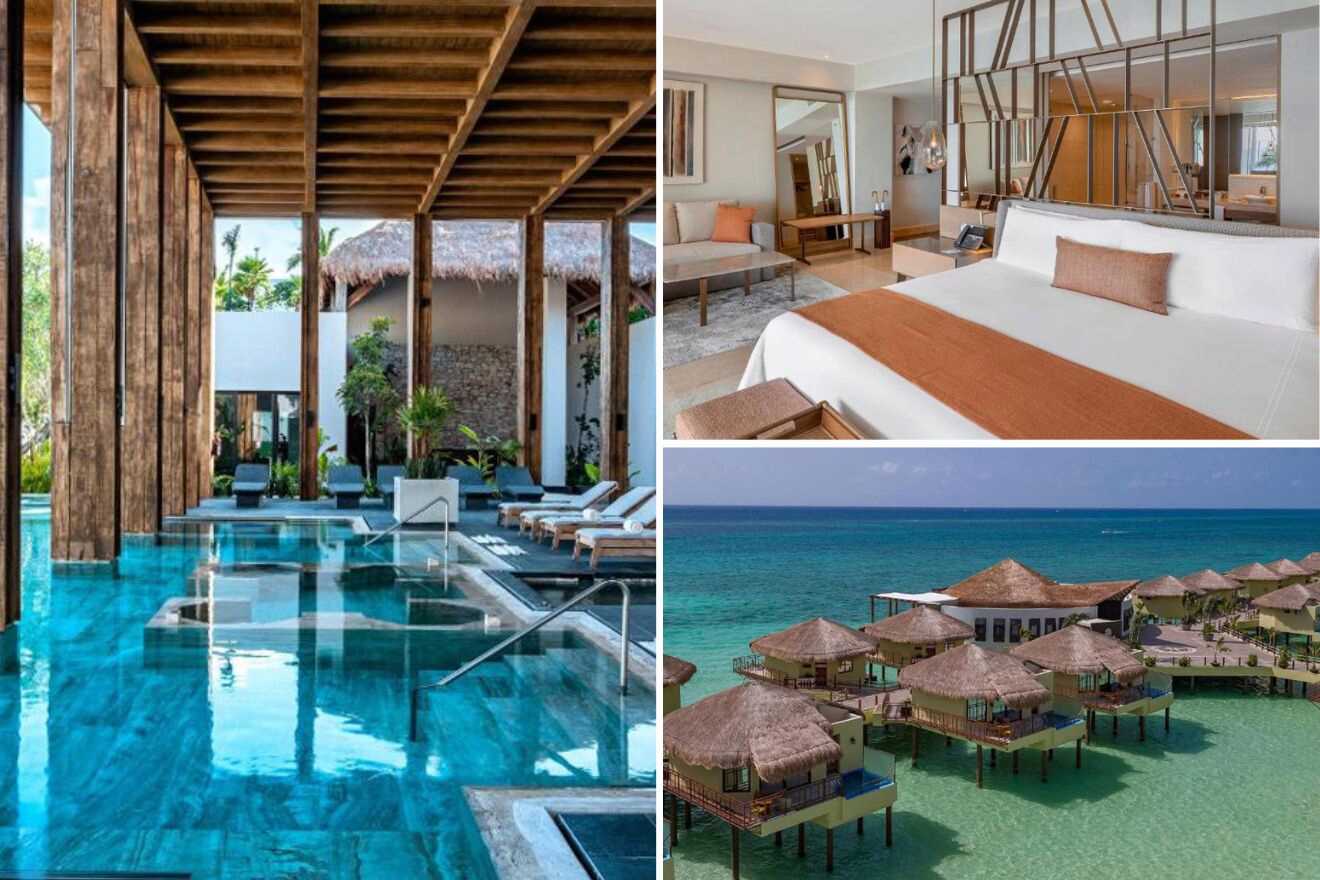 1. Palafitos Overwater Bungalows at El Dorado Maroma
This enchanting luxury all-inclusive resort exudes a delightful natural charm, making it an ideal destination for those looking for a rejuvenating vacation surrounded by nature. The resort comes with 3 big outdoor pools, a restaurant serving upscale international cuisine, a spa center, a fitness center, complimentary private parking, and nightly entertainment. The overwater bungalows offer breathtaking views of the Caribbean Sea.
2. Grand Velas Riviera Maya – All Inclusive
What an amazing all-inclusive option for couples, friends, or families; it comes with everything you need for the perfect vacation and more! Apart from being located at the beachfront and having a private beach area and 3 swimming pools, this all-inclusive offers wellness programs with ancient techniques and cool activities for kids in the kids club so they can meet other kids and play. There is also a mini golf course on site, which the entire family can enjoy!
3. Impression Moxché by Secrets – Adults Only
If you stay at this resort, you will never get bored; it is located by the beachfront and has a private beach area with beach furniture to relax while admiring the incredible view. You can also enjoy an infinity pool with a poolside bar. The resort also has its own tennis court, which you can use for free aerobic classes, live performances, and the chance to practice water sports on site, like windsurfing, diving, and snorkeling, for an extra fee!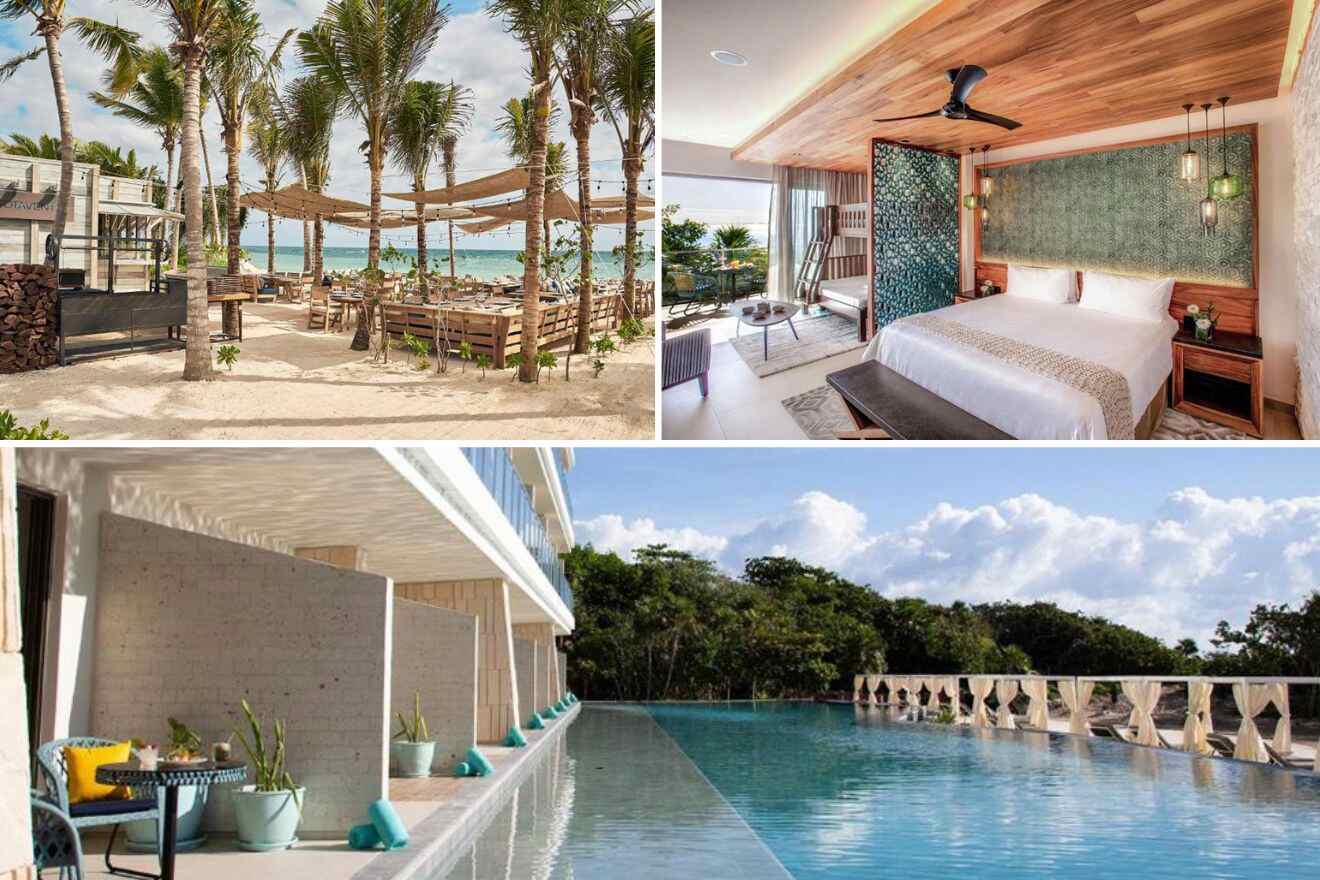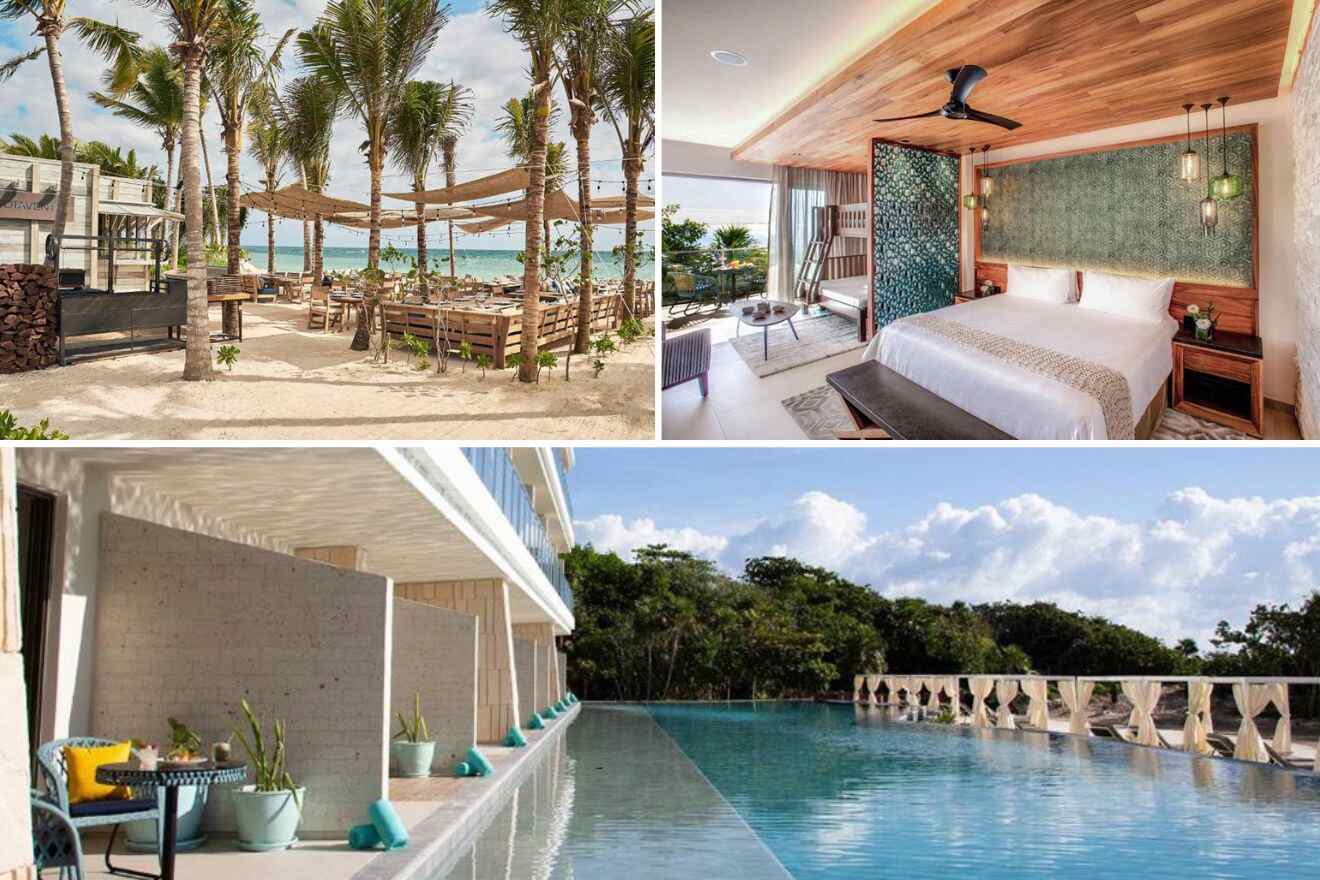 4. Palmaïa – The House of AïA Wellness Enclave All Inclusive
If you are looking for a rejuvenating vacation in a place where you can unwind and relax, this is the resort for you. It is focused on wellness and has a fantastic spa center. If you are traveling with kids, there is a kids club and a pool dedicated to kids. For adults, there is a swimming pool with a lounge area and a poolside bar. Some of the rooms are swim-up rooms, and some other rooms come with a soaking tub.
5. Fairmont Mayakoba Riviera Maya – All Inclusive
This hotel has so many amazing amenities I don't know where to start! To start, it is located on the beachfront, which means there are plenty of possibilities to play water sports on-site or play beach games. It comes with an amazing outdoor pool, a roof terrace with amazing decor and firepits, and even the possibility to take cooking classes or archery for an additional fee. If you are traveling with kids, there is an onsite water playground for the little ones.
6. Andaz Mayakoba All-Inclusive Package
So elegant and minimalistic, this hotel offers the perfect atmosphere for guests to relax and enjoy all of the Caribbean's natural wonders! Sit and relax on the hotel's private beach area, play tennis, go for a swim in either of the 2 onsite pools, or go for a nice meal at any of the onsite restaurants. If you are looking for privacy and spending some time alone with yourself or someone special, some rooms come with a private pool just for you!
FAQs about boutique hotels in Playa del Carmen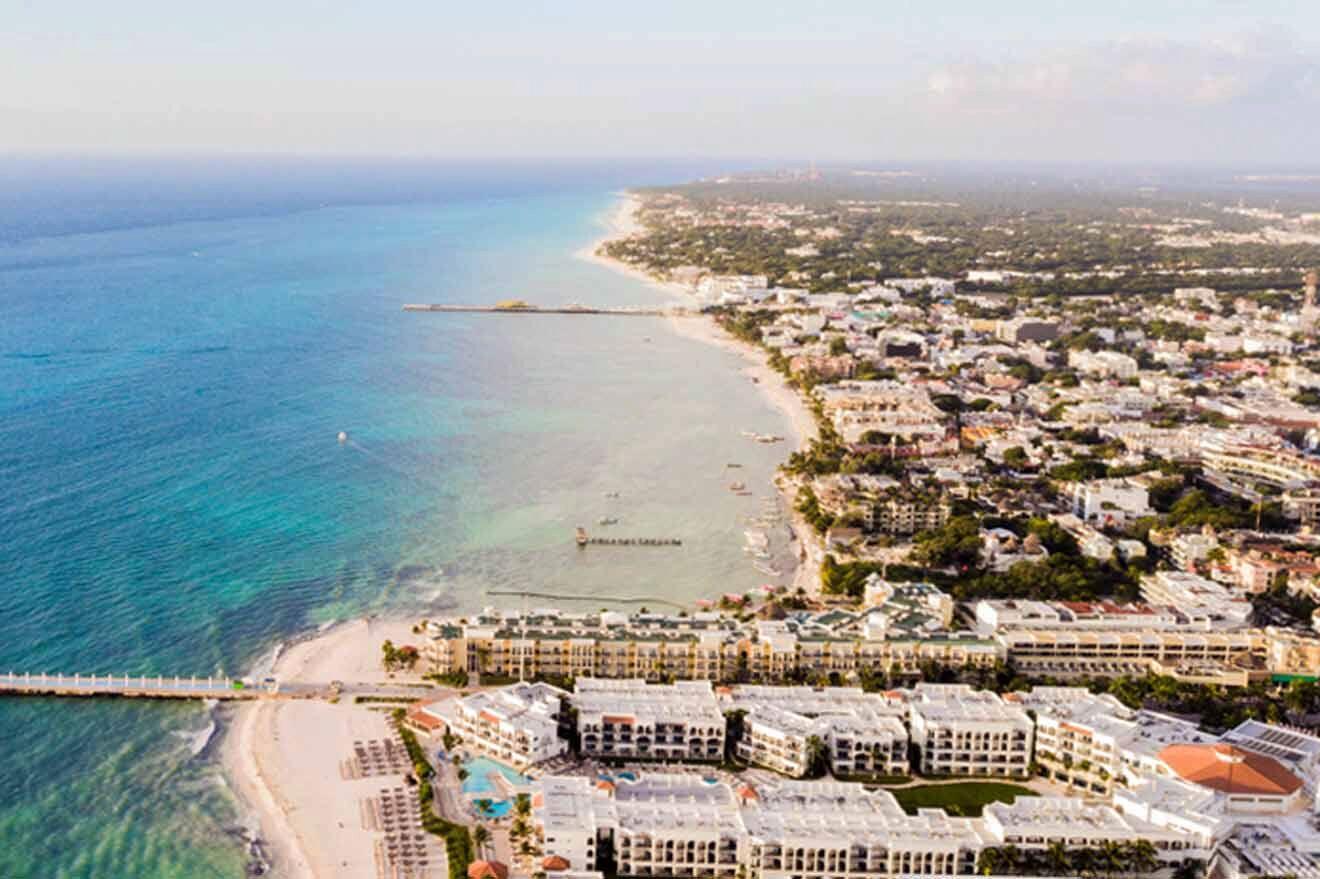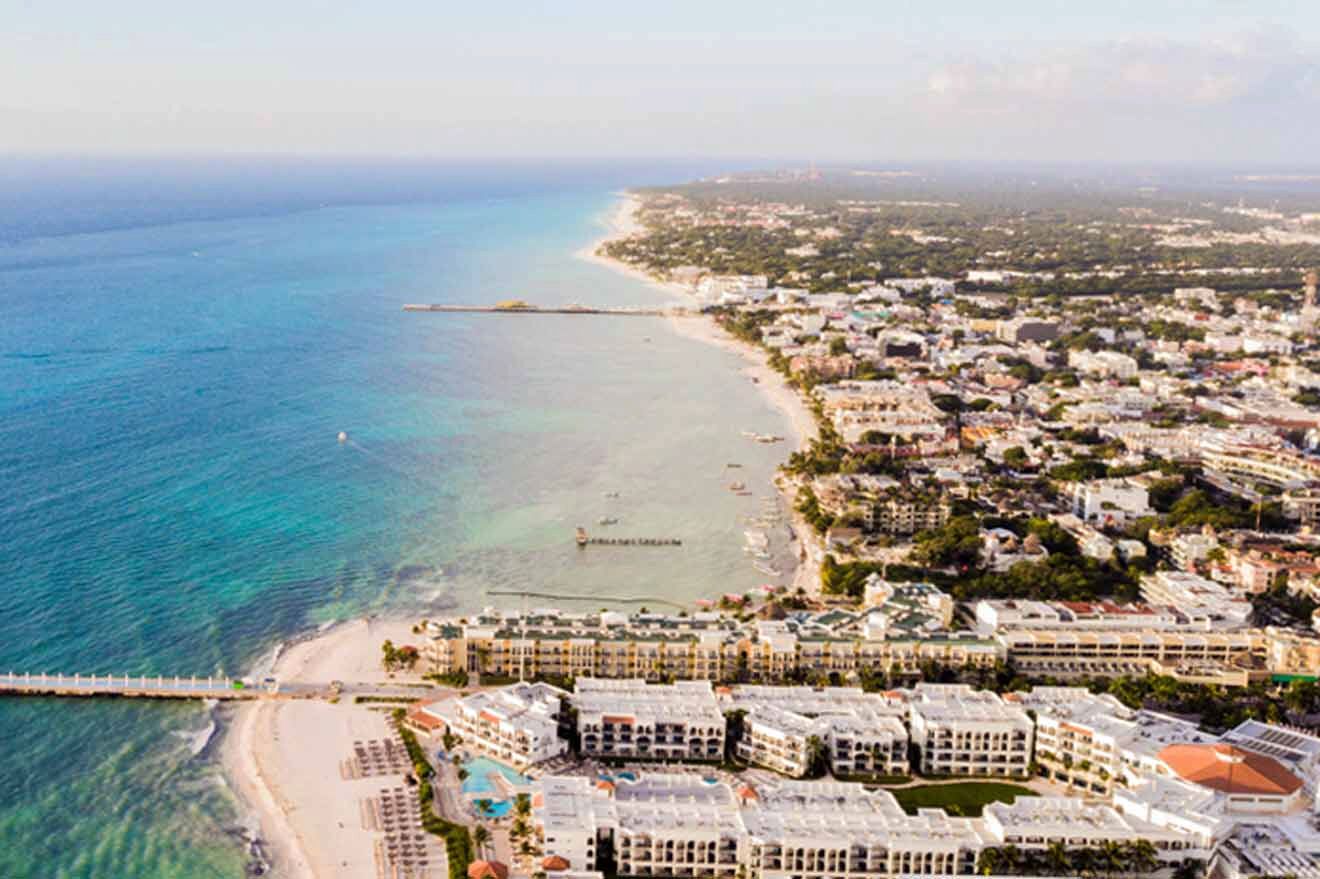 Conclusion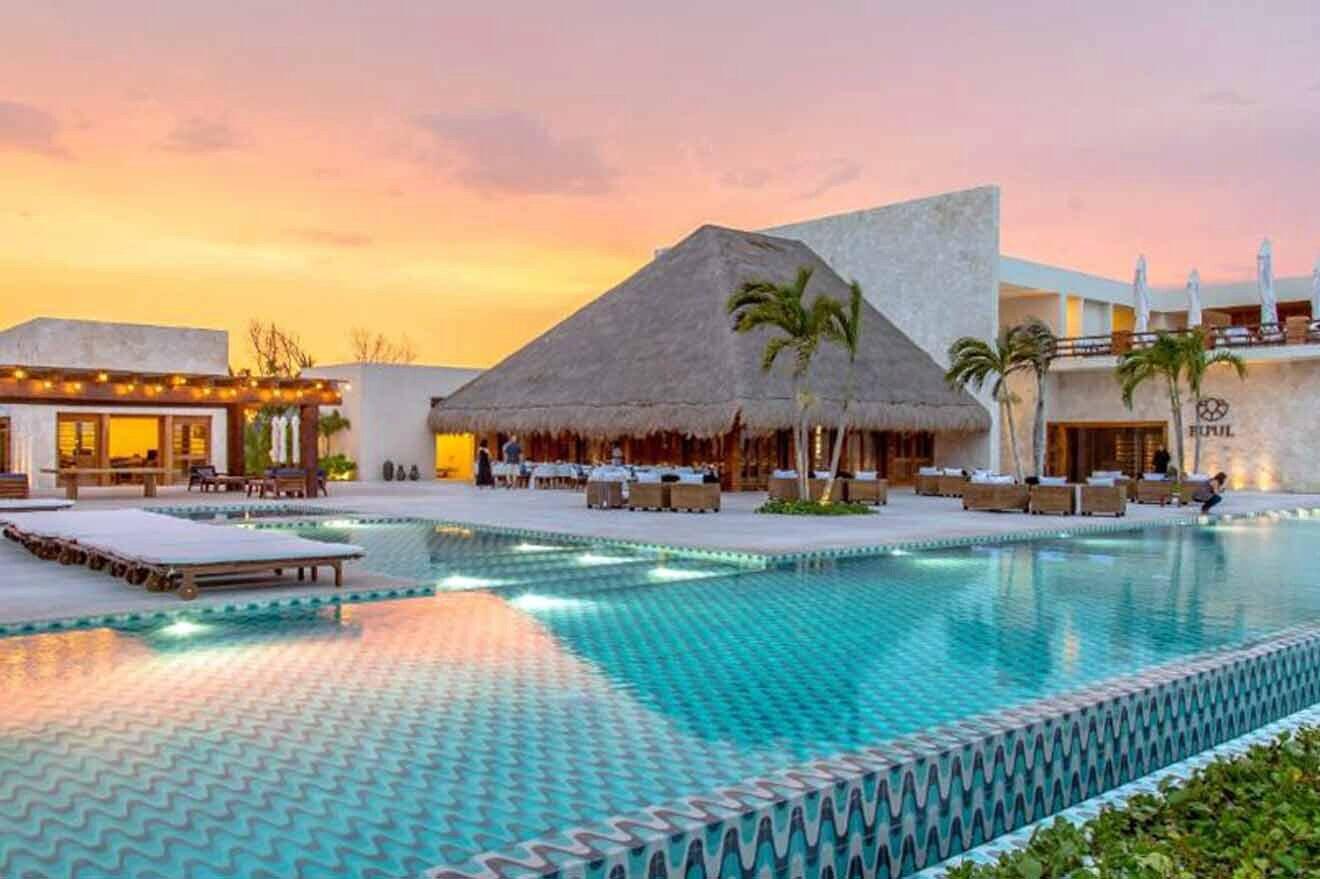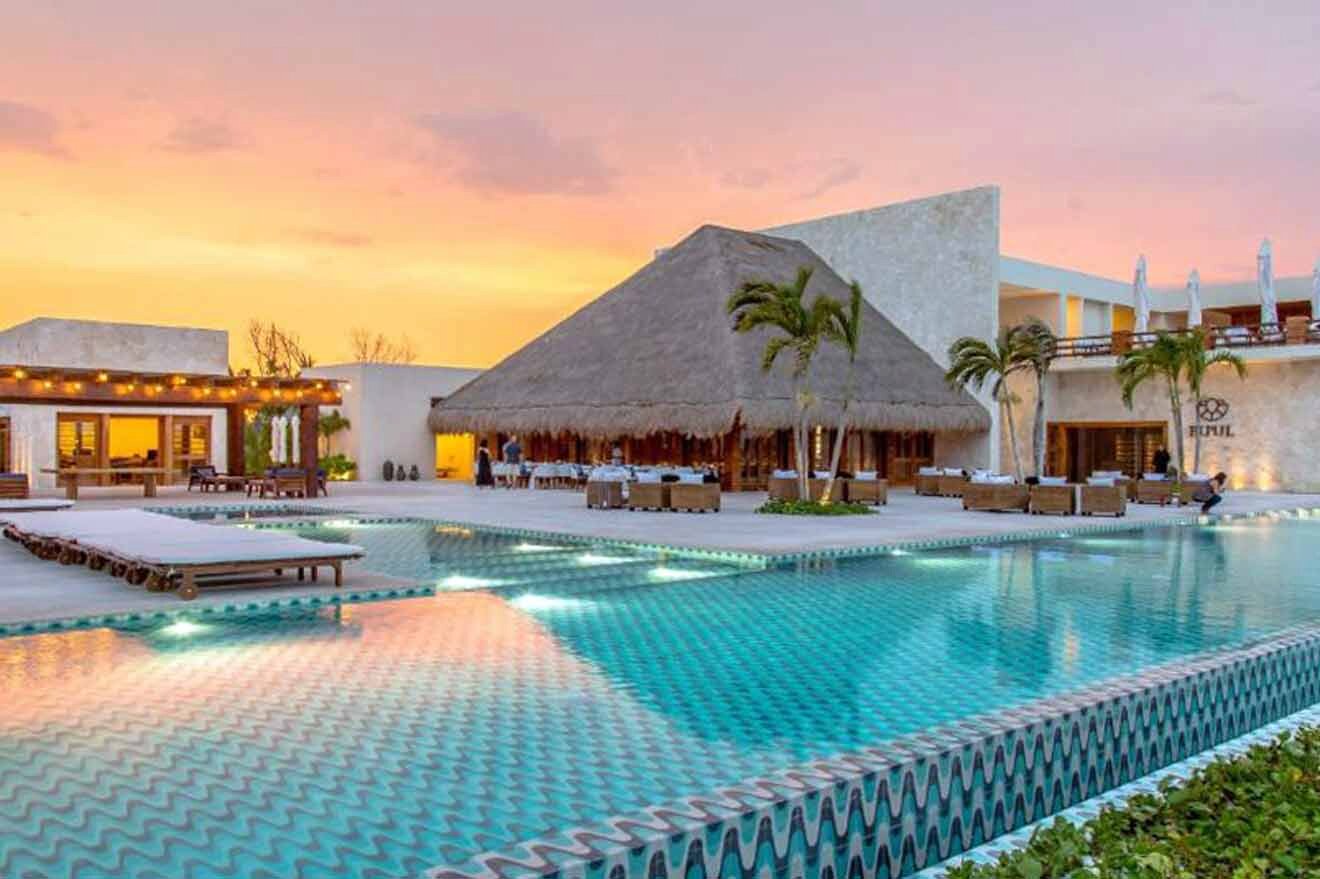 That is a wrap for today, my lovely people! That was something else, wasn't it? It is amazing to see how many incredible boutique hotels in Playa del Carmen are out there, and these 20 options are just a delight! And how nice is it to have a little bonus with the best luxury hotels in Playa del Carmen? A treat!
Honestly, I would be more than happy to stay at any of the hotels listed in this article and visit such an amazing location, but if I had to tell you my top 2 hotels, I would go with:
La Casa de la Playa – The style and the elegance are astonishing, I would love to stay here and relax in my room's private pool or the rooftop terrace infinity pool!
Hotel La Semilla – I just really love the quirky style this hotel has; it looks so authentic and unique with its beautiful tropical garden!
Which of the Playa del Carmen hotels and resorts mentioned here is your favorite? Have you ever stayed in any of these? Let me know in the comments, and right after, go and book the hotel room of your dreams! Remember to book quickly!
Until the next adventure,
Daniela
---
Pin it for later!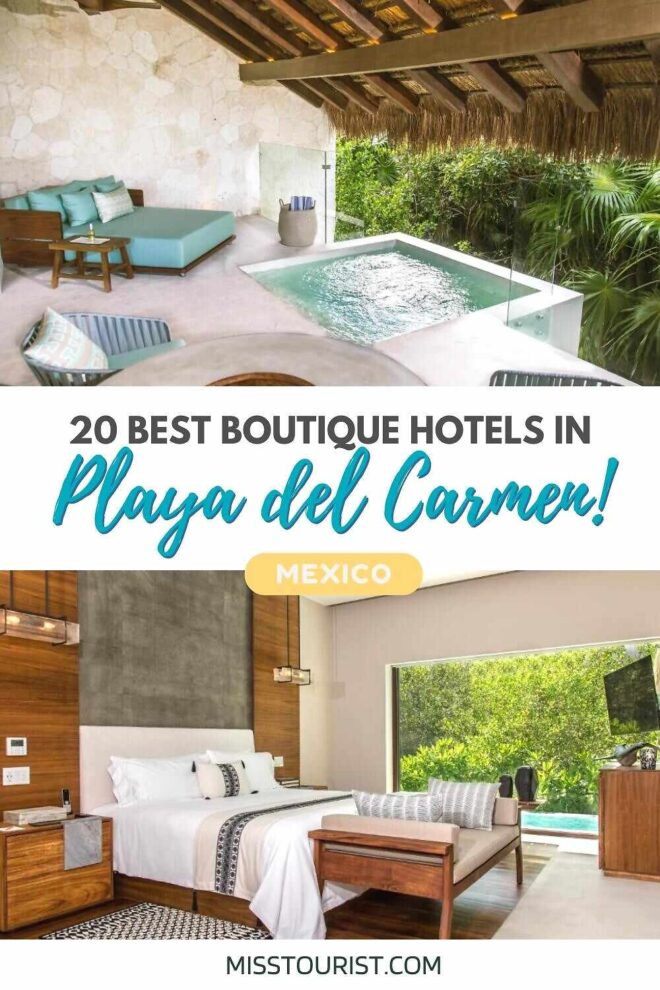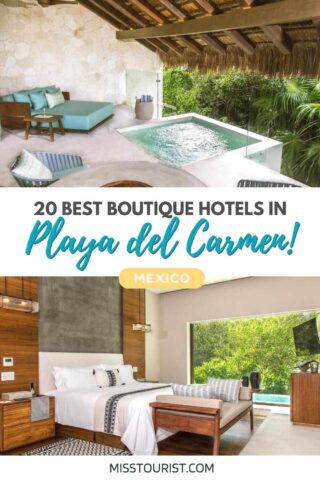 Pin it for later!