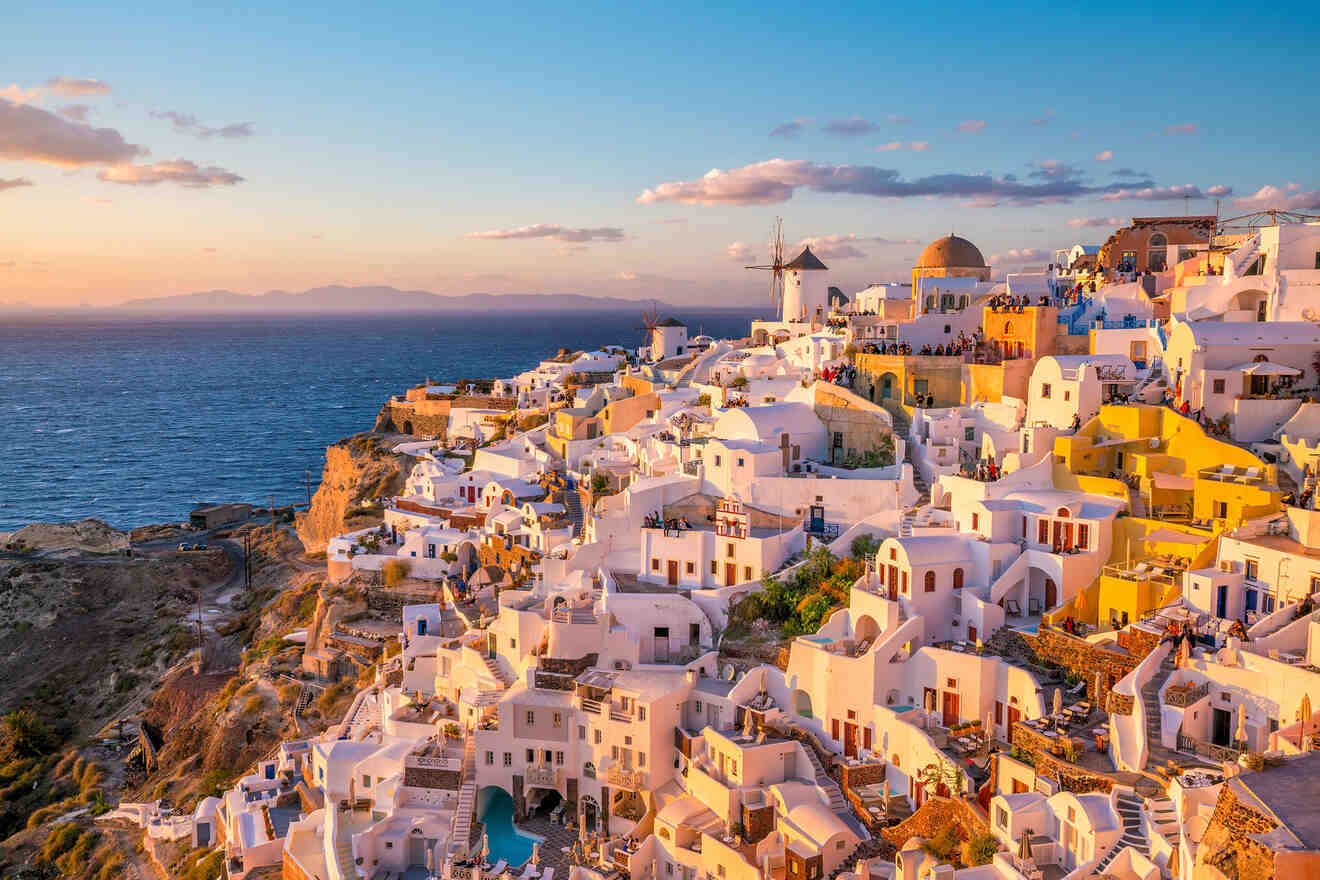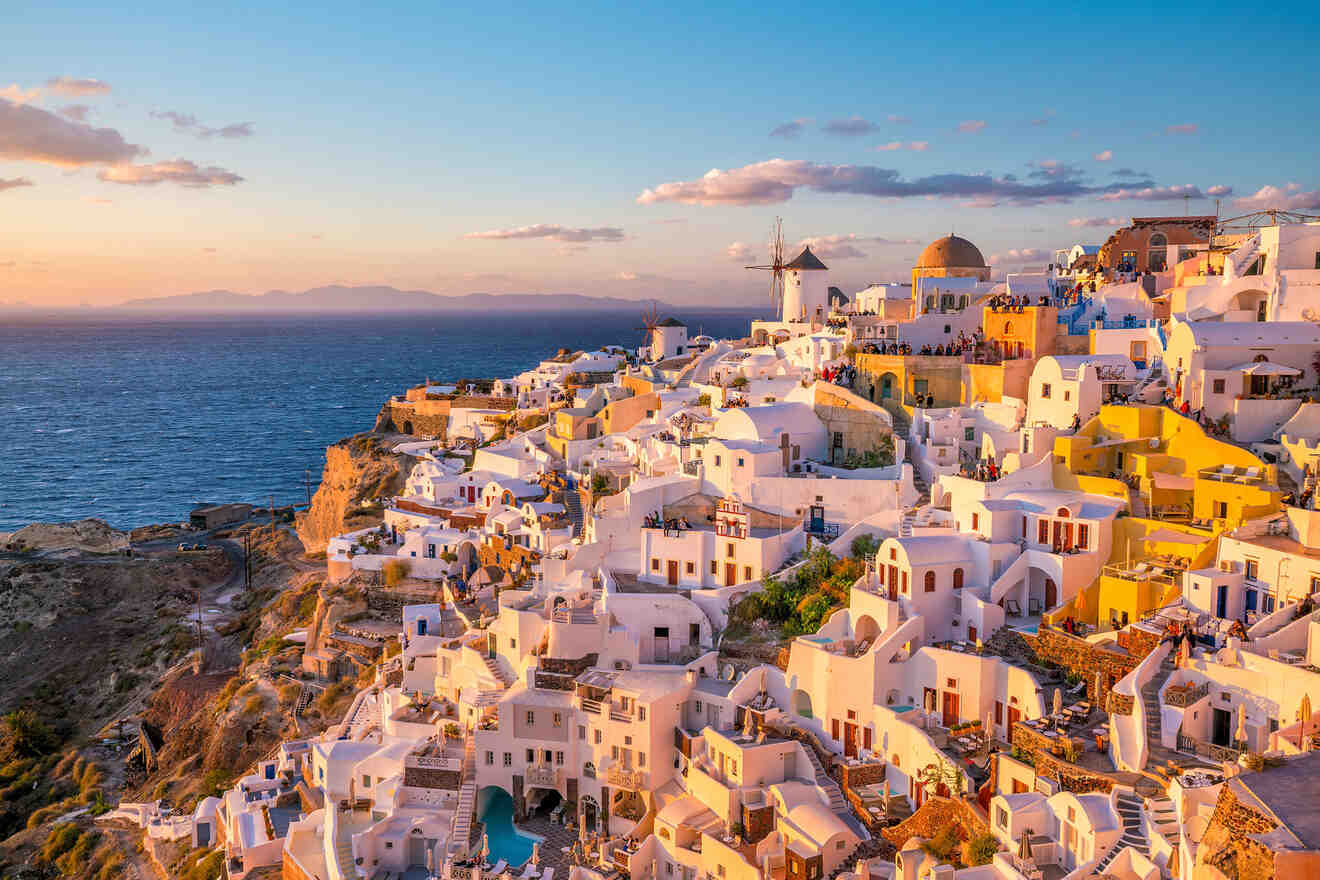 Are you looking for the best hotels in Oia Santorini? Then you are in luck because I've been searching for hours and hours for the best hotels in the area so that you can book an amazing hotel within seconds!Oia Santorini is one of the most paradisiac destinations. It is great for solo travelers and families looking to explore, learn about Greek culture, and try amazing food. It's also ideal for couples looking for a magical place to spend time alone together!
The way I've arranged this post was by price, starting with luxury Oia hotels, followed by the mid-range ones, and then the budget ones. In the end, I've added 2 bonuses, so you have even more options with luxury options and private pools!
For the purposes of this post, I've gone with the high season prices – if you book one of these amazing hotels for the low season, the prices are about half the high season.
Santorini is one of the most popular destinations in the world, so if you don't want to miss the opportunity to stay in the hotel of your dreams, book your room as soon as you make a decision and enjoy Greece in Mamma Mia style!
Let's dive in! Shall we?!
If you are in a hurry
If you need to book fast and don't have a lot of time to read the whole article, don't worry! Here are my top 3 recommendations for the best hotels in Oia Santorini!
Luxury (€1000 and up)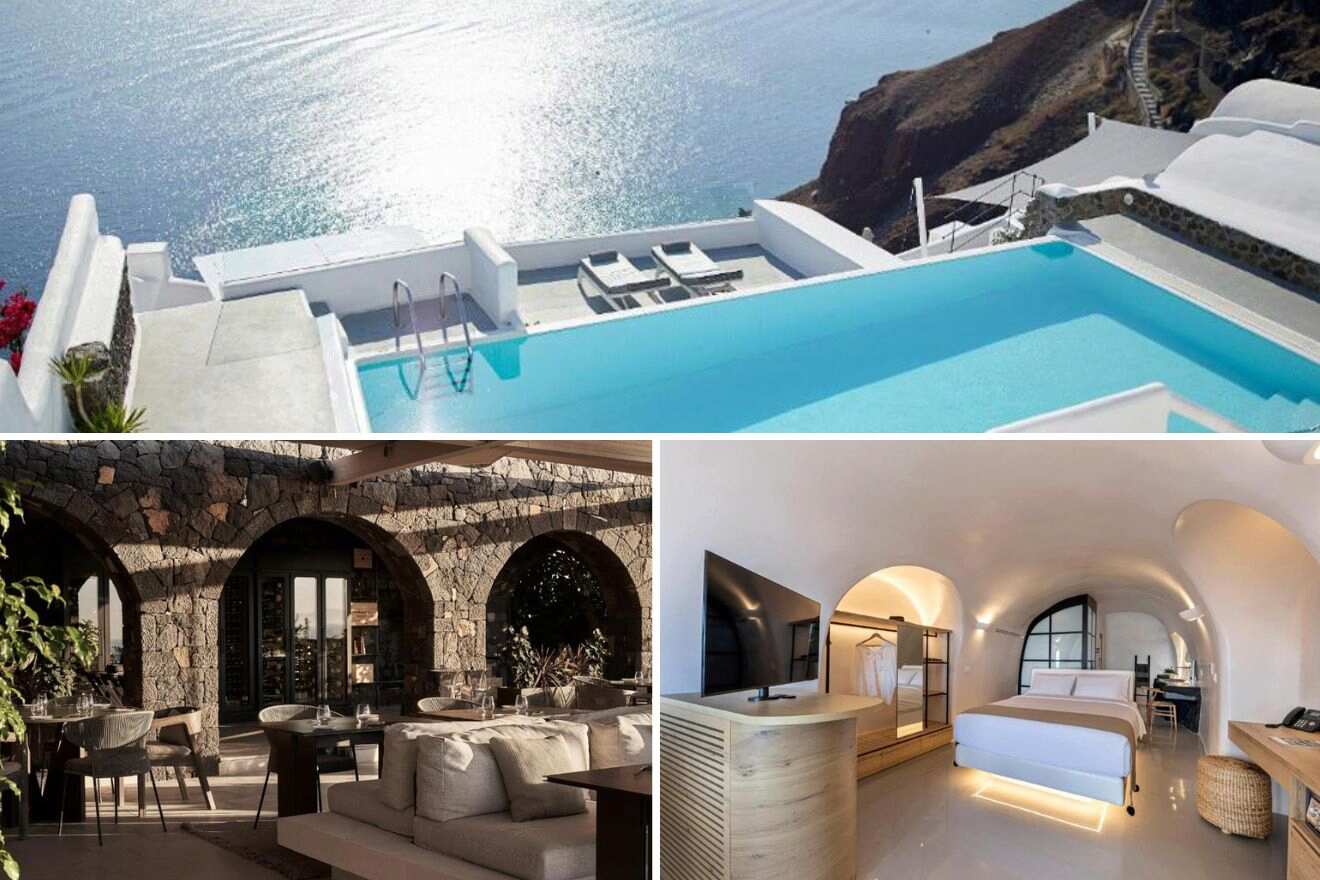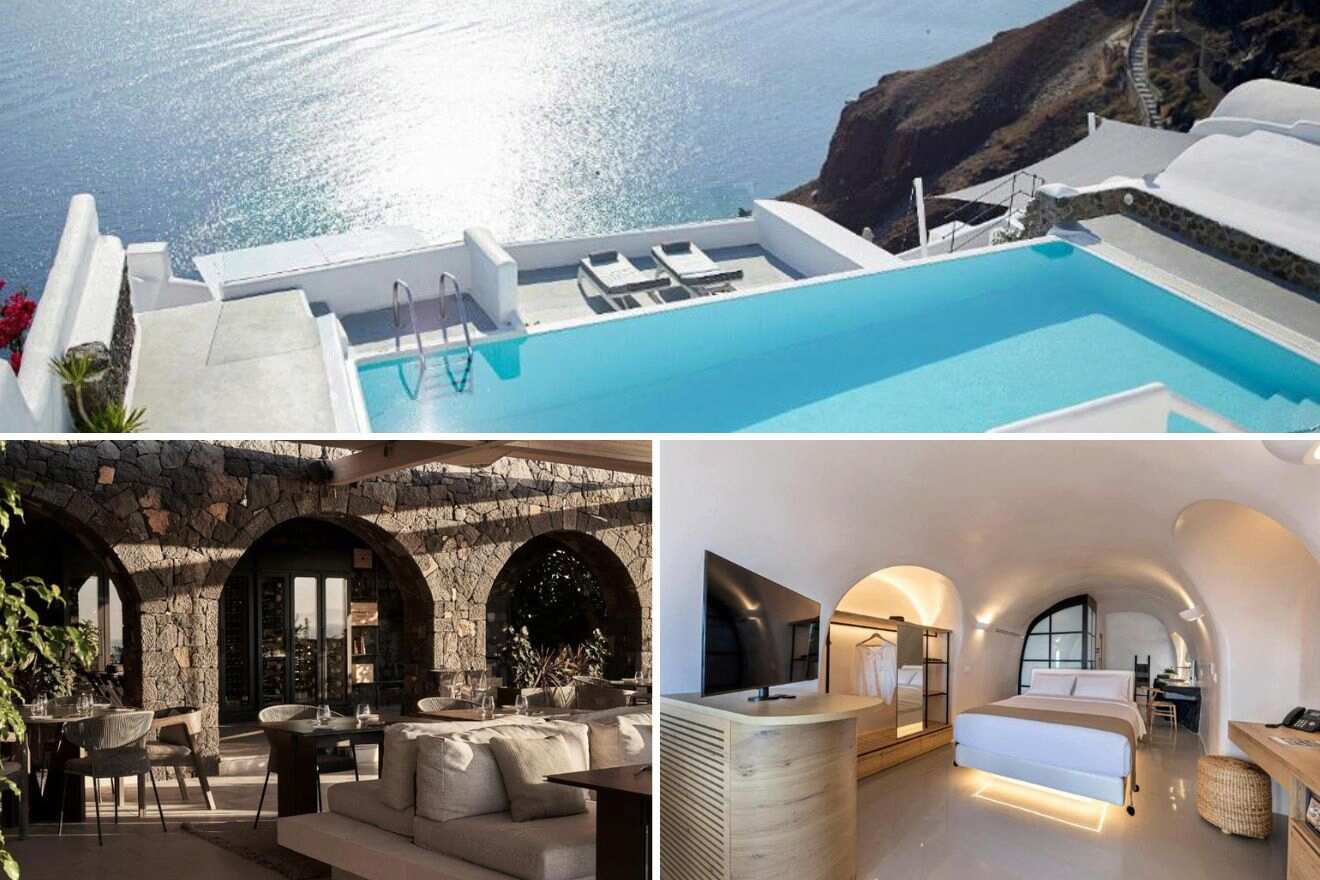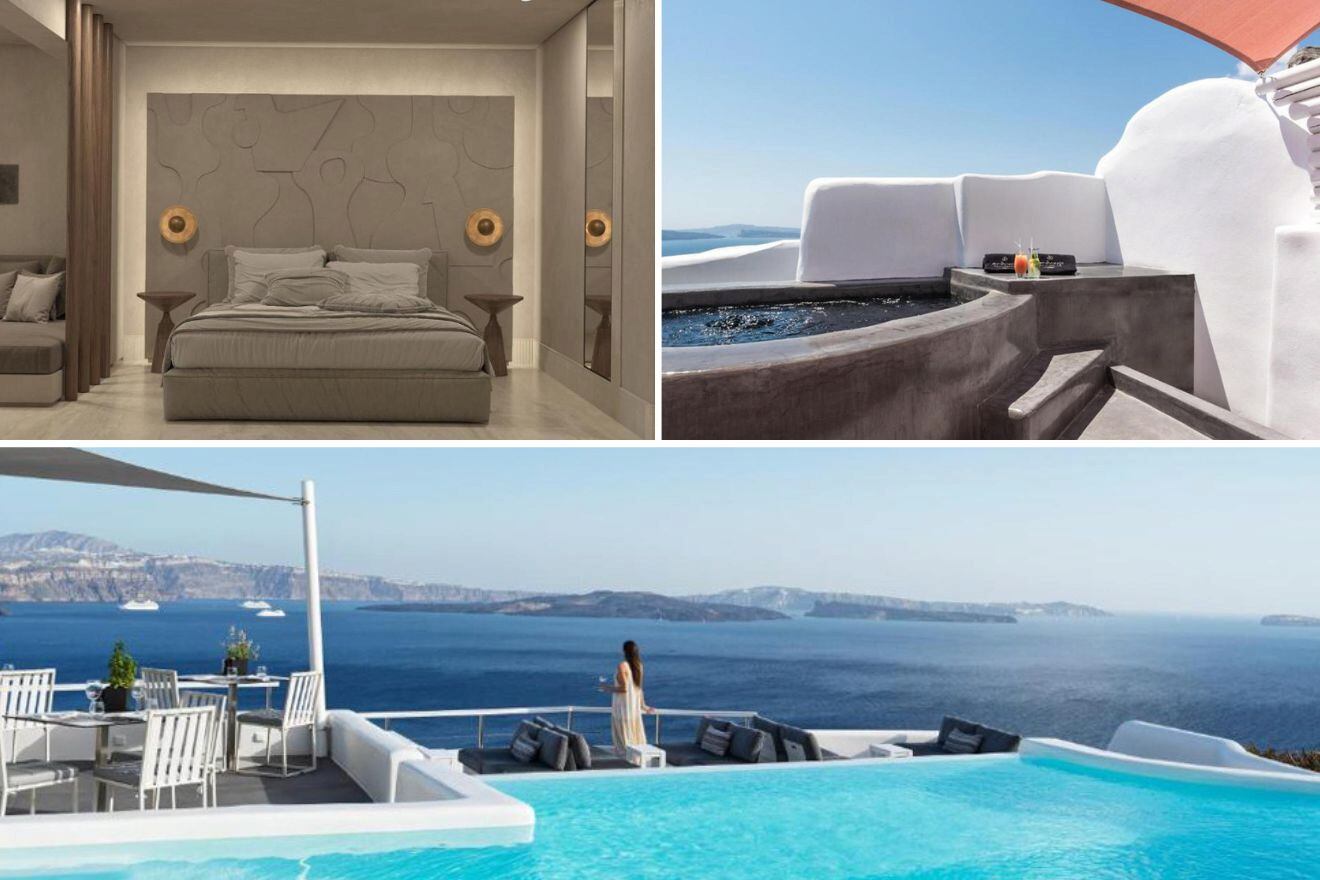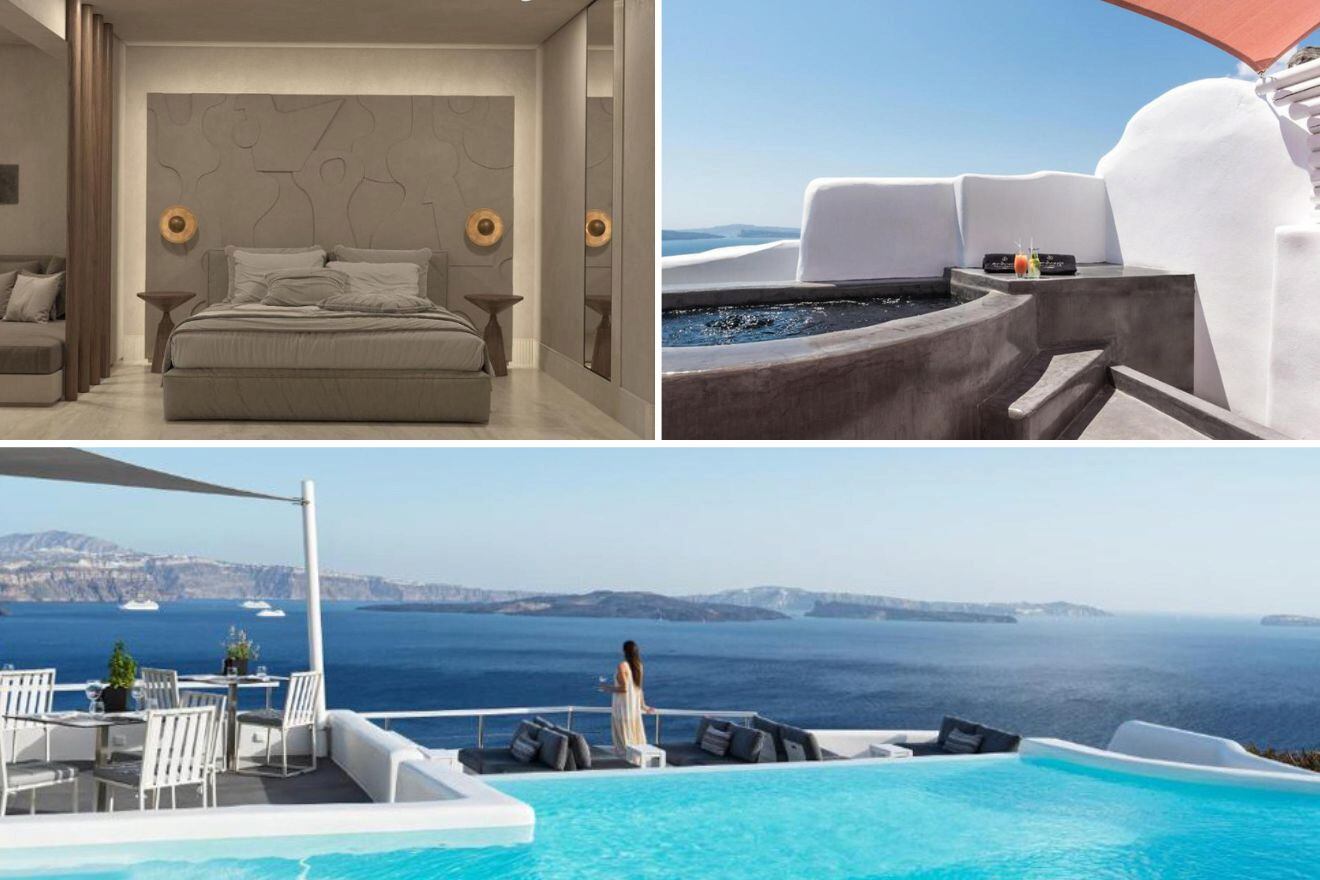 Mid Range (€400 – €800)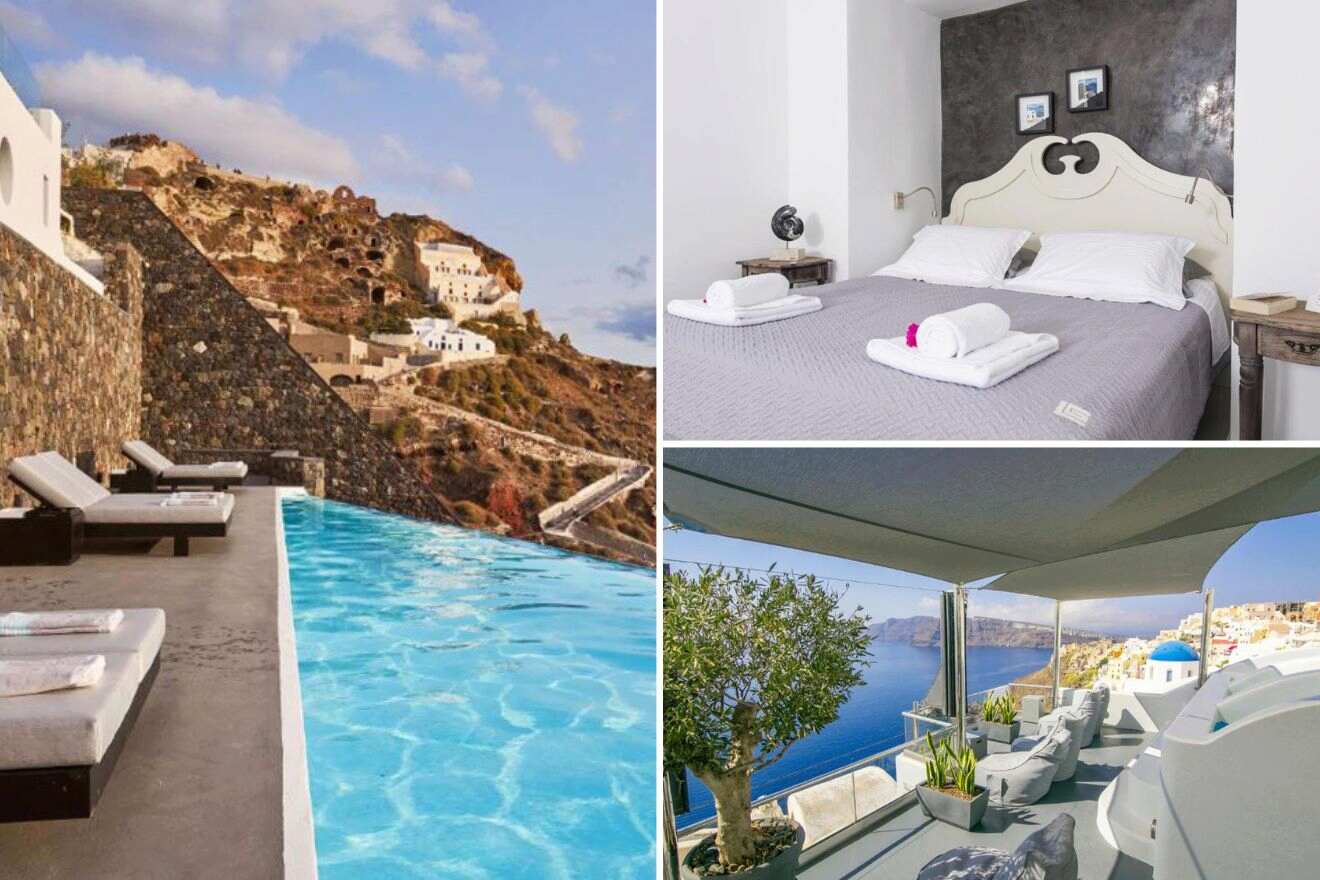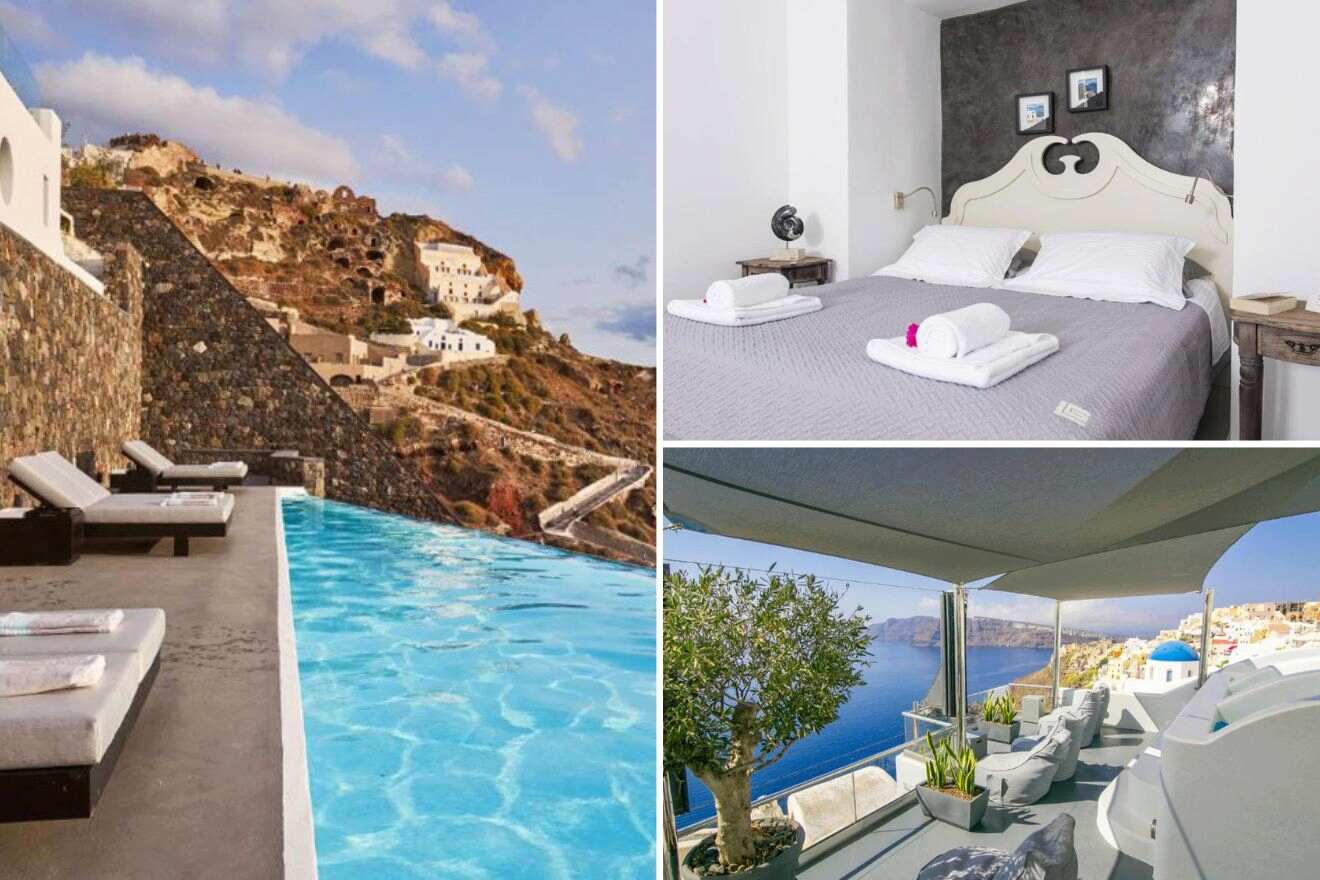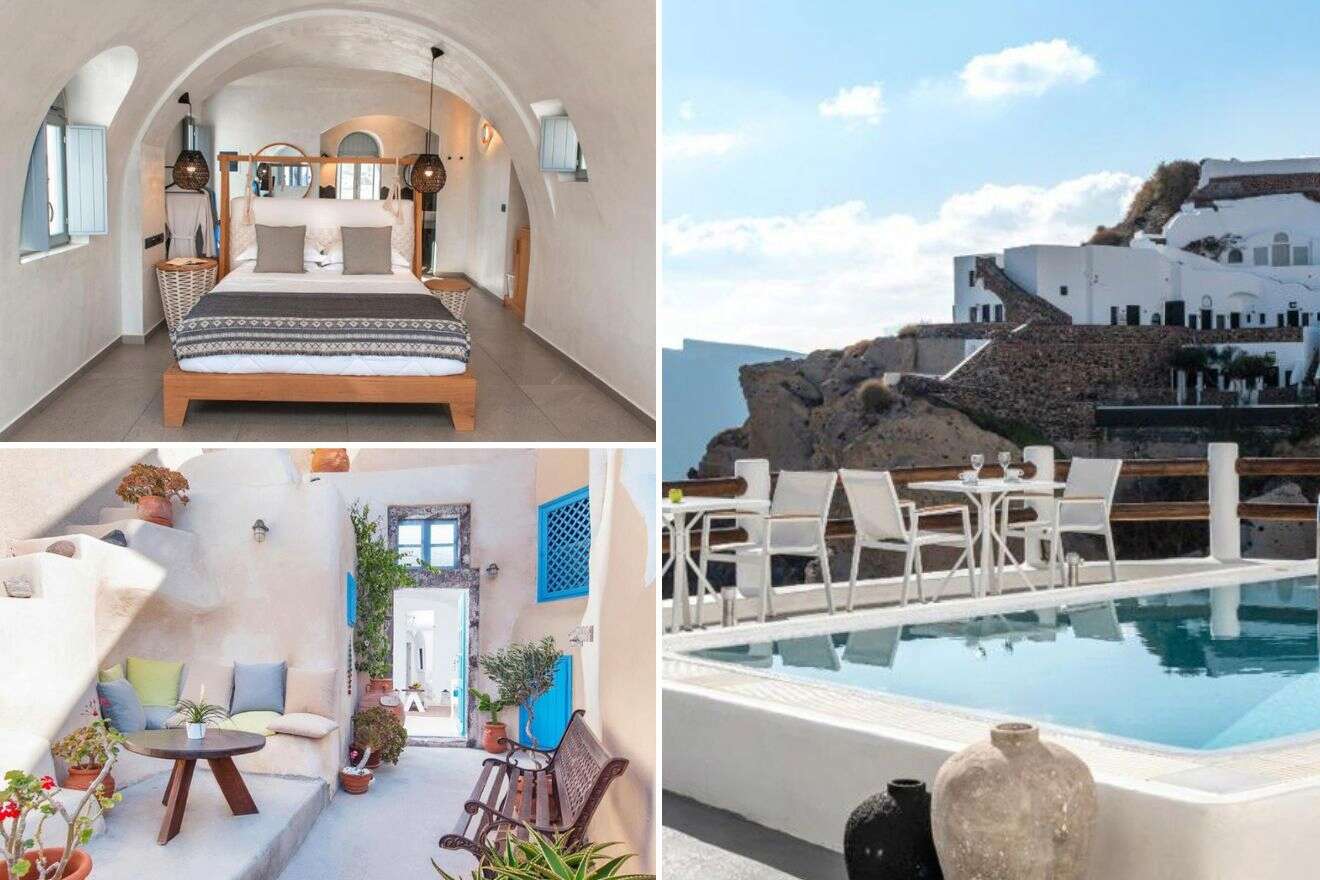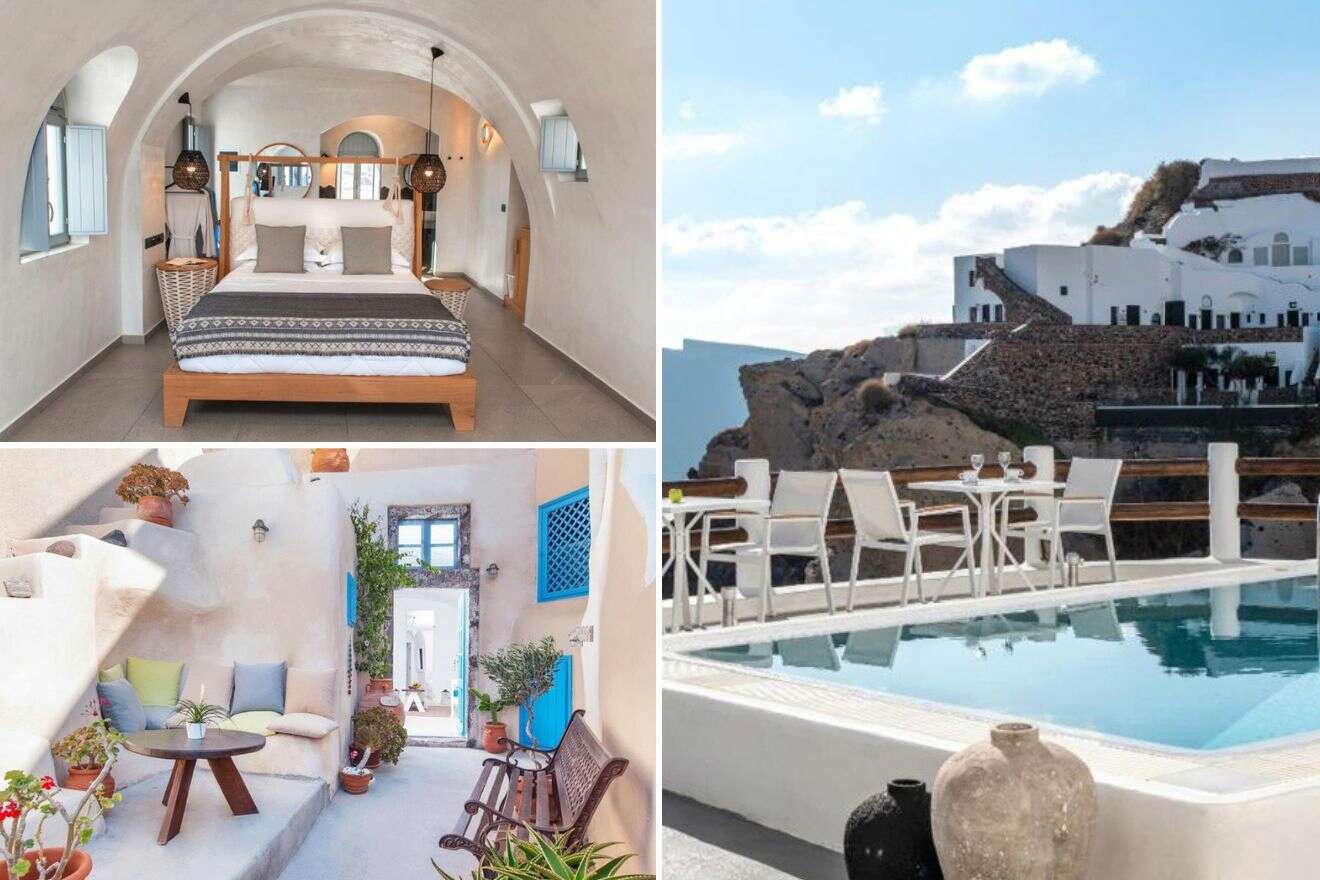 Budget (up to €400)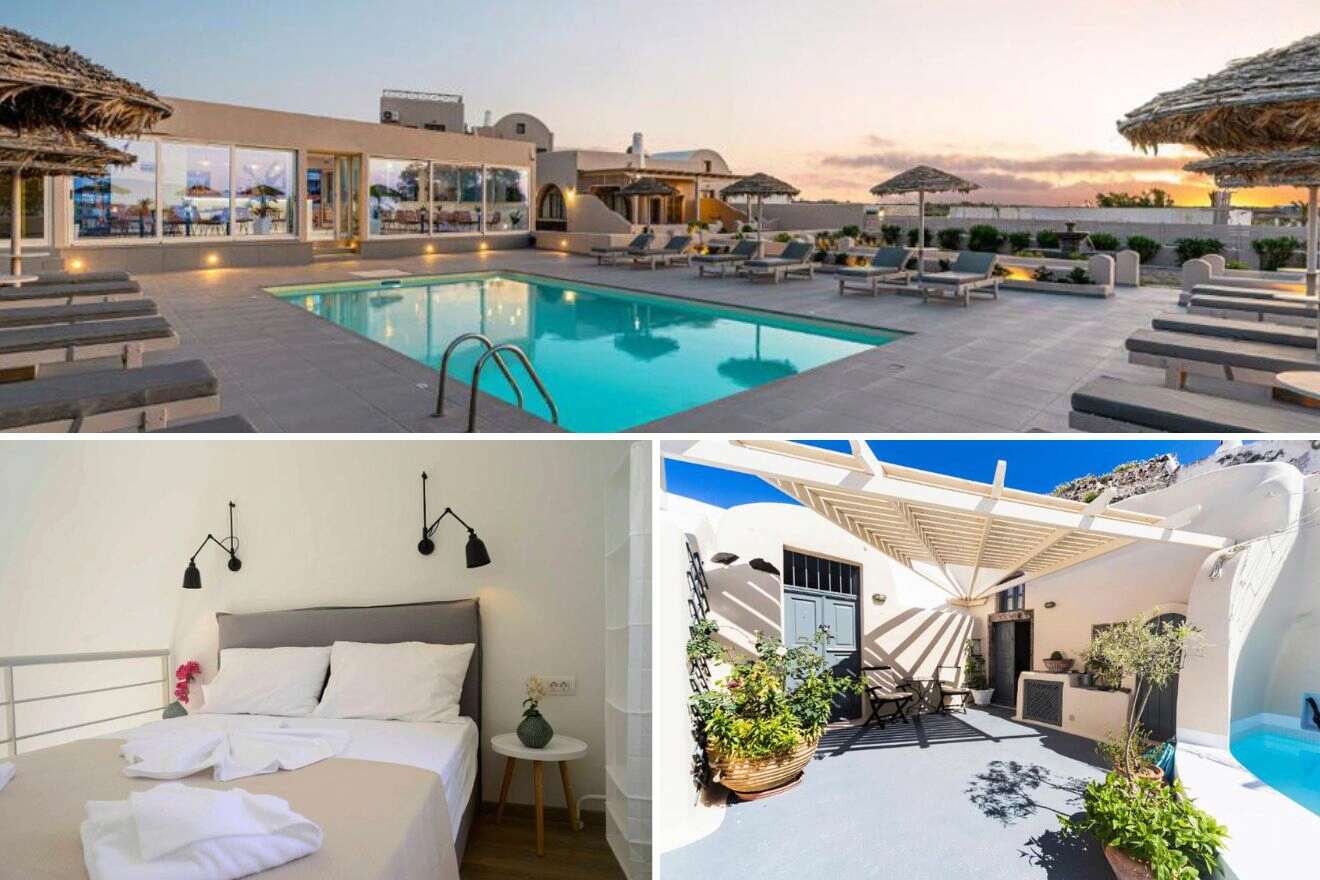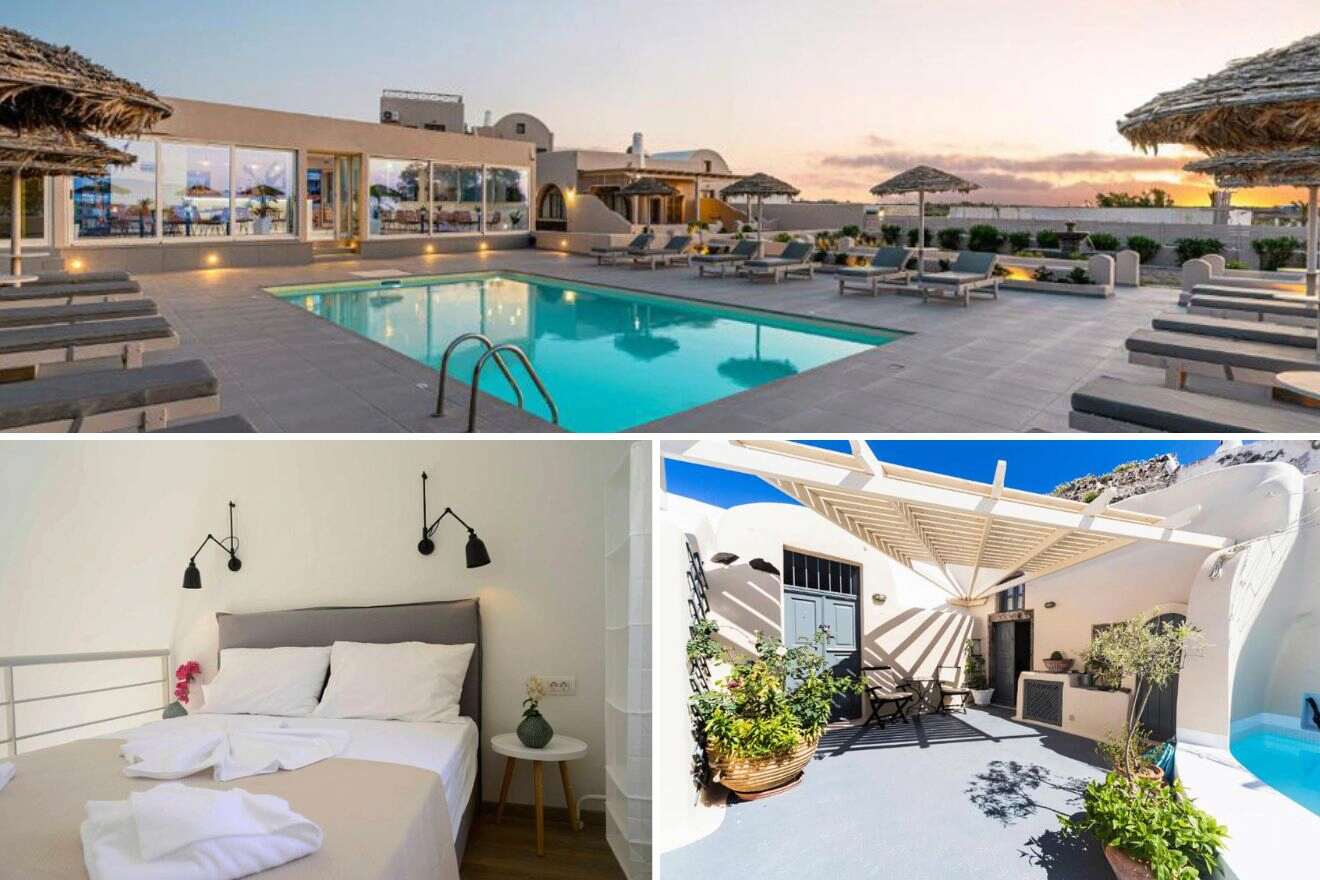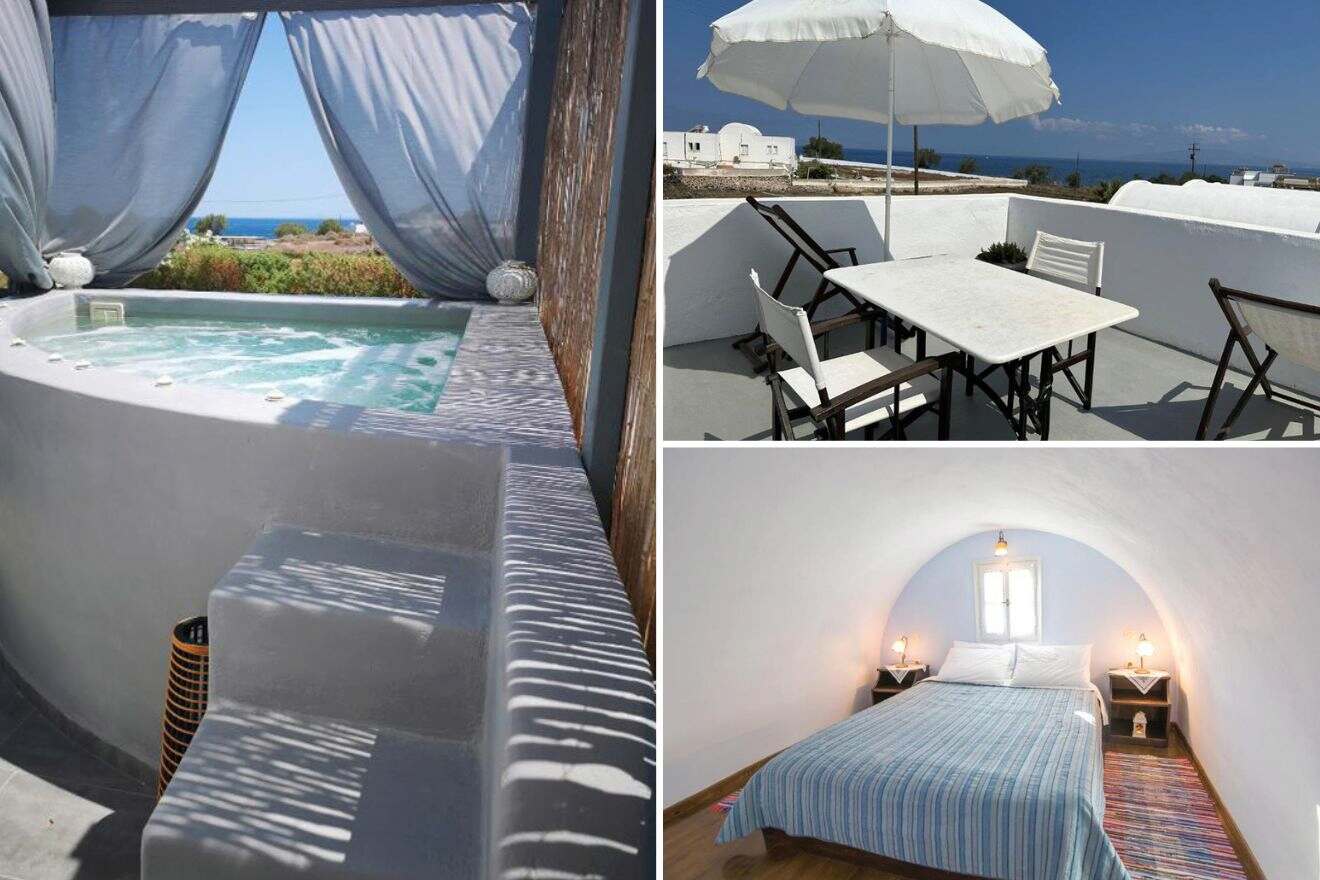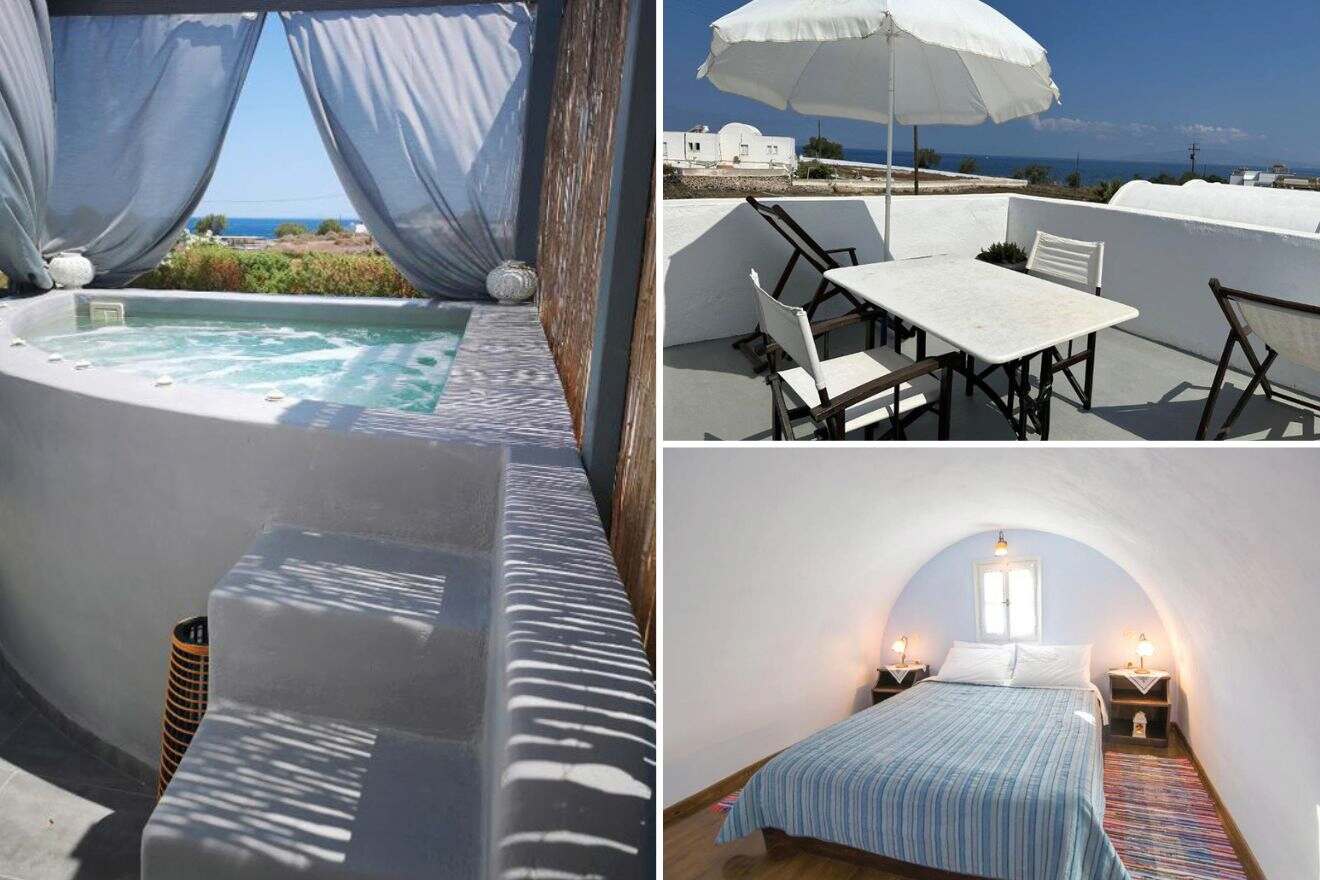 Find More Hotels in Oia Santorini
BONUS: Best hotels in Oia Santorini with private pool
I didn't want to end this post without sharing with you the best hotel in Oia Santorini with a private pool! After mentioning all the best hotels in Oia Santorini, I needed to make a special mention of one of everyone's favorite amenities, which is a private pool in the room! In this list, I mention hotels that have a private pool or hot tub, so both are amazing options!
These hotels will fit the needs of solo travelers, couples, and families, there is a hotel room with a private pool here for you! The list is arranged to start with the most expensive hotels first, and they go from €3000 to €500 per night!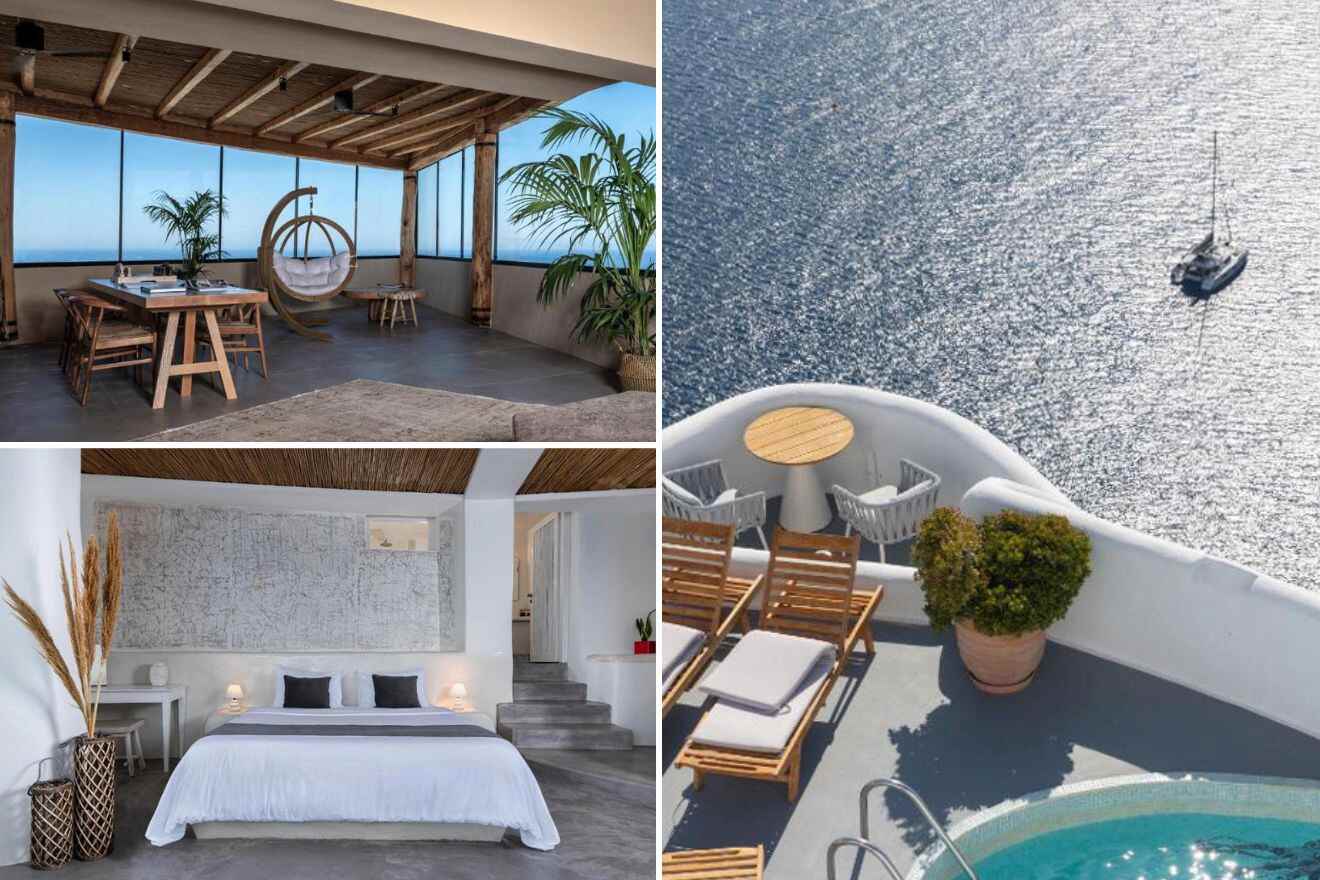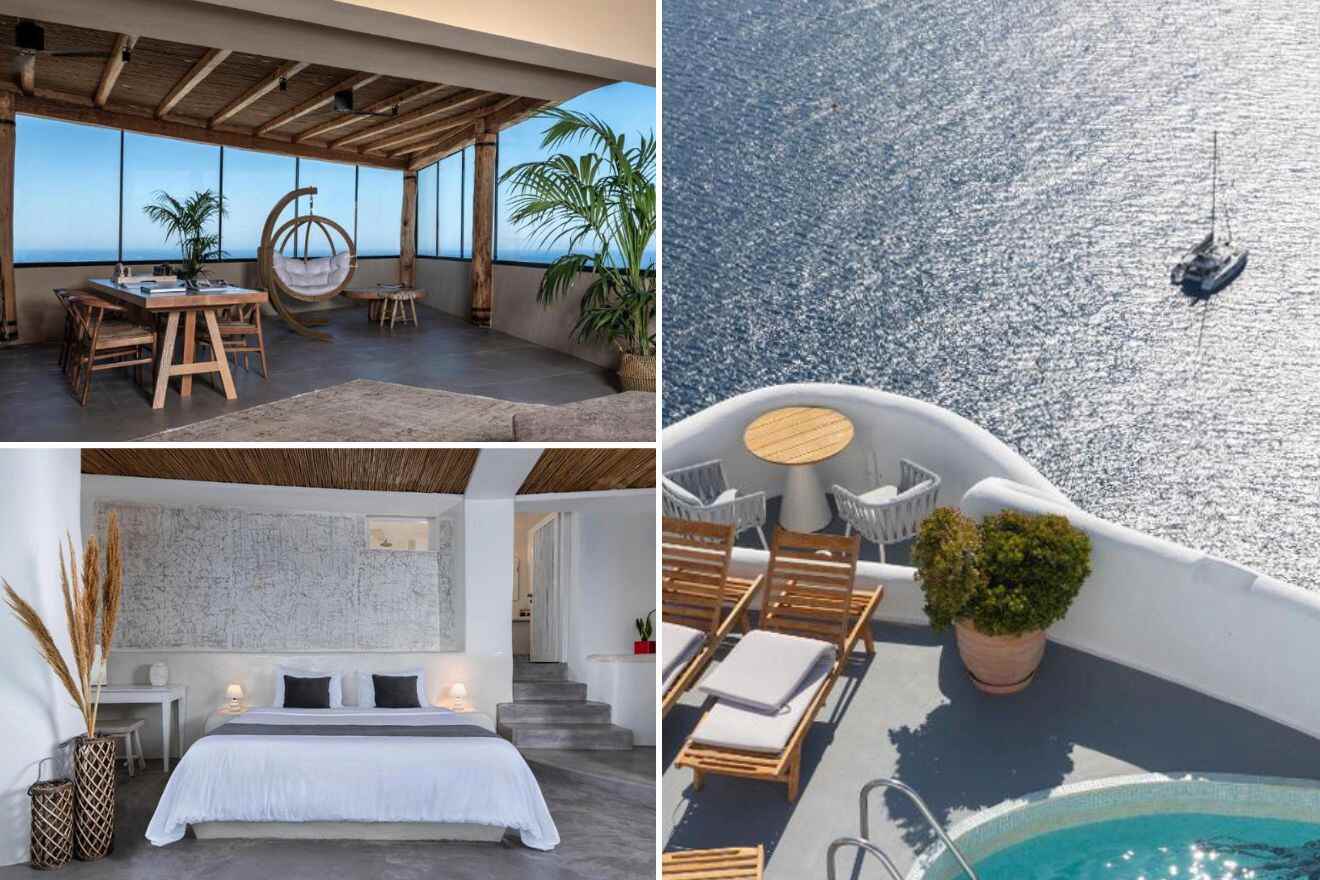 1. Andronis Arcadia Hotel
This stunning hotel is the perfect mix between Cycladic design and a modern twist! They offer amazing views of the ocean and the caldera, a spa and wellness center, and many activities off and on-site, as well as live performances. They offer studios for 2 guests or villas for up to 8 guests, all with private pools!
2. Andronis Luxury Suites
This deluxe hotel is perfect for those looking to stay in a little piece of paradise. The hotel's decor is elegant and modern and comes with amazing amenities such as a private pool or hot tub in the room, and room service to enjoy the view from the terrace with a lovely meal and drinks!
3. IKIES Santorini
What an amazing way to mix Greek traditional style with modern and upscale furniture! Apart from offering free breakfast, room service, and an amazing terrace with a pool, this hotel's rooms and suites have their own hot tub room!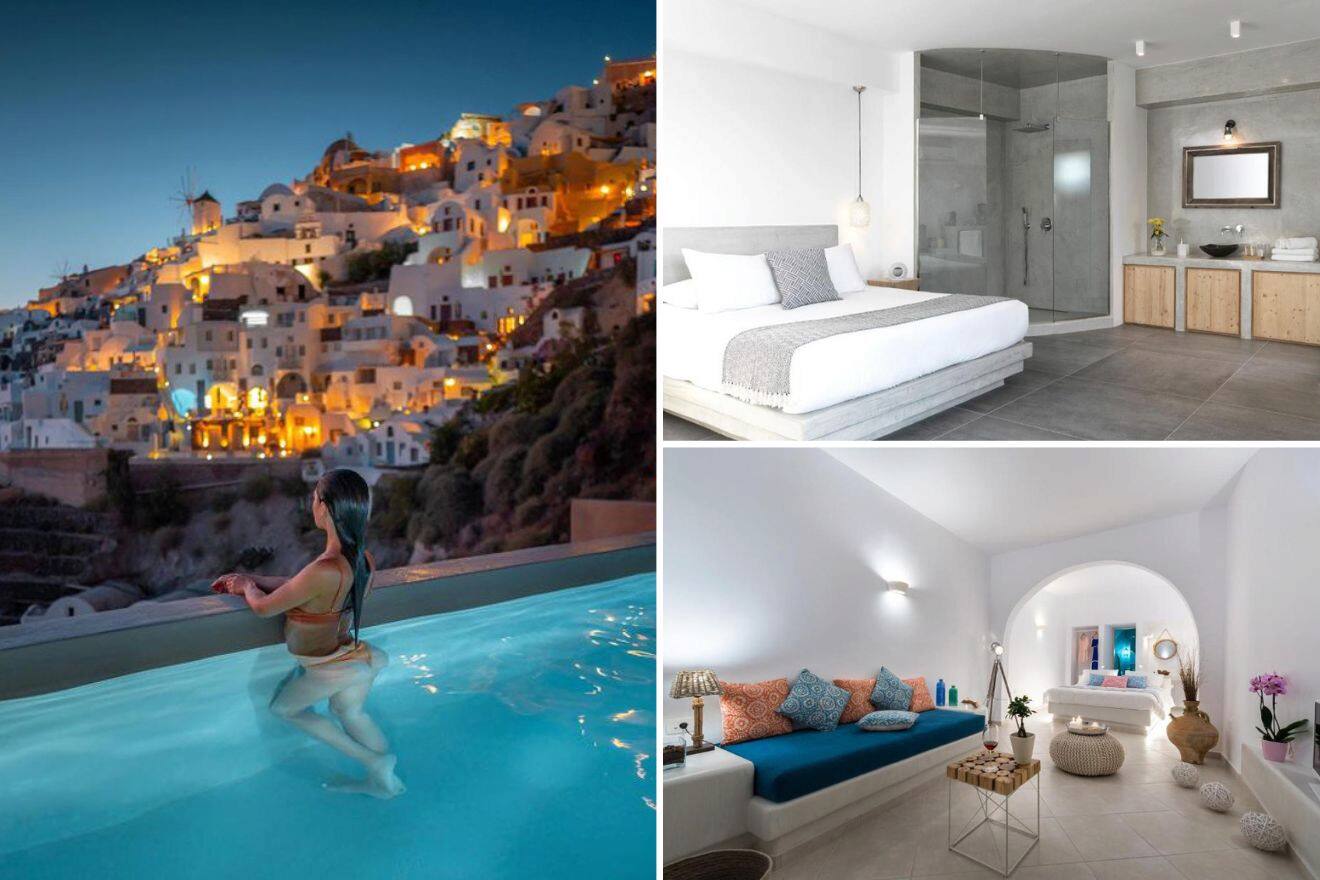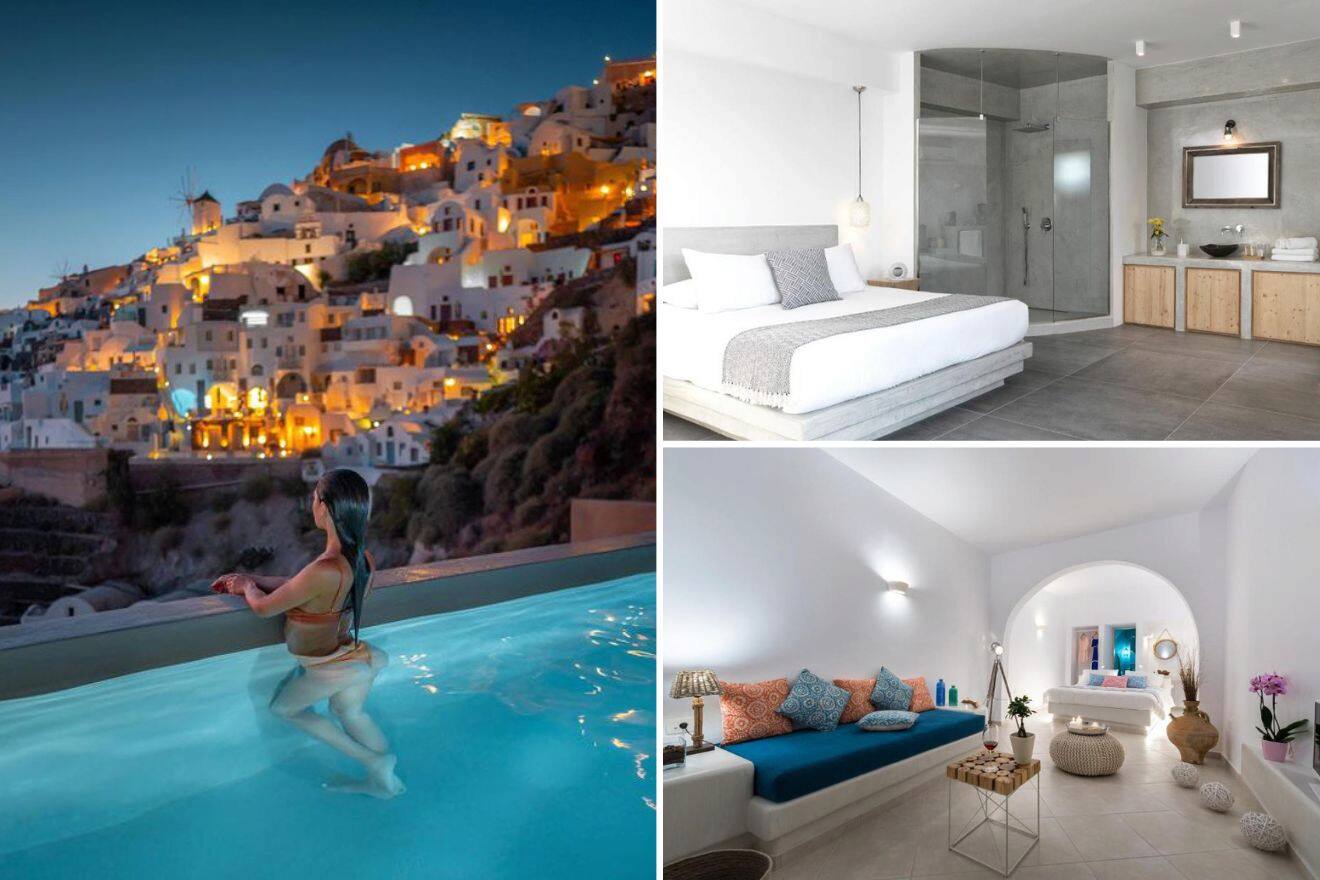 4. Elysian Santorini
This hotel offers villas with an amazing cave style, and all of them come either with a private pool or hot tub. You will get to enjoy an amazing breakfast every morning, and you can book tours or rent bikes on-site to explore the city!
5. Old Castle Oia
I am completely blown away by this hotel's style and decor. Imagine waking up to a stunning view of the Aegean Sea and receiving a delicious breakfast every morning in your room. After that, go for a hike in Oia to then relax in your private jetted tub or plunge pool!
6. Kima Oia Suites
Color-themed rooms and suites with simple and elegant furniture, terraces with private hot tubs, and amazing views of the ocean are what is waiting for you in this hotel! The hotel staff will be ready to help you with all the inquiries you have, and breakfast will be served in your room every morning!
BONUS #2: Best luxury hotels in Oia Santorini
I feel like we all need this bonus of the best luxury hotels in Oia Santorini! This section is full of nice options that will make you feel relaxed and like a celebrity!
The hotels are arranged to start for the most expensive ones first; prices per night go from €1700 to €600.
Let's check them out!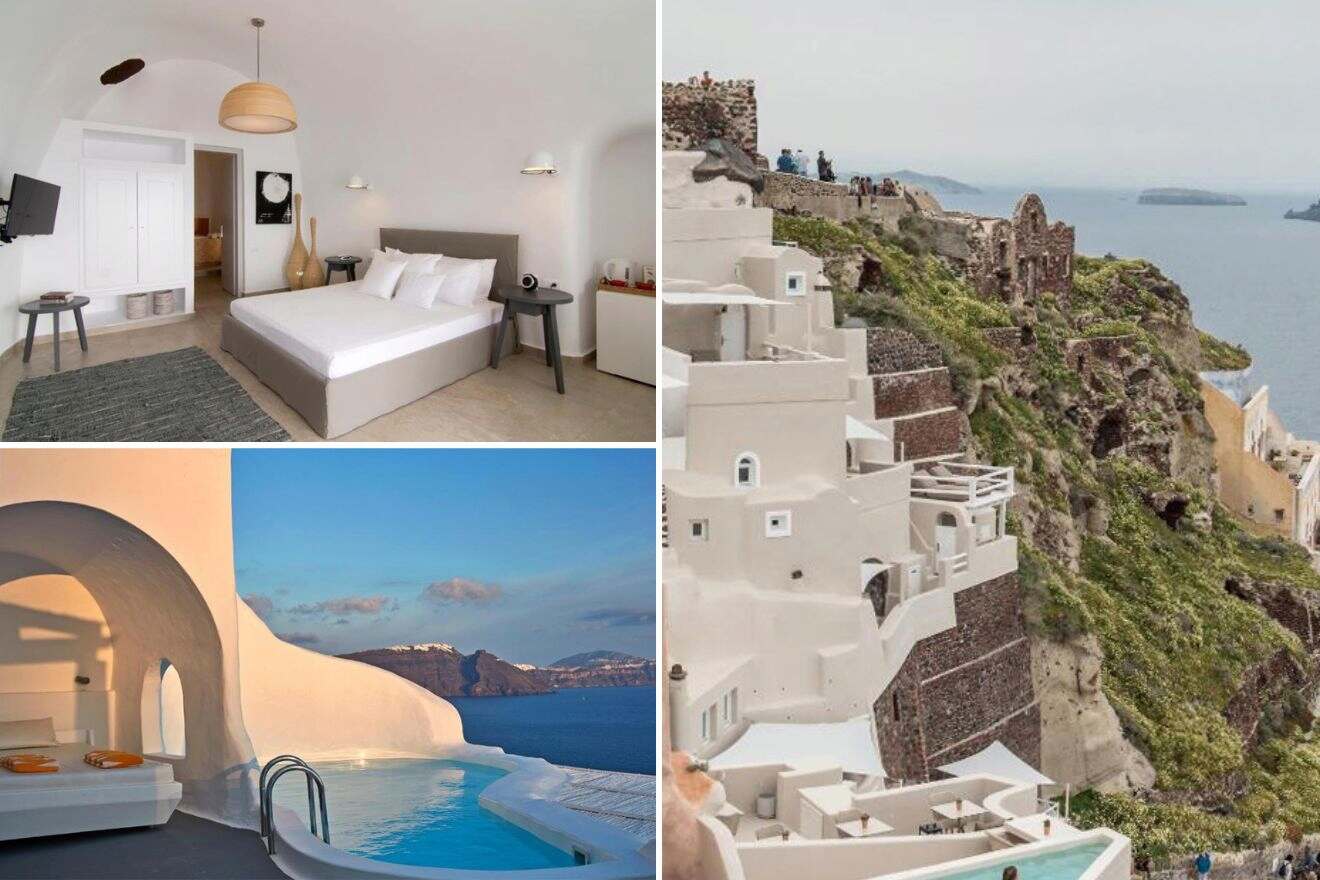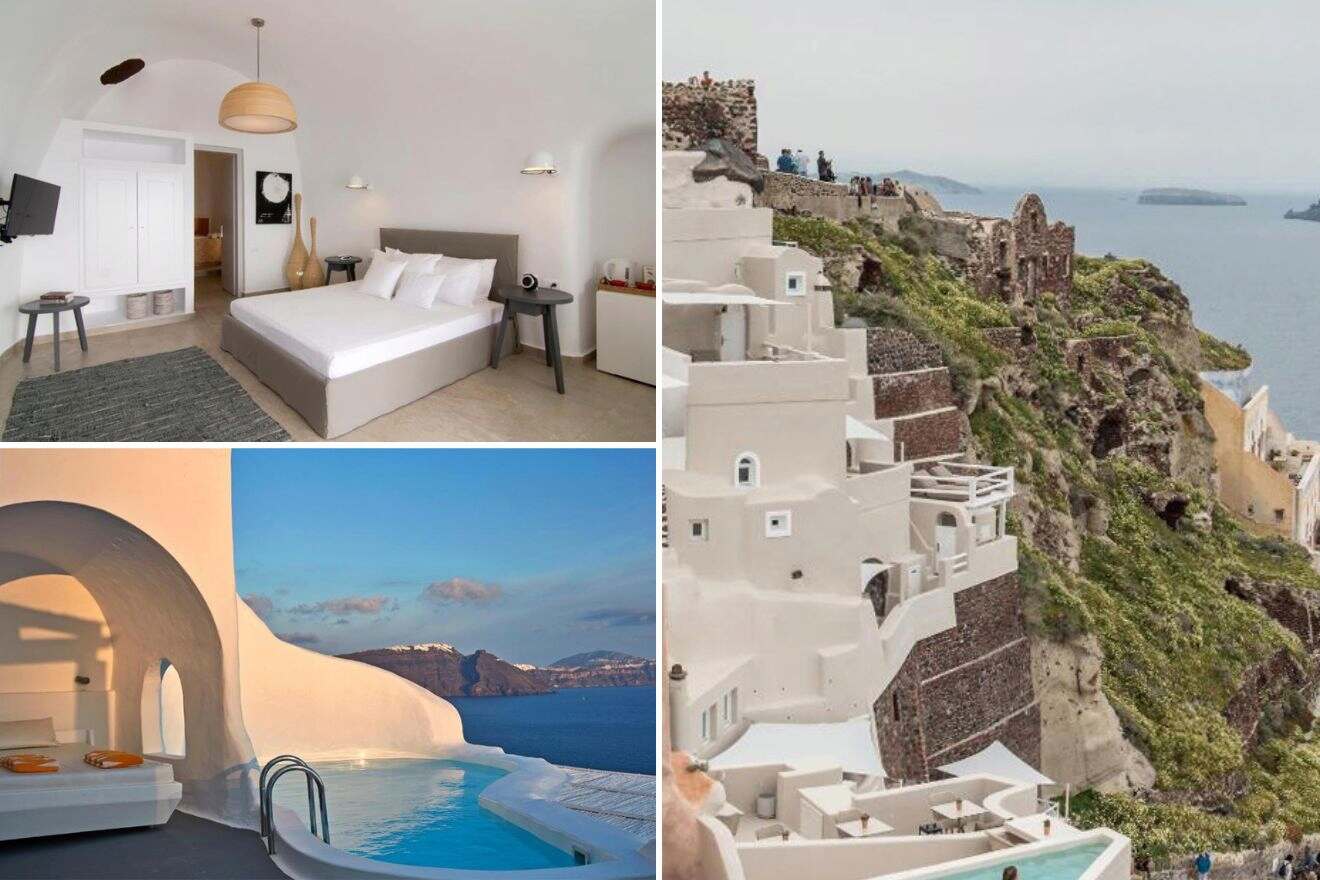 1. Art Maisons Oia Castle
Travel back in time and experience what life used to be like in these cave-style hotel rooms with all the modern amenities you need! All the rooms are stunning and come with private pools or a jacuzzi; one of the rooms even has a cave pool, which would be an amazing experience! Their biggest room is the villa, and they can host up to 5 guests!
2. Katikies Hotel Santorini
Wow! The style of this hotel is super luxurious! Rooms have parquet floors and private bathrooms with a jacuzzi. Some of the rooms have a private pool on their balcony, and all of them have a stunning Caldera view. This hotel would be perfect for couples looking for a private piece of paradise!
3. Santorini Secret Suites & Spa
This hotel is incredible, it has a cave-style design but with a fantastic artsy twist, amazing art on the walls, and nice touches of color everywhere! It features a spa and fitness center, and breakfast is served to the rooms every morning! The rooms and villas come with a private swimming pool or jacuzzi and breathtaking views!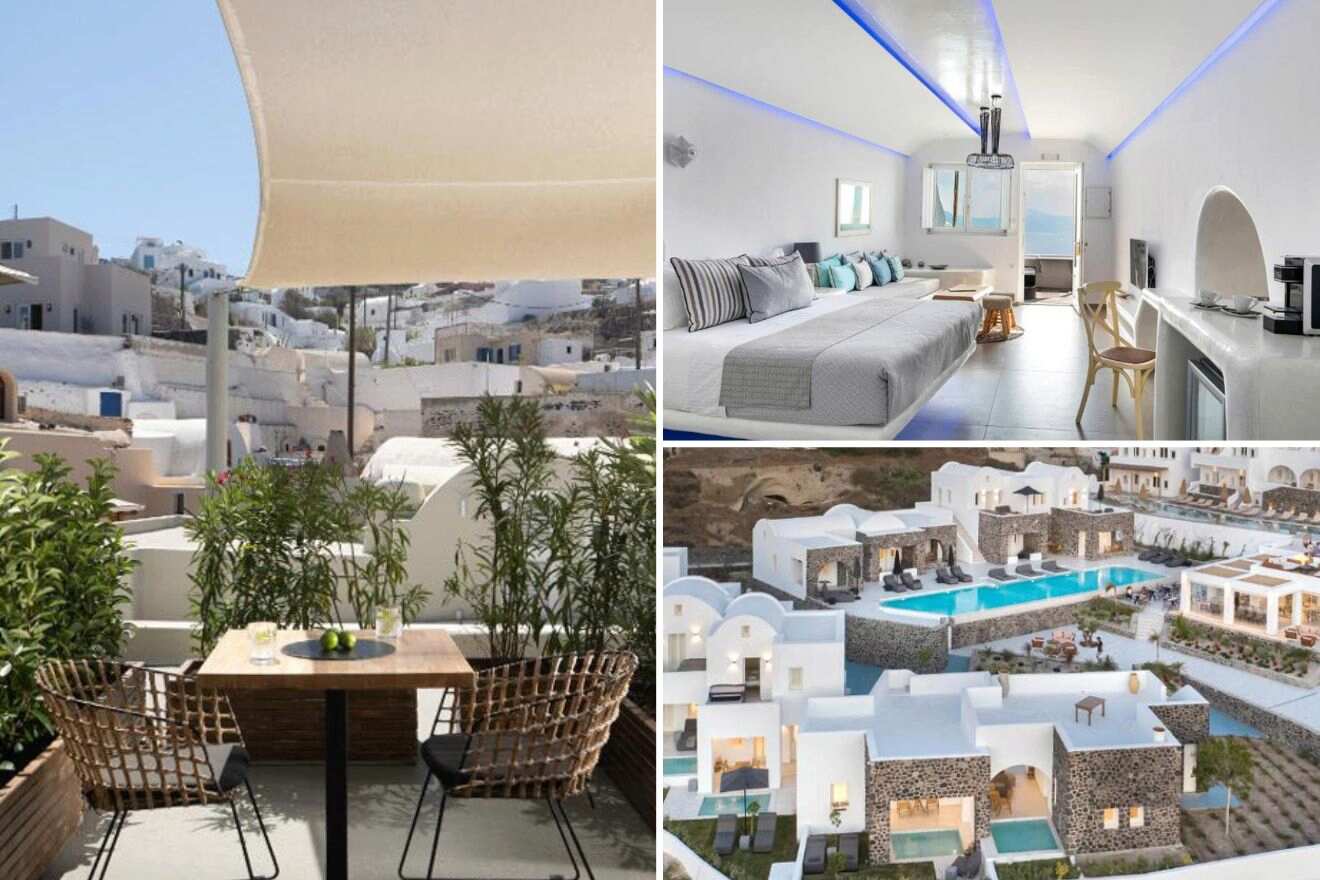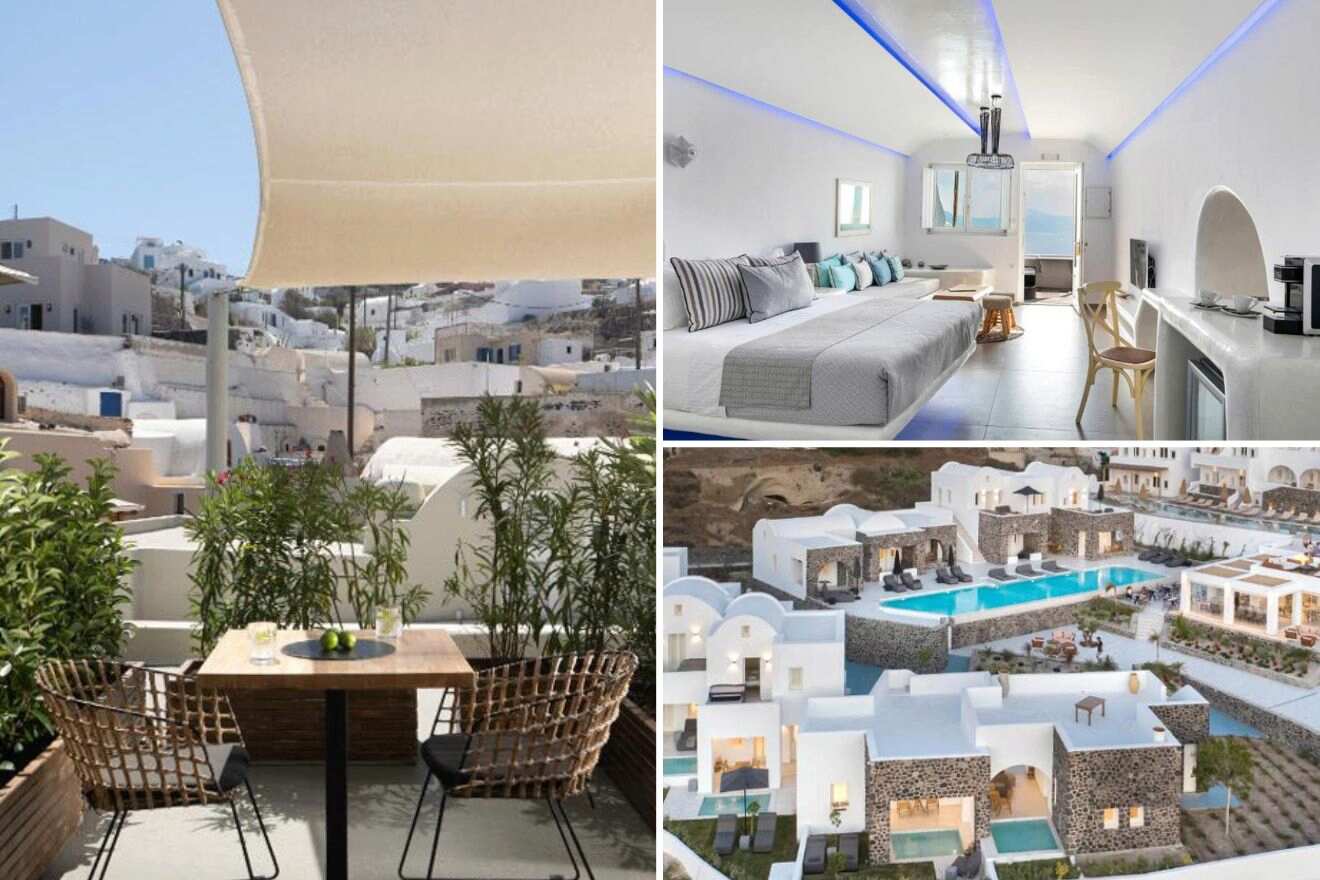 4. Secret Legend Suites
I am obsessed with this hotel, it looks so modern and stylish! The rooms have fabulous decor, and it even comes with dimmable LED lights on the ceiling, perfect for going into relaxation mode! All the rooms have a jacuzzi on the terrace or balcony, and guests are offered a free shuttle from and to the airport!
5. Edem Luxury Hotel
This hotel feels like the perfect place for a romantic getaway, and somehow it feels perfect for an influencer photoshoot! Super modern yet classy, this hotel offers concierge services, a terrace with a view, and entertainment equipment! All the rooms have a nice view, and some of them come with a private hot tub.
6. Secret View Hotel
Rustic and luxurious, the perfect combination between modernity and natural elements! This hotel comes with a terrace and swimming pool, you can relax by the poolside or go snorkeling which you can do onsite! All the rooms are spacious and come with high-end furniture. Some of the rooms have a private plunge pool, a heated plunge pool, or a hot tub!
FAQs about hotels in Oia Santorini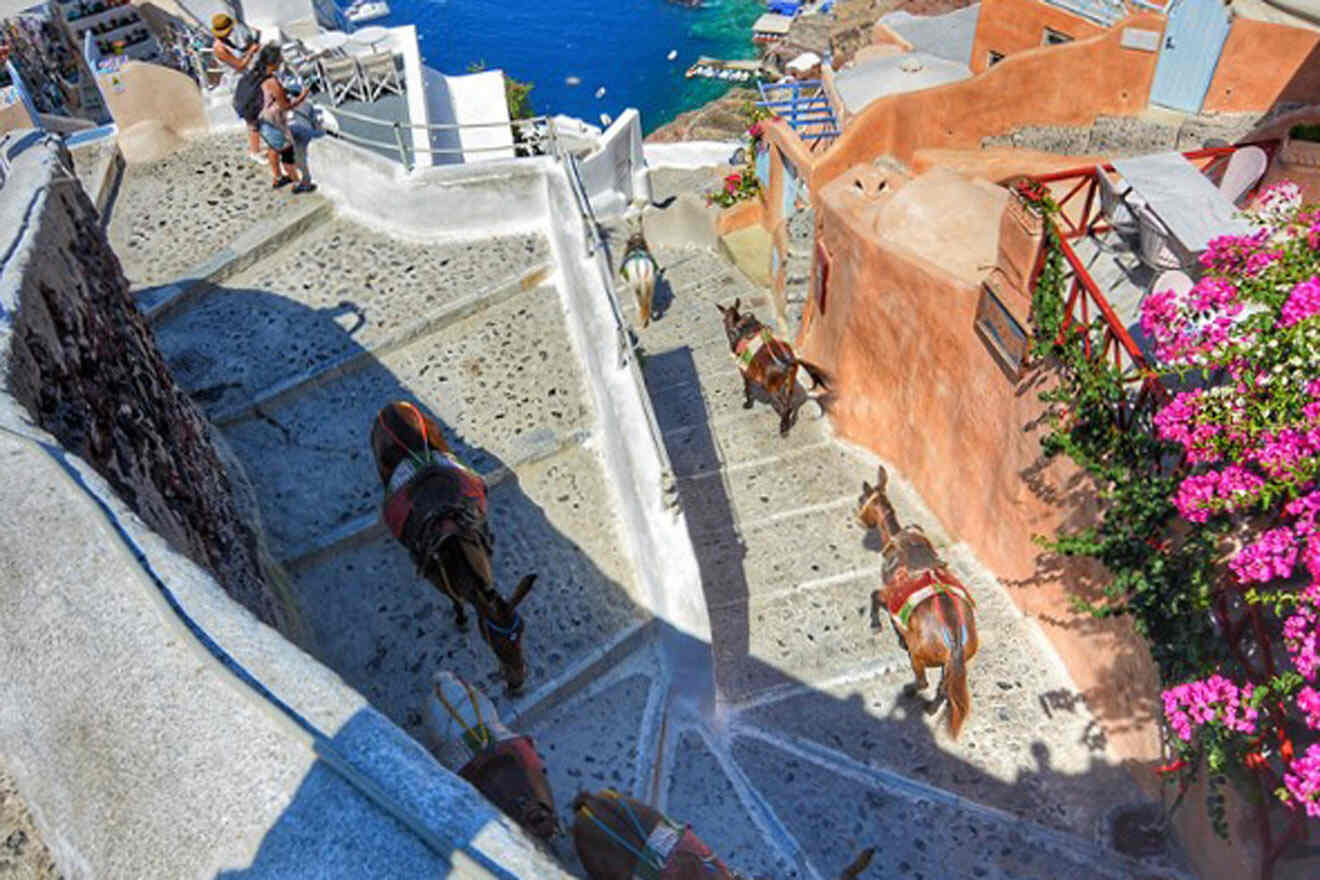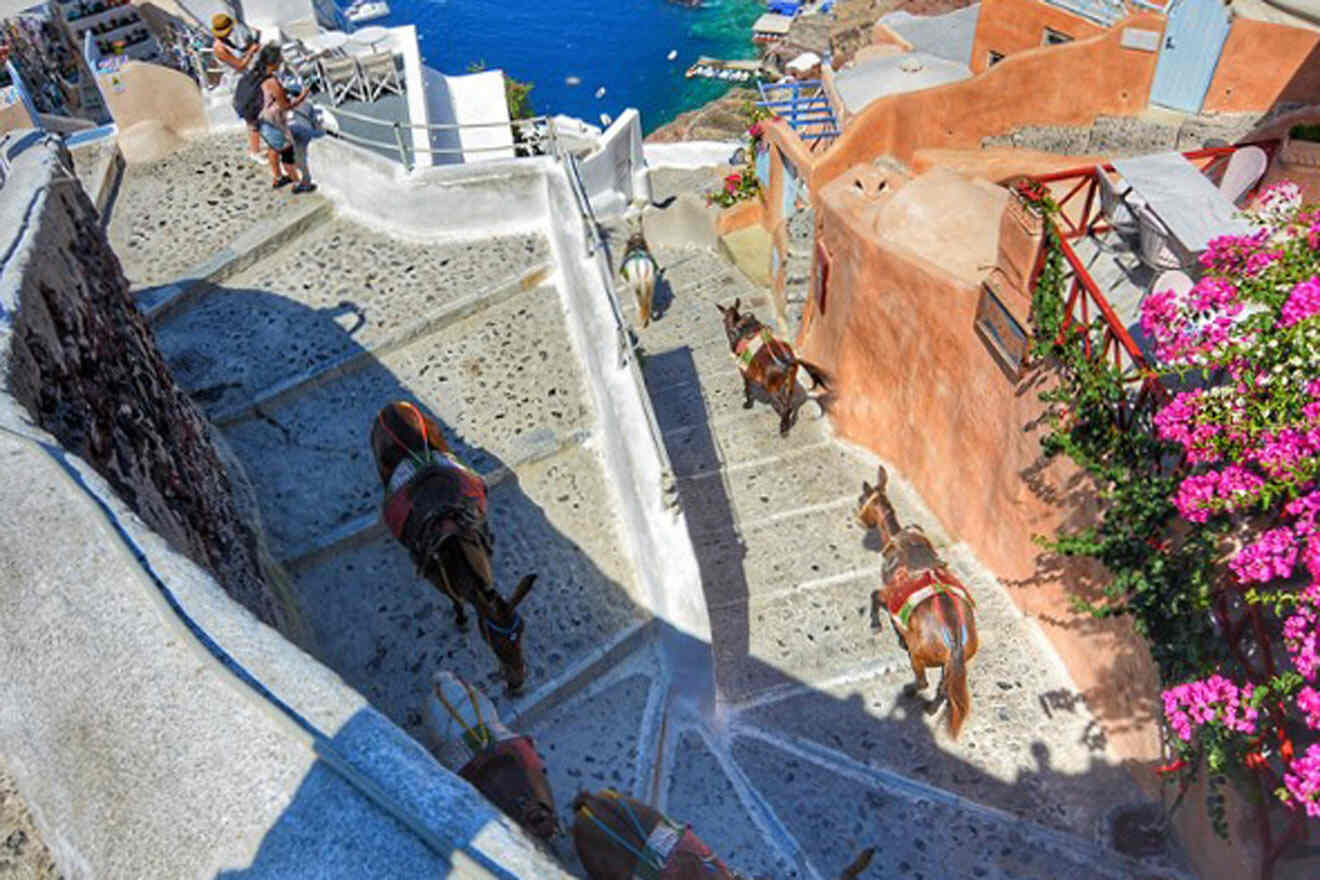 Conclusion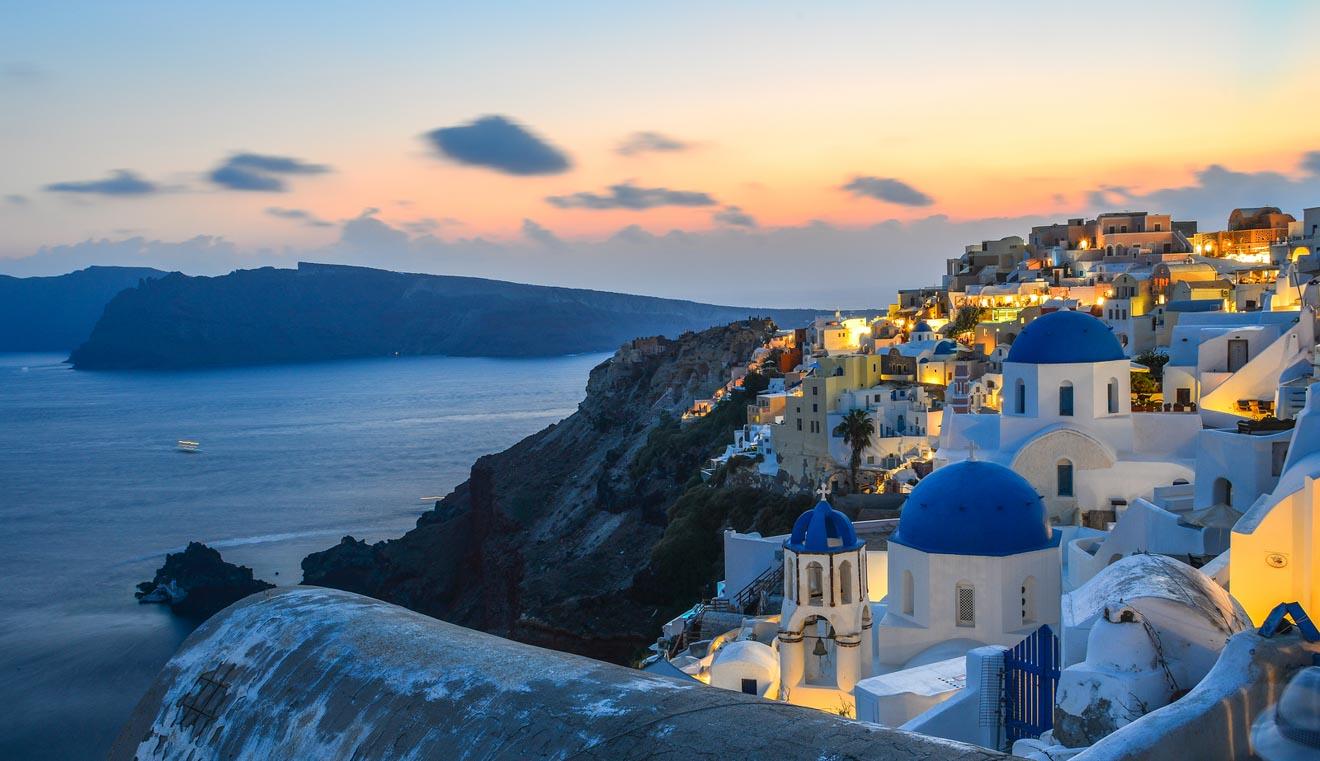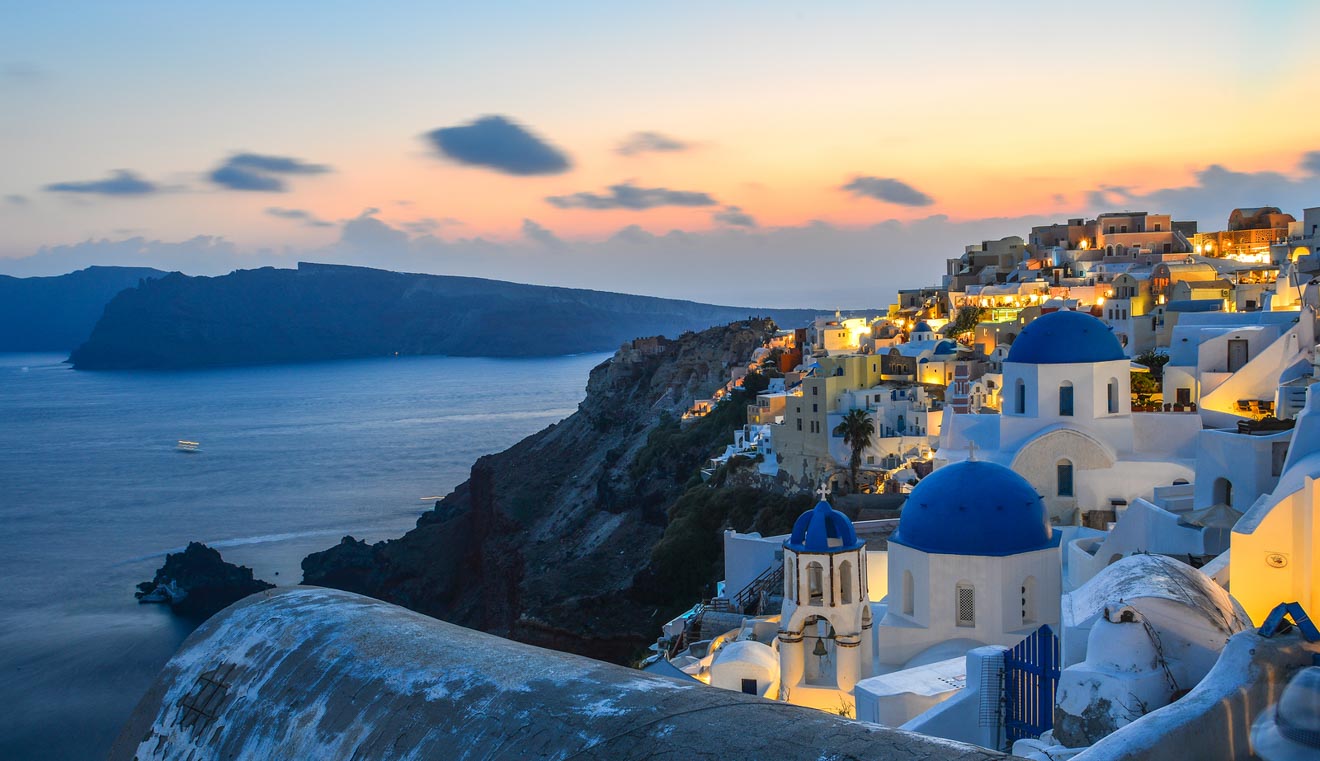 That is all for today, lovely humans! Those were the best hotels in Oia Santorini! I have featured a wide range of options for all tastes and for all budgets. And all of these are great options for every group of travelers, from solo adventurers to couples, families, and groups of friends!
Honestly, all the hotels are just fabulous, and I would be more than happy to stay in such a paradise. Still, if I have to give you a top 2 of my favorite best Oia hotels, those would be:
Oia and the Greek Islands, in general, are popular amongst all travelers around the world! So, if you don't want to miss out and end up without the room of your dreams, book your room as soon as you make a decision and start planning what you want to take to Greece!
Which of these hotels in Oia Santorini is your favorite? Let me know in the comments!
Have the best time,
Daniela
---
Pin it for later!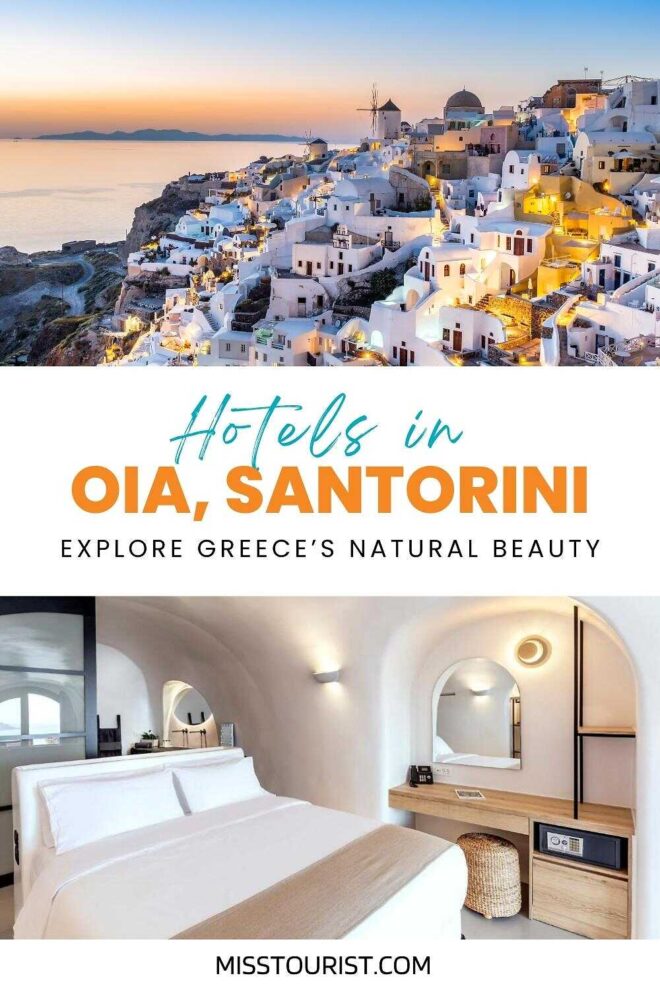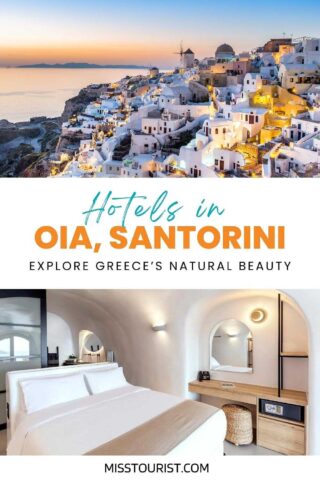 Pin it for later!