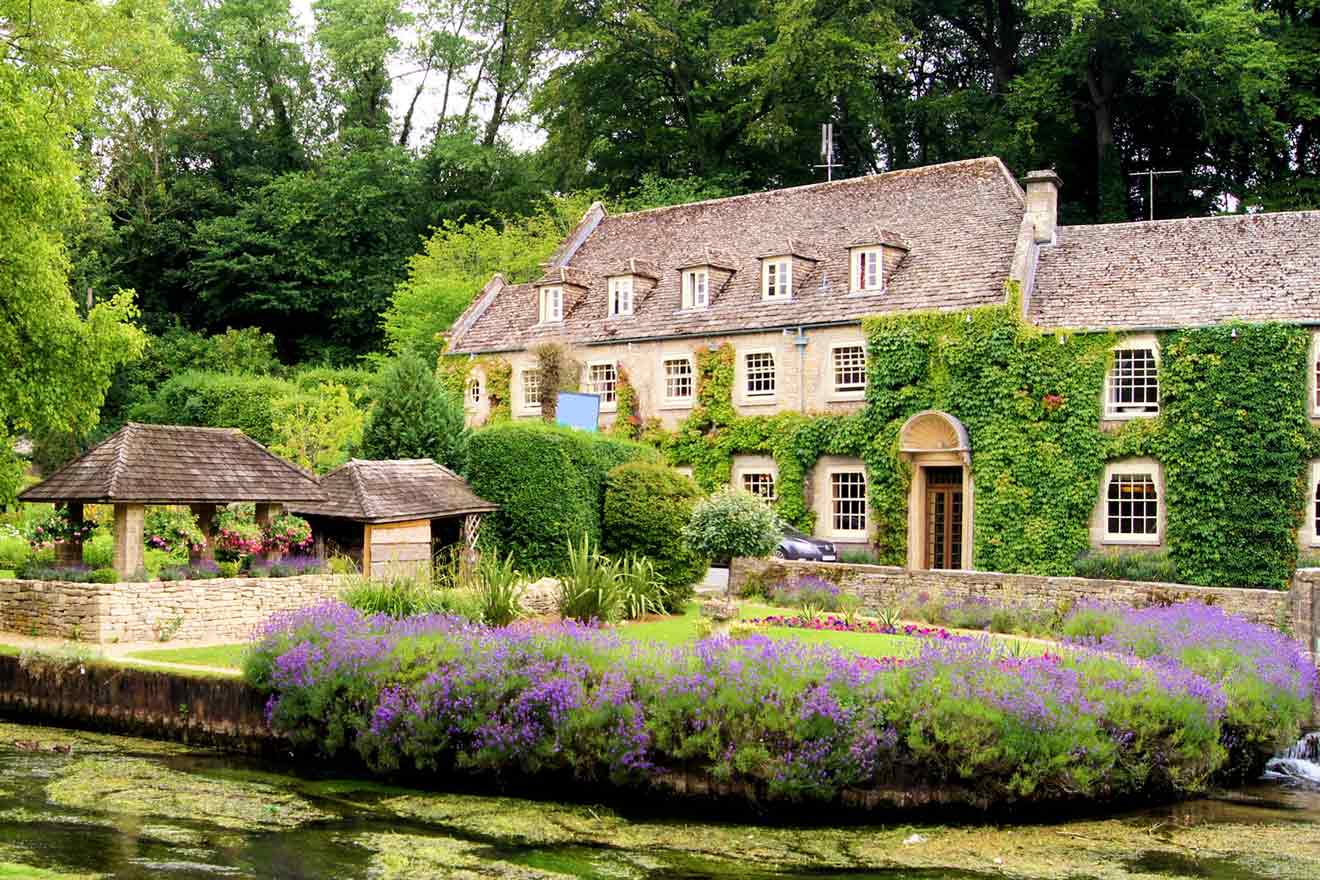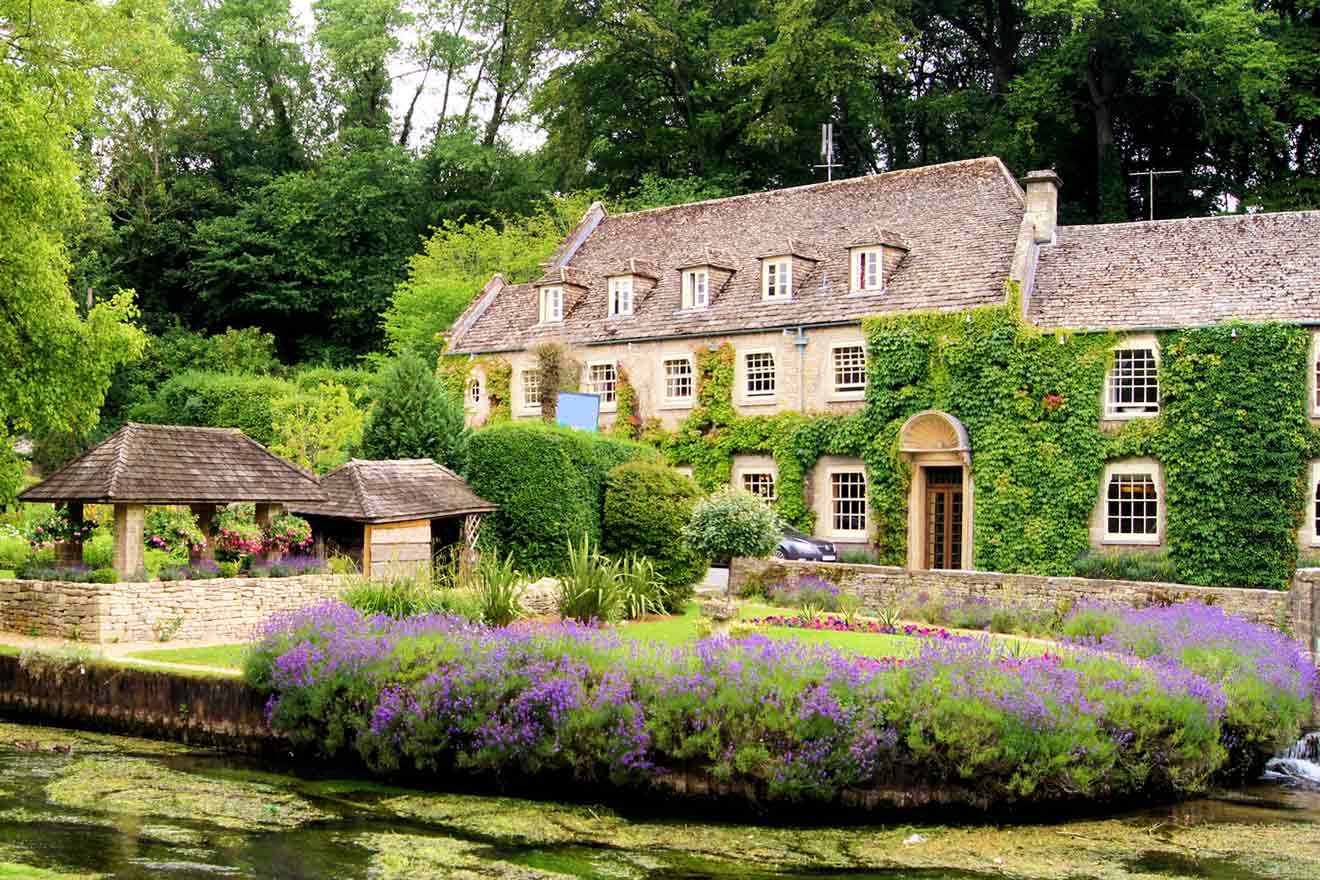 Nothing can beat the English countryside! Flower fields, old oak trees, and rolling hills that have seen more than we can imagine! Yep, I'm talking about the beautiful Cotswolds area. If you're planning a trip there, then follow me!
In this post, I'll talk about the best luxury hotels in Cotswolds which I hand-picked for you to make sure all of them have amazing reviews, which I listed from most to least expensive so you can easily pick your favorite.
And once you've found the one, then I'd recommend booking it right after. As you probably know by now if you don't want to be in too much trouble and pay double the price or end up with a not-so-pretty room, it's best to book super early.
Well, I've made my case, and now I think we're ready to go!
If you are in a hurry
If you don't have the time or you're not in the mood to read the whole post, then have a look at this short list of the best luxury hotels in the Cotswolds area:
The Cotswolds area is pretty big, so check out the map below, it will help you visualize all the hotels that I'll talk about in this post:
1. Barnsley House – historic hotel with a spa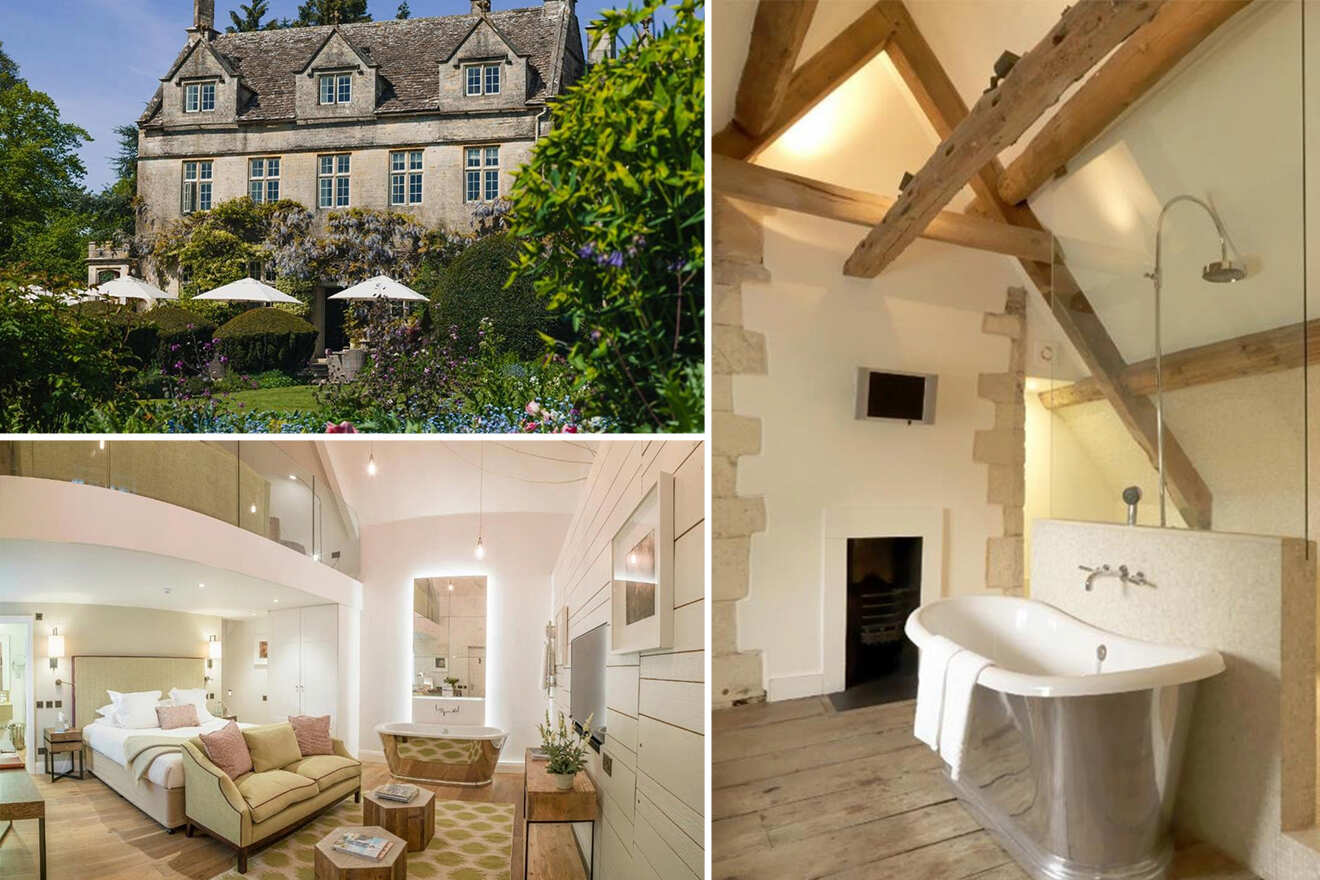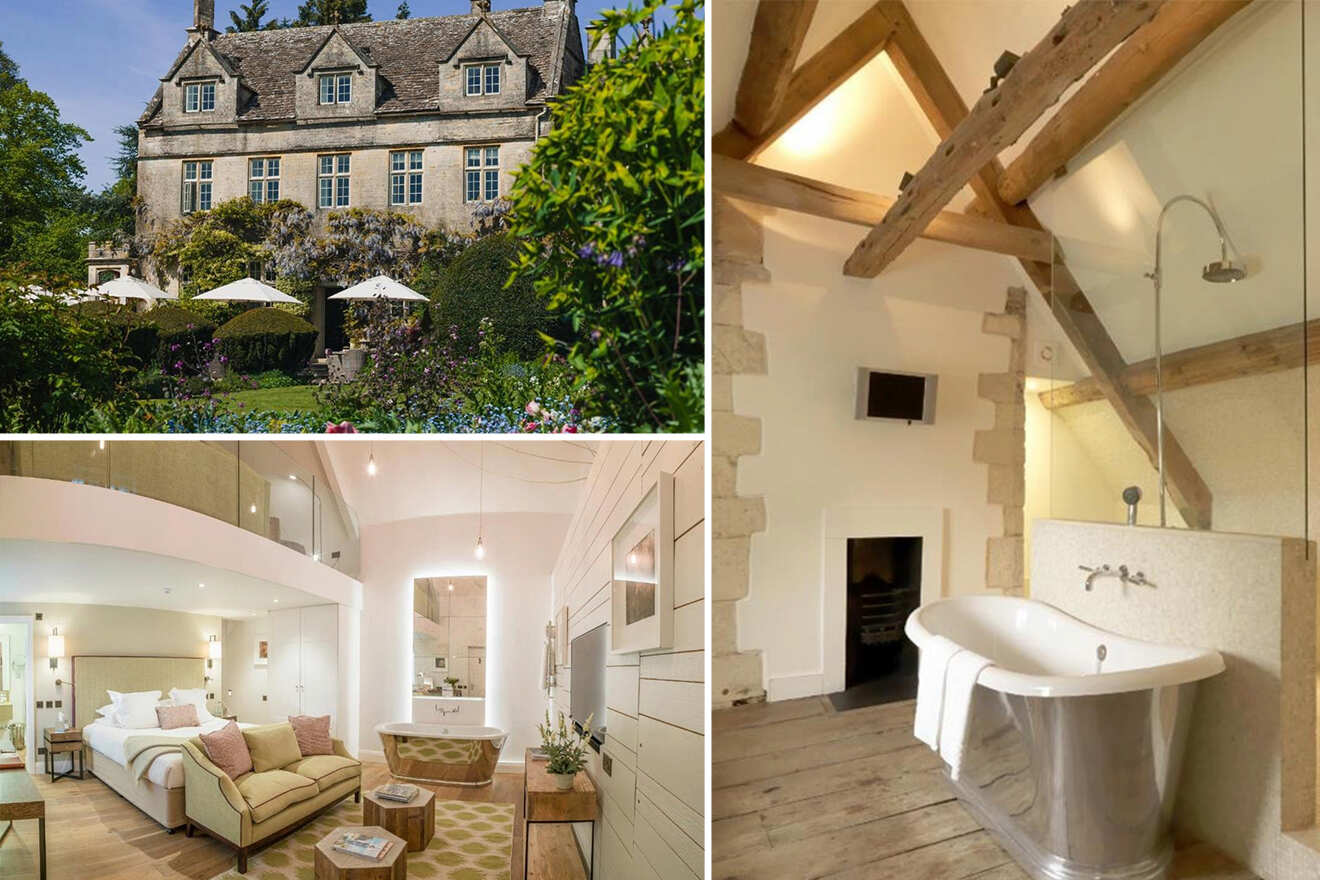 Get ready for the ultimate English getaway in one of the most charming towns in the Cotswolds area! Offering a picturesque location in Cirencester, this boutique hotel has such a simple and elegant design! All the guest rooms have lots of space, bed linen, and a flat-screen tv.
The historic house is surrounded by natural beauty! You'll want to spend most of your time in the enchanted gardens, smelling all the colorful flowers. But don't forget that they have some fabulous spa facilities and a hot tub where you can relax so make sure to add that to your schedule! And end your day with a yummy dinner at the on-site restaurant. Make sure you book early; these ones won't be too long available!
2. Lucknam Park Hotel – country house with an award-winning restaurant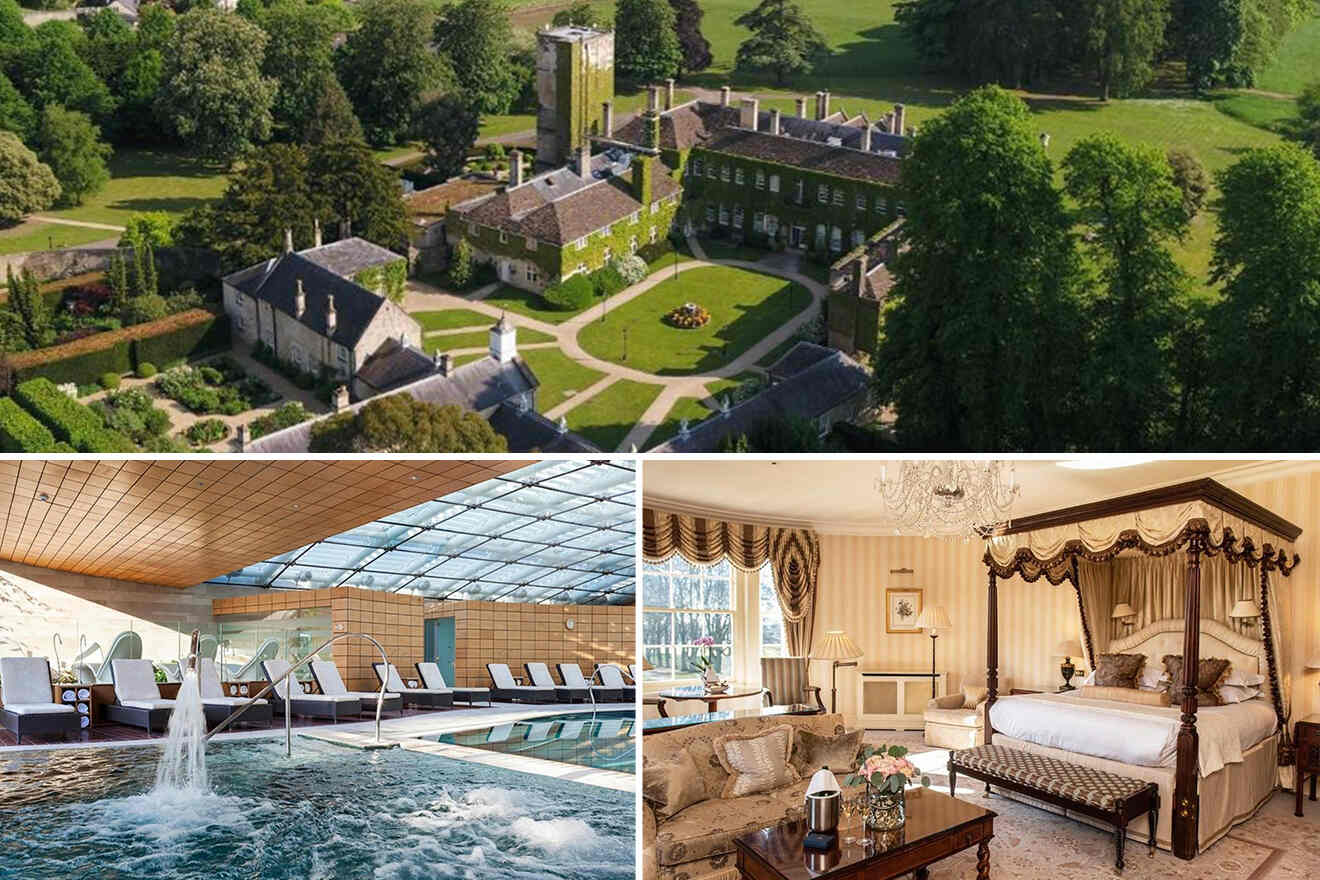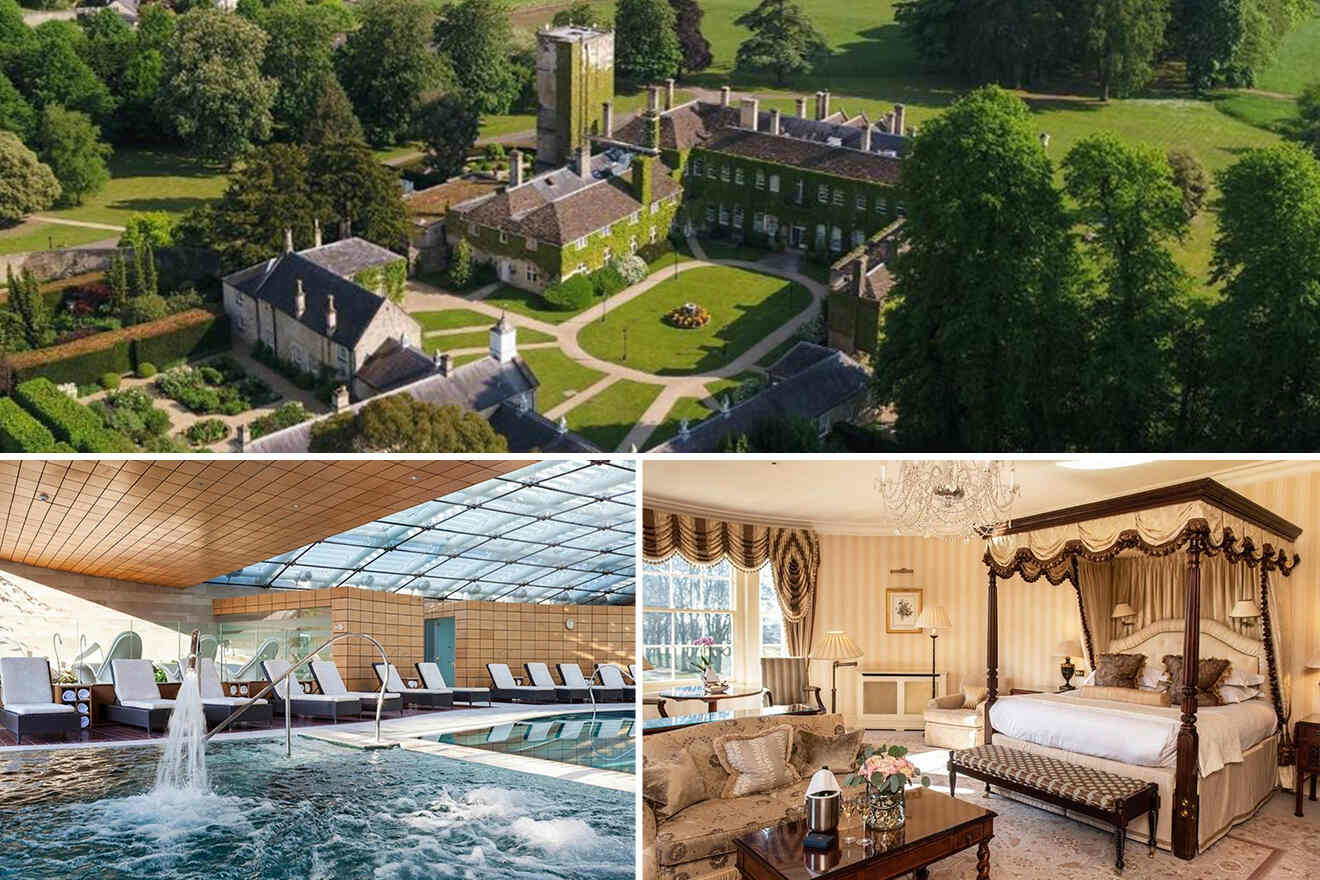 All the picturesque villages in Cotswolds offer outstanding natural beauty but Colerne, which is set 2h away from Oxford, is surely one of a kind! Here you'll find this unique country-house hotel that is located within a private 500-acre estate with a walled garden.
The hotel features family rooms that are individually furnished (some even come with a vintage four-poster bed). You'll find plenty of things to do here, from horse riding to relaxing in the spa and swimming all day in the outdoor pool. Nothing compares with a long spa sesh before enjoying their Michelin-starred dining at restaurant Hywel Jones.
3. Thyme – stylish hotel with a cookery school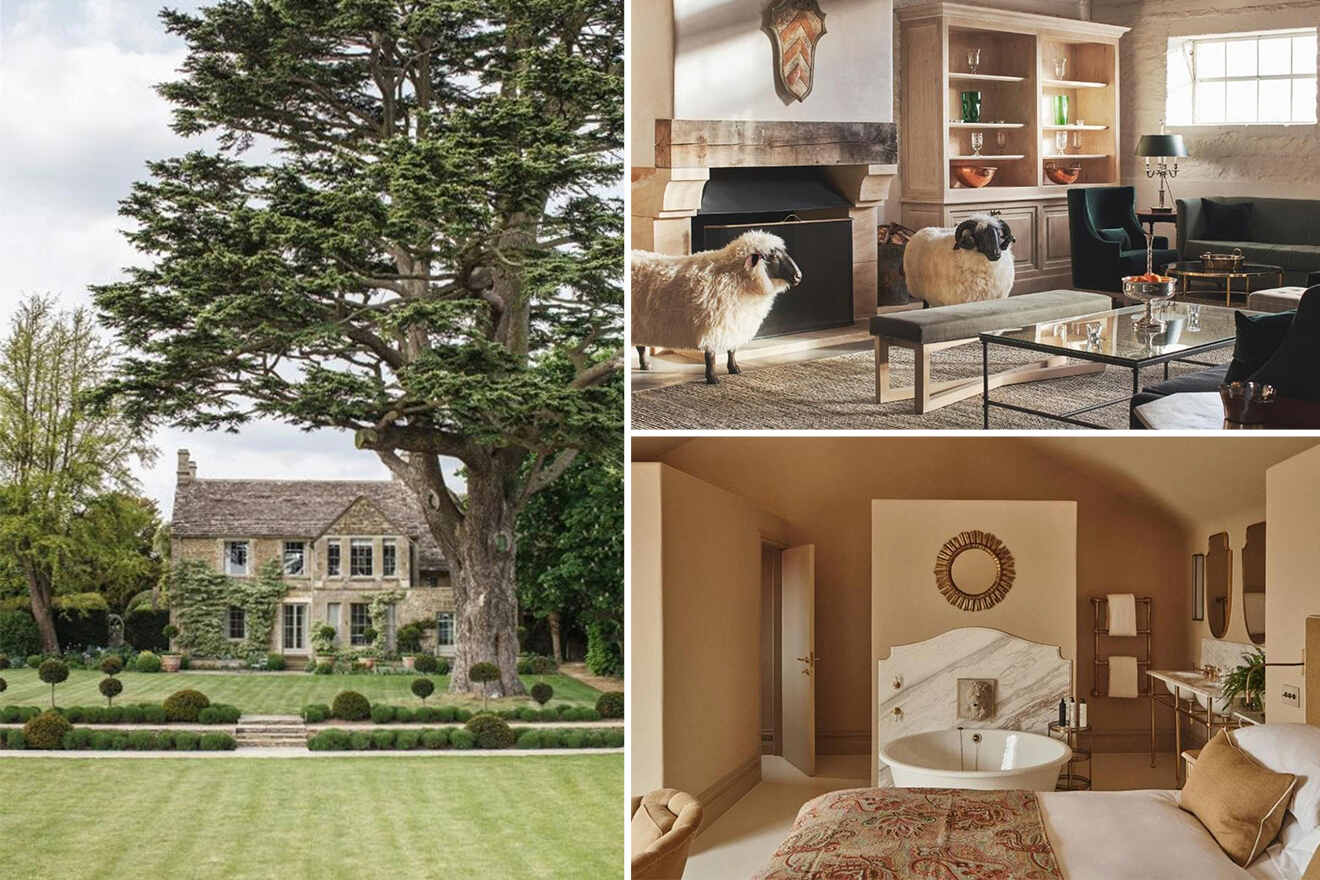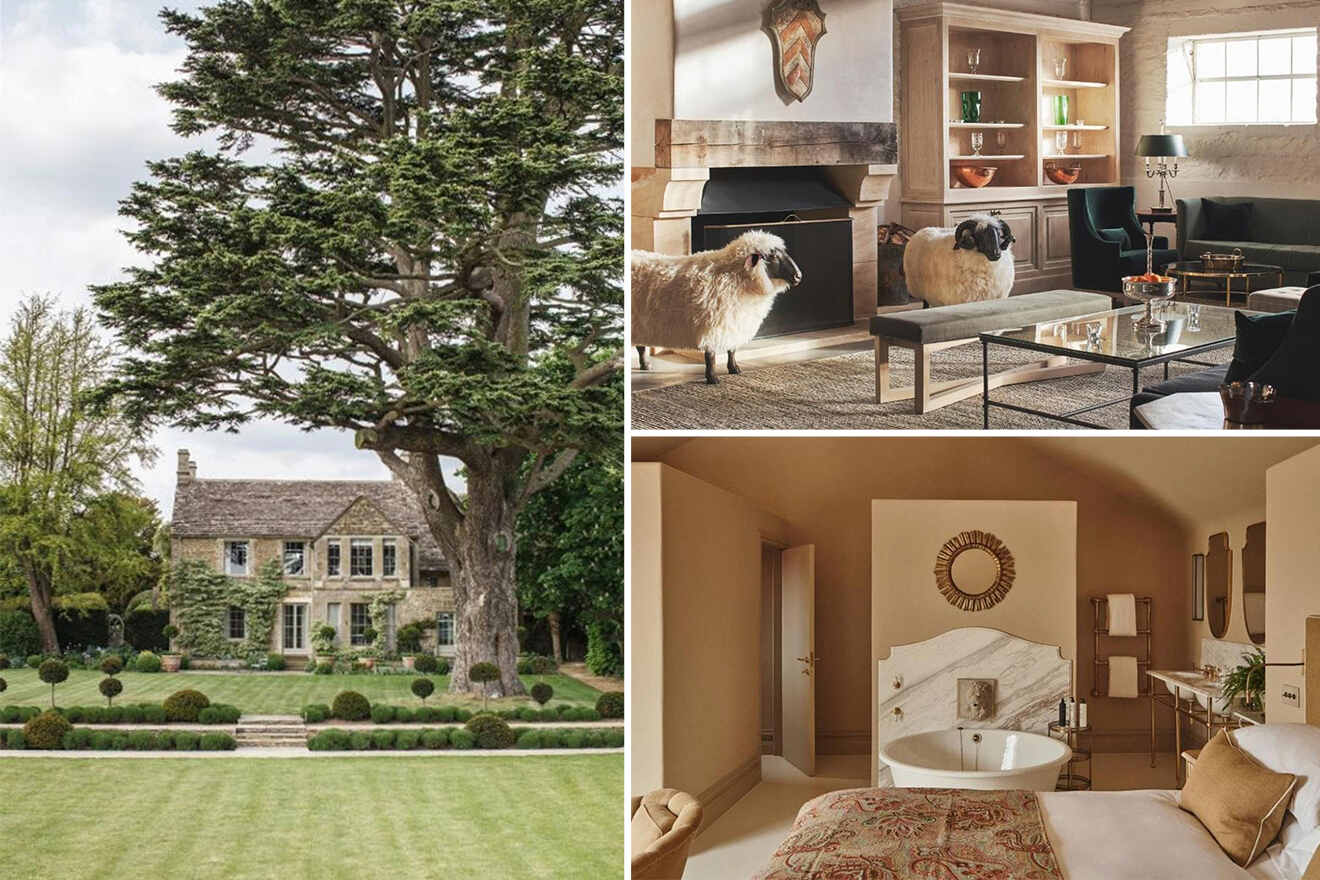 If you love spending time outdoors and enjoy sitting under trees all day long, then this place is definitely for you! Thyme was initially designed as a cookery school but it was later turned into a luxurious hotel.
All the rooms have a simple design yet are super chic and they come with a flat-screen tv, and a private bathroom. Although I'm sure, you won't spend too much time there, especially after seeing the garden and the spa! Enjoy a nice meal at the restaurant, and head outside for a day of exploring the Cotswolds hills.
4. The Cheltenham Townhouse Studio – city hotel that offers breakfast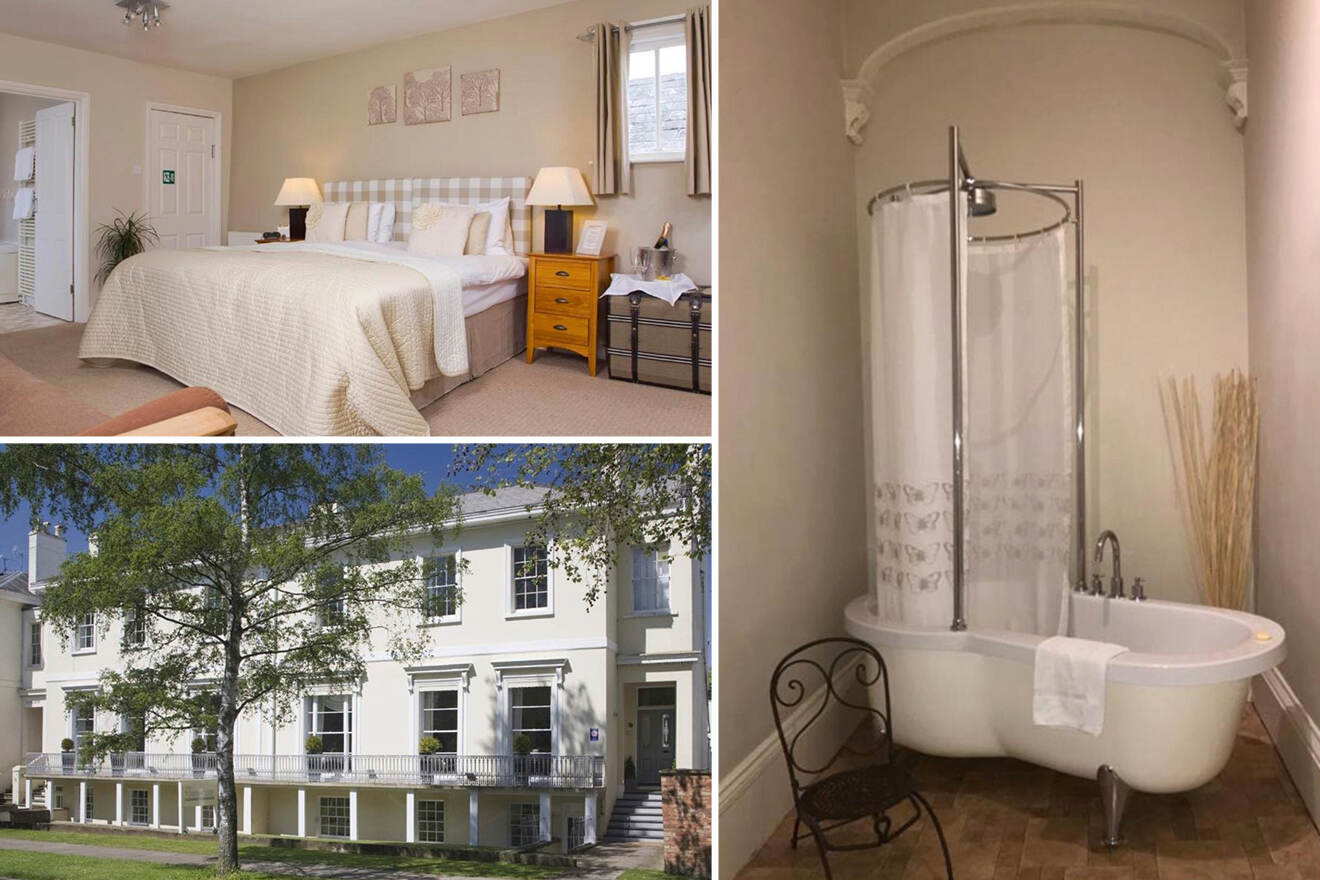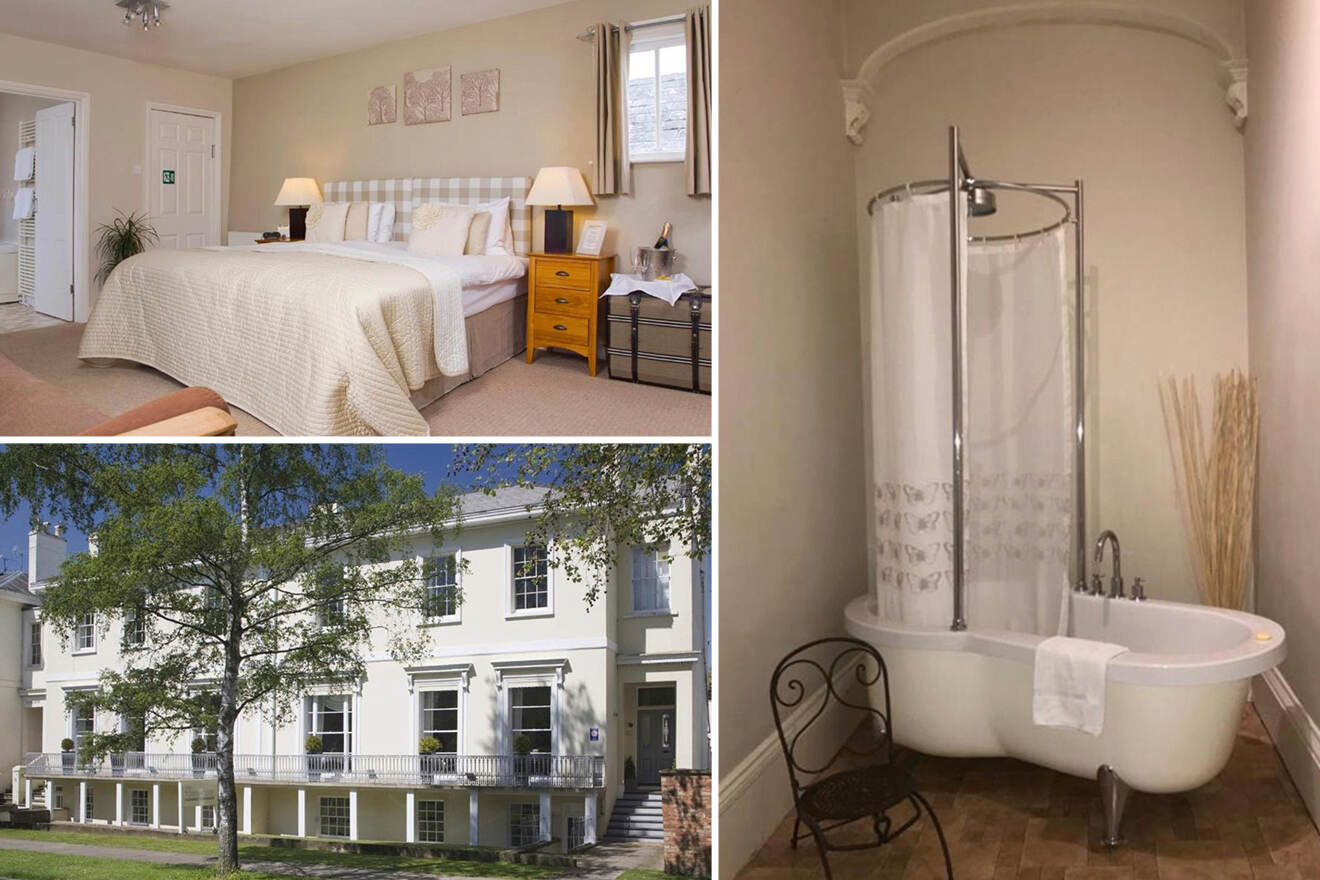 Looking to stay somewhere in the city? Don't worry, there are plenty of luxury hotels in the big towns as well. This one is located in central Cheltenham, just a short walk away from the theaters, shops, and galleries.
The accommodation features spacious bedrooms with a private bathroom, free wi-fi, and flat-screen tv. Some even have a small kitchenette, but you should know that at the hotel you'll be served breakfast every morning, and there are plenty of restaurants nearby! Plus a fantastic leisure center that guests can enjoy for free!
5. Whatley Manor – unique hotel with an outdoor hot tub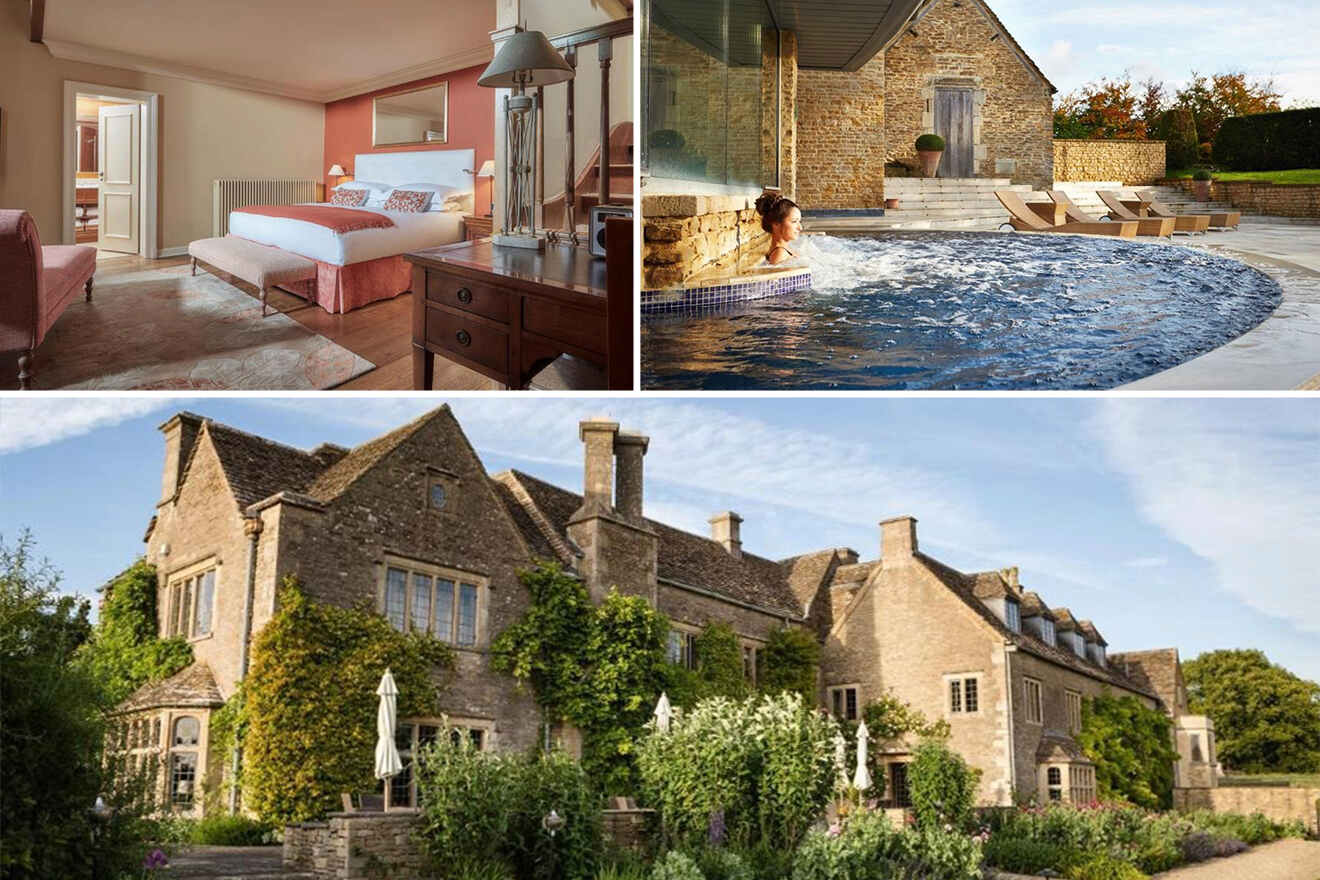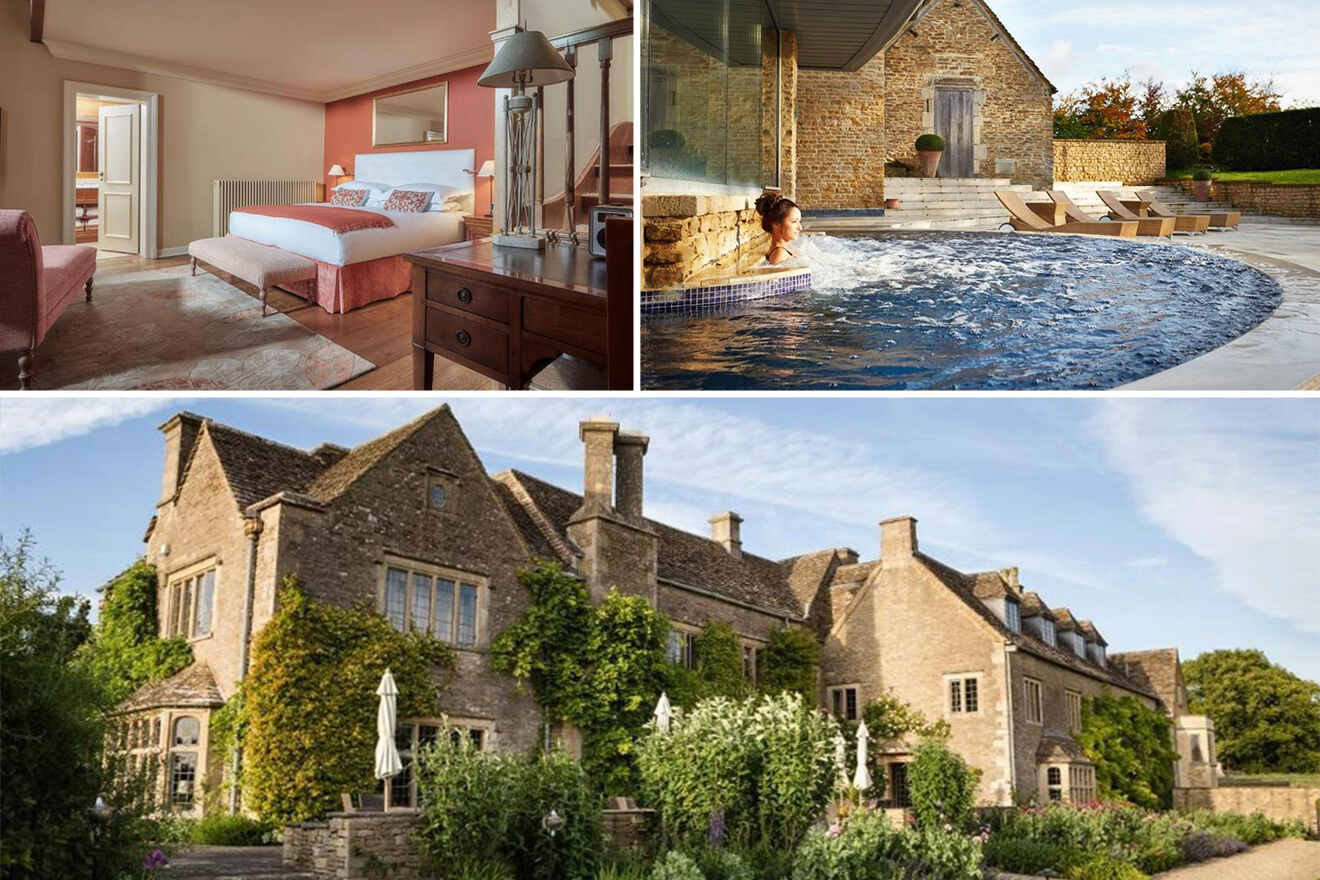 I love the English countryside with its famous gardens and historic homes turned into hotels! You'll find these types of hotels in Cornwall as well! Especially after seeing this amazing place set within 12 acres in Wiltshire countryside! It's a place where you can relax in the spa treatment rooms, eat really good food, and take long walks in their extensive gardens.
Whatley Manor House has a fine-dining restaurant on-site and a brasserie where you can enjoy the traditional afternoon tea alongside a good book! This chic hotel offers cozy rooms that have lots of space and a luxury bathroom.
6. Abbots Grange Manor House – medieval building with a tennis court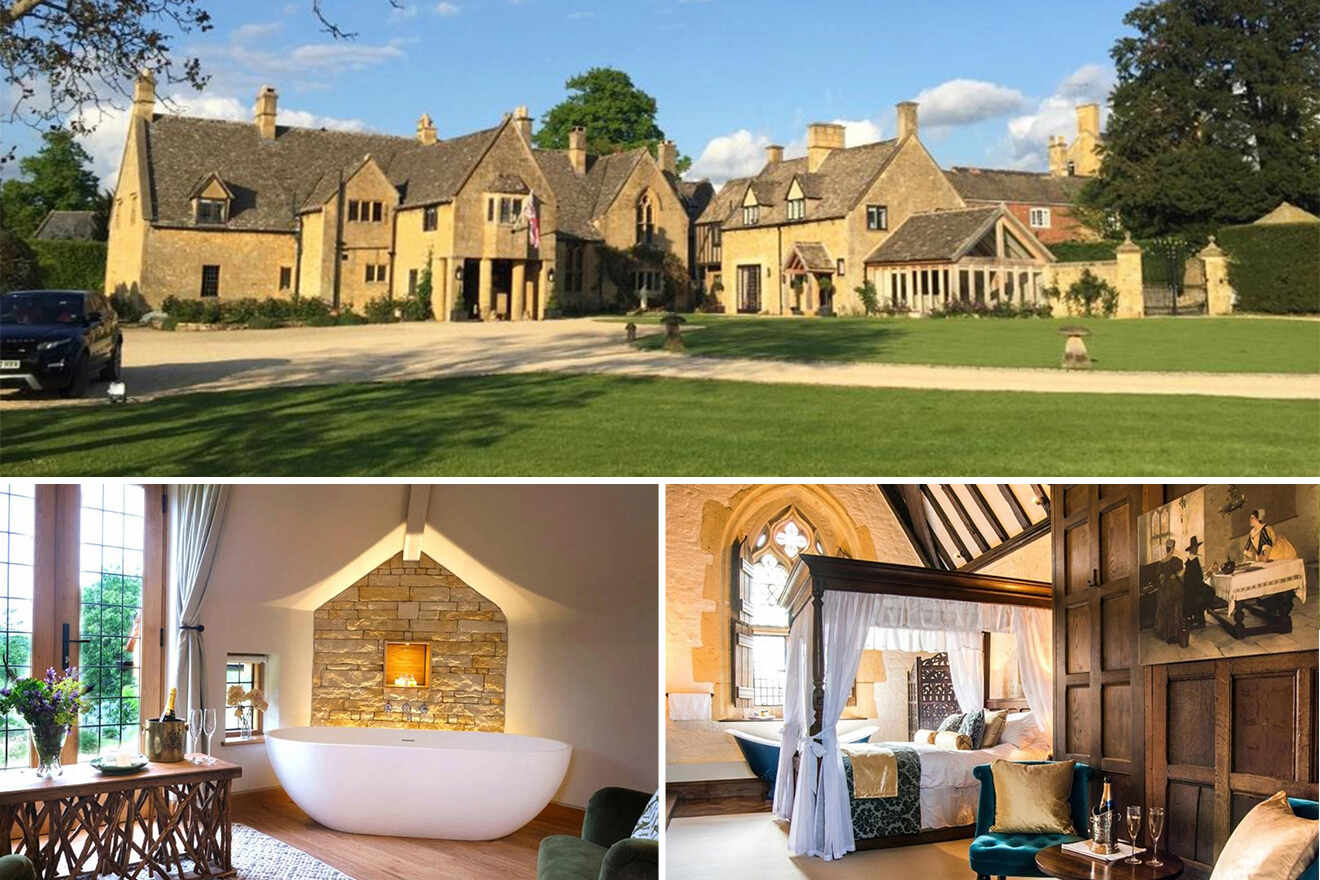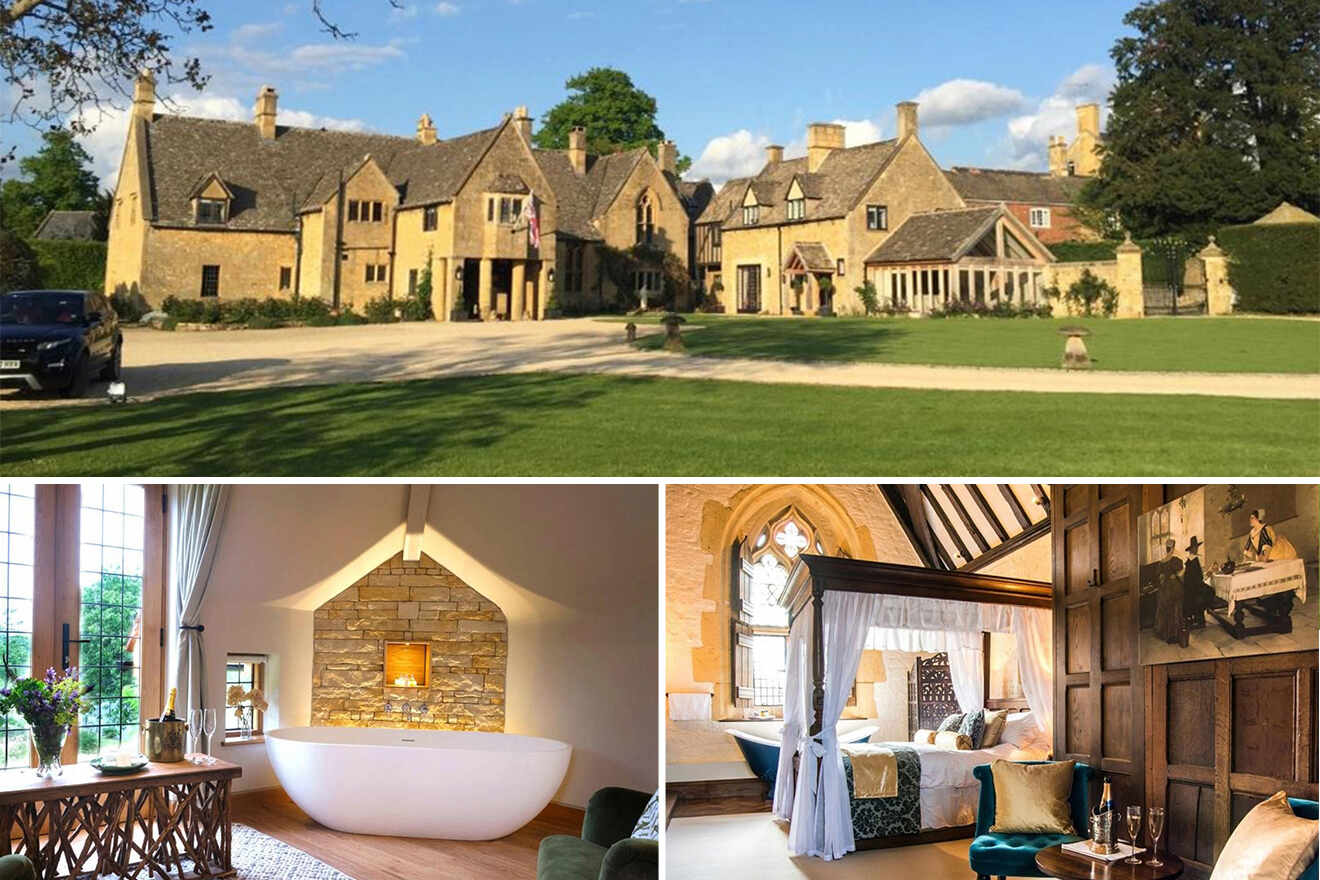 This list of luxury hotels in Cotswolds has lots of surprises and you'll love this one! This medieval manor house dates back to the 1300s, and it has the most amazing en suite bedrooms with period features like stone walls and wooden beams.
Don't worry, though, you'll get all the 21st-century facilities like free wifi, and complimentary toiletries. You can start your day with a yummy English breakfast in the dining room (they've also got veggie options) and then head out to enjoy a tea on the terraced patio garden or hit the tennis court.
7. Lords Of The Manor – historic hotel with a fine-dining restaurant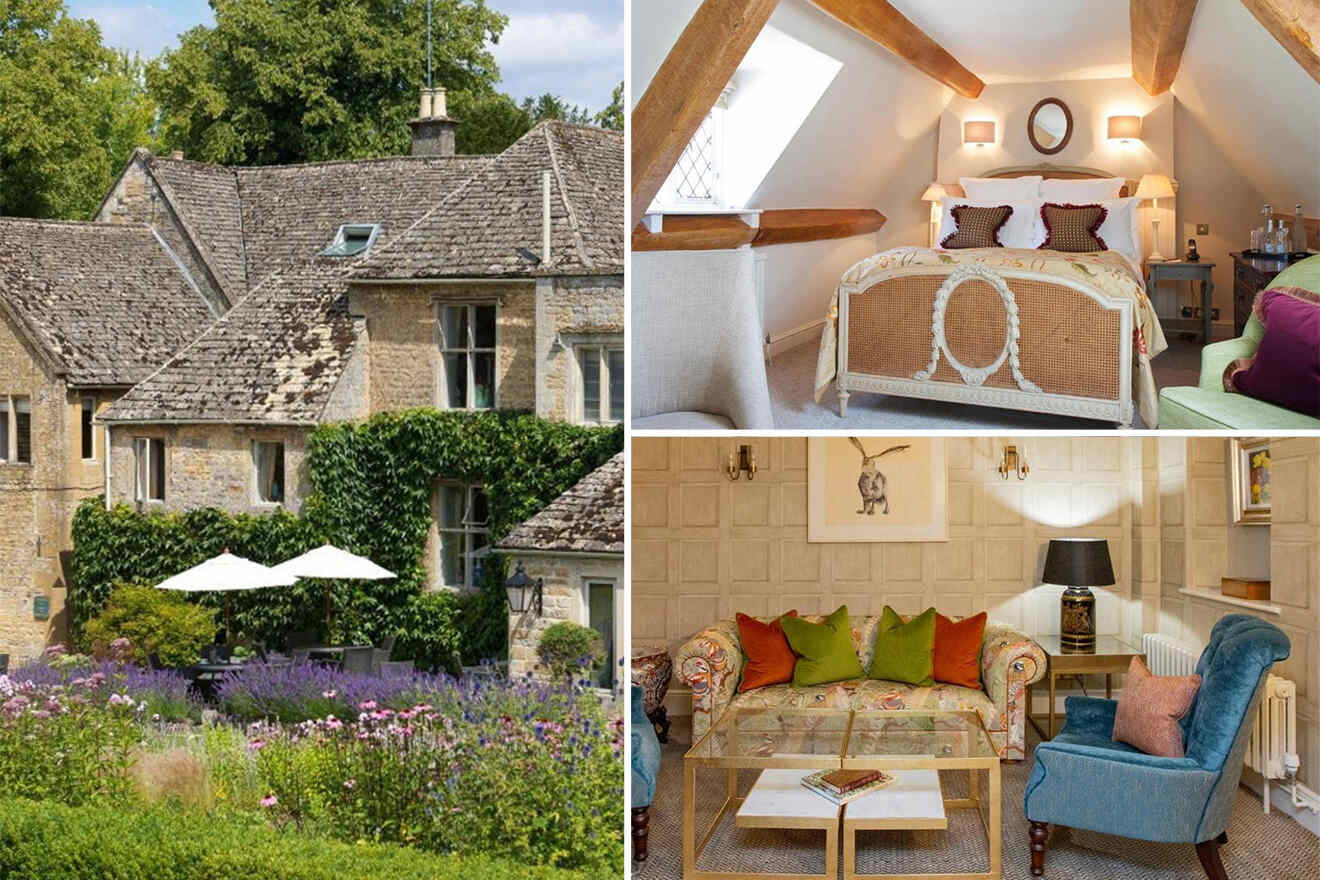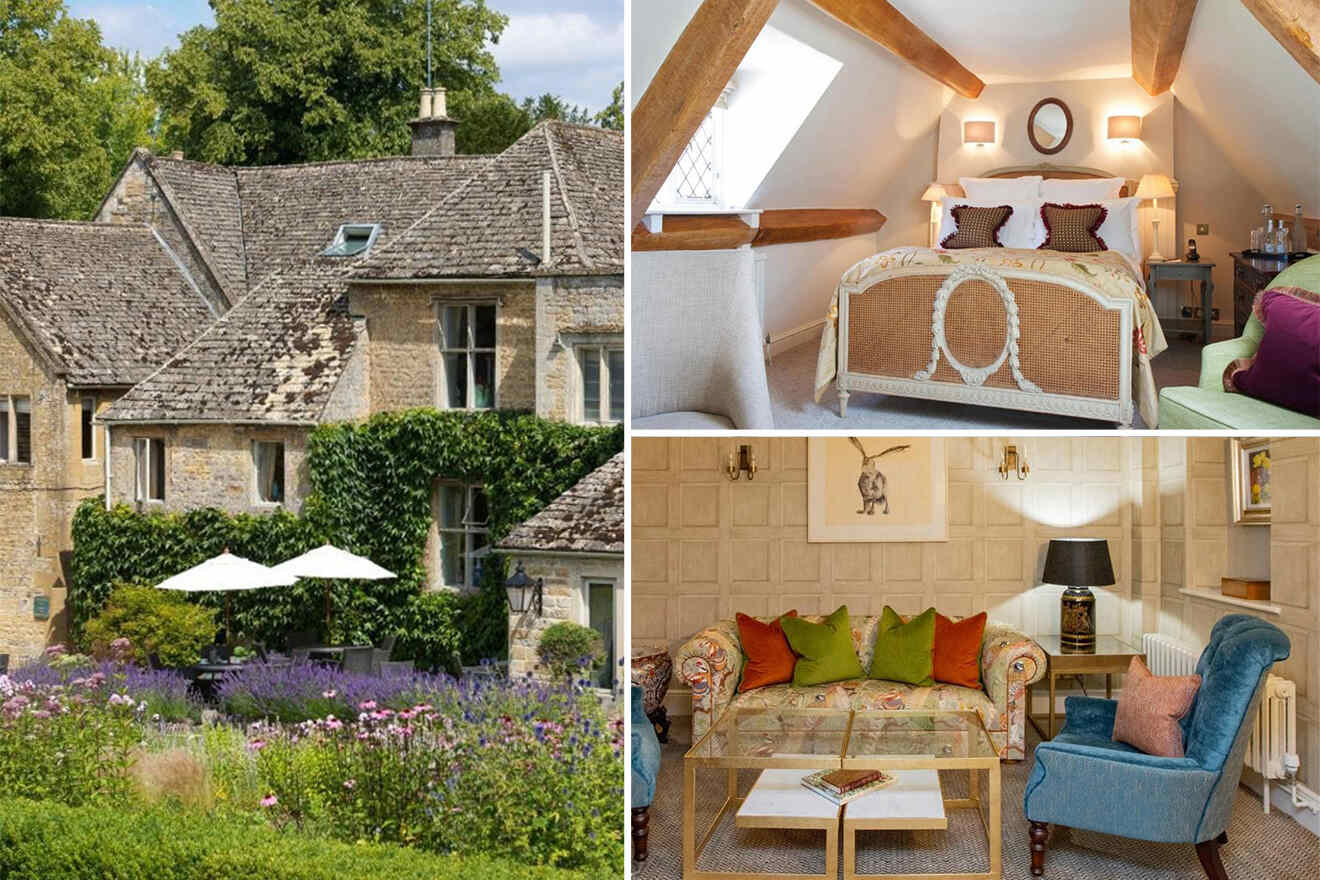 If you love a good secluded location in the middle of woods and outstanding natural beauty, then stop scrolling because I've found the perfect place! This former 17th-century rectory is one of the top hotels in the country!
All the modern rooms have elegant decor, lots of space and feature a stunning view of the gardens! And just wait until you've got a taste of the dishes they served at their fine dining restaurant! Already made your booking? Make sure you check their fun horse-riding activities and spa facilities, you'll definitely stick with this hotel option after that.
8. The Slaughters Manor House – a modern hotel with a garden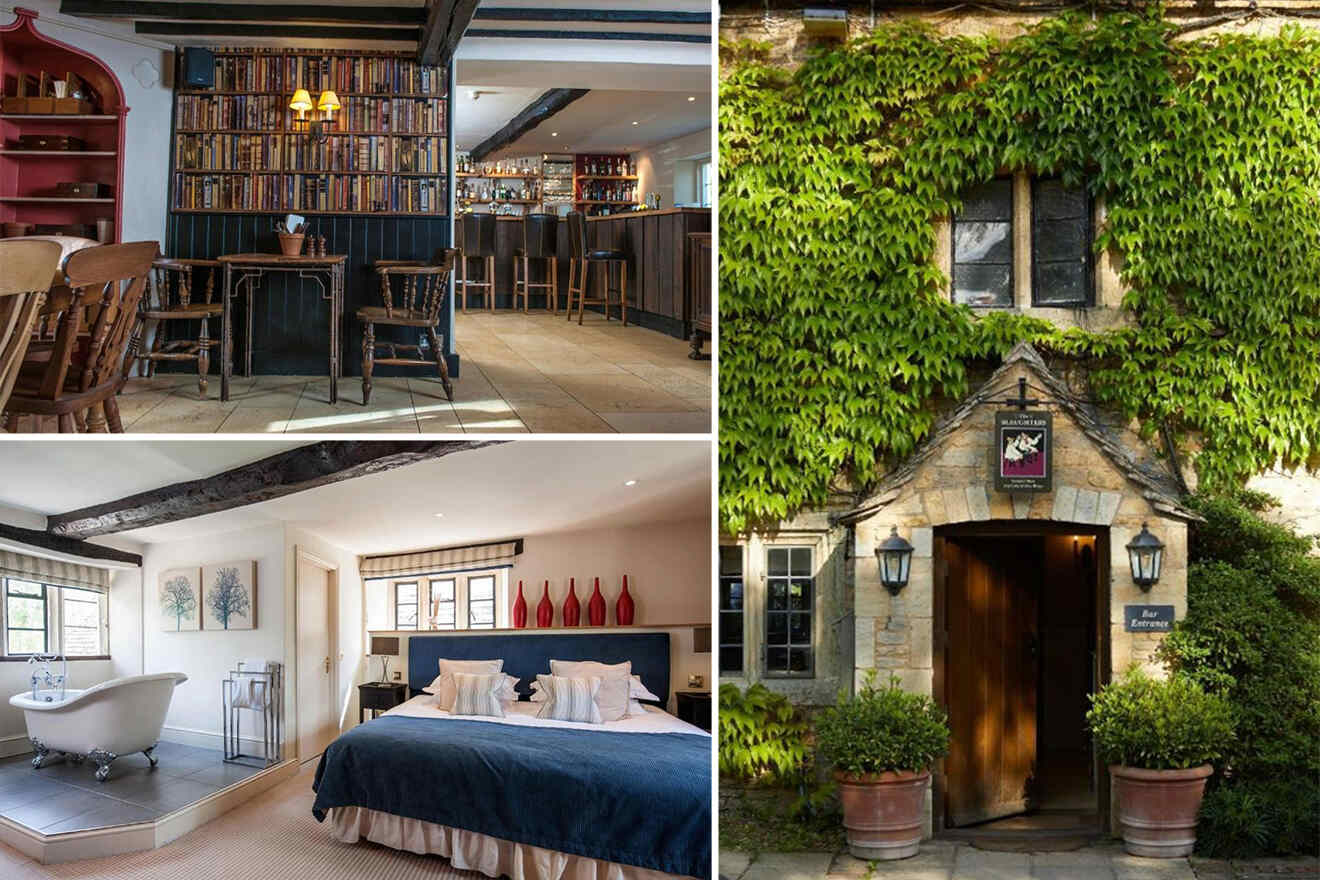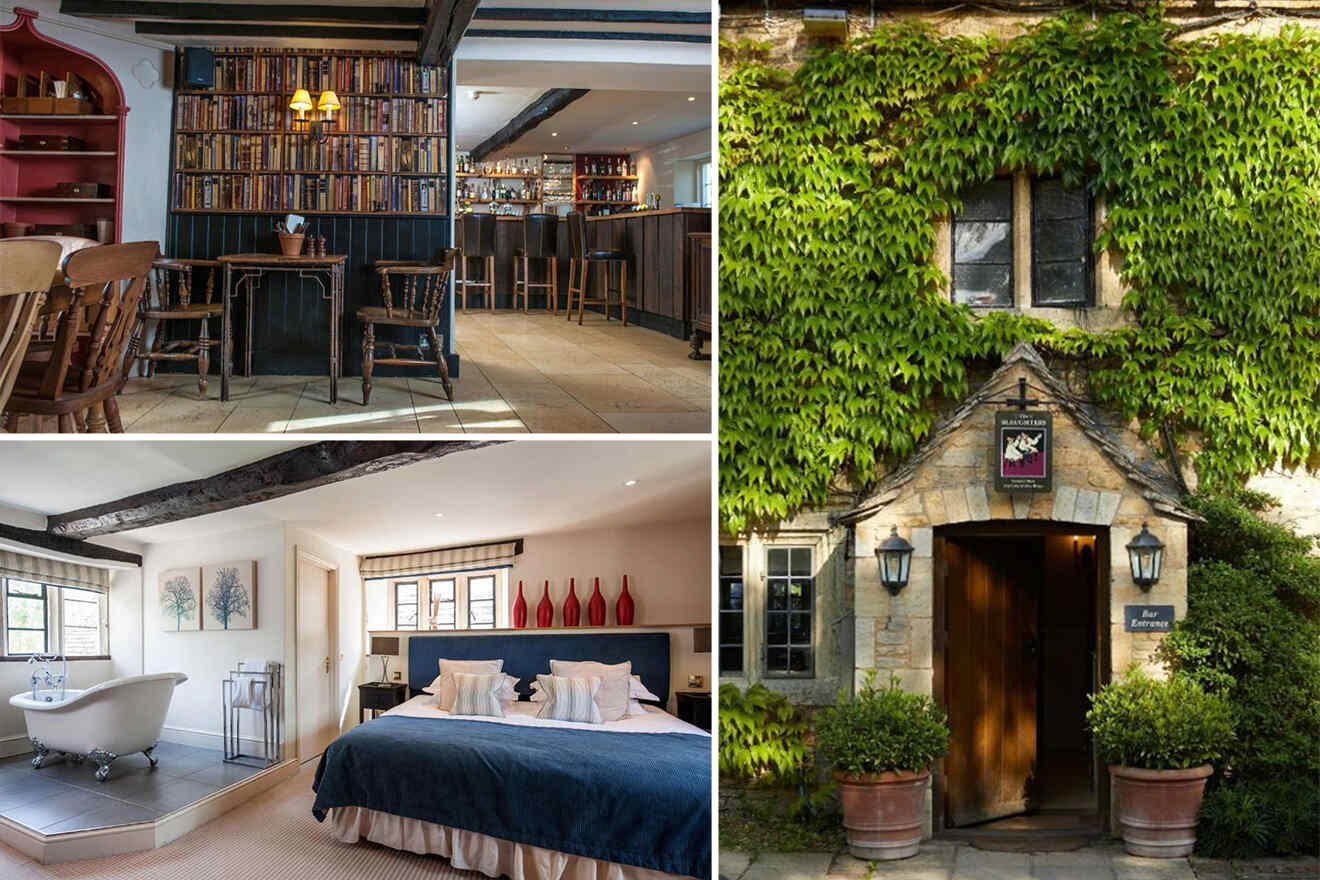 Lazy days spent on the outdoor terrace, enjoying a traditional afternoon tea and taking in all the beautiful scenery! The Slaughters Manor House has a riverside location just a short drive from the market town of Stow-on-the-Wold.
The beautiful stone building is surrounded by greenery and it has simple but super cozy rooms with a private bathroom. After a day of exploring the nearest quaint Cotswold village, stop by the restaurant for a delicious meal made with locally-sourced food and enjoy a drink or 2 by the log fires in the bar.
9. Ellenborough Park – 15th-century building with a spa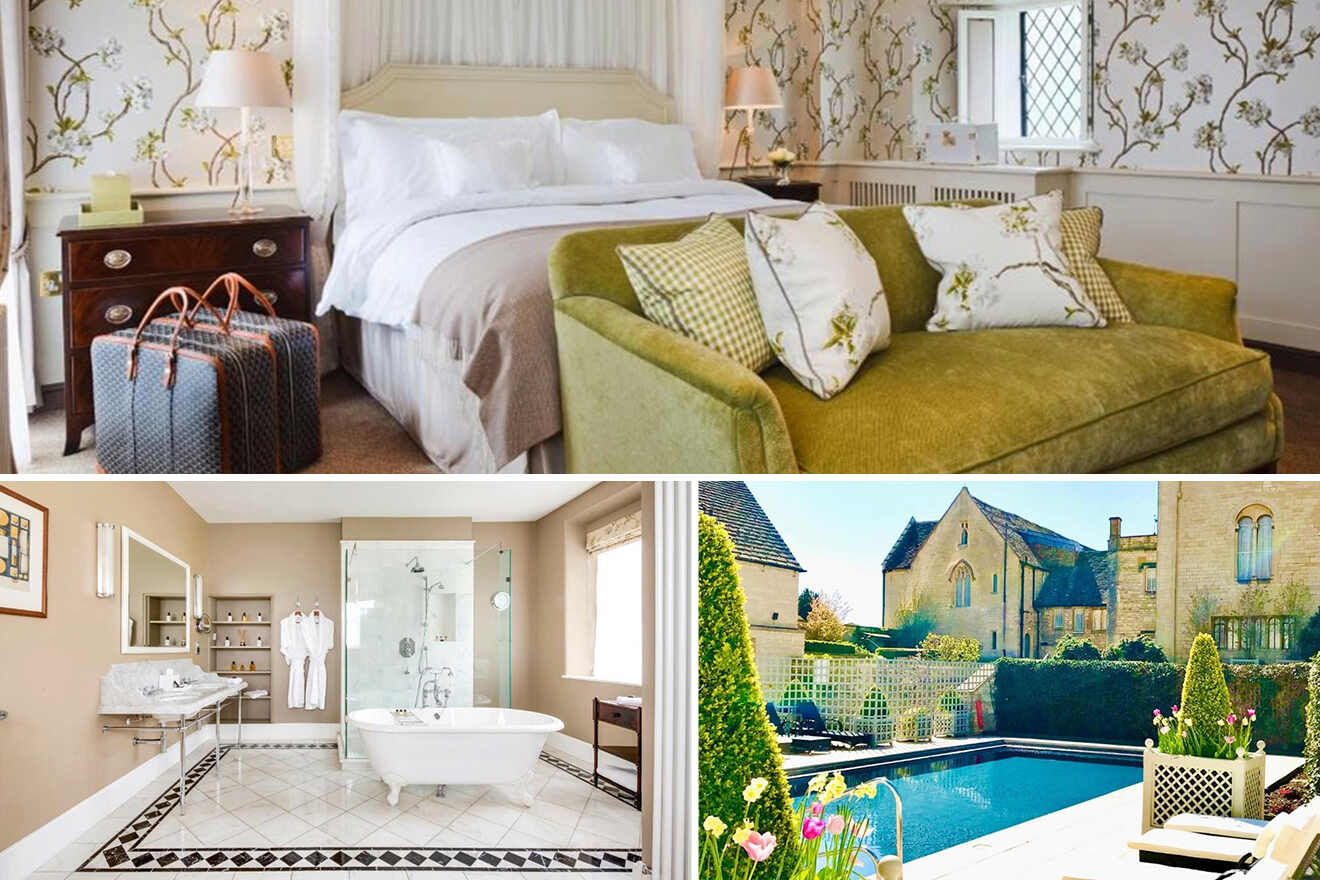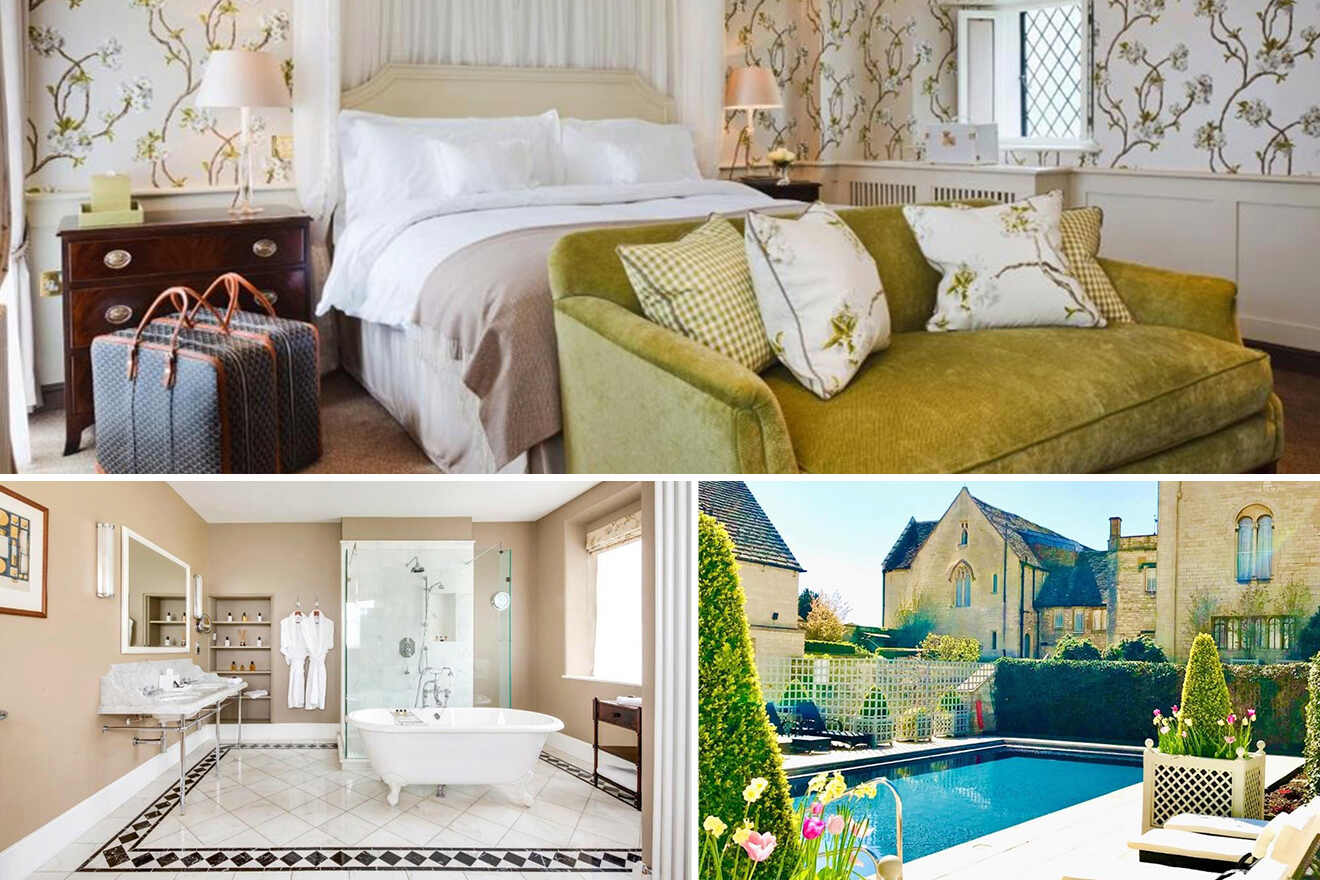 Start your morning with a delicious breakfast in your fabulous room at this hotel that's set in a 15th-century building in Cheltenham (an English town famous for its racecourses)! Ellenborough Park features suites with vintage furniture and wooden beams plus a lovely restaurant space!
But that's not the only thing that will make you want to book this place immediately! Their spa center has so many facilities that you won't know where to start! Hot tub, steam rooms, massages, mood showers, you name it! Get ready for some pampering time!
10. The Fish Hotel – old estate perfect for a tranquil holiday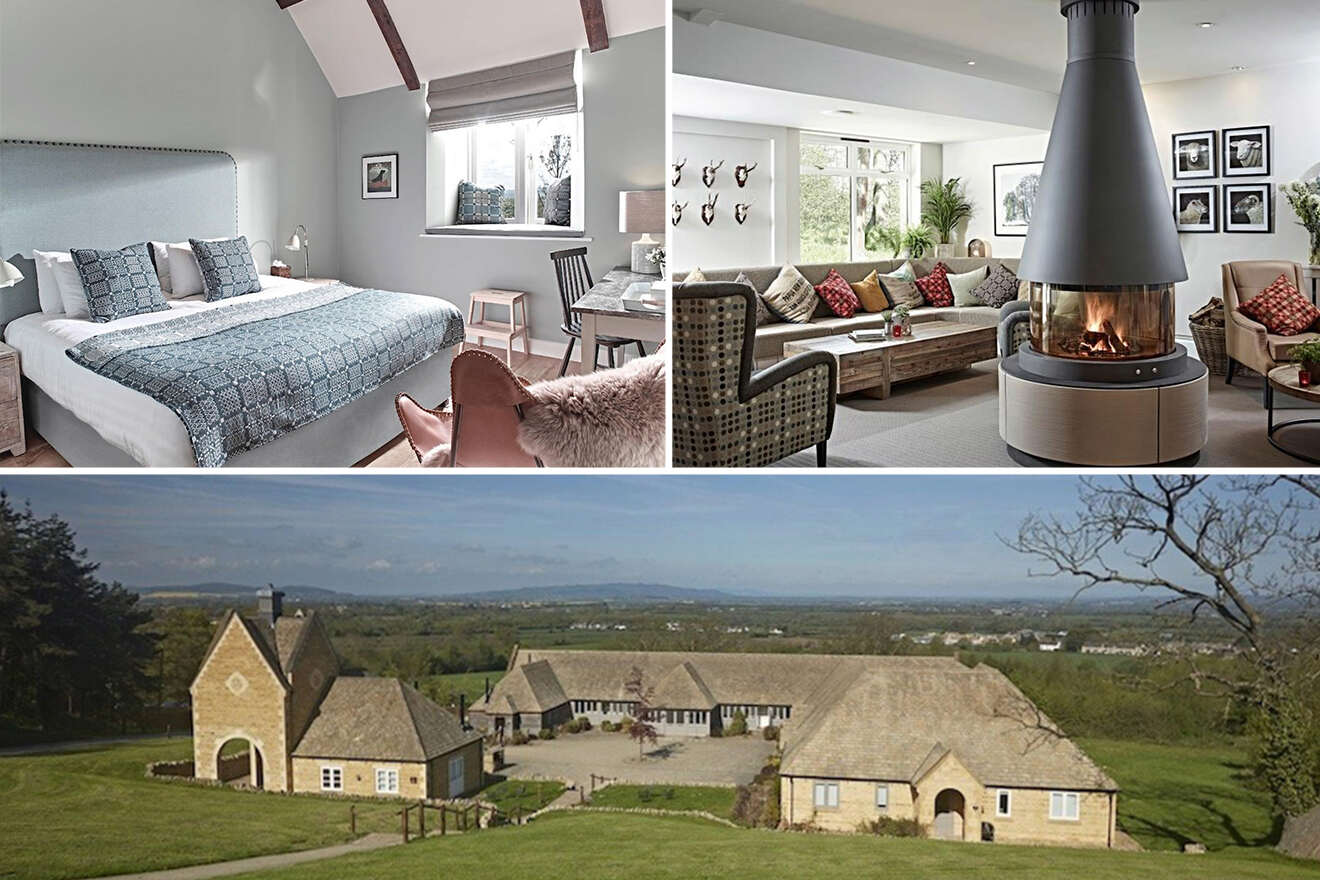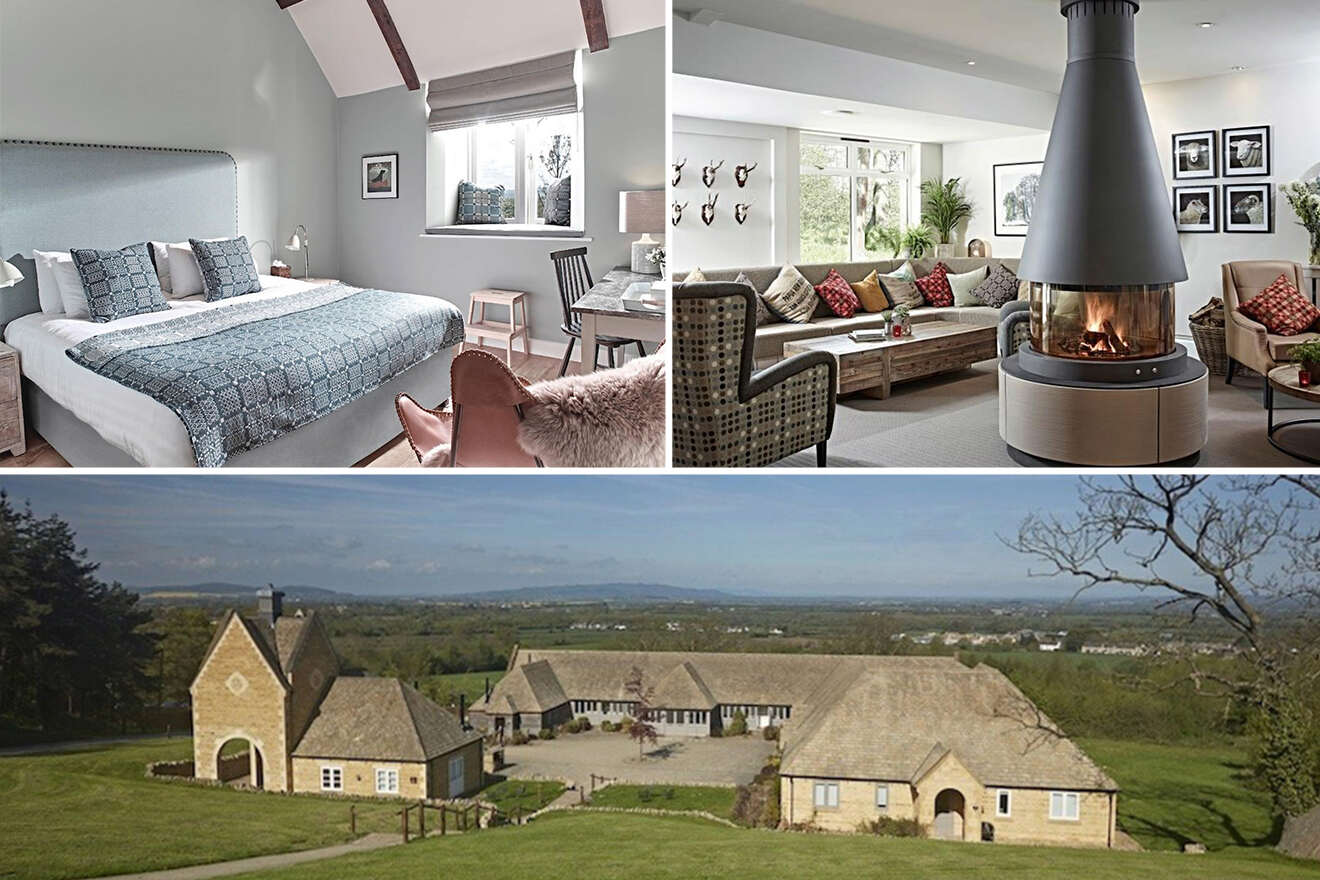 Amazing views, plenty of lands to explore, and of course some comfortable rooms equipped with anything you need! This estate is perfect for a tranquil holiday in the Cotswolds area! At Fish Hotel you can relax in the dining room by the electric fireplace and enjoy some drinks after dinner.
There's also a nice lounge area outside as well, where you can also stand by the fire! And if you've had enough of laying around (although that's what most of us want to do on a holiday in a place like this one), just head out and check the estate's grounds! There's nothing like a morning walk in the fresh air to kick-start your day!
11. The Bay Tree Hotel – picturesque house with a library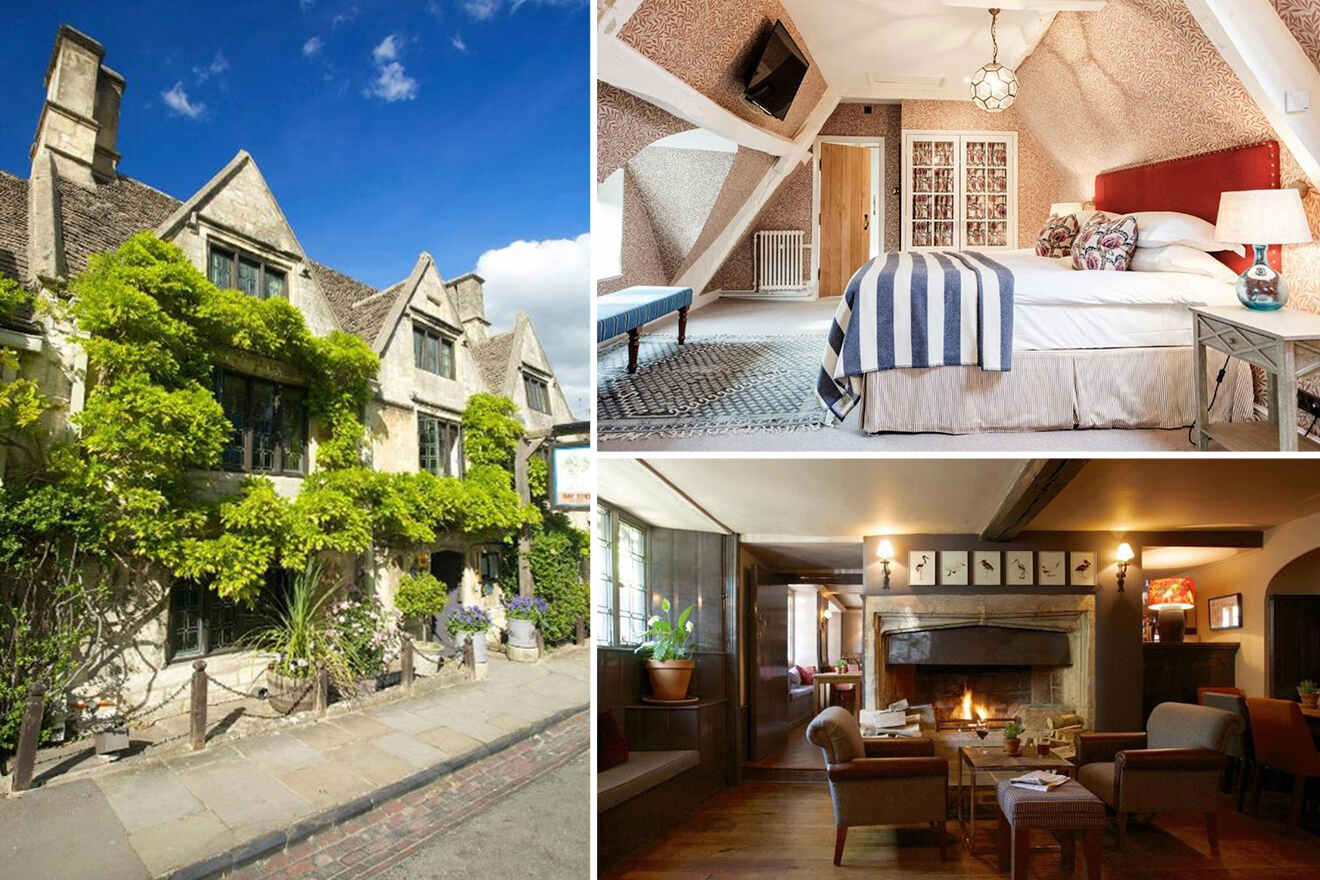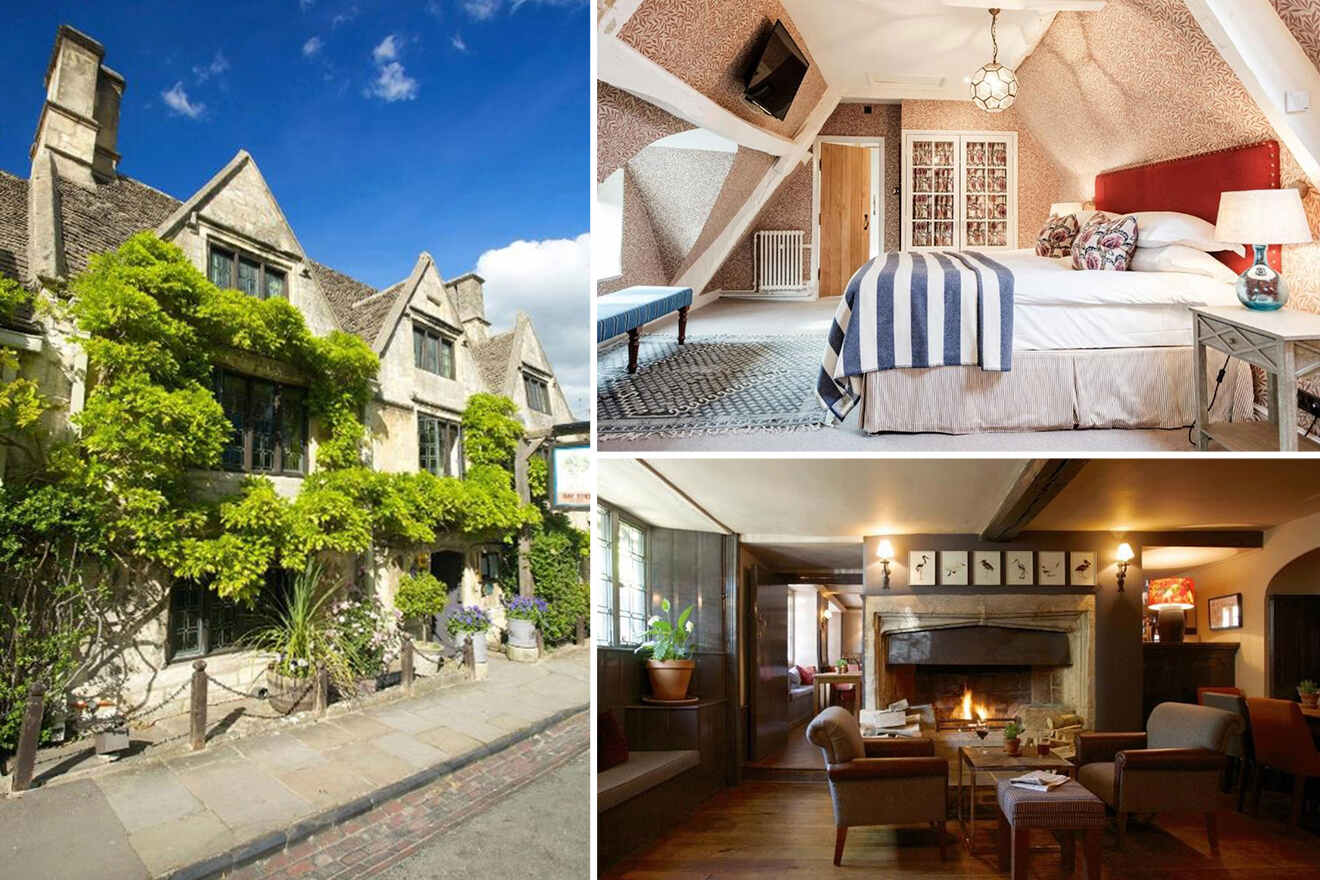 Oh, that library with a fireplace looks heavenly! Throw in a cup of tea (or wine) and enjoy a relaxing afternoon at this hotel that's located in the picturesque town of Burford! Set in a 16th-century building, the accommodation has that old English charm that we all love!
Each room has a different decor and unique beds that look from another time period! The garden is filled with flowers and some chairs where you can get a few minutes and tranquility and maybe some sun if you're lucky! Every original item from the stone walls, to the fireplaces, creates such a unique ambiance that you won't want to leave!
12. Woolmarket House – charming hotel with a terrace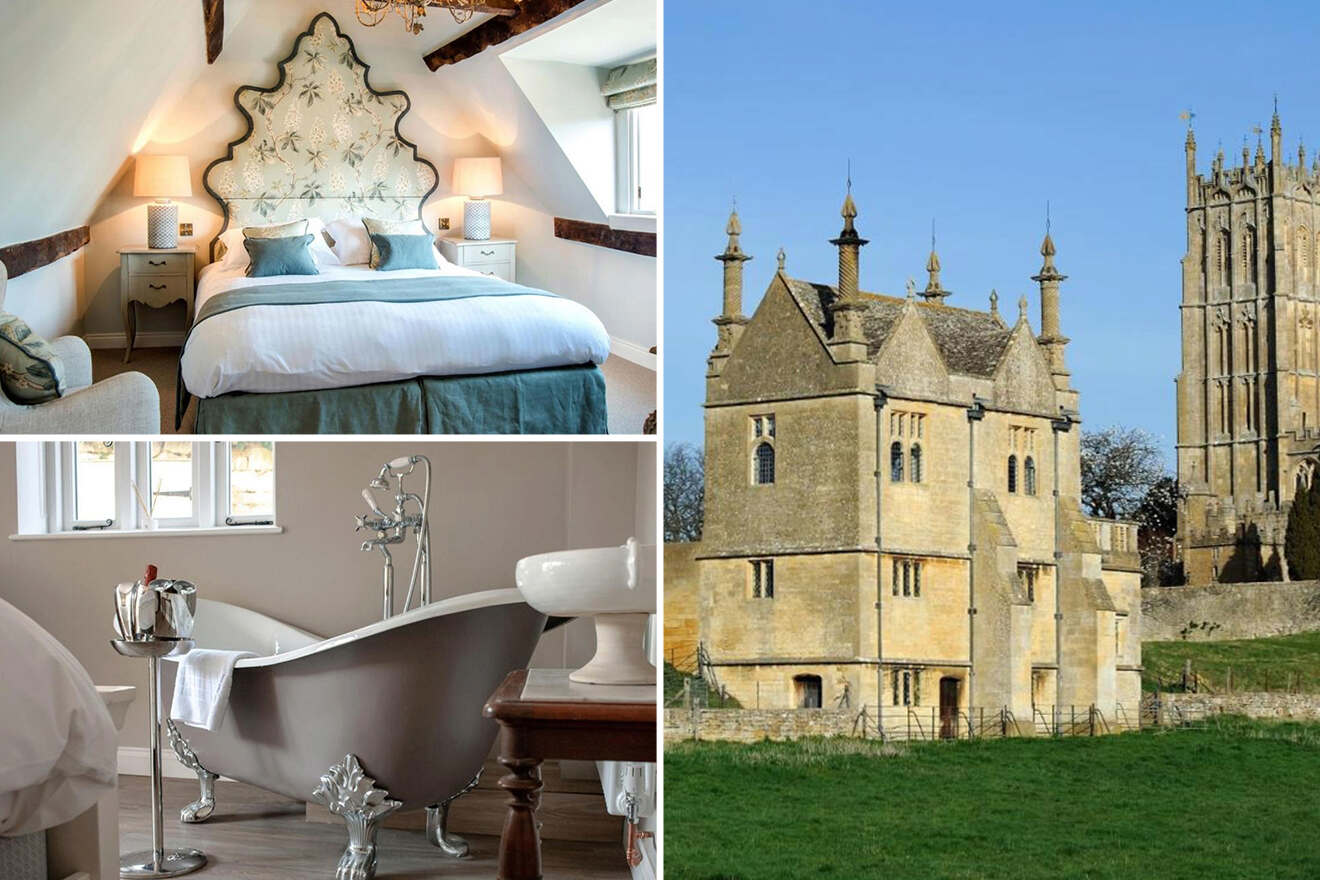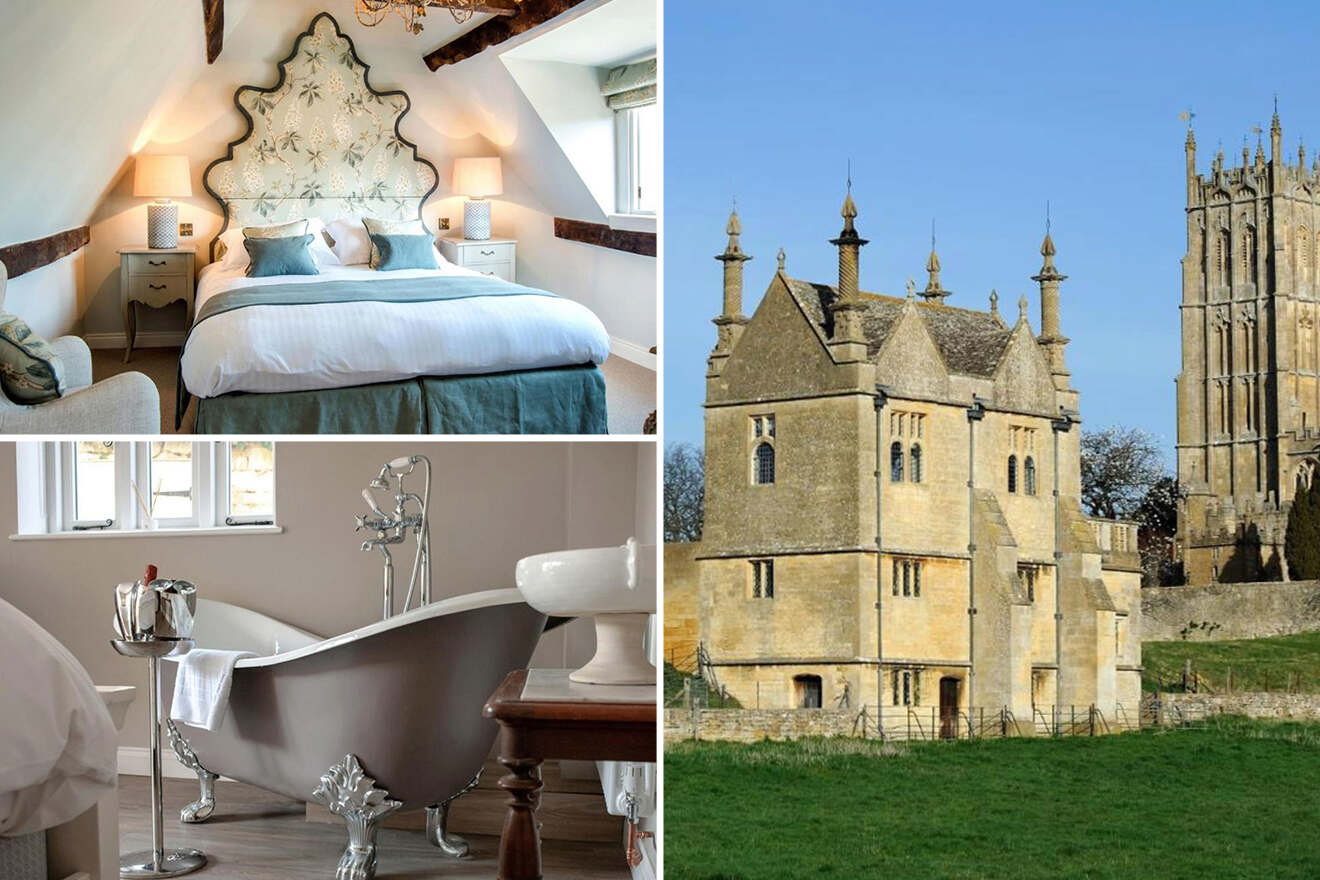 Can't say no to such an amazing place like this hotel! Located in Chipping Campden, the bed and breakfast offers the perfect fusion of modern and old! I love the elegant furnishings, which go perfectly with the stone walls and wooden beams!
In the morning, you can start your day with breakfast on the terrace but don't worry if you can make it downstairs without coffee (I can relate so much) you've got coffee makers in your room plus a fabulous bathtub that looks straight out of a designer catalog. After that you'll be all ready to check out this lovely Cotswold town!
13. The Village Pub – a modern hotel with an authentic English pub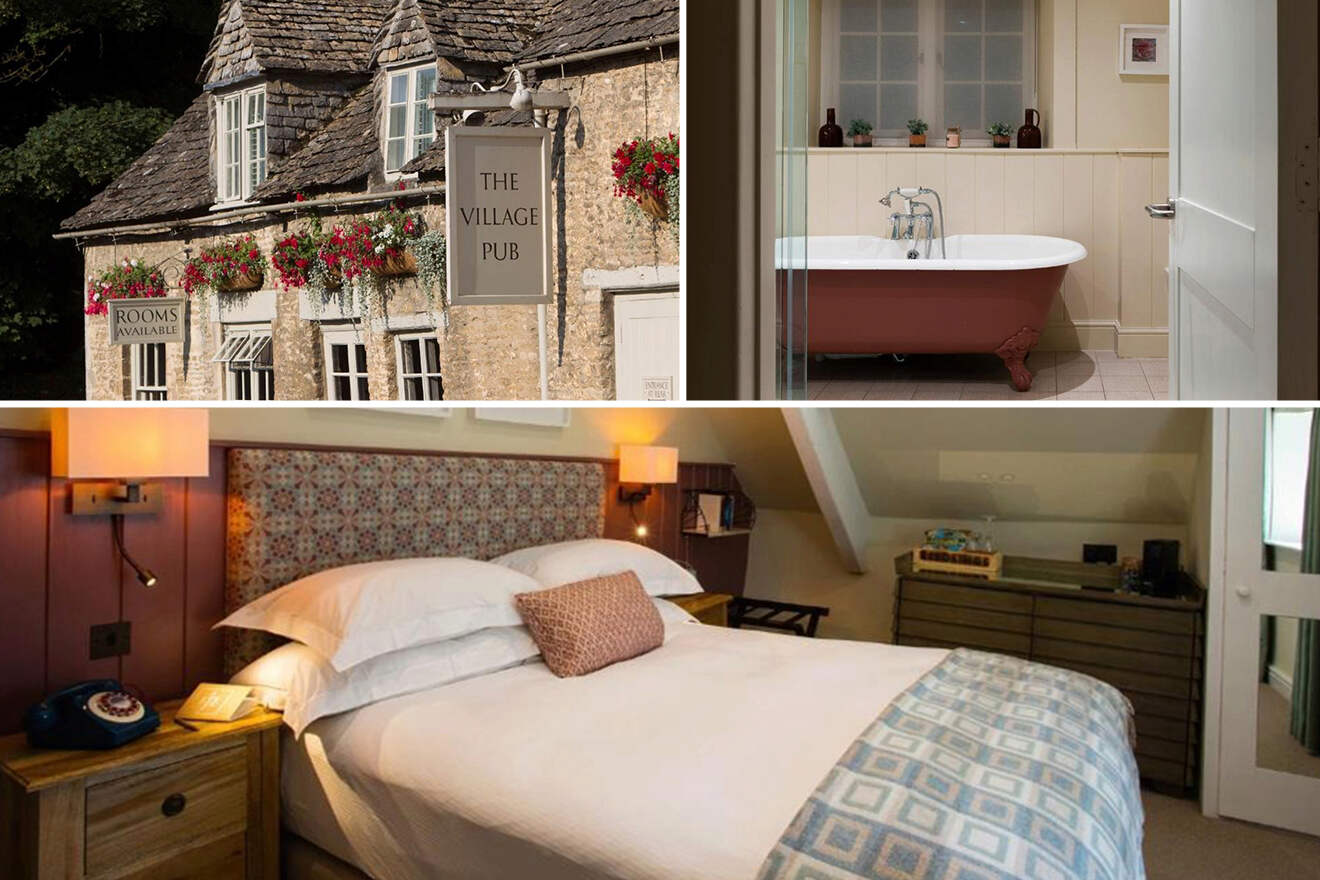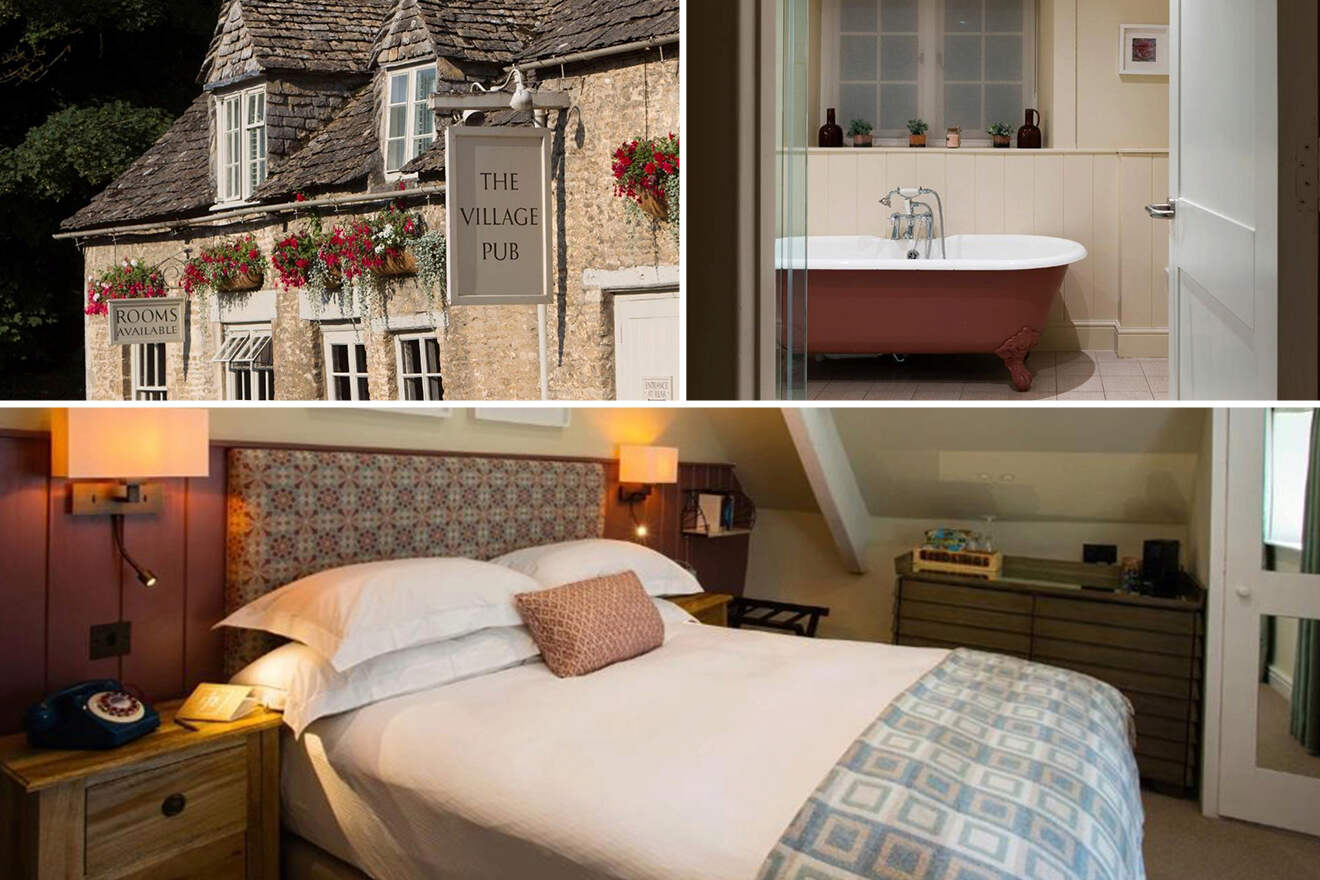 Love the name of this hotel! It surely goes right with their ambiance and location! The Village Pub is located in Cirencester, and it's the perfect place to book for your holiday if you want to eat good food and drink in a cool English pub atmosphere and maybe visit a dairy farm nearby!
The food is yummy here, and what better way to end a day of visiting the area than with a pint by the fireplace at their bar? Sounds like perfection to me! Just know that they also have a terrace if you want to have your coffee out there, or maybe you prefer the comfort of your own bed in their cozy rooms! Your pick!
14. Charingworth Manor – charming hotel with a pool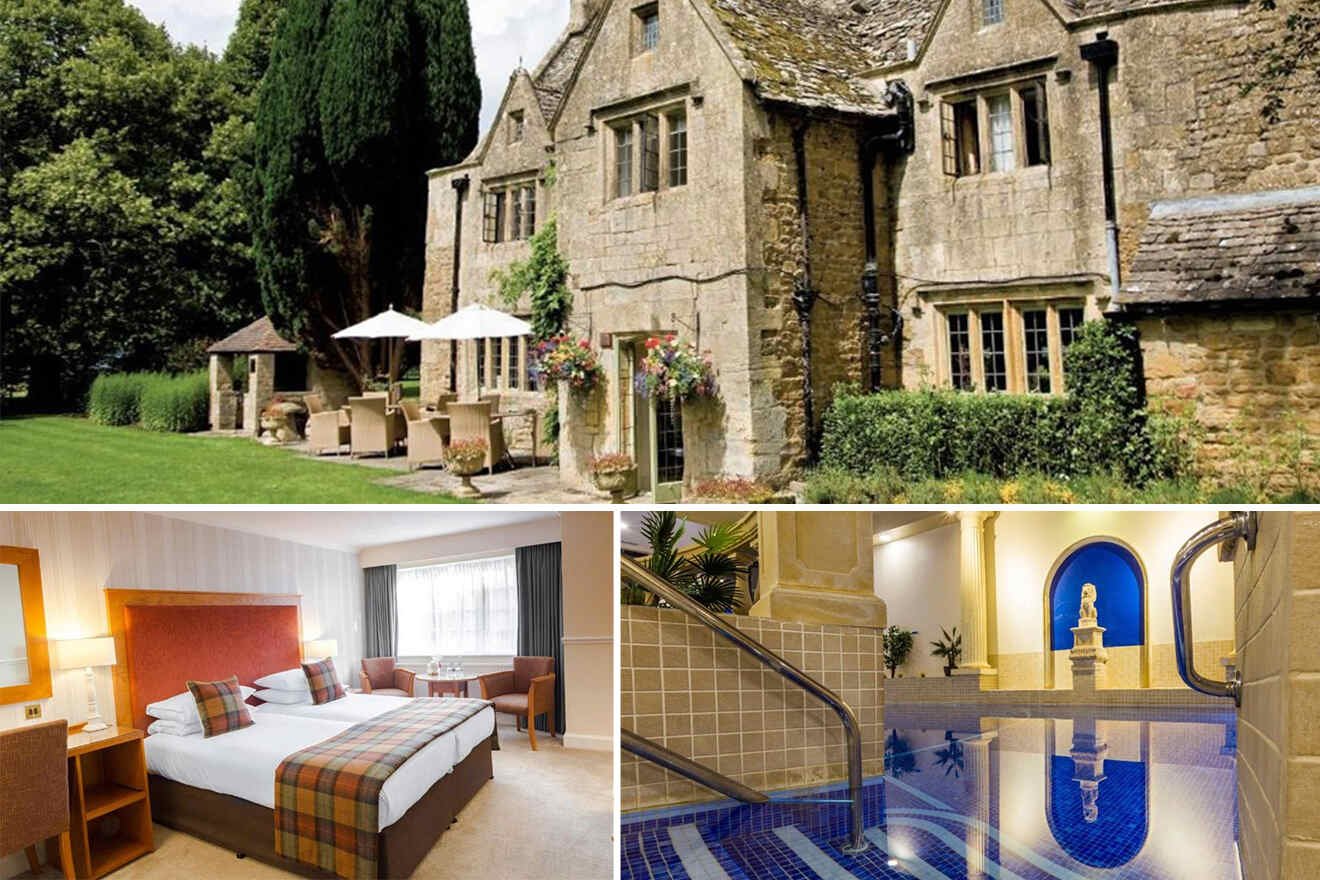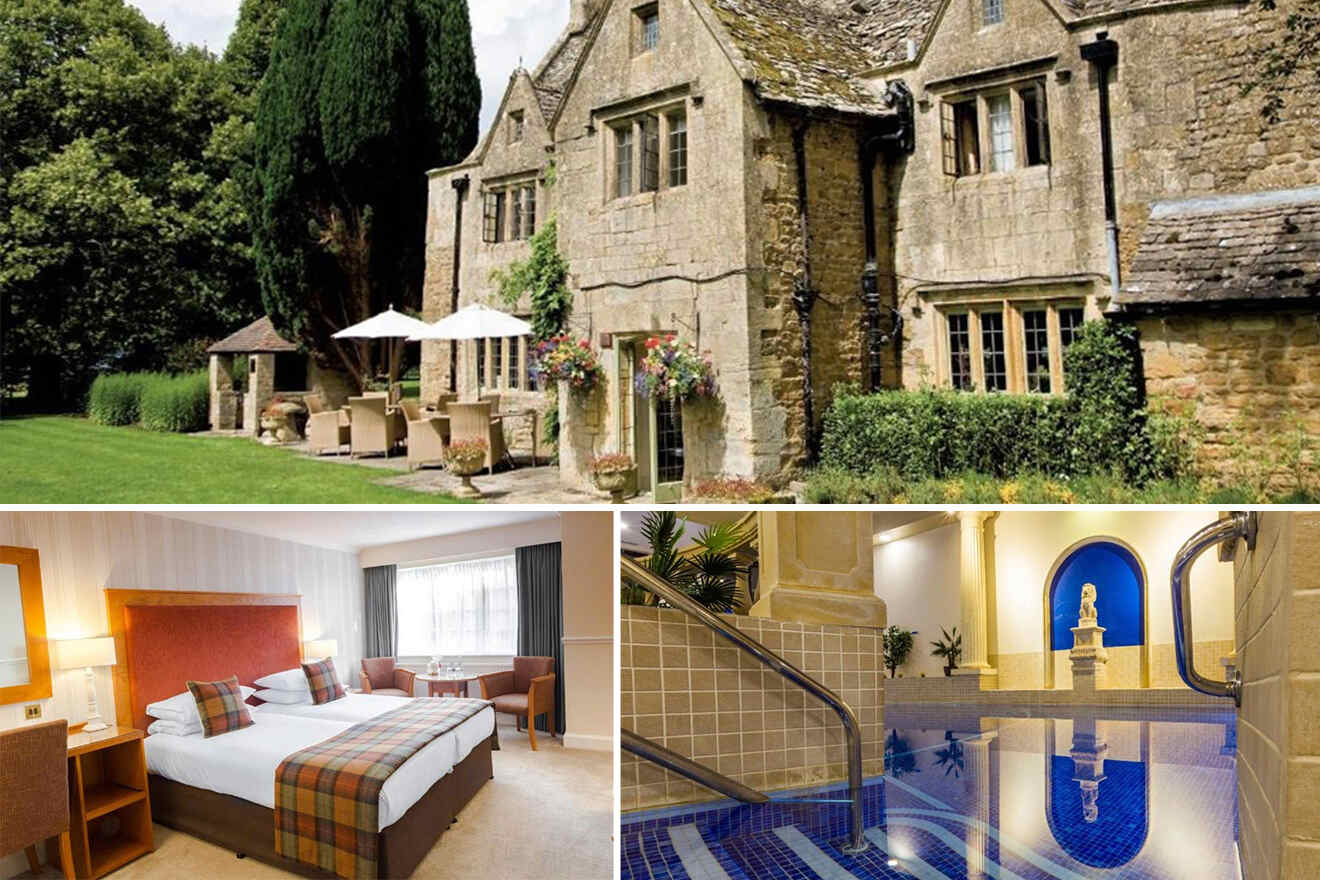 As you've probably noticed I love old English houses and their countryside. And since you're here I'm sure you're either a fan or about to become one! Places like Charingworth Manor House are among my favorites! This hotel has large gardens, original decorations like wooden beams and fireplaces, and a touch of contemporary design!
Like their indoor pool, restaurant, and bedrooms! Although the suites have vintage elements, they also have super comfortable, large beds and a large tub where you can relax for hours! And don't worry if you feel like working out there's a fitness room and a tennis court that you can hit whenever you want!
15. Old Bell Hotel – oldest English hotel with an authentic decor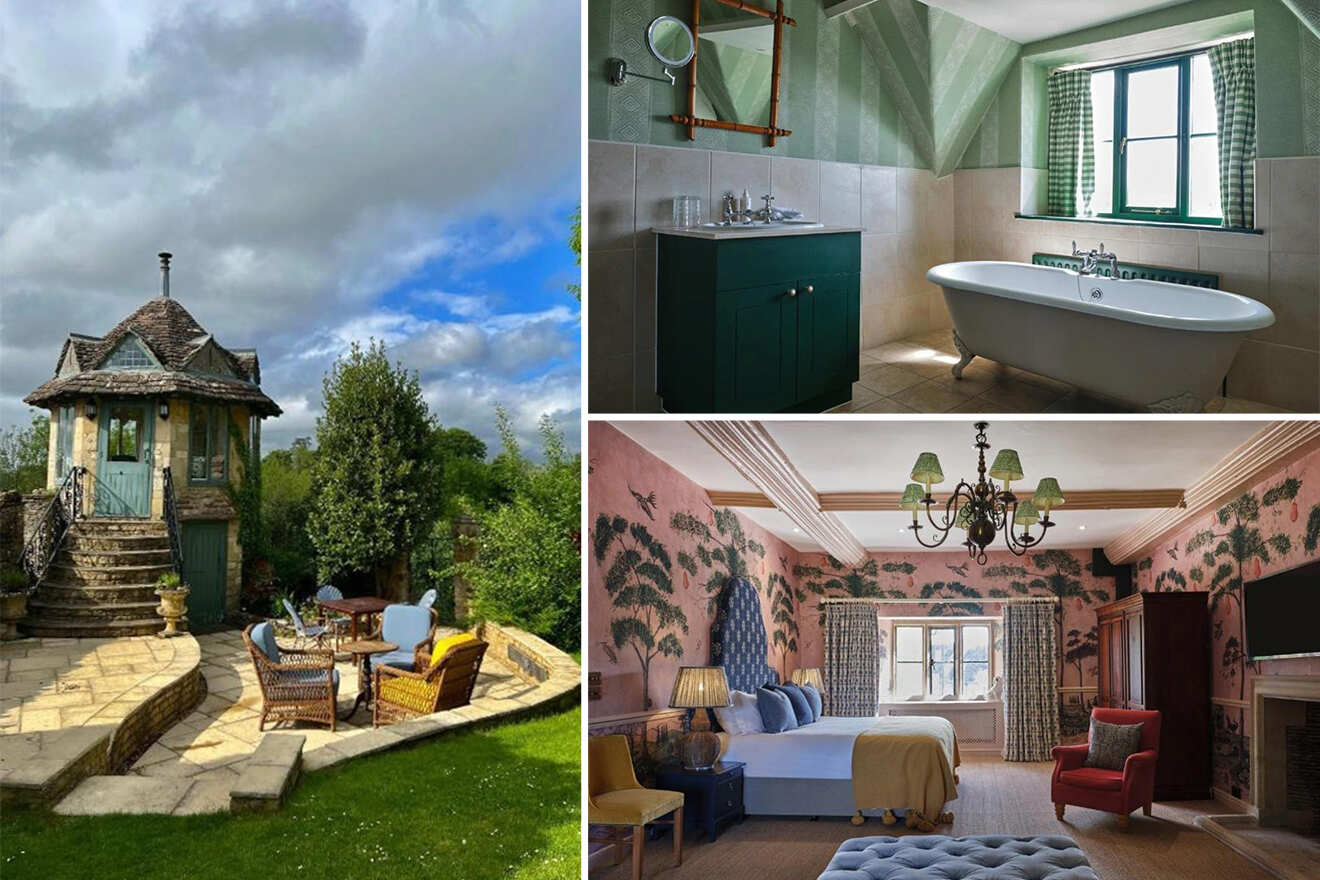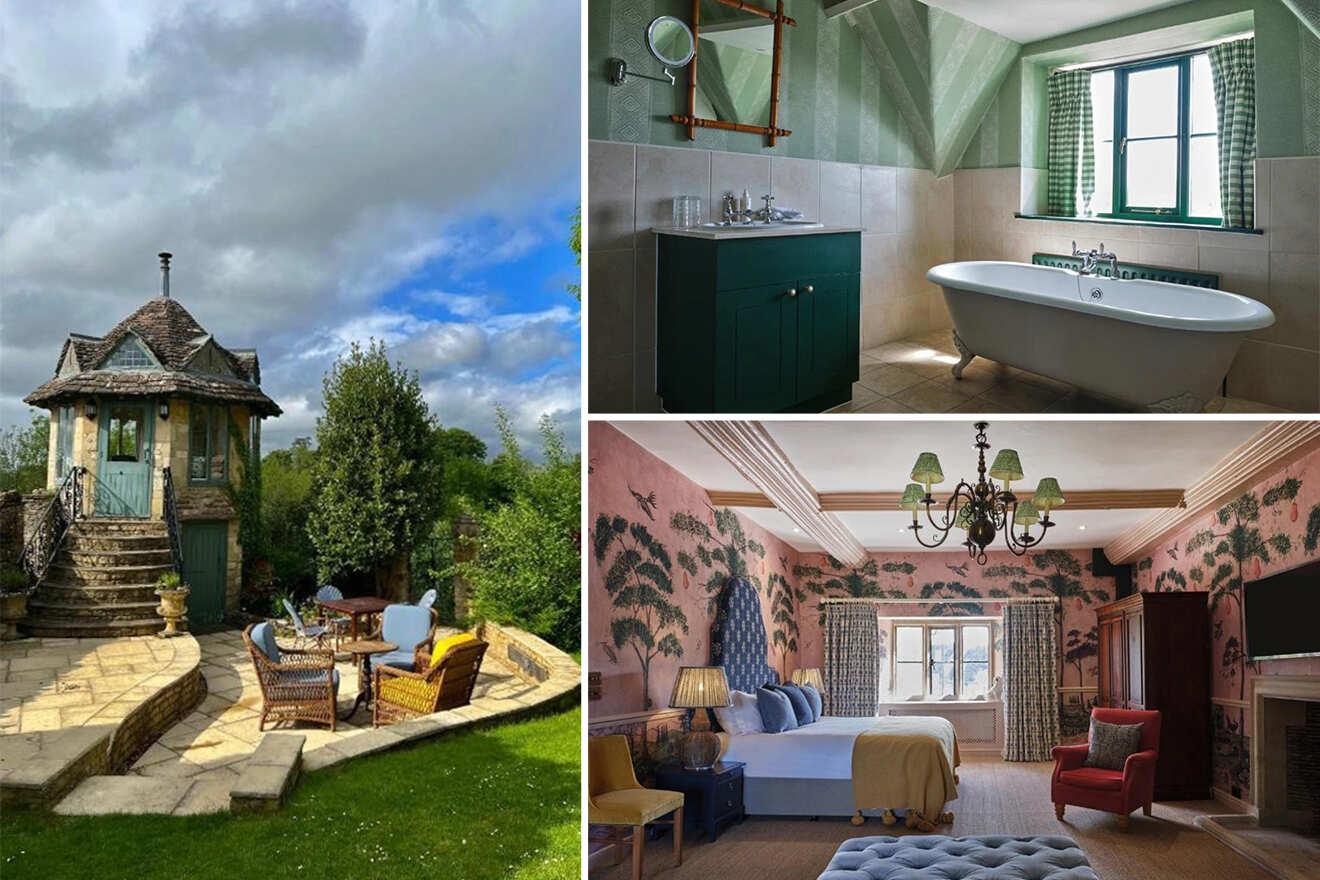 Welcome to England's oldest hotels! Yep, this iconic building dates back to the 1200s, and to be honest it represents the country so perfectly! Everything from the colorful wallpapers, to the antique furniture and paintings, screams tradition!
Each room has such a strong character and I'm sure the wooden beams and stone walls will make you feel as if you've stepped into another era! Sure, the location also helps! Set near a famous Abbey in the historic town of Malmesbury, the accommodation does a great job of preserving the country's legacy!
16. The Close Hotel – fancy hotel with a terrace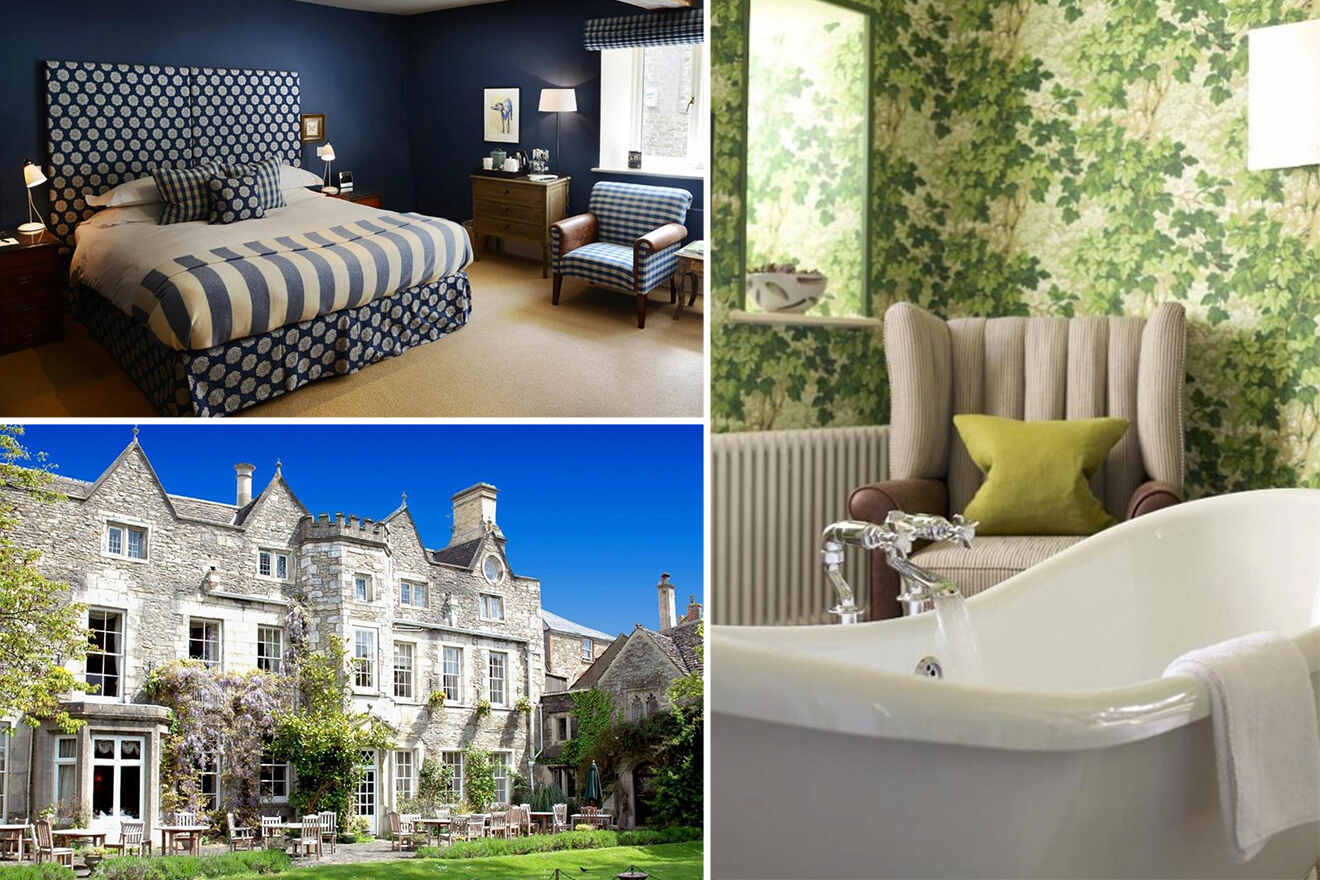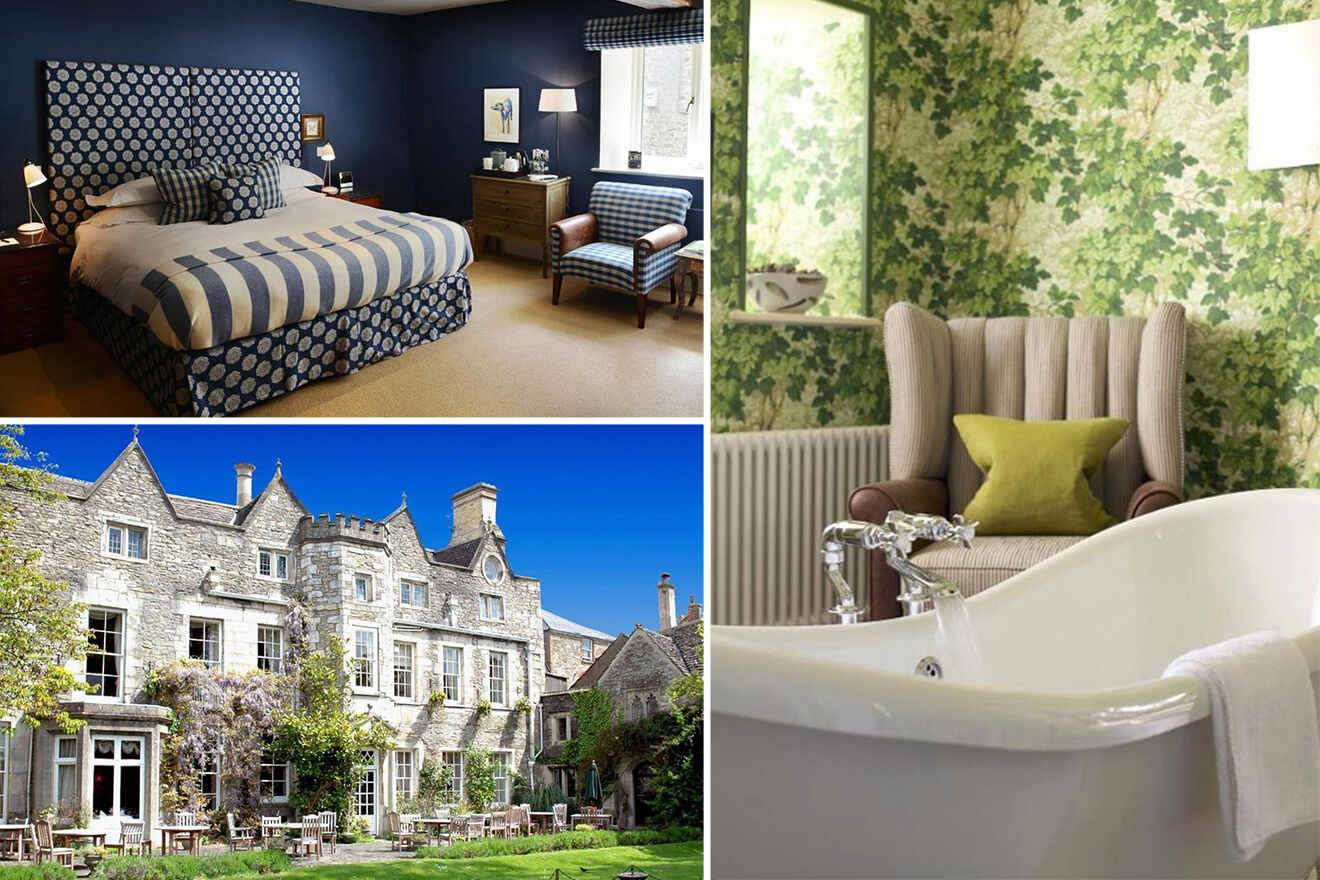 If you're one who loves dark aesthetics and a combination of old and new then I've got just the place for you! This charming hotel that's set in a building from 1500, offers an amazing take on modern English gothic and fancy rooms with lots of space and a garden view!
You can begin each day with breakfast at the restaurant, and then maybe enjoy your coffee in the garden, where you'll find some chairs and a great atmosphere! If you're up for some fun activities then know that the hotel offers bike and walking tours plus horse-riding! Now that's something that you should definitely consider!
17. Burleigh Court Hotel – amazing old house with a panoramic view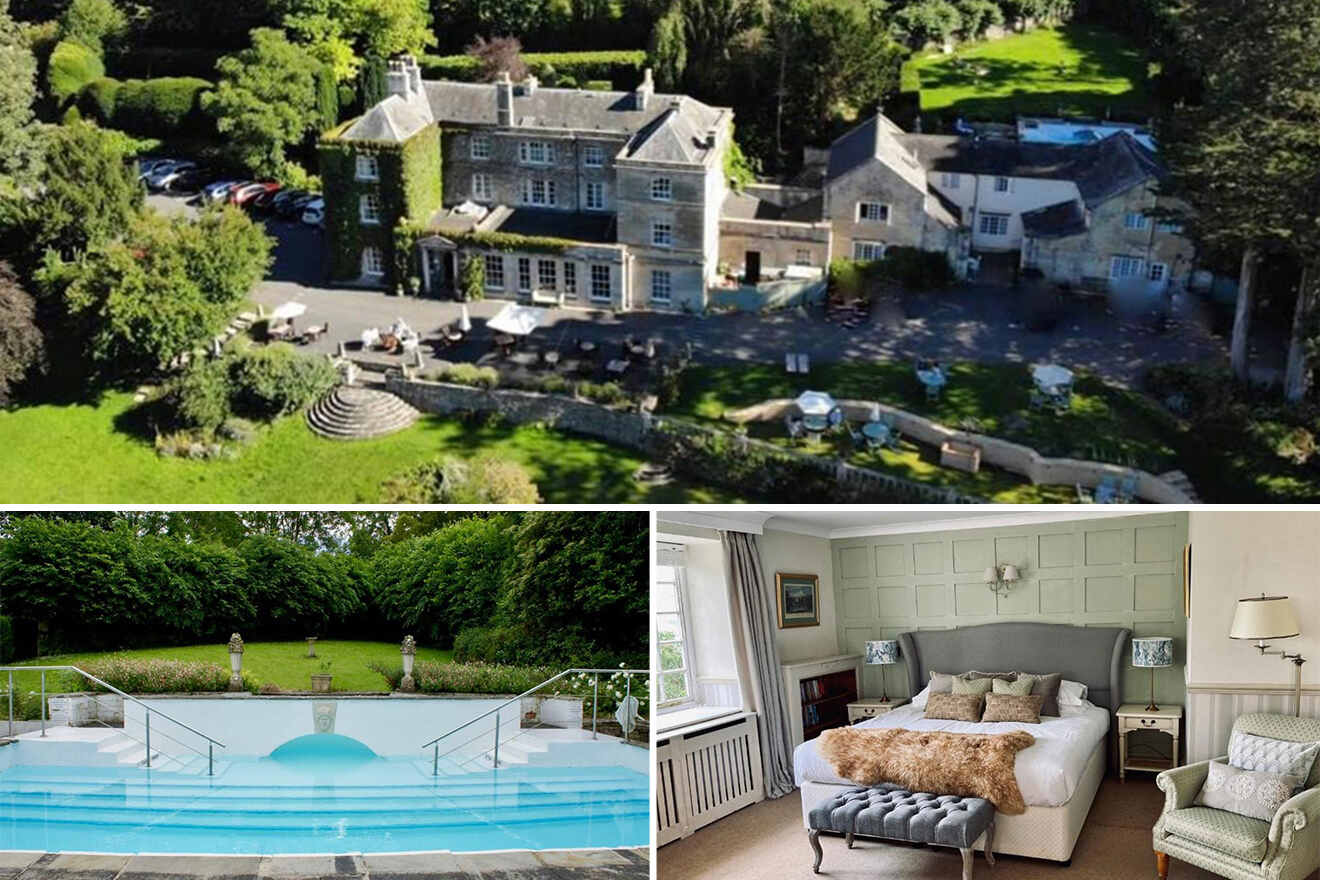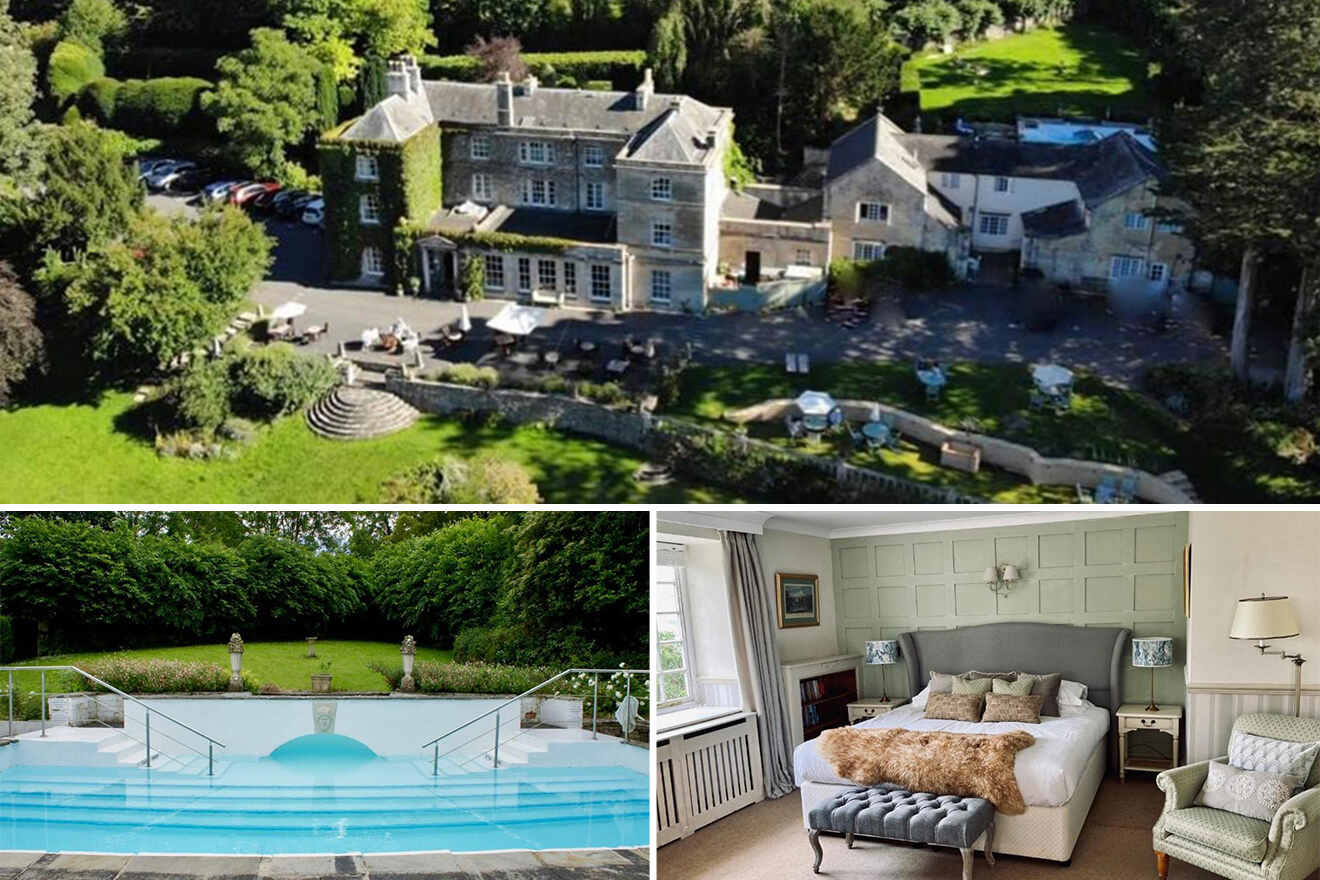 My ladies and lords, you are hereby invited to Burleigh Court! Although it's not a court of a king or queen this hotel is surely fitted for someone of that rank! Featuring a panoramic view over the Cotswolds hills, this accommodation can't be missed out!
The 18th-century stone manor offers a large garden filled with lavender flowers and old trees. Your room offers a more contemporary approach, however, the vintage touches don't miss! I guess my favorite piece is the gramophone in the restaurant, but maybe many of you will be happier to know that they also got an outdoor pool.
18. The Hare & Hounds Hotel – stylish hotel with a terrace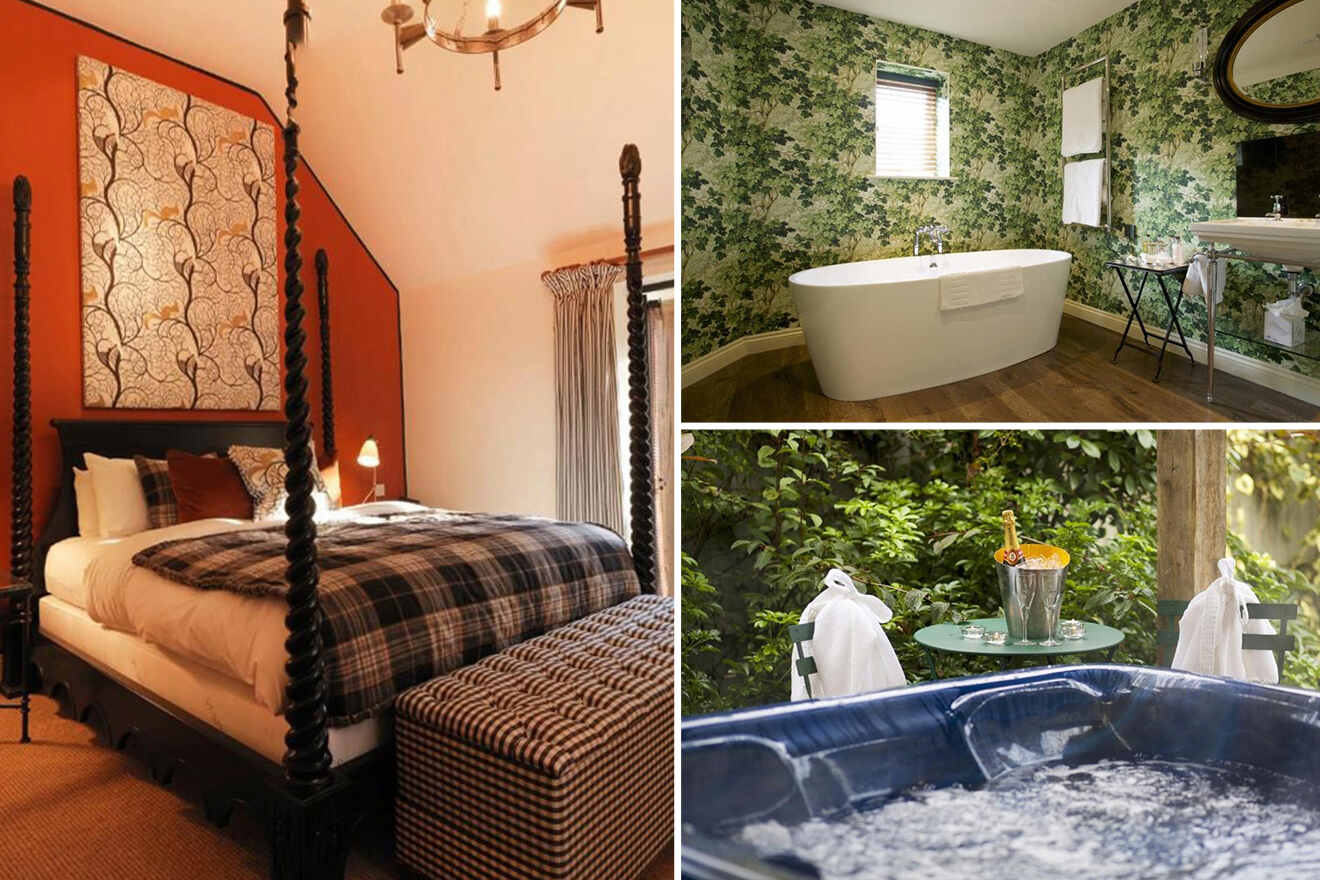 Fancy a glass of champagne in the hot tub? Or maybe a glass of wine by the fireplace? You could go for both, you're on holiday after all! This awesome hotel is the perfect spot for a few days of doing nothing but relaxing!
You can pick a room in the main house or in the cottage or Coach House. No matter which one you like you'll see that the rooms are all super unique. They have cool wallpapers and some offer garden views. Pack your hiking shoes and get ready to explore the area. Afterwards you can enjoy a yummy meal at the restaurant and relax in the Coach house.
19. The George Inn – a chic inn with a garden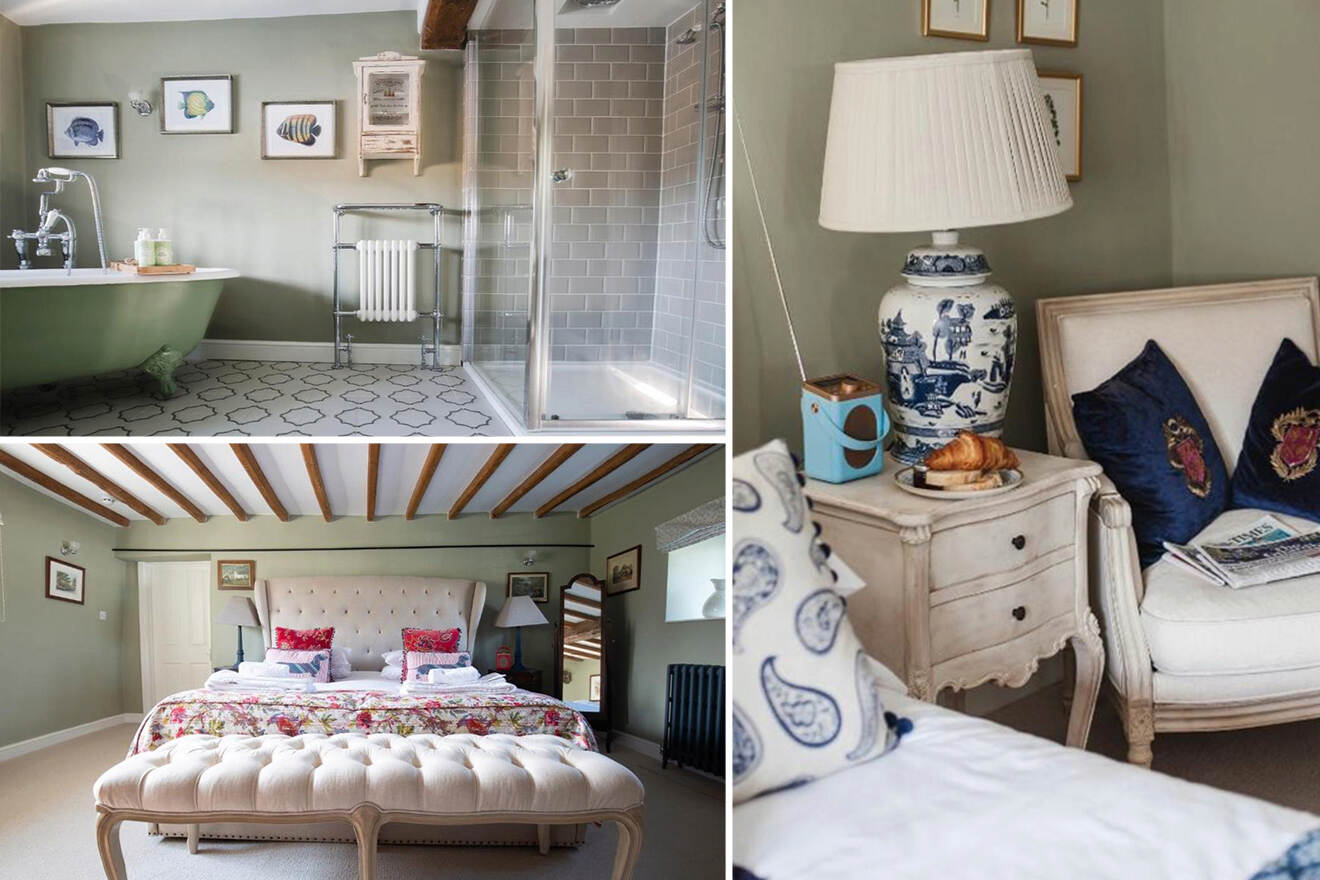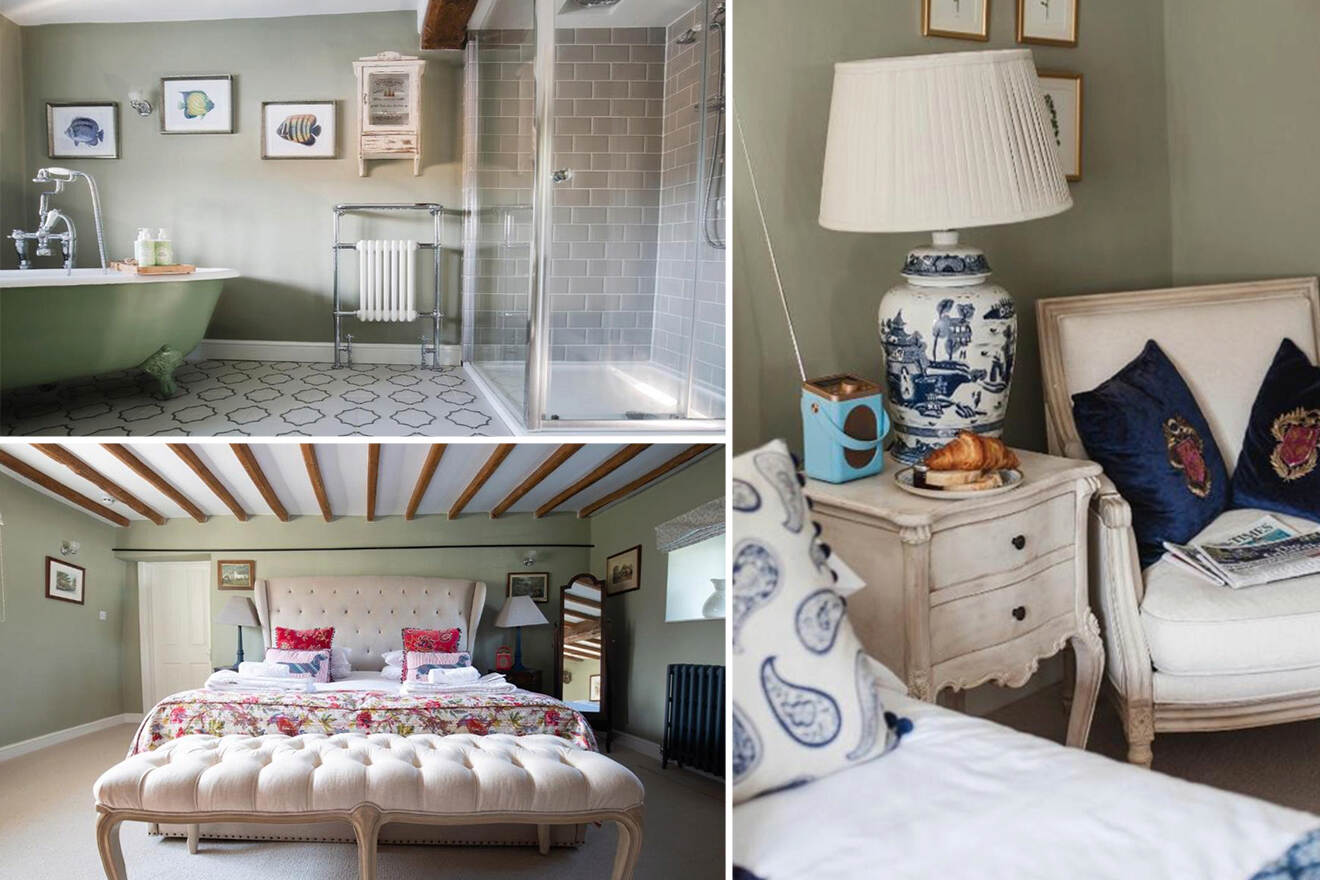 If you're looking for something a bit more affordable but still super chic and tastefully decorated, then I'd recommend this awesome inn that offers free parking, plus many activities like a pub crawl, walking, and bike tours.
Set in Barford Saint Michael, the accommodation has lovely suites with a private bathroom and comfortable beds. Start your day with some room service (there's nothing like drinking coffee in bed) and then get ready for all the fun activities. Or if you're too tired, get a good book and enjoy the British sun in the hotel's garden!
20. The Greenway Hotel & Spa – Elizabethan manor with a hydrotherapy pool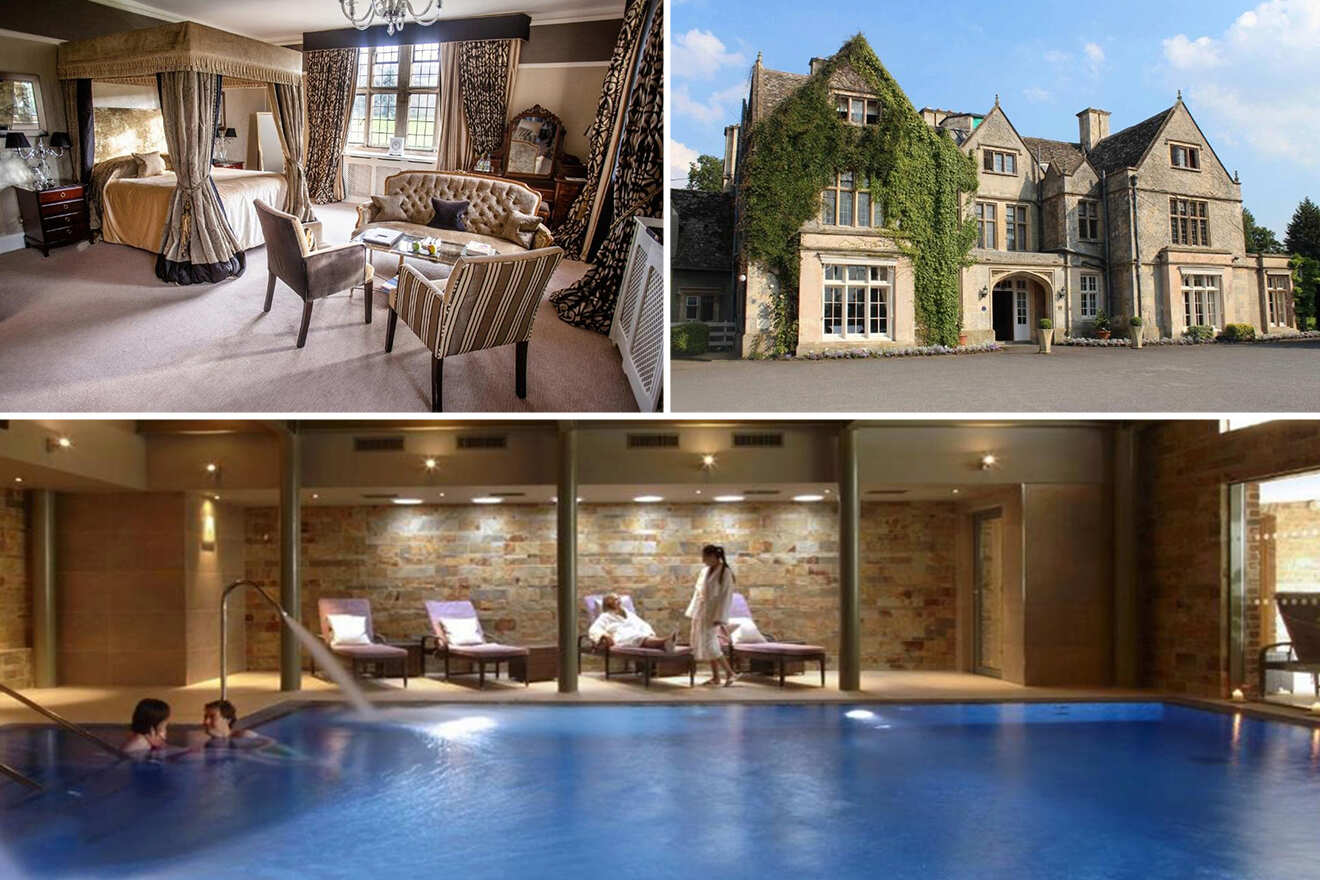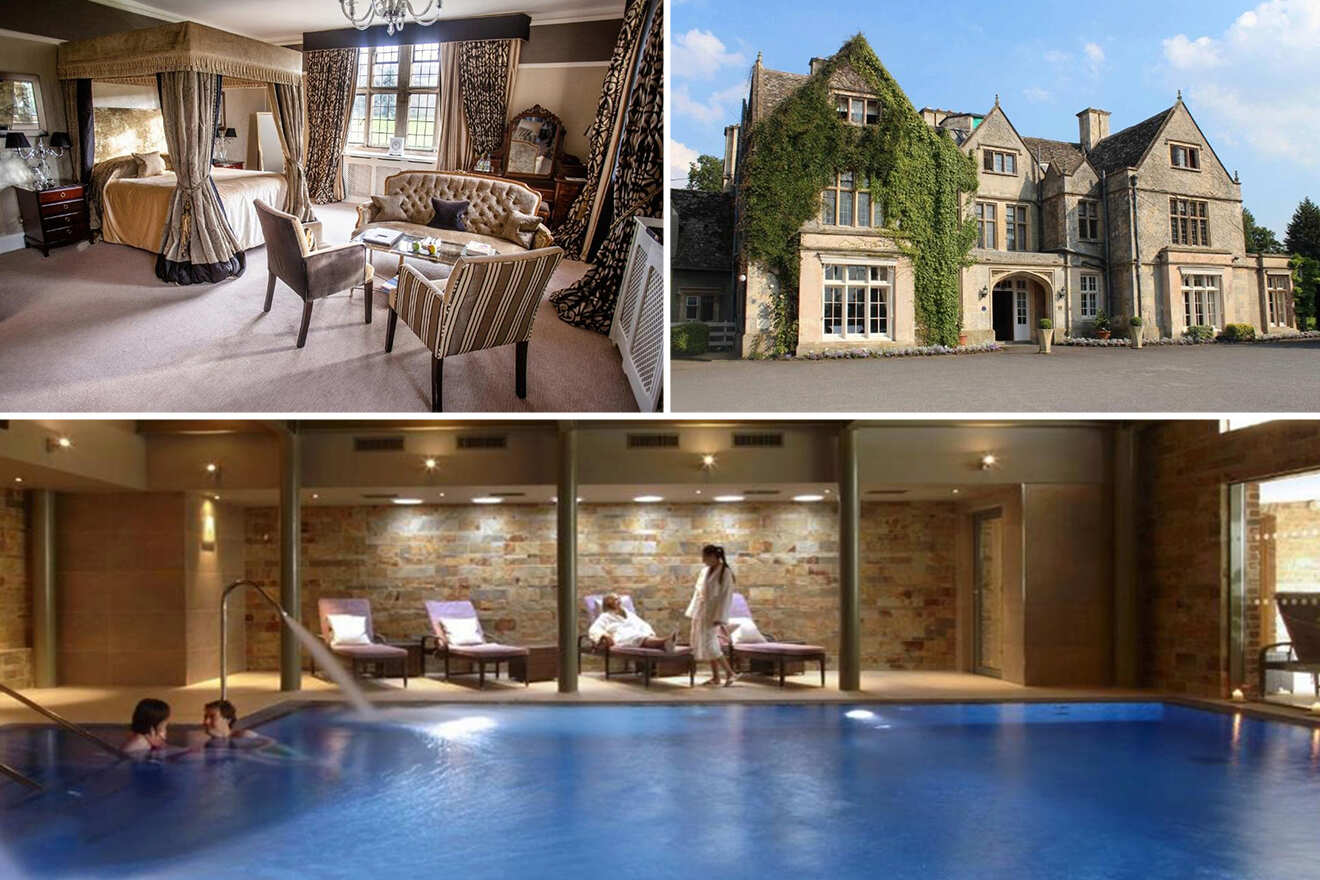 Tucked away between the beautiful Cotswold hills, this unique Elizabethan manor will offer you an unforgettable holiday in England! The hotel is furnished with a cool mixture of traditional countryside elegance and modern elements.
During your stay, you'll get to eat the most delicious food at the award-winning restaurant that overlooks the Cotswold hills, go horse-riding and spend a lot of time in the spa that has a hydrotherapy pool, a hot tub, and a fitness suite. Of course, there are many other facilities but I'll let you discover those on your own!
21. The White Hart Royal – 17th-century inn with a restaurant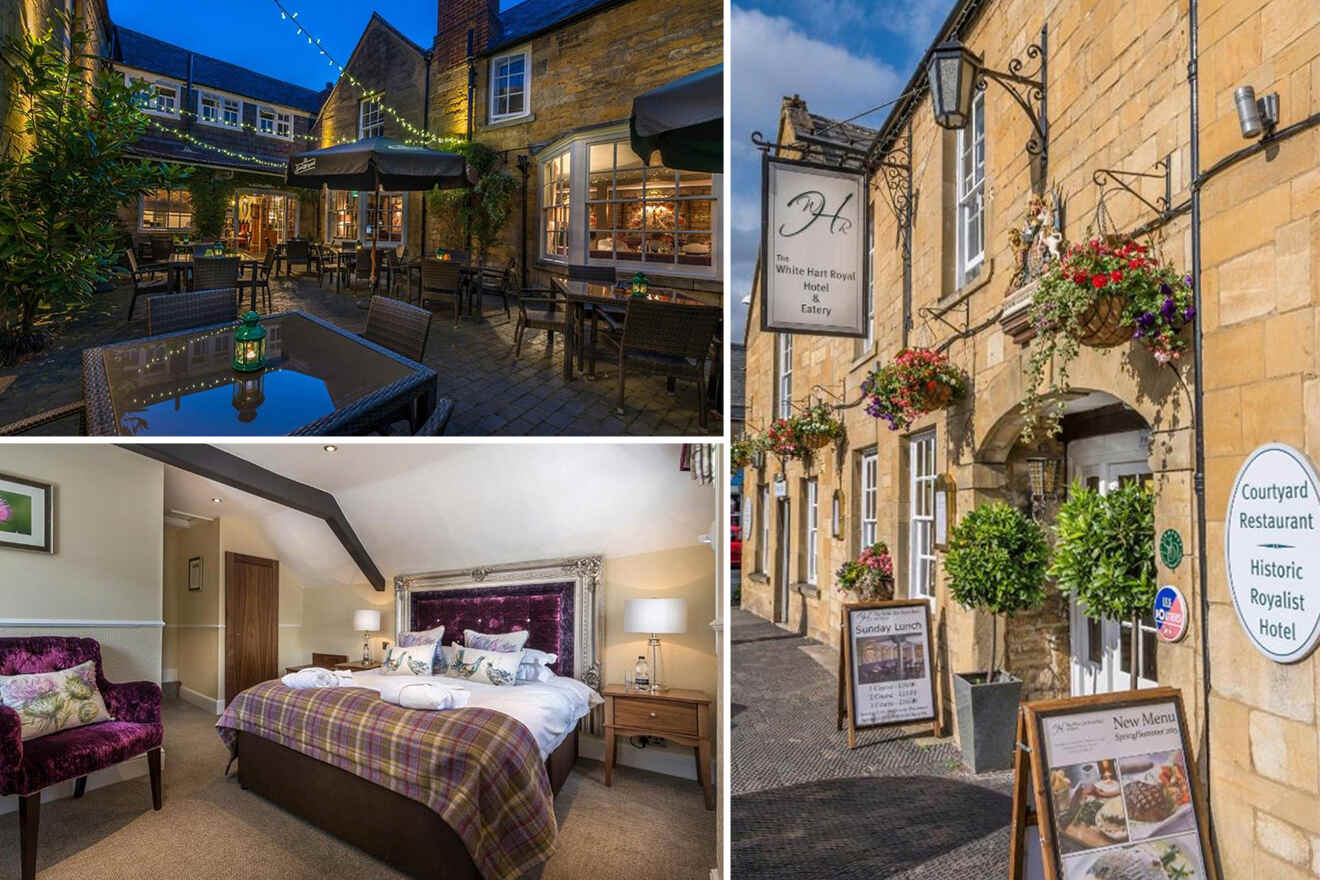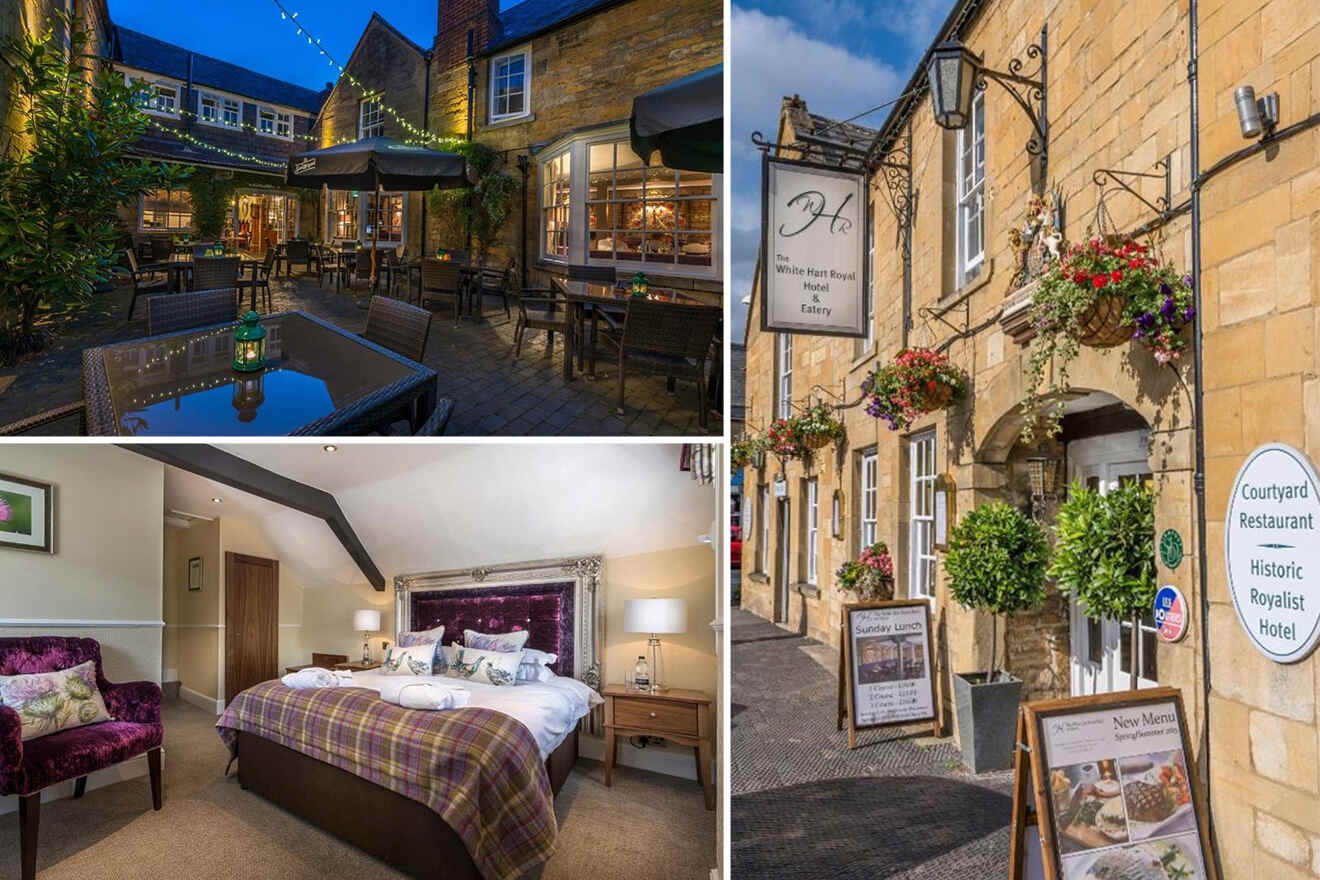 Packed your bags because after you see this awesome hotel you'll want to book a flight ASAP! Set in a 17th-century former coaching inn in the historic Moreton-in-Marsh town center, the accommodation comes with spacious rooms furnished with four-poster beds and private bathrooms.
This special accommodation once sheltered King Charles I during the English Civil War! Wow! Nonetheless, you'll get the modernized version, and all the facilities you need including a restaurant, a bar, and free wifi. Still, they've kept some of the original elements like the flagstone floors and the fireplace, which is such a delight during the windy cold days.
22. The Old Stocks Inn – family-run hotel with a restaurant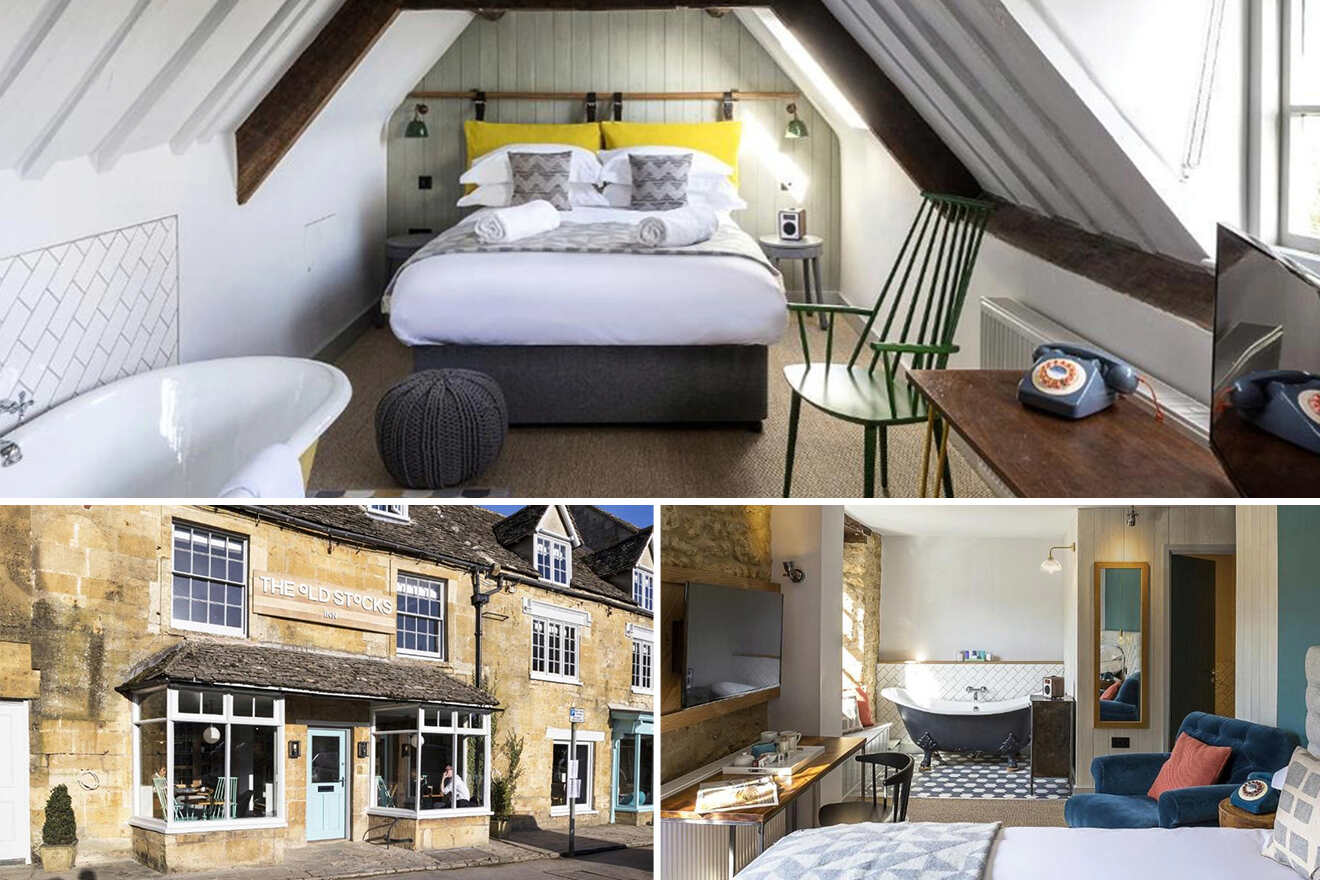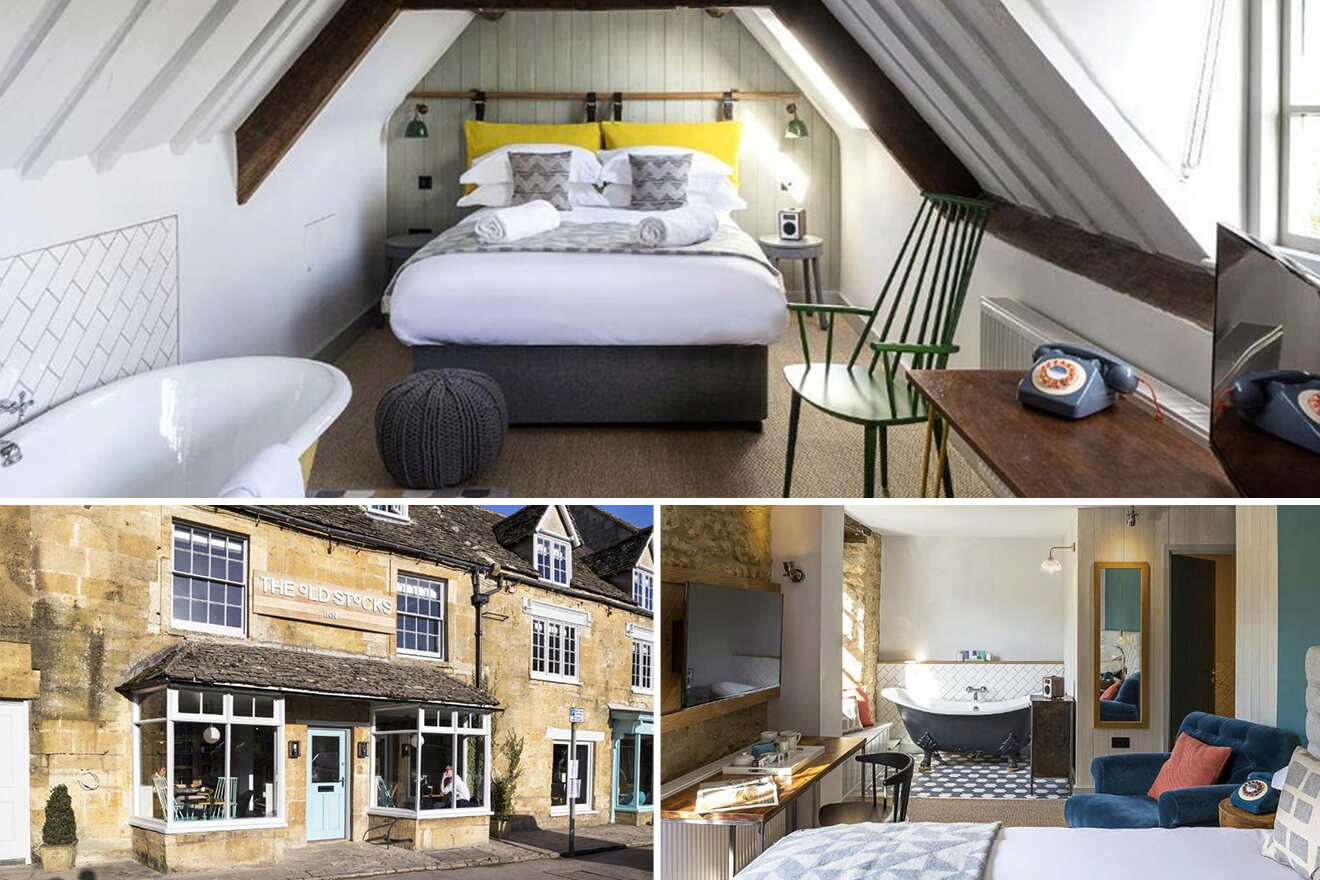 Located in Stow-on-the-Wold, this refurbished 17th-century coaching inn has family rooms, decorated with wooden beams, and modern furniture. Perfect for a family holiday in Cotswolds, the accommodation offers many activities for the whole crew like cycling and walking tours!
The terraced patio garden is opened for al fresco dining when the weather is good, but there's also an indoor restaurant for days when the weather isn't as cooperative. Its central location in the town offers guests an opportunity to visit all the attractions and of course, try some other restaurants so don't be shy to venture into this charming little town!
| | |
| --- | --- |
| 📅 How many days: | 4-5 days |
| 🏨 Top luxury hotel: | Barnsley House |
| 🌞 Best time to visit: | Autumn |
| 🤩 Unique attraction: | Rollright Stones |
| 💵 Avg luxury hotel price: | £200 |
| 🍽️ Dinner for 2 with wine: | £100 |
| 😍 Best honeymoon hotel: | Ellenborough Park |
| ⭐ Top 5-star hotel: | Lucknam Park Hotel |
FAQs about luxury hotels in Cotswolds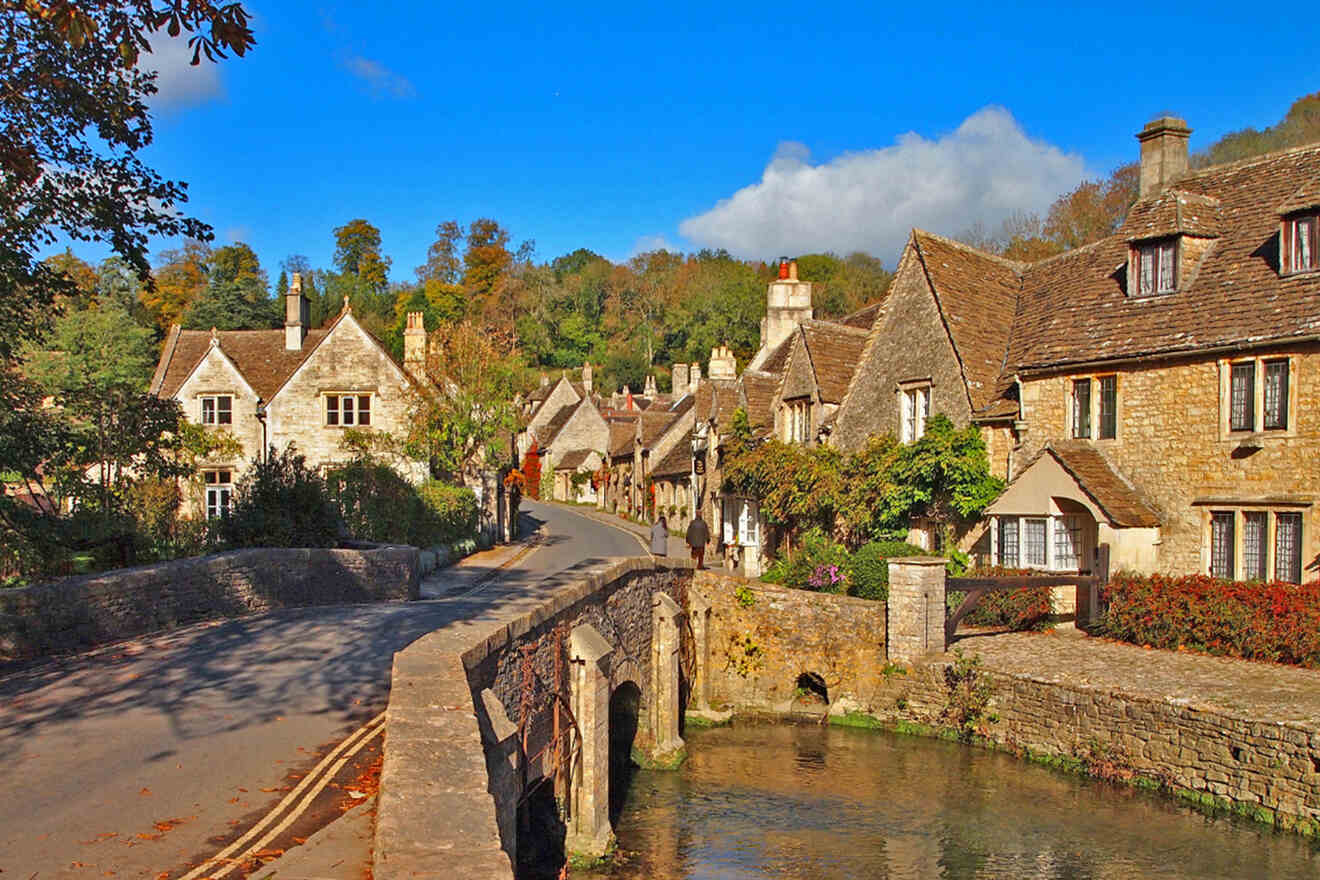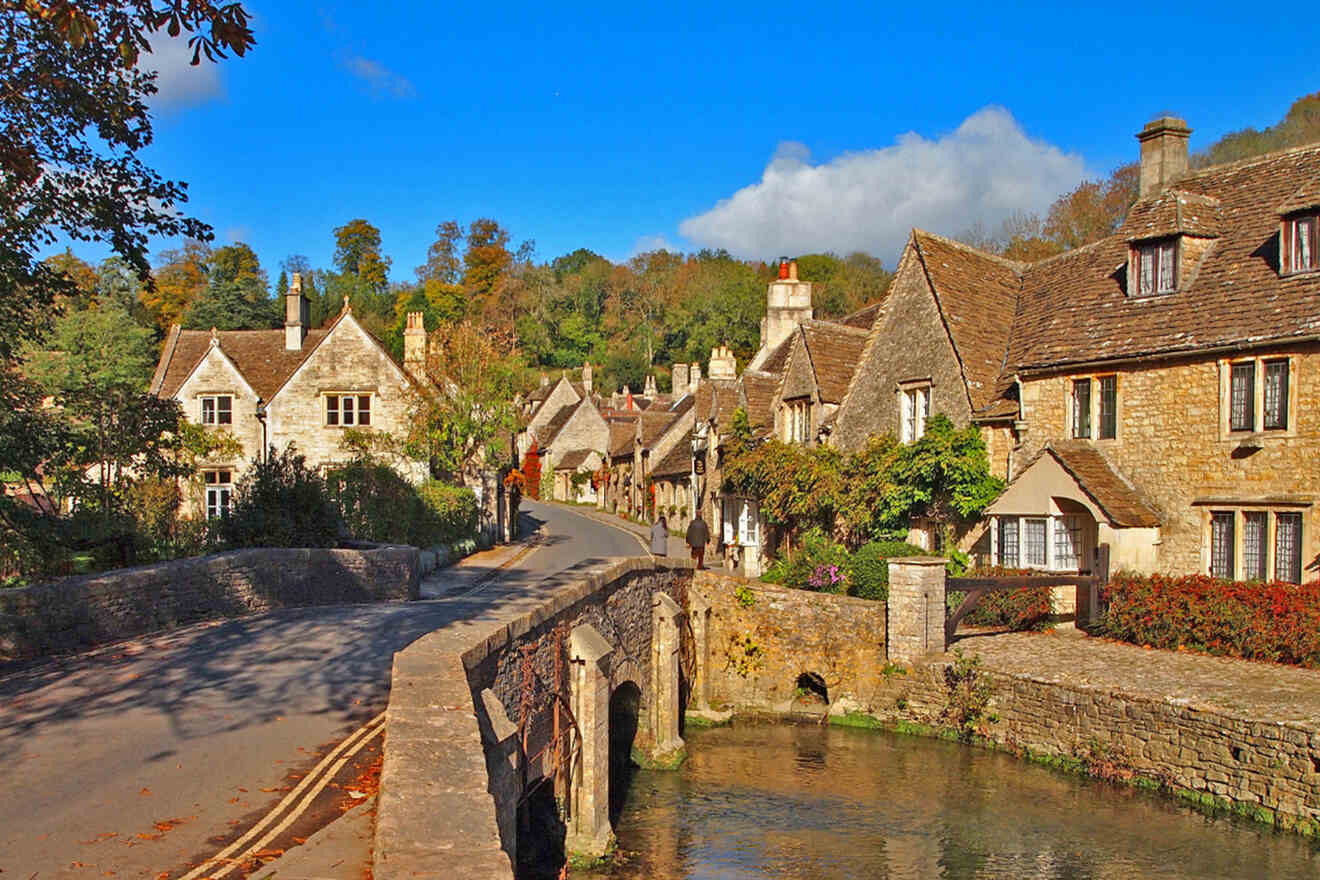 👪 Which are the best luxury family-friendly hotels in Cotswolds?
🏊 Which are the best luxury hotels in Cotswolds that have swimming pools?
🏠 Which are the best inn hotels in the Cotswolds area?
🌞 What's the best time to visit the Cotswolds area?
Autumn (September, October, November) is the best time to visit the Cotswolds area. That's when you can avoid the big crowds and still find some fair hotel prices.
Conclusion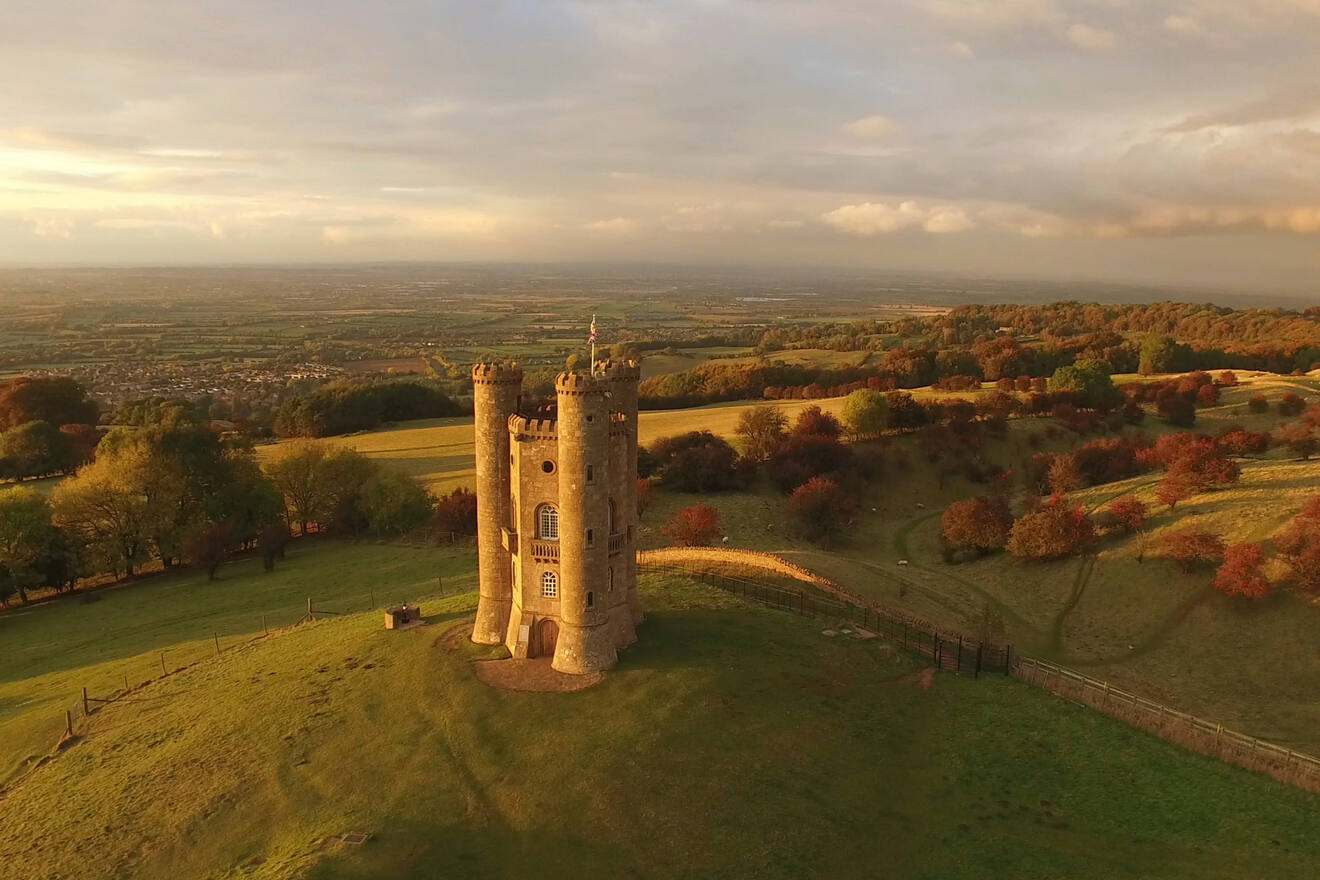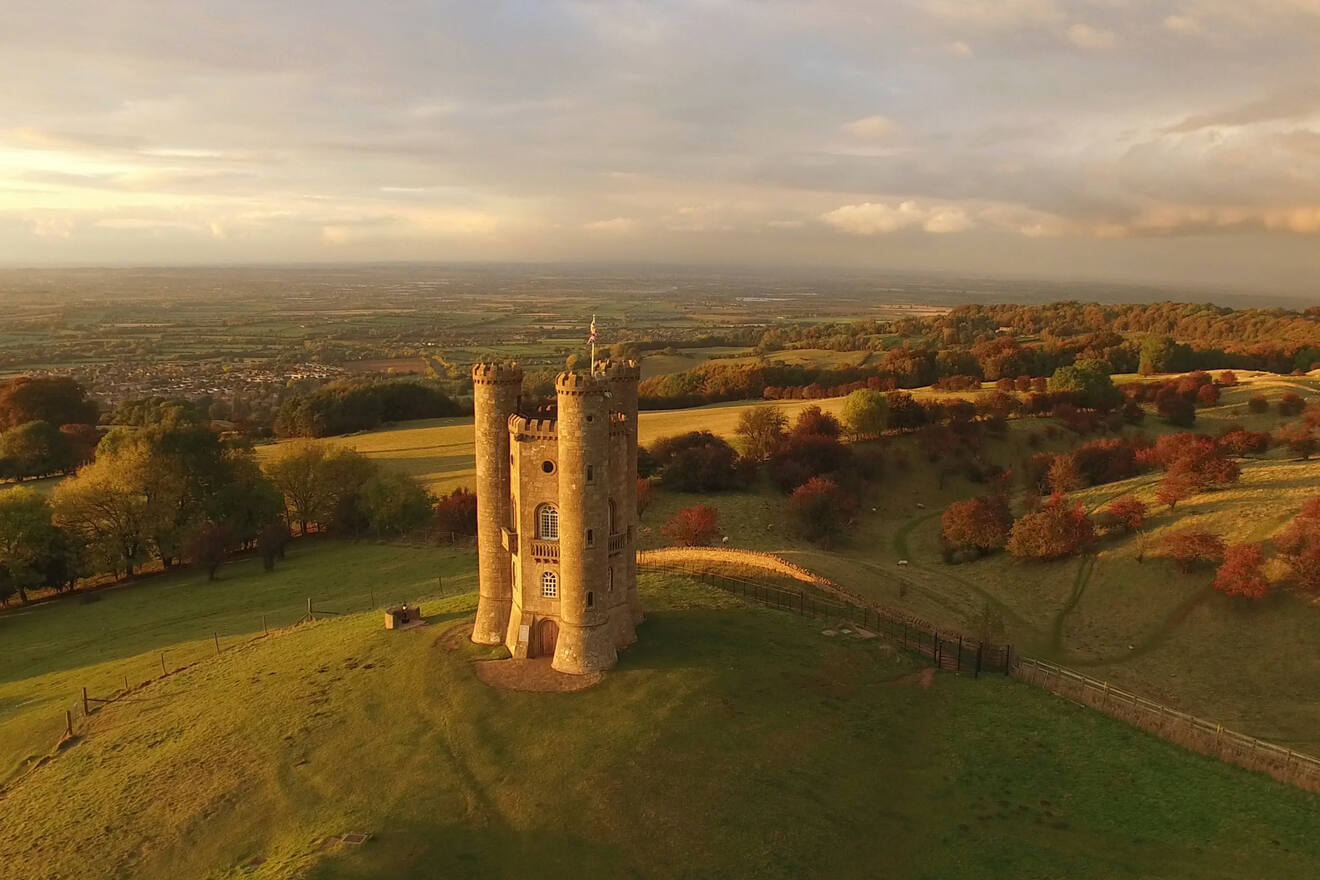 Who's already so in love with this area that wants to spend a few months here? I know, that's what I call the Cotswolds effect! Better hurry and book those luxury Cotswolds hotels because they won't be on the market for too long.
Since we're on that chapter let's do a quick recap of what you'll find in the post.
So the article has the best luxury hotels in Cotswolds, listed from most to least expensive ones.
I know there are many options, and picking only one is super hard. So if you need some extra help just check out my 2 favorite options:
Barnsley House – A super modern hotel set in an old building with a spa center, a colorful garden, and a restaurant
Lucknam Park Hotel – This country-house hotel offers Michelin-star dining at restaurant Hywel Jones, an award-winning spa, and an equestrian center
Hope this will help you make the right decision!
But this is my queue to leave! However, I'll be right here if you have any questions (which you can pop below, and I'll answer as soon as I can). Enjoy your time in the English countryside, you'll love it here!
Happy Exploring,
Victoria
---
Pin it for later!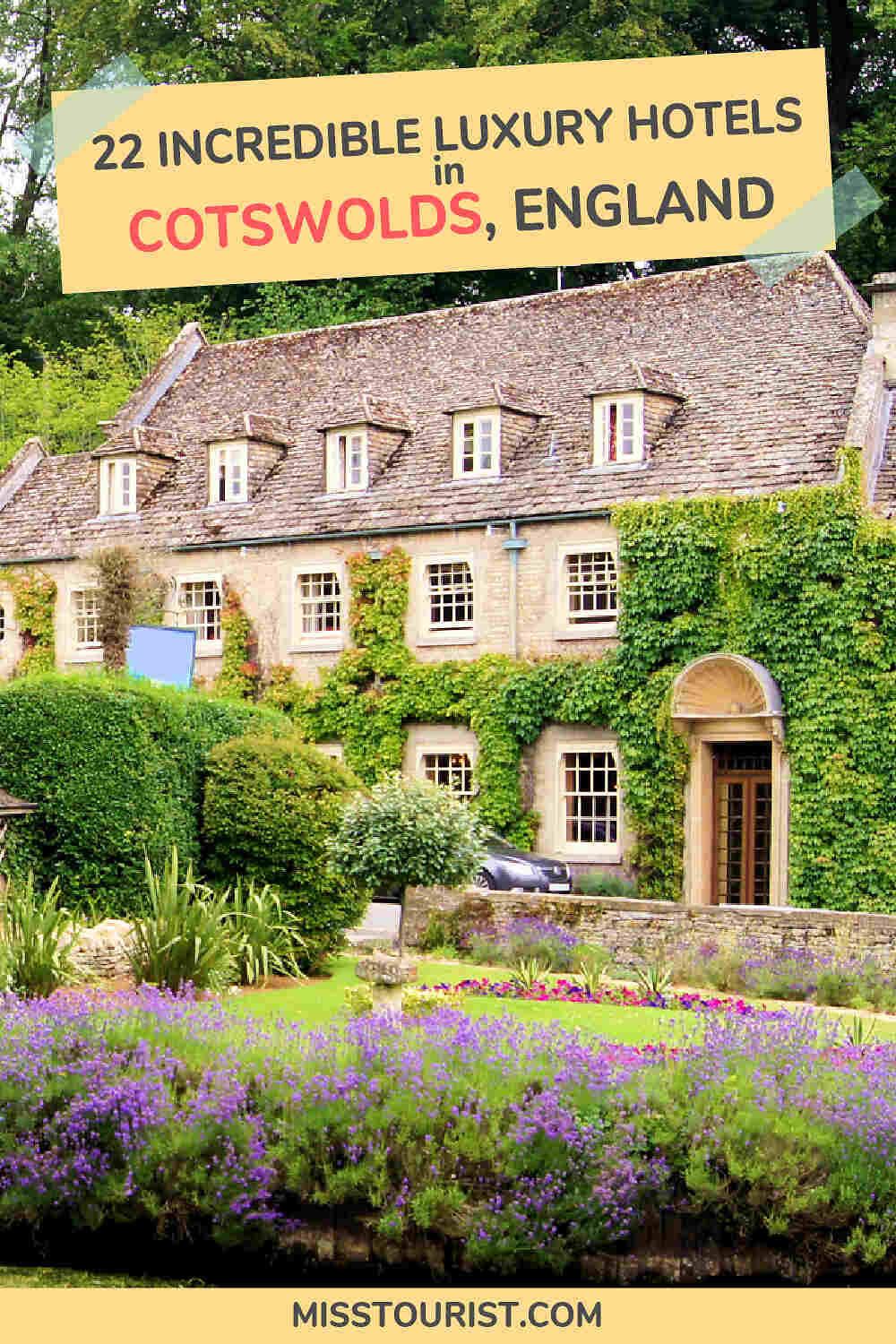 Pin it for later!